Pregnancy photoshoots are on the rise, with mums-to-be wanting to remember the special time they had before their baby was born. But these photoshoots don't always go to plan. In fact, they often make for a good laugh years after it happened (although many of them probably weren't funny at the time). These are some of the funniest pregnancy photos that can be found on the internet.
Let's Play Ball
Sometime's it's good to veto a decision. Especially when your husband wants to have a basketball-themed pregnancy shoot. But this brave young woman simply went with it. And it seems that she went with many of her husband's ideas, including using her tummy as a golf tee in her previous pregnancy shoot.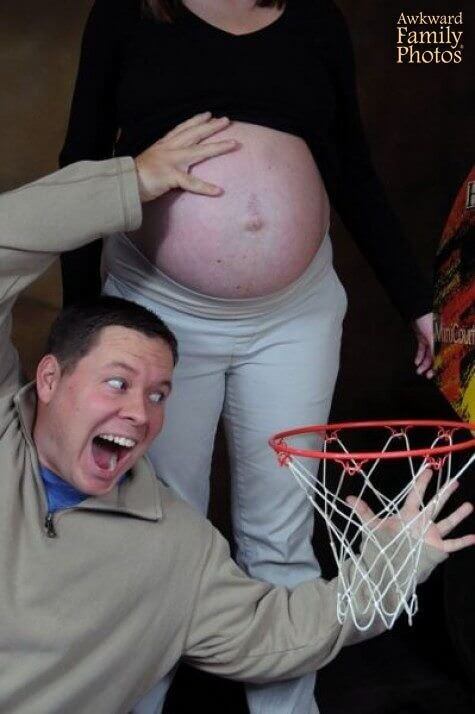 Her sister spoke of the photo, saying "My brother-in-law had some *ahem* interesting ideas for pregnancy photos. This narrowly beat out the one of my sister's stomach as a golf tee from her first pregnancy." We only hope there was another pregnancy shoot to properly capture the beauty of that time in their lives. Not that this comedic gold wasn't good enough!

Hockey-Themed Pregnancy Photoshoot
"This is a photo of my mom, my brother, myself, and my soon-to-be-born younger brother. I'm awkwardly in the hockey equipment on the bottom left. A family friend talked mom into having us all pose for this photo. It went on to win some sort of award in a Newport, RI photo show. It also hung in our house while I was growing up, which made for some awkward moments when friends came over."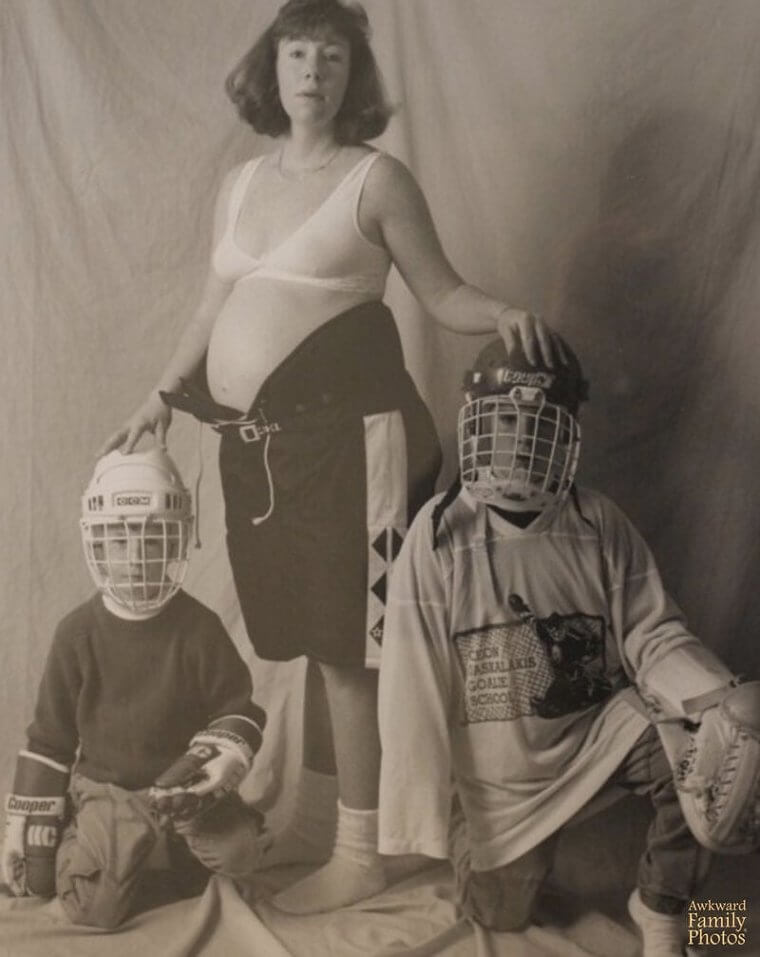 This is one very unique pregnancy photoshoot that we're sure had a reason at the time. Maybe the family was welcoming in their new hockey team member? We can never be sure, but we hope this mother took some more conventional pictures for the family photo album as well.
The Figure Lurking in the Background
Father-to-be, Joey, said, "This is a photo of my wife at 9 months pregnant. I was looking out for other people coming, but ended up in the background of the best shot of the day." While the photographer managed to blur his face, he's still very evident in the photo.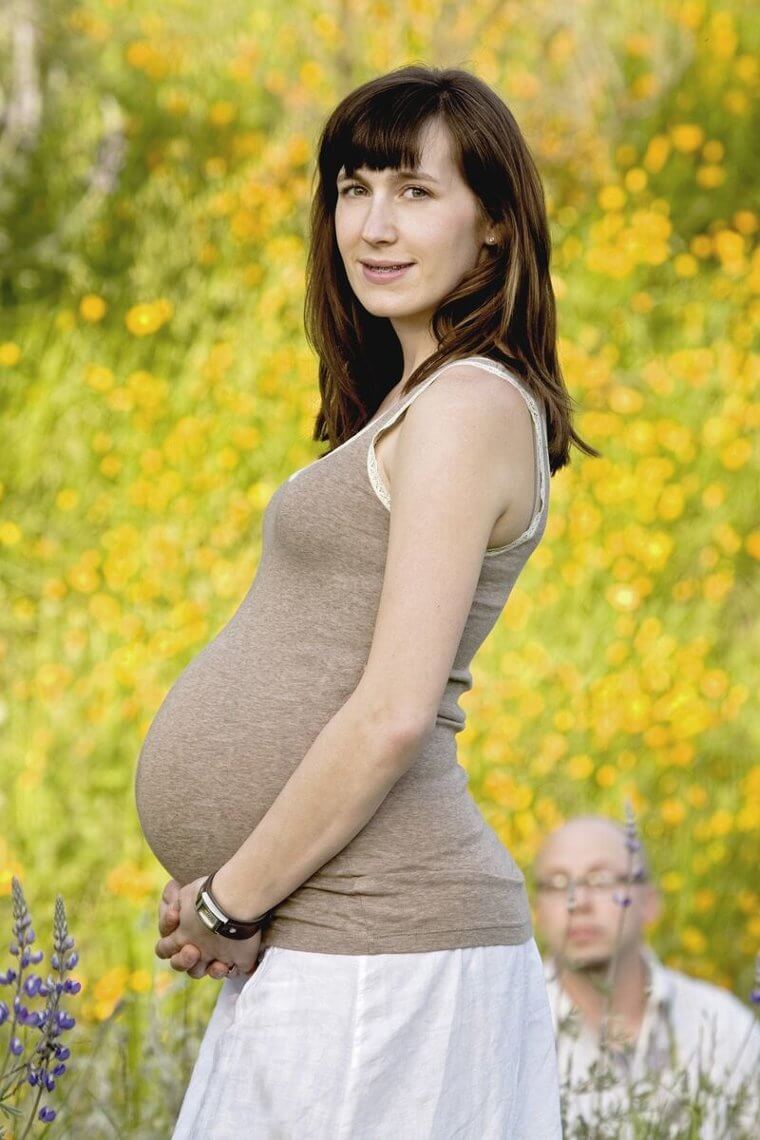 As a father of the baby, it's surprising that he wasn't a part of the photoshoot anyway. But at least he got his few seconds of fame. Even though he's blurred out, he will forever be immortalized in the background of the first picture of his unborn child.
A Comedic Twist to the Pregnancy Photoshoot
This couple said, "Pregnancy photograph hilariously ruined/improved by our lovably moronic dogs. Who apparently possess both comedic timing and a vague understanding of irony." As they posed for their cute pregnancy couples photo, one of their dogs decided to mount the other in the background.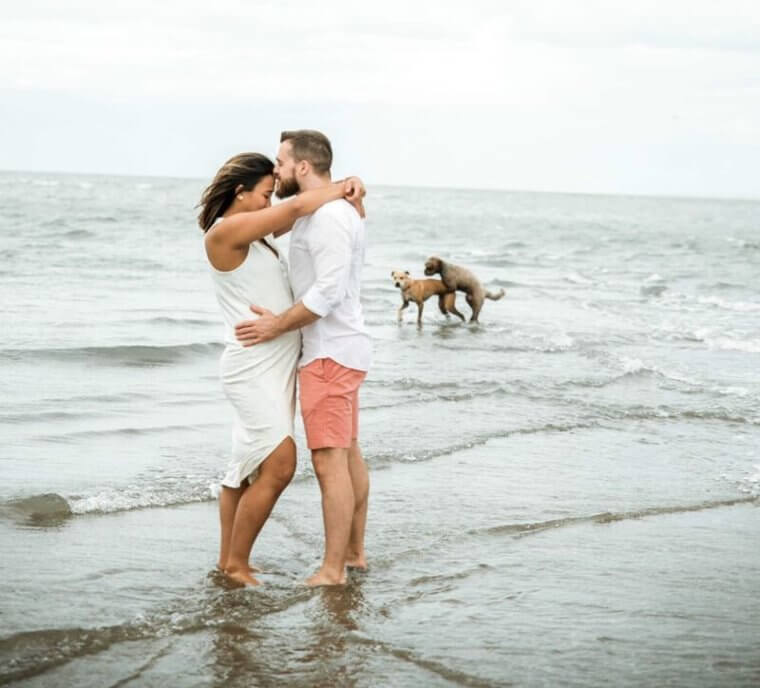 I guess the dogs will be having a pregnancy shoot of their own in a short while. But on a more serious note, at least the couple has a hilarious photo to add to the collection on their wall. And one day, when their child asks "where do babies come from?", they can simply show this child the photo - a full circle explanation.
Two Mothers-To-Be In One Photo
While you may think this is a strange twist to any pregnancy photo, it seems there is a reasonable explanation. The mother-to-be said, "One of our goats and I are both pregnant with twins and due the same week. I made her dress up and take maternity photos with me."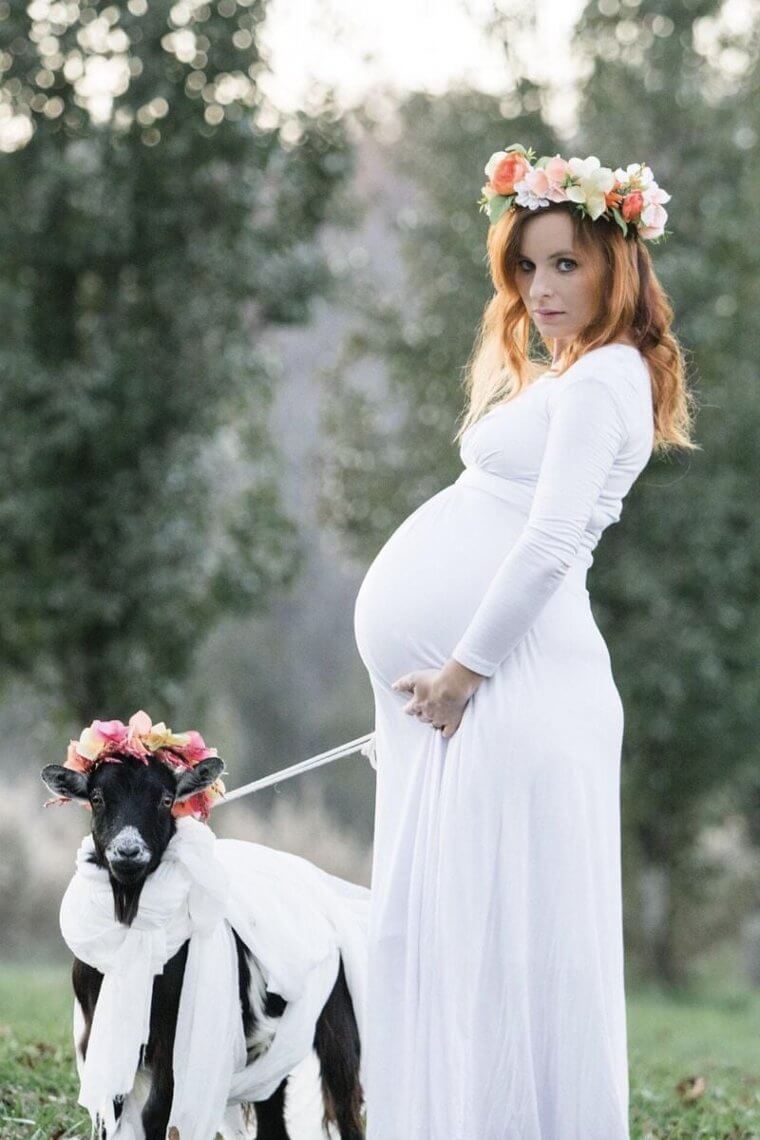 Although it may seem strange to share a maternity photoshoot with your goat, each to their own. Having the goat by her side probably made her feel a little more comfortable and less camera shy. If you are having the same jitters for your maternity shoot, it may be a good idea to take a goat along for the journey.

Blowing Bubbles in the Pregnancy Photo
Most mothers-to-be want their pregnancy photos to be a little unique. But this family may have taken it a little too far. The entire family sat down for the photo with the mother's baby bump exposed.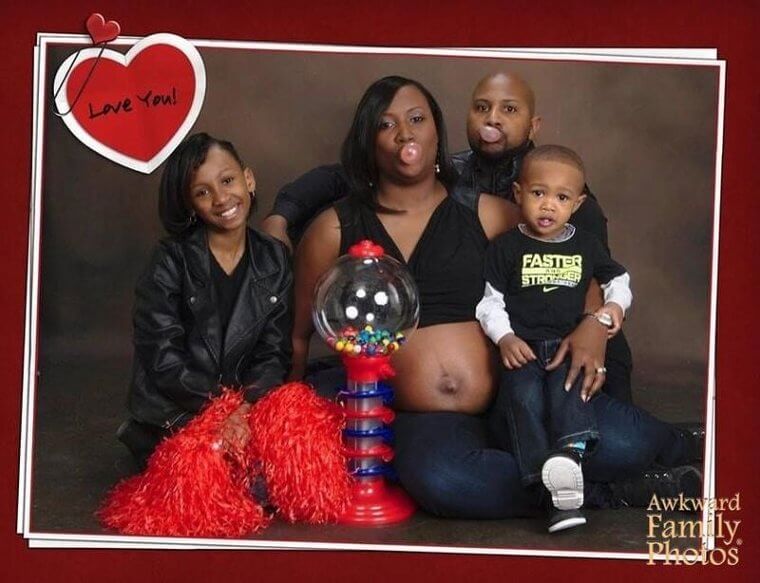 They then proceeded to blow bubbles with bubble gum. The concept isn't hard to understand. The bubbles resemble the mother's tummy, but it may be one they regret later. We're sure this mother will look back and wish she did something a little more conventional for her third child's pregnancy photo.
Capturing a Moment With Detailed Accuracy
There aren't many moments in life that you're able to capture very accurately in one photo, but this picture seems to sum up the moment entirely. Carry spoke of the photo, saying "I had just had my third son in less than 4 years. My 2-year-old jumped up on the bed to meet the baby and onto my c-section incision and my 3 year old dropped his pants."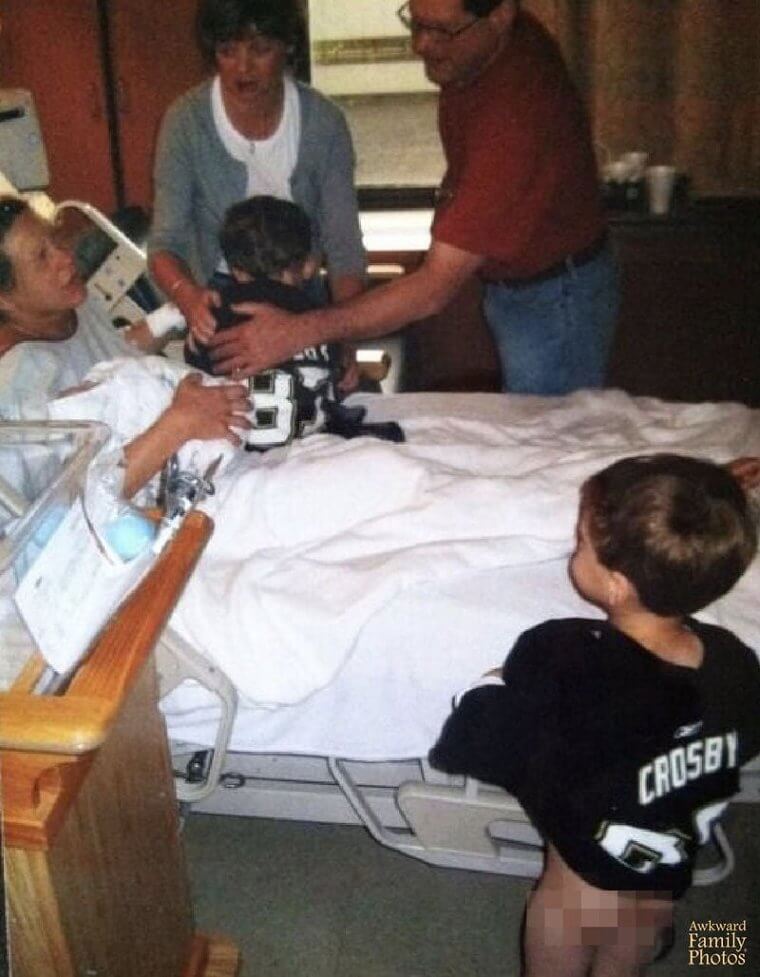 While this moment may have been an incredibly painful one at the time, looking back on the photo must be humorous for the family as well as everyone on the internet. If there's a photo that sums up "everything that could go wrong, did go wrong" it would be this one.
Getting Hit Right Where It Hurts
This mother got hit right where it hurt - in her newly stitched-up c-section. She said, "When my son hopped on the bed and his elbow nailed me right on my c-section incision." That's not something you want to happen right after having your baby taken out.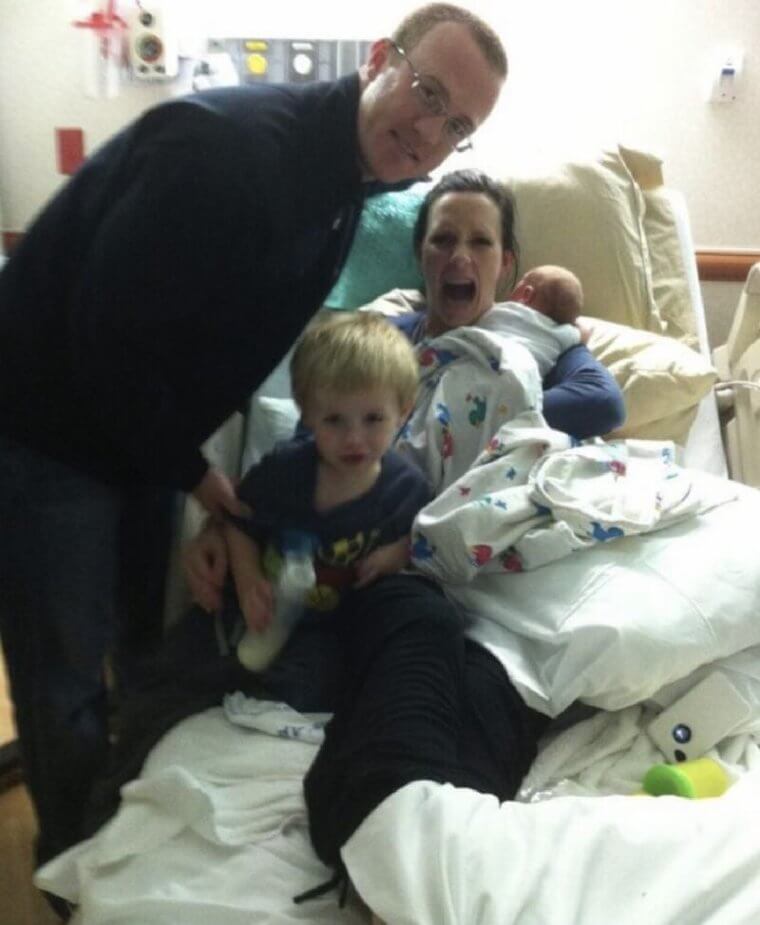 Her young toddler just wanted to be a part of the new family photo but wasn't aware of just how much pain he was causing. In fact, by the expression on everyone's face in this photo, everyone except the mother was blissfully unaware of the chaos that was about to unfold. We only hope she made a quick recovery, despite the abuse inflicted on her by her unaware toddler.
Welcoming a New Member of the Family
While mom and dad are very excited about the new arrival, that's not to say that everyone is greeting the new baby with open arms. In this particular family, the big brother-to-be seems less than pleased about the new intruder becoming a part of the family. It seems he'd rather have been an only child.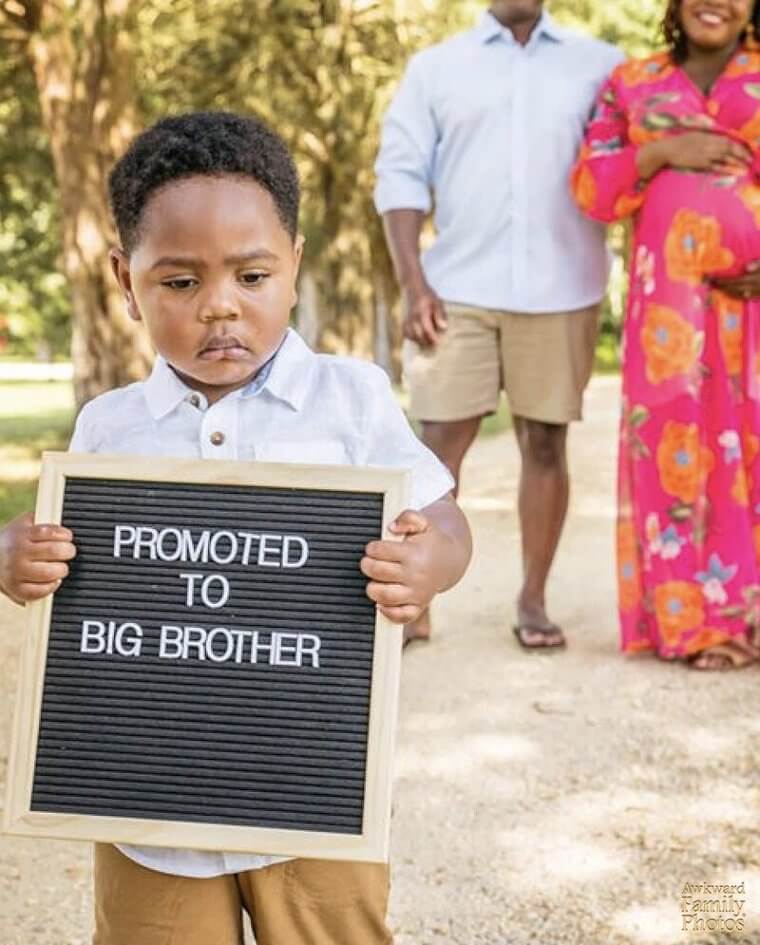 "'I didn't ask for this,' said our very stubborn 2.5-year-old. He had the same expression in every photo from the session," said the mom. Unfortunately, she couldn't force her son to be happy about the new arrival, but we're sure he'll change his mind when he meets his new sibling. Most kids do!
Not the Impression They Were Hoping For
"We were trying to make a rainbow with smoke bombs for our pregnancy announcement. The plan was for my husband to light them really fast then take a picture in front of them. We didn't know this picture happened till days later going through all the pictures. We realized it looked like my husband farted and my daughter smelled it."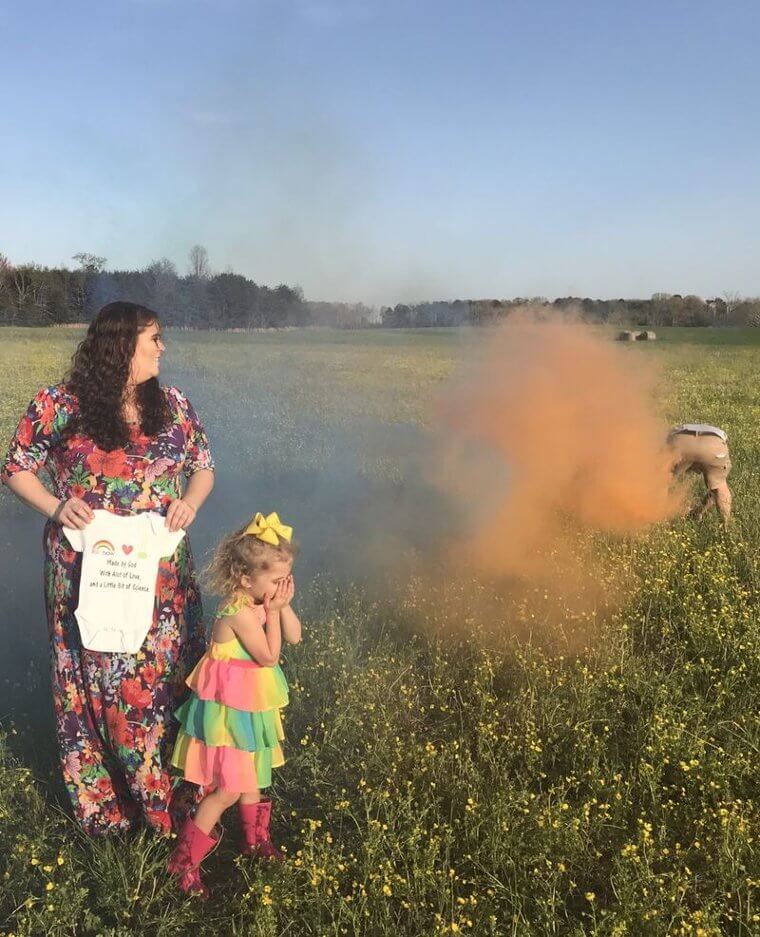 While this was meant to be just a creative way to announce the arrival of their unborn child, it turned into a photo to be remembered for years to come. Instead of a beautiful rainbow and smiling faces, it ended up being a quite awkward photo but also a pretty funny memory to be honest.
A Shocking Surprise
While this is no pregnancy photoshoot, it's still a photo that should be hung on the walls to remember the emotions of the time. The man in the photo had just found out that his wife was pregnant with their first child and his expression is absolutely priceless!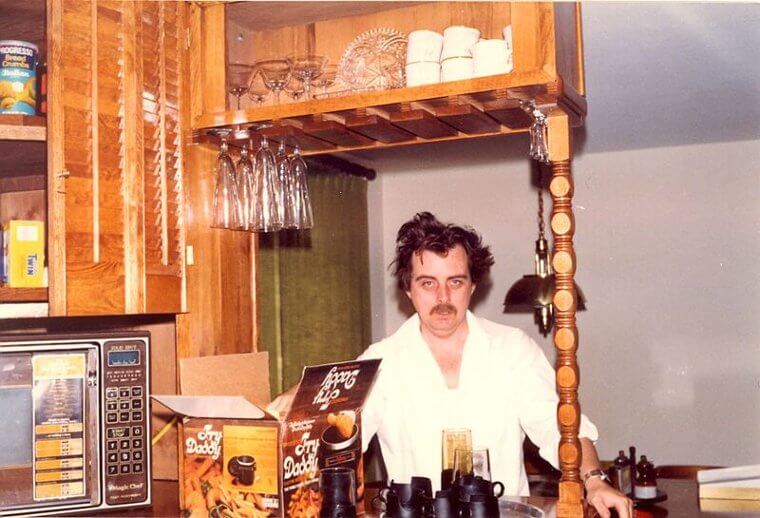 His son said, "This is my Dad the morning after finding out my Mom was pregnant with my brother. 1982." Knowing your dad was THIS happy about your brother's arrival must have given the boy fuel for teasing his sibling for the rest of his life. And we hope he took full advantage of it!

The After Effects of Pregnancy
While this was no pregnancy photo, it does open your eyes to the struggles of new mothers. The lady in the photo said, "Had a baby three weeks ago and bought these. 'Pump anywhere,' they said. 'It's whisper-quiet, nobody will know you're pumping at all,' they said."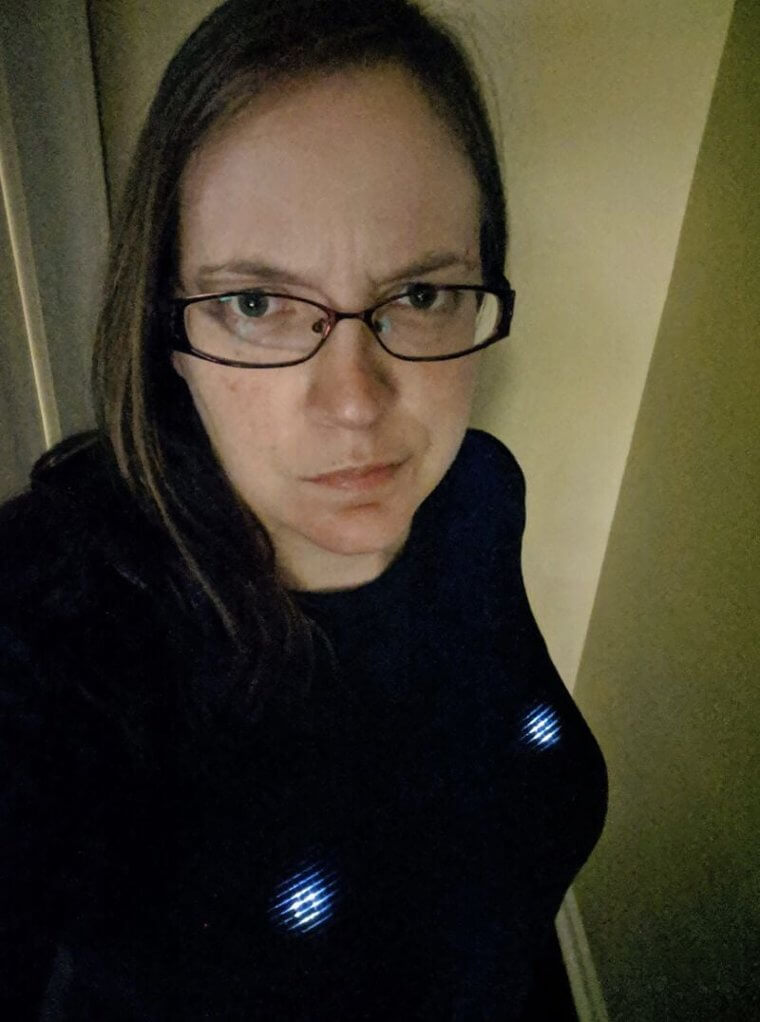 This new mum was hoping she'd found a discreet way of pumping her breast milk in public, but unfortunately, that was not the case. The lights that shine through her t-shirt make it look like she has glow-in-the-dark nipples - one of the least discreet ways to conceal a breast pump. This lady should send her photo to the company who makes these breast pumps, they may not be aware of how indiscreet they really are!

The Promotion You Never Asked For
Kara said, "My sister and her boyfriend were so excited to share their announcement. My nephew was…less than impressed." While the signboard reads "promoted to big brother", the boy's actions show this was a promotion he neither asked for nor wanted.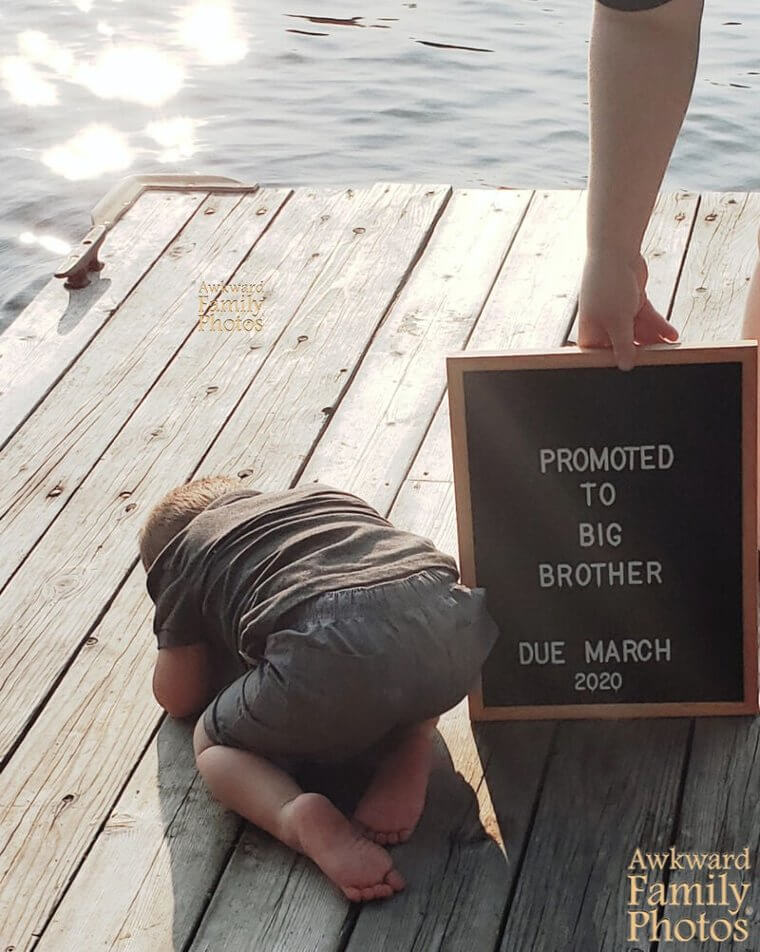 It can be hard for little kids to accept a new arrival in the family, especially when they have been the center of attention their whole lives. But they soon get used to it when the baby arrives, often thoroughly enjoying the company of their new sibling. As far as this little boy goes, his parents better hope and pray he changes his mind.

Supporting the Patient
While labor is something that women sometimes just HAVE to do, it's often their male counterparts that struggle in the delivery room. This woman took a selfie of herself smiling while her partner was passed out in the background.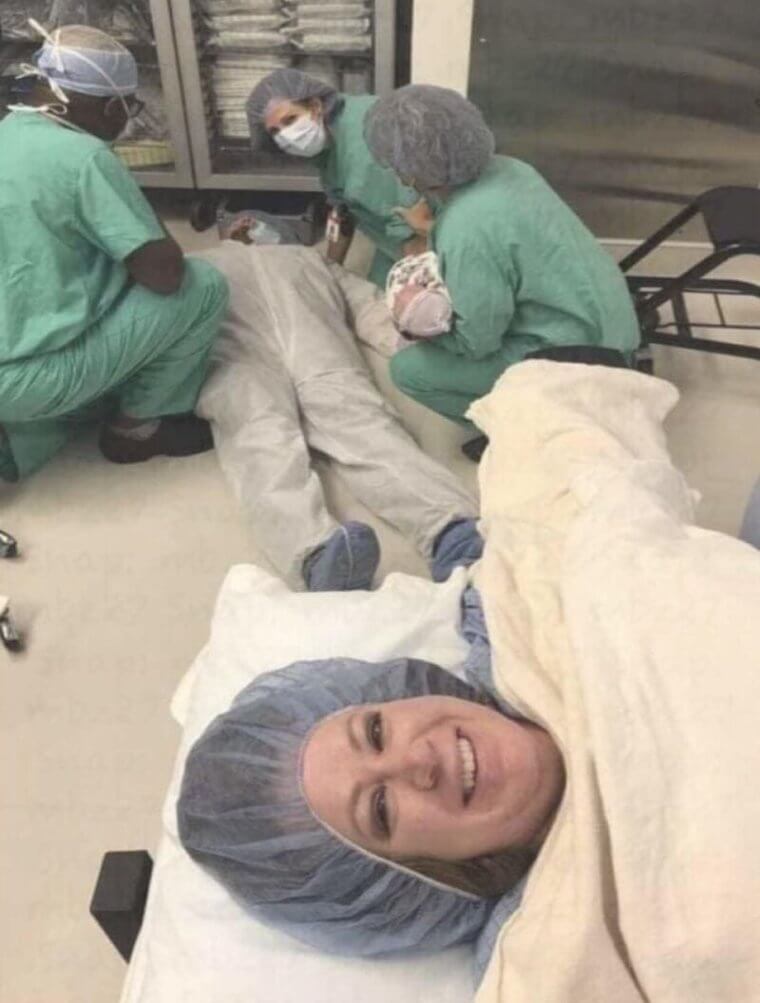 While the lady in labor was smiling happily, the doctors and nurses were huddled around her husband who was lying motionless on the floor. He had gone into the delivery room in the hopes of cheering up his lady, but it seems he couldn't handle the heat! We're sure he was removed from the delivery room shortly after this - and we hope he never lived it down.

The Placeholder Baby Photoshoot
Lucy has fond photos to look back on of her parent's baby announcement. She said, "This was my parent's pregnancy announcement in 1991 a couple of months before my birth. My dad saved the cardboard outline and gave it to me before the birth of my first child."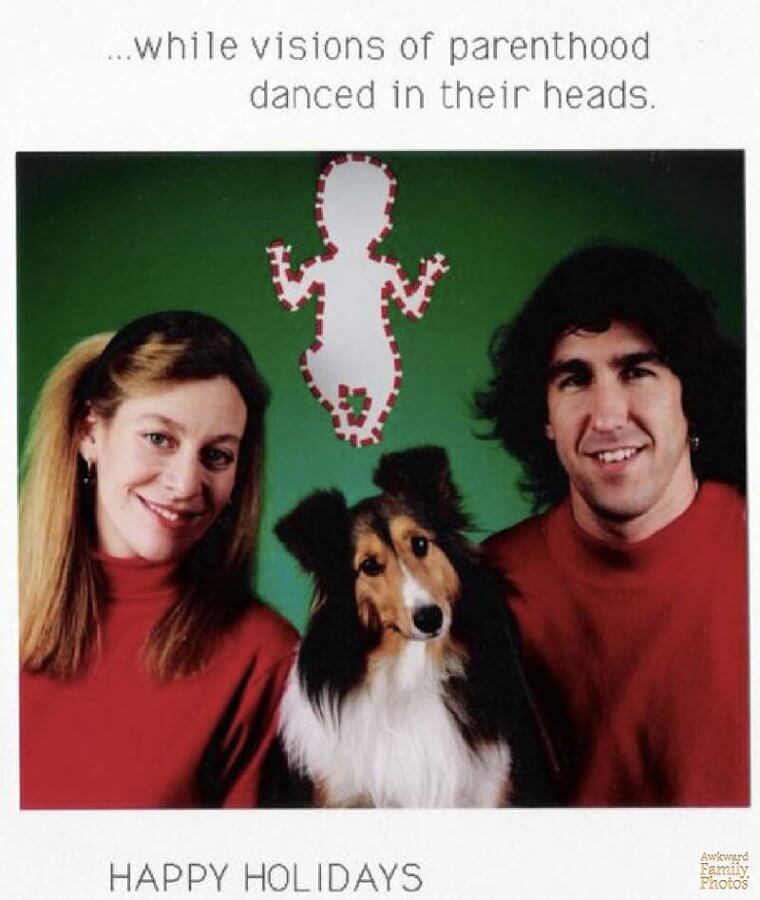 While many couples opt for cute pictures of the baby bump, this couple went in an entirely different direction. Choosing to leave the bump out of the photo entirely, and include a cardboard cutout as a placeholder baby. This is one we haven't seen before but it sure is creative! While we don't think couples will be opting for this idea for their own pregnancy photoshoots, it does make a funny memory for the family.

Making Your Pregnant Lady Feel Pretty
This lady celebrated her birthday while being pregnant. She obviously wasn't feeling her best at the time, but her husband came to the rescue. She said, "My husband sure knows how to make a pregnant, bloated girl feel special on her birthday."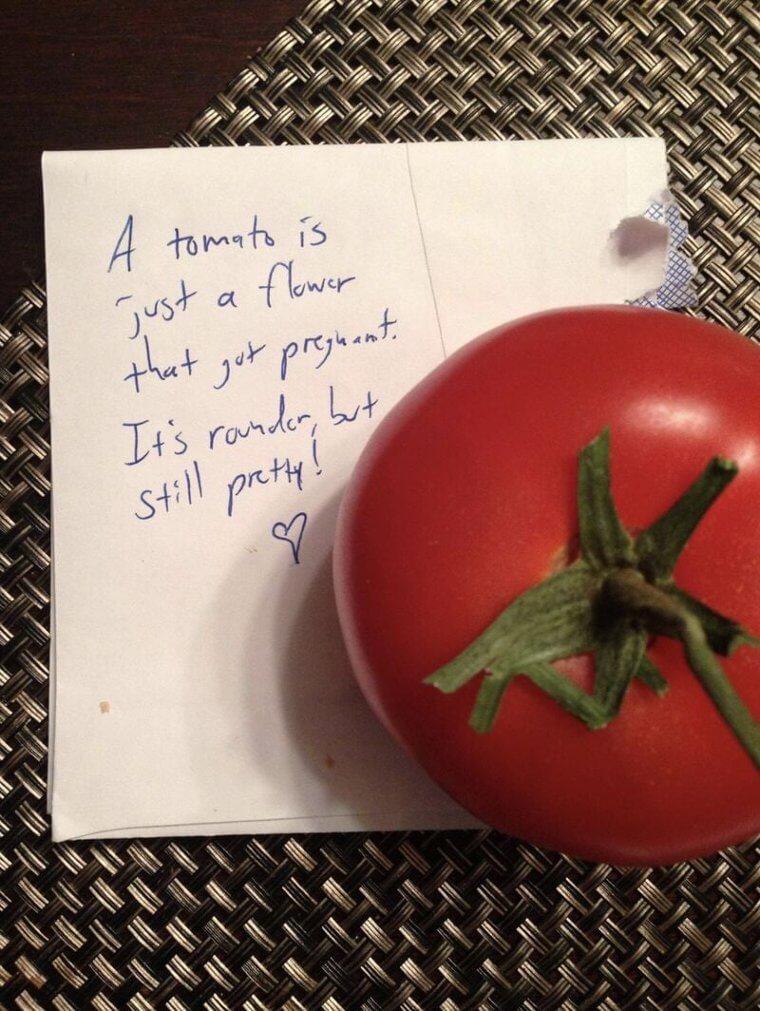 While some women feel their best while they're pregnant, others feel bloated and rather gross. It seems that this woman was feeling the latter. But her husband still managed to cheer her up with a joke and something that made her feel beautiful as well. Men everywhere can take a few pointers from this husband.
Big Sister Wasn't Having Any of It
This young lady doesn't seem too pleased about the arrival of her new sibling. In fact, she seems quite angry, going as far as to throw the board that she was holding for the photo on the ground. Being a parent isn't always easy, especially when your toddler is in a mood.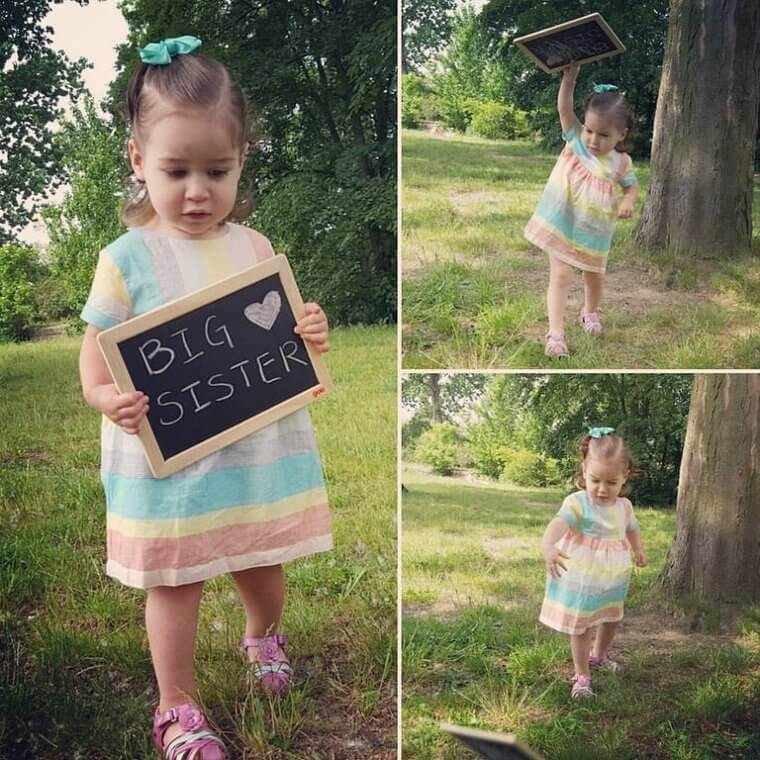 Her mom said, "We were gonna do a cool pregnancy announcement pic, but our daughter wasn't having it." Whether she was upset about having a new baby in the home, or she wasn't up for photos that day is unclear. But we'd hate to be on the receiving end of that storm!
Photoshoots Are Fun They Said
If there's one thing that's becoming apparent on social media, it's that moms love taking photos. And having a photoshoot is a great way to lock in some memories that can be preserved for a lifetime. But they're not fun for everyone.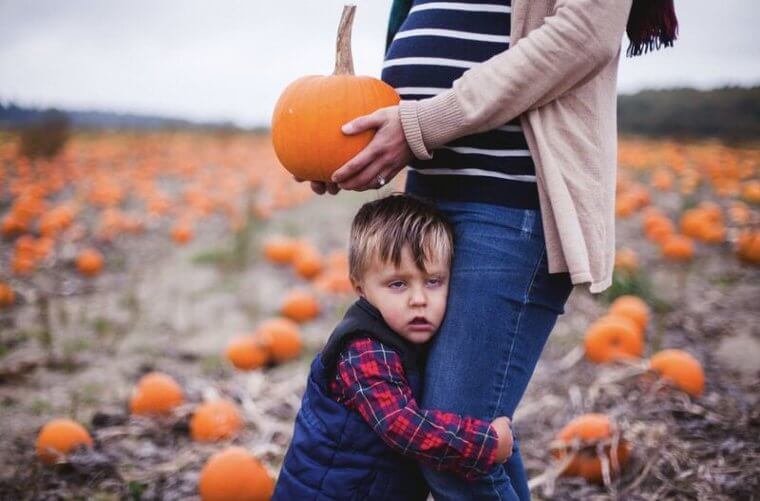 This little boy's mum said, "And that's when I knew my son was done taking family photos." There are only so many photos a little boy can take before his eyes start to droop. And if one thing is certain, this little boy was finished! It's understandable though. The last thing you feel like doing at that age is standing around and smiling for a camera.
The Wrong Time for a Photo
If there's one thing you shouldn't be taking a photo of, it's a woman in pain. But this family didn't quite seem to get the brief. Instead, they decided to take a family photo while this lady was in labor, and it doesn't look like she's having the time of her life.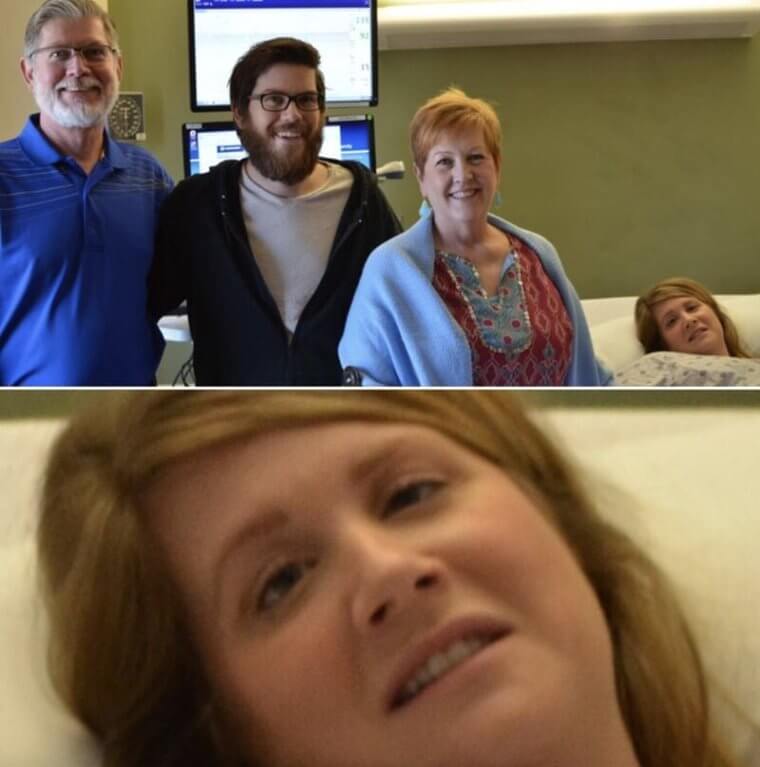 She said, "My husband and in-laws wanted a family photo while I was in labor and having contractions." While this moment will forever be immortalized in this photo, we're not sure this lady looks back on it fondly.
A Front-Row Seat to the Action
This man had a front-row seat to all the action. And it's clear he is shocked about what he is witnessing. He said, "This is what happens when you see your baby's head pop out and then go back in." Was he worried the baby didn't want to come into the real world?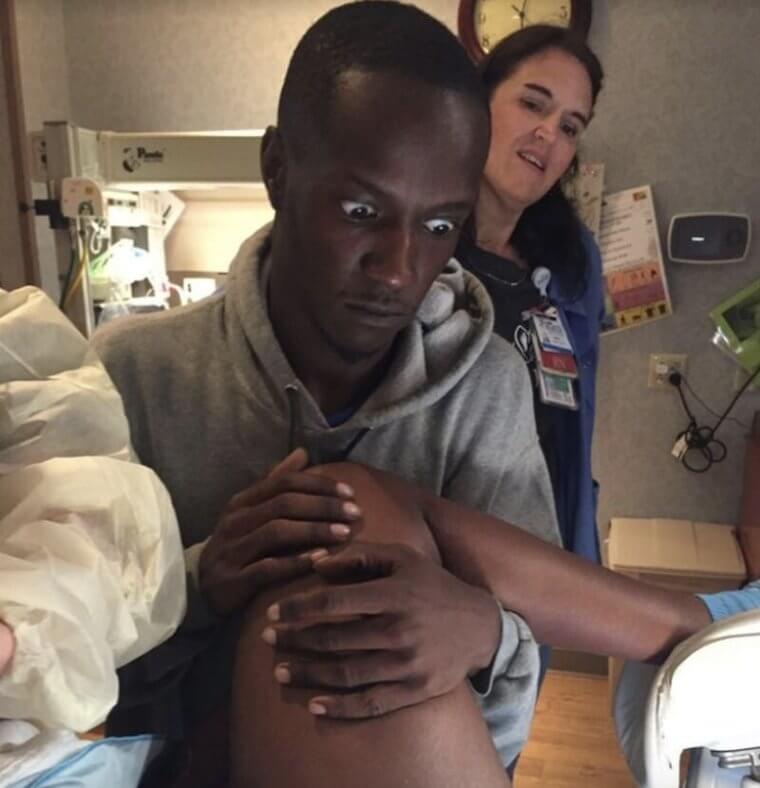 While this must be a harrowing sight and we can't really blame the guy, it does make for a hilarious photo. We hope that the mother was less shocked by the chain of events that followed. At least the doctor seems less disturbed by the happenings in the room. Although to work in a hospital you need to have nerves of steel.
Well-Timed Selfies in the Delivery Room
Jill said, "I had a medicated pregnancy and my husband dutifully took pictures the entire time. This is when they started to sew me up and apparently the most opportune time to take a selfie."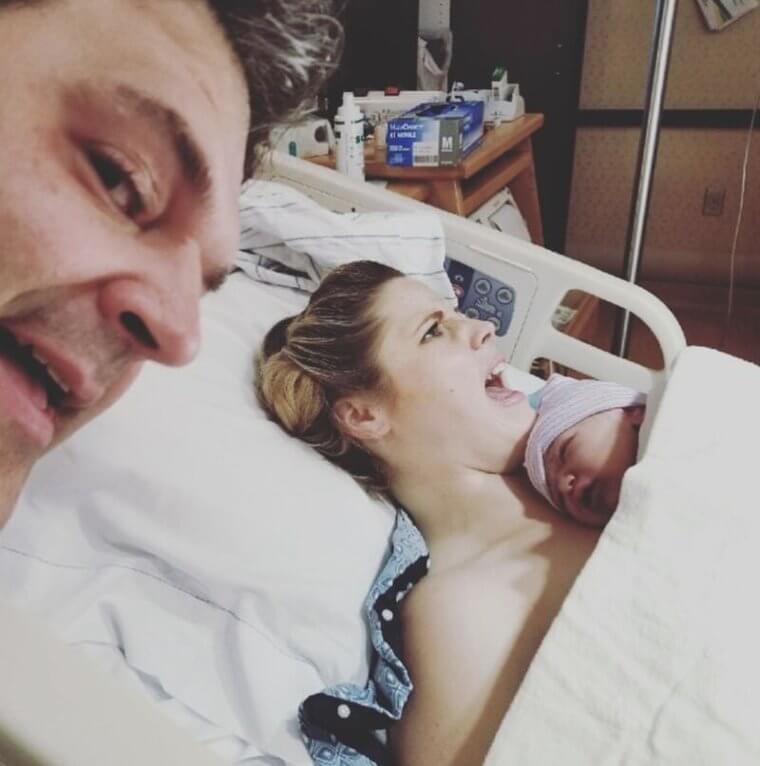 Although this doesn't look like a very comfortable moment, it sure makes for a funny photo to look back on. The husband doesn't seem to be phased by what his wife is going through, in fact, he was merrily taking photos throughout.

The Making of Deadpool
This woman's husband said, "My wife is 39 weeks pregnant and really wants to see Deadpool 2." We love that she didn't merely go watch the movie, she got dressed up for it too! And finding a Deadpool costume to fit over her bump could not have been easy.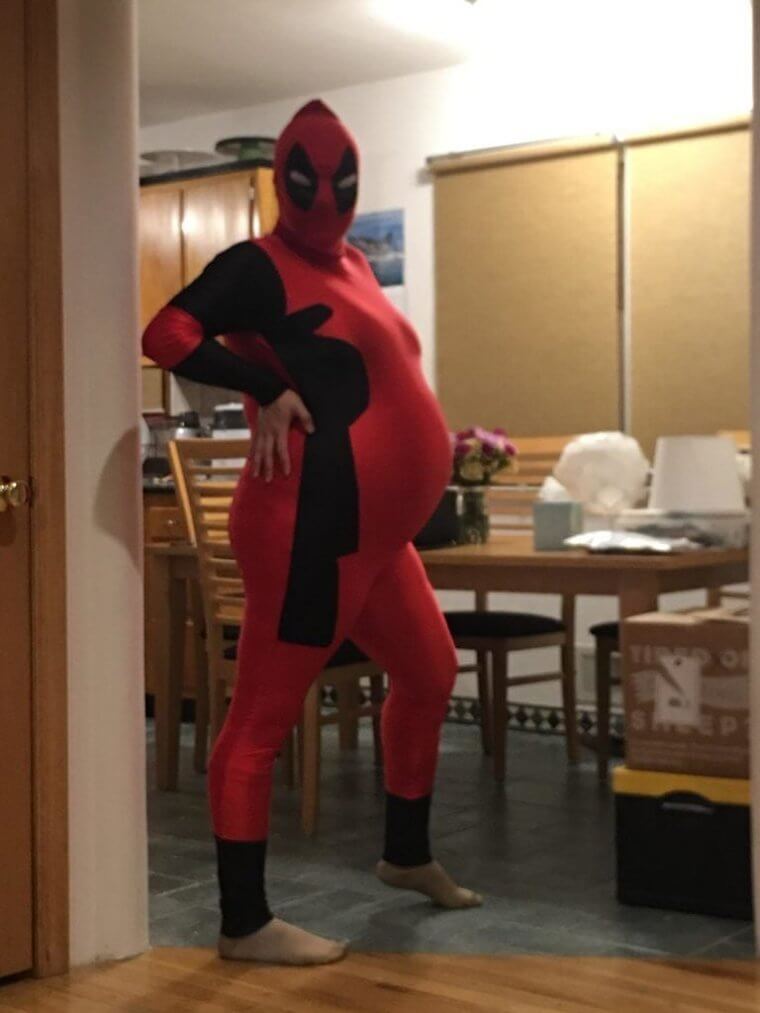 But for superfans, getting into costume is a must. We wonder if she actually went to the movies like that or left the dress-up for home. If she managed to venture out, she has some serious guts. But we're sure the other fans loved it too.
Nonchalent On-Looker Taking Selfies
Stephanie said, "My husband decided to do a selfie while I was having multiple unsuccessful attempts to run an IV in my hand while being prepped for a C-Section. This was nurse #3 and the ninth time they attempted to run the IV."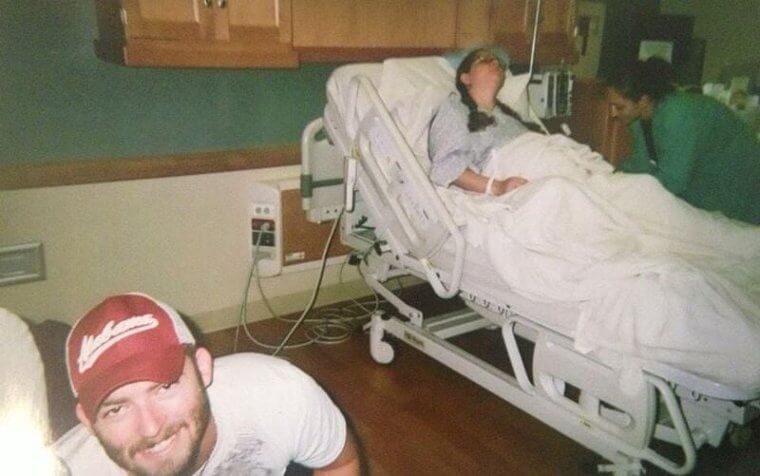 It doesn't look like this mum-to-be is having a great time at all! Nurses are struggling to get an IV drip into her hand, which must be very disconcerting when she's going in for an operation. At least her husband doesn't seem to be phased about the situation though.
Setting the Expectations
 A friend of the family in the picture said, "My friend's family wore the colors of the gender they preferred for the new baby…" It's clear that the parents and the daughter had very different hopes for the gender of the baby.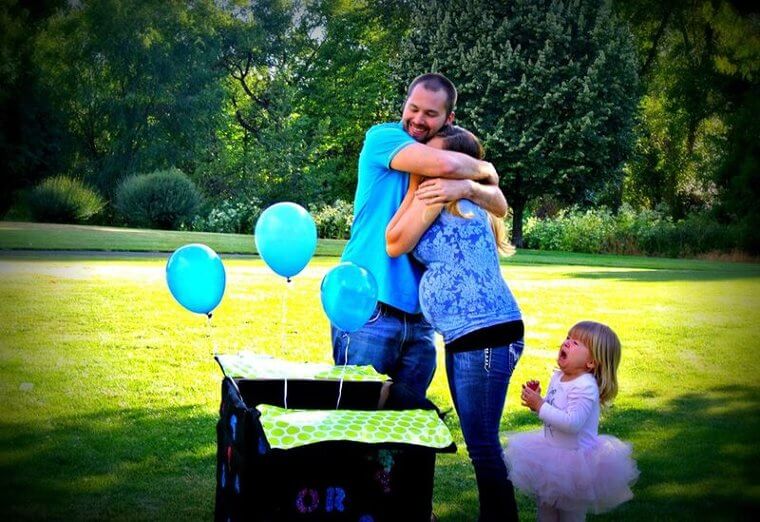 When the gender was revealed, the daughter was the one who was clearly disappointed. The look on her face goes a little further than disappointed, in fact, she looks rather outraged. Well, when it comes to making a baby, you can't pick and choose! Even though she's not getting the little sister she'd hoped for, we're sure she'll learn to love her little brother even more.
An Unexpected Surprise
This man's cousin said, "The best pic from my cousin's baby delivery this morning." And the look on this new father's face is rather priceless. It's a mix between shock and awe that makes it one to be recorded in the baby book.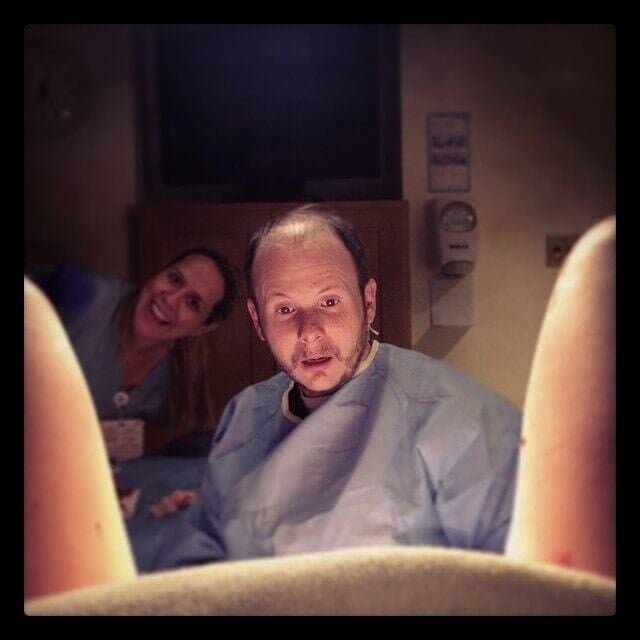 While the new father is feeling all kinds of emotions while seeing what is probably his baby's head for the first time, the doctor is smiling for the photo in the background. She seems completely unperturbed by the events unfolding in the delivery room. We guess it's something that she sees on a daily basis, so being unphased is the norm.
A View For All to See
If there's one thing that has to be said of this photo, it's that the mom-to-be is clearly not a shy woman. She is sitting with her legs spread, with the entire family gathered around. It certainly seems like an interesting moment to take a photo.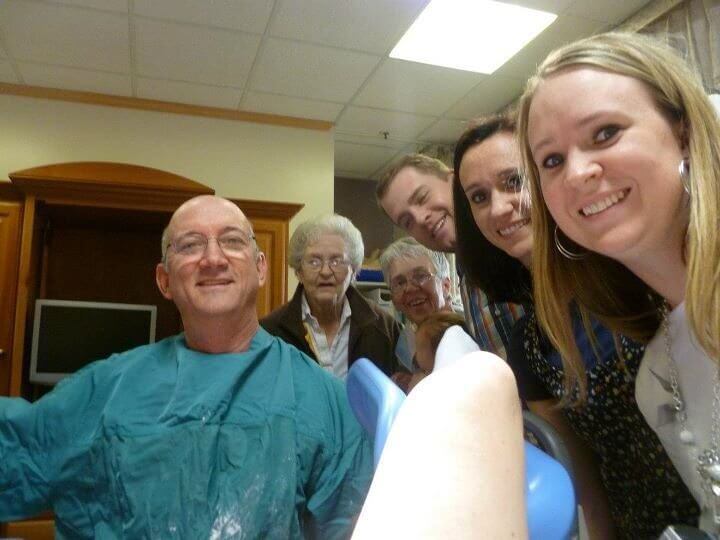 The owner of the photo said, "Her husband seems like the only one interested in the task at hand." At least the husband is the only one with his eyes on the prize, everyone else seems to be more focused on the camera - probably a good thing.
A Humorous Picture Frame
A friend of the people in the photo said, "My friend's pregnant wife dropped the picture frame and knocked off some letters. Still technically correct." And they would be right, the picture frame is still technically true.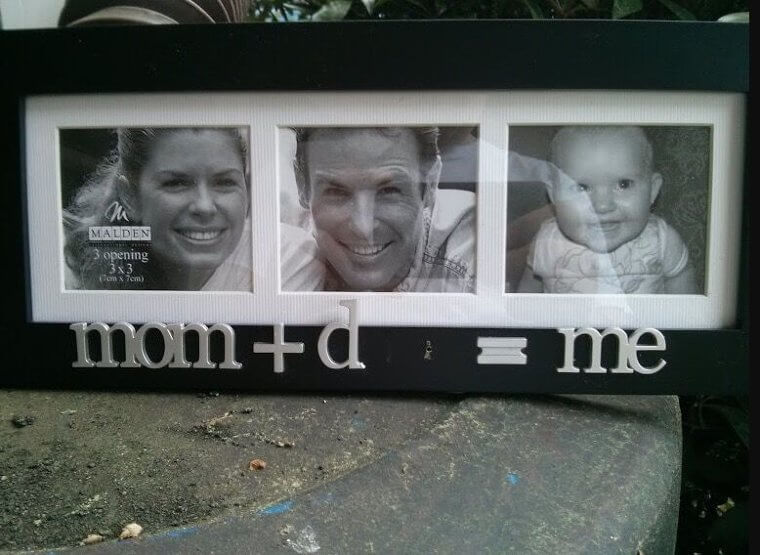 Dropping the picture frame may not have been on purpose, but after a few letters dropped off the frame it means something entirely different. And it certainly gave a mundane picture frame a little humor that can be appreciated for years to come.

Is This Subliminal Signaling
This mum-to-be is clearly tired of being pregnant. She said, "Made a labor cake in honor of my due date tomorrow. Am I doing this right?" At least she's celebrating, even if the cake does seem a little hostile.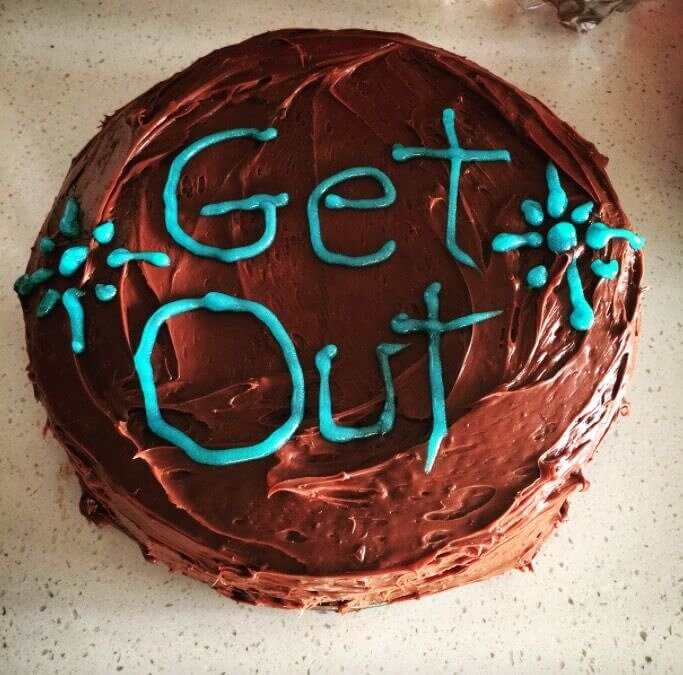 It's also technically her baby's birthday, and what better way to celebrate a birthday than with a cake. The baby might not be able to have some, but everyone else certainly can. We're sure in years to come, the baby will appreciate the gesture. At least its mum was excited to bring it into the world.
Capturing the Happy Moment All Too Soon
New mother, Brittany, said, "This picture was taken very shortly after our son was born. My father-in-law wanted to capture the beautiful moment and get a nice family photo. But after over 24 hours of labor, this is what you get. My husband looks pretty rested though, so that's cool."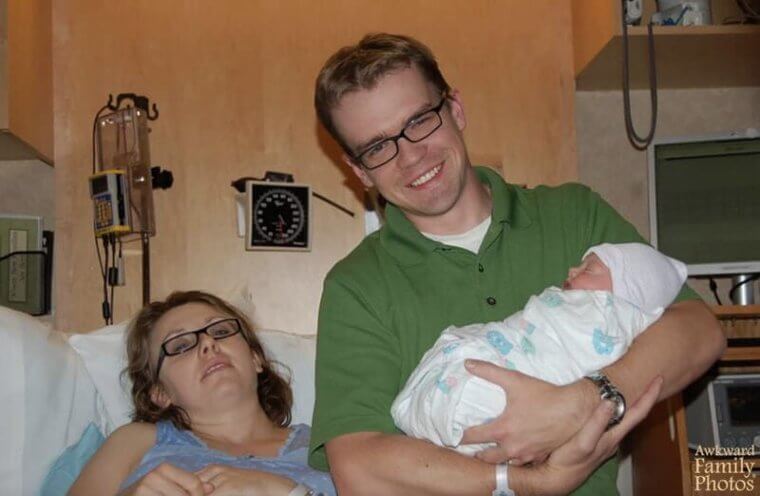 Although it's a nice memory to have, taking a photo soon after a mother has finished labor is not usually the best idea. And it seems that this mother spent an awfully long time in labor, so she was one tired new mom! It's all too evident in the photo too. At least she knows there is one accurate depiction of how her day had gone.

These Pregnancy Announcements Will Have You in Fits of Laughter
If you or your partner are pregnant, congratulations are in order! Especially for first-time parents, this could be the most exciting news of a lifetime. That is why the announcement is of the utmost importance.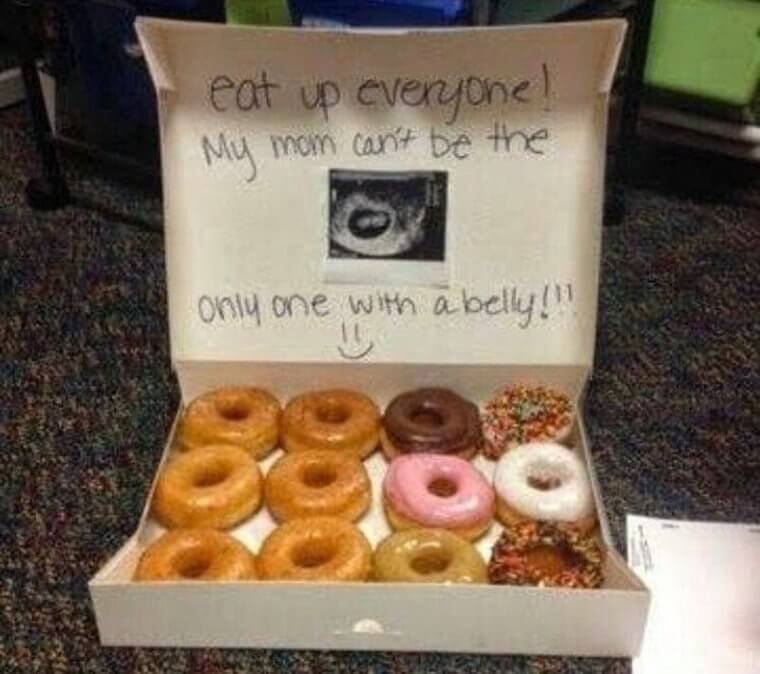 While some parents are content with a professional photoshoot, others may be tempted to show off their sense of humor and creative skills. Many of these parents-to-be have really bumped up the entertainment factor, even involving older siblings and pets…

A Bun in the Spaghetti?
It looks like this couple is shocked speechless about their new pregnancy, so they had to think of a different way to break the news to family and friends. These two let the pasta sauce do the talking by adding a simple 'we're' in front of the name – genius!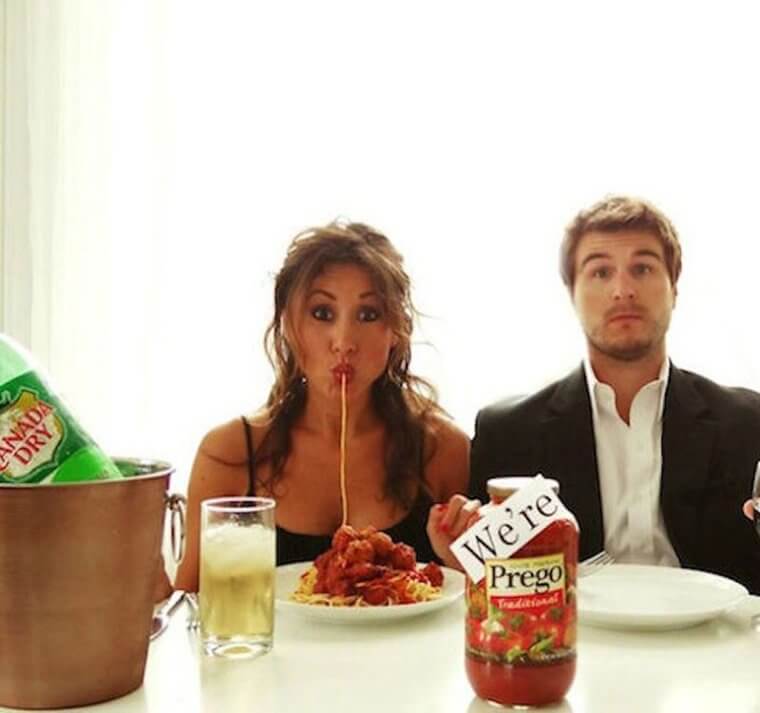 The other giveaway is of course the soda in the ice bucket instead of wine and the doubled size of her portion of spaghetti with meatballs… In fact, she hasn't left her baby daddy any food! He will have to find consolation in that glass of red wine, although it's probably not a sufficient meal replacement.

A Blockbuster Announcement
This poster is playing on a bit of dark humor, which can often be the wittiest. By removing only one letter from the post-apocalyptic drama movie's name 28 Days Later, we can get a very clear message from the title of this movie.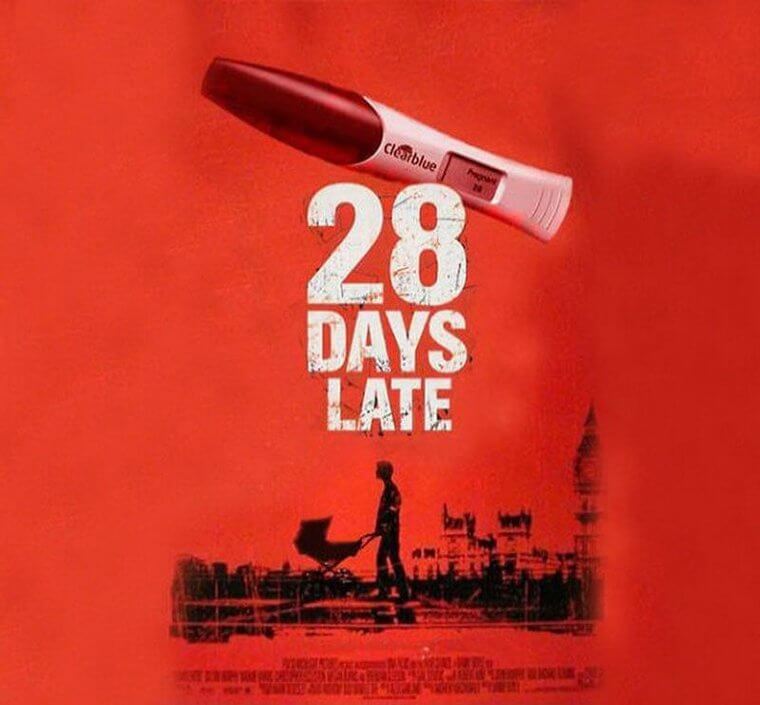 These guys didn't have to be Photoshop professionals to make their announcement interesting and funny, in an ominous sort of way. They have successfully made the news seem terrifying and fantastic at the same time! There will definitely be parents-to-be who can relate to that.
A Baby's Best Friend
Is it 'pawsible' to get any cuter? In this case, yes, because our adorable pup is not only being cute, she is also making a very important announcement. So, listen up everybody! There's a human sibling on the way and this big sis is excited.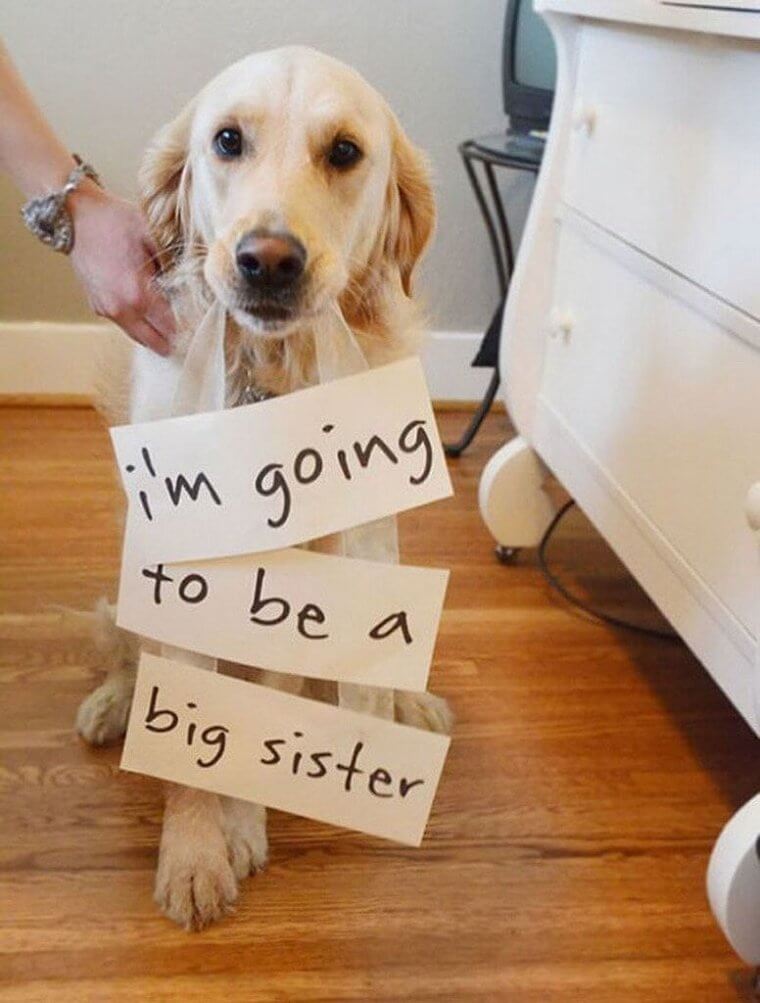 By the looks of this well-trained and beautifully groomed fluffy friend, these parents have already accomplished some goals in the parenting field. Well done guys, and well done to this fur-child. We think she deserves a round of applause and a special canine treat.
More Space Needed on That Line
Some people may define adulthood as the perpetual cleaning of your kitchen. Laundry is a similar phenomenon – it never ends! Even though we now have the convenience of disposable diapers available, having a baby or small children definitely guarantees a significant increase in the loads and loads and loads of laundry. Welcome to parenthood.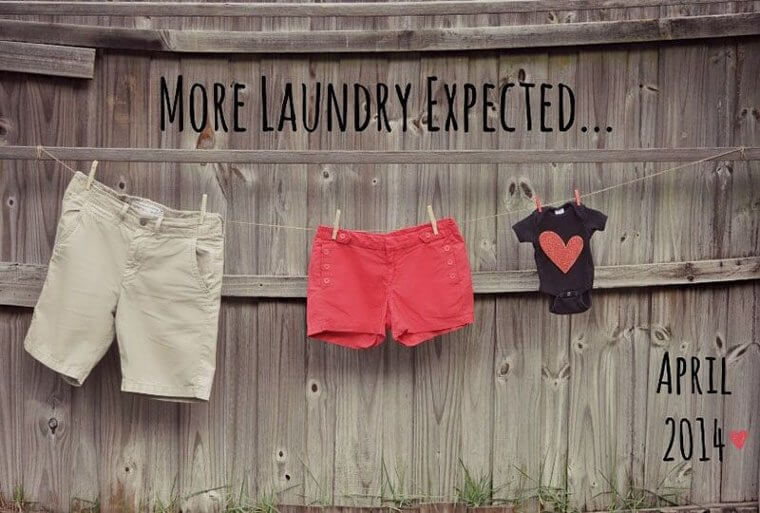 One could argue that more laundry is guaranteed, not only expected. And it's not just the amount of laundry, but also the severity of the soiling that can be expected, especially once the baby starts eating its first real food. It's all fun and games!
Fill Her Up
We all know that talking to kids about 'the birds and the bees' can be uncomfortable and we can imagine that some parents invent very creative stories. The most popular, of course, is Mr. Stork, the baby delivery bird. If that story is not going to fool your child, then maybe this hilarious illustration will do better!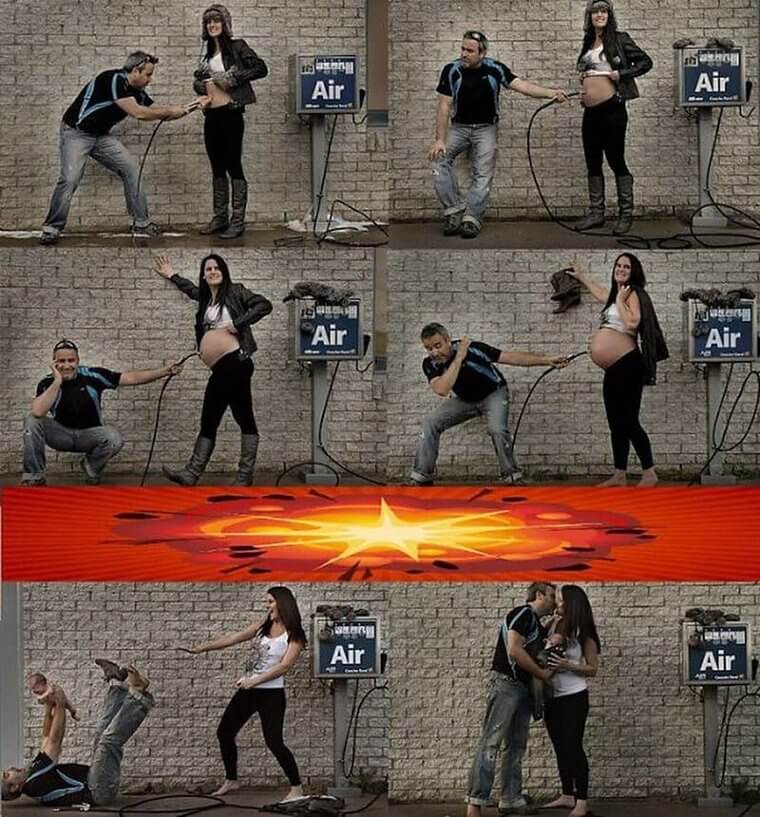 This couple definitely scores a ten for execution and attention to detail. Besides the timeline that we can gather from the changing seasons and shedding of mom's clothing, dad is also a superb catcher of flying babies! And that is it, this baby was created out of thin air. This photoshoot must have raised some suspicious looks from other patrons at the station…

It Might Be Upside Down
For many married couples, the next natural step is to start a family. This young couple has obviously decided to do just that, but they seem a bit confused… Parenthood is not exactly a subject in school or varsity. How does this work?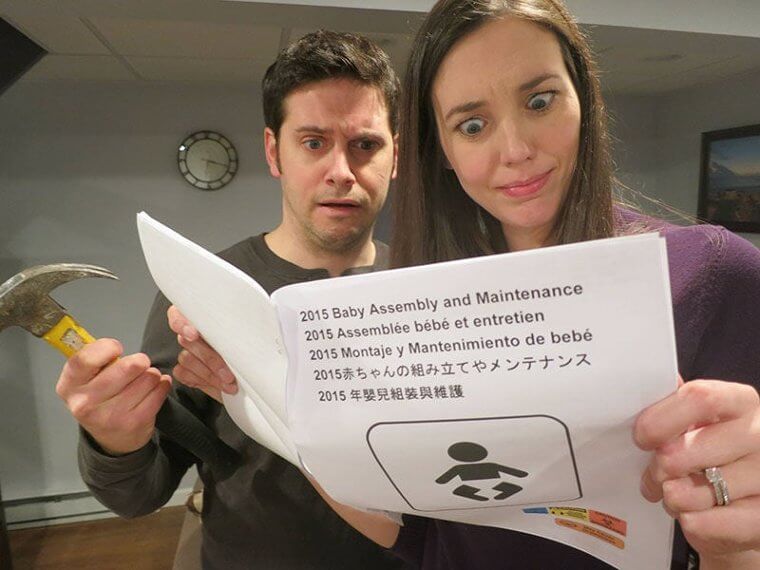 Luckily, they have the help of a baby manual at hand, although dads are notorious for not being able to read those. Mom looks somewhat worried herself. What makes this photo hilarious is the fact that most parents would have felt like this at some point. They will just have to hold on and enjoy the ride!
It's Definitely a Hit
If you don't automatically want to say "baby" after hearing the words "ice, ice", it can be argued that you have been living under a rock… And you will also be very confused by this photo of a man with two bags of ice and a woman holding her hands in a heart shape in front of her abdomen.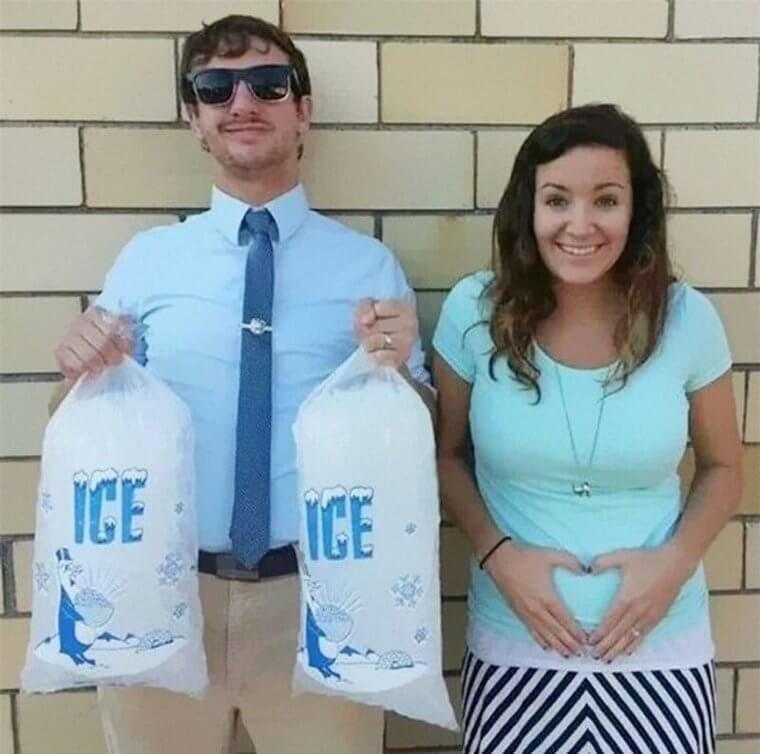 Fortunately, we know well that they are announcing their pregnancy by illustrating the words of the famous song and they sure do look very impressed with themselves and the news of course! This clever and creative photo is hilarious! Well done and cheers to that – you can sip on plenty of chilled drinks now.
When Will It End?
Here we have something more like a progress announcement than a pregnancy announcement. With computers and the internet being such a dominant part of most of our lives, perhaps only the grandparents (or great grandparents) may have trouble understanding this picture. This mommy's tummy is about four months in the making according to the loading bar.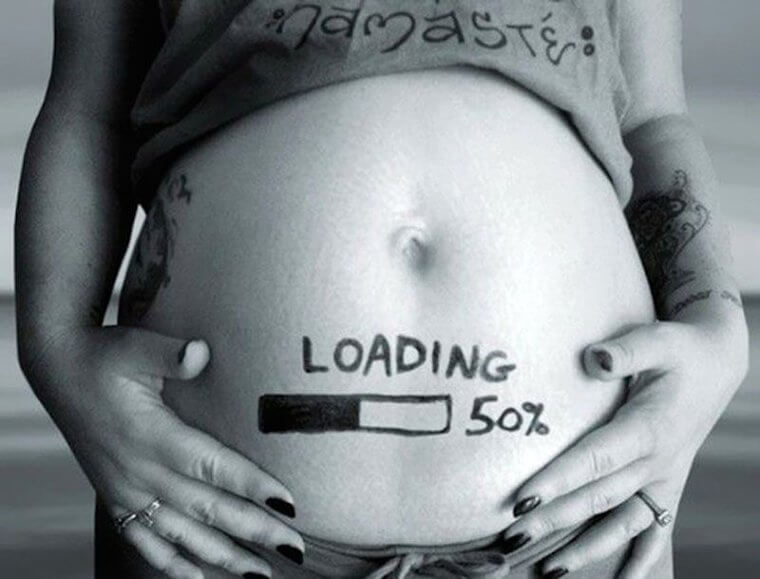 Maybe these parents are too excited and tired of waiting to meet their newborn, an emotion regularly experienced when watching a loading bar on your computer. Well, it is a good feeling crossing the halfway line. Hopefully, it's all downhill from here!
Talk About Pinning a Good Idea
A little simplicity can go a long way. These safety-pin parents are sure to produce some very creative and inquisitive safety-pin offspring. Where did this family find the inspiration for this sweet idea of showing their special news?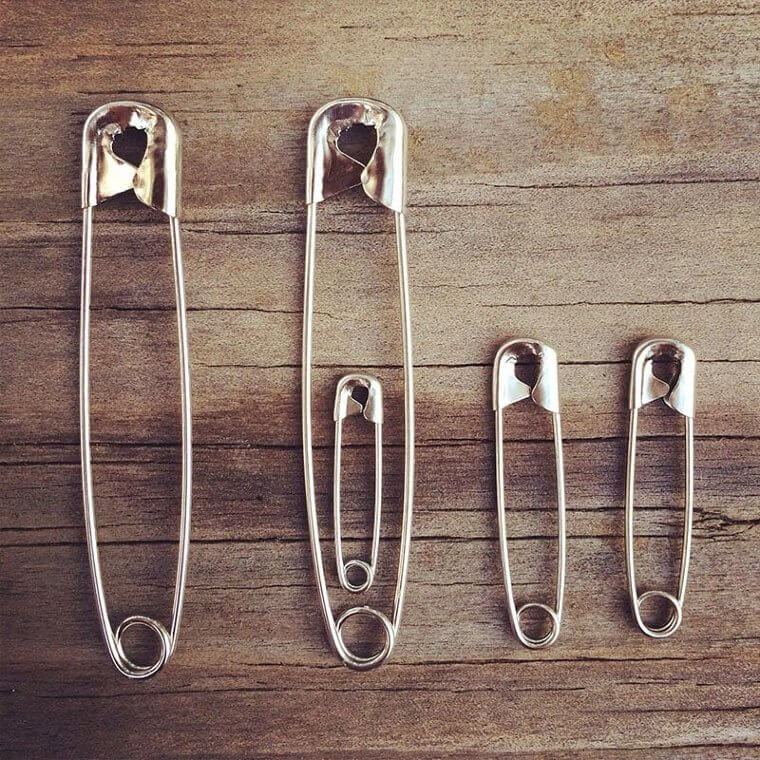 The picture has us wondering how many different sizes of safety pins exist in this world? Well, enough to show us an expectant mommy with a partner and two children. That's pretty accurate! Perhaps it was grandma's idea as she would have likely used these pins to secure mom's diaper when she was a baby…
Can You Say "Excited?! "
It would be impossible to pack more surprise into a photo than this one. The message is clear – There is a (surprise) baby on the way and that will bring the number of children in the house up to three. We can understand the girls being caught unawares, but one has to wonder if dad had a little heads-up.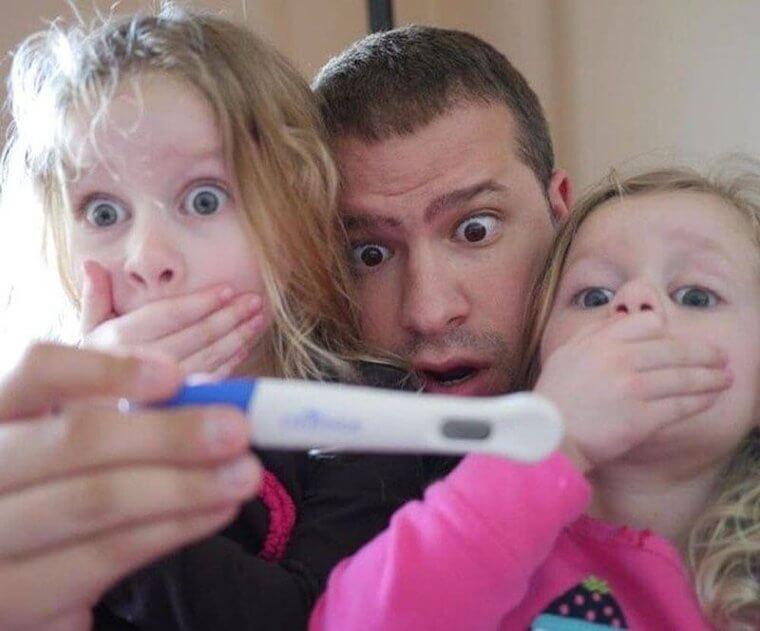 We are curious to know mom's thoughts… Is she equally as surprised or is her expression cool, calm, and collected? With two such cute faces, we wouldn't blame her for wanting one more. But three rhymes with mutiny, so these parents better watch out now that they will be outnumbered by their kids!