Who knew that spelling could be challenging even after years of memorizing vocabulary lists and learning about grammar rules? Whatever the case, making errors proves that we are human, and everyone has made a spelling error while scribbling or typing on their computer in a hurry. However, these amusing gaffes demonstrate that some mistakes are guaranteed to make you laugh out loud. Enjoy!
A Program Spelling Mistake That Makes You Ponder Your Existence
We are all haunted by the great existential questions, such as "What does it mean to be alive?" and "Do you want to exist?" While the majority of these questions are ones we'd prefer to answer alone, this software appears to want every user to consider whether they're "...sure you want to exist?"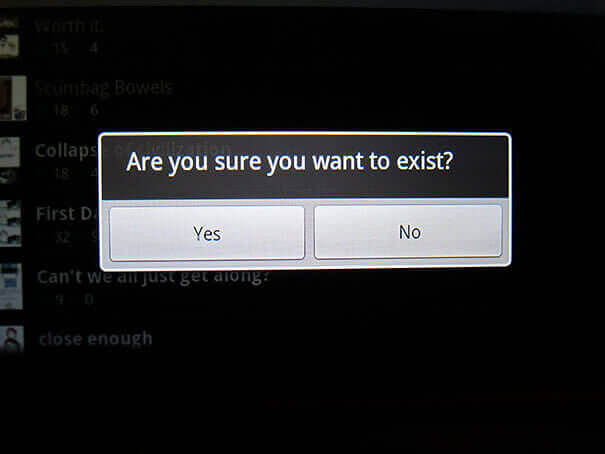 That is a significant question to ponder when all you want to do is exit something. We truly hope that the majority of respondents chose "Yes" for this one. If anyone selected "No," it may be time to contact the nearest mental health professional for some counseling.
Maybe It's Not a Spelling Mistake But Intended Punishment For Caught Shoplifters
While right and wrong are not always black and white, shoplifting is generally considered a big no-no. Numerous stores that apprehend shoplifters either detain them until the cops arrive or take a photo of them and post it on the wall, stating that they are not permitted to enter the store again. These are fairly standard sanctions.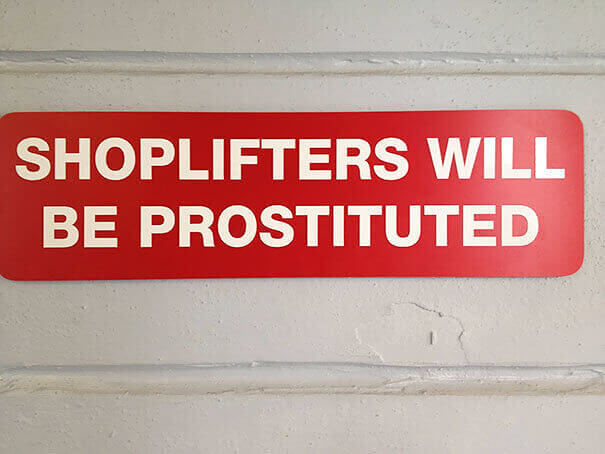 However, not all stores are alike, and this one appears to have a rather unique punishment in mind. Anyone caught shoplifting will apparently be expected to join one of the world's oldest professions. We understand that this is supposed to be 'prosecuted,' but the alternative punishment appears to be significantly worse.
Who Is Mr. Handel And What Does He Have to Do With the Microwave?
Microwaves are one of those kitchen appliances that we don't require but that significantly simplify our lives. While an oven can heat food in about 20 minutes, a microwave can do so in a matter of seconds. Although both of these roommates had microwaves, one decided to inform the other that the 'Handel' was broken.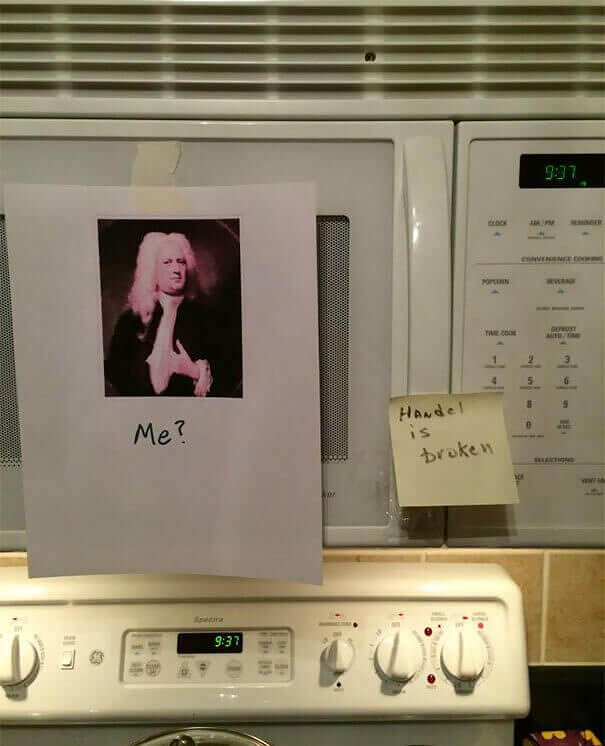 Normally, this roommate would have ignored it, but this was an opportunity they couldn't pass up. Anyone familiar with classical music is aware that Handel is one of the greatest composers of all time, and he appears to be broken, just like this handle.
You Need to Be Smiling Even When Going #2 When Working at McDonald's
Working at McDonald's requires you to be prepared to smile throughout the duration of your shift. It's impossible to provide the same level of service without a big smile, especially during the afternoon shifts.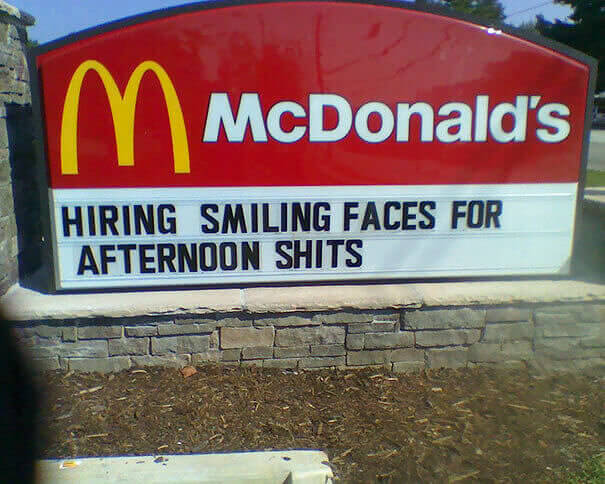 Normally, most people would be happy to accept a good shift and a smile, but this McDonald's appears to cater to a crowd of people who are suffering from stomach issues that they are unable to control when they arrive for their Big Mac meals. It appears to be a particularly stinky shift, which explains why they are having difficulty filling afternoon shifts at the moment.

Nothing Will Ever Happen to Your Car But Only If You Park Illegally
Most parking lots charge different rates depending on whether you park during the day, at night, or even during the week. Posting signs with these rates and warnings about what will happen if someone parks illegally are fairly common, and that's exactly what this parking lot did in this instance.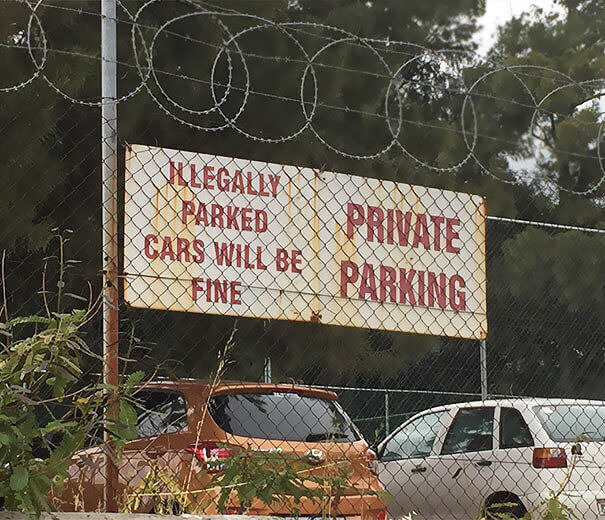 Someone must have forgotten to actually read the sign before putting it on the lot, though. In private parking, the entire concept is that cars cannot park illegally, and if they do, they are either fined or towed away. All of those illegal parkers out there will take one look at this sign and conclude that it is perfectly acceptable, or you could even say "fine," to park in this location.

If You Don't Pay Your Parking Fee You Will Cease to Exist!
Existing is difficult, but having to pay a parking ticket before you can exist is even more difficult. Generally speaking, a person exists when they are born, when they grow up, and when they leave their mark on the world.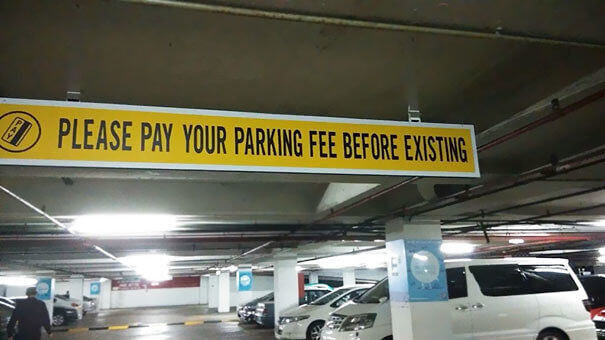 According to this sign, you will only begin to exist once you have parked your vehicle, completed your shopping, gotten back into your vehicle, and paid for your parking space. That is a significant number of steps to simply exist in the real world. Hopefully, no one paid too close attention to this sign, or else there might be a parking lot full of drivers experiencing existential crises as a result.

Get Ready For the Next Best Thing In the Food Industry - Dognuts
Spelling is extremely important, especially when it comes to food preparation. When something is spelled incorrectly, the meaning of the word changes completely. Doughnuts are delectable balls of deep-fried dough that are hard to resist picking up a dozen or two or three of them at a time. This bakery expected their doughnuts to be a big seller, but someone decided to label them as 'dognuts.'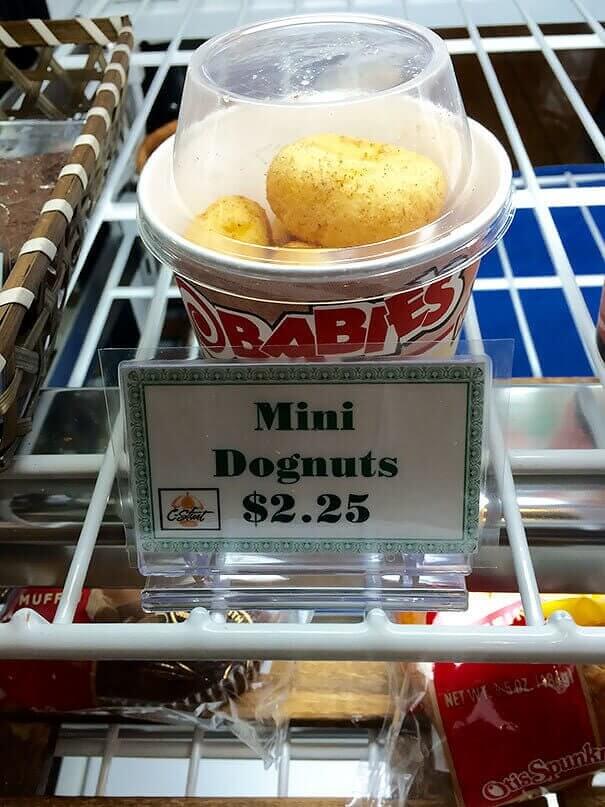 It seems that they weren't a huge hit, as "Dognuts" don't sound particularly appetizing, despite the fact that they may be considered a delicacy in some countries. Although this spelling error should have been corrected immediately, it appears that some unlucky shoppers were able to enjoy some 'dognuts' before they were all gone.

When You Don't Know If Its Best to Drive Slow or Fast
Drivers are required to slow down in certain areas of many cities, such as school and hospital zones. Some highways, such as the autobahn in Germany, are open to drivers who want to travel as quickly as possible.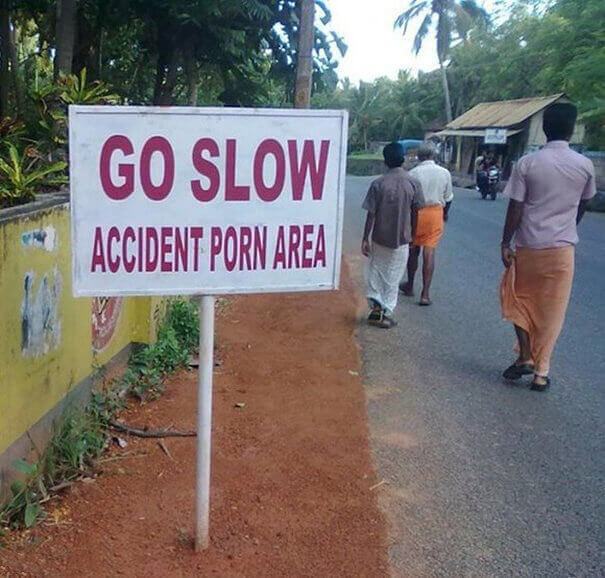 This city appears to have a specific area designated for a certain type of risque acting, which appears to be taking place in the open, which is quite unusual in this city. We could understand this sign if we were in Las Vegas, but we aren't, so we can't. If what this sign claims is taking place is actually taking place, we imagine a lot of drivers would be interested in cruising by slowly and taking a look at all of the action.

The Difference Between 'Firsthand' And 'First Hand' Can Be Measured In Happiness
Getting work experience while still in high school can be a difficult task to accomplish. The only positions that are truly available are those in the service industry at entry-level salaries. Nonetheless, learning how to collaborate with others, as well as handling cash or serving food, are valuable skills that can lead to bigger and better opportunities for post-secondary education and training.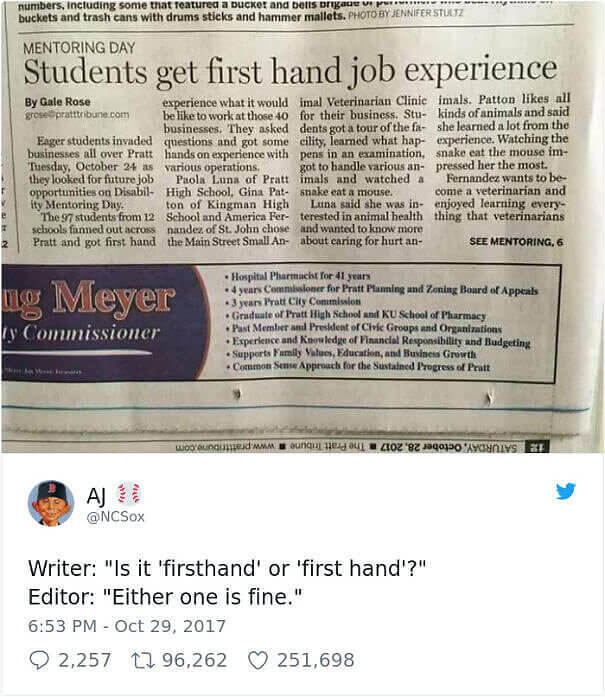 In this case, however, one student received their 'first hand job experience' rather than their 'firsthand job experience,' as stated in the headline. The last time we checked, those two phrases meant completely different things, and it's likely that one lucky student experienced both of these during his or her high school years.

School Was Apparently "Two" Hard for This News Editor
School should never be overly easy or overly difficult. It should be just difficult enough that students are motivated to succeed. This newscast made it appear as though School One is extremely difficult and School Two is far too easy.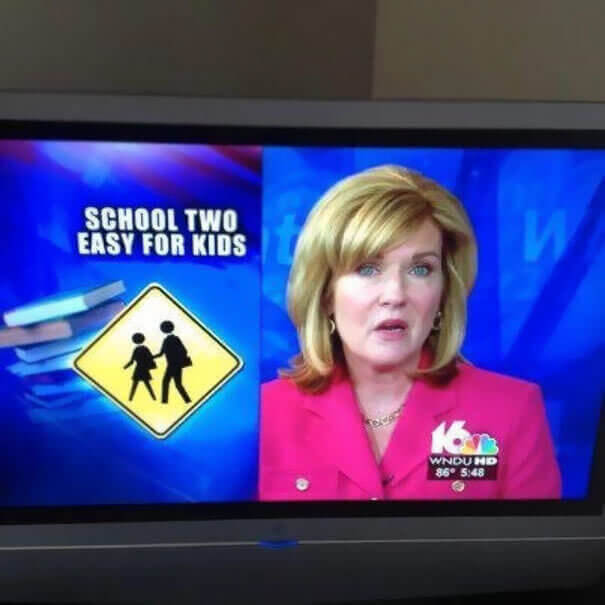 By elimination, School Three must be just right, and it must be a school that students desire to attend. Certain parents must have contacted this news organization for clarification. Whoever was in charge of the teleprompter must have received a lecture as a result of this gaffe. If anything, this demonstrates how critical it is to learn how to spell in school, and perhaps this individual needs to return for a few spelling lessons.


Are You Sure That Colon Smells That Nice?
There is an extensive list of things that smell good, including freshly laundered clothing, freshly cut grass, and pleasant perfumes or colognes. Certain men and women prefer to have a signature scent that serves as a reminder of them, and these men certainly made an impression on these women.

Smelling a man's colon would undoubtedly leave a lasting impression, but not in a pleasant way. Colons and their odors belong entirely within the body, not on the outside. We sincerely hope that these women are recalling 'cologne' and not the smell of the colon. Any man who wafts the odor of his colon is someone you want to avoid.

The World Where Pears Are Thinking About You and Your Accomplishments
Fruit is becoming increasingly sassy these days, and this fortune is ready to remind the world that pears are among the sassiest of all the fruits on planet Earth. The majority of fortune cookies contain generic messages such as "You will achieve success in the future," but this one does not.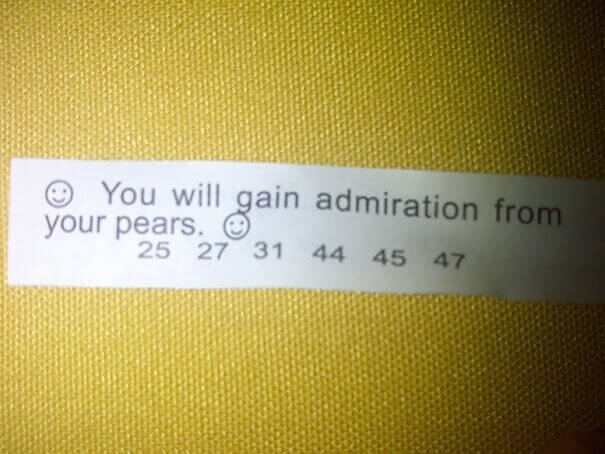 Instead, pears will finally be able to appreciate everything about this individual, which is something they must have wished for many years now. Who knew that pears were keeping their admiration to themselves? Personally, we would prefer to gain the admiration of our 'peers,' but we believe that receiving admiration from pears is preferable to receiving no admiration at all.

Going Into 'Pubic Restroom' Feels As Gross As It Sounds
At some point in our lives, we've all walked past a handwritten store sign and noticed a spelling error. Often, these errors are not readily apparent, and in some cases, they completely alter the meaning of the sign. Many businesses do not have public restrooms because they do not want random people who are not customers walking in and using the facilities.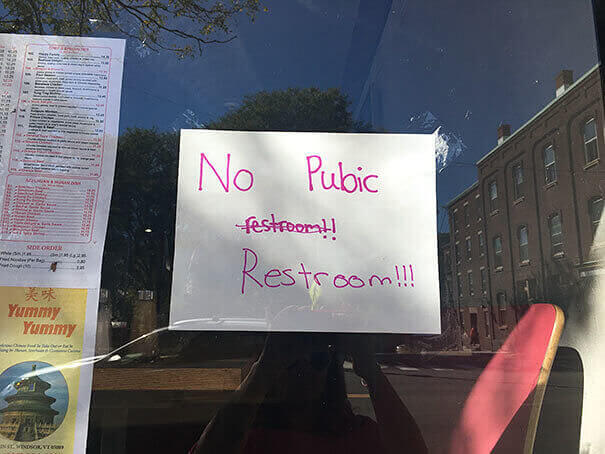 This restaurant decided to inform the public that they do not have 'pubic restrooms' instead of 'public restrooms.' Something must have been lost in translation here, as the restroom is spelled correctly on both occasions. We are not interested in learning what occurs in a "pubic restroom" – it's probably as gross as it sounds.

When Firefighting Job Entails More Than Dealing With Fires and Kittens
Being a firefighter means being on the lookout for fires or situations that necessitate the use of emergency services at all times. Most firefighters have come across some bizarre situations in their careers, but this one has to be the best of the bunch, or at the very least, a serious spelling error.

A group of individuals appeared to have gathered in the middle of the road and decided to enjoy themselves in an unusually graphic manner while the fire burned. A fire hose would have come in handy at this point, no doubt about it. The firefighters must have gotten a nice hose down from above as they put out the fire and the flames of their passion for anyone who happened to be standing in the middle of the road.

Scuba Divas Are Definitely Causing Too Much Underwater Drama
Among the activities that aren't typically associated with diva behavior is scuba diving. The music industry, on the other hand, is full of divas who like to make all kinds of bizarre demands, such as only having toilet paper in a specific shade of red or only having red candies in a bowl of water.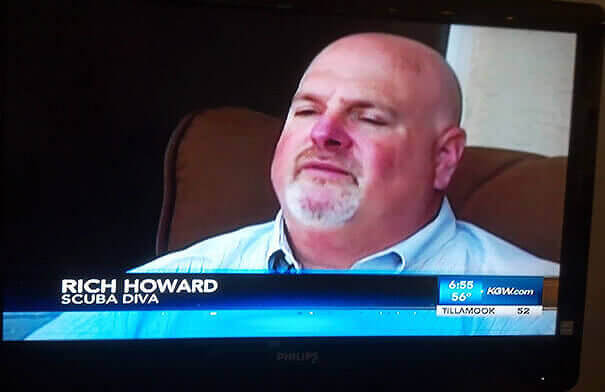 Rich Howard, according to reports, is a member of a little-known scuba diva club. Do scuba divas insist on the purest oxygen possible while diving, as well as the tightest-fitting wetsuits available? This caption must have been written by someone who had forgotten that the terms "diva" and "diver" mean two completely different things.

Erections Can Be Extremely Embarrassing No Matter Where They Happen
When cranes and other large machinery are involved, construction can be extremely taxing on the body and mind. This road crew had to have been working around the clock to ensure that whatever they were building was completed on time and within budget. All roadworks, of course, necessitate the installation of a sign informing the public of what is taking place and why a road or roads may be closed to traffic.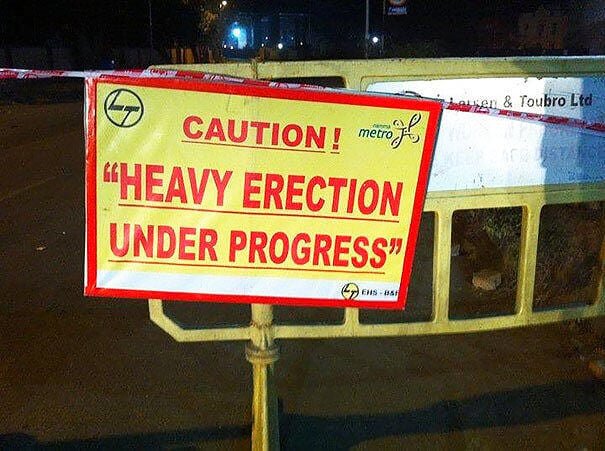 There are certain words in the English language that, when spoken aloud, cause people to laugh out loud, such as moist. Another word that comes to mind is erection, which can refer to both the construction of a building and the installation of a sculpture or even a completely natural reaction of the human body. There is unquestionably a double meaning to this sign.

Even Language Instructors Can Make Spelling Mistakes – Would You Trust Them Though?
Not all language instructors are equally capable of instructing. Some have studied extensively at university, while others have taught themselves through self-study while watching English television shows. Both are capable of speaking the language they have acquired, but their approaches to teaching it may differ slightly.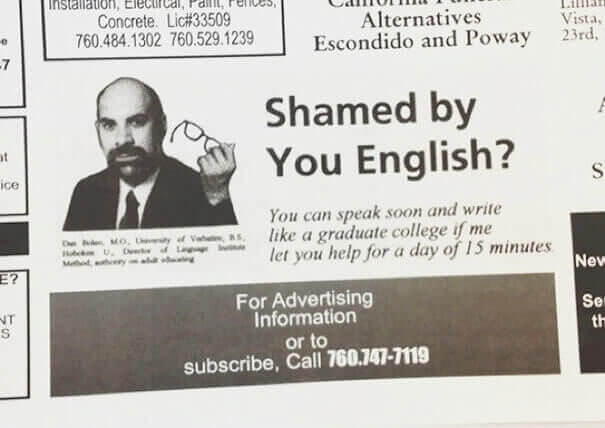 Consider this advertisement for English classes and the so-called English used to entice students. There are literally no grammatically correct English phrases in this advertisement. If you want to learn how to speak English like a native speaker, you should avoid this guy; however, if you want to learn how to speak Spanglish, he may be the ideal instructor.

Maybe This Teacher Doesn't Deserve This Award After All
Teaching is their profession, and because they are forming the minds of tomorrow, it is assumed that they are familiar with proper grammar in the language in which they are instructing students. There is no such thing as a perfect teacher, and we are all guilty of making grammatical and spelling mistakes.

However, when it comes to permanent signs, we would like to believe that teachers will double-check their own spelling before printing. However, it appears that this teacher missed a grammar lesson and did not understand the difference between the words 'your' and 'you're.' Hopefully, one of the students realized what was going on and not one of the parents.

What Can Go Wrong If You Swap Out The 'A' In Faces For An 'E'
Customer service and other customer-facing jobs are among the most difficult to perform. A common workplace rule is that "the customer is always right," which means that even if an employee is being harassed by a customer, they must maintain a friendly demeanor by smiling and being friendly back.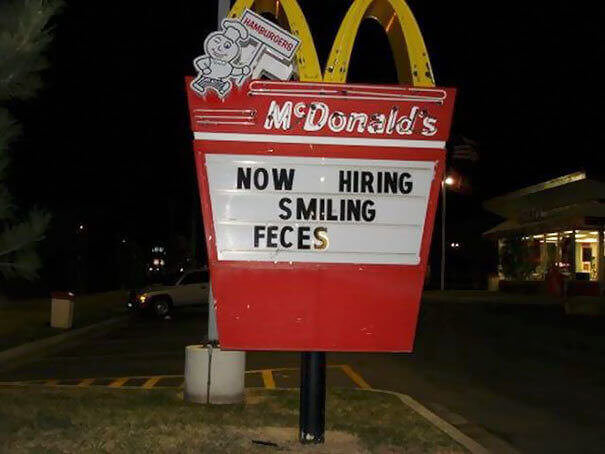 Every employee at McDonald's is expected to have permanent smiles plastered on their faces in order to make their customers feel welcomed. It's not easy to keep a smile on your face for hours on end. This McDonald's sign, on the other hand, indicates that they are not hiring 'smiling faces,' but rather something else that has no business smiling at all. It appears to have been a lengthy hiring process.

You Can Only Take Wood With Prescription Medicine If You Are a Beaver
The expectation in most countries is that when doctors prescribe medication, patients will immediately head to the pharmacy to fill the prescription. The pharmacist then comes over and instructs the patient on how to take the medication and to simply follow the directions on the bottle.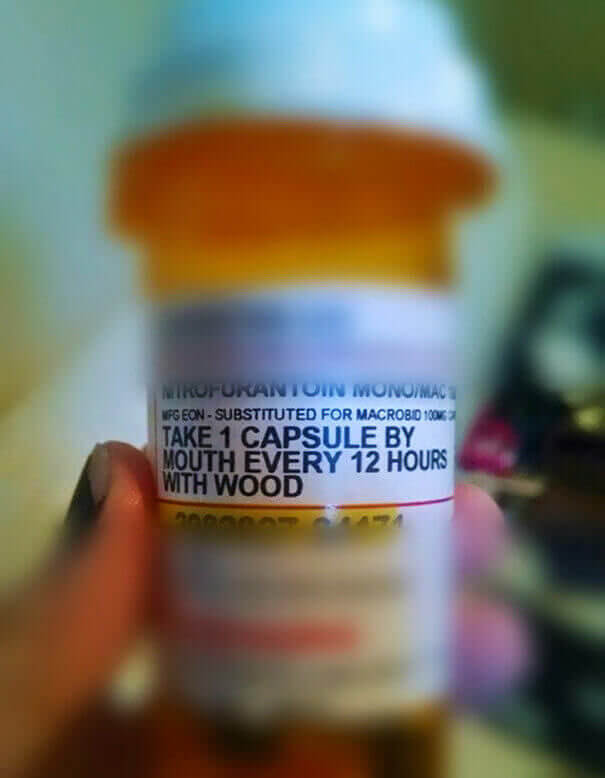 Having been prescribed some pills, this woman decided to take a look at the bottle and follow the directions on the label. Despite this, there was one minor snag, which was caused by a typographical error. When someone tried to hit the "F" button, they accidentally hit the "W" button, which means that this medicine must be taken with a delicious side of wood.

You Would've Thought That Executives Are Having a Lot Of Fun With All That Money
Some people have been aiming to reach the executive level of their corporate jobs for decades, and for them, reaching that level is a lifelong goal. It finally means that you have the authority to shape your organization and make some significant decisions about its future.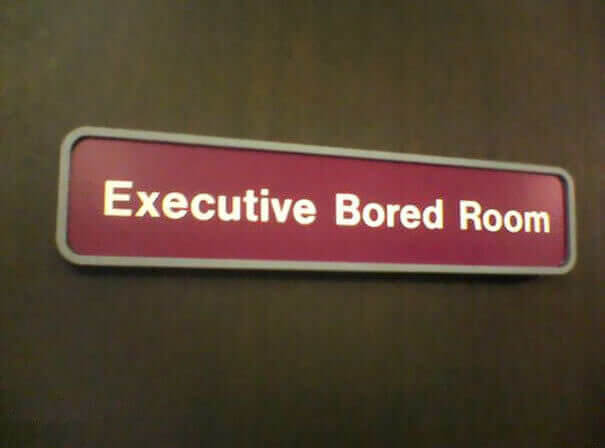 Additionally, it may entail gaining access to certain perks, such as luxurious washrooms and the much-coveted executive board room, at some companies. The executive board room is a revered space that is usually furnished with the most comfortable chairs. After that, the executive 'bored' room looks completely different. Assuming we were correct, this room must be packed with CEOs who are on the verge of falling asleep during a tedious presentation.
It's Best If You Don't Eat Penis-Flavored Snickers to Sate Your Hunger
When it comes to candy bars, consistency is important to consumers. When you buy a Mars bar or a Snickers bar, you know exactly what you're getting. A Mars bar is always chock-full of caramel goodness, and a Snickers bar usually has a generous layer of peanuts incorporated into it.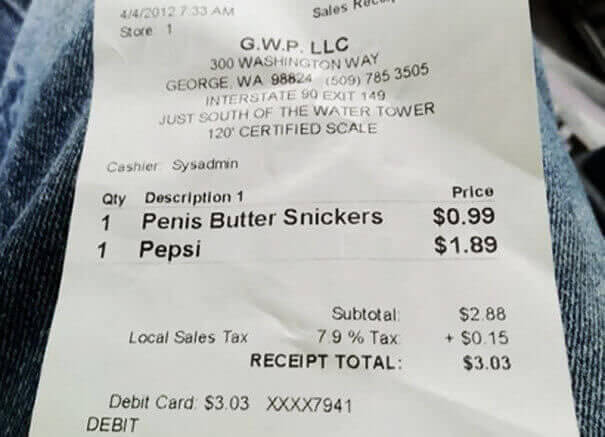 It may sound like a certain part of the male anatomy if you speak slowly, but the spelling of peanuts is a little different. One of the clerks must not have realized that the word peanuts is spelled with the letter P, and he or she must have thought that male anatomy flavored Snickers sounded a whole lot more appetizing.

Nobody Is Going To Freeze Their Buttocks Off Due To This Weather Forecast
Winter months can be dreary in any country, but they are especially so in the United States. Some, such as the Pacific Northwest, are characterized by prolonged periods of rain, while others, such as the East Coast of the United States of America, are characterized by heavy snowfall.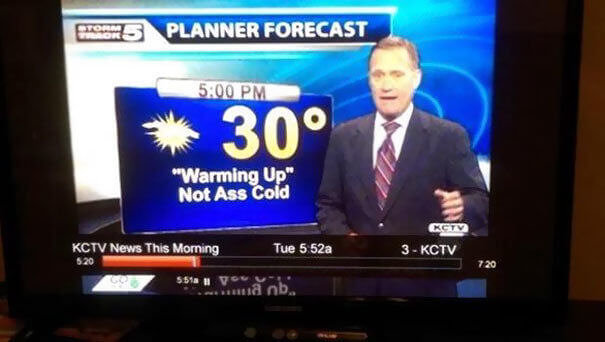 When the weather finally begins to warm up, everyone becomes giddy with anticipation. It means it's time to put away the snow shovels and enjoy the sunshine. This weatherman was particularly excited to be able to share the forecast on such a beautiful day, as evidenced by the caption he included. It's getting hot in this place, and soon nobody's buttocks will be freezing, which is exactly what everyone wants to hear about during the morning news cycle.

One Slight Misspelling and Things Are Mixed Up On The Shelves
Creating brand awareness is one of those things that takes time and effort to accomplish. It is first necessary for a company to produce a high-quality product, which will then be noticed through targeted marketing campaigns and positive customer feedback. If a brand is not cohesive, customers may confuse it with other brands and their products that are similar to the one they are purchasing.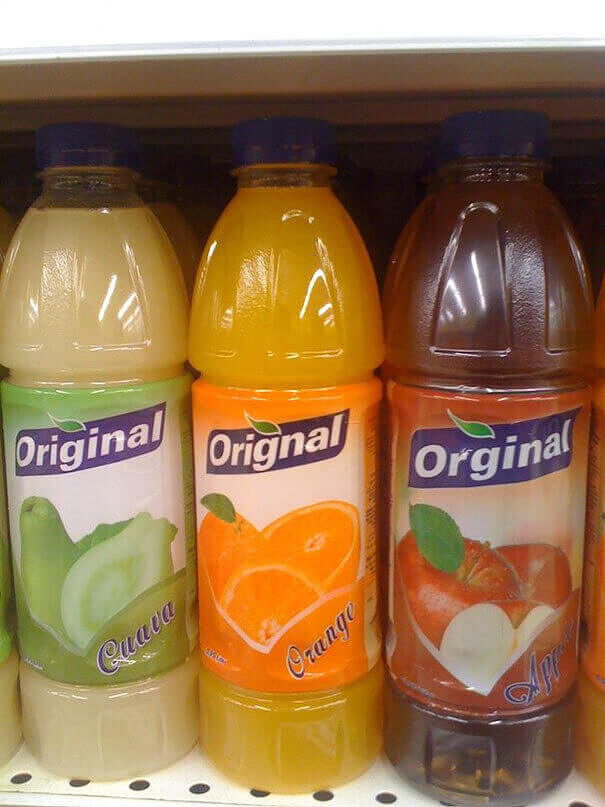 This juice company appears to have taken a novel approach to brand visibility by changing the spelling of the names of the juice flavors on a consistent basis. When it comes to spelling "Original," we prefer to use the correct spelling; however, in this case, we have three different spellings, with only one of them being the "correct" one. It's possible that the company's spellchecker was absent due to illness that week.

Are You Sure That You Can Serve Ape Body Parts to Your Customers?
We would like to reiterate that proper spelling is essential, and the following is an excellent illustration of why correctly spelling words in other languages is so critical. 'Bon Appetit' is a French expression that literally translates as 'good appetite,' but it is also frequently used to wish people a satisfying meal.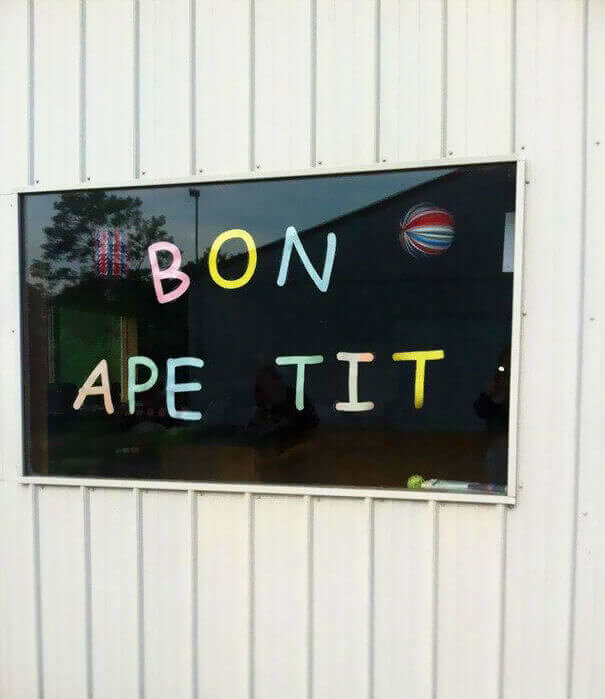 Many restaurants will say this to their customers in order to wish them a pleasant meal, and some will even post signs with the phrase on them to remind them to do so. In yet another classic example of misspelled words, we now have a sign announcing that some delectable ape meat will be served on the evening's menu.

This Person Felt No Regrets After They Got This Tattoo
Tattoos are extremely personal, and for the majority of people, each tattoo that they have on their body has a special significance. Some tattoos are just random flash designs that someone came up with on a night out, but the majority of the time they are much more well thought out than this, as you can see here.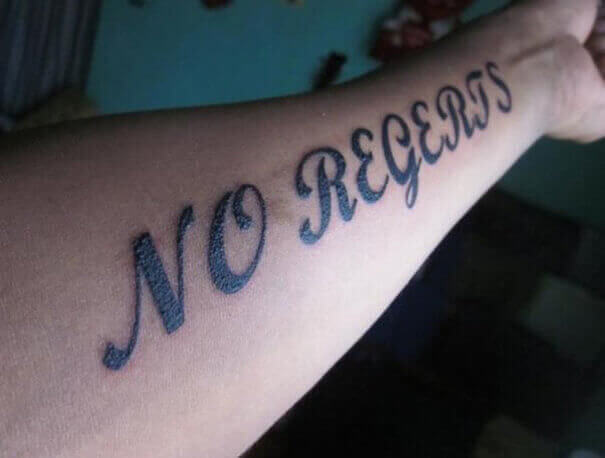 When it comes to tattoos that contain spelling errors, it is always important to ensure that the tattoo is spelled correctly on the body part in question. After all, that tattoo will remain on your body for the rest of your life. The person who got this tattoo probably had some major "regerts" when they looked down at their arm after the tattoo was finished, even though they live in the land of no regrets. It is for this reason that laser tattoo removal exist and is readily available.

All Customers Should Always Use Their Tongue When Purchasing Bagels
Most bakeries prefer that their customers pick out the bagels they want to purchase with tongs or a piece of tissue paper rather than their hands. Hands that have not been washed can be contaminated with germs, and no one wants to spread germs with a complete stranger.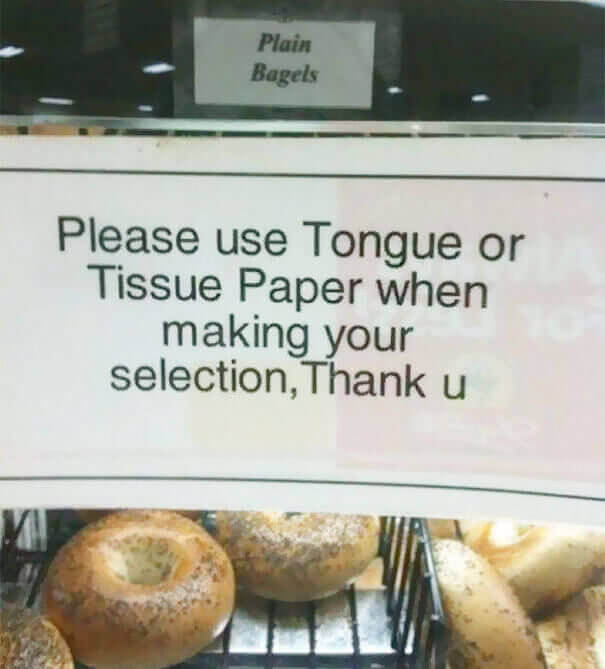 Furthermore, it is quite unpleasant to handle a large number of bagels, especially if you have decided not to purchase them. This bakery must have thought they were providing a valuable service to their customers by displaying this sign. Unfortunately, they have now invited their customers to get up close and personal with the bagels they want to purchase and to give them a good lick before making their selections from the menu.

When You Almost Become a Wanted Felon Because of Small Spelling Mistake
Is there anything more endearing than a cute little puppy? Perhaps an even cuter sight would be a puppy that has just been bathed and swaddled in blankets like a baby. Every time someone acquires a puppy, they can't help but share some adorable photos of them on social media; however, they must make sure that the photos are accompanied by a suitable caption.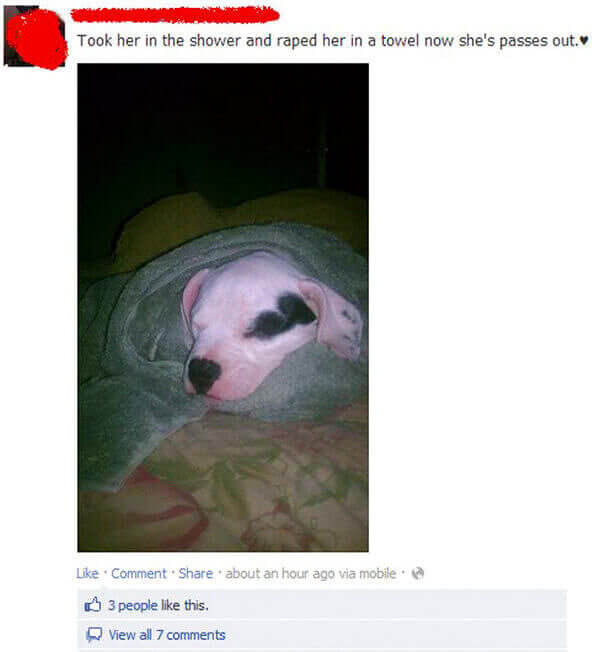 Animals are associated with certain words that we don't want to associate with them, and the spelling error in this case is definitely one of them. There's a good chance that this puppy's owner noticed the spelling mistake because it transforms this photo from adorable to sinister in less than five seconds.

Spellchecking Is One of the Key Skills for Graphic Designers
this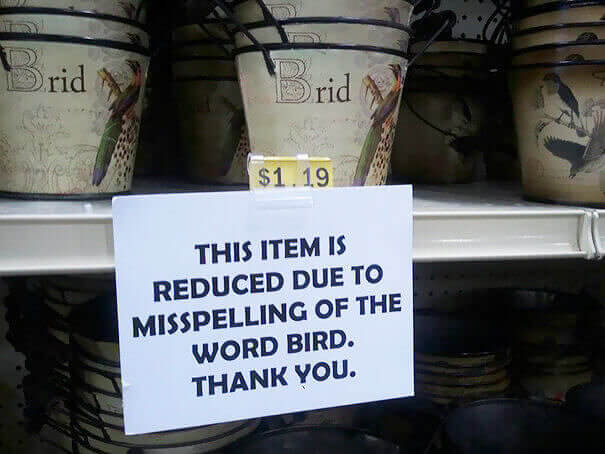 However, they neglected to double-check the spelling of the word "bird" before sending the graphic to be printed at the factory. Due to the fact that most people do not like to purchase products that contain misspelled words, a whole line of 'brid' pots has been reduced in price. " Someone must have gotten themselves into a lot of trouble over this one.

Genitals Declared an All-Out War With Humankind!
A new disease appears to be announced every month, and according to the results of this health check form, this may be the case. As a matter of fact, it has progressed to the point where a full-fledged war is being waged in the name of people's private parts.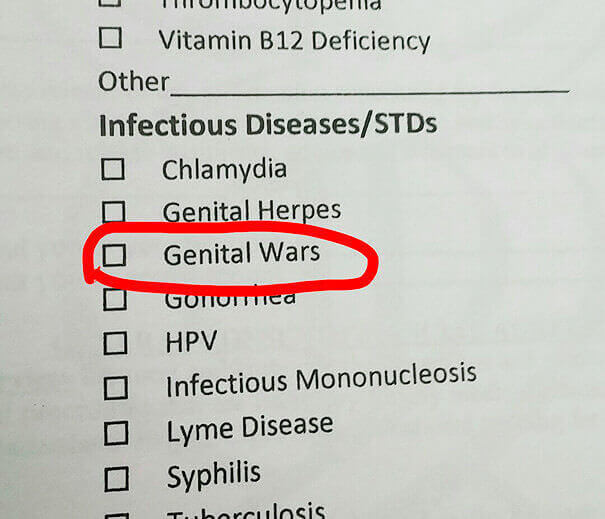 With the simple act of forgetting the 't' in warts, we've gone from dealing with a common disease to fighting a full-scale war. It's likely that the person who noticed the error was laughing on the inside. We hope for their sake that they didn't have to check this box later on in the process. There wouldn't be a lot of laughter taking place at that point.

The Law Compels You to S-O-T-P Right Here and Right Now
In general, road signs are the same color and shape because it helps drivers recognize what type of sign they are looking at and what they should do when they see one. The words are merely an afterthought, and they serve to reinforce the meaning conveyed by the shape and colors.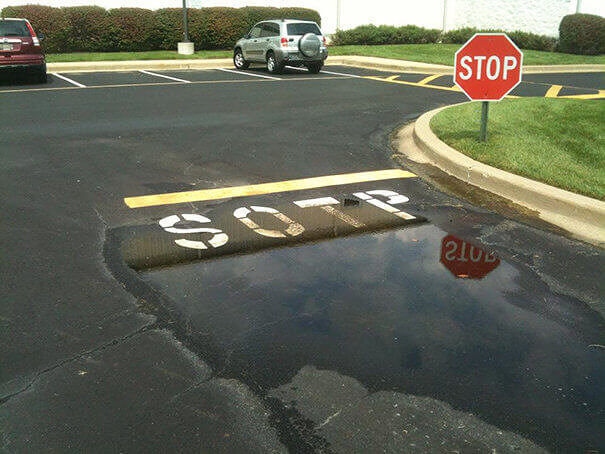 Stop signs are bright red and highly visible because drivers must pay attention to them as they approach intersections and traffic lights. They will also know what to do because of the large STOP sign. Some road crew members decided to try and reinforce the fact that drivers must stop by writing the letters S-O-T-P on the road, which would have been effective if the letters weren't completely misspelled.

Please Exorcise Possessed Dogs Only At Labeled Exorcism Zones!
In the world of horror movies, exorcisms are a serious business, or at least that is what they would have us believe. No one can just go around performing exorcisms wherever they want and whenever they please. A great deal of preparation must take place, as well as the use of specific materials and, on occasion, the presence of a priest.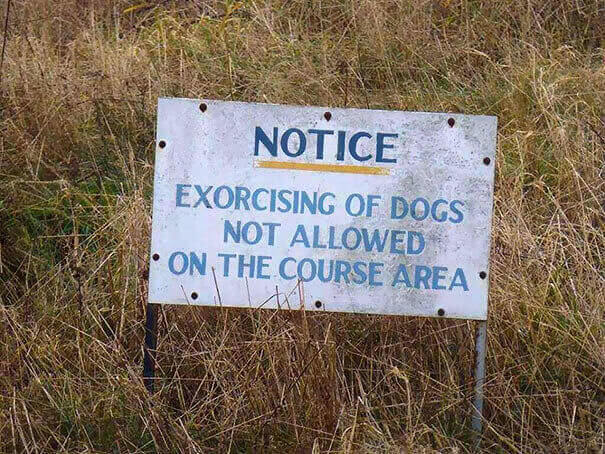 It appears that some dog owners in this park are well-known for attempting to perform exorcisms in the vicinity, which is not permitted by law. We realize that the park officials most likely meant no 'exercising' of dogs, but it's a lot more amusing to imagine a pack of demon-possessed dogs running around the grounds.

When One Letter Makes All the Difference in the World
Look no further than HBO's "Euphoria" for evidence of how difficult high school can be, and all of the mischiefs that the students get themselves into. For the vast majority of teenagers, high school is a time of learning and bonding with caring teachers who are invested in their students' success. One student wanted to emphasize the importance of a few special teachers.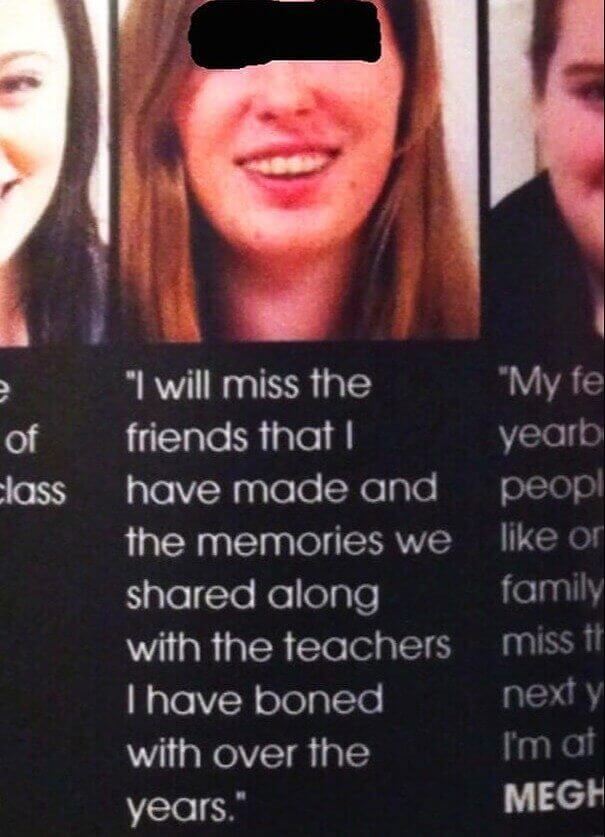 However, she failed to remember to capitalize the 'd' in the word 'bonded.' Now, this high school experience may or may not have resulted in the arrest of a few teachers in the past. We sincerely hope that, following the publication of this yearbook quote, some clarification was provided and that no teachers were disciplined as a result of all of the boning moments.

The "Two" "Too's" Are Coming "To" Haunt You Forever and Ever
Some people enjoy playing the role of grammar and spelling police, and as soon as they notice something that isn't quite right, they report it to the appropriate authorities. That's exactly what happened when someone drove past the sign for this restaurant and noticed that one of the "to's" should have been "too."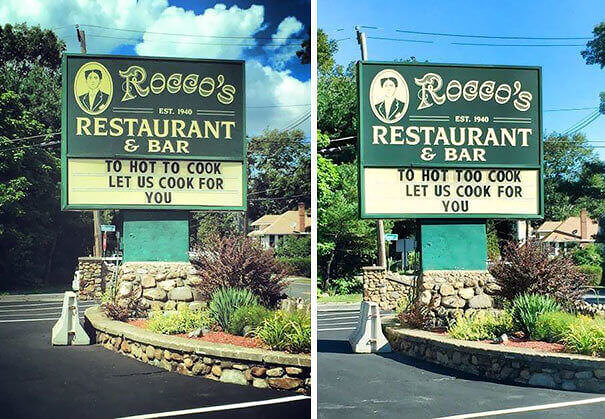 Nevertheless, there was a minor snag: they failed to specify which "to" needed to be changed, which resulted in yet another error. It must have driven them insane when they realized that the sign was incorrect after attempting to correct it the first time. Grammar isn't always as important as we'd like to believe, especially in formal writing.

Are You Sure It's Allowed to Put Organ Meats in Hamburgers?
Ground beef resembles a type of mystery meat in some ways. You are aware that it is derived from a cow, but you are not aware of which parts of the cow have found their way into the grinder. There are definitely some organ meats in there, which is fine.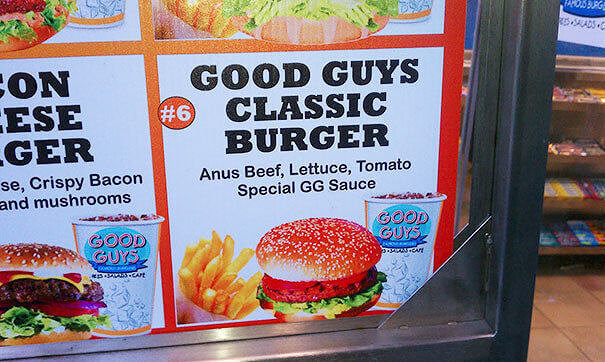 Still, there is one part of the cow that should not be included in the mix, and we are not referring to the head of the cow. There is nothing on this menu that will entice anyone who is looking for something different than the classic 'anus' burger. An Angus burger, on the other hand, is something that people actively seek out to consume.

Maybe It's Better to Stop Flashing and Maybe Start Flushing After Using the Ladies Restroom
While many offices still have gender-segregated restrooms, there has been a shift to more inclusive restrooms that are unisex in the last few years. Restroom etiquette varies greatly from person to person in unisex bathrooms, which is why they are so popular.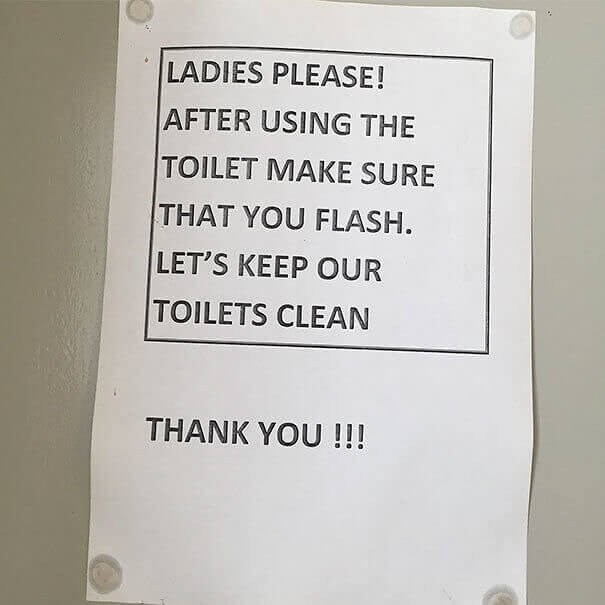 Ladies who have been frequenting this restroom, it appears, have not been flashing people after they have finished using the restroom, according to this sign. Anyone using the restroom at that location must have had a memorable experience. Even though we're not convinced that encouraging ladies to flash in the restroom will help to keep the restroom cleaner, we have to believe that the sign is correct.

English Programs Are Not a Strong Suite of These Fifteen Schools
Billboards are intended to showcase the products and services that a company or business has to offer. Some public schools also like to brag about how superior their educational curriculum is when compared to that of their competitors. We're not convinced that a billboard is necessary to demonstrate how excellent a school is, but if that was the goal for this particular billboard, it fell short of expectations.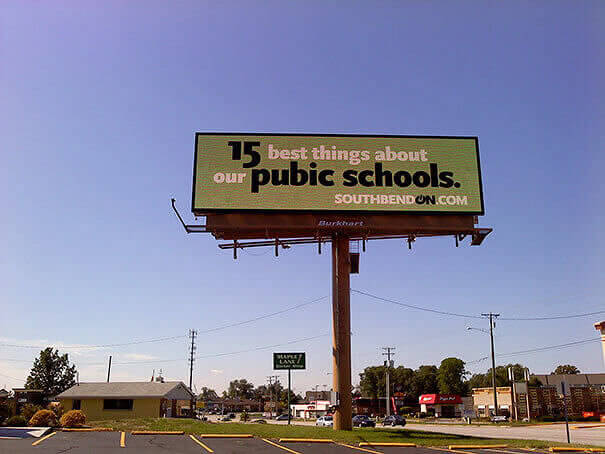 These are the kinds of schools that no parent would want their children to attend if they were looking for a new school for them. To learn how to read, write, and do math, as well as all of the other important life skills, is the whole point of going to school in the first place. If the person who wrote this sign went to one of these schools, it's likely that spelling was not a priority in English class for him or her.

This Prescription Drug Will Only Help You After You Are "DED"
Prescription medication can be used to treat a variety of conditions, including infection treatment, pain management, and sleep assistance, among others. In order for the medicine to be effective, it is generally not recommended that you take it right before you are 'ded.' In fact, one could argue that the entire purpose of taking medicine is to try to prolong one's life as much as possible.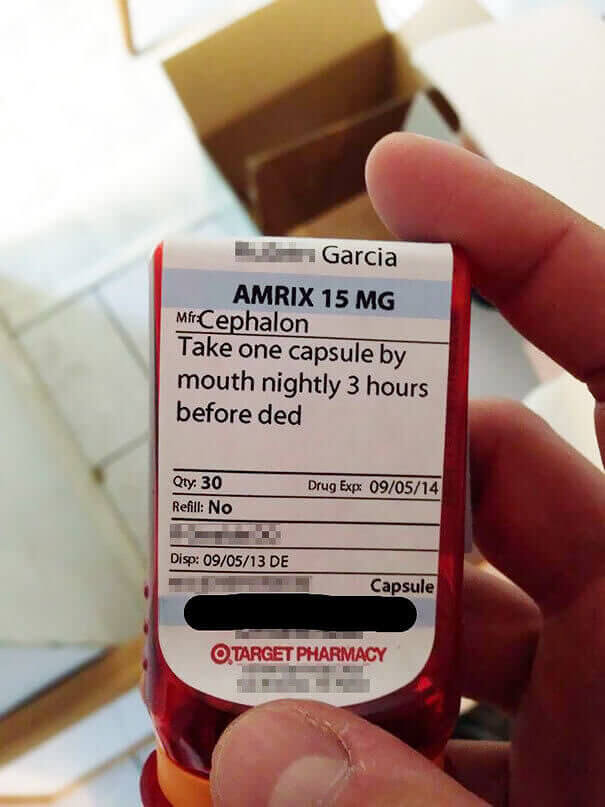 The pharmacist who spelled 'bed' incorrectly as 'ded' most likely didn't even notice the error. Always double-check the directions on your prescriptions; otherwise, you might end up eating wood with it or trying to figure out how long you have left until your demise is three hours away.

Organic Phones Are Not Allowed Here At All Costs
Some establishments, such as museums and police stations, do not permit the use of cellular phones within their premises. This is especially true for museums, where everything is meticulously controlled for temperature and lighting. There is a lot of sensitive information stored in police stations that officers do not want to be shared with the public.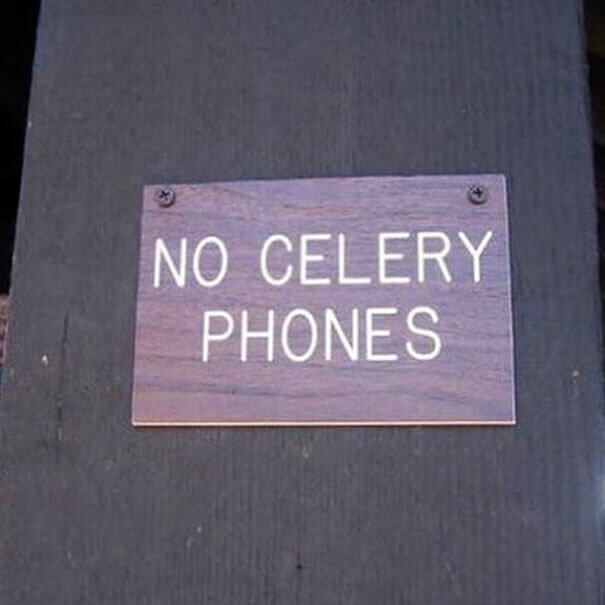 The type of establishment to which this sign refers is unclear, but it is clear that 'celery' phones are not permitted on the premises, according to the message. The jury is still out on whether or not it is appropriate to use a carrot phone or a standard banana phone in a business setting.

A Delicious Meal Just for You – Tasty Beans With a Side of "Special" Videos
A product's promotion and the provision of incentives to entice customers to purchase it are at the heart of marketing. One local grocer decided to sell their cans of pork and beans for a ridiculously low price.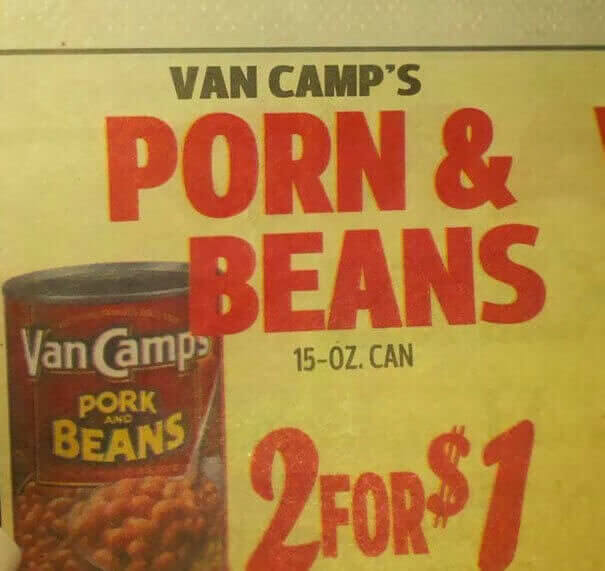 They were able to attract even more attention when they accidentally included some adult content on the side of the cans. It's possible that someone in the newspaper was making a joke that day, or that they simply wanted to provide some free content. A good number of people were probably disappointed that they didn't receive a can of beans with a side of special content as part of their prize package.