You are relaxing on a tropical beach with a cocktail in hand reading a book or just listening to the waves crashing on the shore. We dream of the perfect tan, but that doesn't always happen. From lobster-like tans and unsuccessful spray tans to hilarious tanning lines, here are examples of how we don't want to look on our tropical vacations…
Lets Play Tic-Tac-Toe
As a woman, there are many factors to consider when buying a bathing suit. The shape, the price, whether it's comfortable to wear all day, how it will look under your clothing, and perhaps, what the tanning lines will look like. It seems that this poor girl may have forgotten to check the last item on this list!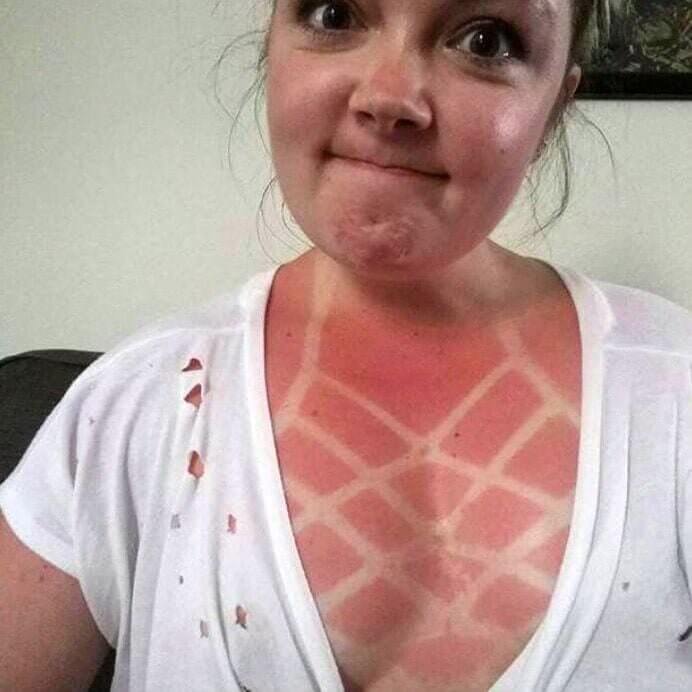 We can imagine that the top of her bathing suit looked very good while she was wearing it, but the aftermath of some time in the sun has got her looking rather comical. The lines are so clear, one can almost play a game of tic-tac-toe in them. She may opt for some strong sunscreen next time, but until then, she will probably want to wear some high-necked shirts.
A Lunch to Remember
We have established that sleeping in the sun or on the beach can have some nasty after effects, but eating on the beach is very enjoyable, isn't it? Sure it is, unless you eat and sleep at the same time, then it can burn you in all the wrong ways.
It would appear that this young lady was enjoying her favorite cereal in the sun when she dozed off for some reason. Maybe having cereal for lunch is not such a good idea. She will have to stop wearing shorts for a while if she wants to avoid some pretty awkward looks and stares, or questions like, 'was she born with a spoon on her leg?'.
Croc Circles
There has been much debate about the attractiveness of Crocs. Even though they are not to everyone's taste, apparently their comfort and practicality make up for their looks. You can wear them on any terrain and in any weather.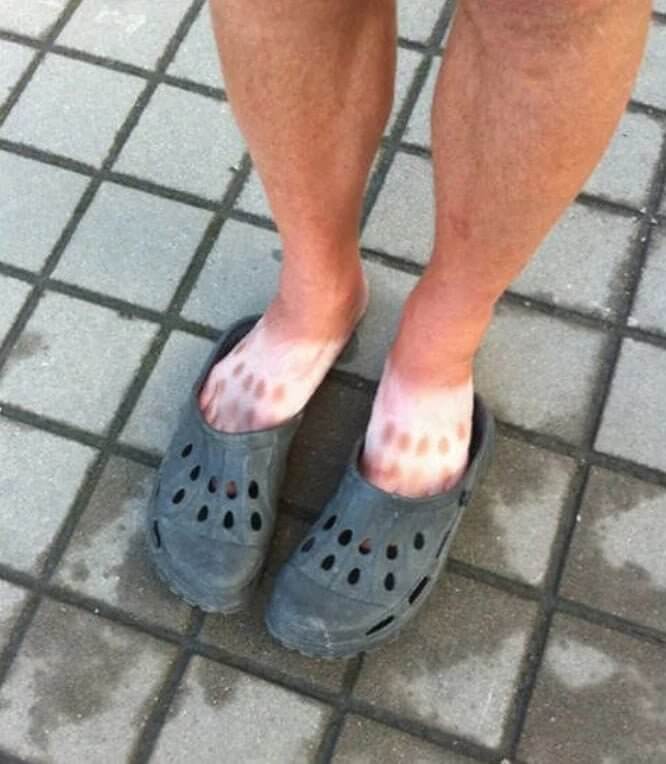 Clearly, this man is a big fan and supporter of Crocs. In fact, it seems he practically lives in his. He has been wearing them for so long that he tanned the little Croc circles that the shoes are famous for on his feet. Well, now he better keep wearing them to hide these embarrassing tan circles!
Caught Red Handed
If you have ever dozed off for an afternoon siesta, you may well know that you should do it in the shade. The sun is at its strongest during these hours of the day and it can cause some serious damage if you are not protected by shade or sunscreen.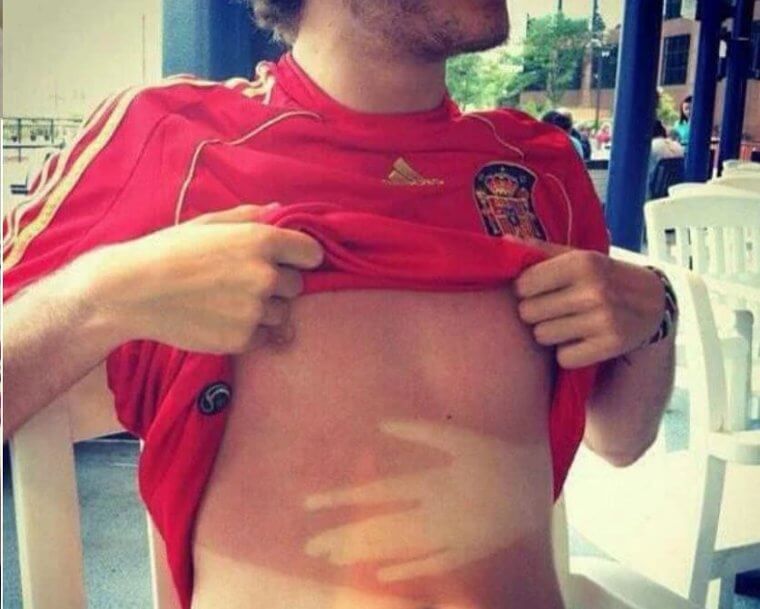 This guy looks like he already has quite light and sensitive skin to start with, so there's already that disadvantage. The other problem is that he has been caught red-handed for taking a leisurely snooze. Or should we say white-handed? There will be no hiding from this hand tan for a few days.
Not Farmer Brown
If there is one tan or sunburn that has earned our respect, it's the farmer's tan. It is a clear indication that you have been working hard to earn your keep and bring home the bacon. Luckily, these tans are usually hidden by our clothing most of the time, so they don't burn our egos too much.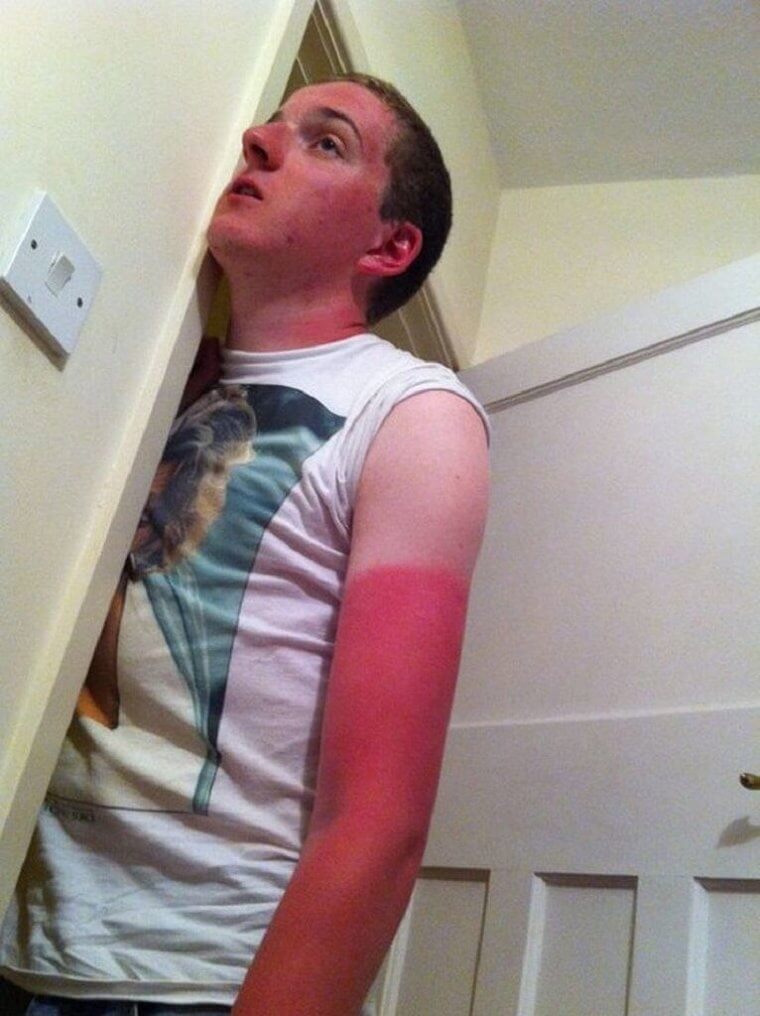 There is no telling how this poor fellow got his extreme sunburn. He doesn't really look like a farmer in our opinion. Unless it was his first day on the job. Well, in that case, we do hope he has learned his lesson and that he has a large supply of aloe to get him through the next few days.
A Swimmers' Nightmare
Being fashionable is key. Being able to show up every day of your vacation with a different swimsuit is important to your image. But still... some pre-thinking is needed.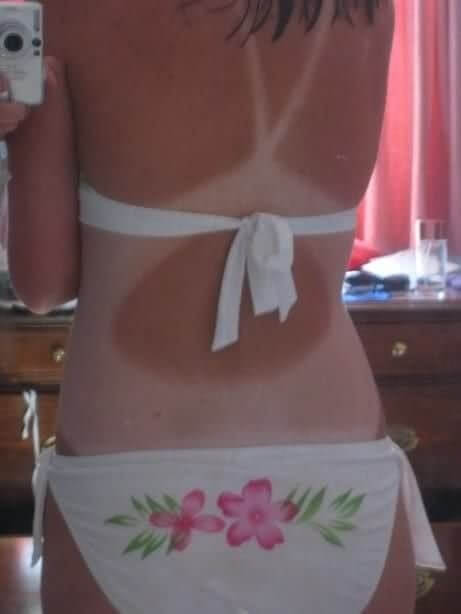 Choose similarly designed swimsuits, otherwise, you will end up like this poor girl in the picture. Play with the colors of the swimsuit, not with it's build.

From Braveheart To…
The power of the sun is not to be underestimated. That giant ball of nuclear energy powers our whole world, we couldn't begin to exist without it. Spray tans can go wrong, but the sun deserves our respect on a different level.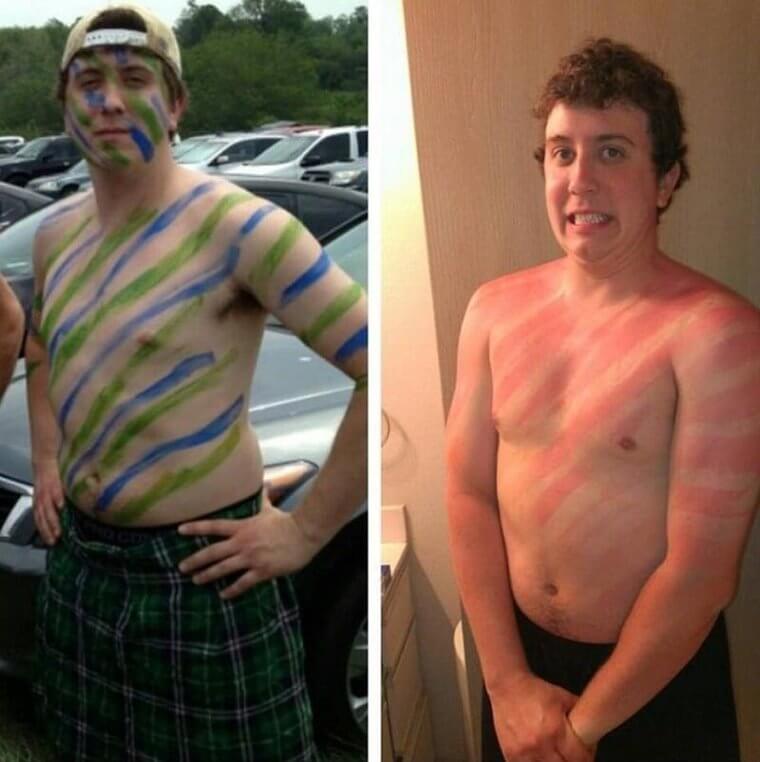 This young man went for a fun day in the sun dressed up, or painted on as William Wallace's brother, perhaps? Well, it seems like his body paint had pretty good UV protection… We are willing to bet that he didn't see himself ending up with a funky zebra tan! Maybe he can wear this look to his next party.
Too Cold To Handle
Your bikini is important at the beach. It's a statement. Even if the weather is not fit for a bikini, or even to be at the beach - you have to. What would the others say?!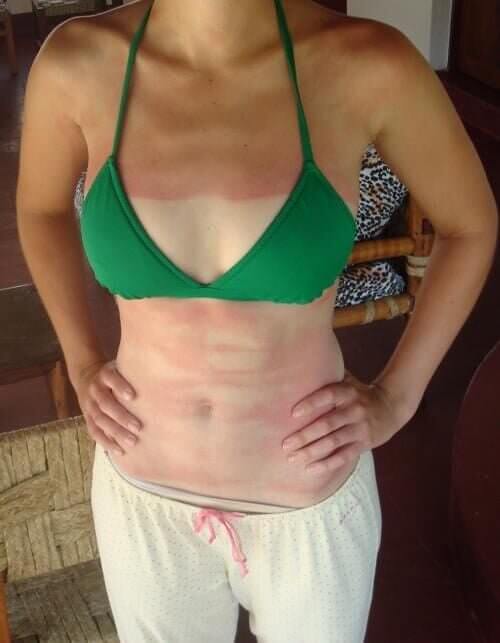 So you go to the beach to take advantage of the sun for a few hours, but it's cold. So you fall asleep with a light cover. It's light, but it blocks "the light". And there goes your final summer tan.

Love Hurts
This is literally the meaning of love hurts. When your loved one tells you "let's skip work and go to the beach." You should still think of the consequences.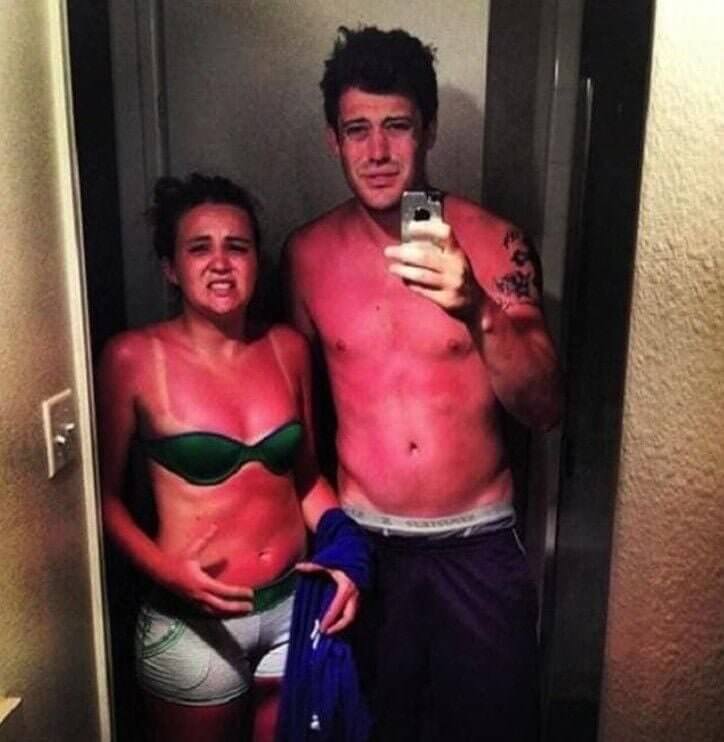 But if you plan on not being smart at the beach - at least do it with someone you love, so you won't get that "I told you so" look, and simply "look" at each other in loving pain.

Risk Vs Reward
So far, we haven't been very impressed by people's efforts towards suntan or, should we say, sunburn art. The idea is creative, but there may be certain unhealthy side effects that won't be worth the risk for most people. The rewards don't seem to outweigh the risks.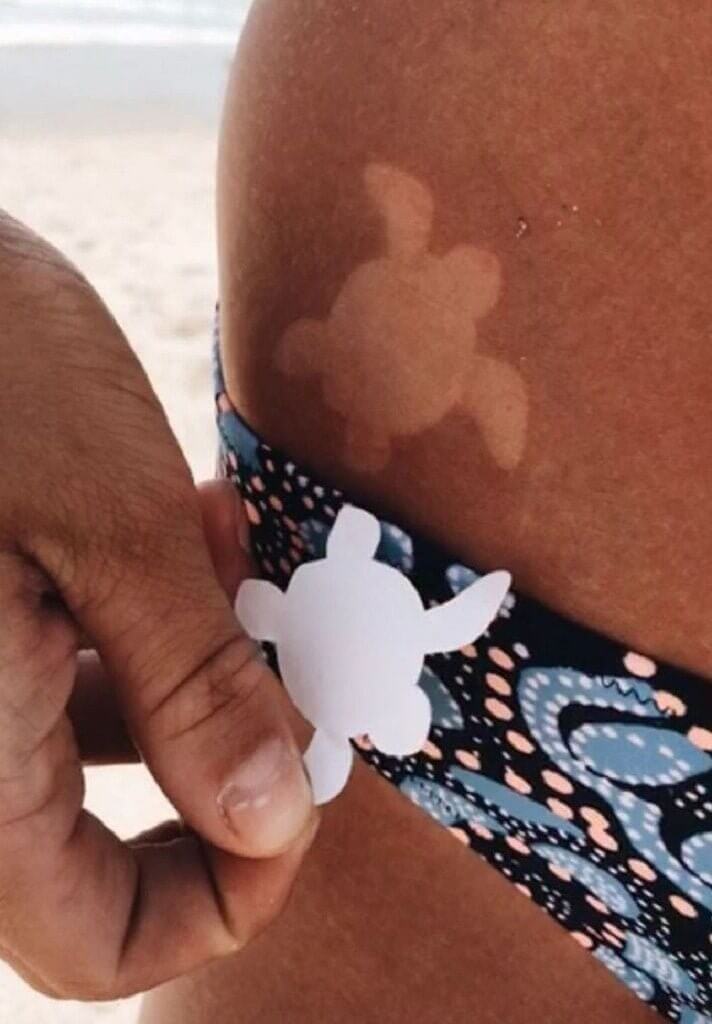 This little turtle design does look rather cute, though. Who doesn't adore a baby turtle, especially if you have watched Finding Nemo? The thing that worries us is that this design was burned on in one day, which is not a safe or healthy way to get a tan or a 'tantoo'.
Star-Spangled Back
It is a great feeling to love your country and some people are very passionate about expressing their patriotism. If buying a cap or t-shirt with your nation's flag on it just won't suffice to show your commitment and love for your country, a sunburn expression may be the next best thing.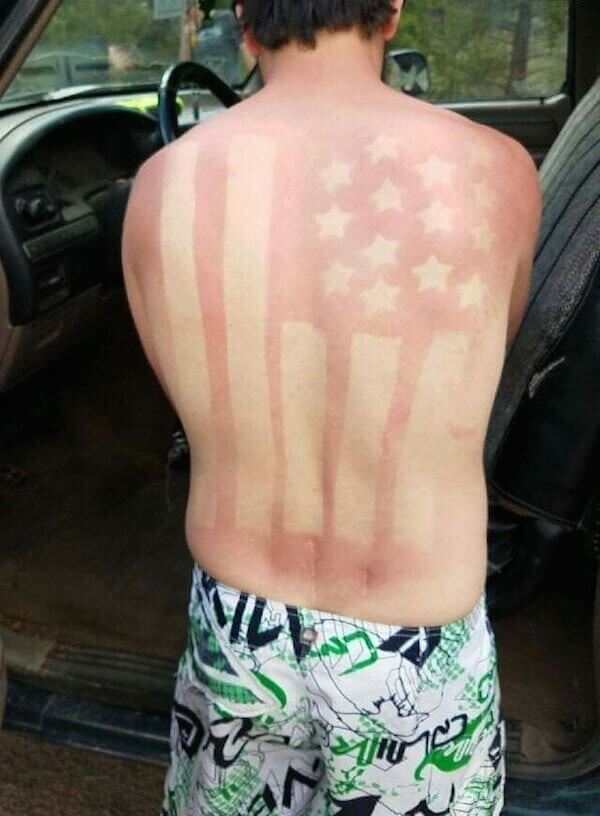 While we give him five stars for commitment and effort, there seem to be a few stars missing from his flag. Perhaps he will never notice this as he can't see his back and was probably assisted by a friend to create his masterpiece. What you can't see can't hurt you, right?
Burn, Batman, Burn
Some people have been very creative with sunburn. They purposely expose their skins to the sun to burn a specific pattern or shape. It doesn't seem like a very healthy hobby, but this guy did a pretty good job with his project. There is no question as to what he wanted to temporarily burn on himself. It's clearer than the signal in the sky…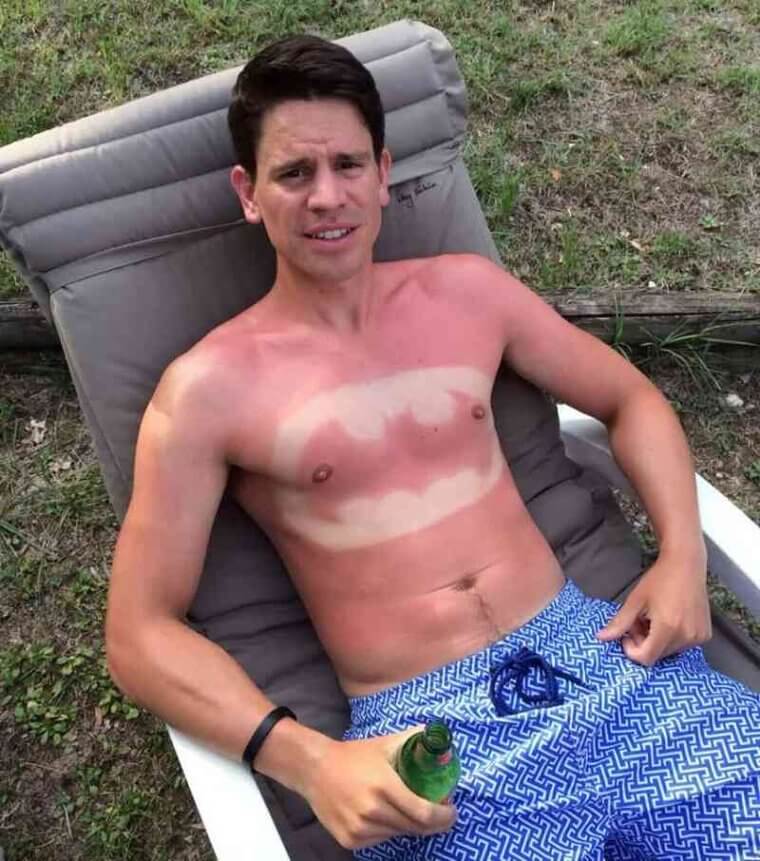 It's batman himself! If these die-hard fans are not shaving the bat signal in their chest hair (yes, it happens), they are burning it on themselves. The natural next step would be committing to a tattoo, right? On a side note, sun-burned nipples are apparently very painful - maybe that explains the expression on his face.
Panda Eyes
When you frequent a tanning salon, you will know that it is vitally important to wear those protective goggles to keep your eyes safe. It is quite clear that this lady has been visiting the tanning salon on a very regular basis and also taking care of her eyes, but something doesn't look quite right.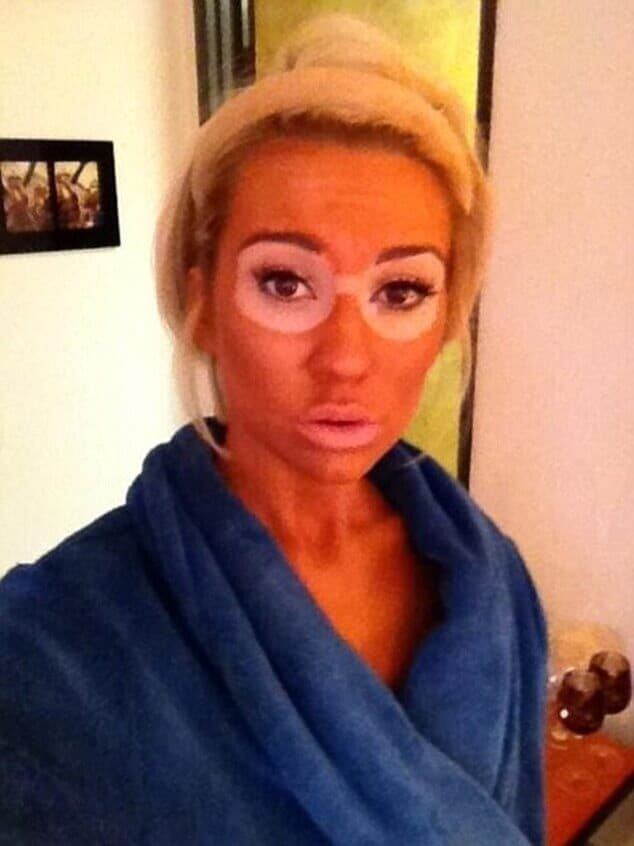 Either her protective goggles were rather oversized, or she was a bit hasty with her tanning process. If you happen to wear sunglasses out in the sun all day, you could also end up with this phenomenon which looks like you have panda eyes. Maybe a more gradual tanning schedule would be able to prevent this from happening in the future.

Put Your Back Into It
Whether you're a hopeless romantic or not, most of us have fantasized about that big day when somebody proposes to you or you ask for your loved one's hand in marriage. There is one aspect that we all surely have in common when we dream about this day – we want it to be as special as possible.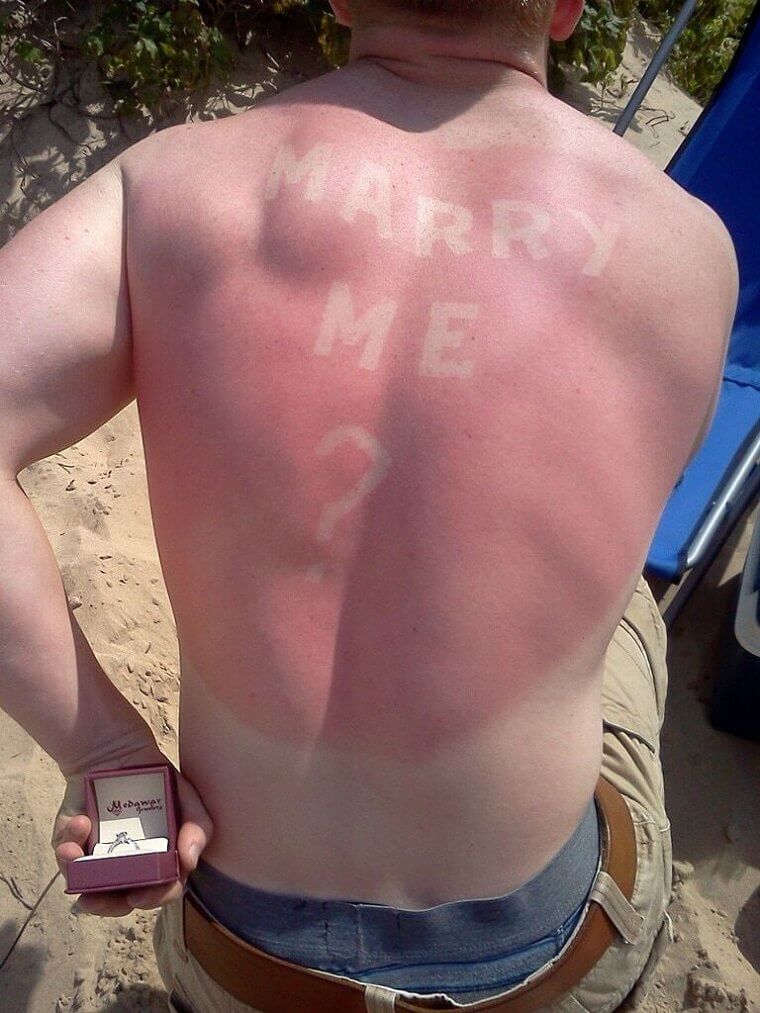 This guy must have had some serious help from his friends for his marriage proposal. There was obviously no talking him out of this curious way of expressing his commitment. Hopefully, his prospective fiancé doesn't mind that he is asking the big question with his back to them! At least he passed the planning, commitment, and effort tests.
Don't Cry for Me
Spray tanning has pros and cons. It is a fast and effective way to get your dream tan without exposing yourself to the sun's potentially harmful rays. On the other hand, spray tans can also be unpredictable in how they turn out…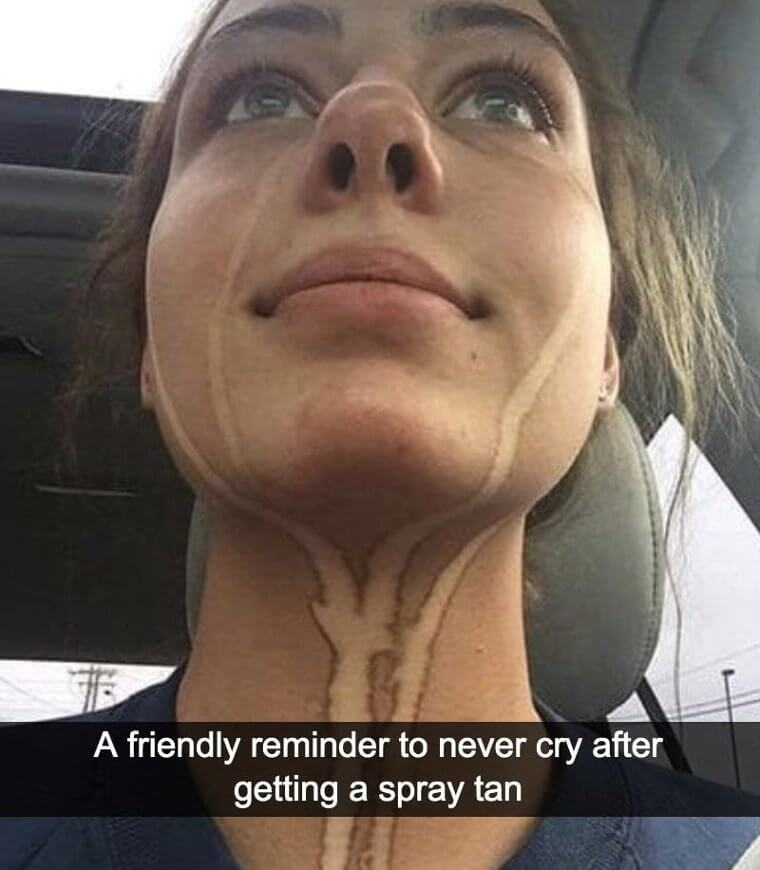 Perhaps this young lady didn't get the memo on the 'do's and don'ts' of spray tan care. Well, she must have figured out that crying before your tan dries properly is a big don't! And she will be reminded of this for the next week as she waits for the evidence of her unfortunate mishap to fade away. Lesson learned!

Creepy Crabs
This tan is quite scary. Not because of the sunburn, but because of what the sunburn shapes on her back suggest. Not only must she have fallen asleep for a very long time in the sun, but it also looks like some crustaceans may have taken advantage of her warm back to take a nap themselves!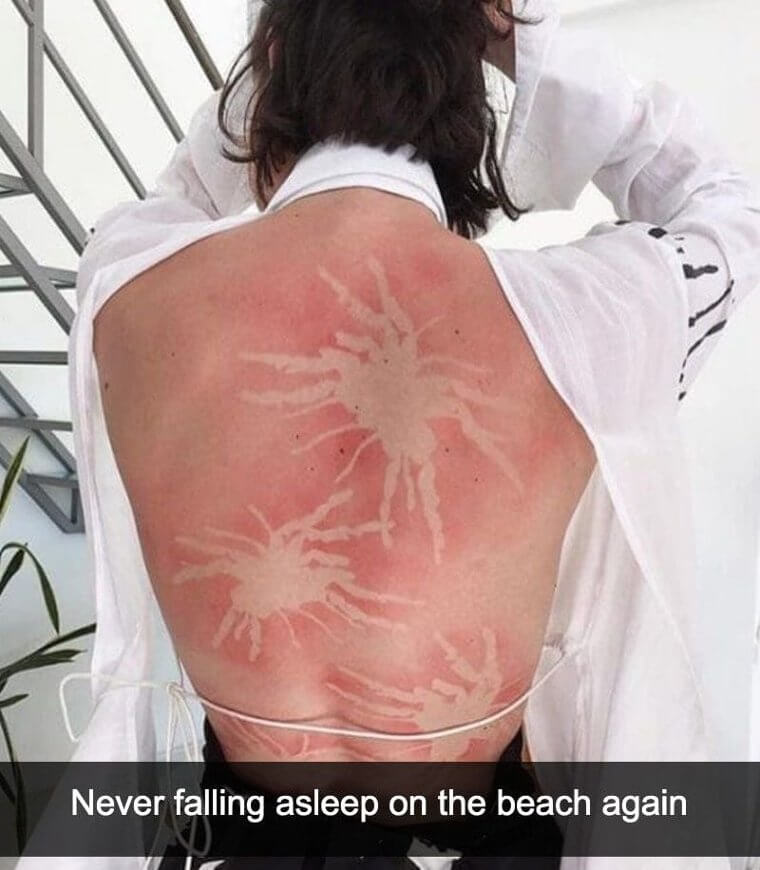 These crabs must have been happy to find a warm, inviting, soft, and sand-free sun-bed on their beach. By the looks of it, they were happy to lay around on her for a decent amount of time. Perhaps she will think twice before napping on the beach again.

Facing the Wrong Way
There are definitely parents around the world whose famous last words before their kids leave the house on a sunny day is: 'Wear a hat!'. And it is for a good reason. But wearing a baseball cap facing backward is like wearing sunglasses on your head. It's more of a hair accessory than sun protection.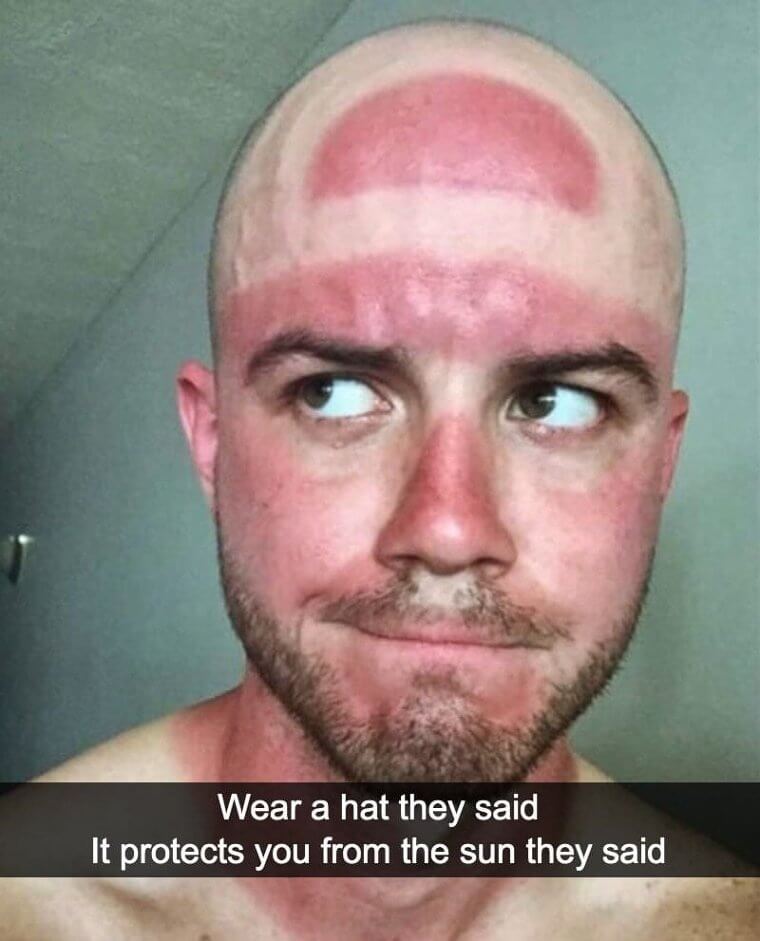 This young gentleman must have thought he looked very cool with his hat and it did protect him from the sun, but not in the right places. The back of his neck is probably not sunburned! And neither is his head, which could have been even more painful than his burned face. Hopefully, he learns how to wear a hat properly next time.
Sexy Burn
Any summer burn is a sexy burn. NOT. This one has the potential of being a sexy burn, but it turns out to be a simply burned bun.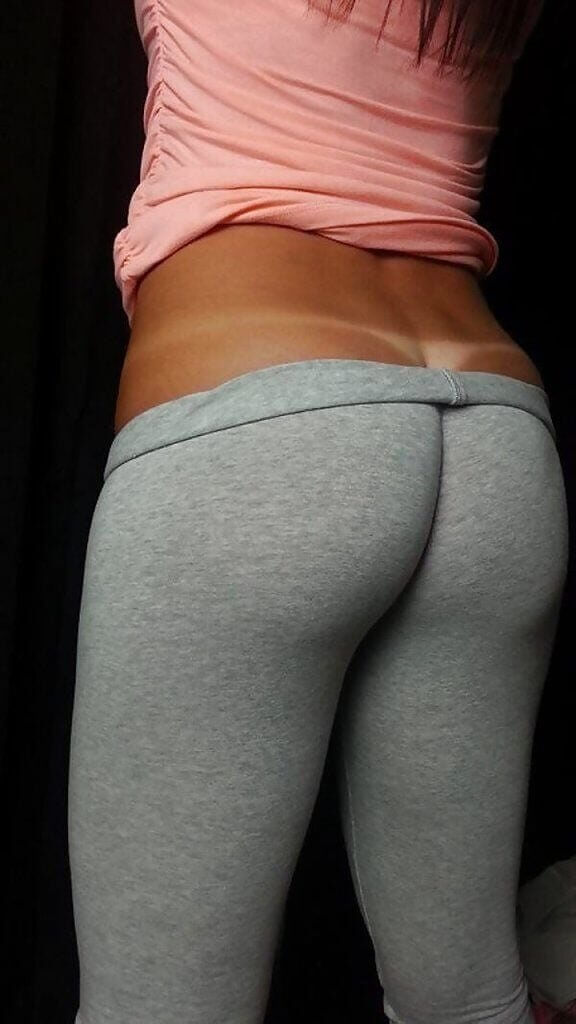 Laugh all you want, but put on some sunscreen. It's sexy at a young age, but as years go by, bad tanning turns against you and your body.

A Very Natural Bikini Top
Trying to bronze yourself in the sun in time for summer can become a bit of an obsession. 'Just a little bit browner', some might say to themselves as they start seeing the results of their tanning. As one's skin becomes darker gradually, you may not notice your tan lines until it is too late.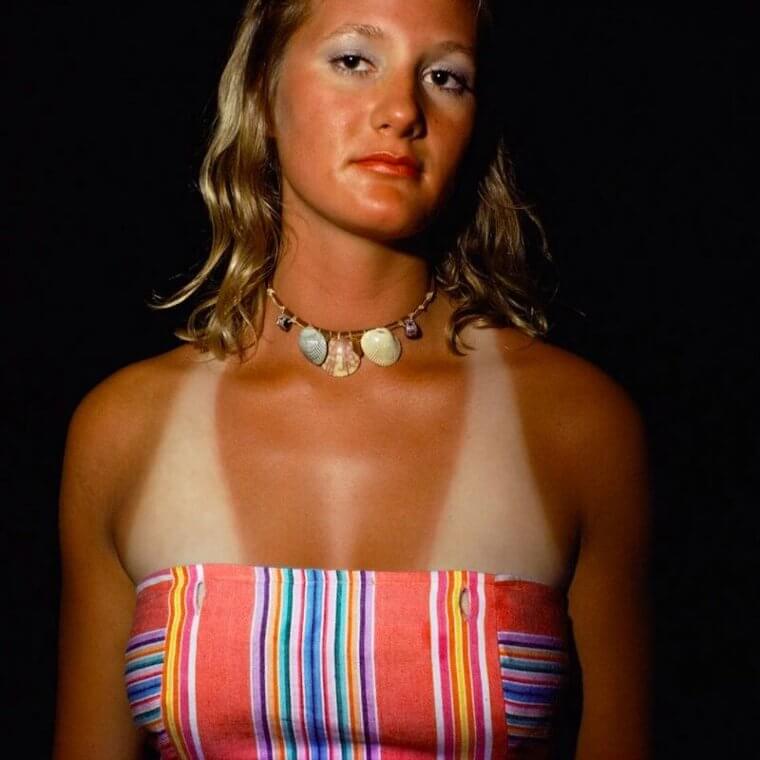 This girl is either very proud of her tan lines or not very impressed at all. It must have taken hours in the sun to achieve such a drastic result. She looks like she is wearing a white bikini underneath her strapless top. Perhaps, that is the look that she is going for this evening.
Nothing Rhymes With Orange
It's hard to tell if this guy is posing for a photo and therefore holding his kiss at a distance, or perhaps he doesn't want his lips to suffer the same fate as his girlfriend's skin. It looks like the color could smear or rub off, and he probably doesn't want to look like he's wearing orange lipstick on their night out.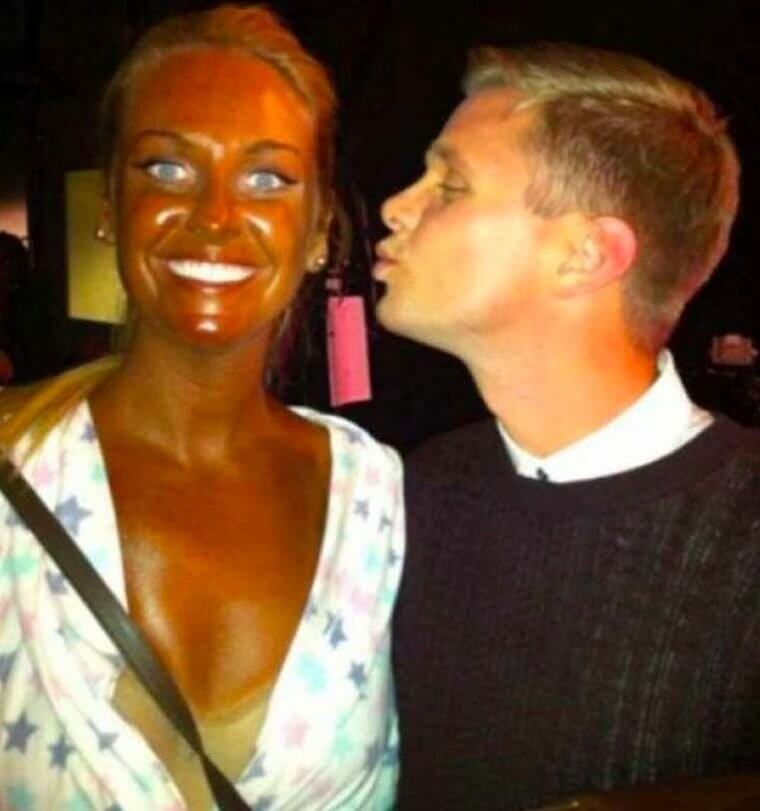 She has a beautiful smile and eyes, but it looks like she had a few too many visits to the spray can. Usually, any person getting a fake tan wants it to look as natural as possible, but this lady looks quite happy about her tone.
Fashion Cons
it's always good to be fashionable, even at the beach. You always want to look as good as you can. If you can make everybody around you think of you as a fashion icon - that's even better.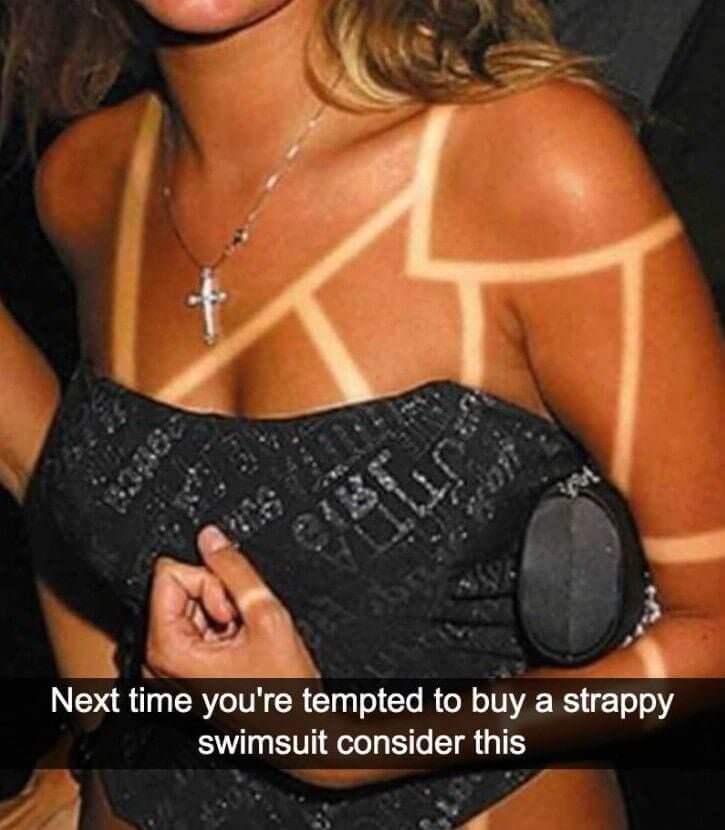 But that comes with a price. As you can see, being fashionable at the beach has a lot of pros, but it also has its cons. Think before you dress.

It Doesn't Work Like Deodorant
This guy may have burned his ego more than his body. It is good to have a front and back picture to appreciate the extent of his funny tan. He has given a whole new meaning to 'tan lines'. Perhaps roll-on toiletries should stick to deodorants… Or was it an application error?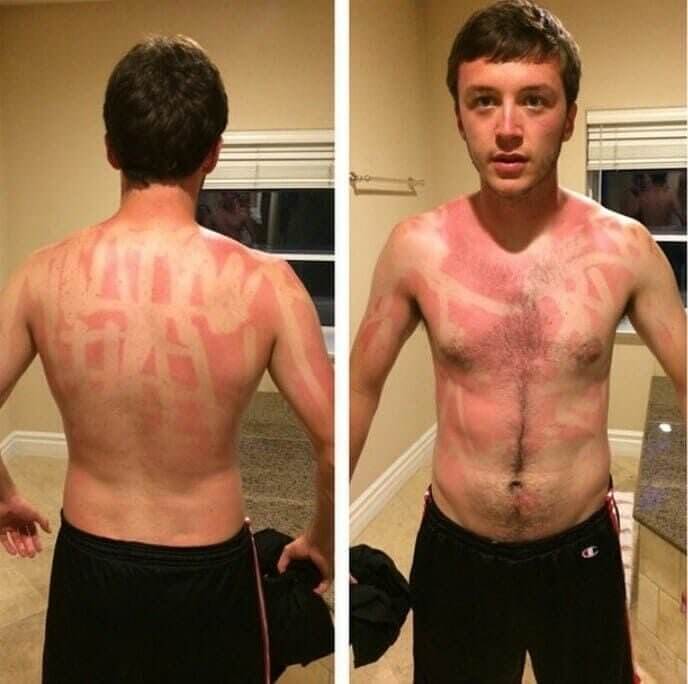 By the looks of it, he had a helping hand to put sunscreen on his back. The application process looks like it missed a few steps though. There is clear evidence that the sunscreen works against sunburn, but perhaps he should try rubbing it in next time or get a lotion for a more even cover instead.
Just One More Song
Here we can see another victim of a sunny siesta. It looks like he must have been listening to some very relaxing beachy beats, because he slept in the sun for longer than he should have!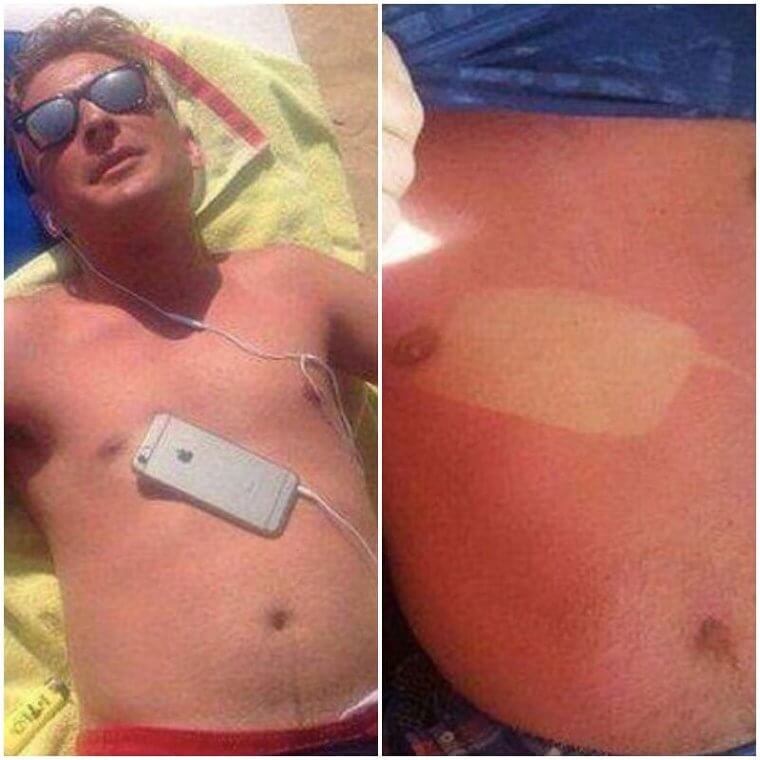 He didn't just tan his phone on his chest, there's even evidence of his headphone cable plugged into his phone. Maybe his friends couldn't tell that he was fast asleep since he was wearing sunglasses. Or that was part of his clever plan to sleep on the beach undisturbed.
Old McDonald's Tan
Most of us are likely to have gotten a farmer's tan before, but this poor guy has really got it really bad – it looks rather painful. One has to guess that he's not a farmer, because they surely know to at least wear sunscreen on their arms.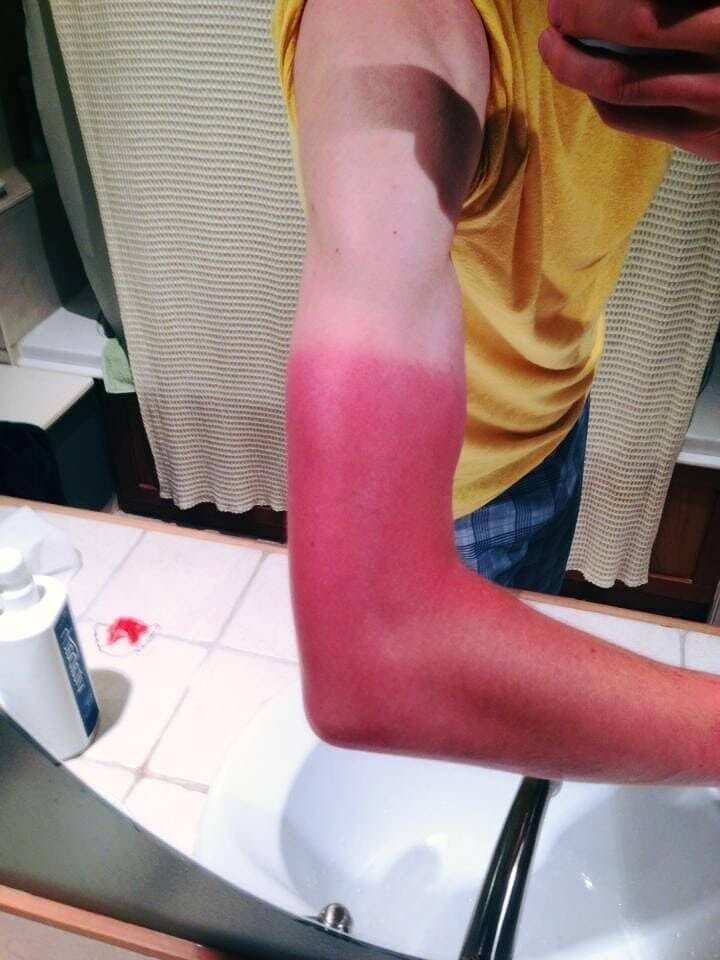 He looks like he needs an ice bath and tubs of after sun. Whether he is an amateur farmer or just your average joe, hopefully he doesn't have to learn this lesson more than once.
Let's Get Tank-Topped
It's not a good idea to rush into a tan in time for summer, especially not if you have pale skin. People with red hair generally have the most sensitive skins and should avoid prolonged direct exposure to the sun, but this guy did not get the memo!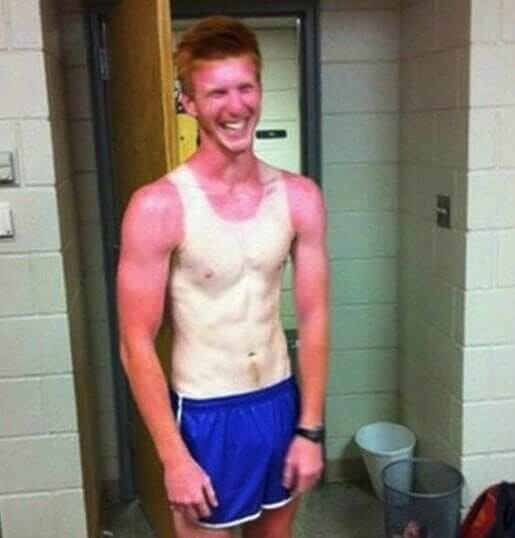 This is one way of getting out of doing your laundry, wear your colored tank top one day and then your white one the next day. Oh wait… he's not wearing a shirt! His skin is almost the same color as the white trim on his shorts, but his nipples and belly button are a dead giveaway, unfortunately.
The Long and Short of It
This man has quite the skin tone for achieving a bronze tan, which isn't obvious when you see his pasty complexion where the sun doesn't shine. This tan would appear to be of the unintentional kind since there is a very clear and abrupt line where it ends which is probably every professional tanner's nightmare.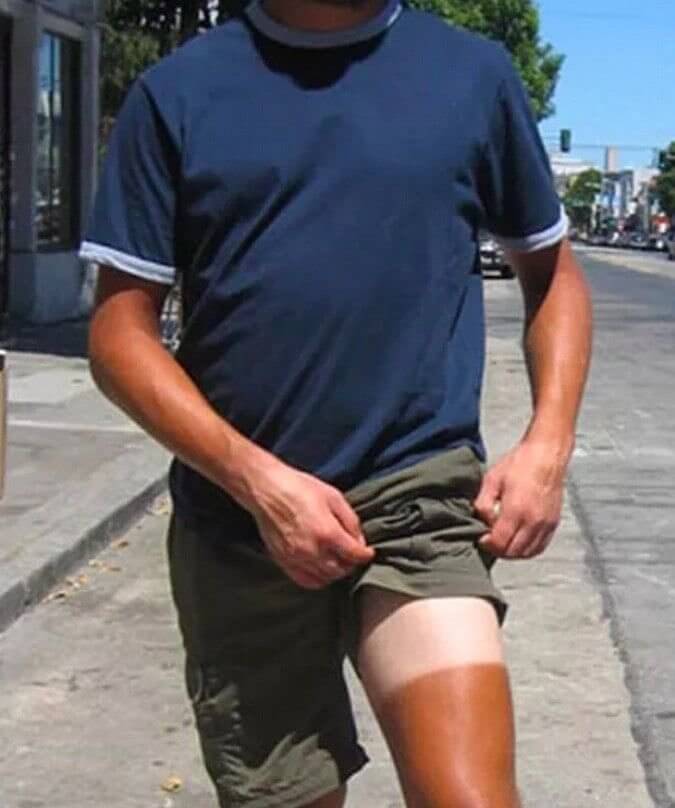 The question is, what kind of activity is he doing in the sun for so long to get so tanned? The shorts he's wearing in the picture look quite long compared to the shorts that caused his tan line, and those very short shorts must be tight too to make such a clear line… Are they long speedos perhaps?
'V' Is For Very Sunburned
Wow, this guy doesn't look so good. He must be feeling quite ill from his intense sunburn, he might be lying on his couch for the next few days. Luckily, his face is not quite as burned as his chest – or at least the part of it that was sticking out from his shirt.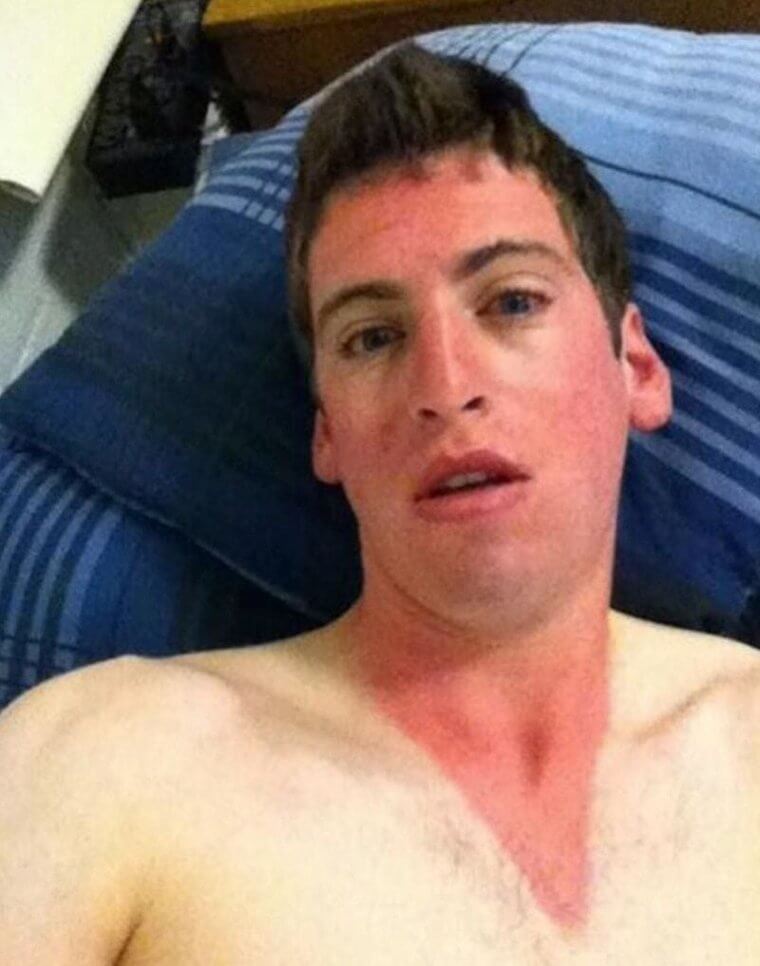 This young chap was evidently wearing a V-neck shirt and the shape he burned is rather interesting. Once he has recovered from his burn, he may have to stick to wearing more similar V-necks. If he decides to switch to round-neck t-shirts, he may look like a bit of a geometrical disaster.
Don't Forget to Smile!
If you have ever suffered a sunburn, you would know that life can be pretty miserable having one. Nobody wants to get sunburned, but it's usually a sign of such a good time that you forgot to wear sunscreen, a hat, or even your clothes.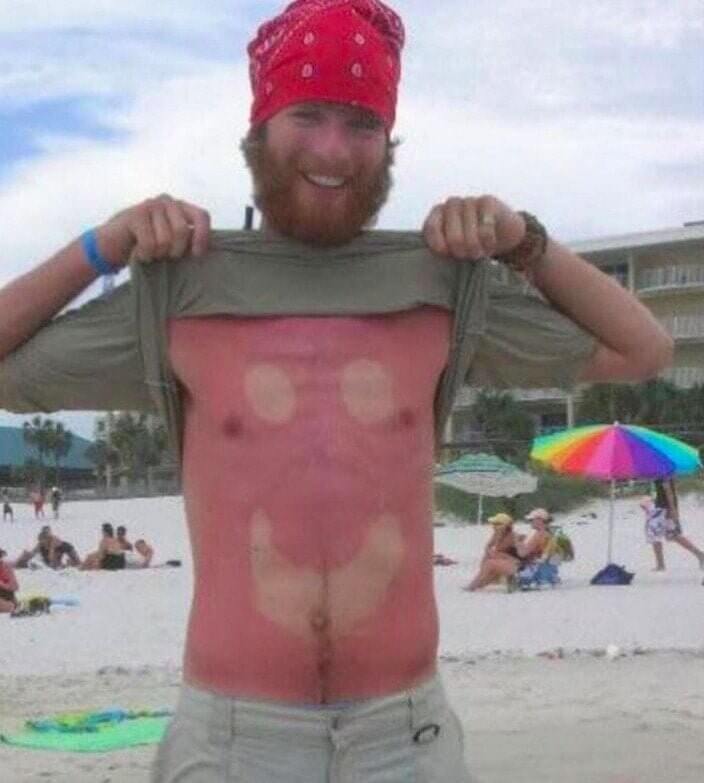 This guy has a pretty important message that he is willing to suffer for – smile! And, to be honest, even though it's not a very good thing to do to your body, we can support his friendly reminder. Besides, he is wearing a massive smile even though he is a certain shade of lobster.
Pippi Longstocking
You may have to do a double-take for this tan line. This person has flipped the norm. Instead of a white sock tan, they have three-quarter pants kinda tan which has left them looking like they are wearing pink socks this time. How on earth did they manage that?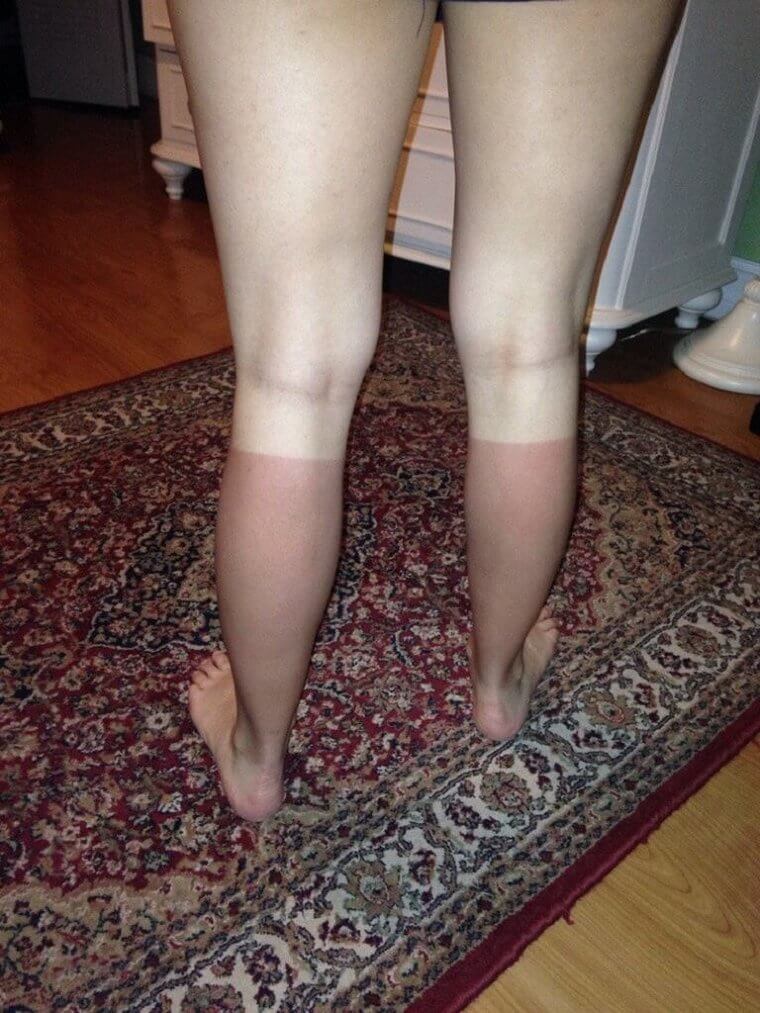 One theory could be that they were wearing cycling pants which could be this exact length and tight enough to make this sharp tanning line. Another scenario may be that they were wearing a diving suit whilst snorkeling, which would explain the burn on the back of the legs… You can use your imagination, but either way, this person could be Pippi Longstocking.
Smile for the Funny Photo
When we wear a hat to protect us from the sun, bigger is usually better. Sunhats can protect your face, neck, and ears which is the best way to avoid sunburn. Baseball caps are also useful, especially if you need to be agile whilst playing sports or working.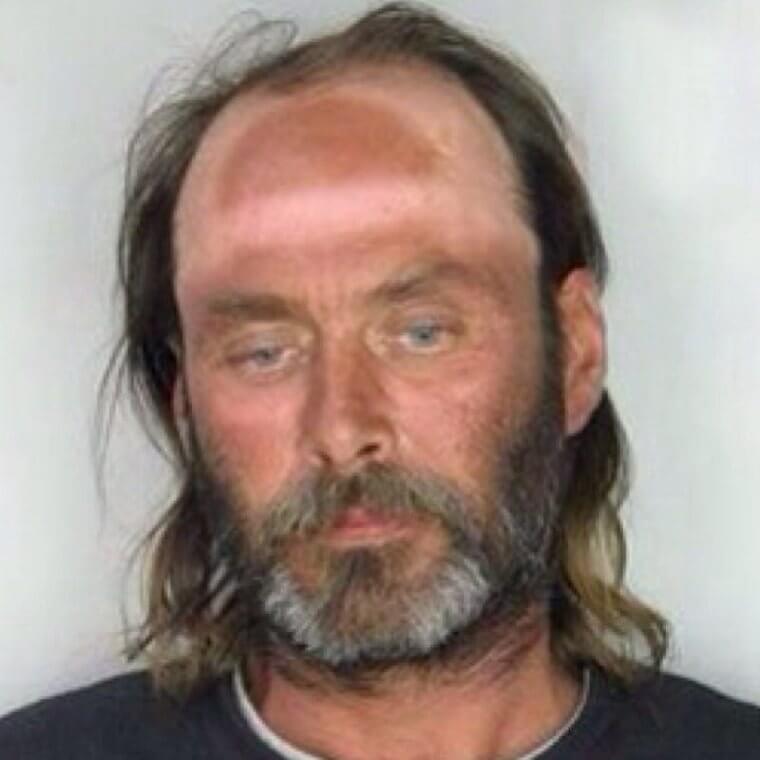 Unfortunately, these baseball caps only work one way. And that is if the peak is facing the front to protect your precious face. It looks like this guy has been developing his tan over some time. Perhaps he never takes his backward cap off, unless it is for a funny photo like this one. He doesn't look very happy about the exposure though.
Double Burn
So, we are all well aware by now that stick sunscreen should be reserved for protecting your face only, or else… It is impossible to see where you have already put sunscreen or where you haven't at all. It's like one of those magic pens that you write with but can only see later when you color over the writing with another special pen and – surprise!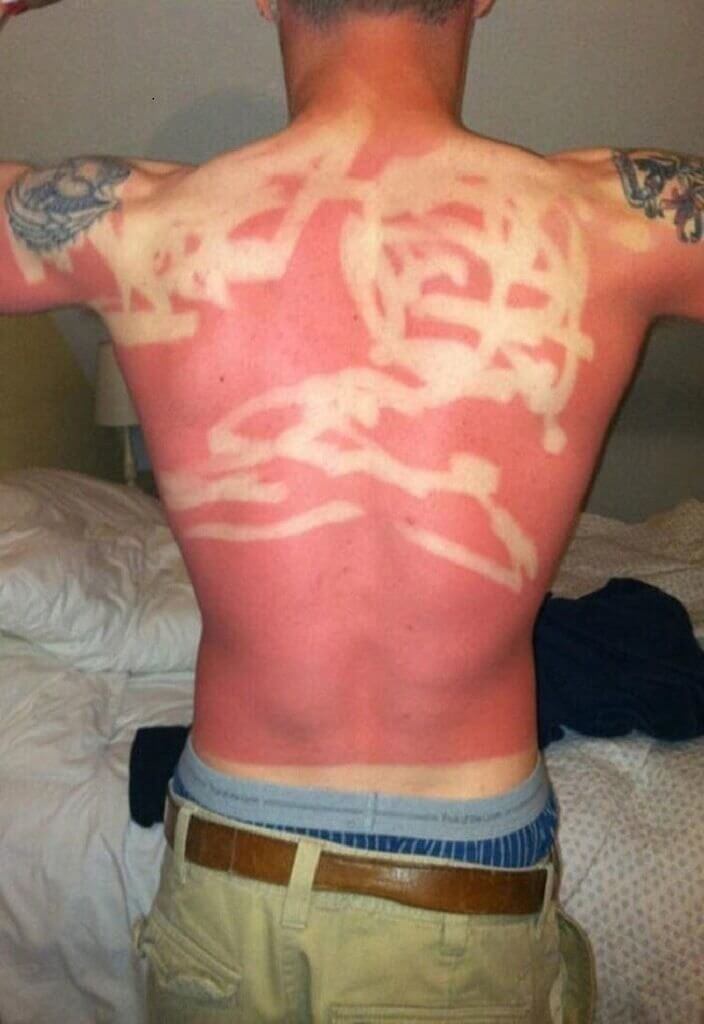 This guy definitely got a surprise when he saw this mess on his back. It honestly looks like he asked a child to apply his stick sunscreen for him. They didn't even put any on his lower back and looking at that tan line too, all we can think is 'ouch'! You got burned by the sun and by whoever tried to help you protect your back.

I Wanna Moana
Now here is a stick sunscreen burn we can back, lol! There is definitely something different going on here, like a purposeful or planned pattern. It looks pretty tropical and islander style or like something from the movie Moana.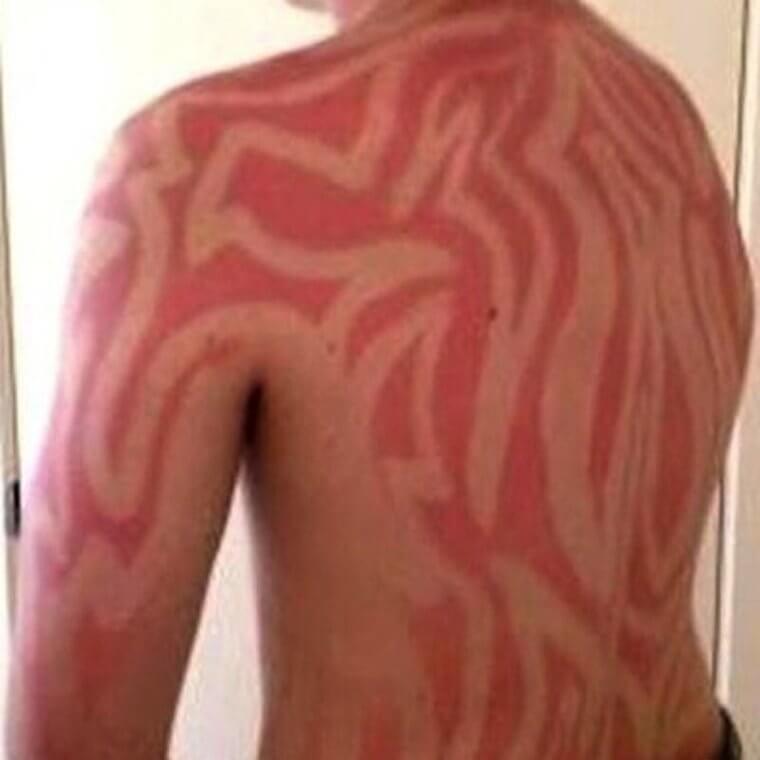 Either this man had some spare time on his hands to play around or perhaps he is testing out the pattern for a tattoo in the near future. It's hard to tell what he thinks of it since we can't see his face, but we can say with certainty that a tattoo of this scale would definitely be more painful.
X Marks The Spot
There is a reason for and a purpose behind every patch of hair on your body. Even our eyebrows and eyelashes serve an important function. While most of us see our hair as something that can add to our good looks or make a fashion statement, it also protects us from the burning rays of the sun. Therefore, bald guys have an extra body part to lather with sunscreen unless they wear a hat instead.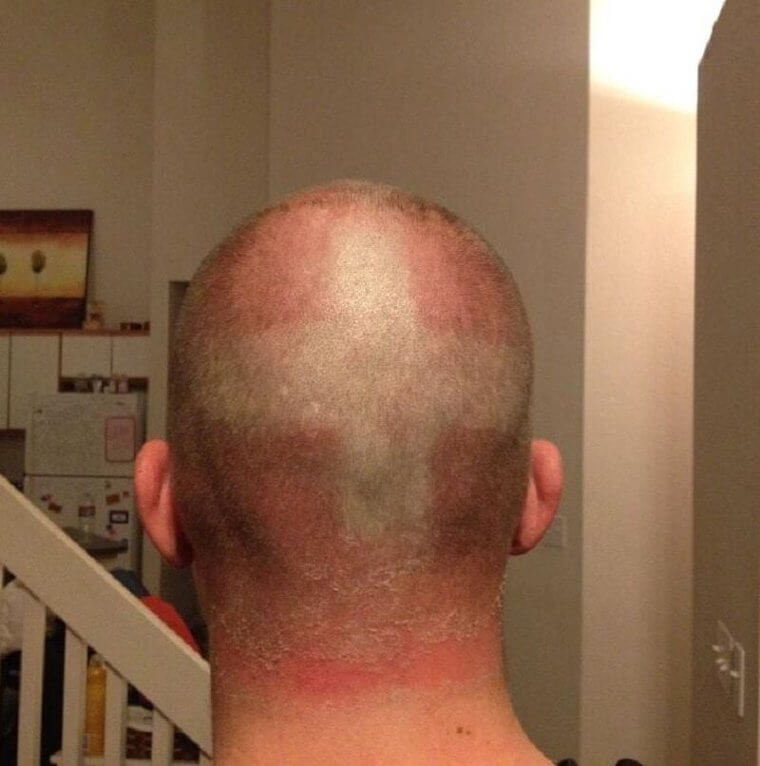 This man doesn't seem to be losing his hair to the hereditary phenomenon of going bald. It looks like he shaved his hair, perhaps to look tough? He missed a peculiar spot though and burned the rest of his head leaving him with a big cross on the back. He is even peeling in his neck, that's first or second-degree burns right there!
The Case of the Disappearing Nipples
It's always good to have some mystery in your life. Well, here is a mysterious picture for you to ponder about. What could possibly have caused these horrendous tan lines? If this was his attempt at stick sunscreen, we are very disappointed. The streaks aren't of even width, it must have been something else...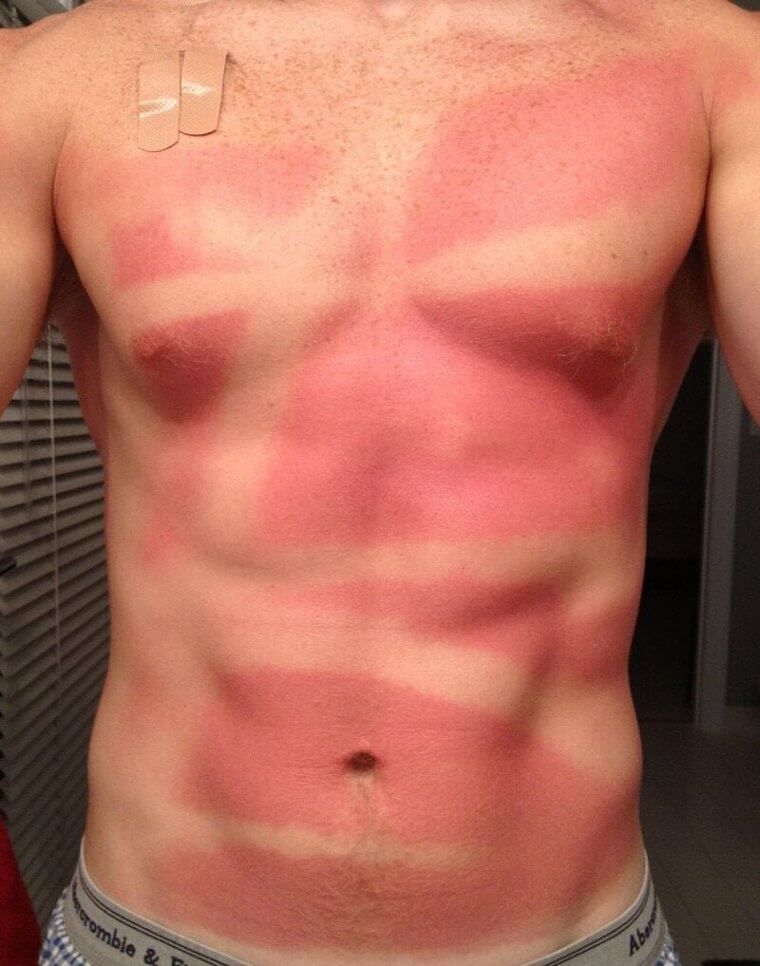 It is hard not to notice how severe his burn is. And again, on the most sensitive parts of his torso – his nipples. It's even difficult to see them since his body is burned to the same shade of pink which makes them look camouflaged. That has got to hurt!
Fitting in With Fashion
Knee-high socks made a comeback in fashion recently. It looks like this girl took the trend quite seriously, unless she is actually a soccer player. Either way, she has obviously been spending a lot of time in the sun donning some long socks, so perhaps playing sport is a more likely answer.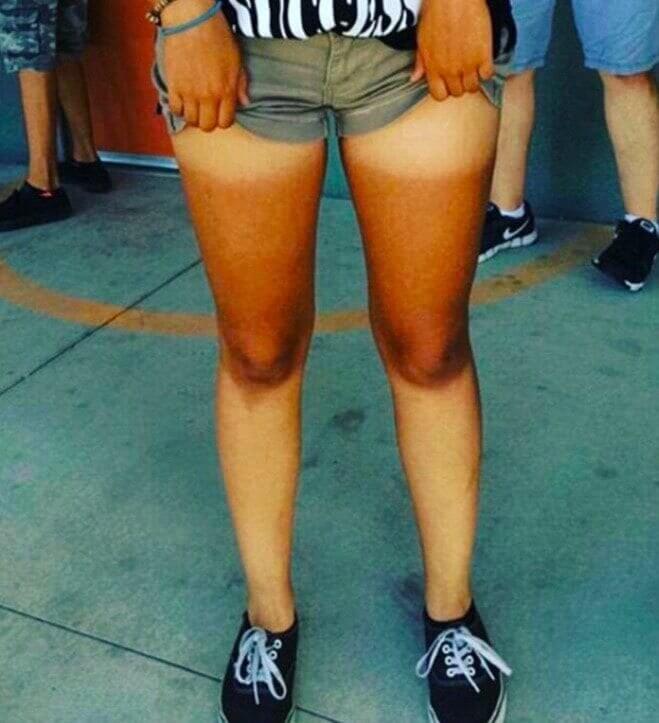 If we take a closer look at her shoes and t-shirt, it becomes clear that she likes black and white together. Maybe she is not too concerned with her strange, zebra-like, long sock tan, but if she would like to avoid this funny phenomenon in the future, we strongly suggest some sunscreen for the knees!
Think Happy Thoughts
It's clear by now that there are some undeniable pros and cons to spray tans. On the plus side, it's a quick way to get your bronze tan on without exposing yourself to the harmful rays of the sun. But surely they should warn you at the salon of the protocols for aftercare, like: do not cry at any cost.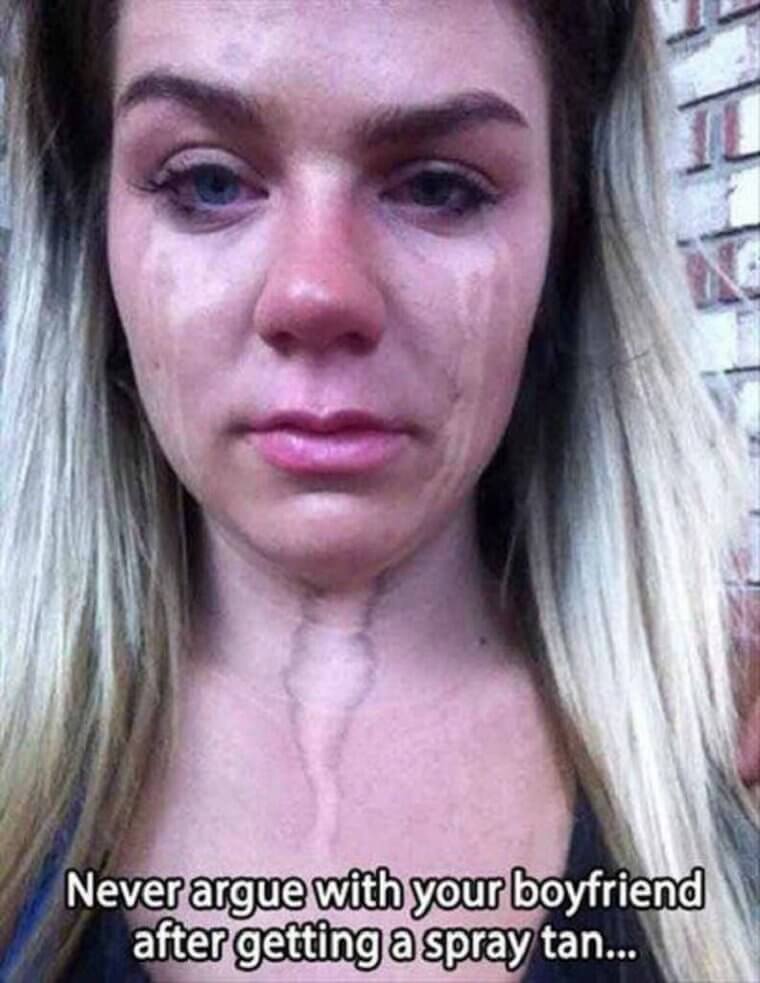 This poor girl still has puffy eyes from her crying episode. The streaks on her face are probably not helping and are as good a reason as any to cry some more. It could make for a cool Halloween outfit, but that would only solve one day of having this disaster on her face. It's better to think only happy thoughts after your spray tan.
Burning Sandals
Sandals are fun in the summer; Having the cool summer breeze run through your toes, feeling free and wild... well, choose when to wear them. Having them on all day, in the sun can cause, as you can see, sandal burns!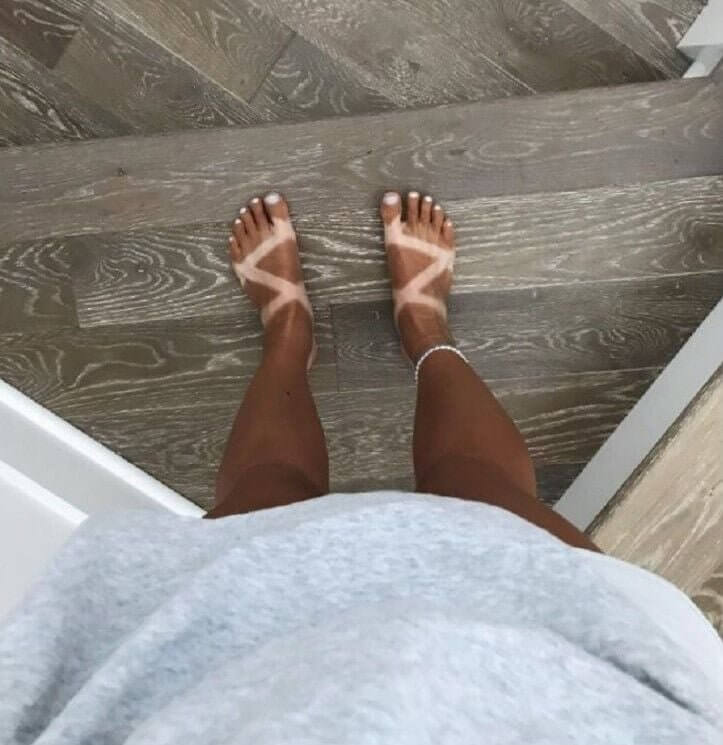 So if you know it's going to be one of those days, choose your sandals wisely, as we've already seen what Crocs can do to a foot in summer.

The Bronze Goes To...
Athletes train extremely hard and their schedules are not filled with much downtown. On the odd chance that they do have a few hours to spare, they may enjoy lounging around in the sun, just like this swimmer clearly did.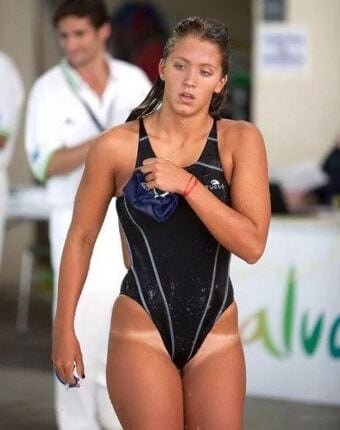 What's easy to see from her tan, however, is that this athlete's bathing suit is not the same one she wears when she's winning medals in the swimming pool. It would be interesting to know if she would win gold with the same bikini that allows her to get so bronze.

What Friends Are For
Unless you are extremely flexible or a professional contortionist, we all have a spot on our backs that we can't reach. You can rub your shoulders from the top and try to reach a bit of your lower back from the bottom, but there is an unnavigated area in between. If you don't know what we are talking about, refer to Exhibit A below.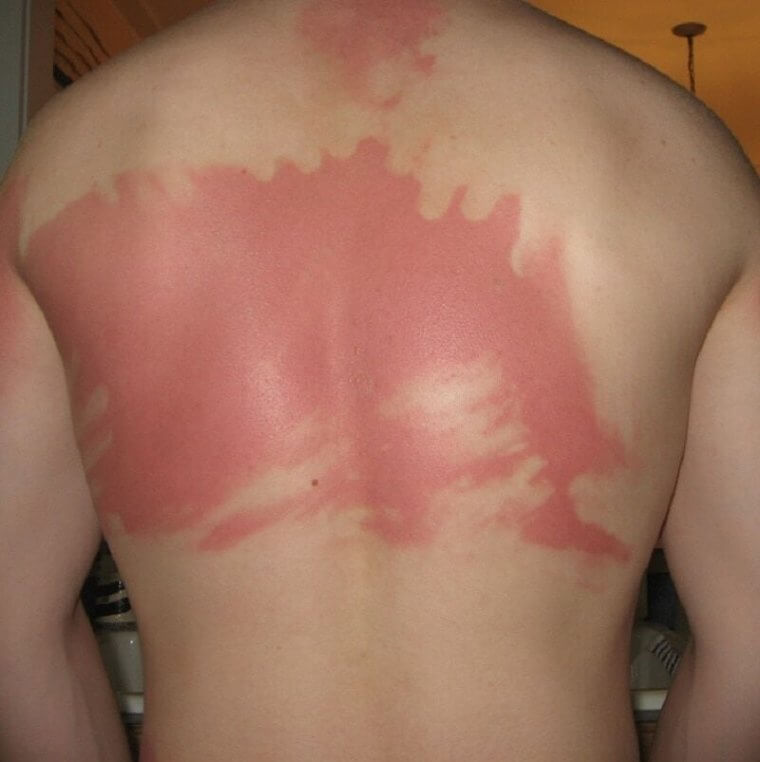 This fellow made a really great effort of doing the responsible thing by wearing sunscreen. Only one problem: his coverage wasn't perfect. Most people wouldn't be able to do any better, though. That's what we all need a friend for...hopefully, he doesn't have to go to the beach alone again.

I Do Things My Way
When it's a sunny day, you want to make sure you have your hat, sunscreen, and sunglasses. You only have one pair of eyes so it's a great idea to protect them, especially from the sun. This guy remembered his sunglasses, but not his hat or sunscreen, it appears…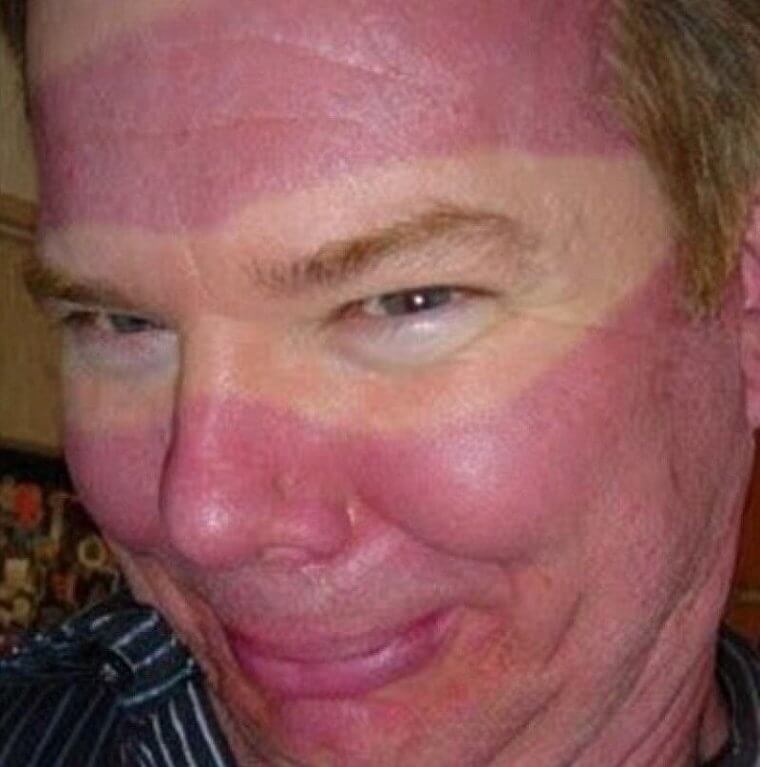 He is beyond a panda tan. It looks like he has Zorro's eye mask on, but in white. That's not all bad, is it? He has a semi-permanent superhero tan going. It might work with the ladies? As Zorro would say – I do things my own way! He looks rather pleased with himself.
Rudolph The Red Nosed Raccoon
Now here is a unique tan and this man looks as shocked about it as we are. He has almost perfectly burned only the lower half of his face and also his nose. It surely can't be a sunglass tan as the area is too big (although fashion can be unpredictable these days). So it's more severe than just 'panda eyes' or 'raccoon eyes' from his sunglasses.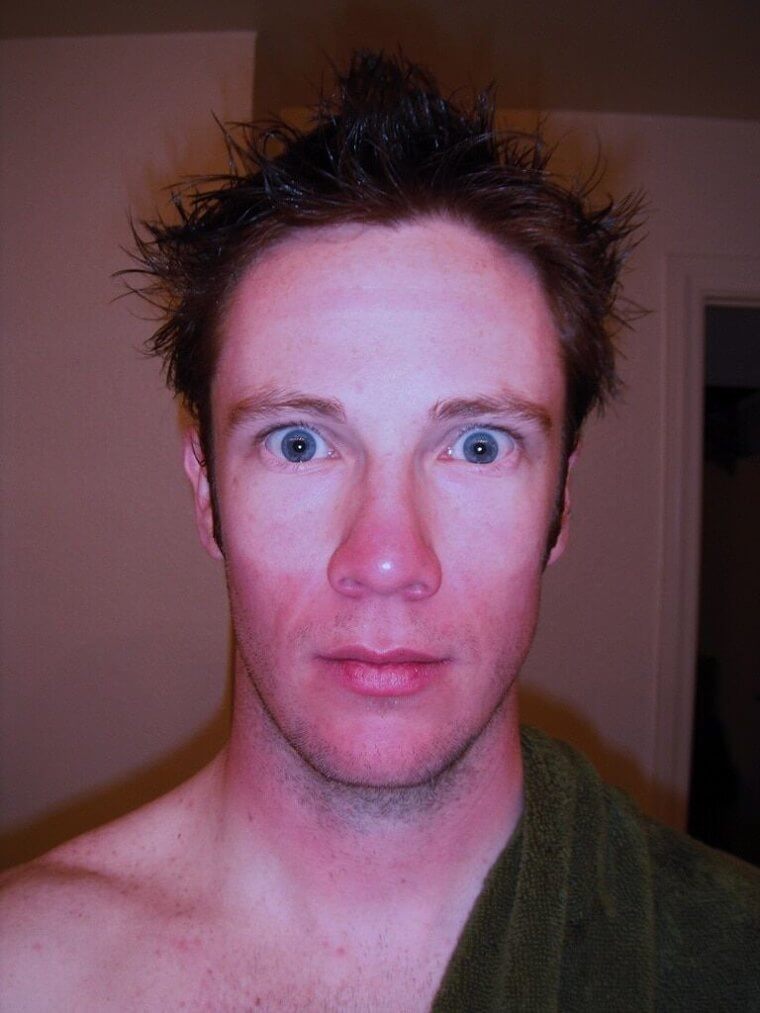 Our first guess is that this guy went skiing in the sun for the first time. The problem with that is that the sun doesn't only shine on you from above, but it can also burn you from below by reflecting off the white snow. This would catch any amateur by surprise the first time. Hopefully, there won't be a second sunburn like this again!