With Valentine's Day coming up in just a few weeks' time, a lot of people are making plans on how to spend the day of love. If you think that the chances of someone's Valentine's Day plans going awry is just a slim chance and the worse that could happen is rejection, keep reading. We've compiled some of the most hilarious Valentine's Day-related mishaps on the internet.
When Romance Gets Aggressive
When you think of romance, pepper spray cans or tasers are probably the last things that come to your mind. But judging by the sign on this picture, this person definitely has a different train of thought. If you think pepper spray is necessary then you either have got romance all wrong or have a very niche kink.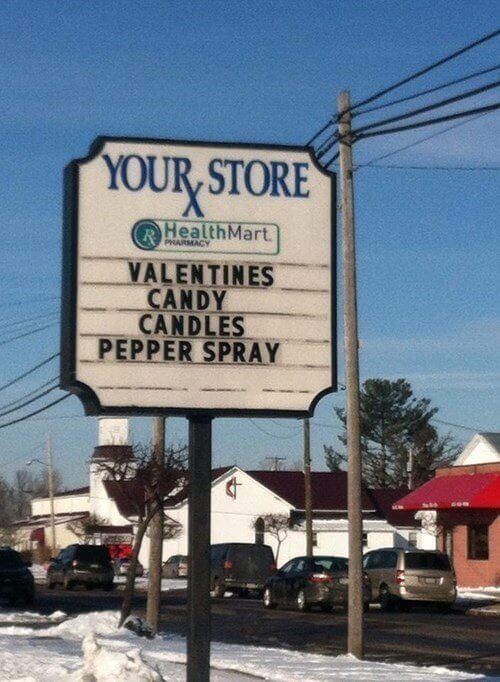 It's best to gift your loved ones traditional romantic items such as candles, cards, and chocolates on Valentine's Day. As for pepper sprays and tasers, it's best to leave those for creepy stalkers and sex offenders. Just don't follow the advice on the sign in this picture.
V-Days Are Bad for Social Media Challenges
There is a good reason people just don't go up to their crushes and ask them out; they're not sure of their chances. If a person's crush also likes them back then it can be all sunshine and rainbows. If not, then things can spiral out of hand and get awkward very quickly as this poor girl found out much to her chagrin.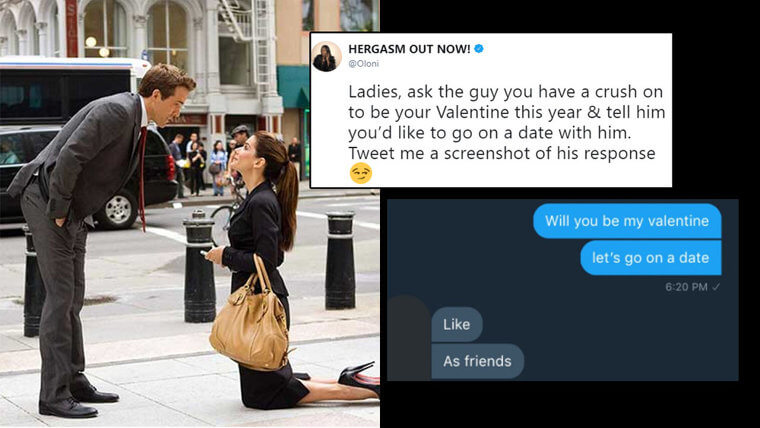 Twitter and TikTok challenges can be really dumb, which is the reason why this poor girl asked out the guy in question in this story. When she confessed to her crush the reaction she got was let's just say undesirable and awkward to put it mildly. Anyways, please refrain from taking on such challenges on important days like V-Day. After all, you only got one shot at impressing your crush.
A Royal Valentine's Day Delivery Fail
If you want to give someone a Valentine's Day card, it's best to deliver it in person. In fact, it applies to any gift you want to give unless the relationship is long-distance because relying on delivery companies is a bit risky as this lady found to her peril. She ordered a saucy V-Day card for her boyfriend to go to his place.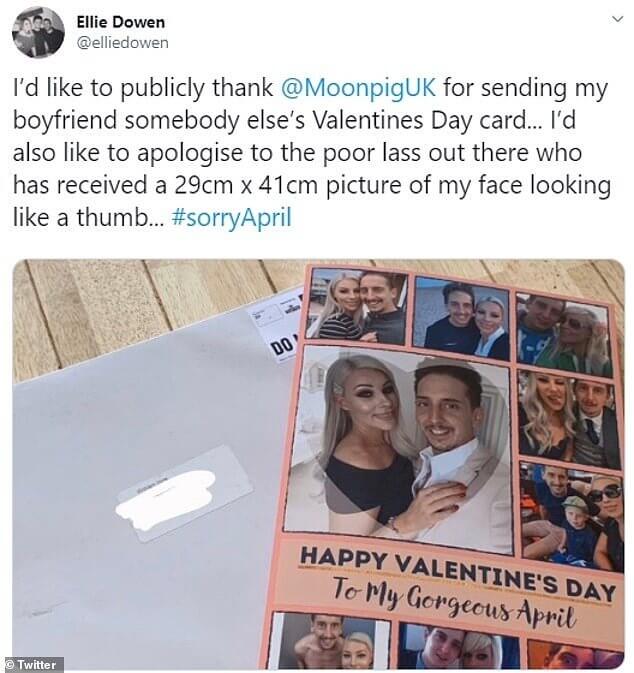 But instead of her boyfriend, the saucy V-Day card ended up in the wrong hand's thanks to a delivery mistake made by the card company. To make the best out of the silly situation the poor woman had to awkwardly reach out to the person who received it and requested him to redirect it to her boyfriend.
Bringing in the Third-Wheel
Custom gift cards can be found in almost all general stores, but the best ones are usually found in places like Hallmarks. However, even the best companies make a mess of things, as evident by the message written on this card. We can all agree that the persons who wrote it and the editor who approved it for production and definitely no longer working at Walmart.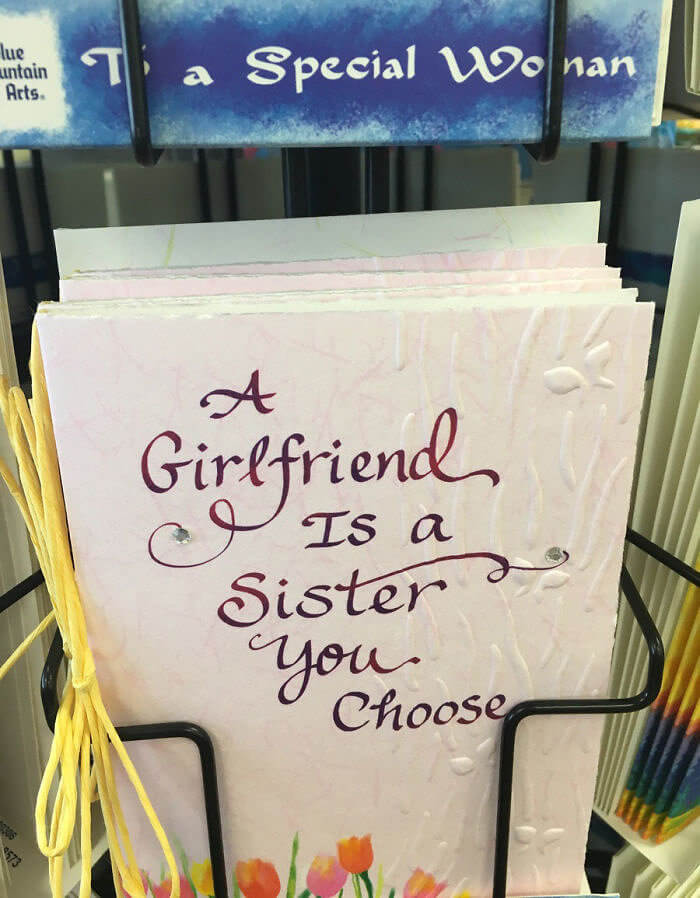 Why would anyone think that bringing up their sister in their confession to their crush is anyone's guess, probably the poor writer ran out of ideas. And to make it worse, it's not even on the inside message of the card but on the cover itself!
The Best Gift to Avoid Valentine's Day
Store displays of Valentine's Day essentials aren't uncommon and can be seen almost everywhere, but this one catches the eye for a special reason For some reason, most probably a prank by a customer, there's a box of sleeping pills tacked in one corner of the display alongside chocolates, wine, perfumes and more.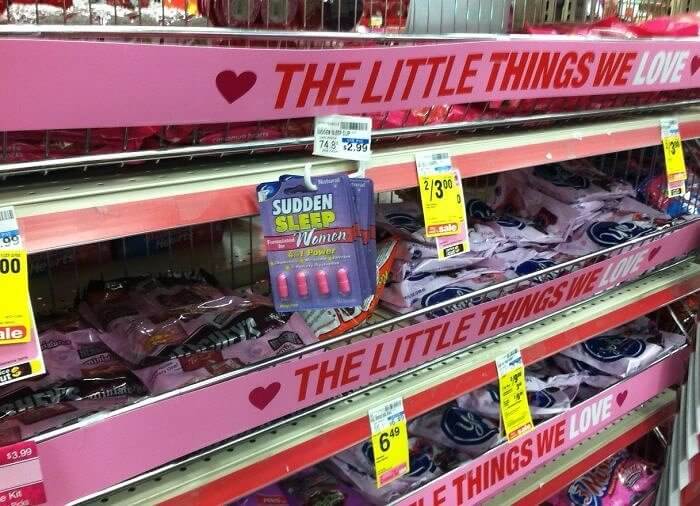 Seems like the message is very clear- just go to sleep instead going through the highs and lows of a relationship. Probably something a single man or woman would want, it just looks out of whack and hilarious alongside the other items. That doesn't mean it's a bad idea for all the bitter and broken-hearted singles out there!
Taking Friend-Zoned to a Whole New Level
A sold advice to boys and men in general- please make sure your crush is really into you before trying to go public. This lovestruck dumb teenager decided to post a picture of him and a close female friend of his, commenting on how much they looked like a couple.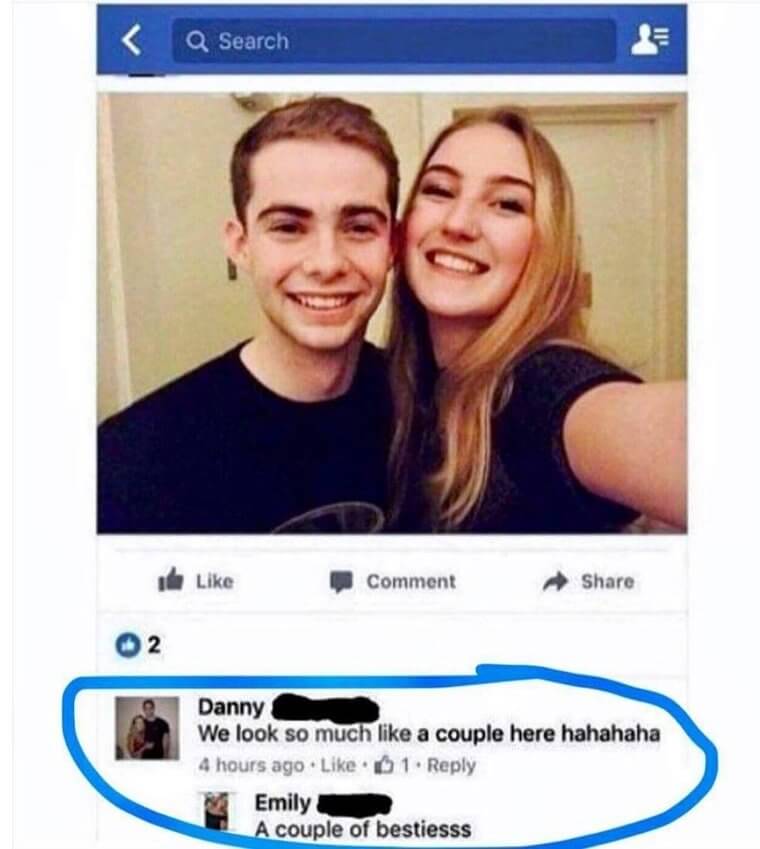 However, it didn't play well with the girl in question who roasted him so badly that one can't help but laugh. Instead of getting aggressive or anything, her simple reply comparing them to a couple of siblings and friend-zoning him instantly must have crushed the poor guy's heart. But as the Joker said, he got what he deserved for taking such an indirect and cowardly approach to the whole thing.
Mom's the Word
Sometimes Valentine's Day doesn't always have to be about romantic love- it can also be a great day to solidify parenting bonds between parents and children. The adorable little chap in this little story decided to give his mom a Valentine's Day gift card. The proud mom opened up the card her son made only to be appalled by the message inside.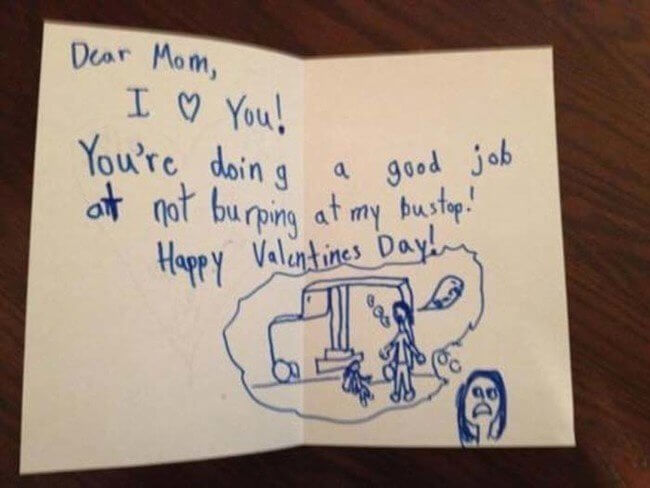 The kid had decided to include his mom's secret bus stop burps and to make things even more awkward, his teacher had helped him make the card. This was probably a very confusing moment for the kid's mom- on one hand, he had taken time and effort to demonstrate his love for her, but on the other hand, he had outed her secret to his entire class!
A Pragmatic Display of Bitterness
Sometimes when you visit libraries and bookshops, you will come across the shelf and display case arrangements so hilarious that they seem like a sign from God. Whether by divine providence or a bitter employee in a bad mood, a book on love has been placed just beside a book on divorce in this funny picture.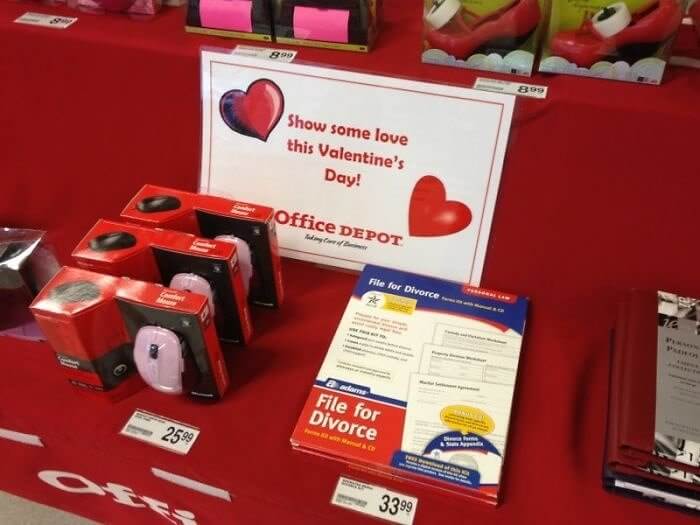 But in a way, it's quite pragmatic when you think about it. Not everyone is interested in finding love in their life, some are looking to run away from a bad marriage gone wrong too! At least those people will have something to buy while others are busy being in love and winning over their crushes!
When Bacon Is Love
For some men, their ideal life partner is a woman who loves meat as much as he does. The guy who ordered this bacon rose probably thinks he's found the one because this is a bit unorthodox for V-Day to say the least. While you might question the context of the gift, the rose definitely looks smoky and delicious.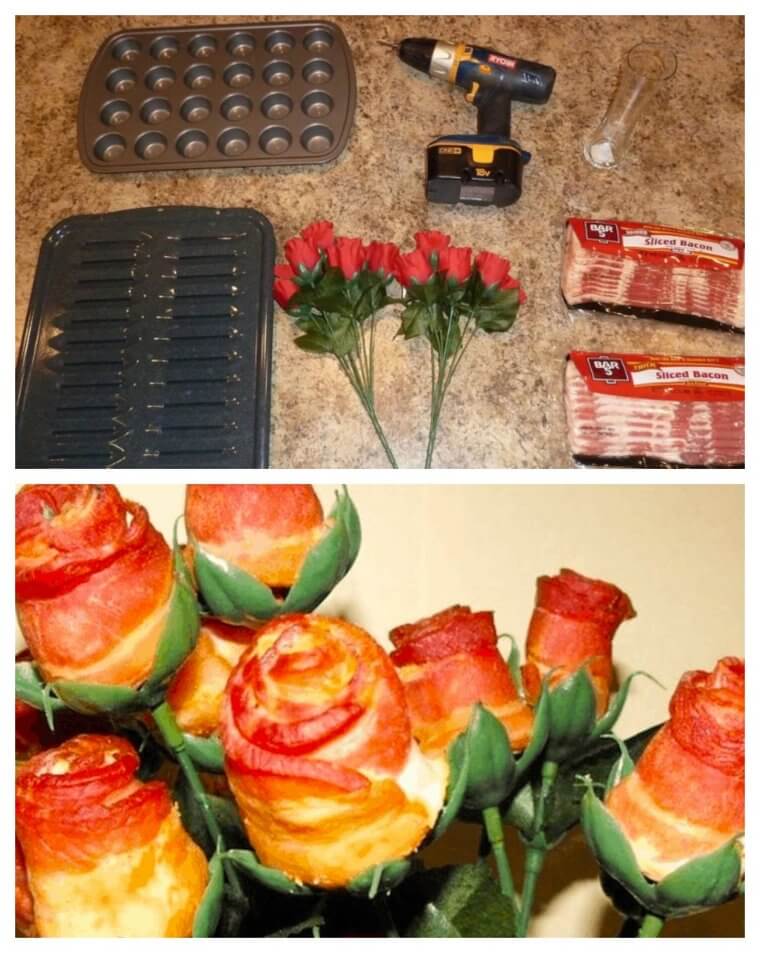 For some men, their ideal life partner is a woman who loves meat as much as he does. The guy who ordered this bacon rose probably thinks he's found the one because this is a bit unorthodox for V-Day to say the least. While you might question the context of the gift, the rose definitely looks smoky and delicious.
Wrong Gift or Subtle Message?
Most love to cuddle as a show of affection or when they feel cold. This is why getting a warm throw blanket for a V-Day gift for your girlfriend can be a really great idea. The girlfriend in question probably wouldn't have minded the gift if it wasn't the most anti-cuddle blanket ever.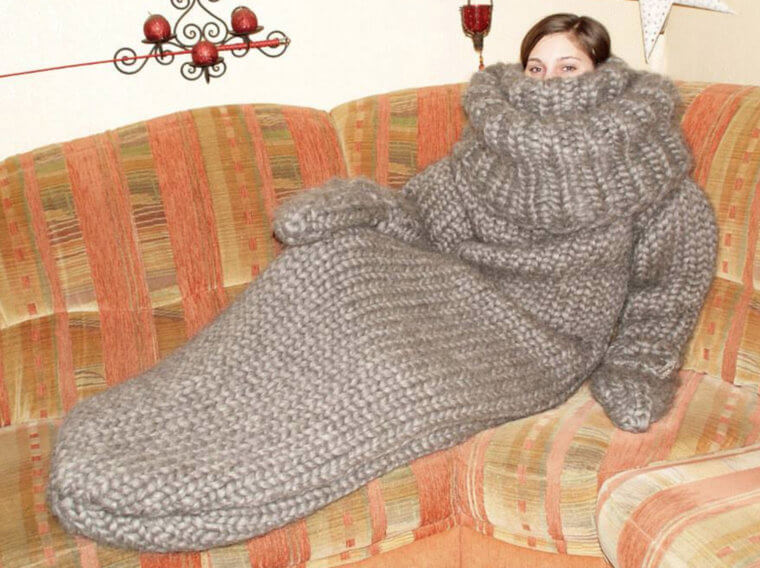 While her man's heart was probably definitely in the right place, the choice of gift definitely wasn't the best. While he definitely got her a good blanket, it's only meant for one, which puts cuddling out of the equation. Maybe it was a bad choice, or maybe he was sending her a not-so-subtle message which definitely might put her off a bit if his girlfriend loved cuddling.
Aesthetics Is Important
You'd be hard-pressed to find a woman or girl who doesn't love flowers, making them a pretty safe and excellent choice as V-Day gifts. However, when trying to gift a bouquet, it's best to leave the job to a professional florist instead of trying to do it by yourself, as exemplified perfectly by this picture below. Guys, please pay attention!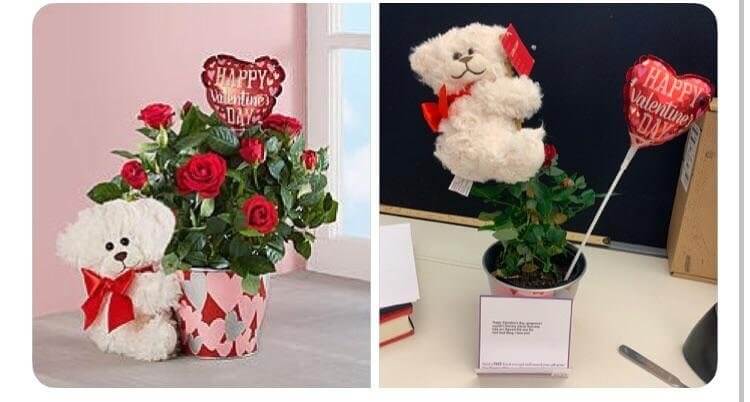 While the flowers were definitely fresh and pretty, the way they were arranged around the teddy bear is definitely a disaster. The arrangement is so bad that the teddy sticks out pointedly instead of blending in with it. Hopefully, the guy learned his lesson and gifts her a proper bouquet the next time if there was a next time that is!
You Got Caged!
Most people love Nicholas Cage, even though he has built up that crazy uncle vibe in the last couple of years. While it's well and good to be a fan of this fantastic actor, this particular fan went a bit overboard by including his favorite star in his V-Day gift which ended up being quite bizarre and weird indeed.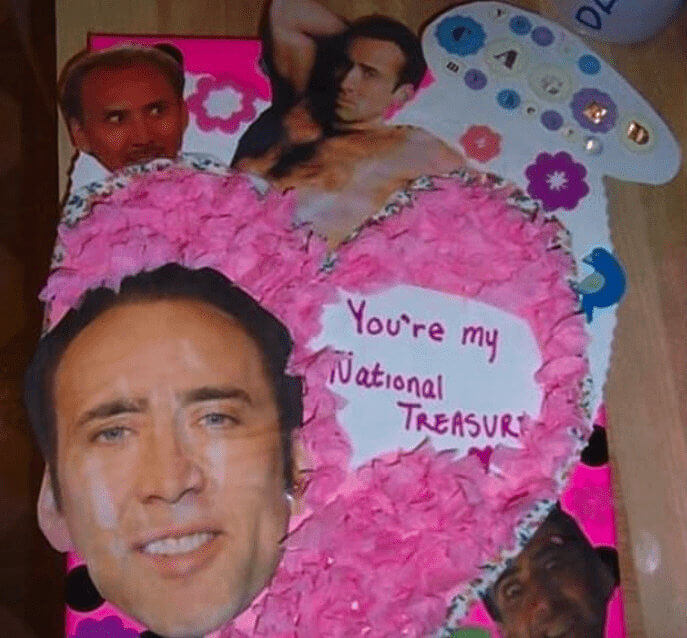 Instead of getting her a normal V-Day gift card, he instead decided to present her with a collage of quirky pictures of the star, complete with frills to boot! Unless she's already his girlfriend, we have to vote this one as a very risky choice of gift for V-Day.
V-Day Isn't for Dental Hygiene Obsession
Of all the weird gifts one could think of, a pair of His and Her tongue scrapers is probably the last thing one could think of. Whoever bought this gift for his/her Valentine definitely takes their dental hygiene seriously, but on the flip side, their partner might not be too enthralled at receiving something so unromantic.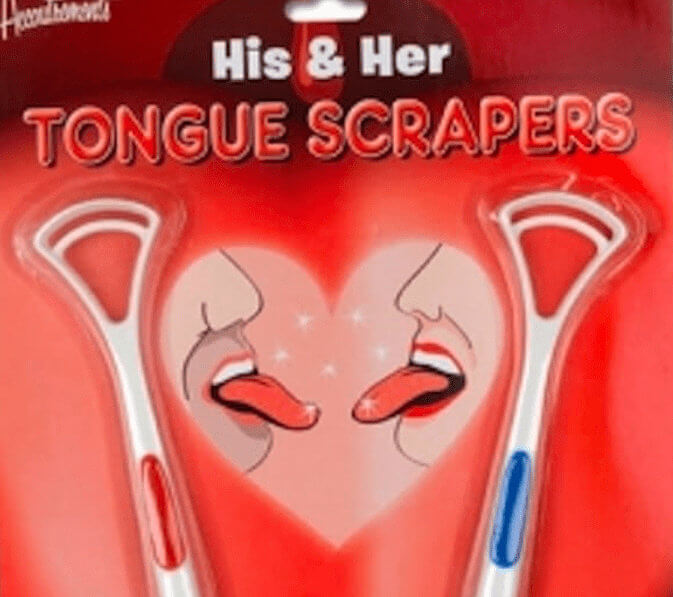 In the worst-case scenario, they might have even got the wrong message! It's best to leave these kinds of gifts for other occasions throughout the year instead of the one day that is very special for romance. But in case they got an adverse reaction, he/she definitely deserved it, because man or woman, tongue scrapers are the last things anyone wants for V-Day.
Last Minute= Less Effort
When it comes to an important and special day like V-Day, it's best to plan things ahead unless you want to end up like this unlucky hubby who decided to get a gift for his wife at the very last minute from the local supermarket. As you might expect, it ended up being a stock Valentine's Day card with a cheesy message.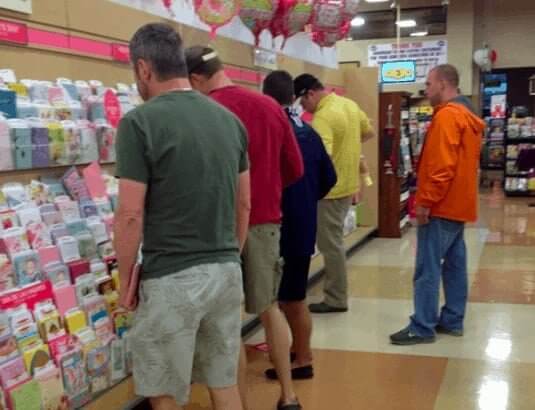 No wonder women complain so much about their husbands putting less effort into their relationship after marriage. Guys, a little bit of originality and planning will go a long way to keep your romance alive instead of making last-minute efforts when it comes to V-Day, even after marriage.
The Pug Isn't Feeling the Love
Getting your significant other a pet is often a good idea provided you know your significant other wants one and can manage to maintain it properly. The receiver of this adorable pug is definitely a lucky lady, but we can't help but feel a bit sorry for the poor puppy who looks a tad bit uncomfortable in that silly outfit.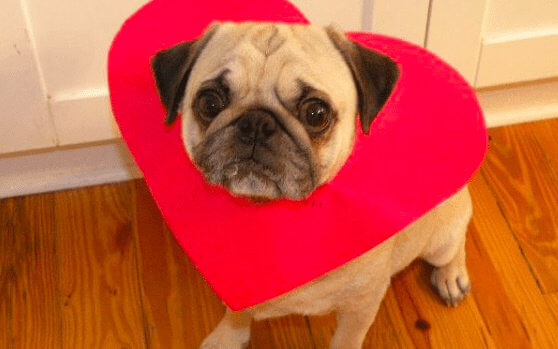 And what's worse the outfit is so tight that the poor pug probably had to be taken to the vet to cut the outfit off safely. If you ever decided to give a pet to your significant other for V-Day, please just give it to them normally packed in a box or directly introduce it to its new owner instead of putting it through so much distress.
Hiding Rings Is A Bit Risky
There's a pretty good reason the idea of sneaking in an engagement ring in drinks is still popular to this day- it's a cool way to catch your lady love off-guard. The basic premise is the guy asks out his girlfriend on a dinner date, orders two glasses of champagne, and somehow an engagement ring magically sits at the bottom of the girlfriend's glass.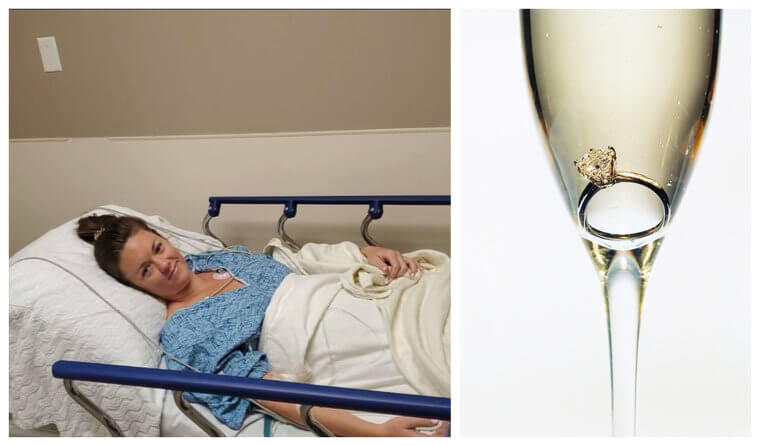 For this couple, everything was going smoothly until the point where the dude's girlfriend failed to detect the ring and gulped it down with the champaign. Now that's one couple who definitely headed to the ER room of the closest hospital after this hilarious mishap. Sometimes, the simple ways are the best ways when giving gifts like these.
When You're Being Too Cheap
Sometimes many lovers and would-be lovers find themselves in a pinch with V-Day approaching with a tight budget. Though many find creative ways to work around the budget to get the best gift for their Valentine, others fail to do so, as in this instance where this young lad decided to take his girl out on a romantic day for V-Day.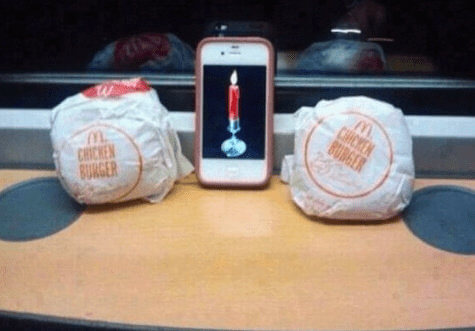 When it comes to V-Day dates, most women expect to wine and dined at a fancy place, at the very least better than run-of-the-mill fast food joints. But this guy had the audacity to take his girl to Mcdonald's and call it a day. If it was his first date with the girl then it probably was his last as well considering how throwaway his effort was at impressing her.
Of Flowers and Asparagus
We're sure the poor hubby who's the protagonist of this funny little story had his heart in the right place when he decided to get his wife some flowers for Valentine's Day. The only blunder- he bought her a bouquet of asparagus thinking they were flowers and put the bouquet in the water, thinking they would bloom overnight.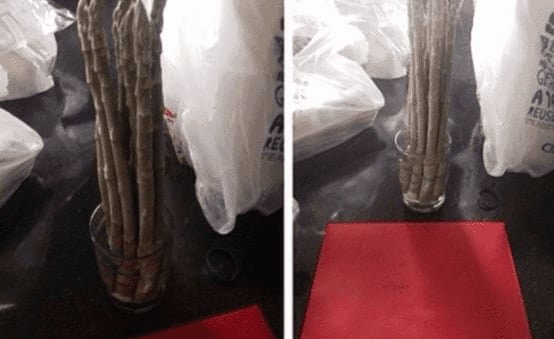 However, when his wife and daughter figured out what the bouquet was actually comprised of, they definitely had a laugh! At least they didn't have to worry about buying veggies for dinner that night which is a relief in this tight economy!
When Love Is a Box of Chicken Nuggets
In some of the previous Valentine's fails you've read about some pretty unique Valentine's blunders thanks to weird gifts, but somehow this guy managed to turn the tides. What should have been a failed Valentine's gift of two boxes of chicken nuggets and a witty pun ended up winning over the girl thanks to the creativity and wittiness.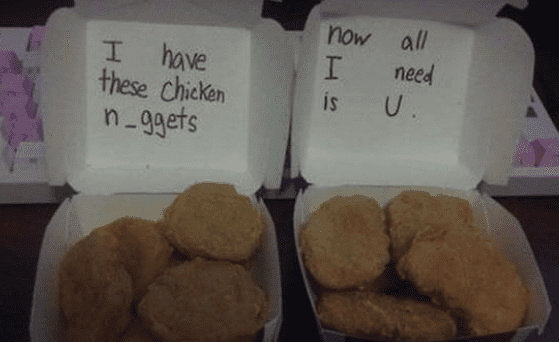 Though not the most romantic or expensive gift ever, the gift definitely made her laugh which can make all the difference in the world when you're trying to win over a woman or reaffirm your feelings for her on a special day like V-Day.
When Baking Goes Bad I
Guys tend to be quite lazy when choosing Valentine's gifts, so we can only assume that it was a girl who ended up creating this Frankenstein of a cake. Baking a cake isn't exactly rocket science- you through in some flour, a couple of eggs, and a few tablespoons of sugar before battering it and putting it in the oven. Sounds simple, right?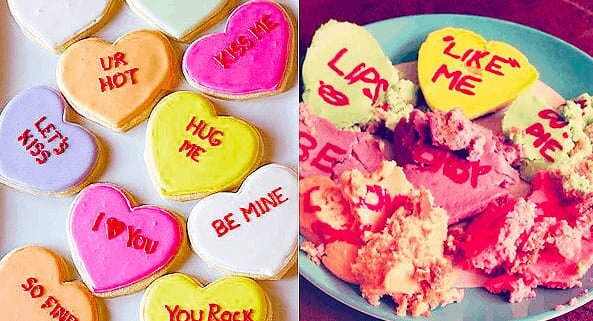 It should have been, but somehow this novice baker tried something way out of her league after probably seeing it on Pinterest. In defense of the cake, while it isn't the most impressive-looking cake ever, it probably was delicious. We just hope the recipient appreciated the gesture and taste of this particular cake than getting turned off by its messy look.
Regifting Is a Bad Idea for V-Day
At one point or another everyone is guilty of regifting something, especially if they're less financially fortunate. And while it can be acceptable in certain situations like birthdays or special family ceremonies, Valentine's Day is certainly not one of them. And that's exactly the blunder this poor Romeo made in this story.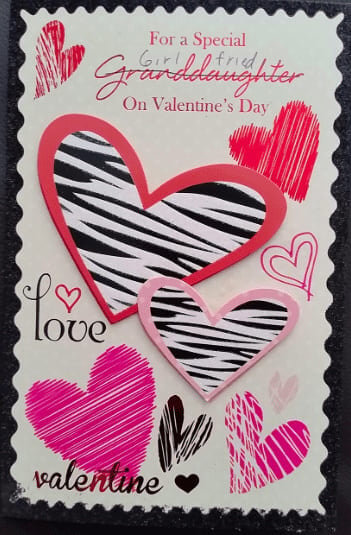 And to make it even worse, the gift reminded her of her grandfather which is the last person you would want to remind the girl you're trying to impress. And as the final icing on the cake, he even spelled 'girlfriend' wrong in the message! This poor dude is definitely not getting a second pass.
When You're Asking for Trouble
If there is one thing every decent and civilized person in today's world hates, it's sexism. It's a thing that should remain in the past as it aims to demean women, something no modern woman appreciates no matter where they are. So as a boyfriend or husband, the last mistake you should make on V-Day is to go for a gift with a sexist undertone.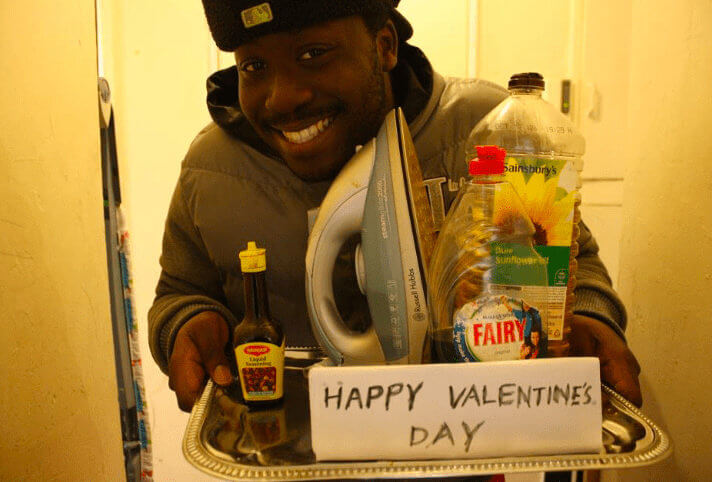 Somehow this guy found it hilarious to get his girlfriend a dog box for Valentine's Day.  One can only hope that his girlfriend is the forgiving type because after receiving a gift like this, most girlfriends would ensure this is the last photo of the guy ever taken before he disappears from the face of the Earth!
When Kitty Love Goes South
We already have a hilarious instance of a puppy love Valentine's fail, so why not throw in another hilarious fail involving kitty love? This smooth Casanova found the cutest of kitties to present to his Valentine and we're pretty sure the girl in question was really happy to receive such a cute little ball of fur for V-Day.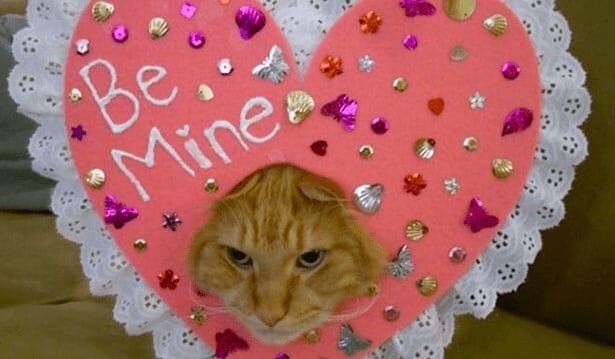 The only problem is, the cat itself doesn't look too pleased to be part of the procedure and has a comical look on its face that clearly says that he clearly had enough. Apparently, as soon as the photo was taken and he was put on the ground, he made a run for it in the darkness of the night with the sign still attached to its neck. 
The Overzealous Baker
When you order something online, especially for someone else, things can often go wrong in many instances. In this funny fail, an overzealous baker spoilt the Valentine's Day gift of this unlucky Romeo. While we definitely are getting a laugh out of this, the poor chap who ordered the cake definitely didn't.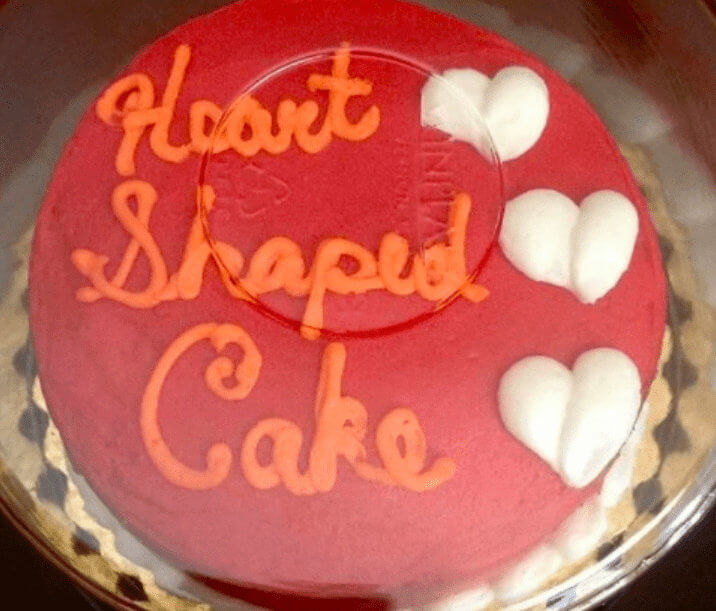 His original plan was to gift a simple heart-shaped cake to the girl he liked to test the waters, but his plan got bungled up by the overzealous baker, who decidedly to include a small message on top of the cake that clearly made it a romantic declaration. After such a huge fail, the guy was definitely entitled to a refund from the baker!
When Pizza Is Love
Even people who prefer burgers and subs won't ever say no to a good slice of pizza, it's just that good of food. But that doesn't make it the perfect gift for Valentine's Day. But Romeo in this story had the opposite train of thought and decided to declare his undying love for his crush by gifting her a pizza on V-Day as the proposal gift.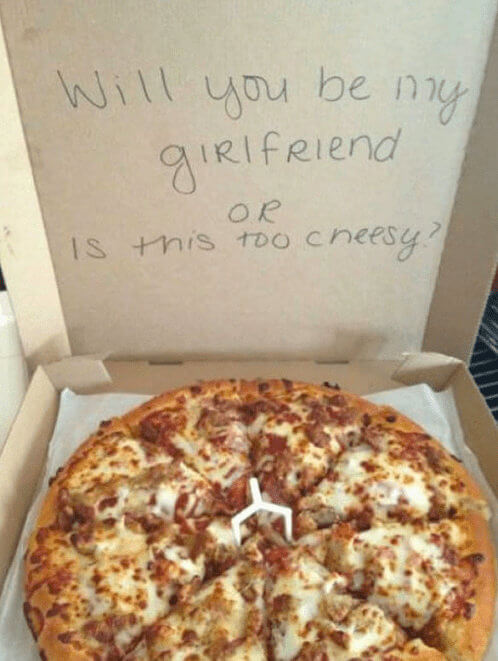 While some might say he cheaped out, we beg to differ- the witty message along with the pizza might have just been the perfect icing on the cake to make his crush laugh at receiving such a tasty V-Day gift that came out of nowhere. It sure would have been nice to know whether this proposal ended up working or not.
When You Love Yourself
For every couple out there, there are almost an equal number of singles of both sexes, if not more which is why you'll find more than your fair share of people who aren't too enamored with this particular date as they're alone and don't have someone so celebrate it with. Some of them have never found love while others are burnt out from a bad romance.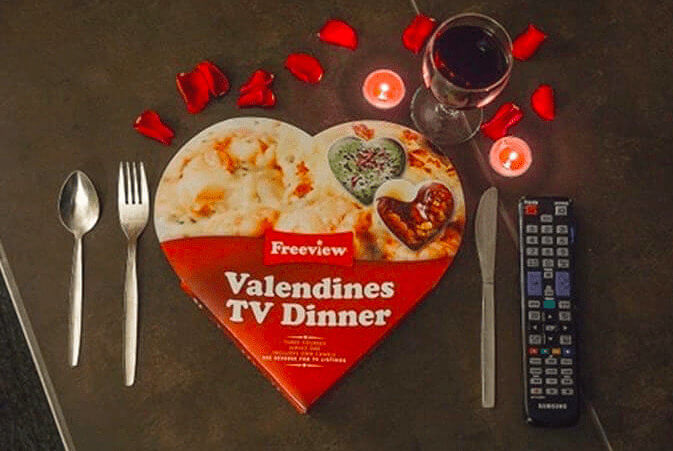 Whatever the case might be, this guy has decided to say f**k it and celebrate Valentine's day all by himself. He went through the whole nine yards, decorating the TV dinner he made for the night with rose petals and candles. To be honest, doesn't sound like a bad idea at all if you're tired of looking at lovey-dovey couples all day on V-Day.
When Not to Think Outside the Box
In this humorous Valentine's Day fail, what started out as a cute idea ended up being a total fail no thanks to the weird choice of this hopeful Romeo. Instead of opting for a regular bouquet of roses to gift to his crush, he decided to think outside the box and go for a lion-shaped arrangement for the bouquet.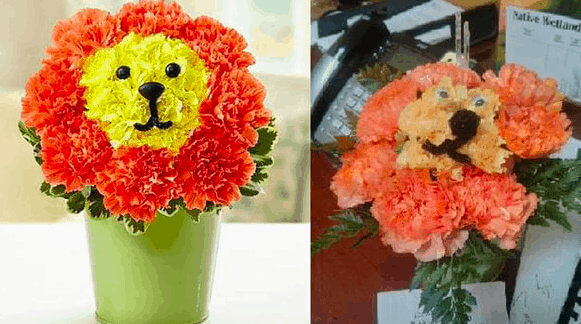 The end result is something that most women wouldn't find appealing in a romantic way because even though it's unique, the end result is a bit goofy. Maybe he should have just found a better florist who specialized in fancy bouquets.
When Baking Goes Bad II
Valentine's Day can not only be a day to declare love, an apologetic lover might find it the perfect opportunity to apologize for a blunder he/she might have made. This poor girl probably put her heart and soul to make a heart-shaped cookie for her boyfriend after a fight, but the end result definitely didn't come out the way she wanted.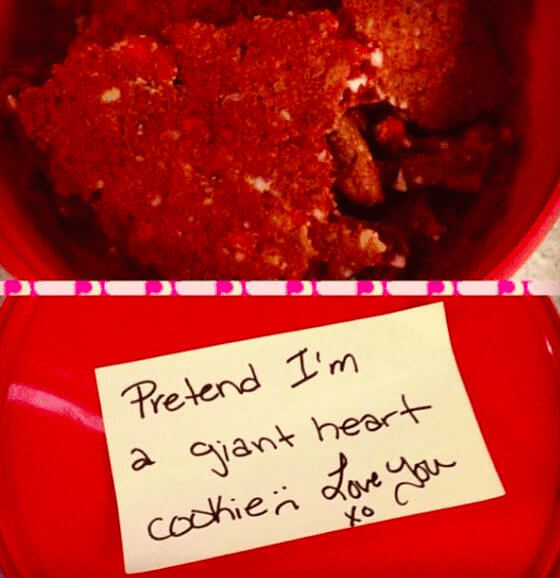 Though it's not perfect, it's the thought (and taste in this particular case!) that counts right? We sure hope the boyfriend appreciated the effort and enjoyed it.
Why Spelling Matters
The English language can be a very fickle thing- add or subtract a letter from a word and the meaning and context of a sentence can change entirely. This is exactly why it's important to pay attention to English classes when you're in school because otherwise you'll make dumb blunders like these and lose your face in front of the girl you're trying to impress.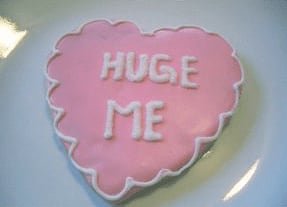 The poor guy who wrote this message definitely didn't pay attention to his English class back in school, and the baker also decided to go with the wrong message instead of correcting it. Definitely, no girl is going to be impressed to receive a cake that says 'Huge Me' instead of 'Hug Me'!
Unique Valentines Day Gifts That Any Guy Would Love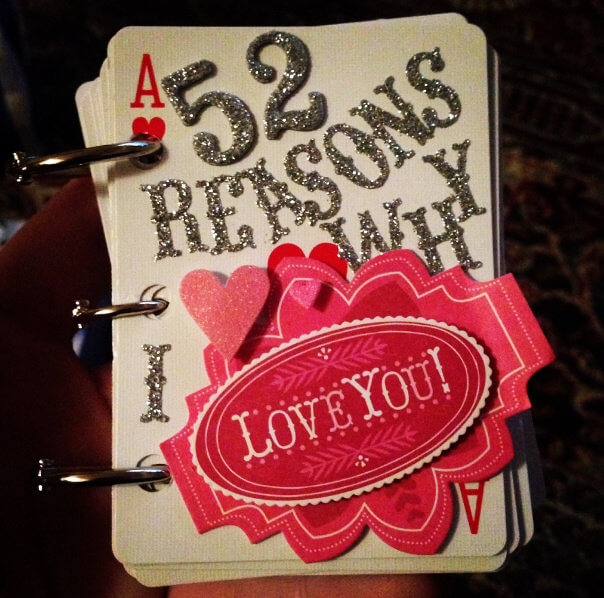 Are you tired of giving your man the same old Valentine's day gifts? If so, it's time to introduce some original ideas into your Valentine's Day routine. Mix it up and give your man something special for a reaction that you've never seen before. These are some of the best unique gifts for men that don't cost much but will win their hearts over again and again.
DIY Jar of Reasons "Why You Love Him"
There are few people on this earth that don't like being told the many reasons you love them. Unless your man is one of them, he'll likely appreciate being adorned with words of affirmation and affection. It's time to break out your DIY skills to tell your man exactly what sets him apart.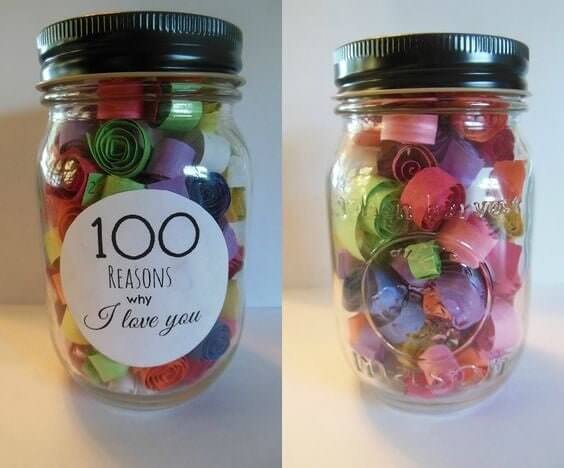 First, you'll take a glass jar, wrap it in twine and decorate it. Then you need to write down all the reasons you love your man on slips of paper. Once you're done, pop them in the jar and tell your man to open one of them a day. Or he can open them all at once if he feels like he needs a little extra love all at once.
Make Your Own Heart-Shaped Tea Bags
This is a present that works particularly well if your man is a tea lover, if not, it might be best to give this one a miss. You'll need some coffee filters (alternatively you can use refillable teabags), a needle and thread, and some red paper to create a tag for the end.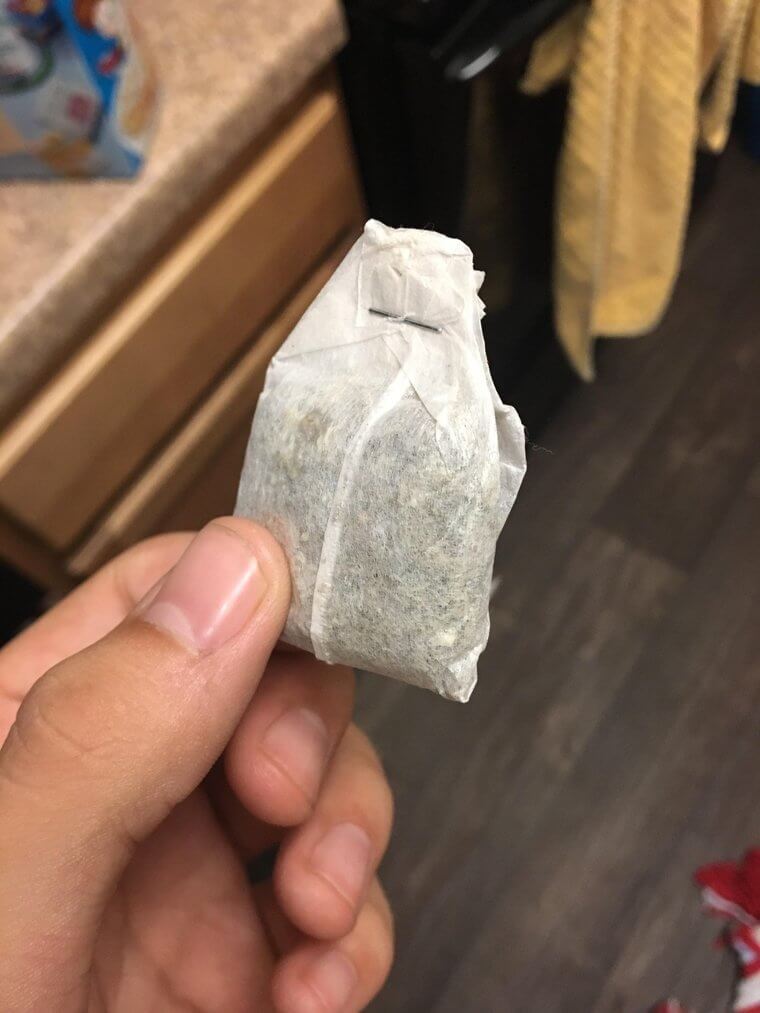 Then you're going to need to cut your coffee filters or refillable teabags into the shape of hearts. Add the tea of your choice and stitch them up. Remember to leave a thread dangling out, and create a heart tag with the red paper to give it that extra special Valentine's touch. They will certainly appreciate the great lengths you went to to make them a loving tea.
Miniature Notebook or Love Notebook
If your partner is someone who loves to write a good poem, leave a cute love note, or just leave notes for you in general, then this miniature notebook could be just the thing. By creating something this tiny and special, you ensure that they can always have something that you made for them with them.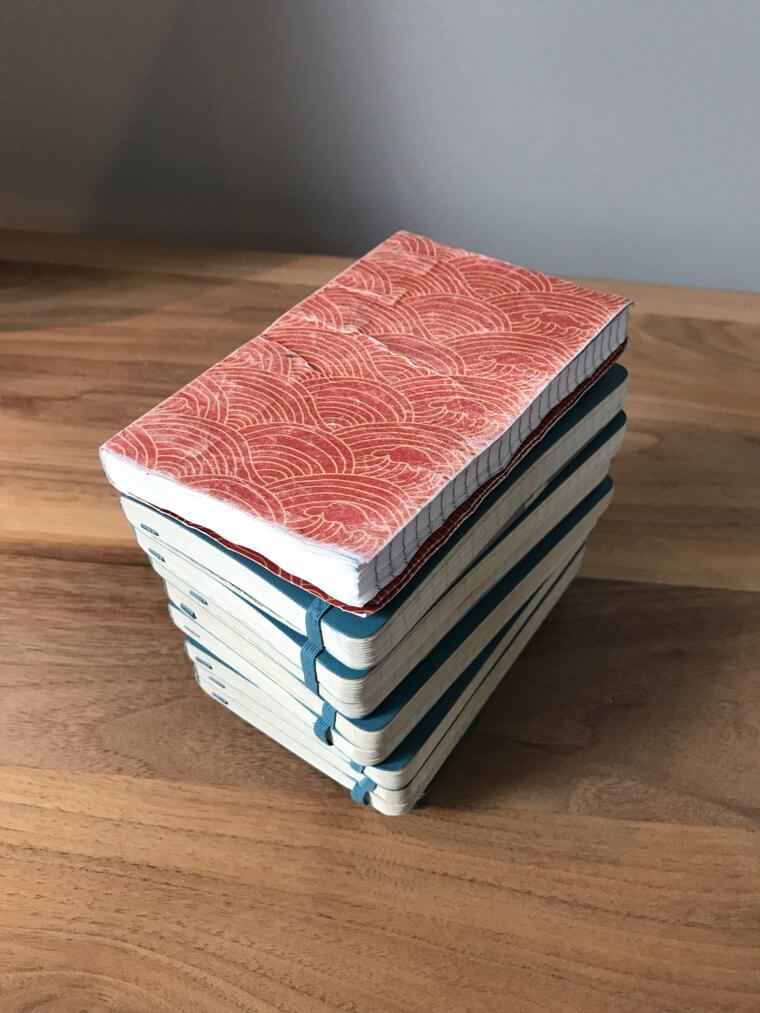 It also makes the perfect accessory to another gift if it is well-decorated. You can make the notebook in many different styles, but bending it in half rectangles to create the shape is ideal. Remember when you are cutting out the rectangles of paper, the notebook will end up being about half that size.
Give Your Man a Chocolate Cupcake
It's time to test out whether or not the saying is true - the best way to a man's heart is through his stomach. As a tried and tested tactic to win men over, people have been using this method for years and that is because it works.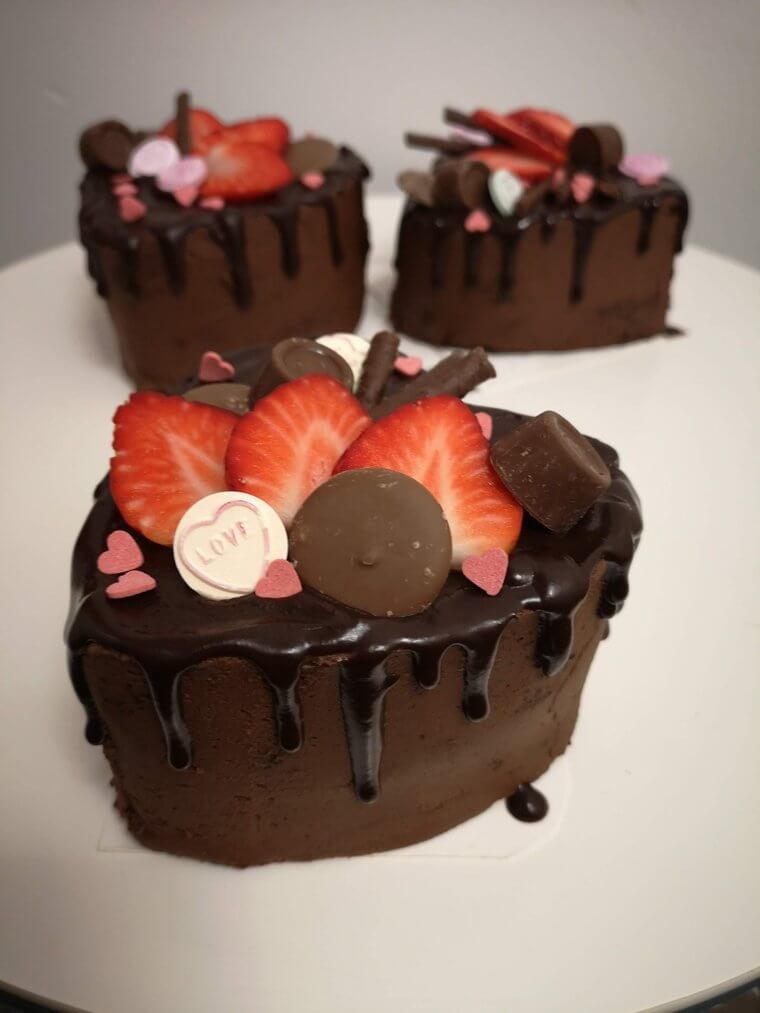 You can use your favorite chocolate muffin recipe, you simply need to get a heart mold so that your cupcakes can have the signature Valentine's Day heart shape. If you want to give your man something to smile about and keep him coming back for more - pop a block of chocolate in the center for that melt-in-your-mouth finish.
Create a Custom-Made Photo Frame
There's nothing that will remind your man more of you, than a picture of your face. It's a little on the nose but it is the truth. Use your favorite picture of the two of you together and create a beautiful photo frame that you can customize to his interests.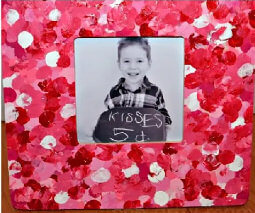 If his interests wouldn't make a pretty photo frame, then customize it in a way that depicts the love you share. It could be Valentine's Day hearts, or it could be symbols that represent special moments in your relationship. Either way, your man will have a special picture of you that he can put in his room or his desk at work.
Create Custom Bread Wrappers
Now here's a gift your man never knew he wanted - custom bread wrappers. This is particularly for you if you love to dabble in arts and crafts because it doesn't get as arty as this. Come up with cute slogans and pretty logos to add to your bread wrapper and print them out.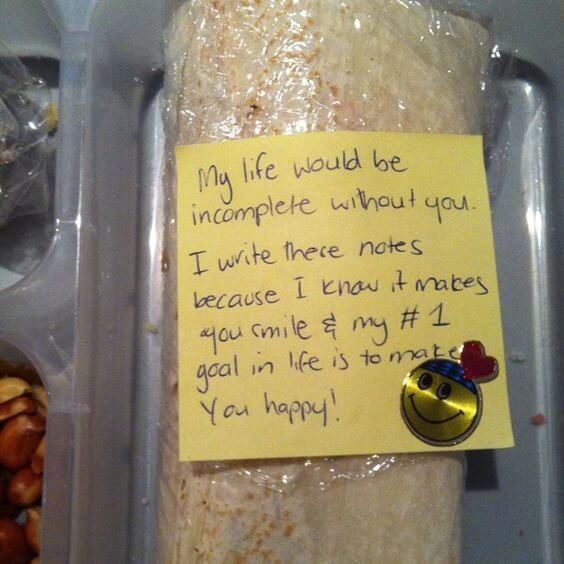 Once you have a stack of custom bread wrappers, pop them on your man's favorite bread, or if you want to put an even bigger grin on his face, make some homemade bread yourself. For Valentine's Day, the sweeter the better, so try making some homemade banana bread to show your man just how you feel.
Create More Artsy Love Letters
Who said love letters need to be boring and written on paper? Rather make a love letter that will stand the test of time, and can become a more permanent fixture in the house. Embroidering can take a while to learn, but if you already know how it's done, this will be easy for you.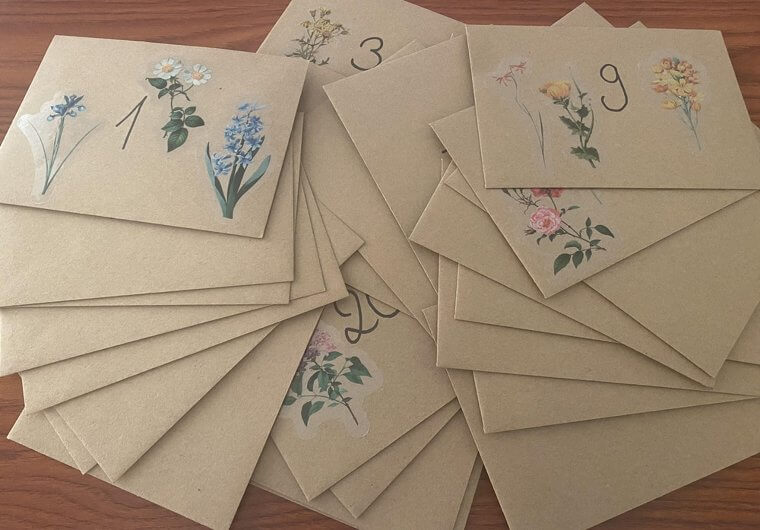 You can easily create a personalized message for your man by using back stitching on a piece of material. Once you have written out your message, consider framing it so that he can put it somewhere special. If you don't want to frame it then consider sticking it to the front of the card for a more personalized touch.
An Hourly Gift on Valentine's Day
Are you struggling to find just one special gift to give to your person on Valentine's Day? If you're someone that loves to spoil the man that you're with, then why not give one to him every hour for 14 hours (on the 14th of February)?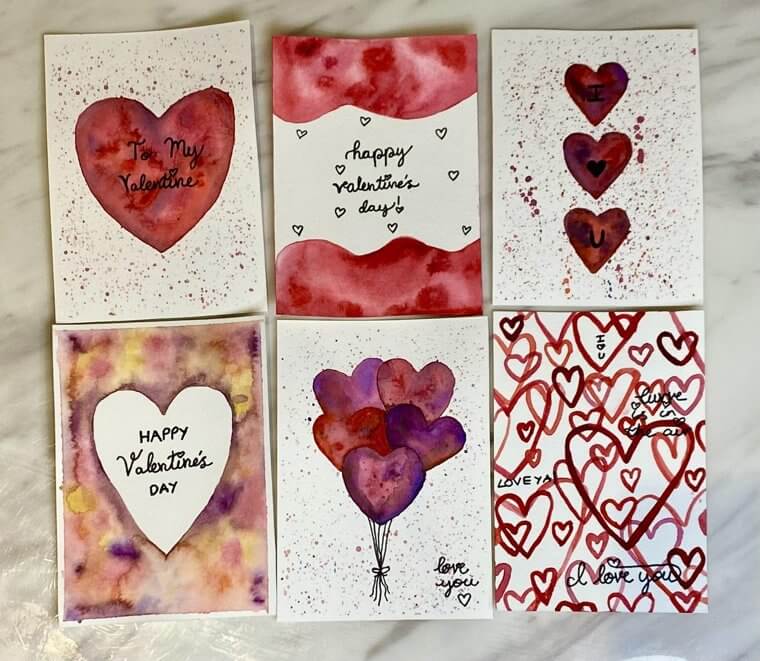 This gives you the opportunity to give him a couple of lovely smaller gifts and makes the entire day far more exciting. Label each gift with the time when it should be opened so that the order of the gifts doesn't get muddled up. Your man will surely appreciate the great lengths that you go to.
Make a Valentine's Day Basket
Struggling to settle on just ONE special gift? You don't have to! Why not make your man a special Valentine's Day basket? This could be a date night special including a movie, a bottle of wine, some chocolates, and a bag of popcorn that can be enjoyed together.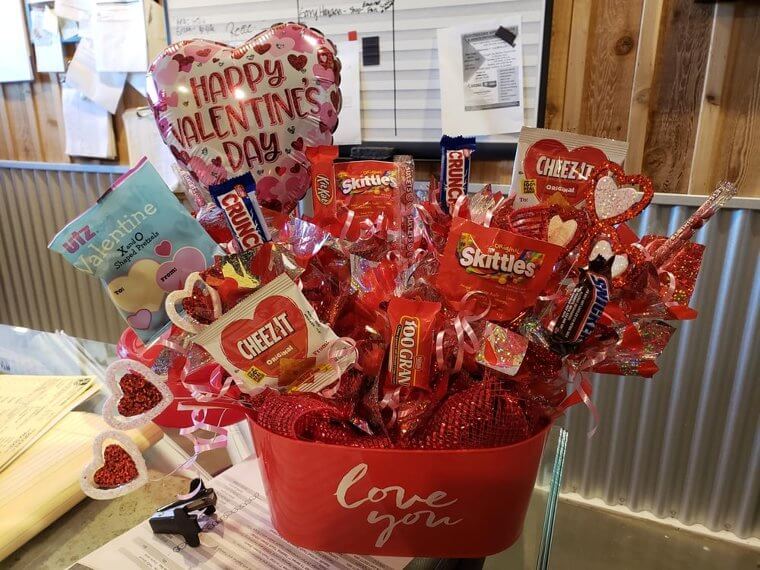 If you are not lucky enough to be spending the evening with your man, then you can still give him a Valentine's Day basket, but this time customize it just to his liking with all of his favorite treats. He will feel so special because you remembered all of his favorite things.
Create a Few Special Love Potions
If you are spending some quality time with your man on Valentine's Day, then why not make your partner some special love potions? Where to even begin? Well, some homemade alcoholic beverages are easy enough to conjure up.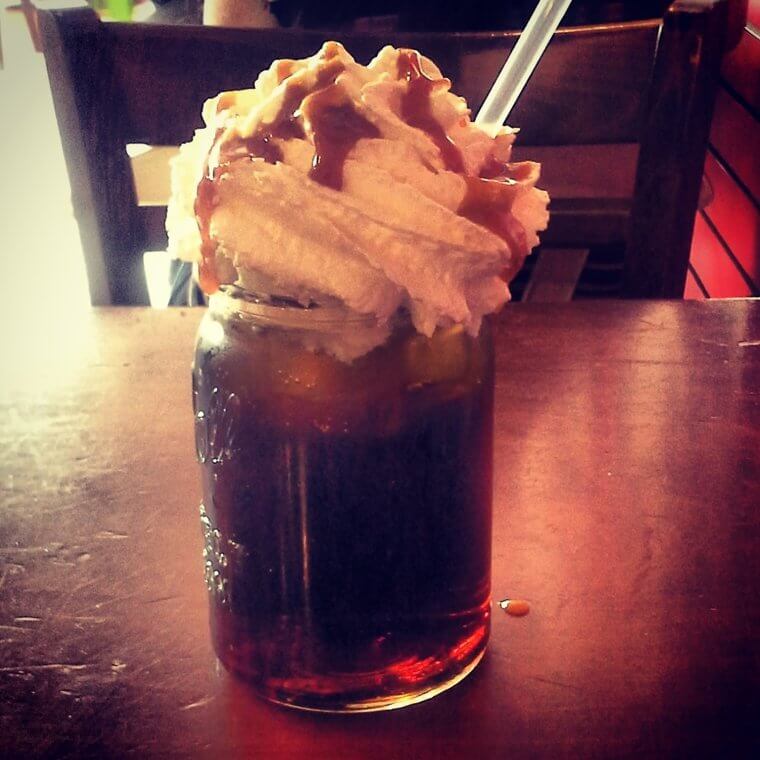 Be sure to put your special love potions into beautiful glass mason jars and decorate them with a cute paper straw and some hearts. This way you can remain on theme for your Valentine's Day treats and enjoy some special time together, bonding over a love potion.
Create a Special Message For Your Loved One
If you are looking for a way to replace the old-school Valentine's Day card with something a little more interesting, then this idea will knock your socks off. You can write a message for your man outside with these flour hearts that are very unique and original. Luckily, they are pretty easy too so they won't take too much time to make.
You can simply cut out a heart from a piece of card and use it as a stencil on your lawn. You can then place it over a patch of grass, and sprinkle cake flour over the card so when the card is removed, a white heart will be left on your lawn. You can stencil letters too and write a romantic message outdoors - he will love the effort.
Handmade Custom Beer Bottles
Do you want to give your man a gift that he will look at on a daily basis? Custom beer bottles will give you an opportunity to do just that because you can put a cute message on each one. If you want to get a little more creative, draw cute little pictures on each one.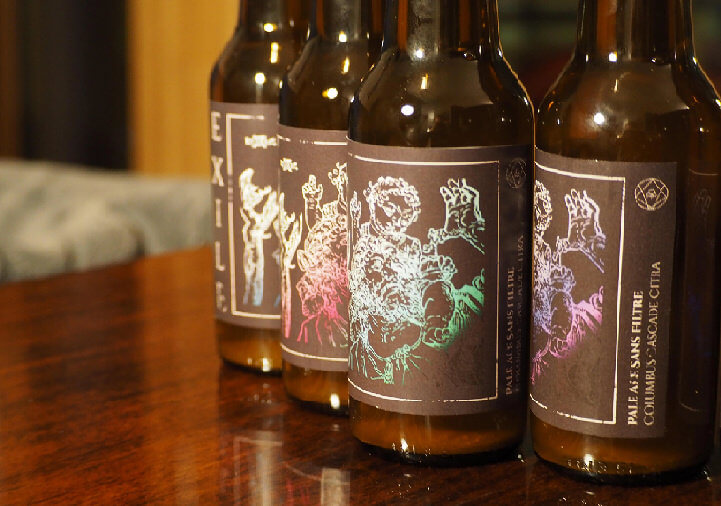 Don't be afraid to get a little creative with your Valentine's Day messaging. The best part about making handmade custom beer bottles is that they're reusable. A gift that's good for the environment as well as one that continuously demonstrates to your man how much you love him, what more could you ask for in a Valentine's Day gift?
Make Your Own Valentine's Light Bulb
Ready to make something completely different from any Valentine's Day gift idea you've seen anywhere else? A Valentine's Day lightbulb certainly ticks that box. All you need to make this unforgettable gift is some scraps of wire, red paint, and a large light bulb.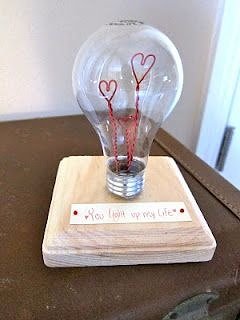 Don't forget to decorate the lightbulb stand with a cute message for your special someone. After all, what says "I love you" quite like a thoughtful handmade gift? Your man can put this Valentine's Day lightbulb next to his bed and think about you every night as he turns the light off.
Put Together a Lottery Point-Of-Sale Showcase
Have you ever seen a lottery point-of-sale display with all the bright shiny colors and dollar signs galore? What better way to tell your man you love him than by creating one just for him, to let him know you won the lottery when you found him.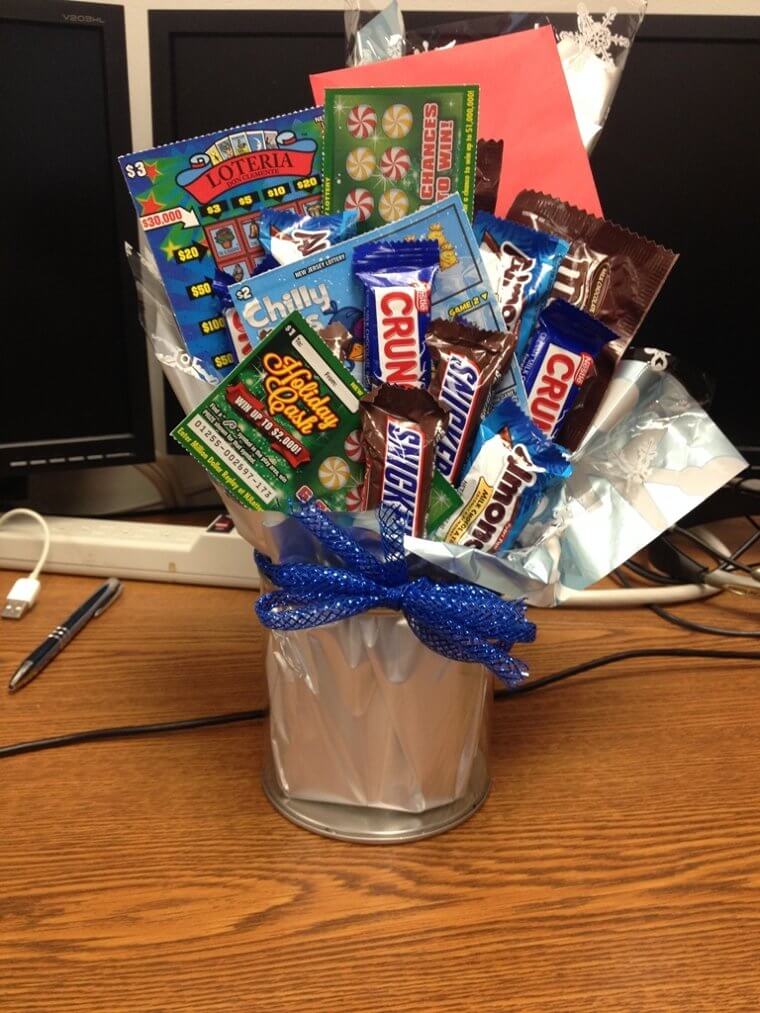 Everyone wants to feel like they are a one-in-a-million find, so why not let your man know that's exactly how you feel? And he'll most certainly treasure the amount of effort you were willing to go to in order to let him know that's how you feel.
Get Him Some Special Chalkboard Painting Mugs
What's better than a customizable mug, and one that can be customized as many times as you like? Not all that much! If you get your man a set of chalkboard painting mugs, he can design and redesign them all he likes.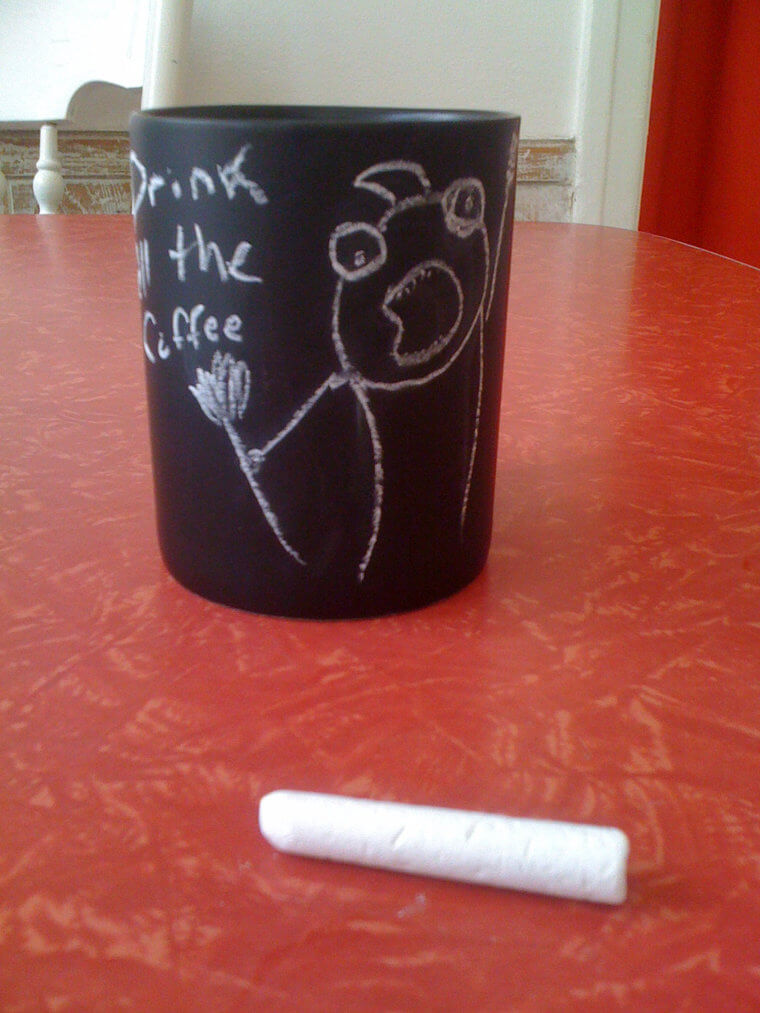 What's better than a customizable mug, and one that can be customized as many times as you like? Not all that much! If you get your man a set of chalkboard painting mugs, he can design and redesign them all he likes.
Put Together a Balloon Chandelier
Chandeliers are gorgeous and really bring life into a dull room. Not only are they filled with beautiful lights but often contain an element of precious jewels. While you might not be able to afford a Valentine's Day chandelier for your man, you can certainly create the same effect, only more precious because it will have some of your favorite memories together attached to it.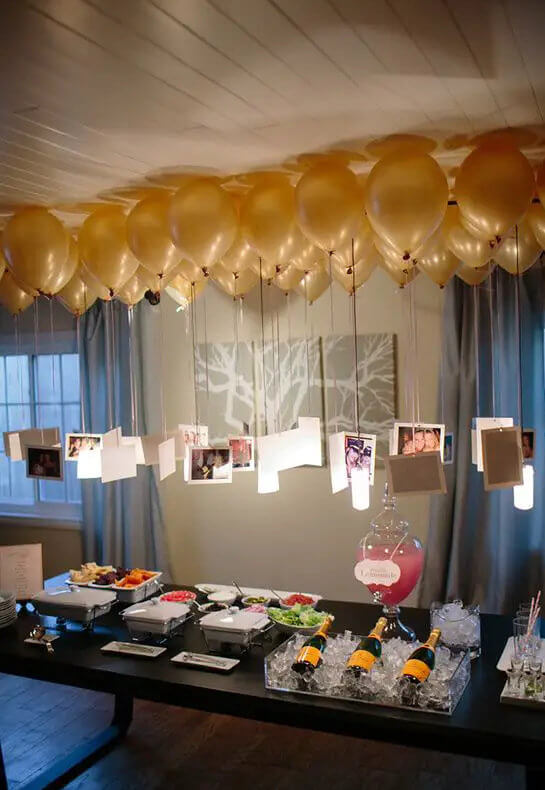 This balloon chandelier combines some interesting elements, the shiny balloons with lovely photos of you and your partner. While the balloons won't last more than a week or two, the photos can be added to an album once Valentine's Day is over and cherished forever.
Create a More Manly Bouquet
Flowers are synonymous with Valentine's Day, but not every man out there would appreciate receiving a bouquet of flowers for the day of love. So why not make your man a bouquet of his favorite things?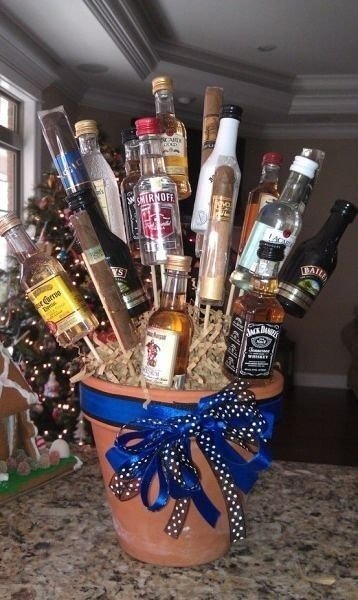 For some men this might be their favorite drink, for others, it might be packs of jerky while they watch the game. Think of what your man really likes and adorn him with it this Valentine's Day. You'll be giving him a gift he'll be talking about for years to come.
Custom Room Decoration
If you're going to be spending a romantic evening with your man on Valentine's Day, then be sure to make the bedroom extra special for the 14th of Feb. Add a touch of anything and everything that could take the romance up a notch.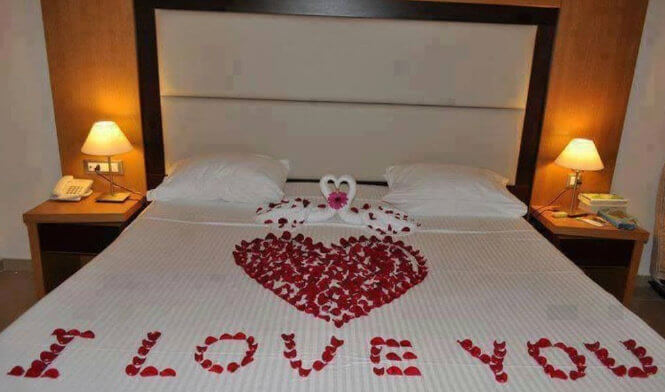 Think red balloons on the ceiling, and rose petals on the bed, you can really make a bedroom that extra bit special with some effort. And you and your man can enjoy the special space together however you choose.
Make a Love Letter Photo Frame
While a customized photo frame was mentioned previously in this list of Valentine's Day presents for men, there are many different types of custom photo frames that can be created. Have you thought about writing a love letter to your man?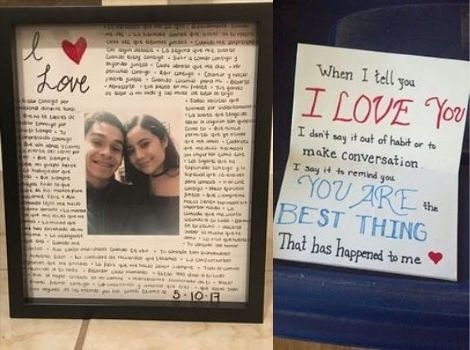 Why not turn it into a photo frame? This is particularly useful if you have great handwriting, or know how to write calligraphy, although that isn't 100% necessary because knowing that you wrote it will be special enough to a man who loves you.
Create an Initials Candle
There's something so romantic about seeing your initials next to the initials of the one you love. That's why teenagers burn their initials into trees in just about every other rom-com. It's about time you make your initials a more permanent fixture too.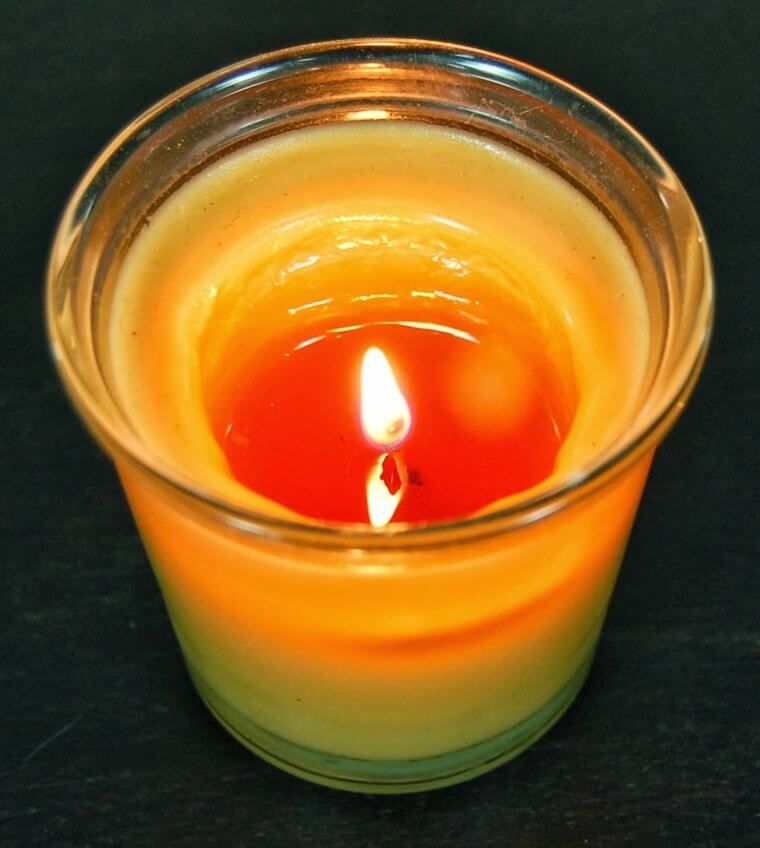 How about making this cute-as-a-button initials candle? It's not too much work, so don't worry if you're not a DIY expert, but it's enough to show you care. All you need to do is buy a candle at the store, imprint your initials into the side with a heart around them, and take a metallic marker to accentuate the marks. And boom, you've got yourself a cute and personalized gift that your man can appreciate.
Put Together a Gift Jar
A gift jar is a great way to show your man that you know his taste. And by taste, we quite literally mean his taste in sweets or treats of some kind. Buy a jar, wrap it with something pretty and add his favorite snack.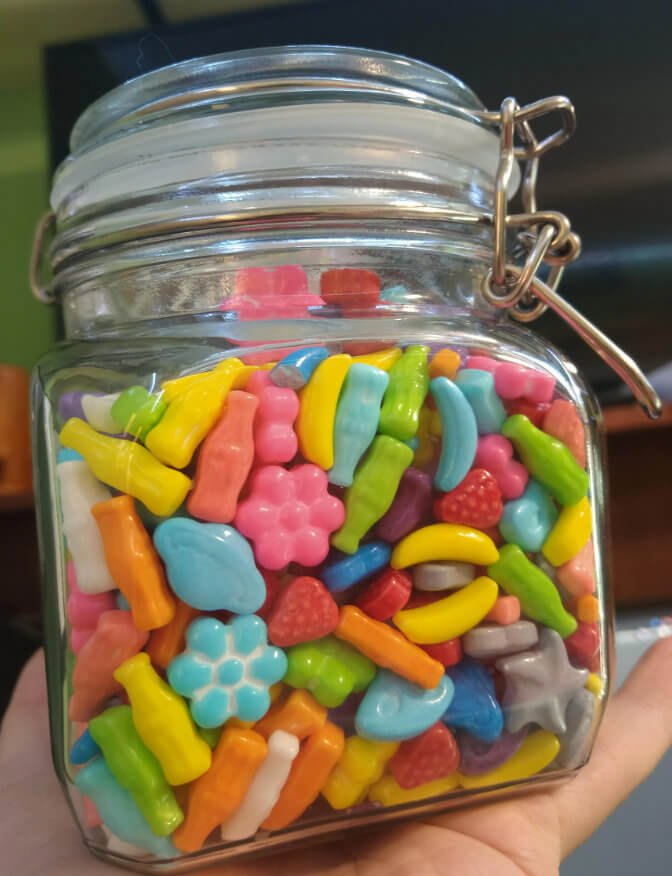 If you want to take it one step further, you could make the tasty treat for him yourself. Think about treats like mini brownies, mini muffins, or even date balls if he prefers to be on the healthier side. You'll demonstrate to him that you know what he likes and he'll get to enjoy something truly mouth-watering.