We are about to read about the unlucky passengers who received the most "interesting" welcome at the airport. It wouldn't be surprising if some of them started to run back to the airplane after seeing some of these wacky welcome signs. Admittedly, not everything included on this list is funny - some are plain cringe-worthy. However, we assure you that some of these signs will steal your heart! 
Sassy Orphanz on the Block
Hate it or love it, we can agree that these "orphanz" are making a statement. These siblings were waiting to meet their parents at the airport. Aren't they all cute? Isn't it amazing how these kids clearly in their 20s can do this cringey thing to welcome their parents? It appears that their parents left their hometown.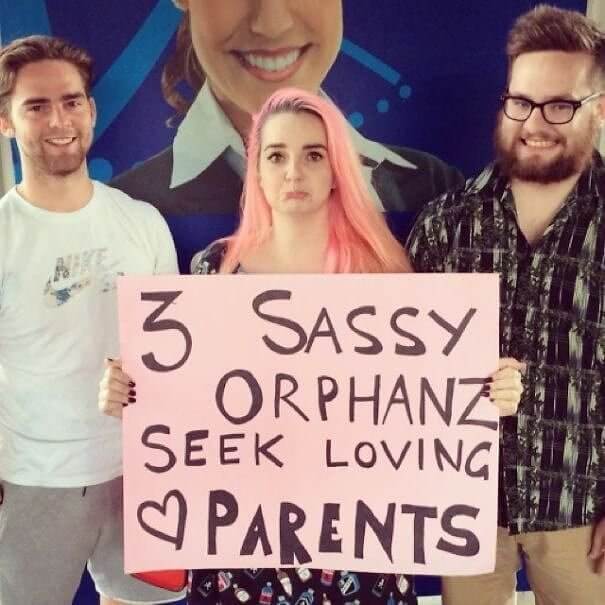 Now that their parents are returning back, they now claim they are "orphanz" just because they were left at home for some time. Their parents probably had a great deal of time laughing at this sign, or cringed while they were welcomed by their sassy kids. Speaking of sassy, the girl with pink hair definitely shouts sass! 

Welcome Sis; Sorry Sis
You can see how incredibly happy the sign holder is. We are not sure if she is proud of her sibling or she just wanted to embarrass her sibling. Either way, this sign is so remarkable that any passerby will look at it twice. As soon as her sibling walks out of her flight, she will be either terrified or laugh heartily at the message.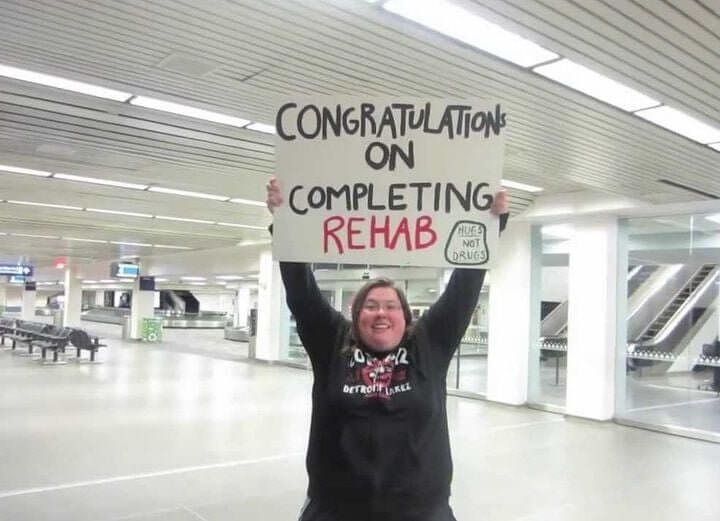 If ever the sign holder's sibling would avoid and pass by her, we doubt the sign holder would just let it go. She would probably proceed to follow her sibling with the sign still up in the air. With the massive grin on the sign holder's face, we would not be surprised if she has other hidden surprises for her sibling.
Can You Describe the Lady?
By accident, some of us have encountered really heartfelt and welcoming signs at the airport. They touch our hearts and even make some of us cry. However, there are instances where friends prefer banter rather than sweet sentiments.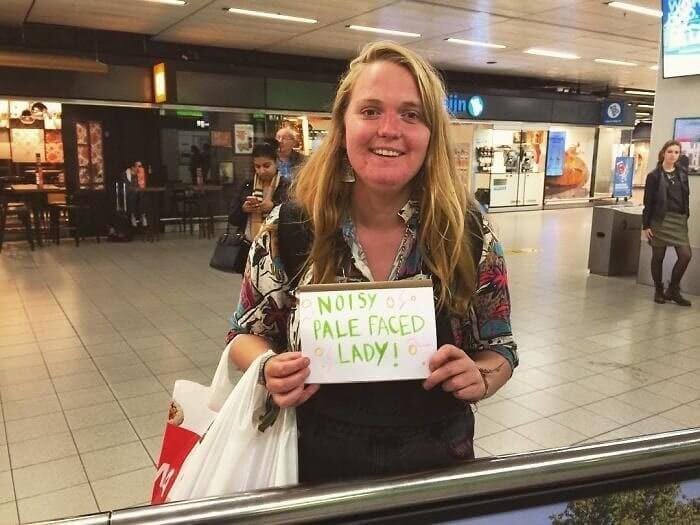 The sign might be small, but you need to agree you let go of a chuckle reading this. This girl was so excited to meet her friend at the airport. She prepared the most "intimate" sign so her friend can easily find her. Hmm, anyone curious who could be this "noisy pale-faced lady"? Because we can guess! However, the "noisy pale-faced lady" would not be amused to see this - especially if she has been on a long-haul flight.

Mom, We Are Out of Underwear
As a parent, especially for stay-at-home moms, there are those certain times you just want to take a break. The responsibility of taking care of a child (or multiple kids!) is hectic. It consumes your time, energy, and patience. So when these small kids start acting crazy, any parent would look forward to leaving them for a while with a caretaker. However, even though they may be your little gremlins, you definitely miss them and anticipate to come back home.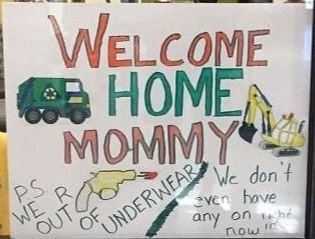 Learning that their mom was returning home, these kids decided to prepare a sign for her return. While they waited for her at the airport, these kids' signs obviously started stealing laughs. It appeared that dad failed to do the laundry for the kids' tidy-whities. It seems that mom would immediately resume her home responsibilities. We hope she's fine with that!
Mom and Pop's Big Baby
As we have already mentioned, small kids with their guardians get creative when making a welcome sign for the airport. However, some adults cannot help but be a big baby when their parents leave town for a vacation. This grown man knew how to embarrass and show affection to his parents at the same time.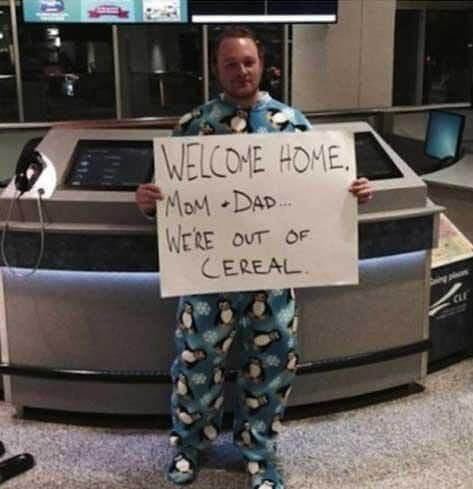 It appears that he missed his parents, well, because they are out of cereal. To make it more dramatic, he made sure to wear his "toddler onesie". We hope his parents did not ground him after this.
Sounds Like Carly Rae Jepson
Let's be honest, this sign is one of the most creative ones we have seen so far. The mother here prepared a sign making sure to fit the beat of "Call Me Maybe" by Carly Rae Jepson. The song actually fitted fine to the message about the mother introducing the father to his newborn daughter.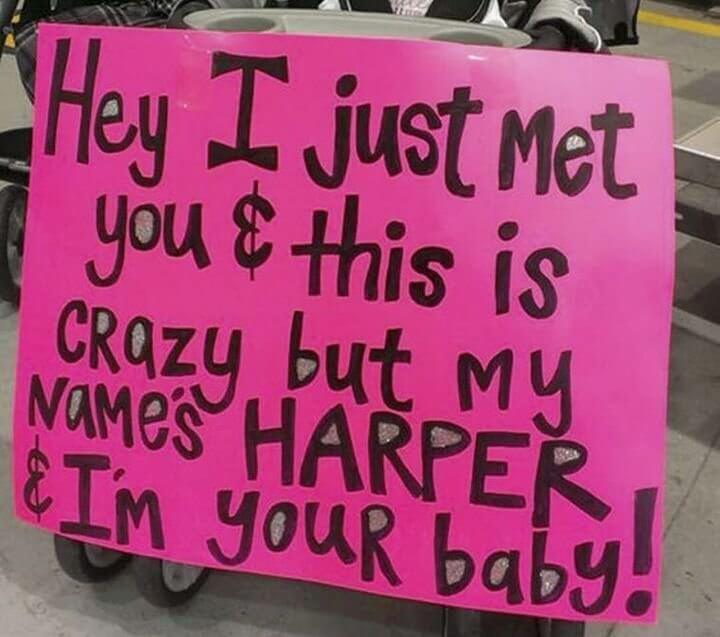 It appears that the father has been away on military service. Because of that, he has not yet had the chance to meet the adorable little Harper. This bright pink sign had been stealing glances and warming hearts from strangers. It made even more of an impact when the father got to see this as soon as he reached the airport. This greeting probably made that day one of the best days of his life.
That Friends Reference
We have inside jokes with friends and families. These are jokes that we can easily share with them that others may have trouble understanding. Those jokes made us smile and cackle, while others look at us confused. If you're a Friends fan, you might remember the episode where Phoebe decided to change her name to "Princess Consuela Banana-Hammock."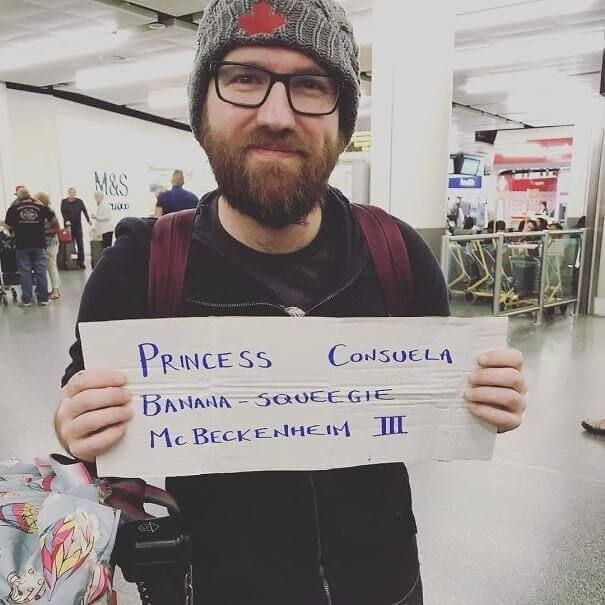 This hilarious episode became something that this couple used as their inside joke. This Friends fan has adopted and used the name to refer to his partner. He made sure that he welcomed her from her vacation with a twist. We are actually curious if she is carrying one that says "Crap Bag".
The Dogs and the Couch
We have all left our homes for vacations or short trips. On them, we would visit friends or family, or maybe just go on an adventure. However, regardless of our reason for traveling, the people and pets we left behind missed us dearly. Of course, we also miss them every time we leave. Sometimes, we cannot help but think about the people and pets we left behind. In this story, a woman missed her dogs.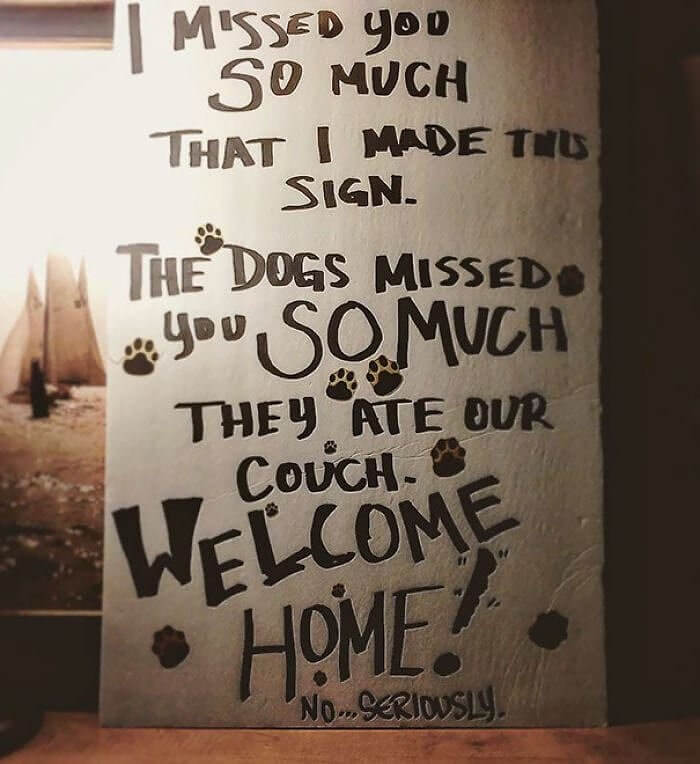 It appeared that her dogs missed her, too. But this time, the dogs cared a little bit more. The dogs ate their couch! Fortunately, the woman's partner was really understanding and did not punish the dogs. Instead of making a big deal out of it, the woman's partner made a funny sign out of it. He made sure to express that he missed his partner. At the same time, he wittily shared what happened to the couch. Hopefully, the vacation was worth it and she loves her dogs so much that she doesn't mind the bad news. 
Rebecca, I Am Your Father
Star Wars is one of the most famous movie franchises in the industry. And if you are a fan of the movies, then you probably remember the iconic character Darth Vader. Speaking of Darth Vader, this dad made sure to wear this well known costume. Any dad would relate that they would love to embarrass their kid. This time, the dad wanted to embarrass his child by being the geeky, cringey dad.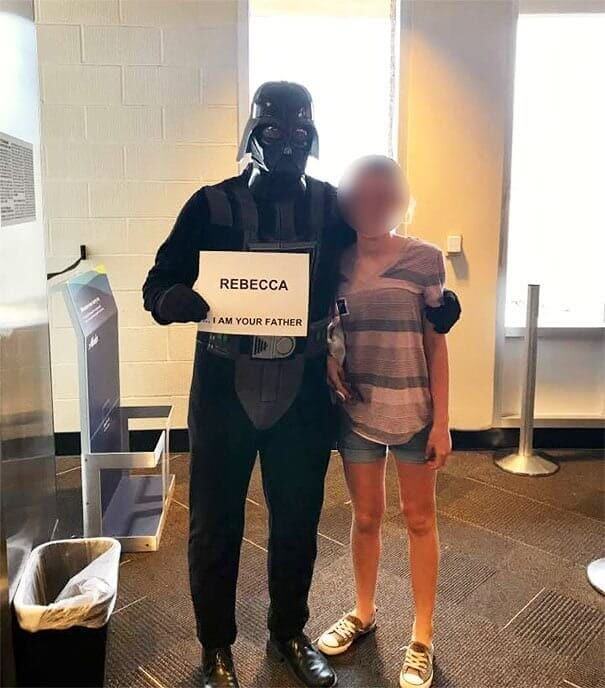 To welcome his daughter Rebecca back home, he wore a Darth Vader costume. If you have seen the movie Star Wars: The Empire Strikes Back - or even if you haven't - you are likely to be familiar with this famous quote. This dad greeted Rebecca with the same words Darth Vader uttered to reveal his true identity to Luke Skywalker. This is known as one of the most iconic moments in movie history, now used as a line to cause embarrassment.
Very Comfortable to See
We always make sure that when we welcome our loved ones, we create the best signs for them. So a thoughtful welcome sign is such a warm way to say "Welcome Home!" The size of the banner does not really matter as long you were able to convey your point. But this mom will be surprised by this huge banner waiting for her at the airport.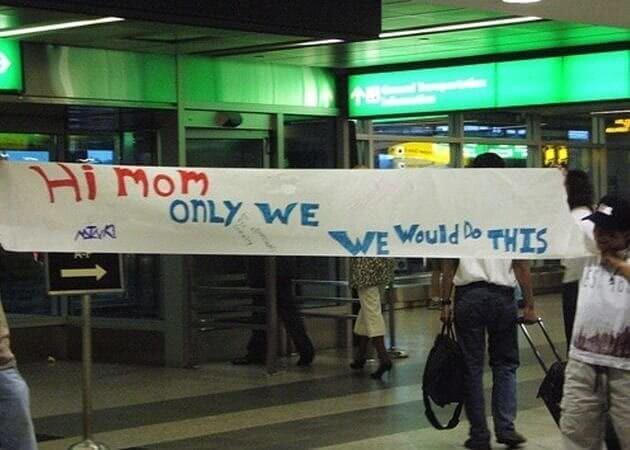 This banner has been written with felt tip markers and has the word "we" written twice. Though the welcome phrase is kind of off, we can actually say that the message is what really matters. At the same time, just look at that huge banner. Mom will definitely have no trouble spotting them when she steps out of the luggage claim area. Her kids will be proud of themselves!
Help Me Find My Sugar Daddy
Definitely one of the more cringey ones on the list, anyone who saw this at the airport was probably looking at this girl with judgment. However, it seems she doesn't mind, and we respect that. She used her wits to make sure that her older boyfriend would easily spot her. People expected that her boyfriend would be terrified by the welcome and run back to the plane.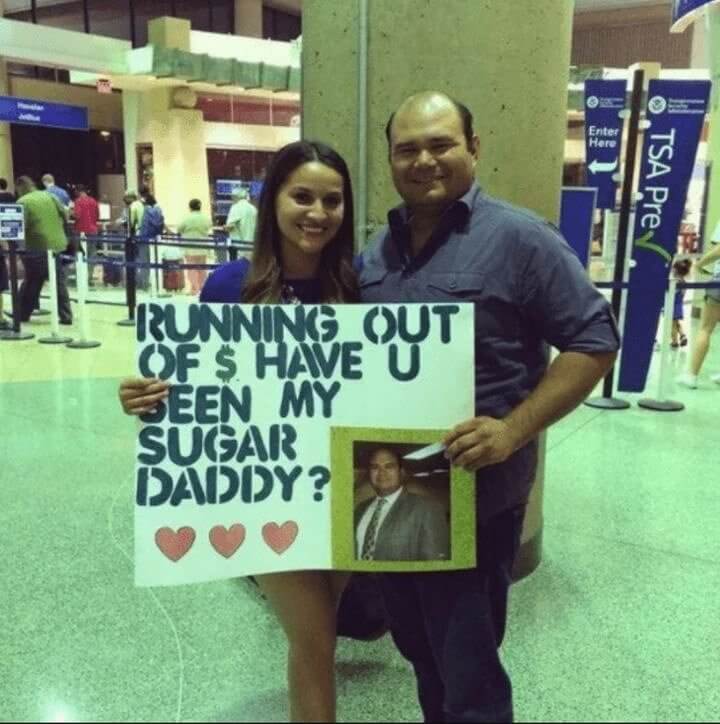 However, it appeared that they have the same humor. They even asked a stranger to take a photo of them with the sign that said "Running out of $, have you seen my sugar daddy?" We can say that the couple is a match. What made this sign funnier is the fact that she included a photo of her boyfriend for a better description.
That Brother-In-Law You Do Not Want to Have
When someone marries a sibling or a relative, we welcome them as part of the family. Basically, when you marry one member of the family, you marry the whole clan. You will be able to be a party of their inside jokes and family heritage. However, this poor man is about to experience something he never would wish for. His "adoring" potential brother-in-law waits to greet him at the airport - and made sure to prepare a welcome sign no one would forget.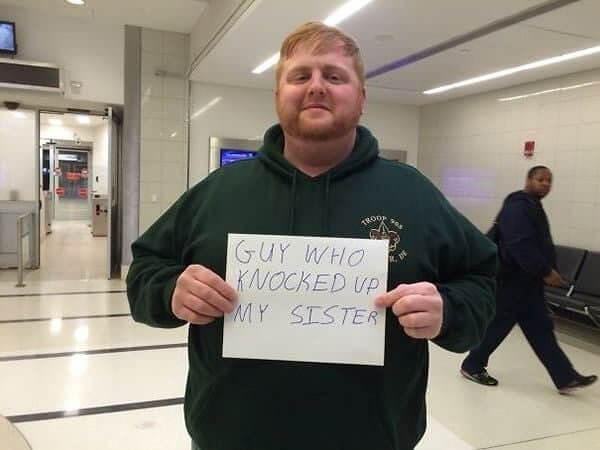 Although written on a piece of A4 paper, the words that appear there are eye-catching. The phrase "Guy who knocked up my sister" is scribbled on it. We can only guess that the two men are actually best buddies, otherwise, this joke is more facepalm worthy than funny. However, at least it made some of us laugh. 
A Daughter's Welcome Home Sign
Learning about her mother's return, this little girl managed to write an adorable sign to her mother. The catch? She wrote the sign without writing a single word of English. If you are thinking she is writing or speaking in another language, well you are wrong. She speaks English. It is just this adorable girl, who does not know how to write legibly, wrote scribbles.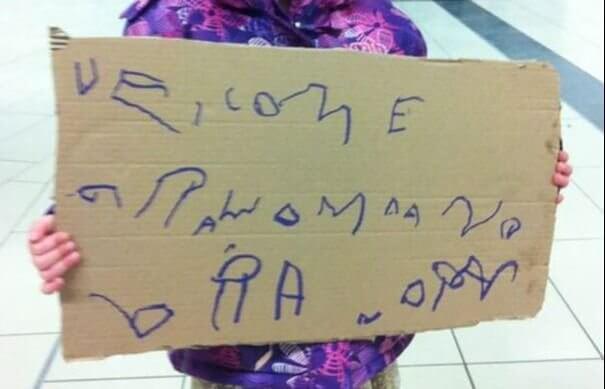 Mom would be pleasantly surprised by her daughter's welcome sign. Although words cannot be read from the sign, the fact that her daughter made this effort would make mom cry tears of happiness. This sweet, albeit illegible, sentiment makes you want to say: "Good job little one."
Showing Enthusiasm
After landing and leaving the airplane, this woman tried to find her partner. It appeared that she went out of town to go on some sort of adventure. "How did you know?" you may ask. Well, as you can see from her partner's welcome home sign, he seems so surprised that she actually came home in one piece.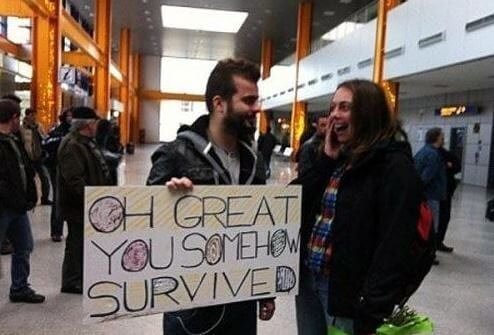 His face however showed that he was a little disappointed. However, it appeared that this woman knew that her partner was being sarcastic. Or maybe this is an inside joke - who knows! She was laughing at how "creative" the sign was. Overall, the sign was not bad, even if it was a little mean.
Quite Fed up but Welcoming
When welcoming our loved ones, we want to show our enthusiasm and excitement through a welcome home sign. However, this woman might have been fed up with all these welcome home signs shenanigans. It appeared that she was done with her partner or parent leaving home constantly.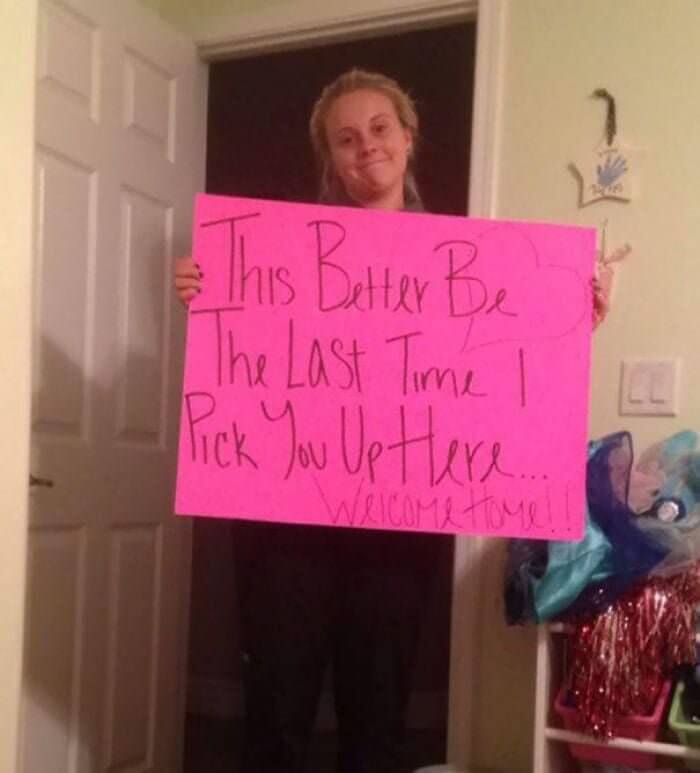 We could only assume that they frequently leave the place, and welcoming them at the airport became a chore. We do not really have any idea of the reasoning behind this sign. However, with her mischievous expression, there is nothing to infer. However, can we clap for her for picking a bright pink poster to grab attention?

Just Check the Wanted Sign
Speaking of creativity, this duo definitely took a slice of the cake. Not wanting to make a plain welcome home sign, these two decided to create their sign as an imitation of a "Wanted" poster. They picked and cut the so-called "mugshots" of their family members. They then carefully put them on a big A2 sign with the words "WANTED" in capital letters on top to emphasize.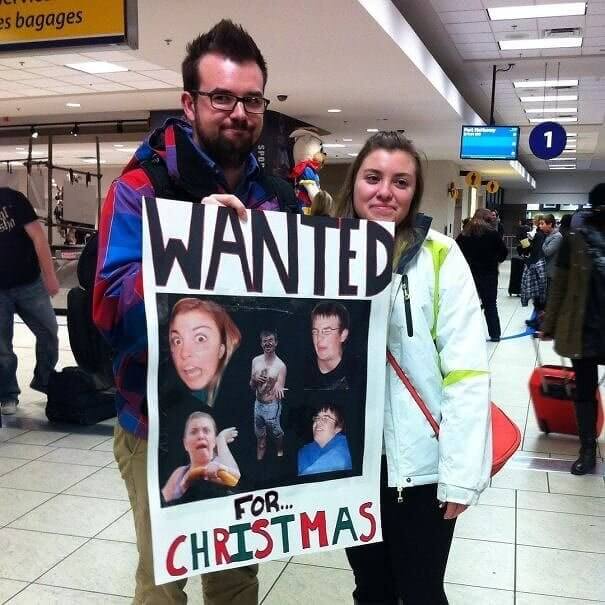 Of course, make sure to read this wanted sign carefully. If you read the bottom of the poster, you will see the "For… Christmas" message. Any passerby will realize that the poster is a cute and creative welcome sign. We can say that they are not wanted for crimes, but for being a wonderful family.  

We Are Serious Jody
When their parents told Jody's little brother that she is coming home, he was not impressed and prepared a "welcome home" sign for his sister. The sign did not say "we missed you" and instead says "Go Back 2 Cali Jody, We Hate You". We may assume that Jody probably went off to college in California.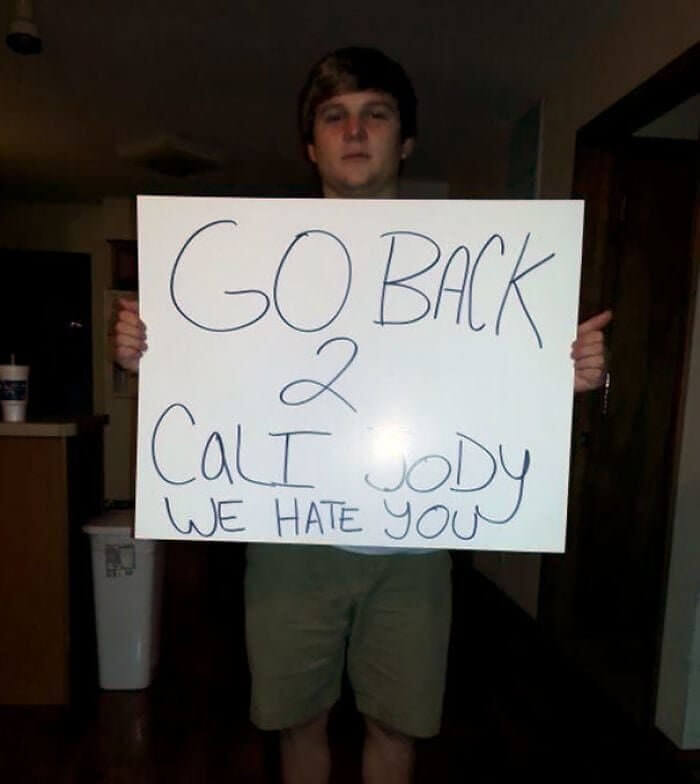 At this time, she was likely heading home for the holidays to spend time with family. However, as soon as she saw the sign, she was probably reminded by her brother why she was so desperate to leave home in the first place. We can all agree that we hope she did not experience any issues with her flight, otherwise she might not find this brotherly joke so funny.

Tom, Will U Marry Me?
Anyone passing by this guy would probably think that his welcome home sign is sweet. It seemed like he was preparing to propose to his partner. However, for some reason, this romantic gesture is quite questionable. Looking at the man, he was wearing flip flops and shorts. With his cheeky grin, it started to look as if this guy was playing a prank on his friend Tom.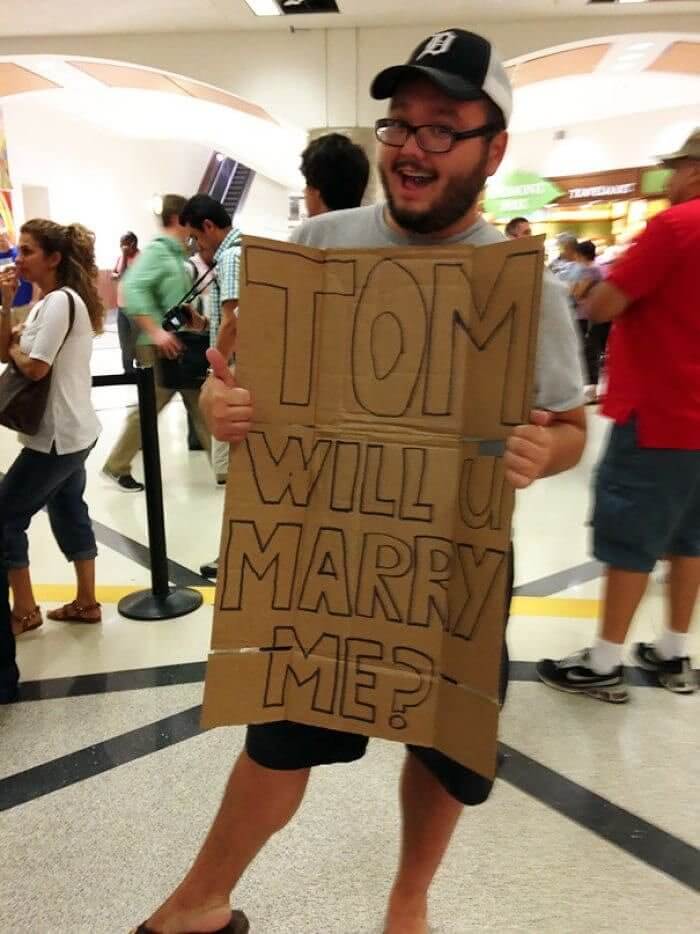 However, we can agree that his sign is more funny than cute. Unless we really misunderstood this and the guy is actually making a romantic proposal! Let's agree though that the box used as a marriage proposal sign is not a good idea.

Smokin' Hot Italian Chick
Let's be honest, the guy's look itself will make you look at him. But his sign will make you interested. Who is this smokin' hot Italian chick? We are sure interested to find out. It is not uncommon for one to welcome his partner at the airport. However, it seems that this person may have sent out a dashing stylish driver to pick up his lover.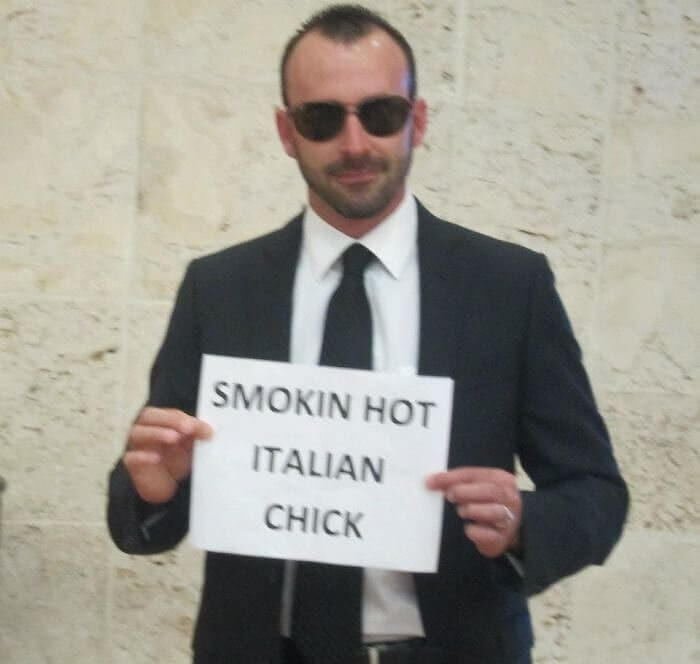 It was nicely touched by the printed sign on a piece of paper, rather than being handwritten. With the suit and glasses, he gives off a mysterious charm. However, we hope that he is really picking up this sexy Italian lady, and that he is not some random creeper who is standing at the airport to pick up an unlucky and unknowing Italian woman.  

Finding Mokie
For people who have been on a long-haul flight, you know the struggle. You get jet-lagged and your skin dries out. It is almost impossible to get good sleep, and by the end of the flight, you will come off extremely tired.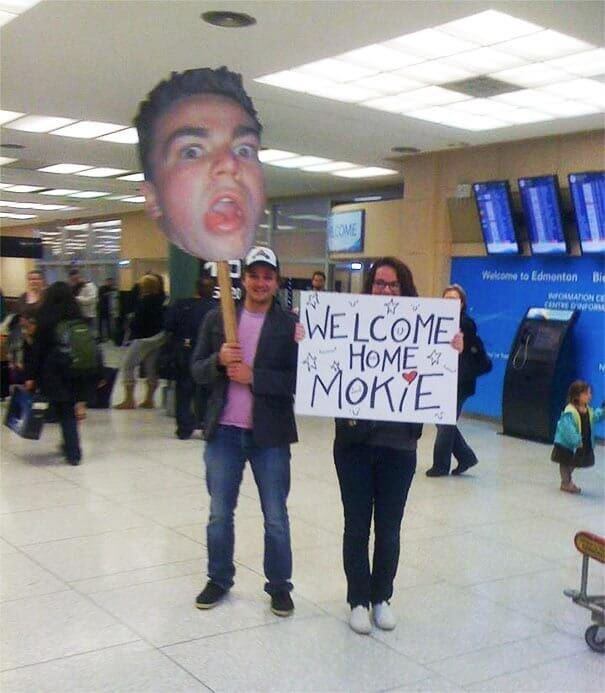 However, luckily for Mokie, no one would notice his post-flight face. People would be busy looking at the huge cut-out sign of his face instead. His parents obviously went this extra mile just to embarrass their son. They even picked one of Mokie's not-so-dashing photos. Mokie would surely feel despised by his parents for this. But hey! At the end of it all, he gets a free ride home.
Sorry Not Sorry, Sarah
Whoever prepared this sign knew that there was something wrong with Sarah. Imodium is not a dangerous medicine, but it is a brand of medicine used when a person is suffering from chronic diarrhea. You can just imagine how embarrassing it can be to be greeted with this welcome home sign. No one would have wanted this.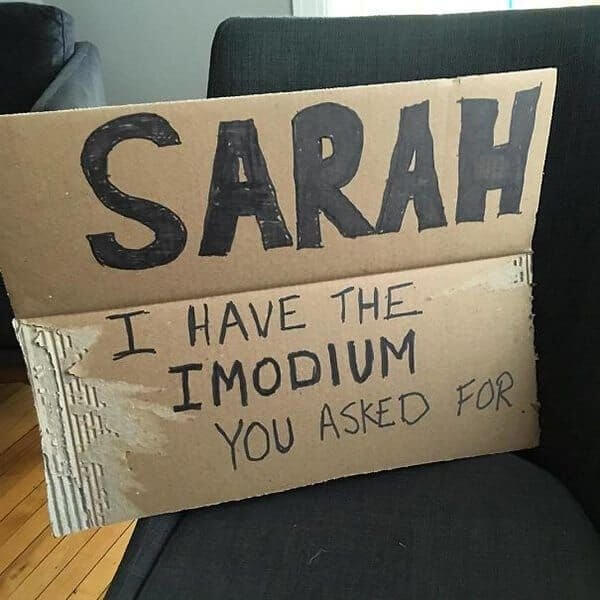 So, whoever was on the receiving end of this joke was placed in an awkward situation when she reunited with her friends. She basically had to simultaneously admit to everyone around that she was having this "problem." Although this is a nasty way to greet someone, this is also a hilarious joke.

Isn't This Too Cute?
Who said that you cannot prepare a welcome home sign that shouts cute? Because whoever made this adorable sign should probably get a career in writing greeting cards. These cards, once published, will start flying off the shelves at Walmart. With the challenge to do a welcome home sign, this guy rummaged his mind to come up with an idea.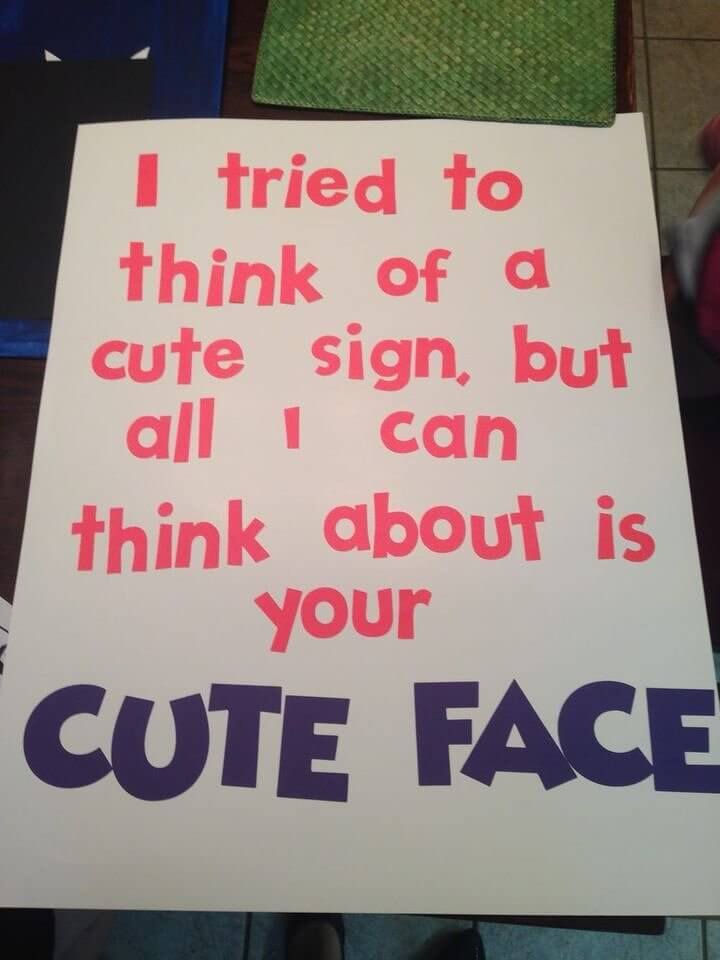 The struggle was well worth it when he came up with a message even cuter than he could have hoped. He placed the "u" in cute, making many kind of wish he was their boyfriend. This sign definitely beat some of the cringier ones on our list.
Upgrading Your Game
Witty and creative welcome home signs have been real gems. In our list, they dominate the best ways of greeting someone. Some spend hours pondering over how to make their signs hilariously witty. However, we have this man who made every sign we just read look amateur. He went straight down the route of romance, without too many frills and thrills.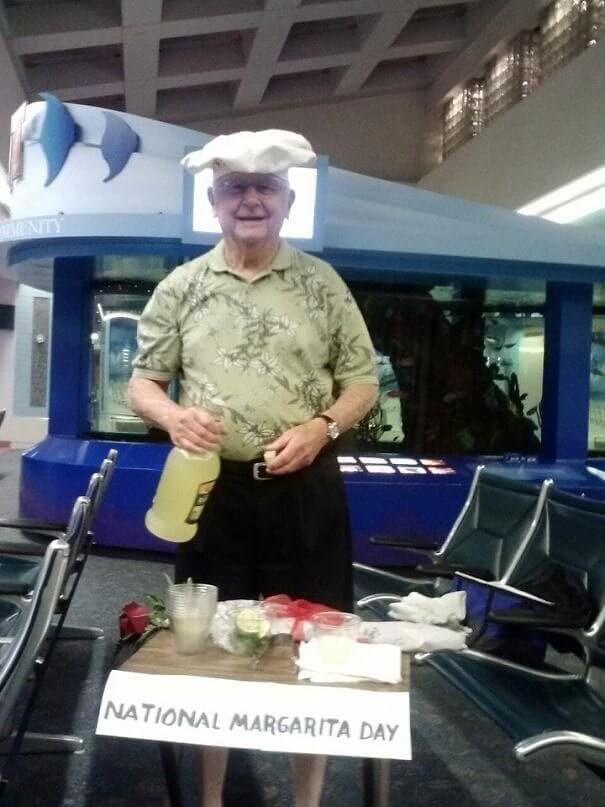 After learning that the flight would be delayed, the man knew that the bar would be closing before his muse could land at the airport. So, he brought the bar to her. He made sure to prepare a bottle of margarita and bring a single rose. It is no surprise that his wife was swooning when she saw her special airport surprise. Who does not want this man? Unfortunately, he puts all the other husbands to shame. But, we hope they are taking notes.

A Secret That Should Not Be Broadcasted
Definitely, this is one of the worst signs on our list. As we already mentioned, there are people who are willing to embarrass their partners funnily or lovingly. However, our man here obviously teased his wife, Anna, by saying she would run off with a Latin hunk on her trip. Not satisfied, he took the joke one step too far. He carried with him this cringey sign when he met his wife at the airport.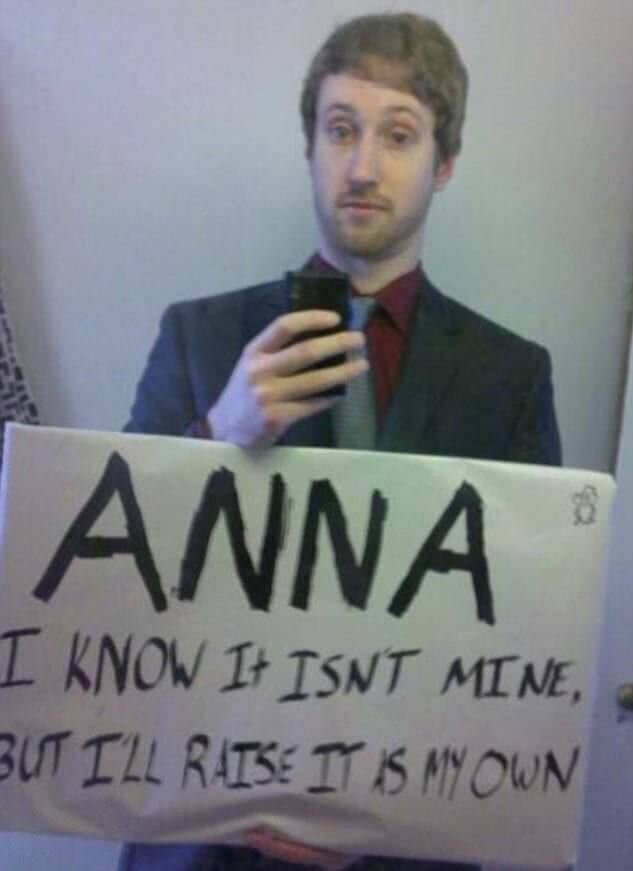 Basically, the sign accused her of getting pregnant with this hypothetical lover. Although very untasteful for some, the "good thing" about this is that he has proven he will stick by his wife. But just imagine the exchanging stares of people when they see him, his wife, and his sign!

Your Clan Welcomes You
Families tend to be close to each other. They do small and big things for the family. However, some families consider themselves as more than just a family, but actually a clan. As you can see, the McGregor clan is so proud that they will not allow a member to get a taxi when reaching the airport.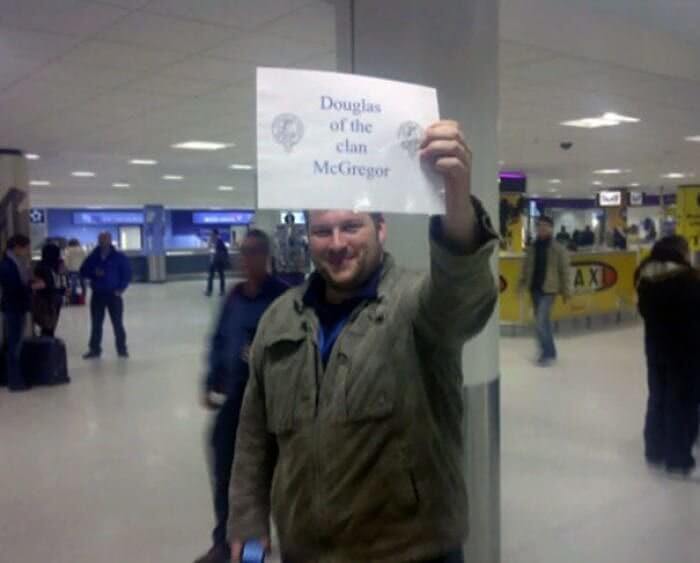 Instead, they do the next most sensible thing they can think of: they meet their fellow McGregors themselves. They go around and hold up a welcome sign to find Douglas. Even for the short trip, Douglas will definitely appreciate the effort his family has made. 
What? Hot Gravy?
No, you are not alone. We are also confused. At first, people will look at this lady with confusion. What is hot gravy? I think she needs to visit KFC. However, it will sink in afterwards that Hot Gravy is actually a pet name. A lot of us give our loved one's pet names such as honey, babe, sugar, and darling. We can probably agree that these pet names are overrated. We like something unique. This couple appears to agree that they need something more for their pet names. Their unique take gave birth to everyone's favorite part of thanksgiving - hot gravy.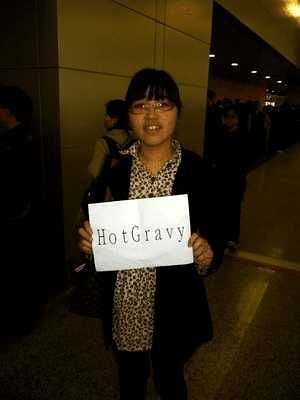 Although people will give her odd looks, it is likely that her partner will easily find her. Hot gravy is such a unique pet name, we doubt that someone else has it.  
I Waited for 113 Days
This is one of the cutest signs on the list. It may not be the wittiest, but it definitely touches our hearts. If you know anyone who is in military service, then you know the struggle. People left behind are silently struggling and constantly wishing for their family's safety. As for their partners, life becomes a problem they need to solve.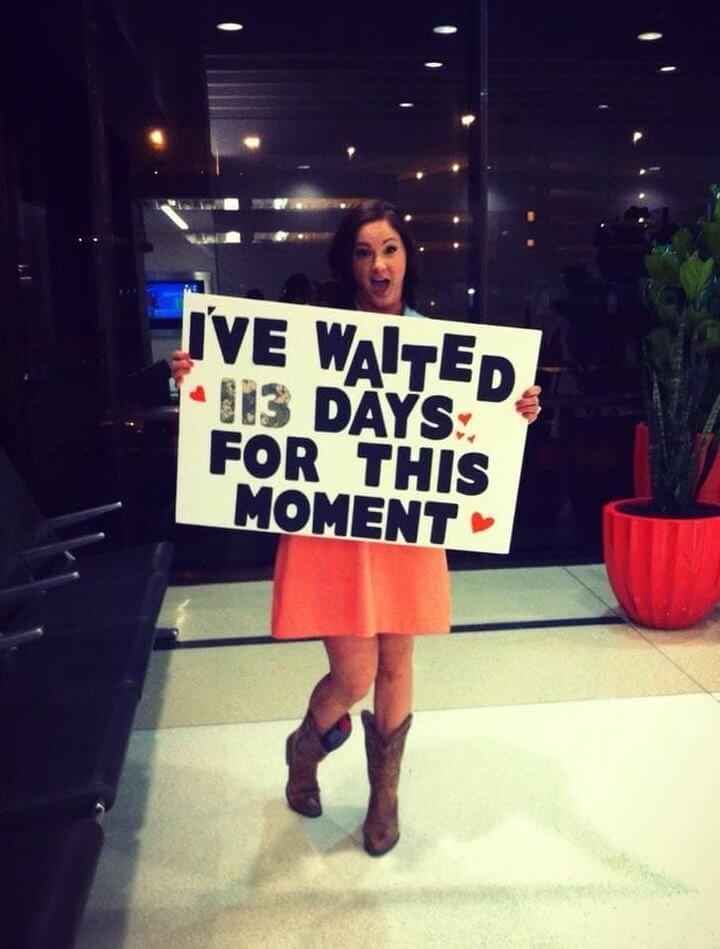 They spend time hoping that one day their other half will come back home. So, it is no question that this woman was so excited to see her man. No one can ruin the moment, she spent almost six months waiting for him.  This romantic and sincere gesture from her will definitely hit her man's heart.
You Know, This Guy
We need to hand it to the owner of this airport sign and give him bonus points for originality. The creator also made sure to stick his head in the frame for the joke to make sense. We also give him a 10/10 for the effort, but we need to point out that he didn't get the joke quite right.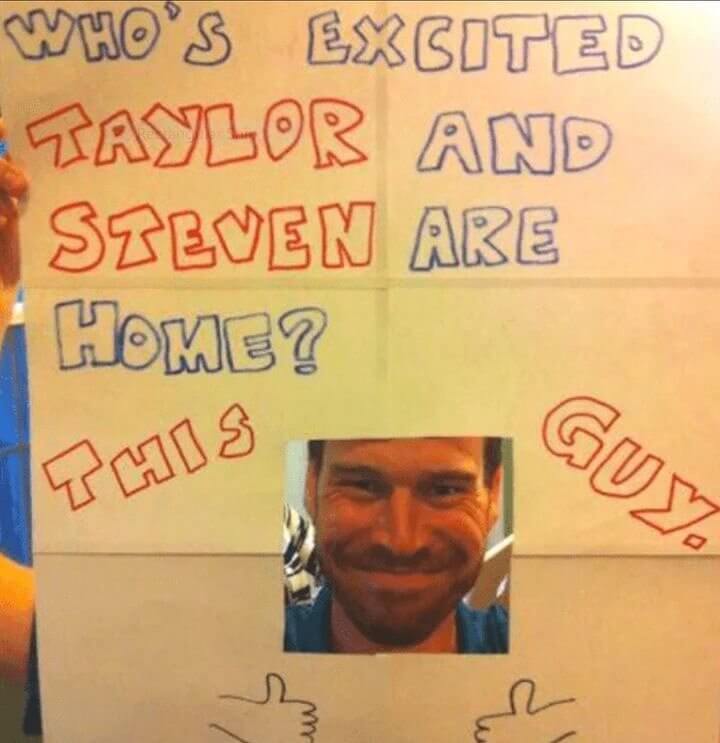 It should have stated, "Who has two thumbs and is excited Taylor and Steven are home? This guy." As soon as Taylor and Steven reach the departure area, we hope they aren't too disappointed. If this is somewhat a lame joke, let us hope they would not try to avoid this adorable man.
Looking for Hot Guys
This could be one of our favorite airport signs so far. Anyone who would receive such a welcome sign would be flattered. Just imagine yourself to be on the receiving end of this message. After flying for hours, you feel unwell. But, all of it goes away after seeing your loved ones and their complimenting message.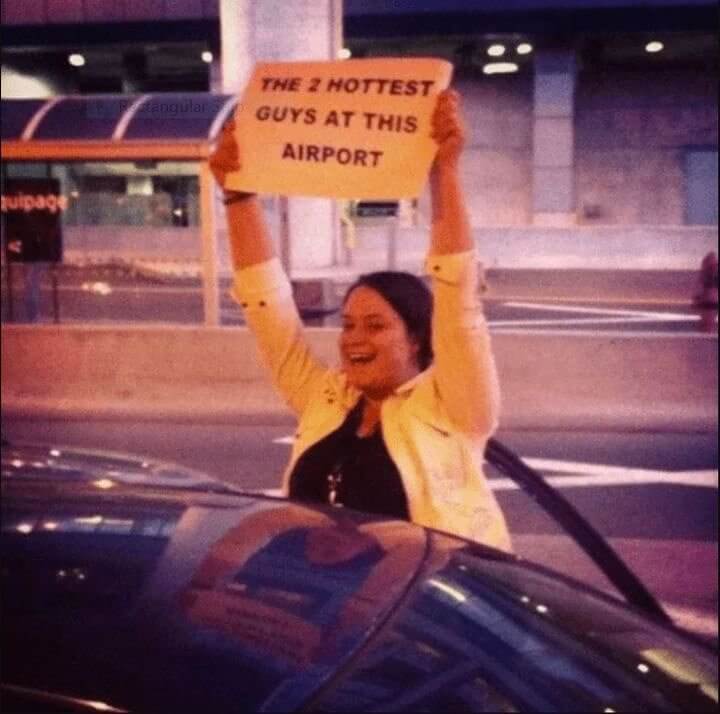 However, regardless if this is a joke or a compliment, we believe it is still a win! Besides, what if there are really hot guys coming out of the airport. Expect a lot of people would be waiting to discover who they are. But it would be funny if there was some misunderstanding that happened and two strangers actually approached them.
Oh My! Let Him Have It, Sis
So far, we have read sweet, funny, and cringey signs. However, this sign could just be in a class of its own. People would pass by the sign and likely get a big shock. It appears that the maker of the sign decided to not waste any time upon learning of their partner's infidelity. Obviously hurt and enraged, she wanted to let him know that she has been aware of his transgression the whole time he was gone.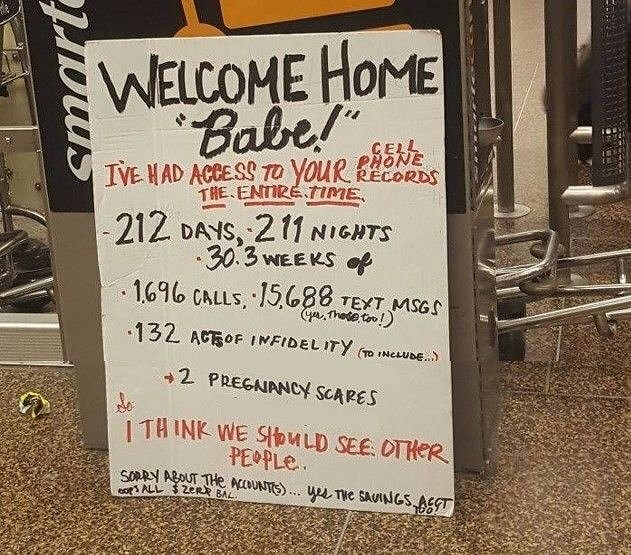 Instead of having an awkward conversation later down the line, she decided just to create an airport sign to cover her bases. At least she does not need to say a word as soon as she sees him at the airport. Some of us might think that the airport sign is quite brutal (although some of us probably find it hilarious). However, can we just sympathize with the broken-hearted soul who had to discover a cheating partner? 
Hey, It Is Upside Down... Oh Wait...
This airport sign is tasteful and funny at the same time. First, it took us a minute to realize what this sign means. Second, we thought it was some random scribble until we tilted our head downwards. Third, just imagine being the friend being greeted by this sign holder.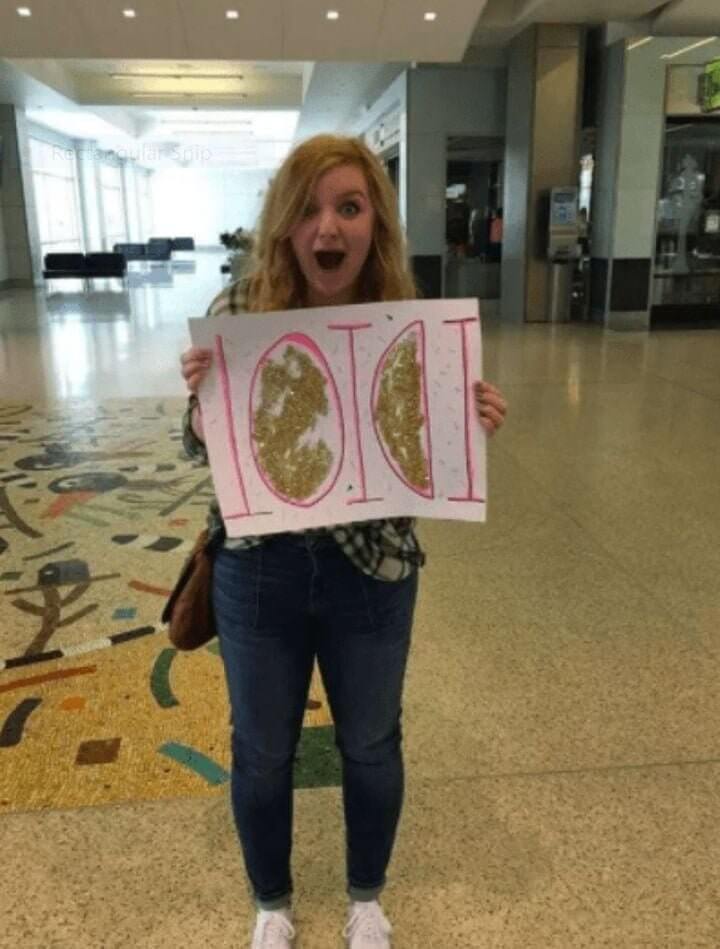 After a long-haul flight, it would take you a good deal of time before you realize you are being called out as an "idiot." Can we commend the girl for being ingenious and holding the sign upside down? However, we are not really sure if she intentionally or accidentally held it that way. Pondering all this, we are now uncertain who really is the biggest idiot here. It could be us reading this!
Can Anyone Decode This?
With the age of social media, we could easily build friendships online. So, it is understandable when online friends have never met each other in real life. However, our man here was lucky enough to meet one of his trusty online friends. It appeared that they got to know each other while playing World of Warcraft.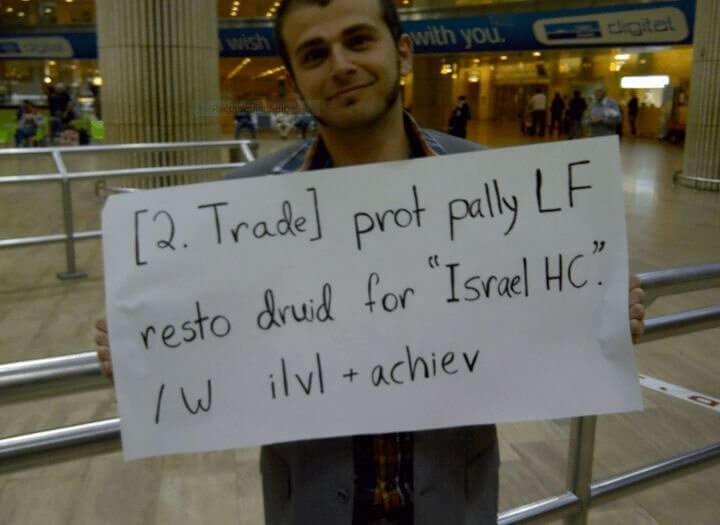 Of course, there was a constant worry that his friend might not recognize him outside of the game. So, he made the most viable solution. He prepared a World of Warcraft themed airport sign showcasing their usernames. Hopefully, it would help his friend to easily find him. 
Wait... What?
Yes, you are not alone. We were confused too when we first saw this. Until we realized that an adorable uncle here is a hopeful fan of Michael Jordan. Let us be honest, a lot of us wouuld do anything just to meet our favorite celebrities. We track them on social media. After learning their favorite spots, we even tend to hang around there, hoping to steal a short glimpse of them. It is amazing the lengths people will go to.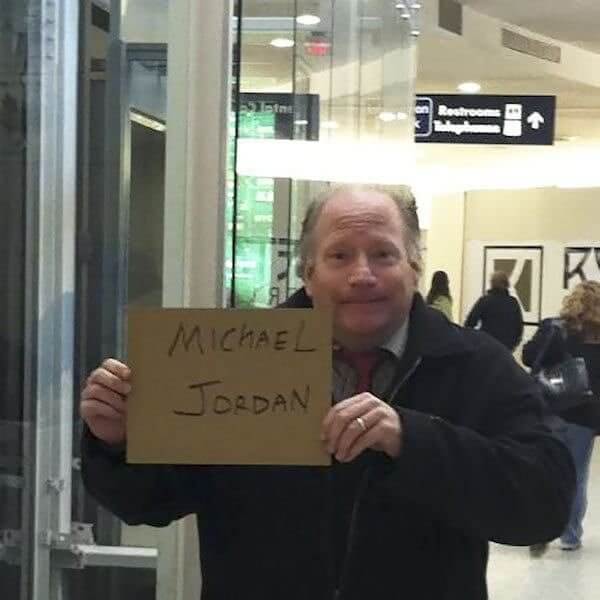 However, our man here skipped going that far. He prepared the most basic airport sign with the name "Michael Jordan" written on it. Then, he just stood at the airport. It would be amusing if Michael Jordan was actually on the plane, he might forget about his rented limo and assume this is his driver. While this is a totally failed plan, we respect the guy for trying.
Get Ready to Be De-Briefed!
We know how hard it is to be separated from our loved ones. So, when her man was sent to serve in the military, it can be understood how devastating it was for her. He spent a long time serving the country. However, upon his return, the hard work is by no means over. The military husband now needs to fulfill his duties to his wife. We believe this is his time to return the favor to his ever-patient wife.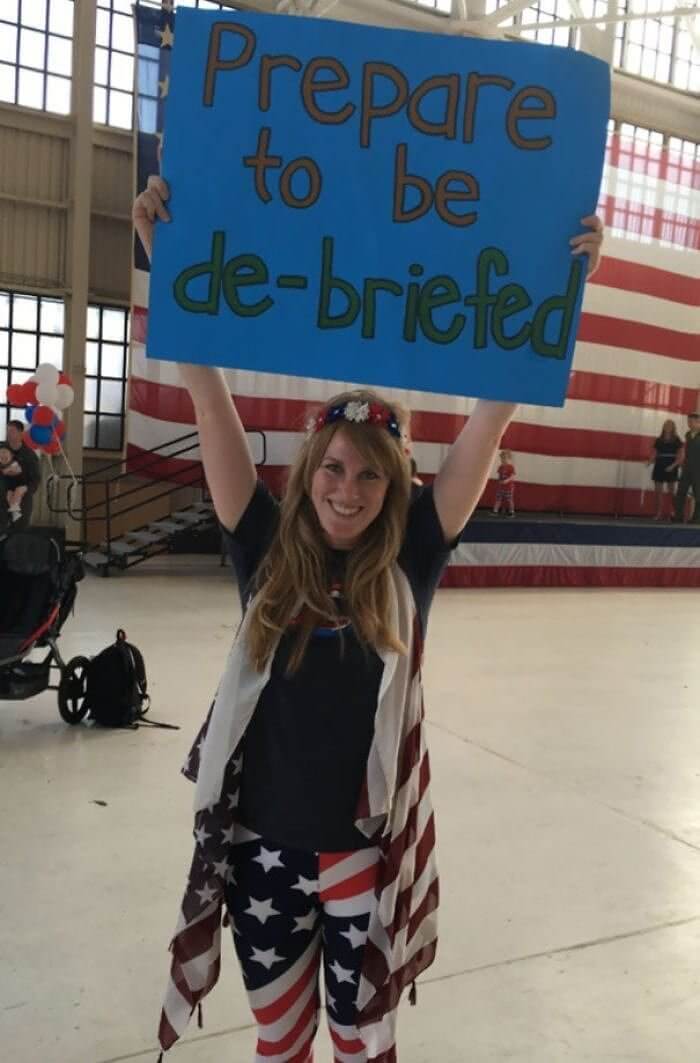 This woman even let him know of this by using military terms in her airport sign. However, we can imagine that the wife is pretty excited about his arrival, as shown by her beaming face.
An Oompa Loompa?
Can we applaud this man? He made sure to compensate for his lack of airport sign with his appearance and costume. Definitely, one of the best welcomes on our list. Upon learning about his friend Johnny's arrival, he immediately hatched a plan. Welcoming Johnny at the airport with a sign saying "Chocolate Johnny" was not enough. This cheeky guy decided to dress up as one of Willy Wonka's Oompa Loompas from the 1971 version of Charlie and the Chocolate Factory.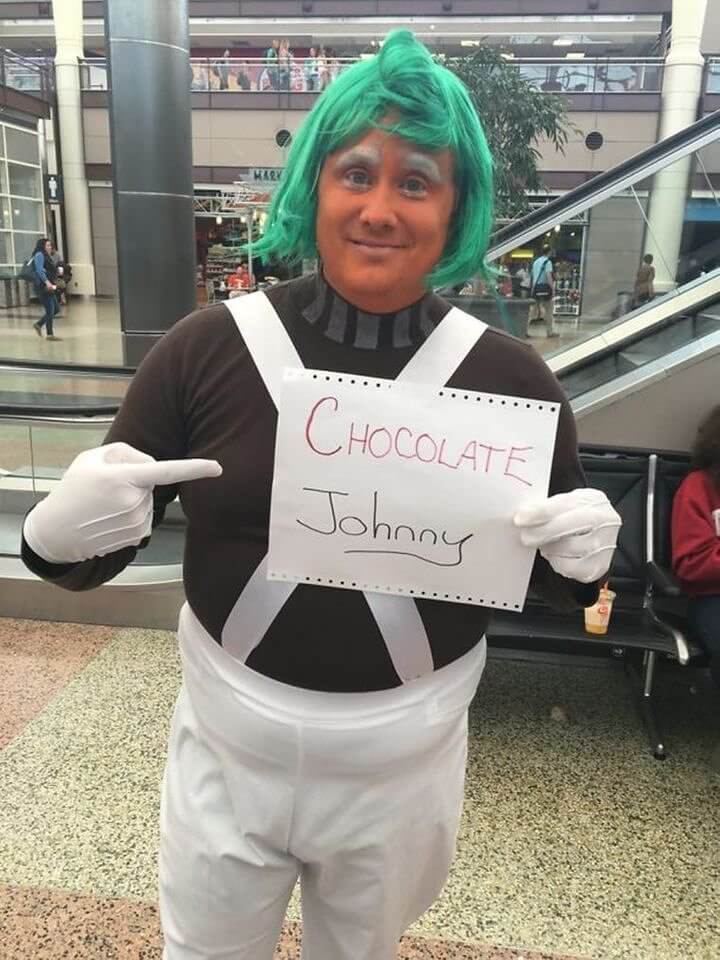 His simple ingenuity and effort to put on the orange makeup is a sure plus. Johnny would be pleasantly delighted to be greeted by a friend who went all this way just to make the welcome even sweeter. After all, after getting through a long-haul flight, the last thing Johnny would want to happen is to be stressed.