If you find that working on your garden is taking up a lot of your time, especially when your plants and vegetables aren't cooperating, don't worry, we've got you. Sometimes the most genius ideas come from the most unconventional techniques, and we've gathered the best of them in this next list. These unusual gardening hacks offer unique but effective methods to spice up your garden in no time.
Pantyhose Help Protect Your Melons
Growing melons on a trellis is highly effective in protecting the fruit from pests and diseases because it places them high up in the air. But, melons are a heavy fruit, which could cause them to rip off of their branch before they're ripe and ready to be picked.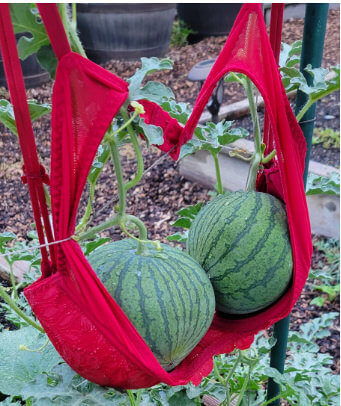 To make sure those melons stay in place, create a sling for them by cutting one leg off a pair of pantyhose! Their elasticness will help prevent those melons from falling off.
Keep Pests Away With Milk Jugs
Keep your plants safe (and recycle!) by using milk jugs to shield your plants from animals and bugs. That way, you can save money, and potentially the world, by reusing an already purchased household item.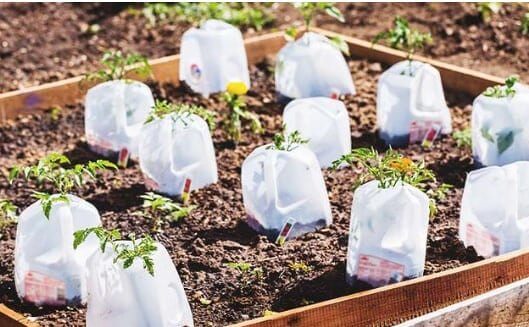 After finishing your milk, wash the jug, cut off the bottom, and slide them over the plant! Cover the base with dirt to keep it in place.
Pennies Help Prevent Blight
Did you know that plants get diseases, too? Blight is a nasty disease caused by fungi such as mildew, rust, and smuts. An entire crop in your garden can be destroyed by blight. If you prefer to avoid using chemicals, an alternative method to cure the disease is by using old pennies, preferably, a penny from before 1983.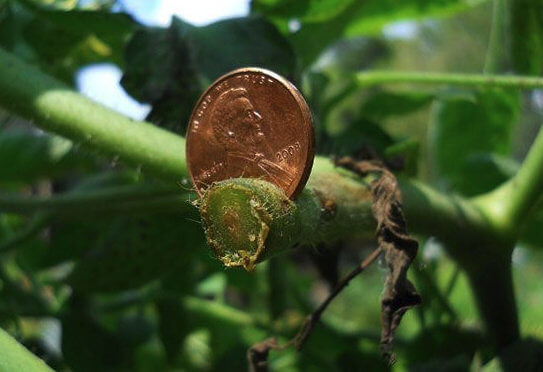 Make a partial cut on an infected branch and place the penny into the incision. The copper content of the penny should help in slowing down the spread of blight and can help you save your crop!
Turn Your Citrus Fruit Into a Planter
Keep your little seedlings safe and give them an extra nutrient boost with a citrus fruit rind. Once you have an empty peel, just add a bit of dirt, pop in the seedling, and let it take root.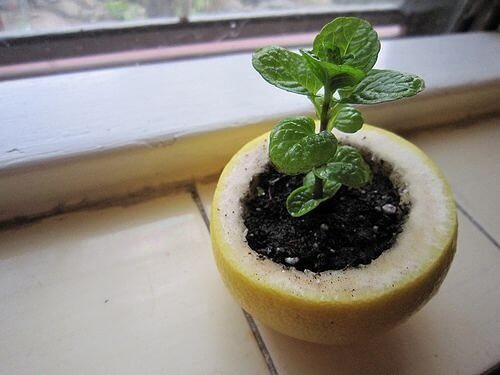 When it's ready, plant the whole thing in the ground. As the fruit peel breaks down, it'll add even more nutrients to your garden.
Keep Your Nails Dirt-Free
Just because you have a green thumb, doesn't mean you need a brown one! You can prevent your nails from filling up with dirt, even before beginning your yard work. Before you head out to dig your hands in the soil, just run your nails over a bar of soap.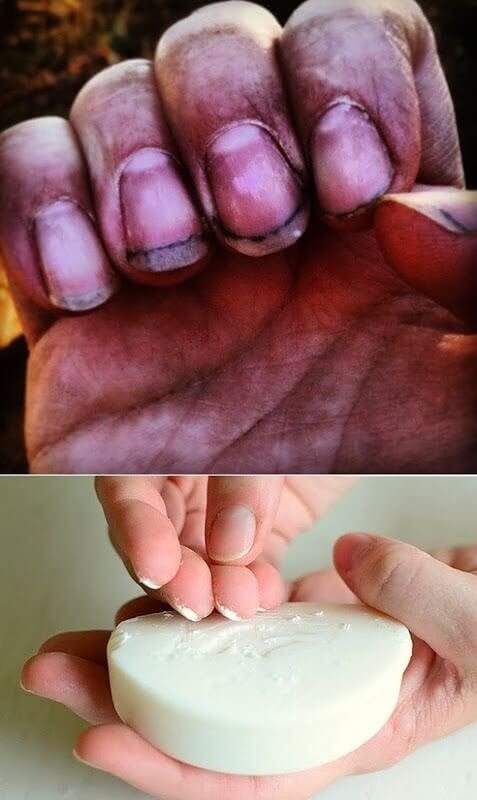 The soap will add a buffer under your nails to block out the dirt. When you're done gardening, just rinse the soap out with the collected guck.
Old Pennies Help With Slugs, Too
Pennies are quite the main character in our article! Who would have guessed? Apparently copper isn't a favorite in the living world. Slugs don't like copper, which is great for us gardeners who want to keep them away from our crops.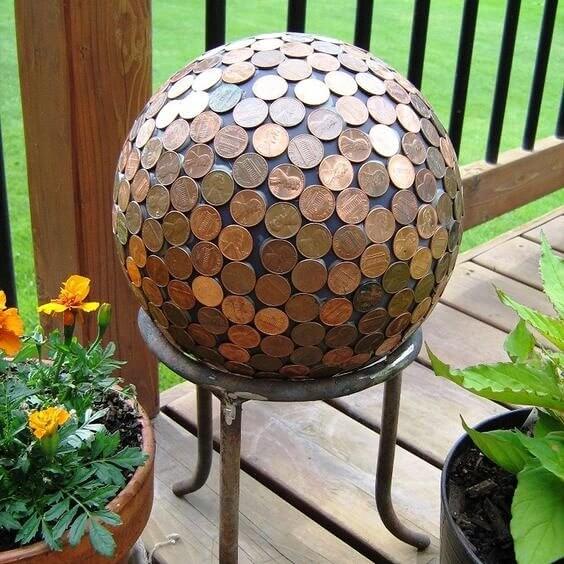 Glue pennies from before 1983 (that are extra-filled with copper) to a clean baseball or bowling ball with a water-resistant adhesive. Place it in your garden, between your plants, and you have yourself a slug-repellant and a pretty garden decoration!
Plant Forks To Keep Deer and Raccoons at Bay
Ever stepped on a fork that was wedged into the ground? We hope not, because that could really hurt. With the assumption that animals think the same way, planting forks in your garden can help keep larger animals away.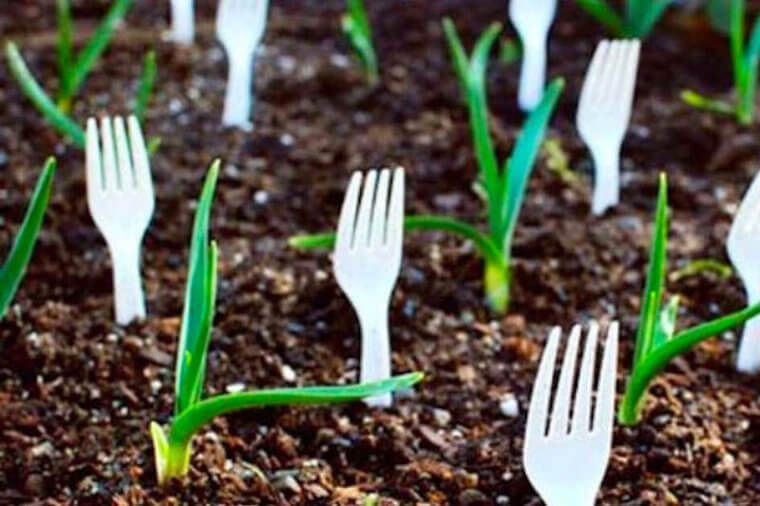 Just wedge the forks into the soil faced up, and remember to watch your own step before walking into your garden!
Cinnamon Is a Fungus Repeller
A pesky outcome of replanting plants, flowers, fruits, and veggies is that they become more prone to fungus growth on their roots. A surprising spice can help you overcome this problem—cinnamon.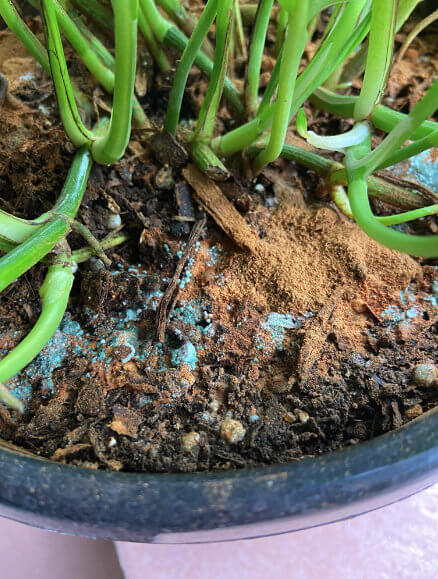 Dipping your roots in cinnamon before replanting can help you protect them from being a home for potential fungi.
Grow Roses in Your Potatoes
If you're a romantic and a french fry lover like us, you will love this hack. Take rose cuttings and insert them into the center of a potato. Then,  plant the potato into the ground and watch your roses bloom!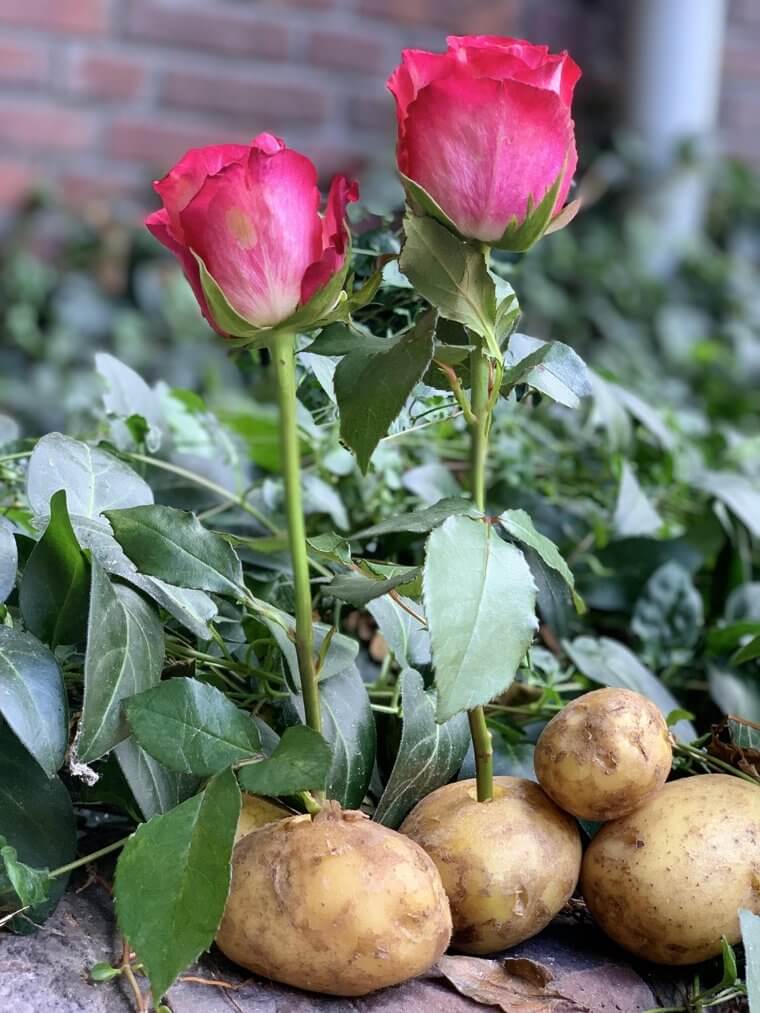 Potatoes are a moist vegetable, so they help keep the flower wet at all times which enriches and speeds its growth.
Create a Vertical Garden Out of an Old Shoe Organizer
Turn your old over-the-door shoe organizer into a vertical garden by punching in a few holes at the bottom of each compartment. These will serve as your water drainage. Next, add soil into the compartments, and, voila! Your vertical garden is ready to house your plants.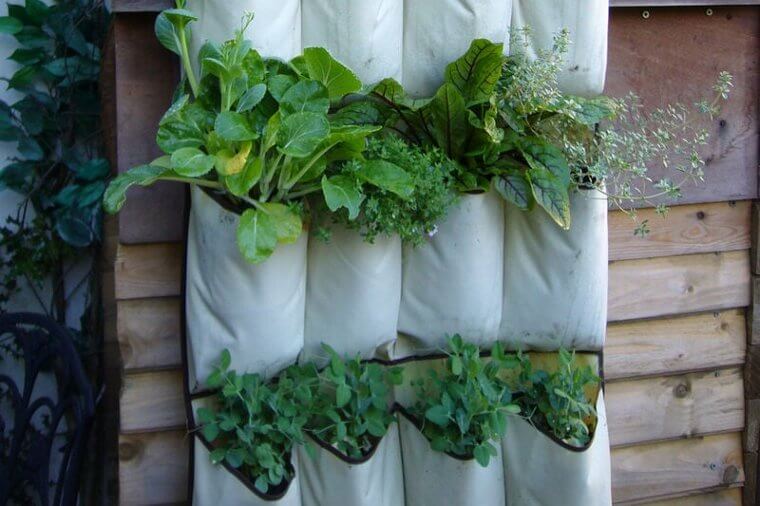 This method is especially useful for creating an at-home herb garden. Loop the organizer over an outside door and there you have it—your own vertical herb garden that fits beautifully in any space.
Space Out Your Plants Evenly With a Muffin Tin
Begin with a clear planting area. Next, press the muffin tin into the soil. Repeat this until the entire planting area is marked with evenly spaced pockets where your plants or seedlings will be planted in.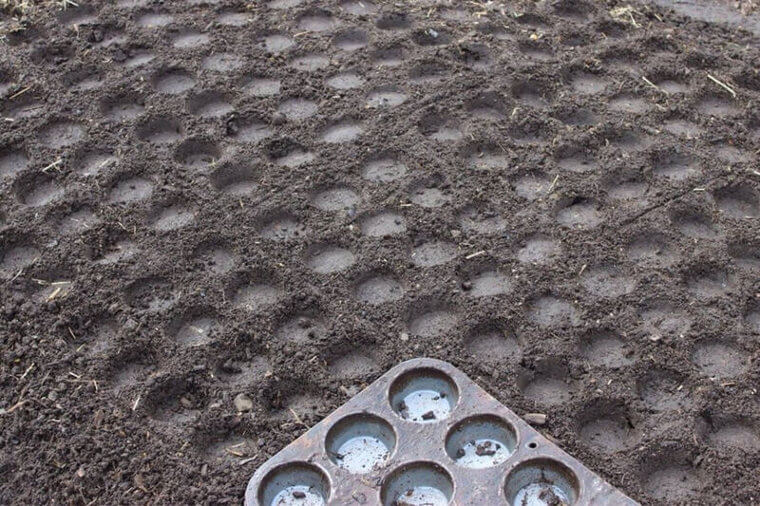 Giving your plants enough space ensures optimal growth. Plants need enough wiggle room to stretch their roots, breathe, and take in sunlight without competing against the plants around them. Also, evenly spaced plants can make for a visually pleasing garden. 

Make a Raised Garden Bed Using Cinder Blocks
Separate your planting ground from the rest of your backyard by making a raised garden bed. Arrange some cinder blocks to create a rectangular area. The hollows of the blocks should be facing the sky. Next, fill in the rectangular area and the hollows with soil. And there you have it, your very own raised garden bed.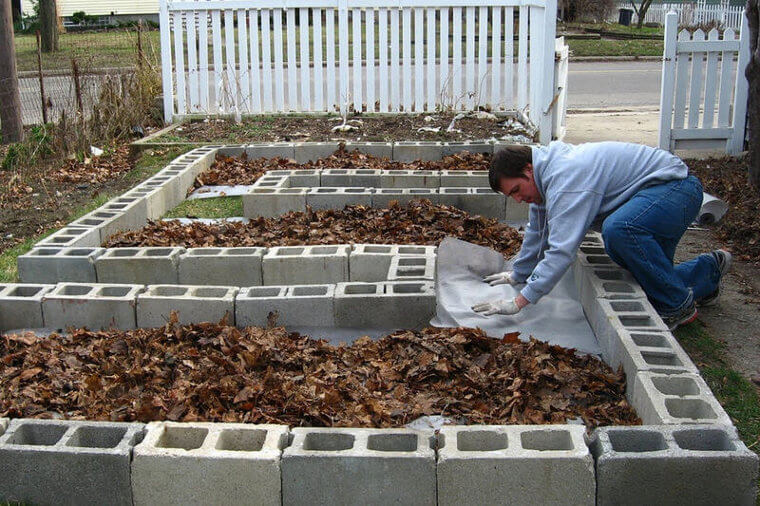 You don't have to limit yourself to rectangles. Create different shapes or stack the cinder blocks on top of each other. Be creative!  
Use Coffee Ground To Fertilize
If you're a coffee-lover, you know how much those used coffee is thrown out by the end of the week. Wouldn't it be so much better if you could reuse that organic leftover? Well, you actually can use them to fertilize your garden and even enhance their nutrition.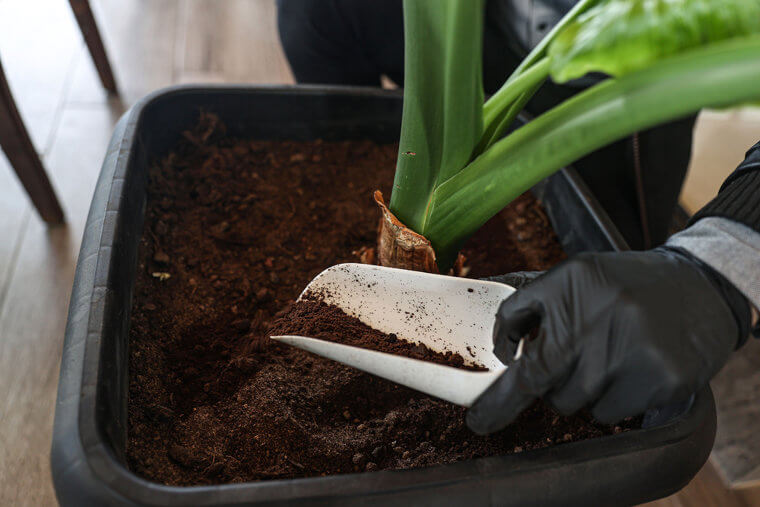 Adding coffee grounds to your compost helps with the soil's alkaline levels and adds nutrition to the ground. However, make sure you don't use fresh and unbrewed grounds as they contain too much caffeine that may harm your plants.
Create Quirky Pot Markers With Old Wine Corks
Be practical and quirky by labeling your plants with some old wine corks. Pot markers or garden markers can help you avoid mixing up your plants. This is useful especially when you have herbs and veggies.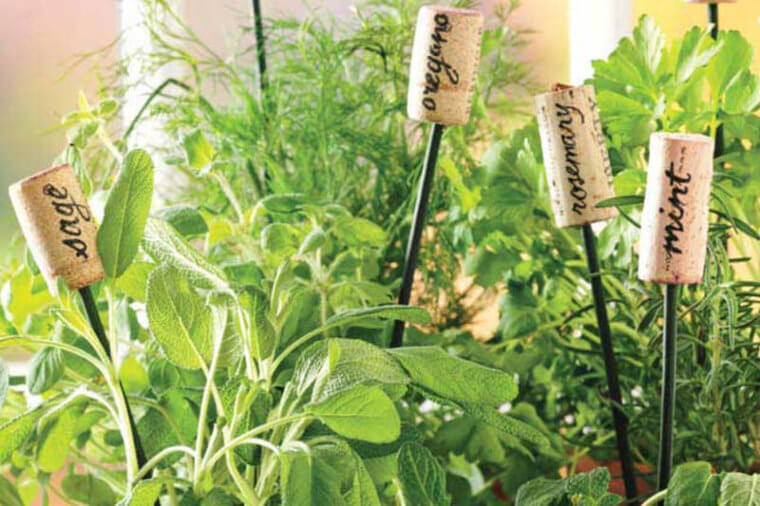 Get your old wine corks and something you can spear them into, like kebab skewers, bamboo skewers, or even forks. Write the names of the plants on the wine corks. Then, simply stick the corks into the ground beside the corresponding plants using the skewers. 
Make DIY Weed Killer With Salt, Vinegar and Soap
Weeds steal your plants' food and water. Control any weed situation in your garden with this homemade weed killer. Simply mix a cup of salt, a gallon of vinegar, and a tablespoon of dish soap. Next, pour the mixture into some spray bottles and your DIY weed killer is ready to be used.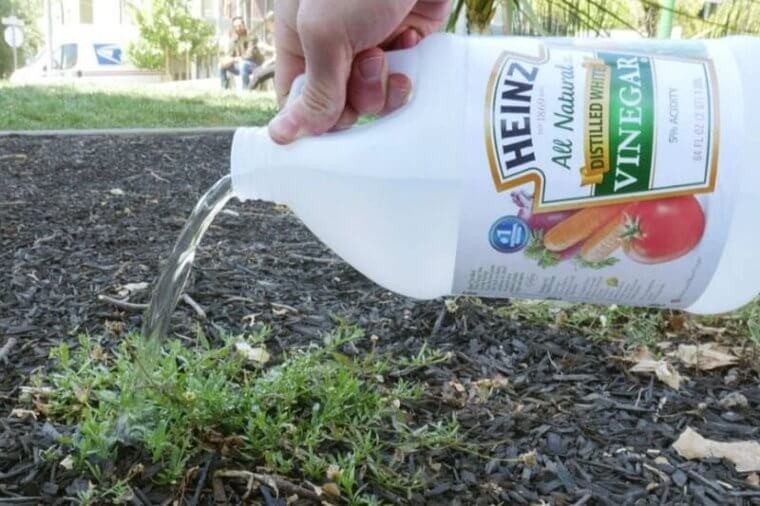 This weed killer will not only help you save on cost; it is also heaps better for your garden's health than the usual chemical-filled weed killers sold in most stores. 

Smother Weeds With Newspaper
Weeds are choking your garden bed? Smother them with this newspaper hack. Begin with a clear area then cover it with a nice thick layer of newspaper. Soak the newspapers with water, then top with a couple of inches of mulch or soil.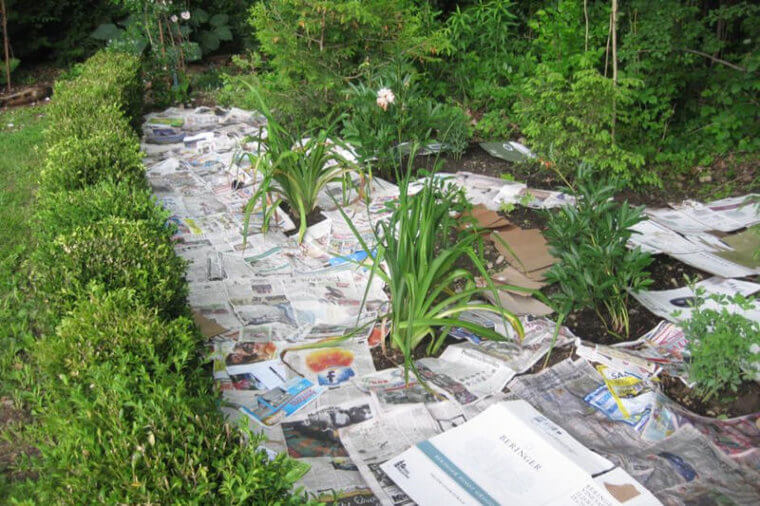 If there are already existing plants, just put the newspapers on the ground surrounding the plants. The newspapers will effectively block any weeds growing underneath but will still allow water to reach your plants.
Make Epsom Salt Fertilizer
Just like us humans, plants also need enough essential nutrients to reach optimal health. Fertilizers can be used to add these important nutrients into the soil, one of these being magnesium. Magnesium helps speed up plant growth, increase nutrient uptake, and even make your fruits and veggies more flavorful.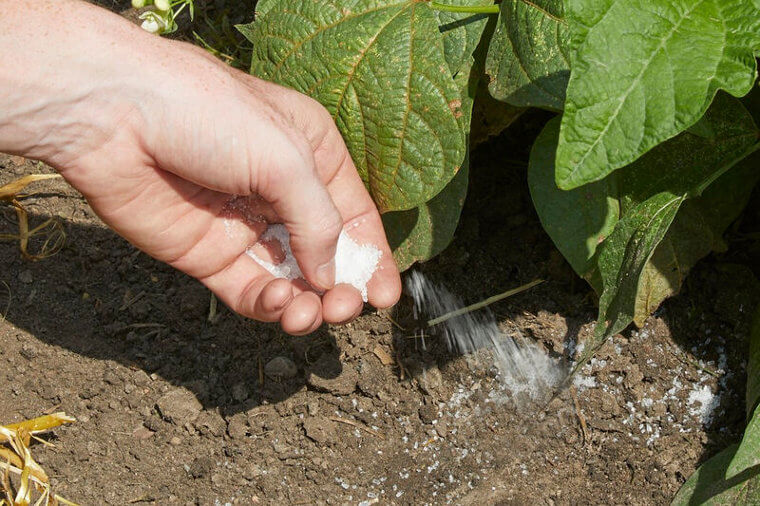 Make a magnesium-rich fertilizer by mixing one tablespoon of Epsom Salt with one gallon of water. Fertilize your garden with this mixture every month for the best results.
Make a DIY Spray Collar Using a Small Can or Bucket
When spraying weed killer in your garden, what you don't want is for the weed killer to also land on your plants and get damaged. Solve this by using a spray collar.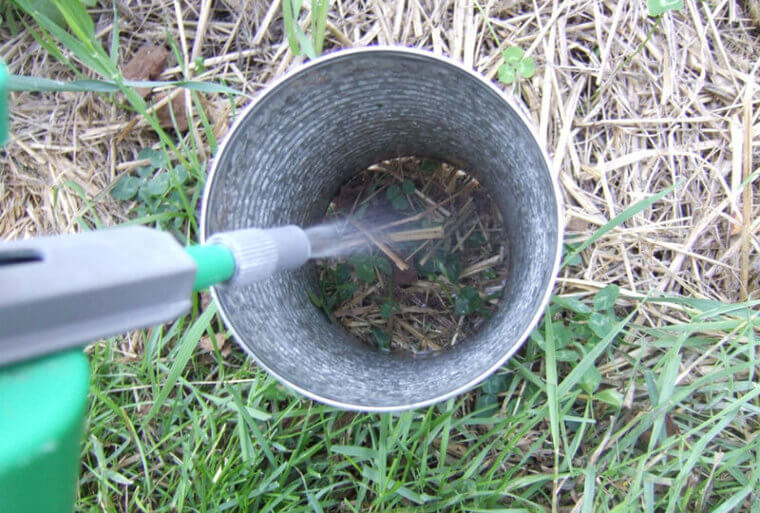 Cut off the top and bottom of a small can or plastic bucket. Next time you spray weed killer, put your new spray collar over the weeds and spray into it. This way, you avoid getting the spray onto your plants and keep them just on those nasty weeds. 
Turn Takeout Plastic Containers Into Mini-Greenhouses
Grow some seeds by planting them in mini-greenhouses made from old takeout plastic containers.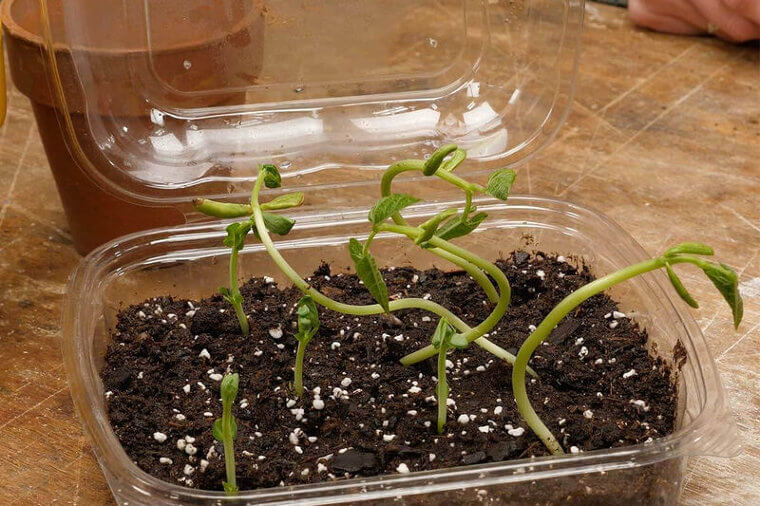 First, clean the plastic containers thoroughly. Next, fill the containers with fresh soil. Plant your seeds, minding the spaces in between each. Each seed should have enough space for when they start to sprout. Close the plastic containers and place them in a sunlit spot. The plastic containers will lock in moisture and heat, creating ideal conditions for your seeds to germinate and sprout faster.

Turn Toilet Paper Rolls Into Seed-Starter Pots
Reuse those cardboard tubes! Take some plastic containers and fill them with tubes. The tubes should be standing upright. Fill the tubes with soil. Afterward, you can plant your seeds.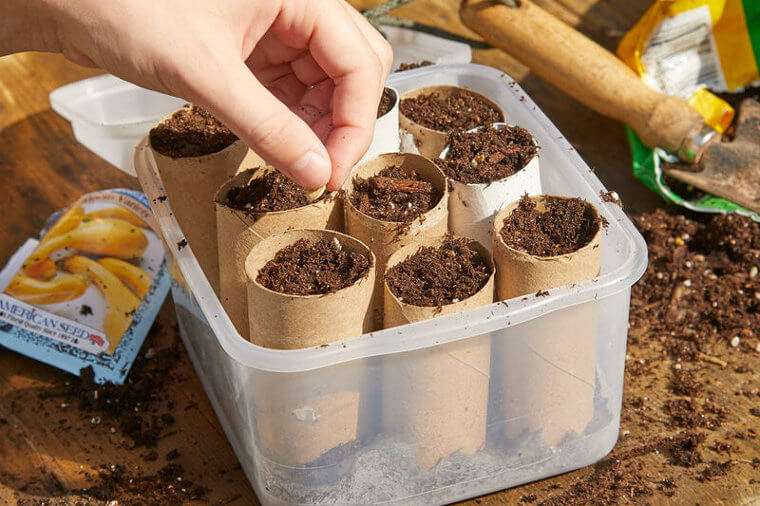 When your seeds have sprouted and are ready to join your garden, take the cardboard tubes with the seedlings and replant them, tube and all, into the soil. The tubes will not only give your seedlings extra protection from weeds and pests, but they'll also decompose and add useful organic matter to the soil.
Kill the Slugs With Beer
If slugs are raiding your garden, lure them in and kill them with some beer traps.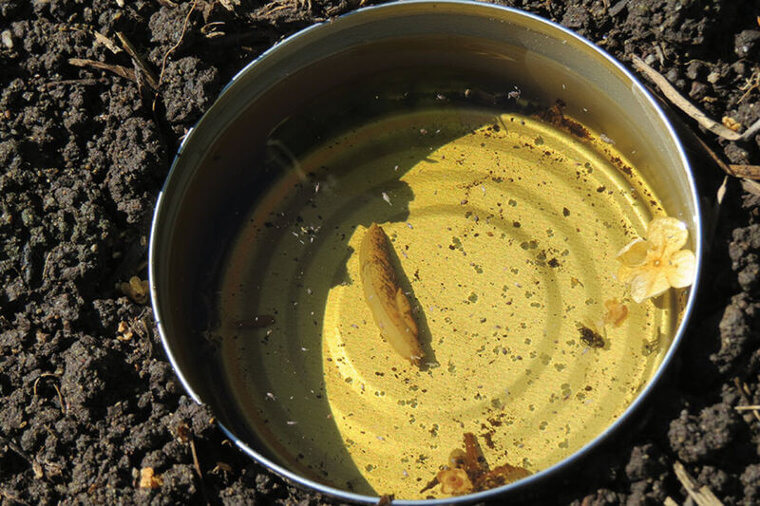 Leave out a small container, like a can of beer in your garden. Make sure the container is not filled to the rim with beer. Dig a bit into the ground and place the container in the soil. The slugs will get attracted to the yeast in the beer, find the container, try to sip, fall in, and either drown or get killed by the ethanol in the beer.
Keep Dirt From Leaking Out of Your Pots With Coffee Filters
Water-logged soil is soil that is saturated to the point that there's no more space for air pockets, preventing plants from effectively making food. That's why pots have drainage holes to remove excess water. The thing is, soil can sometimes leak out from these drainage holes along with the drained water. Solve this with simple coffee filters.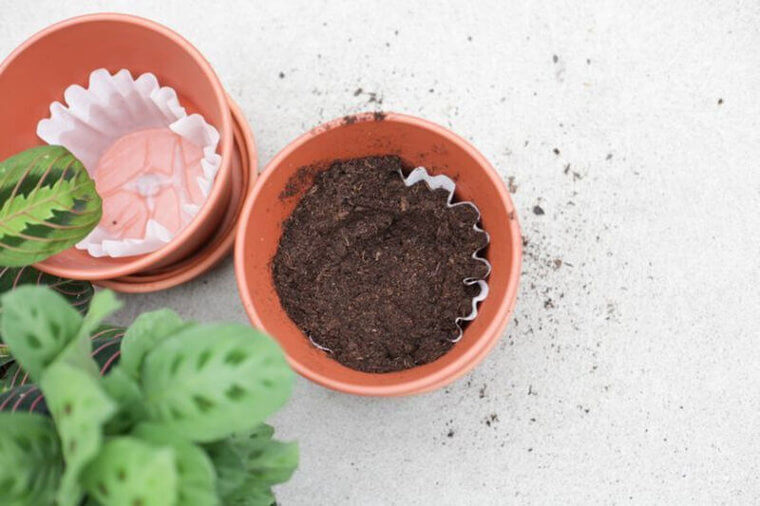 Before you put soil into your pots, line the bottoms with coffee filters. That way, the soil is kept in the pots but water can still flow through. 
Wet the Ground Before Weeding
This is a basic time-tested trick that gardeners swear by. Next time you weed your garden, try weeding after a rain shower or after you've watered your garden so that the soil is nice and wet.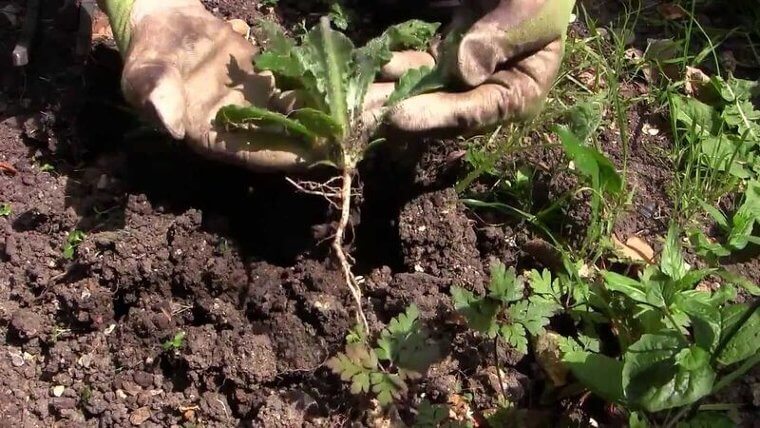 Weeding when the soil is dry can get the weeds stuck and, many times, their roots get left in the soil. When the soil is wet, plants are easier to move around. This means that weeds, including their roots, will slide out easier when you pull them out.
Steep Weeds to Make Tea Fertilizer
You can weed your garden and throw the weeds away. Or, you can make them useful by returning the nutrients they stole from your plants back into the soil.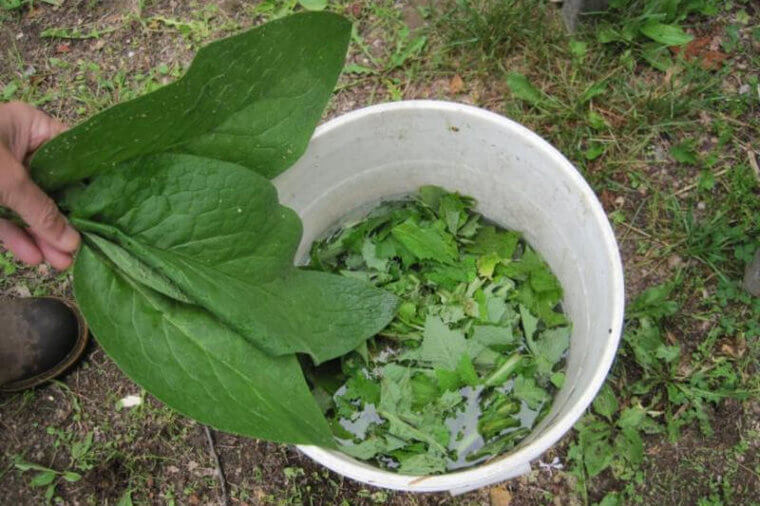 To do this, take the weeds and place them into a bucket of water. Cover the bucket and let the weeds steep, just like when you're brewing tea. After a few hours, toss away the weeds. You now have nutrient-filled tea fertilizer that you can use to cover your garden. 

Take Full Control of Your Garden's Appearance by Planting in Double Pots
You might've had a vision of how your garden will look like when you started it. And so, you planted seeds here and there. Flowers here, shrubs there. Then one day, you look at your yard and realize that your garden looks nothing like what you pictured in your head.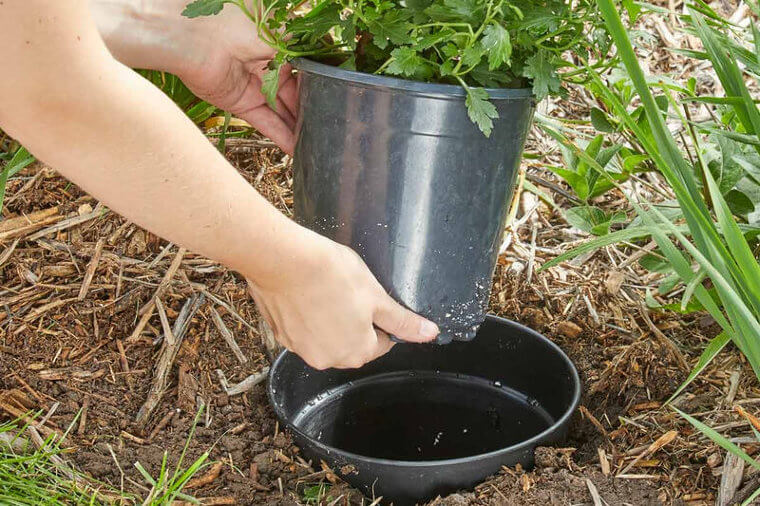 Next time, try planting in double pots and then burying the pots at ground level. When you feel like doing some rearrangements, just lift out the top pots and you're free to do any rearrangements that you want.
Be Resourceful With the Tools You Have at Hand
Tools aren't just limited to what they're made for if you're smart about it. Take, for instance, the post-hole digger. A post-hole digger is a tool used to create narrow holes for fences and signposts.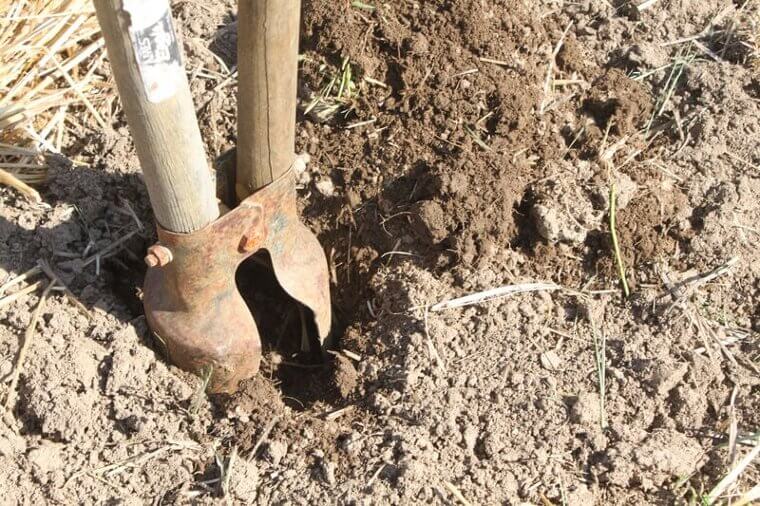 If you happen to own one, why not use it to make holes for your plants instead of digging with the usual gardening tools? This will save you lots of time and effort, which can lead to more productivity in and outside of your garden.
Make Air Pockets Using Soda Cans
Try filling the bottom of deep planters with some empty soda cans before adding them to the soil. The soda cans will create air pockets that will keep the soil aerated, which is important for plants to effectively make their food.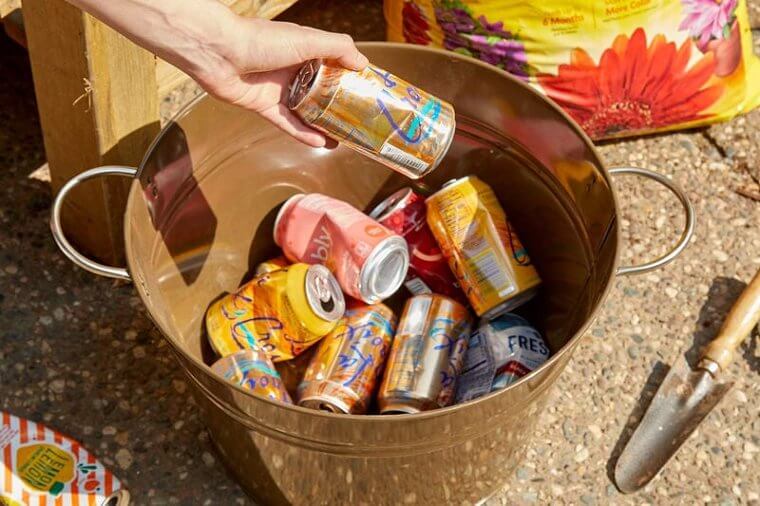 Since it's harder to control what's at the bottom of your deep planters, the cans will give you a head start in ensuring the quality of your soil. Plus, you're doing Mother Nature a favor by reusing these cans instead of throwing them out! 
How to Take a Plant Out of Its Pot Without Damaging It
If you're repotting a plant and need to get it safely out of its current pot, one method is to get a knife and cut down the sides of the current pot. When there's enough wiggle room, wiggle out your plant. This method will get your plant out of its pot with most of its surrounding soil intact.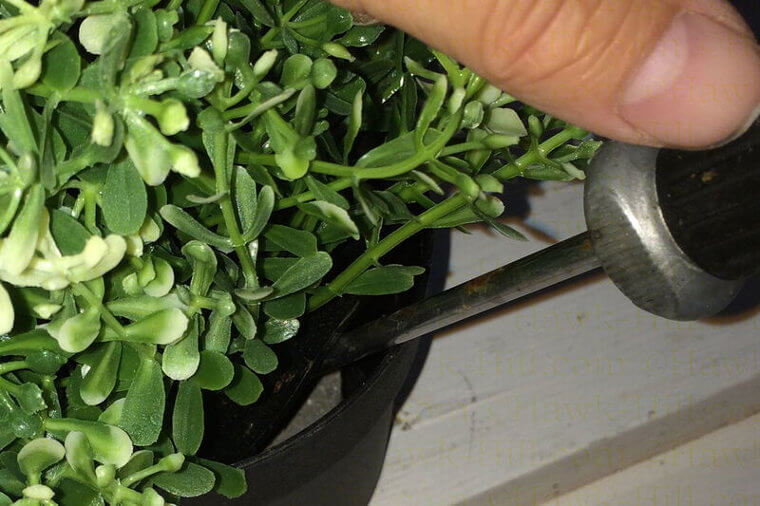 Always be careful when taking plants out of their pots to not take the risk of tearing up your plant's roots or damaging the plant itself.
Make Straight Lines When Edging Your Garden Using a Board
You want to make nice edges for your garden but you're worried about crooked lines? Here's a simple hack.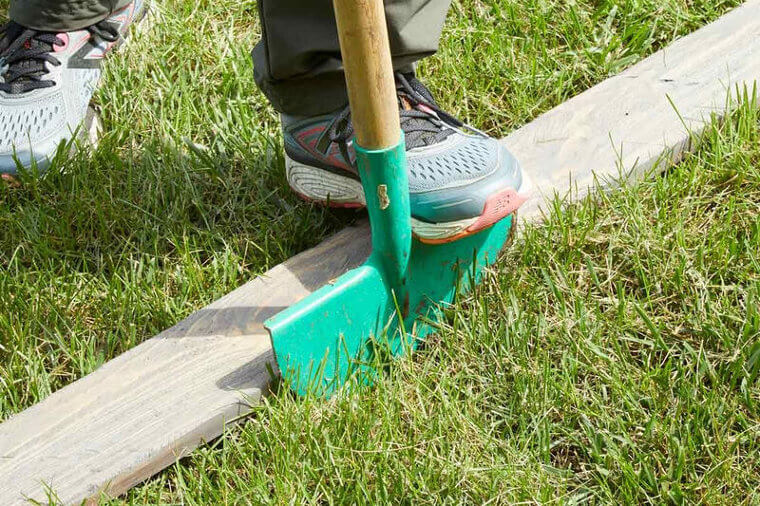 Get a board (2x6 will do), and lay it flat on the ground where you want to start the edging. Step on the board to keep it in place. Next, push your spade or shovel into the ground right at the edge of the board. Move it down the line until you reach the other end of the board. Repeat until you've created all the lines you need for your garden.

Use Old Sponges to Keep Your Plants to Drain Excess Water
Repurpose old sponges. Instead of throwing them away, place a few sponges at the bottom of your pots or deep planters. These sponges will absorb any excess water in the soil that can damage your plant.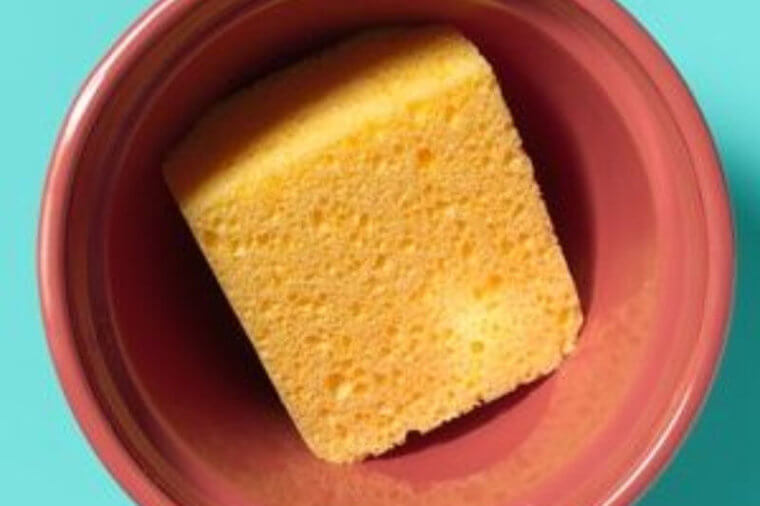 You will want to have just enough water in your soil. Too much water can starve your plant because of the loss of air pockets as well as cause your plants' roots to rot. Proper drainage is just as important as watering your plants.
Keep Your Tools Sharp and Clean With Sand and Mineral Oil
Well-maintained tools help make gardening easier and keep you from spending on replacements for worn-out tools. Fortunately, proper tool maintenance is actually quite simple.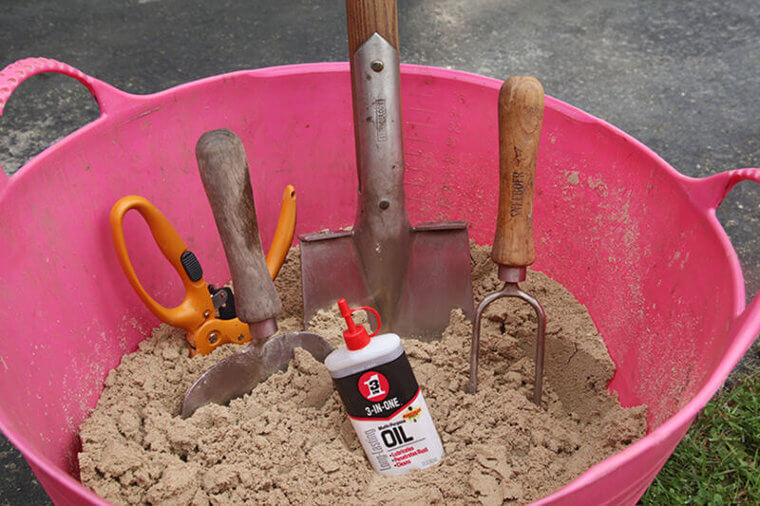 Pour the sand into the bucket. You can add some of the oil in the sand if you want. When not in use, keep your tools plunged into the sand. After use, spray your tools with some oil then plunge them back into the sand. This hack will polish your tools and keep them sharp and clean effortlessly.
Make Mini-Greenhouses With Soda Bottles
Instead of throwing out plastic soda bottles, repurpose them as greenhouses. Take off the labels around the bottles, cut off the bottom parts, and place the bottles over the soil to make greenhouses for your plants.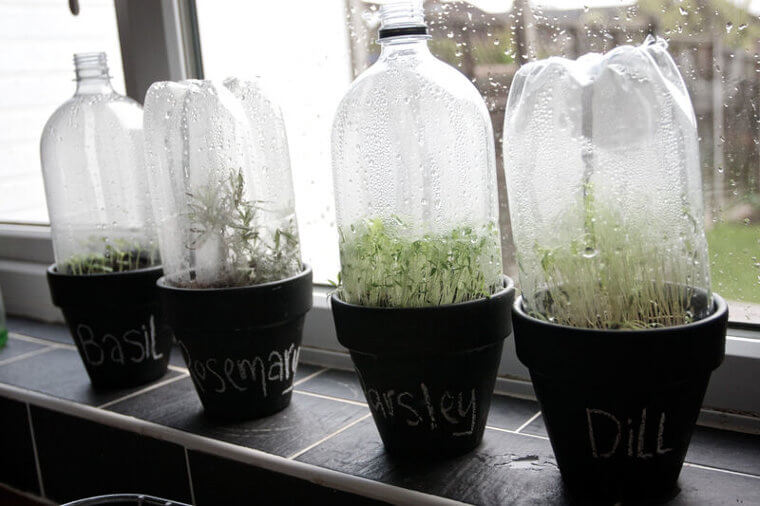 Greenhouses improve plant growth by absorbing sunlight, locking in heat and water, and giving your plants protection against pests. Soda bottle greenhouses will even let you control the humidity of your plants. Remove the cap to let water escape; keep the cap on to lock in moisture.
Use a PVC Pipe to Aim Your Fertilizer More Accurately
If you want to fertilize specific areas or make sure that your fertilizer reaches the ground instead of the tops of plants and leaves (especially in gardens with thick foliage), use this PVC pipe hack.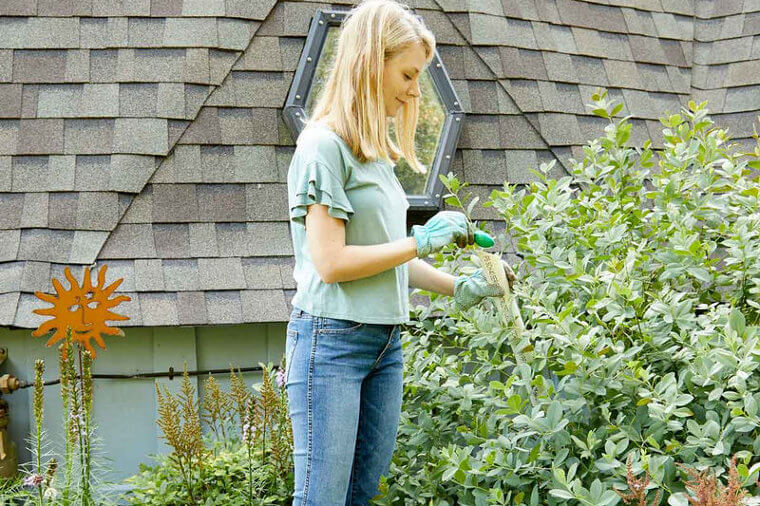 Cut one end of the PVC pipe at a 45-degree angle. Next time you need to fertilize hard-to-reach spots, get your PVC pipe, put the uncut end at the spot where you want to fertilize, then pour your fertilizer into the pipe.

Protect Your Plants From Furry Animals With Soap
So you planted carrots and sweet peas, only for rabbits and chipmunks to take over your garden and ruin your efforts.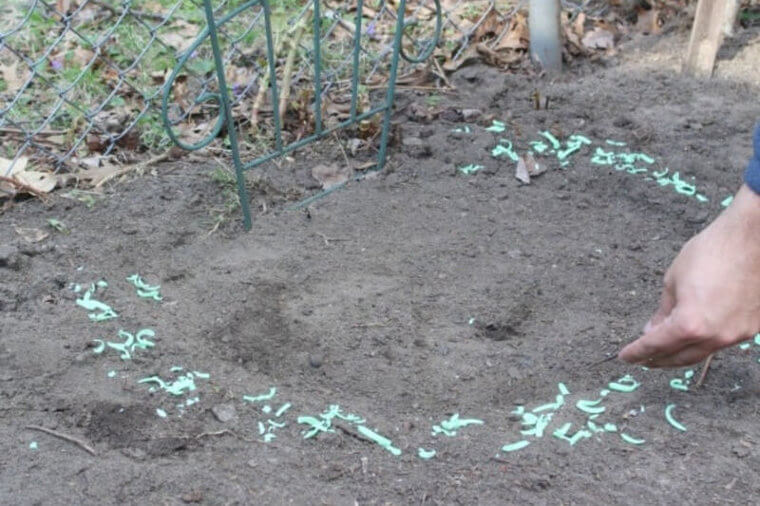 If furry critters are making a buffet out of your garden, keep them at bay with soap. Shred some soap with a food processor or grater, then scatter the soap shavings around your plants that need extra protection. The smell of soap will keep these critters away. Replenish the soap shavings as needed. Oh, and don't worry, the soap will not damage your plants.
Use Cardboard as Weed Control
If you don't have a newspaper but do have a lot of cardboard lying around the house, use that instead to smother the weeds growing in your garden.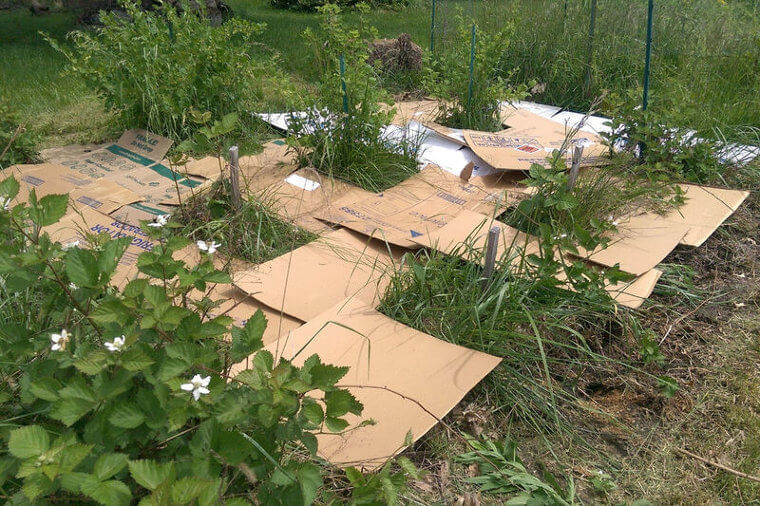 Surround the areas around your plants with pieces of cardboard before topping them with mulch and soil. The cardboard will act as a barrier and keep any weeds underneath from growing and stealing nutrients that should be for your pet plants. Furthermore, the cardboard will add useful organic matter to the soil when it decomposes over time.
Invite Some Bees and Butterflies Into Your Garden With a DIY Watering Hole
Not all animals and insects are bad for your garden. Plants and flowers need bees and butterflies to pollinate. Attract them into your garden with a DIY watering hole.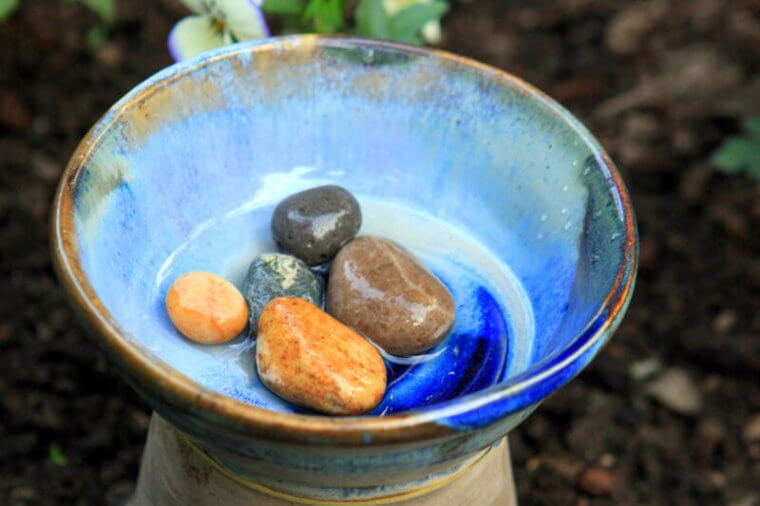 Pour some water into a dish and add some rocks. The rocks will serve as places for the bees and butterflies to stand on while they drink. Don't worry about your garden getting swarmed by bees. The watering holes will attract just enough of them to stop by your garden and help your plants reproduce.
Make a DIY Watering Can
You don't always have to buy your gardening tools. Be resourceful and repurpose old items. You're not just saving money but doing Mother Nature a favor.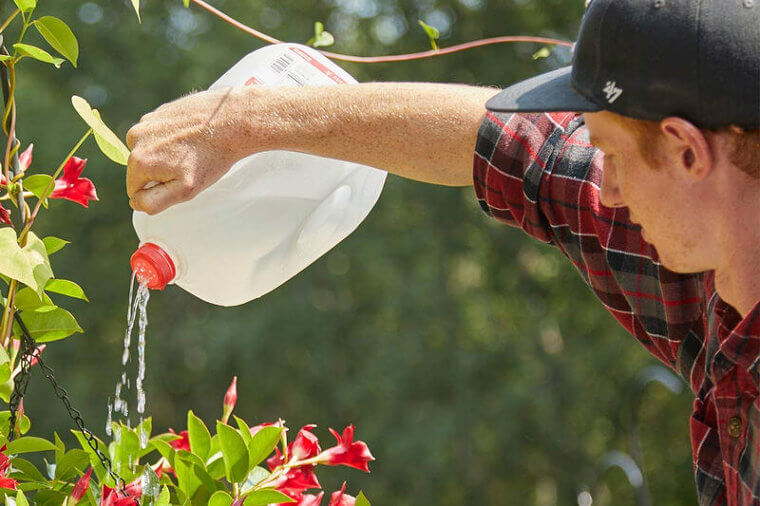 Make a DIY watering can out of an old gallon jug. Simply take the cap off, punch in a few holes, and place the cap back on the jug. Next time you need to water your plants, just fill your new DIY watering can with water and get to work. Easy, convenient, and environment-friendly!

Turn Food and Kitchen Waste Into Organic Fertilizer
There are so many ways to make fertilizer out of materials already in your home. Instead of throwing away food and kitchen waste like coffee grounds, eggshells, fruit peelings, and leftovers, why not bury them in your garden to make your own organic fertilizer?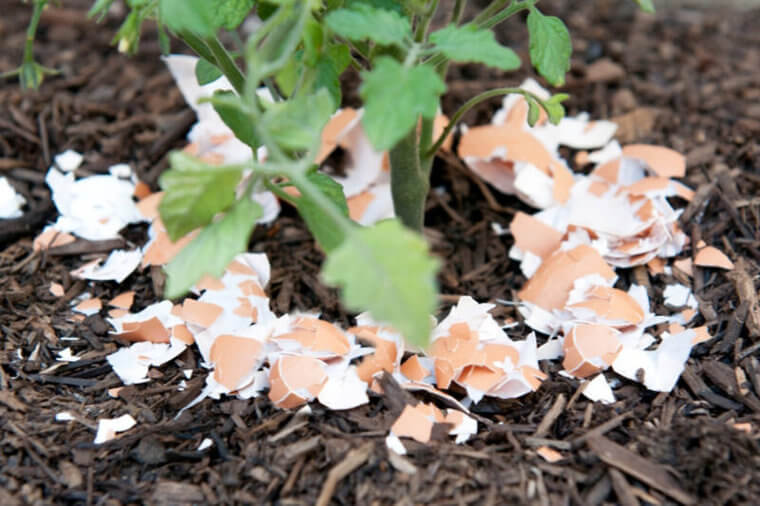 These items have nutrients that can enrich the soil, so don't waste them by chucking them in the garbage bin. Not only will your plants appreciate the boost of nutrients but you will also help reduce wastage.
Make DIY Bug Repellant Spray With Mint and Garlic
Keep bugs and insects from ruining your plants with a bit of mint and garlic. Add 3 cups of fresh mint and 2 cloves of garlic in a food processor or blender, then boil in a pot with 12 cups of water.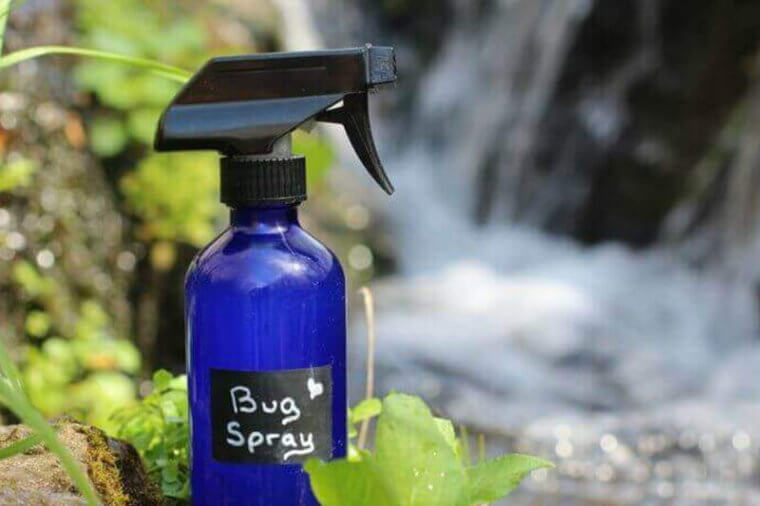 When the mixture has cooled down, strain and transfer the liquid into spray bottles. All you have to do now is to spray this mixture on your plants to repel the nasty bugs.
Secret Grocery Hacks That Will Save You Time And Money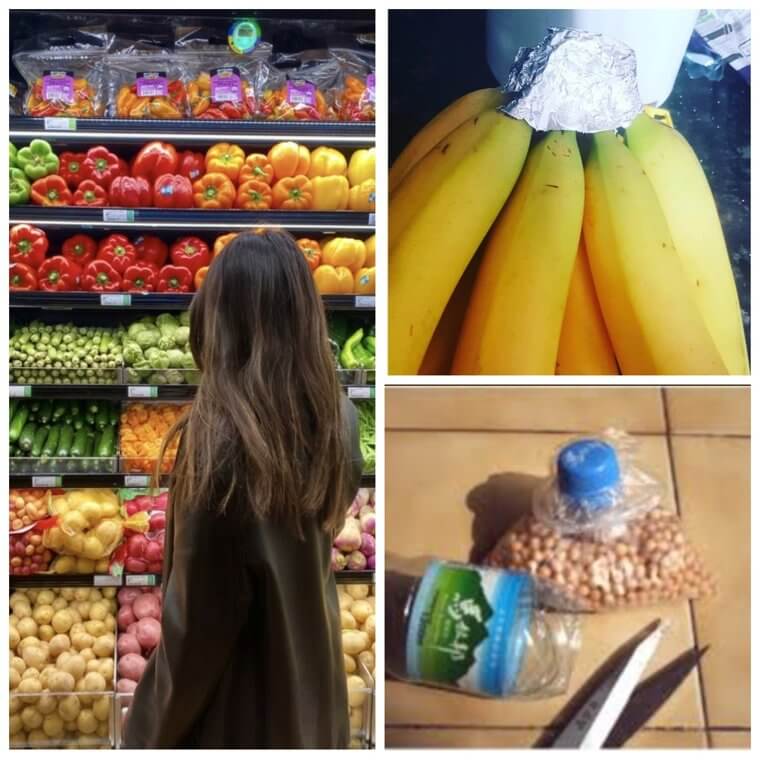 Have you noticed how everything seems to be getting more expensive lately? It's because inflation is going crazy in the past few years! You can see it every time you shop for anything—but especially at the grocery store. So, this is the perfect time to learn how to grocery shop the smart way. These hacks and tips will help you save money and time on your next grocery errands.
Don't Shop When You're Hungry
This tip is simple but effective when it comes to saving money on groceries: Don't go shopping when you're hungry! Trust us, making decisions on an empty stomach is a recipe for disaster, and you might end up spending more than you intended. So, if you can, make sure to have a satisfying meal before heading shopping. Your wallet (and your stomach) will thank you later!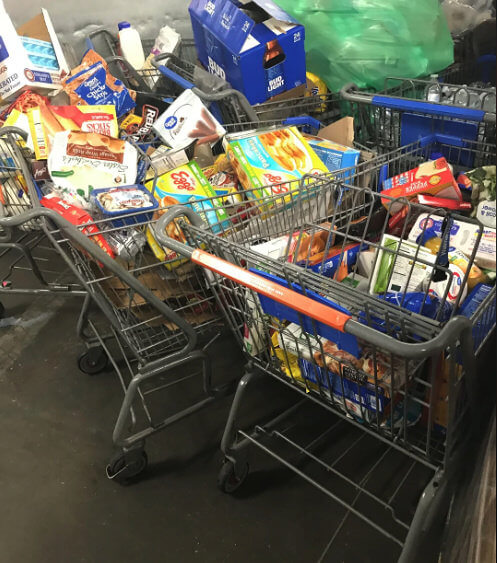 Hunger can really mess with our decision-making skills, as a study by the University of Dundee revealed. According to the study, when we're hungry, we're more likely to be impatient and settle for instant gratification, even if it's not the best option. So, next time you head to the store, be sure to grab a snack or eat a meal beforehand to avoid making hasty and costly choices.
Generic Brands Are Usually Cheaper
Big fancy brands spend a ton of money on advertising and fancy packaging. And it usually ends up getting tacked onto the price of their products. But just because something costs more doesn't necessarily mean it's better! So, don't feel like you always have to go for the most expensive option. Sometimes, the cheaper stuff is just as good (or even better!).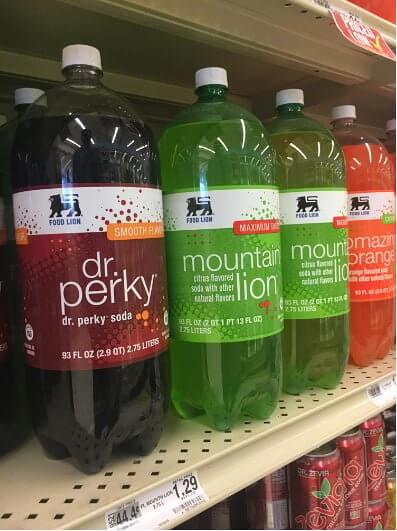 According to dietitians, there's not usually much of a difference in nutritional value between the two. Sure, there might be some slight variations in flavor and advertising, but when it comes down to it, you can usually save a few bucks and still get all the nutrients you need by going for the cheaper options. So, next time you're at the grocery store, don't be afraid to give the generics a try!
Think Outside The Lunchbox
When it comes to saving money, it's not just about being savvy at the grocery store - but also developing smart habits at home. Let's face it, most of us opt for takeout instead of cooking because we're usually in a rush. But fear not! With a little bit of planning and creativity, it's totally possible to cut back on your restaurant spending and still enjoy delicious and satisfying meals.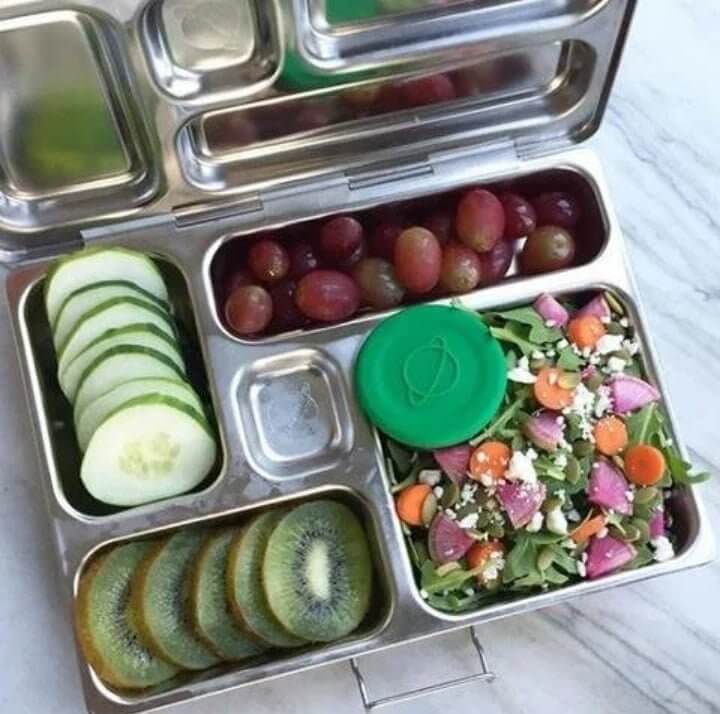 By planning ahead and packing your own meals, not only are you doing your wallet a favor, but also your body by providing it with fresher and more energizing meals. Plus, a lunchbox is like a little piece of childhood nostalgia that you can carry around with you wherever you go. So go ahead and start packing those lunches, folks!
A Healthier Body And Bank Account
We all know that eating healthy is good for our bodies, but it can also do wonders for our wallets! Why waste your hard-earned cash on junk food like soda and chips that basically have zero nutritional value? By loading up on nutrient-rich foods like fruits, veggies, and lean proteins, you'll not only be doing your body a favor, you'll also be saving some serious dough.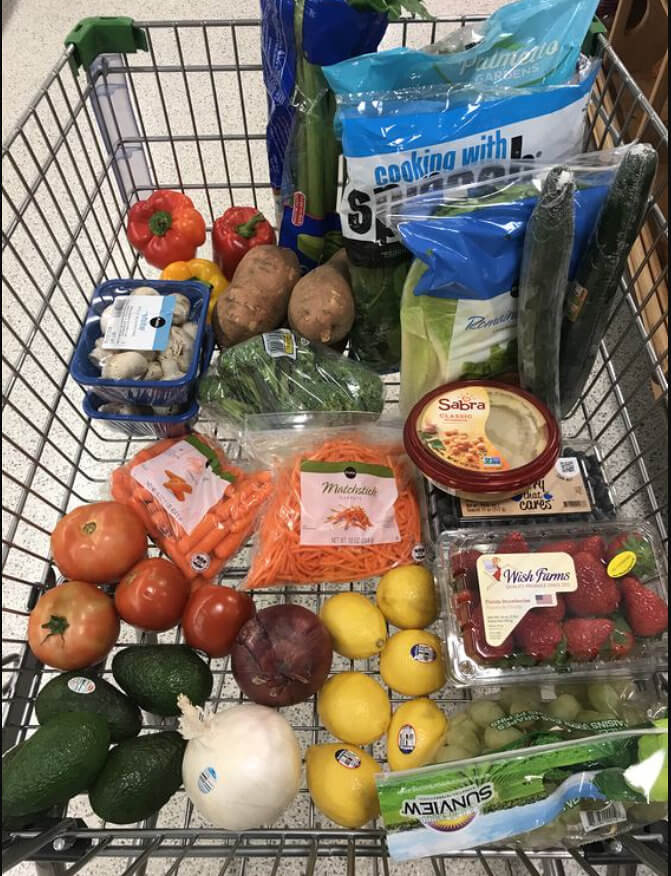 Healthier and more nutritious food keeps you full and satisfied for a longer amount of time, so it can help you avoid those pesky cravings for unhealthy snacks. Trust us, once you've made healthy eating a habit, you won't even miss those greasy chips and sugary sodas. Give it a month or two and you'll see - your taste buds and your wallet will thank you!
Don't Be Snobby With Your Water
Bottled water isn't exactly breaking the bank, but why waste your hard-earned cash on it when you can have perfectly good water straight from the tap? Tap water is practically free and, in most developed countries, is 100% safe to drink. So why not save some money and help the environment by ditching those plastic bottles?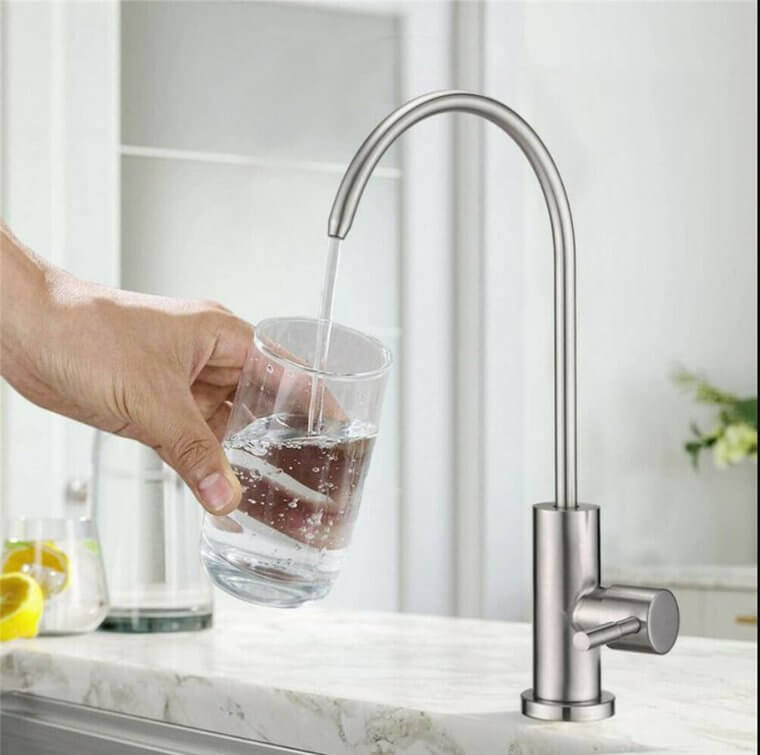 In the US, tap water undergoes a thorough process of filtering, disinfecting, and adding fluoride to keep those pearly whites healthy. Plus, the Environmental Protection Agency (EPA) enforces some serious safety standards to ensure that tap water is always safe to drink.