Elvis Presley was known as the king of rock and roll, and his legacy continues today, through his music, style, and also his luxurious mansion in Memphis, Tennessee. The prestige home, considered a national landmark, was owned since Elvis's death by his daughter, Lisa Marie until her sudden passing in 2023. The house harbors many stories, secrets, and tragedies. Read on to discover what is concealed in the famous mansion...
Lisa Marie's Sudden Passing
On January 12, 2023, Lisa Marie died suddenly after suffering from cardiac arrest at 54. It was confirmed a day later that she would be laid to rest in Graceland's meditation gardens alongside her late son, Ben and other passed members of the Presley Family. Only two days prior, Lisa Marie attended the Golden Globes alongside her mother, Priscilla to support the new film, Elvis.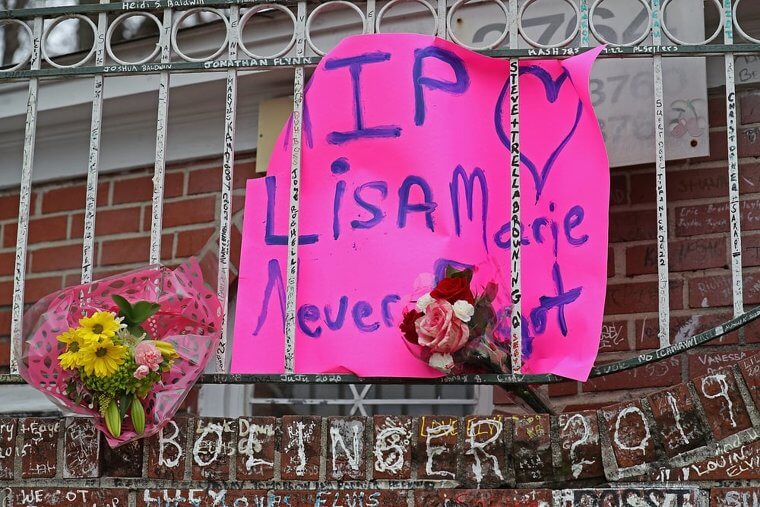 On the days following her death, fans and close ones came to Graceland in order to pay tribute by placing posters and flowers honoring Lisa Marie. The home was left in a trust for Lisa Marie when she was 9 years old and when the trust dissolved when she turned 25, she created The Elvis Presley Trust to manage the property with her mother, Priscilla. 
Keeping It In the Family
In Lisa Marie's will, she had decided that Graceland, which is currently in a trust, will go to her daughters, Riley, Harper, and Finley. Riley, 33, and Benjamin, who died at 27 by suicide in 2020, are children from her marriage to Danny Keough. She later married Michael Lockwood in 2006 and had her 14-year-old twin daughters, Harper and Finley.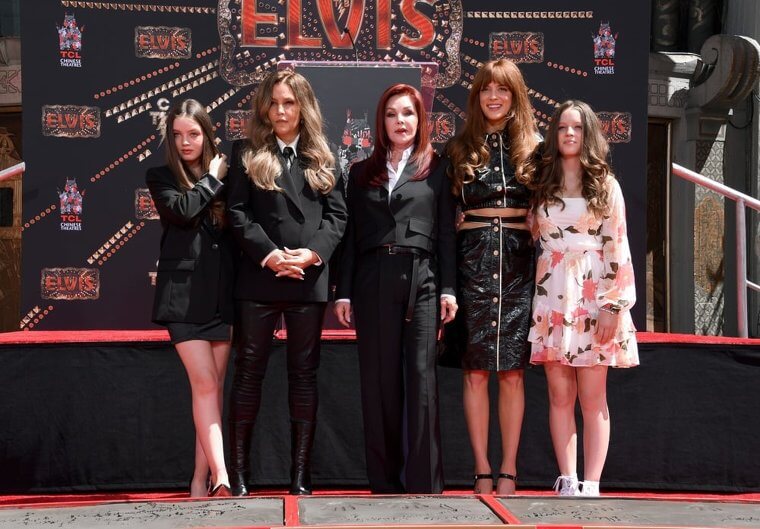 Lisa Marie had previously stated that her children would receive the property when she dies. "It is absolutely 100 percent mine, and it has always been mine, Graceland,it will always be. And when it is no longer mine, it will be my children's. And that is that."
A Move Born From Necessity
Elvis was quite happily living in Memphis when his career took off. At first, the neighbors were proud to have a celebrity in their midst, but it soon got a bit out of hand. The masses of fans traveling to the king's place of residence became too much for the neighborhood to cope with.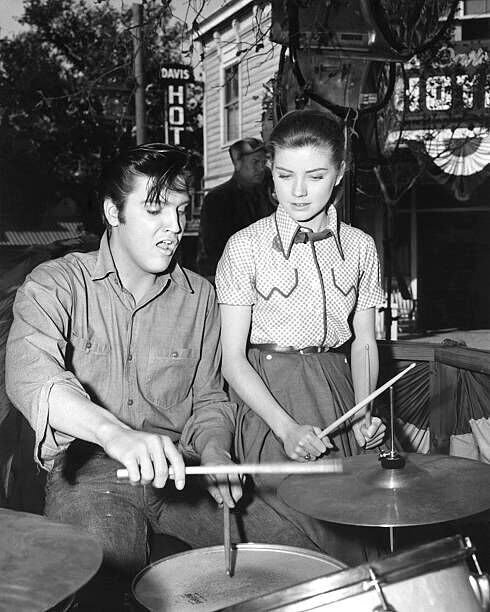 So Elvis sent his parents off to find something a little more secluded. When they found the mansion and its grounds, surrounded by the 500-acre farm from which it took its name, they knew that they had hit the jackpot.
The Jungle Room Albums
Welcome to the Jungle Room. For those of you who love the idea of bringing the outside inside, this is the blueprint for you. The floor is covered in lush, green, lawnlike carpet. The walls mimic stone temples. The furniture has a definite animalistic theme, and there are plants everywhere.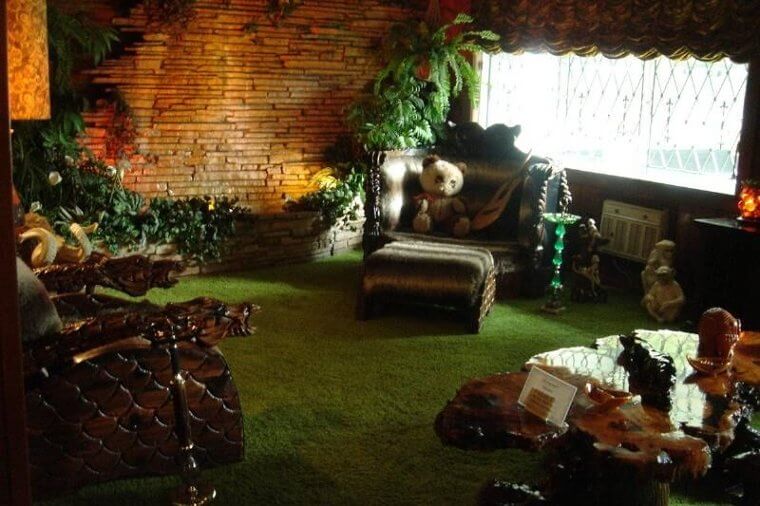 It all looks pretty good, but there's a hidden role to all that padding - the room doubles up as a music studio. The whole setup is perfect for acoustics, and Elvis actually recorded his last two albums, "From Elvis Presley Boulevard" and "Moody Blues," right here.
Press the Button
This table might look ordinary, but it has a hidden feature that will surprise you. Underneath that polished surface, there's a button set into the underside that Elvis could press to summon the staff to him whenever he needed assistance.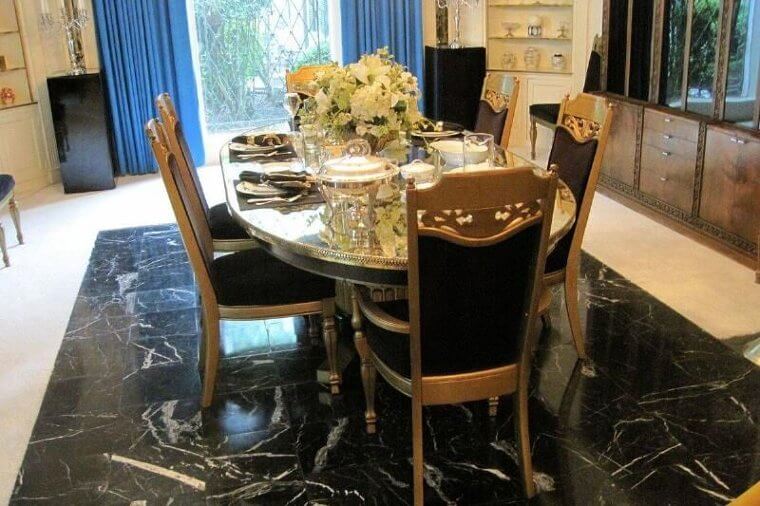 For assistance, read more food. Elvis was a man who loved to eat. The kitchen had a list of must-have items that should always be available on demand. Pepsi, orange drinks, biscuits, sauerkraut, hot dogs, meatloaf, banana pudding, brownies, ice cream, fudge cookies, shredded coconut, and gum were on there. Broccoli was not, though.
A Beautiful Farewell
Elvis lived at Graceland for twenty years, and his life and work were ever filled with light and beauty. It was only fitting that his final farewell should take place in the style in which he lived. His funeral was set in the music room of the mansion, where his coffin was available for public viewing.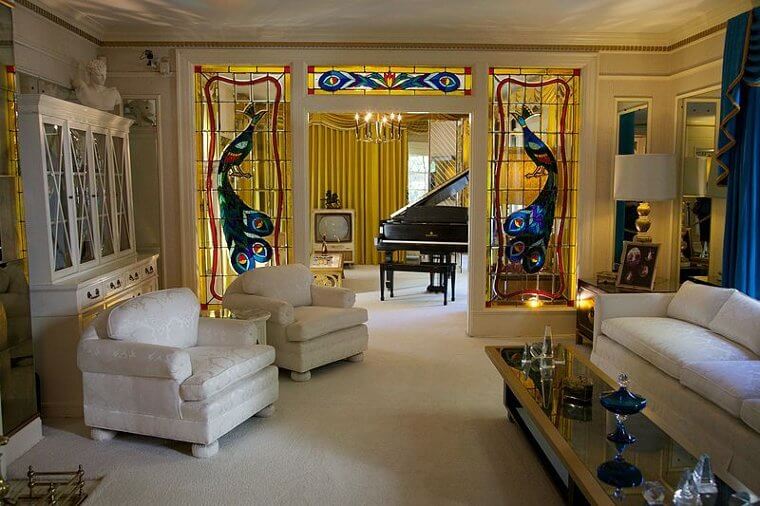 The music room epitomizes the ambiance of the whole estate. It is gorgeous, with stained glass peacocks, bright golden suns, and mirrors. The floor-length glass panels, golden curtains and accessories, and pale furniture all added to the warm, bright feeling of being enfolded in beauty and music.
Accommodating Auntie
When Elvis lived there, Graceland was a private home. He shared the mansion with other members of his family, notably his aunt, Delta Presley Biggs. After his death, Delta continued living in the estate. It wasn't until five years later that the house became opened to the public as a museum.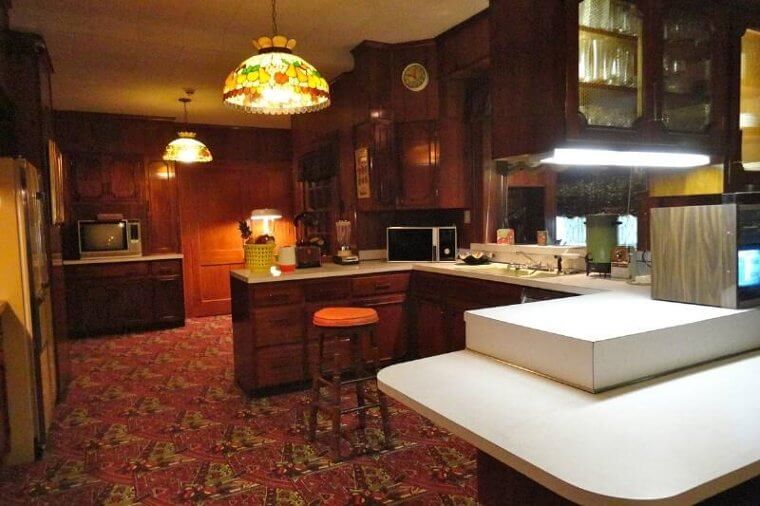 However, not all of the rooms were available for exploration. Aunt Delta still called the place home, and although she didn't need the whole mansion, one room was essential to her - the kitchen. It remained off-limits to the public until 1993 when Delta passed away.
The Second Floor
Graceland has a total of 23 rooms, but they're still not all available for touring. The second floor of the mansion, with its six bedrooms and, of course, the bathroom in which Elvis had his last breath is firmly closed to the public. The floor has remained untouched since the singer's death.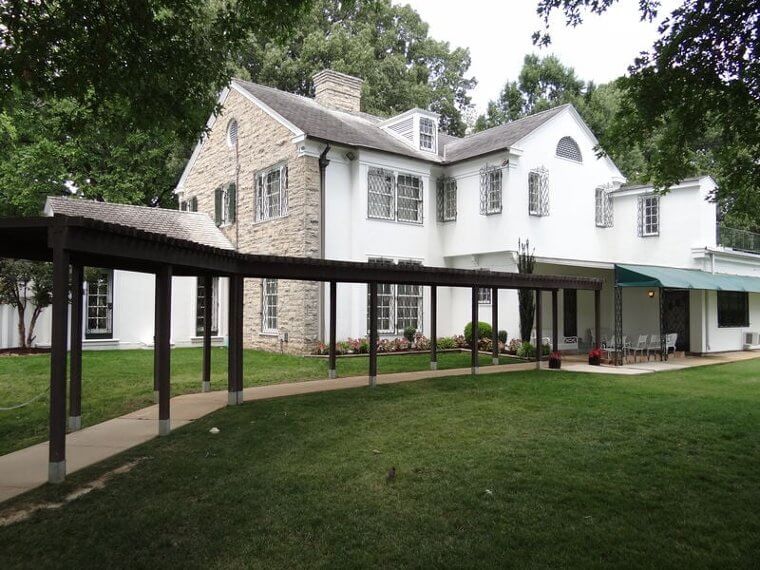 The second floor includes Elvis's bedroom, his private office, dressing room, and Lisa Marie's childhood bedroom. The main reason for keeping it private, however, is that bathroom. It is thought that it would attract too much improper attention. Out of respect for the family, the site of his death remains sacrosanct. 
Target Practice
Elvis did everything with flair and extravagance. He had a TV room set up in the basement, all done out in black and yellow, with the wall lined with television sets. His logo was painted on the walls, with his motto "Taking Care of Business in a flash."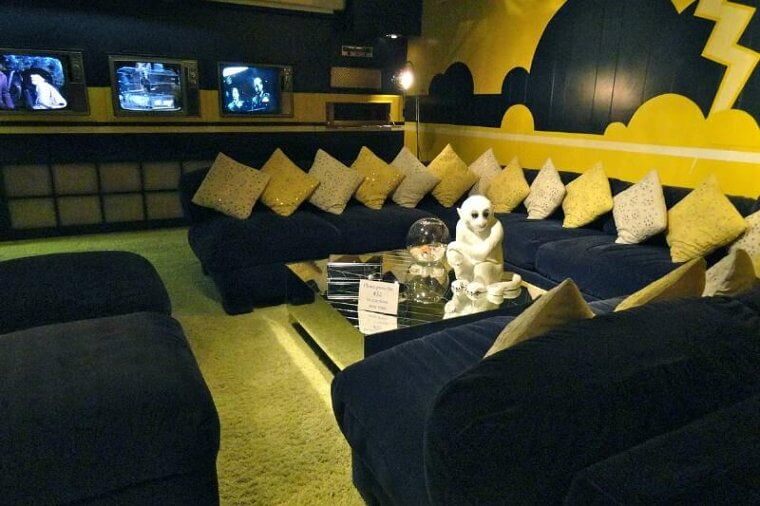 Even something as simple as turning the TV off had to be dramatic. He loved watching television, and he loved shooting things, so it only made sense to combine the two. The grounds of the mansion include a graveyard especially for TV sets that no longer worked because he had shot them simply to turn them off!
The Family Plot
Once Elvis himself was interred in the peaceful gardens surrounding his home, the area was turned into a family graveyard. Both his parents are now buried by his side, as is his paternal grandmother, Minnie Mae Presley, who outlived all the others. There is one more memorial there, the smallest of them all.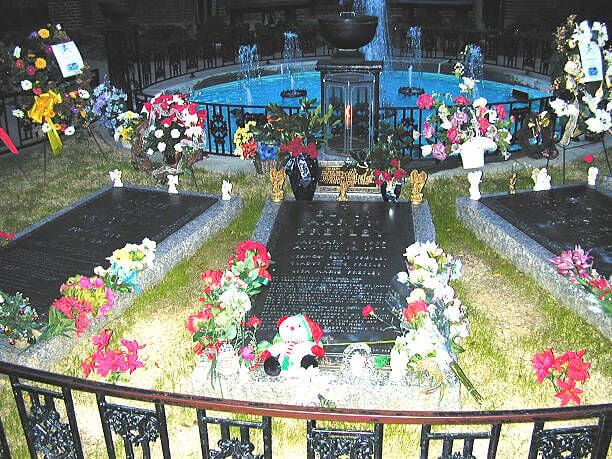 Elvis had a twin brother named Jesse Garon. Unfortunately, he was stillborn. The four adult graves that surround the small fountain are all identical, contrasting with the 5th small one made in honor of Jesse. 
Local History
In the 1800s, Graceland was owned by the Toof family. It was named after the original owner's daughter, Grace Toof. The house wasn't built until 1939 when Grace's niece inherited the property upon her aunt's death. Elvis bought the place in 1957 for just over $100,000.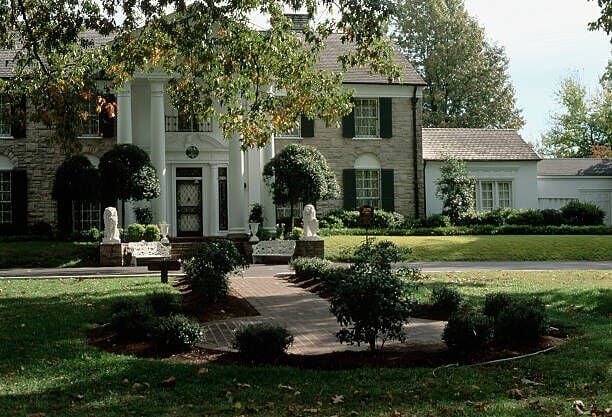 The house was already accustomed to having music in its halls. Grace's niece Ruth had a daughter, Ruth Marie, who was a harpist with the Memphis Symphony Orchestra. The rooms of the mansion had already hosted many classical recitals before rock and roll took over.
Scatter
The Graceland estate boasts nearly 14 acres of land, with rolling lawns and mature trees. It is the perfect place to keep all sorts of animals. Elvis had a pack of dogs, and there are working stables on the grounds. Pigs, peacocks, and chickens roamed the grassland.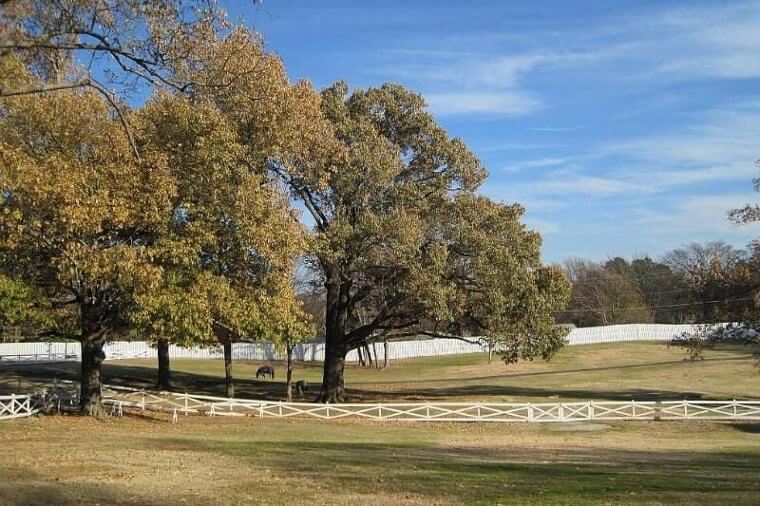 Just like with everything else he did, Elvis had to take it one step further. He found himself an exotic animal to care for; Scatter the chimpanzee. Scatter was more than just an animal, he was a member of the family, with his own climate-controlled room in the mansion.
The Off-White House
It's stately, impressive, and one of the most influential people in the country lived there. Over half a million visitors pour into the grounds every year. There is only one house more visited in the United States than Graceland: The White House.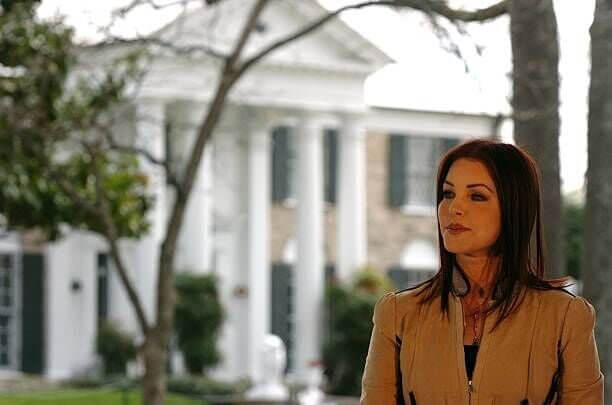 And it's not just the plebs like you and me that make the pilgrimage. Through the years, Graceland has received rich, famous, influential, and talented stars from across the globe, including Japanese Prime Minister Junichiro Koizumi, boxer Muhammad Ali, musicians Paul Simon and Paul McCartney to cite a few. The British Princes William and Harry have also dropped by - a future king paying respects to a king of the past.
The Pink Cadillacs
Elvis bought his first Cadillac in 1955. It was destroyed in a fire, so he bought another. That got lent to a friend when he upgraded to a newer model. Once the friend was done with it, the pink Cadillac came back to Graceland, where it remains on display to this day.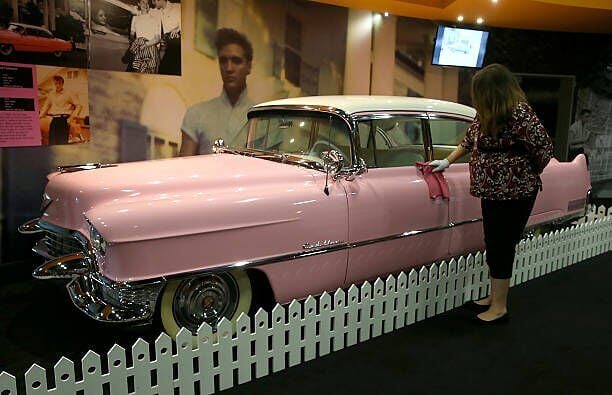 Usually, the car resides in the auto museum. At one point it was parked out front, prominently displayed, for the visit of then-president George W. Bush and the Japanese Prime Minister Junichiro Koizumi. There's the letter E embroidered in the mat on the driver's side. 
The Auto Museum
The king of customization couldn't possibly own just any old car, and so his vehicles are a sight to behold. That's why Graceland features an auto museum. Inside, you can find treasures such as his Mercedes limousine, which has a Motorola car phone - a rare find in a car of that age!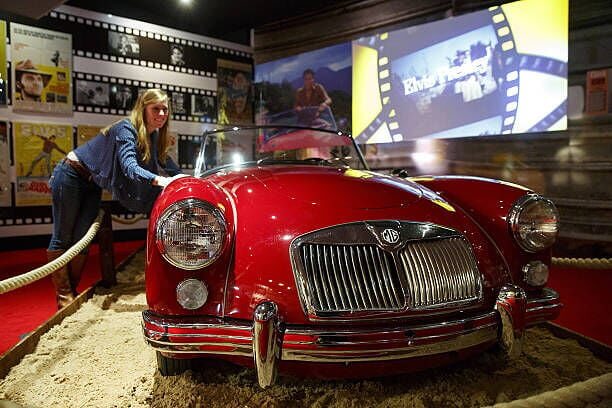 Elvis' Jeep also has pride of place. Yes, it's pink. Hot pink, pale pink, pink on pink, with pink stripes. And pink rims. It does seem like he couldn't find anyone to make pink tires, though! Oh, well, at least they match the black steering wheel. 
The Wall of Gold
If you want to be impressed, then Graceland is the place for you. However, even some of the most splendid rooms there pale into ordinariness when compared to the most awesome features that the mansion houses. Take the wall of records, for instance.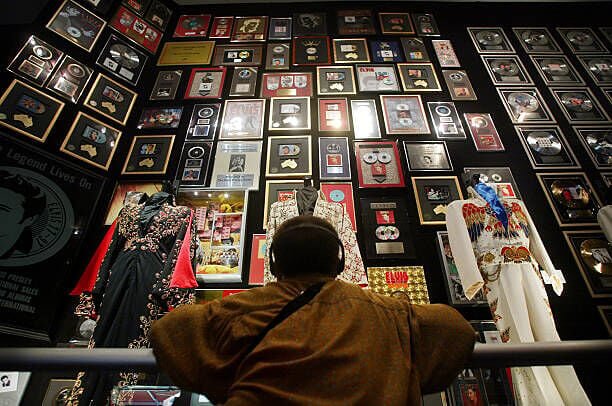 Elvis made hundreds of records, and nearly 200 of them were certified by the RIAA. 101 gold records, 57 platinum, and 25 multi-platinum, to be exact. And every one of them is carefully hung on the wall in an overpowering display of success. You can also find out what the king listened to in his spare time as his music collection is also on display. 
Suit Up
No Elvis collection would be complete without at least one over-the-top, sequinned jumpsuit. And Graceland has plenty more than just this one. They are missing his Blue Armadillo suit because that has been sold privately. In 2017, Graceland held a memorabilia auction, and that item sold for a cool quarter of a million dollars!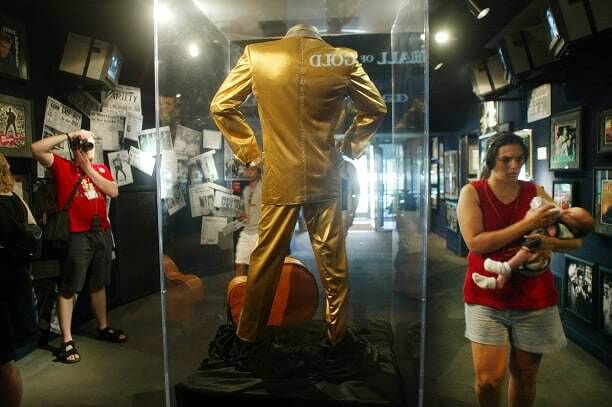 The jumpsuit concept was a godsend for the iconic groover. He was famous for his dance moves, and the flashy suits designed by Bill Belew enabled him to express his showmanship to the max, and still be able to move around and do those moves that made his fans go wild.
The House That Grew
Mom and Dad had found the perfect spot for their son, but the house wasn't quite ready for the Presley clan. Elvis spent more on renovating the place than he had on buying it in the first place. By the time he was finished, the 10,000-square-foot house was a 17,000-square-foot mansion.
Now, the building had eight bedrooms and was big enough to accommodate the whole family. Parents, aunts, and cousins all joined the singer at different times, and Graceland became a family home full of laughter and love.
A Money Pit
Graceland, in all of its splendor and beauty, is an amazing place. The trouble was, it came with an amazing bill to run, as Priscilla discovered when she became the executor of the estate for her and Elvis' daughter, Lisa Marie. Without Elvis' fat paychecks, Priscilla was faced with the prospect of selling the family home. 
The estate cost half a million dollars a year to maintain, and Priscilla didn't have that kind of money. Lisa Marie's inheritance was already down to a measly million dollars. Something radical had to be done. Priscilla took her cue from other famous residences and opened Graceland to the public.
The Gathered Masses
It turned out to be the best idea Priscilla ever came up with. Fans flocked to the site of their beloved idol's home. By 2016, after 34 years of business, Graceland welcomed its 20 millionth visitor. Every year, special events are held, which bring in thousands of tourists honoring the late musician's life and work.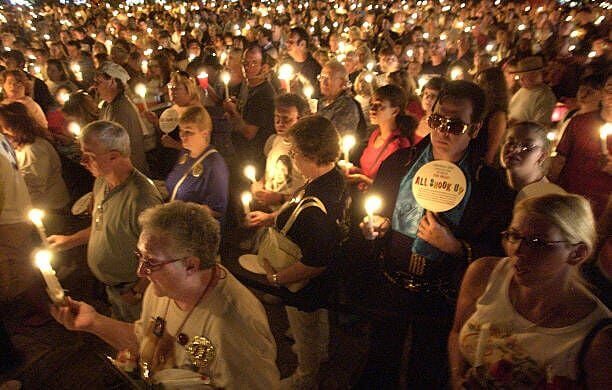 Lisa Marie soon came into her inheritance. In 2005, she sold 85% of the Elvis Presley Estate to an entertainment company, which is well-equipped to make even more of Graceland. More and more attractions have been added over the years, including Elvis' private jets. 
Grave Robbery
Elvis lived and died in Graceland. He loved the place, and it was only fitting that he should be buried there, under the grounds where he built his life, surrounded by family. However, the zoning laws have no sense of empathy, and human remains need to be buried in graveyards.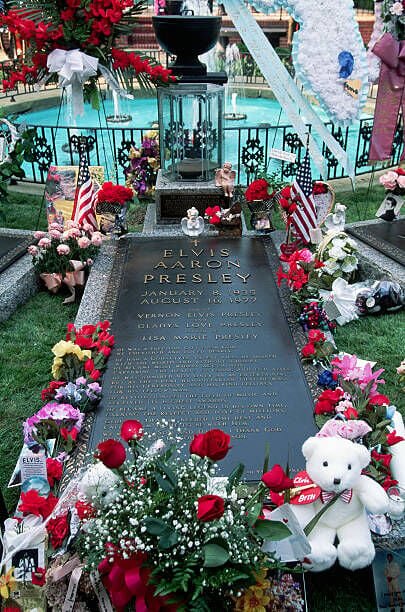 It wasn't long, however, before there was trouble. Grave robbers snuck into the cemetery and tried to steal Elvis' coffin! That did the trick. The laws were waived for the Presley family, and Elvis was reburied in the meditation garden in Graceland, where he spent many hours reflecting on his life.
The Hidden Side of Elvis Presley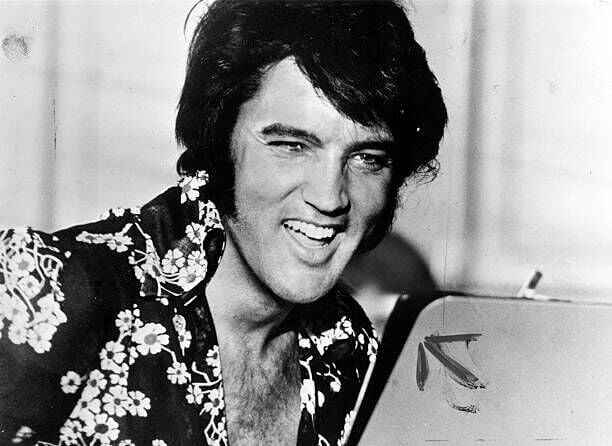 Elvis Presley, "The King of Rock'n'roll", is undoubtedly one of the most influential people of the 20th century. He rose to worldwide fame in the 50s and lived a life of luxury, scandals, and drugs before tragically succumbing to his death in his house. Throughout his short life, he held a lot of secrets, both awe-inspiring and tragic. Read on to find out the lesser-known facts about the rock legend.
The Star Was Born
The legend that was Elvis Presley was born in a town in Mississippi Tupelo in 1935 to parents Vernon Elvis Presley and Gladys Love Presley. Though born into a very modest family, Elvis was actually related to two extremely well-known American political leaders: Abraham Lincoln and Jimmy Carter.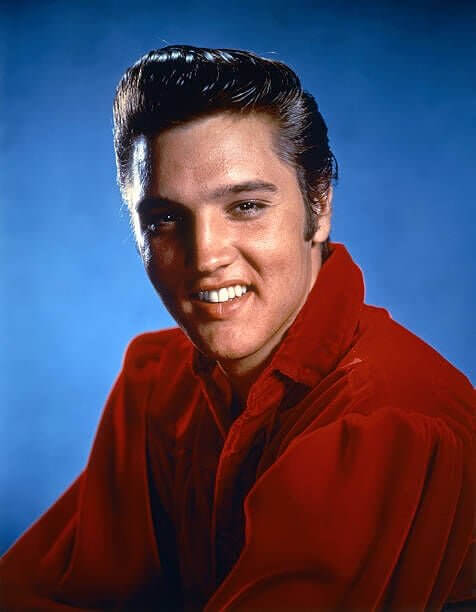 Elvis had a very relationship with both of his parents but had an especially special bond with his mother, Gladys. Perhaps this was due to the fact that Elvis also had an identical twin brother who was sadly stillborn.
Elvis Was A Blondie
A natural blonde, Elvis Presley was far from the slick brunette his image would become cultivated around. He most likely started dying his hair in his youth to deeply contrast his environment where he grew up and to attain a more "dangerous" image.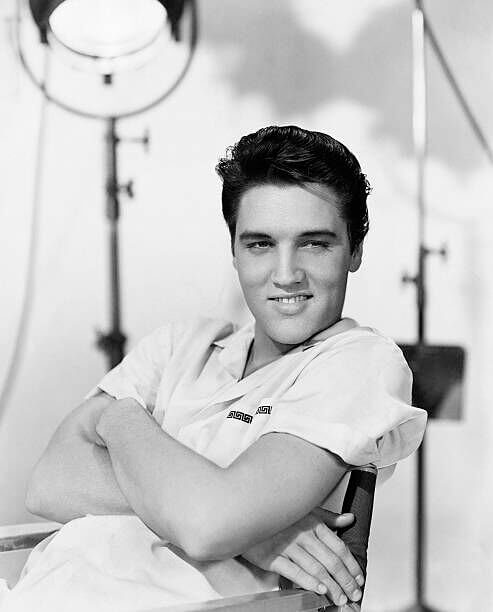 As legend has it, a local DJ once played Elvis's "That's All Right" 14 times in one day. Memphis listeners loved it, and couldn't believe Elvis was white. The only thing black about Elvis was his hair, and he used shoe polish to make that happen.
He Wasn't Very Popular In High School
Even though Elvis grew up in a loving family who always supported him, his childhood wasn't as good as he wanted it to be. He didn't get along with his peers very much, often being teased for his love of country music, so he spent most of his time alone.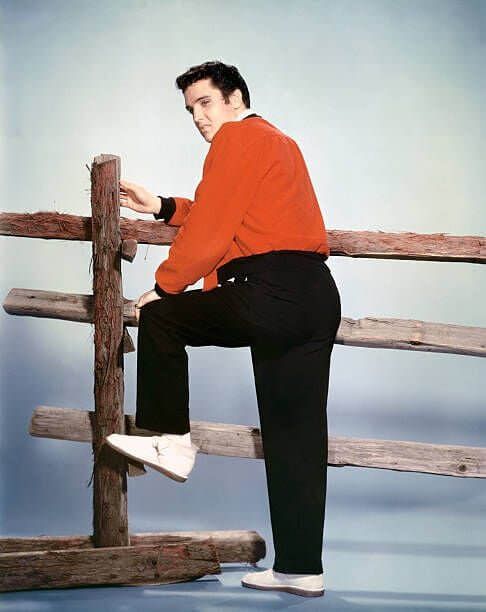 His interest in music only increased when he started school, and his inner music bug was fueled by his local church, which he frequently visited with his family. It was obvious that this young boy wasn't meant for the world of higher education, but that his destiny was to do something great with the talent he was given.
His First Taste Of The Limelight
Even though Elvis was a natural-born star, it wasn't until 1945 when someone realized his talent. He sang a traditional country song for his teacher who was so impressed that he urged the young boy to enter a local singing competition.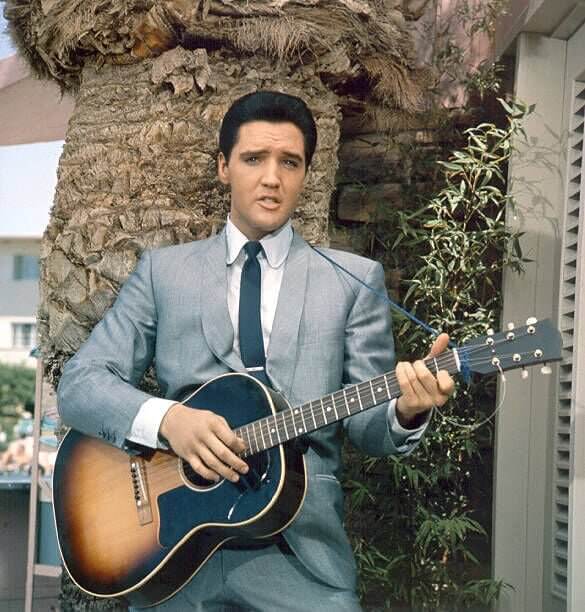 Even though he came in fifth place, his love for music was awakened. His uncles and the local pastor gave him his first music lessons and in no time at all, Elvis knew that music was what he wanted to do for the rest of his life.
He Wasn't The Best Music Student
If you think that his music teachers thought he was the best student they ever had, you would be wrong. When Elvis was in the 8th grade, he decided to enhance his performance skills so he began attending music lessons.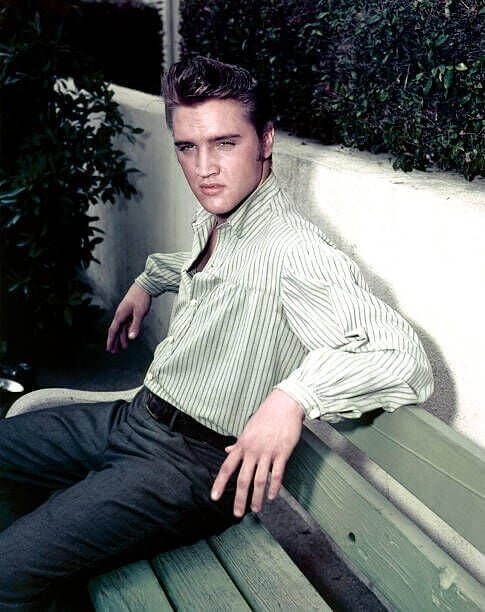 He only managed to get a "C" grade, but this never killed his spirits. He brought his guitar to school every day and in the end, managed to impress his music teacher, Mrs. Morman.
He Wasn't Always the Confident Performer You Knew Him to Be
In the '50s, Elvis Presley forever changed live music shows. With his catchy expressions and dance moves, he managed to captivate the audience every time he performed. However, even The King himself admitted that he was shy when he was a teenager.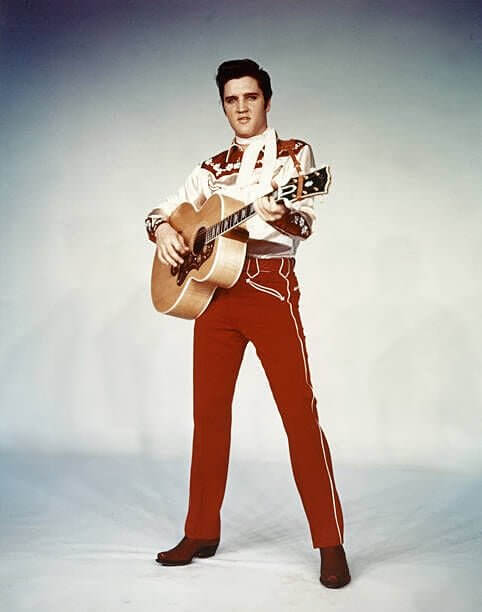 When he was asked by WELO, the Tupelo radio station, to give two live performances in 1946, Elvis was too shy to even show up at the first session. However, he managed to gather enough courage and give the second performance.
His Rise To Stardom
In 1956, Presley was given his big break when he teamed up with RCA and released his debut album. He was officially hailed as The King after the release of Elvis Presley, which was considered the first-ever rock'n'roll album to go number one, paving the way for a new era of music. It stayed there for a groundbreaking ten weeks in 1956.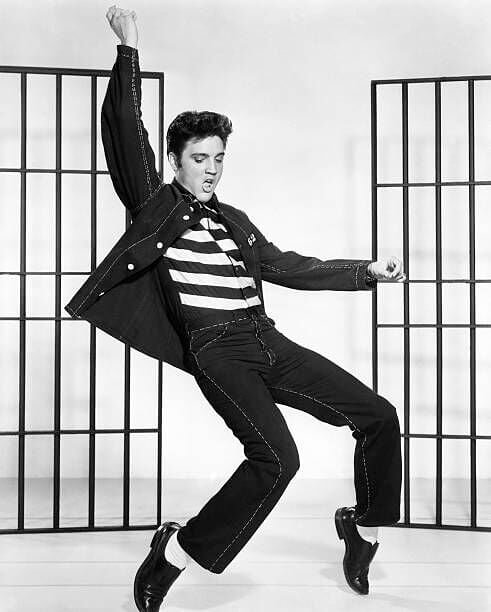 It's a widely known fact that Presley didn't compose most of his songs, but he still made sure to add his special trademark rock n' roll tempo to every song.
"Hound Dog" Wasn't His Song
Aside from not composing his own songs, many have accused Elvis of theft and plagiarism, as they believe he stole the song "Hound Dog" from Big Mama Thornton, a legendary R & B singer who recorded the song back in 1953. But this was not the case, as the song was composed by Jerry Leiber and Mike Stoller, American producers and songwriters, and Big Mama Thornton's version was just that: a version.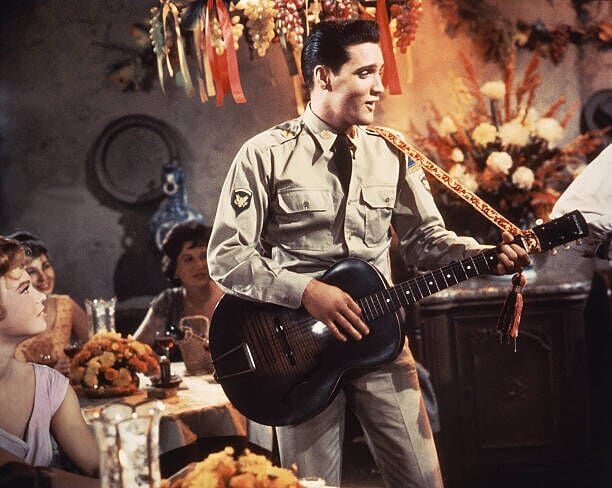 Even so, Presley's critics thought that it was unjust to appropriate a "black" song, as it was very easy to do so in the deeply segregated times of the '50s. It was no secret that the music industry favored white musicians over black ones, and when Elvis was able to bring "Hound Dog" to new heights, many saw it as a hijacking of Big Mama Thornton's legacy and talent, as her rendition never had the same opportunity for fame.
When The Army Came Knocking
Even though Elvis Presley had now become a star, that didn't mean he didn't have to serve his country. He was drafted into the U.S. Army in 1958 and served until 1960 when he finally returned to the U.S. Elvis was a part of the 3rd Armored Division and was stationed in Friedberg, Germany.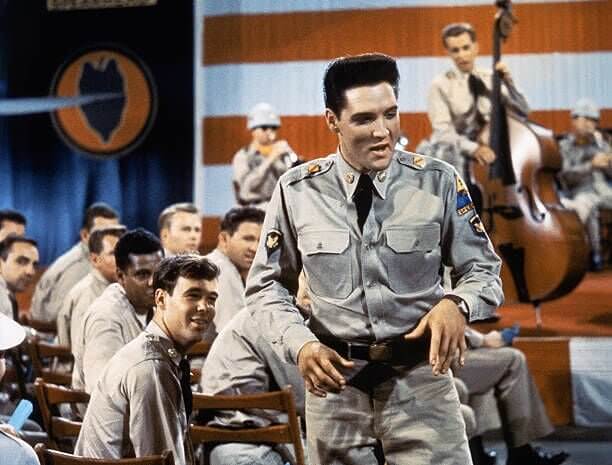 Despite being extremely famous at the time of his service, Elvis never wanted to be anything but just one of the guys and never asked for any kind of special treatment from his fellow soldiers; his Army pay was donated to charity.
Being Apart From His Mother
Elvis shared a special bond with his mother - even when he reached adulthood, his mother never stopped being his best friend. The two were even known to speak to each other in baby talk, even as Elvis was a grown man. While he was in Germany, he received the terrible news that she was suffering from hepatitis and he was granted time off to go and visit her.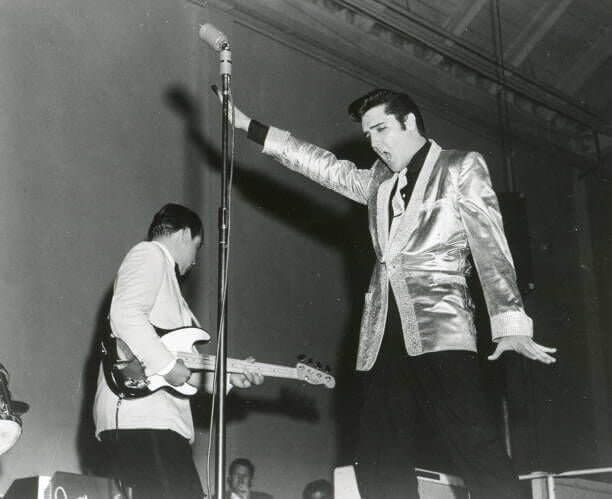 Elvis traveled back to the states and saw his mother, who sadly passed away only a couple of days after her son's visit. She was only 46 years old when she died from a heart attack and Elvis was reportedly devastated beyond words.
Taking His Mind Off The Tragedy
While back in Germany, Elvis met the person who finally eased the pain he felt after losing his mother. He had organized a party at his Bad Nauheim house, and it was there that he met 14-year-old Priscilla Beaulieu.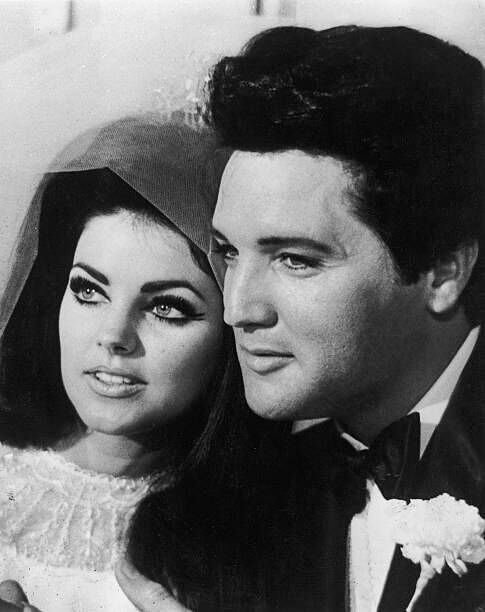 Despite being involved with a beautiful 19-year-old German girl, Elisabeth Stefaniak, Elvis was completely infatuated with Priscilla, and eight years after they met, she traveled to the United States and tied the knot with the King of Rock at the Aladdin Hotel in Las Vegas. One year later, the couple was blessed with a daughter, Lisa Marie Presley.
Mr. And Mrs. Presley's Choice For Marriage Was Not Entirely Theirs
Show business can wreak havoc on the lives of stars, especially on their marriages. Careers and personal lives become intertwined, and even though Elvis and Priscilla loved each other, it seems it wasn't entirely their decision to tie the knot.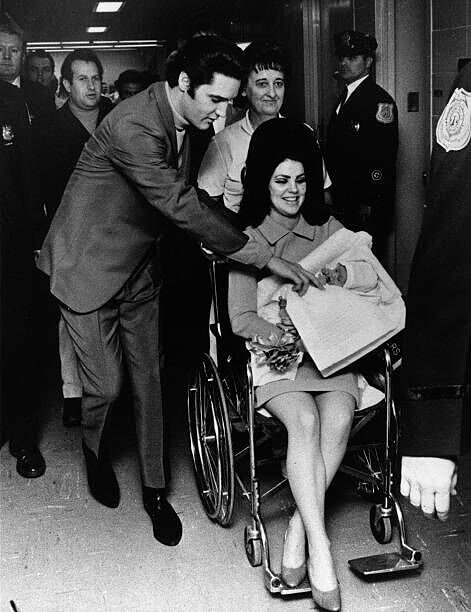 Rumor has it that Presley's legendary manager, Tom Parker "The Colonel", was partially responsible for the decision that the Presleys should be wed to bolster The King's public image. Priscilla's parents also pressured Elvis to propose as they worried that the long courtship, if unfulfilled, would taint Priscilla's reputation. But, sadly, the sacred union didn't last long and was riddled with scandals.
Problems Soon Started to Arise
Even though it seemed that Elvis and Priscilla had a fairytale marriage, they still fell victim to the same trap most celebrity couples face at one time or another: infidelity.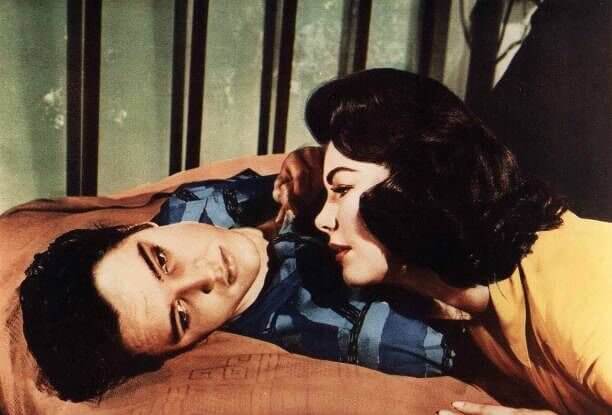 Since Elvis had an exhausting schedule and was often absent from his family for days, he met other women - for instance, Joyce Bova. Priscilla had some secrets as well - she was extremely close to one of her dance teachers, and she later started seeing a man named Mark Stone, who was her karate teacher. Elvis and Priscilla's marriage was slowly dying.
The Unavoidable Divorce
Just a few short years after Elvis and Priscilla had gotten married, they knew it was time to call it quits. Even though they had a child together, they knew their family would never be happy together and in 1973, their divorce was finalized.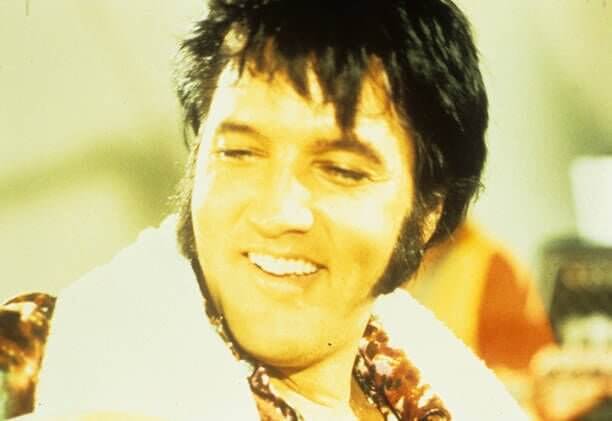 Priscilla admitted she felt like she missed out on her best years by marrying so young, and that she needed to find herself. She also confessed that Elvis had very little intimate interest in her, especially after the birth of their daughter, and that that was one of the reasons their marriage failed (some psychologists actually cite Elvis's dependent relationship with his mother as the reason for his intimacy issues). However, the two still remained friends.
Things Went From Bad To Worse
After Elvis and Priscilla were separated, Elvis devoted most of his time to appearing in TV shows and touring. His schedule was hectic and busy, and this took a toll on the quality of his performance.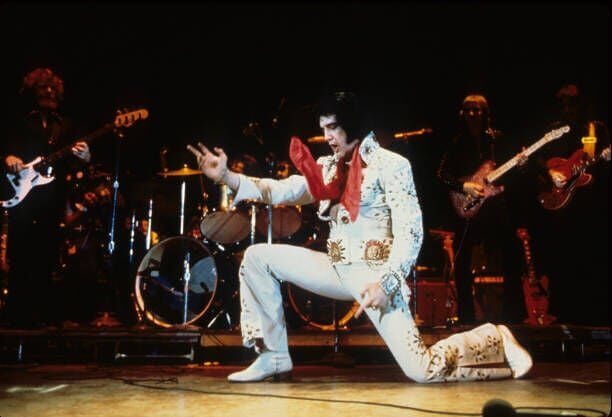 His shows were getting worse by the day, which might have been brought about by his deteriorating mental and physical health. However, he was still talented (and notable) enough to remain in the A-listers club and continue to build his fortune.
His New Look Worried Fans
The beginning of the end for the King of Rock n' Roll was in the early '70s when his love for junk food (and drugs) brought about deteriorating health conditions and weight gain. In fact, in 1973, he had fallen unconscious twice due to drug overdoses and was in a coma for three days. 
The year after, everyone was shocked to hear Elvis was planning on doing another huge tour, which, with a total of 168 live performances, would ultimately cause even more trouble for the rock star. His fellow bandmates often spoke about how worried they were for him and how he was becoming unrecognizable, with his once-trim figure becoming bloated and his performance ability becoming increasingly hindered. Audiences could barely recognize the performer once known as Elvis the Pelvis.
A Successful Career Doesn't Always Mean A Happy Life
After his marriage with Priscilla had failed, Elvis thought he had found love with Linda Thompson, but their relationship would also soon be over. Thompson left Graceland when they split, but this wasn't the only major personal problem Elvis had to deal with.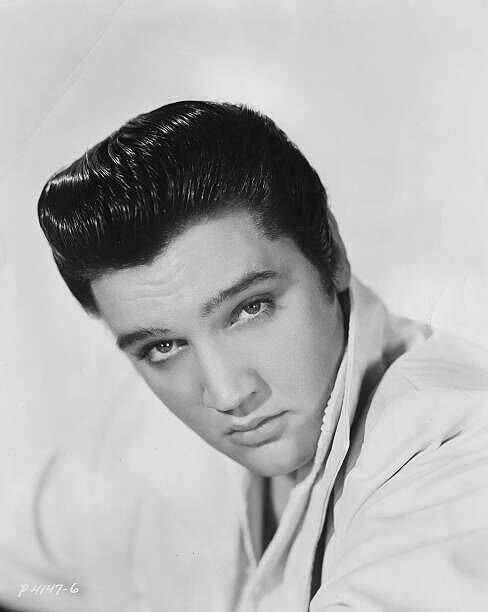 At around the same time, Elvis's beloved piano player, David Brigg,s left him to pursue a different career path. This was a devastating blow to Elvis. The King was depressed and continued eating unhealthy food. While his weight and drug use kept increasing, his life was falling apart more and more each day.
Death Was Approaching
Many suspected that the end was near for Elvis as his health was obviously becoming worse and worse. On August 16, 1977, Elvis's new girlfriend, Ginger Alden, found him unconscious on his bathroom floor, having seemingly fallen directly off of his toilet.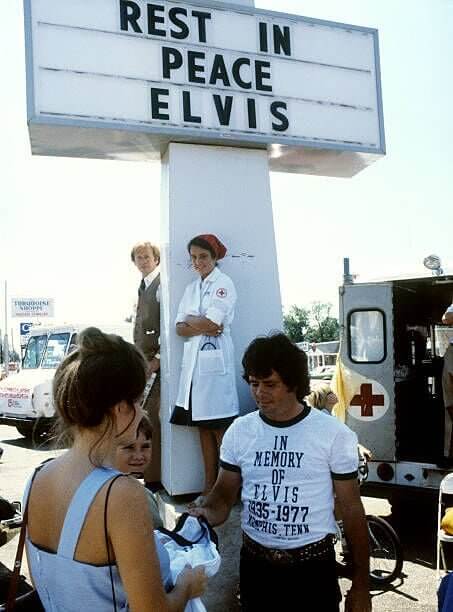 Medical experts were called to the scene, but they failed to revive him; the official time of death was reported as 3:30 pm. The reign of the King of Rock n' Roll was over.
How Did He Die?
The first official statement released to the public was that Elvis had died from a sudden heart attack, and this was believed to be true for years. However, in more recent years, it had been discovered that Elvis had visited the dentist the night before his death and was prescribed codeine to relieve his toothache.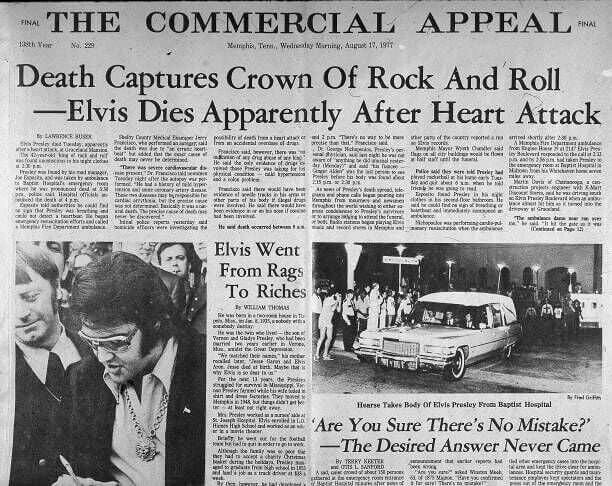 After he died, it was discovered that he had ten times the average limit for codeine in his bloodstream. Dr. Nichopoulos, who was The King's personal doctor, claimed he wasn't even aware that Elvis had ever taken codeine.