Generations have grown up watching the cult film Grease and singing along to the iconic tunes. But from Rizzo's pregnancy to the toxic masculinity of the guy gangs, there's a lot to unpack in the seemingly lighthearted, two-straws-in-a-milkshake-romance kind of film. Read on for behind-the-scenes details that not even the most diehard Grease fans know about.
John Travolta Was a Fanboy
John Travolta was reportedly star-struck by Olivia Newton-John when Grease first started filming and it was no secret to her.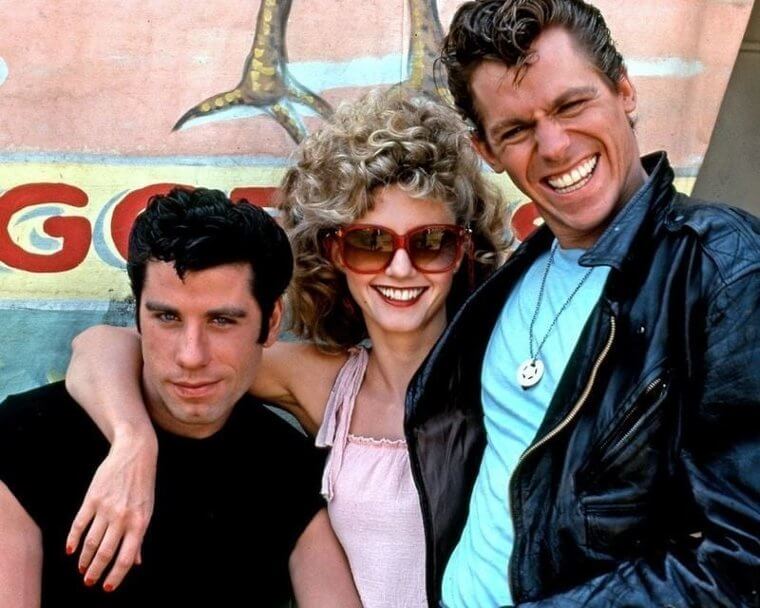 Thankfully he got himself under control and the two were able to create a real spark on the screen.
They Wanted the King
Since Grease was set in the 1950s, a role would have been perfect for Elvis. The producers originally hoped to bring him in for a cameo as a flashback to his early King of Rock years. They wanted Elvis to play the teen angel singing "Beauty School Drop Out" to Frenchy.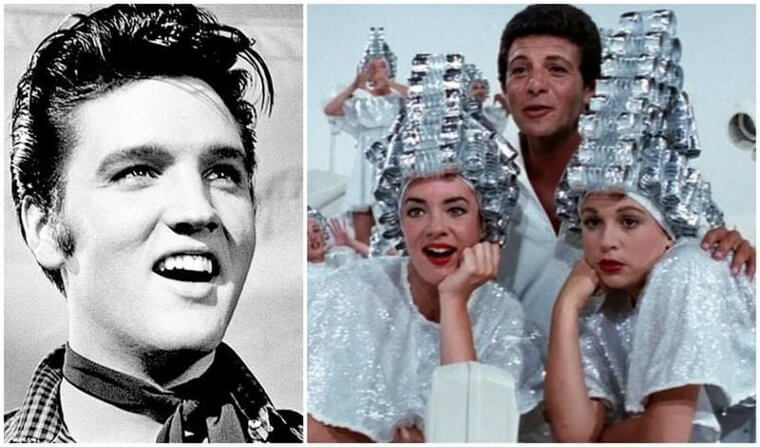 Unfortunately, Elvis was simply too busy to get to the set and film the song and the role went to Frankie Avalon.
Danny Close Up
There are several stories that suggest that John Travolta was a little more than self-centered on the set although most of his cast members enjoyed working with him. For example, Travolta wanted to get as much screen time as possible and was rather upset that the end of "Sandy" would be animated.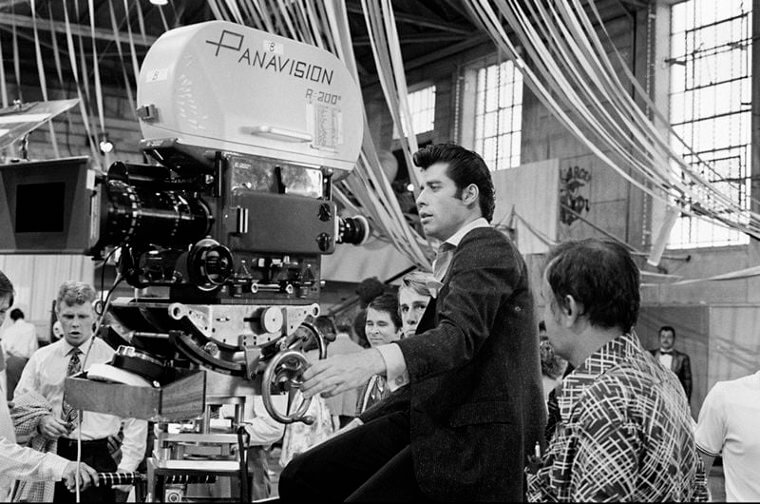 He fought the decision hard and insisted that the song needed to end with a close-up of his own face. He finally won the debate and was happy with the outcome.
 
Cleaning It up
While today many of us look back on the film with fond, family memories there was a lot of controversy when it was first released. Many of the topics as well as the dialogue were considered vulgar at the time. They had to clean up the original stage musical version as it was even more outrageous than the movie.
While the movie was still much cleaner than the first workshop, producers were still surprised that more of the film wasn't censored by the film boards. All the music and dancing seemed to distract from the risqué topics at hand.
Getting Dirty
One of the most exciting scenes in Grease is Kenickie facing off in a restored Greased Lightning to race on Thunder Road. The scene of the cars flying through the stretch of water is enough to stop your heart.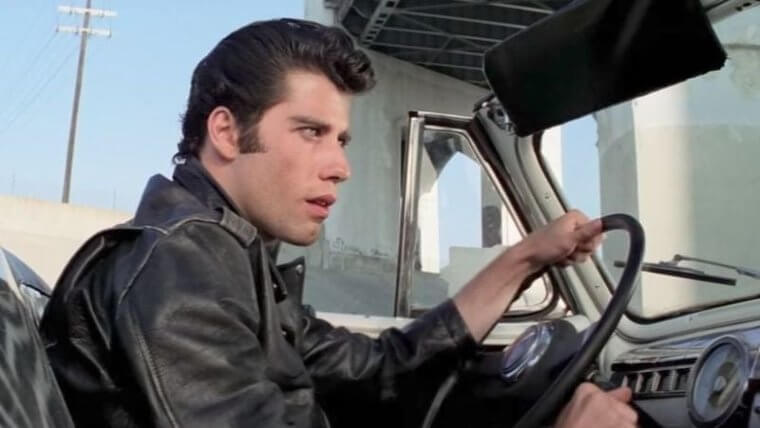 That water, however, was extremely contaminated and dirty. This led to several cast members getting sick from touching the water. Thankfully they all recovered.
Sucking It in
At the end of the film, we see Sandy change drastically into Danny's fantasy bad girl in her tight leather pants, red lipstick, and racy top. Now forty years later the look is still iconic. What you may not have known about the costume is that the costume designer didn't provide the skin-tight pants.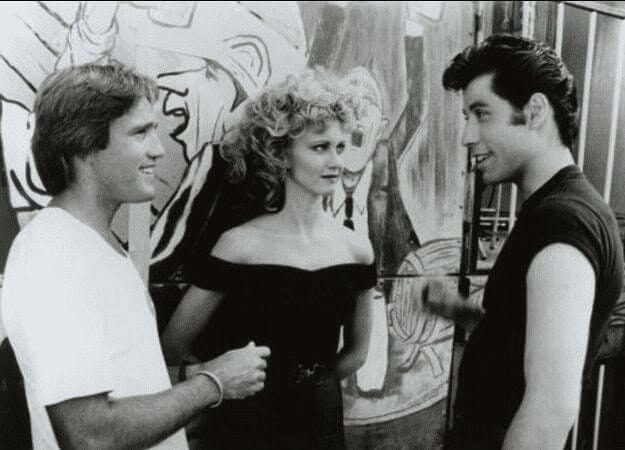 Instead out was Olivia who had pulled them out of the back of her closet. Regardless of where they came from Olivia says that she was uncomfortable the entire time they were filming the scene. Talk about squeezing them on.
Ageless Actors
Watching Grease as an adult you may have noticed how much older these "high schoolers" seemed compared to teenagers today. That's mainly due to the fact that the majority of the cast were in their late 20s or early 30s when it was filmed.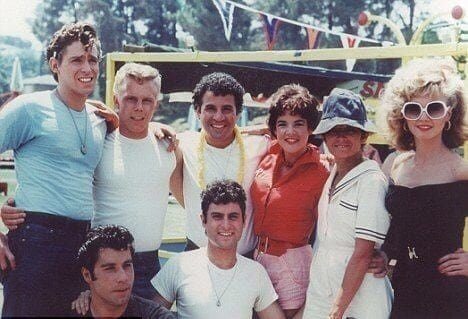 The oldest of the crew was Stockard Channing who was 33 at the time. Dinah Manoff was one of the only actual teens in the movie at 19. Yes, they all looked well for their age, but it's pretty clear they're a little old for lettermen.
Hoping for Carrie
Not long before the casting of Grease, Carrie Fisher hit it big in her breakout role of Princess Leia in our favorite sci-fi saga. Soon producers were looking to her to cast as Sandy in the film version of Grease.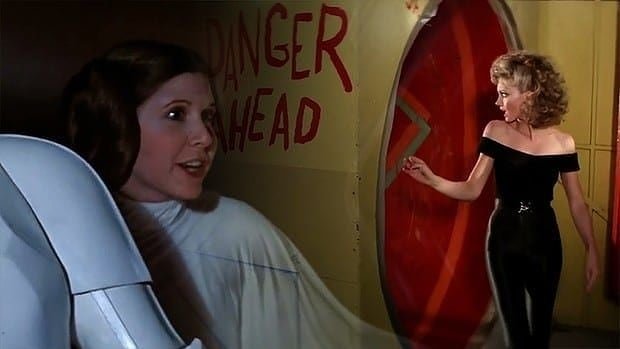 In the end, however, they went with Olivia Newton-John due to her vocal performance and decided she would be best for the role.

Older Than She Looked
Olivia Newton-John was hesitant about accepting the role of Sandy because she was already 28 years old. She felt that no one would believe that she was a senior in high school since it had been ten years since she herself was in high school.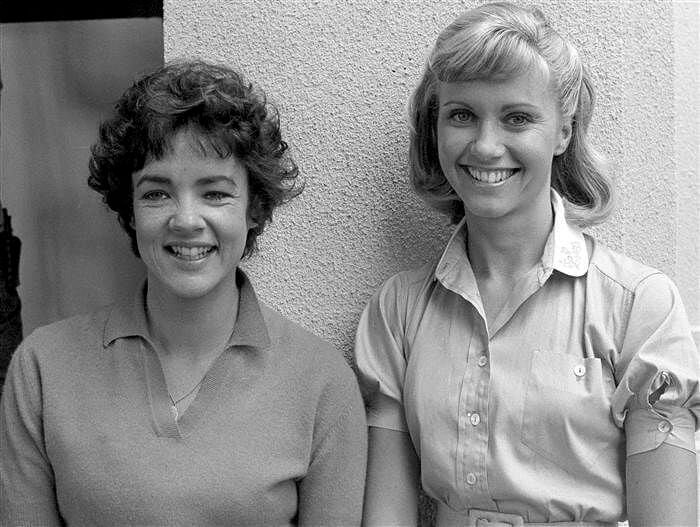 Eventually, she was convinced to try out a screen test for the role and she made the cut. Now re-watching the footage she agrees that it wasn't such a stretch for her to play such a young character.
Homage to Elvis
During the filming of Grease, Elvis tragically passed away leaving the world stunned. Although he didn't take the role in the movie the producers wanted to pay their respects to the icon because he was so popular during the time period the movie was set.

In order to include Elvis in the film they added the line "Elvis, Elvis, let me be!" in the song "Look at Me, I'm Sandra Dee." They even inserted a poster of Elvis behind Rizzo on her bedroom wall.
Leaving a Trail
The makeup team worked hard to make all the cuts and bruises on the film look realistic. However, when it came time for Rizzo to show up to school with that embarrassing blemish, they found that their work had been completed.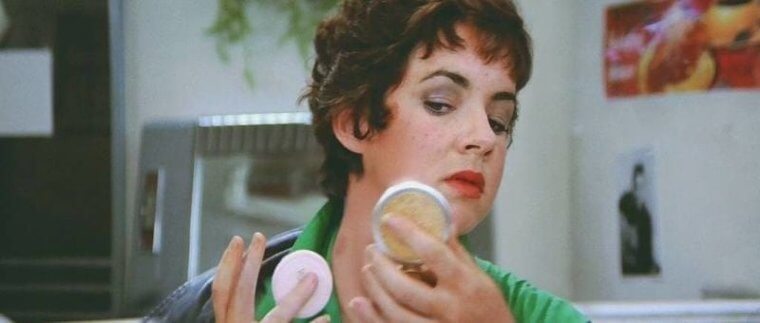 The actor who played Rizzo's on-again, off-again boyfriend, Jeff Conaway did the work himself. And Stockard Channing didn't have any reservations about allowing him to go to town on her neck like a vampire.
There's a Grease Cast Curse
Grease remains one of the most popular films to have come out during the 1970s, propelling its stars to a whole new level of fame. However, in the years after the film's 1978 release, whispers of a curse began circulating after so many of the cast, crew, and production team were struck down by tragedy.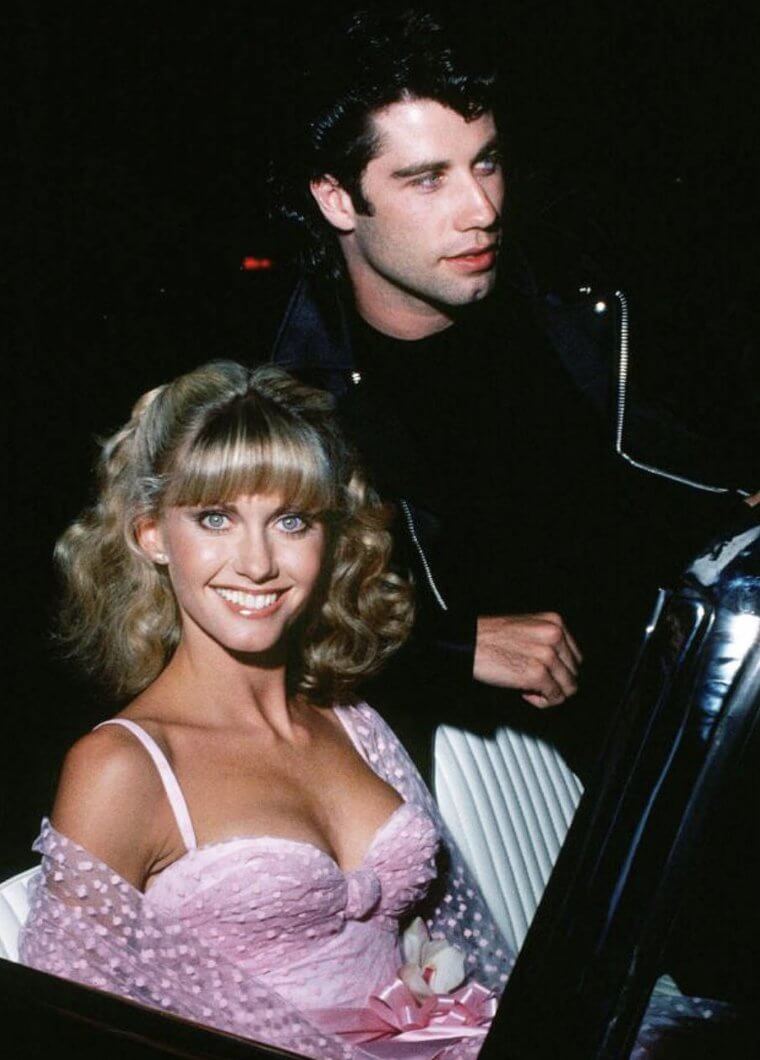 Edd Byrnes, famous for portraying Vince Fontaine, sadly joined the list of losses in 2020 at the age of 87, adding to the somber cloud that has hung over the "Grease" cast. Olivia Newton-John, known for her role as Sandy, bravely battled cancer and faced the mystery surrounding her partner Patrick McDermott's sudden disappearance during a fishing trip in June 2005. John Travolta, the charismatic Danny Zuko, endured personal heartaches, including the loss of his girlfriend Diana Hyland, and the tragic passing of his son Jett, after a seizure.

There's More To The Curse
The Grease curse also had a chilling impact on other members of the cast and crew. Annette Charles, who played Cha Cha DiGregorio, and Joan Blondell, who portrayed Vi, both succumbed to cancer. The film's producer, Allan Carr, met a tragic end linked to AIDS. Jeff Conaway, who brought Kenickie to life, wrestled with addiction and illness before his passing. This list of misfortunes continues with more sorrowful deaths...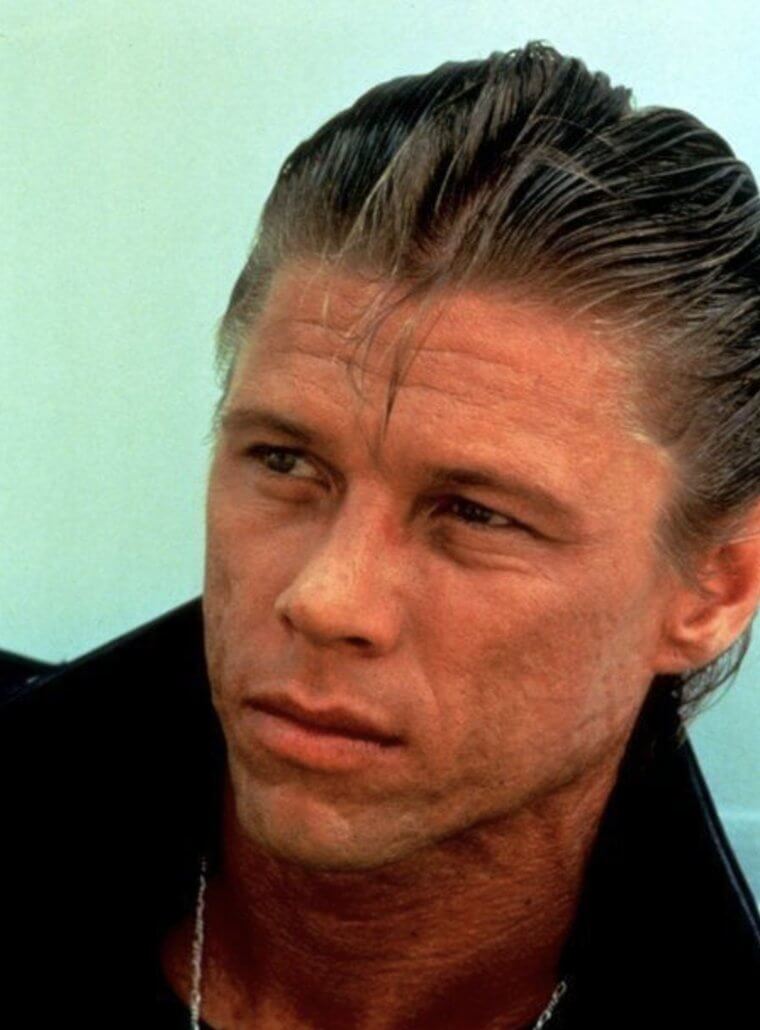 Dennis Stewart, known for his role as Craterface in "Grease," also faced a tragic end. He portrayed Leo, Danny's rival, nicknamed Craterface due to his acne. Stewart contracted HIV in 1993 and succumbed to complications from AIDS just a year later at the age of 46. His final resting place was the sea, as his body was cremated, and his ashes were scattered, marking the end of a talented actor's journey.

Leaving America Headed to Oz
With a last name like Dumbrowski, Sandy was set to be the all-American girl on the original stage production of Grease. However, when Olivia Newton-John was signed to play Sandy, the producers decided they needed to make some changes.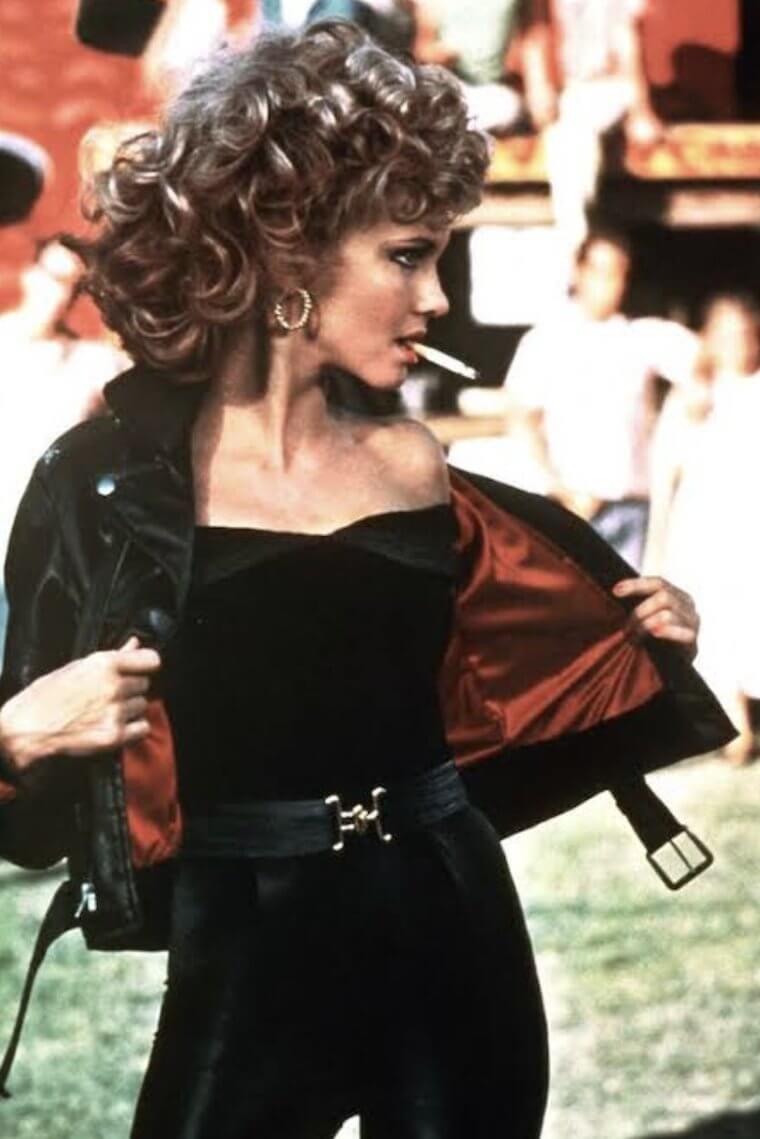 Newton-John kept her best-known attribute, her Aussie accent, and her character's name was changed to Sandy Olsson to keep a more international sound to it. Audiences loved the changes and now it would just be wrong if anyone played Sandy other than Olivia Newton-John.
Lucy Said "No"
But it wasn't just Carrie Fisher and Olivia Newton-John that were up for the role of Sandy. Lucie Arnaz was also on the mind of the casting director. It would make sense that she gets the part being that her parents, Lucille Ball and Desi Arnaz were known for their singing and acting.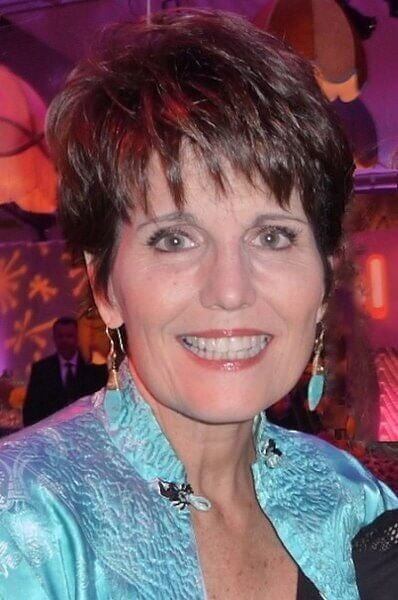 However, Ball, not wanting her daughter to be involved in the film, turned down the offer on Lucy's behalf.
Playing All Characters
We all picture John Travolta as the one and only Danny Zuko. However, when he played the show on Broadway, he was actually a replacement actor for the role of Doody. In the meantime, Jeff Conaway who played Kenickie in the movie started as an understudy for Danny on Broadway and eventually took over the role.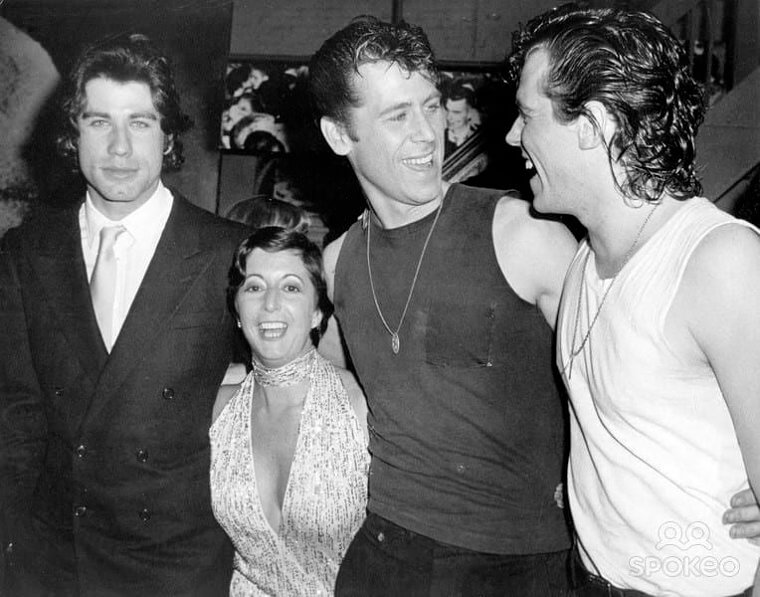 Many other celebrities got their start in the production including Patrick Swayze and even Richard Gere.
Getting Cut
Grease was like most movies that are adapted from a stage musical. It needed a lot of cuts and changes to make it work on the big screen. For example, many of the songs that you hear on Broadway were cut out of the movie while new songs were written to better highlight the talents of Newton-John and Travolta.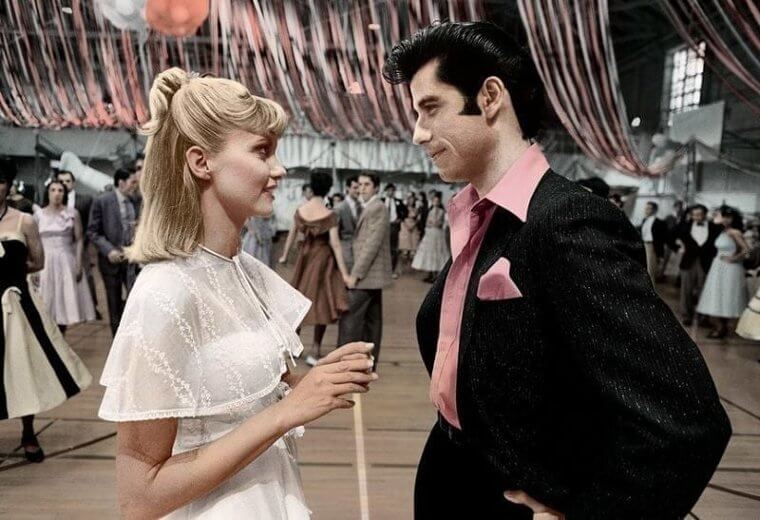 Recently the production was revived on Broadway and now includes hit songs from the movie as well as the original songs that were cut.
Let's Get Uncomfortable
One scene in the movie was supposed to depict Kenickie Murdoch and Danny Zuko hugging each other. As sweet as it sounds, both actors disagreed with the script stating that this form of greeting would be realistic for the era and the greaser's personalities.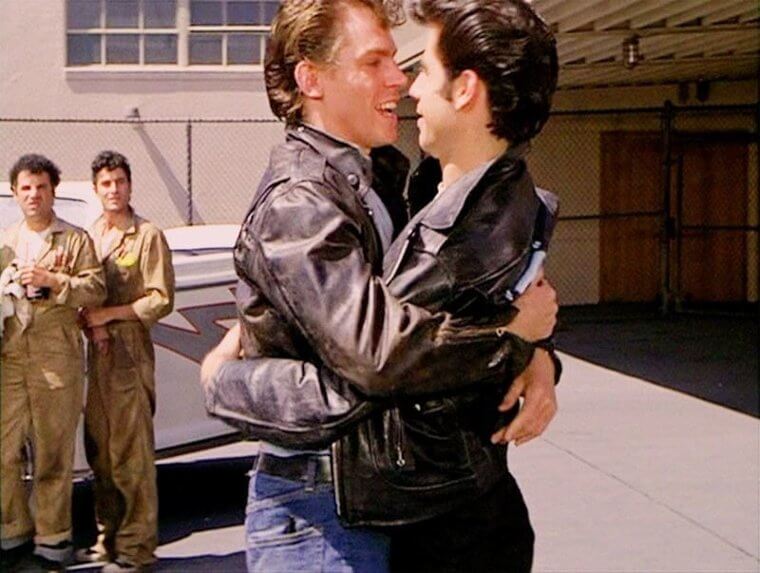 A debate ensued between the writers and the actors as to how exactly the characters should greet each other. In the end, the crew filmed the two men performing an awkward half-hug, half-handshake. This uncomfortable scene somehow made the final cut.
Blurry Background
To catch these blurry lines you have to look really close in the background. If you do you'll notice that certain scenes blur sections of the background out. Why? It seems that a deal was made with Coca-Cola.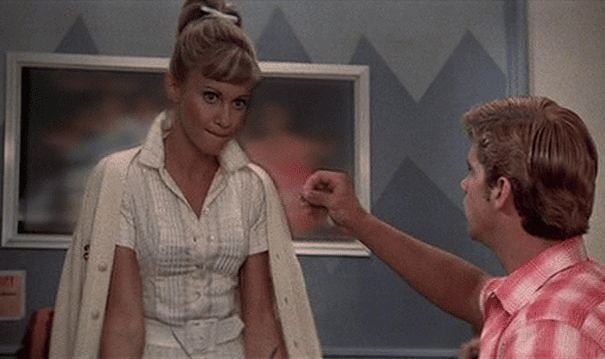 But after the scenes were filmed with all the Coca-Cola signs in the background, the deal fell through. At this point, too much footage was already captured to do it over and the crew was left with having to blur the Coca-Cola logo out of the background.
They Deserve the Credit Too
In almost all movies that you take the time to watch the credits of, you will see a list of nameless characters listed at the end. You probably read roles like "police officer," "man pushing shopping cart," or "old lady on porch." However, Grease did the credits a little differently.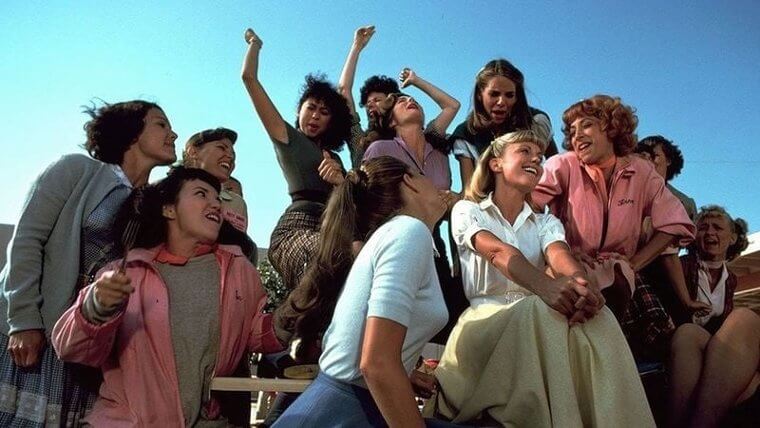 They made sure that every actor, singer, and dancer was given a name in the credits no matter how small the role was. So the next time you watch the film, look out for some of the characters like Moose, Bubba, and Bart.
Hilarious Greasers
Three members of Danny Zuko's crew were known as the T-Birds. They were Sonny, Doody, and Putzie. The three were well-known for their silly stunts, clumsy natures, and all-around goofy personalities. If a trio like this sounds familiar, you're right.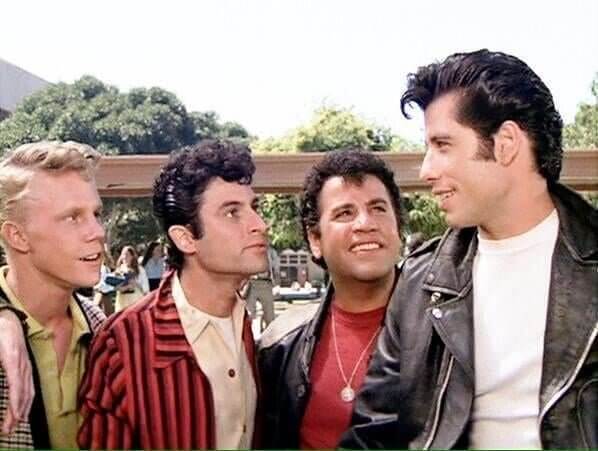 The directors of Grease came up with the trio after being inspired by The Three Stooges. The three actors were told to honor the slapstick comedians with their performances.  
A Simple Finale
The catchy melody, sweet words, and quick dancing of the classic finale musical number are unforgettable. In fact "You're the One That I Want" was largely the reason why the film was so popular.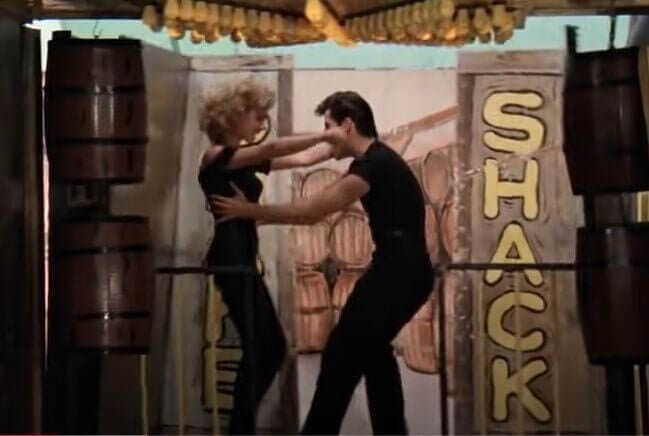 Although the song and dancing seem complicated to us, the cast and crew didn't need to spend several weeks rehearsing it. Instead filming the iconic scene was a piece of cake for John Travolta and Olivia Newton-John. It only took one afternoon for the duo to film the scene.
A Tribute to James Dean
While the blue shirt that Travolta wears in the first scene seems out of character for bad-boy Danny Zuko, it's actually a tribute to the late James Dean.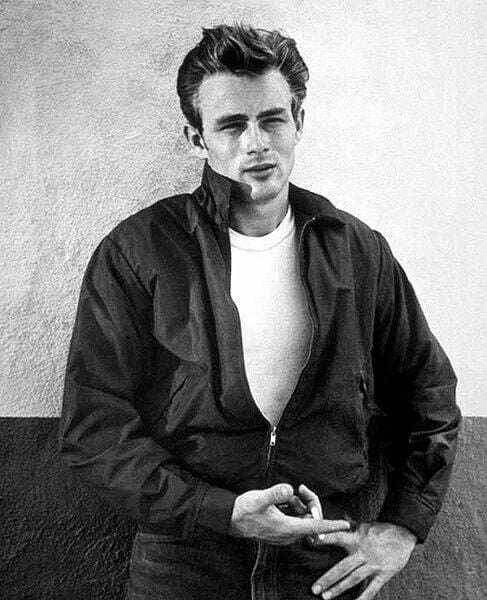 The love-struck teenager is reminiscing about his summer romance with Sandy Olsson and while he might be hiding what his true identity is, there's no doubt that his love and feelings that he has with Sandy are very much real.

The Side Effects of Injury
The actor that played Kenickie Murdoch, Jeff Conaway, started struggling with the misuse of prescription drugs after he hurt his back filming a dance scene on the set of Grease. He claims that the bad habits he later developed came from his dance-related injury from the movie.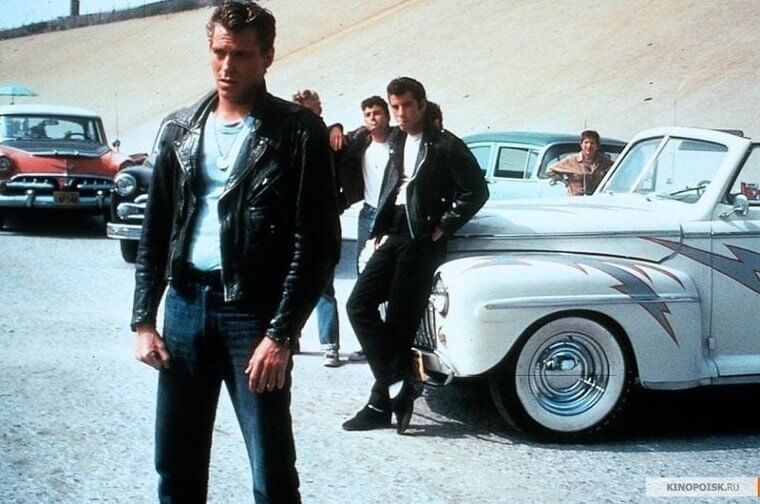 Thankfully he sought help in a rehabilitation center in the late 80s after he realized that he needed to sort those problems out. He was met with an untimely death in 2011 after years of battling with his addictions.
Other Injuries on the Set
Most of Rydell High didn't like Cha Cha but it was the Pink Ladies that had a real problem with her. The girl from the other side of the tracks was played by Annette Charles and it was rumored that she was Danny's ex.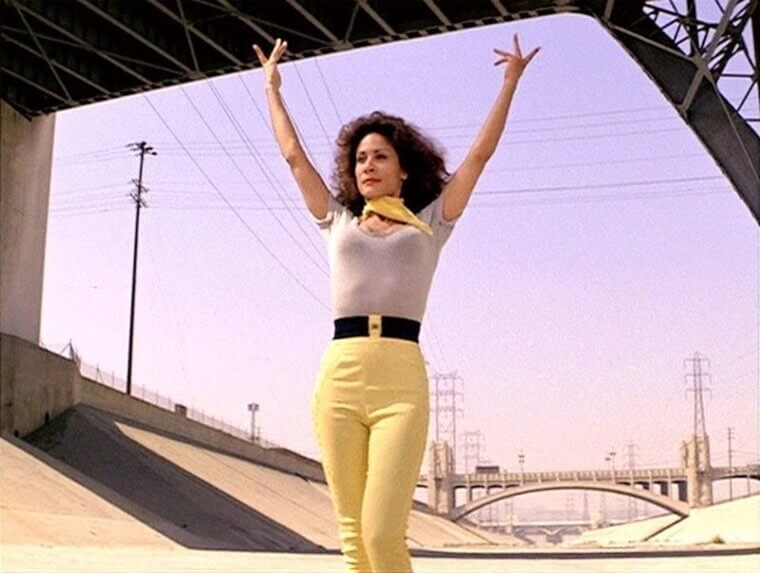 She played a tough character on screen but she was also dealing with serious medical problems in real life. She even left the set one day to visit the emergency room and soon found out she had an ectopic pregnancy, a condition that could have taken her life.
The Fonz Turned Down the Role
Henry Winkler played the legendary bad-boy, Fonzie, on Happy Days for 11 seasons from 1974 to 1984. It seemed that he was the perfect pick for a role as one of the T-Birds and logically producers called him up when it was time to cast Danny Zuko for the movie rendition of Grease in 1978.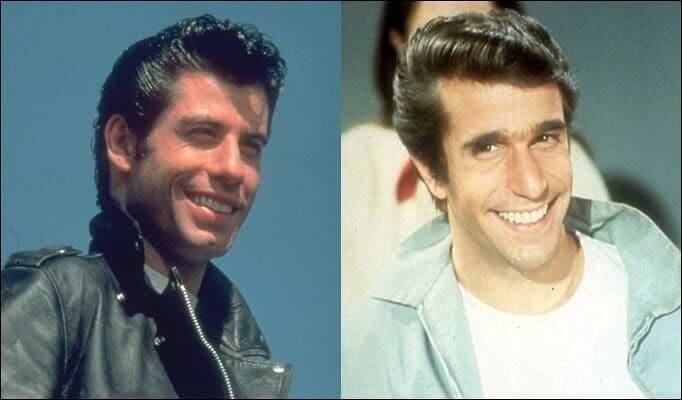 Winkler chose to turn down the role because he didn't want to be stereotyped as only playing the "bad-boy" role for the rest of his career.
He's Bigger Than He Looks
Whether or not you know it, the height of a person can greatly influence the way you think about them. That's why producers do their best to make the main character appear much taller than they actually are in real life.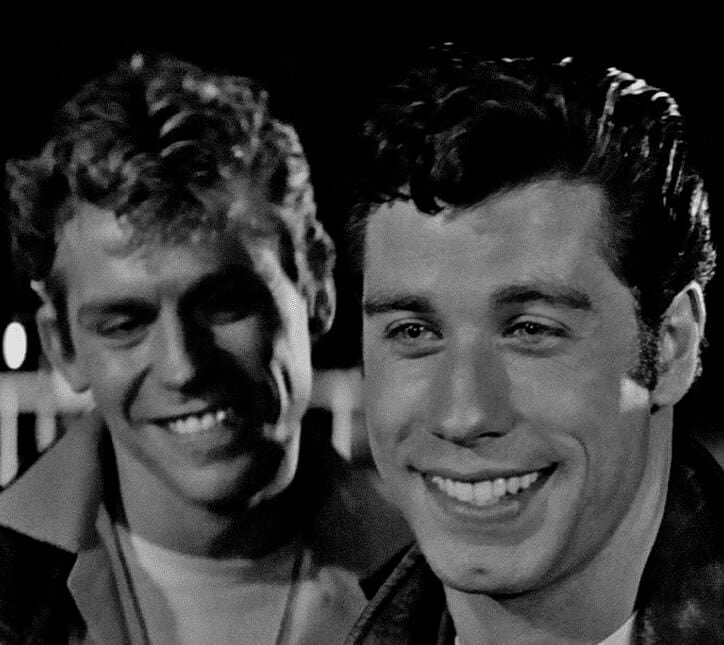 Because of this, Jeff Conaway was told by Grease's producers to slouch next to John Travolta to appear shorter when they were next to each other. Conaway was two inches taller than Travolta yet they seem more equal in the movie due to this demand.

Dance Sick
It's not hard to see the chemistry that the film's stars share in Grease, but during the Rydell High dance scene, it wasn't chemistry that was heating things up. The set hit 116 degrees during the scene due to all the cast members and extras moving around in such a small area.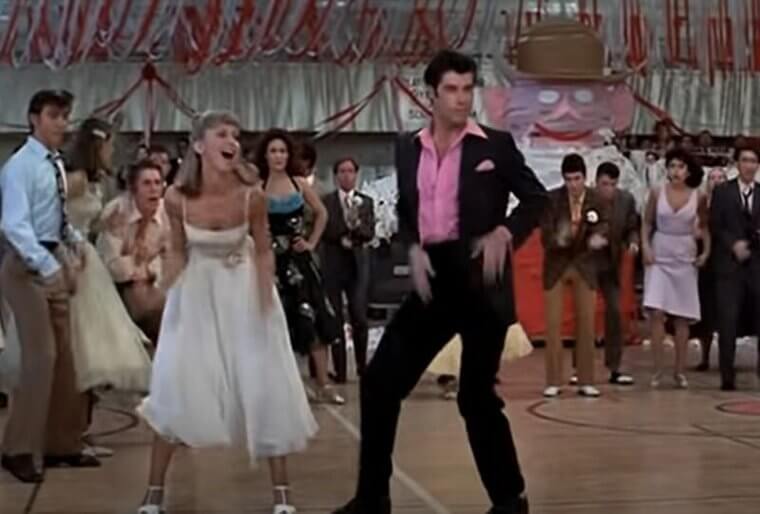 Everyone was hitting the point of either heat exhaustion or dehydration fast. This led to several extras getting sick from the high temperatures and needing medical attention.
Hoping for Oscars
Out of all the songs that almost got cut, it would have been a true tragedy if Olivia Newton-John's rendition of "Hopelessly Devoted to You" didn't make it on the big screen. Thankfully the emotional, powerful song stayed thanks to someone speaking up and realizing how beautiful the song really was.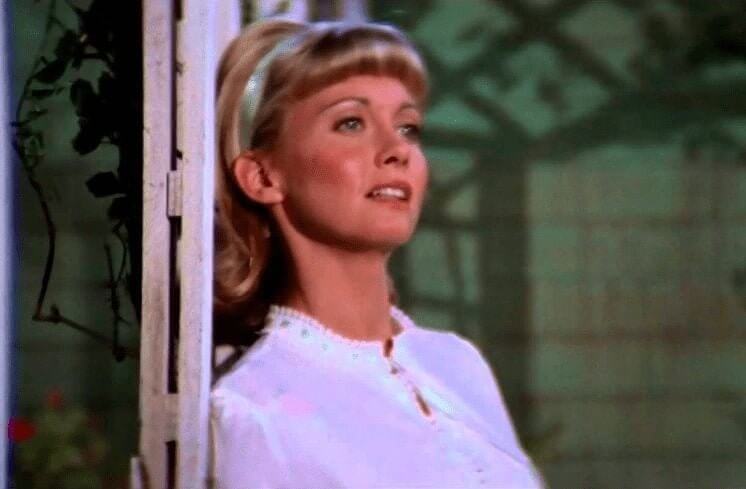 In fact, the only song that got nominated for an Oscar ended up being "Hopelessly Devoted to You."
Musical Distractions
The 1970s were a different time and compared to many movies today you probably don't think the language is that bad. But for the times, the producers were pushing boundaries when the movie was released.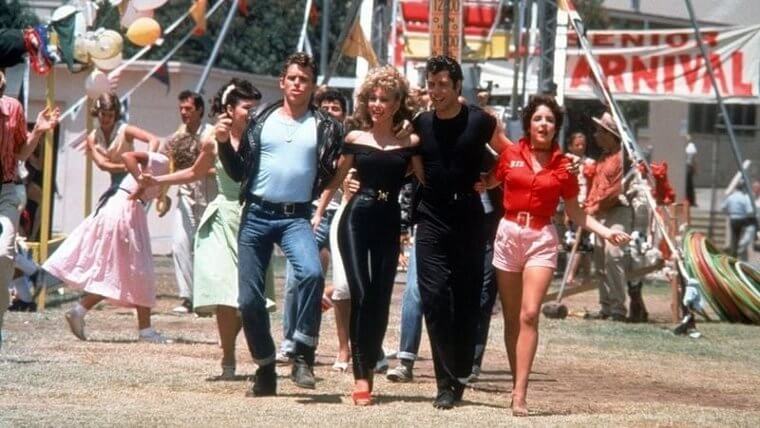 They were even asked how they got away with such suggestive song lyrics, inappropriate language, and racy costumes. They replied that no one seemed to notice over all the catchy rhythms and melodies in the movie.
The Hand Jive Ordeal
Now of days if you wanted to learn how to do the "Hand Jive," you would be able to master it in only a few hours by simply watching a YouTube tutorial. The starts of Grease had a much more difficult time, however.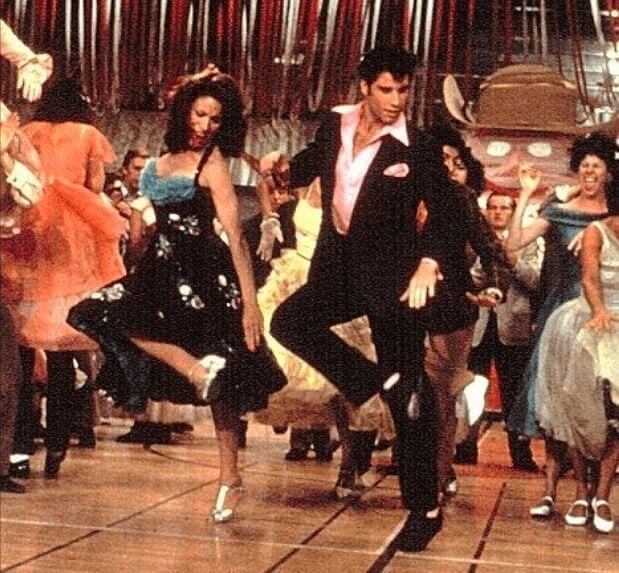 As fun and simple as it looks, it took a lot of work. The scene was complicated bringing together so many actors and dancers to coordinate and it took over a week of working on it to get the shot they wanted.

Conaway Had a Crush
It's not uncommon for things to heat up on the screen as well as off when you get a group of young actors together for months at a time to film a movie like Grease. While it was supposed to be Danny Zuko who ended up with Sandy on the screen, it was Kenickie, played by Jeff Conaway who had a real crush on Olivia Newton-John.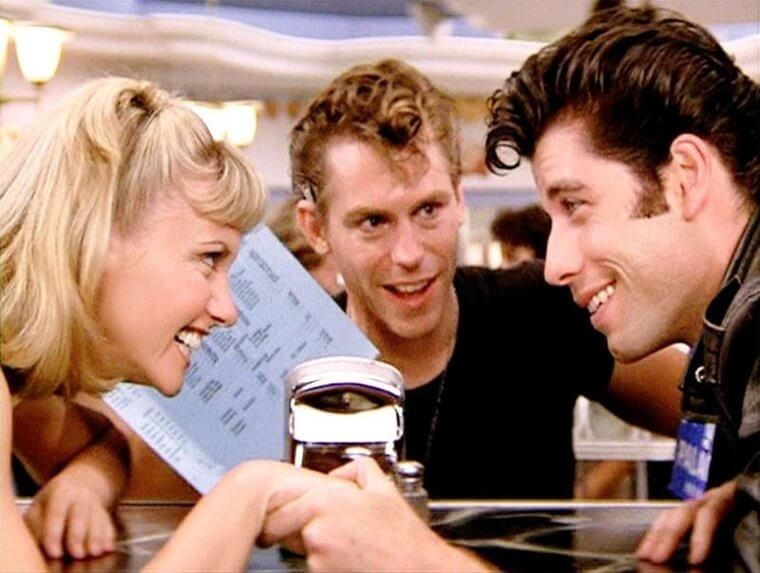 But Olivia didn't feel the same way about Jeff so she set him up with her sister, Rona Newton-John. The two were married from 1980 to 1985.
Stockard Channing as Rizzo
By the time that Stockard was cast for Grease, she already had experience in Broadway shows and she had made a TV debut in Sesame Street. When she was 33, she got the role of Rizzo for which she earned a People's Choice Award for Favorite Motion Picture Supporting Actress.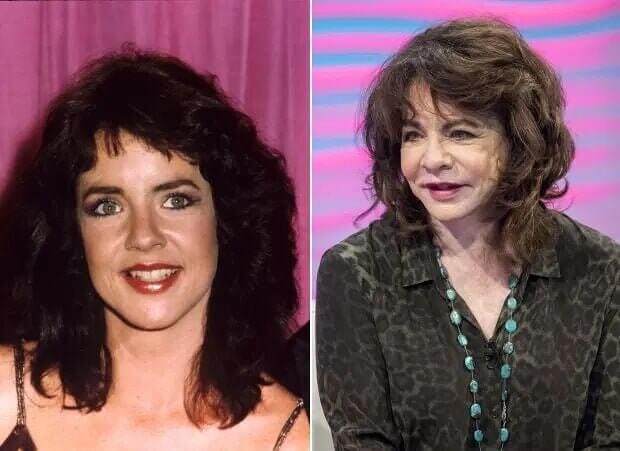 After Grease, she played in the movies Sweet Revenge and Silent Victory. During the 1980s, she continued performing mainly on Broadway, and by the end of the 1990s, she debuted in the NBC television series The West Wing as First Lady Abbey Bartlet, a role that earned her an Emmy award for best-supporting actress. She also won a Screen Actors Guild Award and another Emmy for her role as Judy Sheppard in The Matthew Sheppard Story. Since around 2010, she returned to the theater and performed in the production Other Desert Cities which earned her a Tony nomination for best performance.
Barry Pearl as Doody
Barry Pearl had appeared in a few TV shows before earning the role for which he is best known - one of the members of the T-Birds - "Doody". He made quite an impression on Grease fans with his comedic personality.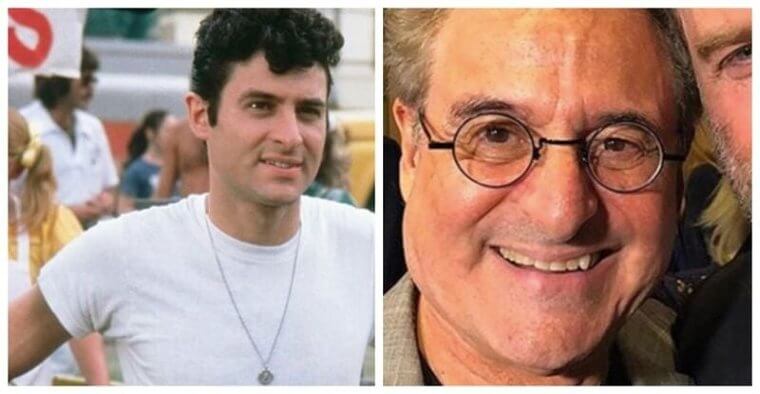 After he participated in Grease, he was seen in numerous episodes of TV series like Beverly Hills 90210, ER, Baywatch, House, and Criminal Minds. He was also part of the tour of Barney's Big Surprise where he played Professor Tinkerputt, the same role as in the primetime special Barney's Imagination Island. He is also famous for his various roles in Broadway musicals and movies like My Favorite Martian and The Newest Pledge. By 2016, FOX did a television special for Grease: Live, and he did a cameo appearance as Mr. Weaver. Pearl also worked at Joey's Travolta Summer Film Camp, teaching film arts to kids with special needs across the U.S.
Eddie Deezen as Eugene Felsnic
Eddie Deezen is an actor and stand-up comedian but hasn't had an acting credit since 2016. Grease was one of Deezen's first acting credits, and he mainly played a background character during the film. One of the character's foremost scenes would see him receive a pie to the face.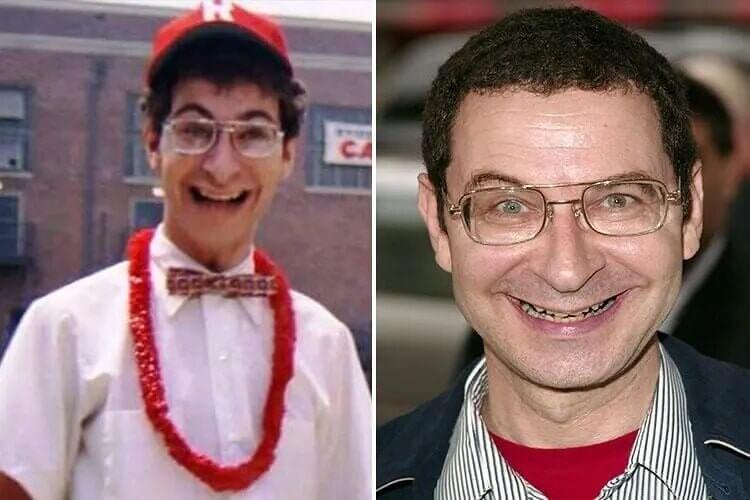 Deezen would reprise the character for the sequel, Grease 2, in 1982. Deezen would also go on to have cameo roles in The Facts of Life, Magnum PI, Darkwing Duck, Goof Troop, Johnny Bravo, Recess, and Aaahh!!! Real Monsters. Deezen also provided the voice of Mandark, the main rival to Dexter from the cartoon Dexter's Laboratory.
Susan Buckner as Patty Simcox
Before being Patty Simcox the high school cheerleader in Grease, Susan Buckner was crowned as Miss Washington and was a finalist in the Miss America pageant of 1972. She also was part of The Brady Bunch Hour, as one of "The Krofftettes" who performed synchronized swimming routines.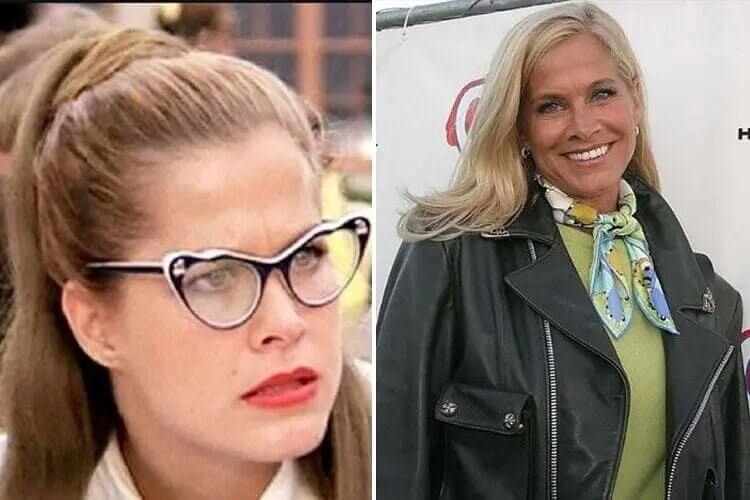 After Grease, she was part of the film Deadly Blessing, and she has had some roles in television series such as The Hardy Boys / Nancy Drew Mysteries, Starky & Hutch, B. J and the Bear, and When the Whistle Blows. Since then, Susan has kept a low profile until her most recent appearance in 2007 on an episode of 1 vs. 100 as a mob member. Apart from her career in the entertainment industry, Buckner also directed children's theatre in Miami's Pinecrest Elementary School.
Frankie Avalon as Teen Angel
Before his role in Grease, Frankie Avalon had already established himself as a popular singer and actor in the United States. Avalon had hits like "Venus", and "Why" in the 1950s which reached number one on the Billboard Hot 100 charts. In Grease, Avalon would play Teen Angel, a character who appears to Frenchie in a dream.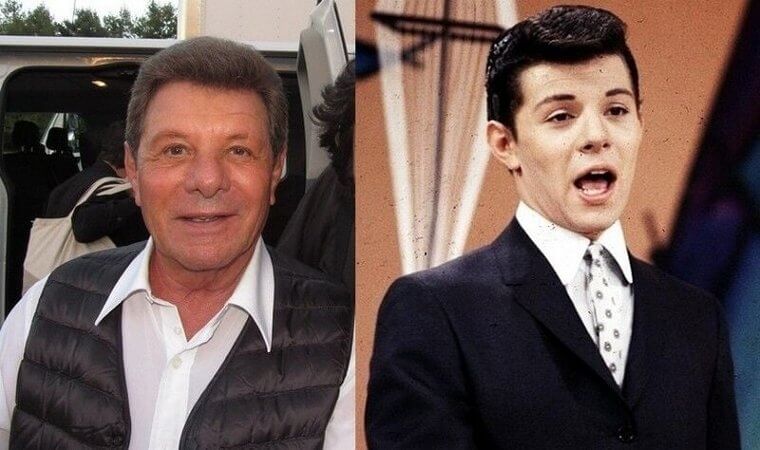 Despite being perfect for the role, Avalon wasn't the original choice for the role. Elvis was reportedly originally slated to fill the role, but the King of Rock and Roll passed away a year before the movie was released. Donny Osmond, of Donny & Marie fame, was also in-line to play the part before Avalon was eventually cast. Since his time on Grease, Avalon has made cameo appearances in Happy Days, Full House, and Sabrina the Teenage Witch.
Jeff Conaway as Kenickie
Jeff Conaway was for two and a half years an understudy and eventual portrayer of Danny Zuko in the Broadway version of Grease, even before the film was released. For the movie, Conaway joined the cast as Kenickie who was Danny's best friend.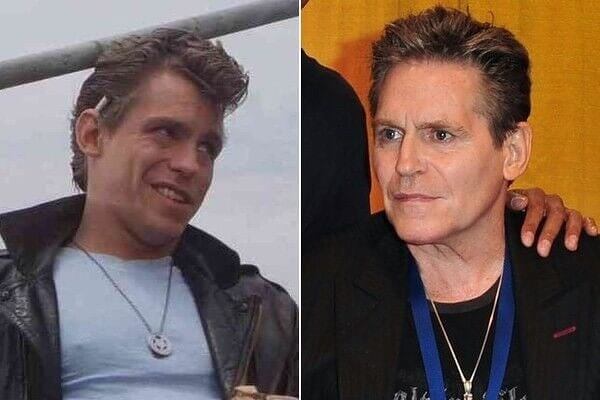 Conaway was also part of the TV series Happy Days since 1975, and by the time of the release of Grease, he had already filmed two other movies. Thanks to his recognition, he was cast for the American sitcom Taxi, in which he performed for three seasons. He also was part of series like Wizards and Warriors, The Bold and the Beautiful, and Babylon 5. Conaway struggled with a substance abuse problem for many years, which caused him to lose his role in Taxi, and also to appear in two seasons of Celebrity Rehab with Dr. Drew. He died in 2011 from pneumonia with sepsis.
John Travolta as Danny Zuko
John Travolta was already a well-known Hollywood star when he signed up for Grease, as he had success in his roles in Saturday Night Fever and the TV series Welcome Back, Kotter. By the time that he impersonated Danny Zuko, Travolta had been nominated already for an Academy Award and he had a single in the top 10 of the Billboard Chart.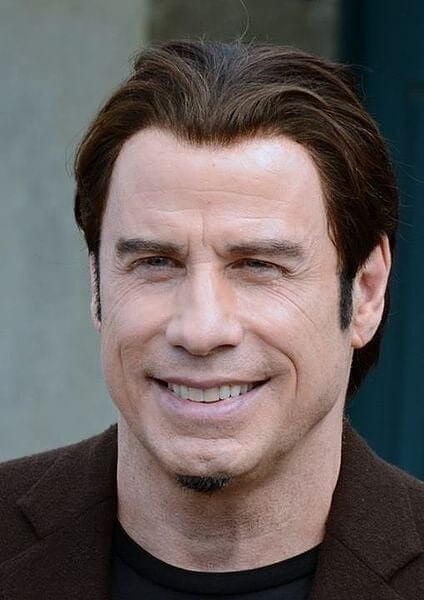 After Grease, Travolta performed in the Quentin Tarantino movie Pulp Fiction and his role as Vincent Vega earned him another Academy Award nomination in 1994. But his success did not stop there, he also had critical success roles in productions like Get Shorty and The General's Daughter. Regarding movie musicals, his most recent one was Hairspray when he impersonated Mrs. Edna Turnbald. Another successful role was as Robert Shapiro in The People vs. O.J Simpson: American Crime Story. Travolta has no shortage of great acting credits.

Olivia Newton-John as Sandy Olsson
Before Grease, Olivia Newton-John was a popular singer with multiple hits. However, her acting capabilities had not been proven by that time and it's believed that she requested a screen test with Travolta before accepting the role. Three of the hits from her performance in the movie were in the top five of the Billboard chart, so she earned the title as the second woman with more than two songs in the top five list at the same time.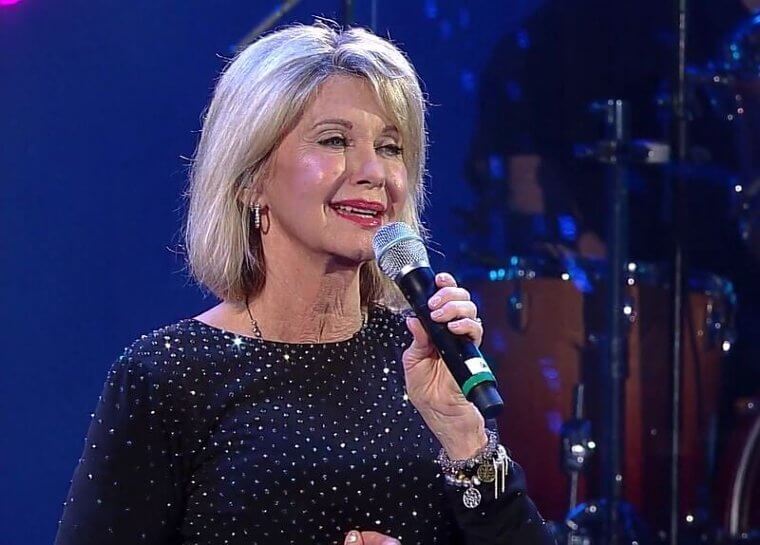 Her role as Sandy Olsson earned her a Golden Globe nomination and she got to perform in the 1979's Oscars Gala. After Grease, Olivia continued her career as a musician and released two albums in 1981 and 1992, after the release of the latter, she got diagnosed with breast cancer and since then she has become an advocate for cancer, and she founded the Olivia Newton-John Cancer and Wellness Center.

Didi Conn as Frenchy
She debuted as an actress in the 1960s and she was part of You Light Up my Life a year before Grease was released. She was featured in both Grease and Grease 2.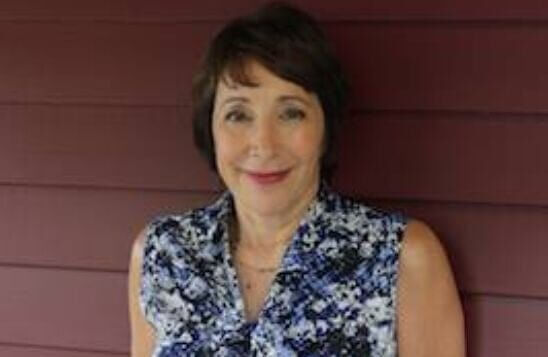 Her roles after Grease include participation in The Practice, Benson, and Shining Time Station. Didi was also part of celebrity guest game shows such as Match Game, Chain Reaction, and Go. After she appeared in the cameo of the 2016 Grease: Live special of FOX, she became the only actress to appear in all three screen adaptations of the franchise. After she participated in Dancing on Ice, she became the oldest person ever to compete in the show as she was 67 years old. Didi is also known for her activism and she was named spokesperson for Autism Speaks in 2008, and she has also performed in benefit concerts with the Foundation for Educating Children With Autism.