Reading about the Great Depression unemployment rates and the percentage that the economy contracted in a year isn't nearly as powerful as seeing the effects with your own eyes. We all know that numbers can be hard to grasp. But photos are different. They show real people and real places during the tough times that history calls, the "Great Depression." Lets dive in...
In the Beginning, There Was the Crash
In 1929, the US stock market came crashing down in a serious way. The reasons for this were that weak regulations for loans and epic stockmarket expansion in the '20s made people invest money that they didn't have in the stocks, on the mistaken premise that they couldn't lose everything.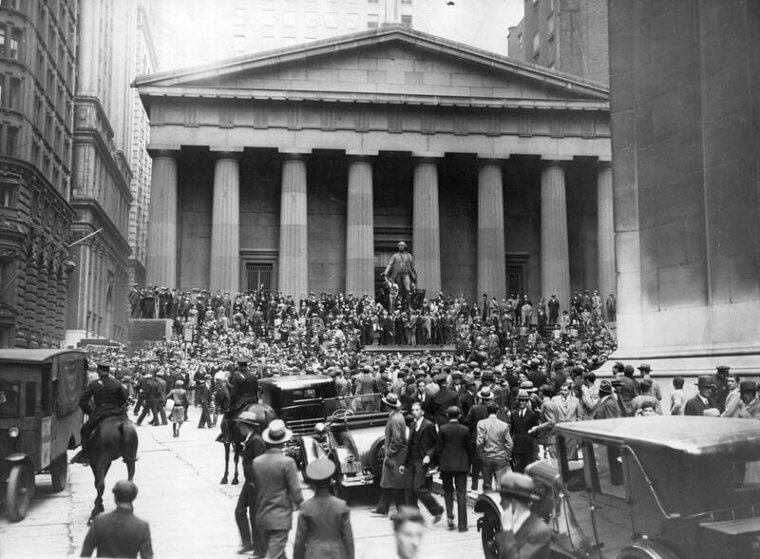 The repercussions were dire and global. When everyone panicked and tried to liquidate their holdings, businesses and banks went bankrupt. This event wasn't the cause of the depression, but rather a catalyst. It was one of several unfortunate events that led to the most difficult decade the US economy has seen in history.
No Bubble Can Expand Forever
In the '20s, everyone was buying things. They felt confident that they would have money, they didn't need to scrape and save. So of course, businesses ramped up production to meet demand. They too felt confident that people would want to keep buying their goods at the same rates. But that wasn't a realistic projection.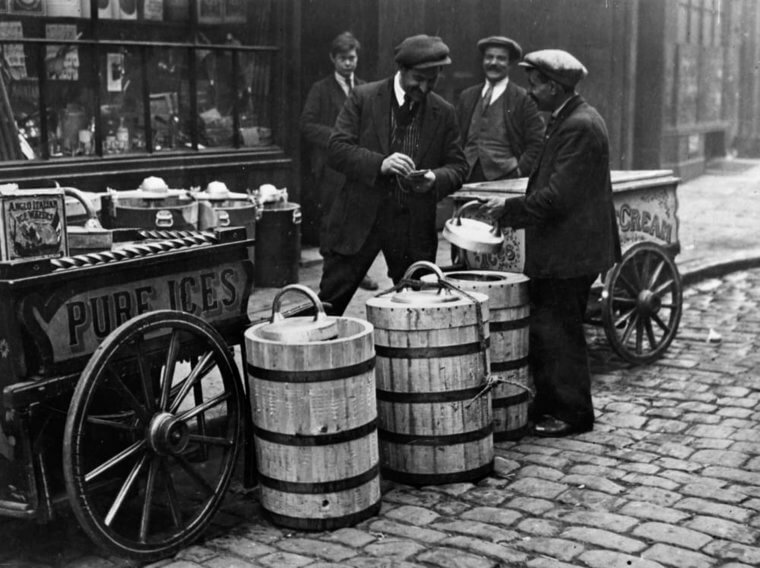 They oversupplied the market and had to start selling for cheaper, losing money. The same problem hit agriculture. Too much expensive equipment was purchased to meet the demand during WWI, and then, the war ended. They had a surplus and no one to sell it to, so market value declined steeply in the industrial and agricultural sectors. It was nearly impossible to make enough profit to live, never mind sustaining a business.
Ignorance Resulted in Grave Mistakes Being Made
The worst side effects of the Great Depression all stemmed from farming issues. After the Civil War, the Homestead Act awarded settlers 160 acres of land, bringing people flocking to the Great Plains without farming experience. They believed that by settling in such harsh, semi-desert terrain, they could change it by introducing agriculture.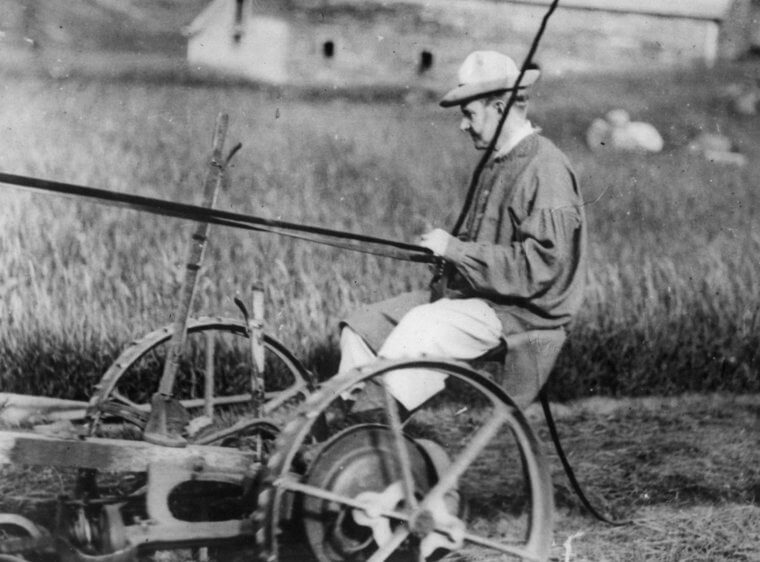 Because the money that farmers were making from growing crops was small and the cost of maintaining farming equipment was high, farmers looked for more land to try and make a living from farming. This resulted in them turning to land which was completely unsuitable for farming.
Why Soil Conservation Contributed So Severely
The practice of soil conservation is used to keep the soil fertile, which yields the most from their crops. When this practice is abandoned, the soil can be ruined. Also, when the same piece of land is reused too often, soil fertility is compromised.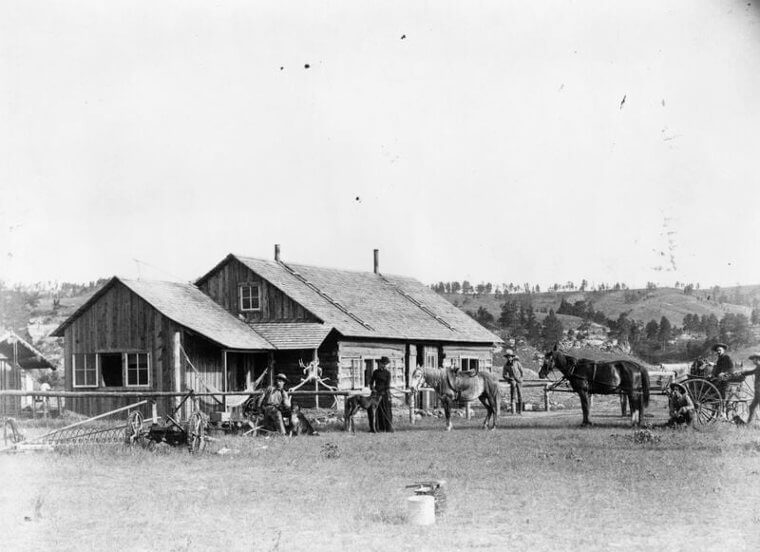 While we know all of this today through modern science, many of the necessary protocols were abandoned in the '20s. The inexperienced farmers thought they could cut corners without understanding why they were so important. Sadly, it was a brutal lesson to learn...
The Weather Took Some Catastrophic Turns
The first drought struck the Midwest and Southern Great Plains in 1930. Shifting weather patterns over the Atlantic and Pacific oceans resulted in atypical warming and cooling of the waters, and the jet streams responsible for the weather systems over the region shifted. Where there was usually rain, it was replaced by intense heat.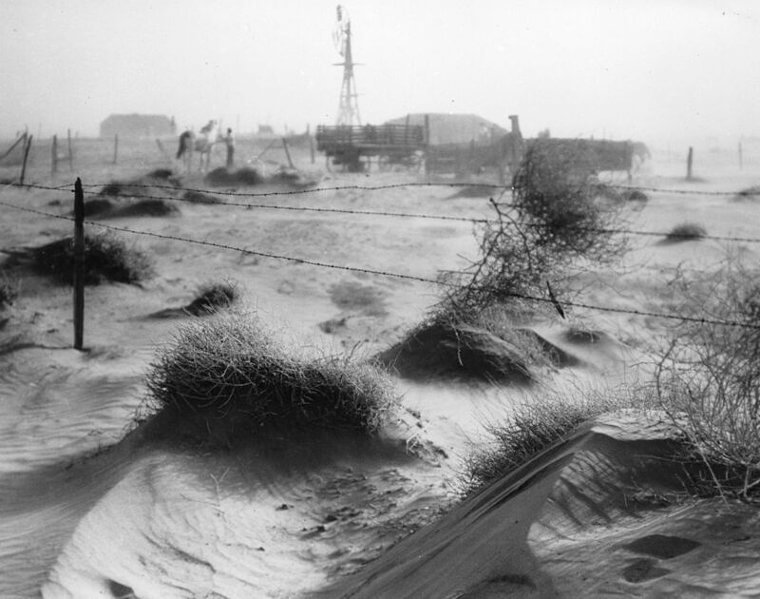 These patterns persisted over the next decade. There were four periods of devastating drought between 1930 and 1940, and not enough time between them for the earth and the people affected to recover. Geographically speaking, three-quarters of North America was impacted, which spanned 27 states. This period, known as the Dust Bowl, witnessed severe and prolonged dry spells, primarily in the Midwest, which had profound economic and social consequences.
The Drought and the Wind Over the Plains
Firstly, the agricultural sector was hit hard. Without the rain, the crops that the farmers had planted all withered and died. The Dust Bowl led to massive crop failures, as soil turned to dry, powdery dust and blew away due to the improper farming practices. Farmers faced financial ruin, with their livelihoods in shambles.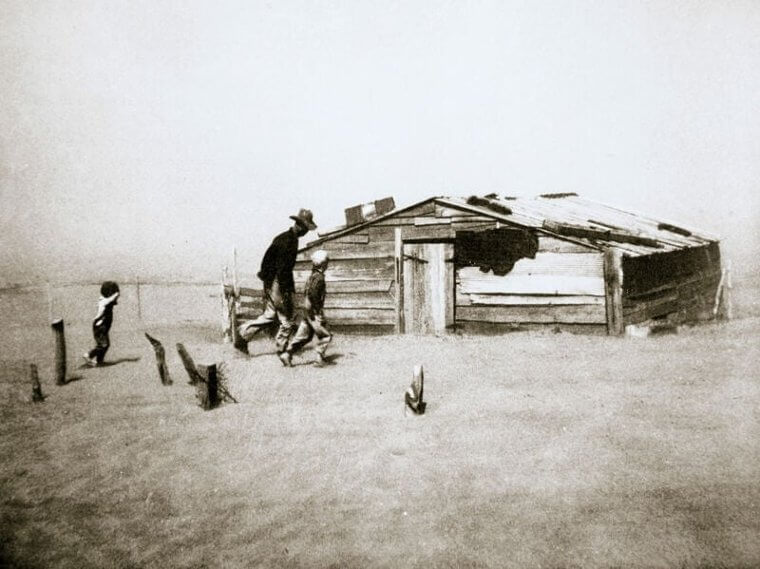 It's also important to note that the Great Plains have the highest winds in North America. The powerful winds swept over the plains picked up all the dust and sent it billowing into the air and over the lands. 5.2 million acres of land had been plowed and was causing the earth to rain down from the sky.
The Dust Storms Destroyed Lives and Wreaked Havoc
They called the dust storms "black blizzards." In 1933, the number of storms escalated to 38. In fact, visibility was reduced to less than a mile for a quarter of the decade, and the wind took more soil than the Mississippi carries out to sea. In May of 1934, a storm was so bad that it traveled 2000 miles to blot the Statue of Liberty from sight.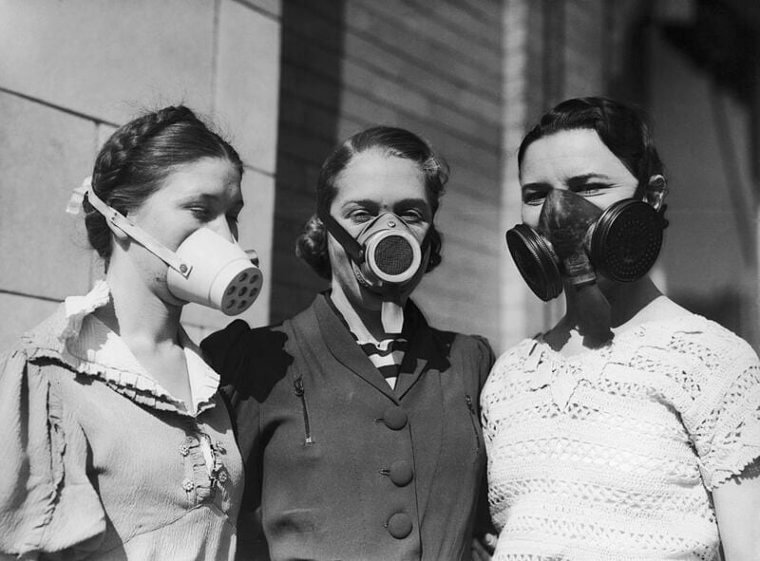 There was no hiding from the dust. It got everywhere. It settled on surfaces, on food, and it got into people's lungs. Many of those who lived in the Dust Bowl became gravely ill and died from dust pneumonia. Livestock also died from dust inhalation and lack of food. The humans who survived didn't have any food or any money. As many as 90% of the residents of some of the Great Plains counties relied on federal emergency relief by 1936.
The People Were Dusty, Desperate, and Defeated
With their dwellings buried, people suffering illness, and without any means to earn a living, the resident farmers of the Midwest had no choice but to abandon their homes and their property and go in search of survival further west. 400,000 people left as a result of the dust bowl. Most of them were left searching for work as migrant laborers.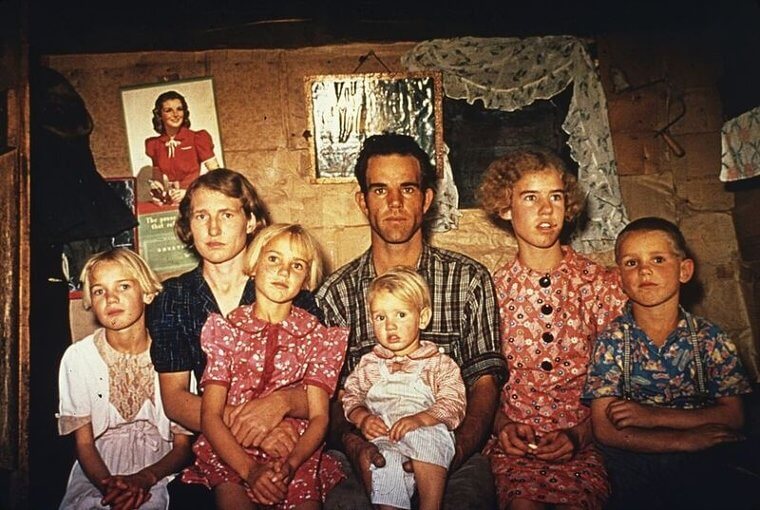 Many of them headed for California, lured by the promise of a better life, only to discover there was no work left by the time they arrived. The homeless farmers took everything they could carry as they embarked on their voyage to nothing, many of them on foot. Many of them died of starvation.
Herbert Hoover Failed His People
When the events of the Great Depression and the dust bowl struck, President Herbert Hoover was in office. He believed in keeping government intervention to a minimum, and that federal aid would be denying the people the opportunity to build stronger character. He conducted himself with little concern for the immense suffering that was happening.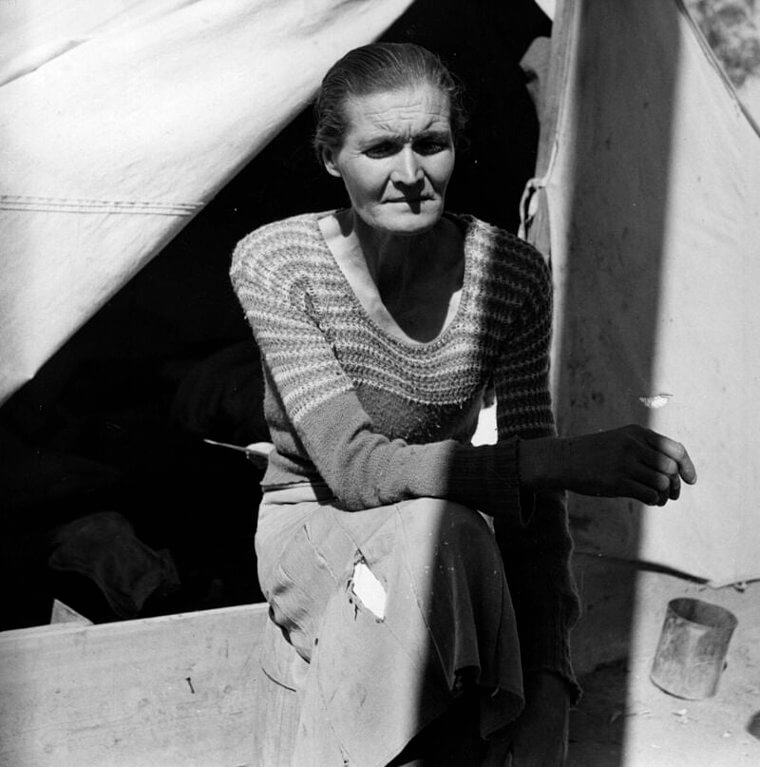 Instead, he increased the taxes to balance the budget, trying to squeeze blood from a populace who were scraping by and stretched beyond their means. He and his wife were seen attending baseball games looking high-spirited a few months after the Great Depression had set in. By 1932, the unemployment rate was 23.6% and rose to its peak of 24,9% the following year. Federal aid funding for drought relief wasn't released until 1933.
Shantytowns Sprang up Like Flowers in Spring
In the '30s, close to 6,000 shantytowns came into being. They were affectionately known as Hoovervilles. There were a great many people who had to pack up all their worldly possessions and make a trek. They didn't have much to sustain them, many didn't make it to their destinations.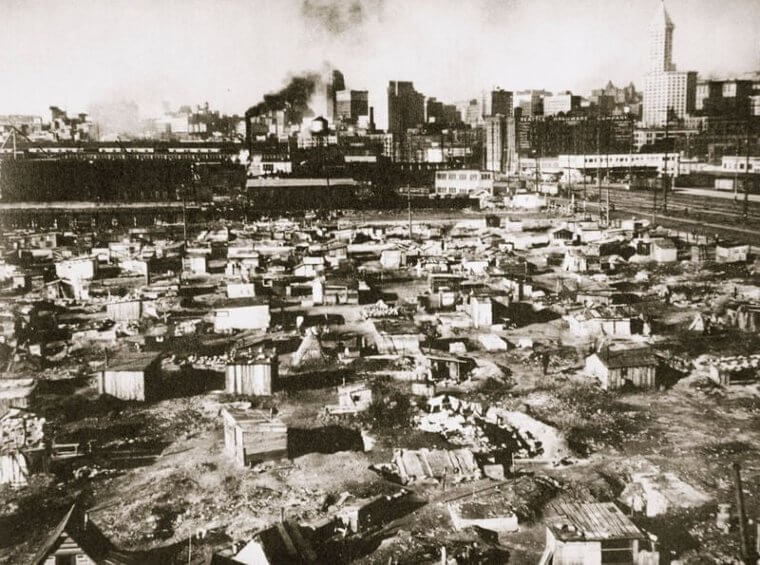 These people were resourceful and tenacious. They fashioned their makeshift dwellings from any scrap they could find and they sprung up near water sources. As they squatted on the side of the roads, they had to contend with record-breaking heatwaves and little to no food.
A New President Took Office and Made Changes
In 1933, President Franklin D. Roosevelt was elected. He had his work cut out for him. He reshaped the role of government and instituted legislation that is still in effect today. FDR promised the nation a "New Deal," which sought to reduce foreclosures and provide aid to struggling farms by means of several mortgage and farming relief acts.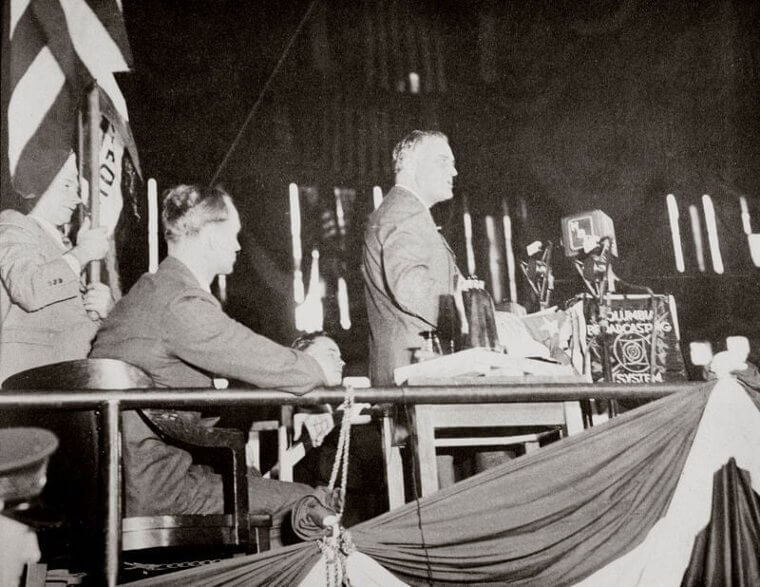 Unfortunately, over 35 million acres of farmland were rendered useless before 1935. FDR is rated among the best presidents to serve in US history. Under his administration, the federal government took on responsibilities for the economy and corporations, and the welfare and health of ordinary citizens.
Taking Action to Conquer Fear Itself
It was FDR that said, "First of all, let me assert my firm belief that the only thing we have to fear is fear itself." He wasted no time in taking steps to facilitate change. He declared a four-day bank holiday to halt further withdrawals from banks on the brink of folding. A few days later, the Emergency Banking Act was passed.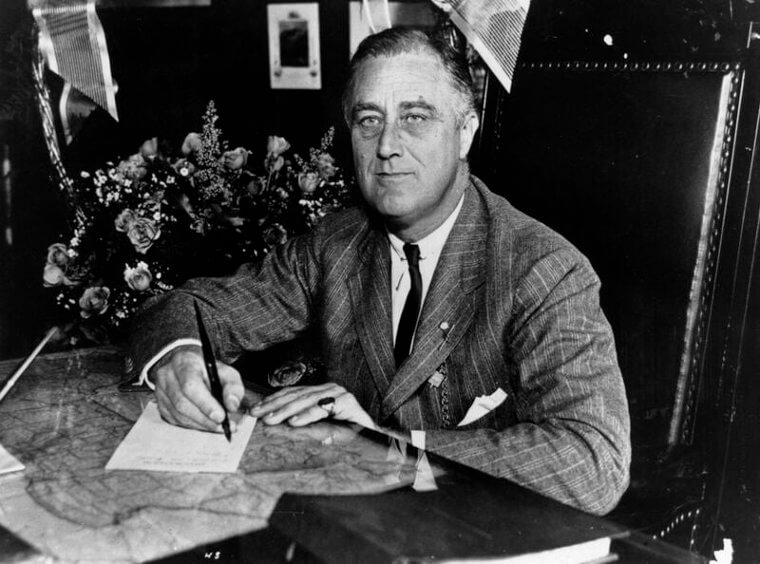 This restructured the banks and made the ones that were insolvent shut down. A few days thereafter, he addressed the nation via the radio in a conversational, informal manner in the first of what would be called "fireside chats." He encouraged citizens to return their savings to the banks, and many listened. This allowed three-quarters of banks to reopen before the end of the month.
The Government Got Involved With Disaster Management
After the devastation of the Black Sunday dust storm in 1934, the leaders of the US stepped in and made changes to resolve the catastrophe. It wasn't a quick fix, nor were the changes easy to implement, but something had to be done.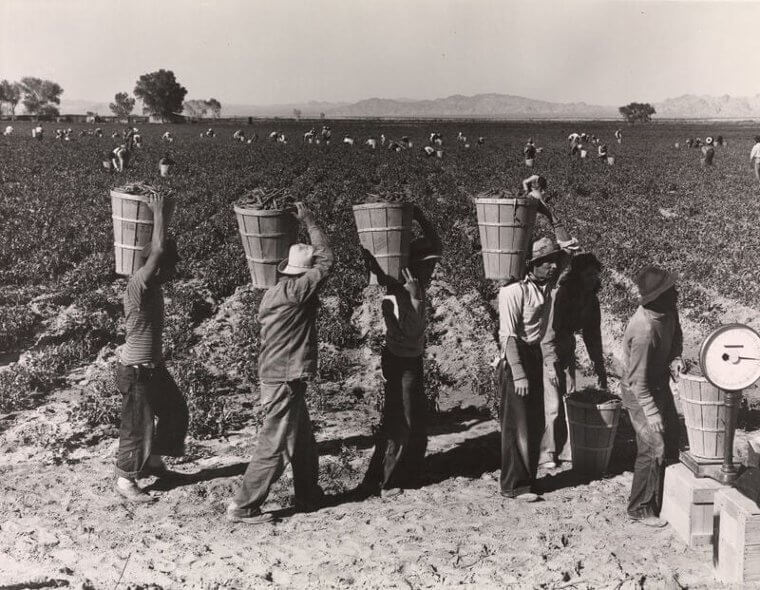 The Soil Conservation Act was passed within a matter of weeks, with the intention of teaching farmers better, sustainable methods of farming. One of many changes seen was that farmers started using horse-drawn carts with fertilizer for plowing and planting crops. They also planted trees to act as windbreaks.
What Was the New Deal?
The New Deal programs were experimental and aimed to alleviate suffering, provide income and stabilize the economy. Amongst the most successful outcomes were the protection it granted to workers, which instituted collective bargaining and unions and capped the number of hours employees were allowed to work and set a minimum wage.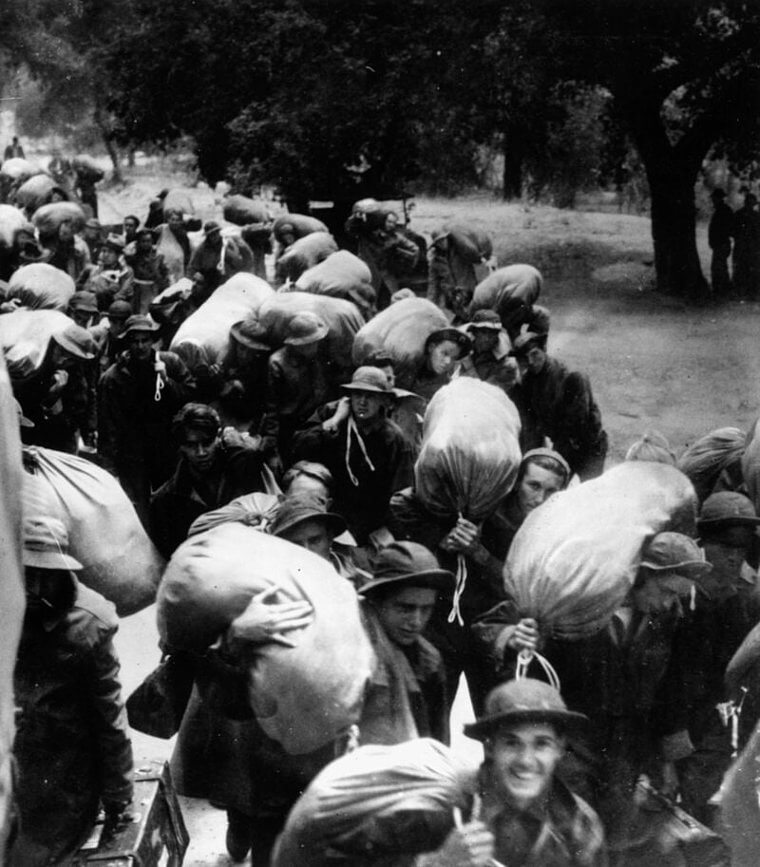 Public works programs allowed people to contribute and earn a living via construction projects. The Social Security Act provided individuals with safety nets and unemployment insurance, for those elderly or unemployed who were no longer able to make a living.
The Work Projects Administration Provided Jobs to Many
The WPA employed men and women to carry out public works projects. The pay was nowhere near industry standards, but the program aimed to provide at least one member of a family with a means to earn some money.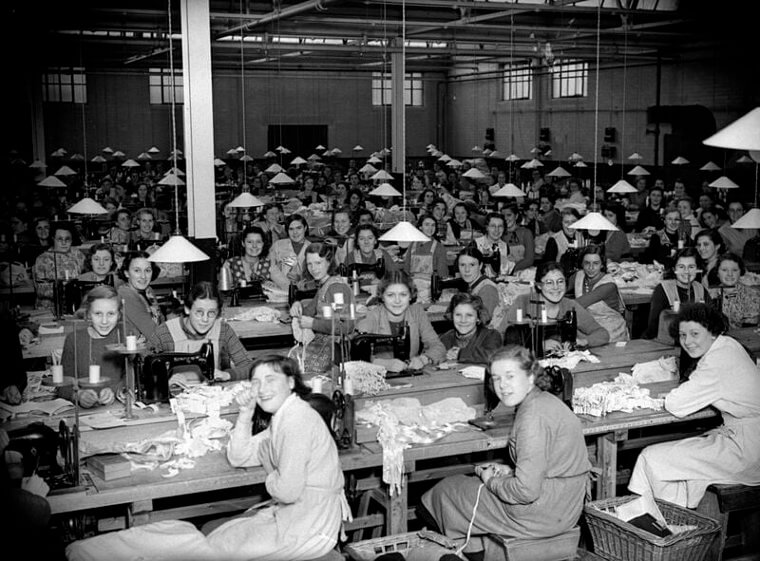 The majority of the projects were in construction. In this photo, we can see women employed at a WPA sewing shop. They produced clothing for families who had nothing, to be distributed by township trustees. Close to 4,000 women were employed in this way. They worked a six-day, thirty-hour week.
Hotter Than Hell and Twice as Dusty
In 1936, the most violent heatwave in U.S. history assaulted the residents of the Midwest. June saw eight states cook at temperatures over 110 degrees. The following month, it enveloped 12 states. Kansas, North Dakota, Oklahoma, and South Dakota exceeded 120 degrees in July.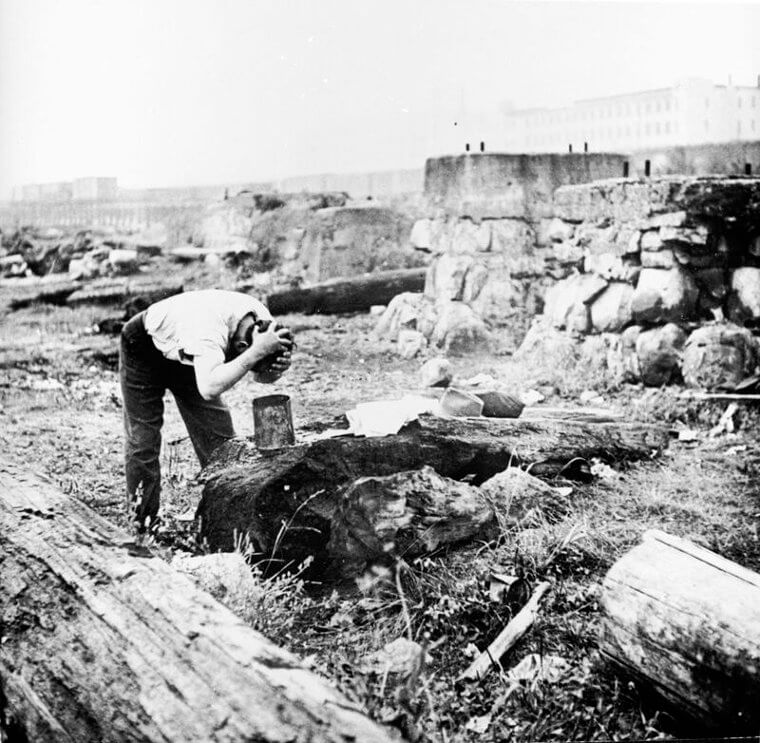 By August, temperatures in Texas escalated to more than 120 degrees - hotter than had ever been recorded. Many people died as a result of extreme heat. 1,693 perished from heat exhaustion and 3,500 tried to cool themselves in whatever body of water they could find and drowned. The following May, a dust storm swallowed Kansas.
Soup Kitchens Saved Many From Starvation
In the early days of the Depression, the masses were suffering without any aid and with no end in sight. Until FDR stepped into Office and offered a New Deal, people had no welfare and no unemployment. All they could do was beg and join a staggeringly long line to get something to eat from a charity.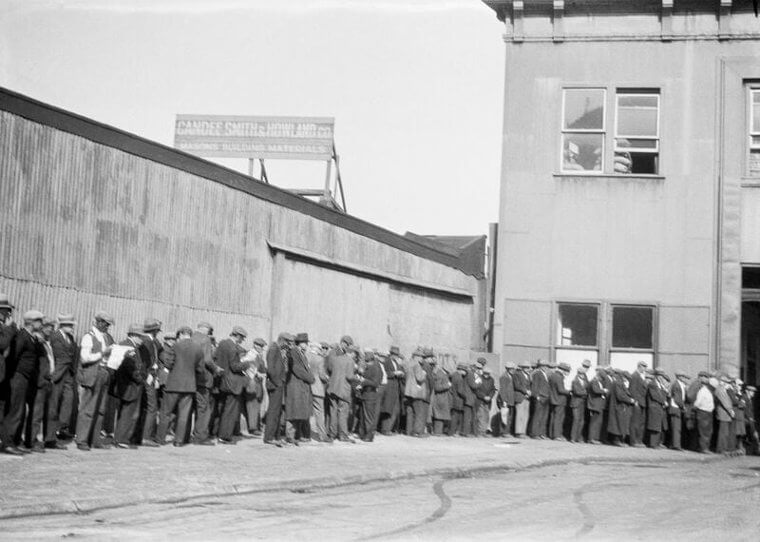 The kitchens were run by private charities and volunteers. In 1932, President Herbert Hoover assigned $4 million to open more soup kitchens. Most kitchens only opened once a day and served soups, stews, and bread. What the people ate depended largely upon what ingredients were donated and how many people lined up to be fed. On average, each kitchen served between 1500 and 3000 hungry Americans per day.
Al Capone Was One of the Good Guys
Al Capone was a notorious gangster in the '20s. He made a lot of money and earned a reputation for being a violent thug because of the means by which he conducted his bootlegging, prostitution, and gambling enterprises. In 1930, Capone opened a soup kitchen in Chicago that served three meals a day to around 2200 people in need.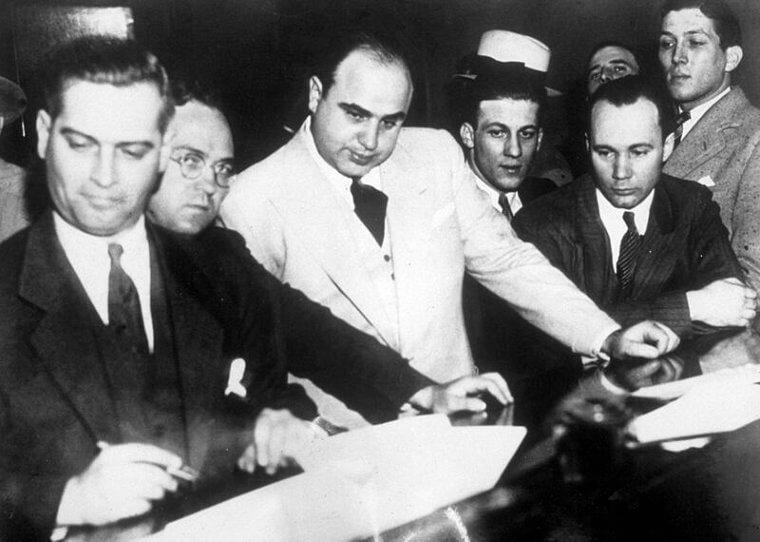 No one was questioned and no one was turned away. For breakfast, they served coffee and sweet rolls. For lunch - soup and bread. For dinner - soup, bread, and coffee. It may have been a campaign to improve his public image, but it served a good purpose.
The World's Highest Standard of Living in Denial
In this photo, we see one example of the ironic billboards that went up in every city with a population exceeding 2500. The National Association of Manufacturing distributed 45,000 billboards that went up on the sides of highways. This one proclaims, "The World's Highest Standard of Living."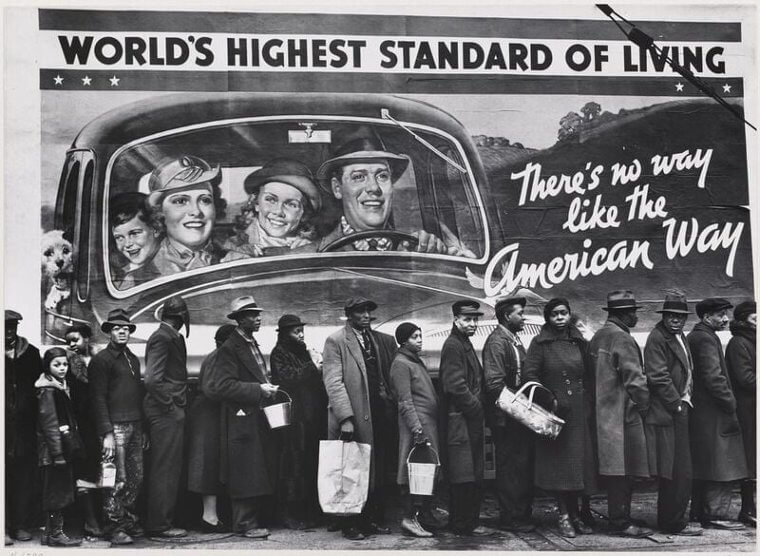 Another, "World's Shortest Working Hours." Another proclaimed, "World's Highest Wages." All captioned a picture of a white, American family without a care in the world and the words, "There's no way like the American Way." The wandering migrants and destitute families that gazed upon these lies must have found it something of a sick joke. When these billboards went up in 1937, unemployment was 14.3%.
Floyd Burroughs and His Daughter, Lucille
In 1936, photographer Walker Evans and writer James Agee were tasked with producing a feature for Fortune magazine to document the struggles of tenant farmers. Floyd Burroughs and his family were among some of the interviewed. His daughter, Lucille was 10 years old at the time.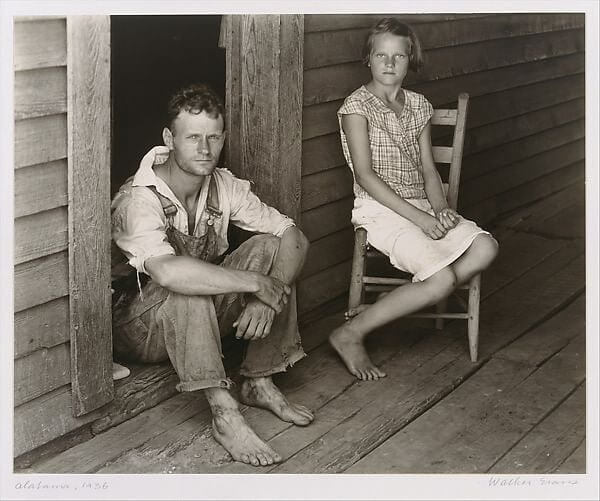 She had aspirations of becoming a teacher or a nurse. At the age of 15, she was married and divorced not long thereafter. She had four children in her second marriage but became a widow at a young age. She struggled to make ends meet. She picked cotton and worked as a waitress. At the age of 45, she killed herself by drinking rat poison.
What Do We Do Now Momma?
The thousand-yard stare and look of solemn despair were in no way unique to any individual in these times. This one, however, belonged to Florence Thomspon. She was 32 when this photo was taken and had just sold her family's only shelter - a tent - in order to buy food.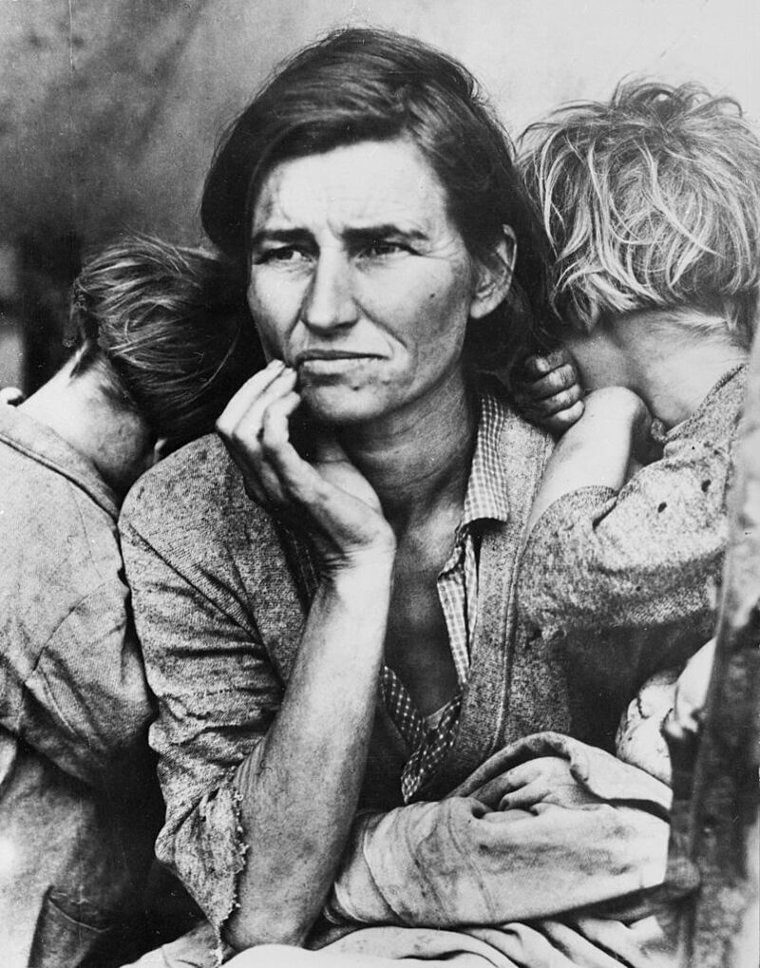 Pea-pickers are what they called poor, migrant workers who were hired as unskilled labor to harvest crops. They worked long, hard hours for a pittance. Florence picked 450 pounds of cotton a day in California. In 1945, she managed to relocate to Modesto where she found work in a hospital.
The Youngest Were Hit the Hardest
Most of the migrant families were large with many children. Many mouths to feed with no food and no money and nowhere to live. The children often had to share the load. They were given little in the way of sustenance and had all the problems of adult life on their shoulders.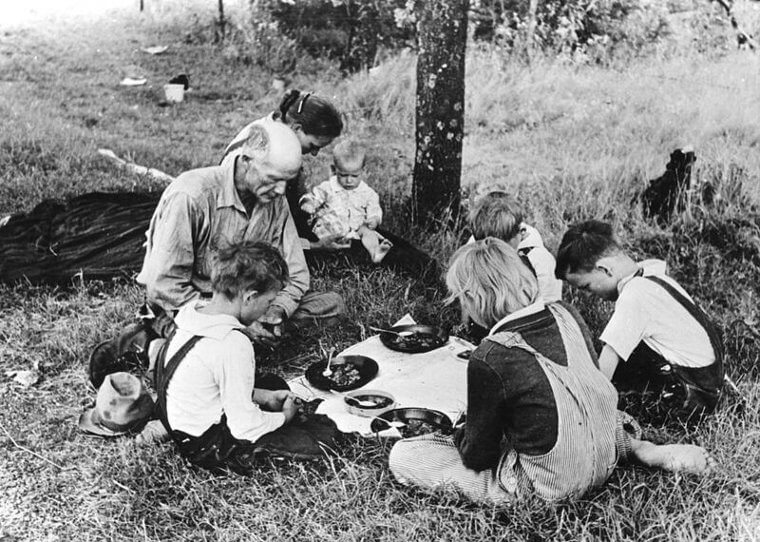 In this photo, we can see a family sitting in the dry grass in Oklahoma, saying grace before a meal. Day laborers left their children on the side of the road while they worked. They had no shelter, no beds, and no protection from pests that swarmed about them. They didn't have much of a childhood.
Living the Only Way They Knew
This photo was taken in 1940 in Chandler, Arizona. More than 10 years since the Great Depression started and the poverty that it had sown among the farming families was still palpable. These children call a trailer in a field their home, and they are more fortunate than some.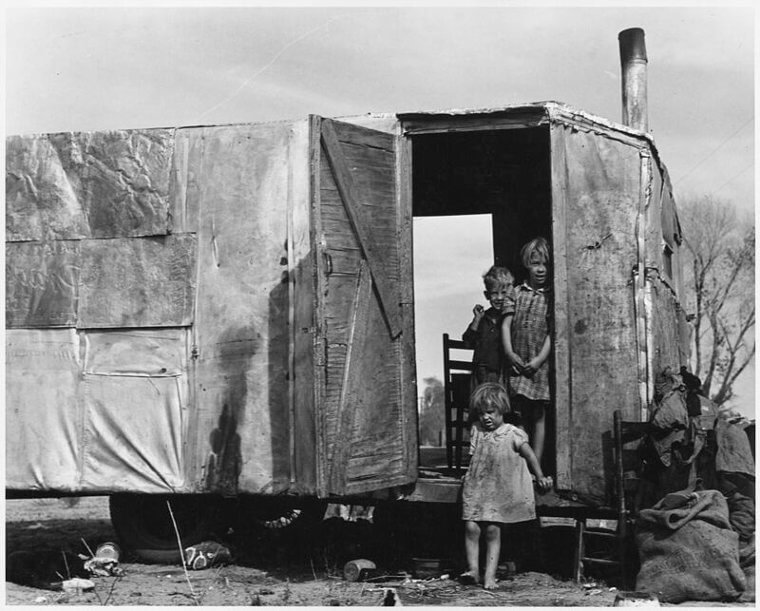 Even though rainfall had started resuming to regular levels in 1939, it took another two years for all the affected areas to return to near normal. Despite passing multiple acts and a huge governmental effort to improve conditions, unemployment was sitting at 14.6% in 1940.
Half a Step Forward and Two Steps Back
It's hard to believe that anything could have survived the Dust Bowl, but some farmers did. They were severely impacted and started over with little or nothing. But with the new guidelines in place, and government assistance and relocation away from the worst areas of the plains, those who weren't defeated, were ready to give it another shot. The government incentivized sustainable farming by paying farmers a dollar per acre to adopt the new methods.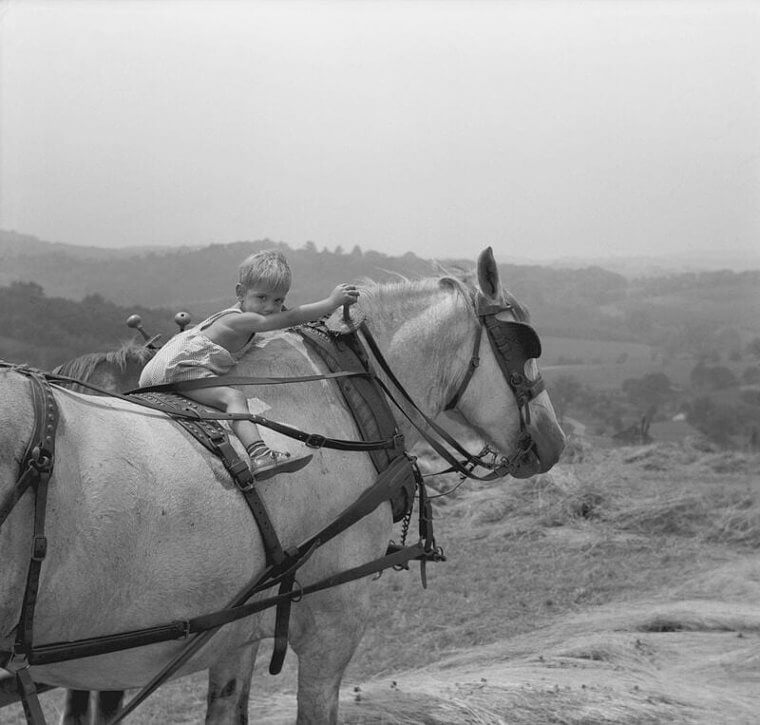 Along with planting 200 million trees from Canada to Texas for the Great Plains Shelterbelt, the initiative had reduced soil erosion by 65% in 1938. The land was still failing to yield healthy crops. It was also the year that saw the decline of the New Deal. As a result, prices dropped by 2.8%, which was detrimental to the remaining farmers.
To Retain Some Semblance of a Former Life
Many of these people whose lives had fallen into ruins were proud. They had made themselves what they were and didn't like to accept charity or handouts. Many men and women still made an effort to stay clean and dress neatly. Some sought out Self Help Associations, where they traded their labor or skills for goods.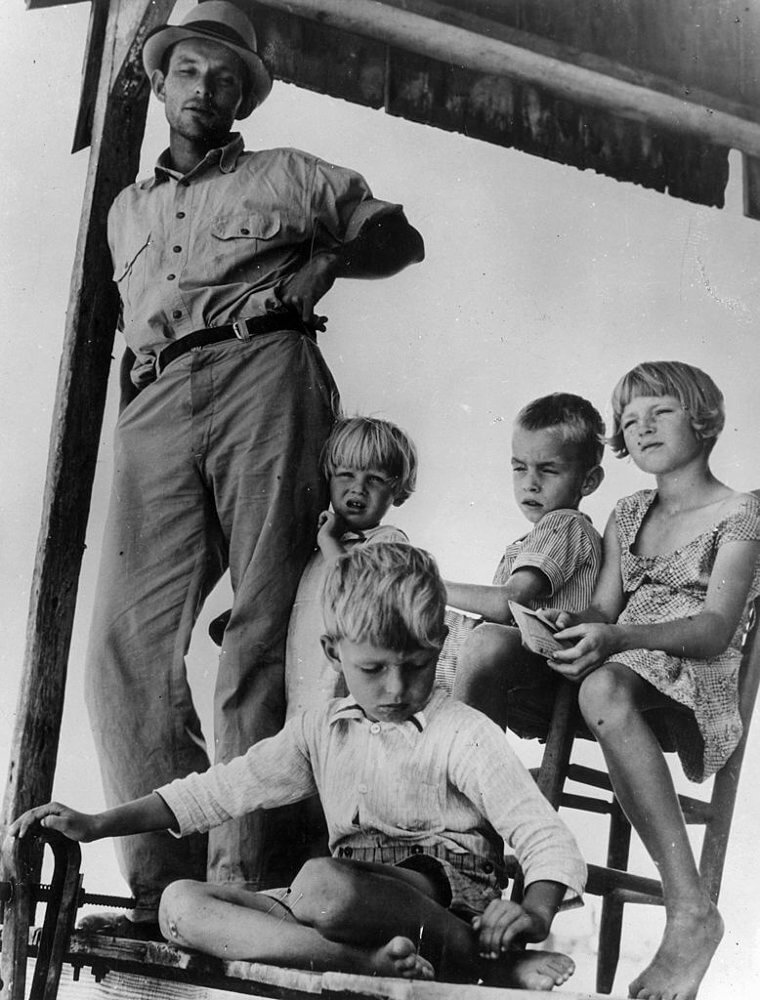 In this photo, we can see a father with his four children on their home's porch. Though they don't have much, the children are all properly dressed and you can tell the father takes pride in their appearances.
Apple Vendor Meant Something Different in the '30s
As the economy spiraled during the Great Depression, unemployment spiked. Entire families suddenly found themselves having to get by without any income. Some people have a knack for creating and seizing opportunities where others see only woe. Joseph Sicker, chairman of the International Apple Shippers' Association, was just such a man.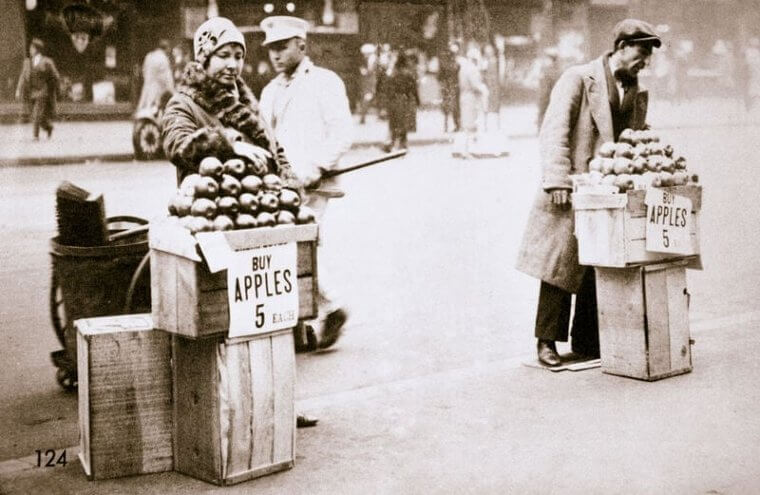 In 1929, the apple industry produced a gargantuan bumper crop to the value of $10,000. This was at a time when no one had money to buy food. So he hatched a plan. He gave boxes of apples to the unemployed to sell at a profit, and at the end of the day, they paid him $1,75 per box.
Families Migrated to Dismal Living Conditions
In this photo, taken in 1932, a mother of three weeps at a migrant camp in Texas. Many of the families that had made the arduous journey had left behind comfortable lives before disaster stripped them of everything.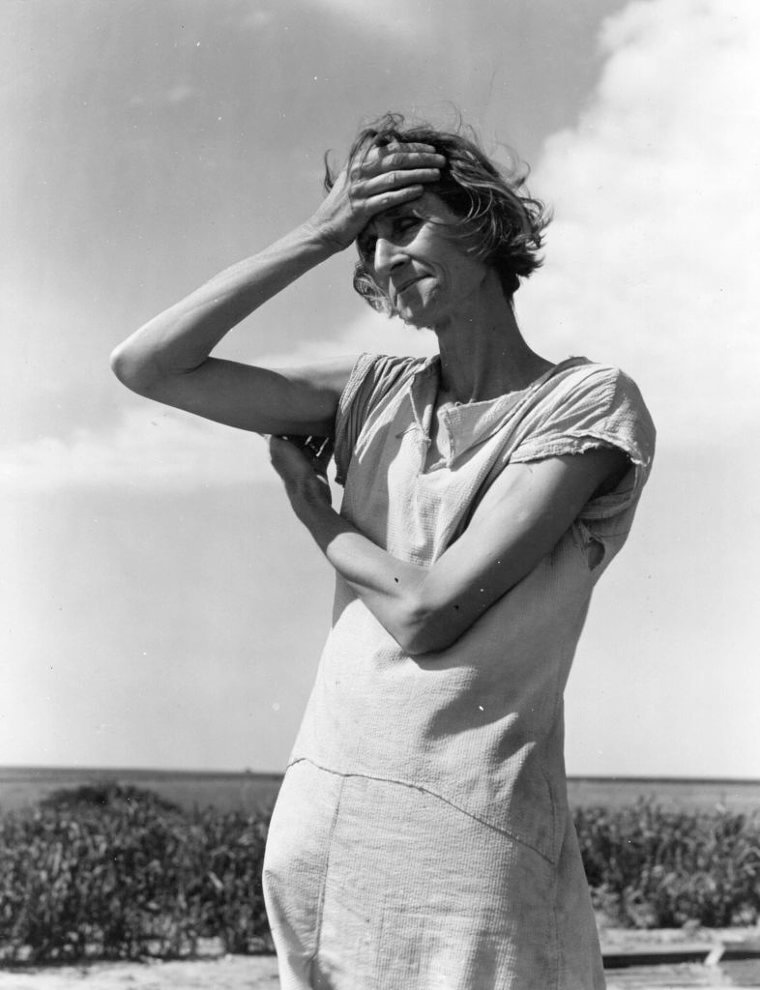 Those who managed to find jobs on arrival worked on farms and made their dwellings on the outskirts of the farms near irrigation ditches. They had no running water, nor could they afford medical care. Due to their living conditions, disease posed a massive threat.
The Plight of Tenant Farmers
Tenant farmers were those who did not own the land on which they farmed. In the first three years of the Depression, farm income fell by two-thirds. In 1920 a bushel of wheat was sold for $2.94. In 1929 it sold for $1. In 1932, for 30 cents. Two-fifths of farmers worked on land that belonged to someone else.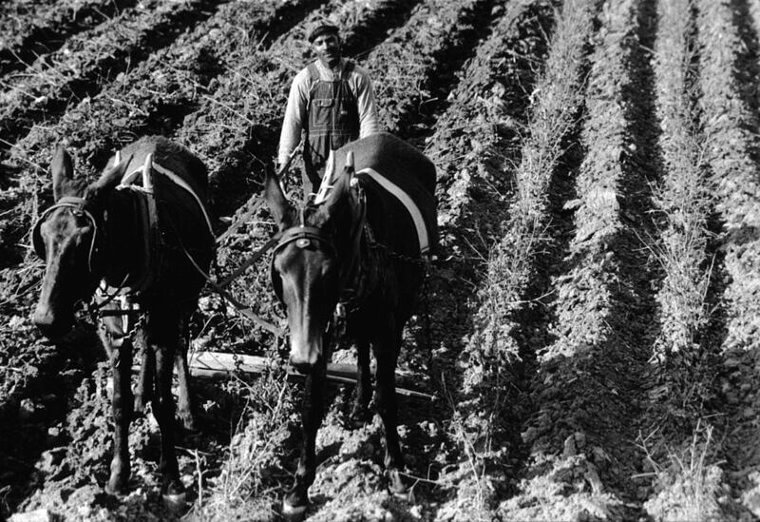 When farming with horses, there is a limit as to how much land can be farmed in a day. Tractors are far superior in this aspect, but they cost much more money. When the New Deal started issuing landowners with checks, many used the money to buy machines to replace some of the labor, which added to the unemployment problem and affected those already hit the hardest.
Giving People a Place to Go
It wasn't easy being a Dust Bowl refugee. Here we see a husband and wife who fled to Pie Town, New Mexico, a community formed by migrant farmers escaping the Dust Bowl. Farming communities and migrant camps were set up all over the country by the Federal Emergency Relief Administration and the Resettlement Administration.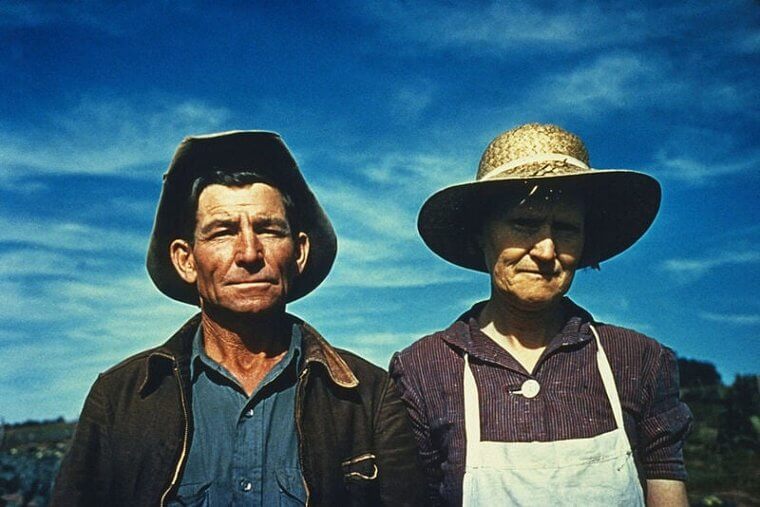 In an effort to replace the squatter camps and roadside settlements, the RA built 95 camps that featured living quarters, ablution facilities, and garbage disposal. Built-in areas where agricultural labor was in demand, the camps were intended as temporary housing. They served to help refugees regain their sense of humanity and 75,000 people benefitted from their establishment. They were expected to move on once the harvest was completed.
They Called Them Okies and Shunned Them
They weren't welcome anywhere they went. Locals believed they were taking their jobs, that they would bring disease and crime where they went. Police turned them away at borders, telling them there were no jobs available. They were accused of mooching off the government.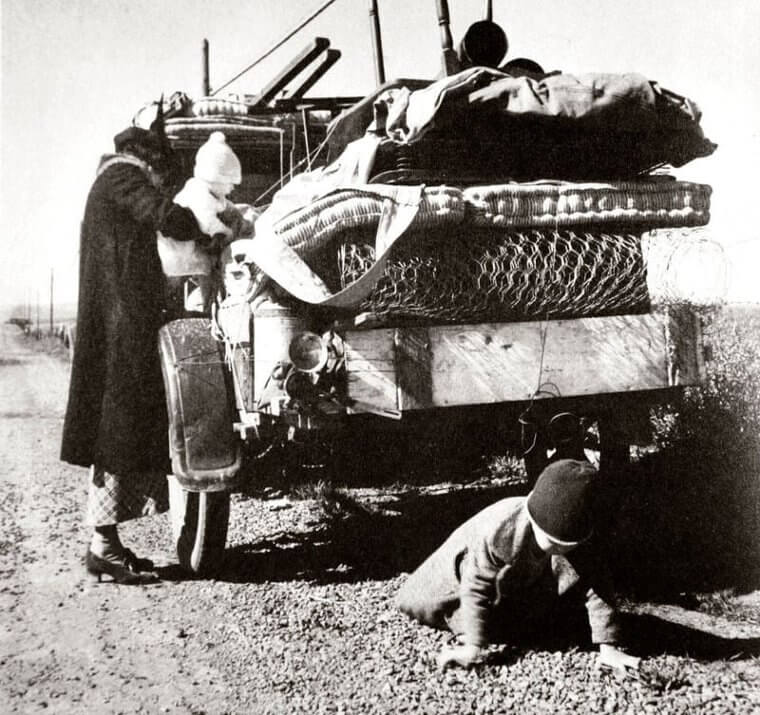 In reality, they got by on practically nothing. This photo was taken in 1937 and shows some of an 'Okie' family from Missouri, who reported "broke-baby sick-car trouble".
Thousands of Farms Were Left Deserted
This photo shows a farmhouse that was abandoned in Texas. There were many others like it. This one looks to be almost unscathed. One could almost imagine some chickens and children running around outside, while a Mid-Western mother bakes bread in the kitchen.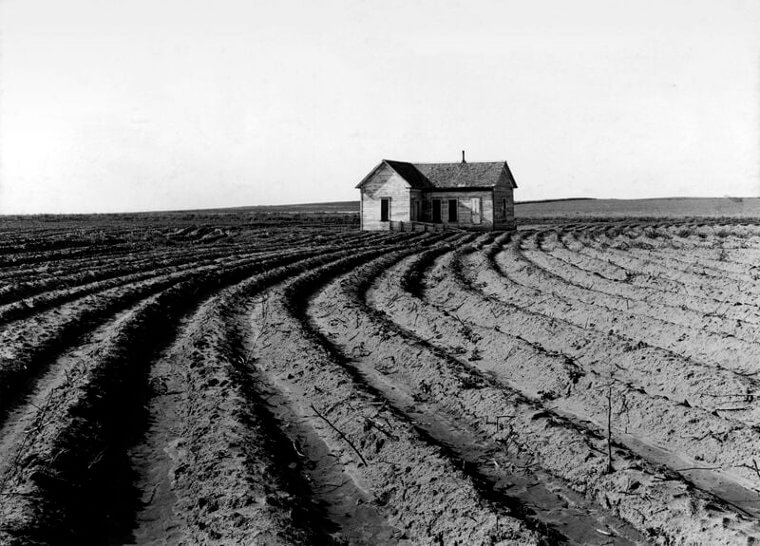 Not like the others, where the sand claimed the buildings and equipment. It makes you wonder how long this home and its lands were still before the picture was taken. It makes you wonder what happened to the inhabitants, and whether they returned with the rains, two short years later? Or were they scattered like dust?
People Living off the Land
In this photo we see a mom working in the garden while her small child watches. This was taken in 1936 at the El Monte Federal Subsistence Homesteads in California. The concept behind the New Deal Project was to provide low-cost housing with enough land for people to sustain themselves.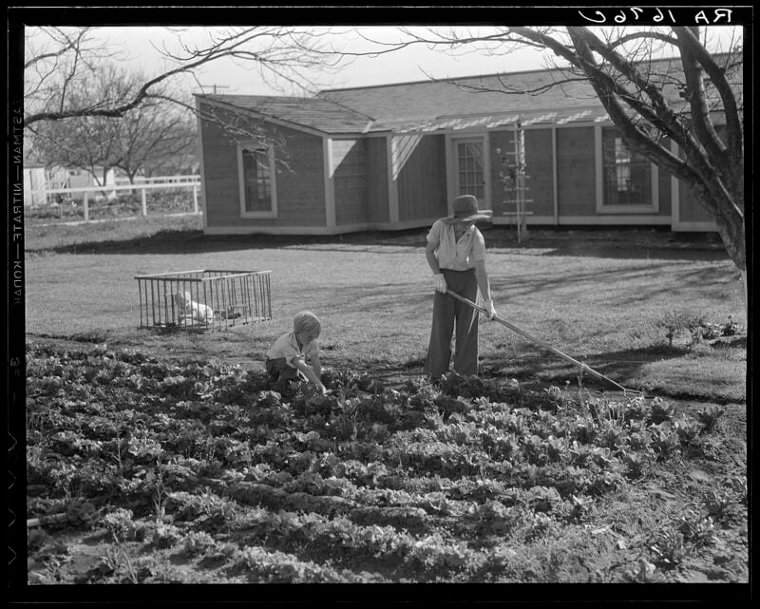 Successful applicants were offered opportunities for part-time, paid employment and fertile soil for part-time farming. 34 communities were established through the project. It prioritized areas that were affected particularly badly by the Depression.
A Hard Way to Earn a Living
This young mother came to Edison, California from Texas. This photo was taken in 1940. The previous day, she and her husband had spent the day picking peas. They traveled a long way - 35 miles each way - to spend five hours harvesting peas.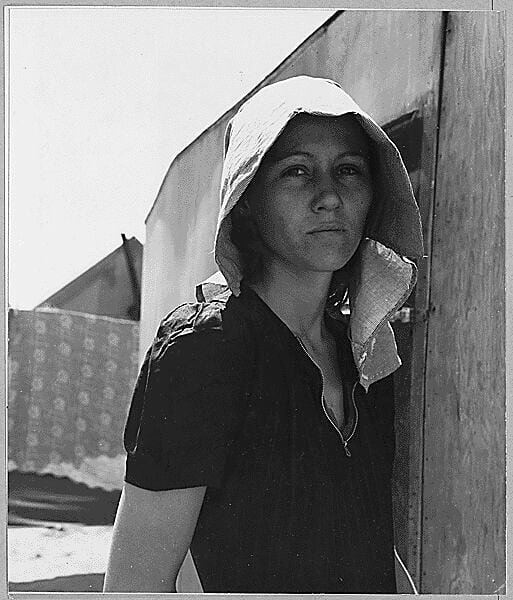 At the end of the day, they earned a mere $2.25 between the pair of them. If we take into consideration that a loaf of bread in 1940 cost 8 cents, it puts into perspective that it wouldn't go far, and they still had mouths to feed. That's a grueling day of labor for very little payoff.
Calling off Benefits of the New Deal
When FDR was elected, he went far beyond conventional standards for solving the unconventional problems that the agricultural sector was experiencing. Some of his projects were more successful than others. Over time, he started getting more contention from congress on the acts he tried to implement and less support.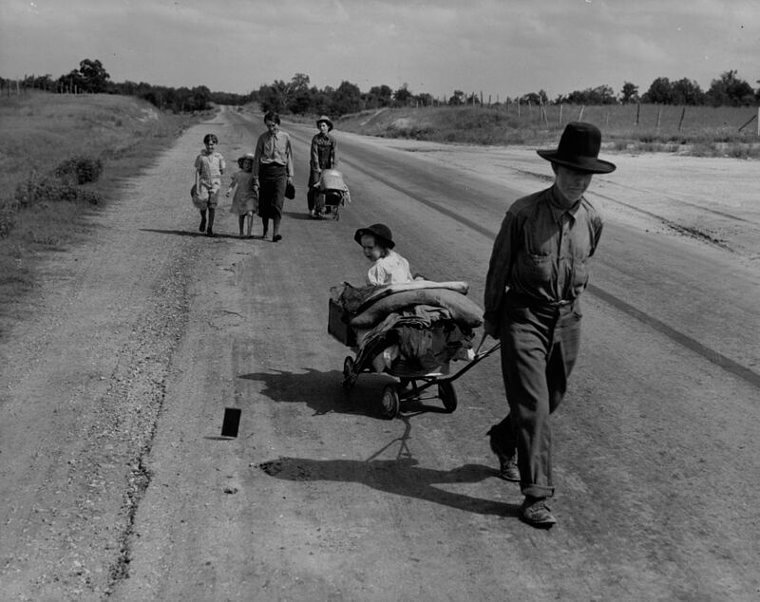 In 1937, with war looming on the horizon and the economy somewhat stabilized, FDR cut back drastically on government spending in an attempt to balance the budget. It resulted in a drastic recession. This photo, taken in 1938, shows a family leaving Oklahoma with all they own, on foot. Their father had taken ill and requested relief but had been denied. The only option available to them was to look for work.
Could There Be Another Dust Bowl Event?
Climate change is a very real and serious threat we need to acknowledge and prepare for adequately. The chances of experiencing another drought to such an extent are high and ever-increasing. Temperatures are climbing nationwide and it has an impact on regional rainfall.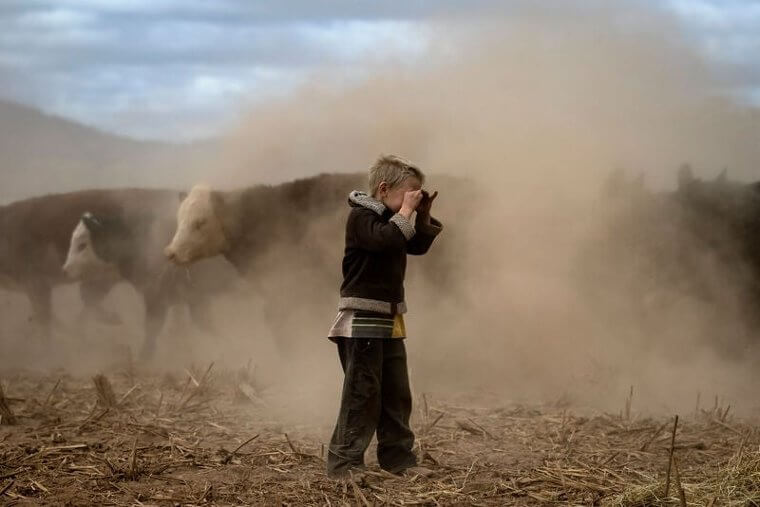 However, the likelihood of a drought culminating in another Dust Bowl is not of concern. The science and tools that farmers have access to today are much better suited to minimizing soil erosion. There are even crops that are resistant to drought which may be planted.