Initially called the Bureau of Investigation, the FBI began in 1908 and has evolved throughout the years into the primary federal law enforcement agency in the United States. The Federal Bureau of Investigation is tasked with fighting crimes such as murder, bank robbery, kidnapping, and racketeering, which have led them on the hunt for some of the most notorious criminals in United States history. Infamous, notorious, and controversial FBI director J. Edgar Hoover, who served a tenure of 48 years, is credited with the arrest of many of the legendary lawbreakers. This is a blast from the past of some of the most challenging bureau busts of all time.
John DeLorean
DeLorean became a household name due to the machine used in the beloved time travel trilogy Back to the Future.  However, little is known about the man behind the design of the futuristic vehicle.  John DeLorean's desire for success drove him straight into the clutches of the FBI after being caught in a sting for trafficking cocaine.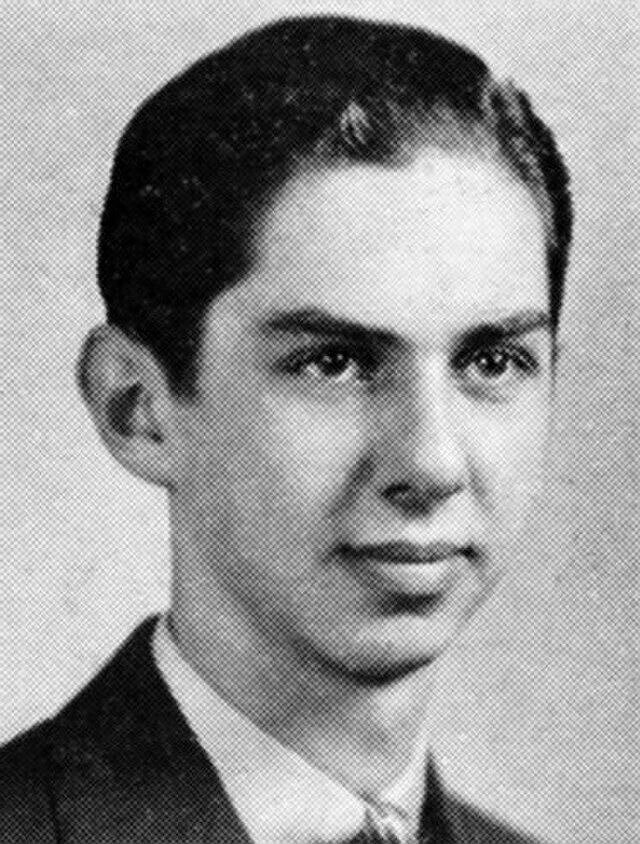 Always eccentric and unorthodox, John DeLorean was a top executive at General Motors who helped pave the way for the muscle car era with models such as the Firebird, Pontiac GTO, and the Grand Prix. In 1975, he branched out and created his own company, DeLorean Motor Company. The futuristic design of the DMC 12 was made from rust-proof, stainless steel panels and a lightweight composite chassis designed for impeccable performance.  However, the vehicle's gull-wing doors were what made it stand out from the rest.
John DeLorean
To obtain funding, DeLorean met with the government of Northern Ireland and proposed that if they invested 85 million pounds into his company, he would make Belfast the location for his state-of-the-art factory, bringing 1500 much-needed jobs to the area. At the time, Belfast was in great need of some economic optimism for it had been plagued for years by unemployment and violence during "The Troubles". Initially, the demand for the futuristic sports car was quite high, but problems with quality control and budget overruns, coupled with the vehicle's underwhelming performance, crippled the company's sales, putting DeLorean in desperate need of more money.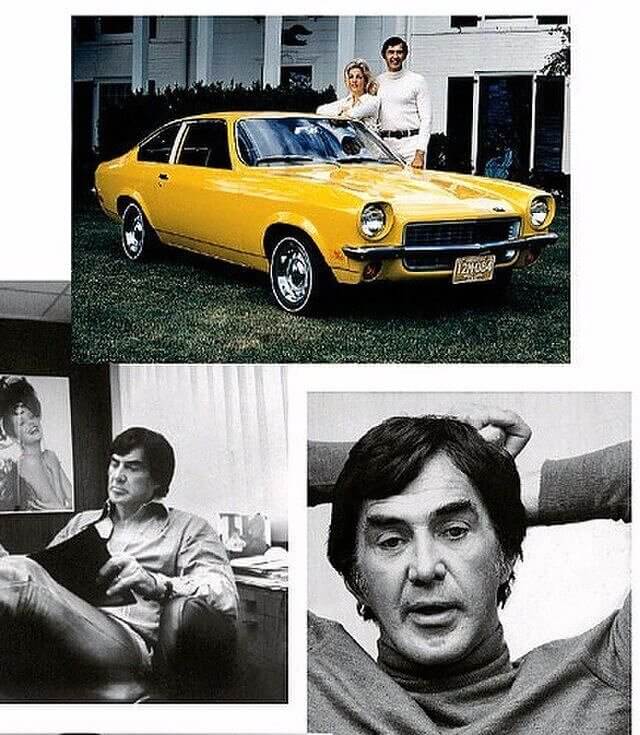 It was then that he turned to the shady world of narcotics in the hopes that he would be able to quickly earn the $24 million he so desperately needed to keep DMC in business. Instead, he found himself smack dab in the middle of a federal sting operation targeting white-collar drug traffickers. Even though FBI agents were able to record him on video making a drug deal, he was acquitted of all charges when his attorneys argued that he was a victim of entrapment. Although the disgraced auto pioneer had been cleared of all charges, DMC collapsed, causing him to go bankrupt.

John Gotti
John Gotti was a smooth and confident player (the eventual Boss, in fact) in the Gambino crime family of New York City who was able to evade convictions so often that he earned the nickname "The Teflon Don". Despite his involvement with the horrific violence occurring in New York in the 1980s, John Gotti looked and played the part of a highly successful businessman, which he was, generating a rumored annual income of $500 million. With his uncanny ability to cover his tracks, it would take a combined effort of the US Department of Justice, the hot pursuit of the FBI and a raging bull to end his reign of terror.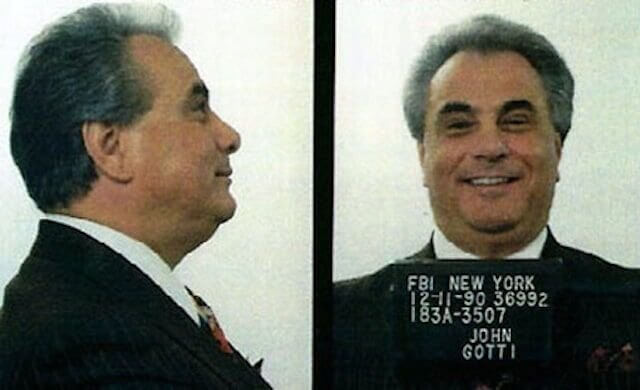 During the mid-1980s, Gotti was climbing the chain of command in the Gambino family, but head honcho Paul Castellano stood in his way. Castellano didn't trust nor like Gotti and the feelings were reciprocated, causing tensions to build. The mutual disdain became deadly when Castellano and his crew were killed by gunfire outside of the Sparks Steakhouse in Manhattan - Gotti had ordered the hit. With Castellano out of the way, Gotti took over and began dealing in the highly profitable distribution of narcotics.
John Gotti
While Gotti was able to avoid jail time on all three of his charges during the 1980s, he wouldn't be so lucky in the '90s. Salvatore "Sammy the Bull" Gravano had been apprehended by authorities and was facing a hefty sentence. The FBI, aided by US Assistant Attorney General Robert Mueller, offered him a deal: flip on John Gotti in exchange for a more lenient period in the penitentiary.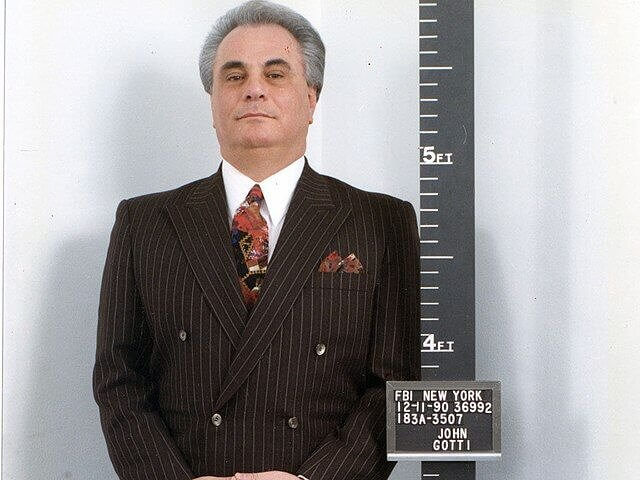 "Sammy the Bull" took the deal and in April of 1992, the unscrupulous mob boss was found guilty on multiple charges which included obstruction of justice and tax evasion. Once considered "The Teflon Don", John Gotti was sentenced to life in prison without the possibility of parole. In 2002, he lost his battle with throat cancer and died.
Pretty Boy Floyd
Growing up on the dusty plains of Oklahoma, Charles Arthur "Pretty Boy" Floyd dreamed of making it to the big city. In an attempt to strike out on his own, he tried his hand at making an honest living as a roughneck in the oil fields outside of Tulsa. Not quite cut out for the trade, he would show up to work dressed to the nines in a button-down shirt and pressed slacks, prompting the work crew to poke fun by nicknaming him "Pretty Boy". Sick of the bullying and the tiring work, Floyd would go on to become one of the most notorious criminals of the 1930s, committing a series of bank robberies and murders throughout the Midwest.
Leaving the oil fields in the dust, Floyd moved on to Kansas City where he gravitated towards the seedy world of Missouri's career criminals. It was here that he met and partnered with prolific bank robber Frank "Jelly" Nest, among other hardened outlaws. Floyd's collaboration with his new crew earned him fast money which came at a deadly price, a team that led to the "Kansas City Massacre", a mass shooting so surreal that it shocked the nation. 
Pretty Boy Floyd
The "Kansas City Massacre" was the result of Floyd and several of his felonious friends attempting to free Nest from federal lockup after he was arrested in June of 1933. There are differing theories on who exactly was involved in the jailbreak, but even so, the mass shooting at Union Station on June 17th, 1933 resulted in the death of four law enforcement officers and Nest himself.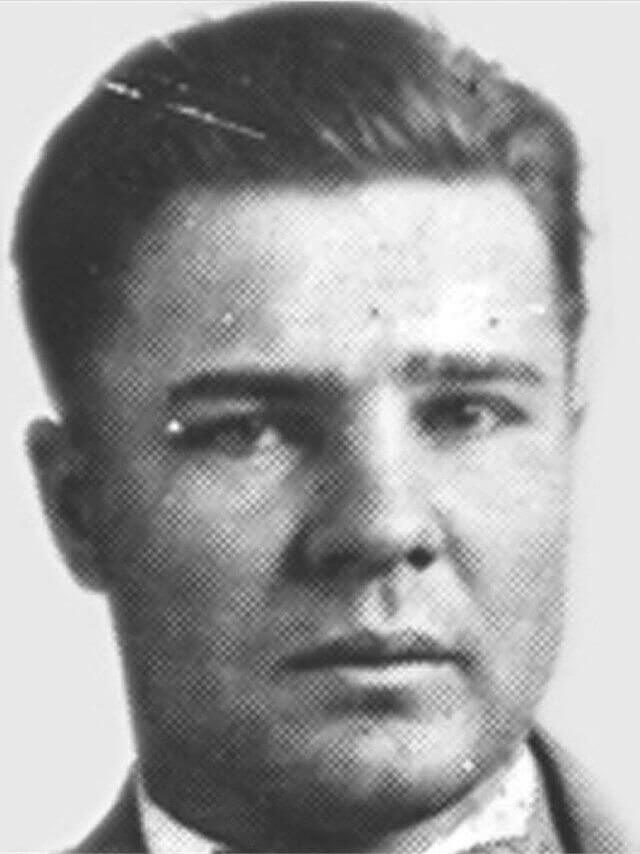 Floyd, of course, denied any involvement in the massacre but authorities weren't believing it. The FBI deemed him "Public Enemy Number One" after the death of John Dillinger and focused their sites on hunting him down. There are three different accounts regarding the demise of "Pretty Boy" Floyd, but one thing is for certain: FBI agents shot him to death after an intense exchange of bullets in East Liverpool, Ohio on October 22, 1934.
Machine Gun Kelly
Kathryn Kelly felt she deserved better in life. She was an ambitious woman who was determined to get what she wanted no matter the cost, and what better way to do that than to have a man by her side who would do anything she asked? She found her ideal partner when she met George Kelly Barnes, a small-time bootlegger from Memphis, Tennessee. Married for the fourth time, this femme fatale decided to make a gangster out of her husband, purchasing him a machine gun and rebranding him "Machine Gun Kelly".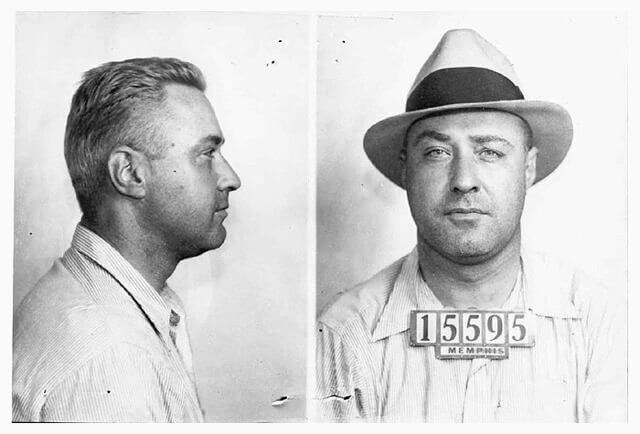 Always looking for a big score, the husband and wife team decided to try their hand at kidnapping. In July 1933, the two successfully kidnapped oil tycoon and businessman Charles F. Urschel from his Oklahoma City home. Their elaborate scheme did pay off, and they were able to collect a ransom of $200,000 which was a very large payout back in the day.
Machine Gun Kelly
Even though they deemed their kidnapping caper a success, their victim, Charles F. Urschel, was sure to leave some clues behind to assist the FBI in their search for the fugitives. The subsequent investigation took just 56 days to crack the case and make the arrests.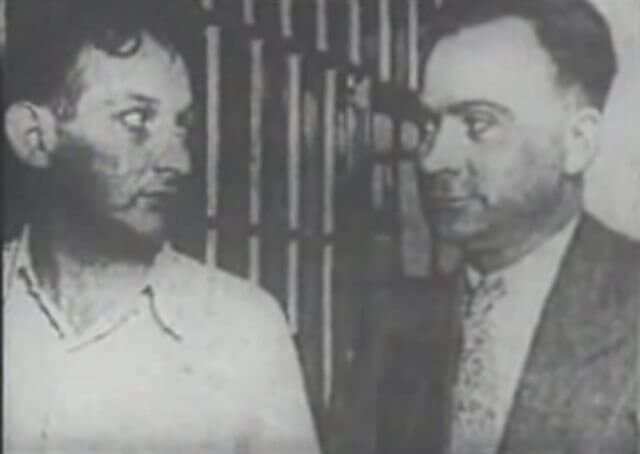 Both George Kelly Barnes and Kathryn Kelly were convicted and sentenced to life in prison.  George served the majority of his sentence at Alcatraz where other convicts rebranded him as "Pop Gun Kelly" due to his tall tales and his perfect behavior. Eventually, he was transferred to federal prison in Leavenworth, Kansas where he died in 1954. Before dying at the age of 81, Kathryn served 25 years of her sentence at a women's correctional facility in Virginia.
John Dillinger
John Dillinger is known as one of the most notorious gangsters of the Depression-era. In the first FBI "Public Enemy Number One", Dillinger and his crew of outlaws were accused of murdering ten men, robbing 24 banks and four police arsenals, and staging three escapes from prison. Even though the FBI considered him armed and dangerous, he was considered a modern-day Robin Hood to the masses affected by the Great Depression.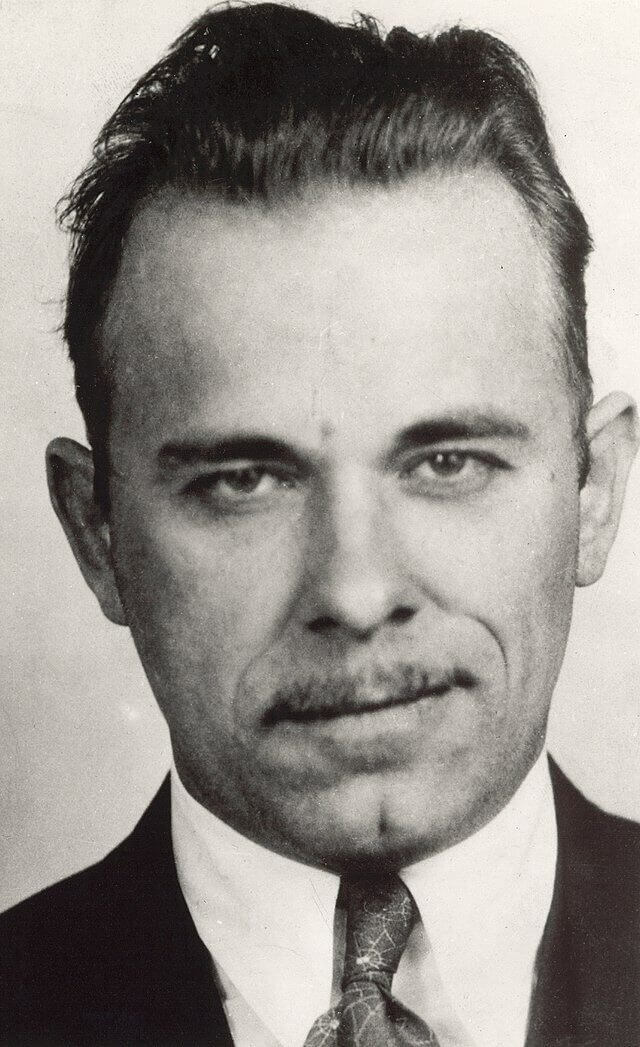 Born on June 22, 1903, John Herbert Dillinger grew up in a middle-class family in Indianapolis, Indiana. Though his family life was relatively normal, Dillinger began acting out rebelliously at an early age with his behavior becoming more violent as he matured. At the age of sixteen, Dillinger dropped out of high school and enlisted in the school of hard knocks when he was sentenced to eight years in the Indiana State Prison on robbery charges. It was there that he met many seasoned criminals and learned the ins and outs of robbing banks. He would quickly put this newfound knowledge to use upon his release in May of 1933.
John Dillinger
Dillinger and his crew, which consisted of other hardened career criminals such as Baby Face Nelson, Harry "Pete" Pierpont, and Homer Van Meter, stayed busy committing a series of bank robberies and murders over the following 14 months. However, their luck would soon change. Though Dillinger was able to successfully escape from being jailed in Crown Point Indiana, he made the mistake that would bring him to the forefront of the FBI's focus - he stole a sheriff's vehicle and drove it across state lines into Illinois. This violated the National Motor Vehicle Theft Act which is a federal offense, triggering a nationwide FBI search.


Dillinger's luck ran out in the summer of 1934. The notorious gangster decided to take in a flick called Manhattan Melodrama at the Biograph Theater in Chicago. The Feds received a tip from brothel owner Ana Cumpanas as to Dillinger's whereabouts and waited for him outside of the theater. When Dillinger saw that the Feds had found him, he pulled out his weapon and attempted to make a run for it down a nearby alley, however, he couldn't outrun the flurry of bullets and fell to his death.
Baby Face Nelson
To bear witness to the life Lester Gillis chose, one could assume that he suffered from severe psychological issues, perhaps even going as far as to label him a sociopath. Dubbed "Baby Face" Nelson due to his short stature and childlike features, Lester Gillis would become one of the most notorious criminals of all time. Though he was not amused by the name "Baby Face", he took great pride in being the one to kill more FBI agents than any other outlaw at that point in history.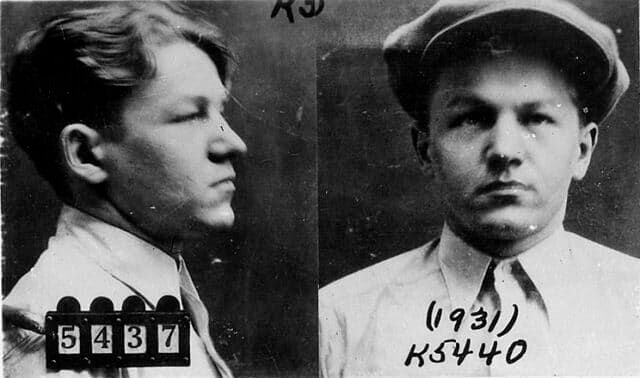 Born in Chicago, Lester Gillis began his life of crime at age 12 when he accidentally shot a playmate with a pistol he had found. He was sent to a reformatory which he spent time in and out of for the remainder of his youth.
Baby Face Nelson
During his mid-teens, Nelson formed his crew that specialized in petty theft and bootlegging, advancing to armed robbery as time went on. Over time, he and his crew became quite skilled at executing bank robberies without being caught. As if those crimes weren't enough for the thrill-seeking baby-faced bandit, he decided to organize a scheme for a series of home invasions that included the home of then Chicago Mayor, Big Bill Thompson.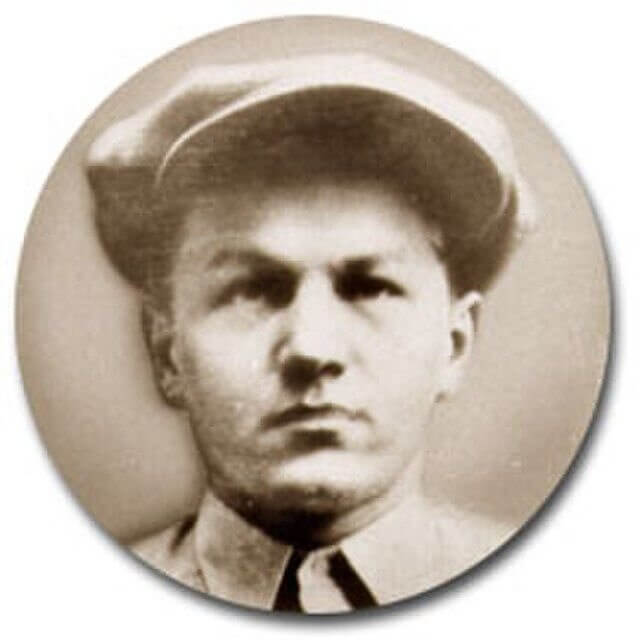 In March of 1934, Nelson and John Dillinger joined forces, and shortly thereafter, "Baby Face" Nelson shot the first of three federal agents - Special Agent W. Carter Baum. After the demise of John Dillinger, Nelson was named "Public Enemy Number One" due to the murder of FBI agent Baum. His reign was short-lived, however. On November 27, 1934, in Barrington, Illinois, a short but furious gunbattle killed "Baby Face" Nelson as well as two additional FBI agents.
Bonnie and Clyde
Most stories about star-crossed lovers involve romance and love letters, not machine guns and blood-spattered bodies. That silly old romance stuff wasn't in the cards for Bonnie Parker and Clyde Barrow, who preferred robbing banks and running from the law. Their life on the run and eventual bullet-ridden bodies have gone down in history as one of the most spectacular manhunts in the United States of America.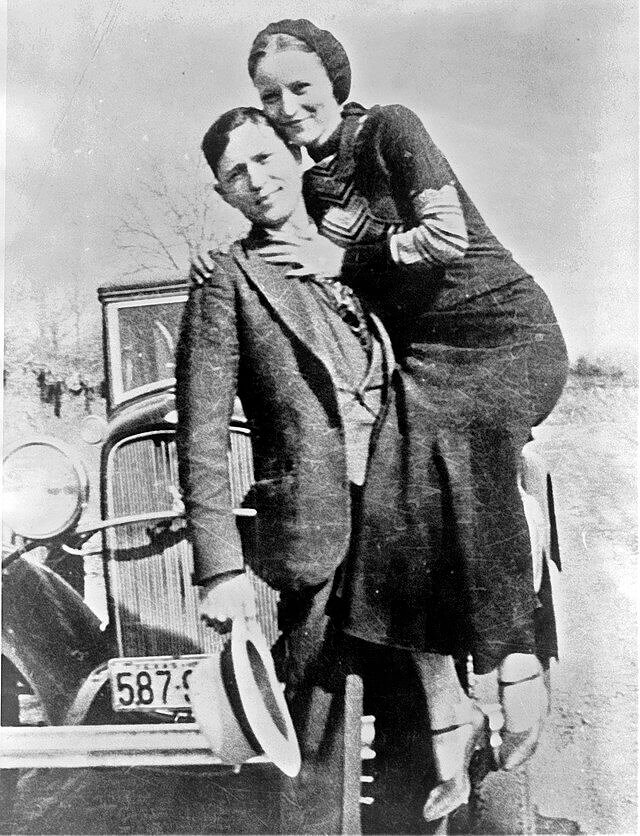 Bonnie Parker and Clyde Barrow were not as glamorous as Warren Beaty and Faye Dunaway, the actors who portrayed them in the 1967 blockbuster movie bearing their name. The real-life duo lived life on the edge during the 1930s, stealing cars, initiating jailbreaks, and robbing banks until their demise.
Bonnie and Clyde
Many were suffering due to the economic disaster of the Great Depression. Unemployment was at an all-time high and people were desperate, leading them down a path to a life of crime. For some, this was a hopeless decision, and others, such as Bonnie and Clyde - well, they reveled in it. They basked in the glory of successfully outrunning the police until they ran into an FBI ambush in Bienville Parish, Louisiana.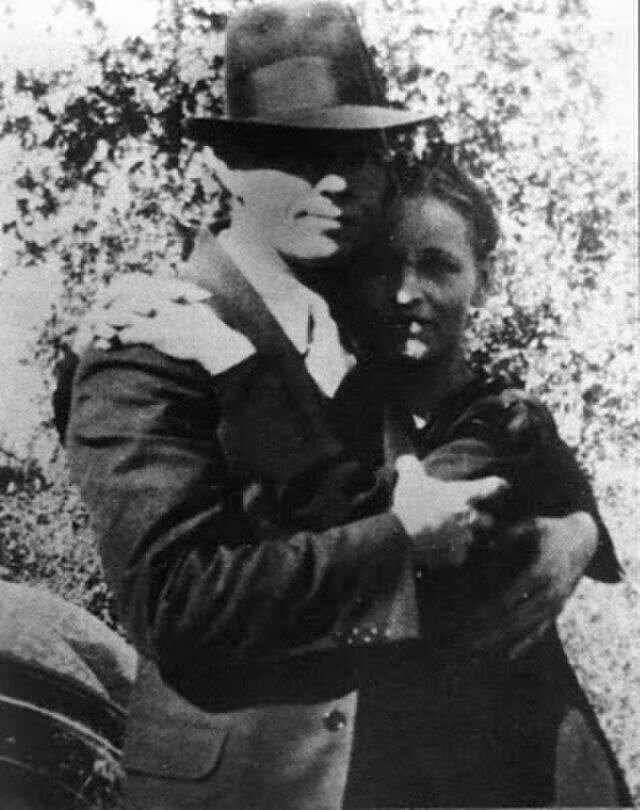 Even though the criminal couple was armed with more than a dozen machine guns and several thousand rounds of ammunition, they were no match for the Texas Rangers and the FBI. The G-men unleashed a fury of gunfire into their stolen 1934 Ford Sedan, leaving both Bonnie and Clyde dead at the scene. 
Al Capone
In the "Roaring '20s", illegal yet lucrative bootlegging businesses were on the rise due to the rebellion against federal Prohibition laws. These businesses were the gateway to other nefarious activities such as extortion, prostitution, gambling, narcotics, and murder. The underbelly of Chicago was being run by a scar-faced boss who considered the Windy City his criminal playground. While this notorious boss had many aliases, he was best known as Al Capone.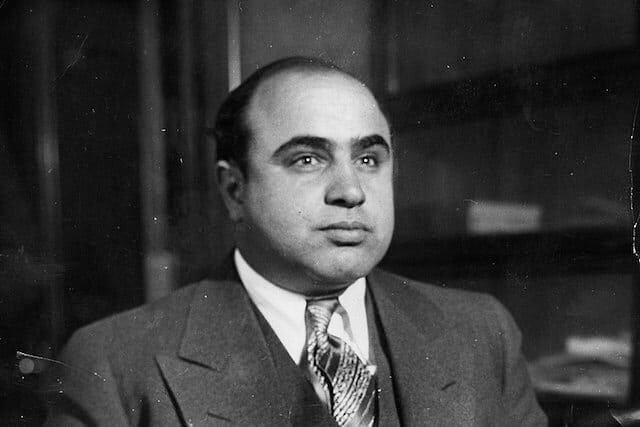 Capone started his life of crime as a small-time con in his hometown of Brooklyn. Looking to make a name for himself, he headed to Chicago in 1919 where he quickly proved himself to be worthy of the position of boss in just a few years. By the mid-1920s, Capone was ruling the Windy City's seedy underworld, basking in the spotlight as a respected Don. In 1929, in a display of power, he ordered the execution of several gang rivals. This not-so-romantic display would go down in history as the St. Valentine's Day Massacre.
Al Capone
Capone was able to evade capture and prosecution of his crimes by using intimidation and force to create corruption. Even so, Eliot Ness and his Untouchables, along with the help of the FBI, were able to finally put an end to his reign of terror on the measly charge of tax evasion. On October 18, 1931, the scar-faced mob boss was convicted and sentenced to eleven years in federal prison.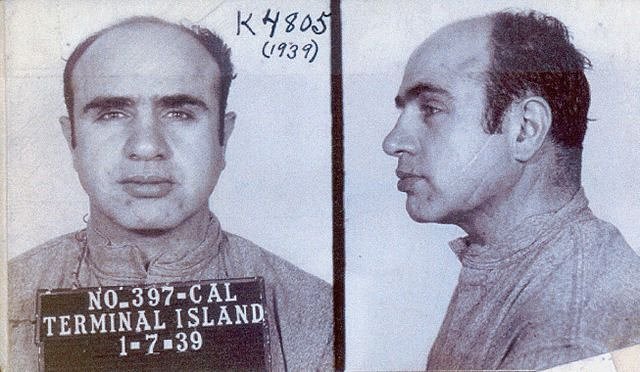 Alcatraz became the new home for Al Capone for the majority of his sentence. It was there that his health began to rapidly deteriorate due to syphilis. Seven years, six months, and 15 days into his sentence, Capone had paid all of his back taxes and was released on his recognizance. He died of a stroke and pneumonia in his home in South Florida on January 25, 1947.
Patty Hearst
The tale of Patty Hearst seems as if it had been scripted for a blockbuster movie. After all, it had all of the key elements needed to make a hit: celebrity, scandal, crime, and a revolutionary terrorist group. But this was no movie. On February 4, 1974, Patty Hearst, granddaughter of billionaire publishing tycoon and politician Randolph Hearst, was kidnapped by a revolutionary group who called themselves the Symbionese Liberation Army or SLA.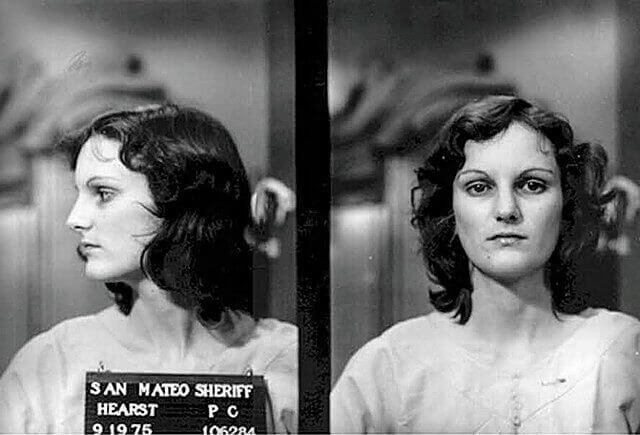 At the time of the kidnapping, Patricia "Patty" Hearst was an unassuming 19-year-old college student majoring in art history. For two months, her family tried to decipher and meet the unusual demands of the SLA while authorities conducted a frantic nationwide search for her whereabouts. To the surprise of law enforcement and the family, she was suddenly spotted on a security camera armed with an M-1 Carbine, aiding her kidnappers in a bank robbery. It was then that Patty Hearst went from victim to being on the FBI's most-wanted list.
Patty Hearst
Though she was caught on video, she was not found and remained on the run for two additional years under the alias of "Tania", actively aiding in crimes to support the SLA and their cause. An FBI task force working alongside the San Francisco Police Department finally was able to apprehend Hearst as she was leaving her small apartment in the city by the Bay. Initially, Hearst maintained her solidarity with the SLA, stating in an interview with Time Magazine that she considered herself an "urban guerilla".  She also relayed a message to the media through her attorney, Terence Hallinan, which said: "Tell everybody that I'm smiling, that I feel free and strong and I send my greetings and love to all the sisters and brothers out there."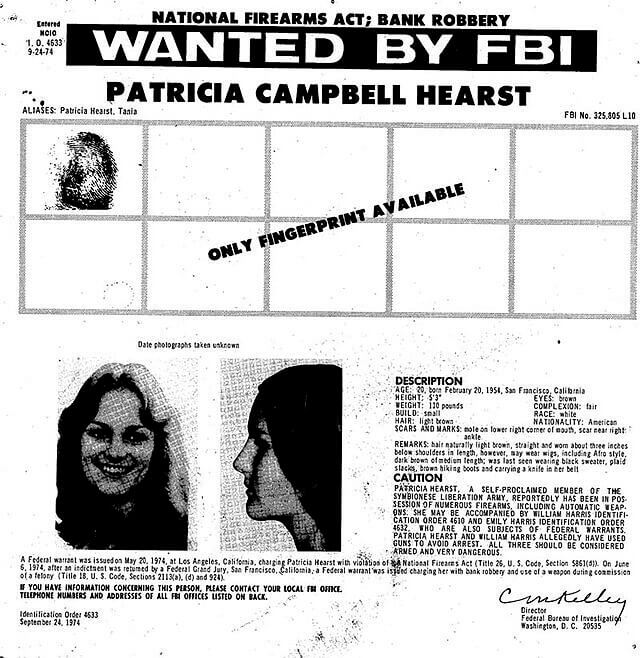 Given the time to consider her options, she changed her story. Hearst claimed that she was suffering from Stockholm Syndrome, a psychological condition in which a captive develops sympathy or affection for their kidnappers as a survival strategy. With this newfound story, she hired F. Lee Bailey, a well-known criminal defense attorney but also a well-known alcoholic. His mishandling of the case coupled with the evidence of her crimes landed her a sentence of 35 years in prison for bank robbery. After only serving two years, her prison term was commuted by President Jimmy Carter in 1979. Since her release, she has stayed away from a life of crime and has kept busy acting, writing, and being an award-winning participant in dog shows.

The Unabomber
April 3, 1996, marked the end of a two-decade investigation by the FBI. Also the most expensive in the Bureau's history, the hunt for the mysterious "Unabomber" ended at a remote cabin in Northern Montana with the capture of a disheveled 53-year-old man by the name of Theodore John "Ted" Kaczynski. Kaczynski was a highly intelligent man, exhibiting the signs of a potential genius by the age of ten. With an IQ score of 167, he graduated high school with honors at the age of 15 and accepted a scholarship to Harvard where the gifted prodigy continued his studies in the field of complex analysis. Once graduated, he accepted a position at the University of California as a member of the mathematics staff.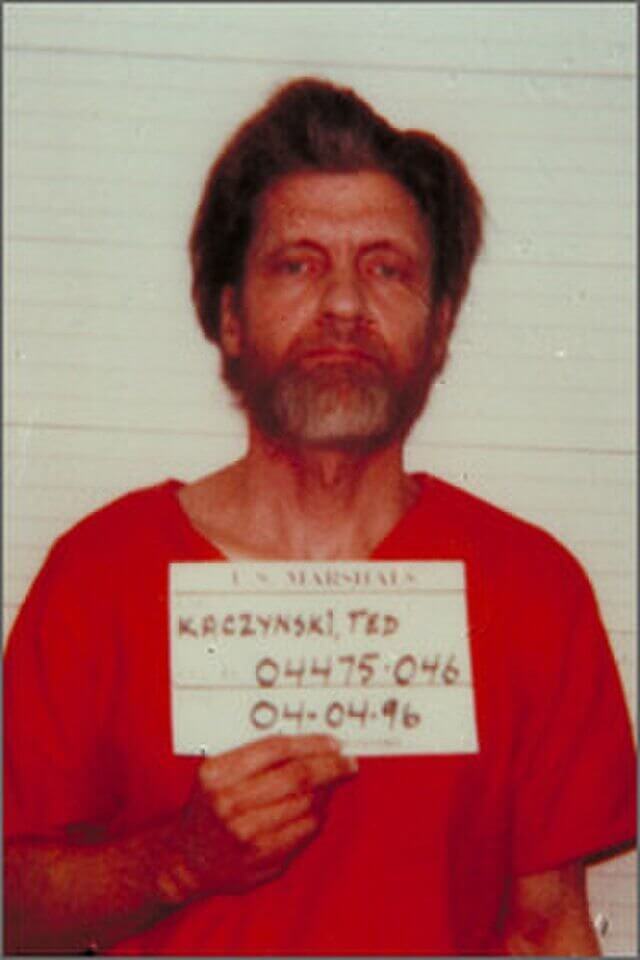 Kaczynski abruptly resigned from his teaching position in 1969 after becoming more and more withdrawn. He felt indignant toward modern-day society and its industrialization. He decided to move to a remote area in Montana where he could live off the grid and plot his revenge. From 1978 to 1995, that revenge would be enacted through a sophisticated mail bombing scheme that killed three people and injured 23 others. He sent a total of 16 bombs during his reign of terror, many of which contained cryptic clues. Dubbed the "Unabomber" by the FBI due to his victims being associated with universities and airlines, Kaczynski spent much of his time writing his manifesto titled "Industrial Society and It's Future" which expressed his grievances and motives for the bombings. In 1995, he provided a break in the case by sending this 35,000-word manifesto to the Washington Post and the New York Times. It was this manifesto that would lead authorities to his remote cabin in the woods.
The Unabomber
Kaczynski was estranged from his family, including his brother, David, but when David saw the manifesto in the paper he knew right away that it was the work of his brother and contacted the FBI telling them the location of the cabin in Montana. The remote cabin was small, only 10'x14', and lacked modern-day essentials such as running water and electricity, but it contained an abundance of evidence. Agents found a stockpile of bomb-making materials as well as over 40,000 handwritten pages of crime details and plots. Particularly disturbing, agents found a package containing a live bomb directly under his bed.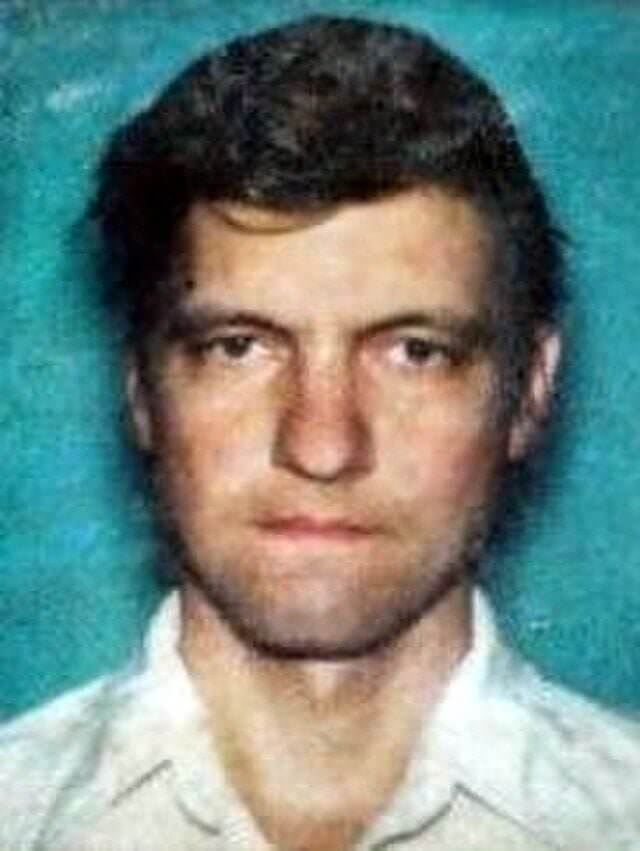 Once apprehended, a federal grand jury charged Kaczynski with ten counts of illegally transporting, mailing, and using bombs as well as three counts of murder. He was then examined by renowned forensic psychiatrist and criminologist Park Dietz, who did not deem Kaczynski psychotic but instead stated that he displayed "a schizoid or schizotypal personality disorder." Considered fit to stand trial, the defendant pled guilty to all charges in an attempt to avoid receiving the death penalty. He received eight life sentences without the possibility of parole and was serving them at ADX Florence, also known as the "Alcatraz of the Rockies," until he was transferred to North Carolina due to his declining health and he was found dead in his prison cell on June 9, 2023, at the age of 81 after reportedly taking his own life. 
Public Enemy Number One: Al Capone
Alphonse Gabriel Capone was one of the youngest and most powerful gangsters to ever come out of America. He rose to power during the prohibition era and remained in charge of the Chicago underground scene for many years before going to prison at the age of 33. So, how did this "Robin Hood" turn into "Public Enemy No.1"? 

Growing Up in New York and Living Alongside Other Immigrant Families
Al Capone was born to Italian immigrant parents and his household was said to be rather chaotic. Growing up, Capone shared a small apartment with his parents and his seven other siblings, which made individual attention to each child rather scary. This could explain why Capone sought attention in unhealthy ways at school.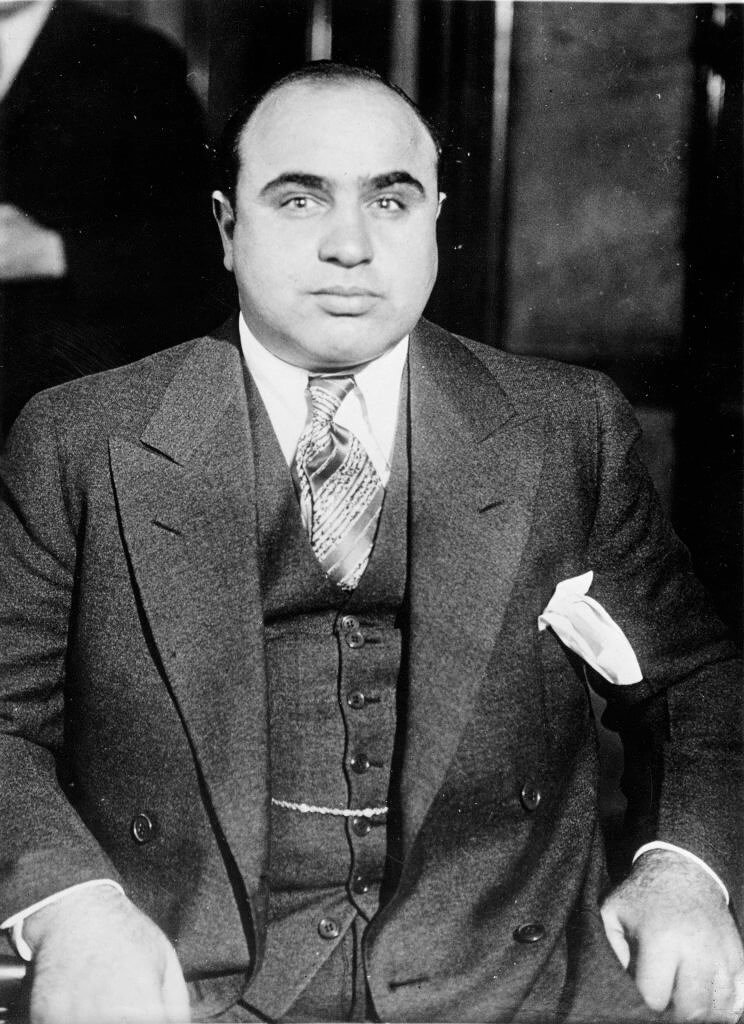 Capone's family lived alongside many other immigrant families and there lies power in numbers. Not entirely an outcast, Capone had his fair share of immigrant friends all living together around Brooklyn. The Catholic school most of them attended proved Capone to have developed some serious issues with authority figures.
Problems With Authority and His Love For Baseball
Capone was expelled from his very strict Catholic school at the age of 14 after punching a teacher in the face. It clearly didn't phase him and he quickly left school behind to set off on different ventures, working odd jobs to contribute financially to the household. From working in candy stores to managing bowling alleys, Capone was a jack of all trades.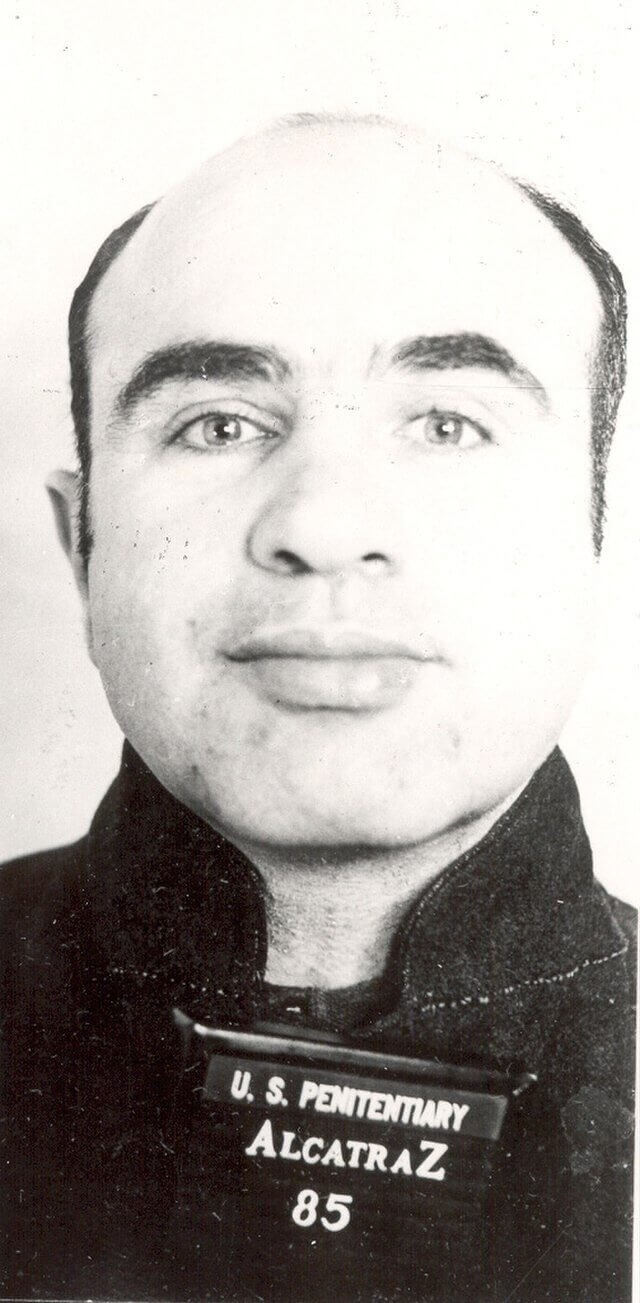 He even spent some time playing baseball semi-professionally for quite some time and continued dabbling in this sport throughout the remainder of his life. Capone spent the rest of his teenage years out of trouble until one day when he met the man who radically changed the course of his life 
Bad Role Models and His Transition Into Gang Life
Johnny Torrio would become almost like a father figure, a man Capone looked up to. Torrio held all the qualities of a confident man, but he was so much more than that: he was a notorious gangster. He taught Capone everything he needed to know to walk in his footsteps, giving him a taste of what it felt like to get his hands on real money and the power that came with it.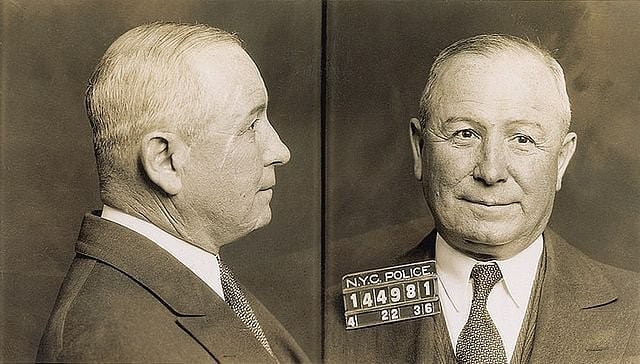 Capone was tougher than the rest and quickly became part of his first small-time gangs such as the Bowery Boys and Junior Forty Thieves. Due to his flamboyant nature, thirst for power, and money-hungry zest for life, Capone quickly joined the Brooklyn Rippers and soon enough moved up to the Five Points Gang. Capone chose gang life, money, women, and power.
The Night "Scarface" Was Born
Frankie Yale also became one of Al Capone's role models during this time. Yale chose Capone to become the bouncer at Harvard-Inn due to Capone's aggressive nature and fiery temper. Unfortunately, Capone also had a big mouth and no idea when to keep it shut. His big mouth landed him the scar on his face and the nickname that stayed with him for the rest of his life.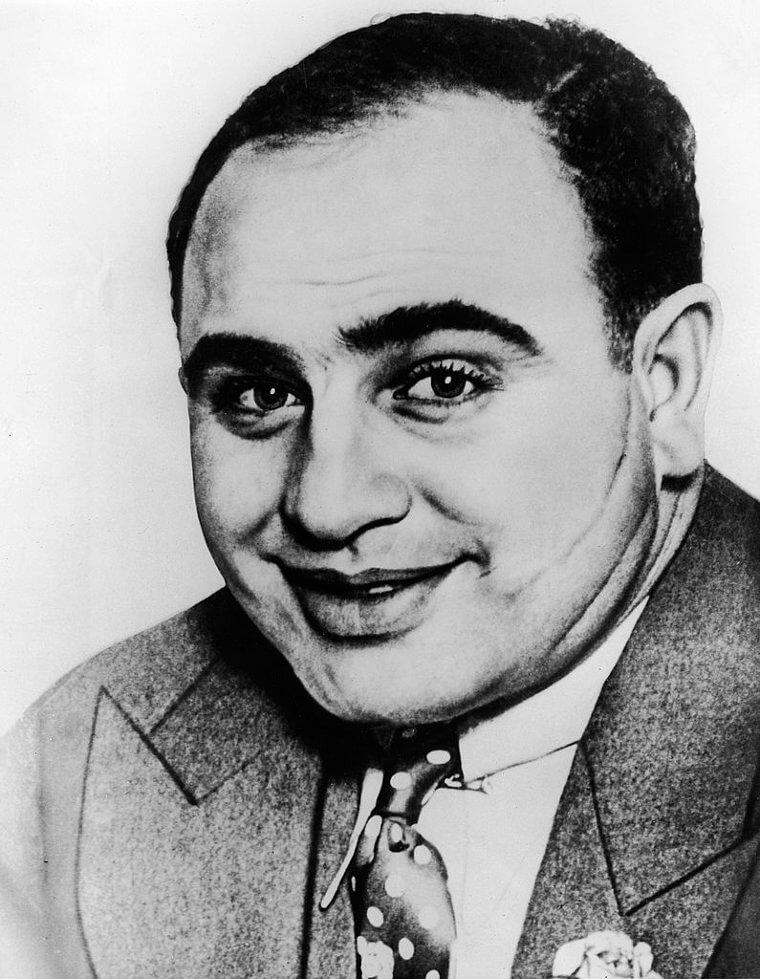 One night at the New York-based club, Capone had some ugly things to say to a woman as she entered the premises, not knowing she had her knife-carrying brother to defend her. Frank Galluccio quickly came to his sister's defense by slicing Capone three times across his face. The nickname "scarface" was born right there and the nickname stayed with him. One could often see Capone hiding the left side of his face from then on.
He Met His Wife, Got Married, and Had a Son
Capone often lied about the scar, saying it was an old WWI injury that left its mark. As much as he disliked it, he found a woman who loved every part of him. Mae Josephine Coughlin was an Irish teen who bumped into Capone one night on the streets of New York. The two fell head-over-heels in love with each other and not too long after, welcomed their son, Sonny Capone.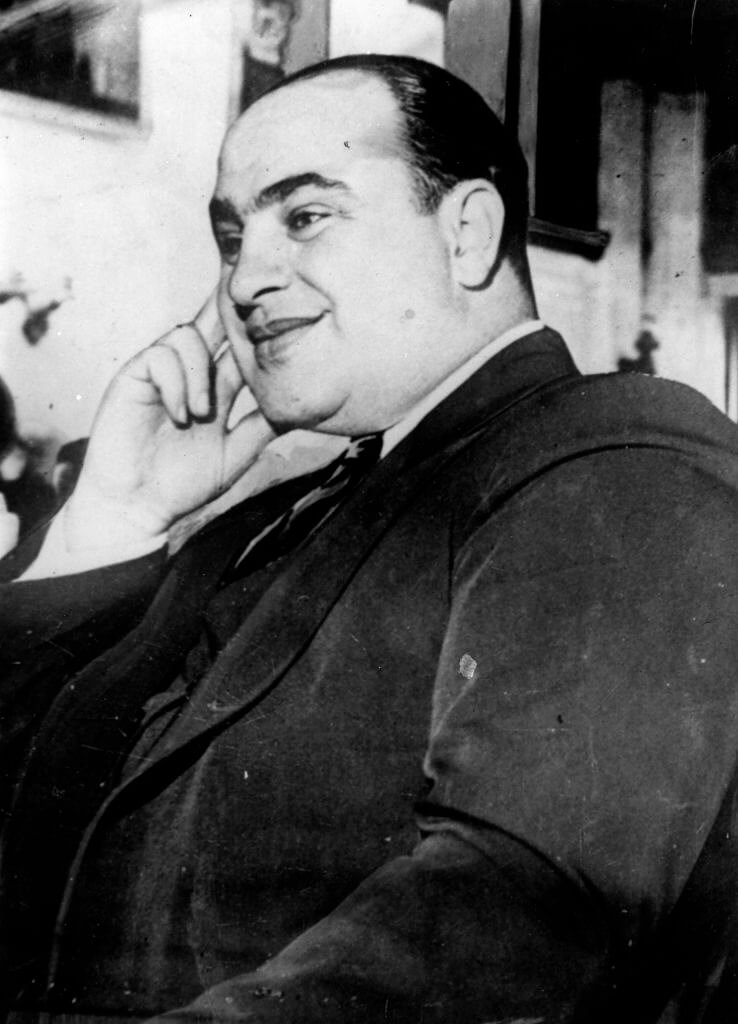 They were still teenagers and Capone was only starting to figure his life out, yet, he committed to marrying Coughlin three weeks after the birth of Sonny with their parents' blessings. As far as Mae knew, Capone was a loving father who worked hard to give them the best life. She had no idea what a womanizer her husband was, constantly cheating on her while away on "business" trips. 
It Was His Love for Chicago Nightlife That Killed Him in the End
Capone tried his best to keep work life and family life completely separated, and despite being a womanizing gangster, was surprisingly loving towards his wife and son. Unfortunately, loving family life took a turn when Capone was offered a job he couldn't refuse. Besides, he was out to become the best, most powerful, and richest man the gang world has ever seen (in fact, his net worth would eventually reach $100M - equivalent to ~$1.5B today). Johnny Torrio, Capone's old mentor, saw great potential in him.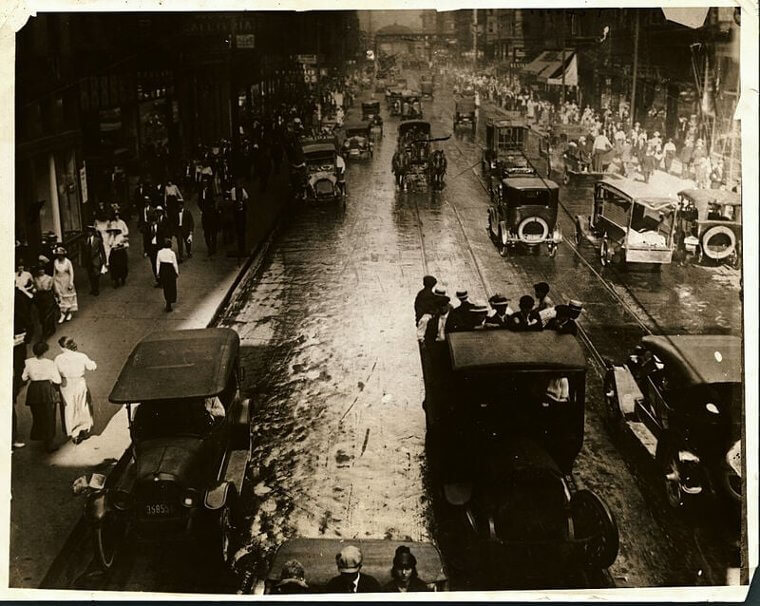 Before employing Capone, Torrio was recruited by James "Big Jim '' Colosimo to come work for him as an enforcer in 1919. Torrio then asked Capone to come to join him out West. Chicago became home for Capone who then made it his kingdom. There, Capone found his fortune but it was all for nothing as he also contracted syphilis - the disease that would ultimately kill him in the end.  
The Death of Colosimo Now Put Them in Charge
During the time he contracted syphilis, Capone was at his prime, still young, eager, and full of lust for success, women, and money. He was now, more than ever, ready to take over the world. In 1920, "Big Jim'' was found shot dead outside his restaurant. No one could prove who had put the many bullet holes in him, but there was talk of a new kid in town. That kid was none other than Al Capone.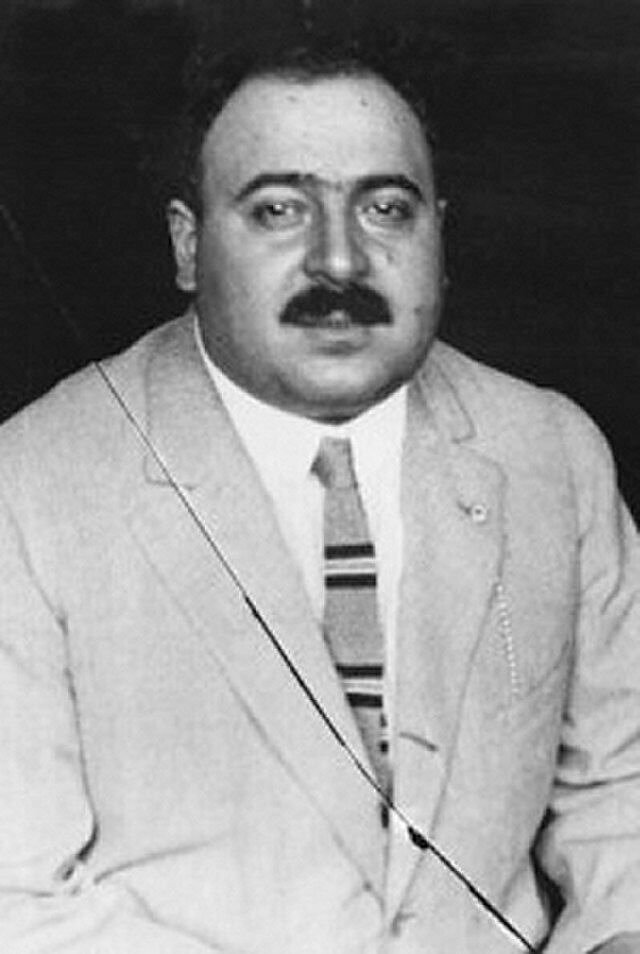 Torrio, Capone's mentor, initially second in charge, was now running the whole operation after having to "conveniently '' take over after the death of his boss. It was because of Torrio and Capone working beneath Colisimo that the speculation started about who his killer was. Enthusiastic gangsters wanting to get to the top proved worthy enough reason for police to begin having their suspicions about them.
Bootlegging - Capitalizing on Prohibition
Big Jim had always been very against the illegal trade of alcohol during the prohibition era in the United States. Now, with him out of the way, Torrio and Capone saw ways to capitalize on the illegal trade. They saw dollar signs and that is what they got, as Prohibition created an opportunity for gangsters to make top dollars. Despite intense police enforcement, people like Torrio and Capone were able to get away with it.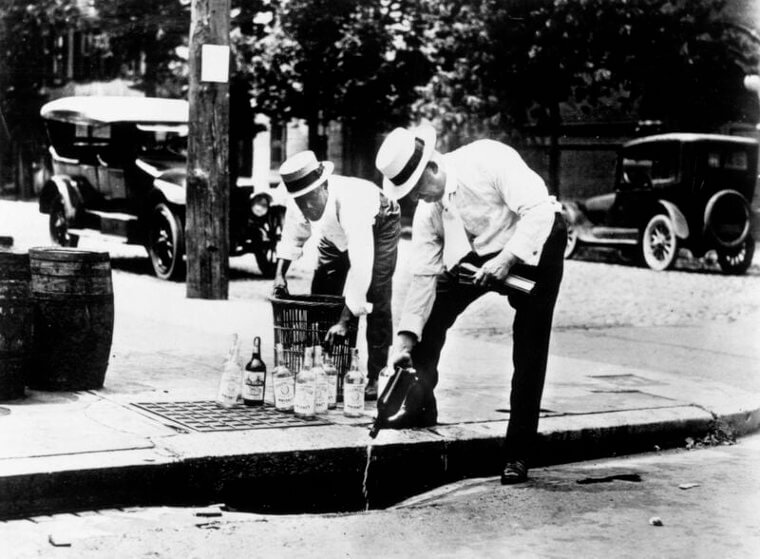 There is still no proof to this day of who killed Colosimo, but all guns point toward Torrio ordering the hit and Capone himself pulling the trigger. It was at this point that Capone was no longer a small-time gangster - he had become part of the big players and was raking in more money than he knew what to do with. 
Torrio and Capone Made Themselves Walking Targets for Rival Gangs
Johnny Torrio now ran the biggest gang in Chicago with Capone operating right beneath him as his sidekick. Their initial plan was to stay civil, be nice to their rival gangs, and operate in a way that benefited everyone in some way.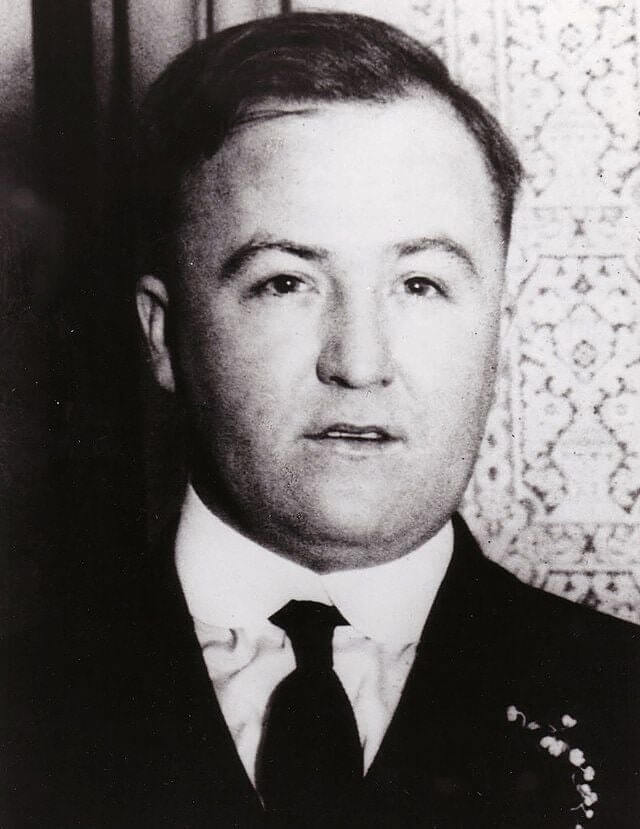 But where there is big money involved, there is bound to be a blood spill over who gets it. One of their biggest rivals was Dean O'Banion and his gang known as the North Side Gang. Things got completely out of hand when Torrio and Capone took O'Banion out in the hopes to relieve the threats to their position. This only made things worse. They were now targeted as all rivals were out to get them.
Capone Came Out Unscathed After North Side Gang Ambush
After gunning down O'Banion at his flower shop in 1924, things only became much worse for Capone and Torrio. The two men had orchestrated the hit in the hopes of getting rid of enemies and possible future competition. Hymie Weiss, who would become known as "the only man Al Capone feared", took over as leader from O'Banion. He was not only a fierce gang leader but he was also driven by hate and a taste for revenge. In January 1925, a big group of North Side Gang members ambushed Capone on a random street corner after following his tracks.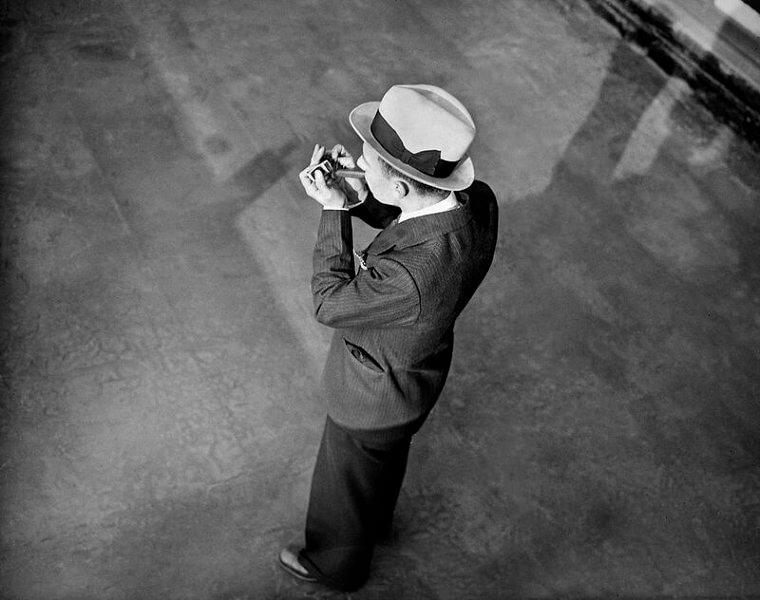 The attack came out of nowhere and luckily for Capone, no harm came to him, aside from being startled. As much as he walked away uninjured, it scared him tremendously. After they tried taking Capone out, they went after Torrio next, but Torrio didn't come out as lucky.
Handing Over the Reigns
While returning home from a shopping trip, only 12 days after the attack hoping to claim Capone's life, Torrio was shot several times. The ordeal left him clinging to life and very shaken up. It was evident that his days were numbered as the leader of the flourishing gang of Italians. As sad as this was to many who respected and looked up to the father figure in their lives, this meant doors were opening for Al Capone.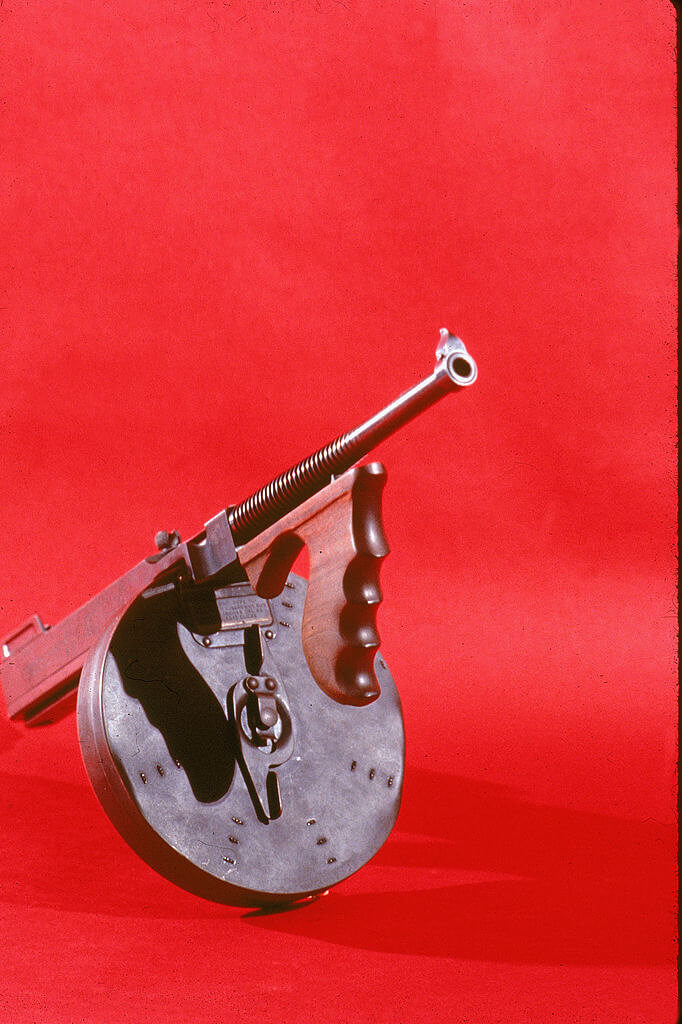 The event scared Torrio too and made him reevaluate his whole life, ultimately realizing that bootlegging money was not as important to him as his own life. Torrio decided to pass over the torch of leadership to Capone, his right-hand man. Twenty-six-year-old Capone was now in charge of the biggest bootlegger operation in the country. And it would soon become evident that he was ruthless, without the same considerate tactics as Torrio.
Capone Was an Aggressive Businessman Who Showed No Mercy
After Capone took the reins, the Chicago outfit started making more money than they had ever seen before. This was accomplished through Capone's aggressive and brutal tactics. Chicago became a very dangerous place to live in during the 1920s as he stopped at nothing to grow his empire. This meant blowing up a venue that refused to purchase beverages from him. The explosion claimed the lives of more than 100 people. Sadly, this was just the beginning of his wrath struck upon those who refused to do business with him.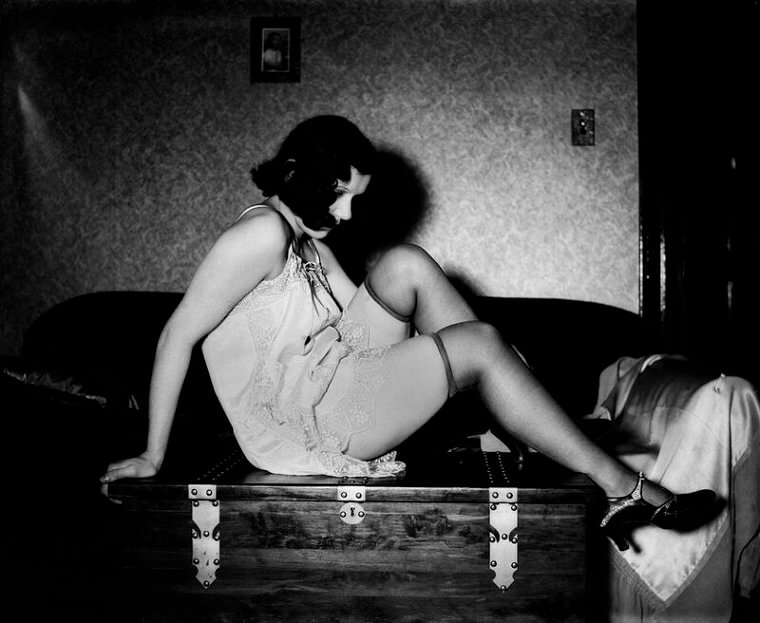 Capone continued to implement violence in his dealings and eventually found more ways of creating an income. No longer focused only on selling alcohol to speakeasies, Capone and his men now owned and ran brothels too. They were all under the protection of the Chicago Outfit. 
Capone's Infidelity Took Its Toll on His Wife
Al Capone had only a few things on his mind: women, money, and power. He worked hard to afford and maintain the extravagant lifestyle he was living, choosing flashy items such as expensive jewelry, over-priced gourmet food, stylishly custom-made suits, and entertaining an array of beautiful women. As magical as it was to him at the time, it wasn't sustainable. He only ended up hurting those who were close to him, particularly his wife Mae, and his son, Sonny Capone.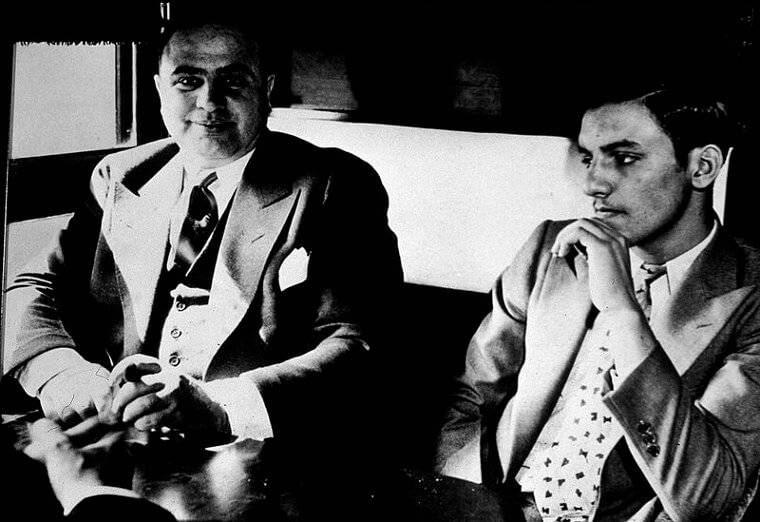 Mae tried hard to turn a blind eye but the stress and humiliation she faced took its toll on her. As much as Capone loved his wife, it wasn't enough to stay faithful to her. Capone was a womanizer and as much as he also tried hiding his escapades with other women from his wife, the truth always reveals itself. 
Mae Told Their Son About Her Broken Heart Due to Al Capone's Disloyalty
Mae and Sonny Capone always stayed home while Al was out objectifying women, killing off the rivals and those who refused his business, and attending to business and his flashy lifestyle. Mae and their son very rarely saw anything Capone did in the "other world". Unfortunately, Capone was good at a lot of things, but not at resisting temptation from other women.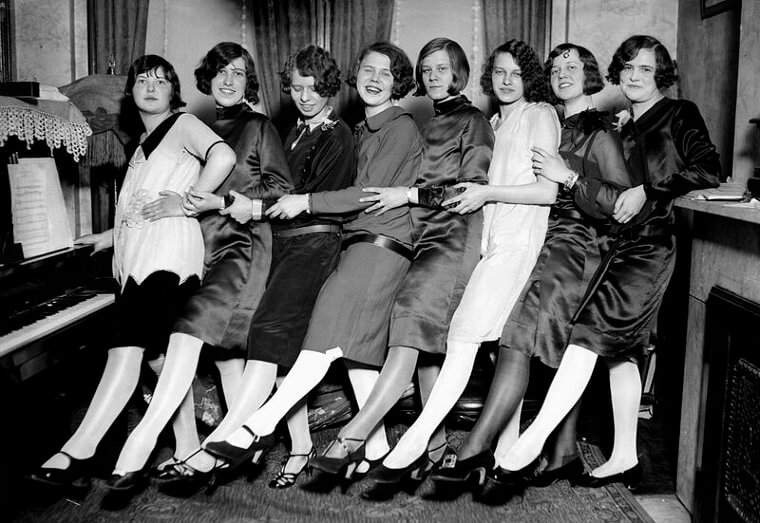 Mae found herself at a breaking point and even confessed to her son the terrible heartache he had caused her by telling her son never to do what his father died and break a woman's heart. Mae's hair had gone completely gray at only 28 and everyone could see the anguish she experienced being Capone's wife. "Don't do what your father did. He broke my heart," she said.
He Became a Celebrity
As much as his actions broke Mae's heart, it wasn't enough to stop Capone from continuing on this path he had created for himself. He was becoming a celebrity, an icon, a famous man, partially thanks to the aura around him that demanded respect and attention. He had many admirers and the American public couldn't get enough of him. Hollywood became obsessed with him even more so in later years.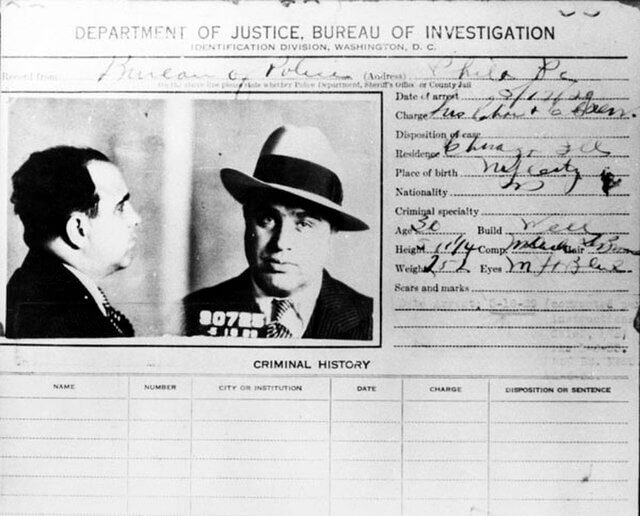 He was an arrogant leader who people could not help but be attracted to: "I am just a businessman, giving the people what they want." He knew that everyone was very aware of his affairs, but when questioned about it, he would divert the line of questioning with confidence and ease.
Gang Wars - An Eye for an Eye
As glamorous and exotic as his lifestyle seemed on the outside, the lights were about to shine on the dark dealings behind the scenes. Tension rose to an all-time high between Chicago Outfit and the North Side Gang and another member went missing. It was Capone's longtime driver, a member of the Chicago Outfit. Police managed to find his body and it became evident that he had suffered severely through torture, eventually leading to his death.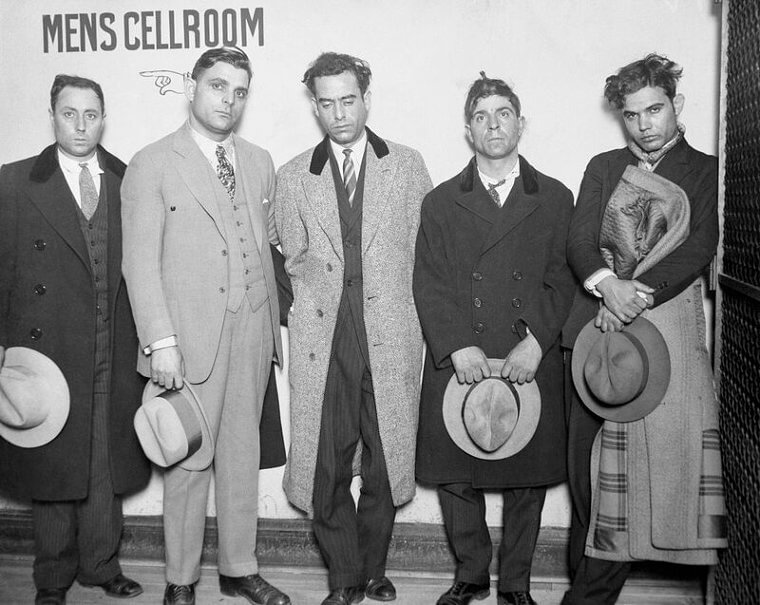 This only made matters worse which forced Capone to want to hit back in rage. He ordered his men to take Hymie Weiss out but the mission failed; Weiss survived and the bloodshed only escalated from there. 1926 proved to be the height of the revengeful hits between the gangs.
The Hit on Weiss Failed and Only Made Matters Worse
It was during September of 1926 that Capone heard the commotion outside of his headquarters at the Hawthorne Inn. Not realizing then that that was exactly what the rivals wanted him to do, he came closer to his window to do some inspecting. A car filled with North Side gang members opened fire on him and sent bullets flying through every wall of the building. Bullets went everywhere except where they really wanted them to go: through Alphonse Gabriel Capone, their greatest threat.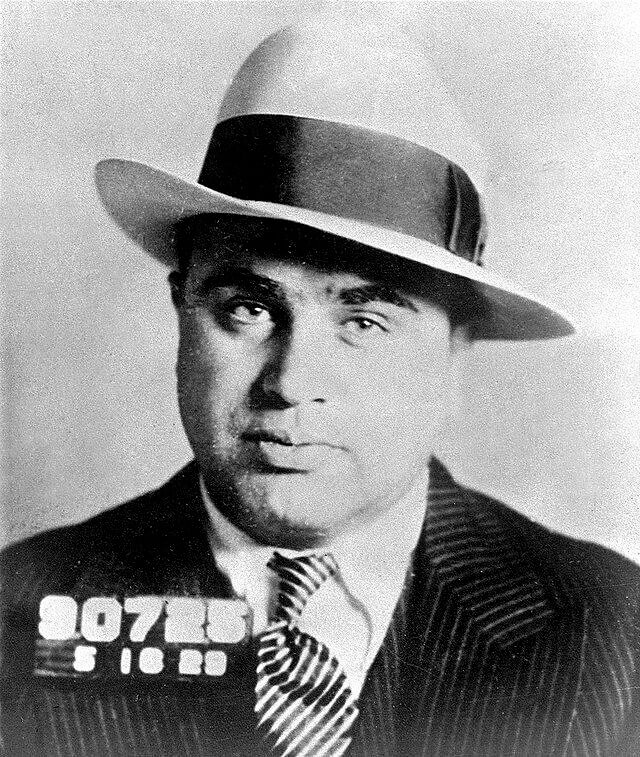 As much as he was ruthless, he still wanted to live and called for a truce. With so much water under the bridge, Weiss refused his proposal and promised to fight Capone until his death. Well, his death came because as they all knew, Capone does not take lightly the refusal of his business dealings. 
When History Repeats Itself
Capone's men retaliated against Weiss's initial refusal of the truce proposal and gunned down hymie Weiss, sending him to his grave just like Capone did two years earlier with Dean O'Banion. Now, Capone was deeper in the mess than ever. Of course, this only infuriated Weiss's lieutenants even further and the bloodshed continued through bullets and more rage.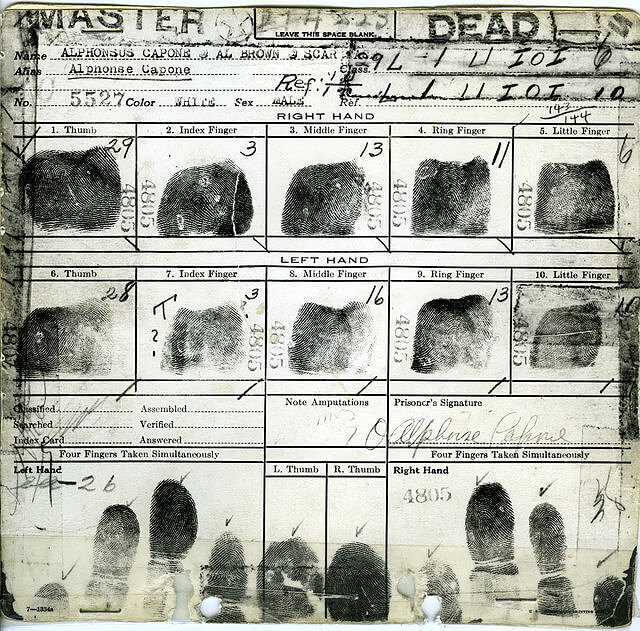 The North Side Gang captured one of Capone's closest friends and the owner of the Hawthorne. Everything was slowly caving in on Capone - his legacy started to crumble and he soon started to turn into a nervous wreck. He developed an acute sense of paranoia but still managed to stay ahead of the game.
He Was Very Careful About Covering His Tracks
Capone stayed ahead and on top of things by covering his tracks. He was almost untraceable due to not registering property to his name, and by constantly moving. Capone and his crew were able to hire out an entire train car within a second's notice. They would skip town in the blink of an eye and spend time hiding out anywhere between Miami and Arkansas while turning their hideouts into luxury getaways.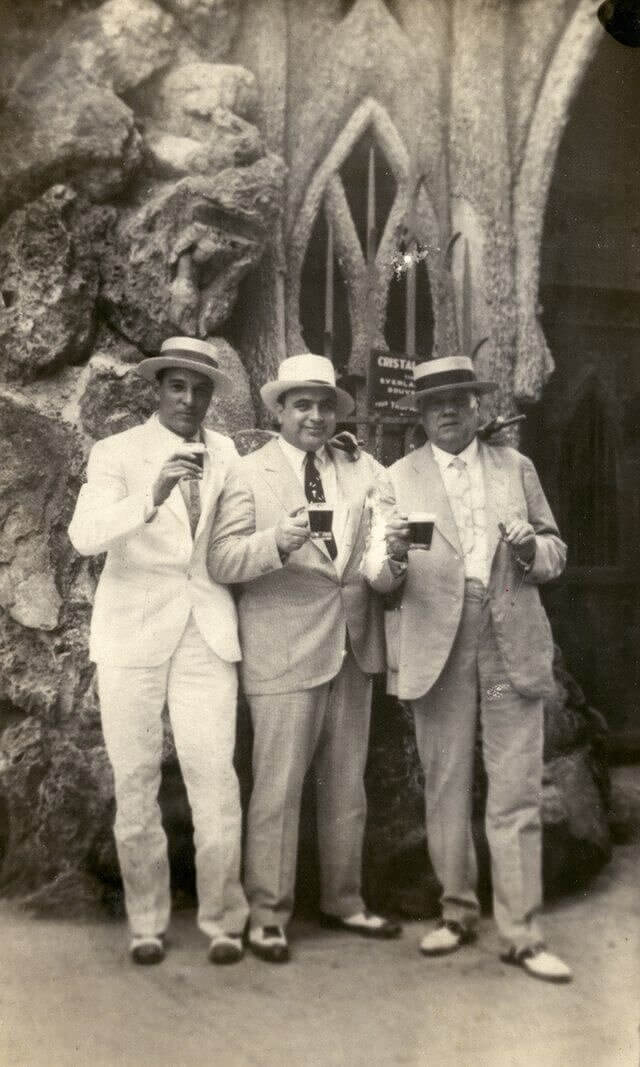 Capone had a reputation for being ruthless, but he was the boss, and rightfully so. He didn't leave room for failure, especially when it came to getting caught and losing everything he worked so hard for. Illegal or not, he was dedicated to always being one step ahead of everyone else. 
Capone's Chef Exposed Aiello's Plans
With such a large number of enemies of Capone to choose from, Joe Aiello joined forces with the worst of them in retaliation against Capone and the Chicago Outfit. Capone had many hitmen trying to take him out under direct orders of their bosses, but Aiello was different in the sense that he preserved and stayed committed to killing Capone. He hired many men in 1927 and even tried to get inside and get one of Capone's closest companions to take him out by putting prussic acid in his soup.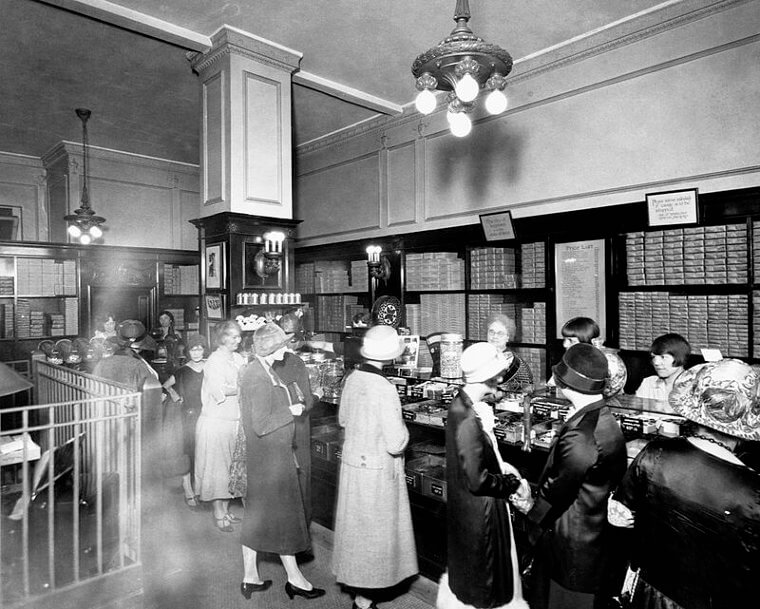 Capone's men were more loyal than he expected, perhaps out of fear of his wrath. Either way, it was hard to get anyone to turn on Capone. The chef ultimately exposed Aiello's plan, making Capone send a car full of men to Aiello's brother's bakery and shoot 200 bullets into the place, badly wounding the brother. 
Aiello's Gunman Cracks Under Interrogation
Joe Aiello wanted blood and kept coming at Capone no matter what. He offered awards of up to $25,000 in cash to anyone willing to take Capone out. Everyone dumb enough to take Aiello up on the offer was killed after failing to take Capone out, creating the illusion that he was invincible. This only added more fuel to the fire and Aiello grew even more aggressive in his approach.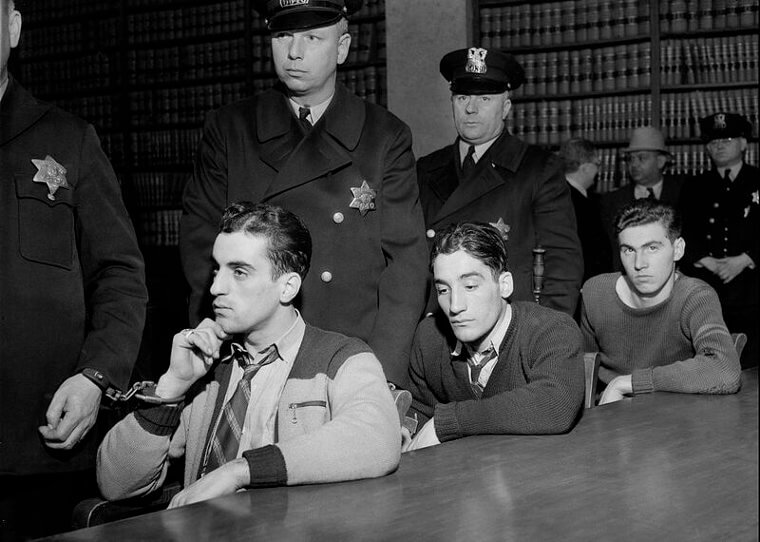 After much back and forth, revenge streaks and planning, an "anonymous" tip-off had police crawling all over Aiello's properties, leading to the arrests of many of his chief lieutenants. Aiello's men didn't display the same level of loyalty as Capone's men and one of Aiello's gunmen cracked under pressure revealing that he had been hired by Aiello to take out Capone. The police were the least of Aiello's worries now that the truth was out.
Aiello Pleaded For His Life
During Joe Aiello's arrest, he was safe in jail because word had spread about his plots to take out the powerful Capone. Capone's men were strategically placed outside the prison waiting for Aiello's release. They didn't even try to hide it - it was very obvious what the future held for Aiello. As long as Aiello was inside the prison walls, he was safe. Two of Capone's men even tried breaking into jail to take Aiello out but were caught and arrested, and placed right next to Aiello's cell.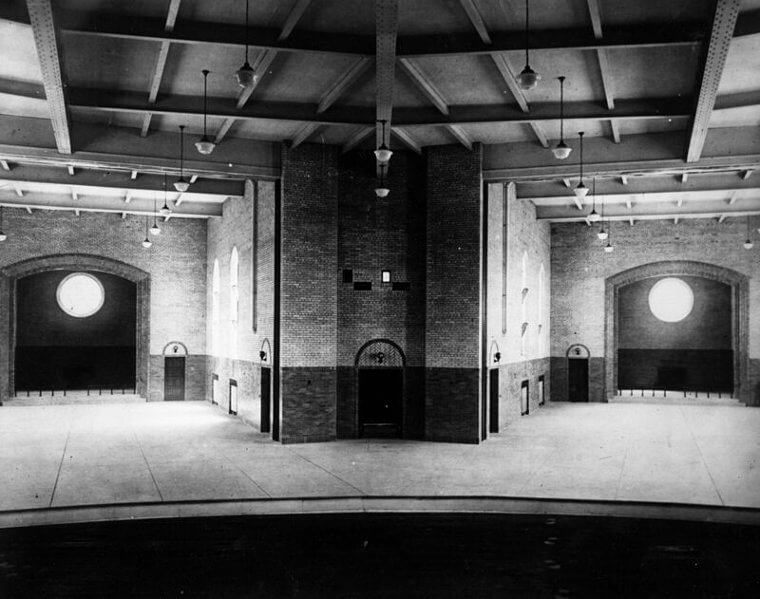 "You're dead, friend. You won't get up to the end of the street still walking" - Aiello was petrified and pleaded with them, stating he would sell everything he owed and left Chicago for good. Aiello was granted his wish and fled as soon as he was escorted out and away from prison and Chicago forever. 
Capone Dealt With Politicians the Same Way He Dealt With Gang Rivals
Due to Capone's scaley maneuvers to hide his tracts, he made the perfect candidate for politics. Capone backed any politician who would look past his bootlegging activities, which meant a fat paycheck for them. Capone handed $250,000 over to William Hale Thompson, a very corrupt politician, for his campaign to become mayor. After winning, he allowed Capone to run his bootlegging operations across Chicago as they pleased. After the death of Thompson, officials found $27 million in his safety deposit box - we all know where that "unaccounted for" cash came from.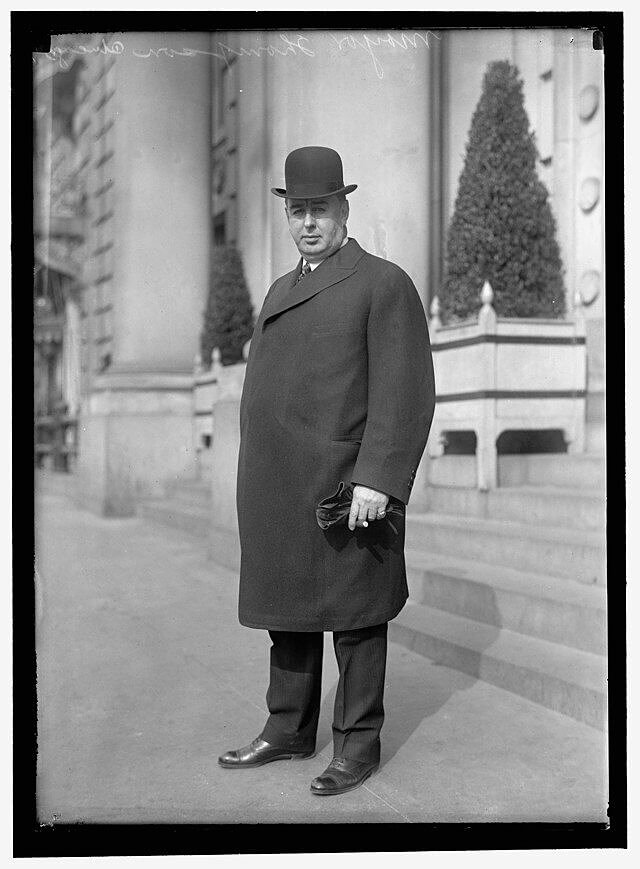 Capone was a politician just like the rest and dealt with the subject just like he did his gang business: with ruthlessness. Capone took out the people against him: Joe Esposito in 1928, and any other politicians opposing Capone's plans. 
North Side Gang Still a Thorn in Capone's Side
Capone had law enforcement eating out of the palm of his hand, but his luck was about to run out.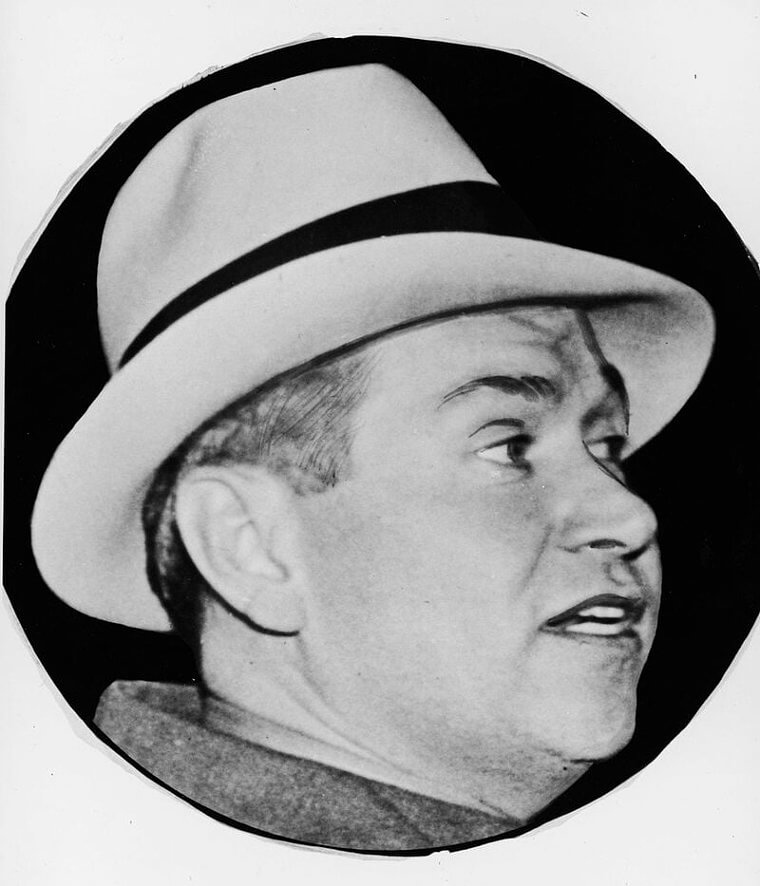 Aside from bribing politicians, owning the cops, and bootlegging, the North Side Gang was still there lingering in the back. Their new leader was Bugs Moran and he took over making life hell for Capone. As Valentine's day was approaching, Capone decided to send Moran a little message.

Capone's Message Goes Too Far
Capone sent his men dressed as officers to raid one of Bugs Moran's warehouses on Valentine's Day 1929. They got the seven men inside to line up against a wall when the "officers" opened fire, causing a massive blood bath. It was dubbed the St. Valentine's Day Massacre and the news accompanied by gruesome images flooded the city.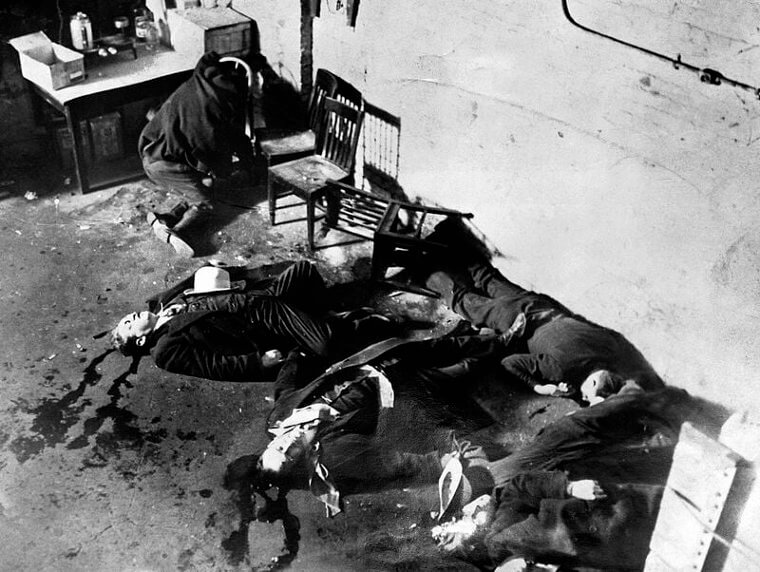 The people who once loved Capone and saw him as a celebrity icon now were slowly becoming afraid of him, perhaps even disgusted. Though Capone's actions opening soup kitchens and helping during the Great Depression had given him a "Robin Hood" reputation, the scene of the massacre was too gruesome to ignore, and even though Capone went into serious damage control mode after that day, people had grown tired of his killings and havoc.