One of the best things about Christmas is the presents. Remember the days of waking up early to be the first one to open their presents? Plus, the food. Oh, the food. Stuffed turkey with all the sides you can dream of. Don't forget the deserts either. But that is one side of Christmas. People can get up to some crazy antics and also wear some ridiculous and funny clothing too. Join us as we show you some of the craziest Christmas cards people have come up with when they're in a festive mood.
All the Presents Are Mine
This card is a perfect example of what people get up to. This little kid decided that he doesn't want to share his presents, especially with a new baby in the family. So please Santa, take back this bundle of joy.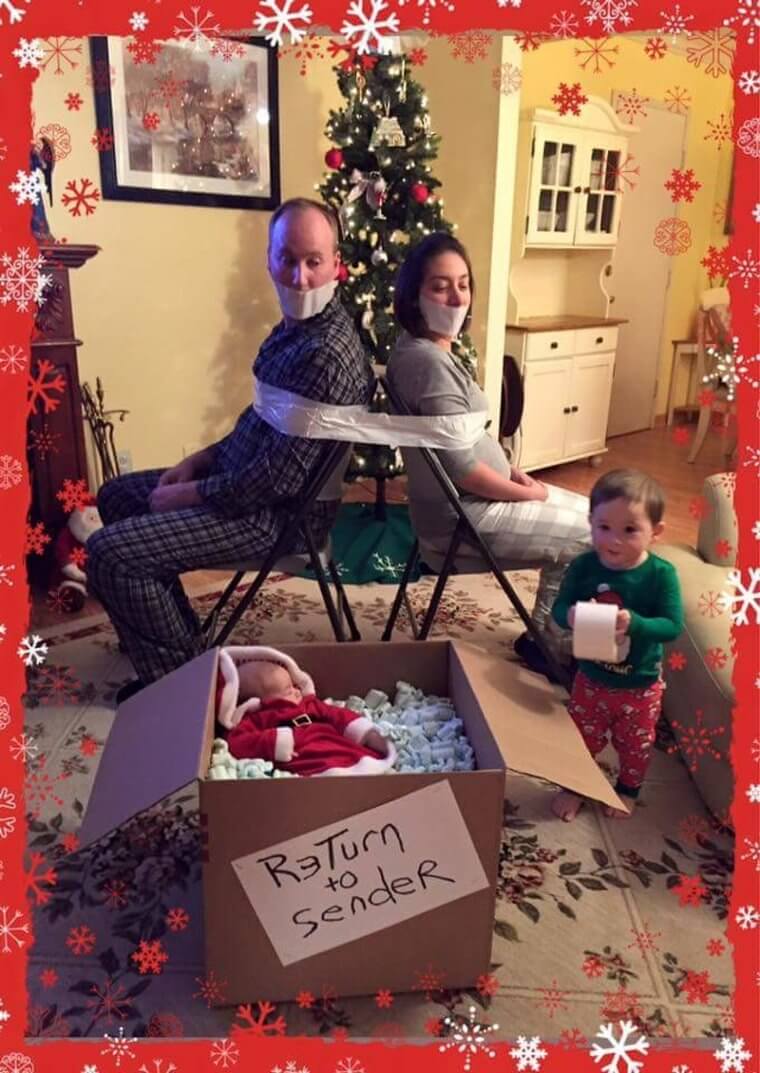 Nobody Wants to Be Alone on Christmas
Christmas is about family. It is the perfect time of the year for the family to have a great time together. Unfortunately, some people don't have that luxury. This is a great example of what people get up to when they have too much time on their hands over the festive season.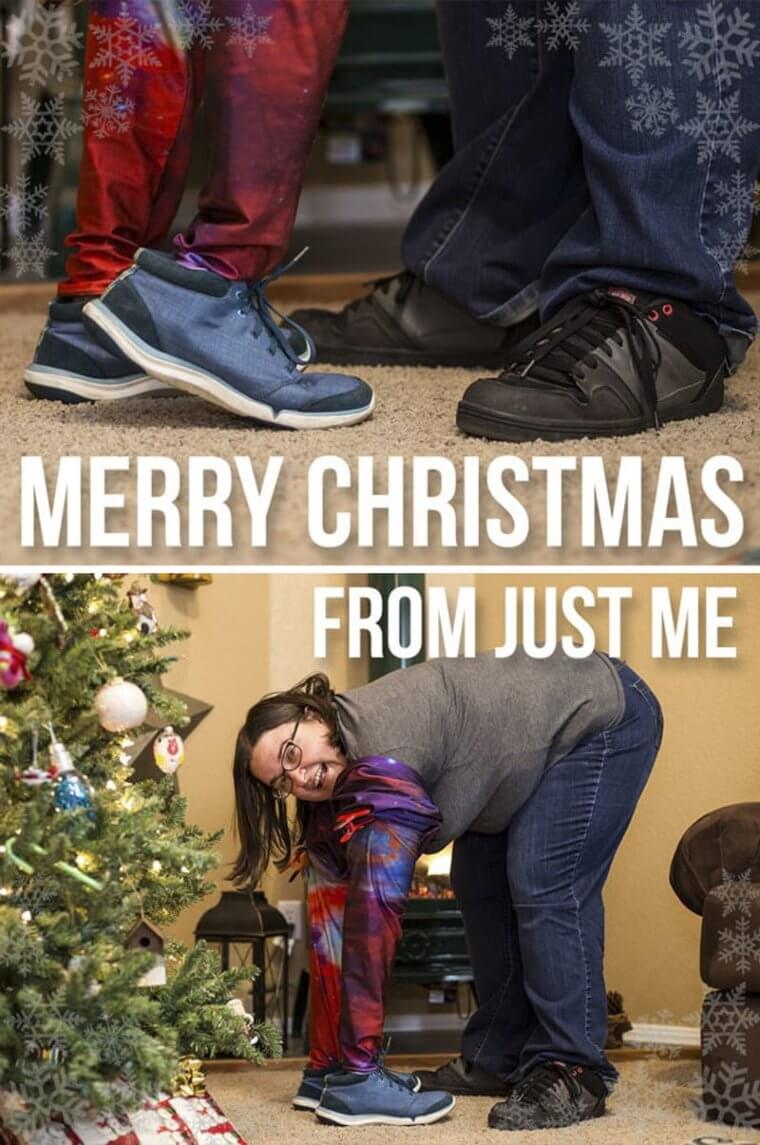 This lady has had enough. Instead of spending it alone, she and her hands ended up making the perfect couple. At least she doesn't have to share her presents with anyone.
This Is a Dogs Only Christmas Santa
What's Christmas without the pets? If you have pets then you know that they all have their quirky characteristics and they also become part of one's family. Most families would have either a dog or a cat. But sometimes, you'll find that they have both.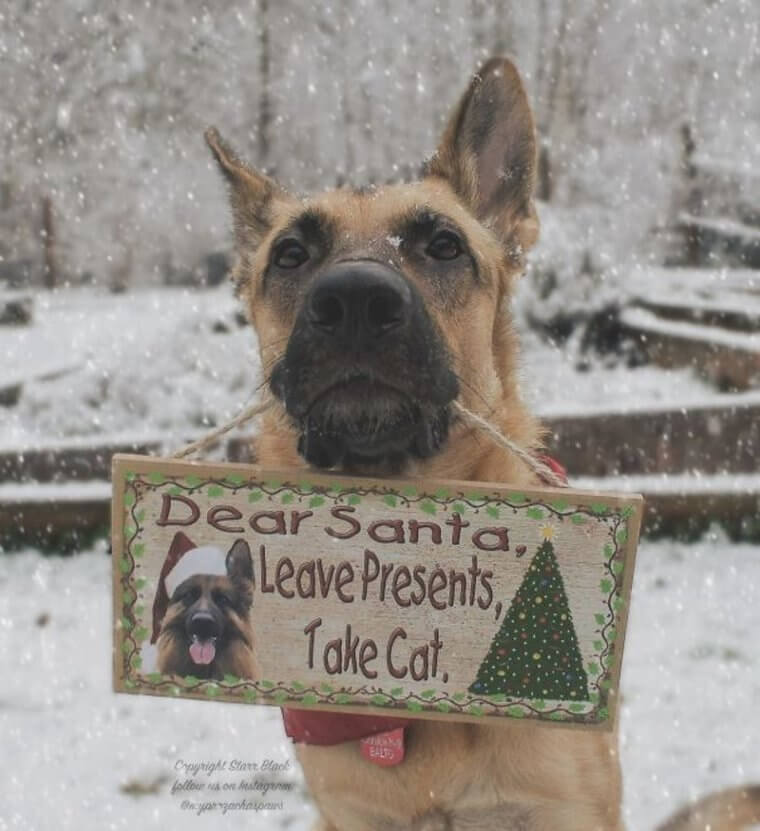 This card depicts a dog that has had enough of the cat. The dog decided to send a message to dear old Santa. The dog wanted Santa to take the cat with him when he drops the presents off. 
Christmas Cards of the Future
Life, as we know it has changed so much in the last fifty years. The way we celebrate Christmas has also changed a bit. We still celebrate it with our families and friends, but the thing that has changed the most is the ways we can get the Christmas message delivered to our beloved ones.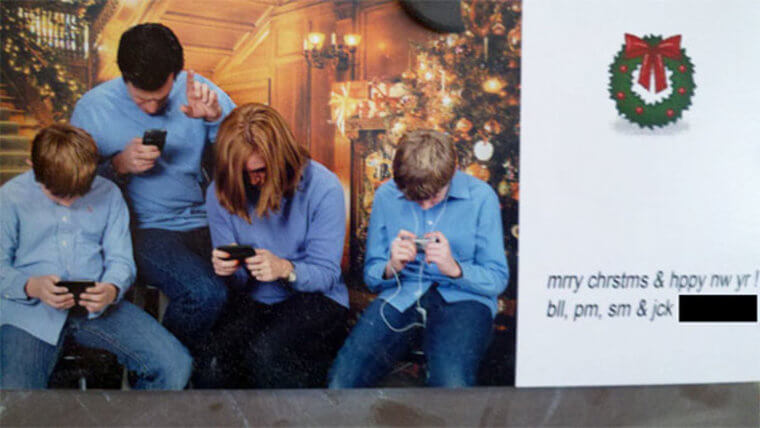 This card shows us how family time has changed especially when you are trying to wish someone a happy Christmas. This Christmas message has become exactly that, a message over a text. We would love to know what will happen with Christmas over the next hundred years seeing how everything is slowly going digital.

For All the Home Alone Fans
Macaulay Culkin became a household name in the 90s. If you have no idea what we are talking about then let us break it down for you. He played a boy that was accidentally left home alone on one of the most important holidays of the year, the Christmas holidays. This comedy shows how he deals with the burglars trying to enter his home.

This Christmas card has that whole movie in mind. The Smith family stepped up to the plate when they made this Christmas card. They even had their son do one of the most iconic poses for the card. Both hands were on his cheeks. Classic pose.

Snowflake's up Close, Human Style!
There are a lot of parts of the world that become winter wonderlands over the Christmas holidays. Snow as far as the eyes can see. Making snowmen, having snowball fights, and having heart-warming meals are what we think of when it's Christmas time. But have you ever seen what snow looks up close, really close look?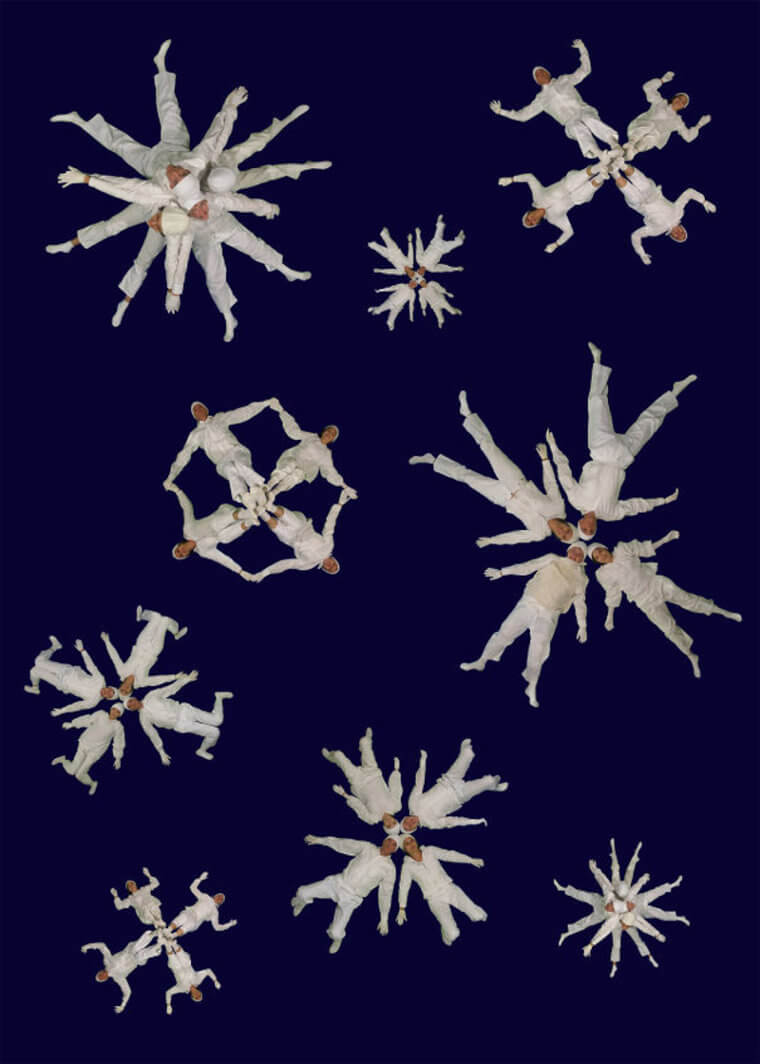 They are beautiful when you have a microscopic look at a snowflake. What this card is doing is making snowflakes from humans. What a great idea for a Christmas card and the lengths that the people had to go through to make it happen. Great job people!

And Who Can Forget About Emily?
There is no better time than Christmas to have a big family reunion. It's a time to tell stories of times past. It's a time for laughter and memories. And the best way to preserve those memories is by taking lots of photos.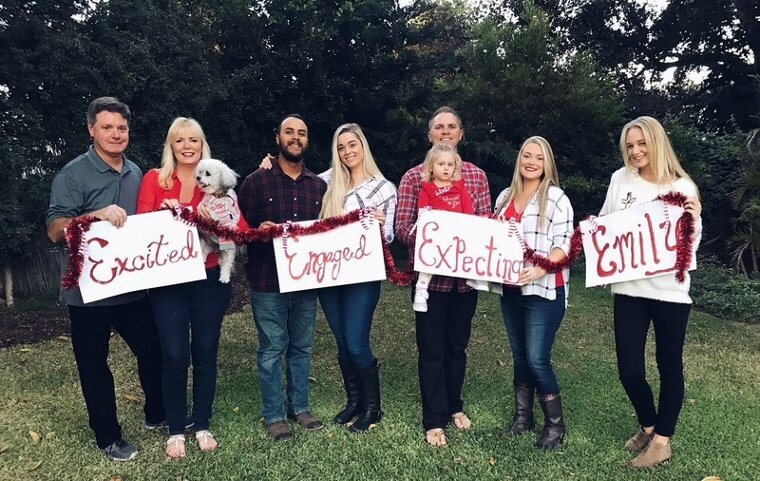 This family did exactly that. They had a big family photo with all the members showing a card with how they feel or where they are in their lives. It all had to start with the letter "E". Everyone had something to celebrate or announce. From being excited to expecting a baby. Emily was just happy to be there and celebrate with her poster saying her name. Nice one Emily.

Hey! There Is Something Wrong With This Card
One thing that stands out over Christmas is how inventive people can be when trying to tell a story. Some people would get all the Christmas decorations and figurines and display them all over their houses.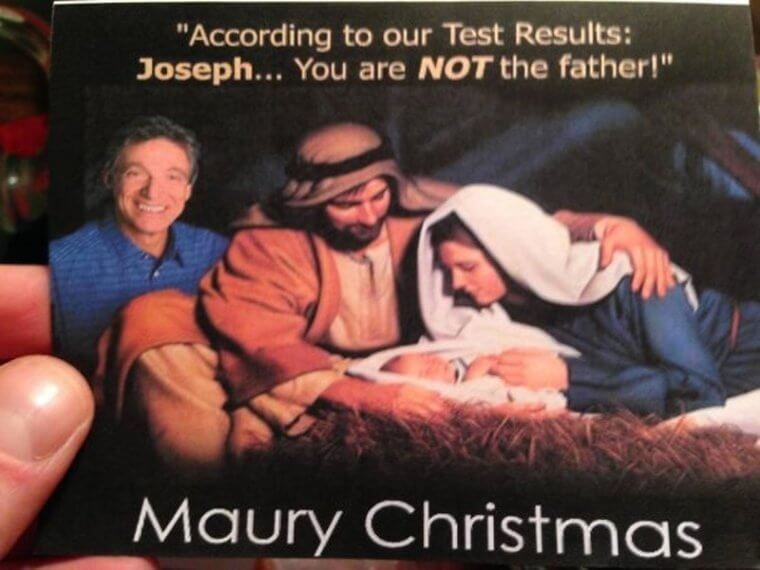 The same sort of ingenuity gets applied to some of the Christmas cards people can come up with. This is a perfect example of what we are talking about. This card depicts a famous tv celebrity better known for his paternity shows, Mr. Maury Povich. He comments on how Mary's bundle of joy is not Joseph's.

A Christmas Card Fit for Hogwarts
Christmas is a magical time for so many of us. It gives us so many great memories that we'll cherish for the rest of our lives. That's why we love what comes with those special days.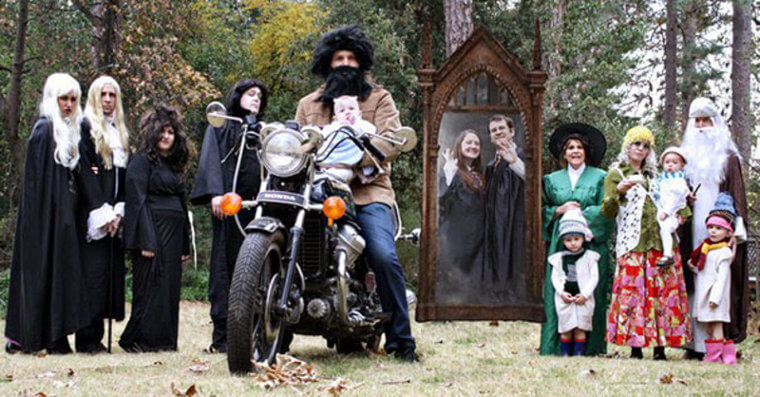 Like this Christmas card. What a great way to make this memorable time even more magical than before. They used Harry Potter's school and characters as the idea behind the card. It looks like there might be a short period of peace between Hogwarts and its enemies. Thanks, death dealers and Hogwarts faculty, for making this a celebration of the ages.

This Must Be Santa's Long-Lost Sister
People can come up with some crazy ideas when they want to create a Christmas card. The choices are endless when it comes to choosing a theme. It could be based on a cartoon, real life, dramatic, funny, dark, or light. As long as it gets the holiday spirits going.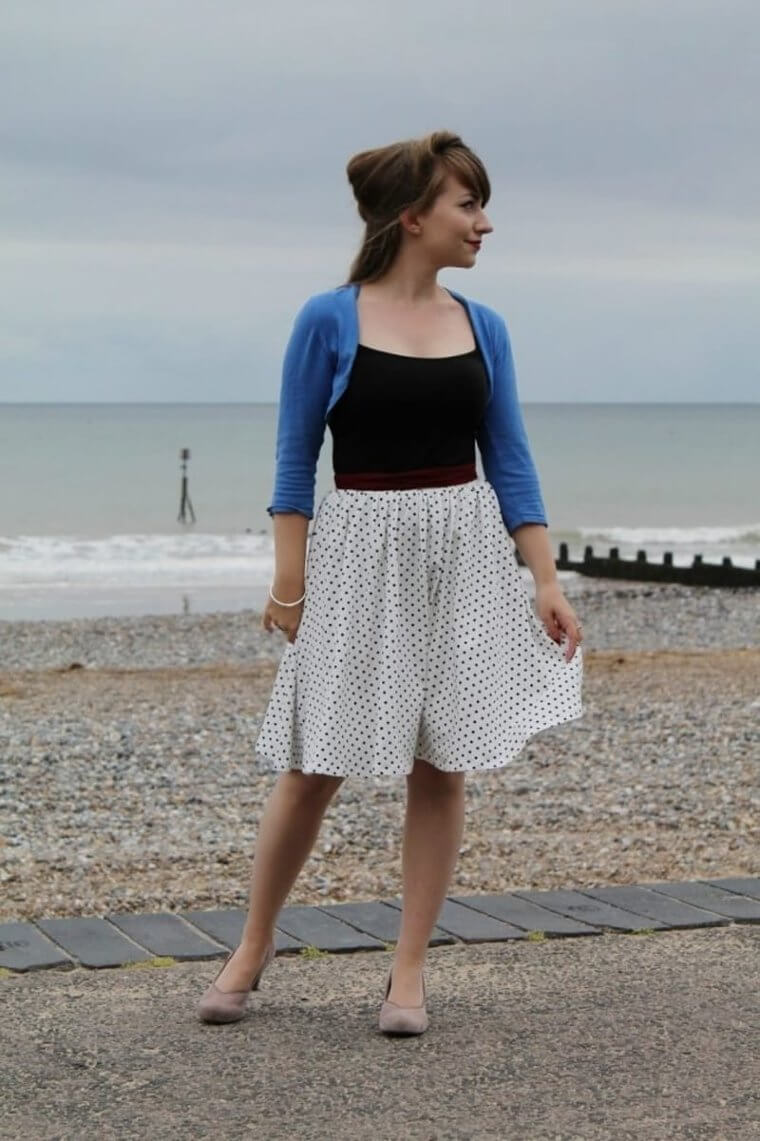 This card however doesn't meet the mark. Don't get us wrong. It's a great photo, but where's Santa? Or better yet. There is not a speck of red anywhere. No reindeer, no snow, no eggnog, and no Christmas vibe at all. Maybe it was the thought that counted. Who knows?

Ladders Everywhere
One of the biggest things, if not the biggest, over the Santa season is that you have to have a Christmas tree. It should be decorated from the top to the bottom with lights, fairies, and globes. There is so much a person can do to the tree.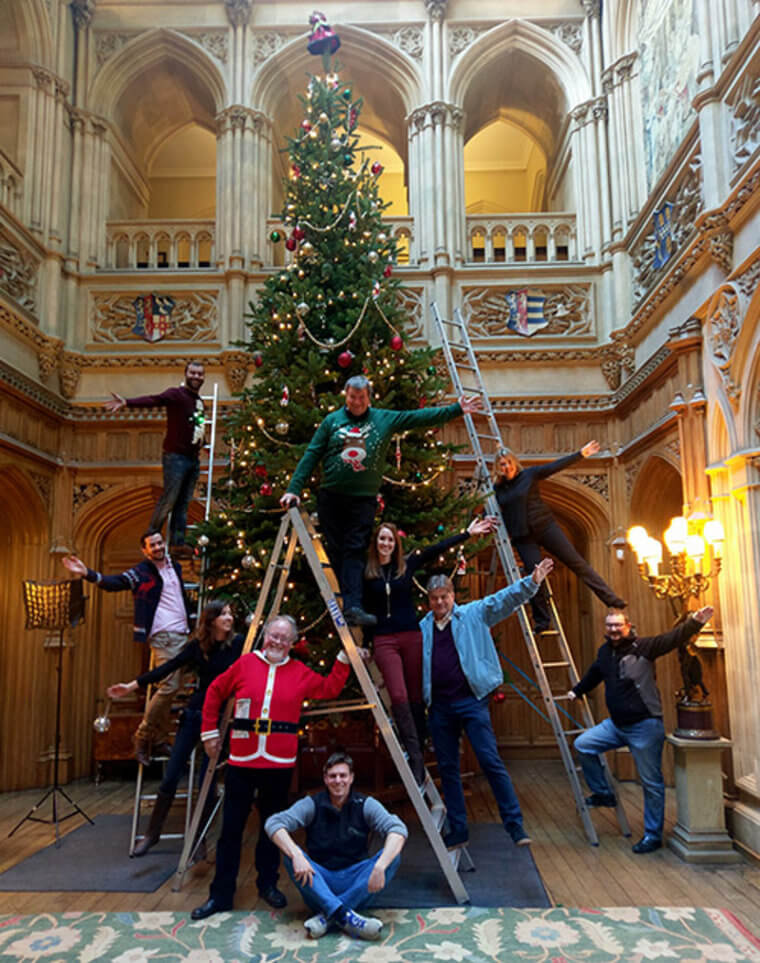 These guys thought that it would make for a card but what they forgot the realize is that they looked like a scaffolding crew busy decorating the tree. They had more than a couple of ladders in the photo. We understand that you need to use these ladders to decorate your tree. Let's be honest. The tree they are using is slightly larger than most people are used to. This is more like a Christmas tree in the centerpiece of a big production on broadway.

Great Family Photos
The festive season is not only about presents but more about family time. This is the best time for all the family to gather as they used to in the past. It's a time when the kids are back home again.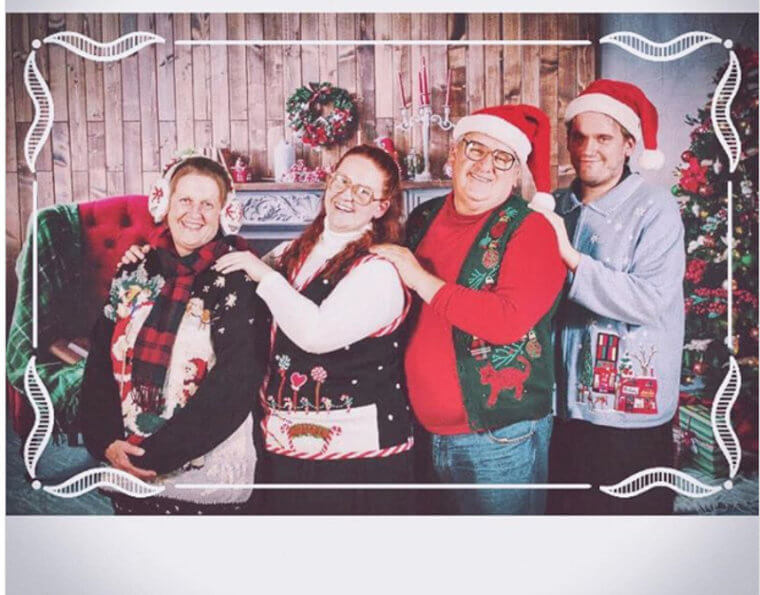 This is the time to get a family photo like they did every other Christmas holiday season. As we can see, this card is a perfect example. This family must have done this same pose since childhood. The only difference is that everyone is getting older. Ah! Sweaters look new, still ugly but new.

Winter Family Photo
This is the time to get a family photo like they did every other Christmas holiday season. As we can see, this card is a perfect example. This family must have done this same pose since childhood. The only difference is that everyone is getting older. Ah! Sweaters look new, still ugly but new.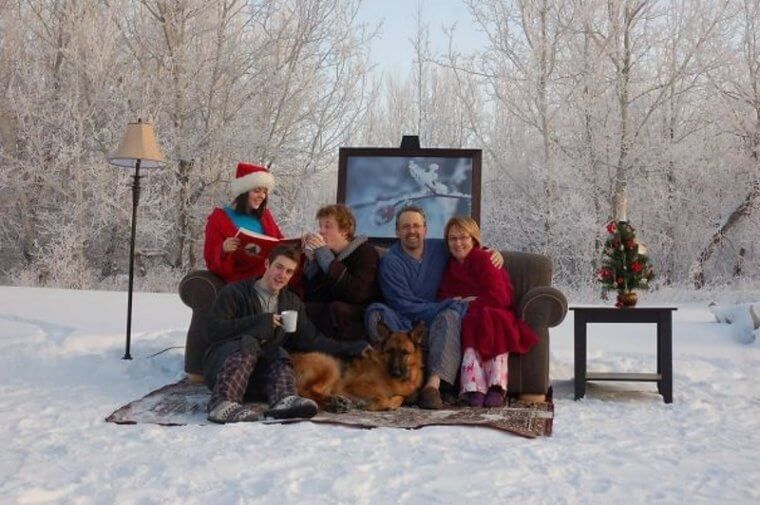 This family took the road very few families take when they decided to have their family photo taken. They opted to move outside for the shoot. They moved their couch, side table with a lamp, and even a painting to complete the scene. Nice one guys! This makes for a perfect wintery Christmas card.

Family Photo With My Six Wifes
In the olden days, people were more inclined to stick to tradition.  They never strayed too far away and things used to be done in a particular way like the family has done for generations before. If you were doing things differently and staying out of the public eye would have been the best choice to make.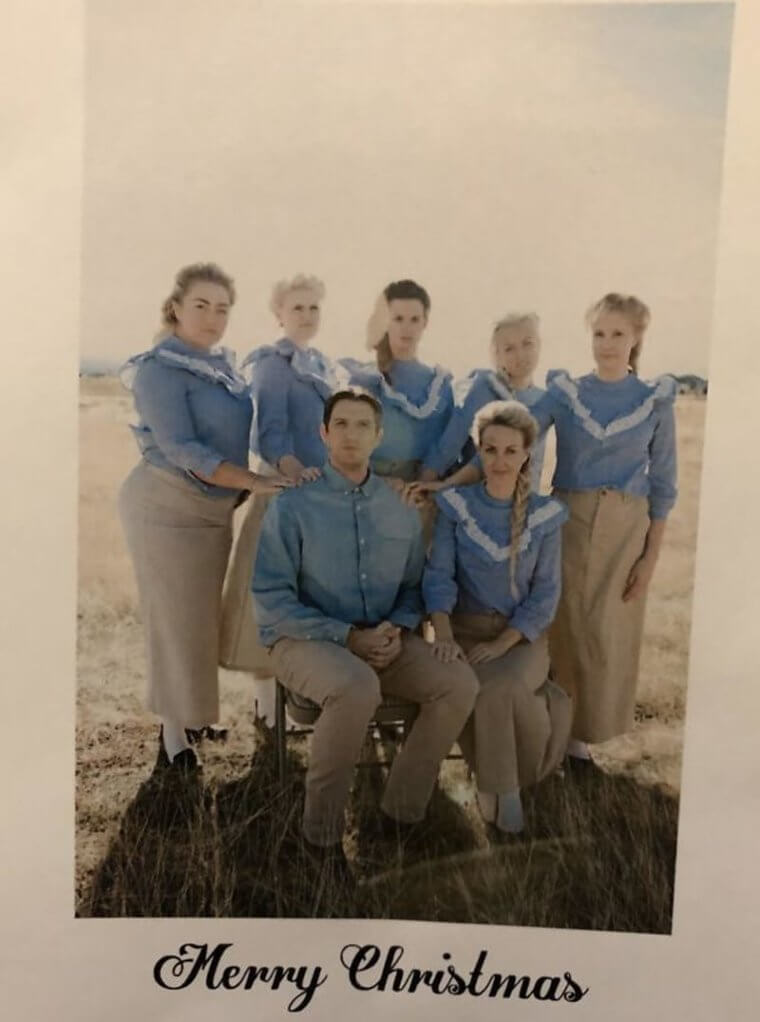 But we're not living like that anymore, and people are eager to be different. This guy decided to have a family photo taken. The only difference with this family is that this husband has six wives to join him in the picture. How does he cope? Some guys struggle with just one wife, and this guy has six.

Best Granny in the World
The festive season will see people go a little crazy. Not bad crazy, but good crazy. People can get up to some crazy antics when they are having fun. Just ask our little granny in this card.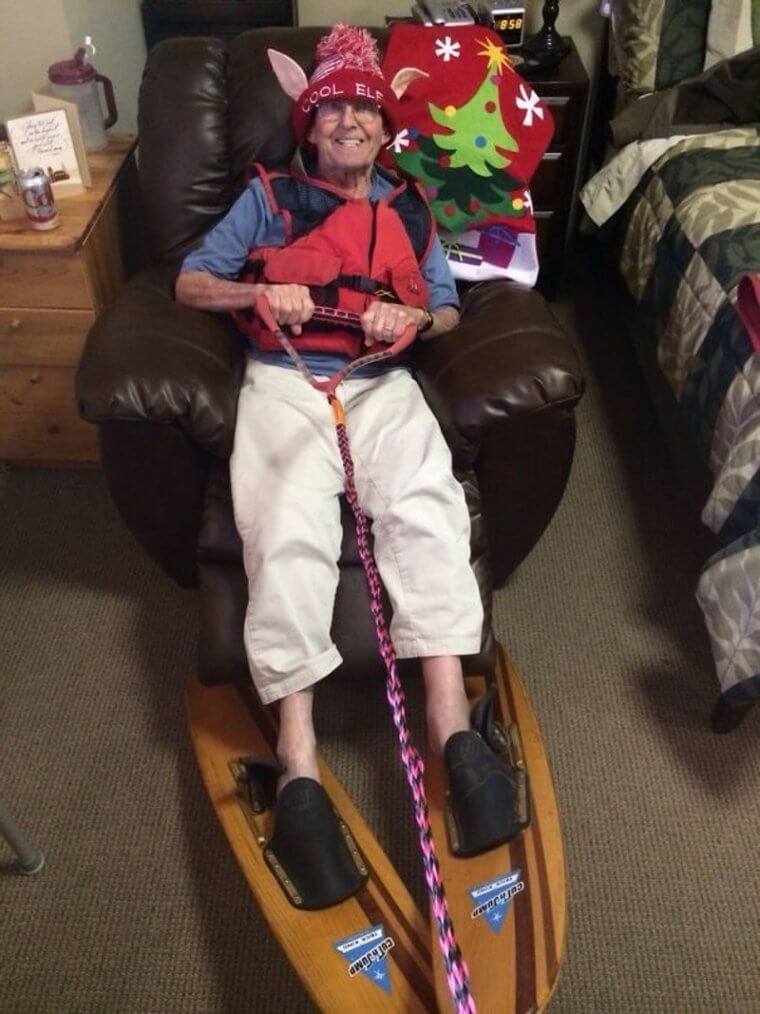 It looks like this granny is enjoying her eggnog a little too much. It doesn't matter really. What matters is having a great time with the family. This granny's decision to dress up like an elf is just what we are talking about. Good clean fun. Thank you to this granny for making this Christmas card extra special.

Who Invited the Weird Uncle?
Sometimes, Christmas throws an unexpected twist in the mix. When that happens, a person should be prepared for what might follow. Getting unexpected guests to turn up at a family gathering is not what people would normally want. If it's a family member, then it's ok, right?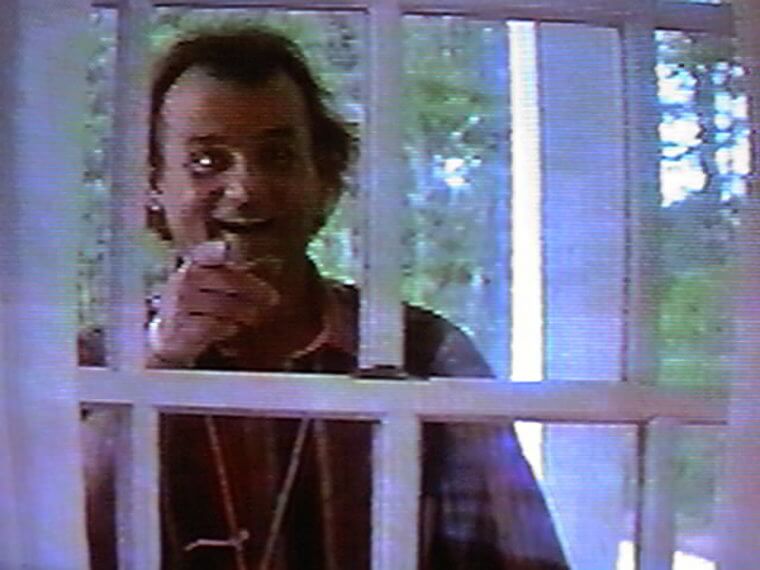 Yes! It should be ok. Especially if it is the crazy fun uncle that nobody has seen in ages. Isn't that what Christmas is all about? It is the time for old and new families to be under one roof. In any case, it's normally the silly uncle who keeps everyone on their toes and has the most outrageous stories to tell.

We Wish You a Naked Christmas
One thing we know is that people celebrate their Christmas in a lot of different ways. It's the same for Christmas cards. Not all of them are boring. You do have that odd couple that would go the extra mile to express their holiday spirit.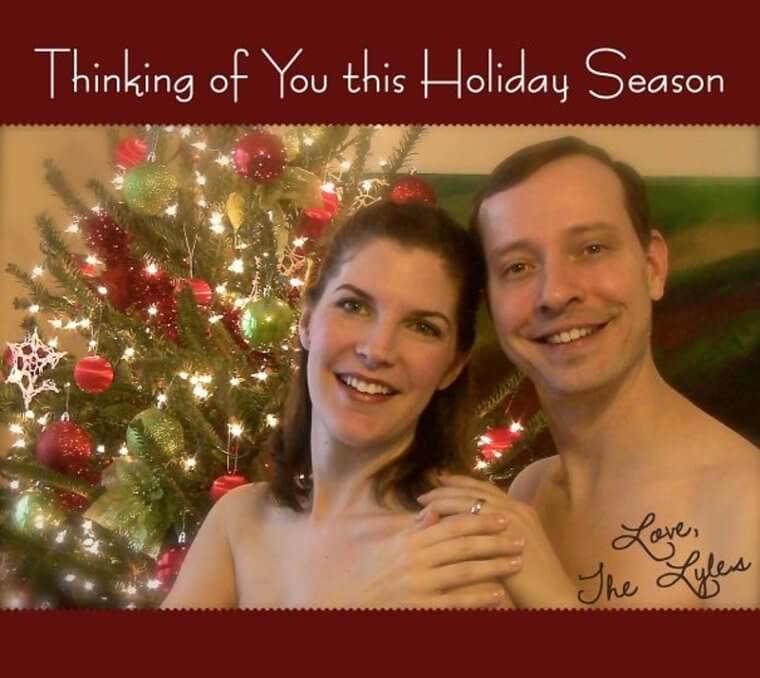 In this case, the couple did exactly that. They did the bare minimum. Literally. It looks like they stripped down to wear absolutely nothing when they took the picture. The family members must have done a double-take when they saw the card, or maybe it wasn't intended for the family. It would make more sense if it was for their swinger circle. We can only speculate.

Celebrating Christmas Without the Parents
We all know that Christmas is a time to celebrate with the family. Some families are bigger than others, which only means the celebrations are on another level than smaller families. Sometimes not all the family can be together, and we have to work with what we have and where we are.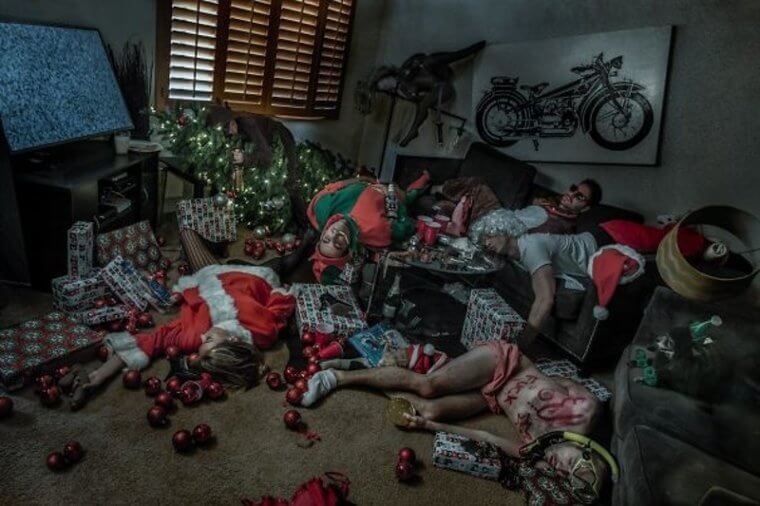 This card shows what can happen when the younger generations let loose at a Christmas party. It doesn't matter if you can't remember too much of the night. Hey, Christmas must be celebrated. In any case, this is not a card to be shared with older family members. This is strictly for the friends who were present at that time.

Nobody Will Know the Difference
We get so many different cards out there that it is hard to choose what you want. So, instead of having to make the difficult decision, why don't you make your own? This couple decided to take that route.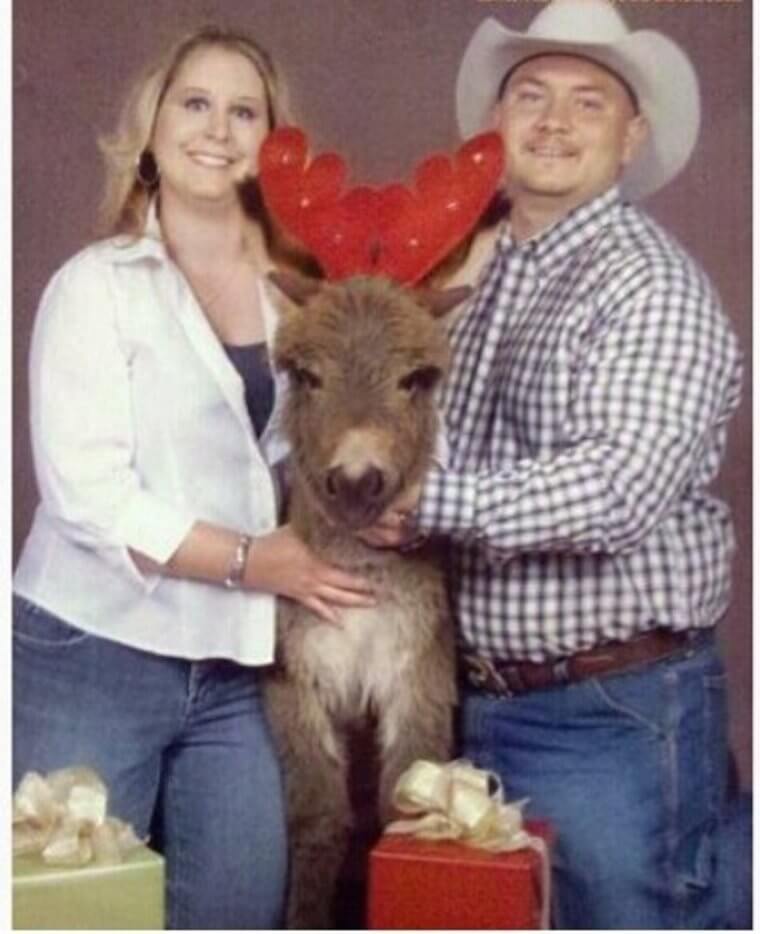 The only problem is they weren't close to the north pole so there is a shortage of reindeer, to begin with. They opted for the next best thing and stuck some antlers on an alpaca. Lo and behold! A reindeer. Quickly, take a photo before the alpaca spits at the camera.

Worst Photoshopped Card Ever
We have spoken about making your own Christmas cards. But that doesn't mean that you have to do the first thing that comes to mind. Sometimes you have to do a little planning to come up with the best idea for a Christmas card.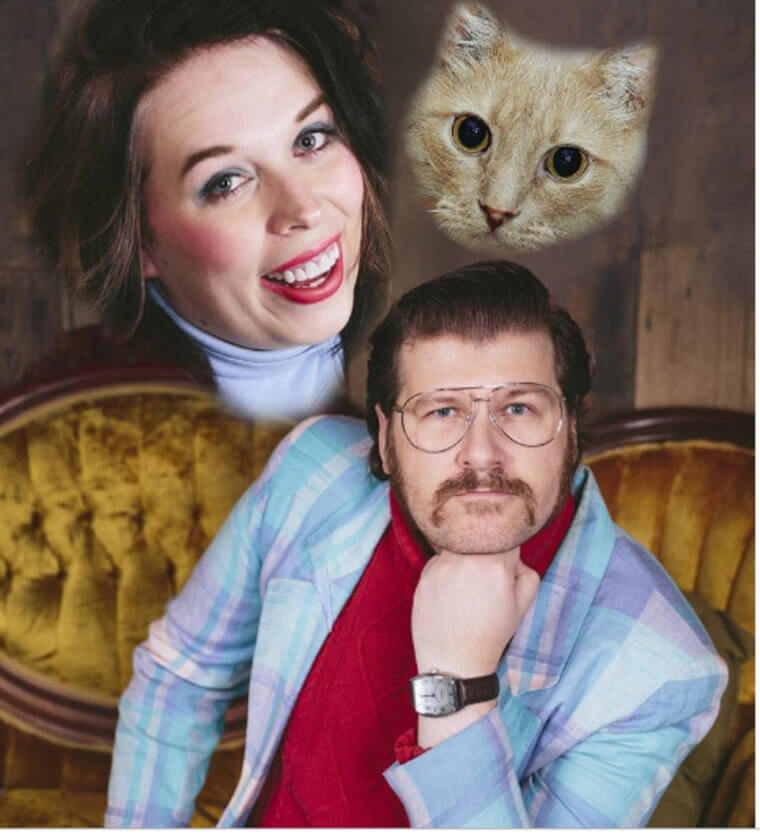 This guy didn't think it through at all. Is this his girlfriend and her pet that he is missing? Doesn't matter. The card looks terrible. Maybe spending a little bit more time would have helped him with his idea. Try putting some Christmas decorations in the background next time.

May the Force Be With You This Christmas
One of the biggest things to work on when making your own Christmas card is getting the right theme going. It doesn't matter how wacky the idea is. What matters is what it looks like in the end, as long as it doesn't look tacky.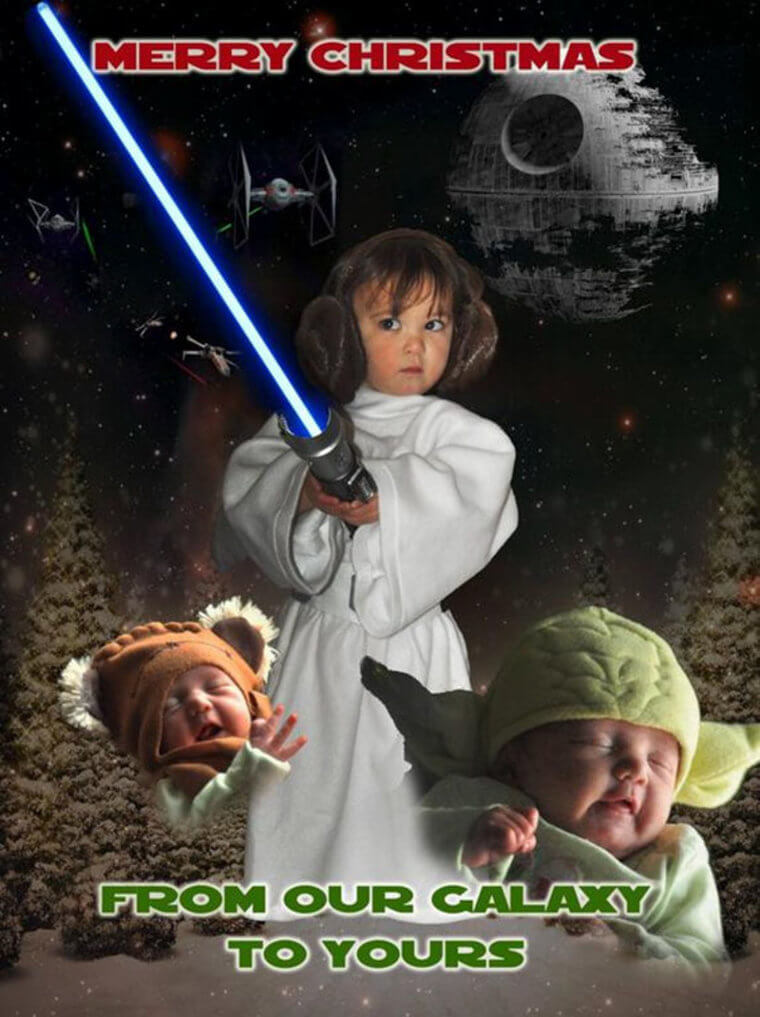 This family had the right idea. Everyone knows who Yoda is and they made their card look like it should be the first installment of the Star Wars franchise. Princess Leia and Yoda still look very young, don't they? It was a perfect theme to use and an even better enactment to get the holiday feeling across. Great work family!

Let's Make This a Memorable Christmas
Some people don't have what it takes to get their point across successfully. The idea might have sounded great in their heads, but their execution fell short of their intended mark. Well, at least they tried.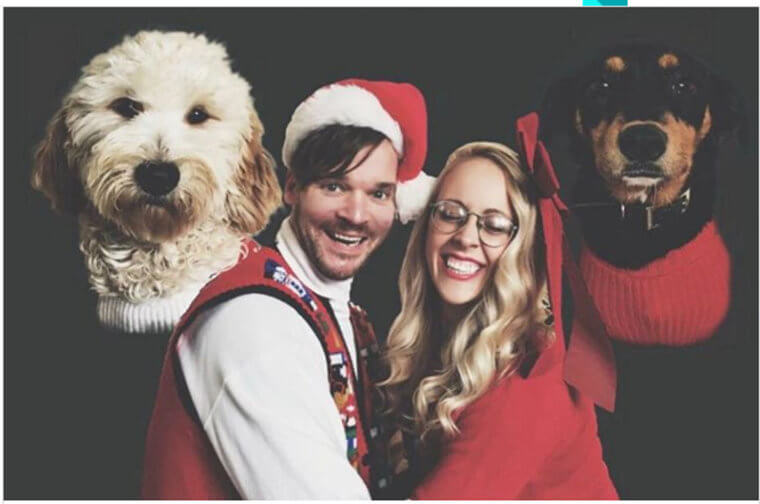 We don't know what to make of this card. This looks like a celebration for the season and they are enjoying themselves with their pets. If so, then why didn't they use the real dogs? Or, is it in remembrance of the pets that have gone to doggy heaven? See! It's a little confusing if you ask us.

Welcome to the Nutcracker Family
No family is like another. They are all unique in their own way. Some families like to go for hikes, while others like the beach. Whatever it may be, all of this allows the members to spend some quality time together.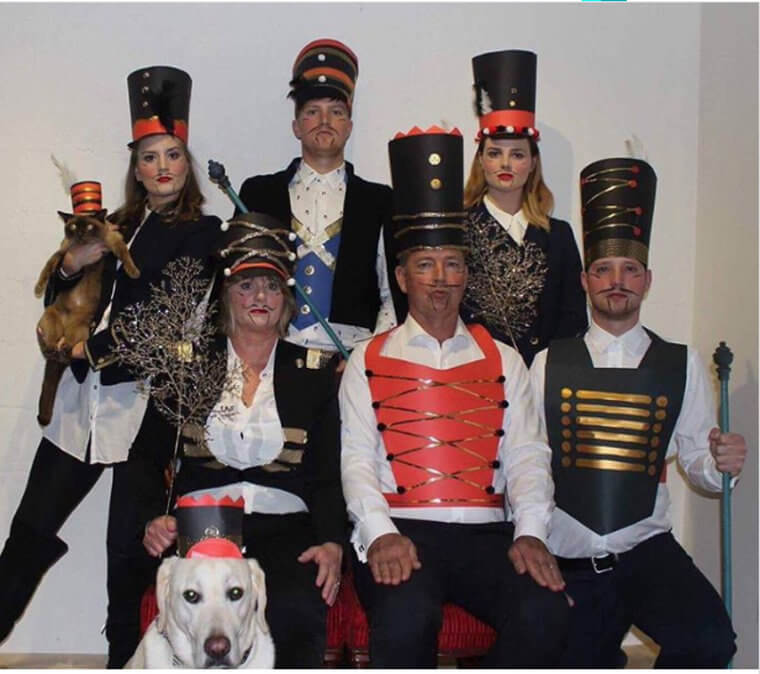 The happy family in our next card must love the Nutcracker. They have taken it to new heights. The poor animals look a little traumatized if you ask us. They must be hoping that none of the other pets in the neighborhood see them dressed like this. We don't think they have to worry about it. The other owners have made plans for their pets.

Tough Times Ahead for Santa
The world as we know it is changing at a fast pace. Thieves are getting bolder by the day. It's tough out there, you know. Even for our favorite white-bearded legend Santa. Yes! You read it right. Santa Claus has gone bad.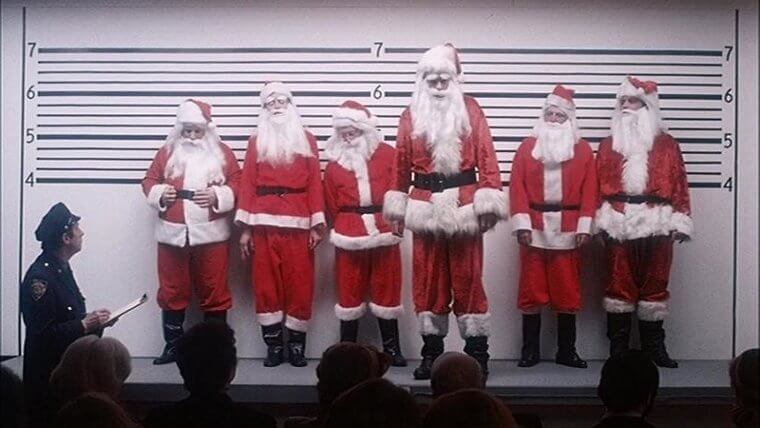 Our next card will is perfect evidence that Santa has gone astray. He has joined the dark side. His lists have changed too. The naughty list is getting all the presents from now on. What did Santa do to have changed his way of doing things? Whatever the reason is, it's too late for him. He just got picked out of the line at the police station.

The Sheep Is Meowing
We have said it before, and we will say it again. A good theme is needed if a person decides to take a photo that is worthy of being used as a Christmas card. If you have that, then all the other components will fall into place. It doesn't matter if you have to change the cast a bit.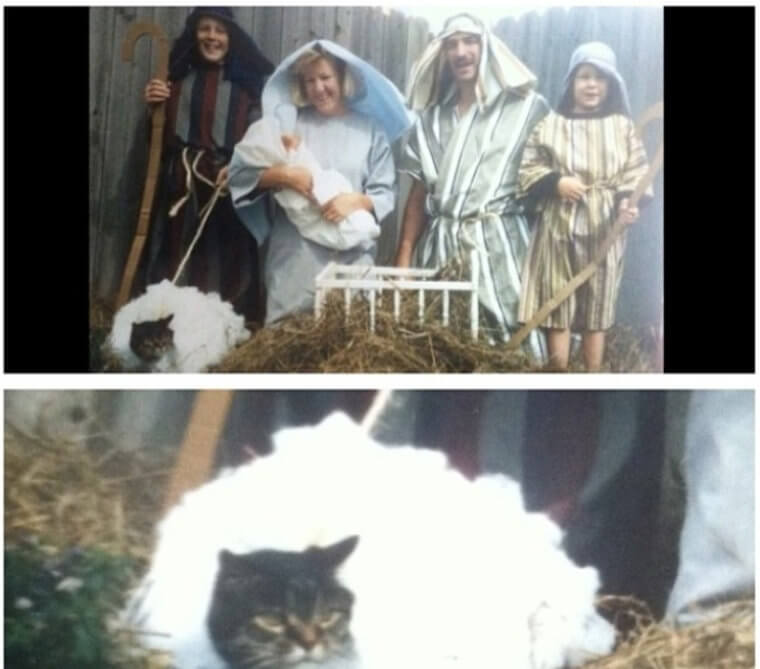 If you can't get a sheep, then make a plan. Any four-legged animal will do. No! Scrap that! A medium-sized animal will be perfect. This family didn't have a dog, so their little kitty had to play as the sheep. And, from the looks of it, the cat is not having the time of its life. Unlike the rest of the family in the picture.

This Family Is Good Enough to Eat
Families can come up with some crazy ideas when trying to come up with something worth remembering. That's why we get some of the funniest and wackiest cards made by families for their families. This family had the right idea and made it work.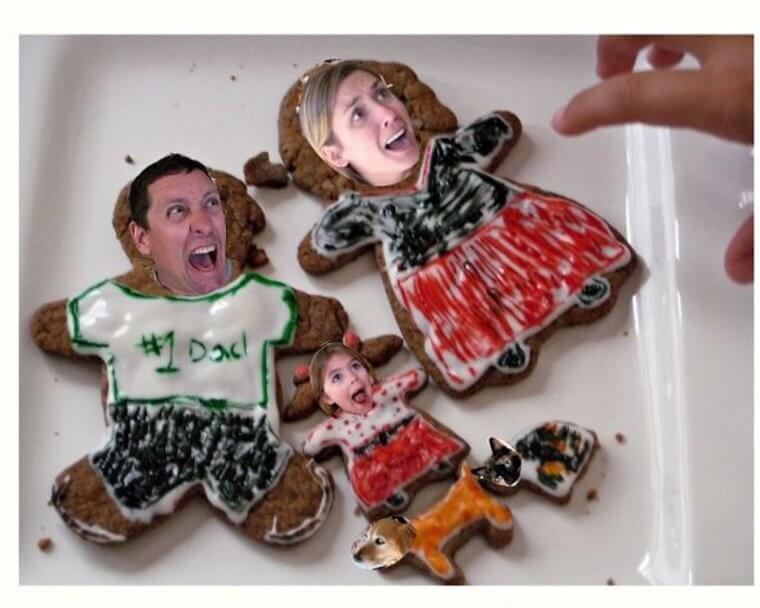 This great family decided to turn themselves into gingerbread people. Their heads were photoshopped with their faces on. Daughter and cat included. Everybody played their part perfectly. Scared faces and all. Well done family! Your photo makes the perfect Christmas card.

Christmas Card Fit Only for Royalty
Making a Christmas can transcend borders. We mean, it's not only the regular people making them but royalty has a firm footing in the card industry. They have not only been a hot topic for discussion. Plus, their Christmas card collection is quite extensive too.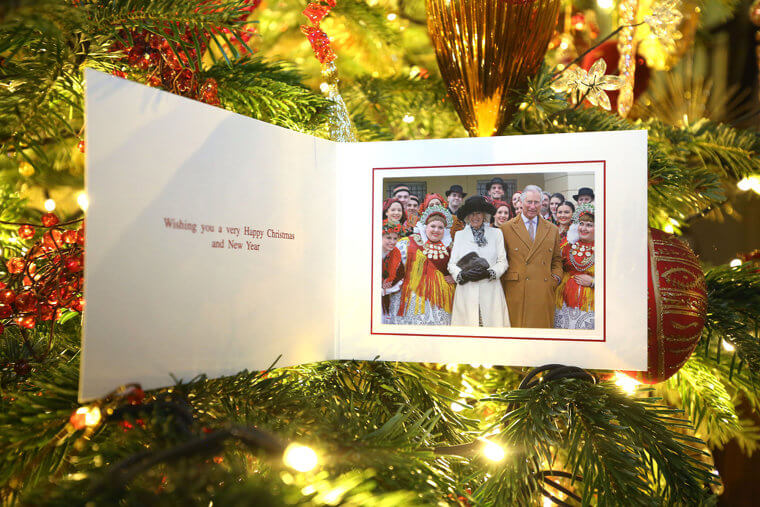 However, this card feels like it's lacking a little something. Don't you think? It doesn't have that warmth you would want from a good Christmas card. So for us, this royal Christmas card falls short of some of the previous cards we've seen.

Not the Christmas We Were Imagining
If you aren't familiar with this title then don't be too bummed out about it. You aren't missing anything. This is about a radio DJ working extra long hours at the station he was working. This happened over the Christmas period when things started getting weird.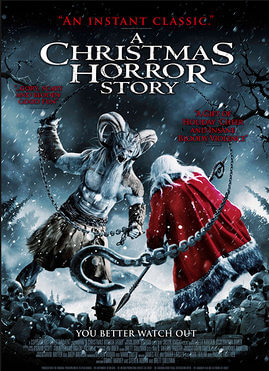 Long story short. This picture was the poster and a guy thought it would be a great idea to turn it into a Christmas card. We have to say, this guy's meaning of Christmas is scaring us a little. We don't know why? Maybe it's got something to do with a demon fighting Santa, or is it the skulls on the ground? We can't put our finger on it.

Forever Young Christmas Cards
There is nothing better than a photo thanks brings out the love the family has for each other. One of those, whenever you look at it, you feel a sense of nostalgia building up. The sort of photo that you talk about whenever the family spends more time with each other.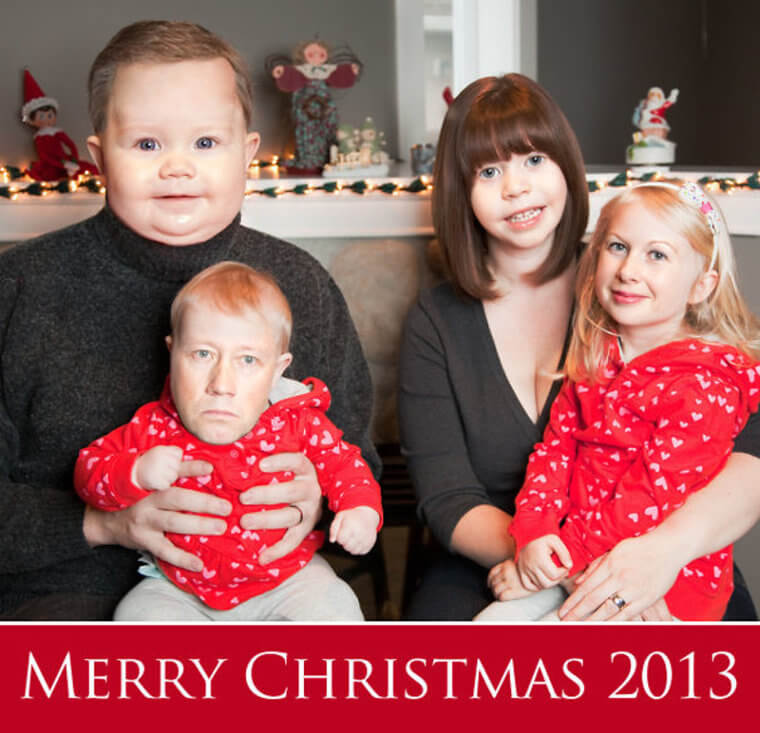 This is not one like that. This has more of a Benjamin Button feel to it. The parents give off an eerie feel to it. The mom's ok. But look at the dad. If that doesn't keep you up at night, then you aren't human. At least the family will have something to talk about at their next family outing.

Nothing Like Some Quality Time With Family
One of those great destinations to go to for the holiday season would be the beach. Especially if you are living in the colder places on the planet. Each day would be sunny and a person would have the option to play in the sand or swim in the sea.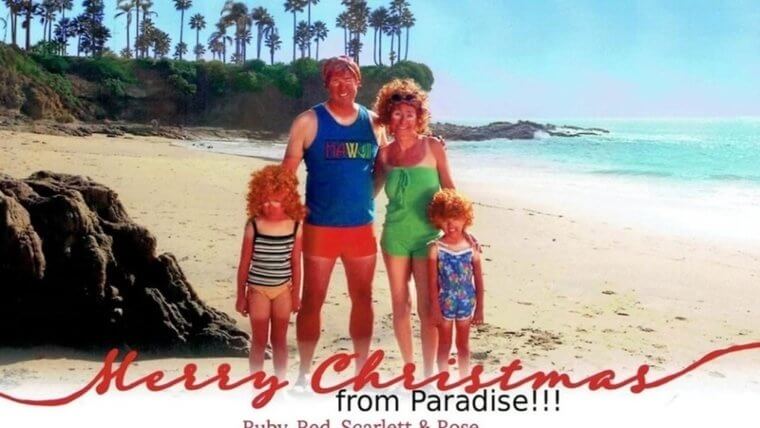 This card brings out that lovely beach feeling. Doesn't it? The parents and kids look like they might have overdone it a little bit. The t-shirt and sunglasses areas that didn't get any sun sticks out like a sore thumb. It's a great card. Their names are just the cherry on the cake. Every name is a variant of the color red plus their red hair. It's an instant classic if you ask us.

It All Looks a Little Off
To get the right atmosphere when making your own Christmas card, you need to get the characters and the décor in sync. You can't have one side perfect and the other side not. It all needs to work together. Otherwise, what's the point?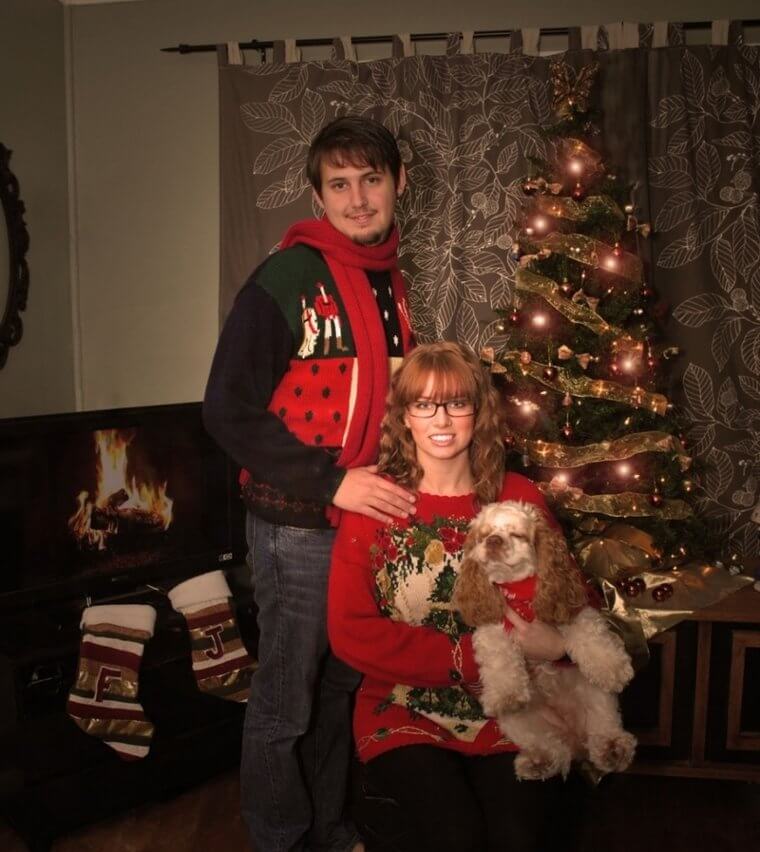 Here, we have an excellent example of what a card would be like if it wasn't syncing. They have it all. The tv fire in the background and the terrible sweaters, that no one would dare to wear if it wasn't Christmas. Oh! Don't forget the cute doggy and the decorated Christmas tree. It should work, right? Wrong! It doesn't matter how you dress it up. Some people just can't act normally in front of the camera.

Always Be Prepared for a Little Fun
What is Christmas without the fun part? Boring, right? Don't get us wrong. We do love it when the family gets together for the festive season. It's what we all need to do as much as possible. Going back home has a sense of belonging that we forgot we had when we were younger.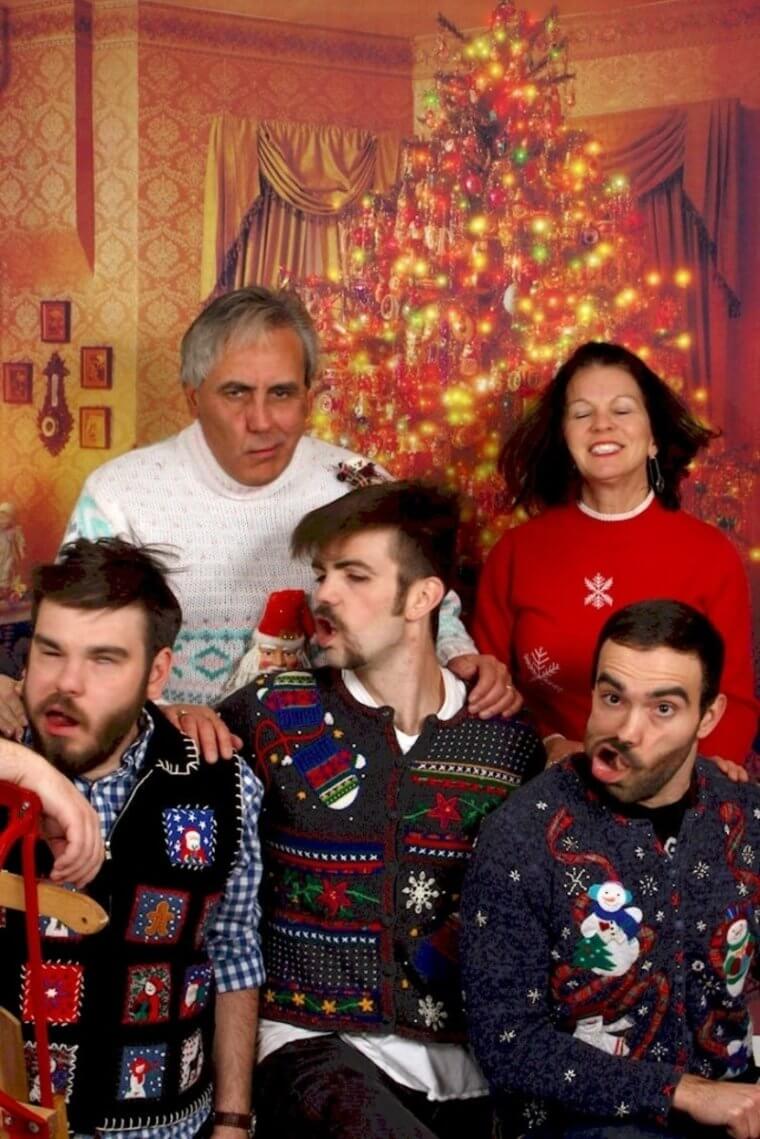 That's what this card reminds us of. The fun times a person has when the family gets together as we used to when we were still living at home. As we can see, this family is making the most out of their family photo. What we like about the card is that it's not only the boys that were fooling around, but the parents were also getting into it. Isn't that what the Christmas spirit is all about?

Welcome to the Denim Family
It's good to have a dress code when you are hosting something. This doesn't necessarily mean that a dress-up party would work at a Christmas gathering for the family. You would want to be comfortable at the home you grew up in.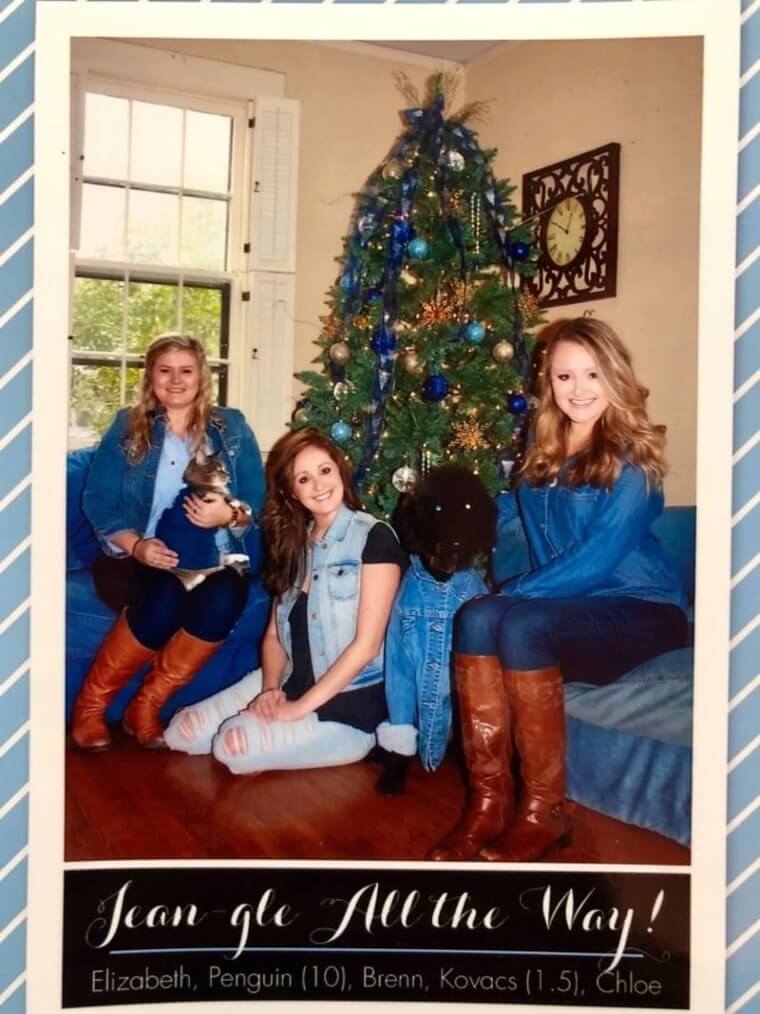 This family didn't do that. They look like a friendly and fun family that likes to dress in denim. Maybe they're from Texas. It makes more sense. Cowboy boots and all. Maybe the denim couches were a little too much. We'll let you, the readers, be the judge.

Celebrating Christmas Down Under
A white Christmas is not something the whole world celebrates. A lot of counties have a hot summer over that period. It's great to have a wintery Christmas, but a summer one is just as much fun as the cold version.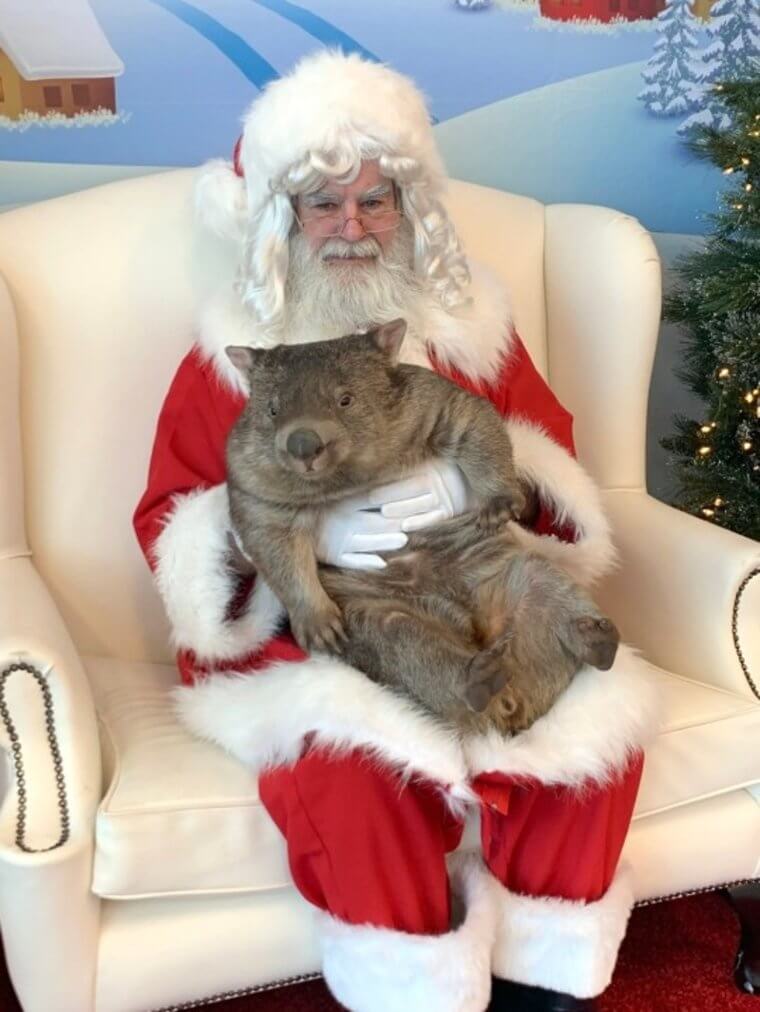 Australia is one of those countries that doesn't see snow over the festive season. What they do have is beaches and the ocean to swim in. They also have animals that can only be found in Australia. So that is why this card Santa is playing with a wombat. This wombat's mother was killed So Santa decide to adopt the furry little critter.

An Invisible Girlfriend Over the Coo-Coo's Nest
Christmas can be a trying time for single people when they go home for Christmas. Parents, especially the mom, would stop worrying about their kids if they see that they have someone to love.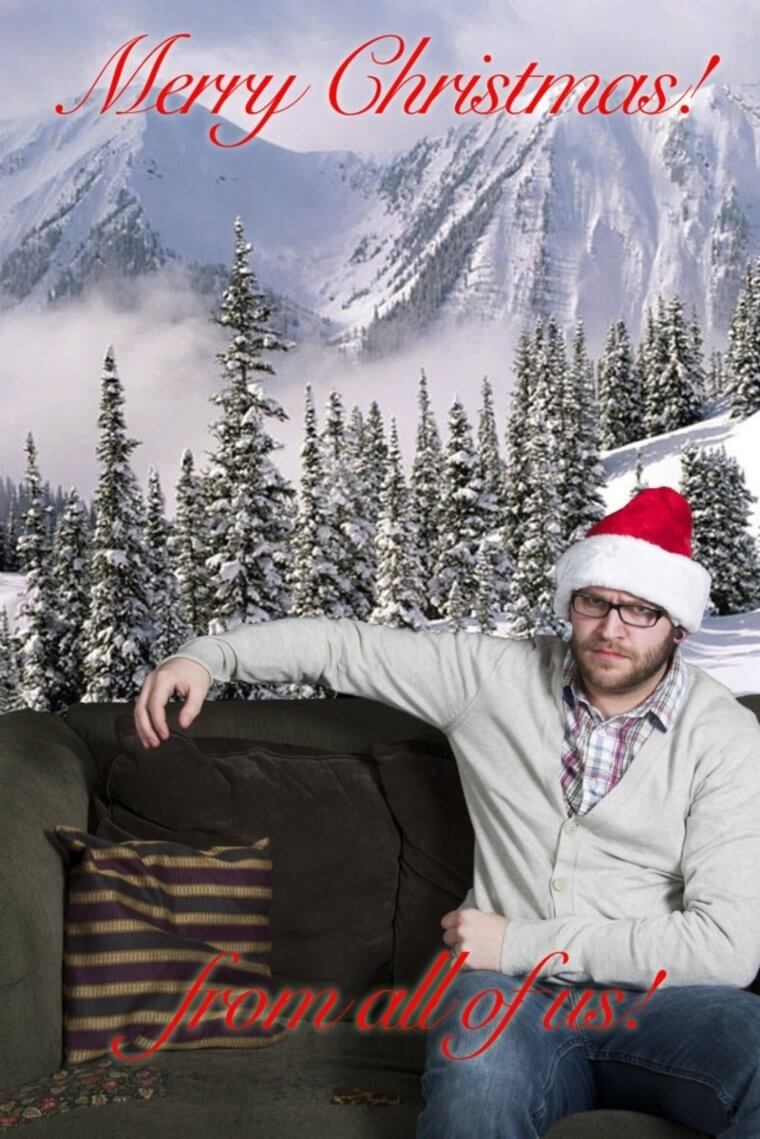 This guy looks like he will skip the family reunion and make a Christmas card instead. Look ma! This is my new girlfriend. We can just imagine what was going through his mind when she wasn't in the photo. What? She was there a second ago ma, I promise.

One Down, Two Bottles to Go
What's Christmas without a little alcohol? Maybe a little boring, if you ask us. Having some liquor is always a good way to warm up the body during those cold wintery nights over the festive season. You don't have to go overboard to have a good time.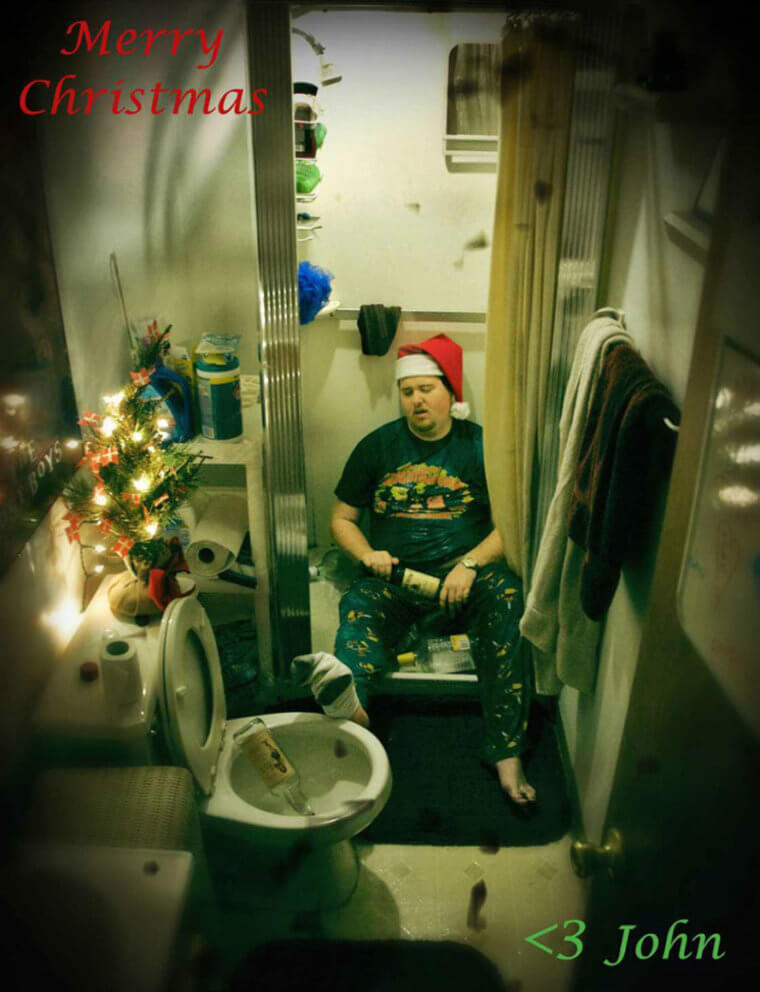 Our friend John over here didn't take it easy at all. No wonder he ended up passed out on the toilet. That's what three bottles of alcohol would do to one person. We're glad it's not us. There is nothing worse than nursing a hangover. We've learned our lesson. Moderation is the key.

Skating on Thin Ice
One of the great things families do over the festive season is to take photos. Especially if the parents haven't had all the children together under one roof. That's why it's important to get the right setting for the photo.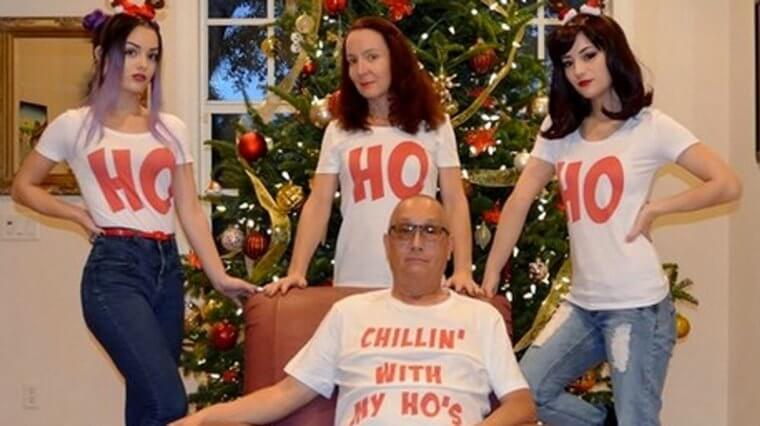 This dad took it to another level. He had all the daughters and his wife with him for the picture. We don't know if the daughters and the mom knew what they were getting themselves into. Their t-shirts said it all. They don't look too impressed either. None of them are smiling. It does make for a funny, yet daring, Christmas card though.

We Wish You a Hare Krishna
You don't have to be a Christian to celebrate Christmas. It's not only about giving presents. It's more than that. Christmas is about having the family together under one roof. It's the quality family time we get before a new year is upon us.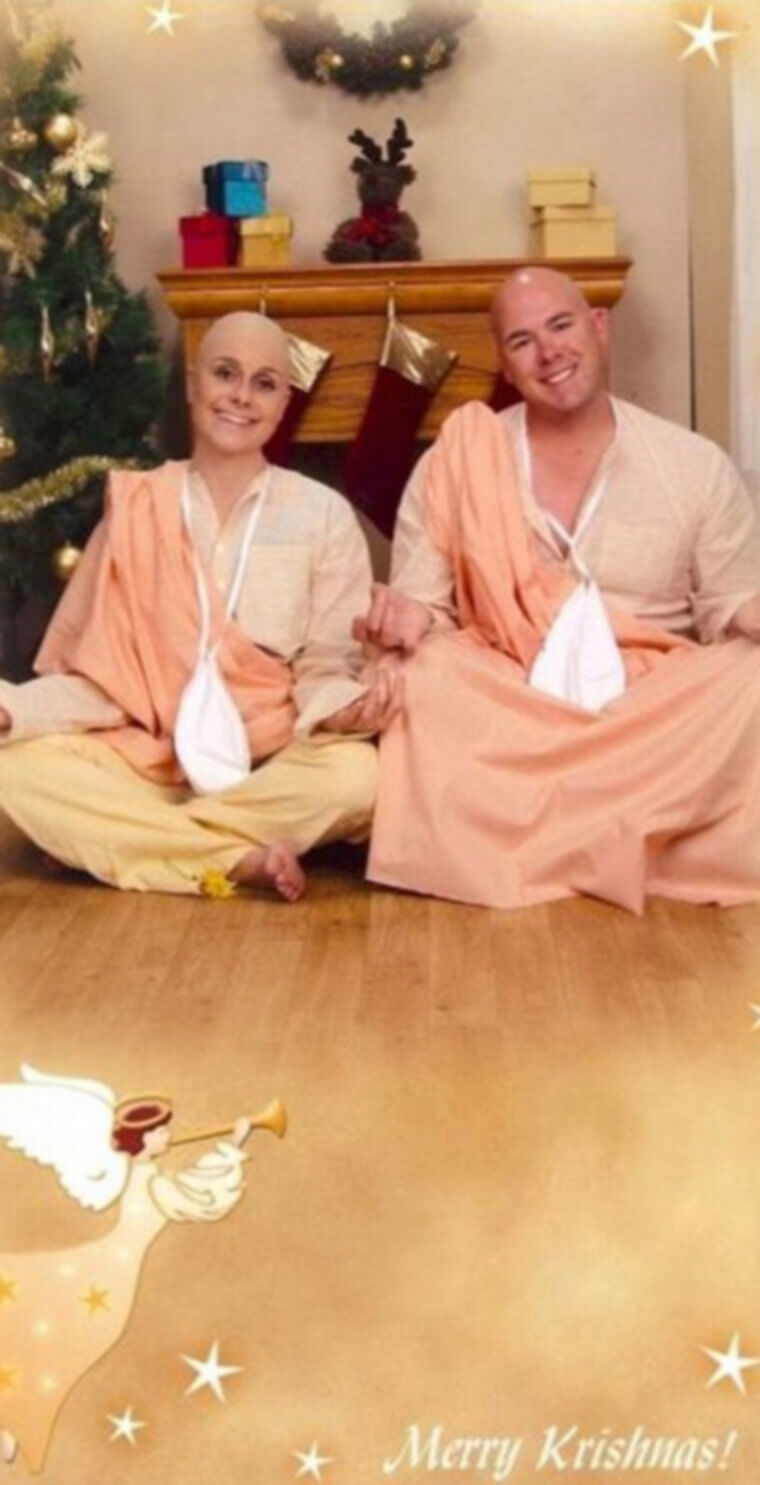 This card is the perfect indication of what we mean. This Hare Krishna couple is celebrating Christmas in their way. You see! Christmas can transcend borders and beliefs. We give this Christmas card a massive thumbs up. Well done guys! Thank you for your Christmas spirit.

What a Loving Couple They Are
There is nothing better than seeing a couple that still adores each as much as they used to when they started dating. It shows us that not all is lost after you have a few kids. It's a beautiful thing to experience and can pull at the heartstrings.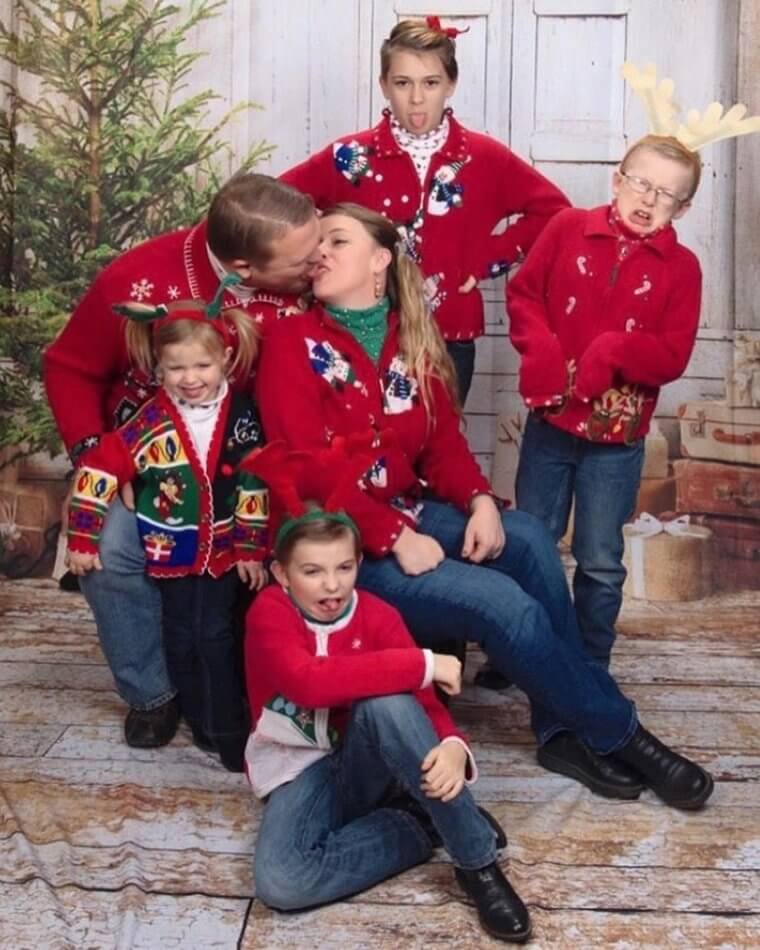 These parents are those loving couples we were talking about. Look at how they attack each other with love while all the kids are looking at them with utter disgust. The last thing any kid wants to see is their parents making out in front of them. Great card guys. We love how the kids almost threw up after seeing their parents' tongues touching. There's a good chance that year there would be seven of you.

Star Trek Is Coming Home for Christmas
We have seen some wacky cards and some fantastic ones so far. We haven't seen a futuristic Christmas card yet. That's why we will finish this off with a Christmas card from outer space.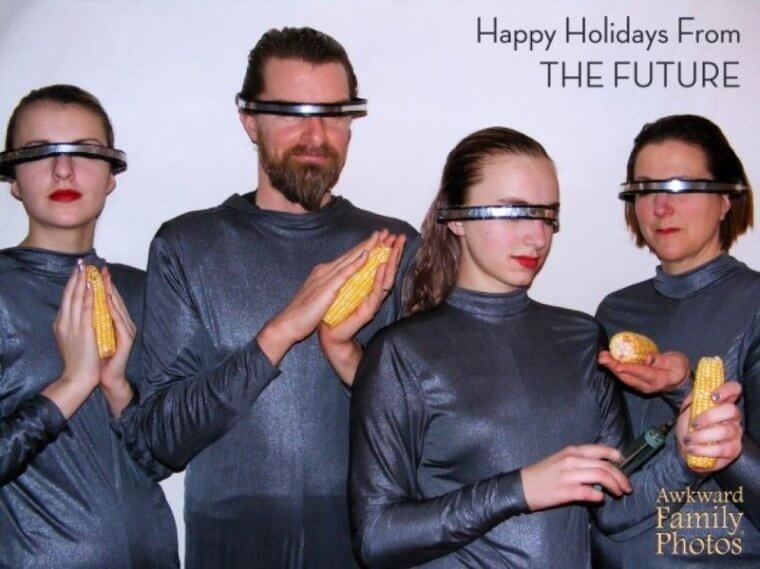 This family went the extra mile to make this Christmas card. They took some inspiration from the very popular tv series, Star Trek. It might have felt awkward doing this but you guys did a fantastic job creating this card. Well done to this sci-fi family!