It is funny how people feel comfortable posting inappropriate things on social media that they wouldn't usually say in a face-to-face situation. We have chosen 40 of our favorite unexpected social media replies we thought you would enjoy. In addition to the posts from ex-lovers and other individuals (we don't want to give too much away), we also included a few posts from corporate companies, which will leave you in stitches.
The Difference a Space Can Make in a Relationship
It is incredible how much letter placement and punctuation can change the meaning or the tone of written dialogue. A comma inserted incorrectly can totally alter a message, and a forgotten space may make even more difference. @Ronald_hoang provided a perfect example of how big a difference a simple space can make when he posted, "Happy national girlfriend day" with the smiling face with hearts emoji, "photo creds to me her #1 fan" to his friend @ririmaidah.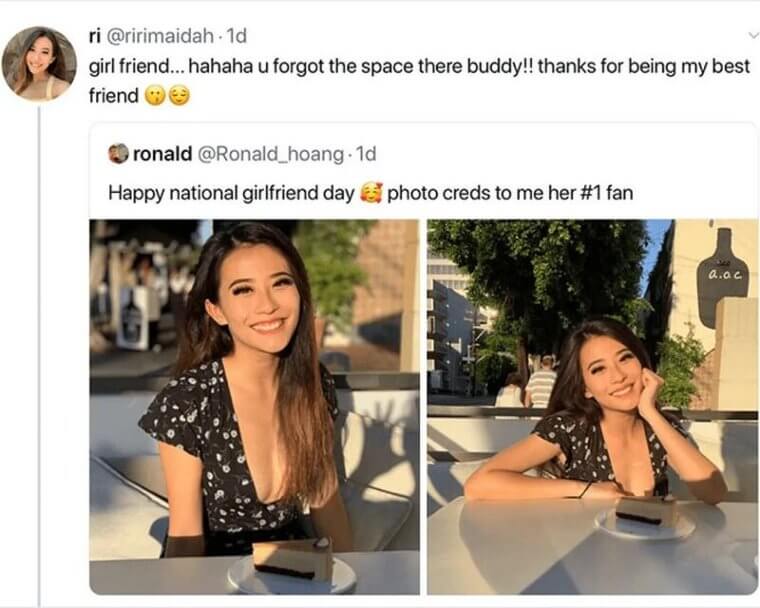 It may have been a typo, or he may have been trying to leave the friend zone. Either way, she shut him down with her response, "girl friend ... hahaha u forgot the space there buddy!! thanks for being my best friend." We think he should cut his losses and look elsewhere for love. She obviously does not feel the same way.
Would You Rather Be Turned Down Face to Face or via Sms?
It sounds like Kim gave this poor guy hope along with her number. Or did she give him her number? We know he had hope. Shame he probably went home celebrating and possibly bragging to his friends that he secured the number for a hot chick. Imagine his embarrassment and confusion the following day when he reaches out to her, sending a message saying, "Hello Kim," and he receives a reply, "Sup weirdo."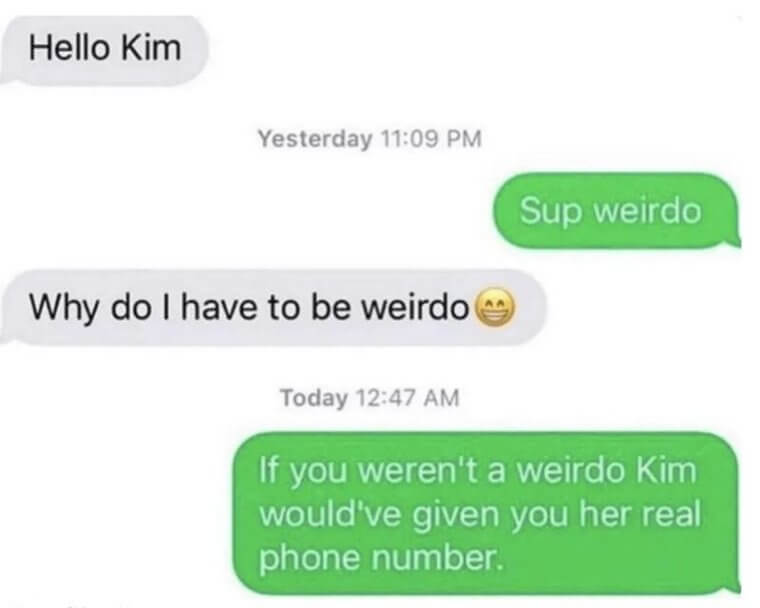 It must have taken him a while to come up with an easygoing response. We noticed the delay before his follow-up message, "Why do I have to be weirdo (with a smily face)," which he only sent at 12:47 the following day. Here comes the devastating part, "If you weren't a weirdo Kim would've given you her real phone number." At least there were no witnesses.
Do Not Think You Know Someone After Viewing Their Tinder Bio
Tinder users know all about the different swipes. For example, swipe left if you are not interested and swipe right if you are. To see who likes who, you must both swipe right. However, did you know that you can also swipe up? Swiping up lets a person know that you "Super Like" them. When they scroll to your profile, it will display a big blue star, letting them know that you already liked them and are keen for an immediate match.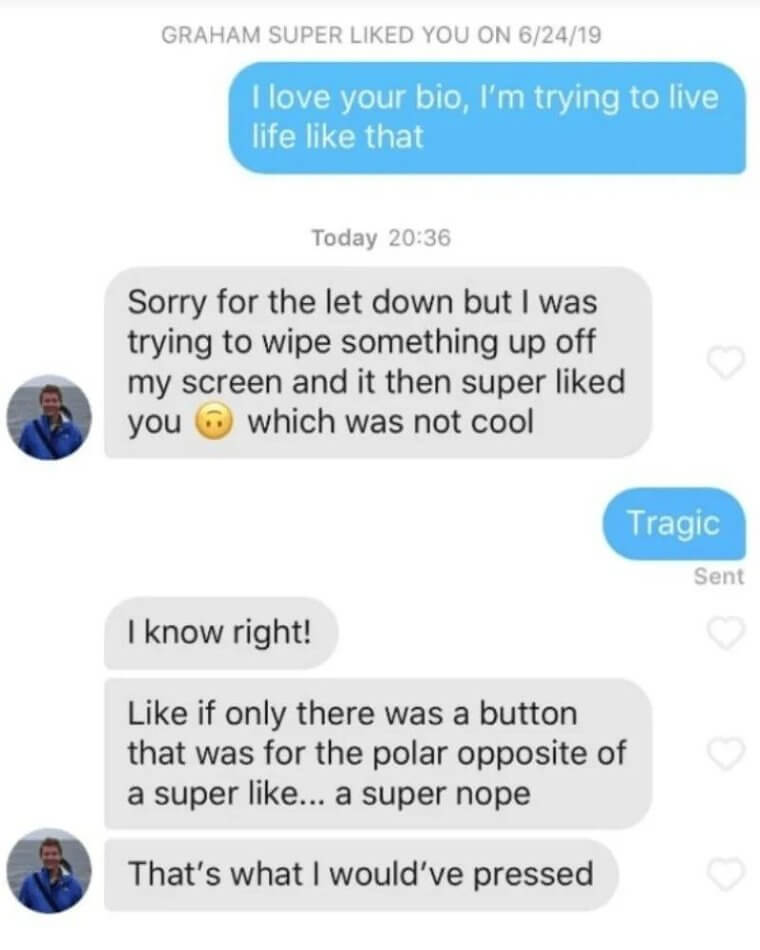 So when a young woman on Tinder received the message, "Graham Super Liked You on 6/24/19," after seeing positive things on his profile, she swiped right and messaged him, complimenting him on his bio and way of life. Unfortunately, he claimed his upward swipe happened while wiping his screen. He was not too kind about it, either. 
She Tricked Him Good, and Propper
This next poor fool shot himself in the foot. Not to worry, we are talking figuratively, not literally. The poor sap probably got super excited when the girl he had a crush on asked him for help, saying that a guy she hates keeps sending her messages and that she wants to stop him from sending them but does not know how. Can he tell her how to block someone on Facebook?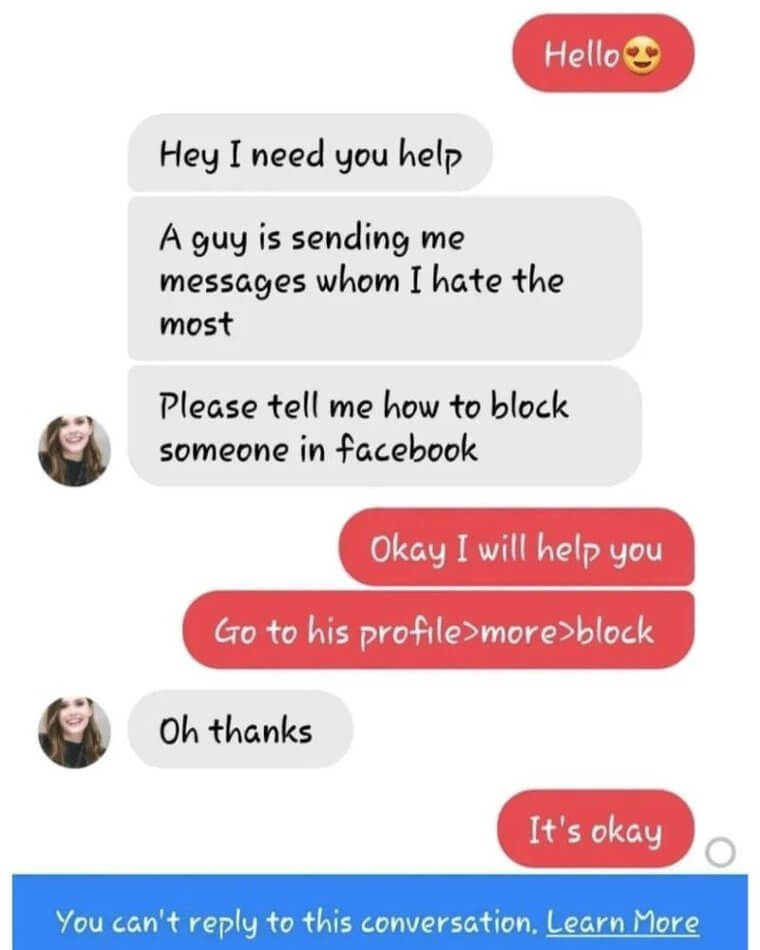 We are sure that at this stage, he was feeling pretty good that she was asking him for help to get rid of another guy. So, of course, he sends her step-by-step instructions on how to block someone on Facebook. Only after tutoring her on how to stop someone from messaging her on Facebook did he realize that it was him that she was evading, and he could no longer respond.

He Who Has the Last Say Wins
This next post is humorous, especially if the guy looking for Mike is a bit of a jokester like Not-Mike. If Mike-seeker is not pulling a fast one on Not-Mike, it is a bit awkward, and we sympathize with Mike-seeker. Otherwise, it is priceless. If you have ever put your foot in your mouth and said something inappropriate to someone grieving, you will know just how guilty you feel for being unintentionally insensitive.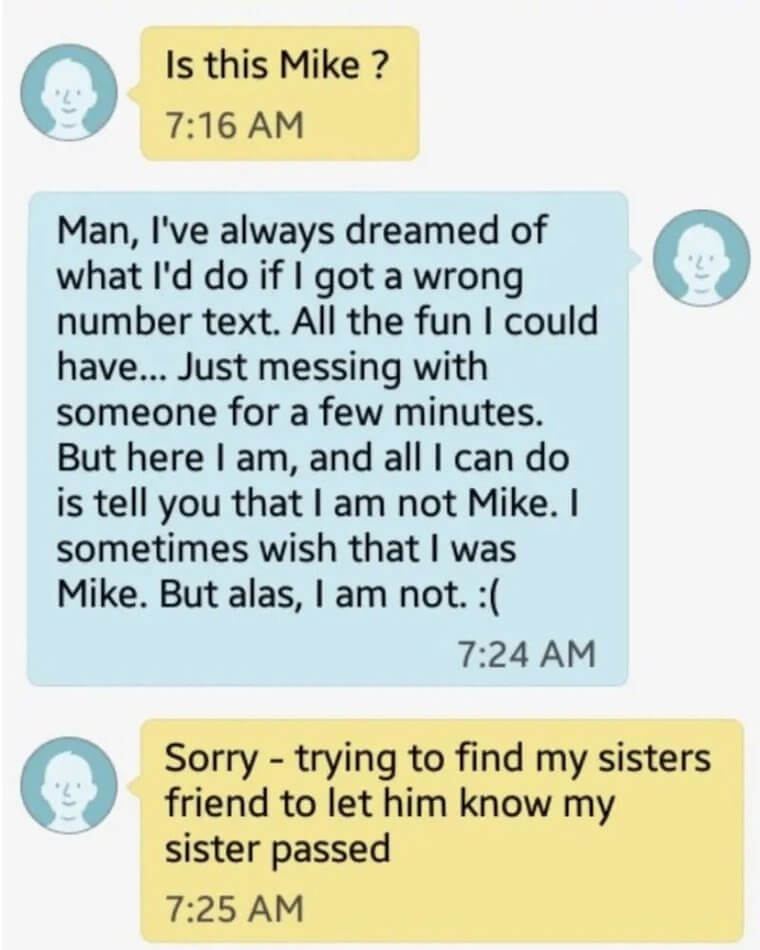 We have a sneaking suspicion that Mike-seeker's sister has not just died, and he was having fun with Not-Mike. The problem is that you can never be 100% certain. Let's face it nobody wants to upset someone already dealing with the stress that follows the death of a loved one. What do you think? Is Mike-seeker being honest, or is he being a trickster? We would love to know.

It Is Strange How Differently People Remember Past Events
Don't you hate when some people look back at the simplest things from a time long past with rose-tinted glasses, making a big deal out of nothing? We are not sure who to feel more sorry for, the guy who cannot seem to let go of the past or the girl that gets an annual reminder from a guy she hardly knows.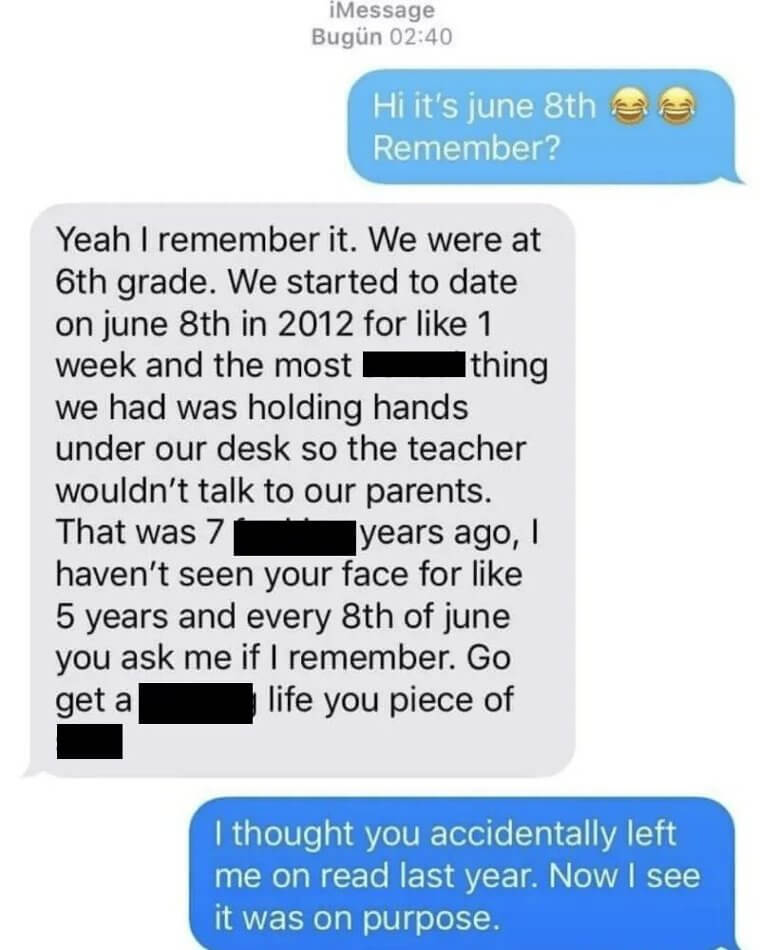 She was most probably his first love. He likely pined over her for months before he dared to ask her out. If that is the case, his association with their prior relationship would be far more in-depth than the short time she associated with when they spent time together as a couple. So it would be somewhat fathomable that he reminisces each year, but we also understand why she has no interest. Wow, the complexities of young love. Lol!

He Failed Before He Had Even Begun
Exams are highly stressful. Different people handle stress in different ways, with many people becoming forgetful and distracted. That is especially bad when writing exams, as the goal is to remember everything you have spent hours learning. However, it is not the end of the world if you temporarily forget a formula or two. Sure, you will lose some marks and achieve a lower grade than you had hoped, but that is still far better than forgetting what day it is and missing your exam entirely.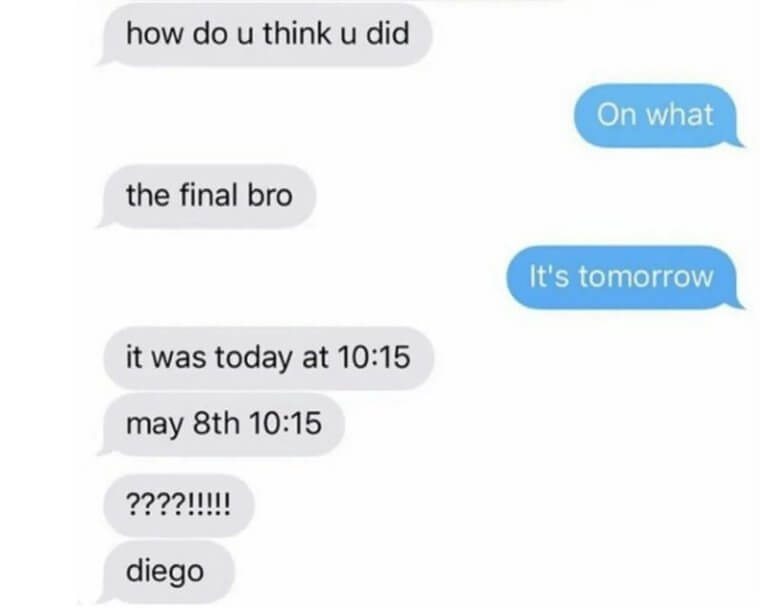 We can only imagine how this guy's stomach must have dropped when realization dawned as he read the message from his friend asking how he thought he did in the finals. He probably thought it was a joke and then checked the date on his phone, rechecking it twice before sinking to the ground in despair.

Knocked Down a Rung by the Police
Who knew that police were so quick-witted? We loved these next Twitter posts between a teenager and the police. The boy tweets that his parents are going out of town, and he is hosting an open party. Everyone, except the police, is invited. He also tags the police department. Maybe he was trying to be audacious and imply that the party would be wild. It sounds like trouble.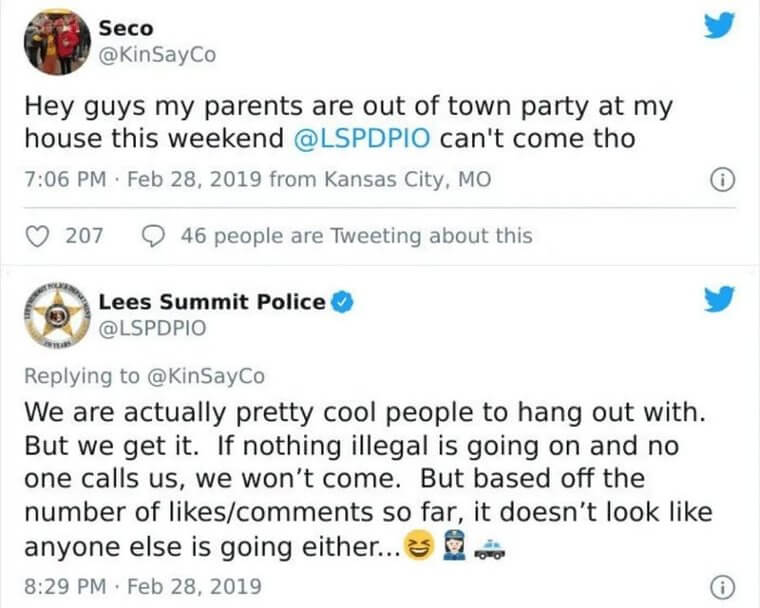 However, the police quickly trampled on his parade. The way they wrote their reply tweet made them look cool while putting the youngster in his place. However, it was a bit of a low blow to mention how few comments and likes he received. They practically called his party lame, predicting a poor turnout judging from the lack of online responses he had received so far. However, they did warn him against any illegal activity.

Think Before You Comment Online
We have all heard the saying, "think before you speak," but it is even more vital, in this day and age, to think before you write. People sometimes say (or write) very mean or stupid things they would not usually utter if they were looking the person in the eye. Don't presume to know someone else's motives. Also, remember that sometimes you cannot erase what you put out there.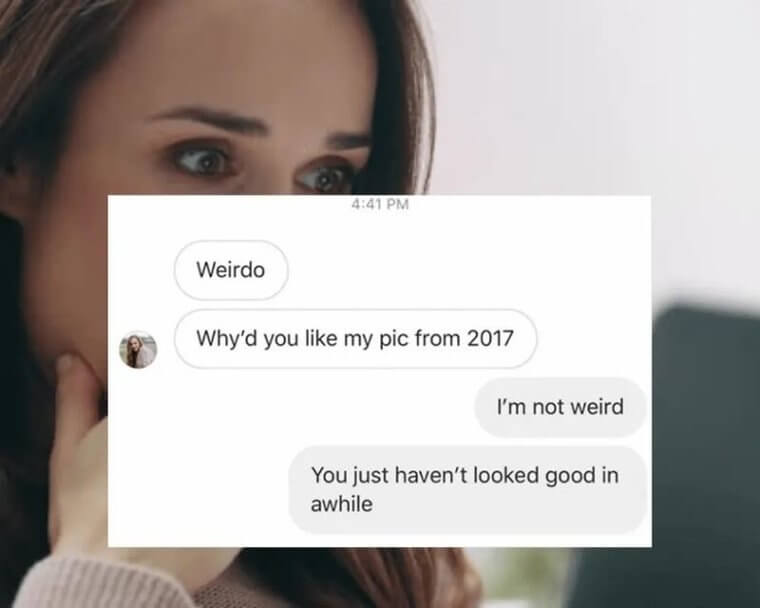 We are unsure if this girl was correct in her assumption that the guy was only checking out her profile to ogle all her photos. There again, why put pictures online that you don't want people to see? We digress. Going back, if she is right, he was caught and embarrassed and struck back at her with his comment. She also may have been wrong, and he pitied her but didn't like any recent photos.

Talk About a One-Sided Conversation
They say it is okay to talk to yourself, but a different kettle of fish if you answer yourself back. That is usually a sign that you may need to visit a shrink to check for schizophrenia or multiple personalities. There is nothing said about having a conversation with yourself on social media. Could it be one of the above or plain loneliness? Whatever way you look at it, we know it is one hundred percent sad.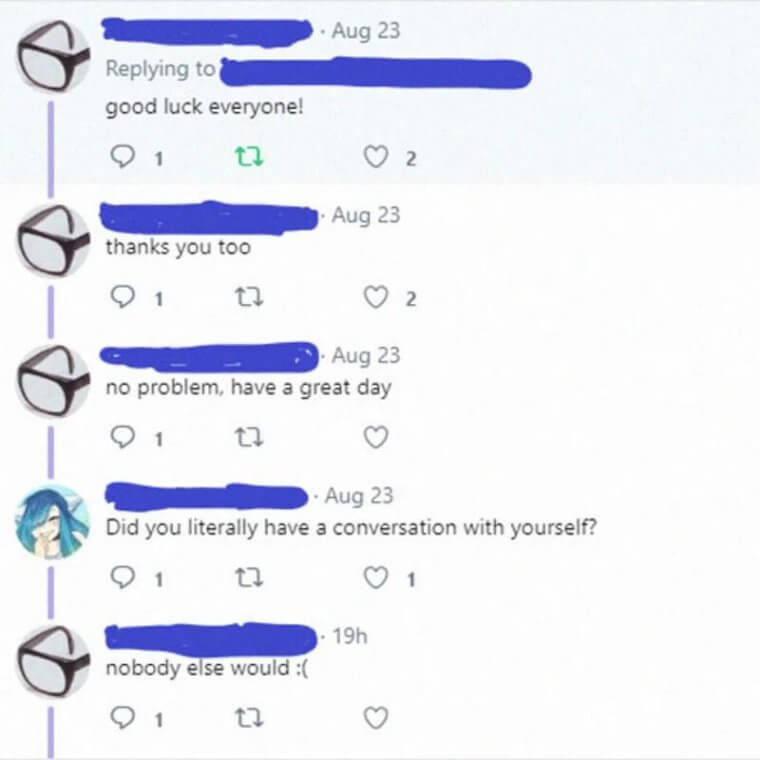 Maybe the person who wished everyone good luck for the day and, after getting no replies answered, "thanks, you too," thought nobody would notice. However, he did not stop there. He continued the conversation by saying, "no problem, have a great day." Maybe he went one reply too far because someone then noticed and called him out. The poor guy responds that "nobody else would :(."

When Fishing for Compliments Blows up in Your Face
This next post is hilarious but tragic. We are not sure why this young lady needs to fish for compliments so desperately. She received 150 votes for her pole, so it is not like she has no followers. Her post reads, "Am I really that pretty or are yall lying to me?" Nobody likes vein people. Self-confidence is attractive, but vanity is on a whole new level, and this girl lacks self-confidence if she needs to ask for confirmation.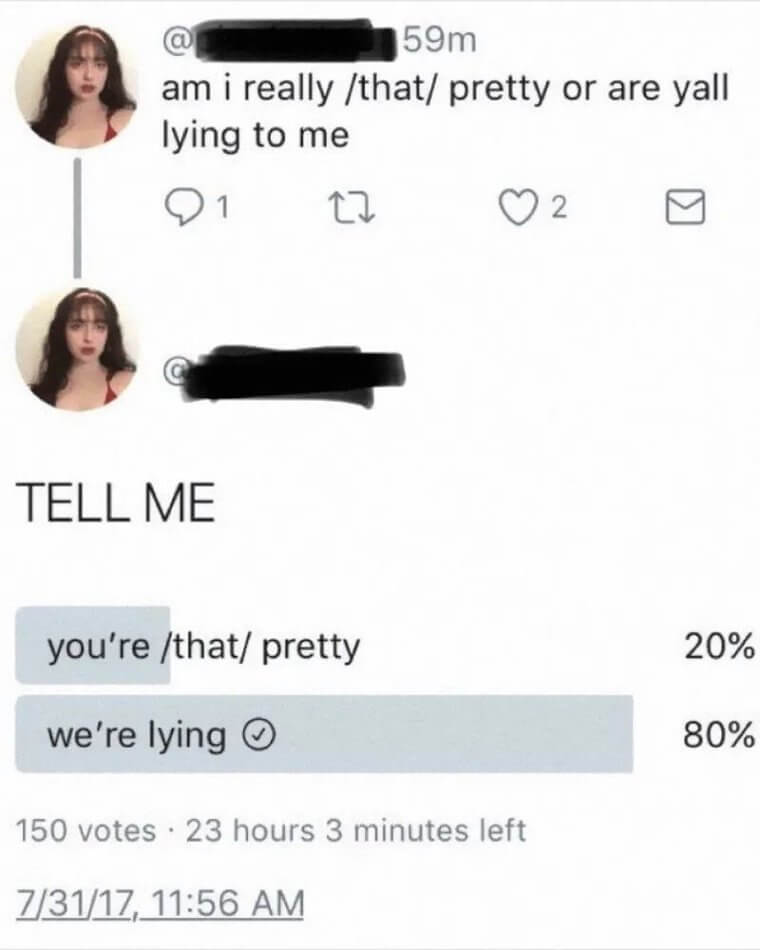 We are guessing that she expected most people to assuage her fears and say she was that pretty. It turns out that people were brutally honest with her. While 20% said she was pretty, they were probably the friends she saw in person, or her family members, 80% of the votes stated they were lying. We bet she won't do that again.

When Two People Are on Different Pages
Ouch! This guy appears smitten with the girl. However, he is a little overconfident and cocky for his own good. Maybe it is just wishful thinking that makes him think he has a chance. He starts by complimenting her eyes, and when she replies, "Thanks," without shutting him down, he continues on his quest with, "So what's up cutie?" We don't know if she intentionally misled him with her reply, but she says, "Talkin to this really cool dude."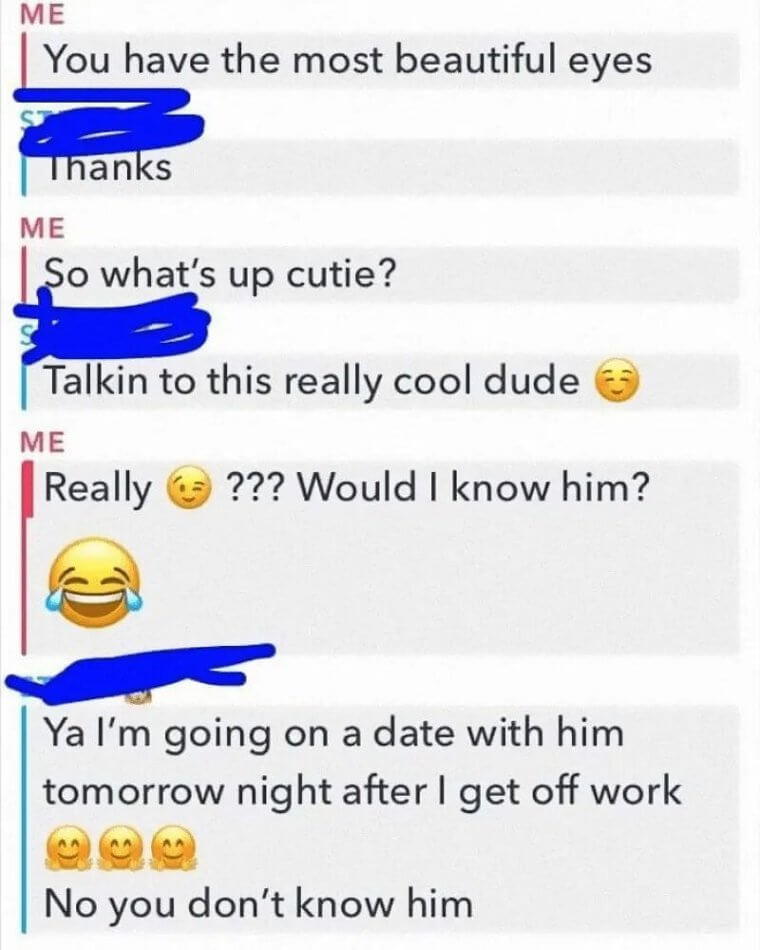 He must have thought she was talking about him because they were in the middle of a chat. He asks if he knows the guy and sends a winking and laughing emoji. Her response is brutal. She writes, "Ya, I'm going on a date with him tomorrow night after I get off work (hugs"), and adds, "No, you don't know him."   

Burned on Twitter by a Girl Who No Guy Is Interested In
When the Twitter user, a²zeez@spell3d, responded to a girl who posted that "no guy would be interested in me," we are sure he never anticipated her response. We think she was looking for attention, but he must have felt sorry for her because he DMed her telling her he was interested. She deleted his tweet and amended her first tweet to "no good-looking guy would be interested in me." Ouch!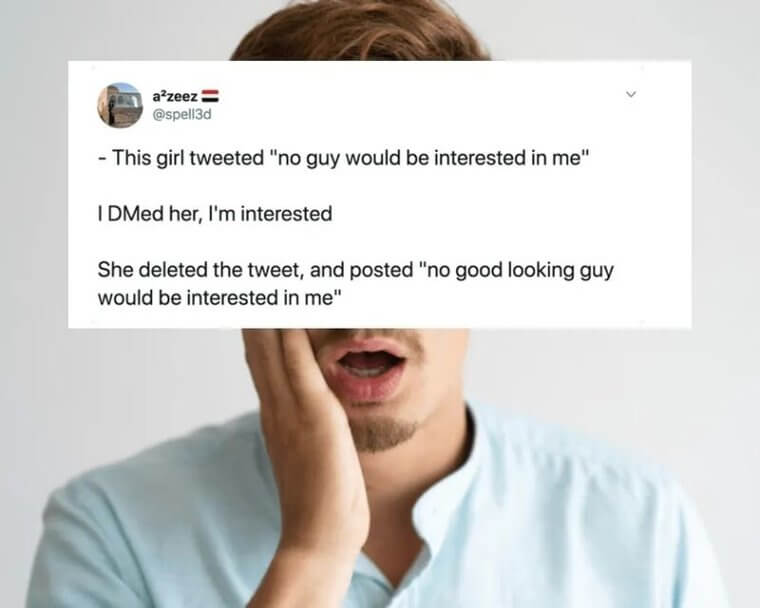 Shame, perhaps if she wasn't such an attention-seeking bitch she might attract someone. She did herself no favors. Our answer for a²zeez@spell3d is that she was not worth the effort, and he is probably better off without her. However, we do question his Twitter handle. It is somewhat nerdy and may be off-putting before someone takes the time to get to know him. 

Social Media Is Great for Getting in Touch With Long Lost Friends and Relatives
Our heart goes to this teenager who is desperately trying to get in touch with his biological father. It is common practice for children who have grown up not knowing a parent to search for them online, and with today's social media platforms, it is not that difficult to find someone with minimal information. It sometimes just takes a few tries to find the person you seek.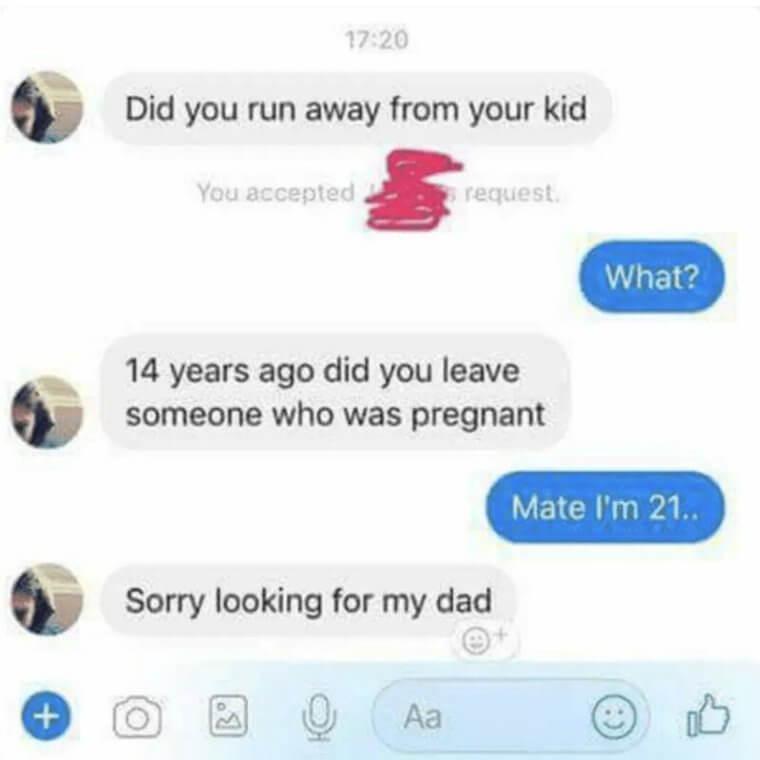 This fourteen-year-old child must have discovered his father's name and turned to Facebook to track him down. He appears to be extremely bitter and not very skilled at sleuthing. The man he questioned about being his dad was only twenty-one, which would have made him seven when the boy was born. Maybe as he continues on his search, he will look at men that are thirty and older.

Do Not Believe Everything You See Online
Sam, the ex-eboy posted online, "Got my egirl tatted on me, and she deactivated her account :((((." Running as fast and far away from someone who had your name tattooed on their wrist after only meeting online seems like a good idea as it is crazy behavior. So we are sure not many people are surprised that she deactivated her account.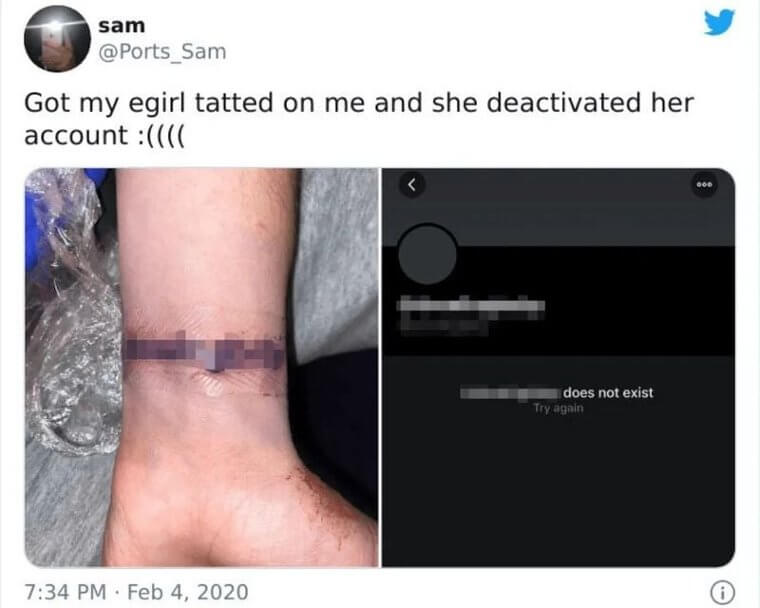 Maybe she saw what we saw and thought Sam was a douche for lying. Look closely at the picture. Did you notice the banded area of wrinkled skin around the supposed tattoo? To us, it looks like he printed her name on clear tape and stuck it on his wrist to make it appear as if he had a tattoo there. Either way, she was smart to distance herself from Sam. Who knows what he thought he would gain by doing that?

Another Guy Waxes Lyrical to His Ex-Girlfriend
Don't you think that when two people break up, there is a pretty clear indication of whether there is a chance of reconciliation or not? So we are confused why so many people would attempt little online pick-up lines when there are no signs to indicate a possible reconciliation. If you are giving it a shot, at least do it face-to-face.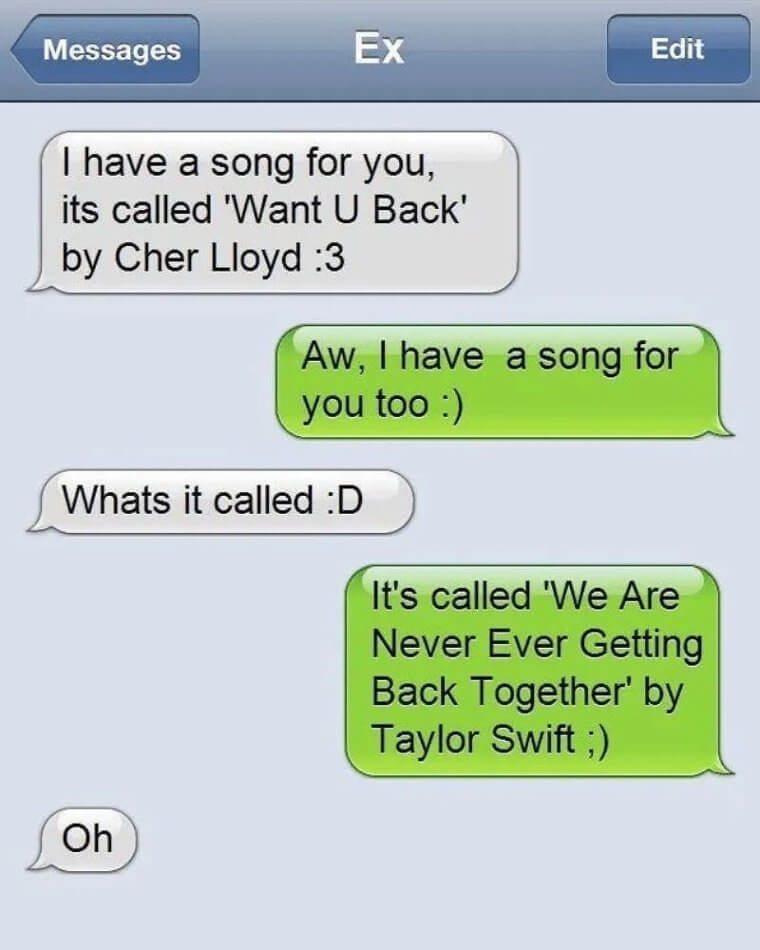 When the guy referenced the song "Want U Back" by Cher Lloyd, she responded with a song title of her own. She could not have said it any better than Taylor Swift, who sang, "We Are Never Ever Getting Back Together." Although we wonder why she still has him as a contact, she just renamed it to Ex. Maybe she did leave him mixed signals in the past. She has cleared up any misconception now, though. Lol!

You Can Never Be Too Careful With What Info You Give Out
This guy has provided a perfect example of what you should never do. Rachel visited the store where he worked as a cashier, and she must have made quite an impression on him. He must have missed his opportunity to get her number but was still keen to contact her. After visiting the store, Rachael received an iMessage from an unknown number asking, "Is this Rachel?"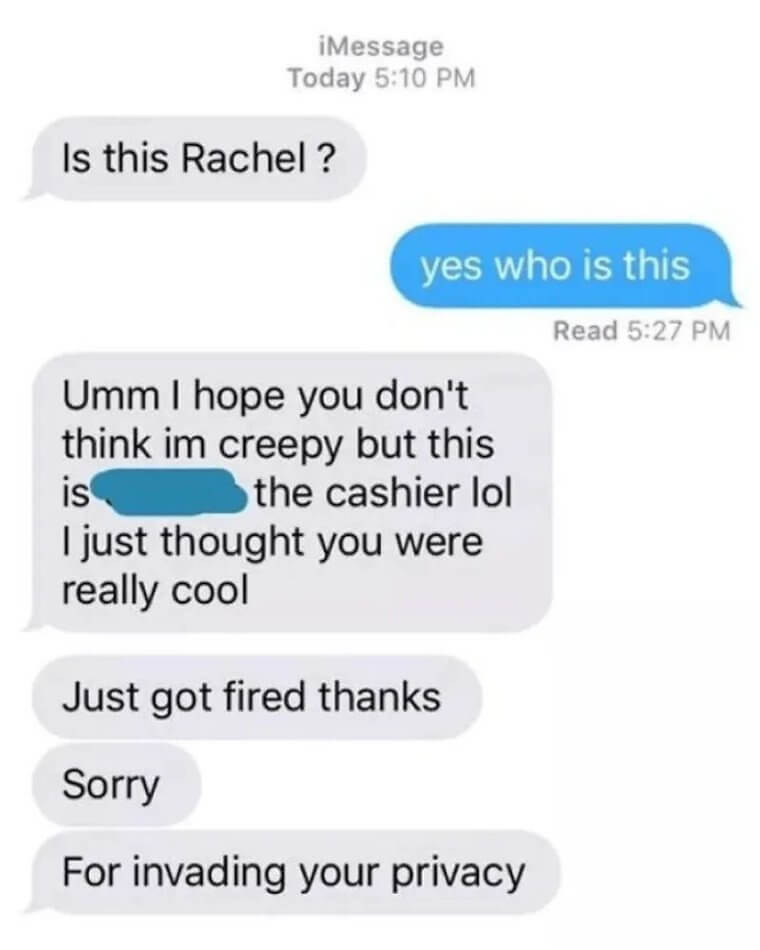 When she asked who it was, he replied that he was the cashier and hoped she didn't think him creepy, but he thought she was cool. Like any other reasonable person, she did find his stalker behavior very disturbing and called the store to complain. Not surprisingly, his boss fired him. He hopefully learned his lesson and realized it is not acceptable to invade someone's privacy like that. He did apologize. 

Busted by a Fellow Church Goer
Alex is trying to create an online impression of being a stand-up community figure who is compassionate and kind to the elderly. Our question is, why not just be honest? Alex posted photos of his grandmother eating alone and then with them sitting together at the table. He took one picture before he joined her and two afterward. Spending time with his grandmother is a favorable character trait, so we are not sure why Alex felt the need to falsify the event.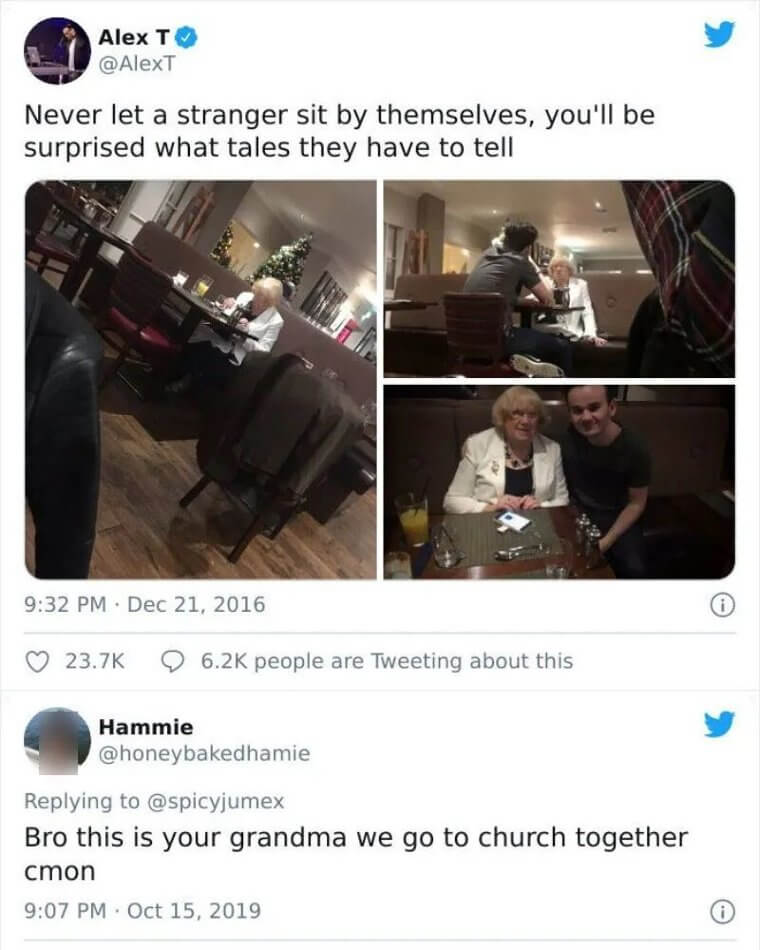 In his post, he implies that his grandmother was a stranger, and he joined her so that she did not dine alone. Unfortunately for Alex, Hammie, who goes to the same church as Alex and his grandmother, saw the post. Hammie publically called him out by saying, "Bro, this is your grandma, we go to church together, cmon." How embarrassing!

Children Need More Face-To-Face Friends
Parents need to be more aware of what their children are doing online. Not only to safeguard against pedophiles that prey on unsuspecting children and peer pressure, but if this boy's parents had seen this post, they would have realized how much he is struggling to make friends and possibly intervened. Sadly, he feels he needs to wish himself a happy thirteenth birthday on a public platform.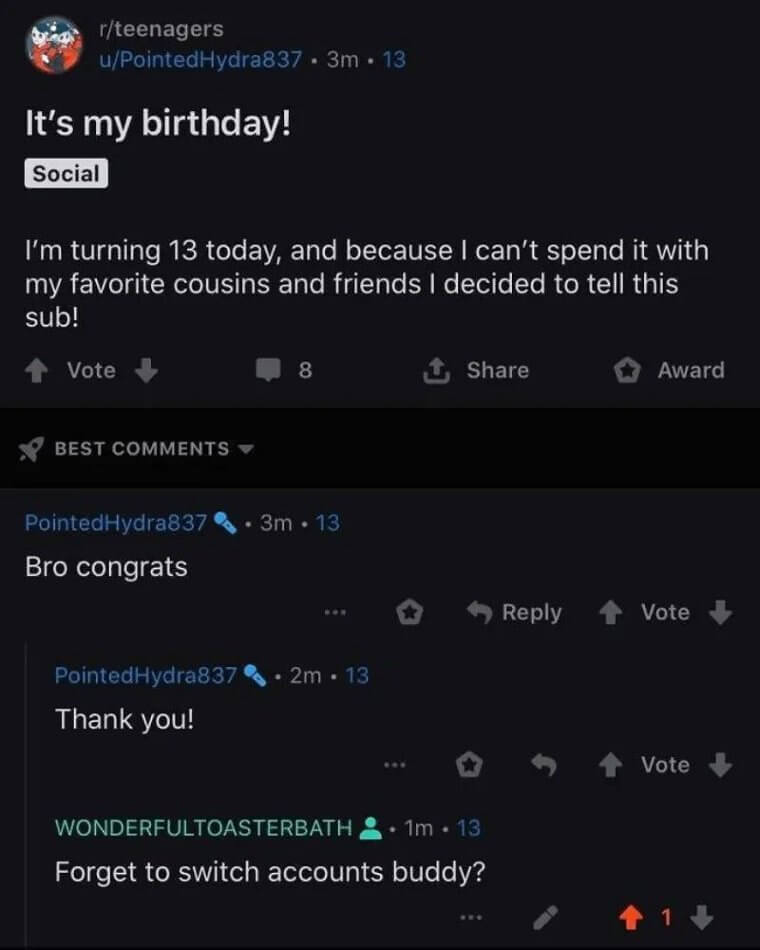 It is even sadder that he replies to himself by pretending to be someone else, and the worst is that he did it all under the same user and got called out by another user that wrote, "Forget to switch accounts, buddy?" Despite the unfortunate online mishap, we hope that PointedHydra837 enjoyed his thirteenth birthday. We also hope that, in the future, he makes enough friends to eliminate the temptation of repeating his actions. 

Another Guy Wakes up in the Friend Zone
This post shows another hopeful guy wanting to be more than friends with his friend, who happens to be a girl. He tries to be subtle, but he fails when he posts a picture of them together, saying, "We look so much like a couple here, hahahaha." He makes it sound casual, but we know he is anything but when he waits for a response.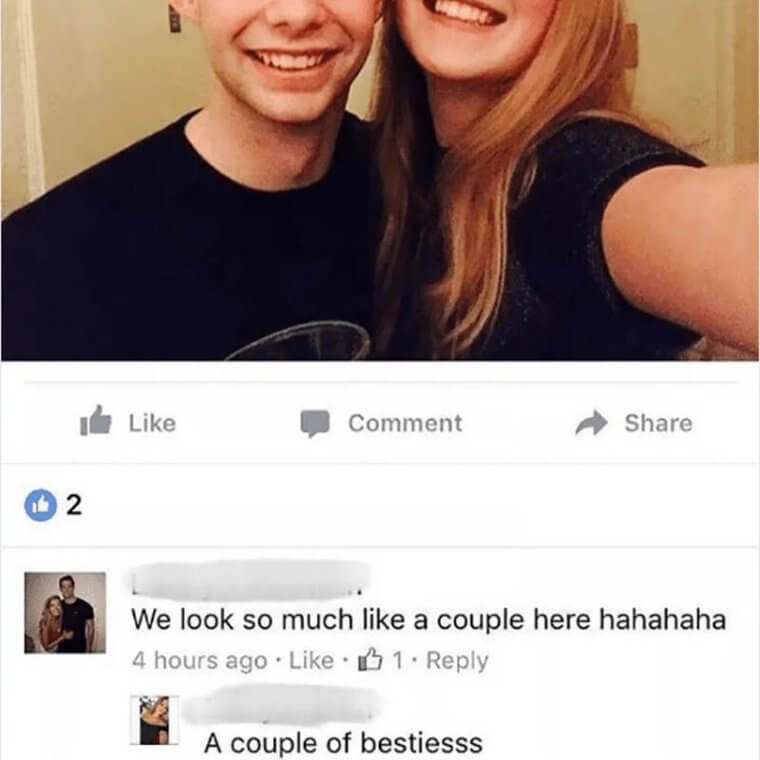 Her response, "A couple of bestiesss," must have guttered him, but hopefully, he will get the message and stop trying to be more than friends. Shame, did you notice even his profile picture also features his "girlfriend." They look like they share a special relationship, so we hope his infatuation with her does not ruin what they share. Sometimes the heart has a mind of its own, and you can't choose who you fall in love with.

Get Your Mind Out of the Gutter
Have you ever deliberately written a misleading text to a friend or boyfriend to shock or make them jealous? It is loads of fun, but sometimes we wonder how they can miss that you are pulling their leg. The following chat shows the perfect example of a joke that should have been obvious but managed to leave the recipient shocked. Katy's friend or boyfriend must have wanted to meet somewhere that night.

When she said she had plans, he (there is a hint of jealousy, so we are guessing it is a "he") asked where she was going. She replied, "To meet a man who'll be touching my body with his hands." Adding "For money" to the end. She got her desired response, then let him off the hook and explained she had an appointment to get a massage. Good one, Katy!

Should She Have Waited to Change Her Facebook Status?
For about 99% of us, getting engaged is an exciting time, and we can't wait to share the news with family and friends. Perhaps some arranged marriages are a little less celebratory. This next post is a bit confusing. We doubt it is an arranged union, so we wonder why this guy slams the brakes on his fiance sharing the news on social media.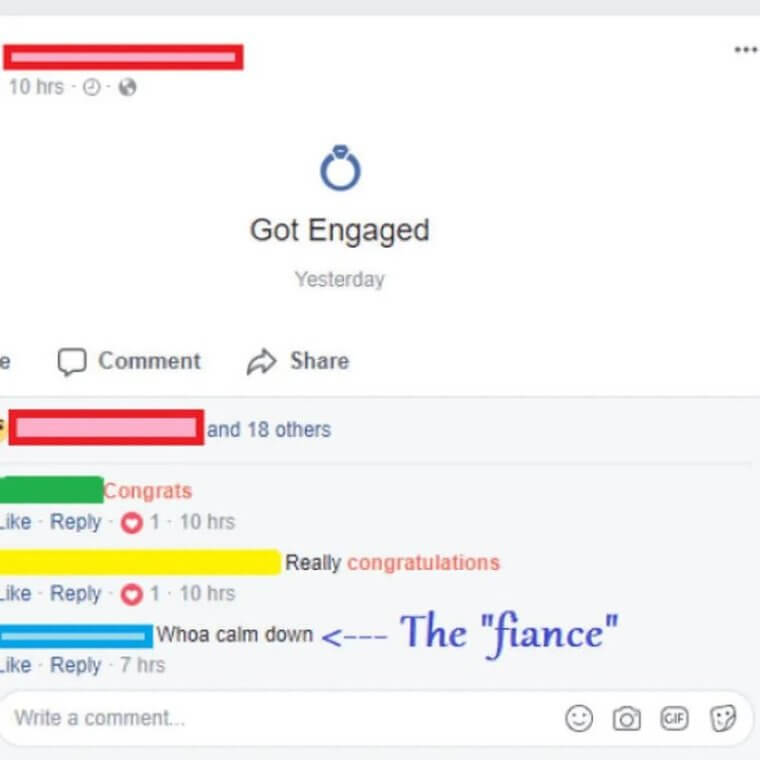 The trick is probably knowing if she has a ring yet. If she does, we are still totally baffled. If she isn't sporting a rock on her finger, then maybe it was a miscommunication, and the guy was talking of a possible future, not a set in stone, "Will you marry me." Either way, we don't feel he is quite ready. Maybe he spoke before he thought things through, and now he is having second thoughts.

It Would Have Been Funny Under Different Circumstances
Why, when someone dies, do we say that we "lost" someone or they "passed?" There seems to be a stigma surrounding the simplicity of saying he (or she) died, and it appears more emotionally delicate to say he (or she) passed or was lost. If we stick to he (or she) died, there can be no confusion about what happened.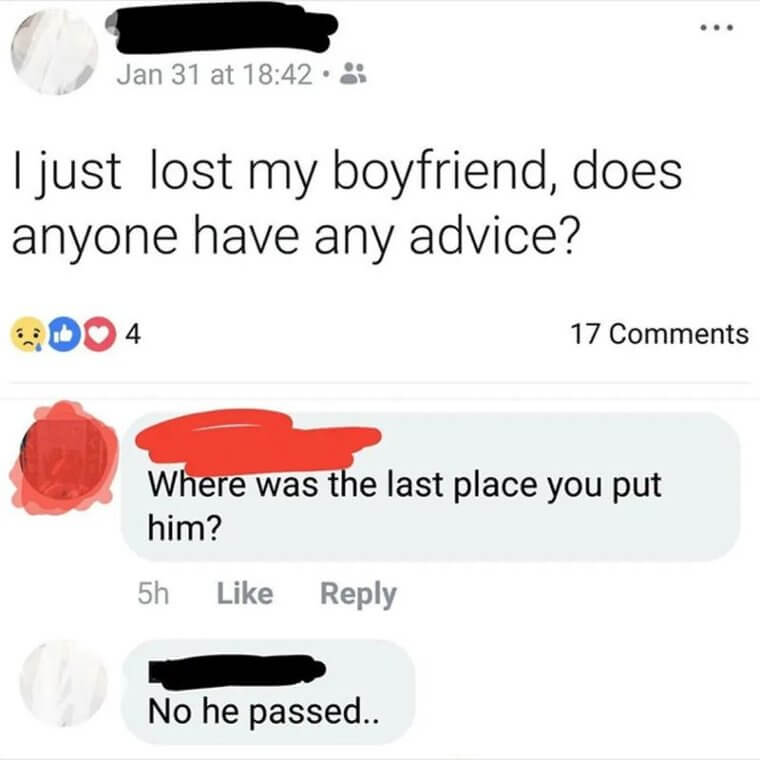 It won't reveal how the person died, but it will eliminate confusion like what happened in this post. A girl posted, "I just lost my boyfriend, does anyone have any advice?" One comment, which could be funny if it wasn't such a sad occasion, was, "Where was the last place you put him?" Actually, the more we think about it, it probably would not be funny in any situation. The other explanation of a breakup would also be sad for the girl.

We Earn Respect in Several Ways
IHOP restaurant chain turned to Twitter to demand respect as the Pancake OG. Denny's Diner responded to their tweet asking, "wait what's OG mean." At the bottom of their post, you can see other searches, which include IHOP International House of Pancakes - 1958, Waffle House - 1955, and Bob Evan's Restaurant - 1946. We see their point.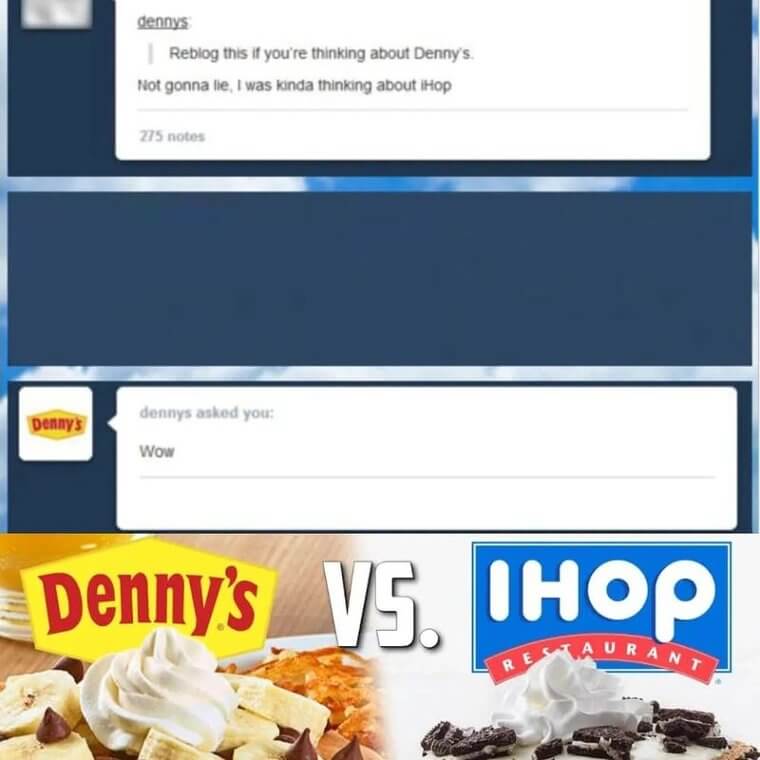 IHOP falsely claimed to be the original pancake provider but does anyone care who was first? The quality and the taste of the food and value for your money are the only criteria we care about when judging a food outlet. We are sure if they wanted some judges to taste-test to see who deserves the most respect, they would have an abundance of volunteers. We know we would not hesitate to take part. Which restaurant do you prefer, IHOP or Denny's Diner? 

Are You Battling to Find Team Members?
@lucidbillz is an online gamer, but people he previously played with are no longer playing the games he likes, and he is battling to find squad members. In answer to his post, "need a new bo3 squad no one plays anymore." Microsoft asked him, "Did you find a new squad? They were probably trying to be helpful, but @lucidbillz slammed them, posting, did you find a way to make Xbox decent yet?"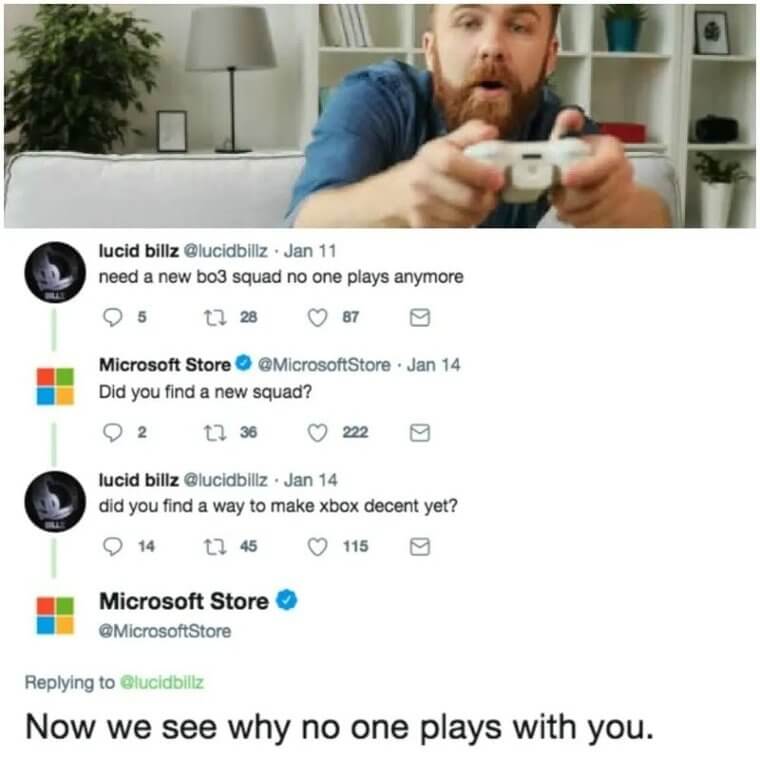 It was an uncalled-for response which Microsoft did not take lying down. They responded, "Now we see why no one plays with you." We don't blame them for their sharp reply and figure they may have a point. Maybe his past squad did not stop playing. They just no longer want to play with him. He sounds like someone who would blame everything and everyone if he did not perform well.

Corporate Companies Share Banter on Social Media
Businesses sometimes share banter with other companies, not just individuals. Old Spice had a dig at Taco Bell when they posted, "Why is it that 'fire sauce isn't made with any real fire? Seems like false advertising." Taco Bell bit back, posting the question, "Is your deodorant made with really old spices?" Touche. The saying about not throwing stones in glass houses comes to mind.

Old Spice may not be the best name for anything, but the deodorant brand has stood the test of time and thrived despite it. William Lightfoot Schultz's soap and toiletries company introduced the first Early American Old Spice brand 85 years ago in 1937, but we are sure they are using fresh ingredients in their deodorants. Both brands have a strong online presence, and their banter has only added to their marketing campaigns and not detracted.

No One Wants to Experience That Awkward Moment
Charmin has created a relatable post that many people have experienced at some time in their lives. Have you ever been dying for the loo only to finish your business and realize that some inconsiderate person finished the last piece of toilet paper and did not replace the roll? So you were left stranded on the throne shouting for help.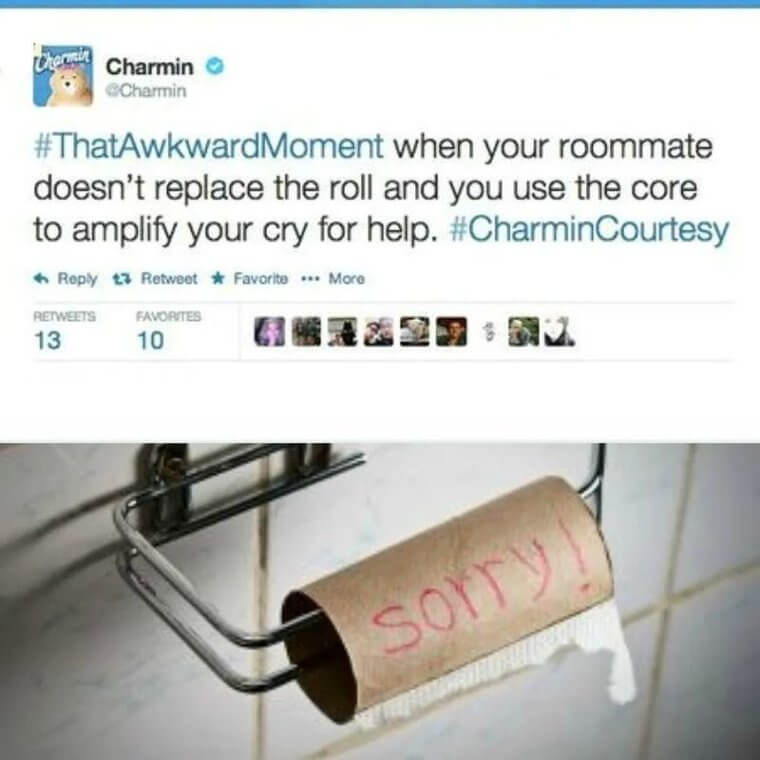 If you have experienced it, you probably only experienced it once. That is all it takes for you to take the time to confirm there is toilet paper before sitting down. Here's some free advice to all the lucky people who haven't yet experienced the moment of dread when you realize there is nothing to wipe with. Take the time to confirm there is sufficient toilet paper to finish the job before you sit. You are welcome.

The World Has a Diverse Range of People
Everyone has different tastes and preferences and is entitled to their own opinions, but we fail to understand how Lil Pads@Sebastianistall can think that Hot Pockets are stupid. That is what he posted on social media. If you haven't tried them, they are delicious pizza pockets that are quick to cook, mess-free, and convenient for the whole family.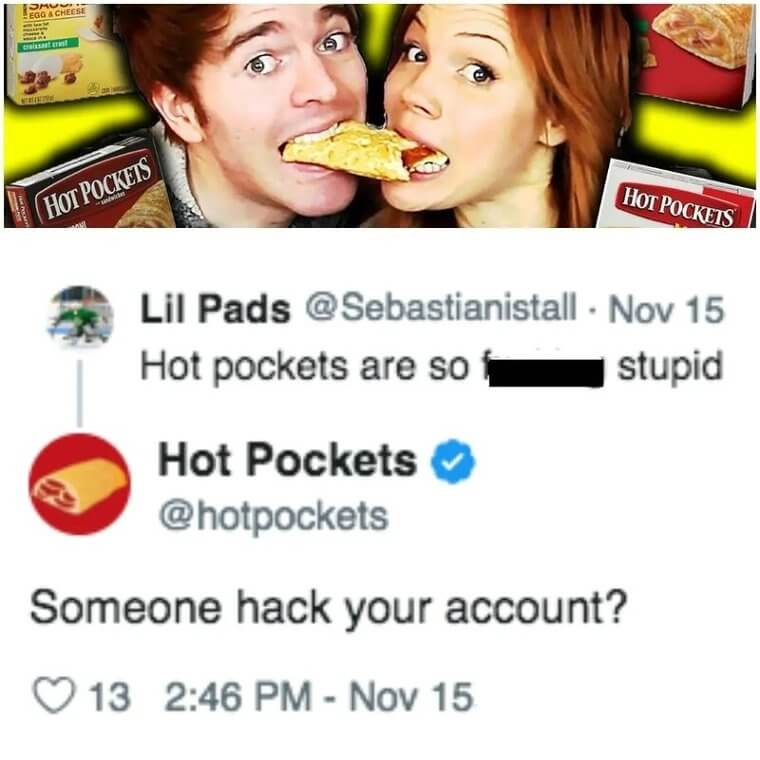 Recently, several online users have had their social media accounts hacked, so it is no wonder that Hot Pockets jumped to that conclusion and found it inconceivable that anyone would find their invention stupid. We are glad that the folks at Hot Pocket gave Lil Pads@Sebastianistall the benefit of the doubt. Our favorite three flavors are Bacon Cheddar Cheese Melt with Pretzel Bread, Ham & Cheese with Crispy Buttery Seasoned Crust, and Pepperoni Pizza with Crispy Crust. Which are your favorites?

Valentine's Day Is a Day for Love and Romance
February 14th is either a day you dread or a day that you eagerly anticipate. It all depends on your relationship status. We experience the tradition of exchanging cards from a young age. School children enjoy giving and receiving valentines cards from their classmates. Boyfriends and girlfriends and husbands and wives often spoil each other as a sign of affection. In some families, the parents give each other and their children valentine's gifts.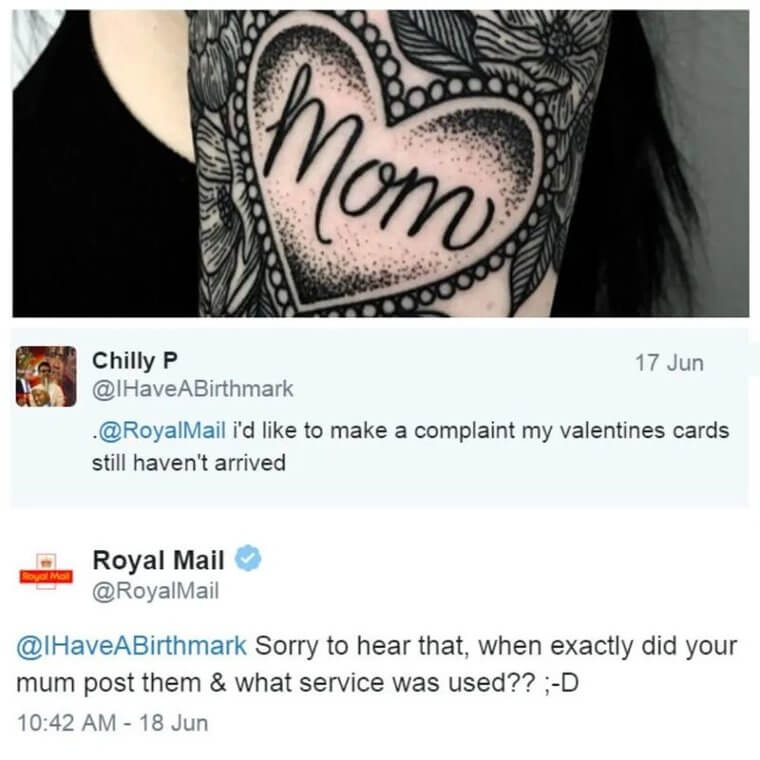 @IHaveABirthmark complained to @RoyalMail that his valentine's cards still haven't arrived. He doesn't specify if they are cards he expected to receive or those he sent, but the recipient did not acknowledge receiving them. @RoyalMail sent a snide reply referencing his "Mom in a heart" tattoo on his profile picture, "@IHaveABirthmark Sorry to hear that, when exactly did your mum post them & what service was used??;)".

Does Your Mother Ignore Your Calls Too?
A mother avoiding his calls seems to be the case for Mr. Joe Lee @MisterJoeLee. However, it might be unintentional that she keeps missing his calls. She may have her phone on silent or have turned the volume right down. Can we suggest you ensure your mother knows how to use her mobile correctly before criticizing others @MisterJoeLee? Alternatively, call your mother at a time you know is convenient for her when she is not busy.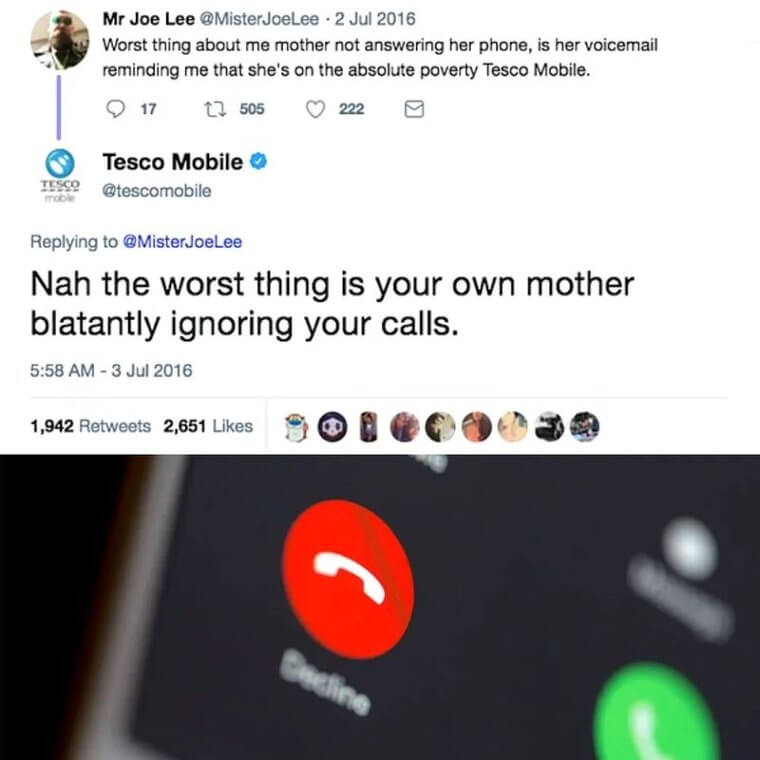 In his post, he writes, "Worst thing about me mother not answering her phone, is her voicemail reminding me that she's on the absolute poverty Tesco Mobile." It seems Tesco did not appreciate his slander and replied, "Nah the worst thing is your own mother blatantly ignoring your calls." We don't blame them for their scathing remark. You get what you give.

40 Times the Internet Hilariously Caught People Having an Off-Day
Due to social media, an unsuccessful tweet or text message can now reach thousands of additional people. Here are instances in which the internet caught people having a bad day! Only those in the room would have known when you embarrassed yourself in the past. This may be unfortunate for the person who made the error, but it can bring a smile to our faces.

Are You Aware That You Should Remove That First?

Hard-boiled eggs are a time-saving food that a lot of people keep in their fridges. People typically begin their culinary careers by mastering one of these simple, wholesome, and versatile treats.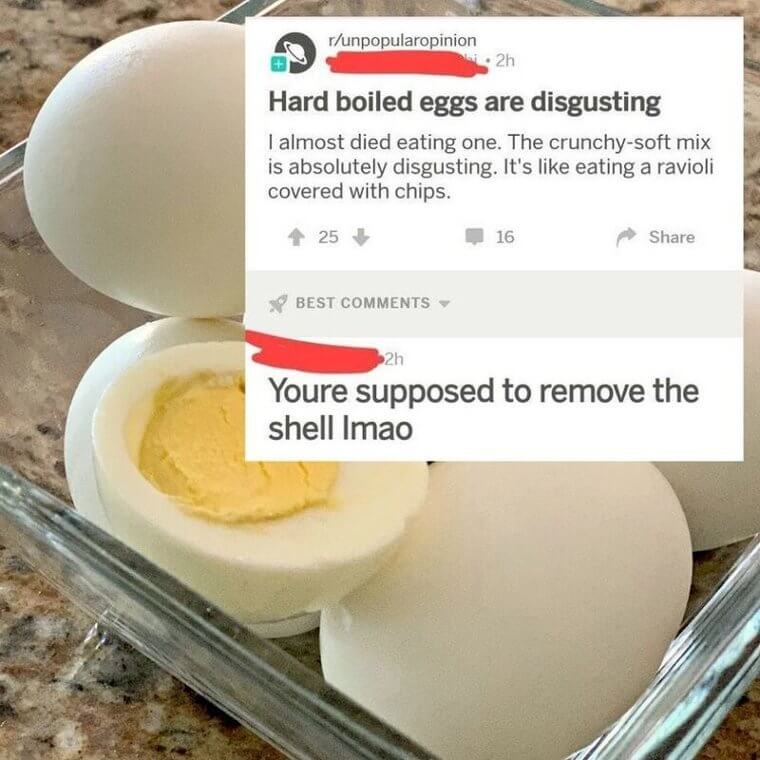 When eggs are boiled first, the shells are typically removed before they are consumed. It would appear that not everyone is as knowledgeable as we had assumed they were. However, you need not be concerned because an internet troll was more than happy to set this poster straight.
Review of Grammar
We concur with you that the respondent provided the individual in question with sufficient 'proof.' Are you picking up on the allusion? Because of this, you should never issue a challenge to another individual to "prove you wrong" unless the assertion that you are making is correct.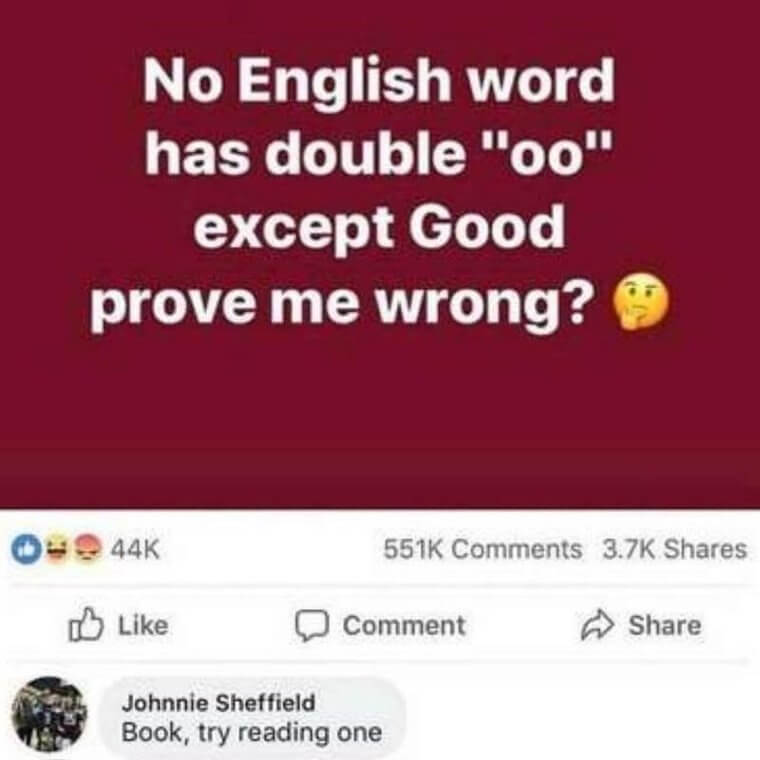 We are all of the same opinion that Johnnie ought to have been more lenient toward that clueless poster. However, he makes a convincing case for his position. An attempt to deceive people into believing that they had a higher intelligence level than they actually possessed was a dismal failure.

Someone, or Something, Is Observing Us
A sizeable proportion of the population is of the opinion that the government is monitoring our activities through the use of various forms of modern communication technology. It should not come as a surprise that someone would write this, but it would appear that the general public has forgotten about a method that the government employs to validate our identities.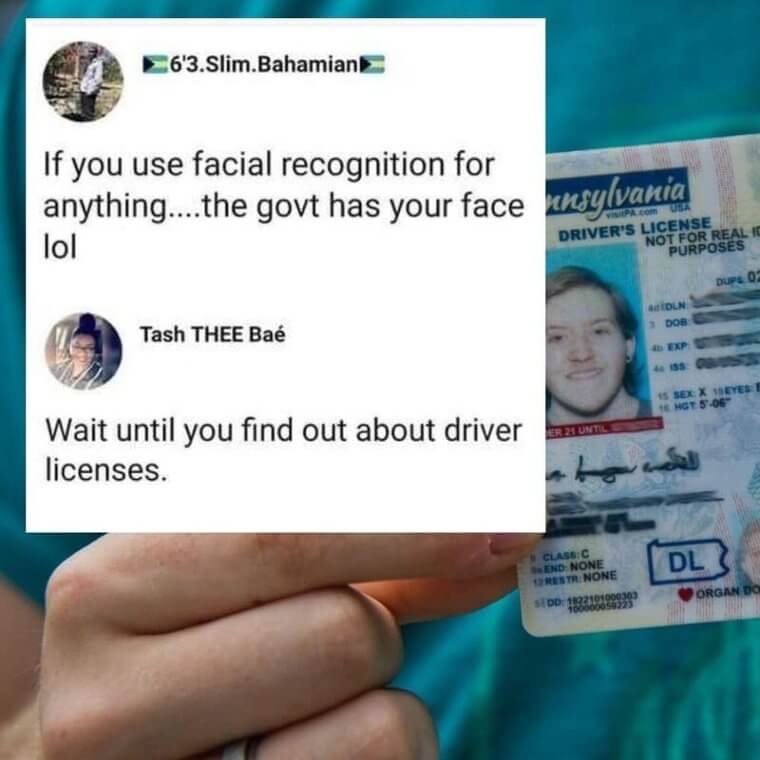 You read that correctly; the tried-and-true old ID system came long before the introduction of Face ID. We have all been given a one-of-a-kind identifier due to the fact that by the time we turned 16, the majority of us had already been photographed and had other identifying information recorded.

The People Who Never Have to Deal With Others' Mistakes
If you're going to self-appoint yourself as the "grammar police," you had better have flawless command of the English language. Otherwise, you'll appear to be ignorant, and the meaning of what you're trying to say will be lost in translation.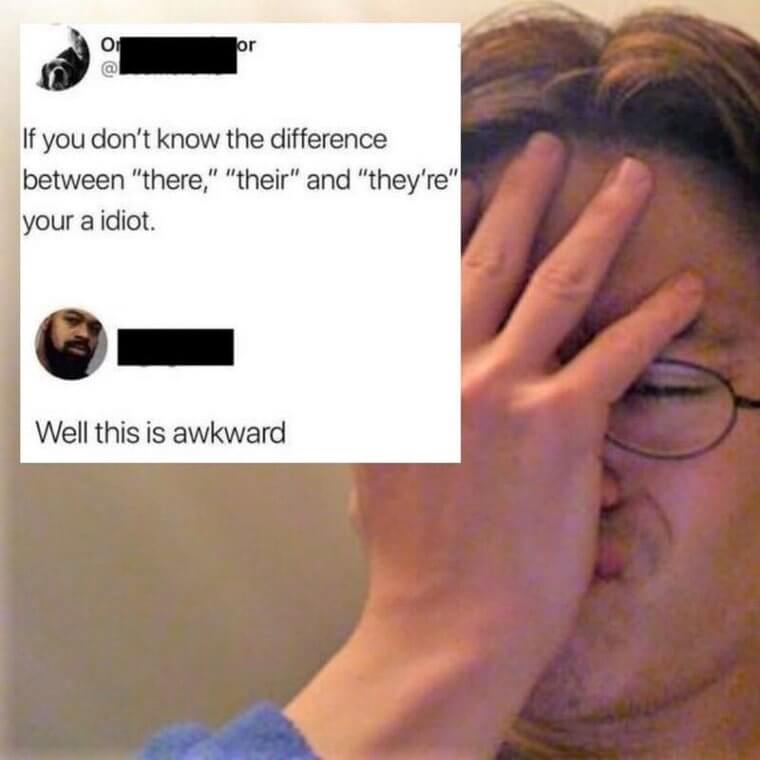 It is not right to criticize others for doing things that we have done ourselves, which is the message conveyed by the proverb that follows this heading. If we are found to be guilty of such a thing, the pejorative label of "hypocrite" is waiting for us to apply to us.

Geographical Incendiary
People who have difficulty with geography typically make up a minority of the population. In the event that you fit into that category, there is no need for concern regarding this matter. It's unfortunate that you single people out like that, but you shouldn't do that. Due to the unfortunate lack of foresight displayed by this individual, she placed herself in a potentially dangerous situation.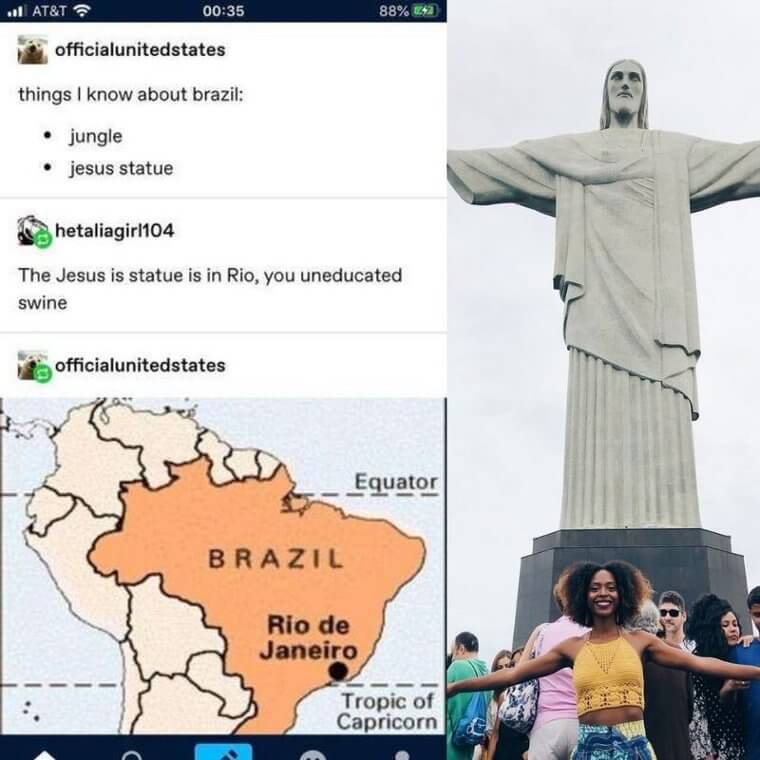 After realizing that she needed a quick refresher on her geography, the original poster decided that a picture would be more helpful than words in conveying the information. That was a tactic that was extremely understated but brilliant all the same.

In Other Words, You've Been Found Out
Many individuals take pleasure in posting humorous sayings and motivational quotations online. It is commendable to encourage other people to be more kind, but in order to do so successfully, you must first be able to be trusted to tell the truth.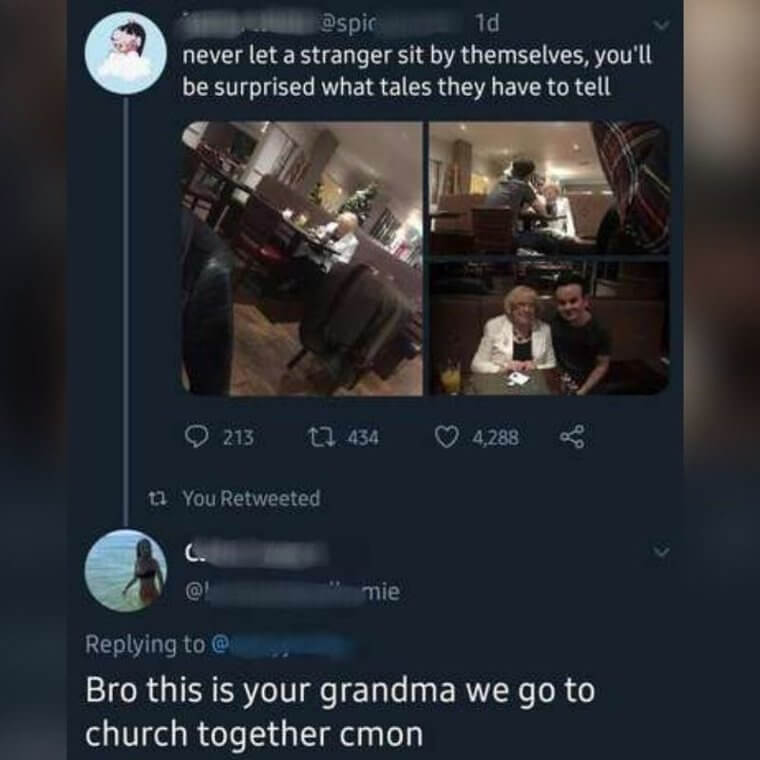 The guy believed that by enlisting the assistance of his own grandmother, he could more effectively portray himself as a gentleman. However, he failed to take into account the reality that his friends had already interacted with Nana. It is extremely embarrassing that he is acting as if he is a nice guy when he is not.

How About That? Did You Hear That?
The majority of attempted break-ins take place when nobody is at home. It's possible that this event illustrates why that adage can be applied to just about any situation. After all, hilarious situations can arise at any time, and no one has the self-control to ignore a funny joke.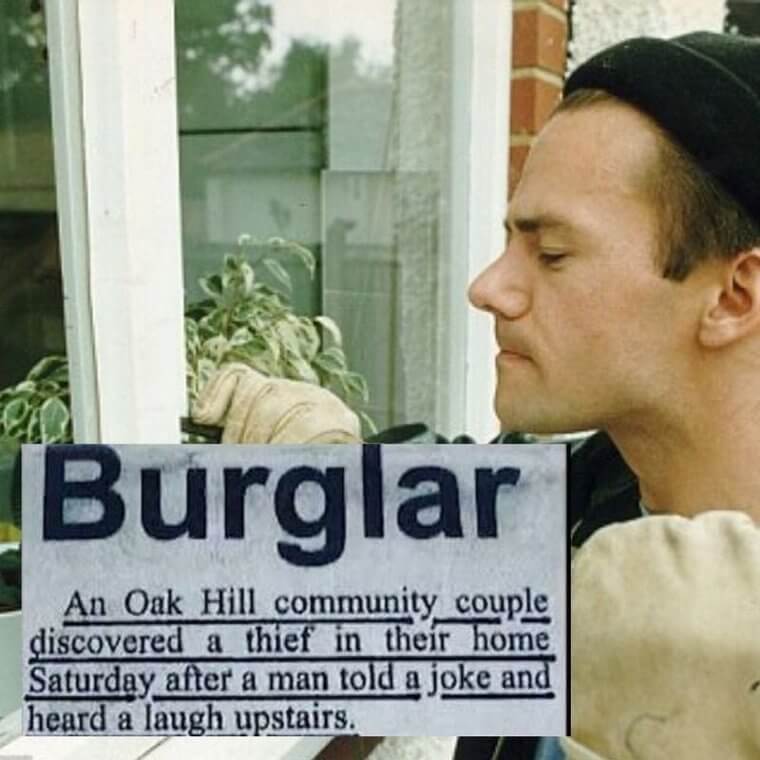 This would-be thief was put in that position against his will, and he did not fare well. As a direct consequence of this, he was found out. The takeaway from this is that laughing at strangers you pass on the street is rude and inappropriate. In point of fact, that's not the rule; the rule is simply that you shouldn't steal from other people.

Just Avoid Saying It!
When it comes to a driver's safety, having a good set of tires that have plenty of treads on them is absolutely essential. We are at a loss to comprehend why anybody would consider sanding down that tread as a prudent course of action. Despite the fact that it was completely insane, she appeared to take an immense amount of pride in herself.

Unfortunately, someone quickly seized the opportunity to warn her in the most entertaining way possible about the risks associated with her tire renovation, and she quickly changed her mind as a result of being warned of these risks. The other option is for us to pray that she was able to appreciate the humor. These days, it's impossible to tell what people are thinking.

Verifiable Evidence
A lot of people think that illustrating a point with an example is the most effective way to do it. Therefore, this individual was under the impression that by doing this, they were broadening their perspective, when in fact, all they were doing was setting themselves up for a monumentally embarrassing failure.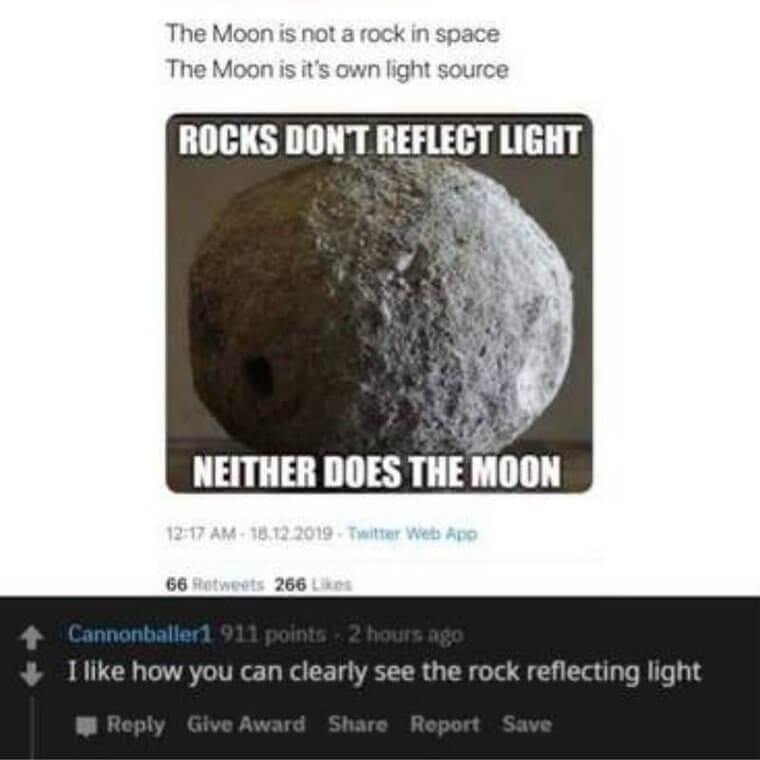 The shading of the rock is made visible as a result of light reflecting off of the rock. As a result, we shouldn't place blame on the individual who responded to this post in an effort to clarify the situation and set the record straight. The fact that there is already so much fake news available is a problem in and of itself.
Tomorrow Is Going to Be Yet Another Day
Even if students experience momentary memory lapses due to the anxiety associated with taking exams, they cannot afford to mix up the dates of their assessments. However, what happens when they actually do?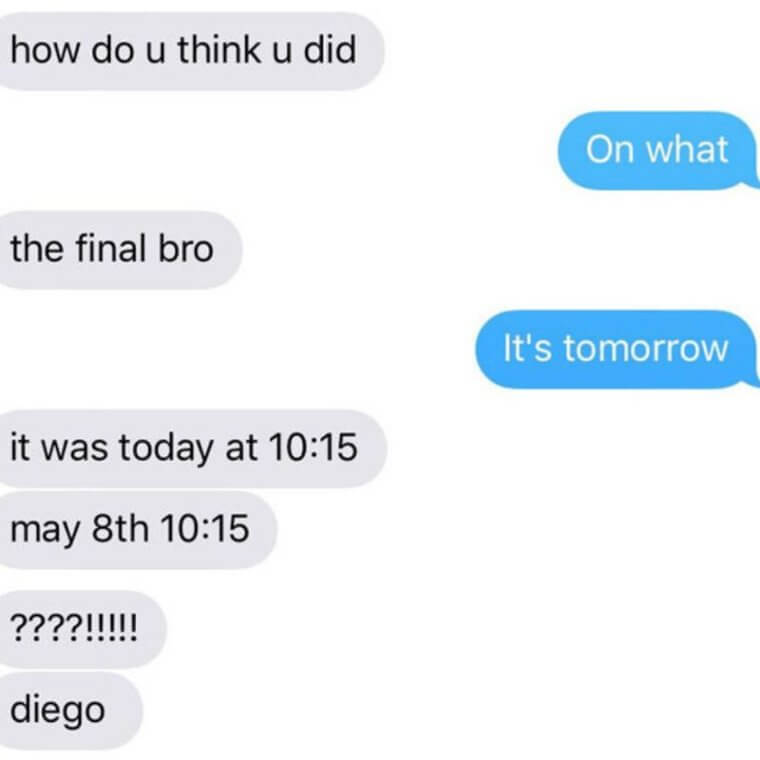 This kid has had a challenging day, but we're keeping our fingers crossed that he'll be able to make it to the make-up exam that we scheduled for him. If he can't even take the test without feeling like a loser, then he has no business feeling the way he does about himself. To our friend Diego, please accept our sincere condolences.

Next Time, Send It Via the Mailbox
Because of the effectiveness and accuracy of today's parcel delivery systems, you can rest assured that your package will be handed to you through a window if you specify that this is how you would like it delivered. The delivery service is not responsible for whatever occurs after they have left the premises.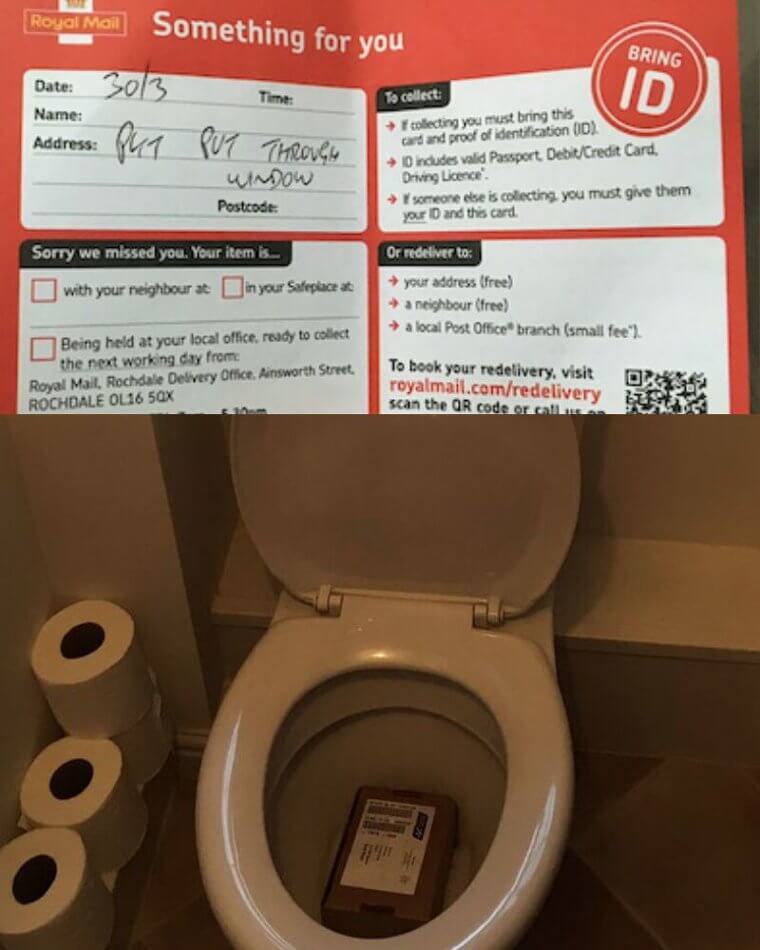 The foolish homeowner who requested to live in such an inconvenient location deserves every bit of the blame that is directed in their direction. I apologize for being so blunt, but the person with the sloppy handwriting is the one who is to blame for this attempt that was unsuccessful.