Animals can be some of the most gracious and beautiful creatures on earth. When it comes to wildlife though, getting the perfect shot at the right moment is incredibly difficult. Photographers spend thousands of hours waiting and perfecting their skills, just to get one memorable shot.

While some of these shots end up being as majestic as the animals themselves, sometimes they also come out hilarious. Yet, most, if not all animals have no idea that something as simple as being themselves can create award-winning photos for some very ambitious photographers.

From a bear dancing the macarena to a frog laughing uncontrollably, take a look at some of the most hilarious award-winning wildlife photos out there.
A Hyena Saying Cheese
It's not every day that we get to see a hyena smiling at the camera. Though it could also be that the hyena was caught just before she was about to sneeze, or she was simply removing flies from her face, what's important is that this wildlife photographer took one of the most iconic wildlife photos out there!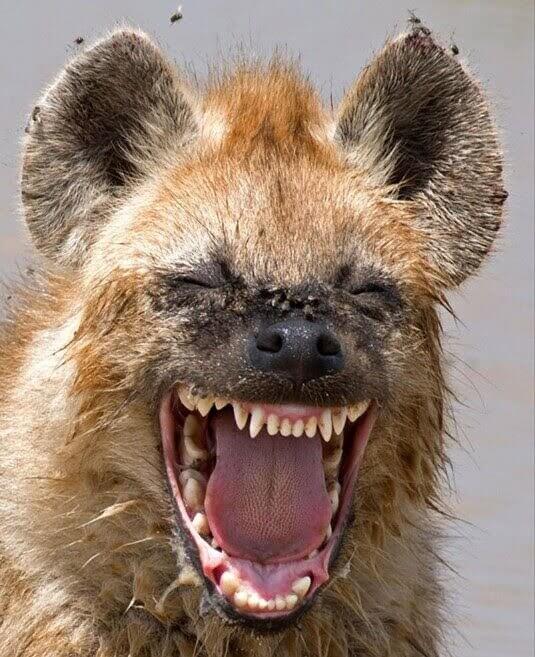 Whatever the reason for that face is, this ridiculously photogenic hyena will certainly make anyone laugh out loud with that hilarious expression on her face.
"Taxi! "
If you thought that calling a taxi and asking for a cab was only for humans, then this photo might shake things up a little bit. Apparently, lemurs also need to get to places on time, which results in them having to ask for a cab every once in a while.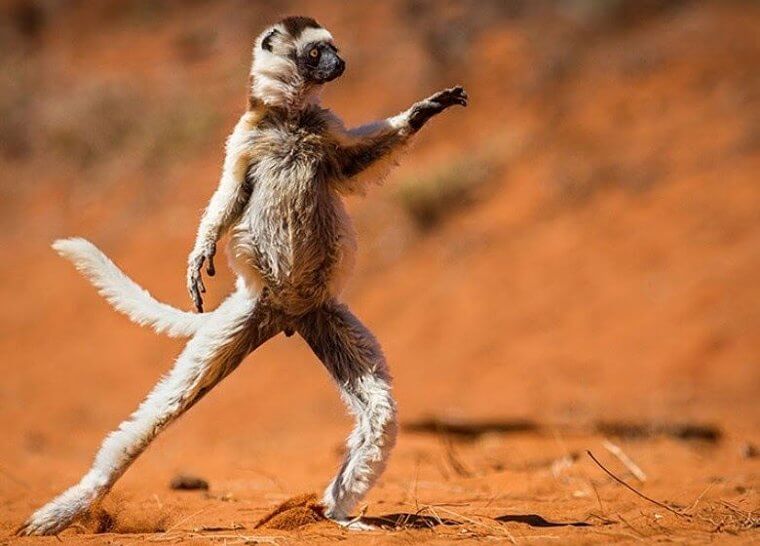 This lemur seems to have been caught at the same moment it decided to raise a hand and make sure that whatever was passing by saw him. Everything from the arms and legs' positions created a hilarious finish to this photo.
It's Not What It Looks Like
Isn't it just the worst when you're caught red-handed doing something you weren't quite supposed to be doing? Well, that's exactly what this bear seems to have been caught doing. The poor bear probably isn't doing anything he wasn't supposed to, but the look on its face is way too incriminating.

He most certainly looks guilty of something, but we will never know what. For now, all we can do is enjoy the wonderful shot this photographer took, and hope that the bear didn't get into too much trouble.
Pondering Whether That Sign Applies to Her
This has to be one of the most hilarious photos caught in wildlife history. The angle was almost meant to be, as the cheetah seems to be looking straight up at the 40km sign. Cheetahs are widely known as the fastest animals on earth, being able to reach up to 129km per hour.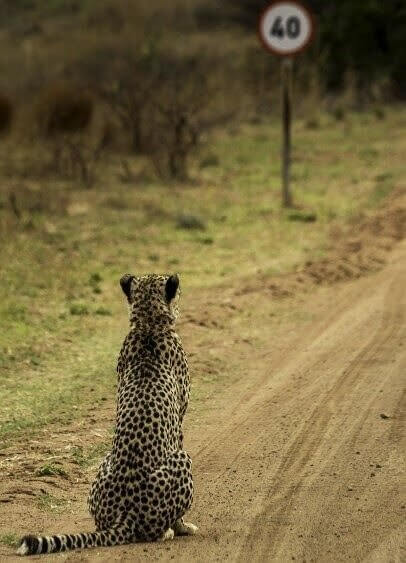 So just imagine a cheetah wondering if it now has to reduce its speed to 40 km, that simply wouldn't work. However, thanks to the camera angle, the cheetah seems to be contemplating whether that speed sign also applies to her, not only cars.
The Tiring Life of a Kangaroo
Australians are considered pretty laid-back people in comparison to the rest of the world, and by the look of this photo, their wildlife got the same memo. This kangaroo seems to be having a pretty lazy day as it enjoys some well-deserved rest.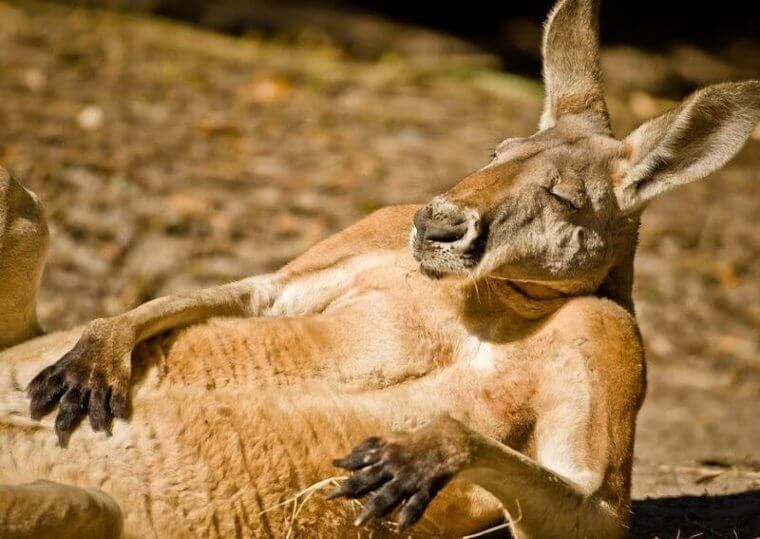 The closed eyes and the paws resting on his body are the typical gestures of someone typically enjoying some rest after working really hard. We do wonder about the type of hard work this kangaroo has been engaging in, though, since kangaroos seem to have a fairly relaxing life.
Did You Just See That?
The leopard is another creature in the animal kingdom that is known for being exceptionally fast. They can run up to 59km/h and hunt almost anything with their speed. However, in this picture, this leopard seems to be doing something a little bit different from what we would picture a majestic leopard doing.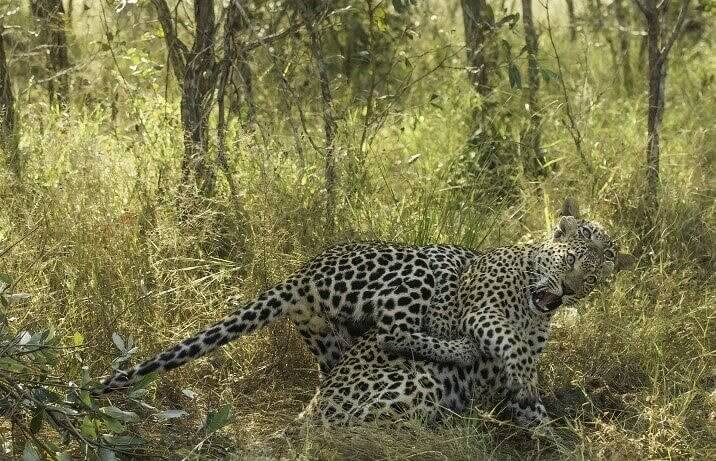 The two leopards look like they have been interrupted by something that just appeared in front of them. That resulted in the leopard on top being caught with a hilarious expression on its face.
That Was Hilarious, Dude
If you're having a bad day, then this photo should be able to lift your mood instantly! Although toads are usually very solitary creatures, they do love some company during mating season, just like most other animals.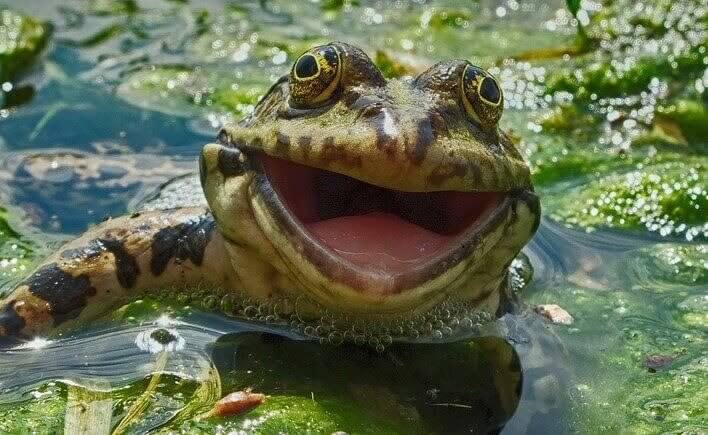 At that time, they put on their charm and their energy into securing the best mate to make some cute babies with. Apparently, that includes laughing out loud at their mate's jokes, resulting in this hysterical expression. This male toad surely has one of the biggest smiles out there.
Who Wants To Be Normal, Anyway
In a society that expects everyone to act and behave the same way, being a little weird can be extremely rewarding. And isn't it just great when someone stands out from the crowd and acts a little bit differently from the others?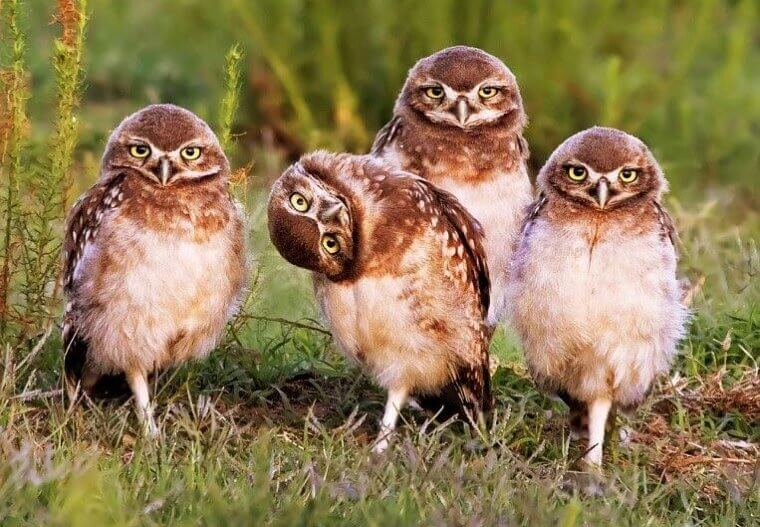 Well, that's not just true for humans, apparently, this applies to owls as well. In this group photo, there was obviously one owl that wasn't afraid to stand out from the rest. That made the photograph truly special and memorable.  
Is This For Real?
For a second here it looks like our eyes may be playing tricks on us. Sometimes we just need to take a second look at what we're looking at, and this photo is typically one of those. It doesn't make sense that a rhino would have two heads unless it has some sort of genetic problem, but we doubt it.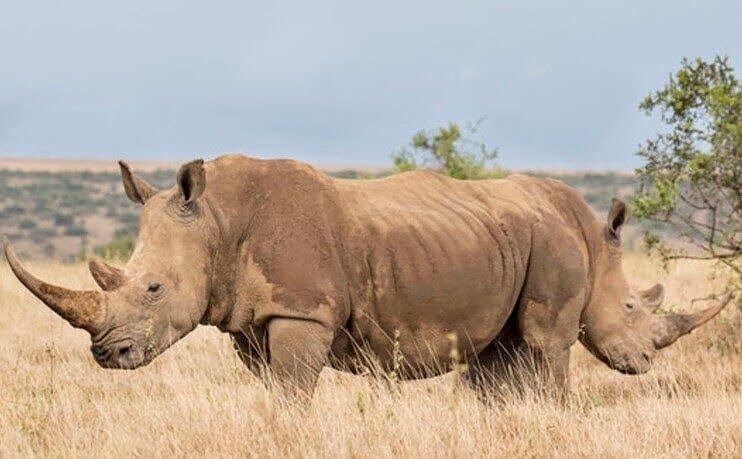 It simply looks like this photographer was able to catch two rhinos at the right moment, creating an illusion that we are looking at only one body with two heads.
A Fighter Lizard
If anyone out there decides to make a movie about a determined lizard, then they have to cast the one on this photo. In fact, they would already have the perfect cover picture for the movie poster, because this lizard was made to play in an action film.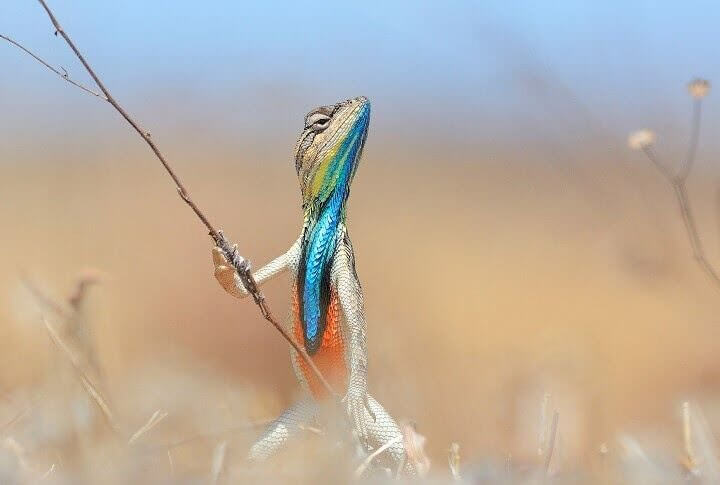 The tiny lizard literally looks like a William Wallace wanna-be, as it stands triumphantly while holding a "weapon" like its life depends on it. With that facial expression, no one will ever mess with it!
Dancing the Macarena
Did you ever think that one day you would see a bear dancing the macarena? If not, here you go! Everyone loves the "macarena" dance, even just a little bit. The catchy 90s one-hit-wonder came here to stay, and every now and then, we can still hear the Los Del Rio track no matter where we are located in the world.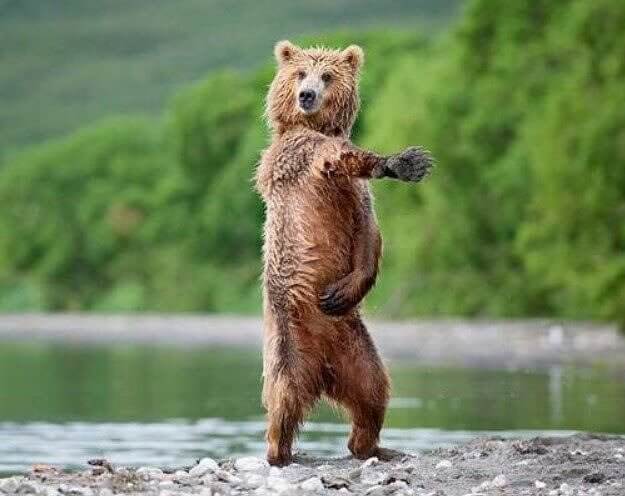 Apparently, not only we are obsessed with the song, but this wild bear loves showing his "macarena" dance moves too.
Not the Time for Peeking
Some people in this world like to be surprised, and others love knowing exactly what they're about to see or get. Handling anticipation isn't always easy, and this baby bird apparently couldn't handle it!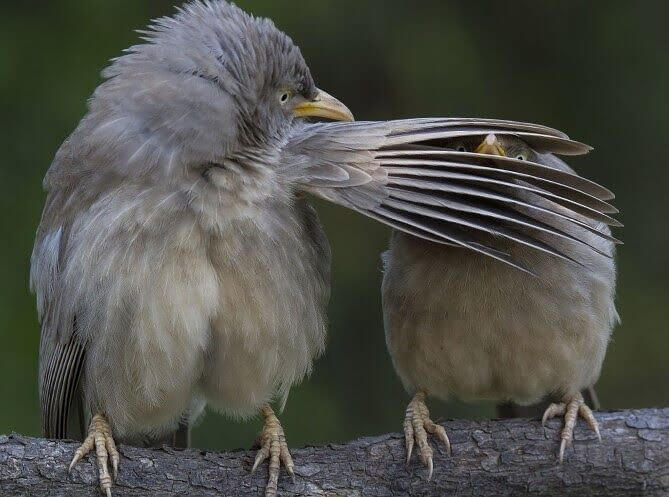 So as the little birdy seemed to try to peak, the mama bird wasn't going to allow it to happen. It looks like it quickly opened its wings to protect the little bird from seeing the surprise. The little eyes trying to peak in between the wings are the cutest thing on this earth!
Taking Camouflage Seriously
Some animals are pros at camouflaging themselves, either for fun, or when they sense some sort of danger. In order to protect themselves, they can pretty much disappear wherever they can. Whatever this animal is, it definitely succeeded in almost disappearing from the eyesight of its predator.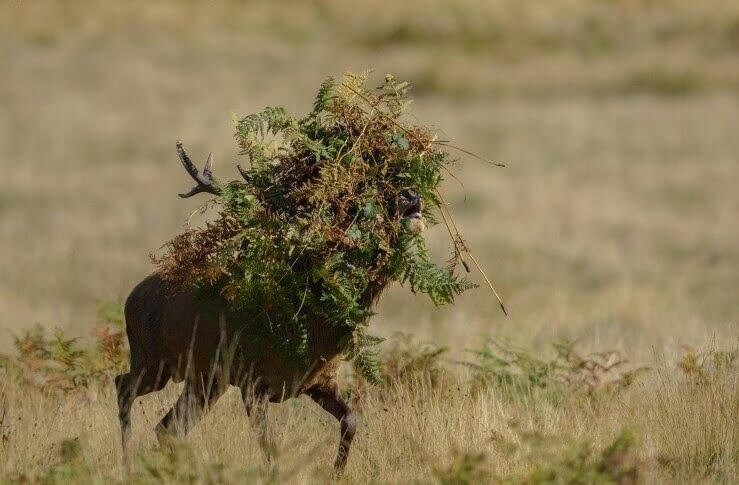 Though by the frantic look on its face, it could be that all of those branches were some sort of accident - unless the desperation is part of the act. We do hope that the animal ended up fine.
Is There Something In My Teeth?
There is probably nothing worse than having to walk around with food stuck in our teeth and having no one tell us that there is something in there. You'd hope that someone would promptly let you know, but some people either don't notice it, or they wouldn't bother to tell you.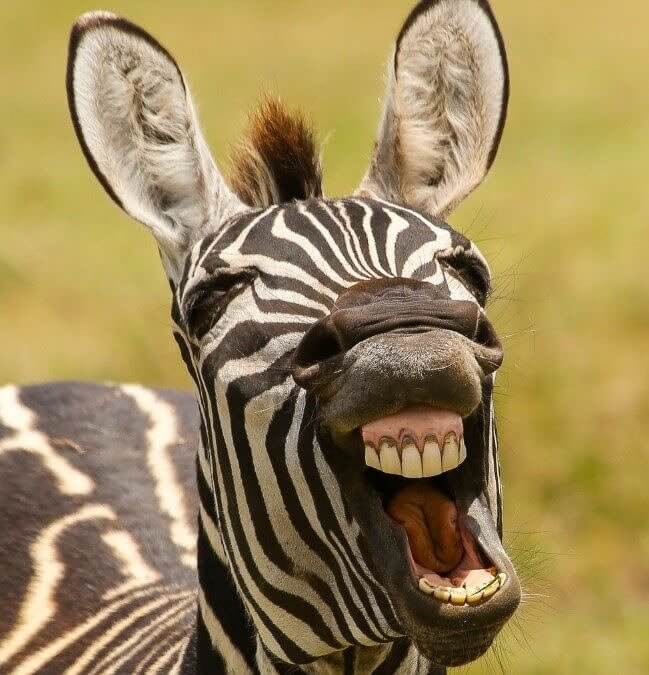 This zebra either decided to ask a friend, or it was simply caught grinning at something out there in the wild. What's important is that the photographer caught it at the right moment!
Rocking That Perm
There was a time when getting a perm was the thing to do. Women (and men) everywhere would walk up to their local hair salons and would ask to get their hair straightened. While more and more people are embracing their natural hairstyles, it seems like this baby gorilla wasn't so ready to let that trend go.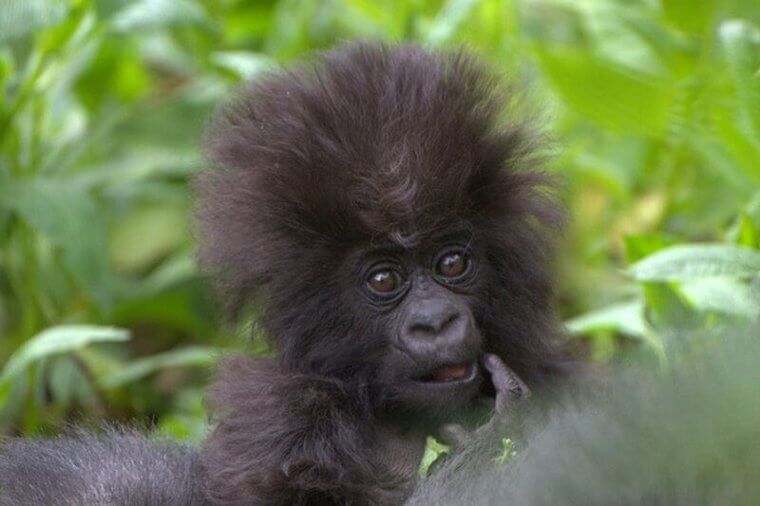 Still, whatever happened to the baby gorilla's hair, there is no doubt that they are totally rocking it! Sadly though, the look on his face is a little alarming.
My Own Teddy Bear
This photographer decided to use his or her creativity to take the cutest shot ever. They grabbed a teddy bear and placed it next to a real bear to see what their reaction would be. And as it seems, even a baby bear needs a little comforting time and a stuffed animal.  
It looks like the bear is ready to cuddle with its new teddy bear and to make use of the lost time without ever having one. But now that they're next to each other, it is easier to see that the bears really do not look alike.
The Perfect Couple's Portrait
These two zebra lovebirds look so good together, and they know it! The smitten couple seems to not be ready to pass on the opportunity to check themselves out, so they got really close to each other to fit into the rearview of this car.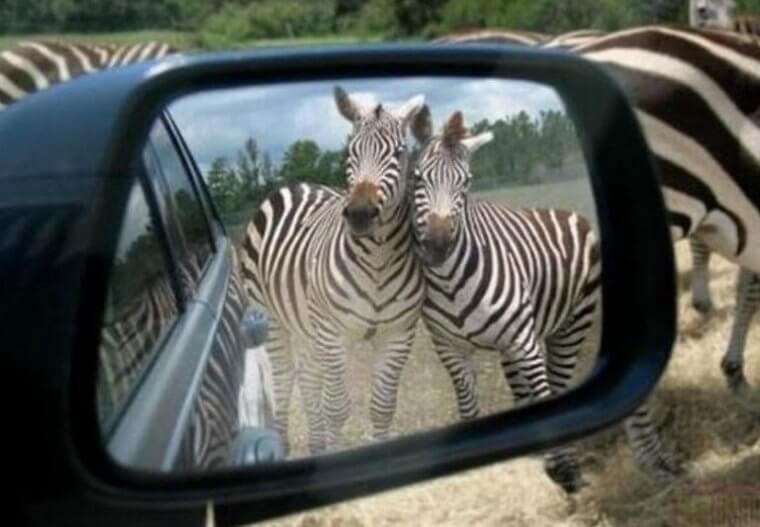 Whoever said that stripes with stripes don't go together was very wrong! Because these two lovebirds were meant to be together and they were ready to show the entire world that their love is here to last.
What Exactly Are We Looking At?
Well, it's not every day that we get to see a leopard sitting next to a gazelle in peace as if they've been friends forever. Usually, what we see is the leopard hunting the gazelle, or at least trying to, so we really wonder what they are both watching in the distance that allowed this photographer to get this iconic shot.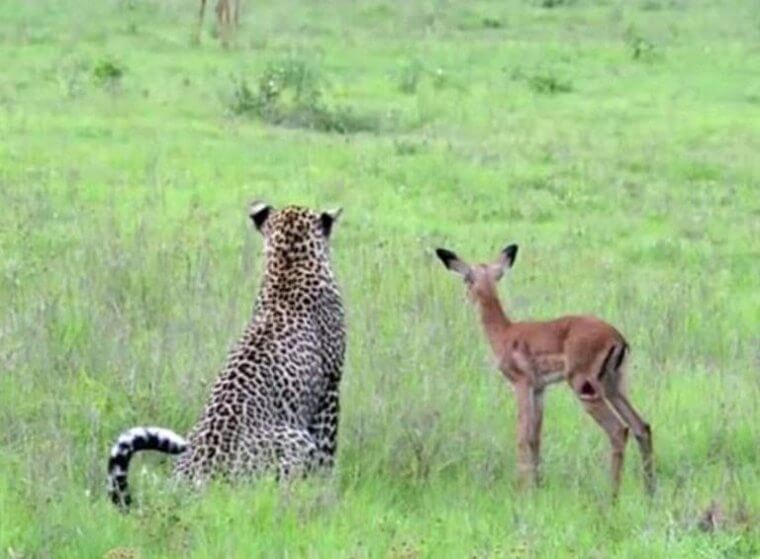 Something interesting it has to be otherwise we're pretty sure the two animals wouldn't have reached this unusually peaceful understanding.
Bye Bye Dinner
A few frustrating moments in life are seemingly insignificant, but they are bad enough to ruin someone's entire day. One of these moments is that time that you look forward to eating a snack or a meal, but you drop it on the floor and are no longer able to eat it!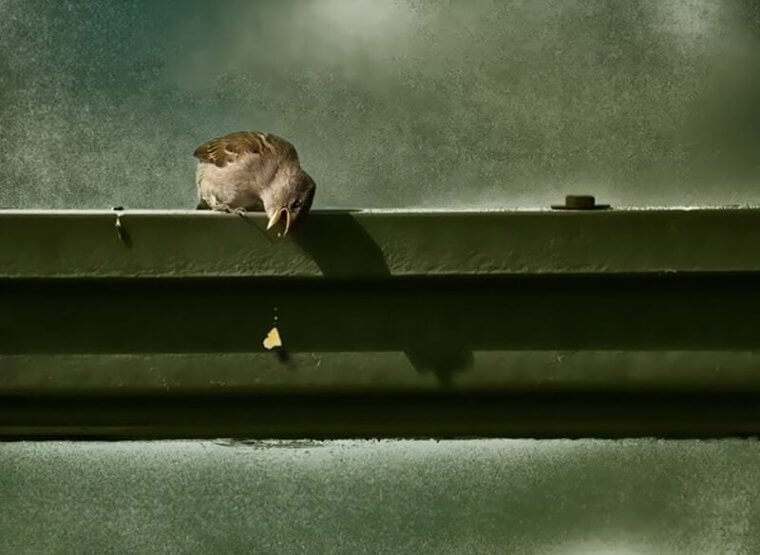 That is exactly what happened to this birdie, and fortunately for this photographer, they were able to catch the second the bird dropped the little crumb on the floor.

An Unlikely Friendship
Some friendships are predictable, and others seem to make no sense in the world for outsiders. This stunning picture of a chameleon and a butterfly may seem unusual, but the bond the two of them seem to have is one of those that is indestructible.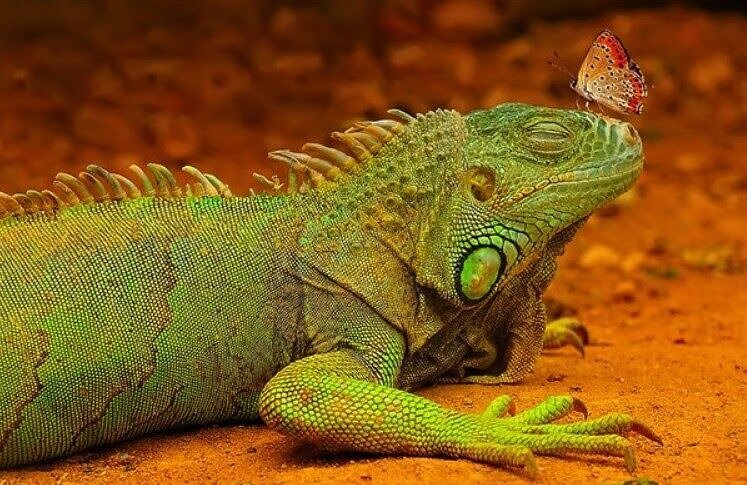 While no one would expect a friendship between two species that differ so much from each other, here is proof that anyone can create a connection with another species (or human) that is the absolute opposite from them.
Just Pretend I'm Not Here
Here goes another animal that is pretty advanced with its camouflage skills. Several insects can camouflage themselves as soon as they sense any type of danger, and this insect is definitely a pro.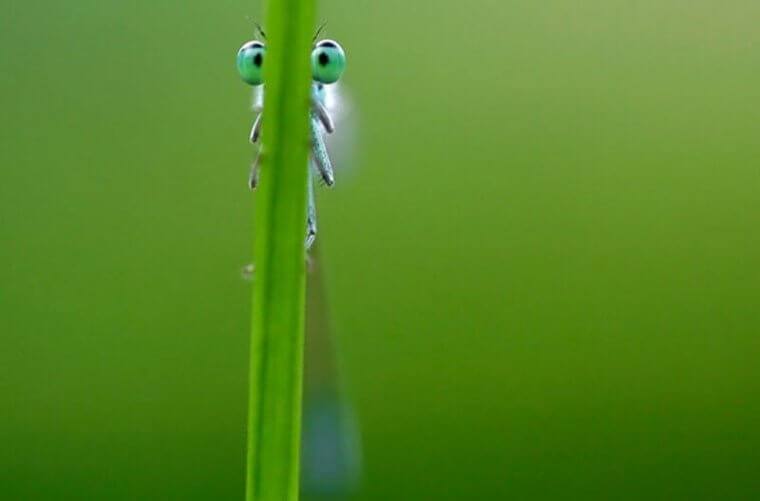 The insect looks like it's in its natural habitat, and if it wasn't for its bulging eyes the little creature would have passed completely unnoticed from any predator around. The photograph is undeniably stunning, with the radiant green colors almost making it look like an artistic painting.

Eating All The Fish
Some foods are so delicious that all you want to do is eat the whole lot as quickly as possible. Though this may not always be the best decision, that doesn't stop many from trying. This Paquin was caught off guard when he was snatched in the act as he did his best to disappear before anyone could notice the number of fish he had grabbed.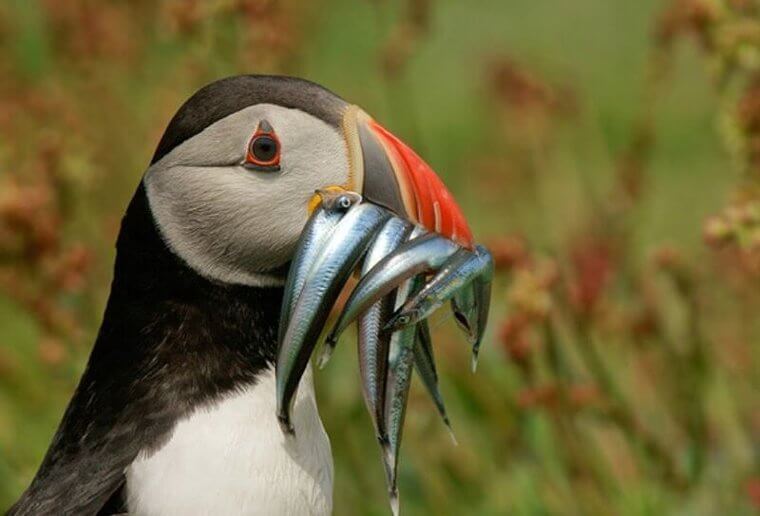 It could be that he was attempting to feed his family, or he was simply hoping to indulge in a fishy dinner by himself.

Regretting Decisions Previously Made
All of us are prone to regretting some decisions that we make every once in a while. And honestly, there is nothing worse than the feeling of regret after you know you have overindulged for the day for no apparent reason.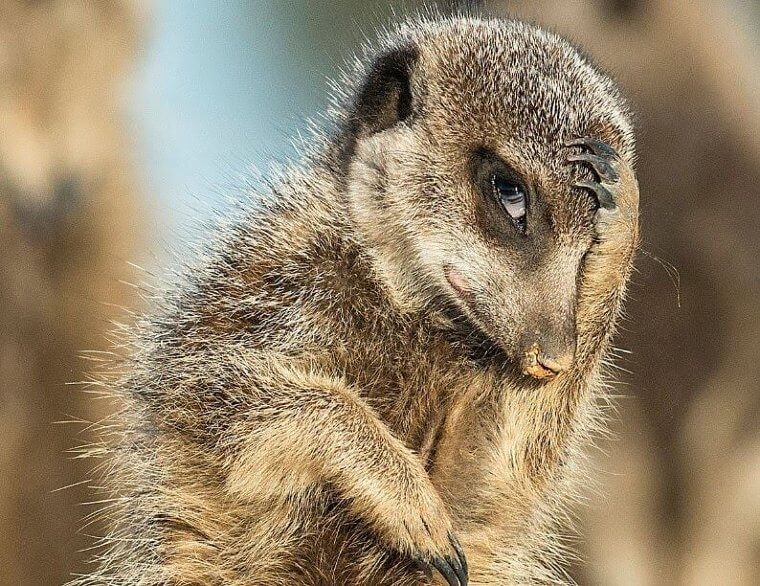 You end up promising yourself that what happened will never happen again, but then you end up doing it all over again. It seems like this meerkat really did regret having eaten too many grubby worms and is now pondering why he made such decisions.

Slapped By A Fish
This photo looks like the revenge of a fish for all of its family and friends who were eaten by other bears. Salmons, in specific, are typically known as a staple in a bear's diet, and hunting directly on the water is the typical and fastest way to hunt for fish.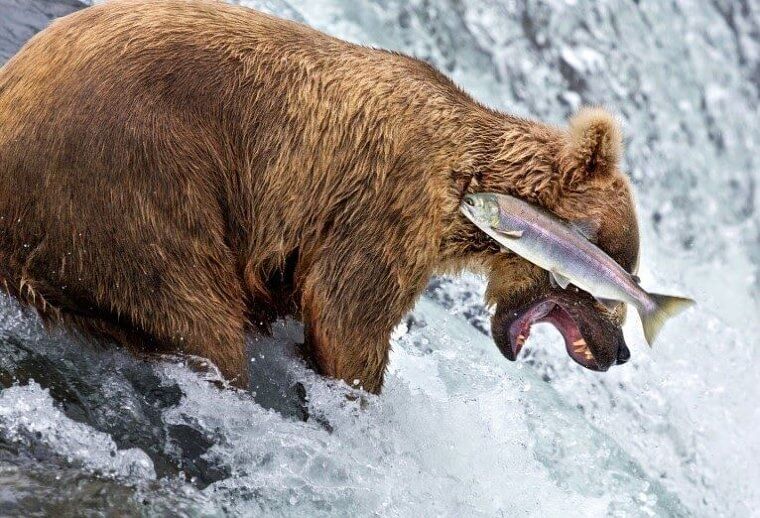 But that day, this salmon wasn't having it. The poor fish probably lost some family members and was willing to do everything in its power to get revenge, even if that meant slapping a bear.

Give Me A Little Kiss
In any relationship, there is usually one person who enjoys public displays of affection more than the other. Some people prefer to keep things in private, while others love showing off their love to the rest of the world.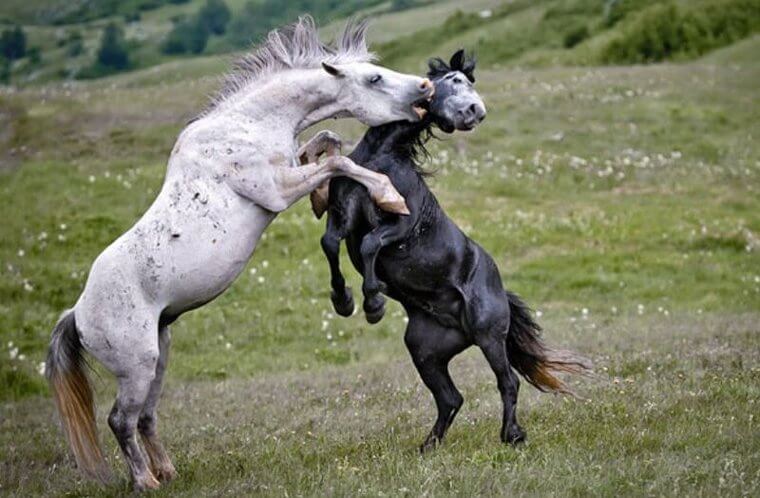 In this picture, we can easily see which one prefers to show their affection and which one would rather not show off. The white horse just seems to want a little kiss and this photographer was able to catch the perfect moment of rejection.

A Funny Looking Bird
It's been said several times that humans are yet to discover many different and unknown species in the world, both on earth and in the sea. And while we obviously know that we're not looking at a bird in this photo, the animal could totally pass for just another bird species camouflaging in the water.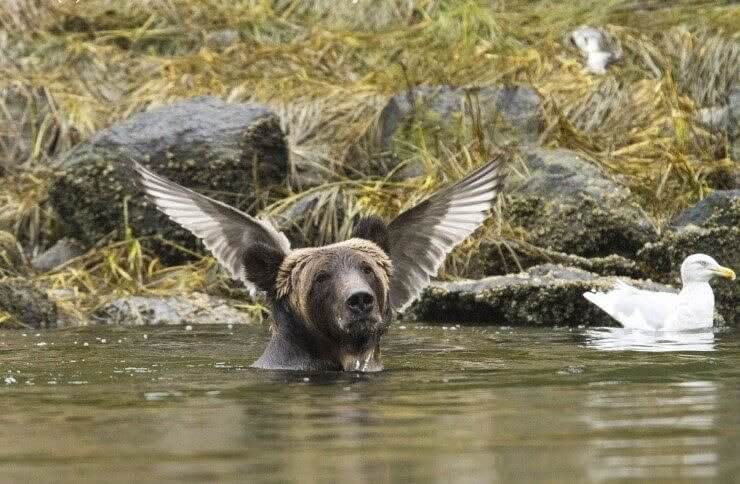 The hairy and scary bear/bird species seem to be peacefully enjoying their time in the water while looking suspiciously different from every other animal in there.

Up Next, Those Strange Animals That Actually Exist - But You've Most Likely Never Seen Them
From sea to land, big to small, hairy to smooth, and scary to cute, our world is covered in all sorts of weird and wonderful creatures. It's safe to say that most of us have never seen most of the different species that exist on our planet. And we will probably never see them, not up close at least. We will most likely only ever see the most colorful and weirdest animals in pictures.

Here is a list of many strange animals that actually exist. You may think that some of them appear to come out of a science fiction movie, but they are all very real! Be amazed at what you see and be hopeful that one day you might bump into one of these incredible creatures. Perhaps there are a few that you would never want to bump into, especially at night!

Pink Dragon Millipedes Produce Hydrogen Cyanide

You either love bugs or you hate them. If you fall into the latter group, then the sight of a millipede and its 200 pairs of legs may cover you in goosebumps. But perhaps seeing these fascinating creatures in a luminous pink color may teach you to appreciate them.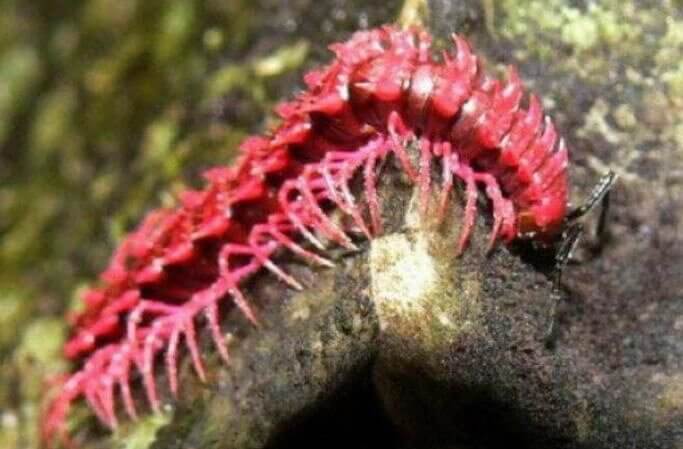 The pink dragon millipede was first discovered in a limestone cavern in Uthai Thani, Thailand. You can only imagine the intrigue of uncovering this bright creature. But while these mesmerizing bugs are small in size, they are also deadly, using hydrogen cyanide to ward off predators.

This Psychedelic Frogfish Adds a Funky Groove Under Water
Looking at this bright, patterned fish, you may be thinking that someone spiked your drink and blurred your vision. But this stunning fish is naturally "psychedelic" in appearance, boasting a swirl of sunset colors.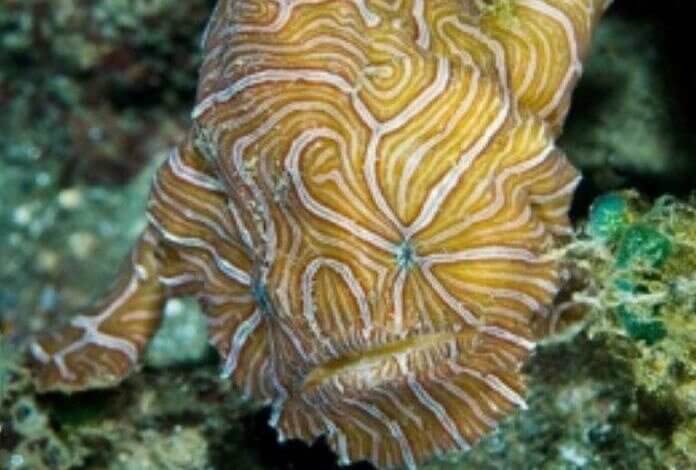 The psychedelic frogfish is not only tropical in appearance, but it also calls the paradise waters of Indonesia it's home, particularly around Bali and Ambon Island. While the fish may look as though it is best suited to living in the funky era of the '70s, it was actually only recently discovered in 2008!

The Jerboa Looks Like a Glorious Blend of Creatures
Have you ever seen such an adorable and bizarre-looking animal in your life? The jerboa, which is found across Arabia, Asia, and Northern Africa, is not your average rodent and will most certainly make you stop and stare.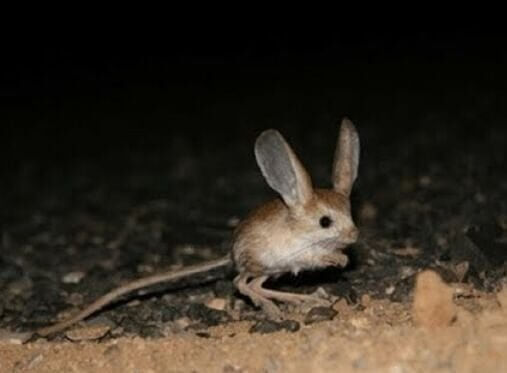 It's difficult to choose which part of this hopping creature is the cutest. The long ears? The short arms? Or it's amusing posture? Your best bet of seeing the jerboa scurrying about is at night. But keep your eyes peeled. They may be small, but they can move at an impressive speed of 15 miles per hour!

Pink River Dolphin Has a Unique Party Trick
Dolphins are a popular favorite for young children and adults alike. The loveable dolphin from Flipper only serves to strengthen the love for these water-bound mammals. But the pink river dolphin, native to the Amazon, is very different from its aquatic counterparts.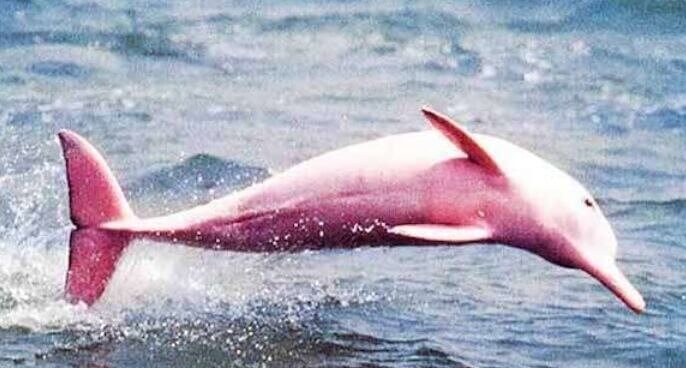 Not only is the color of the pink river dolphin a different tone, but their cervical vertebrae aren't connected, meaning that they are able to revolve their heads a full 90 degrees. In addition to being able to twist their head around, they also boast a long, thin bill that is fully kitted with 25 to 28 pairs of teeth along each jaw. What a strange dolphin!

Greater Sage-Grouse and Its Chest-Popping Parade
There are certain creatures that the average person sees on a daily basis. Animals such as fluffy dogs, stealthy felines, and dull-colored pigeons. But for every "ordinary" creature, there's a strange and peculiar one that exists. Such as these bizarre beings…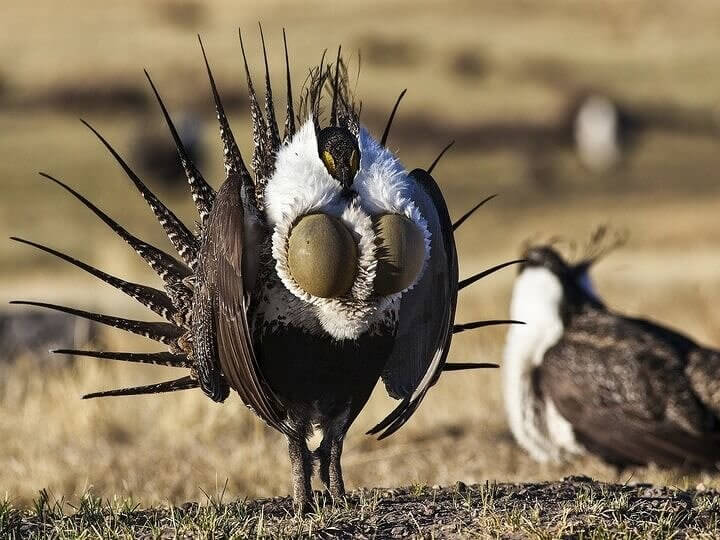 This male sage-grouse is not the prettiest bird to look at, but it is one of the weirdest. The two large air sacs that protrude from its feathered chest may repel us, but they attract female sage-grouses by making strange popping sounds. Sadly, these peculiar birds are dwindling in population as humans have shrunken their habitat.

Ocean Sunfish - The Largest Bony Fish in the Sea
People all around the world have been tricked when seeing the largest bony fish in the ocean and thinking that it was a shark. But the docile Mola Mola, commonly known as the Ocean Sunfish, is harmless and slow-moving. Weighing up to 5,000 pounds and growing up to 14 feet in width, the giant fish enjoys soaking up the rays by hovering at the water's surface.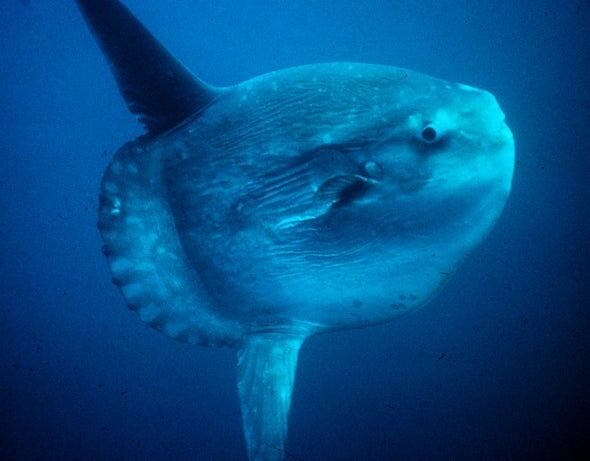 The fish lives in a symbiotic relationship with smaller fish and birds who pick at the parasites on the sunfish's large surface area. Every now and then, when there are not enough birds to pick at the parasites, the passive creature will surprise ocean bystanders by jumping into the air, hoping to shake off the pests.

The Beautiful, Bopping Vogelkop Superb Bird-Of-Paradise
At first glance, this fan-looking bird appears completely normal. Its black and blue chest with blue spots on its head is quite a beautiful design, but that's about it. In most instances, you wouldn't look twice - until the males decide to put on a show for the females.

When the male is looking for a mate, he'll lift his cape feathers up above his head, revealing a fascinating display of shimmering blue accents. Even more spectacular (and entertaining) is the hopping dance that is the final effort to win over the birdy heart of the lady.

I Spy With My Little Eye - An Aye-Aye
Stumbling across an Aye-Aye may leave you with nightmares. Their large ears, scraggly hair, and bony appendages are quite a sight to behold. But sadly, these odd primates are endangered due to habitat destruction and killings based on superstition. The few that do exist live in the rain forests of Madagascar.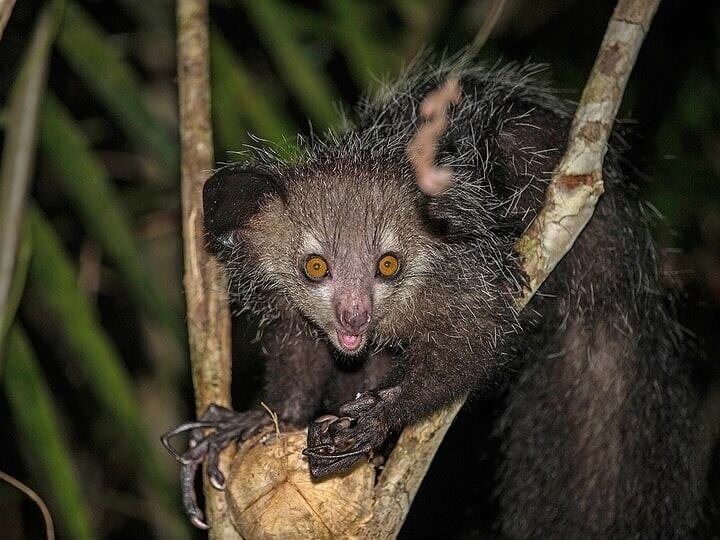 Aye-Ayes have large opposable big toes that allow them to hang from branches and munch on bugs and coconuts. While they may not be the prettiest primates around, they are hardly an omen of death as the local population believes. Luckily, they are now protected from hunting by law.

Japanese Spider Crab - The World's Largest Species of Crab
While Japanese people are stereotypically shorter in nature, the Japanese spider crab is especially large. These massive crustaceans continue to grow until their long, spindly legs reach around 12 feet across. The large crabs are found in the waters around - you guessed it - Japan, where they are considered a delicacy. However, it's forbidden to fish for them during their reproductive season.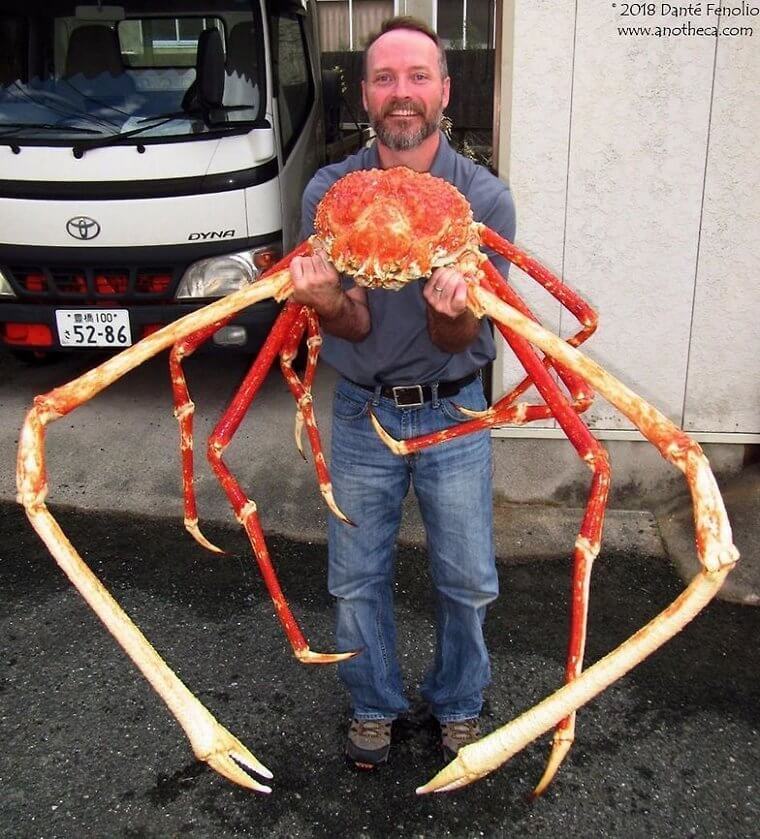 While their large size may make them intimidating, they still need to protect themselves from predators. To do so, the huge spider crabs will latch themselves to other marine life as an effort of camouflage.

The Pink Fairy Armadillo Is Not a Cute Teddy Bear
Some creatures are scary, some are fascinating, and others are truly bizarre. But the pink fairy armadillo looks as though it has just crawled out of a kiddie's storybook. Its pastel pink body only reaches 5 inches long and it spends most of its time underground.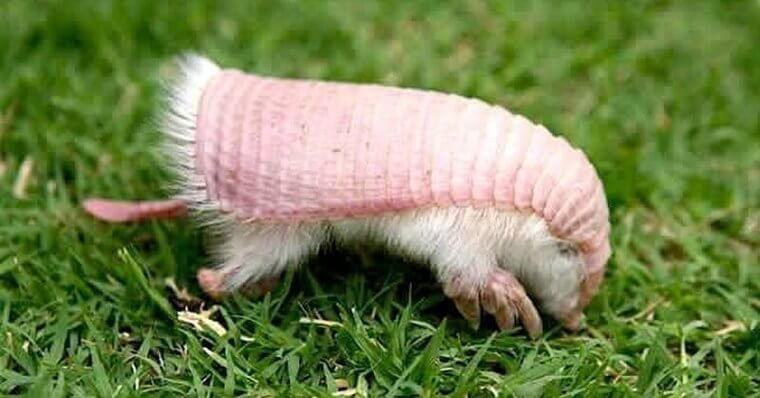 You may think that the lack of sun is what gives the little armadillo its pale hue, but it's actually the creature's blood. To keep its body at a healthy temperature, the little creature pumps blood in or out of its pink shell. Chances are that you haven't seen one of these creatures before as they live in the deserts of Argentina and are hardly ever seen.

The Purple Frog and Its Superstitious Associations
If the sight of this lump of goo ignites a gag reflex - then you wouldn't be the first. The purple frog is awkward in appearance, with a huge blotch of body and a tiny face. Also known as the pig-nosed frog, these amphibians can only be found in India.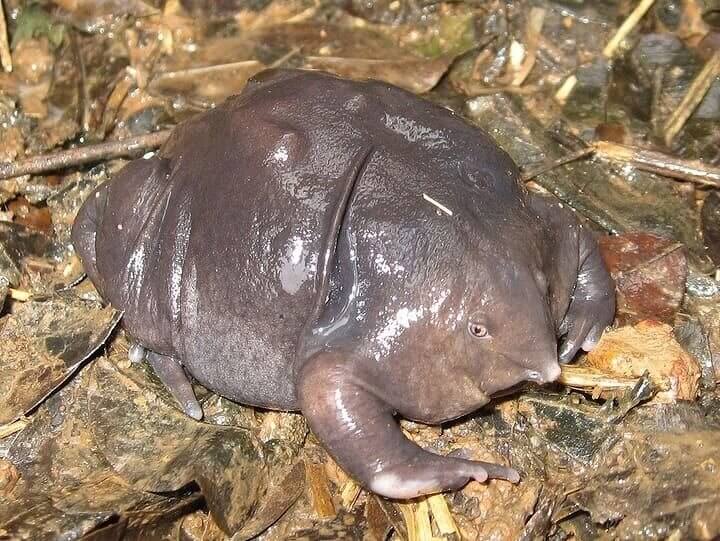 While the tadpoles live on algae-covered rocks, staying stuck with their sucker-mouths, the adults live underground. Every time that they come up to the surface they risk being caught by locals to be used as medicine. Some of the more superstitious locals go as far as using the frog as a child's amulet to placate the fear of storms. These superstitious beliefs, combined with deforestation, has led to the endangered status of the frog.

Blue Dragon (Glaucus Atlanticus) - The Mesmerizing Mollusk
The blue dragon is one of the rare species of nudibranch, a popular sighting on scuba diving trips. The strange-looking creature is both strange and beautiful, resembling a form of sea slug alien.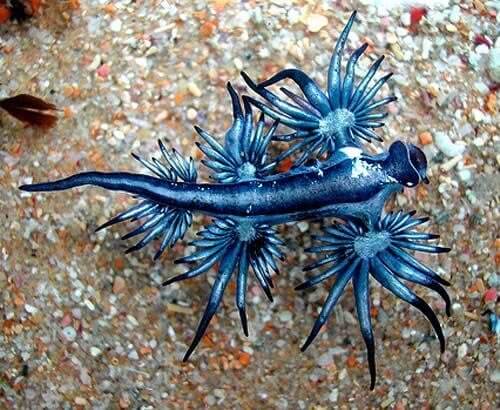 Although only 3-centimeters long, you could stare at the blue dragon for hours. The tiny sea creature stays afloat by holding a bubble of air in its tummy. This method of floating allows the blue dragon to munch on the venomous Portuguese man-of-war blue bottles. To make the most of their snacks, they steal the stingers and use them to ward off their own predators.

The Ever-Youthful Axolotl Salamander
Salamanders, as a species, are rather strange in appearance and behavior. But the Axolotl is even more unique and odd. As you can see in this picture, the "Mexican walking fish" maintains the same attributes as those of normal teenage salamanders - even as adults. The species of tiger salamander keep their external gills, tail, and aquatic lifestyle throughout adulthood.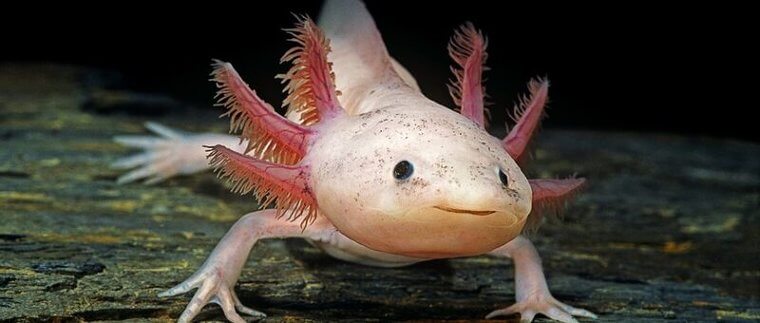 Another fascinating fact about these cheerful amphibians is their ability to regenerate their limbs. Unfortunately, they need more than their limbs to stay alive and the precious creatures have become critically endangered.

Helmeted Hornbill and Their Coveted "Casques"
This strange bird seems to have got stuck halfway along the line of evolving from dinosaurs. It's large "helmet" is a truly unique feature of appearance, commonly referred to as a casque, and makes up more than 10% of their body weight. While these casques are used by the birds to fight each other mid-air over fig trees and territories, they are used by humans for something else.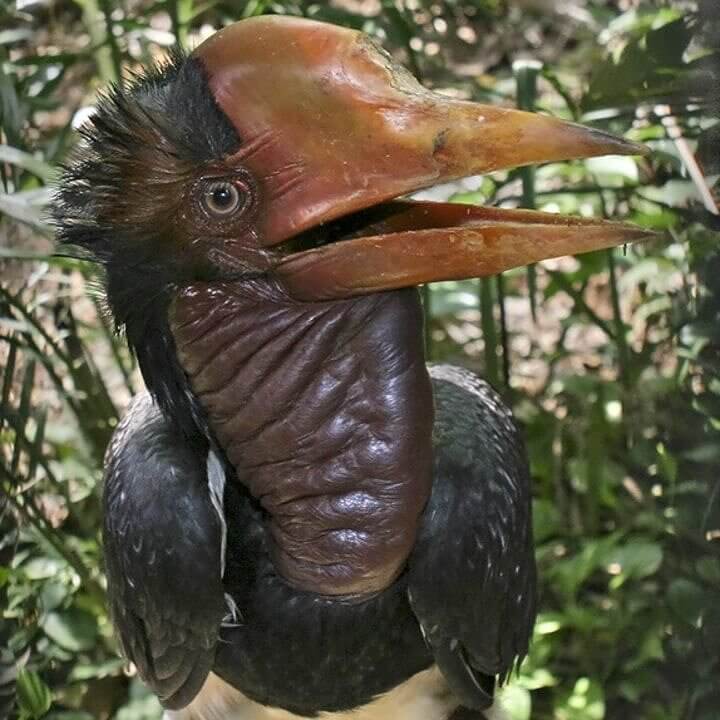 This strange bird seems to have got stuck halfway along the line of evolving from dinosaurs. It's large "helmet" is a truly unique feature of appearance, commonly referred to as a casque, and makes up more than 10% of their body weight. While these casques are used by the birds to fight each other mid-air over fig trees and territories, they are used by humans for something else. 

A Ctenophora Is Not a Robot Descending From Another Planet
One look at the Ctenophora may be enough to make you believe in aliens, or the threat of artificial intelligence, it is actually just a marine species that looks a lot like jellyfish. Commonly known as "comb jellies", ctenophores use sticky cells to catch their prey.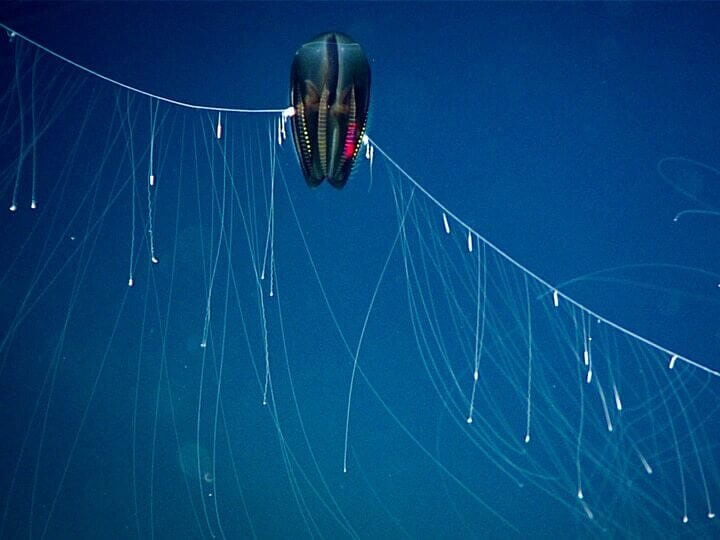 Unlike jellyfish, ctenophores don't sting their prey - although their long tentacles may encourage you to keep your distance. While these futuristic creatures aren't directly harmful to humans, they are risky in other ways as they don't have any serious predators and so pose a threat to the ecosystem.