It's easy to see a thriving couple and assume they're perfect. The reality, though, is that even your favorite celebrity couples have their own share of challenges they have to navigate through, just like other partners. Whether one is a star or not, relationships require effort and dedication so as to thrive.Let's look at some of the most popular celebrity couples, where they started and what it has taken to have the relationships they enjoy today.
Dax Shepard & Kristen Bell
Before he met Kristen Bell, Dax Shepard was in a nine-year relationship in which he and his ex were non-monogamous. After three months of dating, Bell knew that she wanted a long-term relationship with the Hit and Run star, but he wasn't ready for such a commitment and was even open enough to tell his now wife that he was still seeing other people.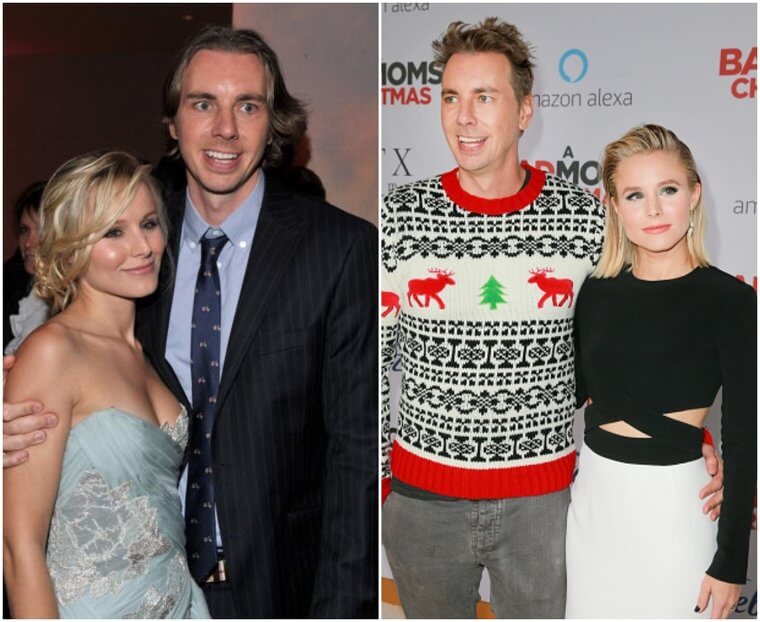 Things would take a different turn when Shepard realized that among the women he was dating, it was only Bell that he truly wanted to be with. The rest, as they say, is history, as these parents of two have been happily married for almost a decade now.
Justin Timberlake & Jessica Biel
After four years of dating, Justin Timberlake and Jessica Biel called it quits on their relationship. Yet, as you know, absence makes the heart grow fonder, so it only took a few months after their split before these two got back together and started planning a future together, making it official through an engagement.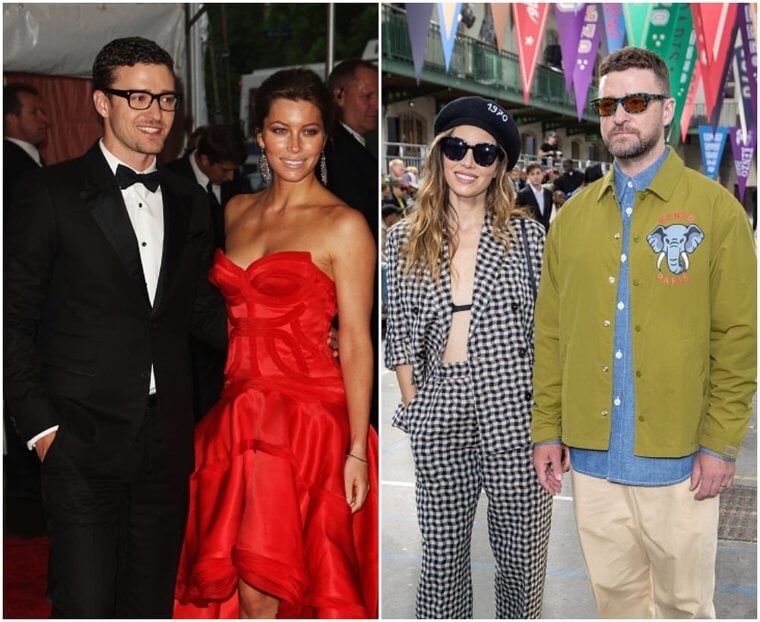 In honor of their 10th anniversary in 2022, the 'Cry Me A River' singer and Biel flew to Italy, where they had previously tied the knot, to renew their vows. According to Timberlake, he and his wife enjoy a flourishing relationship even after being together for so long because they continue to date each other, even though they're already married.
John Legend & Chrissy Teigen
Through People, John Legend revealed that while he and his wife Chrissy Teigen have been through so many joyous moments together, they have also shared some very painful moments that were filled with tears. Even so, there's no one else the singer would rather have been through such situations with.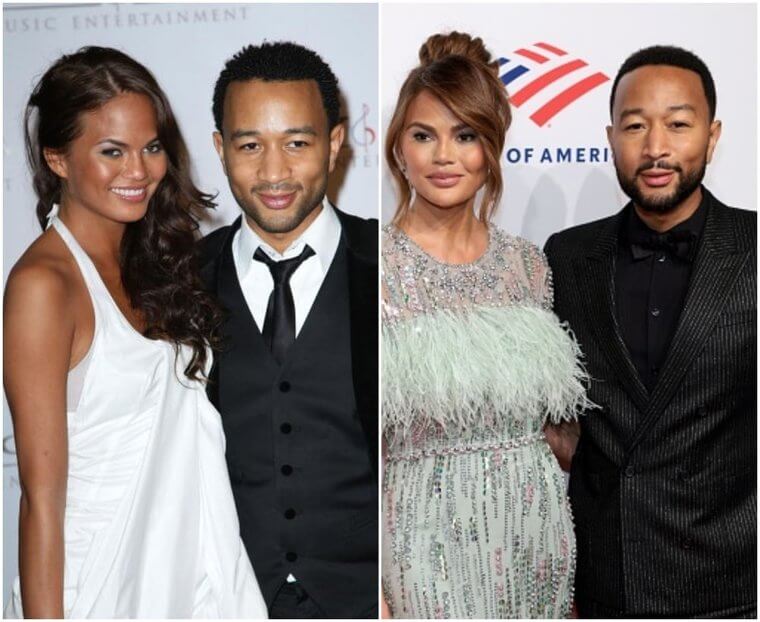 Previously, through a podcast interview, the 'All Of Me' famed star said that the challenges he and Teigen had been through only made them stronger.
The couple that met on a set of Legend's music video in 2006 dated for four years before exchanging vows, and while it took a while before they considered marriage, they always knew they enjoyed nothing more than spending time together.
Ellen DeGeneres & Portia De Rossi
After almost two decades together, now more than ever, Ellen DeGeneres feels settled in her relationship with her wife, Portia de Rossi. According to the comedian, it has taken her a while to feel safe in various aspects of her life, including her marriage.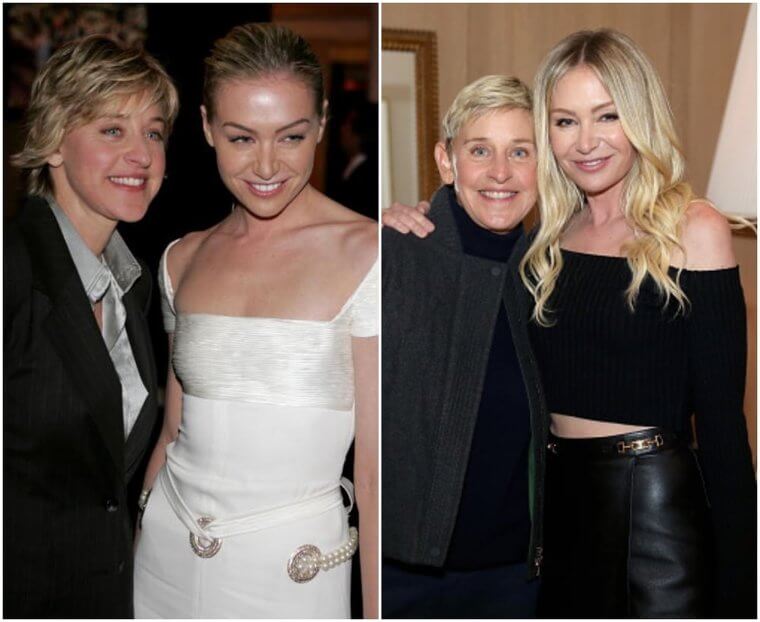 Although Portia fell in love with Ellen as soon as she first met her, it would take her three years before she opened up about her feelings to the former daytime TV host. About 20 years since they first got together, having lived through rumors of a breakup, and with more than 20 houses purchased and sold together, these two are still madly in love.

Sacha Baron Cohen & Isla Fisher
They may be celebrities because of their chosen career paths, but when it comes to their family life, Sacha Baron Cohen and Isla Fisher would rather keep things private. According to Isla, this is the only way they know how to protect themselves and their three children until they can decide for themselves whether they want to be public figures or not.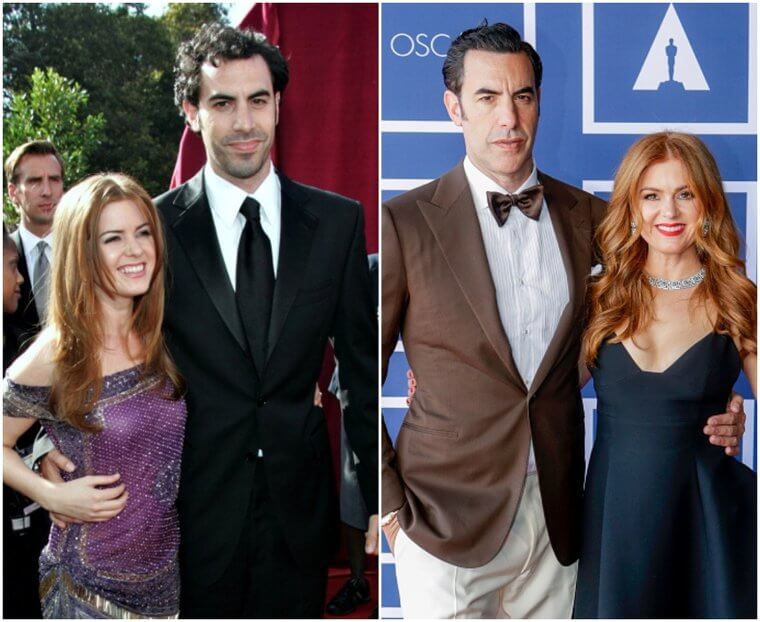 The Borat star is known for taking on wild roles, and sometimes, that means embarrassing his woman. Even so, Isla has no regrets about the man she chose to spend the rest of her life with. For these two, laughter is the glue that has kept and held them together for more than two decades.

David & Victoria Beckham
David and Victoria Beckham are one of the first celebrity couples that should come to mind when you think of long-lasting relationships. The footballer and the fashion designer, who was Victoria Adams at the time, met in 1997 at a soccer game.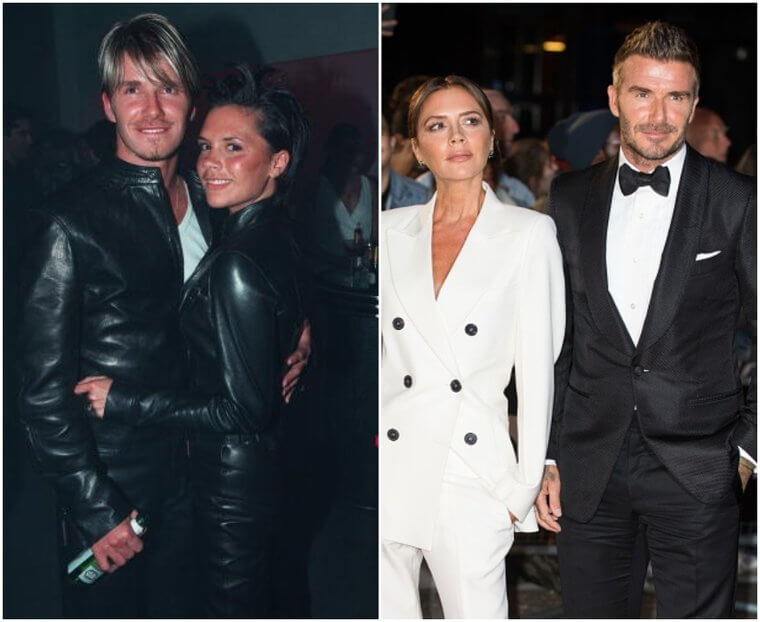 It didn't take long before the pair started a relationship, and David didn't waste time proposing to Victoria. The celebrity couple welcomed their first baby in March 1999 and were married four months later. David and Victoria have been married for over 20 years with four children, and it's clear to everyone that these two are still glued together.

Sarah Michelle Gellar & Freddie Prinze Jr.
Sarah Michelle Gellar and Freddie Prinze Jr. were already rising stars in the '90s when they met. Sarah was popular for the movie She's All That, while Freddie was the star of Buffy the Vampire Slayer. Both actors came together to feature in the 1997 movie I Know What You Did Last Summer and parted ways like nothing happened.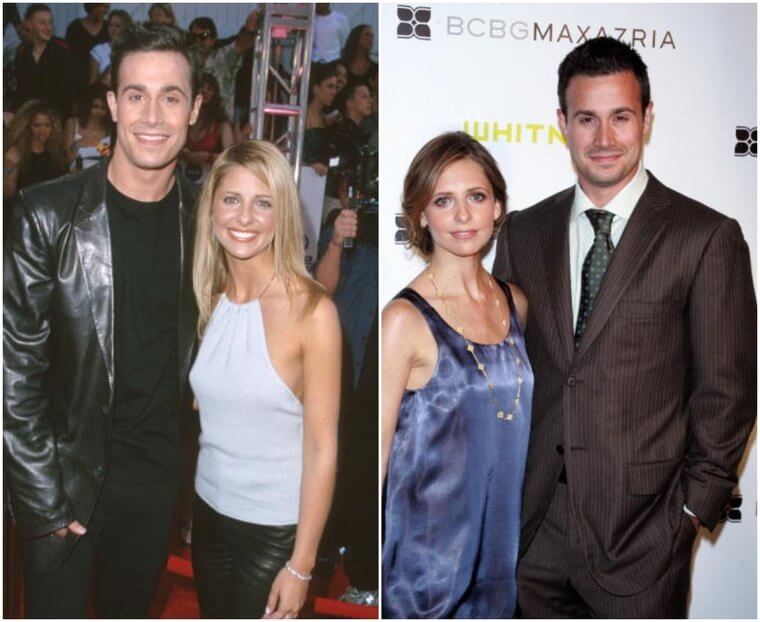 Apparently, fate had other plans because the pair met by chance several years, and this time, something happened. After dating for a while, the entertainers said yes to forever in 2002 at a Mexican resort. Sarah and Freddie had their first child in 2009 and the second in 2012, and we've not heard any news about a split.

Catherine Zeta-Jones & Michael Douglas
The Douglas have had their fair share of marital issues, but their over 20 years of marriage prove that love and commitment conquer all things. After getting introduced by Danny DeVito in 1998, Catherine Zeta-Jones and Michael Douglas started a relationship that finally led them to the altar in 2000.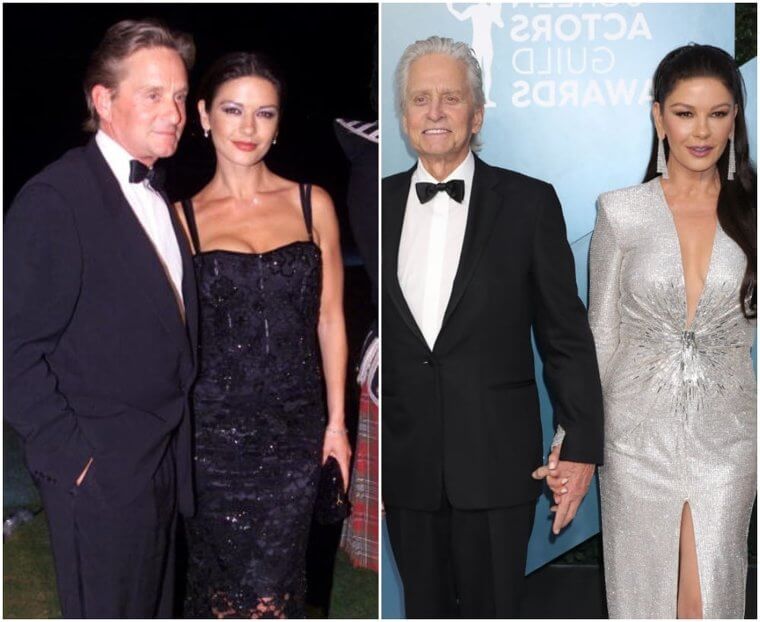 The couple has three kids, Dylan, Carys, and Cameron. Dylan and Carys are twins from their marriage, and Cameron is the child from Michael's previous marriage. Although the couple separated for a while in 2013, they've gotten back together, and it's been marital bliss since then.

Beyonce & Jay-Z
Beyonce and Jay-Z are influential individuals in the music industry, and coming together as husband and wife has made them even more unstoppable. The lovebirds met in 2000, started dating in 2001, and had a secret wedding in 2008. They had their first child, Blue Ivy, in 2012, and a set of twins, Sir and Rumi, were born in 2017.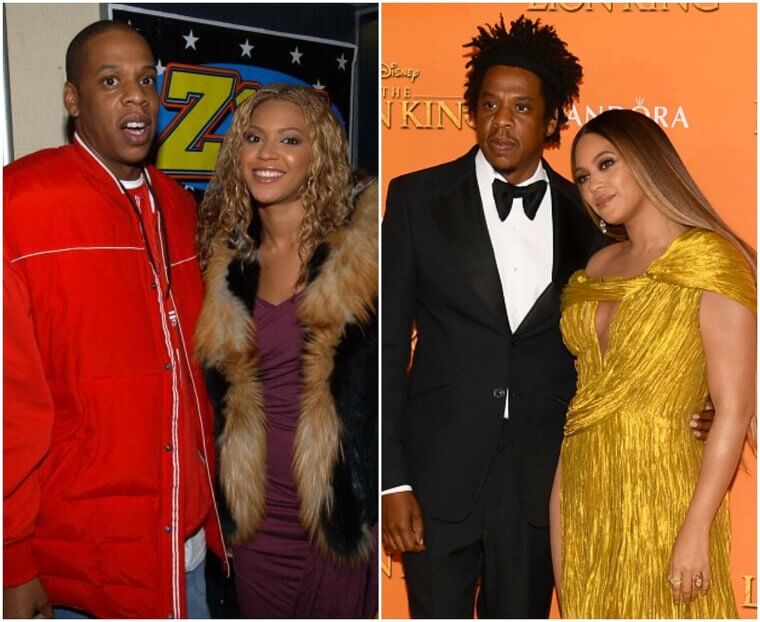 As much of a power couple as Beyonce and Jay-Z are, they've had issues like any typical marriage. In fact, Jay-Z openly admitted to his misdemeanor in 2017, and it almost looked like the marriage would collapse. Still, it's looking like all is well in paradise.

Tim McGraw & Faith Hill
Music brought Tim McGraw and Faith Hill together, and it's one of the things that have them in harmony in almost three decades of marriage. That, and their apparent love for each other. The lovers of Country Music first met in 1994, although briefly, but reconnected in 1996 on a joint tour.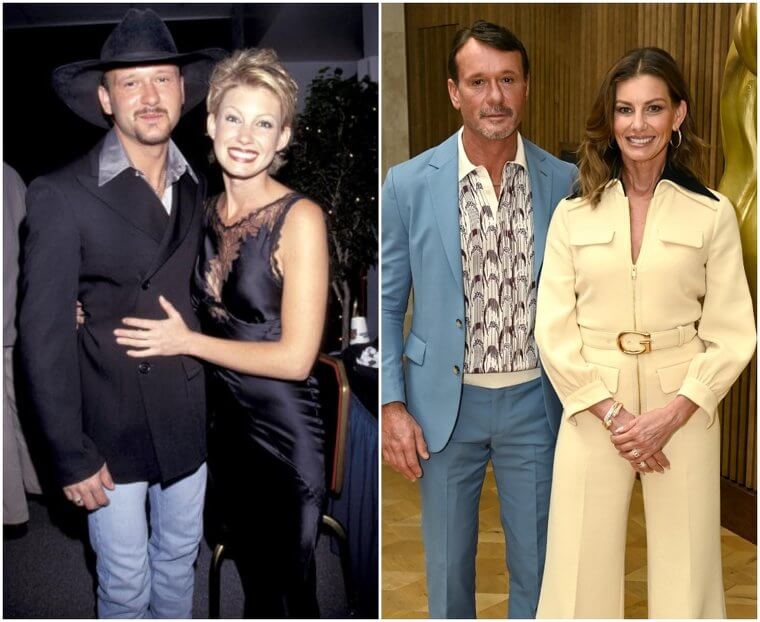 During this tour, they got to know each other and realized they could make a home as husband and wife. They did make a home together, with three daughters in the mix. Tim and Faith have handled several recording projects together and have also been featured in TV programs as a couple.

Kelly Ripa & Mark Consuelos
Kelly Ripa and Mark Consuelos have been Hollywood's hottest couple for decades. The duo met in 1995 when Mark filmed a screen test with Kelly for All My Children. The chemistry between the two was instant. After Mark landed his role as Kelly's love interest in the daytime drama, their bond became stronger and ended in a romantic relationship.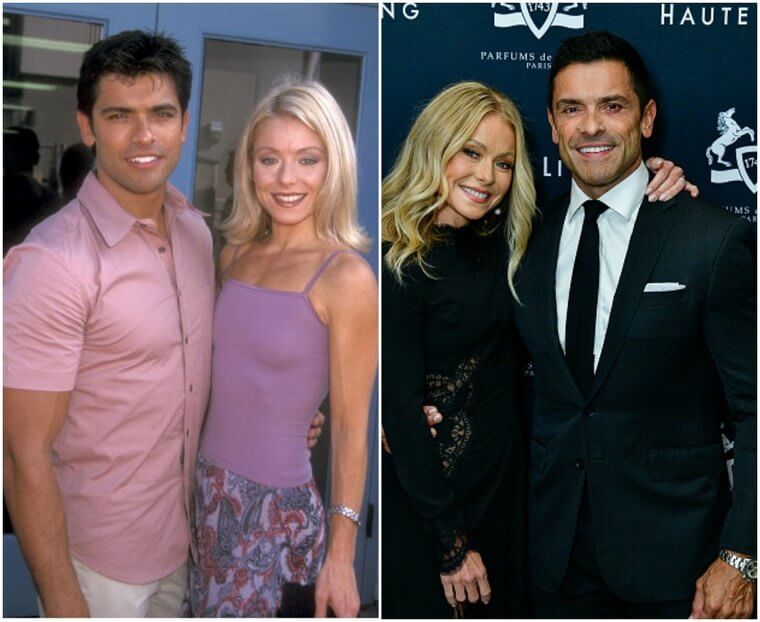 The pair tried to keep their affair private in the beginning to prevent professional conflicts, but after a few months, they made their relationship public. Shortly after they made their relationship official, the two briefly split up but the separation was not for long. Kelly and Mark got married in 1996 and now share three children. The love birds have been together for nearly three decades.

Will Smith & Jada Pinkett Smith
Will Smith and Jada Pinkett Smith are known as one of Hollywood's power couples with their marriage being among the longest-lasting marriage in the industry. The two first met on the set of The Fresh Prince of Bel-Air in 1994 but didn't start seeing each other until the following year. After a few years of dating, Smith and Jada walked down the aisle in 1997 and keeps getting stronger despite the ups and downs in their relationship.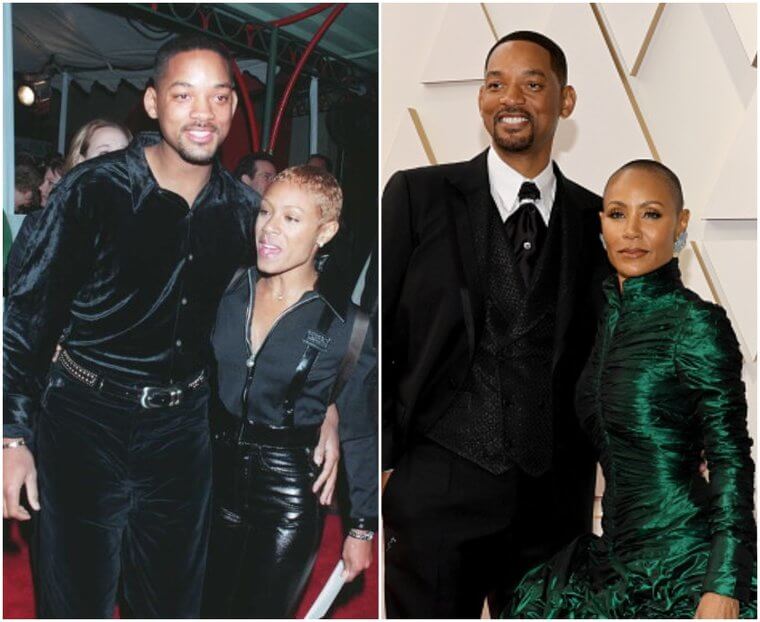 Their almost three-decade togetherness is proof that love always wins. In 1997, they welcomed their first bundle of joy, and another in 2000: Willow Smith and Jaden Smith. In 2020, the couple made headlines after they publicly opened up about the struggles in their marriage.

Ted Danson & Mary Steenburgen
Ted Danson and Mary Steenburgen have one of the uncommon things in Hollywood, which is a union that has lasted over 25 years. The pair met on the set of the Pontiac Moon in 1994, in which they acted as married couples. At that point, Ted and Mary had just gotten divorced from their previous marriages. Their wedding took place in 1995, and since then, they've shared an undeniable connection.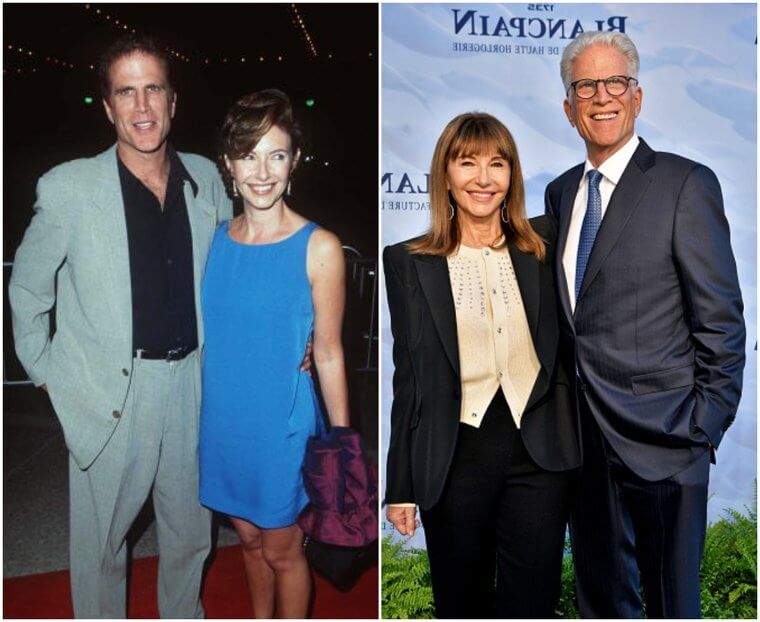 The couple's self-deprecating humor and fun-loving nature have kept their marriage as strong today as it was when they first met many years ago. Even though they have been married for nearly three decades, they still gush about one another openly. We love to see more of this in Hollywood.

Elton John & David Furnish
Elton John and David Furnish have been together for about 30 years. The duo met in one of the sweetest and most unexpected ways—at a dinner party organized by a mutual friend in 1993. David got attracted to Elton, and the next night, they had a dinner date and consummated their relationship thereafter.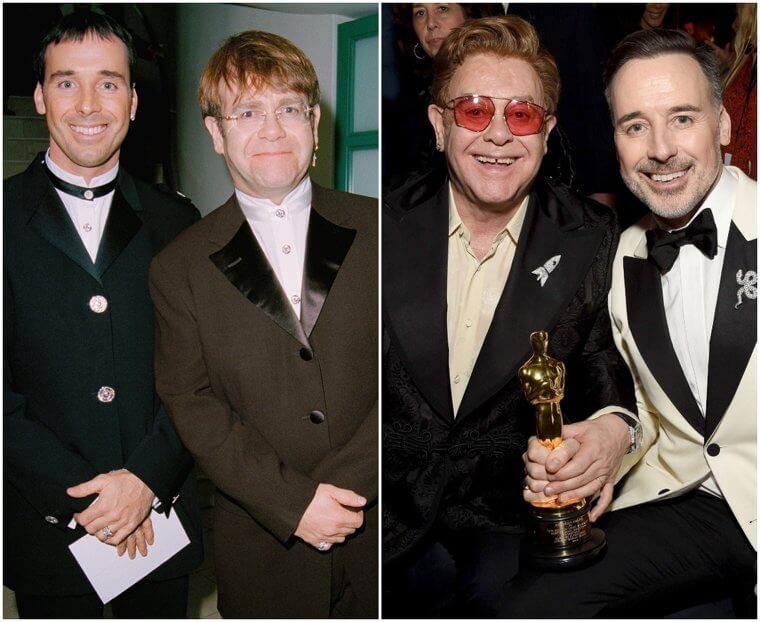 When they decided to get married in 2014, the ceremony was a lavish affair with many stars in attendance. The pair have been together for almost three decades and still find time to show incredible love toward each other. In the course of the union, they have two sons: Zachary Furnish-John and Elijah Furnish-John.

Sarah Jessica Parker & Matthew Broderick
Sarah Jessica Parker and Matthew Broderick have been married for nearly three decades, longer than most couples in Hollywood. The duo crossed paths with the help of SJP's brothers, Toby and Pippen, who are co-founders of the Naked Angels Theater, where Matthew was the manager at the time. It turned out that Sarah had an interest in Broadway.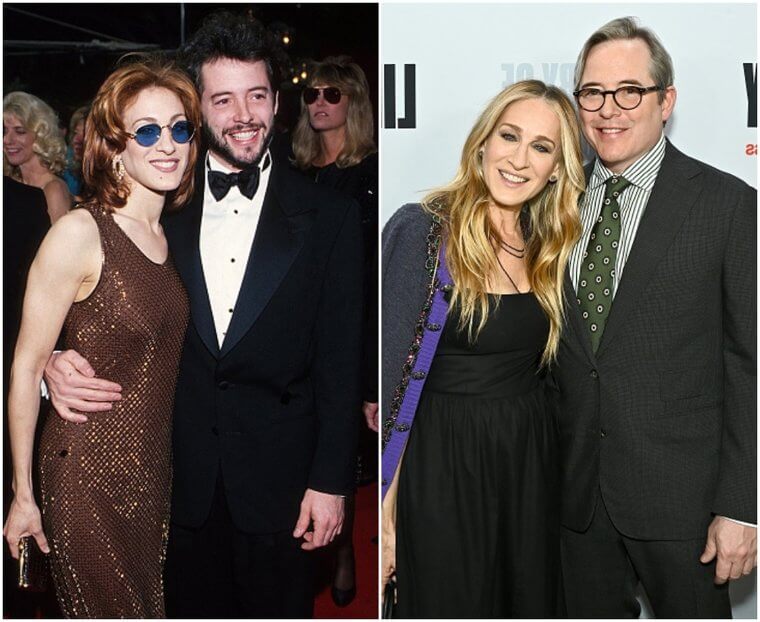 Shortly after her separation from her ex, Sarah found love again. The pair began dating in 1991 and walked down the aisle in 1997. They have raised three children together and celebrated their 25th marriage anniversary in 2022. Careerwise, the two are back to their roots after they announced their Broadway return.

Kyra Sedgwick & Kevin Bacon
Kyra Sedgwick first met Kevin Bacon in 1978 at a play performed by Bacon. They continued to see each other till they eventually got married in 1988. Their marriage is blessed with two wonderful children who are now in their adult years.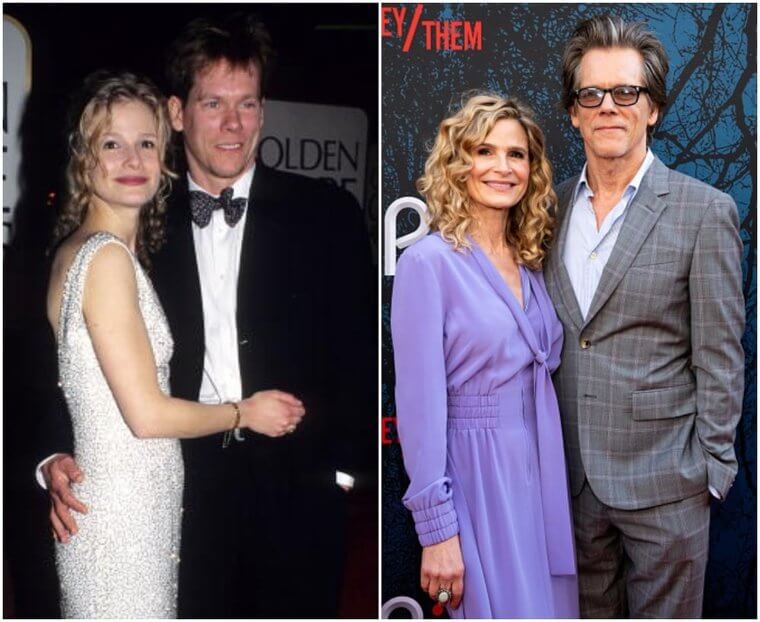 What's inspiring about the couple is that they've spent more than three decades together. Their love appears to grow stronger every passing year, which is why many fans have approached them for relationship advice. The duo believes that being in love starts with first finding some sort of wholeness in yourself before asking for someone to love you in return.

Tom Hanks & Rita Wilson
Tom Hanks and his lady, Rita Wilson, first met on the set of Bosom Buddies. The actors were friends at first because Tom was still in a relationship with Samantha Lewes. When this relationship ended, Tom and Rita began dating and eventually got married in 1988.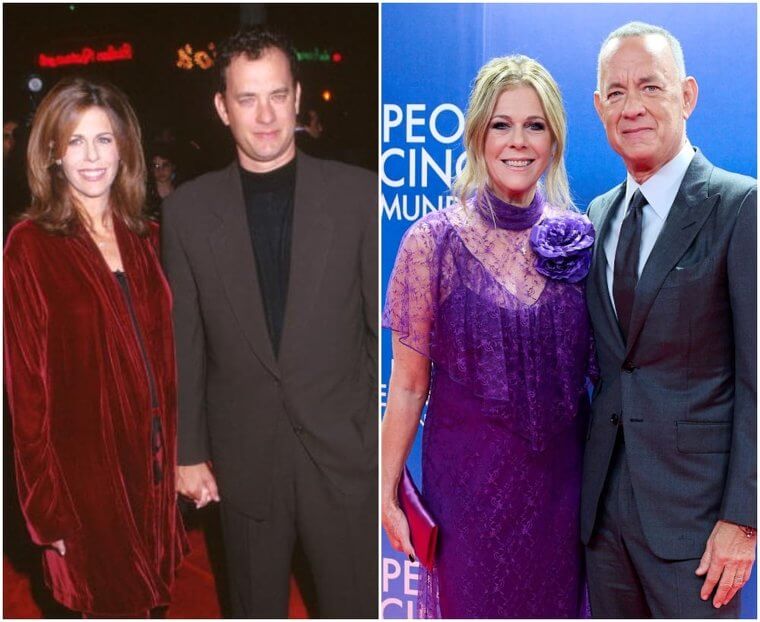 Their marriage is blessed with two children, Chester "Chet" Hanks, born in 1990, and Truman Theodore Hanks, born in 1995. Since meeting Rita, Tom has received several awards including a Golden Globe Award for Best Actor and a star on the Hollywood Walk of Fame. The couple remained together through the good and bad times, supporting one another through success and pain.

Oprah Winfrey & Stedman Graham
Oprah Winfrey began dating Stedman Graham in 1986, about the same time her show debuted. Though her producers initially warned her not to date Stedman, she followed her heart and is happy she did. Their love story is one of persistence and determination and can be seen in the fact that they've been together for more than three decades.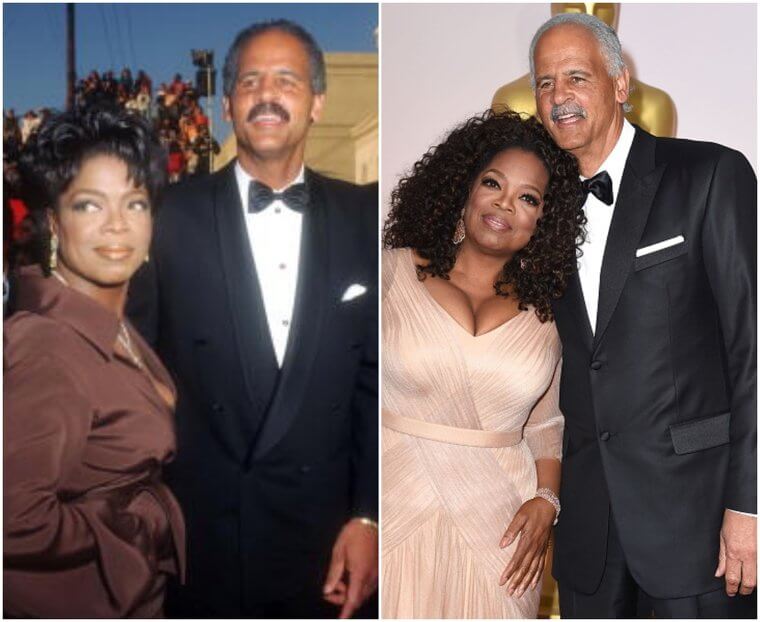 The duo got engaged in 1992 and planned to have their wedding a short while after. Nevertheless, Oprah decided against the idea, and more than 30 years after, they're yet to walk down the aisle. The couple doesn't have any children together, but Stedman became a grandfather in 2015 when his daughter from a previous relationship had a child.

Jamie Lee Curtis & Christopher Guest
Jamie Lee Curtis and Christopher Guest share one of the most bizarre love stories ever. Curtis first read about Guest in Rolling Stone magazine in 1984. She immediately told her friend, Debra Hill, that she was going to marry that man. With her permission, Debra tried setting up a meeting between the two but at first, it never happened. Then, a few days later, Curtis bumped into Christopher, promoting the latter to call her. They got engaged two months later and got married in December of the same year.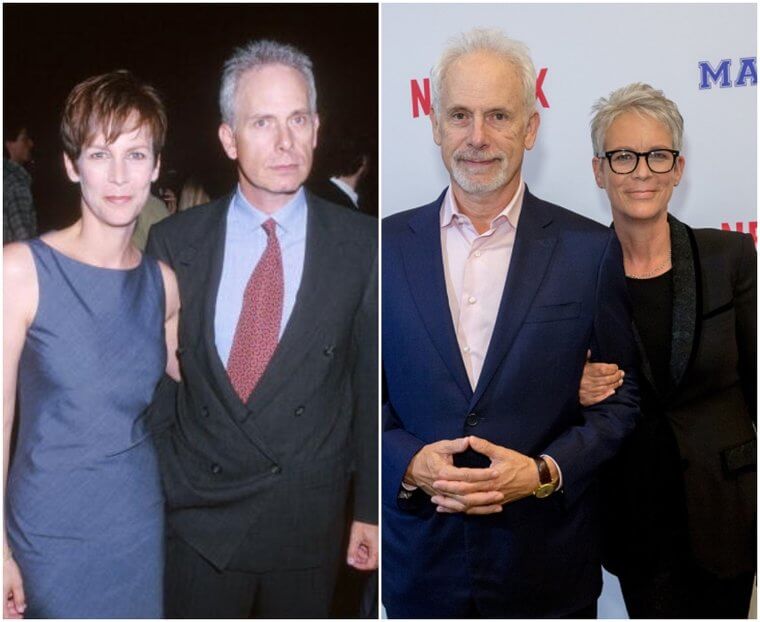 The couple has been together ever since and they have two adopted kids, Annie and Ruby. Jamie believes that the secret to their happy marriage is perseverance, trust, and the little insignificant things.

Goldie Hawn & Kurt Russell
Goldie Hawn and Kurt Russell met on the set of The One and Only, Genuine, Original Family in 1966. They, however, didn't start dating each other until they were both featured in the 1983 movie Swing Shift. By this time, their previous relationships had ended and both were single again.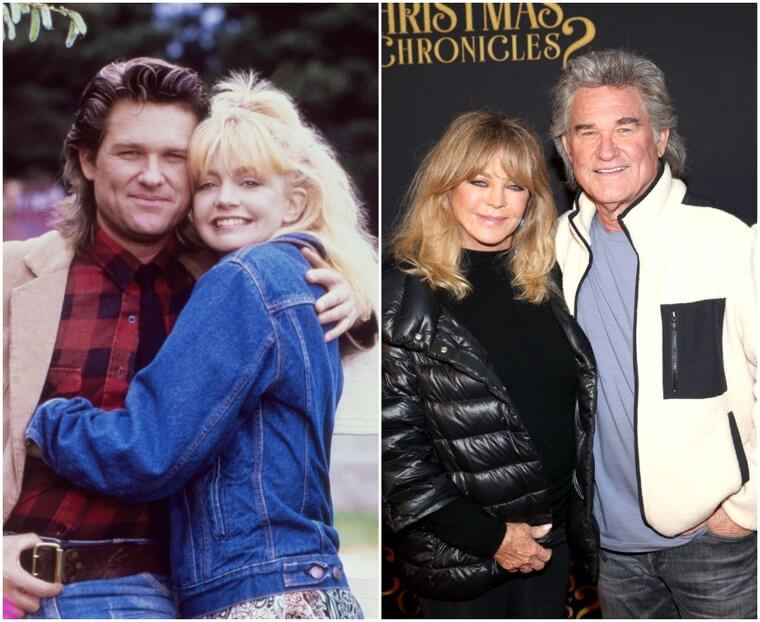 Goldie and Kurt welcomed their first child together in 1983 while still raising the children from their previous marriages. They've continued to star in movies together and most recently starred in the movie, The Christmas Chronicles: Part Two. Though their relationship is 40 years old, the couple has no intention of getting married.

Ozzy Osbourne & Sharon Osbourne
This couple's relationship has spanned over three decades, and both are still inseparable as they were at the start of their romance. Before Sharon, musician Ozzy Osbourne was married to Thelma Riley, with whom he shared three children. It was during that relationship that he met 18-year-old Sharon in 1970, and in 1979, they became a couple.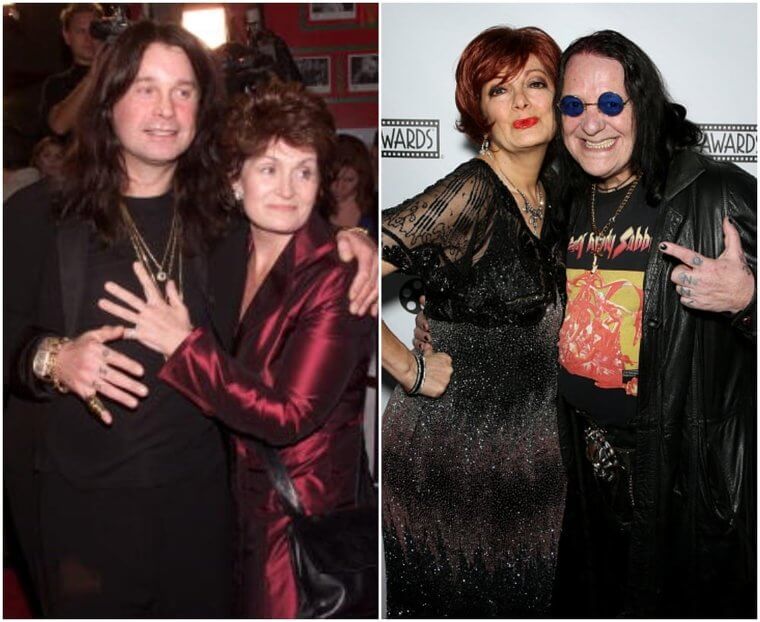 The two have been married since 1982, have three children together, and have persevered through several challenges. In 1989, issues of domestic violence almost ended their union, as well as cheating scandals in 2016. Still, they stuck with each other, and in 2018, they celebrated their 36th anniversary.

Lily Tomlin & Jane Wagner
Actress Lily Tomlin and writer Jane Wagner have enjoyed not just romance but also an artistic and highly productive relationship. They have collaborated to create canonical works of comedy, such as Tomlin's character Edith Ann.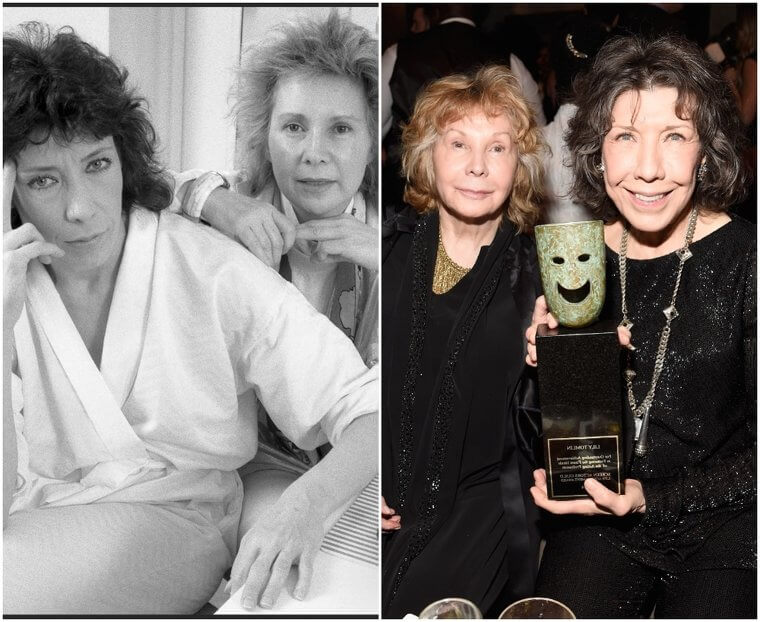 They met in early 1971, and for Tomlin, it was love at first sight. Though the two began dating soon afterward, Tomlin says she had no idea that gay marriage would be legal in her lifetime. The former Nashville star and her writer girlfriend got officially married on New Year's Eve 2013, and in 2020, they celebrated the 50th anniversary of their relationship as a couple and also as colleagues.

Adrian Celentano & Claudia Mori
The Italian stars Adrian Celentano and Claudia Mori met on the set of the 1963 comedy Uno Strano Tipo. In 1964, they tied the knot at exactly 3 a.m. on July 14, just so they could avoid the banter and attention of the paparazzi. Though Mori has since retired from the spotlight, Celentano has remained very active, becoming the best-selling Italian singer of all time.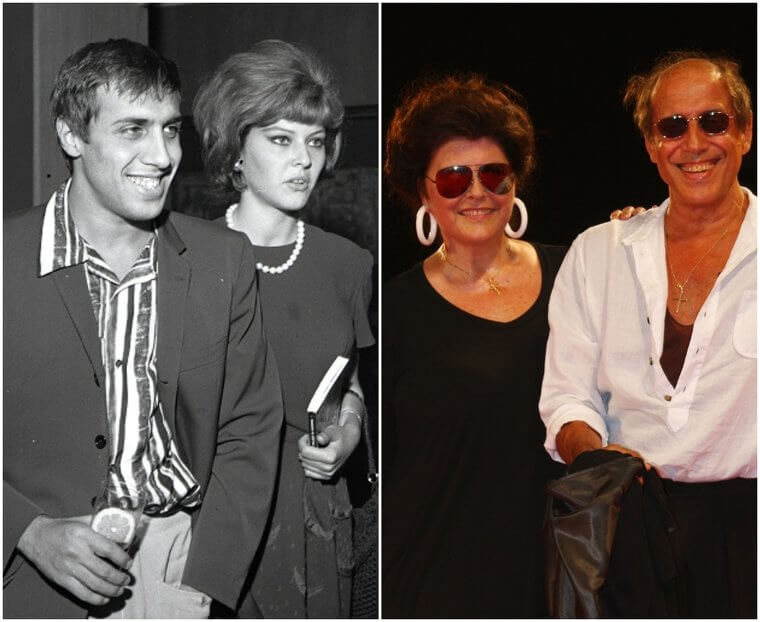 Despite their fame, wealth, and the length of their relationship, theirs has been a very quiet union, with little or no scandals. The year 2014 marked their golden anniversary, and the two celebrated their 50-year-old marriage and the three children, Rosita, Giacomo, and Rosalinda, that they had within those years.

Enrique Iglesias & Anna Kournikova
Unlike most couples on this list, Spanish pop star Enrique Iglesias and former tennis player Anna Kournikova have been able to keep their relationship away from the spotlight. They met on the set of Iglesias' 2001 music video Escape, and the two have been a couple ever since.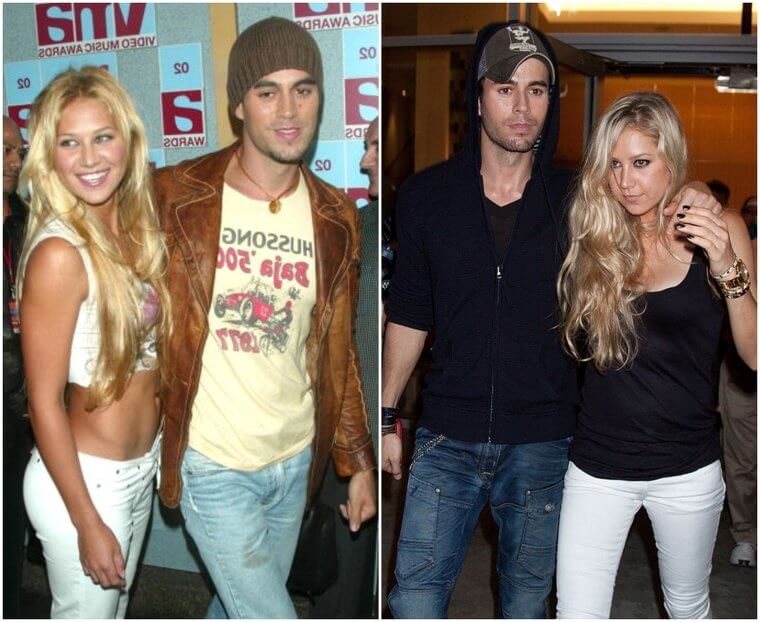 They have three children together, a set of twins born in 2017, and a daughter in 2020. Though they celebrated their 20th anniversary in 2021, the two have chosen to stay unmarried. When asked about this decision, Kournikova told Women's Health magazine, that she doesn't regard marriage as an obligatory affair. According to her, all that matters is that she's in a healthy, loving relationship.

Courtney B. Vance & Angela Basset
This love story began at the Yale School of Drama in the early '80s. Courtney Vance and Angela Basset were students at the time and kept their relationship very platonic till 1994 when they took their friendship to the next level.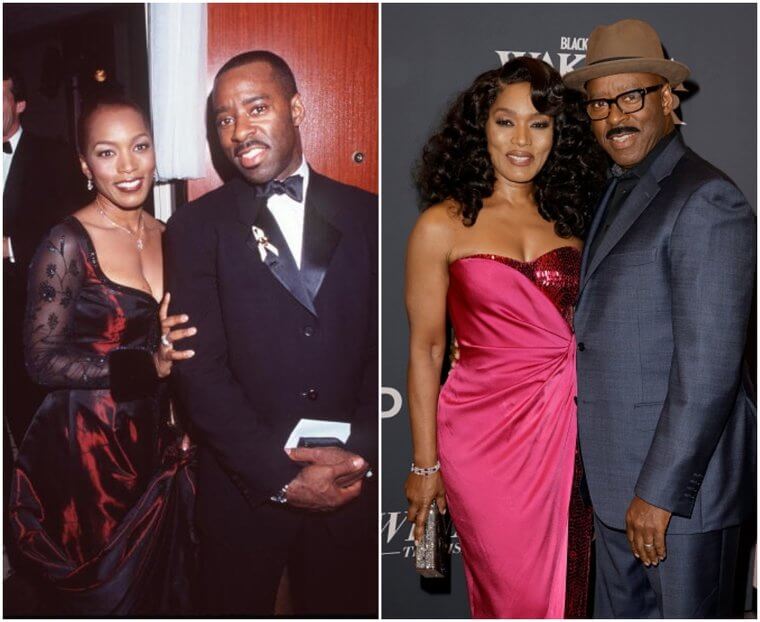 They married three years later, on October 12, 1997, and had their twins, Slater and Bronwyn, in 2006. Both Hollywood legends have supported each other through their acting careers, and in 2022, they celebrated their 25th wedding anniversary with a soiree and many loving words on social media. They summed up these heartfelt words by stating that they hoped for 25 more amazing years.

Nick Offerman & Megan Mullally
Anyone who's worried they'll run out of time before they meet their better half will draw inspiration from this love story. American actress and comedian Megan Mullally met her husband, Nick Offerman, later in life. The duo's first encounter was in the 2000 play, The Berlin Circle.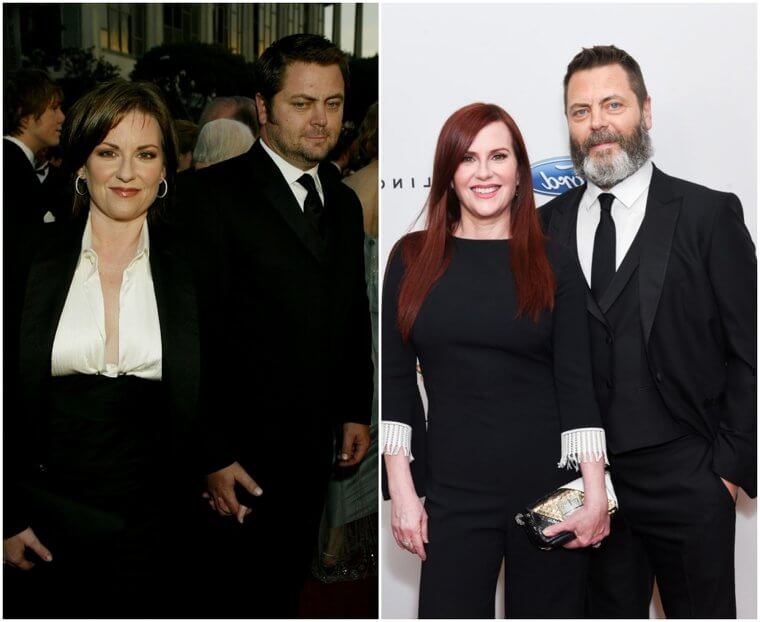 Despite being a self-professed "theater snob," Offerman couldn't help but notice Mullally, who took his breath away with her mad talent. The two have been married for nearly two decades and make the best work/life partners. If you ask, there isn't a more authentic, down-to-earth, and hysterical couple for some folks, and we understand why.

Christine Taylor & Ben Stiller
You know you were meant to meet the love of your life when you meet them on the set of a TV pilot that never makes it to air, but an instant connection comes out of it. Ben Stiller has revealed that he knew Christine Taylor was the one for him from the moment he laid eyes on her.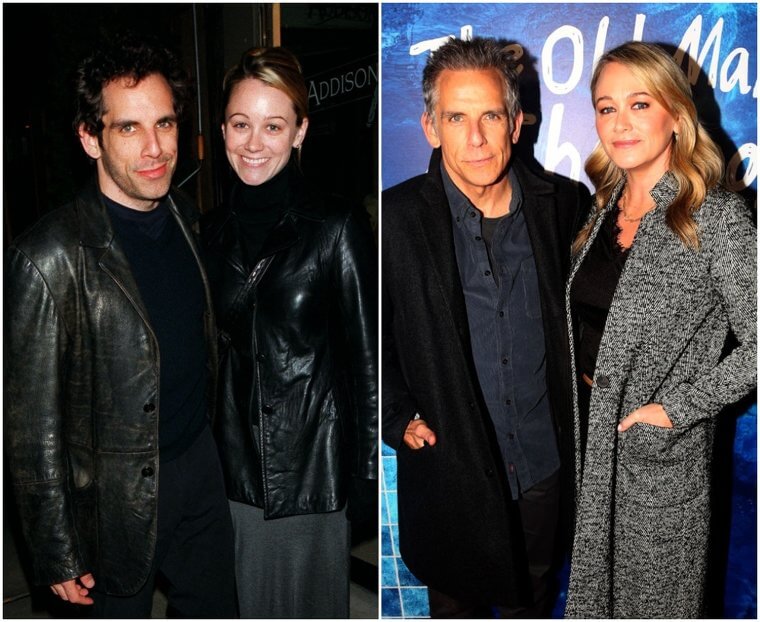 They tied the knot in 2000, and over two decades later, the couple has seen good and bad days in their union. Stiller and Taylor, who share two beautiful children, Quinn and Ella, have been on and off throughout the years but confirmed they were back together in February 2022.

Hugh Jackman & Deborra-Lee Furness
Another celebrity couple we have loved dearly since their young love days is Hugh Jackman and Deborra-Lee Furness. The couple has been together since the mid-1990s, with their 13-year age gap proving to us that age isn't all that counts.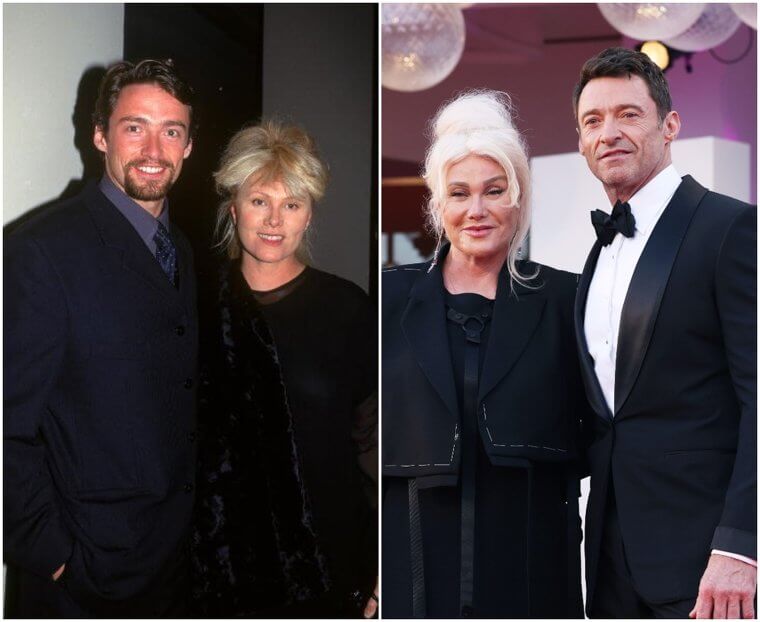 Hugh knew he would spend the rest of his life with Debs, as he calls her, two weeks after their meeting. It is thus no surprise that they walked down the aisle a year later. The duo, who share two lovely adopted kids, has kept their spark alive to date, and fans loved seeing them attend the August 2022 US Open together.

Rob & Amber Mariano
The world has moved from marrying in your hometown to reality TV show coupling. While some people remain skeptical about meeting your significant other on a scripted reality TV show, Rob and Amber Mariano prove that building a beautiful relationship out of a showmance is possible.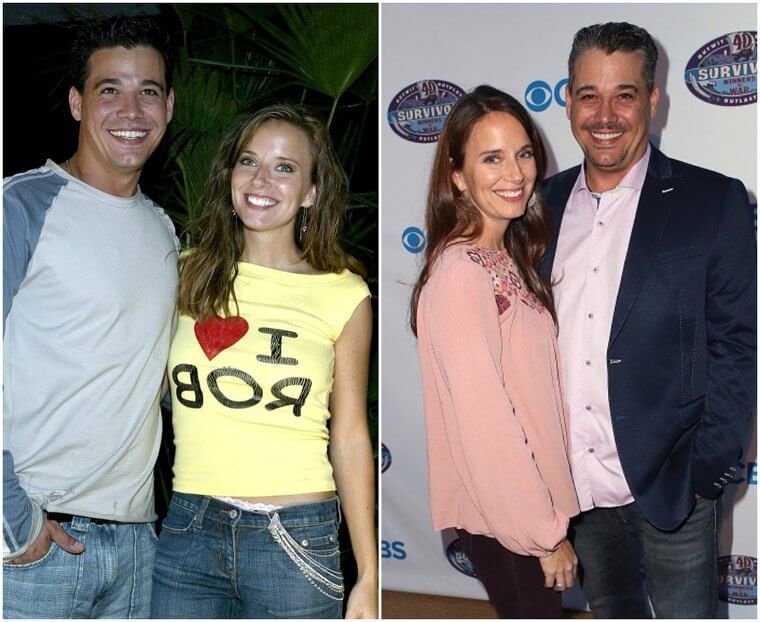 The two met on the set of Survivor: All Stars in 2003 after competing in different seasons and are one of the few couples from the show whose connection has survived in real life too. Today, Rob and Amber are still together and raising their four beautiful daughters together; Lucia, Carina, Isabetta, and Adelina.

Samuel L. Jackson & LaTanya Richardson
Families worldwide have a couple they can look up to and draw marriage inspiration from. Samuel L. Jackson and LaTanya Richardson started relating with each other having already decided that they wanted to be together forever. The duo first met in college and solemnized their "forever pact" when they got hitched in 1980.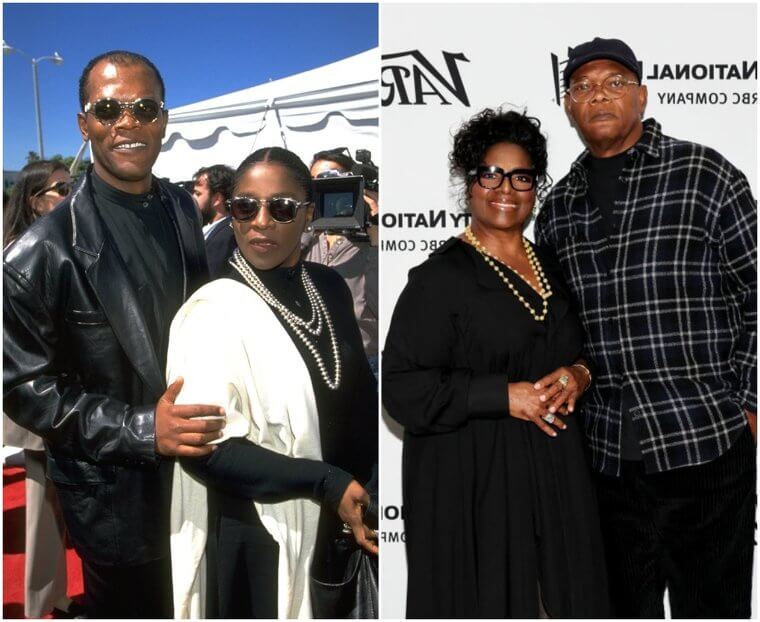 Samuel and LaTanya are great romantic partners and parents to their Emmy-winning daughter, Zoe. They also make perfect workmates. We've witnessed it more recently, as seen in the 2022 play The Piano Lesson revival, where Samuel starred alongside John David Washington, and LaTanya did the directing.

Maggie Gyllenhaal & Peter Sarsgaard
For filmmaker Maggie Gyllenhaal and her actor husband Peter Sarsgaard, love is the most beautiful thing. Maggie and the The Batman star tied the knot in 2009 after being engaged for three years. Theirs was a small ceremony in a small Brindisi chapel but the love and devotion are no doubt bountiful, seeing the couple is still going strong.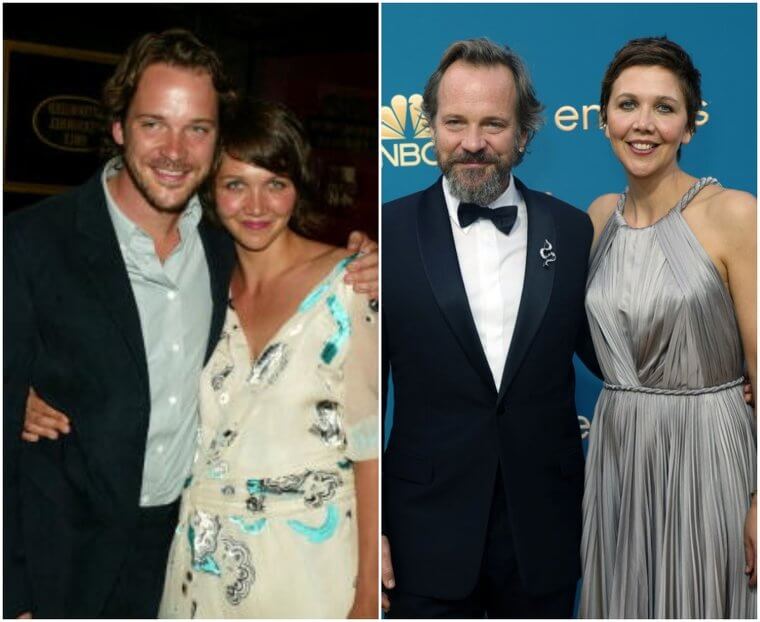 Peter made this apparent after revealing that his wife directing an intimate scene in the psychological drama The Lost Daughter, which he featured in, was gratifying. Maggie and Peter share two adorable children, Ramona and Gloria, whom they love with their all.

Matt Damon & Luciana Barroso
Matthew Paige Damon brings his A-game wherever he goes and his romantic life is no different. The Good Will Hunting star has been married to the love of his life, Luciana Barroso since 2005, and they renewed their vows on the Caribbean island in 2013. Luciana and Matt met at a bar where she was working as a bartender.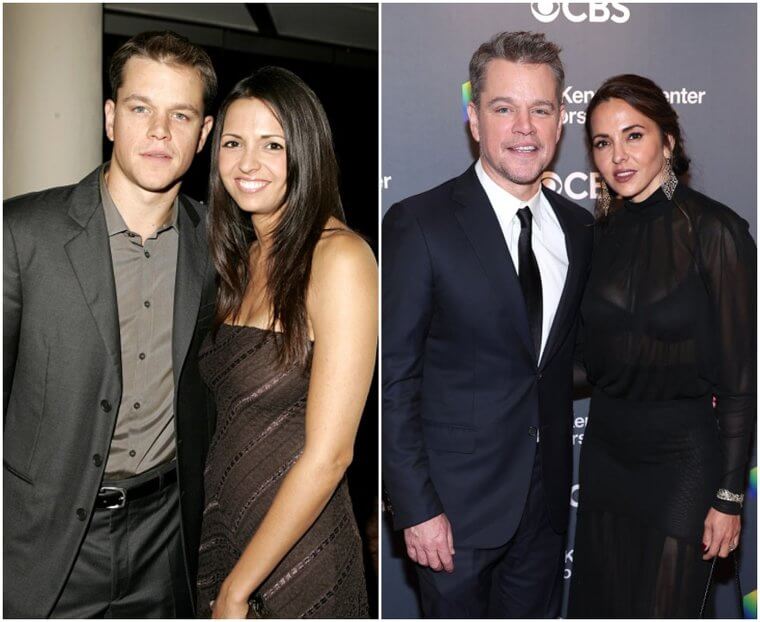 They immediately hit it off as Matt hid behind her bar and helped her make drinks that night. Now an interior designer, Luciana and the Ocean's Eleven actor are parents to four lovely kids, Isabella, Gia, Stella, and Alexia whom Luciana bore from a previous relationship.

Coco & Ice-T
It's certainly hard to keep a marriage going for months, let alone decades, but Coco and Ice-T have found a way around it. This unconventional couple has been together for more than 20 years and still seems to go strong. When the news of the pair getting married broke out, Ice-T and Coco got subjected to massive backlash for their 21-year age difference.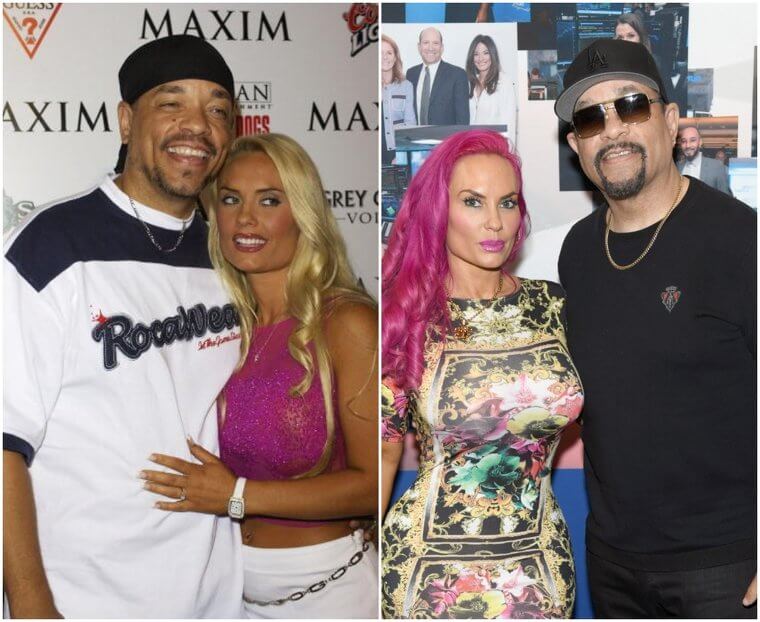 Nonetheless, this did not stop the two from sealing the deal in 2001 and renewing their vows again in 2011. The two reality TV stars crossed paths on the sets of a music video, and then the rest is history. From back in the day to today, their love for each other only seems to grow more.

Jaime Bergman & David Boreanaz
It rarely happens in a marriage that a couple gets back together after one partner gets caught cheating. David Boreanaz and Jamie Bergman are a pair who survived the act of infidelity and now seem to be even more in love. In 2010, the Bones star's unfaithfulness did bring a rift between the duo, but his wife soon found a way past it.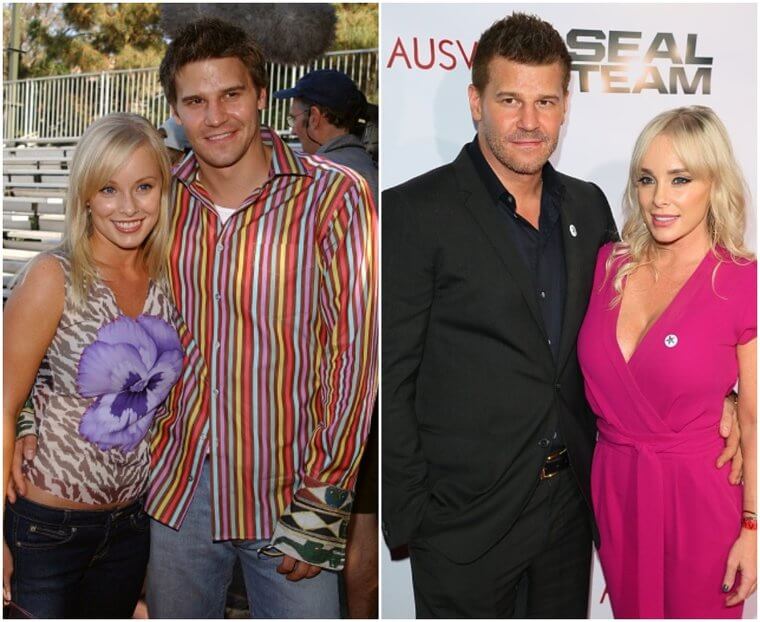 Their whirlwind marriage happened only seven months after David and Jamie met at a party in 2001. Over the years, these celebrities have been through several ups and downs, but they did not give up on their love. The duo has come a long way, withstanding every storm coming in their path.

Will Ferrell & Viveca Paulin
We can consider Will Ferrell and Viveca Pauline a couple that was fated to be together. Their love story is straight out of a fairytale romance. The two met in acting class in 1995 and initially dated only briefly. Nonetheless, fate had other plans for this duo, and they crossed paths again, only to get married this time.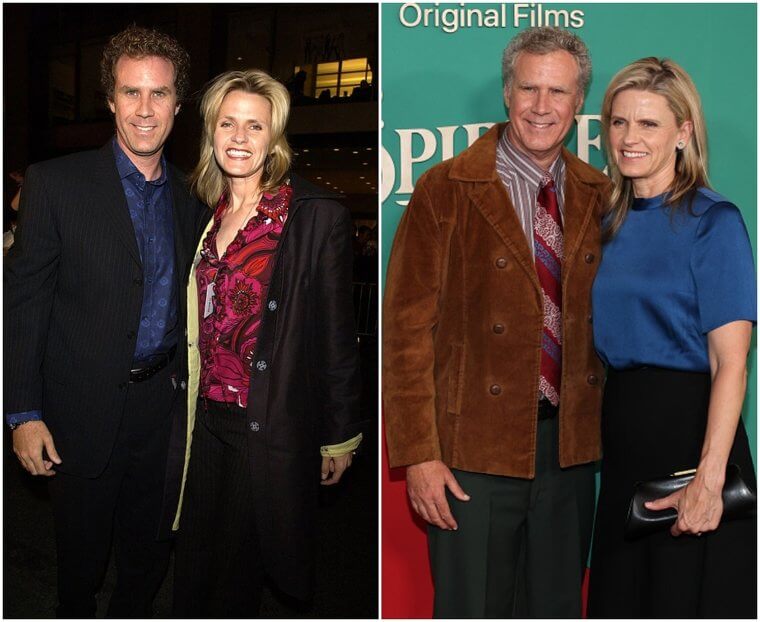 We assume it would be hard for fans to believe Will is a loving husband, given his goofy on-screen persona. Interestingly, the comedian has been married for more than two decades. Over the years, the pair have enjoyed a blissful marital life, and they share three sons.

Brad Paisley & Kimberly Williams
Brad Paisley was already mesmerized by Kimberly Williams even before he met her in person. He saw her first time on screen in Father of the Bride and got instantly taken by her. Nonetheless, it was not until 2001 that he could pursue being in a relationship with the actress. The musician approached Kimberly to feature in his music video, after which sparks began to fly between the two.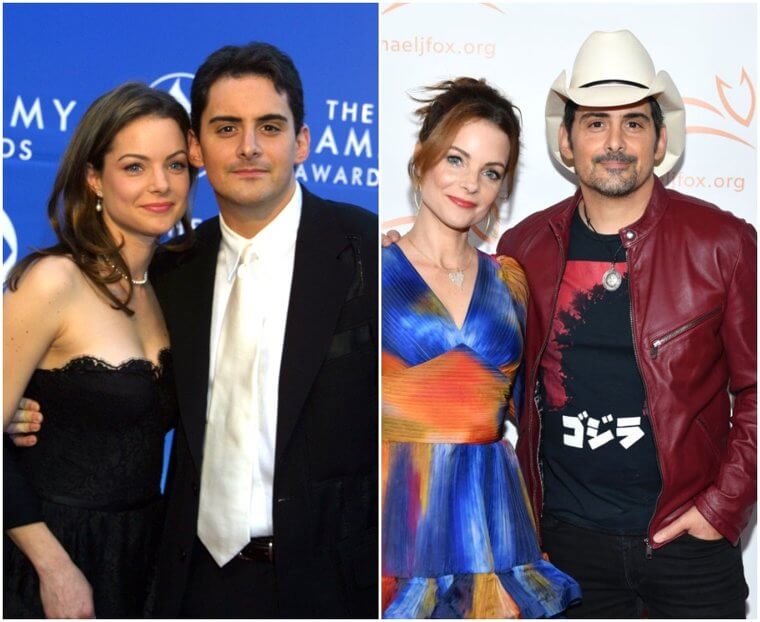 In no time, they fell head over heels in love, and in 2003, the two tied the knot in the presence of friends and family. Even after being together for two decades, Brad and Kimberly celebrate their wedding anniversary in the same fashion they did the first time.

Meryl Streep & Don Gummer
There might only be a few who wouldn't admire Meryl Streep for who she is today, not only as an artist but as a human being. With a successful professional life and a supportive husband by her side, what more could someone want from life? This actress has it all. The Julia star and sculptor Don Gummer have been married for over four decades.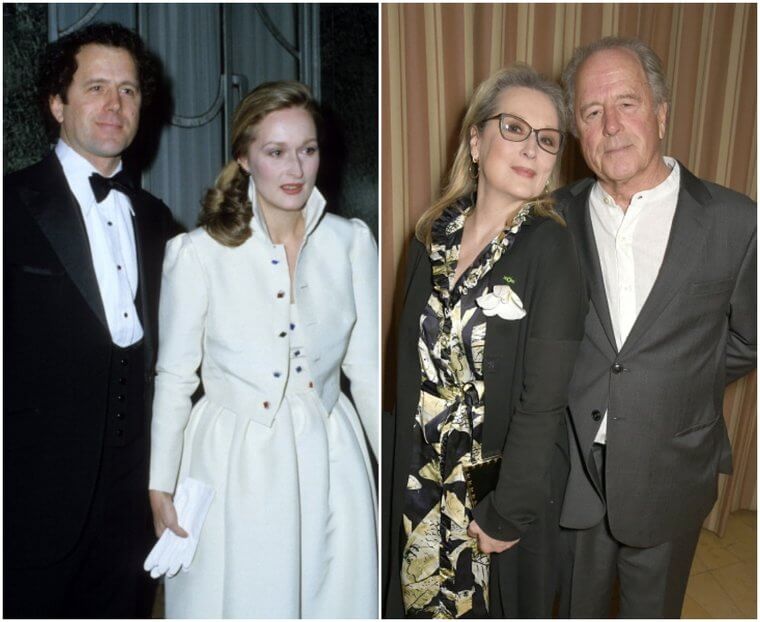 Although the couple's love story has a happy ending, the circumstances under which the two met weren't that pleasing. It had only been a few weeks since Meryl lost her former lover in 1978 due to a fatal disease, and she crossed paths with Don. Eventually, the pair fell in love and got hitched six months later.

Michael J. Fox & Tracy Pollan
Michael J Fox wouldn't have thought he would bump into his perfect match at a show set. He and Tracy Pollan met during the filming of Family Ties, but it wasn't until they were cast together in Bright Lights, Big City, that they fell in love with each other. After dating for seven months, Michael and Tracy got hitched in 1988, and three decades later, they have eyes only for each other.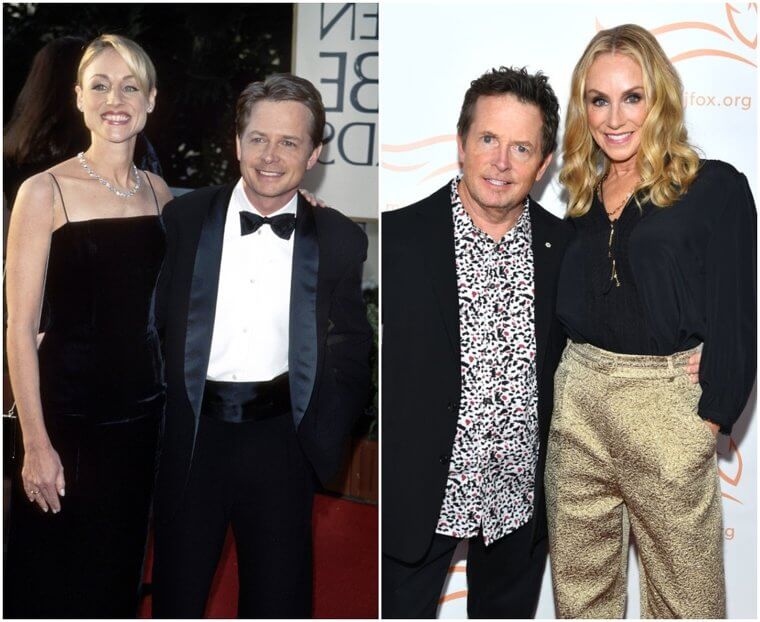 Their journey as a couple hasn't been easy, and within three years of their marriage, Michael was diagnosed with a degenerative disorder. Nevertheless, this has only brought Michael and Tracy closer together and inspired the love birds to help similarly placed persons.

Denzel & Pauletta Washington
Yet another Hollywood couple that made it into their fourth decade of togetherness is Denzel and Pauletta Washington. There is not one occasion that the two wouldn't be spotted together cozying up, but it doesn't mean they haven't seen tough times as a pair. The actors have learned to iron out their differences, a secret behind the longevity of their marriage.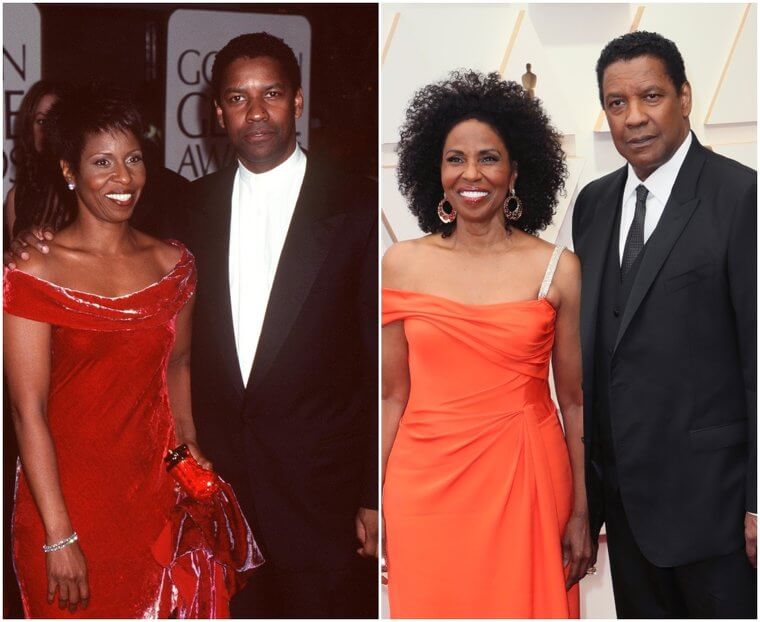 You would be surprised to know that before the duo walked down the aisle in 1983, Pauletta turned down Daniel's proposal twice. Nonetheless, the Genuis star gave into the charms of her now-husband and has been by his side ever since. The duo is proud parents to four children.

Robert Downey Jr. & Susan Levin
Robert Downey Jr.'s love story with his now-wife Susan Levin is rather interesting. The two met during the filming of Gothika, him being the lead star, and she was the producer of the motion picture. Initially, Susan wasn't sure about dating the actor due to her professional relationship with him, but who could resist the charm of Iron Man himself?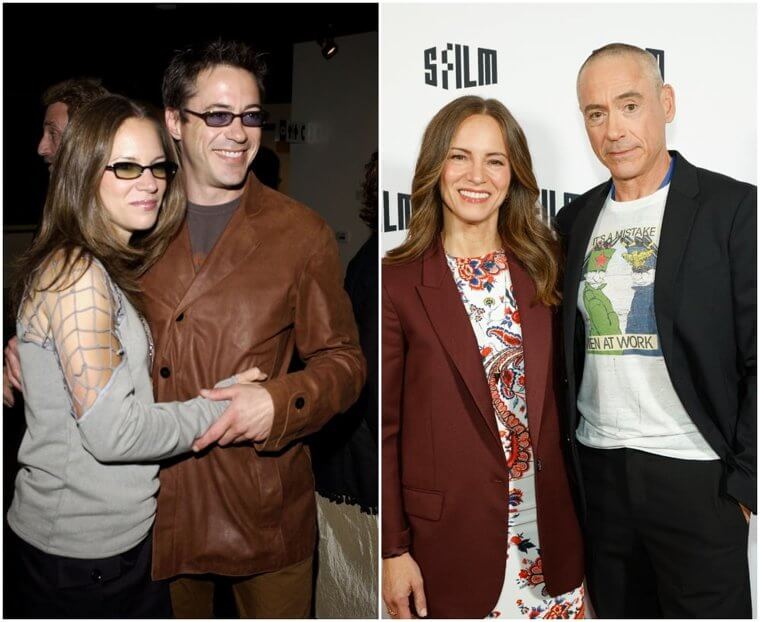 Soon, the duo started dating, and within a few months of their relationship, they got engaged. Robert and Susan took the plunge in 2005, and the pair share two children. Apart from being a perfect match for each other, this duo shares a professional relationship and runs a production house.