What do a woman and an ice cube tray have in common? The ability to multi-task. While the ladies top the charts at doing multiple things at once, an ice cube tray can be used for many things other than making ice cubes. With so many fridges and freezers having water and ice dispensers, the trusty ice cube tray often gets relegated to the bottom shelf of the pantry. However, after reading about all the innovative ways an ice cube tray can assist, you will never think of it the same way. We explore some of its alternate uses, including making playtime fun for your little one, elevating a party theme, and DIY projects.
Take the Fuss Out of Baking Cookies
Coming home to the smell of freshly baked homemade cookies is a treat. However, time is a problem when you have a busy schedule, juggling work, children, and running a household. With a few easy hacks, you can bake your family cookies regularly and still have some free time for the things you enjoy.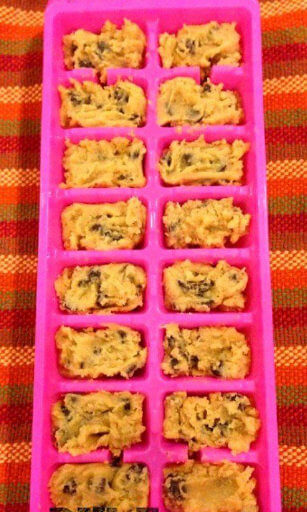 This hack will help you save time and ensure there aren't any irresistible treats laying around for you to uncontrollably snack on.  Double or quadruple your recipe. This may sound counter-intuitive, but you can make enough dough to last about six weeks. Portion it into ice trays, and freeze the surplus. Next time you want cookies, take a few portions out of the freezer, shape them, and pop them in the oven. 

Want a Natural and Effective Odor Neutralizer?
The more things we can prepare ahead of time and freeze, the better, and we don't only mean meals. In numerous studies, including one conducted by Utah State University, vinegar, and lemon, which are both acid-based, were found effective at removing a scale build-up from hard alkaline water and neutralizing foul odors. Next time the lemon tree is heavy with fruit, and you have a few minutes spare, try this quick hack.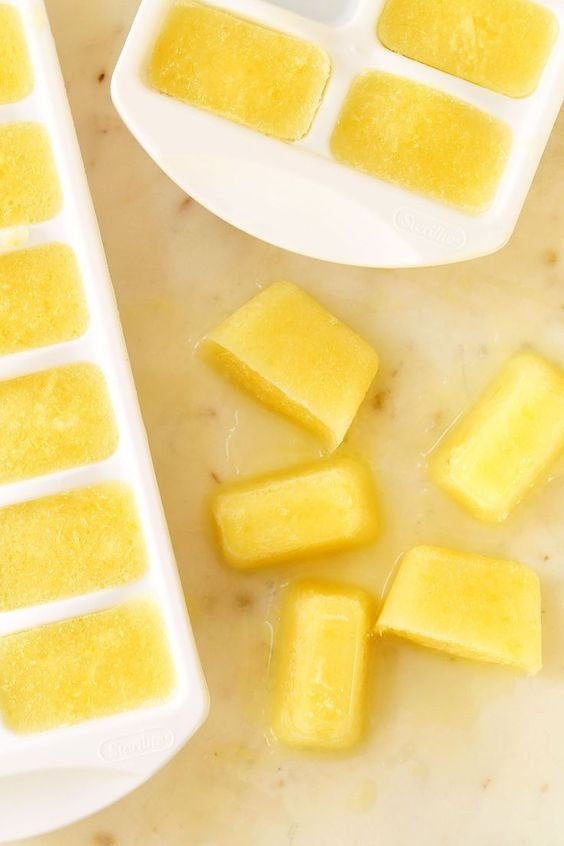 Place a slice of lemon in each ice tray cube, add vinegar until the tray is about three-quarters filled, and pop it into the freezer. Once it is frozen, you can put all the frozen cubes into a ziplock bag, and the next time the garbage starts to smell, place one block in the bin. The lemon and vinegar will act as a disinfectant and neutralize the odors.
Eating (Or Drinking) Healthy Made Easy
As summertime rolls in and the children are playing outside with friends, a nice ice-cold smoothie is a perfect treat to persuade them to take an indoor break from the scorching mid-day sun. It ensures your kids remain hydrated and encourages them to eat healthy fruit, and if you are cunning like us, you can sneak in a few vegetables too.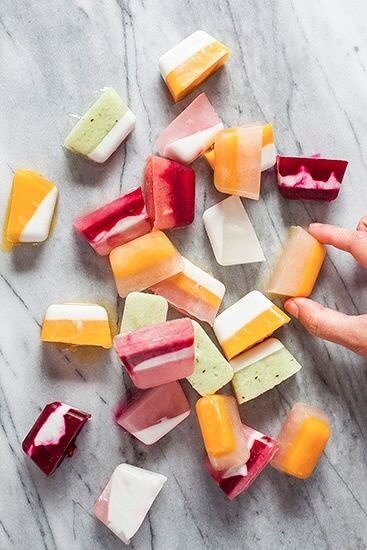 Making these delicious smoothies is simple. Place any seasonal fruit your children enjoy (berries are a good choice and full of antioxidants), add a little cucumber, lettuce, or carrots into a blender, top up with fruit juice, and blend. Pour into ice trays, and when you or your children are ready for an ice-cold beverage, place the frozen cubes in the blender and pulse to create a wonderfully refreshing crushed-ice drink.

How to Unclutter the Junk Draw
Studies have shown that people cope better when their surroundings are uncluttered and organized. You may have noticed that when things are disorganized around you, your mind is unsettled, and your anxiety and stress levels are elevated. Next time you feel overwhelmed by an untidy environment and cannot find anything in your miscellaneous draw, it may be time to organize it.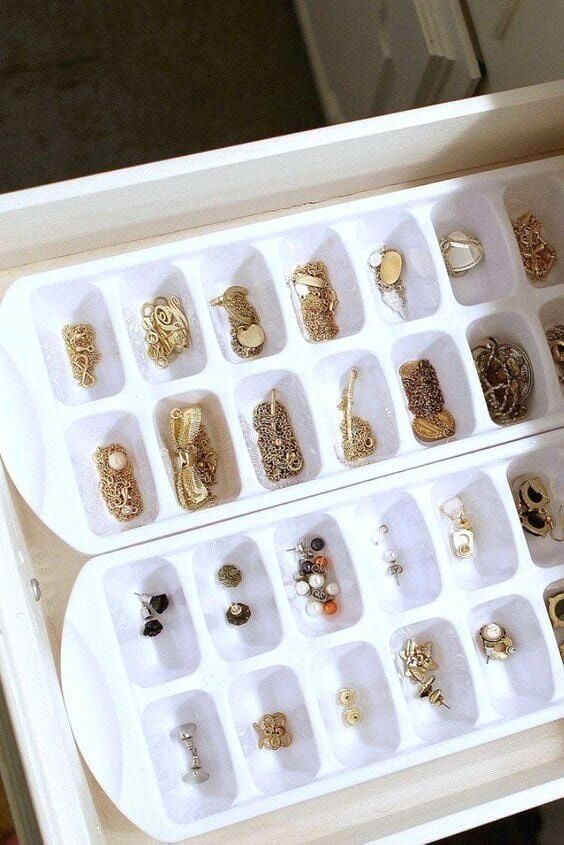 That is when a spare ice cube tray comes in handy. It is compact enough to fit any drawer, and the small compartments are perfect for storing those pesky items that seem to get stuck in the cracks. They also stack well, so you can use several ice trays. Just separate items so that all the similar objects are together, and assign each category to a dedicated spot ice slot.
Grow Your Own
There are several ways you can up-cycle your discarded ice trays. One use is as a seed tray. If you get a bee in your bonnet and want to plant the tomato seeds you are currently chopping up for your salad but do not have a commercial seed tray, an ice tray will suffice. First, drill drainage holes in the bottom so the seeds do not become waterlogged.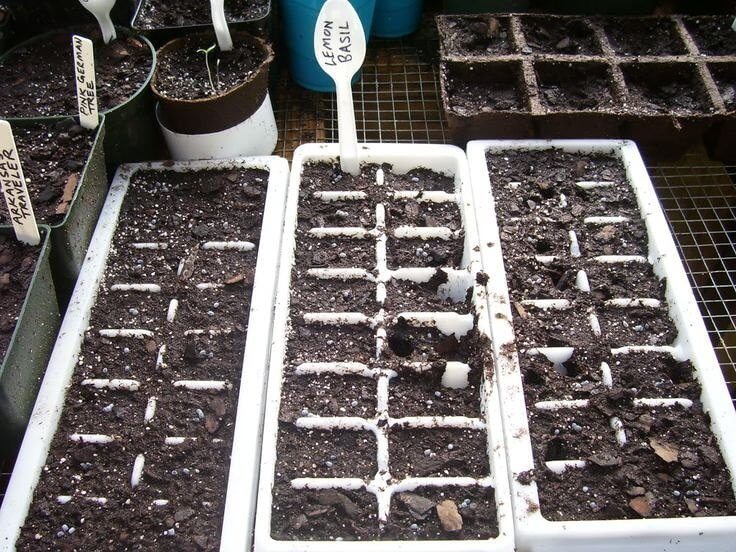 You are now ready to add the soil and tomato seeds. Place the tray in a sunny spot and water daily. Once the seeds have germinated and are big enough to handle, you can transplant them to your garden or place them in a pot on the windowsill. It is unbelievably rewarding to grow your own fruit and vegetables. It is a tremendous activity for the entire family and something your children can participate in from a young age. 

Less Mess From Your Young Picasso
There are a few things almost everyone did during lockdown. Firstly we spring-cleaned the house, and secondly, we looked for ways to keep ourselves and our children entertained while confined to our homes. It is amazing how creative we became during lockdown. While taking a break from the endless baking, you may have set up paint to keep the kids occupied.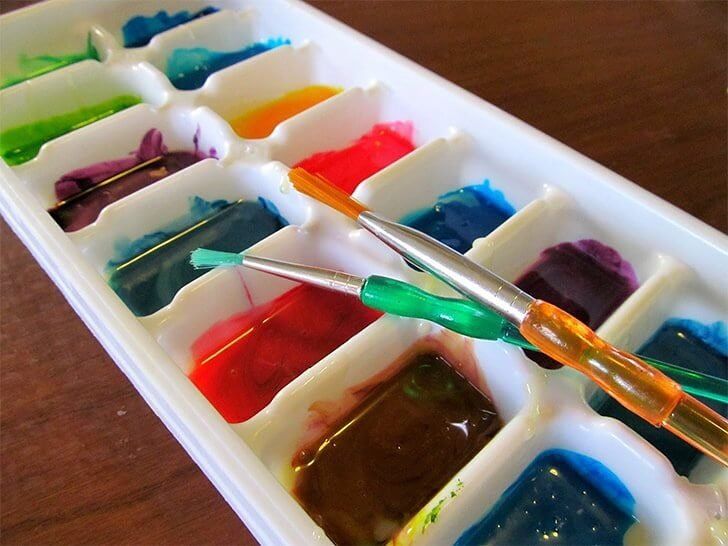 However, if you have younger children, you will know what a mess they make when using a paint palette. After a short while, they end up with dark greenish-brownish-grey colored paint and nothing else. We discovered that using an ice tray works better than the paint palettes you buy at the arts and craft shops. It fits more paint in the pots and messes less. 
Frozen for That Fresh Flavour
Many recipes call for fresh herbs, not dried ones. But, fresh herbs are tough to maintain. We're usually left with too many that pass their best-before date and have to throw them out. If you are still purchasing your herbs from the grocery store and aren't growing herbs at home yet, we have a solution that will save you time and money.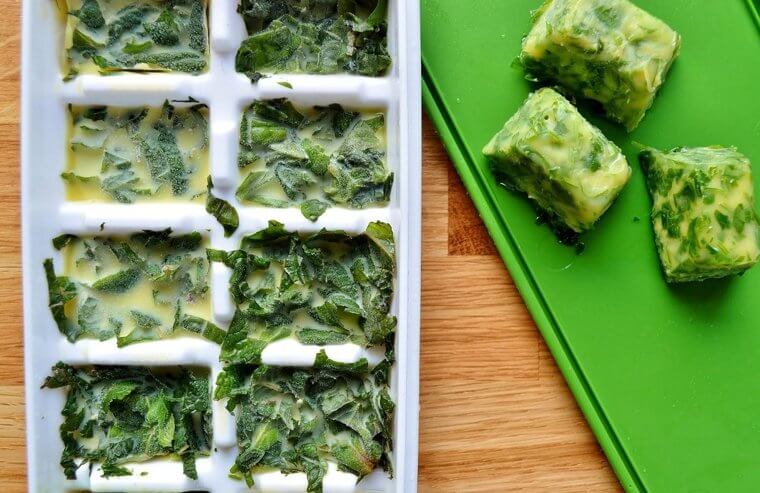 Freezing your herbs in butter or oil is a great way to preserve their natural fresh fragrance and taste. Finely chop your herbs and fill each section of the ice cube tray until it is about three-quarters full. Top up with olive oil or melted butter, and place it in the freezer overnight. Once frozen, tip the cubes into a labeled ziplock bag. It is now ready for future use. 

A Taste of Bacon in Every Cube
Have you ever wished your dish had a hint of bacon flavor? Probably not. You likely hoped for a heap of bacon, are we right? All jokes aside, sometimes all that is needed is a little bacon fat to lift a meal. So the next time you fry rashes for your BLT sandwich or eggs, do not throw away the leftover oil from the pan.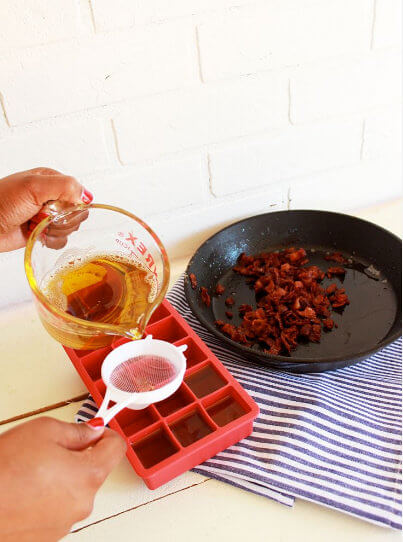 Save the fat to drizzle over your tagliatelli with basil and feta. Or add it to any other dish that needs added flavor. Allow any leftover oil from the pan to cool slightly, but not solidify, and pour it into a clean ice cube tray. Pop it into the freezer and allow it to freeze overnight. Place the frozen bacon blocks into a marked ziplock bag, and it is ready for when you next need it.  
When Waiting Is Not an Option
Sometimes the simplest things in life can bring the greatest joy, like smelling freshly mowed grass or the aroma of freshly brewed coffee. However, it can be frustrating to be surrounded by the intoxicating coffee aroma, but it is too hot to drink. We have a solution if you like your coffee strong and don't want to add extra milk or cold water.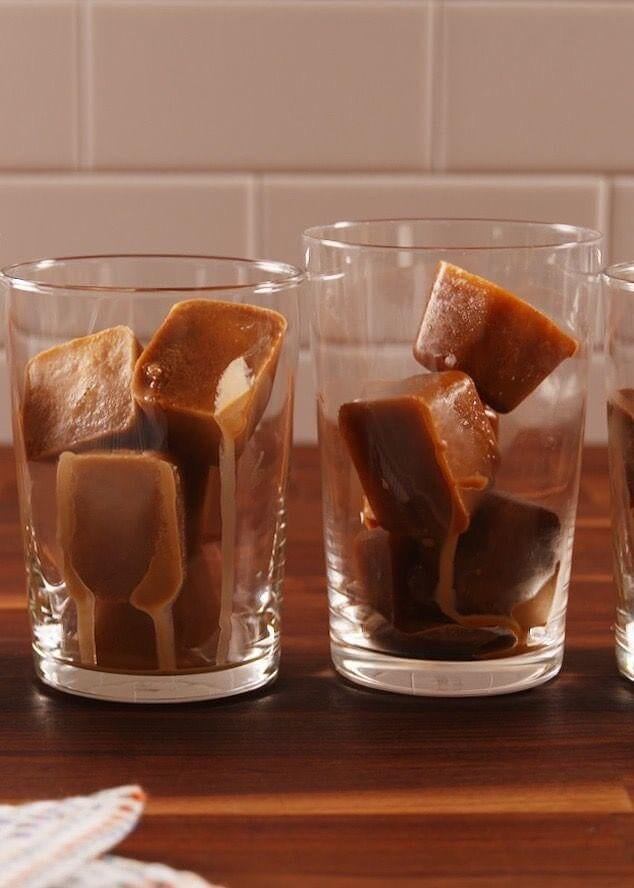 If you have one of those fancy coffee bean grinding machines at home, or even a pod machine, brew some extra coffee and freeze it in an ice cube tray. Next time it makes coffee that smells too good not to drink immediately, add a coffee cube to cool it down quickly. You can also use the frozen coffee cubes to make iced coffee, Frappés or add them to ice cream. 

Week-Night Sushi That Is Quick and Easy
We have the perfect hack for Sushi lovers who long for a mid-week sushi night at home but do not have the time to make sushi rolls. Those of you who have tried making it the traditional way will know it is not as simple as the Japanese make it look. Luckily our cheat makes it really quick and easy.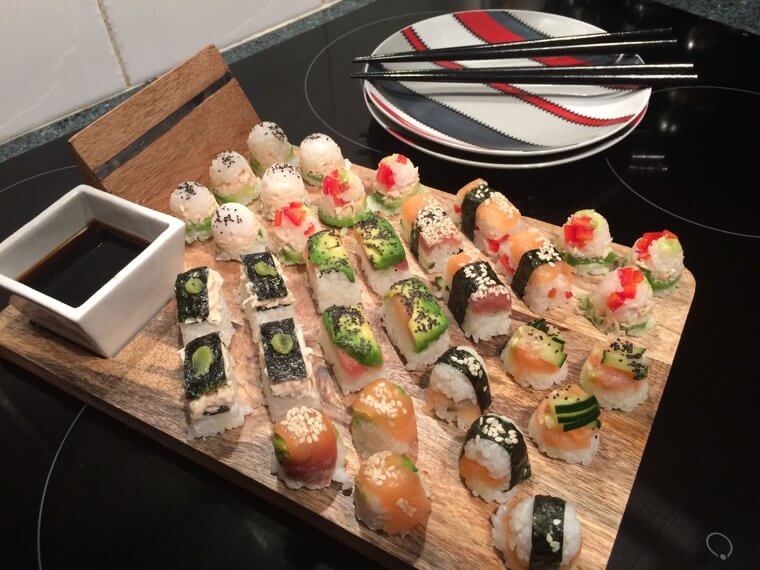 You will need an ice cube tray, cling wrap, vegetable peeler, mixing bowl, and sushi ingredients to make sushi in a few simple steps. Place the cling wrap over the ice cube tray and layer your ingredients into the cubes, starting with the outer layer and ending with the rice. Once you are finished, cover the tray and refrigerate for approximately thirty minutes. Remove the cover, turn the tray upside-down to release the sushi cubes, and serve it with your favorite accompaniments.
Save It for Another Day
Buttermilk is a handy ingredient, but unless you like to drink it, it is not something you typically use daily. It is often used in baking to improve the taste and texture or to marinate and tenderize meat and chicken. However, if a recipe calls for less than a carton, the leftover buttermilk is often thrown away. It is not necessary to waste. You can freeze this incredibly versatile ingredient for up to three months in ice cube trays.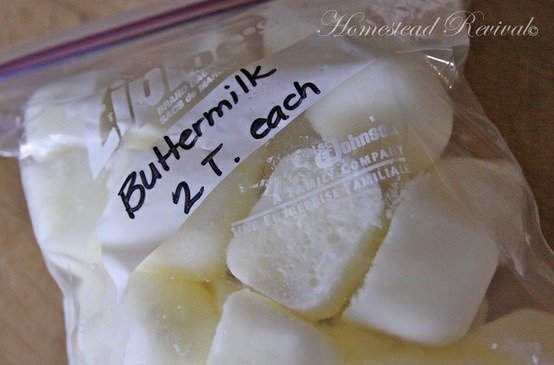 We recommend measuring the amount of buttermilk you put into the ice cube tray so that when you use it next time, you know the exact quantity and how many cubes to add to your recipe. Remember to leave a little space for expansion when the buttermilk freezes. Once frozen, transfer the cubes to a ziplock bag labeled with the date and quantity in each block.

Chocolate Is Perfect for Every Season in Every Form
Chocolate milk is a favorite drink in our households all year round. We enjoy hot chocolate during the cold winters and iced-cold chocolate milk or frappes on warm summer days. You cannot compare chocolate milk made with real chocolate with powdered variants. Unfortunately, chocolate bars are pretty morish and don't last long in many households, so they are not readily available to use when the craving for chocolate-flavored milk grabs you.
Our solution is to buy the chocolate in bulk and make extra chocolate milk by melting the confectionery in milk and then freezing it in ice cube trays to heat up when it is cold or into popsicles for those warm days around the pool. Why not try different blends by mixing various strengths of dark chocolate with milk or white chocolate? All chocolate is yummy, have fun by experimenting!

Mom Knows Best for Baby
One of the best alternative uses for ice cube trays is probably freezing portions of home-cooked baby food. As a new parent, you like to know what is in the food your child is eating. We want our children to have the best diet, with food free from hormones, chemicals, additives, and colorants. There is no better way than buying fresh ingredients and making the food yourself.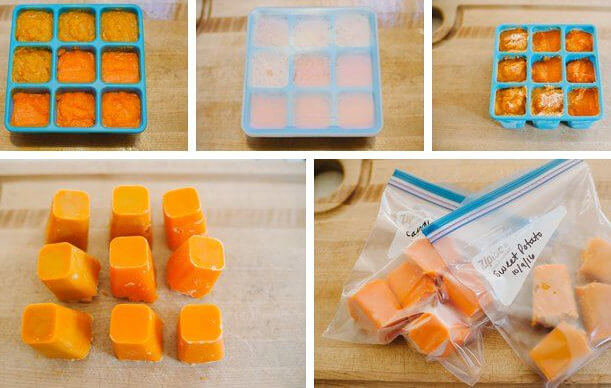 When babies are introduced to solid food, they eat such small amounts making it difficult to cook food for only one meal (even if you have the time luxury). It is also advisable to introduce new foods one at a time. The best way to do this is to cook the food yourself and freeze it in ice cube trays. You will always have the right amount of healthy food for your baby ready to defrost. 

Convenient Wine Cubes for Cooking
Dry white wine or red wines are often used to add flavor and depth during cooking. Wine is regularly added to stews, soups, sauces, and gravy. Wine freezes at a lower temperature than water (around 15 °F). Although frozen wine is successfully used for cooking, it is not recommended for drinking as it can separate during the freezing process.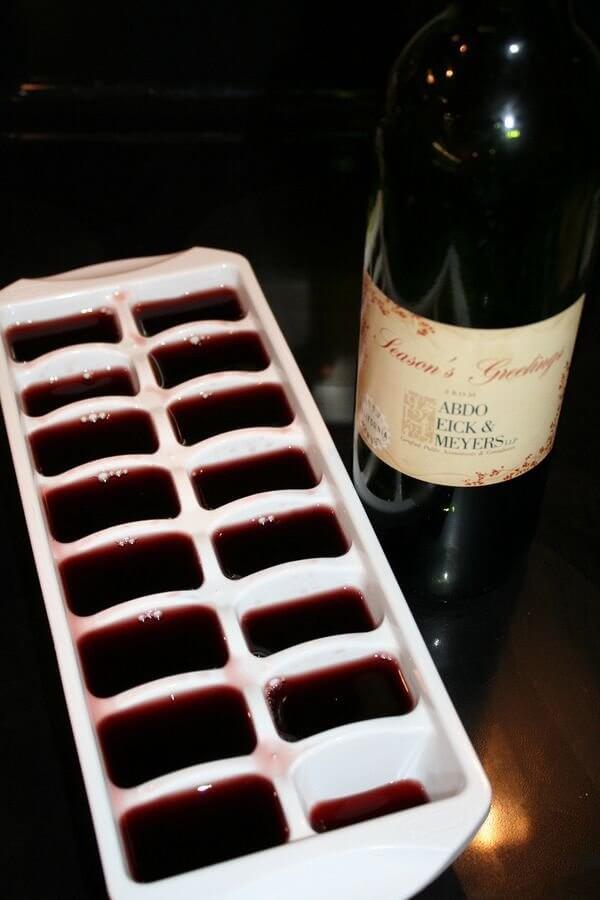 It is always worthwhile freezing any leftover wine in an ice cube tray and then transferring the wine cubes to a labeled ziplock freezer bag. It is also always handy to measure the amount of wine you pour into each cube and make a note so you know how many cubes to add to your next dish. If you like your wine chilled but not watery, and the bottle hasn't had time to cool, you could add a frozen wine cube, although it is not ideal.

The Health Benefits of Green Tea
Green tea is a healthy alternative to regular tea or coffee, usually drunk without milk or sugar. It is high in antioxidants and anti-inflammatories, helping the immune system fight against diseases. Studies suggest that the L-theanine combined with the caffeine in green tea may reduce stress and act as a mood booster, even enhancing brain function.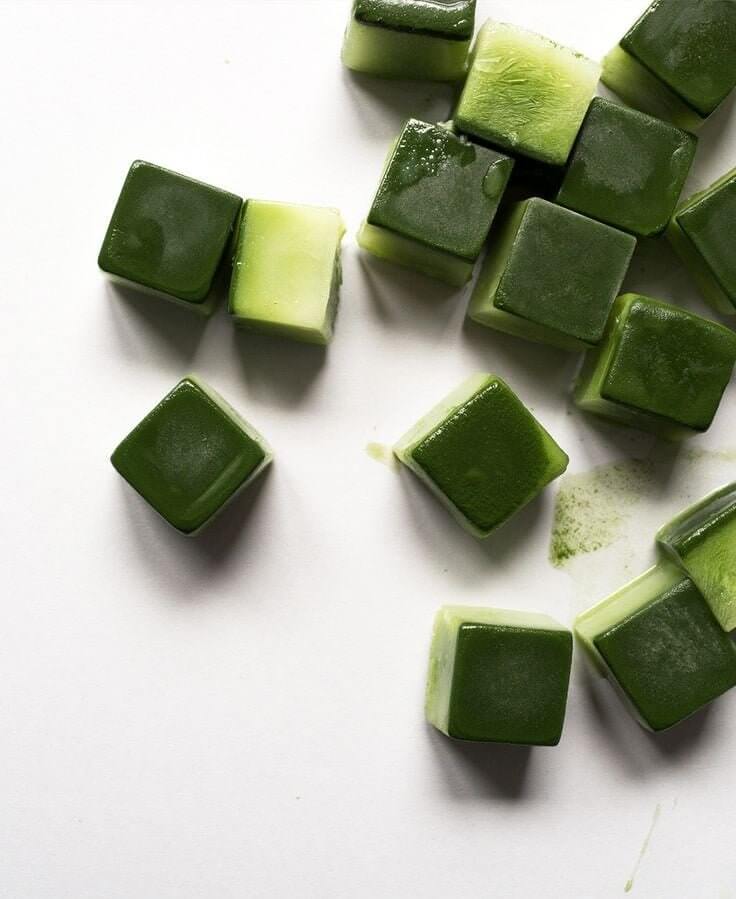 Green tea also increases your metabolism and regulates your blood sugar levels. It may even reduce blood pressure, cholesterol, and clogged arteries. It is also beneficial for the gut and digestive system. Green tea is as beneficial on the outside as on the inside. Applying green tea to your skin can alleviate skin irritation, reduce swelling, and reduce the signs of aging. Try freezing green tea in an ice cube tray and rub the frozen cubes on your face to tighten your pores and reduce dark spots.

Make Mealtime Fun
Most children enter a stage where they are very fussy about what they eat, and getting them to eat a balanced diet becomes a struggle for their parents. It is essential to introduce your child to food that is fun and colorful. A quirky presentation can encourage your children to try new foods. It can be anything from using cookie cutters to cut their food into different shapes or adding two toothpicks with cherry tomatoes on the ends to look like eyes.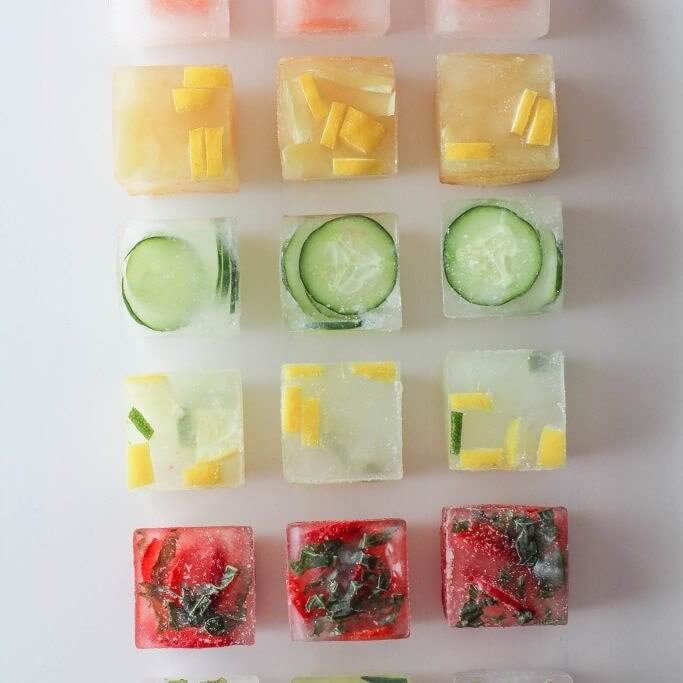 One of our favorite ways to encourage children to eat fruit is by adding small pieces of colorful fruit to the ice cube tray when making ice and adding the iced fruit to their cool drink. You can make a game of guessing what fruit they have in their cube. Smoothies are another option, but the ice with bits of fruit always looks so good.

When a Taste Is Enough to Satisfy
Mini ice lollies are a perfect way to cool down your little ones when their attention span does not last as long as it takes to eat a full-sized lolly. One of the best things about it is that you choose what goes into the mini treat. The options are endless, completely healthy, or with sugary goodness. If you are not a parent to small children, this idea could also be a winner for you and your friends.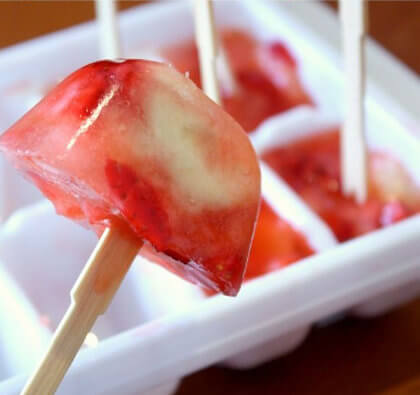 You can make adult popsicles to enjoy with the girls around the pool or while gardening. If coffee is your poison, you could make a frozen java pops or use some of the chocolate milk we mentioned earlier. We admit that these mini iced lollies are small and don't last long, but there is no wastage, and you can have as many as you like.

Excellence Is in the Finer Details
If you have ever wanted a simple and cost-effective way to elevate the elegance and ambiance of an event, we may have the answer. If you are going for sophistication, we suggest an added element to your color coding and decorating using an ice cube tray. Before freezing your ice, add an edible flower to each compartment in the tray.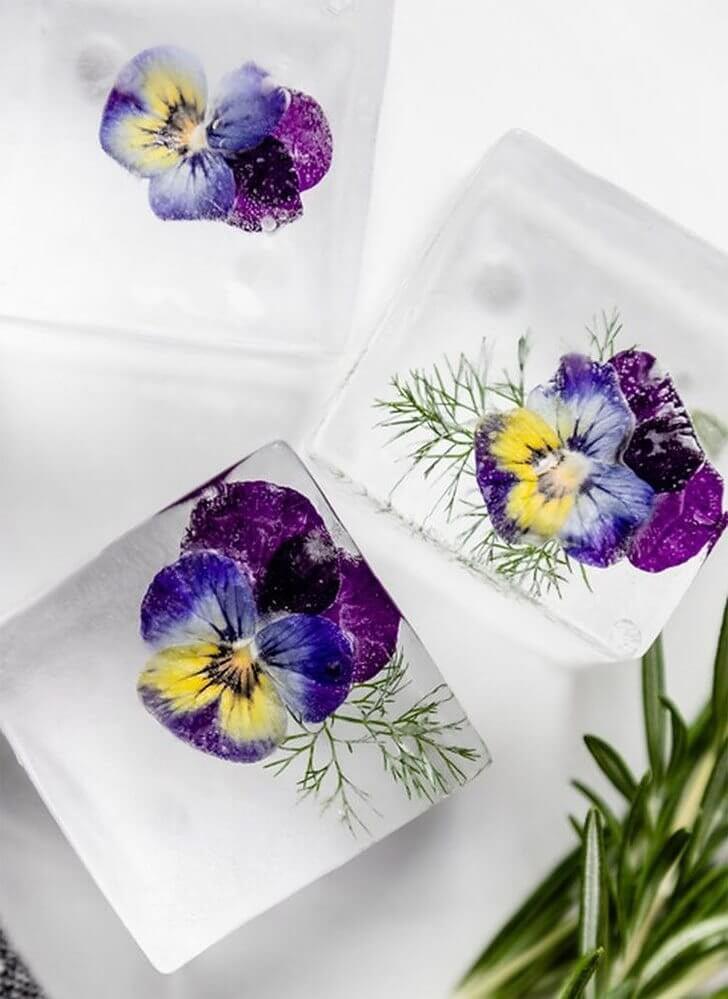 You will want to ensure the drinks you serve your guests contain appropriate edible flowers. Pansies, rose petals, lilacs, hibiscus, nasturtium, and lilacs are all good options. There are loads more to choose from, but ensure that the flower compliments what your guest is drinking and the color scheme. Also, we advise you to swap out their glass after they finish their drink instead of topping them up, as they will be left with a glass of flowers if they don't eat them.

Make a Game Out of Drinking Water
Parents often need to get creative when encouraging their children to lead healthy lives and eat well. We all know that we need to drink sufficient water each day, and that is water, not juice, tea, or coffee. Even one hundred percent fruit juice contains sugars (fructose) and calories. However, if you have tried to get your child to drink water instead of brightly colored juice, you know how difficult it can be.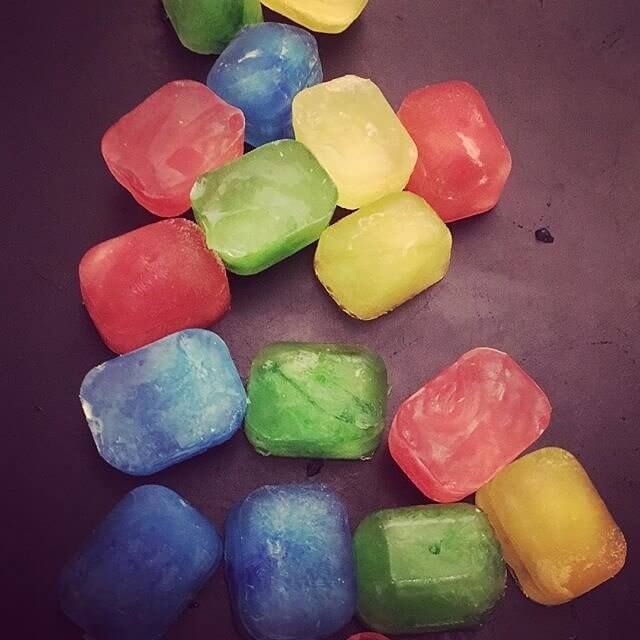 Our next hack is perfect and may excite your child into drinking a glass of water because it is fun and colorful. Using natural food colorants, make different colored ice cubes to add to the glass of water you offer your child. Another fun and educational thing you can do with the colored ice cubes is to see what happens when you mix various colors. 

When You Get Too Much Sun
We all love the golden glow from our time spent in the sun. We also like the boost of vitamin D from our outdoor frolicking. However, when we spend too much time in the sun, the result is bright tomato-red instead of a nice golden hew. Not only does it look awful, but it is sore. We have a helpful home remedy suitable for your family that will soothe your sensitive, sunburned skin.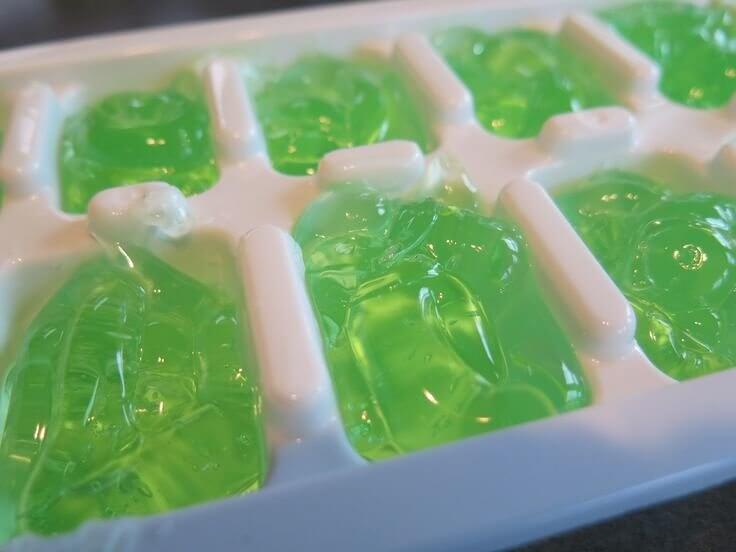 You could put a cold cloth on your skin, soak in a cool bath, apply ice packs, or cut an aloe and rub the sap over the affected area. However, even better than any of these solutions would be to slice pieces of aloe vera to fit in an ice cube tray and freeze them. By doing this, when you apply the aloe, you have extra relief from it being frozen. 

You Are What You Eat
Another great treat for the whole family is yogurt mini popsicles. They are delicious, and if you make them using unsweetened plain yogurt as a base, the flavor options are endless. You could add fresh fruit, stewed fruit, honey, molasses, nuts, berries, chocolate chips, etc. (Not all together, though. Choose a few different flavors so that you have a few options available at any one time.)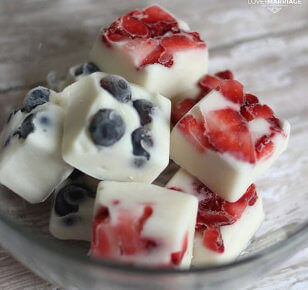 You can decide whether to leave it chunky or blitz it in the blender for a smooth consistency; maybe do half chunky and half blended. Yogurt is also beneficial if you are on antibiotics as it contains probiotics, which promote a healthy gut. It also contains vitamins and is high in calcium. You could even add yogurt popsicles to some muesli to snack on at work. If you eat it mid-morning, it will defrost but still be cold.

Ice as Clear as Glass
If you are pedantic about the opaqueness of your ice cubes but are unsure how to achieve a clear ice cube that does not appear cloudy, we are here to help. There are a few different methods to achieve an opaque ice block. One way is to freeze the ice cubes directionally using a special ice tray that freezes the ice from the bottom, allowing any impurities in the water to escape out the top. Trapped air bubbles and other particles in the water make the end-result opaque.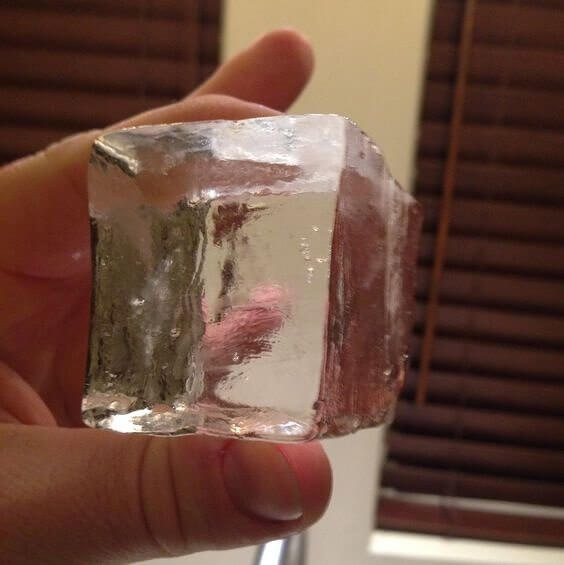 Another method is to double-boil your water before freezing it to remove impurities. The final technique we suggest is using distilled water to make your ice. All these methods should produce favorable results, but they may not be perfect. You could combine two or all three of these methods to make the ultimate crystal-clear ice cubes.

Jello Shot Cubes Made to Your Personal Preference
A great way to break the ice and get a party going is to offer jello shots to your guests. You could create jello cubes with different amounts of alcohol. Your imagination is the limit when you decide on flavor and color options. These homemade jello shots are quick and easy to make. Choose a couple of cocktails you think will go down well.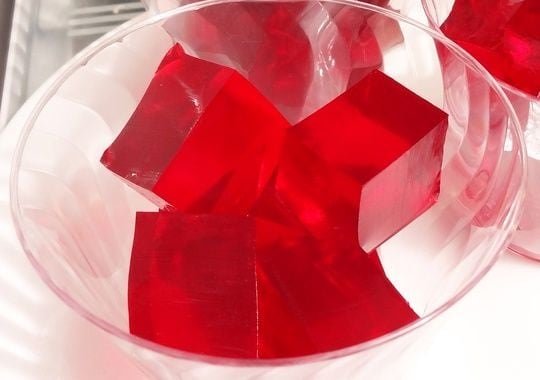 Mix the different cocktails with some gelatin, pour them into ice cube trays, and place them into the freezer until set. You could even make a few virgin varieties for friends who are underage or do not drink alcohol. There is no need for anyone to miss out on the fun. They can be pretty tasty, so be careful not to have too many alcoholic ones, especially if you need to drive anywhere.

Upcycle and Recycle Where You Can
If you are a fan of candles, you will know that sometimes they burn unevenly, and you are left with a lot of surplus wax. Why not make unique tea-light candles using spare ice cube trays and recycling old, unused candles? There are so many options for making candles. You can add a few drops of essential oil to make them fragrant or a touch of colorant to create various shades.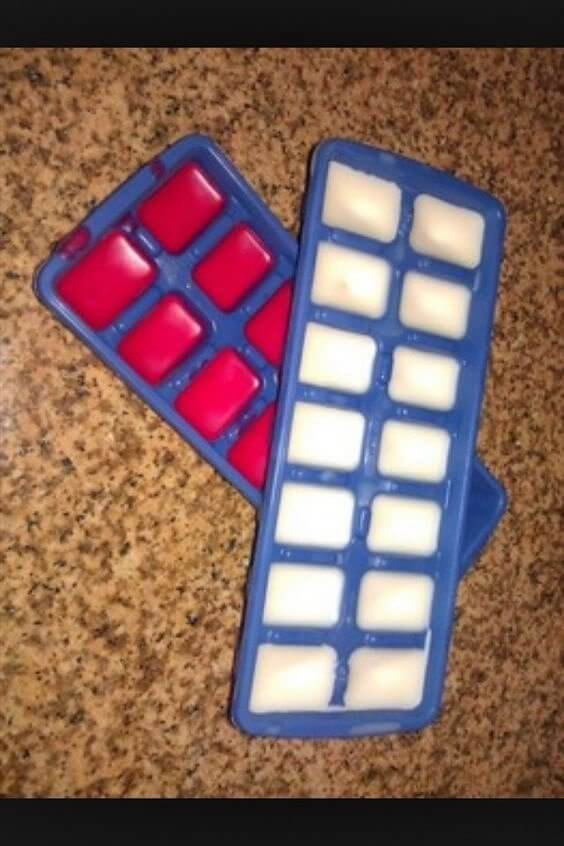 Citronella will chase away mosquitoes, peppermint will boost your energy or alleviate persistent headaches, and sandalwood will clear brain fog. We recommend researching which of the health-promoting essential oils best suit your needs. If you use an ice cube tray to make candles, we suggest you use the silicone type so that the set candles are easy to remove and paper clips to keep the wick straight while the wax sets.

Ravioli Made Using an Ice Cube Tray
A well-made fresh homemade pasta is far superior in taste and texture to store-bought dry varieties. It is also cheaper and relatively easy to make. However, ravioli, a pocket of pasta with a filling inside, is slightly more intricate and time-consuming. We recommend purchasing a pasta roller. However, we would forego the pasta cutter and crimper people sometimes use because an ice cube tray works admirably.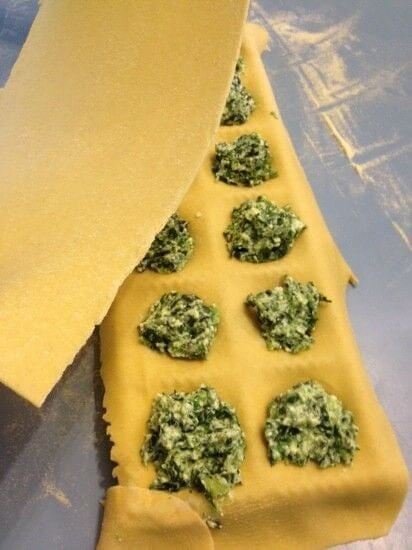 Place your rolled pasta dough over an empty ice cube tray and press the dough slightly to create a concave over each cube. Spoon your filling into each concave and cover it with spare rolled-out pasta dough. Press the top layer down around the edge of each cube so that the two layers stick together. Turn it over and remove the ice tray. Now cut the ravioli to separate each pocket, and you are ready to cook. 

The Goodness of Homemade Broth
Another homemade creation that is far superior to commercial options is stock. Commercial powders and cubes contain chemicals like flavorings and preservatives, which we prefer to avoid when possible. Preservative-free options are available in stores, but they are expensive. So why not make your own stock and freeze it into convenient portion sizes?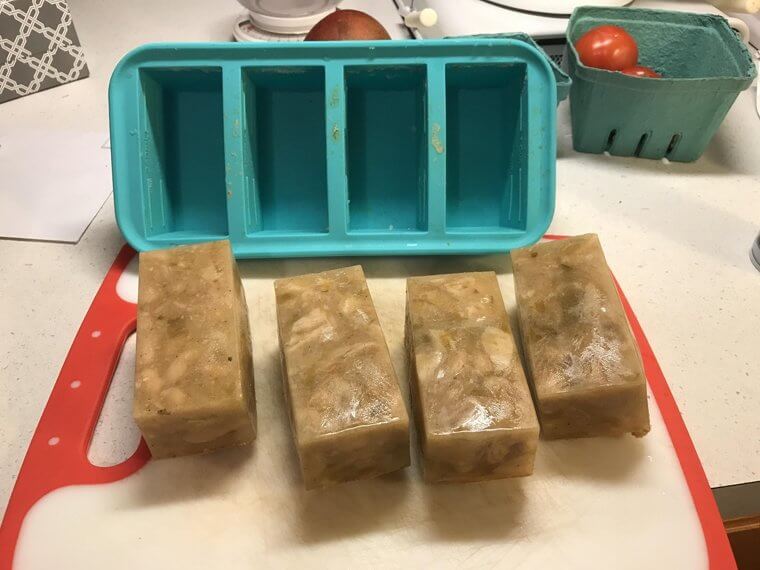 Vegetable stock is often made with scraps of vegetables, and if you had a roast chicken for dinner last night, keep the chicken carcass to make chicken stock or buy soup bones to make a hearty beef bouillon. Once you have boiled your broth, allow it to cool, remove any solidified layer of fat that may have formed, pour the liquid into an ice cube tray, and freeze. Once frozen, you can empty the cubes into a labeled ziplock bag for easy storage in the freezer, ready for use. 

Snow Cones and Chewy Ice
If you have ever taken ice from the ice cube tray and crushed it in the freezer, you would have noticed that it is not the same consistency as the crushed ice you get at a restaurant or in a snow cone. That is because it is made differently. The central component is carbonated water. The bubbles give the ice its soft, chewy texture.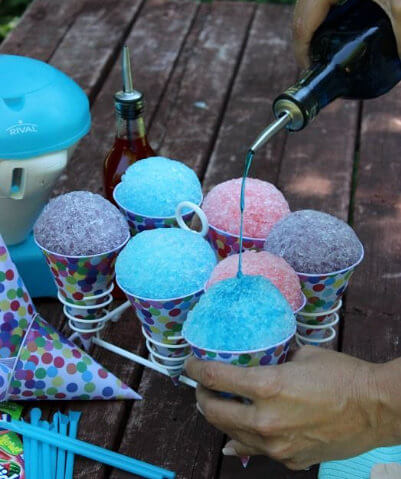 You can also use club soda, or flavored sparkling water is good for making snow cones because it is already flavored. Here are the steps to making soft, chewy crushed ice. Fill ice trays with carbonated water or flavored sparkling water. Place the filled trays in the freezer overnight. Remove the ice and blitz in a blender in small batches. Transfer the ice to a container in the freezer until you are ready to use it. 

DIY Bath Bombs Using Ice Cube Trays
Whether you are looking to craft gifts for your family or searching for fun activities with your kids, this next tip is for you. Another use of our old ice cube trays is as a mold to make homemade bath bombs. You will want to use an ice cube tray with a reasonably sized cavity. There are countless recipes online for an assortment of different bath bombs.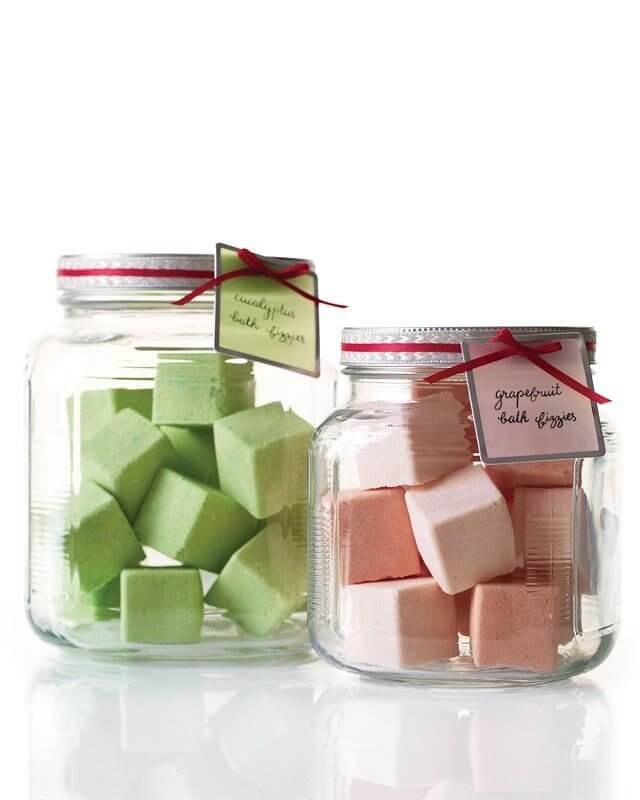 A basic recipe includes one cup of baking soda, half a cup of citric acid, cornstarch, Epsom salt, a touch of water, and a few drops of essential oil. There is a lot of information about the various properties online. Mix all these ingredients in a bowl and fill the ice cube tray, ensuring the mixture is firmly compressed. It should take about a day for your bath bombs to set and be ready for use.

A Paint Popsicle to Mix Things Up
In a previous slide, we suggested using an ice cube tray as a palette for your little ones to release their inner Picasso. Sometimes things don't go to plan, you set everything up, and your child gets distracted and moves to the next task. What do you do with the almost untouched paint? Place a popsicle stick into each cube and store it in the freezer.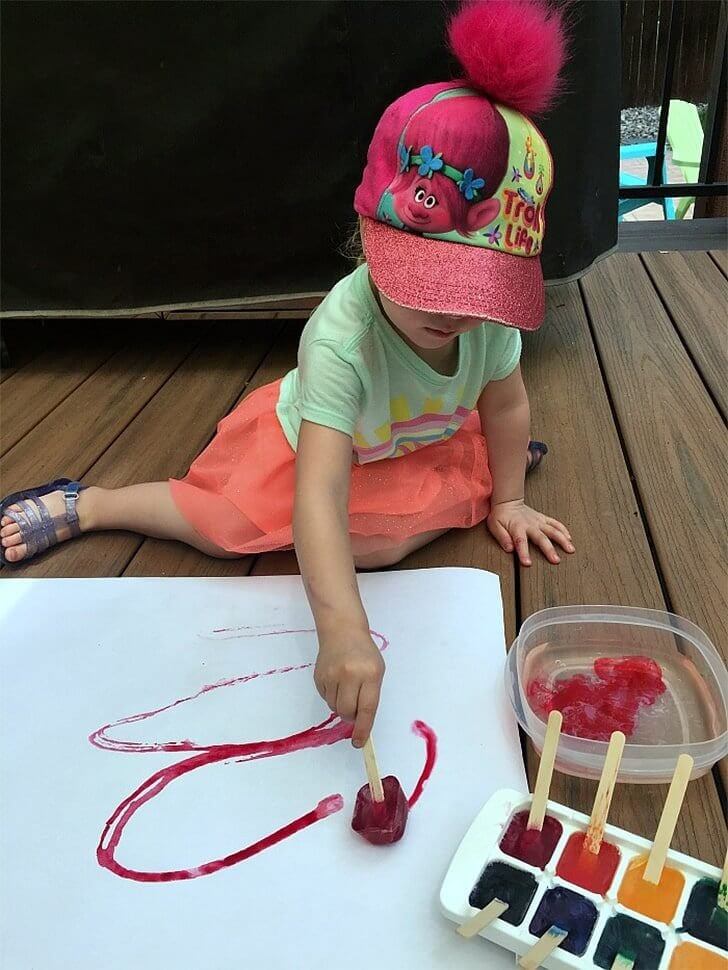 Next time your child wants to paint, they will love the novelty of using frozen paint on a stick. However, you will need to keep both eyes on your little one as the frozen-paint applicator method closely resembles an ice lolly, and there is a good chance they won't be able to resist a lick or two. You know your child and how likely they will be tempted; maybe make frozen watercolors using natural food coloring instead.

What to Do and What Not to Do When Freezing Eggs
Did you know that you can freeze eggs? With the state of the global economy and food prices skyrocketing, we are forced to save money where ever we can. The next time eggs are on special at your local grocery store, stock up and freeze the surplus. You can keep them for around three months.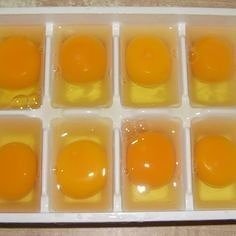 Never freeze eggs in their shell. As the egg freezes, it expands, and when it defrosts, you will be left with bits of eggshell. There are two successful ways to freeze them using an ice cube tray. Spray the tray with cooking spray. For the first method, crack an egg into each cube and freeze. Otherwise, crack your eggs into a bowl and whisk. Pour the mixture into the prepared tray and freeze. Once frozen, transfer into an airtight container or ziplock bag.

A Sweet Idea for Halloween Beverages
We love going all out for Halloween. The decorating and themed food are some of the best parts, aside from dressing up and going trick or treating. If you are a first-time host of a Halloween party, or a seasoned host looking for new ideas, we have a tip for you. When buying treats, grab a few extra bags of Halloween-themed gummies.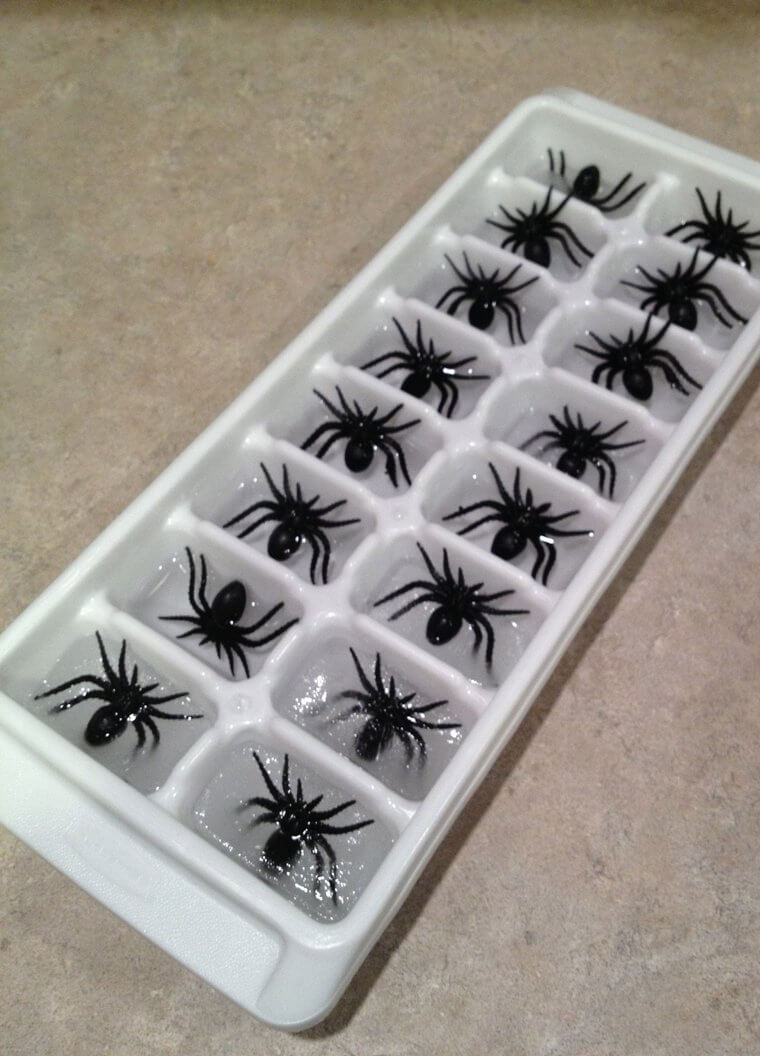 There are many choices around Halloween time, worms, spiders, eyeballs, and more. A few days before the party, start making ice. Add one of those gummies you bought to each ice cube. Once your eyeball, spider, or whichever creepy sweet you decided to use, ice cubes are frozen, transfer them to a bag or a freezer-friendly plastic container so that you can make more. You can even use this idea for baby showers, using a pink or blue sweet. 

Save the Squeezed Citrus for Another Day
Freshly squeezed juice is the best, and we feel it is well worth the time and effort. Unfortunately, it does not stay fresh for long, and you need to drink it soon after making it. We recommend freezing any surplus freshly squeezed juice in ice cube trays to use later when the fruit is not in season or available in the shops.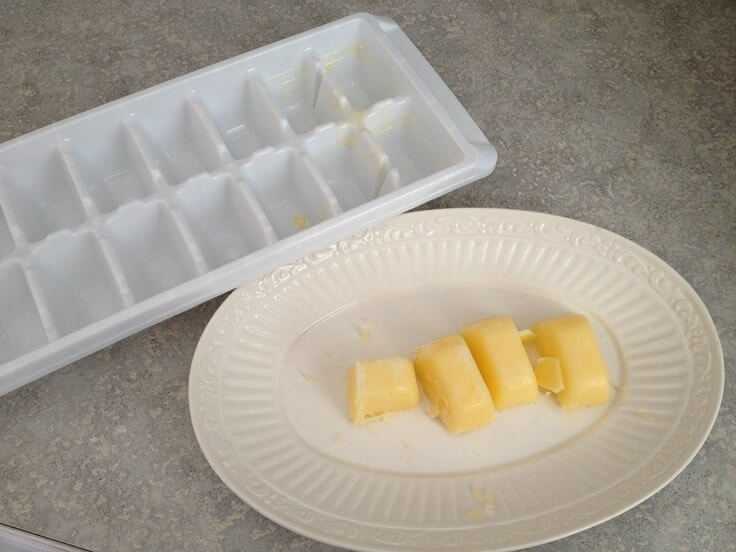 Fresh lemons and limes are always good to have on hand, as many recipes call for the juice. If you have a tree producing more fruit than you can use, squeeze it and freeze it. A handy tip, if you are freezing anything that you will use for cooking, is to measure the quantity you are freezing in each cube. When you transfer the frozen juice into a ziplock bag, write down how many milliliters are in each cube.

A Smorgas Board of Color
As humans, we are often said to eat with our eyes. It is one of the reasons fancy five-star Michelin chefs can charge so much for their food. Okay, their food tastes great too, but the battle is half won if it looks the part. The point is that people and children are more inclined to try something if it appeals to their senses. If you are a parent of a young child, you probably understand what we are going on about.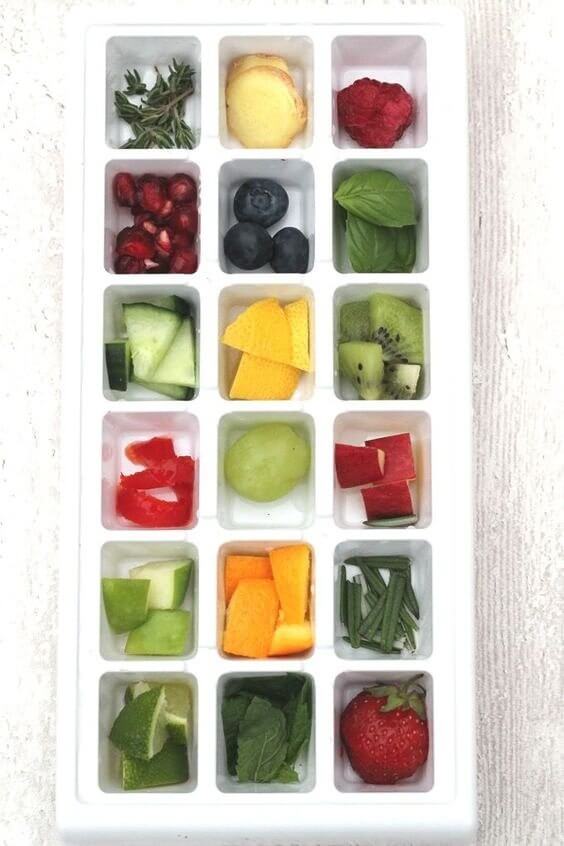 Why not use an empty ice cube tray as a vessel for a smorgas board of colorful foods for your toddler or young child to try new flavors? Make sure you include foods across the color spectrum to make it enticing. You could even make a game of trying new flavors by guessing what is sweet, sour, crunchy, or soft.

What Treats Do You Include When Making School Lunches?
Mothers have the arduous task of deciding what to put in their kid's school lunchboxes. We want to ensure it is nutritionally balanced, packed with vitamins, tasty, and that they will eat it. Often our children come home with their lunch untouched, so we need to do everything possible to entice them without adding too many sugary treats.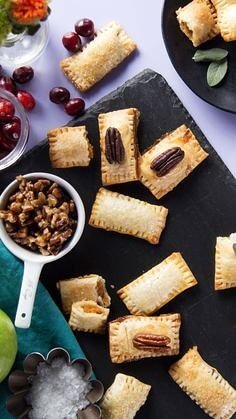 Using an ice cube tray as a mold is a great way to create treats that are small enough to fit in their lunch box but big enough to pack a flavor punch. Silicone trays are always the best option for molding treats because it is easy to pop them out. However, still remember to use non-stick spray. The snack options are endless, but you must decide if you add chocolate or dried fruit for sweetness. Rice crispy treats are always popular. 

Chocolate Desserts Using an Ice Cube Tray
Another area where the silicone ice cube tray excels is in preparing desserts, chocolate-coated treats, to be more specific. The dessert you choose can be simple or complex. Chocolate-dipped strawberries are convenient for a quick, reasonably healthy mid-week treat. However, if you like more chocolate than the dipping allows, half-fill each compartment of your ice cube tray with chocolate and add a strawberry. Then pop it in the fridge or freezer to set. Turn it out and serve it with cream or ice cream.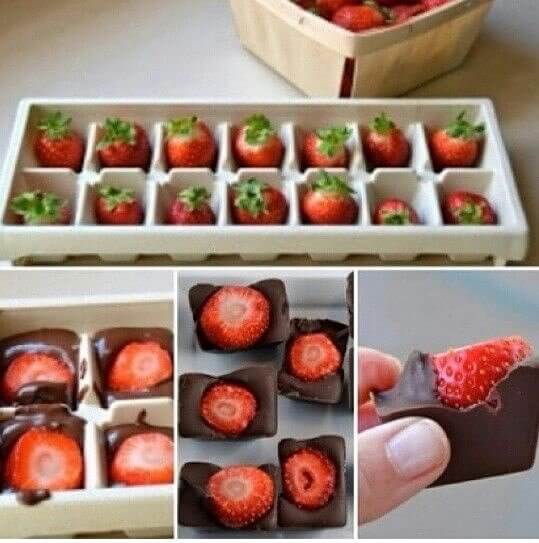 If you are adventurous, pour melted chocolate into your greased ice cube tray to coat the sides evenly, then pour out any excess chocolate. Place the tray in the fridge or freezer to set while preparing a filling. Let your imagination run wild. Fill the chocolate casings, then cover with a layer of melted chocolate and refrigerate again.

You Can Be Fancy at Home Too
Many people enjoy spending time in the comfort of their homes. Sometimes you feel like something special but don't want to get dressed up or go out. If you are a homebody, it is good to prepare for such occasions. Many cocktails call for cherries or olives and would not be the same without them. Probably the most popular would be the martini.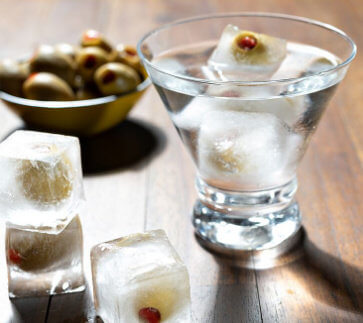 Whether you like it shaken or stirred, you still need that olive to complete the drink. So why not freeze the olives in our favorite drink? Half-fill the ice cube tray with your beverage of choice. Poke olives with a toothpick and place one in each compartment. This allows the alcohol and flavors to be absorbed into the olive. Place the tray in the freezer until it sets, and turn out into a labeled zip lock bag.

Make Your Garlic Butter Ahead of Time
Is garlic classified as a herb, a vegetable, or a spice? Technically, it is a vegetable, similar to an onion or shallot, except we do not eat it by itself like other vegetables. It is used by chefs and household cooks across the globe to enhance flavors, much like they use herbs and spices. No matter how you classify it, garlic is a staple in many homes and restaurants.
Next time you buy a head of garlic and fresh parsley to make garlic butter, if you have some extra time, why not use all the cloves to make additional butter that you can freeze and use when you are pinched for time? Prepare the garlic butter how you like, spoon it into an ice cube tray, and place it in the freezer. Once it is frozen, transfer the cubes to a ziplock bag.

Excavate the Ice to Find the Lego Man
We have found something quite unique online, which we thought we would share with you. A parent somewhere in the world had an idea to dismantle Lego figurines and freeze the separate pieces in ice cubes so their children could discover the different parts and join them together once they found them all. It seems similar to the dinosaur excavation toys, where you dig through a soft plaster-type substance to discover the dinosaur bones buried within.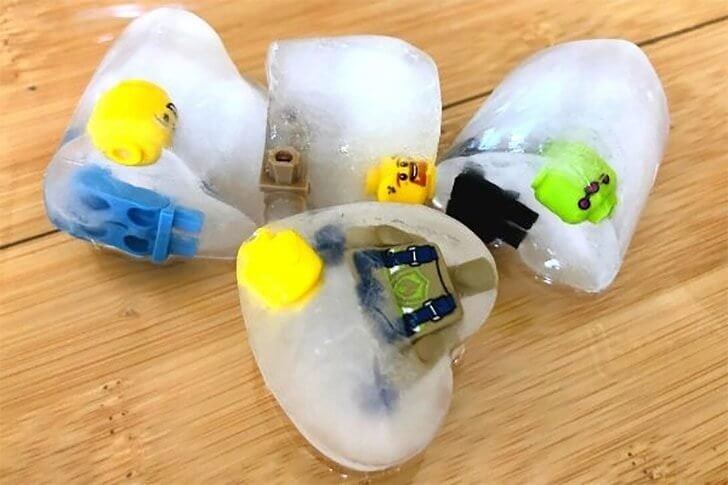 The ice method should keep them busy temporarily, especially if you only give them one ice cube at a time and keep the rest in the freezer. Children today spend too much time in front of a screen, so anything to distract from that is a good thing. However, the outdoor exercise would be even better. 

Can Ice Help Keep the Garbage Disposal Clean?
Yes! When you start to notice a rotten smell coming from your sink, it is a sign that food particles may be clogging your garbage disposal. One method of cleaning your unit without using harsh chemicals is using ice. Empty an ice cube tray into your sink and run some cold water. Turn on the garbage disposal, and using anything other than your hand, coax as much ice as possible down the outlet.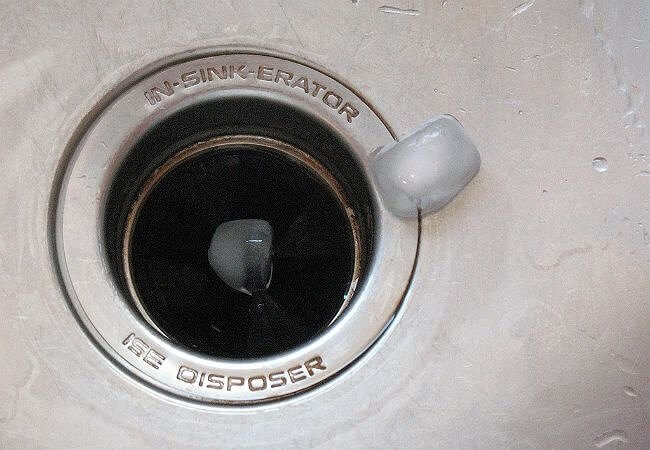 The ice will help loosen food particles stuck in the garbage disposal. You will probably notice the muck that comes out of the drain. This is good! It means it is working. Repeat with more ice until the water clears and you cannot see more muck rising from the drain. Some people recommend following up with citrus to mask any odor. Maybe try lemon ice if you have any.

Adding Ice Can Sometimes Work Better Than Water for Heating
Adding a handful of ice to a glass of juice that did not have enough time to chill in the fridge is an obvious solution, but who would have thought of using ice to warm anything? It sounds absurd, we know. When we say we use ice to heat something, we mean it will improve the outcome, not make the food hot. The microwave does the actual warming. Any ideas about how the ice is effective?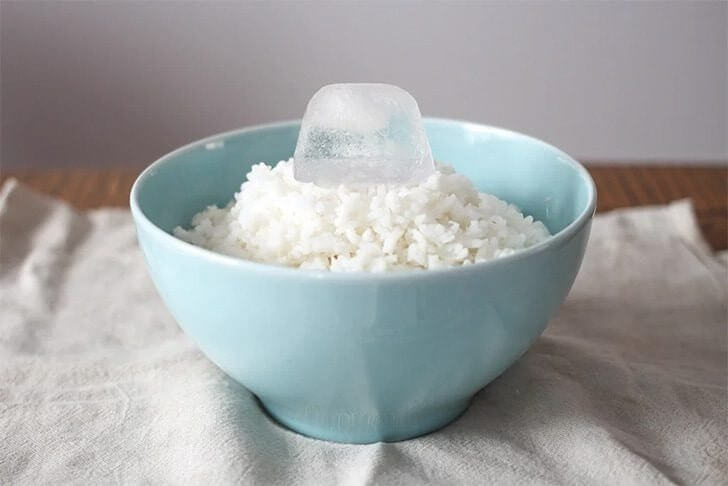 Reheating food in the microwave removes some moisture, resulting in dry food. Rice needs moisture when reheating in the microwave to remain light and fluffy, like when it was freshly cooked. Adding an ice cube instead of water creates steam which fluffs the rice. You will be amazed at the difference. However, don't heat it too long, or it will overcook.

DIY Dishwashing Tabs
This next tip is for people who love creating natural cleaning detergents and hate relying on commercially made products with loads of chemicals. Did you know you can make homemade detergent tablets for a dishwashing machine? Even if the natural route is not motivating, the financial saving between buying from the store or DIY might be.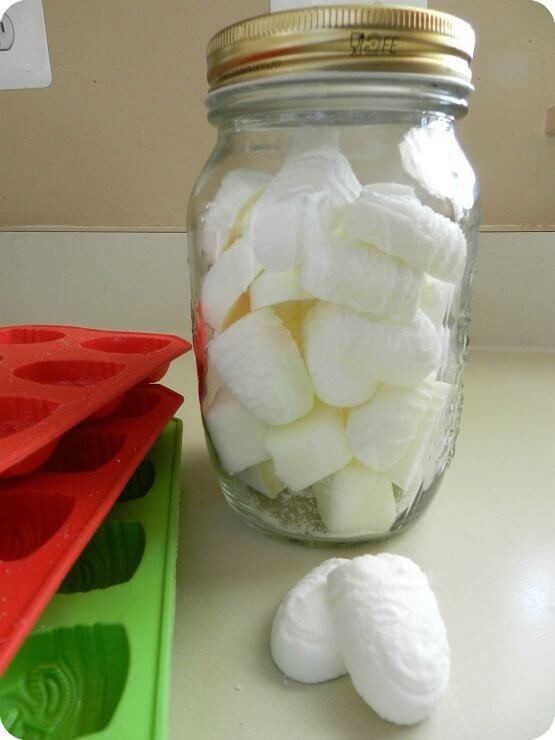 To create a dishwashing tablet, you will need an ice cube tray with cubes slightly smaller than the compartment in your machine where the tablet goes. You will also need a bowl and spoon for mixing. The following ingredients are all it takes to make dishwashing a breeze, lemon juice, washing soda, citric soda, sodium percarbonate, and essential oil. Mix all the ingredients to form a paste and spoon it into the ice cube tray. Leave the tray until the detergent tablets are set, and transfer them into an airtight container.

Easy Desserts To Make When You Have A Craving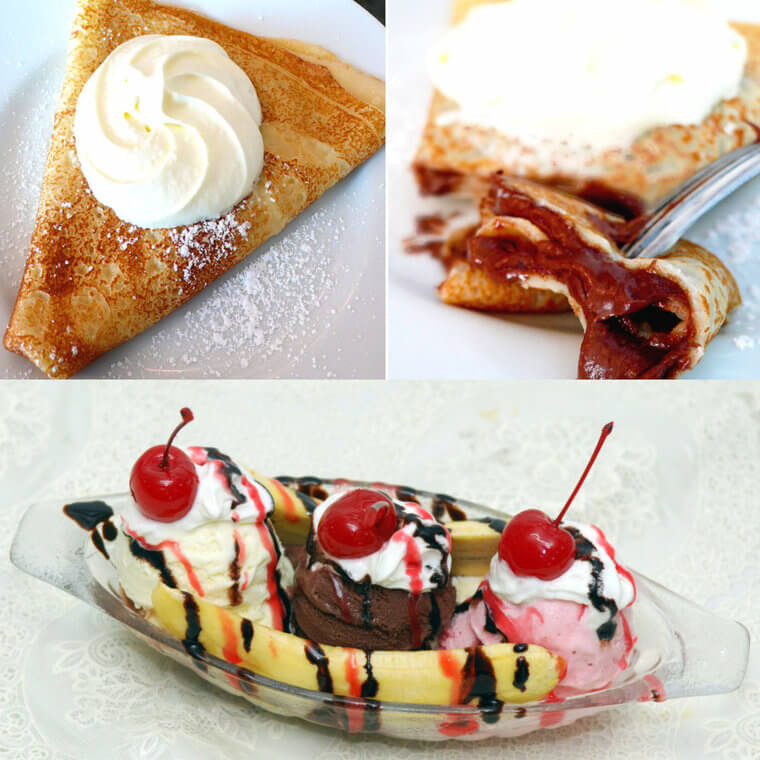 You know those days when you want something sweet but you don't really feel like the fuss of baking an entire cake? Well, if your answer is yes, then we might have the perfect suggestions for you. The recipes on this list are basically a breakdown of the most oh-so-simple desserts, that were perfectly designed for the lazy baker, or for anyone who needs a midnight snack with no fuss.
Marshmallow Choc Chip Cookies
This gooey dessert is the perfect combination of some of the biggest favorites out there, marshmallows, chocolate, and cookies. The marshmallow choc chip cookie has the gooiest center thanks to the marshmallow that is carefully tucked inside the cookie, and it can be made in just under 20 minutes. The ingredients you'll need for the perfectly designed cookie are softened unsalted butter, brown sugar, granulated sugar, egg, vanilla extract, all-purpose flour, baking soda, baking powder, salt, chocolate chunks (as many as you'd like), and mini marshmallows.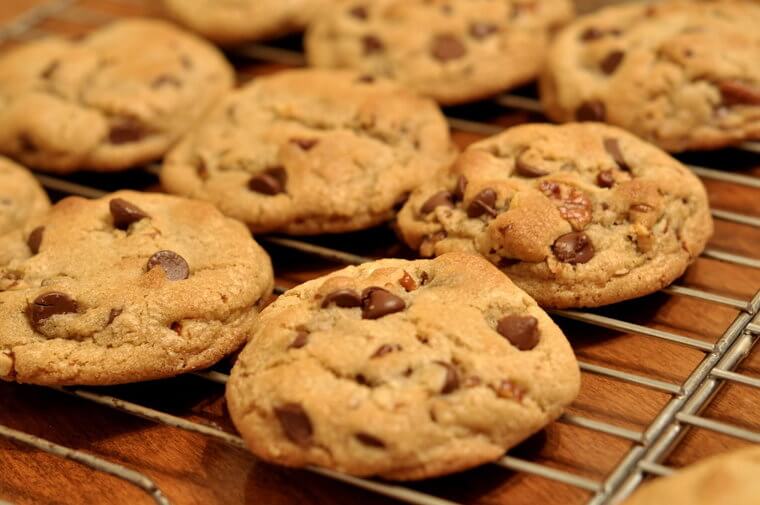 To make them, all you have to do is preheat the oven to 250° F, spray a cookie sheet, combine the wet ingredients, and then slowly start adding the dry ingredients. Once it's all mixed, add your chocolate and mini marshmallows, mold the cookies, place them in the oven for about 11 minutes, and voila!
Chocolate Swiss Roll Cake With Marshmallow Frosting
If chocolate and marshmallows are your thing, then we most certainly have a few recipes that will rock your world. This version of a chocolate swiss roll cake with marshmallow frosting is amazing, as it elevates the famous spongy cake with that sweet and toasted frosting made of marshmallows.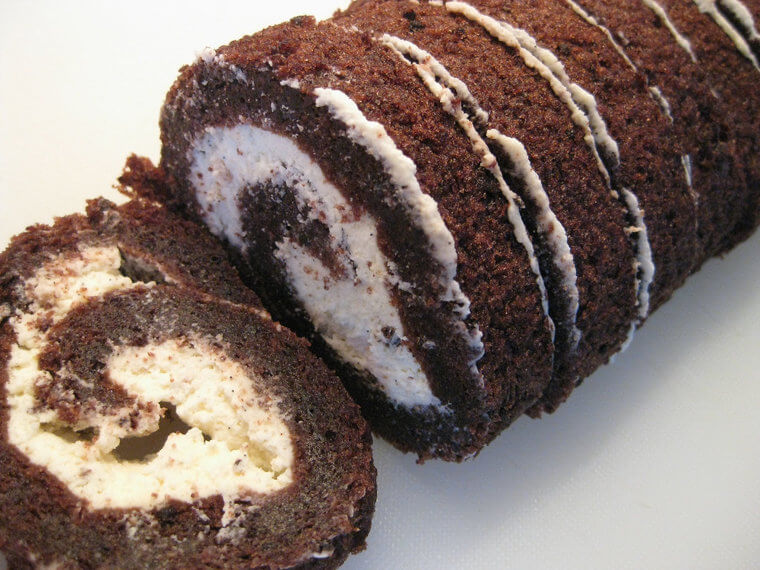 To make this recipe you'll need the following for the spongy roll cake: cake flour, cocoa powder, graham cracker crumbs, a pinch of baking soda, unsalted butter, eggs, sugar, and pure vanilla extract. For that fluffy marshmallow frosting, you'll have to combine some white marshmallows, powered confectioners' sugar, unsalted butter, and vanilla extract. Enjoy.
Chocolate Covered Marshmallows
It doesn't get much easier than this version of marshmallows and chocolate. The sweet treat is the perfect one for when you want something quick that still looks pretty presentable and yummy. Overall, this recipe only takes four ingredients. They can also be the ideal treat for holidays and parties, especially if you're hosting guests over.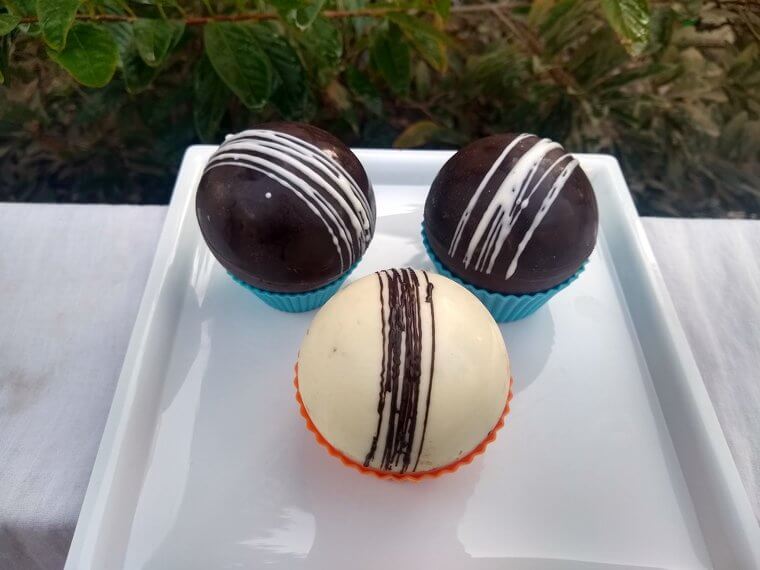 All you'll need for this quick recipe are large marshmallows (or regular to large, whatever you can get your hands on), chocolate or chocolate chips, and some coconut oil. Since the recipe is easily customizable and you can pretty much cover it with whatever you'd like, such as adding some pecans or even gold sugar to the outside to make it prettier.