Whether they're dramas, comedies, or thrillers, all of these movies have one thing in common: iconic swimsuit moments. Sometimes they were intended to become legendary. Other times, the women who wore them were simply so iconic themselves, when they threw on the swimsuit, they became scene stealers. No matter what way it happened, these are 25 of the most iconic movie swimsuit moments of all time.
Deborah Kerr in From Here to Eternity, 1953
When Deborah Kerr appeared in a halter top swimsuit on the beach with Burt Lancaster in From Here to Eternity in 1953, it quickly became one of the steamiest scenes in film at the time. In fact, officials demanded that a skirt be added to her wardrobe so that the scene wouldn't be considered so provocative!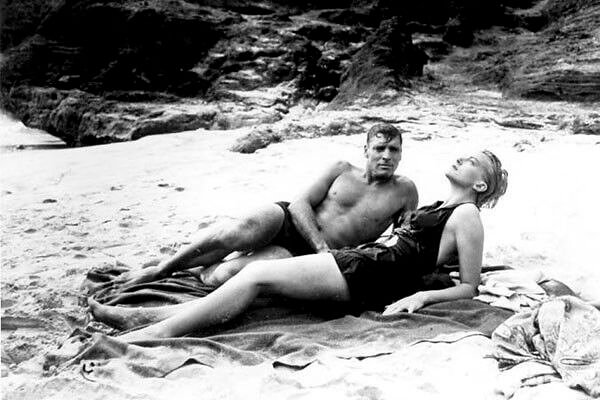 Despite the addition of the skirt, the scene still smoldered, and Kerr's career took off as she ended up being nominated for the best actress Oscar six times throughout her life. She even said, "I don't think anyone knew I could act until I put on a bathing suit."
Sandra Dee in Gidget, 1959
What's a surfer movie without a few surfer girls in swimsuits? That's exactly what you get in the 1959 movie Gidget following the character of the same name played by Sandra Dee that spawned an entire series of movies and a television series.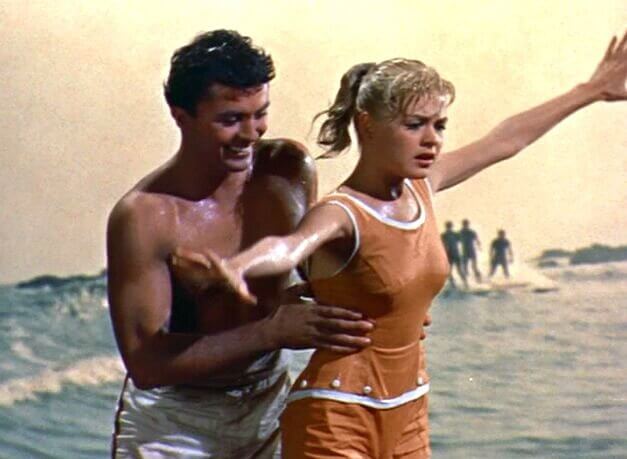 Suddenly taken by a bunch of surfer boys, tiny Gidget wants to learn how to surf. So, she gets herself a used surfboard and starts to learn how to surf. All the while, looking sharp in some pretty stylish swimsuits!
Elizabeth Taylor in Suddenly, Last Summer, 1959
The sight of Elizabeth Taylor wearing this white one-piece swimsuit as Catherine Holly in the film adaptation of the dark play Suddenly, Last Summer by Tennessee Williams in 1959 is iconic.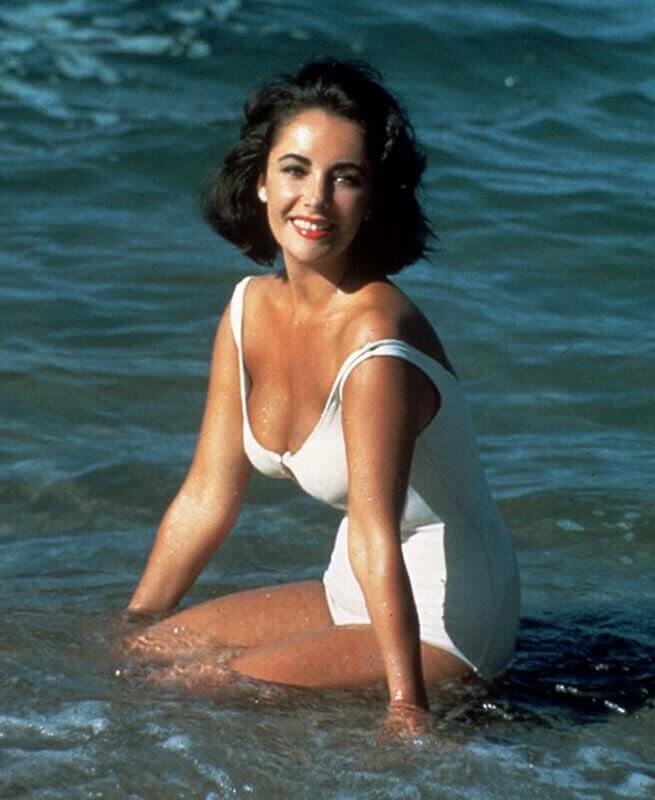 According to the story, Catherine's cousin asks her to wear the swimsuit in order to attract the kind of women he was looking for. The result was a scene that is actually so iconic, the image of Taylor in the white bathing suit is one of the most well-known photos of this actress!
Paula Prentiss in Where the Boys Are, 1960
Nowadays, Fort Lauderdale, Florida, is known for being the "It" spot for Spring Breakers. However, before it was where everyone wanted to go on their spring break, a little film called Where the Boys Are in 1960 helped make it the location we know it as today.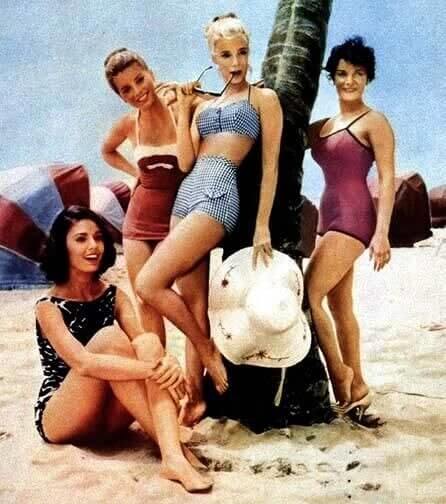 In the film, a young George Hamilton and Paula Prentiss paraded around the Fort Lauderdale beach wearing the best-looking swimsuits for the era in the coming-of-age movie. Prentiss even said, "MGM was the best at making you perfect. Look how beautifully they dressed us—perfect outfits!"

Joan Blackman in Blue Hawaii, 1961
What would this list be without a nod to the King and lover of all things Hawaii himself? 1961's Blue Hawaii might be one of the most well-known Elvis films, especially considering his own affinity for the 50th state.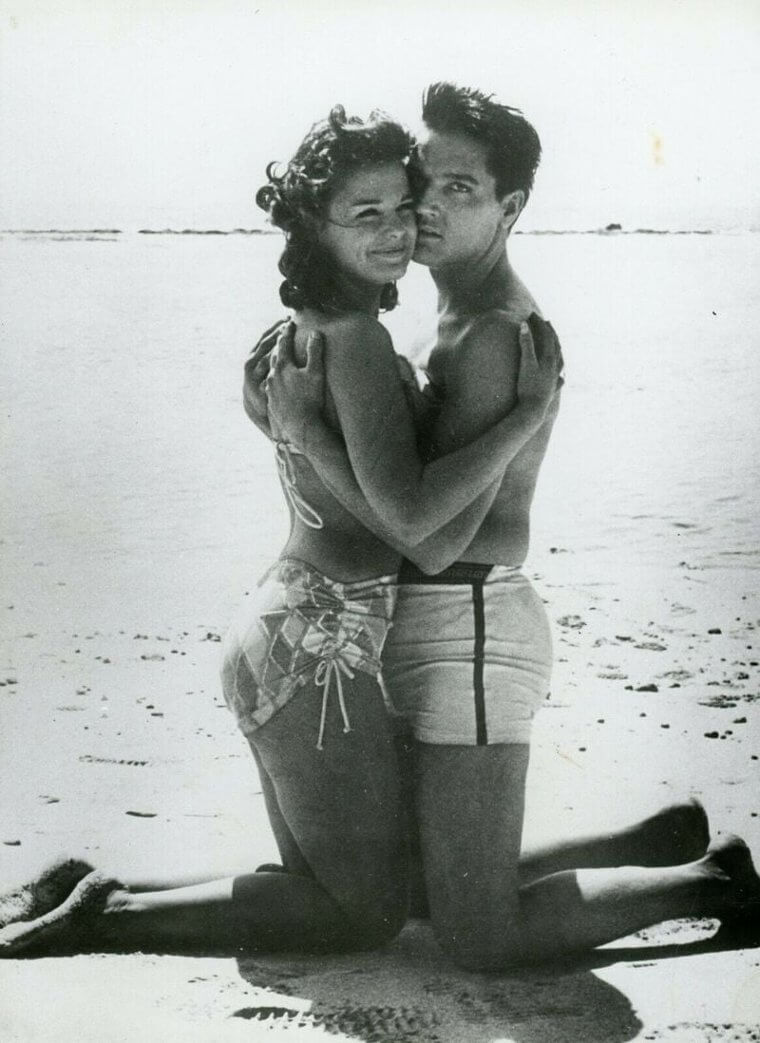 So, naturally, they had to knock it out of the park with the costumes for this film. To do so, the studio recruited Edith Head, a legend when it comes to Hollywood costume designing. Head was so clever with the costumes, so was able to get everyone to take their eyes of Elvis himself just by putting his costar, Joan Blackman, in a tight, yellow one-piece swimsuit. Mission accomplished!ADVERTISEMENT
Brigitte Bardot in A Very Private Affair, 1962
We cannot write a list of iconic movie swimsuits without mentioning Brigitte Bardot. In fact, all the credit for popularizing the bikini swimsuit Bardot in the first place!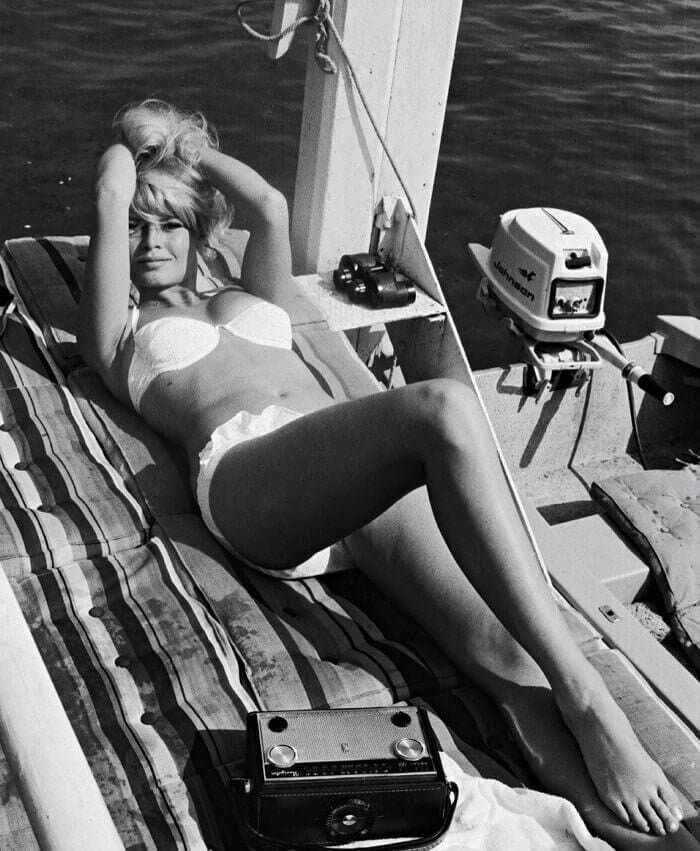 She stunned everyone when she appeared in The Girl in a Bikini in 1952, then wore a strapless two-piece swimsuit in Cannes a year later where paparazzi could photograph her sunbathing. However, her bikini with the ruffled bottom and underwire top from Louis Malle's 1962 movie A Very Private Affair is just as iconic and would even be popular today.

Sue Lyon in Lolita, 1962
When the controversial novel Lolita by Vladimir Nabokov was being adapted into a film by Stanley Kubrick in 1962, almost 800 girls auditioned for the lead role of Lolita Haze.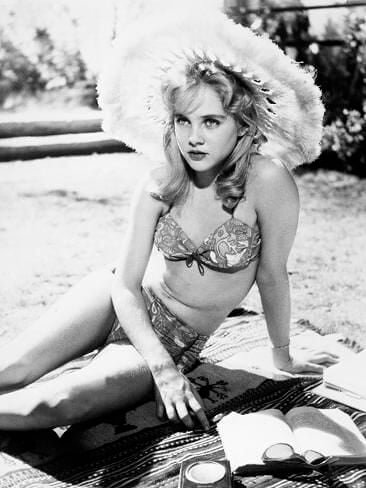 But it was Sue Lyon, a former model, who landed the role and made history when she donned a bikini for the scene where Lolita first meets her older lover. The orange, tropical print hipster bikini, paired with cat-eye sunglasses and a wide-brimmed hat, became one of Lolita's most well-known looks from the film.

Ursula Andress in Dr. No, 1962
The Bond women had some of the most iconic swimsuits to ever grace the big screen, so it's no wonder that this one sold for over $60,000 at a Christie's auction in 2001.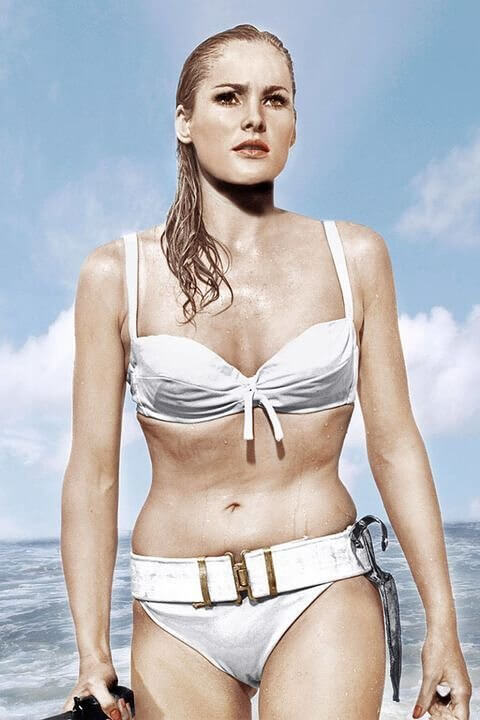 Considering that this particular Bond bikini once clung to every curve of Ursula Andress as audiences got their first glimpse of Honey Ryder coming out of the Caribbean in the James Bond movie Dr. No in 1962, we can see why. Especially considering not only was it the birth of the Bond franchise but the birth of the Bond Girl, as well.

Annette Funicello in Beach Blanket Bingo, 1965
Annette Funicello was already famous for being a Mouseketeer when she landed a role in the 1965 classic beach movie, Beach Blanket Bingo.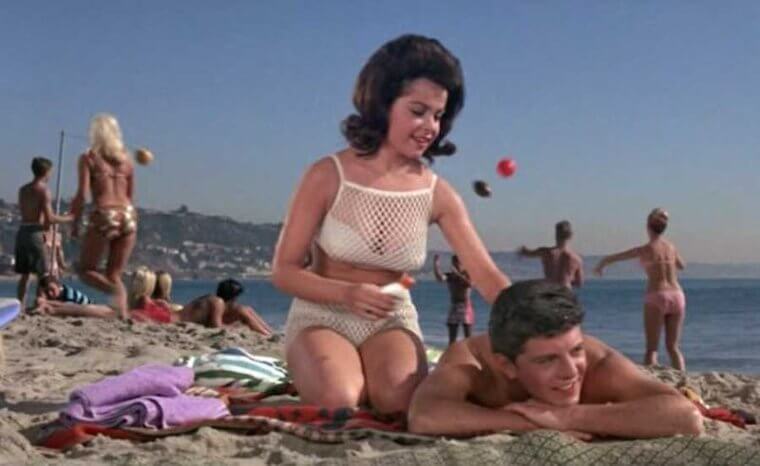 So, when it came to donning a swimsuit for the role, the Walt Disney Corporation had a thing or two to say. They wanted her to cover her belly button to preserve that girl-next-door image that Disney loved. Funicello and the costume department with Beach Blanket Bingo complied. The result was her wearing a quintessential high-waisted bikini that folks still love to this day!

Pam Grier in Coffy, 1973
It doesn't get much more 70s than a macrame bikini. And when you pair that with a revenge plot and a take-no-names heroine, you get Pam Grier in the 1973 movie Coffy.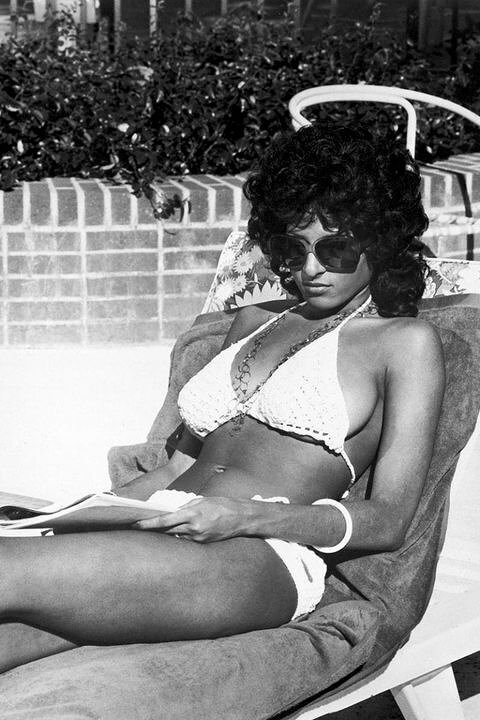 Playing a character of the same name, nurse Coffy sets out on a mission to avenge her sister's death by taking down a criminal gang single-handedly. She is quite literally the "baddest one-chick hit-squad." Along with a whole host of other classic 70s looks, the macrame bikini, and hexagonal shades just made Grier's first lead role that much more iconic.

Bo Derek in 10, 1979
Actress and model Bo Derek, who was famous for her gorgeous looks, landed her breakthrough role of Jenny Hanley in the 1979 romantic comedy movie 10.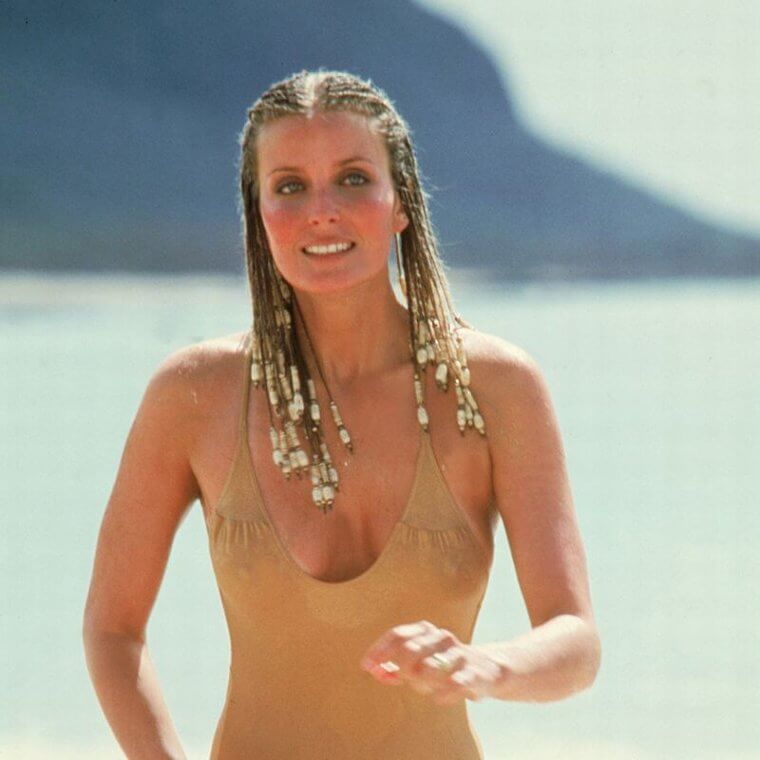 The movie follows a successful songwriter who falls in love with the woman of his dreams. The only catch? She just got married. To someone else. So, naturally, he follows them to Mexico on their Honeymoon. In the movie, Derek sports a simple nude colored one-piece swimsuit paired with cornrow braids that certainly did set trends at the time.

Brooke Shields in The Blue Lagoon, 1980
The 1980 movie The Blue Lagoon was controversial for several reasons. It followed the story of two seven-year-old cousins who were stranded on an island in the Pacific Ocean after a shipwreck. Together, they grow up, learn how to survive on the island, and, eventually, begin to explore the world of love and sex. …Did we mention they were cousins?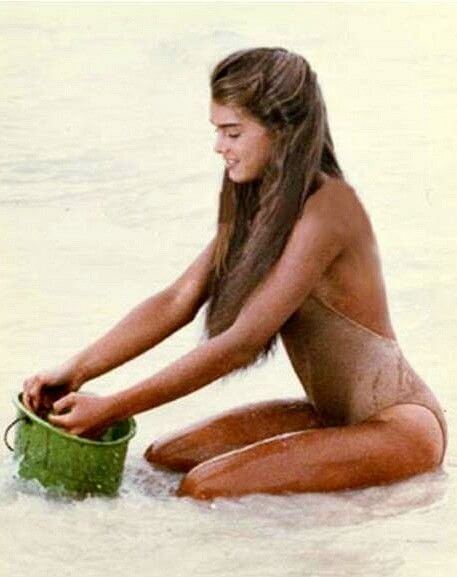 Reportedly, Diane Lane, Jennifer Jason Leigh, and Isabelle Adjani all turned down the lead role of Emmeline, only for a 14-year-old Brooke Shields to be cast alongside a 19-year-old Christopher Atkins. Aside from the obvious controversy, the movie was memorable for Shields' wardrobe. Like a shipwreck survivor, her wardrobe was always tattered. But she made it seem trendy! Plus, she was always covered up at a time where you would think it would be easier for someone stranded to wear much less. Leave it to Shields to be so demure.

Phoebe Cates in Fast Times at Ridgemont High, 1982
The 1982 movie Fast Times at Ridgemont High has become somewhat of a cult classic as it follows the trials and tribulations of teenage life in Southern California.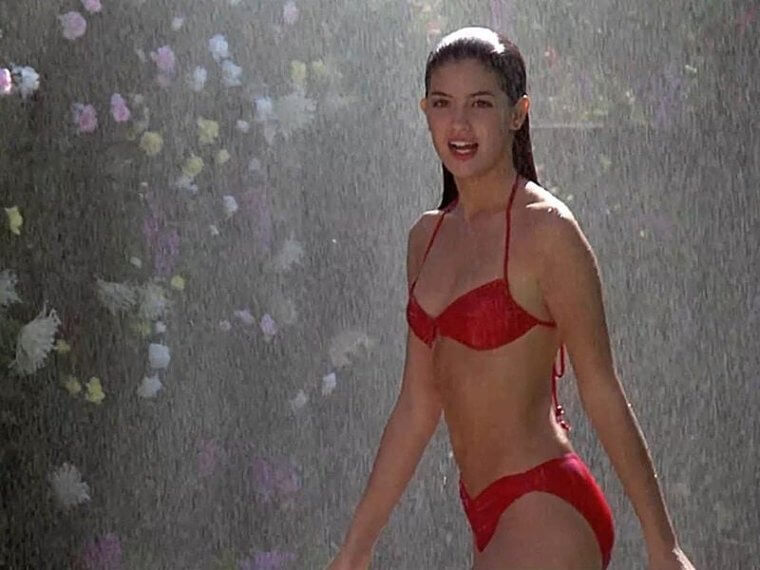 From dating, drugs, and rock'n'roll, this movie covers it all. And one of the more memorable scenes capturing teenage life was when Phoebe Cates' character, Linda Barrett, exits the pool wearing a tiny red bikini. It might have been a product of fantasy in the head of Brad Hamilton, played by Judge Reinhold, but it is just as iconic as most of the burnout Jeff Spicoli's lines, delivered by the one and only Sean Penn, thanks to that bikini.

Angela Bassett in How Stella Got Her Groove Back, 1998
When Angela Bassett went to Jamaica as Stella, a stockbroker who wasn't having much luck in the love department, there were bound to be some killer looks in the swimsuit department and the 1998 movie How Stella Got Her Groove Back did not disappoint.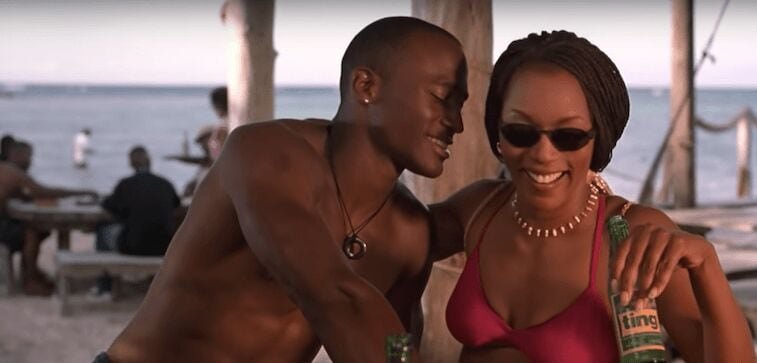 In fact, the most iconic swimsuit look Bassett served up in this movie comes from the (spoiler alert) scene where Stella does, in fact, get her groove back in a hot pink bikini thanks to Winston, played by Taye Diggs in his movie debut.

Gwyneth Paltrow in The Talented Mr. Ripley, 1999
There's a lot to love about the 1999 movie The Talented Mr. Ripley. (Hello young Jude Law!) From the drama to the scenery, this psychological thriller keeps your attention the entire time.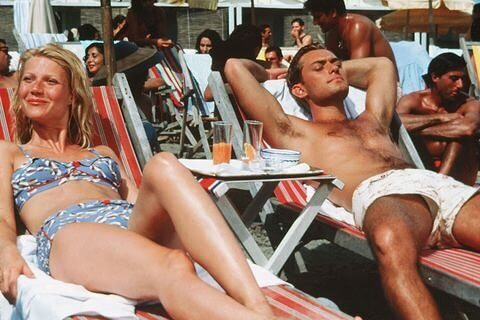 But the costumes in this movie are without a doubt a big part of what keeps your eyes glued to the screen. After all, the costume designers, Ann Roth and Gary Jones were nominated for an Oscar for their work on this movie set in the 1950s! So when Gwyneth Paltrow donned a blue, nautical print bikini with red detailing and a retro silhouette as Marge Sherwood, of course, we took note!

Virginie Ledoyen in The Beach, 2000
When you have a movie literally titled The Beach, you've got to make sure your swimsuit game it on point. Thankfully, filmmakers for this 2000 movie were up to the task.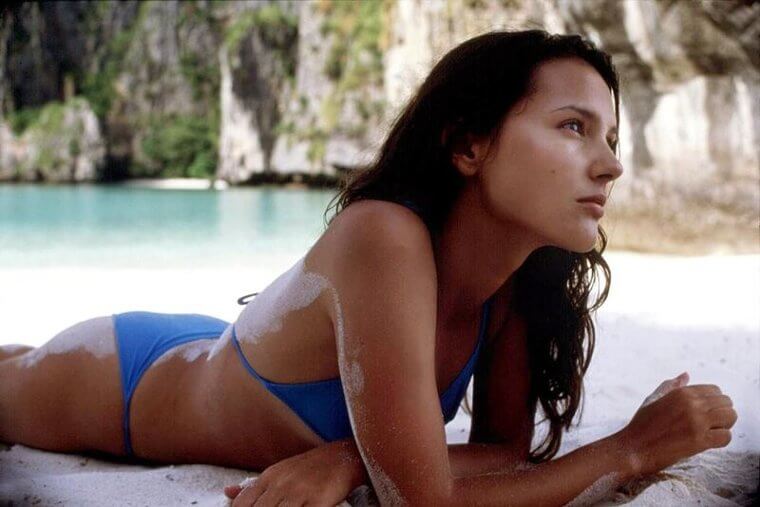 When they cast Virginie Ledoyen as Francoise opposite Leonardo DiCaprio as Richard, a young man with an old in search of an island paradise, they knew what they were doing. They threw her in a bright blue bikini, tussled her gorgeous brunette locks, and threw her onto some of the most beautiful beach scenes we have ever seen. So, of course, her swimsuit is stuck in our minds!

Rachel McAdams in The Notebook, 2004
There are a few cinematic moments that actually gave birth to trends that took over the fashion world by storm. This memorable scene from Nick Cassavetes' The Notebook is definitely one of them.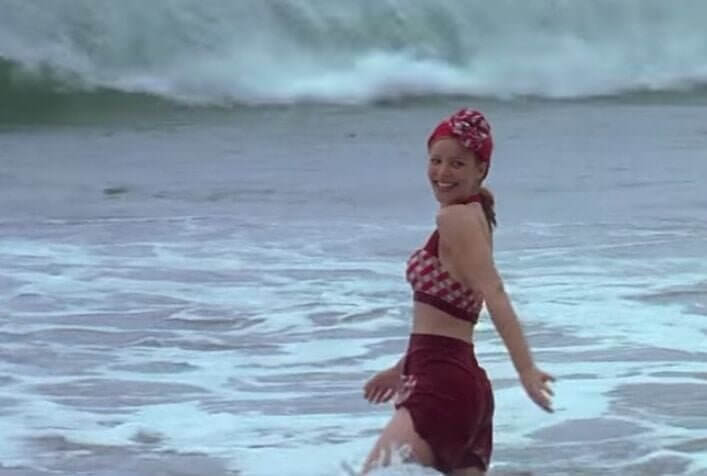 The film's lovely leading lady, Rachel McAdams, sports a cute red bikini in the scene, and although it's not a jaw-dropping ensemble like Hally Berry's for example, it did capture the hearts of fashionistas around the world. What followed next was a whole new trend of vintage-inspired bikinis that started popping out everywhere, and surprisingly, stayed around throughout the 2010s even until today.

Maribel Verdu in Y Tu Mama Tambien, 2001
The 2001 movie Y Tu Mama Tambien was a huge success that broke box office records in Mexico. Though definitely steamy and provocative, this coming-of-age tale was cleverly written to have a subtext that was both intellectual and political.

That being said, this story that follows two teenagers embarking on a steamy road trip with an older woman to a fantastical beach in Mexico was bound to have an iconic swimsuit shot. In fact, the entire movie concluded with Maribel Verdu as Luisa Cortes walking along the deserted beach in a simple string bikini. We're definitely not disappointed.

Angelina Jolie in Lara Croft: Tomb Raider, 2001
When Angelina Jolie hit the waters as Lara Croft in Lara Croft: Tomb Raider in 2001, she didn't come to play. She came to kick some butt.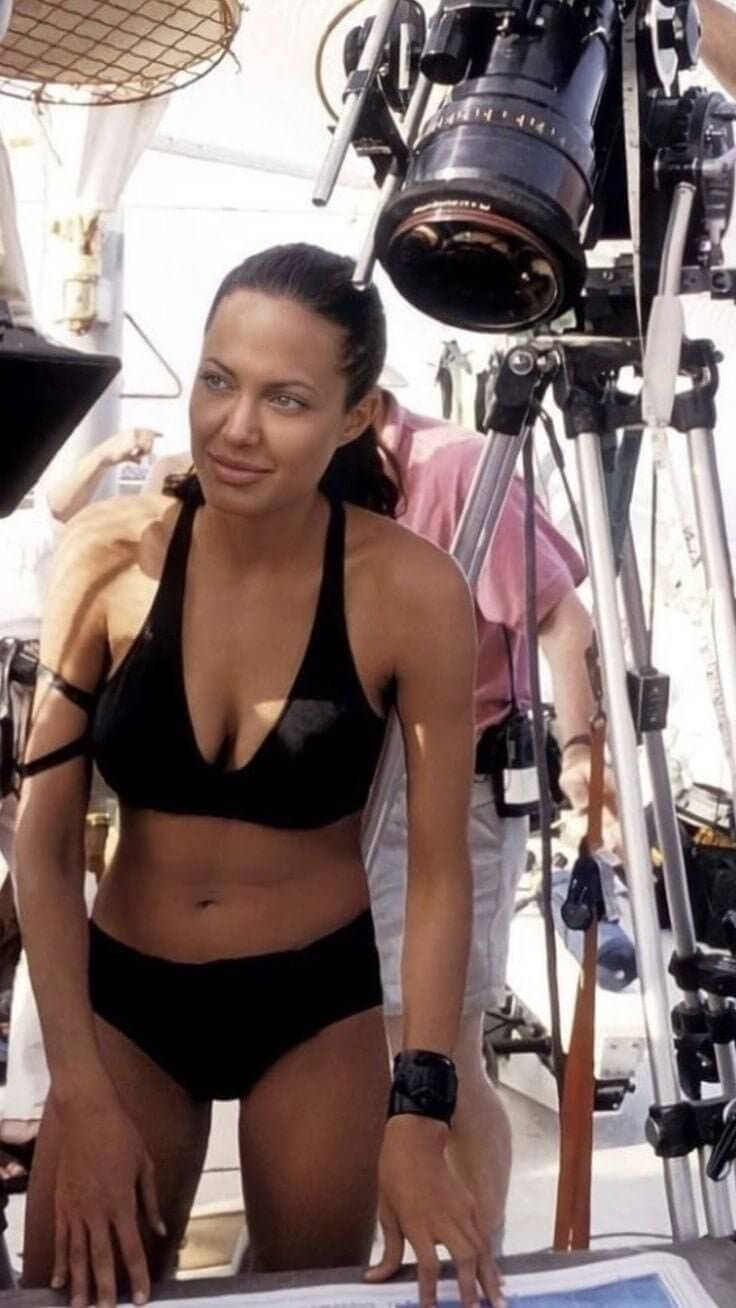 Picking up the mantle of the famous archaeologist, she had to be equipped with outfits that would both show off her physique and allow her to move. Thus, we were graced with a glorious bikini moment when Jolie hopped on a jet ski. And as it turns out, her black bikini looks as if it pays homage to the one Ursula Andress wore in Dr. No.

Halle Berry in Die Another Day, 2002
Yet another Bond Girl on this list, and for good reason! They get all the good movie swimsuits. And we have the proof to back it up! Angelina Jolie's Lara Croft bikini might have looked similar to the Honey Ryder Bond Girl bikini in Dr. No, but there was one that totally did it justice.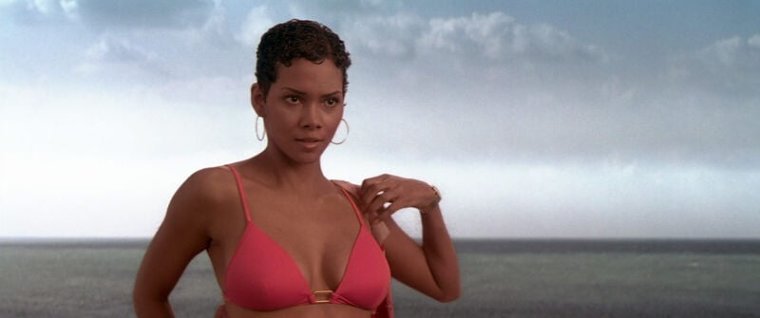 When Halle Berry became the Bond Girl, Jinx, in the 2002 James Bond movie Die Another Day, they dressed her in a tangerine bikini from Eres that was designed to pay homage to the original, belt and all! Now that's what we call iconic.


Kate Bosworth, Michelle Rodriguez, and Sanoe Lake in Blue Crush, 2002
In the early 2000s, it became trendy for women to have buff bikini bodies on the big screen, mostly thanks to actresses like Halle Berry and Angelina Jolie who were dominating Hollywood at the time (and still are).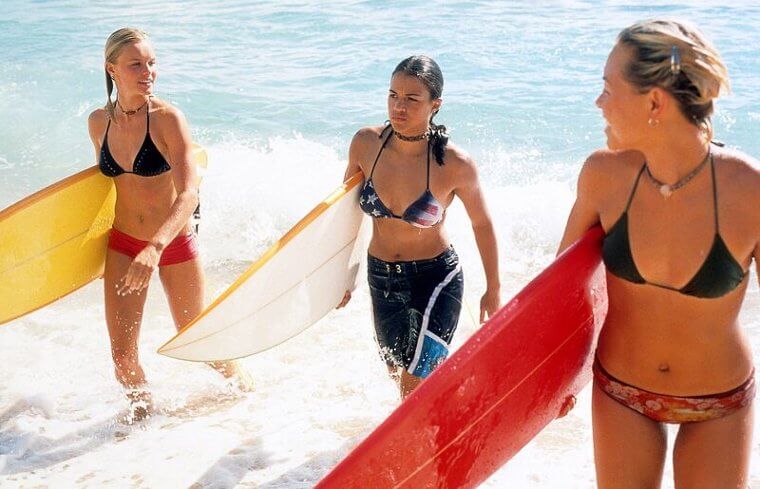 But, when the surfer-girl film Blue Crush came out in 2002 it was Kate Bosworth, Michelle Rodriguez, and Sanoe Lake who gave us several iconic bikini moments with their buff bikini bods. Bosworth even said about the movie, "I was weight training and learning to surf seven hours a day, seven days a week for fourth months. I gained 15 pounds of muscle."

Demi Moore in Charlie's Angels: Full Throttle, 2003
Based on the hit 70s television series, Charlie's Angels became a hit comedy movie in 2000 starring Cameron Diaz, Drew Barrymore, and Lucy Liu.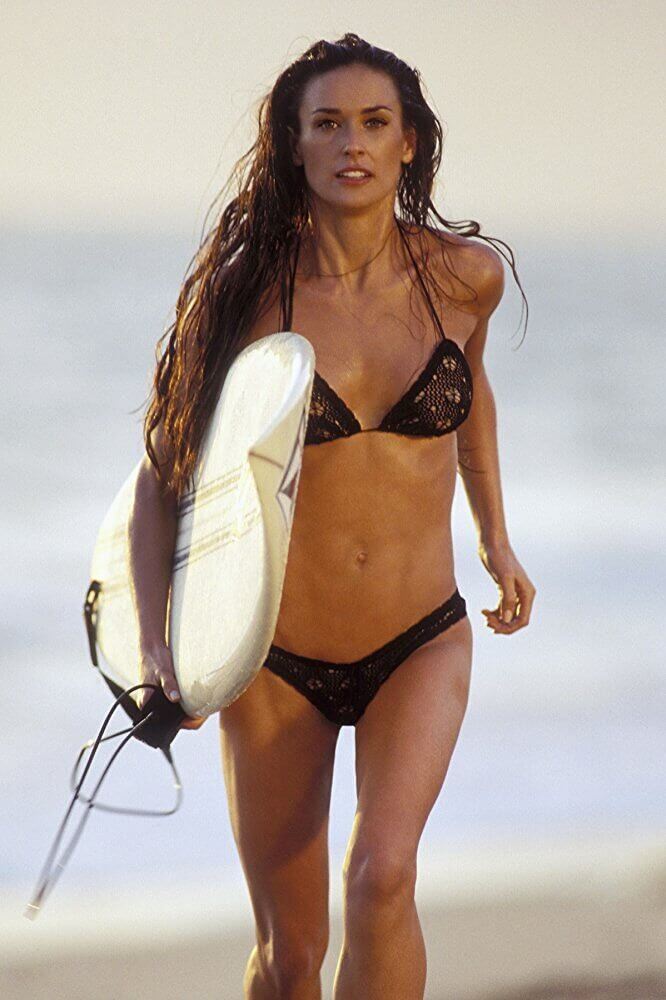 The follow-up, Charlie's Angels: Full Throttle, was released in 2003 and added even more notable names to the cast, including Demi Moore. However, what was most memorable was the fact that Moore, 41 at the time, graced us all with a black string bikini with crochet details that ended up stealing the scene away from Diaz in her white bikini!

Ludivine Sagnier in Swimming Pool, 2003
Sometimes, we all need a little peace and quiet. And that's exactly what mystery writer Charlotte Rampling, played by Sarah Morton, got when she went on a retreat in the south of France to write her next book in the 2003 movie Swimming Pool.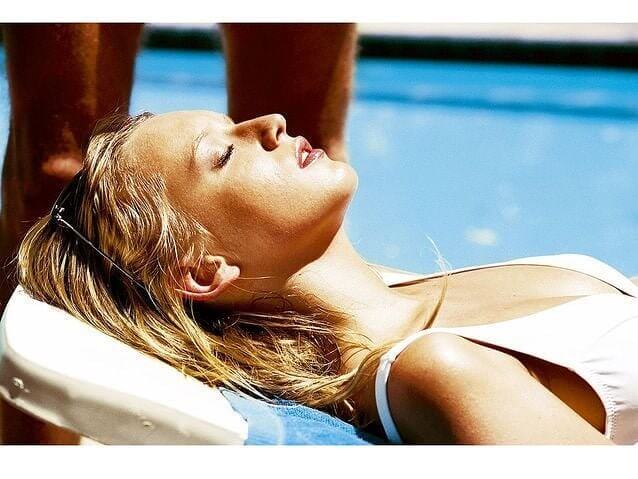 That is, until her publisher's daughter, Julie, played by Ludivine Sagnier, turns up and disrupts her peace and quiet with her uninhibited lifestyle. Especially when she's lounging by the pool in that iconic black and pink zigzag bikini.

Jessica Alba in Into the Blue, 2005
The late 90s and early 2000s were riddled with beach-themed movies to the point where there was a whole "look" people would strive for during that period. Beachy waves, tan skin, puka shell necklaces. They were all a part of it.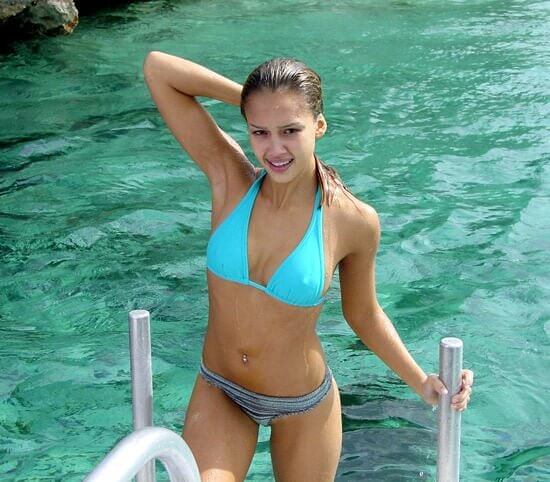 So was Jessica Alba iconic look as Sam in the 2005 movie Into the Blue. You can see her here with her striped triangle string bikini. And if that wasn't enough, her sun-kissed skin and hair make her the picture-perfect "beach babe."

Keira Knightley in Atonement, 2007
From beginning to end, the 2007 movie Atonement was captivating. The storyline, the cast, and the historical setting pull you in from the get-go. So, naturally, costume designers were able to slip in an iconic historical swimsuit scene!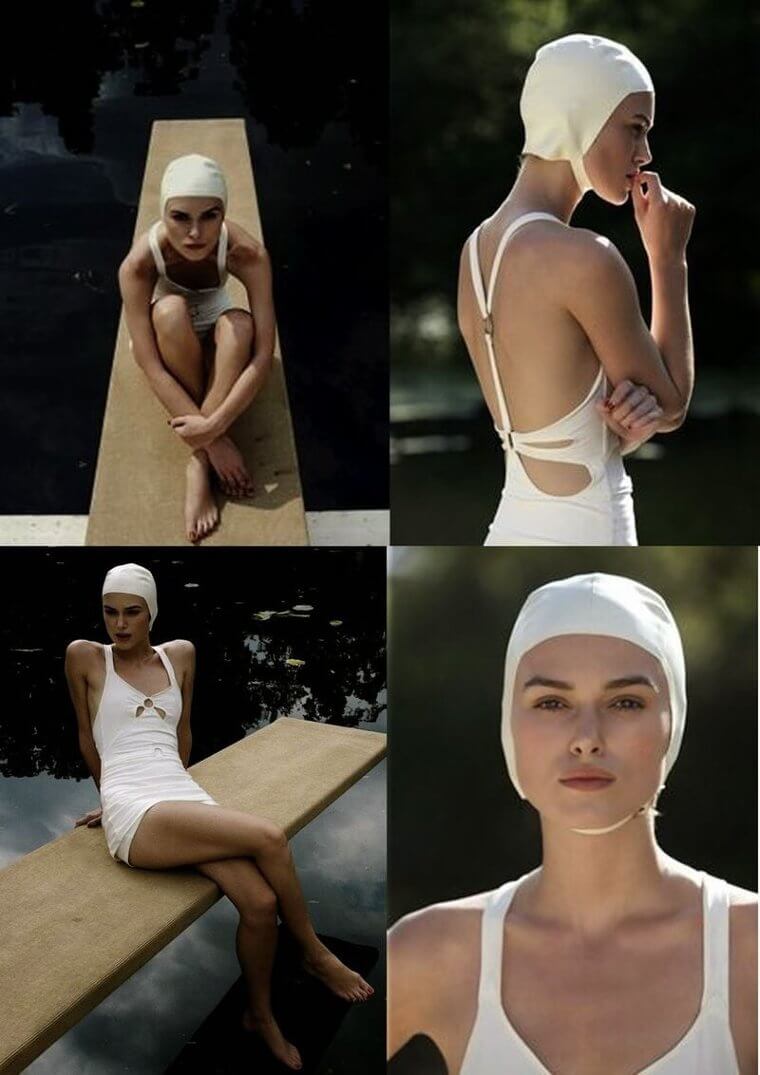 The scene of Keira Knightley as Cecilia Tallis sitting on the divining board wearing the soigne bathing suit and swimming cat was detailed so beautifully, it's almost as if you are looking at a vintage 1930s photograph captured by the likes of Horst P. Horst and George Hoyningen-Huene.

Kristen Bell in Forgetting Sarah Marshall, 2008
In the 2008 movie Forgetting Sarah Marshall, Peter Bretter, played by Jason Segel, is dumped by his long-time girlfriend and television star, Sarah Marshall. So, he goes to Hawaii to forget all about her only to find her and her new boyfriend at his hotel.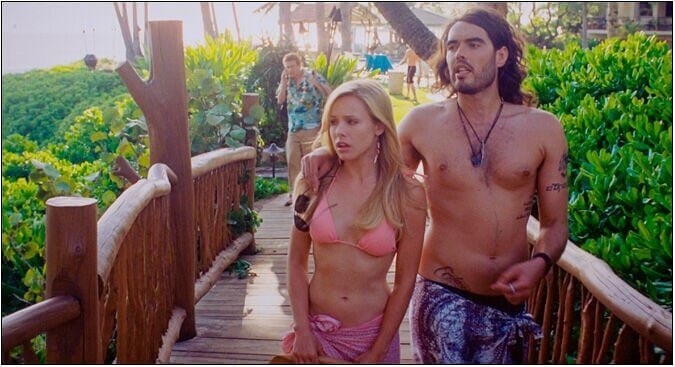 Despite trying to forget Sarah Marshall, she is actually quite unforgettable thanks to one tiny baby pink Dior string bikini. Or maybe she's unforgettable thanks to her… odd choice in boyfriends. Either way, no one is going to forget Sarah Marshall, played by Kristen Bell any time soon.

For more iconic movie moments, keep reading - discover which kissing scenes went off script, and things got a bit crazy...
 
When A Kiss Was Much More Than What The Script Asked For
Have you ever been so caught up in the moment that you've found yourself doing something unexpected? Actors find themselves in these positions too, only sometimes it's in front of the camera and it wreaks havoc with the script.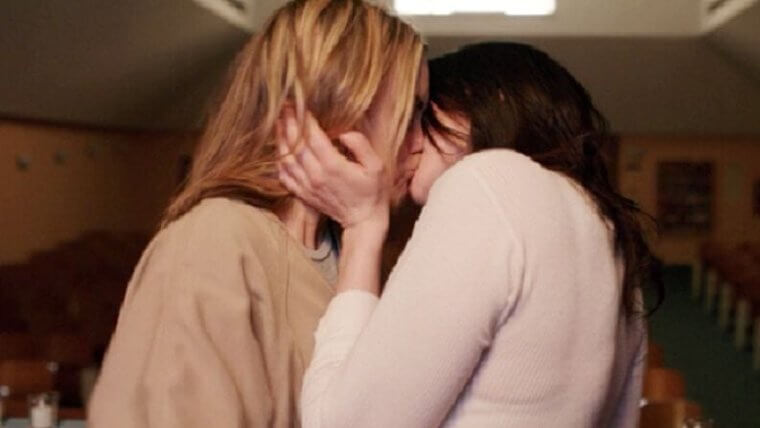 While some romantic scenes are worked into the narrative of a story, others happen spontaneously. These 20 on-screen kisses were performed in the heat of the moment and went on to become some of the most iconic kisses in film and television history.

Top Gun Makes It to the Top of the List
Sometimes feelings bubble over, and that's exactly what happened when Charlie, played by Kelly McGillis, and Maverick, played by the sexy Tom Cruise, lock lips. Charlie is desperately trying to tell Maverick that she wants her feelings to remain secret, but he's having none of it, keeping her mouth shut by putting his lips on hers.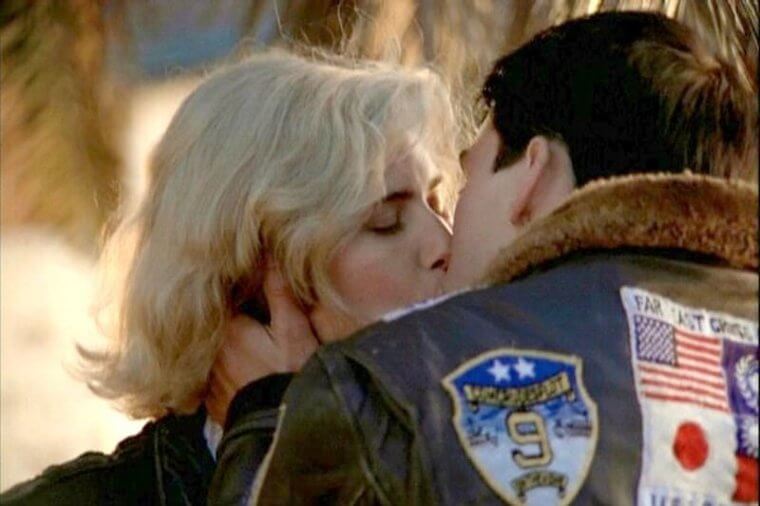 The scene will have viewers swooning in their seats, and what makes it even sweeter is knowing that it wasn't part of the original script. The conversation was originally supposed to reach an end, but instead, it was sealed with a kiss. The director loved the raw moment and so he kept it for the film.

Stranger Things and an Even Stranger Moment
Ah, young love. There's nothing quite like a teenage romance to get the viewers sighing "Aaah". The second season of Stranger Things reveals a release of built-up tension between Max, played by Sadie Sink, and Lucas, played by Caleb McLaughlin, when they eventually share a kiss.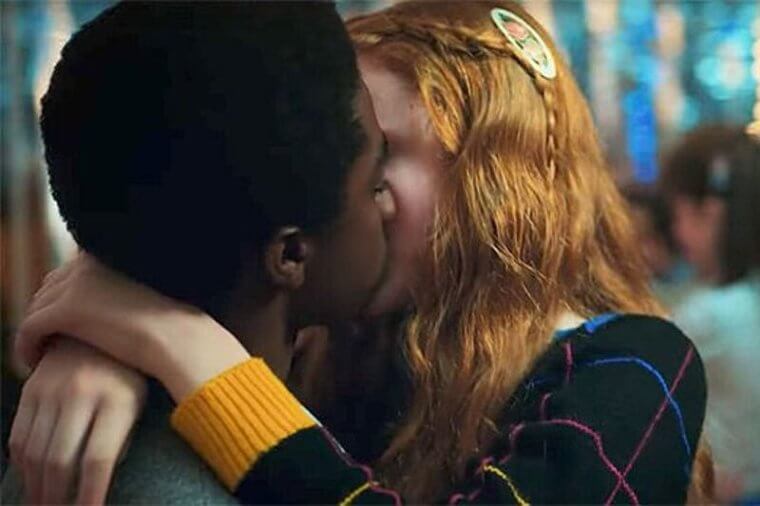 While the moment feels perfectly timed, it wasn't part of the original script. The showrunners put it forward as a suggestion in passing, but the young actors couldn't get the thought off of their minds. In the end, the kiss sparked a bit of debate as it was never confirmed whether the actors were on board with it in the first place or not.

Lost In Translation Had One Clear Moment
The narrative of Lost in Translation is an endearing one. The protagonist, Bob Harris (Bill Murray), develops a friendship with a young college graduate named Charlotte (Scarlett Johansson). In a series of fateful moments, the pair build a unique relationship in Toyko. When it was time to say goodbye, Bob had a different idea of the script.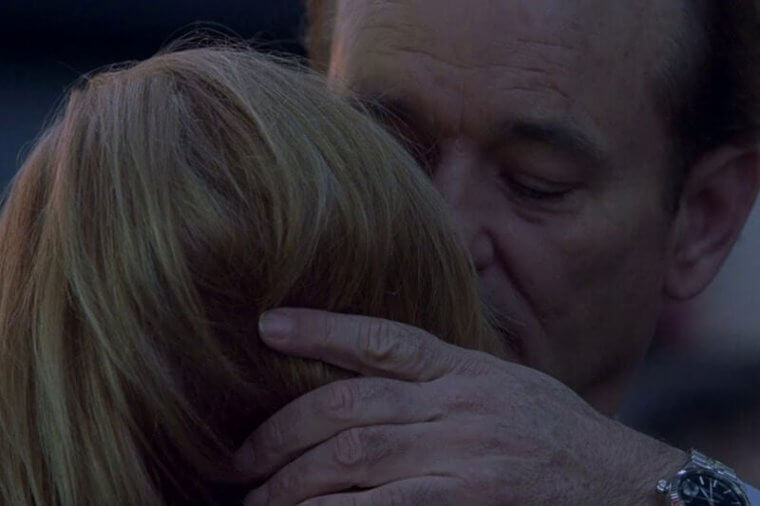 During their farewell, Bob Harris surprised his co-star - as well as the directors - by kissing Charlotte.  In fact, it was her surprised reaction that made the moment so real and unforgettable.

The Office and Its Most Iconic Improvised Scenes
If you've ever watched an episode of The Office then you'll know that their mockumentary-style show is full of improvised moments that make you smile, laugh, and cringe at times. Yet, amid all of these spontaneous moments, the kiss between Oscar Martinez (Oscar Nuñez) and Michael Scott (Steve Carell) is one of the best.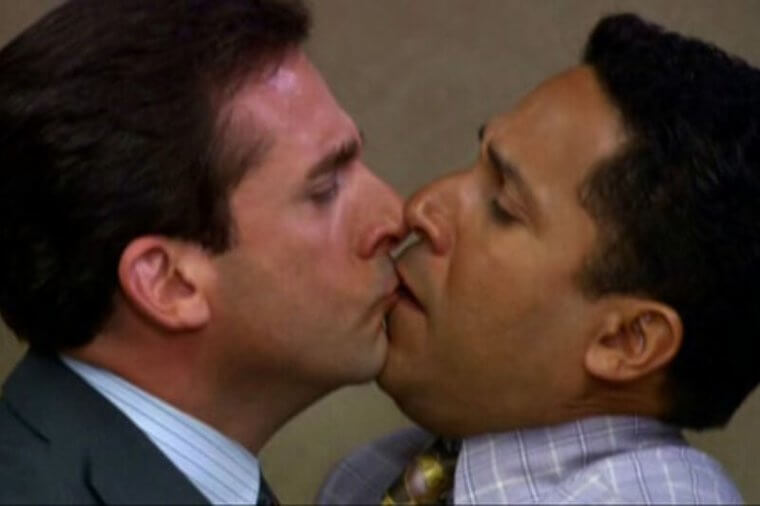 In season three, Michael finds out that Oscar is gay and feels the need to prove his tolerance. The script called for the two to hug, but Steve Carell got carried away and awkwardly went in for a kiss - but kept in the comedy mood and made everyone on the set laugh.

Edge of Tomorrow and an Impromptu Smooch
Imagine the frustration of being caught in a time loop, reliving the same series of moments over, and over again. In Edge of Tomorrow, Major William Cage (Tom Cruise) finds himself in precisely this situation. Except, he was forced to live a challenging day of battle against aliens day after day. In order to escape the time loop, Major William Cage works together with Special Forces fighter, Rita Vrataaski (Emily Blunt).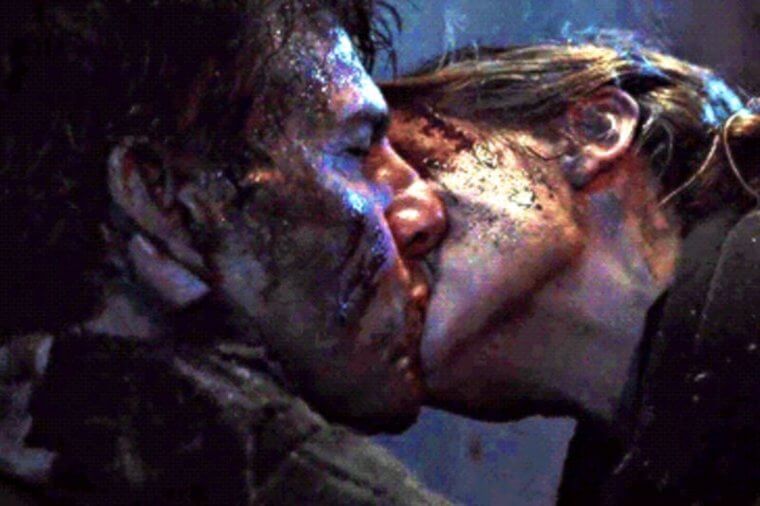 The original plan was to naturally weave in a kiss between the two leading roles, but between fighting aliens and struggling for their lives, the moment of romance was difficult to determine. Luckily, Emily blunt is a natural actress and stole a kiss at an unexpected moment. It worked so well that the filmmakers kept it in the final cut.

Game of Thrones and a Kiss With a Knock Effect
All it takes is watching one scene from Game of Thrones to know that the show can be saucy at the best of times. But when a spontaneous kiss was shared between Yara Greyjoy (Emma Whelan) and Ellaria Sand (Indira Varma), the show got all the more exciting. To add the cherry on top, it was revealed that the kiss was completely improvised.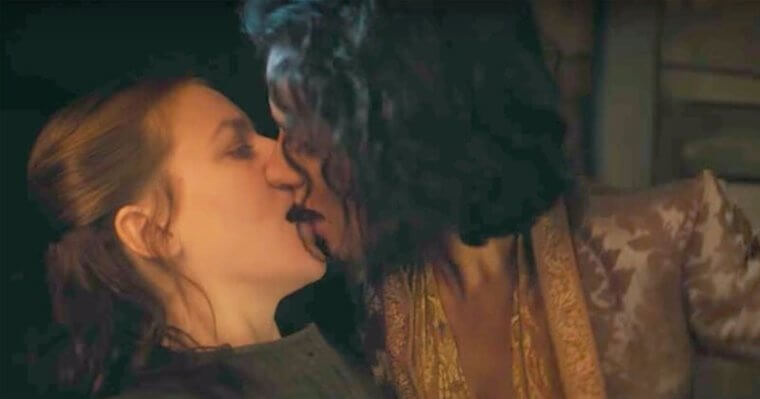 The script called for the two to flirt, but the pair were absorbed by their roles and it wasn't long before the moment just seemed right for them to kiss. And it worked perfectly in the narrative! But it also required the kiss to be repeated and Indira Varma had to lock lips with a stunt double to keep the narrative going.

New Girl and the Unrequited Kiss
New Girl is a hilarious, quirky, and largely improvised sitcom. In fact, it's this improvisation that largely contributes to the comedic success of the show. Often, the behavior of Nick (Jake Johnson) and Schmidt (Max Greenfield) can leave viewers in stitches - especially when their improvised skits lead to unexpected kisses.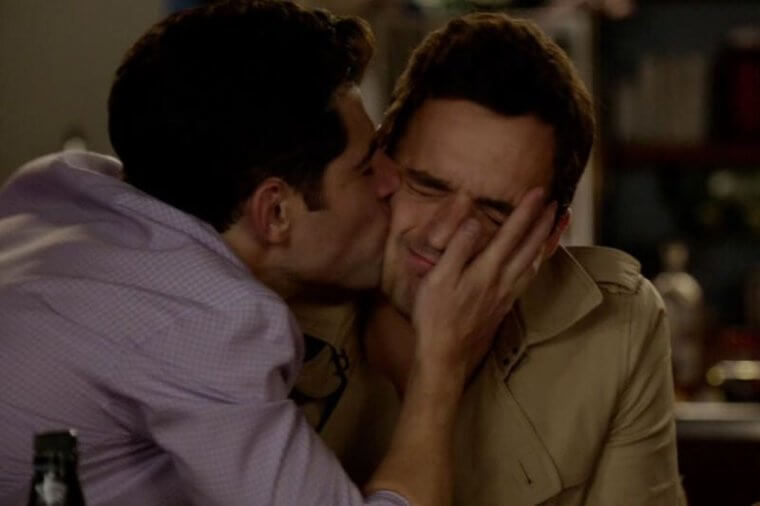 Jake Johnson has admitted that it's not unusual for Max Greenfield to land one on his mouth at the most unexpected moments. And while it made him feel uncomfortable at first, he eventually came to expect it. One of these kisses even made it into the final cut of a scene when Schmidt kisses Nick in an unconstrained moment after finding out that he has a medical condition.

A Tender Momen in Star Wars: The Last Jedi
Not all spontaneous movie kisses were the result of a comedic or passionate outburst. This particular kiss, in Star Wars: The Last Jedi, was a gentle gesture prompted by genuine affection. Luke (Mark Hamill) leans down to give his sister, Leia (Carrie Fisher), a soft kiss on the forehead in farewell.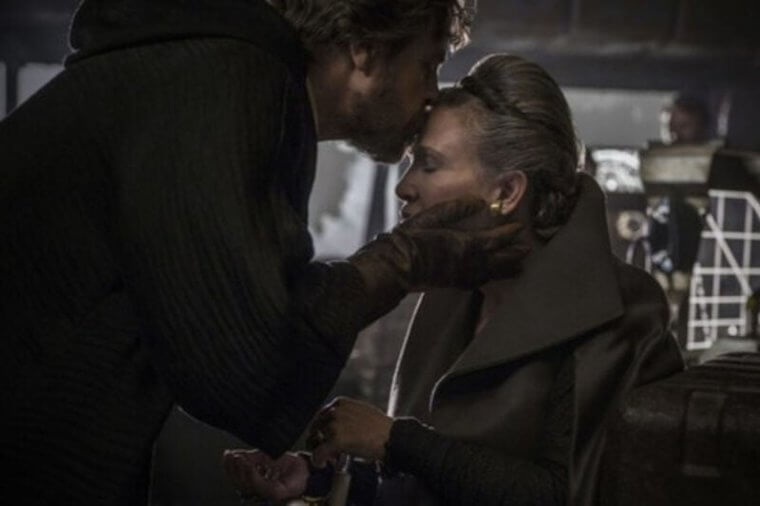 Apparently, the kiss was given in a genuine moment of sibling affection. Mark Hamill was so invested in his character that he felt a deep connection to his "sister". Sadly, Carrie Fisher passed away before the film was released. Mark Hamill shares that watching the scene with the endearing kiss is too difficult to do knowing that she's gone forever.

Teen Wolf and a Kiss Taken With Initiative
MTV's Teen Wolf is the perfect example of how a tender, improvised kiss on the cheek can lead to a whirlwind romance. The story zones in on your stereotypical high school geek, Stiles Stilinski (Dylan O'Brien), who lives in a small town. Over several episodes, romantic tension builds between himself and the stunning Lydia Martin (Holland Roden).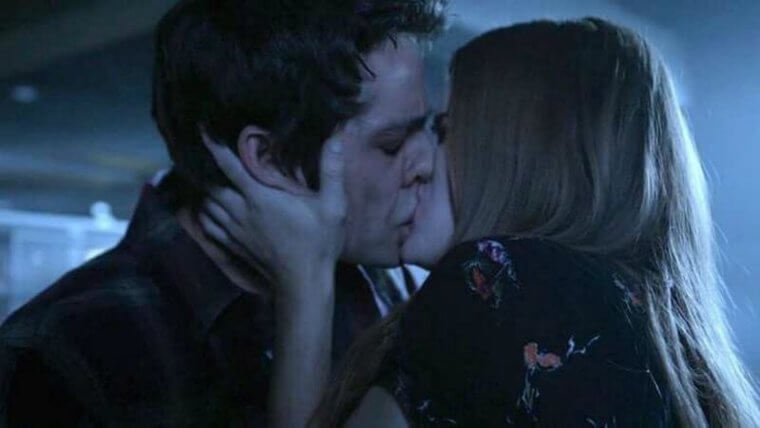 At the beginning of the series, Dylan O'Brien instinctively gave Holland Roden a soft kiss on the cheek - and the fans went wild! Viewers of the TV show couldn't stop talking about the budding romance and so the showrunners altered the narrative to include their romance as a key focus of the storyline.

The Hunger Games: Mockingjay and an Excuse for a Stolen Kiss
In some films, it's the secondary characters that steal the show. Even if just for a scene or two. And that's exactly what happened at the end of the final Hunger Games movie when Haymitch Abernathy (Woody Harrelson) steals a quick kiss from Effie Trinket (Elizabeth Banks). With the kiss being on this list, you already know that it wasn't scripted. But what led to the moment?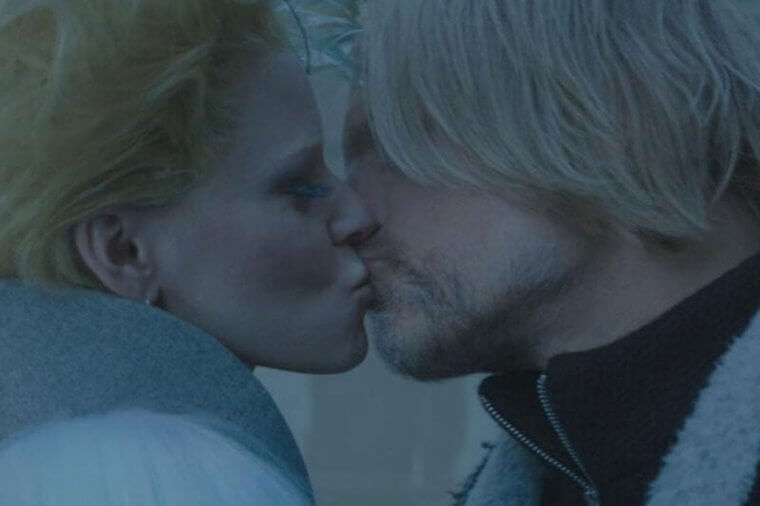 Woody Harrelson revealed post-filming that he secretly had a crush on the co-star, and admits to using his character as an excuse to sneak a romantic moment. Elizabeth Banks had no idea that the kiss was coming, and luckily, it worked out rather well in the film.

Jurassic World and the Surprise Kiss
Jurassic World is an adventure film packed to the brim with action, dinosaurs, and - of course - a little bit of romance. This romance wonderfully manifests when the Velociraptor trainer, Owen Grady (Chris Pratt), and Claire Dearing (Bryce Dallas Howard) kiss in a passionate moment.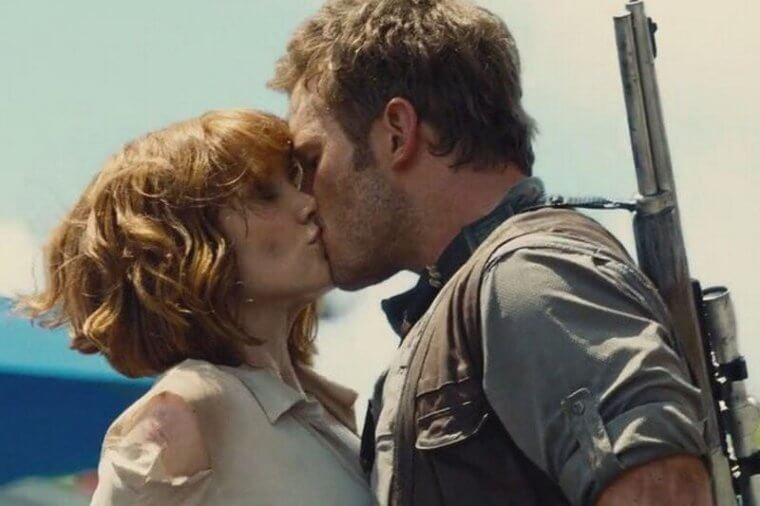 The best part about this kiss is that Bryce Dallas Howard had no idea that the smooch was coming. It wasn't in the original script and it wasn't until the final take of the scene that the director whispered the instruction to Chris Pratt. What followed next was an unexpected kiss in front of at least 200 people - and a successful movie moment.

Room With A View and an Awkward Moment
Not all improvised kisses are magical and whimsical. Some are just downright awkward. And that's exactly what happened when an 18-year-old Helena Bonham Carter shared a kiss with Julian Sands in the film, Room With A View.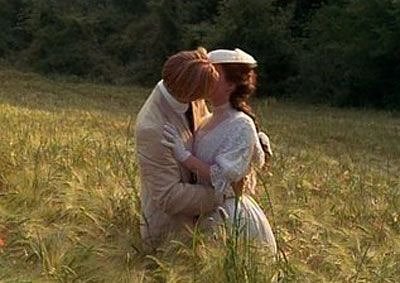 Playing the role of Lucy Honeychurch, Helena Bonham Carter wasn't as experienced in the role of kissing on set as she may be now. But when the production crew suggested it to her, she decided to go with it. However, this wasn't without a bit of improvisation and awkward manoeuvering.

ER's Improvised Kiss That Was Always Meant to Happen
Some kisses are written into the script but don't always come about in the way that they were intended. That's exactly what happened when Dr. Doug Ross (George Clooney) and nurse, Carol Hathaway (Juliana Margulies), eventually had their moment in ER.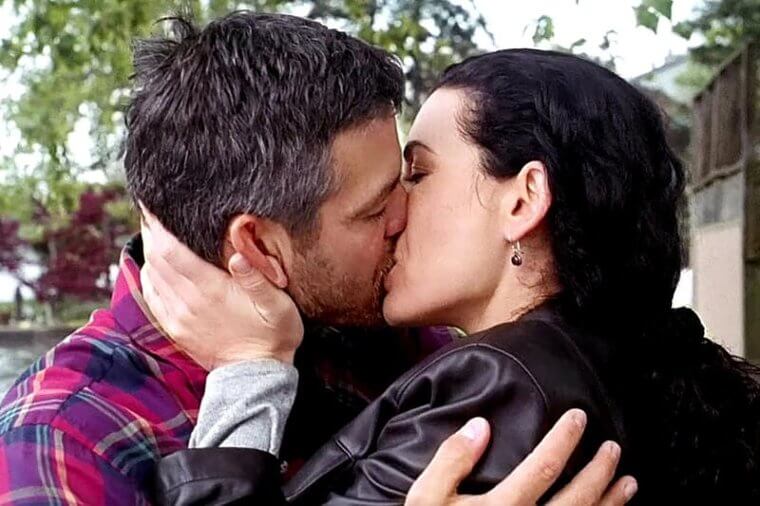 The romantic tension built up over the course of the show, but the scripted kiss never happened when George Clooney left the series early. Eventually, Carol Hathaway made her own exit and fans lost all hope of a long-awaited kiss. But in her final scenes, George Clooney reappeared momentarily to give the viewers what they had always wanted - a surprise kiss!

The Good Wife and a Build Up of Tension
Juliana Margulies makes the "improvised kiss" list a second time for her smooch with Josh Charles on The Good Wife. Juliana Margulies plays the role of a lawyer who shares a romantic connection with an old flame from law school (Josh Charles). But despite the romantic connection - there was no kiss when the fans wanted it most.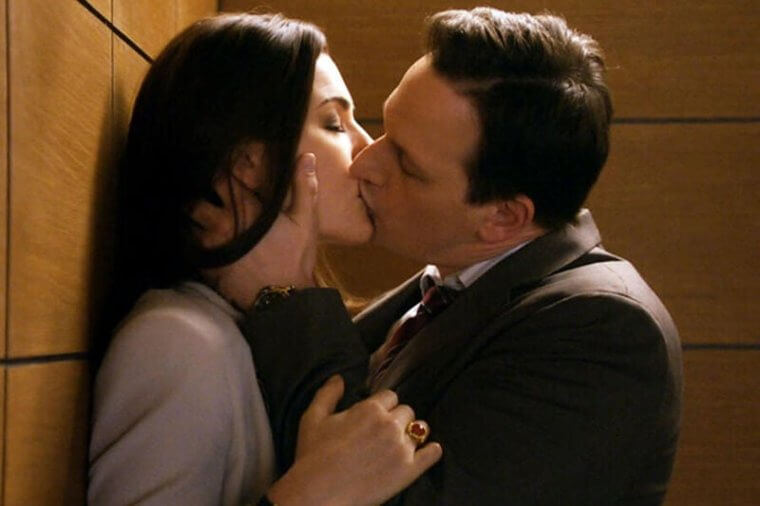 It took the pair two years to eventually release the tension with a passionate kiss in an elevator that left fans completely surprised. The gratifying moment happened in the final episode of season two, and viewers could finally release a sigh of relief.

Orange Is The New Black and a Surprise for the Fans
Some of the best surprise kisses are the ones that the fans don't see coming - such as the passionate kiss shared between Piper Chapman (Taylor Schilling) and Alex (Laura Prepon) in Orange Is The New Black. Viewers are aware that the pair used to date in the past, but the hope of a rekindled romance seems far from possible considering that Piper is in jail because of Alex's criminal activities - and she was straight now.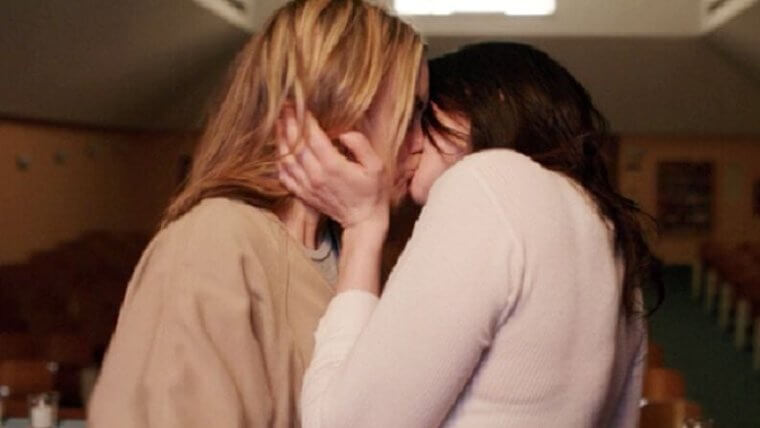 But then, in one scene scripted in the prison's chapel, the tension mounts and the pair share a steamy kiss. Everything about the moment was unexpected for the fans - and they loved it!

A Lesson From Cheers
Often, all that's needed for a moment of passion is underlying emotion, and this doesn't necessarily need to be a loving one. When viewers are first introduced to Sam (Ted Danson) and Diane (Shelley Long) in Cheers, the pair are involved in a begrudging relationship. Despite constantly fighting, the underlying tension was undeniable, and the moment of a sweet kiss began to build.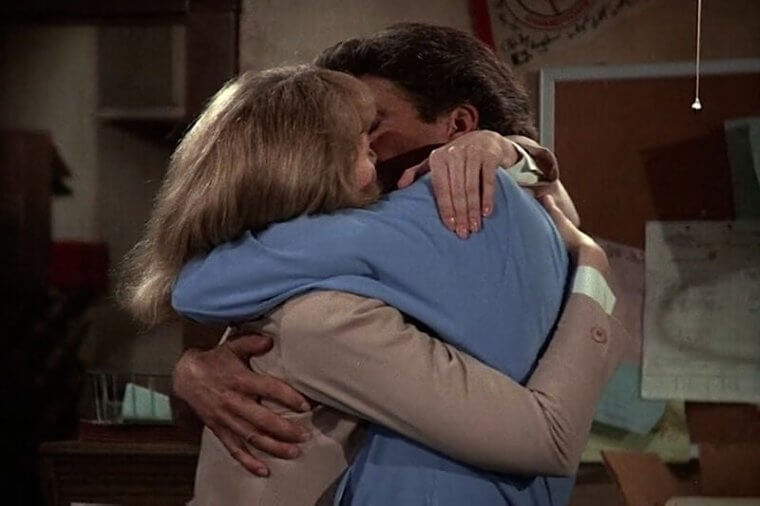 But while the tension was obvious, the kiss surprised everyone by coming at the most unexpected time. In one moment, the two characters were acting out an unpleasant argument, and in the next, they were sharing a passionate kiss. Fans of the series were beyond excited by the escalation of events.

An Initial Kiss in Gilmore Girls That Led to Ups and Downs
Throughout the show, fans watched Rory's various relationships with judgment in their eyes. But the true scandal of Gilmore Girls happened when a romance began brewing between Lorelai (Lauren Graham) and Luke (Scott Patterson). They started off as best friends and eventually their friendship caught fire - but would they end up together?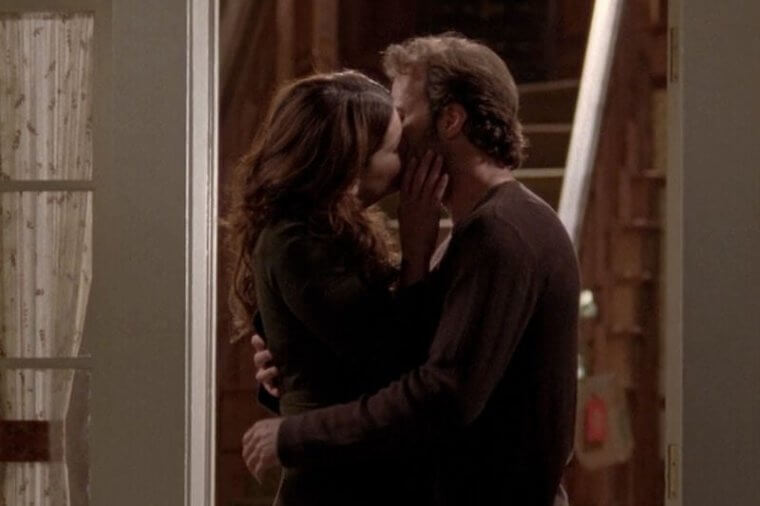 Finally, fans were rewarded with gratification at the end of season four. Lorelai and Luke got swept up in a passionate moment and melted into a kiss that viewers never could have predicted. From this moment, their relationship continued on a rollercoaster trajectory, but the initial kiss was never forgotten.

A Moment of Teasing in The X-Files
The X-Files was a popular show choice in the '90s and had countless viewers invested in the narrative of FBI agents, Fox (David Duchovny), and Scully (Gillian Anderson). But their story was far from conventional. In addition to exploring supernatural phenomena, fans also came to understand the show creator's policy of avoiding the stereotypical story romance.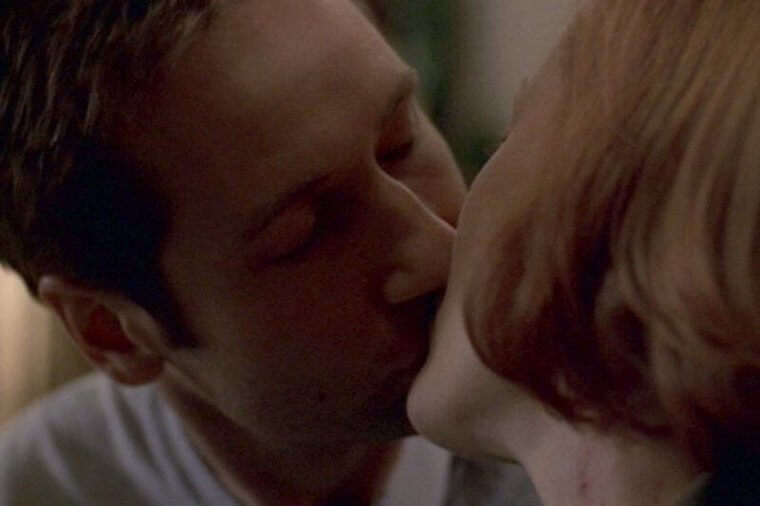 Because of the off-beat nature of the show, fans were completely blown away when Fox and Scully shared a kiss in season seven while visiting an alternate universe. The passionate kiss was never repeated until much later, but the surprise kept the hope (and romantic tension) alive.

A Build-Up of Tension in Frasier
There were a few key aspects of Frasier that kept the show going and the viewers interested. One of these is the relationship between married Niles (David Hyde Pierce) and oblivious Daphne (Jane Leeves). Although the spark of love is ignited in the third episode, nothing of substance happens until years later.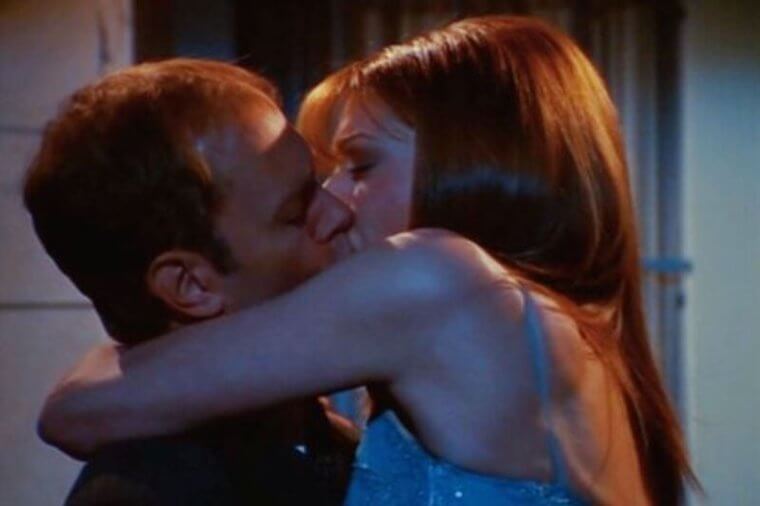 Niles spends years hiding his feelings, and Daphne spends years choosing not to see the truth. However, in season seven, the show reveals the gravity of the tension in a confession which leads to a passionate kiss - and a surprise for the viewers.

The Love Triangle in American Hustle
The dramatic love story of con artist, Irving Rosenfield (Christian Bale), his mistress, Sydney Prosser (Amy Adams), and his wife, Rosalyn Rosenfield (Jennifer Lawrence), is the backbone of the show's narrative. While Irving Rosenfield's relationships form the center of most of the story, it's the kiss shared between the two women that comes as such a surprise.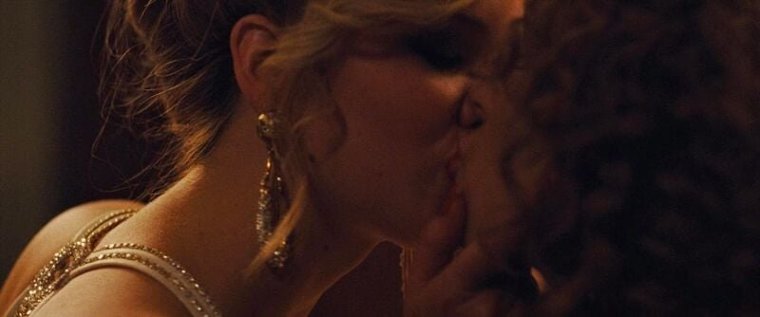 Amy Adams came up with the genius idea of the two ladies sharing a kiss and mentioned it to the director. However, when Jennifer Lawrence angrily kisses Amy in front of the camera, it was a complete surprise. The kiss worked out perfectly and the moment was wonderful.