IKEA has changed the game when it comes to DIY furniture. Their stuff is so easy to put together, looks really cool, and doesn't cost an arm and a leg—making them the top furniture store for decades. Their designs are always so innovative and their stuff is super versatile, too! You can use it for all sorts of different things—as you will see from some of the cool things they've come up with in this article.
Now That Books Are Digital
People aren't reading as many physical books as they used to, so bookshelves aren't really as necessary. But instead of getting rid of that old bookshelf you've got lying around, why not give it a new purpose and transform it into something that works better for modern times? Use it to store your vinyl records, magazines, or any cool stuff you've collected. And if you're feeling really crafty, you could even give it a new paint job or new hardware.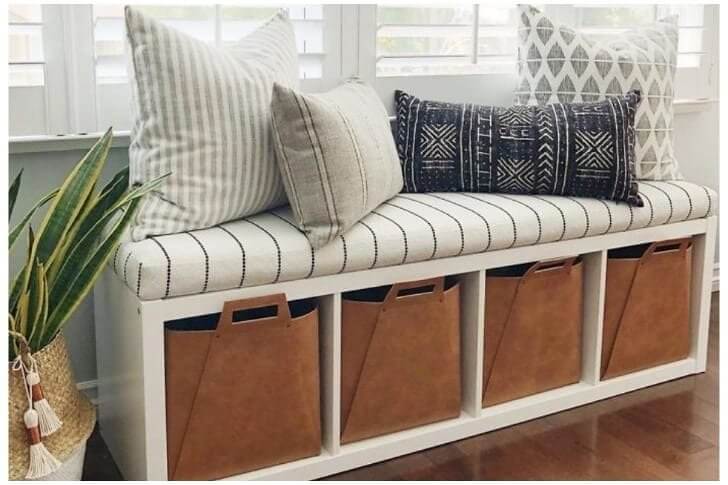 You can also turn an old bookshelf into a room divider, a plant stand, or even a bar cart. That's right, with a little imagination and some elbow grease, you can give that old bookshelf a whole new lease on life.  Check out the pic above—it's proof that with just a foam mattress and some pillows, you can turn a bookshelf into a cozy place to sit. Just lay it on its side, and voila! Plus, you can still use the shelves for storage by adding some drawers.

A Special Place For Your Kitty
If your furry friend needs something a little fancier than just a plain old litter box and pillow, then check out IKEA's LURVIG cat house. It's super comfy and perfect for napping (but not meant for a litter box!). You can jazz it up with a scratching post or some toys to keep your cat entertained. Plus, if you stick it on a shelf or wall unit, your kitty can have a whole new level to jump around and explore, making it both fun and cozy for your beloved pet.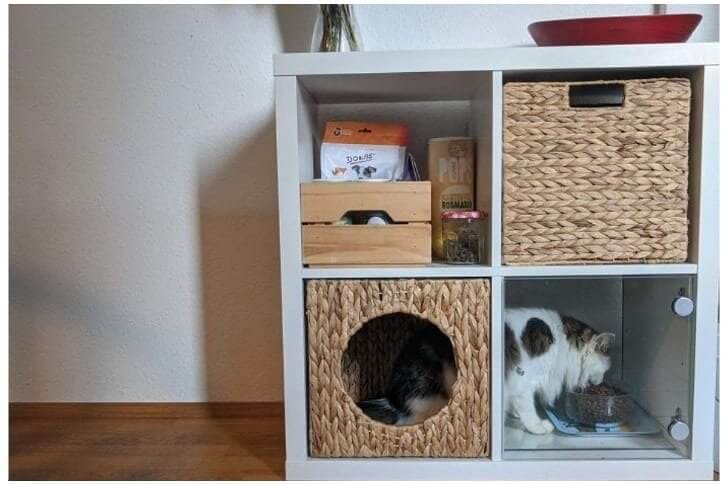 With these cat houses, your cat can have a cozy little spot all to themselves. All you have to do is remove one of the panels from the shelving and customize the cat house to fit. The other shelves can then be used to store cat food and other items, just make sure they're properly sealed up to keep everything clean and tidy.

DIY Your Own Vintage Chest Drawers
Antique furniture adds a unique charm to any room, but it can be hard to come by and expensive to buy. But with some DIY skills, you can create your own vintage-inspired furniture without having to raid your grandma's house for her old stuff. it's actually possible to achieve an antique look using IKEA products and DIY techniques.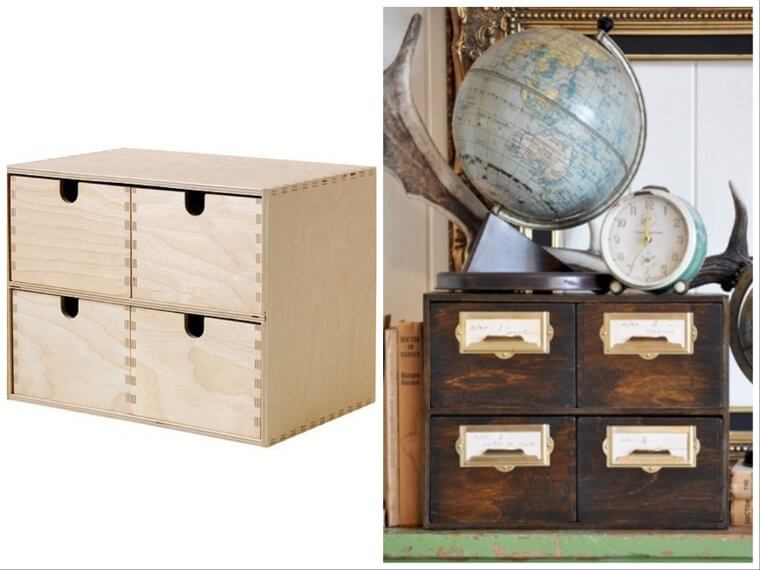 One amazing hack you can see pictured here. Use oak or pine card file drawers and apply a wood-colored stain. Then wipe some of the paint away to thin it out and give a faded and authentic vintage look.

Create Your Own In-Home Bar
Who wouldn't want a personal bar or a juice bar at home? But, space constraints and limited resources can make it seem like an unattainable luxury. However, with a little creativity and resourcefulness, setting up a home bar may not be as impossible as it seems.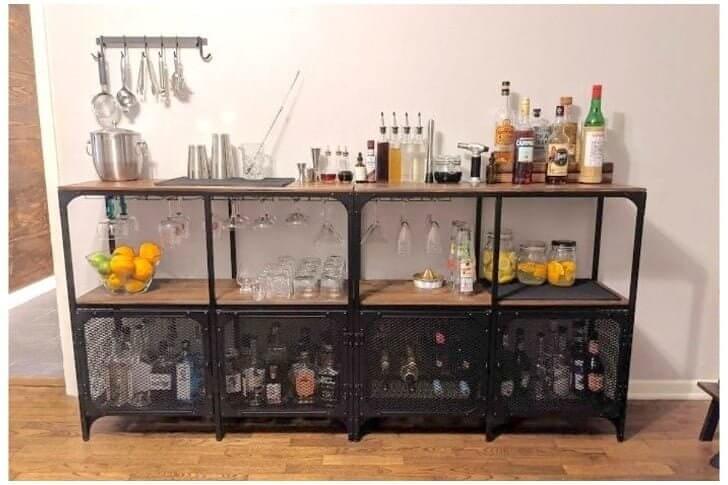 It's impressive how a bit of creative thinking can transform ordinary shelving into a remarkable mini bar with ample storage space for beverages and cocktail mixers. Clever glass hangers positioned beneath the top shelf and mesh gates acting as cabinets for other bottles make for a neat and organized setup.
A Patio For Your Cat-Io
The cat's reaction to the cat house may vary depending on their preference for small spaces. Since cats are nocturnal hunters, they usually wander around the streets at night. However, during the day, cats are known to enjoy lounging in the sun.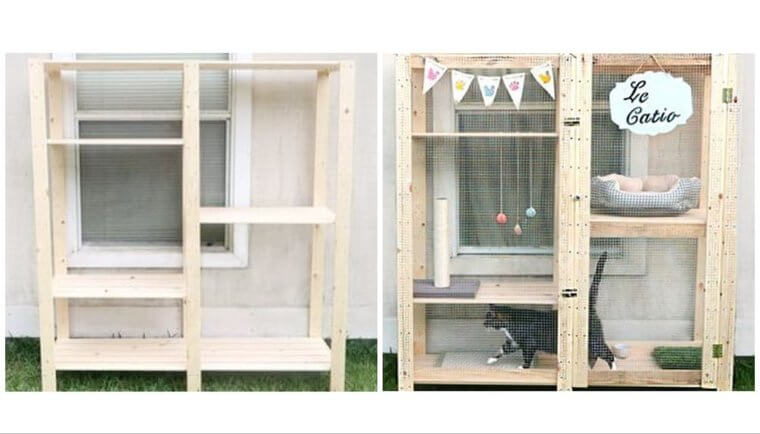 The catio is a perfect place for cats to hang out and soak up some sun while feeling safe and comfortable. All you need to create one are some shelves. In this picture, you can see two Hejne shelves and chicken wire used to create a secure space for the cats. Add, some of their beloved toys, and your cat will be both safe and entertained!

Make Bedtime Fun For Your Little One
After a long day at work, all anyone wants is a comfortable bed to rest in. However, children have different needs. For them, having a bed that's fun and sparks their imagination is crucial. In a child's room, a bed isn't just for sleeping - it's also an essential part of the room's playtime and creativity.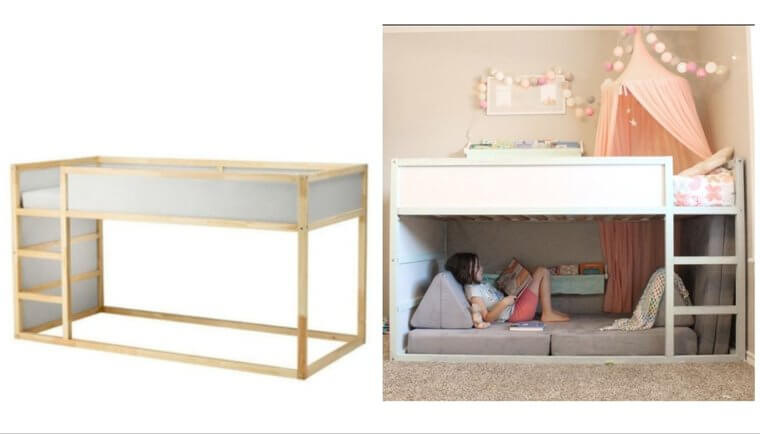 Nothing says bedroom fun quite like a floating bed. It's tons of fun and also puts space to efficient use. Due to the fact that the bed is so high, there is more floor space to use. Plus, these designs are convenient for extra storage, and importantly, there can be no monster under the bed because all of the fun toys are there.
Mess-Less, Stinky-Less, Litterbox
Cats make for low-maintenance pets. Other than feeding them and cleaning their litter boxes, they are relatively undemanding, except for occasional cuddles. However, an unkempt litter box is not something you want your guests to stumble upon when they drop by your place.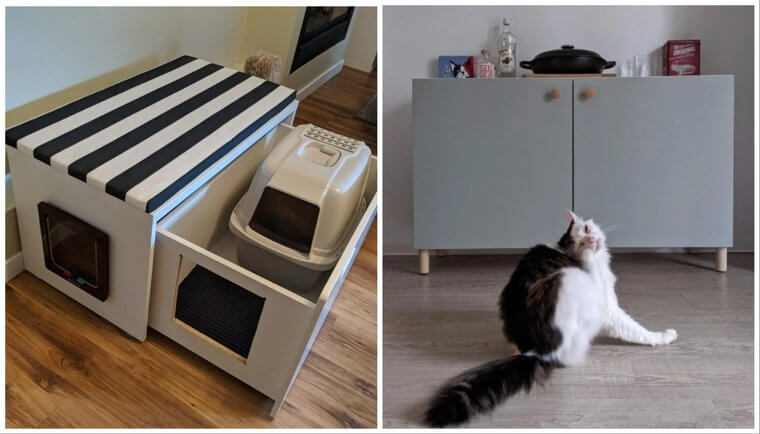 Well, no worries, because the IKEA Friends Bench has got your back! This bad boy can hold your cat's litter box and keep it out of sight. Plus, it has a handy sliding door for easy access. Teaching your furry friend to use the litter box is a piece of cake too. Just show them where it is and give them a treat when they use it like a good kitty. Easy as pie!

Revamp Your Cupboard To Be More Chic
We all have our basic bedroom and kitchen necessities covered, but let's be real, who wouldn't love to have a cool and practical cupboard in their living room to store all their dinnerware? The only thing holding us back is the cost of getting another cabinet. But hey, a girl can dream, right?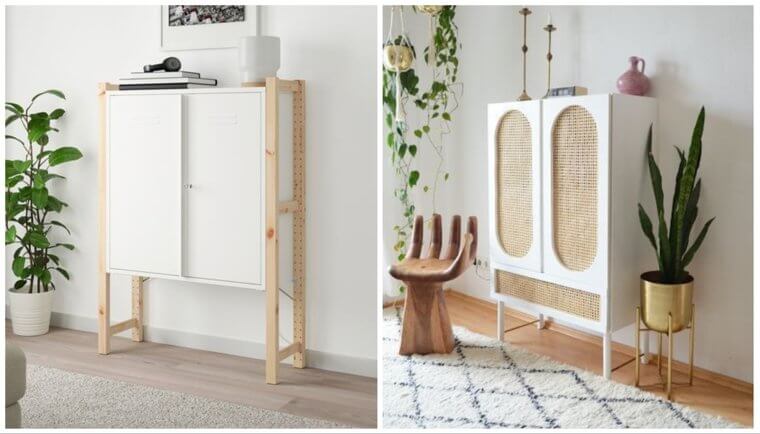 Unless, of course, you're ready to get a little creative like this sweet cupboard hack. Starting off as a plain old IKEA IVAR cabinet, you can transform it into a total showstopper by swapping out the doors and adding some design flair. Just check out the woven basket door and the mesh filling on those oval doors - so chic and functional, right?
A More Mini-Bar
Got a cozy little apartment that's not exactly party central? No worries, we've got the perfect solution for ya - check out this mini bar! It's made from a super clever hack using a glass laptop stand that doubles as a desk, complete with a nifty little nook for storing stationery or books, depending on your mood. So next time your friends come over, you'll be all set to whip up some killer cocktails in style!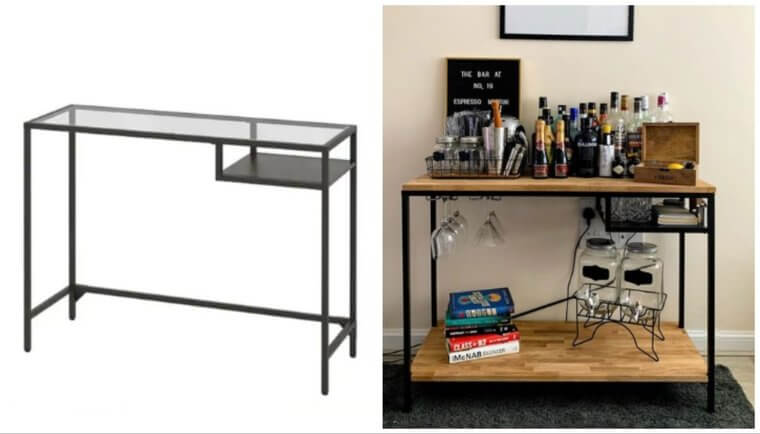 Check out the amazing transformation of this regular old glass laptop stand into a totally cool mini bar! The glass got swapped out for a sturdy wooden plank that can hold all your drinks, and the bottom platform gives you even more space for storage. It's pretty epic to see what a little creativity can do!

Grown-Up Beds Should Be Fun, Too
So, we talked earlier about how important beds are in a kid's room, but let's not forget about us grown-ups. We may not need our beds to double as a play space, but we still want something that looks and feels awesome. Unfortunately, a fancy-schmancy solid wood bed can cost a pretty penny and leave you broke.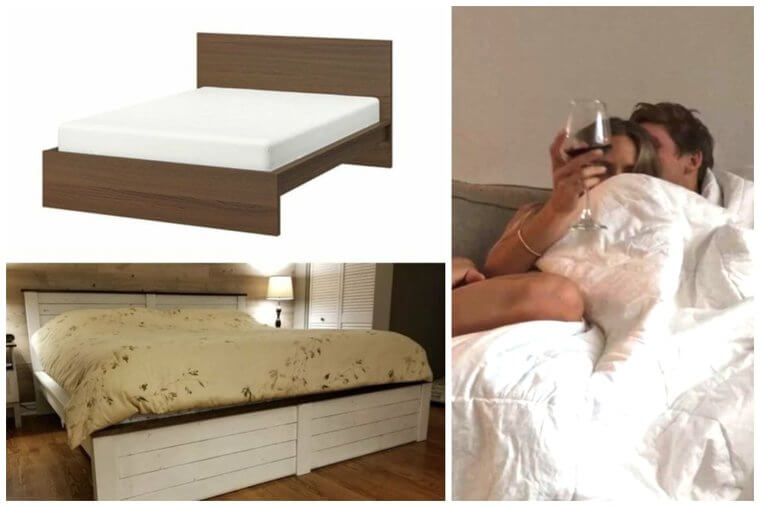 Although the owner's IKEA bed was already stylish and modern, he felt that it lacked a certain rustic charm and could use some reinforcement. So, he carefully removed some of the wooden slats from the bedframe, painted them white, and reattached them. The result was a bed that not only did he get an instant style upgrade but it made the bed even stronger than before.
No More Changing Stinky Diapers On The Bed
Welcoming a new baby into the world is without a doubt, one of the most joyous moments for any parent. But, it's no easy job. Despite the countless parenting books and vlogs, the truth is that no one has all the answers when it comes to raising a child. Thankfully, there is at least one clever hack that can make a world of difference for new parents.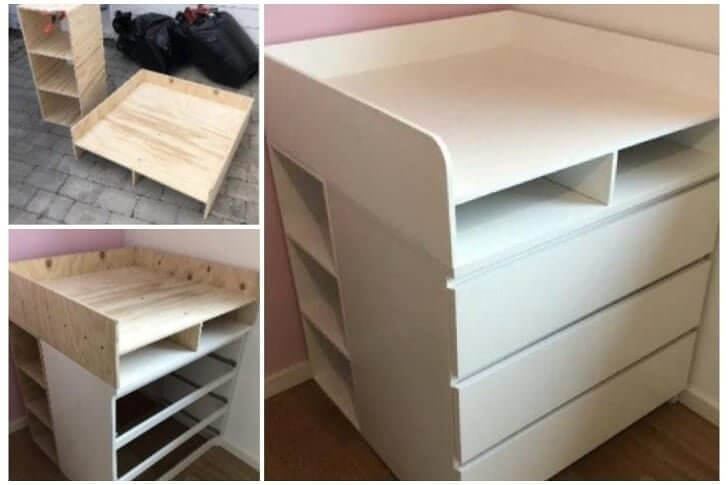 While IKEA offers dressers with built-in changing tables, it is also possible to create a DIY version with a little creativity and a few IKEA products. By simply taking the base of a set of drawers and placing it on top instead of at the bottom, a functional changing table can be easily created.

Make A Glass Table Looks Hundred of Dollars More
Wood and glass have always been a classy and stylish combination, but marble is on another level of impressiveness and it never goes out of style. Unfortunately, it is also notoriously expensive due to its weight and the labor-intensive process involved in cutting it.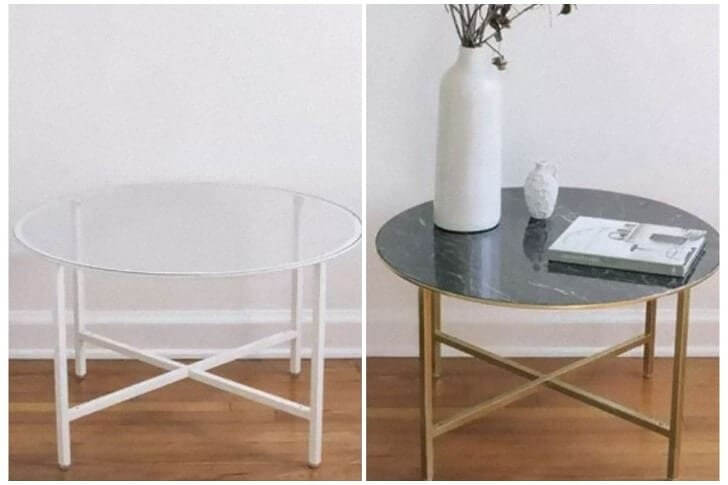 Getting a stylish marble table can be expensive due to the weight and the cost of cutting the material. However, there is a cost-effective way to get a dupe of this luxurious look. Like this creative creator, a Vittsjö table from IKEA can be transformed with stick-on paper that imitates the appearance of marble. This will for sure impress your friends when having them over.
Feng Shui Your Own Way
Incorporating plants in interior design has been a long-standing practice in the realm of feng shui. From letting in natural light to using specific colors, there are many things to consider when planning to create the ultimate living space for yourself. One principle that stands out is the use of plants to enhance the energy flow in a room.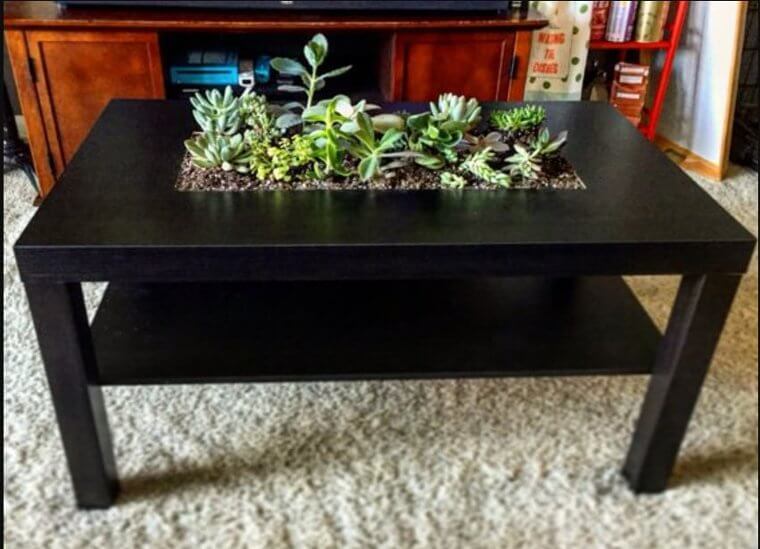 A clever trick that takes this to the next level is creating a mini garden within a table. The work is pretty simple: carve out a rectangular space in the table and fill it with a soil box and plants. This is a unique approach to combining nature and interior design in your home. Not only does it add a touch of green to the space but also improves the overall energy and balance of the room.

More Bookshelf Hacks To Display Your Coolest Items
If you're tired of using your bookshelf just for storing books, check out this cool DIY hack! By adding some legs to a flipped-over bookshelf, you can turn it into a table that also offers some extra storage space. It's a great way to repurpose old furniture and give your home a unique touch.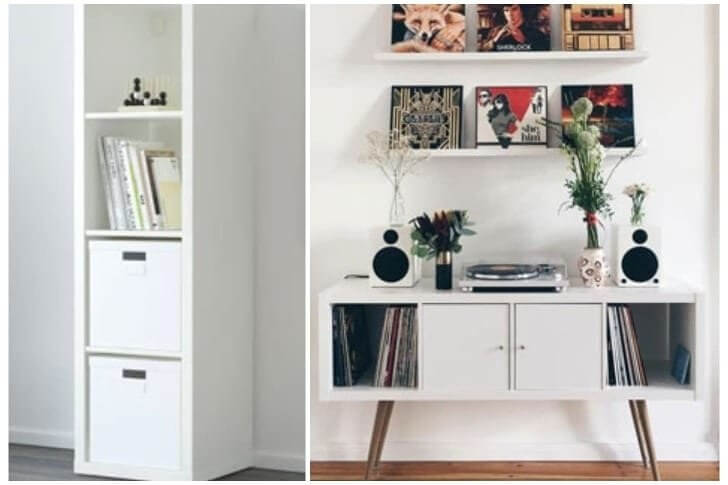 It's funny how things come full circle. Remember when everyone said vinyl records were dead because digital music was the future? Well, it turns out vinyl is back and bigger than ever! In fact, last year alone, over 27 million LPs were sold in the U.S. That's a whopping 27% of all album sales! And what's even cooler is that people are finding new and creative ways to display their records, like this Kallax Shelf turned table. Who needs books when you have vinyl, am I right?
Spice Up Your Keyholder
Losing keys can be quite frustrating, but as the saying goes, "a place for everything and everything in its place." That's exactly what the genius behind this hack had in mind when creating a designated spot for the one thing we're always searching for.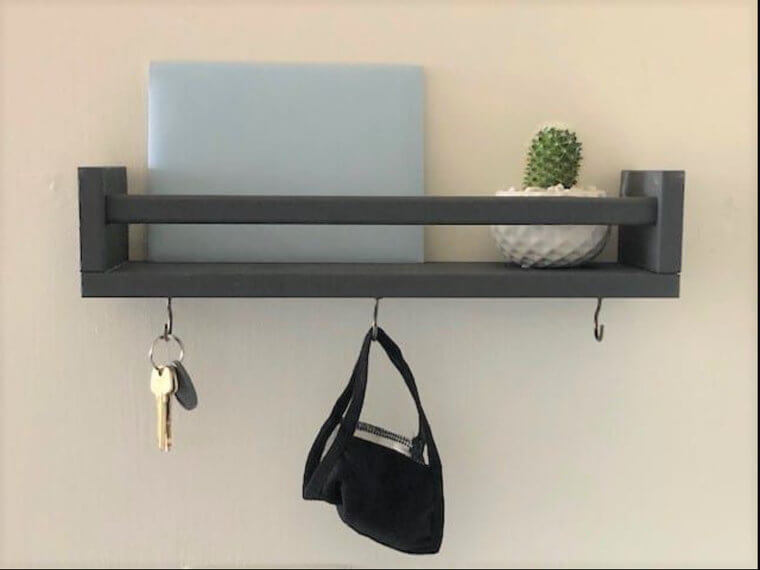 This clever person found a new purpose for their IKEA Bekvam racks! They turned them into keyholders by attaching magnets to the bottom of the racks. Plus, they discovered that the same spot is perfect for hanging sunglasses or anything that can be securely hung. At the top, fill it up with plants or sunglasses and other items you need to grab quickly before going out or when getting in.

A Family Who Works Together...
In 2020, with lockdowns and quarantines in place, many people had to adapt to working from home. This led to the rise of home offices. But with limited space, it can be difficult for more than one working-from-home adult to have a dedicated workspace.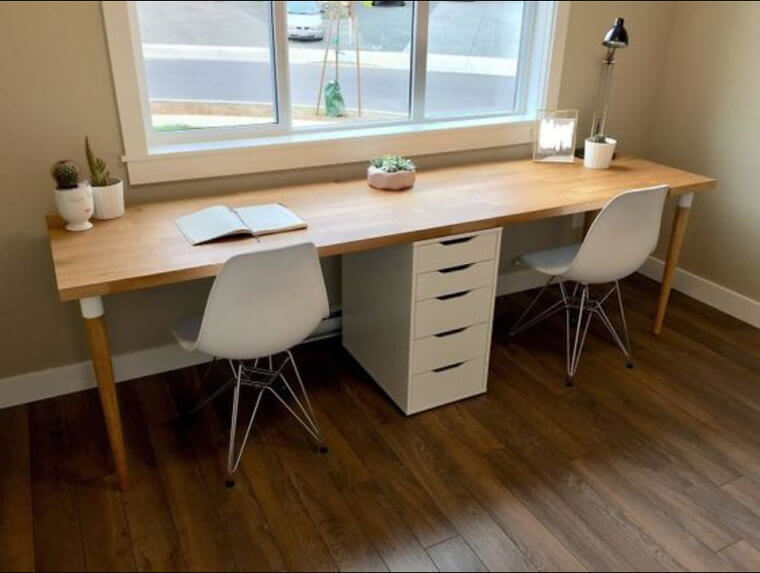 However, this couple found a solution by embracing the idea of working side-by-side at home. They came up with a clever hack to turn one of their floors into a shared workstation, using a filing cabinet from IKEA to separate their workspaces. This is a smart approach, especially considering the increase in breakups and divorces during the lockdown period.
Anything For Your Little Princess
However, this couple found a solution by embracing the idea of working side-by-side at home. They came up with a clever hack to turn one of their floors into a shared workstation, using a filing cabinet from IKEA to separate their workspaces. This is a smart approach, especially considering the increase in breakups and divorces during the lockdown period.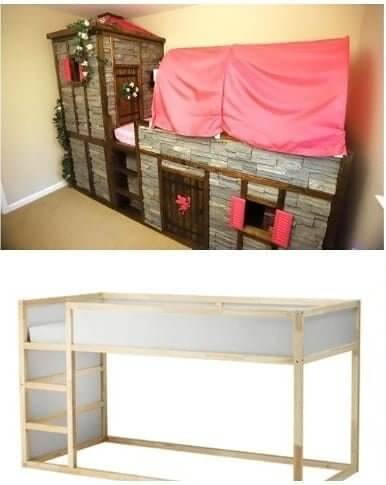 But all that hard work paid off, as the end result was truly impressive. The little girl must have been over the moon with her new enchanted forest castle bed. And who knows, maybe one day she'll pass it down to her own daughter!
Give Your Furniture That Midas Touch
When you're trying to make your living space feel more exciting, sometimes a little DIY magic is just what you need. It's not always about following the latest trends, either - sometimes adding a touch of old-school charm can make a room feel cozier and more inviting. Plus, making changes yourself is usually cheaper than buying new furniture or decor!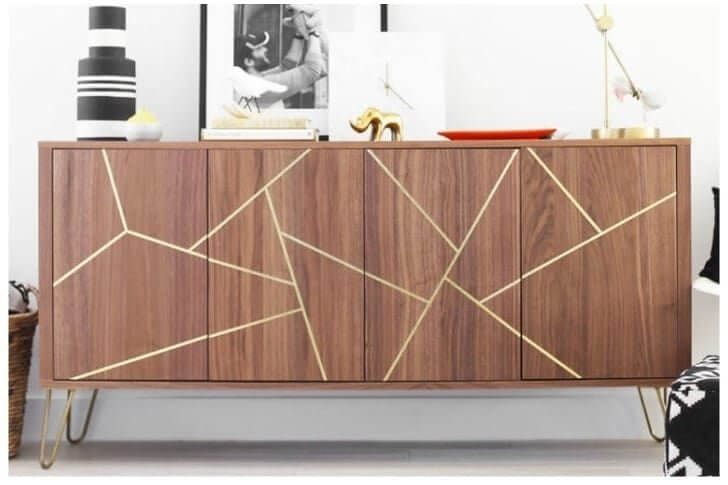 Check out this DIY hack for adding some glam to your furniture without breaking the bank! A simple golden tape costing around $10 can transform a dull cabinet into a stunning retro piece that perfectly matches the rest of your decor. Not only is it a cost-effective way to spruce up your space, but it's also a fun and creative project to take on.
A Playpen For Your Furry Friend
Cats are known for their love of heights, which is why they often climb curtains, cupboards, and walls when they're outside. They're famous for always landing on their feet because they're always coming down from high places. And if there's one thing that cat owners know, it's that their furry friends need a place to climb and play indoors as well. That's where this clever DIY playpen for cats comes in.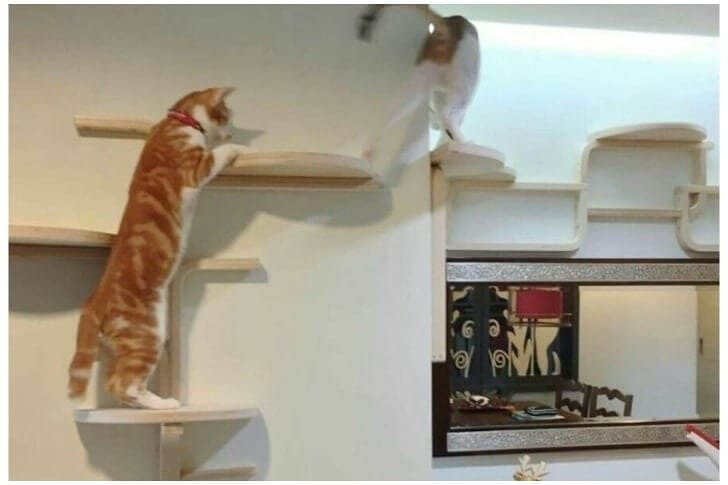 That's exactly what one clever cat owner did using IKEA Frosta stools. By attaching the stools to the wall using their interlocking legs, this DIY cat playpen was born. Not only does it provide endless entertainment for the cats, but it also helps keep them active and in shape. Who needs expensive cat trees when you have a bit of creativity and a few IKEA stools?
Doing Laundry Without A Hassle
When doing your laundry, why settle for a boring and bland look when you can make it look cool and functional? One creative solution is to cover them in a single wooden cover, which not only looks sleek but also keeps them close together. Plus, the top of can serve as a handy folding station for your freshly laundered clothes. Who knew laundry day could be so stylish?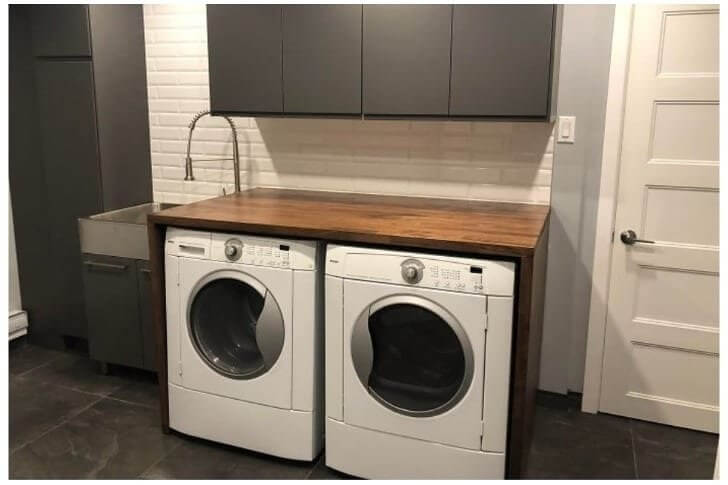 You can easily achieve this idea using Karlby wood veneer countertops from IKEA, which is both simple and cost-effective. All you need to do is stack three of them together to create a perfect enclosure that fits both appliances snugly. This way, you can keep your washer and dryer close together and make your laundry room look cool and stylish.
DIY Hanging Plants
Hanging plants are believed to help people think more clearly, improve memory, and reduce stress levels. Plus, they add a natural touch of greenery to your home decor that can liven up any room. So, why not give it a try and see the positive impact it has on your home and well-being?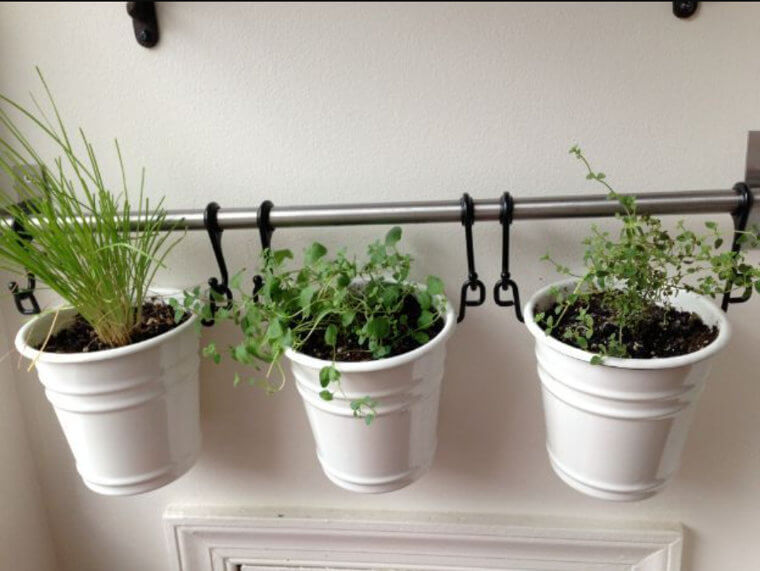 Creating a green and serene space in your home doesn't have to be complicated or expensive. With IKEA's Racka poles, you can easily make your own hanging plants to add a touch of nature to any room. Forget about traditional curtains, and instead, suspend your leafy friends from these poles to save valuable floor and surface space while adding a unique artistic element to your decor.
Make Your Kitchen Look Fancy
We're not sure which is smarter: the leather straps holding the pole or the fact that brown paper is being used as a kitchen menu for the week's dinner plans. Of course, this isn't the only thing that could be used in that role, with paper towels and foil just some of the other options.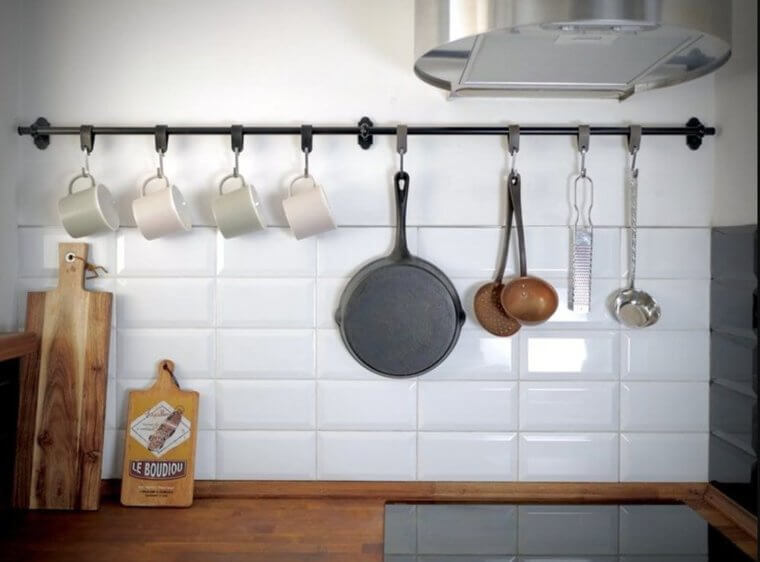 Leather straps have many versatile uses. They can be attached to drawers as pulls or even mounted under cabinets as key holders. The best part is that they come in various colors, so you can choose the perfect one to complement your decor.
Do Right With White
In some cases, people prefer to stick with white for everything. There's just something about white that gives a sense of cleanliness and purity, and it tends to bring brightness to a space. Plus, since it's a neutral color, it pairs well with anything. When in doubt, going with white is always a safe bet.
White is often considered the go-to color for those who want a clean and versatile look in their homes. It's also perfect for future DIY paint jobs, as white serves as an excellent base color. In this photo, a plain IKEA chest of drawers was given the royal treatment by adding some gold paint in between the drawers. This easy modification transformed the simple white chest of drawers into a more sophisticated piece of furniture.

Add An Edge To Your Home Office
When quarantine hit, many people were caught off guard without a home office. But for those who got creative, they found ways to make it work. Take this guy, for example. He made sure he had everything he needed in his makeshift office, including a place to put all his stuff.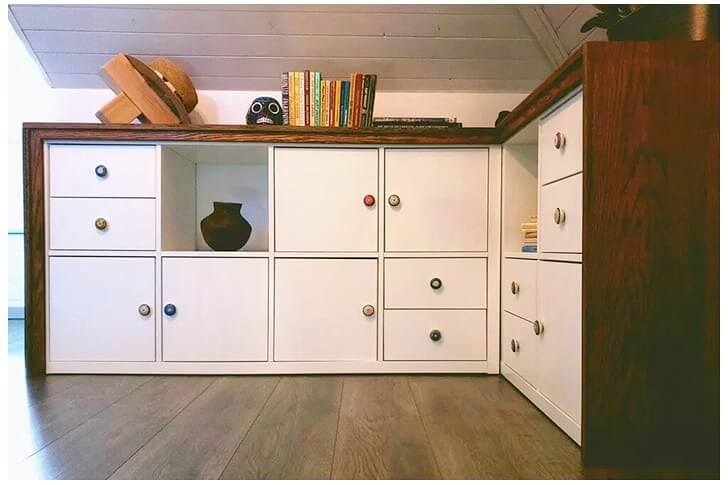 This person made the most of the IKEA Kallax cubes to create various storage solutions for their home office. The cubes, which are normally used as shelves, were converted into cupboards, drawers, and other storage compartments, providing ample space to store and display items. They are truly versatile and can be used in many different ways beyond their original purpose.
Give Your Best Friend A Helping Hand
We've all seen those videos of dogs attempting to jump onto the bed but failing. At first, it's funny, but then we start to feel bad for the poor pup. The dog in this picture had the same issue, but luckily, his owner came to the rescue.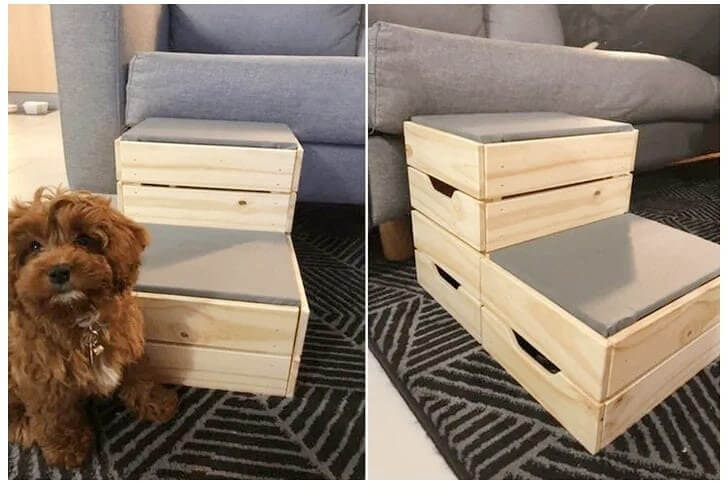 Instead of purchasing a dog step, the owner repurposed storage crates by flipping them upside down, adding some padding on top, and creating an easy-to-use step for her dog. The crate step not only fulfilled its intended function but also added an aesthetic appeal that matched her home decor.

A Table For Any Number of Guests
If you have a small apartment, it can be quite a bummer to have people over for a game night or a dinner party. You might only have room for a small table, making for a pretty uncomfortable time. This is where you'll need to put your creativity to use.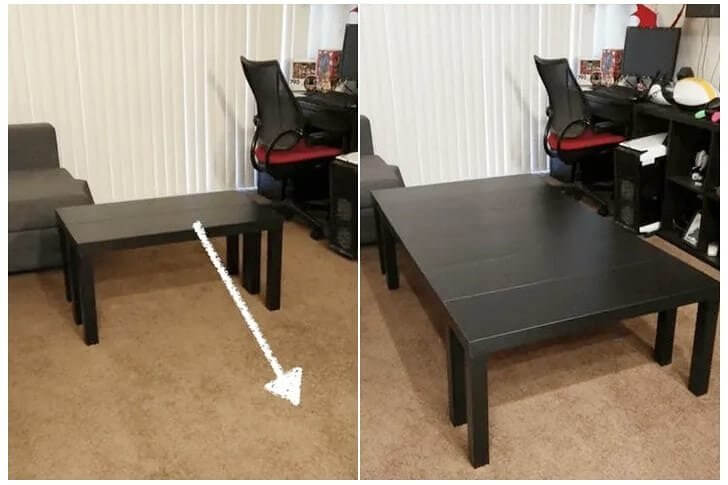 To solve the problem, this person got creative with a couple of IKEA Lack TV benches. Instead of buying a large table, he removed the bottom shelves of the TV benches and attached them to the top, extending the table surface. This simple hack allowed him to create a larger table for hosting. When not in use, the selves are simply removed and the benches go back to their original size.
A 2-In-1 Deal
While we may not have access to futuristic technology that can create instant workbenches or body suits, it doesn't mean we can't create similar items using some DIY tricks.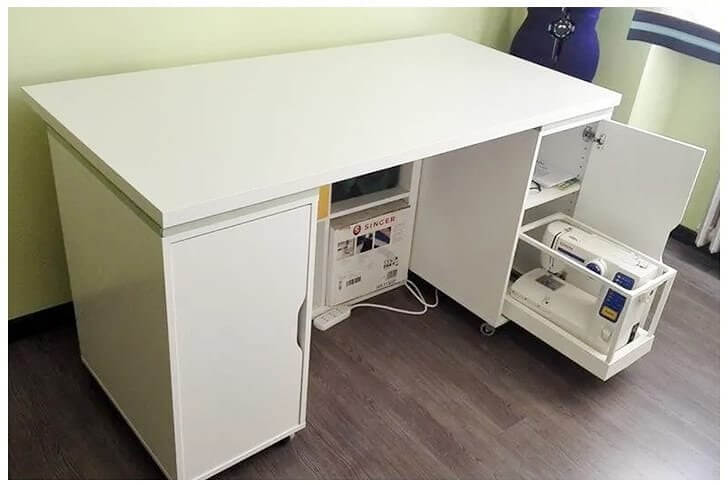 IKEA products are great for mixing and matching to create custom designs, and in this instance, a person combined Kallax pieces with two Alex units and an Ultrusta tray pull-out to create a fold-out workstation for a machinist. To complete the design, they added a Linnmon countertop, resulting in a futuristic workspace.
Even The Iconic Ikea Bag Can Be Reused
This bride took a DIY approach to solve the problem of keeping her wedding dress train off the ground. Rather than relying on her bridesmaids to lift the train, she came up with her own solution.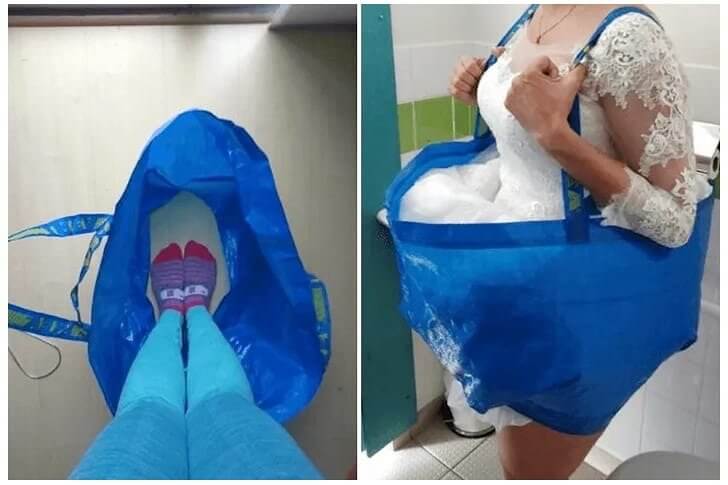 It's a creative solution for a common problem that many brides face. Instead of relying on her bridesmaids to hold up her dress while she used the bathroom, this bride came up with a DIY solution. She cut a hole in an IKEA blue bag, put her legs through it, and pulled it up while placing the straps over her shoulders. This allowed her to keep her mermaid dress clean and made her bathroom run less stressful.
If You Wanna Show Off Your Greatest Collection
Having a large collection of shoes can quickly become a space-consuming problem, particularly for women who have a weakness for shoe sales. However, one savvy shoe enthusiast found a clever solution to prevent her collection from overtaking her home. Her plan not only showcases her shoes but also adds to the overall decor of the space.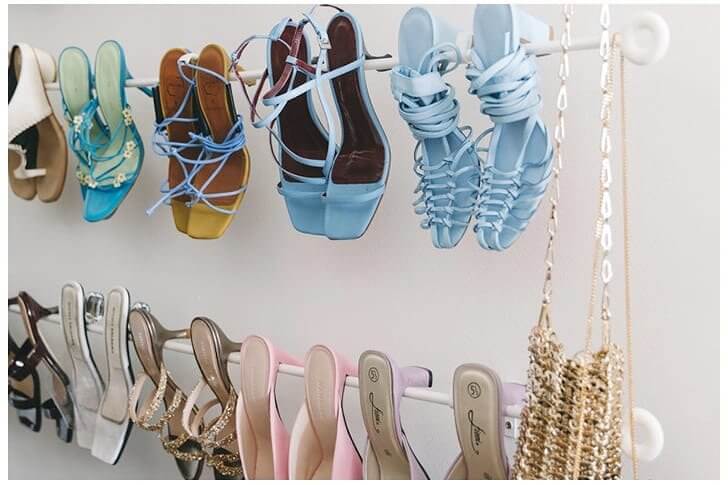 Using curtain rods purchased from IKEA, she cleverly utilized them to hang her heels, allowing her to save a lot of closet space. This not only solved her shoe storage problem, but also gave her an opportunity to showcase her impressive collection to guests, leaving them impressed with her unique decor solution.
Are You An Artist? This Hack Is For You
Adding a personal touch to your home decor is always a fun idea, especially when it involves art. And with IKEA, it's even easier! Their furniture pieces are thoughtfully designed and simple to modify, plus, they often come in white, giving you the perfect blank canvas to showcase your artistic flair.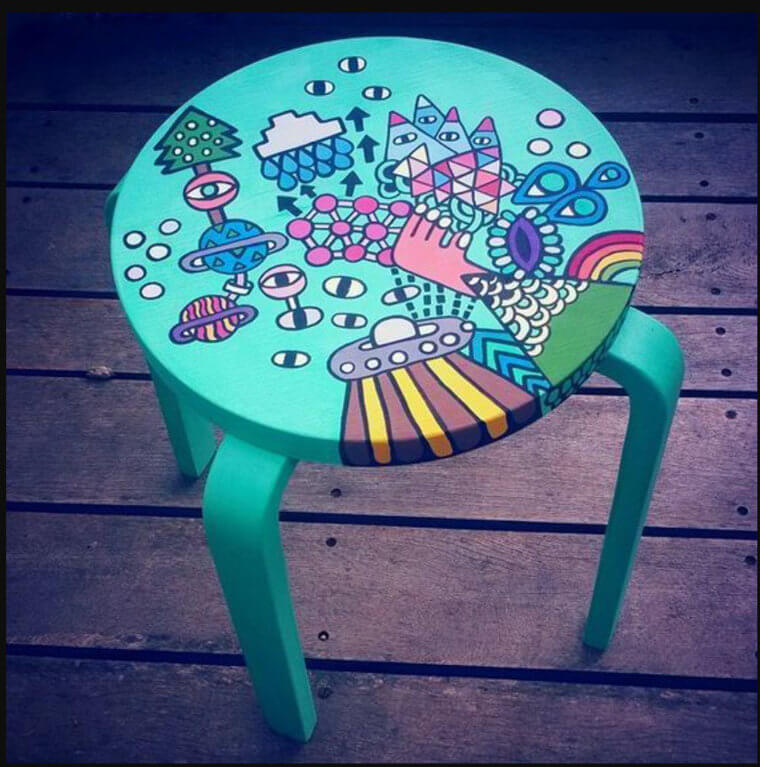 One creative individual took advantage of this opportunity and decided to showcase her artistic side on some IKEA Frosta stools. The end result is a set of stools with silhouettes of faces, which could be seen as abstract art or a more detailed design, depending on your perspective. If you're feeling inspired, there are tons of ideas and tutorials online to help you get started on your own DIY art projects.
Maximize Your Workspace
When you're short on space, you've got to get creative. That's exactly what this clever person did when they put together a workstation using a floating shelf, some drawers, and a pegboard. The end result was a seriously impressive setup that could hold all of their essentials in one convenient spot.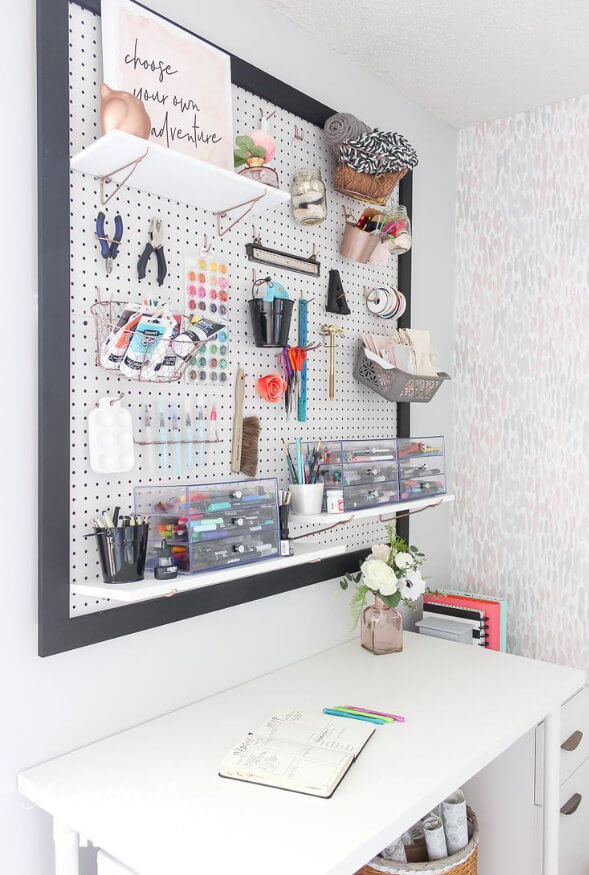 The best part was that none of the parts were permanently attached. So if she ever needed to clear some space for a party or get-together, she could easily disassemble it. This gave her ample space for dancing, mingling, and maybe even setting up that portable bar we mentioned earlier. It was a versatile solution that worked for both work and play.
The Most Practical Ikea Piece
As we've already discussed, IKEA Kallax units are the MVPs of versatility. They're made for one purpose but capable of so much more. We've seen them transformed into a storage bench, table, and now, a couch - complete with storage space.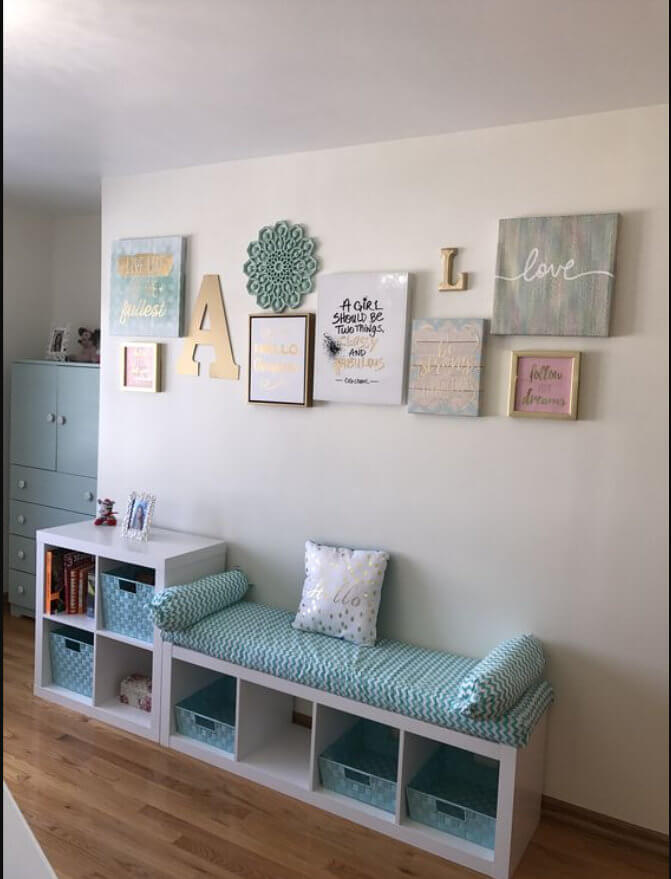 It's quite ironic that IKEA, a Swedish company, provides the perfect opportunity for minimalism. The concept of Scandinavian minimalism, which aims for practicality and decluttered elegance, aligns perfectly with the brand's products. The Kallax, in particular, is an excellent example of this attractive and practical design.
Oldie But Goodie
According to the IKEA website, the Billy bookcase is supposedly sold every five seconds somewhere in the world. Although it's unclear if this is true, the popularity of this simple design speaks for itself since it has been around since 1979. And the best part is that it can be transformed into more than just a bookshelf with its versatility.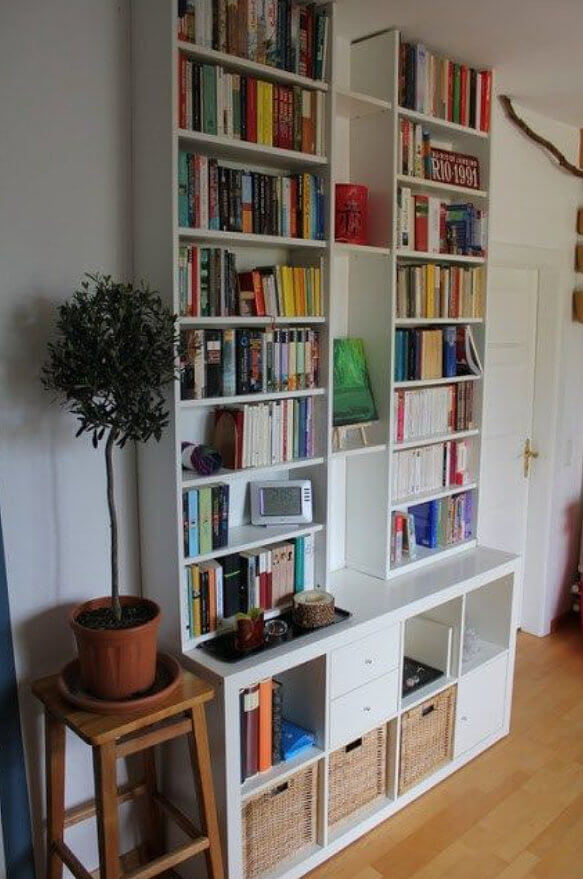 You might need some help from an expert, but turning a simple IKEA bookcase into a cool interior feature is totally doable. All you need is an extra bookcase, some paint, and some rearranging of the shelves. The only tricky part is making sure the wall can handle the weight of everything you want to store and display.

Make Net Chandeliers
You might need some help from an expert, but turning a simple IKEA bookcase into a cool interior feature is totally doable. All you need is an extra bookcase, some paint, and some rearranging of the shelves. The only tricky part is making sure the wall can handle the weight of everything you want to store and display.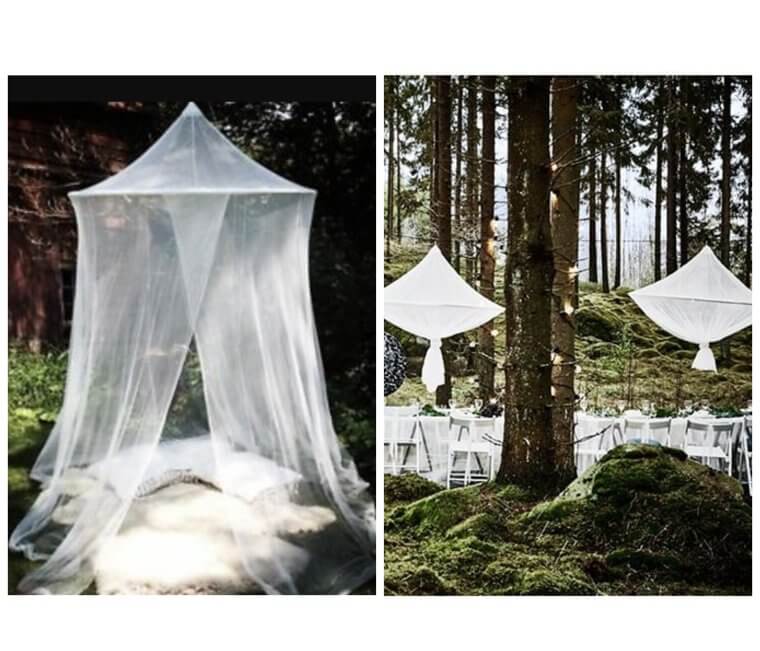 A simple solution is to use a mosquito net, like the IKEA Solig white nets. They're great for keeping pests away from food and your guests. Plus, if you tie them up creatively like in the picture, they can add a cool bohemian touch to your outdoor decor.
Rattan Gives An Authentic Feel
Hey, have you noticed that everyone on Pinterest and Instagram is obsessed with rattan furniture these days? It's so cool! But did you know that people have been weaving palm leaves into all kinds of furniture and crafts for a long time? And get this, these crafts are actually really important for the rural communities in Asia.

Back in 2017, IKEA made a rattan version of their Stockholm chair and people went crazy for it! Not only was it super functional as a chair, but it was also sustainable, which is always a plus. Plus, you could customize the accessories on the chair to match your own personal style - how cool is that? It quickly became a must-have piece for anyone into interior design.
Embrace Metal In Your Furniture
You know how vintage and classic styles are always cool no matter what? Well, nowadays the younger crowd, aka millennials, are doing things a little differently when it comes to interior design. They're all about metallics and trendy colors like rose gold, which you wouldn't normally see in traditional bathrooms. But modern bathrooms are becoming more and more popular.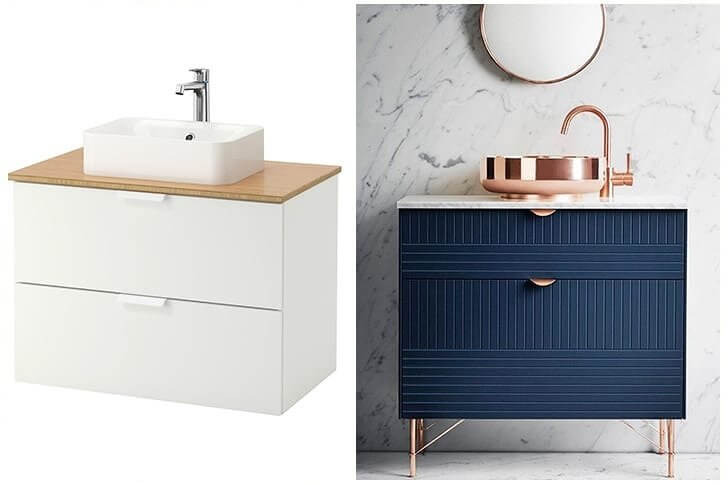 One reason why rose gold is so popular with millennials is that it looks great in photos. Let's be real, who doesn't love taking a good pic for the 'gram? And if you're into that kind of thing, then you'll be happy to know that IKEA has partnered with a company called Superfront to offer some cool hacks and front accessories to help you get that stylish rose gold look in your home.
Books Instead of Plates
The IKEA Havsta organizer is a lounge cabinet that a lot of people love. It's usually used as a display case to show off fancy china and plates that moms and grandmas like to collect. But did you know that it can also be converted into a super useful bookshelf? Yep, if you're a book lover, you can totally repurpose this bad boy and show off your book collection in style!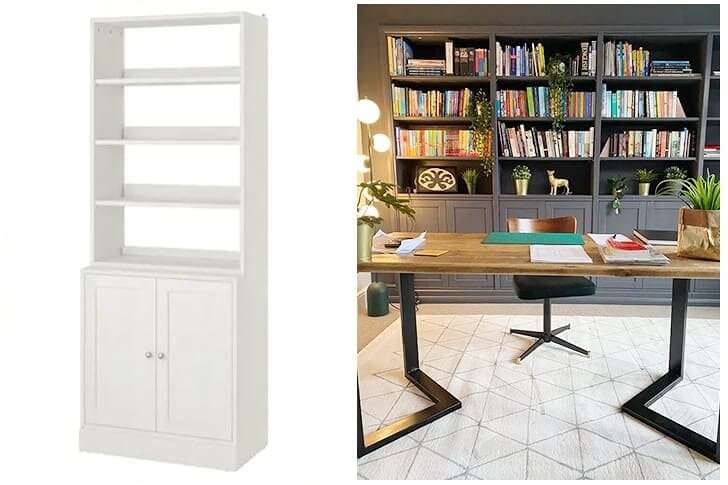 If you're looking to buy a bookcase like the one in the picture, it could end up costing you a lot of money. But with IKEA and a little creativity, you can actually make one yourself! The only tricky part is giving it a nice paint job, but that's nothing a little elbow grease can't handle. The rest of it is simply just four HAVSTA storage units lined up next to one another.
A Small Change For A Big Difference
You know how sometimes a tiny change can make a big impact? Like putting up a picture, getting a haircut, or putting on some lipstick? Well, the same goes for interior design! Check out this bedroom - just by adding some cane sheets to a modern bed frame, the whole vibe of the room is completely transformed!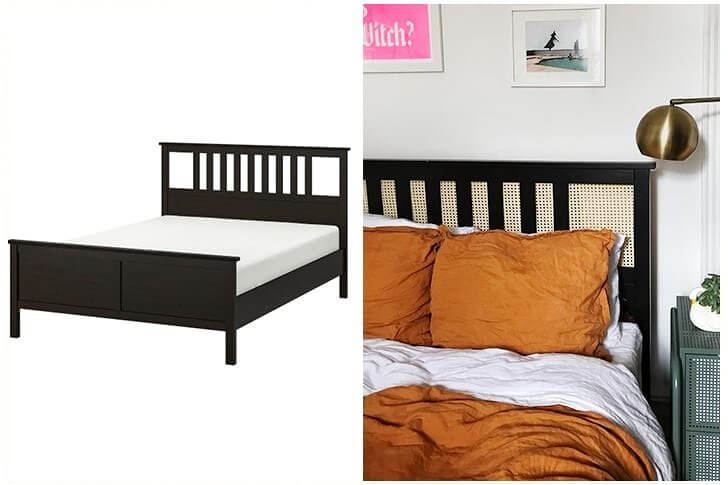 We already know that rattan is all the rage these days, and it's not just limited to furniture pieces - it's also a popular choice for accessories! Another type of furniture that's similar is wicker, which is great because it's lightweight but still cozy - perfect for those chilly winter months. And if you want to add some rattan or wicker to your bedroom, it's super easy! Check out this bed - all it took was some sheets and a staple gun to give it a trendy new look.
Stain Your Own Cabinet
You know what's great about plain wooden items? You can totally dress them up however you want! That's because they come ready to be customized. IKEA is a big fan of this - they offer a lot of furniture made from plain oak or pine, so you can let your imagination run wild and make it your own.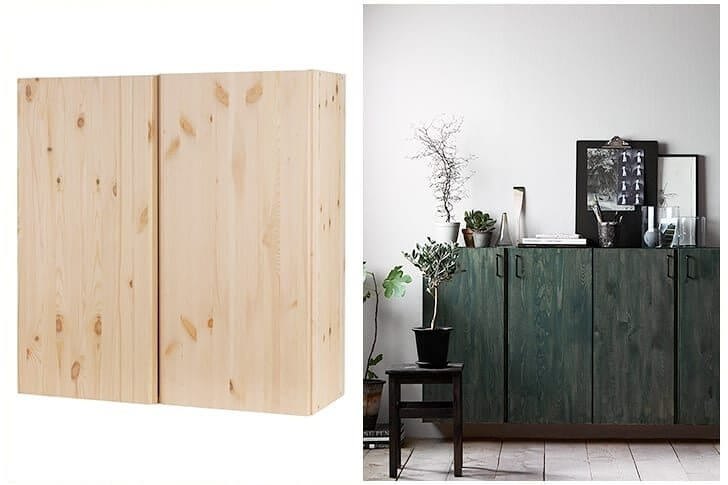 Transforming plain wooden furniture is actually super easy - all you need is a bit of paint or stain! Depending on the look you're going for - vintage, rustic, modern, or something else - you can easily customize it to fit your style. But before you get started, it's important to decide whether you want to paint or stain. The difference between the two is that paint sits on top of the wood to add color, while stain is absorbed into the wood to give it a colored finish.
Match Your Sofa to Your Room
Have you seen the Ekebol sofa from IKEA? It's seriously impressive! This sofa is perfect for small spaces since it's designed to save space. And get this - it even comes with a bottom shelf that's great for storing magazines, TV guides, or anything else you might need while lounging on the couch (especially if you're still into regular TV). IKEA really knocked it out of the park with this one!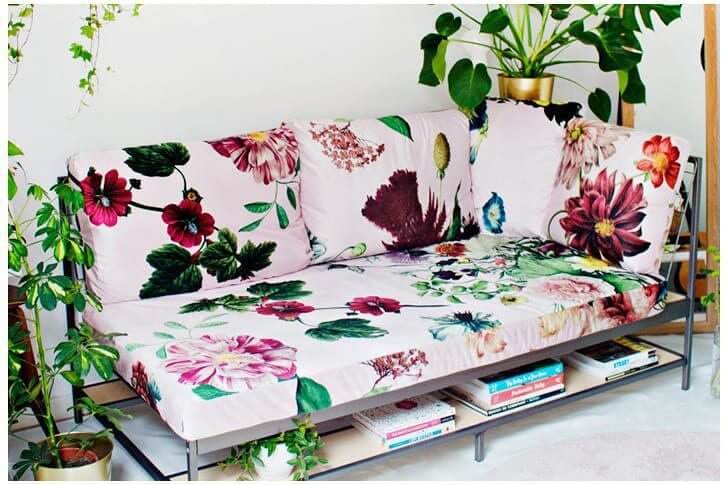 The best part about the Ekebol sofa from IKEA? You can totally switch up the pillows! The original cushions might be a bit underwhelming, but no worries - you can easily change them out for something more your style. Just keep in mind that it might not be super easy to find someone to cover the cushions for you. But once you do, you'll have the freedom to create the perfect look for your space.