Some people are too spoiled for words. Instead of asking for a favor like any normal person would, these men and women believe they have every right to demand, offering nothing in return. They feel entitled to almost everything and are willing to go demand freebies as if everyone owes them something. Scroll through this list of people seeking anything from luxurious vacations and expensive gadgets to an elegant horse. These demands are posted so nonchalantly by incredibly spoiled people...
Complimentary Stay at a Five-Star Hotel?
This one hurts our eyes and sentiments for so many reasons. In a world where many are slogging day and night to make ends meet and cannot afford to take a break, here is someone who thinks they simply need to demand a "complimentary" vacation and the universe would conspire to deliver them their free request.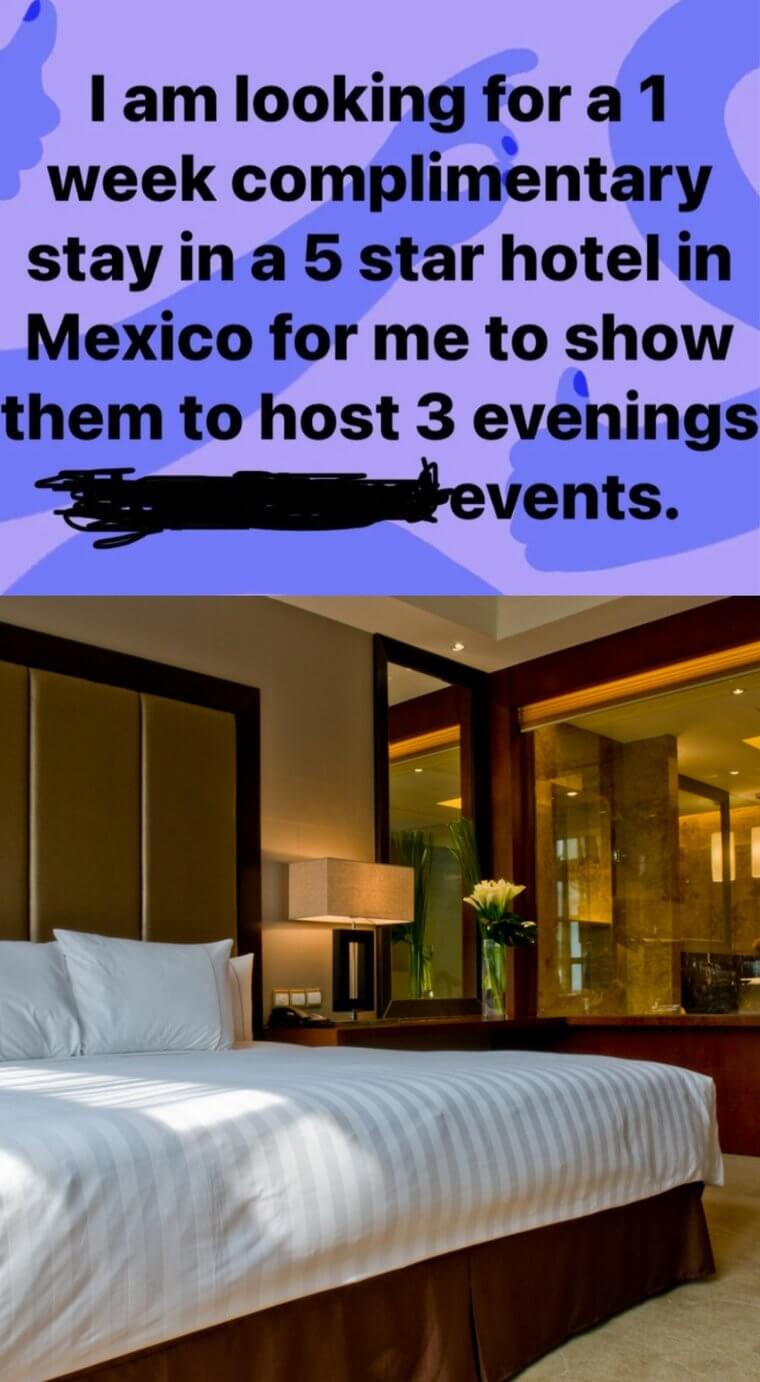 They want a one-week complimentary stay, their words, not ours, at a five-star hotel in a foreign country, Mexico. As a throw-in, they'd host three events for them on the hotel's dime. We are stumped at the audacity of their demand and absolute belief that someone would make this happen for them.
Here's Everything We Want and More
Here's someone looking for a car, a washer and a dryer, a service dog, a deep freezer, a PlayStation, and, wait for it, a house too. They want all of these and more for free. Imagine that! This person feels the entire world owes their family for merely existing on this planet.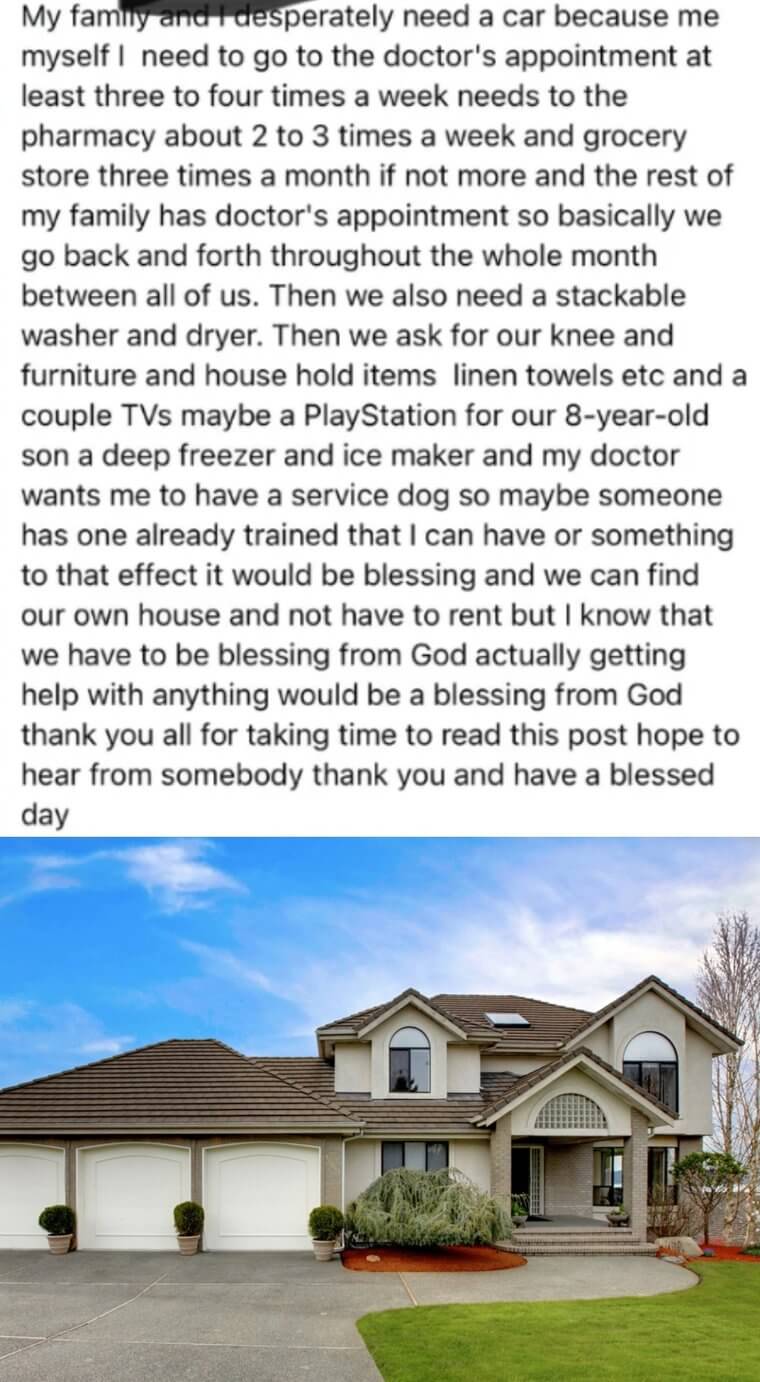 This post basically lists everything one needs to make a home. As if the car wasn't expensive enough, this person has named almost every costly thing one can think of. It makes us curious about how the family has been living so far and why every member has so many doctor's appointments. Blessed be those people who responded to this awfully entitled post.
Rent a Room for Less, Do More
We spotted an ad the other day that had us gobsmacked with how crafty it was. It's supposed to be a rental ad for a single bedroom for $500 a month with access to a bathroom, which according to the owner, is a compromise because the room comes with a few responsibilities.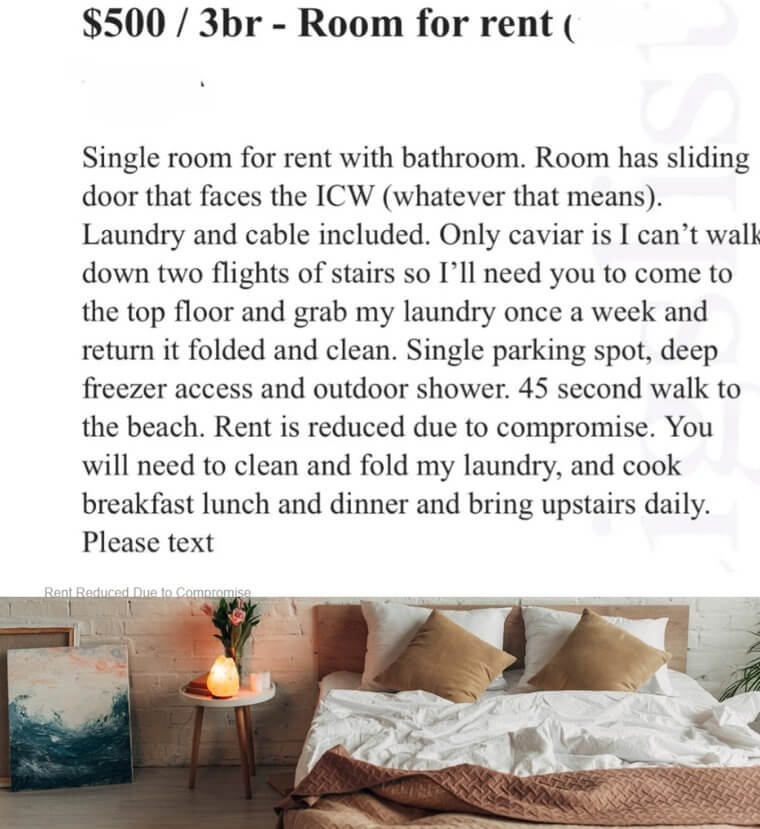 The tenant will have to go upstairs once a week, grab the owner's laundry, and return the neatly folded clothes. Wait, here is the clincher; the person lucky enough to live there paying the reduced rent is also supposed to cook all three meals and take them up to the owner daily. Essentially, this ad asks for a cook and a maid disguised as a tenant.

A Dream Job at a Dreary Wage
Dogs are the friendliest beings on Earth and deserve the best of everything. If you keep one as a pet, you know the drill. They become an integral part of your family; you'd do anything to keep them healthy, safe, and comfortable. When you are at work, you would want someone to take care of your pet, right?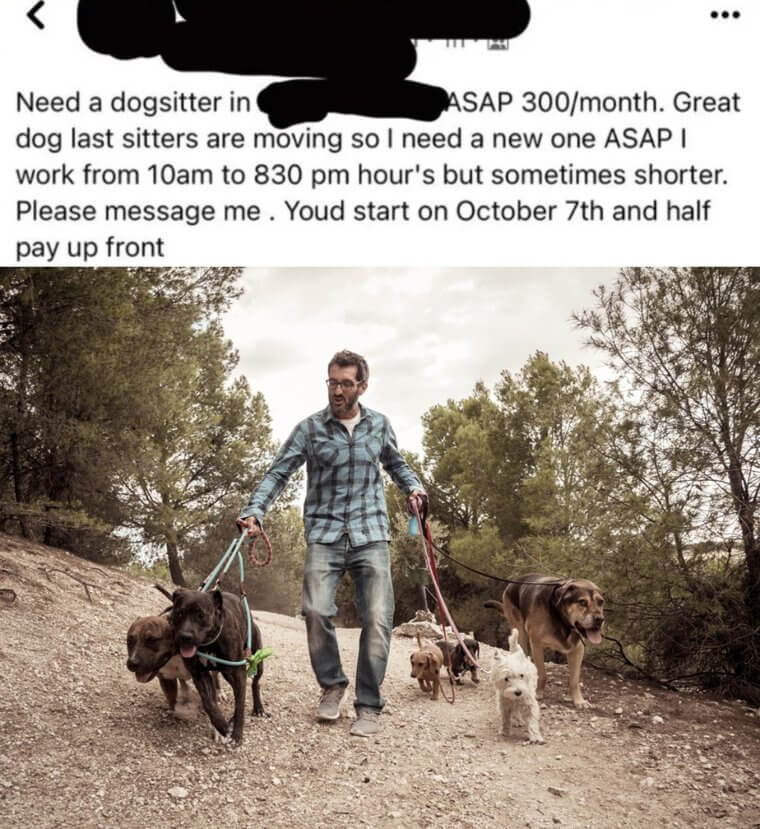 Here is someone who wanted a dog sitter for much lower pay than the norm. Imagine taking care of a pet for over 50 hours a week and getting paid less than a dollar for an hour. Paying $300 a month for walking your furry friend is fine, but dog sitting shouldn't be that cheap.

Great Home Available for a Free Horse
Horses are so elegant you would never tire of looking at them or tending to them. These gracious animals are a great addition to your homes and serve as a status symbol, which is probably why this person was looking for one. Not everyone can afford a good horse, so here is someone who felt the world owed them one.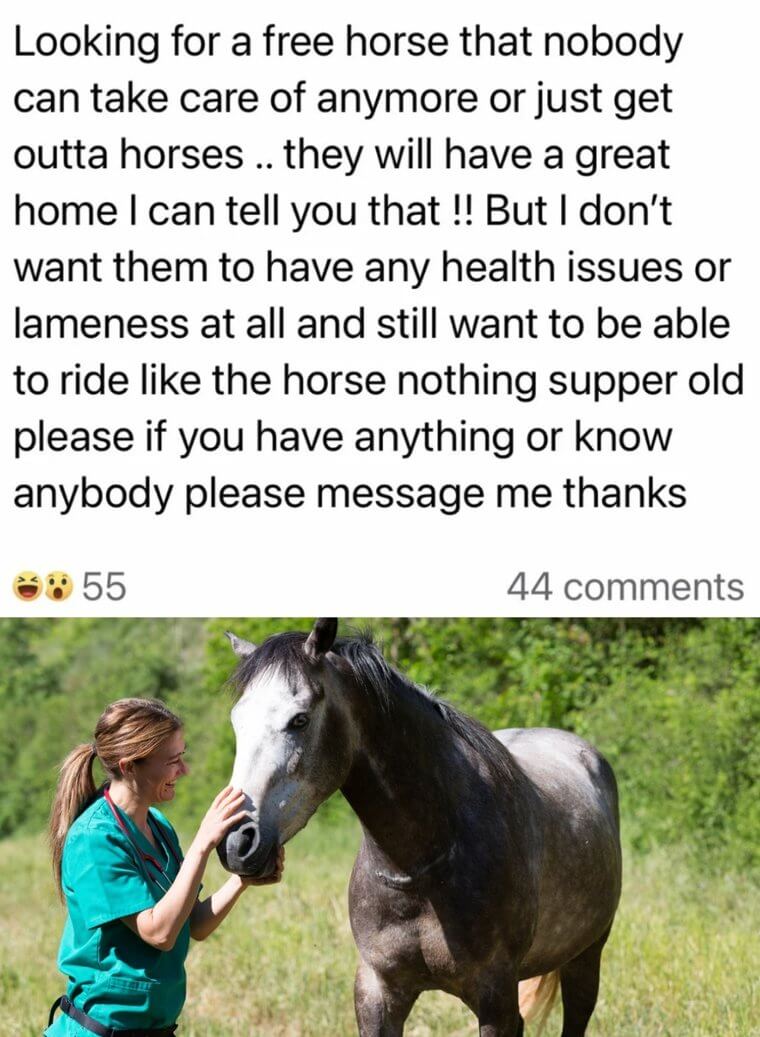 The ad clearly stated how incredibly healthy and "Not-Too-Old" the horse should be. Most importantly, the animal should be fit enough to ride when needed. For someone with conditions galore, they did not want to pay for the honor of owning the fabulous horse.
Pay Up or Go Home
As a freelancer, you have to put up with all kinds of people. Although most of the employers on freelancing platforms are pretty professional, every once in a while, you are bound to come across a spoiled person who believes they are doing you a favor by asking for your services.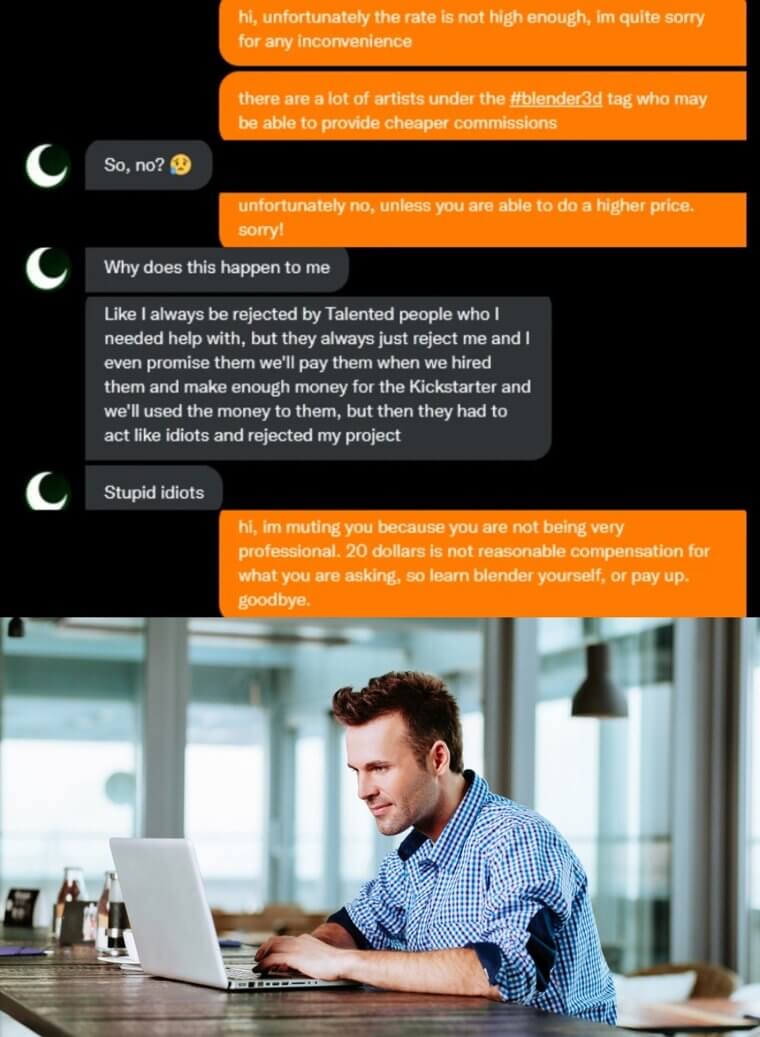 Here's an example. This employer lost their mind when the freelancer declined their offer for the job because of lower compensation. Not only was it less, from the looks of it, but it was also tied up with their project performing well. Moreover, instead of negotiating professionally, they just started acting like a baby.

There's No Free Lunch
One of the things struggling artists and people new to any industry have to face is exploitation by companies and employers. People assume that since a person needs to establish themselves, they will do a job either for free or for very little pay.


That's not how it should be. Not only did this person expect an up-and-coming singer to do a song at their wedding, but they also wanted it to be cheap or preferably free. We believe the singer stood up to them in a befitting manner. If there's no free lunch for the employee, why should there be any for the employer?

As Unique as the Compensation
Creating music is no easy job. First of all, you have to learn the right tools and develop the skillset required to take on the job, which, if we may add, takes years of practice. Besides that, the equipment costs a fortune in itself. In a nutshell, too much effort and money go into the creation of a single piece of music.



Having said that, this listing is just the thing to infuriate an artist. The employer needs 20 tracks, and that too must be entirely unique. The fact that they believe someone would be willing to produce a high-quality track for less than $2 a piece is just insulting to artists.


Just Make Arrangements Yourself
The hardest thing to put up with while selling stuff on social media marketplaces is interacting with buyers who believe they are doing you a service by buying your stuff. It is usually a fair deal because the buyer also gets to buy stuff at a reduced price.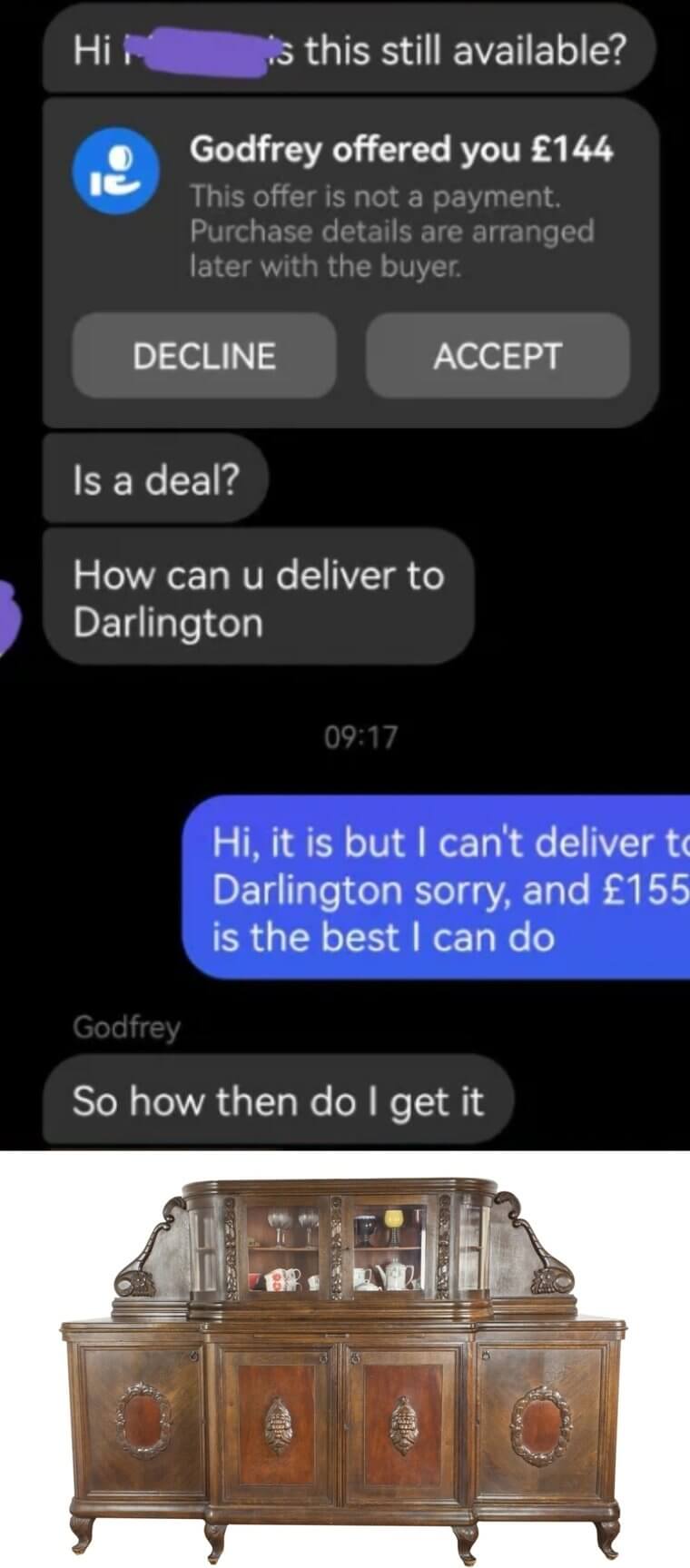 This person here is offering way less than the asking price and then has the audacity to act surprised as to why the seller is not delivering the piece of furniture to their doorstep. If you are paying less, just pick it up or make other arrangements yourself. It's that simple.

Just Look at That Wish List
Starting a new job is both an exciting and scary experience. It is exciting because it opens up a lot of new opportunities and scary because you are worried about your first impression on your coworkers and boss, which undoubtedly goes a long way.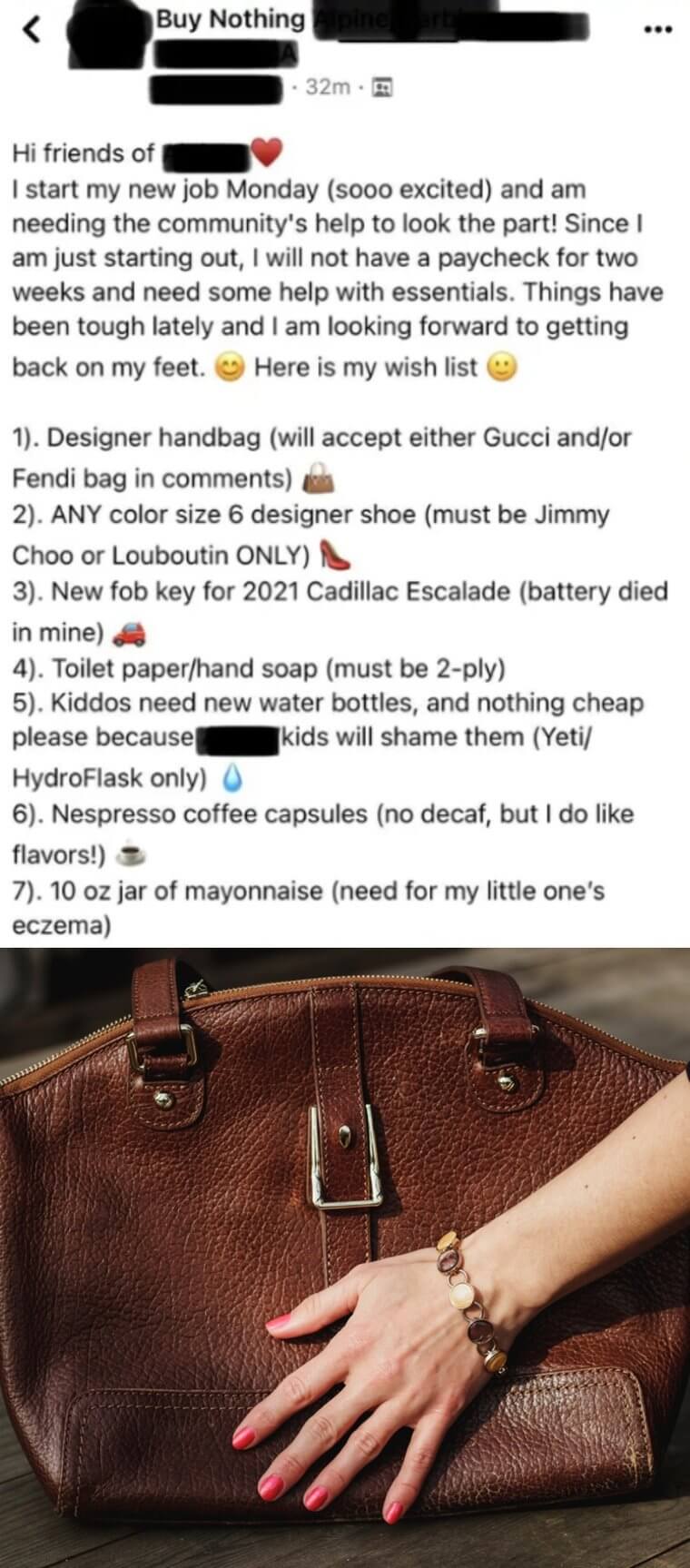 That said, the secret to a good first impression does not lie in designer goods but instead, in being competent. Yet, this lady does not seem to think so. Not only does she not want to leave anything to chance, but she is also determined to get the goods even when she can't afford them. That's one long wish list!

This Is One Outrageous Offer
Just as some people believe that they are doing a service to the other person by buying their stuff, there are some who believe that renting their property out to someone is actually generosity on their part. The person who put up this listing is definitely one of the latter kind.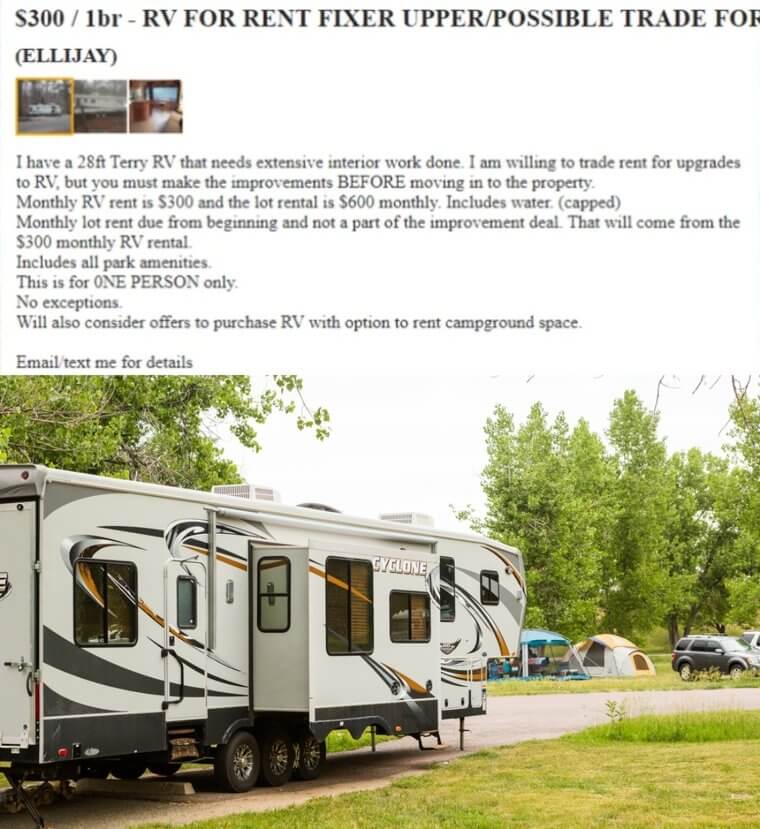 Not only do they want the person renting the RV to pay for interior renovations, but they would also like the work to be done before they move in. Needless to say, anyone in their right mind would hardly consider living here with that outrageous a set of conditions.

At Least She Doesn't Want It Customized
As a person, one should always learn to live within their means. Dreaming big is not a bad thing, but not putting in the hard work and expecting someone else to take care of your wish list is undoubtedly bad. Yet, apparently, some people consider themselves entitled to stuff they cannot afford.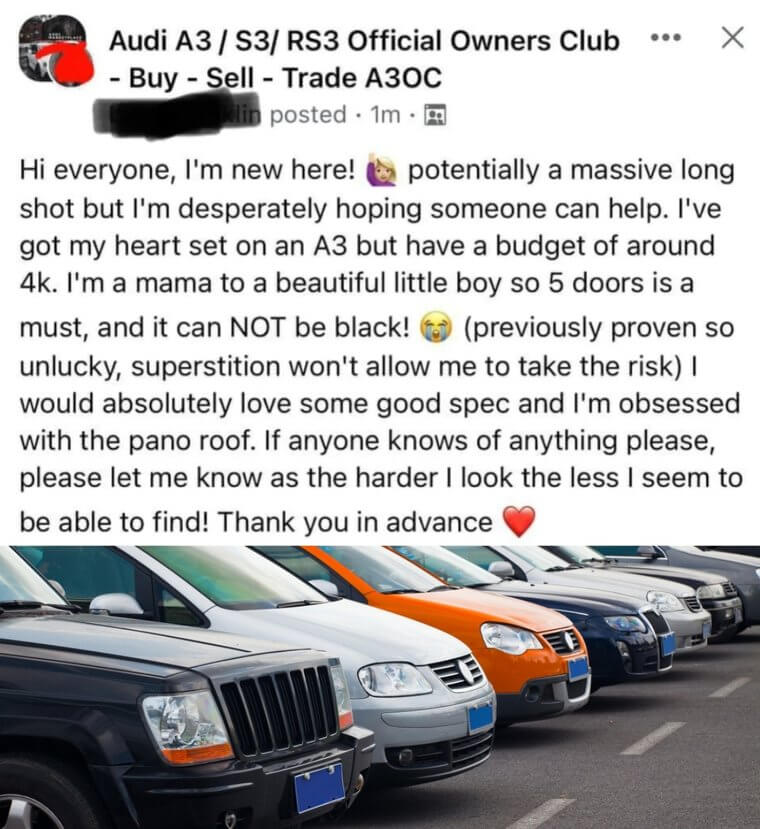 This lady clearly does not have the budget to buy her dream car. Instead of saving up for it, she took to social media to see if someone would help her. The really funny thing is that not only does she want it cheap, but she is also being picky over the color. Maybe we should be happy that she does not want it customized.

Not a Worthwhile Cause
Not giving up your old stuff for sentimental value is undoubtedly a normal thing. Yet, what's not normal is expecting others to clean it up for you without anything in return. While this person wanting to hold on to old memories is definitely commendable, the fact that they want stranger ladies to come and help with cleaning it all up is outrageous.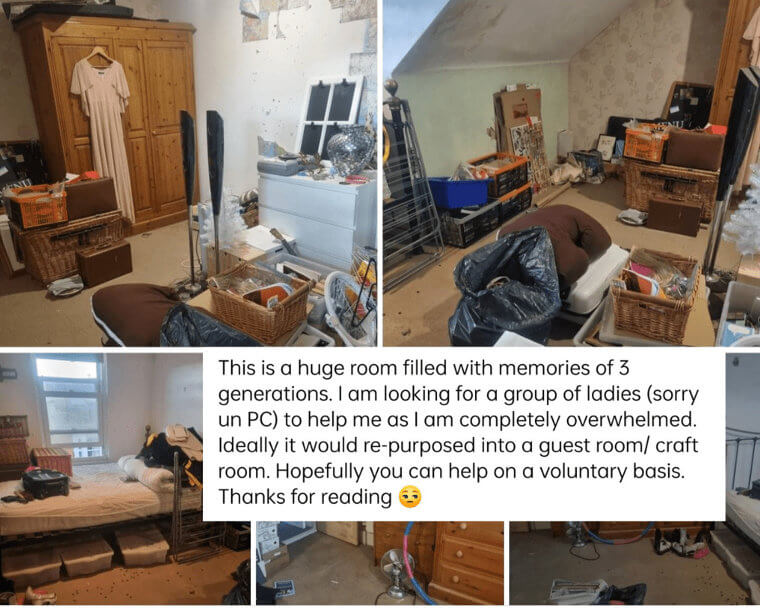 What's more, they sugar-coated it as volunteer work in their listing online. In a world full of deserving people who need volunteers to come help, this is definitely not a worthwhile cause. We believe they should just get off their couch and start cleaning it up themselves.

There Is a Reason They Didn't Turn Up
While it is true that the steepest price tag does not get you the best quality thing, at the same time, it does not mean that you can get good service for peanuts. This person should take a long, hard look at their post and try to figure out why their previous contractor did not show up for the job.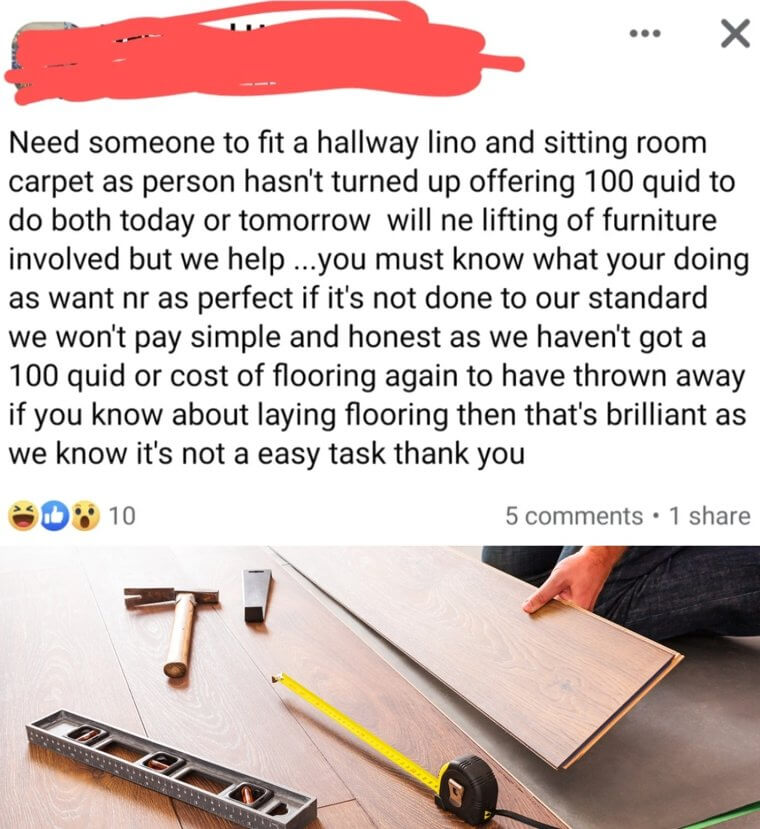 Apparently, they are paying way less for a difficult job. Additionally, they have the audacity to say out loud that if they do not like the work, they will simply not pay up. We get that there should be penalties for substandard work; however, this is not how contracts work.

Do It Yourself, Maybe?
Negotiation is a part of any transaction. Whenever two parties engage in an exchange of services or goods, they have every right to negotiate a better price for themselves. Yet, there is a right way to do it and then there's a wrong one.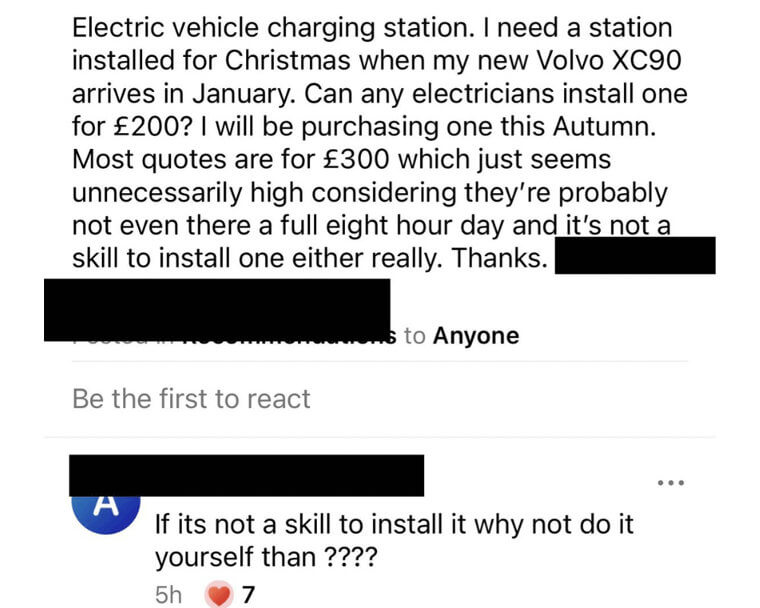 This post is exactly what one should avoid while asking for a lower price. First of all, they are offering way less than the market price for the installation of a charging station. More importantly, they based their argument on their opinion that it wasn't that difficult a job. In our opinion, if it is that simple, they should consider doing it themselves.

Turnaround of Two Days
For us to have the luxury of getting everything one click away, website designers spend a significant amount of time to make the sites user-friendly. Just because one already has designs that need redesigning doesn't mean it could be done with a wave of a hand.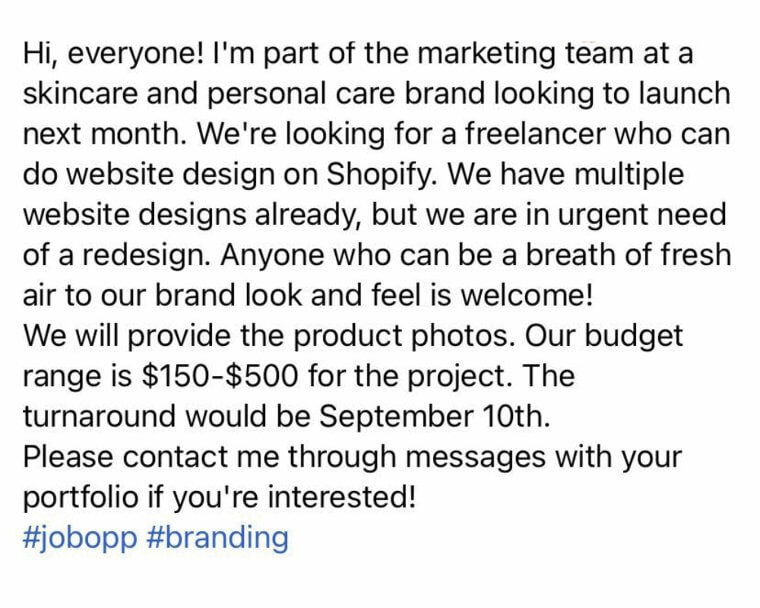 This recruiter wanted a freelancing designer with just two days' turnaround time! The company also seemed to have no respect for people's hard work by offering measly pay for such a top-priority job. They still haven't realized why none of those previous designs were satisfactory.

No Guarantee of Payment
We understand family and friends starting a business together and trusting each other enough to wait for the payments until the company profits. It is, however, wild to expect strangers to do the same for you. Why would anyone be ready to slog for you without any pay?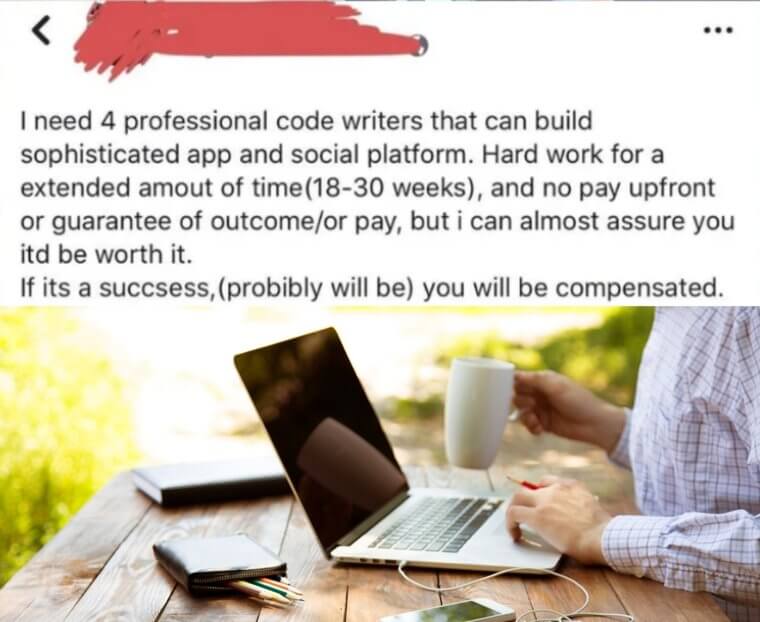 The person here wanted a fully-functional app with a social platform for free! They gave no guarantee for payment but expected the prospective developers to toil for five months. Well, sir, with an attitude like that, your business is not going anywhere.

Charging for Pick Up
When we order products online, we pay extra charges to get them to our doorsteps. So it boggles us to see this parent willing to pay the already discounted price of a swing set only if it's delivered to their house. In a fair world, the seller would have been offered more than their quoted price for this service.


Moreover, raising kids is an expensive job. Parents need to provide them with numerous things to boost their overall development. If you are going to act stingy for a $50 swing set, then you better make it yourself.

Want a Free Cleaning Service
Buying a large property comes with its perks and downsides. On the one hand, you get a vast space to settle comfortably, but on the other hand, a lot of cleaning needs to be done. These include taking down constructions like a barn or a cabin which are either too old to use or are filled with belongings left by previous owners.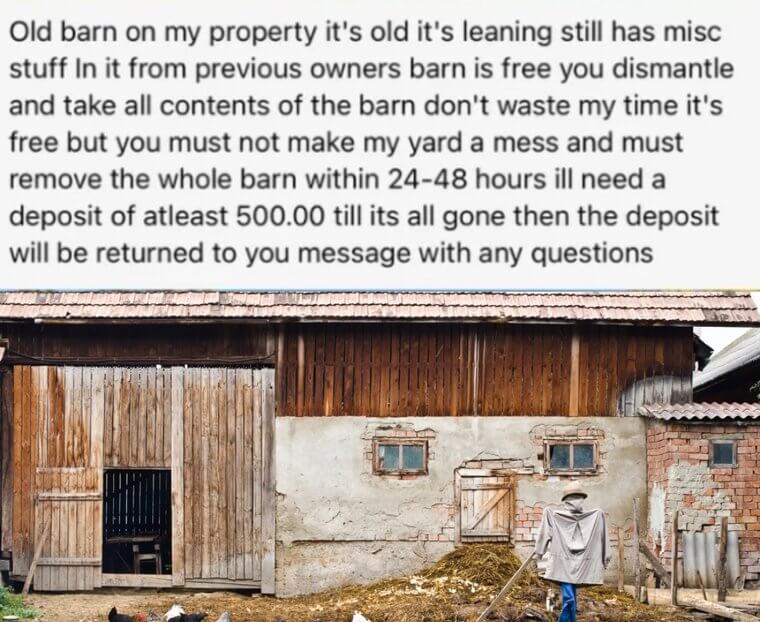 The new owner here outrageously charged $500 to anyone ready to clean the old barn on their property and tear it down within two days. We bet they must have already removed all the valuable items from the barn and have no intention of returning the deposit.

Consider Feedback as Your Payment
Most writers prefer freelancing; hence, remote working is their most convenient option. It's easy to find writing jobs online, but one should be updated about the industry standards regarding payments before applying for them. Many, especially beginners, fall into the trap of more work and less pay.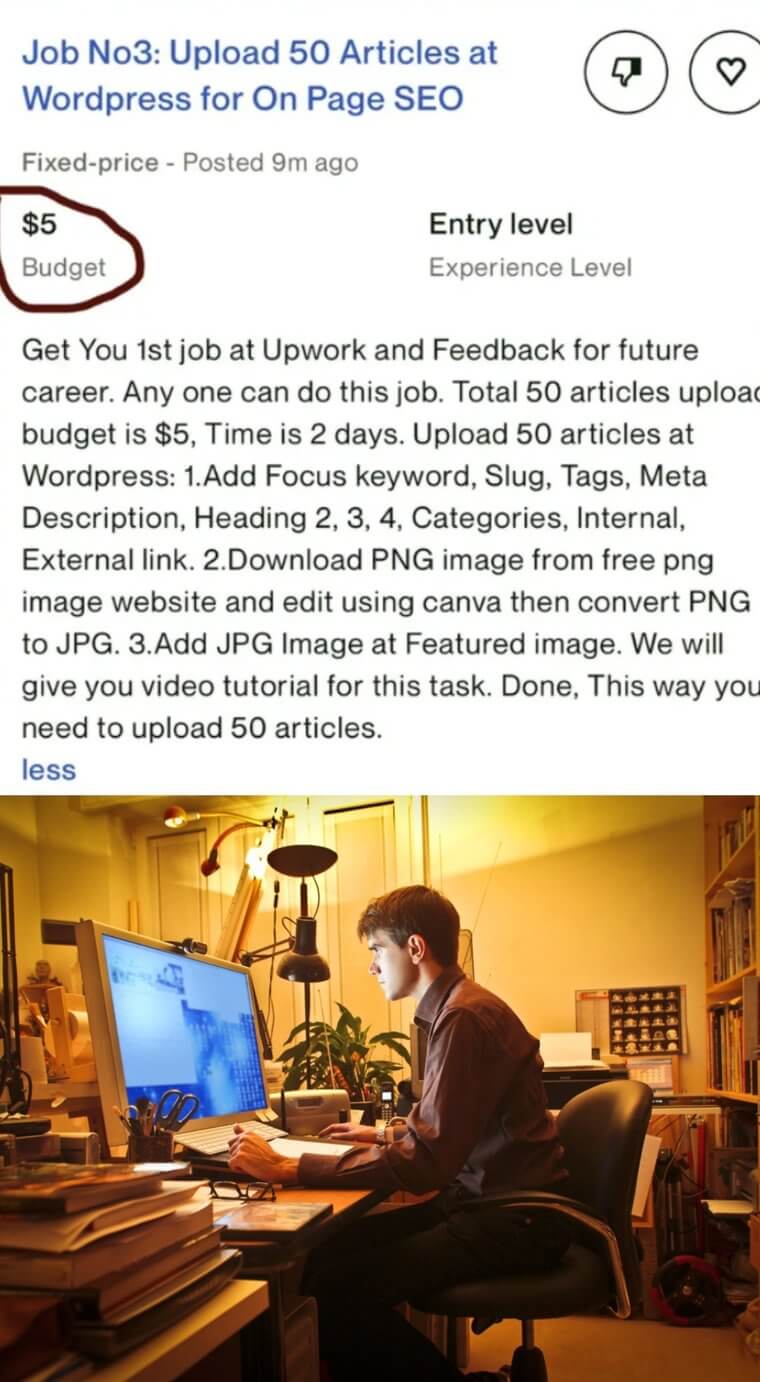 Here we have someone wanting to hire a writer for 50 articles, including working with sites like WordPress and Canva, and they think $5 is sufficient compensation for the task! This person also believes their feedback is valuable enough to make up for the rest of the fee. We wonder where this entitlement and delusion come from.

No Gifts, Only Buy My Products
It's easy to get fooled by the luxurious lifestyles of "#bossbabes" and think MLM schemes can turn your fortunes. Sadly, most companies are predatory, and investing in them is a big risk. Along with dragging a person into financial debt, such businesses also ruin their personal relationships, as we can see in this case.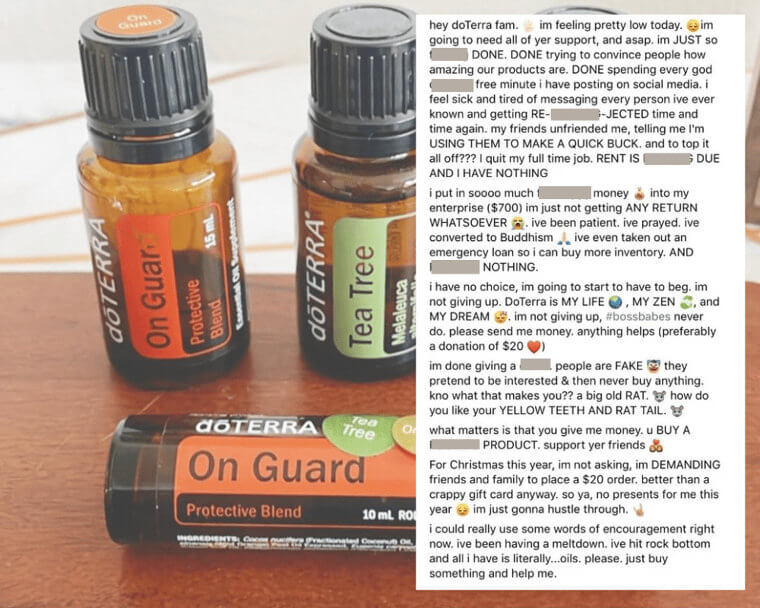 For this lady, her friends and relatives have turned into cash cows. She's straight up demanding them to buy her products. Who will tell her that her bad financial decisions don't make her entitled to others' money?

How Dare You Decide Your Worth
Freelancers get exploited the most. They are perfect targets for employers who are hoping to extract work at cheap rates. Moreover, these employers believe they should be the ones to decide the charges and get offended when workers disagree with them.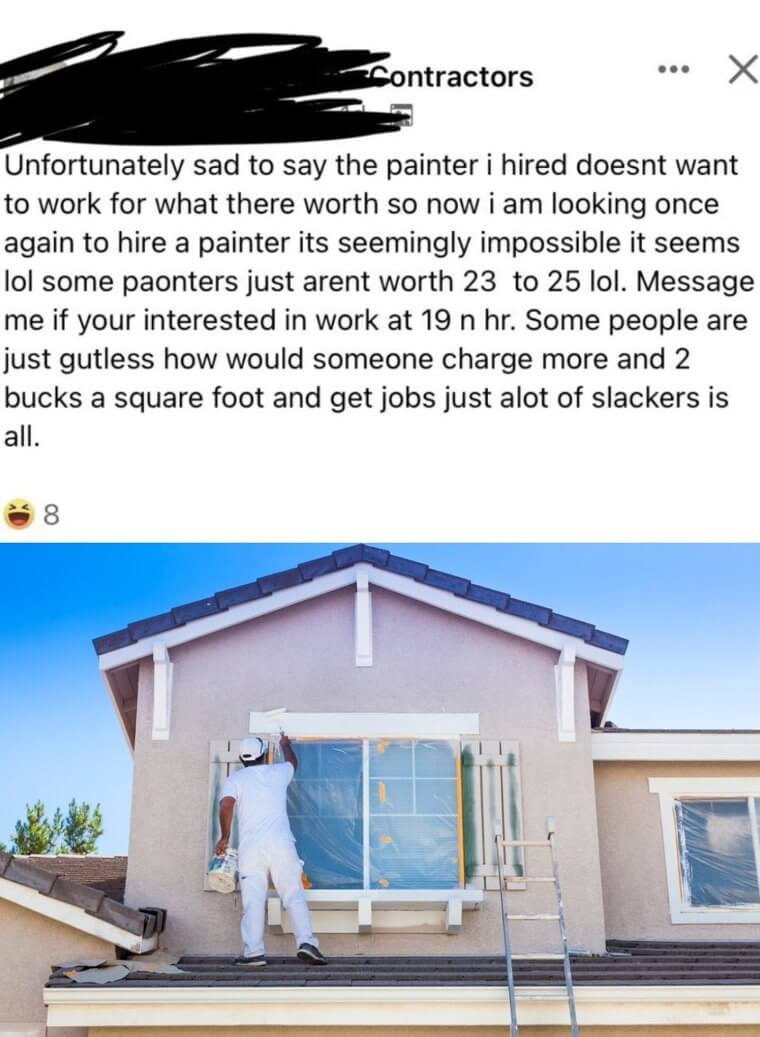 This entitled fellow barged into a group of contractors complaining about painters who refused to do his low-paying job. He even dared to say they were not worth more than the rates he had set while also wanting to hire one from the group. Maybe getting blacklisted from the local painters' community would make him realize how much hard work goes into such services.

Nothing More Than $5
People have this weird entitlement over service providers, who, according to them, do lowly jobs. One can easily see this attitude when they interact with food servers or freelancing artists.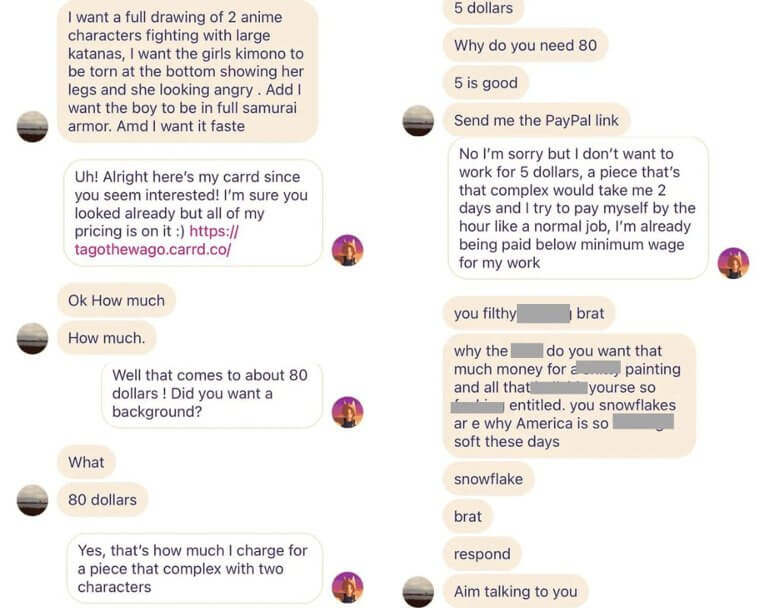 This man didn't bother reading about the commissions fixed by an artist for different pieces and sent them a text explaining an elaborate painting they wanted. It's crazy that they decided a measly $5 was enough for the work and started hurling abuses when the artist refused to budge from their price. We can clearly see who is the brat here.

Pay For Our Pets' Necessities
Just like kids, pets are a lifetime responsibility and need constant attention. If you are an avid traveler, you should only get pets if you can ensure they can be properly cared for in your absence.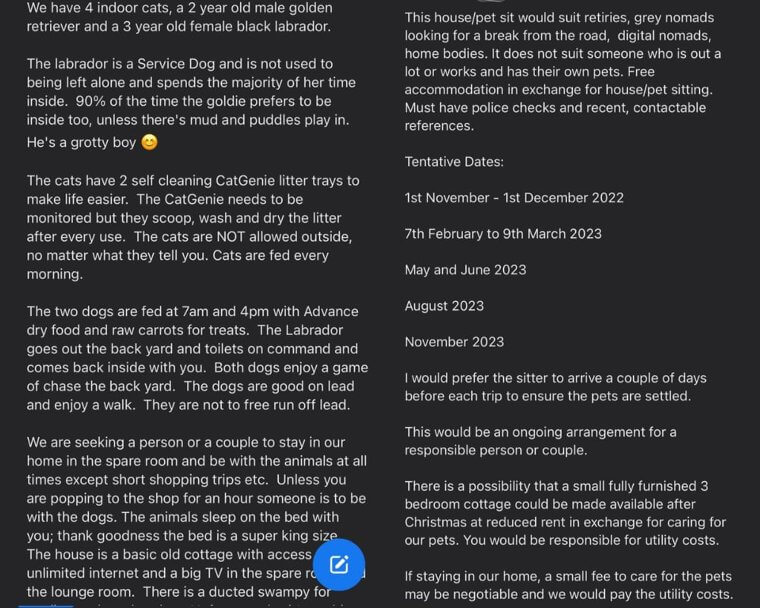 The first thing we don't get in this case is why one decided to have multiple pets while being out traveling for months. One of them includes a poor service dog, which doesn't like to stay alone. The icing on the cake is that the owners offered no direct payment and instead seemed to expect a small fee from the sitters to care for their pets!

When You Feel Lazy for Grocery Shopping
One of the biggest advantages of social media is getting help whenever you need it. It's not hard to find generous donors, and sometimes, the outpouring of support exceeds the goal set up by a needy person. Unfortunately, this also means many take advantage of the kindness that people have to offer.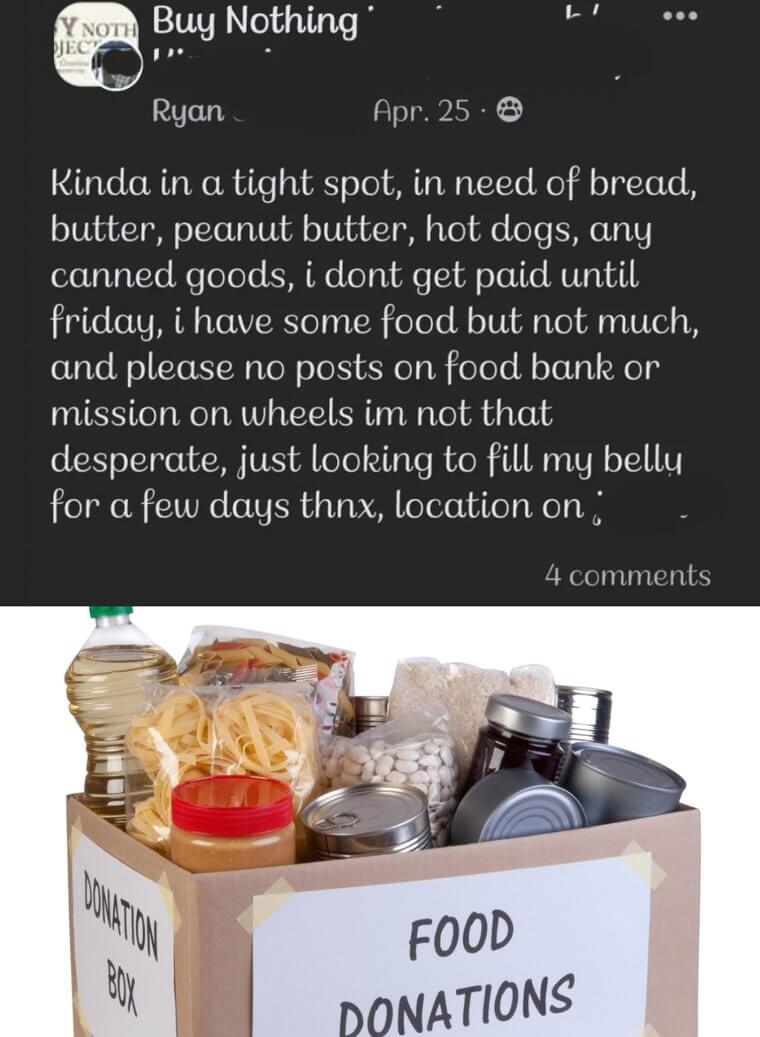 For example, this person made multiple posts about running out of money and needing some food supplies. Suspicions arose when they kept asking only for specific food items and refused to take help from charity organizations. Instead of being desperate for food, it looked like someone wasn't in the mood to take a trip to the store.

Help Them Cheat in a Competition
Asking for help may appear normal, but sometimes it can border on mischief. This is especially the case when someone is asking others to help them cheat in a competition. Without a doubt, such people are too lazy to put in the effort required to be outstanding.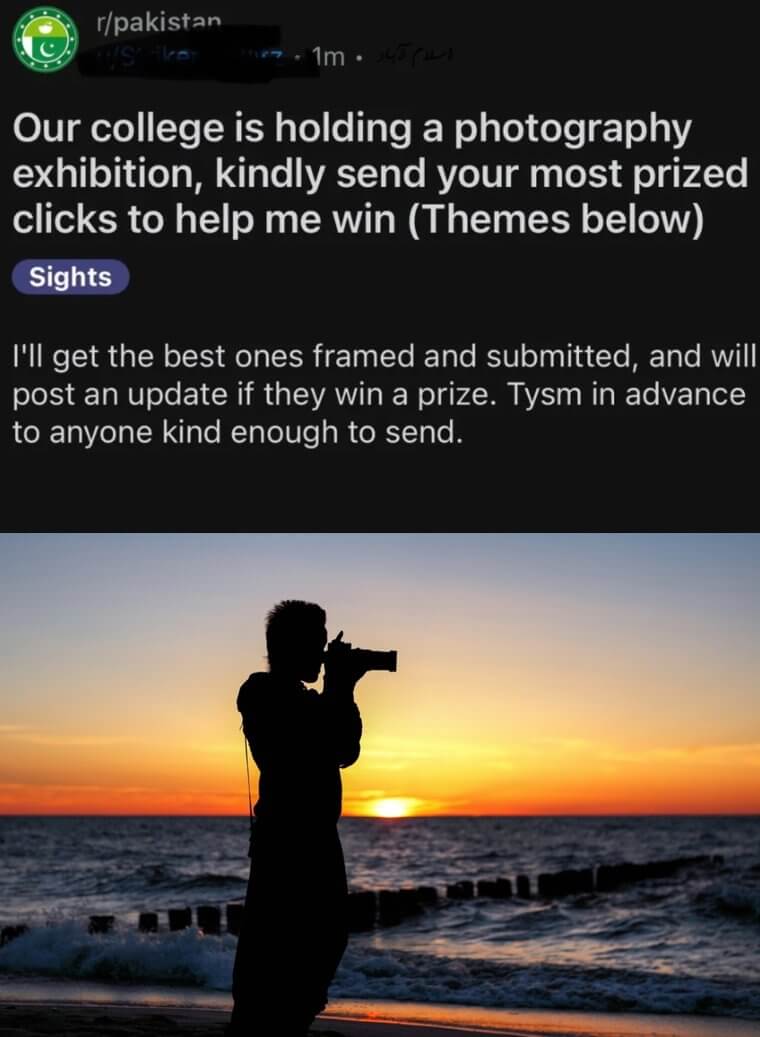 This user is hoping to win a photography competition by submitting other people's pictures. They're not even ashamed of asking publicly and surely are not bordered by the consequences. Indeed, some people need to learn that success isn't for the lazy. They must understand that self-reliance is an important trait that successful people cultivate.

Another TV and a Nintendo Switch
Sometimes, we are forced to wonder at some people's boldness. They come online and ask for things that leave us speechless. Maybe, they believe that getting friends to help them is a right and not a privilege. What a shallow thought!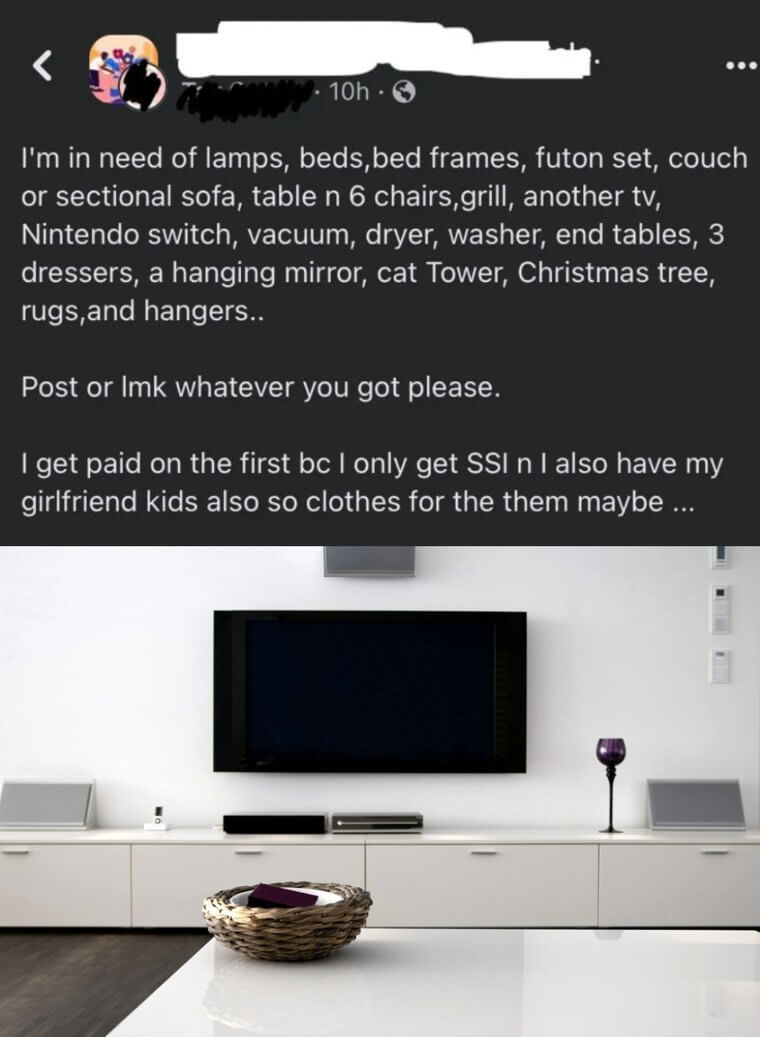 The list of items in this guy's request is just unbelievable. He's basically asking for a completely furnished apartment for himself, his girlfriend, and her kids. The funny part is that he's asking for another TV, which suggests that the couple already have at least one before. He then adds children's clothing as an afterthought—after asking for such trivial things as a Nintendo switch.

Don't Complain or You'll Be Blocked
Having a good budget is one way of curtailing overspending. Yet, very tight budgets are mostly unworkable and unrealistic and may defeat the purpose of why they're drawn.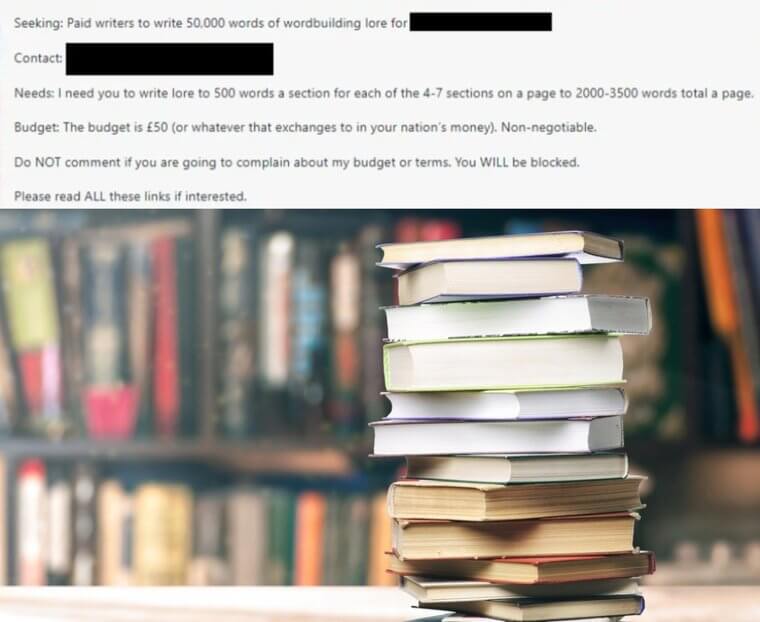 A look at this person's plan tells us that they're not ready to get the job done. They're hoping that someone will agree to write about 1,000 words for just £1. This is daydreaming at its finest. They're also aware that people will complain about the terms and budget. So, to prevent that, they threaten to block anyone who complains. This person shouldn't be surprised if no one shows any interest in the job.

A Fine Case of Emotional Blackmail
We all love to be there for our friends when they need us the most. If that friend is, however, asking for a favor as a condition of our friendship, we should quickly recognize that as a red flag.

This guy seems to have walked into a tight corner. The girl he'd been asking out who also is a longtime friend is asking that he supports her dream with a huge sum. She even suggests that it is his duty since he's interested in dating her. If at all she was interested in marrying him, she wouldn't have waited until now to peg her decision on his sponsorship. Love, friendship, and commitment should be voluntary and not coerced.

An Ungrateful and Rude Neighbor
When we do someone a favor and all we get in return is an attitude, it leaves us wondering if we were wrong in the first place. For that reason, we may choose never to help that person again, thereby ruining our relationship with them.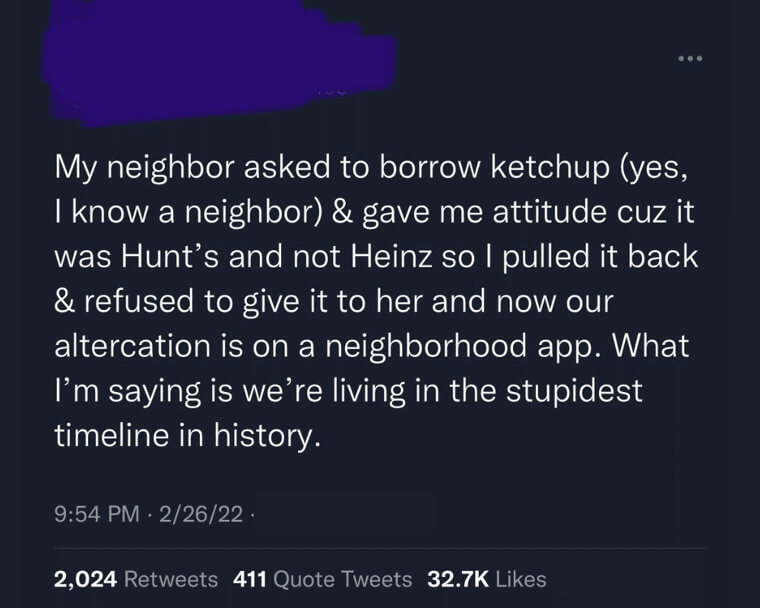 That was the situation this social media user found herself in. It all started when a particular neighbor asked her for some ketchup. She agreed and offered the person a different brand from what they were expecting. Nevertheless, rather than being thankful for at least having their need met, the neighbor becomes offended and starts exchanging words with the lady online. We wonder if this rude person will ever get help from other neighbors again.

Feeling Entitled to Your Help Forever
Some large furniture stores often agree to deliver their products directly to their customers. This is because they understand that some customers don't have their own vehicles to do the heavy moving around. Still some customers take this after-service a little too far by asking for more.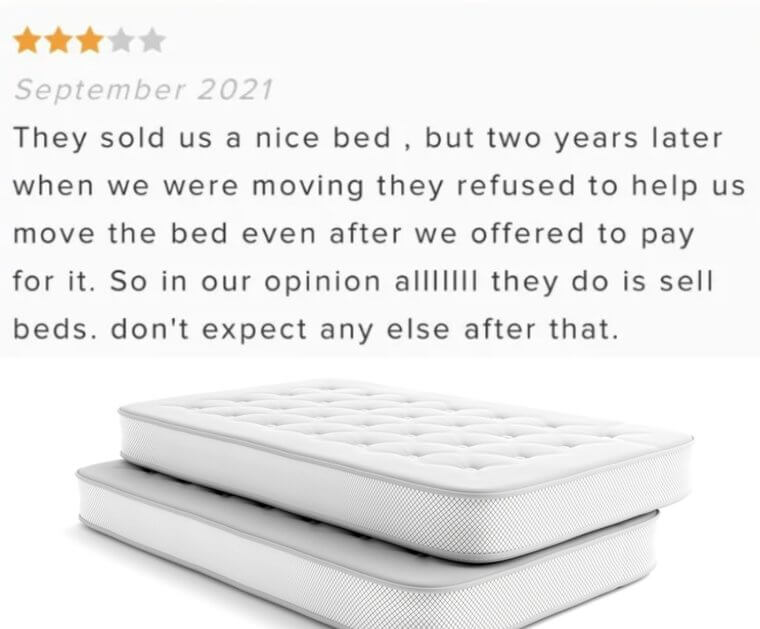 Take this customer for example. They're requesting that this furniture store come to their house and help them move their mattresses to a new location. Interestingly, this is coming two years after the property was delivered. The last time we checked, these companies don't provide rental services and so shouldn't be expected to do more than they'd already done before.

Serve Them Temales at Home
People who don't know how to cook shouldn't blame anyone for their predicament. They shouldn't also place unnecessary demands on friends to provide them with their favorite meals. Unfortunately, we're yet to see the last of these individuals who feel that the world owes them everything.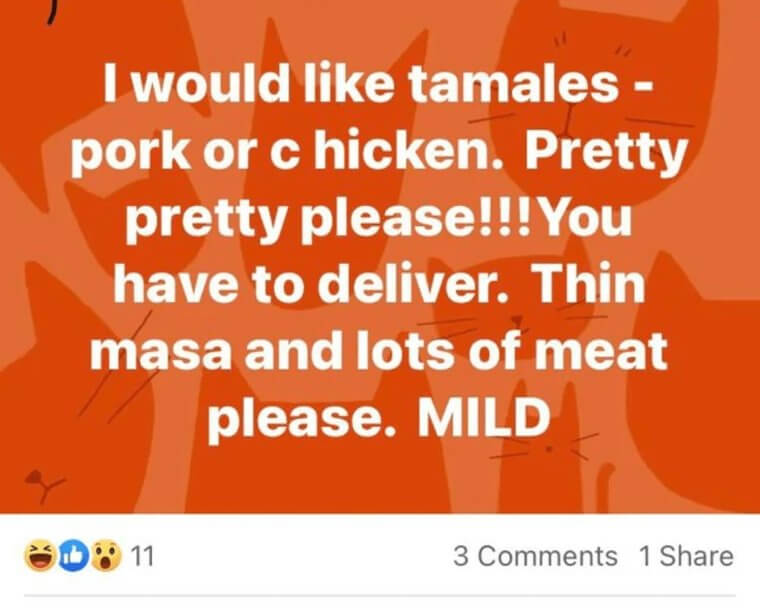 This social media user is asking friends to prepare some Temales, which in itself isn't an ordinary meal to cook. The person is also asking that the food be delivered straight to their doorstep. What a rude sense of entitlement. It'd have been easier to ask for something more ordinary or request to be invited over. Yet, they must have it their way or nothing else is good enough.

Using Mary Kay Products to Pay House Cleaners
Spoiled people love to make outrageous demands. They'll ask for the best but will only love to pay little or nothing in return. They want to have their cake and eat it too.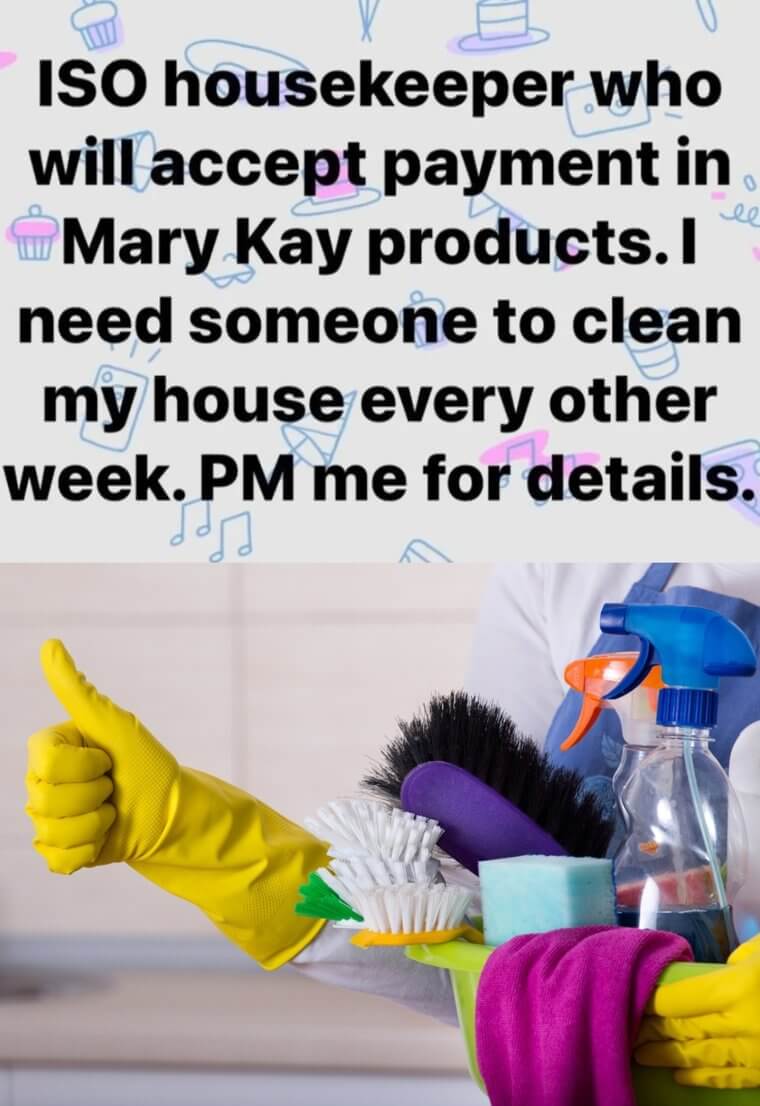 This individual is looking for someone to clean their house every other week. They want the job done nicely but are unwilling to pay in cash. They're offering Mary Kay products instead. Who convinced this person that house cleaners would love to do the menial job just to get the product in return? On second thought, could it be a ploy to easily sell off some items they couldn't sell in the past? Most likely.

Insatiable Demand for Yard Sales
One easy way to get rid of unwanted items is to organize a yard sale. It's a common event in most urban neighborhoods and some individuals love attending because they can purchase used items at cheap prices. For this social media user though, the love for cheap things has become an obsession for them.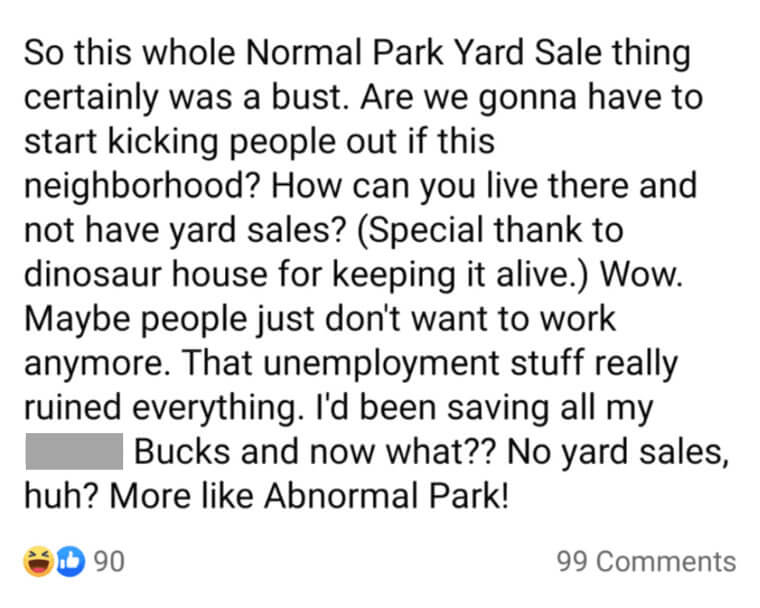 This person took to the internet to complain that their neighbors aren't organizing regular yard sales. They feel that due to the recent unemployment, folks don't get to discard used properties anymore. Well, trying to ridicule neighbors into organizing yard sales shows how entitled some people are.

Slave Masters in Disguise
It looks like some employers enjoy being mean and demanding. They'll only hire people that are willing to do anything without asking questions. That kind of job description is nothing less than slavery in today's society.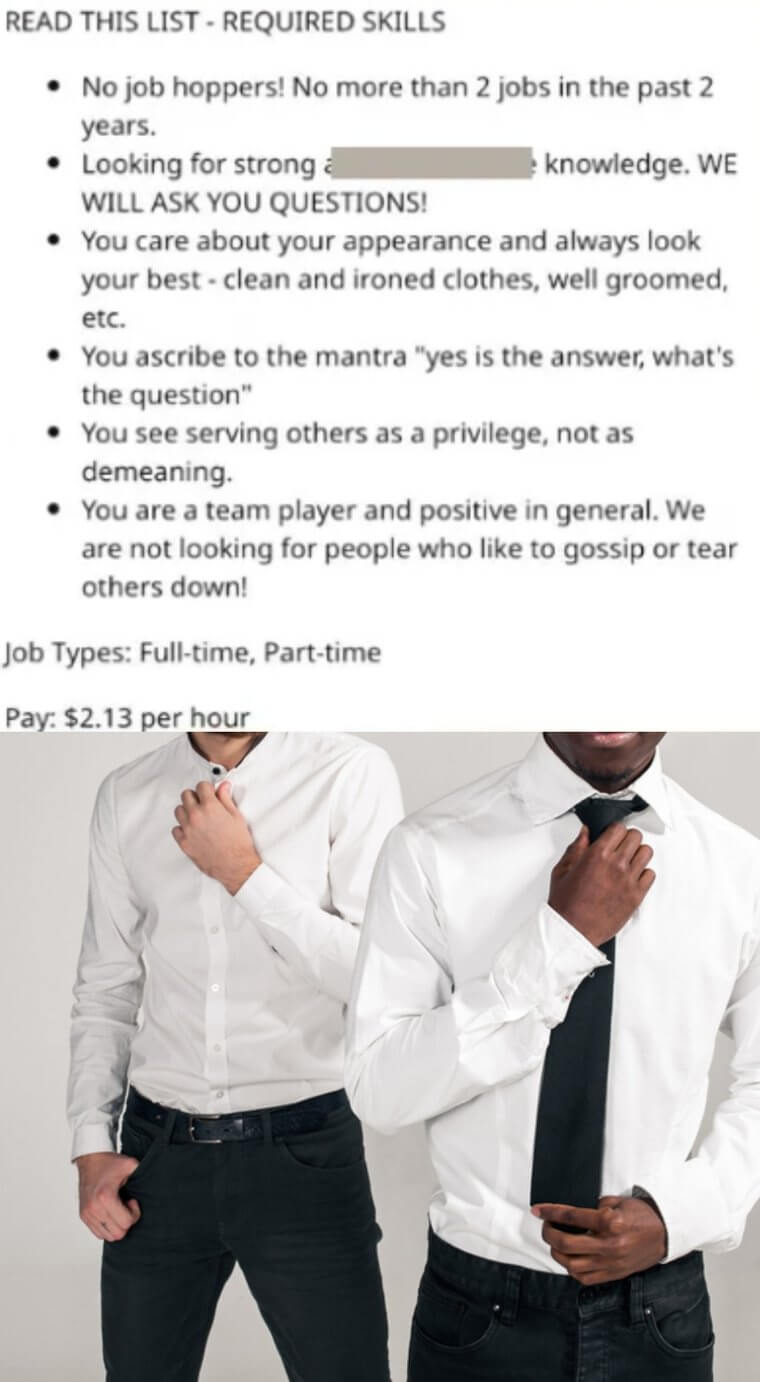 We don't know what this employer was thinking when they made this post. Not only are the demands outrageously high and mostly unnecessary, but the pay is also awfully low. How do they expect someone to live on less than $3 an hour and still be willing to do just about anything? This is modern slavery at its peak. Nobody should even consider this job unless they want to be someone's puppy.

She'll Appreciate a Group Gift
We've all come across a donation request at some point in our lives; in fact, we might've donated to a worthy cause. We've also stumbled on donation requests that sounded too outrageous to be true. Like this one, the demands have an annoying hint of self-entitlement, or worse still, they sound like a "you owe me" line.


This person doesn't have enough money to pay for their vacation, which isn't an issue in itself, but of all the birthday gifts to ask for, she decides to make this outrageous request. She wants people to donate $3,600 so she would go on a two-week cruise. To top it off, she wants a car she can't afford. We hope someone tells her to quit being unreasonable.

Take Some Lemonade for Payment
Parents should always allow their children to have outdoor fun, no matter how little. For example, visiting the park or recreational center helps the child's physical and cognitive development. Likewise, having a play place at home is just as effective because the sun gives them the much-needed vitamin D, and they can enjoy fresh air away from electronic screens.


Now, this woman means well for her kids, but her appalling requests on the playpen's specifications would leave your mouth hanging. Imagine listing so many conditions when you're expecting free work, free delivery, and free installation. As if her demands aren't atrocious enough, she promises the installer a glass of lemonade.

I Need to Borrow Your Kid
To begin with, why would anyone not need any more tax breaks? The first sentence in this request shows how wrong the remainder would be. We know taxes can get frustrating and how hard it is to part with your hard-earned money and dump it in government pockets. Believe us; we know how it feels.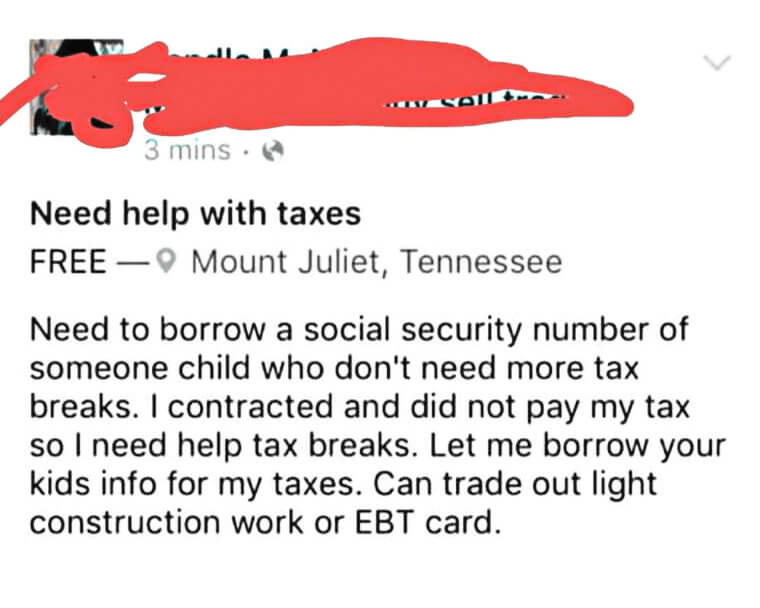 Still, we give it because we know the importance; however, only some people fully understand why they must pay taxes. This person is trying to evade tax in the most absurd manner ever. Imagine asking for the social security number of someone else's kid only to match the trade with an offer of "light work."

What Are Friends For!
Here's another "you guys are my friends and I deserve free money" post. This person definitely misunderstood the meaning of "social media friends." They're there to drop likes and comments on your newest pictures and, of course, have a chat. Her friends are doing that, but she wants more, a cash app gift, to be more precise.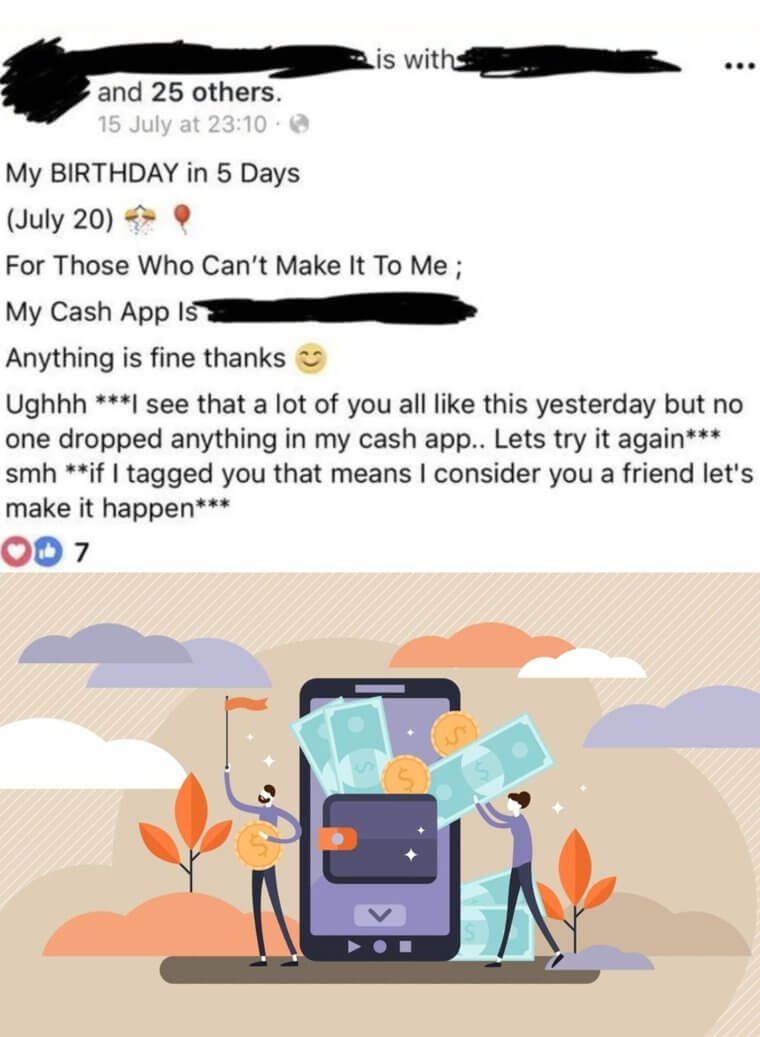 Her post almost sounds like she has a tight relationship with her online friends, which is most likely the opposite. It's normal to chip in a subtle demand for birthday gifts, but guilt-tripping people for not giving one is being outright entitled.

Meet the Self-Entitled Customer
This post shows that people have guts. How would you ask for a $30 discount, or worse still, a 30 percent discount after spending a meager $33 in the past year? Having spent a ridiculously low amount in 365 days, this person thinks it's normal to tender this laughable request.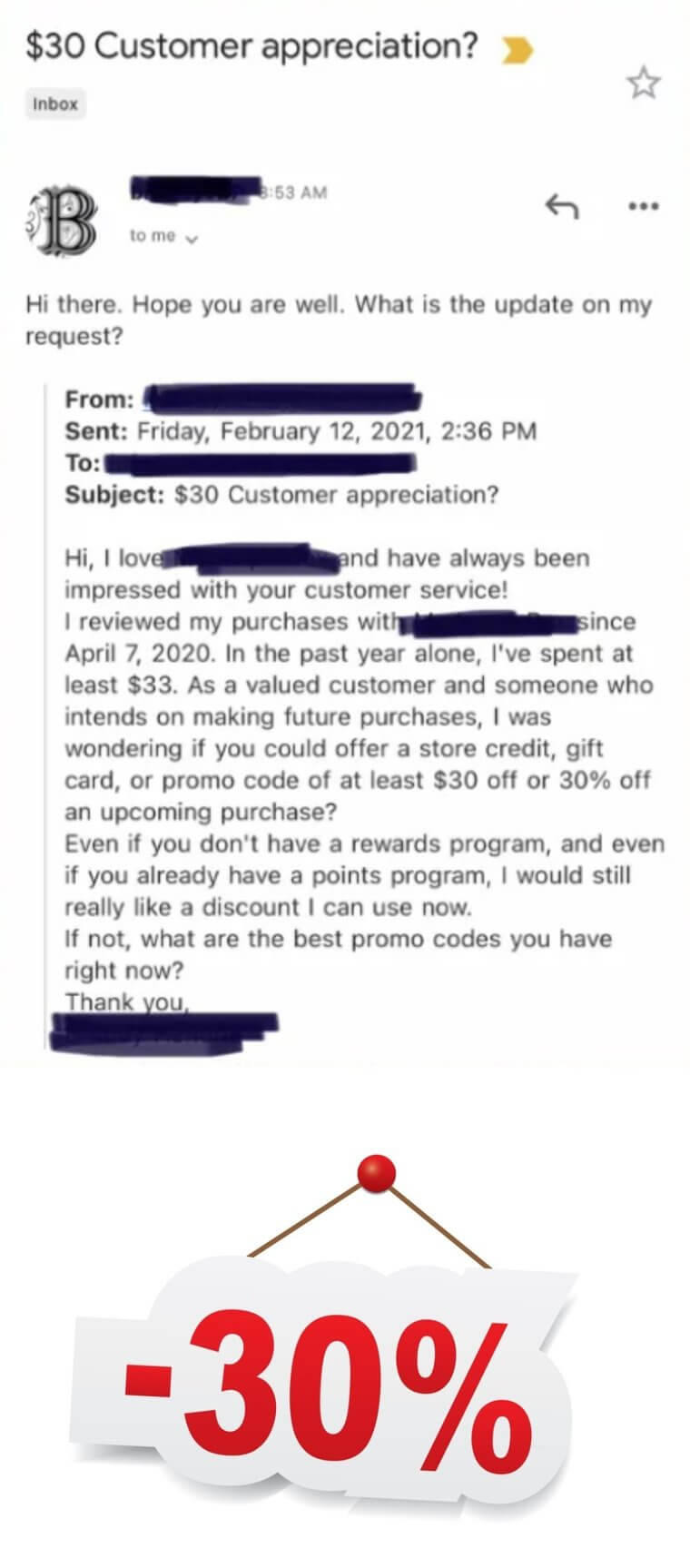 Discount edges us on to make a purchase, and some people will do almost anything to get a coupon. Meanwhile, others, like the OP here, will insist on getting one for no justifiable reason. This individual is actually demanding free money for hardly patronizing the business. Ridiculous is an understatement.