We're constantly surrounded by messages of motivation, encouraging us to be the best person that we can be. But if we're honest with ourselves, we all indulge in a few moments of weakness when we give in to feelings of jealousy and comparison. While the green-eyed monster can manifest itself in several ways, most people try to keep their feelings of envy on the down-low. Except for these people who had their moment of jealousy snapped on camera as perpetual proof of their insecurity and distaste.
A Sideways Smirk That Reveals a Lot
Girls have a strange habit of constantly comparing themselves to one another, using someone else's assets to highlight their own flaws (whether imaginary or real). In this shot, gorgeous actresses Vanessa Hudgens, Selena Gomez, and Ashley Benson sit alongside one another as they chat about their roles in the film Spring Breakers.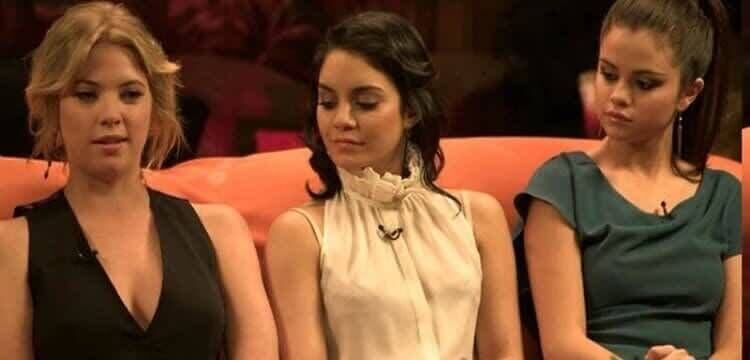 The photographer caught the particular moment when both brunettes were scoping out their blonde co-star's impressive assets. But instead of being jealous with rage, Vanessa Hudgens' smirk reveals that she's quite impressed with her friend's natural gift.
Like a Horse With Blinkers
Trust is a critical component of any successful relationship. But what happens when your insecurities overtake logic and you become jealous at every turn? Well, if you ask the lady in this picture, she'll give you a very obvious solution.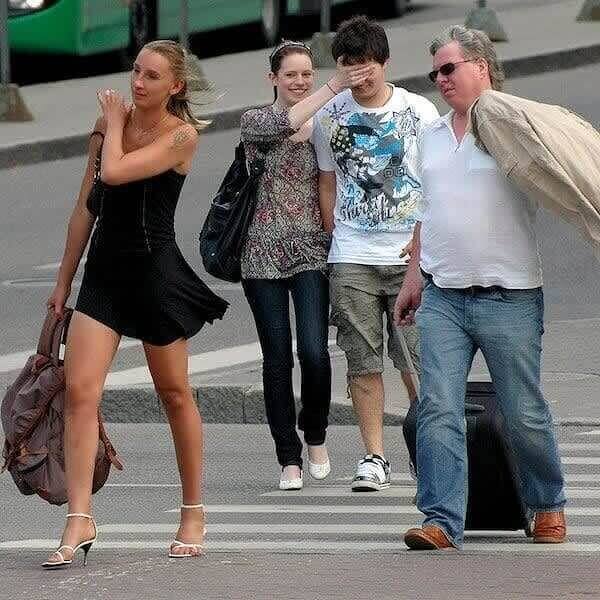 Instead of taking the risk of her boyfriend giving googly eyes at the lady in front of them, she decided to take the matter into her own hands, quite literally, by covering her boyfriend's eyes as they cross the road. It doesn't seem that her boyfriend is too fussed by this behavior.
The Pup That Served as a Chick Magnet
Although a stereotype, puppies are definitely on the list of things that make girls happy. This guy clearly knew how to attract a crowd of ladies and brought a puppy out to do his dirty work. It seems to have had the desired effect - because he's surrounded by a group of lovely women.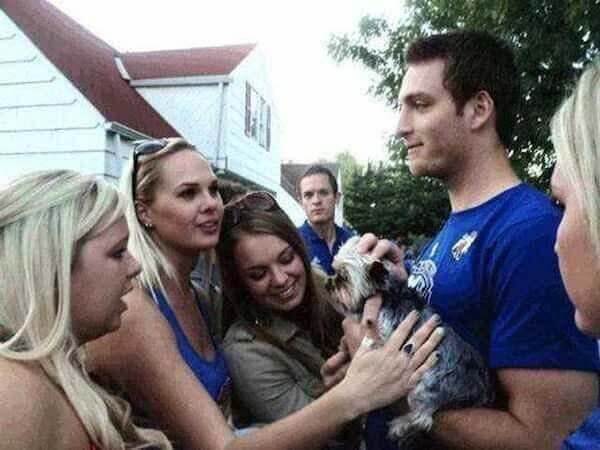 The guy in the background seems to realize that he doesn't stand a chance without the help of a fur baby. Although surrounded by a group of beautiful women, he's fixed his gaze on the man (and pooch) that stole his thunder.
Dressed for Attention - Of All Kinds
Fashion is a matter of self-expression, and you can tell a lot about a person from their clothes. That's especially true about how people choose to dress up for events. While some people prefer classy and elegant ensembles, others choose more sultry and revealing outfits. Jayne Mansfield, a legendary film actress from the 50s, was known as a sex symbol and her fashion choices confirmed this reputation.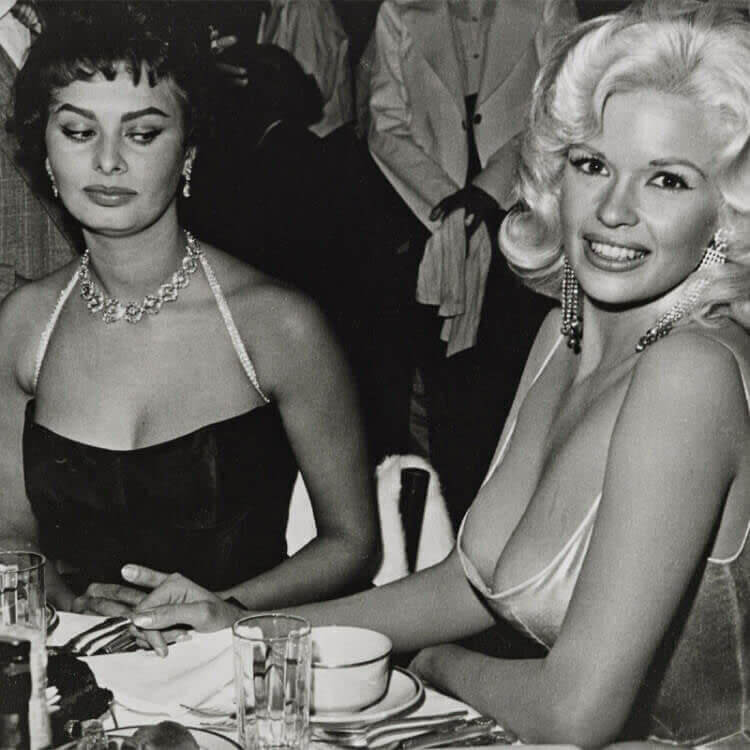 The blonde bombshell hosted a party for the Italian actress, Sophia Loren, but decided to steal the show by wearing a sexy little dress. This picture perfectly captures Sophia's distaste and jealousy, and was snapped in conjunction with the following words, "She came right for my table. She knew everyone was watching. There may be other photos, but this is the picture. This is the one that shows how it was. This is the only picture."

Even Babies Feel Pangs of Jealousy
They say that having a baby can put a lot of strain on a relationship. The newborns demand a lot of attention and can keep you up all hours of the night. It takes a lot of effort to keep the romance alive and it's not unusual for parents to sneak an intimate moment when the chance allows. But this kid was not impressed…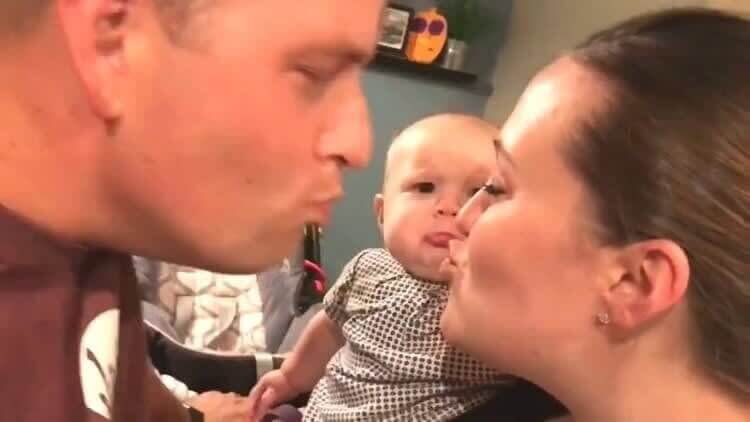 The baby in this picture is obviously distressed by its parents' pouting lips. It looks as though the "bundle of joy" is about to erupt in a bout of jealous screams. It's still cute though!

A Whole Lot of Attitude and Little Concern
What happens when you put two firecrackers in the same room and ask them to compete for attention? This picture of Rhianna giving a cheeky sideways glance in the direction of Nicki Minaj shows us how quickly the claws can come out.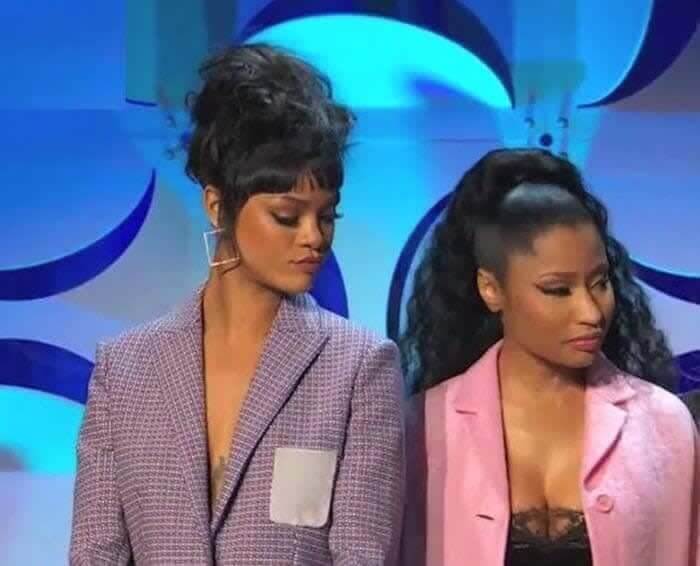 Judging from Rhianna's facial expression, she seems a little bit threatened by the rapper's presence. And if you had any doubt about how she felt, perhaps the pout will clear up any suspicions. Competing for attention in the world of celebs can be tough at the best of times.

A Jealous Look of Comparison
Sadly, we live in a superficial world and it's very easy to get caught up in comparing ourselves with those that are around us. Sarah Harding, a former member of the band Grils Aloud, has clearly been caught up in a world of jealousy.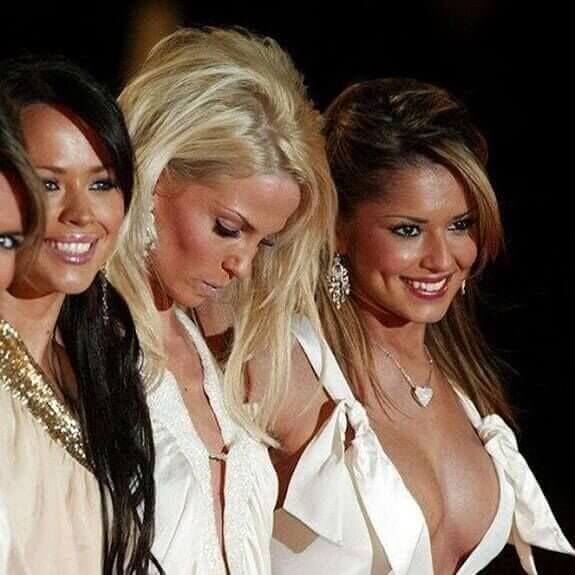 When you constantly have the spotlight shine on you, it's difficult to hide your envy from the public eye. In this picture, it would seem that Sarah Harding had a look at her fellow band member Cheryl Cole, and then took a moment of jealous reflection. Unfortunately for the blonde bombshell, this moment was caught on camera.

Third Wheeling at Its Finest
It's not uncommon for a friendship to be strained when someone finds themselves in a relationship. A new boyfriend or girlfriend can drive a wedge in between friendship and create some moments of jealousy. It's one thing for a new person to change the dynamic between two friends, but it's another ball game when you can't get a word in edgewise.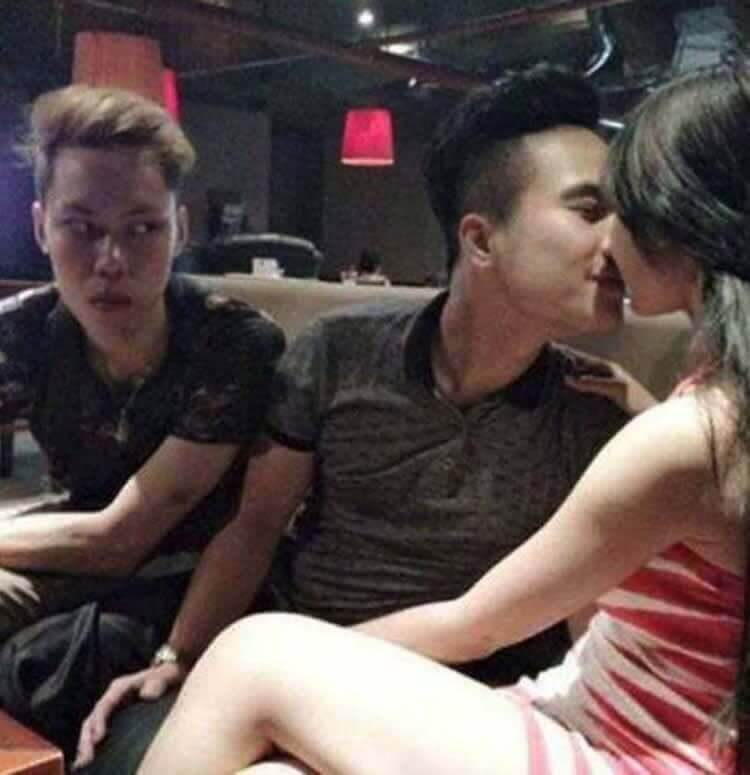 This picture perfectly sums up a relational triangle where the friend blends into the background. In this particular instance, we can't blame the guy for being jealous - or at least annoyed.

Staring at You Right in the Face
Public transport is a funny place. You never know who you may come across on a public bus, or what situation may unfold. The one detail that you can be certain of, is that no ride will be boring. The person who took this photograph will go home with a very amusing story to tell.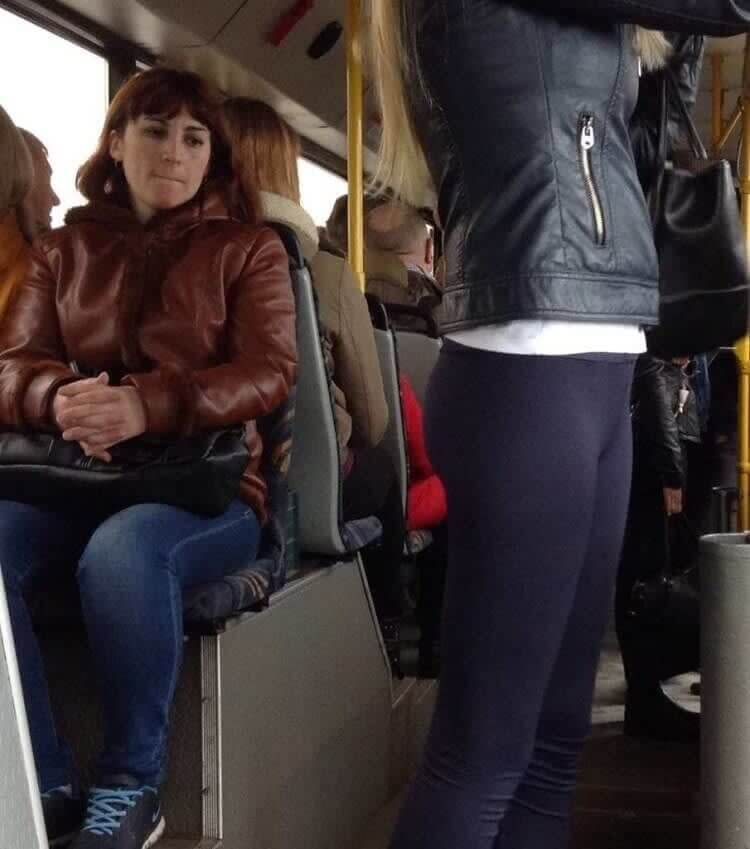 This picture catches a comical moment on camera, perfectly highlighting how closely jealousy and admiration are aligned. The look on the seated lady's face is a dead giveaway that she would love to have a bottom like the one in front of her.

A Repetition of Jayne Mansfield's Picture
Remember the black and white picture from earlier? Where Sophia Loren is side-eyeing Jayne Mansfield's generous cleavage? The resemblance in this photograph is uncanny, with the same look of jealousy being flashed between two Modern Family actresses.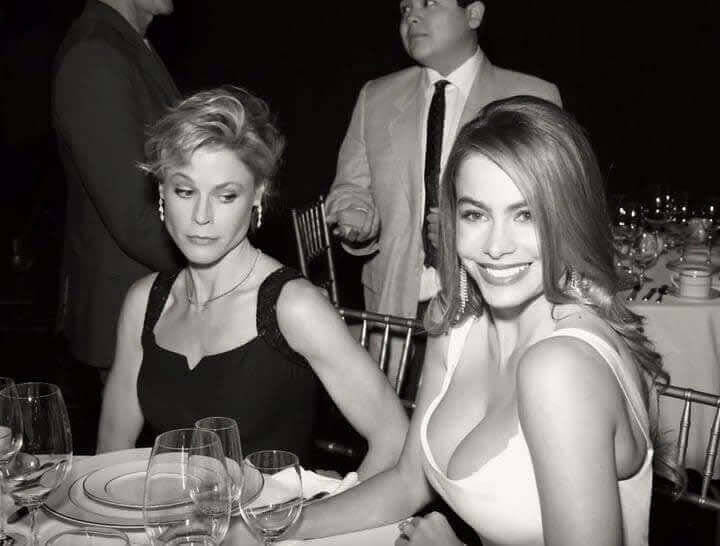 Julie Bowen, a stunner in her own right, is throwing a less-than-satisfied look in the direction of her co-star Sofia Vergara. While Julie Bowen's features may turn heads, it would seem that she can't shake the envy that she holds for Sofia Vergara's bust. But don't get worried, the actresses on good terms and this is actually just them recreating the iconic Jane and Sophia photo for an episode of Modern Family.

The Face of Jealousy
This meme has made its rounds on the internet on websites like Reddit and Twitter. People can't get enough of the look of pure jealousy captured on the girl on the left's face!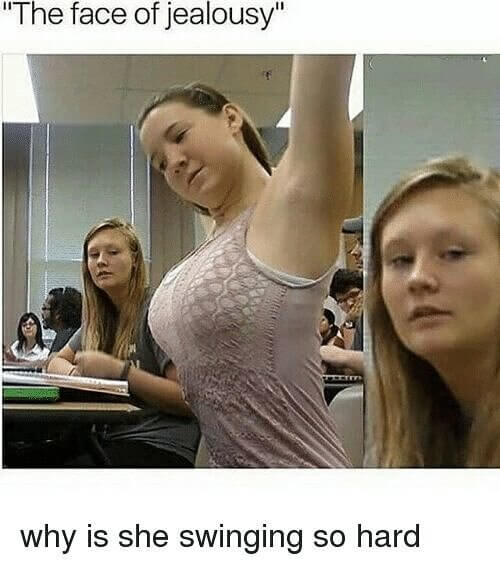 Now, we're not sure if it's just a coincidence or if she was actually envious of the other girl, but the image sure is perfect. 

FOMO - The Fear of Missing Out
Imagine spending hours getting dolled up and putting on your finest outfit only to be excluded from one of the pictures that will commemorate the event. This picture has captured the reaction of a damsel who didn't quite make the cut for one of the pictures.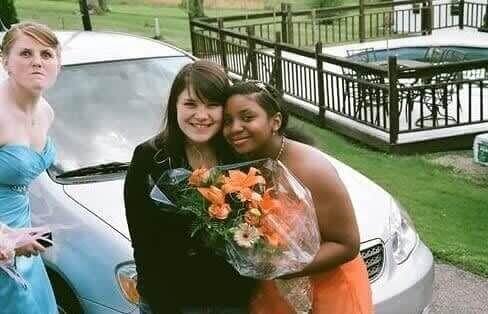 The photographer managed to capture her expression as she raced to be included in the shot. She may be disappointed to find out that the captured moment is not as flattering as she may have hoped for it to be.

Feel the Burn of a Women's Jealous Gaze
There's a running joke that a husband will have to run very far - or get the couch ready - if his wife ever figures out the password to his phone. But not all husbands keep their flirtatious stares to the phone. Known as a power couple, the Beckhams were caught in a moment of jealousy at a sports game.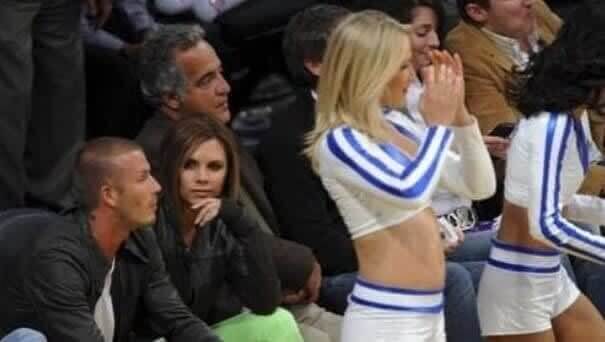 In this picture, David Beckham stares unashamedly at the cheerleaders in front of him. Next to him seats his gorgeous wife Victoria, who stares at her husband as he is staring. Her expression is unamused and we can only guess that David Beckham will be in the dog box.

"That's Me in the Corner"
There's nothing quite like a selfie to commemorate a moment. In fact, the song "but first, let me take a selfie" became the anthem for a girl's night out. This cute photograph, which seems to commemorate a night of fun, has a sinister photobomber.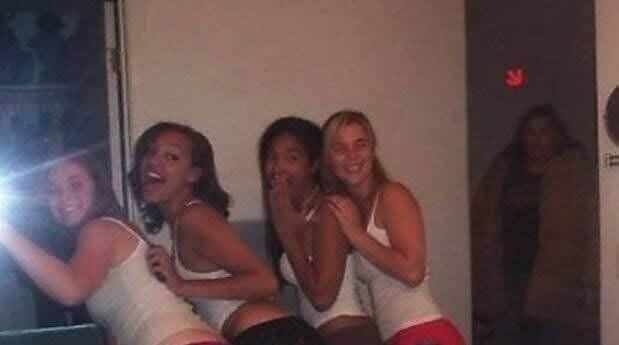 The girl in the background appears to be sulking in the dark, underneath the exit sign, while the other girls all huddle in a group in front of the mirror. It's going to be quite an interesting review of the night's photographs when they stumble across this one. We wonder if they would've invited her to join if they knew that she was there. Probably not.

Booted Down to Second Place
It's not only humans that experience fleeting moments of jealousy. In this picture, the adorable dog's jealousy is written all over his droopy face. Up until the arrival of the kitty, the dog was probably the apple of this cute little girl's eye, but it appears to no longer be the case.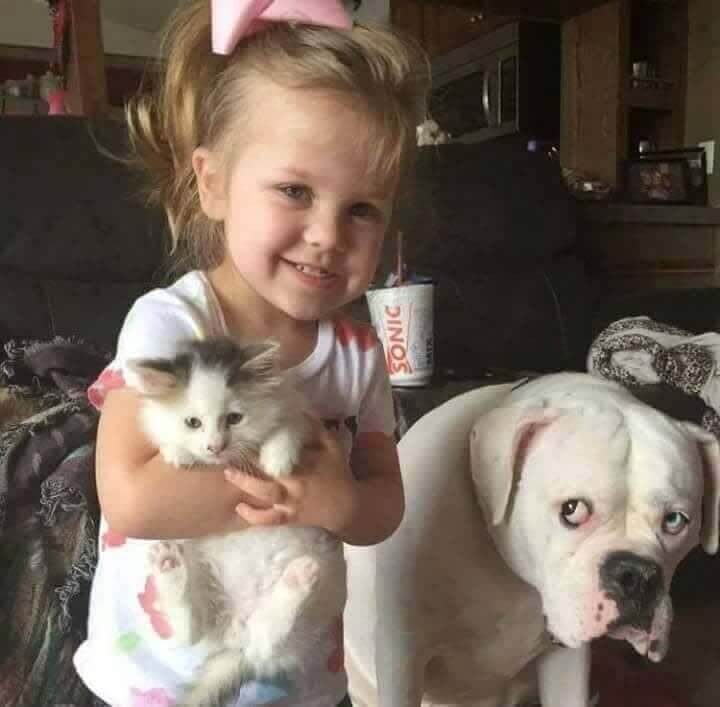 His eyes tell the sorrowful tale of feeling betrayed by his human and being jealous of the furry feline. Although the kitten is so loveable and we can't really blame the young girl for giving it a squeeze.

A Strange Voyeur Driven by Jealousy
These two friends decided to attend a convention together but while they may have gone together, they may not leave the same way. One of the lads met a beautiful lady and started up a conversation, and his friend is clearly unimpressed by the development.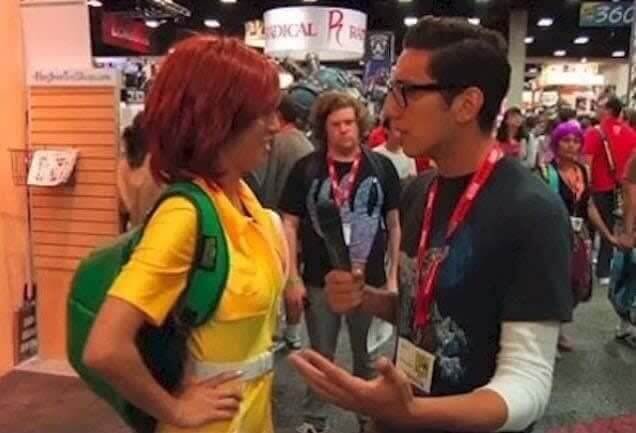 Rather than play it cool and give his bro some space, his chubby friend hovers awkwardly in the background, wearing an expression of jealousy. And the amusing moment was caught on camera by another at the convention.

If You Don't Win, You Lose
When entering a beauty contest, you acknowledge that you are competing directly with other stunning women - and running the risk of coming last. Being told that your physical features are not as desirable as another can be a tough pill to swallow.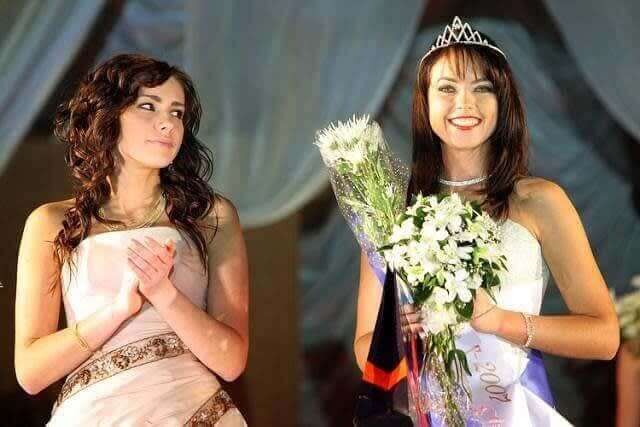 The runner-up in this beauty pageant came close to the title but didn't quite make the cut. Rather than considering her position as an achievement, she appears to view it as a failure and her jealousy for the winner is written all over her face.

Not Even Leo Dicaprio Can Hide His Disappointment
Leo Dicaprio is an established actor who can mold his persona on a whim. And yet when he lost the Oscar for Best Actor in 2014 for Wolf of Wall Street to Matthew McConaughey, not even his expert acting skills could conceal his sadness (and possible jealousy).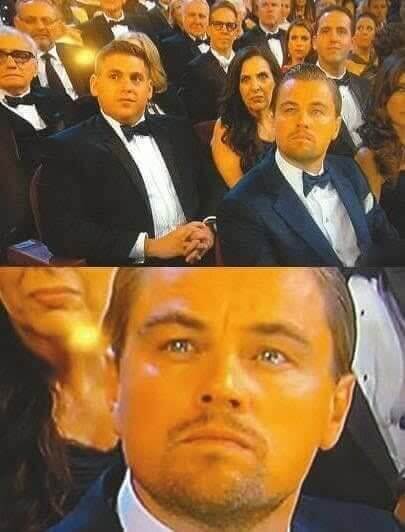 The talented actor had gone years being nominated for an Oscar and never winning the title. It wasn't until 2016 when he won the Best Actor Award for his role in The Revenant that he would ever be rewarded for his efforts. There were no wet eyes that night!

Looking Unimpressed and Disenchanted
How many times have you given into peer pressure and dressed up for a night out, only to be bored out of your mind and count the minutes until you can go home? The blonde girl in this photograph looks as though she had been dragged to the venue with long teeth.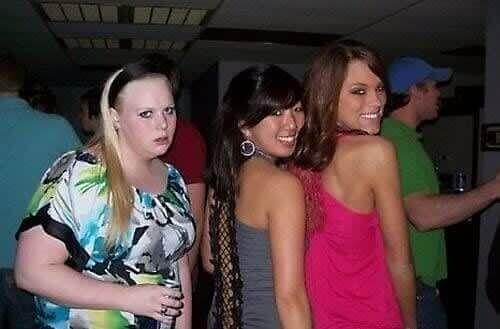 When it came time to take the mandatory pic for the night, she didn't even try to hide her lack of enthusiasm. While the other two girls in the picture pose in a flattering position, the blondie stands slouched in posture and aghast in expression.

Forever in the Friend Zone
Some guys will go to the ends of the earth to get lucky with a girl - or at least get her to join him on a date. This guy thought that giving a lovely lady a boost by propping her on his shoulders would seal the deal. And it did! But not for him.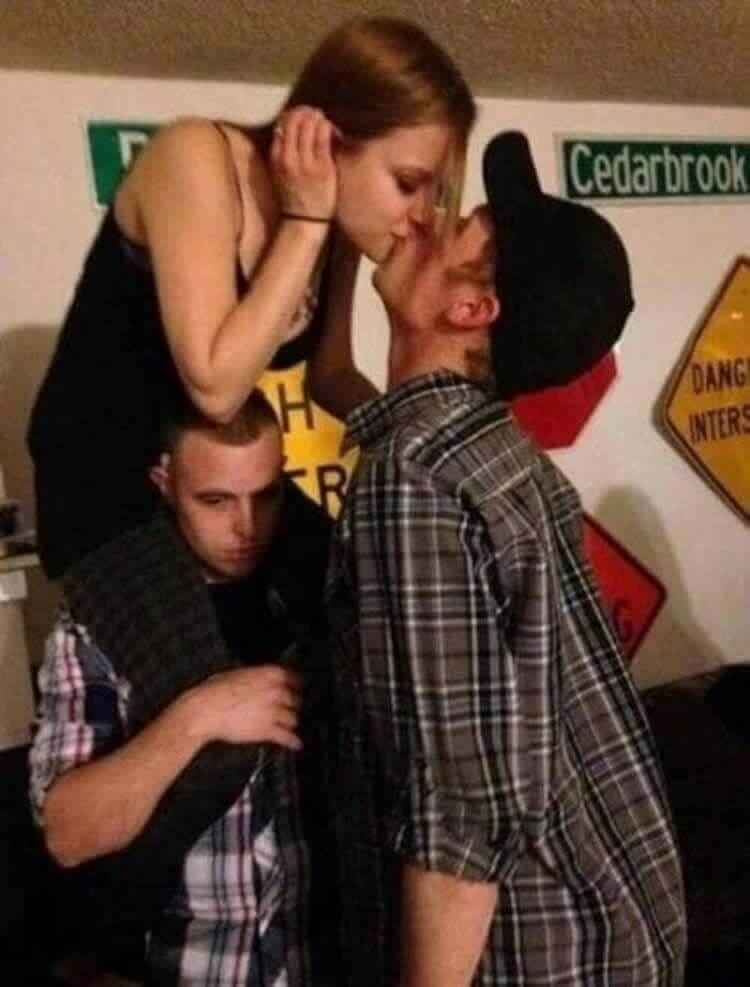 This picture perfectly captures the moment of disappointment and jealousy as the girl on his shoulders stoops down to kiss another gent. We can only imagine that the poor bloke would have done anything to escape that moment.

Separated by a Glass Barrier
The way to a child's heart is through their sweet tooth. These two little girls were treated to tasty ice cream and seem to be thoroughly enjoying themselves. However, the child in the background looks far less than impressed.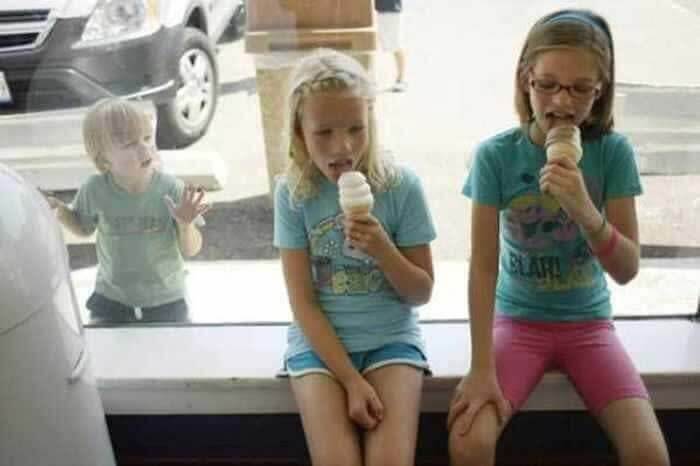 It seems that envy knows no age boundaries, and this little one seems to be feeling the pangs of jealousy on a very real level. Luckily there's a sheet of glass between them otherwise the jealous little one would've dived headfirst into the ice cream.

Not Even Powerful Women Are Immune to Jealousy
The First Lady has the intense responsibility of always being put together and leading with an air of grace. But this doesn't mean that she is immune to bouts of jealousy and envy. While Barack Obama served as the 44th president of the United States, he had his supportive wife Michelle Obama at his side. With so much attention on her husband, it's no surprise that there were moments when Michelle felt left out.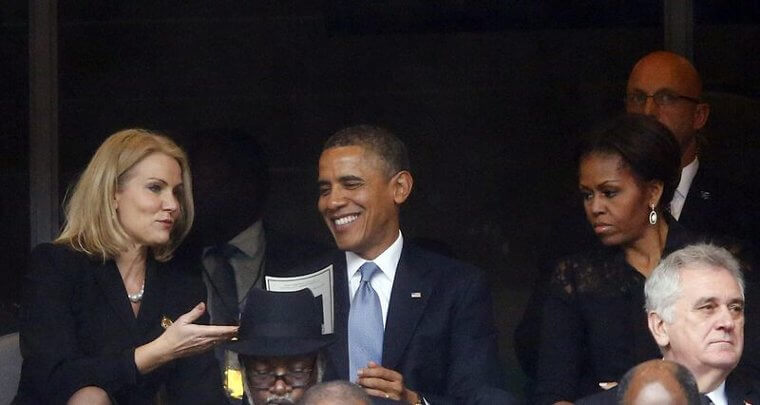 This picture offers the perfect example of a time when Michelle Obama was left on the sidelines while her husband conversed with big personalities. Hopefully, he'll fill her in on the conversation a little bit later.

Nothing Like a Little Bit of Competition
We're all at different points in the journey of life. While some are peaking at their best, others are falling off of the wagon. And then some put in a lot of effort to maintain a healthy lifestyle even if exercise doesn't come naturally to them. While a little bit of healthy competition can do wonders for performance, it can also stump out motivation.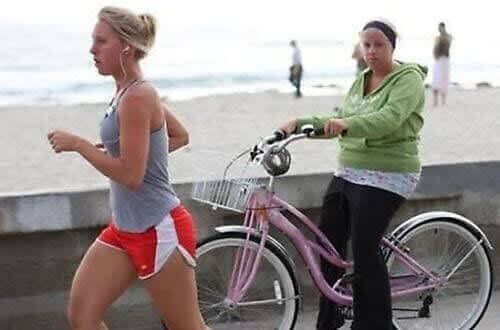 The lady on this bicycle has a look of absolute distaste as she watches a slim, athletic lady run by. Her jealousy has, quite literally, stopped her in her tracks. Hopefully, she'll begin pedaling again soon and find a way to move past her envy.

A Piece of Cake
Food envy is a real thing. People try out all sorts of diets to lose weight and stay in shape. While this may be easier to do in the comfort of your home, eating out at restaurants can present more of a challenge. Especially when the person at the adjacent table is ordering a delectable piece of cake.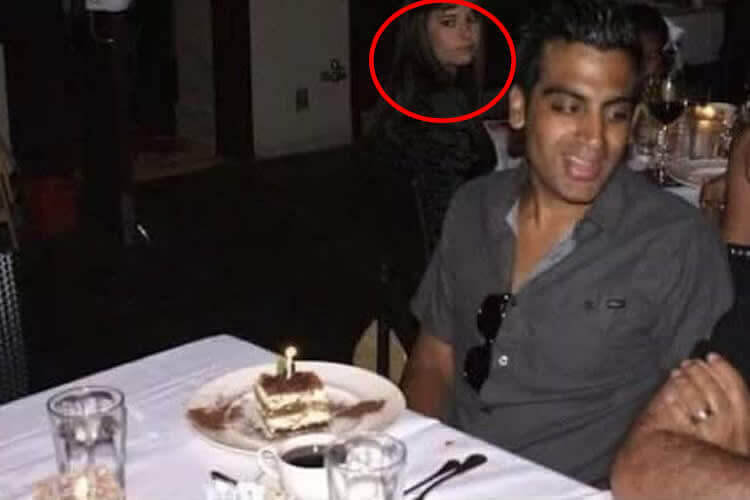 While the photographer meant to take a snap of the birthday cake and candle, they also captured the piercing glare of envy from the women sitting behind them. Maybe she should treat herself to a slice.

Not All Efforts Are Rewarded Equally
Fishing is not an easy task. Coming home with an impressive catch requires far more skill than simply going out on the water and throwing a line. With this in mind, you can only imagine the immense disappointment of the man on the right whose most "impressive" moment was pulling in a tiny fish.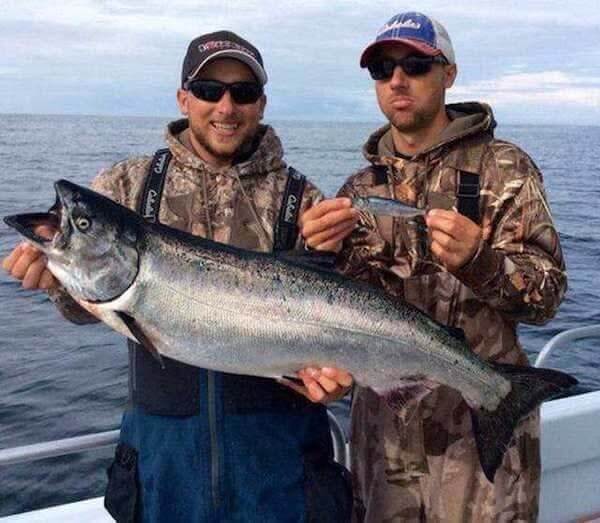 To add salt to the wound, his fellow fisherman pulled in a fish that could feed a large family (perhaps more than once). His jealousy is evident on his face and we fully understand why.

Should Have Gone With the Creamy Option
Ice cream is always a treat. But even treats are delivered at varying degrees of awesome. This young boy probably thought that he had struck gold when his mother let him dip his hand in the freezer and pull out an ice cream treat. But then he saw the little girl's option.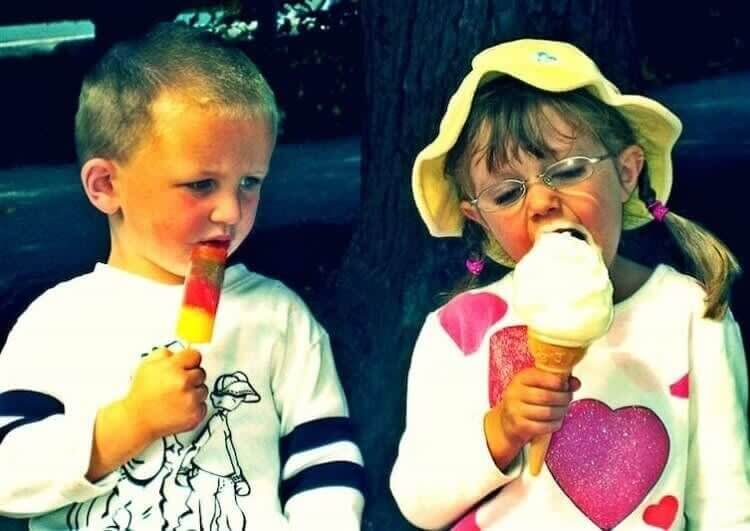 The creamy white treat is almost bigger than the little girl's face, and the image of her devouring her treat is quite a sight to behold. The only part of this photograph that is more amusing is the ultimate look of food envy on the little boy's face as he realizes that he made the wrong decision.

The Trophy Is the Be-All and End-All
Professional sportsmen work hard to convert their talents into money-making endeavors. Andy Murray is a world-famous tennis player who epitomizes the effort and energy that goes into professional sportsmanship. This picture of Andy Murray cradling his trophy shows how much value he places on winning. So what happens when he comes off second-best?

There have been several snaps of Andy Murray slinking in the background as his opponent holds the trophy that he so badly desires. One of the most iconic of these pictures is of Novak Djokovic after winning at the Australian Open final - while Andy Murray looks on enviously in the background.

Not Even Dogs Are Immune to Jealousy
This photographed moment of jealousy is more endearing than anything else. When its humans decided to come together for an embrace, this little pup decided to join in on the action, forcing its way into the moment.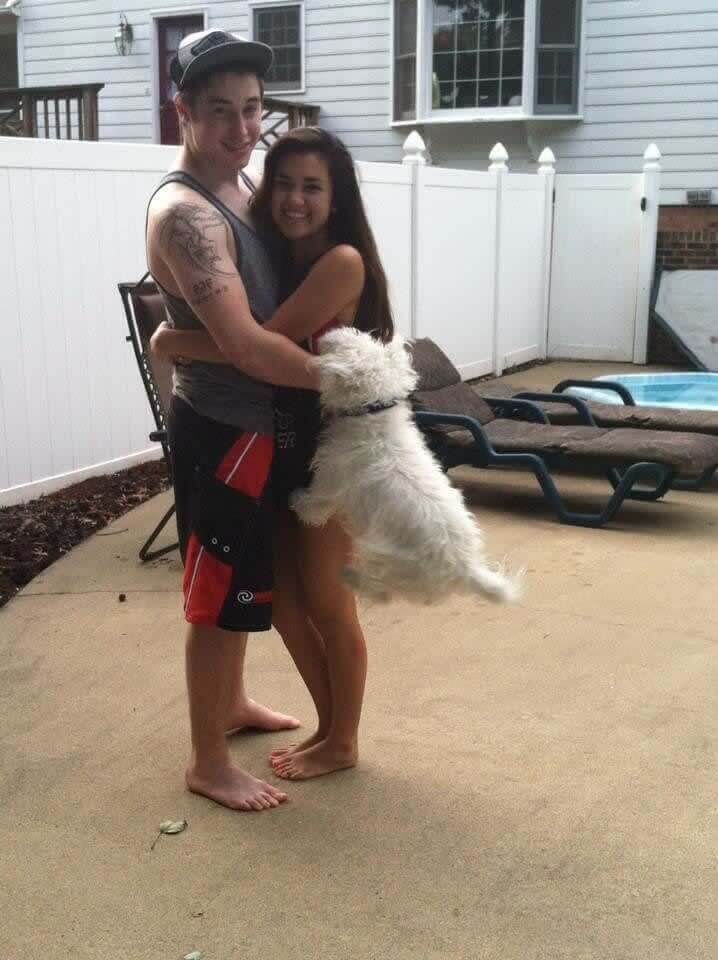 Judging from the dog's blurry appearance, we can only assume that its enthusiasm is innocent at heart. We're not entirely certain whether it's jealous that it's not involved in the hug, or if it's exciting to be involved. Either way, this captured moment is probably the sweetest one on this list.

No Longer the Cutest Kid in the Family
Everyone knows that the baby of the family is the most likely to get away with murder. But what happens when your cute mannerisms become the second favorite to the new baby in the family?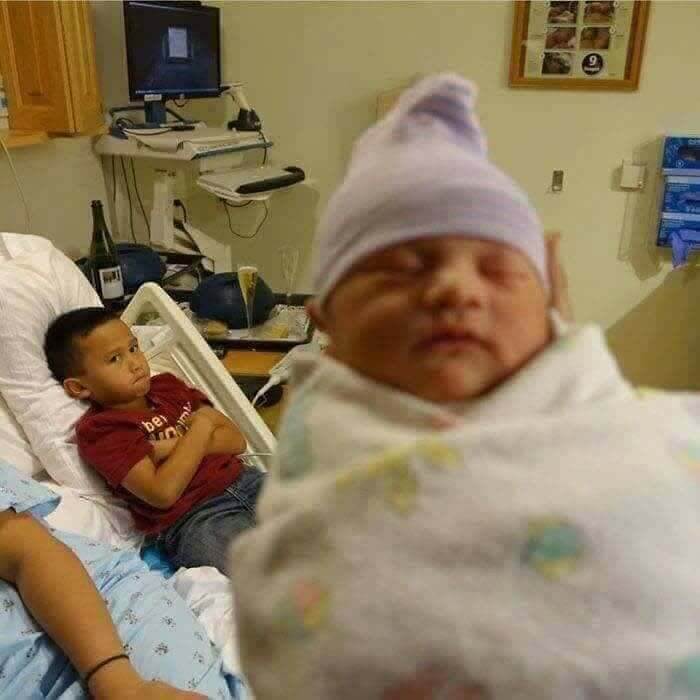 This kid looks very upset about the newborn baby in the photograph. The picture is made even more amusing by the fact that the baby is out of focus, and the sulking kid in the background is the focal point of the shot. Hopefully, this big brother will learn to become a nurturing sibling, and not a jealous one.

One Day When He Moves on to Solids…
Do you remember being a little kid and enjoying the treat of a soda at a restaurant? Or indulging in a burger instead of the usual chicken and veg? This young girl is tucking into a meaty burger and reveling at the moment. In the background, her younger sibling stares on enviously.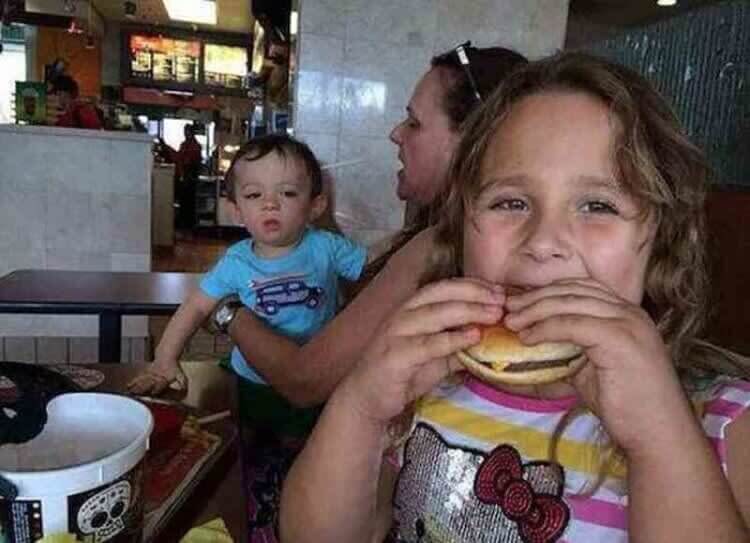 The young toddler is most likely still on a strict diet of baby food and milk, but that doesn't stop his imagination from running wild as he watches his older sister munch on a burger.

Same-Same but Different
Sometimes jealousy can be a big motivation for success. Just ask this kid who appears to idolize the Austrian bodybuilder, Arnold Schwarzenegger. But as you can see from this picture, the young man has a long way to go if he wants to walk in the legend's shoes.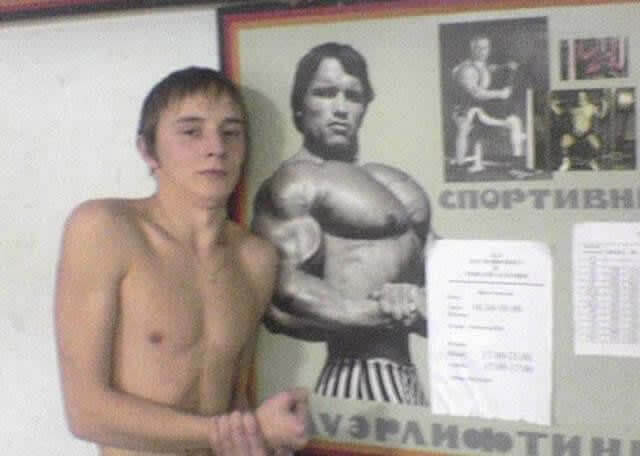 Until his muscles fill out, this aspiring bodybuilder will continue to be jealous of his role model. Hopefully, his envy will translate into a positive inspiration and keep his dedication alive. We highly doubt that he'll ever be able to match up to Arnold Schwarzeneggar, but we wish him the best of luck!


Butter Wouldn't Melt in Her Mouth
Do remember when Kanye West made headlines for stealing Taylor Swift's Grammy award out of her hands? Well, the two celebs have been at each other's throats since the fateful moment and the progression of their feud has been well documented. Like Kanye West's wife, Kim Kardashian has been forced to take her husband's side.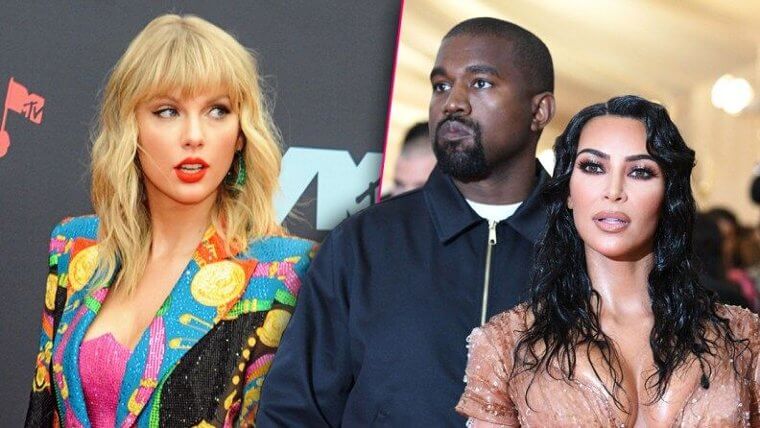 But while she supports her husband, she can't help but feel pangs of jealousy whenever they find themselves in Taylor Swift's presence. After all, there is a fine line between the passion of lust and the passion of hate. The way that she deals with the beautiful blonde is by smiling through a clenched jaw and pretending that all is okay.

It's Not Even a Real Woofie
The image of a dog lifting its leg on a fire hydrant and sniffing a fellow canine's butt perfectly demonstrates the friendliness and territorial nature of a pooch. In this picture, a golden lab fades into the background while a stuffed toy receives all of the attention.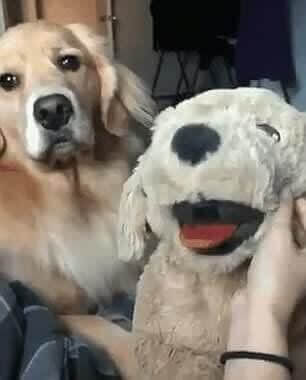 The dog's expression is one of disbelief and utter despair. It seems that it can hardly believe that the lifeless toy would receive the attention it believes that it deserves. Someone give this dog a bone!

Diamonds Are a Girl's Best Friend
When someone gets engaged, one of the first questions that they are asked is "can we see the ring?". This is most likely the exact conversation that was shared between Jason Sudeikis, Olivia Wilde, Tom Hanks, and Christopher McDonald when Jason and Olivia got engaged in 2013 and met up with Tom and Christopher at a basketball game.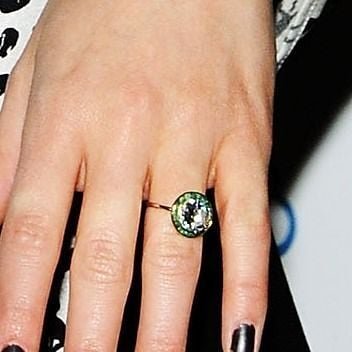 The two male actors lean in to get a closer look at the giant rock, with Tom Hanks even taking out his spectacles. Their expressions caught the attention of the spectator behind the group who sneaks a peek for herself. When seeing the size of the bling, she can't help but let a fleeting expression of envy cross her face.

Meeting the Kid in the Middle
The oldest child often paves the way for its younger siblings, and the baby of the family is normally pampered and treated like gold. But what about the middle child? This picture perfectly shows how the role of the middle child is obscure and undefined.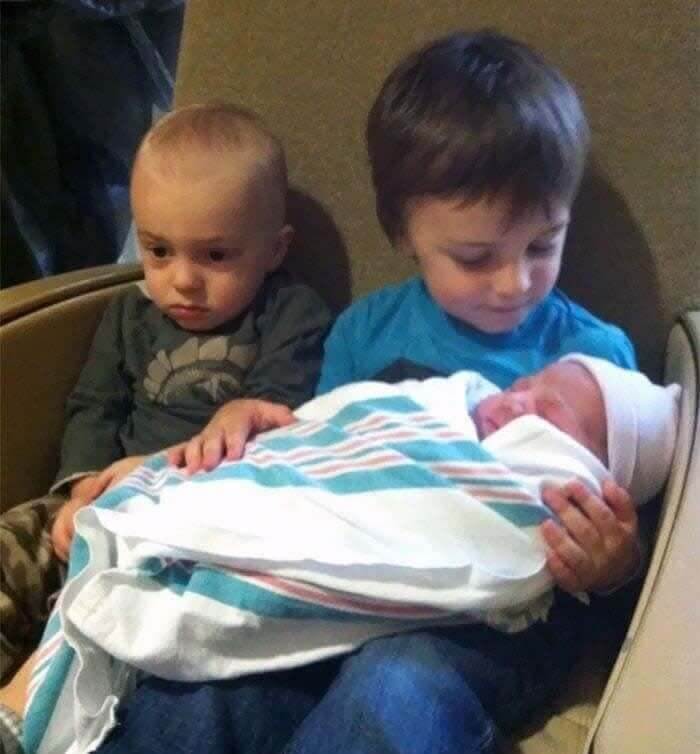 This poor kid is learning from a young age that you have to fight for attention. Instead of excitedly welcoming their new sibling to the family, they are dealing with the tough realization that life will never be the same again.

Why Hide the Fact?
Growing up, we're conditioned to hide certain emotions that may make others feel uncomfortable or ruin a moment. Clearly, this young girl never got the memo and she let her jealousy run wild during a family photoshoot.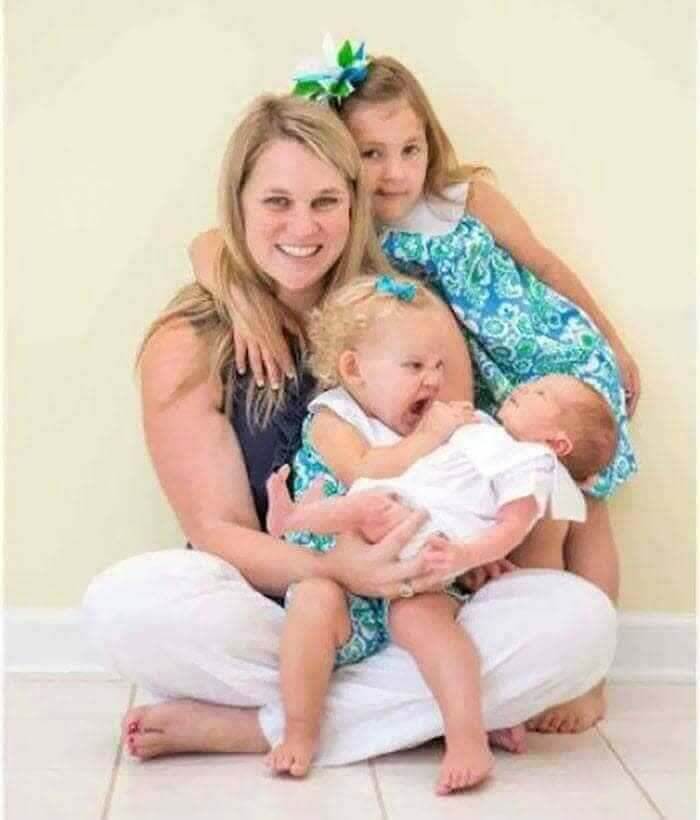 The cute little kid has transformed into a monster as she expresses her anger toward her younger sibling. Hopefully, she'll learn to share the attention otherwise she's in for a rough ride. This is one family photograph that most probably won't be framed on the mantelpiece.

Sharing Is Caring - But This Pooch Doesn't Care
There's a reason that they say "it's a dog's life". Everything is simple in the life of furry canines. All that they need is a little bit of love, a comfy place in your bed, and the random scratch behind their ears. But this luxury can quickly be disrupted when a second human enters the scene.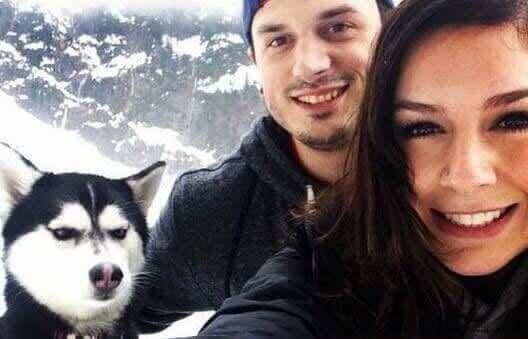 This beautiful husky is obviously upset by his human's decision to begin dating. With all of the man's attention on his girlfriend, the dog becomes a second priority. And this doggo seems to be having a hard time coming to terms with the new normal.

Jamie Foxx or the Cake - Take Your Pick
Have you ever been starstruck by a famous idol? Even if you don't hold a specific celebrity in high regard, it's easy to get carried away when standing in front of a big personality. However, in this photograph, this lady was far more interested in the cake than the much-loved Jamie Foxx.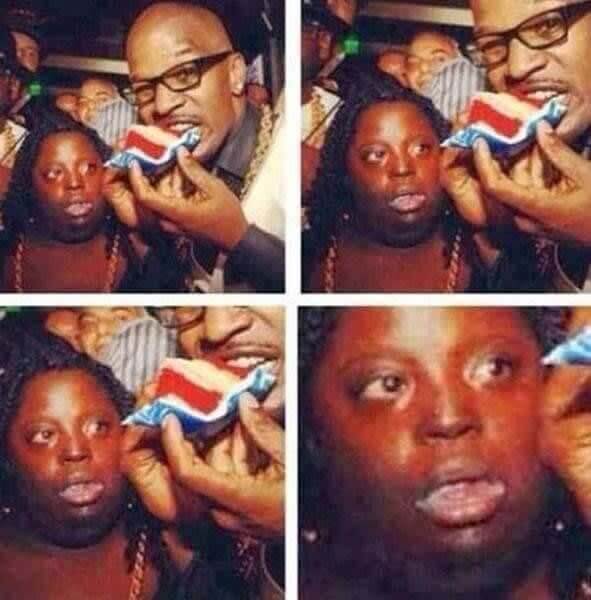 The famous actor was celebrating his 40th birthday at a party in Miami Beach, Florida when it came time to cut the cake. In this picture, the celeb sinks his teeth into the colorful sponge. And the lady in the background looks like she's ready to steal it right out of his hands!

Jealousy Makes You Nasty
If you choose to compare yourself to a stunning model, then you're almost always going to feel inadequate in one way or another. And while Photoshop can work a lot of magic, these models are normally drop-dead gorgeous by nature - as is Amber Rose in this picture.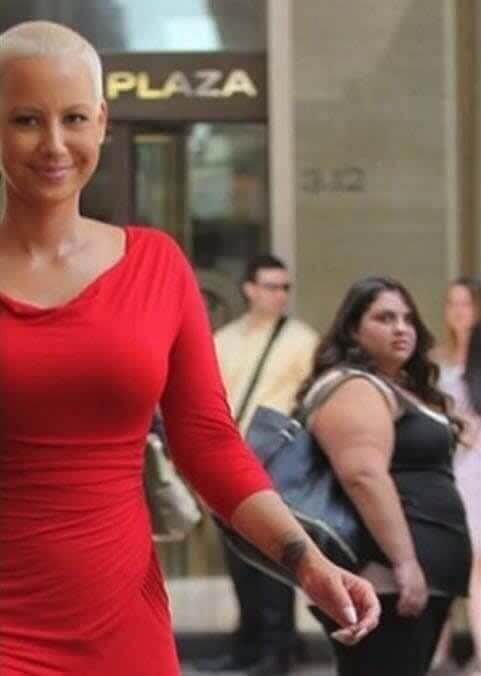 The lady in the background looks rather unsatisfied, trying her best to hide a scowl (but failing). While Amber Rose looks radiant and striking, the jealous lady looks like she could do with a pick-me-up.

The Battle of the Furry Animals
It's quite easy to split the world into two groups - those that love dogs, and those that prefer cats. Regardless of which group you fall into, you have to admit that a puppy or kitten is irresistible. When this girl got a new puppy, it became the sole receiver of all of her love and attention. But the cat is not happy with this development.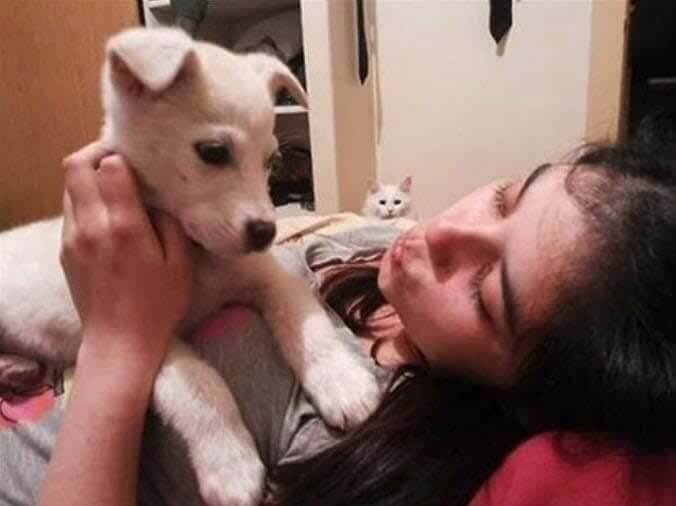 This picture perfectly demonstrates the jealous nature of the feline who sits in the background, watching her human shower the enemy with love. Hopefully, the two adorable pets will come to love one another and learn to take turns in getting tummy rubs.

Girl Power Means No Boys
In 2012, Fifth Harmony rose to fame as a popular girl band thanks to The X Factor. Not only did the group have fantastic singing voices, but they also shared a powerful message of sisterhood and girl power. But that doesn't mean that their dynamic was free from jealousy and nastiness.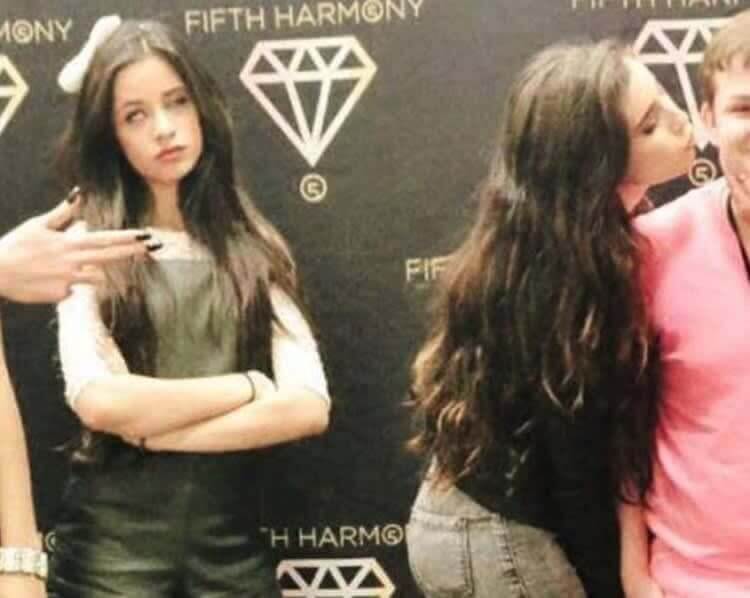 If you ever followed the band closely, you'll know that drama was a regular occurrence among the band. Camila Cabello, a retired band member, was often at the center of these scandals. In this picture, we see Camila Cabello rolling her eyes at Lauren Jauregui as she leans in to kiss the cheek of a fan. Clearly, Camila Cabello didn't have the energy to hide her sarcastic envy.

All the Seal Wants Is a Little Bit of Love
Who would have thought that a seal could be stung by jealousy! Looking at this photograph, your heart may melt at the sight of the lonely seal staring longingly at its friend who enjoys the attention of visitors.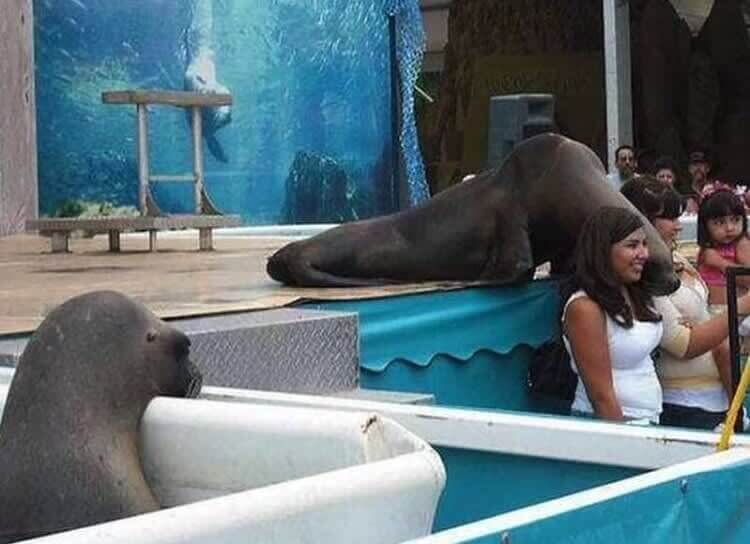 The moment is so adorable that you may want to lean into the picture and give the seal a consoling hug. But be warned - these creatures may bite when threatened and this seal could feel very threatened by his fellow marine animal.

Sitting All Alone in the Rain
Think back to one of the most uncomfortable moments that you've been in. Perhaps being caught in the rain after a long day? Missing the bus and having to walk a couple of miles? Or enduring a tough meeting with your partner's parents? For this lady, it was sitting alone, in the rain, with a loving couple in front of her.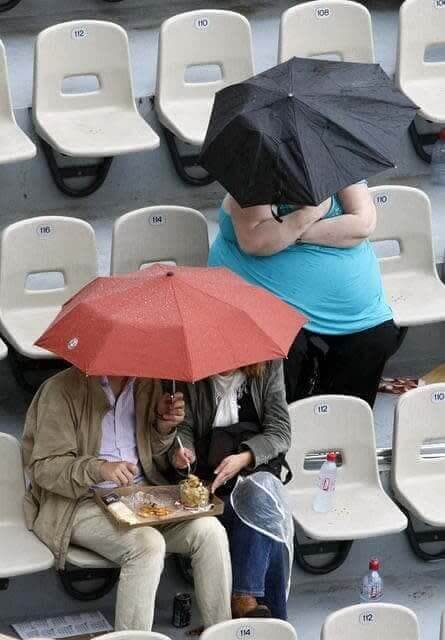 Although we can't see her face, we can only imagine that she is less-than-impressed by the canoodling couple sharing a meal. Her folded arms are a gesture of defiance and her posture tells us that she'd rather be anywhere than where she currently sits.

Wearing Her Jealousy on Her Sleeve
People can be sleazy, sliding into someone's DMs regardless of whether they are in a relationship or not. This girl knew the risk of dating a handsome lad and decided that she'd let her jealous nature take the lead and prevent anyone from contacting her boyfriend.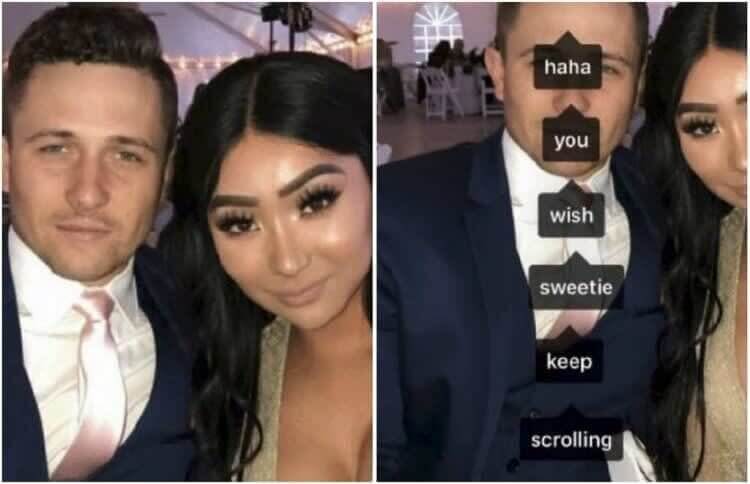 In an amusing twist of events, this sassy lady added a cheeky chirp in the place where one would normally tag the person. This should stop any potential stalkers in their tracks - and maybe even make them giggle.

Stand Back, Potential Threat
Did you ever receive an ugly jumper as a Christmas gift and feel compelled to wear it in front of the giver? This gent looks devastated in response to the gift from his excitable (and jealous) girlfriend.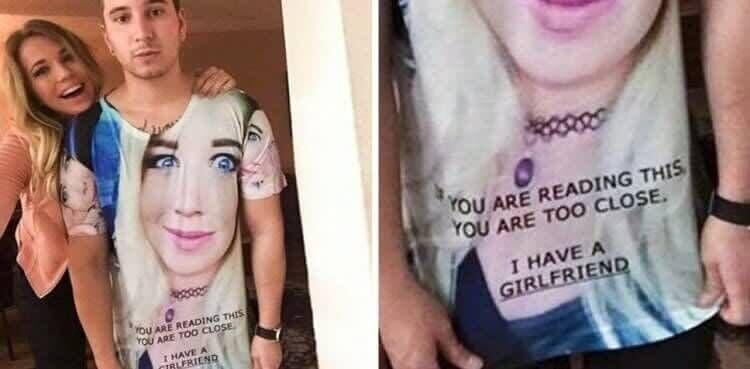 If it's not embarrassing enough that his envious girlfriend has her face blown up large and printed on his shirt, it also has a threatening message written below her crazy eyes. Ten bucks say that he's going to burn this shirt at the first chance that he gets!

An Awkward Stunt Driven by Jealousy
We've already shared how Kanye West stealing Taylor Swift's Grammy award led to moments of jealousy. And this picture reveals that a similar stunt would be pulled again during the 2013 MTV Movie Awards as actress Aubrey Plaza runs up to snatch Will Ferrell's Comedic Genius Award.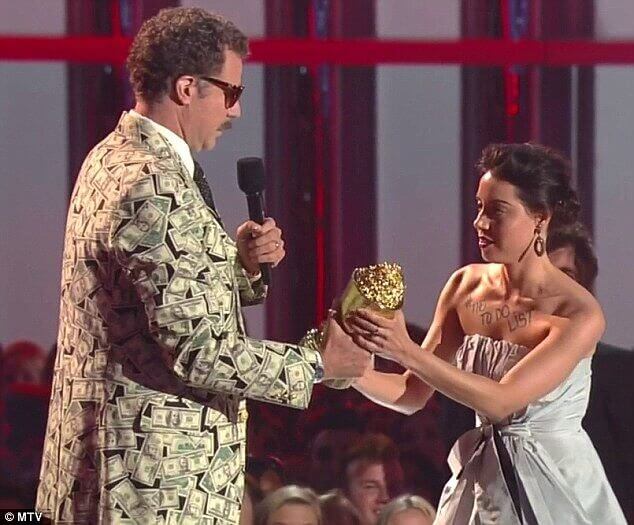 Her outburst was unexpected and unrehearsed. The actress, who had the name of an upcoming movie tastelessly scrawled across her chest, was clearly intoxicated and subsequently kicked out of the event. Will Ferrell tried to spin it for the entertainment of the audience, but the uncomfortable nature of the moment had jealousy written all over it.

Give a Girl a Break
When Jennifer Aniston and Brad Pitt broke up, the tabloids had a field day and the shattered romance made headlines around the world. While Brad Pitt started a new life with Angelina Jolie, Jennifer Aniston took her time getting back on her feet before falling in love with Justin Theroux.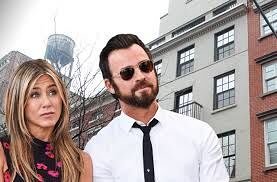 After enduring a lot of heat from the media, Jennifer Aniston was finally happy (for a while). But that doesn't mean that she didn't have to endure a few scandalous stories speculating about possible jealousy. And frozen moments of envy caught on camera only served to support these theories.

Can You Take a Hint?
We are all journeying through life at a different pace, and reaching various milestones at our own unique time. When this couple got engaged at a public sports game, everyone erupted into bouts of cheering. Except for one lady who gave her partner a look that translates to "when's it our turn?"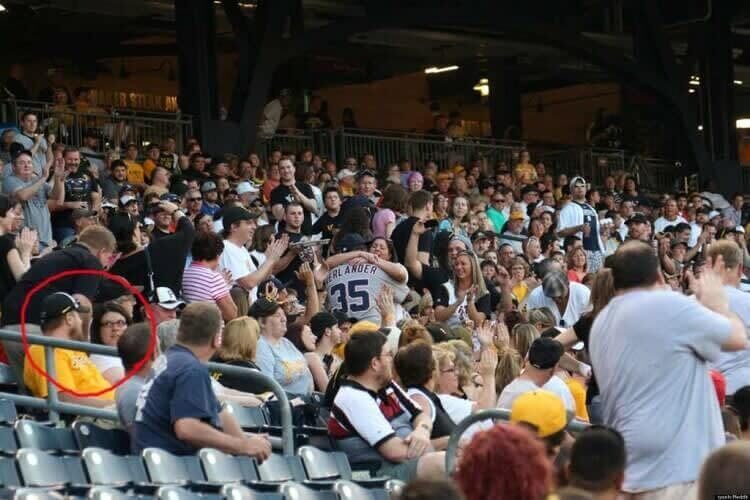 While everyone else around the happy couple was celebrating that she said "yes", the guy in the yellow shirt has a fair bit of explaining to do. His time at the ball game doesn't appear to be as relaxing as he may have predicted.

A Breeding Ground for Jealousy and Backstabbing
Love and lust are two key ingredients in the recipe for jealousy. The popular reality show, The Bachelor, shines a light on how catty and jealous 30 women can get when they compete for the affection of a smoking-hot bachelor.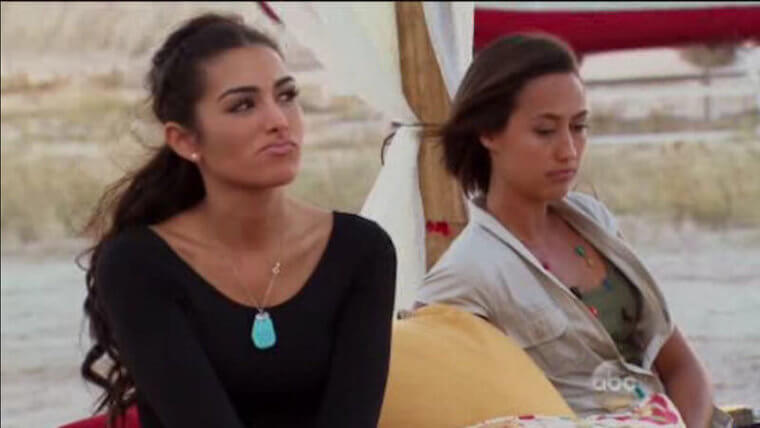 This picture is just one of many that successfully captures a moment of jealousy in the season when bachelor Chris Soules was looking for a lady. There are plenty more moments of sulking faces and envious stares. Considering that the television show runs off of drama, this is not such a bad reaction to have.

Sibling Rivalry at Its Finest
Jealousy is a common occurrence between siblings, and can sometimes manifest in a cute reaction before leading up to a temper tantrum. This little boy looks rather distressed by the love that his sibling is receiving and probably wishes for the same.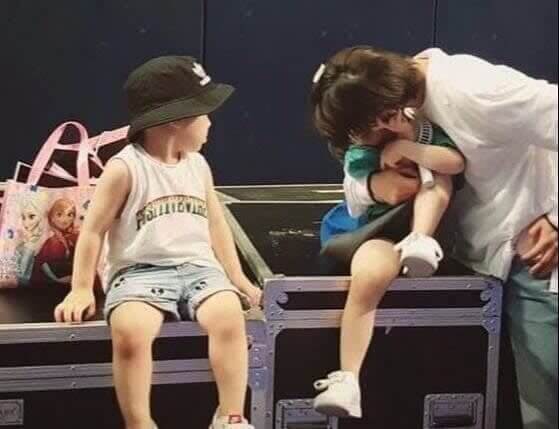 From the angle of the photograph, it seems as though his lip is quivering and that he could erupt in a yell for attention at any second. We can only hope that his parent swiftly moves on to him and showers him with kisses too.

"I'm Watching You... "
Cats typically run the home with royal elegance, demanding love while withholding affection at their own convenience. But this cat was presented with a new challenge when its humans brought home a puppy.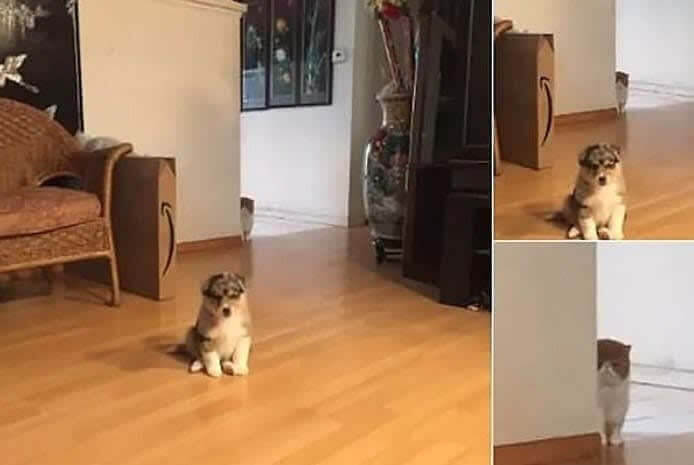 While the cute pup is the focal point of the shot, a closer look in the background reveals a very unhappy kitty who seems to be weighing up the competition. Judging by the mean look on its face, it may have a bone to pick with the little woofer.