She has a red-carpet career spanning more than 30 years, and along the way, she's picked up numerous awards, celebrity lovers, two husbands, three children, and some incredible stories to tell. We can now celebrate five fantastic decades of a life well-lived. Here are some amazing facts about the life and career of Julia Fiona Roberts.
Acting Is in Her Blood
It was in the cards that Julia would become an actress. Her parents, Walter and Betty Lou Roberts were both actors and playwrights themselves and they met while performing in theater productions for the armed forces. The two also ran the Atlanta Actors and Writers Workshop for young students aspiring to become acting stars.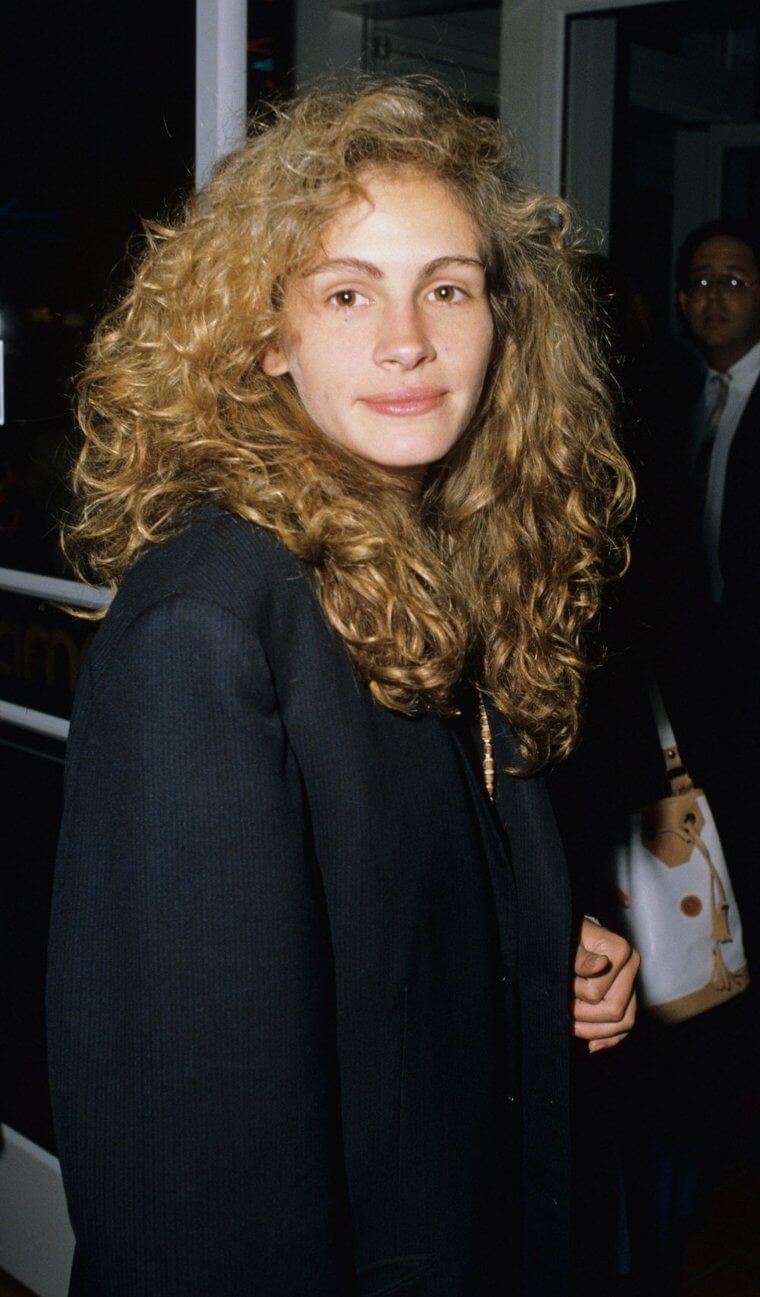 Walter and Betty were best known for creating a children's TV show called Bum Bum and His Buddies, in which Betty also starred. The acting school was very successful and attracted many local students, including some with very famous names! 
The Kings Paid for Her Birth
One of the biggest names to attend the Atlanta Actors and Writers Workshop was Yolanda Denise King, who went on to star in several films and television shows between 1978 and 2006. It would, however, be her family's political activism that she would be best known for, as Yolanda King was the daughter of Coretta Scott and Dr. Martin Luther King Jr.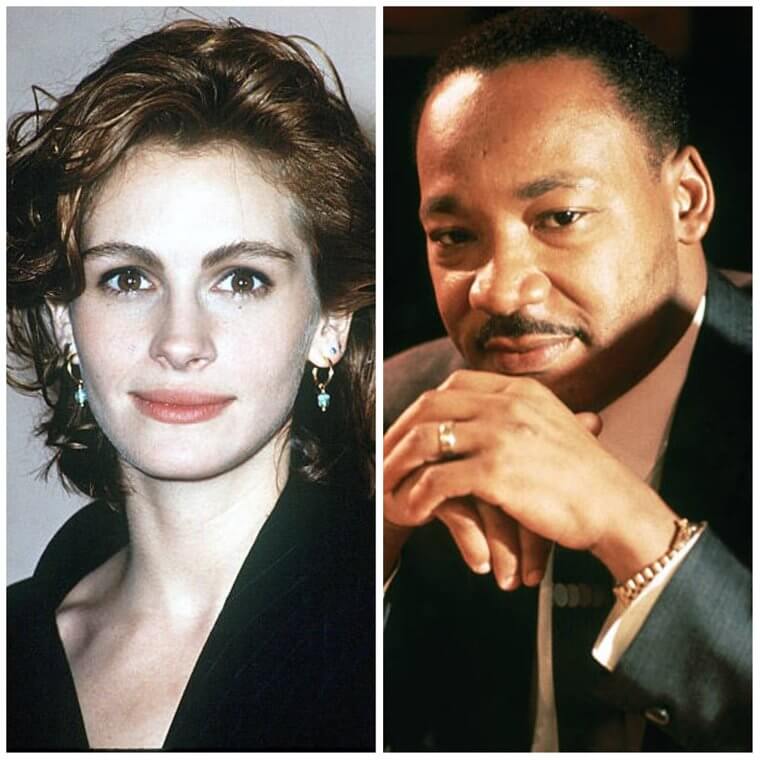 Julia's parents were struggling with money when she was born and with her birth, the Roberts' had a big hospital bill to pay. Coretta Scott King stepped in and paid the hospital bill for Julia's birth—a huge gesture of kindness to the family. Julia was born on October 28, 1967, and Dr. King was assassinated less than six months later. 
She Could Have Married Jack Bauer
In 1990, Julia Roberts starred alongside "Lost Boy" Kiefer Sutherland in the horror sci-fi movie, Flatliners. The two fell for each other and announced their engagement in August of that year with a plan to be married in the summer of 1991. Three days before their wedding, Julia called it off after suspecting Sutherland of having an affair with a go-go dancer.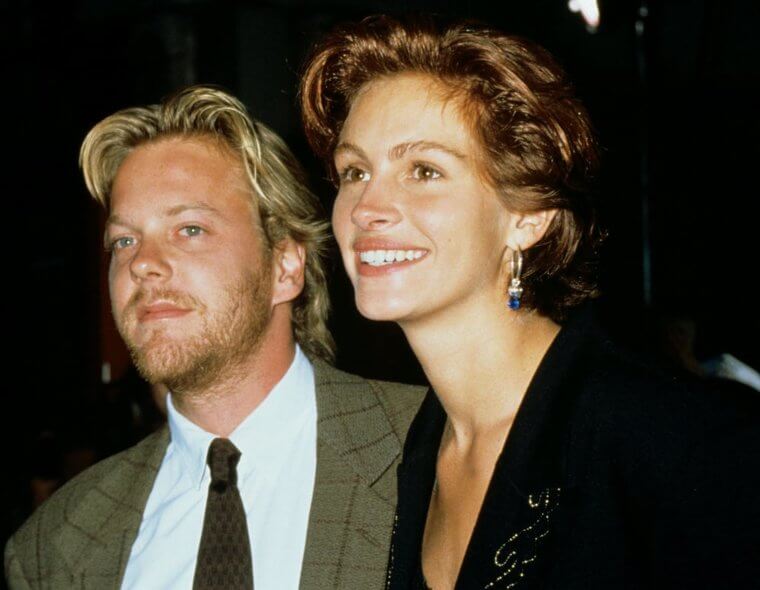 Sutherland didn't deny meeting up with the woman but claimed they were just friends who liked to play pool. It wasn't enough to convince Julia and the two parted ways. Having just starred in Pretty Woman, Julia's career exploded over the following years, while Sutherland's stagnated until it was reinvigorated in 2001 by his starring role as Jack Bauer in the smash-hit Fox series, 24. 
Love on Set
Movie stars date movie stars, it's just the way it is. When your job requires you to work long hours in close proximity to your colleagues, it stands to reason you might find a shared attraction with some of them. Julia Roberts was no different in this respect. She met Liam Neeson on the set of her first main film, Satisfaction, in 1998.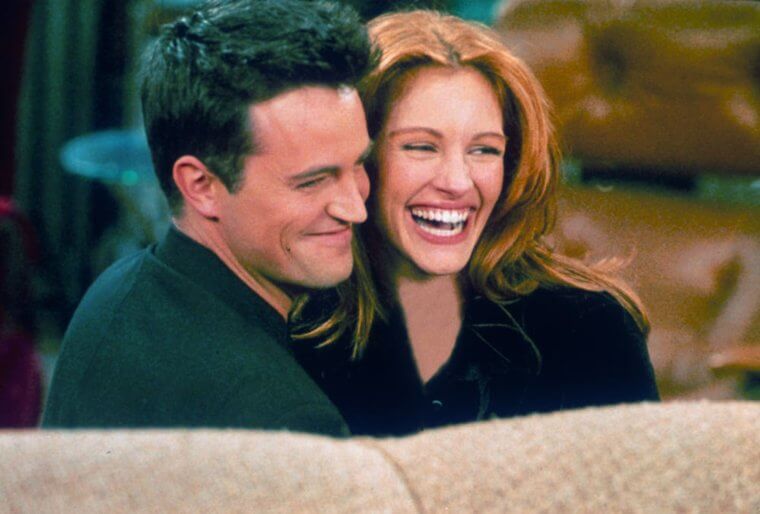 A year later, Dylan McDermott stepped into her life when they filmed Steel Magnolias together. Flatliners brought her first fiance, Kiefer Sutherland, who she quickly followed with Jason Patric, who had co-starred with Sutherland in The Lost Boys in 1987. Later, Roberts dated Friends star, Matthew Perry, for a year in the mid-90s, and Benjamin Bratt soon after. It's pretty obvious Julia lit up every set she walked onto.
She Married a Singer
While many of Julia Roberts' relationships were formed behind the scenes of her movies with fellow actors, it was a musician who would become her first husband. In 1992, country music star and sometimes actor, Lyle Lovett, was filming for The Player, a movie in which Roberts made a guest appearance as herself.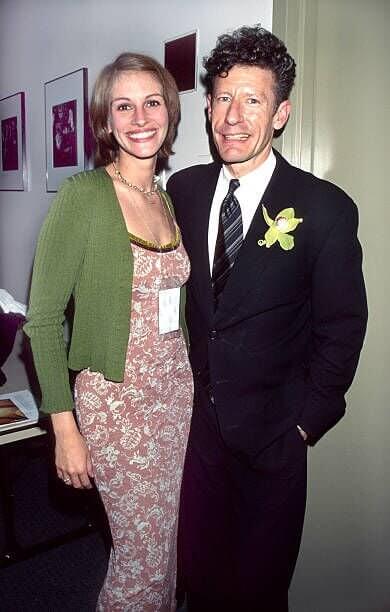 The pair hit it off and, after a relationship lasting just three weeks, they married at the St. James Lutheran Church in Marion, Indiana, on June 25, 1993. The marriage lasted less than two years before the pressures of their careers led to an amicable split and a separation in March 1995. You'll never guess who eventually won Roberts' heart for real though...
And a Cameraman
In 2001 Julia Roberts played opposite Brad Pitt in The Mexican, an off-beat comedy film that received mixed reviews but heaped praise on supporting actor and The Sopranos star, James Gandolfini. Neither Pitt nor Gandolfini caught Roberts' eye during filming, but one of the men behind the cameras did. Julia was in a relationship with Benjamin Bratt at the time, and Daniel Moder, the cameraman, was married.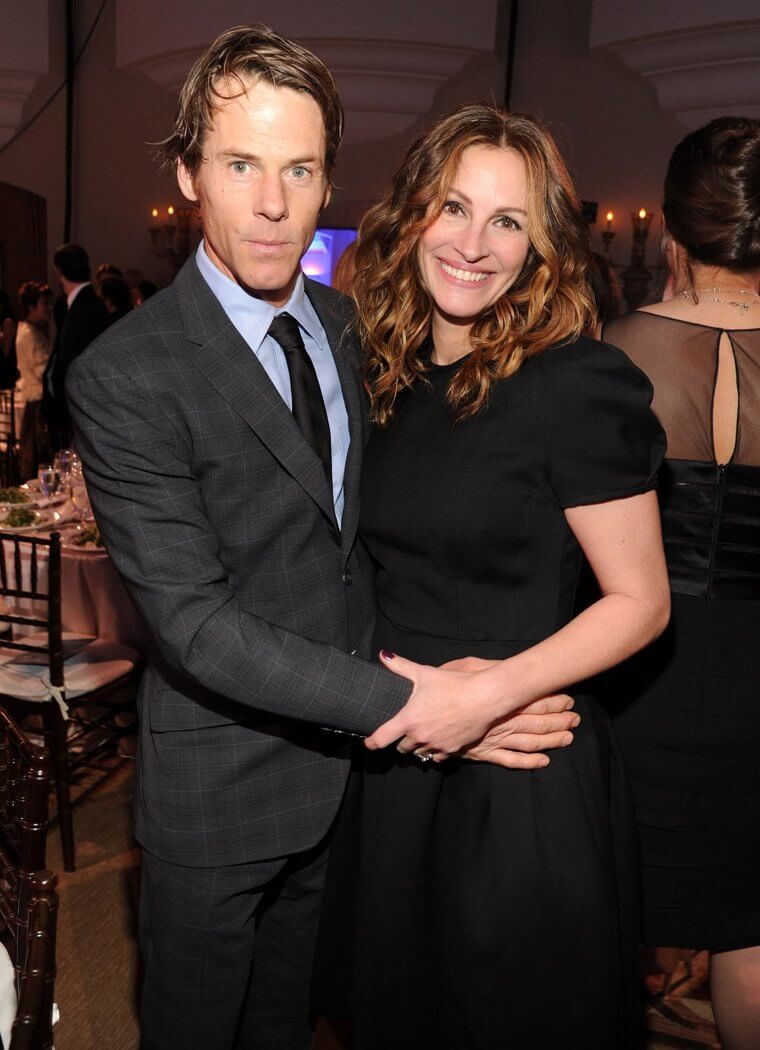 Julia ended things with Bratt, and Moder filed for separation. A year later, Roberts and Moder were in a committed relationship together. They married at Roberts' Texas ranch on July 4, 2002, in a small ceremony with Bruce Willis being the only notable celebrity guest. Roberts and Moder were married for over 20 years and share three children. To this day, there are rumors of Julia and Daniel being separated.
Divorce Rumors Are Always Circulating Them
Roberts shared that she tries to protect her kids from hearing about divorce rumors — and it isn't easy. "Sometimes we are in the grocery store and I won't even know something is out, but we'll see a tabloid and we'll all be standing there like, 'Oh, that's uncomfortable. This is really uncomfortable,'" she said. "It can still hurt my feelings, because I'm so proud of my marriage."

The actress has been posting to social media every anniversary. The two recently celebrated their 20th year together and Julia uploaded a pic of the seemingly happily married couple locking lips with the caption, "TWENTY," captioning the post, with the hashtags #cantstopsmiling and #cantstopkissing. 
A Low Vera
In 2020, tabloids insisted that Julia was starving herself after being separated from her husband, Danny. They also mentioned that the cinematographer dumped her for a younger co-worker called Katheryn Winnick. Their assumption could be partly due to Roberts being accused of being a husband-stealer in the past. When Danny and Julia met, he was wed to makeup artist Vera Steimberg.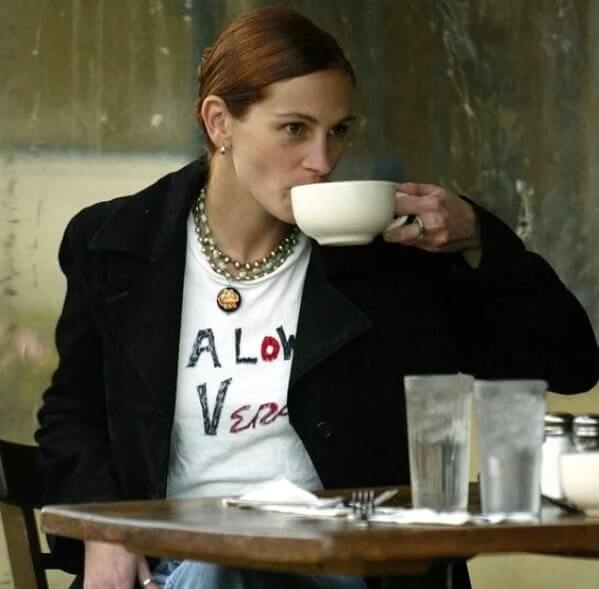 Moder filed for divorce from his wife six months later, after which Vera told The Sun: "I'll never be able to forgive Julia – she's a husband stealer. It won't last with her anyway. She will be looking for a new husband within a year. Danny has a roving eye, and he won't change." As a response, Julia dawned quite a snarky t-shirt in reading "A Low Vera", seemingly on purpose for the paparazzi to catch and post publically. 
Acting Wasn't Her First Choice
Despite her family's show-business background and the help and encouragement afforded to her since she was born, Julia Roberts had an eye on a different career at the start. With a childhood love of animals, Julia wanted to be a veterinarian when she grew up. She became an accomplished horse rider, as shown in her 1999 film, Runaway Bride.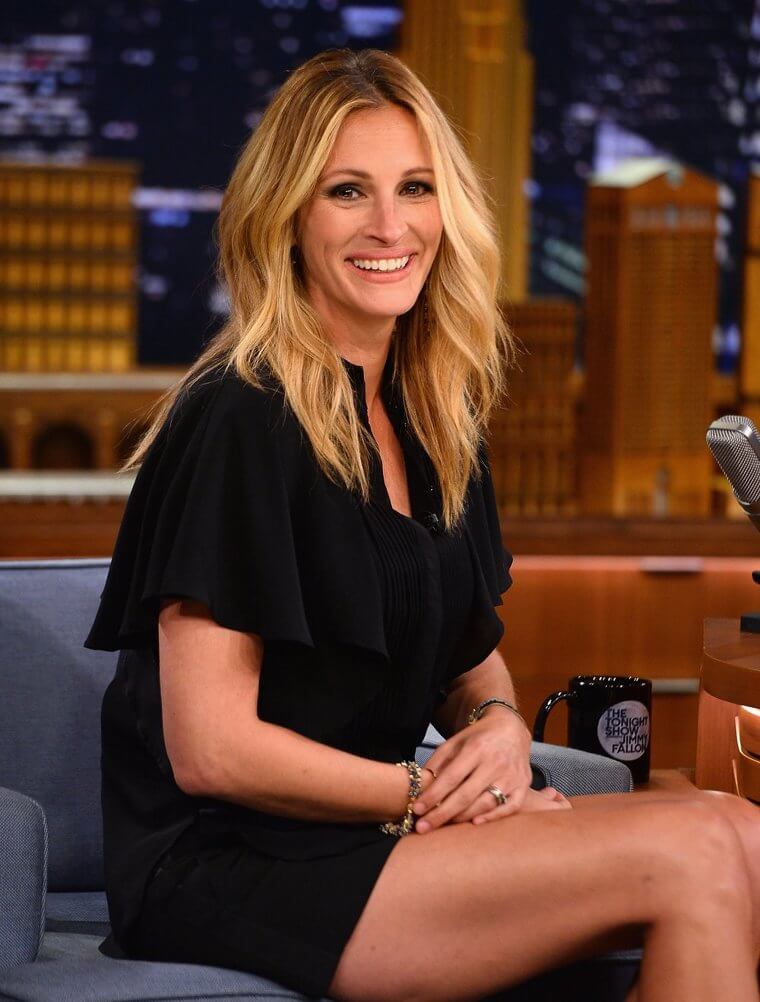 Her career objectives changed as she approached college, however, and it was a journalism degree she finally enrolled in when she attended Georgia State University. Acting wouldn't come until later. You might wonder why Roberts delayed her acting career, especially when acting ran in the family. She eventually chose acting as her path, and apparently, the gene ran through the whole family.
The Twenty Million Dollar Woman
In 1996, Jim Carrey received a fee of $20 million for his performance in The Cable Guy, making him the first actor in history to cross that pay threshold for a single movie. Four years later, Julia Roberts became the first actress to do the same, earning $20 million to play the title role in the courtroom drama, Erin Brockovich.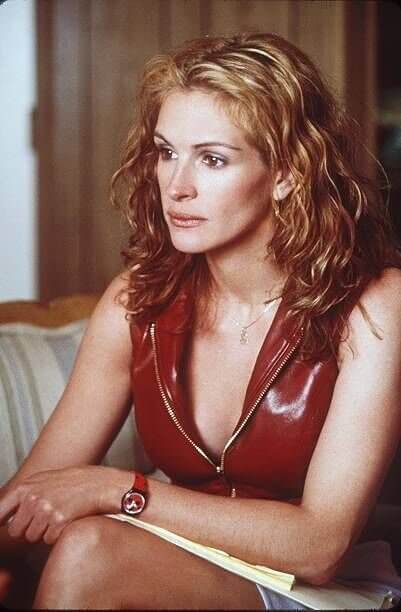 Of course, this amount has been eclipsed in recent years. Adam Sandler has received three $200 million paydays from Netflix who are contracting him to four films at a time. Will Smith and Tom Cruise have both earned $100 million from single movies, and Sandra Bullock took over $70 million for her performance in the space movie, Gravity.
She Has Acting Siblings Too
Both Julia's older brother, Eric Roberts, and her older sister, Lisa Roberts Gillan, appeared on the screen. Eric was in almost 600 productions, including The Dark Knight and The Expendables, making him Hollywood's third most prolific actor ever. He gained popularity in Britain by becoming the only non-UK actor to play the role of Dr. Who's archenemy, The Master.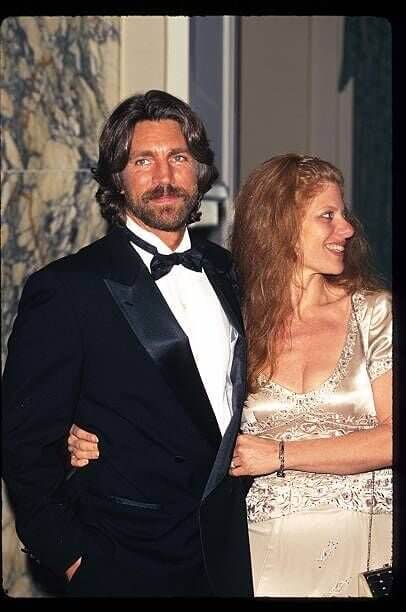 While very much in the shadow of his little sister's achievements, Eric has still found recognition with two Golden Globe nominations. Unfortunately, the two siblings were estranged for years, after Eric began having drug and alcohol issues. In fact, she even helped fund his ex-wife and fellow actress Kelly Cunningham's legal fees in her custody dispute over their daughter (and actress herself)—Emma Roberts. 
And an Acting Niece
Fortunately, the two reconciled in 2004, when Julia gave birth to twins and Eric became an uncle. Between Julia's global megastardom and Eric's enormously prolific career, you'd be forgiven for thinking the Roberts family was set on taking over Hollywood completely. But sure enough, niece Emma caught the bug. Emma stepped onto the scene in 2001 as Kristina Sunshine Jung in the crime biopic, Blow.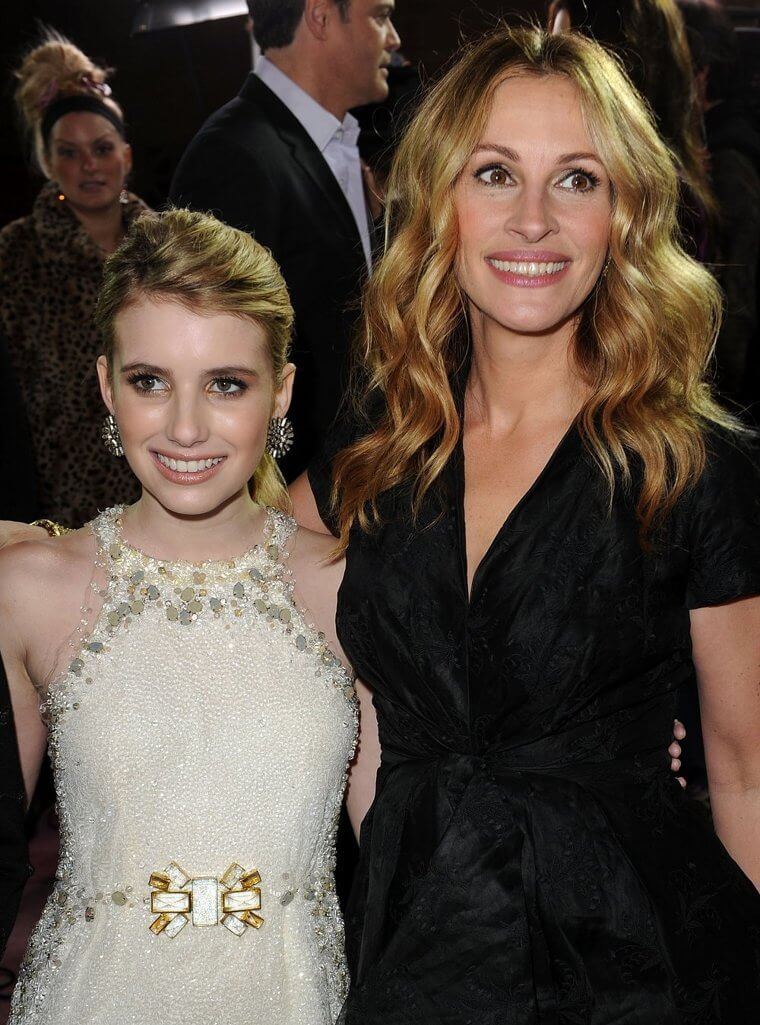 Emma then gained a name for herself with the lead role in Nickelodeon's Unfabulous. To date, Emma is best known for her repeated starring roles in the American Horror Story series, alongside films such as Nancy Drew, We're the Millers, and the Netflix movie, Holidate. It certainly helps to have an aunt like Julia Roberts, especially when she's as talented and beautiful as she is.
She's a Poll Topper
The glossy magazines and internet blogs love little more than a good old-fashioned list of the sexiest or most beautiful people in the celebrity world, and People magazine is one of the most dedicated. They have produced an annual Most Beautiful People in the World since 1990. Guess which starlet has graced the list a record-breaking amount of times?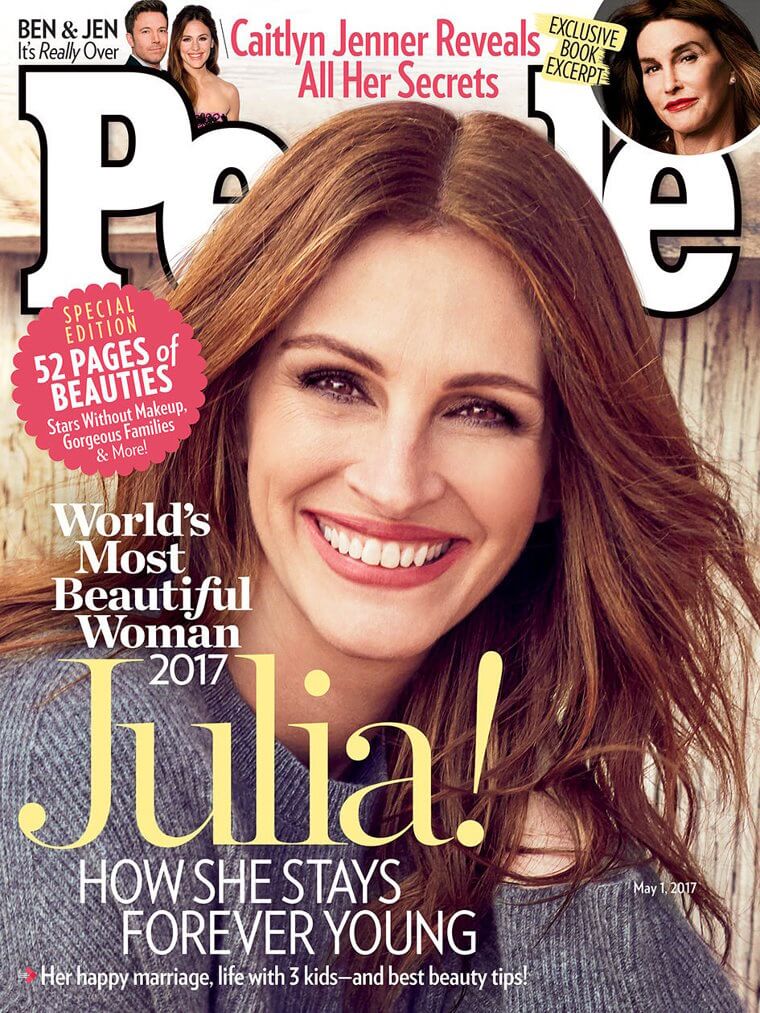 Throughout its 30-year history, some huge names have graced the top spot, including Cindy Crawford, Angelina Jolie, and Beyoncé, but none as often as Julia Roberts. In 2017 she was named the most beautiful person in the world for a record fifth time. Her first win came at the age of just 23, with her fifth shortly before her 50th birthday. 
It Took Four Films to Launch Her Career
While Pretty Woman is often considered to be the moment that Julia Robert's career took off, it was actually a chain of four movies that propelled the new actress into the stratosphere. Julia filmed two small projects in her first years, a straight-to-video movie called Firehouse (1987), for which she was uncredited, and a two-line part alongside her brother, Eric, in Blood Red (1989).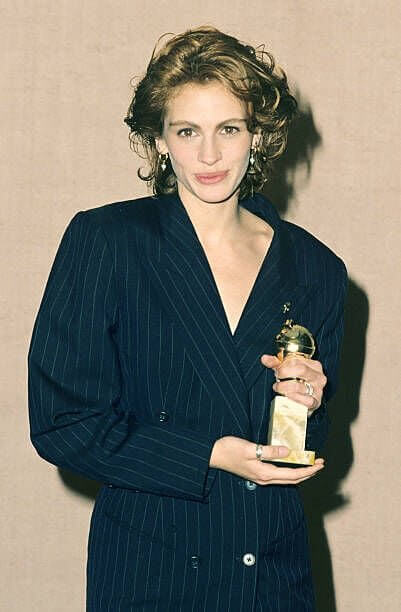 However, the first major progress in Julia's career came with the main role in Satisfaction, a 1988 movie that charted the comedic rise of a factional all-girl rock band in which Julia portrayed the bass player, Daryle. Liam Neeson and Justine Bateman also starred in the film, which featured a guest appearance from none other than Blondie frontwoman, Debbie Harry.
Then There Was Pizza
After impressing as a supporting actor in Satisfaction, Julia moved up the bill for her second movie of that year when she secured a lead role in Mystic Pizza. Donald Petrie's directorial debut, and notably an acting debut for an 18-year-old Matt Damon, Mystic Pizza was a coming-of-age rom-com that centered around the lives of three women working in a pizza restaurant.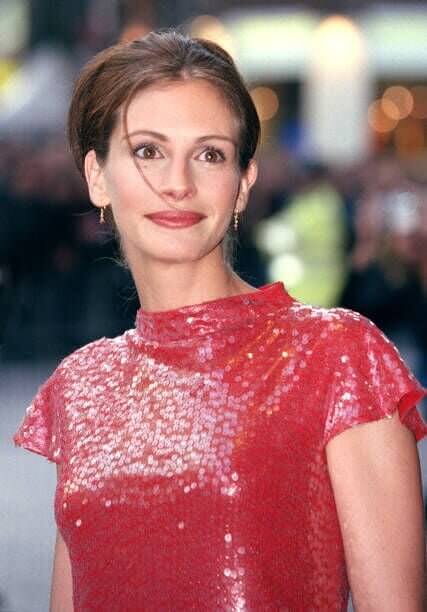 Roberts played one of these women and found herself dating a man much wealthier than herself, a thematic precursor to what was to come. The movie was lauded by critics and took $14 million at the box office, with its three female leads credited for much of its success. One telling review read that Mystic Pizza  "may someday become known for the movie stars it showcased back before they became stars." In the case of Julia Roberts, that certainly rang true!
The First Awards
After the acclaim earned in Mystic Pizza, Roberts found herself stepping straight into an all-star cast for her next role, just a year later. The 1989 comedy-drama, Steel Magnolias, featured some huge names. Sally Field, Daryl Hannah, and country music legend, Dolly Parton, appeared alongside the 22-year-old Julia Roberts. Still, the emerging actress shone, picking up her first major award for her supporting role as Shelby Eatenton-Latcherie.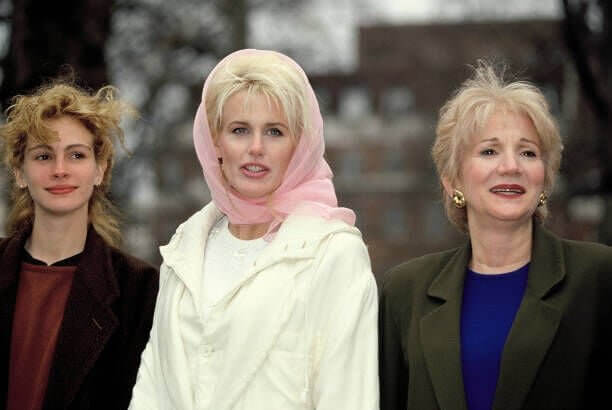 Not only did Roberts win that year's Golden Globe for Best Supporting Actress, but also an Academy Award nomination for the same category. To be picked out for praise amongst such a respected cast truly cemented Roberts' place in the upper circles of Hollywood, and with Pretty Woman and Flatliners to follow within a year, she never looked back.
Pretty Woman
In terms of iconic movie roles of the modern era, Vivian Ward in Pretty Woman is up there at the top and truly marked the moment Julia Roberts stepped over the line from exciting new actress to global superstar and classic Hollywood beauty. The film was the number one box office release, grossing over $11 million in its opening weekend, and would go on to take over $450 million.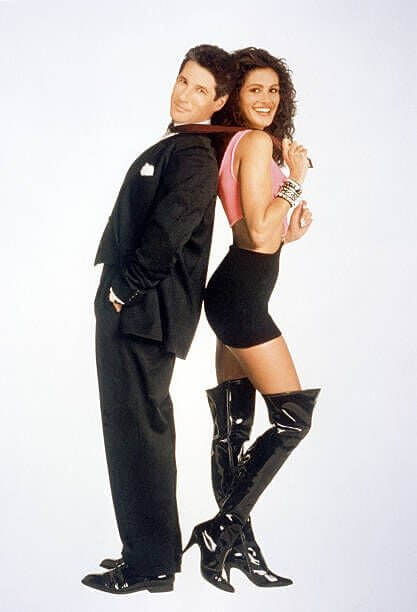 Pretty Woman earned Roberts her second Golden Globe trophy and her second Oscar nomination, this time for Best Actress on both counts. After Pretty Woman, Julia Roberts was a household name, and her path to becoming one of the highest-paid actors in the world was well and truly underway.  The movie's soundtrack went Multi-Platinum around the world, as well.
She Wasn't First Choice for Pretty Woman
It might have been the movie that really accelerated Julia Roberts onto the global stage, but she only got the role in Pretty Woman because others turned it down. In fact, Disney wasn't keen on her at all, to begin with. Director, Garry Marshall, wanted Karen Allen, who had played opposite Harrison Ford in Raiders of the Lost Ark, or Meg Ryan.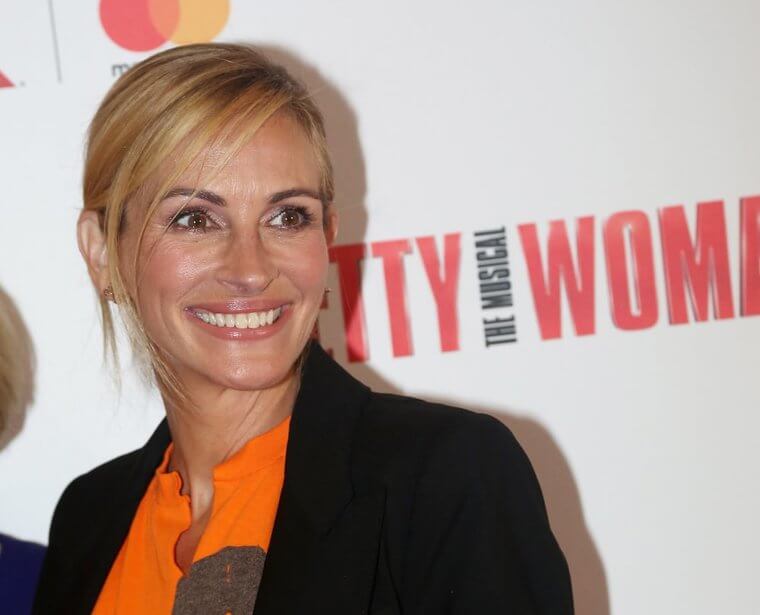 It was also turned down by Mary Steenburgen, Diane Lane, Michelle Pfeiffer, and Daryl Hannah, before finally being offered to Julia Roberts. It's fortunate it was though, as Richard Gere almost turned the film down too, only agreeing to sign on after being persuaded by Roberts. Alternative choices for his role included Christopher Reeve, Daniel Day-Lewis, Kevin Kline, Denzel Washington, Al Pacino, and Burt Reynolds.
One From Four
The Academy Award nominations came quickly for Julia Roberts. By the time the world knew her name, after Pretty Woman in 1990, the 23-year-old already had two under her belt. However, despite picking up other titles along the way, she hadn't seen her name come out of that famous envelope on Oscars night. In fact, she would need to wait another ten years for that honor.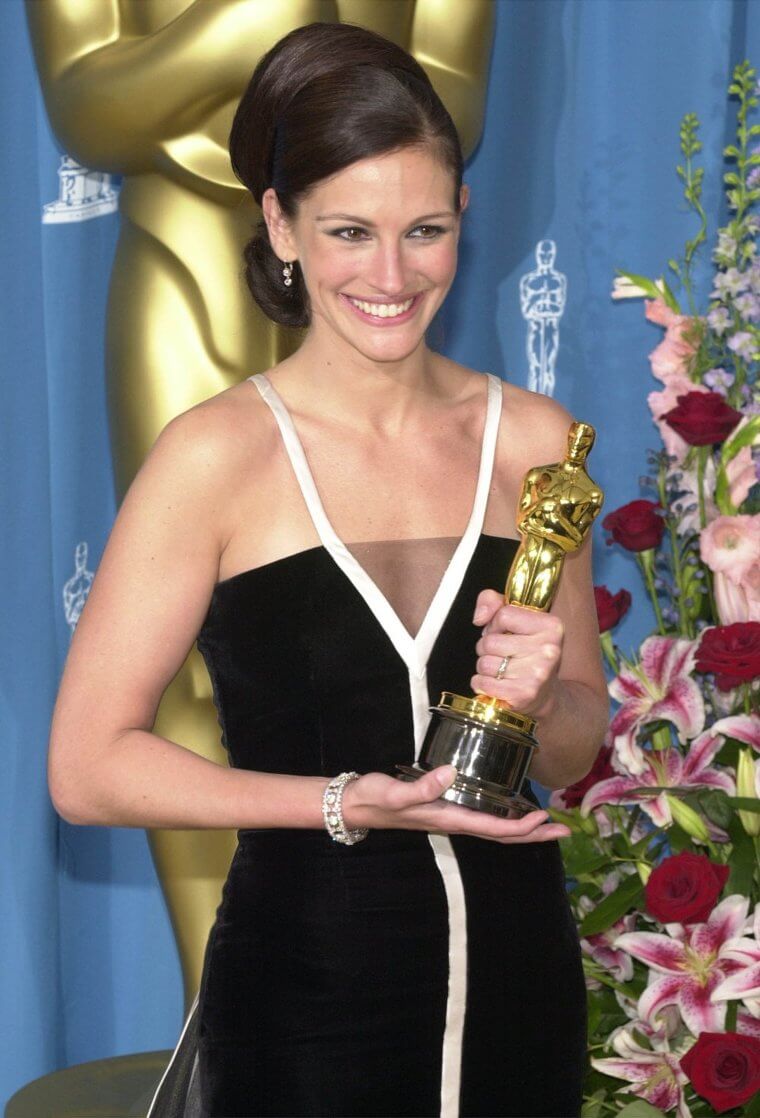 In the year 2000, Julia would take a role for which she would become almost as recognizable as she was for Pretty Woman. As the title character in the stirring legal biopic, Erin Brockovich, Roberts finally turned the heads of the Academy enough to take home that precious statuette. So far, she has been nominated once more, for August: Osage County in 2014, but her tally remains one win from four nominations.
All About the Big Screen
Many actors find themselves straddling the worlds of cinema and television throughout their careers, but Julia Roberts has always been about the big screen. However, her first appearance was on television. Roberts played a young survivor of sexual assault in the NBC drama, Crime Story. It was a one-episode role and within a year she was in the movie theatres with Satisfaction.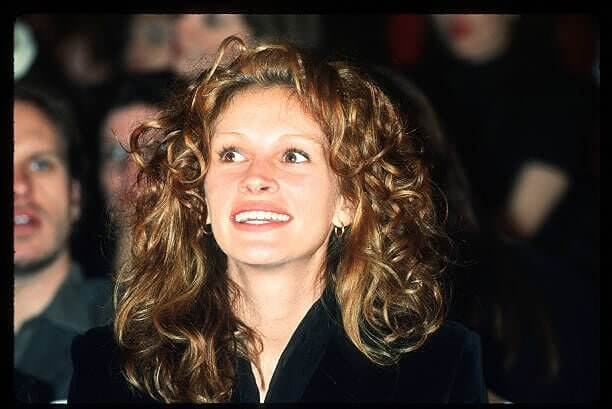 Since then, Roberts has only appeared on television shows a handful of times, with guest appearances in Friends, Murphy Brown, and Law & Order in the late '90s. Aside from working as a narrator or a producer, Roberts shied away from the networks until 2018 when she appeared in ten episodes of Homecoming on Amazon Prime. 
Huge Roles Were Passed Up
Between Pretty Woman, Erin Brockovich, Notting Hill, the Ocean's movies, and quite a few more, Julia Roberts has played her share of iconic roles, but there were others she turned down. In 1998, she was offered the chance to play Viola de Lesseps opposite Joseph Fiennes' portrayal of England's most famous playwright in Shakespeare in Love.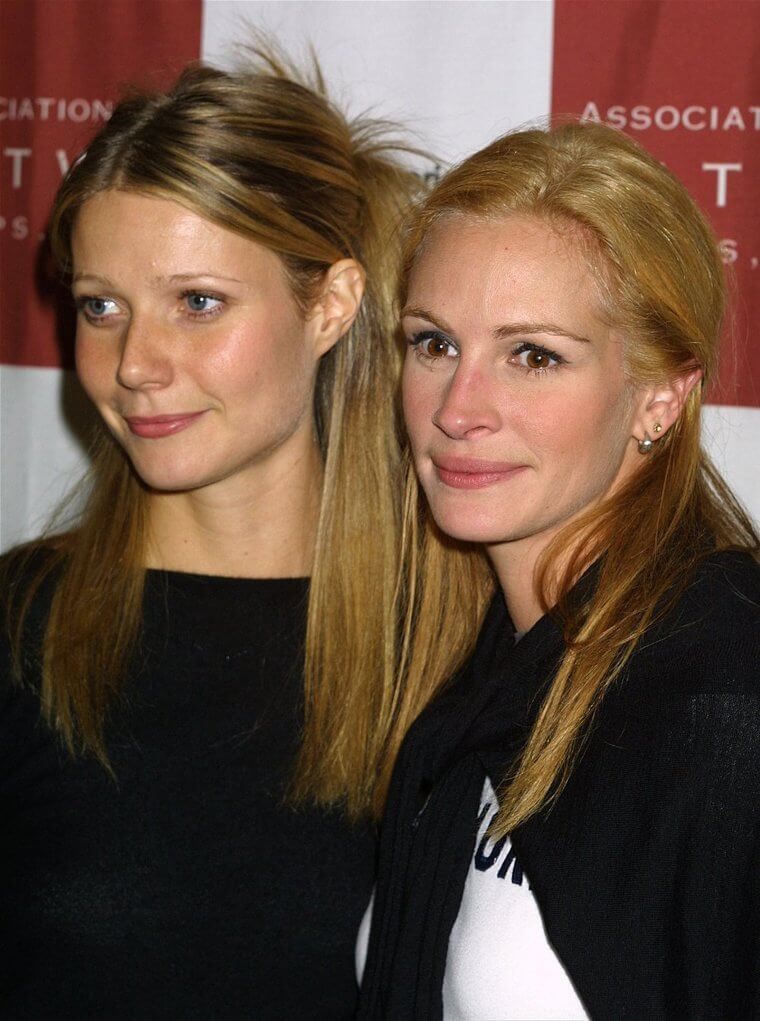 She turned it down and Gwyneth Paltrow was cast instead, picking up an Oscar and a Golden Globe for Best Actress for her work, the only time Paltrow has received either honor. Roberts also passed up the opportunity to play Annie Reed in Sleepless in Seattle five years before, leaving the door open for Meg Ryan to step into her biggest role since When Harry Met Sally…
No Poison
In 1997, Joel Schumaker directed a DC Comic film called Batman & Robin which, like many similar films, featured a range of characters from the DC stable. One of them was Poison Ivy, and Julia Roberts was heavily considered for the role, as were Demi Moore and Sharon Stone before it ultimately went to Uma Thurman.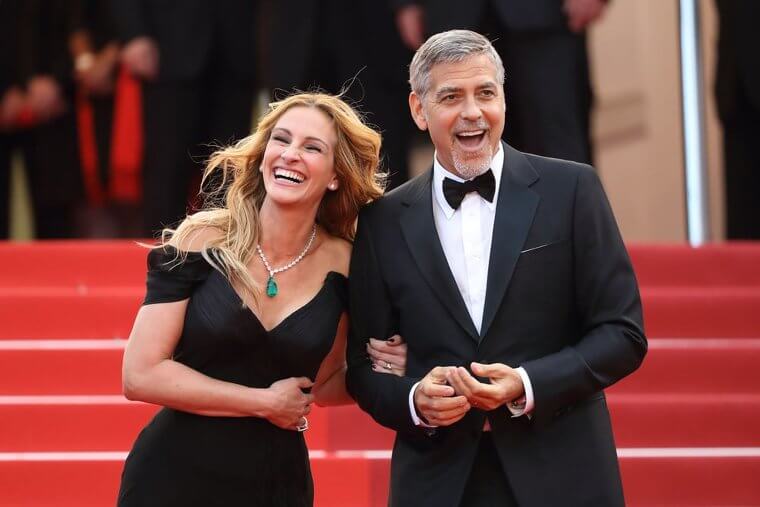 It would have put her on-screen alongside George Clooney, who she'd later play opposite in the hugely successful Ocean's 11 and its sequels. No actor likes to miss out on a casting but, in the case of Poison Ivy, it was perhaps a blessing in disguise. The movie was almost universally panned by critics on its release and is often considered to be one of the worst of the franchise, if not of all films in general.
There's a Skeleton Named After Her
It's incredibly common for people to name their children after their favorite movie star, sports hero, or musician, but how many can say they have a 9000-year-old namesake? Well, Julia Roberts does. When archeologists in North-West Bulgaria unearthed an ancient skeleton in 2004, they quickly felt they had the perfect name for it.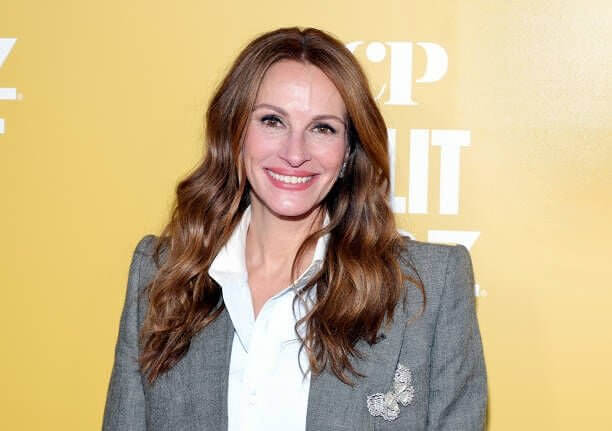 The bones belonged to who they believed had been a Thracian woman - a people talked about in praising tones by the epic Ancient Greek poet, Homer - and she had one striking feature. Unlike most skeletons from the time, before dental hygiene and healthcare became routine, this one had absolutely perfect teeth. Scientists felt it would only be right to name her after the owner of one of Hollywood's most famous smiles, and so an ancient Julia Roberts was named.
Her Attitude to Make-Up Is Laid-Back
Make-up can be one of the most grueling parts of any actor's day and can add hours to their working time. Having to spend four or more hours of each day in the chair as artists busy themselves around an actor is not uncommon. Some even endure mammoth sessions, like Rebecca Romijn and Jennifer Lawrence in X-Men or Jim Carrey in The Grinch, all of who sat for more than eight hours a day.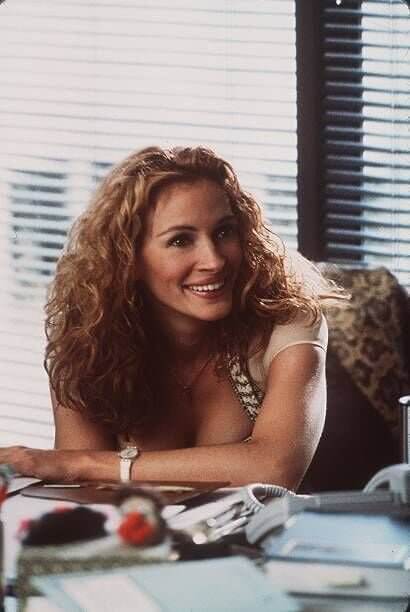 Julia Roberts' sessions have generally been on the shorter side, but she still approaches them in a unique way. Claiming that it makes her look "more relaxed", Julia insists on lying on her back while her make-up is applied. It could be that she's right, or perhaps it's just a chance to get a little rest!
On Broadway
Just as Julia Roberts has kept her dalliances with television to a minimum, so has she with theatre, but she did appear in one notable Broadway run in 2006. Roberts starred in a reprised version of the Richard Greenberg play, Three Days of Rain. The show had a cast of only three and also featured Bradley Cooper, who was just breaking into the movie world after impressing as handler Will Tippin in five seasons of J.J. Abrams spy thriller, Alias.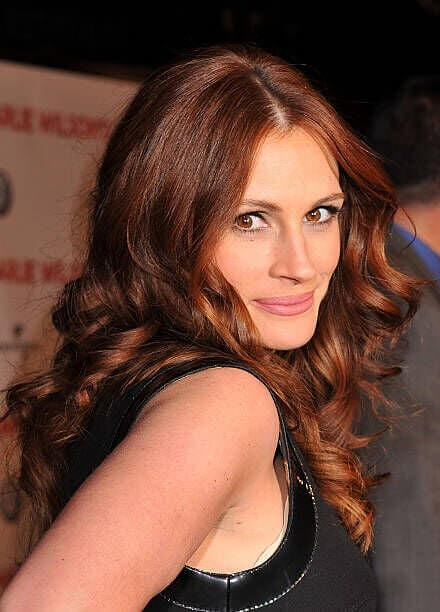 The trio was completed by Paul Rudd, who was already a low-key star at that point and came fresh from successful performances in Friends, Anchorman: The Legend of Ron Burgundy, and The 40-Year-Old Virgin. The run took over $12 million but the reviews were mixed, The New York Times was not unkind to Roberts though, saying "She looks every inch the magnetic (if theatrically challenged) movie star."
She's a Knitter
It might seem strange to imagine a movie icon the stature of Julia Roberts sitting down with a ball of wool and a pair of needles to click away in the corner, diligently turning the twine into a sweater, or maybe a scarf, but that's exactly what happens when she is at home. She uses it as a way of relaxing without disengaging from the people around her.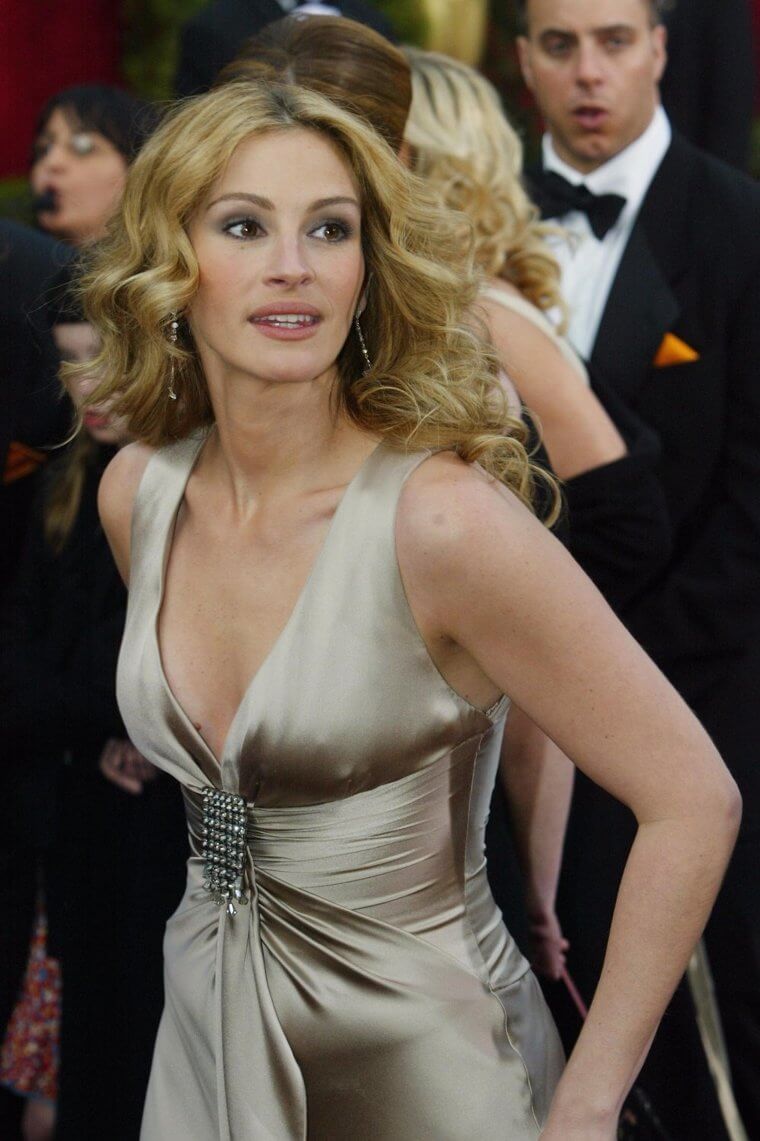 "It's a very social hobby," she explains, unlike reading. "I can chat with people and still be fully engaged." As a mother of three, her creations probably come in handy too! Garry Marshall, a producer who worked with Roberts, wasn't surprised, describing the star as "a cross between Audrey Hepburn, Lucille Ball, and Bambi."
An Unfortunate Nickname
Steven Spielberg's imagining of the children's classic, Peter Pan, under the title of Hook in 1991, gave Roberts the chance to play a character already loved by people all over the world. As the fairy, Tinkerbell, she would be the embodiment of innocent hopes and dreams for millions. Unfortunately, that is not how she was received onset and found herself cruelly being referred to as "Tinkerhell".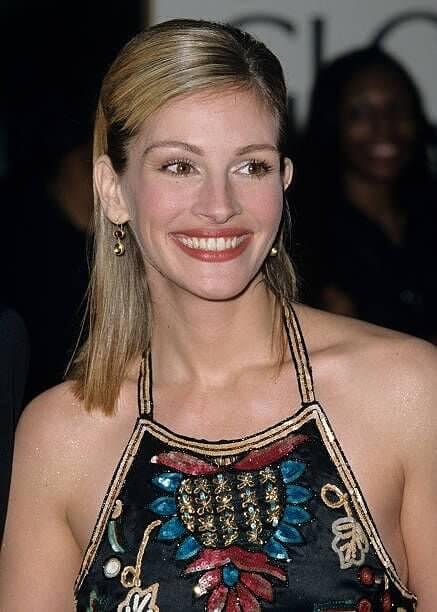 Roberts, who was 23 at the time, has admitted herself that she may not have been a picnic. "I was my priority, a selfish little brat running around making films." However, she still feels the nickname was unfair. Director, Spielberg, pointed to the fact she had recently split from her fiance, Kiefer Sutherland, and never had time to take a break before filming. When asked in an interview, Spielberg responded "It was an unfortunate time for us to work together."
A Student and a Teacher
In 2003, Roberts played college lecturer, Katherine Ann Watson, in Mona Lisa Smile. In the movie, she finds herself with a class of precocious students, including three played by recognizable stars Kirsten Dunst, Julia Stiles, and Maggie Gyllenhaal. She becomes responsible for teaching the young women to think and create, rather than just tick off the expected milestones of life.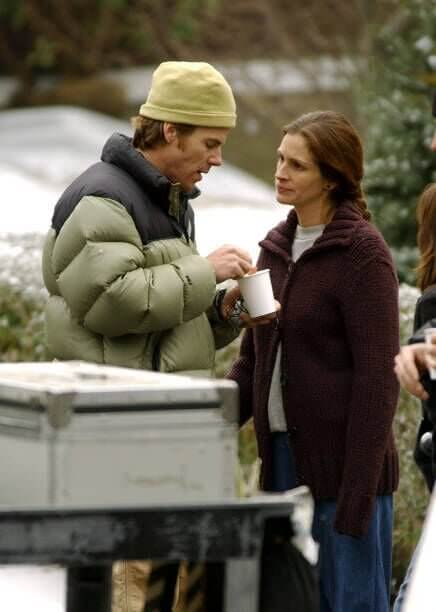 20 years before, Roberts was on the other side of the desk, at Georgia State University, where her lecturers would do their best to keep her interested in seeing out her journalism course and continuing until she had obtained her degree. They didn't succeed, and she quit before graduating so that she could pursue her acting career.
A $30 Million Smile
When you have a reputation for the perfect smile, and a career that, if not dependent on it, is certainly helped by it, it stands to reason that you'd want to protect it. Julia Roberts certainly has, insuring her teeth for around $30 million. Of course, celebrities insuring body parts is not unusual.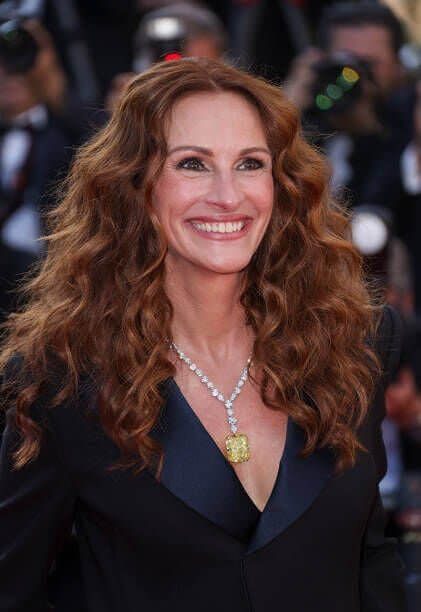 Kylie Minogue's bum is reportedly insured for $5 million, Daniel Craig's whole body has a $9.5 million policy, and Maria Carey has two separate covers, $35 million for her voice, and an incredible $1 billion for her legs - it's a surprise she walks anywhere! Still, at nearly a million dollars a tooth, the Tooth Fairy would need an armed escort to visit Julia Roberts' house.
The Next Generation
With her parents, two siblings, and a niece all having careers in the movie industry, and with a husband who works in the same business, you'd be forgiven for wondering when the next generation of Roberts will be stepping in front of the cameras. Julia Roberts has three children with Daniel Moder.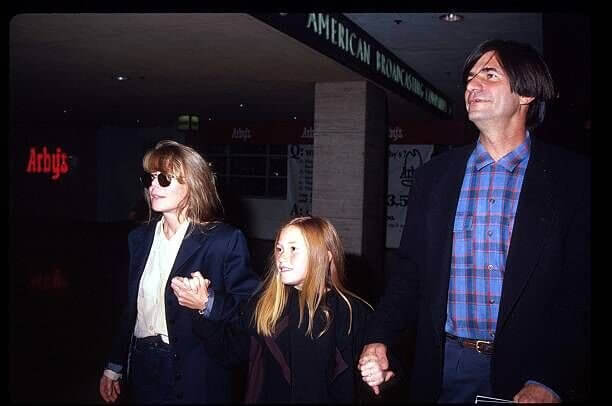 Their eldest two are male and female twins, born November 28, 2004, Hazel Patricia and Phinnaeus Walter. Their youngest is a son, Henry Daniel, who was born on June 18, 2007. At the ages of 16 and 13, they have yet to be seen following their mother to work, but Roberts herself was nearly 20 when she started out, so who knows what the future might hold.
A New York Model
After her youthful flirtations with training to become a veterinarian or a journalist, Julia Roberts finally took what was the most natural step for her and began to explore acting. She didn't head west to Hollywood though, as many young hopefuls do, but took herself east instead. After dropping out of college, Roberts moved to New York, where she signed herself up with the Click Modelling agency.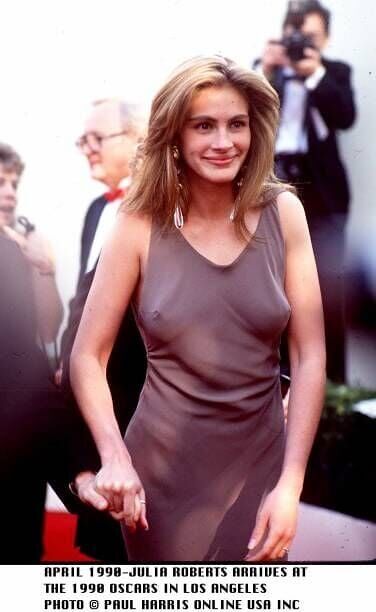 Click was in its infancy at the time, being founded in 1980, but have since had some huge names on their books. Isabella Rossellini, Uma Thurman, Whitney Houston, Elle MacPherson, and Grace Jones have all been involved with Click at some point, so Roberts was in good company. Between the agency and her acting classes, the seeds of a massive career were sown.
Whatever Happened to Julia Roberts?
The impact Julia Roberts made in her first ten films was so great that when she took a short break, after Hook in 1991, it was less than two years before People magazine ran a story asking "What Happened to Julia Roberts?" Aside from a small cameo in The Player, Roberts didn't work on any films between 1991 and 1993, and she was sorely missed.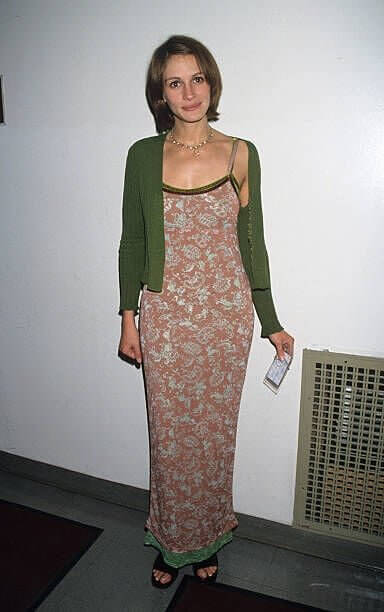 She'd achieved a massive amount of success in a very short time and it was probably a good idea to take stock a little. Added to this, she had an engagement break-up to deal with, and, after her challenging time during the filming of Hook, it was probably a good time to pause. It was worth it, when she came back as the lead in The Pelican Brief in 1993, the film grossed almost $200 million as fans flocked to see Roberts back on the screen.
She's a Producer Too
Though acting is by far the dominant element of Julia Roberts' career, she has turned her hand to producing a little too. She is credited as producer for Stepmom, a 1998 comedy in which she also starred with Susan Sarandon and Ed Harris, and has worked with her sister on four films in the American Girl series.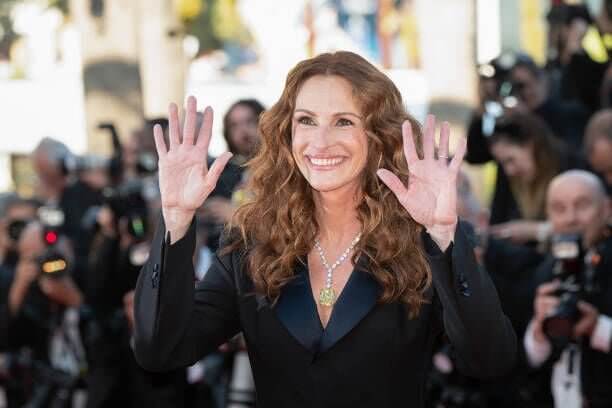 These are book adaptations that tell the story of young American girls from a number of historic eras. Three went straight-to-television, but Kit Kittredge: An American Girl received a theater release in 2008 and grossed almost $20 million. Roberts has also worked with her sister on Jesus Henry Christ, a low-budget 2011 comedy by Dennis Lee which starred Toni Collette and Michael Sheen.
A Practising Hindu
After seeing a picture of guru, Neeb Karoli Baba, Julia Roberts was drawn to the teachings and disciplines of Hinduism, and in 2010 stated that she was a practicing devotee of the religion. This came after a meeting with Swami Daram Dev in 2009 while she was filming Eat Pray Love in India.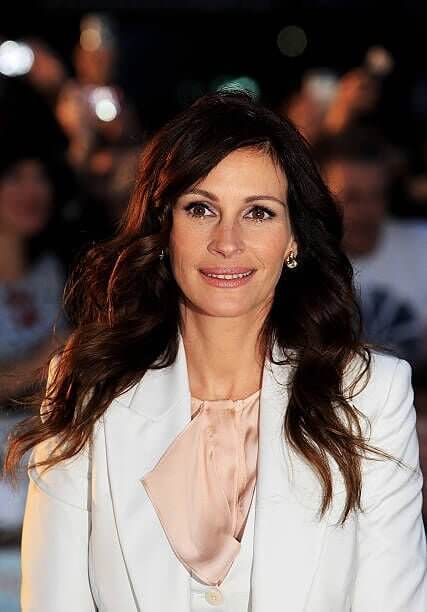 The Swami offered her new names for her children, to honor Hindu gods. Hazel became Laxmi, Phinnaeus was renamed Ganesh, and Henry was called Krishna Balram. Roberts isn't alone in her interest in Neeb Karoli Baba, whose ashram has also been visited by Steve Jobs, Mark Zuckerberg, and Larry Page.
A Voice for Good Causes
UNICEF, the United Nations Children's Fund, received a huge boost in 1995 when Julia Roberts traveled to Port-au-Prince to, in her words " educate myself." UNICEF was looking for $10 million in funds at the time and Roberts 'clear distress at what she saw there prompted an avalanche of donations toward the cause. The Oscar-winning actress saw the poverty in the region and stated. "My heart is just bursting!"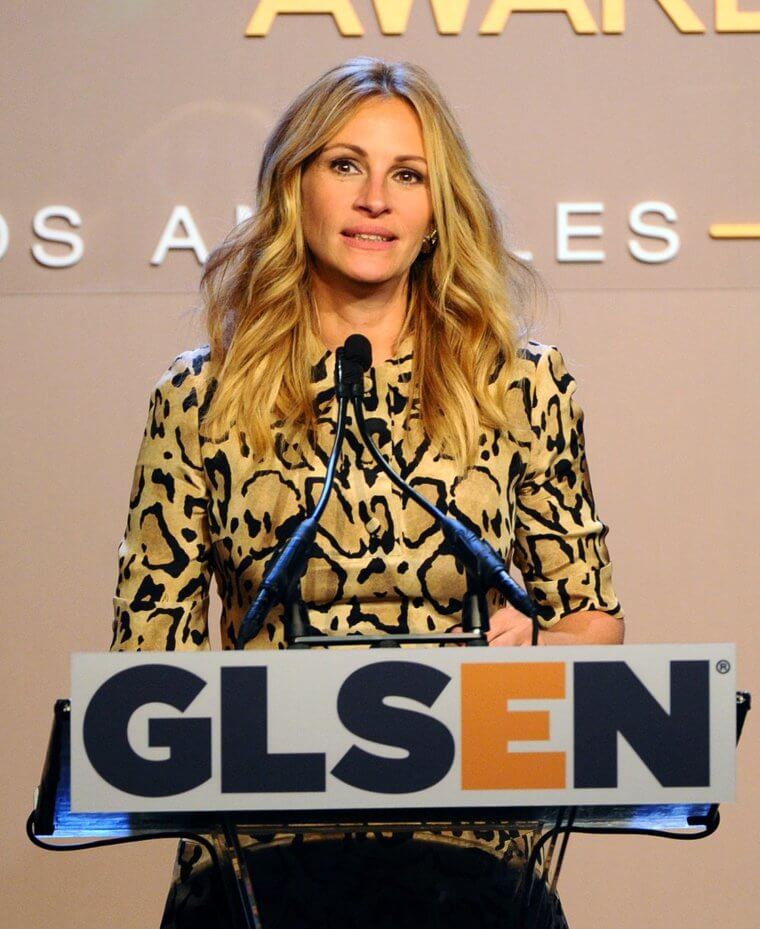 UNICEF isn't the only cause Roberts has supported. She narrated Silent Angels, a documentary to raise awareness of the neurodevelopmental disorder, Rett syndrome, which was filmed in 2000. Similarly, she has supported environmental causes, speaking in support of alternative fuels for the Earth Biofuel organization, and on the topic of climate change when she voiced Mother Nature in a 2014 short film for Conservation International.
She Has a Wide-Reaching Heritage
Although Julia was born in the city of Smyrna, Georgia, and her parents were both US-born citizens, her genes were handed down from a vast array of countries. Her mother traveled over a thousand miles south from her birthplace of Minneapolis, Minnesota, but her grandparents covered at least four times that distance.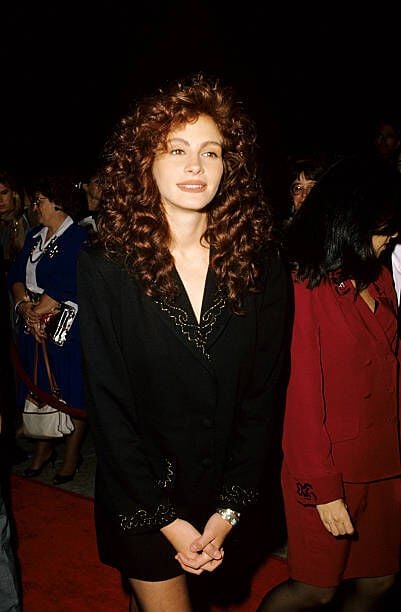 Julia's British roots are firmly planted, with ancestry that spans England, Scotland, and Wales, but it doesn't stop there. Her family tree also has branches in Ireland, and as far into mainland Europe as Germany and Sweden. That certainly is a mix of cultures from the European continent; plenty to draw on for her acting!
 
Rising Pay Days
Julia Roberts received a $300,000 paycheck for Pretty Woman in 1990, but that was just pocket change compared to what she would go on to earn. Roberts' first $1 million was paid in 1991 for Sleeping with the Enemy and from that point, the rise was dramatic. Before the end of that year, the actress had been paid a whopping $7 million to appear in Hook.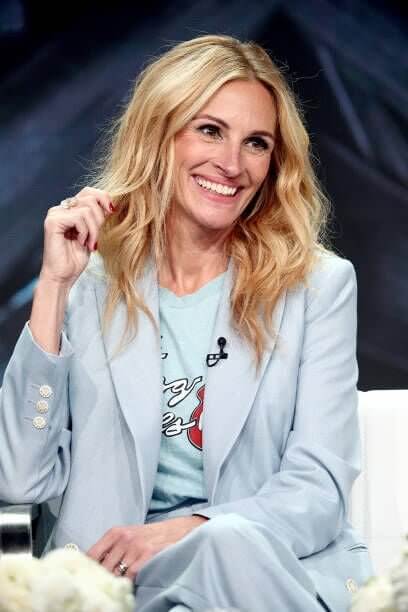 That record-breaking $20 million fee for Erin Brockovich came in 2000 and she has earned that amount for two other films, The Mexican in 2001 and Mona Lisa Smile in 2003. She hasn't exclusively earned the big money though, in 2002 she appeared in Confessions of a Dangerous Mind for "scale" - minimum pay as set by the unions - taking her lead from George Clooney, who directed on the same terms to keep the picture inside a tight budget.
An All-Rounder
Typecasting can be a curse for an actor who craves a bit of diversity in their work, though it can be financially very rewarding too. Tom Cruise and Angelina Jolie have done pretty well as the constantly sharp and over-confident action heroes, while Will Ferrell and Melissa McCarthy have carved their own comedy molds to bring in the cash.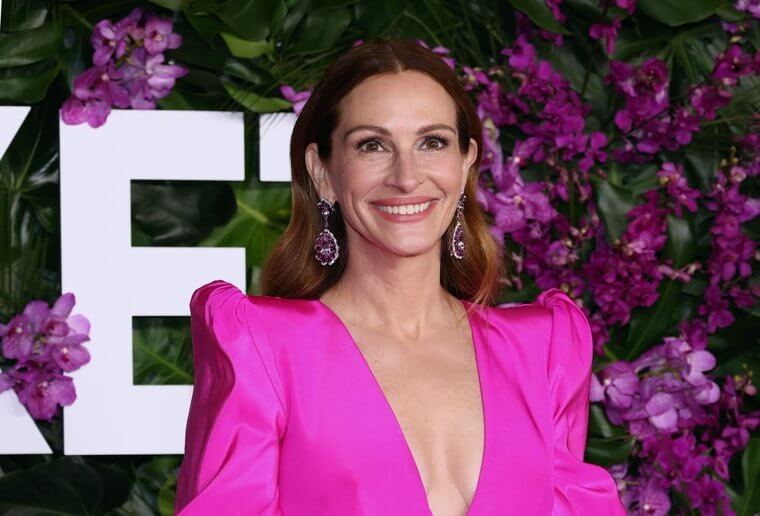 Julia Roberts, however, has managed to take the best of both worlds, earning the big fees no matter what character she plays. From the super-focused con-woman of the Ocean's movies to the underdog crusader of Erin Brockovich or the rom-com sweetheart of Runaway Bride and My Best Friend's Wedding, Roberts has always brought in the big money. She's even been a Smurf!
She Loves Indian Culture
Despite having a European background, it is the subcontinent of India which has captured the attention of Julia Roberts in her adult life. She's adopted the most popular religion of the nation, Hinduism, but it's not just the spiritual side she's drawn to, she loves its movie industry too. Aishwarya Rai Bachan, who won the 1994 Miss World pageant, is Roberts' favorite actor, and she's a big fan of Bollywood movies in general.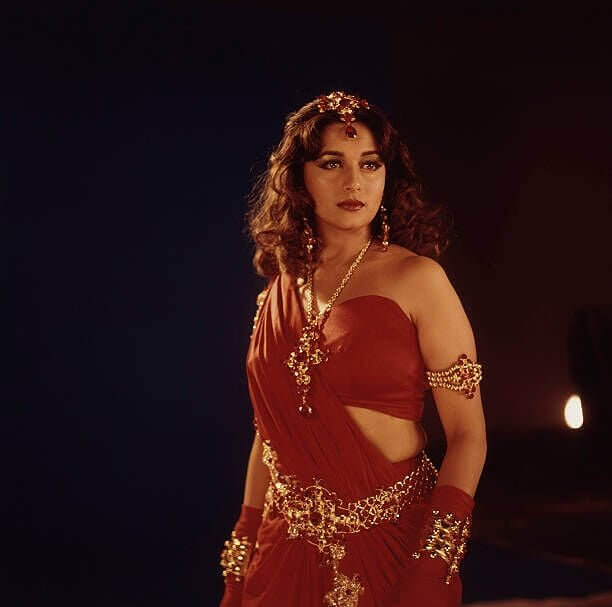 After filming Eat Pray Love on location in India, Julia talked about buying a house in the country. Her legacy has been honored by Bollywood too. In 2011, Pretty Woman was remade as U R My Jaan by the Bollywood studios. It didn't make quite the worldwide impact of the original, but it feels fitting that it happened.
No Time to Waste
When you're making tens of millions of dollars a movie, you'd be forgiven for taking things easy every now and again, but that is not Julia Roberts' style. Aside from that two-year break in the early nineties, she has worked throughout, releasing at least one movie as an actress or producer every single year from 1993 to 2018, and that's not accounting for the TV and Broadway work in-between.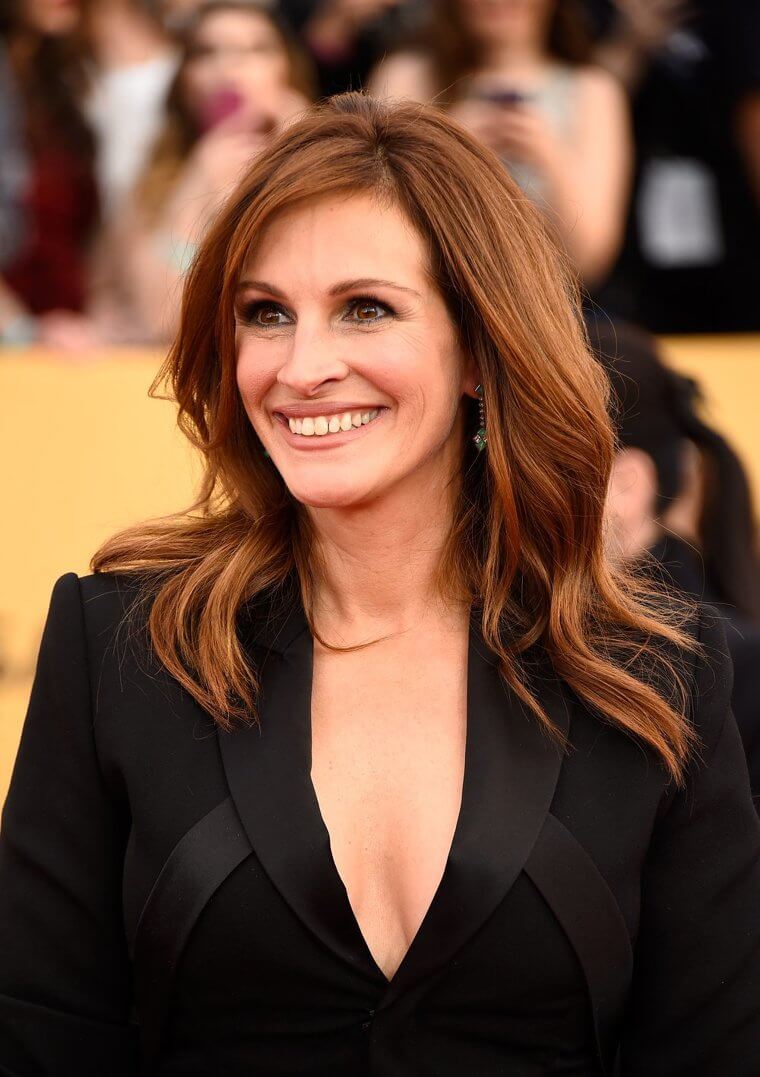 Roberts was back on set just nine months after giving birth to her twins in 2004, despite the pregnancy being a difficult one. She also worked on Charlie Wilson's War in 2007 while four months pregnant with her fourth child. It seems in this actress's case, it's good to be busy.
No Surgery Wanted
As Hollywood actors get older and their faces follow suit, it's become almost mandatory for them to make an appointment with a cosmetic surgeon, but it's not something Julia Roberts has ever entertained. She's honest about the pressure too, telling You magazine in 2014 that, "By Hollywood standards, I guess I've already taken a big risk in not having had a facelift." Roberts has more important requirements from her face than looking young.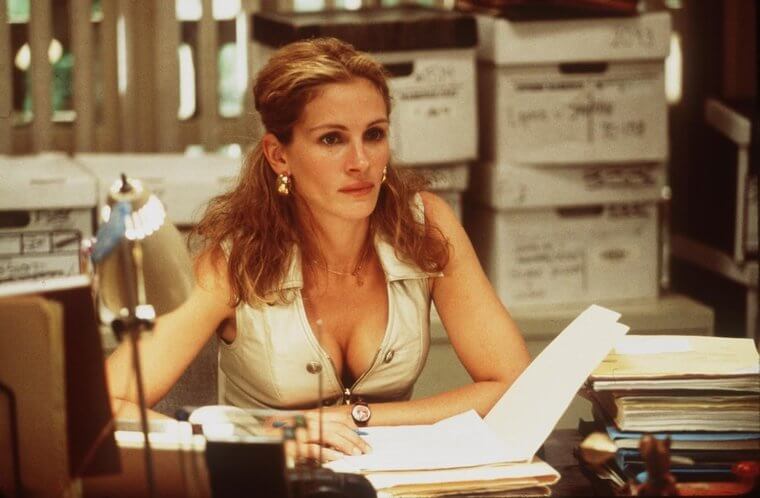 "I want my kids to know when I'm p*****, when I'm happy, and when I'm confounded," she has said. "Your face tells a story... and it shouldn't be a story about your drive to the doctor's office." She's been honest with the beauty brand she represents too, saying "I've told Lancome that I want to be an aging model – so they have to keep me for at least five more years until I'm over 50."