Justin Bieber and Hailey Baldwin gave us absolute couple goals when they married in 2018, and continue to show us what an ideal couple they are. The newlyweds already own a mansion in Ontario, Canada, and they bought a Beverly Hills home for $8.5 million. But that home soon seemed too small for the high-profile celebs, and they went house hunting again.In 2020, the Biebers bought an even bigger, more impressive mansion in Beverly Hills. This time it cost them just over $25 million and put them in a much more influential neighborhood. Their new home is made of the stuff most of us can only dream of, and we're not even sure what the couple does with all of the space. But we're happy for them and think you will be too when you see what it looks like inside...
House Tour - The Front View Shows Clean Lines and Striking Features
After buying this gorgeous home in Beverly Hills, the Biebers' new neighbors are mostly VIP A-list celebrities. The area is infested with the rich and famous and includes many other impressive homes, similar to this stunning mansion.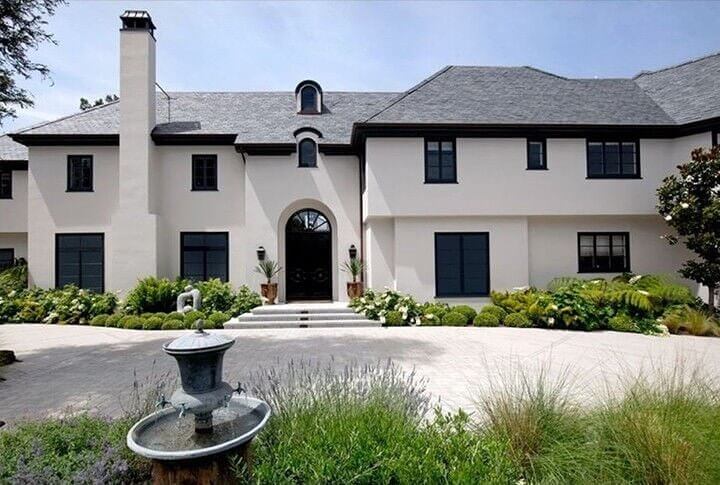 The house is behind secure gates and has a large garden, tennis courts, pool, and lots of entertaining space. Inside you'll find a library, a den, six bedrooms, three living rooms, a formal dining room, and a remarkable kitchen area. There are also 10 magnificent bathrooms and a grand foyer.
A Sprawling Green Garden Estate in the Middle of LA
The two-and-a-half-acre green garden makes for a delightful oasis in the heart of Los Angeles. The home is up in the mountains and surrounded by lush trees and gorgeous views. It's surrounded by trees, offering perfect privacy from pesky paparazzi.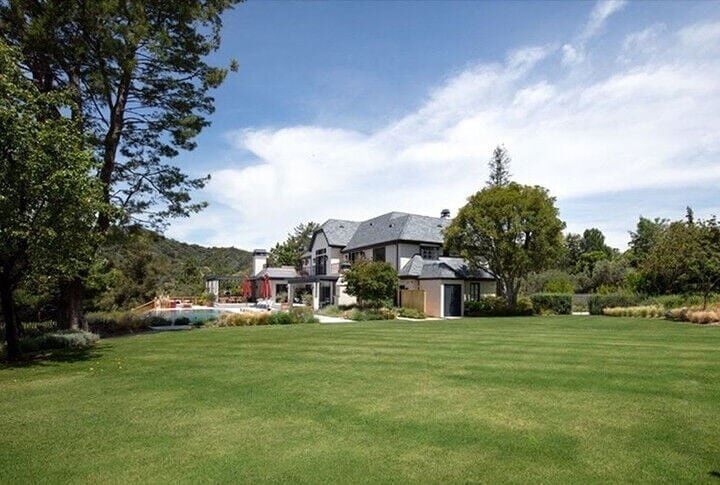 The home was renovated shortly before the Biebers bought it, to make the 1980s-style building a bit more modern, and worth the $25 million that was paid for it. The outside is clean and sophisticated, with striking features. While the inside is bright, airy, and spacious. 
This Grand Foyer Offer a Classic 'Perfect Entrance'
Walking into this mansion will take your breath away as you lay eyes on the double-story foyer with its classically elegant curved staircase. The checkered floor completes the stylish look, and the massive windows at the far end let in plenty of light.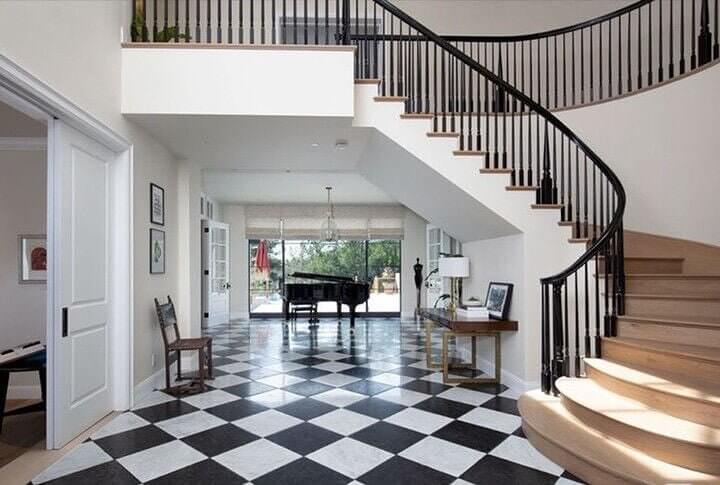 To the opposite side of the stairs are double doors that lead into the formal living room, while walking straight ahead will lead you to the outdoor entertainment area. Further down the passage are doors to the kitchen and dining room. This is a glamorous introduction to any home.

Spacious and Clean but Cozy and Snug Family Room
Attached to the kitchen is a warm and welcoming family room, with a fireplace at the center of it and big doors leading to the garden. The open plan design makes for a bright, well-lit space to enjoy cooking and socializing.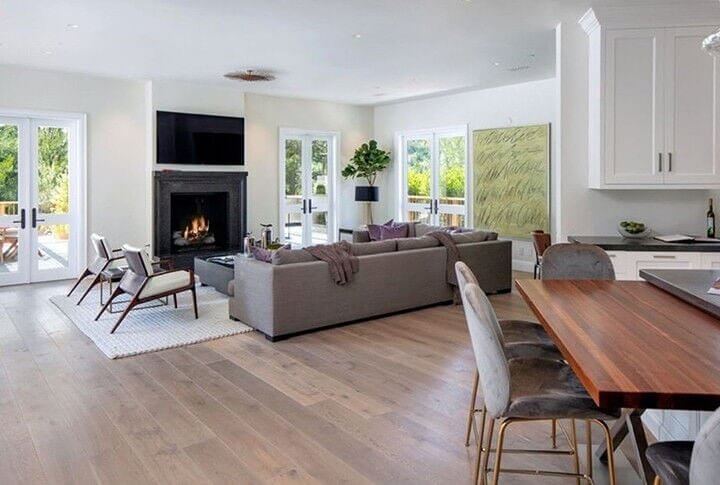 A soft sofa placed strategically in front of the fireplace allows for just enough comfort and direct access to the kitchen for a romantic night of wine, snacks, and soft crackling fire sounds. And winter mornings overlooking the grounds with warm coffee must be a treat.
Imagine Cooking Breakfast With the Biebers in This Kitchen
Speaking of the kitchen! We hope the Biebers enjoy cooking because this is a kitchen that deserves to be used. It comes with top-of-the-line appliances and offers a sleek and stylish look and feel.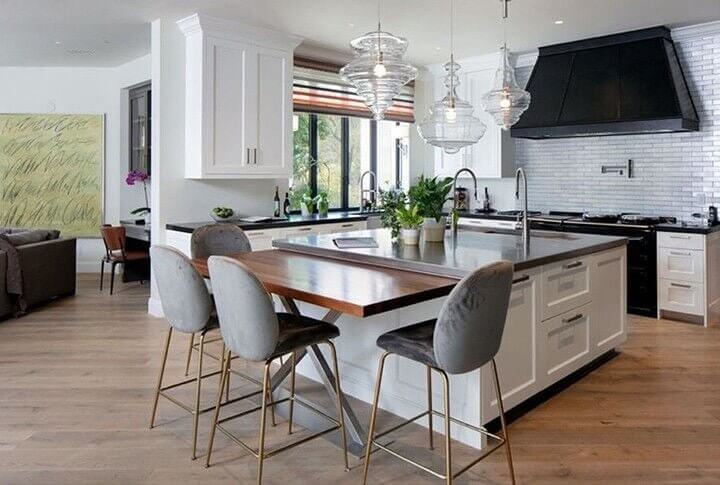 The large stove could make any chef very happy, and the island includes an informal seating area - perfect for those chats over wine while tasting whatever is cooking. With a kitchen this fancy, every meal must be an event.
Did Someone Say Pizza Party? We're There!
Out on the covered patio, the Biebers have their very own pizza oven - we're jealous. It's clearly a winner in their circle of friends because we've seen the photographic evidence on Hailey's Instagram. She noted that these parties happen once a month, so there's still the chance of an invite…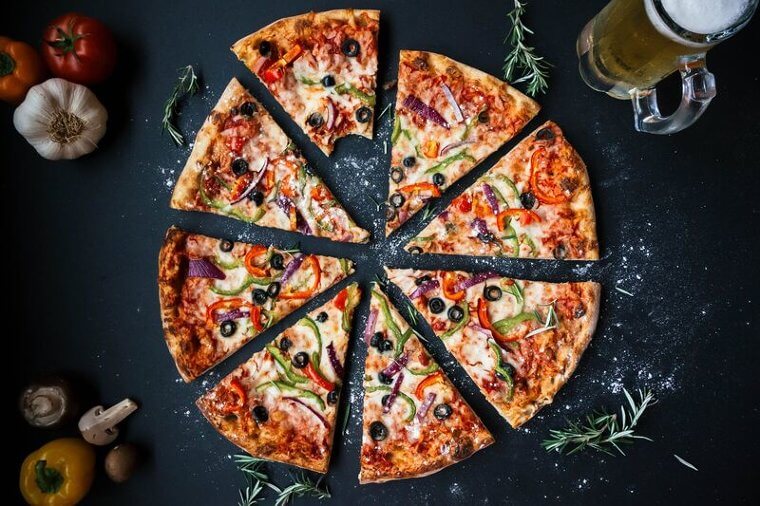 Could there be anything more fun than making your own pizzas and enjoying them by the pool with a drink and a few laughs? Oh, and we forgot to mention that you're enjoying all of this with Justin and Hailey Bieber!

The Dining Room Promising Many Happy Family Dinners
Off to the side of the kitchen is the formal dining room, where dinner parties and family dinners can be held with style. There's a floor-to-ceiling wall of glass looking out at the garden and a chandelier right over the space for the table.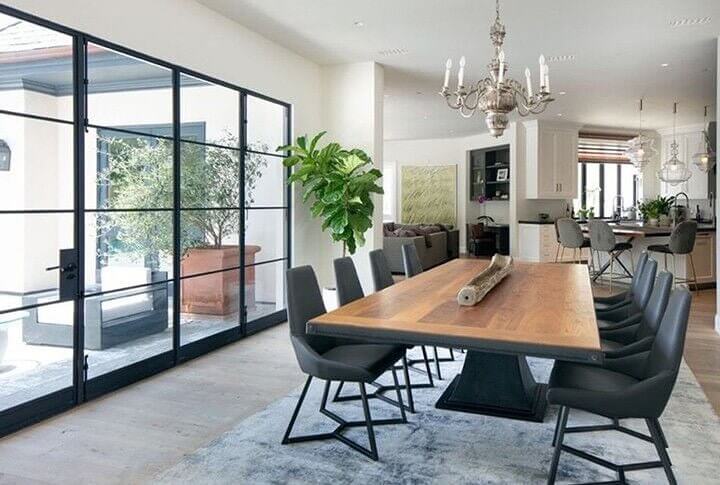 The space in this dining room allows for a long and expansive table. So the Biebers' hopes of having 'lots of kids' will be happily catered for in this special room. And for now, they can graciously host all of their A-list neighbors.
Shall We Meet for Tea in the Formal Living Room?
So this mansion may not have seemed that extravagant up until now, perhaps just really fancy. But wait until you see the formal living room! What do you even do in a formal living room? Accept the queen, maybe?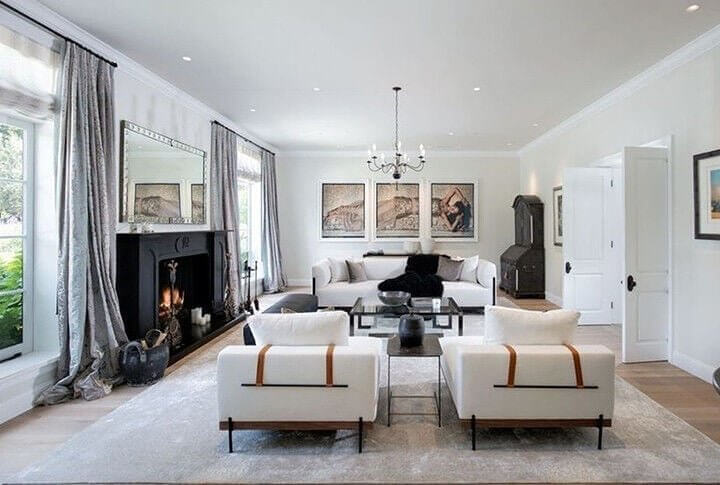 We're not sure what you would do in this formal room, but whatever the Biebers plan for this room, they can do it around yet another warm and cozy fireplace. This one is also black, but somewhat more stately than the one in the family room.
Or Cozy Up With a Book in the Casual Sitting Room?
For those not deemed worthy of the formal living room, this mansion also has an indoor/outdoor sitting area. With floor-to-ceiling glass windows and doors, this is a bright and airy space for big gatherings of friends and family.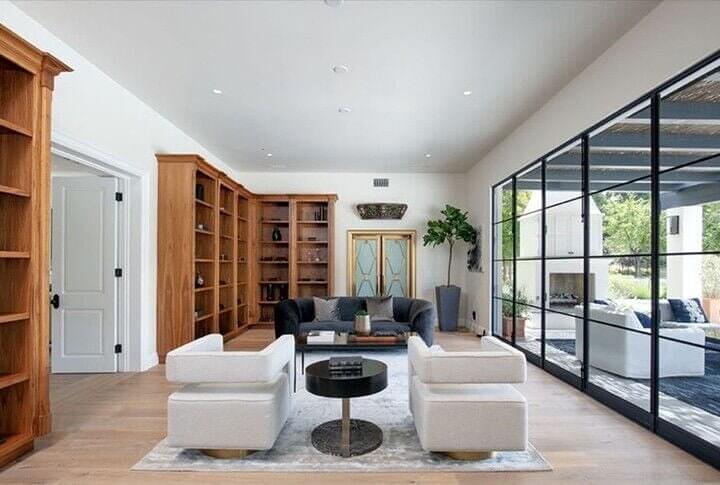 Although we can also easily see afternoon reading while soaking up the sun in this room, perhaps even a nap on the couch. There are bookcases along the two walls that aren't glass or doors, and there is direct access to the outdoor fireplace and pizza oven.
Outdoor Gatherings Perfect for Every Season
The outdoor sitting area is located on the covered patio, with the pizza oven and fireplace. This allows for fun summer days in the pool as well as cooler evenings next to the fire, all while enjoying the fresh outdoor air.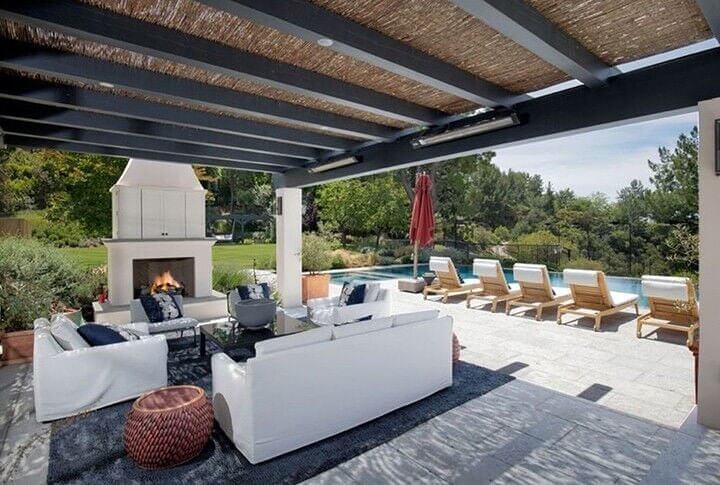 At the far end is the infinity pool that overlooks the gorgeous Beverly Hills landscape, although the abundance of trees planted around the property offers immense privacy. How do the Biebers even choose what to do with their time with so much on offer?!
An Absolute Masterpiece Main Bedroom
Ok - time for the best part of the home. The master bedroom is large and luxurious - offering the ideal love nest sanctuary for this couple of newlywed lovebirds. With the large bed as the center attraction, there are large floor-to-ceiling French doors that lead onto a balcony.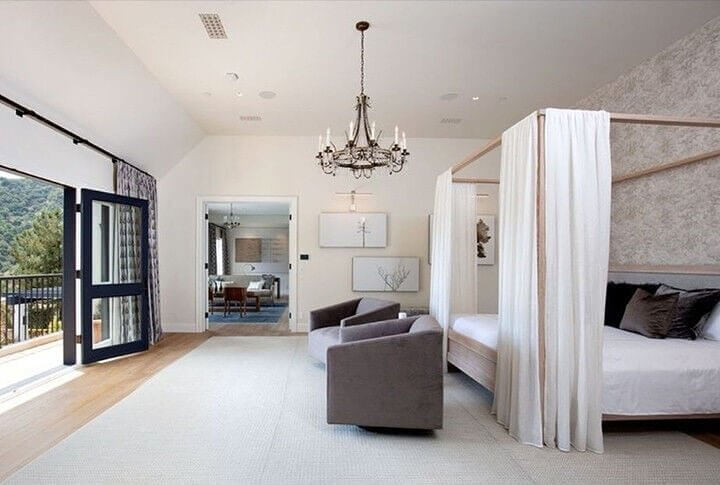 We imagine that waking up in this bedroom fit for royalty every morning would make every day feel like a complete holiday! And that fresh morning air coming through the French doors would make for the perfect way to start the day. Oh, and you haven't even seen the enviable walk-in closet.
And… Another Sitting Area?!
If the Biebers are not keen on sitting in the family room, or the formal living room, or the indoor/outdoor sitting room, they can always cozy up in the sitting area attached to the master bedroom.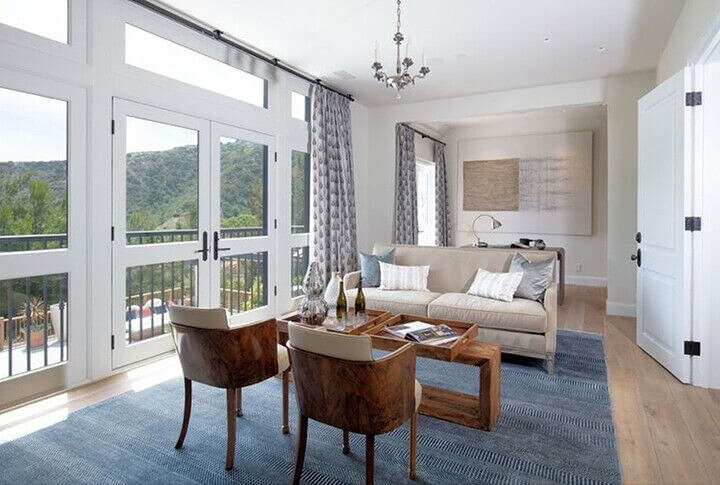 This small (compared to the rest of the house) corner provides a romantic space to chat before bed. This room also has floor-to-ceiling doors and windows and overlooks the pool area of the backyard. It could easily make for an intimate breakfast nook while spending a cozy weekend at home.

We'd Feel Like Kings in This Master En-Suite
If the actual sleeping area of the master bedroom didn't impress you, the en-suite bathroom definitely should. It continues the bright and airy theme of the mansion with the large windows that let in more than enough light but still allow for privacy.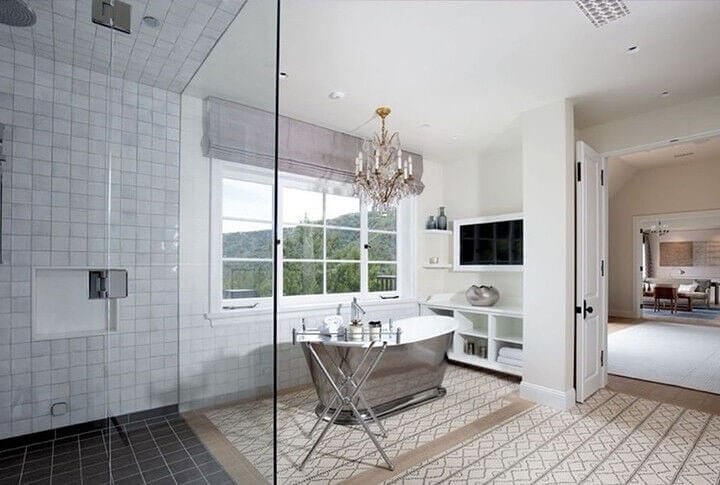 The homeowners can take a refreshing shower in the large glass steam shower. Or, they can enjoy a relaxing bubble bath in the metallic soaking tub. A glass of bubbly, soft music and sweet-smelling bath salts would pair perfectly with that stately chandelier right over the tub.
No Stress Left After a Steam Shower
If the master en-suite is in use (probably because Hailey decided to try out that bubble bath we mentioned), then at least the massive steam shower room can still be used. Built to help with relaxation, the large space looks like a spa inside the Biebers' home!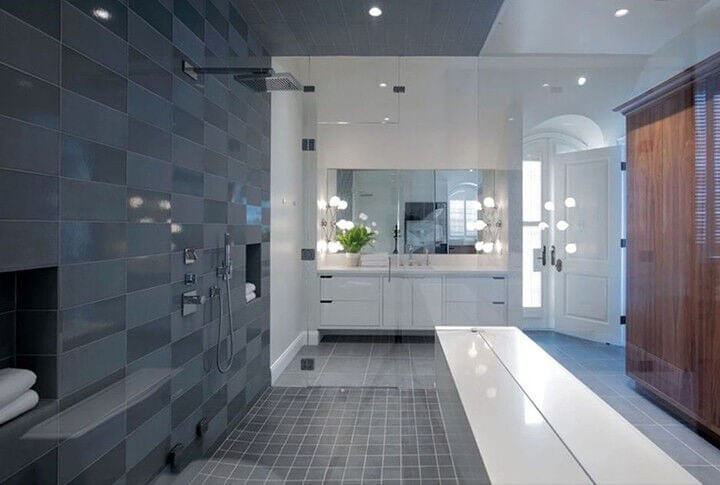 This is likely a safe haven after long days of working for singer/songwriter Justin and his model wife. And we have no doubt that guests use every opportunity to enjoy this relaxing space in the posh house.
How Do We Get an Invite to Stay in This Suite?
If the Biebers do have house guests, they are easily accommodated in this stunning suite bedroom. It's got the same airy spacious feel as the rest of the house and includes an arched door that leads outside.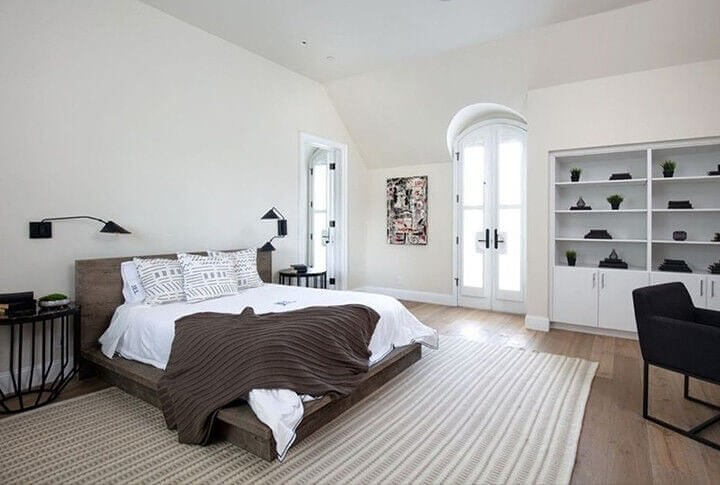 So, you could come to stay with this lovable couple, enjoy their company, cook a meal in their kitchen, relax in the steam shower, and enjoy your own private entrance suite. Oh and let's not forget an elegant afternoon spent in the formal living room by the fire.
Sorry, Does The Beast Live Here?
For bookworms - or ink drinkers as the French would call them - this is likely to be the ultimate 'wow' spot in the $25-million home. The library has built-in bookcases along the walls, and even includes a ladder to reach the very top.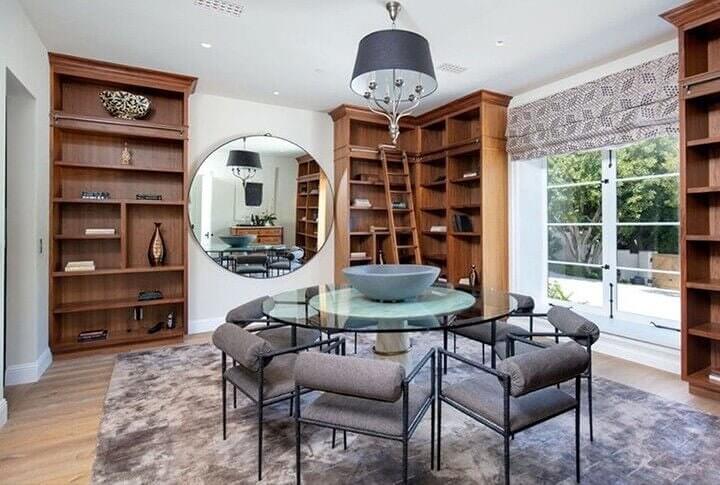 It's a library the Belle would be proud of and includes enough space to enjoy a quiet read, as well as a large glass door leading into the garden. It would be fascinating to learn which books the Biebers choose to fill these bookcases.
Of Course, What's a Mansion Without a Private Gym?
f 2020 taught us anything, it's that we all need our own at-home exercise equipment. Now, for most of us, that means a couple of dumbbells, a yoga mat, and maybe an exercise bike. But for celebs, at-home gyms are much fancier.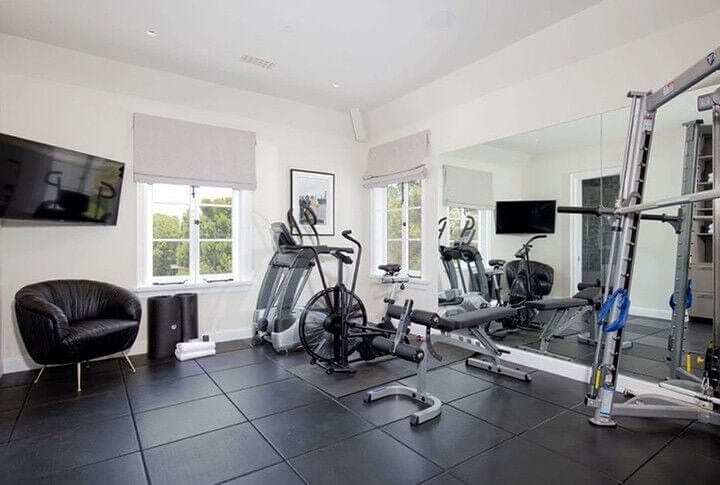 The Bieber mansion includes its own gym, with a large mirror and more than enough space for both Justin and Hailey to complete their workout routines. This is also a much more stylish room than most of the public gyms we've seen.
Who Needs to Leave the House, Movie Nights at Home
If you thought pizza parties at the Bieber house sounded like fun, how do movie nights sound? These would be a lot more impressive than your usual home movie night, of course, because this mansion includes a soundproof cinema room.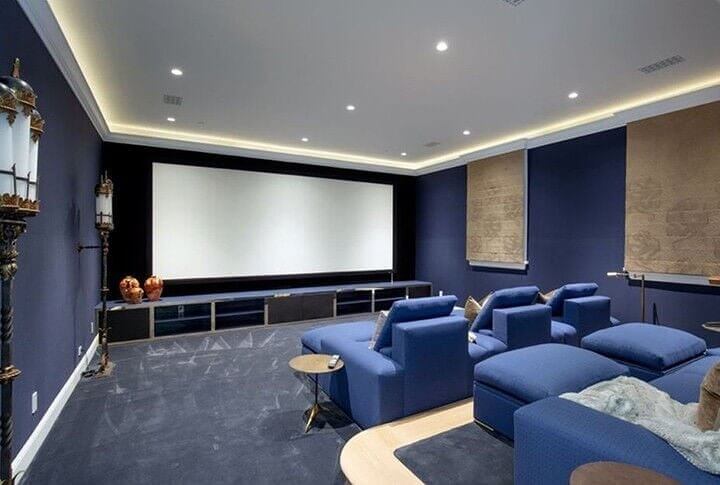 Complete with a giant projector screen, black-out curtains, and plush chairs, this is the only place we want to be when watching our favorite movies. We wonder if entrance includes popcorn and snacks? Maybe a pizza for after the film...
There's Even a Tennis Court - Surrounded By Trees
If the indoor gym wasn't enough to keep the Biebers and their friends in shape, the elegant tennis court sure will help. The grey hues of the court floor make the space incredibly pleasing to the eye.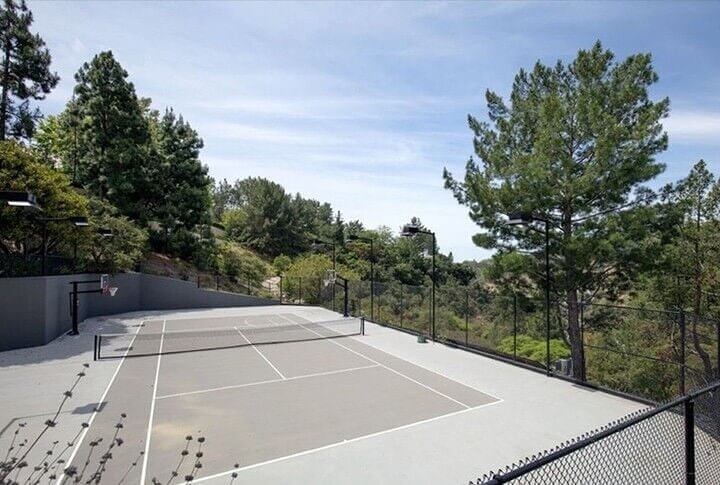 This is also a great space for the Biebers to spend some time outdoors, enjoying exercise and quality time together. And they can invite friends over for friendly games of doubles too. There's no end to the entertainment options at this lovely home.
Only the Cool Kids Hang Here
While Hailey's Instagram shows off the couple's new monthly pizza party traditions, Justin's gave us a look at his 'cool kid' friends enjoying the outdoor courts at the mansion. The tennis court also has basketball hoops, and they seem to be popular.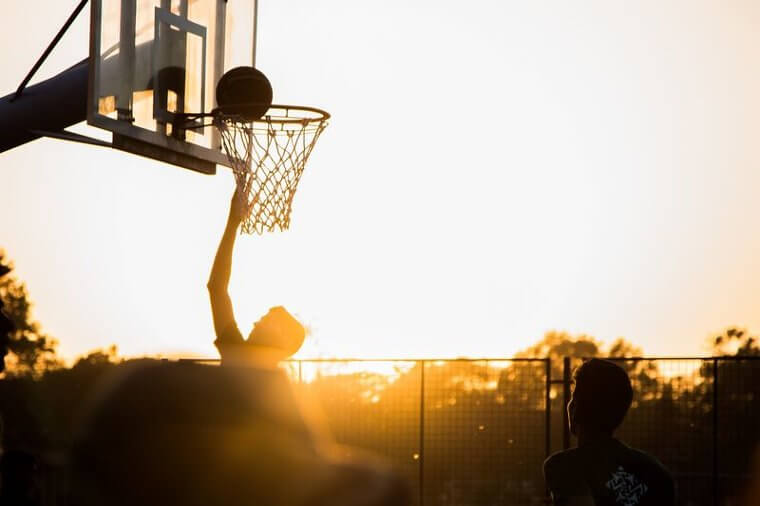 He's posted many snaps of him and a group of his friends enjoying the space and shooting a few hoops. The group included his choreographer and DJ. It's clearly a useful area for the boys to let loose and bond a bit.
Why Would You Ever Step Out of This Crystal-Clear Pool
Aside from the tennis court that holds the fun basketball hoops, this large garden also includes a bright and sparkly pool. As well as a smaller splash pool to the side. The pool is accessed from the covered patio, so a pizza and pool party sounds like a winner.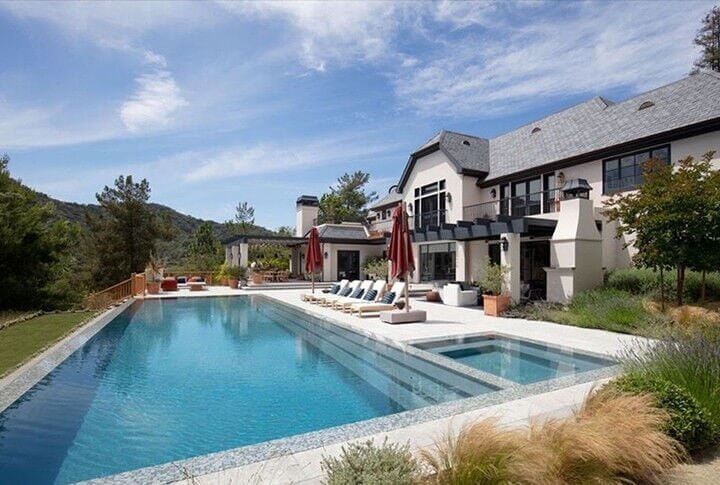 With the most magnificent views and direct access from the house, we expect this will be the most popular place to be in summer. And like the rest of the property, there's ample privacy at the pool, so no worries about paparazzi shots of your bikini.
Waking Up to This View Must Be a Dream!
So a night in the master sweet, in a plush king-size bed is undoubtedly a fantastic way to sleep. But imagine waking up and stepping out of the French doors onto the balcony - to this. Any normal person would be forgiven for thinking they were still dreaming.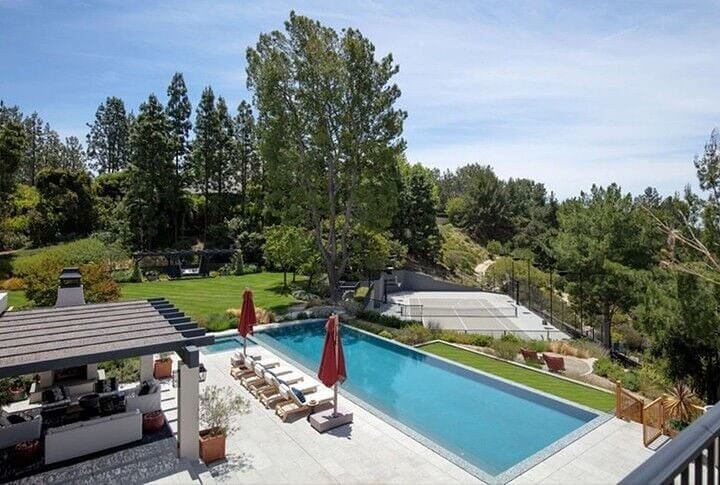 From the balcony, you can see the entire back garden, pool, tennis court, covered patio, and all of that inviting green grass that surrounds it all. We can see the Biebers as parents, able to watch their kids play outside while they cozy up inside.
The Biebers Don't Need Bali, They Have Their Own Infinity Pool
We've mentioned how sparkly and inviting this pool looks, but did you notice the infinity edge? How luxurious does your home need to be to have its very own infinity-edge pool? We thought you only got those in fancy Airbnbs and tropical villas.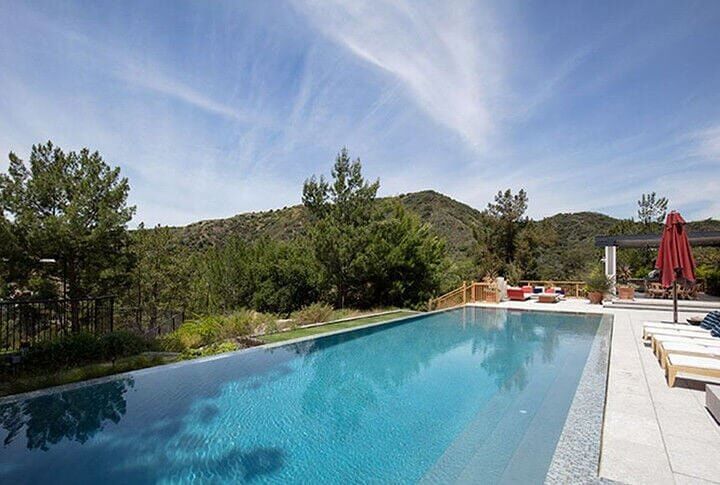 Well, Justin and Hailey got their very own luxury pool, and we're both impressed and jealous. Looking out over the edge offers unimaginable views of the hills around them, and shows off the beauty of this spot that they call home.
There's Plenty of Space to Gather Your Thoughts
This tranquil-looking spot includes a koi pond and bench for some quiet outdoor time to reflect on thought and enjoy time with yourself. Or perhaps a spot for the couple to catch up after busy days, with a coffee and a chat.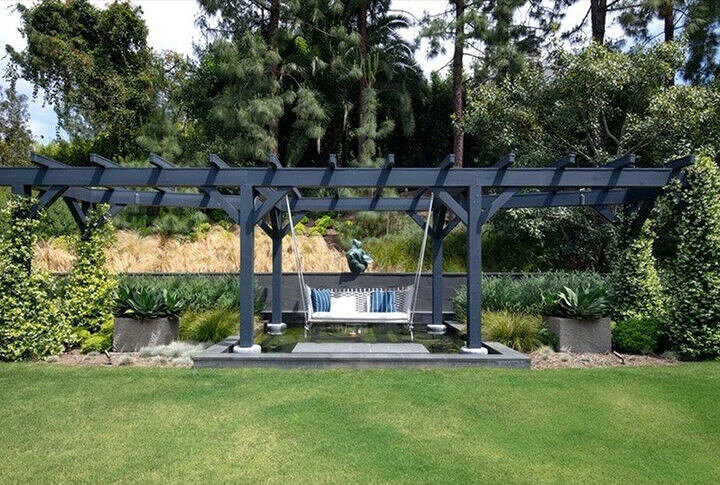 It definitely looks like a private and intimate spot in the garden, and the pond would add to its soothing energy. We wonder who enjoys this quiet bench more - Justin or Hailey? And would they mind if we came here to think about all the ways we could become multi-millionaires too?
Let's Take a Trip - To the Other Side of the Yard...
There's so much space in this garden, even without counting the large pool and tennis court. The grassy area is so big that you might not be able to hear someone calling you from the other side. It would make a great place for kids and pets to run around, though.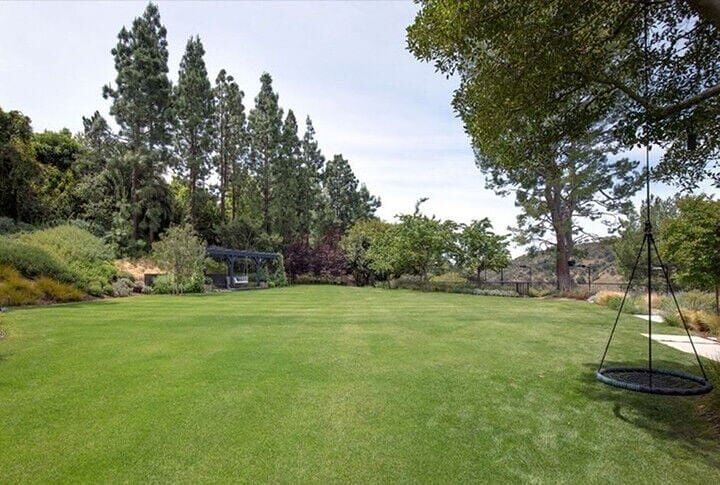 For now, we're sure the Biebers can enjoy strolls around the yard, or perhaps a friendly game of soccer or baseball. It also looks like the ideal place to hold a make-your-own-pizza picnic, with plenty of space for blankets to sprawl out on.

Next, take a walk with us while we gaze at luxurious and expensive homes owned by other celebrities.
Celebrities and Their Luxurious Homes Worth Millions ​Kate Hudson – $5.3 Million, Pacific Palisades
When you find yourself on the list of the richest people in the world, you can easily afford a dream house. Some of the celebrities on the list remained in the norms of a big, rich house while others took it to a whole new level. Is there anything else that all of these people have in common other than the huge amount of money? Well, for one, not a single one of them had to apply for a loan or ask for a mortgage in order to buy their home. On top of that, you can rest assured that each and every one of them has the best home insurance possible, along with state-of-the-art home security systems.

It's safe to say that Kate Hudson lives her life in style. And with a net worth of about $40 million, she can easily afford it too. If you do not believe us just take a look at her beautiful $5.3-million home. It is located in one of the best neighborhoods of L.A - the Pacific Palisades.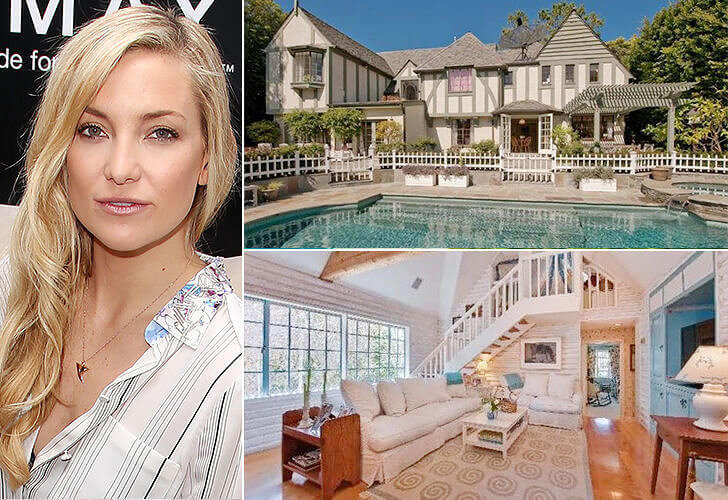 Kate Hudson has been living there for quite a while, actually. Her old home is situated right next to this new one. Expensive home insurance and a state-of-the-art security system are just some of the things that Kate has spent money on.
Celine Dion – $38.5 Million, Jupiter Island
As one of the most famous singers of all time, Celine Dion can afford pretty much anything. She owns real estate in numerous places across the world, including a 20,000 square feet mansion on Jupiter Island, Florida.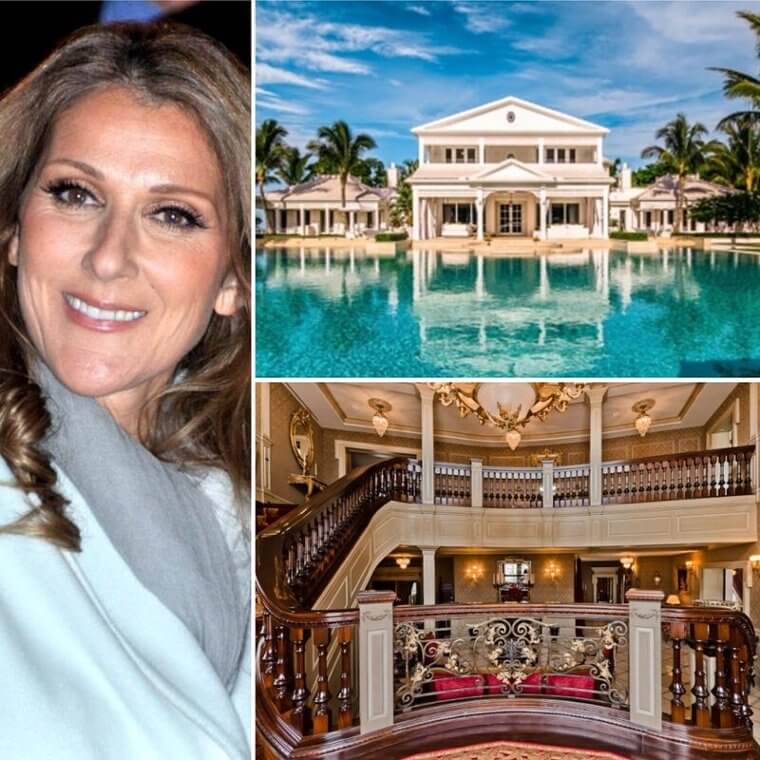 Inside the estate are more than 10 bedrooms, two guest houses, a tennis court, a gym, and a home theater. The mansion also includes a gigantic pool with its own waterslide, because it was once known to be a waterpark. In 2017, four years after her husband passed away, Celine Dion sold her multimillion property for $38.5 million.
Charlize Theron – $3.8 Million, California
According to reports, Charlize Theron sold her old three-bedroom mansion for a price of $3.8 million. It might seem like a lot of money, but she was asking for $4.6 million which she clearly did not get.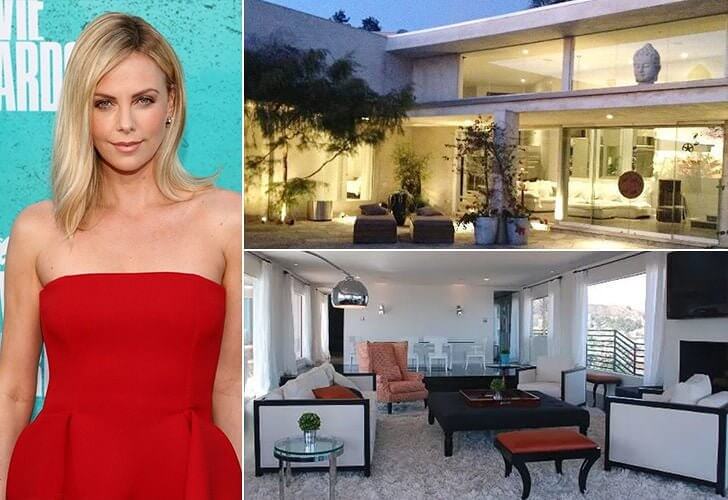 She actually bought this house after selling her old house for $3.6 million back in 2009. That means that after selling this one, she barely made any profit on it. We are sure, however, that it is not that big of an issue for her.
Doris Day- Carmel-By-The-Sea, California, Estimated $14.5 Million
Beloved actress Doris Day, who passed away last year at the age of 97, lived in her home in Carmel since the 1970s, so by the time the home was ready to be sold again, it was seen as an antique treasure. Especially given the fact that it belonged to the incredible actress, the home is worth millions.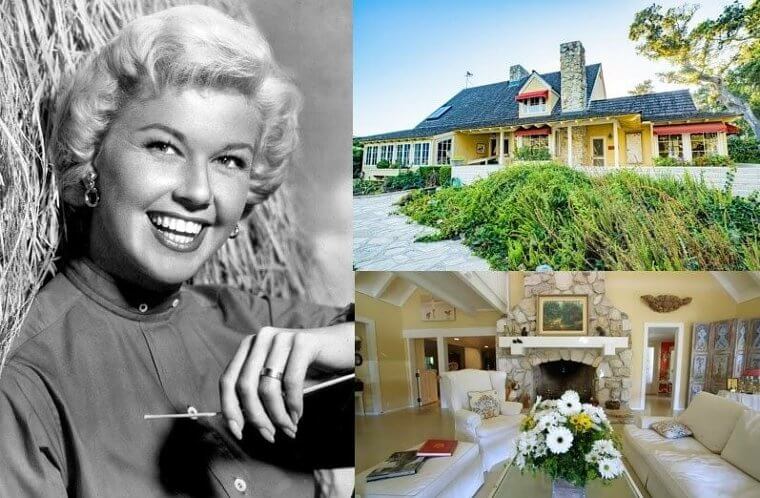 The contents of the sunny and beautifully-decorated home are being auctioned off for great prices, and all of the money earned is going to be donated to the Doris Day Animal Foundation, the non-profit organization that the actress founded in 1978.
Bella Thorne – $2 Million, L. A.
Bella Thorne is yet another young star who can be very proud of what she has achieved. This 19-year-old owns an L.A. mansion in Sherman Oaks. The total worth is just over $2 million.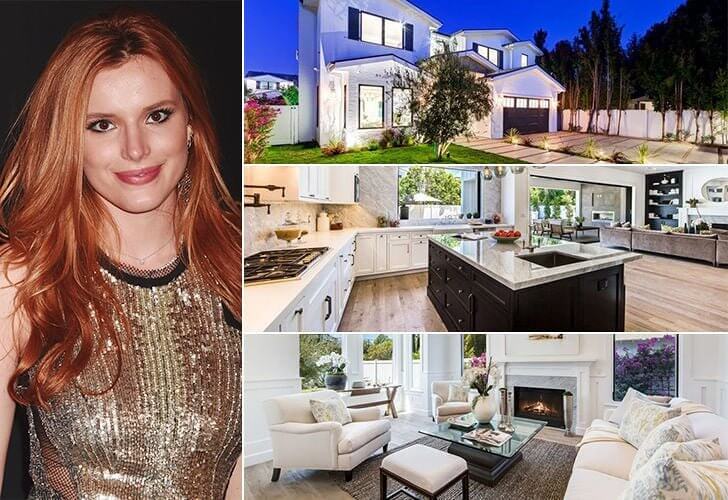 Just like many others on this list, this property too has a state of the art security system. The house measures in at 4,500-square-feet and has six bathrooms, six bedrooms, a fireplace, a walk-in closet, and a wine room. If you take look outside you will find a barbecue, a bar, a spa, and a pool.
Jenny McCarthy – $1.8 Million, Geneva
Most of you will remember Jenny McCarthy as Courtney from the sitcom Two and a Half Men. She is now known for being one of the loudest anti-vaccine activists out there. This beautiful house in Geneva once belonged to her, but she only rented it out.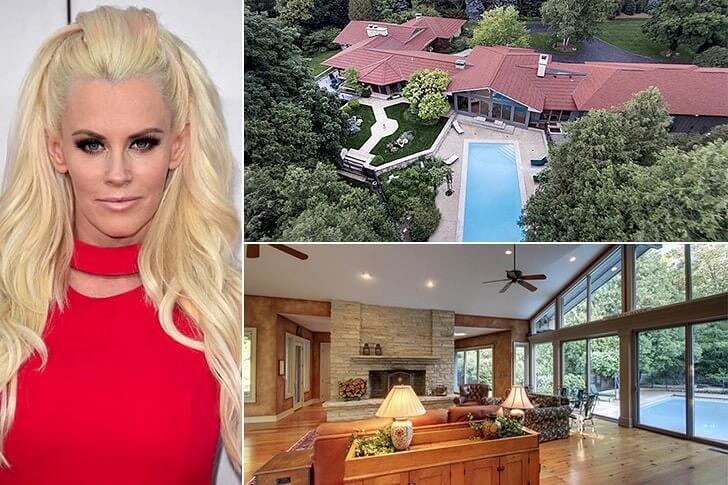 In 2014 it went on the market and was sold for $1.8 million, which was quite low, considering that it appeared on the market just a couple of months later for $2.3 million. This beautiful house not only has a lot of space, sitting on 2.5 acres but also has a swimming pool.
Sean Connery – Unknown, Bahamas
Sean Connery built a legacy and is well-known for his roles in Goldfinger, The Rock, and Indiana Jones. His role as James Bond will remain one of the best roles in his career. And what a career it was. He received both an Academy Award and a BAFTA award.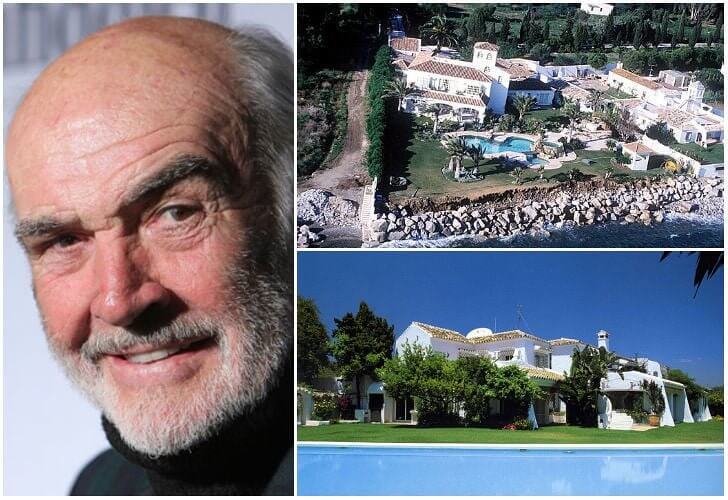 He enjoyed his retirement, and a house in the Bahamas is just the perfect relaxation anyone would want. Connery actually owned quite a lot of different real estate properties, but this one is an eye candy and has a large pool, vast bedrooms, and a scenic view. Sadly, Connery will not be able to enjoy this home anymore, as the acting legend passed away on October 31, 2020. He went peacefully in his sleep after he had been sick for a while.
Kris Jenner – $12 Million, La Quinta
Kris Jenner, the head of the Jenner family, is probably the person who deserves the most gratitude for making her daughters famous. Kylie Jenner, for example, is her youngest daughter and she is the world's youngest "self-made" billionaire. With fame and money basically surrounding the Jenner family, buying a $12 million house in La Quinta, California, is really nothing too unexpected.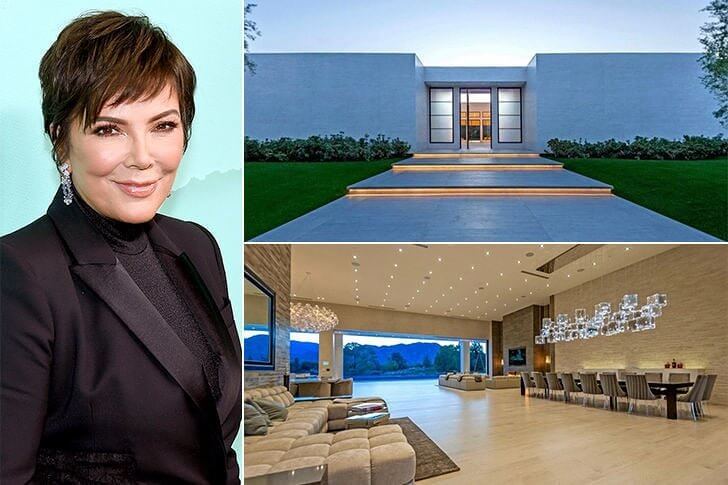 The house itself is absolutely gorgeous. It has seven bedrooms, eight full and two half bathrooms. This is certainly more than Kris Jenner would ever need, but if she can afford it, why not, right?

Tom Hanks – $17.5 Million, Pacific Palisades
Back in 2017, news started to circulate that actor and director Tom Hanks sold both of his homes, located in the Pacific Palisades, for $17.5 million. As it turns out, Tom Hanks and his wife Rita Wilson wanted to sell the homes for $18 million back in 2016 but did not receive an offer for them.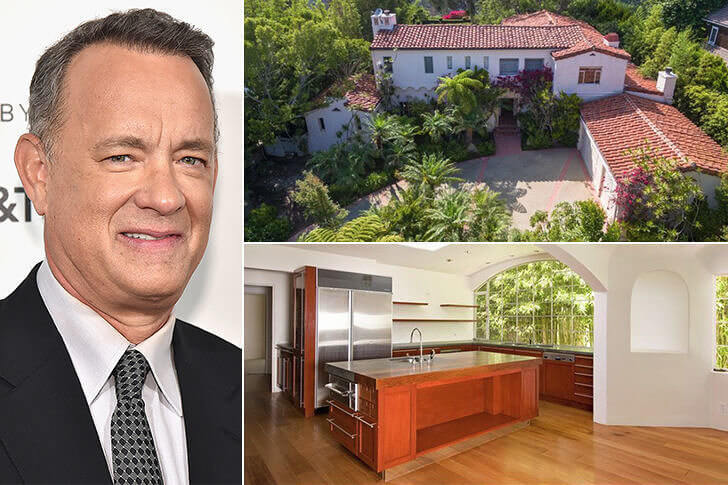 As soon as the price of the four-bedroom Spanish-style mansion dropped, the offers appeared. The mansion itself was built back in 1993, and the price dropped to $7.34 million, which was somewhat under their asking price but they sold it anyway. The other seven-bedroom and six-and-a-half bathroom home was built back in 1957. This one, on the contrary, sold above their asking price and made them $10.1 million. They had not been in those two houses very long, having bought them in 2003 and 2007 respectively.
Josh Hutcherson – $2.5 Million, Hollywood Hills
Many of you will recognize Josh Hutcherson for one of his lead roles in The Hunger Games franchise. He got a hefty paycheck for his role there and he invested some of it in his 1,821 square feet home in Hollywood Hills.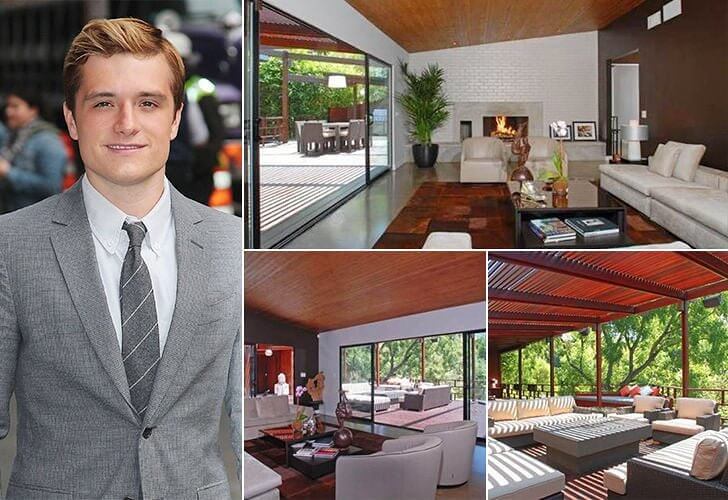 You are looking at a two-bedroom mansion with a simple barbecue space and its very own movie lounge. It is also situated in a safe neighborhood so he really should not be worried about anyone breaking into his wooden home. However, we do hope that he has great fire coverage insurance.
George Bush – Unknown, Prairie Chapel Ranch
George W. Bush lives in a house in Crawford that was once known as the Western White House. It sits on 1,600-acres of land in the middle of Prairie Chapel Ranch. There was a lot of work put into the house. The mastermind behind the architecture was David Heymann and the mastermind behind the interior decorations was Kenneth Blasingame. The landscape around the house was placed in the expert hands of Michael Williams.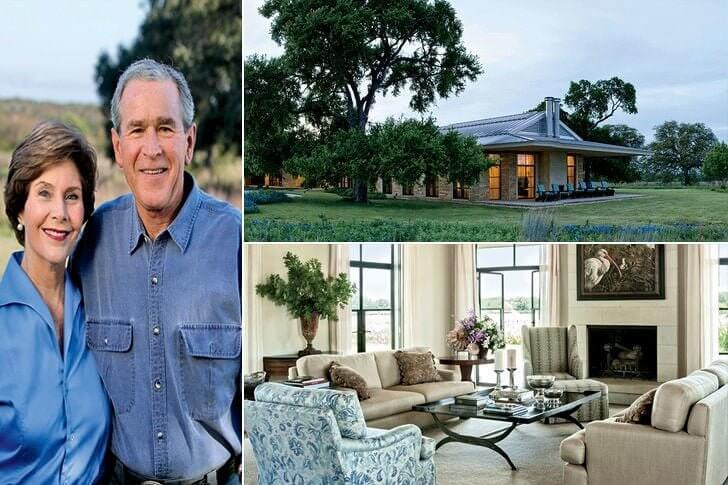 One of the best things the house has to offer is certainly the living area's limestone chimney breast along with an Adrian Martinez painting overlooking the room. The living room was decorated by Mrs. Bush herself, and the cocktail table is her very own creation. The windows in the house are all curtained with Calvin Fabrics linen.
Picker Mike Wolfe – Unknown, Leiper's Fork
Mike Wolfe is a famous picker who is known to negotiate the price of antiques as best as he can in order to maximize his profits. His house in Leiper's Fork is one of the few things that he did not have to bargain for. The real estate spreads over 32 acres of woodland and his home measures in at 5,100 square feet. Just like in his career, he decorated the house with antiques. Once you enter the estate you will be greeted by the 18th-century gate and front door. He keeps a collection of over 40 motorcycles and a built-in telephone booth in his house.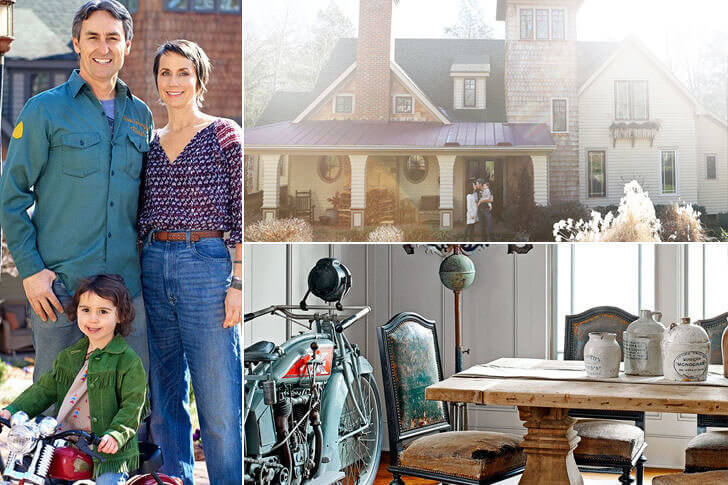 When they first bought the house, it was not nearly as in good shape as it is now. According to Mike, "Every inch of it needed paint, a lot of it needed flooring. When I looked at this house, within like five minutes I go, did Bill Powell build this house?"
Obama Family - $8.1 Million, Washington
After his presidential term was over, Obama moved his family from the White House into a rented 8,200-square-foot house. The house lies in what is considered to be an exclusive Kalorama neighborhood of Washington, D.C. The family is now neighbors with the likes of Jared Kushner, Ivanka Trump, and Jeff Bezos.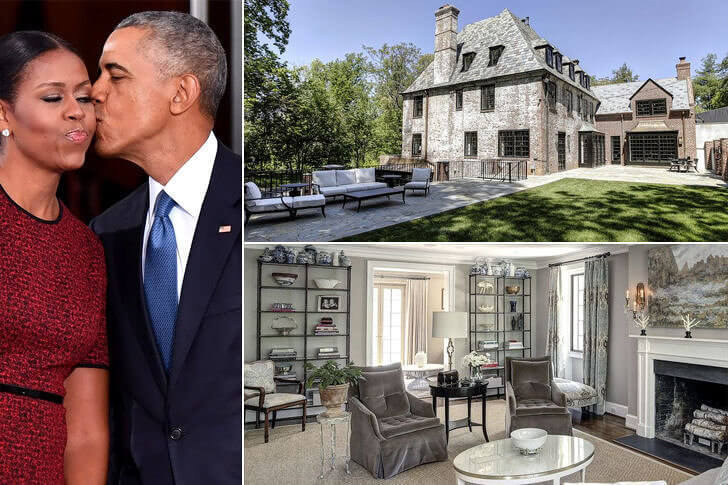 The Chicago Sun-Times broke the news in May of 2017 that the Obama family decided that they would buy the property. It set them back $8.1 million, but they did decide to keep their previous Chicago house as well. In recent times, TMZ reported that they were in the process of installing an in-ground swimming pool, and we are quite envious of that.
Oprah - $90 Million, Montecito
Oprah Winfrey is well-known for her talk show and for being a massive media mogul. Not many are aware, however, that she is quite the investor when it comes to real estate. She owns numerous properties all over the United States. Her properties include an equestrian estate in Montecito, CA, a rural farm property in East Maui, HI, and a beautiful $14 million mansion in Telluride, CO. She has numerous spots that she could make her home, but she decided that her home would be in Montecito or the so-called Promised Land.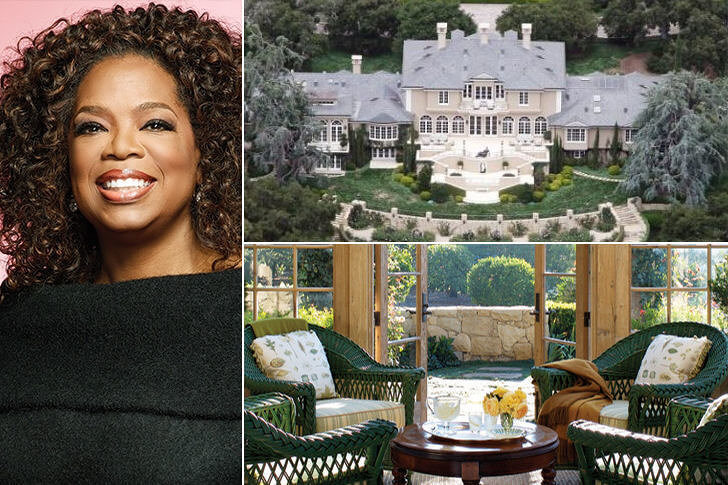 Winfrey splashed the cash on this 42-acre estate and spent $50 million on it back in 2001. If we were to calculate the current worth, it lies somewhere between $88 and $90 million. A new opportunity arose for Winfrey back in 2016, and she was given the option of purchasing the adjacent 23.26-acre parcel of land, known as Seamair Farm. She jumped on the opportunity and spent $28.85 million on it. She also received the 5,000 sq. ft. ranch-style house, a pool, top-of-the-line horse stables, a caretaker's cabin, an equestrian ring, and fruit and avocado orchards along with it.

Sean Hannity – $3.6 Million, Long Island
When he isn't filming The Sean Hannity Show on Fox News, Sean Hannity relaxes in his luxurious home by the water. He actually owns around 900 properties, with an estimated worth of $90 million, through various shell companies, and has taken out millions of dollars in loans for his properties through Quicken Loans. Hannity makes around $40 million per year through his many endeavors, including authoring several books and hosting radio and television shows. His net worth is estimated to be close to $250 million.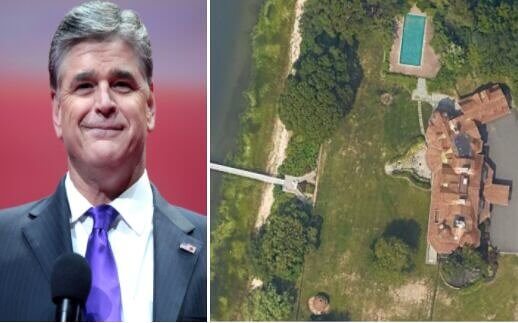 It has been reported that Hannity might be staying with co-host Ainsley Earhardt in Oyster Bay, in one of his many properties. It has come out that Hannity separated from his wife years earlier and he and Earhardt have been dating in secret. Close sources of the couple have claimed that they are in fact dating.