In 2011, Kate Middleton stunned the world in her gorgeous Alexander McQueen wedding dress. Since that memorable initiation into the British Royal family, she has mesmerized the public with her classy dressing style. The Princess of Wales is well-known for recycling her clothes and donning ethical fashion brands.

Kate is always elegantly dressed in outfits befitting the occasion, whether attending charity events or simply dropping her kids off at school. Let's look at some of her most stylish moments.
The Dress That Started It All
This most famous blue dress from Kate and William's engagement announcement was sold out within minutes. 
The blue silk Issa wrap dress perfectly matched her engagement ring. Many specialists say it triggered "the Kate effect", Middleton's impact on the fashion industry.
The Duchess Stuns at the Royal Ascot
The Royal Ascot is a prestigious annual event in the British social calendar attended by royalty dressed to the pins. Among them, Kate Middleton looked like a modern-day Disney princess in her dreamy, powder-blue mid-length dress featuring a pleated tulle skirt. Her fans quickly noticed that she and the late Queen had matched for the 2019 event.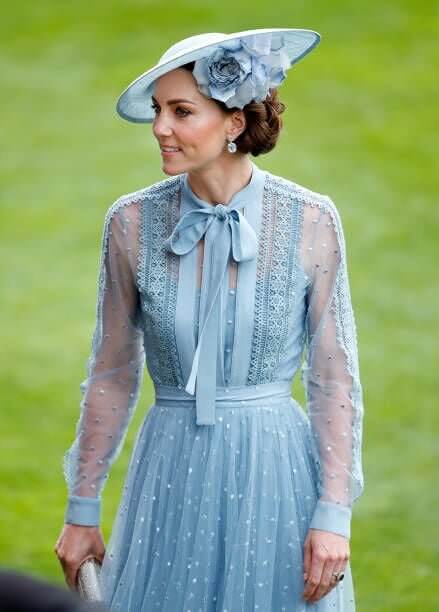 The protocol-approved gown was designed by Elie Saab and had a polka-dotted sheer overlay with gorgeous lace detailing and a darling tie neckline. The Princess of Wales teemed it perfectly with a matching floral-adorned Philip Treacy hat, metallic-silver pumps, and beautiful monochromatic drop earrings by jewelry designer Kiki McDonough.
Looking Casual Yet Chic in Zara
Over the years in the limelight, Kate Middleton has mastered the art of looking royally elegant in any outfit. A case in point is her classy presence at the Children and Young People's Health and Development Center of the Sunshine House in London. She was meeting the nurses at the center, which is probably why she downplayed her royal status to look warm and approachable.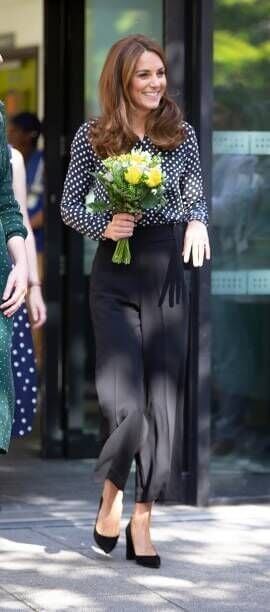 Her Highness, The Princess of Wales, was dressed casually in Zara's black and white polka-dotted top over wide-leg black culottes, but her impeccable sense of style was unmistakable. She let her beautiful blond tresses frame her face to enhance her overall visage. As always, the shutterbugs went crazy over her chic appearance.
Kate Repeats Magical Magenta Winter Suit
Celebs usually prefer not to repeat their outfits in public, but Kate Middleton has never shied away from it. She is known to wear the same outfits more than twice, and we love a princess who recycles her clothing. So, no one was surprised when she chose to wear the fabulously fitted skirt suit from the 2015 fall collection of Oscar de La Renta twice in three years.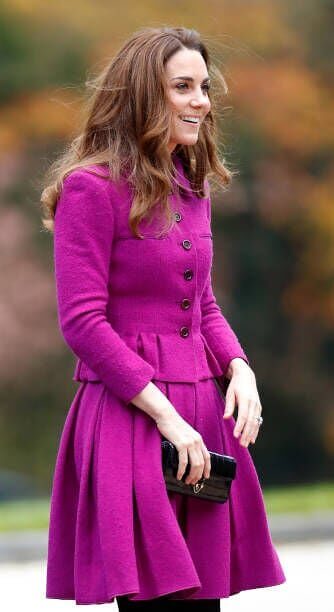 Kate debuted the bright Magenta two-piece peplum suit in early 2017 for a visit to London's Royal Opera House. She repeated it again in November 2019 when she stepped out to grace The Nook, the new facility of Children's Hospices in Norfolk, with her royal presence.
Kate Middleton Shimmers in Green
On their royal visit to Pakistan in October 2019, the Prince and Princess of Wales honored the country's official colors and tradition by appearing in matching green ensembles. The public couldn't stop raving about Kate Middleton's stunning floor-length glittery dark green Jenny Packham gown. She completed the elegant look with a traditional shimmering dupatta scarf worn on one shoulder.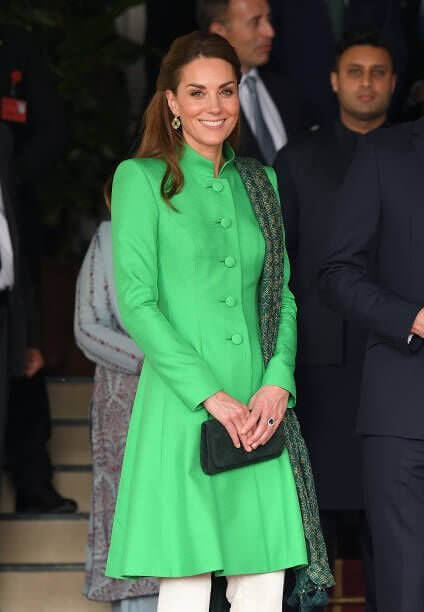 Next to his gorgeous wife, Prince William looked splendid outfitted in Pakistan's traditional knee-length buttoned-up sherwani, making him the first among British royalty to do so. Still, all eyes wear on the ethereal presence of the Duchess, who rightfully stole the limelight yet again.
The Duchess Looks Resplendent in Blue
In all the years we have seen Kate Middleton dress in style for her public appearances, blue seems to magnify her elegance a thousandfold. So, it isn't surprising that she chose the color for one of her outfits during her royal tour of Pakistan with her husband, Prince William. She looked resplendent in a teal-blue salwar kameez, the traditional outfit for women in the country.
The unique color of the dress designed by Catherine Walker is a special nod to her late mother-in-law, Princess Diana, who had worn the same teal during her 1996 visit to Pakistan. In the past decade, the fashion choices of the two gorgeous royal women have been often compared.
One Dress, Two Occasions
Kate Middleton is not afraid of wearing the same dress on two different occasions. She proved that again by wearing an off-the-shoulder stunning white Barbara Casasola dress to the Art Fund Museum of the Year event in 2016 and the 1st Annual Addiction Awareness private gala in 2019.
The dress looked elegant and stylish on the Princess of Wales on both occasions, but the different accessories made both appearances unique. For the 2016 event, Middleton accessorized with peach shade pencil heels and a silver clutch. For the addiction awareness event, she went with glittery pumps and a satin clutch.
Dressing for Charity Support
The Princess of Wales has developed a fine taste in fashion over many years, and one of her favorite brands is Beulah London. Kate Middleton debuted her 2019 public appearances with a dark-green number with long sleeves, an olive-colored clutch, dark pumps, and a gorgeous smile.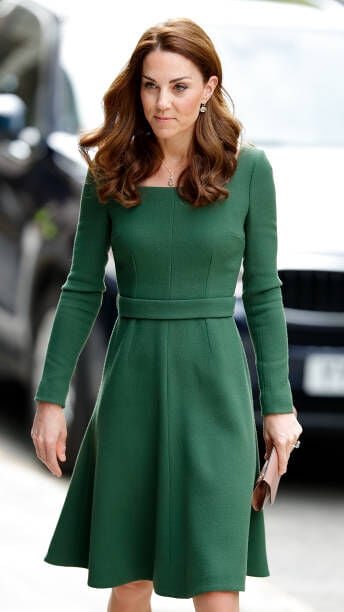 The dress was a $770 design that helped the princess support Beulah London's cause of donating 10 percent of the entire profit to human trafficking victims. Rather fittingly, she wore the dress to support another charity called Family Action, which offers financial and emotional support to underprivileged families.
A Dress for the Parade
Sporting a yellow coatdress with a floral fascinator, Kate Middleton looked every inch the Princess of Wales at the Trooping the Colour parade in 2019. Alexander McQueen is the genius behind the coatdress, and Philip Treacy designed the fascinator. Middleton's overall outfit looked perfect for a family event at Buckingham Palace.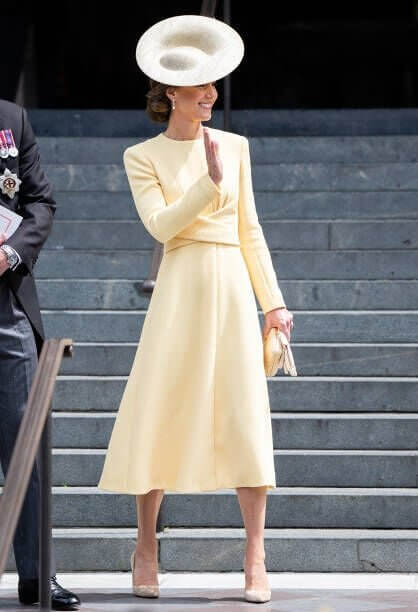 The princess had worn a similar dress at Prince Harry and Meghan Markle's wedding a year before this event. So, most royal fans thought that Kate was giving a nod to Harry and Meghan's first wedding anniversary.
Stepping Out for the Awards
A stunning one-shoulder white gown by Alexander McQueen caught everyone's attention when the Princess of Wales stepped out for the British Academy Film Awards in 2019. Although she looks great in any dress she wears, the princess appears extra gorgeous in white dresses.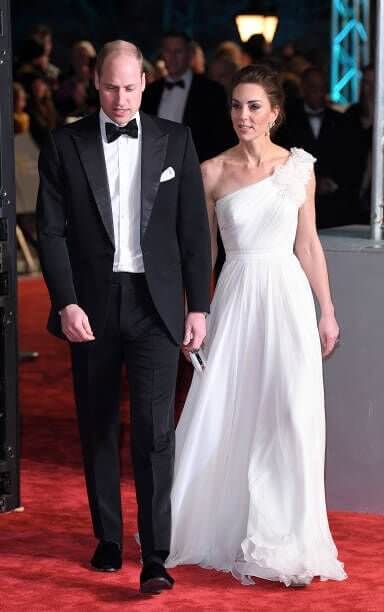 Pairing the McQueen gown with a diamond bracelet, white clutch, a bun, and pearl and diamond earrings that once belonged to Princess Diana, Kate complimented her husband, Prince William's outfit perfectly. The couple arrived for the red carpet event at the Royal Albert Hall, making every fan go wild with their appearance.
A Gown for the Princess of Wales
The title, Princess of Wales, might be new for Kate Middleton, but her appearances have reminded royal fans of Disney princesses over the years. Many of her appearances have been inspired by Disney characters like Cinderella and Aurora. Take this rose-pink multi-toned gown, for example.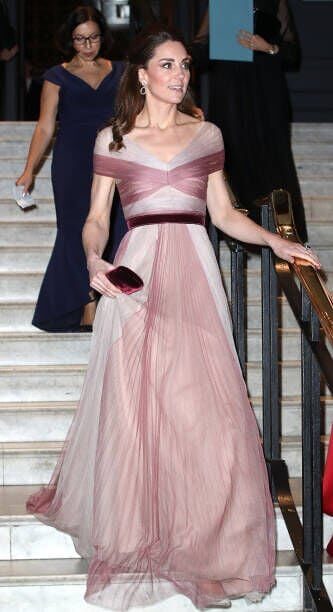 As she walked down the stairs effortlessly, the princess looked elegant in her tulle gown paired with a Prada clutch and white heels by Oscar de la Renta. Kate appeared in this dress for the 100 Women in Finance Gala in 2019.
A White Angel in Black Gloves
For their first appearance as the Prince and Princess of Wales at the 2023 British Academy of Film and Television Arts awards in London, Kate didn't come to play. Indeed, she showed once again you could wear something twice with as much class, as she sported a revived version of a dress by designer Alexander McQueen she had previously worn at the same award show in 2019.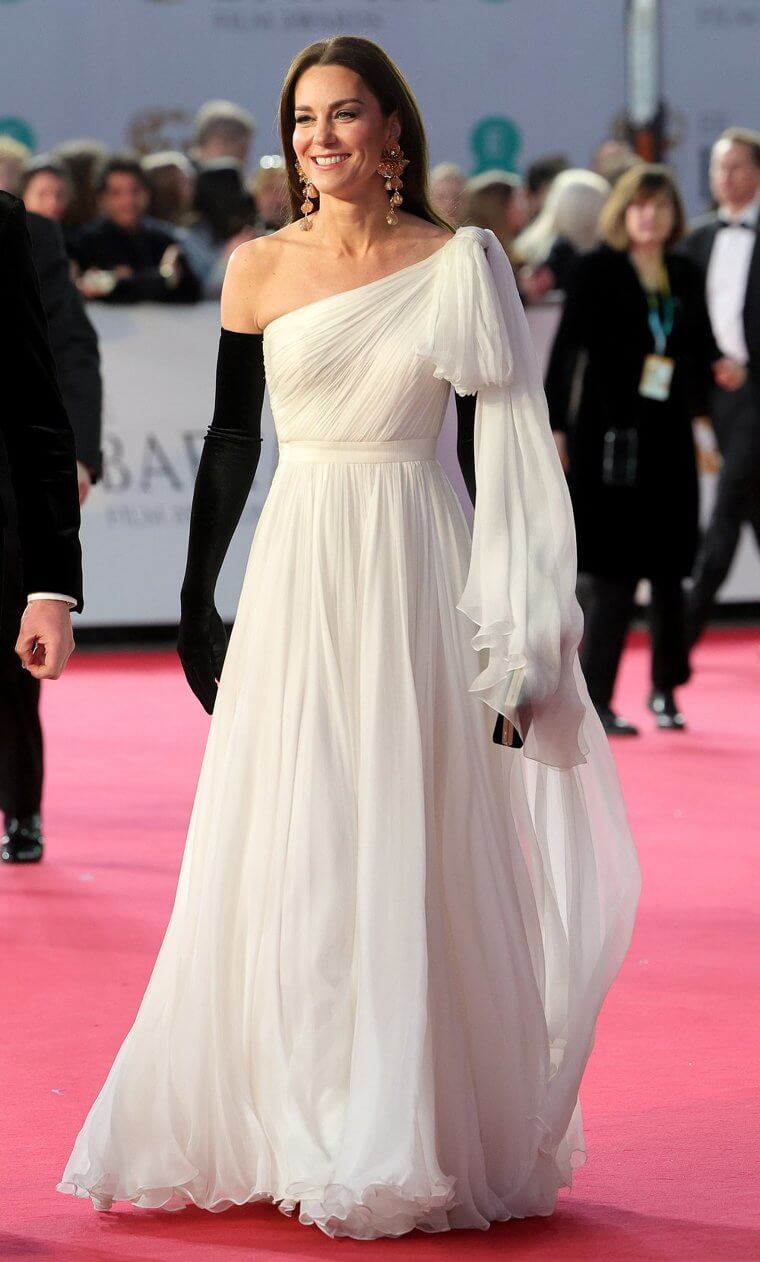 The Princess styled her vaporous white dress with Jimmy Choo heels, gold pendant earrings by Zara, and a pair of long black gloves that gave her a Hollywood diva-like attitude straight from the 1930s.
The Duchess Who Makes Her Own Rules
Kate Middleton is known for going against the norm, sometimes. In 2019, she wore a $2,480 Missoni to a party in Belfast in support of the extraordinary and influential young people of Northern Ireland. Her presence and that of Prince William surprised all those who were being honored as they had least expected royalty at their function.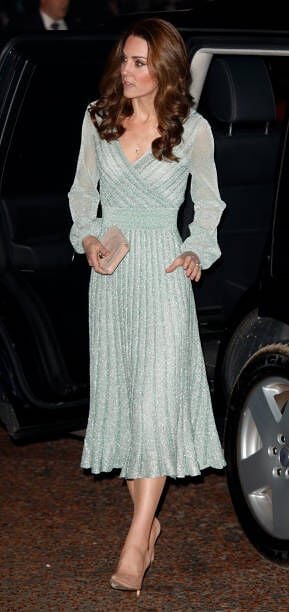 Besides her outfit, the duchess went a step further to get heads turning and tongues talking. As the event was underway, she elegantly walked behind the bar, moved toward the tap, and poured herself a pint. If her beautiful dress had missed the headlines, this surely wouldn't.
A Sense of Royal Perfection
On her second day in Northern Ireland, Kate Middleton wore a baby-blue Mulberry coat to a charity Cinemagic event in Ballymena. Unsurprisingly, the luxury brand is one of the duchess' go-to labels in the UK.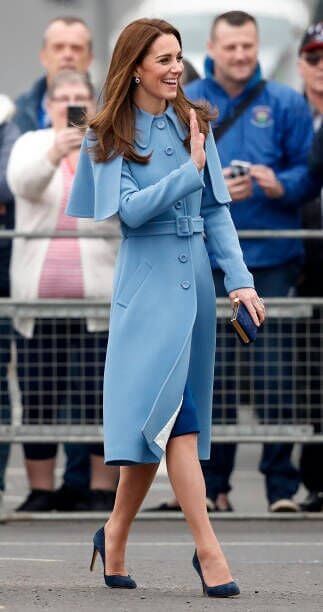 The beautiful coat was adorned with large, round buttons down the front and was strapped in place with a matching belt. Nevertheless, more than the other striking features of the coat was its unique cape that really accentuated majesty and elegance. Royalty certainly bestows one with a sense of perfection and finesse, but it seems Kate has an extra dose of these qualities, especially in her dressing.
A Stunning but Fitting Autumn Gear
One outstanding quality of Kate Middleton is her excellent sense of color and dressing style. Even when appearing casual, the duchess still treats her dressing with seriousness. On a surprise visit to the National History Museum in October 2019, Kate wore an impressive burgundy sweater perfected with a neckline and sleeves. She paired the top with an olive-shade, wide-legged trousers that absolutely looked good on her.

A pair of burgundy heels, Chanel handbags, and gold Asprey hoops crowned her classic autumn outfit, and though wearing two bold colors could often clash, Middleton still looked stunning. She once again proved to everyone that being confident in one's outfit matters more than anything else.
A Mixture of Simplicity and Royalty
Transforming seemingly old-fashioned outfits into something desirable and attractive takes a sense of intuition and this is what sets Kate Middleton apart. At an event that took place at Buckingham Palace in March 2019, the duchess wore a blue ensemble and still looked royal in the outfit. The baby-blue dress had a high collar and small front buttons which lent more weight to its beauty and elegance.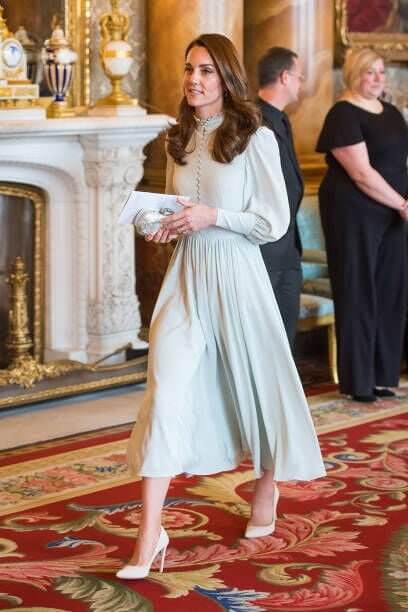 A pair of cream-colored heels and a baby-blue clutch were combined with her dressing in the most impressive fashion. Most people in attendance couldn't help admiring her simple yet royal appearance.
An Exquisite, Radiant Red Coatdress
Though Duchess Kate Middleton often wears pastels, she doesn't mind changing her style every once in a while. While attending the Commonwealth Service at Westminster Abbey in March 2019, Kate was sighted wearing a Catherine Walker coatdress that immediately gave everybody something to talk about.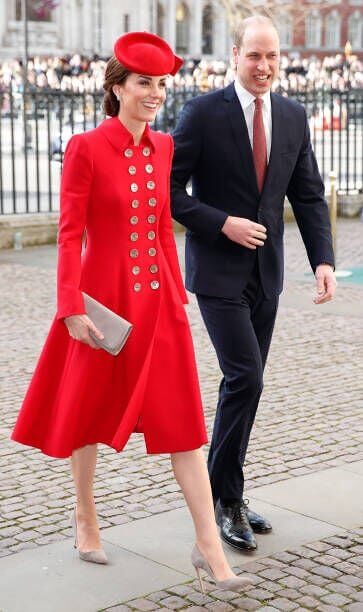 The large gold front buttons of the radiant red outfit together with a pair of matching shoes added to the duchess' elegance. Although Middleton had worn this coatdress previously on a New Zealand visit in 2014, she didn't mind wearing it again on this occasion because she still looked exquisite in it.

Stylish Sleeves and Loose Curls
Kate Middleton stepped out to bless our view with another royal gown. The Duchess of Cambridge attended the 2019 Portrait Gala in London looking elegant as always. The art lover and fashion icon dressed up in a black floral Alexander McQueen gown which she had worn to the 2017 BAFTAS, but it previously featured ultra-feminine off-the-shoulder straps.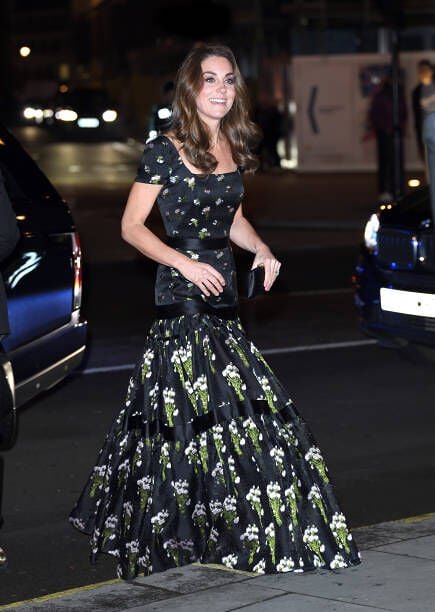 If you take a close look at the pictures, you'd discover that Kate found a smart and stylish way to alter the sleeves by adding caps sleeves. In addition, the mother of three let her hair down in loose curls and ensured minimal makeup. We can say that the two styles looked glamorous for the duchess.

Kate Middleton and Her Royal Majesty
This outing marked the first time Kate Middleton and the late queen made a public visit without any other members of the royal family in attendance. The royals stepped out in 2019 to meet with academics and officially open the renovated Bush House at King's College in London—one of the oldest universities in England.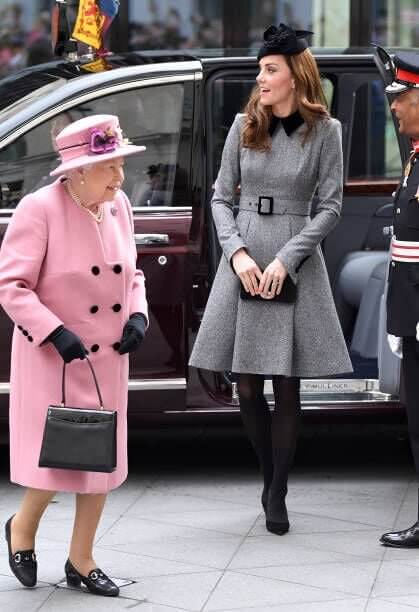 For this tour, Kate donned neutral colors by wearing a chic gray dress with a black fascinator. The queen gracefully sported a colorful outfit in contrast, having on an all-pink coat and matching hat. Considering how the duchess decided to appear in a less catchy color, it seems she wanted Her Majesty to get the whole attention.
She Stepped Out Elegantly for Charlotte's First Day
Kate Middleton, the Duchess of Cambridge is always on point regardless of the occasion she steps out to attend. This time, while taking her daughter to school, she proved to be one of the coolest and most fashionable moms in the world.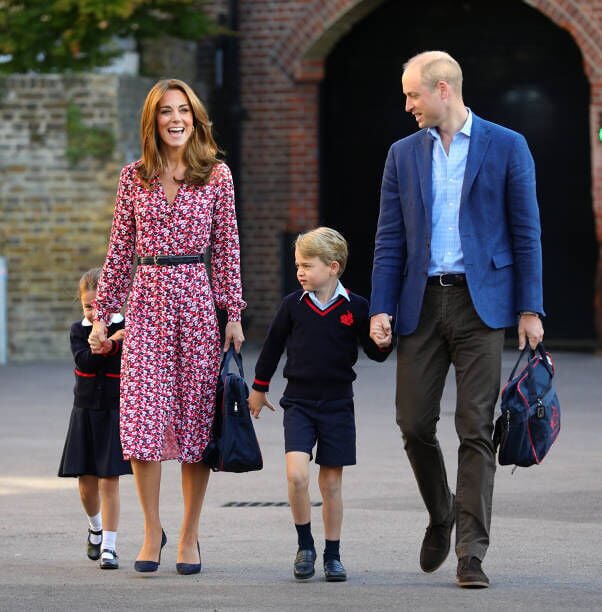 Princess Charlotte's mom wore a red and white floral dress from Micheal Kors as she stepped out to witness her daughter's first day in school. We are always amazed by how Kate comes out stylish as this is not the first time she wore the floral dress. She had previously rocked it to Meghan and Harry's wedding rehearsal in 2018.
The Lovely Floral Patterned Dress
The Duchess of Cambridge is never far from being at the forefront of fashion. She has succeeded in making a sophisticated wardrobe which is evident in how she combines colors and patterns. The royal surprised everyone again as she paid a visit to launch another iteration of the Back to Nature play garden which was a campaign to encourage children to play outside.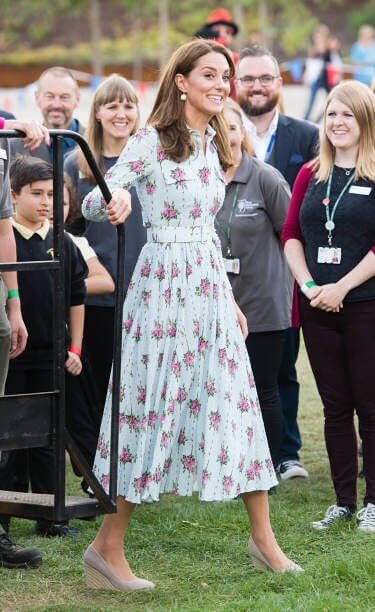 Kate dressed perfectly to fit the outdoor theme, opting for an elegant blue-powdered gown decorated with pink roses. The lovely floral patterned dress came with a matching belt to make it snug to her waist. Kate walked through the garden with a contagious smile that made fans excited about the occasion.
Green Emerald Dress for a Thought-Out Tribute
The Duke and Duchess of Cambridge planned their official visit to Pakistan well enough. Before their tour, the couple met with Prince Shah Karim Al Hussaini, Aga Khan IV, where they greeted other members of the British Pakistani community. The meeting went well, and as we all know, Kate never ceases to bless our views with iconic styles.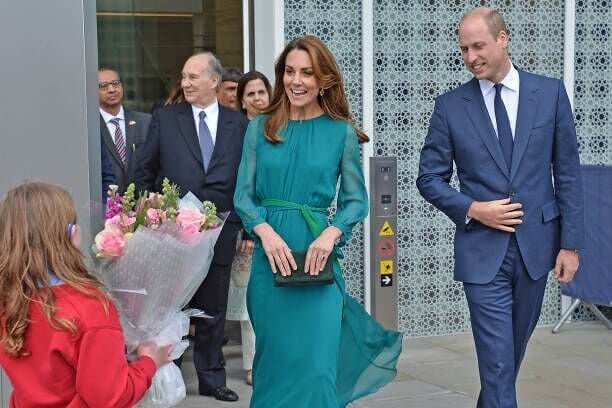 For the occasion, the Duchess of Cambridge wore a stunning teal dress by Girl X Soler featuring a green belt that gave the dress a good fitting. She donned emerald heels and a matching clutch purse, while Williams opted for a navy blue suit.
The Chic Aunt in Christening Ceremony
Kate Middleton was once again in her elegant yet trendy fashion mode during the christening ceremony of Meghan and Prince Harry's two-month-old son, Archie Harrison. As the royal family posed for a family picture in the private chapel of Windsor Castle, the duchess stood out with her Stella McCartney dress in an eye-catching pink shade.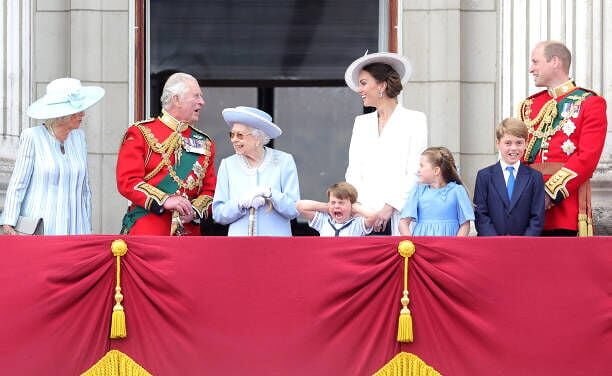 While the rest of the ladies opted for elaborate hats, Middleton paired her outfit with a beautiful magenta headband and red pumps. Her look for the day was complete with a pair of pearl earrings, as radiant as her smile.
A Perfect Dress for Every Summer
Kate Middleton is a huge tennis fan and has been regularly spotted in Wimbledon matches. According to one of her interviews, no English summer is perfect without the tournament. Most of the time, she is accompanied by her husband, Prince William, and can be seen cheering enthusiastically and doing the wave with the crowd from the Royal Box.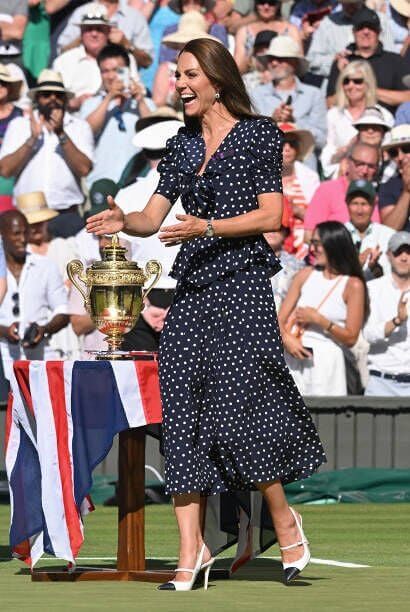 Over the years, the duchess' wardrobe has experimented with many summer outfits like polka dot, lace, and solid color dresses for the tournament. Her petite figure beautifully compliments all these choices, and one cannot miss her among so many fans. For the second day of 2019 Wimbledon, Kate wore a white Suzannah dress and Alexander McQueen belt.
Standing Out in Black and White
We can't get enough of Kate's smile or her closet. Fashion enthusiasts were thrilled to see her in a stunning ensemble during the Order of the Garter ceremony in 2019 after she missed the event in 2018. The Duchess of Cambridge went for Catherine Walker's white coat dress with black piping.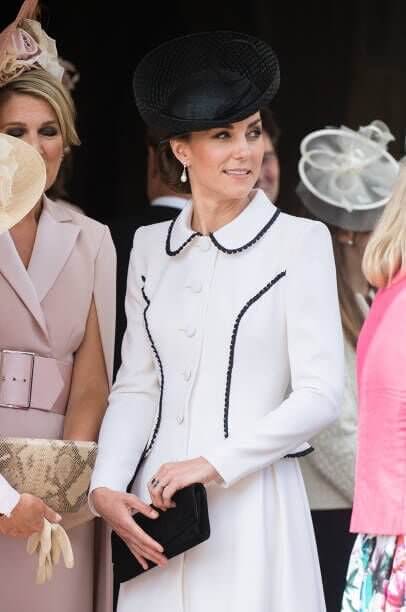 With a pretty Lock & Co. hat, a black clutch, and black pumps, Kate rocked the sober and sophisticated black-and-white attire. The ceremony included many well-dressed royal family members as well, including the late queen, King Charles, and Prince William.
Making Style Statements With Recycled Clothes
We know celebrities hardly recycle their clothes, but when a dress is as gorgeous as the Jenny Packham gown from her 2011 collection, can you blame someone for repeating the attire? This beautiful dress studded with Swarovski crystals and heavy sequin work was one of the first outfits that Kate repeated in her public outings.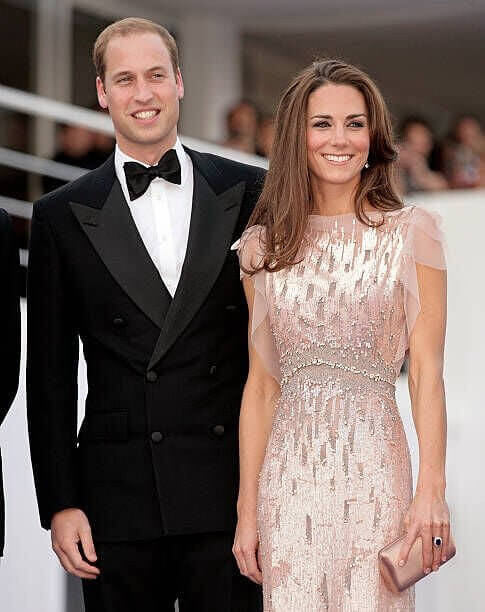 The Duchess of Cambridge was seen in the dress for the first time during her first official appearance after her royal wedding. Later in 2016, she was pictured attending the charity gala dinner at Houghton Hall in King's Lynn, England, in the same fancy gown.

Constantly Upgrading Her Closet
Starting her royal engagements after maternity leave, Kate Middleton surprised everyone when she walked out with a tweed Erdem dress, signaling a change in her wardrobe. The off-shoulder dress had an asymmetric neckline with flower brooches, and she paired it perfectly with a purple belt.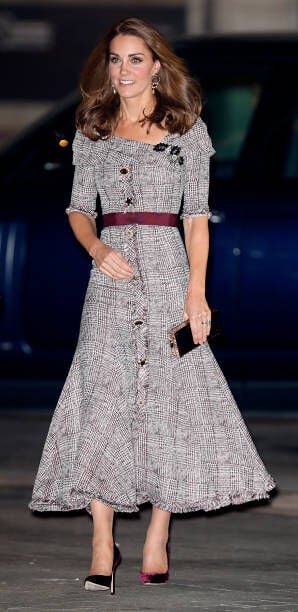 Along with the plaid dress, the Duchess of Cambridge also opted for Jimmy Choo velvet pumps and a Jimmy Choo clutch. She accessorized the outfit with chandelier earrings, from Erdem too, and created one of her most memorable looks.
The Duchess on Midwife Duties
In early 2019, Kate Middleton visited the Kingston Hospital's Maternity Unit, showing up at several clinics and postnatal wards. She also joined community midwives on their house calls. The Kensington Palace, however, released the photos of her visit in December, and she was pictured wearing a beautiful patterned dress and black tights.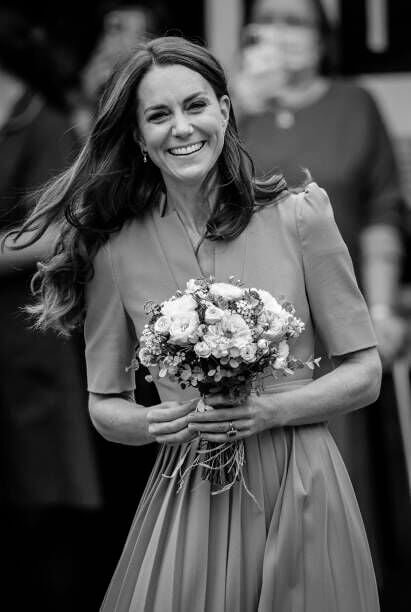 After her visit, the Duchess of Cambridge wrote an open letter to the midwives, appreciating their efforts. Apart from copying her fashion styles, we can also emulate her amazing gesture by visiting health centers and telling the workers how much they mean to our society.
The Mini Version of Kate Middleton
In December 2019, both Kate and William had mini-me attires for Christmas, which is something we love to see. When parents and their children dress alike, they are always beautiful to watch. Kate wore her favorite color of green with a modest, stylish gray coat to the Christmas Day ceremonies at Sandringham.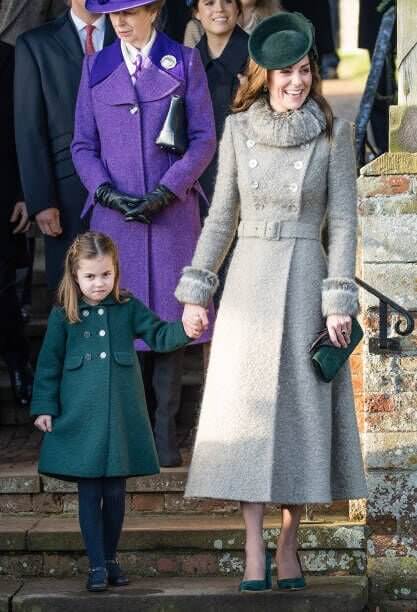 The Duchess matched her daughter Princess Charlotte's outfit with an emerald green headpiece and heels. The fact that Prince William and Prince George are wearing similar outfits adds to how much we adore this picture.
The Sporty Duchess of Cambridge
We've seen a lot of photos from Kate Middleton's Pakistan tour where she always picked the ideal ensemble for the occasion, and it turns out playing cricket was no exception. The royal couple paid a visit to the National Cricket Academy on the fourth day of their vacation, and the duo even attempted to play the sport.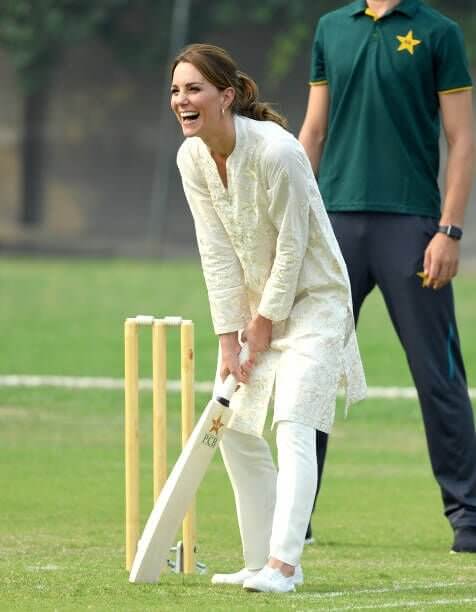 The occasion called for informal attire, so the Duchess wore white sneakers with a shalwar kameez created by Gul Ahmed. Aside from regular meetings and attending to royal duties, Kate has proved that she also finds time to have fun outdoors.
A Trademarked Coat That Always Looks Stunning
The Duchess has a few signature styles she will not abandon, and we sincerely hope she doesn't anytime soon as she looks lovely in them. Most people may recognize Kate Middleton in her blue Alexander McQueen coat, which she has worn numerous times.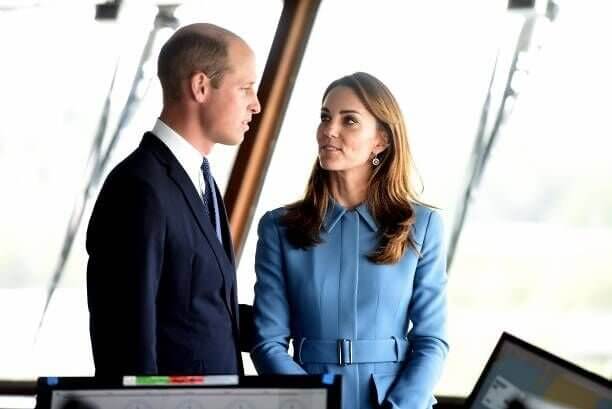 She donned the dress to a remarkable celebration of Sir David Attenborough in Birkenhead. The duchess accessorized the coat for the formal event with blue shoes, diamond stud earrings, and an Asprey purse.
Dressed in Powdered Pink Like a True Duchess
Known for her ability to look the part, Kate Middleton lit up the scene again when she showed up in gorgeous matching pink attire. You know what they say, a couple that dresses together stays together. She and Prince William frequently select complementary colors for the events they attend together, and here, he sported a pink pin.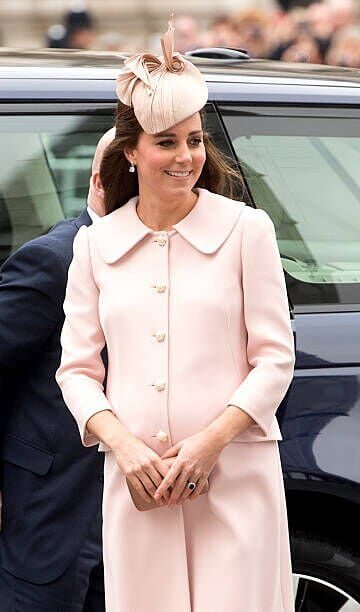 Kate donned an Alexander McQueen coat dress in powder pink to one of the Queen's Garden Parties, as McQueen is one of her favorite designers. To cap it all up, she accessorized with a Juliette Botterill headpiece to complement her gorgeous coat.
Welcoming the New Year in Style
The Duchess of Cambridge doesn't disappoint with her choice of clothing. Each occasion is properly planned for, and we reckon that there's no better event to look your best at than the New Year. The princess' New Year's celebrations are equally greeted with new additions to her wardrobe, as we can see in this dashing photo of her and her husband in the year 2020.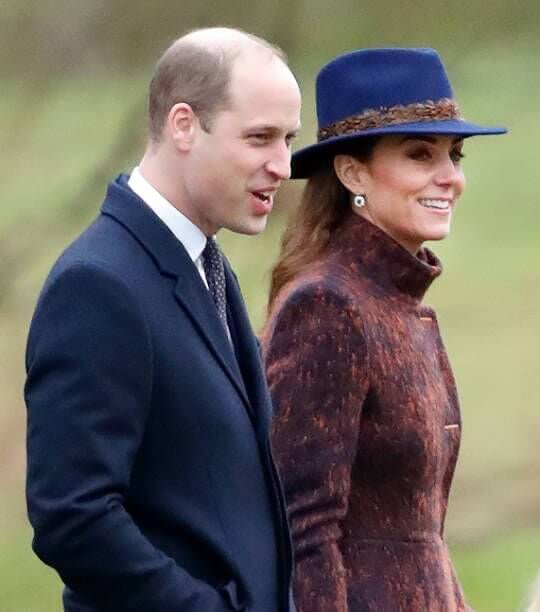 On January 5, 2020, Kate and Prince William attended church in Sandringham, and she wore a dashing multicolored coat dress with an equally stunning bold royal blue fedora hat. Since the New Year always brings a new shine to this queen consort, we'll make keeping an eye on such festive appearances a top priority.
Just as Pretty the Second Time
Contrary to what most people think about royalty, they don't just don a new outfit every single time. Just like with regular folks, if something is that pretty, it's worth a second look. Kate wore this deep royal blue dress sometime in 2017, and she loved it so much that she gave it a second run in November 2019.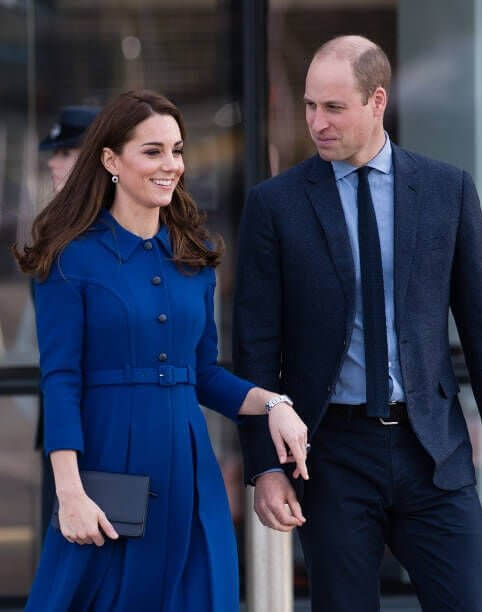 The dress was designed by the popular London-based fashion house, Eponine, a favorite brand of Kate's. She completed her look with stilettos by Rupert Sanderson, simple but elegant sapphire drop earrings, and a dazzling watch. Considering that Kate looked so amazing in this outfit, we can't help but hope that she sports it one more time.
Watch Me Win in White
If you're a big admirer of Kate Middleton, then you'll know how much she loves sports. The Duchess is a big fan of cricket, tennis, and ice skating, and here you can see her cheering for her favorite player at a Wimbledon game in the year 2018.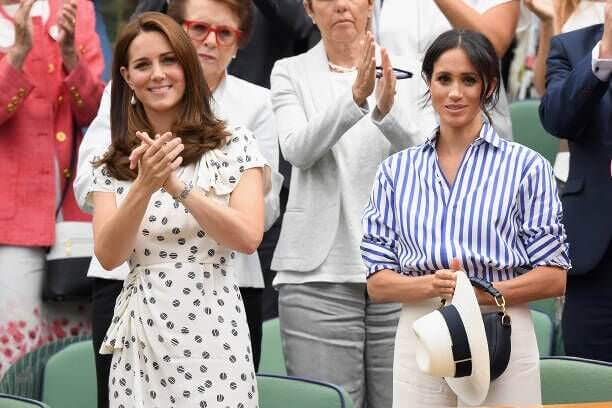 She went along with her sister-in-law, Meghan Markle, as Serena Williams battled Angelique Kerber in the women's final. For the occasion, the duchess wore a white polka-dotted Jenny Packham dress with a modest yet elegant assortment of jewelry. Sporting events sure do bring out the grin on this beauty, so we'll be looking out for her next appearance on the field.
Just Like My Mother-In-Law
When she was alive, Princess Diana was known to be very fond of Pakistan. She visited there three times, the second time in 1996 to mingle with her good friend Imran Khan and his wife Jamina Khan. On her trip to Pakistan, Kate seemed to love the country just as much, especially with the local outfit she was wearing.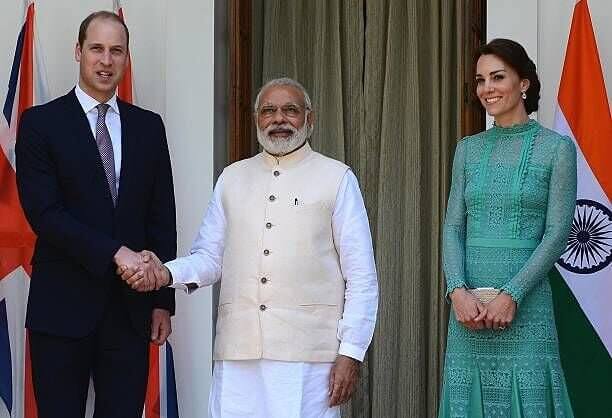 The Duchess visited Prime Minister Khan in a royal blue kurta, which was made by the Pakistani designer, Maheen Khan. Watching Kate commune so easily with Princess Diana's old friends in Pakistan brought back treasured memories for all those who still miss her very much.
Looking Solemn Yet Stylish
If any fashion house is to hold the crown as Kate's favorite, it would be Alexander McQueen. Over the years, we've watched the duchess dazzle her admirers in chic McQueen designs, including her iconic wedding gown and the suit she wore at Queen Elizabeth's funeral on September 19, 2022.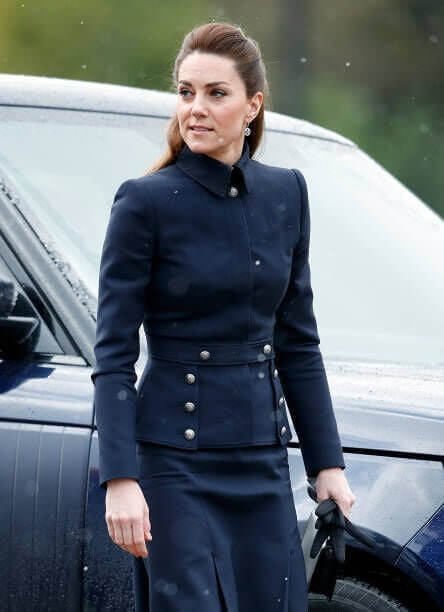 At the 10th anniversary service of British designer Alexander McQueen's tragic passing, Kate equally showed her appreciation of the brand by sporting one of their designs. Kate made her salute to the late McQueen and his fashion house in a navy McQueen coat, matching skirt, and black boots. Her appearance was appropriately solemn for the occasion, but also very stylish.