Although Katie Holmes is most famous for her marriage to Tom Cruise, she was actually a well-known, highly sought-after actress before their relationship ever began. After making a name for herself in the industry in the '90s in Dawson's Creek, she won more prominent roles, including America's First Lady in The Kennedys. From her bizarre marriage to Tom Cruise, life after the divorce, and everything else in between, here's all you need to know about America's sweetheart Katie Holmes.
 
Midwestern Roots
A native of Toledo, Ohio, Katie Holmes has become one of the town's most famous women. She attended an all-female high school, the Notre Dame Academy, in Toledo, and gained admission into Columbia University after graduation. Although her father wanted her to become a doctor, Holme's heart was elsewhere.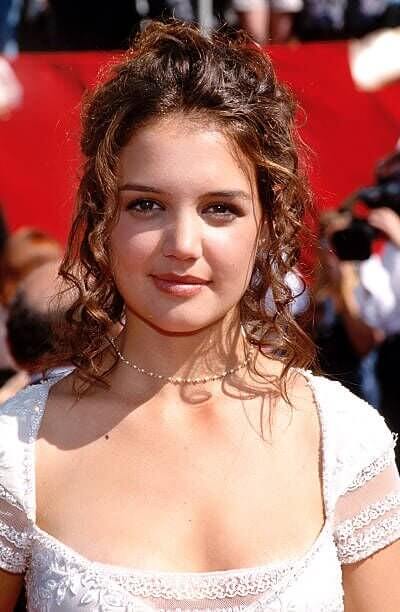 Rather than medicine, Holmes had a passion for modeling and acting. She began taking modeling classes when she was 14 and entered the International Modeling and Talent Association in New York City in 1996. The actress is also a gifted singer and enjoyed being on stage.
A Straight-A Student
Did you know Katie Holmes is also a bookworm? She graduated high school with a 4.0 GPA and had a 1310 SAT score. However, despite getting accepted into Columbia, she was only able to attend just one photography class, as her career as an actress took off shortly after.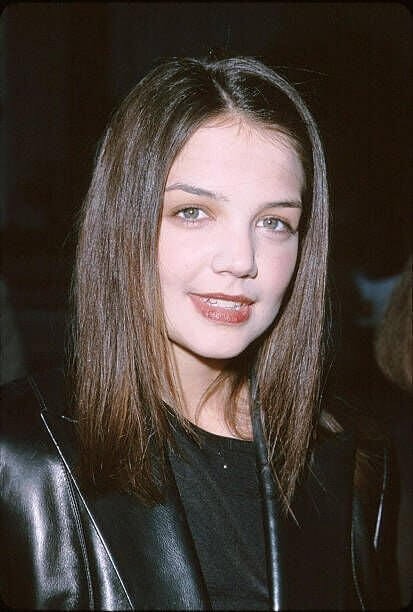 Holmes was signed to an agent after performing a monologue from To Kill a Mockingbird. The tape was then sent to a casting director for the 1997 drama film Ice Storm. This resulted in Holmes' feature film debut alongside Sigourney Weaver and Kevin Kline. Putting off Columbia actually paid off for the young actress.
Auditioning for Dawson's Creek
Following her film debut, Holmes went to Los Angeles in 1997 for pilot season. This is a period of time when studios cast and filmed new shows, hoping they would land a spot on a network's schedule. Holmes famously turned down the lead role in Buffy the Vampire Slayer so she could finish high school.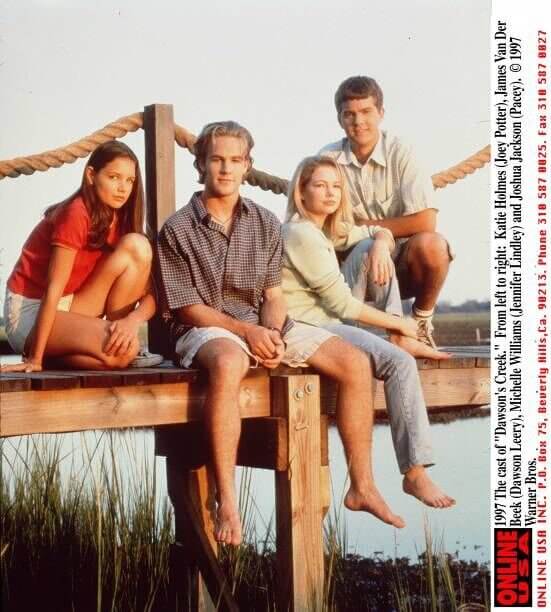 Though she declined the show, she was contacted by Columbia TriStar Television to audition for a part in Dawson's Creek. She was told the auditions would hold in L.A. but was unable to go because of scheduling conflicts, so she had to come up with another solution. She didn't want to let her mates in high school down.
She Didn't Want to Let Her School Down
Dawson's Creek producers wanted Holmes to audition in person in L.A. but she informed them it wouldn't be possible due to scheduling conflicts. She said, "I was doing my school play, Damn Yankees, and I was playing Lola. I even got to wear a feather boa. I thought, 'there is no way I'm not playing Lola to go audition for some network.'"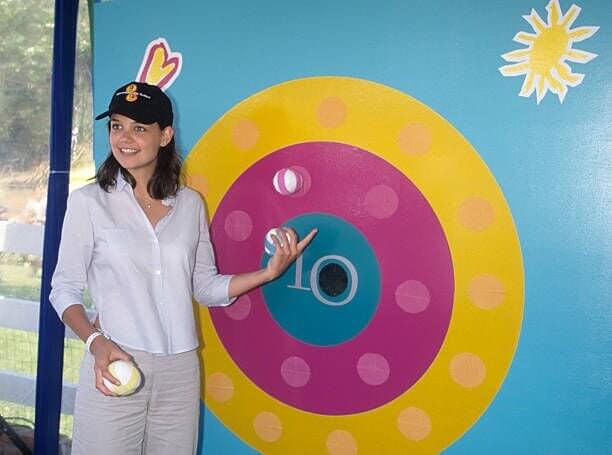 After she told her agents and producers she had other commitments, they allowed her to send them a tape of her audition. She read for the part of Joey Potter in her home's basement, with her mom reading Dawson's lines. The story has now become popular. It was unheard of at the time that someone could audition for a lead role through FedEx.
Her Breakthrough Role
Immediately the producers saw Holmes' big, bright eyes and unique talent on tape, they were won over. They knew they had found their Joey Potter. Creator and executive producer Kevin Williamson said Holmes had "a unique combination of talent, beauty, and skill that makes Hollywood come calling." There was no denying the teen's star potential.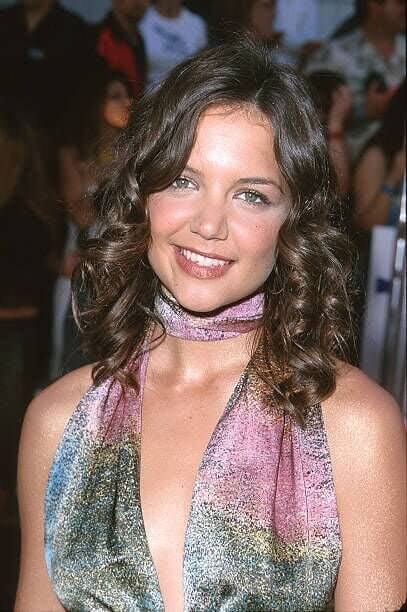 While the show earned mixed reviews, Holmes catapulted to fame and started gracing the covers of magazines like Seventeen, TV Guide, and Rolling Stone. She lived in Wilmington, North Carolina throughout filming, which was ten months out of the year, and started getting more roles.
A Talented Singer
Holmes' acting skill is undisputed, but not many people know she's also a good singer. She showcased her singing skills on an episode of Dawson's Creek, where her character takes part in a beauty pageant. She sang On My Own from Les Misérables and her voice blew everyone away.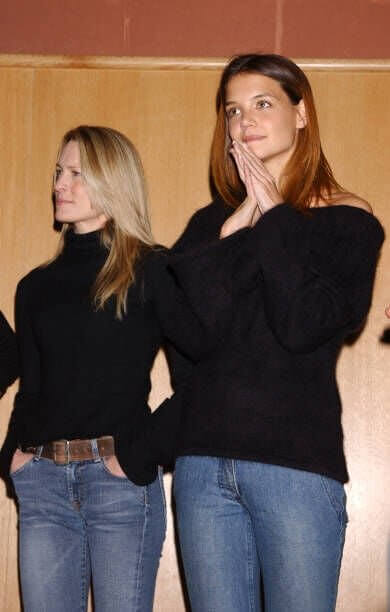 Not a lot of people know that Holmes is multitalented because she hasn't performed a song publicly in more than a decade. But if you rewatch Dawson's Creek, you'll be surprised to learn that she actually can sing.
Meeting the Man of Her Dreams
One thing Katie Holmes is most famous for is her marriage to Mission Impossible star Tom Cruise. Their whirlwind romance was weird and wild and captivated Hollywood. Holmes shared that when she was younger she thought about marrying Tom Cruise, and they finally met in April 2005.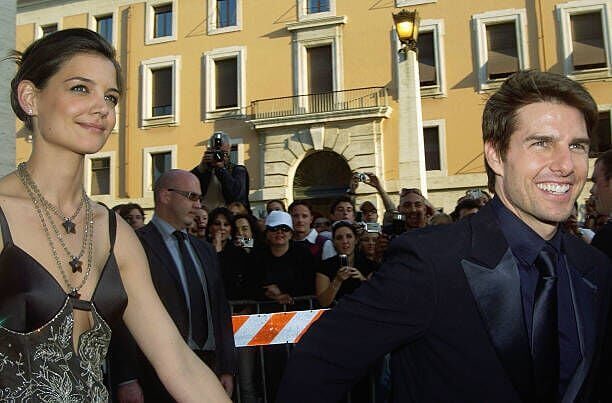 Initially many people thought their relationship was only a publicity stunt. But during an appearance on the Oprah Winfrey Show, Tom Cruise gushed about his new girlfriend and famously punched the floor and jumped on the couch in excitement before bringing her out from backstage. It was quite weird.

The Two Lovebirds
Holmes and Cruise's relationship moved very fast. Barely two months after they met, Holmes converted from Catholicism to Scientology for Cruise, and just a few days after, the pair announced their engagement.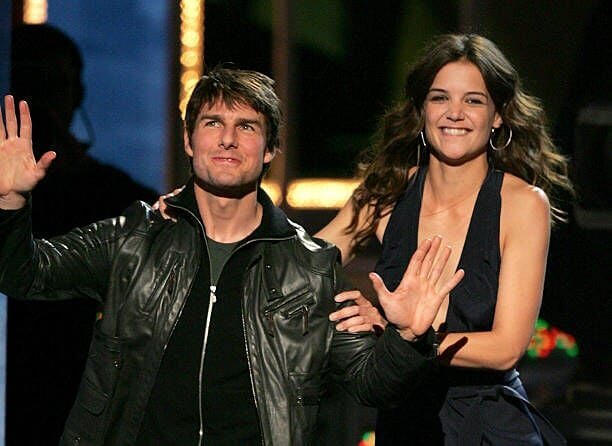 Barely eight weeks after they first met, Cruise proposed to Holmes in Paris, on the second floor of the Eiffel Tower. While he didn't go down on one knee for the special occasion, he did present Holmes with a five-carat yellow diamond ring. It however took a while before they set a date for their big day.
Expecting A Baby
Everything about Cruise and Holmes' relationship moved at rocket speed. Four months after their engagement, they announced they were expecting their first child. It was news no one was expecting to hear but the star couple was excited about becoming parents.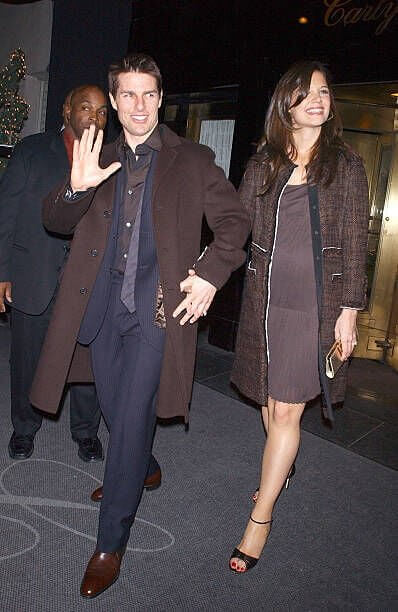 Cruise was so thrilled by the news that he bought a sonogram machine for their home so he could track every stage of their baby's development. There were certainly red flags at the start but somehow Holmes missed them. She was probably carried away by the honeymoon stage of the relationship, but her life was not the same afterward.
Suri Is Here
A year after they met, Katie Holmes and Tom Cruise welcomed their daughter, Suri, at Saint John's Health Center in California. They were thrilled to have their little bundle of joy and the new mom took a few months off work to care for her newborn as well as prepare for her upcoming wedding.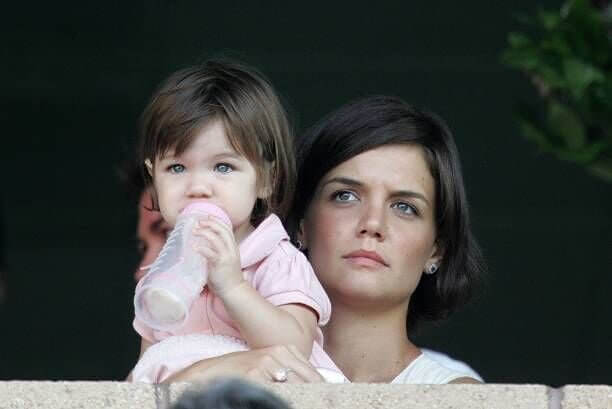 Despite the fact that they were engaged, had a child together, and were about to tie the knot, the public wasn't convinced about the couple's relationship. But on their part, the new mom and dad were too busy dotting over their little one to be bothered about what the press was saying.
The Wedding
Holmes and Cruise's wedding was a lavish Scientology ceremony held in a romantic 15th-century castle in Italy. For the big day, Holmes wore two dresses, both designed by celebrity stylist Giorgio Armani. She looked blissfully happy and the tabloids scrambled to get a picture of the picture-perfect bride and groom.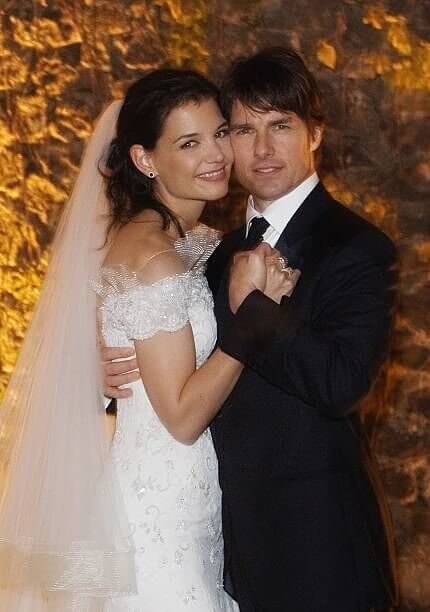 As lovely as it all turned out, though, there was a bit of trouble at the start. According to Leah Remini, after Cruise took his place at the alter, he had to wait for about 20 minutes for his bride to appear. While he tried his best to remain calm, the guests started to wonder if Holmes would show up.
They Were Closely Monitored
Holmes claims she converted to Scientology on her own accord and not out of pressure from Cruise but there were bizarre things happening in their relationship. The couple never lived alone because they were under the close watch of the church. In essence, her life changed drastically because of the conversion.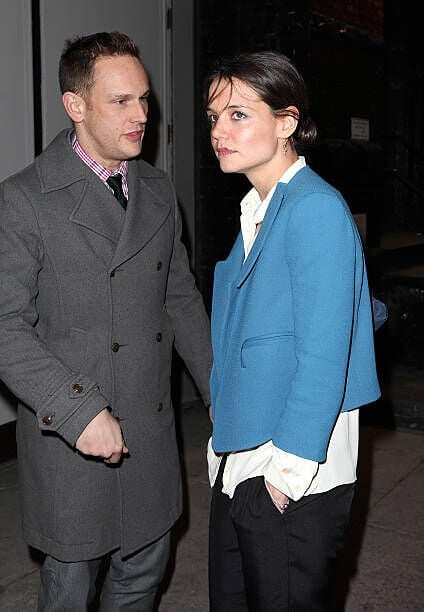 The young actress began cutting people out of her life. She stopped seeing her friends and fired her agent, manager, and publicist. She was also assigned a chaperone who the tabloids referred to as her best friend. The chaperone went as far as taking over an interview Holmes was giving just to steer the conversation away from Cruise's connections with Scientology.
She Had to Leave
Holmes was totally controlled by her husband and his church and it reached a point she couldn't take it anymore. After almost six years of marriage, she filed for divorce. Cruise didn't see it coming and felt blindsided, but it was important that Holmes kept the divorce a secret so she could protect herself and her daughter from the Scientologists.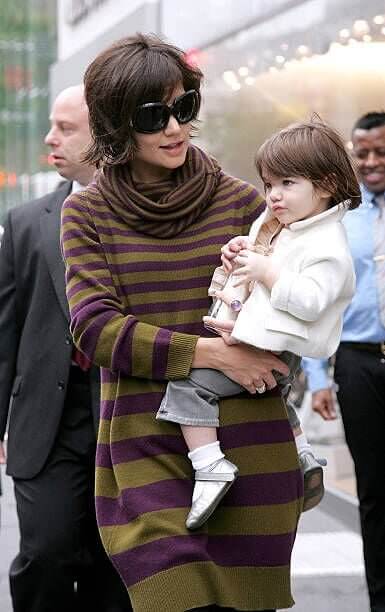 Thankfully Holmes had her parents to turn to. Her father was a lawyer and was able to help her with her divorce and getting full custody of Suri. Her prenup also helped her hasten her exit. However, there was a clause in the contract that stated she would keep mum about Scientology after the divorce.
Her Career Stalled
Before meeting Tom Cruise, Katie Holmes was well on her way to becoming one of the most successful actresses in Hollywood. In 2005 she landed roles in the blockbusters Batman Begins and Thank You for Smoking, but her career took a back seat when she married Cruise and started raising Suri.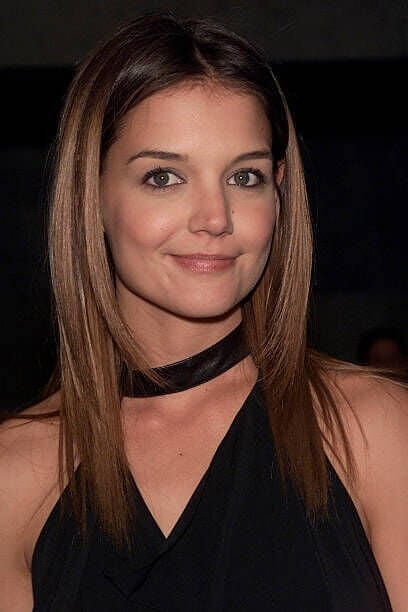 When Holmes resumed acting, many of her films didn't do so well. It was also rumored that Cruise was in control of her career, which doesn't sound too far-fetched considering all the other rules she had to abide by throughout the marriage.

She Was Off the Market for Five Years
In an effort to hasten her exit from the marriage, Holmes agreed to several things. Some of them were clauses she had to sign that prevented her from embarrassing Cruise in any way. She had to remain silent about him and his religion, and also stay off the dating space for five years.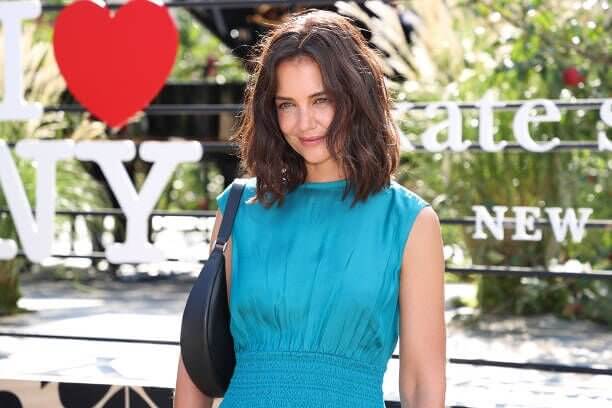 Cruise didn't want Holmes to bring any romantic suitors anywhere near Suri for the first five years of her life. This shows how controlling he was over Katie's life, so much so that it extended for years after she quit the marriage. Somehow it was okay for him to move on but she wasn't.

Playing Jackie Kennedy Again
Holmes has played many characters throughout her acting career but one of her best is First Lady Jackie Kennedy. She first played Jackie-O in the Canadian-American mini-series The Kennedys. It won high ratings and became so popular that a follow-up series was created.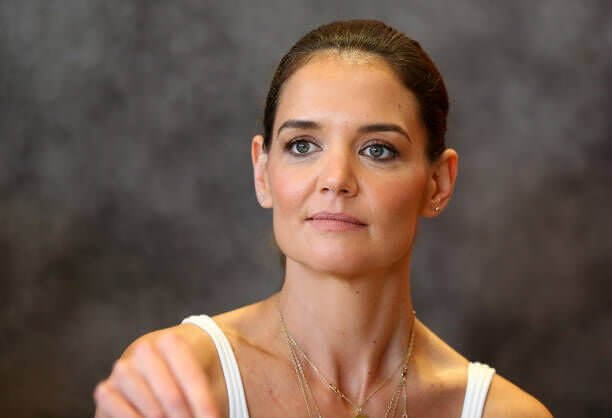 Holmes got to reprise her role in The Kennedys: After Camelot (also called The Kennedys: The Decline and Fall). It was a sequel to the original series. The 2017 show lasted for one season and starred Holmes alongside Matthew Perry.
Batman Begins
Katie Holmes starred opposite Christian Bale in the 2005 superhero blockbuster Batman Begins. She played the lead character's love interest and childhood friend, Rachel Dawes. But that wasn't the only time she worked with Batman.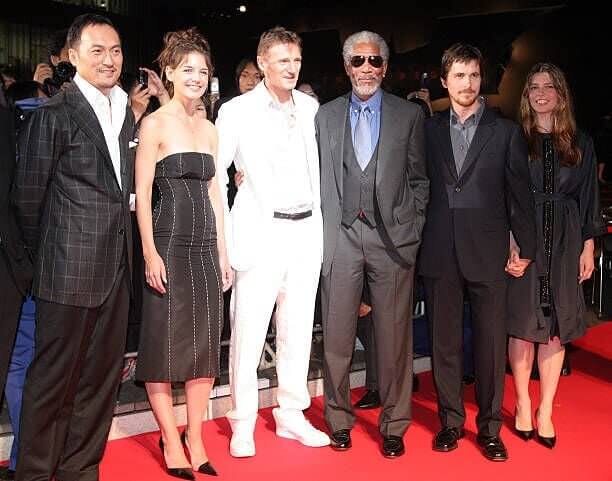 She also got to work with Michael Keaton, who played Batman in the Tim Burton movies, on a film called The First Daughter, which premiered in 2004. Holmes played the president's daughter who decides to go to college away from home and ends up falling for an older student.
Her Part Was Recast
For the sequel to Batman Begins, The Dark Knight, Katie Holmes was recast after she turned down the opportunity to reprise her role. The baton was then passed to Maggie Gyllenhaal, who almost rejected the role because she wasn't sure Holmes approved of her casting. She said, "I wanted to be sure, first of all, that I had her blessing. And I was assured that I did. I'm a big fan of hers. I think she was really great."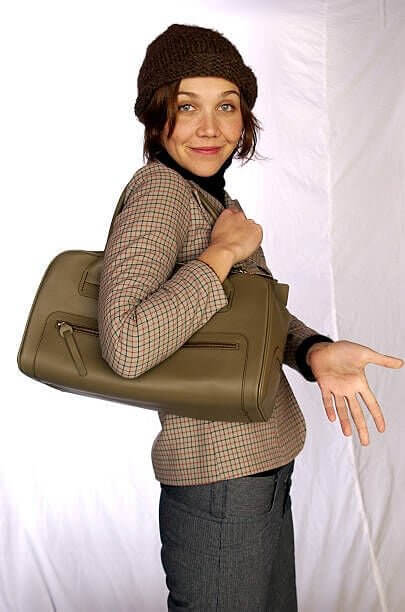 Holmes appreciated Gyllenhaal reaching out to her and her kind words. She was happy to pass on the iconic role to Gyllenhaal because she wanted the film to do well. Holmes also said that she loved seeing everyone getting along.
The Reason Holmes Left Batman
Batman Begins was a global success, raking in over $370 million worldwide, but Katie Holmes chose not to return for the sequel. However, she doesn't regret her decision. It's still not clear why she turned down the role, but the director was interested in her playing Rachel Dawes again.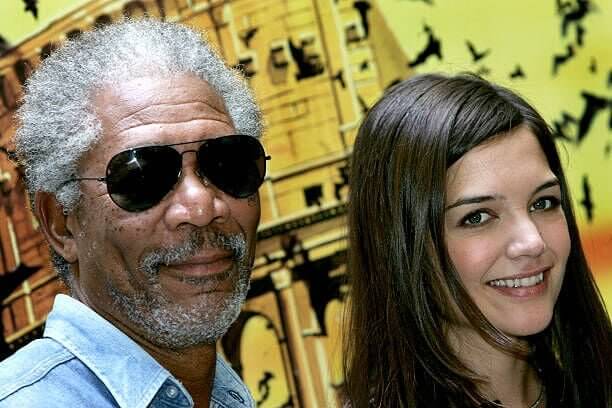 Holmes said, "I really enjoyed working on the first one, and I wish I could have worked with Chris Nolan again. I think Maggie did a wonderful job. But I hope I get to work with Chris again." We can only hope it was for the best.
Life as a Single Mom
After her divorce, Holmes had to get used to life as a single mom. While she is rich and famous herself, a lot of the things she and her daughter previously had were taken away. What's more, since Holmes left the marriage and the church, Cruise has been estranged from his daughter.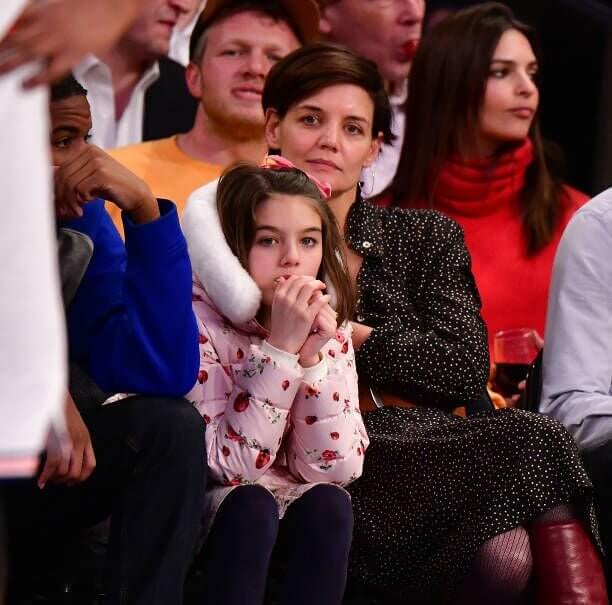 Holmes was awarded full custody of Suri while Cruise got visitation rights. And because Cruise didn't want to associate with non-church members, Holmes has been Suri's sole caretaker since she was seven years old. Suri still gets child support until she turns 18, but until then Holmes takes care of her alone.
They Had No Contact With Family
Many rumors started emerging after Holmes split from Cruise and one of them was that Holmes and Suri were barred from having any contact with family during the union. As a result of their ties with Scientology, the mom and daughter were under so many restrictions that impacted their daily lives and were only able to regain their freedom after the divorce.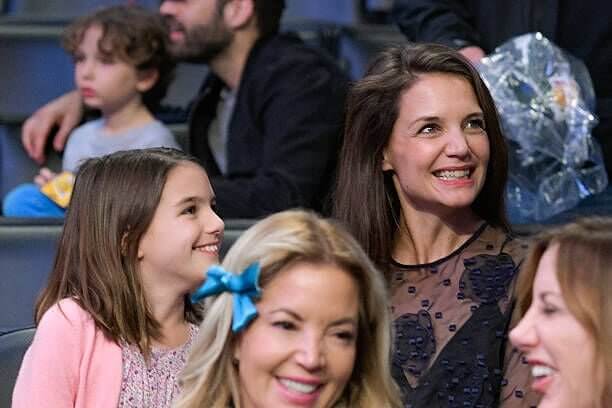 There were also rumors that Cruise checked Holmes' mail as a way to keep an eye on and control her actions. He wanted to know who she was communicating with or who was trying to reach her. Thankfully, Holmes and Suri now have an open relationship with their family.

Back to TV Shows
After a series of unsuccessful movies, Katie Holmes returned to television shows in 2008 with an appearance on an episode of Eli Stone where she played a lawyer. She received acclaim for her dancing and singing in the role, which opened the doors for her Broadway debut.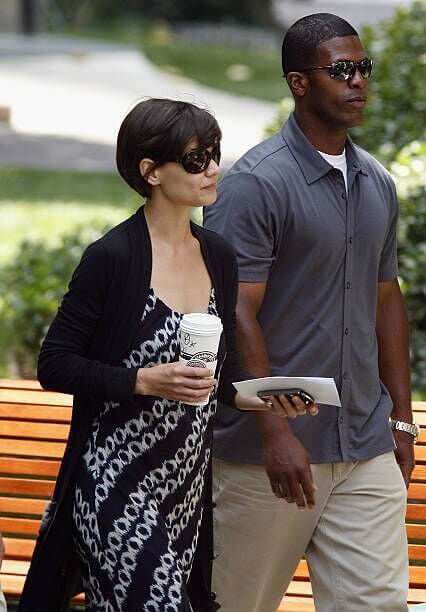 The actress starred in Broadway's revival of Arthur Miller's All My Sons in October 2008, and her performance opened to mixed reviews. A critic called her a "sad casualty" of director Simon McBurney's approach to the play. She had some positive feedback but none that suggested she could be the next Broadway star.
Songs About Katie
Katie Holmes is not often thought of as a cultural icon but she has been mentioned in a couple of songs by different bands. A small group from Japan dedicated a song to her titled Katie. The other band, Bowling for Soup, mentioned Holmes in their song High School Never Ends.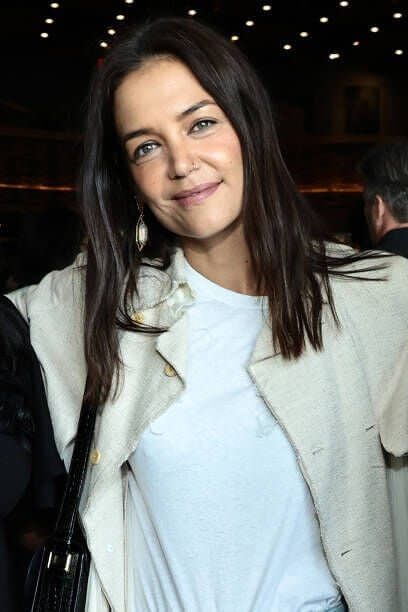 Firexit, a British underground group, also dedicated two of their songs to Holmes titled K H and The Reason I Can't Have Her. Who knows, we just might have a song about Holmes from John Meyer someday.
She Almost Appeared on 'Friends'
Appearing on Friends, one of the biggest shows of the '90s, was an opportunity many actors wouldn't want to miss. But Katie Holmes was unable to make it due to scheduling conflicts. She was supposed to have a three-episode arc on the show but her part was eventually cut out.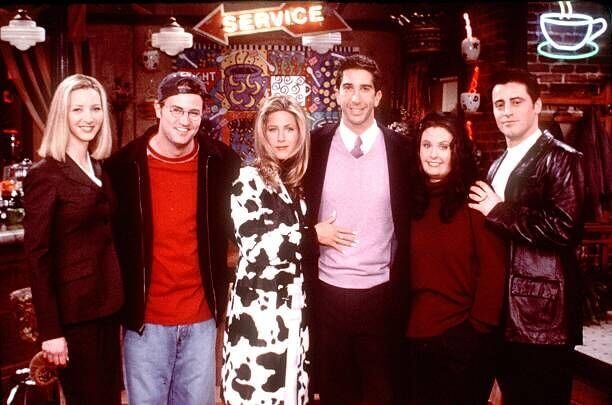 Would she have hooked up with Chandler? Or would it have been Joey or Ross instead? We may never know. But from what we know about the Friends characters and Katie Holmes, we'd say Joey would have swept her off her feet with his signature "How you doin' ?" pick-up line.
She Appeared on 'How I Met Your Mother'
Though Holmes was unable to guest star on Friends, in 2011 she appeared on another hugely popular sitcom--How I Met Your Mother, where she played Naomi. It was the Halloween episode of the show and Holmes dressed up as a sexy pumpkin.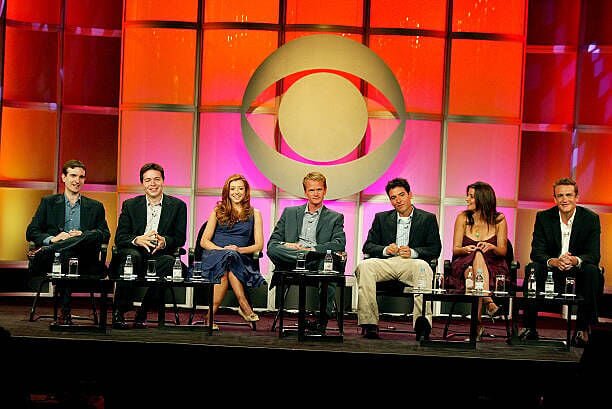 Holmes guest-starred twice on the series, once in season 7 and again in season 9. Her character, donning a pumpkin costume with conveniently carved holes, flirted with Ted at the party and then they dated briefly years later. However, she wasn't the mystery lady who Ted eventually married.

Someone's Getting Sued
Paparazzi and tabloid stories are part of celebrity life but sometimes things get out of hand. Usually, Holmes ignores most of the things written about her but when her reputation is being tarnished with false stories, she rightfully defends herself. When one tabloid labeled her a drug addict, the star didn't overlook it.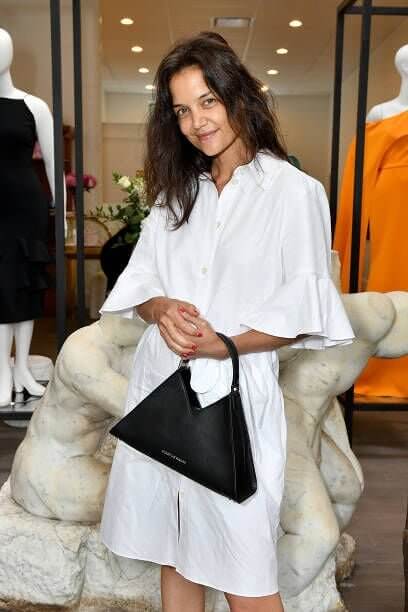 She sued the publication, Star magazine, for libel when they released a story about her so-called drug use. Holmes eventually won the case, probably because she has a great lawyer as a father.
Cut Out Scene
Sex scenes can be pretty awkward and uncomfortable to film. That's why when Holmes watched Thank You for Smoking at the Sundance Film Festival, she was surprised to find out that a sex scene she did with Aaron Eckhart had mysteriously vanished.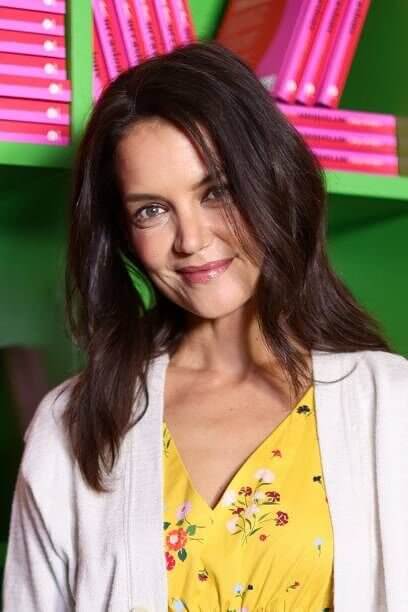 There were speculations that Cruise was responsible for the scene being cut from the final version, but the film's director, Jason Reitman, explained that it wasn't Cruise who put the kibosh on the steamy scene. He said it was due to a projection error and the scene was still in the theater release. That sounds suspicious.
Young and In Love
Holmes dated a few people before falling for Tom Cruise. Her first love was Joshua Jackson, who was her co-star on Dawson's Creek. Speaking with Rolling Stones, Holmes confessed she fell in love with him and it was the first time she felt those kinds of emotions.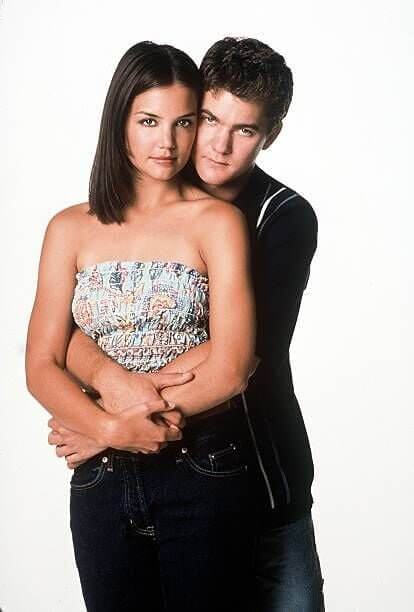 Young love has a beautiful innocence that's so adorable but a lot of times it isn't meant to be. Holmes and Jackson broke up but the two have remained good friends through the years. It was a time of her life that she fondly looks back on because the first love is the most memorable.
Forever Gorgeous
Katie Holmes is a real beauty, and there's no denying that fact. She's appeared on many lists of Hollywood's hottest and most beautiful people. In 1998, she was named "Babe of the Year" by Expressen Fredag, a Swedish Magazine. A year later, she made the Teen People list of '21 Hottest Stars Under 21."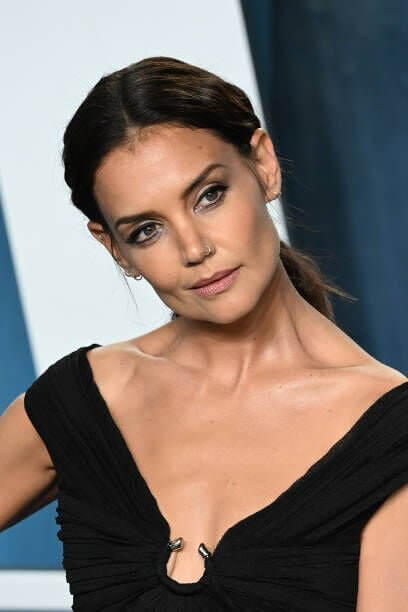 She was also on the "102 Sexiest Women in the World" list as well as Maxim's "Hot 100" list. Holmes was also number 72 on FHM's "100 Sexiest Women in the World 2005." What an honor it must be to be on one of these lists!
A Fashion Icon
The actress has sported many stylish outfits over the years, but one of the most memorable is the pair of Cruise's jeans she once stepped out in. In 2008, for a fun day at the park with her daughter, Holmes rocked a pair of her then-husband's jeans with a sweater.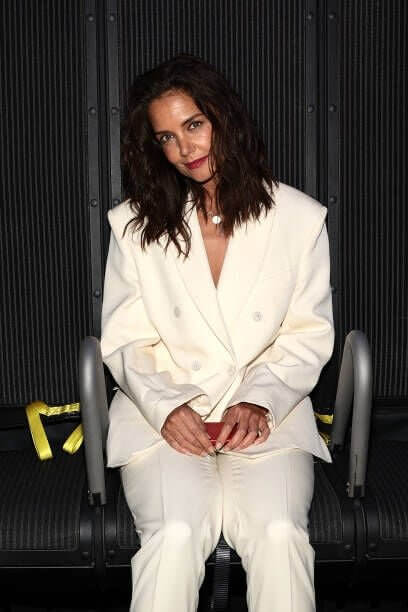 The jeans were baggy with wide legs and they quickly caught the attention of fashion critics everywhere. Some weren't on board with the piece, but many fashion bloggers called her "cuckoo" for wearing men's jeans. However, Holmes has been credited for kickstarting the boyfriend jeans trend and they're still popular today.

Selma Blair Almost Played Joey Potter
While Katie Holmes played Joey Potter so well it seems she was born for the role, the part almost went to someone else--Selma Blair. Blair had also auditioned for the role but as soon as the creator and producers saw Holmes' audition tape, they gave her the part right away.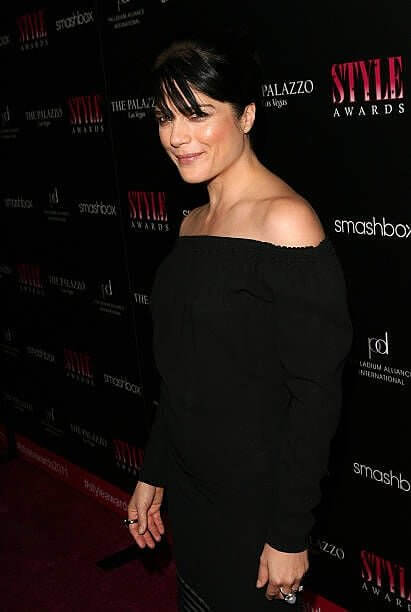 Creator of Dawson's Creek, Kevin Williamson, said, "When that video showed up, it changed my whole life." Despite missing out on the part, things still turned out well for Selma Blair. She gained fame through other roles and has had a successful career. But we can't help but think about how different the show would have been with Blair playing Potter.
Holme's First Engagement
Before her wild romance with Tom Cruise, Katie Holmes was engaged to another actor. She was dating American Pie star Chris Klein in 2003 and the pair got engaged for a while. They were together for three years but led separate lives due to work commitments.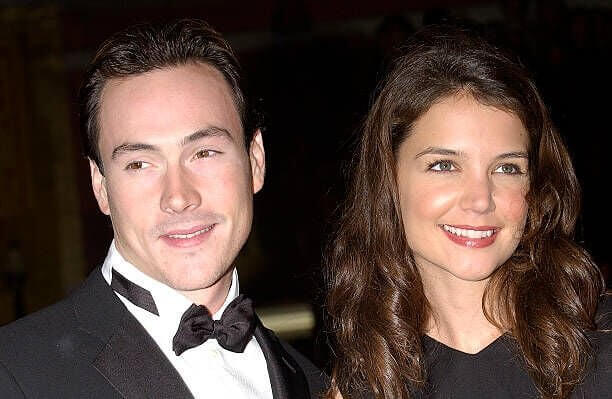 The couple met through mutual friends and Klein said that he and Holmes were like "Prom King and Queen." Sadly, their relationship hit the rocks in 2005, shortly before the actress started dating Tom cruise. Klein also said the relationship ended amicably and he's still friends with Holmes.
She Also Dated Jamie Foxx
A year after her divorce from Tom Cruise, rumors of Katie Holmes and Jamie Foxx becoming an item began making rounds. The twosome mostly hid their romance from the public until 2019 when they confirmed their relationship. They were first spotted together in 2013 in the Hamptons but denied being a couple.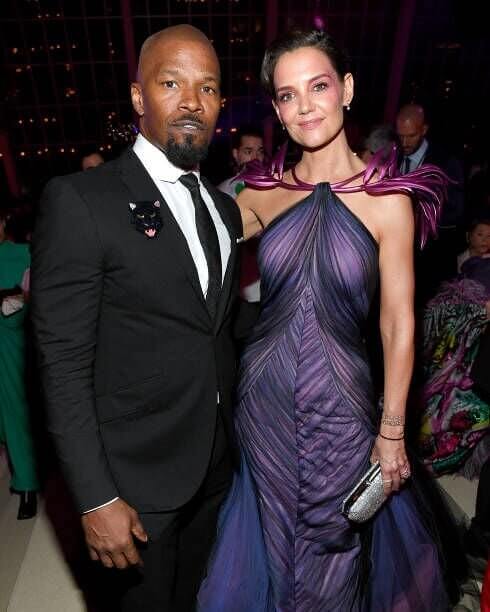 Holmes and Foxx weren't spotted together again in public until 2015 when they were photographed holding hands. They did all they could to hide their relationship. For instance, Holmes would wear wigs and hats to meet Foxx at a hotel but there was no denying they were in a relationship.
They Met Often
Holmes and Foxx were Hollywood stars with busy schedules but they still made time to be in each other's lives. They celebrated birthdays, took trips together, and saw each other on set. However, despite how long they had spent with each other, they didn't want to confirm they were dating.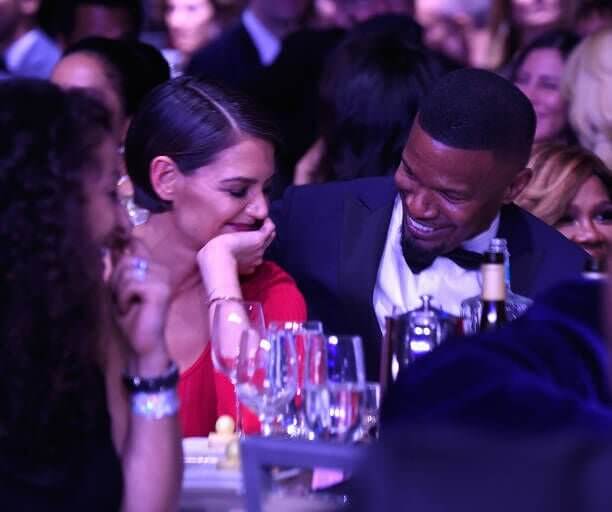 The duo sat beside each other at a Pre-Grammy event and did their best to act like they were nothing but friends. A few weeks afterward, Foxx walked out of a live interview when the presenter asked how he and his rumored girlfriend Katie Holmes would spend Valentine's Day.
Going Public Marked the End
After almost four years shielding their relationship from the public, Holmes and Foxx finally made their debut as a couple at the 2019 Met Gala. They arrived at the event separately but later posed for photos together while rocking matching outfits.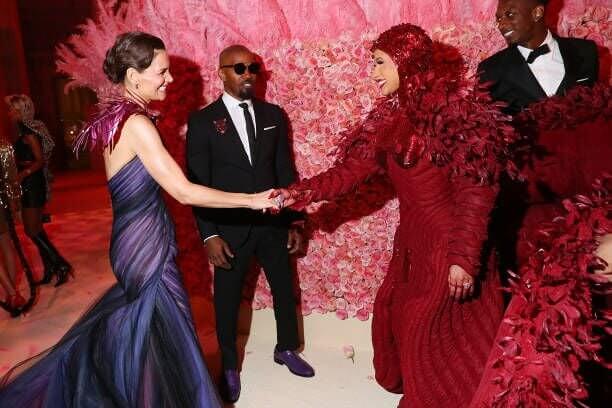 However, just a few months later, the pair reportedly broke up. Their breakup didn't make the news until August 2019 when Foxx was spotted with another woman. It's fascinating that from the start to the end of their relationship, Holmes and Foxx never confirmed their romance or breakup.

How They Met
It's interesting how Holmes and Foxx first met. Before Tom Cruise started dating Holmes, he and Foxx starred together in the movie Collateral and became friends. In 2006, when Cruise and Holmes were married, she met the singer at a football game and the two chatted on the field.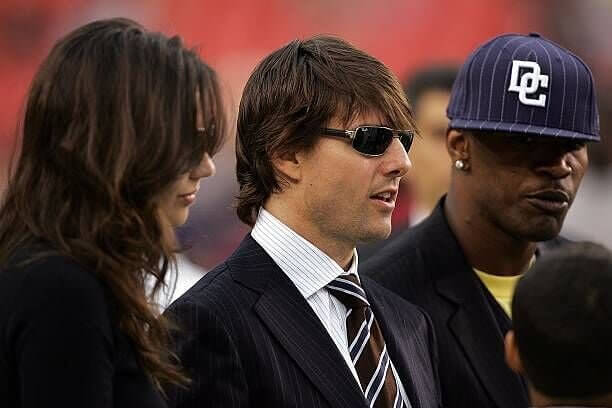 It is speculated that due to Holmes' divorce agreement and Cruise and Foxx's friendship, the couple might have had to keep their relationship top secret. Foxx and Holmes were first linked romantically after they danced together onstage at the 4th Annual Apollo in the Hamptons Benefit. There were also reports that he was spending "a lot of time" at her apartment in New York.

And Then It Was Over
After three years of a hiding-showing-hiding relationship, it all ended without a sound. There were many conflicting reports about why it happened and who was to blame. The button line is that the split and Foxx moved on quite quickly.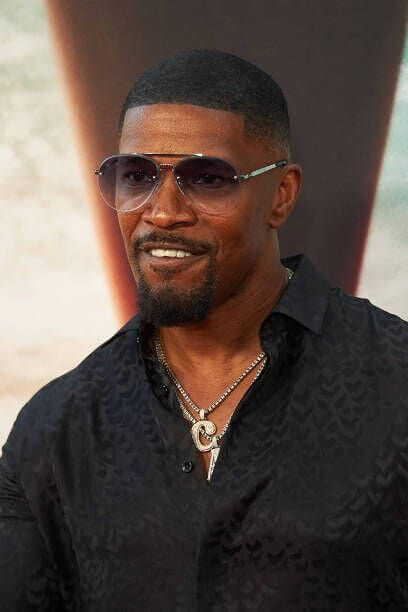 An insider connection to the couple told Us Weekly, that Foxx had been the problem in the relationship, "It has been many years of him stepping out with other women. He's disrespectful, and their lives were different. His partying ways don't fit with hers as she's focused on raising her daughter and working."
Spinning Tales
Sometimes there's no real news to report and tabloids have to find something, anything, to fill their pages with. Such times even a simple grocery shopping trip can be made to look newsworthy. When Katie Holmes and Suri were spotted out at Whole Foods, it became a headline story.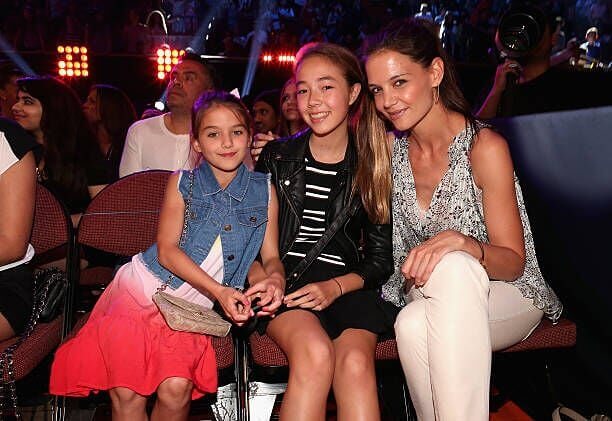 The pair were photographed while grocery shopping, and the following day people began speculating that they had a secret entrance to a Whole Foods in New York. They thought the mom and daughter took this measure to avoid crossing paths with the press. However, the rumors were completely baseless. 
She Encourages Suri to Try New Things
Although Margaret Atwood's bestselling book The Handmaid's Tale is recommended for readers above the age of 16, Holmes encourages her daughter, Suri, to read edgy but relevant books. Suri might have been shielded while with her father, but Holmes wants her daughter to discover new things.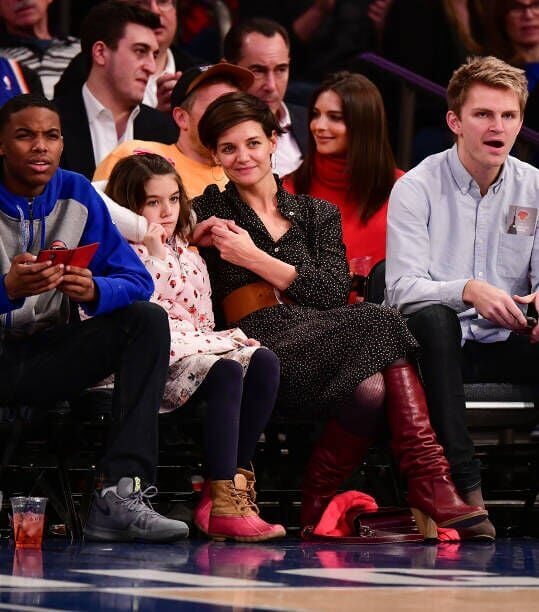 Suri was spotted with the dystopian novel while on the way to visit a friend with Holmes and it caused some controversy. However, it's great to see that there aren't any "banned books" in Holmes' home and she encourages her daughter to learn new subjects.
Best of Friends
Despite her busy schedule, Holmes is highly involved in Suri's childhood. She understands how fast her daughter is growing and the need to cherish every moment they have with each other. They're frequently seen out and about and there's no denying how close they are, especially as Tom Cruise's relationship with Suri is virtually nonexistent.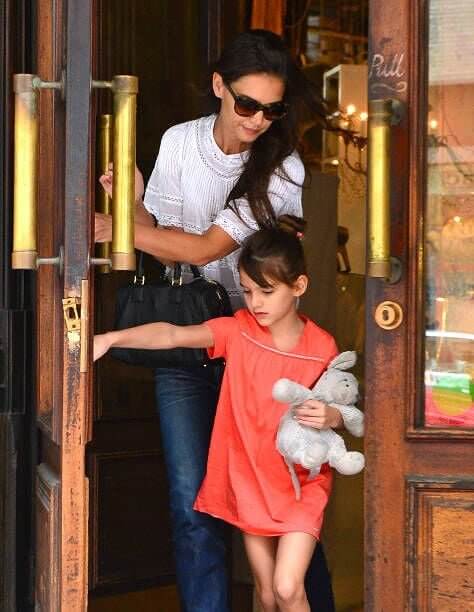 In an interview, Holmes said, "Every day, kids get a little further away from you. That's a positive thing. They should be becoming more independent, but it's heartbreaking. You want them to stay with you forever." It's evident there's nothing Katie loves more in this world than being Suri's mom.

Her Newest Love Interest
In 2020, Holmes, who is known for keeping her relationships under wraps, was spotted passionately kissing celebrity chef Emilio Vitolo Jr. The two lovebirds first met at Vitolo's family restaurant and soon fell for each other. Vitolo Jr. was fresh out of a serious relationship, so it took a while for them to start dating.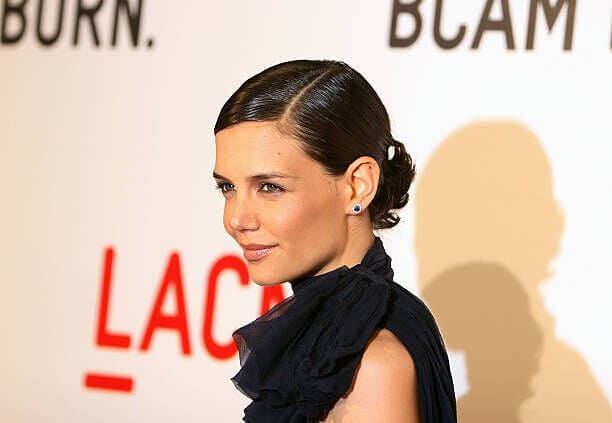 The pair packed some serious PDA during their time together. They were photographed all around New York City holding hands, shopping, and just enjoying each other's company in their relationship's early days. They became "Instagram official" in December 2020, but before the relationship could take off to the next level, reality set in.

It Didn't Work Out
Holmes and Vitolo Jr. were last spotted together in March 2021 while shopping in New York. They went silent for a while before officially calling it quits in May 2021. Their summer romance apparently fizzled out but the pair said they are still friends.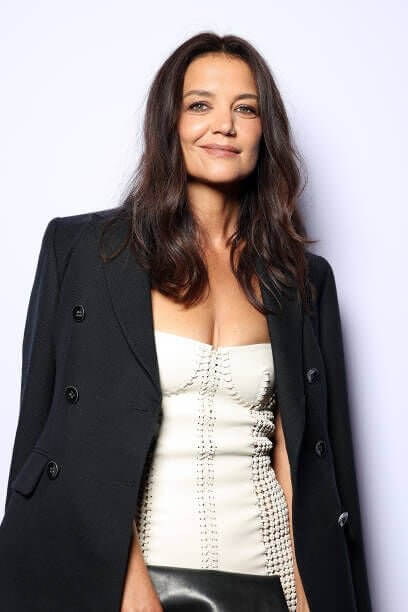 It seemed Holmes and Vitolo Jr. were just coming out of serious relationships, so while they started out blazing hot, it wasn't too long before their relationship lost steam. They looked like the perfect lovebirds together, but that doesn't mean it will always work out, does it?
How Old Is Holmes Now?
Katie Holmes is 42 years old, still as gorgeous as ever, and still going strong as a Hollywood actress. The fresh-faced teen star from Dawson's Creek is now mom to an adorable 15-year-old. She recently starred in the supernatural horror flick, Brahms: The Boy II.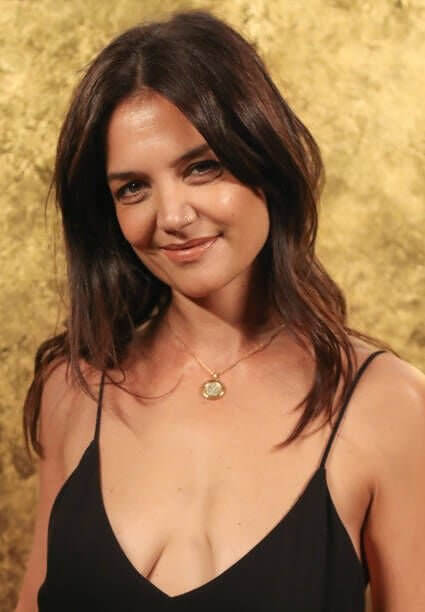 In 2020, she played the lead character in The Secret: Dare to Dream, which was released to video-on-demand due to theaters being shut because of the pandemic. In its first week, it became the top-rented film on FandangoNow and Apple TV. She also has a few projects currently in production.
Her Box Office Winners
Over the years, Holmes has starred in some of Hollywood's biggest movies. Among her highest-grossing films are Batman Begins, Jack and Jill (which was a terrible movie, by the way), Phone Booth, and The Giver. These films have netted a combined $673 million at the box office.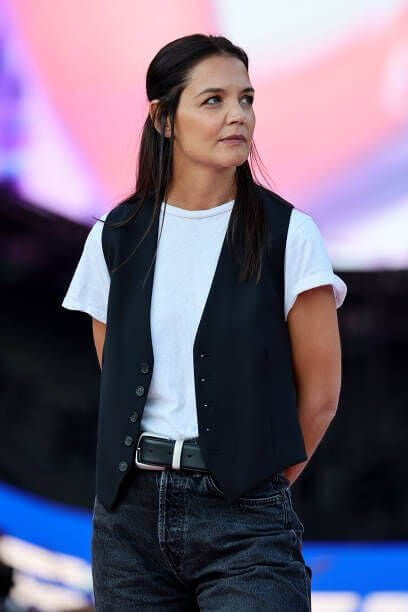 She has always been passionate about her craft and had she turned down the opportunity to star in Dawson's Creek, she would probably not have become as famous as she is today. Maybe she would have fulfilled her father's wish and become a doctor instead.
She Wants to Be Known for Her Work
Despite having so many hit movies and TV shows to her name, Holmes finds it frustrating that she's mostly known for her marriage to Tom Cruise instead. She has spent years in the business perfecting her craft and making a name for herself and it's only fair that she's recognized for it.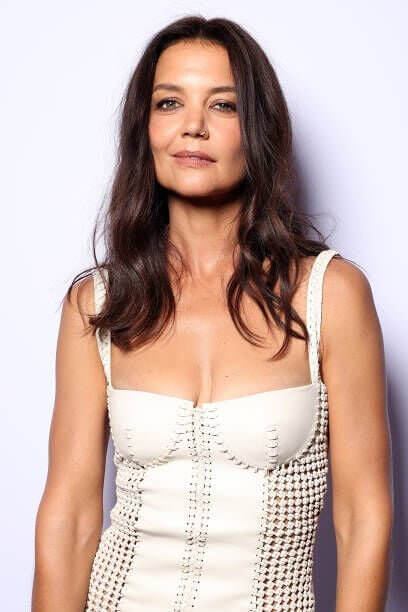 It could be said that her marriage to the Sweet Magnolias star has eclipsed all effort she put in to becoming a successful actress, but she's committed to changing that. Opening up to People magazine, Holmes said, "I don't want a moment in my life to define me, to be who I am. I want that to be what I'm known as. I was an actor before, an actor during, and an actor now."