Kevin Spacey had it all. He was one of the most respected actors in the business. He won Tony Awards and Oscars and was even Knighted by Queen Elizabeth II. Then, in a matter of days, his life fell apart when he was accused of sexual assault. After being found not guilty, Hollywood wondered: Is he really innocent or is he more like his devious characters than we think? Read on to decide for yourself.
Early Life
Kevin Spacey was born Kevin Fowler in 1959, in New Jersey. His mother, Kathleen, was a secretary, and his father was a technical writer. He has a sister Julie Ann and an estranged older brother, Randy, who has revealed that their father was a "Nazi supporter" who sexually and physically abused them in childhood.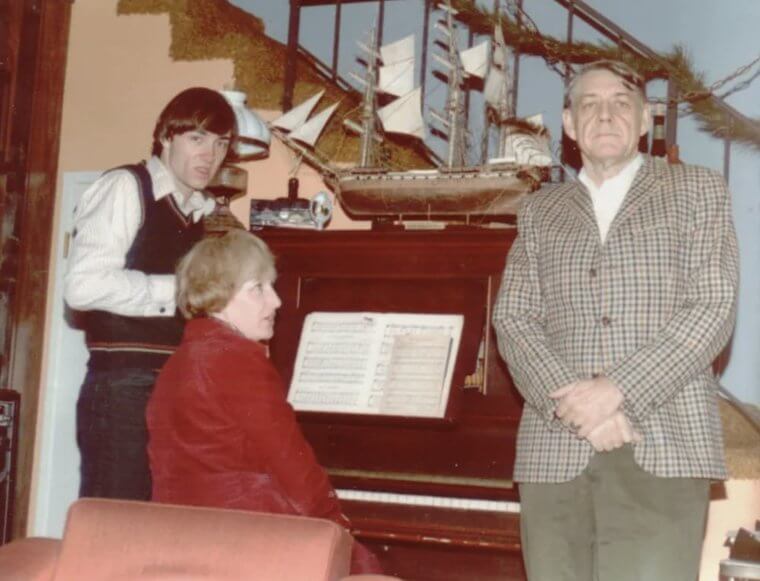 Years later, Randy claimed Kevin disassociated, shut down emotionally, and worked out how to be "very sly and smart" to avoid beatings. Kevin testified in 2022 that he did not publicly come out because of his father's homophobia, telling the court, "My father was a white supremacist and a neo-Nazi...who would call me an F-word that is very derogatory to the gay community."
Randy Against Kevin
In 2018 Randy revealed the harsh truth about Kevin and his family. "All my life I thought I had protected Kevin from my father and it turns out it's all for nothing because he's worse than my father, The Creature." He shared that their father was a Nazi-sympathizer father who abused him and sexually assaulted him when he was 14. According to Randy, that wasn't the only thing the two had in common...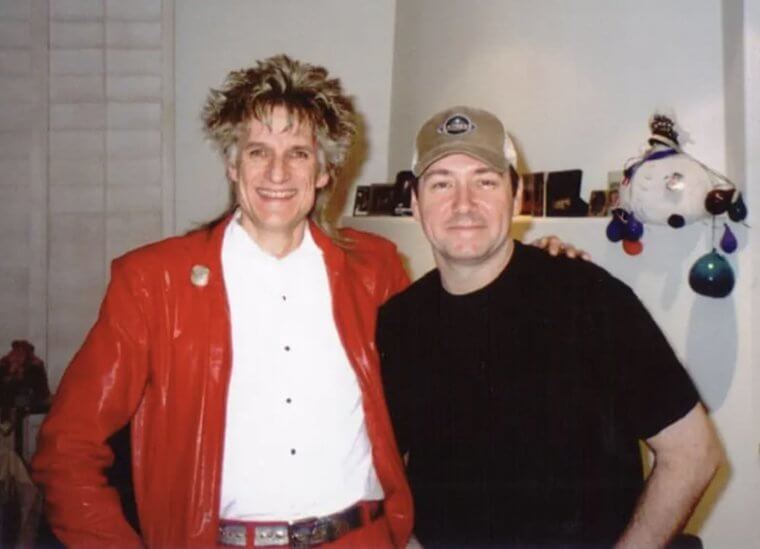 Randy claimed Kevin wouldn't allow him to visit their dying mother. "When he finally let me come I remember I was sat next to her and he literally pushed me out of the way because he didn't want me next to her." He added that their relationship was "very strange" and that there were family rumors about the two. "She used to hang all over him like a cheap suit, it was disturbing."
The Acting Bug
During his childhood, the Fowler family moved around a lot until they eventually settled in Los Angeles. In High School, Kevin found safety in acting. He took drama classes, and by the time he graduated, he had developed a talent for comedic impressions. He played Captain Georg von Trapp in The Sound of Music. Around this time, he added his grandmother's maiden name Spacey as a middle name.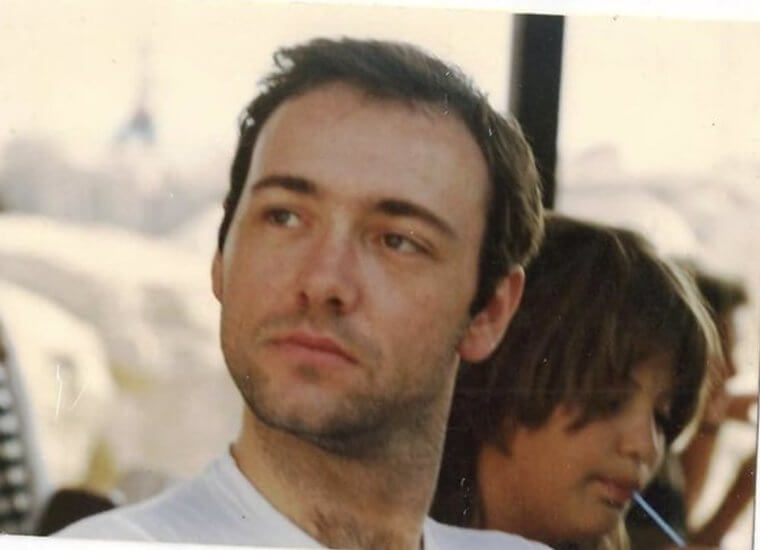 Spacey enrolled at Los Angeles Valley College and tried to become a stand-up comedian. However, in 1979, he moved cross country to New York City to study at the renowned Juilliard School. After two years of studying, he made his professional debut playing a spear carrier in William Shakespeare's Henry IV, Part I, which led to his first Broadway appearance as Oswald in Henrik Ibsen's Ghosts. 
Early Stage and Film Performances
The talented young actor began to make a name for himself in renowned stage roles, like, Philinte in The Misanthrope and Konstantin in Chekhov's The Seagull. He appeared in a production of Sleuth in his native New Jersey and played Jamie Tyrone in Eugene O'Neill's Long Day's Journey into Night alongside Jack Lemmon who became Kevin's mentor.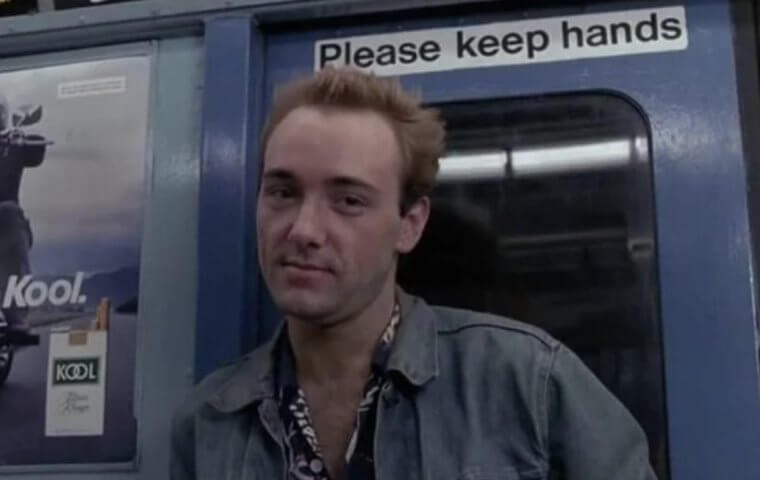 With some breakout performances under his belt, Hollywood soon took notice and cast him in small parts in Heartburn (1986), TV shows Crime Story and The Equalizer, Working Girl (1988), and Richard Pryor and Gene Wilder's hilarious See No Evil, Hear No Evil (1989).
Rise to Fame
In 1991, Spacey won a Tony Award for playing Louie in the Broadway play Lost in Yonkers. In 1994, he played influential movie mogul Buddy Ackerman in Swimming With Sharks. The story tells the tale of his sadistic character abusing a young assistant, Guy, and treating him like a slave. Until that is, Guy kidnaps and tortures Buddy.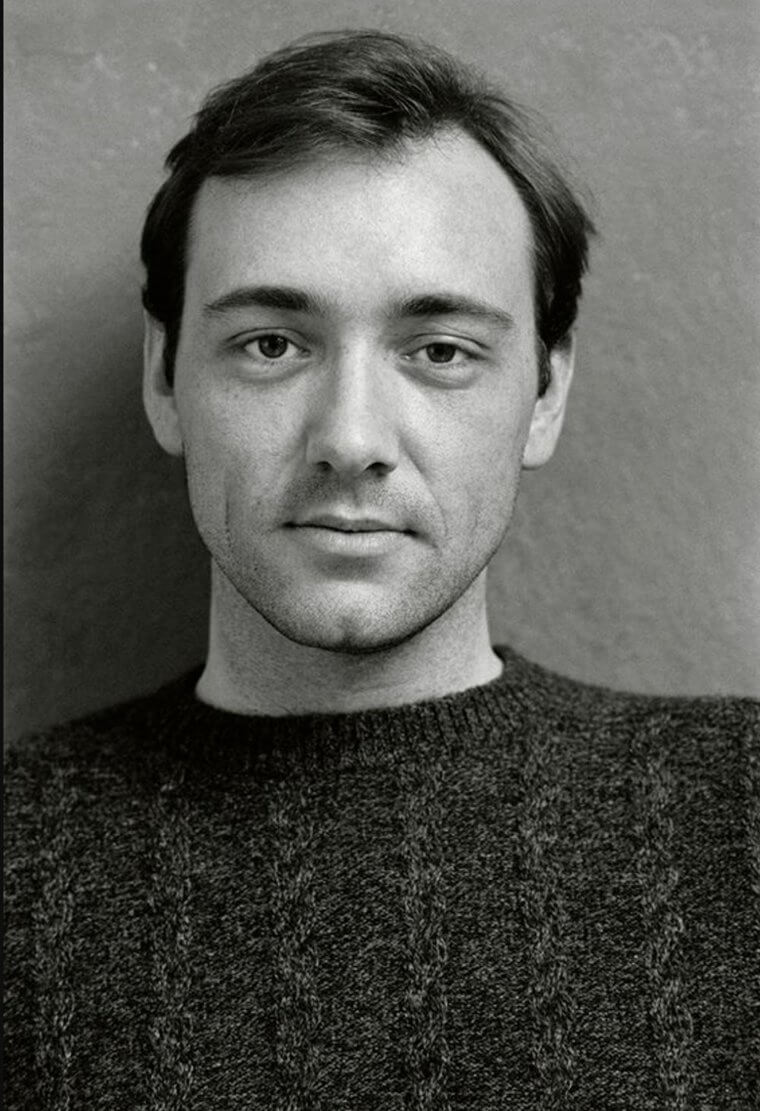 Eventually, Buddy Ackerman reveals to Guy he was once a bullied assistant to powerful, tyrannical men. This part of the story must have hit home because, just like Buddy, Kevin Spacey suffered terrible abuse at the hands of a tyrannical man, his father. Like Buddy Ackerman, Spacey had also become successful by hiding his trauma behind a secret persona. 
The Greatest Trick The Devil Ever Pulled...
In a breakthrough role, Spacey portrayed Roger "Verbal" Kint in The Usual Suspects in 1995. His character masterfully manipulates detectives and the audience, as he speaks the famous movie line, "The greatest trick the Devil ever pulled was convincing the world he didn't exist." Years later, the film's director, Bryan Singer, was accused of child sex abuse and drugging and raping young actors.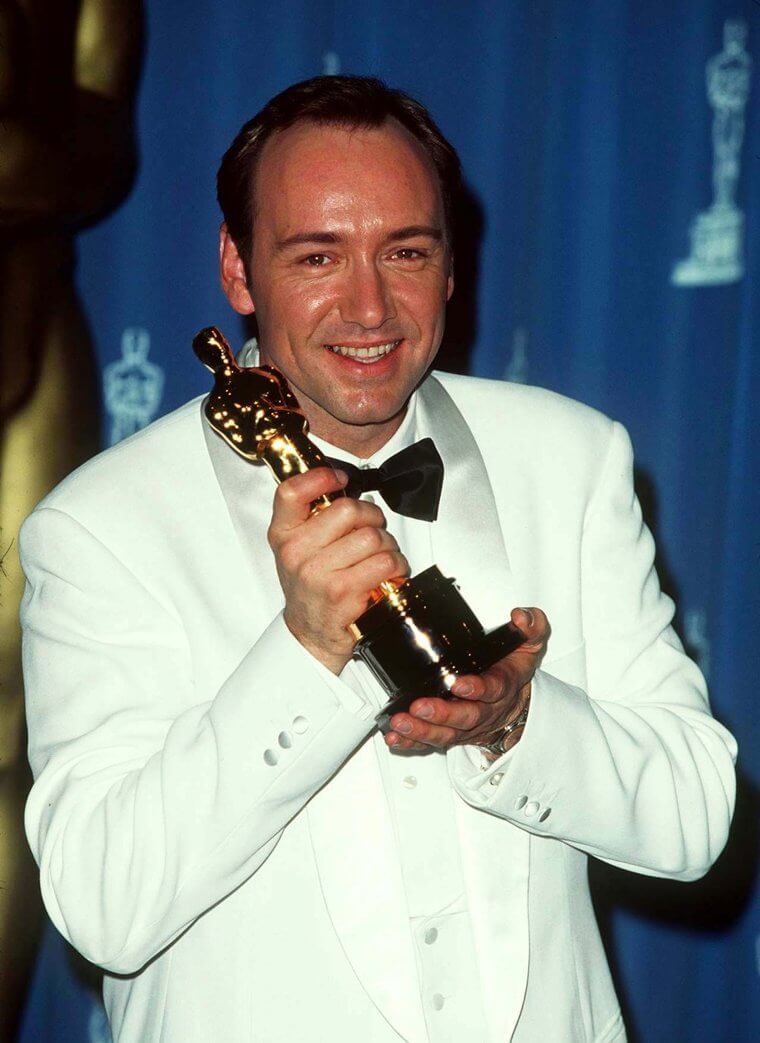 Nevertheless, the movie was a huge success. Spacey won the Oscar for Best Supporting Actor. In the same year, Spacey played serial killer John Doe alongside Brad Pitt and Morgan Freeman in David Fincher's Se7en, another blockbuster hit. It seemed like Spacey was the man to turn to when looking for portrayals of dark and twisted criminals. But his most famous character came two years later. 
American Beauty
In American Beauty, Kevin played the homophobic (but possibly closeted) Lester Burnham, who has a midlife crisis and becomes infatuated with his teenage daughter's best friend, played by Mena Suvari. Believing Lester to be gay, his best friend, Colonel Frank Fitts, tries to kiss him, but Lester rebuffs his advances, so Frank shoots and kills Lester to keep his sexuality a secret.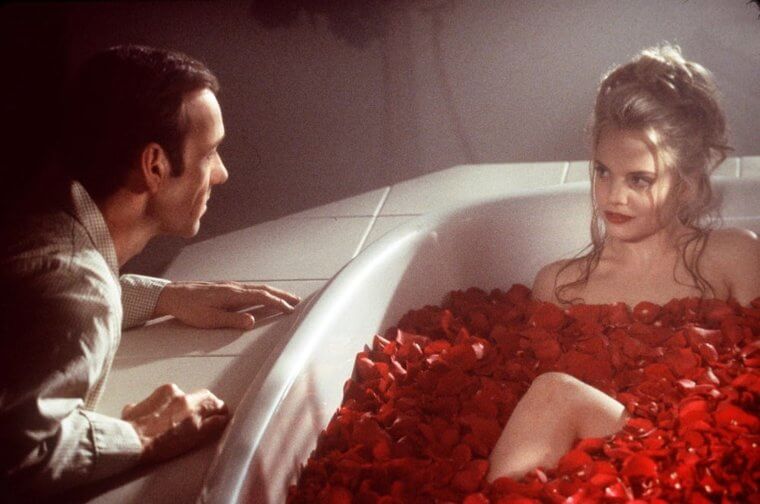 Once again, Spacey must have channeled his own life experiences into the role, notably hiding his own sexuality and bringing back difficult emotions surrounding his father's homophobia. Spacy won the Academy Award for Best Actor in a Leading Role. American Beauty won the Best Picture Oscar, and Sam Mendes won Best Director.
The Old Vic Theatre
In February 2003, Spacey became the artistic director of the Old Vic, one of London's oldest and most famous theatres. He attracted Hollywood stars to perform at the theatre. He played Shakespeare's Richard II and Richard III and continued to make Hollywood films. However, his time at the Old Vic was not as successful, and talk began around the actor.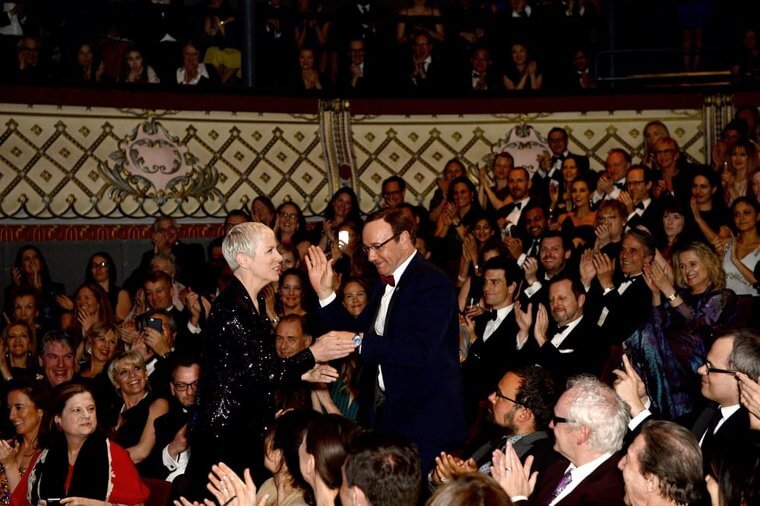 He lured legendary auteur Robert Altman to direct Arthur Miller's Resurrection Blues. Despite an all-star cast including his future House of Cards co-stars Neve Campbell and Matthew Modine, it was an unmitigated disaster and closed after three weeks. That's when rumors about Spacey's unwanted sexual advances began to swirl around London's theater circles.
House of Cards
Another prominent role Spacey took on was in Netflix's TV series House of Cards in 2013​​​​. Based on a 1989 novel and the BBC adaptation of the same name, it tells the tale of a power-hungry narcissist, Congressman Frank Underwood. Passed over for the role of Secretary of State, he enacts an elaborate plan of murder, manipulation, betrayal, and backstabbing to make his way to the top.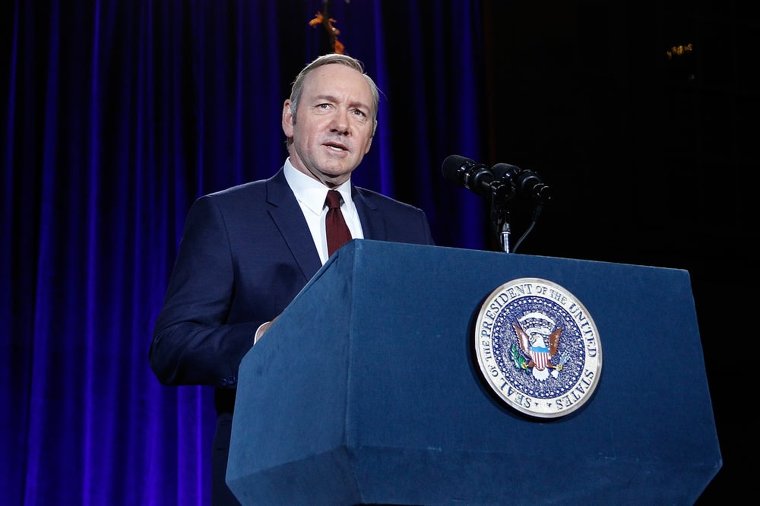 Spacey's time on the series ran for five successful seasons, during which time Frank became President of the United States of America. But Underwood's powerful position was a house of cards––for when his many crimes are unearthed, everything he built could come crashing down around him at any minute. It's almost eerie how his art imitated his life right in the same time.
Net Worth
Spacey earned an estimated $20 million a season playing Frank Underwood. In June 2017, he 6,595-square-foot Los Angeles house in for $11 million. Not a bad return seeing as he bought it in 1997 for just $2.135 million. The previous month, he paid $5.65 million mansion in Baltimore, Maryland. The 9,000-square-foot house features six bedrooms, ten bathrooms, a theater, and two garages.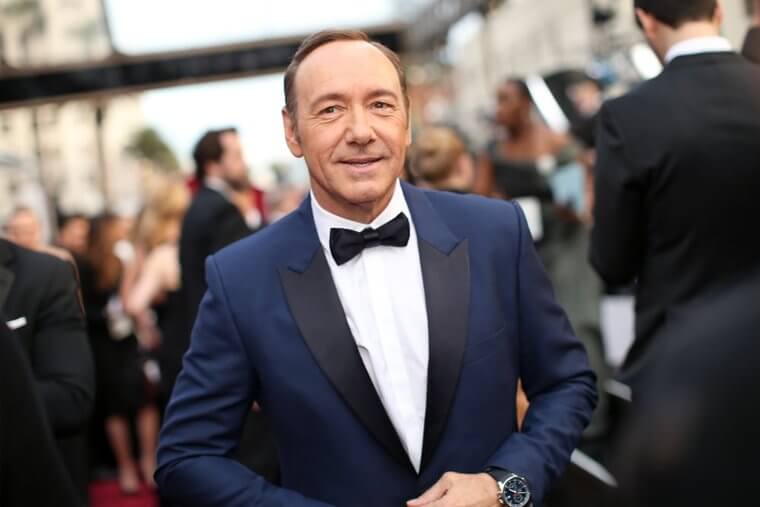 The garages are home for his ​​Audi Q7, Chevrolet Suburban, Mercedes-Benz GLS Class, and Mercedes-Benz S-Class S 560. There's also a billiard room, sauna, and a 360-degree panoramic rooftop deck over the harbor. He also owned a £2.3 million bachelor pad in London and a $7 million home overlooking Nantucket Bay, Massachusetts. By mid-October 2017, he was estimated to be worth around $100 million, but all that was all about to change...
Top of the World
House of Cards was one of the most successful and TV shows in history. Spacey relished playing psychopathic Frank Underwood. He was nominated for five Emmy Awards and won the Golden Globe and Screen Actor' Guild awards for Best TV Actor. Then he played another crooked president, Richard Nixon, in Elvis & Nixon (2016).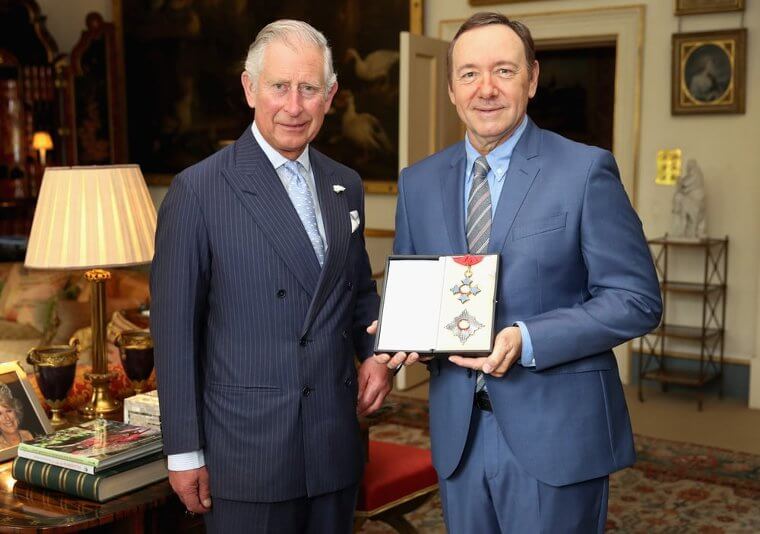 In June 2016, Queen Elizabeth II awarded Spacey an honorary knighthood for his services to theatre, arts education, and international culture. As a non-British Commonwealth subject, he couldn't call himself Sir Kevin Spacey, but he did become a Knight Commander of the Order of the British Empire. In short, Kevin Spacey was on top of the world. Like Frank Underwood, he was untouchable. And then his house of cards came crumbling down, thanks to one man...
Anthony Rapp
In October 2017, the first sexual assault allegation against the then-58-year-old Kevin Spacey came to light. At the time, the world was his oyster, and he had just starred in Edgar Wright's Baby Driver. But then, as the #MeToo Movement went viral, Star Trek Discovery actor Anthony Rapp revealed that Spacey had assaulted him in 1986 when he was just 14 years old.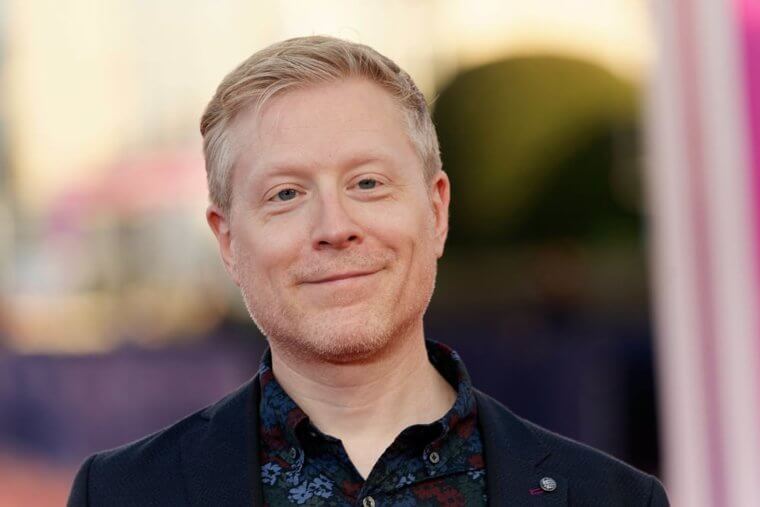 Rapp told BuzzFeed, "I was aware that he was trying to get with me sexually." He alleged that after other guests left, Spacey picked him up and put him on his bed before lying on top of him. This allegation would be the first but not the last accusation against the American actor. Dozens more were about to see the light of day. 
Coming Out
On the same day as Rapp's allegations, Spacey came out as gay when apologizing to Rapp. He wrote, "I have had relationships with both men and women. I have loved and had romantic encounters with men throughout my life, and I choose now to live as a gay man." Then he claimed not to remember the incident. On Twitter, he wrote, "If I did behave then as he describes, I owe him the sincerest apology for what would have been deeply inappropriate drunken behavior, and I am sorry for the feelings he describes having carried with him all these years."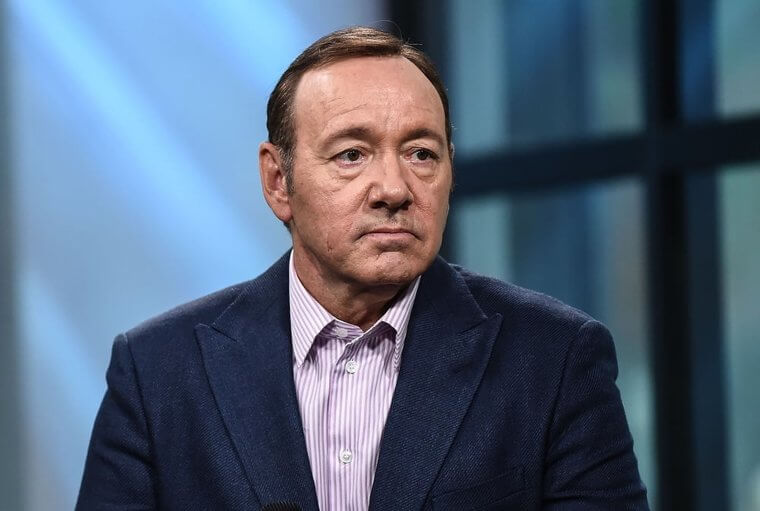 Many criticized this response, including LGBTQ+ stars George Takei, Billy Eichner, Lance Bass, and Wanda Sykes, saying drunkenness was no excuse, that Spacey was using his sexuality to play the victim card, and even saying his apology had conflated homosexuality with pedophilia.
The House of Cards Crumbles
Kevin Spacey was immediately dropped by his talent agency and publicist and axed from film and television projects. Just weeks after the sexual assault claims, on November 3rd, 2017, Netflix cut ties with the actor. As for his character, Frank Underwood was unceremoniously killed off between seasons five and six, with an explanation for his death only arriving in the final episode.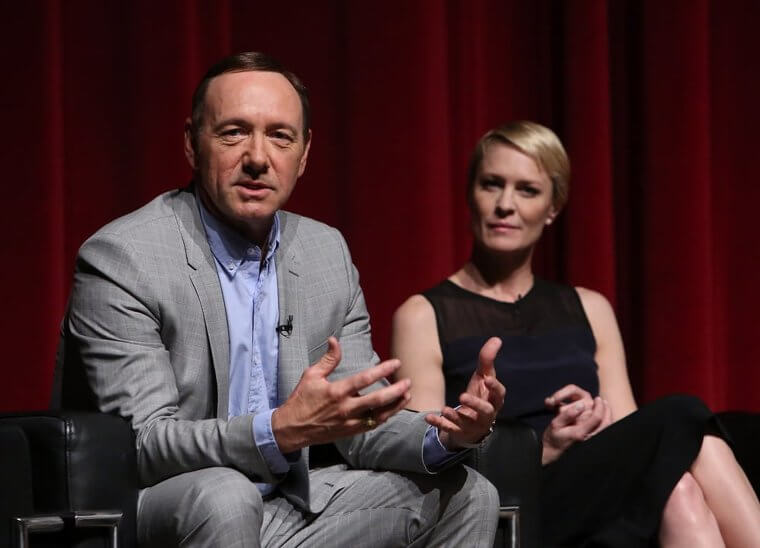 Netflix also canned his upcoming biopic, Gore. Ridley Scott recast Christopher Plummer as John Paul Getty in All the Money in the World (2017) and reshot disgraced Spacey's 22 scenes. According to a statement made by his representatives to Variety magazine, Kevin withdrew from public life to seek "evaluation and treatment." He was said to be undergoing sex addiction rehabilitation. But then, things got weird as Spacey started posting defenses on YouTube.
Let Me Be Frank
On Christmas Eve 2018, Spacey uploaded a "bizarre," "stomach-churning," and "creepy" video titled "Let Me Be Frank." Dressed in a Santa Claus apron, and in the character of Frank Underwood, he brushed off the allegations, saying, "All this presumption made for such an unsatisfying ending and to think it could have been such a memorable send-off. I can promise you this: If I didn't pay the price for the things we both know I did, I'm certainly not going to pay the price for the things I didn't do."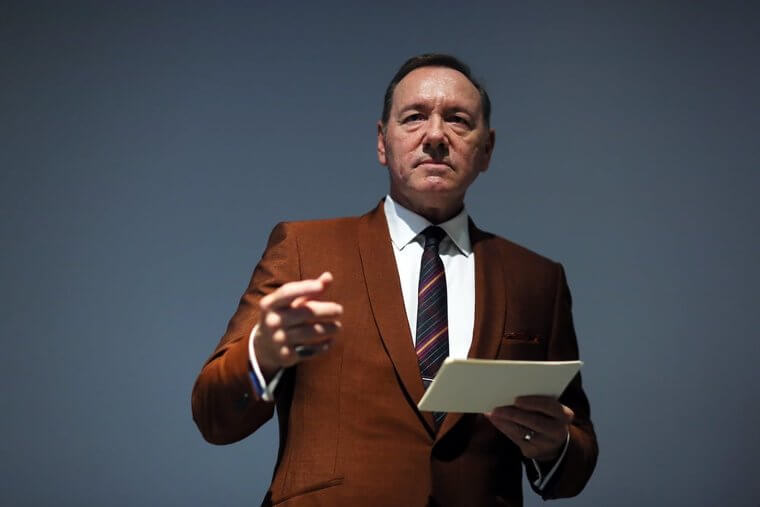 A year later, on December 24th, 2019, Spacey posted another video titled "KTWK" short for Kill Them With Kindness, again in character as Underwood. In 2020, Spacey posted a third Christmas Eve video, titled "1-800 XMAS", yet again as Underwood before breaking character. In light of the allegations against him, the videos were, at best, tone-deaf and, at worst, damning. 
Avalanche of Accusations
After Anthony Rapp went public, an avalanche of accusations followed with more than 30 people coming forward with allegations. Boston news anchorwoman Heather Unruh alleged Spacey sexually assaulted her 18-year-old son in Nantucket in 2016. An anonymous man told the BBC that Spacey had groomed him in 1985, when he was 17. Kate Edwards alleged Spacey tried to pressure her into sex when she was 17.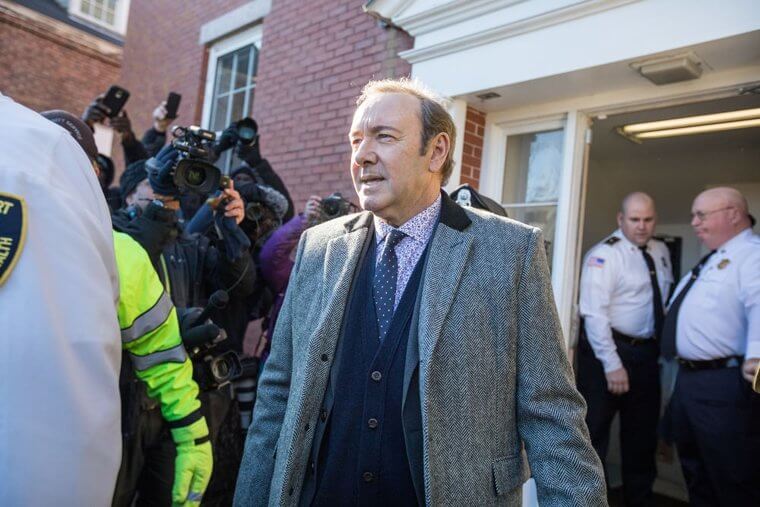 Justin Dawes claimed Spacey gave him alcohol and showed him gay pornography when he was 16. An anonymous accuser alleged the actor sexually assaulted him in 1993. An unidentified American filmmaker claimed Spacey sexually harassed him on the set of Albino Alligator in 1995. Military adviser Mark Ebenhoch claimed Spacey's assistant asked him to "engage in a sexual act" with the actor on the set of Outbreak (1995). But the list doesn't end there...
Toxic
A British journalist said Spacey groped him in a club. Filmmaker Tony Montana said Kevin "grabbed my whole package" at a Los Angeles bar. British barman Kris Nixon claimed Spacey grabbed his privates. Norwegian writer and Princess Märtha Louise of Norway's ex-husband Ari Behn (pictured) said Spacey grabbed him "by the balls." Ari Behn took his own life in 2019. Richard Dreyfuss' son, actor Harry said Spacey groped him when he was 18.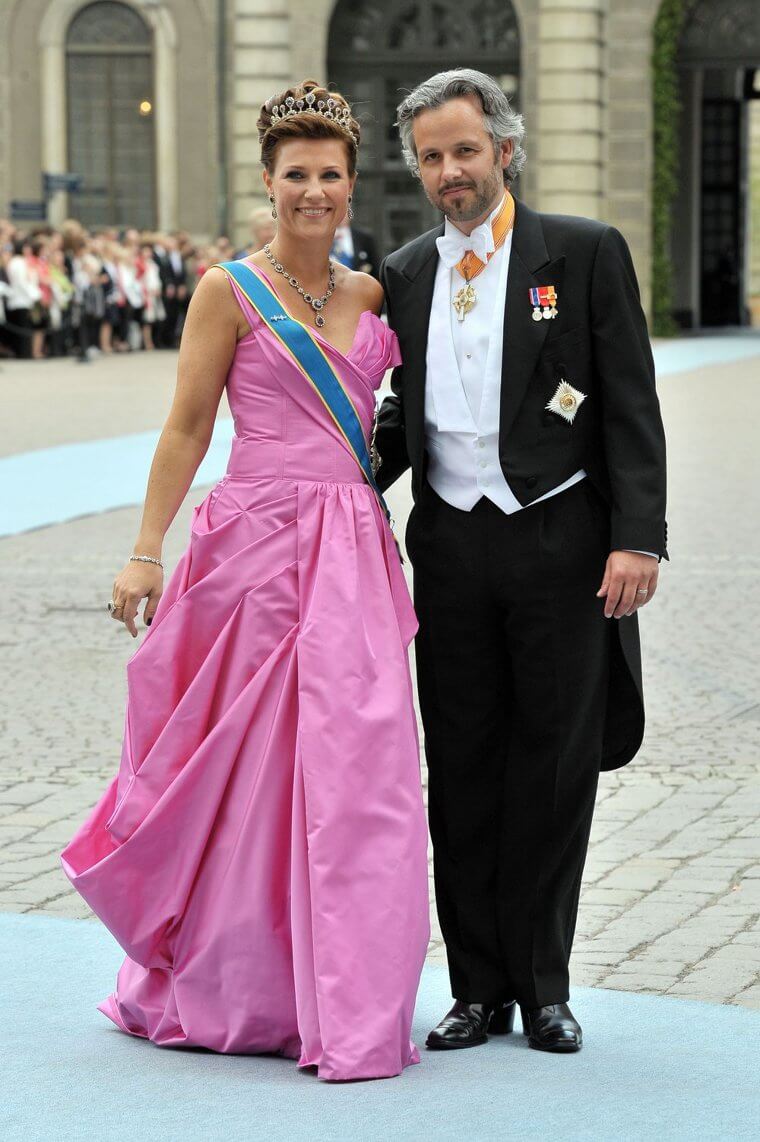 An anonymous man said he woke up to find Spacey performing oral sex on him in 2008. British barman Daniel Beal claimed he flashed his genitals, saying, "It's big, isn't it?" Spacey gave Beal a Swiss watch to buy his silence. Mexican actor Robert Cavazos said Spacey groped him. Twenty Old Vic staff claimed Spacey "groped and behaved in an inappropriate way with young men." Eight House of Cards alleged sexual crimes and a toxic work environment.
Investigations on Both Sides of the Pond
Across the pond, in April 2018, Los Angeles District Attorney's office began investigating an historical claim that Spacey had sexually assaulted an adult male in the early 1990s. Three months later, London's Scotland Yard police department revealed three more sexual assault allegations against Spacey, bringing the total number of investigations in Britain to six.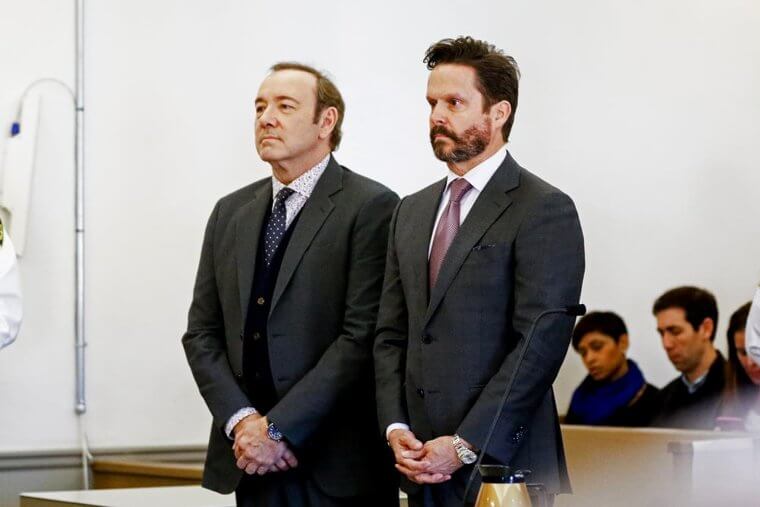 In September 2018, Los Angeles Superior Court filed a lawsuit claiming the actor sexually assaulted a masseur in Malibu in 2016. The anonymous massage therapist––ironically identified only as John Doe––said Kevin had inappropriately touched him, tried to kiss him, and refused to leave the massage session. 
First Charges and Fallout
In December 2018, Spacey was charged in Massachusetts with a felony for allegedly sexually assaulting Heather Unruh's son. Spacey pleaded not guilty to the charge. In July 2019, the criminal assault charge against Spacey was dropped by Massachusetts prosecutors. When the anonymous Malibu masseur died, the last remaining criminal case against Spacey was closed.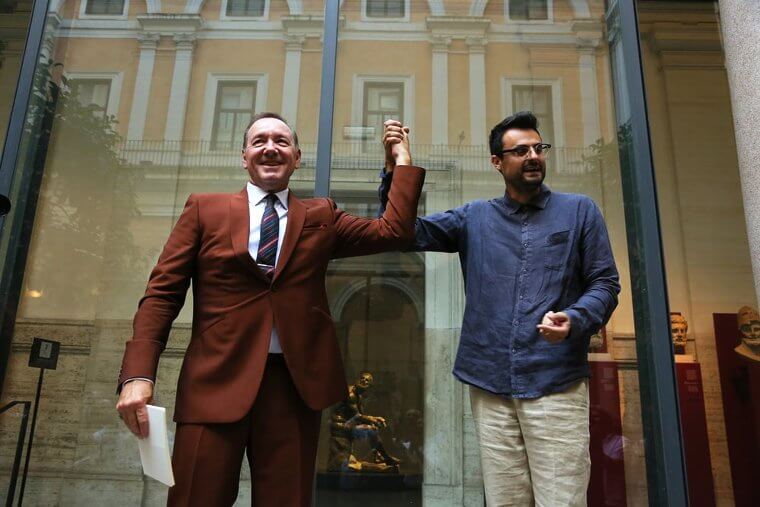 In 2020, Spacey and his production companies M. Profitt Productions and Trigger Street Productions were ordered to pay $31 million to the studio that produced House of Cards for violating its sexual harassment policy. With this mega payout, no acting work coming in, and what must have been colossal legal fees, his net worth took a huge hit.
New York Trial
In September 2020, Anthony Rapp and a new, unnamed man accused Spacey of conducting a sexual relationship with him when he was 14 and Spacey was 24. The anonymous man said Spacey had offered him auditions, and their relationship ended in an attempted rape. Spacey "absolutely denied" all of these claims.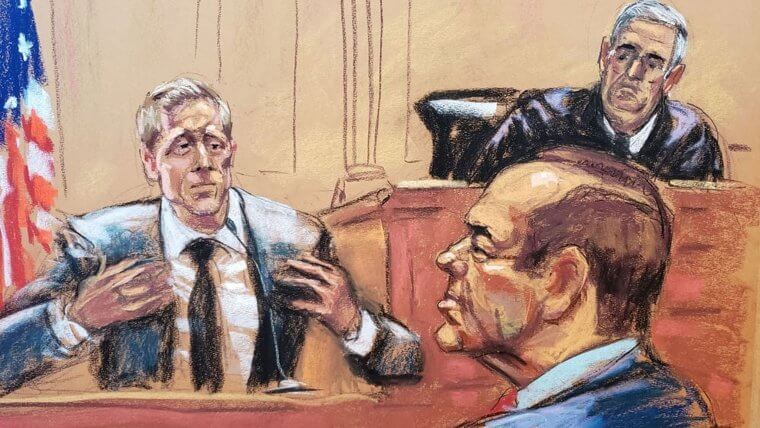 Eventually, the anonymous accuser was dismissed from the case because Anthony Rapp would not identify him. US law does not allow anonymous accusers. UK law does. On October 17th, 2020, the New York jury ruled that Rapp hadn't proved Spacey "touched a sexual or intimate part." This sexual abuse part of the case was formally dismissed. But Spacey wasn't in the clear yet...  
New York Verdict
Rapp had sought $40 million in damages but could not accurately describe the apartment where he alleged the abuse occurred. Spacey denied the allegations while testifying in court. He also expressed remorse over his earlier apology to Rapp. Variety wrote that Spacey said, "I've learned a lesson, which is never apologize for something that you didn't do. I regret my entire statement."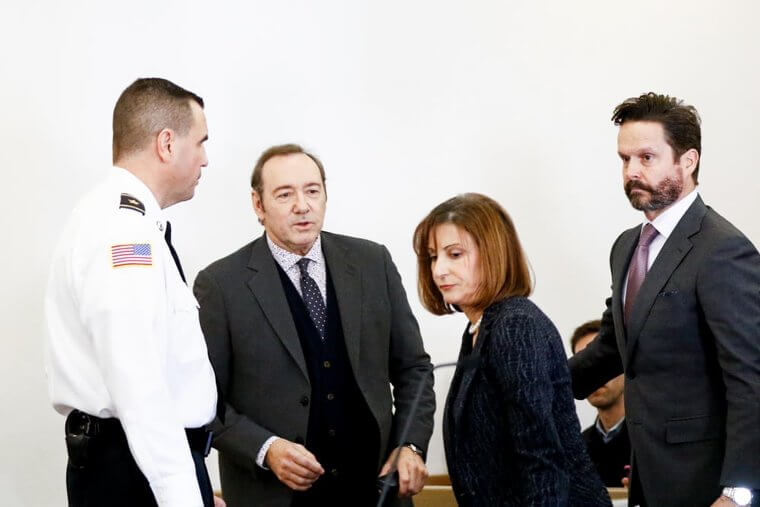 On October 21st, 2022, the New York jury for the trial ruled that Rapp could not prove Spacey "touched a sexual or intimate part" of his body and found Spacey not liable for battery. The judge ruled Spacey was not culpable for battery, and the case was dismissed. But, Spacey still had all of the UK allegations to battle.
London Trial
Spacey's UK trial began in June 2023. He was charged with nine offenses relating to four men between 2001 and 2013. The first worked at the Old Vic theatre and claimed Spacey once grabbed his genitals while he was driving. He claimed the actor "used so much force" he almost crashed the car. Another man claimed Spacey had pinned him against a wall and grabbed his privates during a 2005 charity event.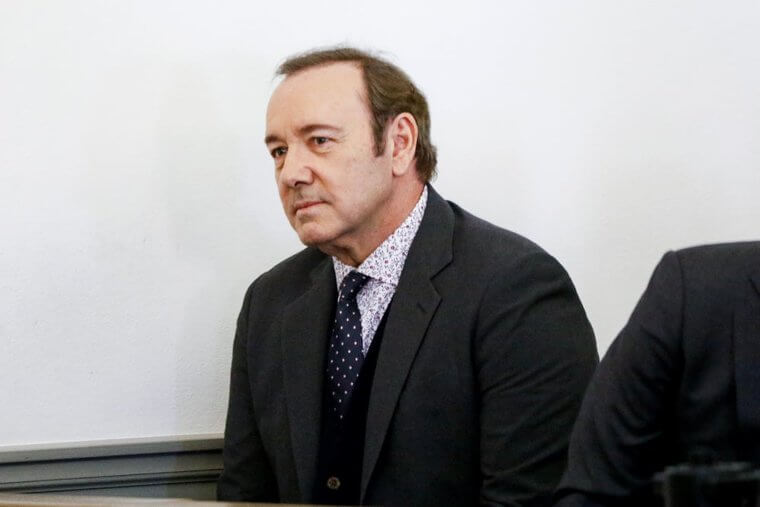 A third man claimed Spacey kissed his neck, grabbed his genitals, and told him to "be cool" about it at a party at a house in Gloucestershire. The offense relating to the fourth man was Spacey's most serious charge. His anonymous accuser said he fell asleep at Spacey's London apartment in 2008 and woke up to Spacey performing oral sex on him. In Britain, a charge this serious could have seen him spending life in prison.
The Verdict
Spacey denied all nine assaults, claiming to have had a "consensual" relationship with the Old Vic co-worker. He denied the driving incident, saying it couldn't have happened at the time the man claimed. Witnesses Elton John and his husband David Furnish corroborated Spacey's claims via video link from Monaco. He also denied meeting the second man at the 2005 charity event and called the Gloucester encounter a "clumsy pass" he made while drunk.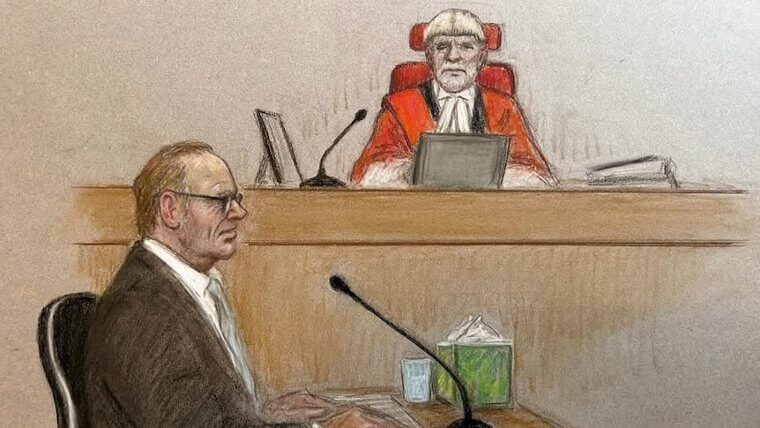 Jurors rejected the prosecution's claims Spacey had "aggressively" grabbed three men by the crotch. As for the most serious allegation––that he had performed a sex act on a fourth man as he slept––Spacey produced phone records that allegedly contradicted the alleged victim's account. After a month of evidence and two days of deliberation by the jury, Kevin Spacey was found not guilty on July 26th, 2023. 
The Aftermath
In the dock, Spacey began to cry when the UK judge returned not-guilty verdicts. Kevin placed his hand on his chest, looked at the jurors, and mouthed "thank you" twice before they left the room. On the courtroom steps, in a typical Frank Underwood soundbite, he told journalists the allegations against him were "weak," "madness," and a "stab in the back."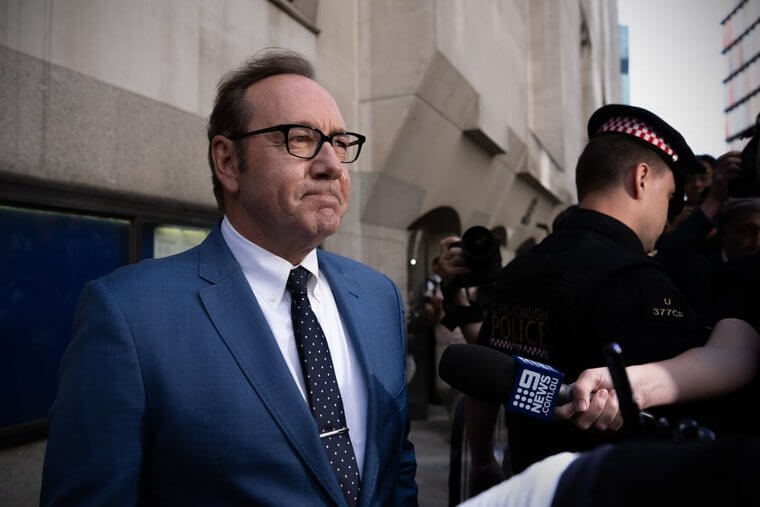 The actor added, "I would like to say that I am enormously grateful to the jury for having taken the time to examine all of the evidence and all of the facts carefully before they reached their decision. I am humbled by the outcome today. I also want to thank the staff inside this courthouse, the security, and all of those who took care of us every single day."
Guilty or Innocent?
Had Kevin Spacey's childhood trauma turned him into his father? Had he channeled too many of his own experiences into playing abusive characters? If he's innocent, why did so many men come forward? Courts in the United States and England have not found him guilty of any crimes. So that's how he should be treated, innocent until proven guilty, right?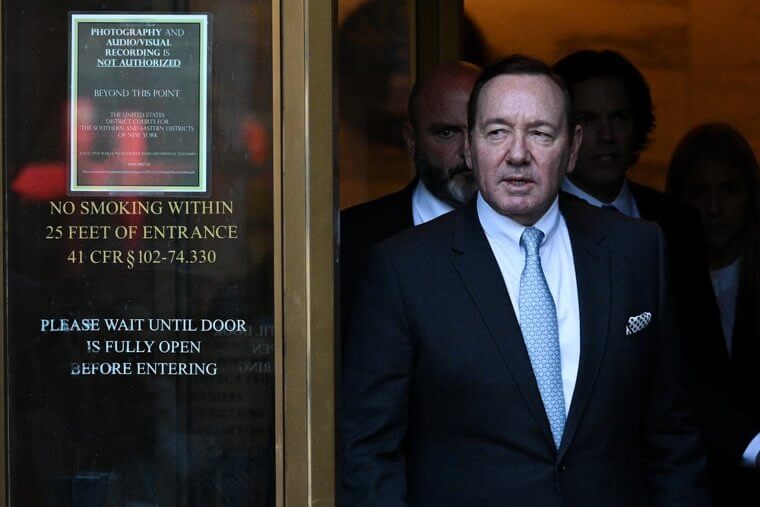 Well, Hollywood seems to have made up its mind. Between the 2017 allegations and now, he only made one film, The Man Who Drew God (2022) an Itallian crime drama about a man wrongly suspected of child abuse. Only time will tell if he'll work again after being cleared or if more men might come forward. As the saying goes, there's no smoke without fire. But for now, the man who had it all remains canceled. 
The Unbelievable Life of Charlie Sheen
"Live fast, die young" would be the phrase that best sums up actor, maverick, and all-around bad boy Charlie Sheen. He's had one of the most high-octane, turbulent careers imaginable. He exploded onto the scene in Platoon and Wall Street, and more recently appeared in several beloved sitcoms. In between came drinking and drugs, failed rehabilitation and marriages, prostitutes, arrests, restraining orders, and allegations of sexual abuse; you name it...he's done it.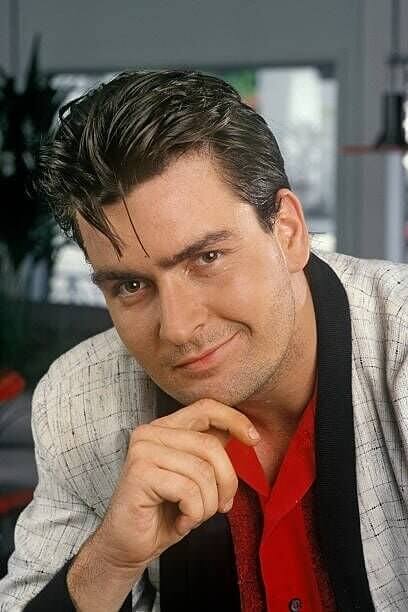 In 2011, Sheen had a public meltdown so severe it's a surprise he worked again. In 2015, on The Today Show, he announced to the world that he is HIV positive. Join us as we take a depraved trip down one of the most tumultuous Hollywood careers. Ladies and gentlemen...we present the life of Charlie Sheen.
It Runs in the Family
Charlie Sheen's real name is Carlos Irwin Estévez. His father, Ramón Gerard Antonio Estévez (better known as Martin Sheen), and mother, Janet Templeton, are both actors. Charlie and his siblings followed their parents into the business. But Charlie's brothers kept their original names: Emilio Estévez, Ramon Estévez, and Renee Estévez.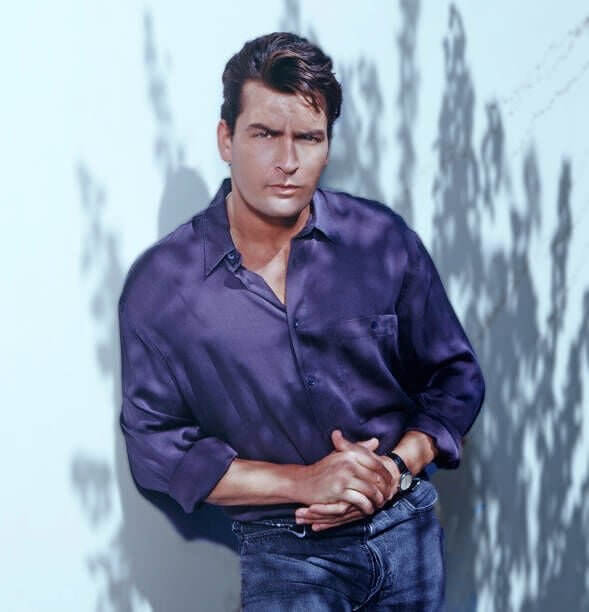 When he was born, Charlie suffered from cyanosis, caused by low oxygen levels in red blood cells. The doctor who saved his life was named Irwin, so his parents gave their newborn son the middle name Irwin to show their gratitude. 
Early Roles
Believe it or not, Charlie's first acting role was in a movie with his dad. Martin Sheen and Sissy Spacek starred in Terrence Malick's Bonnie-and-Clyde-influenced neo-noir thriller Badlands (1973). Charlie appears as "Boy Under Lamppost" although it seems he was uncredited.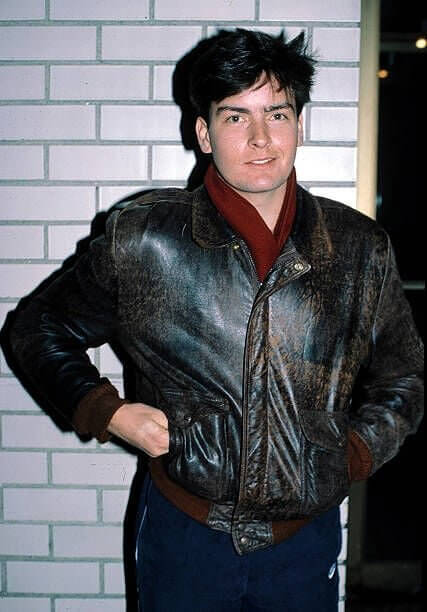 Charlie also appeared in his father's 1974 made-for-television movie The Execution of Private Slovik when he was just 9. He also went on to appear as an extra in his dad's most famous movie, Apocalypse Now, which came out in 1979. Charlie's first credited role was in 1983's Grizzly II: The Predator alongside George Clooney.
The Company You Keep
While Charlie and his older brother, Emilio Estévez, were growing up, they both went to Santa Monica High School in Los Angeles. From a young age, the two brothers shared a love for movies and they were friends with other like-minded young actors, including brothers Sean and Chris Penn, Rob Lowe, and Iron Man himself, Robert Downey Jr.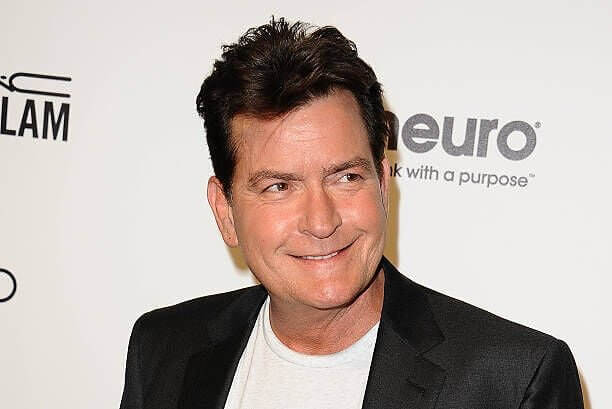 The gang of young thespians would make amateur Super-8 films together, and they all went on to make it big in Hollywood. Yes, having a famous actor father meant Charlie and Emilio were already a rung or two up the ladder, but Santa Monica High School certainly seems to have churned out more than your average number of A-List actors…and alcoholics!
He Could Have Been a Contender
Charlie's second love at school was baseball and he played for the Santa Monica High School Vikings baseball team as a star shortstop and pitcher. His lifetime record as a pitcher was 40-15. While it's one thing to be a star on your high school baseball team, Sheen had the potential to go into professional baseball.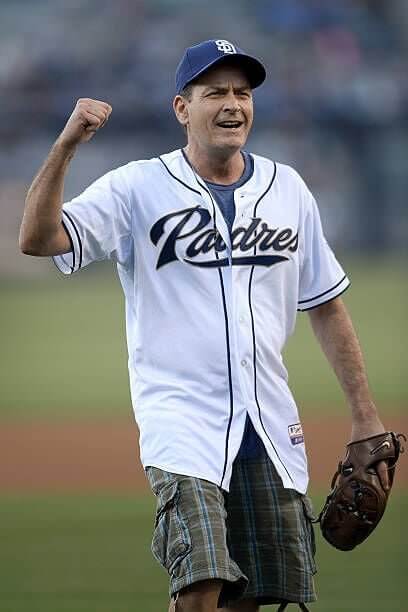 He was offered a baseball scholarship to the University of Kansas. Unfortunately, the scholarship never came to fruition as his bad grades and poor attendance record meant he was ultimately expelled weeks before he was set to graduate! Talented as he was, self-sabotage was about to become another one of his fortés.
Credit Where Credit's Due
By 1984, Charlie had his first real acting role in the crazy Cold War-themed film Red Dawn alongside Patrick Swayze, C. Thomas Howell, Lea Thompson, and Jennifer Grey.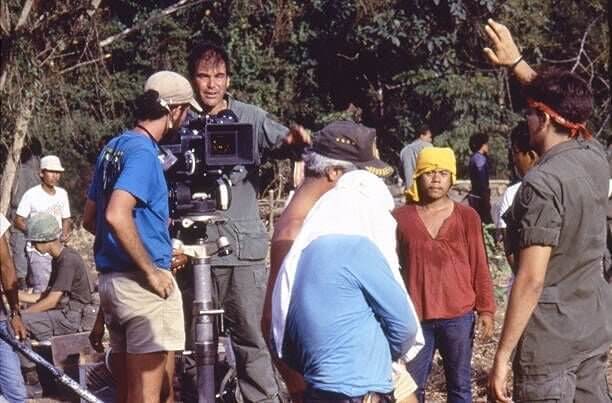 By 1986, he'd appeared in Ferris Bueller's Day Off (again with Jennifer Grey) as well as in Platoon. He also had a cameo in his brother Emilio's directorial debut, Wisdom, a thriller about a modern-day Robin Hood who takes on the banks by destroying mortgage deeds. Well done, man!
Methadone Acting
Charlie's turn in Ferris Bueller's Day Off might only have been a fleeting glimpse, but it was a memorable one. He plays the leather-clad juvenile delinquent who catches the eye of Ferris' younger sister Jeanie Bueller inside the police station.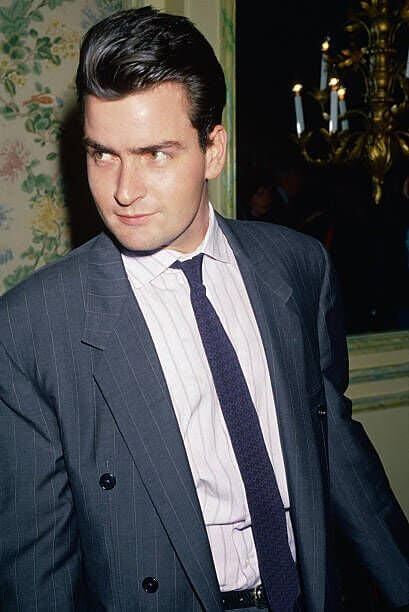 This was long before Sheen's real-life experience with drugs, so he prepared for the role by staying awake for 48 hours to achieve that dishevelled, junkie look. If we had to give that kind of acting a name, we'd call it methadone acting. 
Desperate Times
Shooting his breakout film, Platoon involved two gruesome weeks of infantry training as rehearsal and brutal conditions for the cast. Sheen once said that with the lack of access to showers, bug bites, and the grime of filming in the jungle, he resorted to scratching blood from his body. Co-star Johnny Depp had to physically stop Sheen from feeding this destructive habit.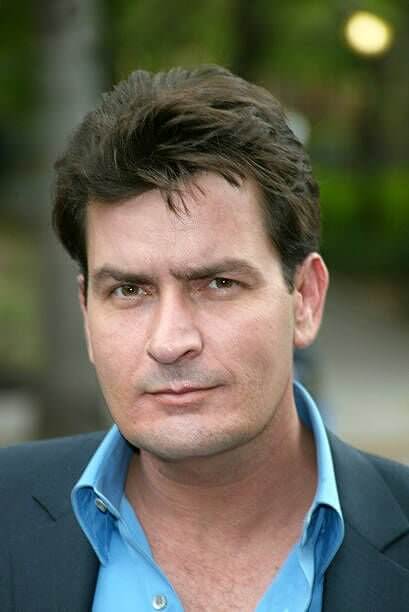 According to Sheen, whenever he smokes, it reminds him of Platoon. Given the grueling nature of the production, not to mention one of the big scenes in the film which involves the soldiers getting high together, that kind of makes sense. 
Platoon
In addition to all the physical troubles surrounding Platoon's production, Sheen famously clashed with director Oliver Stone. In one infamous incident, Stone was filming a scene where Sheen's character helps unload supplies from a helicopter. Prior to filming, Sheen complained that the dirt and rocks being picked up by the whirling helicopter blades would hurt him.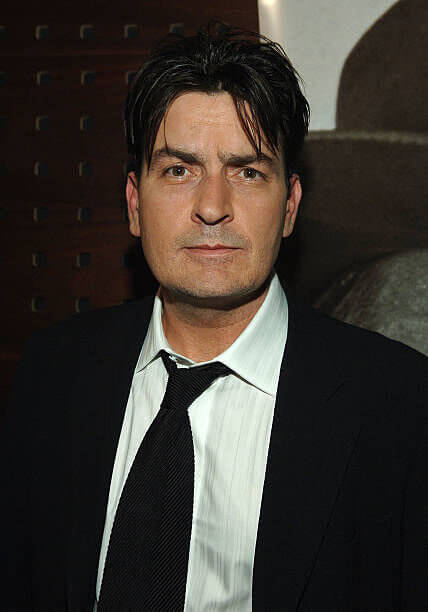 Stone responded by mocking Sheen's girly squeamishness and shouting expletives and suggesting that "Malibu Boy" Sheen couldn't handle "some pebbles." Sheen ended up filing the scene bare-chested! That's probably what the Vietnam vet director wanted in the first place. After Platoon was finally over, and Sheen landed at LAX Airport, he allegedly kissed the ground upon his return to the United States. 
Casualty of War
The plethora of Vietnam War movies released around the same time as Platoon included Full Metal Jacket (1987), Hamburger Hill (1987), and Casualties of War (1989), to name just a few. But believe it or not, Charlie Sheen almost became a casualty of war himself!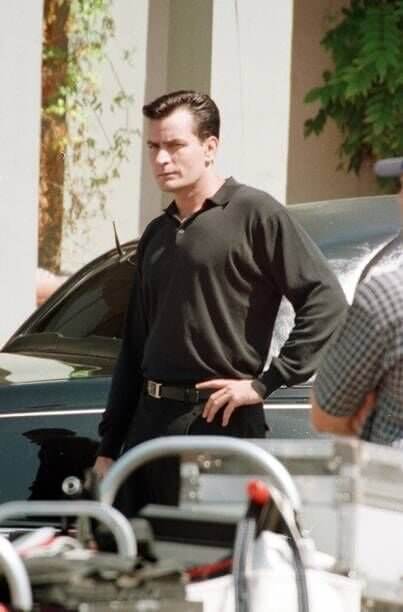 While filming Platoon, Charlie and fellow actor Keith David were inside an airborne helicopter with its door still open. The pilot oversteered and the helicopter turned too sharply and Sheen found himself falling towards the open door. According to Sheen, Keith David grabbed him and pulled him back just in time, saving his life! 
Breakout Roles
Charlie first auditioned for the lead role in Platoon when he was just 18 years old but his audition tape was rejected. Luckily for him, the project shut down, only to be resurrected a couple of years later. This time, when Sheen met director Oliver Stone at an informal meeting, he was offered the role a few days later.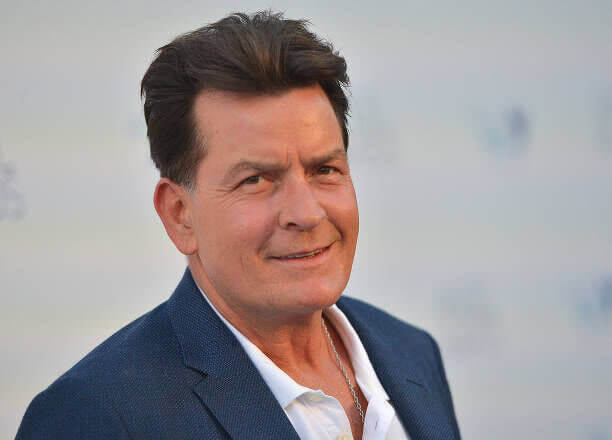 In 1987, Charlie co-starred with his father in Oliver Stone's next movie, Wall Street. Famous for making a whole generation think greed is good, Sheen played young stockbroker Bud Fox who visited his hero Gordon Gekko's office (played by Michael Douglas) 59 days in a row before getting an appointment. The real Charlie Sheen would have given up after half an hour! 
Take-Your-Dad-To-Work Day
When it came to casting, Tom Cruise wanted the part of Bud Fox, but director Oliver Stone had already chosen Charlie for the part on the back of his performance in Platoon.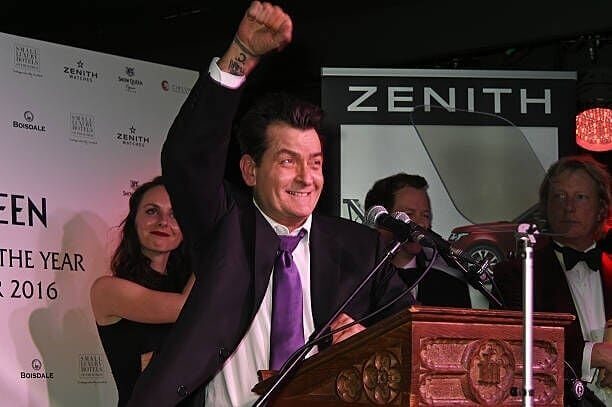 While the movie was still in pre-production, Stone offered Sheen the chance to pick the actor to play his father in the movie. The choice came down to two actors--Jack Lemmon or Martin Sheen--and Sheen picked his father. Well, of course he did, otherwise, he would have been disinherited! 

Toxic Work Relationship
During the filming of Wall Street, Blade Runner actress Sean Young felt she was miscast as Michael Douglas' wife and felt that she should switch roles with Daryl Hannah. Director Oliver Stone refused to change Young and Hannah's role, which led Young to become increasingly difficult on set: turning up late, not rehearsing, and making everyone's life miserable.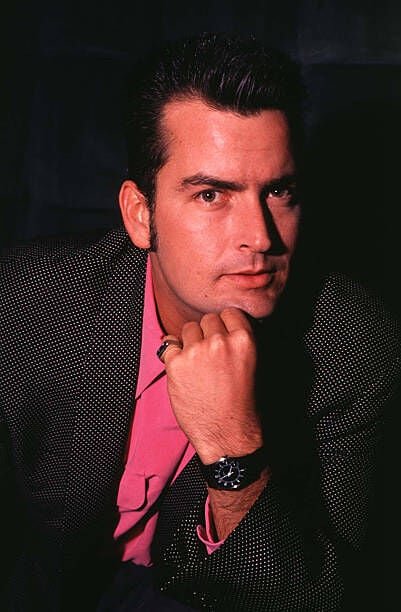 How did Charlie Sheen respond? Legend says he taped a note to Sean Young's back that called her the C-word. She apparently walked around on set with this note for hours before she noticed it. It seems that none of the cast or crew, who were equally angry with her, alerted her to the note.
Use It!
At one point in Wall Street, Sheen's character Bud Fox visits his father in the hospital after he nearly dies from a heart attack. Luckily for Sheen, he had the perfect inspiration to properly convey the emotions required for the scene.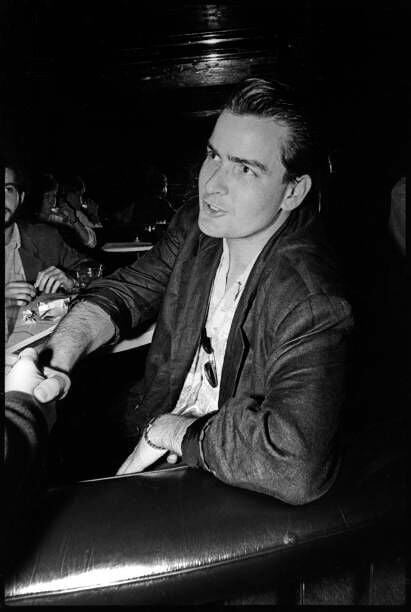 Francis Ford Coppola's year-long shoot on Apocalypse Now was an absolute nightmare. During filming, Martin Sheen suffered a heart attack in real life. Charlie tapped into the emotions he'd felt during that very real emergency in his early life. And that, my friends, is acting! 
Near Miss
Being around Charlie Sheen has proven dangerous. On one movie set in the 1980s, while he was filming No Man's Land, a squib went off at the wrong time, knocking the actor out cold. By the time he got out of the hospital, he was deaf in one ear for a month and needed 9 stitches on his face. He still carries a scar from the incident on his chin.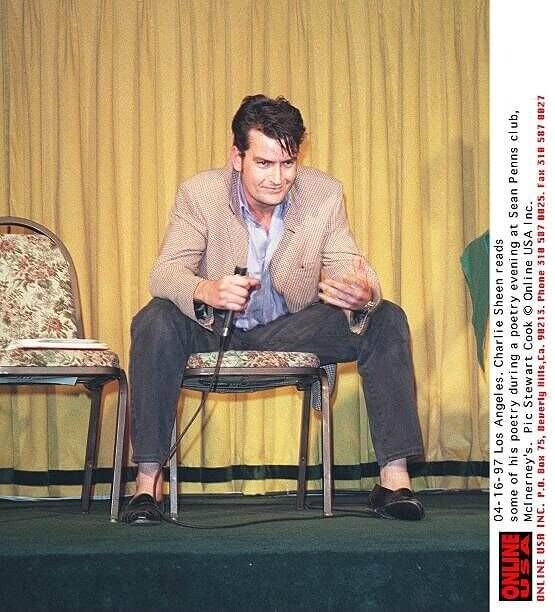 But that's nothing compared to two later incidents! On two separate occasions in 2010, Sheen's cars were "stolen" and found crashed at the bottom of a ravine near his home in Sherman Oaks, Los Angeles. What a spooky coincidence!
Poetic License
Just before he appeared in Major League, and in between his partying and wild antics, Charlie published a book of poetry. It was released in 1988 under the title A Peace of My Mind and well...it wasn't very good. Here's just a little sample of the book.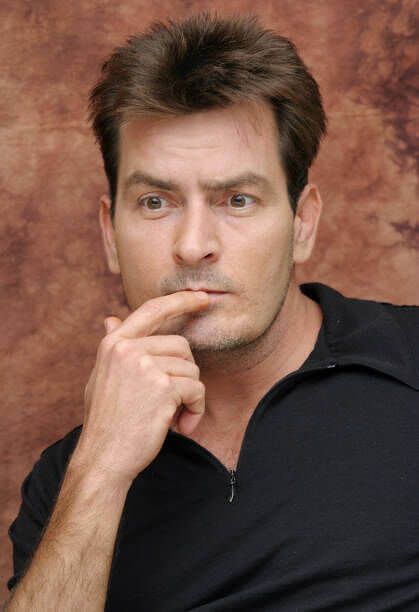 "Heretic Proof" by Charlie Sheen

Endive, undead, unbroken,

Unwed,

Relax, relate, rehab,

Drug addict,

Pursue, persuade, persist,

Per-petuate your own death

By smiling a lot.

Supply, succumb, deny—everything.

Always.

Turtle, android, pain.

Endeavor, endless, end.

P.S. Janonis.



You can stop laughing now!
Maverick
After their successful collaborations on Platoon and Wall Street, Sheen and Oliver Stone looked to have a lasting relationship. According to Sheen, Stone promised him the lead role in 1989's Born on the Fourth of July…but let's just say things didn't turn out quite as well as expected. 
Instead, Oliver Stone cast Tom Cruise in the lead role of paralyzed war hero, Sergeant Ron Kovic. Sheen learned he missed out on the part via a phone call from his brother, Emilio Estévez. Sheen subsequently didn't speak to Stone for years, but they managed to make up just in time for Sheen to make a cameo appearance in the director's sequel, 2010's Wall Street: Money Never Sleeps.
Oh Brother, Where Art Thou?
While filming 1988's Western comedy Young Guns--starring brother Emilio (as Billy the Kid), Kiefer Sutherland, Lou Diamond Phillips, and many more--Sheen was apparently terrible at riding horseback. Which is sort of necessary when you're playing real-life cowboy Richard "Dick" Brewer. Sheen regularly fell off his horse, but wait--it gets worse!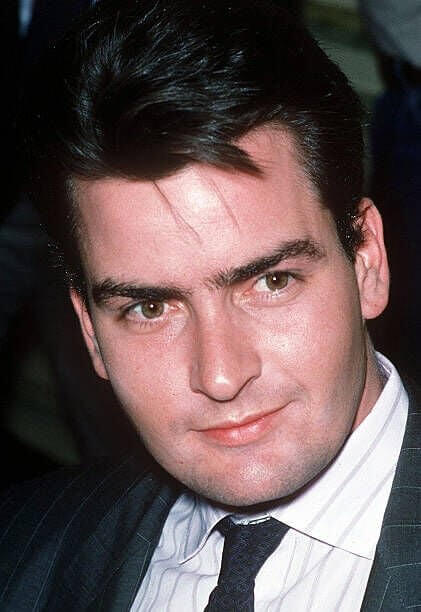 Following the filming of the shootout with Henry Hill, he completely lost control of his horse. The beast ran off with him on its back and – being such an inexperienced rider – he had no clue how to make it stop and had to just wait for it to calm down and stop running! 
Renaissance Man
Did you know that Charlie is a super-huge baseball enthusiast? For a time, he even owned the historic baseball which New York Mets' Mookie Wilson famously sent shooting between Boston Red Sox first baseman Bill Buckner's legs during the bottom of the 10th innings in the 1986 playoffs, sending them into Game Seven.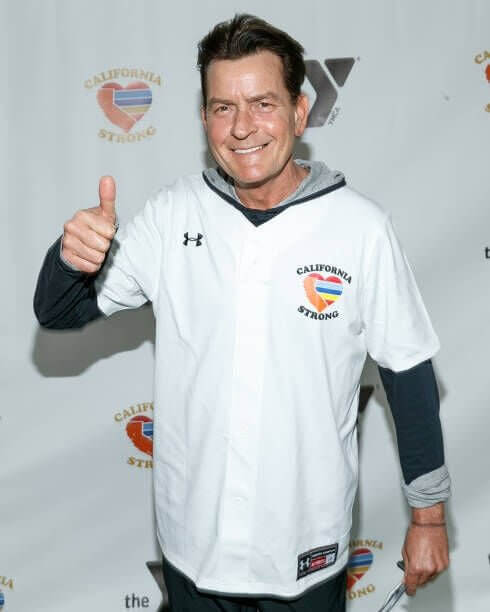 A massive Cincinnati Reds fan, he would bring his two loves, acting and baseball together in Eight Men Out (1988) and Major League (1989). And there was you thinking we were gonna say his two great loves were alcohol and drugs! Filming the latter movie, Sheen's own fastball topped out at 85 miles per hour but the steroids he took to get into shape may have helped with that.
Punk'd!
Charlie played opposite his brother again in the 1990 black comedy Men at Work. Not only did brother Emilio star in the tale of two troublemaking garbage men who dream of owning a surf shop, but he also wrote and directed it, too. Now, Charlie is known as a bit of a prankster and on Men at Work, Sheen came up with an epic prank at Estévez's expense. First, Sheen told Emilio that he'd punched a member of the paparazzi in the face the night before...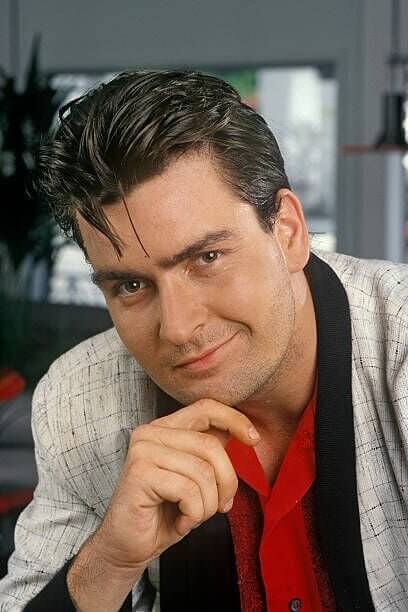 Then, while Sheen was filming a scene, he had arranged for a police officer working as security to arrive on the set and "arrest" him. The "cop" hauled Charlie away and Estévez was none the wiser until Sheen returned, laughing his socks off. Around this time, Charlie spent his first month-long stint in rehab at a Santa Monica, California facility.
The Chosen One
Not once but twice in his career, Sheen was considered to play roles that ultimately went to Keanu Reeves. To rub salt into the wound, the two iconic roles came within a year of each other--Johnny "Quarterback Punk" Utah in Point Break (1991) and Jonathan Harker in Bram Stoker's Dracula (1992) for Francis Ford Coppola.
While Sheen could probably have just gotten away with playing Johnny Utah, we can't imagine him acting with an English accent in Victorian England. That said, it couldn't have been any worse than Keanu's attempt!