Kim Kardashian has had relationships and flings with several famous men. She has even been married and divorced three times. From a leaked tape to a 72-day marriage, each one of her relationships has brought a different kind of drama. Here is a reminder of everyone Kim has dated since 2000.
Her Allegedly Abusive First Husband
Kim was just 19 years old when she met music producer Damon Thomas. He was 29 at the time. Less than three months later, they eloped on January 22, 2000. Kim later admitted that she was high on ecstasy when they spontaneously decided to tie the knot. Their marriage was relatively long-lasting, considering it was an impulsive idea fueled by drugs. They filed for divorce after three years.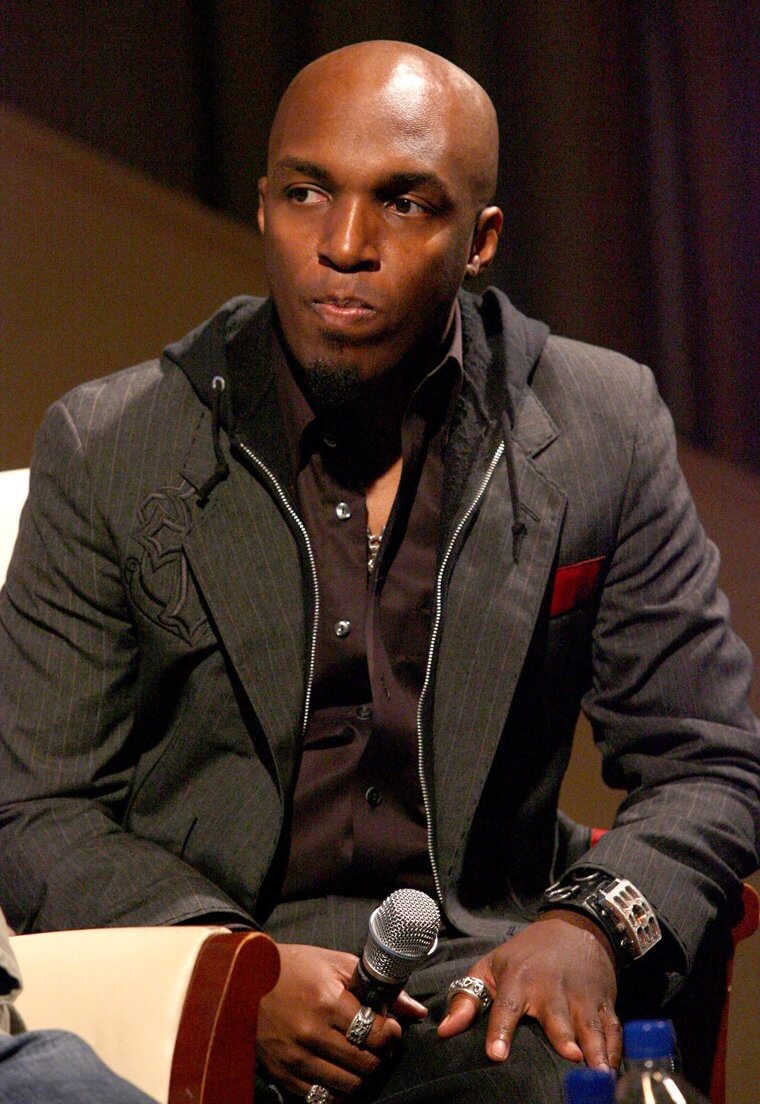 During the divorce proceeding, Kim accused Damon of being "extremely controlling," which he emphatically denied. "Damon decided what we would do and when we would do it," Kim claimed. "He was very much the king of the castle." Of course, Damon had his complaints about Kim, too. He said she cheated on him with Cris Judd. Kim's next beau, Ray J, claimed that Kim was still with Damon when she pursued a relationship with him.

The Scandalous Sex Tape
Ray J wrote in his book about why men cheat that his relationship with Kim started as an affair. "There was a mutual attraction, but she was married. She let me know she wanted to get with me. She left her husband for me as soon as we started having sex and things between us got intense really fast. After that, I felt obligated to be with her."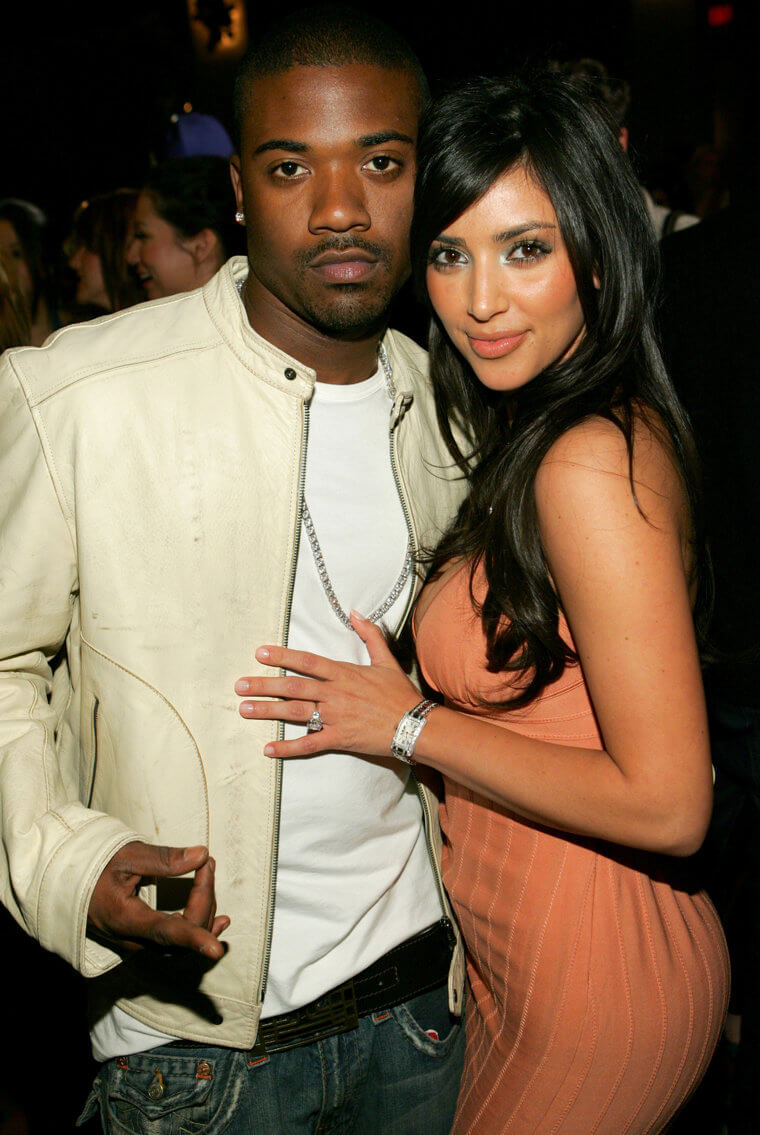 After they broke up in 2006, the s*** hit the fan. Someone leaked a sex tape of Kim and Ray J to adult film company Vivid Entertainment. Kim's popularity increased, and she also got rich. She sued Vivid Entertainment, and they reportedly settled for US$5 million. "I did ecstasy once, and I got married," Kim said in 2018. "I did it again, [and] I made a sex tape. Like, everything bad would happen."

Publicity Stunt With Nick Lachey
In 2006, Kim went on one date with Nick Lachey to see The Da Vinci Code. According to Nick, dozens of paparazzi surrounded them when they left the theater. The "What's Left of Me" singer also implied that Kim organized the publicity when she went to the bathroom halfway through the show. Kim's team denied this, but former In Touch Weekly editor Kevin Dickinson admitted it.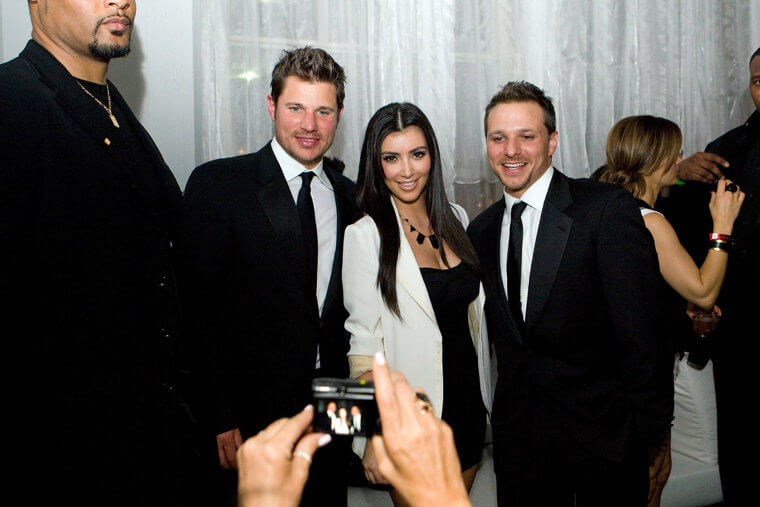 "That was one of the early stunts that backfired," he said. "We tried to get her to f--k Nick Lachey so she could be a celebrity girlfriend. She would literally bake him a basket of muffins and try to get him to come to her house. And he wouldn't go. And so they went to dinner somewhere in the North Valley, and we had paparazzi there. But our paparazzi told all the other paparazzi. It was a mess."

Brief Encounters With Musicians
After her date with singer Nick Lachey, Kim had several flings with other musicians. In June 2006, Kim hooked up with Benji Madden, the lead guitarist for Good Charlotte. They soon realized that they were not compatible and went their separate ways. Benji started dating Cameron Diaz in 2014, and they have been married since 2015.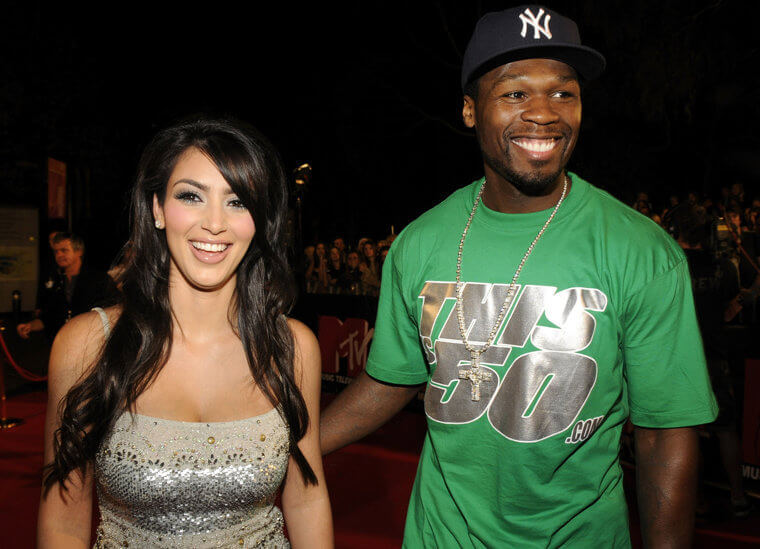 Kim had romantic encounters with rappers like Fonzworth Bentley, the Game, and 50 Cent. She also briefly dated R&B artists Marques Houston and Usher. Hip hop artist Shad Moss, better known as Bow Wow, claimed that Kim was the first non-black person he dated. "I never really dated outside my race before," the rapper told Hollywood Unlocked. "This is different for a n---a. I don't know how my fans [are] going to look at it. So I kept that s--t low, and nobody really knew."

Don't Forget Nick Cannon
During an appearance on the Big Boy TV in 2014, Big Boy asked Nick to name five people he had slept with in the past. He included Kim K, and Big Boy admitted that he had forgotten that Nick had been with Kim. "You just forgot because it's been a lot of people since me," Nick replied with a laugh. According to reports, Nick's then-wife Mariah Carey was embarrassed by Nick's confession, and they divorced two years later.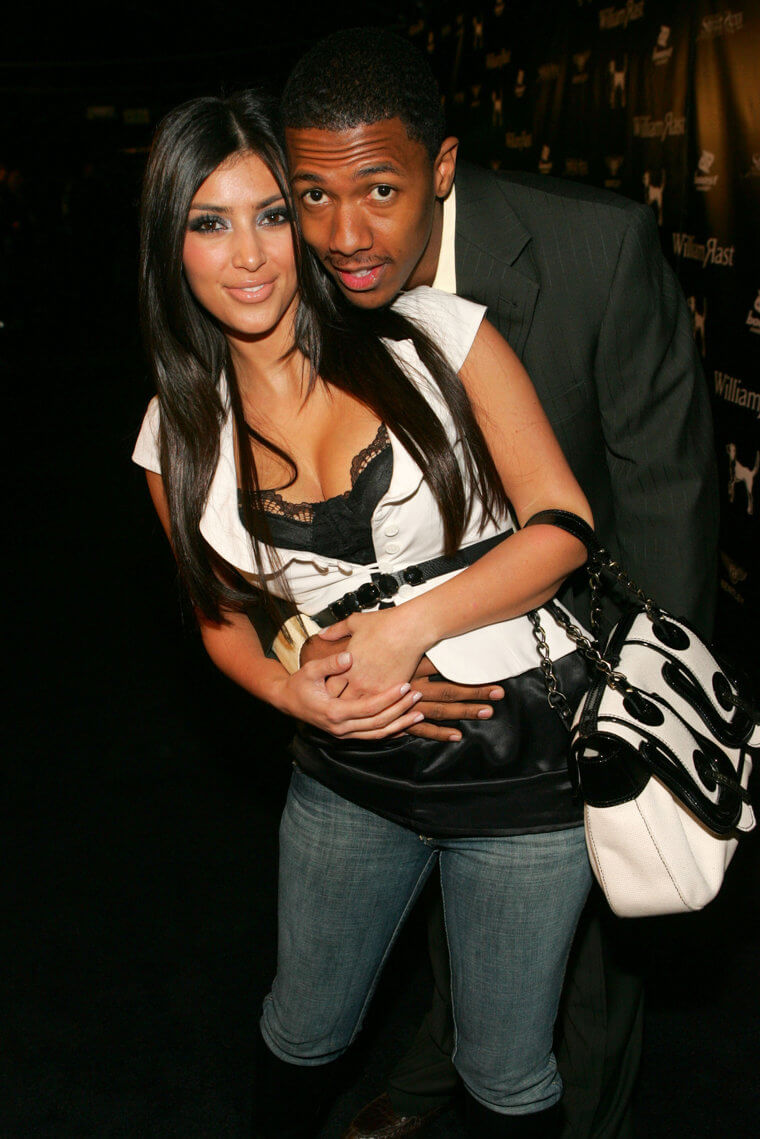 Nick's relationship with Kim also ended on bad terms. In 2021, he revealed that her sex tape had something to do with their breakup. "She's actually one of the nicest people you'll ever meet," he said. "But the fact that she lied and told me that there was no tape? And I still think she might have even had a part to play with [its release]."

Scott Storch and Evan Ross
In 2007, Kim K dated another music producer – Scott Storch. Although their relationship only lasted 28 days, Scott later claimed that Kim was "amazing" in bed. We're not sure if they did sleep together because Kim denies it. Scott seems to like women named Kim because he also had an affair with Lil' Kim. He dated the rapper while he was in a relationship with Dae Daniel Esquire, the mother of his youngest son.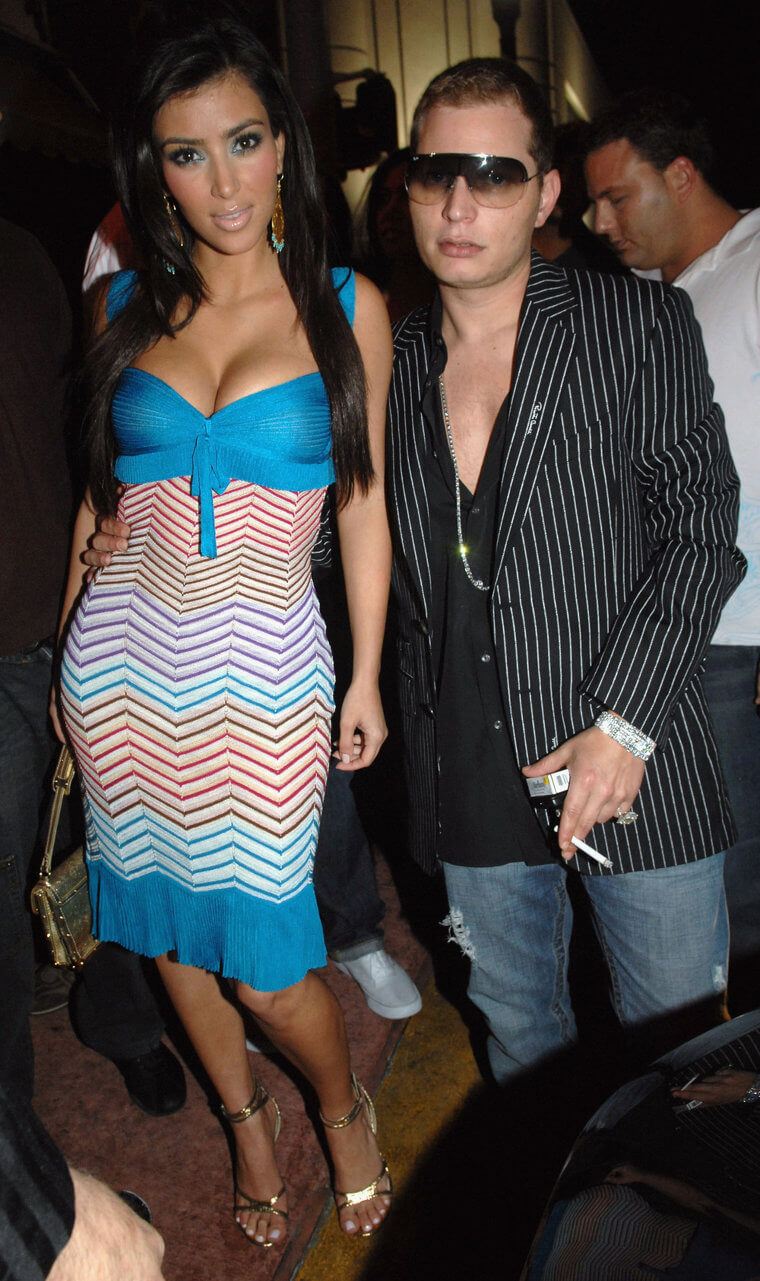 A few months after Kim K's fling with Scott ended, she moved on to actor Evan Ross, the son of Diana Ross. They reportedly called it quits after less than two months. Evan moved on and started dating singer-songwriter Aubrey O'Day. He later married Ashlee Simpson, and as of March 2022, they are still together. After Evan, Kim K found love with football player Reggie Bush.

Kim Is Reportedly a Homewrecker
Between 2007 and 2010, Kim and Reggie Bush had an on-and-off relationship. Life & Style Weekly reported that Reggie continued to text Kim after 2010 to tell her they should get back together. But Kim wasn't interested. In fact, there are rumors that she even cheated on Reggie with Kanye "Ye" West. Ye's ex Amber Rose, who he dated between 2008 and 2010, claimed that Kim and Ye had an affair.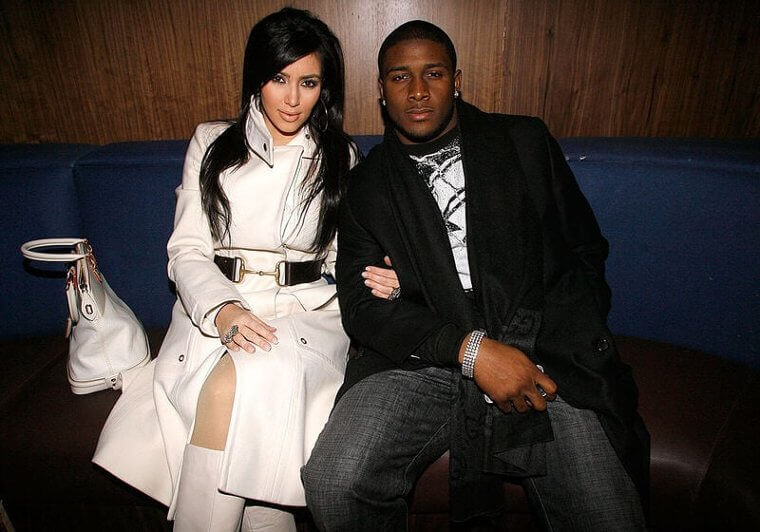 "Kim is one of the main reasons why me and Kanye are not together," Amber told Star magazine. "She's a homewrecker. They were both cheating on me and Reggie with each other." According to Kim and Ye, they became friends in 2008 and didn't start dating until 2011. After Kim and Reggie broke up, she moved on quickly and had flings with several other athletes.

Two Soccer Stars in One Month
In April 2010, Kim went on a blind date with Armenian-Iranian soccer player Alecko Eskandarian. Kim's mother Kris attempted to set her then-29-year-old daughter up with the perfect man. "She's trying to come up with all these names in Hollywood," Kim said. "And I'm like 'Just get me out of here. I want a normal Armenian boy.'" Perhaps Alecko wasn't "normal" enough because he didn't catch Kim's eye.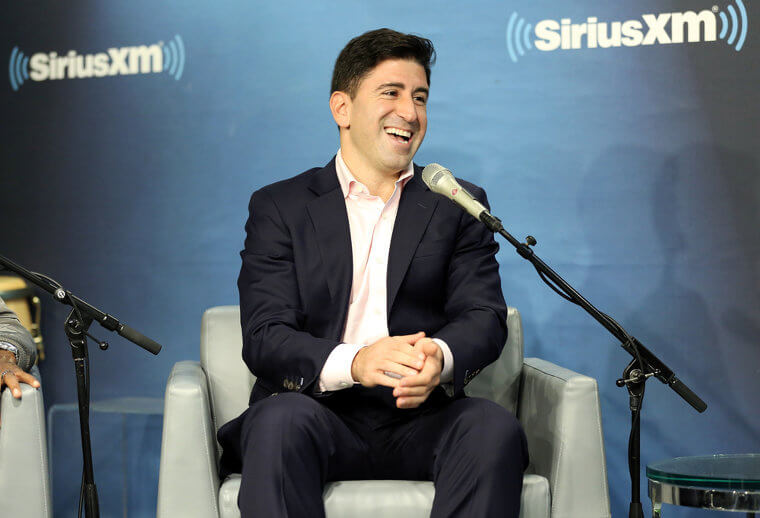 "I absolutely love [Armenian men]," Kim said after the date. "[But] I don't know if this one worked out that well." Several days later, she hooked up with the world's most famous soccer player, Cristiano Ronaldo, while on vacation in Madrid. However, that also fizzled out quickly (maybe because Cristiano isn't Armenian,) and the soccer player started dating Russian model Irina Shayk a few months later.

Her Australian Bodyguard, Shengo Deane
By May 2010, Kim had a new boy toy – her Australian bodyguard Shengo Deane, who she described as having "the sexiest Australian accent." The couple even kissed in bed in an episode of Keeping Up With the Kardashians. Kim later said that it was "the best kiss ever." So why didn't things work out?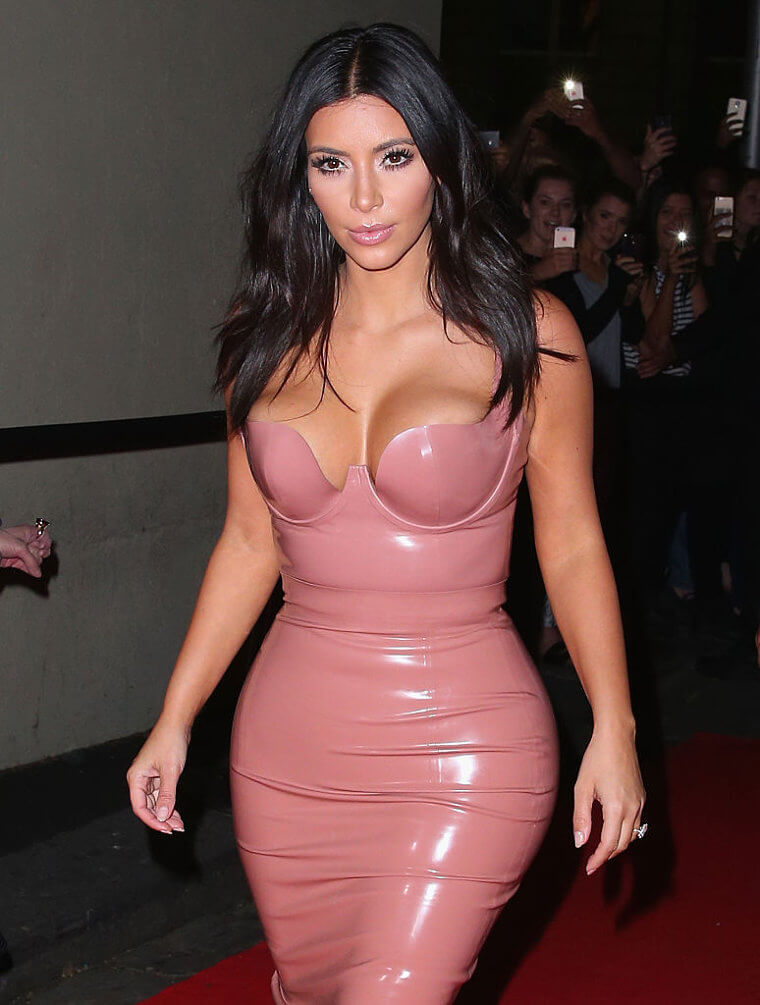 "[The Kardashians] are a beautiful family, and I enjoyed being part of that," Shengo explained to Woman's Day. "But I didn't really have a lot of work over there, and I didn't want to have to ask for $50 to go to the movies." He moved back to Australia and married Sally Poulos, who he says is similar to Kim. "They have the same heart," Shengo revealed. "They both want the same things in life. They both want a family. They both want to be with a good man."

Her Relationship With Miles Austin Was the Real Deal
They say that distance makes the heart grow fonder, but this isn't always the case. In July 2010, Page Six reported that Kim was getting cozy with Dallas Cowboys wide receiver Miles Austin. "They were canoodling all night," their source revealed. "He's a pretty shy and low-key guy, so he's perfect for her." However, Miles had to go back to Texas when the football season started.
 They tried to continue their long-distance relationship but they broke up by September. A source told People magazine that Kim and Miles were serious about each other and that the distance was the only reason they split up. "They were acting as if they were single or just having fun," the source said, "but they never were – it was the real deal." Miles then dated Cowboys cheerleader Stacy Sydlo, who he married in 2014.

No Chemistry With Copon
As soon as Kim broke up with Miles, one of her friends told In Touch that Kim was dating actor Michael Copon. "They have been running in the same circles and going to the same events forever, but now they are hitting it off romantically," the source claimed. Several radio stations shared the news, reporting that Kim was "finally dating a white guy." They must have forgotten about Shengo. Plus, Michael Copon is half Filipino.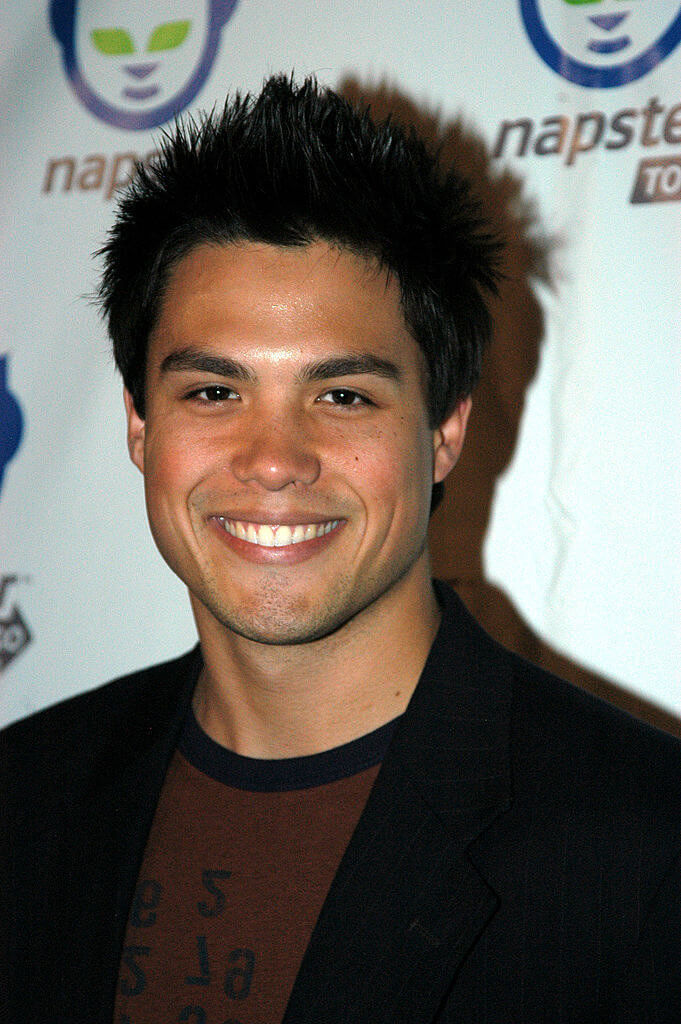 Kim did go on a date with Michael, and it aired on an episode of Kim and Kourtney Take New York. However, despite what In Touch's source said, Kim and Michael did not hit it off. According to Page Six, they had no chemistry. "They seemed bored with each other when the camera was off and just played it up for the show," a spy reported.

Serial Celebrity Dater John Mayer
In the same article that Page Six reported there was no chemistry between Kim and Michael, they also hinted that a new man was vying for Kim's attention. The gossip column stated that Kim had "caught the eye of many single locals including John Mayer." In a previous report, they explained that "serial celebrity dater John Mayer" went on a date with the curvy Kim Kardashian.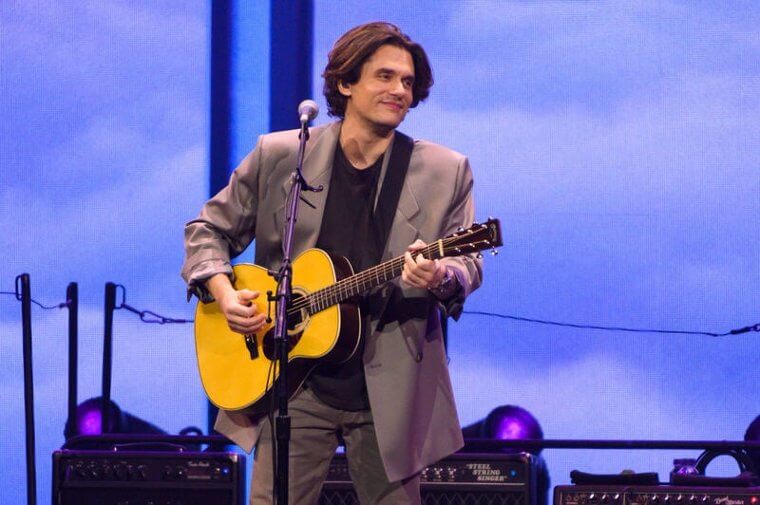 "They brought along other friends, but the idea was to see if they would hit it off," a source claimed. Kim reportedly described John Mayer as a "really cool guy." However, when Page Six reported that the pair were chatting in the lobby of Sirius XM in December 2009, John Mayer responded on Twitter, "I see @kimkardashian at Sirius/XM, and say hello like a gentleman, and you want to spin a story at my expense? [Bleep] you!"

Halle Berry's Ex, Gabriel Aubry
While Kim was in New York shooting Kourtney and Kim Take New York, Page Six kept a close eye on her. They frequently updated readers on Kim's love life. In November 2010, they quoted a source who revealed that Kim had started seeing Halle Berry's hunky ex, Gabriel Aubry. "They have been out a few times. He's visited her house in LA." The source also commented on their public debut at a Lakers game.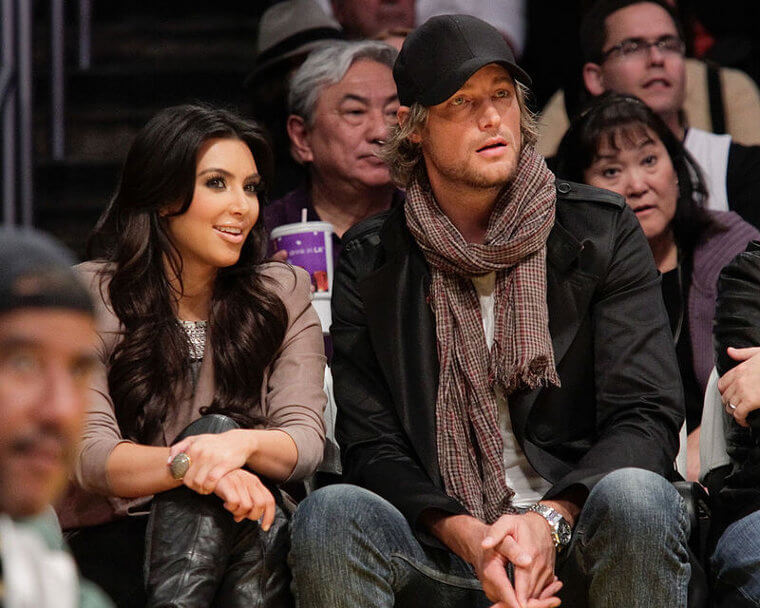 "Sunday's game was the first time they were comfortable enough to be seen in public together," the informant said. "It's early days, but they're getting on well." However, they allegedly called it quits because Halle Berry did not want Kim around her daughter. "She was upset at the idea of someone like that being in her daughter's life," a source explained. "She did not want a reality star in Nahla's life."

Her 72-Day Marriage to Kris Humphries
In 2010, Kim appeared to have a new beau each month. On December 1, Page Six reported that Kim had ditched Gabriel Aubry and watched Brooklyn Nets forward Kris Humphries play a match against the Portland Trail Blazers. "He could fit in with the Kardashians since his name starts with 'K,' and he has sisters named Krystal and Kaela," Page Six noted.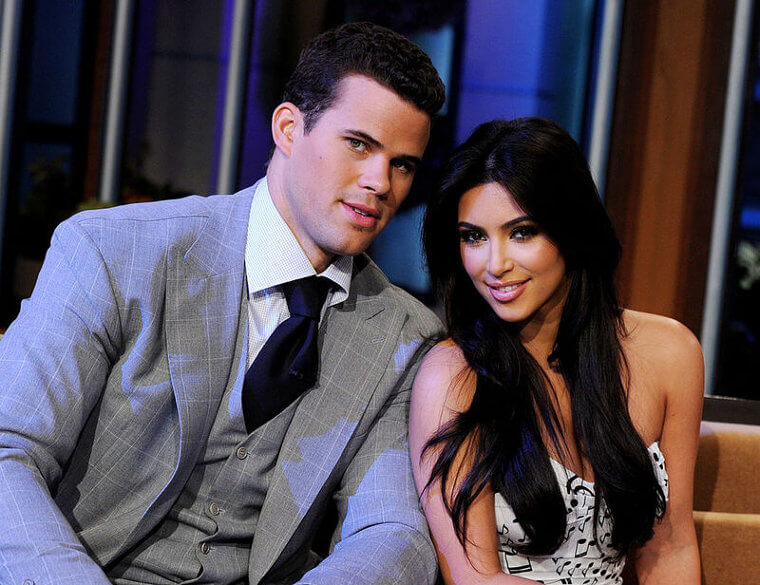 The basketball player proposed to Kim on an episode of Keeping Up With the Kardashians, and the rest is history. "I just thought, 'Holy s–t, I'm 30 years old. I better get this together. I better get married,'" Kim told Andy Cohen. The couple tied the knot on August 20, 2011, and Kim filed for divorce 72 days later. Kris later admitted that he "should have known." However, he also said his relationship with Kim was "100 percent real."

The Third Time's the Charm – But Not for Kim
Kanye West, who now goes by "Ye," claimed in his 2012 single "Way Too Cold" that he "fell in love with Kim" around the time that she fell for Kris Humphries. In April 2012, Kim started dating Ye, and by June, she referred to herself as the rapper's "proud girlfriend." Within a few months, Kim fell pregnant with their first child, North West. Kimye tied the knot in Florence, Italy, in May 2014 and welcomed their eldest son Saint West seven months later.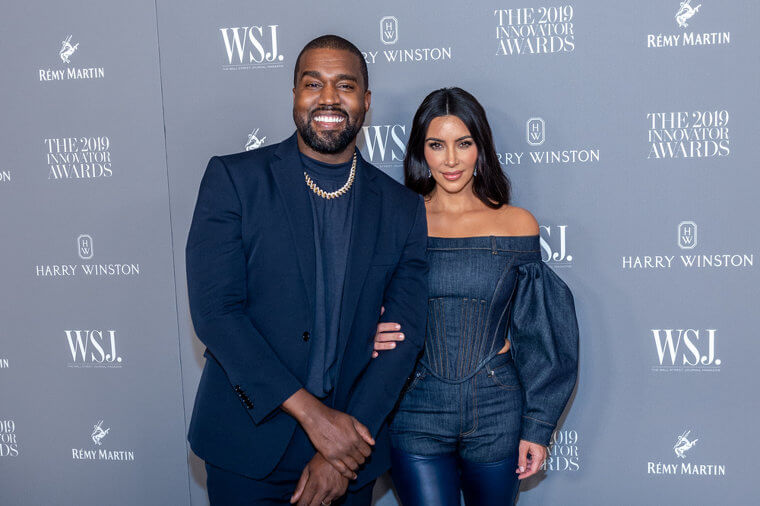 They had two more children together – Chicago West and Psalm West. Kim's relationship with Ye has been her longest so far. But sadly, Ye's struggle with bipolar disorder started causing irreparable damage to their marriage. By December 2020, they had separated, and two months later, Kim filed for divorce. Kanye would later display concerning online behavior online towards Kim, harassing her and her new boyfriends, getting himself banned from the 2022 Grammys.

Mutual Passion for Criminal Justice Reform
In late 2018, lawyer and CNN presenter Van Jones told Extra that he was impressed by Kim's passion for criminal justice reform. Van also offered to help Kim get her law degree. After Kim announced her divorce, fans speculated that she was dating the 53-year-old lawyer. Kim denied the claims, telling Andy Cohen that she wasn't dating Van.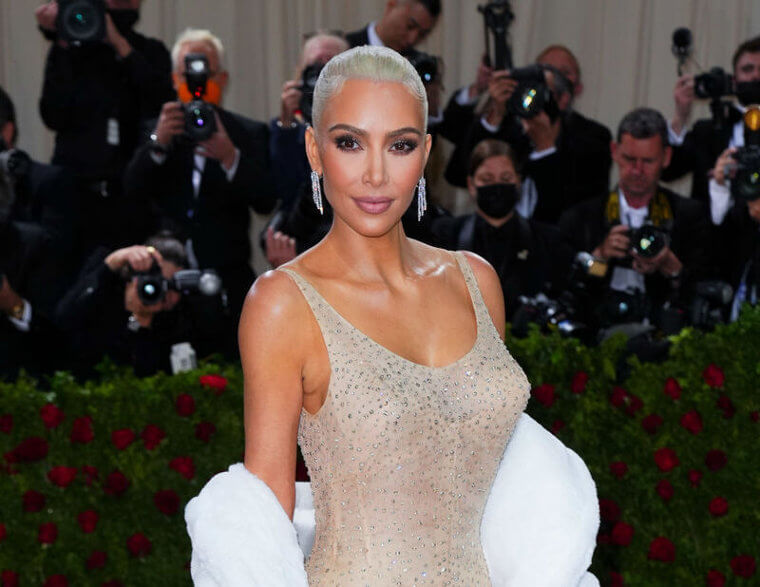 In an episode of Keeping Up With the Kardashians, which aired in June, Kim said, "Van texted me and was like, 'This rumor has gotten me so many dates, and I'm so grateful. So I owe you.'" It took a while before Van publicly addressed the rumor. "I never made any comments about the rumors of me and Kim Kardashian dating, as I found it absurd," Van later told Page Six. "It was flattering for me, but it probably wasn't flattering for her."
She Roasted Ye on SNL
In October 2021, Kim appeared on an episode of Saturday Night Live. She wasn't officially divorced from Ye, but she joked about their breakup. "I married the best rapper of all time. Not only that, he's the richest Black man in America – a talented, legit genius, who gave me four incredible kids," she said. "So when I divorced him, you have to know it came down to just one thing: his personality."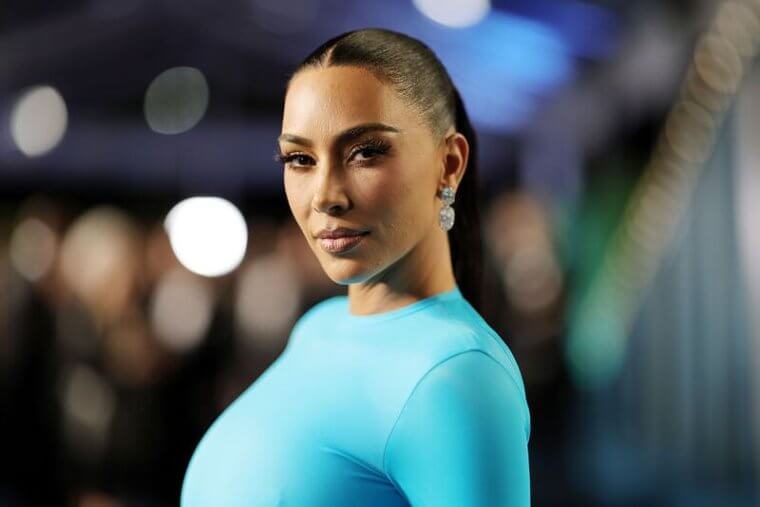 Ye was not bothered by the roast. He even admitted that he wanted to get back together with the mother of his children. However, he didn't know it at the time, but Kim's appearance on SNL solidified her desire to be divorced. While on set, she met SNL host Pete Davidson, who changed everything. Initially, she was just intrigued by the comedian. But her feelings for him soon grew.

Ye Vs. Pete "Skete" Davidson
When Kim and Pete confirmed they were a couple, Ye flew into a jealous rage. He badmouthed the comedian, who he refers to as "Skete," in several posts he has since deleted. "Hold your spouse close," Ye wrote on Instagram. "Make sure they know how much you love and appreciate them because there's a Skete lurking in every dirty a** alley waiting to help destroy your family." Kim messaged Ye privately, asking him to stop saying terrible things about Pete. She was afraid that someone would hurt him. Ye posted screenshots of their messages online and joked about it. "Upon my wife's request," he wrote, "please nobody do anything physical to Skete. I'm going to handle the situation myself." Kanye was banned from the preforming artists lineup of the 2022 Grammy Award due to his disturbing online behavior towards the couple.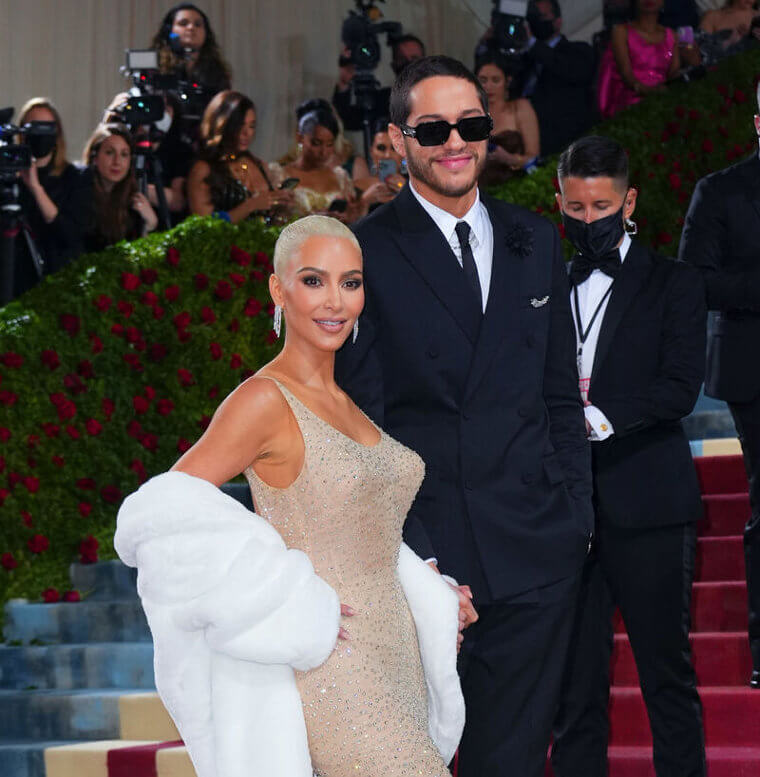 On March 2, 2022, a judge legally declared Kim single. A month later, she posted her first photos with Pete, making them official in the eyes of social media. If you wanted to know how official they were, apparently, Pete had "Kim" branded on his chest so that it couldn't be so easily removed like a tattoo. Kim explained, "He's like, 'I don't want to be able to get rid of it or cover it up. I want it there as a scar on me.'" Of the tattoos that Pete got to honor Kim, her favorite is "My girl is a lawyer."

More Than Just Rock's Bad Boys: These Are Pamela Anderson's Relationships
Pamela Anderson: model, activist, icon. From Playboy to Baywatch, she's captured hearts from screens (not to mention space on teen boys' walls) across the nation. So who are the lucky men that have had the chance to get a little piece of her love?

Ty Anderson
Long before Pamela Anderson became famous the world over and had her photo in every tabloid magazine and newspaper, she was just a high school kid growing up in British Columbia where she played volleyball and dated a guy named Ty Anderson.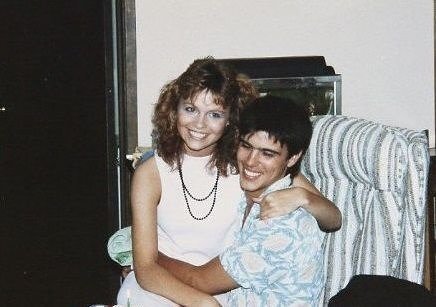 These days Ty is married, but he still holds a torch for his high school girlfriend who made it big, and became one of the most lusted after women, particularly during the '90s. According to Ty, "I still love her. I still dream about her and I still think about her and my wife knows."
Jon Peters
Jon Peters is lucky to appear on this list twice! Once in 1977 when he was 22 years old and working as a hairdresser and producer, and again in 2020. When he first met Pam she was 19 and attending a party at Hugh Hefner's Playboy Mansion. They would end up moving in together.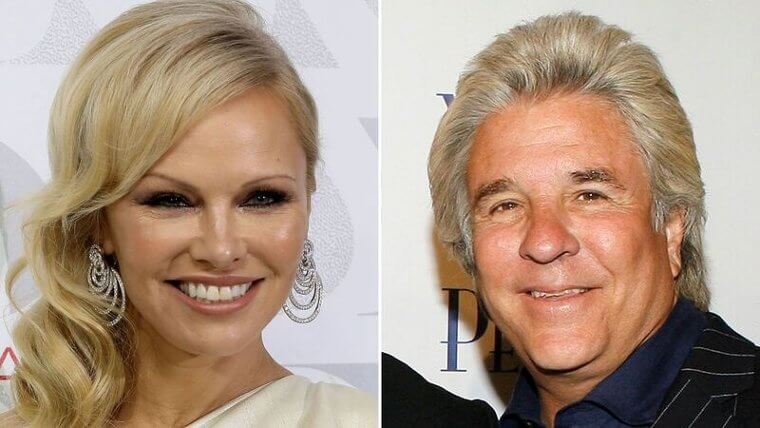 In 2020 the former lovebirds got back together and were married in a private ceremony in Malibu. The odd thing about this relationship's round two is that it ended just as quickly as it began, and both parties denied there ever being a legal wedding in the first place.
Scott Baio
Pamela Anderson was still a fresh-faced model gracing the cover of Playboy when she met Happy Days actor Scott Baio at the Playboy Mansion. The couple dated for three years and split up in 1993. When Anderson met Baio she had just been named Playmate of the Month.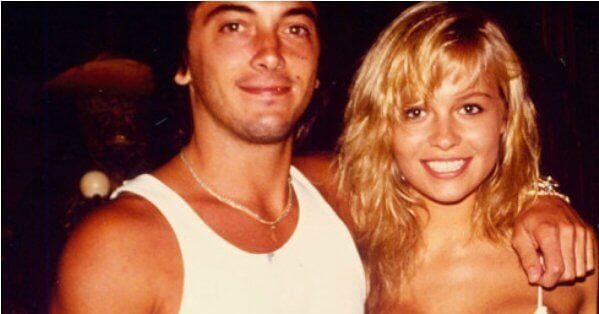 Back then, Anderson managed to land a role on her boyfriend's show Charles in Charge which would be the beginning of her acting career. These days Baio is married to another model, Renee Sloan, whom he also met at Hugh Hefner's infamous abode.

Eric Nies
After Baio, Anderson dated model Eric Nies for a few months. Nies had made a name for himself in the '90s by appearing on the first-ever season of the original reality tv show, The Real World. He would go on to appear in other reality shows such as The Grind and Confessions of a Teen Idol.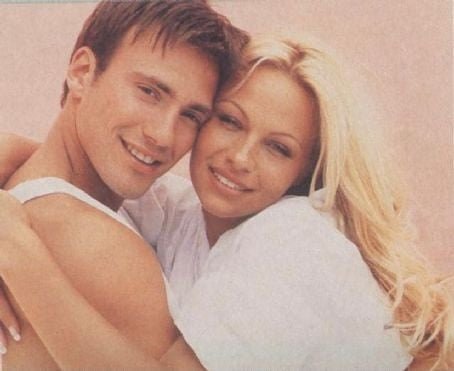 Their relationship could only be described as a bit of a fling, but nonetheless, the beautiful couple was photographed wherever they went. Nies went on to date Charmed actress Alyssa Milano and actress Kirsty Swanson. He is currently married to Iona Nies and developed an addiction to drugs and alcohol after he was swindled out of a quarter of a million dollars.
David Charvet
Anderson met David Charvet on the set of Baywatch. She had previously landed a small role on Tim Allen's sitcom Home Improvement, and suddenly David Hasselhoff came calling, and TV history was made. The show made her a star, and she dated Charvet from 1992 to 1994.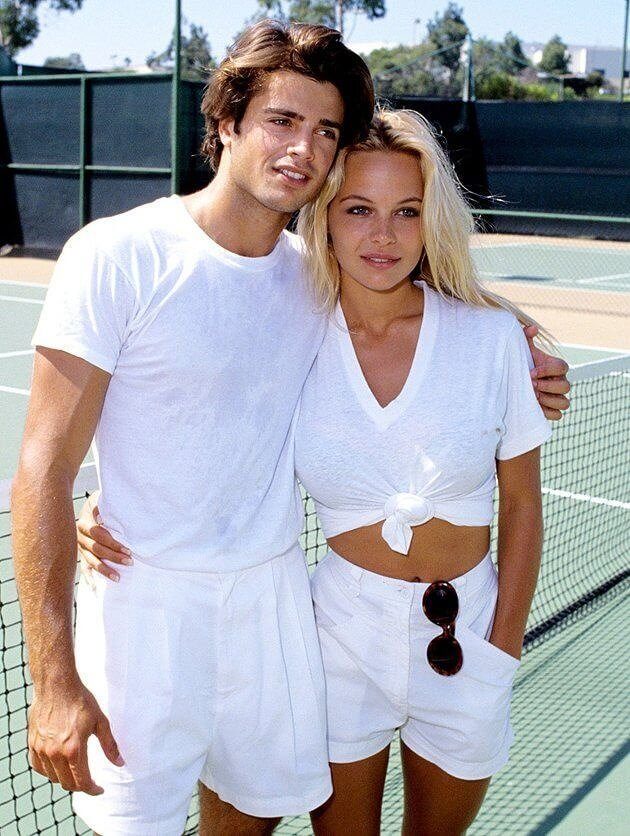 Charvet, who is French, went on to appear in a few reality shows and even had a bit of a music career after his stint on Baywatch. After things ended with Anderson he married TV personality Brooke Burke, and the couple had two children before they divorced.
Antonio Sabato Jr.
Charvet was not the only Baywatch cast member that Anderson dated. Her next boyfriend would soon be Antonio Sabato Jr, an Italian-born model and actor who had done some major campaigns for Calvin Klein.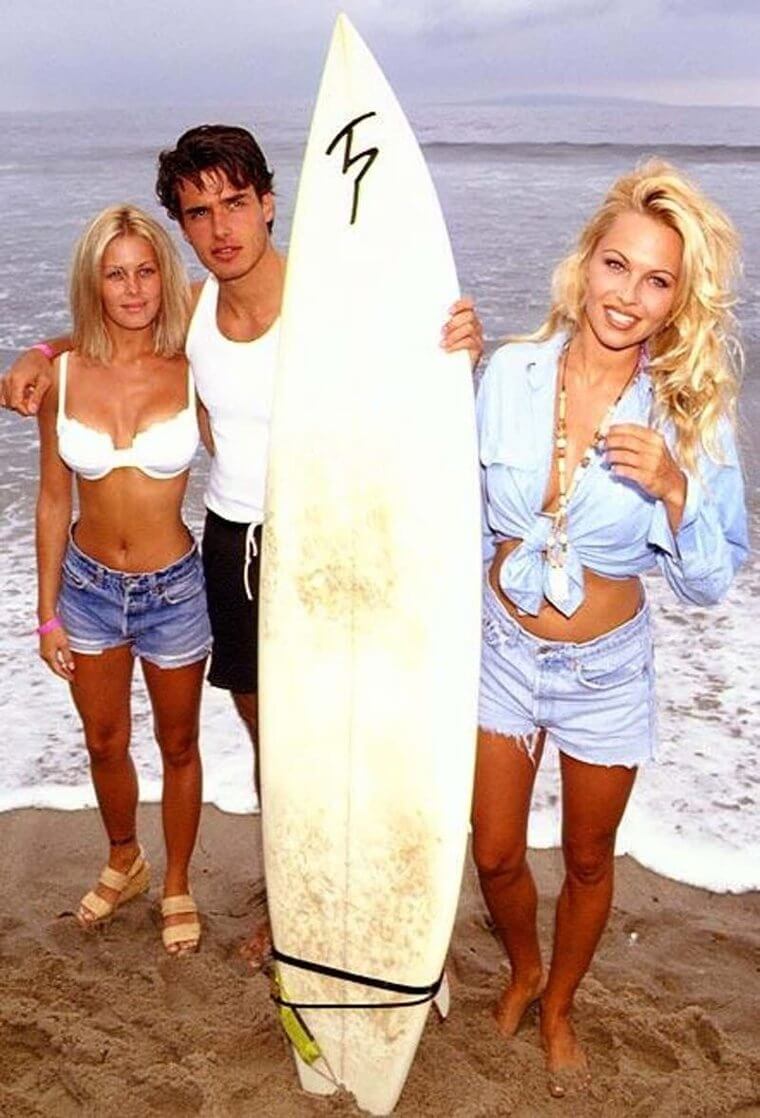 Since working on the show and being romantically involved with Pamela Anderson, Antonio Sabato Jr moved from California to Florida where he set up his own film studio where he plans to release films that have been blacklisted due to their political content.
Bret Michaels
In 1994 Anderson moved away from her Baywatch castmates and into the arms of Poison frontman Bret Michaels. Anderson was head-over-heels for the bad boy rocker, but her mother was not impressed, and Michaels struggled to get the approval he wanted.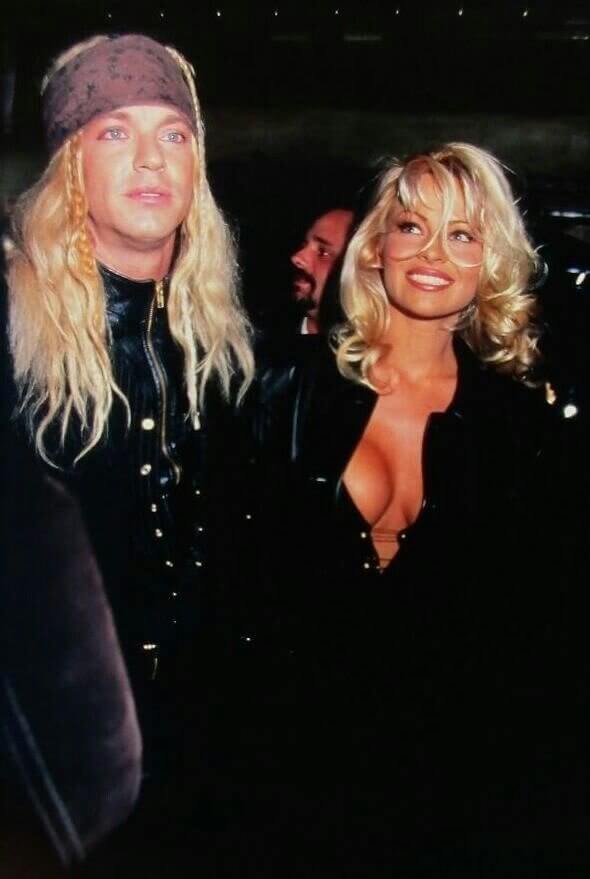 Micheals stated, "the mom really didn't like the rocker thing or the way I looked". Years later Micheals would appear in a reality TV series called Rock of Love which had many women vying for his affections.
Dean Cain
Pamela Anderson dated Dean Cain sometime in the '90s. At the time, he was a former professional football player and had just landed the role as Clark Kent/Superman on the show Lois & Clark: The New Adventures of Superman.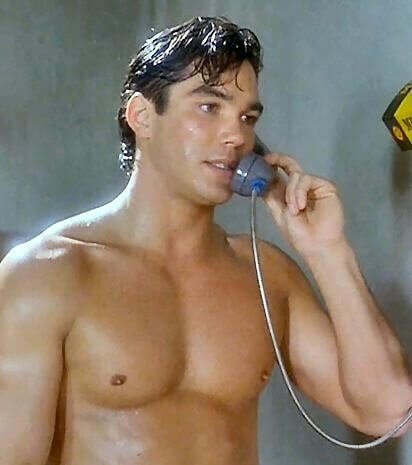 After his relationship with Anderson ended, Cain dated Gabrielle Reece, a professional volleyball player and model, and also singer Mindy McCready whom he even became engaged to. He has a son with ex-girlfriend Samantha Torres, and after a stint as the host of Ripley's Believe it Or Not!, he became a reserve police officer.

Arsenio Hall
Apparently, though there are no known photographs of Pamela Anderson and late-night talk show host and actor Arsenio Hall, they did date briefly. They met in the mid-'90s when both were at the height of their fame - Anderson on Baywatch, and Hall while hosting his own show, The Arsenio Hall Show.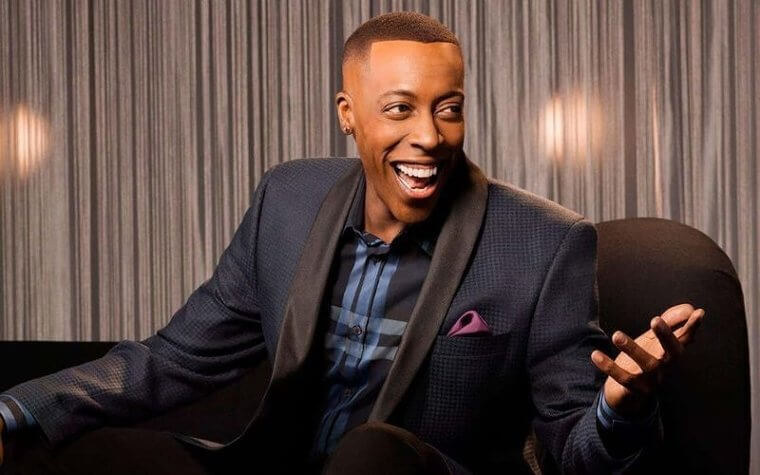 Hall also appeared in the wildly popular film Coming To America, and when his son was born in 1998 he took a step back from the limelight in order to raise him. He would resume his talk show in 2013 and appear in the 2021 sequel Coming 2 America.
Tommy Lee
Pamela Anderson's most well-known (and indeed most infamous) relationship was with Motley Crue drummer Tommy Lee. After only four days of knowing him, the pair were married, and Anderson even had his name tattooed on her finger. The couple was married for three years.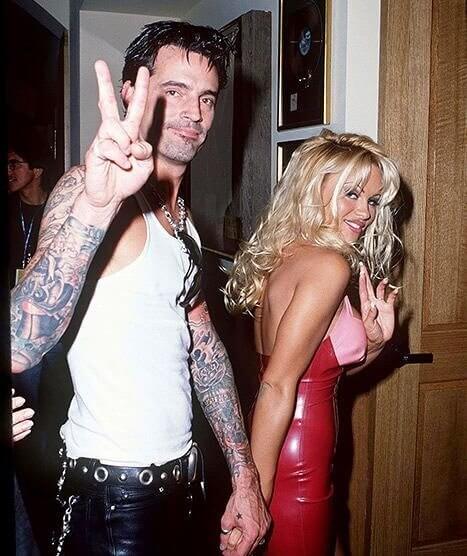 In those three years, Anderson and Lee had two sons, Brandon Thomas and Dylan Jagger. They divorced in 1998 but rekindled their affair briefly in 2001. They made a sex tape that was stolen and leaked to the public, and Lee spent six months in a federal prison after Anderson accused him of violent domestic abuse.
Kelly Slater
Whilst Tommy Lee was serving time in prison for domestic battery, Anderson decided to move on to someone else. In 1998, she started dating professional surfer Kelly Slater. The surfer had been appearing as a regular on Baywatch, and after Lee found out about the betrayal he filed for divorce.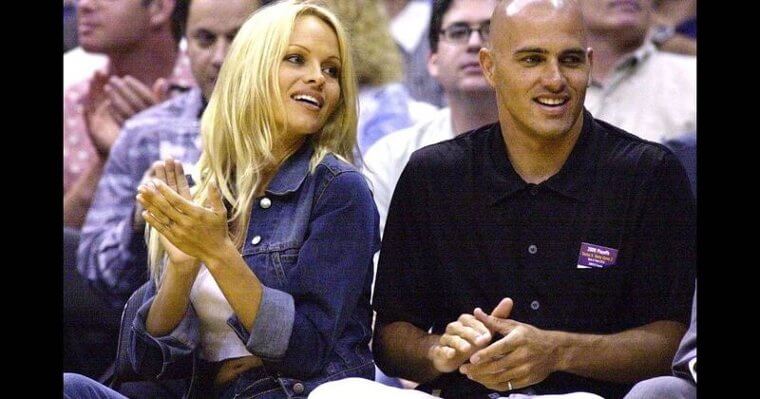 Slater, who is actually considered to be the greatest surfer of all time, has only fond memories of his time with the famous actress: "I learned a lot. I don't have any ill feelings toward her. I wish her well...we had an amazing time together."
Marcus Schenkenberg
After her divorce in 1998, Pamela Anderson began a very public relationship with Swedish model Marcus Schenkenberg after meeting in Monaco, where Anderson witnessed the hunky model rescue a drowning bird. During their time together the couple even got engaged, but by 2001 the romance was over, and Anderson had moved on to someone else.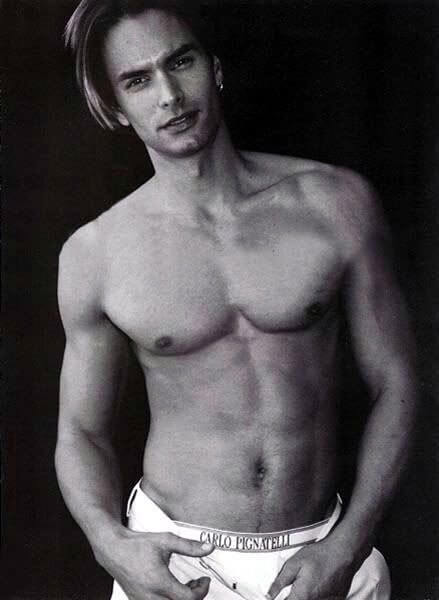 Over the years they collaborated on many projects including co-starring in the ill-fated tv show V.I.P. Schenkenberg's other famous girlfriends include Jessica Simpson and Mariah Carey.

Stavros Merjos
After Schenkenberg, Anderson apparently set her sights on film producer Stavros Merjos. There are no photos of this apparent relationship, but there are enough rumors to add the Greek producer to the list of Anderson's former lovers.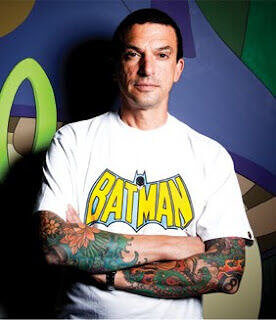 Merjos has four children, and one of them, Hannah Beth is a former MySpace model who is friends with some pretty famous people including Miley Cyrus, Paris Hilton, and Demi Lovato. Merjos has been married to art dealer Honor Fraser since 2004.
Michael Bolton
It has not been made clear whether Pamela Anderson actually dated Grammy winner Michael Bolton, or whether they simply had a bit of a fling, but according to close friends, they were definitely together after meeting in the Bahamas in 2001.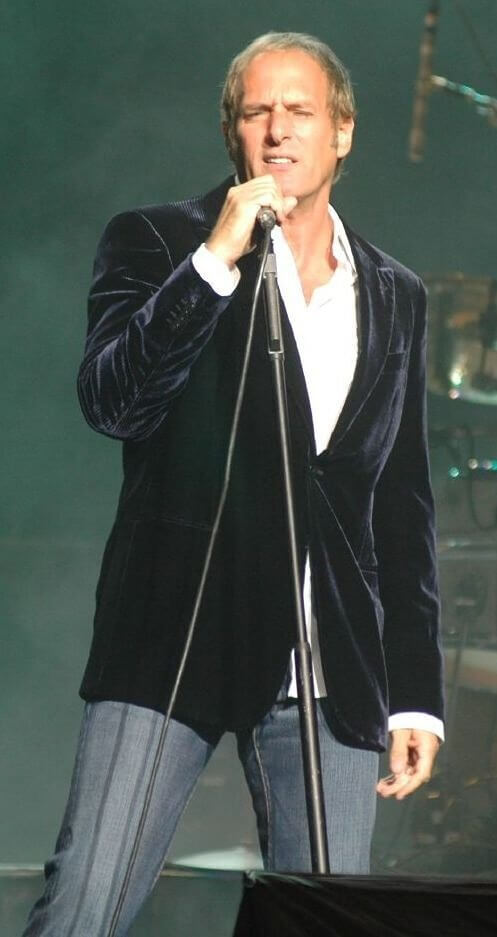 Bolton was married to songwriter and singer Maureen McGuire from 1975 to 1990 and then dated Desperate Housewives actress Nicollette Sheridan from 1992 to 1998. He has three daughters from his first marriage, and is a grandfather to six grandchildren!
Kid Rock
Another hugely publicized relationship of Anderson's was with country rapper Kid Rock. They first dated in 2001 until 2003, and then three years later in 2006 the couple tried again, and this time they got hitched - on a yacht, with Anderson wearing a white bikini and a sailor hat.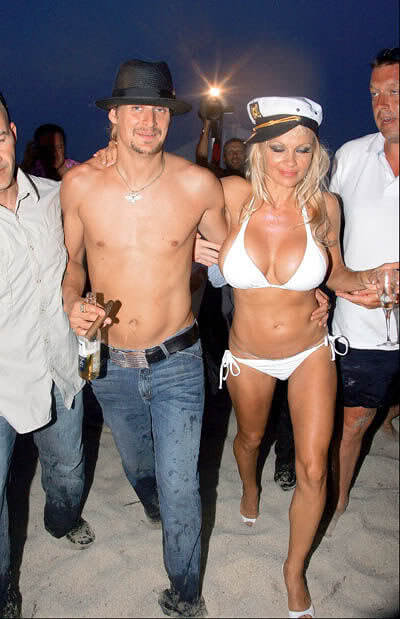 After being married for only a few months they divorced, and Anderson admits to suffering a miscarriage around that time. There are also rumors that the real reason they divorced was that Anderson involved herself in a filmed publicity stunt for Sacha Baron Cohen's 2006 film Borat.
Fred Durst
After dating Bret Michaels, Tommy Lee, and then Kid Rock, it seemed like Pamela Anderson had developed a bit of a type: the bad boy rocker. So it's not very surprising that she dated Limp Bizkit frontman Fred Durst briefly in 2003.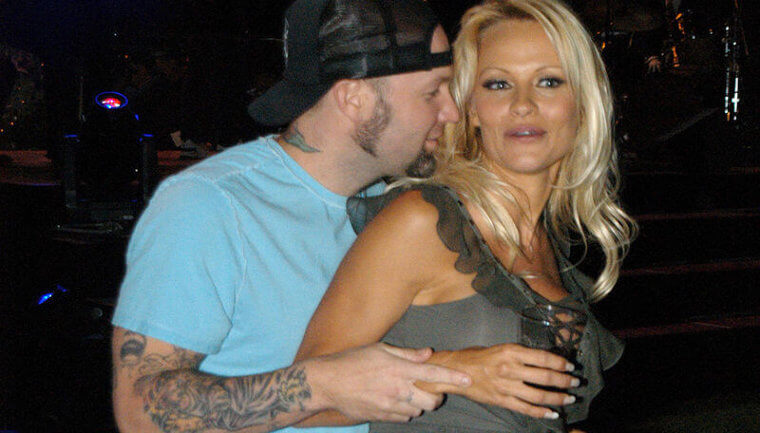 Since dating Pamela Anderson back in the early 2000s, Durst has made a musical comeback and has also branched out into film - starring in and directing several of his own independent films. He has also been married a total of three times and is the father to two daughters.
Christian Monzon
As well as rockers and bad boys, Anderson also likes to date a male model every now and then (think Marcus Schenkenberg and Antonio Sabato Jr). For a brief period of time in 2004, she was linked to male model Christian Monzon. Monzon has also appeared in a few films including 2003's Honey with Jessica Alba.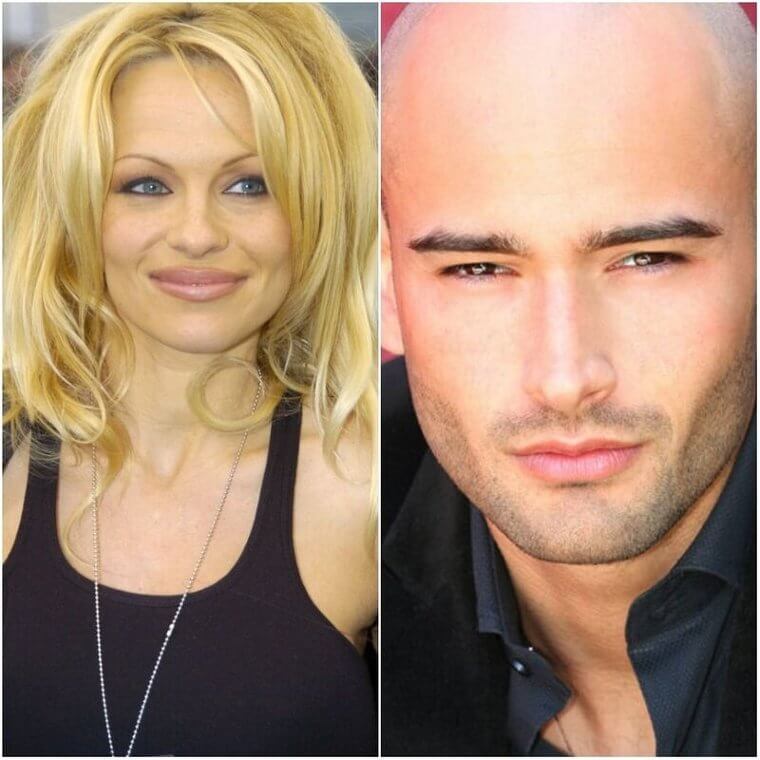 After Monzon and Anderson broke up the model went on to date singer Mariah Carey. He is currently married to Angelica Monzon, and the couple has two children, a daughter Amor, and a son Amar.
Steve Jones
Pamela Anderson spent some time in the UK in 2004, and while she was there she met Welsh presenter Steve Jones when he was hosting a show called T4. Anderson appeared on his show, and according to sources she invited him back to her hotel room after the taping.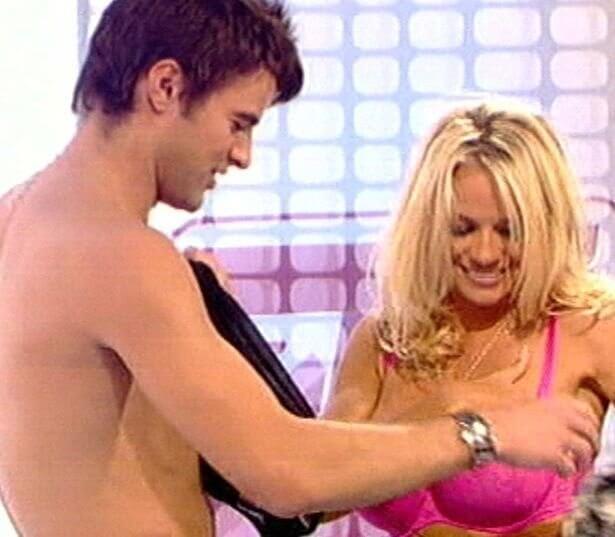 Jones still works as a television host and is best known for his work on The X-Factor USA, Let's Dance for Comic/Sport Relief, and Formula 1. He is married to a photographer from the US whom he met while working on The X-Factor.
Robbie Williams
Whilst Pamela Anderson was still in the UK she is rumored to have hooked up with former Take That band member Robbie Williams. It is said that she organized for the two of them to meet up at a fancy restaurant in London and have dinner. The strange thing is that Anderson denies this hook-up ever happened. Perhaps it was just a rumor after all!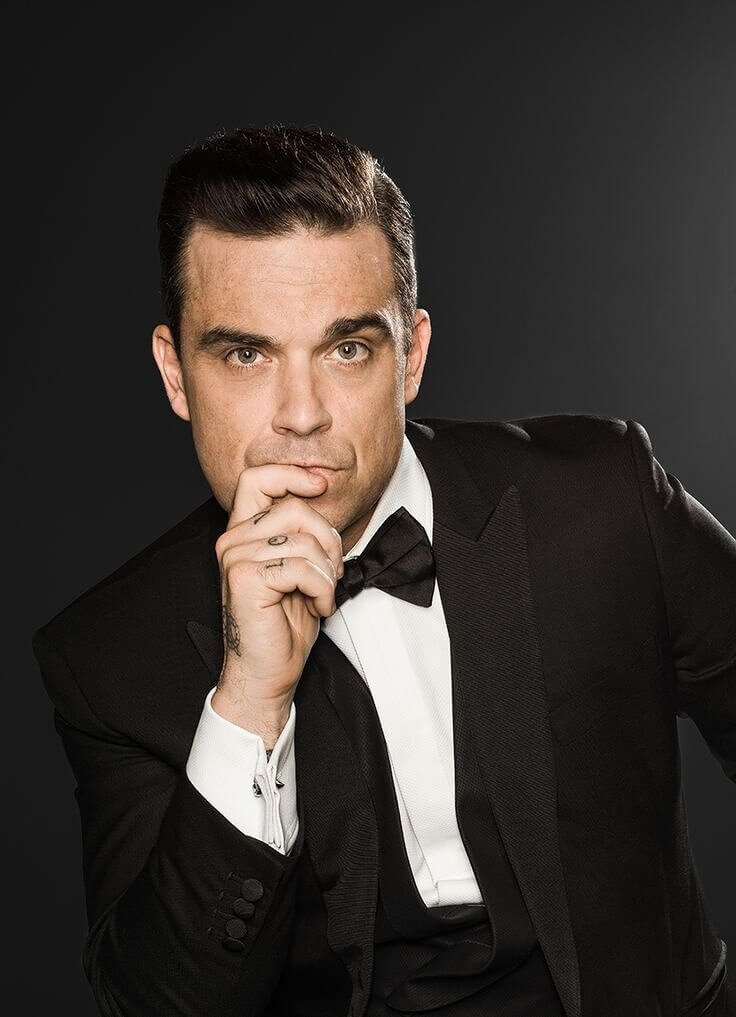 These days Robbie Williams' wild partying and womanizing days seem to be behind him. He is currently married to American actress Ayda Field, and they have a whopping four children together: Charlton, Beau, Theodora, and Colette. Williams and his family spend most of their time in Los Angeles.
Stephen Dorff
Upon returning to the US, Anderson set her sights on American actor Stephen Dorff, whom she dated from 2004 to 2005. Dorff was at the peak of his career during the late '90s and early 2000s, and their relationship was short but sweet.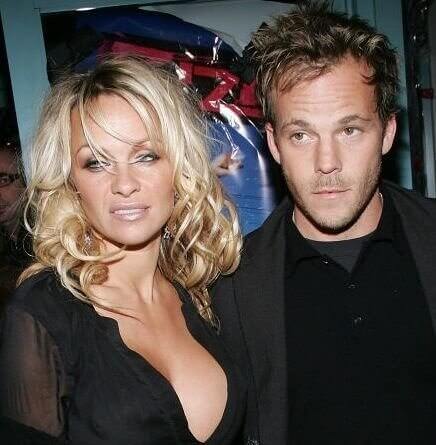 After splitting from Anderson, Dorff's career went a little quiet, but his dating life boomed - he was linked to S Club 7 band member Rachel Stevens, and Girls Aloud band member Sarah Harding (seems he had a thing for British pop stars).
Mark McGrath
This seems like more of a rumor, but we'll still add Sugar Ray frontman Mark McGrath to the list. The rumors began when McGrath and Anderson co-hosted the Teen Choice Awards in 2002. It was only in 2005 that stories began to do the rounds that they had actually hooked up after the show.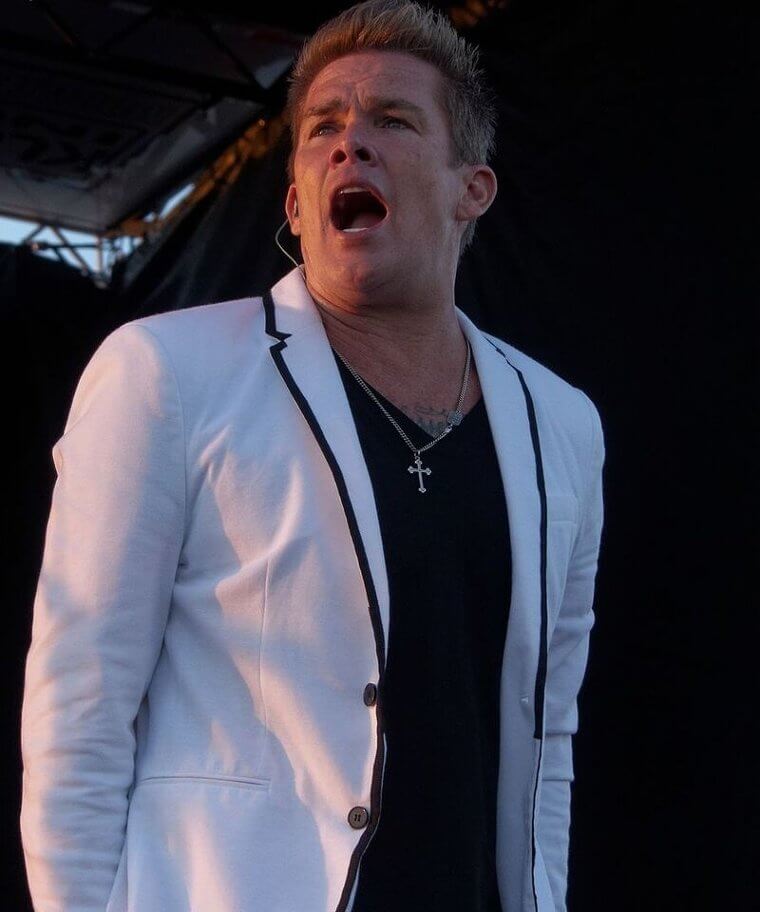 Since his days with Sugar Ray, McGrath went quiet for a little while and ended up marrying Carin Kingsland in 2012. The couple had had an ongoing relationship since 1994, and they are now the parents of twins. McGrath has also had quite an impressive reality TV career over the years.

Eddie Irvine
Pamela Anderson and former Formula 1 race car driver Eddie Irvine supposedly had a fling back in 2006. However, the only photos of the two are of them (as platonic friends) enjoying a race as spectators years later in 2017.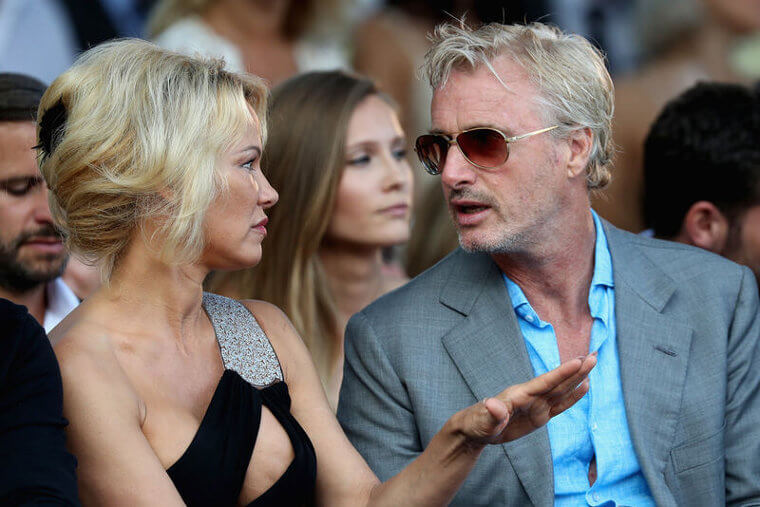 Eddie Irvine has always been known as a bit of a playboy, and other than being linked to Pamela Anderson, he has also dated models Rachel Hunter, and Michelle Doherty, as well TV personality Lucia Galeone. Irvine has a daughter, Zoe, from former girlfriend Maria Drummond.
Ray J
Though singer and songwriter Ray J has some pretty famous members in his family - his sister is singer Brandy and his cousin is Snoop Dogg - Ray J has the misfortune of being infamously linked to Kim Kardashian's leaked sex tape. He apparently had a fling with Anderson before the Kim scandal.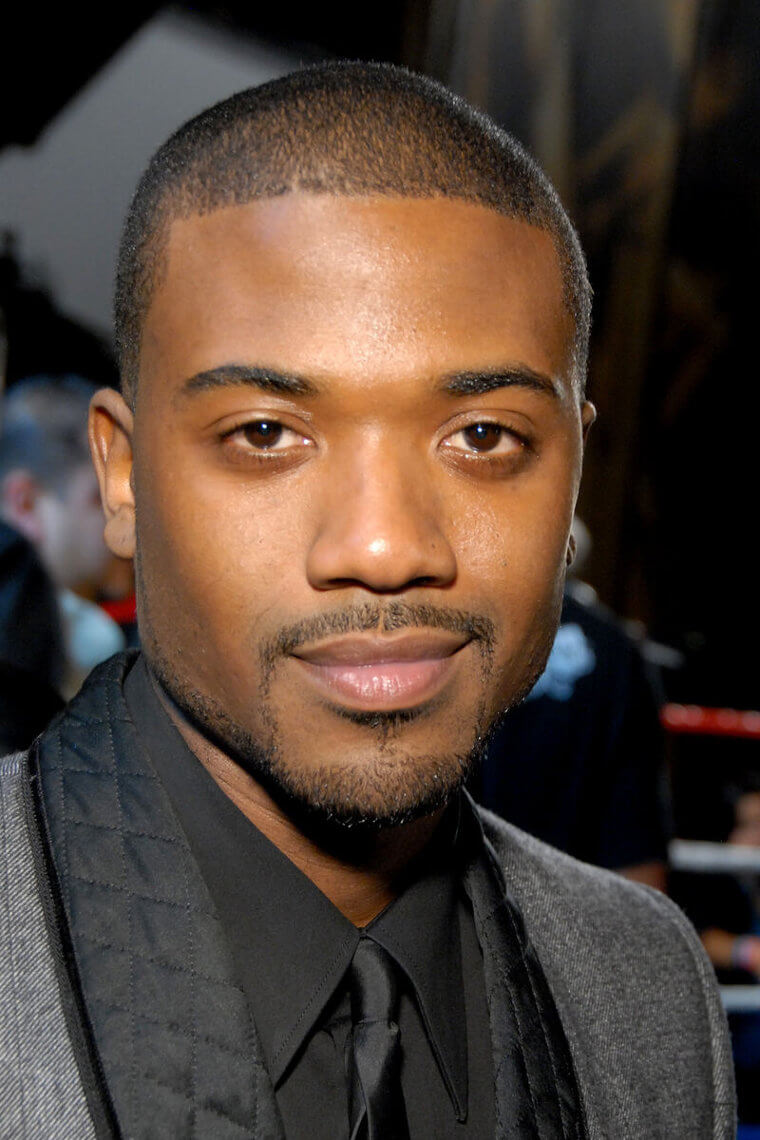 Ray J married his castmate from VH1's Love and Hip Hop: Hollywood, Princess Love, in 2016 at Los Angeles' Cathedral of Saint Vibiana. They had two children together before getting divorced in 2020.