Whether you're a regular in the kitchen or your idea of cooking at home is Ramen and frozen pizza, chances are you've had at least one kitchen fail in your lifetime. It's inevitable that while trying out new recipes, or just getting distracted, certain dishes will not come out as planned. But, the kitchen fails that we are about to show you are some of the most hilarious that we have seen. We're sure that the people who created these fails had the best intentions… but they definitely didn't get the results they were looking for.
A Hedgehog Cake From Hell
Almost anyone who has ever tried to copy a Pinterest cake recipe can tell you that there is a 50% chance it's going to come out looking absolutely nothing like the original picture. And we feel that this happened to the baker who made this particular cake.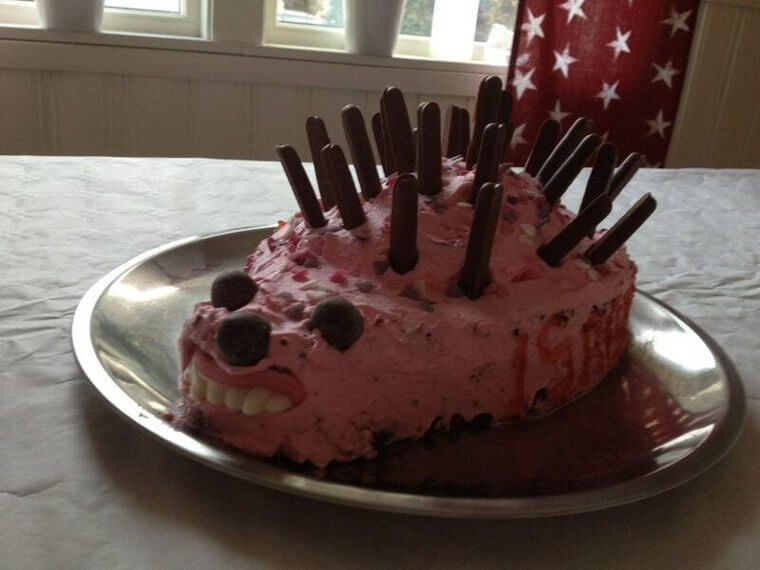 It seems they were aiming for a cute and cuddly hedgehog (most likely for a child's birthday party, which makes this even funnier). But instead, what they got was a horrific-looking creature, probably more suited for Halloween than any other event.
Anyone Feel Like an Eggs-Terrestrial Breakfast?
When you're trying to make a breakfast that is 'out of this world' might we suggest you do not try these alien eggs. Rather than looking delicious and filling, this extraterrestrial-looking fried egg actually takes away our appetite and makes us want to leave the table.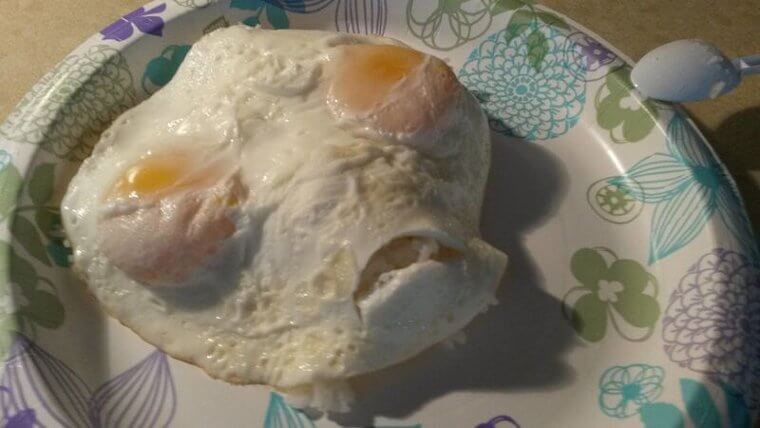 The double fried egg somehow created two perfect yolk eyes, and there's even a slit that resembles a mouth. Did this person do this on purpose? Or were they just as shocked by their strange breakfast as we are? Is this actually one of the escaped aliens from Men in Black hiding on a plate?
One of the Saddest Pizza Fails…
There's a certain excitement that everyone feels as they're standing at the oven, starving after a long day, waiting for their frozen pizza to cook in the oven. The idea of taking the hot cheesy pie out and cutting it into slices to indulge in and enjoy is enough to make your mouth water.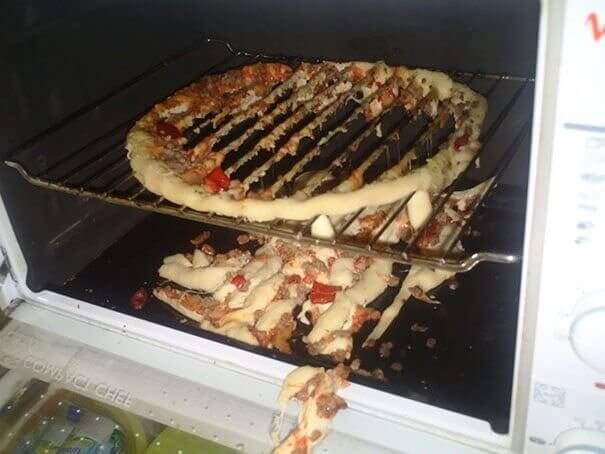 But imagine the shock and dismay when this hungry person opened the oven door to this disaster! After forgetting to put the pizza on a tray before they placed it in the oven, this person lost all of the cheese and toppings after most of the pizza melted right through the rack! Not only is this dinner ruined, but someone has to clean it up too.
Do You Know The Meatloaf Man?
Not everyone is a fan of meatloaf, and that's okay. For some, it's a strange and unnecessary meal - but for others, it's a comforting family tradition. But then you have another group of people… those who think they need to be experimenting with an already-established recipe.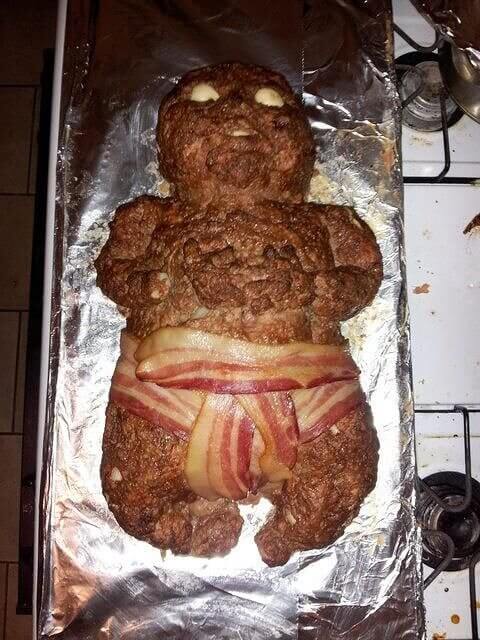 And it's not just adding extra ingredients that are freaking us out - it's when you start trying to shape your meatloaf as this person did. We assume that this was meant to be cute and funny, maybe a way to get the kids to eat their dinner? But this (honestly creepy) man-shaped meatloaf is not exactly the epitome of appetizing.

"Do You Wanna Build a Snowman…? "
Just look at this woman's face… We can't help but feel sad for her because you can clearly see how much hope she had before she put her snowman-shaped cookie in the oven. It must have taken a significant amount of time to build the snowman out of the dough.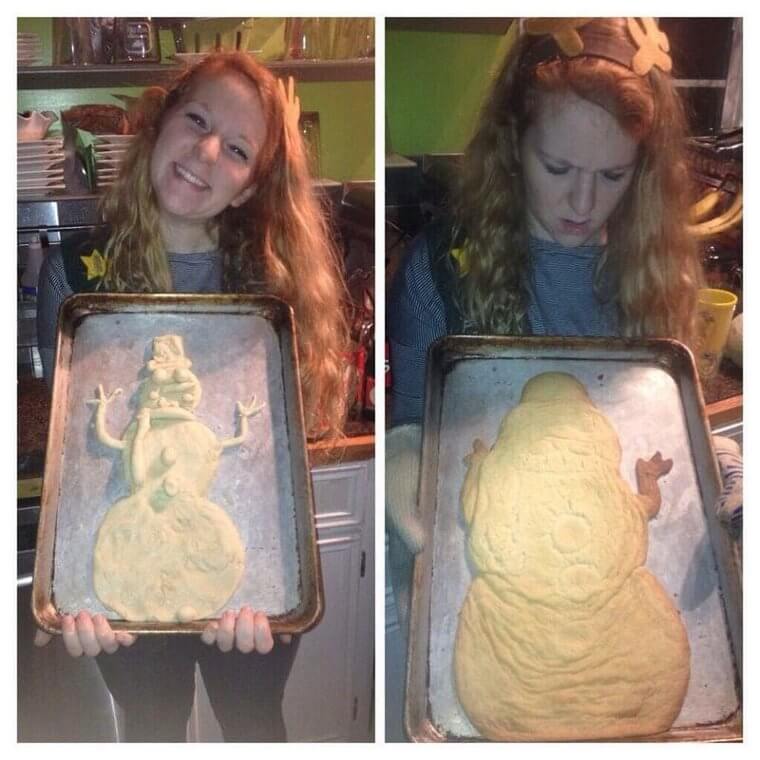 The second image shows every ounce of disappointment that the woman had after she took the baking tray out of the oven. What started as a very well-constructed snowman cookie, complete with a hat and button, turned into a melted, messy gooey blob. While it definitely does not look like a snowman anymore, we sure hope it at least tasted good.

Something Happened to Spongebob
The great thing about Pinterest cake fails is that the end result is usually so far from the original that it really does offer up a true belly-cramp laughing session. We hope the bakers that made this cake found the funniness behind this fail - because it sure doesn't look like it could have been used for whatever event it was meant for.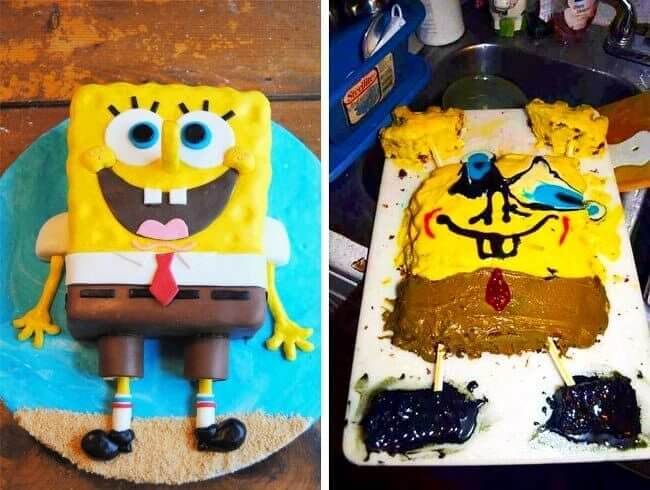 We can kind of see where this cake was meant to go… a fun resemblance of the Spongebob Squarepants character, with his goofy smile, signature pants, and even his red tie. But what we got instead was a kind of zombie-like cake, Spongebobs' eyes have gone all wonky, his nose looks strange and his smile is more creepy than caring. At least the shape is correct.

Steamed Sausages - Always a Bad Idea
If you found this pot in your kitchen, you may be tempted to call the GhostBusters team to have it removed. And we wouldn't blame you - it looks like it might need to be captured and sent away. But it's actually quite a harmless thing, it's just that someone decided to steam hotdogs and this is what they got in return.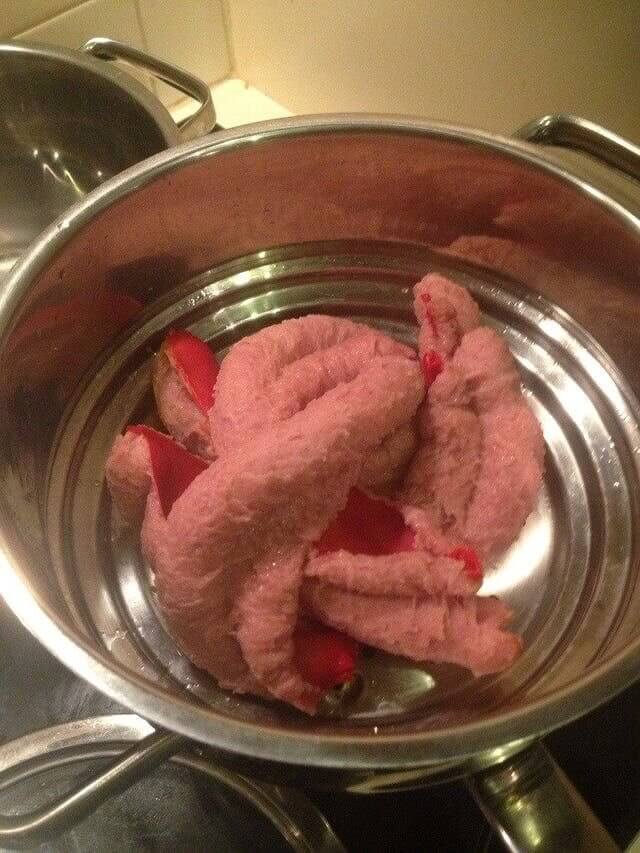 Why they felt like they needed to steam these hotdogs to the point of no return, we're not actually sure. Also, whether or not anyone was able to eat the sausages after they came out like this is also a complete mystery.

Spinach Pie Baby
If you ever wondered what a food baby might actually look like, this could be a close option. Someone decided to take their spinach and some pastry, and bake it all into a peculiar-looking baby-shaped pie. Complete with a diaper, hat, shoes, and even teeth (which honestly make it so much worse).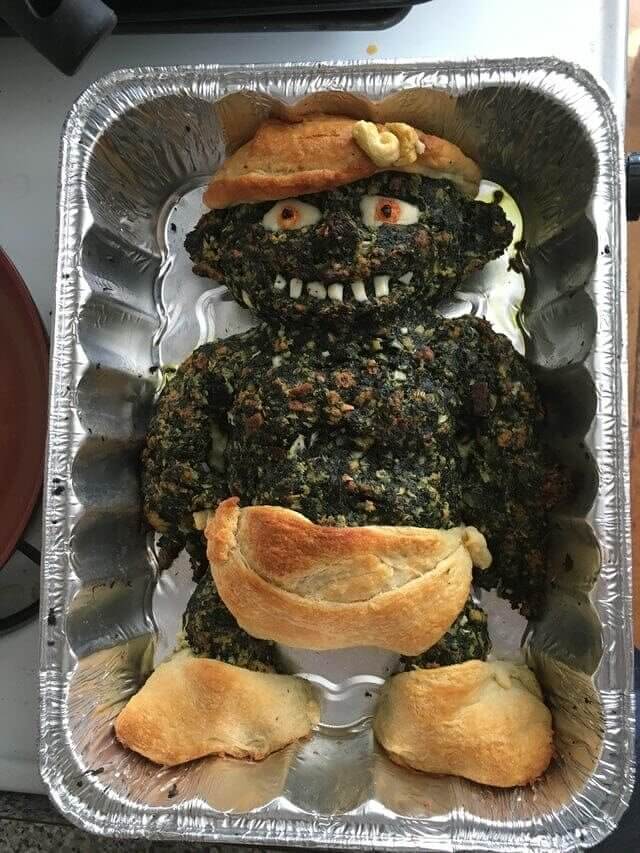 Not only would this have taken so long to make, we imagine, but the thought that after taking a photo of this weird creation, someone actually cut up this spinach baby and ate it kind of gives us the creeps too. Again we wonder what kind of event this dish was designed for… A baby shower? Halloween? Perhaps the birthday of a spinach-lover?

M&Ms Hot Chocolate Water
The idea of M&Ms hot chocolate sounds amazing. A hot, milky drink, tasting like M&M candies and perhaps even taking on the color of whatever candy you throw in there - what could possibly be bad about it? Well, this picture shows you just how wrong it can go.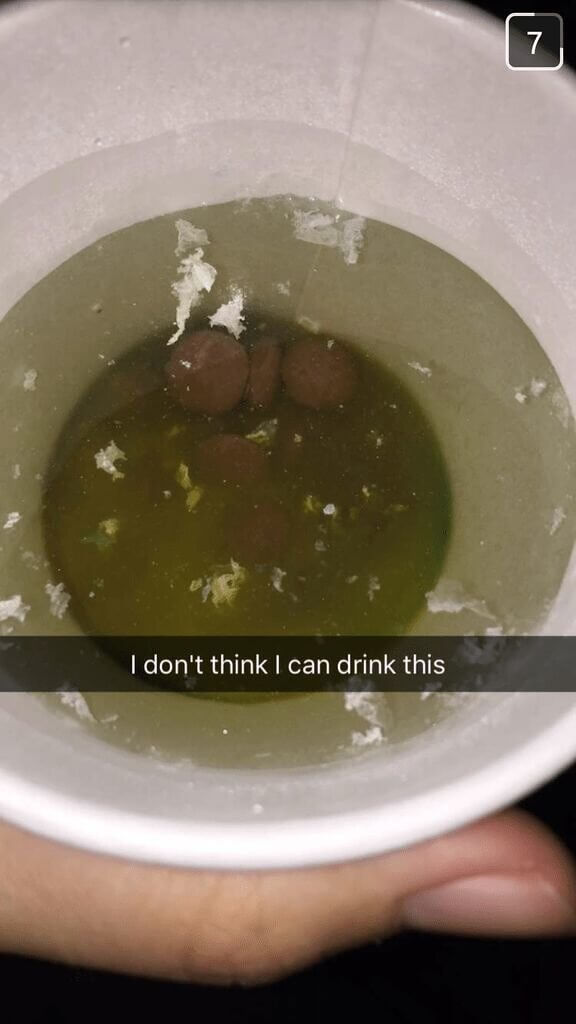 See, if you throw your M&Ms into hot water (instead of, say, milk) it's not going to become the warm, chocolatey goodness that you are expecting. Instead, it's going to turn into this swamp of a drink, because the colors will wash off and the candy will melt, but the chocolate will sink to the bottom and look very unappetizing.

Rainbow Jelly Cake Gone All Kinds of Wrong
Here we have yet another example of how high expectations in the kitchen will do nothing but disappoint you. These people were just trying to create a bright and colorful rainbow jelly cake, with multiple colors all layered in perfect sections - it's so pretty!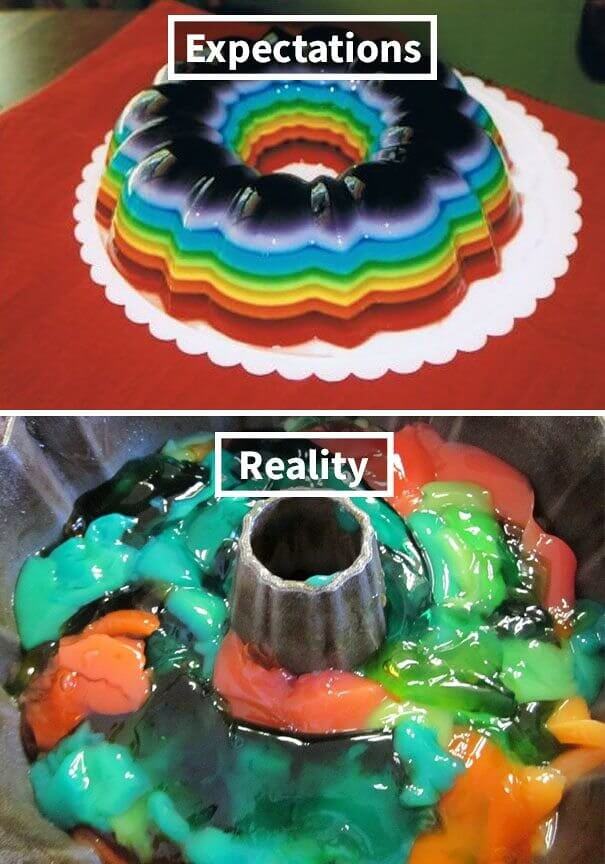 But instead, what they got was a mess of mixed-up jelly colors, looking absolutely nothing like the original picture. Clearly, something went wrong here - perhaps whoever was making this concoction didn't realize that you have to let each layer set before adding the next? We hope they tried again.

Christmas Cookies Baked for the Naughty List
We know the story of Santa giving all of the kids on the naughty list blocks of coal in their stockings, but have you ever heard of kids getting coal-black Christmas cookies? We doubt this mom made her blackened cookies on purpose, but we hope the kids had a laugh.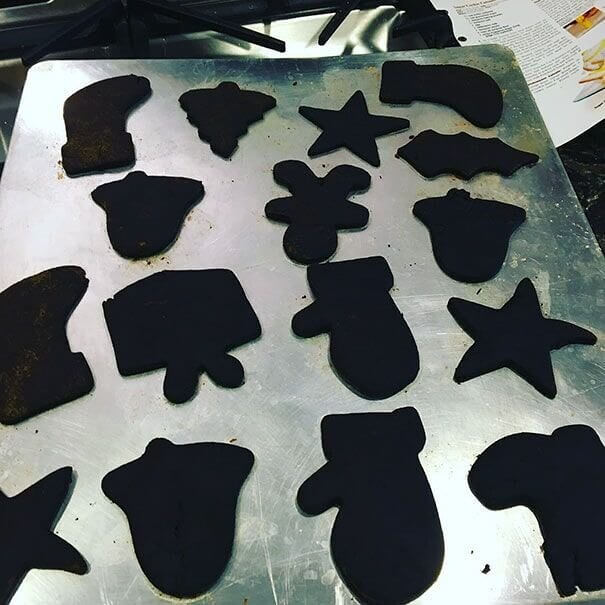 And perhaps these cookies weren't good enough to eat, but they do seem like they would make for great Christmas tree decorations. Despite the extra crunchiness that has clearly developed from too much time in the oven, the shapes are just absolutely adorable.

Makeshift Mac N Cheese Cake
Mac and cheese is a meal that most people will not turn down, it's a comfort dish that many of us grew up eating. So when this person's girlfriend offered to make it for dinner, there were no arguments. But what was no doubt meant to be a delicious and nostalgic meal turned into… something else.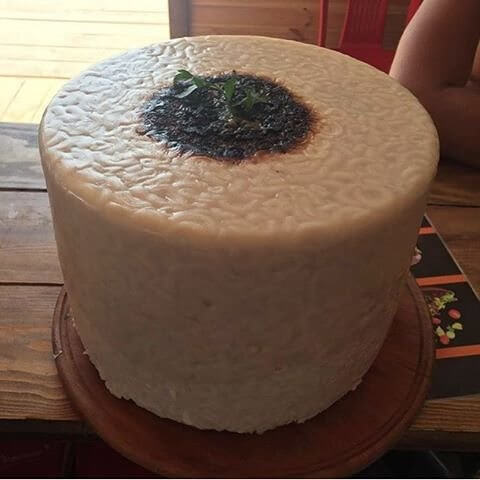 The macaroni was left in the pot for way too long and this caused the noodles to bond together in an interesting sort of cake shape. We can also see the middle of the food had started to burn already. This must have been a shock to the girlfriend who was hoping to make a meal, but she did make the best of it and served it with the most elegant piece of garnish. Takeaways, anyone?

Upside Down Pizza, Anyone?
Okay, so if you've had a few drinks and you're feeling hungry, pizza is always a winner. It's warm, it's cheesy, and it's pretty easy to throw in the oven and eat as soon as it comes out. And if you have a bunch of frozen pizzas in your freezer, there isn't much that can go wrong.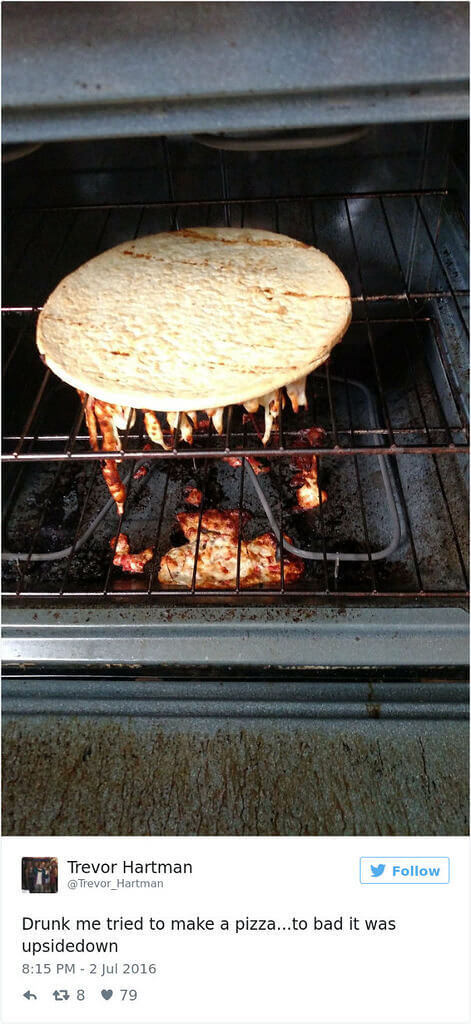 Oh, unless you're so intoxicated that you forget which way the pizza goes. So let's say it all together now - the cheese should be on the top! It's just too bad we couldn't warn this person before they wasted a perfectly good pizza and possibly ruined their oven.

Anybody Smell That?
Fires are typically thought of as emergencies, regardless of where they are. But usually, when they're in your kitchen, you're going to want to do something to put it out and make sure the house and its inhabitants are safe. But not this guy...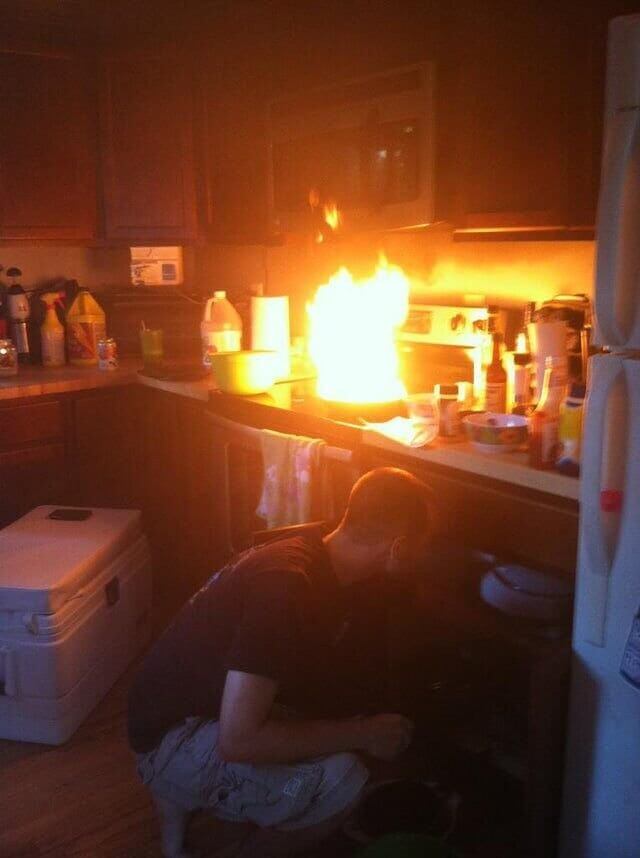 For some reason, the man in this picture looks oblivious to what is going on just above his head. Is he looking for the fire smell in the cupboard? Not only that but there is also someone taking this picture while there are massive flames burning on the stove. We sure hope that someone with some sense walked into the kitchen just as this picture was taken.

Total Blender Fail
There's a rule about putting spoons or other metal in the microwave (keep reading and we'll show you why) but can we now also please add a rule about putting spoons in blenders?! Clearly, this is not a good idea, as we can see by this spoon that has pierced right through this blender.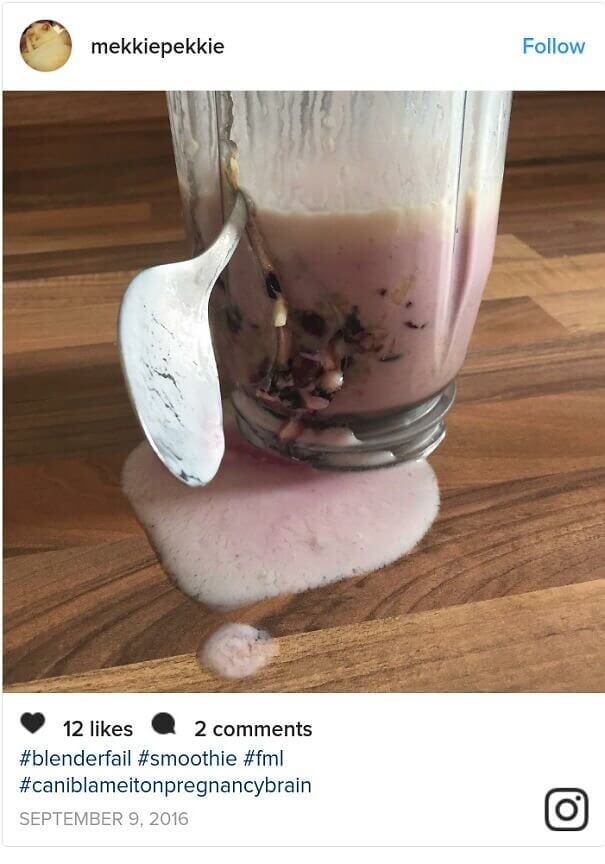 To be fair, the mom who made this mistake was pregnant and so we can understand the pregnancy brain. But if anything is sure here, it's that if you're battling from any sort of memory problems, you should probably let someone else make the morning smoothies.

Completely Squashed
There are some very important lessons for us to learn here. One - and this goes for all pizzas that you put in the oven, too - you need to use an oven tray of some sort. This will keep your food from spilling down onto the floor of the oven and turning into a mess you need to clean up.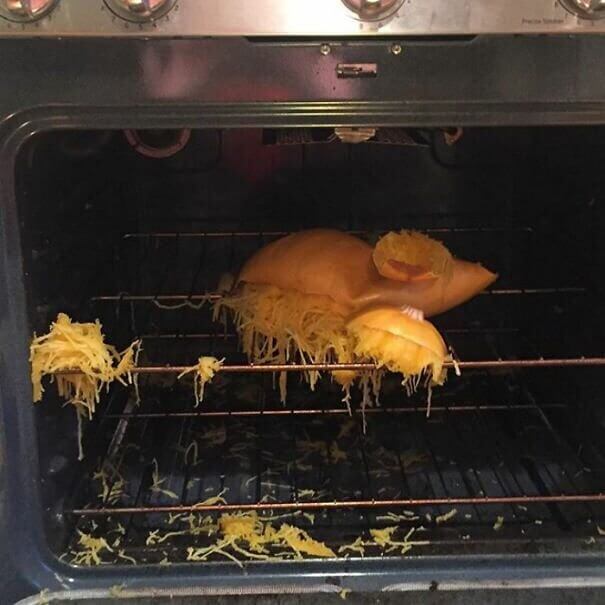 And two - if you place a full squash into the oven, there is a chance that it will explode. A baking tray won't save the whole oven from such an explosion, but it will minimize the mess, at least. The good news is that this squash still seems good to eat so there's that.

Somebody Melted the Cutting Board
An interesting little tidbit of information for you: pots and pans come with specific lids for a reason. These will be made from either some sort of metal or glass - but never plastic. The materials of these lids are great for handling heat and keeping your food warm.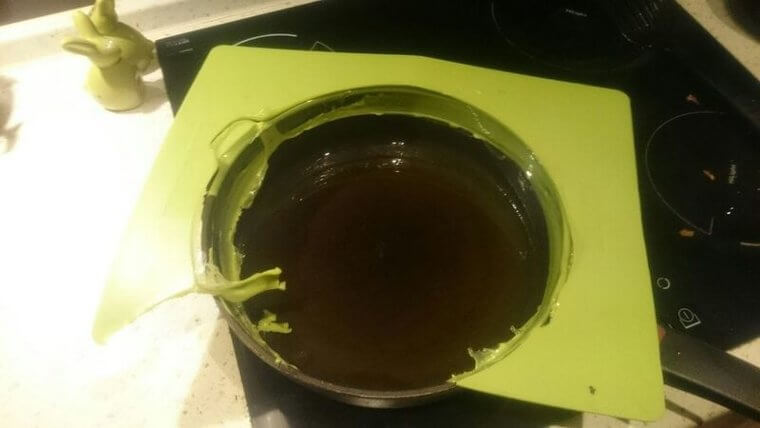 But you know what definitely does not work as a lid for your hot pot or pan? We'll tell you - it's your plastic cutting board. Plastic can't handle the heat, and if you do place it on a pan, like the person who took this photo did, you'll end up with just a melted mess in your kitchen.

Are We Making Spaghetti Coffee?
We get it - college life is hard. There's lots of late-night studying, you're living on a budget, and you're still learning how to be an adult. But some things are unforgivable - like trying to boil spaghetti in a coffee machine because it's a 'quick and easy' way.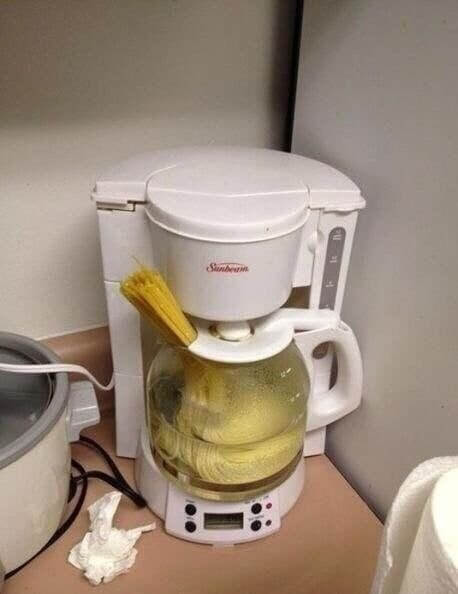 We doubt that this coffee machine cooking would be any faster than a proper boiling pot on the stove. Unless these college students didn't have a stove - that might be the only good excuse we would accept. But in the future, let's try to keep the coffee in the coffee pot and the spaghetti on the stovetop.

Full Diaper Cake
Of all the Pinterest cake fails we've seen on this list, this is perhaps the least disastrous. This person managed to get the general shape of the baby onesie, iced it quite well, and even got pretty decorations on the cake. But alas, this onesie cake was still not quite what it was meant to be.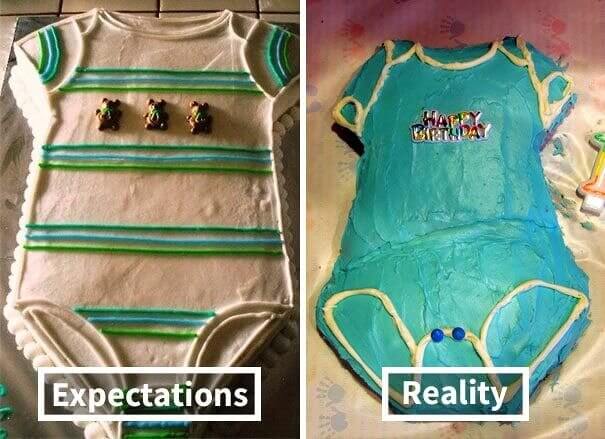 If you look very carefully, you'll see that there is a large lump in the bottom of the 'onesie.' And unfortunately, given the shape and theme of this cake, the lump actually looks a bit like a full and dirty diaper. And that's not exactly a very appetizing thought for any food, much less a birthday cake.

Purple Eggs
If the alien eggs didn't freak you out completely, let's test your tastes on these purple scrambled eggs paired with green pancakes. These were made by a mom for her young children because sometimes you need to get creative to get kids to eat.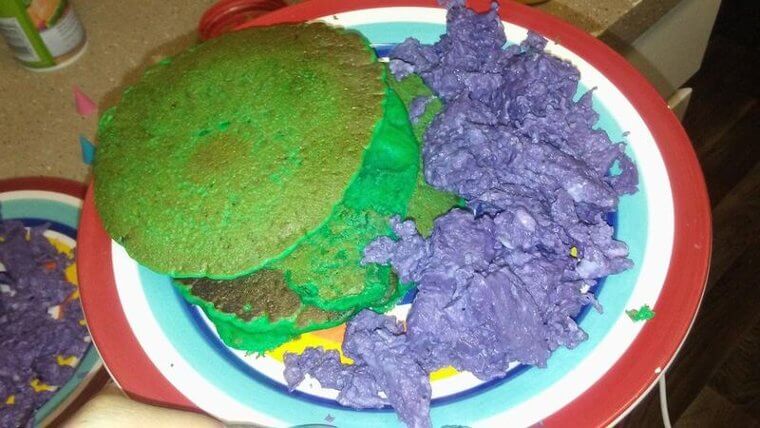 While green pancakes don't sound overly strange and unappetizing, the purple eggs just seem to scream: "Don't eat me!" Although if you're a fan of Dr. Seuss' books, you may be very excited to be receiving a plate of colorful food like this.

Don't Cry Over Spilled Soup
This fail didn't actually happen in a kitchen, but it could have been prevented there. While we don't have the entire story, it seems that some kind soul made a large pot of healthy chicken soup - ideal for anyone suffering from a head cold or just not feeling amazing.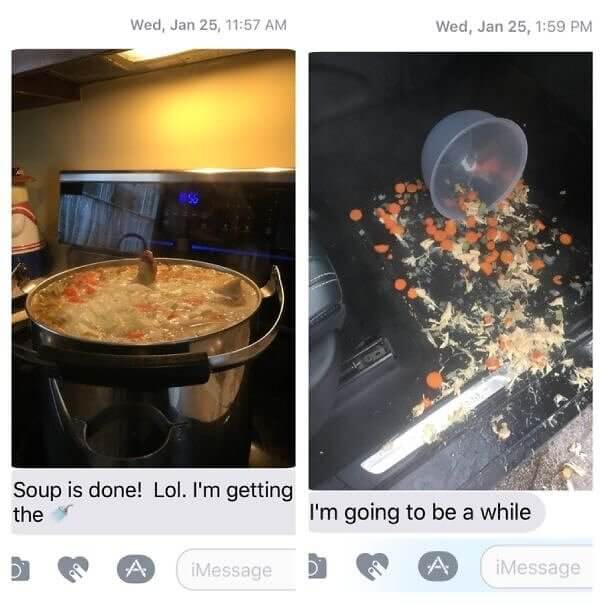 But then, this person transferred some of the soup into a bowl to take to a friend, forgetting one vital part of the mission - the lid! Without a lid on the soup bowl, the entire meal ended up spilling over in the car, never making it to the intended destination.

Volcano in a Pot
Believe it or not, this is not a science experiment going on, but rather a big pot of caramel. This was cooked in a restaurant kitchen, and it showed the entire staff what happens when you start boiling caramel and then forget all about it.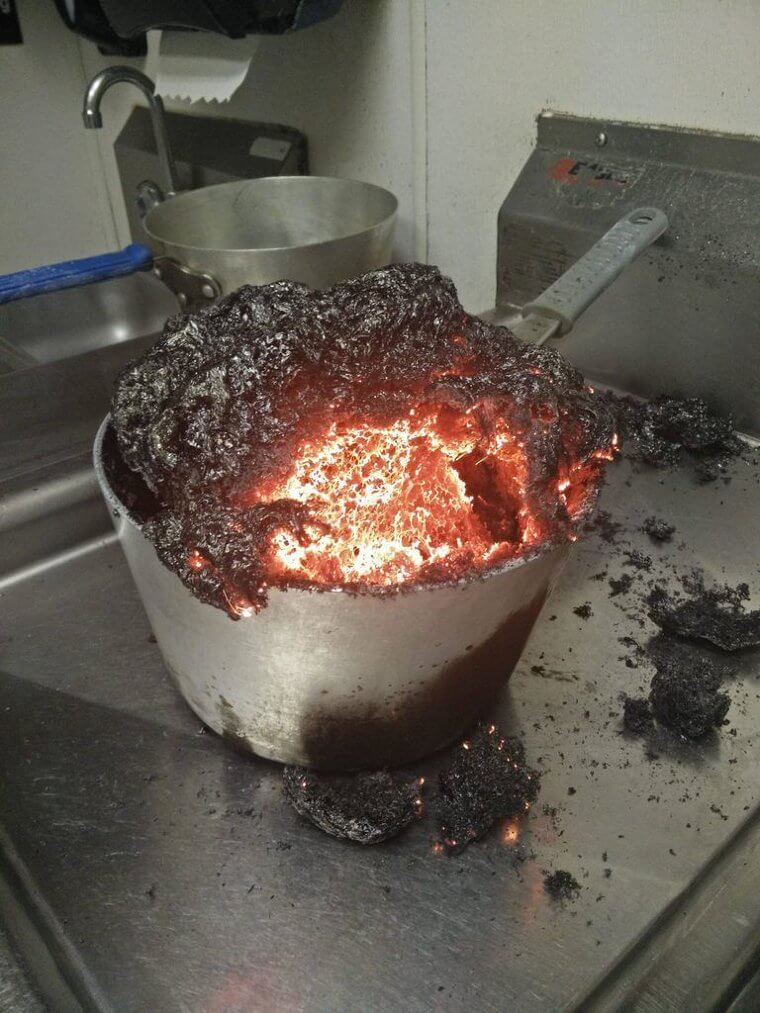 It kind of looks like this cook managed to create a mini stovetop volcano in his kitchen, and while the caramel must have been destroyed, the end result is honestly fascinating. It is sad to think, though, that there was a dessert going out that night that completely missed out on caramel.

Just Half of the Potatoes
"Honey, could you peel half of the potatoes, please?" "Yes, sure." This conversation could end in two different scenarios. Either, the second person gathers half of the potatoes available to them and peels them to put them in a pot - or, they take all of the potatoes and peel half of those, leaving them half peeled and half not.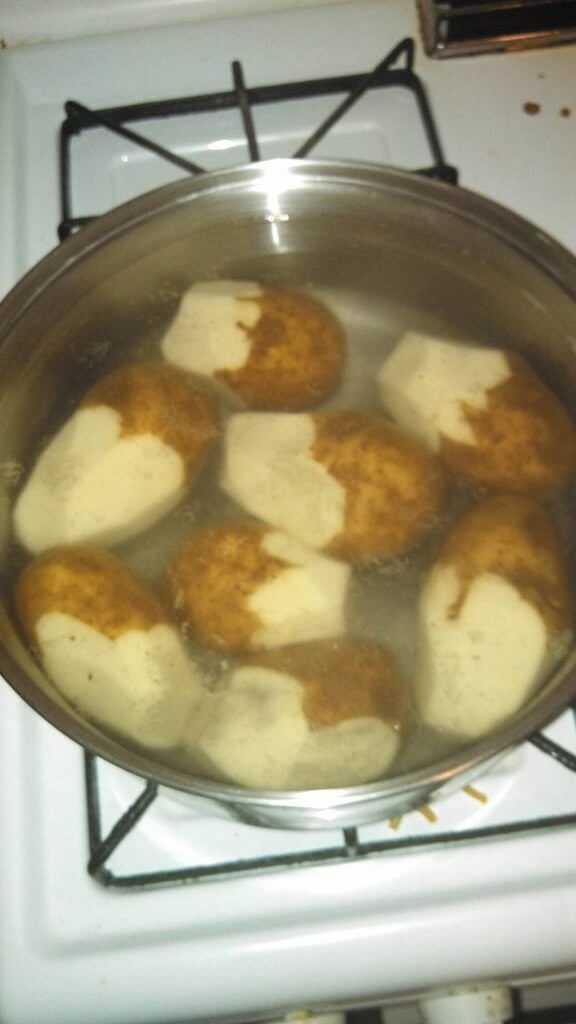 For this couple, the end result was the second option. This person took all of the potatoes and peeled them up to the halfway mark, then threw them into a pot to boil. We'd love to ask them, what exactly do you do with potatoes peeled only halfway?? We can't really see the logic.

These S'mores Just Melted
Initially, these s'mores cookies look like they are going to be amazing! Two crackers, with marshmallows and chocolate in the middle, and then completely surrounded by cookie dough - who wouldn't love this sweet treat. And we're sure that the baker was looking forward to digging into one as well.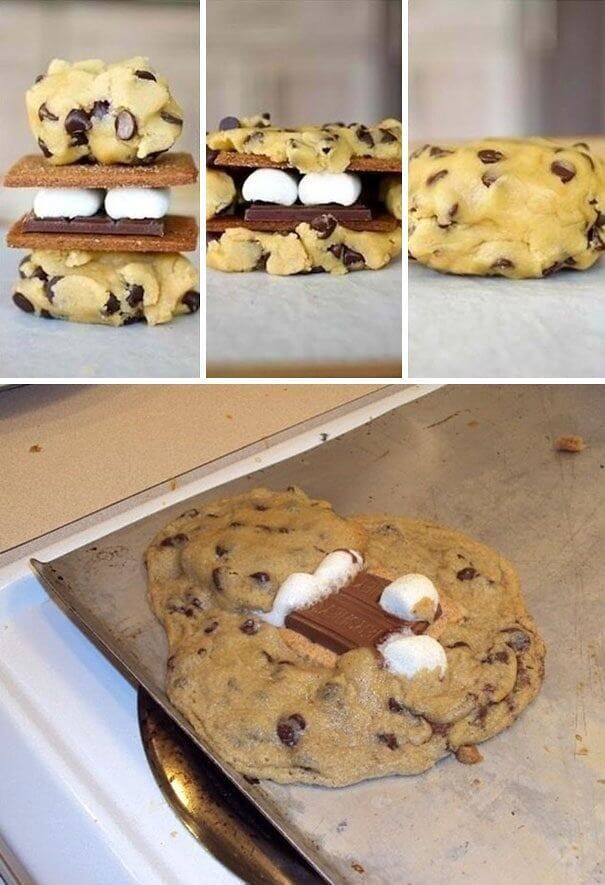 But sadly, something went horribly wrong in the process (we suspect they missed the step where you should put the cookies in the fridge before you bake them). What was left, after some time baking, was a flattened and deconstructed cookie, still probably tasting good but the look just didn't work. Also, how strong is that chocolate that it didn't melt...

Someone's Zombie Cookies Didn't Come Out Right
Anyone who is a fan of zombies could get very excited about these gingerbread walking dead men. The box shows just how freaky the cookies can be made, with decapitated cookie heads, missing eyes, and even a few scar marks. You could have a lot of fun with this.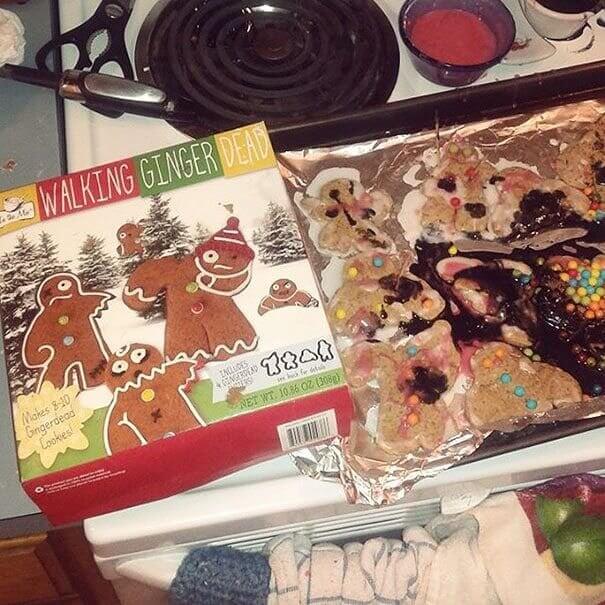 And the great thing is that these cookies don't have to come out looking perfect, because if you're missing an arm or some of the icing runs, it'll look like that was meant to happen. So, could someone please explain how this person really did ruin these cookies completely?! There's a lot going on in this tray - and it's not exactly pretty.

Just By the Way - Your Oven Is on Fire
There's a reason why moms are so strict about not letting kids in the kitchen unsupervised. There are too many things that can go wrong, what with the hot water, sharp knives, oh - and the possibility of fires! But, did anyone's mom teach you what to do in case of a fire?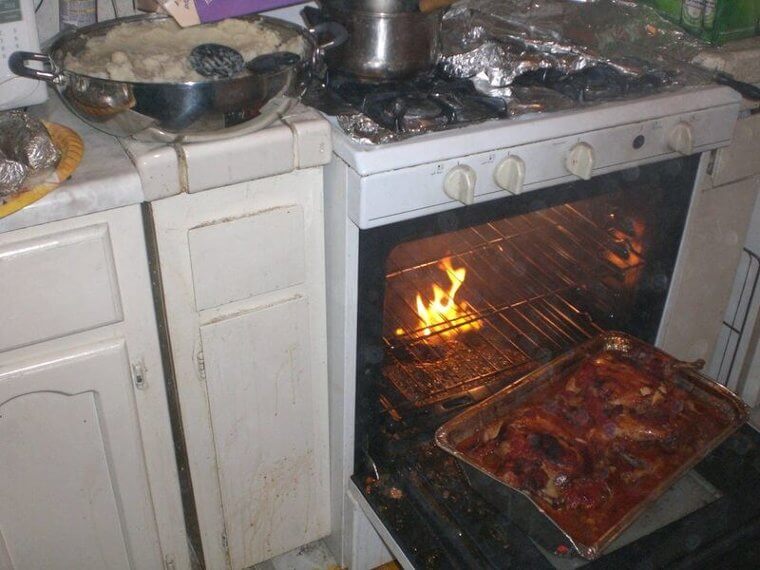 We're not convinced that whoever took this picture was taught about the dangers of house fires and/or what to do if you find a fire in your kitchen. We can tell you this, though, that the answer is definitely NOT to take a photo while your oven burns. As interesting as the image is, rather call the fire brigade first - or throw some sand in there.

DO NOT Put Metal Into the Microwave
We did promise you this one. Apparently, all of those warnings not to put any metal into the microwave come with good reason. If you've never seen the inside of a microwave looking like this, then we're glad to hear it - let's try to keep it that way.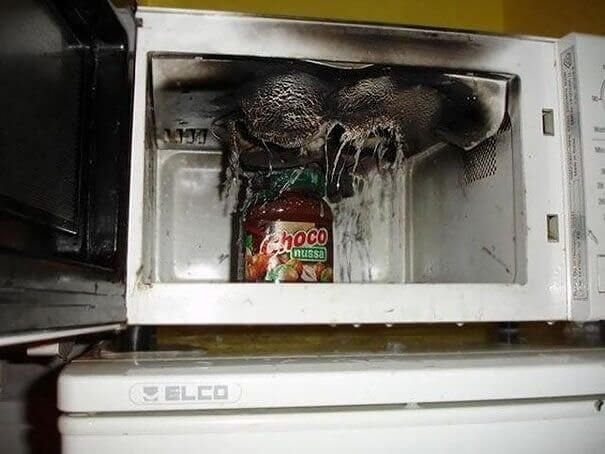 There must have been a spoon or something similar in this jar that was put in the microwave to melt. And we imagine that these people were shocked by the noise and damage that was caused here. Also, someone is going to need to buy a new microwave.

Oh Crumbs! The Bread Maker Is Broken
At first glance, this might look like a mushroom farm - or maybe a sandpit. But we're to tell you that it's actually a rather funny failed attempt at making bread in a bread maker. If we knew how this person had made the bread, we might be able to shed some light on how it went wrong. 

But we don't know the recipe, or the process, or even the ingredients. All we know is that something in the whole process was not correct, and rather than a fresh and hot loaf of bread, these people just got peculiar crumbs and bits of cooked dough.

Something Definitely Spattered in Here
There's a lot to take in when looking at this picture, so slow down a bit and take your time… Got it? Okay, so we can see, firstly, that there is a lot of a brown spatter on all of the walls and ceiling, which points directly to the fact that there must have been some sort of explosion here.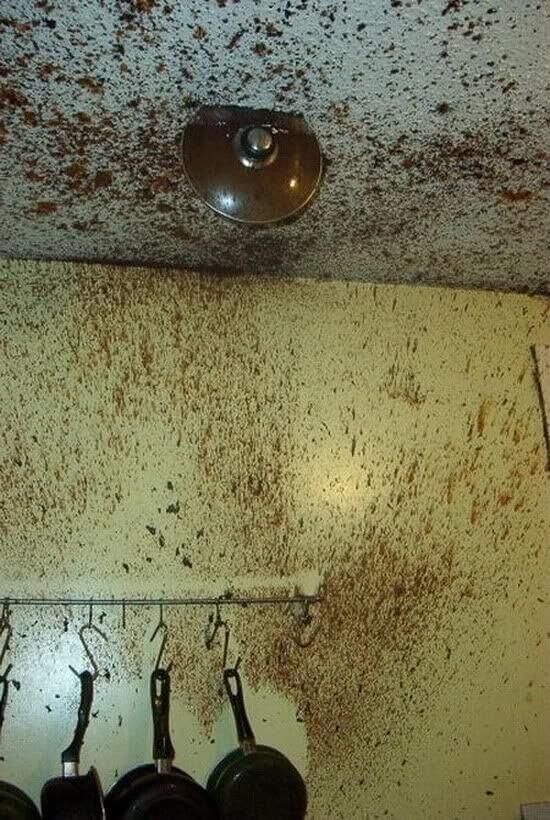 But, we can also see the pot lid (see this is what you use instead of plastic cutting boards) and that is literally lodged into the ceiling. So, clearly, there was a pressure cooker involved - along with some high pressured cooking, and finally - a big bang in the kitchen.

Have You Seen My Baked Glasses?
Have you ever lost your glasses and no matter where you searched for them, just couldn't find them anywhere? It's hard to look for things when your eyes need help… but it's even harder to find these items when you've misplaced them in places that you would never even look at.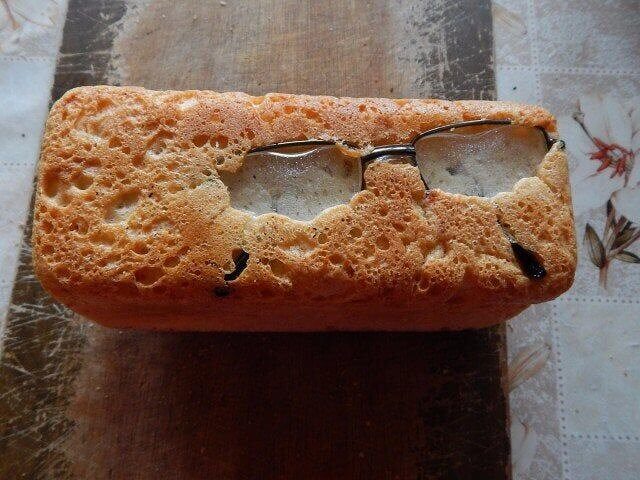 One of those places is definitely INSIDE the loaf of bread that you've just made. Because who would have thought that your missing glasses would be baked right into the bottom of the fresh loaf you've baked for lunch?! We really hope that both the bread and the glasses were able to be saved in this situation.