Lauren Bacall was more than just an actress and singer; she defined an era with her timeless style. Her distinctive voice and sultry looks placed her in the top 20 of the greatest female stars in Classic Hollywood Cinema.

While the name may not ring a bell to some, her films such as The Big Sleep, To Have and Have Not, as well as Key Largo are classics, and her romance with fellow acting legend Humphrey Bogart has gone down in the history books. During her career, she won several prestigious awards: a Golden Globe, Tony, as well as several Academy Award nominations. She was a legend in her own right, and her multi-million dollar home where she spent decades of her life is more than worth a look into.
 
The Most Coveted Real Estate in New York City
It's no secret that some of the most expensive and luxurious apartments in New York City are the ones directly across from Central Park. And it's not surprising that with all the success she experienced in her life, Lauren Bacall had the financial ability to own one of them - one worth $26 million. For 53 years until her death in 2014 at age 89, she lived in the Dakota Building on the Upper West Side of Manhattan. After her death, people got to glimpse inside her apartment for the first time when it was put on the market before all of her possessions were sold at auction.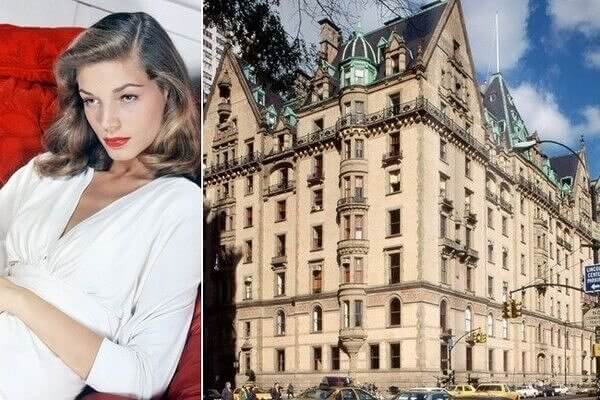 The $26 million price tag certainly has something to do with the history of the Dakota Building, which has been home to many well-known figures and much history. Not to mention, her apartment was more like a standalone home thanks to its nine rooms.
Nine Rooms
Some may say that having a place with nine rooms shouldn't be counted as an apartment, and it shouldn't. At 4000 square feet, Bacall's place was so huge that it is one of the most historic and famous properties in all of New York City's history. If you take a look at just the master bedroom, you'll see that it is a staggering 22 feet wide with doors that open into a study room, and its own bathroom and walk-in closet.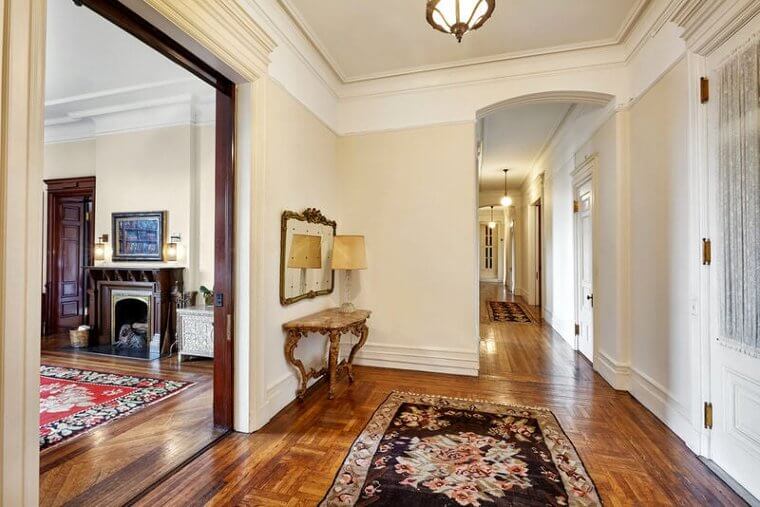 As for the rest of the apartment, you'll find a huge balcony overlooking the iconic Central Park. As for the kitchen, it wasn't some hole in the wall with minimal space. Nor was it shoved into a corner of the living room. Bacall's kitchen was huge and opened up into the 24-foot by 19-foot dining room that was linked to the family room. But that's not all. This place included a guest bedroom, a gallery, and a library - everything you could ever want or need in a home all inside an apartment.
The Dining Room
Being rich and famous gives you the ability to buy whatever you want. For Bacall, she was in love with French-inspired designs. Many of her furnishings were of French design based on the Louis XIII style.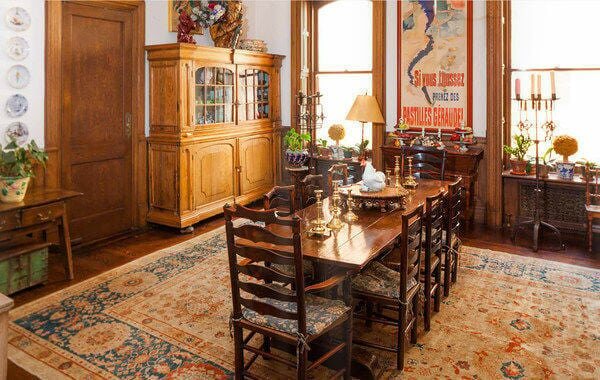 As for Bacall's dining room, she managed to bring her love of French design into perfect harmony. The color pallet she used was nearly flawless with its deep blues in the rug highlighted by the rustic reds that can be seen in the wall hanging. Incredibly though, the wall decor is the highlight of the whole room. The poster created by Jules Cheret actually sold for $7,000 and is called The Belle Epoque.
French Posters and Fine China in the Dining Room
The Belle Epoque poster isn't the only decor on the walls in Bacall's lavish formal dining room. There were several hanging around the room that showcased her love for French design. Although these posters were beautiful and fabulous, Bacall's style paired the French with collectible china that she placed under the stylish posters.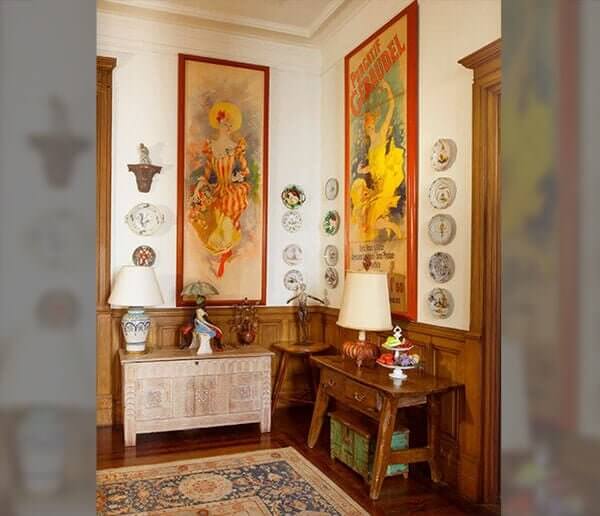 This corner of Bacall's formal dining showed just how much of a collector she was. Instead of using the fine china for dinners, she proudly displayed them. But it wasn't just plates that she admired - she lavished the room with pristine lamps and other art pieces that rested on nearly every piece of furniture. 
Bacall's Unique George III Dresser
Despite the fact that Bacall favored the French style, she also collected pieces from all around the world and different times. She had a beautiful George III oak Welsh dresser that held some of her china collection that dated back to the late 18th century.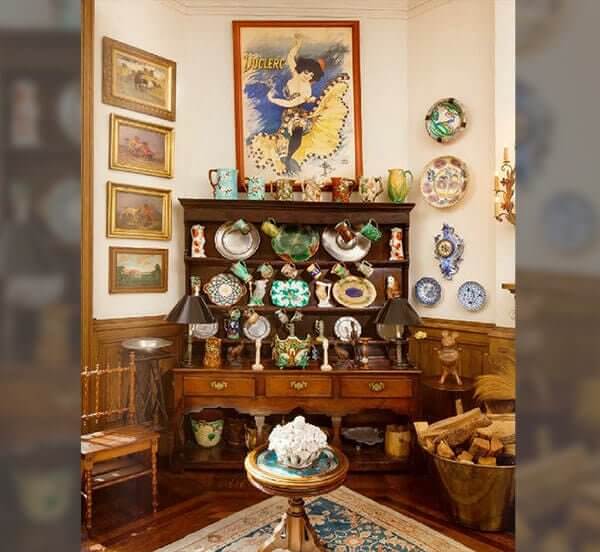 While the Welsh dresser was in fact from England, it was designed to mimic French style. The dresser was made from oak which was unique for furniture during that time period. Typically, furniture was created from mahogany or sometimes satinwood or giltwood, but very rarely oak, which is why this piece sold for a whopping $6,875.

The Pretty Pink Master Bedroom
Just like the rest of Bacall's home, her bedroom features prized collections and various artwork. You'll find behind her bed one of the many gallery walls that she has decorated with her best collection. But the artwork that is on the walls isn't what makes this bedroom so stunning: it is the unobstructed view of Central Park.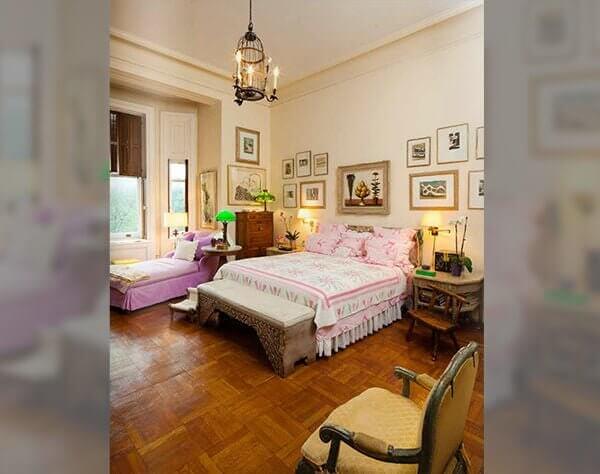 What also makes this bedroom stand out among the other rooms of this lavish apartment is the color scheme. Throughout the rest of the house, Bacall chose blue, white, brown, and rustic red, however, with her bedroom, she used softer tones of lavender and pink which are not found anywhere else in the rest of her home.

The Master Suite
One thing is certain: Bacall loves to fill every available space in her home with antique furniture, collectibles, and fine art. Unlike some places that appear to be crowded with collectibles, Bacall made it cozy. Take the master suite for example, where the working fireplace is adorned by metal plates and figurines that she collected over the years is highlighted by a very modern lounge.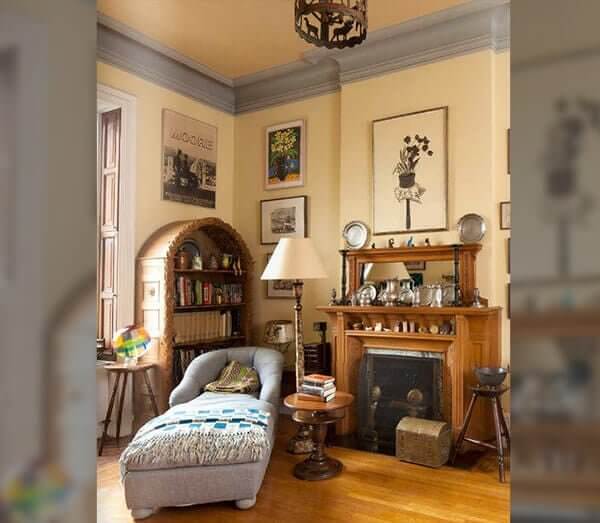 Surprisingly the lounge does not throw the scheme of the room off but ties everything together quite nicely. But what good is a lounge without books? Here you will find a large bookshelf filled with knickknacks, and her favorite books.
Gallery Walls in the Master Suite
While the fireplace is the perfect spot for Bacall to feature her candlesticks and decorative metal plates, you'll also find yet another gallery wall. Here she has featured portraits of ships as well as floral designs with the splash of accent colors.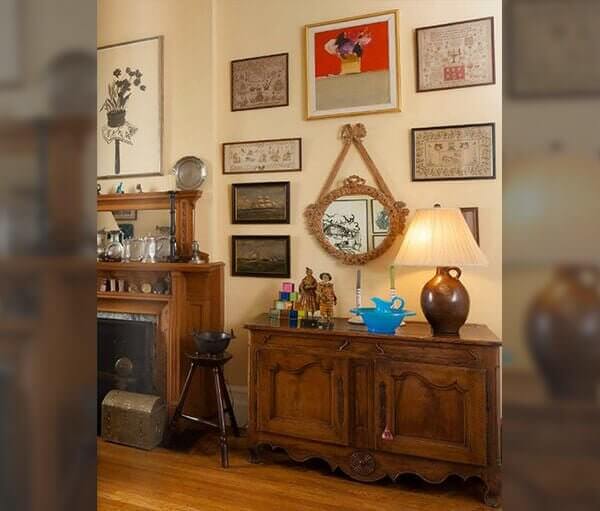 One of the main reasons why this apartment can feature so much fine art is the fact that the walls are 13 feet high. This of course gives an art collector all the space they need to showcase the work that they have.
Yellow Walls in the Guest Bedroom
When it comes to the guest bedroom, you won't find the typical color scheme. Here Bacall decided to use bright and cheerful colors. The yellow walls and the highlighted blues allow this room to have a whimsical feel. Once again you will find expensive art hanging on the walls. The painting behind the bed which depicts a woman holding a basket of fruit was created by Andres Segovia from Spain back in the 1920s and was sold at auction for $18,750.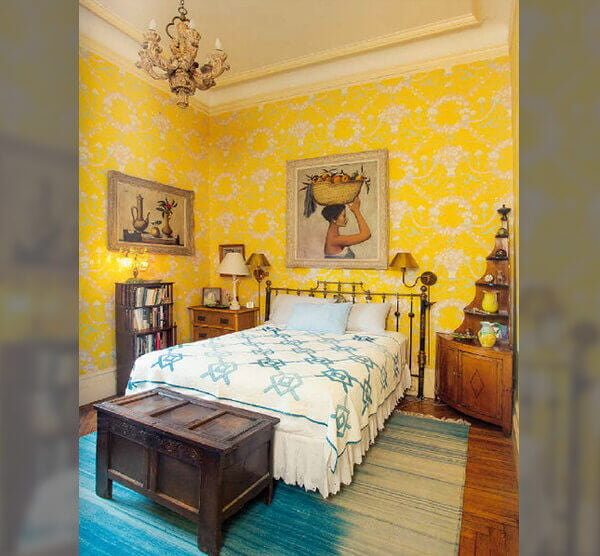 Although the walls are a cheerful shade of yellow in this guest bedroom, the blue bedspread and rug just so happen to match her living room couches and walls. The unique tiered shelving piece that rests in the room's right corner definitely adds an interesting touch to the overall look and feel of this room.
The Blue Living Room
It's very clear that Bacall was known for her style, and despite the living room being quite formal, she managed to pull off a refreshing color scheme with her choice of baby blues alongside robin's egg blue. Due to the choice of colors, the room is not stuffy or dreary but in fact works wonderfully with the natural light.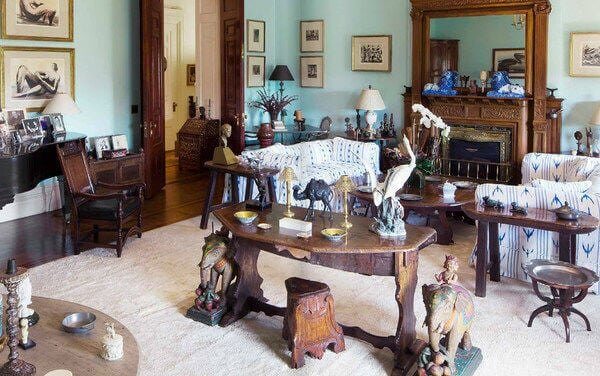 Here you will find the soft blues really tie into her collection of statues and knickknacks. The actress who liked to collect things from all around the world has placed Indian-inspired elephant statues alongside a rustic table that features crane and the camel.
The Baby Grand Piano
When you have the money to burn why wouldn't you get yourself a baby grand piano? Although Bacall was known for her musical skills, it's clear that she didn't play much in her older years. The baby grand piano works more as a tabletop that showcases family photos.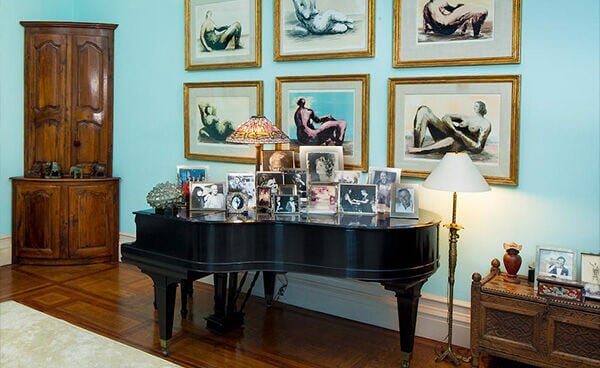 This particular piano was created by Mason and Hamlin which was a New England-based piano company founded back in 1854. Due to Bacall's status, her piano sold for $6,875 which is just above the starting price for a new piano. We can only imagine how difficult it was to get that into the apartment or out of it.
Carved Fireplaces, Not Your Average Couches, and Crown Moldings
One of the things that makes this apartment so unique is the five working fireplaces scattered about the apartment. Many apartments in New York do not have such lavish comfort. Add to that, each of the fireplace mantles offers detailed ornate carvings.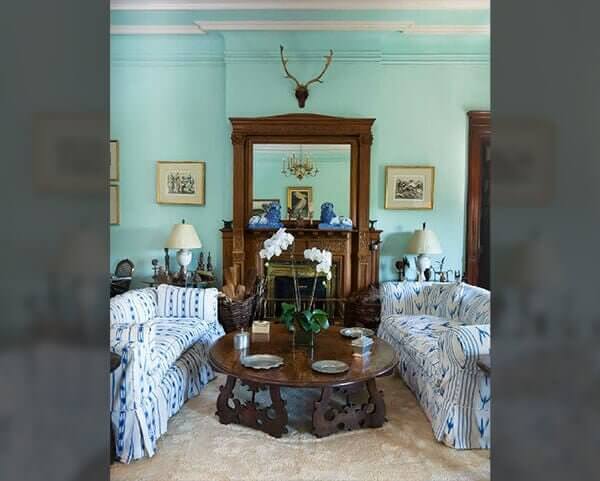 Here in the sitting room, Bacall gives a nod to the overall theme of wildlife that is showcased in many of her other rooms. And while the couches are not your average grandma couches, they are quite comfy. Many will say that trying to pull off patterned couches is hard to do these sofas not only ground the room but the white actually offset the dark wood of her coffee table as well as the fireplace.
French Style Mirrors
Bacall's apartment offered a stunning nine-room living space. This allowed her the freedom to obtain as much antique furniture and art as her heart desired.  In the sitting room, you'll find an ornate French-style mirror that highlights and expands the Regence Provincial Walnut Commonde. This piece of furniture is estimated to have been created in the mid-18th century and sold at the auction for $3,750.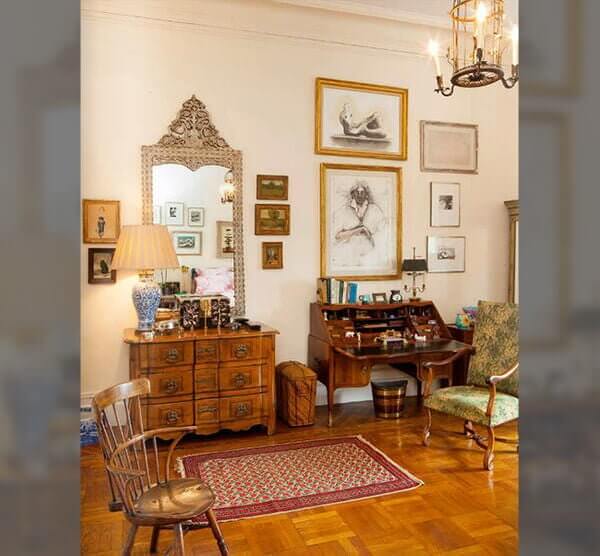 Another stunning feature is the secretary desk that was also crafted in Bacall's beloved French Style. The walnut Louis XV provincial bureau, which was also created around the 18th century, sold for a whopping $5,000. Both pieces of furniture that Bacall had tied in with the hardwood flooring making them a lovely addition to this room.

Bacall, The Collector
There is no doubt about it, Bacall loved her art. She moved into the Dakota at the age of 36 and remained there until she was 89, during which she had plenty of time to decorate the lavish apartment and build her astounding collection. Some will even go so far as to say that Bacall's apartment was more of a museum than a home.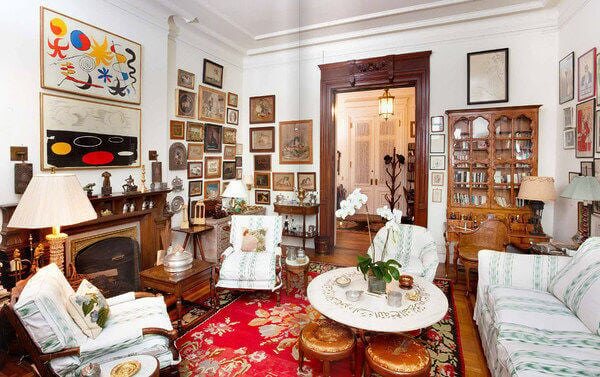 You'll find that nearly every inch of the walls within her home was covered by framed artwork. Some pieces were a pretty penny and somewhere just works that the actress admired. Although, not all of her pictures were pricy paintings, many of them were photographs and posters.
The Pelican Painting
It's not surprising that the collection Bacall had was priced more than her furniture. The painting Bacall owned from painter James Audubon of an American White Pelican sold at the auction for $173,000.
James Audubon was more than just a painter though, he was an ornithologist and a naturalist. His works often gravitated to birds, and he wanted to paint them in their natural habitats. One of his more astonishing accomplishments was his book called The Birds of America in which he set out to paint one page a day and identified 25 new species of birds.
Louis XIII Walnut Fauteuils
For most of us, it's hard to imagine dropping two grand on just a couple of chairs. But for those who collect antiques, two grand is a reasonable price for these Louis XIII style chairs. Bacall managed to keep this pair in pristine condition. With the light blue stitching in the upholstery, these chairs complimented her already lavish home.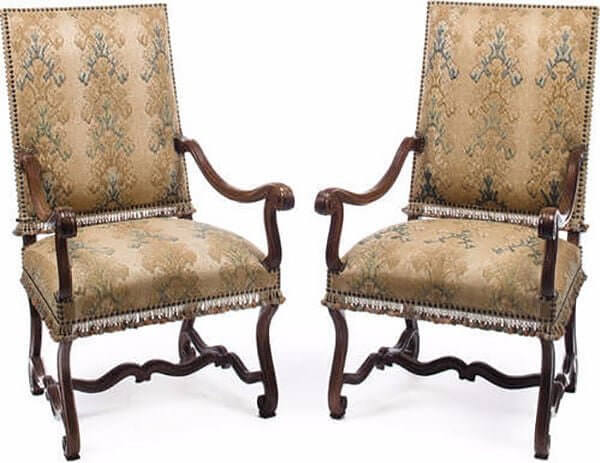 The chairs priced for $1,875 at the auction and are considered the top tier of French design and decor. The chairs featured veneer turned wood and leaned towards the architectural, making them works of art in their own rights.
Louis Vuitton Luggage
The very name Louis Vuitton has a ring and style all of its own. For many, they won't carry around anything else. Celebrities from all generations have fallen in love with Louis Vuitton ever since the company first came on the scene back in 1854. But Bacall's collection of Louis Vuitton luggage is a class all to itself.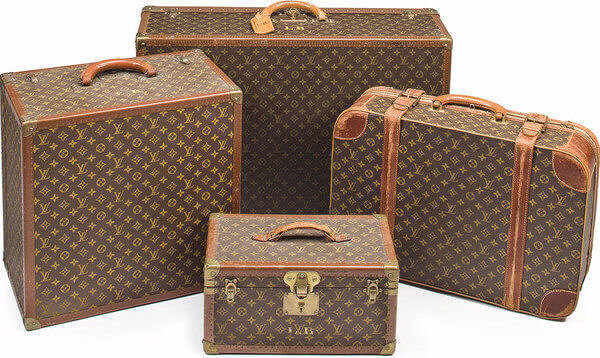 A single duffle from Louis Vuitton can run around $2,000, however, Lauren Bacall's collection is vintage and rare which also implies very expensive. Her luggage set sold for $37,500.
Director's Chair
Lauren Bacall was an actress and talented singer so it's no surprise that her apartment would reflect her career. While many of her things dwell around the fine arts, there are some that directly relate to her job. Take her Director's Chair for example. This is but one of the many pieces of Hollywood history she had. And while many may say that such an item is priceless, it sold for $4,750.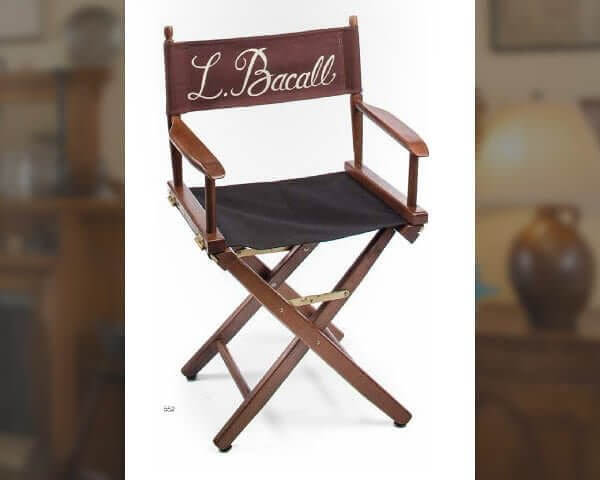 While everyone knows her as Lauren Bacall, she was born Betty Joan Perske. After she changed her name and starred in To Have and Have Not, her whole world changed and she rose to stardom. Bacall acted alongside some of Hollywood's best such as Marilyn Monroe, and her husband, Humphrey Bogart. 

Bronze Statues
Most of the items in Bacall's home should be in a museum. But each piece was a part of her life and lifestyle. A few of the more remarkable pieces she had include three bronze statues of the female form. These pieces sold for $30,000 and were created by Robert Graham.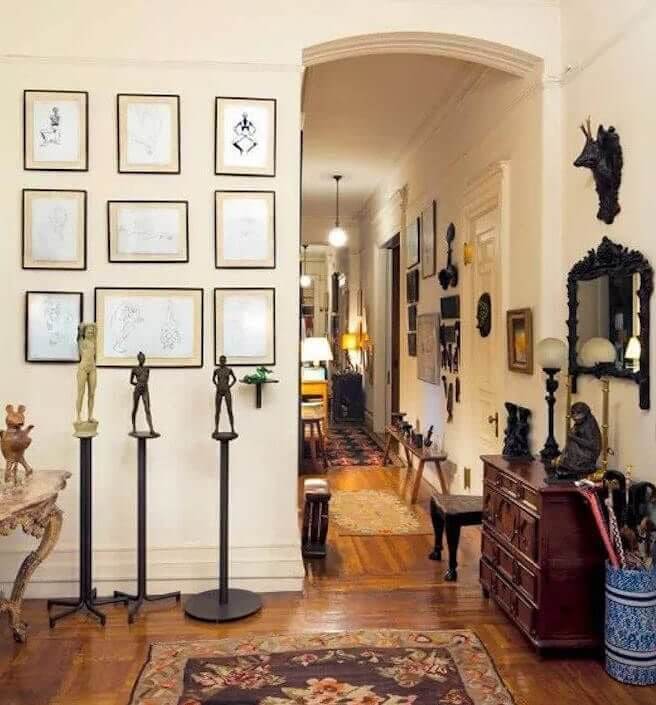 You can see them here at the left of the photo, amongst all the other art in what seems to be Bacall's foyer. The quality of the works only further accentuates the feel that you've stepped into a museum.
Raw Drawings
You can see them here at the left of the photo, amongst all the other art in what seems to be Bacall's foyer. The quality of the works only further accentuates the feel that you've stepped into a museum.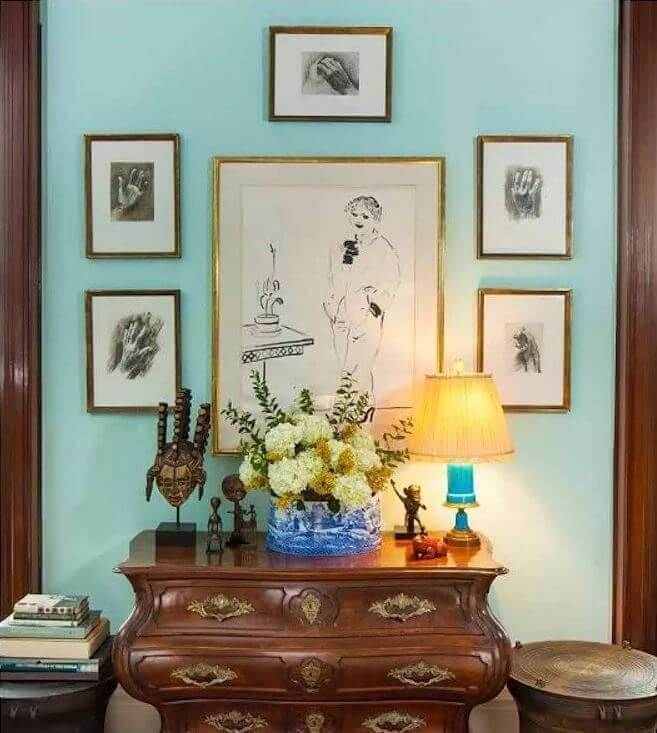 The artwork Bacall owned came from all sorts of painters, artists, and sculptors. Names such as James Audubon, David Hockney, Henry Moore, and Max Ernst all added to her massive collection over the years.
Divine Wood Furnishings
All of Bacall's furniture was unique, decorative, and above all else - functional. The interior of her massive apartment wasn't flashy or glamorous like many other Hollywood stars' homes are. Her home was elegant and classy, a trademark of many classical Hollywood stars from the golden years.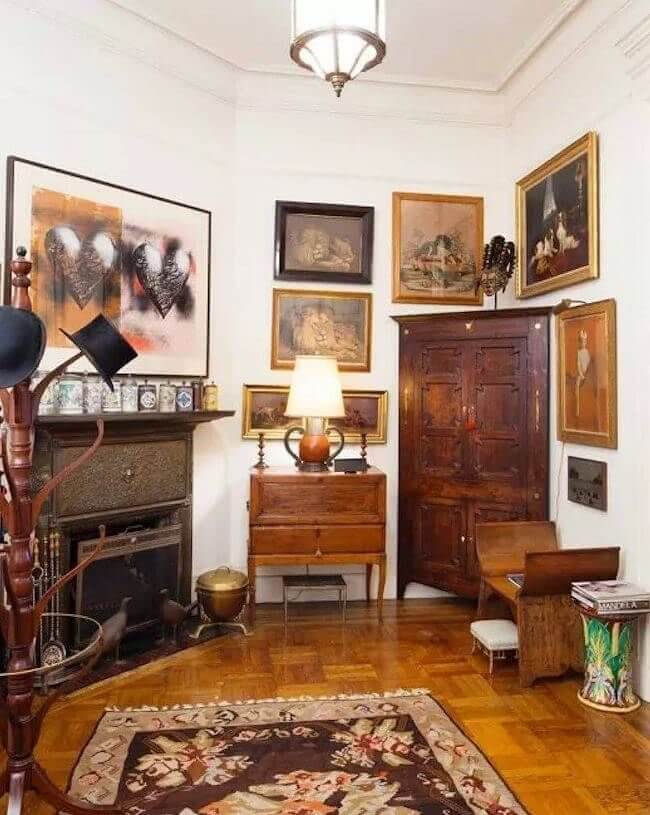 Each piece she picked out for her home was hand-carved. It didn't matter if the furniture was a wooden bench, dresser, or bureaus; each piece was unique by design instead of some carbon copy you'd find in a catalogue. This made the place homey and often gave a sense of coziness to guests who visited. But above all, the pieces of furniture Bacall picked worked as they should. They weren't something set off in the corner to be admired.
Central Park
One of the main things about living in New York City is the massive amounts of building and skyscrapers. Often times a view is looking out into the busy city streets. But Bacall had unobstructed views of the trees in Central Park.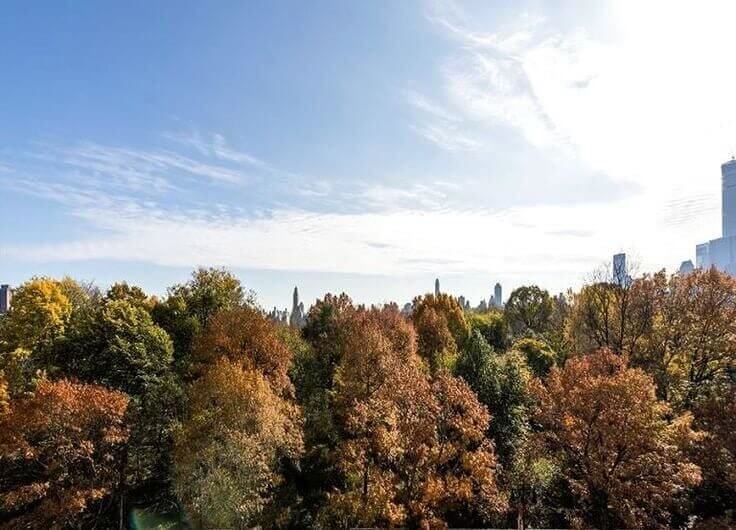 Bacall's apartment offered her a stunning and coveted 100-foot view of Central Park. In other words, nearly half of Bacall's apartment featured breathtaking views of the park. It was this view that Bacall admired the most about her apartment and stated it was an important reason for her to live in the Dakota.
Extravagant Exterior
The Dakota stands at the corner of Central Park West and West 72nd Street in New York City. Every brick and stone holds a place in history.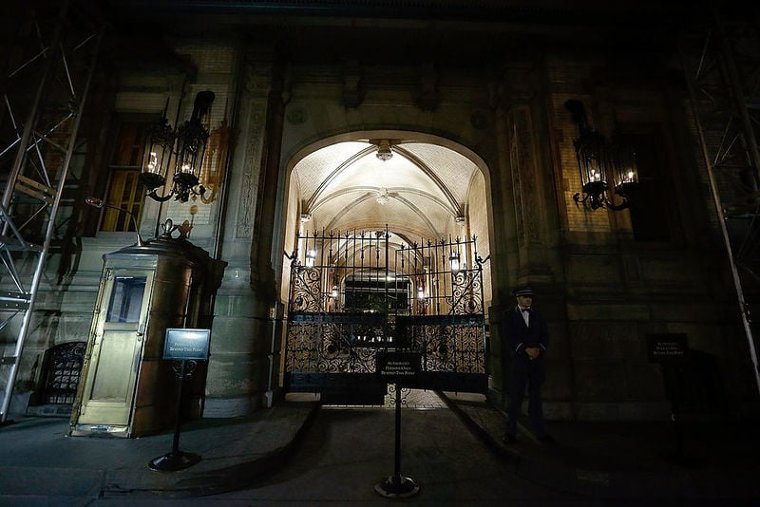 One of the most stunning buildings in New York City, it is filled with icons and history. It is essentially the spirit of the city that gives hope to those that come to the city looking for a better life and fulling dreams. It's no wonder that the building has grown significantly over the years.

Roses Adorned Her Gate
Just five weeks shy of her 90th birthday, Lauren Bacall passed away on August 12th, 2014. Fans from all around came to pay their respects by leaving gifts and adorning her gate with roses.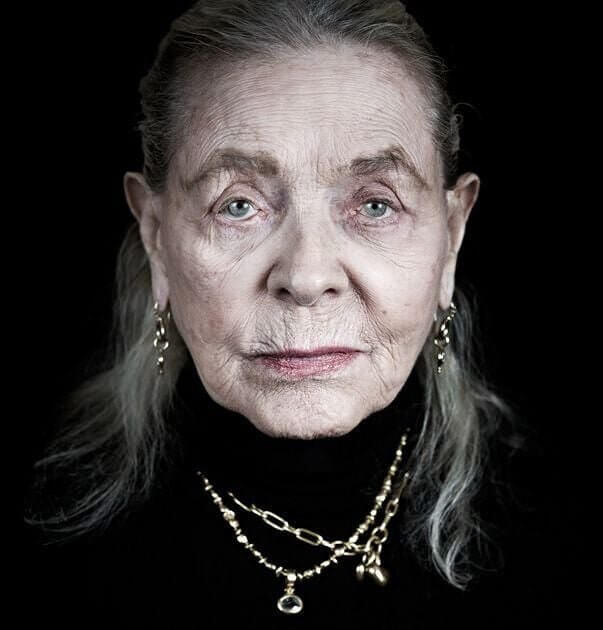 Being one of the last actresses from the Golden Age of Hollywood, her massive stroke came as a shock to many. But in the weeks after her death, fans from all across the country came to honor her and her life.
Bacall's Interview With Vanity Fair
In 2011, Bacall sat down with Matt Tyrnauer from Vanity Fair. The interview would be one of the last one she gave before her passing and she did it in her beloved Dakota home. During the interview she disclosed intimate details of her long life as one of the last remaining actresses of Hollywood's Golden Age.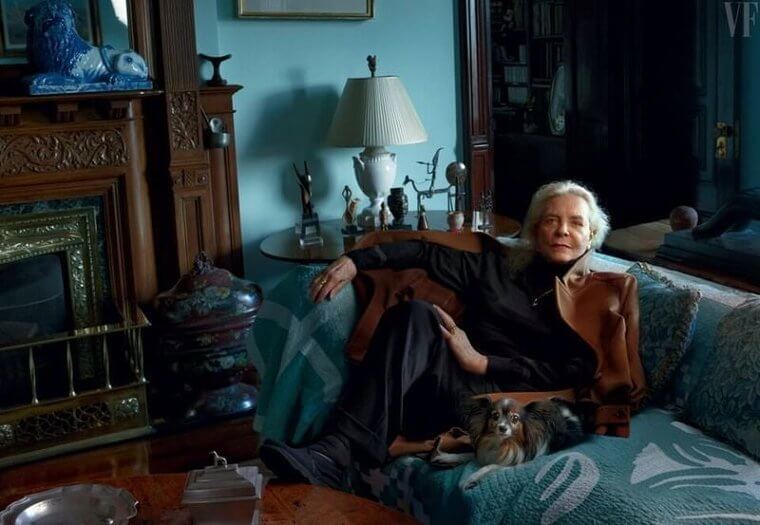 In her candid interview she went into detail about Humphrey Bogart's fame and the effects on her and their children. She also spoke about other secrets that often were kept from the public eye.
Almost Engaged to Frank Sinatra
Lauren Bacall has spoken out in other interviews over the years. One interview stands out as she discloses her almost engagement to the famous actor and singer Frank Sinatra.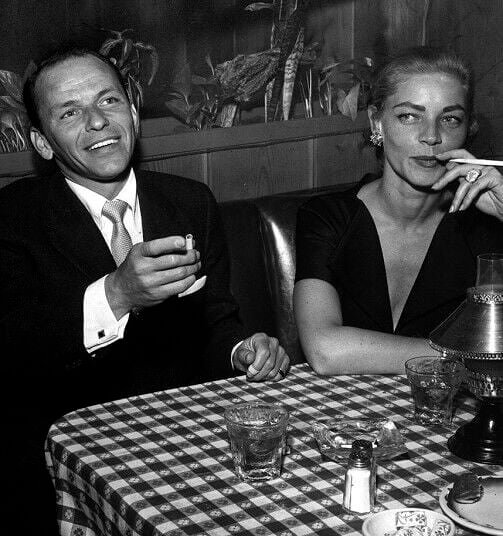 The relationship between Bacall and Sinatra started after Bogart's passing in 1957. It was a whirlwind romance that prompted Sinatra to propose to Bacall. But the timing was off due to the timing of her husband's death. In Bacall's own words, she has stated that once word got out about their engagement, Sinatra became distressed and quickly ended it.
Lauren Bacall and Jason Robards Denied Marriage License
After her breakup with Sinatra, Bacall soon fell in love with Jason Robards who was an American stage, film, and television actor. But the couple soon fell into hardship when they tried to tie the knot. The first attempt to wed happened in Austria where the couple was denied a marriage license. So, they did what any other couple would do and headed to Las Vegas. But even in Nevada, the couple was denied.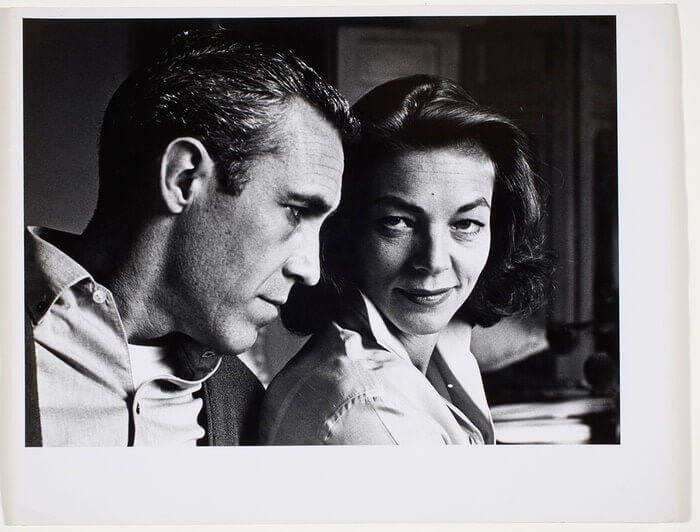 Finally in 1961, Lauren Bacall and Jason Robards tied the knot in Ensenada, Mexico. After having only one child, they divorced in 1969.
She Loved Boxers
Some people may not be too thrilled about receiving a dog as a wedding present, but for Bacall and Bogart, they were thrilled. It turned out the boxer was a perfect addition to their family when they married in 1945. They named their beloved four-legged friend Harvey after the invisible rabbit.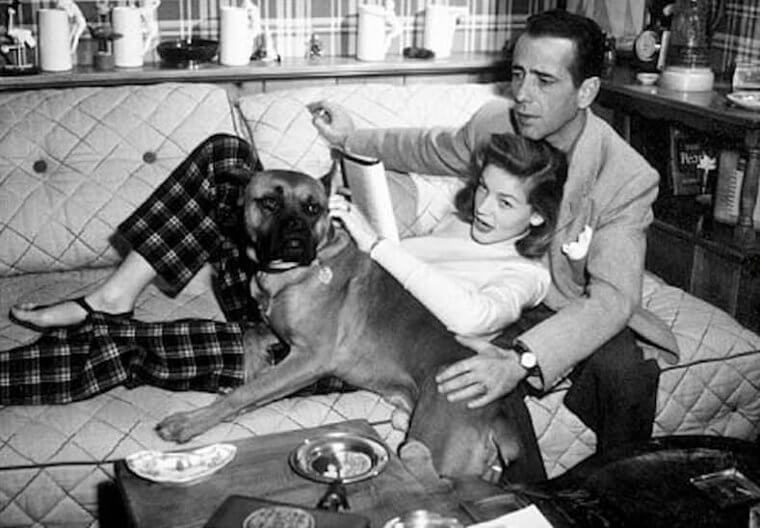 According to Bacall, Harvey was super smart. The dog knew he wasn't allowed on the antique furniture and would only place two paws up to snuggle. Even when the couple argued, the dog would get in between them to settle the tension.

And Then There Were Three
It didn't take long for the actress to add to her loving family. She quickly added two more boxers to her home. They named their new family members George and Baby.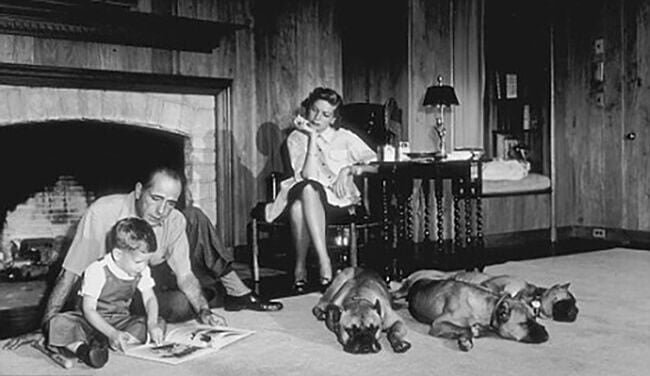 Unfortunately, Harvey was the first to pass away. Bacall remembers the occasion as a very sad time in her life as she and the whole family had grown attached to him. Bacall didn't even get a chance to say goodbye. The vet explained to her that Harvey ate his dinner and passed away.
Her Dogs Were Never Far Away
Both Bacall and Bogart loved dogs, and each had a wide variety of pups that they grew up with.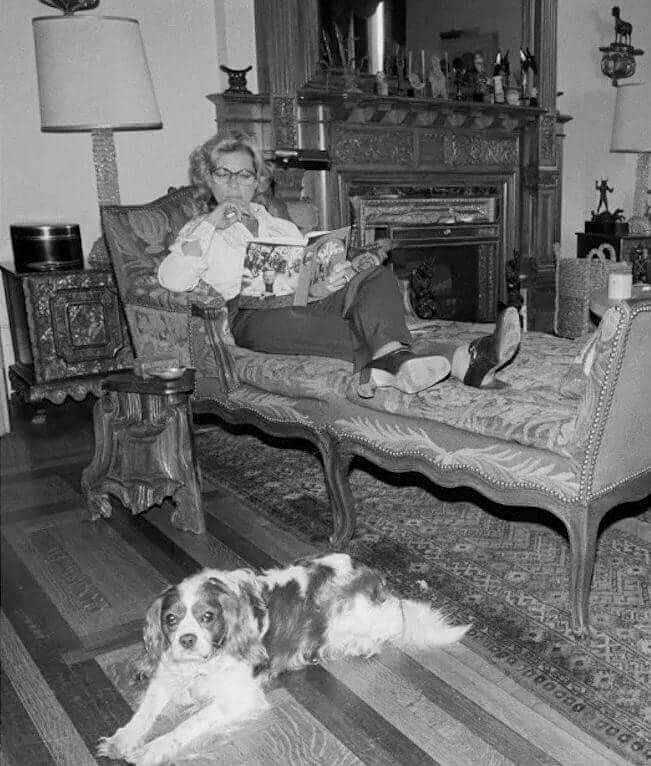 However, after her husband passed away and their boxers had died, Bacall decided to adopt a Cocker Spaniel which rarely left her side.
Auction Premiere
In March 2015, an estate auction started and several photographers as well as videographers began the task of documenting all the actress had accumulated during her lifetime.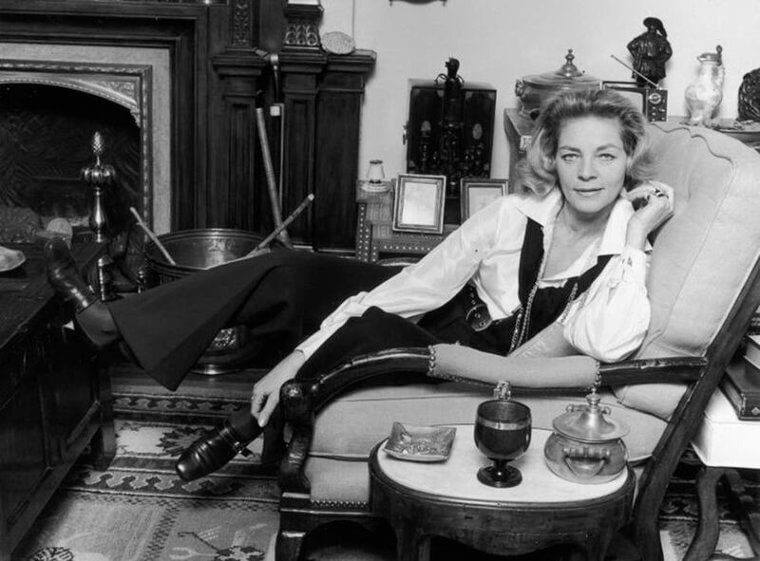 Anyone able to purchase anything from the home certainly obtained a piece of history. Everyone at the auction was very respectful of the actress's possessions. Merely stepping into the apartment, one could feel the sophistication and history dripping from the rooms.
Bogart Statue
Although Bacall was an icon all to herself, many people mixed her success with that of her late husband, Humphrey Bogart. Of course it shouldn't be surprising that the most eclectic piece of art Bacall owned was the bronze statue of "Bogie."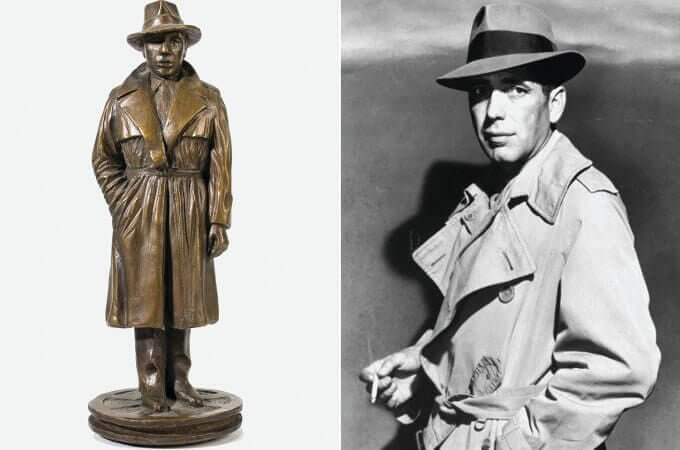 The statue was created by an unknown artist and depicts Bogart in one of his more famous roles as Rick Blaine from Casablanca. This sculpture was one of the pieces sold after Bacall passed on and was valued at $800.

A Sketch of Bacall
There is no doubt that Bacall loved art, but the artist Aaron Shilker found Bacall as an inspiration. Mr. Shilker is famously known for his portraits of John F. Kennedy along with Jacqueline Kennedy, but he was sought after by many in the elite social groups.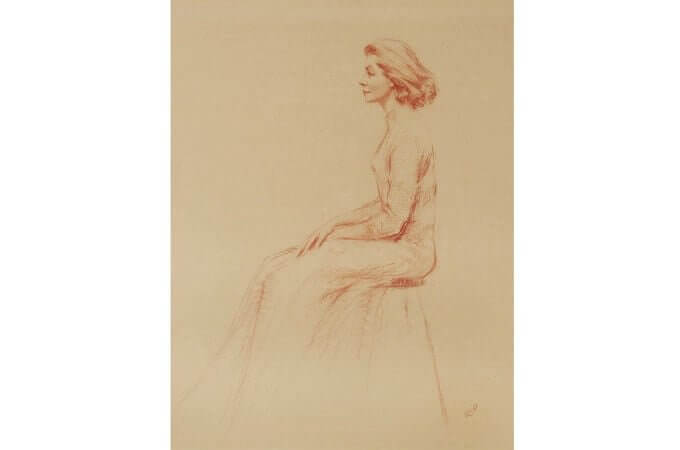 The sketch Shilker created of Bacall was estimated to be around $5,000. Bacall however also had Shilker create sketches of her children as well, which they all kept for their private collections.
Turkish Carpet
It's not surprising that Bacall's collection extended to more than just dressers and art work. She also had carpets and other fine home-wares that didn't come cheap. Even though each piece was used, the Turkish carpet Bacall had sold for a whopping $2,250.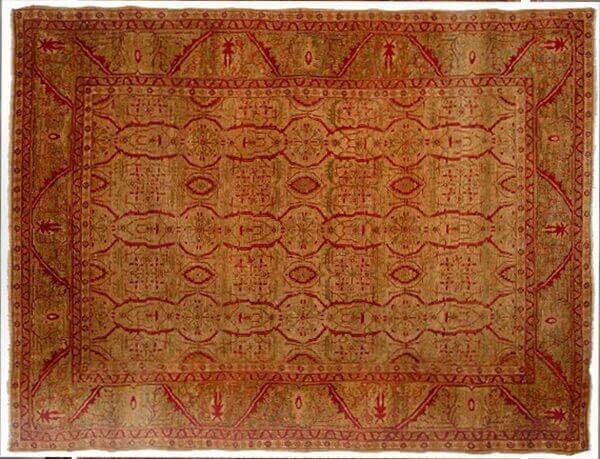 Turkish carpets often have a history behind them and often depict dragons and phoenixes along with geometric patterns.
Lots of Bacall's Jewelry
Bonham's was in charge of Bacall's estate after her passing which included a large amount of jewelry. Bacall's collection of jewelry drew people in from all over the world and the auction went on for 20 hours, which is a record-breaking event. Over the course of two days, and 32 lots of jewelry, the auction made over $503,625 which was well over the estimated value.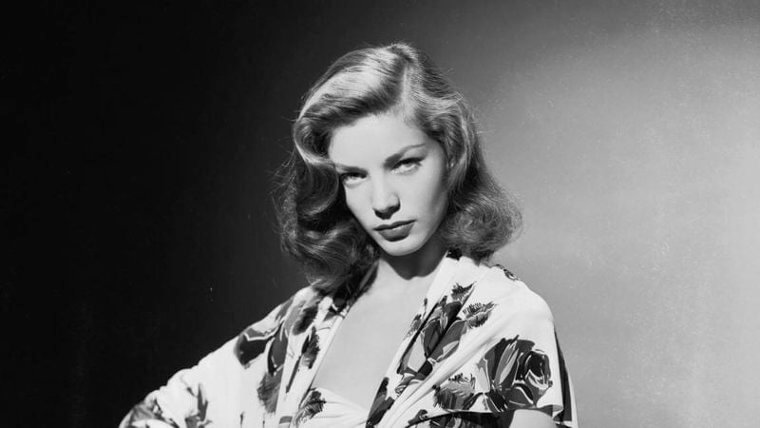 According to Bonham director Susan Abeles, single owners who are high profile people always produce unpredictable results during the auction and Bacall's was no exception.
A Pair of Earrings
One of the most expensive pieces of jewelry sold were the 18-karat gold clips that were designed with gold latticework and emblazoned with emeralds, amethysts, and sapphires. The pair of earrings were created by Montures Schlumberger in France.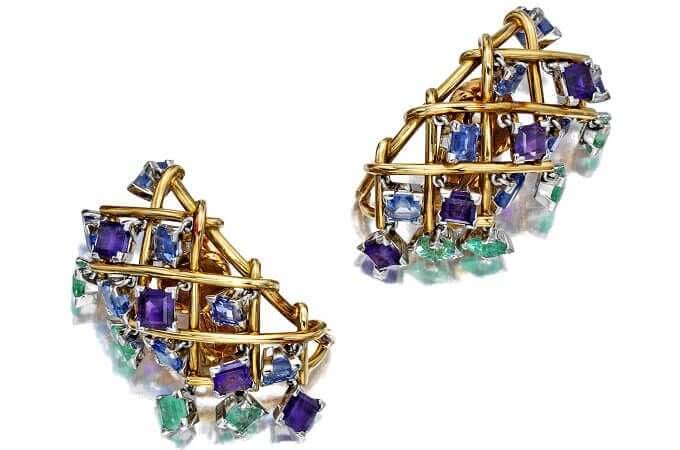 These earrings were the ones Bacall wore when she claimed her Oscar for her role in The Mirror Has Two Faces. While the earrings were estimated at only $12,000, they sold for $52,500.
Personalized Tiffany Necklace
Out of the 32 lots of Bacall's jewelry, one was a special Tiffany necklace which had individual letters etched into each of the hearts. When the necklace was first found, no one could understand what the message said. It wasn't until Bonham's jewelry department cracked the secret code and found the necklace was from one of the directors to work with Bacall.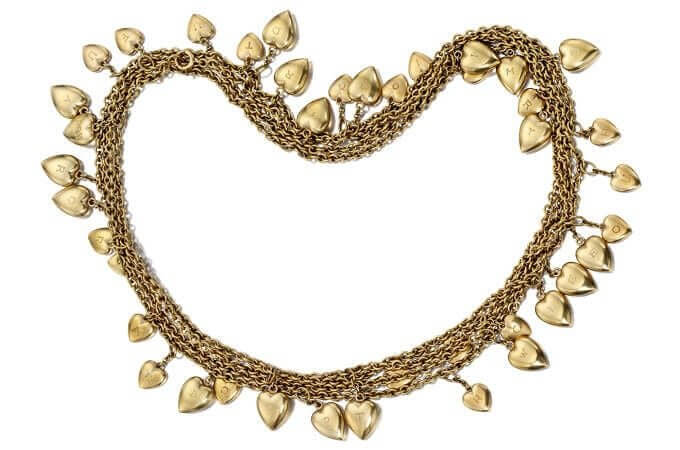 The necklace reads: "To my own beautiful star from her proud director Ron".
The Most Valuable Piece of Jewelry
Bacall was no doubt her own woman with her own unique style. She didn't let the jewelry wear her, she wore it. And one of the pieces that was most anticipated was Bacall's 18-karat gold bracelet.
The bracelet had blue paillon enamel panels with polished gold bar detail. The bracelet sold for an undisclosed amount but was said to be worth $30,000.
Other Famous People Living in the Dakota Apartments
While Bacall lived in the Dakota apartments for over 50 years, she wasn't the only famous person to call the apartments home. Rosemary Clooney, the aunt of the A-Lister George Clooney, lived in the infamous apartments. Rosemary was an America actress and singer who became famous with her 1950s song "Come On-a My House" as well as other successful hits.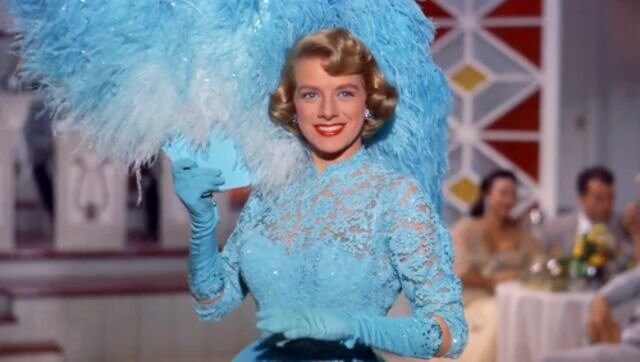 Rosemary may have had success in the late 1950s singing jazz, but her career went down hill by the 1960s. She did have a revival with her duet with Bing Crosby singing "White Christmas". She continued to work up until she passed away in 2002.

Jose Ferrer
Jose Ferrer was not only an actor, but a director for film and theater. Mr. Ferrer was noted as being the first Puerto-Rican born actor and the first Hispanic actor to take home an Academy Award. He also took home an Oscar, a Tony, and earned the Distinguished Dramatic Actor Award in 1952. He was Rosemary Clooney's husband twice: once from 1953 to 1961 and again from 1964 to 1967.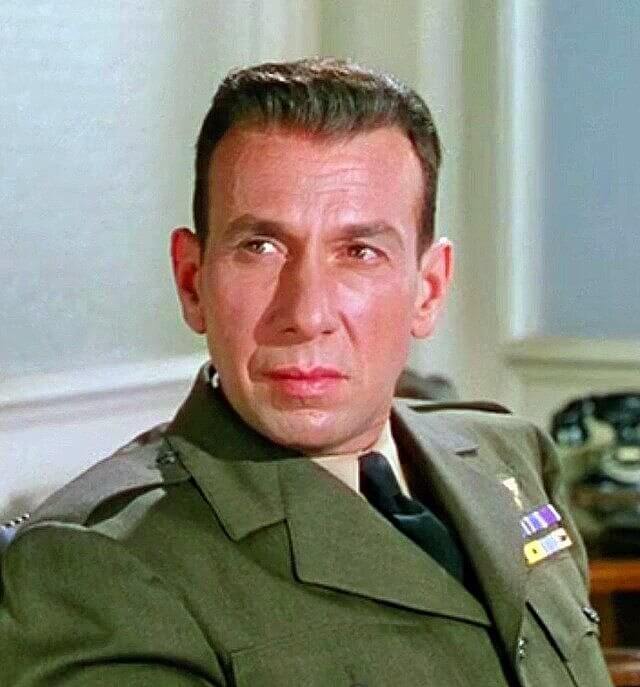 Jose broke the mold during his time and won the Outstanding Directors Award for his many plays. Finally in 1981 he was placed into the American Theatre Hall of Fame. But he didn't stop there. In 1985, he earned the National Medal of Arts presented to him by President Ronald Reagan. After so much success, Mr. Ferrer was honored by getting his image on the US Postal Service stamp. Mr. Ferrer is the epitome of the type of people that called the Dakota apartments home.

Roberta Flack
Roberta Flack is a noted American singer famous for hits like "The First Time Ever I Saw Your Face" and "Killing Me Softly with His Song". She moved into the Dakota in 1975.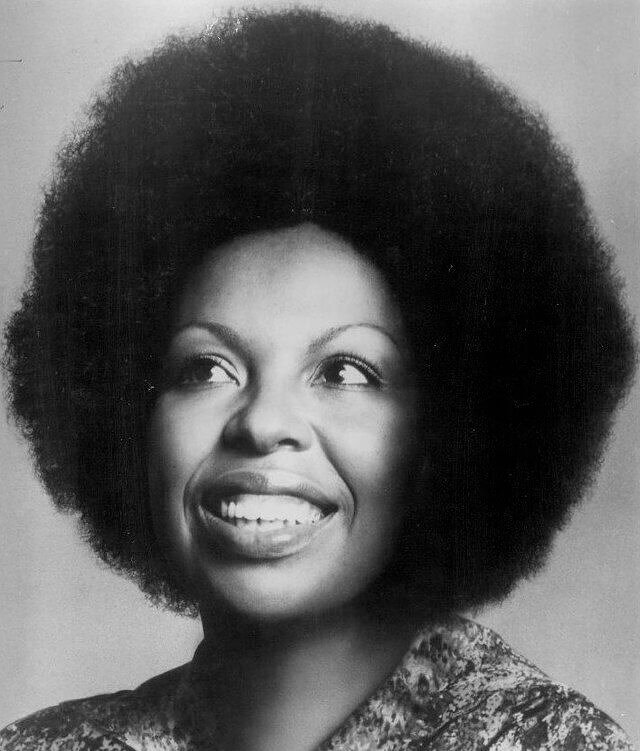 Roberta lived in the Dakota apartments for around 40 years when she put up her apartment up for sale in 2015. When she first put her apartment up she asked for $9.5 million before reducing the price in 2017 to $6,999,000 for her 2,000 square foot apartment with only two bedrooms and two bathrooms.
Alphonse Fletcher
Alphonse Fletcher known as Buddy was a hedge fund manager and acclaimed founder of the Fletcher Foundation. He started his career at Bear Stearns and moved on to work at Kidder, Peabody and Company. During his time at Peabody, he was sued for racial discrimination and although the claim was dismissed, he won the claim of $1.2 million.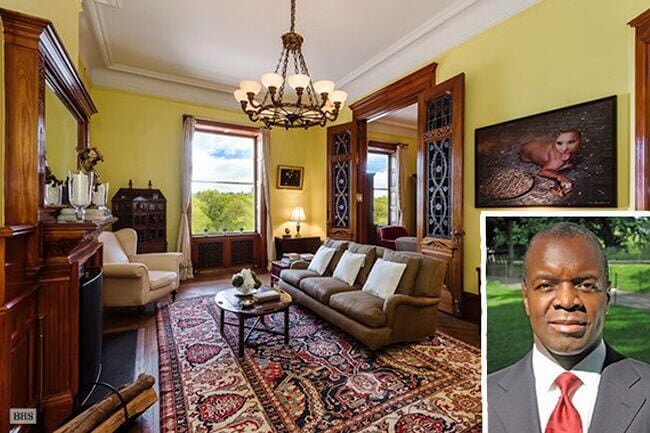 Buddy is currently in a lawsuit with The Dakota Apartments where he resided since 1992. In 2011, Buddy filed a suit against the Dakota for unlawful discrimination as well as defamation. Due to his financial situation, he was denied from buying another apartment and so he filed his suit. His fight still continues to this day.
Charles Henri Ford
Charles Henri Ford was a famous American artist possibly most known for his poetry. He was friends with many of his famous artistic contemporaries of the 20th century, such as Gertrude Stein, Orson Welles, E. E. Cummings, and George Balanchine.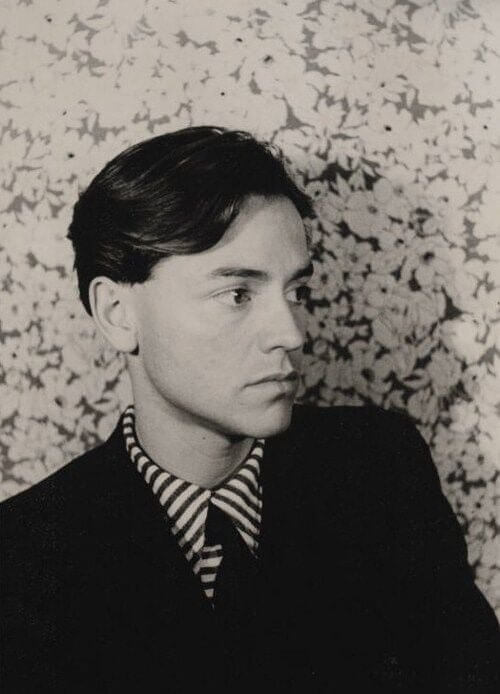 Mr. Ford's work with the surrealist magazine "View" in the 1940s attracted and possibly inspired other artists like Pablo Picasso, Alexander Calder, and Albert Camus. During in final years he lived in the Dakota building along with his sister who lived in a separate apartment.
Judy Garland
Judy Garland was best known for her role as Dorothy Gale in the classic film The Wizard of Oz, but her career in entertainment lasted decades (as did her personal struggles stemming from her body image issues and substance abuse).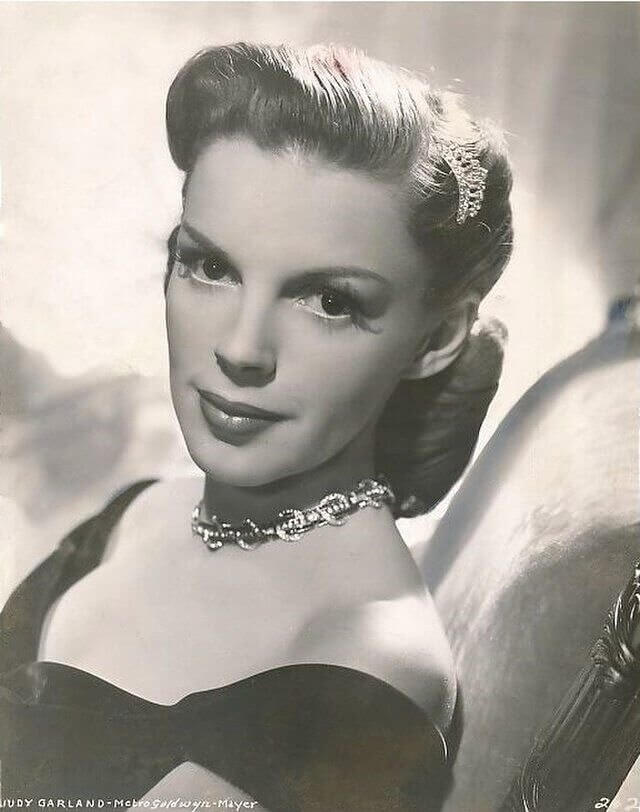 In 2015, a Dakota apartment was placed up for sale for a whopping $10 million. Although the apartment has seen its fair share of famous people, it is believed to be the apartment Judy Garland once called home.

John Lennon
John Lennon was one of the most famous people not only in America, but the world, for his music. He was a co-founder of the Beatles and regarded as one of the best musicians of the 1960s and '70s. Many of his songs were adopted by the activists against the Vietnam War.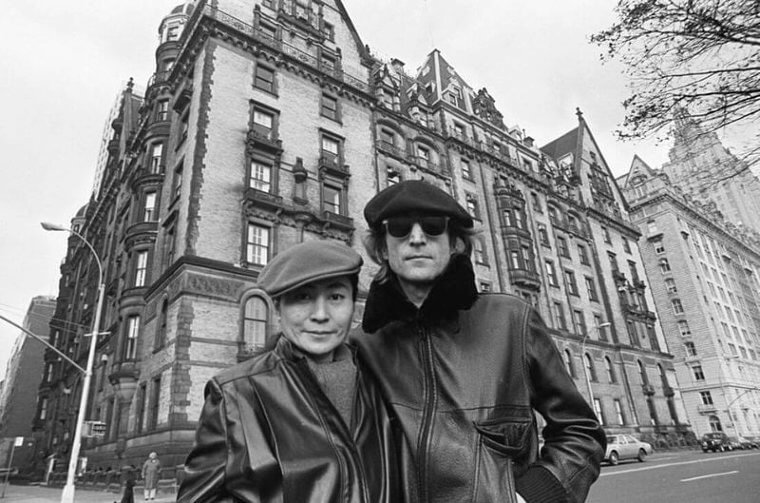 He was inducted into the Rock-and-roll Hall of Fame not once but twice. Unfortunately his life was cut short when he was murdered in the archway of the Dakota where he lived. Since then, many people from all around the world have come to pay their respects to the fallen musician and legend.
John Madden
Many people know John Madden due to his ties with the NFL. He was a former broadcaster as well as a coach. He helped his team, The Oakland Raiders win the Super bowl. In 2006 he was inducted into the Football Hall of Fame.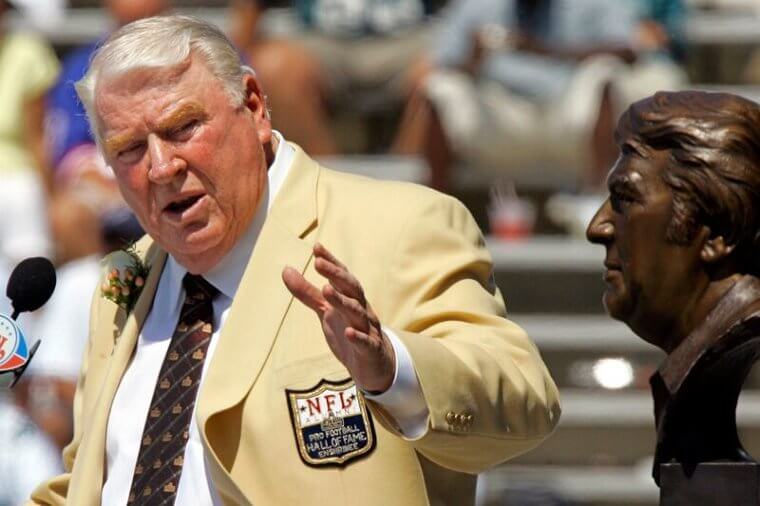 Although he was a former broadcaster and coach, many people know him for his long running video games Madden NFL. He bought a Dakota apartment from Gilda Radner in 1985. He paid $625,000 for his two bedroom, 2.5 bath with a private entrance that opened into the courtyard. Later in 2013, he sold the apartment for $3.9 million.
Albert Maysles
Mr. Maysles was a documentary filmmaker. He was best known for working on now-classic films such as Grey Gardens, Gimme Shelter, and Salesmen alongside his brother. Mr. Maysles lived in the Dakota apartments for nearly 35 years.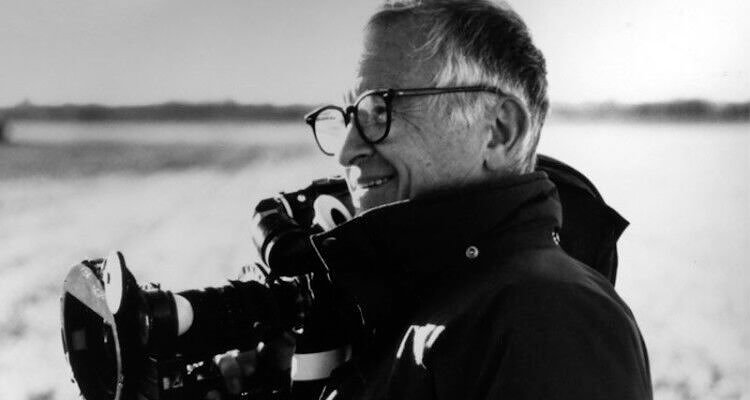 In 2005, Mr. Maysles decided to sell his apartment due to the idea that the building no longer held any inspiration for him. He sold his apartment for $3.5 million. The new owner then made some serious renovations to the apartment and flipped it for $7.6 million.
Rosie O'Donnell
Rosie O'Donnell has been a face of Hollywood for some time. She not only played alongside Madonna in "A League of Their Own," but starred in her own talk show. She has since been a face and activist for the LGBTQ community after coming out in a brash and bold way about her sexuality.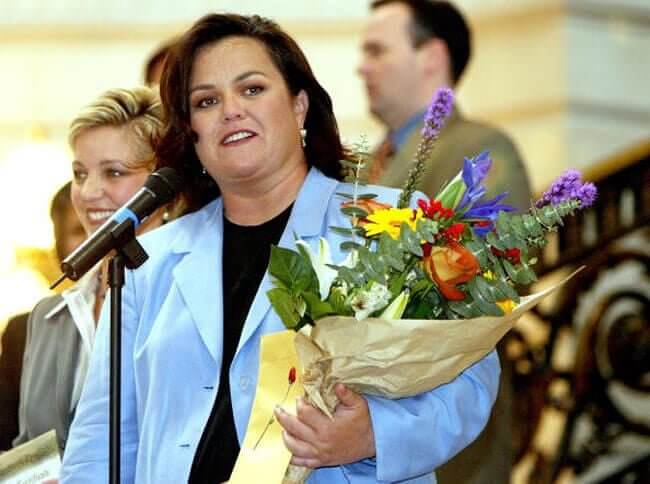 With all her success, she now lives in one of the Dakota apartments with her daughter. And she continues to be an outspoken woman and an advocate for the gay community.

Yoko Ono
Yoko Ono was John Lennon's wife who moved into the Dakota building with him in the early 1970s. Although many only know her as the wife of John Lennon, she is in fact an artist, songwriter, singer, and peace activist. Through the years she has continued to love and honor Lennon's legacy by funding the construction of the Strawberry Fields memorial to him located in Central Park.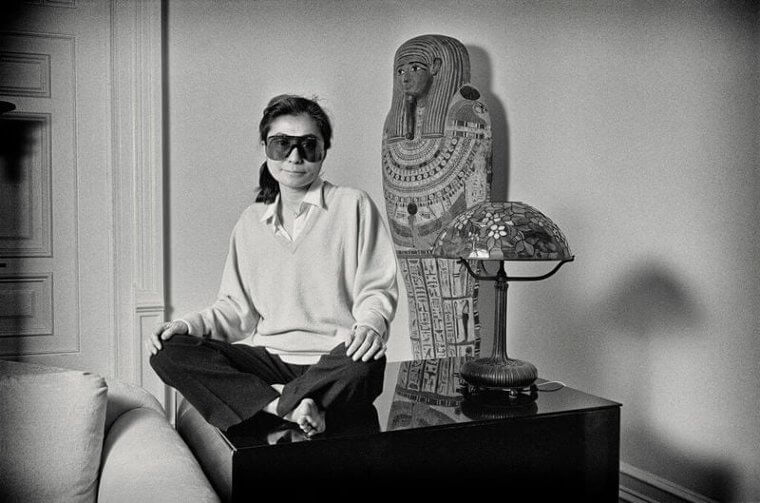 According to Yoko Ono, she once saw the ghost of her husband John Lennon sitting at his piano and told her that he was still with her. She has continued to stay and live in their apartment.
Maury Povitch
The tabloid talk show host Maury also lives in the Dakota building. His show is known to feature domestic issues which he attempts to settle the disputes in the hour time slot. The show has garnered him success as it continues on the air to this day.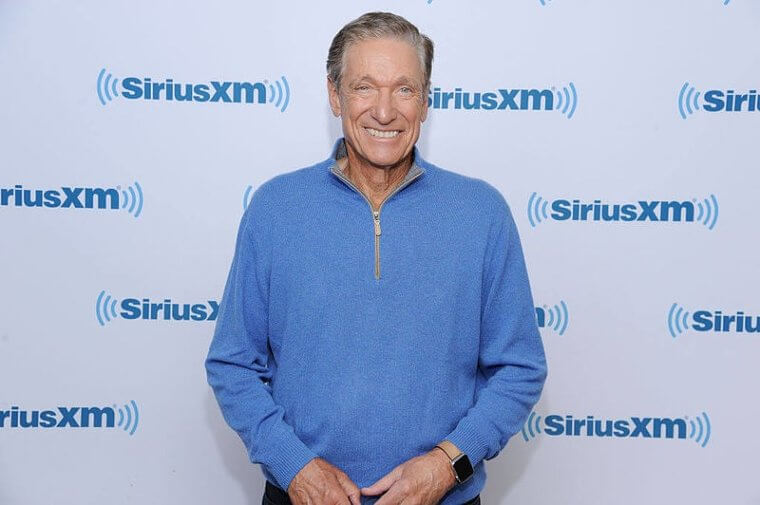 He resides in the Dakota with his wife Connie Chung who happens to be a news anchor. She was the first woman to ever co-anchor the CBS news. Maury with his wife are one of the few residents to hold on to his property in the Dakota since he first moved in.
Gilda Radner
Ms. Radner was a comedian and best known for her portrayal of overly aggressive and highly obnoxious parodies of news anchors and television advice specialists on Saturday Night Live.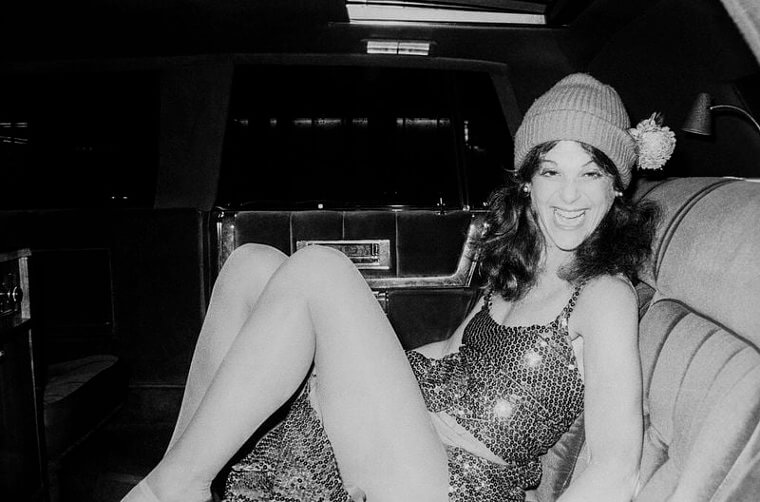 She moved into the famous Dakota back in 1979 and only paid $150,000 for her apartment. She lived there for a while and eventually sold her place to John Madden for $625,000. In 1989 Mrs. Radner passed away from ovarian cancer, but was immortalized by SNL and her marriage to fellow legend Gene Wilder.
Recently Denying Celebrities
Surprisingly many celebrities have been turned down residency at the Dakota apartments. Celebrities such as Billy Joel, Madonna, Gene Simmons, Antonio Banderas, and Cher have all been turned down. It seems that the co-op board can be picky about who they allow to own an apartment. According to the board, the process to get a place here is a long drawn-out and detailed process.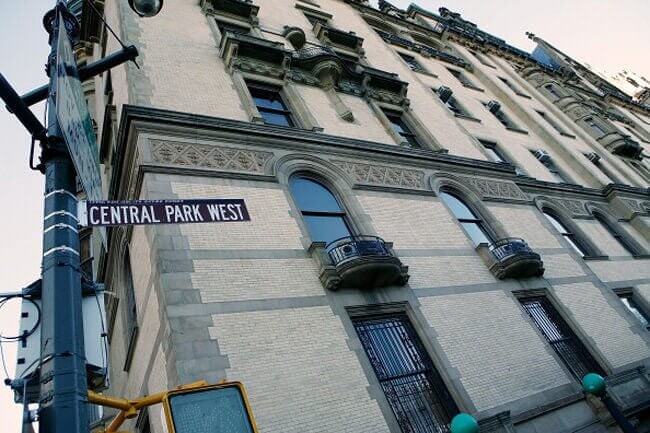 One of the reasons for such hoops is due to the issues that Buddy Fletcher has brought up when he filed his lawsuit back in 2011. But mainly the reason for the longer than usual process is that the board now looks at financial situations and others don't want the image of what the building stands for to change.
Origin of the Name
The Dakota Apartments got its name not because of its location with regard to the distance from other parts of Manhattan, but because of the creator Edward Clark. Back in the 1880s, a meeting was called before construction began and Mr. Clark suggested that the street names be labeled after the states. His idea was turned down, so he decided to continue with his original idea and call his building by Dakota.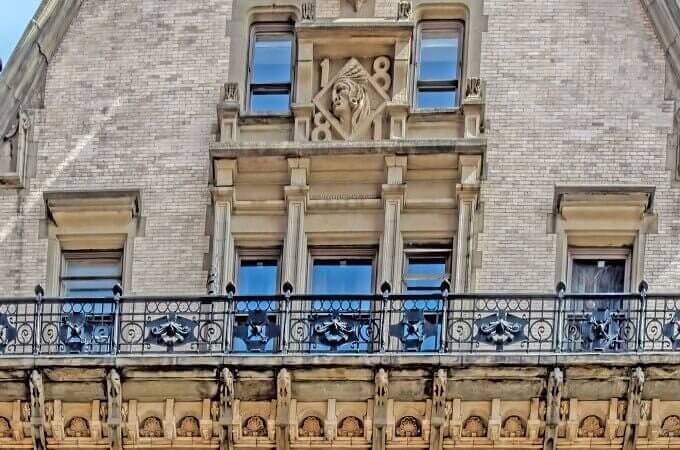 Parts of this history can still be seen today and if you look closely, you'll find on the southern facade a carving of what could be a Dakota Native American.
Introduction of Elevators
The building debuted in 1884 and the developer Clark along with the architect Hardenbergh wanted to ensure the building had all the bells and whistles that were available at the time. This included the use of electricity and elevators.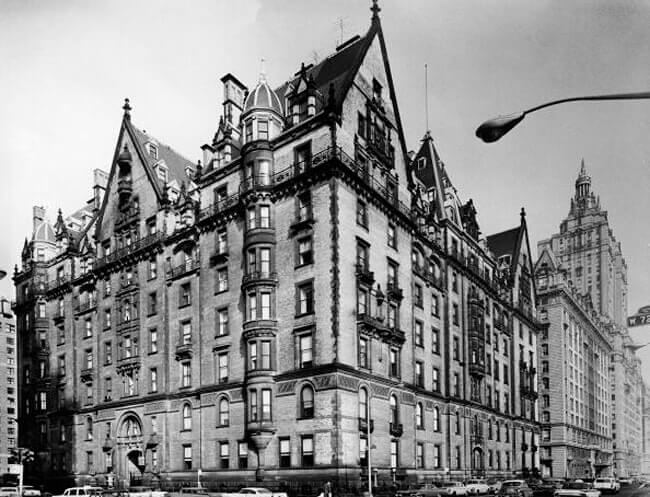 The Dakota was one of the very first buildings ever to introduce elevators. When the building first opened, women worked the elevators and wore black dresses with white trim. The tradition continued well into the 20th century. Today the thought of having no elevators terrifies the current residents, but at the opening of this historic building having elevators was a huge deal.

From Sewing Machines to Development
Edward Clark wasn't only the developer and visionary behind the Dakota Apartments but was originally a lawyer. He met his partner Isaac Merritt Singer who was a small time inventor. In exchange for ownership of a few of Singer's inventions Clark helped Singer out with legal advice and helped to get Singer patents on a few of his products.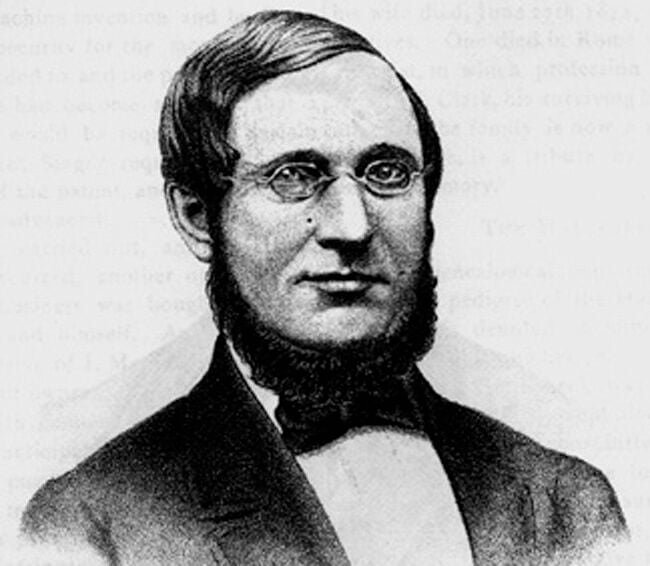 One of Singer's inventions was in fact the famous sewing machine which he eventually became the co-founder of the Singer Sewing Machine Company. The skills he learned in business with the Singer Sewing Machine Company helped him to open the Dakota several years later. 
Not Everyone Was Onboard With His Idea
Turns out, when Clark first began discussing his idea of apartment buildings, people weren't thrilled with the idea. Many of the people thought that apartment-style living was some sort of sham.
You see, the idea of apartment living was a completely new concept back then. Most people thought of it as a disrespectful place and commonly connected to a tavern or inn. But as history would prove, Clark was just ahead of his time.
The Unknown Portraits
Throughout the Dakota, you'll find a lot of ornamentation and decoration on the outside of the building. On the south side you'll find the date 1881. This is assumed to be the date the building was constructed. However, you'll also find two portraits over the entrance on 72nd Street and two others above the arch on the Central Park West Side entrance.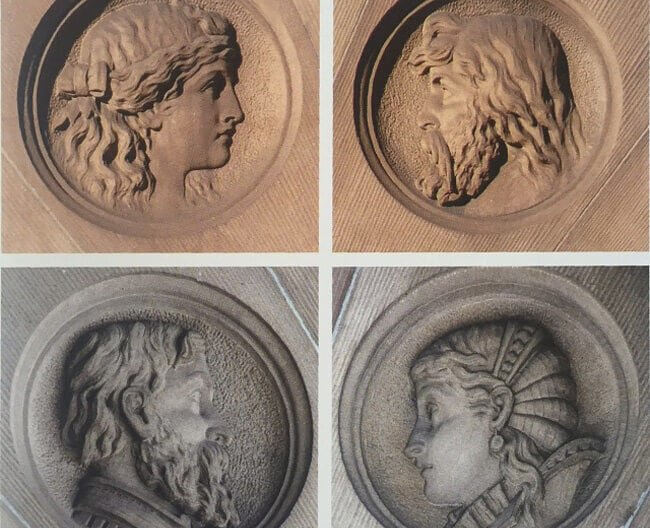 There is no indication of who these people are and none of them resemble Clark or other people associated with the construction of the building. There is a possibility that the two portraits above the main entrance are the wives of Clark and Hardenberg, but the other two are completely unknown.