The game's not over for the King of Basketball, Lebron James as the Lakers star announced Wednesday night at the ESPYS in Los Angeles that he will continue playing.
Losses To The Nuggets
James openly pondered retirement after the playoff sweep by the Denver Nuggets of the Lakers in the Western Conference Finals. After choosing not to, he will become the sixth player in NBA history to play in his 21st season or beyond -- joining Dirk Nowitzki, Kevin Garnett, Robert Parish, Kevin Willis, and Vince Carter, who has the record with 22.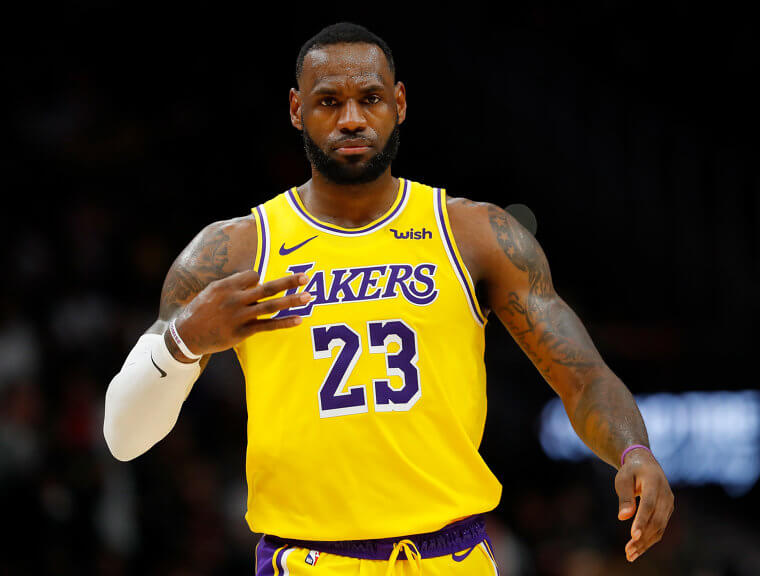 "I don't care how many more points I score or what I can or cannot do on the floor," James said after accepting the ESPY award for Best Record-Breaking Performance for passing Kareem Abdul-Jabbar as the NBA's all-time leading scorer. "The real question for me is: Can I play without cheating this game? The day I can't give everything on the floor is the day I'll be done. Lucky for you guys, that day is not today."

Wife, Kids, And Basketball
James was presented the award by his wife, Savannah, who was joined by their three children: 18-year-old Bronny, 16-year-old Bryce, and 8-year-old Zhuri. His adoring wife called him up saying "Please welcome to the stage, the GOAT, respectfully, LeBron James," Savannah said.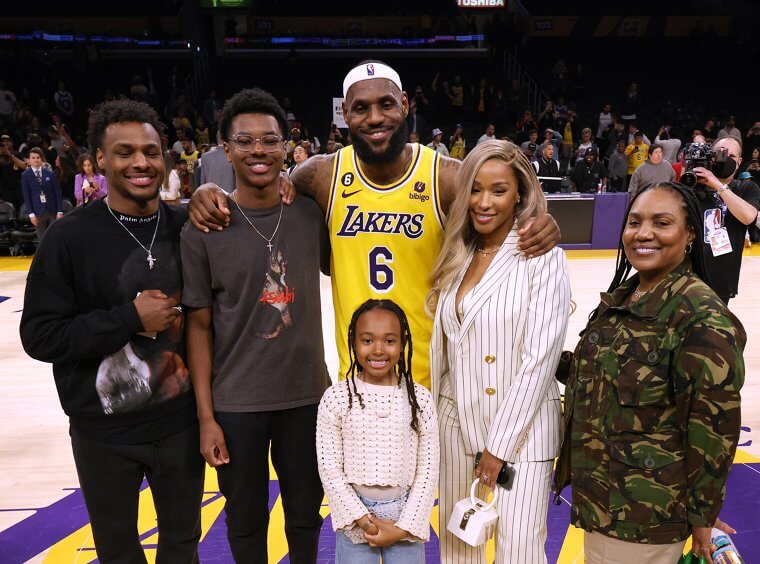 During his speech, James used the occasion to reflect on how his children have fueled his passion for basketball. Bronny in the fall of 2023 but join the USC men's basketball team in. Bryce is still in highschool enjoying the hard work of an early basketball career. James recently coached Bryce's AAU team, Strive For Greatness, at the Peach Jam tournament in South Carolina.
A True Love For Basketball
"Tonight, I want to use this moment to just say something that I've said a million times and will never get sick of talking about: I love this game. I love the game of basketball," James said. "There's a video going around right now on the internet of me coaching Bryce's team last weekend, and it's actually pretty funny. I saw a lot of posts with people talking about, 'LeBron brings the energy to a high school AAU game the same way he would do to a Finals game.' And to me, that's the ultimate compliment."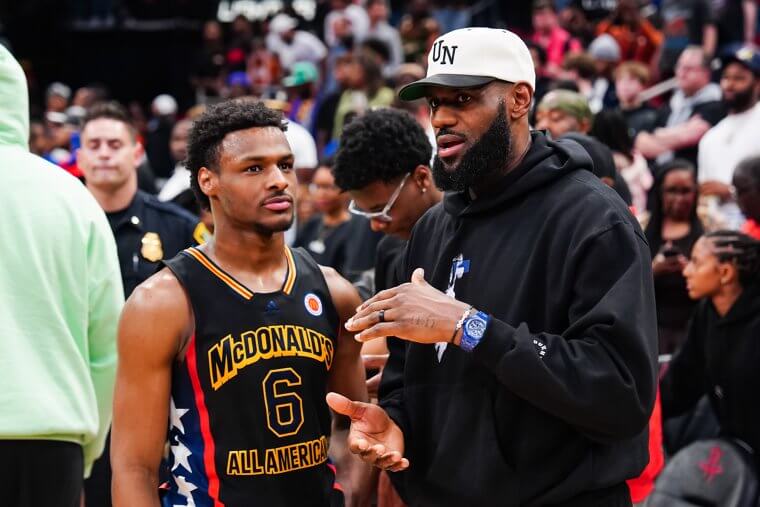 It's clear that through his words, his children are one of the most important parts of his life. While he loves basketball, he adores his children and their love for basketball as well. James also continued to distance himself from his prior wish to play on the same NBA team as one or both of his sons, saying, "They're on their own basketball journey, and no matter how far they choose to go, they're not cheating the game. And that inspires me."

20 Years Strong
"In my 20 years playing this game and all the years before, I've never, ever cheated the game, and I will never take it for granted." With former teammates Dwyane Wade, Carmelo Anthony, and Kentavious Caldwell-Pope in attendance Wednesday night, James detailed his dedication to the sport, which has thrust him into the national spotlight for over two decades.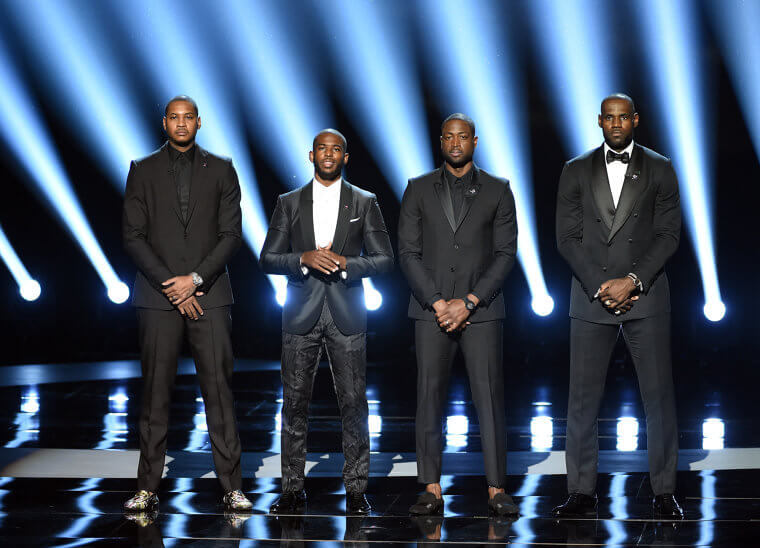 "Every time I step foot on the floor, either coaching my boys or playing, I want to give it everything. I do it for myself," James said. "I do it for some of my teammates that I've had before and now. And I do it for all the greats that came before me. And more importantly -- or most importantly -- I do it for the fans, the lovers of the game.

You Gotta Love Him... Or Hate Him
"Listen, you can love me -- and I know some of you hate me as well -- but the one thing you will always do is respect me and appreciate the way I approach the game and what I've given to this game." "The real question for me is: Can I play without cheating this game? The day I can't give everything on the floor is the day I'll be done,"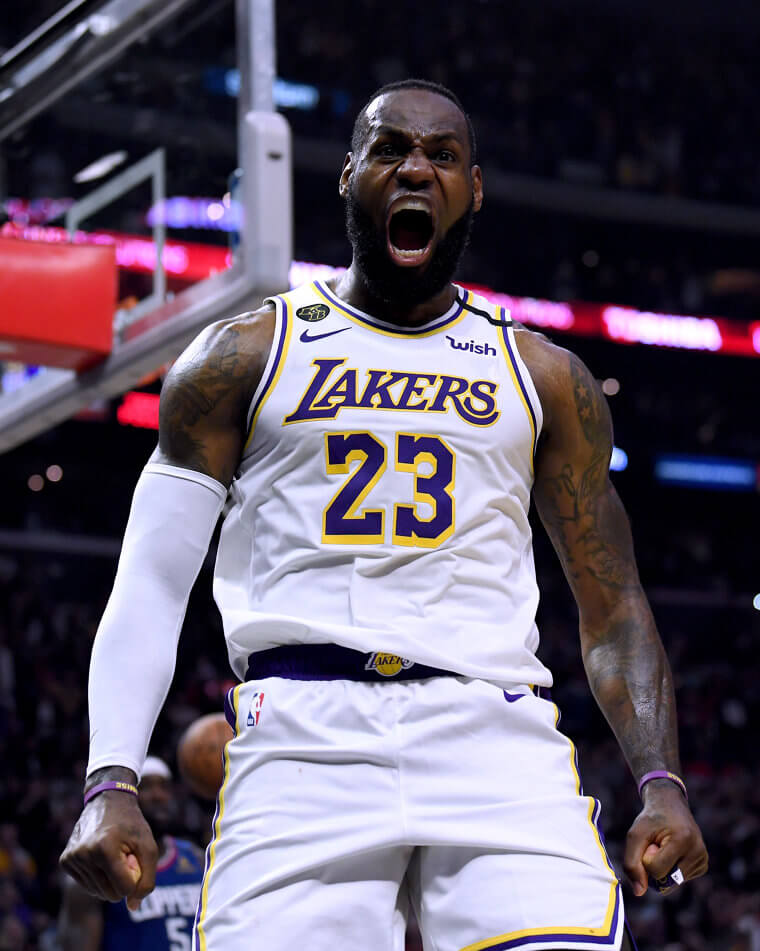 LeBron James said in his speech Wednesday night, before adding, "Lucky for you guys, that day is not today." The crowd erupted into cheering, no one wants to see the GOAT end before his time.  

A Fire In His Soul
When speaking about the 2023 season, especially after a tough season, many people questioned if continuing to play would be a good fit for LeBron. He said so himself,  "When the season ended, I said I wasn't sure if I was going to keep playing," James said. "And I know a lot of experts told you guys what I said, but I'm here now speaking for myself...The truth is, I've been asking myself this question at the end of the season for a couple years now. I just never openly talked about it."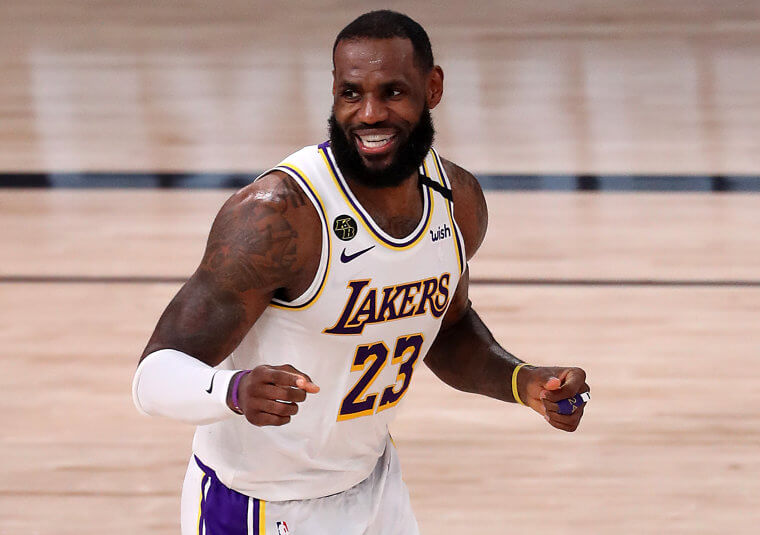 "So, yeah, I still got something left. A lot left. I love you all, and thank you so much for watching this journey so far." After reading these words he's remarked to us at the ESPYs, we're all feeling fired up for another season of LeBron and great basketball. 

The G. O. A. T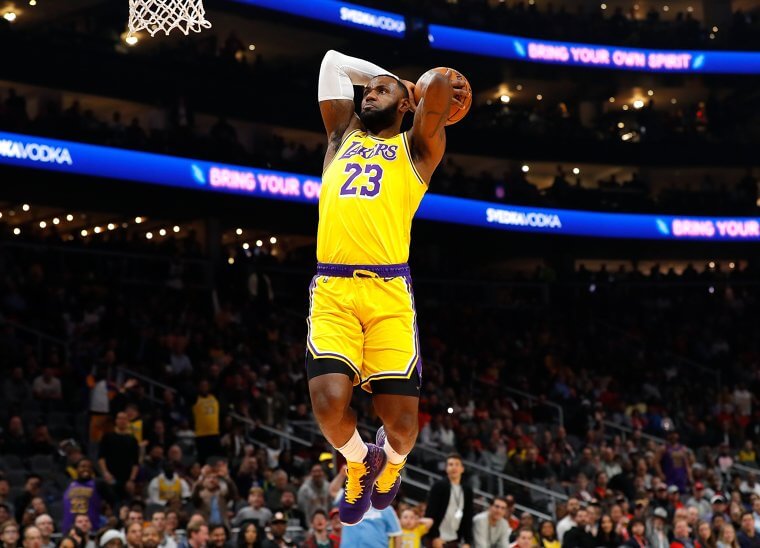 LeBron James is arguably one of the greatest basketball players of all time. He made a name for himself while still in high school and became one of the youngest players to join the NBA. LeBron, also known as Bron, is often compared to other legendary basketball players like Michael Jordan and Magic Johnson. However, there is nobody quite like LeBron James. Here are some shocking facts about the six-foot-four NBA player that you may not know.
LeBron Had a Rough Childhood
LeBron Raymone James Sr. was born on December 30, 1984, in Akron, Ohio. His mother, Gloria Marie James, was a single parent who gave birth to him when she was 16. His estranged father, Anthony McClelland, has been in and out of jail. "I saw drugs, guns, killings; it was crazy," LeBron recalled. "But my mom kept food in my mouth and clothes on my back."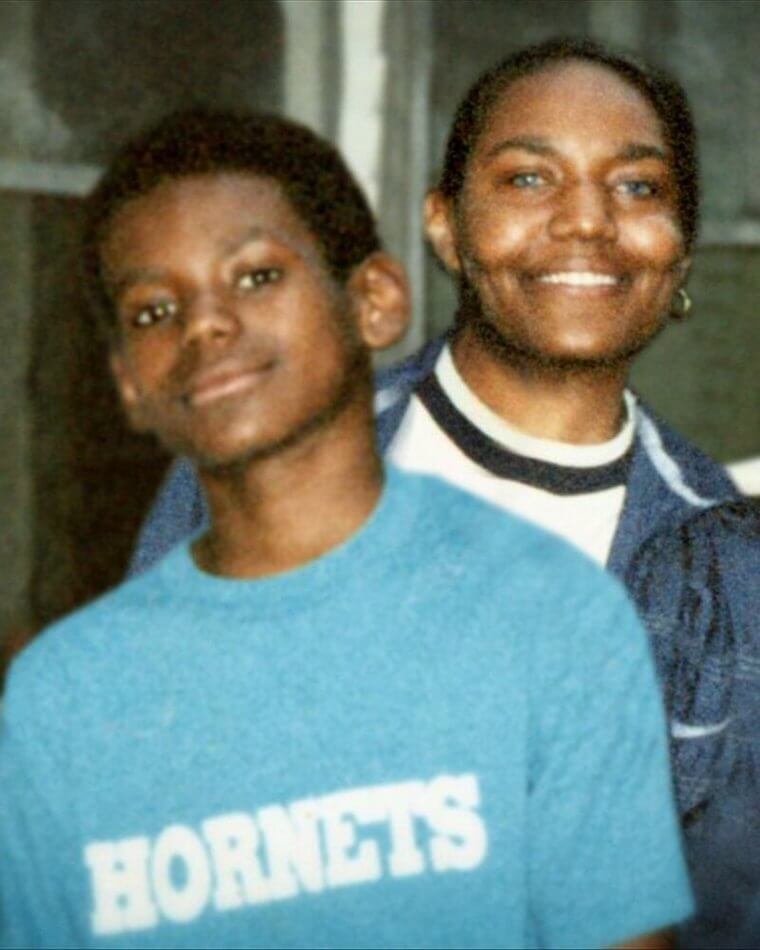 Gloria wanted a better life for her son, so she allowed him to move in with the family of Frank Walker, a local youth football coach. When Bron was nine years old, coach Walker introduced him to basketball. Gloria struggled to find a job and was arrested for petty crimes while Bron was in fourth grade. He was so ashamed that he avoided school for 82 days. However, the following year he had perfect attendance.
He Is a Fan of Classic Cartoons
The hardships young Bron endured helped mold him into the tenacious, optimistic man he is today. "I don't know why the Man above gives me the hardest road, but the Man above doesn't put you in situations you can't handle," LeBron said. However, his childhood wasn't all bad. Like other kids, LeBron enjoyed watching cartoons. On an episode of the Road Trippin' Podcast, he mentioned that his favorite animated show was Tom and Jerry.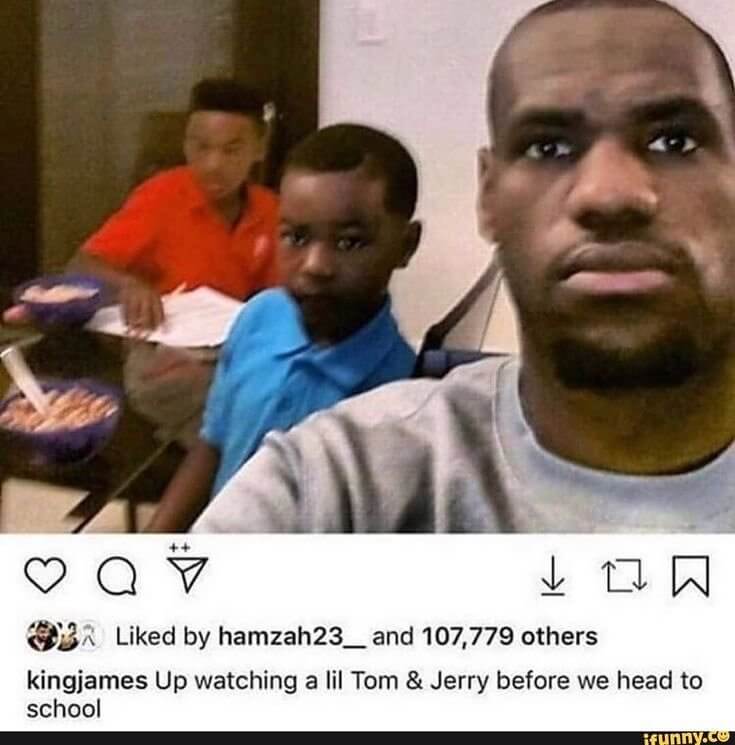 He also loved the iconic duo Wile E. Coyote and the Road Runner. As an adult, LeBron still enjoys cartoons. Although he occasionally watches Tom and Jerry, now he prefers Spongebob Squarepants and Teen Titans. Two of his favorite Looney Tunes characters are Bugs Bunny and Daffy Duck. In 2021, he starred in the live-action/animated sports comedy film Space Jam: A New Legacy, alongside the Looney Tunes Squad.
That's Not Nike, LeBron
LeBron knew his worth at an early age. He attended St. Vincent-St. Mary High School, a private Catholic school in Akron. While playing for the school's basketball team, the Fighting Irish, he dreamed of joining the NBA. Instead of waiting for opportunities to come his way, he fought for what he wanted. When he was 16 years old, he came up with a plan to get multiple sponsorship offers.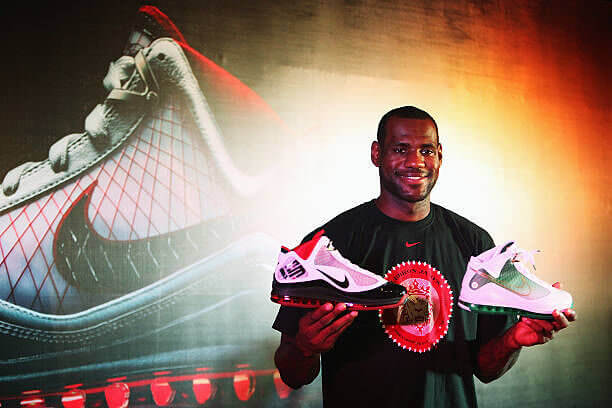 He wore Nikes to an Adidas-sponsored ABCD Basketball Camp. The media asked the founder of the ABCD camp (Sonny Vaccaro) if LeBron's actions had offended him. "Offended?" Sonny replied. "No. I applauded him. Because he understands who he is." Not long after, Bron donned a pair of Adidas sneakers to attend Nike's All-American Basketball Camp. He was hoping for an offer from Reebok, but in the end, he accepted a six-year $90 million deal with Nike.
LeBron Is the Chosen One
In 2001, LeBron became the first sophomore to win the title of Ohio Mr. Basketball. Thanks to the publicity, ESPN2 aired many of his high school team's basketball games. In 2002, Sports Illustrated referred to LeBron as "The Chosen One" on the cover of their February edition. The nickname stuck, and LeBron even got "CHOSEN 1" tattooed across his back.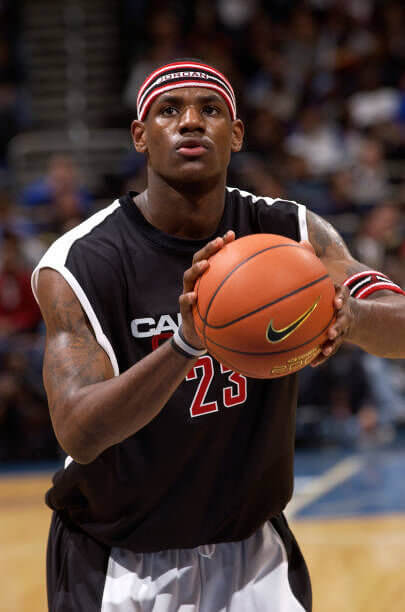 Grant Wahl, the author of the article, said he was worried about the repercussions of featuring such a young athlete on the cover. "It's one thing to do a feature on somebody inside the mag, the writer said. "But when you put a young kid on the cover and proclaim him 'The Chosen One' – maybe 'ruin his life' is a little strong, but it took things to such a level that I felt like his life was not going to be the same after that."
A Man of Many Nicknames
Apart from Bron and the Chosen One, LeBron James has many other monikers, including LBJ, L-Train, Bron Bron, and the Akron Hammer. His most well-known nickname is King James or the King for short. SportsNation co-host, Michelle Beadle, was the first to call him the Akron Hammer. Cleveland Cavaliers legend, Austin Carr, started referring to LeBron as the L-Train while commentating for the team.

There are differing opinions regarding who invented the nickname "King James." However, Grant Wahl used the moniker in the 2002 article for Sports Illustrated when he compared the "17-year-old prodigy" to "the 38-year-old master," Michael Jordan. "King James" likely originated as a comparison to Michael Jordan's royal-sounding moniker, "His Airness." LeBron has embraced the endearment and has even used @KingJames as his Instagram username since he created his profile in 2012.
Why Did He Pursue a Basketball Career Instead of a Football Career?
True LeBron fans know that basketball is not the only sport the athlete can play. During high school, he was on the football team too. He even considered becoming a professional football player, and many football fans compared him to former NFL player, Randy Moss. So why did Bron choose the NBA over the NFL? Well, there are two reasons.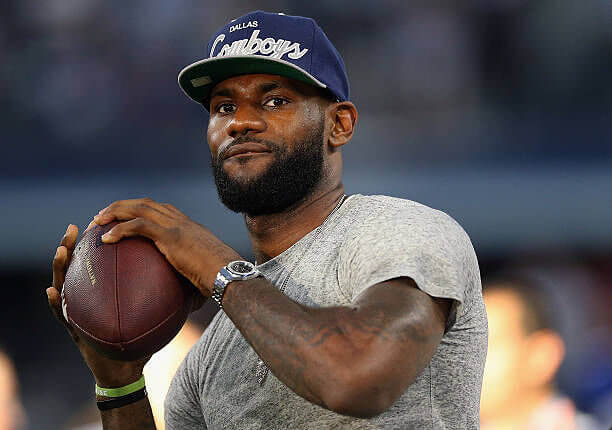 He revealed in an Instagram post that his friends encouraged him not to go pro in football. The second reason was that he missed the football season during his high school senior year due to an injury. While playing at an Amateur Athletic Union (AAU) game in June 2002, LeBron broke his wrist. After two months of recovery, his wrist healed in time for the basketball season.
LeBron Did Well in School
Many high school athletes focus on their sport without putting much effort into their school work. Charlotte Hornets guard, LaMelo Ball, has publicly said that school was not for him. Ben Simmons went to Louisiana State University for one year solely to play basketball for the Tigers. He didn't even attend any classes. Although LeBron didn't go to college, he excelled academically in high school.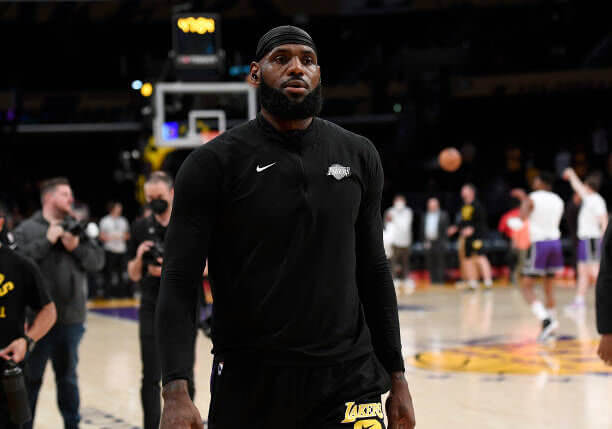 "He did his homework, always," Saint Vincent-Saint Mary librarian Barbara Wood said about LBJ. "He didn't have late assignments, and he didn't have stuff missing. That was his work ethic in basketball, and it was his work ethic in school. It carried over." His favorite subject was reportedly Earth Science. Anyone who knows LeBron knows that he values education. In 2018, he opened a public school in his hometown that caters to at-risk children.
LeBron Tried to Become an NBA Player Before Graduating
The NBA prefers players who have experience playing basketball in college, but they accept high school graduates. LeBron was eager to join the NBA before graduating, so in 2002, he petitioned to get the NBA to change its rule. Many teams wanted LeBron, despite his young age. However, the NBA refused to budge, not even for the King himself.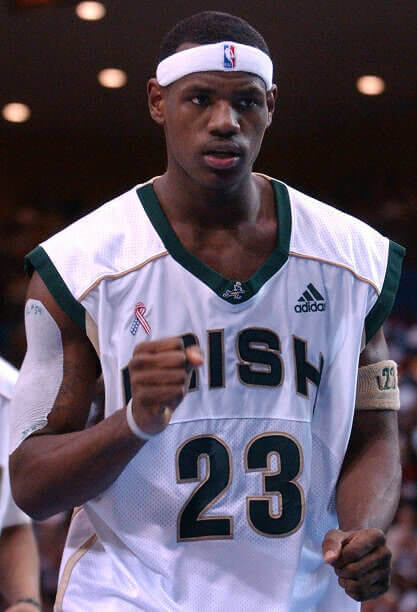 If they had allowed him in the 2002 draft, LeBron likely would've played for the Houston Rockets in Yao Ming's place. "The rule's not fair, but that's life," King James said at the time. "I'll stay another year because my friends are here. The only thing I think is bad [is] they let that 17-year-old golfer [Ty Tryon] on the PGA Tour. You've got tennis players competing professionally when they're 14. Why not basketball players?"
What if LeBron Had Gone to College?
Bron entered the draft in 2003, once he graduated from high school, and the Cleveland Cavaliers selected him first. In 2005, the NBA introduced the one-and-done rule that required players to be at least one year out of high school. If the NBA had implemented it before 2003, the L-Train would've had to go to college, as most other NBA players did.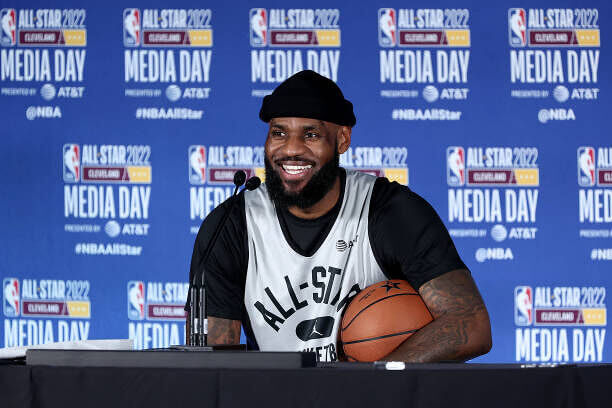 Bron has mentioned two colleges that were on his shortlist. His first choice was Ohio State. If he had gone there, the Buckeyes would've been lucky to have him for the year. We wonder what collegiate basketball records LeBron would've broken and if he would've been the most successful one-and-done player ever. Bron's second choice was the University of North Carolina – the same college Michael Jordan attended. UNC would've had two of the world's greatest basketball players as alumni.
King James Continued to Dominate His Opponents
After winning Ohio Mr. Basketball in 2001, King James won it again in 2002 and 2003. No other player has won the title more than once. During the basketball season of his senior year, LeBron averaged 31.6 points, 9.6 rebounds, 4.6 assists, and 3.4 steals per game. After joining the NBA Cleveland Cavaliers, Bron continued to dominate players on the basketball court.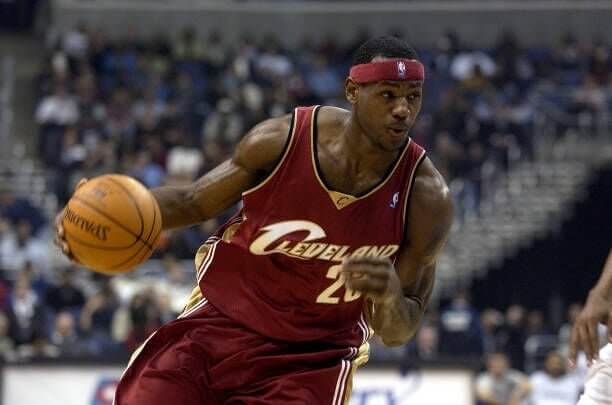 He led the Cavs to victory during the last two minutes in Game 5 of the 2007 Eastern Conference Finals. They were losing to the Detroit Pistons when King James made a three-pointer. He went on to score 25 consecutive points in the last few seconds. The match came to a nail-biting end with a final score of 109-107 to the Cavaliers. LeBron has won multiple awards, including the Most Valuable Player. He is a four-time MVP.
LeBron's Controversial Vogue Cover
Vogue's April 2008 cover featured King James and supermodel Gisele Bündchen. Bron was only the third man to make the magazine cover, after Richard Gere and George Clooney. What was even more groundbreaking was that LeBron James was the first black man on the front page of Vogue. Unfortunately, controversy overshadowed the achievement. In the cover photo, LeBron holds the pretty white model in one arm while bouncing a basketball with the other hand.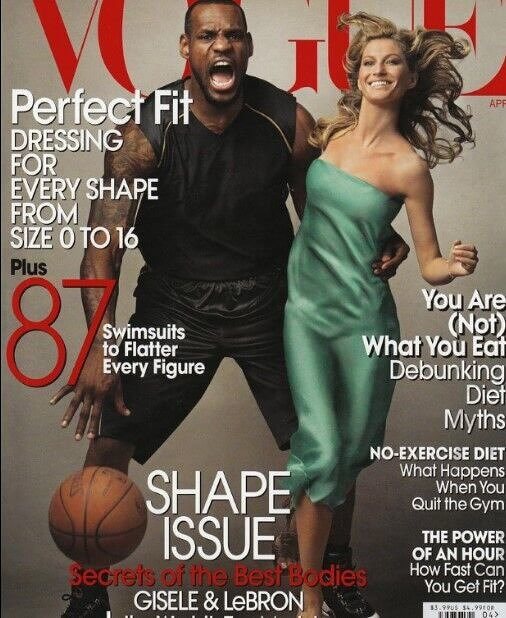 The photograph in itself is not racist. However, when viewed side-by-side with an image from World War I that portrays King Kong as a "mad brute" with a white lady in his clutches, it's easy to see what the issue is. The similarities are so distinct that there is no doubt that photographer Annie Leibovitz drew inspiration from the image, comparing LeBron with the deranged gorilla.
LeBron Has Shares in a British Football Club
Since 2011, the King has owned 2% of the English football club Liverpool F.C. Although 2% is not a significant portion, it was worth £4.7 million ($ 6.5 million). At the time, the club was the butt of many jokes, as it wasn't winning too many trophies. However, the tables turned when Liverpool won the 2018-19 Champions League. The value of LeBron's shares increased tenfold, and they are now worth over $49 million.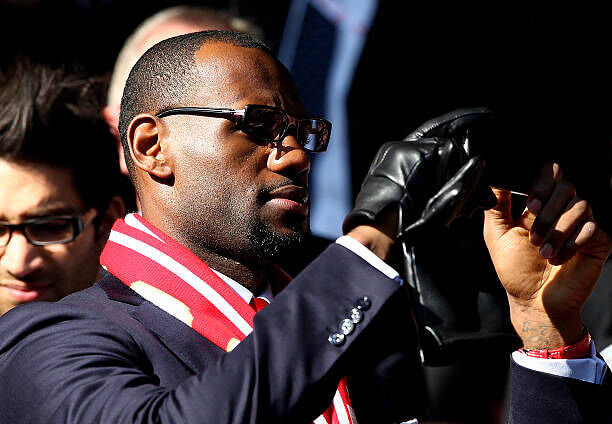 The King made a wise decision to invest in the club. He is not the only basketball legend who is also associated with football. Nike's Jordan brand sponsors the well-known French football team, Paris Saint-Germain. Although Michael Jordan doesn't own the Jordan brand, he is the face of the brand and earns a percentage of its revenue.
LeBron Is a Team Player
As of February 2023, LeBron has scored a whopping 38,390 points in his career. He passed the legendary Kareem Abdul-Jabbar with 38,387, making him the highest-scoring player ever to step foot on the court, and he still has gas in the tank before he throws the towel in and retires. The record took nearly 35 years, from when Kareem retired to when Lebron broke the record.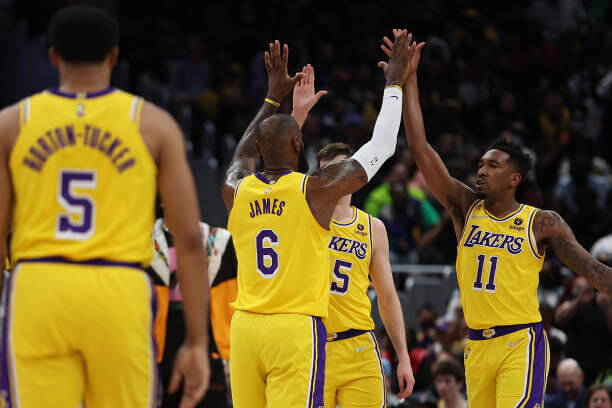 "I've always loved the success of my teammates more than myself," he explained. "Even when I first started playing basketball, we had a kid named Sonny on our team that was younger than all of us, and he couldn't catch. So, in order for him to catch, we used to roll the ball to him so he could pick it up and shoot it off the ground. And when he finally made one, it was like the greatest thing for all of us."
He Is an Advocate for Fair Pay
In 2015, LeBron became the first vice president of the NBA's labor union, the National Basketball Players Association. He worked hard to ensure that all players earned a fair salary. He also pushed for a better retirement package for ex-NBA players. During the 2016-17 season, LBJ was the highest-paid NBA player. However, this wasn't always the case.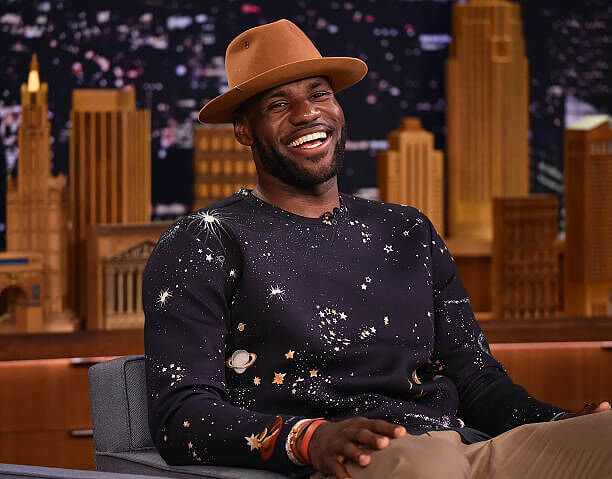 In 2010, he and Chris Bosh joined Miami Heat to form the Big Three with Dwayne Wade. There were rumors that Dwayne was leaving. However, Miami Heat secured his spot on the team by hiring Chris and LeBron. The investment set them back financially, making it difficult to pay the other players what they were worth. The team was at risk of losing Udonis Haslem. So, LeBron, Chris, and Dwayne famously volunteered to take a substantial pay cut to keep Udonis on the team.
LeBron Helped Octavia Spencer Get Equal Pay
Not only did the King push for better pay for his fellow NBA players, but he also helped Octavia Spencer negotiate her salary for her role in the Netflix mini-series, Self Made: Inspired by the Life of Madam C.J. Walker. The eight-episode series (based on the book On Our Own Ground by A'Lelia Bundles) is about the first African American woman to become a self-made millionaire.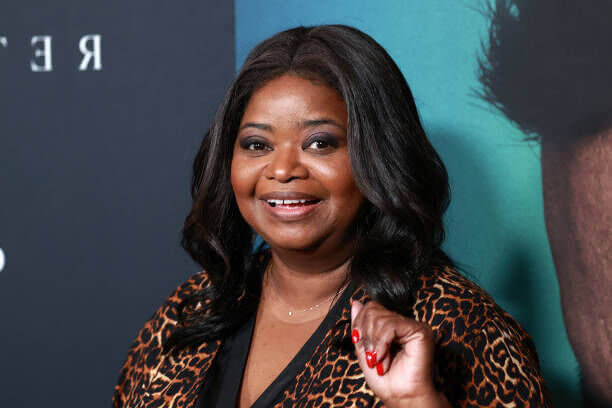 Ironically, the Oscar-winning actress was almost underpaid for her performance. However, LeBron was one of the executive producers and stood up for Octavia. "I have to say," the actress revealed to IndieWire, "when I was negotiating my deal for Madam C.J., LeBron James had to intervene. So we need all our male counterparts to be in the fight with us." Octavia's brilliant performance in the Netflix show earned her an Image Award for Outstanding Actress.
LeBron's Secret to Staying Healthy
Being in peak physical condition requires a lot of discipline. LeBron reportedly wakes up at 5 a.m. every day to exercise and only has one or two rest days each week. He also ensures that he gets enough beauty sleep, claiming to sleep for 12 hours at night during his youth. These days, King James says that he gets at least eight hours of shut-eye and also has an occasional afternoon nap.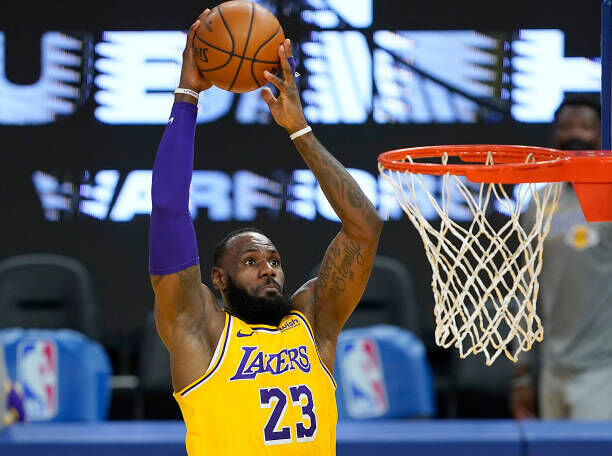 The most unusual part of LeBron's health plan is drinking red wine. "I've heard it's good for the heart," he explained in 2018. "Listen, I'm playing the best basketball of my life, and I'm drinking some wine pretty much every day." Experts say that this may be true, but only in moderation. You don't have to be a doctor to know that drinking too much wine is unhealthy.
He Married a Cheerleader From His Rival High School
When LeBron was in high school, he met Savannah Brinson, a cheerleader at a rival school. The King instantly fell for Savannah and asked her to dinner at Outback Steakhouse. "I knew he loved me when I left my leftovers from dinner in his car," Savannah recalled. "I'd totally forgotten about them, and he brought them to me. I think he just wanted another excuse to come and see me."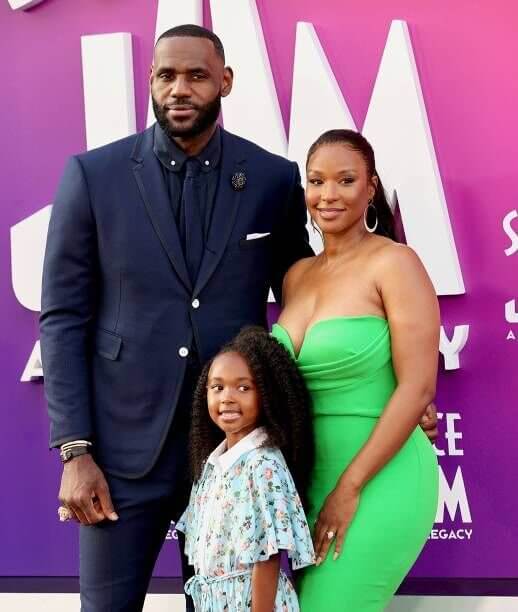 The couple tied the knot in 2013. Although Savannah didn't think LeBron would become a famous NBA player, the King attributes his success to her. "[Savannah] was down when I was at my high school, no cameras, no lights. And she was there with me," he told The Hollywood Reporter in 2018. "You wouldn't be talking to me right now if it weren't for her."
They Have Three Children Together
Almost nine years after their wedding, LeBron and Savannah are still happily married, and they have three kids together. Their eldest son, LeBron Raymone "Bronny" Jr., was born on October 6, 2004, and their youngest son, Bryce Maximus James, was born three years later. Both boys take after their father and are on their high school basketball team. Not only did they inherit the King's talent, but they also have his height.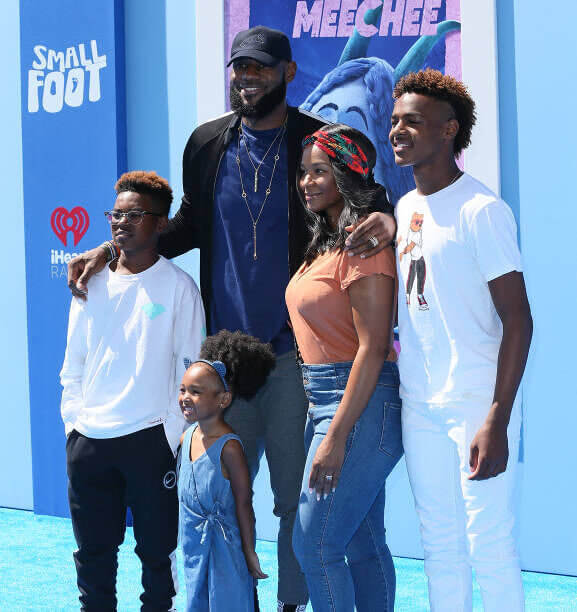 LeBron James Sr. is six foot eight, while his sons are over six feet tall and still growing. In December 2021, Bronny posted a photo of himself and his brother with the caption, "Bro is literally my height." The boys' younger sister, Zhuri, was born on October 22, 2014. Fun fact: Basketball player Chris Paul, better known as CP3, is the godfather of LeBron's three children.
LeBron Regretted Naming His Firstborn After Himself
Being the sons of LeBron James, Bronny and Bryce have big shoes to fill. Bronny has the added pressure of sharing the same name as his famous father. The King once confessed that it was probably not a good idea to name his firstborn LeBron James Jr. However, Bronny has grown up to become a talented basketball player in his own right. In 2015, his dad revealed that he already had offers from colleges.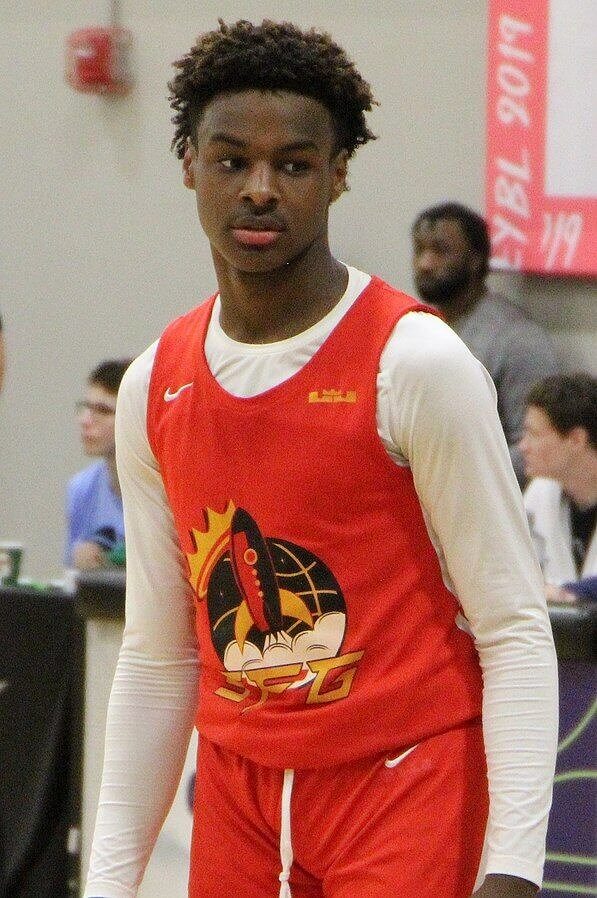 "It's pretty crazy," LeBron told CBS Detroit. "It should be a violation. You shouldn't be recruiting 10-year-old kids." As of February 2022, Bronny is a junior at Sierra Canyon School. LeBron is looking forward to playing in the NBA with his son one day. "That's definitely one of my goals," he said, "but that's a long-term goal." Bronny will be eligible for the draft in 2024.
LeBron James Vs. Michael Jordan
Which basketball player is the Greatest of All Time (GOAT)? Well, it depends who you ask. Many believe that LeBron is, while others are adamant that it's retired legend, Michael Jordan. When Sports Illustrated featured a photograph of the high schooler talking to the basketball superstar in 2002, writer Grant Wahl compared the moment to when a young Bill Clinton met JFK. Fans have been comparing the two athletes ever since.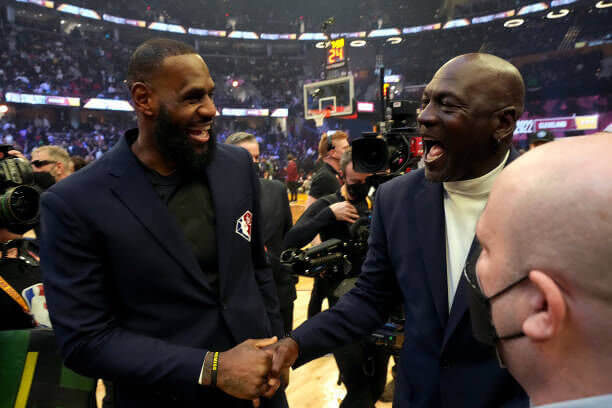 And they do have a lot in common. Apart from wearing the number 23 during their careers in the NBA, they are the only players to win an NBA Championship, Finals MVP award, regular-season MVP award, and an Olympic Gold Medal within the same year. They have also both been in movies. His Airness starred in the 1996 basketball comedy film Space Jam, and King James took over the role in the 2021 sequel.
A Right-Handed Basketball Player Who Writes With His Left Hand
Although LeBron mainly uses his right hand when scoring baskets, he is actually a lefty. If you look at photographs of King James writing or signing merchandise, you'll notice that he writes with his left hand. So why doesn't he score with his left hand? "I have no idea how I became a right-handed basketball player," LeBron revealed in a 2017 interview. "I think maybe it was because of Michael Jordan, Penny Hardaway, guys that I looked up to growing up."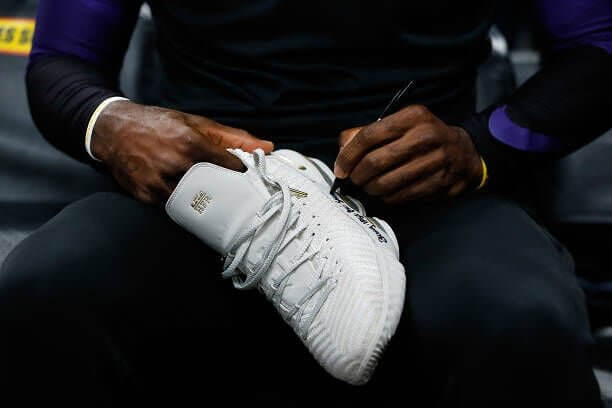 LeBron occasionally throws left-handed shots, but they're not nearly as successful as his right-handed throws. The King is not the only ambidextrous NBA player. Steve Nash, Tristan Thompson, and Larry Bird can also switch shooting hands. However, even ambidextrous players tend to stick to one shooting hand throughout their career.
Another Rival From Akron
Michael Jordan isn't the only player who basketball fans compare with LeBron James. He's just the player who has the most in common with LBJ. However, in 2014, Stephen Curry became one of LeBron's strongest competitors. Stephan is known for his competitiveness and is even has the nickname Baby-Faced Assassin. Steph led his team, Golden State Warriors, to victory during the NBA finals in 2015. LeBron's team, the Cleveland Cavaliers, lost to the Warriors and came second overall.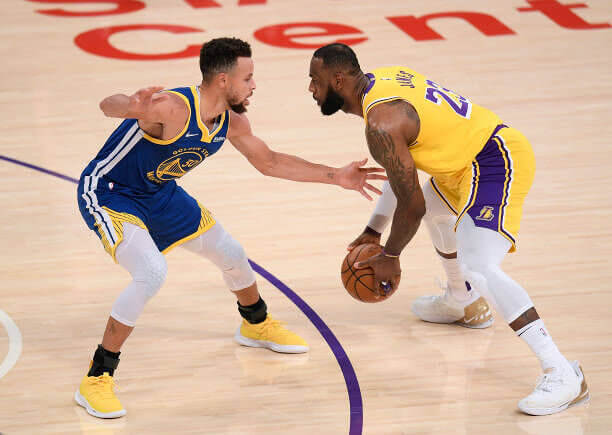 The following year, the tables turned, and the Cavs became the champions. However, Steph thrashed LeBron's team again in 2017 and 2018. One of the very few things these two players have in common is that they were born in the same hospital. Although Steph grew up in Charlotte, North Carolina, he was born in Akron hospital when his father, Dell Curry, played for the Cavaliers. 
An NBA Rivalry That Started During High School
Fans have compared LeBron to many other players, including Kevin Durant, Dirk Nowitzki, and Jimmy Butler. One of Bron's earliest rivalries was Trevor Ariza, also known as Switchblade. In 2021, they became teammates when Trevor joined the Los Angeles Lakers. LeBron has been with the Lakers since 2018. Switchblade and the King have a long history that started when they were both in high school.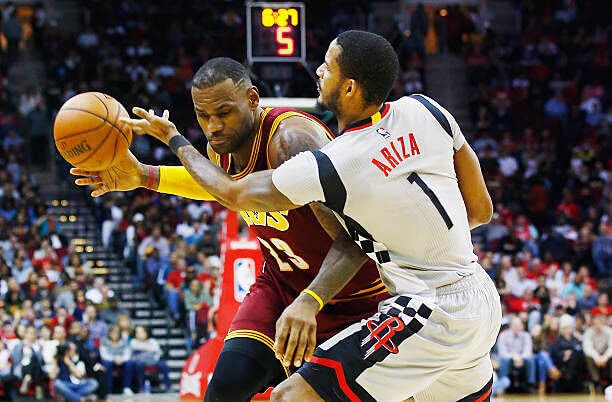 Trevor was a promising young basketball star when he played for Winchester High School's Comets in the early 2000s. He was something of a prodigy at his school. Trevor and his father both made a name for themselves playing basketball for the Comets. However, the King proved he was in a different league when the Fighting Irish crushed the Comets in a 78-52 blowout. King James scored 52 of the 78 points himself.
LeBron Is on Track to Becoming a Billionaire
Playing great basketball has made the King a millionaire. According to HoopsHype, LeBron's salary in the 2015/16 season was over $22 million. He was the second-highest-paid player after the late Kobe Bryant. That year, he earned an additional $43 million in endorsement deals, making him the 18th highest-paid celebrity in 2015. Since then, the King's net worth has continued to increase.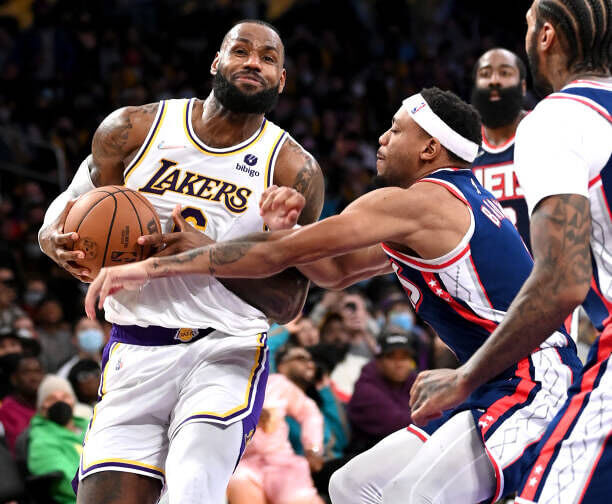 By 2022, LeBron became the first player to have a net worth of $1 billion while an active player. The richest NBA player in the world is currently Michael Jordan. According to Forbes, MJ's net worth is around $1.5 billion. However, LBJ is on track to take the number-one spot one day. He reportedly has a lifetime contract with Nike worth over $1 billion, and he earns an estimated $100 million annually.
Who Is the Greatest of All Time?
Most NBA fans believe that the GOAT is one of three athletes: Michael Jordan, LeBron James, and Kareem Abdul Jabbar. According to a 2020 ESPN poll, 73% of 600 NBA fans said His Airness is the best basketball player overall. However, after LeBron led the Lakers to victory at the 2020 NBA championship, new stats showed that most fans considered him the GOAT.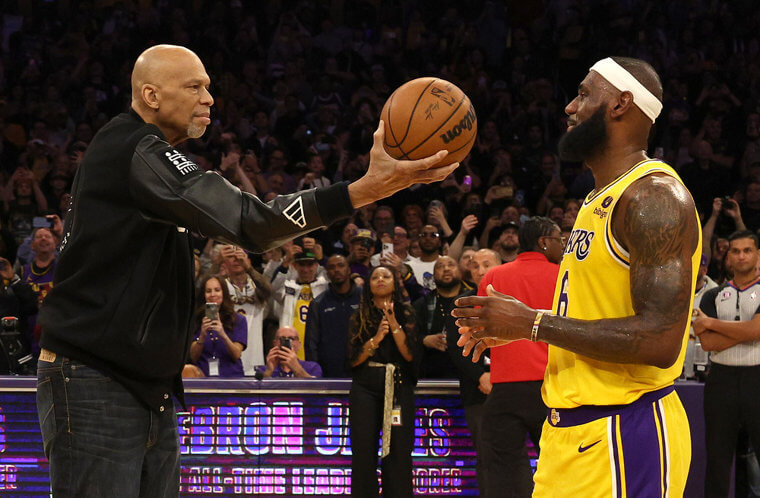 Isiah Thomas, a former professional basketball player and current analyst for NBA TV, has said,  "We've never seen a player who has so thoroughly dominated in every statistical category," Thomas said about LeBron. "When he passes Kareem in scoring, you have to anoint him as the GOAT." LeBron believes the title is already his. "I just felt like ain't nobody better than me at this," he said. On February 7th, 2023, Lebron broke the record Kareem held for 34 years for the most points scored all time. It will take another player a significant amount of time to break Lebron's record, so it's safe to say LeBron will have this record for years to come.