Michael Jordan and LeBron James- the two names that are etched in basketball history as two of the greatest NBA stars ever to grace the court. Countless debates have raged among fans, passionately arguing over who deserves the title of the greatest of all time. If you're on team James, here are a few reasons why fans feel that LeBron James will never be Michael Jordan.
Jordan Has More Final Wins Under His Belt
When it comes to NBA Finals victories, Jordan's achievements shine brightly. He has an impressive total of six championships which is two more than James. What's even more remarkable is that he was able to do this in just 13 seasons. James, on the other hand, took 18 seasons and 10 attempts to reach that number.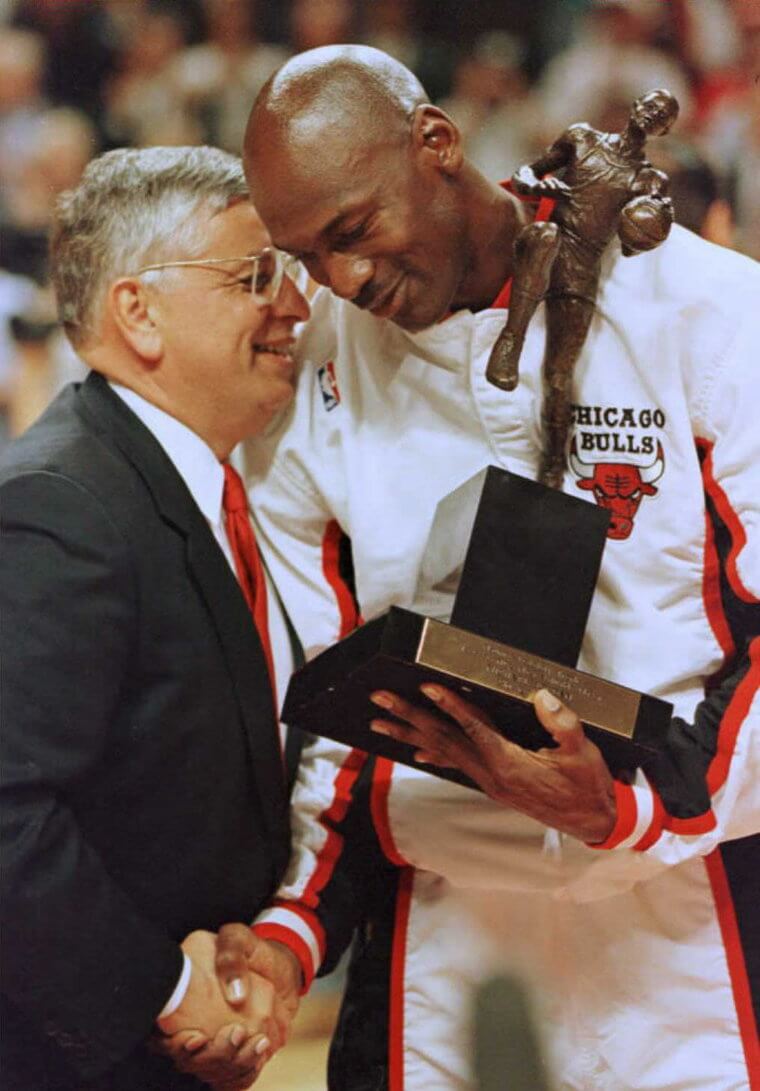 The contrast becomes even more striking when we consider the condensed nature of Jordan's career. All of his successes happened within a relatively shorter span of time, making them even more impressive. If that's not enough to convince you, then there's also the fact that Jordan is a six-time NBA Finals MVP. 
The Most Consistent Performer
Arguably one of the most extraordinary aspects of Jordan's career is his remarkable consistency. Not only did he win six championships, but he also earned the Finals Most Valuable Player (MVP) award each time. This achievement not only proves Jordan's exceptional performance but also his unwavering dominance on basketball's grandest stage.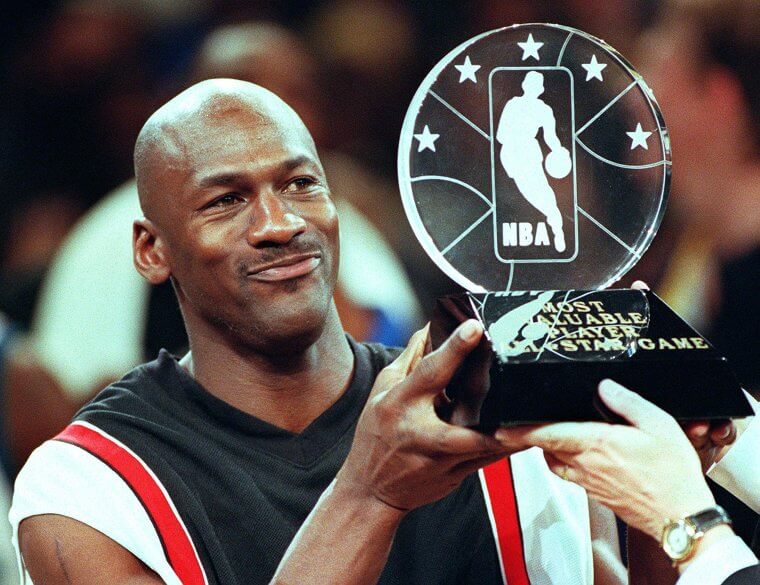 No matter the opponent or the circumstances, Jordan consistently delivered his best. This exceptional consistency and ability to perform at an elite level make Jordan an unparalleled figure in basketball history. What's more, is that he's also a better scorer than James. 
Jordan Never Seems to Miss
When it comes to scoring in the NBA, Michael Jordan's prowess is unmatched. That being said, it is important to note that he played as a shooting guard, while LeBron James is a small forward. Nevertheless, Jordan's scoring record is nothing short of incredible.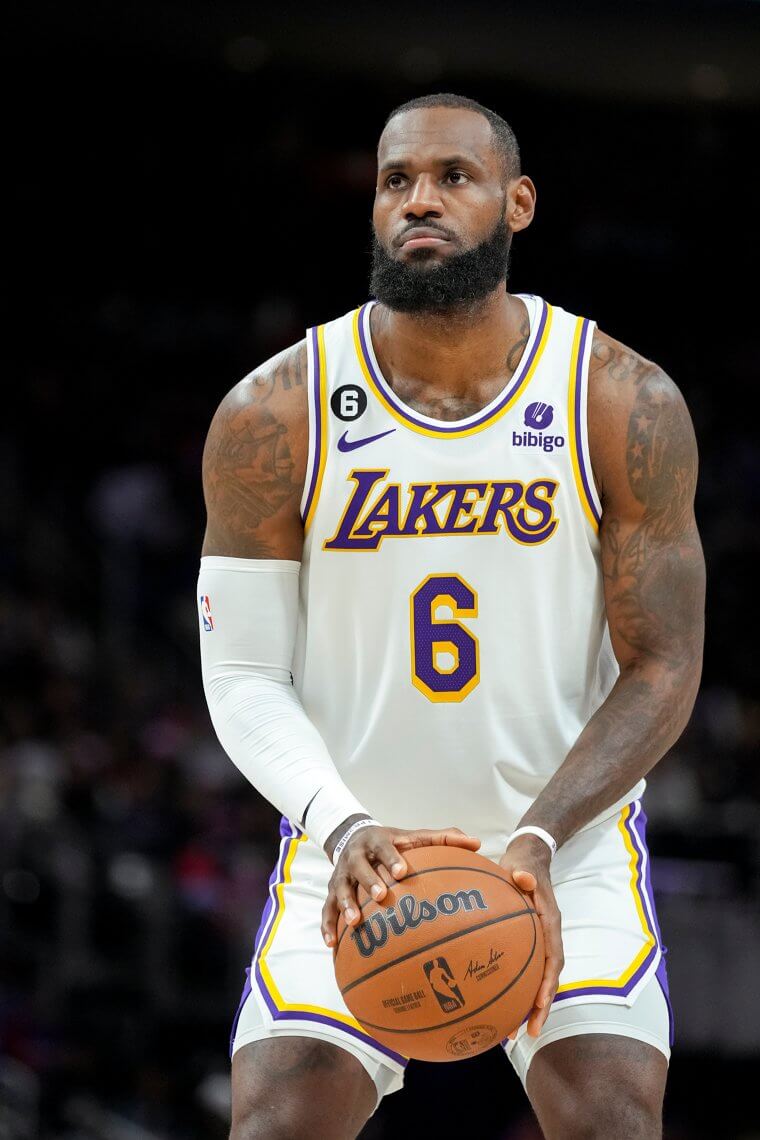 In his career spanning 17 seasons, James has managed to secure one NBA scoring champion award. Jordan, on the other hand, claimed a remarkable 10 scoring titles. This speaks volumes about Jordan's ability to consistently put up impressive numbers and outscore his opponents. While both players have left a lasting impact on the game, it's Jordan's impact in the playoffs that tips him over the edge. 
He Had an Unbeatable Average
It wouldn't be right to mention their scoring ability without taking a closer look at their impact in the NBA playoffs because their approaches and achievements differ greatly. Jordan's playoff performances were nothing short of extraordinary, as he managed to average over 40 points per game in five different playoff series.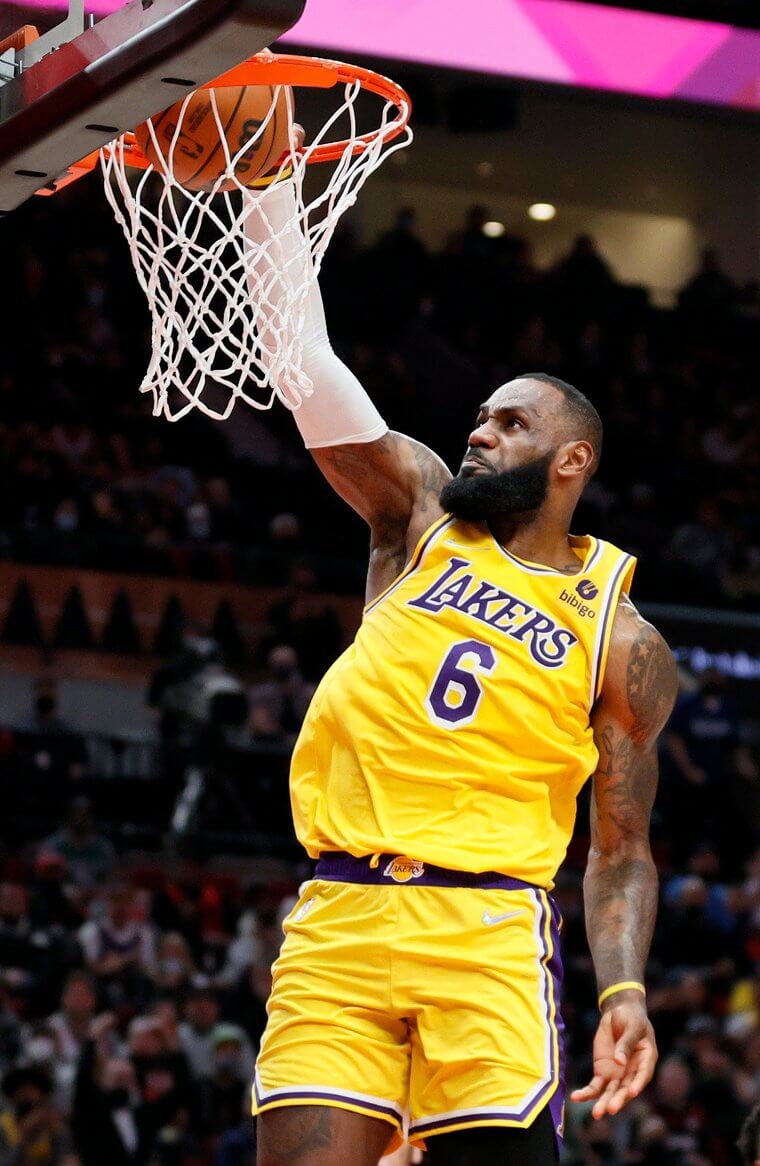 This staggering scoring ability in high-stakes games showcased Jordan's ability to elevate his game when it mattered most. While James has had numerous successful playoff runs throughout his career, he was never able to reach this remarkable milestone. This contrast in scoring dominance further fuels the ongoing debates regarding their individual greatness.
Jordan Played During a Different Era
When comparing Jordan and James, it's important to remember that these basketball stars played in different eras. The truth is that James has been known to indulge in flopping, a practice that has become increasingly common in today's NBA. However, in Jordan's heyday, flopping would have been deemed unacceptable.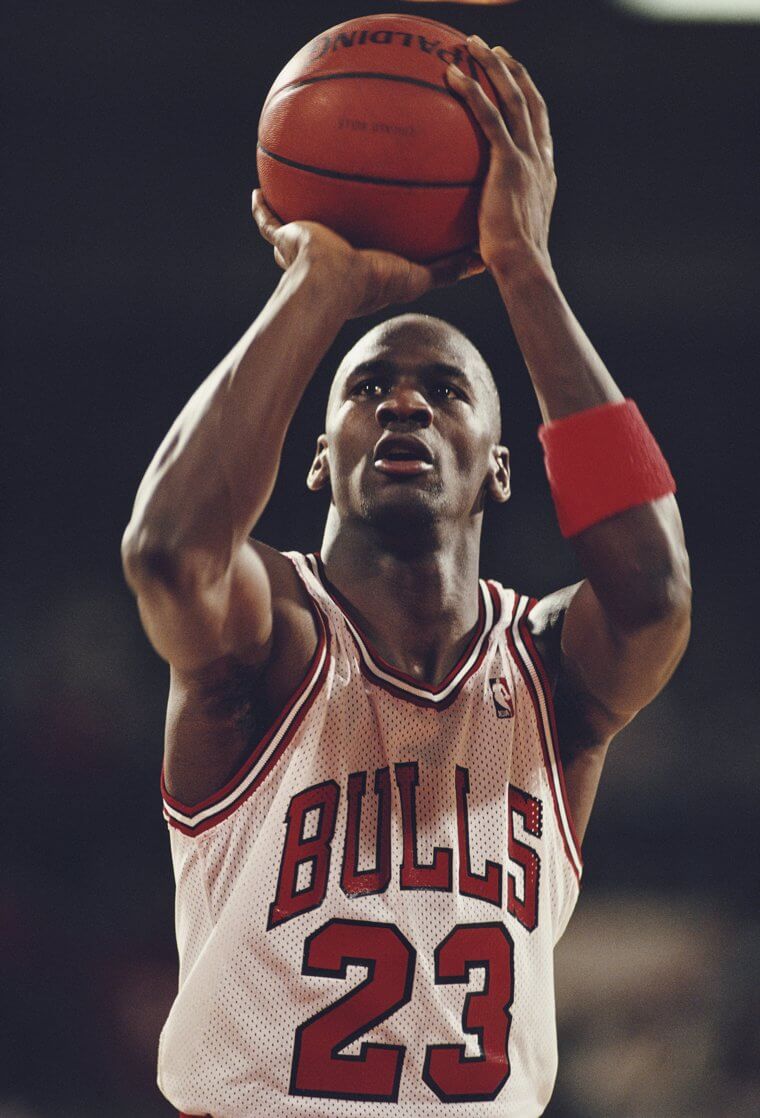 The attitudes towards gamesmanship were less forgiving, and players were expected to showcase their skills without resorting to exaggerated theatrics. This stark contrast highlights the evolution of the game and the changing norms surrounding sportsmanship. That being said, we can't help but see it from both sides. 
James' Actions Have Cause
While flopping has become more common in today's NBA, it is important to consider the reasons behind it. As one of the most prominent and targeted players in the league, there's no doubt that James often finds himself attracting a significant number of fouls. Given his fame and the bullseye on his back, he may simply want to capitalize on these situations.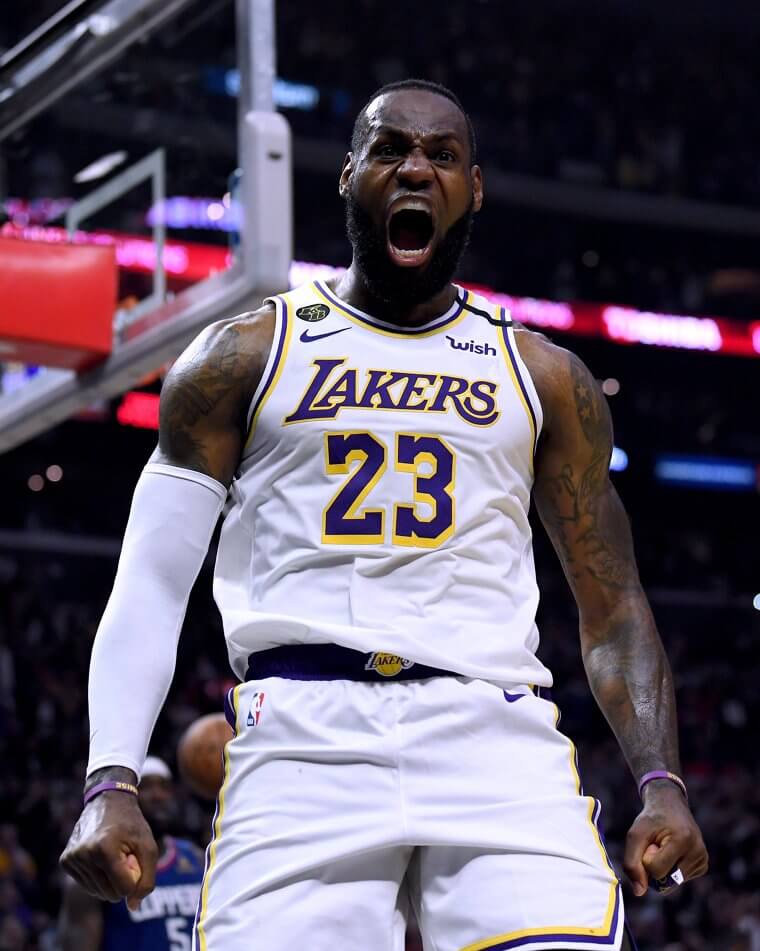 While Jordan may have also resorted to occasional flopping, it was not as frequent as it is among today's athletes. So, this means that the difference in frequency should be acknowledged when evaluating their playing styles. While opinions may vary on the ethics of flopping, understanding the context and the pressures faced by players helps to provide a more comprehensive perspective on the matter.
Some of the Most Iconic Moments in History
When it comes to iconic moments, Jordan stands out with an impressive collection. While their roles on the court differ, Jordan's ability to deliver game-winners definitely sets him apart. The Chicago Bulls' legendary icon has a knack for producing unforgettable shots in the final moments of the fourth quarter.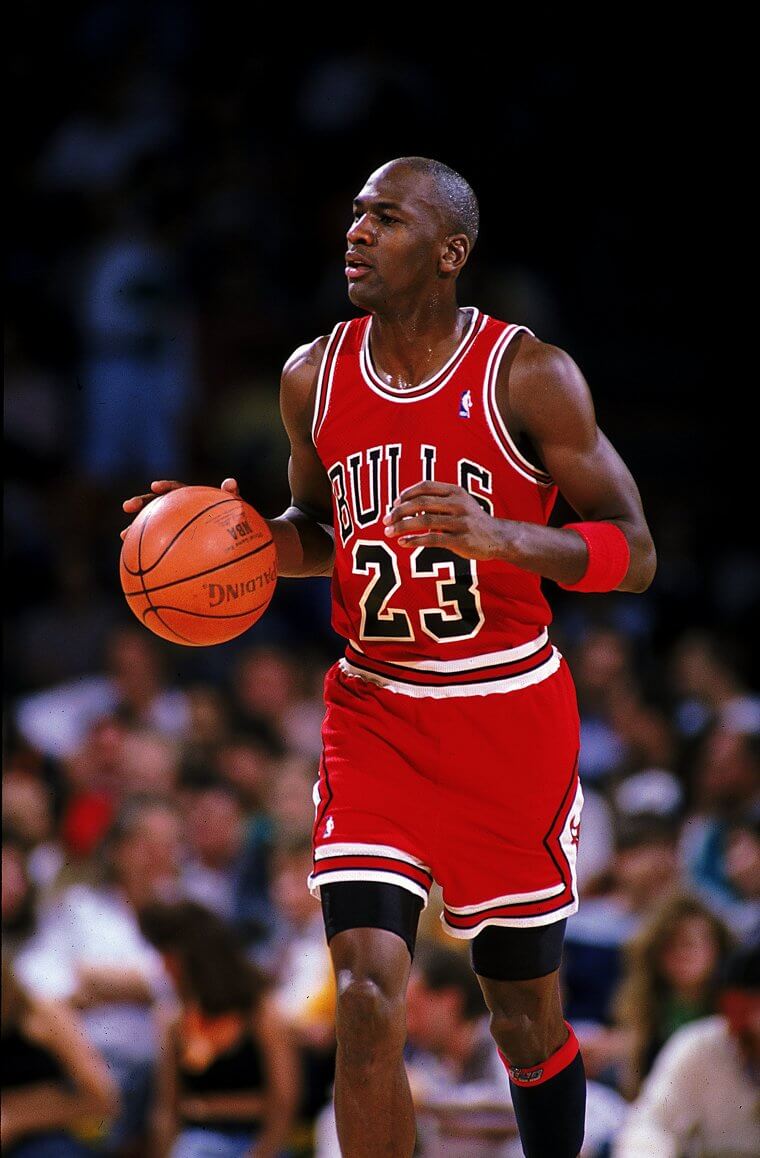 His ability to rise to the occasion and secure victories with his clutch performances is a testament to his greatness. There's no denying that James has had his fair share of memorable plays, but he doesn't quite contribute to game-winners to the same extent. In fact, some of Jordan's moments are still talked about today. 
Jordan's Moments Are Still Talked About Today
It's safe to say that Jordan's iconic NBA moments are etched in the memories of basketball fans worldwide. One unforgettable moment is 'The Shot' he made against Cleveland in 1989 when he secured a game-winning basket over his future teammate, Dennis Rodman. Another happened in 1998 when he hit a clutch shot to secure his final championship ring.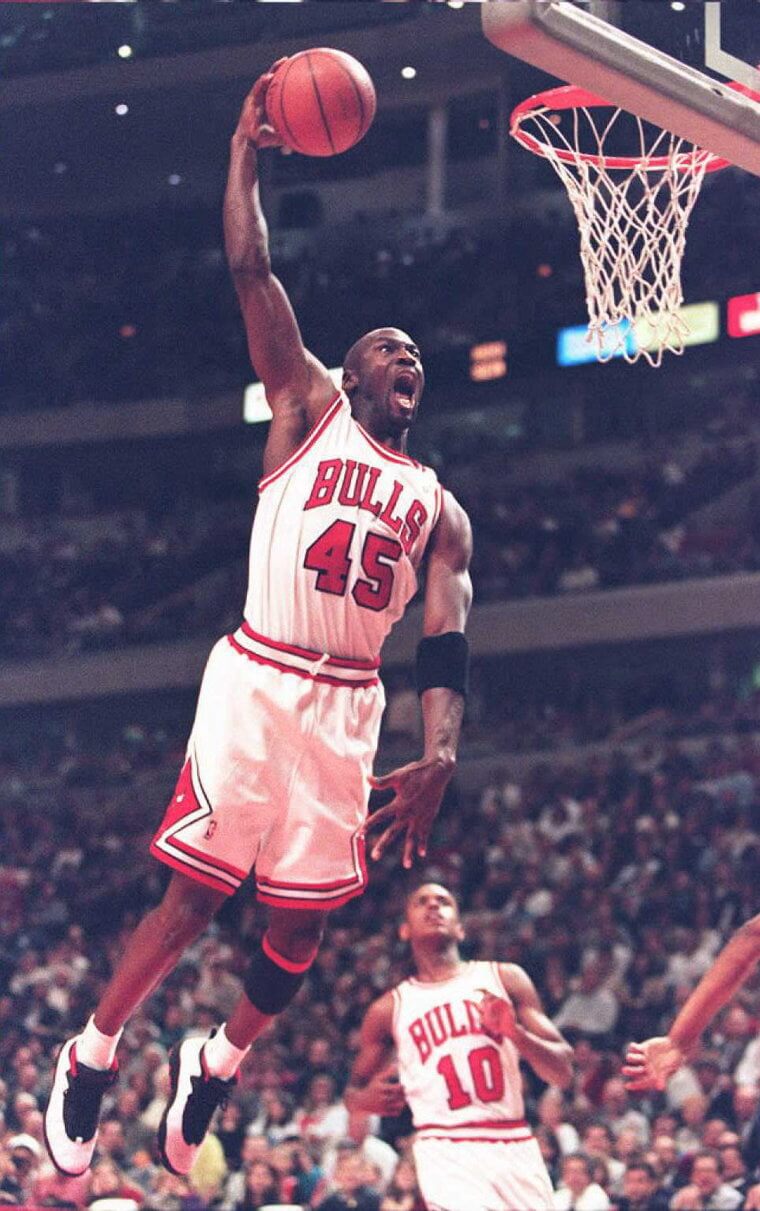 These moments stand as some of the most iconic in NBA history, with people still talking about them today. While James has undoubtedly had his own remarkable moments, he doesn't possess the same profound game-changing influence as Jordan. The truth is that Jordan's ability to captivate and transform games has contributed to his status as one of the greatest players in basketball history.
An Unreachable Level of Charisma
One undeniable aspect of Michael Jordan's legacy is the charisma he exuded throughout his career, something that James simply doesn't possess in the same measure. During his time with the Bulls, Jordan had an almost untouchable aura around him. In fact, his teammates at the time held him in the highest regard and treated him with the utmost respect because of it.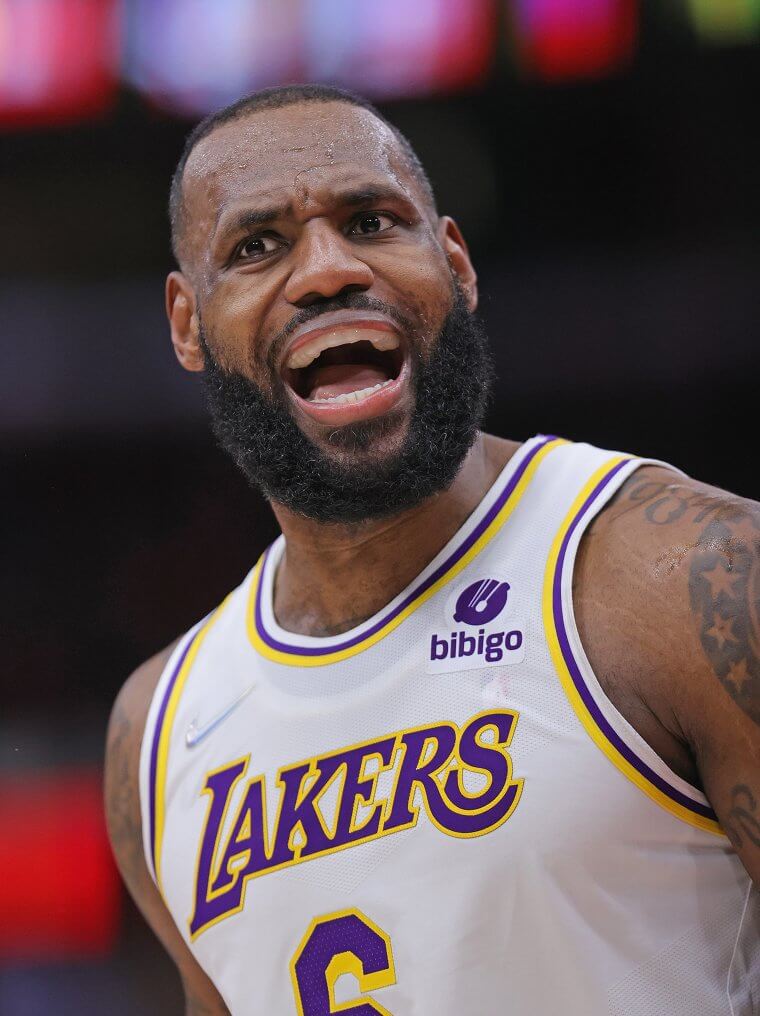 While the star could be demanding and occasionally harsh, his unwavering commitment to winning forced his teammates to elevate their game. He had a unique ability to inspire those around him to be better and create a winning culture. Unfortunately, we can't see James having the same effect. 
James Never Exerted the Same Influence
One example that comes to mind is the incident involving Delonte West and his alleged relationship with James' mother, Gloria James. It's just hard to imagine Jordan accepting this situation which again highlights the stark contrast in their approaches.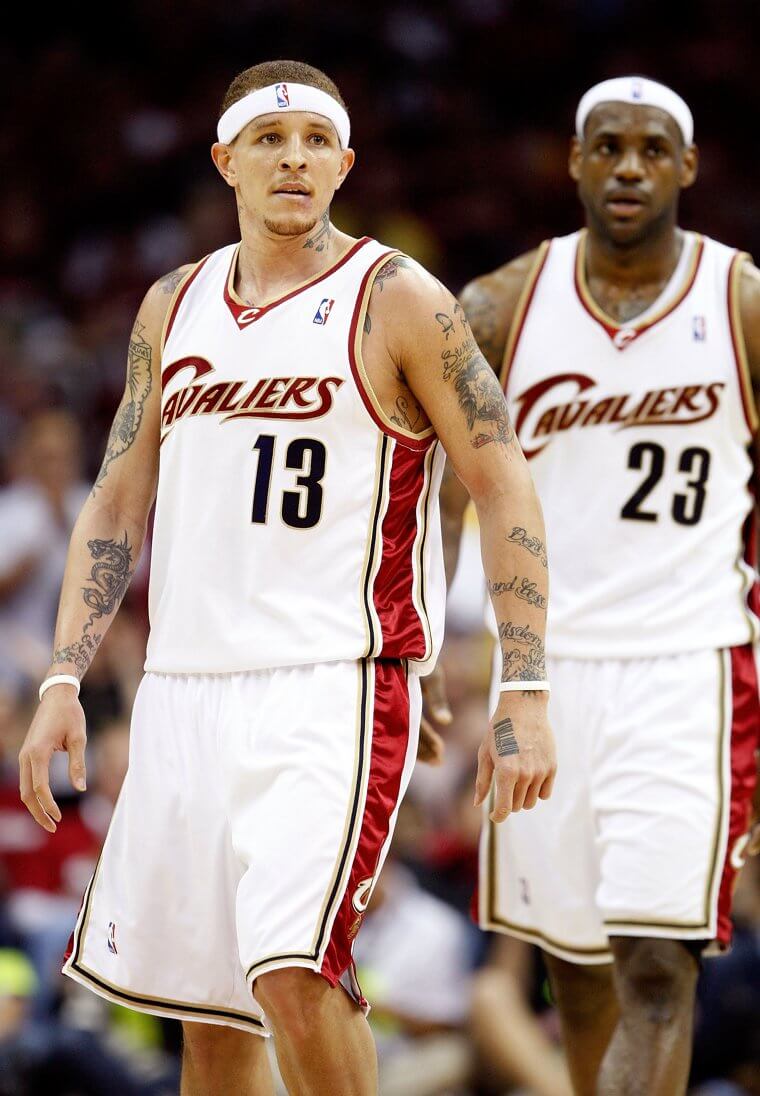 Unfortunately, James never exerted the same kind of influence that Jordan did. While James had an immense impact on the teams he played for, his most powerful ability seemed to be his capacity to walk away from a franchise. Unfortunately, this ability also brought him a lot of heat from fans of the game. 
Many People Regard James as a Mercenary
James has been known to move from team to team. In fact, it's this behavior that has earned him the label of a mercenary. His departure from Cleveland for the first time left a deep sense of pain in the city, so much so that this infamous decision turned him into a villain in the eyes of many.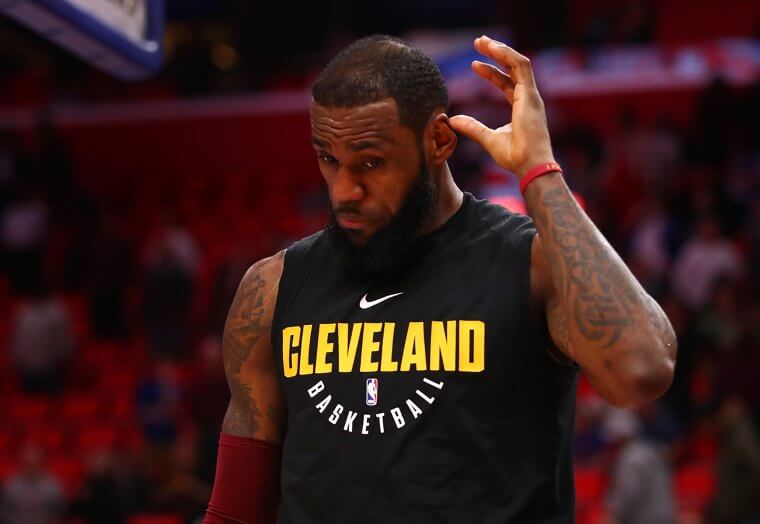 After winning two championships with Miami Heat, James made his way back home and rejoined Cleveland. However, it wasn't long before he left again, instead opting to join the Los Angeles Lakers. These moves have led to discussions about James' loyalty to a single team, mostly because this wasn't the case with Jordan.
A Stark Contrast to Jordan's Career
Fans can't help but compare James' career choices with that of Jordan. While James jumped from team to team, Jordan stayed with the Bulls for the entirety of his competitive years. While the Bulls returned the favor and constructed a formidable team around him, Jordan solidified his own legacy.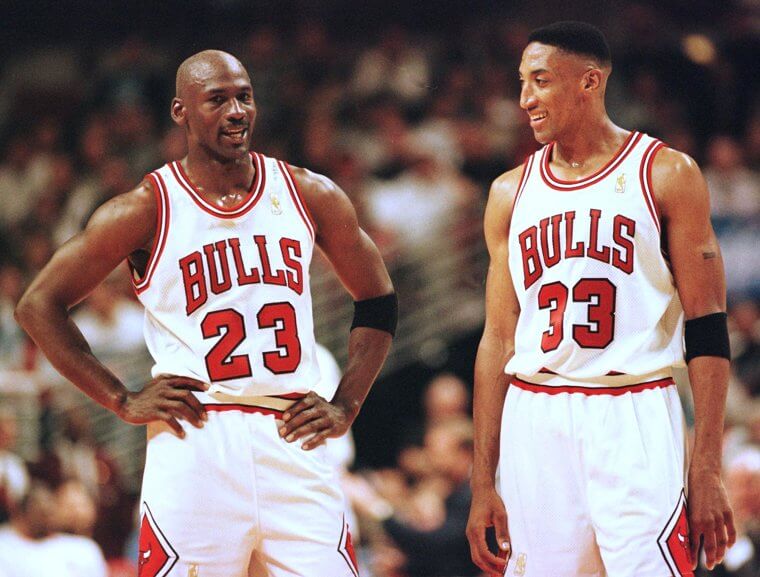 It's safe to say that Jordan played a pivotal role in shaping the basketball landscape for an entire generation. While James' decisions to switch teams have done nothing but raised eyebrows and lead to discussions about his loyalty.
One of James' Worst Traits
While James is undoubtedly a remarkable player, one of his weaknesses is his inability to keep possession of the ball. For example, in the NBA Finals, he holds a record for a total of 177 turnovers, while Jordan had only 99. With these figures in mind, remember that James did carry a lot of responsibility as the centerpiece of the Cavaliers and also appeared in more Finals.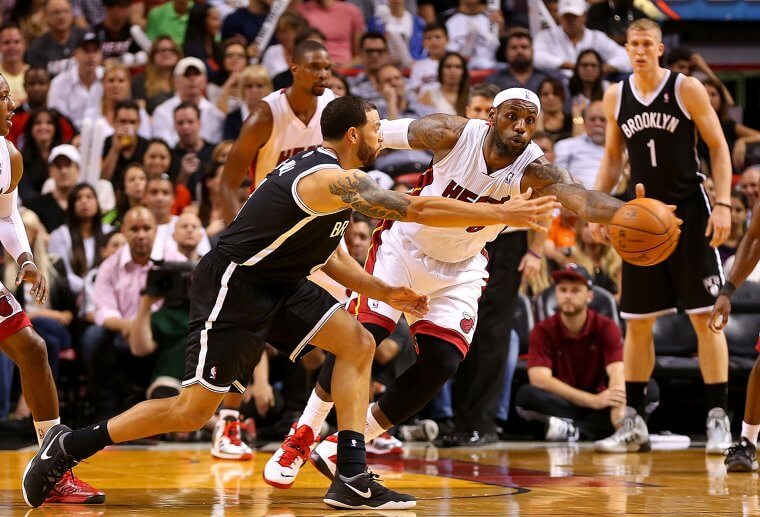 However, even after taking into account these circumstances, the difference in turnovers remains a striking statistic. Both players have their own unique strengths and weaknesses, but the numbers always speak volumes.
The Numbers Don't Lie
Looking past the NBA Finals, it is clear that James has had his fair share of subpar performances in postseason games. In fact, there are instances where he turned the ball over a staggering 10 times in just two playoff games! When we see numbers like this, we can't help but compare them to Jordan.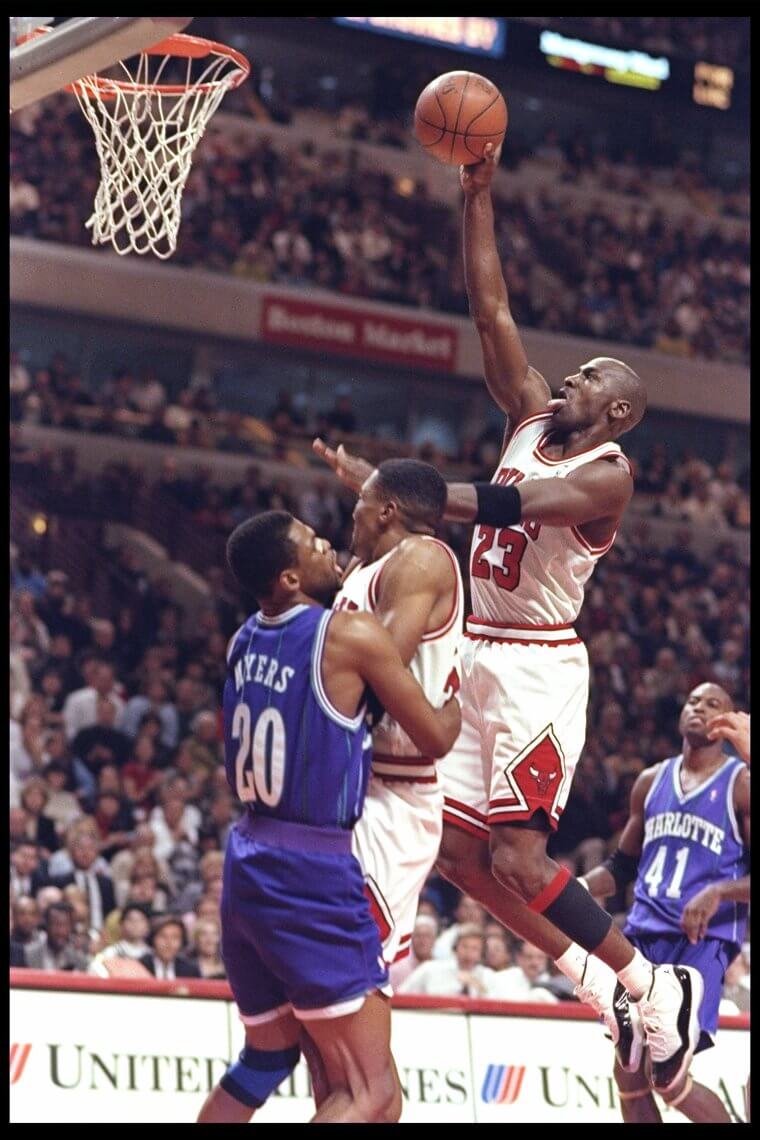 Despite having faced incredibly defensive teams and having had significant possession of the ball, he never had numbers that high. What's more, is that no player has ever outscored Jordan coming off the bench. Unfortunately, it's these contrasting statistics that shed light on the differences in their performances during crucial playoff moments. 
Political Opinions Get James in Trouble
One of James and Jordan's more controversial differences is their distinct approaches to politics. James is known for being a committed civil rights activist and someone who uses his platform to speak out on issues. Unfortunately, his outspoken nature has drawn some fans in and pushed others' way. In fact, many people wish that he would simply keep his political opinions to himself.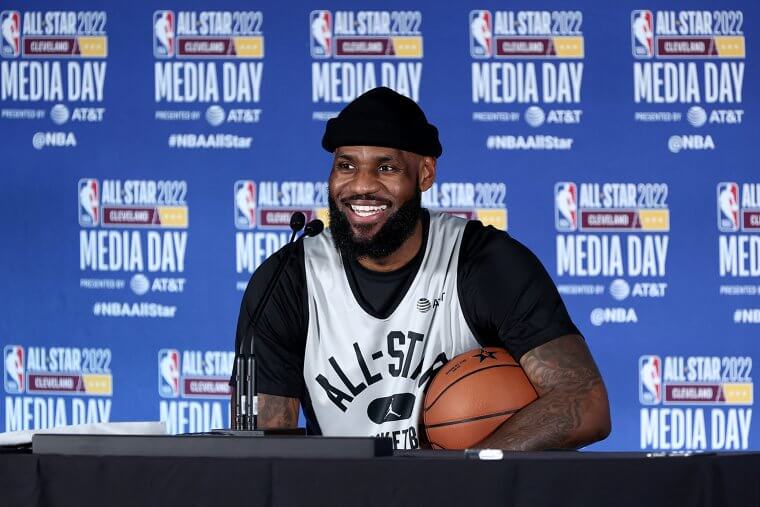 Almost unsurprisingly, Jordan had a markedly different approach to such a sensitive topic. Throughout his career, he generally avoided making strong political statements or engaging in activism. The fact that this approach also garnered criticism shows just how sensitive of a subject politics is.
Jordan Has an Economic Reason for His Silence
As with most things about these players, the approach that James and Jordan took to politics differed. While James has always been vocal about these issues, Jordan rarely addressed them. Unfortunately, the reason behind Jordan's silence was worse than the silence itself. He understood that criticizing any particular group of fans could potentially impact his shoe sales.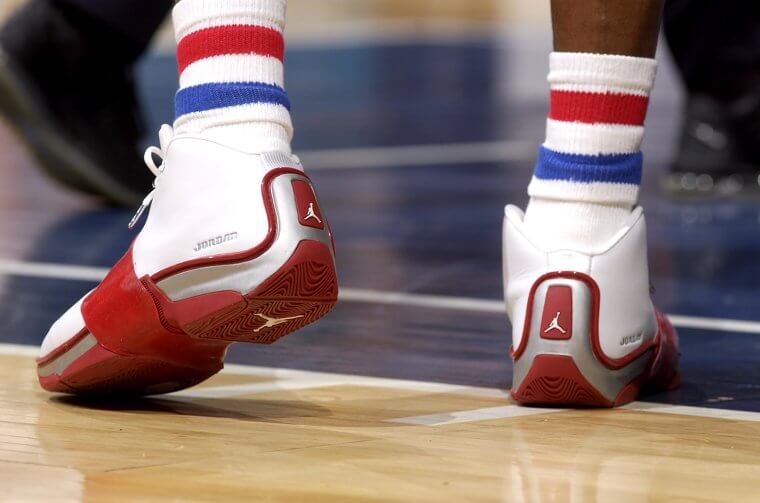 This stance drew criticism from some of his fellow athletes who believed Jordan should have used his platform for social advocacy. However, Jordan remained indifferent and unapologetic, shrugging off the responsibility to engage in such discussions. This economic reasoning sheds light on the complexities of athletes using their influence to address societal issues and the trade-offs they may face in doing so.
Different Conferences Meant Different Levels of Difficulty
While both James and Jordan are talented athletes, there's no denying that James competed in a less challenging conference for the majority of his career. James dedicated most of his playing years to the Eastern Conference before his move to the Lakers. Within this league, the opportunities to boost his statistics were far more favorable.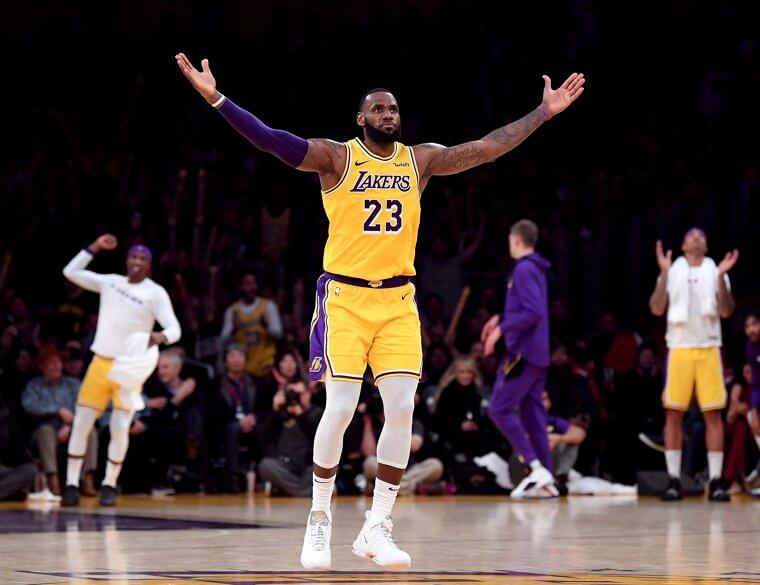 While Jordan also spent his career in the Eastern Conference, back then the league was completely different. From the dynamics and level of competition to the style of play, all have undergone notable transformations over time.
The League Has Changed Over the Years
You may be wondering how we can say for sure that the league has changed over the years. Well, the answer is simple really. Since Michael Jordan's last NBA Championship victory, the focus has shifted toward the Western Conference. Teams like the Spurs, Lakers, and Warriors have dominated, winning a total of 15 championships which is double that of the East.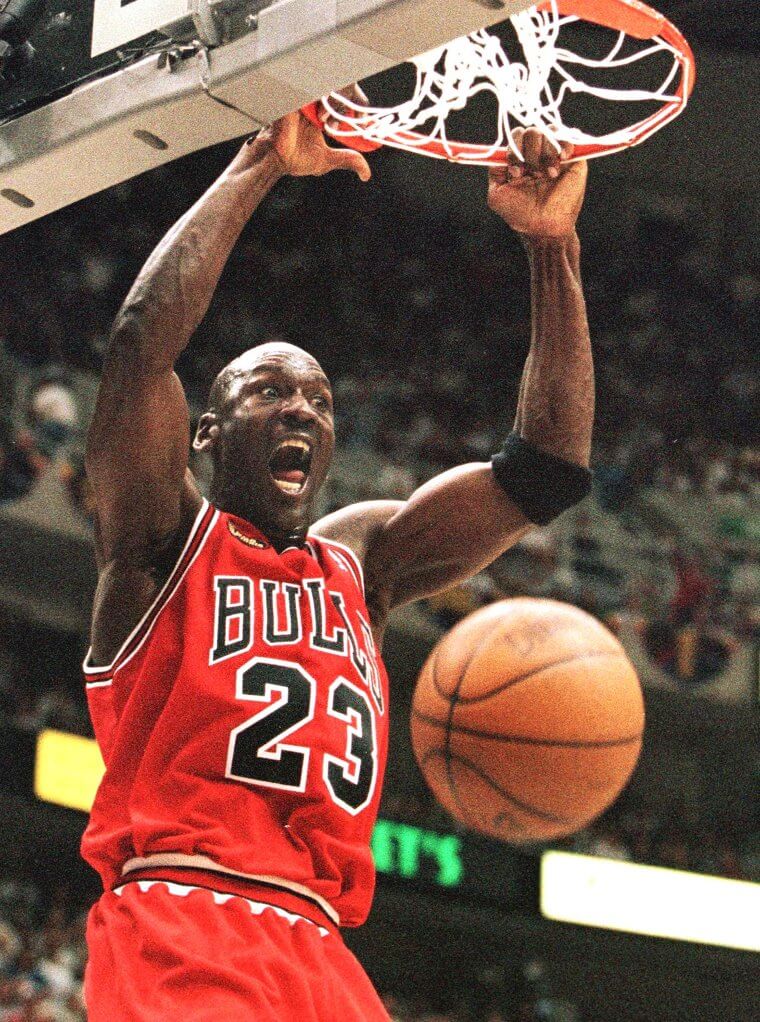 While James played for some of those Eastern Conference teams, the competition in Jordan's era was fierce. Teams like the Detroit Pistons and Houston Rockets were consistently in the running for the championship. This is enough to prove that the power dynamic and competitiveness in the league have seen a shift toward the West.
Pressure Brings Out Different Reactions
Fans appreciate James for his team-oriented playing style, often viewing him as a selfless player. This opinion is contracted by the one that they have for Jordan who is sometimes seen as arrogant and selfish on the court. However, when it came to crucial moments, Jordan's reliability and ability to take charge were unparalleled.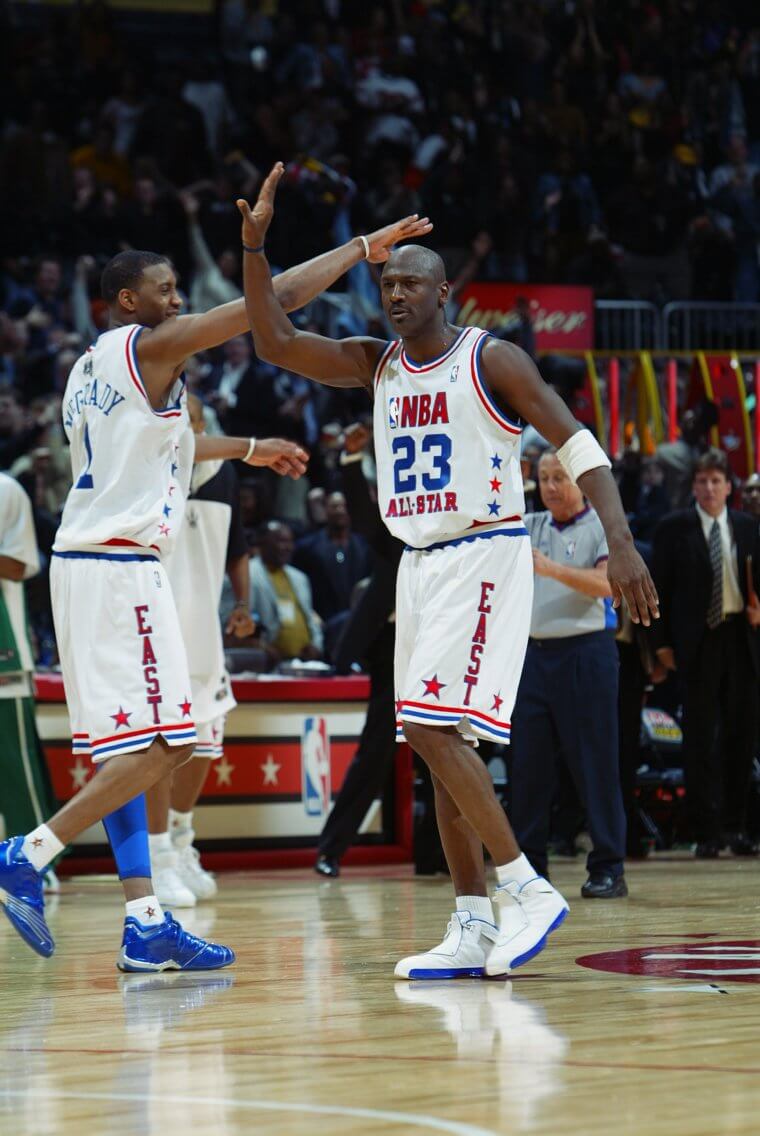 He embraced the responsibility and consistently delivered when it mattered most, making the most of every opportunity. This was unlike James who sometimes deferred to his teammates in critical situations, leading to mixed results. While James' team-first approach is commendable, there's no denying that Jordan's ability to seize the moment in clutch situations sets him apart.
Humility Isn't James' Strong Suit
While fans describe James' playing style as team-oriented, some may argue that they misspoke. As it turns out, he's not as humble as many thought, setting the record straight when he described himself as the best in the world. Unfortunately for him, this statement came right before an extremely disappointing performance against the Warriors.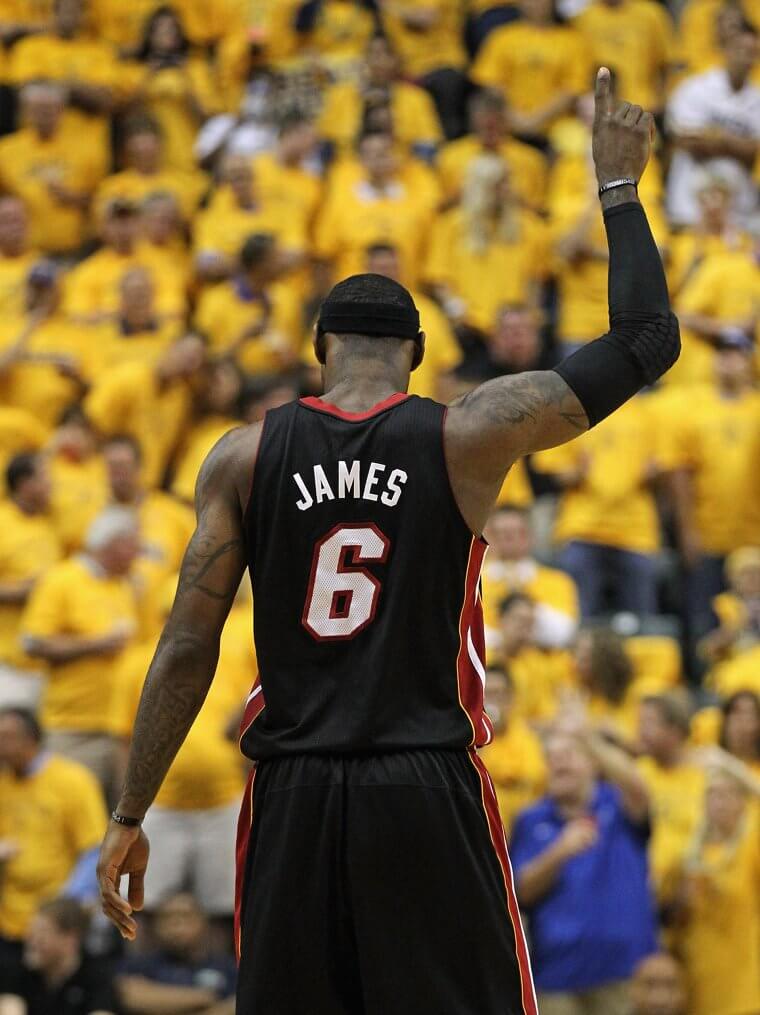 We can't help but compare this behavior with that of Jordan who never explicitly labeled himself as the best. Instead, his actions on the court made it abundantly clear. Jordan's exceptional skills, dominance, and relentless drive showcased his status as one of the greatest players of all time. While James' confidence in his abilities is admirable, some fans believe that Jordan's humility is a trait that sets him apart.
Success Both On And Off The Court
Did you know that Jordan starred in a film called Space Jam? In fact, it's one of his biggest cultural achievements to date. The film featured Jordan alongside beloved Looney Tunes characters and became an instant classic. For many years, it entertained children and captivated audiences of all ages.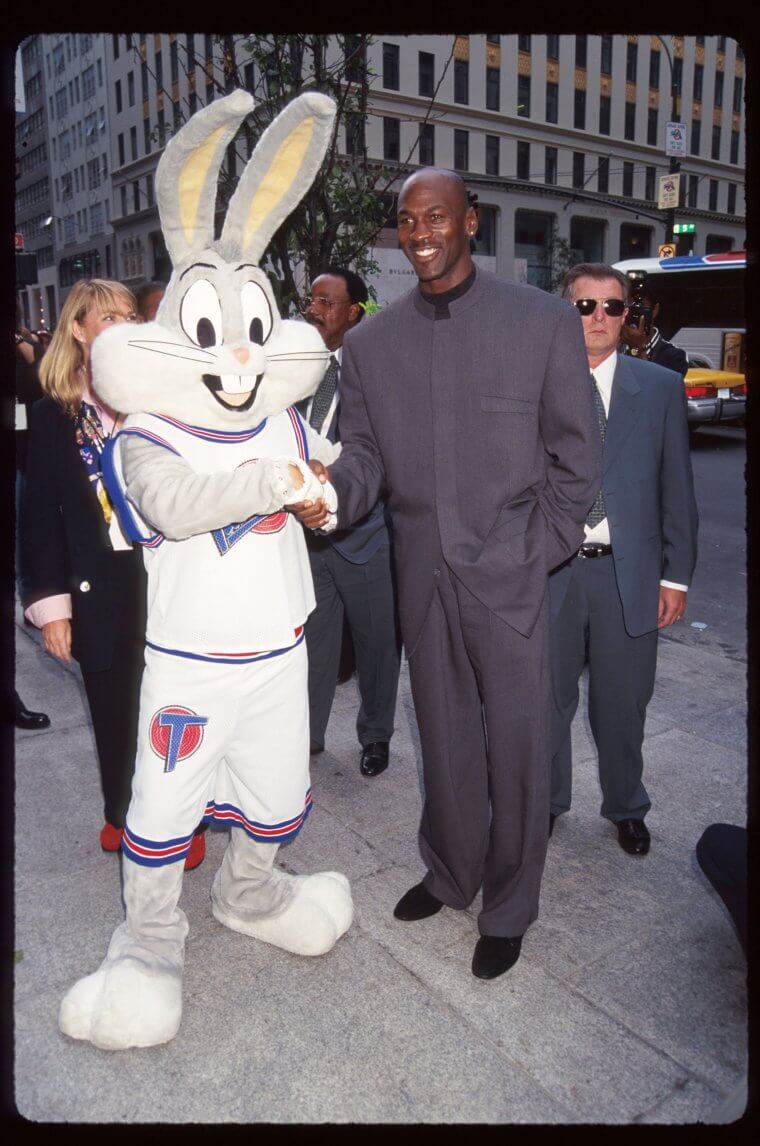 Space Jam quickly became a timeless favorite, with its mix of live-action and animation. It brought together the worlds of sports and animation, creating a unique and unforgettable cinematic experience. While it might have been strange seeing Jordan on screen, it was even stranger seeing James follow in his footsteps.
The Film Attracted Some Criticism
The original Space Jam was a beloved movie that won the hearts of everyone. However, a big part of its appeal was the presence of Jordan. Now, with the reboot, Space Jam: A New Legacy featuring James, fans are unsure about their feelings. While James is a superstar in his own right, he has big shoes to fill replacing the iconic Jordan.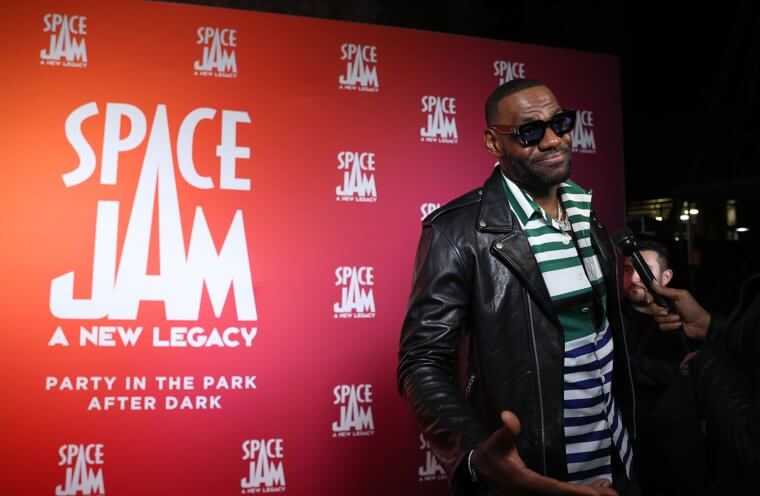 Apart from the change in stars, the film has faced criticism for making changes to some of the other beloved characters. For example, Lola Bunny's outfit has been updated to reflect modern sensibilities and Pepe Le Pew has been erased together, leaving some fans disappointed.
Jordan Could Play Anywhere
Jordan was widely regarded as a superior all-around player compared to James. A notable example of Jordan's greatness was when he won the NBA Defensive Player of the Year award in 1988. This accomplishment was particularly impressive considering Jordan's exceptional shooting skills. This award showed that he wasn't just an offensive force, but also had remarkable defensive abilities.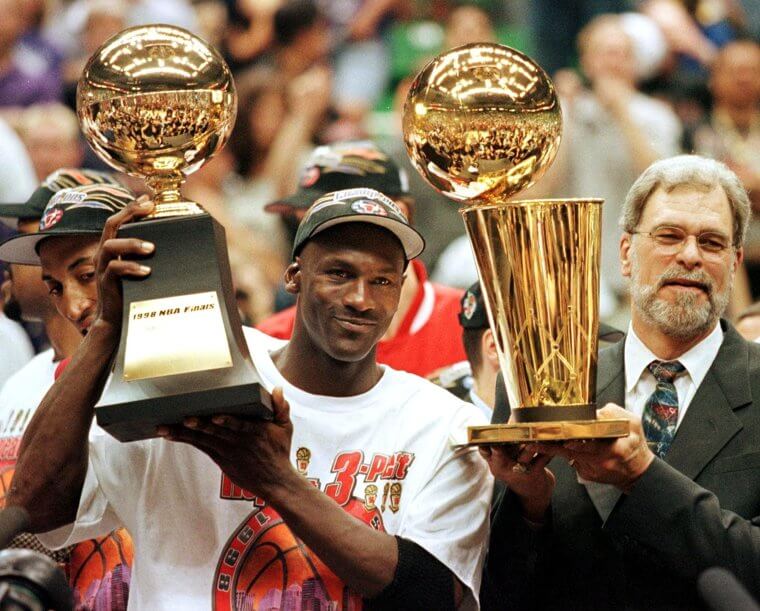 Jordan's ability to excel on both ends of the court set him apart from James. He could score points with precision, while also shutting down opponents with his defense. This versatility made Jordan a more well-rounded player overall. His ability to dominate the game on multiple fronts cemented his status as one of the greatest basketball players of all time.
James Fell Short Once Again
Even though Jordan achieved a lot, it doesn't mean James was a bad defender. James made the All-Defense First Team five times, which shows he was good at defense. However, Jordan outdid him once again, making the team nine times. Jordan's achievement of making the team more often than James makes him stand out as a defender.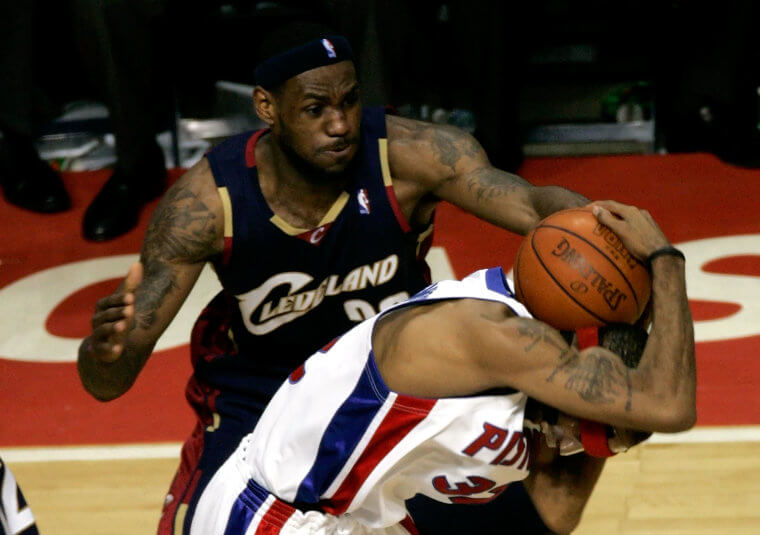 It means that Jordan's defensive skills were recognized by the experts more frequently. So, while James was good, Jordan's defensive success was even better. His nine selections show that he was one of the best defenders in the game. Jordan's accomplishments in defense simply can't be ignored, and they contributed to his reputation as an all-around player.
One of the Strongest Subsidiary Brands Ever
Did you know that Jordan had a chance to sign with Adidas, but he decided to sign with Nike instead? This turned out to be a smart move because he managed to create one of the most powerful subsidiary brands ever. It all started with the famous red and black Air Jordan I sneakers that paved the way for the success of the brand.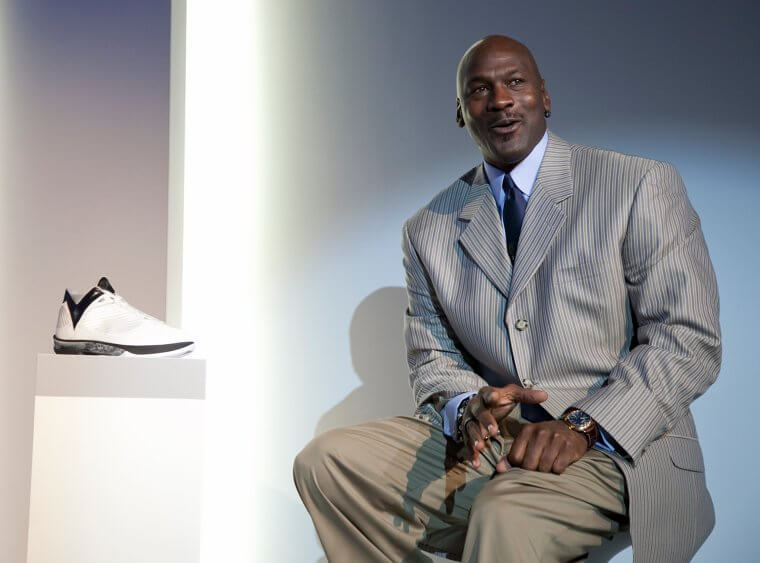 Despite there being more than 30 different versions of the Air Jordan shoes, it didn't stop there. Jordan's success helped push his own apparel range, making it the sponsor to both individuals and teams. The brand has expanded and established itself as a major player in the sports apparel industry. It's safe to say that Jordan's decision to partner with Nike and the growth of his brand has made a lasting impact on the sneaker and apparel world.
The Off-Court Appeal Can't Compare
Just like Jordan, James also signed with Nike and has his own line of sneakers. The LBJ series, named after James, is known for being excellent basketball shoes. In fact, many athletes choose to wear them on the court. However, when it comes to off-court appeal and influence, they don't quite match up to Jordan's apparel empire.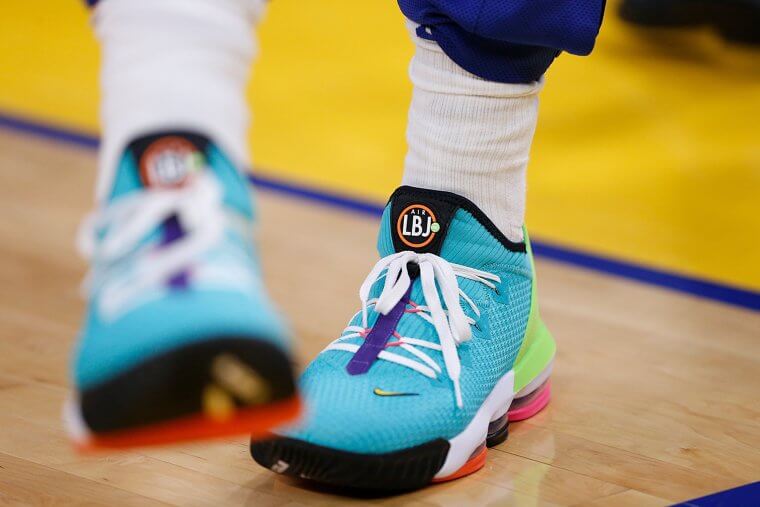 While James' sneakers are popular among basketball players, they haven't achieved the same level of cultural impact as Jordan's shoes. Jordan's brand has transcended the sport of basketball and become a symbol of both style and status. On the other hand, James' range of sneakers is mainly recognized for their performance on the court. While James' sneakers are successful in their own right, they simply don't have the same widespread influence and iconic status as Jordan's brand.
A Closer Look at the Numbers
According to Forbes, Jordan is once ahead of James when looking at numbers in the bank. Jordan's net worth is estimated to be around $1.5 billion, while James has about $500 million. It's not entirely fair to compare the two since Jordan is 22 years older than James. So, while James still has time to catch up, Jordan's empire is so strong that it's hard to compete with.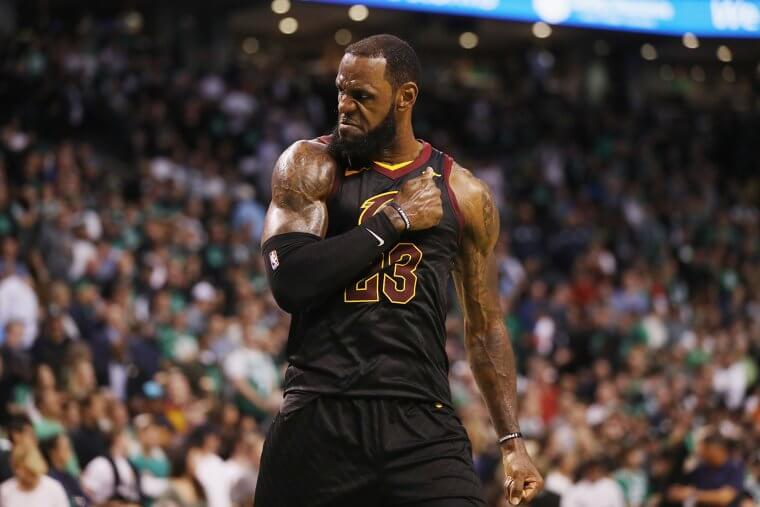 Not only have his business ventures and endorsements brought him financial success, but he has built an empire that is incredibly successful as well. While James has also made a significant amount of money, Jordan's commercial success is on another level. His ability to capitalize on his brand and business ventures has made him one of the richest athletes in the world.
Jordan Paved the Way for Athletes in Other Sports
The Jordan Brand is huge and goes beyond basketball in a way that James' personal label doesn't. With Jordan's brand becoming iconic and influential, he's been able to extend its reach far beyond the sport.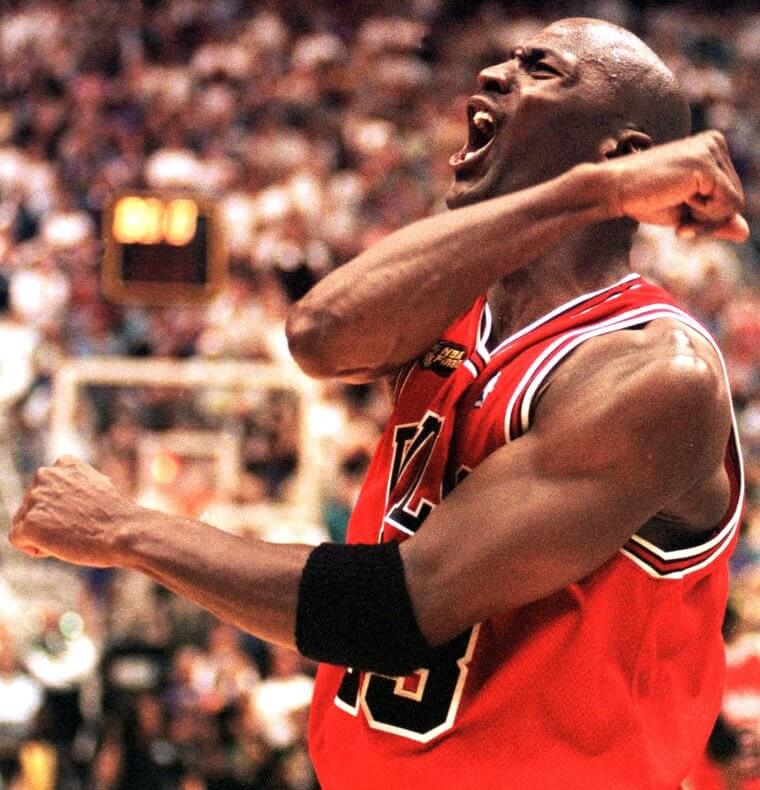 Jordan attracted millions of dollars in endorsements throughout his career, which further solidified his brand's success. His achievements opened doors for athletes from other sports and allowed them to establish their own personal brands. Not only that, but Jordan has taken his success to another level by owning his own NBA franchise, the Charlotte Hornets. This demonstrates his business acumen and his ability to expand his influence within the sports industry.
Money Has the Power to Keep James Quiet
James' views have been a source of division among fans. One of the worst aspects is his stance on China. While he openly criticizes police brutality and racial inequality in the USA, some fans are disappointed with his silence when it comes to China. James is known for being vocal about social issues, but when money is involved he seems to avoid speaking out.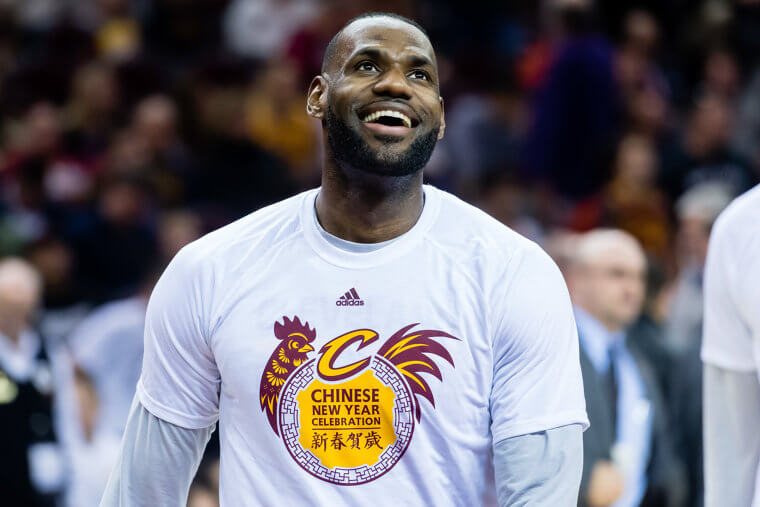 This discrepancy raises concerns among fans who believe that his convictions should not be compromised for financial gain. The contrast between his outspokenness on domestic matters and his silence on issues related to China has been a topic of discussion and criticism. 
Activists in Hong Kong Criticized the Lakers' Star
The NBA is incredibly popular in China, and James is widely recognized as the face of basketball in the 21st century. This means that his comments and actions draw significant attention and hold influence. However, activists in Hong Kong recently called James a hypocrite for his refusal to speak out against Chinese brutality in the region.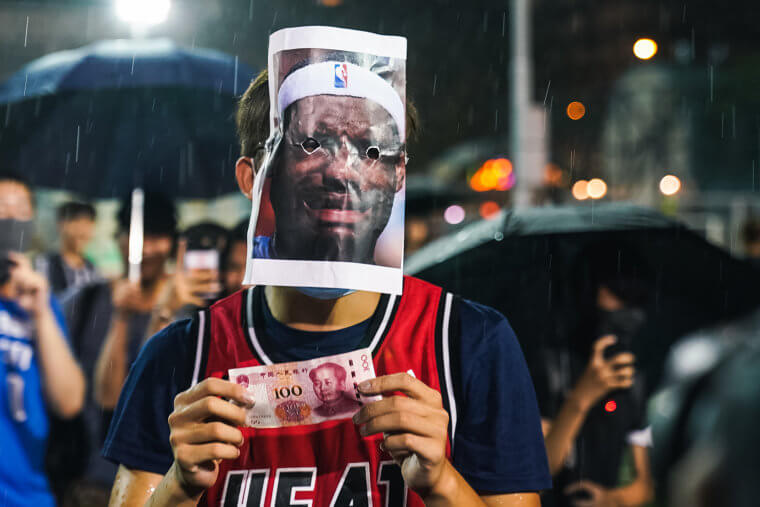 They accuse him of only addressing issues that directly affect him. These activists believe that James' silence on the matter contradicts his outspokenness on other social issues. The criticism stems from the expectation that influential figures should use their platform to address and condemn injustices, regardless of their personal interests.
A Far More Physically Tough Era
After watching James play, it's clear that he doesn't handle the physical aspect of the game as well as some of the other players. While he may draw more fouls, he doesn't embrace rough play in the same way that Jordan did. To say that Jordan endured physicality throughout his career would be an understatement.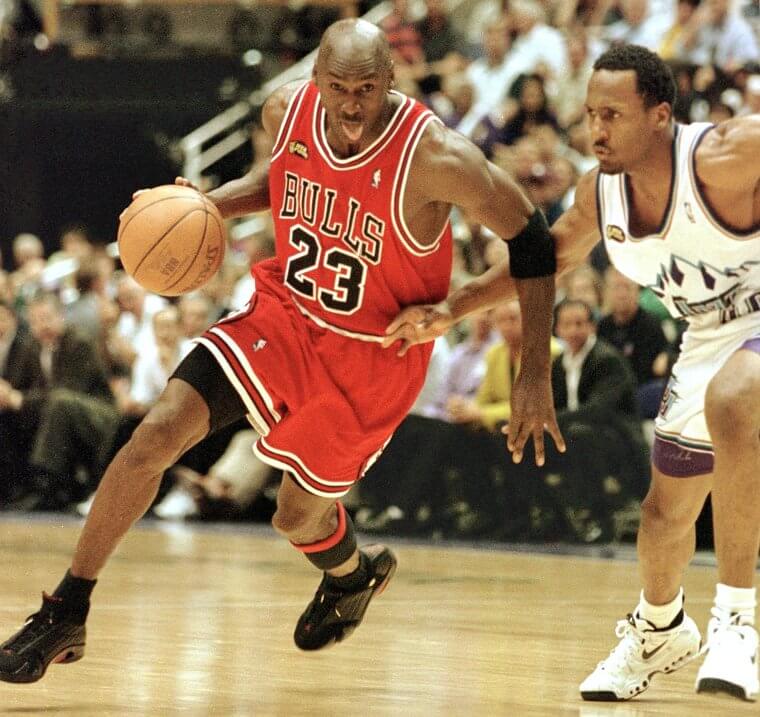 However, it is important to remember that Jordan played in the late 1980s and throughout the 1990s, which was known for being a more physically demanding era. Throughout this time, Jordan displayed resilience and adapted to the tough style of play. In contrast, despite being a remarkable physical specimen, James doesn't exhibit the same enthusiasm for physicality on the court.
A Fondness for the Dark Arts
The Detroit Pistons were infamous for their brutal playing style, but they weren't the only team known for having rough tactics. The New York Knicks were also considered tough opponents, among others. Jordan encountered these challenges in the Eastern Conference and never had an easy path to the NBA Finals.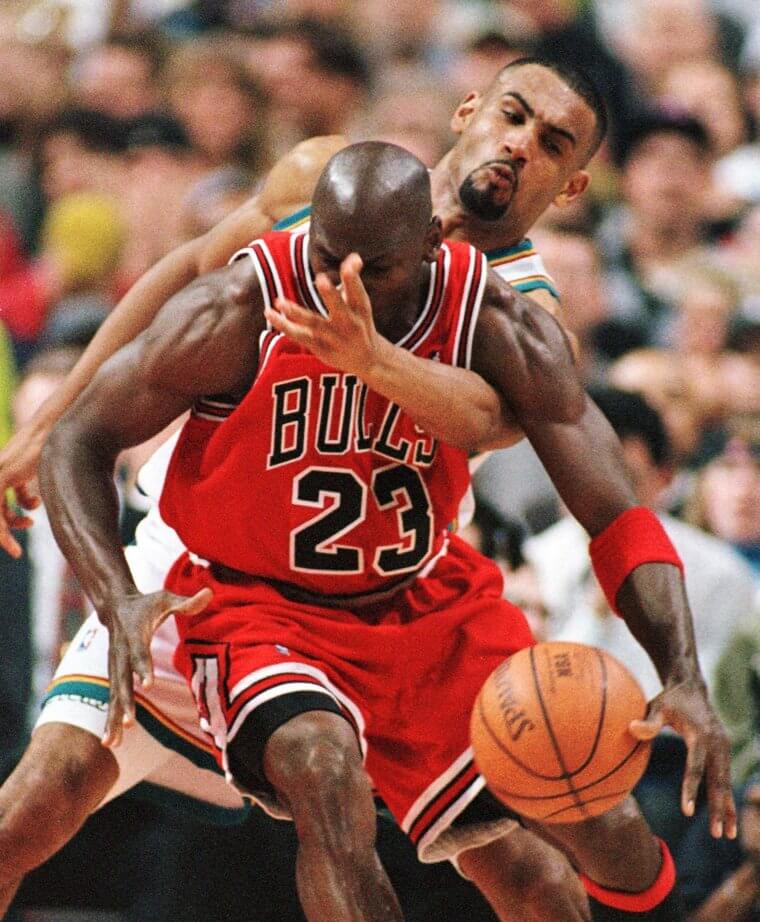 James, on the other hand, faced weaker competition and capitalized on this advantage. The level of competition in Jordan's era was intense and physical. Jordan had to navigate through formidable opponents and endure rough encounters on his way to success. This disparity in the level of competition highlights the contrasting challenges faced by Jordan and James during their respective careers.
The Championship Wins Were Never-Ending
When it comes to Championship wins, Jordan pulls out ahead of James once again. The Chicago Bulls, led by Jordan, achieved a total of six NBA Championships while James has won four rings throughout his career. As you can imagine, there are significant questions surrounding the impact of both players on their respective teams.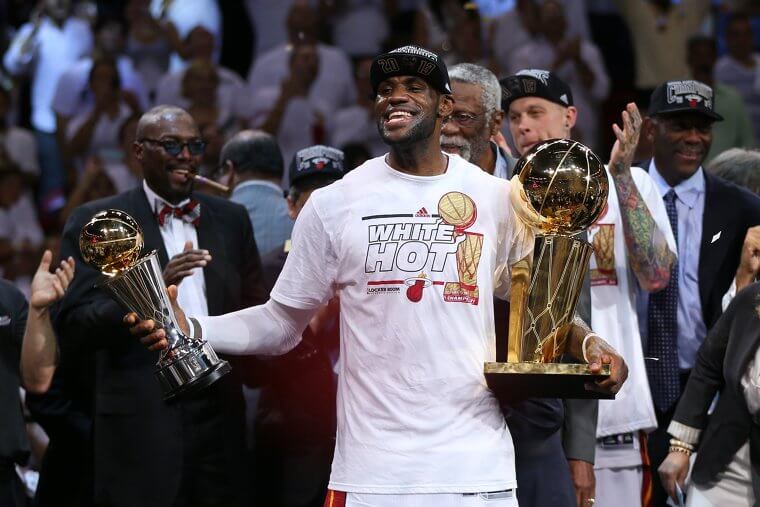 Jordan was the driving force behind the success of the Bulls, and his leadership and skills were instrumental in their championship victories. James, too, has played a crucial role in leading his teams to championships. However, debates arise regarding the extent of their influence and the dynamics within their franchises. 
Jordan Gave the Sport Everything
Both Jordan and James have made lasting impacts on the teams they played for, and their championship victories demonstrate their exceptional skills and leadership qualities. However, Jordan's unparalleled desire to win and his ability to elevate the performance of his teammates were truly remarkable. His winning drive was ferocious, and he displayed unwavering determination throughout his 14 seasons in the NBA.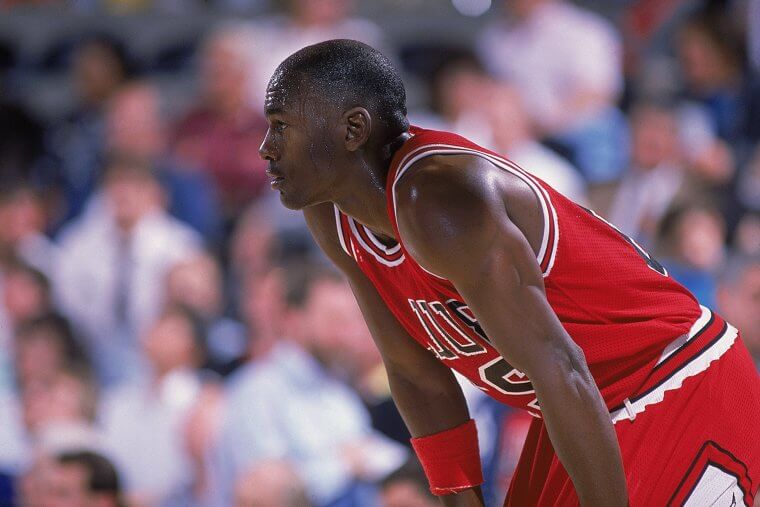 A prime example of his dedication was his return to basketball after a season in baseball's minor leagues. This level of commitment is hard to fathom, as it showcases Jordan's complete devotion to the sport. He gave his all and left no stone unturned in his pursuit of success. Jordan's unparalleled dedication and unwavering focus on winning set him apart and solidified his status as one of the greatest basketball players of all time.
The GOATs - Here Are The NBA's Most Prolific Players On The Court
The debate over the greatest NBA player ever rages daily in bars and sports halls worldwide. Some say it's Michael Jordan; others claim it's LeBron James.
Nevertheless, many more players deserve to be considered among the best to play in the NBA. So, while it's a difficult decision that will be debated forever, these are who we believe should be considered the best players ever.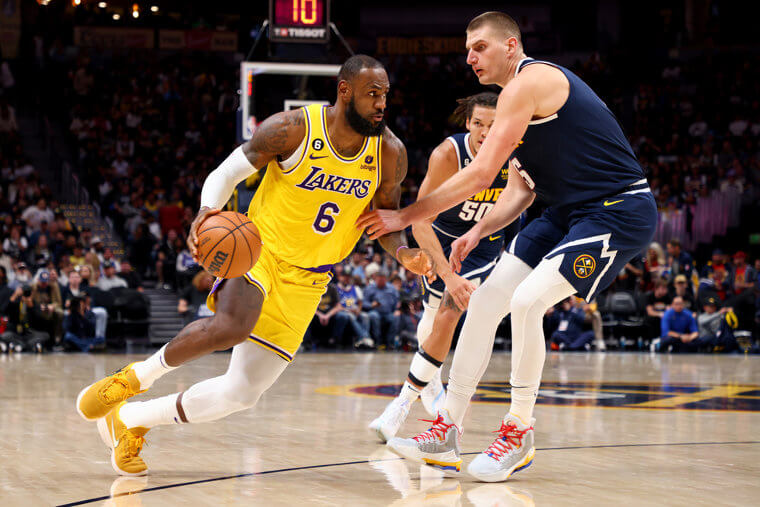 Adrian Dantley
Adrian Dantley is among the most efficient scorers in NBA history and one of the league's best small forwards. At DeMatha Catholic in Hyattsville, Maryland, he began his basketball schooling under the tutelage of Hall of Fame coach Morgan Wootten. After that, he enrolled at Notre Dame, where he was a 2x unanimous First Team All-American pick after helping the Irish end UCLA's 88-game winning run in 1974.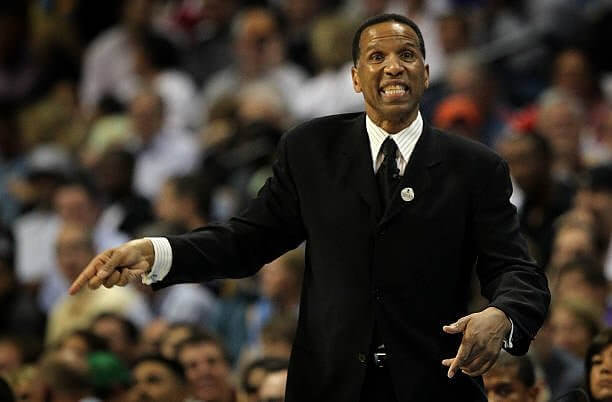 After college, Dantley captained the gold-winning US Olympic team in 1976 and spent the next 15 years in the NBA. He was a problem for power forwards because he could get by them quickly by changing directions and twisting his body. The six-time NBA All-Star had 23,177 points by the end of his career.
Bill Walton
Throughout his life, one of the comments Bill Walton often hear is that he must be a basketball player. Of course, that's because he's so tall, standing 6'11. Nevertheless, Walton was not only a basketball player but also "the basketball player." He is famous for being a great rebounder with a lethal jump-hook shot.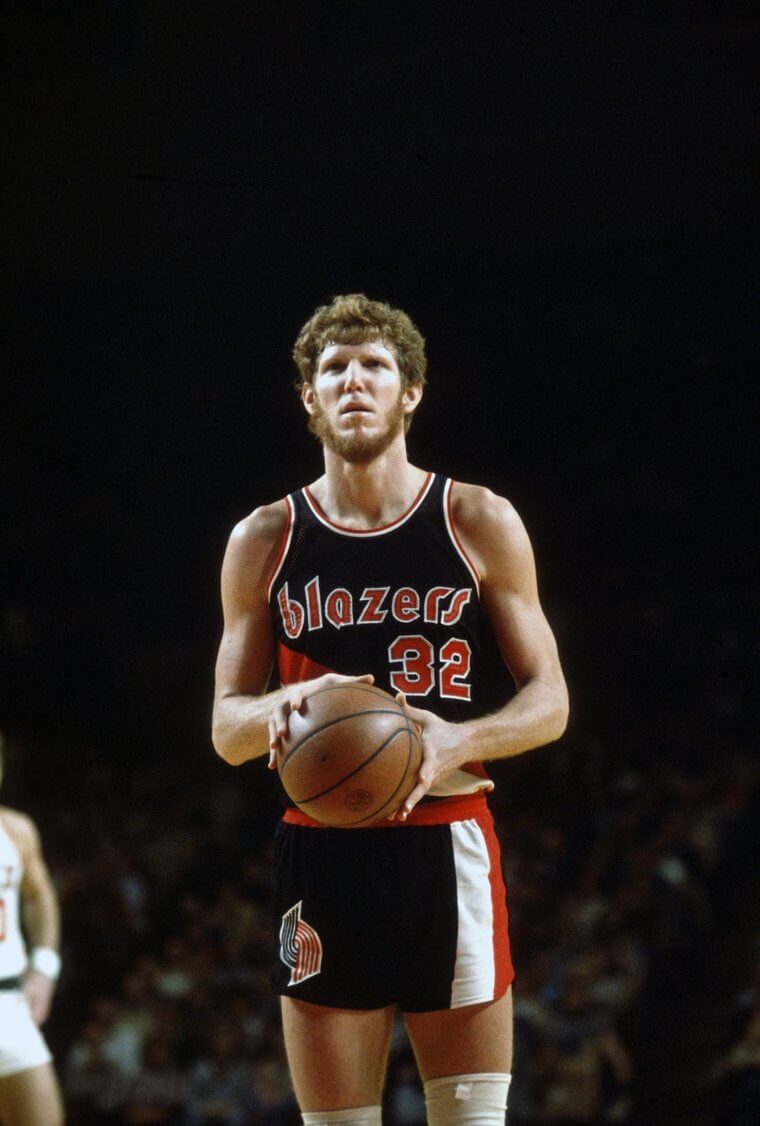 Indeed, the baller is regarded as one of the best college basketball players of all time, having led the UCLA Bruins to two consecutive NCAA titles and an unprecedented 88-game winning run. On top of that, the sportsman achieved similar success in the NBA, winning two championships, two NBA MVP honors, and a Best Sixth Man Award throughout his career.
Patrick Ewing
Like the city's famous skyscrapers, Patrick Ewing was a towering figure in New York sports for fifteen incredible years. After a much-publicized college career with the Georgetown Hoyas that yielded one NCAA title and two appearances in championship games, he moved to The Big Apple.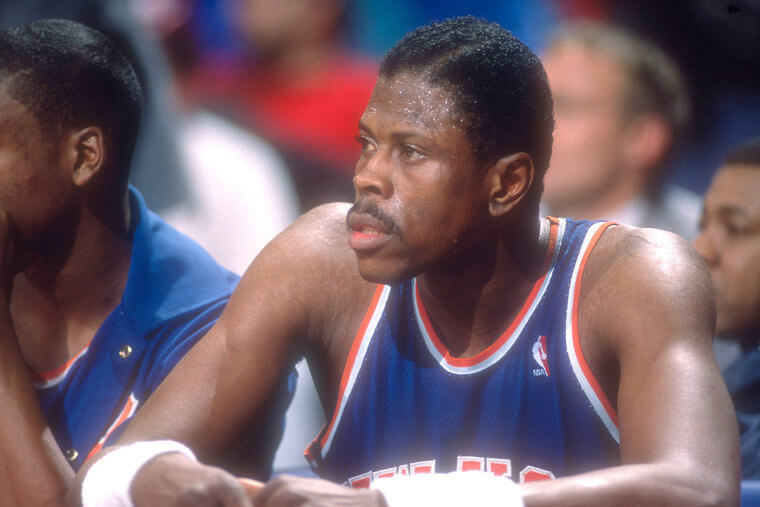 Ewing had been a media darling since childhood, and his entry into the NBA was highly anticipated. Despite not winning an NBA championship, he has been named one of the 50 Greatest Players in the league's history. The soaring player won two gold medals with the US Olympic basketball teams in 1984 and 1992 and was the NBA Rookie of the Year in 1986.
Manu Ginóbili
Manu Ginóbili is best known for playing for the San Antonio Spurs. Then, he was twice chosen to represent his league in the NBA All-Star Game and named to the All-NBA Team in 2008 and 2011. In addition to his four NBA titles, Ginobili has also won a EuroLeague championship and an Olympic gold medal.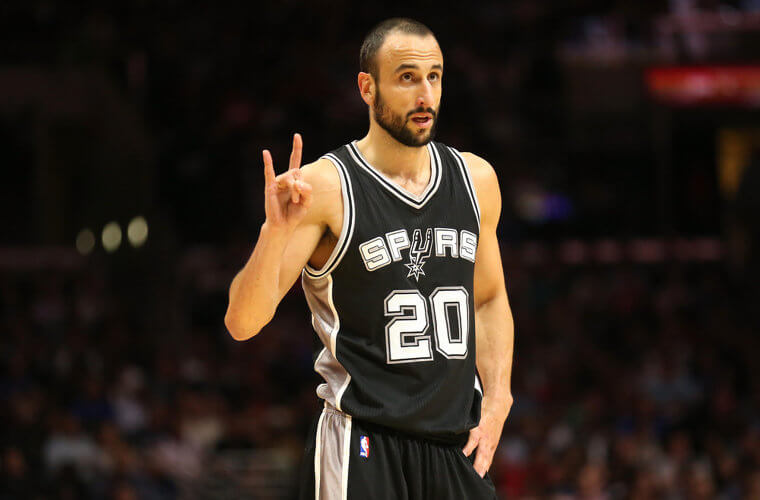 Beginning in 2004, he participated in four Olympic Games as an ambassador for Argentina. Ginóbili was in his 40s when he announced his retirement from the NBA on August 27, 2018. In his farewell speech, the sportsman said he would look for ways to support the San Antonio Spurs, the only NBA team he ever played for.
Russell Westbrook
Russell Westbrook began displaying his abilities as a child, which wasn't surprising because he comes from a sporting family. Nonetheless, he has come a long way from winning the most prestigious college awards to becoming one of the most prominent NBA stars. In 2008, he was drafted by the Seattle SuperSonics, which was later renamed the Oklahoma City Thunder.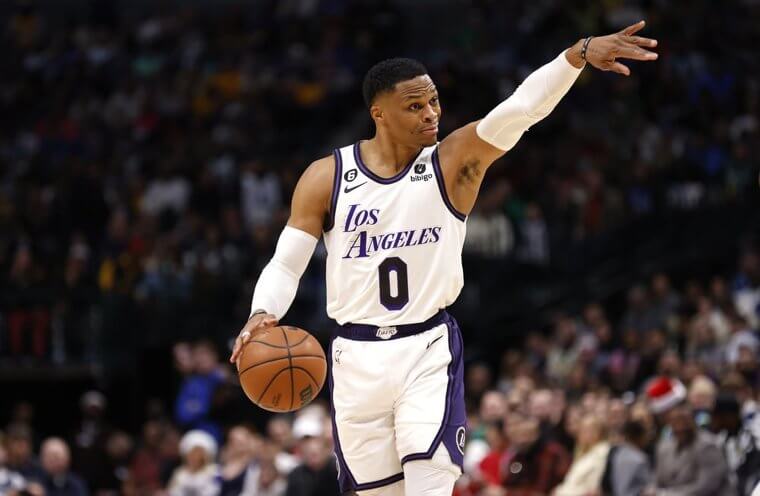 Westbrook's talent and skills helped him become an important member of the American basketball team, and he represented the country in the 'FIBA World Championship' in 2010 and the 'Olympics' in 2012. Additionally, the ball player became the second player in NBA history to record the most triple-doubles in a single NBA season in 2017.
Kawhi Leonard
The iconic 'Kawai Laugh' and his unintended social media antics because of his stoic demeanor make Kawai Leanord an iconic player off the court, but his accomplishments on the court are not a laughing matter. Drafted 15th overall by the Indiana Pacers in 2011 but was traded to the San Antonio Spurs. Leonard quickly established himself as one of the league's best defensive players, winning the NBA Defensive Player of the Year award in 2015 and 2016.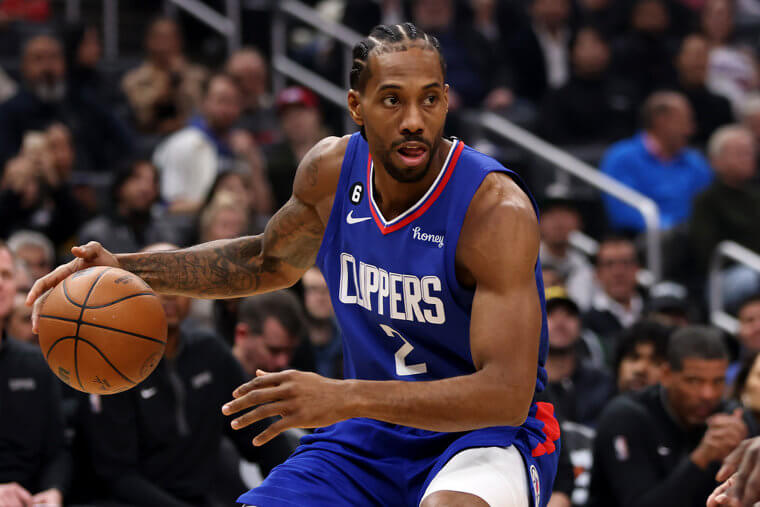 He also led the Spurs to the NBA Championship in 2014 and was named Finals MVP. Leonard was traded to the Toronto Raptors in 2018, where he led the team to its first NBA championship in 2019 with his iconic rim bounce-off-the-rim buzzer-beater against the 76'ers and won his second Finals MVP award. In 2019, he signed with the Los Angeles Clippers and still plays as dominant as he did in his younger years in the league.
Gary Payton
The greatest defense of all time for a point guard, "The Glove" Gary Payton was a freight for opponents the way he guarded like his nickname. Payton spent the majority of his career with the Seattle SuperSonics, leading them to the NBA Finals in 1996. Payton was known for his tenacity on defense, earning nine NBA All-Defensive First Team honors and one Defensive Player of the Year award.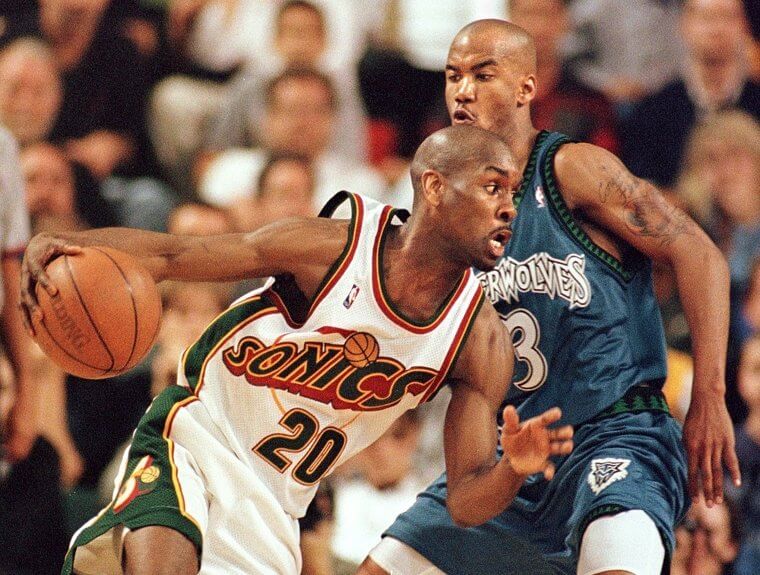 Payton's combination of offense and defense earned him a spot on the 1992 Olympic "Dream Team" and the NBA's 50th Anniversary All-Time Team. Payton also led the league in steals for three seasons and was a nine-time NBA All-Star. He won an NBA championship with the Heat in 2006 and was also inducted into the Basketball Hall of Fame in 2013, considered the ultimate recognition of his outstanding career.
Walt Frazier
Walt "Clyde" Frazier is considered one of the greatest two-way players of all time. Known for his defense and ball handling, Frazier was the first player to lead the league in assists and steals in the same season. During his career with the New York Knicks, he was a seven-time All-Star, a two-time champion, and was inducted into the Hall of Fame in 1987.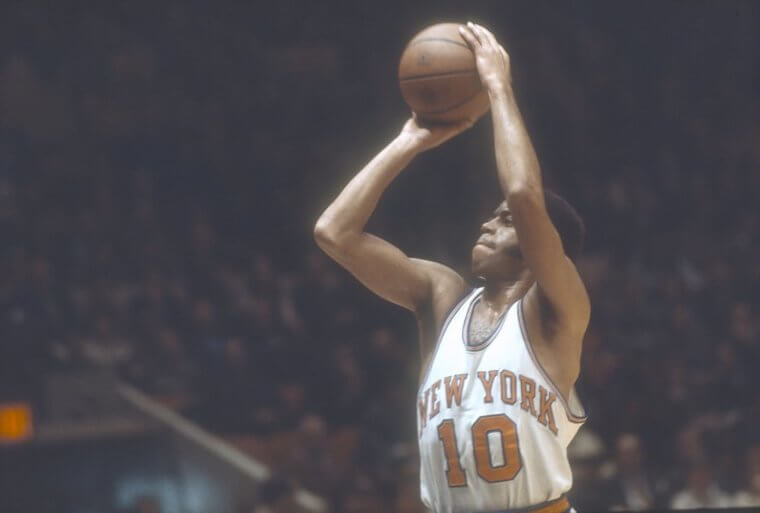 Frazier is known for his undeniably exceptional fashion sense and smooth demeanor, making him a cultural icon and a basketball legend. His impact on the game and his legacy continue to be celebrated today. Fraizer is known as the "style god" of the NBA and has been quoted proclaiming, "I am the New York Knicks," which he has every right to do.
Steve Nash
As a point guard, Steve Nash's prime duty on the field was to post a formidable offense, which he did for 18 seasons with all his might. Rightfully, the opposing teams feared his potent offense that combined his exceptional shooting and passing skills, which made him a double threat.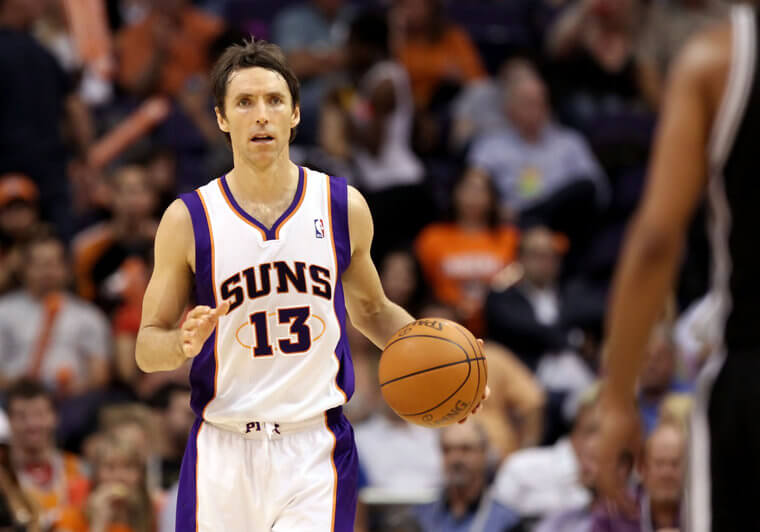 Before the nerve damage to his back forced him into early retirement in 2015, Nash was the long-running reigning star of the NBA since the early 2000s. The eight-time All-Star has been instrumental in the success of all the teams he's played for, including the Phoenix Suns, where he received his two MVPs. In addition, he was a head coach for the Brooklyn Nets for two years until November 2022.
Kevin McHale
In 2021, Kevin McHale joined the big league star players by getting selected to the NBA's 75th Anniversary Team. Not surprising since his name was featured as one of the 50 greatest basketball players of all time during the 50th Anniversary of the League in 1996.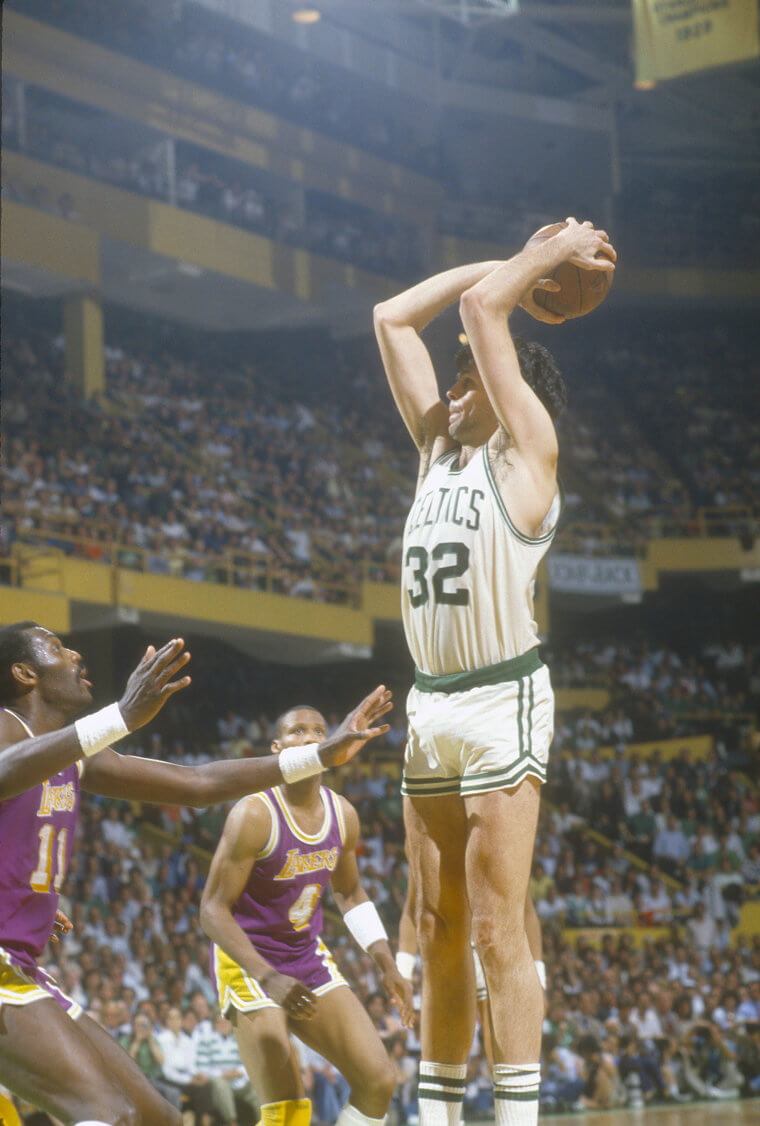 Recognized as one of the most formidable power forwards in the sport's history, Kevin stood out in the defensive position with his incredible shot-blocking moves. Ever since he got into the Boston Celtics in the 1980 NBA Draft, he has proved his mettle as a versatile player who can excel in different positions. In addition, his shooting percentage of 60.5 remains among the best.
Paul Pierce
"Take this down. My name is Shaquille O'Neal, and Paul Pierce is the [expletive] truth. Quote me on that, and don't take nothing out. I knew he could play, but I didn't know he could play like this. Paul Pierce is the truth." Known mostly for his time with the Boston Celtics, Paul Pierce was a tough competition for any player who stepped up to defend him in a game.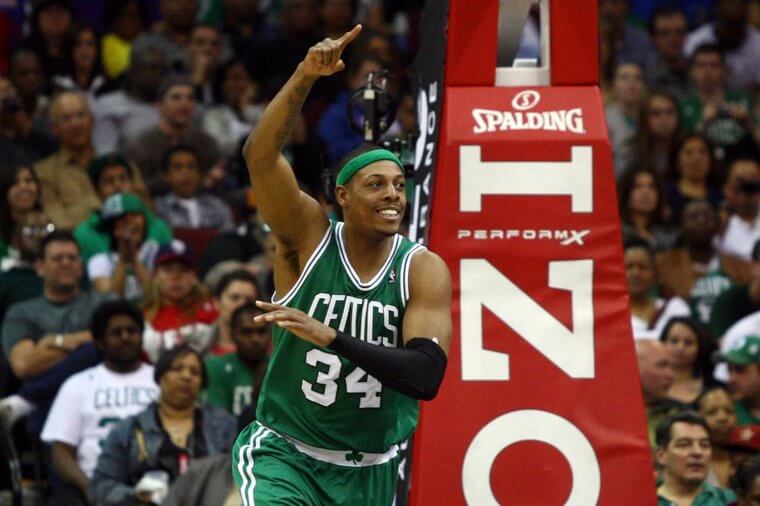 Throughout his 19-year career, Paul was a ten-time NBA All-Star, a 2008 NBA Champion, and a 2008 NBA Finals MVP. He is also one of only three players in Celtics history to score over 20,000 points in a career. His versatility on the court was unmatched, and he was known for his ability to score from anywhere on the court. His fierce competitiveness and leadership made him a fan favorite and a respected figure in the league. 
Ray Allen
Allen is considered one of the greatest shooters in the history of the NBA. A ten-time NBA All-Star, the 2001 All-Star game MVP, two-time NBA champion, and a member of the 2000s All-Decade Team. He was also a member of the gold medal-winning 2000 and 2008 U.S. men's Olympic basketball teams. The "Jesus Shuttleworth" actor also played a big role in bringing pop culture into the NBA.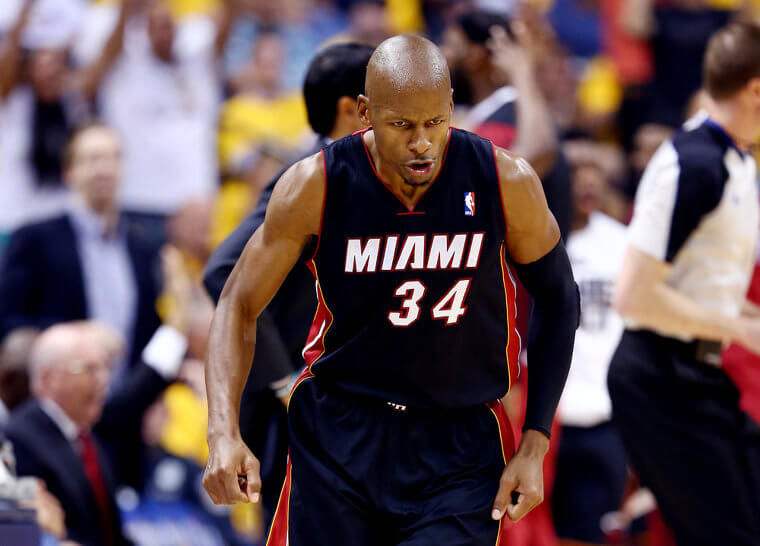 Known for his deadly three-point shooting, he was a leader on the court, known for his work ethic, dedication, and strong sense of teamwork. Off the court, he was highly respected for his leadership and mentorship of young players. His legacy in the NBA will always be remembered as one of the greatest shooters and all-around players ever to grace the court.
Jason Kidd
Another player who made it into the NBA's 75th Anniversary team based on his phenomenal record in the sport is Jason Kidd. A few decades before Russell Westbrook became the master of the triple-doubles, he had collected an astounding 118 of them with his exceptional ability to pass and rebound the ball with instinctive precision.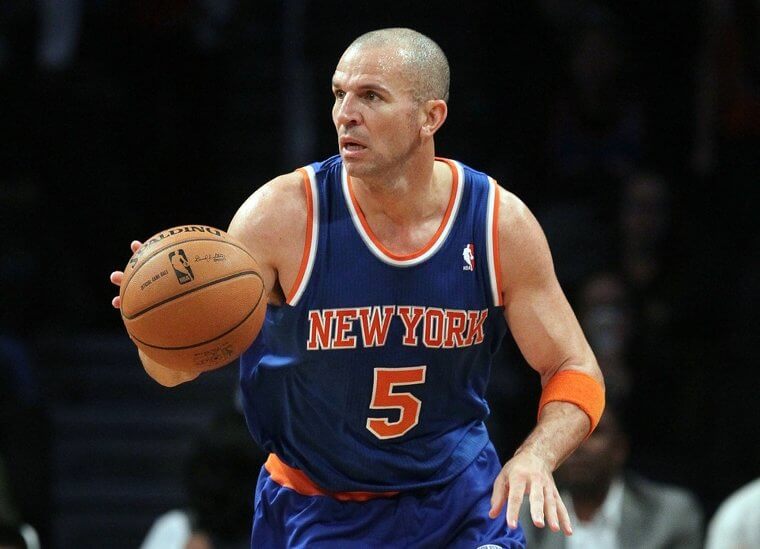 During his two-decade career, Jason had accomplished quite a lot, including the honor of being the League's top-ranking point guard. The ten-time NBA All-Star started his journey with the Dallas Mavericks in 1994 and retired in 2013, playing his final season for the New York Knicks. His knack for adapting to any position on the team has helped extend his career.
Rick Barry
A dominating force on the court, known for his exceptional shooting and ball-handling skills Rick Barry was a master of the fundamentals. He led the Golden State Warriors to the NBA championship in 1975, earning Finals MVP honors in the process. Throughout his career, he was a prolific scorer, averaging over 25 points per game and earning eight All-Star selections.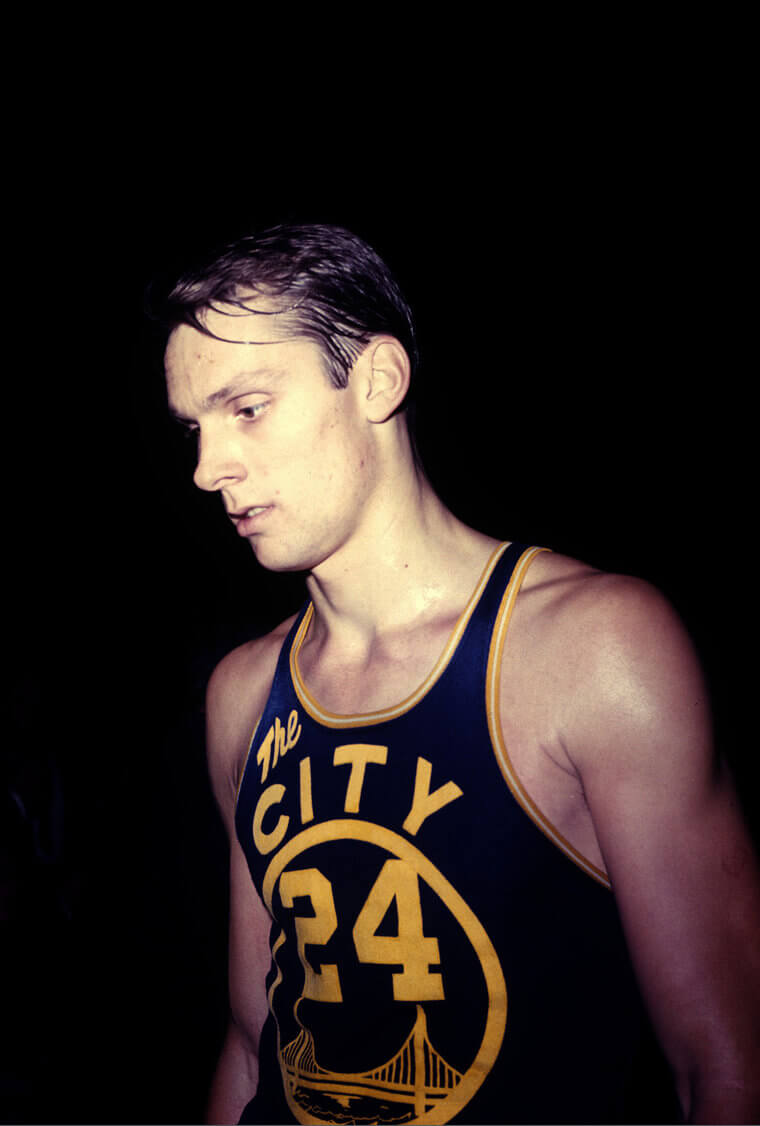 He revolutionized the game with his unique underhanded granny-style free-throw technique making him one of the greatest free-throw shooters in history with an incredible 89.3% from the line. Off the court, he was also known for his intelligence and leadership, earning his teammates' and coaches' respect and admiration. His legacy as one of the greatest players to ever grace the hardwood is undeniable.
Allen Iverson
While Paul Pierce was The Truth, Allen Iverson was "The Answer," and for a good reason. With incredible scoring ability, intense competitive drive, and a fearless attitude on the court Allen Iverson was a force to reckon with during a basketball game. He was known for his quickness, agility, and ability to break down defenses with his masterful crossover dribble, which he used to shake and bake his defenders, leaving them in the dust.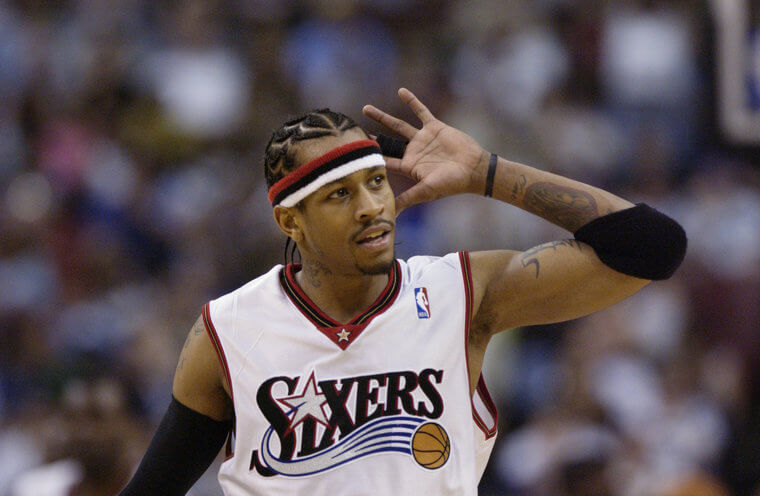 Iverson was also a fierce competitor and a leader on and off the court, known for his relentless work ethic and ability to inspire his teammates. His scoring ability was one of the best in the league, averaging 27.0 points per game over his career and leading the league in scoring four times. He also won the league MVP award in 2001 and was selected to 11 All-Star teams. He is regarded as one of his era's most iconic and influential players.
Clyde Drexler
For most of his professional career as a basketball player, Clyde Drexler had to contend with comparisons to the legend Michael Jordan, whom he faced off during several matches spread over a decade. Eventually, the two teamed up in the 1992 Olympics Dream team and won a gold medal for the United States.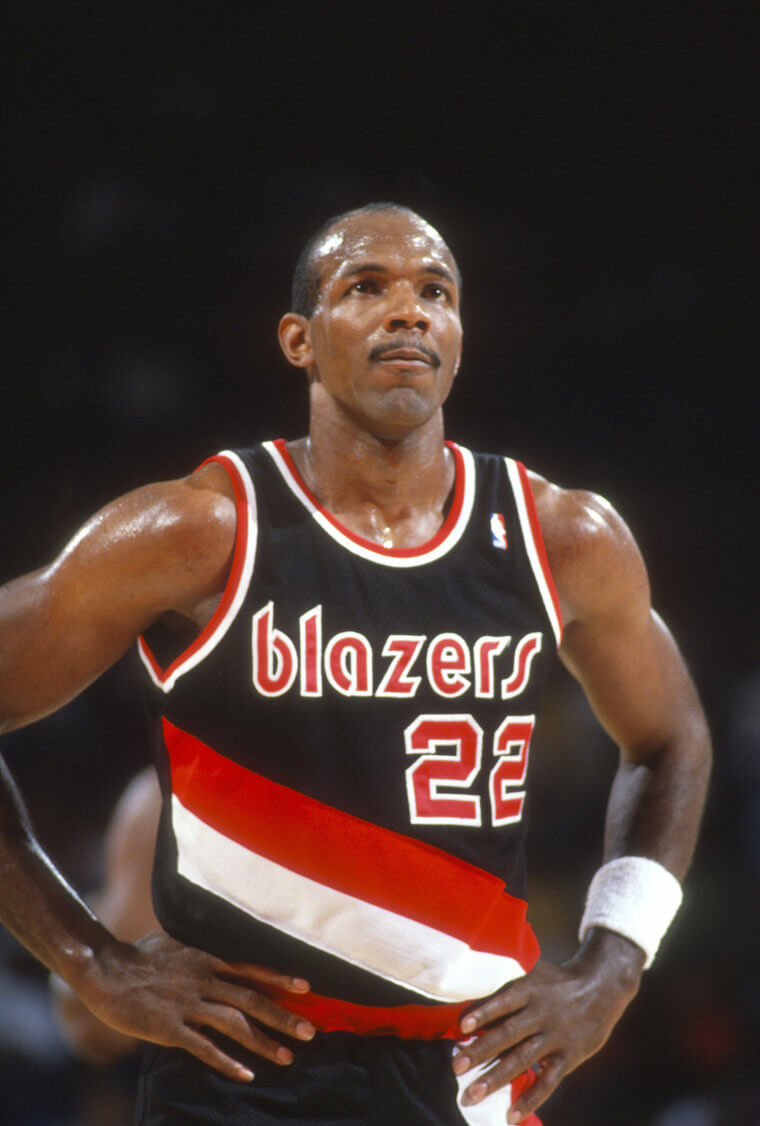 Clyde was picked up by Portland Trail Blazers in the 1983 NBA Draft and had a rough start in the first season. By the third season with the team, he had earned his first All-Star entry. After an eventful decade, his last six seasons with two other teams were less pronounced but as impactful as the rest of his record.
Dolph Schayes
Dolph Schayes was among the few players drafted into the BAA and the NBL Draft in the same year. In 1948, he decided to go with the NBL for a season until the Nationals merged the following year to integrate with the newly formed National Basketball Association, aka the NBA.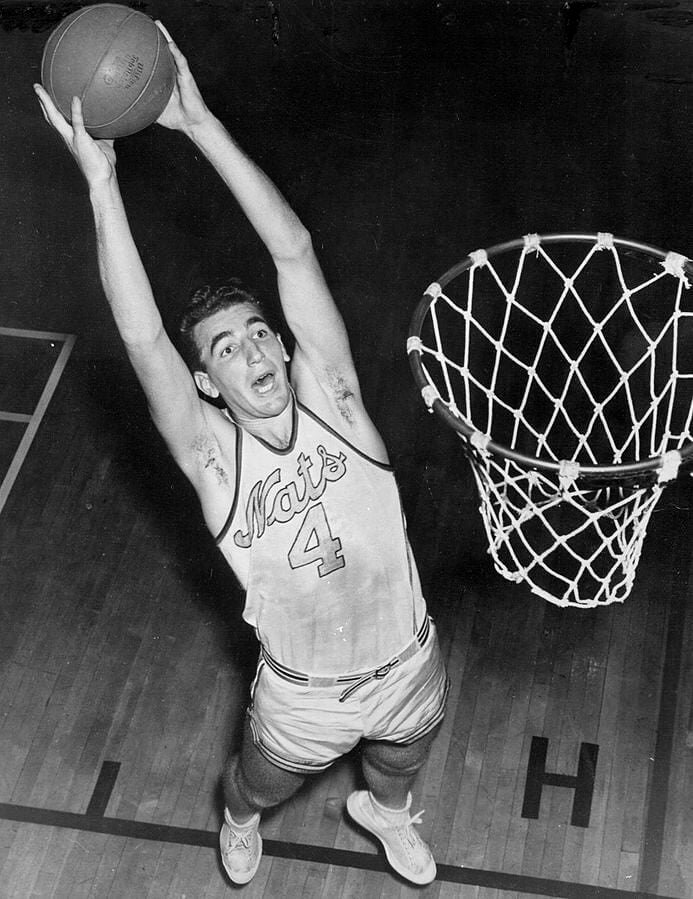 Well known for his high arching outside shot, Dolph rarely let the opportunity pass on the field to make the basket. Interestingly, the 12-time NBA All-Star's injury on the shooting arm only pushed him to try harder to shoot with his off-hand, a skill that made him excel at the two-handed set shot before one-handed jump starts became the norm. The NBA legend breathed his last in 2015.
Bob Pettit
Months after signing a deal worth $11,000, the highest a rookie had ever signed in NBA history at the time; many started to question if Bob was worth the money, stemming from his ballhandling skills which the majority agreed were awkward. His coach moved Pettite from the center position, which he had played during his college career, to forward, and boy, did it work to his advantage.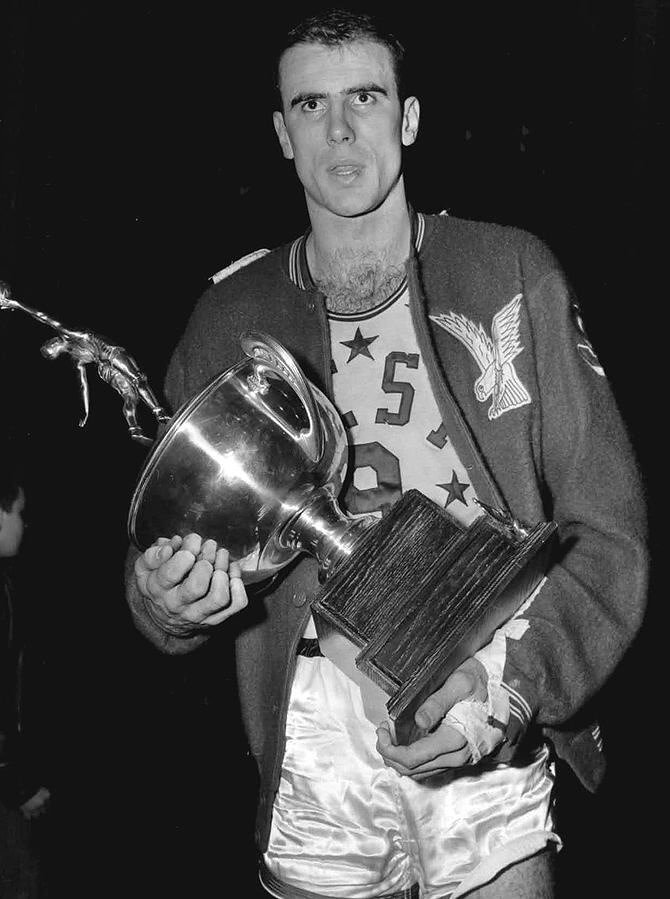 Soon enough, Pettit became the first player in NBA history to be awarded an MVP title, thanks to his record-breaking feats. During his 11-year career, the former St. Louis Hawks player made 11 All- NBA selections and won an NBA championship.
John Stockton
Not many Utah Jazz fans were excited about John Stockton's selection to join the team, and that's because this player was hardly known during his college career and would only experience a profile raise a few months before the draft season. Even so, it didn't take long before Stockton proved his worth.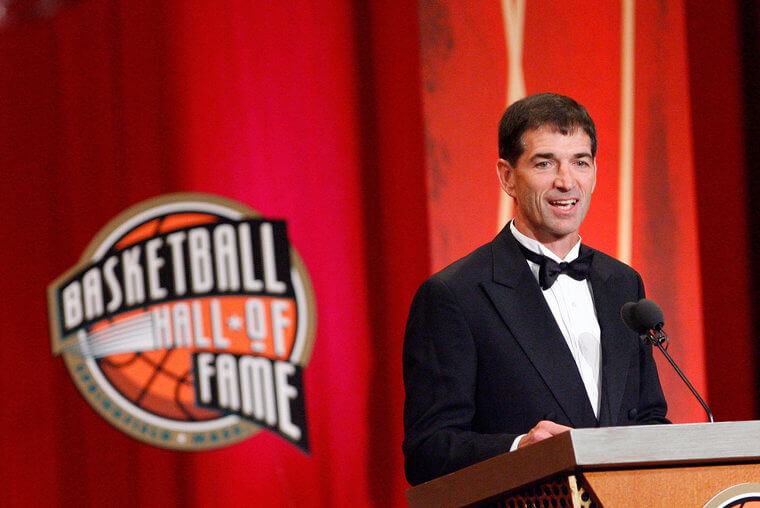 In addition to his team making the playoffs each time during his 19 seasons in the NBA, this ex-basketballer is a ten-time NBA All-star who holds the record of being the player with the highest number of career assists and steals. It's no wonder Stockton was inducted into the Hall of Fame in 1992 and named the '50 greatest player in the history of the NBA four years later.
Chris Paul
Another great basketball player introduced to the world through the NBA is Chris Paul. What brings him to this list is his impressive stats. With a +10.9 Net Rating Swing, +3.7 Relative True Shooting Percentage, and 7.3 Box Plus/Minus, he has proved himself a force to be reckoned with.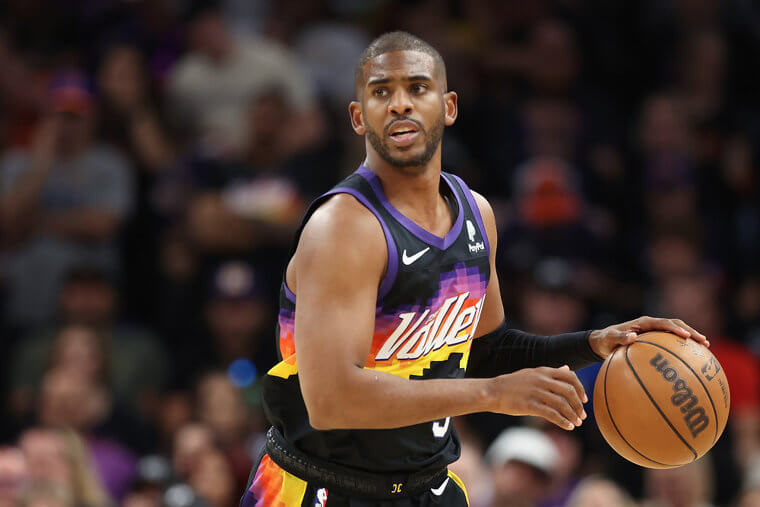 The way he handles the ball while dribbling, shooting, or defending shows he knows his game, unlike any other player. J.A. Adande from ESPN wrote the following about Paul "The classic definition of a point guard, orchestrating offense and shooting when necessary," No wonder why he is nicknamed 'The Point God.'