Hollywood in the Golden Era was a fickle place. Studio heads falsified events, arranged marriages, and had clandestine coverups, all in the name of ratings. Many of the stars lived double lives between what we saw and how they secretly were in real life. The truth, often seen in rumors, was only confirmed in death. Keep reading for our list of the stars that lived with sexual secrets.
Anthony Perkins's HIV-Related Death Was A Shock
Anthony Perkins, best known for his portrayal of Norman Bates in the film Psycho, was a married father of two. Rumors circulated that Perkins had many affairs with men throughout his marriage. The most prevalent was his alleged affair with fellow actor Tab Hunter, but numerous sources revealed that Perkins was constantly looking for handsome young men.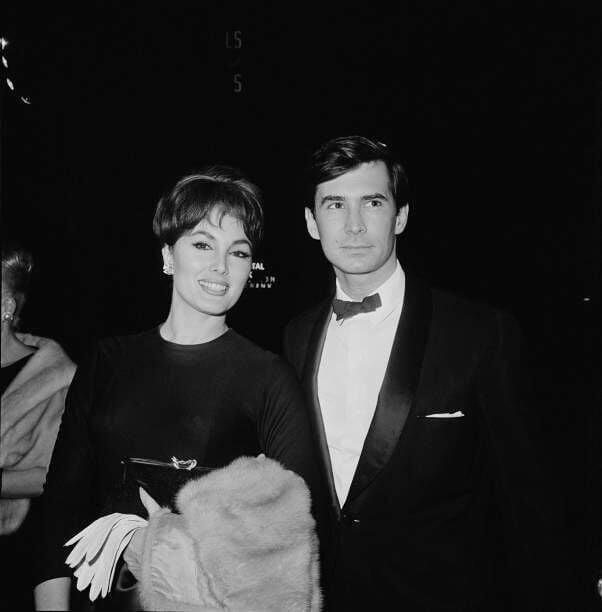 Scotty Bowers, a Hollywood pimp, claimed, "He always wanted someone different," and would ask, "Who do you have for me for tomorrow night that will surprise me? Anything really new?" Perkins was diagnosed with HIV and died at the age of 60 from complications. His death was shocking to many adoring fans, as his medical condition was private and not divulged in public. He was with his family when he died. His wife, Berry Berenson, died on American Airlines Flight 11 during the September 11 terrorist attack.
James Dean - Tomorrow Never Comes
James Dean tragically died as his career started taking off. He had only made three films but was, and remains, a household name. On September, 30th 1955, the 24-year-old actor died in a car crash. According to Hedda Hopper, a gossip column writer, Dean evaded drafting during the Korean war by kissing the medic. This admission brought up many questions surrounding Dean's sexuality.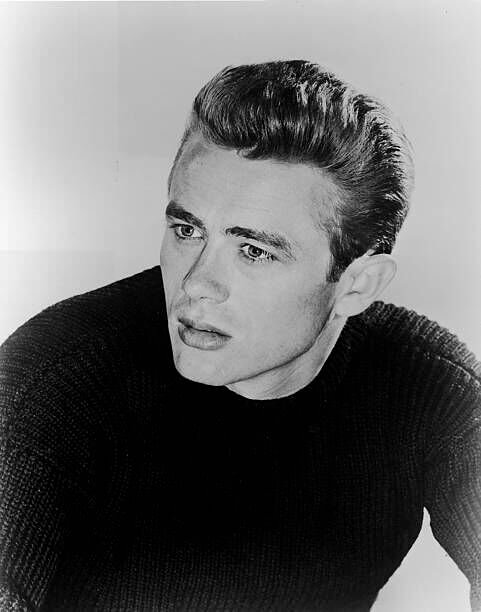 When asked if he was homosexual, Dean replied, "No, I'm not homosexual, but I am also not going through life with one hand tied behind my back." Rumors had Dean involved in a BDSM relationship with acting legend, Marlon Brando. In the book James Dean: Tomorrow Never Comes, biographers Darwin Porter and Danforth Prince wrote, "they were definitely a couple." Advertising executive Rogers Brackett also claimed to have had a relationship with Dean and stated they were in love.
It Happened One Night Stars
The 1934 romantic comedy It Happened One Night won five Academy Awards and starred Clark Gable and Claudette Colbert in leading roles. Both Gable and Colbert had their private lives exposed in the tabloids. After she died in 1996, rumors circulated that Colbert was bi-sexual. Even though she had been married twice, the word was that she did not spend much time at home with either husband and had had an affair with Marlene Dietrich.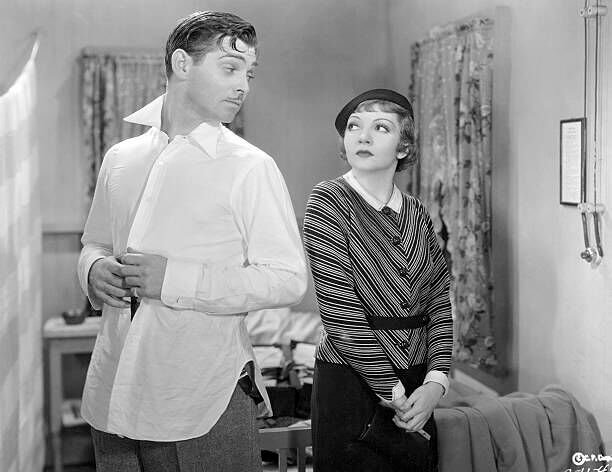 Clark Gable, also known as "The King Of Hollywood" due to his immense fame, married five times and fathered two children. He was a playboy, often making advances on up-and-coming actresses. Although David Brett, biographer of It Happened One Night, later describes Gable as homophobic, he claims when Gable was starting in showbiz, he was "gay for pay" doing sexual favors to advance his career.
Were Adrian and Janet Gaynor Gay?
Adrian Adolph Greenburg was a famous costume designer known for his work on the costumes for the film, The Wizard of Oz and his designs for famous actresses Greta Garbo, Katherine Hepburn, and Joan Crawford. Greenburg reached fame where people referred to him by his first name only in the fashion and entertainment circles.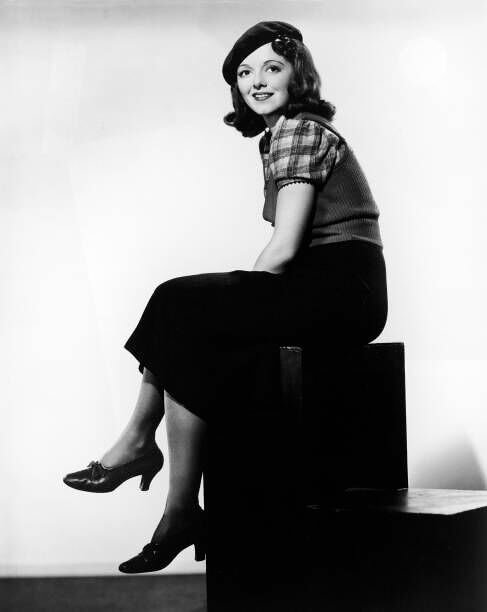 In 1939, Adrian married Janet Gaynor, an Oscar Award-winning actress believed to be lesbian. Rumors circulated that it was an arranged marriage to discredit accusations of the couple being gay. Nevertheless, the couple remained together until Adrian died in 1959. They had a son, who upholds the couple had a real marriage and disputes any other claims. Despite this, Diana McLellan wrote about them in her book, The Girls: Sappho Goes to Hollywood, and William Mann analyzed them in Behind the Screen: How Gays and Lesbians Shaped Hollywood, 1910-1969.
Barbara Stanwyck - Lovelife Speculation
Barbara Stanwyck was a very driven person, excelling in her career and receiving numerous accolades during her 60 years of acting. Stanwyck was married to both Robert Taylor and Frank Fay. However, both marriages were reportedly "lavender" marriages set up by the studio to alleviate the lesbian rumors. Speculation turned to her being bi-sexual. Biographer Axel Madsen claims she was "Hollywood's biggest closeted lesbian."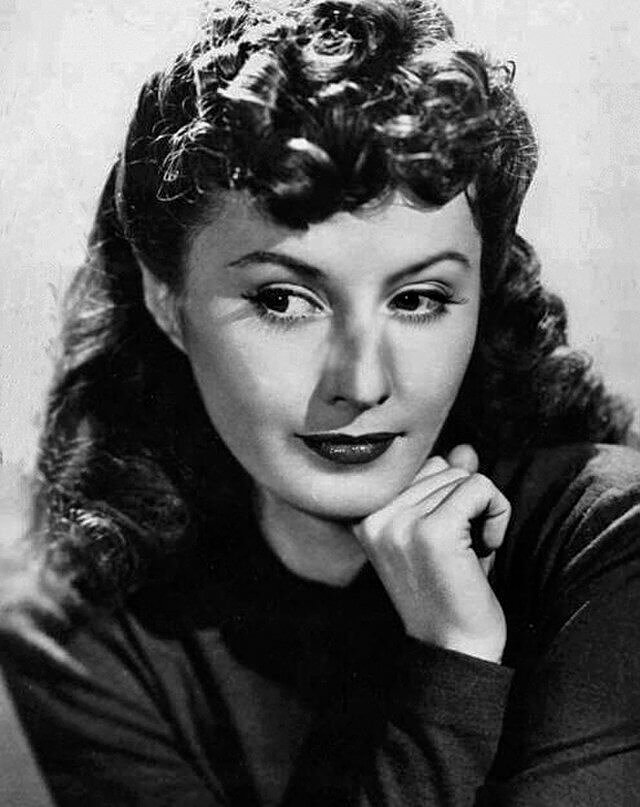 Diana McLellan claimed that Tallulah Bankhead confirmed they had an intimate relationship, but Stanwyck never revealed her sexual orientation. However, in an interview with Boze Hadleigh, he asked if "bisexuality was very widespread among female stars during Hollywood's heyday," to which she replied, "I heard that Dietrich, Garbo, most of the girls from Europe, swing either way. Then I found out it's true." He jumped at her response, wanting to know: "You found out?" but she refused to say any more on the topic. 

Cary Grant Swung Both Ways
Cary Grant was a good-looking British-American actor famous for his roles in North by Northwest and His Girl Friday. He was known as a ladies' man of the 1930s. However, he wasn't only a ladies' man. Before becoming a star, Grant reportedly lived with Australian costume designer Orry-Kelly after being evicted from a boarding home because he couldn't pay his rent. Grant did numerous jobs, including being an escort and a stilt-walker.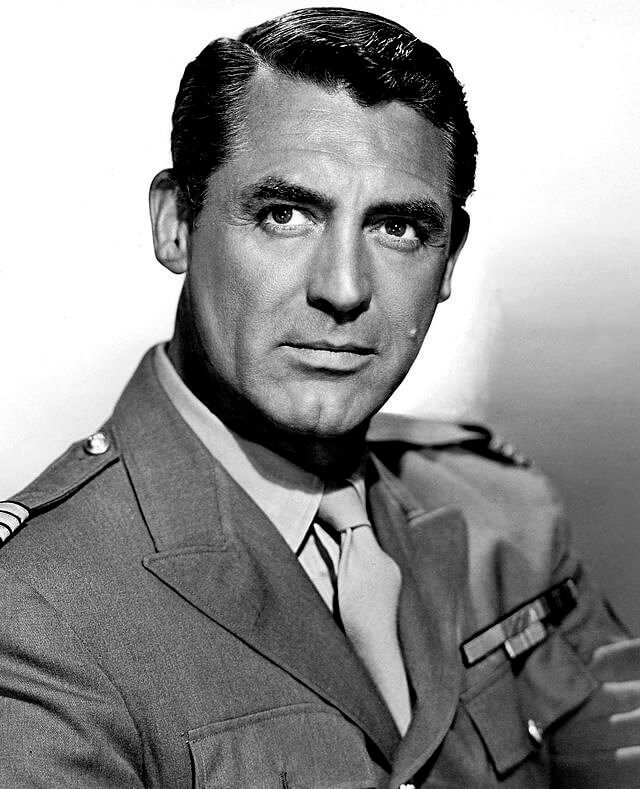 Kelly was seven years older than the 20-year-old Grant, formerly known as Archibald Leach. The two allegedly had an on-off relationship spanning three decades that was said to be occasionally violent. Katherine Thompson claimed that Grant once threw Kelly out of a moving vehicle during an argument. Grant had five unsuccessful marriages, which did not curb the rumors of his sexuality. 

Scott and Grant Merry Bachelors and More
Actor Randolph Scott was dubbed one-half of the "merry bachelors," and Cary Grant was the other half. The two actors met when filming Hot Saturday in 1932. They lived together on and off for 12 years between marriages in Bachelor Hall, a mansion in Los Feliz.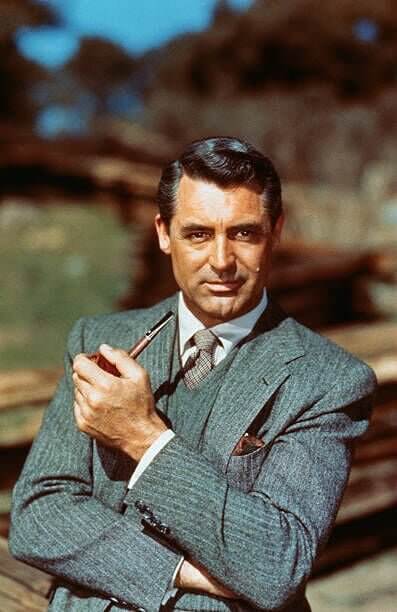 Photos of Scott and Grant suggest they may have been more than just friends. They met Scotty Bowers while they were both married. Bowers, a Hollywood pimp, reportedly arranged numerous gay hookups said that the marital status of the two "didn't stop the three of us from becoming very closely acquainted." It makes you wonder just what their acquaintance entailed.

Latin Lover, Cesar Romero's Gay Sex Life
Tall, dark, and handsome are three words used to describe this Cuban-American actor. Besides regularly playing the role of a Latin lover, Romero also played the Joker in the original Batman TV series. Multiple pictures placed him out and about with beautiful women regularly. Though not as public, his involvement with the opposite sex was not quite a secret.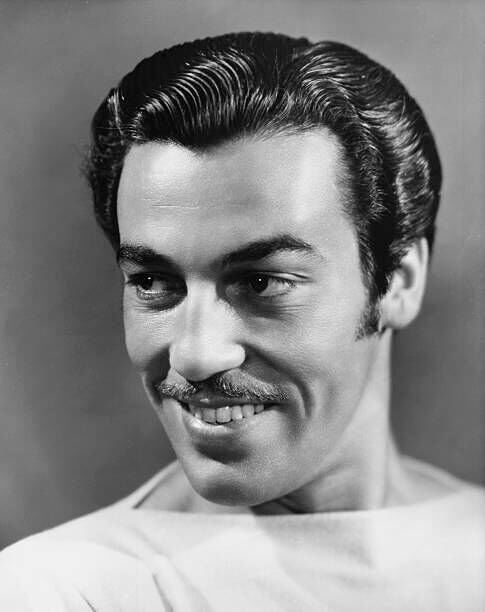 According to reporter Boze Hadleigh, Romero enjoyed a "wide-ranging gay sex life," he also claimed that Romero had sex with Desi Arnaz from I Love Lucy and was in a relationship with actor Tyrone Power. Comedian Gilbert Gottfried revealed outrageous gossip about Romero: "I don't know if it's true ... I don't care. I want it to be true ... Someone said that [Romero] was turned on by dropping his pants and having young boys throw orange slices at his a**." to HuffPost.

Dirk Bogarde Was Not Afraid
Dirk Bogarde, an English actor, served as an intelligence officer in the British army in World War II. In a 1986 television interview, he told Above The Title: "After the war I always knew that nothing, nothing, could ever be as bad ... but nothing could frighten me any more, I mean, no man could frighten me any more, no Director ... nothing could be as bad as the war, or the things I saw in the war."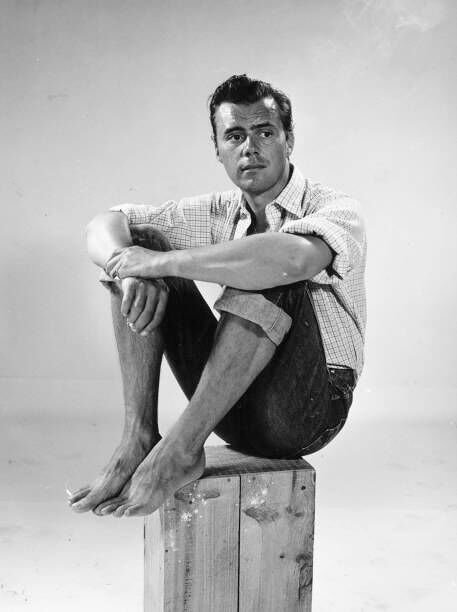 Bogarde never admitted to being gay himself but was not afraid to portray gay characters in films. He played the victim in the 1961 movie of the same name. The movie, Victim, was at the forefront of films that explored homosexuality and said to be the first film to speak the term. For 40 years, Bogarde lived with his friend and business manager, Anthony Forwood. 

Arzner Goes From Medicine to Movies
Dorothy Arzner was a strong-willed, free-spirited person. She grew up surrounded by celebrities who frequented her father's restaurant in San Francisco. She studied medicine for two years at the University of Southern California before entering the entertainment field; after World War I, vacancies were available in the film industry. In an interview published in Cinema, she said: "It was possible for even inexperienced people to have an opportunity if they showed signs of ability or knowledge."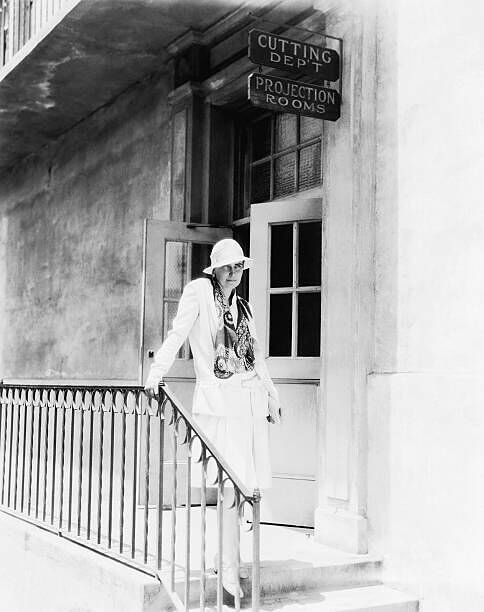 She started editing films, and then when the timing was right, she threatened to leave if she did not get a movie to direct within two weeks. Arzner was the first and only female director of a sound film during her career. Arzner did not shy from her sexuality and had a 40-year relationship with Marion Morgan. She also reportedly had flings with Joan Crawford and Katherine Hepburn.

George Cukor - Openly Gay Director
George Cukor started his career in the New York theaters before Hollywood. Although Cukor never spoke about his sexuality, he was openly gay. Cukor made a name for himself, directing films involving women in any manner. He received the nickname "the Woman's director" as he had such a great rapport with the actresses; he related to them in such a way that the outcome was extraordinary.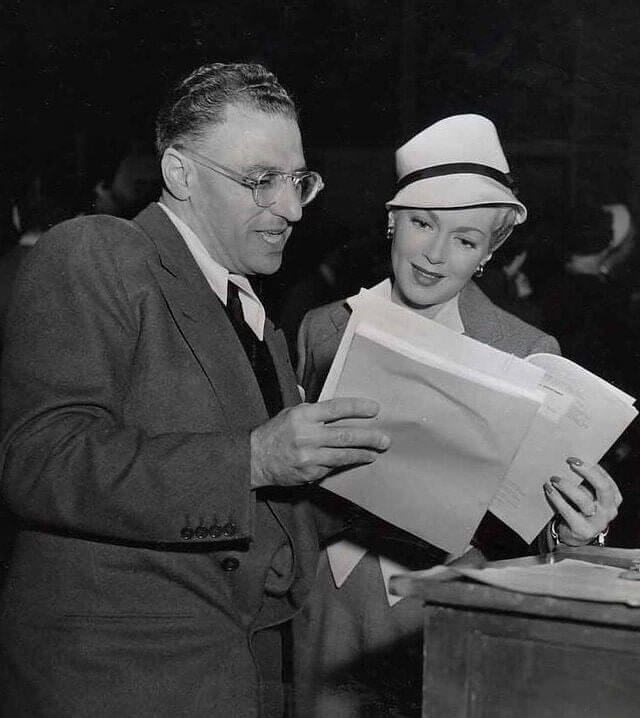 Initially, the studio hired Cukor to direct the classic movie, Gone With The Wind. He had tutored Olivia de Havilland and Vivien Leigh in their roles for months before being asked to leave as lead actor Clark Gable had a problem working with Cukor because he was gay. The rumor is that when Gable was an escort early on in his career, Cukor was a client of his, and Gable was scared that people would find out.

Garbo Pines for Old Girlfriend
Swedish-born spinster Greta Garbo starred in 27 films in her relatively short time in Hollywood before retiring. She was a private person and did not like the media attention received as an actress. In addition to her public relationship with John Gilbert, there were rumors of many leading ladies linked with Garbo.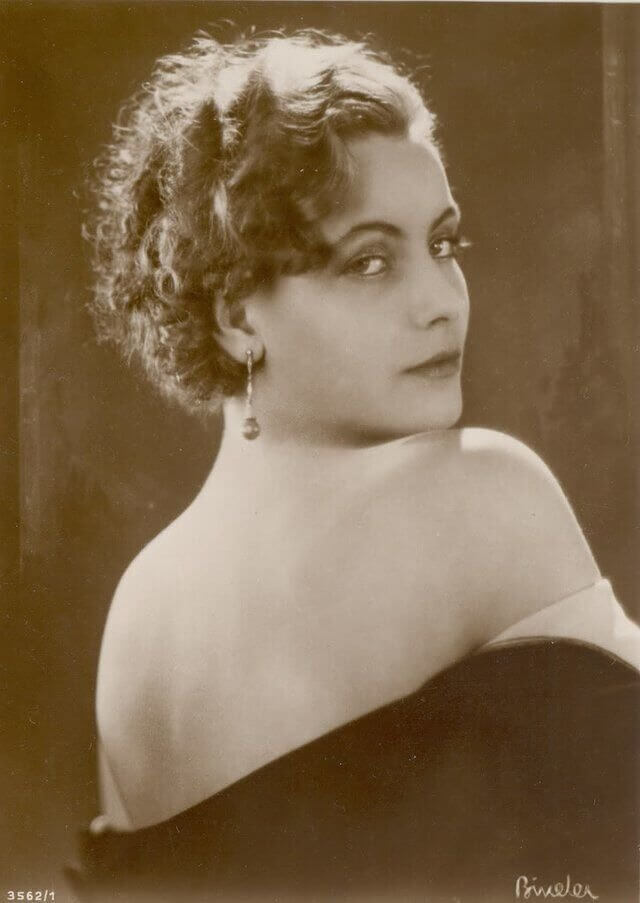 Diana McLellan, author of The Girls: Sappho Goes to Hollywood, believes that she had a passionate love affair with Marlene Dietrich while in Berlin before the two were household names. McLellan also claims to have love letters from Garbo to Mercedes da Costa and actress Mimi Pollack. Garbo and Pollack met in drama school, but it seems Garbo never got over Pollack and wrote to her after she was married, saying: "I dream of seeing you and discovering whether you still care as much about your old bachelor. I love you, little Mimosa."

Ivor Novello Was Openly Gay
Before the Sexual Offences Act passed in 1967 it was a criminal offense to have a homosexual relationship in Britain. The punishment for breaking this law was life imprisonment. BBC Wales says: the "police seemed to have turned a blind eye" towards Welsh actor and composer Ivor Novello, who was openly gay, even if he couldn't admit it. Biographer Donald Spoto told The Guardian, Novello was "never, on or off the set, especially shy about his homosexual life," which led to critics labeling him as "effeminate" and "overly pretty."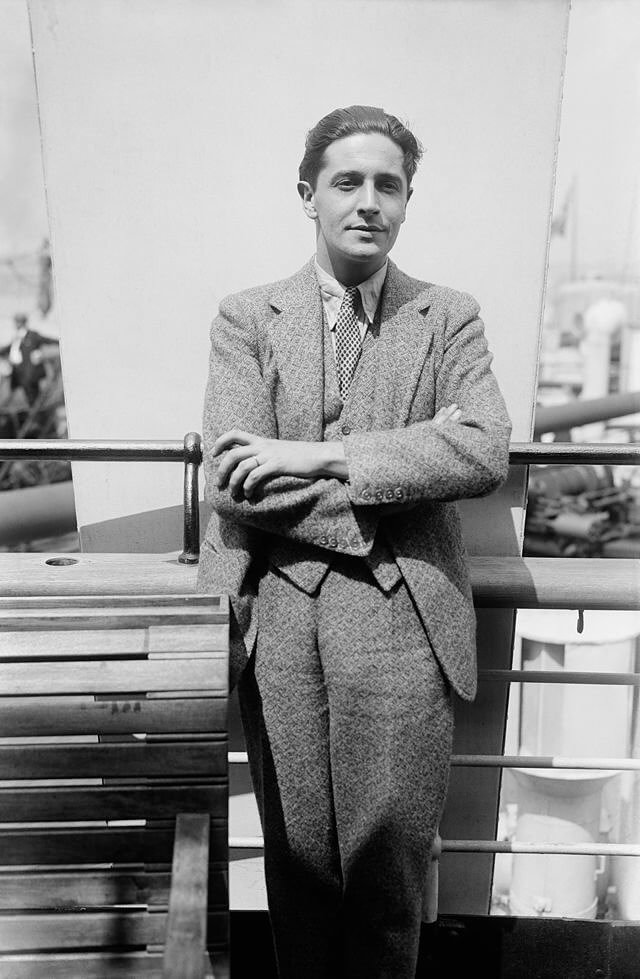 Novello's sexuality was an open secret. The approval of the Sexual Offences Act was a great victory for all gay men as it allowed for private, consensual displays of same-sex affection for men over 21. Novello had relationships with fellow actor Bobby Andrews and poet Siegfried Sassoon. Andrews and Novello were companions from 1916 until Novello died in 1951.

Janet Gaynor Married to Known Gay Man Adrian
Janet Gaynor was the first woman to receive an Academy Award for Best Actress for her roles in 7th Heaven (1927), Sunrise: A Song of Two Humans (1927), and Street Angel (1928) in 1929. She was married to Adrian, the gay costume designer mentioned earlier, for 20 years.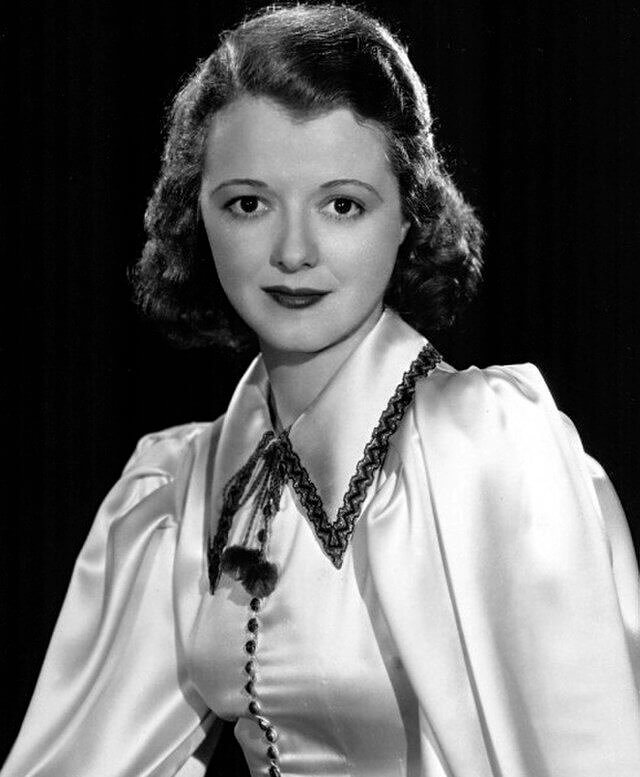 Rumors circulated of Gaynor being in a relationship with Mary Martin. The gossip was reiterated by actor Bob Cummings when he wrote, "Janet Gaynor's husband was Adrian, but her wife was Mary Martin." in Behind the Screen: How Gays and Lesbians Shaped Hollywood.
Jean Acker and Rudolph Valentino's Short Marriage
We all know people were more conservative early on in the 20th century. The studios would arrange for their top stars surrounded by controversy to get married to thwart the rumors regarding their sexuality. That is what they did in the case of Jean Acker and Rudolph Valentino. However, the two actors also seem to embrace the marriage for the convenience and mutual benefit the nuptials provided them.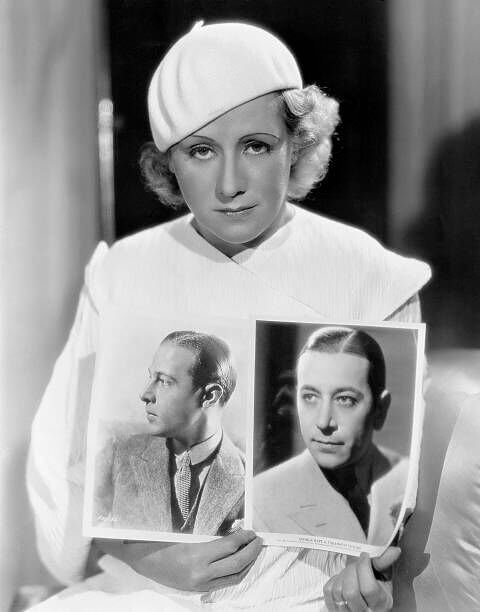 Acker was more famous than Valentino when they married, so Valentino felt the marriage would boost his career. Acker was allegedly in a lesbian love triangle when they married and thought it would quiet the potentially damaging rumors surrounding her sexuality.  Popsugar reported that the couple never consummated their marriage. It was rumored Acker immediately regretted her decision and even slammed the door in Valentino's face on their wedding night. They divorced after two months.

Joan Crawford: Seductress of Men and Women
Joan Crawford was a legendary actress of the early 20th century. She appeared in over 80 movies in a career that spanned 50 years, winning an Academy Award for Best Actress in the 1945 Mildred Pierce. Crawford, nicknamed a maneater, had a voracious appetite for men. Rumors that circulated after her death say she quite fancied women too.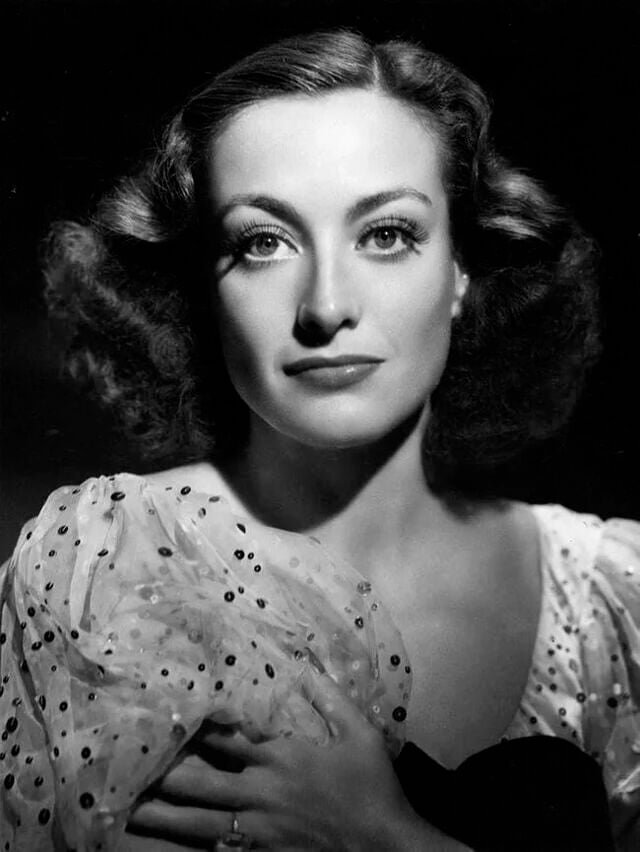 Crawford allegedly had affairs with Marilyn Monroe, Martha Raye, Barbara Stanwyck, and Marion Morgan, a little-known actress. Crawford's fourth husband was Pepsi CEO, Alfred Steele. During their marriage, she did extensive traveling promoting Pepsi. When he died in 1959, the Board of Pepsi elected her to join the ranks. Crawford had five adopted children. The eldest two felt that she was strict and abusive; in 1978, Christina Crawford published Mommie Dearest, which alleged that Crawford emotionally and physically abused Christina and her brother Christopher.

Katharine Hepburn's Love Interest With Barbara
Scotty Bowers was a Hollywood pimp and author of Full Service. He said he and Hepburn had developed a great friendship during the 50 years they had known each other. Bowers said a typical request from Hepburn would be: "When you get a chance, do you think you can find a nice young dark-haired girl for me? Someone that's not too heavily made-up."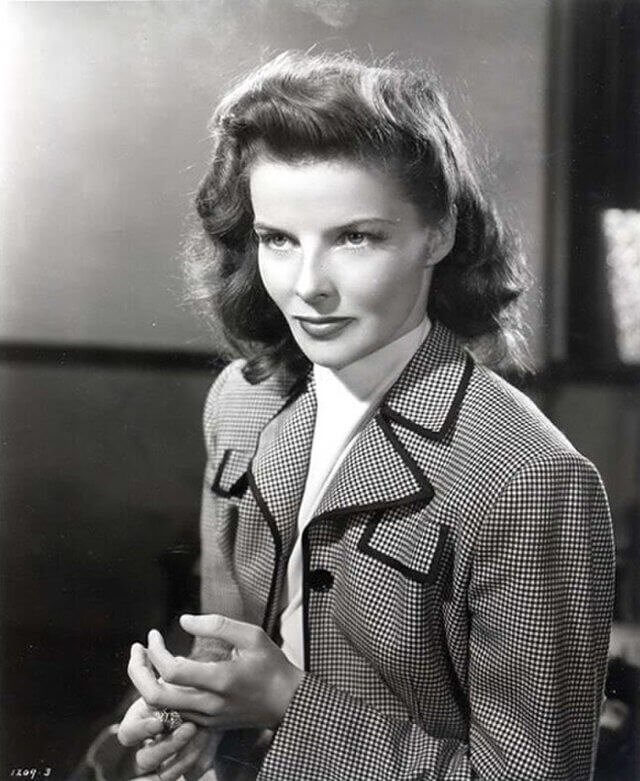 He adds that Hepburn would get easily bored and would only see the same woman once or maybe twice. Bowers had probably hooked her up with about 150 women. However, there was one girl that lasted. Barbara was 17 years old when they first met. The two reportedly had a relationship that spanned 49 years. It was reported that Barbara received a letter and check in the mail for $100,000 in June 2003 from Hepburn's attorneys, months before Hepburn died.

One Expośe Ruined Lizabeth Scott's Career
Lizabeth Scott was a product of discrimination. In 1954, Howard Rushmore of Confidential gossip magazine printed an expośe on Scott and her penchant for "baritone babes," a term used to describe lesbians. Rushmore claimed Scott "took up with Frede, the city's most notorious lesbian queen and the operator of a night club devoted exclusively to entertaining deviates like herself." while she was in Cannes.

Scott was an accomplished actress with talent exceeding her colleagues, described as a head-turner with a "smokey voice" and a sultriness similar to Lauren Bacall. Bob Thomas commented during her screen test in 1945: "Her throaty voice may well make Lauren Bacall sound like a mezzo soprano." Unfortunately, even with so much going for her, the backlash from the article was irreparable. Scott sued Confidential magazine, but her career still fizzled out due to the damage to her reputation.

Did Marilyn Monroe Prefer Women?
Marilyn Monroe, born Norma Jeane Mortenson on June 1, 1926, was an American actress, model, and singer. She died of a drug overdose at the age of 36. Cast as the stereotypical blonde in movies like Gentlemen Prefer Blondes and How to Marry a Millionaire, she was once the most sought-after leading lady. Monroe was married three times. Her second husband, Joe DiMaggio, was New York Yankee baseball legend. Walter Winchell claimed that DiMaggio told him they divorced because Monroe preferred women.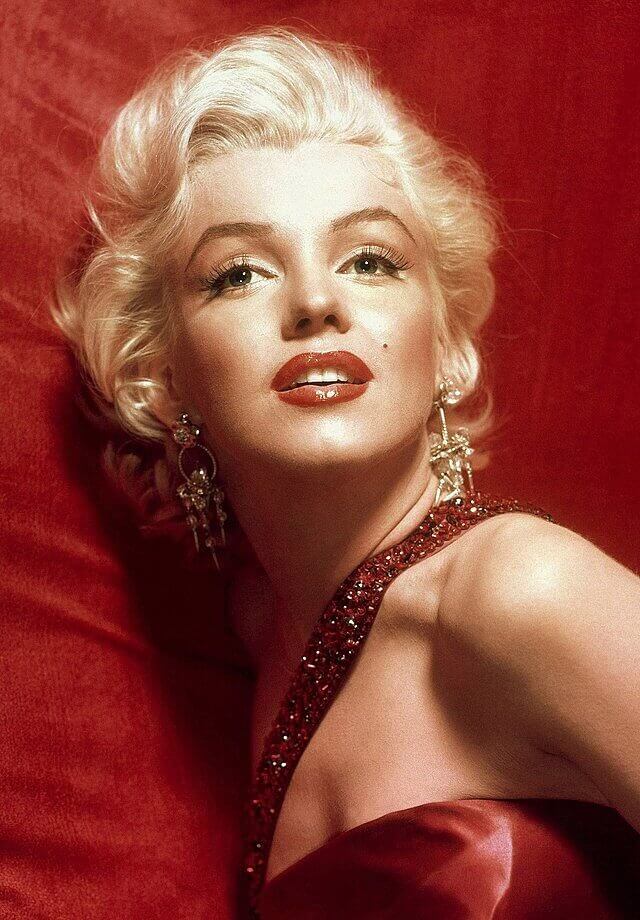 Monroe reportedly had affairs with her fellow actresses, Barbara Stanwyck, Marlene Dietrich, Elizabeth Taylor, and Joan Crawford. She allegedly slept with her two acting tutors, Paula Strasberg and Natasha Lytess. The breakup with Lytess was brutal, and Monroe refused to take any of her calls. Speaking about their relationship, Lytess said, "She exploited those feelings as only a beautiful younger person can."

Marlene Dietrich Was a Gentleman at Heart
German actress and cabaret singer Marlene Dietrich was outspoken and open about her sexuality. "I am at heart a gentleman," she once said. Dietrich was not afraid to go against the grain. She would regularly wear tuxes or pants to red carpet events when it was virtually unheard of for women to wear anything other than a dress. While married to film producer Rudolf Siebert, Dietrich had numerous affairs with men and women.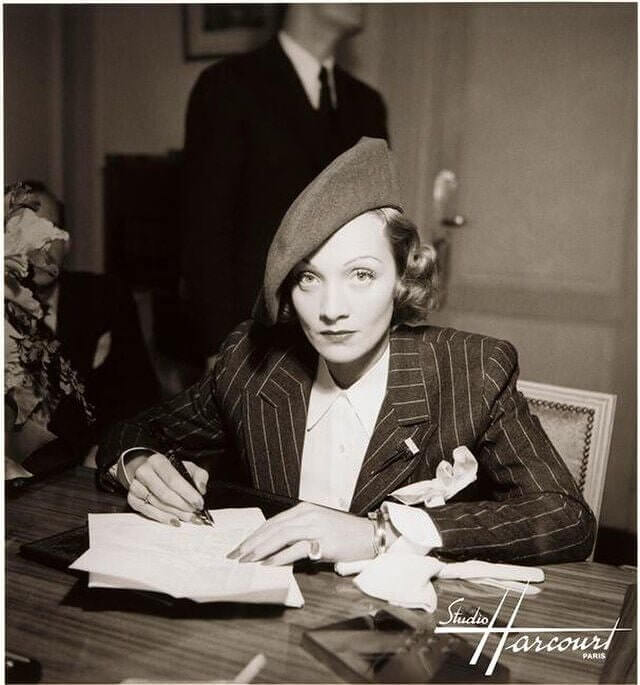 Her daughter reveals in 1992 that her mother had dalliances with men as "a way of controlling and manipulating them," not for pleasure, but her flings with the fairer sex were "much more satisfying for her." Film critic Kenneth Tynan remarked, Dietrich "has sex without gender." Dietrich once had a relationship with Greta Garbo that ended so badly that Garbo "refused to acknowledge Dietrich's existence for the rest of their lives."

Marlon Brando - Gay Is in Fashion
Marlon Brando's career spanned 60 years, and he received many accolades: two Academy Awards, three BAFTAs, and two Golden Globes. During his time on the big screen, Marlon Brando has had his fair share of sex with men and women. Brando married three times but reportedly had relationships with Cary Grant, Montgomery Clift, Sir John Gielgud, Rock Hudson, and most note-worthy, James Dean.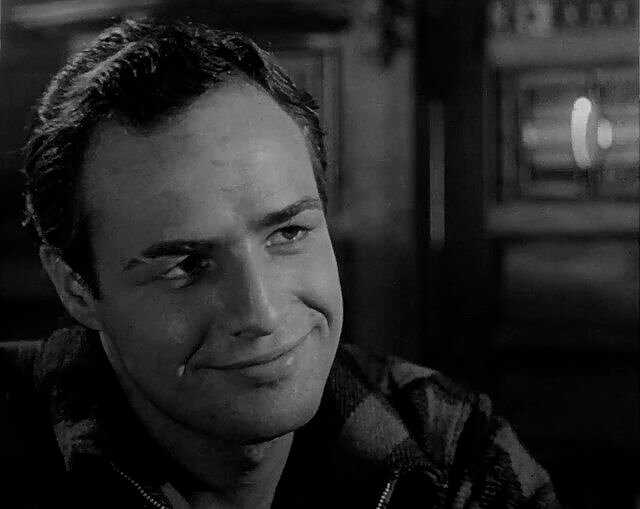 In 1976, during an interview with Gary Carey, Brando said: "Homosexuality is so much in fashion, it no longer makes news. Like a large number of men, I, too, have had homosexual experiences, and I am not ashamed. I have never paid much attention to what people think about me." In a 2018 interview with Vulture, producer Quincy Jones declared Brando would gladly have sex with just about anyone: "He'd f**k a mailbox. James Baldwin. Richard Pryor. Marvin Gaye."

Montgomery Clift's Sexuality Confirmed After His Death
Montgomery Clift was a talented actor, nominated for four Academy Awards, although he battled with his rise to fame and the media attention that went along with it. Clift struggled with substance abuse, and he died from a heart attack at the age of 45 in his bathtub. Clift was a private person and never publically spoke about his personal life or sexuality.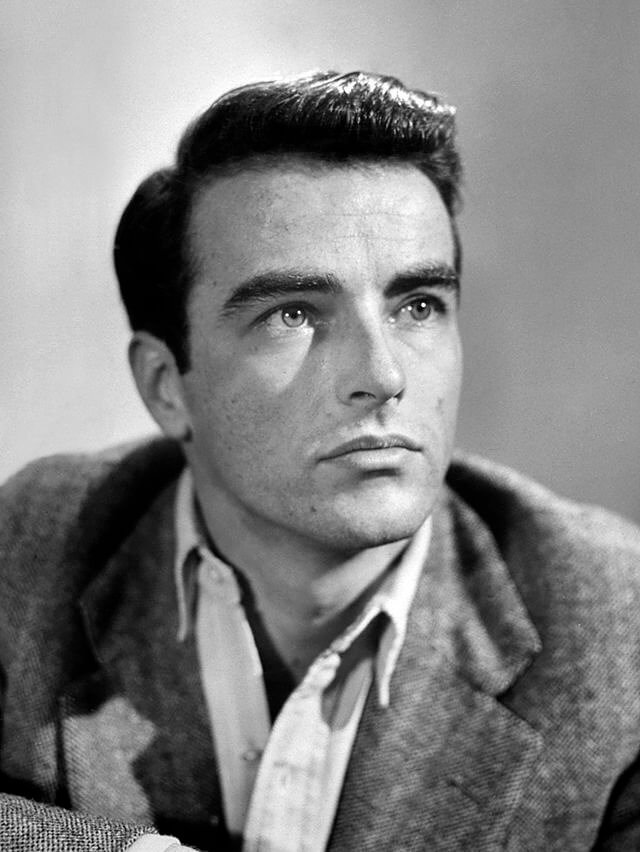 However, his close friend, Elizabeth Taylor, admitted that he was gay at the Gay & Lesbian Alliance Against Defamation awards function in 2000. The 2018 documentary Making Montgomery Clift, which his nephew Robert Clift and his wife Hillary Demmons produced, revealed that his mother knew about his sexuality from an early age, possibly as young as 12 years. In a 1978 biography, a quote from Clift was released: "I love men in bed, but I really love women."

Patsy Kelly Supporting Actress in the '30s and '40s
Patsy Kelly, the actress that portrays the audacious best friend in the 1930's comedies Merrily We Live and The Girl From Missouri, had a relatively short career on the big screen spanning the '30s and '40s. She openly embraced her sexuality, referring to herself as a "dyke" and revealing that she lived with her girlfriend and didn't plan on ever getting married.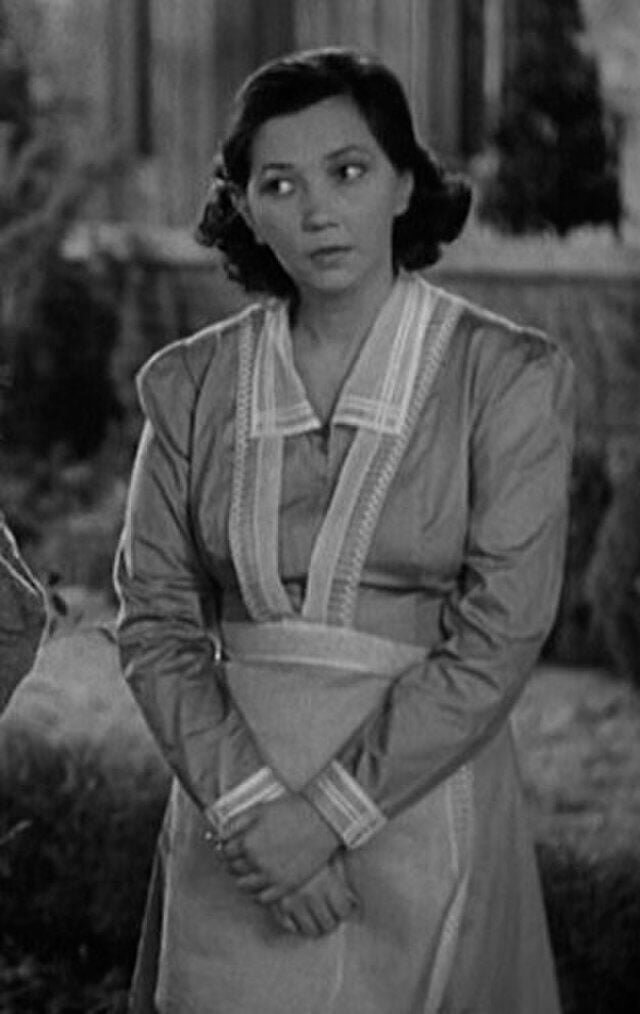 Kelly had a relationship with Tallulah Bankhead, who was also very open about her sexuality. Bankhead was bi-sexual and had public relationships with men and women. We wonder if Kelly's openness about being a lesbian had any ill effects on her career or if there were just better actresses out there, as she never secured any leading roles during her career.

Ramon Navarro Murdered in His Home
José Ramón Gil Samaniego moved from Mexico to Los Angeles in 1913, debuting in 1917 as an actor under the stage name Ramon Novarro. MGM promoted Navarro as a "Latin Lover," and he was second in popularity only to Rudolph Valentino. After Valentino died in 1926, Navarro became increasingly popular.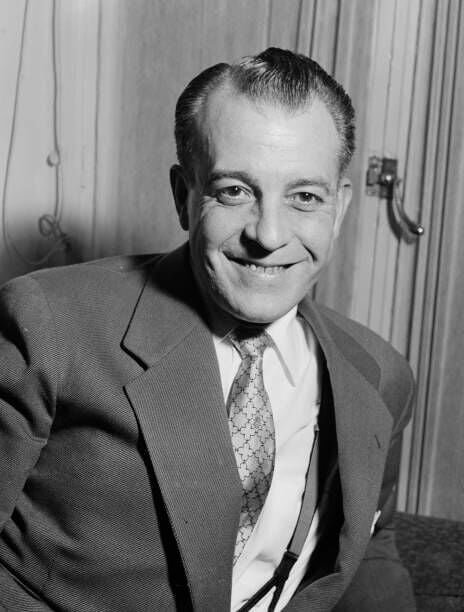 The studio had pushed Navarro to marry to maintain his image, but he refused, and they did not renew his contract after it ended in 1935. Navarro battled to find work and his career dissolved. Navarro never publically came out during his life and reportedly struggled with being gay due to his Catholic upbringing and relied on male prostitutes to relieve his sexual urges. In 1968 he was murdered by brothers Paul and Tony Ferguson, who entered his home in the guise of being escorts. They tortured and murdered him, hoping to find hidden money. 

Ramond Burr and Business Partner Robert Benevides Live Together for 33 Years
Raymond Burr is famed for playing the role of a defense attorney in the TV Series Perry Mason. He was also popular in the NBC drama Ironside, where he played a disabled detective. Burr was briefly married to Isabella Ward in 1948 but had a long-term relationship with Robert Benevides, who he met on the set of Perry Mason in 1960.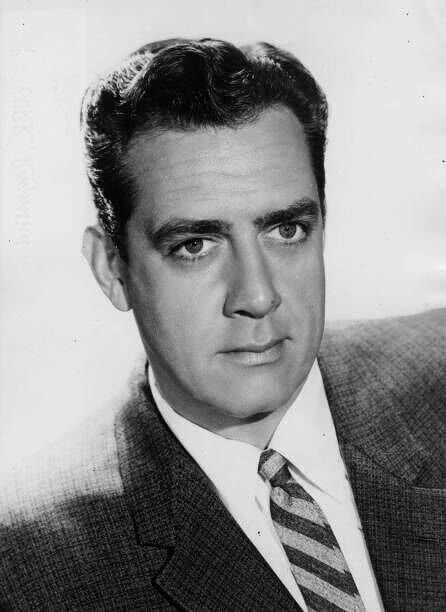 Scotty Bowers, who Benevides describes favorably in an interview with L.A. Weekly as "the most honest person I've known," reportedly introduced Burr and Benevides, who were known as business partners. They purchased a vineyard in Sonoma County, California. They were in a relationship for 33 years till Burr died in 1933.

Richard Pryor's Sexual Escapades With Marlon Brando
Richard Franklin Lennox Thomas Pryor was an American stand-up comedian, actor, and writer. He struggled with substance abuse, and he even set himself alight while under the influence. Pryor had seven children born to five separate mothers. He also married seven times to five different women. 

He died from a heart attack in 2005. In 2018, one of his ex-wives told TMZ that Pryor had had an affair with Marlon Brando in the '70s. Adding that, "It was the '70s....if you did enough cocaine, you'd f*ck a radiator and send it flowers in the morning." Quincy Jones also indicated that Pryor and Brando had been intimate in a Vulture interview when he was discussing Marlon Brando's sexual escapades and said they included Richard Pryor.

Rock Hudson Was Gay
Rock Hudson was the epitome of a leading man who worked hard to maintain his image. When Confidential threatened to expose his sexuality, his agent arranged for Hudson to marry his secretary, Phillis Gates, to stop the rumors. Gates began to suspect that Hudson was homosexual and hired a private investigator. They divorced after three years.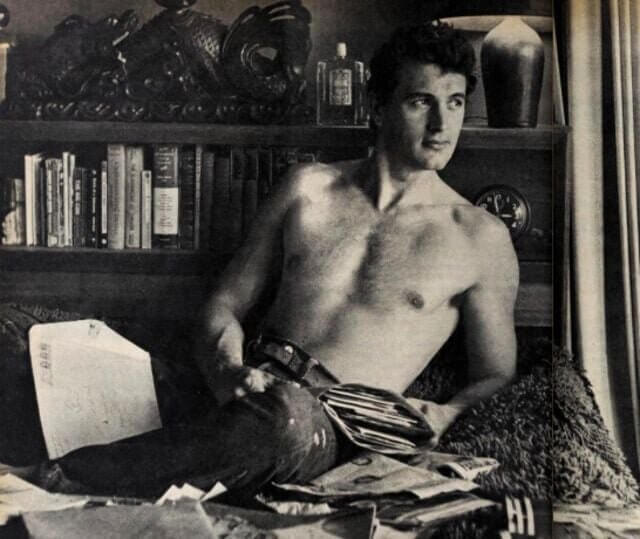 Hudson and stockbroker Lee Garlington were in a relationship between 1962 and 1965. They attended red carpet events together, although they both had dates because: "Nobody in their right mind came out," Garlington later told People magazine. "It was career suicide. We all pretended to be straight." Before he died in 1985, Hudon came out: "I am not happy that I am sick. I am not happy that I have AIDS. But if that is helping others, I can at least know that my own misfortune has had some positive worth."

Dorothy Dandridge Was More Famous Than Her Mother
Although she was not a household name, Ruby Dandridge appeared in popular movies like A Hole in the Head, Tap Roots, Three Little Girls, Cabin in the Sky, and Tish. Dandridge also appeared as a dancer in King Kong, but the role was uncredited. She was a divorcee with two children when she moved to Los Angeles in 1929 with her "lifelong companion," Geneva Williams.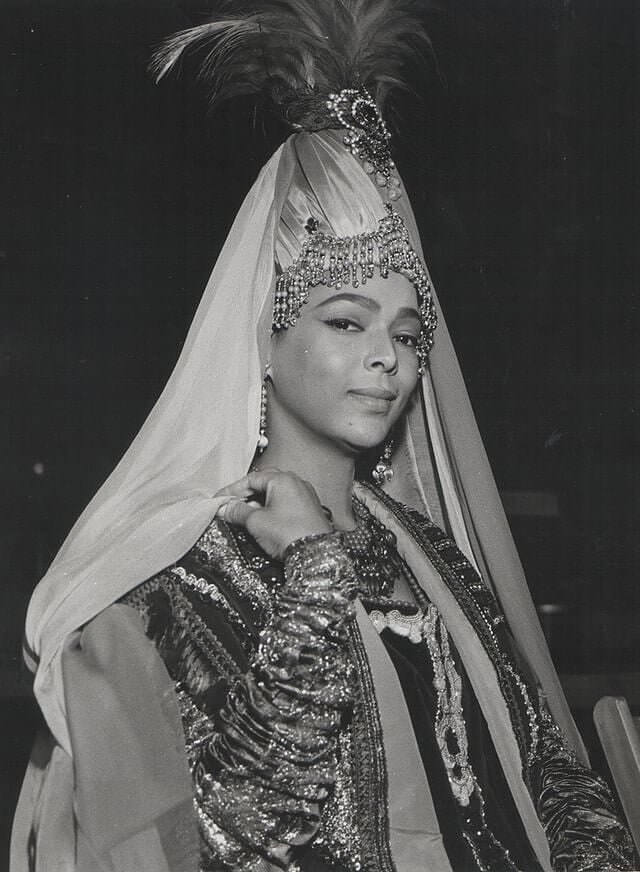 Williams helped to raise her two children. Dorothy Dandridge, a more successful actress than her mother Ruby Dandridge, later spoke out about her time living with Geneva. She claimed that Williams was abusive towards her. Dandridge continued her career as an actress well into the '60s, appearing mainly on television but, she received a lot of flack from black activists for the types of roles she portrayed.

Sal Mineo Stabbed to Death in Robbery
Sal Mineo is best known for his role of Plato, a presumably gay teenager in Rebel Without a Cause. He was the fifth youngest actor to receive an Academy Award nomination for his portrayal in the film. Mineo was one of the few celebrities open about their sexuality in the '50s and '60s and publically admitted he was bisexual.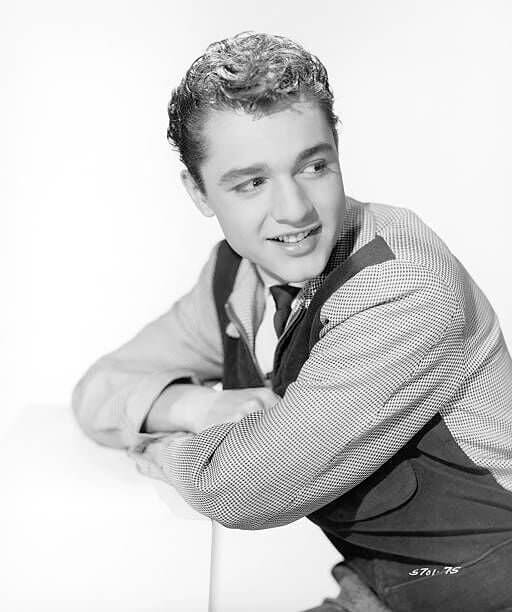 Mineo started a long-term relationship with Courtney Burr in 1970. They had been together for six years before Mineo's murder in 1976. Lionel Ray Williams was arrested and sentenced to 57 years in prison for fatally stabbing Mineo in the heart and ten robberies. Williams was a pizza delivery boy with a long record of robberies. He claimed that the stabbing was indiscriminate, and he had no idea who Mineo was.

Spencer Tracy and His Well Kept Bi-Sexual Secret
Spencer Tracy is one of the most memorable actors of the 20th century. He received nine Academy Award nominations, winning two. He also won two British Academy Film Awards and a Golden Globe Award. Tracy and his wife, Louise, were estranged, but they never divorced due to his Catholic religion. The couple had two children together.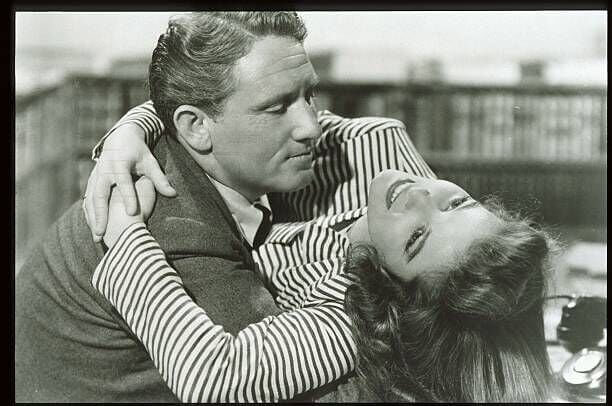 Tracy, who was bi-sexual, successfully hid his sexual preferences for many years until Vanity Fair covered the release of Kate: The Woman Who Was Hepburn, written by William J. Mann in 2016. In the book Hollywood pimp, Scotty Bowers claimed that he "serviced" Tracy numerous times. In 2018, a reporter from IndieWire allegedly asked Bowers, "So how gay was Spencer Tracy?" he replied, "He got drunk and thanked the man beside him in the morning for taking care of him."

Tab Hunter Marries Gay Partner
Tab Hunter was famous for his good looks more than his acting skills. The girls loved him, as he presented the perfect image of an all-American boy next door or the army hero. As the vast majority of his fan base, it was vital to keep female viewers happy. Throughout his career, Hunter lived a double life. He pretended to be straight while faking relationships with his good friends, Natalie Wood and Debbie Reynolds.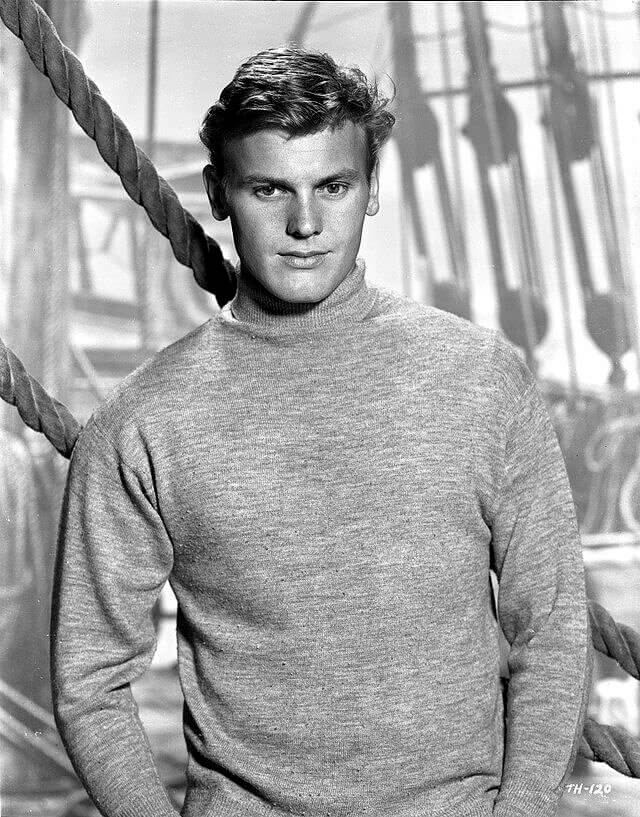 In 2005, Hunter wrote a New York Times bestseller, Tab Hunter Confidential: The Making of a Movie Star. This autobiography revealed the difficulties he faced being gay and pretending to be straight. He described feeling "painfully isolated, stranded between the casual homophobia of most 'normal' people and the flagrantly gay Hollywood subculture – where [he] was even less comfortable and less accepted." Hunter eventually married his long-time partner, film producer Allan Glaser.

Tallulah Bankhead Was A Self Proclaimed Lesbian
Tallulah Bankhead was a strong-willed, outspoken, and unconventional actress who did not conform to perceived norms. When meeting people at social functions, she would often introduce herself by saying, "I'm a lesbian. What do you do?" Although she had relationships with men too.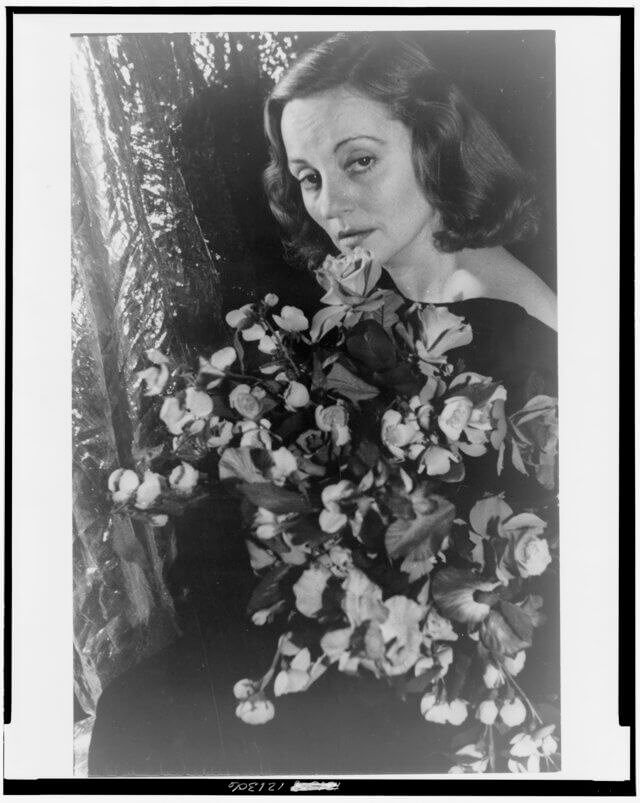 Bankhead was reportedly intimate with several A-list actresses, namely Eva Le Gallienne, Greta Garbo, Mercedes de Acosta, Hope Williams, Barbara Stanwyck, and Patsy Kelly. She also apparently joked, "I want to try everything once" and "conventional sex gives me claustrophobia." When Boze Hadleigh was researching his 1994 book titled Hollywood Lesbians, Patsy Kelly volunteered information from when she and Tallulah Bankhead were involved. "It was on and off and mostly it depended on Tallulah's mood," she said. "When she'd get caught up with a man, she'd go quite hetero on us."

Tyrone Power Preferred Men to Women
Tyrone Power was tall, dark, and handsome, and he typically starred in swashbuckler roles. Some of the popular films he appeared in were Marie Antoinette, The Mark of Zorro,  The Black Swan, Blood and Sand, Witness for the Prosecution, Prince of Foxes, The Black Rose, Captain from Castile and, Nightmare Alley. He was married twice to French actress Annabella and Mexican actress Linda Christian.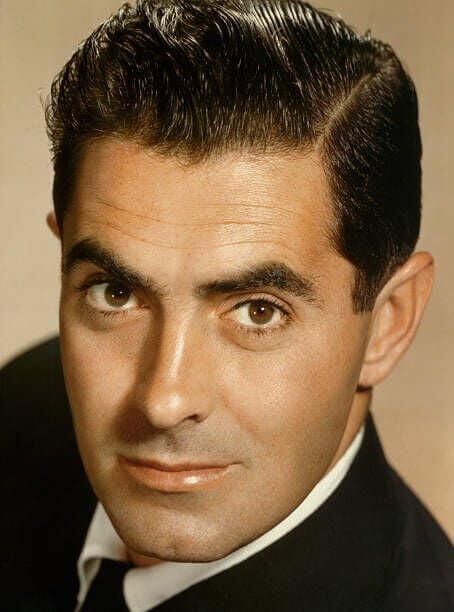 Hollywood's resident pimp, Scotty Bowers has much to say about most of the actors and actresses in the Golden Era, and this is what he had to say about Tyrone Power. "Women swooned over him, and he bedded quite a few of them, but he much preferred men," He also claimed that he and "Ty" would "get up to quite a few sexual shenanigans together." Cesar Romero confirmed that the twice-married actor was "bisexual."

Vincent Price: Liberal and Bi-Sexual
Vincent Price was best known for his roles in horror films but did not limit his appearances to just one genre. Price appeared in more than 100 movies and has two stars on the Hollywood Walk of Fame: one for films and the other for television. Price married three times: to actress Edith Barrett in 1938, Mary Grant in 1949, and Australian actress Coral Browne in 1974. Browne and Price remained married until she died in 1991.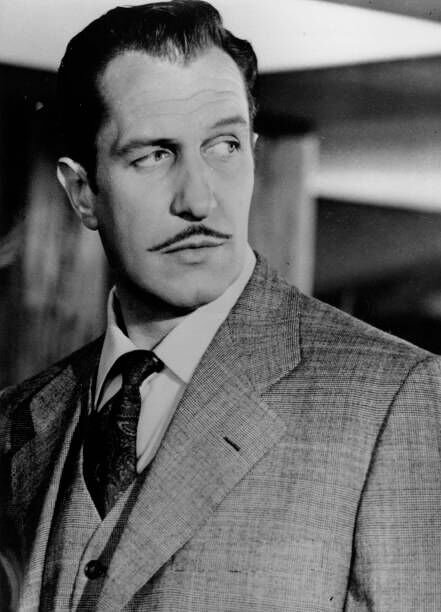 He had two children, Vincent Barrett Price and his daughter Victoria Price. When Victoria Price came out as a lesbian, Price was supportive of his daughter. He even confided in her that he had had intimate relationships with men. Scotty Bowers claimed he also had sex with Price. "I tricked Vinny for years. Sex with him was pleasant, unhurried, gentle ... High-class stuff all the way."