Outspoken, controversial, polarizing, and still sexy, Madonna is the undisputed Queen of Pop and has been for almost forty years. The Material Gir constantly reboots herself and always keeps up with the latest music trends and fashion Vogues, like a ever reincarnating chameleon of pop! But alongside her colorful career, stands a lot of controversy, ups, downs, and heart-breaking tragedies. This is the life of the woman who doesn't need a last name, Madonna.
Madonna Postpones Tour Due to Serious Health Scare
Madonna was rushed to the hospital on Saturday, June 24 after being found unresponsive in her NYC home. She is reported to have had a 'serious bacterial infection' leading to a several-day stay in the ICU.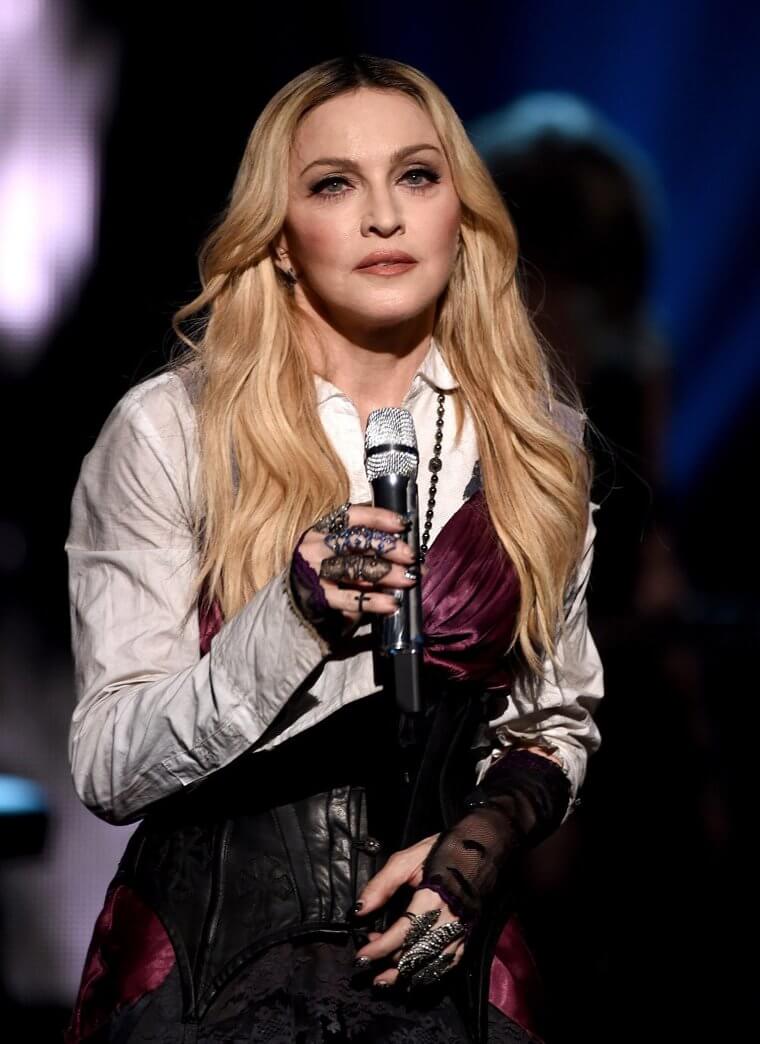 As of Wednesday, the 64-year-old singer is no longer in the ICU. However, she is still receiving medical care but is expected to make a full recovery. Her condition has resulted in the decision to postpone her 84-date "Celebration" tour, which was scheduled to begin in July. Until further notice, Madonna will be focusing on improving her health.
Saving Secrets Between The Sheets
Madonna's uniqueness shines in many ways, and one of them is that she is always relevant. At 64, she is still making headlines and the latest talk is her relationship with 29-year-old actor, Josh Popper which is getting serious. She reportedly made Popper sign a non-disclosure agreement (NDA) to ensure that he doesn't spill any of their secrets — especially ones that pertain to the bedroom.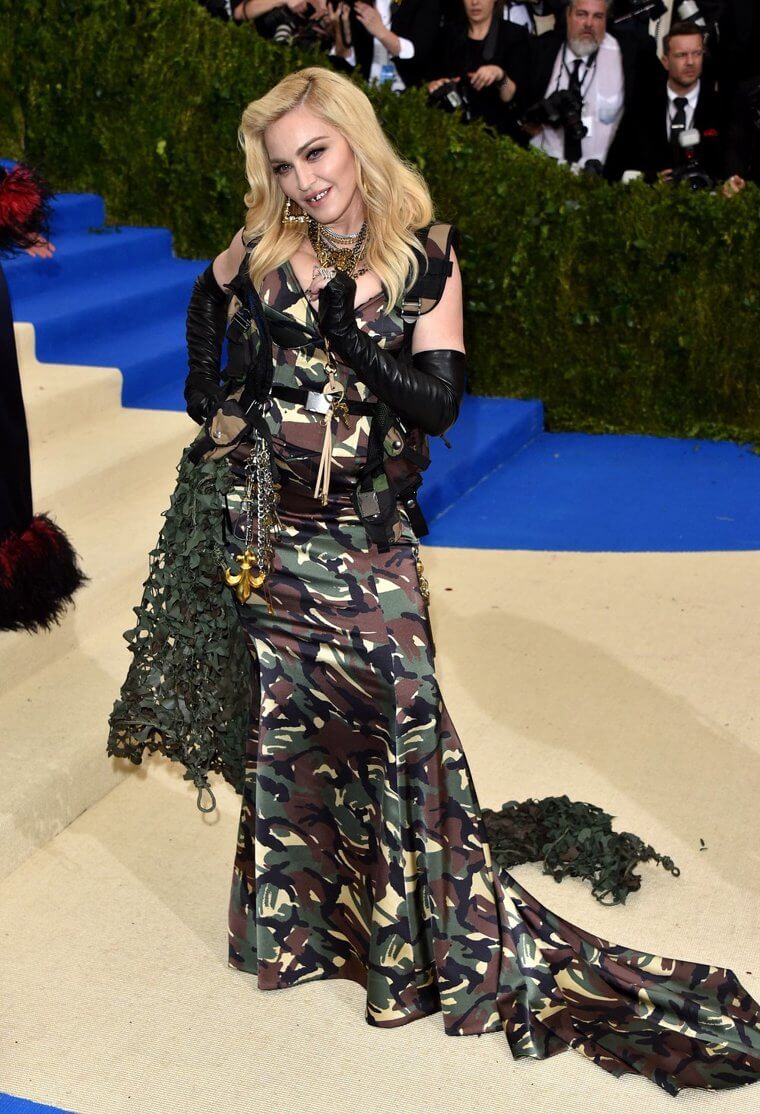 Madonna reportedly held auditions for a new toyboy after splitting from her ex-boyfriend, Ahlamalik Williams. Now, Madonna is doing what she needs to do to protect her and her new beau's relationship. She reportedly doesn't want any details or secrets to be leaked to the public — especially when it comes to their sex life — which is why Madonna opted for the NDA.
Not Just A Pretty Face
Let's start at the beginning. Madonna's real name is Madonna Louise Veronica Ciccone. She was born in Bay City, Michigan on August 16th, 1958 to Silvio Anthony "Tony" Ciccone – an engineer designer for Chrysler and General Motors – and Madonna Louise (née Fortin; 1933–1963).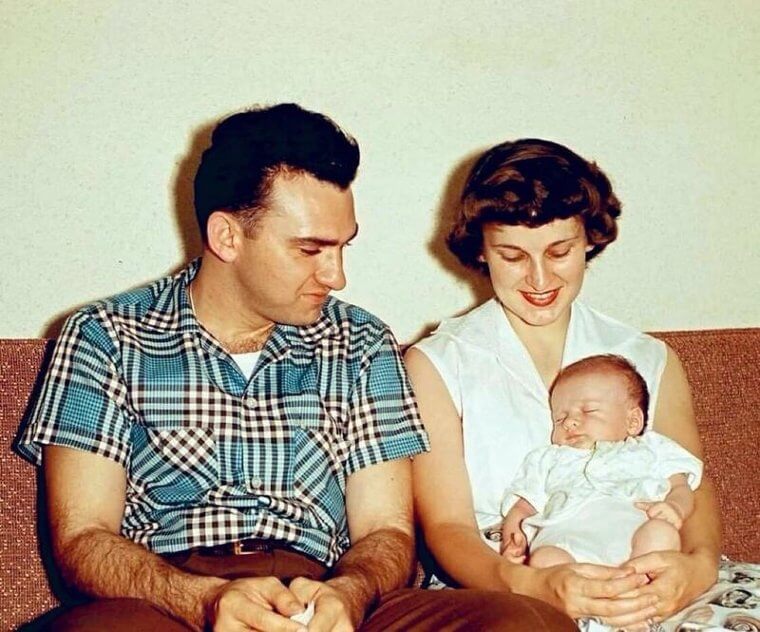 Her mother was of French-Canadian descent while her paternal grandparents Gaetano Ciccone and Michelina Dijulio came from Italy's most beautiful village, Pacentro. That must be where she got her good looks from... but don't take our word for it; plastic surgeons have cited Madonna's face as having some of the most "perfect" features.
Early Tragedy
This little Ray of Light was nicknamed "Little Nonnie" as her mother was called Madonna, too. Filling up the family were two elder brothers, Anthony and Martin, and three younger siblings, Paula, Christopher, and Melanie.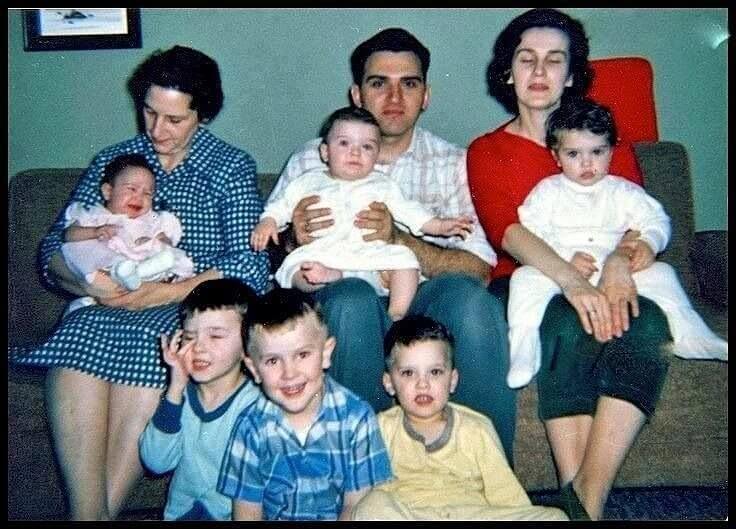 Devastatingly, Madonna Senior died from breast cancer on December 1st, 1963. She was just 30 years old. Husband Tony and Little Nonnie's siblings watched as she slowly wasted away over the last year of her life. Her mother's death had a huge impact on the five-year-old future pop star, and she said she'd be a completely different person if her mom had lived. Feeling alone, empty, abandoned – and terrified her dad would also be taken from her – Madonna turned to her grandmother, Michelina, for solace.
Third Base
Despite being thought of as a rebel, would you believe Madonna got straight As the entire time she was in High School? She supposedly has an IQ of 140 and described herself as being quiet and nerdy. All that said, she was known to perform handstands and cartwheels in the school hallways, dangle from the monkey bars during recess, and pull up her skirt in classes so boys could see her underwear! She'd go on to use the same tactic throughout her career, especially at the Video Music Awards!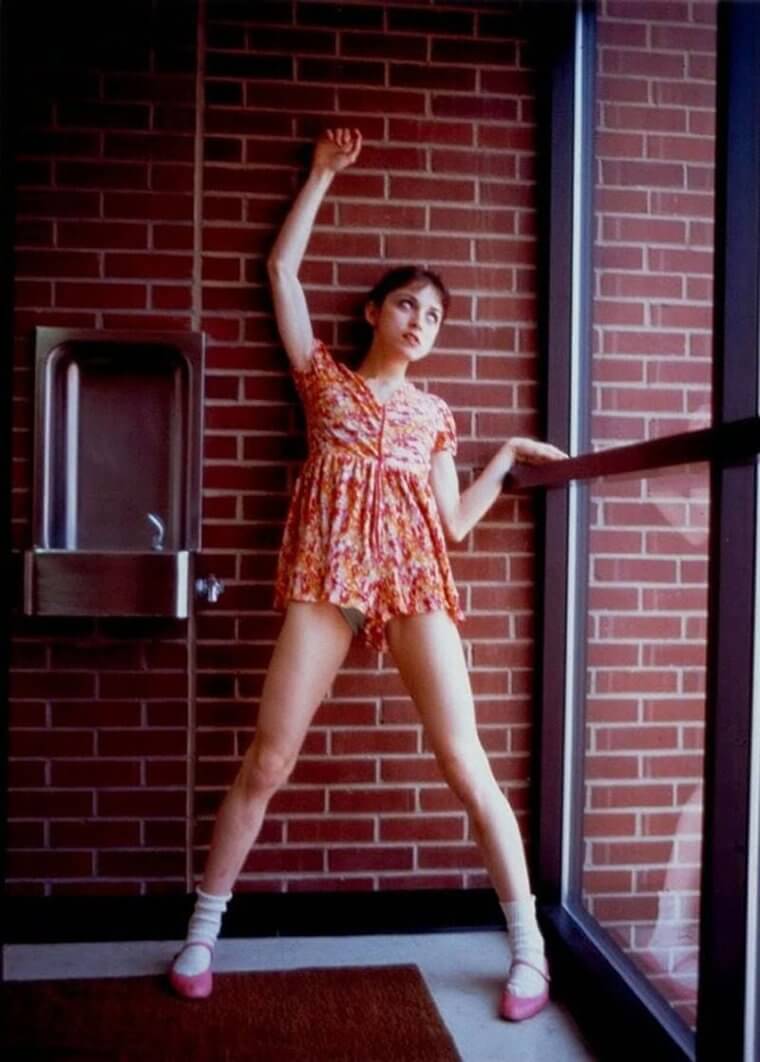 A vegetarian since she was 15, Madonna once explained she studied hard as you had to if you wanted to get out of her small Northern Michigan town and "be somebody". But she was still a cheerleader at Rochester Adams High School, and she lost her virginity to her boyfriend in the back of a Cadillac. This All-American fact was revealed by her brother Christopher Ciccone in his autobiographical book, Life with My Sister Madonna. 
I Love New York
Madonna went to the University of Michigan on a scholarship for dance but never graduated as she dropped out to pursue a music career. In 1978, while Debbie Harry and Blondie were ruling the airwaves, CBGB's, and the New York music scene, Madonna arrived in the city that never sleeps with just $35 in her pocket. She later stated: "It was the bravest thing I'd ever done." That must have been before she met Guy Ritchie.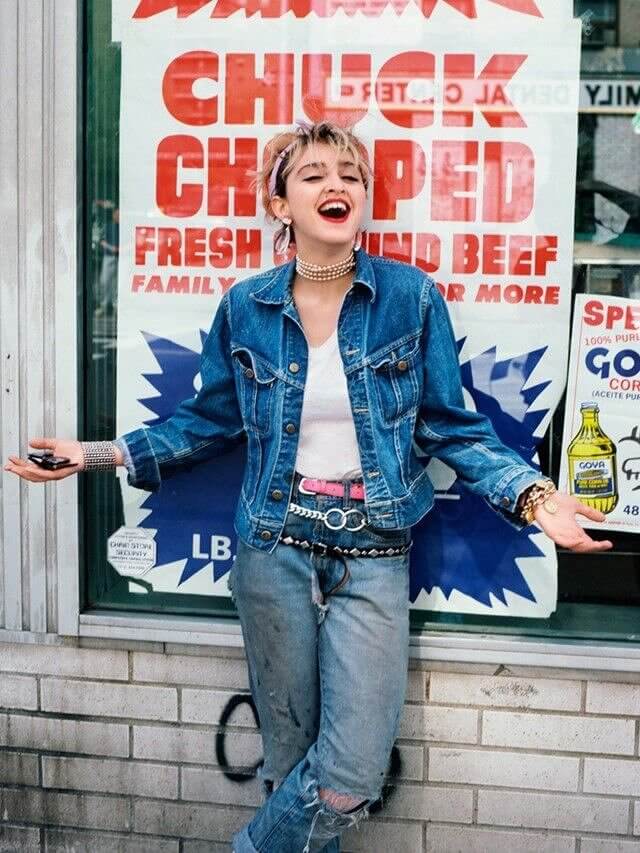 Needing to find whatever job she could find to survive, she ended up working as a waitress. No, not as a waitress in a cocktail bar like the famous Human League song - she was working as a waitress at Dunkin Donuts! Not as catchy a tune, is it? She was also paid $25 to pose naked for magazine photoshoots... something that would come back to haunt her years later. 
Frozen
She quickly found an apartment in the Alphabet City part of East Village and – when she wasn't dunkin' donuts – she trained at the Alvin Alley American Dance Theater. A skilled danseuse, she also performed in dance troupes and picked up work as a backup dancer for other established artists. She was lucky enough to study under the tutelage of notable American dancer and choreographer, Martha Graham.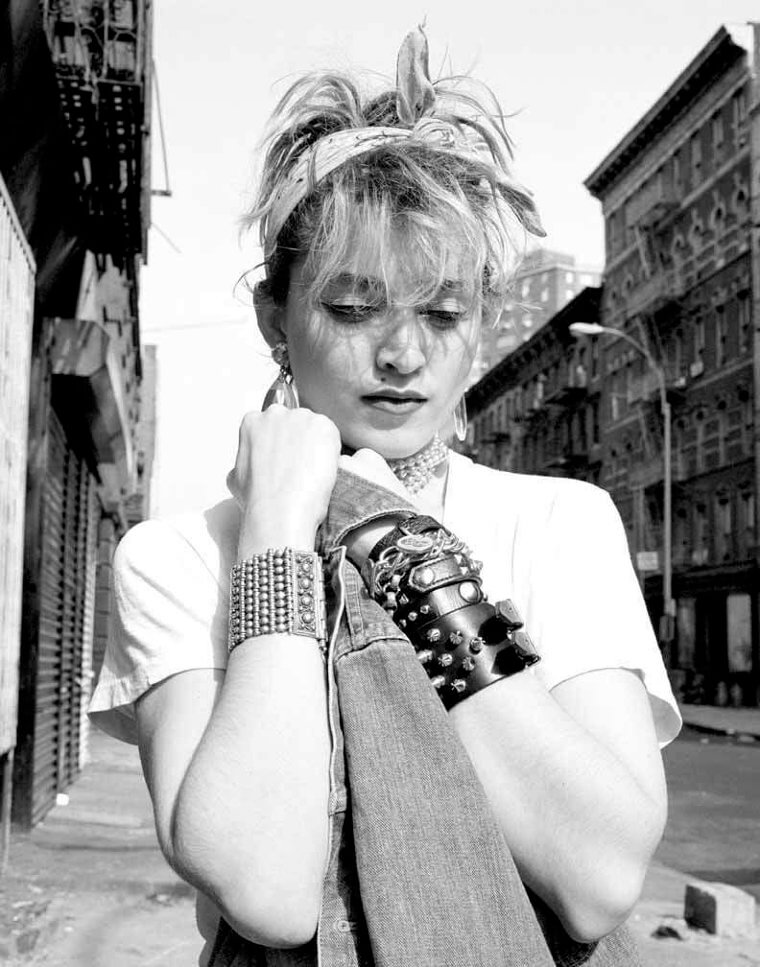 Then, late one night, while returning from a rehearsal, the unthinkable happened: two men held her up at knifepoint and forced her to perform sexual acts on them. She later said she found the incident to be "a taste of my weakness; it showed me that I still could not save myself in spite of all the strong-girl show. I could never forget it." But she recovered and used a terrible experience to push her on. 
The '80s Starts Here
Madonna became heavily involved in the New York club scene that would inspire and launch her career. She soon started dating musician Dan Gilroy, and they lived in an abandoned synagogue in Corona, Queens. Together, they formed her first band, named the Breakfast Club, for which Madonna sang, played drums, and played guitar. Around 1981, she left Breakfast Club and formed the band Emmy with her new boyfriend Stephen Bray on drums. The two began writing songs together, but Madonna went on to promote herself as a solo artiste.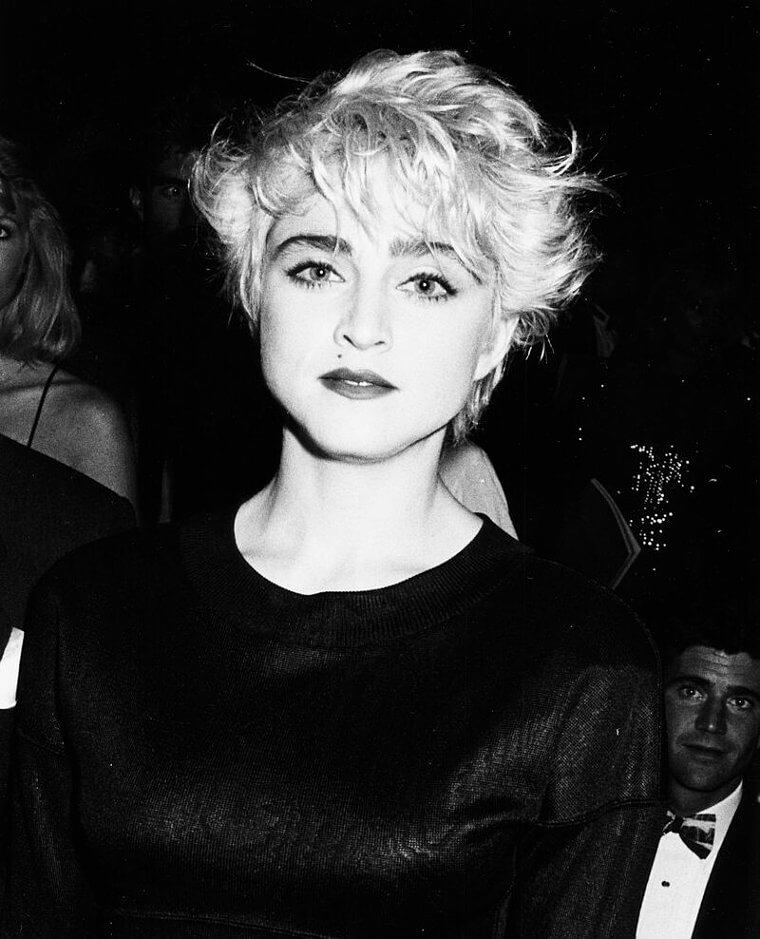 After she'd been living in The Big Apple for a few years, people loved her voice and a small troupe of fans began following her band. Her music impressed DJ and record producer Mark Kamins, who arranged for Madonna to meet Sire Records founder Seymour Stein...ad that's how the '80s began. By the end of the decade, this plucky rebel from Michigan had changed pop music, was a global icon, and copied by millions.
Record Deal
After signing a singles deal with Sire, she released her debut single, "Everybody" in October 1982. "Burning Up" followed in March 1983. Both became big club hits, reaching number three on Billboard's Hot Dance Club Songs chart. While dating artist and fellow NYC-legend Jean-Michel Basquiat, she began work on her debut album with Reggie Lucas producing. However, when she heard the completed tracks, she was not a happy bunny; she loathed Lucas' production techniques, so she decided to seek additional assistance. And it's a good job she did!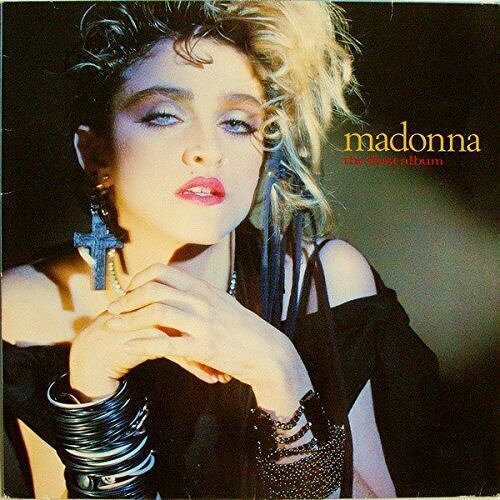 Madonna then moved in with her next boyfriend DJ John "Jellybean" Benitez, who remixed most of the tracks and produced her third single, "Holiday". It was her first international top-ten hit. Jellybean had molded Madonna's upbeat, saccharine-sweet, synthetic, poppy disco sound, and we have him and the new technology he used; like the Linn drum machine, Moog bass and the OB-X synthesizer. Madonna (the album) was released in July 1983. It yielded two top-ten singles on the Billboard Hot 100: "Lucky Star" and "Borderline" a song about a personality disorder. 
Like A Virgin
In November 1984, the newly crowned Princess of Pop released her second album, Like a Virgin. Produced by musical genius Nile Rodgers from Chic, it became her first number-one album in the US, UK, Germany, Italy, the Netherlands, Spain… and New Zealand. It was also the first album by a female artist to sell over five million copies in America and went on to sell over 21 million copies worldwide.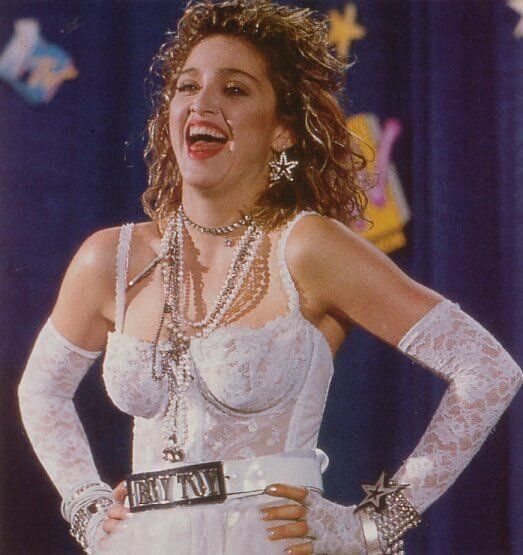 The title track served as the album's first single and topped the Hot 100 charts for six consecutive weeks. It also attracted the attention of conservative groups who complained that the song (and its accompanying video) promoted sex before marriage. Yet, Madonna received huge media coverage for performing the song at the very first MTV Video Music Awards in 1984. Her highly sexualized performance went down in history, but did you know it was all due to a little slice of luck and some quick thinking?
Wardrobe Malfunction
Two decades before Janet Jackson's infamous Super Bowl wardrobe malfunction, Madonna had one of her own. She appeared at the 1984 awards atop of a 17-foot wedding cake in a full wedding dress, white gloves, a white veil, and white stockings and suspenders out of sight underneath. But as she descended the giant cake, her stiletto slipped off her foot.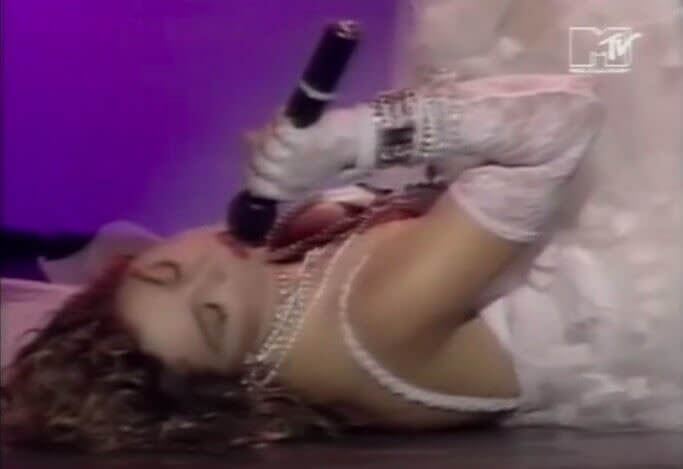 Instead of remedying the situation, she turned the malfunction into her most epic performance yet. She writhed around on the floor much to the delight of MTV viewers and to the horror of naysayers. If you watch carefully, you can see she surreptitiously pops her shoe back on halfway through. She later explained: "So I thought, 'Well, I'll just pretend I meant to do this,' and I dove on the floor and I rolled around… and, as I reached for the shoe, the dress went up. And the underpants were showing." MTV has called it one of the "most iconic" pop performances of all time.
Beastie Girls
The next year, 1985, would be a huge year for Madonna. She appeared in her first movie in a small role as a nightclub singer in the film Vision Quest singing the song "Crazy for You". Then, she rocketed up to play the title role in Desperately Seeking Susan, a comedy which introduced the song "Into the Groove", her first number-one single in the UK. In April, she embarked on her first tour in North America, The Virgin Tour, with three young NYC punk-rock rappers opening the show for her. Their name? The Beastie Boys!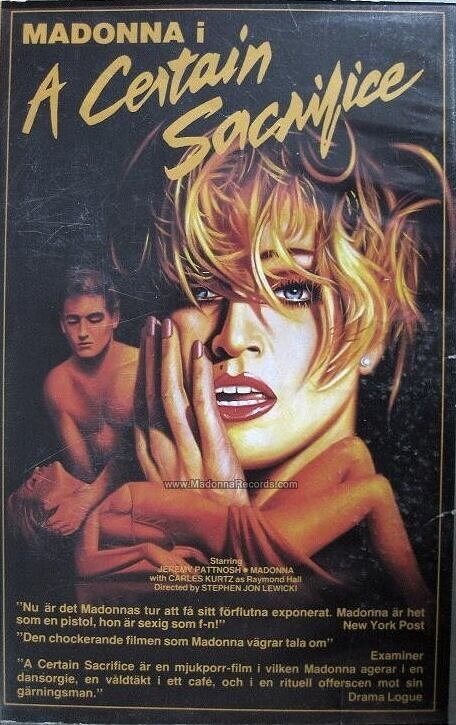 But in July, Playboy and Penthouse magazine published those nude photos she took back in the early '80s. Even worse, in the same month, the Los Angeles Times reported that "Rock star Madonna has filed a lawsuit seeking to bar the release of a five-year-old pornographic movie in which she is the star performer." Madonna had made a blue movie called A Certain Sacrifice in 1980 back when she was 19. Although she signed a release form permitting her voice and body to be featured, she never authorized the use of her name in connection with the film. She tried to buy the rights from the director then tried to have the film banned. It didn't work.
True Blue
That year, she also married actor Sean Penn. They tied the knot on her 27th birthday, and she dedicated her third album to him. True Blue was released in '86, and featured "Papa Don't Preach" – a song told from the perspective of a pregnant teenage girl who chooses to keep her baby, and which spurred fervent debate – plus "Open Your Heart", and the excellent "La Isla Bonita". The album went on to become one of the best-selling albums of all time.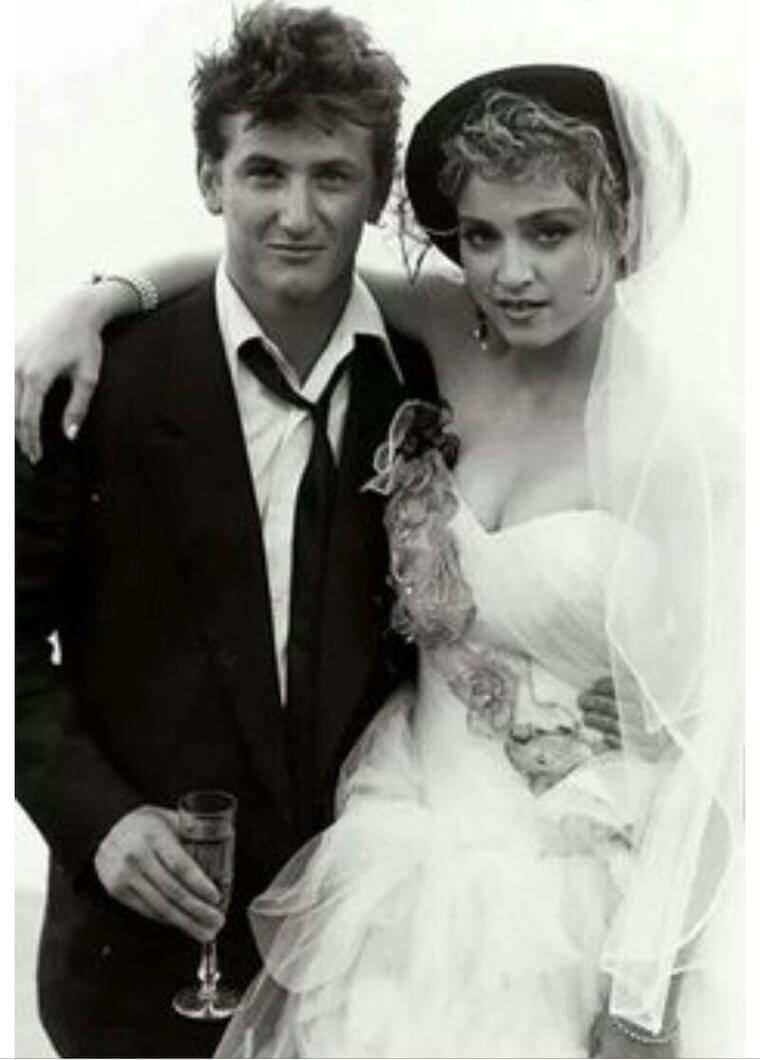 Even though they went through a tumultuous break-up and divorce in 1989, they remained friends. At a Rebel Heart concert in 2015, Madonna performed "True Blue", and Sean Penn was photographed smiling in the front row. The Material Girl also joked during a 2016 charity event where she helped raise $7.5 million for Malawi that she was "still in love with him" and would remarry Penn if he donated $150,000. 
Causing a Commotion
In 1986, Madonna starred in the critically panned Shanghai Surprise, for which she received her first Golden Raspberry Award for Worst Actress. The next year, she acted in the slightly better Who's That Girl (1987), and contributed four songs to its soundtrack, including the title track and – doing what she does best – "Causing a Commotion".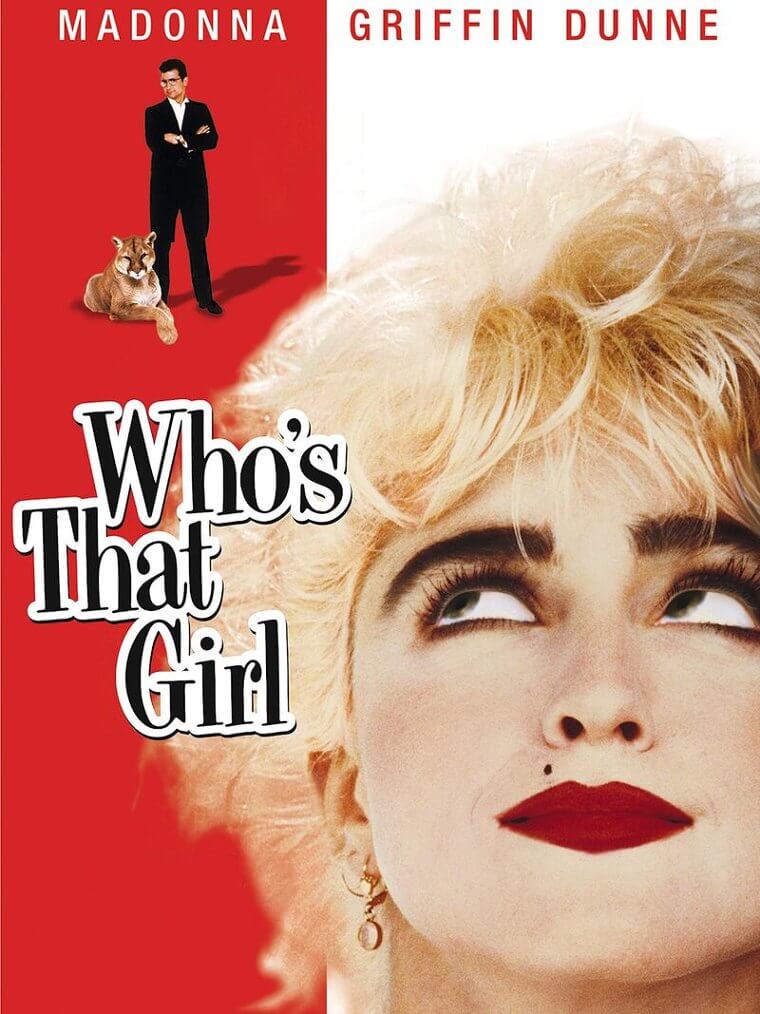 Next up, the popster embarked on the Who's That Girl World Tour in June 1987. The tour attracted over 130,000 people to one show near Paris; breaking the world record for the highest-attended female artist concert of all time. Madonna was slowly but surely taking over the world. 
Like A Prayer
In 1989, Madonna released her fourth album, Like a Prayer, which she co-wrote with Prince. She also earned a cool $5 million to appear in a Pepsi Cola commercial. But the day after the Pepsi commercial premiered, she released the music video for her gospel-inspired main single, "Like a Prayer" on MTV. Good Christian folk across the globe (including The Vatican!) instantly took a disliking, stating the video contained blasphemous use of Christian religious iconography.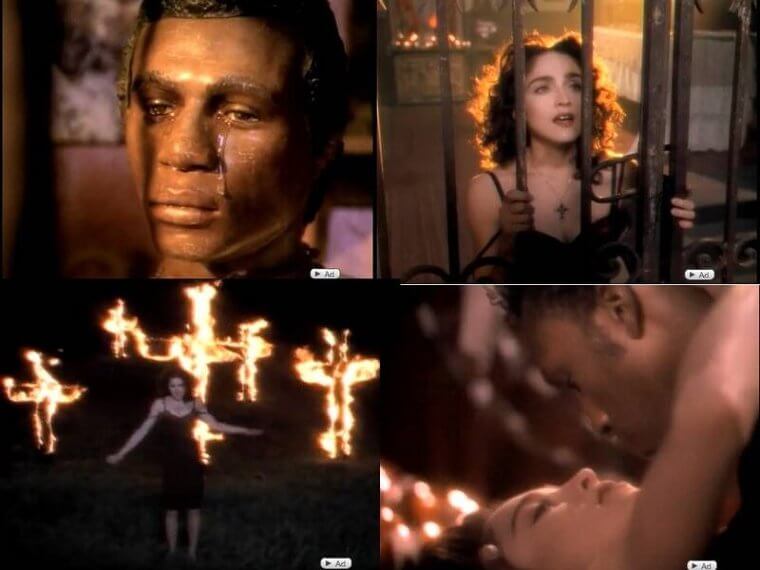 In the brilliantly creative video, Madonna made out with the statue of an African-American saint who came to life and danced in front of a field of burning crosses. Her penchant for controversy and the ensuing uproar left Pepsi so shaken and stirred that they pulled the commercial as they were afraid it would ruin their brand image with Christians across the globe. How and why Madonna got to keep the $5 million Pepsico paid her, nobody knows. As the song begins: Life is a mystery… 
Cone Bra
Not content with making the 1980s her own, Madonna kicked off the next decade by turning the 1990s into The Naughties. This was the decade she released a book of shocking, erotica-inspired imagery called simply Sex. But, first, she kicked off the new decade in that jaw-dropping and iconic corset, which she first unveiled on her Blond Ambition World Tour in China.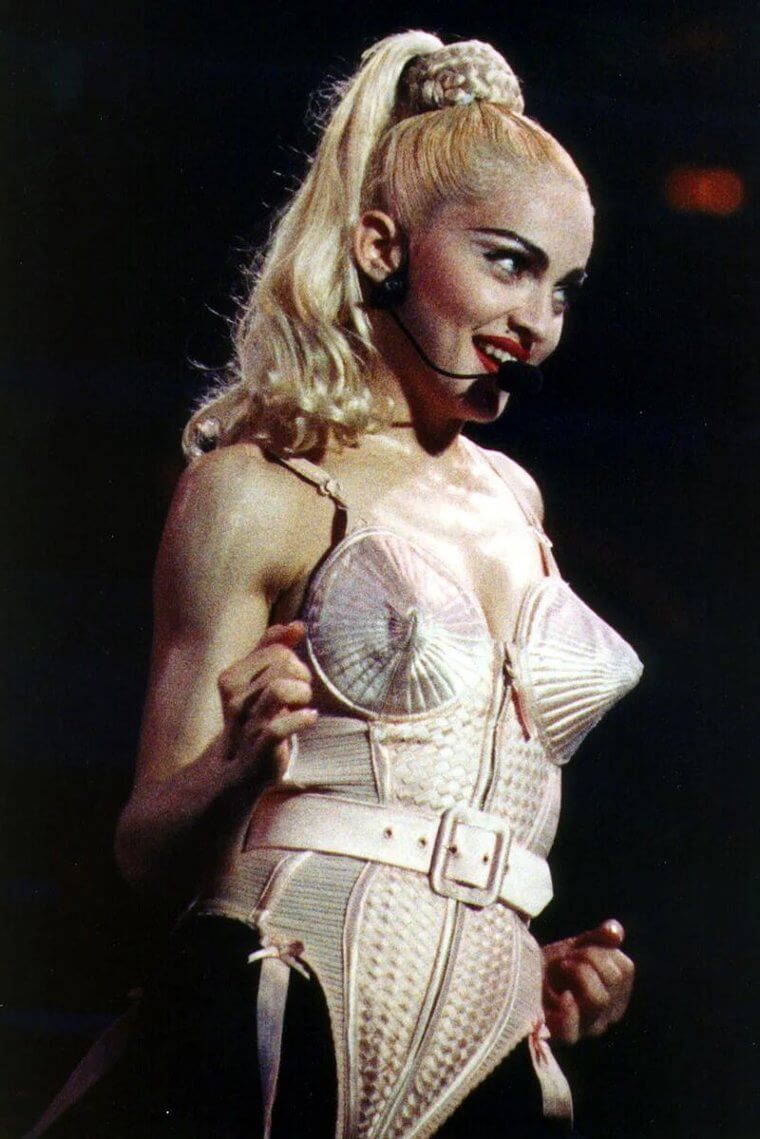 French fashion designer Jean-Paul Gaultier created the cone bra, but he didn't originally design it for Madonna. He made it for his teddy bear. True story! Not so long ago, he told British chat-show This Morning that his parents wouldn't allow him a doll when he was a kid, so he started designing costumes for his teddy!  He also admitted he asked Madonna to marry him three times despite being openly gay. She turned him down every time! 
Hanky Panky
In 1990, Madonna also appeared in the technicolor cartoonish movie Dick Tracy (1990). She also provided the music, including the raunchy single "Hanky Panky". On tour, she appeared on-stage wearing another cone bra, this time looking like a green apple flavor Jolly Rancher. Good job it wasn't orange flavor... Madonna hates the color orange with a passion.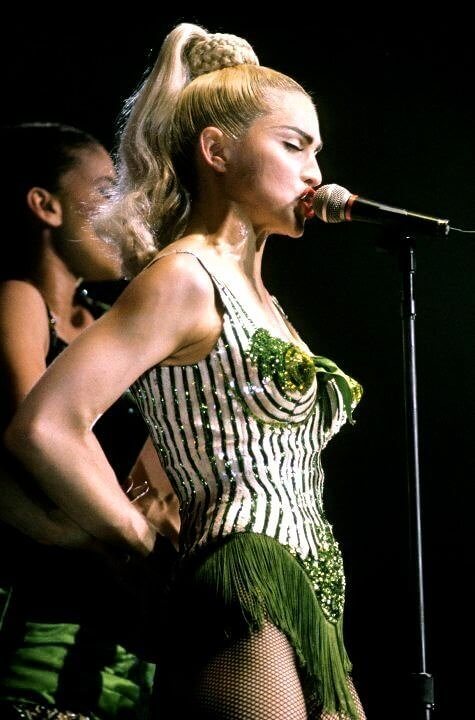 While making the movie, she was also getting up to a little bit of hanky panky with co-star Warren Beatty, who was 53 to her 32. She described the actor as an incredible lover but said she was "confident her own skills in the bedroom matched his." Oh, and then she went on to write "Vogue" about him. It took her a matter of hours. But don't tell him as he probably thinks this song is about him, (don't you, don't you!)
Strike a Pose
The video for"Vogue", another of her most famous songs, is all about style and grace and contains some great movers and poseurs and is littered with references to her favorite performers from Marilyn Monroe and Marlene Dietrich. The lyrics pay homage to "Jean Harlow, Jimmy Dean... on the cover of a magazine."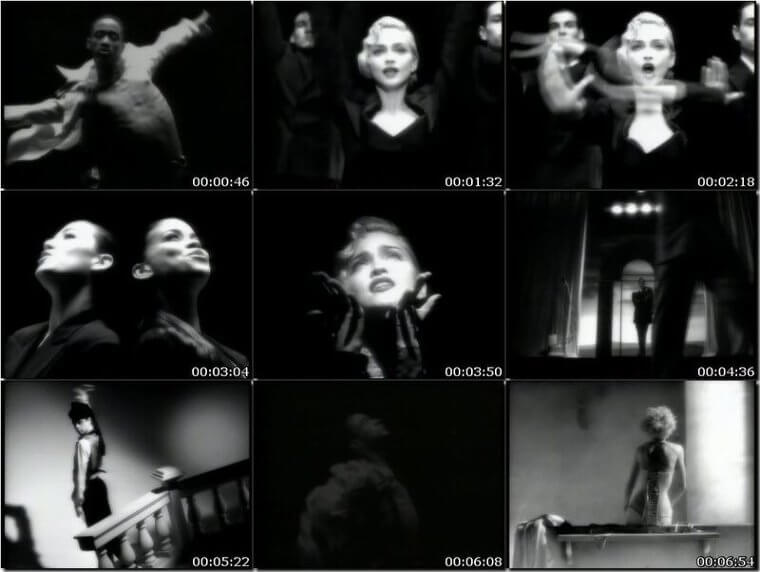 Madonna had been inspired by vogue dancers Jose Gutierez Xtravaganza and Luis Xtravaganza from the Harlem House Ball community, where this new dance form originated. The two choreographers introduced the art of "Vogueing" to her at the Sound Factory club in NYC. But do you know who directed the "Vogue" video? We'll tell y'all in a New York minute…
Immaculate Blond
In 1990, Madonna began her Blond Ambition World Tour with aplomb. Rolling Stone proudly proclaimed it: "the best tour of 1990" and described the show as an "elaborately choreographed, sexually provocative extravaganza". Naturally, the tour garnered a strong negative reaction from religious folk, especially for her performance of "Like a Virgin". This time, two male dancers caressed her before she simulated pleasuring herself on stage.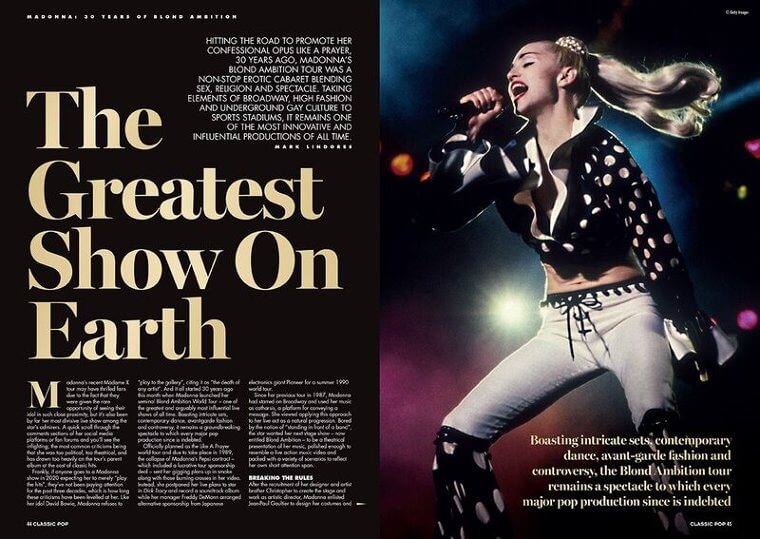 Later the same year, Madonna released The Immaculate Collection; her first greatest-hits album. It has sold over 31 million copies worldwide, and included a new song, "Justify My Love" which became her ninth US number-one. However, MTV banned its video for being... you guessed it; too sexually explicit. In May 1991, she released her first documentary, Truth or Dare (a.k.a. In Bed with Madonna).
Maverick
In 1992 – ten years after her first recording contract with Sire Records – Madonna founded her own multi-media entertainment company, Maverick. It was an umbrella company consisting of Maverick Records, Maverick Films, and associated music and book publishing, TV broadcasting, and merchandising divisions.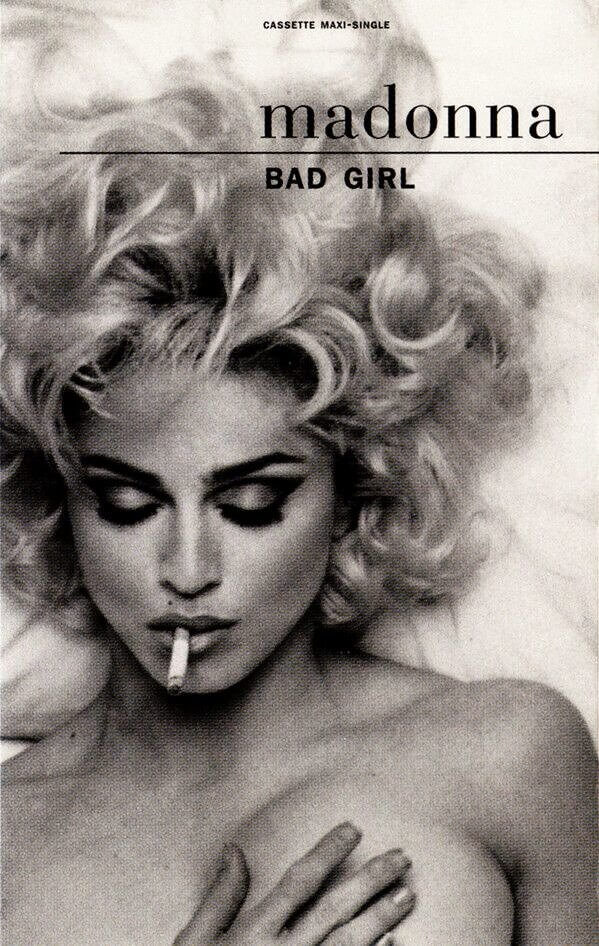 A joint venture with Time Warner, they paid Madonna a whopping $60 million advance and gave her an almost unheard of 20% royalties; equaled only by the "points" Sony awarded Michael Jackson. The same year, under the banner of Maverick Records, the maverick bad girl released her fifth album, Erotica. It contained the singles "Erotica", "Deeper and Deeper" and "Bad Girl"... which is apt as she was about to land herself in hot water yet again. 

A League of Her Own
The Erotica album was a co-release with Madonna's first book publication called Sex. It was a coffee table book containing explicit black-and-white photographs featuring the singer and her cohorts doing all manner of things. Needless to say, it sold over 150,000 copies on the day of release and went on to sell 1.5 million copies worldwide.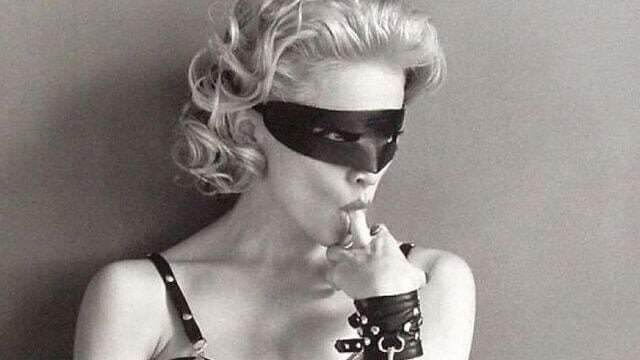 Later in 1992, she starred in A League of Their Own as Mae Mordabito, a player on an all-female baseball team. The movie was a box office home run, but then she struck out in the first innings. In September 1993, during The Girlie Show World Tour, in which she dressed as a "whip-cracking dominatrix surrounded by topless dancers''. While sporting a massive blond afro at a concert in Puerto Rico, she rubbed the Caribbean island's flag between her legs on stage. Needless to say, the Puerto Rican audience was shocked and appalled. All these things combined and the songstress suddenly found herself shunned - a social pariah. 

Where Did It All Go Wrong?
Tackling sex, Madonna crossed a line. In the space of a few years, she'd gone from It Girl to debauched agent provocateur. Lucy O'Brien, author of Madonna: Like an Icon summarises the singer's 1990s fall from grace: "The perfect iconic goddess of True Blue had all gone. In the same way that sixties beauties like Nico, Marianne Faithfull, and Brigitte Bardot set about destroying their beauty after they were famous, the very thing they felt limited them, Madonna annihilated hers."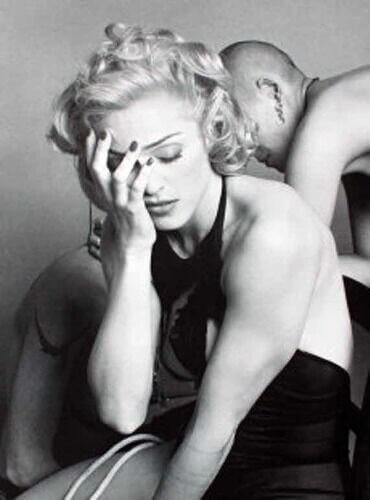 The author continues: "Within a few short years she moved from teasing flirtation to desperate sexual display. It is ironic that after the triumph of "Like a Prayer", she hits this bathos. Being a blond again set her off in the wrong direction. It was as if with the Sex book she showed the underside of the Hollywood dream."

Potty Mouth
In 1994 – the year she released her sixth album, Bedtime Stories – Madonna appeared on Late Night with David Letterman, and she dropped 14 F-Bombs live on air. When the late-night talk show host asked her about her sex life, she called him a "sick f**k" before launching into a 20-minute-long rant including asking Letterman to smell her underwear!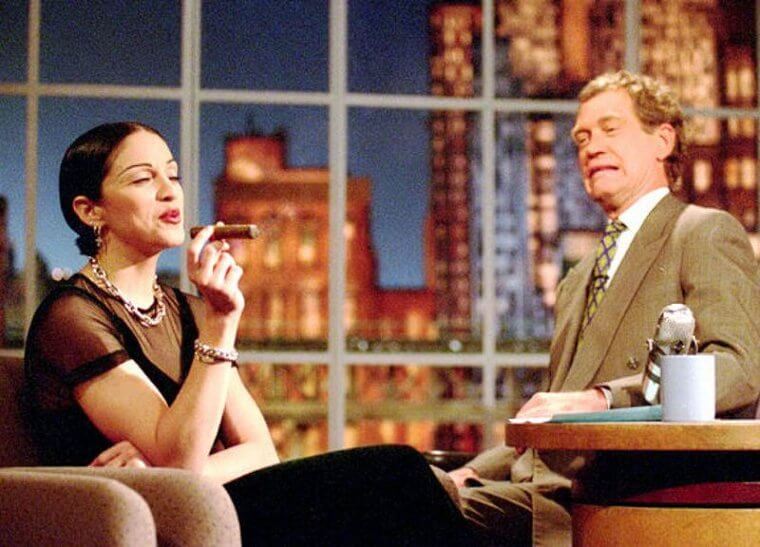 For years, the episode was the most censored in American network television talk-show history, and the Federal Complaints Commission (FCC) received record levels of complaints. Letterman sarcastically remarked that she must stop using bad language "because people don't want that in their own homes at 11:30 at night". By now, it was clear that Madonna was spiraling out of control. She was out to shock for shock's sake. Something needed to change quickly... else she'd have been on an express elevator to hell! In a nutshell, Madonna needed a miracle!

Lourdes, Give Me Strength
Around 1995, Madonna had relationships with basketball player Dennis Rodman and rapper Tupac Shakur. In a 1995 letter he wrote from prison, Tupac revealed he partly ended their relationship because she was white, and that he felt that while that would have no impact on her public image, it had a large one on his. She soon later became romantically involved with her fitness instructor, Carlos Leon. And so it came to pass that, in the year of our Lord 1996, they had a daughter named Lourdes "Lola" Maria Ciccone.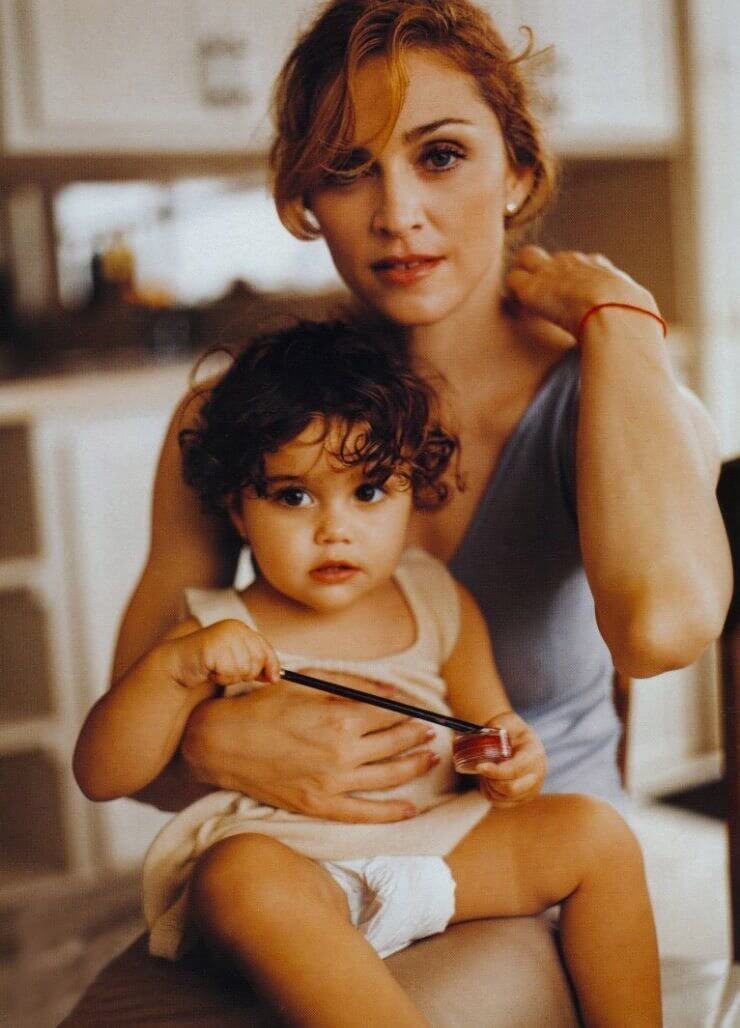 Reflecting on his relationship with Madonna, Carlos said, "I'm forever grateful to her. I have no regrets. I wouldn't change anything. I got the best thing out of that relationship, and that's my daughter. My daughter is everything to me."

Lady Madonna
Madonna named her daughter "Lourdes" after a city in France famed for its religious connections. Christian soldiers from all over the world make pilgrimages to the town because the Virgin Mary is meant to have appeared there. The "Marian Apparitions at Lourdes" were reported in 1858 by excellently named Bernadette Soubirous, a 14-year-old miller's daughter who lived in the town and was later made a saint.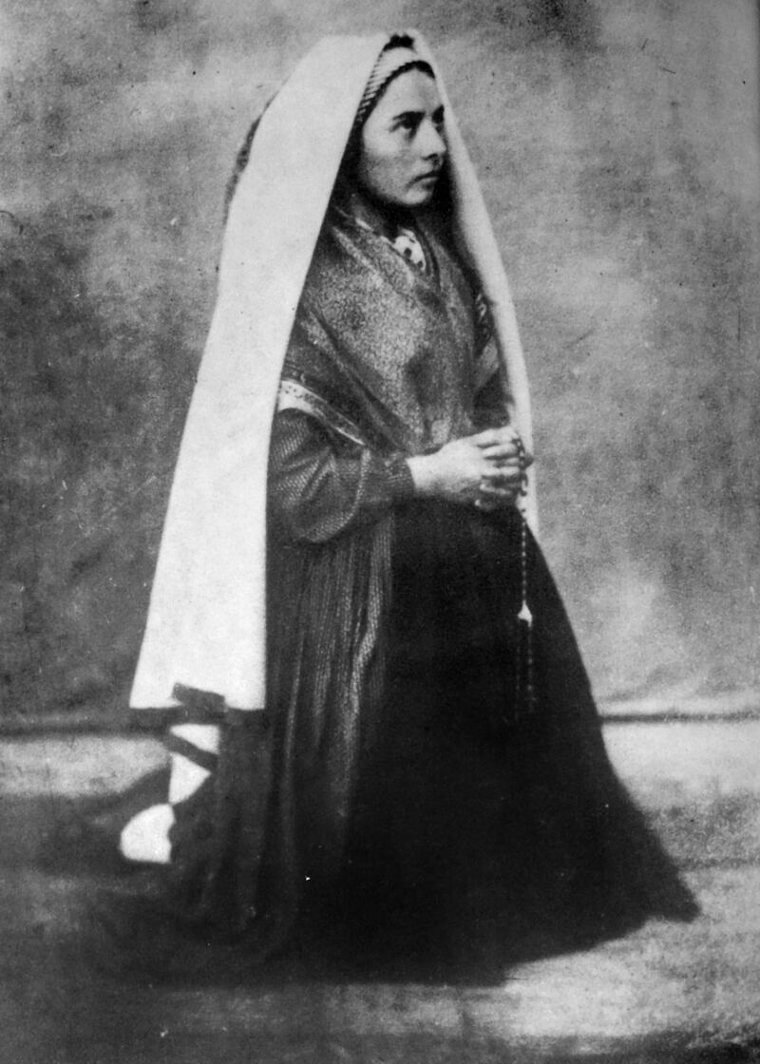 However, Madonna wasn't the only Ciccone to name their daughter after the mother of Jesus: Madonna's own mom chose the name Madonna as that's the name her mother (Madonna's gran) gave to her. 
Because You Gotta Faith
In the words of another musical genius, George Michael; "You Gotta Have f...f...f...f...f… Faith - BAY-BY! Despite coming from a deeply Roman Catholic family, after Lourdes's birth, Madonna started dabbling in other religions. She'd been interested in Eastern mysticism, and then actress Sandra Bernhard introduced her to Kabbalah. Adopting the Hebrew name Esther, she went on record saying she identifies as an Israelite, not as Jewish.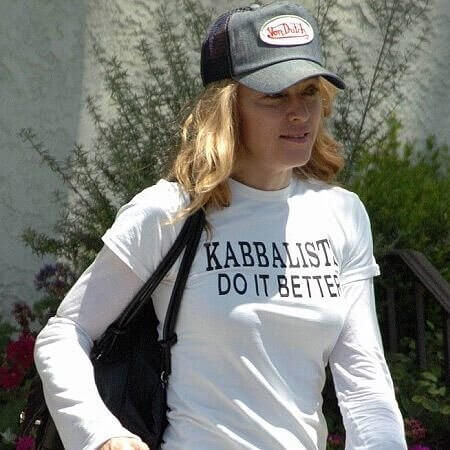 She also said that "I would say I do a lot of things that people did before Judaism existed. And I believe what I practice has to do with something deeper than religion, that it embodies all religions, including Judaism. And Christianity. And Islam." She even didn't play any Friday nights on her 2004 Re-invention World Tour, as the teachings of the Kabbalah forbid it.
Don't Cry for Me, Argentina
Madonna is known for her singing, but she also dances and choreographs. She's also acted in over 100 films and TV shows: Some good, some... not so good. In addition to the films we've already mentioned plus a few lesser-known movies like Bloodhounds of Broadway (1989), Body of Evidence (1993), Four Rooms (1995) et al.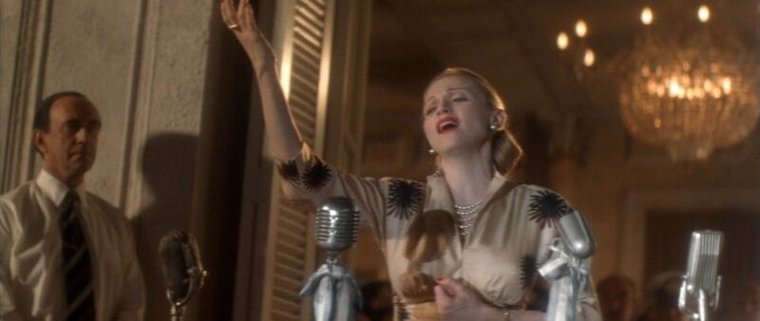 Yet her biggest and best acting role was starring as Eva Perón in Evita (1996). Madonna studied the history of Argentina and the former First Lady of Argentina and underwent intense vocal training. She won a Best Actress Golden Globe for her performance. In your raspberry face, Golden Raspberry Awards! 
Ice, Ice, Baby
Alright, stop! Collaborate and listen! In 1998, Madonna bizarrely dated Robert Van Winkle, – a.k.a. Vanilla Ice – who appeared in her Sex book. Now, if you're under forty, he had a huge 1990 earworm hit with a song called "Ice, Ice, Baby", which sampled John Deacon's bassline from Queen's "Under Pressure"… with some extra added "rapping".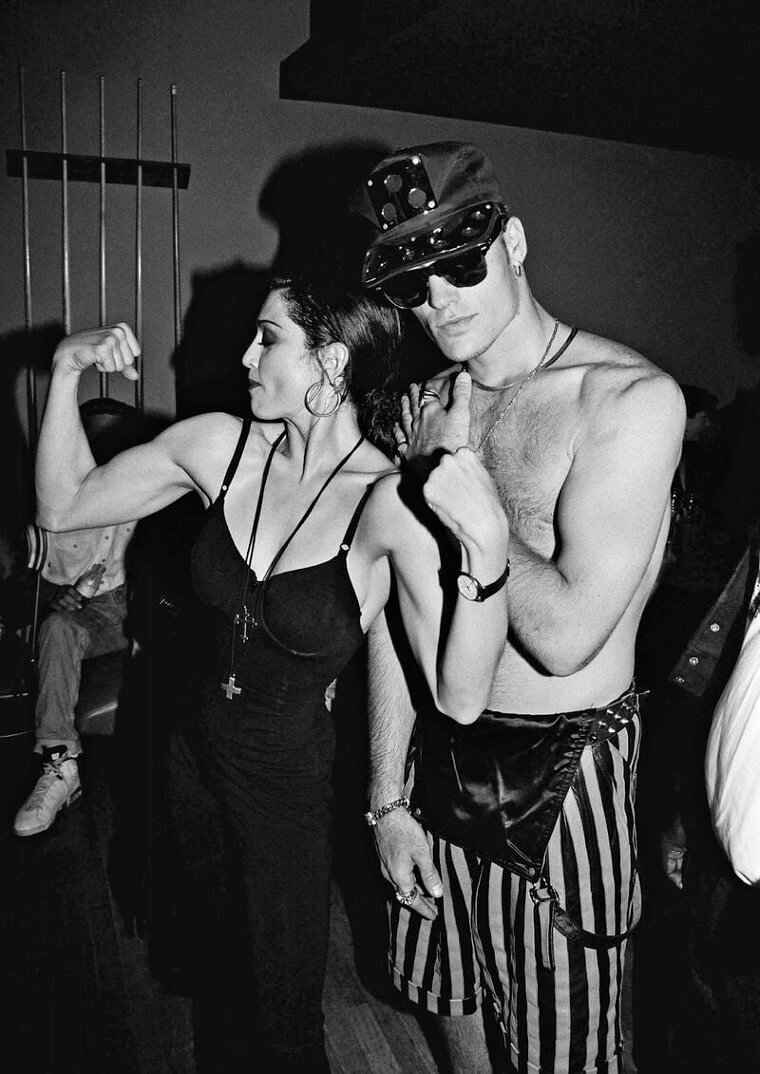 Anyways, apparently, Madonna would become so insanely jealous, she'd call up Vanilla in the middle of the night (presumably as he was rolling in his five-point-oh) demanding to know if he was cheating on her. As you can probably imagine; the relationship didn't last long - around eight months. As a girlfriend, she doesn't exactly sound like a Ray of Light, which brings us nicely along to her seventh album...
Ray of Light
After failed recording sessions with Babyface and Patrick Leonard, Madonna professionally hooked up with English EDM producer William Orbit. He completely changed her musical direction, but it turned out to be a long and arduous recording process as his hardware kept breaking down, meaning recording would have to be delayed until it could be repaired! Ah, the good old days before the Y2K Millenium bug!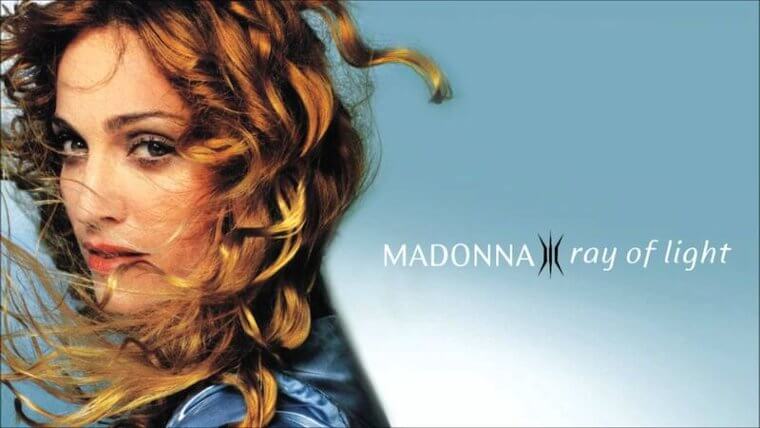 A massive departure from her previous work, Ray of Light (1998) is an electronic dance album featuring ambient, trip-hop, and Middle Eastern vibes. Orbit pushed Madonna's vocals into errr… orbit and both the music and lyrics are swept up in mystical, themes. That's down to Kabbalah, and Madonna's study of Hinduism, Buddhism, and daily Ashtanga yoga. Couple that with a stunning, globetrotting time-lapse video for the album's title track and the Material Girl had reinvented herself as an electronic disco diva for a new millennium. 
Cradle Snatcher
In 1999, Sting and his wife Trudie Styler introduced Madonna to a young and talented English film director. Guy Ritchie was ten years her junior. On August 11th, 2000, she gave birth to their son, Rocco Ritchie, and Sting became the child's godfather. They were married at Skibo Castle in Scotland in December that same year.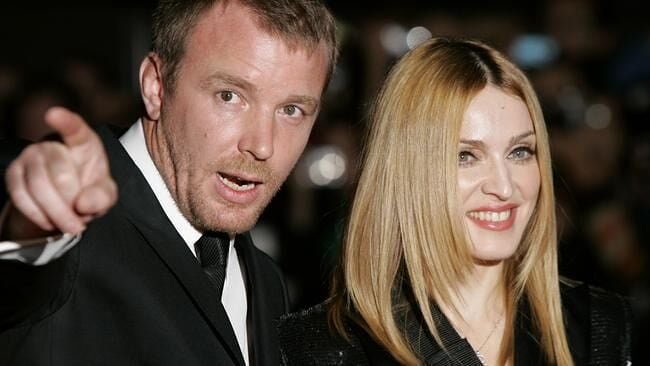 For almost a decade, the pair set themselves up as Lord and Lady of an English manor, riding horses, wearing flat caps, and dressing in tweed. While it may have worked for The Beckhams, Guy doesn't exactly have David's physique! The celebrity couple divorced in 2008 and Madonna compared their marriage to "being in jail".
Lock, Stock, and One Failed Shotgun Wedding
Guy had made a few great early hits like Lock, Stock and Two Smoking Barrels (1998) and Snatch (2000). But then he wrote and cast his new wife in Swept Away (2002) which some say is the worst movie ever made.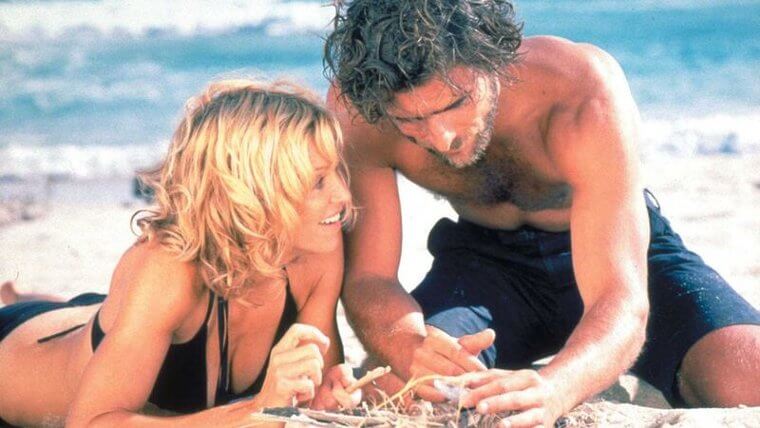 The film was awarded five awards at the 2002 Golden Raspberry Awards: Worst Picture, Worst Actress – Madonna, Worst Screen Couple (Madonna and Adriano Giannini) Worst Remake or Sequel (It's a remake of Lina Wertmüller's 1974 Italian film of the same name), and Worst Director (Guy Ritchie). Not to be stopped there, Madonna also won Worst Supporting Actress that same year (for her cameo in James Bond's Die Another Day (2002)...  for which she also wrote and recorded the soundtrack).

Don't Just Stand There, Let's Get To It…
Let's skip back in time to 1990 momentarily. That's the year Madonna was nominated for her own star on the Hollywood Walk of Fame but turned it down. Anyways, did you know that "Vogue" was an extra song that was thrown together at the last minute? It was never even meant to be released as a single but went on to become one of her most iconic tracks.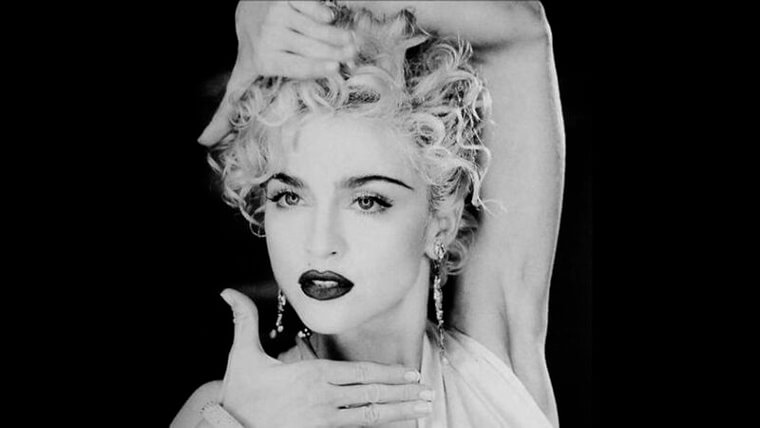 And since we're on the topic of film directors, did you know that her iconic art deco-inspired "Vogue" music video was directed by filmmaker David Fincher? The 27-year-old music video director went on to direct Seven (1995), Fight Club (1999), Zodiac (2007), The Social Network (2010), The Girl with the Dragon Tattoo (2011), Gone Girl (2014) and Mank (2020). It turns out Madonna married the wrong film director! 

Web-Slinger
Back to the 21st Century now, the year it surfaced that a porn company had been using the domain name 'madonna.com'. In 2000, Madonna had to take them to court to get the domain name back.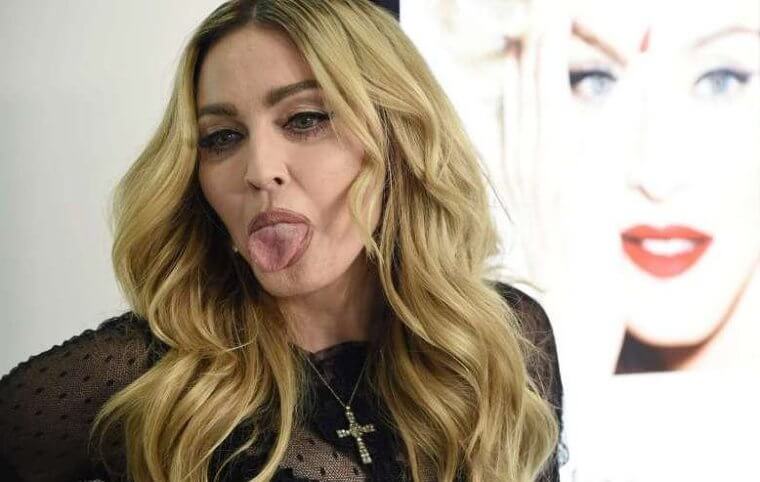 It all began in 1998 when 40-year-old former asbestos remover Dan Parisi – who operated an adult entertainment site out of his office in a suburban strip mall in Parsippany, New Jersey – registered hundreds of domain names hoping to cash in on the dot com boom. One of the names he bought was madonna.com for $20,000 from a bulk domain name seller, and he ran it as an adult website. At a tribunal, the World Intellectual Property Organization (WIPO) wiped out Parisi by ruling in Madonna's favor; ordering him to hand madonna.com over to the pop star. Yaaay!

Music
For her eighth studio album, Madonna again collaborated with producer William Orbit but also brought on board Mirwais Ahmadzaï, which resulted in a more experimental direction. Music (2001) blended Ray of Light's dance-pop and electronica vibes with good 'ole fashioned rock, country, and folk. The title track saw the Queen of Pop wearing a white fur coat riding like a gangsta in a white limousine with Ali G. Conversely, "Don't Tell Me" saw her wearing a plaid shirt, walking desert highways, and line-dancing with happy cowboys and jolly ranchers.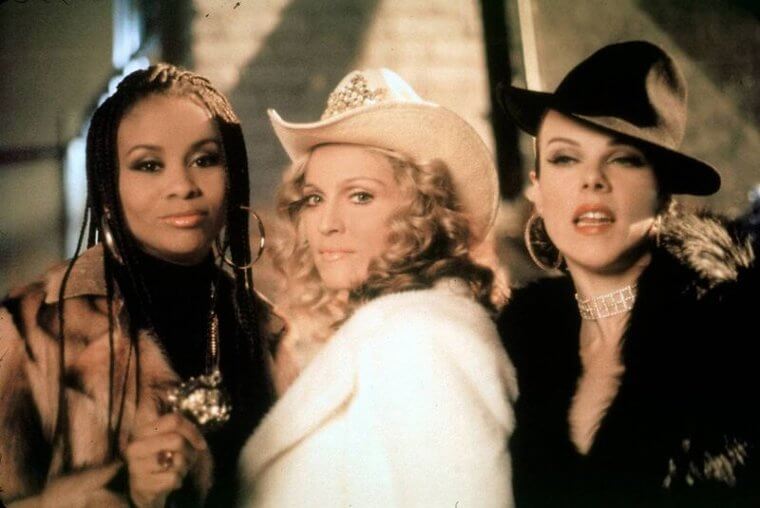 Music debuted at the number one spot in 23 countries, selling four million copies in its first ten days. To date, it has sold over 11 million copies worldwide. Once again, Madge morphed into something new, something she knew the public wanted even before they did.

It Was Only A Kiss
In what was one of her most famous cause célèbres, in 2003 Madonna kept up her tradition of shocking at the MTV Video Music Awards Show. This time, it was at Radio City Music Hall in New York City and the song she performed was again "Like a Virgin" (well, a medley with "Hollywood") and again; it featured a wedding theme with a difference...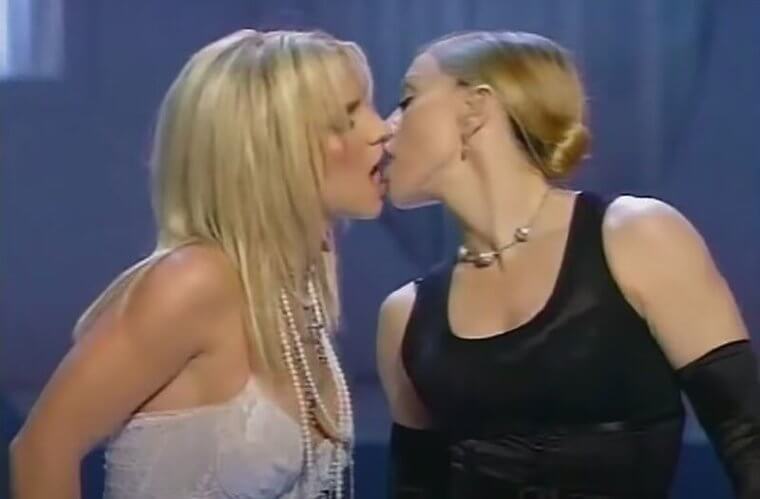 However, instead of writhing around on the floor as she had done almost 20 years before, the 45-year-old kissed Britney Spears on the lips. Then she made out with Christina Aguilera. Doesn't she know she's old enough to be their mom? The answer is yes. Although the stunt seemed improvised, it had been cooked up beforehand specifically to cause a stir. And it definitely worked! 

Singer, Dancer, Mother, Philanthropist, Author
On top of all of her other amazing talents, did you know that Madonna is also an author? Yes, we mentioned her coffee table book earlier, but she's chilled out with age and motherhood. Nowadays, she mostly writes children's books. The first was The English Roses in 2003, which debuted at the top of The New York Times Best Seller list and became the fastest-selling children's picture book of all time.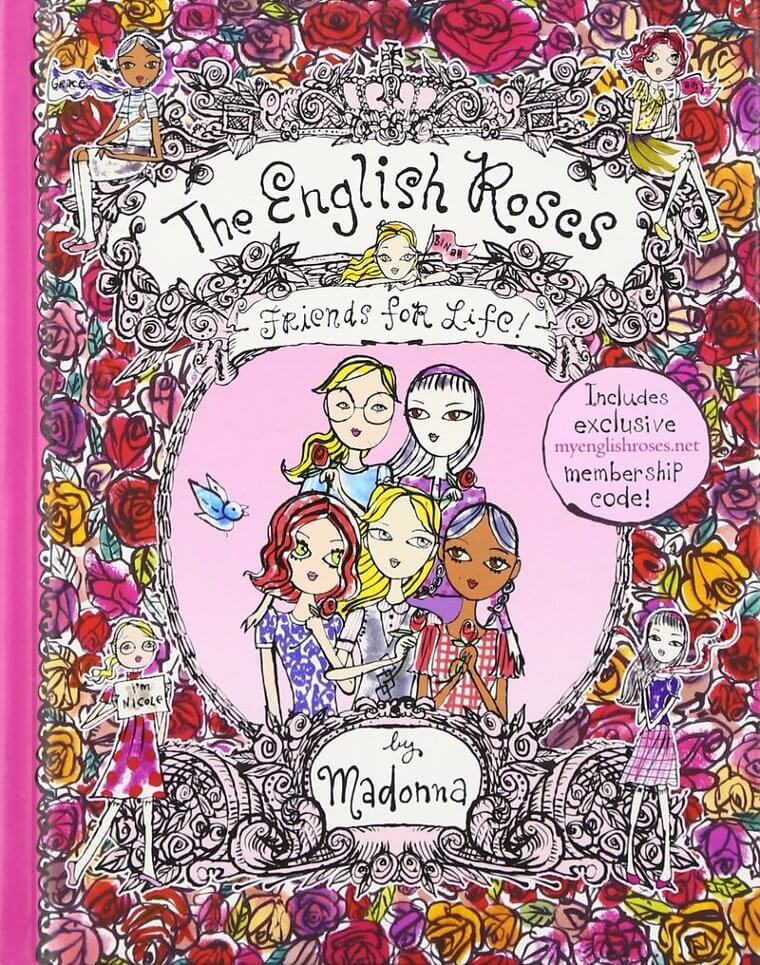 She followed her debut up with such imaginative titles as Mr. Peabody's Apples and Yakov and the Seven Thieves. So we guess you can say she's made books for kids and Dads. Let's hope no-one ever gets her kid's books and her erotica coffee table book mixed up... and the latter ends up in Little Susie's Christmas stocking. That'd take some explaining!

I'm Going To Tell You A Secret
After releasing American Life in 2003 and a couple of years out of the limelight, Madonna was back with a bang in 2005 when she released her tenth studio album, the spectacular Confessions on a Dance Floor. The artist has often been accused of borrowing other people's ideas but the main single "Hung Up" brilliantly incorporated a sample from ABBA's 1979 hit "Gimme! Gimme! Gimme! (A Man After Midnight)". It was the only time Benny Andersson and Björn Ulvaeus have ever allowed another artist to sample their oeuvre.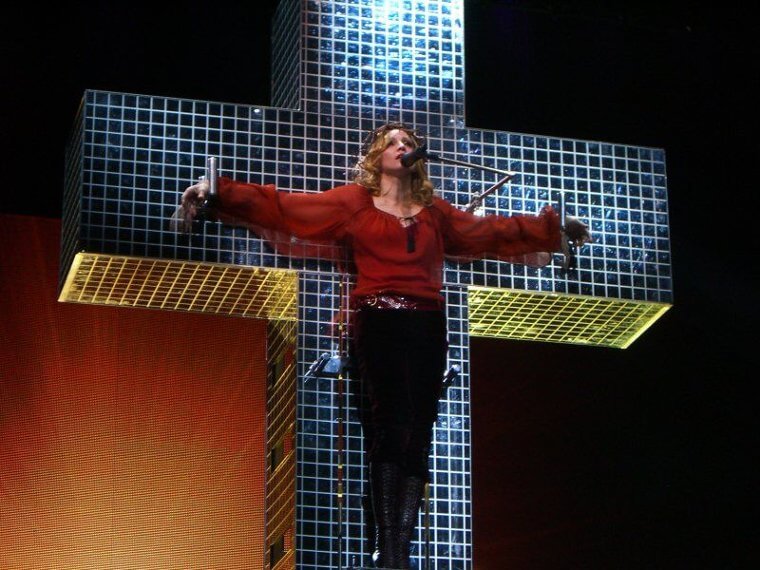 The singer stirred up yet another hornet's nest during her Confessions Tour. She mounted herself on a cross. Still, she didn't care - the Confessions on a Dance Floor album topped the charts in 40 countries setting a new world record which The Beatles had held when The Beatles 1 album reached the numero uno spot in 36 countries five years prior.

Record Breaker
Speaking of breaking records, did you know Madonna is the most successful female artist of all time? In 2008, Billboard magazine ranked her number two artist ever, behind The Beatles and making her the most successful solo artist in the history of the American singles chart. However, The Guinness World Records only recognize her as the fourth best-selling act of all time, behind The Beatles, Elvis Presley, and Michael Jackson. Still rather impressive, though.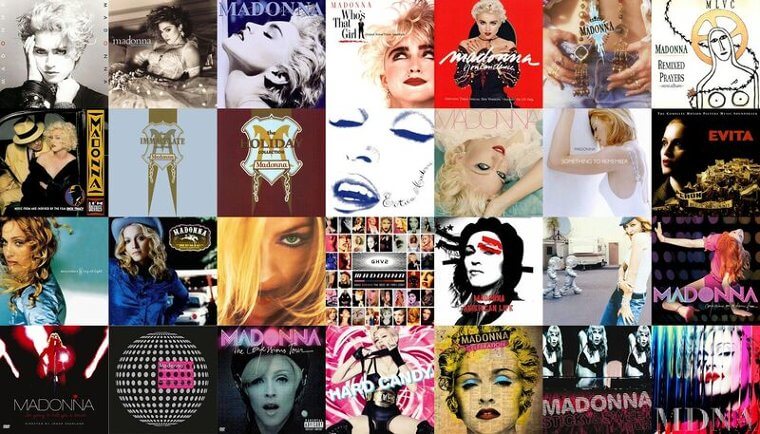 She's also won five Grammy Awards and holds the world record for the most number-ones on the combined Billboard charts. This staggering achievement consists of twelve number-one songs on the Billboard Hot 100 and eight number-one albums on the Billboard 200. Her next album – her eleventh – was Hard Candy (2008) obviously inspired by those Jolly Ranchers. 

Justin
When she was inducted into the Rock and Roll Hall of Fame in 2008, Justin Timberlake introduced her by telling the world what working with Madonna was like. He explained that when they were working on Hard Candy, he came into the studio feeling unwell (read: the worse for wear) and Maddie suggested he get a B12 shot.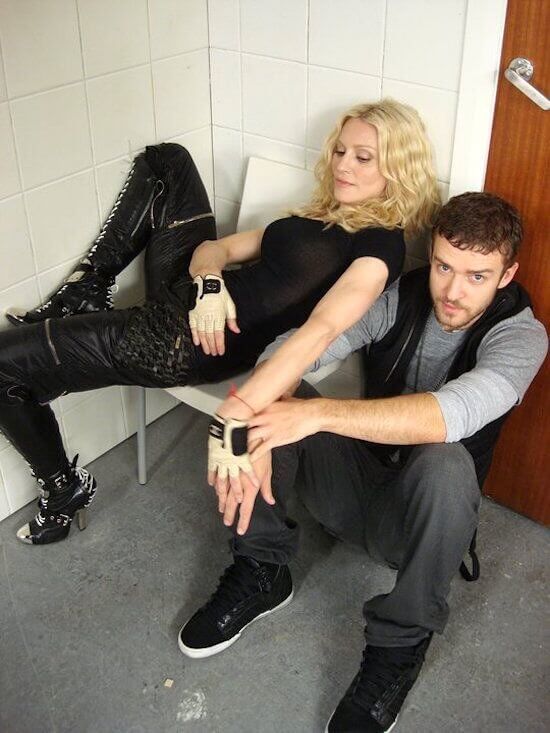 So, she pulled out a Zip-Loc filled with B12 syringes from her designer bag and instructed him to: "Drop 'em." As she administered the shot into his butt, she commented, "Nice top shelf." Justin described the experience as "one of the greatest days of my life." At least now we know why he's nicknamed Justin Trousersnake! 

Filth and Wisdom
Also in 2008, Madonna wrote and directed a comedy/drama/musical/romance called Filth and Wisdom. The plot sees a Ukrainian immigrant (Eugene Hütz) moonlighting as a cross-dressing dominatrix getting into trouble with his two female roommates. They are Holly (Holly Weston), a dancer who works as a stripper, and Juliette (Vicky McClure), a pharmacy assistant who dreams of helping starving children in Africa. Wherever does she get her ideas from?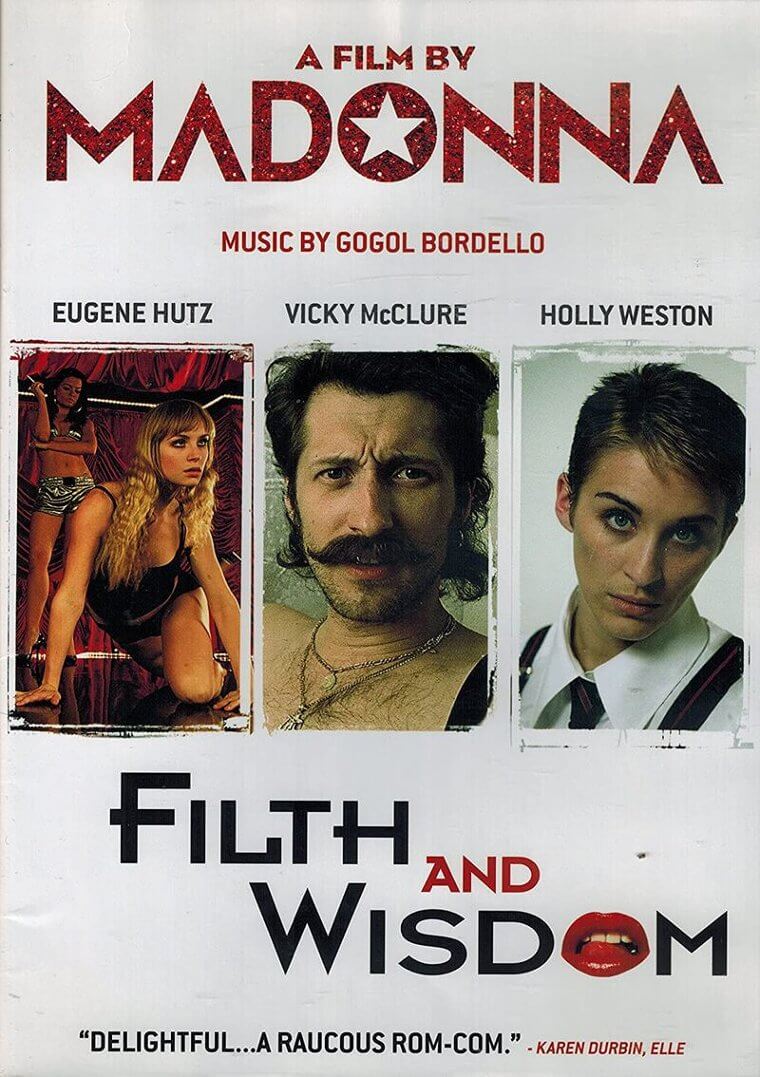 Although The Times Online noted that "Madonna has done herself proud," The Telegraph said: "Madonna would do well to hang on to her day job." Peter Bradshaw of The Guardian wrote, "Well, it had to happen. Madonna has been a terrible actor in many, many films and now – fiercely aspirational as ever – she has graduated to being a terrible director." That's not very nice!

The Musical Gene
It's a well-known fact that Gwen Stefani and Madonna are distant cousins but did you know that Celine Dion is also Madge's distant relation? It's safe to say musicality definitely courses through the veins and DNA of that family.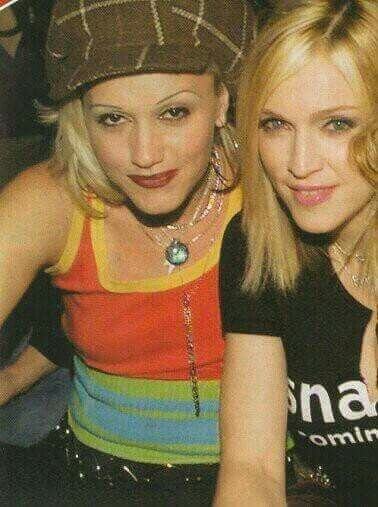 Yet to call either Gwen or Celine cousins is a bit of a stretch: the relationship with Stefani is through the mother-in-law of a great aunt who shares the surname Ciccone. At the same time, another ancestor of Madonna's mom was married to a distant relative of Celine's dad on their French-Canadian side of the family. 
She Does a Lot of Work for Charity
Madonna set up a charity organization she created called Raising Malawi, which specifically helps orphans in the African country. At one Art Basel charity gala in Miami in 2016 – yes; the one in which she tried to extort money from Sean Penn by trying to marry him again – she raised $7.5 million that night.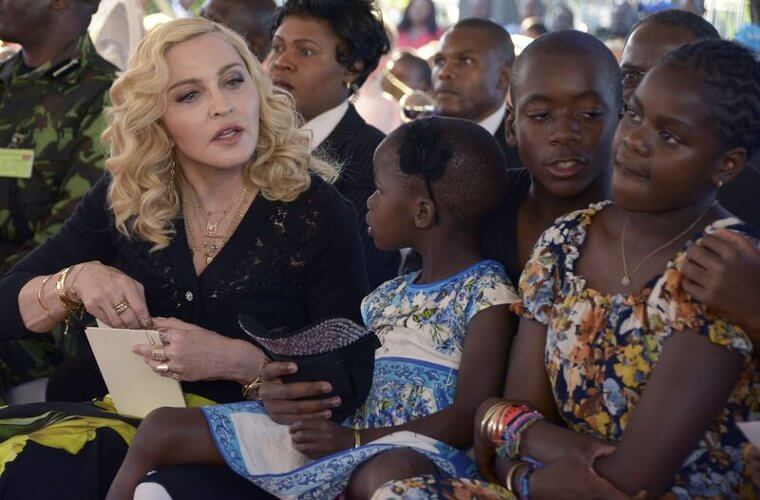 The singer also funded The Mercy James Institute for Pediatric Surgery and Intensive Care in Blantyre, Malawi. The centre was named after the singer's daughter, Mercy. Speaking of whom… 
Mama Mia
As well as Lourdes and Rocco, Madonna also has four adopted children from Malawi. Their names are David, Mercy, and twins Stelle and Estere. The four children were adopted in 2006, 2009, and 2017 respectively… but – since this is Madonna – not without some unwanted controversy!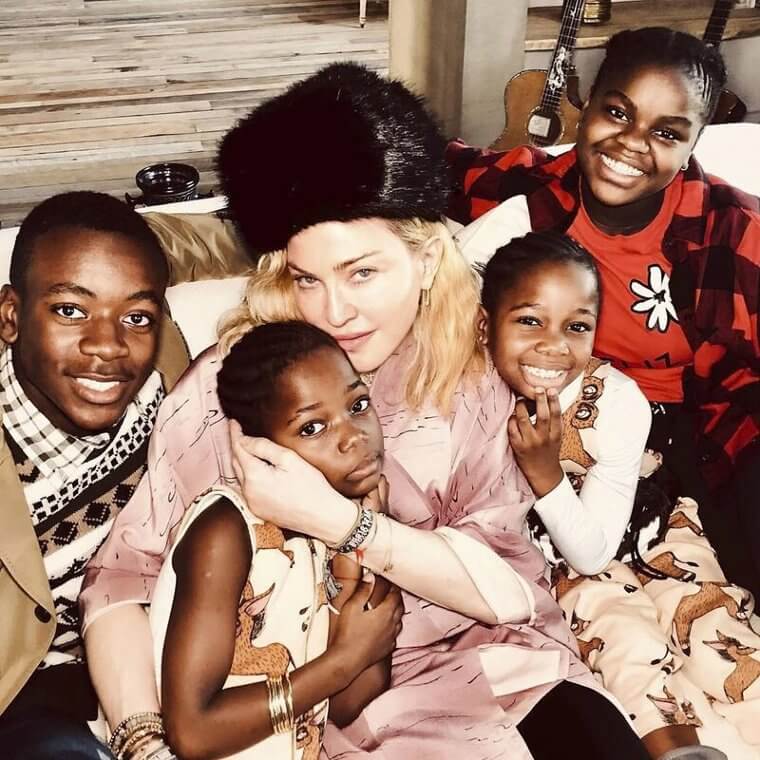 By 2006, Madonna had founded Raising Malawi and partially funded an orphanage. While touring the south-East African country in October of that year, she decided to adopt David Banda. When she first met him, he was suffering from pneumonia after surviving malaria and tuberculosis. There was some public outrage as Malawi's adoption laws state that adopters must have resided in the country for a year, which Madonna circumvented. She was also accused of buying David from his father. 
It Girls
In 2010, Madonna released her Material Girl clothing label, which she designed with daughter, Lourdes. The 1980s-inspired designs – borrowed from her punk-girl style during the decade she rose to fame – was released under the Macy's label.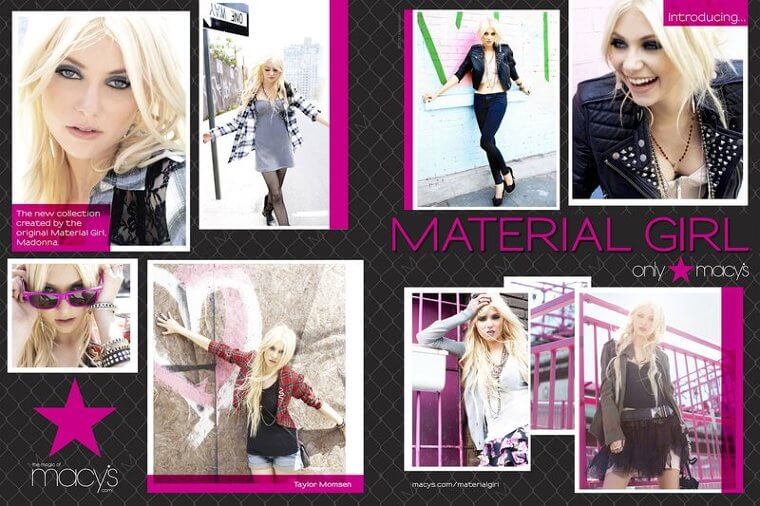 The clothes label added to Madonna's net worth, which is estimated to be between $590 million and $800 million. Roughly one-fifth of her fortune is invested in property. At one point, she owned six houses in London and the 18th Century Punchbowl pub in Mayfair. Between 2017 and 2019, she took a 'Holiday' living in a historic, Moorish-style palace called Quinta do Relógio near Lisbon, Portugal.
Who's That Girl?
Her last three albums: MDNA (2012) Rebel Heart (2015) and Madame X (2019) fared okay sales-wise, but they haven't exactly set the world alight nor reached Madonna's own high standards. In the last decade or so, Madonna has definitely slowed down, not because she's getting old; she's just concentrating on other things. Like getting weirder! In 2018 she kinda turned an Aretha Franklin tribute into a Madonna tribute and turned up wearing what the Twitterverse deemed culturally insensitive African clothing. In 2020, she released her bizarre Quarantine Diaries where she revealed she had the coronavirus COVID-19.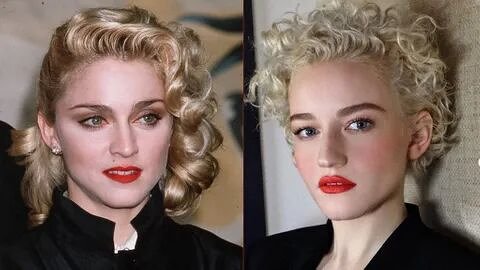 What does the future hold? Well, late in 2020, Madonna announced she would be co-writing (with Diablo Cody) and directing a biopic about her life. It's hoped Ozark's wonderful Julia Garner will play Madonna. We can see that happening… she just needs a beauty spot! But before you get your hopes up, remember what that Telegraph film critic said about Madonna not giving up her day job!