Today, people don't shy away from enhancing their appearance with a touch of cosmetics, even on regular work days. The magic of the internet has opened up a whole new universe for those interested in learning some makeup hacks. Here are a few nifty tricks to save you money, cut down time on your morning routine, and feel great about yourself!
Slay the Perfect Pouty Lips
Do you wonder how models and actresses manage to flaunt the perfect red-carpet-worthy lips every time? Well, the secret lies in the cupid's bow! So, even if you're not blessed with picture-perfect lips, you can get that perfect pout using this incredible X- method.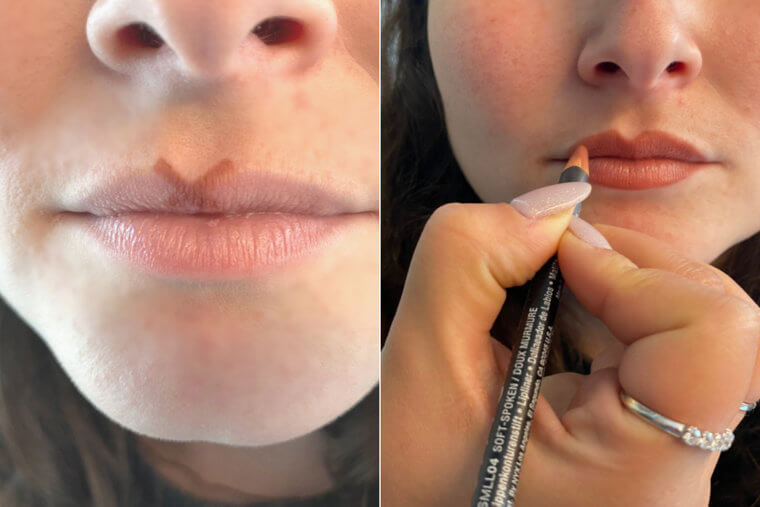 The "V" at the center of your upper lips is called the cupid's bow, and defining this area makes the lips appear fuller. Make an' X' at the cupid's bow with a lip liner of the same shade as your lipstick. Also, apply the lipstick in the same way before swabbing it on the rest of your lips.
Struggling to Achieve the Perfect Winged Eyeliner?
We have watched thousands of tutorials on social media on achieving the perfect winged eyeliner, but no matter how many times we try, we can't seem to get it right. So, here is another tutorial, but we promise this one is much easier.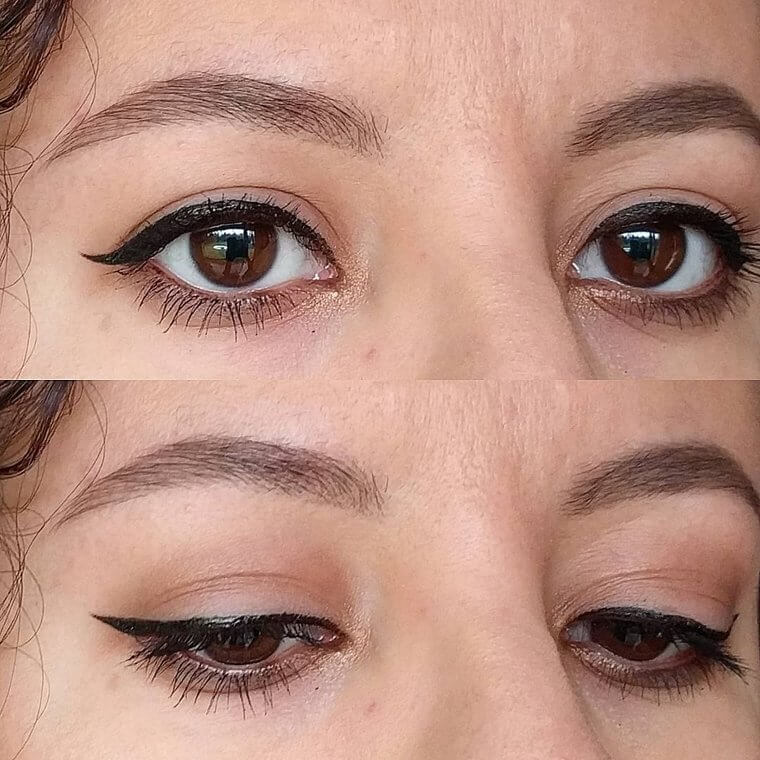 Grab a spoon from your kitchen cabinet and use the handle to draw a line going upwards on the outermost part of the eyelid. Next, use the rounded part of the spoon to bring out the tip of the wing. The easiest part comes next: filling it out with your eyeliner. Simple, just like we promised.
Achieve a Clean Mascara Look
Another spoon hack! Are you tired of mascara residue stains on your eyelids and under your eyes? This next trick will save you all the headache of having to redo your eye makeup and help you achieve a clean look in a few minutes.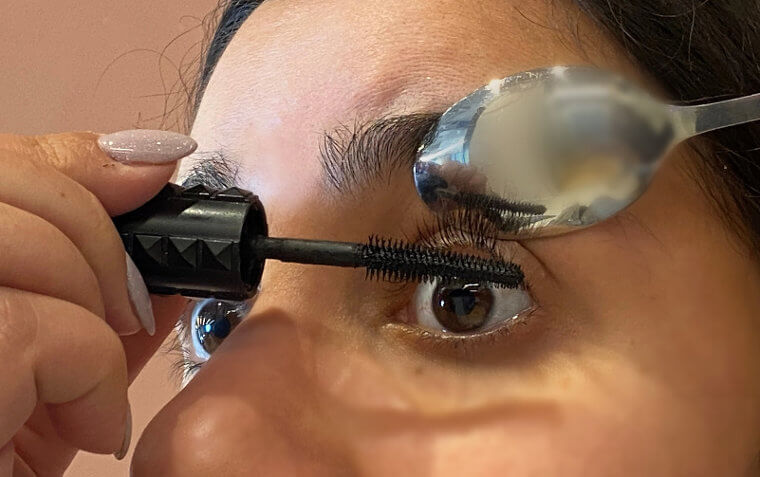 Remember the spoon we used to draw the perfect winged eyeliner? Place the round edge underneath your eyelashes as you apply your mascara to your upper and lower eyelids. The spoon absorbs all the excess residue that is supposed to go on your eyelids. Easy, right?

Taking Care of Your Makeup Brushes
When taking care of your body, don't forget to take care of the hairy instruments you use. For example, your makeup brushes are a good place for dirt, oil, and bacteria to hide, and if they're not treated, they can cause more harm than good.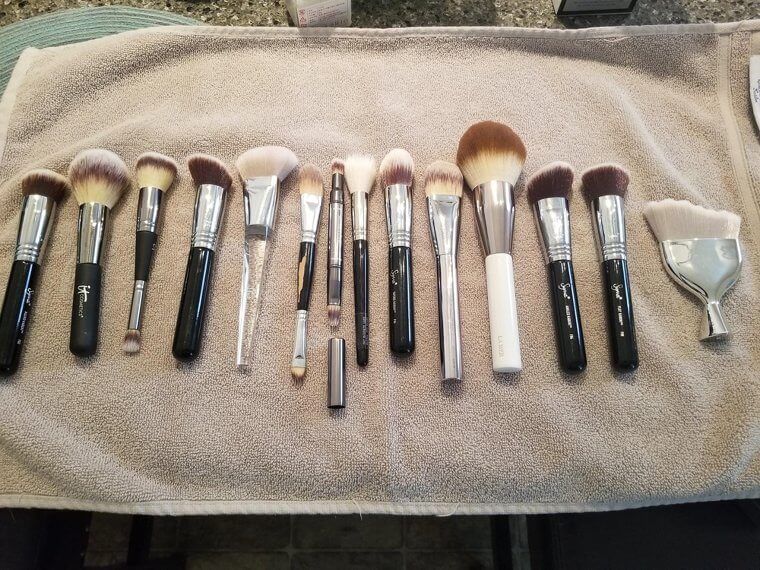 So, how do you clean up the brushes? You can start by wetting the bristles of the brush and applying some shampoo afterward. Leave it this way for a few minutes washing it under running water. Ensure that you swirl the tips of the brushes while doing this. Finally, allow the brushes to dry and trim the bristles if they've become uneven. With these, your makeup brush is set to serve you better.

Dry Your Nails Faster
When you are too busy keeping your face and outfit in check, you forget about your nails. Unfortunately, last-minute nail painting is painful because each coat of polish takes a while to dry. So it would be best to hold off on whatever you are doing to avoid messing with them.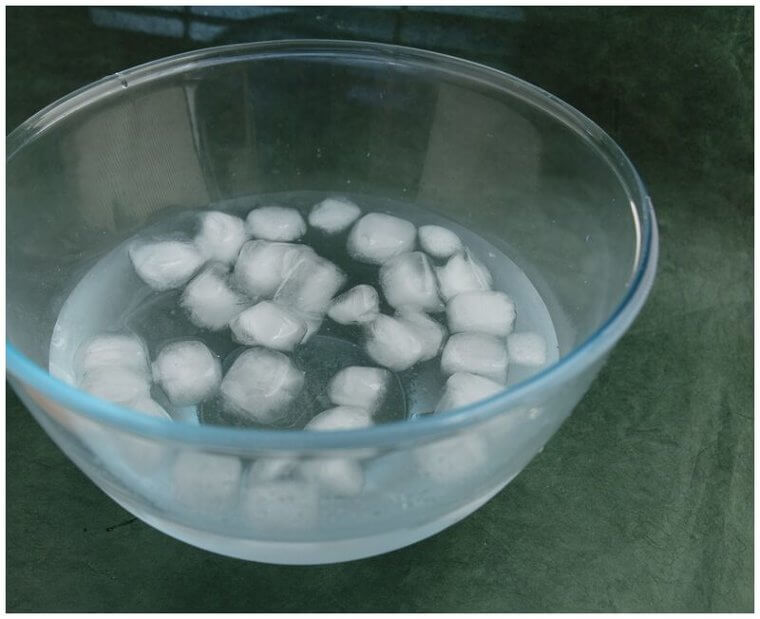 If you are looking for an instant solution for drying your nail polish, a bowl of ice-cold water will help you. Once you paint your nails, let the polish set for a minute, and then dip your nails into the bowl. The cold water hardens the nail paint and dries it faster.

Repurpose Mascara Brushes as Spoolies
Most quality makeup products are expensive, so if there is a chance you can repurpose any of these items, you should simply do it. Take, for example, mascara brushes - instead of throwing them out with empty bottles, you can clean those with an antibacterial solution and use them as spoolies.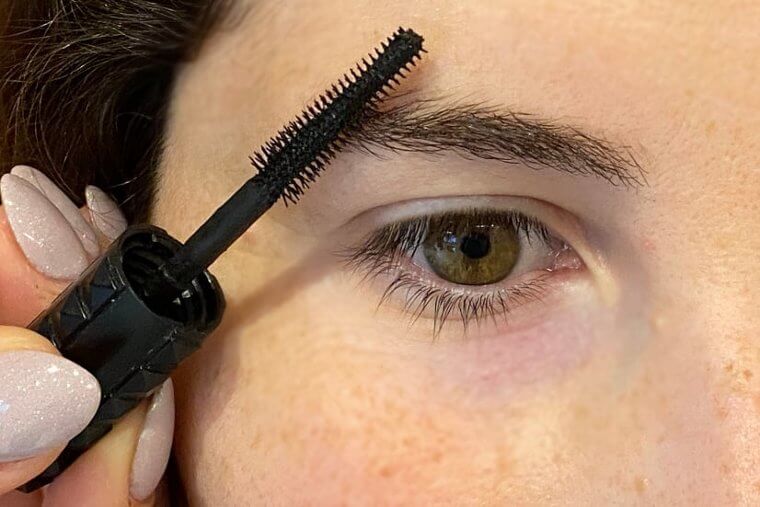 For those less initiated into the world of cosmetics, spoolies are wonder wands mainly used to tame the errant strands of your brows or to have your eyebrows groomed to your satisfaction. You can reuse the mascara brushes to achieve the same result, mainly to prevent your lashes from clumping together. Once you see the magic happen, you'll never want to spend on another spoolie again.

A Faster Way to Curl Your Lashes
Who doesn't love their lashes longer and curlier than they naturally are? The bummer is the amount of time and effort it takes for us to get the lashes to curl. What if we share a simple way to get it all done faster?


Heat your eyelash curler by holding a blow dryer close to it for a minute. Then, allow it to cool a bit; you can blow on the clamp before using it to avoid burning your precious lashes. Once it's cooled down to a moderate temperature, use it to curl your lashes. This way, the curls will last longer as well.

Perfect Manicure on the Go
Sometimes life gets so busy that you don't get the chance to make an appointment with your manicurist, or you simply don't want to spend loads of money on your nails. What if we told you that you could get the perfect manicure from the comfort of your home? Hear us out.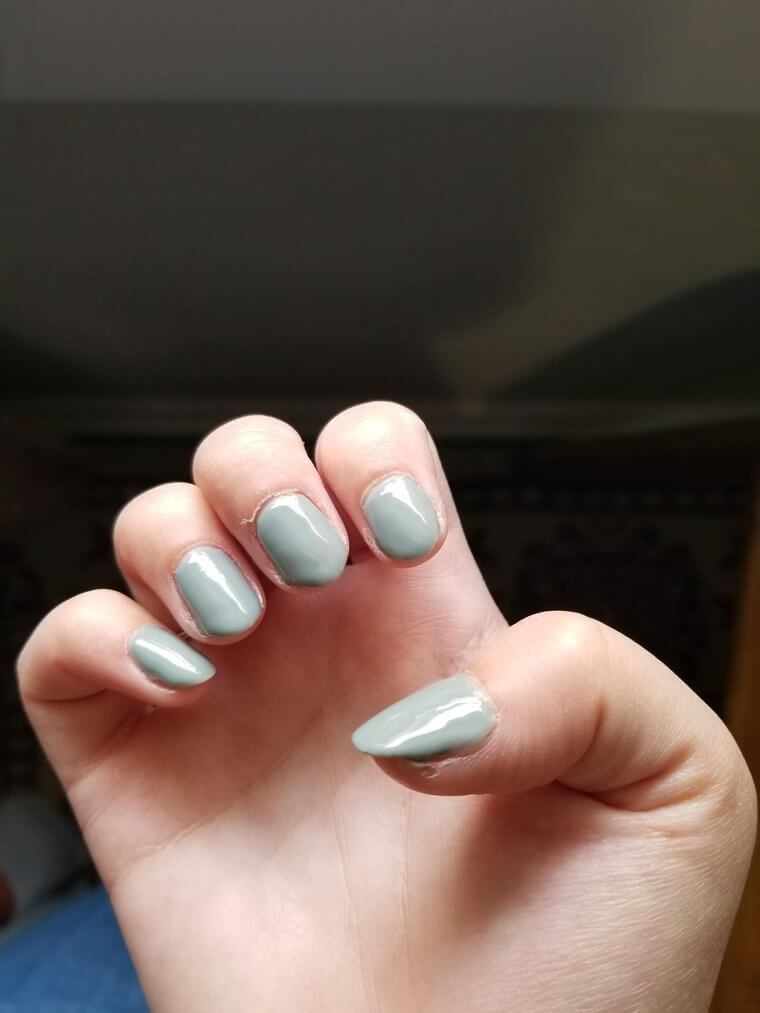 Most times, when you try to apply your polish, chances are it turns out a tad messy. Yet, with some Elmer's glue, you can get a perfectly done manicure. First, apply some glue to the skin surrounding your nailbeds before applying the polish to your nails. That way, any polish that bleeds doesn't get on your skin, the glue absorbs it, and you can peel it right off.

Tired of Lipstick-Stained Teeth?
Most of us have been in a situation where we have seen a friend or even a stranger with lipstick-stained teeth, and it didn't look cute. Or we've taken a picture where we smiled so brightly only to look at the picture and realize we can't post it anywhere because of lipstick on our teeth.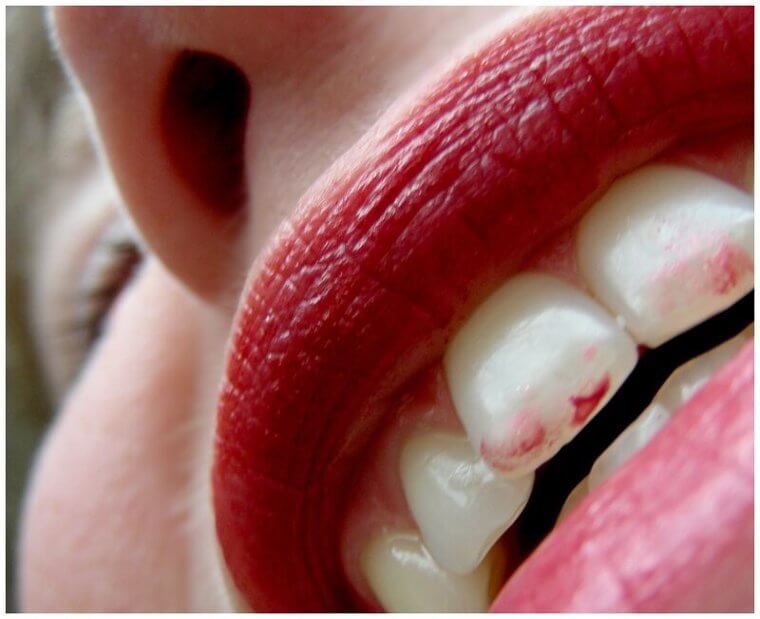 These embarrassing situations are preventable with a simple hack that doesn't even cost a thing. After applying the lipstick, insert a finger into your mouth and close your lips firmly around it. The finger absorbs all the excess, and you don't have to worry about staining your teeth anymore.

Begone Dark Circles and Puffy Eyes
No one likes to work with dark circles around their eyes the day after pulling an all-nighter for any reason. So if the usual workday plan is to seem fresh and ready to tackle anything that comes your way, you need a solid trick up your sleeve to hide those puffy eyes.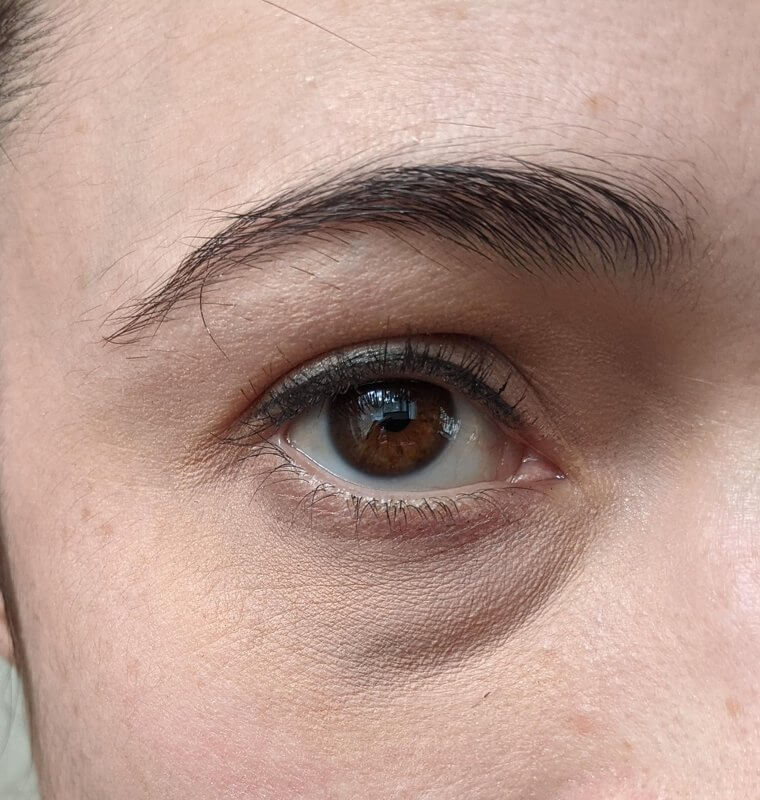 Instead of using the traditional dotted technique for applying concealer on your face, opt for the triangle method. It should cover the base of your lash line to the bottom of your cheekbones in the shape of an inverted triangle; make sure to blend it in smoothly. This way, your puffy eyes stay hidden, and your entire face lights up too!

Rubber Band Nail Repair
Maintaining your nicely done fingernails can be daunting; if you are not being extra careful with handling almost everything, you will have endless trips to your manicurist. That doesn't have to be the case, though, especially when you have rubber bands.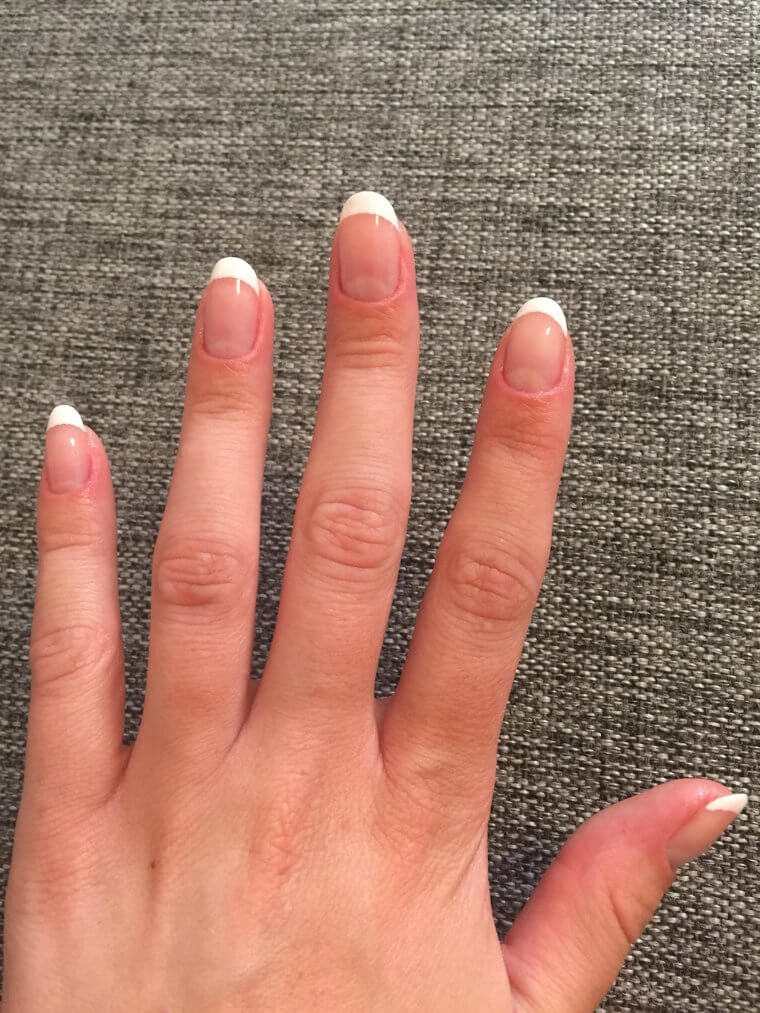 Take your rubber band and tie it across your nail. First, ensure it's straight, as you don't want a crooked paint line. Next, paint over the exposed nail tip and wait for it to dry. You can fix chipped nail polish with one easy hack and avoid a trip down to the manicure salon.

Melting Eyeliner Pencil Into Usable Gel
Anyone who has used eyeliner gel knows how fast the product tends to dry, making it almost impossible to use. Drawing using a stiff liner is a nightmarish experience, let alone the pain one might endure before getting a perfect draw. Yet, there's an easy way to solve the problem.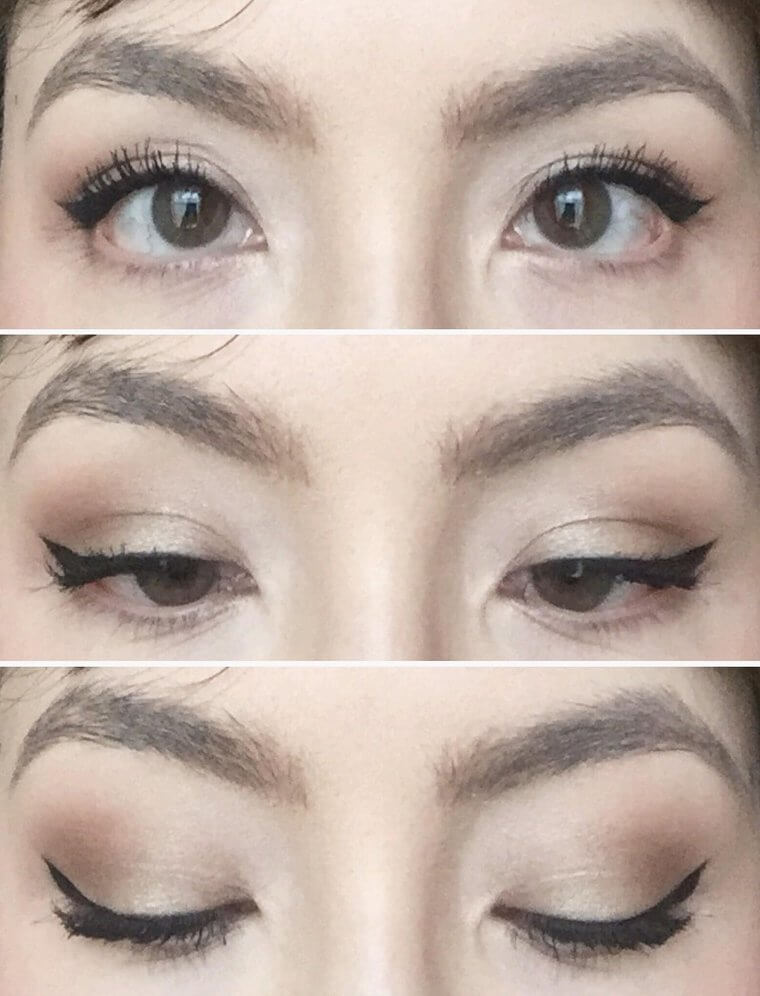 Pick whatever eyeliner you use; the brand and where you bought it don't matter. Next, hold the tip under a flame for about three seconds, then let it cool down. You should have a smooth application with no roughness or stiffness whatsoever when you draw.

Use a Different Light for Makeup
Have you ever encountered someone who's donned some great makeup but looks different depending on the light setting? When they're under natural light, the makeup is a shade different from when they're under a light bulb. That's because lights can be deceiving, and they possibly did their glam under artificial lighting.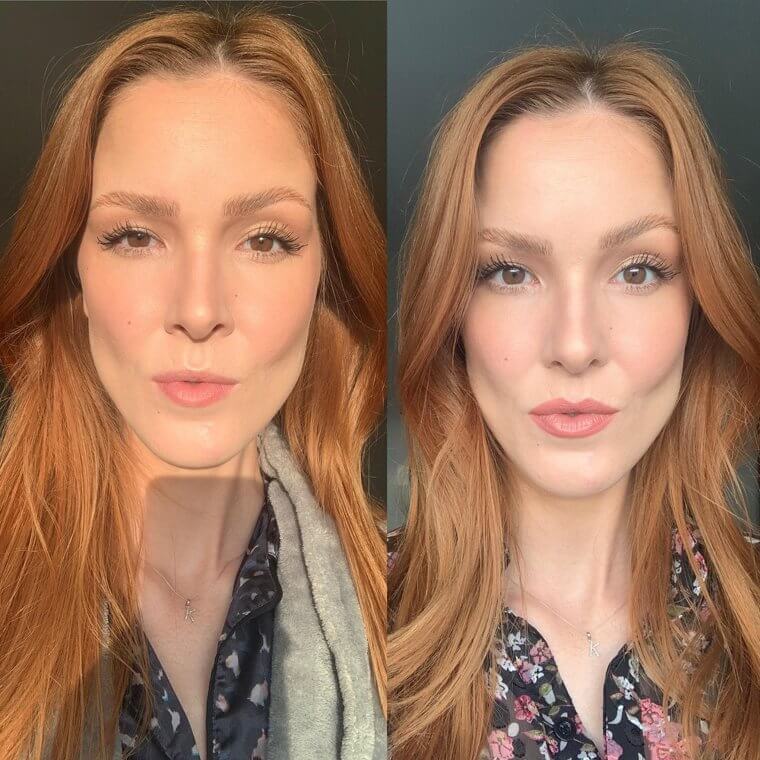 To get the perfectly done makeup look, you have to step outside. Natural daylight or being under the sun is where our skin shows its most authentic color, according to makeup artists, which makes it easier to find any blemishes and fix them appropriately.

Easily "Widen" Your Eyes
We think we can all agree that mascara is one versatile product that you can use to achieve different things. Yet, we bet many people don't know that you can use mascara to make your eyes look wider, especially if you have hooded eyes. So how do you do it, you ask?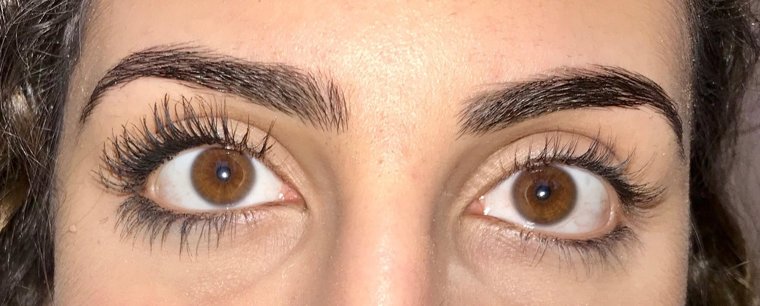 Next time, instead of applying mascara upwards from the nose, sweep the thin coat of the product down towards the nose. Do this repeatedly, going back and forth, and your lashes will look fuller, making your eyes appear wider.

The Trick to Make Lipstick Last Longer
A dozen lip-wear brands promise a lasting application, but with so much to do at work, from drinking water and eating to maybe even licking your lips in nervous anticipation, the shades seldom last more than a few hours.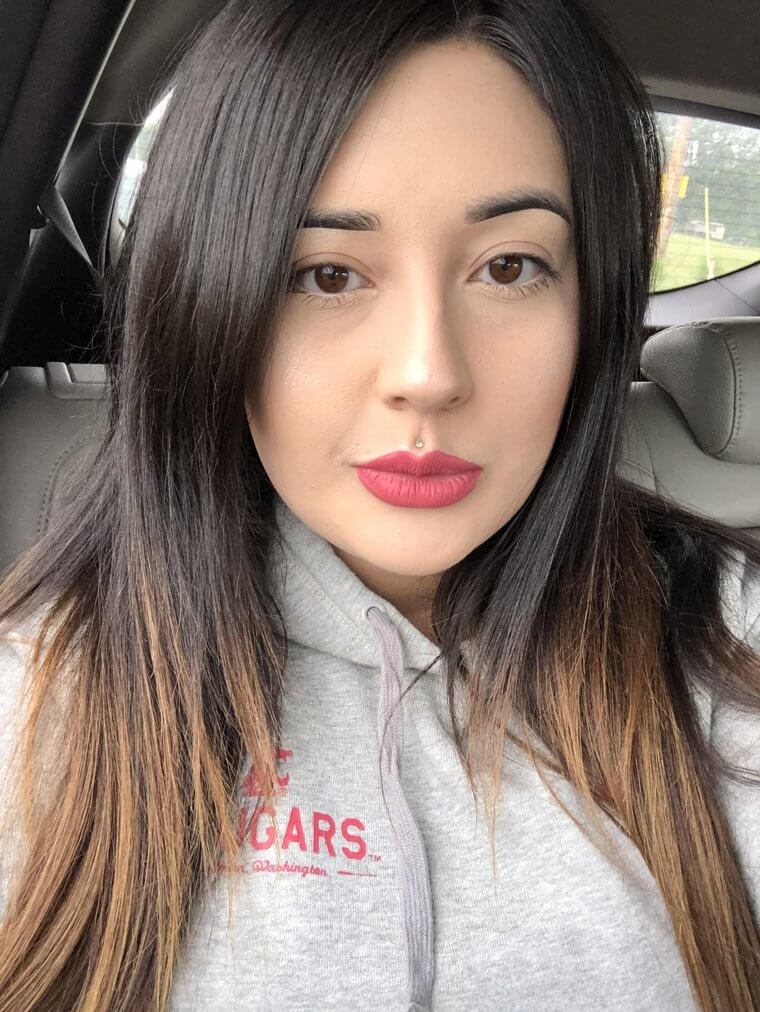 If you are looking for ways to make your lipstick stay on a bit longer, here is a quick-fix makeup hack. Once you have applied the lip shade of your choice, place tissue paper over it. Then, sprinkle some translucent powder before gently peeling away the tissue. Some dusted specks that touch your lips help lock in color and make the lipstick last longer.

The Best Way to Apply Perfume
Is there anything better than smelling good at all times? Yet, for some, no matter how strong the perfume they use, it always wears off a couple of hours after application. If that's you, that doesn't mean you're using the wrong fragrance, but you could be spraying it in the wrong places.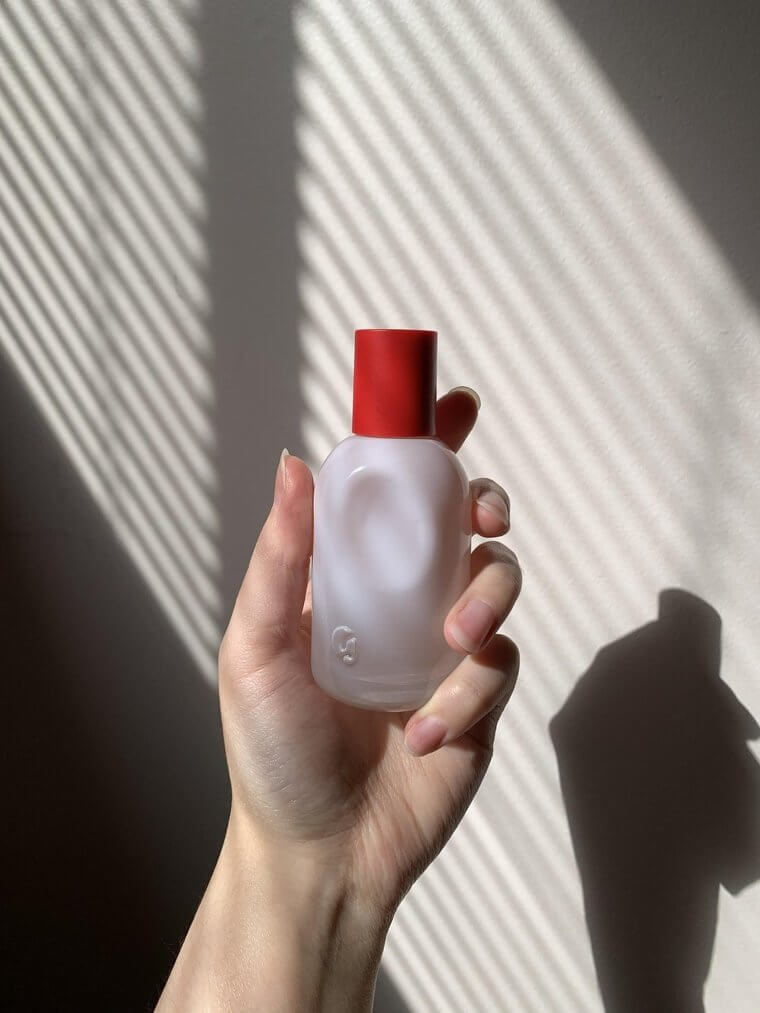 Applying your perfume to your pulse points is the secret that will have it last longer on you. This is because these body parts will develop the fragrance, making it stronger over time as they emit heat.

A Penny for More Mineral Makeup
As much as we love makeup, we're not blind to how expensive the products are, so we're always trying to find ways to get the most out of them. This is why we prefer mineral makeup, which always has a pleasant surprise for us as we finish a bottle- it's never always completely gone when we think it is.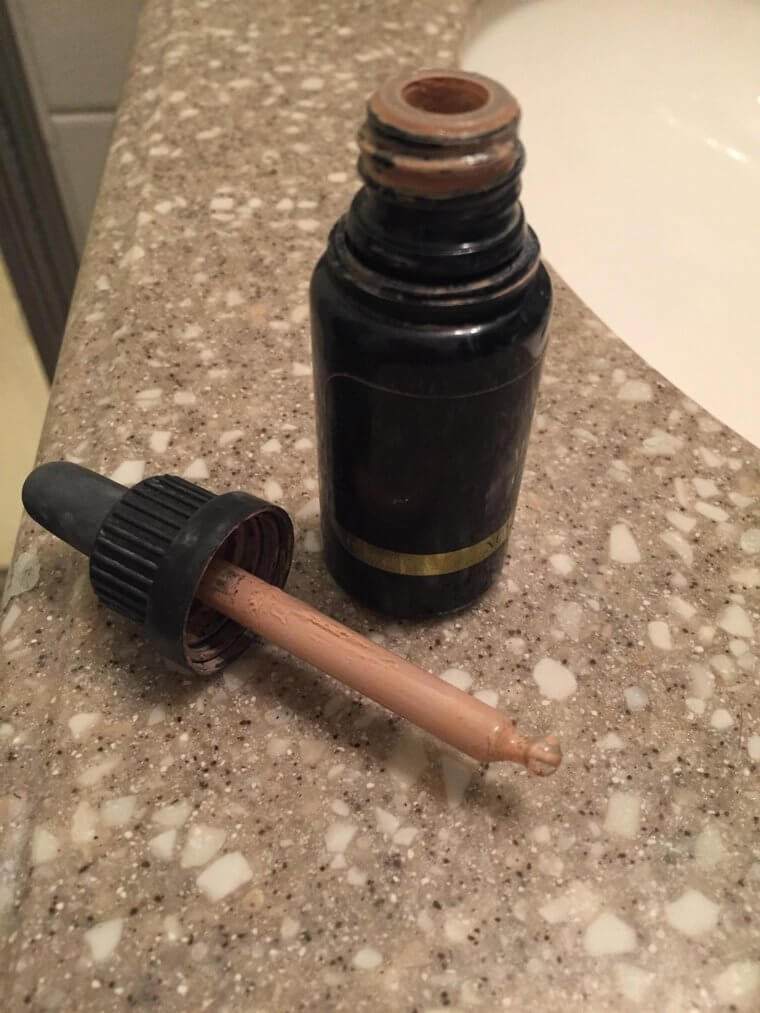 Here's what we mean; shake the near-empty mineral makeup bottle before using a penny to get the sticky layer that often settles at the bottom of the container. You should get enough product to use for a day or two until you can make another purchase.

A Smokey Eye Look That Saves Time
We love a smokey-eye look and can't think of anything better for a date night or even a night out on the town with friends. Even so, anyone who has tried this look will tell you that it takes too long to get it right, or maybe not anymore.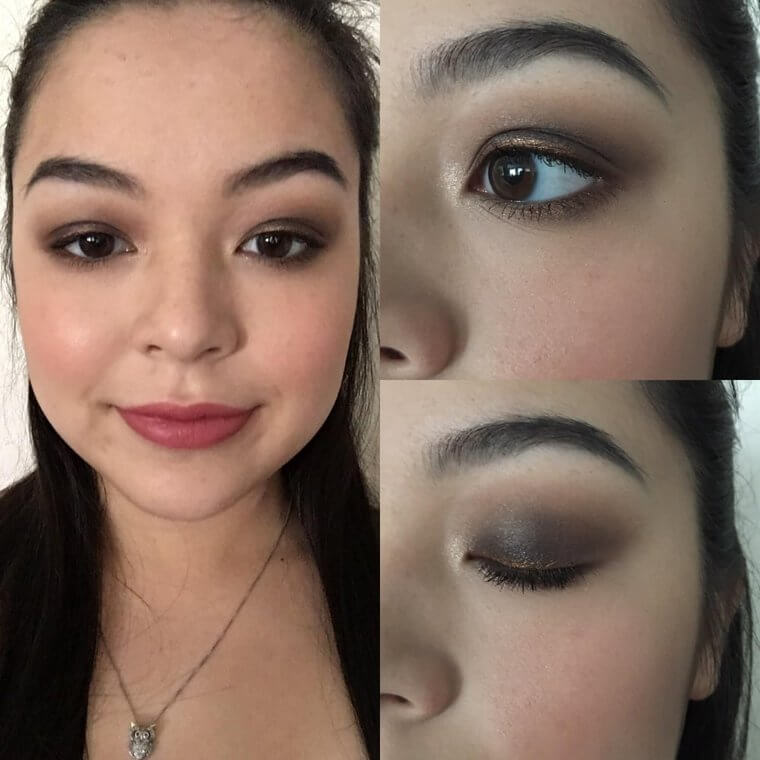 We've just learned of a simple trick that saves time, so here goes; using a smudgeable eyeliner, draw a hashtag on your outer eyelid. Next, apply your preferred dark eye shadow color on top of this hashtag, and then use an eye shadow brush to blend the two layers for a flawless look.

A Simple Way to Apply Eyelash Glue
Hands shaking uncontrollably, having the glue go onto other parts of the eyelashes, and dropping these falsies on the dirty ground just before we put them on best describes our experience when applying eyelash glue. There's got to be a more straightforward way to make this application otherwise, how does everyone else pull off this task?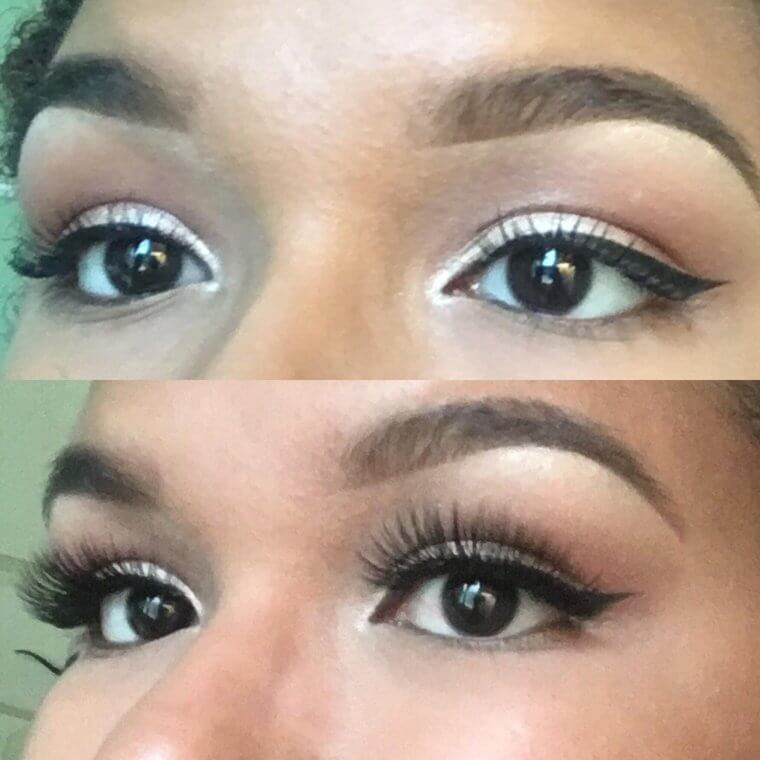 Thankfully, yes, there is an easier way to apply eyelash glue. Apply just a little glue to one end of a bobby pin, and then use the pin to transfer the glue to the inner tip of your falsies.

An Inexpensive DIY Lip Gloss
At some point, we all have had to deal with broken eyeshadow. So even though we don't ever toss away a messy product considering its high cost, we understand why some people would want to.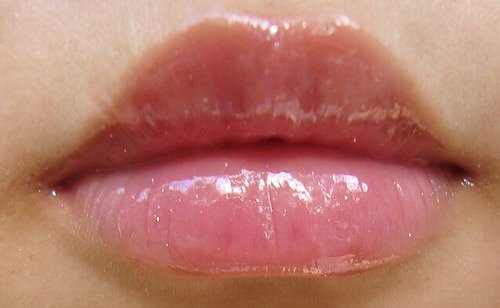 Not so fast, though; your broken eyeshadow is still usable and won't be all over your stuff with the trick we're about to share. First, crush the broken eyeshadow into fine particles so that it's in powder form, and then mix it with petroleum jelly until they have a dense consistency. You now have a lip gloss you can brag about DIYing.

Wing It Right With a Pencil Stroke
In all honesty, winged eyeliner is the makeup trend that only ages like fine wine. After all, who doesn't want to flaunt an Ariana Grande-like cat-eye look? Nonetheless, perfectly winging the eyes requires skill and patience. Yet, fret not. We're here to simplify the task!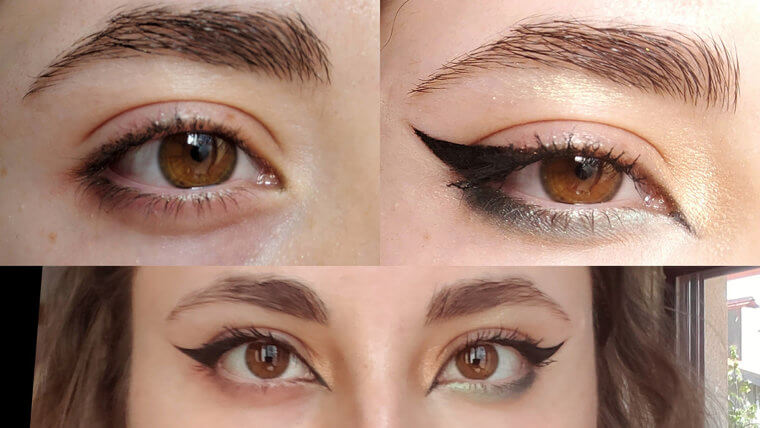 Use a pencil liner with a pointed tip rather than a gel-based one. First, from the corner of your eyelids, draw extended lines on the outer edges of your eyes. Now, fill in the voids until no bare skin peeps through from between, and it's done! You can also neaten the borders of the wings with a cotton swab for a sleeker look.

Contouring for a Natural Look
Another unmissable step in makeup application is contouring. The technique helps add dimension to our face and gives it a sculpted look. Creating effects of shadow and light in the right places can change the game, but if not done properly, the results can be unpretty. Still, don't worry! We have a hack to make this confusing step easy peasy.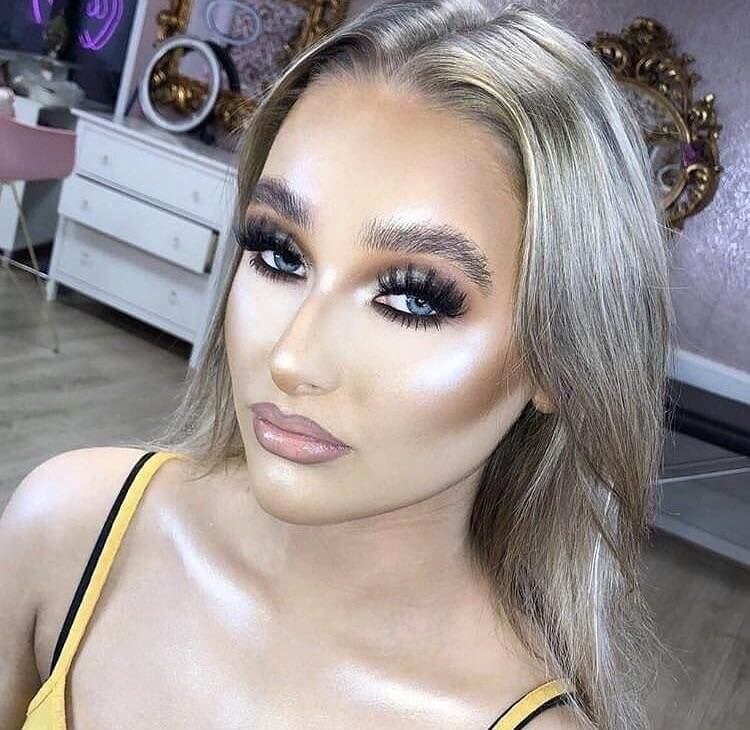 First, place the vertical edge of a pencil under your cheekbones to trace out the angle where the contours can be created. Then, using a shade darker than your complexion, brush or dab the product at that angle to accentuate your cheeks.

Ditch the Base Coat
Most beauty procedures are better when left to the experts, but painting nails can be an exception to this rule, especially with our pro tip. For stylish and vibrant fingers like never before, apply a layer of white nail polish instead of a transparent base coat before the actual nail paint. Besides giving it a glossier finish, this acts as a shield against staining.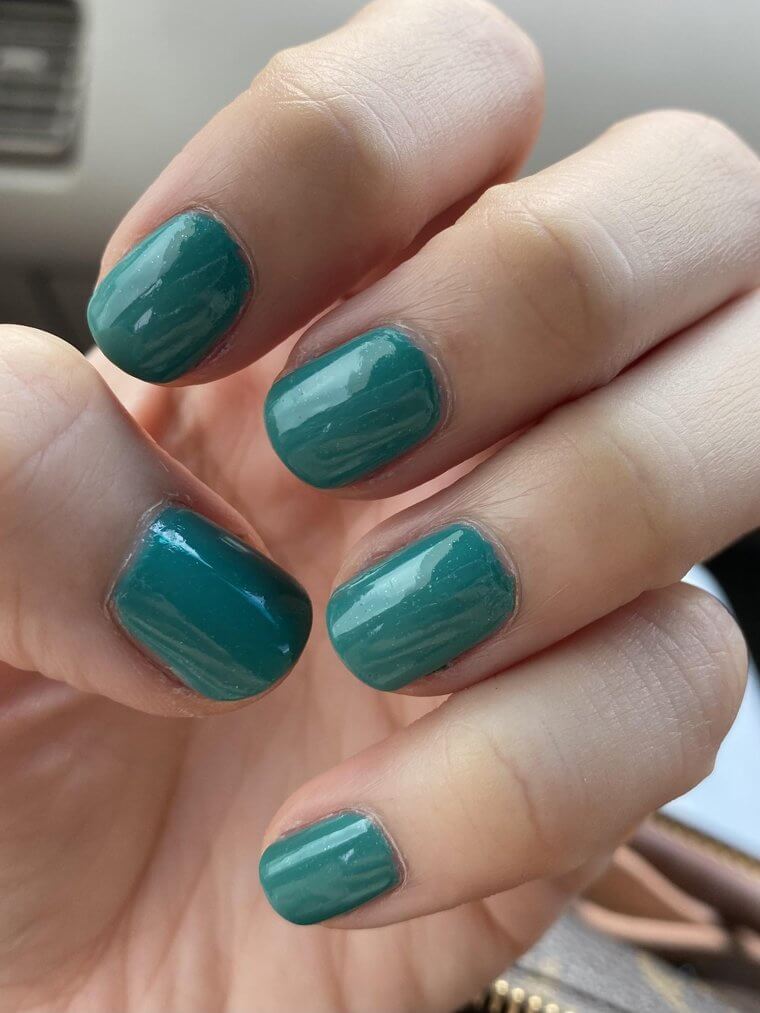 When the nail paint isn't very opaque, the natural complexion of our fingernails ends up altering the shade of nail polish. In such cases, this hack can be a savior in bringing out the paint's actual color.

Map the Contours With Eyebrow Pencils
Those who have defined cheekbones and sharp jawlines are indeed lucky. Yet, don't fret if your face needs some artificial sculpting! We have another easy contouring hack on our list that barely requires any powder or cream. Yes, all you need is a dark-pigmented eyebrow pencil! Brow pencils are very smudgeable, which makes them excellent for contouring.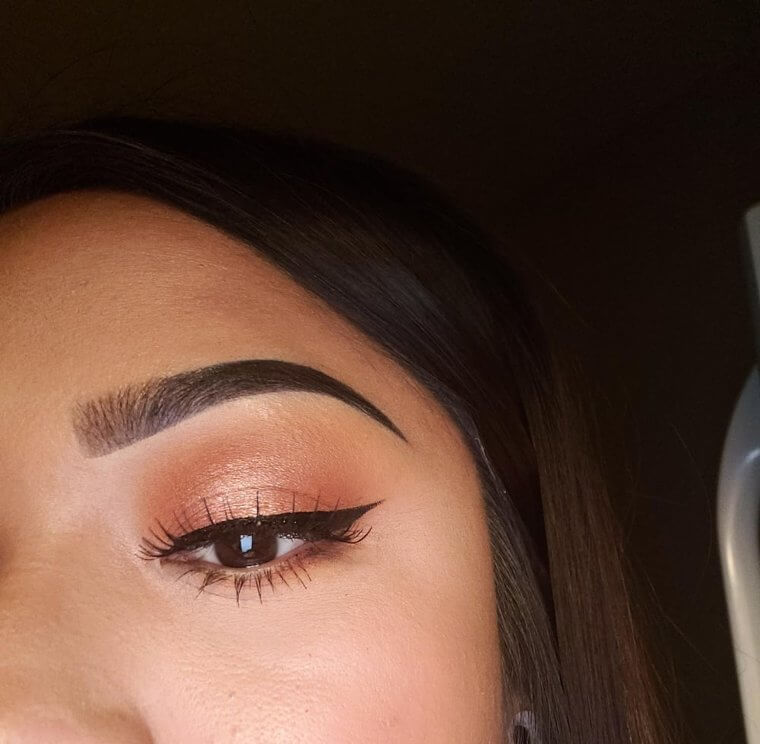 At first, we have to make dots on the portion to be contoured. By seamlessly blending these dots with a beauty blender, we can get a subtle depth on the face. Also, adding some highlighter on the cheekbones and forehead can nail the look.

You Could Just Save Your Mascara
Mascara is quite expensive; that's why we have searched for a solution that will help us save our pennies. As a result, we don't have to buy another mascara once it dries up. Instead, add a few drops of saline solution, and voila, it's suitable for a few more weeks as you save money for a new tube.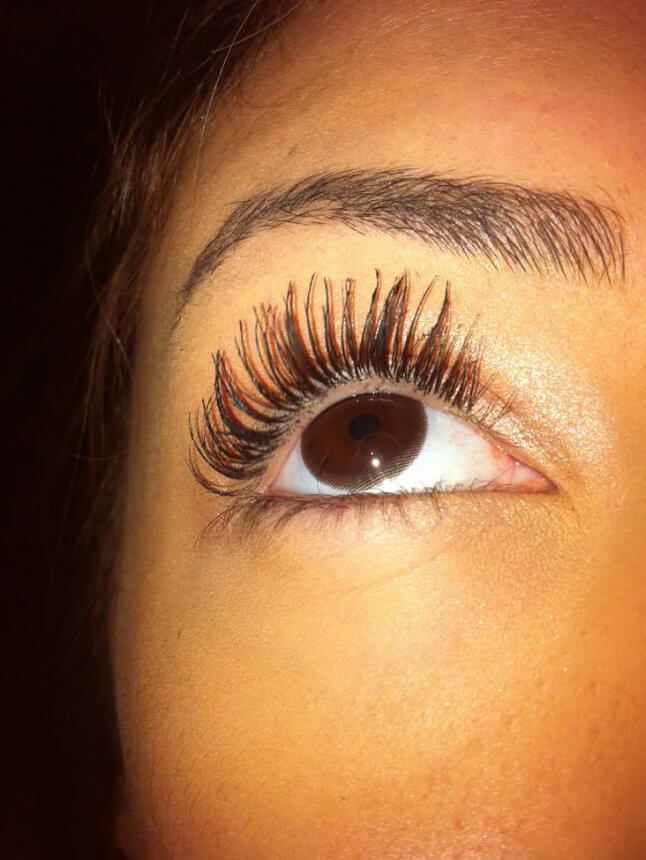 Don't worry if you have no saline in your house; you can substitute it with warm water. Shake the mascara well after adding two to three drops of water to remoisturize it, and no more clumping your mascara.

Toilet Seat Covers as Blotting Papers
This next hack might seem weird when you hear about it, but trust us, it will deliver impressive results. During sunny days, makeup is oxidized, which causes oil to be produced on our skin, leaving us all greasy. A simple solution is using toilet seat covers to absorb some of the excess oil from your face.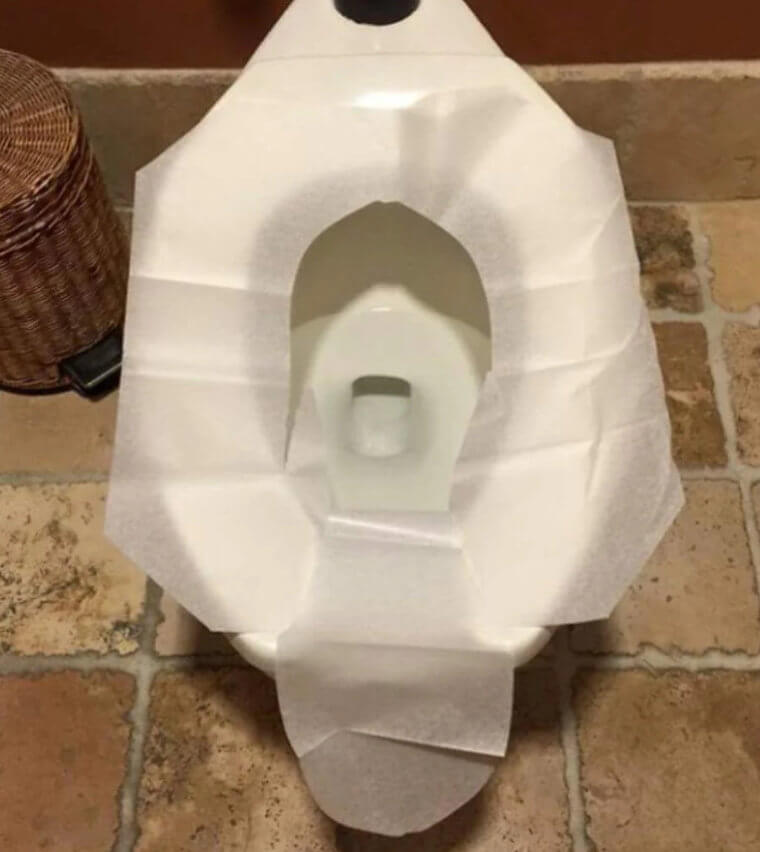 Not only does it work the same way as blotting papers, but it also does a better job, according to some makeup experts. So now you can flaunt your makeup all summer without worrying about looking greasy.

Easy Way to Plump up Your Lashes
Taking good care of the eyelashes can improve one's beauty and appearance. The eyes are one of the first things people see when they look at us; hence, plumped-up eyelashes will make you appear more beautiful.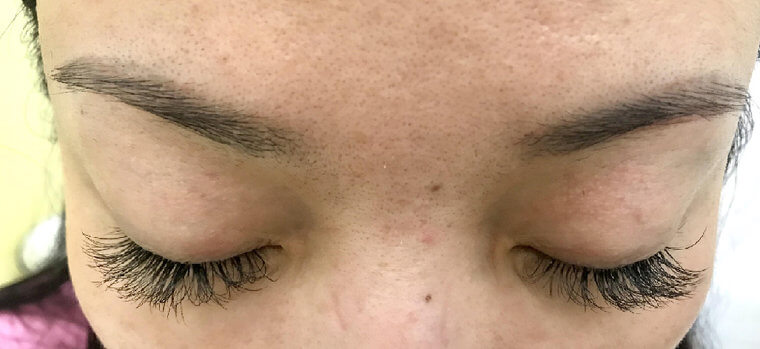 Nevertheless, investing in expensive mascara may not be everybody's thing because most people gravitate toward cheap makeup hacks. Fortunately, there's a far more inexpensive method of plumping up one's, which involves using ordinary baby powder. So, after applying the mascara, use a spoolie also to apply some baby powder on top of it. Do this three or more times, and you'll get fuller-looking eyelashes.

Make Your Eyeshadow Color Pop
If you want to make your eyeshadow color pop, look no further. No, you don't necessarily have to opt for darker tones to attain that catchy effect you crave; using this hack can do so with even lighter shades. All you need to do is base paint your eyelid with a coat of white shadow.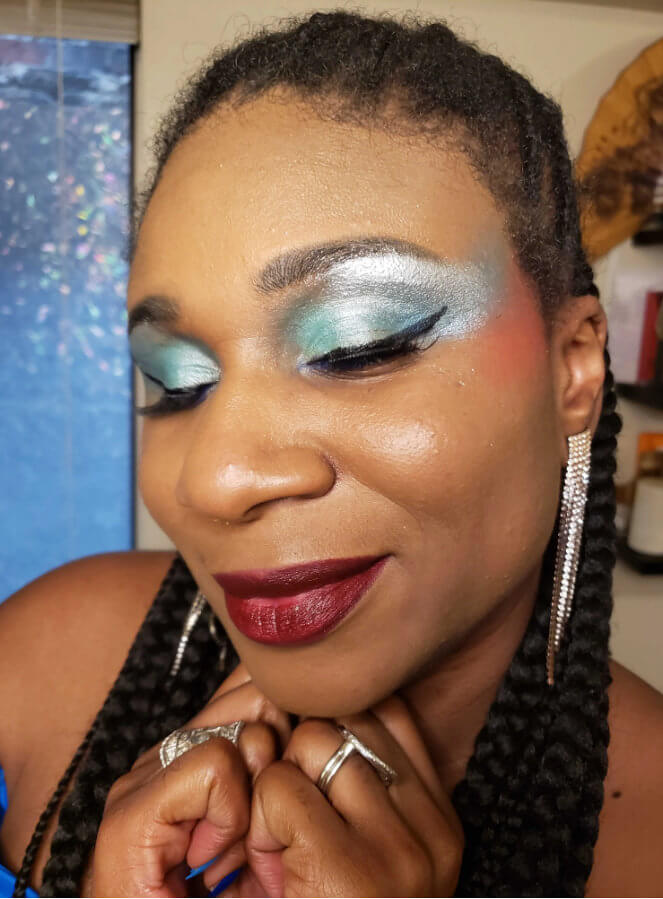 The base will now look like a white canvas, which will even out all the discoloration to form a solid foundation to apply your eyeshadow. This clever hack allows the color to pop and makes it last longer too. It works so well you'd be surprised at the results. A fair warning is that you might stock up on extra white shadow.

Trimming the Split Ends
Well-trimmed and well-kempt hair look good on everyone, and any price paid to achieve this great appearance is indeed worth it. Though some people find getting rid of split ends challenging, there are a few tricks that one can apply to get the hair properly trimmed and in shape.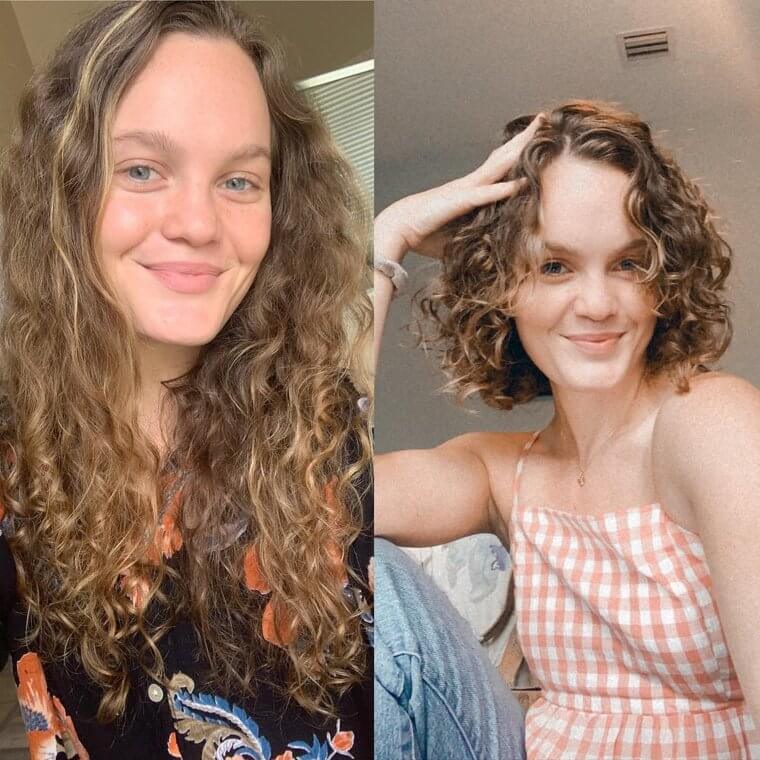 The first hack is to tie the hair into a ponytail and trim the end afterward. The second effective method will be to part the hair into two halves, tie them together in the front, and then trim the two portions until you're satisfied. Lastly, you can simply divide the hair into two halves and go ahead to cut off a sufficient amount.

The Best Time to Apply Shampoo
Having wavy and shiny hair is quite admirable, but knowing how to produce these features in our hair is another ball game. Though some people have gotten used to shampooing their hair in the morning, research has shown that that is not the best time to wash the hair.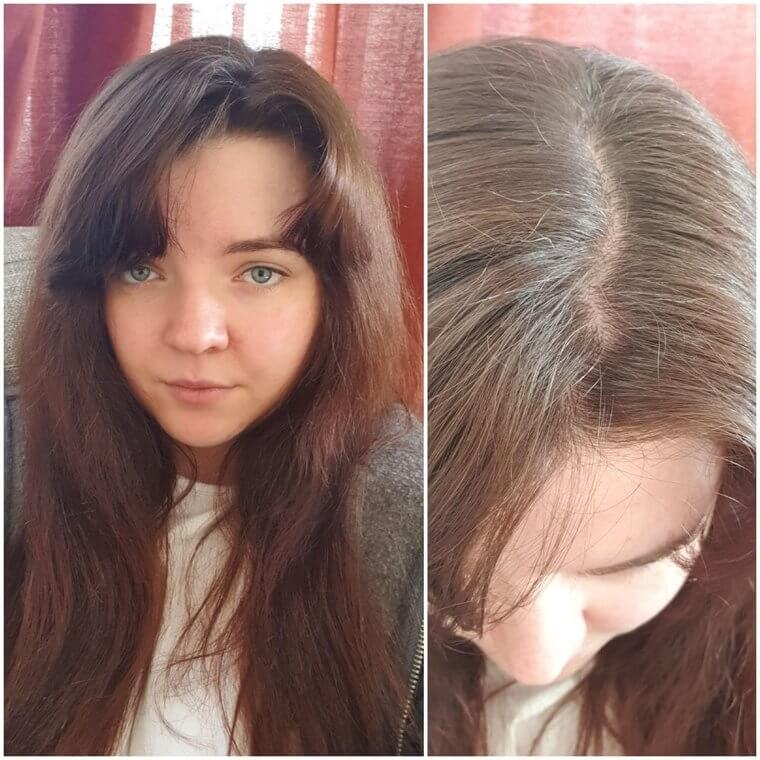 It's best to apply dry shampoo at night. This is because the shampoo gets worked into the hair and scalp as we move around in our sleep, thus creating wavy and shiny effects. So, the next time you feel like applying some shampoo, wait till you're about to go to bed.

Getting Rid of Frizzies
Frizzies can be a burden to deal with. They make the hair look unkempt and deny you of those beautiful curls that make you look very charming. While they sometimes result from our genes, other times, we unconsciously create frizzy hair ourselves by using a towel to dry our hair.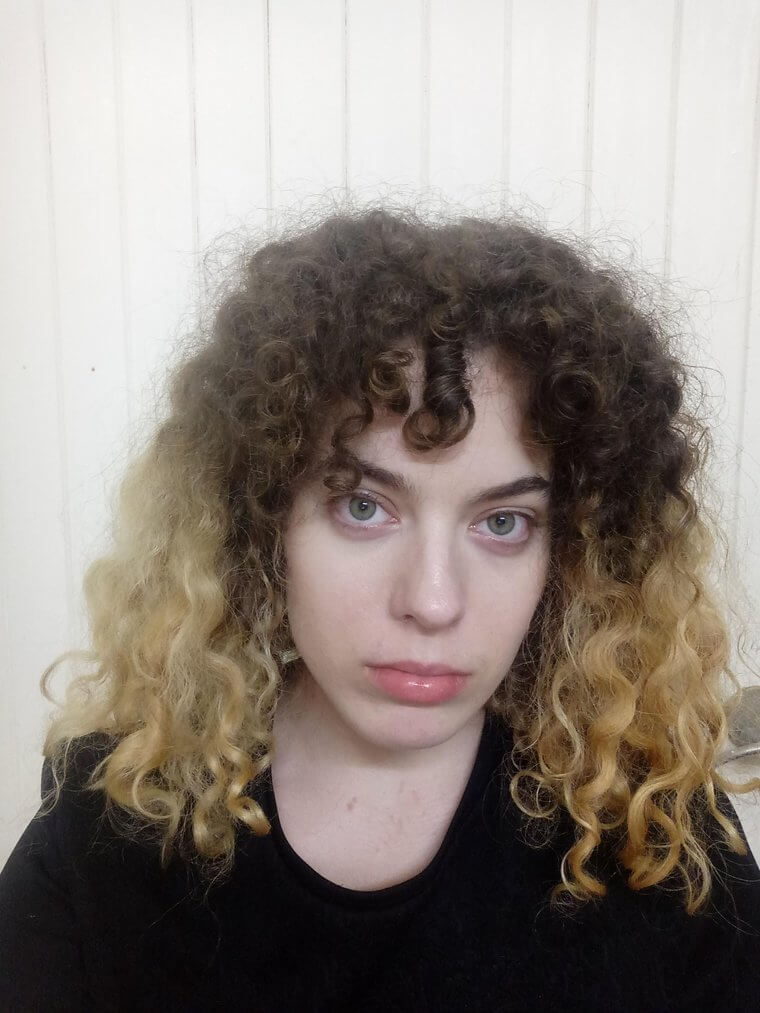 That's right. Instead of using towels after washing our hair, cotton t-shirts will do a better job. This is because the latter soaks up water faster than the former and does not leave frizz hair behind. So, it's high time you parted ways with that towel.

Tweezer for a Slimmer Nose
For a newbie make-up artist, contouring the nose is one of the most challenging processes. Even some experienced ones struggle to achieve a perfect shape after hours of trying. To help the community, beauty gurus have developed a genius contouring technique, and all you need is a tweezer!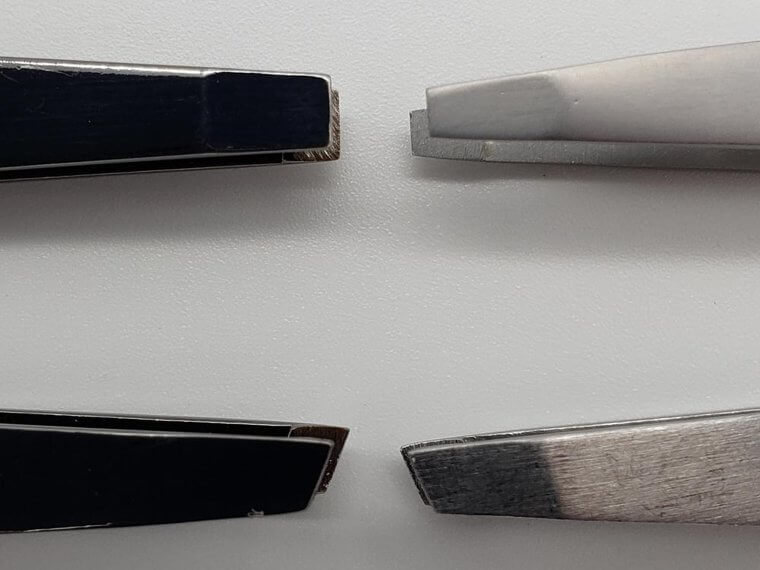 Take your good old tweeze and dip its tip in your favorite contour product. Next, place it at the center of your nose and slide it down your nose bridge. For the last step, use a lovely contour blush to achieve that flawless nose you have dreamed of.

Fake Freckles With Henna
Once considered a beauty flaw, freckles have become a desirable trait in recent years. Getting fake freckles has turned into a fashionable trend, and you will find models to beauty gurus, everyone flaunting them.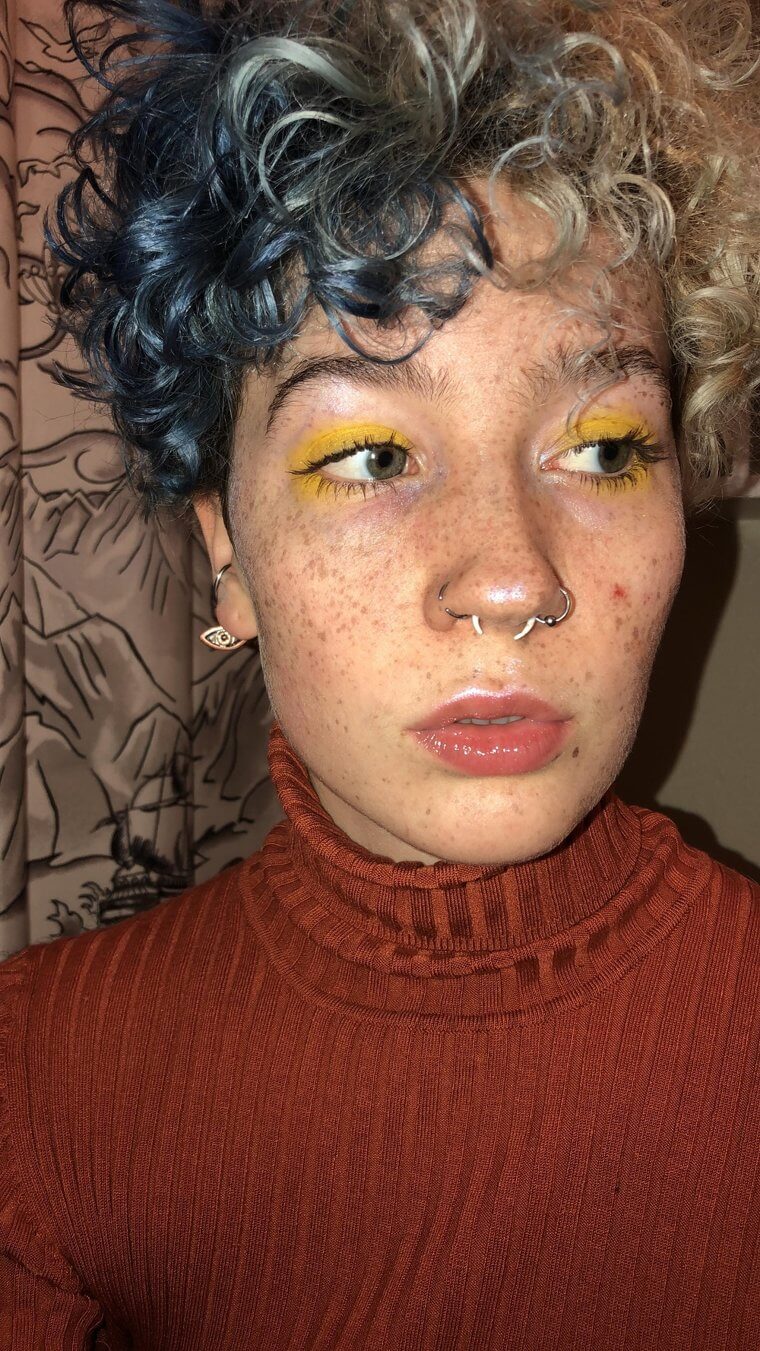 If you want to hop into this trend but have no prior make-up experience, don't worry; a simple henna cone can do the job for you. Use the henna to make dots on your nose and cheeks, and wash them off after an hour. Congratulations! Now you have natural-looking freckles using a safe and non-toxic method.

Make Your Cheeks Blush With Lipstick
Lipstick is arguably the best make-up invention. This little tube is quite flexible in how one can use it, and if you are running out of beauty products, your lipstick collection is sufficient to give you new looks every day.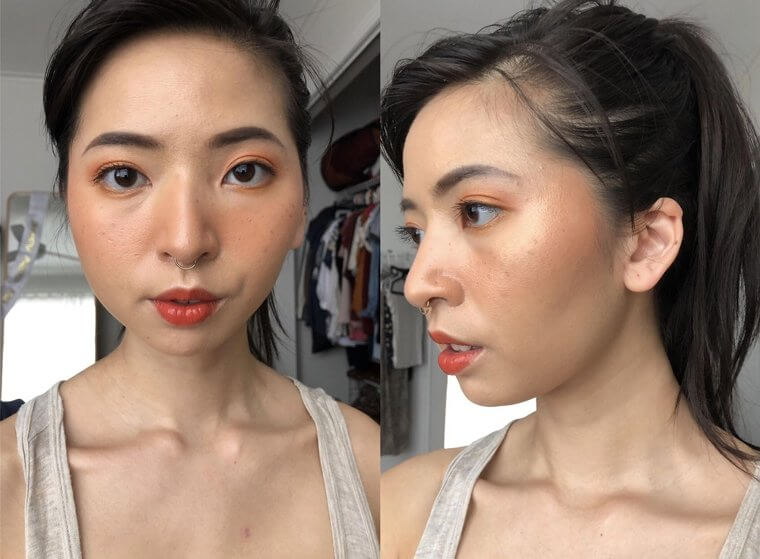 One of the most popular hacks involving lipsticks is using them as a cream blush for cheeks. So whether you want a sun-kissed glow or a rosy pink flush, just take some lipstick of your desired shade on your fingertips and dab it over your cheeks. Then, blend it properly and get a lovely blush without spending bucks on a cream blush palette!

Make-Up Bag From Broken Umbrella
Who knew a broken umbrella could go places other than the trashcan? The internet has introduced us to many awesome DIY hacks, and one such trick is turning your broken umbrella into a make-up bag.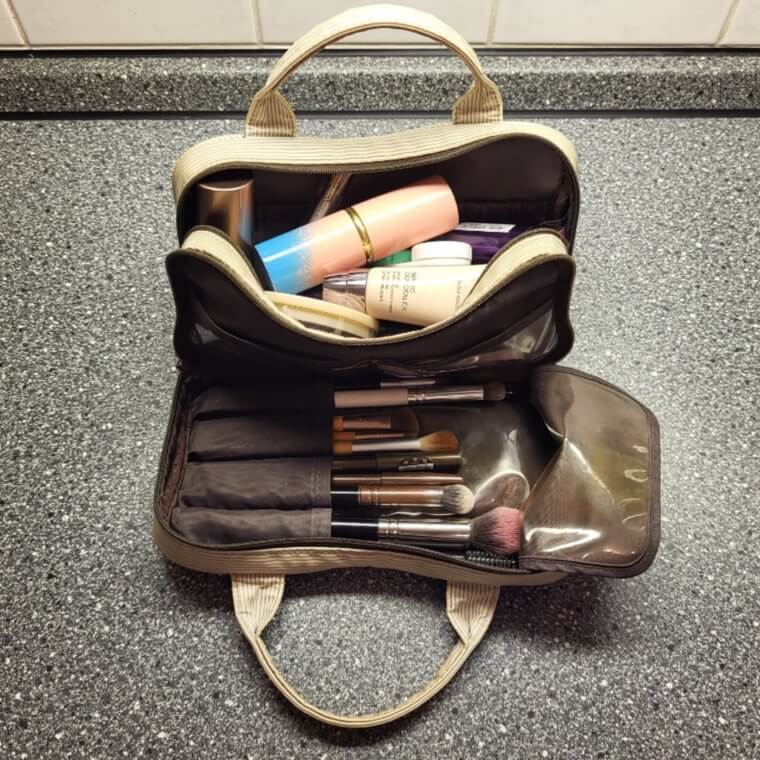 For the first step, you must cut off some fabric from the unusable umbrella and then make holes around its edges with scissors. Lastly, insert a ribbon through these holes, and once you pull the ribbon, you have successfully upcycled a broken umbrella into a waterproof make-up bag.

Foundation Stain Can't Ruin Your Outing
The truth is, if you love to wear makeup, you will inevitably get some stains on your clothes. And there is nothing as annoying as being ready to step out and realize your foundation has stained your clothes; but not to worry, removing of stain is possible. There are different techniques for getting makeup stains off your clothes, and here is one effective way.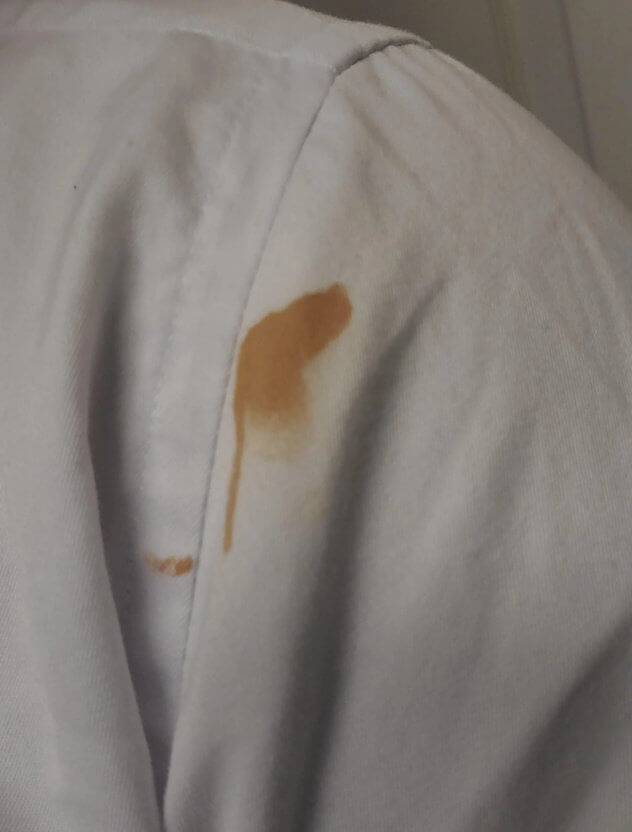 Using shaving cream can do the magic. First, apply shaving cream all over the stain, then let it sit for about 10 minutes before wiping off the suds with a brush or clean cloth. Next, carefully rinse the spot with clean water and watch the stain come out without hassle.

Why Not Make the Best Homemade Brow Filler?
Are you a low-maintenance person, or do you love making your makeup to save your face from those harmful chemicals you purchase from the stores? Well, there is no harm in doing things your way. Also, doing your brow filler transforms your face and gives you a chic look.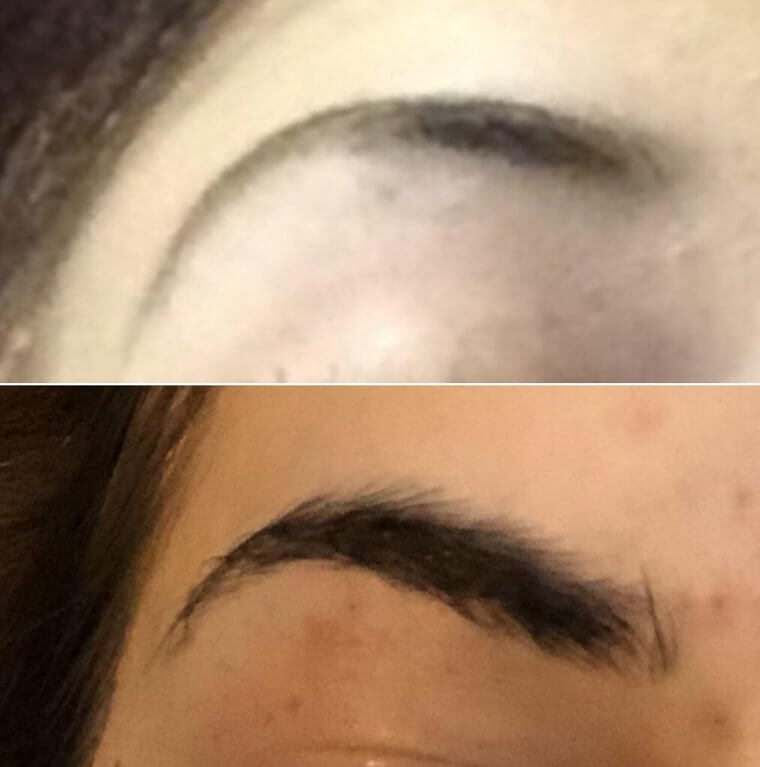 This is simple. Take one almond from your cupboard and turn your gas on. Position the top of the almond towards the fire and let it burn; be careful not to hurt your hands. Allow the almond to cool down for a few minutes. Next, use a brow brush to collect the charcoal from the burnt side, and your product is ready.

Make Your Favorite Lip Gloss
You'd never know how making your lip gloss can be very simple and fun until you try it. There is no need to spend your money purchasing fruit lip balm when you can make your favorite flavor at home. You only need two ingredients to make this happen, so watch out.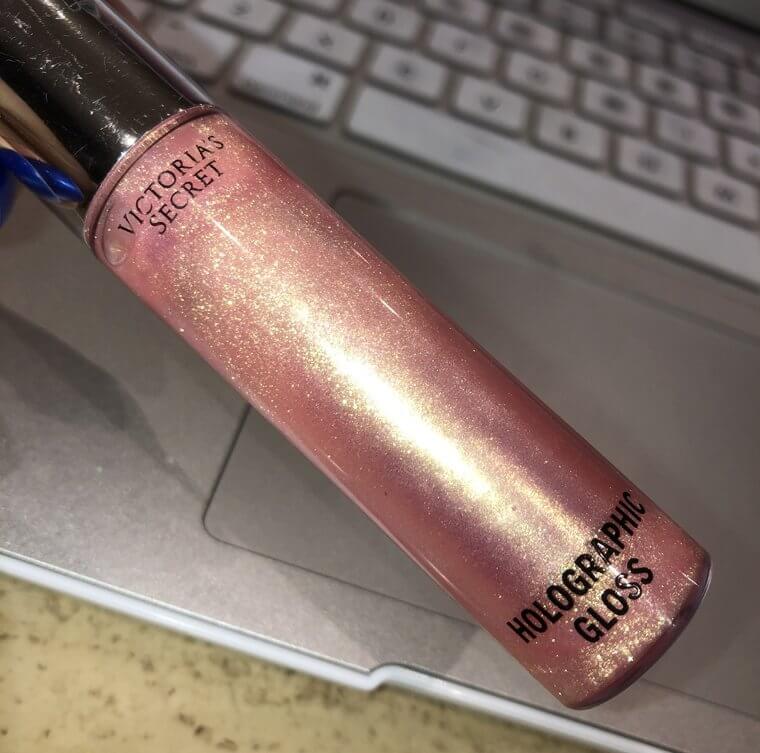 Put the needed quantity of petroleum jelly into a small bowl and add your favorite food color to get a nice color and flavor. Next, mix it properly and then put the mixture under heat to allow it to melt. Finally, pour the melted mixture into a container and let it solidify before applying it to your lips.

You Can Try Natural Makeup Remover
We all know that purchasing lotions, serums and cleansers can be a considerable investment. So why not cut your budget by making your makeup remover with the most reliable and safest natural ingredient?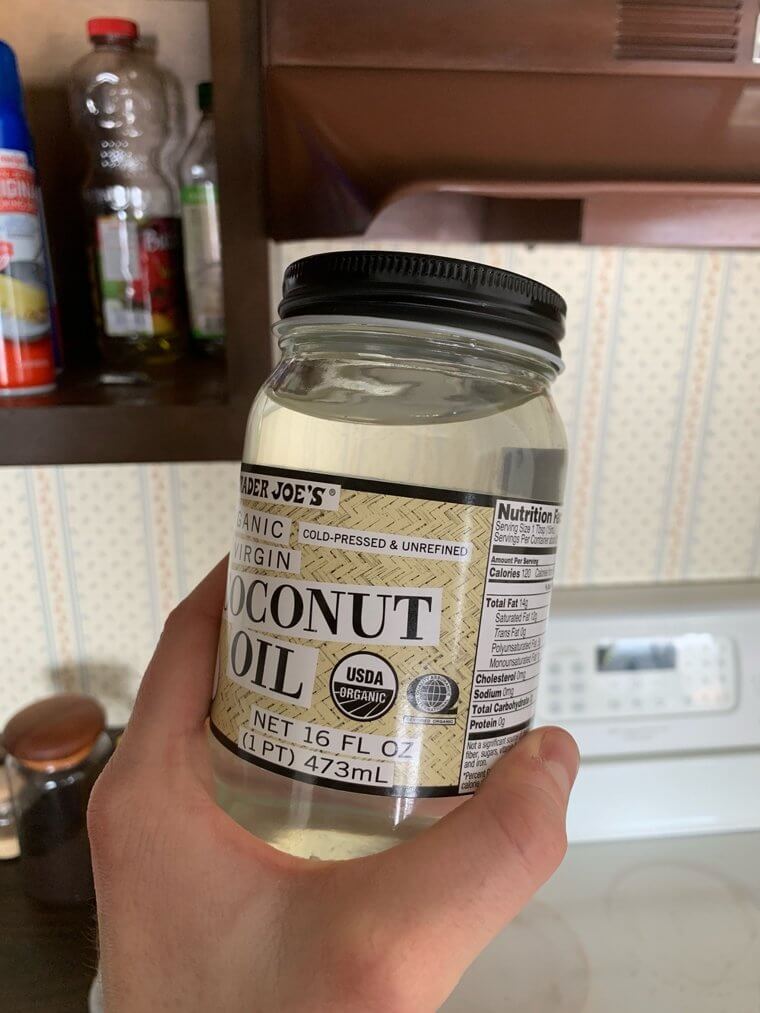 Coconut oil is all you Need! This oil not only has a pleasing scent but also works brilliantly in breaking down the water-resistant materials found in makeup. So next time you want to get rid of your makeup, apply a small amount of coconut oil over your face and wipe off your face before the water and soap session. Also, this oil helps keep your face hydrated after washing.

A Flawless Complexion With a Homemade Color Corrector
A color corrector is the best when giving yourself a flawless complexion. It helps hide dark under-eye circles, red pimples, and blemishes, and a top-notch color corrector will help neutralize unwanted skin complexion tones. Thus, a homemade color corrector will give you the best coverage if you are searching for the right color for your skin.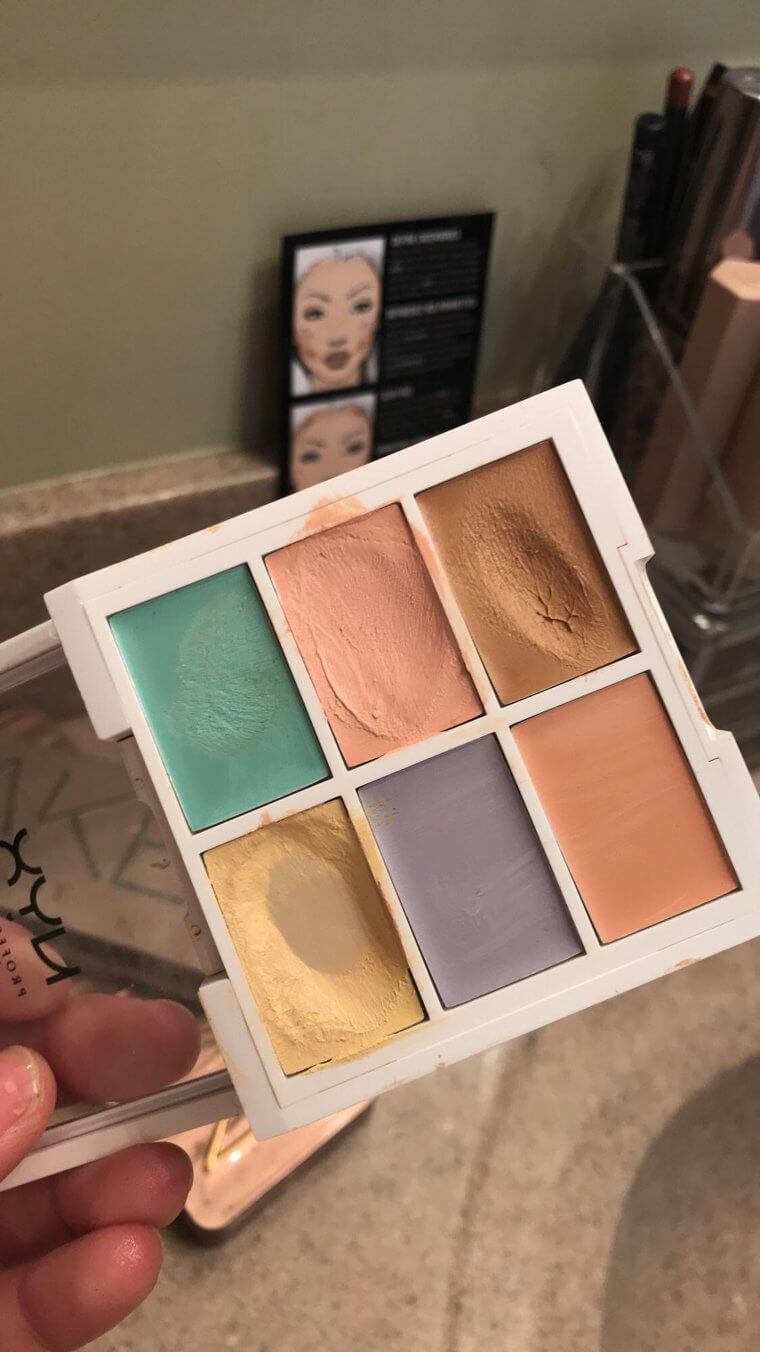 Depending on your desired color, take a lipstick of your choice and gently apply it to the affected area. Then, use the tip of your fingers or a facial brush to blend it with concealer. Look! You just gave yourself a perfect skin color.