Mamma Mia! is a musical comedy film featuring the songs of ABBA released in 2008. It was adapted from the 1999 musical, and a decade after the first film, Mamma Mia!: Here We Go Again was released. These beloved films have an all-star cast including Meryl Streep and Pierce Brosnan and are set on a fictional Greek island. Here is a list of 30 facts about Mamma Mia! and its sequel that you probably didn't know. 
Meryl Loved the Musical
The star of Mamma Mia! Meryl Streep was a fan of the musical long before she was offered the lead role of Donna. She went to a Broadway production of the musical with her daughter in 2001 and left feeling overjoyed by the spectacle.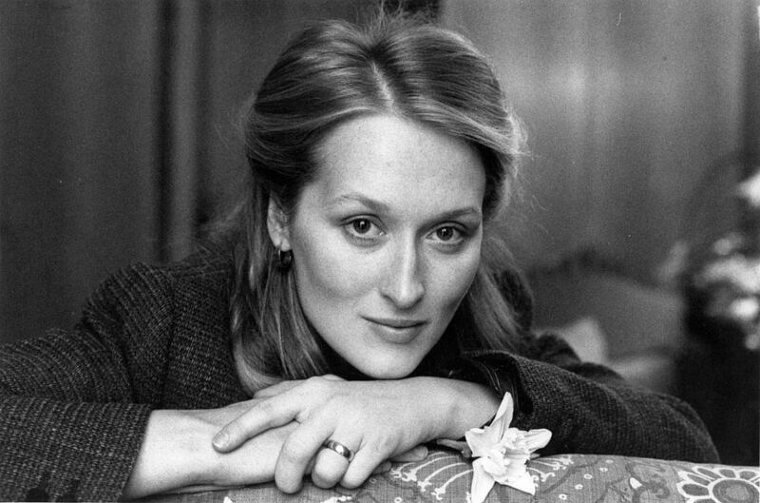 Meryl was so so taken by the production that she emailed the show's producers and thanked them for bringing upliftment to the lives of New Yorkers - it was a month after the September 11 attacks, and the world was still reeling. 
The Film Is Structured on a Greek Comedy
The film is set on the fictional Greek island of Kalokairi, and shooting took place on location on the island of Skopelos, and the seaside village of Damouchari. It would seem fitting that the film is also structured like an old Greek comedy - much like the ancient Greek playwright Aristophanes used to write.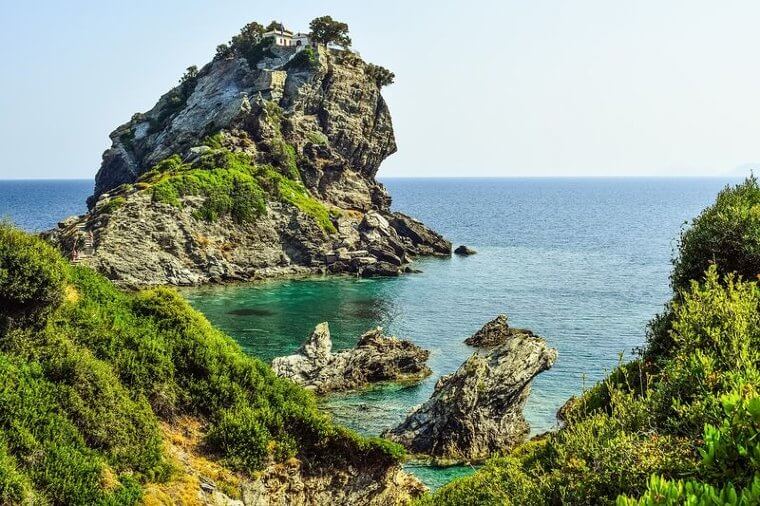 The basic structure always includes song, dance, comedy, and the characters exhibiting great joy - which Mamma Mia! is full of. There is also mention of Aphrodite - the Goddess of Love.  
It Broke a Lot of Records
When Mamma Mia! was released on June 30 2008 it became the fifth highest-grossing film of 2008. It beat records that were held previously by massive blockbusters Titanic and Avatar. It also set a new record for musicals which had been held by 2007's Hairspray.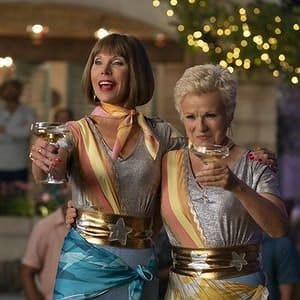 This was all despite the mixed reviews, and the criticism some of the stars received for performing their own songs. The sequel, Mamma Mia! Here We Go Again, which was released in 2018 became the biggest opening weekend in the careers of Meryl Streep, Amanda Seyfried, and Cher. 
 
Super Trouper Was Real
Meryl Streep, Christine Baranski, and Julie Walters perform the song "Super Trouper" as an acapella. Their performance was a genuine acapella, and this is truly remarkable. In the film, the three characters perform their songs (all ABBA) under the name Donna and the Dynamos.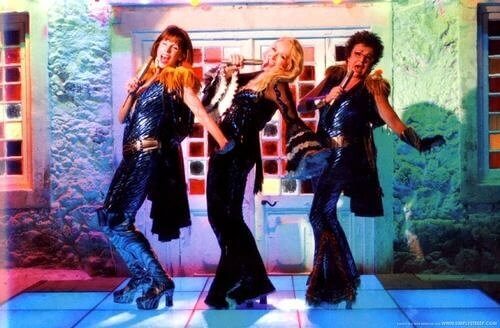 The three actresses, all decked out in very shiny lycra bodysuits, performed the epic song live! Though there was a lot of criticism aimed at the film's star's lack of talent, this particular performance was without fault. 
Keeping Track of the Timelines
So according to what we know, the character of Donna (Streep) was pregnant with Sophie (Seyfried) in 1979. Sophie is 20 in the first film, and so according to our calculations Mamma Mia! must be set in 1998 - though it was released in 2008.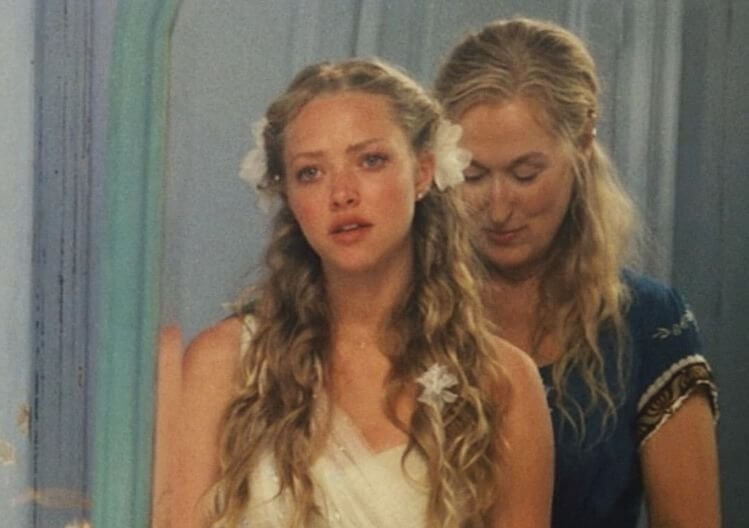 That would mean that the second film's timeline takes place in 2003, though the film was released in 2018. And then of course there are all the flashback scenes with Lily James portraying the young Donna. Most confusing of all though is Cher playing Streep's mother because in real-life Cher is only a mere three years older than Streep. 

The Concept Was Pitched in a Car
The concept for the Mamma Mia! franchise was pitched in a car. The producer Judy Craymer was inspired by the ABBA song "The Winner Takes It All" and decided she wanted to buy the rights to the Swedish group's songs.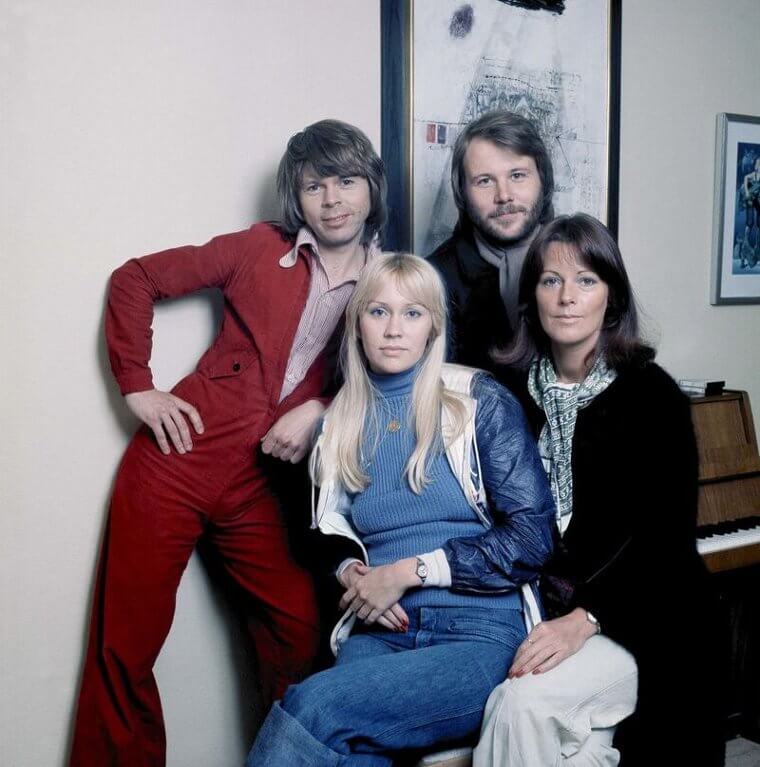 Craymer had previously worked with two of the founding members, Benny Andersson, and Bjorn Ulvaeus on the musical Chess a decade previously. She picked them both up from the airport one day, pitched her ideas, and the rest is musical history. 
It's Not an Original Plot
The fact that the film's premise is not original is not a surprise. According to literature scholars, there are only seven possible plots in the world. It seems that Mamma Mia! fits the comedy plot type, with its single clarifying event.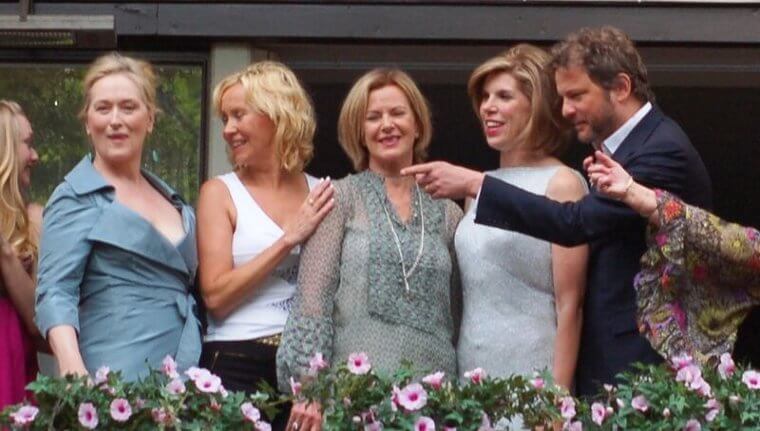 There have been similarities made between the musical and the 1968 comedy Buona Sera, Mrs. Campbell, but Judy Craymer has always denied that she recycled the plot so specifically. However, one very true fun fact is that the font for the film's movie posters is a replica of the font used for rock band Nirvana's album covers. 
When Julie Walters Became a Dame
Whilst filming the second film in 2017 actress Julie Walters was allowed to take the day off of filming for a very special reason. She had been invited to Buckingham Palace by the Queen to be given the title of Dame for her impressive contribution to drama.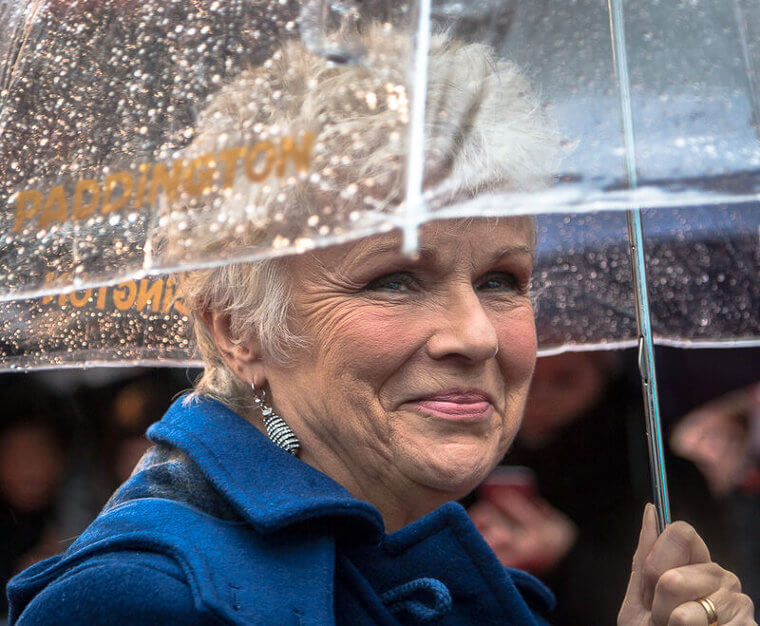 When Walters returned to the set the entire cast and crew surprised the actress with a rendition of the song "There Is Nothing Like A Dame" from the musical South Pacific. A Year later Walters was diagnosed with cancer and was unable to attend the premiere. Thankfully she is now in remission. 
Colin Firth and James Bond
British actor Colin Firth had a great time on the set of Mamma Mia! because he improvised the way he delivered some of his lines. In the scene where all of Sophie's potential fathers are introducing themselves, Firth said "Bright, Harry Bright", whilst his co-stars Pierce Brosnan and Stellan Skarsgard simply said their character's names traditionally.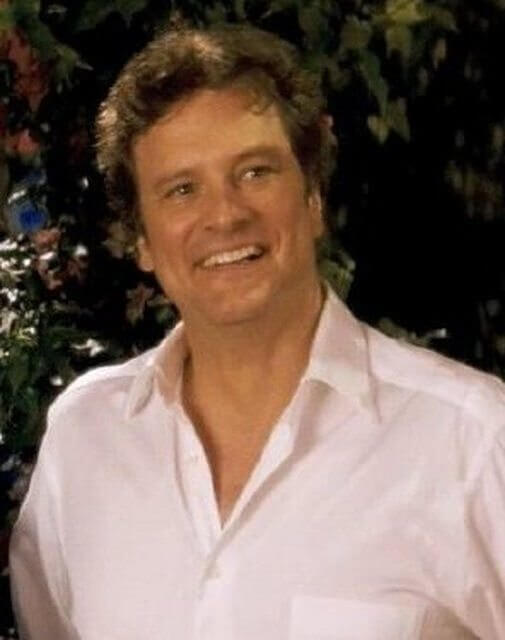 Firth decided to say his lines that way as a nod to Pierce Brosnan who had once played the iconic role of Bond, James Bond. Firth has joked about his performance in the musical, and once said that if heaven existed he hopes God tells him how good he was in Mamma Mia!
Everyone Had to Perform
Unlike a lot of other musicals throughout the history of musicals, Mamma Mia! did not do any vocal dubbing. That means that every single actor or actress had to perform their own songs - this makes a lot of sense as it's quite obvious that some are more talented than others.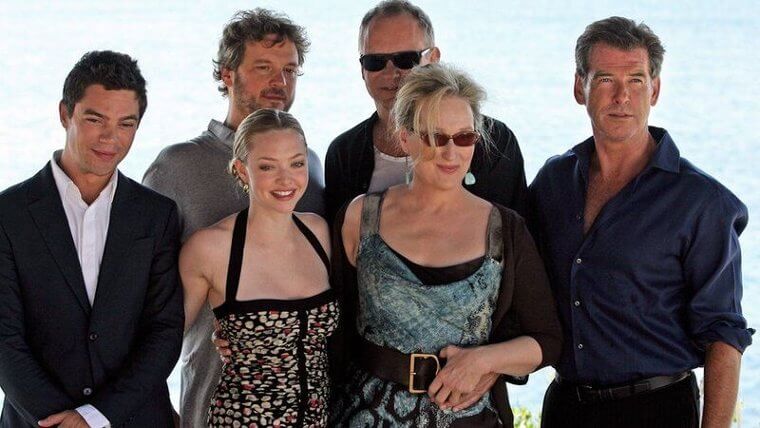 Mery Streep's performance of "The Winner Takes It All" was recorded with only one take in Stockholm, Sweden. The original author of the ABBA hit, Benny Andersson was so impressed with Streep that he referred to her as "a miracle". Streep is one of the few cast members who had any musical training. 
Meryl Streep Does the Splits
It seems there is almost nothing that multi-award-winning actress Meryl Streep cannot do. Even her gymnastics skills are enviable! One of the most iconic scenes in the film is that of Donna doing the splits over her bed during a dance routine.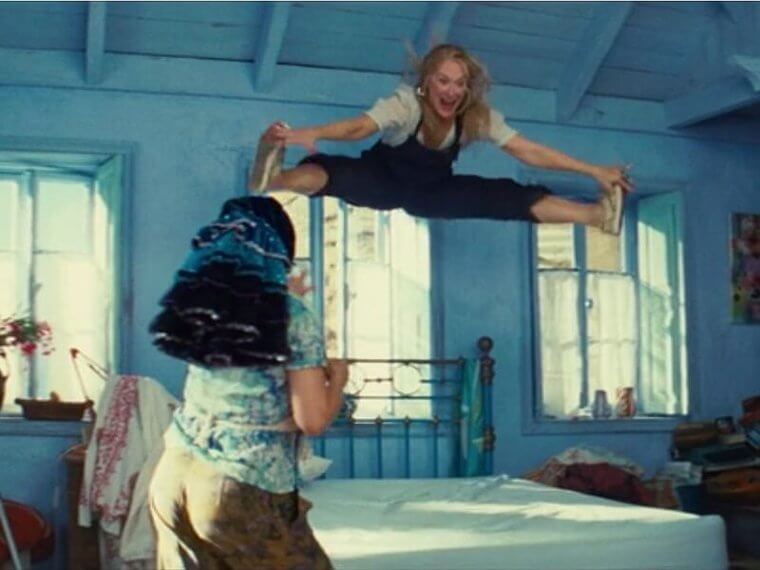 It seems there is almost nothing that multi-award-winning actress Meryl Streep cannot do. Even her gymnastics skills are enviable! One of the most iconic scenes in the film is that of Donna doing the splits over her bed during a dance routine. 
There Were Injuries on the Film Set
The actors and actresses sustained several injuries whilst shooting - especially during the dance numbers. In the first Mamma Mia! Donna and the Dynamos performed a version of "Dancing Queen" in the streets, and Julie Walters tripped over the cobblestones. She got right back up though and continued despite being injured.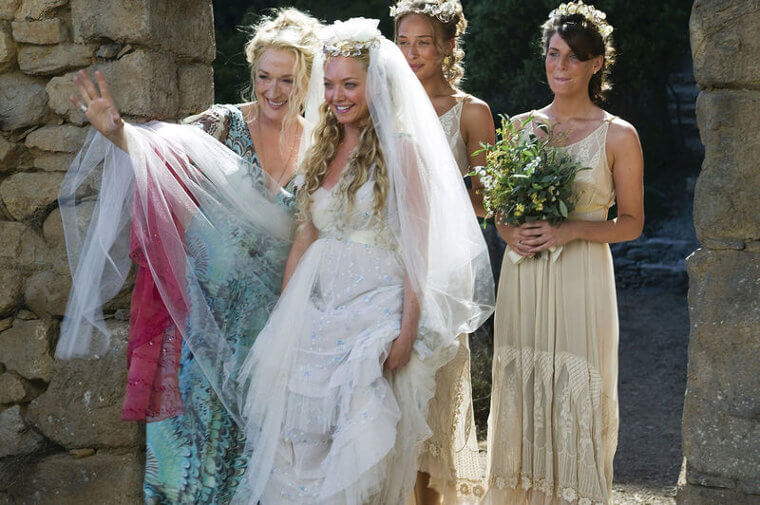 In the sequel Mamma Mia! Here We Go Again Lily James, who plays the young Donna broke her toes during a rehearsal for "Waterloo", and then also sustained another injury when performing "The Name Of The Game". 
Pierce Brosnan Was the Worst
Don't get us wrong - we adore Pierce Brosnan, but his singing in the films was not the best. Many people believe that the Bond star was probably the worst singer in the cast. His family agreed and told him so when he was practicing for his audition.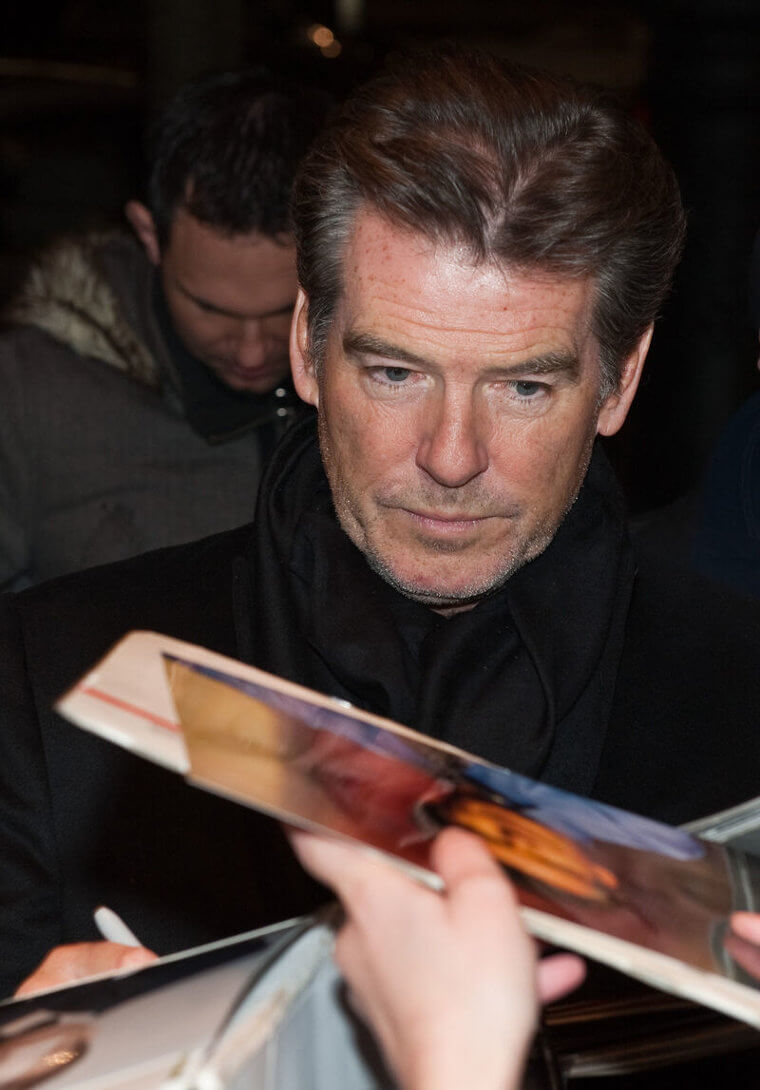 According to Brosnan even his housekeep wasn't impressed! Brosnan admits that his family didn't immediately share their opinions as they didn't want him to be discouraged. The funny thing is that the actor swears he improved from his early days which begs the question: how bad was he before?
Benny Andersson and Bjorn Ulvaeus Refuse
The founding members of the Swedish band ABBA to which the films and musicals owe their entire musical score, Benny Andersson and Bjorn Ulvaeus may have given the go-ahead for selling the song rights, but they weren't about to write an original song.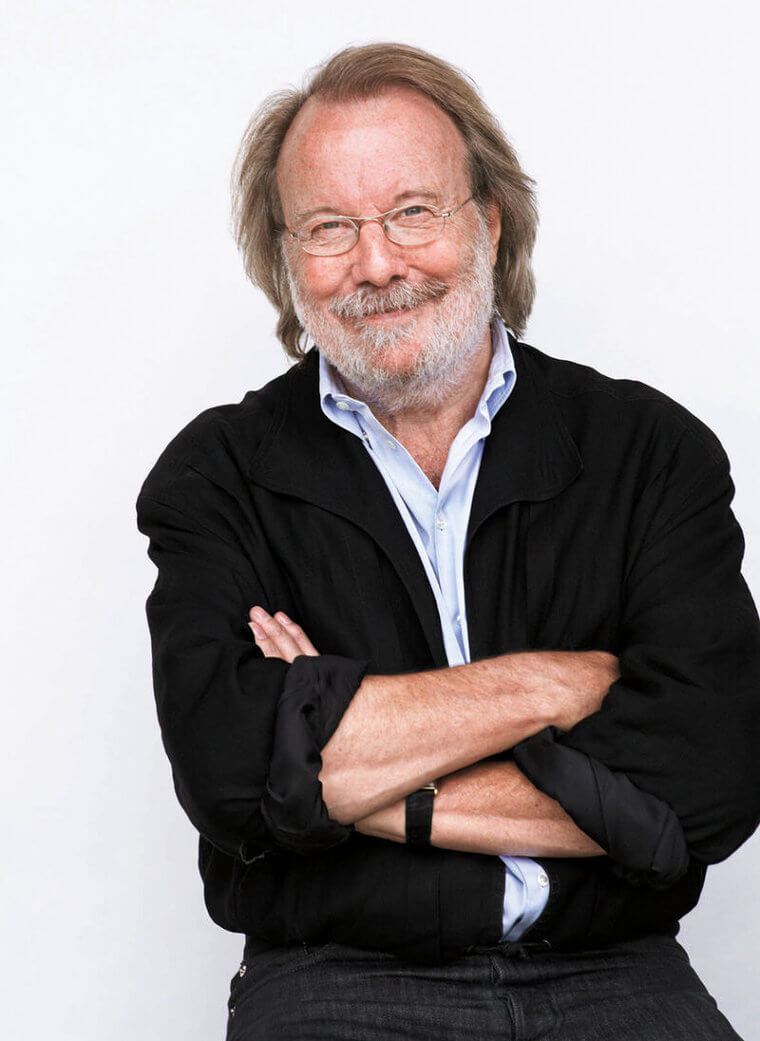 The producers begged Benny and Bjorn to write an original number so that the film could be considered for an Academy Award. Surprisingly though they weren't interested, and consequently Mamma Mia! was not eligible to be nominated for Best Original Song at the Oscars. 
Lily James Ruined Her Voice
English actress Lily James ruined her voice, and it wasn't during filming as you may have expected. She damaged her voice before she'd even been offered the part, and it was all because she spent a weekend at the Glastonbury Festival after the audition.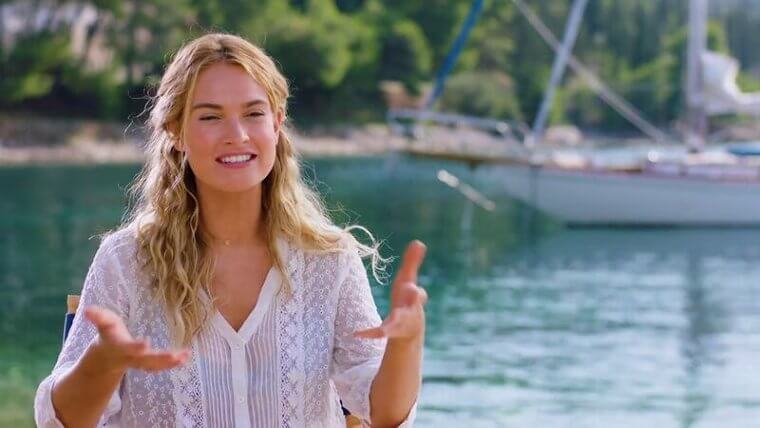 She then spent the next few weeks doing press tours for the film Baby Driver, and by this point, she had already lost her voice due to all the talking. She then received the call that she had the part of Young Donna, but couldn't speak for a week before filming. 

The Moment Between Meryl and Amanda
There is a moment in the first film where you see Donna and Sophie in the corner laughing. This is during the pivotal scene where Sophie is preparing for her wedding day, and they are singing the song "Slipping Through My Fingers".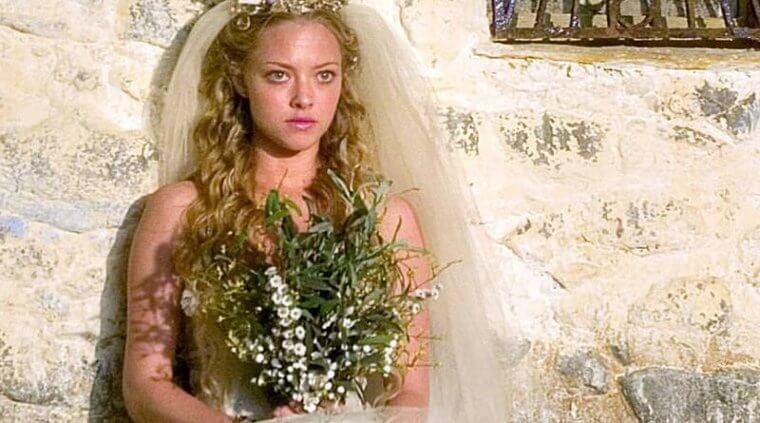 That particular moment between Meryl and Amanda was not staged. They were listening to heavy metal music to make them both laugh. According to director Phyllida Lloyd, there was a lot of tenderness between the two actresses, and it was Meryl who suggested Amanda sit on her lap. 
Stellan Skarsgard Made His Character Swedish
In the original musical the character of Bill Anderson is Australian, and the reason for this is because ABBA always had a huge fanbase in Australia. However, Skarsgard wanted to make the character his own and declared him Swedish. He even flies a Swedish flag on his boat.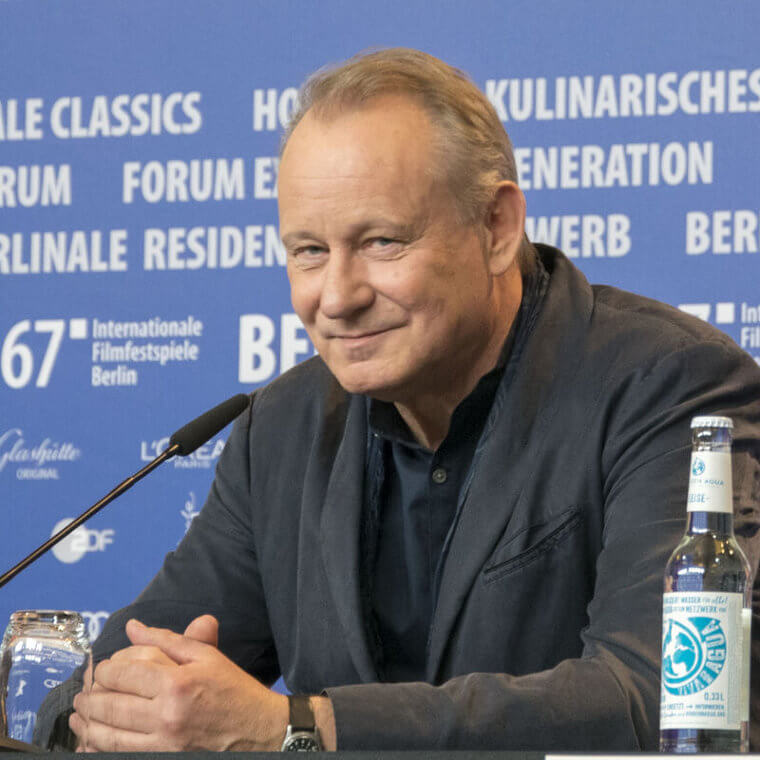 For the sequel, they hired an English actor named Josh Dylan to play the young Bill. Skarsgard has revealed that the casting directors had originally considered one of the actor's sons, but it turned out they also needed an actor that could sing. 
The Sequel Was Inspired by The Godfather Part II
We have already learned that the films were structured around the notion of a Greek comedy. What you may not know however is that the sequel was inspired by the sequel to the classic mob movie The Godfather.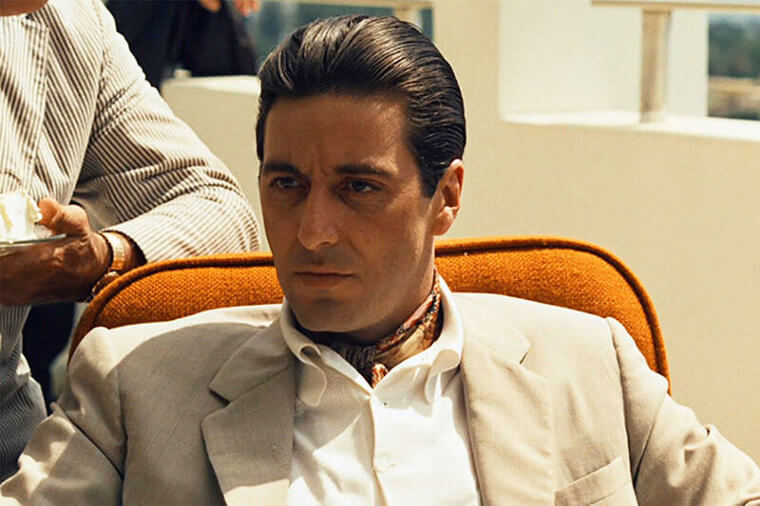 The sequel was directed by Ol Parker and was produced by Richard Curtis. Curtis discussed the idea for the sequel with his daughter and she suggested that the film be both a sequel and a prequel, just like The Godfather Part II. 
Pierce Did It All for Meryl
Pierce Brosnan who plays the role of Sam Carmichael had no idea what Mamma Mia! was about before he auditioned. At the time all he knew was that Meryl Streep was on board and that it would be set in Greece.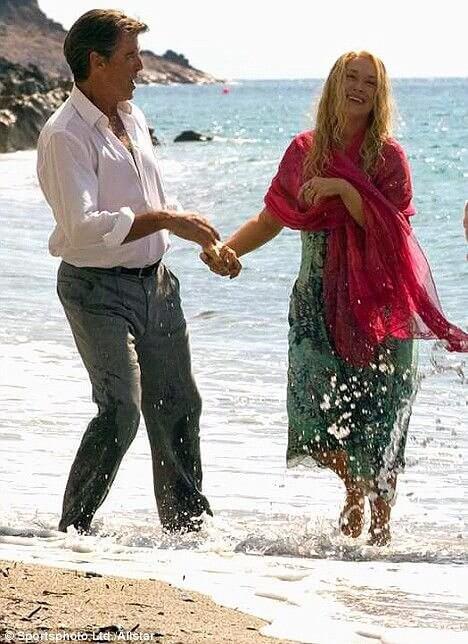 The actor claimed that he signed on because "that gorgeous blonde I fancied terribly in drama school" was going to be in it and that it just had to be good if Meryl Streep was going to be a part of it. 

Amanda's Baby Photos Are Visible
You can see many of actress Amanda Seyfried's real baby photos in the first film. They were used as props often, and in the scene when the cast sing "Our Last Summer" and the potential fathers are reminiscing with Donna they go through a bunch of Sophie's photos that are really Amanda's.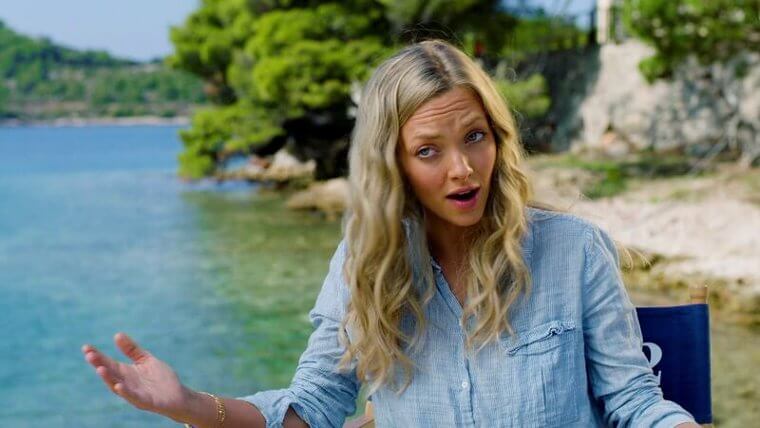 There is also a scene where you can see a headshot of Amanda in Donna's bedroom. Fun fact: during the filming of the first Mamma Mia! Seyfried had been dating actor Dominic Cooper who played Skye in the film. 
Cher Took Some Convincing
The role of Tanya Wilkinson was first offered to Cher but she refused and Christine Baranski stepped in. For the sequel, however, it seems that the producers were determined to get the actress and singer to get on board.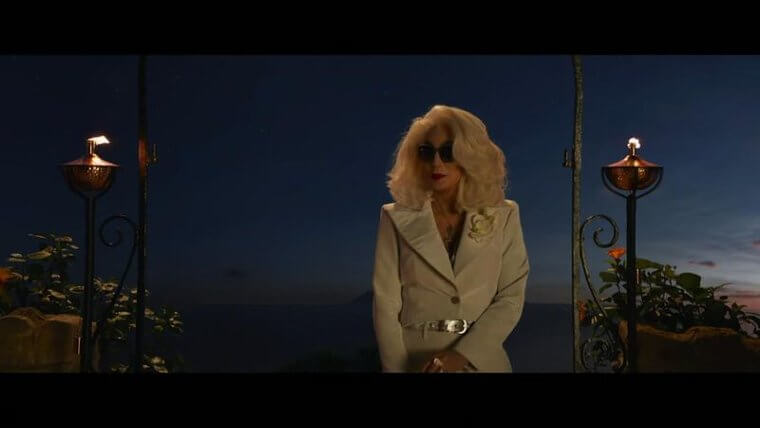 According to Cher herself, her agent Ron Meyer called her up, told her she had to take the part of Ruby Sheridan, and then promptly hung up. Even though it seems as though Cher never really had a choice in the matter, she must have had some fun because not long after the film she released Dancing Queen, an entire album of ABBA cover songs. 
Stellan Skarsgard's Tattooed Surprise
There is a particularly funny scene in the first Mamma Mia! where Rosie Mulligan, played by Julie Walters, goes to Bill Anderson's boat to speak to him. As Bill turns away after talking to Rosie he reveals his naked backside, tattooed and all.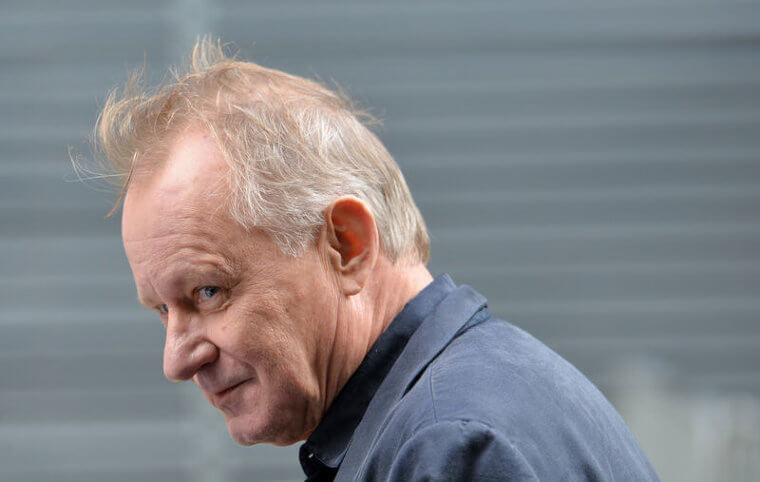 This scene was meant for Stellan to wear an apron, but no one else knew that the actor was going to be naked under the apron. The cameraman and the director Phyllida Lloyd were noticeably shocked, and the poor cameraman may have screamed. 
There Were Some Big Name Producers
The stage production of Mamma Mia! was a huge success, and so when the idea for the first film was pitched some pretty famous people wanted to produce it. ABBA founding members Benny Andersson, and Bjorn Ulvaeus became executive producers, whilst actor Tom Hanks and his wife fellow actress Rita Wilson also joined.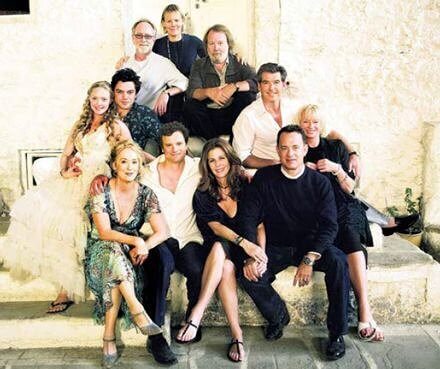 Wilson, Andersson, and Ulvaeus also had cameo roles in the film. Rita Wilson appears in a Greek chorus, Benny can be seen playing the piano during the rendition of "Dancing Queen", and Bjorn is seen dressed as a Greek God during the film's closing credits. 

It Inspires Academia
Mamma Mia! is not just a fun musical filled with an all-star cast singing ABBA songs on a Greek island. It has also inspired several academic courses. There are also online study guides for the film which can be used in lesson plans.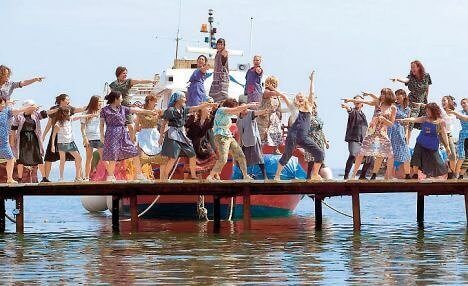 There is also a course at the University of Alberta named "Mamma Mia (Queer) I Go Again" which looks at queer culture in the musical. The course also touches on how and why ABBA has such a connection with the LGBTQ+  communities. 
A Shock for Amanda Seyfried
In 2017 the sequel was given the green light, and Amanda Seyfriend was contacted and given the good news. At the time though she had just arrived home from the hospital after giving birth to her first child, and she was in disbelief.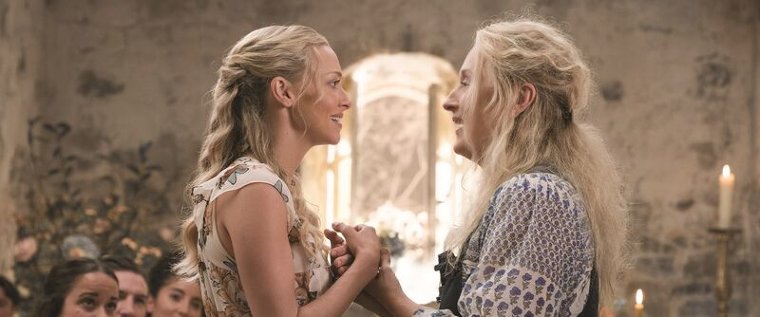 It had been almost a decade since the first film, and Seyfried remembers, "I had just come home from the hospital and I got the call from the agent and I was like, 'this is a joke". 
Songs Were Cut From the Film
The stage production of Mamma Mia! and the film version differed slightly. One of the most significant changes that had to be made was to cut some of the songs for the film version so that it wouldn't end up as long.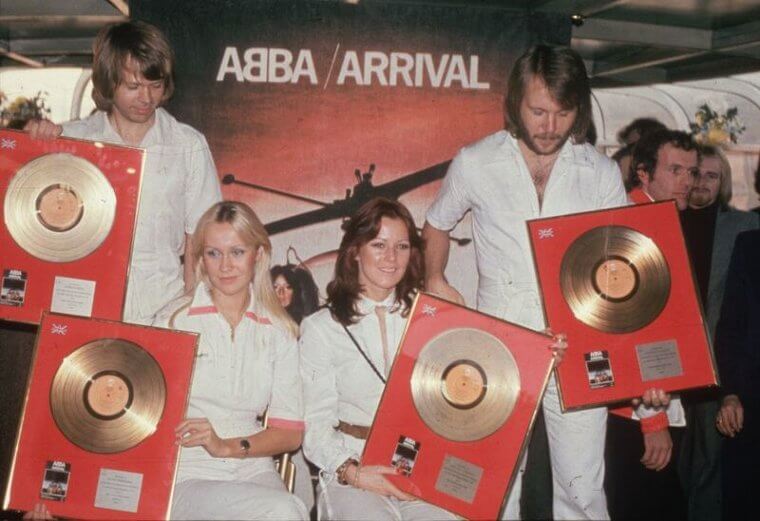 The songs that didn't make the cut were "Under Attack" which would have been performed by Sophie, "One Of Us" which was meant for Donna to sing, and "Knowing Me, Knowing You" which was supposed to be sung by Sam Carmichael. 
Julie Walter and Cher's Wig
When the English actress first met Cher it was on the set of the sequel, and the singer had just arrived. She was dressed in her iconic blonde wig for the role of Ruby Sheridan, Donna's mother, and Walters ran up to her and gave her a massive hug.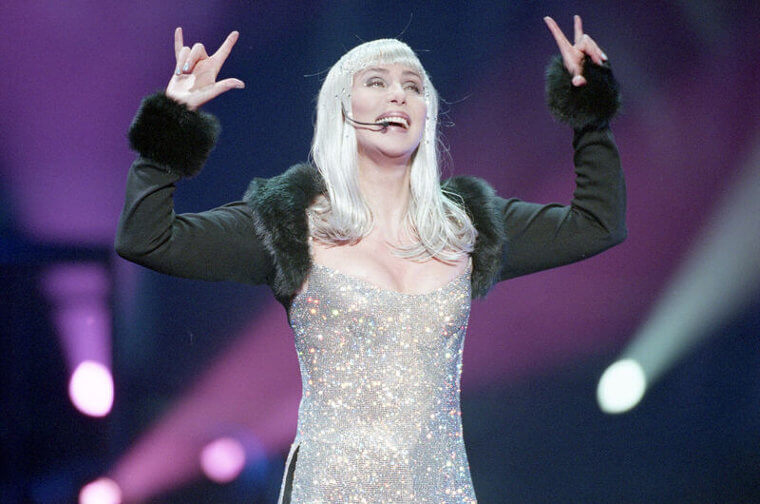 Hilariously Walters' glasses got themselves entangled in the wig and ended up ruining it and they had to replace the wig. Though Julie Walters has since retired from acting after being diagnosed with cancer, she has said that she would leave retirement if there were to be a third installment of the franchise.

Lily James' Dedication
Lily James only appeared in the sequel as the young version of Donna. To prepare for her role, she made an effort to watch the original film so many times that she was able to recite the entire film verbatim.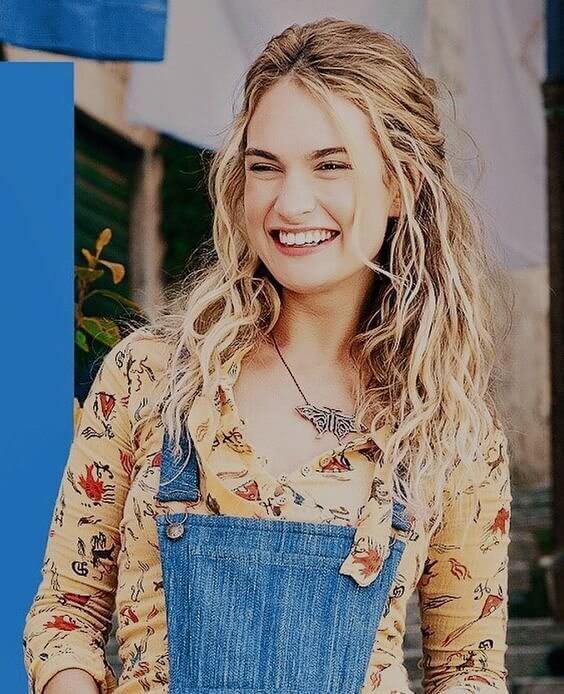 The actress who before landing the coveted role in Mamma Mia! Here We Go Again had appeared in the 2015 film Cinderella, and played the role of Lady Rose on Downton Abbey, claimed she knew the entire film by heart and could mimic Meryl Streep "pretty well". 
This Was Meryl's First Sequel
As shocking as it may sound, it is indeed true: this was Meryl Streep's first sequel. The actress has a career that spans over four decades, and in that time she has earned a staggering 21 Academy Award nominations and won three of them, but never had she appeared in a sequel until Mamma Mia! Here We Go Again.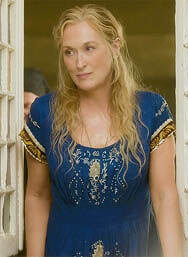 It may surprise you to know that Meryl was not immediately open to the idea of a sequel. She had never dreamed there would be one, and therefore had to be convinced to rejoin the old cast. 
Fernando Finally Made It Into the Film
Whilst they were finalizing the songs for the sequel, director and writer Ol Parker, and Richard Curtis the producer decided to nominate their personal favorite ABBA songs, and both chose "Fernando". They were determined to find a way to fit the song into the film.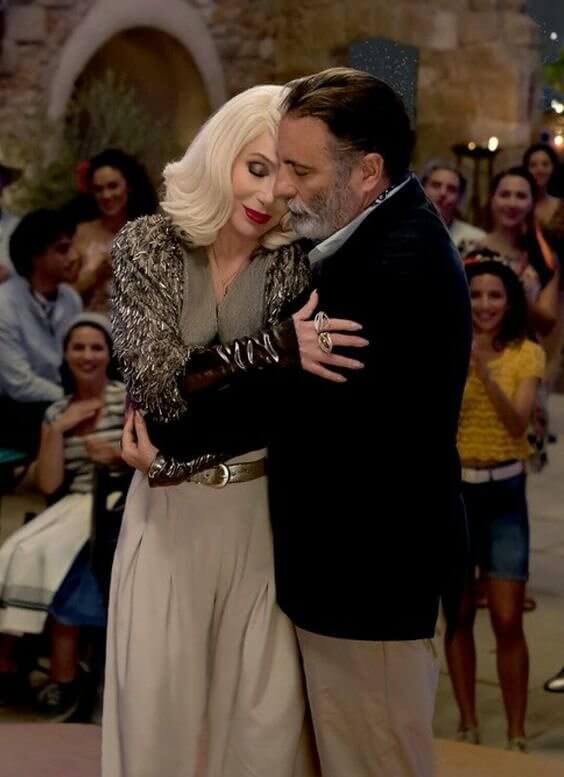 Finally, they decided that Cher would be the perfect person to perform the song, and the actress was allowed to choose her duet partner - and she chose the brilliant Andy Garcia to perform the grand finale.


Now that your 'Mamma Mia!' knowledge is up to par and you might be looking for some more entertainment, up next, discover which movies have the biggest and most shocking plot twists...
Didn't See That Coming: These Movies Have The Biggest Plot Twists
Many great movies have a plot twist that makes the audience gasp. Think of huge blockbuster films and many times the ones that stand out are the ones where you didn't see the plot twist coming. Sometimes it can change what you thought about the protagonist or end in a completely different way than expected. It can even leave people pondering for the coming days or weeks.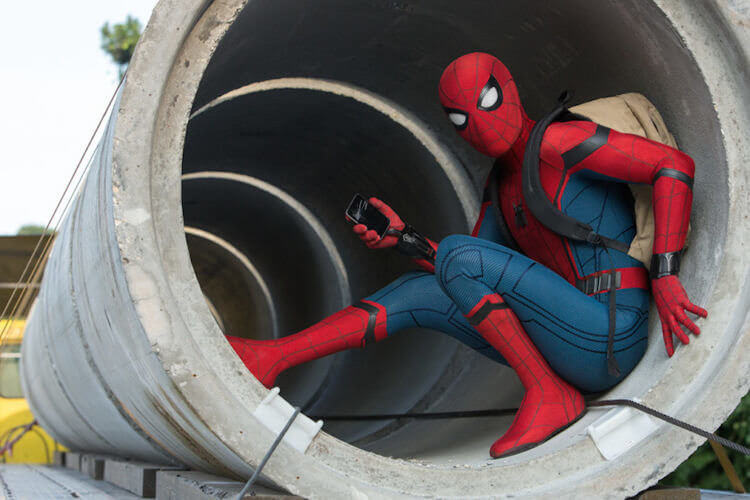 When it's done well, it simply makes the film stand out in the viewers mind. When looking through a list for the best plot twists, here are the movies that really used the tool to its best, leaving audiences astonished and bewildered. Warning to film fans - there are spoilers in here!
'Gone Girl'
For those that had read the book beforehand, they knew what was coming. But this 2014 film, based on the bestseller by Gillian Flynn really turned the mystery up for the first half before throwing in a plot twist half way through that no one saw coming!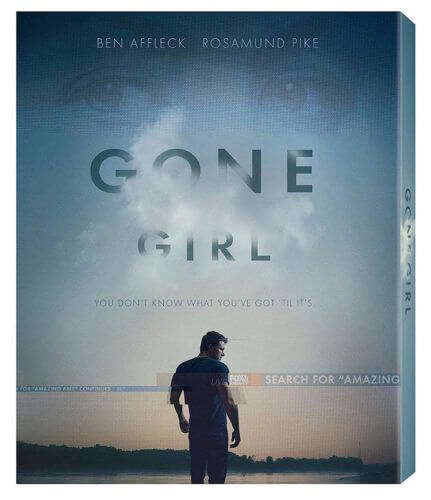 Rosamund Pike plays Amy Dunne, who is missing from her home. Is she dead? Has she been abducted? No, she has carefully planned the biggest revenge for her husband's infidelity. At times, you're not sure who to hate more in this film. However, she certainly has the skills to make someone disappear! 

'The Departed'
Oscar-winning thriller 'The Departed' came out in 2006. The Martin Scorcese masterpiece pits Matt Damon and Leonardo Di Caprio against each other in a cat and mouse scenario. Damon plays a criminal who has infiltrated the Boston police force, Colin Sullivan, with DiCaprio in the role of undercover state trooper Billy Costigan.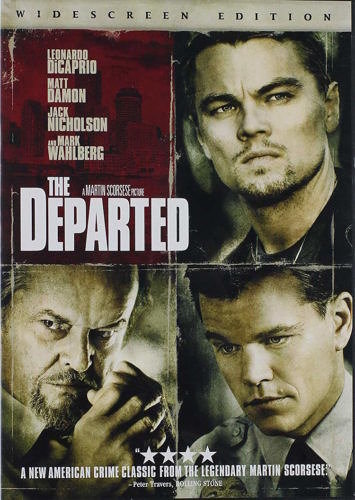 The all-star supporting cast give outstanding performances, and then the twist comes - Sullivan manages to kill Costigan. Briefly, he thinks that the game has come to an end and he frames someone else for the murder. Then another cop, Dignam, who had no love lost with Sullivan, manages to kill the police mole and get away scot-free. 
'Atonement'
From the beginning of 'Atonement' we learn that housekeeper Robbie, played by James McAvoy, was accused of assaulting Lola, by her cousin Briony Tallis, played by Saoirse Ronan in her break-out role. The thing is, she was lying.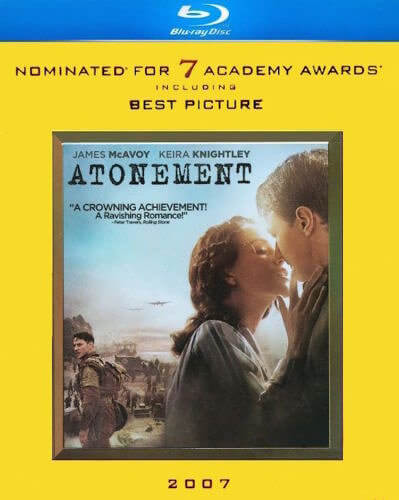 What we don't find out until later is that she was insanely jealous of the housekeeper's relationship with her own elder sister, Cecilia (Keira Knightley). Anyone expecting a happy ending here was not rewarded - it's only at the end of the film that Robbie and Cecilia don't ever see each other again. Cecilia was killed in London and Robbie died while a soldier in the line of duty. The scenes that the audience have witnessed as from a book Briony wrote to try and resolve her own guilt. 

'The Usual Suspects'
Probably one of the biggest twists of all time. The 1996 film centers around five criminals who are taken in by the police. They have been falsely accused of hi-jacking a truck. Keyser Söze seems to be the mastermind behind everything, according to Verbal Kint, a con artist with cerebral palsy.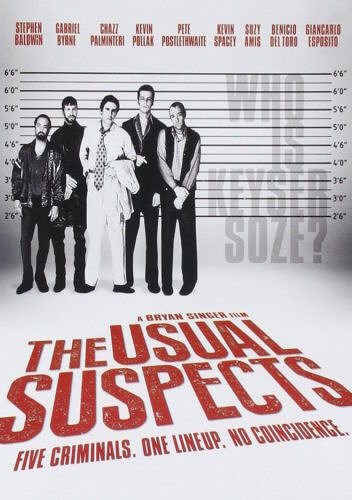 The five suspects plan a jewel heist to avenge NYPD for their false arrest. Some weeks later, the police take Kint into custody again after he is one of only two survivors from a burning ship in San Pedro Harbor. Kint tells his tale through flashback, once again it seems that the elusive Keyser Söze is behind all the dead bodies. Kint leaves the office and slowly his limp disappears, along with the stiffness in his hand. The detective realizes that the whole story was a fabrication pieced together from posts on his bulletin board. 
'Psycho'
The 1960 classic, "Psycho" changed the way people looked at film forever. Marion Crane, played by Janet Leigh, goes on the run after stealing from her employer so that she can escape with her boyfriend and get married.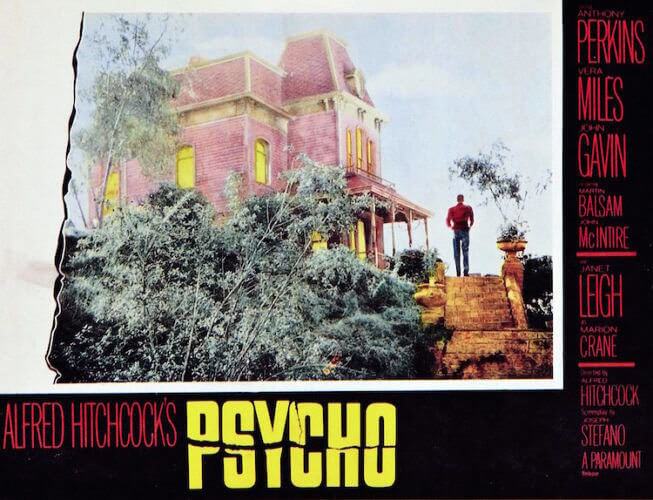 Unfortunately, while on her way to her boyfriend, she is forced to take refuge during a storm and finds herself at a motel run by Norman Bates, a quiet proprietor who has a complicated relationship with his mother. Unfortunately, Crane comes to a grizzly end in the shower, apparently at the hands of Bates' mother. After a couple of more deaths, it transpires that Bates mother is actually a mummified corpse and Bates has been carrying out the murders. 

'The Empire Strikes Back'
Of course every Star Wars fan will remember this twist. The second part of the original trilogy was released in 1980. When "The Empire Strikes Back," opens, Luke Skywalker, played by actor Mark Hamill, is aware that he was adopted but he has no information on who his real family are.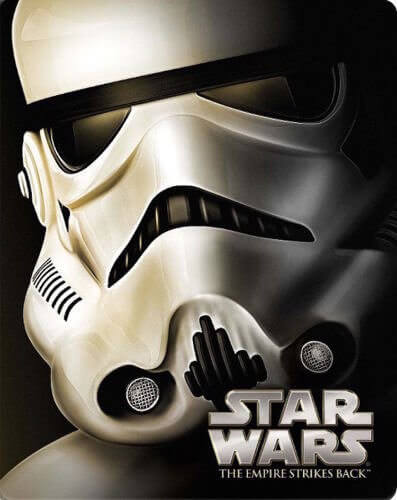 After a series of battles, Luke is drawn into a duel with the evil Sith Lord, Darth Vader. What happens next is pretty unexpected when Vader reveals that he is, in fact, Luke's father. 
'Se7en'
In another hit for Kevin Spacey, "Se7en" was released in 1995. Morgan Freeman and Brad Pitt team up as an investigative team on the trail of serial killer, John Doe. Every time they think they are closing in, they uncover another gruesome crime from the seven deadly sins.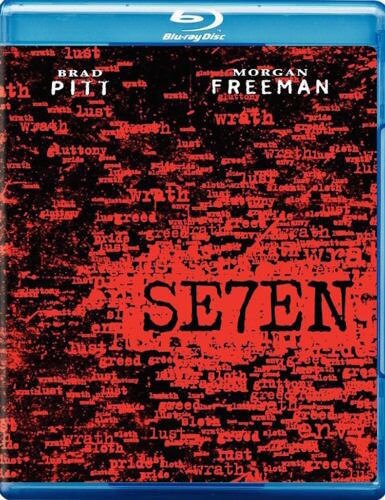 The serial killer lures the retired investigator Somerset (Freeman) and detective Mills (Pitt) into the desert, promising to reveal his final two victims. The pair are in a race against time when they get to the desert, but what happens next is completely unforeseen. Doe has chopped off Mills' wife Tracy as a result of his envy, which results in Mills shooting Doe, thus the final sin, wrath, has been fulfilled. 
'Primal Fear' (1996)
"Primal Fear" follows the story of Chicago defense attorney Martin Vail, played by Richard Gere, and his client, Aaron Sampler, played by Ed Norton. Vail is completely confident that his altar boy client isn't guilty of the murder of Archbishop Rushman.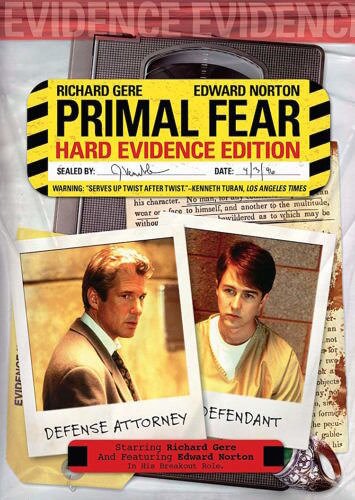 As Vail gets ready to go to trial, it's discovered that the stuttering Stampler has dissociative identity disorder, which has likely been brought about by years of abuse. Vail is delighted to be a force for good in the boy's life and Stampler is found not guilty by reason of insanity after the attorney's skillful work in court. When Vail visits the boy after the case, suddenly the cover is blown and Stampler reveals that his dissociative disorder was faked, as he revels in the murders of several people. 
'The Game'
This 1997 mystery thriller directed by David Fincher is a convoluted story about a Game that is gifted to investment banker, Nicholas Van Orton, on his birthday.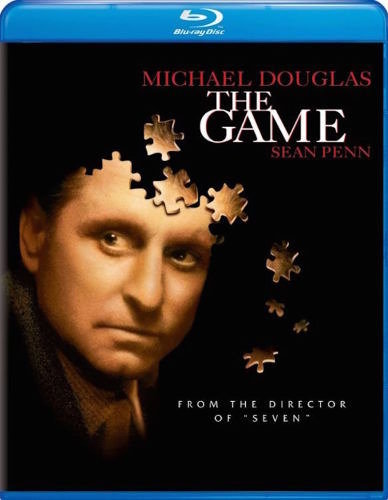 A series of unfortunate events unfold that lead to Van Orton killing his brother. Devastated by this turn of events, he attempts to take his own life but lands on a cushion greeted by his brother holding a bottle of Champagne. It turns out that it was all a ruse, and Van Orton can feel relieved at this second chance at life. 
'Fallen'
"Fallen" explores the dark side of the occult and stars Denzel Washington and John Goodman. Detective John Hobbes (Washington) visits a criminal called Edgar Reese that he helped catch on Death Row shortly before the serial killer is executed. Shortly after, some murders start taking place that mark certain similarities to Reese's style.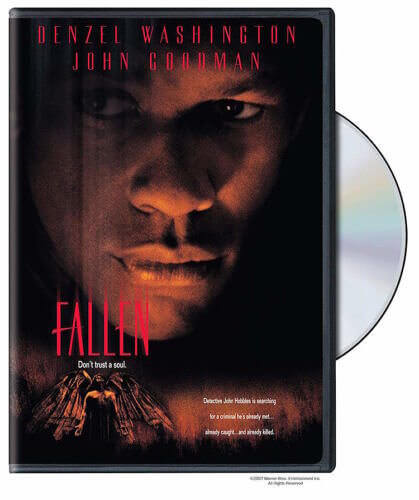 At first it's assumed that it is a copycat killer, until Hobbes begins learning more about evil spirits and discovers that one, Azazel is taunting him personally, moving body to body. In the end, Azazel manages to possess the detective himself and cause his death, but the fallen angel moves to the body of a cat and the audience are left feeling haunted.
'The Sixth Sense'
Even two decades on, the line "I see dead people" will conjure up memories for many people. Child psychologist Malcolm Crowe, played by Bruce Willis, is called on to help out Cole Sear, memorably played by Haley Joel Osment, by his mother. She is concerned about the child's imagination and social skills.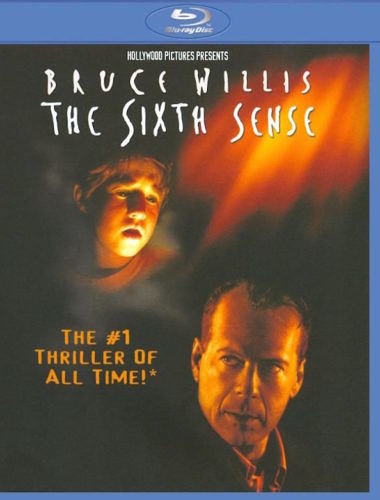 The big twist that no one saw coming in the 1999 film is that Crowe himself is dead, and that is how he is talking to the child. 
'The Others'
"The Sixth Sense" wasn't the only film where people who seem to be in the land of the living are not exactly alive and kicking.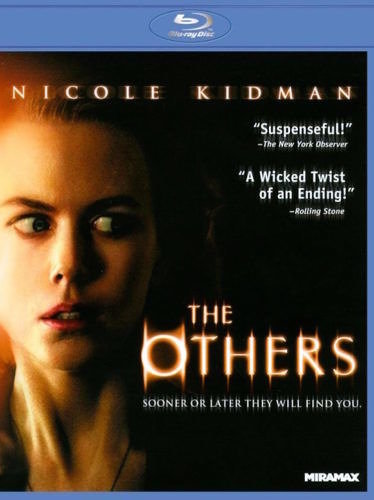 Billed as a supernatural gothic horror film, "The Others" traces the lives of Grace and her children when they move to Jersey. The children have an extreme sensitivity to light, so they can't go outside very much. Grace is eager to protect her brood but becomes alarmed when strange occurrences begin to take place at the house. It's not until the end of the film that people learn that it's actually Grace and the children who are ghosts in the house, as a result of the murder-suicide Grace committed when her husband died in in World War II.
'The Village'
This 2004 period thriller film was directed by award-winning director M. Night Shyamalan. Residents of the small village of Covington live in fear of "Those We Don't Speak Of" who inhabit their woods. It is set in 19th Century Pennsylvania.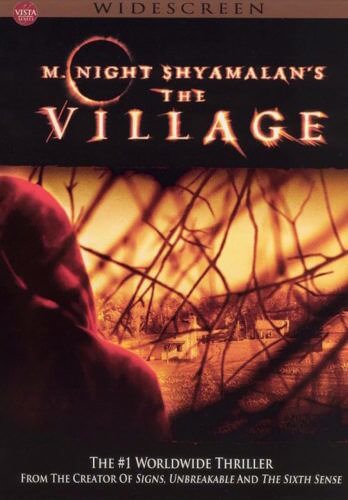 After a violent crime, one of the villagers gets permission to go through the woods to see if she can get the proper medicine required for her husband. It's then that the audience find out that the village was actually founded in the 1970s and the villagers have been hiding away from the world since then. 
'Gone Baby Gone'
Private investigator Patrick Kenzie takes on the case of an abducted 3-year-old child with partner, Angie Gennaro. Between gangsters and child molesters, things don't look good for the little girl. Police chief Jack Doyle, who lost his own daughter years previously, goes into early retirement in connection with the case.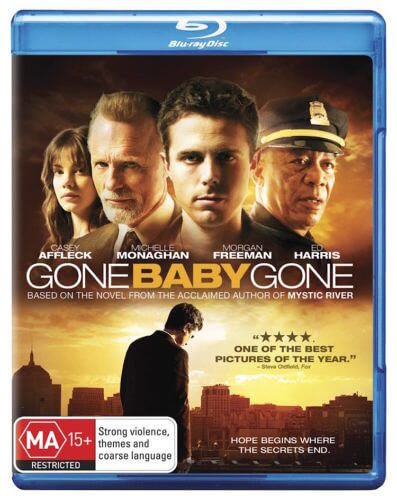 The sting in the tail is that the little girl Amanda, hasn't been taken by any gangsters or pedophiles but the police chief himself! Thankfully Kenzie and Gennaro manage to rescue her and the story ends up on a positive note.

'The Prestige'
2006 period thriller centers around a rivalry between two former stage magicians, Alfred Borden and Rupert Angier. The pair used to perform together until Angier's wife, died during one of their stage shows.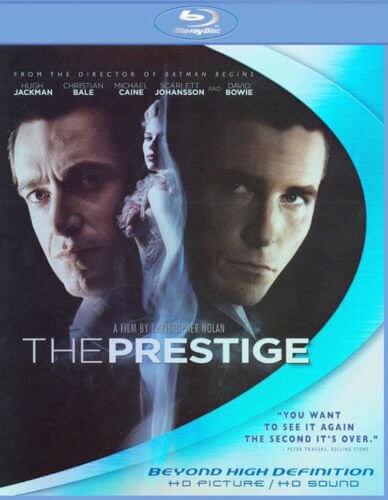 In fact, the secret of this film is revealed early, but probably when the audience are distracted by something else. It turns out that Angier actually copies Borden's tricks by making clones and murdering them once the trick is finished.
'Arrival'
Amy Adams plays a linguistics professor in this 2006 sci-fi movie who must try and communicate with a group of aliens who've landed on Earth, before a war breaks out. Tensions rise with China and Pakistan, among other countries as Adams, playing Louise Banks, appears to be in a race against time.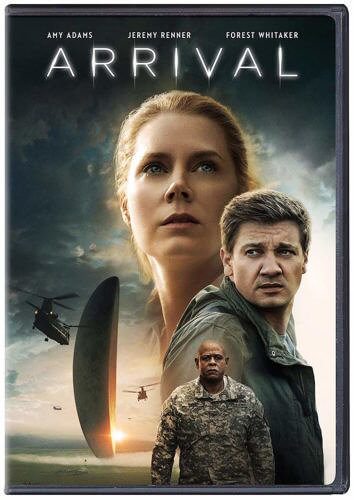 As the film progresses, the character of Banks has flashbacks that show her teenage daughter dying of cancer. However, at the end, it turns out that Bank's daughter has not yet been born, but Banks has seen exactly what will happen in her future. 
'Million Dollar Baby'
This Oscar-winning sports drama hit screens in 2004. The unexpected twist doesn't come at the end of the film, but is sprung on the audience around two-thirds of the way through. Waitress Maggie Fitzgerald is training hard under boxing coach, Frankie Dunn, played by Clint Eastwood, and hopes to win the WBA World Welterweight title.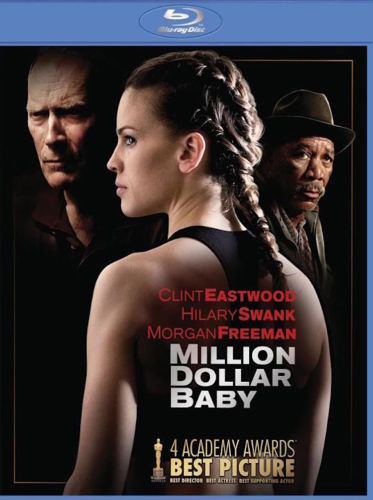 We see Fitzgerald, played by Hilary Swank, win several pro competitions, but when the title tournament comes up, a tragedy befalls her. In a split moment, she gets a punch to the back of the head that ends up paralyzing her from the neck down. In a heartbreaking scene, she asks that Dunn help her end her life. He initially refuses, but finally gives in to her wishes. 
'Get Out'
A 2017 horror film about an upstate New York family who harbor a terrifying secret. Rose and Chris are at the stage of their relationship where it's time to meet the parents. They head to meet Rose's parents and Chris quickly discovers that something is awry. During a party, Chris notices that the guests behave rather oddly and Rose's father wants to auction a photo with him. It turns out that everyone is part of a evil group that capture black people and implant their own aging brains into these captives, leaving them powerless.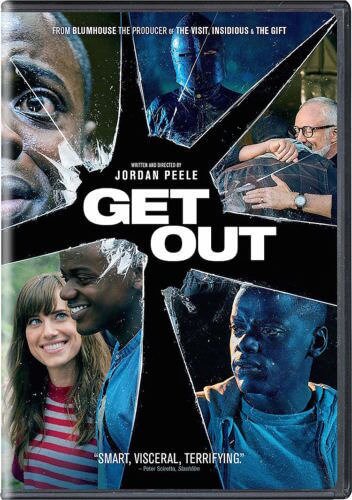 As Chris tries to escape, and a friend on the outside tried to get the police involved, things get ever messier, and then another twist is presented: Rose is actually in on the process. Chris only discovers this when he finds photos of other black men she's had relationships with, which look remarkably like her parent's housekeeping staff! This film was nominated for Best Picture at the Academy Awards. 
'Iron Man 3'
Fans of the Marvel series really weren't expecting this twist. In the third installment of the beloved 'Iron Man' featuring Robert Downey Jr. in the lead role, everyone expected that the main villain that Tony Stark would have to fight off in this film would be Mandarin, an cunning terrorist played by Ben Kingsley. Even the early reviews said that the villain was one of the best Tony Stark had ever faced.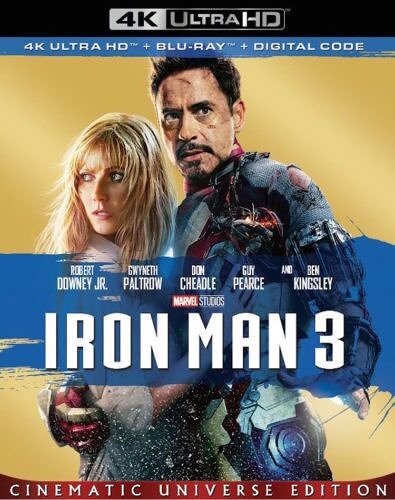 It turns out quite a few people were in on this particular act. Kingsley was not a terrorist in the film, but an aspiring British actor with a fondness for alcohol, who reads for the role of Mandarin on film. The real villain is Aldrich Killian, played by Guy Pearce, and this mad scientist has other plans for Stark. Not everyone was a fan of this controversial move on the part of Marvel, but it certainly got people talking. 
'Saw'
The 2004 film opens with photographer Adam waking up in a bath tub, with his ankle chained to a pipe. On the other side of the bathroom is oncologist Lawrence, who is also chained up. There's a corpse on the floor between them holding a gun and a cassette recorder.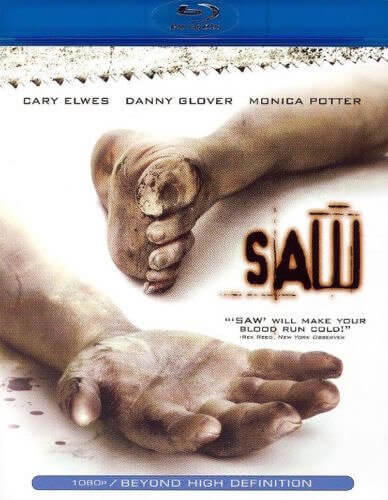 This was the first of the 'Saw' franchise and it was particularly frightening as the audience watch the serial killer's acts played out in flashbacks. When Adam manages to overpower Zep, it's assumed that he has killed the Jigsaw killer until the corpse in the bathroom stands up and we learn who the serial killer really is. Terrifyingly brilliant.
'The Wicker Man'
Based on the 1967 novel, "Ritual", this 1973 has become a cult classic. Police Sergeant Neil Howie travels to the Scottish island of Summerisle to follow the trail of a missing girl, but what he finds their disturbs his Christian sensibilities.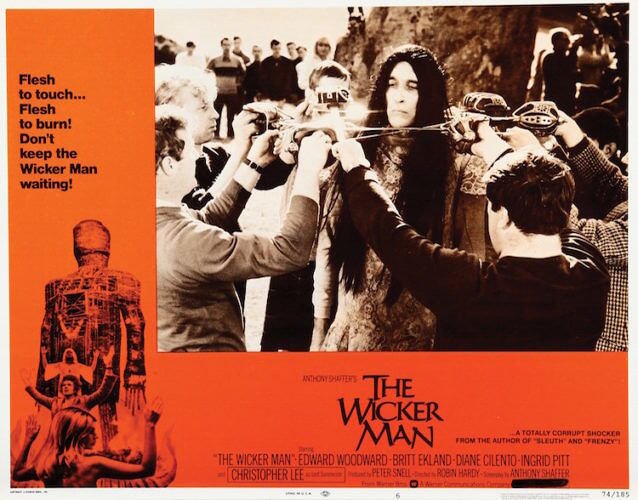 The islanders practice ancient Pagan rituals that shock and horrify Howie. He surmises that the missing young girl Rowan, is meant to be sacrificed but he manages to find her and returns her to her mother. It turns out that Rowan was never really missing - she was intended to lure him to the island, and in fact, he will be the islanders human sacrifice to the Pagan Sun God because there was no harvest. 

'Shutter Island'
Another Martin Scorcese hit, "Shutter Island" is based on the novel of the same name by Denis Lehane. Leonardo DiCaprio plays U.S. Marshal Teddy Daniels, who travels to Ashecliffe Hospital for the Criminally Insane with his partner Chuck Aule, who is played by Mark Ruffalo. They are trying to discover the whereabouts of escaped killer Rachel Solando, who simply disappeared from her cell.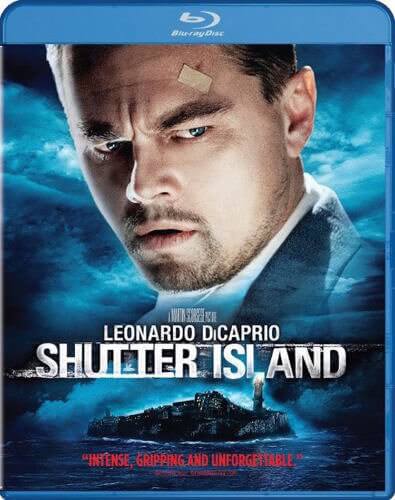 A number of confusing events follow, with the pair being thwarted at several turns but one of the most unexpected twists in when the audience learns that Daniels is actually a patient of the hospital, a murderer called Andrew Laeddis. Aule is also not who he seems; he is in fact Laeddis' doctor, and the events of the previous days were part of the treatment plan to release Laeddis from his visions. The doctors threaten to lobotomize him if he regresses again. At the end, we see Laeddis being brought off for a lobotomy, but is he choosing it?

'Spiderman: Homecoming'
Throughout this 2017 smash, the audience knows that The Vulture, also known as Adrian Toomes, looms large as a threat in Peter Parker's life.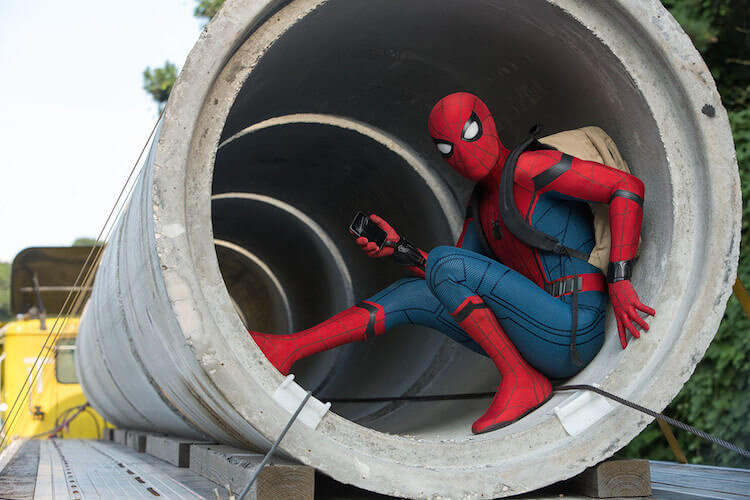 Just when it seems Parker has to give up vigilantism and live a normal life, everyone gets a huge shock. Parker has scored a date for his homecoming dance with cool girl, Liz so he arrives to her home to pick her up. Who answers the door? None other than his arch-nemesis The Vulture, played by Michael Keaton. It's a huge moment which inspired gasps and rounds of applause in cinemas across the nation. 
'Unbreakable'
A superhero thriller by M.Night Shyamalan, master of the twist, "Unbreakable" centers around the story of security guard, David Dunn, played by Bruce Willis. We see the protagonist survive a train crash that kills 131 people, yet he emerges unscathed.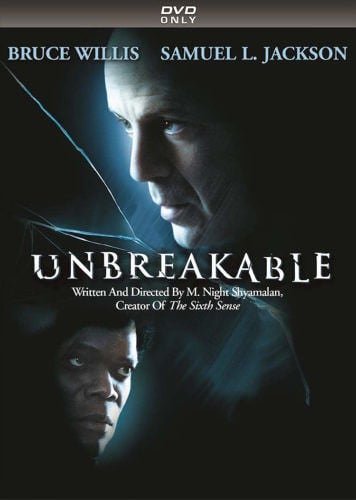 He comes into contact with comic book store owner Elijah Price, who suggests to him that he may have superhuman powers. As Dunn pushes the levels of what he can achieve, he also discovers that he can see the crimes that people have committed. At the end of the film, Dunn shakes hands with Elijah, played by actor Samuel L. Jackson, and it is revealed that the comic book store owner is actually a master criminal and even orchestrated the train crash that Dunn survived! 
'The Visit'
Released in 2015, this horror film traces a series of events in the life of single mom Loretta Jamison and her two teenage children, Becca and Tyler. Loretta hasn't been in contact with her parents in nearly 15 years but is happy to let her children get to know their grandparents, Nana and Pop Pop.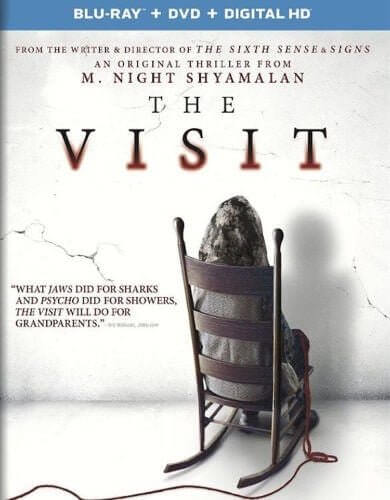 Becca and Tyler decide to make a documentary of their trip, which reflects in the found footage style of the film. Some strange events take place but the real twist comes when Jamison has a Skype call with her children and sees that it isn't actually her parents in the background at all. It turns out that they are two psychiatric patients that murdered Nana and Pop Pops and are now living in their home.