With more than ten multi-platinum selling albums, five Grammy Awards from over 30 nominations, and, of course, that Christmas song, she is one of the most successful solo performing artists ever to step onto a stage. When the lights go off and she heads home, however, things haven't always been quite so glittering, though she may have finally found love in the end. Here are the biggest relationships in the life of pop legend, Mariah Carey.
Tommy Mottola - Start
The beginnings of Mariah Carey's personal and professional relationship with Columbia music executive Tommy Mottola has been described as a "modern Cinderella story". In December 1988, the 18-year-old Carey handed her demo table to 39-year-old Mottola at a CBS gala. Mottola listened to it on the journey home and immediately asked his driver to turn around.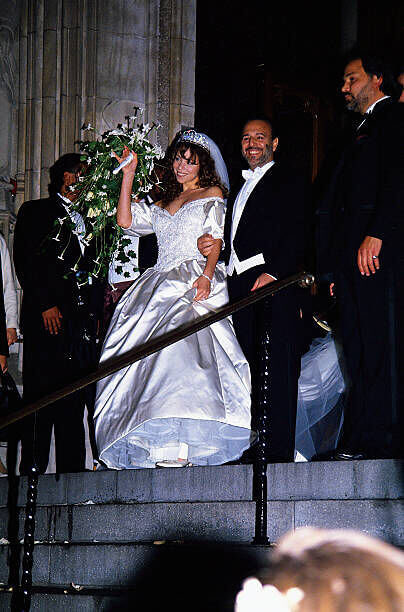 Carey had already left the party and Mottola spent the following days trying to track her down as he held the demo in his hand, like Prince Charming with a glass slipper. Mottola signed Carey to Columbia that year and, by the time her debut album was released in June 1990, the two were dating. They married on June 5, 1993, in a New York City ceremony costing $500,000 before moving into a custom-built mansion in Bedford, New York.
Tommy Mottola - End
Aside from the difficult power dynamic of their relative positions and experience in the music industry, Tommy Morrola and Mariah Carey had something else between them from the start: Mottola was 20 years older than Carey, more than double her age when they met. After their marriage, Carey referred to the couple's marital mansion as "Sing Sing" in reference to the famous prison, as living there with Mottola made her feel caged like a jailbird.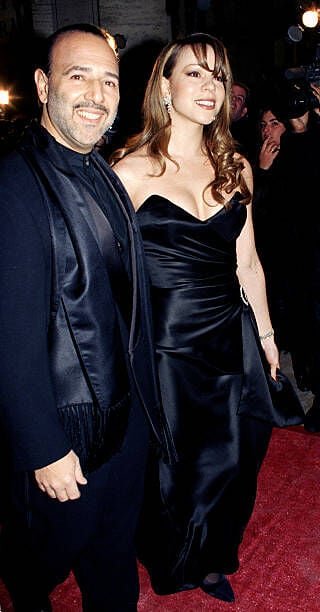 Mottola was controlling by nature and held many different opinions about Carey's music and career choices to the newly famous singer. The couple announced they had split in May 1997 and were finally divorced in the last weeks of 2000. "Sing Sing" was sold for $20,5 million in 1998. It burned down the following year.
Derek Jeter - Start
In August 2020, Mariah Carey admitted to Vulture that a long-rumored 1997-1998 fling with New York Yankees shortstop Derek Jeter had been completely true. In fact, Carey described Jeter as the "catalyst" for the split with her first husband, Tommy Mottola.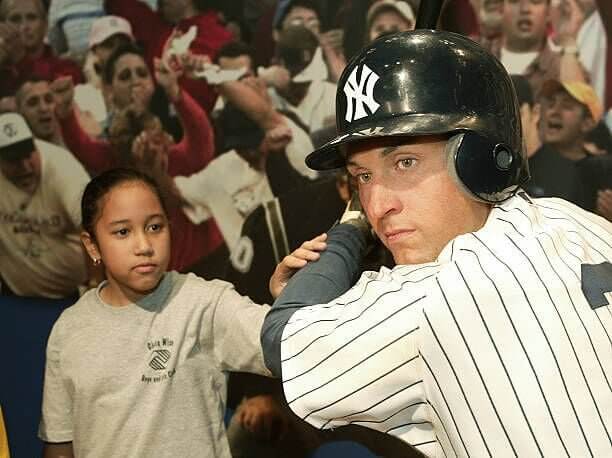 In terms of age gaps, Carey had switched from a (much) older man to a "boy toy". At the time they dated, Carey was 28 and Jeter was just 23, five years younger. Carey was one of the baseball player's first celebrity flings, but she certainly wasn't the last.
Derek Jeter - End
Mariah Carey and Derek Jeter never came close to marriage, though Carey has said two of her songs - "My All" and "The Roof" - were written about their time together. They split in 1998 and Jeter began a career of serial dating which would last until he met Hannah Davis in 2012.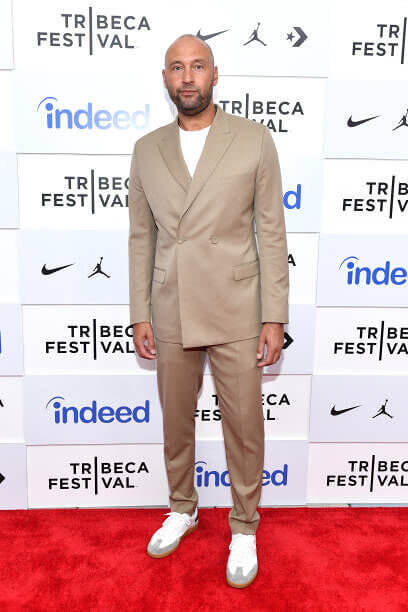 Laura Dutta, Joy Enriquez, Jordana Brewster, Vanessa Lachey, Jessica Alba, Vida Guerra, Adriana Lima, Jessica Biel, and Minka Kelly have all been named on Jeter's dating resume between Carey and the woman who would become his wife. Derek Jeter and Hannah Davis were married In July 2016 and remain together today.
Marcus Schenkenberg - Start
After her time with baseball player Derek Jeter, Mariah Carey moved away from the sporting world and connected with a model for a short time. Marcus Schenkenberg is primarily known for his modeling work with Calvin Klein, though he has also worked with Giorgio Armani, Donna Karen, and Versace.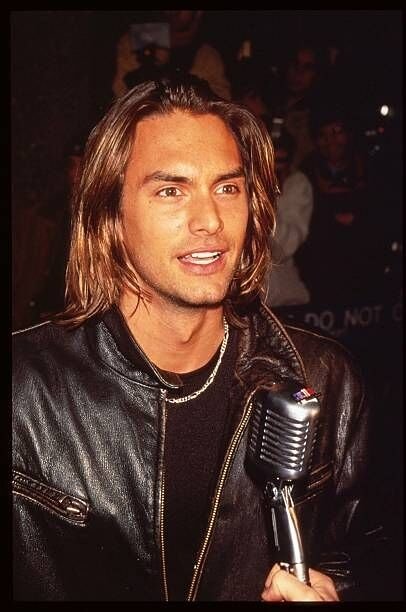 Carey dated Schenkenberg, who has made several small movie and TV appearances, in 1998. The relationship between Carey and Schenkenberg was always believed to be casual and only lasted a few months.
Marcus Schenkenberg - End
In Marcus Schenkenberg, Mariah Carey had found a man her own age, as the two were born less than eight months apart. Whatever long-term connection Carey was looking for, however, she didn't find it with the Swedish model Schenkenberg.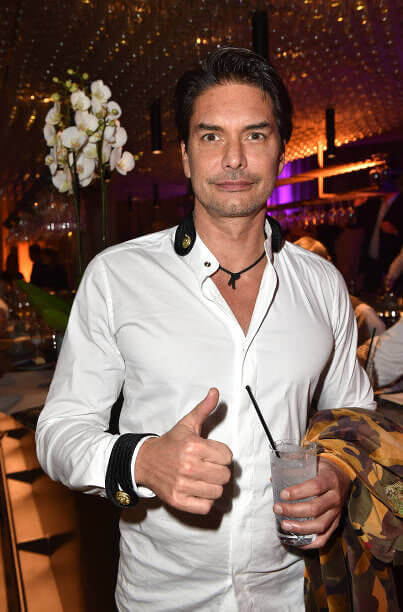 The reason behind the couple's split is unknown, but Schenkenberg went on to date several other high-profile models and celebrities, including the businesswoman and socialite Nicky Hilton, fellow Swedish model and actor Victoria Silvstedt, the singer and actor Jessica Simpson, and Baywatch star, Pamela Anderson.
Luis Miguel - Start
While in the ski resort of Aspen, Colorado, Mariah Carey met the man with whom she would form her first serious relationship since the split from her first husband, Tommy Mottola. That man was Puerto Rican-born Mexican singer, Luis Miguel, often known as El Sol de México (The Sun of Mexico) after a nickname given by his mother.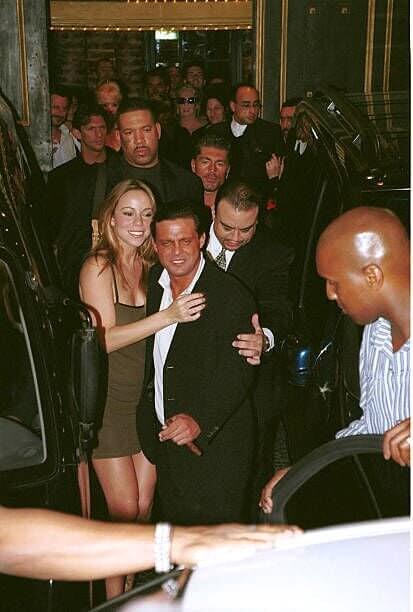 Miguel was attending a Christmas party in Aspen which Carey visited in 1998. The two singers bonded and soon became an item, and their relationship continued until late 2001.
Luis Miguel - End
In the summer of 2001, Mariah Carey checked herself into a hospital after suffering what her press office described as a "physical and emotional breakdown". She was still officially together with Luis Miguel at the time, though their relationship had been known to be patchy throughout its duration.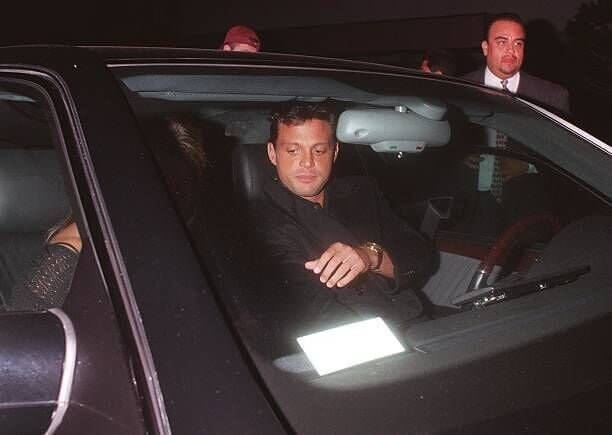 Sometime between Carey leaving the hospital and the end of the year, she officially ended things with Miguel. She later would say, "I knew it was time for us to part ways. We had a good run, and I still have fond memories, but ultimately, he wasn't the one." The Mexican singer, who already had one child from a previous relationship with Stephanie Salas, went on to have two more with the Mexican actor and singer Aracely Arámbula.
Eminem - Start
Nobody knows for sure if Mariah Carey and the rapper Eminem, also known as Marshall Mathers III, ever truly dated. He claims they did, she denies it. Either way, the rumors in 2001 were strong.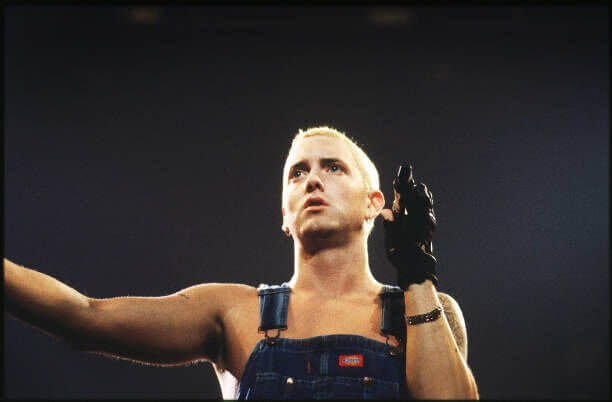 "There's truth to that," Eminem said to Rolling Stone in 2002 when asked about the gossip regarding himself and Carey. In an interview with Maxim the same year, however, Carey firmly denied ever having a sexual relationship with "The Real Slim Shady". That leaves things at something of a standoff.
Eminem - End
Whether or not they were ever an item behind closed doors, Eminem has since made no secret of his feelings towards Mariah Carey, and they are not positive. "I just don't like her as a person," Eminem said to Rolling Stone. "On the whole personal level, I'm not really feeling it."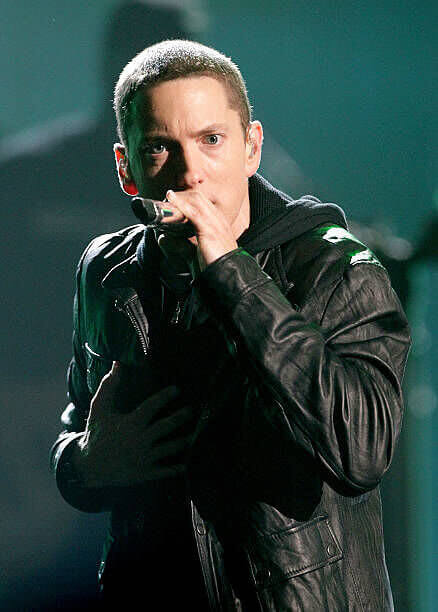 It's clear from both parties' music, however, they got under each other's skin in some way. Eminem's songs "When the Music Stops", "Superman", "Jimmy Crack Corn", "Bagpipes from Baghdad" and "The Warning" all reference Carey while, in response, Carey's 2002 song "Clown" and 2007 track "Obsessed" (the music video for which she dresses up as an Eminem lookalike) are both believed to refer to the vitriolic rapper.
Eric Benét - Start
The Grammy Award-nominated R&B star Eric Benét was married to Halle Berry from 2001 to 2005, but that didn't stop tongues wagging when he appeared alongside Mariah Carey in her debut movie, Glitter, which was released on September 21, 2001.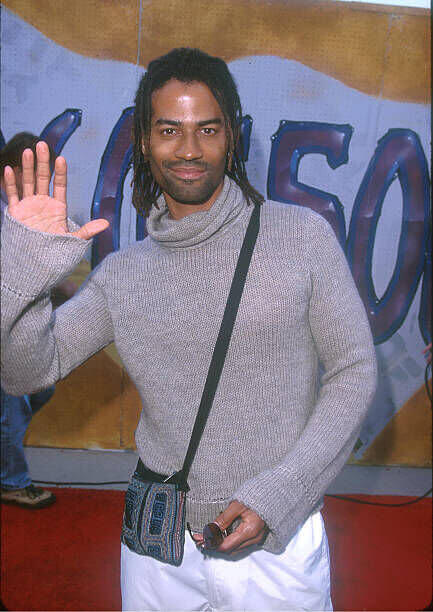 A secret affair between Carey and her co-star was rumored to have occurred between 2000 and 2003, overlapping significantly with Benét's marriage to Berry. Neither party has confirmed it, but that hasn't stopped the press from making their own minds up.
Eric Benét - End
Regardless of whether he had an affair with Mariah Carey, Eric Benét separated from Halle Berry in October 2003 and their divorce was finalized at the start of 2005. Benét went on to marry the Canadian Manuela Testolini, who had previously been wed to the enigmatic pop legend Prince.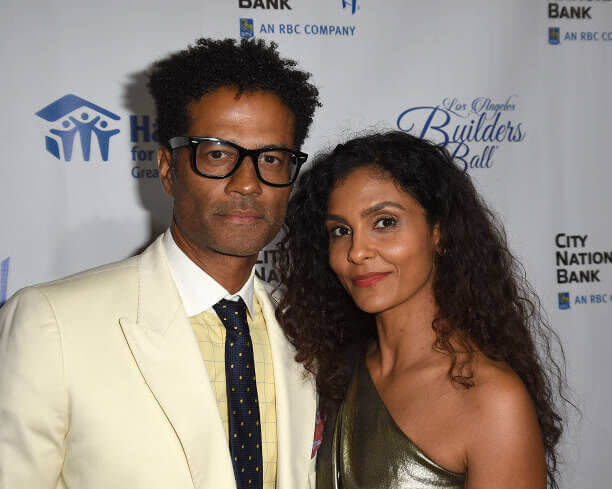 Benét and Testolini tied the knot in July 2011 and their first daughter was born in December of that year. In July 2015, they said hello to a second daughter. The couple remains married today.
Christian Monzon - Start
"Erm, how do we play this?" Mariah Carey said to The Mirror in January 2006. "OK, he's a very nice guy, he's been in a fabulous Dolce & Gabbana advert – did you see it? – and we've had some nice conversations and, um, a nice time. OK, I'll say he definitely did a very good job in the video."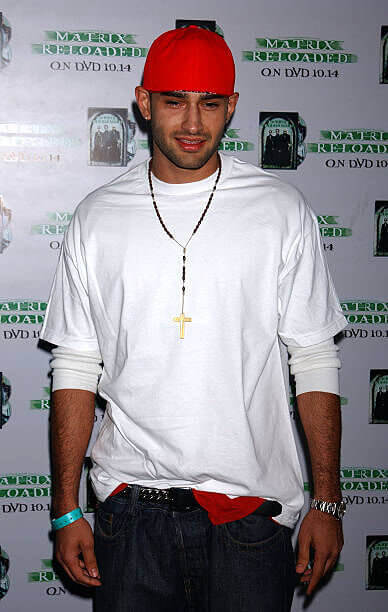 She was referring to Christian Monson, an actor and model with whom she shared a steamy love scene in the video to her 2005 single "Don't Forget About Us". The pair connected during the sexy shoot and began an affair that lasted until the following year.
Christian Monzon - End
In the same 2006 interview with The Mirror, Mariah Carey preempted her expectations for how the relationship might end, while revealing something particular about her own character. "Men tend to go off me when they find out I'm a prude." Carey said, "They either turn into my big brother, or else they stop talking to me."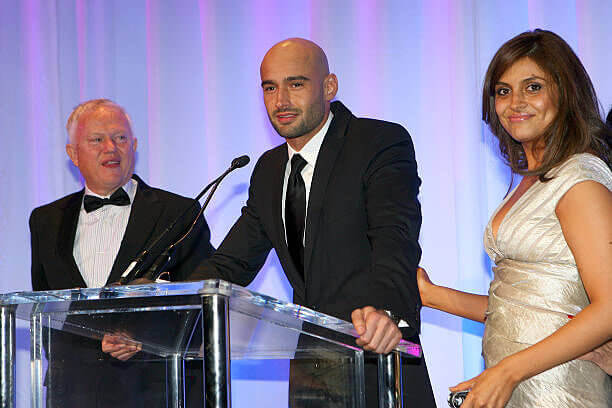 The then-36-year-old pop diva had clearly already had a few disappointing experiences, but she wasn't entirely downbeat about how things were. "Luckily," she added. "I have a lot of male friends who have gone way, way past that whole sexual thing."
Nick Cannon - Start
Mariah Carey met her second husband on the shoot for her 2008 single "Bye Bye". Nick Cannon, an actor and comedian from San Diego, flew to Antigua to star in the video with Carey and the two fell quickly in love. They married in the Bahamas on April 30, 2008, 15 days after the single's release.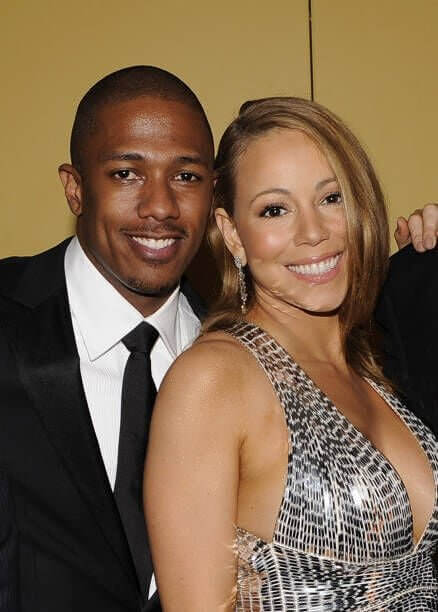 Carey had her first, and so far only, children with Cannon. Twins Moroccan and Monroe were born on April 30, 2011, exactly three years after their parents' wedding. "[Before marrying Mariah], I was like, 'I don't believe in marriage,'" said Cannon in a later interview for the podcast, ExpediTIously. "But, sh-t, it was Mariah Carey. Whatever she say, I'm with it. If she wanted to say we was going to the moon, I'm like, 'Let's go.' If I'mma marry somebody, I'mma marry her."
Nick Cannon - End
Sadly, the marriage of Mariah Carey and Nick Cannon was not built to last. The couple separated in August 2014. They filed for divorce that December and the marriage was officially ended in 2016. Despite this, they still share strong feelings for each other and continue to co-parent the twins, who are now almost teens.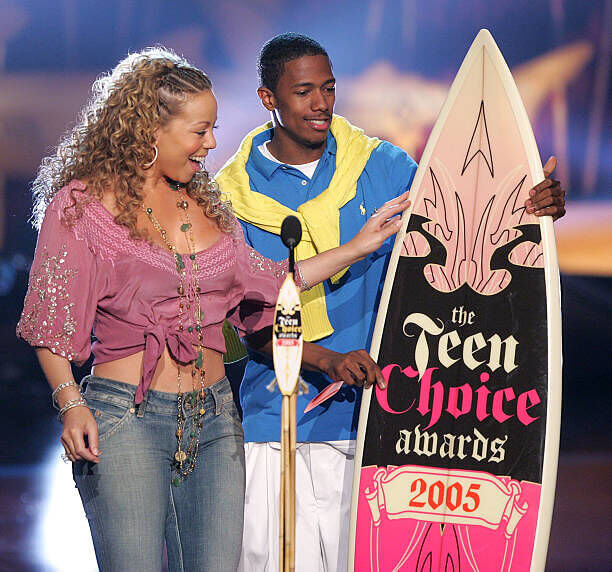 Both Cannon and Carey are also incredibly supportive of each other in their careers, perhaps because of the respect they showed each other during the marriage. "I was very faithful in my marriage," Cannon said in 2019. "The reason why we split up had nothing to do with infidelity, nothing like that," Cannon still refers to Carey as his "dream girl".
James Packer - Start
In 2014, while separated from Nick Cannon, Mariah Carey met the Australian billionaire James Packer at the premiere of Hercules. The two were such radically different characters that the press didn't even bother to start rumors about them and it was a surprise to many when they were seen holding hands in the summer of 2015.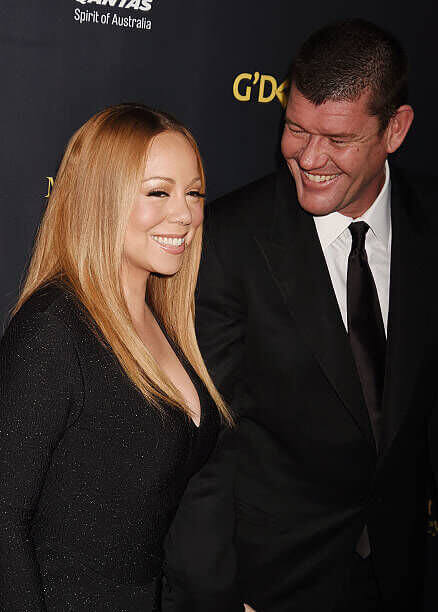 By September, the mismatched couple was on the red carpet together and on January 1, 2016, Carey and Packer announced they were engaged. The ring Packer proposed to Carey with was estimated to be worth around $10 million.
James Packer - End
The engagement didn't last long enough for James Packer to become Mariah Carey's third husband and the two announced they had split in October 2016. By the time Carey released her memoir, The Meaning of Mariah Carey, in 2020, it seemed she'd forgotten the engagement had ever happened at all. "If it was a relationship that mattered, it's in the book," Mariah said to The Guardian when questioned about the lack of any details of her time with Packer.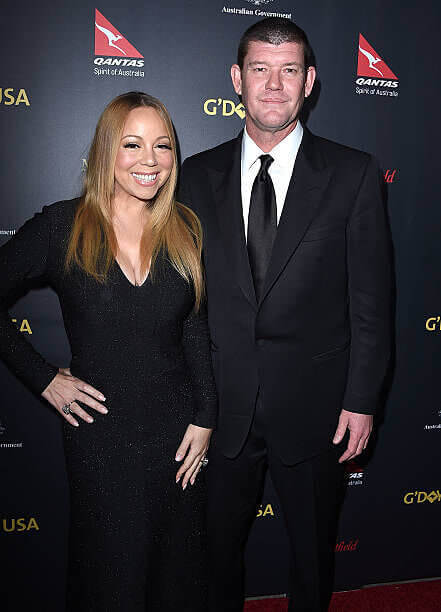 The billionaire businessman also seemed keen to move past the relationship. "I was at a low point in my personal life," Packer said in a 2017 statement. "She was kind, exciting, and fun. Mariah is a woman of substance. She is very bright. But it was a mistake for her and a mistake for me."
Bryan Tanaka - Start
After the Australian James Packer, Mariah Carey looked much closer to home for her next relationship. In fact, she simply turned around on stage. Bryan Tanaka was one of Carey's backup dancers and, despite him being 14 years younger than the pop diva he worked for, the two began a relationship in 2017.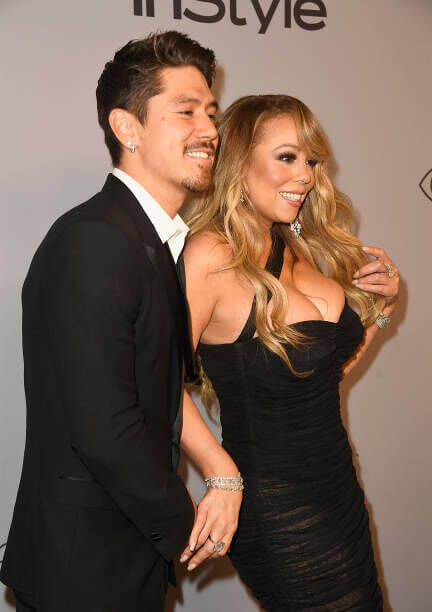 There was a short split in the early days of the relationship but Carey and Tanaka soon got back together and have seemed to be very much in love ever since.
Bryan Tanaka - Now
As the end of 2021 approaches, 38-year-old Bryan Tanaka and 52-year-old Mariah Carey are still an item, and their love shows no outward signs of fading. Tanaka has become a more important part of Carey's team after being promoted to "creative director".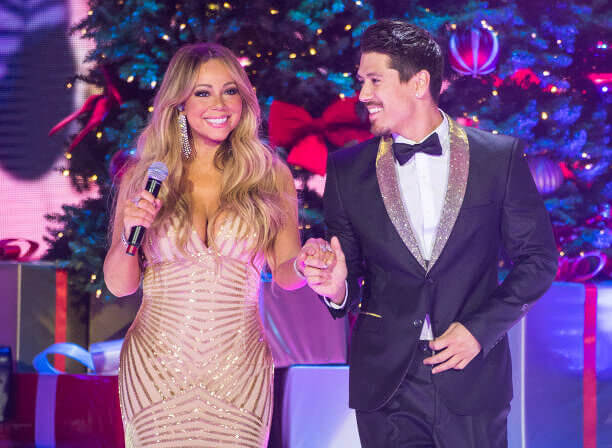 After starring together in the docu-series Mariah's World, Carey and Tanaka have most recently been seen Christmas shopping in Aspen, Colorado, and making a fuss of each other on social media as they celebrate their almost joint birthdays - Carey's on March 27 and Tanaka's on April 11. Now four years in, perhaps this is finally the "happy ever after" Mariah Carey has been looking for.

 

Up next, a more in-depth look at the life of the diva herself...
Fascinating Facts About Mariah Carey, Otherwise Known as the Queen of R&B
Mariah Carey. The "Songbird Supreme" with a five-octave range. Glam hitmaker. Grammy Winner. Ultimate diva. The Queen of Christmas. She has been pleasing our ears for three decades but how did she go from nothing to become one of the most successful recording artists of all time? Well, you're about to find out.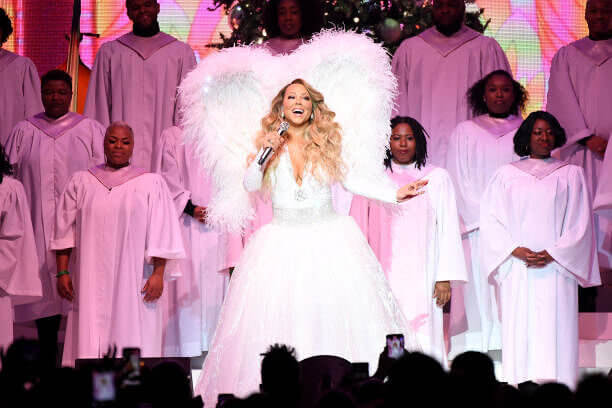 Today, we're going to follow the rainbow and delve deep into Mariah's childhood, music, career, relationships, life, and struggles with her mental health. You better strap in; it's gonna be a bumpy ride on the long way to the top.
A Star Is Born
Mariah Carey was born in Huntington, Long Island, New York on March 27th, 1970. Though some people actually believe it was 1969. Her mother Patricia Hickey was a professional singer at the New York Opera and her father, Alfred Roy Carey, was an aeronautical engineer.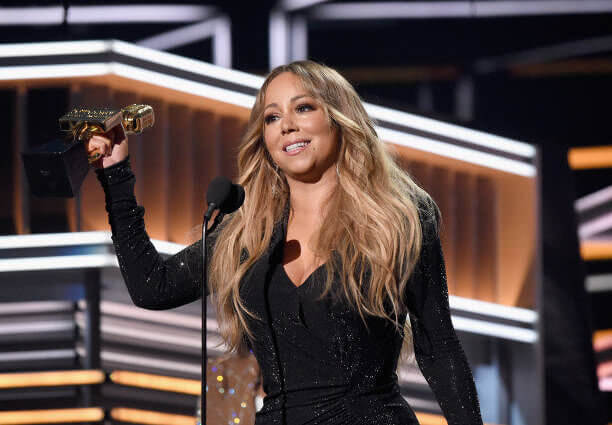 Mariah is a beautiful mix of Irish, Venezuelan, and African-American heritage. Her mom hails from The Emerald Isle, and her dad was Afro-Venezuelan. Growing up wasn't always a happy story; her mother's family disowned Patricia for marrying Alfred. Mariah said she felt neglected and abandoned by her mother's side of the family growing up, which, of course, hugely affects a child's identity and sense of self. 
She Was Born Under a Wanderin' Star
Her music-loving parents got the name Mariah from the song, "They Call the Wind Maria," originally from the 1951 Broadway musical Paint Your Wagon and later a 1969 movie starring Lee Marvin.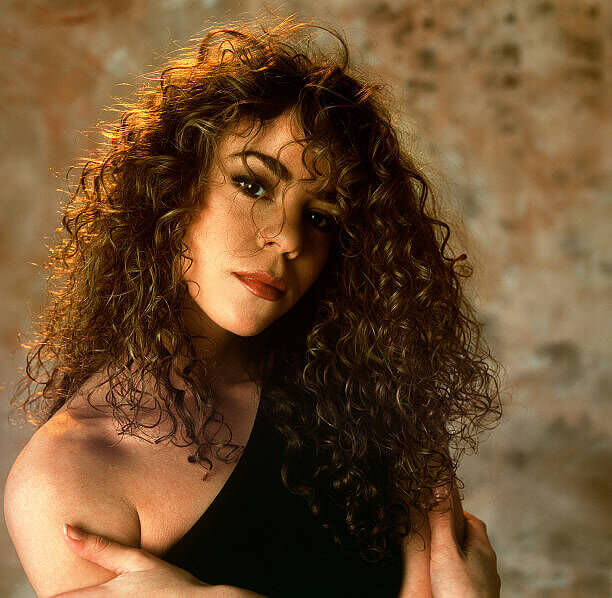 The surname Carey was adopted by her Venezuelan paternal grandfather, Francisco Núñez after he emigrated. In fact, like so many immigrants to the USA, he actually changed his surname from Nuñez to Carey on Ellis Island, New York. That's the American Dream at work right there, folks. 
Reaching for the Stars
One starry night, Mariah stunned her parents when – aged just two and completely off her own bat – she started blasting out her mom's opera tunes. The tiny tot was merely imitating her mother, who happened to be a mezzo-soprano New York City opera singer.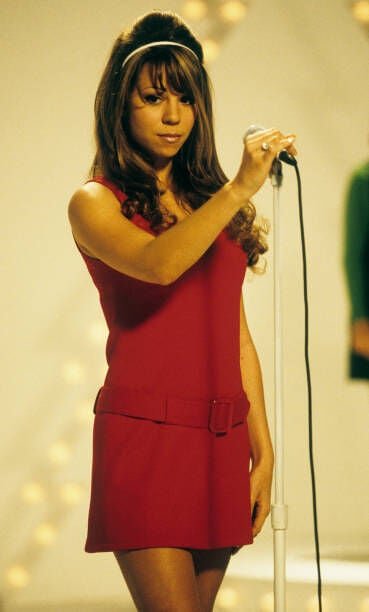 She started her first voice lessons at the age of four. With an opera-singing mother and a father who was an aeronautical engineer, you could say Mariah was set up for a high-flying singing career!
Growing up
Her parents divorced when she was three years old, and she would sneak the radio under the covers to sing. She's said that these moments helped her cope with the feeling of 'otherness' she experienced as the daughter of divorced parents and being biracial. Mariah says her family experienced racism when she was a child. Her elder siblings were racially discriminated against in the 1970s, but she says she didn't encounter as much abuse growing up in the 1980s.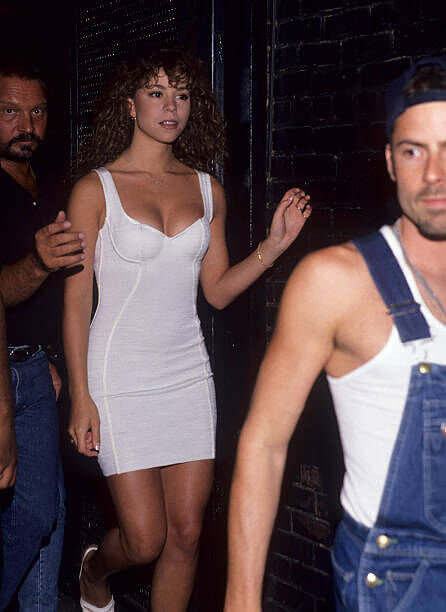 Being light-skinned and raised in a racially mixed background made young Mariah feel confused about where she belonged. When she went out shopping with her father, people would stare. While living in Huntington, New York, neighbors poisoned the family dog and set fire to their car. By the time she hung around with Will Smith in 1987-88, she could only afford two dresses. 
Misunderstood
Mariah has expressed her own struggle identifying with her African-American heritage, and Essence magazine went so far as calling her "America's Most Misunderstood Black Woman."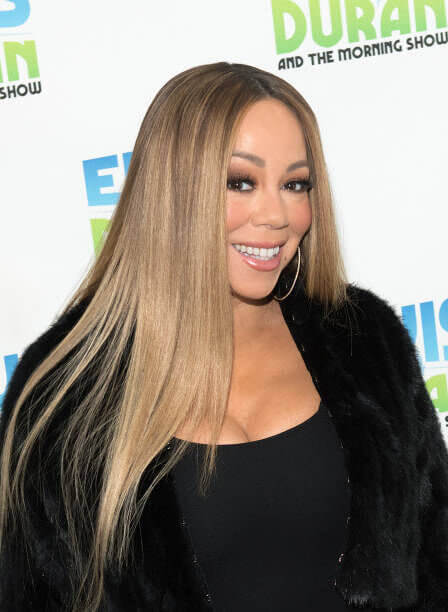 In the article, the songstress recounts a story about how, when she was in kindergarten, the teacher asked the class to draw a picture of their families. Mariah used a brown crayon to draw her father, and the teacher tried to correct her because she had no idea that Carey was a mixed race.
Troubled Childhood
Delving further into Mariah's troubled childhood, she revealed in her memoirs that she experienced domestic abuse at a young age. She witnessed fights involving her older brother and her parents. The singer states her obsession with Christmas is an effect of these experiences; stating she wanted "to write a song that would make me feel like a carefree young girl at Christmas." Well, she certainly achieved that... with bells on!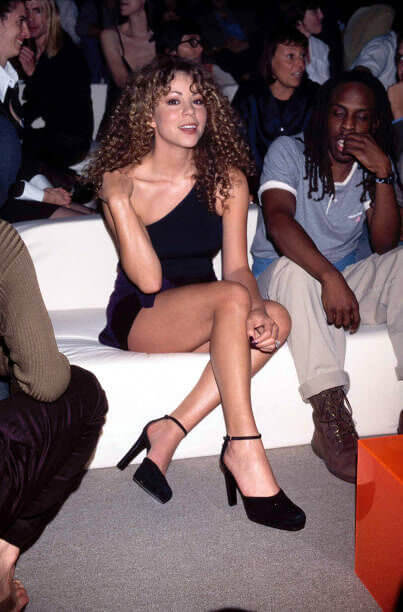 One of the more shocking revelations from her memoir The Meaning of Mariah Carey involves her older sister Alison. Mariah claims that when she was around 12, Alison "drugged me with Valium, offered me a pinky nail full of cocaine, inflicted me with third-degree burns, and tried to sell me out to a pimp." Alison has publicly denied the claims.
Mirage
Because she was known for skipping class so much, Mariah's nickname in high school was "Mirage". That's why she's been ghosting our calls! During 11th Grade, she decided academia wasn't really her thing, so after graduating from Harborfields High School in Greenlawn, New York in 1987, she studied cosmetology at a beauty school in Manhattan.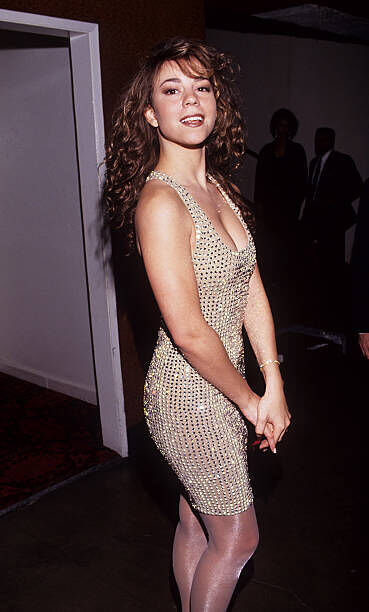 Ah, New York, New York, so good they named it twice and where the streets are paved with gold. She moved into a one-bedroom apartment, which she shared with four other female students while she worked on her demo tape...
Part-Time Gigs
As is so often the case with young starlets who move to The Big Apple, the young 18-year-old worked a variety of jobs to pay the bills. She worked as a coat checker, a hostess, a waitress, and even a hair sweeper at a salon.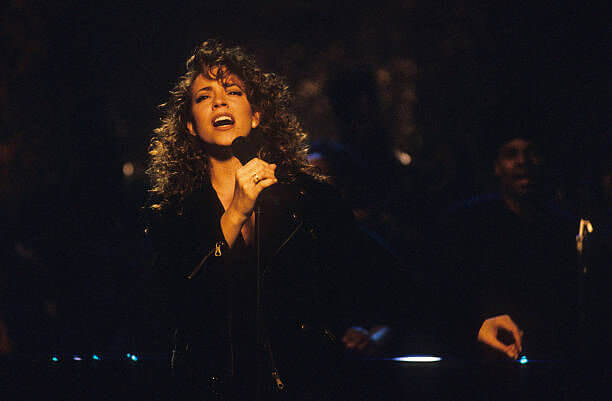 After having lived in the city for just a matter of months, Mariah found her first job as a singer in New York. She was lucky enough to become a background singer for Puerto Rican freestyle singer Brenda K. Starr, who helped her launch her career. After performing in nightclubs, she worked her way up to doing solo shows. 
You Shall Go to the Ball
Did you know that Mariah Carey has always written or co-written her own songs? Well, now you do! That all started in Long Island's music scene. Her hard work paid off and gave her the chance to work with musicians Gavin Christopher and Ben Margulies, with whom she co-wrote material for her first demo tape.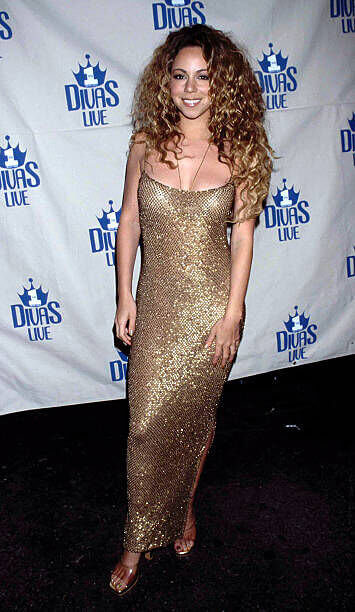 In December 1988, Carey accompanied Brenda K. Starr to a CBS record executives' gala, where she handed her demo tape to then-President of Columbia Records, Tommy Mottola. After listening to the tape on his ride home, he immediately requested his driver turn around. He arrived back at the gala to find that the young warbler on the tape had already left. So, in what has been described as a modern-day Cinderella story, Mottola spent the next two weeks trying to find the young singer. And you'll never guess what happened next… Reader, I married him!
Prince Charming
Sometime later, Mariah started dating Tommy who just so happened to now be Head of Columbia Records... but still twenty years her senior. They were married in a fairy-tale wedding in 1993… but wait, wait, wait! We're getting ahead of ourselves! Let's rewind to 1990 when Tommy produced her first album; Mariah Carey. He spent over $1 million of Columbia Records' money promoting that debut album, but Mariah was paid just $80,000.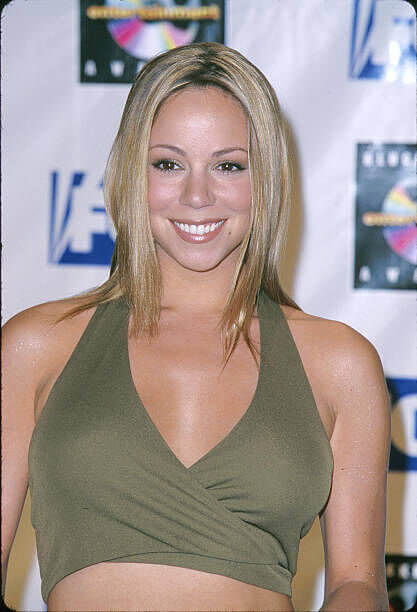 After a slow start, the LP eventually topped the Billboard 200 for eleven consecutive weeks. At the 33rd Annual Grammy Awards, she won Best New Artist, and Best Female Pop Vocal Performance for her single Vision of Love. Four singles: Vision of Love, Love Takes Time, Someday, and I Don't Wanna Cry topped the US Billboard Hot 100. All of a sudden, 21-year-old Mariah Carey had 1991's best-selling US album and achieved worldwide sales of 15 million copies. It turns out it isn't that far to the top, after all. 
She Gets So Emotional, Baby
The following year, Carey co-wrote, co-produced, and recorded her second studio effort, Emotions. She described the album as a homage to Motown soul music. The LP's lead single – co-written with David Cole and Robert Clivillés of C+C Music Factory fame – became her fifth chart-topper on the Billboard Hot 100, making her the only artist in history to have their first five singles reach the chart's summit.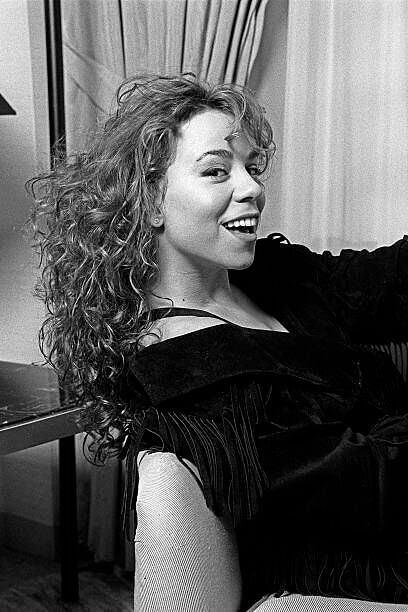 While the album managed sales of eight million copies globally, Emotions failed to reach the commercial and critical heights of its predecessor. While music critics praised the album's content and described it as a more mature effort, the LP was also criticized as lacking originality and being "calculated".
Stage Fright
Mariah refused to go on a world tour to promote her Emotions album. Although she credited stage fright and the vocally challenging nature of her material, rumors abounded that Carey was a "studio worm," i.e. she couldn't reproduce her pitch-perfect 5-octave vocal range for which she was known on her records. To put to rest any speculation of her being a Milli Vanilli-flavored manufactured artist, Carey bravely booked an appearance on MTV Unplugged. It could have gone either way...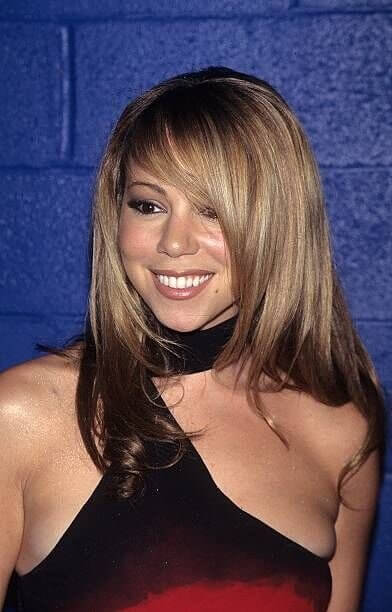 Just days before the show's taping, Carey chose to add a cover version of The Jackson 5's 1970 song I'll Be There to her Unplugged set-list. On March 16th, 1992, she recorded an intimate seven-song show at Astoria Studios in Queens, New York. Her performance not only established her as a viable live act, with critics heralding it as a "vocal tour de force," but her live version of I'll Be There became her sixth number-one single on the Billboard Hot 100 chart! Way to go, grrrl!
Tommy
Okay, so sometime between 1992 and 1993, Tommy Mottola's managerial duties blurred into courtship as they used to say back in his day and age. Together, they recorded her third album Music Box (1993) which contains one of her most famous songs, Hero. Now married and under the thumb, the songstress went on to release Merry Christmas (1994) and Daydream (1995).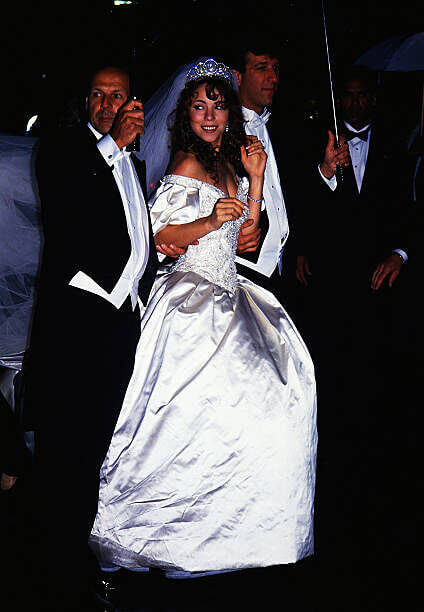 Her collaboration with Boyz II Men, One Sweet Day became the longest-running number-one single in history, staying at number one for a total of 16 weeks – that's four months from December 1995 to March 1996! After the release of Daydream and the success that followed, Mariah began focusing on her personal life, which she says was a constant struggle at the time. Her relationship with Mottola began to deteriorate, due to their growing creative differences in terms of her albums – he "tried to wash the urban off" her when they were working together.
Prince Charmless
Mariah and Tommy Mottola divorced in 1998. She expressed gratitude to him for helping get her career started, but he was just too controlling. She also went on record to say that the relationship was "emotionally abusive."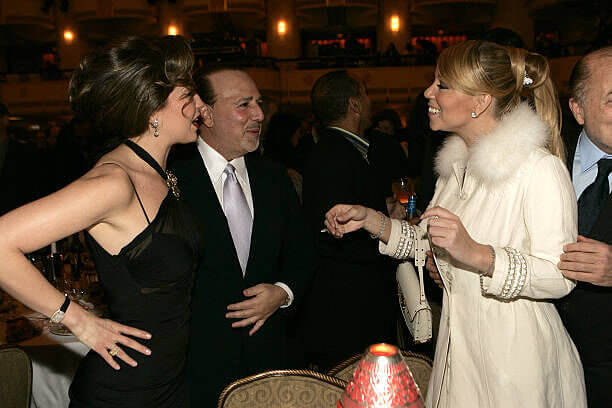 After their divorce, Carey came out with her fourth album, Butterfly (1997) which featured a change of style, including Sean "Puffy" Combs-produced track, Honey. A reinvented Mariah was finally moving away from slow ballads and into pop music. Ironically, Butterfly featured a single called Breakdown…
All I Want for Christmas Is You!
Christmas 1998. Mariah's favorite time of the year. She doesn't want a lot for Christmas, there is just one thing she needs, she doesn't care about the presents underneath the Christmas tree... but she needed some time off so traveled to Aspen, Colorado for a break. What Mariah didn't know was that her real estate agent had a friend who had rented their house to Mexican singing sensation Luis Miguel. These two friends decided they would team up to become matchmakers…. And, incredibly, it worked!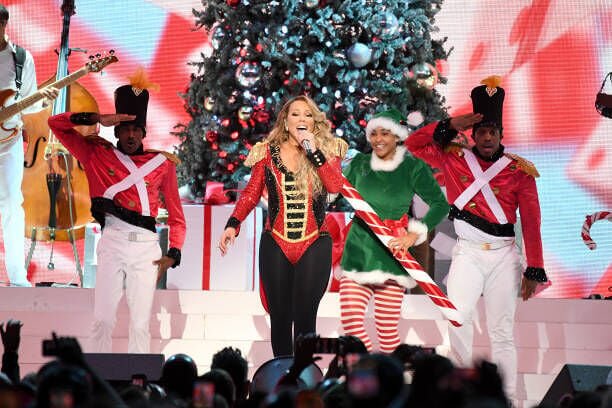 Mariah's agent told her that Luis was in town and wanted to meet her. Miguel's agent told Luis that Mariah was "interested in meeting him." The two met and fell in love, but rumor has it that Luis ended the relationship because Mariah wanted to have children, but he did not. They split in 2001, and that was the year, Mariah's life snowballed out of control. But first... this!
She's Like a Rainbow
Before her life spiraled out of control like a five-octave Tasmanian Devil, there were some glorious high-notes. In 1999, Mariah released her seventh studio album, Rainbow, which incorporated elements of R&B and hip hop into her music, particularly on the lead single Heartbreaker in an attempt to sound "more ghetto"; her heart, soul, and sound that Tommy had whitewashed.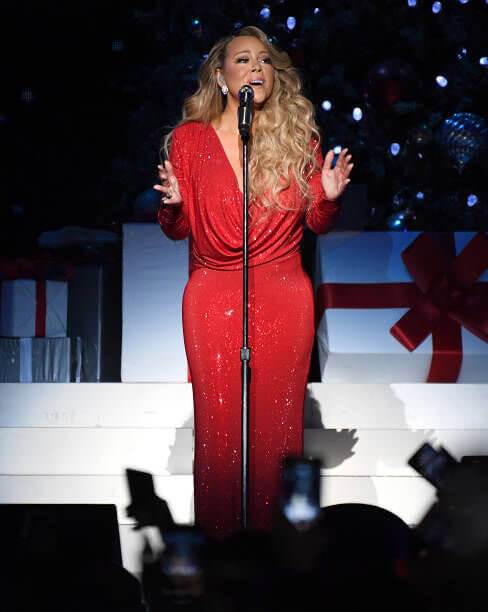 No longer shackled by her ex-husband, Ms. Carey had much more control over the musical style of this LP, so she collaborated with artists such as Jay-Z, Usher, Snoop Dogg, Missy Elliott, Joe, Da Brat, Master P, 98°, and Mystikal. As a result, Rainbow contains a gorgeous blend of hip-hop-influenced R&B jams, as well as her more traditional slow ballads. 
Diamonds Are a Girl's Best Friend
Everyone knows that, just like Marilyn Monroe, Mariah loves to wear diamonds at public appearances. However, did you know that in October 1999, Mariah bought Marilyn Monroe's white baby grand piano? She paid $662,500 for the one-of-a-kind treasure because she identifies so closely with the legendary star of the screen.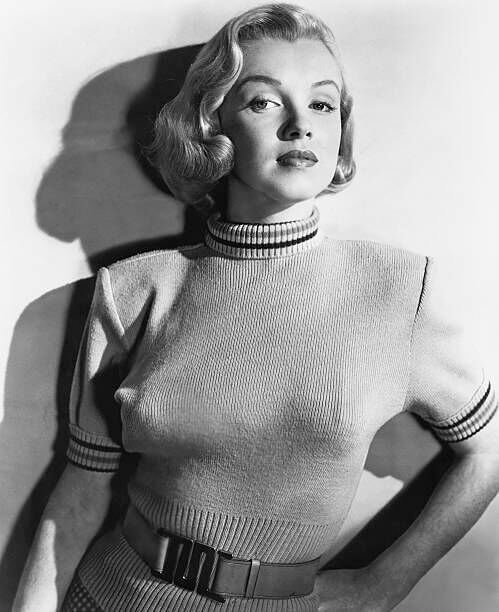 Mariah explained, "I wish her things didn't have to be auctioned off. It's a shame - I wish somebody had had the money to buy it all and put it in a museum. Mariah made sure she wasn't outbid on the most sentimental item on the block. "That piano was her mom's," Mariah said. "In her biography, there's a whole story about how Marilyn spent years trying to find it and get it back. Now I'm gonna take good care of it." She added, "it will end up in a museum."
Born-Again Virgin
After being named one of the "100 Sexiest Women in the World" two years in a row 2000 and 2001 by FHM Magazine, she received Billboard's Artist of the Decade Award and the World Music Award for Best-Selling Female Artist of the Millennium and parted ways with Columbia Records. In 2001, she performed the American national anthem at the Super Bowl XXXVI at the Louisiana Superdome in New Orleans. Mariah was a finally superstar.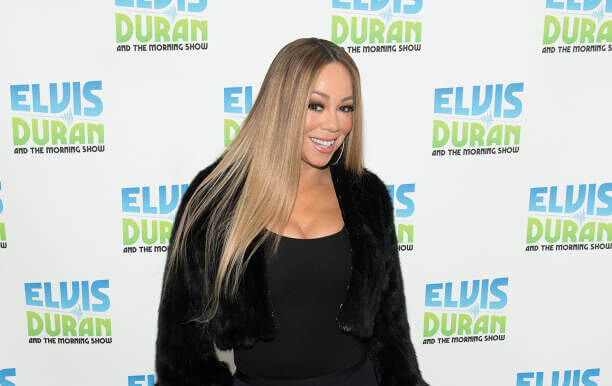 Free from Tommy Mottola's contract with Columbia Records, she signed an unprecedented, staggering $80 million deal for a five-album recording contract with Richard Branson's Virgin Records in April 2001. It was just after these ups that the downs started to happen. Have you got your seat-belts on? We said it was gonna get bumpy...
Erratic Behavior
In July 2001, Mariah suffered what can only be described as a physical and emotional breakdown. Fame, fortune, and a grueling workload were beginning to take their toll and Mariah started to display erratic behavior. On July 19th, 2001, she made a surprise appearance on MTV's Total Request Live which got those around her very, very worried.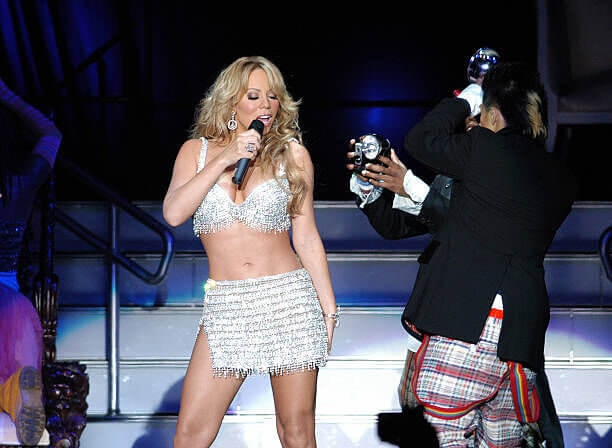 As the show's host Carson Daly began taping following a commercial break, Mariah came on stage pushing an ice cream cart while wearing an oversized men's shirt. Everything was a little weird but still okay... until she began an impromptu striptease. At another performance, her publicist took a microphone away from her to prevent her from speaking. Mariah couldn't be trusted. 
Public Relations
Days later, Mariah posted a series of despondent messages on her website: "I'm trying to understand things in life right now, and so I really don't feel that I should be doing music right now. What I'd like to do is just take a little break or at least get one night of sleep without someone popping up about a video."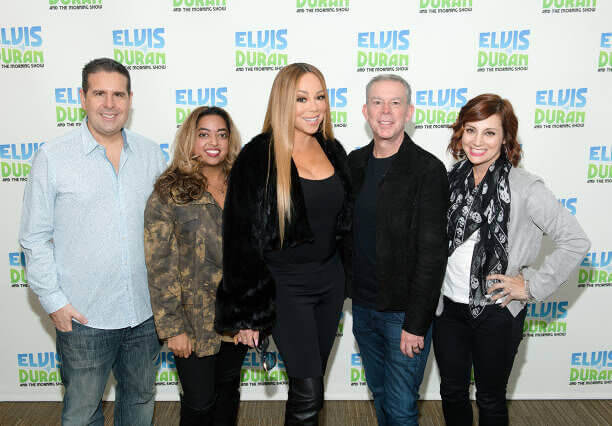 She continued: "All I really want is [to] just be me, and that's what I should have done in the first place ... I don't say this much but guess what, I don't take care of myself." Following the removal of the messages, Mariah's representative Cindi Berger stated her client had been "obviously exhausted and not thinking clearly." 
Breakdown
In July 2001, Carey was admitted to an unnamed hospital in Connecticut to undergo "psychiatric care." The media reported she was going through a "physical and emotional collapse." Carey stayed at the hospital for two weeks. The truth wouldn't come out for another 17 years, but in the meantime, all Mariah's public appearances were canceled, including her headlining MTV's 20th-anniversary show.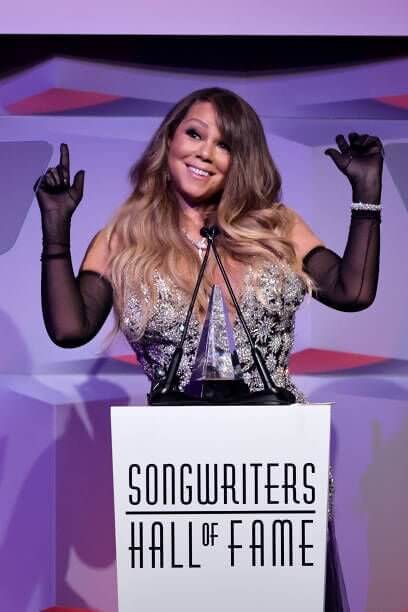 Her record company denied reports that the singer had tried to commit suicide, saying – while she did have cuts on her body – the injuries were unintentional after breaking some dishes. An extended absence from the public followed, and things were about to get worse for poor Mariah. 
All That Glitters Is Not Gold
As all this was going down, Mariah's first film was due to be released. We're guessing but she possibly already knew it was going to be a box-office failure. Her romantic musical drama, Glitter (2001) is considered one of the worst flops in cinematic history. After her breakdown, it didn't help that Twentieth Century Fox and Virgin Records pushed the film and accompanying album's release to that fateful date, September 11th, 2001. Glitter the film has a 6% rating on Rotten Tomatoes, and Mariah's accompanying soundtrack was almost as bad.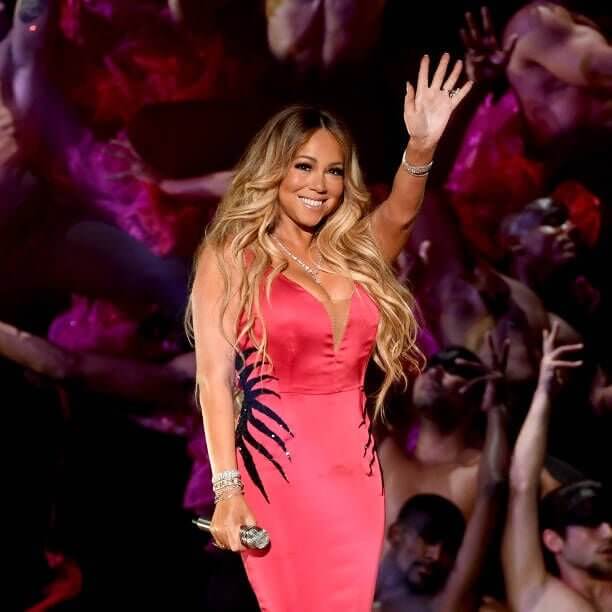 Glitter, the album was a huge musical departure from any of Mariah's previous albums. It focused heavily on recreating a 1980s post-disco era to accompany the film, which was set in 1983. Even Mariah having full conceptual and creative control over the project couldn't save the LP. The St. Louis Post-Dispatch newspaper described it as "an absolute mess that'll go down as an annoying blemish on [her] career."