Marilyn Monroe is one of the twentieth century's most enduring icons. With her breathy voice, doll-like features, seductive gaze, and hourglass figure, the Hollywood sex symbol had men - and some say, women - falling for her almost from the moment she stepped into the industry.
The Young Norma Baker's First Love - Jim Dougherty
Monroe fell in love with Dougherty when she was sixteen years old and still known as Norma Jeane Baker. On June 19, 1942, they married. Norma dropped out of high school to become a housewife, but Jim was drafted into the military two years later, forcing Norma into the workforce - this is where fate intervened.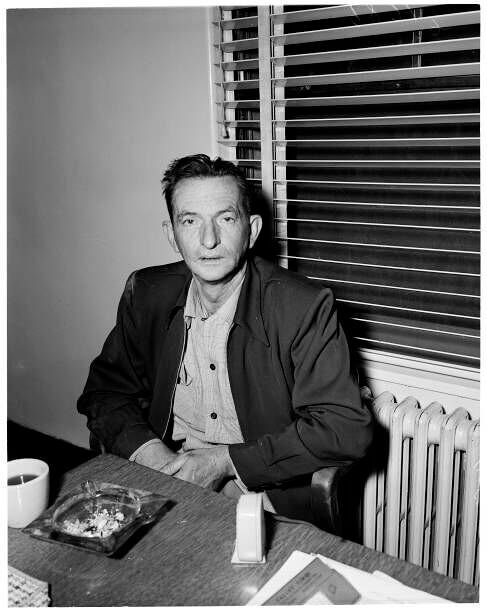 Norma began working at a weapons factory and was approached by a photographer who saw her potential as a model and asked her to pose for him. Nevertheless, she felt abandoned once more (this time by Dougherty), their relationship began to deteriorate, and the marriage ended in September 1946. Many years later, Marilyn's first husband admitted that he never stopped following the actress's career."If I hadn't gone into the Merchant Marines during World War II, she would still be Mrs. Dougherty today," he told PEOPLE in 1976.

The Alleged Affair With Charile Chaplin Jr.
Marilyn allegedly had an affair with Charlie Jr., the legendary star's son, in 1947. According to Charlie, the relationship ended when he discovered Marilyn in his brother Sydney's bed. Chaplin mentions the affair in his 1960 autobiography, and Anthony Summers mentions it in his book Goddess: Marilyn Monroe's Secret Lives.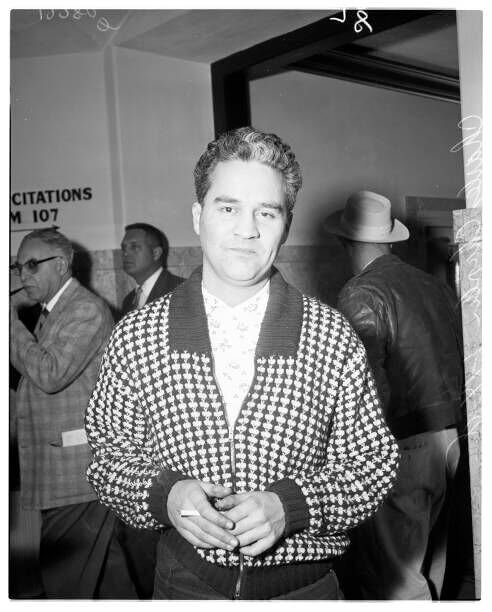 He writes on page 320 of his 1960 book My Father. Charlie Chaplin: "There was one young girl I brought up about this time who especially impressed my father. She was just about my age, twenty-one, an appealing little obscure starlet by the name of Norma Jean Dougherty who was under contract to Twentieth Century-Fox."
Famously Well-Endowed Milton Berle Managed to Charm Miss Marilyn
Monroe and the comedian first crossed paths on the set of Ladies of the Chorus in 1948. While Berle was officially dating actress Adele Jergens at the time, he claimed to have had a brief affair with the young actress. Berle, the first television superstar (and, according to Truman Capote and showbiz legend, famously endowed), also co-starred with Monroe in the 1960 film Let's Make Love.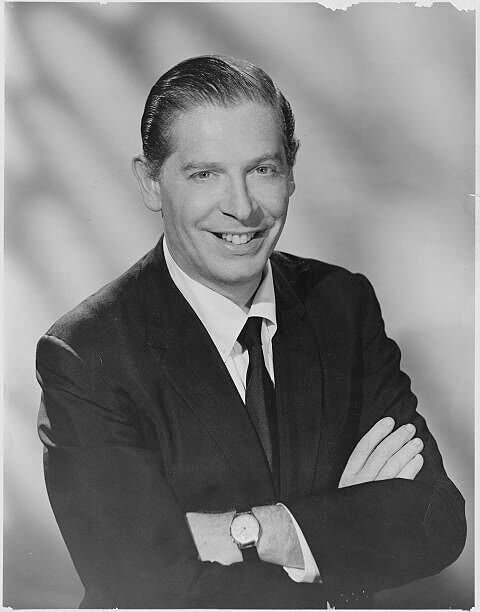 "Marilyn was on the climb in Hollywood, but there was nothing cheap about her," he wrote in his autobiography. "She wasn't one of the starlets around town that you put one meal into and threw into the sack. Maybe she didn't know exactly who she was, but she knew she was worth something. She had respect for herself. Marilyn was a lady."

Natasha Lytess Was the Reason People Thought Marilyn Was Lesbian
When she signed a brief contract with Columbia Pictures in 1948, she met Lytess, her beloved drama coach. Over the next seven years, the pair would become nearly inseparable on and off set, sparking rumors of a relationship. Monroe's reliance on Lytess grew to the point where she refused to film scenes without her coach present. When the actress moved into Lytess's home to prepare for her role in 1952's Don't Bother to Knock, eyebrows were raised even higher.
While their relationship is unknown, Lytess was openly hostile to Monroe's male suitors, particularly Joe DiMaggio. "She was a great teacher, but she got really jealous about the men I saw. She thought she was my husband!" Monroe once said. They eventually reconciled in 1956. Concerning rumors of additional lesbian affairs, such as those with Barbara Stanwyck and Marlene Dietrich, Monroe appeared to put the matter to rest in her 1954 autobiography, stating that she was never romantically involved with either of those ladies.

Elia Kazan Confessed to Sleeping With Her and Was Unapologetic
Kazan, one of the great directors of all time, admitted to having an affair with a young Monroe while married to playwright Molly Thacher. Kazan confessed to sleeping with the actress in recently discovered private letters to Thacher, writing, "I'm not sorry."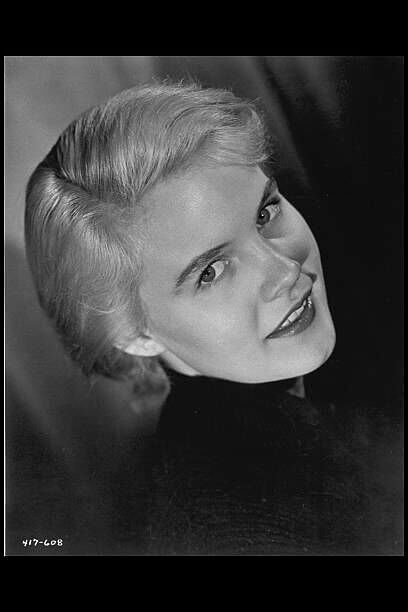 He continued, "I'm not ashamed at all, not a damn bit, of having been attracted to her. She is nothing like what she appears to be now, or even appears to have turned into now. She was a little stray cat when I knew her." Kazan was a close friend of Monroe's future husband Arthur Miller, and he also mentioned Joe DiMaggio in his letters to Thacher, stating that the baseball player had beaten Monroe "multiple times."

Marilyn Tried to Sail Political Waters With the Help of the Kennedy Brothers
Monroe's most notorious rumored affairs involved President John F. Kennedy and his brother, Attorney General Robert F. Kennedy. Rumors of an affair were sparked in part by her seductive performance of "Happy Birthday" for the commander-in-chief at his 45th birthday celebration at Madison Square Garden on May 19, 1962, just months before her death.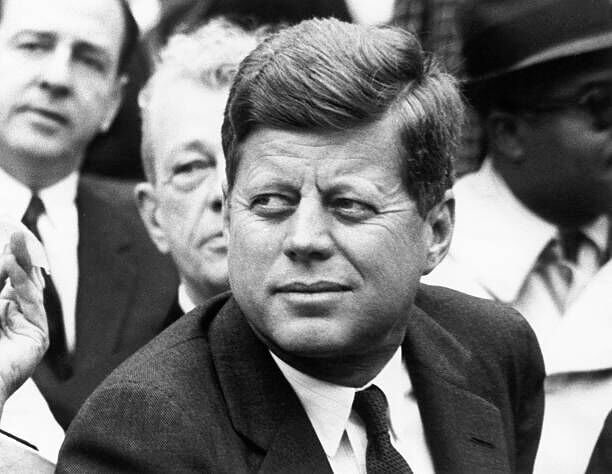 Certain individuals have even suggested that her relationship with the two men contributed to her untimely demise. Monroe's biographer James Spada denied those claims in 2012, telling PEOPLE that while he believes there is no evidence linking the Kennedys to Monroe's death, "it was pretty clear that Marilyn had sexual relations with both Bobby and Jack."

Relationship With Joe DiMaggio Was Pretty on the Outside but Ugly on the Inside
After meeting Marilyn Monroe on a blind date in 1952, the baseball great DiMaggio described her as "like a good double-play combination." Six months into retirement, he viewed the 26-year-old actress as "a beautiful blonde showgirl who might double as a devoted mother and homemaker," in the words of Monroe biographer Donald Spoto.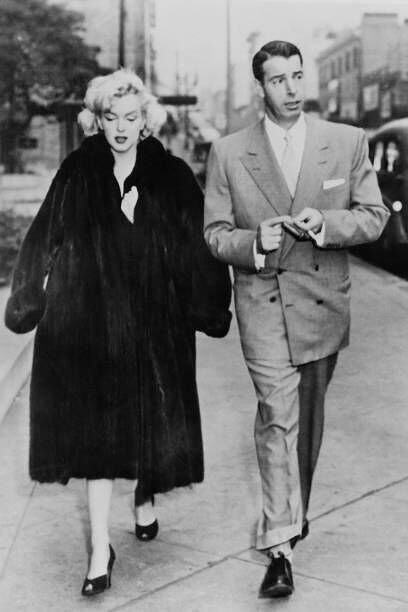 Monroe, who shared the famous ballplayer's desire for a home and children, was surprised. I expected a flashy New York sports type, and instead, I met this reserved guy who didn't make a pass at me right away," she wrote. "He treated me like something special." They married on Jan. 14, 1954, in a low-key ceremony at San Francisco's City Hall. However, complications began to arise as DiMaggio, accustomed to being the room's biggest star, became irritated by his wife's meteoric rise to fame. That October, nine months after their wedding, the couple divorced.

It Was Love at First Sight According to Marlon Brando
Monroe and Brando were rumored to have dated briefly in 1955, following Monroe's divorce from DiMaggio and prior to her relationship with Arthur Miller. Marlon Brando and Marilyn Monroe co-wrote the screenplay for Henry Koster's Desiree, which was released in 1954. The two actors got along fantastically well.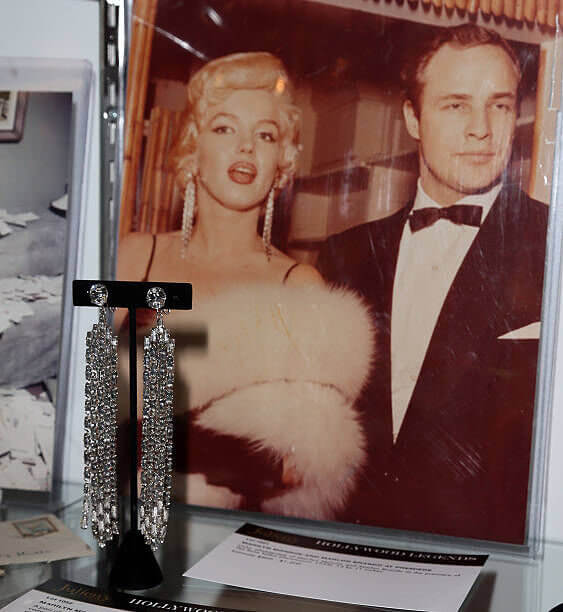 Additionally, Brando escorted Monroe to the premiere of The Rose Tattoo, and the two maintained a friendship until Monroe's death. In February 1961, the actor would even write an affectionate letter to his friend, before retiring to a New York psychiatric facility. It must be stated that, according to Marlon Brando, they had a brief affair a few years prior.

The Relationship With Arthur Miller Crumbled Due to Her Drug Addiction
Monroe stated that meeting the author and playwright in 1950 on As Young As You Feel set was love at first sight. The pair did not reconnect until 1955 after she divorced DiMaggio and relocated to New York City from Hollywood. They began dating secretly and married in 1956.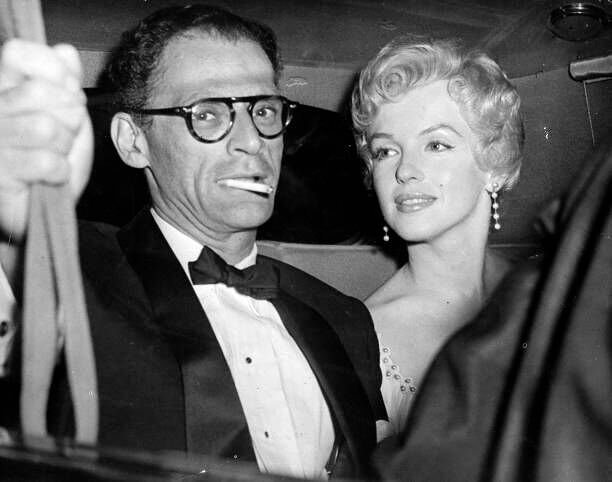 Monroe initially flourished outside of Hollywood, leading a more normal life. She began cooking, cleaning, and caring for Miller's children, all of whom adored her. However, when Monroe returned to work on Miller's The Misfits, their relationship began to deteriorate. Monroe's drug addiction caused problems on set and at home, and she and Miller divorced shortly before the film's 1961 premiere. Monroe died of an overdose 19 months later.

Marilyn Tried to Date Frank Sinatra But Found a Lifetime Friend Instead
Following her divorce from Arthur Miller, the Blonde Bombshell and Ol' Blue Eyes had a brief relationship. Monroe stayed at the crooner's home for a period of time after her divorce from the playwright, after which she returned to Los Angeles. Sinatra and Juliet Prowse's romance had cooled by 1961, when Sinatra proposed to her, but the two remained friends until her death in 1997. Tony Oppedisano claimed in his book "Sinatra and Me: In the Wee Small Hours" that Monroe and Sinatra were close friends, but that they were never romantically involved.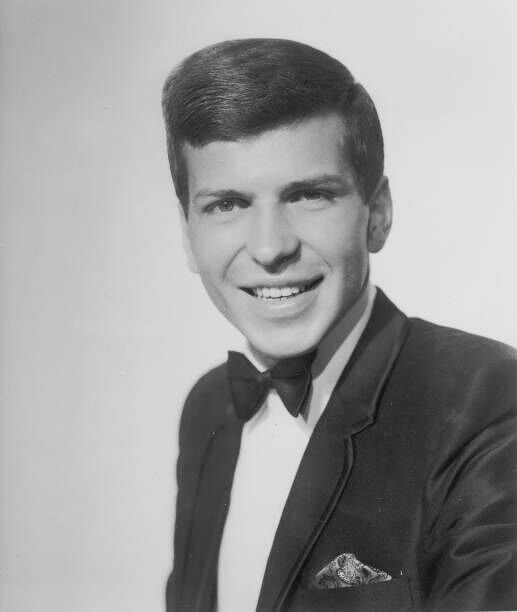 Furthermore, he described Monroe's final days, as well as Sinatra's thoughts on her untimely death, in a book called Monroe's Last Days. Despite the fact that Oppedisano claimed Monroe was "unraveling" in her final days, he wrote in his memoir: "Frank said she'd never have spilled about the Kennedys because she still had feelings for [Jack.]" For his part, Sinatra believed Monroe had been murdered and that the ruling that it was a "probable suicide" caused by an accidental barbiturate overdose, was a straight-up cover story.

Jerry Lewis Claimed That Marilyn Was Secretly In Love With Him
During a candid interview with GQ in 2011, the late comedian claimed to have had a secret love affair with Monroe. To begin, Lewis adamantly insisted that Monroe's affair with Kennedy never occurred, stating, "I'm telling you what I know. Never! And the only reason I know is because I did. Okay?"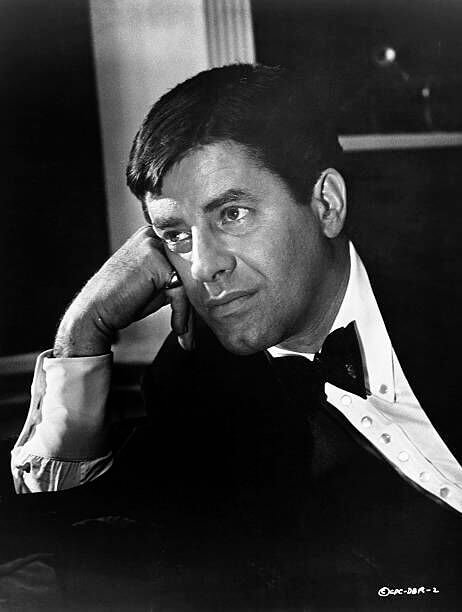 When the interviewer expressed surprise, Lewis assured him that the story was true, stating that Monroe used sex in the same way he used to joke: "She needed that contact to be sure it was real." So, how was the affair? "It was... long," he admitted, ruefully smiling. "I was crippled for a month." "And I thought Marlene Dietrich was great!" he said after quipping before another pause.

Tony Curtis and Marilyn Didn't Actually Hate Each Other
Monroe enchanted nearly every man and woman she met, but Tony Curtis was reportedly unimpressed with her in 1958. Rumors have long circulated that Monroe and her illustrious co-star despised one another on the set of Some Like It Hot. They would not be the first co-stars to harbor animosity toward one another, and they most certainly would not be the last. Curtis implied that kissing Monroe was the equivalent of kissing Hitler.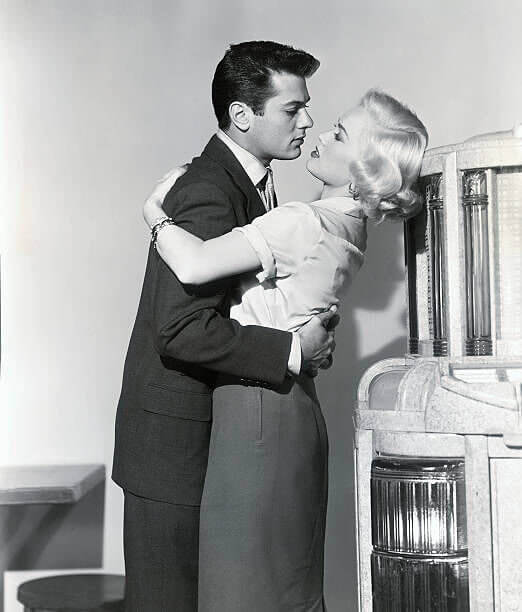 Naturally, the sentiment was heinous. Was this true, or was Curtis attempting to conceal an affair? To be sure, it appears to be the latter, as the American actor reveals in his 2009 memoirs that he had a passionate love story with Marilyn in the early 1950s. A few years later, the two lovers co-star in Some Like It Hot, concealing their relationship. Tony Curtis even admitted to being the father of the child the icon was expecting during the shooting, which she lost during her umpteenth miscarriage.

Yves Montand Almost Ruined His Marriage Because of His Feelings Towards Marilyn
In 1960, Marilyn met French actor Yves Montand on the set of Let's Make Love, a film directed by George Cukor and whose script was rewritten by Arthur Miller (with whom Monroe became fast friends and later married). However, Yves Montand is crucial in this story as in the movie, he portrayed a billionaire businessman who conceals his identity in order to better seduce an actress who is completely unfamiliar with him.
Unfortunately, the big-screen story translated into reality. Yves has been married to Simone Signoret since 1951, but the two actors were having an affair during the filming, which was widely publicized. Faced with the growing feelings that Marilyn was developing for him, the actor made the decision to end the relationship and return to his wife in Paris. In a later interview, Simone admitted that she never harbored any ill will toward Marilyn.

Clark Gable Actually Never Laid a Finger on Marilyn - She Was Too Unhygienic for Him!
Marilyn first met Clark Gable in 1960 on the set of The Misfits. The actress was quickly taken in by the Hollywood icon, who she sees as the father she never had. However, the 59-year-old actor was apprehensive about Marilyn's behavior on set. Nonetheless, it was rumored that the two had a wild romp on the set of The Misfits, shortly before Gable died of a heart attack.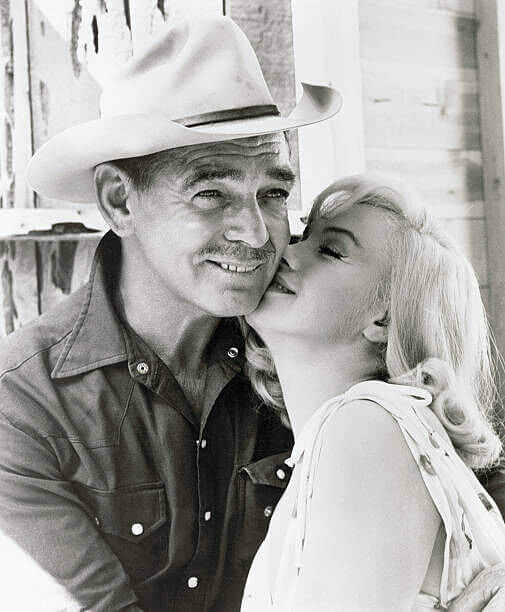 However, author David Bret insists in his biography Clark Gable: Tormented Star that the rumor was simply not true. Bret writes that Gable was not 'amorously interested' in the sex symbol not only because he had a 'fetish for cleanliness,' but also because she was well-known for her lack of concern for personal hygiene. "[Gable] was not in the least amorously interested in Marilyn. In as much as he had a fetish for cleanliness, she could not have been less fastidious regarding personal hygiene," the New York Post quotes Bret.


For as much impact as they left on her life, Marylin was much more than the sum of her lovers. This is the tumultuous and tragic story of this beautiful, talented, and misfortunate icon.
 
The Life of the Iconic Marilyn Monroe
Goddess of the silver screen Marilyn Monroe is the most iconic female star to have ever graced Hollywood. Her unparalleled beauty mesmerized audiences around the world, but did you know the model-turned-actress was incredibly insecure and led a chaotic and troubled life?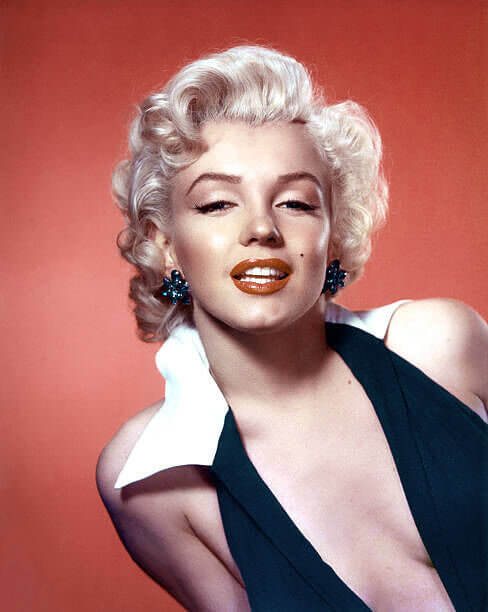 Plagued by demons––she reported hearing voices––her life was a catalog of trauma, sexual abuse, and intergenerational mental illness, which led to her many doomed love affairs, toxic relationships, and scandals. But before we celebrate Marilyn's incredible and scandalous life, let's take a look at her deeply troubled childhood to really get to know her…

Mommy Dearest
Marilyn's mother, Gladys Mortenson, profoundly impacted her life. Gladys was born to a poor Midwestern family who had migrated to California at the turn of the twentieth century. When Gladys was 15 years old, she married the abusive John Newton Baker, and they had two children: Robert and Berniece. Gladys ultimately divorced Baker, but he kidnapped the children and stole them away back to his native Kentucky.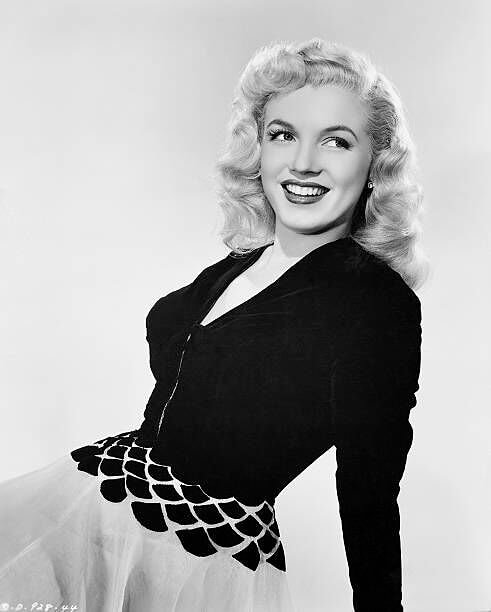 Gladys then worked as a film negative cutter in Hollywood. In 1924, she married Martin Edward Mortensen, but they soon split up. Two years later, on June 1st, 1926, Marilyn Monroe was born Norma Jeane Mortenson, not Norma Jean Baker. Her father was Charles Stanley Gifford, who had a brief affair with Gladys. When he found out Gladys was pregnant, he rejected her. Marilyn's mother kept her father's identity from her for years.

It Runs in the Family
Gladys had severe mental health issues. Within a week of giving birth to Marilyn, she tried to stab a friend in a delusional episode. As such, she struggled to care for an illegitimate newborn, so she placed Marilyn in foster care. The young girl spent her early childhood years with an evangelical Christian couple, Albert and Ida Bolender, in Hawthorne, Los Angeles. At first, Gladys lived with them, but when she had to find work, she moved out and visited her daughter at weekends.
By the time Marilyn was seven years old, Gladys was back on her feet and tried her best to look after her daughter. She bought a small house in Hollywood with a loan, which they shared with actors George and Maude Atkinson and their daughter, Nellie. But lodging with the Atkinsons turned out to be the worst environment imaginable.

Daddy Dearest
When Marilyn was eight years old, Gladys showed her a photograph of her father for the first time. "Norma Jeane was enthralled by the handsome man staring from the photo with piercing eyes and a thin mustache," wrote Charles Casillo in his 2018 book Marilyn Monroe: The Private Life of a Public Icon.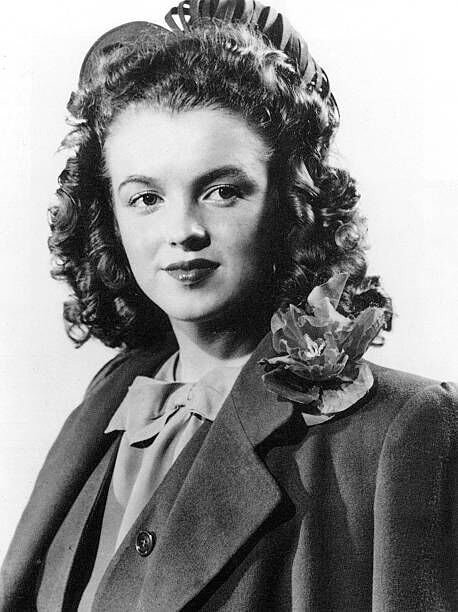 The photo became a meaningful symbol. She would spend the rest of her life desperately seeking fatherly love from almost every man she met. "Norma Jeane would spend a lifetime looking for this man in others, wanting to know him, loving him, passionately wanting him to love her back," wrote Casillo. Around the same time, when Marilyn was aged eight, she was sexually abused for the first time in a boarding house. 

Abuse
When Gladys learned her son Robert Kermit Baker died at 15 in 1933, she took her anger out on Marilyn. 'Why did Robert have to die, not Norma Jeane?' She lamented. More bad news came when Gladys's grandfather hanged himself. By 1934, Gladys had lost her job and her grip on reality and was institutionalized in a psychiatric hospital, where she was diagnosed with paranoid schizophrenia.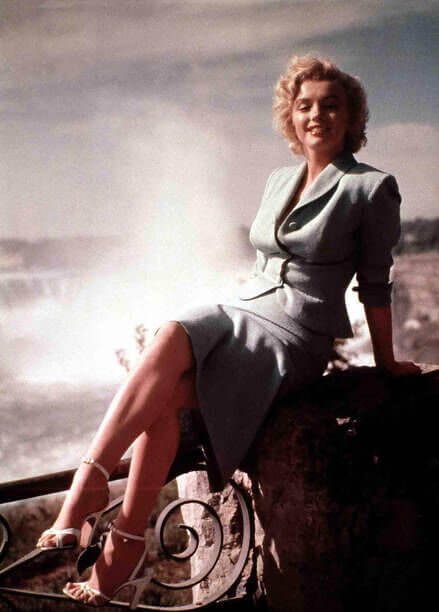 Marilyn kept living with the Atkinsons, who sexually abused her. She became withdrawn, developed a severe stutter, and her grades began to slip. Then, in 1935, she briefly stayed with Grace and her husband Erwin "Doc" Goddard––family friends who had taken over Gladys's affairs after Marilyn became a ward of the state––and two other families. Eventually, in September '35, Grace placed Marilyn in the Los Angeles Orphans Home. 

Orphanage
The orphanage staff believed Marilyn would be happier living with a family, so, in 1936, Grace Goddard became her legal guardian but she did not take Marilyn out of the orphanage until the summer of 1937. Unfortunately, Marilyn's second stay with the Goddards in Van Nuys lasted only a few months as Grace's husband Doc also molested her.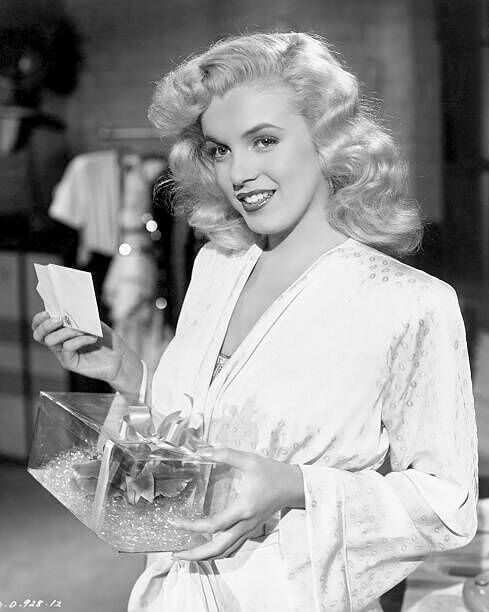 Throughout her adolescence, Marilyn was passed around foster homes like a puppet. In one house, a foster parent abused her behind a barn. In another home, she was attacked by her foster sister's boyfriend. Luckily, she found a semi-permanent home in 1938 with Grace's aunt, Ana Lower, in Sawtelle. But when elderly Ana got sick, Marilyn returned to the Goddards in 1941. The next year, Doc Goddard's work relocated him to West Virginia, but Californian child protection laws prevented them from taking a foster child out of state. Marilyn faced the prospect of returning to the orphanage.

Teenage Bride
Eventually, Marilyn decided she'd had enough of being passed from pillar to post and being abused, so she decided her only way out was to drop out of Van Nuys High School to become a teenage bride and housewife. And so, on June 19th, 1942, just after her 16th birthday, she married her neighbor's son James Dougherty so she didn't have to go back to the orphanage.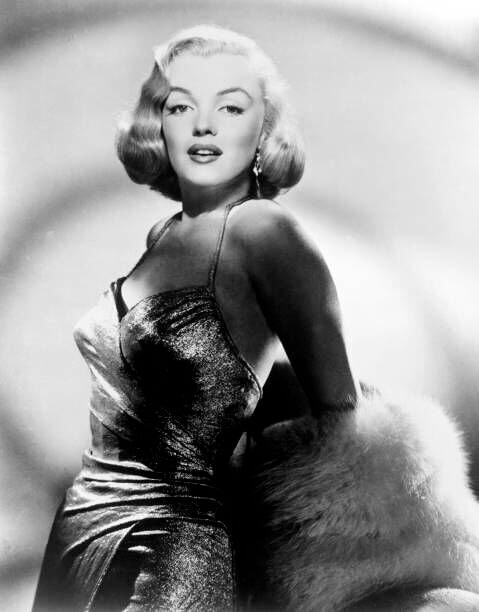 In 1943, Dougherty enlisted in the Merchant Navy and was stationed to Santa Catalina Island. Marilyn moved with him but soon found herself "dying of boredom", so she took up weightlifting and surfing. Then, in 1944, James was shipped out to the Pacific to fight in WWII for almost two years. Monroe moved in with her in-laws and began working at the Radioplane Company, a munitions factory in Van Nuys.

Kiss, Kiss, Bang, Bang!
In 1944, the stars aligned, and a date with destiny came-a-calling. To support the war effort, the U.S. Army sent photographer David Conover to the factory to shoot morale-boosting pictures of young attractive female workers. The auburn-haired beauty immediately caught the photographer's eye. Although none of her photographs were used, Marilyn quit the factory to model for Conover. Then, defying her overseas-deployed husband, she signed a contract with the Blue Book Model Agency in August 1945.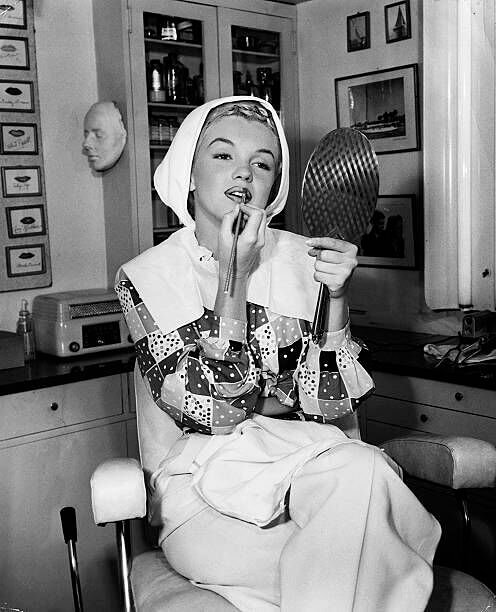 Modeling had lit a fire within Marilyn's soul. No longer could she spend her days tolling in a factory married to a dullard, who was away at war. The only logical next step was to kick off a modeling career. Blue Book thought she was more suitable for pin-up than high fashion. Marilyn started modeling, but little did she know that her demons were about to reappear...

Pin-Up Girl
By 1946, Marilyn had modeled for Pageant, Salute, U.S. Camera, Laff, and Peek, usually using the pseudonym Jean Norman. But her new life was turned upside down when her unhinged mother showed up at her door. Gladys was released from the psychiatric ward and brought her many troubles with her. Though unemployed, Gladys dressed as a nurse and treated her daughter cruelly. Then, almost as quickly as she arrived, Gladys suddenly abandoned her daughter yet again while she swanned off to marry an already-married man in Idaho.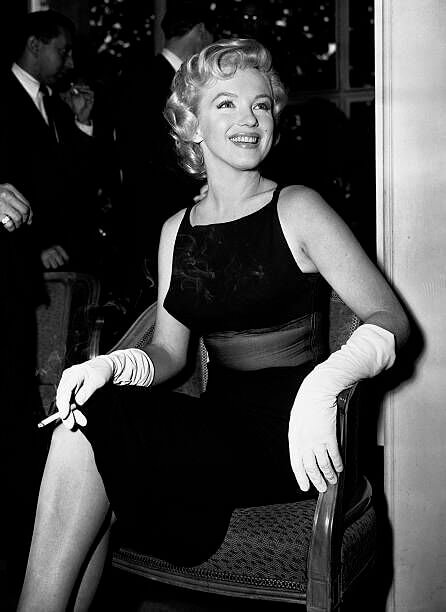 According to Blue Book's owner, Emmeline Snively, Marilyn soon became one of its most ambitious, hard-working models. It was around this time that Marilyn became obsessed with her appearance. She exercised to lose more weight to make herself more employable. 

Hollywood Calling
In June 1946, Emmeline Snively introduced Marilyn to an acting agency. After an unsuccessful interview at Paramount, she screen-tested at 20th Century-Fox and won a six-month contract. Legend says she only won the contract because Darryl F. Zanuck wanted to stop rival studio RKO Pictures from signing her!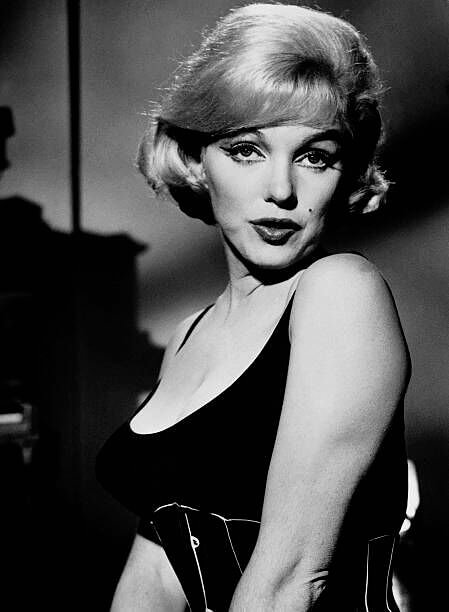 In August 1946, she and Fox exec Ben Lyon selected the stage name "Marilyn Monroe". Lyon chose the first name as it reminded him of Broadway star Marilyn Miller, while the surname was Monroe's mother's maiden name. The following month, she divorced James and Marilyn Monroe was finally free! She spent her first six months on Fox studio's lot, learning to act, sing, dance, and observing the film-making process. 

She Had An Affair
The tuition worked, and she soon won her first minor parts. Fox also enrolled her in the Actors' Laboratory Theatre. Talking about her time in the Laboratory, she said: "it was my first taste of what real acting in a real drama could be, and I was hooked". Despite boundless enthusiasm, her tutors believed her to be too shy and insecure to have a future in acting, so Fox canceled her contract. Finally, in 1948, Columbia took a chance on Marilyn, and she began working with the studio's head drama coach, Natasha Lytess.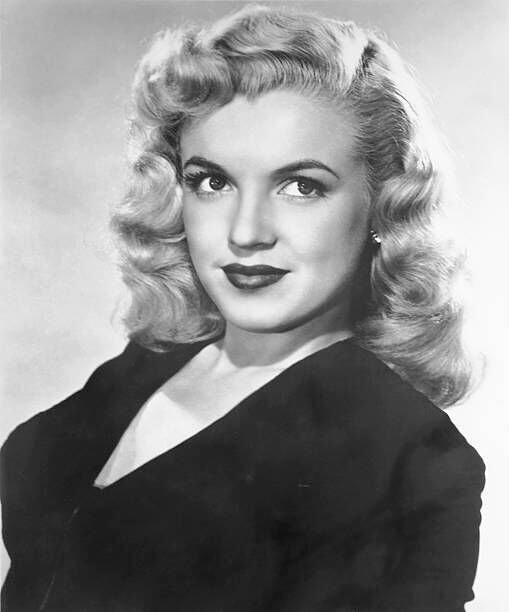 According to Charlie Chaplin's autobiography, when Marilyn wasn't filming bit parts, she dated his son Charlie Junior. Unfortunately, Chaplin Snr. claimed that Marilyn's and his son's relationship ended in tatters when Charlie Junior caught Marilyn in bed with his own brother, Sydney Chaplin!

The Casting Couch
As an aspiring actress, Marilyn was at the mercy of sexual predators, including Joe Schenck, chairman of 20th Century Fox. The 69-year-old awarded her a contract on the condition she "serviced" him whenever he called.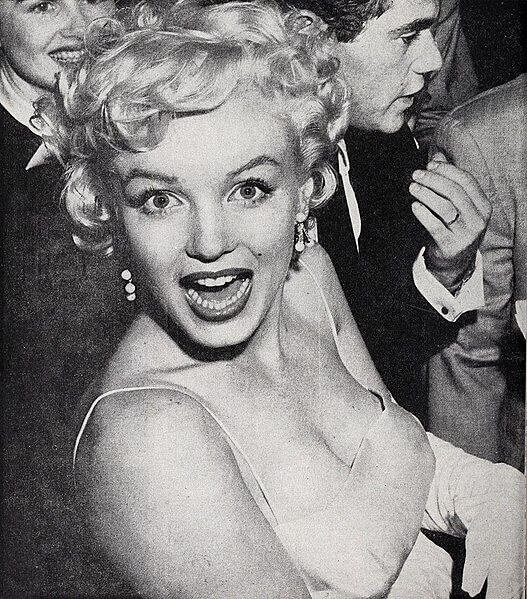 After Monroe's six-month contract was up, she hoped her days on the casting couch would end. But to renew her contract, another studio executive, Harry Cohn, offered her the same dirty deal. When Marilyn refused, the studio promptly declined to give her another six-month contract.
Beauty and Difficulty
Marilyn Monroe finally broke into Hollywood when she appeared in a hit musical romance, Ladies of the Chorus (1948), opposite actress Adele Jergens. Years later, Adele's boyfriend, Milton Berle, claimed that he and Monroe had a brief affair while making the film.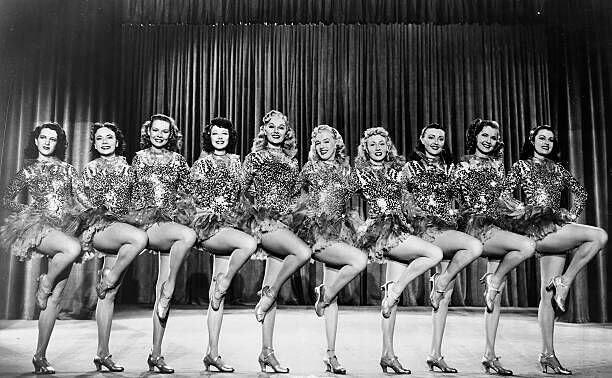 Despite her stunning beauty, Marilyn's journey to the top was plagued with difficulty. In 1949, after years of modeling and minor movie roles, she was broke. Desperate for work and money, Marilyn posed in a series of risqué nudes for John Baumgarth calendars using the name Mona Monroe. 
Plastic Surgery
A couple of years earlier, Orson Welles shockingly made his wife, Rita Hayworth, cut her long auburn hair short and made her dye it blonde for The Lady from Shanghai (1947). So when Marilyn arrived at Columbia in 1948, her hair was bleached platinum blonde. Marilyn often mentioned men holding her down to attack her at Hollywood soirees, and Orson Welles recalled one party where "Marilyn was surrounded by men, and one reached out and tore off her top, revealing her breasts ... Marilyn laughed with the others at this indignity. Laughter hid her fury."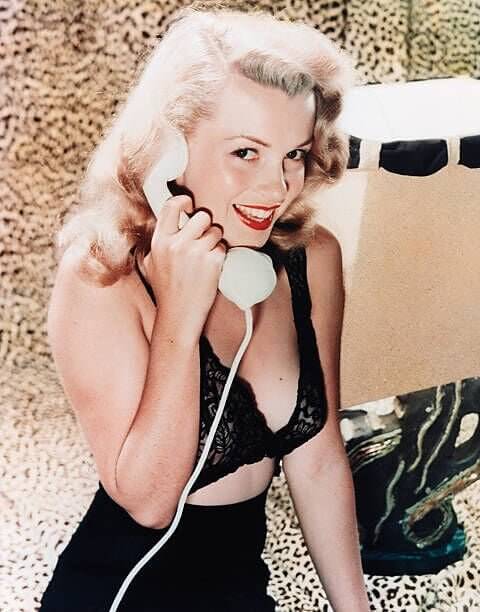 In 1950, Marilyn had her front teeth fixed to make her appearance less goofy. She also had two painful plastic surgeries: A tip rhinoplasty to reshape the end of her nose and a chin implant. She also began to whiten her already fair skin with hormone cream, but this caused light blonde hairs to sprout all over her face. Even while sporting a fine, feathery beard, she refused to stop her skin bleaching routine. 
Herbert Dorfman/GettyImages
One of Marilyn's earliest film roles was playing Miss Caswell in All About Eve (1950), a role originally offered to Zsa Zsa Gabor. But her nerves and lack of acting experience meant she'd didn't remember her lines and needed multiple takes just to get through a single scene. In addition, Monroe was horribly insecure and always felt she was doing a terrible job. Yep, even Marilyn Monroe had imposter syndrome!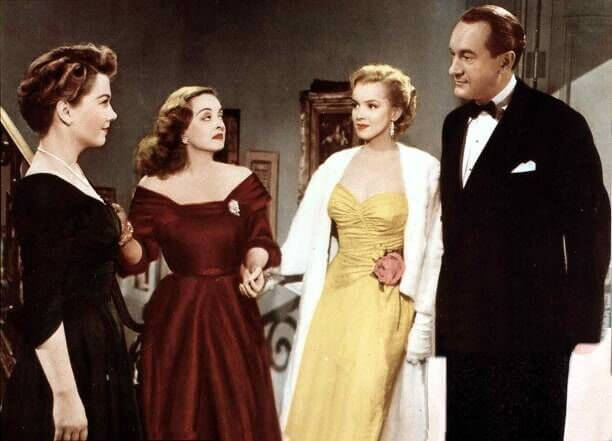 While filming All About Eve, Monroe's beauty, charm and vulnerability made her irresistible to her co-star, George Sanders. So much so that his wife, Zsa Zsa Gabor, kept showing up on set to make sure nothing was going on between the two. The same year, Marilyn appeared in John Huston's film noir The Asphalt Jungle (1950).
She Heard Voices
Marilyn appeared in 16 movies in her first four years in Hollywood and all this hard work began to take a toll. Yet it seems to have taken a mental toll on her, as she confided in her acting coach that she was hearing voices. This was one of the first symptoms of the mental instability that would haunt Monroe for the rest of her life. In 1950, Monroe underwent more trauma.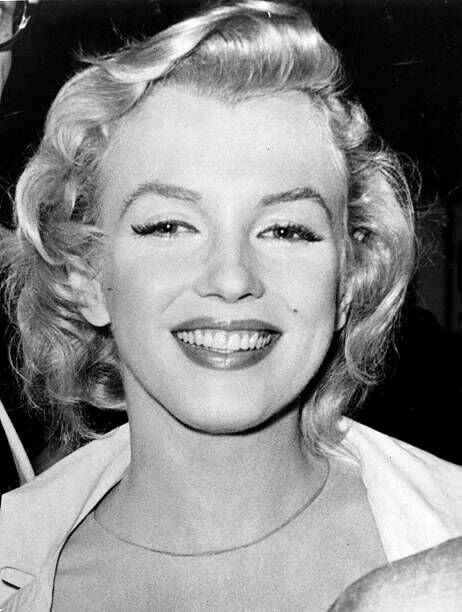 For the last two years, she'd been dating her agent, Johnny Hyde. He suddenly died of a heart attack aged 55. Monroe had been his protégé, and she wrote that she lost "her greatest friend." Devastated, she wept for days and even howled his name at the funeral. After Hyde's death, Marilyn's acting coach found her unconscious on her bed with thirty sleeping pills in her mouth. She hadn't swallowed enough to kill herself, but this wouldn't be Marilyn's only suicide attempt. 
Haunted by the Past
Amidst all this heartbreak, Marilyn worked hard filming her breakout role in Fritz Lang's Clash By Night (1951). Appearing opposite Barbara Stanwyck, superstardom beckoned. Until, that is, journalists uncovered Monroe's nude photos from 1949. After the leak, superstardom did arrive, but not for her acting talents. 

After the photos leaked, she became an overnight sensation. While the scandal would have ruined anyone else's career, this screen siren took her new seductress image in her stride. When reporters asked, "Marilyn, is it true that you had nothing on?" she quipped, "No, that's not true. I had the radio on." Her nude photos were later used as the centerfold and on the cover of the first issue of Playboy in 1953.
The Ultimate Rejection
In 1953, Marilyn finally decided to reach out to the man she believed to be her biological father: Charles Stanley Gifford. After searching for him for months, she eventually tracked him down and explained on the phone that she was his daughter with Gladys. Gifford callously shut her down by stating, "Look, I'm married, and I have a family. I don't have anything to say to you. Call my lawyer."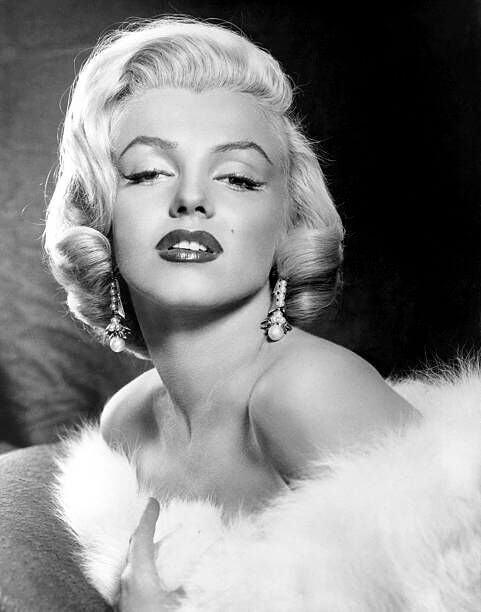 Her father's rejection crushed her and led her to dark places. Marilyn's friend, Casillo, wrote, "Marilyn confessed that she longed to 'put on a black wig, pick up her father in a bar and make love to him.' Afterward, she would ask, 'How do you feel now that you have a daughter that you've made love to?'" Fantasy aside, this rejection became the catalyst for a string of disturbing and disastrous encounters with men.
She Was In Constant Pain
Her career may have been on the up, but her personal life was heading south. First, terrible, monthly menstrual pain warranted a clause in her contract allowing her to be absent from work during her period. Then, in 1952, after years of suffering from incurable endometriosis, she had to undergo surgery.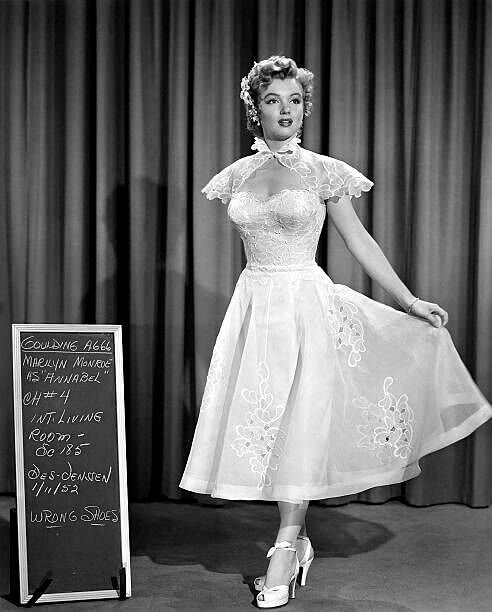 Marilyn was always desperate to have children, so she taped a note to her stomach in a last-ditch plea to her surgeons, begging them not to remove her ovaries during the procedure.
She Hated Playing Bimbos
In 1953, she appeared in three hit movies: Niagara, Gentlemen Prefer Blondes, and How to Marry a Millionaire. However, she could have done with marrying a millionaire because she earned just 10% of her co-star Jane Russell's salary on Gentlemen Prefer Blondes.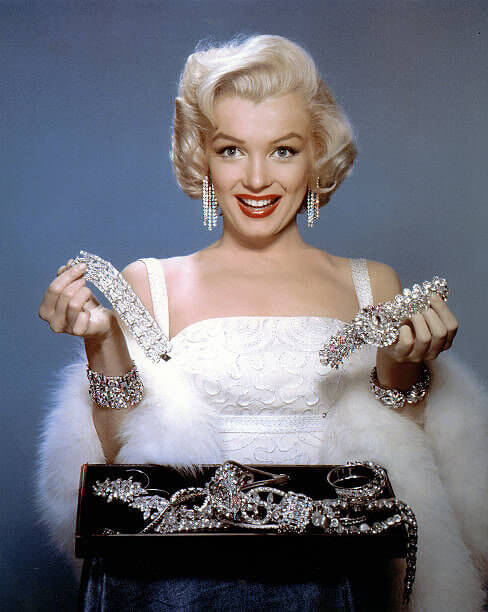 Studios wanted Marilyn to be their new blonde bombshell, which back then meant "dumb blonde." She hated being typecasted as a ditz, but Marilyn knew that she'd have to play along to become a star. Unfortunately, around this time, she gained a reputation for being difficult to work with. She was still incredibly insecure and needed her overbearing acting coach with her all the time. Marilyn would demand to re-shoot the scene up to forty times if a scene didn't win the coach's seal of approval. 
Rocky Relationships
Amidst all this turmoil, Marilyn was busy in the romance department too. In her early Hollywood days, she dated On the Waterfront (1954) director Elia Kazan, Rebel Without a Cause (1955) director, Nicholas Ray and actors Yul Brynner and Peter Lawford.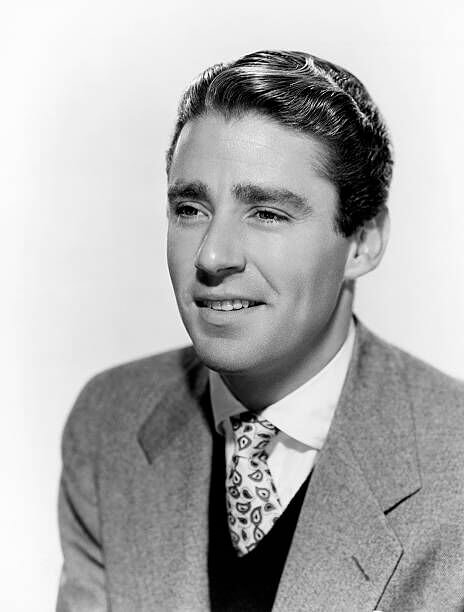 In 1952, her agent set her up with retired New York Yankees baseball player Joe DiMaggio. His ex-wife, actress Dorothy Arnold filed for divorce in 1943, ­citing "cruel indifference", but Marilyn fell for him. They eloped to San Francisco in January 1954. Marilyn told a friend: "Except for Joe, I've sucked my last c**k." They honeymooned in Japan, and Marilyn performed for US troops in Korea. When she arrived home, she won a new Fox contract, a $100,000 bonus, and a starring role in The Seven Year Itch (1955). Wedded life was bliss until Marilyn found out...
DiMaggio Was a Controlling Monster
Joe loved to stay at home, drinking, smoking, and watching TV. He wanted a traditional, stay-at-home housewife. Conversely, Marilyn was always on a self-improvement quest: psychotherapy, devouring books, and art. Joe hated her highly sexualized roles, so he laid down rules to approve her future roles. Furthermore, she was never to appear semi-dressed and must break out of her "dumb blonde" typecasting. Within weeks of tying the knot, he felt he was losing control, so he'd give her the silent treatment for days.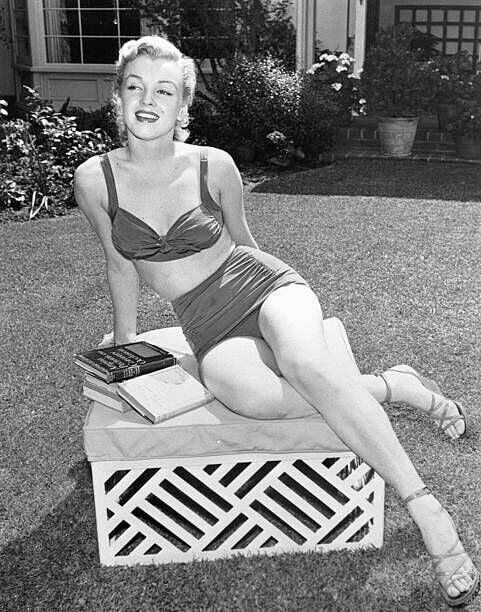 While filming her era-defining The Seven Year Itch scene, DiMaggio lost the plot. A crowd of wolf-whistling onlookers assembled and DiMaggio demanded: "What the hell is going on here?" After the shoot, they returned to their hotel room and got into a "yelling battle". When Marilyn arrived on set the next day, her arms were covered in bruises. According to Joe DiMaggio Jnr, it wasn't the only time his father beat Marilyn. 
She Only Wanted One Thing
Marilyn adored children and animals; while the crew took lunch on the set of River of No Return (1954), she'd cuddle her co-star, a raccoon named Bandit. The only thing she wanted was a child, and she was trying to conceive a baby with her husband. Unfortunately, it wasn't to be, as Monroe announced their divorce less than a month later.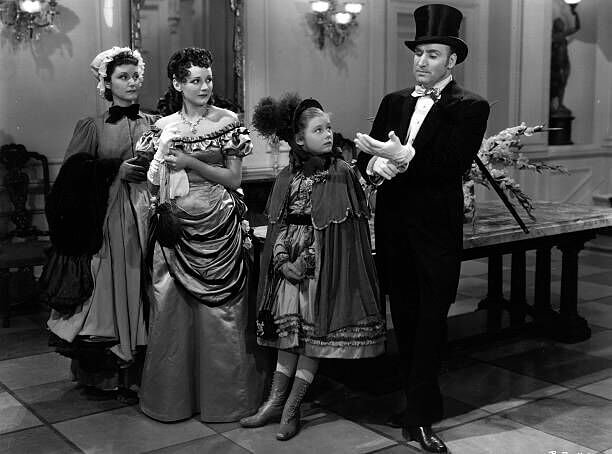 Married to a controlling man, Marilyn began drinking heavily and taking sedatives. She had an affair with her voice coach Hal Schaefer (pictured). When Joe discovered her infidelity, he called Schaefer who says he heard Marilyn screaming in the background. "Don't come here!" she said. "He'll kill you!" In the fall of 1954, Marilyn called time on their sham of a marriage after just nine months, citing "mental cruelty."
Joe Stalked Her
Joe DiMaggio never wanted to split, but after the divorce, he stalked Marilyn. He'd wear a fake beard and wait in the lobby of her new home at Waldorf Astoria on Park Avenue. He had her phones tapped and would show up, hoping to catch her with other men. Beside himself, Joe turned to the one man who would understand his predicament: Frank Sinatra. Old Blue Eyes had hired a private investigator to trail his great obsession and soon-to-be-ex, Ava Gardner.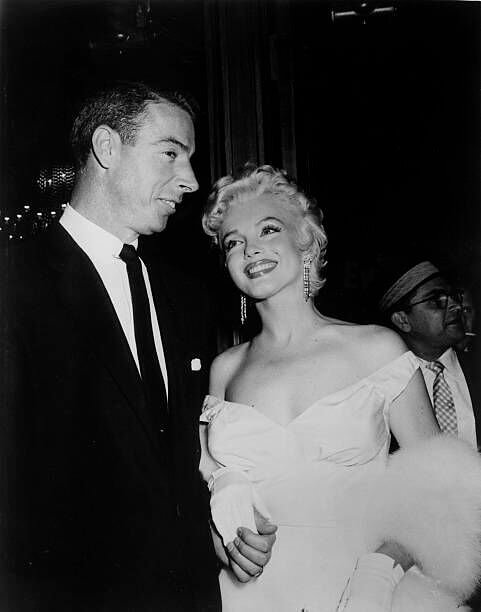 One drunken night, DiMaggio, Sinatra, and five henchmen drove to West Hollywood to dish out some mafia-style revenge to Hal Schaefer. Sinatra was alarmed by how enraged DiMaggio was but couldn't calm him. Then, at 11:30 p.m., 50-year-old secretary Florence Katz awoke to find "her door broken down and Joe DiMaggio and Frank Sinatra hovering over her, ready to pounce." She screamed, and the cops came, but they kept the stars out of their report. Sinatra paid Katz $7,500 hush money, but Confidential broke the "Wrong Door Raid" story. For the rest of his days, DiMaggio claimed he wasn't there. 
Miller Time!
Marilyn Monroe rebounded by getting it on with Hollywood's hottest young actor, Marlon Brando, and playwright Arthur Miller. Her affair with Miller became more serious in October 1955, when her divorce was finalized, and Miller separated from his wife. The studio urged her to end the affair, as Miller was being investigated by the FBI and House of Un-American Activities Committee for allegations of communism. Marilyn refused, so the FBI opened a file on her!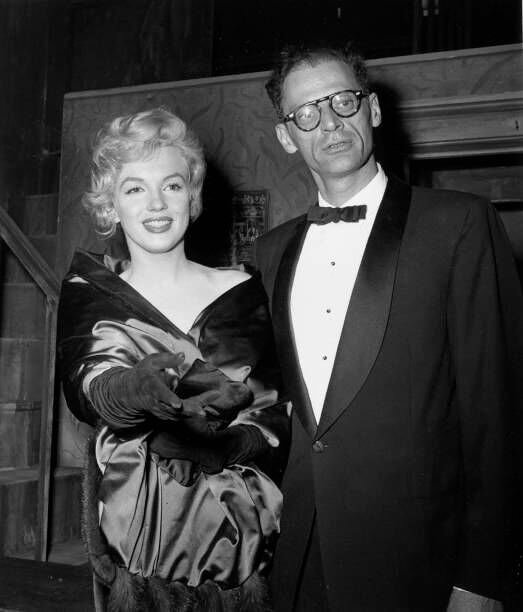 In 1956, Marilyn married Arthur Miller in New York and converted to Judaism. Variety's headline was: "Egghead Weds Hourglass", but the most unlikely marriage since the Owl and the Pussycat wasn't to last. 
Curiosity Killed the Cat
The same year they married, Marilyn legally changed her name from Norma Jeane to Marilyn Monroe. When a fan asked her for an autograph, Marilyn had to ask how to spell her own name. This probably didn't go down too well with her literary husband. Nor did her sexual history.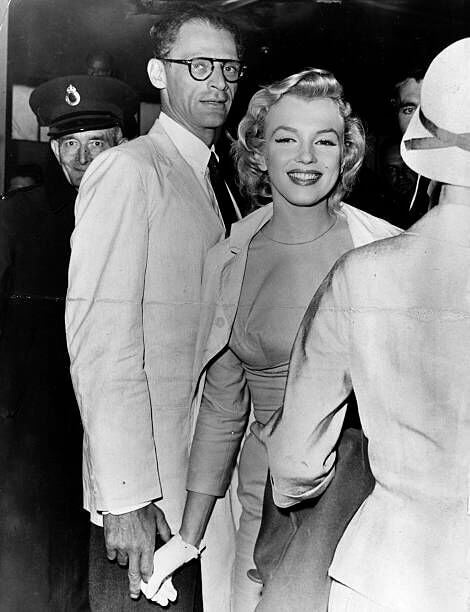 Arthur Miller quickly regretted marrying the most beautiful, wanted woman in the world. He wrote unspeakably cruel things about her in his journal; she was disappointing, clingy, unpredictable, embarrassing… and he wanted to hurt her. Unfortunately, Marilyn found her new husband's diary, gave in to her curiosity, and read his thoughts on their marriage. Needless to say, she was heartbroken. 

Marilyn Was Falling Apart
After the success of Bus Stop, Marilyn made The Prince and the Showgirl (both 1956). Stressed out on all manner of pills, her weight fluctuated so wildly; the designer had to create her costumes in multiple sizes. Marilyn fell out with her co-star and director, Sir Laurence Olivier. The English thespian hated her constant lateness and forgetting her lines. After years of trying to shed her bimbo image, Olivier yelled at her, "Just be sexy!" In three words, he'd found her Achilles heel.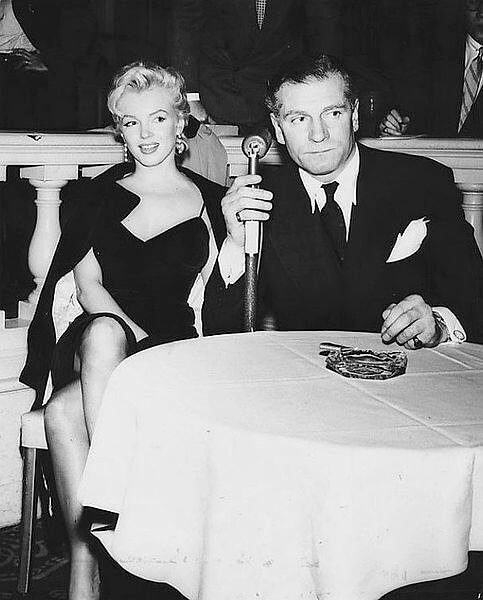 She and Miller conceived three times in 1956, 1957, and 1958. Tragically, Marilyn had two miscarriages and one ectopic pregnancy. After her third failed pregnancy, she stopped trying for a baby. For a woman who had always wanted children, the loss was devastating. 

The Crew Hated Her
In 1958, she filmed perhaps her most acclaimed role in Some Like It Hot. To get a grip on her fragile emotional state and insomnia, she took a swathe of medications: It took her 60 takes to deliver one line: "It's me, Sugar." Marilyn's life spiraled out of control, and she often refused to come out of her or dissolved into erratic outbursts. Her tardiness cost the production half a million dollars in over-runs.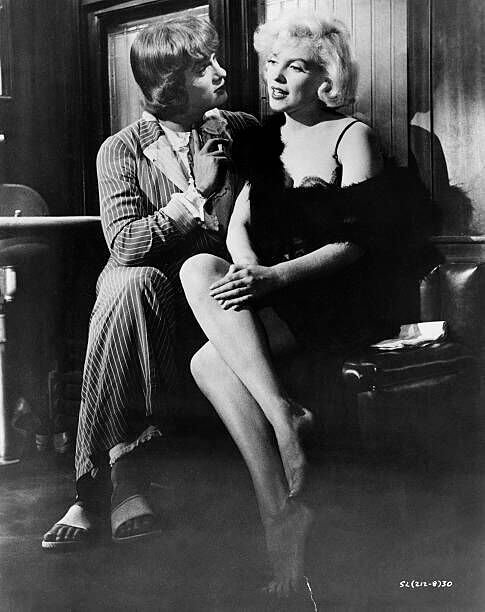 The cast and crew hated her; when Tony Curtis had to kiss her, he stated he'd "rather be kissing Hitler," though he later claimed the two were having an affair. Marilyn was so despised, she wasn't invited to the wrap party, and Billy Wilder started dissing her in interviews: "Anyone can remember lines, but it takes a real artist to come on the set and not know her lines and yet give the performance she did!" So, to wreak her revenge, Marilyn called Wilder's home and asked his wife to deliver him a message: Billy Wilder could "go f*** himself."

Outcast
Monroe was all lined up to play Holly Golightly in Breakfast at Tiffany's (1961)—but because of her behavior on Some Like it Hot, the studio refused to hire her. So, her next movie was––somewhat ironically––called Let's Make Love (1959).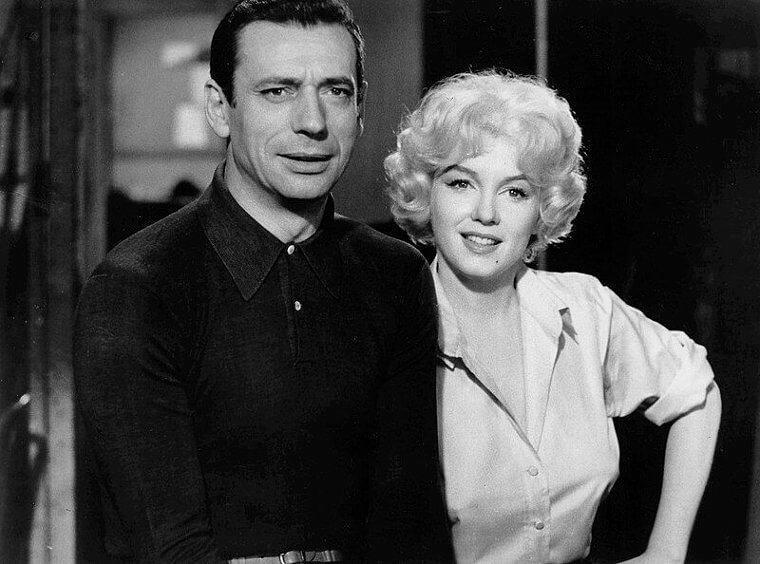 Her marriage to Arthur Miller was on its last legs. His cruel behavior made her feel alone, unloved and ashamed, so she embarked on an affair with her married co-star Yves Montand and fell pregnant with his baby. Sadly, like all her previous attempts, this pregnancy did not go full term and all this took its toll. Her next movie––The Misfits (1961)––was a complete and utter disaster. The neo-western's three leads, Monroe, Clark Gable, and Montgomery Clift, would all be dead within years of its release.

Misfit
It's no surprise The Misfits was a disaster. Director John Huston was an alcoholic who often showed up to work three sheets to the wind. Marilyn Monroe and Montgomery Clift both had crippling mental health issues and needed medication just to get them through the day.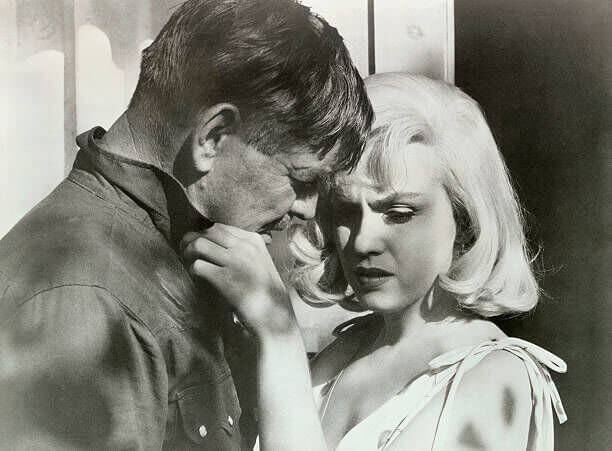 The film's writer also happened to be Arthur Miller—meaning that the deeply miserable couple had to spend every day on set together. The plot sees a wounded young woman (Monroe) who falls in love with a much older man. Miller wrote The Misfits to give Marilyn a proper acting role in the hope they could reconcile. Instead, the experience ended their relationship forever. Miller had an affair with set photographer Inge Morath and cruelly exploited his wife's insecurities by purposefully giving her last-minute script changes.

George Rinhart/GettyImages
In terrible pain from gallstones and addiction to barbiturates, filming was halted while Monroe spent a week in a hospital detox. Yet, despite her many problems, she gave the performance of her lifetime. Director John Huston stated that when Monroe was performing, she "was not pretending to [have] an emotion. It was the real thing. She would go deep down within herself and find it and bring it up into consciousness."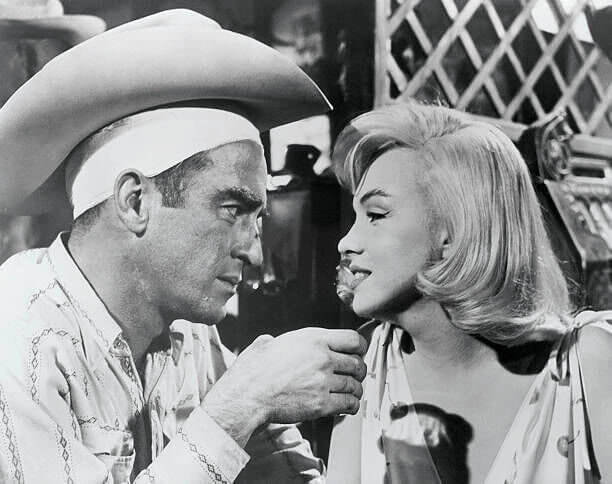 Already deeply vulnerable, filming The Misfits pushed Marilyn over the edge and into despair. During production, she told her psychiatrist she was hearing voices again. To combat her ever-deteriorating mental state, she took three times the maximum dosage of sleeping pill Nembutal. The results were catastrophic.

Father Figure
One good thing did come out of filming The Misfits, however short-lived. Marilyn finally found the father figure she always longed for in the guise of Clark Gable. While the rest of the crew treated her with contempt, Gable was kind, generous, and nurturing.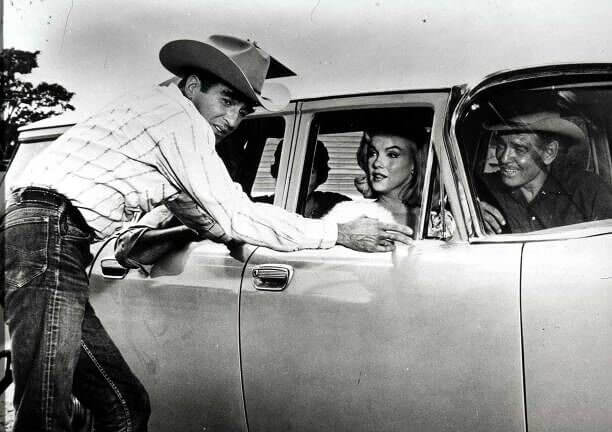 Sadly, Clark Gable had a fatal heart attack just days after The Misfits wrapped, which some attribute to the 59-year-old performing his own stunts. When he died, Marilyn wept for two days straight. By November 1960, Miller and Monroe announced that they had separated.
Suicidal Thoughts
In February 1961, Marilyn told a friend that she had thought about jumping off her apartment balcony. Soon, her psychoanalyst had her committed to a psychiatric ward. Believing she was going to a place to recuperate, the world's most desirable woman was "forced into a padded cell and threatened with a straightjacket." Forcibly institutionalized, Marilyn Monroe was diagnosed by two top psychiatrists as a paranoid schizophrenic just like her mother.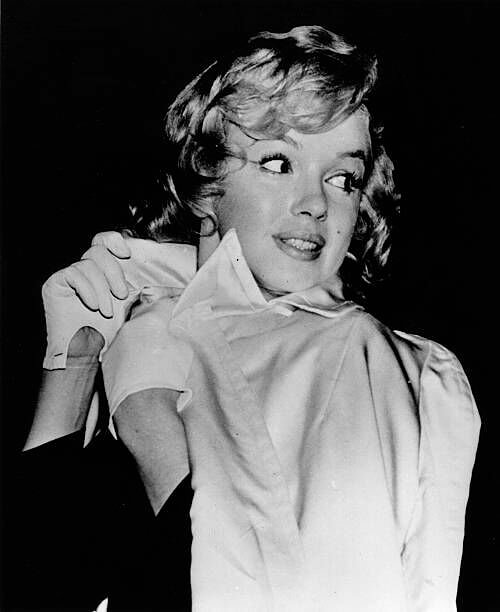 Poor Marilyn's experience at the institution was one of the darkest, most harrowing, and humiliating moments of her short life. In recently uncovered letters, Marilyn wrote of the "inhumanity" of the psych ward and being treated as sub-human. In a desperate bid to escape, she smashed a pane of glass and threatened to hurt herself unless she was released. Finally, an unlikely knight in shining armor rescued her when ex-husband Joe DiMaggio got her released.
Something's Got To Give
She signed on for Something's Got To Give (1962) but didn't show up for the first two weeks of filming as her descent into drink and drugs worsened. Her makeup artist would have to apply her makeup as she lay semi-comatose in her bed, addled by barbiturates. In the end, something had to give, and the studio fired Marilyn Monroe. The film remains unfinished but was made into a short film.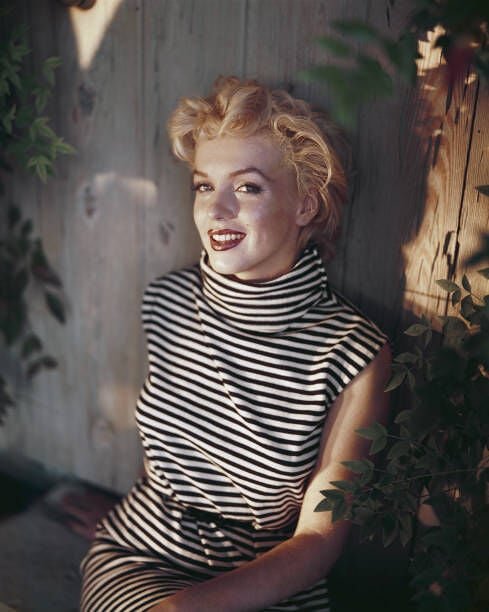 Monroe still had so much star power that Fox immediately about-turned, re-opened negotiations, and gave her a new contract, including re-commencing Something's Got to Give and a starring role in a black comedy. Sadly, she'd never get to make another movie as her demons got the best of her. The name of the film she never got to make was What a Way to Go!
Happy Birthday, Mr. President!
Yet as Marilyn plunged into the abyss, she still had enough moxie to date Joe DiMaggio's best friend, Frank Sinatra! Over the years, the blonde bombshell also reputedly slept with Satanist Anton LaVey, actor Jerry Lewis, filmmaker José Bolaños, Darryl F. Zanuck, Howard Hughes. But her most famous fling was with JFK, whom she met at one of his sisters, Pat Kennedy Lawford, and her husband, Peter's sex parties.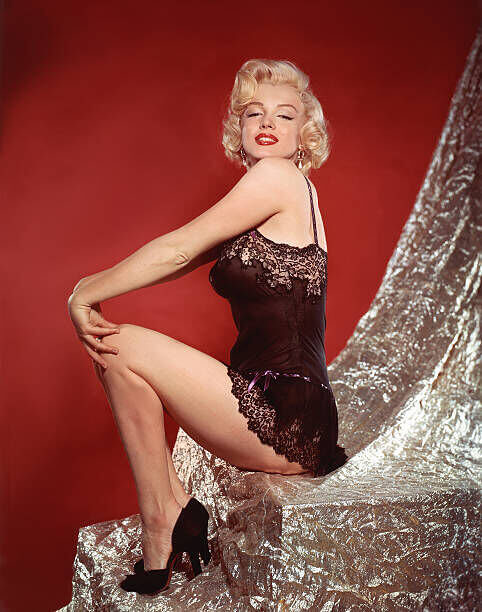 In May 1962, she famously serenaded President John F. Kennedy at his 45th birthday party with her sexy, breathy version of "Happy Birthday". So naturally, the press had a field day, launching rumors that the two were having an affair. Of course, those rumors were true, and it all culminated in a dramatic face-off with Jackie Kennedy...
First Lady
Christopher Andersen's 2013 biography, In These Few Precious Days: The Final Year of Jack with Jackie, claims that Marilyn called Jackie Kennedy and told her that JFK had promised to marry her. As cool as a cucumber, the FLOTUS replied: "Marilyn, that's great ... you'll move into the White House, and you'll assume the responsibilities of First Lady, and you'll have all the problems."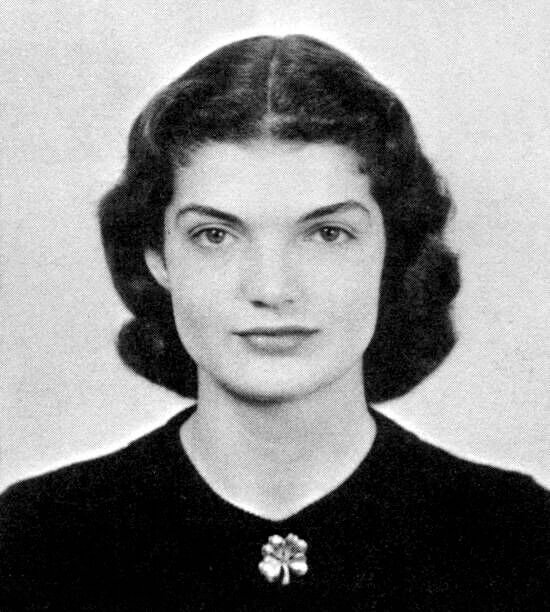 But Marilyn wasn't just sleeping with JFK; she was also bedding his younger brother Bobby Kennedy. As her mental health declined further, she found herself depending on the two brothers, but their lofty positions meant they could show her no loyalty. Believing she'd finally found two father figures to take care of her, Monroe became increasingly convinced she'd marry one of the Kennedy brothers but they both abandoned her. 
Driven to Despair
Being cast aside by both Kennedy brothers pushed Marilyn over the edge. She often stayed with the Lawfords and––high on pills–– would "wander into the couple's bedroom in the middle of the night and stand at the foot of their bed, staring down at them. 'Why can't I be as happy as you two?'" She would ask them. Then, mere days before she died, Monroe told a close friend, "If it weren't for Joe, I'd probably have killed myself years ago."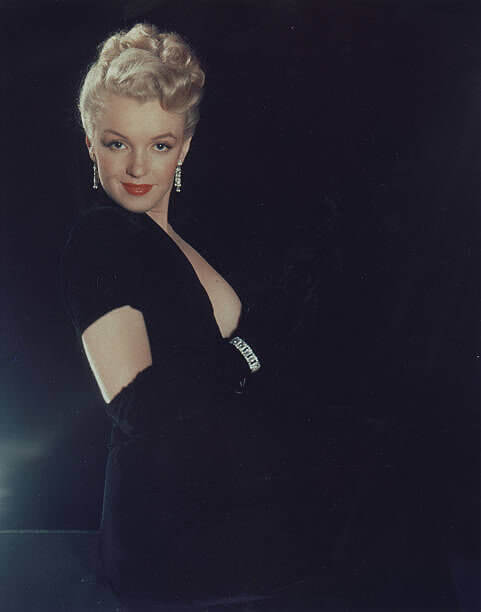 On August 3rd, 1962, an upcoming young actor named Warren Beatty was allegedly one of the last people to ever see Marilyn Monroe alive. The 25-year-old met Marilyn at a producer's house during a party. In a 2016 interview, the lothario revealed he and Monroe spent the evening together. He played the piano for her, and the pair took a moonlit walk along the shore. Marilyn Monroe reportedly spent her last night alive with mafia boss Sam Giancana, whom she was dating.
Death
On August 5th, 1962, Marilyn Monroe's body was discovered at her home in Brentwood, Los Angeles, by her psychologist. She was just 36 years old. She was found in her bed with her phone in her hands. Peter Lawford took a call from her that night and knew something was very wrong. He was desperate to check in on her but was talked out of it, due to the potential political ramifications.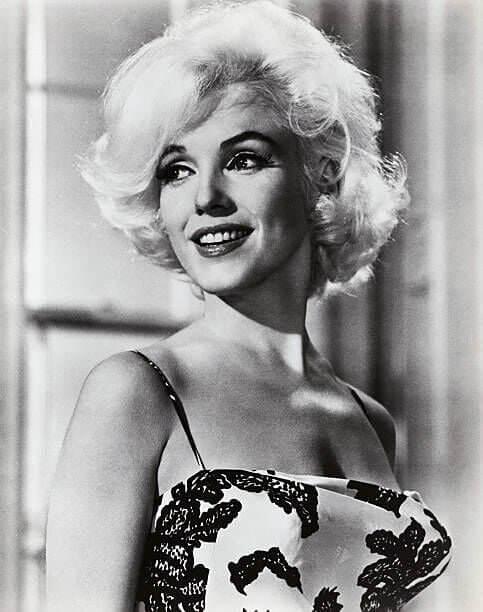 With many times the lethal limit in her body, the coroner stated Marilyn Monroe had committed suicide by overdosing on barbiturates. Conspiracy theories surround her death to this day, and even her ex-lover Marlon Brando believed she was murdered. The most famous conspiracy is that the Kennedys and/or the CIA, or even the Mafia, killed her and staged a suicide. The Kennedys certainly had a motive. 
Funeral
French artist Jean Cocteau stated Marilyn's untimely death "should serve as a terrible lesson to all those whose chief occupation consists of spying on and tormenting film stars". Former co-star Laurence Olivier said she was "the complete victim of ballyhoo and sensation," and Bus Stop director Joshua Logan called Marilyn: "one of the most unappreciated people in the world."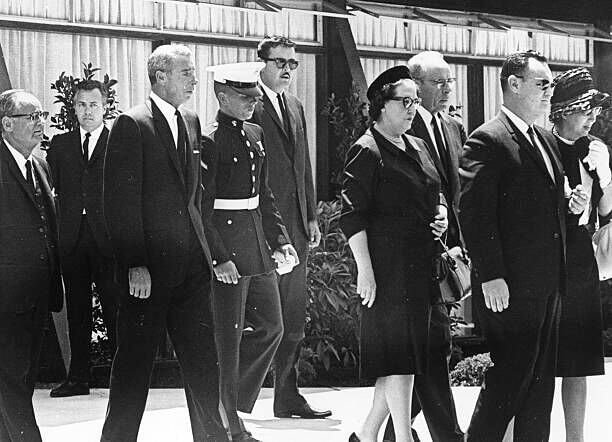 Her funeral was held at the Westwood Village Memorial Park Cemetery, Los Angeles, and arranged by Joe DiMaggio, her half-sister Berniece and business manager Inez Melson. Inside the open casket, she wore an apple green dress and held pink roses. Sadly, because her signature platinum blonde hair had been partially shaved for the autopsy, she sported a wig. Only around 30 people saw Monroe lying in her coffin because her funeral was limited to her close friends and family.
Good Old Joe
Speaking of Joe DiMaggio, remember the night he obsessively stalked Marilyn, and he and Sinatra kicked down the door of an innocent middle-aged secretary? Well, to Joe's credit, this dark episode scared him so much he confronted his demons, stopped drinking, and started anger management therapy. Eventually, he and Monroe became close friends, and when she died, he was heartbroken. However, Joe always believed he and his ex-wife would one day reconcile and be together again, and rumors suggest they'd rekindled their love just weeks before her demise.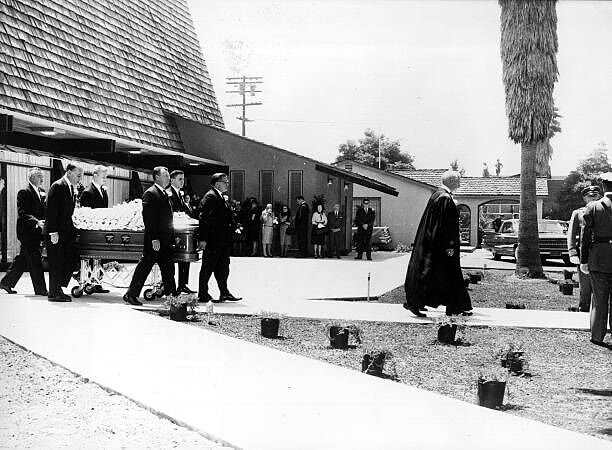 For twenty years after Marilyn died, Joe DiMaggio sent roses to her crypt three times a week. Despite the fact Joe outlived his beau by 36 years, he never re-married. He never got over Marilyn Monroe, and legend says his final words were apparently, "I'll finally get to see Marilyn." 
Legacy
In the decades since she died, many artists have paid sweet tributes to Marilyn, notably Elton John's "Candle in The Wind" and the many homages to Marilyn's "Diamonds Are A Girl's Best Friend". However, while Madonna based her entire schtick on Monroe, some other accolades are just plain creepy. For instance, did you know Playboy founder Hugh Hefner bought the crypt next to Monroe's grave?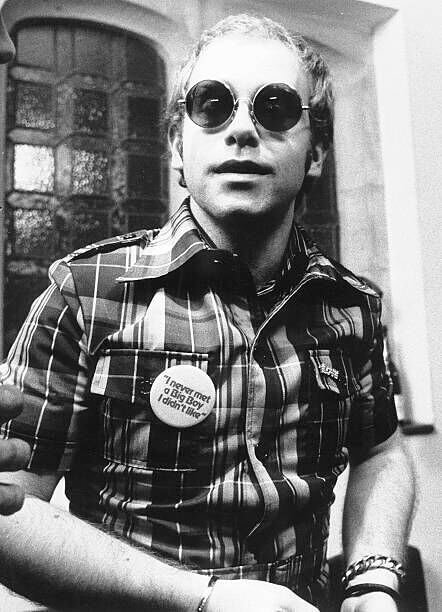 Other tributes were just plain rude! Her ex, Arthur Miller's 1964 play After the Fall, is a blatant portrayal of his time with Marilyn. And it wasn't exactly a tribute. Iconic writer and civil rights hero James Baldwin walked out of the show saying that the character, Maggie––clearly based on Monroe––was written so cruelly.
One Final Dark Secret
Her ex-lover, John F. Kennedy, was assassinated in 1963, and Bobby Kennedy was assassinated in 1968. But that didn't stop more bombshell revelations of conspiracy theories, intrigue, and cover-ups. In 1972, actress Veronica Hamel bought Marilyn's old home, and when she renovated the house, she made a shocking discovery.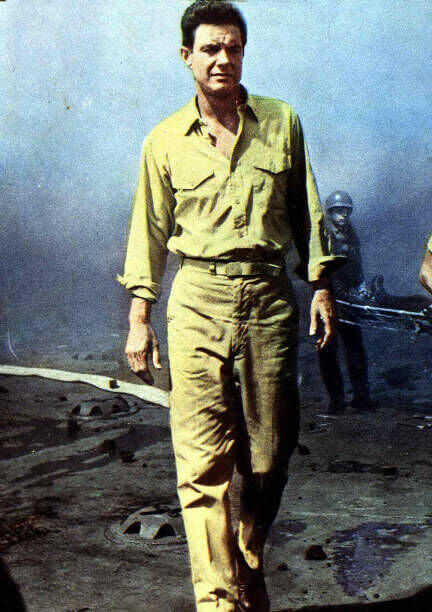 Hamel uncovered an extensive system of telephone wires. Upon further investigation, these wires turned out to be wire-taps. No one knows if the CIA, the FBI, or even Joe DiMaggio had bugged Marilyn's home with help from Frank Sinatra and their Mafia connections. Maybe those voices she heard over the years weren't in her head, after all. Perhaps they were the CIA tapping her phone.
However, so many myths and rumors have been associated with the deceased starlet, that it's important to clarify exactly what's truth and what's fiction. So buckle up for an exciting ride and find out which men left a mark on Marilyn Monroe's life!