While Mata Hari has been adopted as a derogatory term for women with faltering morals, the person behind the name only wanted to be a good mother. After surviving a marriage filled with betrayal and abuse, she turned to the stage to make ends meet. Despite her seductive act having Parisians entranced, it was the French who lured her to her death during WWI. So, how did she go from mother to burlesque to espionage? Let us explain the full story.
Her Roots
Despite her legendary reputation as a femme fatale, Mata Hari's childhood began as one of privilege. Born Margaretha Zelle on August 7, 1876, to parents Adam Zelle and Antje van der Meulen, Hari was the only girl out of four children. The family hailed from the Dutch city of Leeuwarden, where her father owned a successful hat business.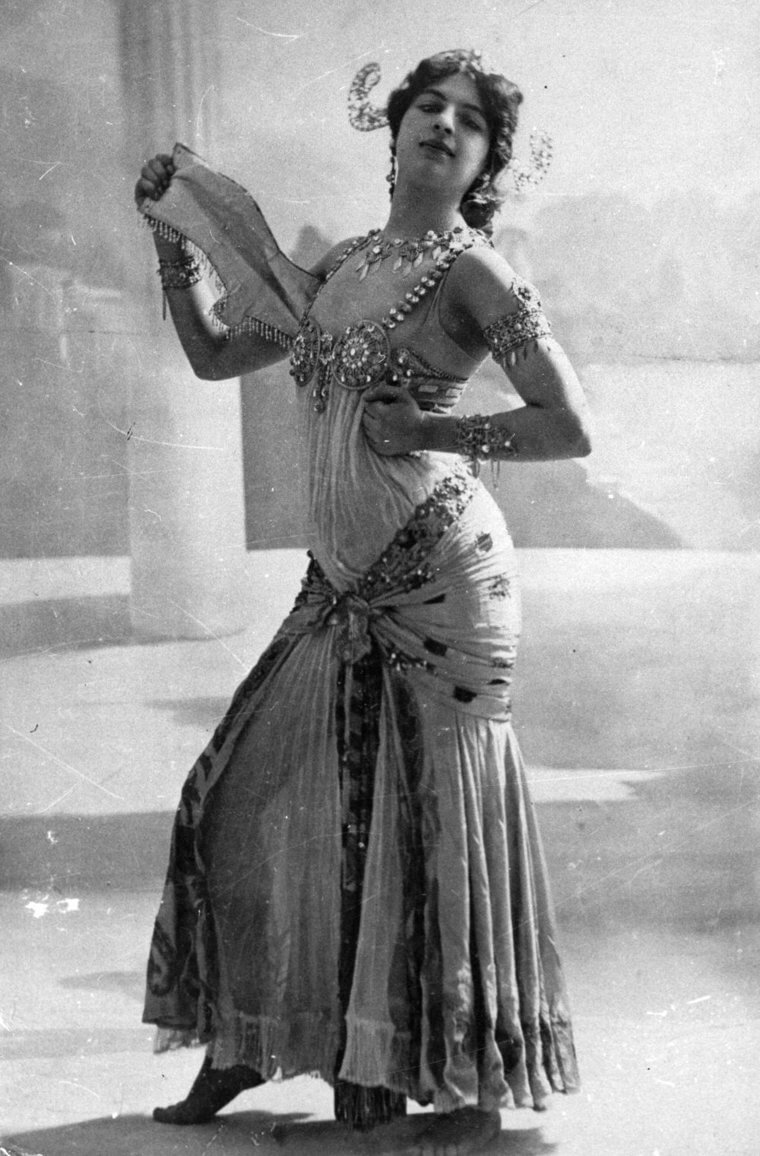 Because his shop was doing so well, Adam Zelle invested his money into the oil industry, which proved to be very profitable. With his newfound wealth, his children were able to attend elite private schools, wear fashionable new clothes, and ride around town in a custom carriage. Though he made good money in both hats and oil, their financial freedom wouldn't last for long.
From Riches to Rags
By the time Margaretha was 13-years-old, their privileged life had come to an abrupt halt. Her father's oil investments that initially made them so rich took a deep dive, causing the Zelle family to go bankrupt within weeks. No more elite school, expensive dresses, or fancy carriages for any of them. Though the stock market crash caused severe harm to their finances, the problems it caused in the marriage between Margaretha's parents were far worse.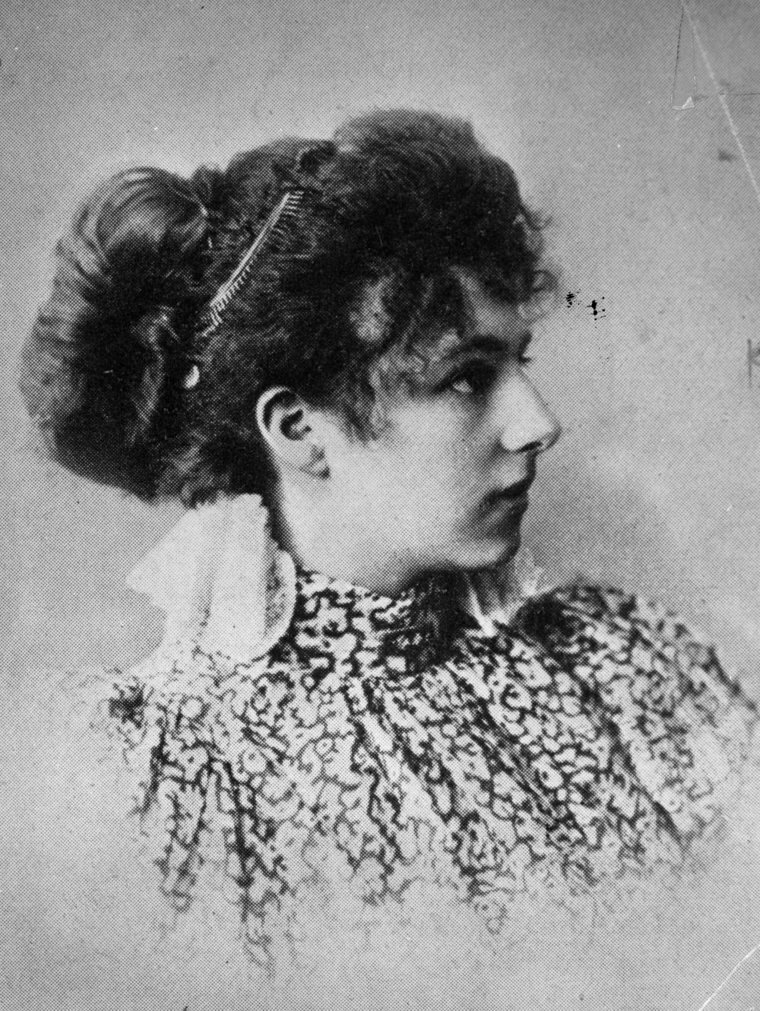 Two years after her parents split, Margaretha suffered another loss, more profound than becoming impoverished. In 1891, her beloved mother passed away unexpectedly. Within two years, her father remarried; however, his new wife made Margaretha's life miserable. Still grieving the loss of her mother, the young girl was shipped off to live with her godfather, a decision they would come to regret later.
A Rude Introduction to Men
Believe it or not, at age 17, Margaretha chose a much more innocent career than performing on stage while scantily clad. The young kindergarten teacher loved working with her students, the problem was, the school's headmaster began flirting with her inappropriately, making the young girl very uncomfortable. Upon hearing of the headmaster's behavior, Margaretha's godfather demanded she leave the position.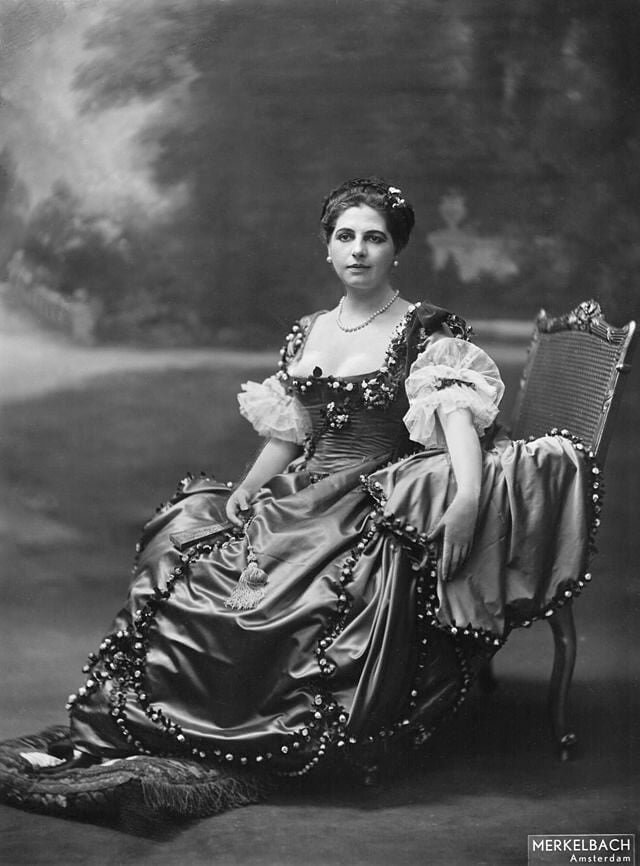 Feeling defeated, she moved to the Hague to live with her uncle. It was there that she met the man who would curse her life. At age 18, she answered the ad of Rudolf MacLeod, a 38-year-old Dutch Colonial Captain living in Indonesia and looking for a wife. After responding to his ad in 1895, a whirlwind romance ensued, and the couple was wed four months later. Unbeknownst to Margaretha, she had just married a monster.
A Living Hell
Once married, MacLeod moved his young wife to Java in what was then known as the Dutch Indies, where she was isolated from friends and family. Though her new husband elevated her social and financial status, she quickly realized that MacLeod was not a kind man. In fact, he was vicious, especially when drunk. You see, MacLeod was a violent alcoholic who found it entertaining to belittle and abuse his wife, often spitting in her face and threatening her.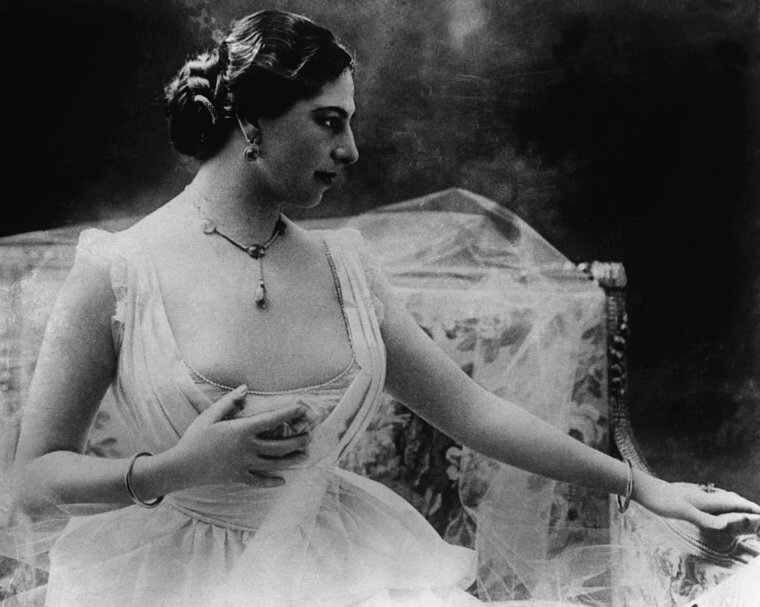 As if that weren't horrible enough, her new husband was also a philanderer with several mistresses on the side. Even though he had numerous affairs, MacLeod took issue with any man speaking to his wife. The most innocent of interactions would cause him to go into a rage that ultimately ended in violence.
Finding Her Passion
Young Margaretha was desperate to escape her husband's abuse and find someone who would love her the way she deserved. In a bold move, she left MacLeod for another Dutch officer named Van Rheedes. Van Rheedes was different in that he encouraged Margaretha to find her passion. Soon, the young woman fell in love, not with Van Rheedes, but with Indonesian traditions, Hinduism, and dance. With her new interest came her new name. In a letter to her family, Margaretha Zelle informed them that she would now be known as Mata Hari.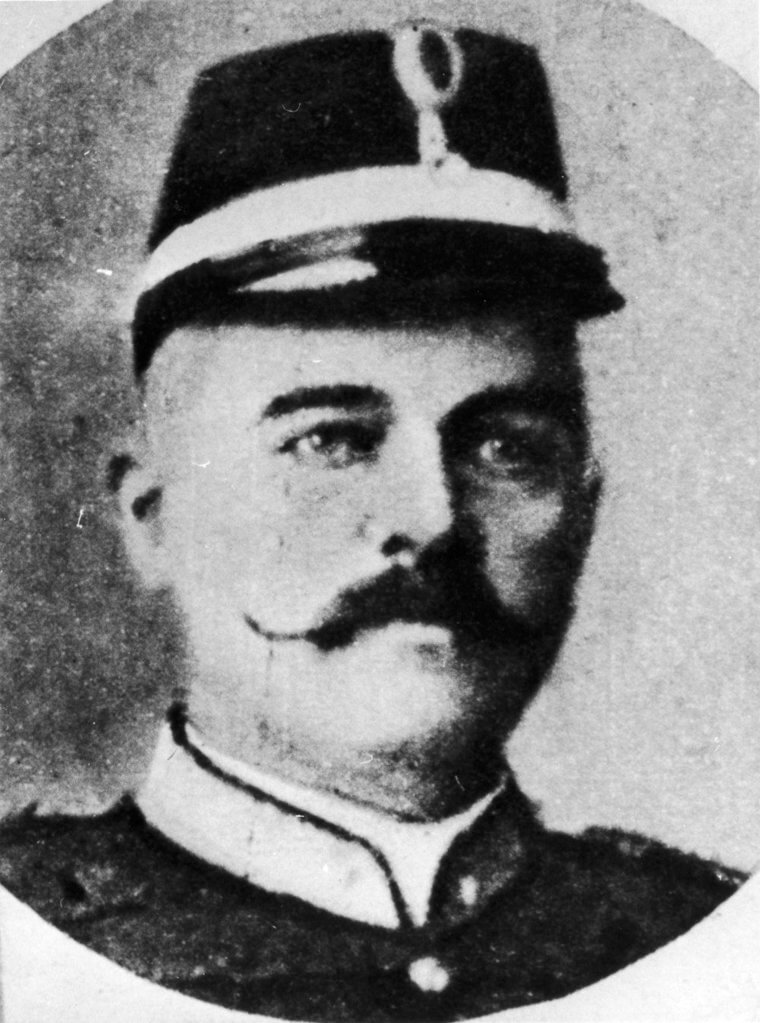 Unfortunately, Hari believed her husband when he said he had changed. After leaving Van Rheedes and reuniting her marriage, she learned that he was worse than ever. The beatings and cheating increased, he humiliated her in public and went so far as to threaten her with a pistol. Sadly, this wasn't the worst of it.
Living With a Monster
Now locked back into her marriage, Hari never knew what to expect from her vicious husband, and on one occasion, she arrived home to find MacLeod "crazed and deranged." Knowing instantly that this was not his typical outburst when out of nowhere, he lunged at her with a knife in an attempt to end her life. Hari later recalled the terrifying incident by writing, "I owe my life to a chair that fell over and which gave me time to find the door and get help."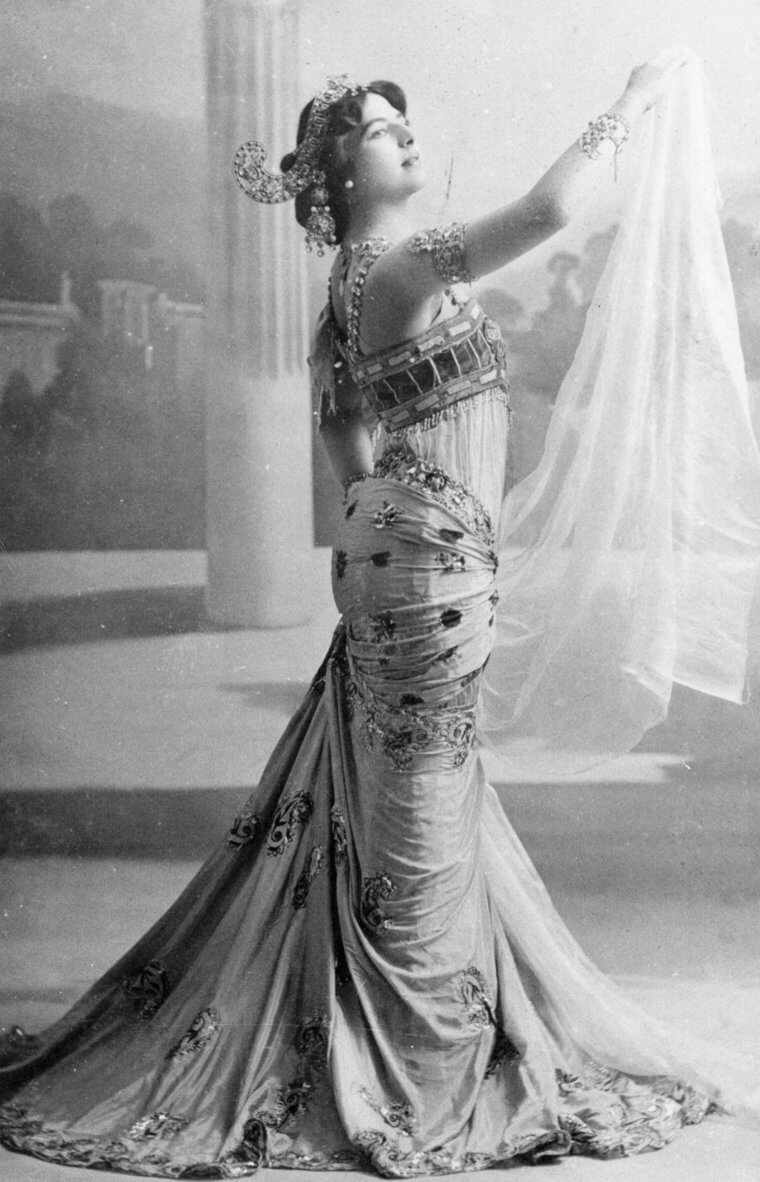 Despite the chaos and abuse, Hari and MacLeod brought two children into their family; a son named Norman John and a daughter named Louise Jeanne. In 1899, both children became terribly and mysteriously ill. Tragically, little Norman John did not survive and was buried at just two years old.
Placing Blame
Distraught with grief, both parents adamantly blamed the death of their son on the nanny, claiming that she had cruelly punished the children by poisoning them. With no evidence to support their accusations, others assumed that it was one of MacLeod's enemies that were responsible for the horrendous crime. While the two theories were valid, most historians believe MacLeod unintentionally harmed his children.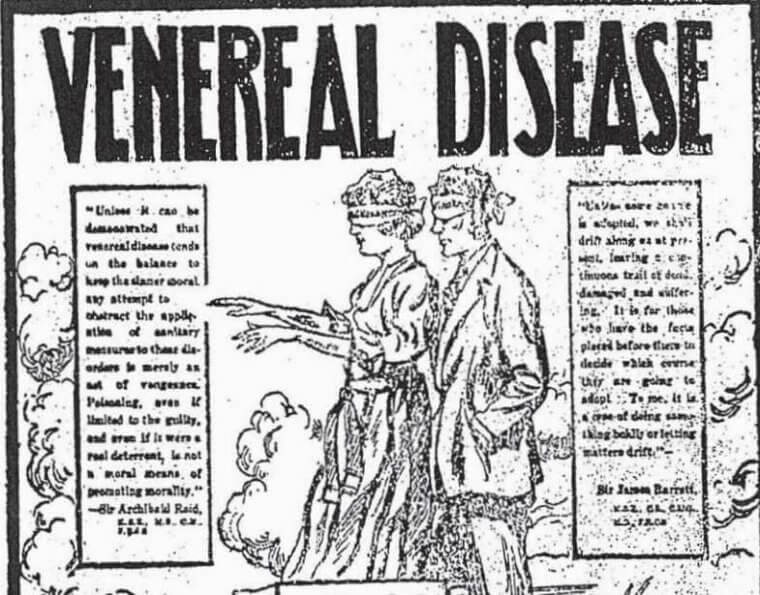 You see, MacLeod gave his wife a "gift" that keeps on giving; Syphilis. With all of his tawdry affairs, he had contracted the dangerous disease and not only spread it to his innocent wife but also to his innocent children. MacLeod's philandering ways had finally caught up to him, and the consequences were tragic.
What Really Happened?
While we may never know the exact circumstances surrounding the children's illness and Norman John's death, scholars believe that both Hari and MacLeod knew they had passed syphilis on to their babies. As they frantically tried to treat their symptoms, the tinctures they used caused more harm than good. The complications caused by the treatment left Norman John dead, and Louise Jeanne scarred for life. Though she survived, their daughter fell sick and also died at age 21 due to syphilis complications.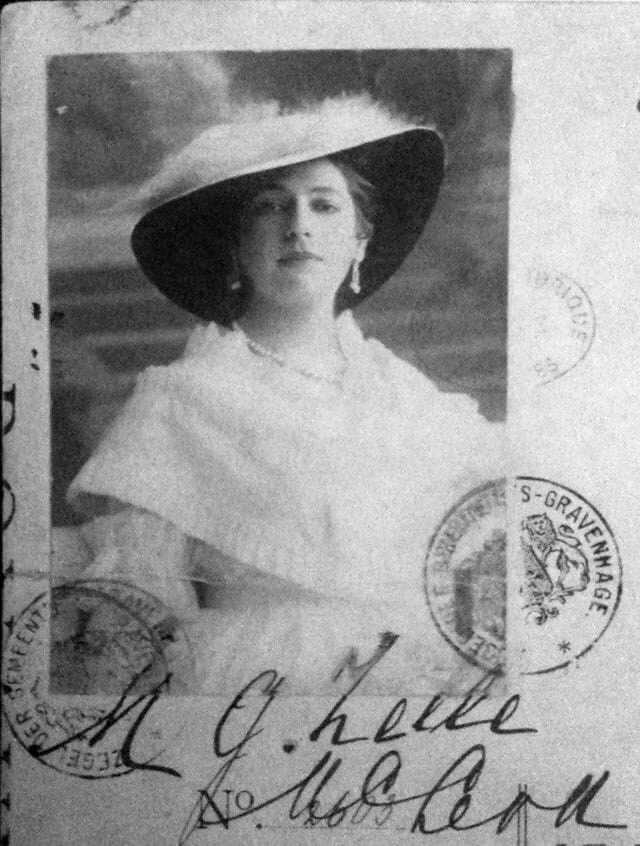 So why the crazy stories about the cruel nanny and the workplace rival? Though the full truth will never be known, it is believed that either the parents were trying to cover up their irresponsible behavior or they were so riddled with guilt that they went into complete denial. 
The Battle Begins
When the couple moved back to the Netherlands in 1902, the neverending abuse and loss of her son finally prompted Hari to separate from her husband. When it came time to file for divorce, MacLeod was more stubborn than ever, as he had no intentions of setting his bride free. In 19th-century Europe, women had little clout with the courts, so when MacLeod leaned on the judge to throw the suit out, his wish was granted.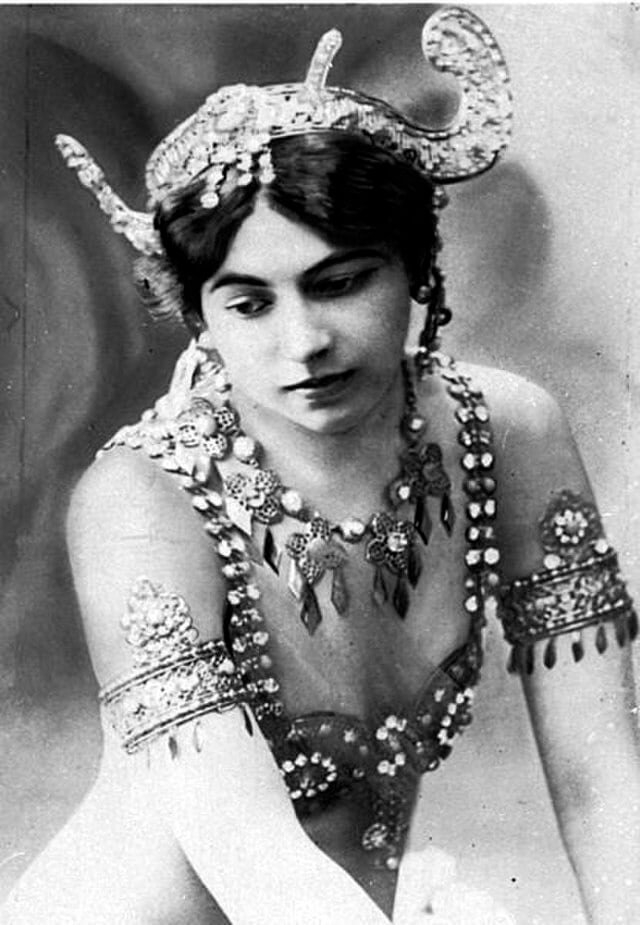 Now, that's not to say that Hari sat by weakly. No, no, this was her chance to document her husband's foul behavior on record. In the confidential arena of the judge's chambers, she told the tales of the monster she married. Aside from the abuse and infidelity, she also revealed that her husband would force her to seduce wealthy men so he could catch them in the act and then blackmail them.
Man on a Mission
Despite her horror stories regarding their marriage, it took four long years for Hari to be legally rid of her abusive husband. Though she was thrilled to be free of him, MacLeod made his presence known in more ways than one. During the separation, he spread false rumors about his estranged wife while also convincing shopkeepers to refuse her service or a job. Taking the high road, Hari tried to ignore his petty actions; even so, MacLeod was a man on a mission, determined to make her life a living hell.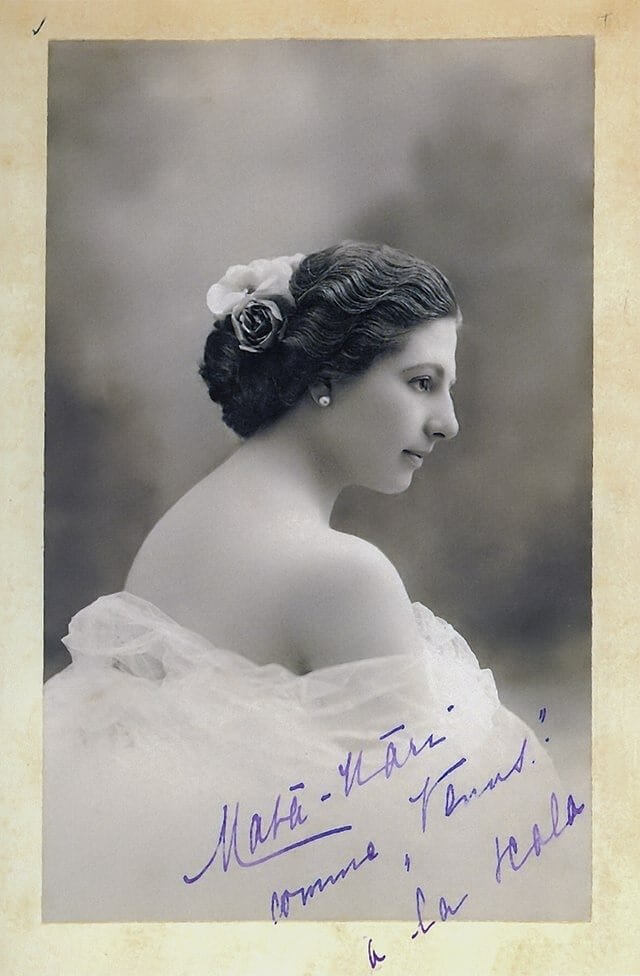 When the court announced their decision to give Hari full custody of Louise Jeanne, MacLeod ignored the order to pay child support, cutting his ex-wife and daughter off completely. Hari was now single, without a job, and trying to provide for her baby without the father's help. She was in a desperate situation and didn't know what to do.
An Impossible Choice
The manipulation by MacLeod was neverending, causing Hari to question her ability to provide for her daughter. The final straw occurred when MacLeod refused to return little Louise Jeanne after a visit. Knowing that her daughter was safe, had a roof over her head, and would be well fed, all the necessities she currently struggled with, Hari decided to give MacLeod custody until she could make enough money to raise her child properly.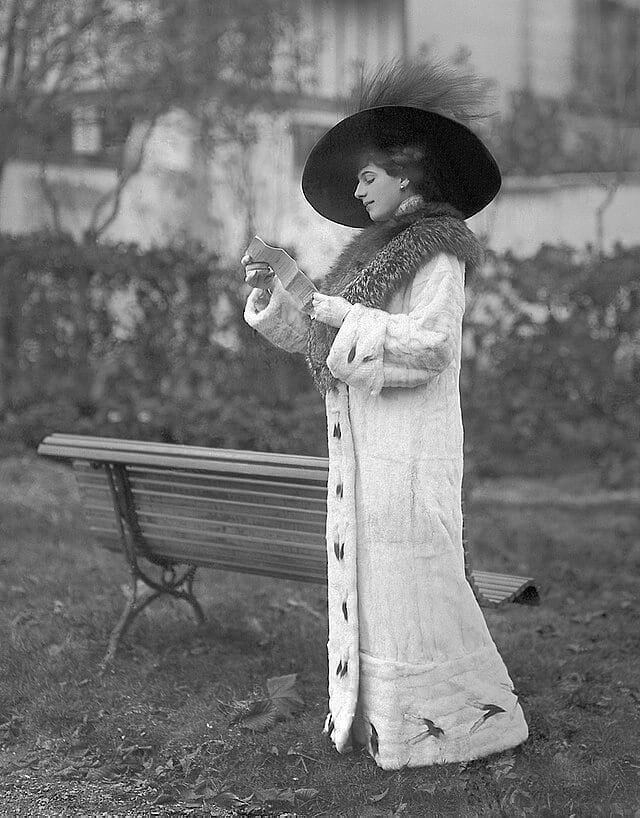 Heartbroken, she left the Netherlands and moved to Paris in search of a well-paying job. She worked as a piano teacher, gave German lessons, and worked as a servant, all while living frugally so she can save enough money to send for her daughter. Feeling desperate due to her depleting finances, Hari relaxed her morals and agreed to work as a semi-nude model and a scantily clad horse rider in the circus.
Don't Judge Me
Though she had fallen in love with the Indonesian traditions and religion that prompted her new name, Hari still wasn't confident enough to use Mata Hari while on stage. Instead, she went by "Lady MacLeod" when performing and auditioning. Of course, using her married name for these questionable professions did not sit well with her ex-husband or her in-laws. They found her jobs as a semi-nude model and circus performer utterly shameful.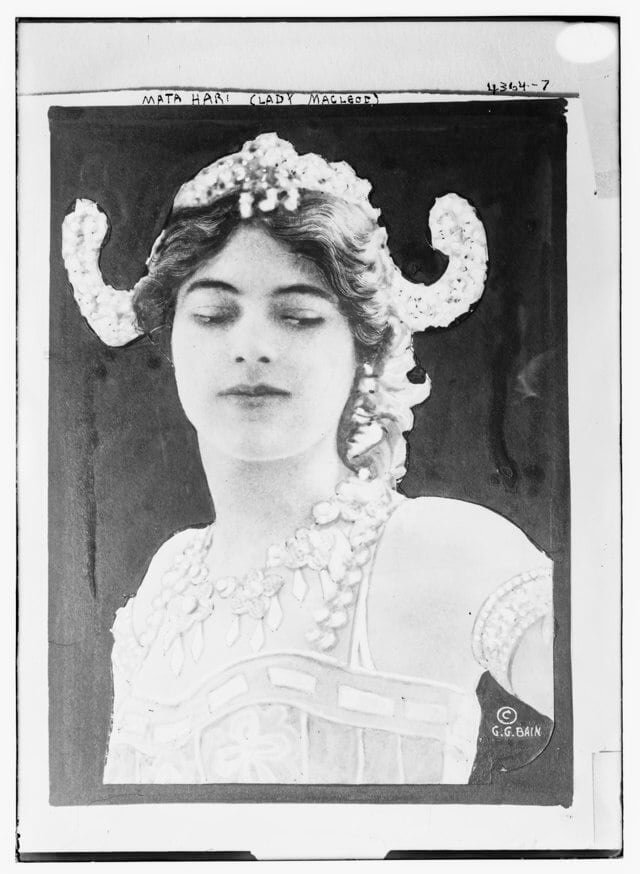 What they didn't realize was that Hari was about to sink a little deeper into the sinful work world. Broke, hungry, and cold, all she could do to get by was to sell her body. Knowing just how far she had sunk, she begged those around her not to judge, writing, "Don't think that I'm bad at heart. I have done it only out of poverty." 
Hitting Rock Bottom
Though she tried her best, Hari just couldn't seem to get back on her feet financially. She had pinched every penny trying to save the money needed to get her daughter back but was still faltering after years of exhausting and humiliating work. By March of 1904, Hari admitted that she was contemplating suicide in a letter to her family. With Louise Jeanne always at the back of her mind, she miraculously pulled herself out of that depressive state and emerged yet again, ready to fight.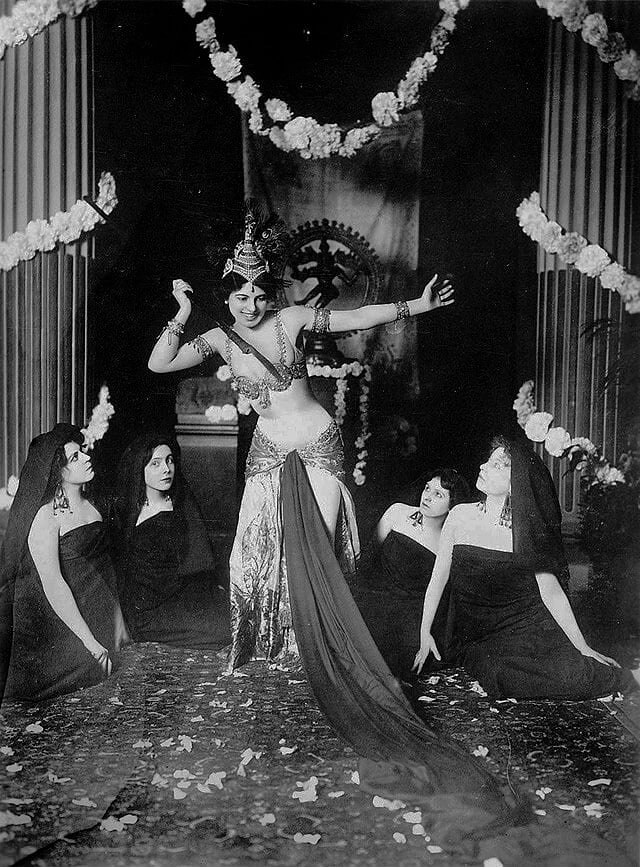 Hari said farewell to the circus for a more lucrative job as an exotic dancer. Taking the advice of her fellow performers, she hired a booking agent named Gabriel Astruc, an with her exotic routines and his savvy management tactics, Hari thrived in the nightclubs of Paris for the next ten years. "Lady MacLeod" had been replaced by Ms. Mata Hari.
Talk of the Town
Hari became the talk of the town; who was she, where did she come from, have you seen her exotic performance yet? Parisians were entranced by her seductive stylings and her intriguing background. You see, Hari and Astruc concocted a character that posed as a lost Hindu Princess from Indonesia. Her exotic routines, such as the dance of the seven veils, were taught to her as a child as part of her cultural upbringing. While it may seem dramatic or far-fetched, the Parisians couldn't get enough.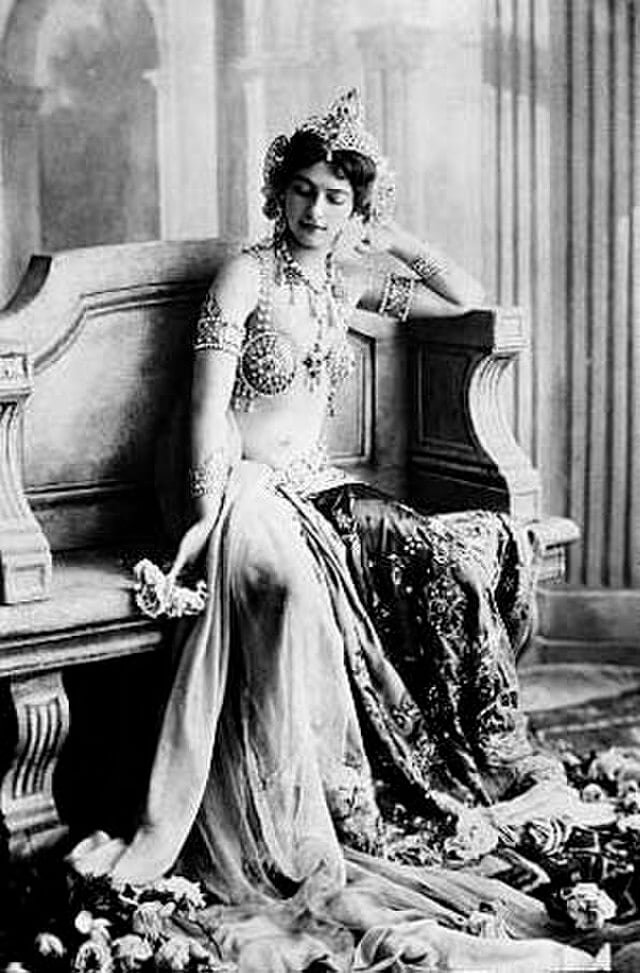 Hari became an overnight success after her debut on March 13, 1905. Her act, though relatively simple, was different from anything the Parisians had ever seen. She would enter the stage cloaked in revealing fabrics. Throughout the routine, she would remove layer after layer, finally revealing her curvaceous figure adorned only with glittering armbands, a jeweled headdress, and a bra.
Behind the Scenes
Though Hari seemed like a confident temptress on stage, behind the scenes, she was self-conscious about her small breasts. It was because of this insecurity that she rarely removed her trademark bra. While the rest of her body was exposed by the grand finale, her bust always remained covered. Unbeknownst to her, this was a wise decision.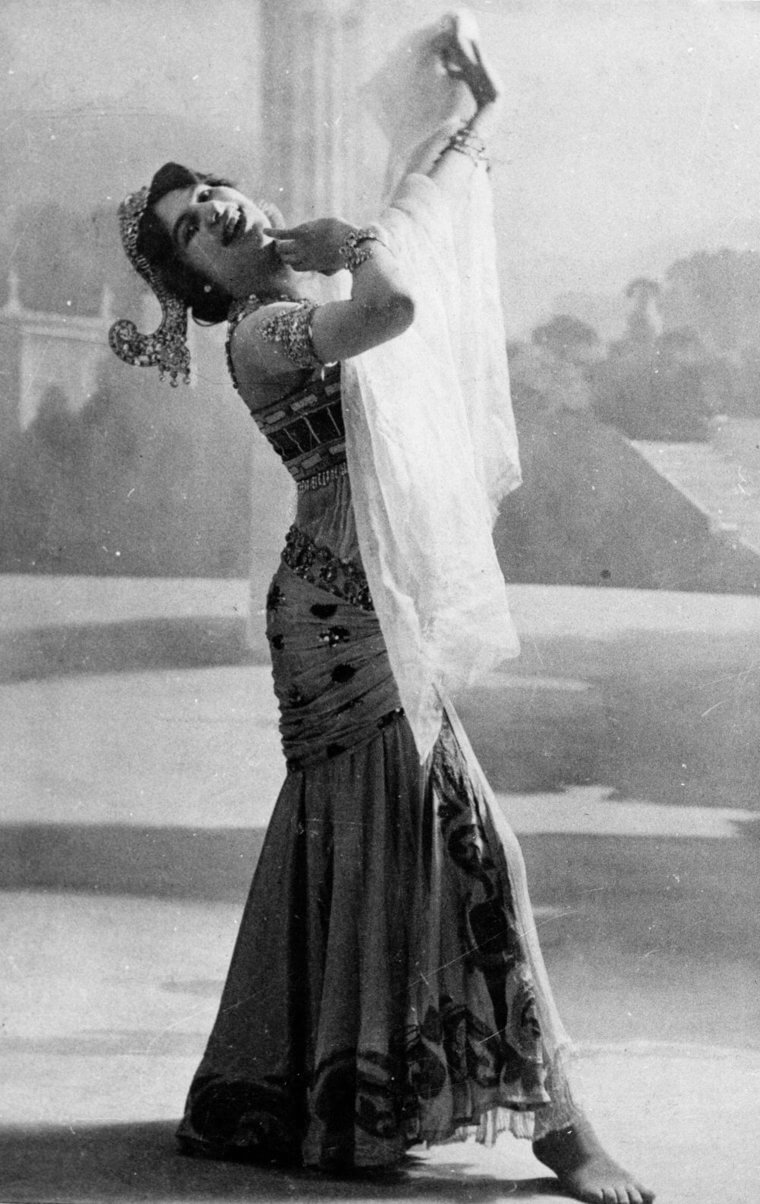 You see, MacLeod was keeping tabs on his former wife's career, hoping to gather ammunition that he could use in court. He was furious that Hari had become so successful, especially because she was baring more than her soul to gain her newfound fame. In order to prove she was an unfit mother, he went so far as to steal some of her more risque boudoir photos and showed them to the judge.
Friends in High Places
Though Hari was making decent money as an exotic dancer, she also made a considerable amount of cash as a high-society escort. Her extensive audience allowed her to meet many well-to-do gentlemen who all wanted her as their mistress. One such suitor was a wealthy German businessman named Herr Kepert. Though they only had a relationship for one year, their subsequent friendship would come back to haunt her.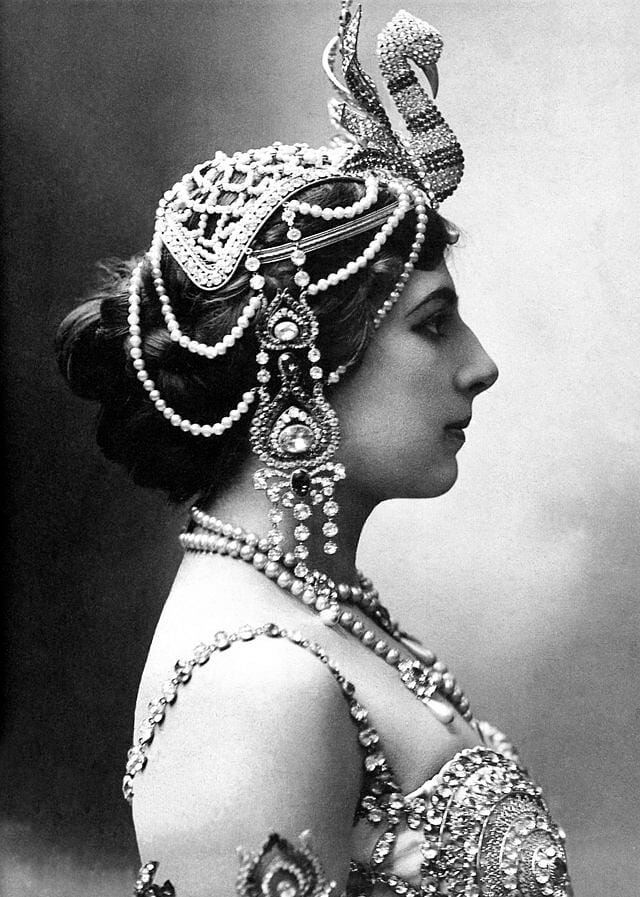 When things ended with Kepert, Hari began an affair with Émile Étienne Guimet, a high-society industrialist who also happened to be a millionaire. Hari was finally becoming financially stable through these risque affairs though her reputation was bordering between boudoir performer and harlot.
Desperate Times Call for Desperate Measures
In the Malay language, Mata Hari means eye of the day, referencing the sun. This name was befitting of the dancer in her early days as she shined on the stage in every country she toured. After having great success in Paris, Berlin, Vienna, and Monte Carlo, Hari grew tired and forlorn. She missed her daughter, Louise Jeanne, or Little Non, as she affectionately called her.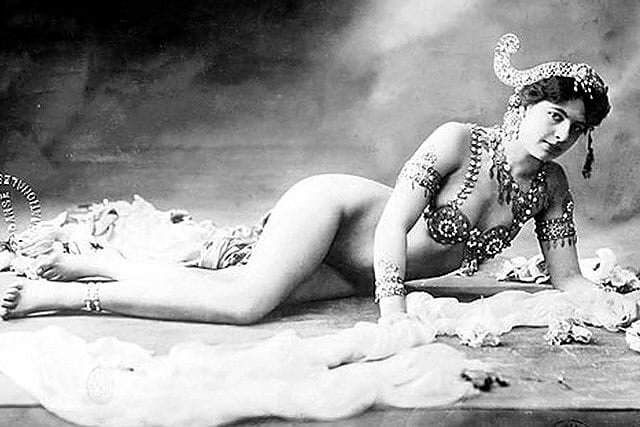 Though she was terribly busy, she took the time to write letters nearly every week only to have them returned unopened. MacLeod shut down all communication between the mother and daughter, leaving Hari so desperate and depressed that she attempted to kidnap her child but failed. Her depressive state showed on stage as well, her enthusiasm was faltering, and her looks were fading. By 1910, her shine was gone, and her fame began to decline.
From Fans to Harsh Critics
Not only did her fame begin to decline in 1910, but her former fans turned into harsh critics. Those who once considered her act to be artistic and creative now began to criticize her for exposing her body to gain an audience instead of obtaining her success with talent. Though she tried to tune out the harsh comments, Hari knew their opinions mattered.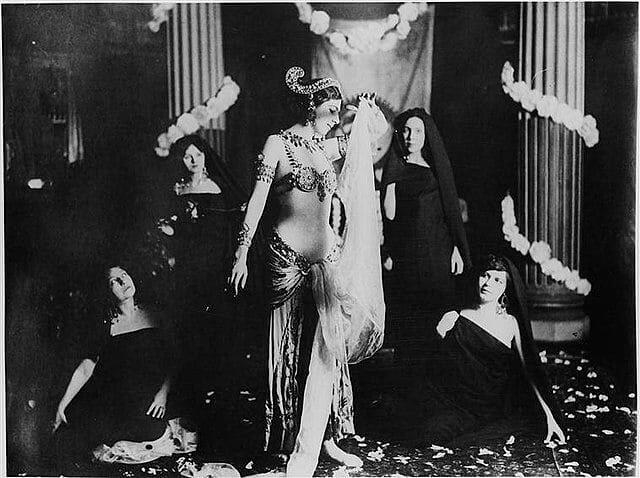 Aside from criticizing Hari for being an exotic dancer, they also cruelly pointed out that she was showing her age. These weren't only the opinions of her former fans; those who hired her proved to feel the same. On one occasion, the Russian ballet asked Hari to perform in their upcoming show. When she had stripped down to be measured by the costume designer, she was told they wouldn't need her services. She soon realized her career was coming to an end.
Adapt and Overcome
Hari's decade-long career changed the world of exotic dancing. Never before had audiences seen dances from foreign lands combined with risque burlesque. While younger women adopted her style in hopes of gaining the same type of fame, Hari knew it was time to hang up her robes. Mata Hari's final performance was on March 13, 1915, after which she retired her jeweled bra and headdress for good.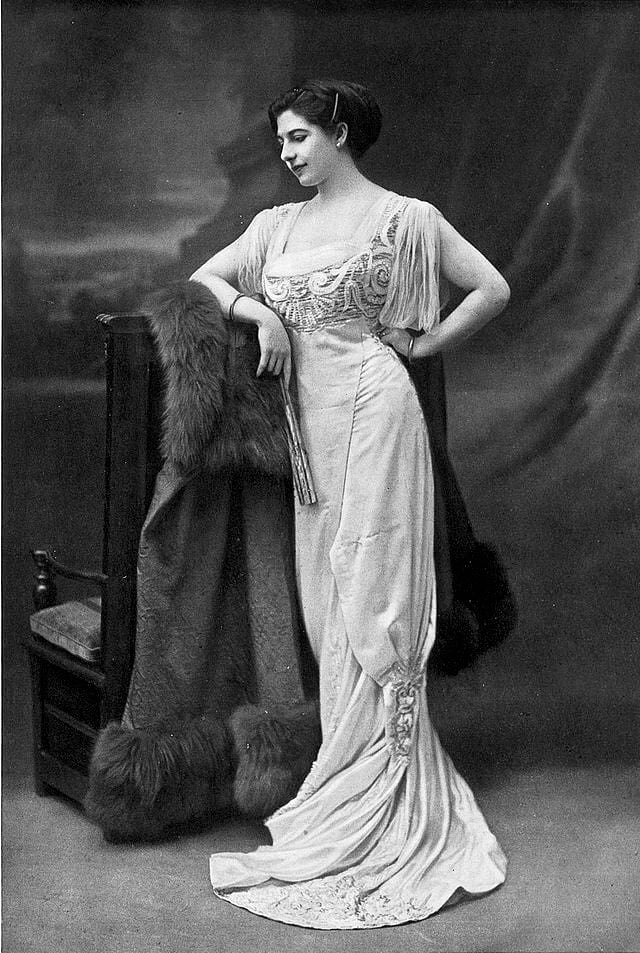 Always one to adapt and overcome, Hari was not sad about her on-stage career ending; instead, she slid right into her next role as a Courtesan. Known as a seductive temptress because of her years in the limelight, Hari had a long line of prominent politicians, businessmen, military men, and entrepreneurs, all wanting to be by her side. While her affairs allowed her to travel and remain financially stable, her decisions had consequences.
Aware of Her Fate
Though Hari made some difficult choices, she knew the potential ramifications. When discussing her life with her brother, Hari was realistic about the paths her life could take. Either she would regain custody of her daughter and "behave like a decent mother," or she would never see her daughter again and "enjoy the beautiful life being offered." Sadly, she ended her letter with the profound statement: "I know that life ends in tragedy."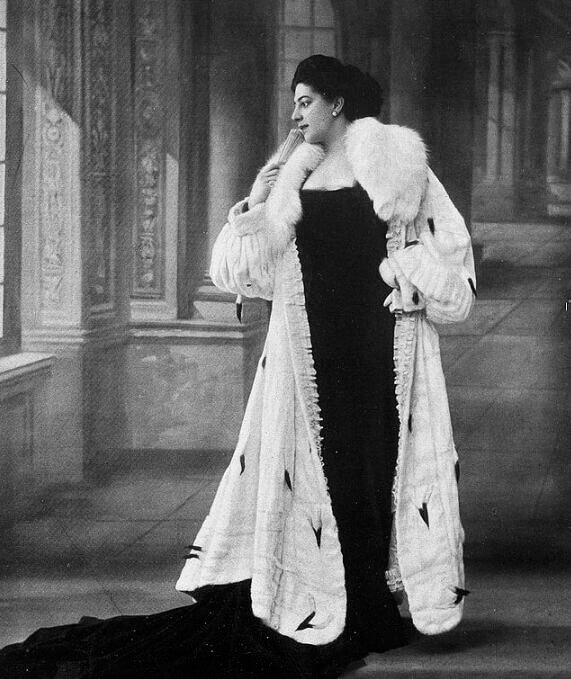 Little did she know just how prophetic that statement was. You see, her life as a courtesan put her on a path to disaster, as those who seemed like innocent contacts would soon convince her to become a spy. With WWI beginning in 1914, by 1916, Europe was a hotbed of death and disaster. Despite the chaos, Hari had fallen in love with Captain Vadim Maslov, a man 20 years her junior.  
Playing on Her Emotions
After joining the Western Front in 1916, Hari's lover was shot down while fighting against the Germans. He was severely wounded, ultimately losing an eye. When Hari got word of his horrific injuries, all she wanted to do was be by his side; however, being from the Netherlands, she was not allowed to enter Germany. Seeing just how distraught the former performer was, French intelligence officer George Ladoux made her an offer she couldn't refuse.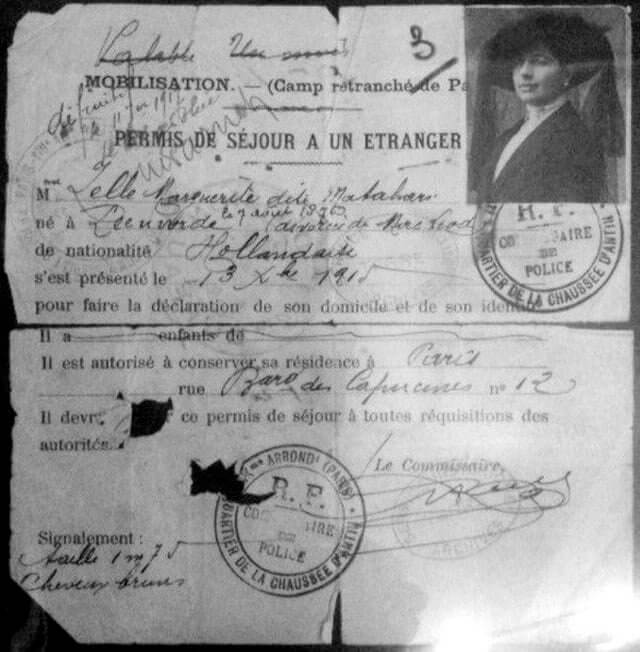 Ladoux promised Hari that she would be allowed to see her injured lover if she could manipulate information regarding the German's strategies from her old flame, the Crown Prince of Germany. Determined to be by Maslov's side, she agreed to his proposition. 
Doomed From the Start
While it seemed like a strategic plan to utilize Hari's connection to gain confidential intel, the truth of the matter was, the Crown Prince was never included in the war plans of the German military. He was simply used as a poster boy for public relations. Because the French intelligence agency bought into the propaganda, they assumed Europe's most seductive Courtesan would assist them in their cause.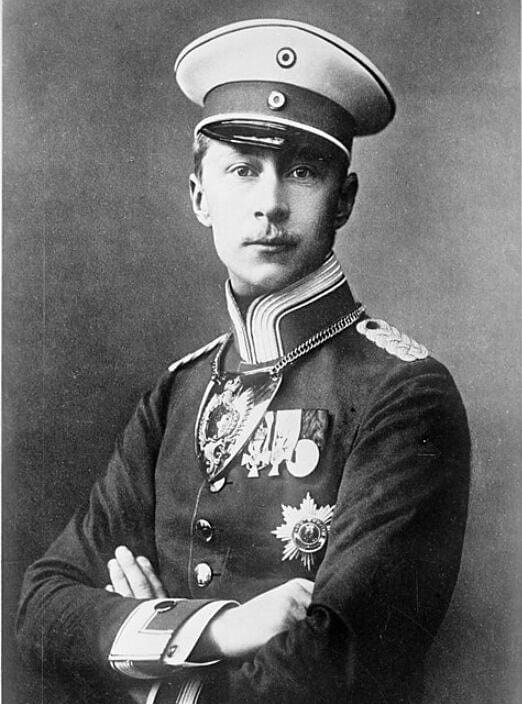 So, here is where historians differ. Some scholars believe that Hari traveled to Madrid and contacted an attaché to set up a meeting with the Crown Prince. This would have fulfilled her obligation to Ladoux. Other scholars believe that Hari crossed Ladoux by telling the attaché his plan, proving herself worthy of being a double agent for the Germans. Either way, she was now in deep.

Her Motivation Remains a Mystery
So, if the latter is true and Hari became a double agent, what was her motivation to betray France? Some scholars believe her sole motivation was earning money, either to win her daughter back or to pay for her and her lover to escape the war in Europe. The second theory regarding her assumed duplicity is a bit more sinister.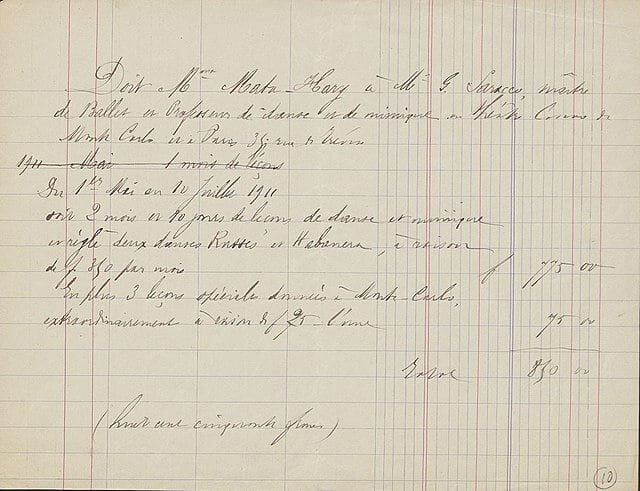 Modern historians who have examined her actions have concocted the theory that Hari wasn't a traitor at all; she was simply following the orders given to her by Ladoux. It is believed that he told Hari she would easily gain access to the Crown Prince if she offered to betray France by becoming a German spy. While we may never know her motivation, Hari's so-called traitorous actions certainly led to deadly consequences.

A Blown Cover
By January 1917, French agents intercepted and decoded messages sent by German intelligence that described a spy with the code name H-21. Though the message had been encrypted, the description was not; it detailed the life of a spy that was identical to that of Mata Hari. It didn't take long for French intelligence to set their sights on this surprise double agent.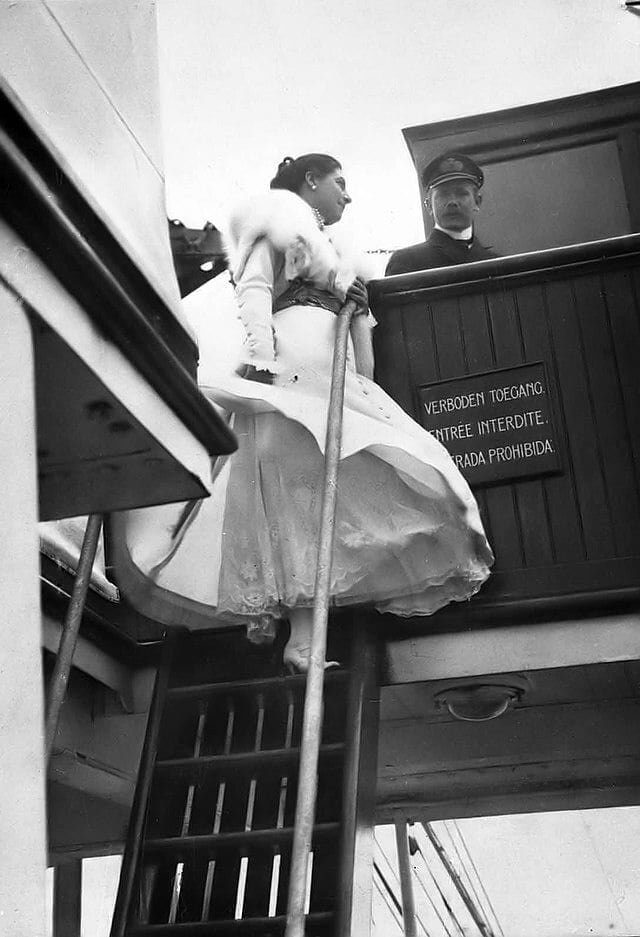 While this may seem like a lucky break for the French, the circumstances surrounding this intelligence breakthrough are very suspicious. When the message was sent regarding H-21, the Germans used a code that they knew had been deciphered by the French. In addition to that, the description of the spy included far more detail about their personal life than usual. The strange circumstances suggest that the Germans revealed H-21 as Mata Hari intentionally.

She Wasn't Cut Out to Be a Spy
So, now the question remains as to why the Germans would reveal her double-agent status. The theory behind this is that Hari never provided useful intel. Instead, she reported gossip regarding the personal lives of the French politicians and generals. Seeing her role as a waste of time, General Walter Nicolai exposed Hari just to get rid of her.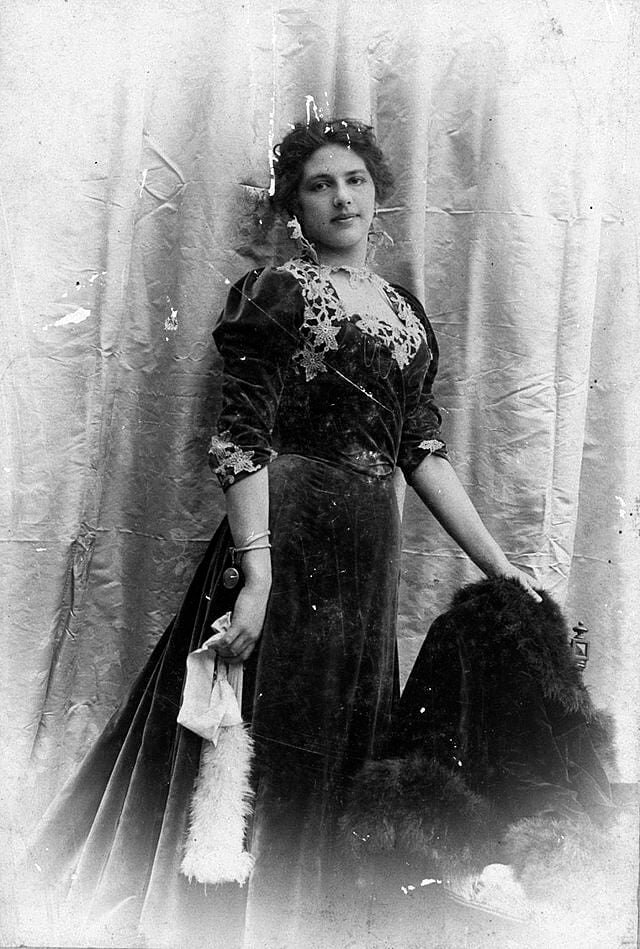 Although she had a reputation of being cunning, Hari was not cut out to be a spy. She not only proved this to the Germans but also to the French. Her supervisor Agent George Ladoux would frequently receive uncoded messages from Hari. On top of that, when she was captured by the British, she openly admitted that she was a spy for the French. Unfortunately for Hari, her inability to successfully perform her duties made her a liability to both sides of the war.

Everyone Turned Against Her
With the newly found evidence, Mata Hari was put on trial accused of committing double espionage. During the proceedings, it was declared that her traitorous behavior caused an astonishing 50,000 deaths. This shocked the defendant causing her to quickly react with the legendary line, "A harlot? Yes, but a traitor, never!" Though she appeared visibly distraught, the court was not buying her defense.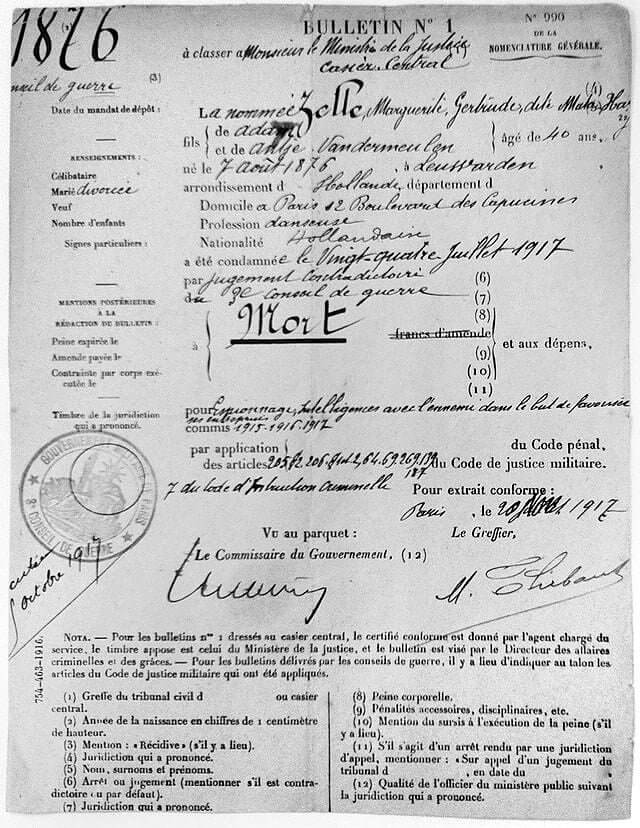 Another person doubting her innocence was her one true love, Vadim Maslov. Despite the fact that she entered into the spy game only to be by his side, Maslov wanted nothing to do with his old flame. In fact, he adamantly refused to act as a character witness on her behalf. His brutal betrayal was more than Mata Hari could take. When she heard he wasn't willing to testify, she was so devastated that she fainted in her tracks.

Judged and Prosecuted
Typically, for a prosecutor to win a trial, they have to provide indisputable evidence to prove the defendant is guilty, right? Well, that isn't always the case. At Mata Hari's trial, the only evidence submitted was the decoded H-21 messages, "invisible ink," which was actually makeup found in her room, and her past relationship with Herr Kepert (remember him?) The argument made by the French stated that if Hari had one affair with a German, what was to stop her from cozying up to another. That was it. That was enough for the judge to sentence Hari to death.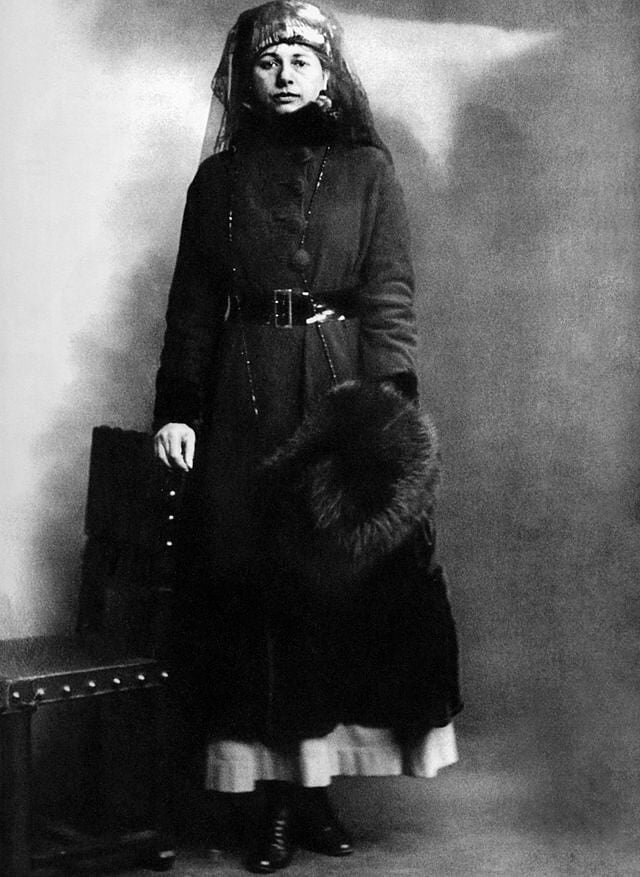 Despite the harsh sentence, Hari always maintained her innocence. She did admit to accepting 20,000 franks from her handler in exchange for trivial information; however, she said that only proved she was an imperfect person, not a traitor. It didn't matter what she said; her execution was inevitable.

Grasping at Straws
While legendary rumors have said that Mata Hari's last few months in prison were filled with luxurious amenities such as milk baths and bonbons, in reality, she was surrounded by rodents, filth, and aggression. Out of desperation, she spent most of her time devising plans for her escape. One such plan was to convince the prison doctor to declare that she was pregnant, hoping the news would delay her execution by at least nine months. Another plan was to bribe the firing squad to use blanks, bury her body in a shallow grave, and then sneak her out after dark.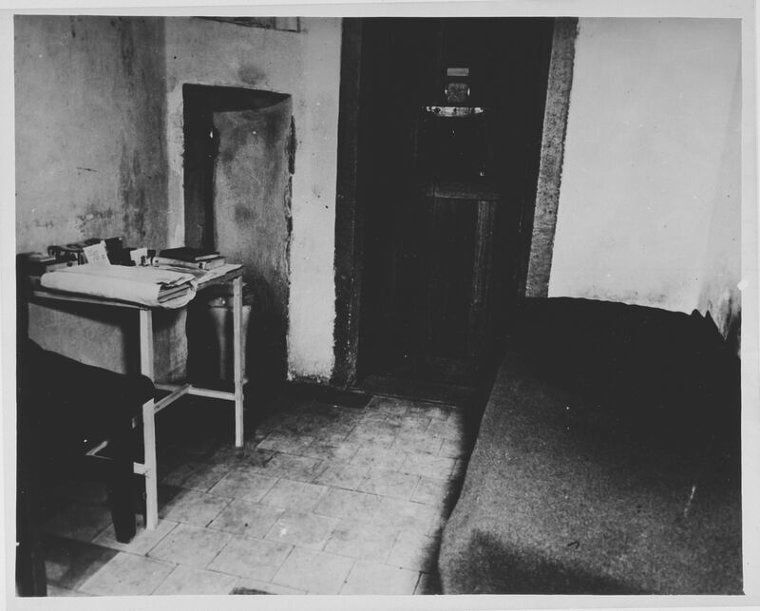 Though her scenarios were creative, as you can imagine, there was no possible way to make them happen. After an agonizing three months, Hari was told the date of her execution. When she realized her time was up, all she could say was, "It's impossible, it's impossible."

Her Final Performance
Sadly, the end of Mata Hari's life was just as dramatic and brutal as the beginning. On October 15, 1917, she was escorted in front of the firing squad. As with most of her story, there are a few different versions of what happened next. According to journalist Henry Wales, Hari refused to be blindfolded, faced the squad with no emotion, and said, "I'm ready." When the men opened fire, Hari never flinched or changed her expression. Another account of the execution said that the performer shouted, "I know how to die without weakness. You shall see a good end!"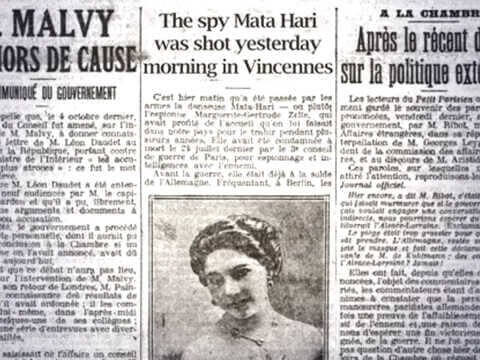 While rumors have since spread claiming that Hari stripped naked to try and entice the executioners to refrain from shooting her, another claim sounds more like her style. A crowd-pleaser until the end, Hari blew a kiss to each of the gunmen in her final moments alive.

Too Little, Too Late
As was Mata Hari's luck, the French intelligence community only began to question her guilt a few days after her execution. After an inquiry, they discovered that her main accuser, George Ladoux, was hiding a few secrets of his own. Because he was so intent on punishing Hari for whatever reason, Ladoux fabricated evidence to prove she was a double agent.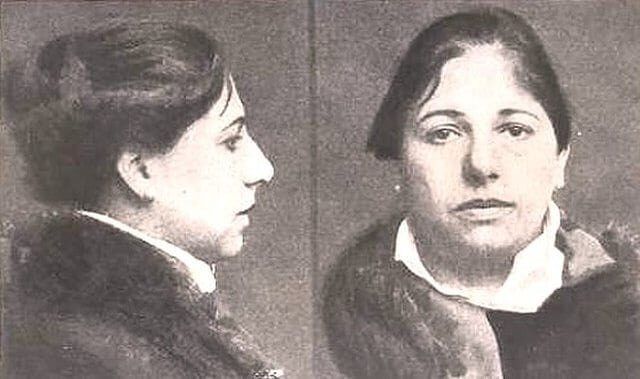 We know what you are thinking….what? Why? Sadly, the French needed a scapegoat. Throughout the war, they had made a mockery of their country on several occasions. They had lost one too many battles, their forces wound up in mutiny, and their resources were dwindling due to a lack of planning and non-strategic tactics. Blaming a seductress traitor for their shortcomings was far better than admitting their incompetence, right?

Yet Another Trial
In retrospect, many historians believe that Mata Hari was falsely accused of being a traitor to shift the focus from the failing French forces. The main reasons for this are the fabricated evidence planted by Ladoux and the embellished publicity of the trial and the charges. It is well documented that Hari was not successful as a spy. Her espionage activities were rare and usually resulted in failed attempts to gather usable intel, so how did she cause the death of 50,000 men?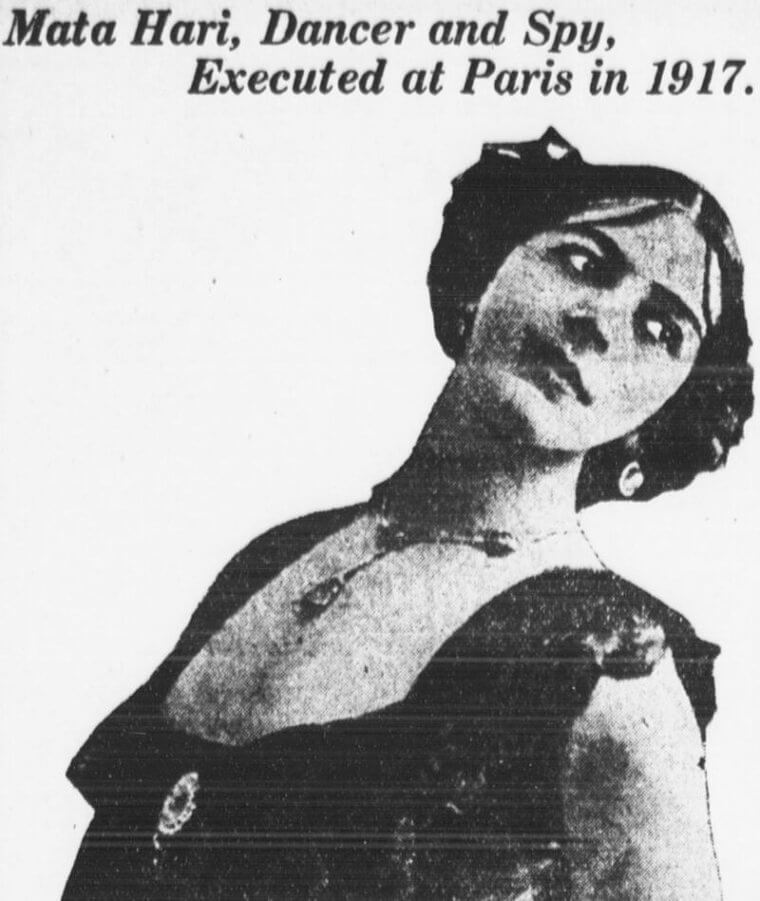 French agents must have thought the same thing as four days after her execution, they arrested her adamant accuser George Ladoux. The charge? Double espionage. Though he wasn't convicted, the whole affair had many questioning whether or not Mata Hari was truly guilty. Was Ladoux guilty? Did he frame her to escape his crime?

There's More to the Story
In yet another twist, the government of France hid the fact that George Ladoux was charged with double espionage for a whole century, only recently declassifying the documents in 2017. There has to be more to the story, right? Well, there is.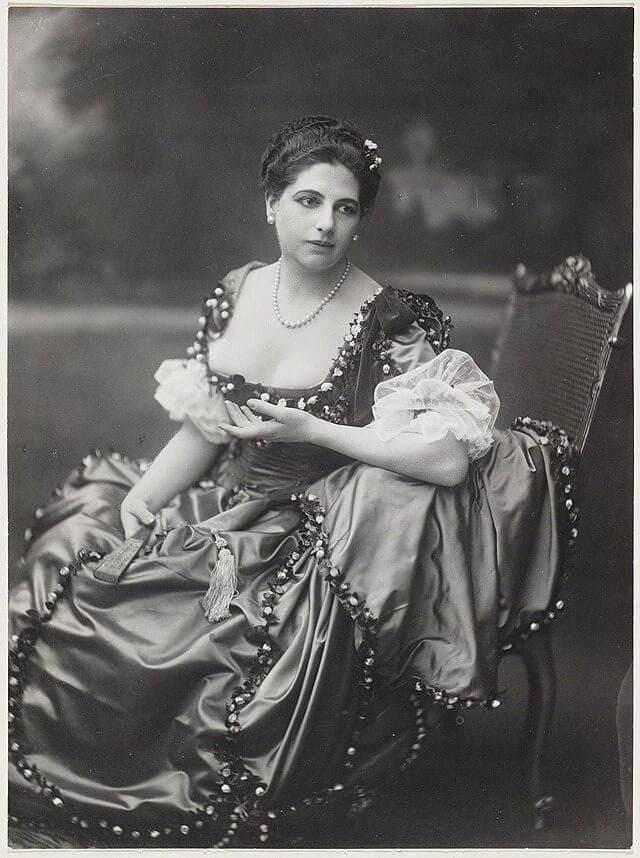 It turns out that it wasn't only the French and Germans who accused Mata Hari of espionage, British officer Henry Noedemaker also believed she was a double agent. Noedemaker and Hari met while traveling on a ship. Suspicious of the temptress, the officer snuck into her room to look through her things. After Hari interrupted him and subsequently slapped him for invading her privacy, he went back to the British officials with his unsubstantiated claims. Three years after her execution, Noedemaker took his own life. The family believed he could no longer live with his guilt for contributing to her death.

Rest In Pieces
Though Mata Hari tried to uphold her dignity while standing in front of the firing squad, her remains were treated in the most undignified way possible. Before her corpse was sent off for medical research, her head was severed from the body as a morbid type of souvenir.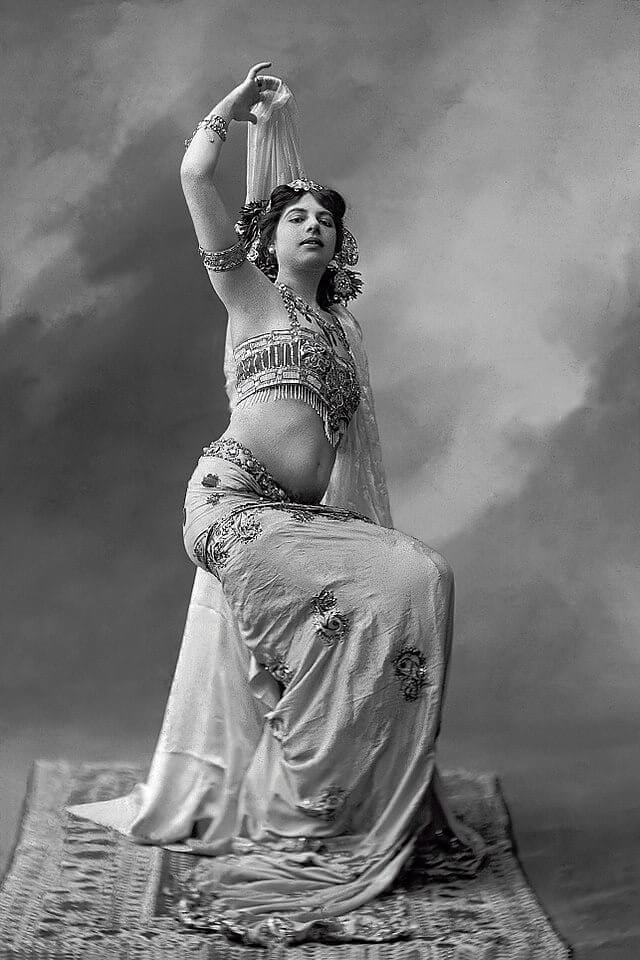 Once decapitated, her head was embalmed, preserved, and placed on display in the Paris Museum of Anatomy. As if that weren't bad enough, in 2000, the media reported that the embalmed head was missing. After an inquiry and an audit of inventory, the museum discovered the head had been missing since 1954! They claimed that it must have been misplaced, mislabeled, or lost during their relocation. No matter the reason, her head is still missing to this day.

Her Story Inspired Others
The story of an exotic dancer turned WWI spy is fascinating, so it's no wonder that creative minds around the globe have tried to recreate her life on the screen and the stage. The life and death of Mata Hari have inspired several films, including the well-known 1931 hit starring Greta Garbo and produced by MGM. In addition, there are over 250 books and biographies as well as five musicals set on the stage.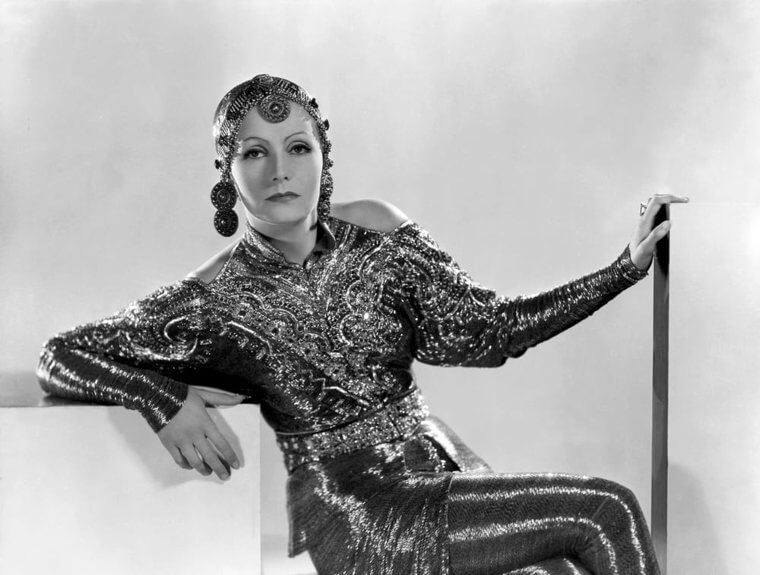 In her hometown of Leeuwarden lies the Frisian Museum, with a room dedicated to the life of Mata Hari. The Museum of Friesland created a Mata Hari exhibition which opened on the 100 year anniversary of her execution. Sadly, her family home was destroyed in a fire in 2013; however, a Mata Hari statue stands in its place. 

A Damaged View of Love
All of Hari's fame and success aside, her choices made out of desperation, as well as the tragedy of her untimely death, are a direct result of her tumultuous marriage to MacLeod. The abuse and betrayal she endured left her with a skewed view of love. Later in life, she disclosed that MacLeod's brutal treatment left her forever scarred with a fear of intimacy.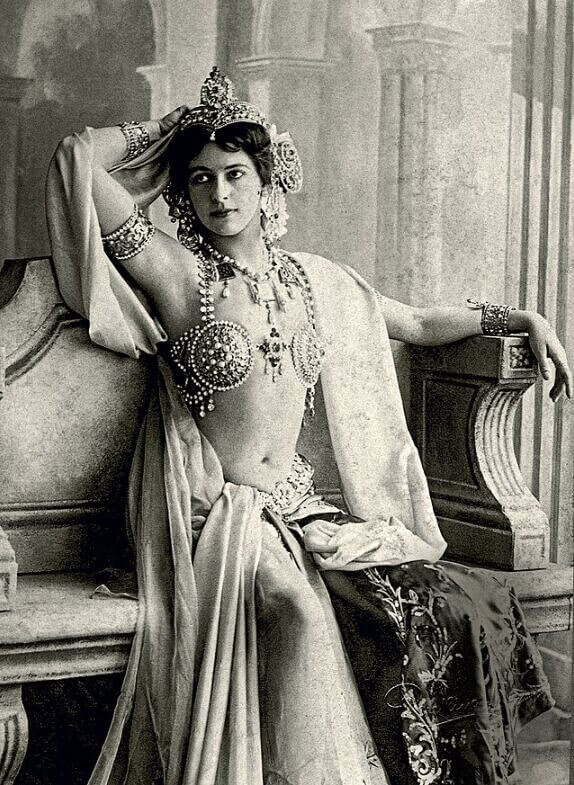 This revelation only shows just how talented she was at emulating her seductive character. A woman desperate and afraid convinced millions that she was a confident temptress. Though her path through life was filled with poverty, abuse, betrayal, and, ultimately, injustice, Hari did the best she could to live life to the fullest.