Megyn Kelly is a lawyer, news reporter, anchor, novelist, and podcaster who has courted significant viewership and controversy in a remarkable but stormy career. She is best known as a fiery anchor on Fox News, who engaged in public feuds with, among others, Donald Trump and Santa Claus.
But what's behind this maverick reporter and broadcaster, who seems to fall on both sides of a political fence, depending on the issue. Let's look at the life and times of Megyn Kelly.
Megyn's Early Life
Edward and Linda Kelly lived in Illinois when they welcomed the future broadcaster named Megyn into the world. Soon after, they moved to New York, where Megyn would spend most of her early childhood and attended Bethlehem Central High School and Maxwell School of Citizenship and Public Affairs at Syracuse University.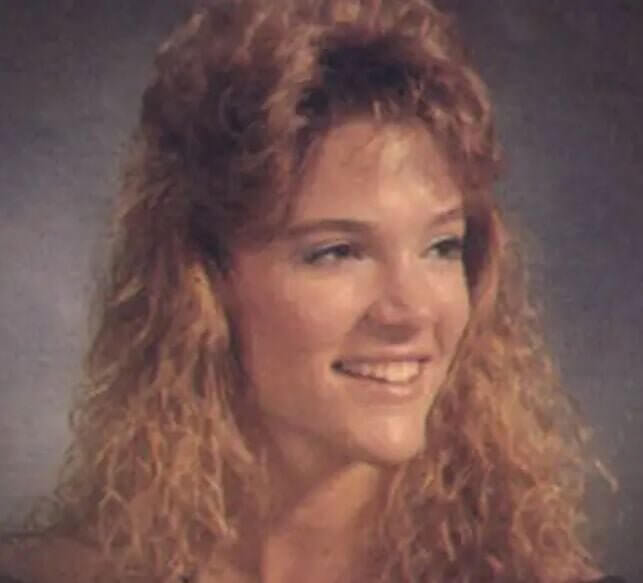 Although she had a relatively stable Catholic upbringing, she tragically lost her father at a very young age after he suffered from a cardiac incident when Megyn was only 15. She managed to work through her grief, and after graduating high school in 1992 she went on to complete a law degree from Albany Law School. 
She Started Out in Law
Megyn started her intense career path as a lawyer, first at Bickel & Brewer LLP in Chicago and then at Jones Day law firm. There she worked as a corporate litigator for nearly ten years. 
However, these did not seem to satisfy her, as she found the idea of broadcast journalism appealing and feeling what she called burnout from the tough legal life. She decided to give it a go. She simply gave Roger Ailes a phone call, and he gave her a chance. 
Marriage and Family
After marrying Megan Daniel Kendall in 2001, the couple was divorced five years later. However, the talented and beautiful Megyn married again in 2009, this time to Douglas Brunt who, at the time, ran a cybersecurity firm. He has since become a novelist.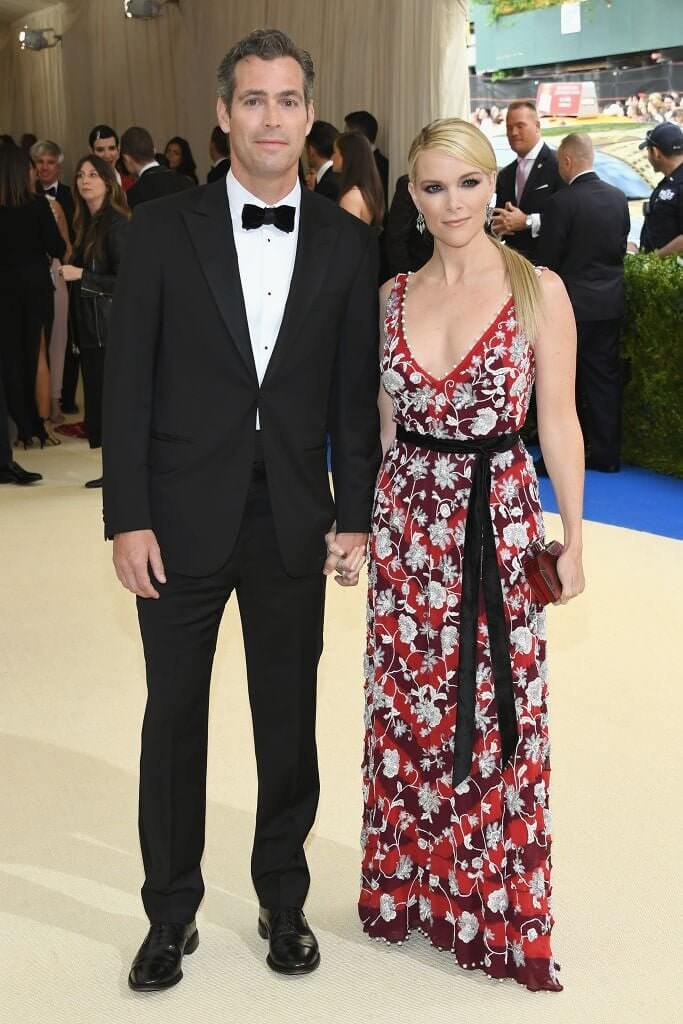 Together the couple has three children - two sons and one daughter. The eldest, Edward, was born in 2009. Middle child Yardley two years later and Thatcher in 2013. Interestingly, Megyn is one of those celebrities who doesn't share much of her personal life with the media. 
Using the Law as a Journalist
Megyn's background in law gave her some unique insights into being a broadcast journalist. She could also use plenty of those skills in the course of her new job. Early in her new career, she was tasked with being the correspondent to the legal confirmation hearings for supreme court judges Samuel A. Alito, Jr. and John G. Roberts.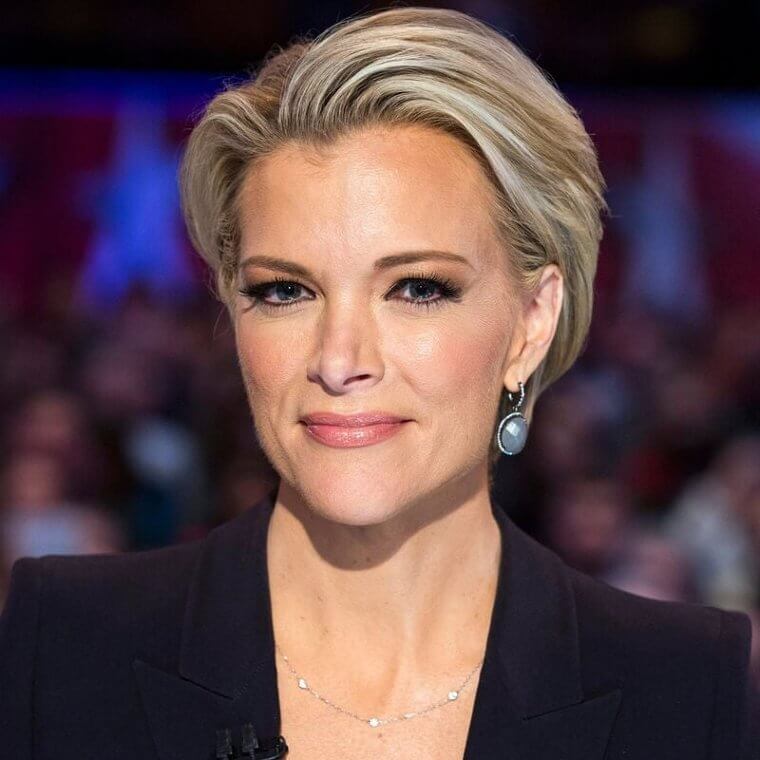 She also covered the death of Chief Justice William Rehnquist and Justice Sandra Day O'Connor's retirement. The legal framework of those stories was well suited to the farmer lawyer. She was a key correspondent for the 2004 US Presidential election as well. 
CNN Loss, Fox Gain
John Klein, then CNN boss, was quoted saying that he deeply regretted losing out to Fox when it came to snapping up her Megyn's immense talent. Nonetheless, Kelly signed with Fox in 2004 and seemed primed to become a significant player there.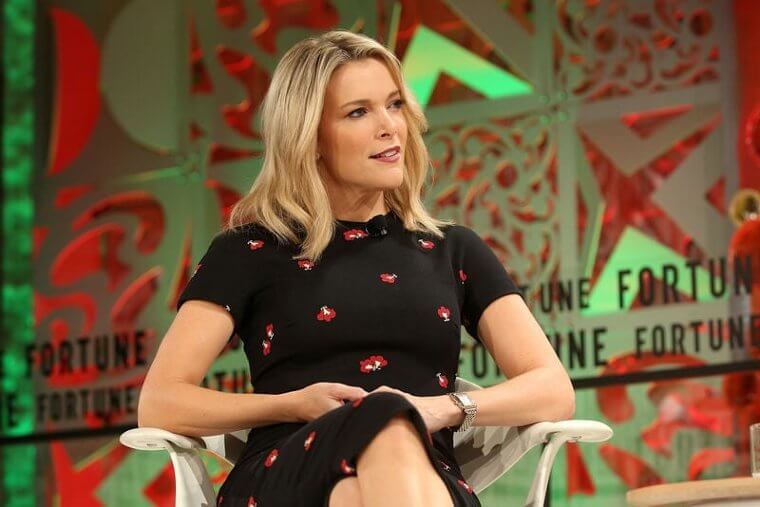 One of her first assigned segments was Kelly's Court, staying with the legal theme. She also produced segments for Special Report with Brit Hume during this initial period. Occasionally, she would be a weekend stand-in anchor and often appeared on The O'Reilly Factor, Fox's flagship show.
America Live Is a Success
Megyn fell into an assignment hosting an afternoon show called America Live, where she earned her first big career win. The show dealt with hot political topics of the day and a few social issues. Again, there would often be debates surrounding the legal framework of these topics.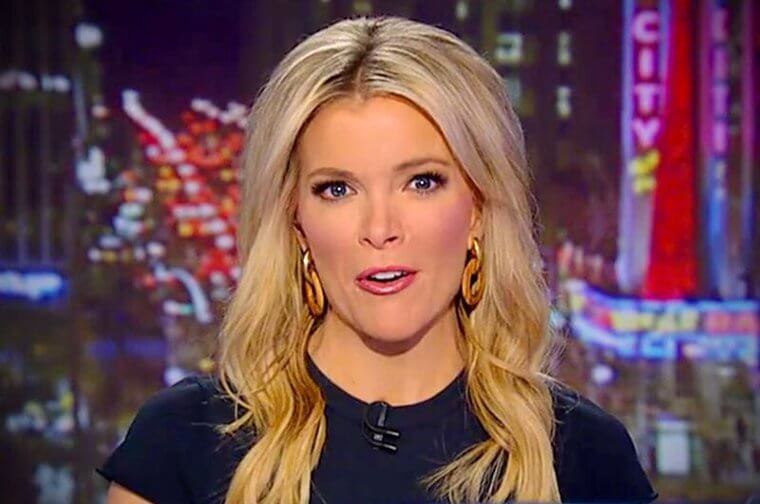 The charismatic Kelly proves to be very successful in this slot, increasing viewership by nearly 20% in her tenure. This showed just how valuable an asset she was for the Fox lineup. In 2013, she announced she would be leaving the show on maternity leave.

2012 Election Controversy
Kelly caused a few raised eyebrows during the 2012 presidential election when she confronted Republican pundits live on air about their analysis. During a live broadcast on election night, Fox projected victory for Barack Obama.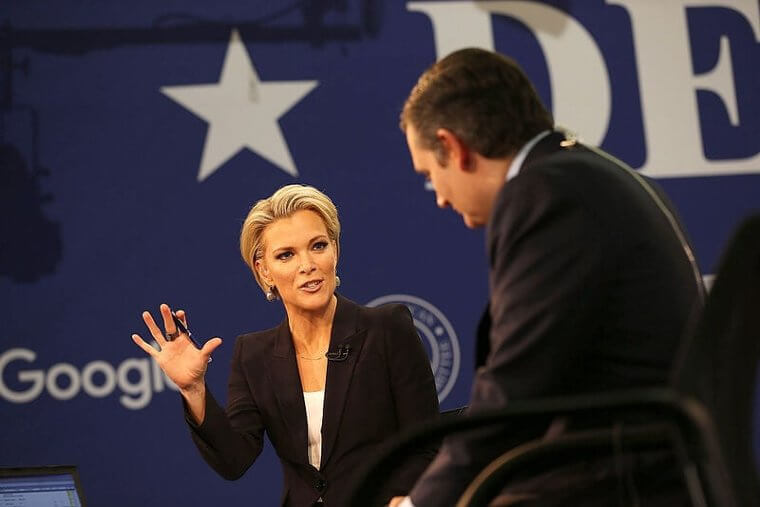 However, guest analyst Karl Rove disputed the projection, claiming that the numbers were at fault. Megyn Kelly countered Rove's unwillingness to accept the projection, saying: "Is this just math that you do as a Republican to make yourself feel better? Or is this real?" 
The Kelly File and White Santa
Upon returning to the air after leaving America Live with Megyn Kelly, the anchor debuted a new show, The Kelly File. The show was an immediate rating success. Clearly, Megyn's star was on the rise. The show even challenged the flagship The O'Reilly Factor as Fox's top-rated show from time to time. But it was not without its share of controversy.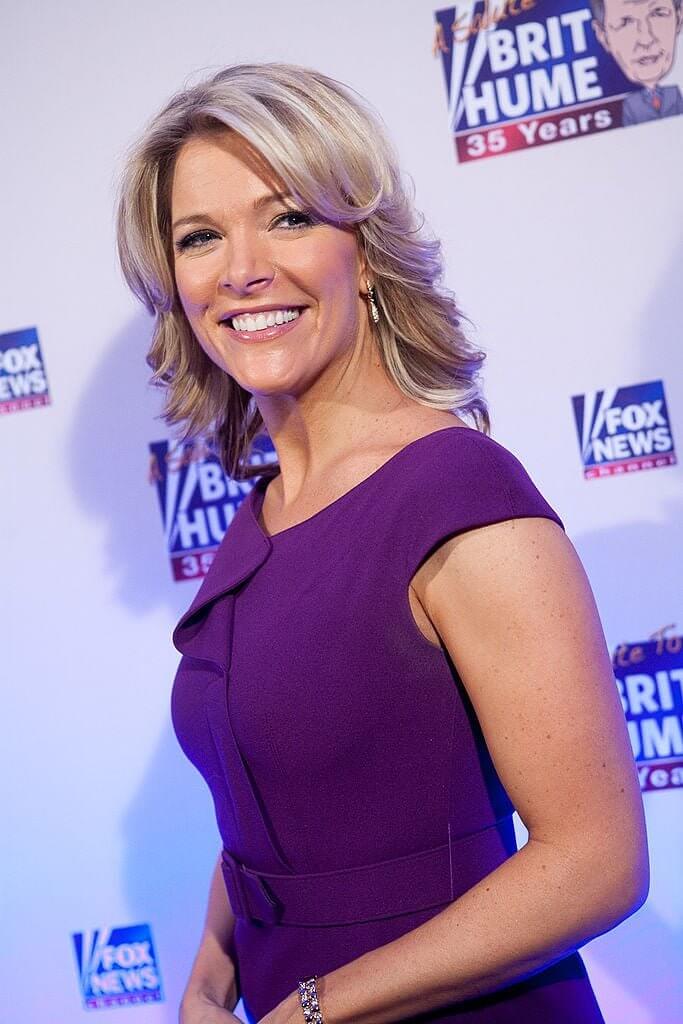 Kelly launched into a bizarre rant in December 2013, declaring on-air that "Santa just is white, but this person (story-related) is just arguing that maybe we should also have a black Santa. But Santa is what he is, and just so you know, we're just debating this because someone wrote about it." The segment would be lampooned and criticized by other late-night comedians and commenters. 
Kelly Was Razor Sharp in Securing Guests and Stories
The Kelly File was a top-rated show for a good reason. Kelly managed to secure impressive scoops and guests in the run of the play. One of the most memorable was an interview with the parents of Josh Duggar in 2015.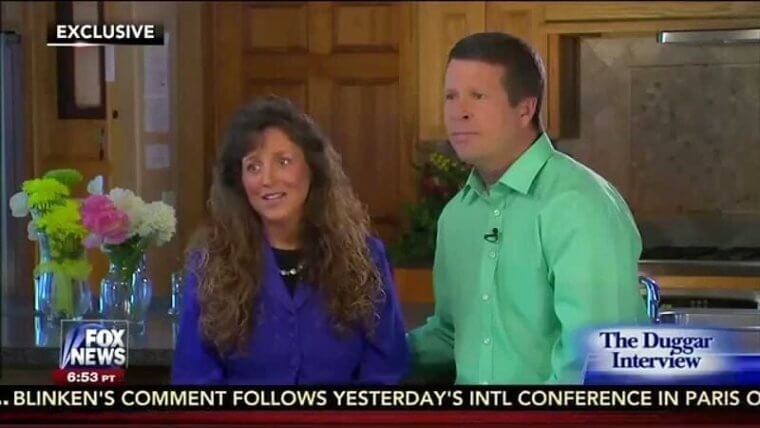 Duggar had been accused of child molestation. The Duggar family was famous for their 19 Kids and Counting reality show. The episode drew over three million viewers, increasing its regular viewership by almost 50%. That same year, coverage of the Ferguson riots doubled even that viewership.
Kelly Versus Trump
Kelly was involved as a moderator for a Fox News debate during the 2015 presidential race. Once again, her presence controversy surrounded the anchor when candidate Donald Trump questioned her professionalism. In the exchange, Kelly responded in kind, saying she would not apologize for "doing good journalism."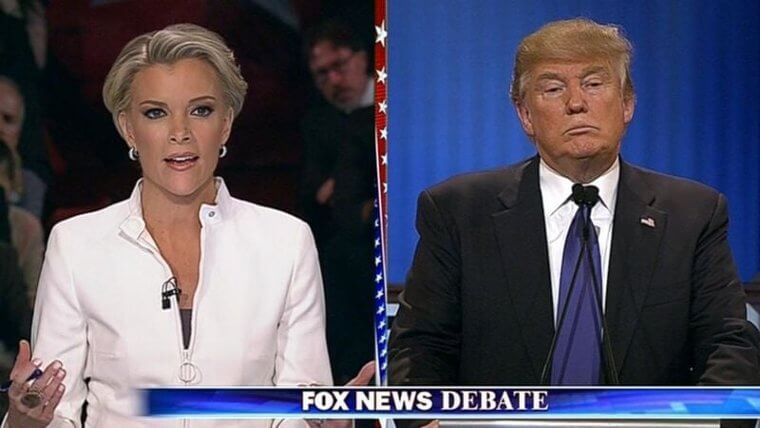 Trump subsequently refused to participate in the GOP debate in Iowa that Kelly would moderate. The episode drew praise for Kelly from unlikely quarters, among them staunch Fox and Trump critic Bill Maher. Attempts to reconcile Kelly and Trump have so far been unsuccessful.  
Trouble at Fox News
Although she had successfully run more than one show at Fox, a critic seemed to pull at a thread that put a strain on Kelly's work at the network. In 2016, Gabriel Sherman suggested that Kelly was posturing her work as a bid to do a new show or possibly to negotiate a better contract.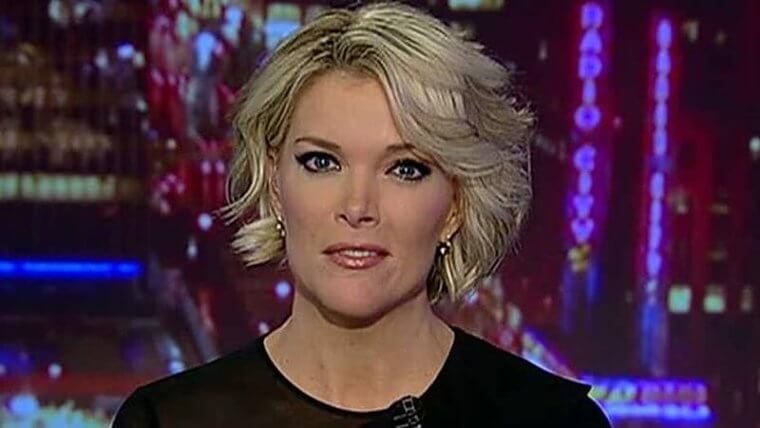 She was in the last year of the Fox contract at the time. The implication was that she was moving content outside the irregular political and legal framework and instead seemed to be ushing to a broader field, including celebrities and entertainment. 

The Roger Ailes Scandal
In 2016, Fox boss Roger Ailes was accused of the sexual harassment of several employees. Kelly made a public statement confirming that she had been one of those propositioned by Ailes. Ailes' lawyer denied the allegations, but Ailes nonetheless resigned after a few days.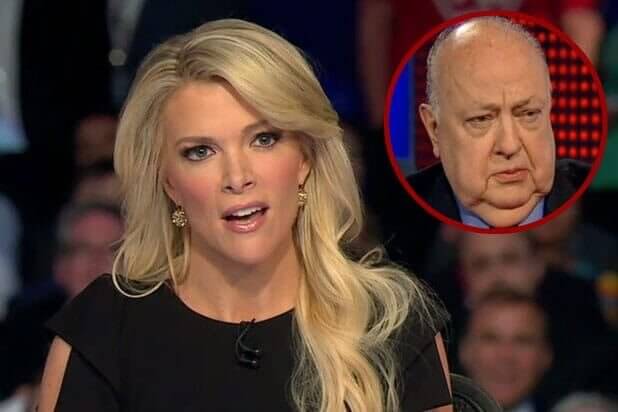 Later that year, shades of the discrimination against women reared again, as Kelly was criticized for wearing a dress that some felt was too evocative. Kelly was defended by many commentators, including the Huffington Post. Later that year, a ghost of discrimination against women returned when Megyn was criticized for wearing a dress that some people felt was too evocative. Kelly was defended by many commentators, including the Huffington Post.
Becoming an Author
In 2016, Kelly capitalized on her immense popularity with a book deal amounting to almost $10 million. She penned an autobiography called Settle for More that year to mixed reviews. The book deals with her life and career and mentions several of the controversies that have come about, including the Trump incident.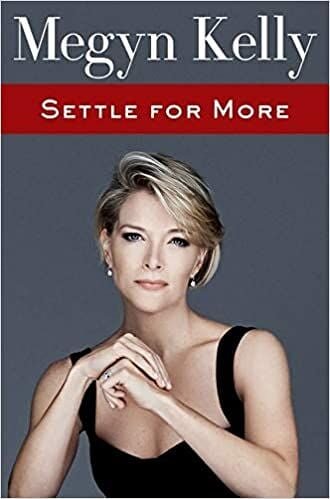 Not surprisingly, a Trump supporter backlash ensued. Some critics noted that the book showed that Kelly could be warm and approachable but also stand-offish and blunt. 
The NBC Years Begin
Megyn's Fox contract demanded that she be off the air for at least six months after leaving the network. Soon after that period ended, she started appearing in various NBC shows, including Sesame Street. After several weeks of rumors, the New York Times finally confirmed that Kelly would be joining NBC.
Notably, her first episode would be historic - an interview with Vladimir Putin. Kelly would run a Sunday night news show and a daily daytime show with a lighter slant. The news show premiered in June 2017, and the daytime show launched in September of that same year.
Megyn's Exposure Declines Somewhat
Since launching at NBC, Megyn's role at NBC has declined to some degree, with the Sunday night news show only occasionally airing, pre-empted by the sports seasons like NFL and special events like the Olympics coverage on the network.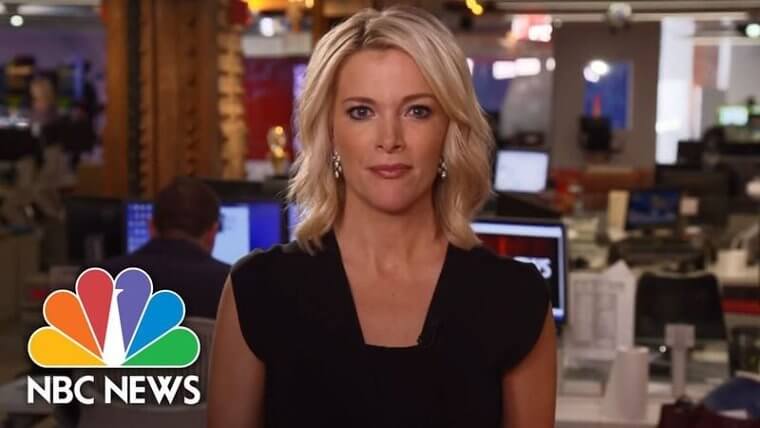 In 2018, her daily show was canceled, and the network terminated her contract in 2019. Kelly currently hosts a podcast through her own production company, airing on SiriusXM. She continues to host it at the time of writing and distributes it to all major digital streaming networks.

Devil May Care Media
It is estimated that Megyn earned between $15 million and $20 million in her NBC contract, so she was likely not desperate to go anywhere she didn't want to. Instead, she founded her own production company, Devil May Care Media, which was tasked with producing a Megyn Kelly podcast.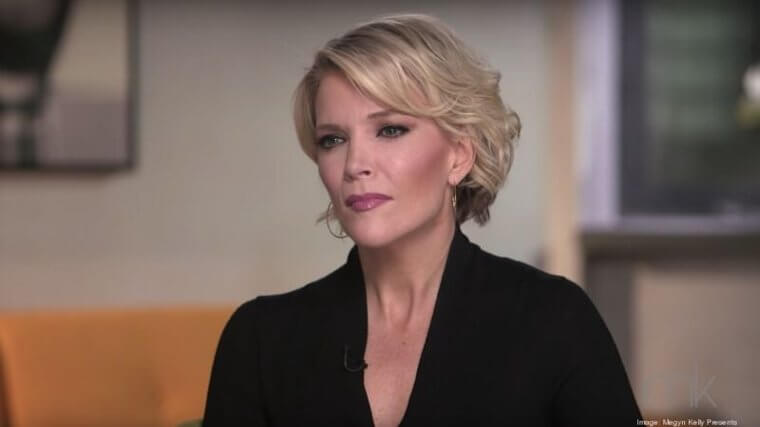 The podcast talks about issues of the day, and had some extremely high-profile guests, as among the most listened to episodes include Donald Trump (surprise!), Prince Harry and Meghan Markel, and other headline-based interests.
Not Shy of Controversy
Fans will be glad to know that Megyn still courts controversy from time to time. Her views on the Harry and Meghan situation have often drawn outrage or at least raised eyebrows from commentators. It seems an ongoing saga, with the host coming across as critical of the duchess.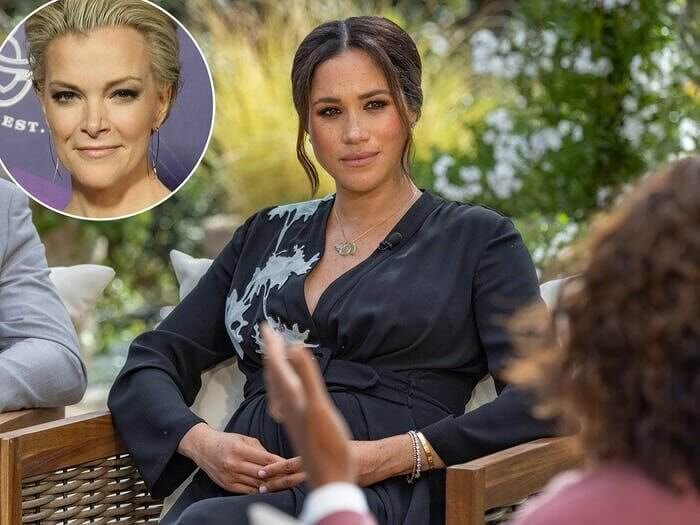 It seems she has a particular eye for criticizing Markle about several things, which has not sat well with all corners. In addition, she has hosted controversial figures like Ben Shapiro on the 'cast.
Kelly Loves Her Children
Despite being a hard worker that seems both motivated and tireless, Kelly is known for frequently gushing about her kids and motherhood, declaring on her profile that she is 'Crazy in Love' with Edward, Yardley, and Thatcher.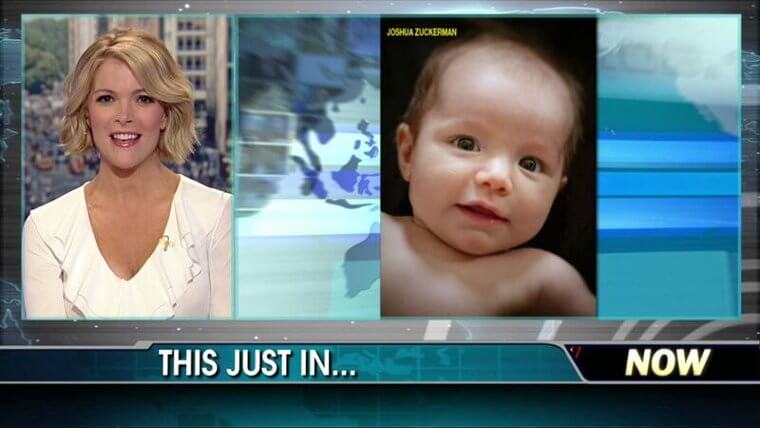 She proudly proclaimed that life outside of a major network had given Kelly more time to be with them. She proudly declared in an Instagram post: "No corporate overlords!" This benefits family life, and Yardley is a regular feature during Megyn's appearances. 
More About the Brunt Kids
Edward Yates, the eldest, loves his dog Thunder. Megyn says he loves to read, and with the dog by his side at all times, the two are best friends. Daughter Yardley Evans seems to be her mother's darling. Megyn seems to be anywhere her daughter needs her, even at the school dance dressed in an impeccable 1970s costume.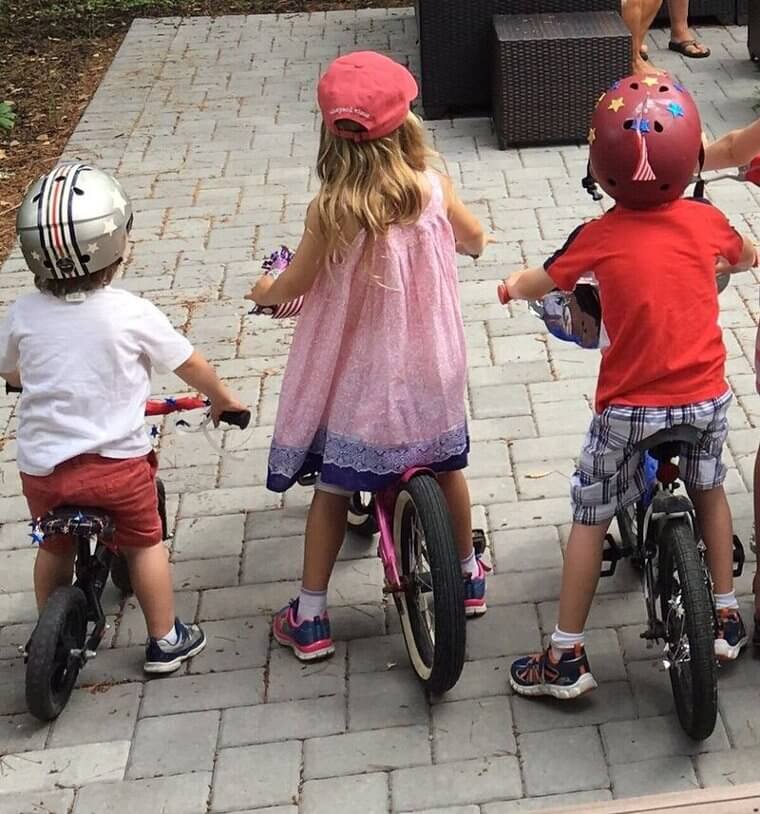 Youngest Thatcher Bray was born in 2013 and is a paparazzi favorite. Thatcher regularly can be seen with mom and Yardley on their way to school or hanging out in New York City. 

Megyn's Net Worth
Megyn's careers at Fox and NBC were very lucrative. As a popular anchor, she was frequently at the top of the ratings, earning her big contracts and salaries. As of 2022, her estimated worth is $55 million.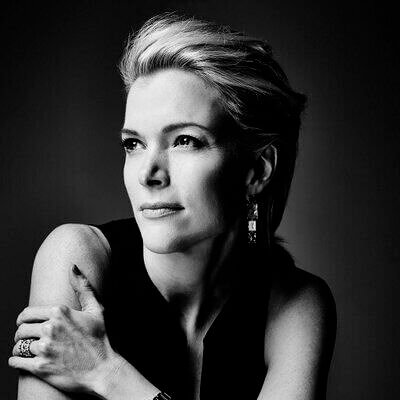 It is not yet known how successful her production company may become, nor what the success of the podcast may bring. But Kelly seems to be enjoying the freedom of being her own boss, extra time for her family, and saying what she wants to say. As of 2022, she is 51 years old. 

Despite all the controversies, Megyn Kelly is as popular as ever. However, other anchors and journalists don't enjoy the same level of public trust. This nest list reveals just how beloved and trusted are these successful anchors!
Presenting Facts or Opinions – How Do America's Top 19 Anchormen Rank in Terms of Audience Confidence?
Presenting Facts or Opinions - How Do the 19 Biggest News Anchors Rank in Terms of Audience Trust?

News anchors occupy a big role in our day-to-day lives. Though we often don't even register them, we see and listen to them every day on our television screens. No matter which news network you prefer, you will almost certainly know the names and faces of a few of them. But can they all be trusted? With all the changes happening across the world, the news anchors who deliver our daily updates have become celebrities in their own rights. But some are considered to be more trustworthy by the American people than others. The Morning Consult asked American viewers which news anchors they trusted, ranked from those they trust "a lot" to those they trust "not at all". Combining all that information, they were able to rank some of America's most well-known faces into a list of the most and least trustworthy. Does everyone feel the same as you do? Where does your favorite host sit on the scale?

Sean Hannity, 30% - Least Trustworthy
Sean Hannity fronts the prime-time show Hannity on the Fox News Channel. Fox News has consistently been one of America's most-watched cable news channels for many years now. In fact, it is the most-watched U.S. cable network amongst both daytime and prime-time viewers, and Hannity sits at the top of the Fox News hierarchy, frequently ranking number one in terms of ratings.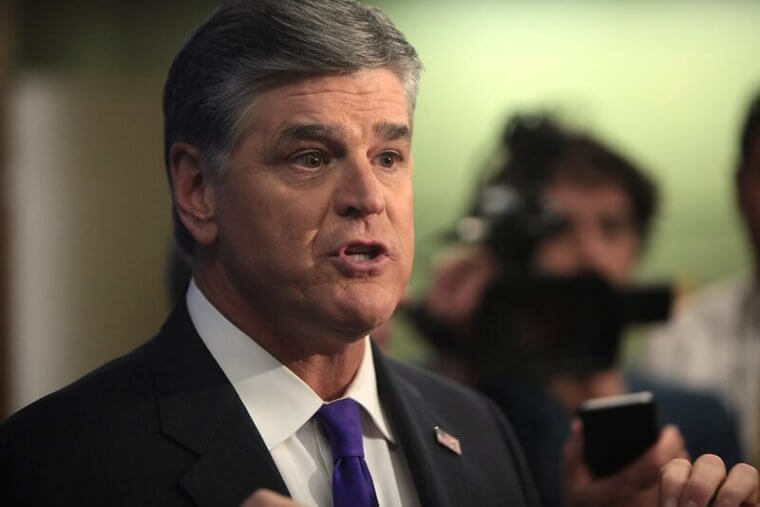 Despite the overarching popularity of Hannity, Sean Hannity is one of the most polarizing new anchors. His bombastic and enthusiastic delivery of the day's events has divided the nation, with 30% of respondents stating that they trust Hannity "not at all" when it comes to delivering their news updates.
Rachel Maddow, 26% - Least Trusted
News shows are often very polarized to either the liberal or conservative side with little middle-ground. In news circles, Rachel Maddow reigns supreme. The Rachel Maddow Show, a prime-time show on MSNBC, routinely has the highest ratings of any show on the network. Despite this, the show doesn't rake in nearly as many viewers as its competitors on Fox News.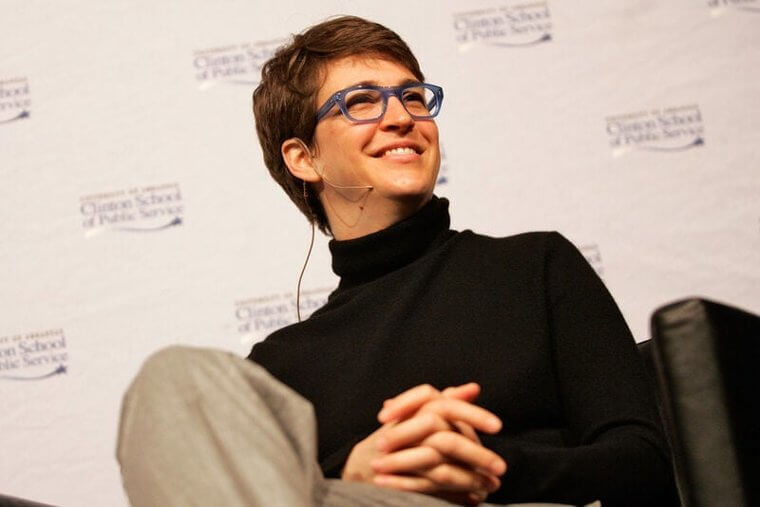 Maddow is frequently outspoken and fearless when it comes to voicing her opinions. Though many agree with Maddow's views, she has attracted her fair share of criticism and opposition. Potentially as a direct result of her divisionary views, 26% of respondents to the Morning Consult poll stated that they do not trust her at all.
Don Lemon, 25% - Least Trusted
Don Lemon is a name that has been around since 2006 when he joined CNN, but only recently has he risen in prominence. Coverage of the 2016 election cycle helped to skyrocket him into the higher echelons of the network, and he now hosts Tonight with Don Lemon on CNN. He is notable as one of the only Black news anchors on prime-time cable television.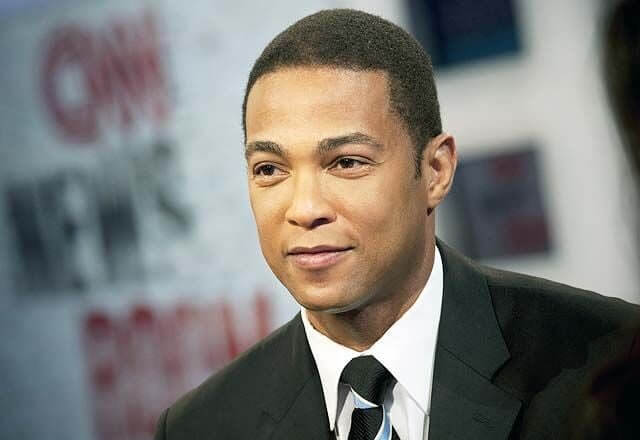 Over the course of his career, he has attracted a loyal fanbase and is a household name to many. He has also garnered controversy from some factions, who believe that his opinions are sometimes too harsh. This could be the reason that 25% of poll respondents categorized him as not trustworthy at all.
Mika Brzezinski, 23% - Least Trusted
Perhaps one of the most vocal and outspoken news anchors on TV, Mika Brzezinski doesn't hold back. She presents the morning show Morning Joe on MSNBC alongside her husband Joe Scarborough. Each morning, she lays her thoughts about the day's politics out on the table for all to see, both literally and figuratively. Next to her famously large cup of coffee, she always lays out her extensive notes on the table before unleashing her opinions on some of the world's most powerful politicians.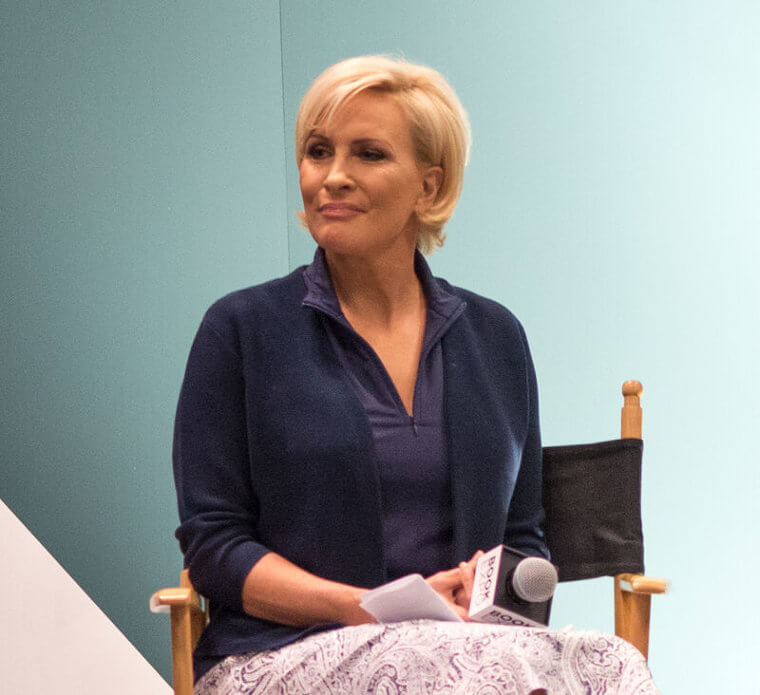 Though Morning Joe has one of the highest ratings of any news show, especially in the morning, Mika has her fair share of haters. Her brutal, no-holds-barred opinions have led some viewers to tune out. In fact, 23% of the people polled said they didn't trust her at all.
Chris Matthews, 22% - Least Trusted
Chris Matthews is one of the stalwart news anchors on American cable TV. He has been presenting since 1999 when he became the face of Hardball with Chris Matthews, which is shown on MSNBC. Prior to that, Matthews hosted America's Talking, a show with a very similar format on CNBC.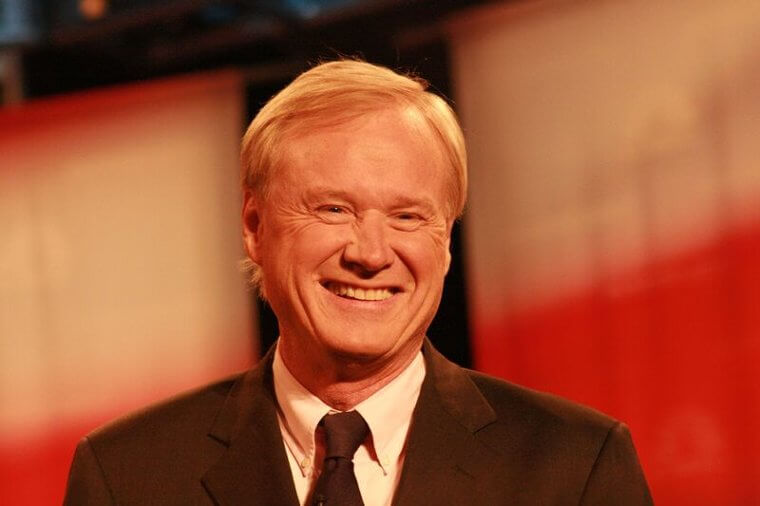 But Chris Matthews has always divided audiences with his notoriously grumpy news reporting and puns. In 2020, he announced that he would be leaving MSNBC after a 21-year tenure, following a series of misconduct allegations. There was also an incident that led to an on-air apology. Perhaps it is recent events that lead to 22% of respondents to the Morning Consult poll saying that they didn't trust him at all.
Joe Scarborough, 22% - Least Trusted
Together with his wife, Joe Scarborough presents the MSNBC program Morning Joe. Joe doesn't hold back on his strong, opinions and it is this harsh news reporting that has made many viewers turn off.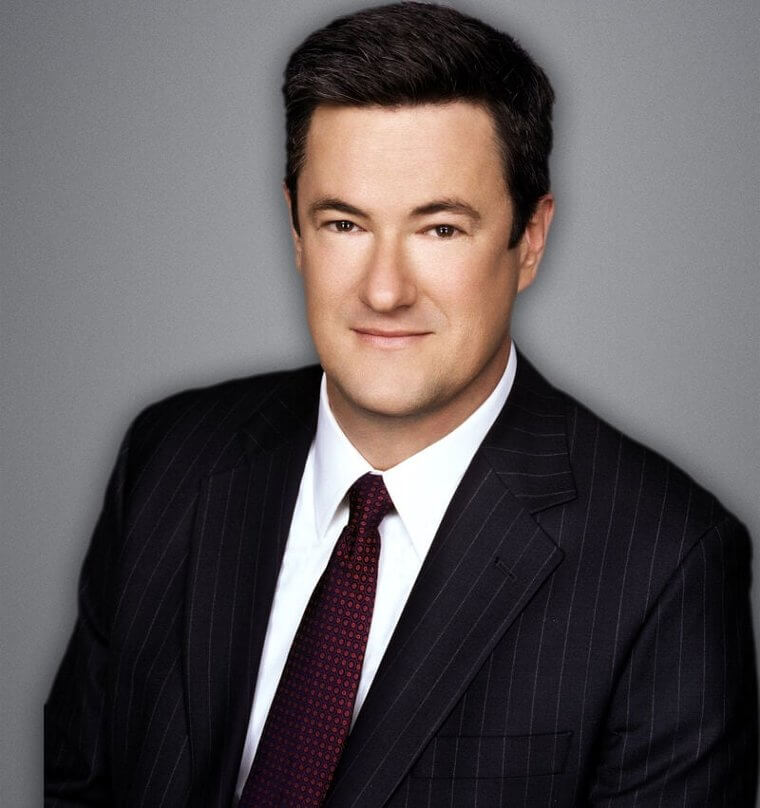 However, Joe is certainly used to competition and criticism. Before his career took him into the media world. It is this historic experience that gives him strong opinions when it comes to interviewing the most powerful figures at his television studio table and it sometimes has explosive results. Scarborough is considered only slightly more trustworthy than his wife and cohost, Mika Brzezinski, with 22% of respondents claiming that they don't trust him at all.
Tucker Carlson, 21% - Least Trusted
Tucker Carlson is a divisionary news anchor. He is very popular amongst the voting population, with many voting him as their favorite news anchor on television. But when looking at all the poll respondents, Carlson's opinions weren't quite so popular, with 21% of people not trusting him at all.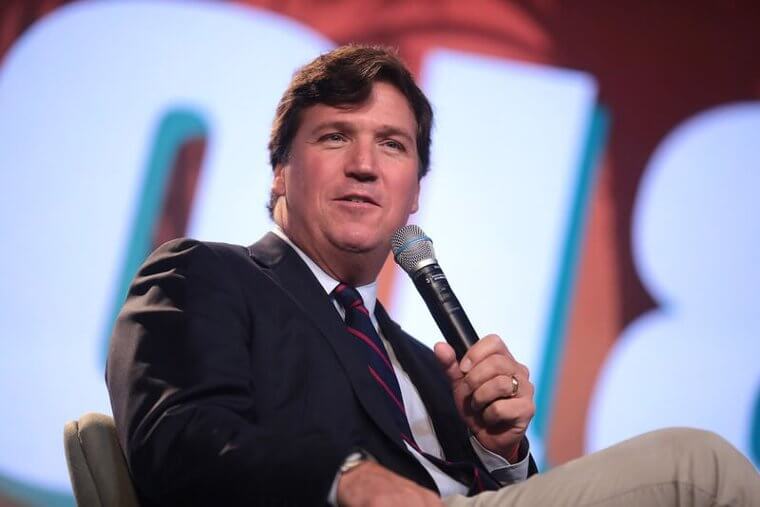 However, plenty of people seem to trust him enough to watch his show. Carlson has some of the highest ratings of any Fox News Channel show, with over 4.331 million viewers in the second quarter of 2020 alone. Despite his current role of taking on the U.S.'s most powerful politicians on Fox News, he actually used to work as a news anchor for their rival, MSNBC.

Chris Cuomo, 20% - Least Trusted
Chris Cuomo is one of the best-known news anchors, but he has failed so far to establish a distinct personality for himself and his news reporting. In an article about him in the New York Times, it was said, "his mad-as-hell attacks on government failures lacked the explanatory clarity offered by [Rachel] Maddow" and "his celebrity quality - taut T-shirts, bulging biceps, workout videos on Instagram - didn't connect to the political moment."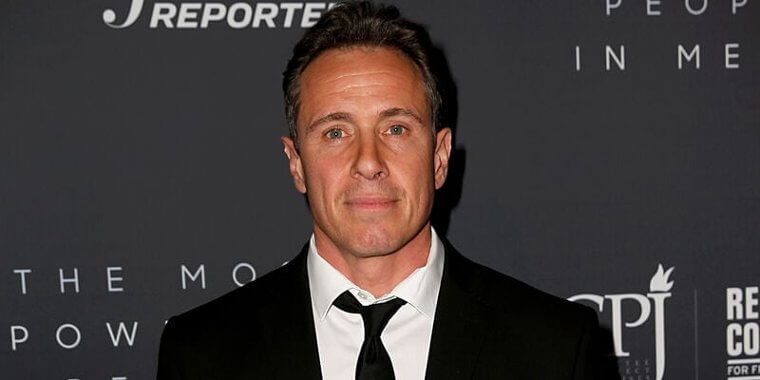 Throughout his career, he has frequently become part of the news of the moment himself. There have been viral videos of his verbal disagreements as well as, now infamous, interviews with his brother, New York Governor Andrew Cuomo. But, despite his outspokenness, 20% of respondents still don't trust him at all. 
Laura Ingraham, 20% - Least Trusted
Even if she's not the most trusted news anchor on the list, you probably know exactly what she's thinking - because Laura Ingraham will just come out and say it. It is this brutal honesty, that has often gotten her into trouble.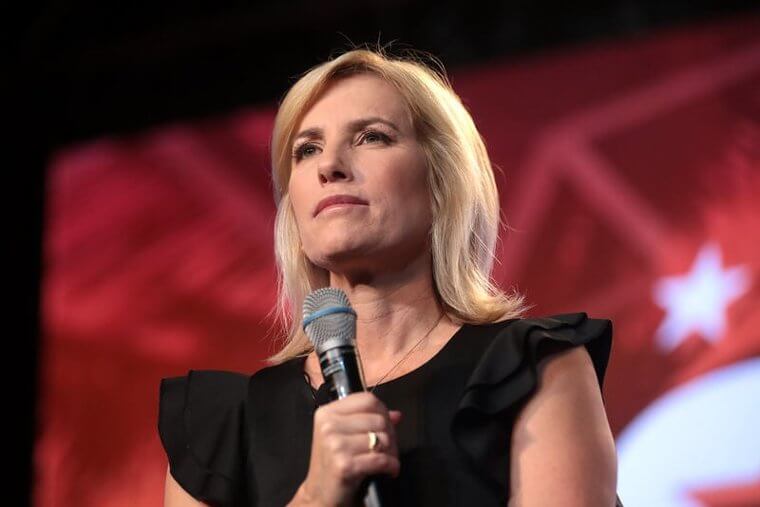 Ingraham has her own prime time show on the Fox News Channel called The Ingraham Angle. It has received some criticism for being light on actual news and instead places emphasis on Ingraham's own commentary. Despite that, she has become one of Fox News' most popular news anchors - but 20% of respondents still don't trust her at all.
Anderson Cooper, 19% - Least Trusted
Anderson Cooper, with his vibrantly white hair and thick-framed, black glasses, is instantly recognizable. Cooper is a staple news anchor on CNN and has been hosting his own show, Anderson Cooper 360°, since 2003. He has become a common sight on our screens and news networks and it doesn't look like he's going anywhere.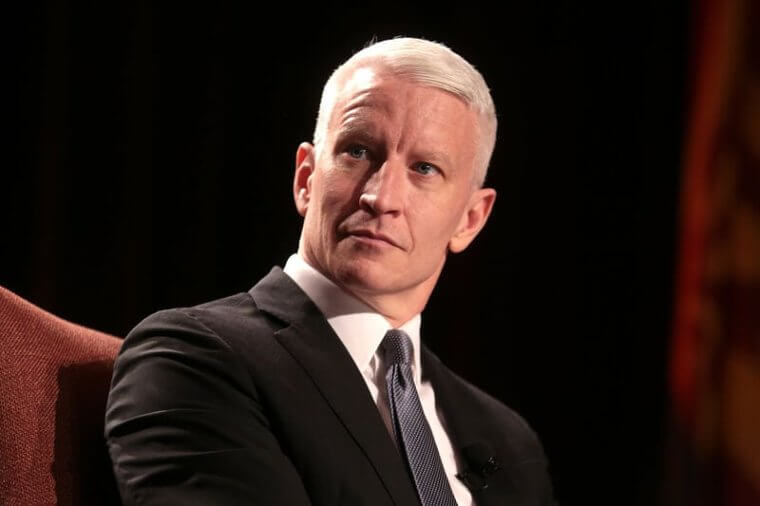 Over his long and distinguished career, Cooper has also hosted Newsnight, 60 Minutes, CNN Heroes: An All-Star Tribute as well as a syndicated talk show - Anderson Live. He is also very active and has hosted presidential debates as well as numerous New Year's Eve celebrations. Nevertheless, 19% of people told Morning Consult that they didn't trust him at all.
Craig Melvin, 21% - Most Trusted
Now we've looked at the 10 least trusted news anchors, it's time to look at the 10 considered most trustworthy. First up is Craig Melvin. Melvin works on MSNBC and is known both on and off the screen as one of the happiest and most cheerful anchors on television.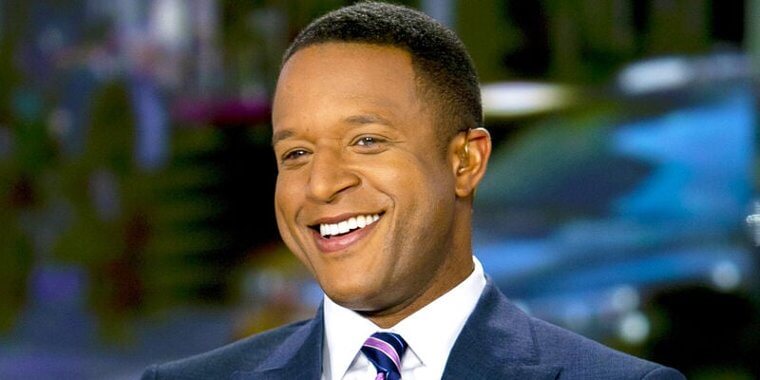 Craig has built up a large following over the years, which has attracted the attention of MSNBC's bigwigs. Although he started at NBC in 2011 as a weekend host that drew few viewers, it wasn't long before Melvin was promoted to news correspondent. He later also became an anchor on the network's weekday shows. In 2018, Craig was so adored by viewers that MSNBC gave him the much-coveted host of The Today Show.
Chris Wallace, 22% - Most Trusted
Most conservative news anchors and commentators tend to polarize their viewership in a big way, especially the best-known names. That is, all except for one Fox News host - Chris Wallace. He has managed to avoid this controversy and is well-liked and trusted within both liberal and conservative circles.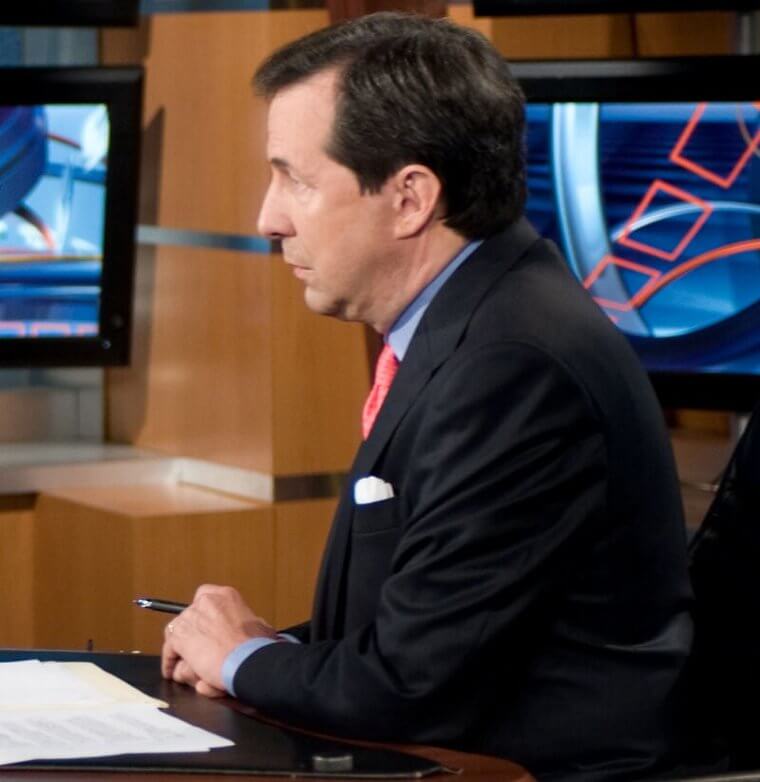 Wallace has been in the news anchor game for a long time and has held many coveted spots over his lengthy career. He currently holds an impressive role as the host of the Fox News Channel's Sunday show, Fox News Sunday. Other roles over the years include working as an anchor on NBC Nightly News, Nightline, and Meet the Press. His solid career across multiple networks is perhaps why he is well trusted.
George Stephanopoulos, 23% - Most Trusted
George Stephanopoulos was not always a journalist. In fact, in his early career, he received a lot of press coverage himself as the communications director for Bill Clinton's presidential campaign. Upon the success of the campaign, he also went on to work as President Clinton's communications director in the White House. Aged just 35, he decided he needed a career change and left his career behind him to pursue other things.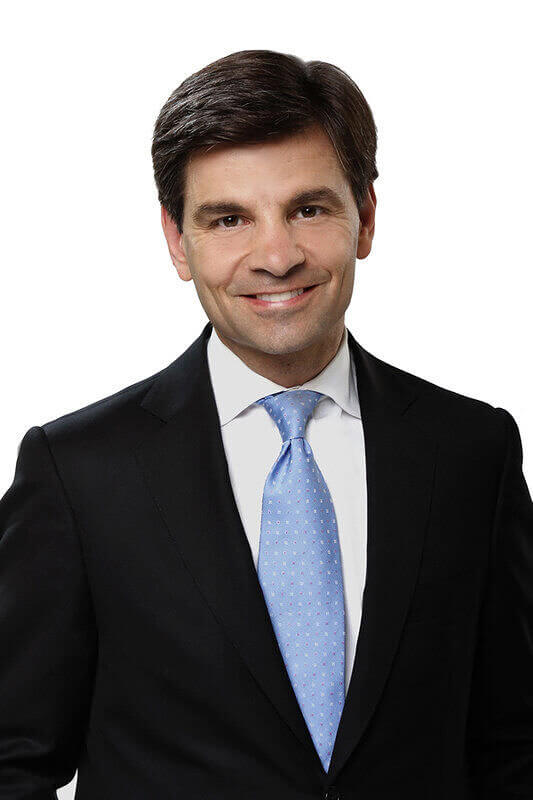 From then, Stephanopoulos used his well-honed communication skills to step in front of the camera as a commentator on the news of the day. He is now one of the most trusted names in news, with 23% of Morning Consult respondents trusting him "a lot". At the moment, he fronts one of ABC's flagship shows, ABC's This Week.

Andrea Mitchell, 23% - Most Trusted
Andrea Mitchell has certainly got her head in the news game and is renowned for her unflappable nature and composure. She delivers some of the biggest news stories in America in a calm, measured way and offers some of the most well-analyzed takes on the daily news. Currently working at NBC News, Mitchell has spent much of her career covering the State Department, where she is famous for not being afraid to stand up and ask the most difficult questions.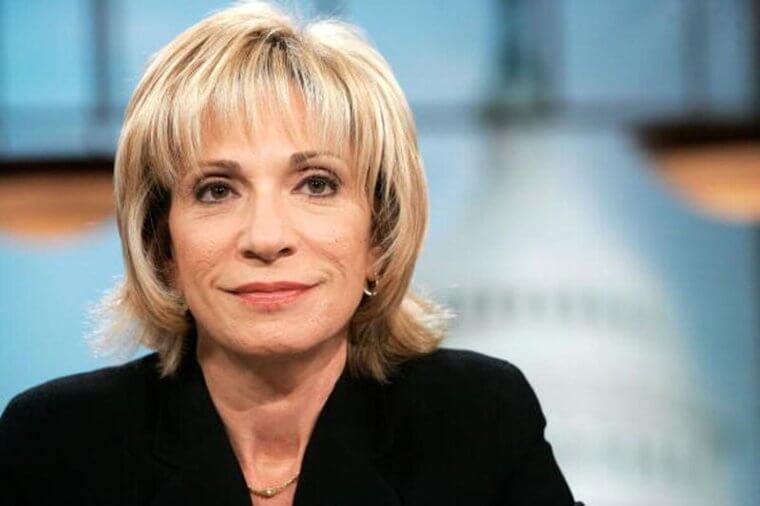 She has spent many years on the campaign trail, where she appears to have almost supernatural abilities to be able to find herself in the middle of all the action, somehow skirting the scrum of reporters. After a lot of hard work, she now finds herself as one of the best-trusted news anchors on television.

Brian Williams, 24% - Most Trusted
The career of Brian Williams has been long and fruitful. He has developed a reputation of being able to deliver updates and developments about even the most devastating or surprising news items with calm level-headedness. However, his ability to spin a story has also gotten him into trouble over the years.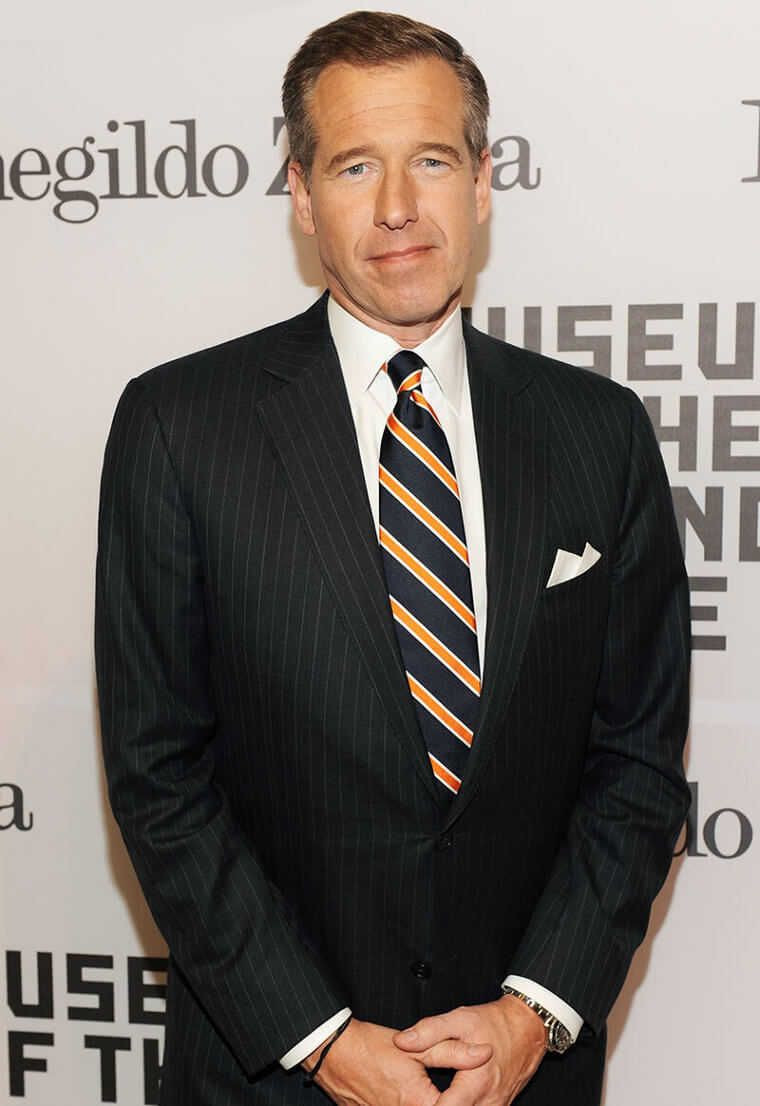 Williams had been presenting the NBC Nightly News, a coveted news anchor spot, for 10 years when he was removed in 2015. It transpired that Williams had fabricated a story about his experiences during the Iraq War. Despite this transgression, Williams has since returned to television screens as the host of MSNBC's The 11th Hour with Brian Williams. The show has been hugely successful, despite its late time slot, and appears to have reestablished his trustworthiness.

Harris Faulkner, 24% - Most Trusted
Harris Faulkner began her career at Outnumbered, which was arguably Fox News Channel's answer to The View. Sitting alongside three other women and "#OneLuckyGuy", Faulkner managed to get herself noticed with her astute opinions and discussions on the politics of the day.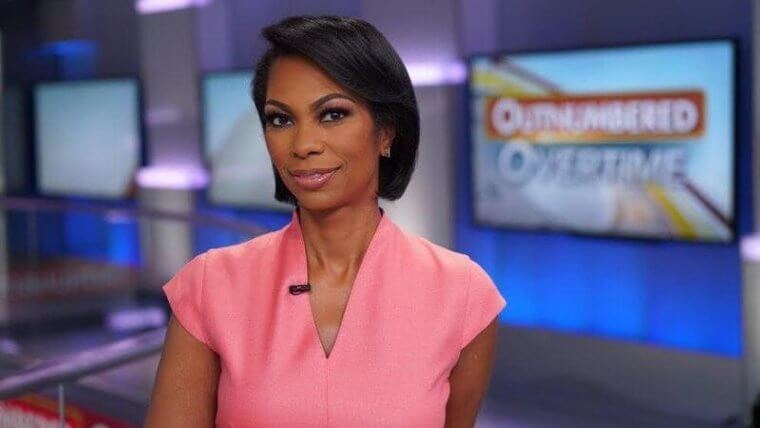 She made a name for herself by remaining impartial to the arguments and remained level-headed throughout, delivering prudent but heartfelt news commentary. Despite many women having been cast on Outnumbered, Faulkner is the only one to be ranked amongst the most trustworthy news anchors, with 24% of people polled stating that they trusted her "a lot".
Robin Roberts, 28% - Most Trusted
Robin Roberts is familiar as one of the key figureheads of Good Morning America. Good Morning America is ABC's flagship show and is consistently rated as the most popular breakfast show across all broadcast television. On one of the most trusted shows on TV, Roberts is certainly one of the most trusted hosts, with over 28% of poll respondents saying that they trust her "a lot".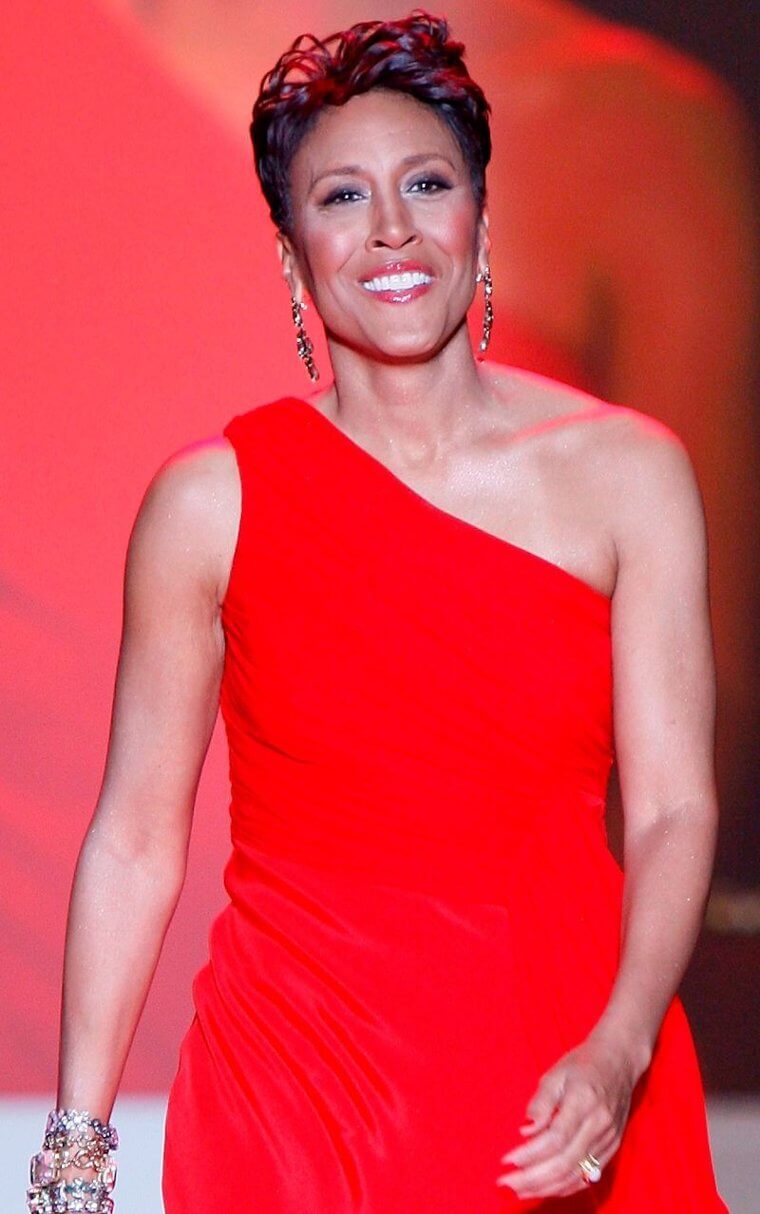 This is an impressive level of trustworthiness, but perhaps even more impressive is her reputation amongst what is known as the "key demographic", 25 to 49-year-old viewers. If the survey merely consulted this demographic, then Roberts would have placed first on this list. In fact, over 53% of people aged 25 - 49 said that they trust her above every other news anchor on television. High praise indeed.

David Muir, 28% - Most Trusted
ABC is one of America's biggest television networks with over 12 million viewers tuning in to their evening news shows each day. One of their flagship shows is World News Tonight with David Muir, which unsurprisingly, is hosted by David Muir. The show is extremely popular amongst many demographics and it has made Muir a household name across the States.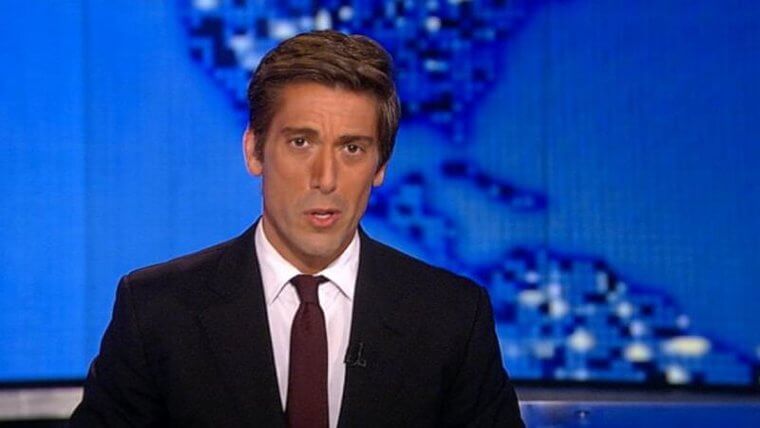 The public has taken a liking to Muir, with 28% of poll respondents telling the Morning Consult that they trust Muir a lot. Speaking to Time Magazine about public perception, David Muir said, "I think that in this era, where people are really hungry for someone that they can trust and a team they can trust, that it's just something they sense in their guy."

Anderson Cooper, 29% - Most Trusted
Yes, Anderson Cooper was also listed as one of the least trusted names in news - but clearly, enough people have complete confidence in him that he is also the second most trusted name on the list! Perhaps this result can be taken as evidence of how much Cooper can polarize his viewers.
Even though 19% of respondents in the Morning Consult poll don't trust Cooper at all, many more respondents - 29% in fact - trust him "a lot" as a news anchor. He was therefore named as the most polarizing figure in the news by Morning Consult. 
Lester Holt, 32% - Most Trusted
Coming in at the top spot as the most trusted name in television news is Lester Holt with 32% of respondents saying that they trust him a lot. When Brian Williams left the lead role of NBC's Nightly News open, Holt stepped into the breach. Since then, he has been steadily making a name for himself and is now one of NBC's biggest stars.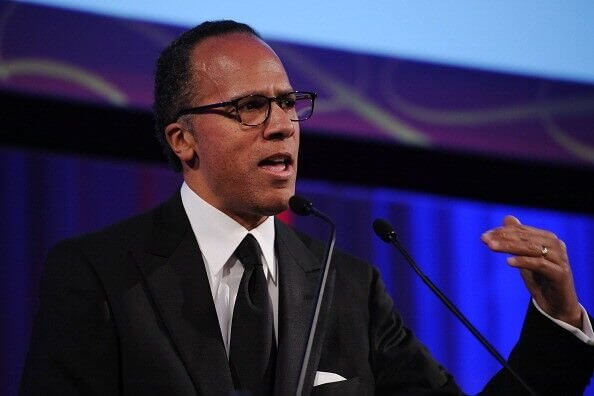 Holt's style is well known for being detached and keeping his opinion away from the news whilst he is delivering it. In a news world full of big opinions and an increasingly blurred delivery of news and commentary, this has helped to set him apart from his peers. When he was told of his ranking by The Hollywood Reporter, Holt responded by saying, "Trust is at the heart of what we do. To me, there is no higher honor than to have earned that trust."