Lo and behold, Lionel Messi has arrived in Miami to finalize his transfer to Major League Soccer, marking a significant moment in his career. It is anticipated that Messi will sign a contract with Inter Miami for a duration of two and a half years, with the option to extend for another season at David Beckham's team. Messi's move to MLS is certainly expected to elevate the sport's popularity in the United States. 
The G. O. A. T. Has Landed in Miami
he Argentine superstar has landed with his family on July 11th, alongside his wife, Antonela Roccuzzo, and their three children, Thiago, Mateo and Ciro. Speaking of his family moving to the United States, Lionel added: 'We are happy with the decision we made. Prepared and eager to face the new challenge, the new change.' T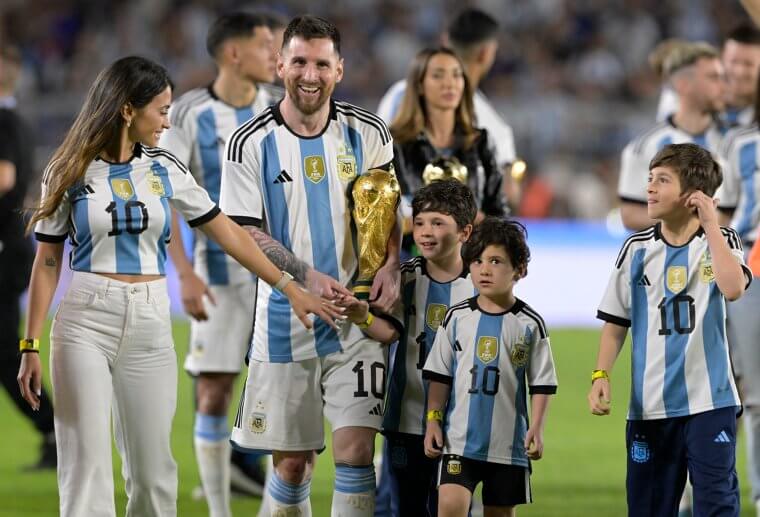 Messi has vouched he would give his all for the flailing MLS club, which has now gone a club-record 10 straight matches without a victory."My mentality and my head are not going to change and I am going to try, wherever I have to be, give my best for myself and my new club, continue to perform at the highest level," he confessed.

A Major Deal
Messi is expected to sign a two-and-a-half year contract with Inter Miami, with an option for another season at David Beckham's team. Beckham's Miami co-owner, Jorge Mas, says Messi will earn between $50m and $60m a year, with money contributed from adidas via Miami sgirt sales and Apple TV, who own subscription rights to MLS.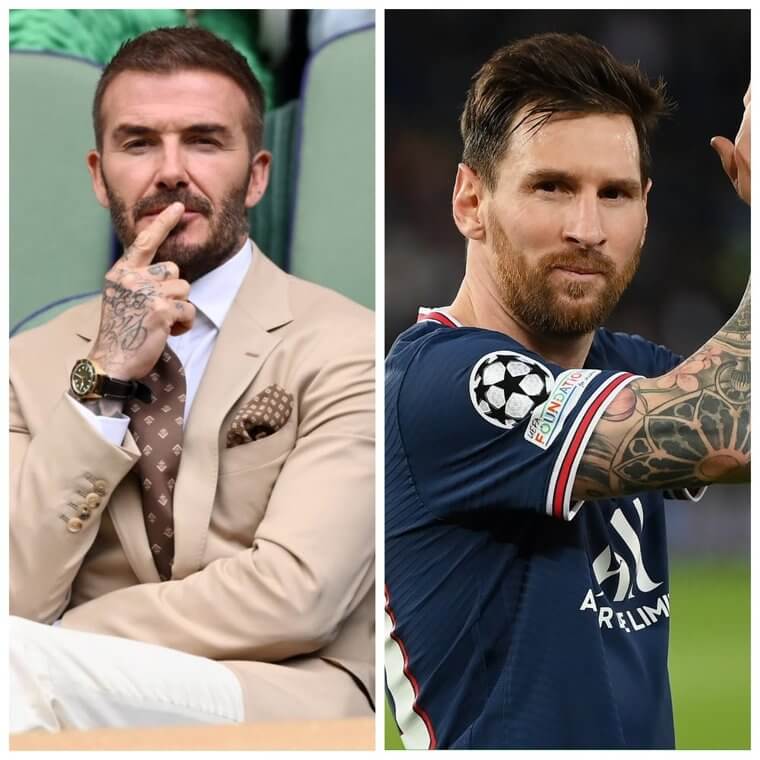 Messi's move to MLS is expected to take the sport to new heights in the United States. Former Barcelona team-mate Sergio Busquets has already joined him in Miami. The Miami team is in urgent need of an injection of star quality. The team is last in the MLS Eastern Conference, hasn't won in 10 games and is eight points away from the playoffs.
The Messi Effect
The impact of Messi's arrival is already evident on social media, with Inter Miami and MLS experiencing a surge in millions of followers and engagement. The news of Messi's arrival at Inter Miami has caused a frenzy in Miami. Ticket prices for his potential debut have skyrocketed, with some reaching over $9,000 for the match against Cruz Azul on July 21.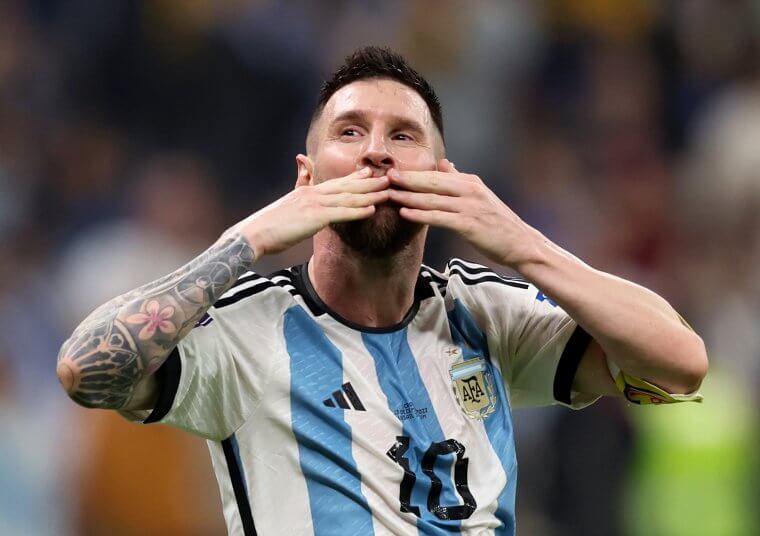 Having led Argentina to victory in the World Cup in Qatar last year, Messi now arrives in the United States as a newly crowned champion. This triumph not only marked Argentina's first win in soccer's most prestigious tournament since 1986 but also served as the pinnacle of Messi's international career.

The Highly-Anticipated Debut
Three potential dates have been marked for Messi's debut with Inter Miami, with July 21 against Cruz Azul in the Leagues Cup being the most likely scenario. However, sources close to the league believe it is unlikely that Messi will make his debut away from home, considering Inter Miami's upcoming away matches on July 8 against DC United and on July 15 against Saint Louis City. The MLS summer transfer market opens on July 5, so Messi's debut will not happen until at least next month.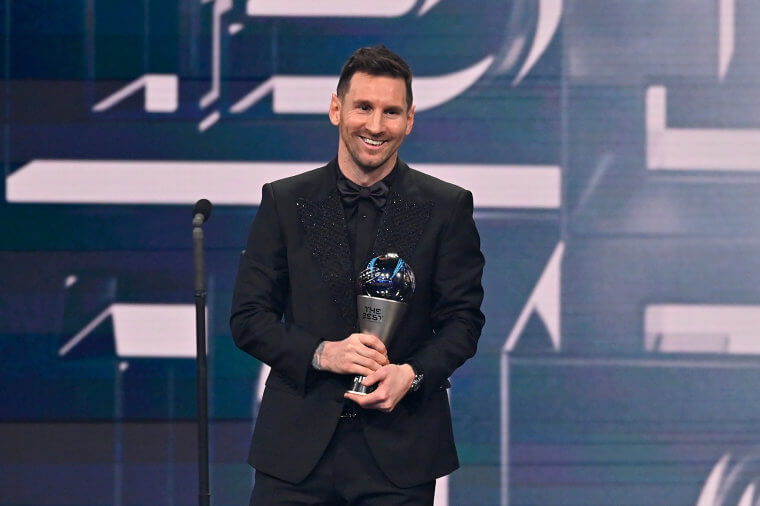 Throughout his career, Lionel Messi captivated the global audience with his exceptional performances donning the iconic No. 10 jersey for both Barcelona and the Argentine national team. However, during his stint at Paris Saint-Germain, Messi switched to wearing the No. 30 shirt. Now, as he prepares to join Inter Miami, it is widely anticipated that he will reclaim the cherished No. 10 jersey, which has remained unoccupied throughout the current season.
Lionel Messi Is Soccer's Living Legend
Currently considered by many as the greatest football player of all time, Lionel Messi has been around for quite a while. This prodigal athlete of Argentinean origins started off at the young age of 13 when he moved to Spain after being selected for the prestigious Barcelona football club and made his debut at 17. Since then he has spent the better part of his long career proving himself the best of the best.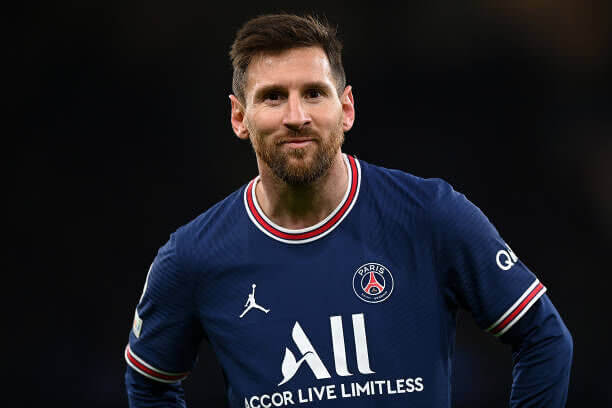 Whether you're a Messi superfan or not a fan of football in general, here are 25 of the most amazing facts about this football superstar that are sure to interest you!

The Birth of a Legend
Lionel Messi was born to Jorge Messi, a steel factory manager, and his wife Celia Cuccittini on 24 June 1987 in Rosario, Santa Fe. He was the youngest in the family when he was born but was soon followed by another sibling. Since his father was a football coach in his spare time, Messi and his siblings grew up with a passionate love for the sport.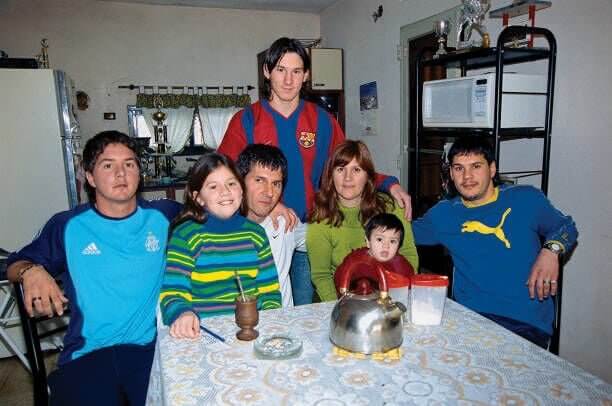 It's important to note that while Messi was born in Argentina, he has mixed parentage who were not local. His mother was of Italian origin while his father was half Italian and Spanish. Growing up his two brothers played a pivotal role in developing his talents.
Inspired From the Start
Growing up Lionel Messi had no lack of inspirational figures to look up to considering half his cousins from his father's side were professional football players. His cousin Emanuel Biancucchi plays in the Resende club of Campeonato Carioca while his other cousin Maxi Biancucchi was a regular in Brazilian and Paraguayan clubs and is currently playing for a Brazilian club called Ceará.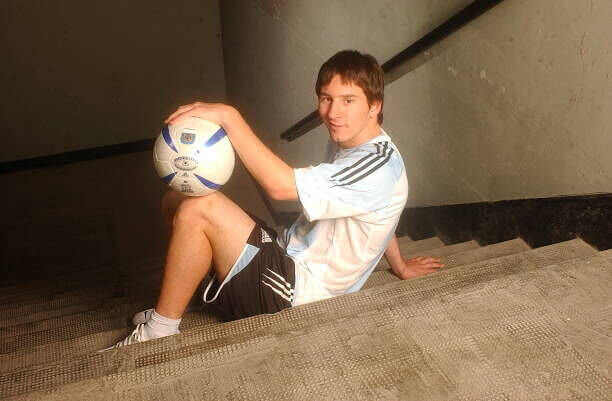 While his cousins might not be as famous as Messi they also had successful careers and are accomplished athletes.  We're pretty sure it won't be long before Messi's son succeeds him on the field!
He Started Playing Very Early
Messi started his career very early, joining a local club in Santa Fe called the Grandioli when he was only four. One of the main reasons he started off at such an early age was his maternal grandmother Celia who accompanied young Messi during his practice sessions. Thanks to her encouragement Messi switched to the Rosario club when he was six.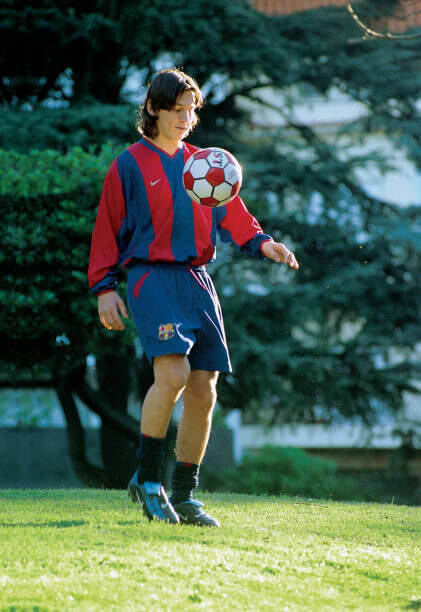 It was here that Messi first displayed his prodigal football skills by scoring 500 goals as part of the Machines of '87 team of the club, which was named after the birth year of all the players of the team. His grandmother passed away shortly before his 11th birthday and since then he has dedicated all his goals to his grandmother to whom he pays tribute by pointing at the sky while looking up after scoring every goal.
He Had a Major Medical Condition
When he was 10 Messi was diagnosed with growth hormone deficiency which almost put a stop to his growing career as a football player. He had always been short for his age but by the time he was 10, his stunted growth was becoming too noticeable to ignore. His father's insurance only covered two years of his treatment which was $100 per month at the time which was beyond his financial capabilities.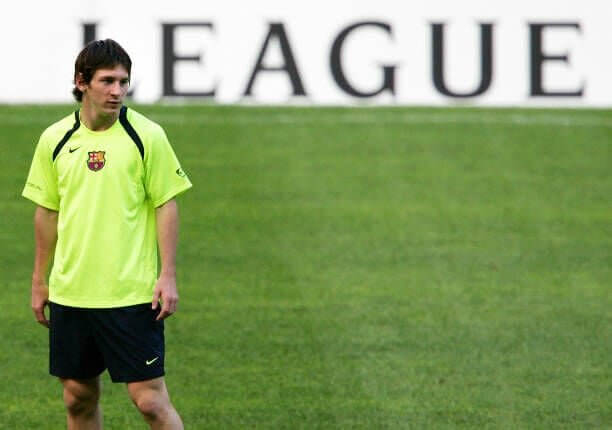 For the next two years, Messi and his father desperately looked for a club that would sponsor the treatment of his medical conditions to no avail. At first, his own club Rosario agreed to pay but reneged on their deal, and then a second club River plate also did the same. In their desperation, his family sent him to Spain where finally Barcelona signed him up.
The Offer of a Lifetime
At first, Barcelona was very skeptical about signing him in. Signing a player of his young age with his medical condition was a huge risk, and on top of that, he was a foreign national. But after watching his playoffs the coaches vouched for him allowing him to enter the club. They were in such a rush that the first contract he was offered was written on a napkin!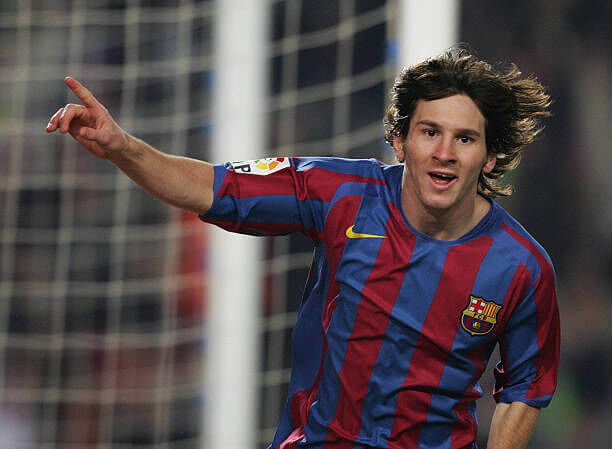 With a silver lining on the horizon, his whole family moved to Spain, now more determined than ever to support Messi's budding career. The first few years were rough for Messi as his foreigner prevented him from playing for them during his first year in Barcelona. This meant he was often absent from practice preventing him from bonding with his future team.
Getting Into His Groove
Once the restrictions on him were over after his first year Messi was transferred to the Royal Spanish Football Federation (RFEF) where he finally hit his stride. At first, his teammates thought that he was mute as he barely spoke during practice but soon he dazzled them with his skills which were much superior for his age.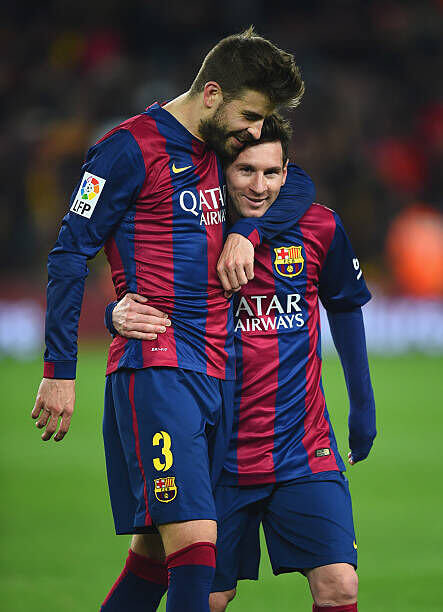 He started befriending teammates among whom were Cesc Fàbregas and Gerard Piqué, and his practice sessions became much more enjoyable for him. He was now playing in competitions and had finally found his flow, scoring 36 goals in 30 games. This was the point when he started becoming the legend that he is today.
A Lot of Firsts
Messi has accomplished a lot of firsts in football history, including being the youngest player ever to sign up in FC Barcelona and also being the youngest person to score his first goal in a professional league in 2005. All these accomplishments impressed foreign clubs so much that he got an offer from Arsenal after his first season in Barcelona ended.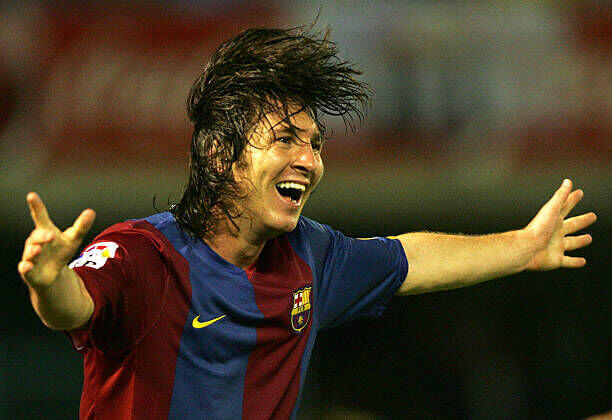 But Messi didn't forget who stuck out for him in his hour of need and refused to change clubs after getting the enticing offer. This loyalty to his club became a defining feature in his career which is why he is so beloved by fans all across the world.
A Man of Two Countries
Being an international superstar with dual-citizenship status, there has been a lot of complications in Messi's career as both Spain and Argentina wanted him for their national teams at first. At the beginning of his career, Argentina put their claim over him as their national team player in Fifa by making him play two friendly matches against Paraguay and Uruguay.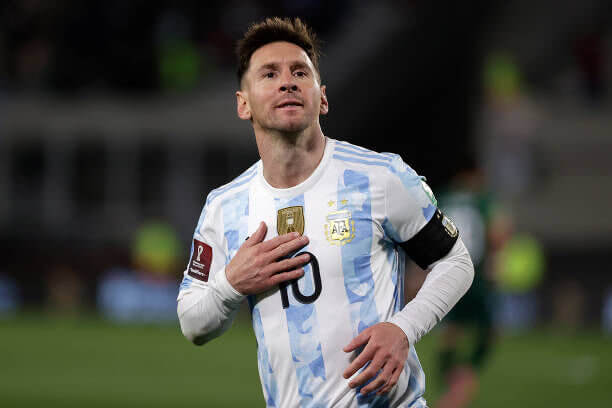 The Spanish national team was not happy with this but had nothing to do since Messi had already declined their offer. But over time the issue was resolved by splitting his time between the Argentinean national team and FC Barcelona.
A Wobbly Career Start
Messi first played internationally for Argentina in the qualifiers for the FIFA World Youth Championship, playing off against Paraguay, Uruguay, and Brazil, securing his team the spot with multiple goals. His stamina back then was significantly lower than his teammates which meant he was used as a substitute, used sparingly during the matches.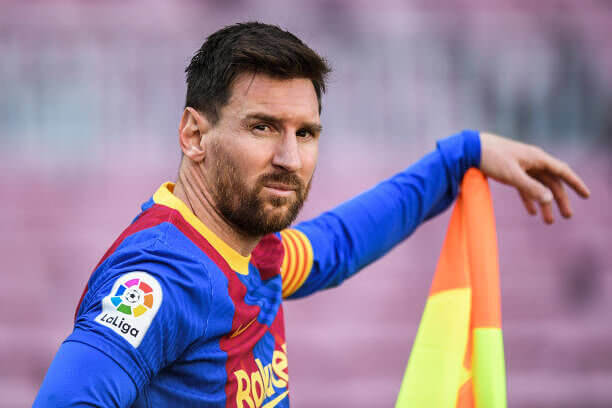 To overcome this obstacle Messi took some time off to increase his bulk and came back better than over to rejoin the team during the World Cup. He scored six goals during the tournament and by the time it ended he was being compared to Diego Maradona, a huge accomplishment for one so young.
Maradona's True Successor
Messi's comparison to Maradona didn't pop out of thin air- the two have many similarities starting with their short height. Despite being considered a disadvantage in a demanding sport like soccer, both players overcome this disadvantage through perseverance and hard work. Then there's also the fact that Messi almost replicated two of Maradona's most famous goals.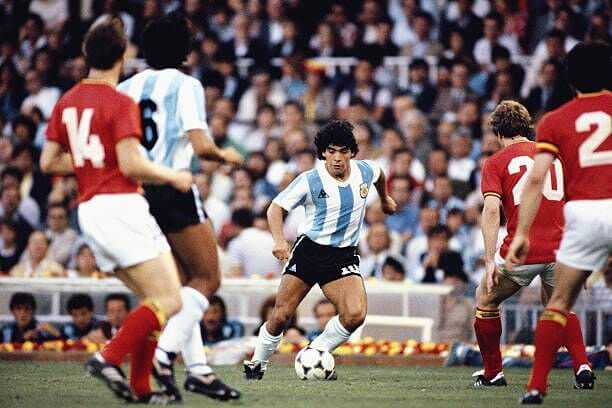 First, he replicated Maradona's Goal of the Century of the 1986 FIFA World Cup while playing against Getafe in the Copa Del Ray semi-finals. In less than 3 weeks he proceeded to replicate Maradona's 'Hand of God' goal as well against Espanyol. All of this solidified his image as Maradona's worthy successor in the public eye.
A Lot of Injuries
From the very beginning of his career, Messi has been plagued by injuries though fortunately none of them stopped his career dead on its track. But they have deterred him from participating in some of his most anticipated matches. This first happened in 2006 when he couldn't play in the Barcelona vs Arsenal match in the UEFA finals. This left such a sour taste in his mouth that he didn't even join the victory celebrations for which he was criticized.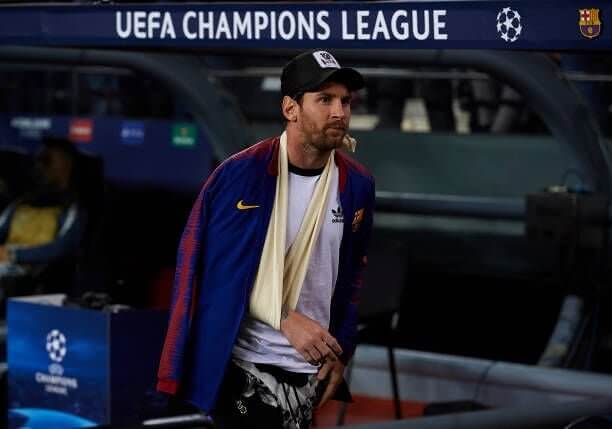 But over the years Messi has done his best to overcome this weakness by changing his training and lifestyle regimen. The Argentinean national team has also provided him with a personal physiotherapist who flies with him all the time
Outshining the Legends
Over the year Messi has not only outshined Maradona but some of the biggest football stars before his time including Ronaldo and Ronaldinho. Despite the age difference he and Ronaldinho became fast friends, the latter even calling him 'Little Brother'. Messi is the only player in the world who has won the World Player of the Year award a record six times.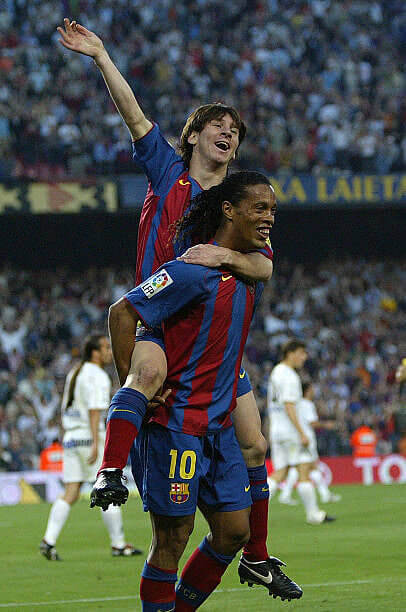 As of now, he's also considered the undisputed all-time top scorer of Barcelona thanks to his Champion's League achievements against Arsenal. He has the highest number of goals in the La Liga with 474 goals and also boasts the highest number of assists in football history numbering 338.

He Takes His Privacy Seriously
When it comes to his personal life Lionel Messi is notoriously strict and has very little tolerance for paparazzi. To ensure his privacy he bought an entire village on the outskirts of Barcelona with his mansion right in the middle of it. Thanks to his fame and connections he has so much privacy that even aircraft or drones are allowed in the airspace of his village.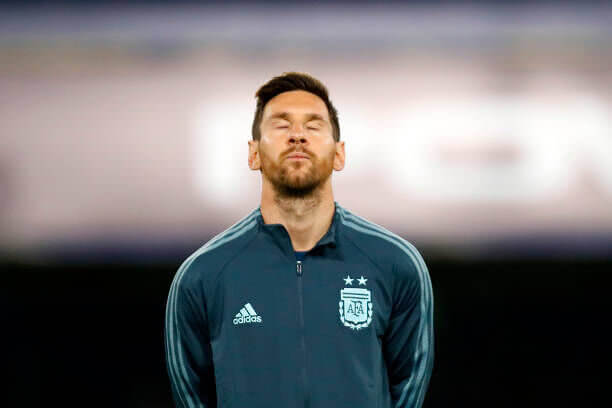 And what does he do with his free time you ask? The same as any other regular guy and father- spend time with his family, play video games, and take naps. His humble and modest lifestyle definitely won over the hearts of many fans as well.

A Tumultuous Romance I
Lionel Messi's romantic life is definitely one for the story books. He and his long-term partner Antonella Roccuzzo met when they were only five in his hometown. The two first met when their families were out on the beach and apparently Messi had such a hard crush on her that he wrote a note that very day that said, "ONE DAY, YOU AND I WILL BE BOYFRIEND AND GIRLFRIEND."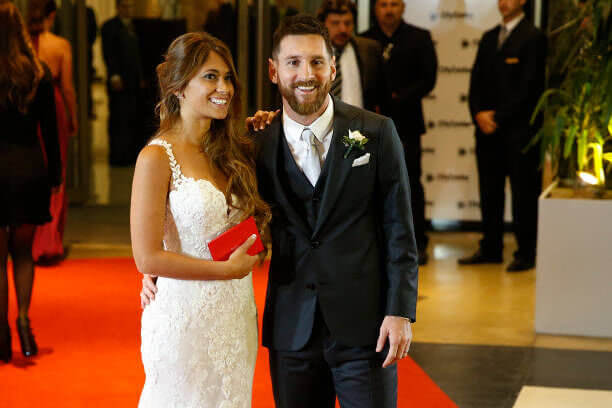 Contrary to popular belief the two weren't childhood sweethearts. It would take Messi years to win over her heart, with things getting complicated when he moved to Spain to join Barcelona. But that doesn't mean he gave up on her completely.

A Tumultuous Romance
After Messi and his moved to Spain to play for Barcelona Antonela considered it the end of the affair and broke up with him since a long-term relationship seemed unrealistic. Over the years she started dating other guys until Messi return to his birthplace 7 years after leaving Argentina.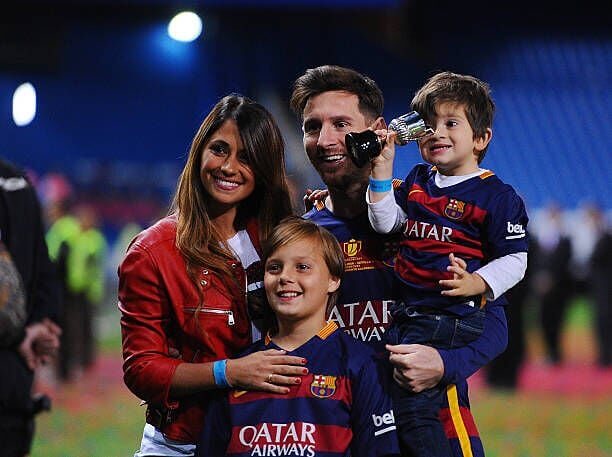 Messi was back in town to attend the funeral of a friend who had died in a traffic accident in 2007 when the two reconnected again. At the time she was dating another guy but things got complicated after Messi reached out to her on his homecoming. The two hit off again and soon she dumped her boyfriend to get back with Messi again. Currently, the couple has three children.

Spending All That Money
If you thought Messi was simply one of the best athletes the world has ever seen you would be dead wrong. He has a keen interest in real estate and over the years has invested heavily in buying up expensive houses all over the world. Most of these homes are prime real estate like the condo he brought in Saint Isles Beach, Florida for a whopping 7.1 million dollars.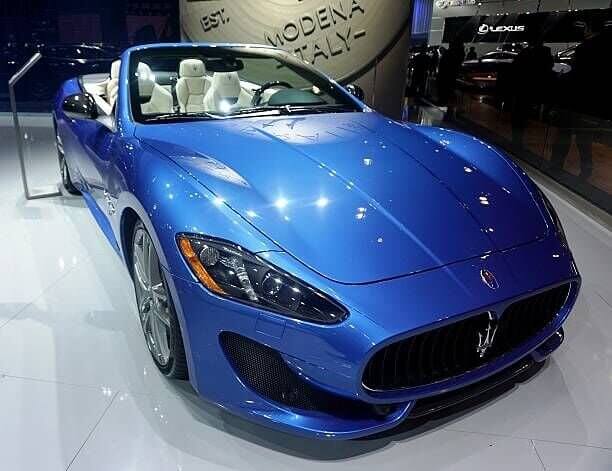 Aside from buying up houses, his main hobby is collecting cars. Messi has an impressive automobile collection which includes Audi Q7, Ferrari 335 S Spider Scaglietti, and a Maserati GranTurismo to name a few. The true extent of his collection is unknown given how he likes to keep things under wrap.

Skipping on His Taxes
While being adored and loved by millions all over the world, Lionel Messi has had his fair share of scandals as well. While most of these scandals stemmed from his behavior, he had a close run-in with the law in 2016 where he almost ended up in jail. He and his father were charged with tax evasion by the Spanish government which the two claimed they had no knowledge of.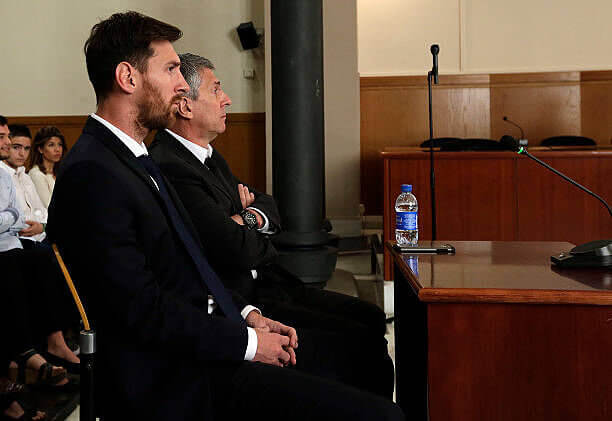 After much public and court drama, Messi was forced to cough up 1.& million euros in unpaid taxes. It turned out both father and son were using bank accounts in Uruguay and Paraguay which were tax havens to cover up Messi's large income.

His Complicated Family Relationships
Though Messi definitely loves his mother she has caused him some serious grief in his personal life once she grew up. Celia Cuccittini probably didn't like her future daughter-in-law probably because she wanted her son to marry into some famous family. But Messi was insistent on marrying Antonela so she decided to do the worst thing possible in such a situation- she ruined her son's wedding.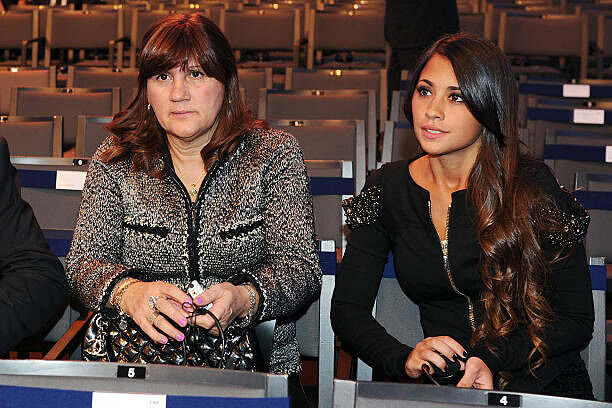 In Argentina, one of the greatest insults one can throw at a bride is dressing in the same color as her on her wedding day. Celia did exactly that, insulting her in-laws so badly that they never spoke with her after the wedding again. Talk about complicated family relationships!

It's All About the Family
Unlike many other football stars, Messi doesn't hire any outsider to manage and run his empire- he has trusted his family to do so from the very beginning of his career. His father Jorge Messi has served as his coach and agent from the start of his career.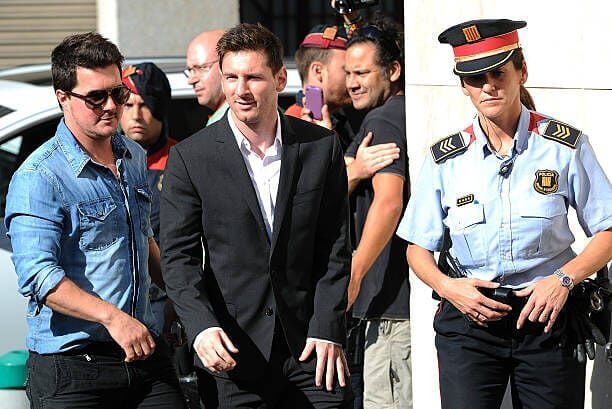 His brothers Rodrigo and Mattias are responsible for managing his finances, PR, and daily schedule which is one of the main reasons Messi has kept his personal life off the spotlight for so many years. Their younger sister Maria Sol manages Messi's store.
He Has a Lot of Tattoos
One of the things about Messi that doesn't get enough attention is the large number of tattoos that cover his body. The football star has 7 tattoos all over both his hands up to the wrists, his left leg, and his back. This includes a tattoo of his mother's portrait on his left shoulder blade.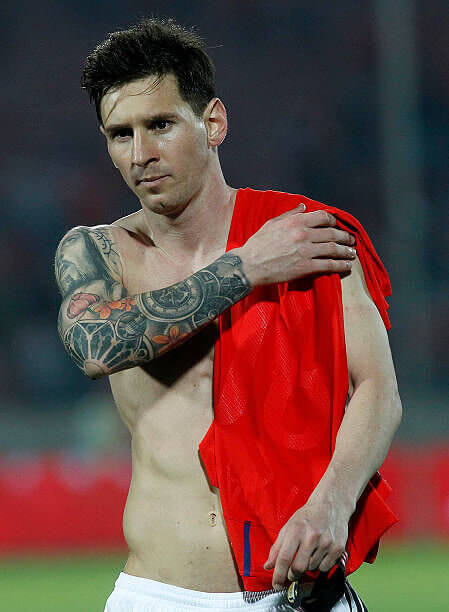 Most of Messi's tattoos have a significant meaning behind them. For example, the lotus flower tattoo on his right arm signifies his rags-to-riches life story. He also got a tattoo of his son's name done after his son Thiago was born.
A Devout Catholic
Even after becoming the most popular and rich football star in the world Lionel Messi has never forgotten his humble origins and remain deeply religious even today. One of the most prominent tattoos Messi has is that of Jesus wearing the crown of thorns. This is really significant as most people who choose to get a Jesus tattoo don't get one with the thorn crown unless they're religious.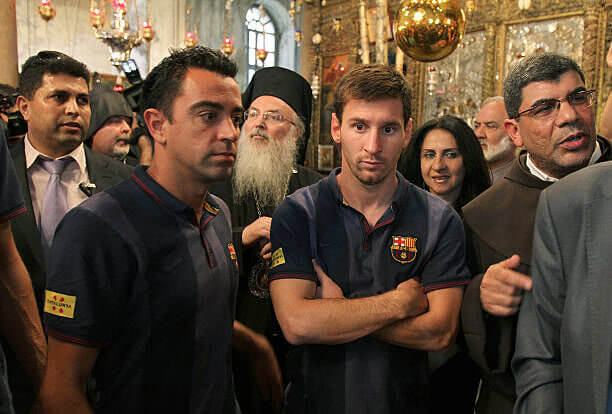 Such strong religious devotion in Messi is the result of his devout Catholic upbringing which saw him going to church every Sunday when he was young.
A Lot of Nicknames
Over the years Messi has earned a lot of nicknames from fans, friends, and family. After he replicated Messi's feats in 2007 fans all over the world started calling him Messidona for while. But it wasn't too long before that nickname got replaced by La Puga, which is Spanish for 'The Flea'. His aggressive style of play that harassed defenders constantly earned him the nickname.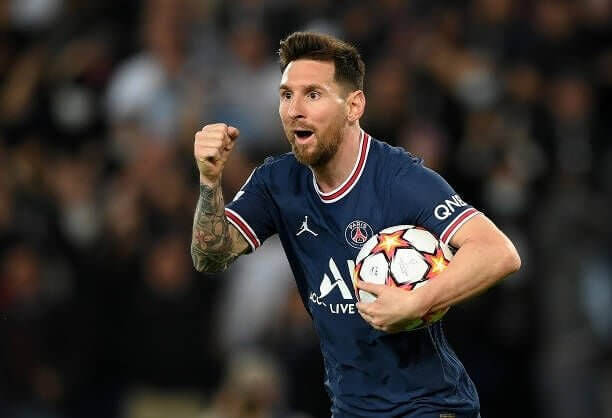 For a short while, he was also called 'La Puga ATomica' thanks to his ability drastically change direction when possessing the ball. These days everyone just calls him 'The GOAT' a nickname that's undoubtedly rightfully earned.
A Very Rich Man
Currently, Lionel Messi has a net worth of $600 million, most of which he has earned playing for his first pr-team DC Barcelona. At present, he's playing for Paris Saint-Germain as a forward for a whopping salary of $75 million. As of 2023, he has announced he will leave PSG at the end of the season. We know his talents are far from over.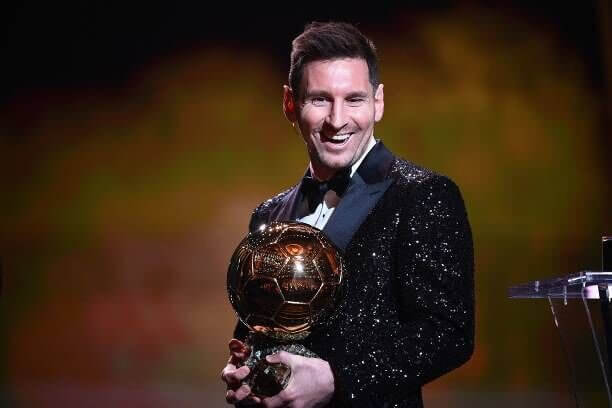 This doesn't even include the undisclosed amount of royalty earned from jersey sales.  However, this pales in comparison to the $168 million salary contract he had with FC Barcelona back in 2017. In truth, he didn't want to leave Barcelona in 2020 but he was forced to after the club officially announced they couldn't renew his contract. He even offered to slash his salary by 50% to stay on his home team but that proposition didn't work out.

Extra Income Galore
Playing football isn't Messi's only source of income- over the years he has endorsed brand endorsement deals with some of the biggest brands in the world.  Currently, he earns over $40 million dollars a year just from his endorsement deals alone. His biggest endorsement deal is with Adidas which sees him getting paid $27 million dollars every year.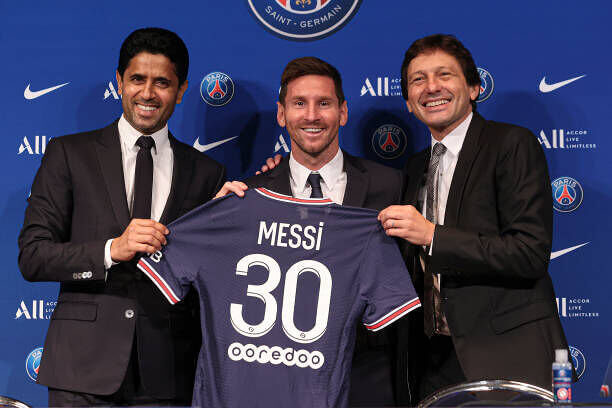 Some of the other brands he represents include Pepsi, Konami, Dolce Gabbana, Audemars Piguet, and the ProEvolution Soccer video games. In 2017 he was crowned the most marketable athlete in the world by SportsPro.
Off to the MLS
Lionel Messi's much-anticipated move to Major League Soccer (MLS) has captured the attention of soccer fans worldwide. The announcement of his decision to join Inter Miami as his new destination has sparked excitement among enthusiasts in the United States. In the coming month, they eagerly anticipate witnessing his brilliance on the field during local competitions and the Leagues Cup. Despite reportedly turning down a lucrative nine-figure salary offer from Arabian team Al-Hilal, Messi's prospects with Jorge Mas and David Beckham's Inter Miami squad appear promising.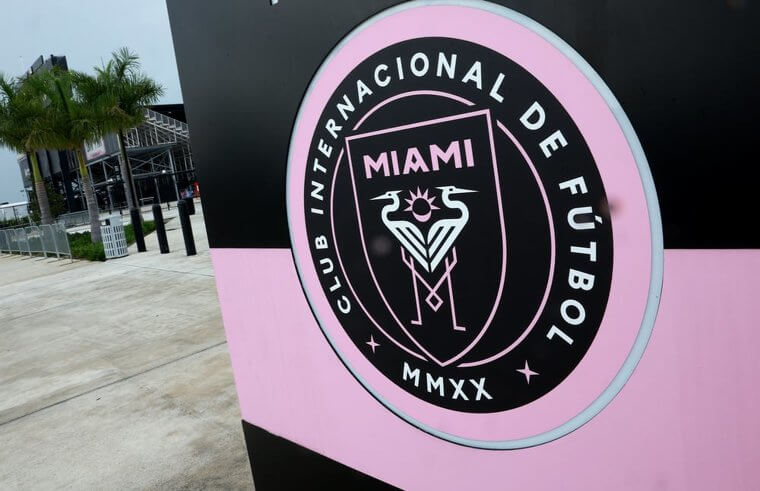 Fox Soccer reports that Messi is poised to become the fifth highest-paid athlete per year in the United States. In this ranking, considering the top five sports in the country, the Argentinian soccer superstar's salary will only trail that of four NBA stars, surpassing the earnings of every player in the NFL and MLB.
With Messi's imminent arrival, MLS is set to experience an extraordinary influx of talent and global recognition. Soccer fans across the nation eagerly await the thrilling displays and impact that the legendary Messi will bring to the American soccer landscape.
He Loves Kids
When it comes to humanitarian and charity work, Lionel Messi actually does a lot compared to many of his peers and other celebrities. He established the Leo Messi Foundation a couple of years back which is aimed at helping ill kids with their medications. Messi's experience during the time of his treatment must have played a huge role in this initiative.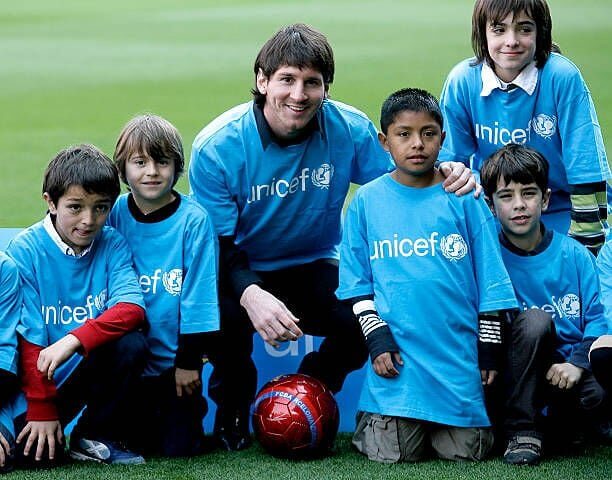 He has also built a children's hospital in his hometown of Rosario for this very purpose. This included new machinery for cancer treatment, training doctors, and more.
Best Reasons Why Cristiano Ronaldo Is a Legend
So, Why did Bayern Munich decide against Cristiano Ronaldo?
Hasan Salihamidzic, Bayern Munich's sporting director, has revealed that Bayern officials voted against approaching Cristiano Ronaldo to join. Ronaldo and United are drifting apart, especially after the club's failure to qualify for 2022-23 Champions League. Bayern, Chelsea, and Atletico Madrid were all in touch with Ronaldo but backed away. We heard that Ronaldo's first club, Sporting CP, has been snooping around.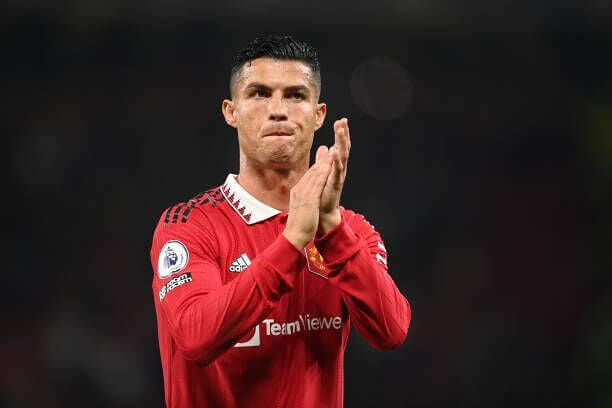 Bayern brought in Sadio Mane this summer and, happily for them, losing Lewandowski hasn't slowed them down. "When you now see how our attack is equipped - even without Robert Lewandowski - it's just difficult from a sporting and financial point of view," Salihamidzic told BILD's Phrasenmaher podcast when talking about Ronaldo.
"We have eight players for four positions upfront. We have established top players who are in the prime of their footballing age. We have talent that we want to give playing time too, so we all voted to go through with our plan. [Signing Ronaldo] was out of question for us. We are very happy with how we're equipped."
Read on to See How Ronaldo Became What He Is Now.
Maybe all this trouble surrounding Ronaldo is because he might have lost his edge? Or is it simply ego and politics?
You may hate him or love him, but we are sure there are still facts you do not know about him. What makes him bigger than life. A modern-day phenom on the field, with his name being thrown into contention for the G.O.A.T title, Cristiano Ronaldo has a reputation for being one of soccer's most flamboyant players.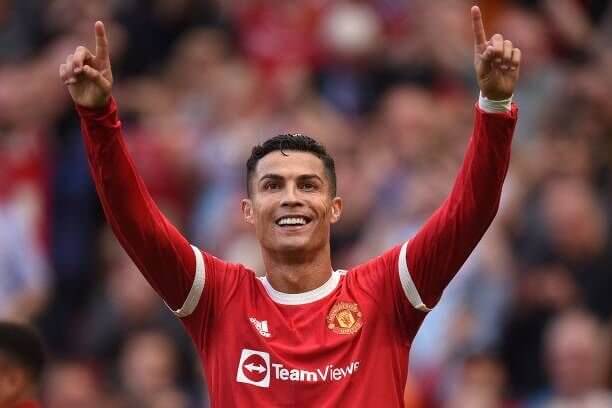 Contracts with Nike, Electronic Arts, and Herbalife has propelled this Manchester United forward to being one of the hottest properties in world soccer. Performances on the field most notably for Real Madrid, Juventus, and Manchester United have further hyped up Ronaldo's pedigree. But behind all the showbiz and razzmatazz, Ronaldo has an army of critics who challenge and question his every move – be it on the pitch or off it. While many ridicule him for his on-field flamboyancy and antics, little is known about the charity work that the five-time Ballon d'Or winner does. 
Breaking Euro Championship Records
Ronaldo managed to slot two past the Hungary goalkeeper on 15 June 2021, to help Portugal to a 3-0 win in the Euro championship. These goals carried more weight than usual.
Ronaldo's two late goals allowed him to surpass Michel Platini's previous record of nine goals. Ronaldo now has 14 (as of April 2022) goals, making him the highest goalscorer in Euro Championship history.
New Goals in His Sights
Being the overachiever that he is, Ronaldo will certainly not stop at breaking just one record. At the Euro Championship, he wanted to be number one in the world. And when he wants something, he stops at nothing. 
So yes, Ronaldo is now the top scorer in international games in history, with 115 goals (April 2022). Right after him is Iranian player, Ali Daei's record, which stands at 109 international goals. 
A Trophy Sold for Schools
After scoring a mammoth 40 goals in 2011 with Real Madrid under Jose Mourinho, Cristiano Ronaldo was awarded the European Golden Boot (one of many).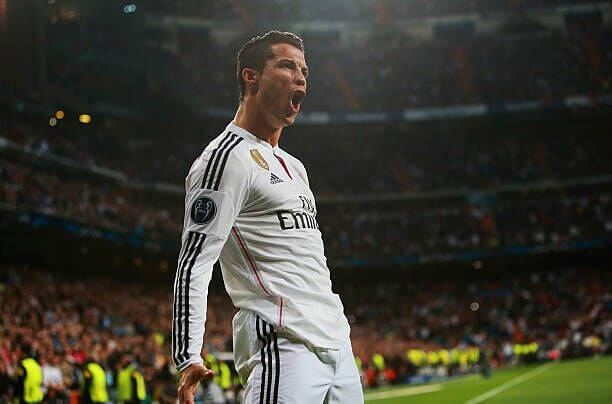 Despite this outstanding performance by the former Manchester United player, Los Blancos could only finish second in La Liga and crash out of the semi-finals of the UEFA Champions League. Ronaldo opted to sell the award for charity rather than keeping it for himself. Spectacularly, the boot went on sale at an auction and raised £1.2 million.

Make a Wish
Winning the UEFA Champions League and the Copa del Rey with Real Madrid in 2013-14 coupled with 66 goals, led Cristiano Ronaldo to win the Ballon d'Or trophy for the first time.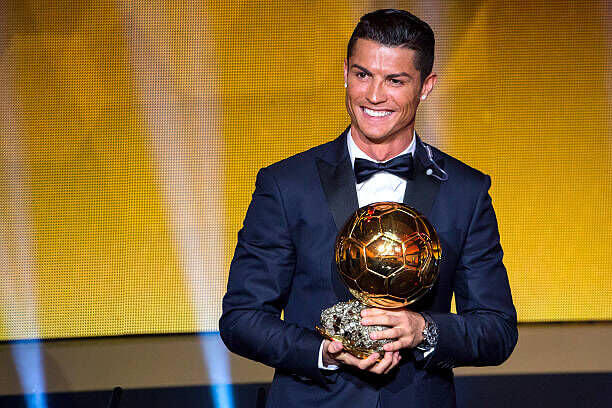 Despite this monumental feat, Ronaldo repeated the trick of selling off the trophy in October when he sold the Ballon d'Or trophy at a charity auction in London. Ronaldo's Ballon d'Or sale made a massive £530,000 for the Make-A-Wish Foundation, which grants wishes to children with life-threatening diseases. 
A Secret Hero
One of the most marketed athletes in the history of sports, Cristiano Ronaldo does make good of his position and uses the global platform to spread awareness in many fields. He even caused a major stock drop for Coca-Cola after taking two of their bottles off the table at a press conference, and telling the press "drink water."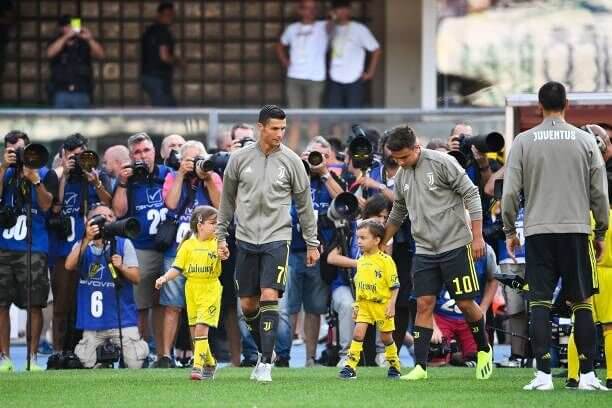 He is an ambassador for three major charities – Save the Children, UNICEF, and World Vision – and made a secret donation to Save the Children which he asked to not reveal. The former Real Madrid player has also made it a point in his speeches to mention humanitarian issues. In his 2014 Ballon d'Or speech, Ronaldo mentioned a group of children with Leukemia he met. He also spoke to the children affected by the Syrian conflict during the crisis and dubbed them as "true heroes" stating "I am with you".
Performing for Good
Sensational performances on the pitch usually led Cristiano Ronaldo to win bonuses which he generously donates to humanitarian organizations.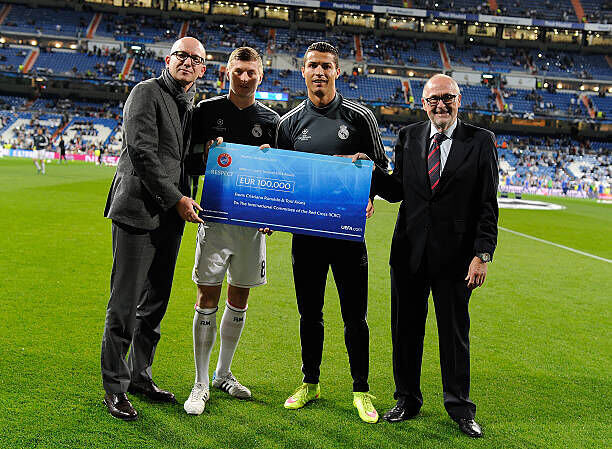 Just one of many charities that Ronaldo supports is The International Committee of the Red Cross. He has been extremely generous when it comes to donating to this wonderful foundation.
Saving Lives
Cristiano Ronaldo donates blood regularly and has been involved in numerous campaigns to encourage others.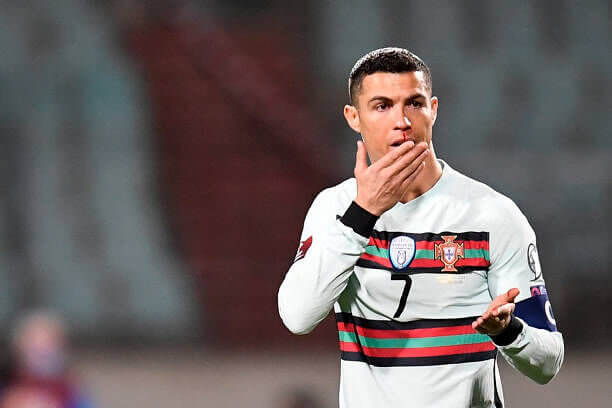 His frequency of donating blood has led him to a tattoo-free life as people with tattoos can donate blood, but are not able to do so immediately after getting new ink to reduce the risk of infection. In 2015, the Portuguese star stated: "We can all make a difference by donating blood. Each donation can benefit up to three people in emergencies and for long-term medical treatments... That's why I am enthusiastic... to the importance of blood donation and to encourage people around the world to become lifelong blood donors and help save lives." Ronaldo has also donated bone marrow to the son of former teammate, Carlos Martins. 

Helping in a Time of Chaos
In April 2015, the Indian subcontinent faced a deadly natural disaster when an earthquake struck Nepal, killing 9,000 people, injuring 22,000, and causing massive damage to the small country.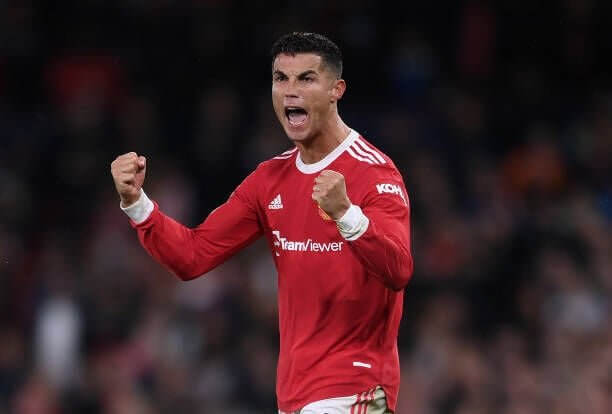 For the relief efforts following the earthquake, Ronaldo donated a huge amount of money. It is reported that Ronaldo donated five million pounds to Save the Children's disaster relief fund, although those reports were denied by the charity. Most likely, the Juventus star did make a donation but the amount remains a mystery. 
Playing for Mum
Cristiano Ronaldo is a family man. Since his foster years with Sporting Lisbon, Ronaldo has dedicated himself to help his family during times of need and has been a constant support for his mother – even dedicating some wins for her.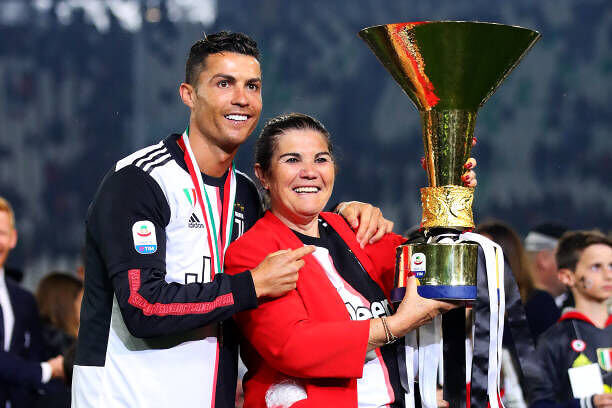 In 2007, Dolores Aveiro, Ronaldo's mother survived breast cancer and the former Manchester United player decided to thank the care center in Portugal where his mom was treated. Ronaldo decided to make a donation of £120,000 to the care center. 
No, You're Crying!
Ronaldo has always been readily available for his loyal fan base irrespective of their age, religion, or nationality.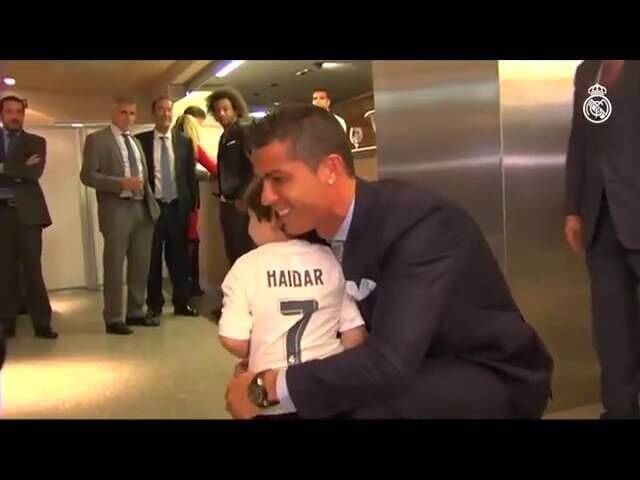 When a Real Madrid fan named Haidar was orphaned when both of his parents were killed by a suicide bomber in Lebanon's capital, Beirut, a local reporter got in touch with Los Blancos. Haidar was eventually invited to the club where he burst into tears of delight meeting his hero, Cristiano Ronaldo. The former Manchester United player was so moved that he shed tears and cuddled the youngster in a heartwarming video.
Tragedy Hits Hard
Ronaldo and Rodriguez were expecting the birth of their twins, a boy and a girl, in mid-April 2022, but unfortunately, only the baby girl survived. Ronaldo announced the death of their baby boy and thanked the medical teams at the hospital. In his post Ronaldo wrote that losing their baby boy is the "greatest pain that any parents can feel". And said that their newborn girl "gives us the strength to live this moment with some hope and happiness".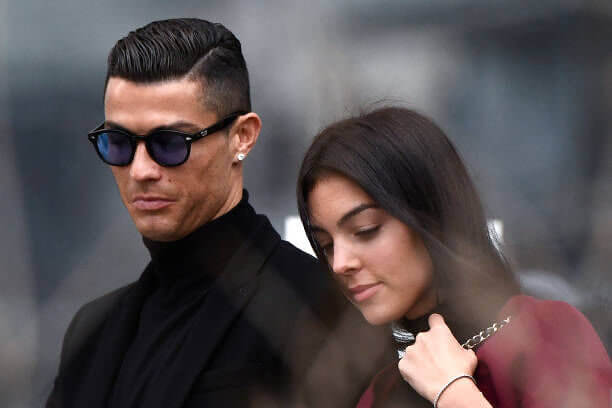 Due to the circumstances, Ronaldo missed the match between Man. Utd and Liverpool. Fans of both clubs united in a minute of applause, and Liverpool fans sang their anthem "You'll Never Walk Alone" in the 7th minute (7 is his shirt number). It was a moving gesture. Ronaldo has 4 children, Christiano Jr. born in 2010, twins Eva and Mateo, born in 2017, and another daughter with Rodriguez, Alana Martina, born 2017.
The Best Cab Ride
In 2009, Ronaldo heard about a fan named Nuhuzet Guillen, a nine-year-old boy suffering from terminal cancer. Upon hearing, CR7 decided to send a driver to bring the family to the team hotel of the Los Blancos.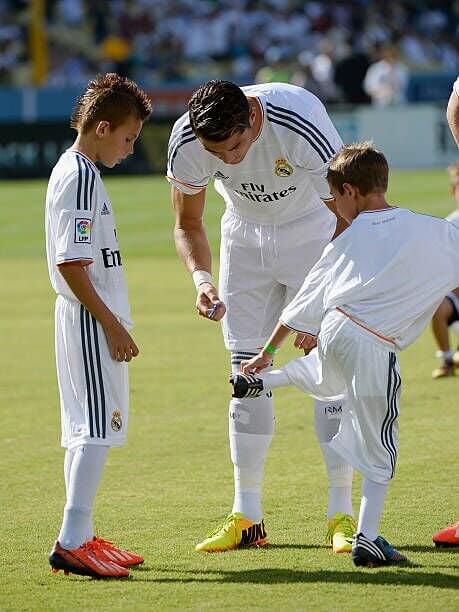 You can only imagine just how shocked the family and fan must have been. We're certain that the shock quickly turned into joy!
Crazy Good to His Fans
When you are a star of the level of Ronaldo, you certainly have crazy fans wanting a piece of you.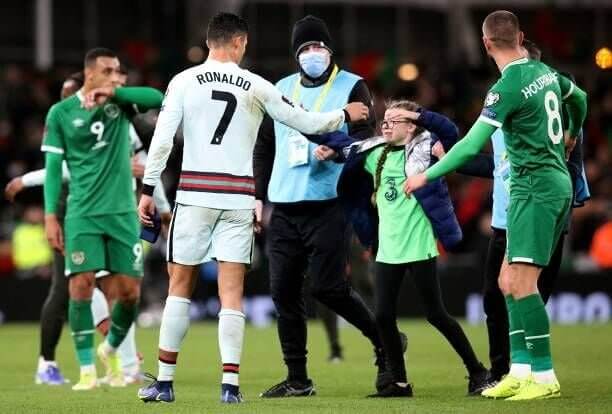 The Juventus forward has often been the target of pitch invaders for selfies and pictures. Rather than avoiding the fans, Ronaldo always takes pictures with his fans, and on numerous occasions, he has stopped heavy-handed security from dealing with the pitch invaders. Catering to his loyal fan base, Ronaldo loves to interact with his fans. He often throws his shirt into the crowd after the match and signs autographs and takes pictures. 

Signing a New Lease on Life
A mother of a ten-month-old boy named Erik Ortiz Cruz asked Ronaldo to donate a shirt to her boy who had cortical dysplasia, a brain abnormality that causes up to 30 seizures a day.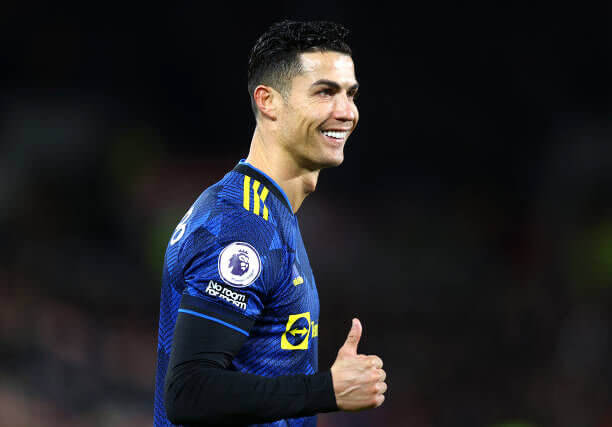 After hearing the full story, it is believed that the Portuguese star paid £55,000 for the initial brain surgery and promised to cover the cost of follow-up treatment. He also helped raise money for the boy by donating a signed kit to sell at an auction.