Uniforms have a useful purpose as they're used to recognize a sports team or group of people who are working together. They can also specify your service and create a sense of unity. There are well-known uniforms such as those of doctors, soldiers, and employees of popular companies. Others, however, are rather questionable and make us ask ourselves if we'd ever agree to that. Here are some of the weirdest uniforms.
A Fashion Flight to Space
In the 1960s, it seems as though flight attendants were planning to visit space or travel into the future with their crazy attempt at future fashion. While we can appreciate the effort to get ahead of assumed trends to come, this uniform probably felt as strange as it looks.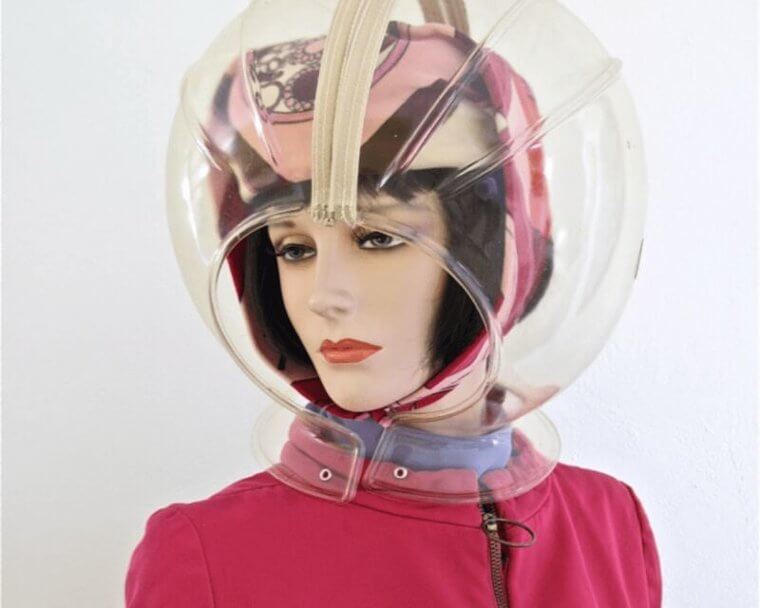 One can only imagine what they were trying to achieve by putting a bubble on their employees' heads. Perhaps they were a little confused and thought their outfits would be out of this world, well – we can agree that they were.
The Anatomy of a Swimsuit
Synchronized swimming is a well-appreciated Olympic sport that has been around for years. Swimmers are expected to be skillful in many areas such as flexibility and strength when competing. Many people would all agree that watching synchronized swimming can be incredible and mesmerizing.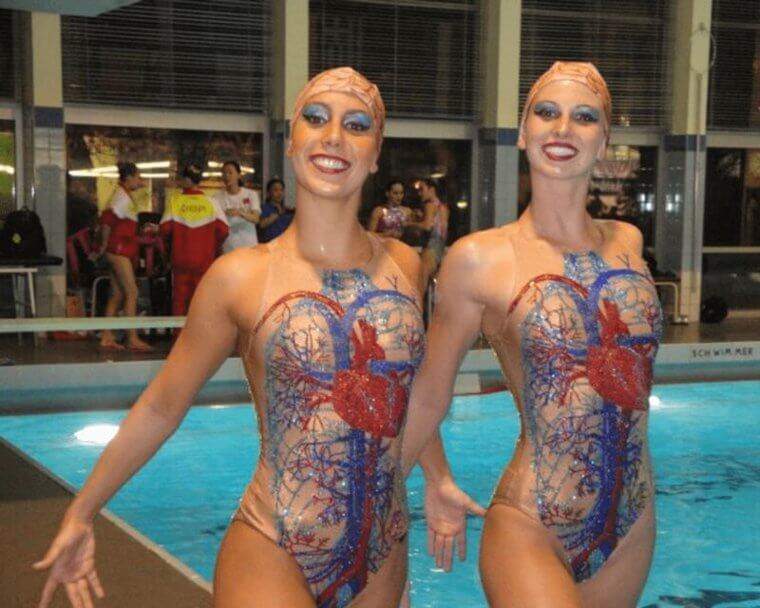 The glamorous outfits and perfect timing both go hand in hand creating a memorable performance. In this case, the experience for viewers was more memorable than ever before as this team decided to wear anatomy swimsuits
The Colombian Cyclist Team Looked Naked
The outfit that the women's cycling team wore to a race in Italy was deemed "unacceptable". It included a skin-coloured fabric around their waist and hips. But Angie Tatiana Rojas, one of the cycliers, said the strip around their midriff was colored gold. "It's sad it takes something like this for cycling, and women's cycling in particular, to get this much press," she said.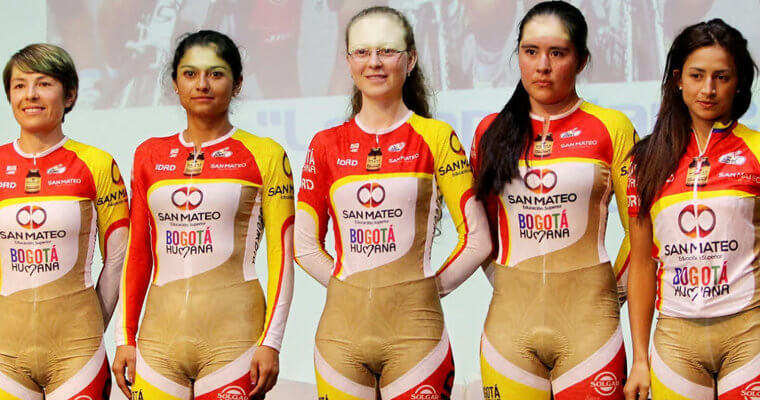 Rojas said the team's spirits were high despite the controversy. "In this team there are mothers with families, people who sacrifice a lot for the sport, who love cycling and have clear objectives rather than in being the center of such scandals." She added. What do you think? Is the outfit a big deal or are people just looking for trouble?
Defense of the Mongolian Guards
You will find these guards known as the state honor guards for Mongolia at all events which have been planned by the defense ministry. Apart from this uniform being rather eye-catching, one of the requirements to wear it is the guards' height (180 centimeters to be exact).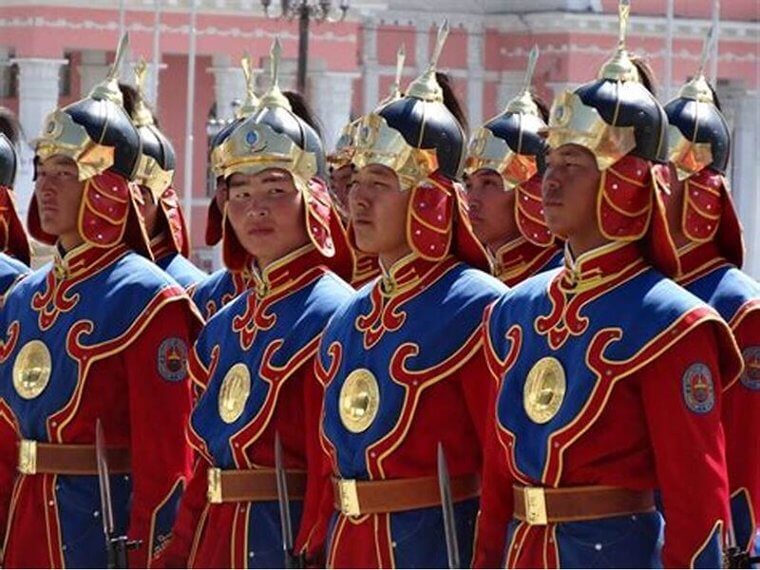 Apart from the height, the uniform was created with the influence of the outfit that was worn by the original guard of Ghenghis Khan, also known as the Great Khan. Khan had left such an impact after he passed away since he was the founder of the Mongol empire.
All Dressed up in Pink
The well-known rugby team, Stade Français, left an unforgettable impression when they pitched on the field in pink. Besides their bold choice in color, this team has been one of the strongest teams France rugby has seen.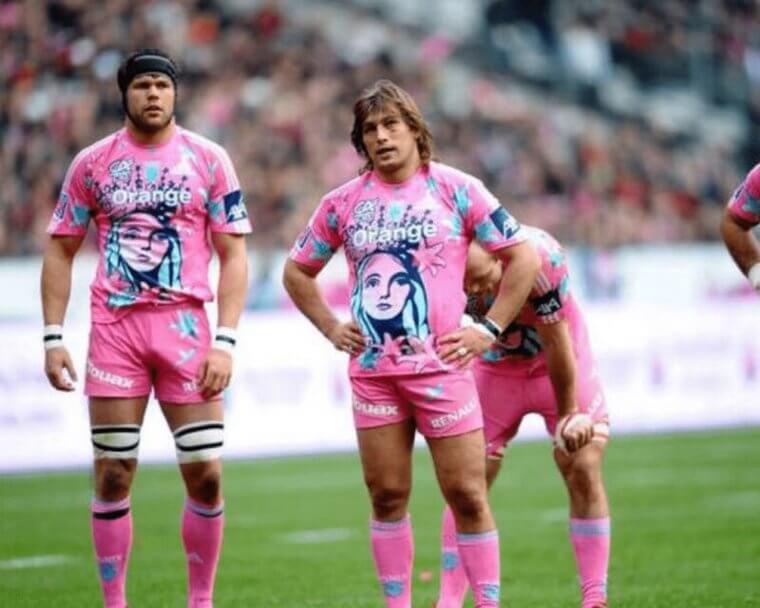 The pink army has actually made some previous outfit statements which included floral rugby kits. Whether the game is away or at home you can bet these guys will be wearing something unusual compared to the standard rugby outfits.

Protection in Gangnam Style
Due to the need for more tourist protection in South Korea, the police force came together and made a plan of action in 2013. While tourists enjoy their visit to the South Korean capital, they will no longer have to worry about being robbed of their money.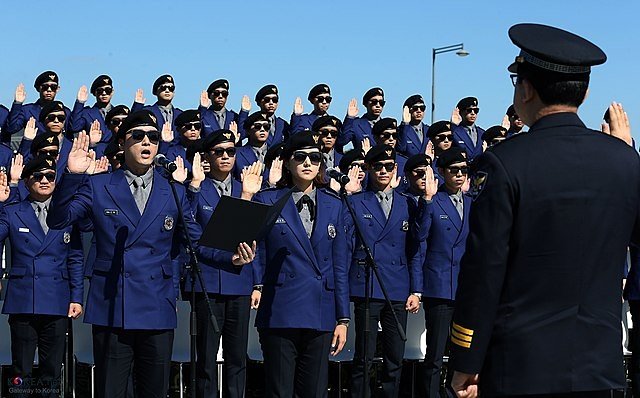 This sounds great, except you'll get a flashback of the popular song Gangnam style every time you see them. Though it may be a different approach to the police uniforms, we can all agree that it's still pretty stylish.
The Unmissable Fijian Police
The president of Fiji lives in a government house in Suva protected by his very own Fijan police officers. There's no chance of mistaking these police guards for anything other than what they are as their uniforms are rather original compared to the Fijian red military outfits.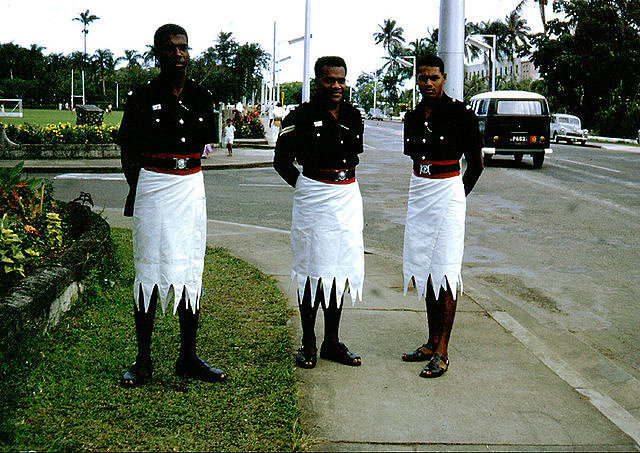 The Fijian police force decided to take a traditional route with their uniform as it includes sandals and a sarong but formally known as a sulu. Whatever you call it, combining sandals and a skirt must make their job rather impractical. 
When Soccer Meets Biology
Not sure if you're watching soccer or an anatomy show? We can't blame you. This soccer team from Spain known as CD Palencia gave us an inside look into the team as they played in a new uniform showing us all their muscles.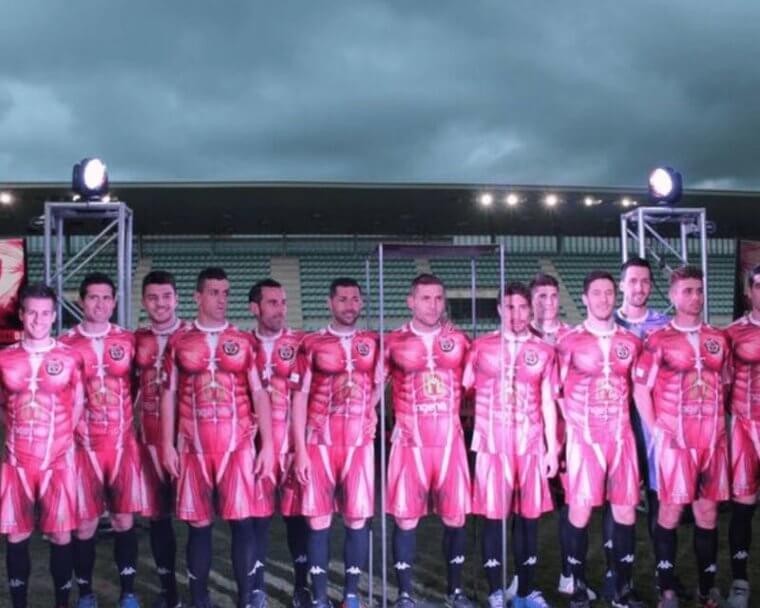 The outfit gave a biology lesson flashback as it detailed pecs, ab muscles, and their biceps fully on display during the game. The team launched this new kit in 2016 and we guarantee that they were never mistaken for the opposing team with that extreme outfit.
The World's Ugliest Soccer Shirt
This soccer team could easily come in first place for the ugliest outfit soccer has seen and wouldn't be far off in all other sports too. The Colorado Caribous visually scared viewers with their tassel cowboy-looking shirts in every game during the North American Soccer League.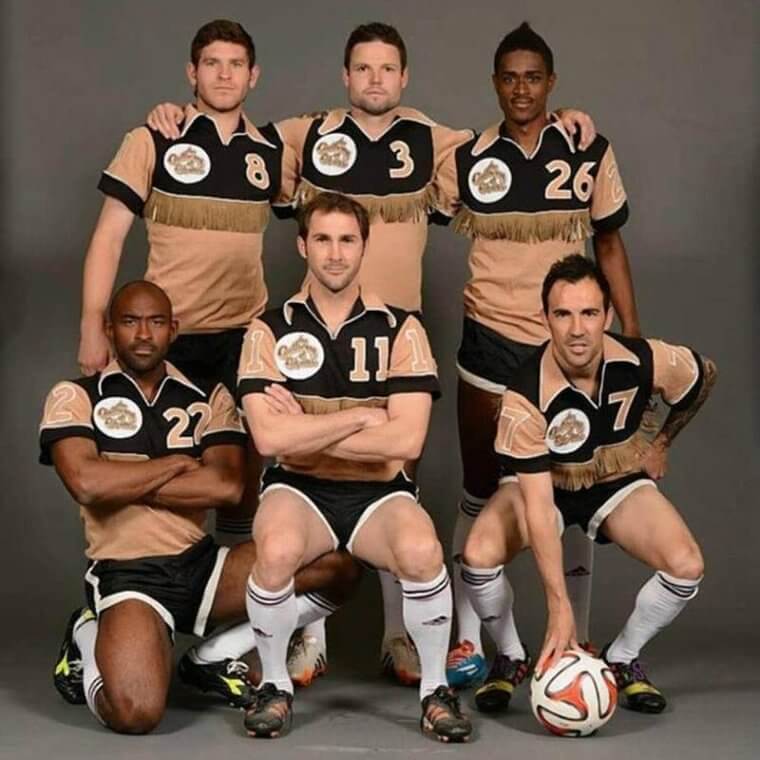 The shirts may have been a good distraction from their bad performance but regardless, they were placed lowest in their league. The team even moved to Atlanta and changed its name after this event. Sadly, no matter what they call themselves they will never be forgotten in sports history for being the worst dressed soccer team.

German Helmets Are on Point
Back in the day, specifically in the 19th and 20th centuries - service uniforms started a trend that can still be seen in some countries today. One could witness police officers of Germany or Prussia wearing helmets with a sharp spike on top known as a pickelhaube.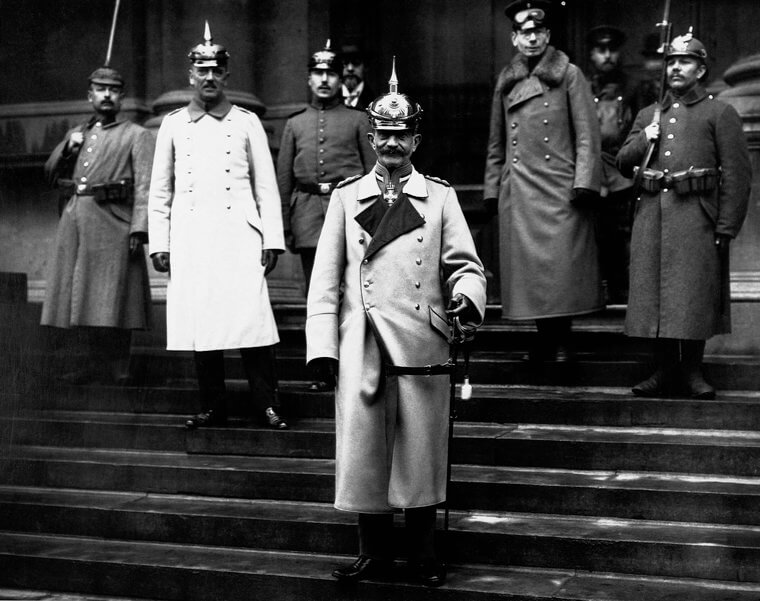 These helmets are often worn by firemen and the military as well and believe it or not but this strange trend was actually followed by a few armies around the world in countries such as Chile and Sweden who have even stuck with it until today!
Playing Football in a Bikini
This uniform has us questioning which sport it would be appropriate for, preferably none but if we had to guess it would probably suit soccer on the beach even though there's a good chance they would camouflage with the sand, so it might not work out too well.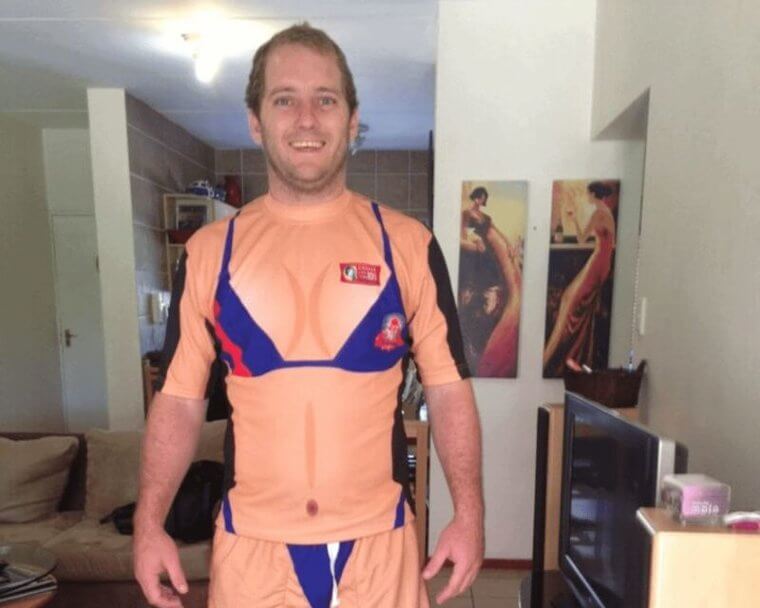 Unbelievably, this was an actual soccer shirt and these men decided to show off their beach bodies on the field. Regardless of where this shirt is worn, it's safe to say that it's horrible.
Military Band on Camels
This is a band combined military service that's one of a kind! There is no other band like its kind, as the musicians ride camels while playing their instruments such as a clarinet, trumpets, and bass drums.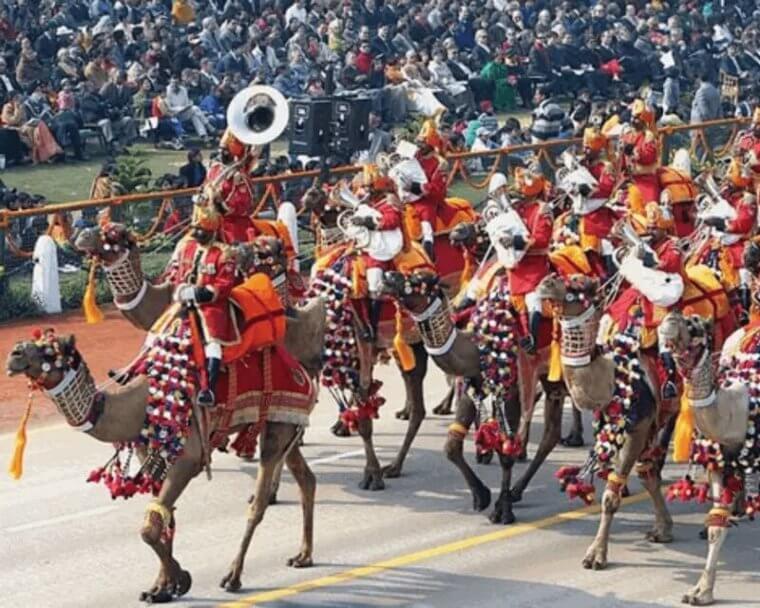 The band has thirteen men who are associated with India's border security service. We can clearly see why it's the only band you will find like this around the world as riding camels and playing instruments is both unique and skillful. 
Check This Curling Team
The Olympic sports are watched for multiple reasons and one being the interesting outfits of contestants. In this case, it's the curling team. While some would consider curling to be unfascinating, others would motivate the sport to be thrilling and full of anticipation.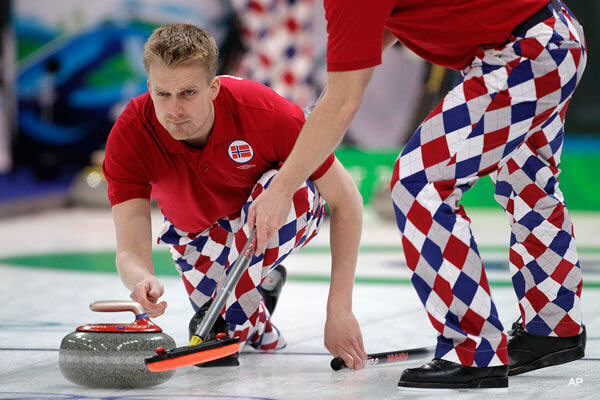 Let's get back to the outfits - the Norweigian curling team is known to wear adventurous pants such as check patterns and bizarre designs and has continued this tradition since 2010. They really know how to make jazz things up with their funky bottoms. 

The Emeralds Baseball Team
Whoever was in charge of making the shirts for this Oregon baseball team (The Eugene Emeralds) really went all out. While being different can be a good thing, sometimes it's best to stick to plain and simple.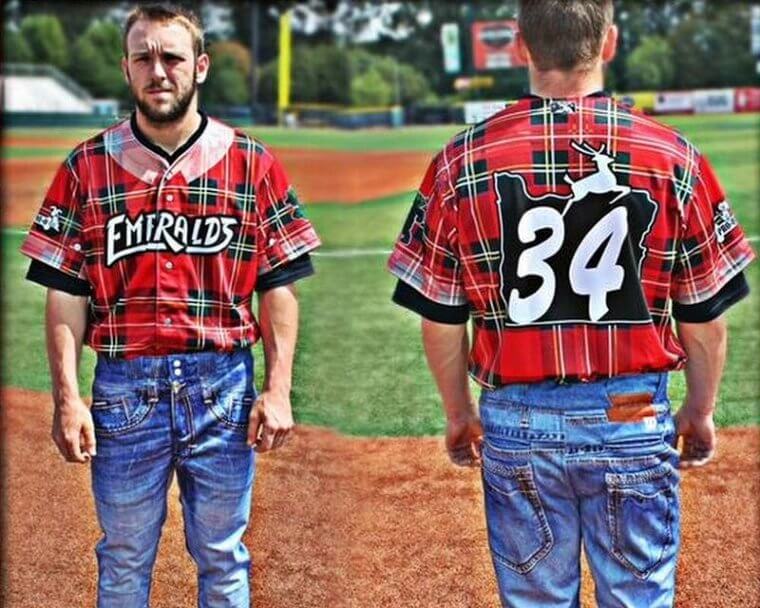 The Eugene's pitched on the field to play against the Spokane Indians in 2015 in what's to be considered the ugliest game shirt in minor league history. The team wore a lumberjack-influenced outfit which was unpleasant for both viewers and members wearing it.
Thai Navy Special Operations
 These men are a part of the Royal Thai Navy and are formally called SEALs. You may recognize the name as they were involved with the rescuing of the football team in 2018 when they were stuck in the Tham Luang Nang Non-cave.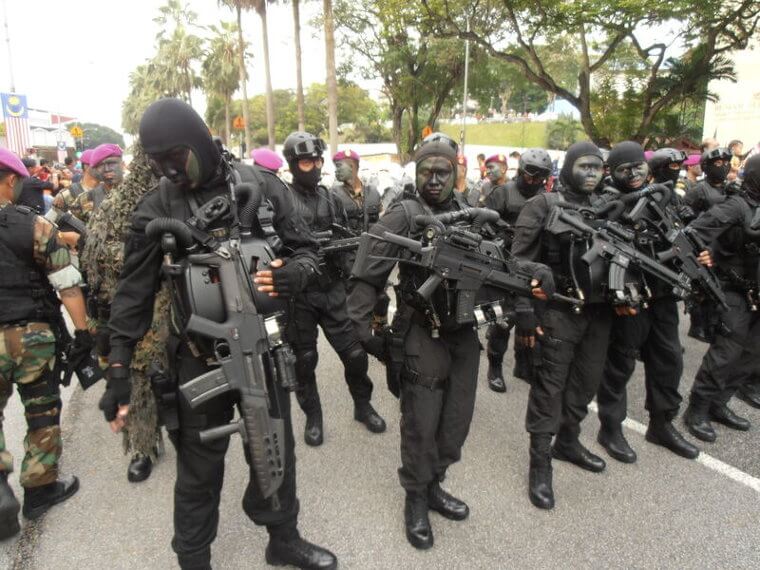 The Thai Navy Seals undergo constant training as they are connected to the US Navy Seals. If their training and skills weren't enough to leave an impression, their uniform sure will be. If intimidating is what these soldiers were going for, they succeeded.
Police Force or Ninjas?
These men belong to the Islamic law enforcement of Iran. In Persian, they would be called NAJA. There are a few different groups apart of the Law Enforcement Force of the Republic of Iran with certain specialties such as anti-narcotics and cybercrime prevention forces.
We'll take a guess and say that these guys mean business and assuming by their uniform they most likely deal with some serious stuff. They are probably responsible for rescuing, riot control, and implementing the law for anti-terrorist behavior. At Least that's what it looks like.
Bizarre Redbirds Baseball Uniform
We get to see a perfect example of the strange outfits baseball teams come up with these days by looking at this shirt owned by the Memphis Redbirds. The team decided (unfortunately) to wear an Egyptian-inspired shirt with the color scheme of blue and gold.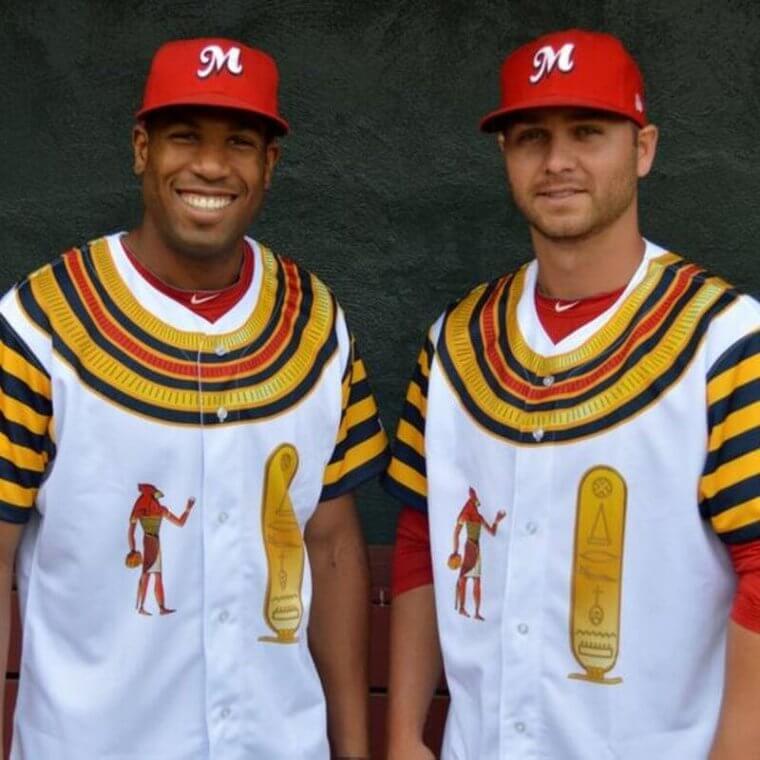 They even had their team name in hieroglyphics which translates to the term Egypt Night. The bizarre outfits might be an attempt to gain more viewers and get more exposure but we can't imagine any individuals wanting to buy this team's merchandise.

A Full Chest of Medals
This guy is the COAS, which stands for Chief of The Army Staff of the Indian army. As we can visibly see, General Dalbir Singh Suhag must have been great at his job as his uniform displays multiple badges on his chest.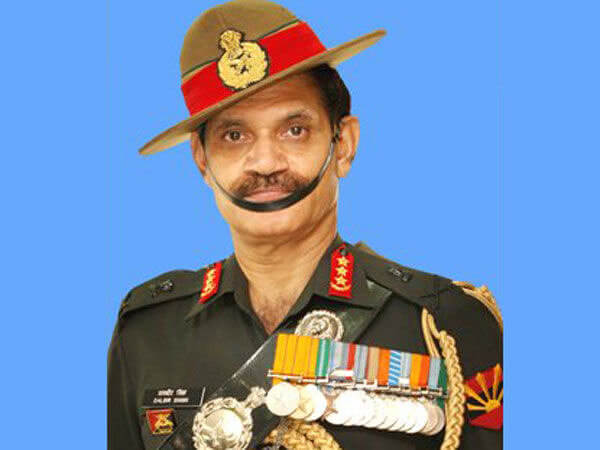 With all respect for this chief, we cannot ignore how he wears his hat. It's well-known that a chin strap is supposed to be worn under your chin, yet this guy has to wear it strapped across his face just under his mouth.
Ceremonial Guards of London
These men are known as Beefeaters. Formally these men are titled the 'The Yeomen Warders of Her Majesty's Royal Palace and Fortress the Tower of London, and Members of the Sovereign's Body Guard of the Yeoman Guard Extraordinary' however that is quite a mouth full and we'll stick with beefeaters.

The main responsibility of Beefeaters originally was to supervise the inmates that were imprisoned in the London Tower and ensure the safekeeping of important possessions. Today the Beefeaters have taken it upon themselves to guide tourists.
The Soldiers of Indonesia
These men you see here are Kratan guards. It is an Indonesian tradition that the Sultan who currently occupies the throne of Yogyakarta will be positioned as chief of the guards. The guards of Kratan were initially closed down in 1940 but in the '70s were re-established due to Sultan Hamengkubuwono IX.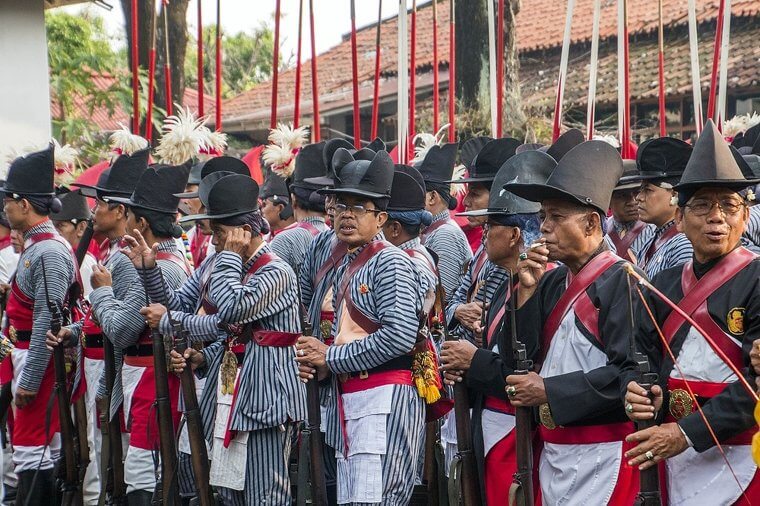 These mature guards are responsible for guarding and ceremonial events in Indonesia, amongst this service they also protect the home of the sultans of Yogyakarta which is known as the Kraton Ngayogyakarta Hadiningrat.
A Wagah-Attari Border Ceremony
Since 1959, there has been a ceremony in which both the security forces of India and Pakistan have participated. This ceremony is known as the Wagah-Attari border ceremony formally known as the lowering of flags ceremony.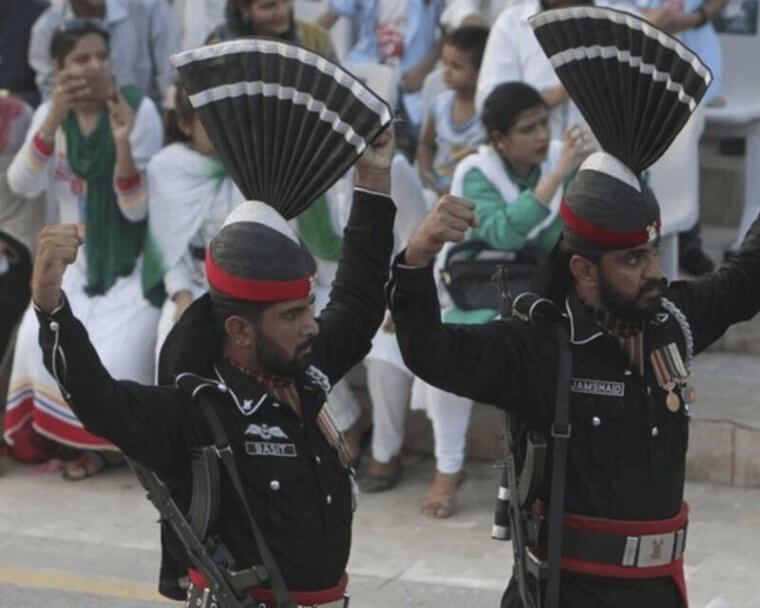 Here we see two of the Pakistan Rangers during this ceremony in their uniforms. During the parade, each participating service stands on opposing sides, and if one could observe this ceremony would see leg raising and lowering of flags in a synchronized form.

The Island of Informal Defense
These men are called the Samoan guards. They can be found on a small island along the pacific. These guards have a very relaxed job as the island is occupied by under 200,000 people only. An interesting fact about Samoa is that they don't actually have a formal protection strategy.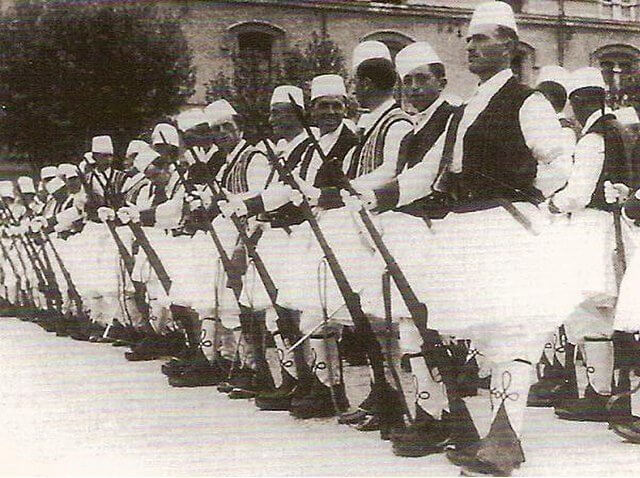 There's an unofficial defense force in place with New Zealand, but with the island having such a low crime rate, the guards of Samoa direct their focus to their new purpose. This purpose is to pay tribute and be at all important events. 
Oldest Regiment of Thai Army
Originating way back in 1859, therefore making it the oldest regiment of the first infantry division, is the King's guard of the royal Thai army. These men have full responsibility to ensure the protection of the royal family members.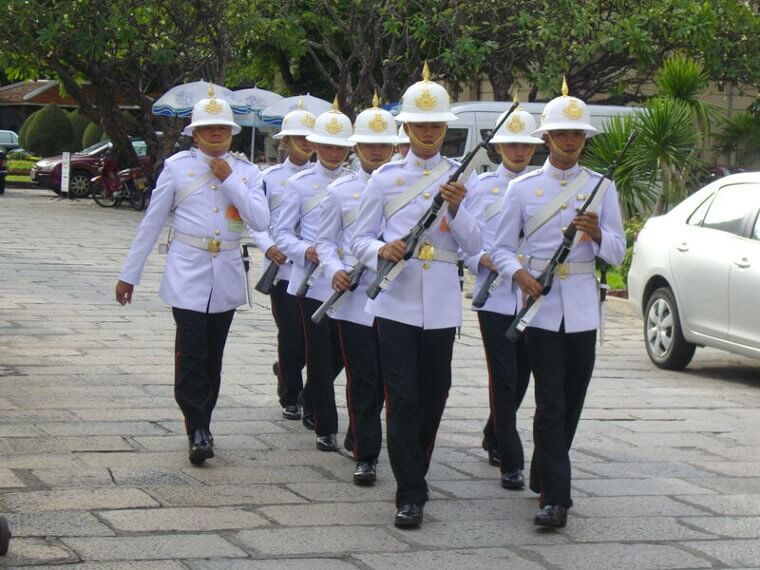 In addition to this, they are also in charge of security for the royal palace and being an escort for ceremonies. The men in this image were captured at the Grand Palace in Bangkok moments before the transition of guards.
The Joseon Royal Guards
The men you see here dressed in their interesting purple uniforms, which are formally called a Cheollik, are part of the Naegeumi. The Naegeumi is also known as the Joseon royal guards. This outfit is historic as it was worn back from 1407 till 1910 and If it wasn't interesting enough, they topped the look off with a red hat.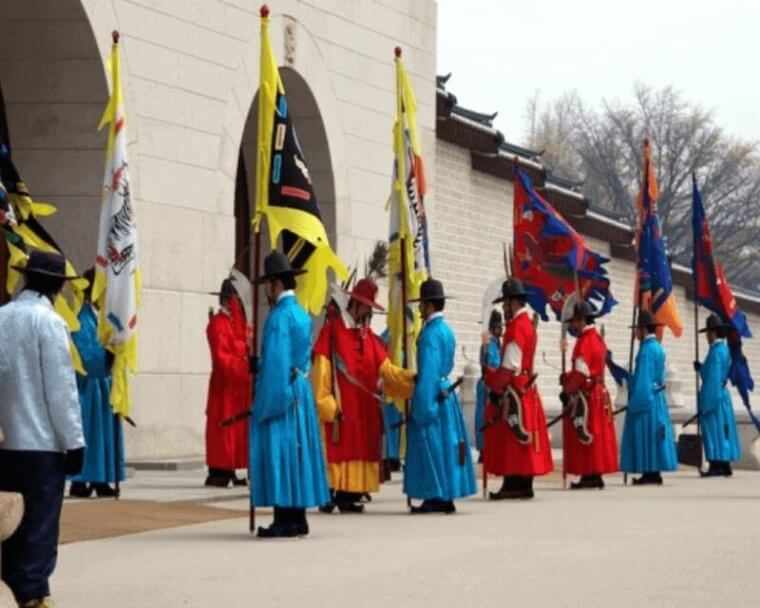 In the past, Individuals were identified as royalty if they were seen wearing black or red. The rare colors were extremely difficult to make with Joseon dying techniques, therefore it was only reserved for the high class.
Silver Swords and Lucernas
The carabinieri soldiers here, also known as the Italian police are captured in full uniform marching in the carabinieri parade. To see this parade live must truly be a momentous moment. The soldiers stride through the streets of ancient Rome in their two-pointed hats traditionally called Lacernas along with their swords.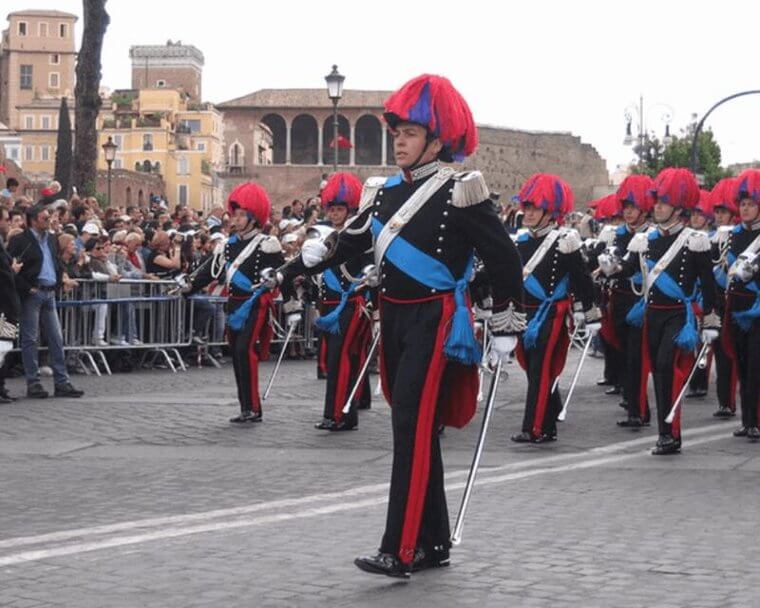 The parade is held on the same road where you would find the colosseum! Another fun fact about this parade, the surroundings are filled with historic remains of commemorated buildings and structures such as the roman shopping center otherwise known as the Tanjan market.

The Air Hostess Military
We can all agree that this uniform would not be practical for any actual battles, thankfully it's for parade display only! These air hostess-looking outfits belong to the Chinese people's Liberation army.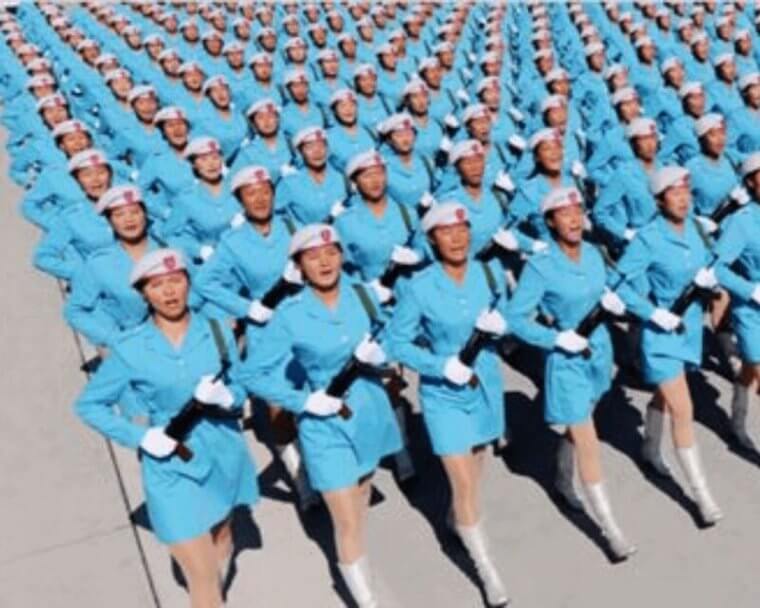 The Liberation army can be witnessed parading in their white knee-high boots and blue coats in their march. If it weren't for the large rifles in their possession, we wouldn't be surprised if the military would be the furthest guess as to what they are as the color of the uniform itself is unique.
Guards of the Greek Tomb
The men we see here, are easily identifiable as Evzones when wearing their traditional uniforms. The Evzones uniform includes a traditional fustanella which you may know, as a stiff skirt. Now known as presidential security, were once men from important historic units in Greece.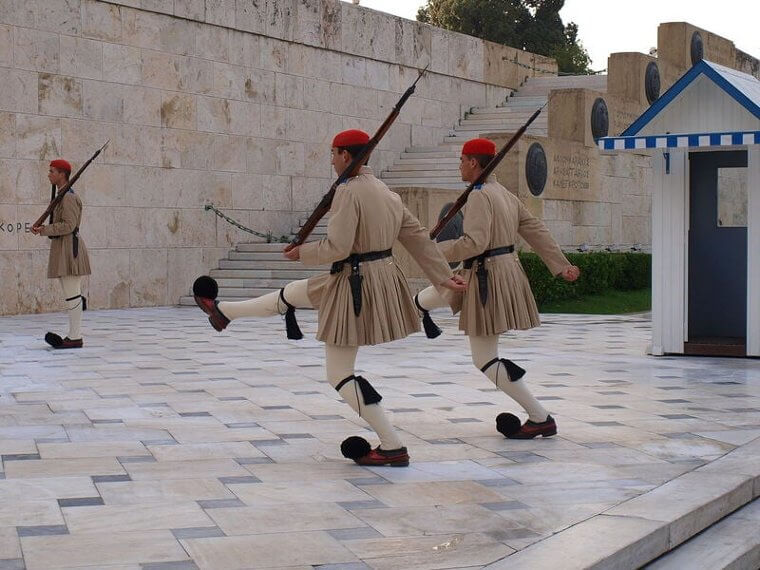 The Evzones' main role is to protect the tomb of the undiscovered soldier, as well as the elite residence of the president in Athens. The inspiration for their peculiar uniforms came from the ottoman battling Klephts garments.
Gorgio Armani Meets Carabinierie
These uniforms are worn by the Italian national police and collectively are known as an arm of carabineers. Italy has a few defense structures in place, such as the Carabiniere, Polizia di Stato and the Guardia di Finanza.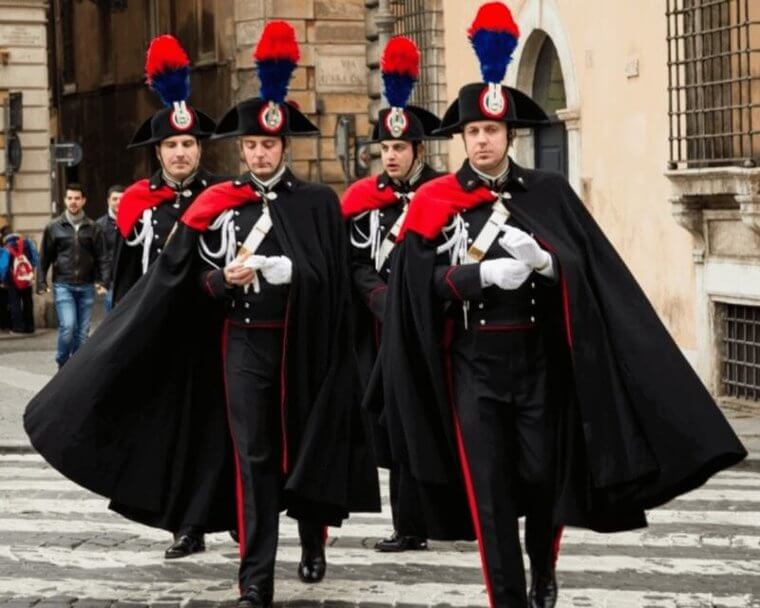 Back in the '80s, this uniform was re-invented by the famous Gorgio Armani when he updated it to meet current fashion trends. However, in this image, the carabinieri is captured wearing their original outfits and this is distinctive by their Lucernas which was mentioned earlier as a two-pointed hat.
Pontifical Swiss Guards of the Pope
An interesting fact is that Vatican City is the smallest country in the world! These men are the guards of this small city and are known as the papal swiss guards. This military is one of the oldest ongoing services and is easily identified by its prime suits of armor.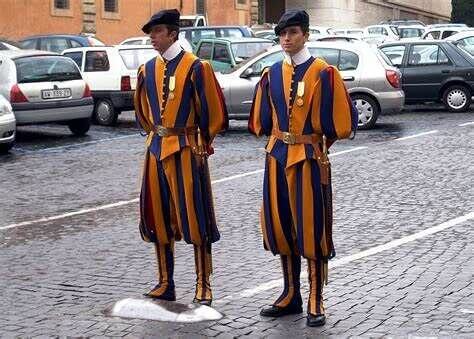 The Vatican city guards have the important role of safeguarding the pope and apostolic palace. With this duty, they are described as an honorable army.

Fresno Grizzlies Turn Heads
During 2007 number 8 of the Fresno Grizzlies shocked supporters as he wore a bizarre shirt in the triple-A minor baseball league. It was not uncommon for the Fresnos to stand out as they have been popular for their past unique game jerseys.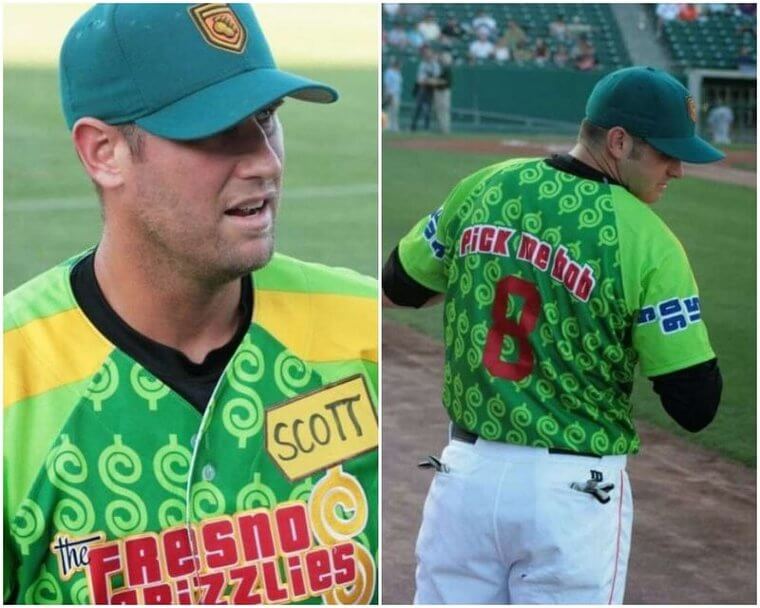 Some jerseys shown before have included the famous Harry Potter which we can agree is brilliant, however, this jersey has to go. In an attempt to gain Bob Parker's attention from The Price is Right, they happily wore these horrendous jerseys.
Guards of the European Court
Since the 15th century, The European courts have had their very own swiss protection. The papal swiss soldiers have the purpose of both ritualistic services and protection at the Vatican. This began after the constitution of Switzerland banned any foreign security guards.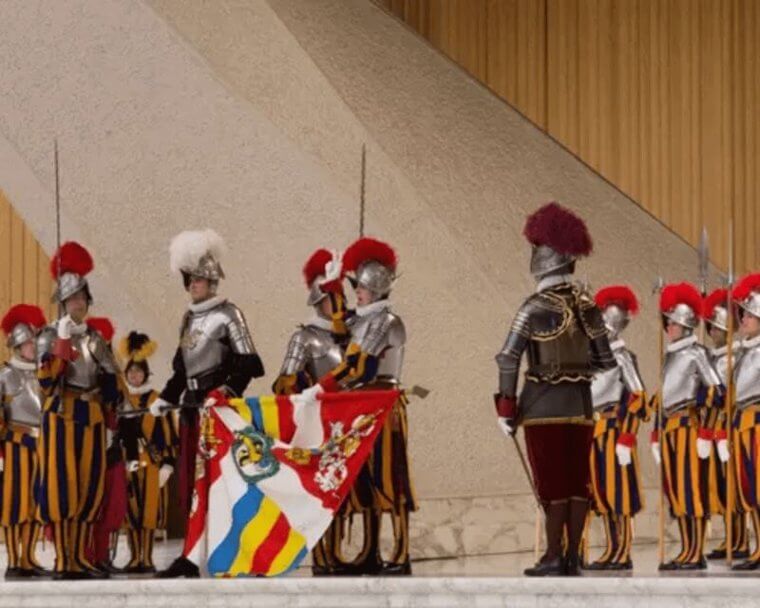 Only the swiss guards were exempt from this ban and with this position comes the famous outfit. We can't imagine that anyone could pull off wearing blue, yellow, red, and orange stripes together, and to top it off they even add in some weapons.
Sticking With Pioneer Tradition
The men you see here are the French foreign legion pioneers. While most military services worldwide are known for their vital history and following traditions, the french pioneers have committed fully to their role.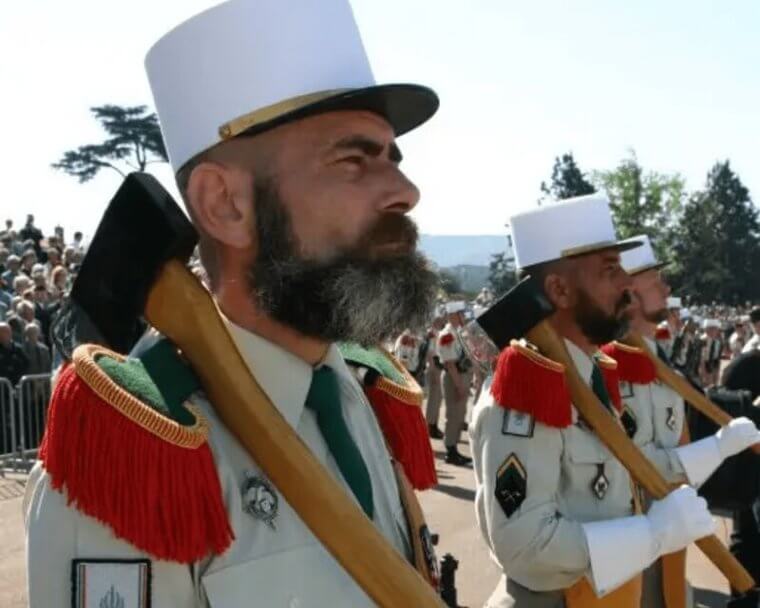 You can see this tradition through the choice of growing their beards, holding axes, and having leather aprons, all of which make them easily identifiable. The beard specifically signifies survival after the war as the French pioneers were expected to live short lives as their positions had high risk. 
Azeri Soldiers Hide in Plain Sight
Generally, soldiers can look so similar that you wouldn't be able to tell which army they belong to. The Azerbaijani military is an exemption to the general army uniform as they paint their faces in an attempt at camouflage in preparation for the first unreduced military parade.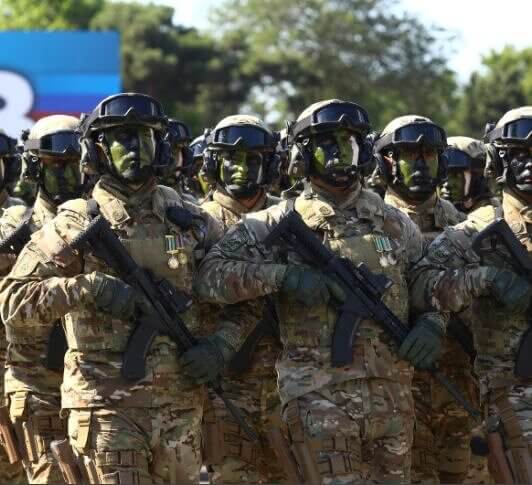 This intimidating look was witnessed while the soldiers were rehearsing for the Baku military parade. Apart from the interesting war face paint being unique, the men definitely stood out and were easily distinguished compared to other armies. 
The Special Force Seals
The ROKN UDT SEALS also known as the Flotilla, which we can all agree is easier to say, are a group of men who are navy seals for Korean warfare. These men are known to be extremely fit as they are the underwater demolition team which requires strength and resilience.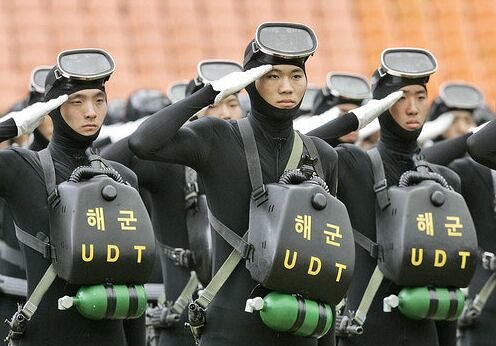 When being selected for this role, these men are tested on their abilities to see whether they have what it takes to be a ROKN Seal. The amount of men who actually complete the selection process has only been between 30 and 40 percent as the US navy inspired tests their limits. 
Special Forces Button Down
Tercios is an expeditious force for protection in Spain, also known as the Spanish legion as you may already know. Their uniform would usually be described as "plain and simple" since the legion began.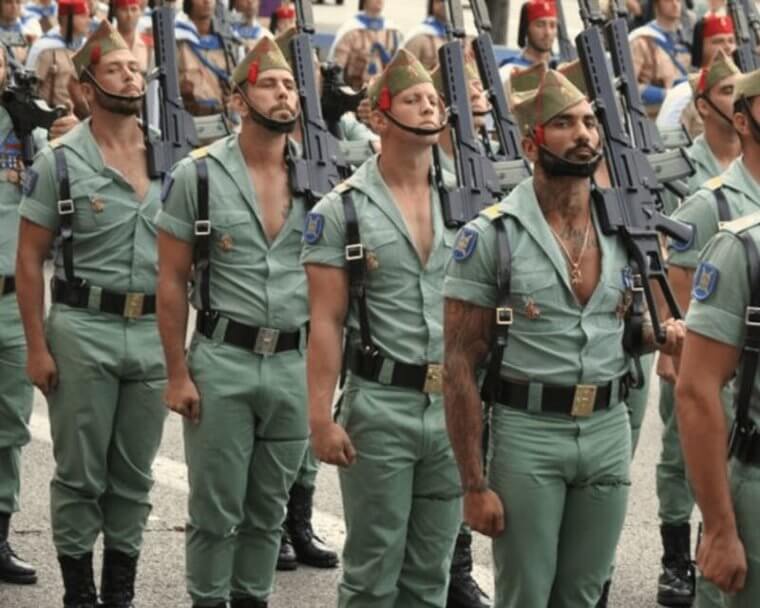 During a parade, the men were allowed to skip the traditional ways of the uniform and change things up. The uniform decided to keep the sage green color palette which has been the same since the '20s, however, they seemed to have lost a few buttons and left the razers at home for this event.