Brides are sometimes really demanding, and generally, it's the bridesmaids who have no choice but to give in to their every demand. Unfortunately, that means that it's the bridesmaids' dresses that fall foul of the worst decisions and demands made by the bride. Brides can go a little… crazy before their wedding and this can sometimes manifest itself in some very peculiar choices for bridesmaids dresses. The photos we found have made us genuinely concerned about the sanity of these brides and their poor friends: why would someone want their friend to wear something so hideous? Even more: why would someone agree to wear something like that?

You'll find puffy dresses, neon dresses, insane hats, and a dress that was in such a strange place that it's hard to know whether it's a joke. None of these bridesmaids kept their dresses after the wedding, but these photos will forever live online.

However, even though these bridesmaids suffered pain and humiliation for wearing these atrocious dresses, at least it wasn't all a disaster. The bridesmaids who agreed to wear these crazy designs will always be held dearly in their friend's hearts.
Pink Princesses
Whenever you think about being told to wear a farcical bridesmaid dress for a wedding, it's probably this dress that comes to your mind. This bright fuchsia pink monstrosity is tight on top and then puffs out at the bottom.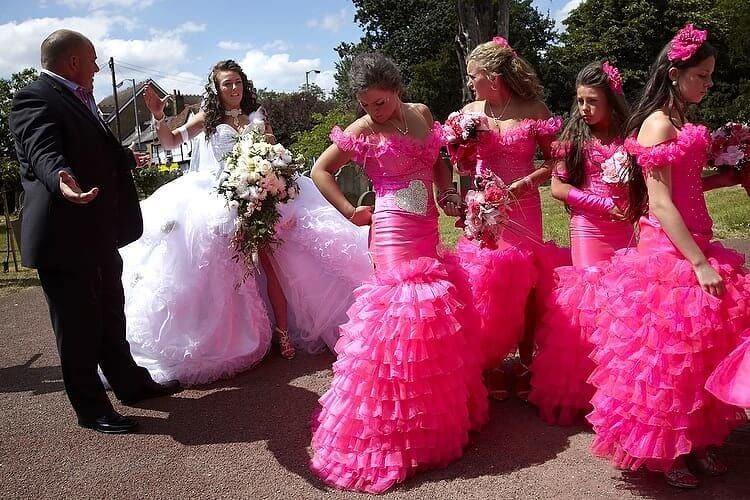 What's even better is that it comes with a matching accessory for your hair! These bridesmaids don't look too pleased with their dresses, but the bride looks happy so that's all that really matters. Another added bonus is that if you're lost on the way to the venue, you'll be easy to spot from miles away!
Floral Fantasy
These dresses are actually fine… except for one small, well, big, thing: the massive tulle flowers. They're completely over the top and look hilarious.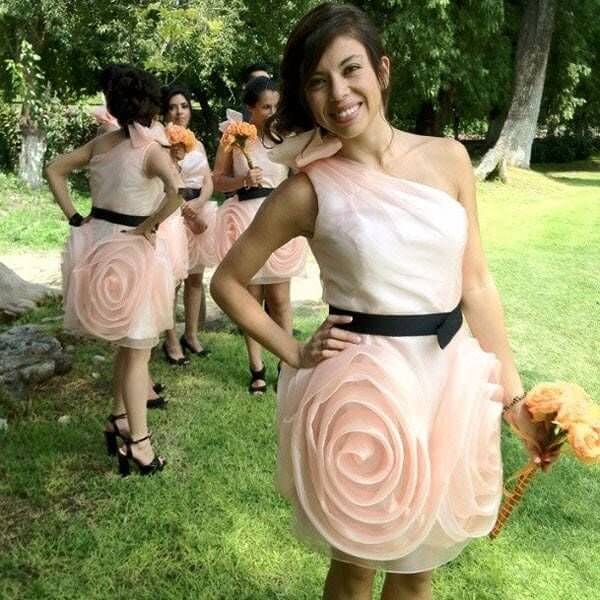 One flower would have been okay, but the total of four: two on the front and two on the back, are just way too much. The poor girls look like walking roses, but they do manage to pull it off and look pleased for their bride.
Green Ivy
It's hard to tell with these dresses whether the problem is the color, fabric, cut or all three combined, but these dresses are, undeniably, ones that we'd never want to wear. Ever.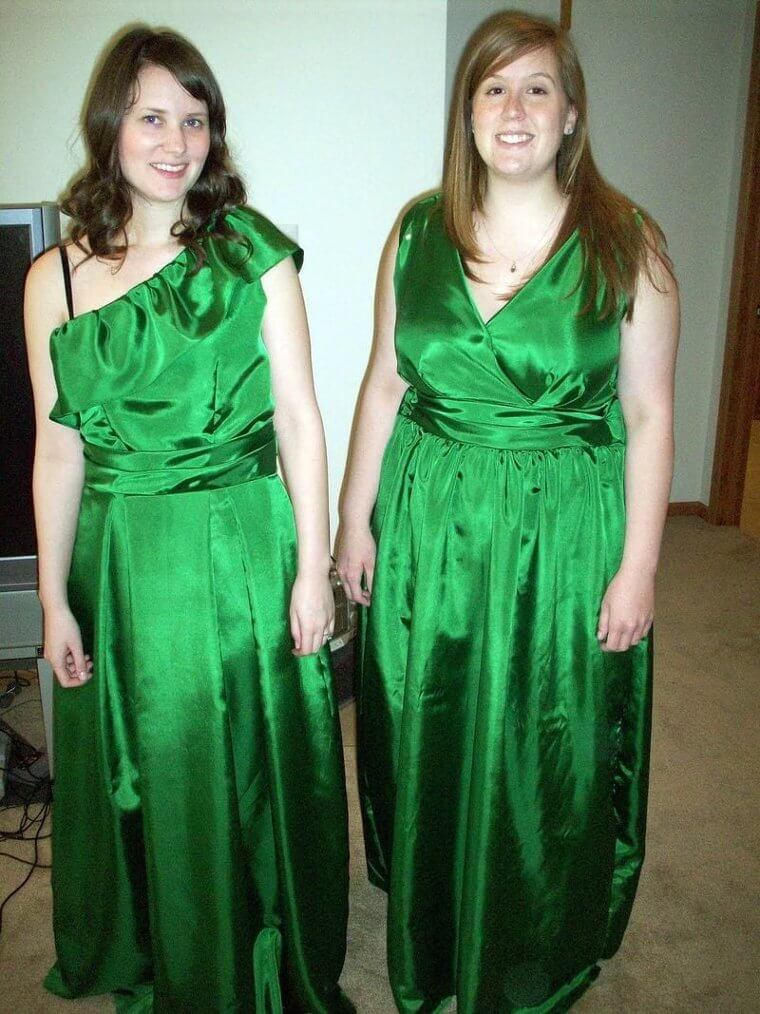 These bridesmaids took a photo when they were trying on their dresses and immediately realized how bad they are. The dresses look like they were ordered online and arrived in the mail like a Halloween costume. All the same, these women sucked it up for their friend.
Almost Brides, But Not Really
These bridesmaids dresses are confusing to look at because they look like bad wedding dresses. It actually looks like someone took a couple of different wedding dresses, and stitched bits of each of them onto one dress.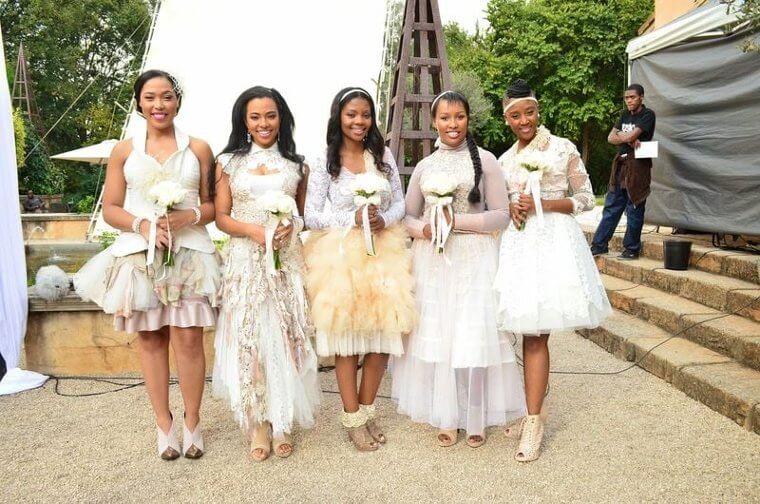 The dresses all have odd cuts, strange fabric, and unnecessary frills and puffs, and the bridal party all look awkward. The guy in the background of the photo even looks like he's thinking about how tacky and bizarre the dresses are! The bride should be grateful to her friends for wearing these!

Lumberjack Chic
There's no denying that these dresses are original. The bride went full retro and insisted on her bridesmaids all wear plaid dresses that flashback to a different time.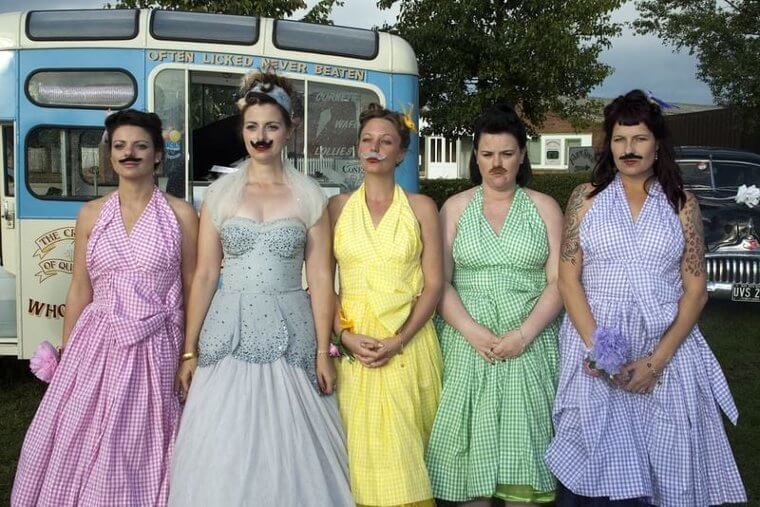 That's not all though, because they're all wearing fake mustaches for this photo as well and they don't look best pleased. This could be because their dresses aren't very flattering… at all. However, at least the fashion choices are making for some cool photos that will stand the test of time.
Fluffy Marshmallows
We know these dresses could be much worse. The strapless dresses are tight-fitting at the time, and only puff out (a lot) at the very bottom, below the knees.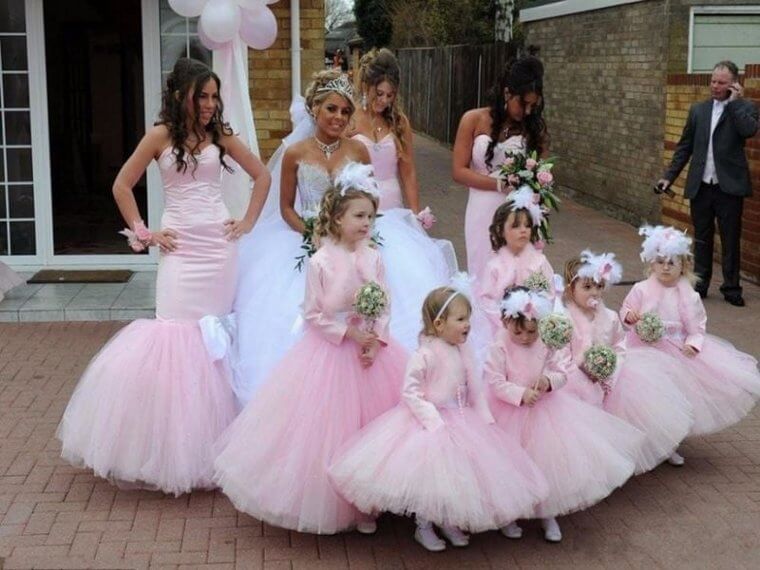 However, the baby pink color and tulle makes them all look like they're made out of marshmallows and it looks tasteless. The little flower girls are all adorable, but the picture as a whole just makes you want to make s'mores by the fire. 
Find The Bride
There's a common rule that says you shouldn't wear white to a wedding unless you're the actual bride. Well, this bride and her bridal party didn't follow this, and all the bridesmaids look like brides and it's super confusing.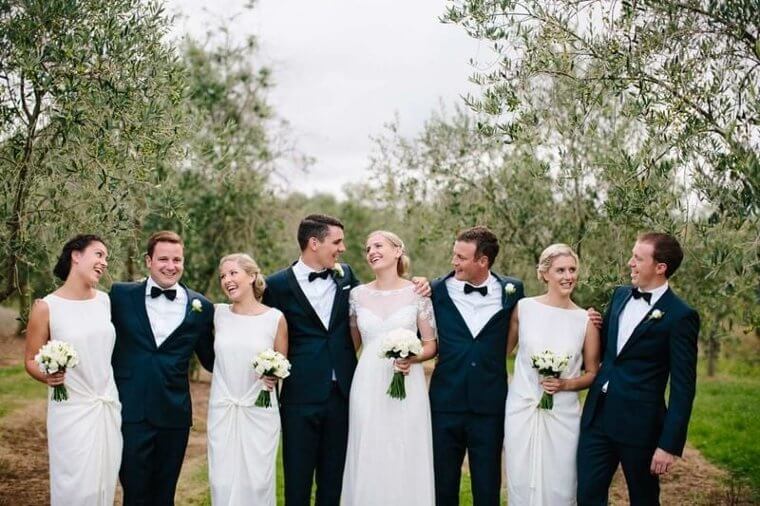 On first looking, it's almost impossible to tell who the bride and groom are, because everyone is dressed the same way. Three of the women are blonde, with the same hairstyle, as well! If the bride wanted to confuse her guests as to who was getting married, then she definitely pulled that off.
Simply Red
There's simply a lot going on in this photo and we're not liking any of it. The dresses aren't too awful, but their fit is.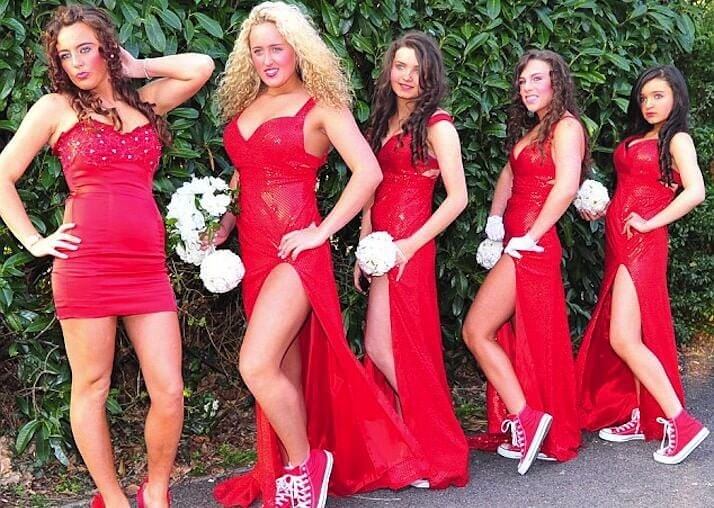 The color is pretty out there, and almost as bad as the green monster color from earlier. However, these girls seem to be happy and excited, making faces and pulling poses at the camera to make sure their enthusiasm is evident. Whether they're excited about the wedding or the dresses isn't certain though.

Very Bold Bride
Now, although these bridesmaids may not be wearing utterly hideous dresses, they certainly have stolen the show. Well, at least one of them has. You can be sure that heads were turned and every time this woman was featured in a photo with the bride, the attention was not always on the bride.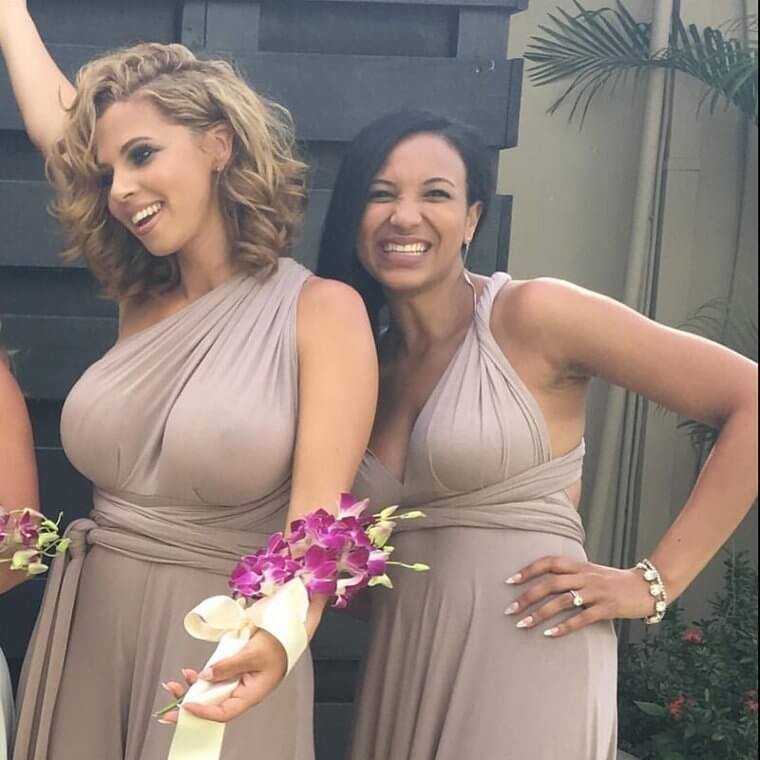 But they look so cheery and ecstatic about the wedding - their happiness is contagious! We're sure that despite maybe not choosing the best dress for her bridesmaids, the bride is one lucky girl to have them by her side.
Strange Places
So, for this photo, it's not the dresses that are bad, and in fact, some of the girls look good in their dresses. It is, however, the location of the photoshoot that raises questions and eyebrows here. Really. Why are they having their photos taken in a bathroom? And even more so, why are the bridesmaids inside a hot tub while the bride stands outside it?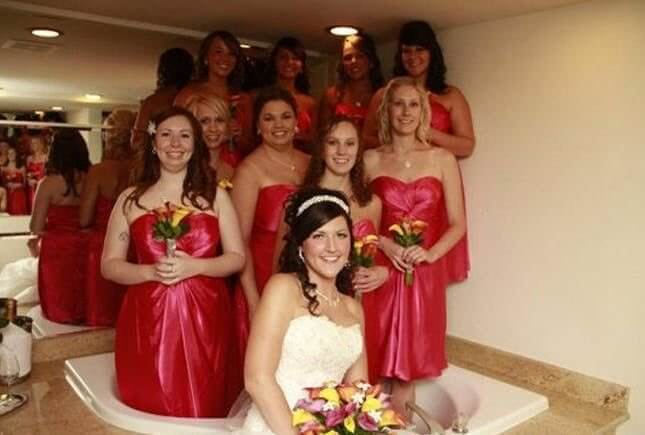 You can't even see the faces of the women in the back, and the bride is standing and awkwardly leaning towards her friends to make sure she's in the frame! Someone really should have replaced a different photographer, or at least pointed out that their suggested locations are questionable.
All The Colors Of The Rainbow
These dresses aren't that bad, individually. But when you put them beside each other, they show off a superpower, and that is the ability to see things.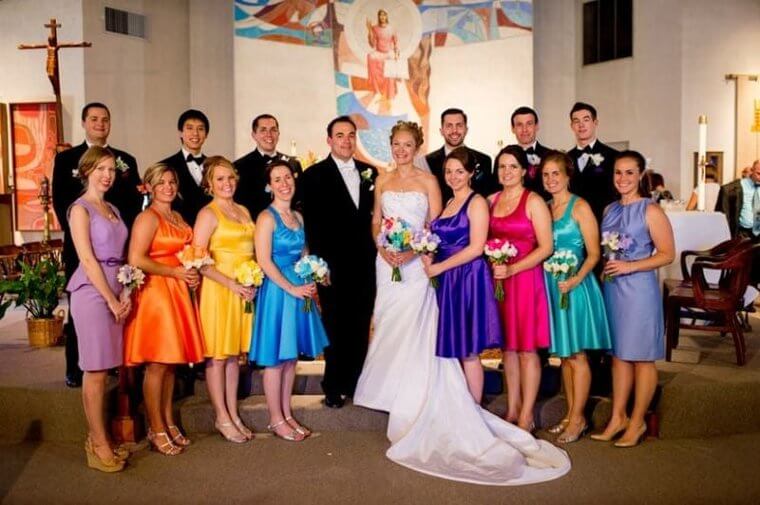 The couple obviously wanted a colorful wedding and maybe even rainbows were their theme. However, the colors are just a bit too much when you get all the bridesmaids standing beside each other and it's somewhat overwhelming. There's just a lot going on! The bride looks really happy though.
Snow Queens
Themed weddings are super popular, and thanks to these bridesmaids, this winter wonderland wedding was a serious success! We're not really sure about the details, but one is for sure and it's that these women are all committed to their bridesmaid position because there is no other excuse as to why they would wear these dresses.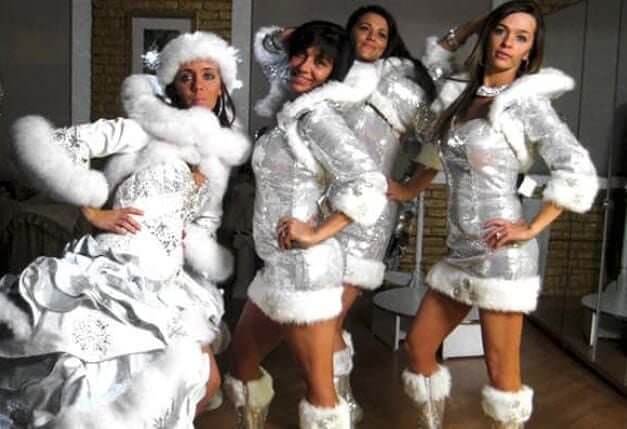 They're making faces at the person taking the photo that suggests they are under the influence of something, but we don't know what. However, we should also point out the severity of that spray tan, because everyone knows tan in December is a thing…

A Wedding Of Superheroes
This bride clearly wanted to prove to everyone, her new husband and all their guests, that her and her bridesmaids are all superwomen, no matter what anyone else says. However, it's obvious that this is a Halloween costume themed wedding.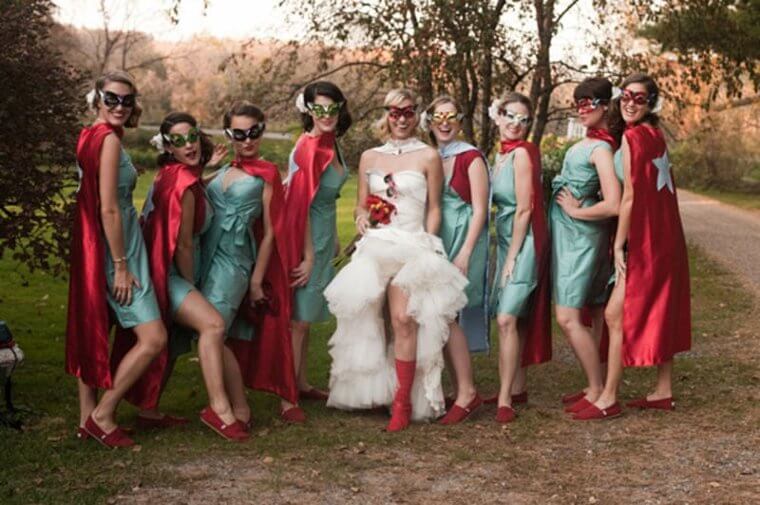 We understand these women were able to get two outfits in one when they got these outfits, but we reckon that it's probably not what they would have picked to wear to the wedding themselves. If it was up to us, we'd pick the bride's cape, it's definitely the best one!
Wine Not
Can we just say how much respect we have for this woman? There's no point in denying that if we had to choose, we would choose this as our bridesmaid dress.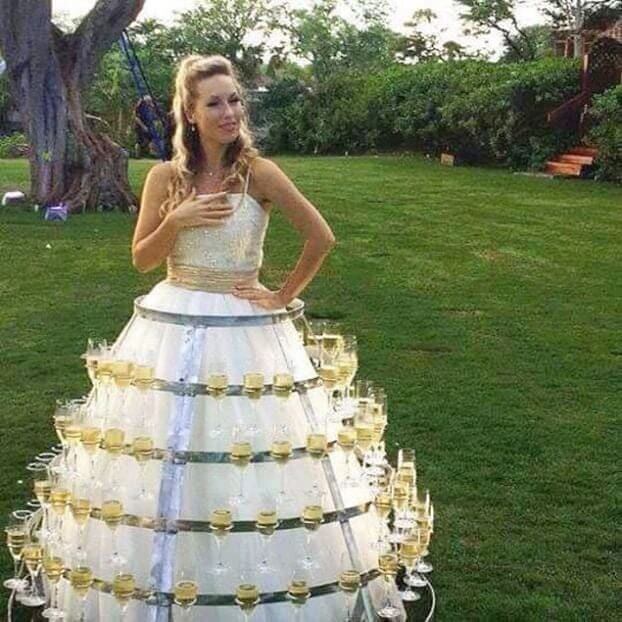 This lady is amazing enough to make sure there is always wine close to her hand, and a lot of it! The bride is obviously a good friend, but we're sure the guests were super happy to see her too. A glass for everyone, but just be careful not to spill.
Silken Angels
There is a lot going on in this photo: purple silk, white fur. It's just a lot. The bride decided to essentially dress her bridesmaids like a winter wonderland version of grape juice.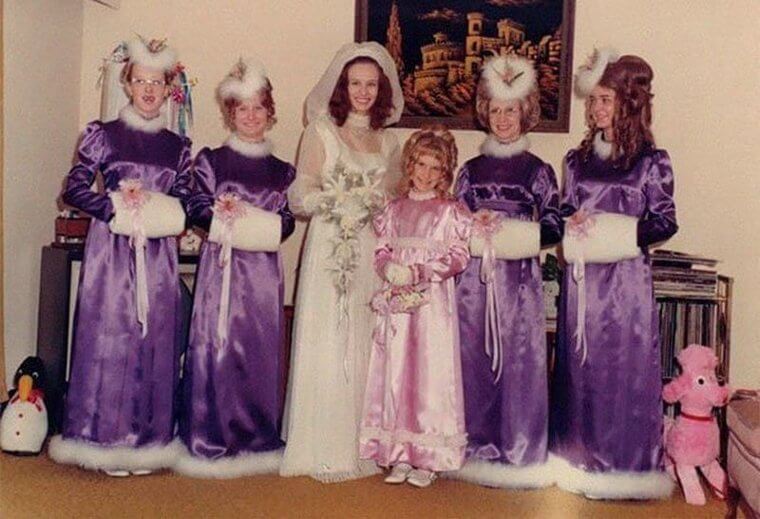 The dresses on their own would have been bad enough, but the hats… the hats! Why would anyone wear such a thing? Even if your best friend asks you too! We hope the couple is still together because those bridesmaids would never agree to wear something chosen by her again.
Flutterby, Butterflies
This photo is making us confused as to whether we are looking at a wedding party or a Halloween party. The bride is most definitely a bride, but all the bridesmaids look like they're wearing Halloween costumes.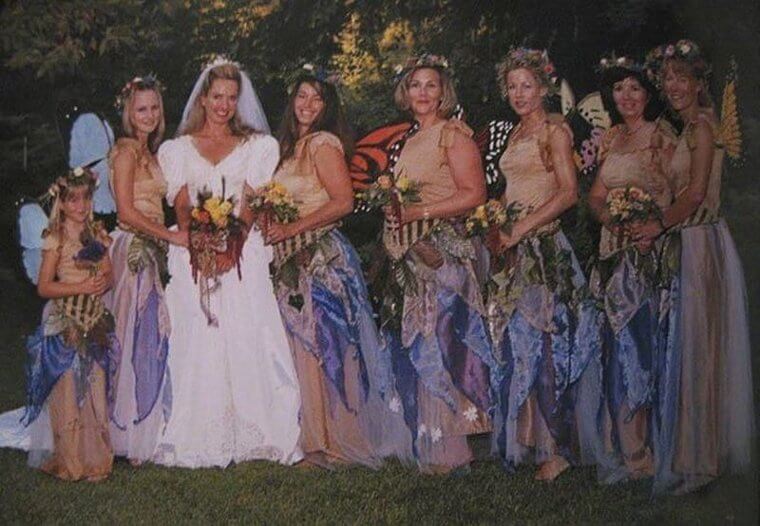 The bride must just really love butterflies and nature because every girl in her party is wearing a butterfly dress, complete with wings! It means they didn't have to look too far for a costume to wear on Halloween though, so it's kind of a win-win? 

Bridal Party Or Groomsmen?
This bride was definitely ahead of her time when she decided to put her bridesmaids in pants suits! It's super feminist, that's for sure. Unfortunately, though, everything is the completely wrong fit for every single one of those women.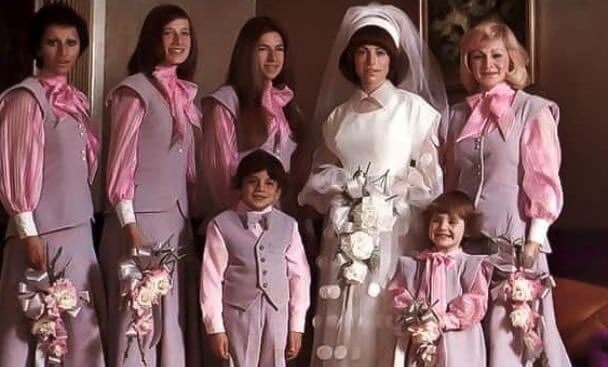 The colors don't really go well together, and they're not a great color scheme for a wedding. Our favorite bit of the outfit is the pink bow, and it was part of a dress, it would look amazing. However, worn around the neck it doesn't look too great.
Six Neon Dresses
There's no way these bridesmaids won't draw attention to themselves as they walk beside the bride, or stand near her. Or near anyone else. This bridal party is full of girls of all ages but they are all wearing the fullest neon dresses we've ever seen.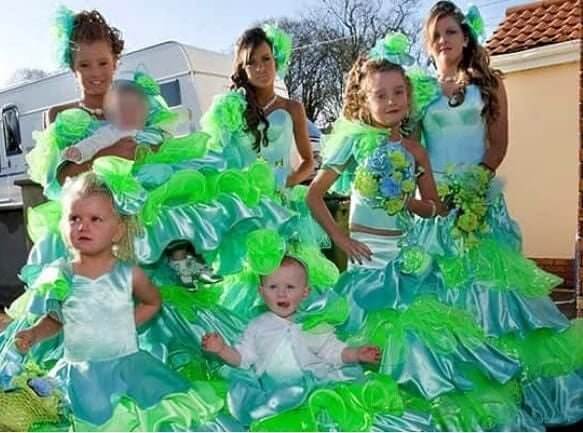 Normally, a bride wants to pick a dress that makes her stand out and be the center of attention, not her bridal party. If this is true… then what type of dress did the bride wear?!
Theatrical Tragedy
There's no way that the bride doesn't come from a theater background if she chose these dresses. Her bridesmaids are wearing what seems to resemble some sort of horrific Victorian fashion.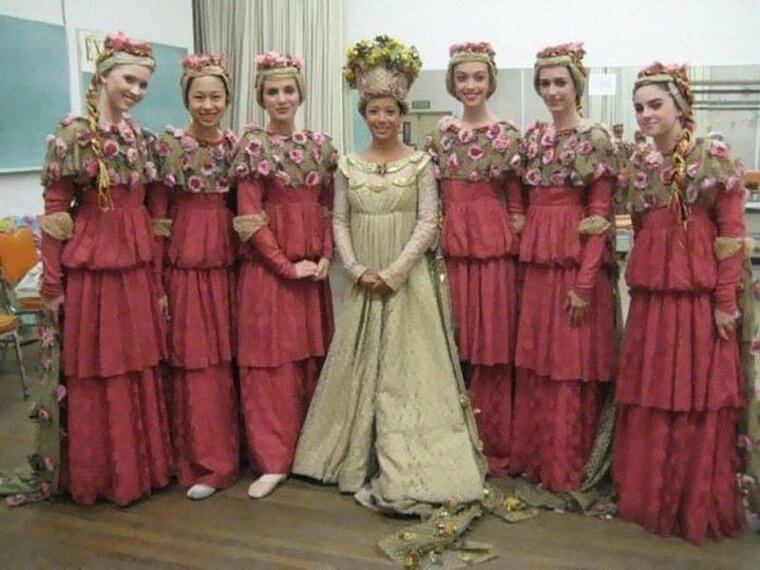 The dresses look like tiered cakes, which is bad enough, but the headpieces really bring it over the edge. The women are all wearing yarn braids on top of their natural hair, and it's too much for us to take. This bride really has a special personality.
It's Curtains For You
It looks like someone has just lost their curtains here! Oh no! How this bride thought it wasn't mean to have her bridesmaids wear what look like dresses made from curtains is baffling.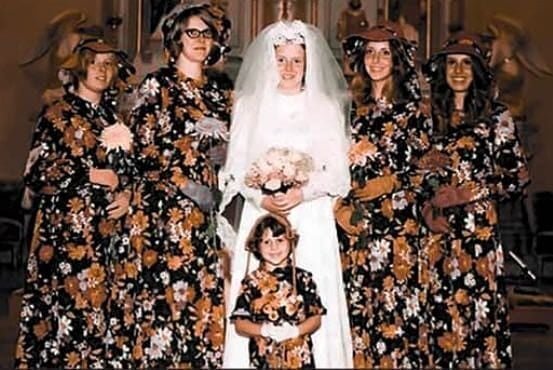 The matching hats are just another step too far to come back from being a Bridezilla, without explicitly acting like one. Making her closest friends dress in these monstrosities is definitely a Bridezilla move. Even the poor kid couldn't get away from these matching dresses.

Holy Bridesmaids
The couple getting married seem to have been pretty devout in their religion, because we can't think of any other reason why these bridesmaids would have had to wear these gowns that are basically just hooded capes!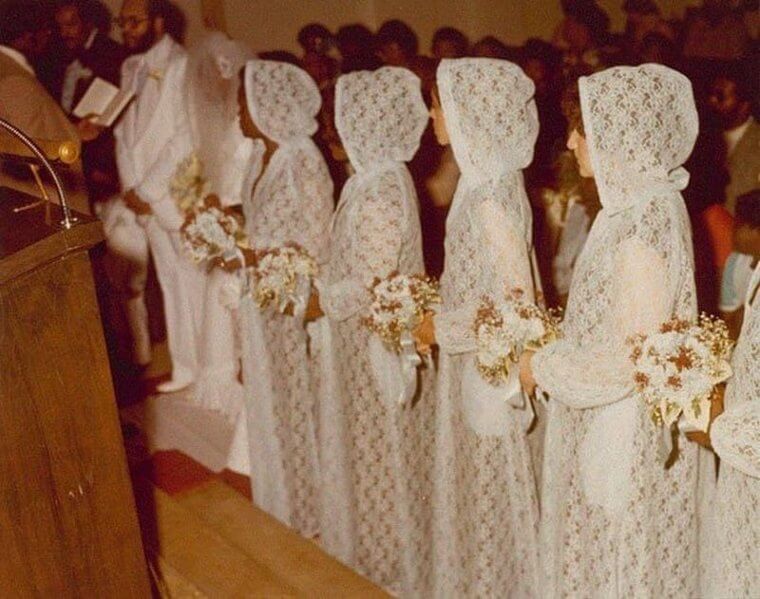 In all fairness, the capes appear to be made from a lovely lacey fabric and they're super pretty. The bride also allowed her bridal party to wear white on her wedding day, which is pretty cool. However, we're a bit concerned about the type of religious ceremony taking place and we hope there are no sacrifices being made.
'Tis The Season
We're wondering if it's Mrs. Claus who's getting married because her bridesmaids look ready to meet the big man himself! We have no idea why this woman would choose such ridiculous dresses for her bridesmaids.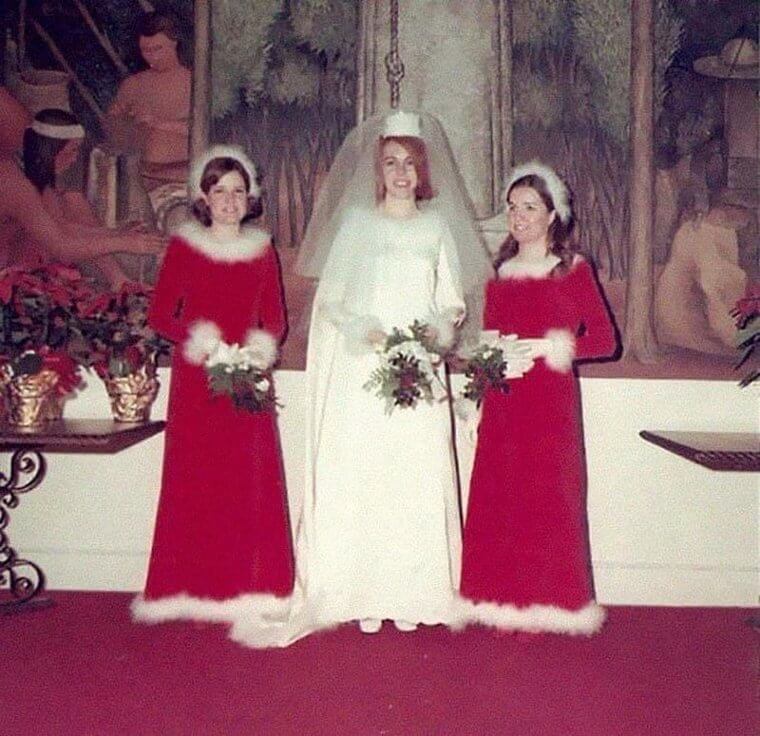 The only reason we can think of is that the wedding took place on Christmas Eve… and we really hope it did! The bride certainly had to have chosen a themed wedding and everyone would enjoy the fact that her bridesmaids look like Santa. We wonder if it was worth it.
Muted Shades
It's fairly obvious that this bride is a massive fan of pastel colors. We also need to point out that the bridesmaid on our left and her right, is 100% stealing the show as the only person capable of looking good in this pastel dress and hat.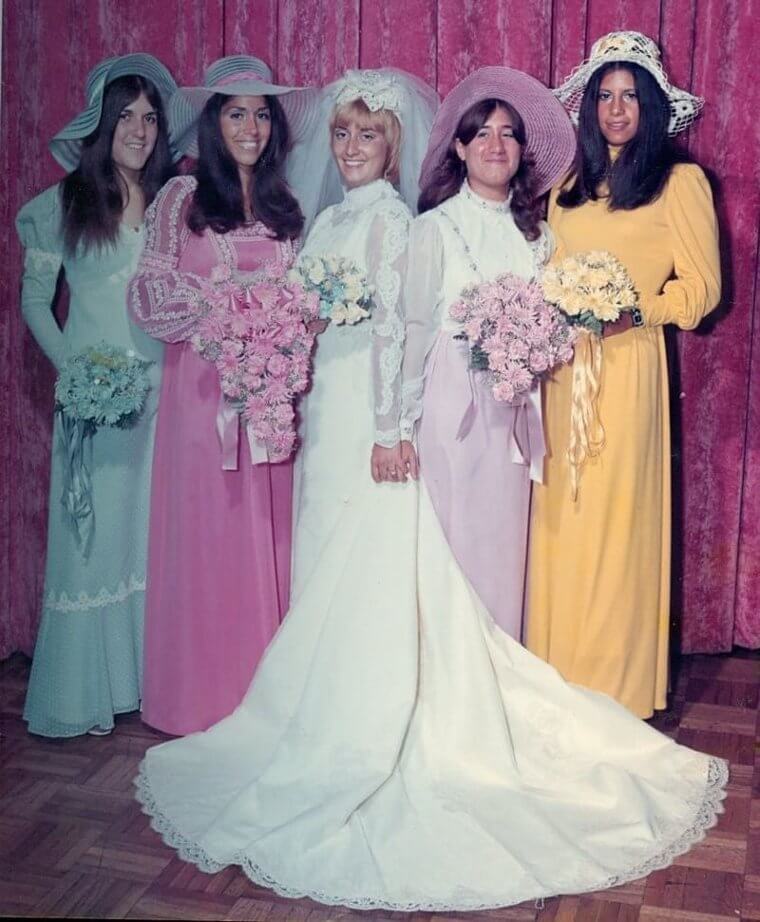 The bride looks really happy, and it makes us wonder if she purposely chose those awful dresses and hats for her friends. She had to have known that they would look better than her no matter what they wore.
Matching Everything
These dresses are some of the best ones in this list, and these ladies' dresses are all pretty nicely colored and the dresses seem to have a good cut and fit.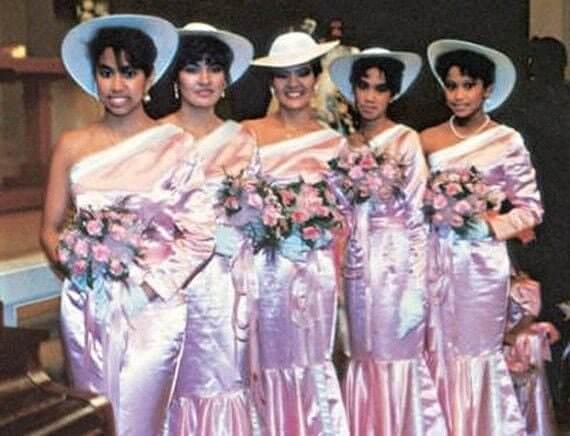 Our problem is mainly the hat: why would you wear a hat indoors at a wedding? We also have a problem with the shiny fabric the dresses are made of. It makes them look like they're made of aluminum foil. We don't mind too much because the women themselves seem okay with the dresses they're wearing.

A Princess Bride
We mean this literally because the bride seems to have a huge obsession with fairy tales and Disney. The whole bridal party are characters from fairy tale stories.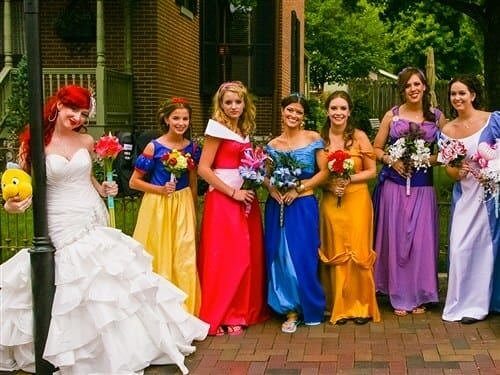 We appreciate and enjoy Disney as much as anyone else, particularly Disney princesses, but to make our bridal party dress up as Disney princesses for our wedding is a bit too much. This is another case of having a Halloween costume as a bridesmaid dress. If this wedding took place on Halloween then, that's fairly cool. 
Medieval Dreams
This bride must have a thing for Game of Thrones or Medieval Times because there is no other reason why she would choose this style of wedding and bridesmaids dresses.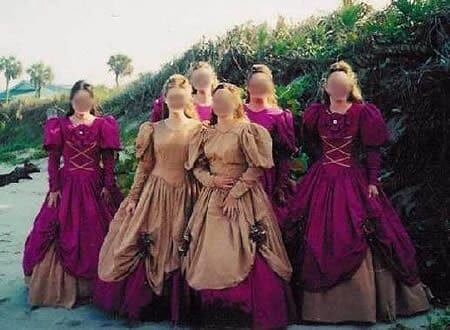 We hope this wedding took place in the fall because these dresses would be way too warm to wear during the summer! If the wedding was in the summer, we wouldn't hold it against the women if they became violent in the sun wearing these big dresses. 
Similar Sisters
It says a lot about a woman if she chooses her bridesmaids to look like brides, too. This photo could be a case of sister wives though.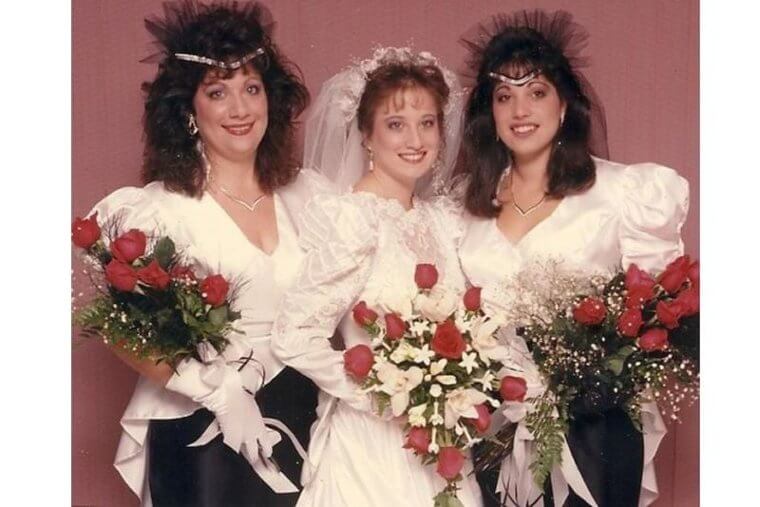 If it is a sister wives arrangement, then we're not judging too much, but otherwise this woman just really wanted her friends to look like her, too. Both of these situations are strange, but we're glad we came across this fantastic photographic evidence on the internet!
80s Finest Fashion
Compared to all the other bridesmaids dresses in this list, these women undeniably look the best. In fact, their dresses are pretty nice.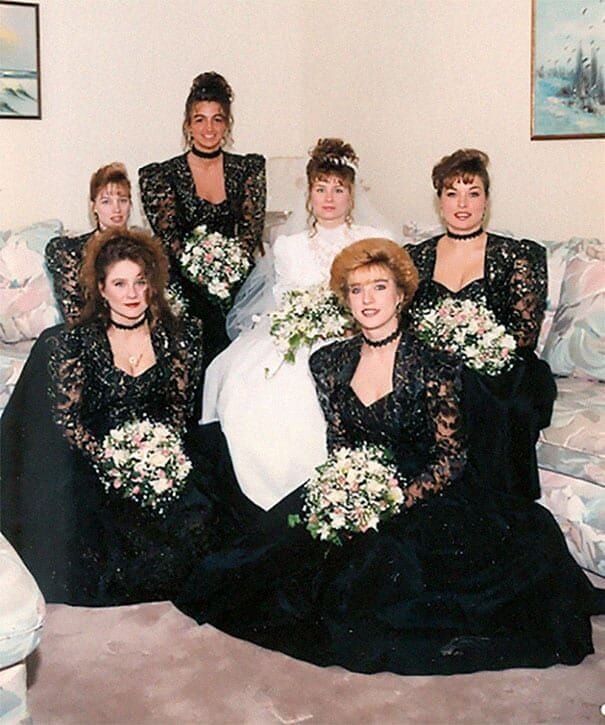 However, when you take the dresses and combine them with their big hair, big bouquets of flowers and the size of the bridal party itself, it all becomes a bit too much to look at. The hair and the living room setting for the photoshoot makes it pretty obvious that this wedding happens in the 1980s.

Hateful Hats
These poor women deserve medals for agreeing to wear these horrible and humiliating hats and dresses in front of all the wedding guests.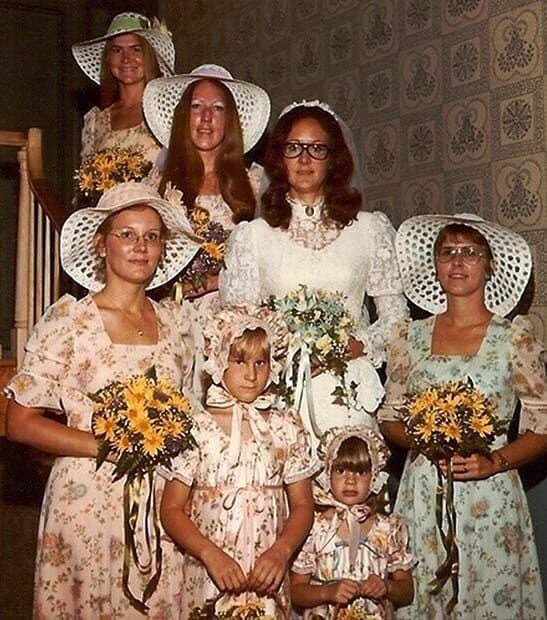 The dresses look like they're made from fabric leftover from either curtains or sofa covering and the hats look like plastic. It begs the question as to why the bride chose these outfits. If anything, this photo should have stayed hidden away in the wedding album, but we are enjoying seeing it.
Big Bows
We need to take a moment here and look at the sheer size of the bows these women were asked to wear to their friend's wedding. It makes us wonder if the bride really viewed these women as her friends?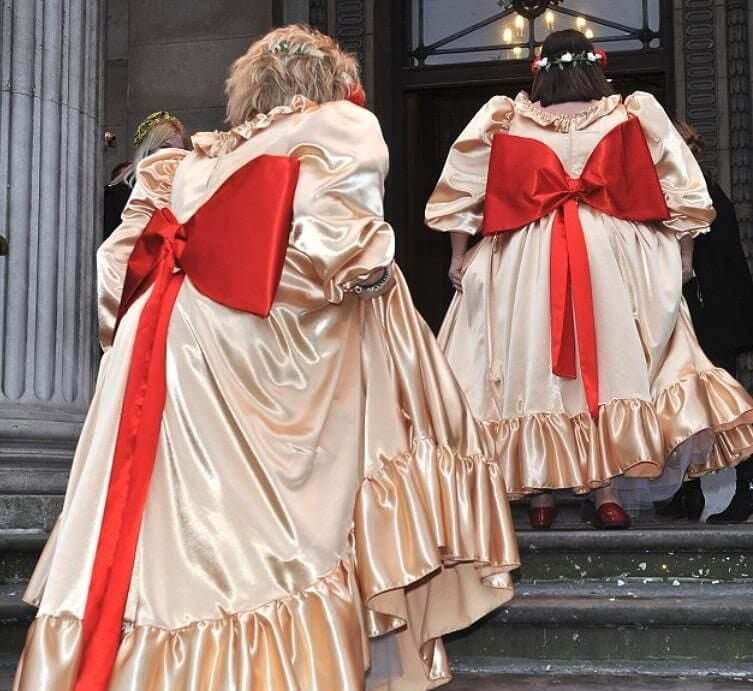 It doesn't seem like she's their friend! The bridesmaids are all wearing some kind of strange princess costume-like golden fabric dresses tied at the waist with a humongous red bow! We're pretty sure they're all wearing flower crowns as well… Oh dear.
All Of The Colors
When this photo was taken, these dresses were pretty fashionable, and represent the style of the time. However, decades later these wedding photos do not look good.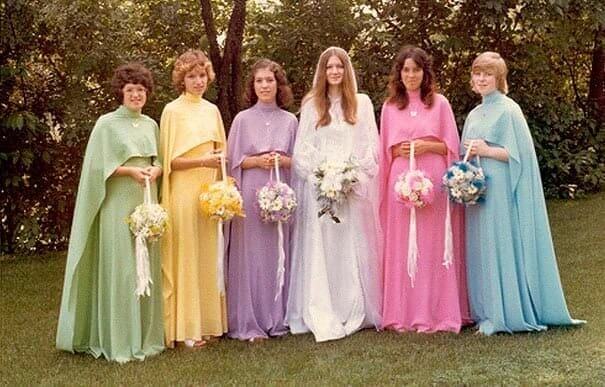 Each of these bridesmaids was given a color of her own and wore a dress covered from neck to toe. Their dresses are so all-covering that if they were black, they would look like they were dressed as nuns. We do like the extra touch of matching their bouquets to their dresses though! 
Flowerpot Women
Following on with the flower topic, these dresses should be looked at with caution… we're pretty certain that these dresses will be attractive to bees! They might think these outfits are flowers and swarm them.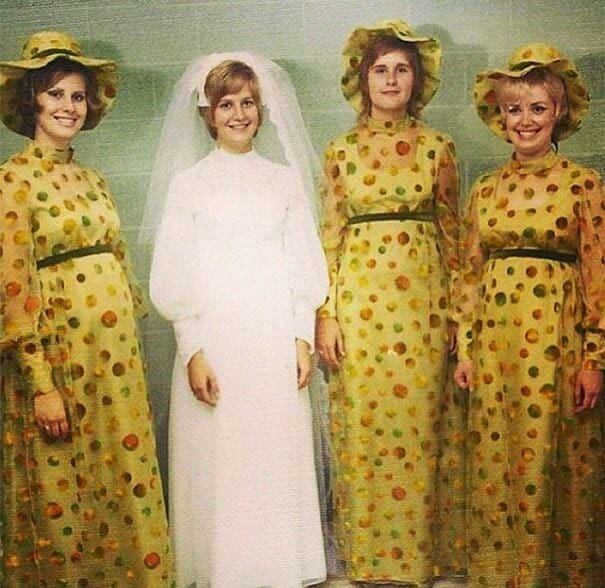 These dresses have literally no shape to them, meaning you can't see anything about the women's figures. To make it even worse, the dresses are yellow and come with matching hats. The dots are also a horrible addition, but at least the women look like they're having a good time! 

Tiered Frills
Generally speaking, you don't want your bridesmaids dresses to look like wedding dresses, that's a given. However, you also normally don't want them to look like a tiered wedding cake either.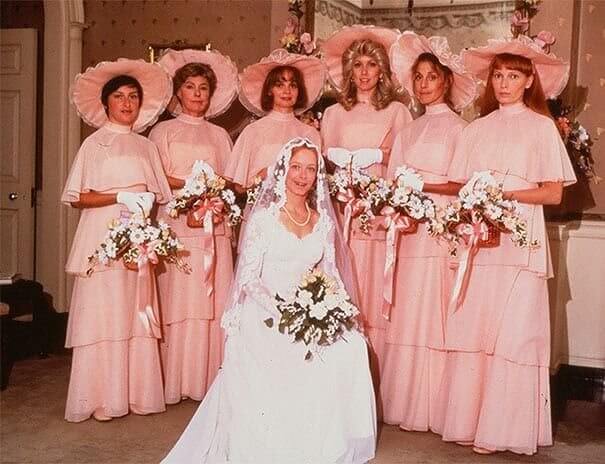 These dresses look a little bit like a tiered, pink wedding cake. This style was fairly popular at that time, but it hasn't aged well. However, again, the hats! The hats make them look like Rachel Green when she went to Barry and Mindy's wedding.
Pink To Make The Boys Wink
Pink has long been a pretty popular color for bridesmaids dresses and it still is. However, these women are wearing bubble-gum colored dresses, and look completely miserable. But that's not all.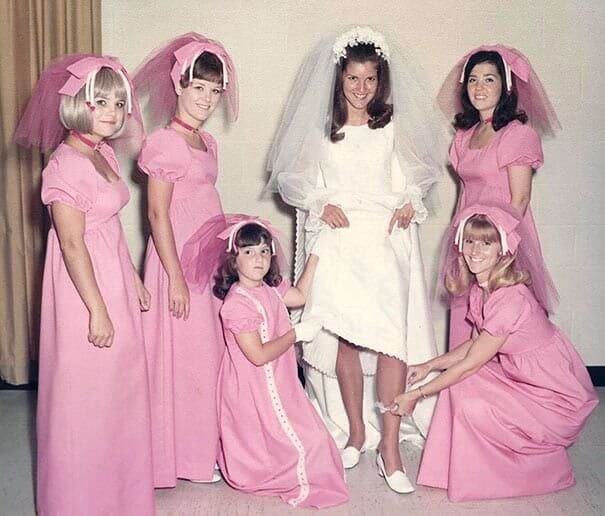 They were each given a pink veil to wear. It obviously had to be pink, as the bride is wearing a white one. But, their veils are also really short and it makes us wonder what the bride was thinking!
Golden Goddesses
Metallic fabric is making a comeback, and it's a really popular choice for bridesmaids dresses. It's pretty common to see bridal parties wearing sparkling, sequined dresses that look well with the brides. However, the dresses below do not fit those criteria.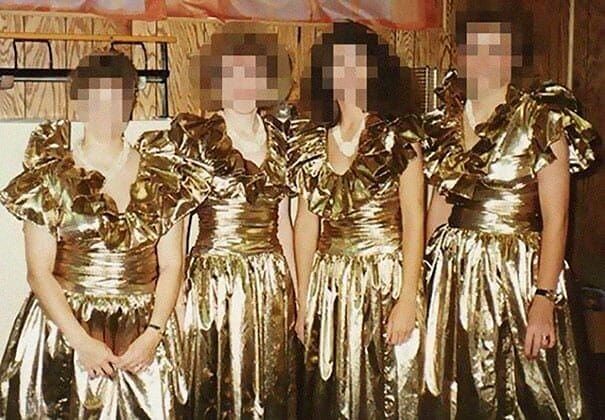 If we were forced to wear this dress to a wedding, we'd probably pretend we were sick and couldn't make it, just to avoid the shame. These women all sucked it up though, and sported these golden wonders for their gushing bride!
When Was This?
We're really confused about this photo, and can't figure out when it was taken. The groom's suit looks totally 70s, but the bridesmaids dresses fit in with the fashion of the 80s. In fact, the bridesmaids dresses all seem to have an air of 'grandma's curtains' about them, but the women seem happy with their gowns!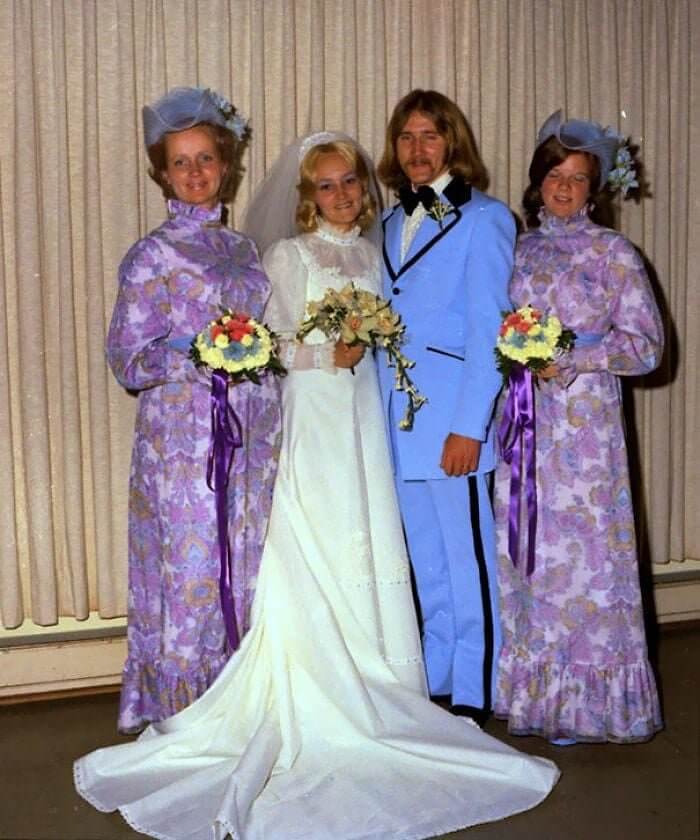 It's crazy to think, but this kind of fashion was really en vogue back then. However, the thing that is perplexing us, yet again, are the hats. Are they cowboy hats? Fascinators? We have no clue, and it's doubtful those wearing them do either.