At first, moviemakers relied solely on makeup artists and costumes to create their fantasy characters. Now, CGI is more common. Both techniques are so effective that it can be hard to tell what the actor actually looks like in real life. Meet some of the most iconic aliens in movie history, and their human actors out of costume. You might not even be able to recognize them!
Bolaji Badejo in Alien
Bolaji Badejo was scouted for his first and only movie role in 1979. Rumor has it, the Nigerian actor was found by producers while at a London pub. He stands at 6'10" and has a "thin, insect-like profile" that made him perfect for Ridley Scott's Alien.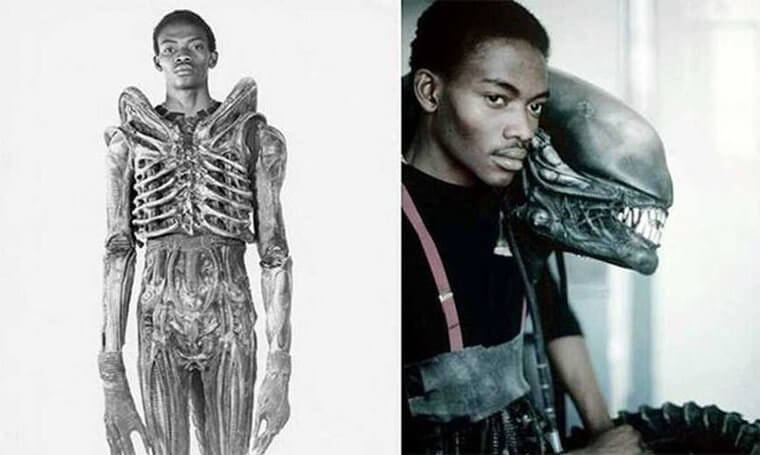 Badejo was not a fan of the giant headpiece he had to wear during filming. He had to wear the cellulose slime-covered suit in 15-minute increments to avoid overheating his body.
 
Mantis
In the Guardians of the Galaxy sequel, Pom Klementieff played an insect-humanoid alien named Mantis. According to an interview with Metro, Klementieff wore prosthetics at the beginning of her forehead, but the rest was done using CGI. She didn't have to spend as much time in the makeup chair as other sci-fi actresses did.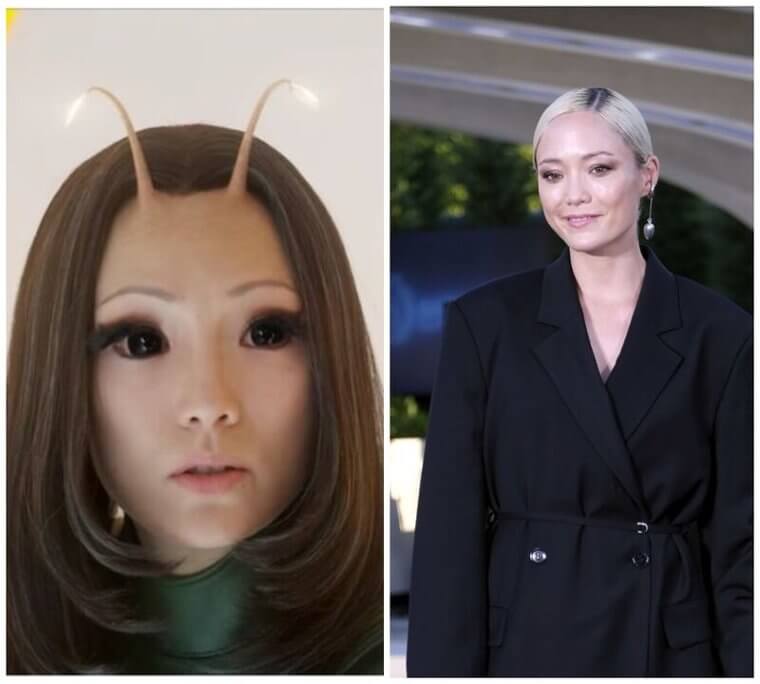 The makeup artists tested a number of different looks for Mantis's design. "We tried different wigs; at some point, the makeup artists drew veins on my face…I looked really crazy," explained Klementieff. "And then we decided to go for something a little more human."
Thanos: 100% CGI
Josh Brolin hesitated at first when he was offered the role of Thanos in the popular Avengers series. As he explained in an interview with Entertainment Weekly Radio, he didn't want to do "practically nothing" while standing in front of a giant green screen. However, Brolin changed his mind after seeing Benedict Cumberbatch's acting in the CGI-filled movie The Hobbit.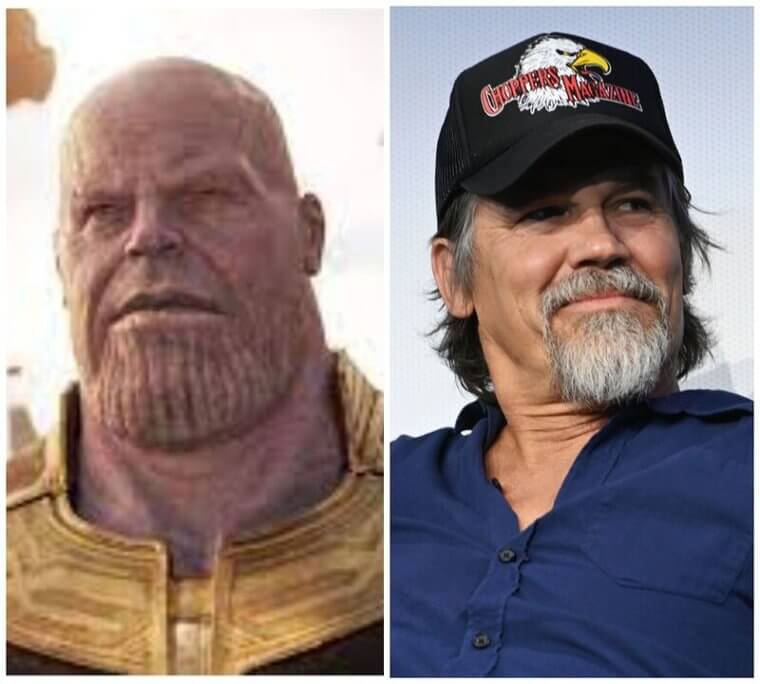 Brolin's role was 100% CGI, so the only makeup he was forced to wear was iridescent paint all over his face and body. "It was very, very different," he later mentioned. "But I like it. It's fun."

The Real-Life Predator
Jean-Claude Van Damme was originally cast to play the lead role in the 1987 movie Predator. When he dropped out, the producers replaced him with 7'4" musical actor Kevin Peter Ball.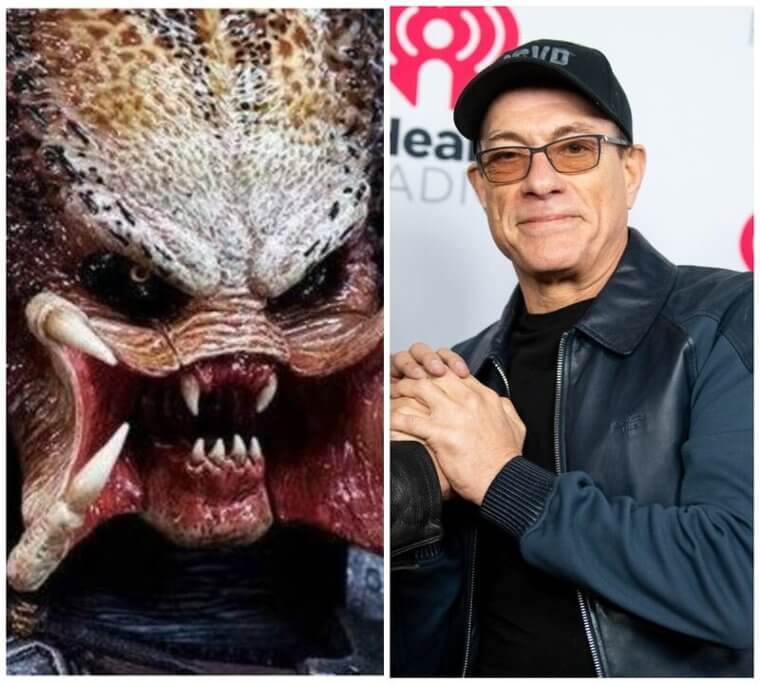 Since Hall never spoke beyond growing or yelling, he refers to his alien acting as "grunt roles." The suit was pretty difficult to navigate, but Hall truly enjoyed playing the Predator. "I'm bigger than life and so, in a way, I'm part of the fantasy/science fiction/horror genre," he said.

Little Orange Oscar Winner
Lupita Nyong'o turned orange for Star Wars: The Force Awakens when she was cast as Maz Kanata, a tiny pirate alien. "I didn't really know what I was auditioning for," Nyong'o joked on The Ellen DeGeneres Show. She was definitely in for a surprise, then.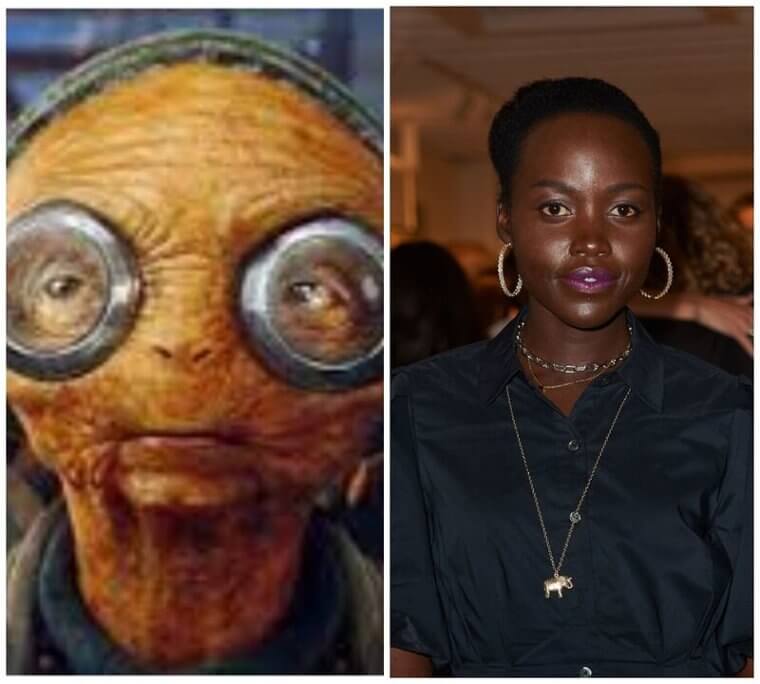 Nyong'o had to wear motion-capture dots and Maz's goggles to play the CGI's character. According to an interview with Insider, the script was kept a complete secret. She couldn't even tell her mother!

Who Is Really Behind All of That Makeup?
Eric Bana took a major turn in his career when he played the role of Nero in the 2009 film Star Trek. He was forced to sit in a makeup chair for three whole hours. When his agent arrived on set, he didn't even recognize Bana behind all of the makeup.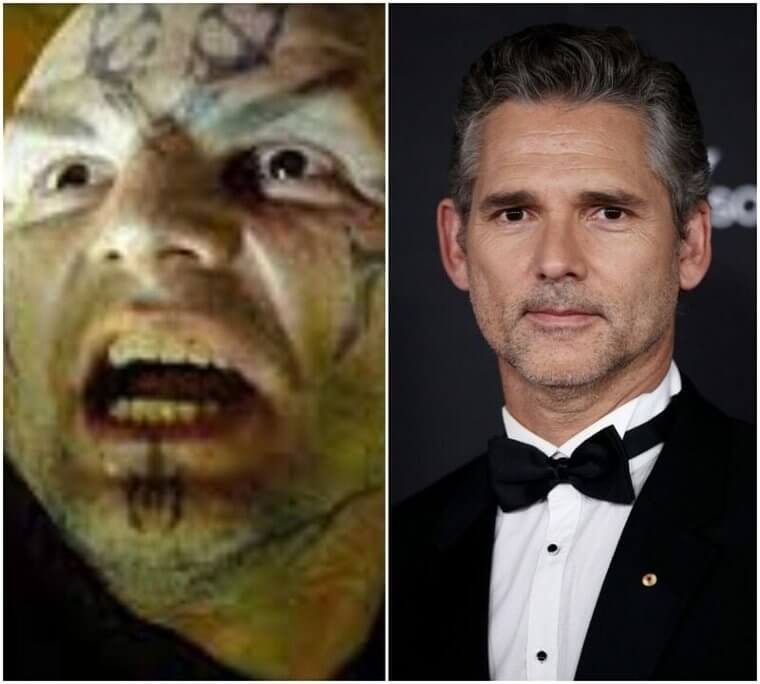 Despite its difficulties, Bana loved playing Nero. "Those opportunities in Hollywood are so rare," Bana said in an interview with The Sydney Morning Herald. 

Korg: Actor and Director
Director Taika Waititi lent his voice to the fan-favorite alien in Thor: Ragnarok, Korg. According to an interview with The Last Leg, Waititi said that Korg's voice reminded him of the delicate, lovely Polynesian bouncers he met during his time growing up in New Zealand.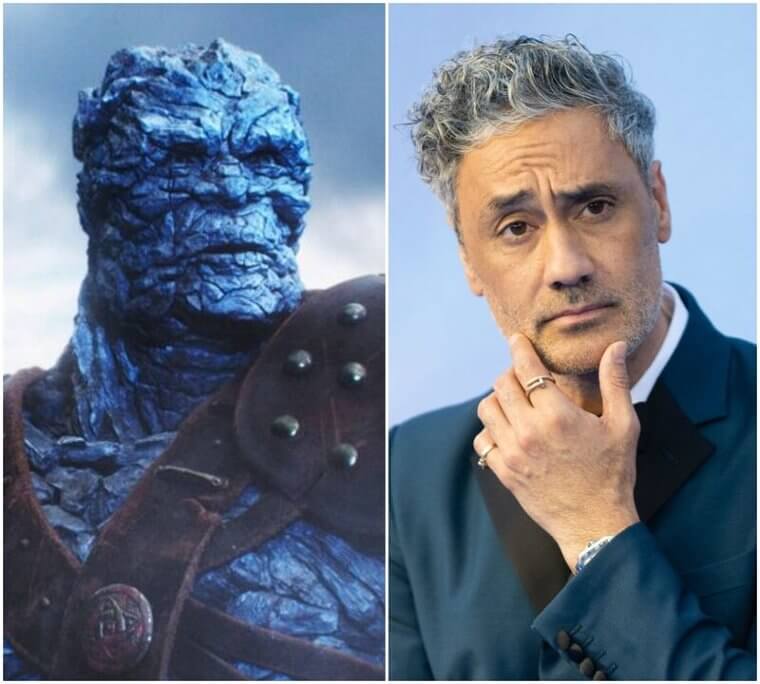 When the director went on camera, he actually ended up improvising many of Korg's lines. The special effects team helped transform him into a giant seven-foot-six rock man. Fortunately, Waititi revealed that Korg will come back in the fourth Thor movie.

CGI Dominator
Andy Serkis is best known for being the king of CGI. He has played a number of CGI characters over the years, such as Gollum in The Lord of the Rings, Caesar in Planet of the Apes, and Supreme Leader Snoke in Star Wars: The Force Awakens. "Visual makeup" is his forte.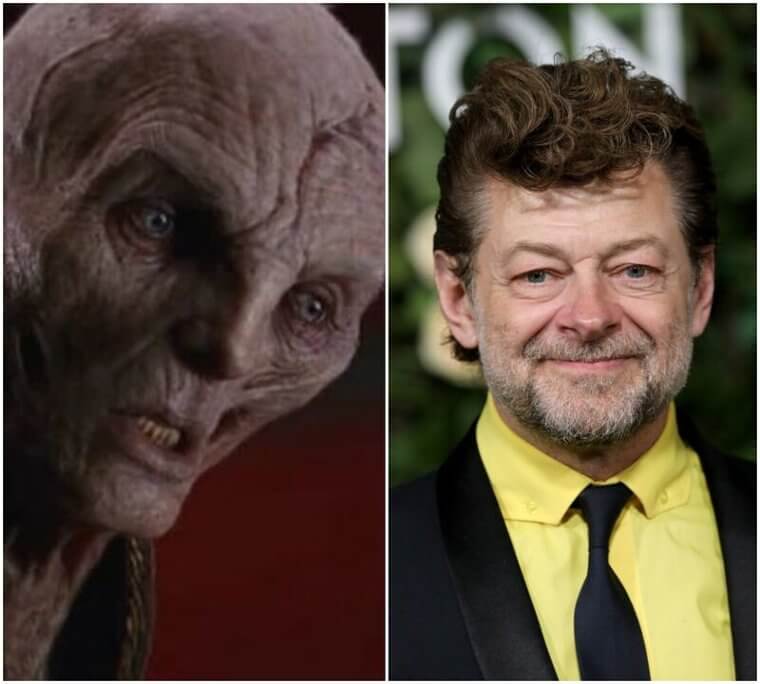 In an interview with The Independent, Serkis explained that CGI movies allow actors to play their characters more truthfully. "There is no difference between performance-capture technology and conventional acting," he said.

One Sweaty Costume
Simon Pegg has always loved Star Wars, so he was thrilled to accept the role of Unkar Plutt in Star Wars: The Force Awakens. However, most fans wouldn't recognize Pegg thanks to lots of makeup, prosthetics, and CGI.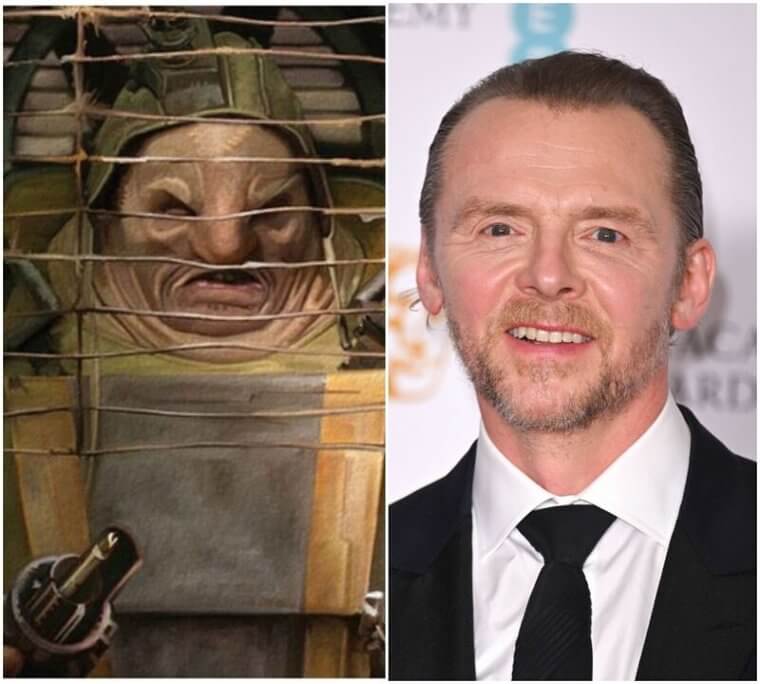 The suit may have looked awesome, but Pegg admitted that it was no fun and games to wear it. He said that the suit was 50 degrees Celsius (122 degrees Fahrenheit). "I had these big, rubber, silicon gauntlets…and when I took them off, I could pour the sweat out," he admitted.

The Face Behind Gamora and Neytiri
Although most people have never seen what her real face looks like, Zoe Saldana has become a major staple of science fiction movies. She played Gamora in Guardians of the Galaxy and Avengers as well as Neytiri in Avatar.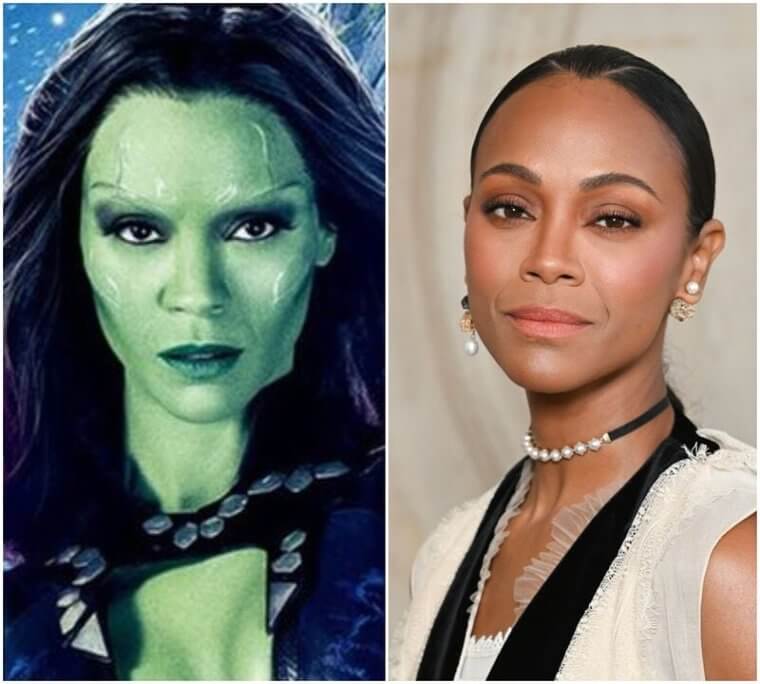 According to an interview with The Daily Telegraph's Stellar Magazine, playing CGI characters empowers the New Jersey actress. "I think science fiction has given me the ability as an artist to be colorblind and gender-blind," she admitted.

From Comedy to Alien
The Flight of the Conchords comedy actor Jemaine Clement became the bike-riding, time-traveling alien Boris in Men in Black III. "I think the first day we put the makeup on, it took eight hours," Clement recalled. On a normal day, the makeup would be about half that time. Four hours of makeup is still a pretty long time!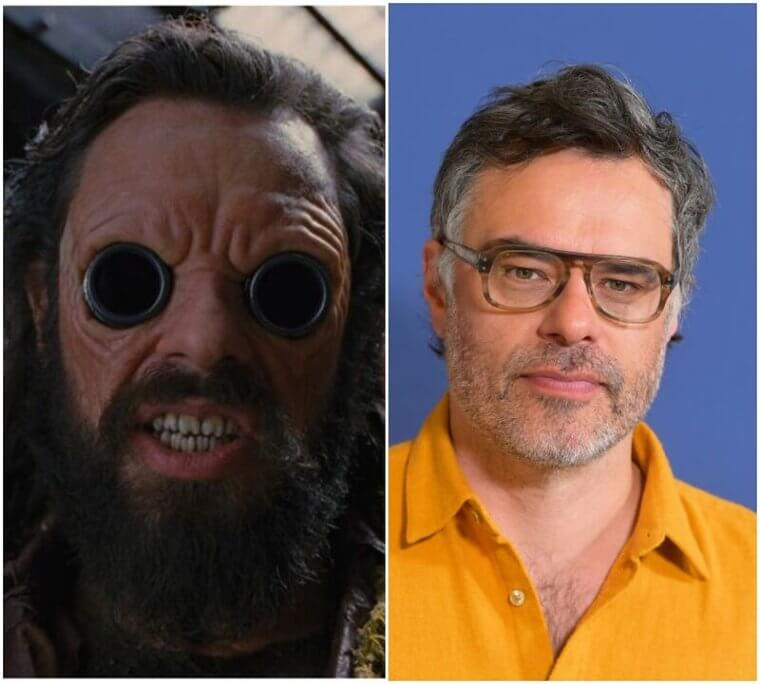 He didn't mind it, though. Clement admitted that the daily four hours gave him the opportunity to chat with legendary makeup artist Rick Baker. 

Full-Time Wookie, Part-Time Deputy
The man behind Star Wars' beloved Wookie is Peter Mayhew, who stands at 7'4". His huge, furry suit was made with a combination of real yak and rabbit skins as well as a water-cooling system to make sure Mayhew didn't overheat. Mayhew somehow kept his day job as a deputy head porter while filming the Star Wars movie.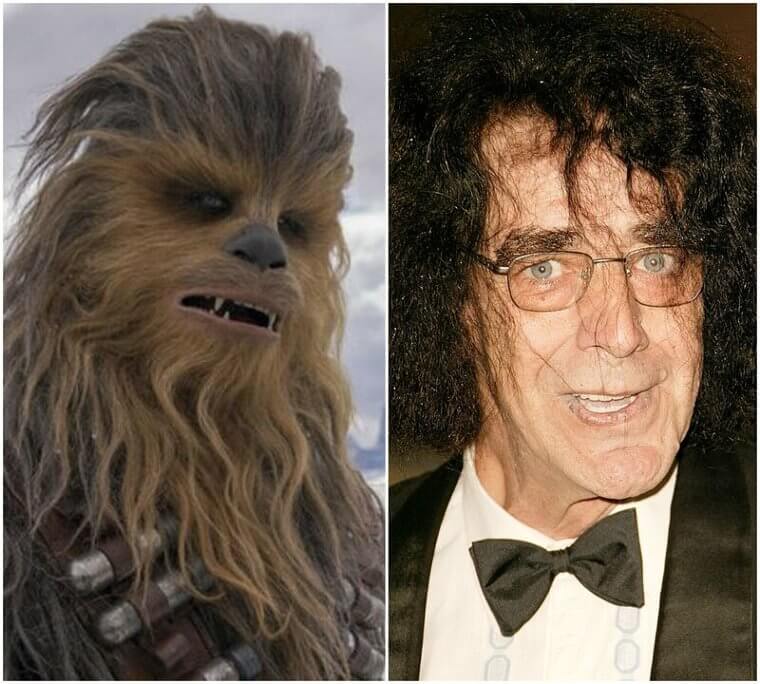 According to the movie's makeup artist, the biggest issue with Mayhew's costume was his eyes, which would frequently detach from the suit. Mayhew passed away at age 74 in 2019.

Red Head to Blue Head
Actress Karen Gillan went from redhead to blue alien when in Guardians of the Galaxy. Although her role was minor, her character became so popular that she was given the opportunity to act alongside Iron Man in Avengers: Endgame.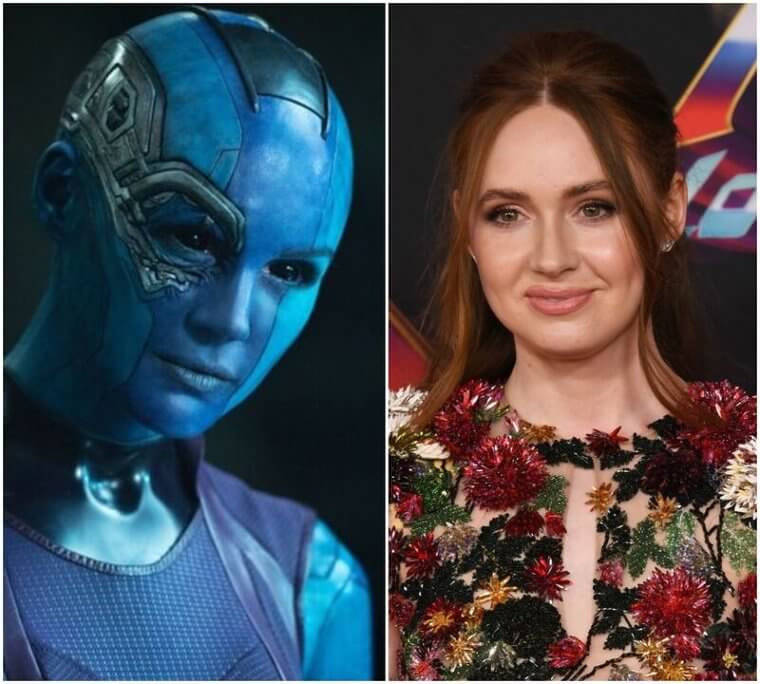 Gillan admitted that the claustrophobic costume was totally real: no CGI involved. In an interview with Variety, Gillan explained that the suit was glued to her entire body, making it difficult to make her face and talk.

One Actor Plays 50 Aliens
In a legendary interview with Gizmodo, director Neill Blomkamp revealed one of science fiction movies' best kept secrets: only one actor played all the aliens in District 9. Actor Jason Cope jumped from set to set to play multiple roles in one film. In the eviction scene, Cope and Sharlto Copely improvised the entire dialogue.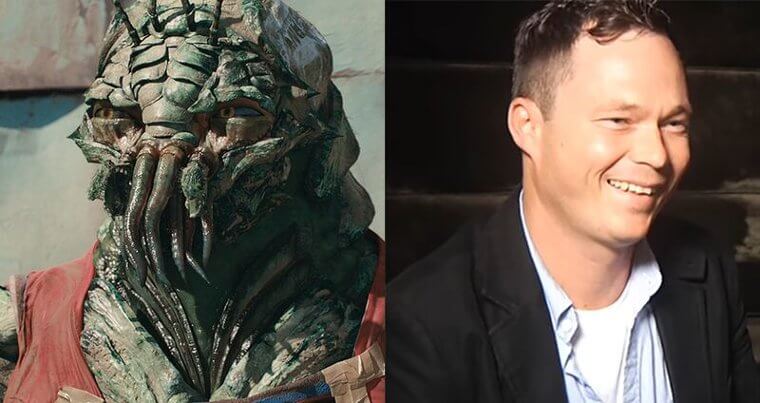 When Cope was asked how many aliens he ended up playing in the movie, he said, "I have no idea. It must be close to fifty, perhaps more."

Sofia To Jaylah, With the Help of Oscar-Nominated Makeup Artists
French-Algerian actress Sofia Boutella required a lot of makeup to be transformed into Star Trek Beyond's Jaylah. Boutella spent four hours each day in a makeup chair with a group of talented, Oscar-nominated makeup teams. One of the artists admitted that only Boutella's nose, mouth, and chin were hers - the rest was all makeup.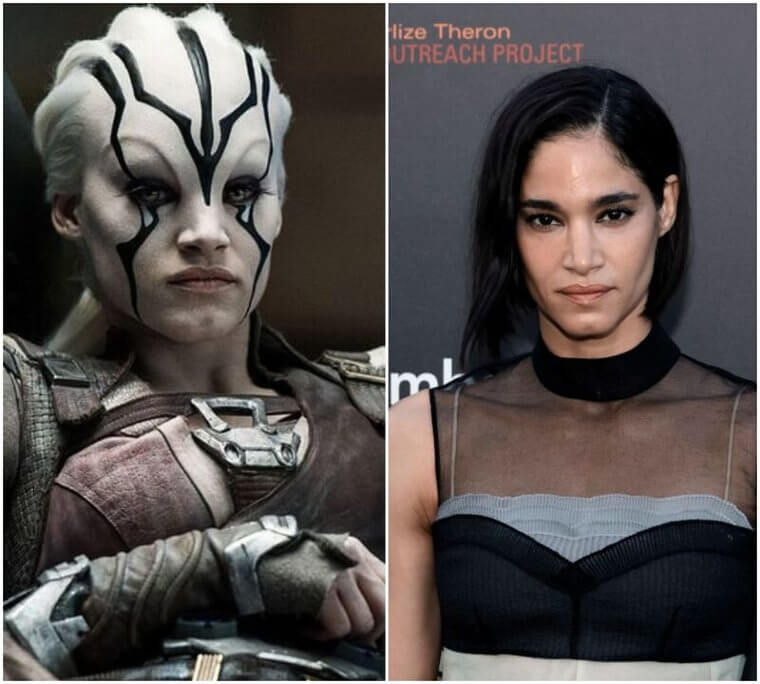 Despite how long it took to get into character, Boutella loved the costume.  "I like that second skin," she said. "It's like, as soon as I had it on, you felt in character."

Full Body Makeup
Wrestler Dave Bautista probably never imagined he would ever spend five hours in a makeup chair, but that was his daily life while playing Drax the Destroyer in Guardians of the Galaxy.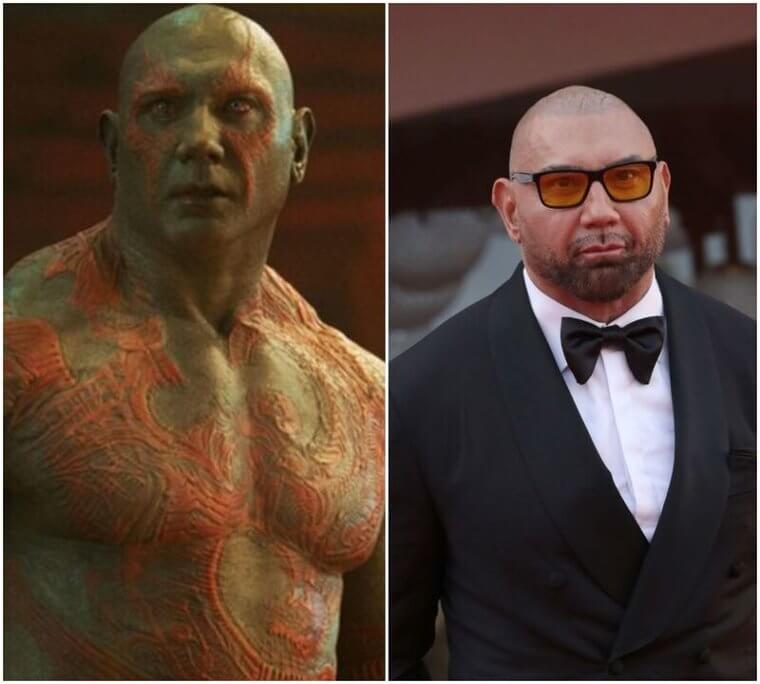 The makeup job was so sealed that it would stay on for the entire day and was not easy to take off. "I had to sit in a sauna for 45 minutes to an hour," explained Bautista. Even after it melted off in the sauna, producers had to apply more chemicals to remove all of it.

Paul Wasn't on Set
Alien movies are usually no joke. But Paul, starring Seth Rogen, takes a turn on science fiction films when the star is a hilarious little alien. Rogen was also under contract for The Green Hornet throughout his role in Paul, so he had to play his part in the film without actually being on set.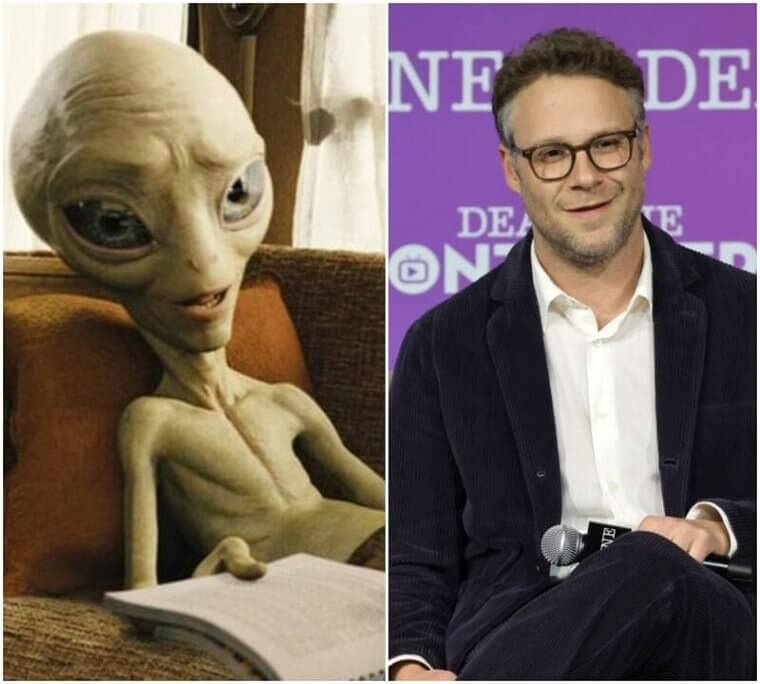 Co-star Joe Lo Truglio acted in Rogen's place during the shooting, and Rogen performed all the motion capture and voice acting post-production. In an interview with Collider, co-star Nick Frost explained that he kept forgetting that Rogen was really the one playing the comedic alien.

Morning Till Night in Makeup
Actor and musician Idris Elba spent several hours each day transforming into Krall for Star Trek Beyond. "Typically, my day would start at 4:15 in the morning. I'd be in the chair until around 7:30, shoot about 8:30," he explained in an interview with Entertainment Weekly. Shooting would last about twelve hours, and then he'd do the same thing all over again the following day.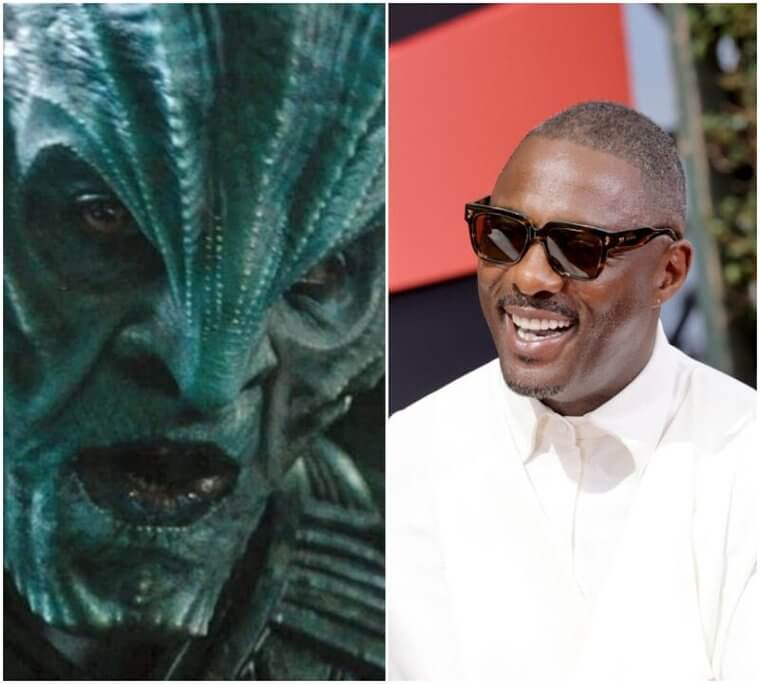 Due to claustrophobia, Elba did not enjoy all of the prosthetics glued to his face. The aquatic and lizard-like designs took hours to achieve, and they were not comfortable!

Marriage Troubles on Set
At first, French actress Maiwenn Le Besco had no interest in playing the blue-skinned alien in The Fifth Element. Le Besco's then-husband, Luc Besson, was the movie's director and she did not want to ruin their marriage by working together on set.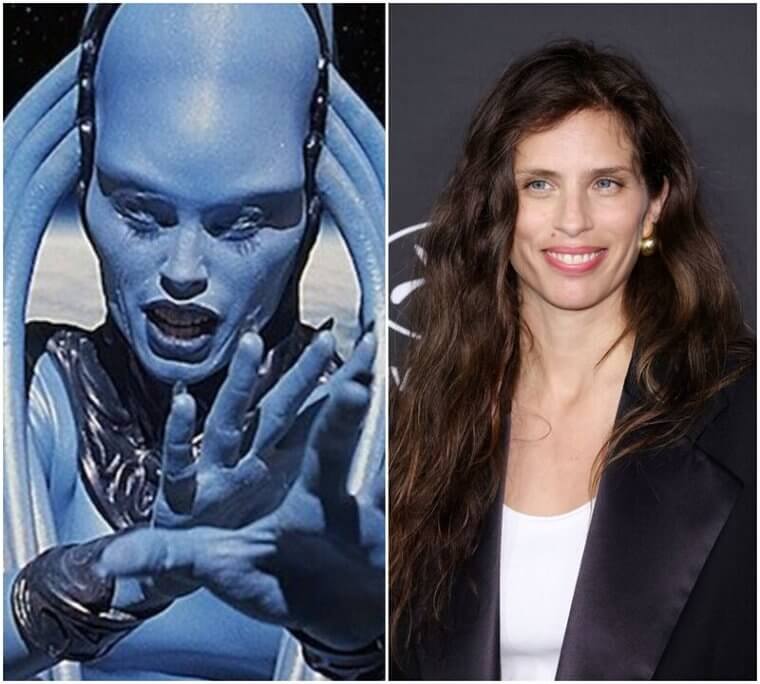 Unfortunately, Le Besco's fears became true when her husband left her for the leading actress, Milla Jovovich. A heartbroken Maiwenn headed back to France and began working as a stand-up comedian, director, and screenwriter.

Not a Typical Role For Blanchett
In Thor: Ragnarok, the fabulous Cate Blanchett played the part of Hela, otherwise known as the Goddess of Death. The terrifying character was best known for her huge antlers and destroying anyone who crossed her. Even though it was a very unique role for Blanchett, she nailed the character.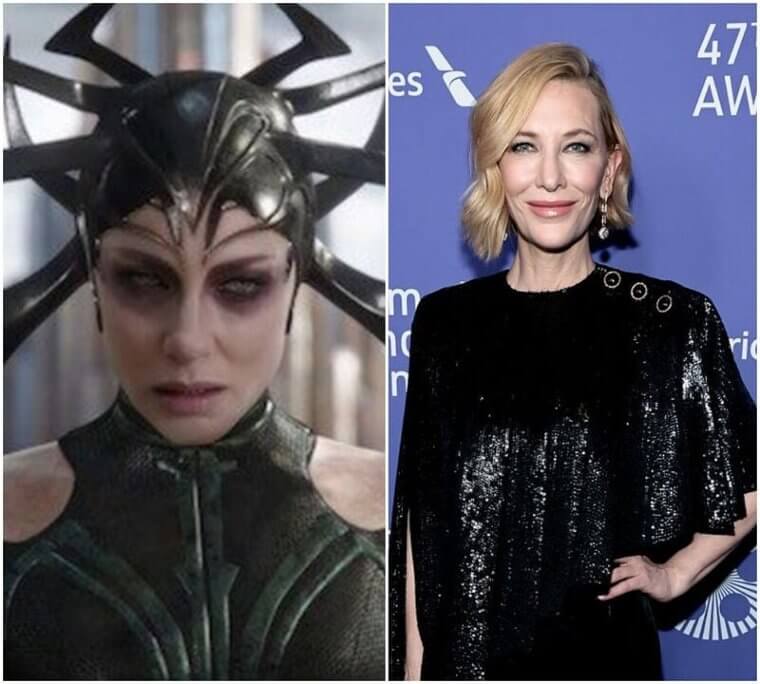 "I just try to look the best I can at whatever age I am. I always find people attractive when they are comfortable with their own skin and not trying to be someone else, but their best selves," said Blanchett about playing Hela.

Unrecognizable Lee Pace
Even the biggest Lee Pace fans probably wouldn't recognize him as Ronan the Accuser in Guardians of the Galaxy. He sported heavy cosmetics that covered most of his memorable features and was painted black and blue from head to toe.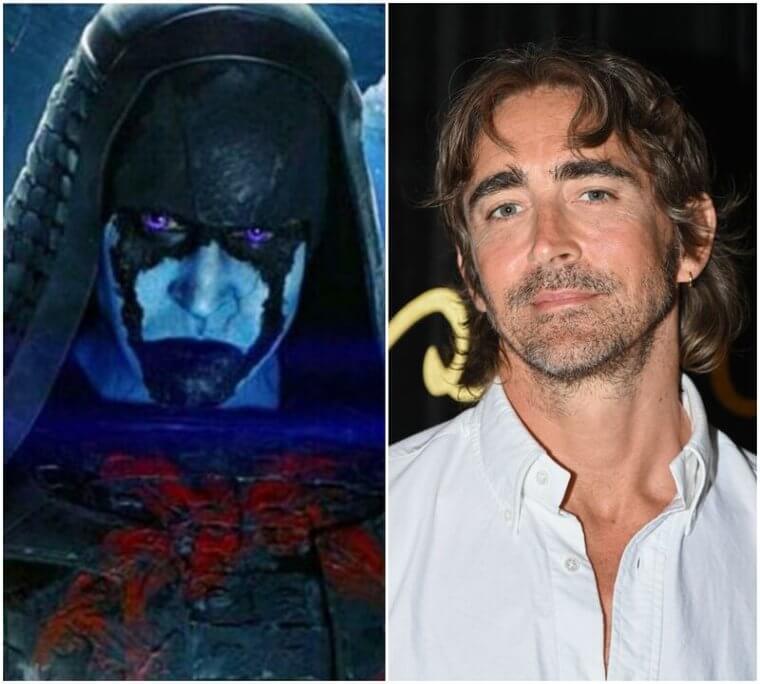 On top of all of that, Pace wore a fitted hoot that covered the majority of his face. This wasn't Pace's first time in a disguise, though. The actor dressed up as a woman for the 2003 film Soldier's Girl.

Mads Mikkelsen Becoming Kaecilius
Danish star Mads Mikkelsen has some incredible talent: he can play just about any role, ranging from Hannibal Lecter to a Bond villain. He also nailed his role as Kaecilius in Doctor Strange, but some major altercations in his appearance had to be made.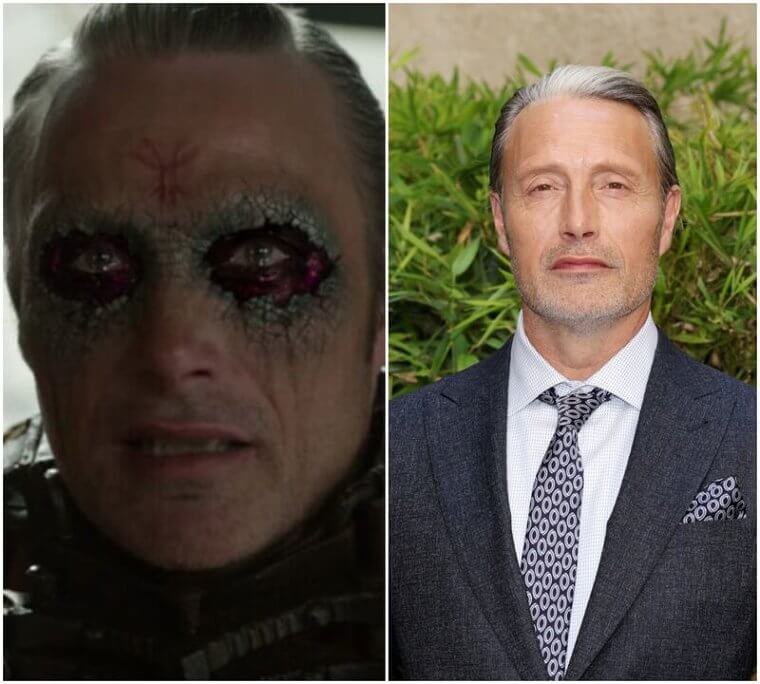 Mikkelsen received a full makeup job, including black eyeliner around his eyes that made him look like a raccoon. Fortunately, prosthetics on Mikkelsen's face weren't needed to pull off the look thanks to his already prominent bone structure.

From Lost to Thor: Adewale Akinnuoye-Agbaje
You may recognize Adewale Akinnuoye-Agbaje from the hit show Lost, who was eventually captured by the smoke monster. However, you may not have known that he also played Algrim, who eventually turns into the monster Kurse, in Thor: Dark World.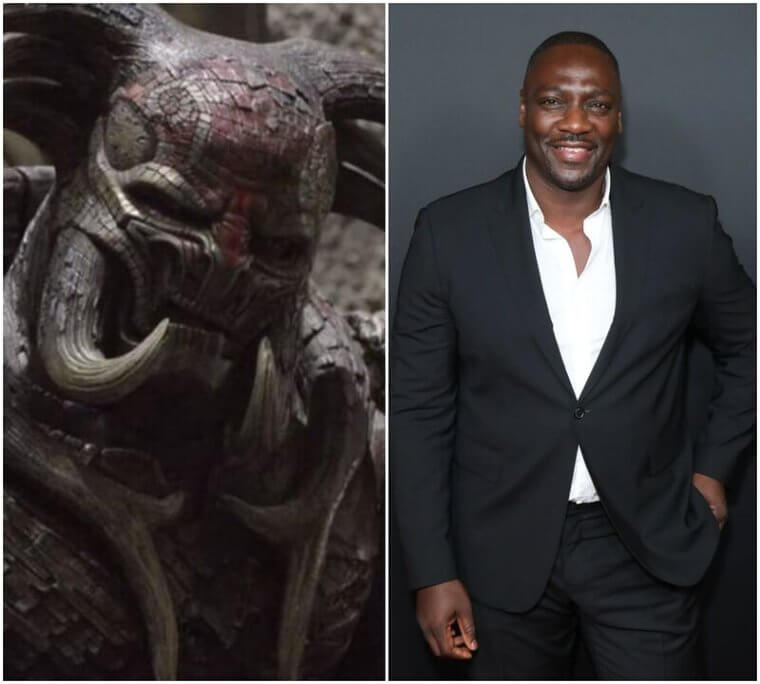 Beneath layers of plastic horns and bones, very few people would be able to realize who was behind the costume. His bleach wig and bright blue contact lenses also helped disguise the Lost actor.

The Man in Black
American actor, singer, producer, and director Vincent D'Onofrio is best known for his supporting roles in both film and television. He got his start in the film Full Metal Jacket, but his most notable role was likely Edgar the Bug in the movie Men in Black.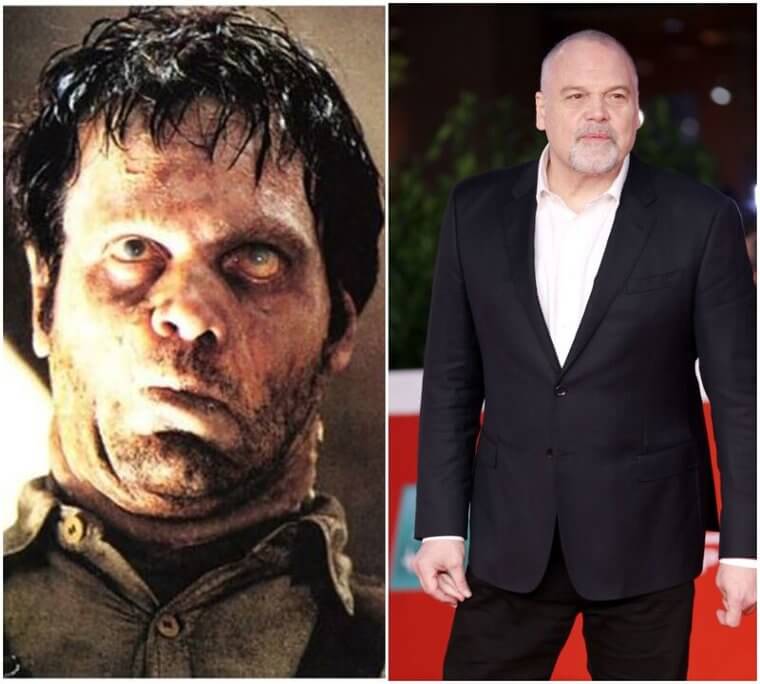 In the movie, Edgar starts off as a farmer who is then possessed by the Bug. D'Onofrio became one of the greatest antagonists in the film and even received a Saturn Award for Best Supporting Actor for his performance.

Terence Stamp in Alien Nation
Terence Stamp studied acting at the Webber Douglas Academy of Dramatic Art In London. Upon graduating, Stamp began his highly successful career in acting and has since appeared in over 60 films. Stamp has received a number of accolades for his stellar performances.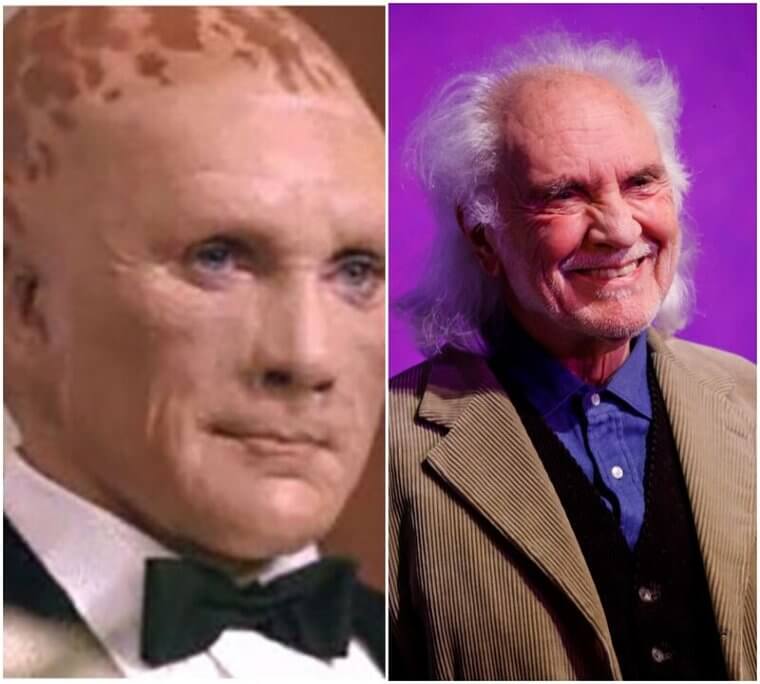 In 1988's Alien Nation, Stamp plays the unforgettable role of William Harcourt, who is the main antagonist in the movie. Harcourt is part of a unique alien species known as the Tenctonese whose ship suddenly crashes on Planet Earth.

Ziggy Stardust in Labyrinth
David Bowie is best known for his accomplishments as a musician, but he also took up some acting during his successful career. In the film Labyrinth, Bowie plays the character of Jareth the Goblin King. Bowie's unique look and sense of style made him the perfect fit for the 1986 film.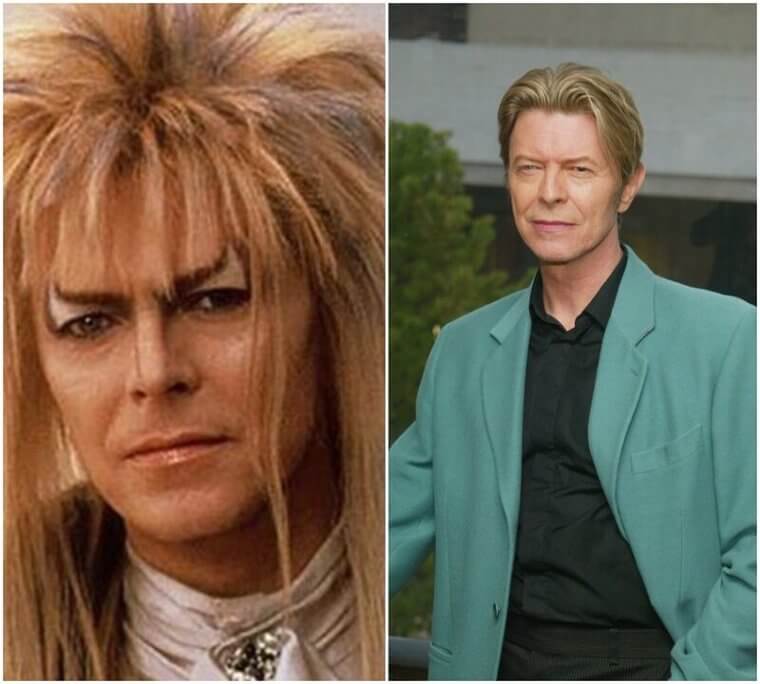 In the movie, Jareth gives his older sister Sarah 13 hours to retrieve the baby at the center of an enormous labyrinth. Bowie received tons of praise from fans and critics alike for his fabulous performance in the film.

Species Star
Canadian actress and model Natasha Henstridge gained attention after her debut role in the 1995 science fiction movie Species. The film was followed by two sequels: Species II and Species III.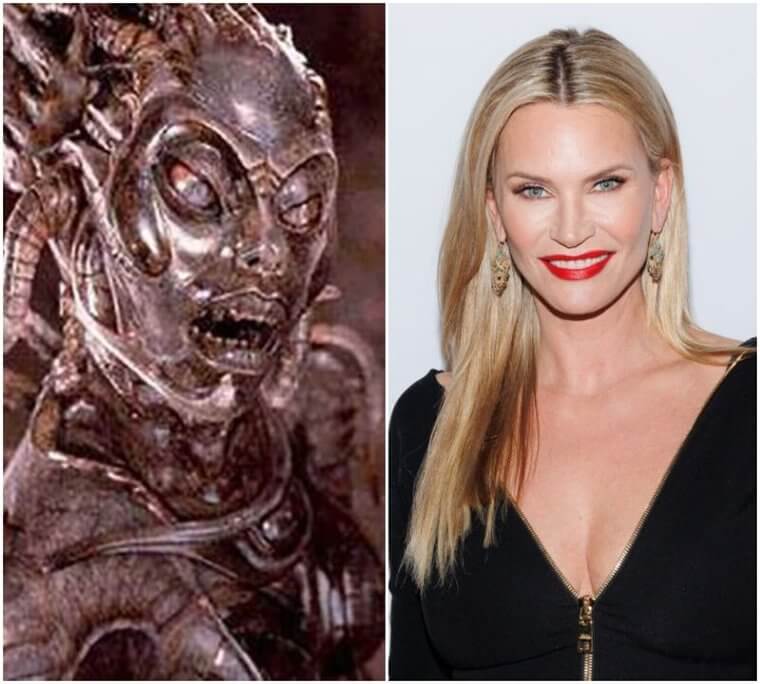 Henstriff plays the genetically engineered alien/human hybrid named Sil. In the movie, Sil breaks free from the lab that she was contained in and goes on a rampage in search of a mate. The film is considered to be a huge success, raking in $133 million at the box office.

Zachary Quinto as Spock
One of Zachary Quinto's biggest and most successful projects was his work in the Star Trek series where he plays the character of Spock. Quinto played Spock's character in Star Trek, Star Trek Into Darkness, and Star Trek Beyond.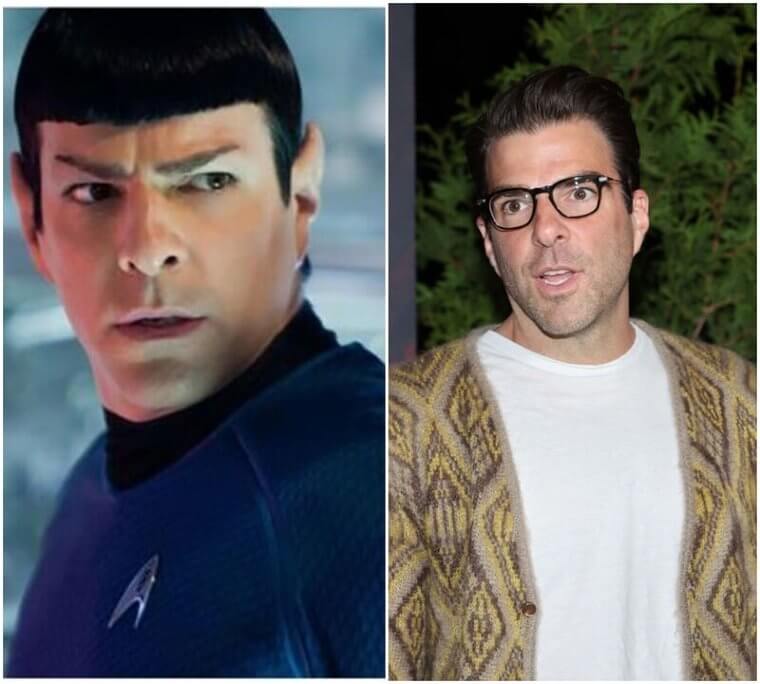 Spock is the science officer, first officer, and later a commanding officer in the starship Enterprise. He is one of the most notable characters in the popular Star Trek franchise. Quinto has also appeared in a number of TV series such as 24, American Horror Story, and Six Feet Under.

Gemma Chan
English actress Gemma Chan is best known for her work on the 2018 film Crazy Rich Asians and the popular television series Humans. However, you may also recognize her from the 2019 Marvel Cinematic Universe movie Captain Marvel as Minn-Erva.

Minn-Erva plays a Kree sniper and a member of the Starforce unit in the film. In a recent interview, Chan admitted that Minn-Erva was the "the star of Starforce" before Danvers joined the team and is "slightly threatened by someone else who has come in and is also very talented."

Real Life Queen of Dragons
Emilia Clarke is a fan favorite on hit series Game of Thrones, but you might as well pass her on the street unknowingly without her stable silver Targaryan hair. Clarke undergoes a number of altercations on-set, according to what Daenerys is undergoing at that time. She goes from dirty and rugged to clean and slick a number of times in each episode.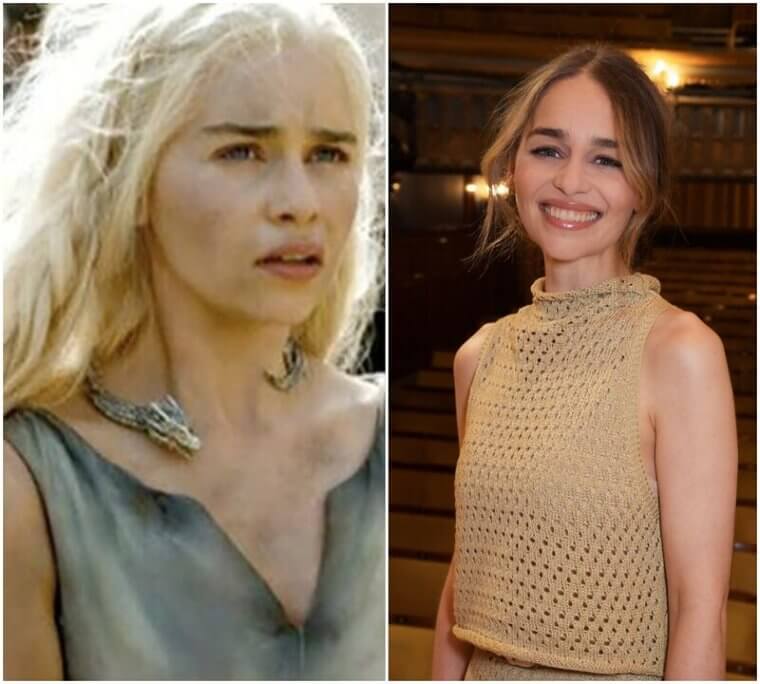 Although she sits on a mechanical bull-like machine in front of a green screen, Clarke admitted she feels a special connection with the fake dragons.

Lord Varys With Hair
Did you know that the Master of Whisperers and eunuch Lord Varys actually has hair? Conleth Hill may be bald in Game of Thrones, but in real life, he rocks a full head of hair - so much that you probably wouldn't be able to recognize him in public. It would also be strange to see Varys walking down the street without one of his signature robes!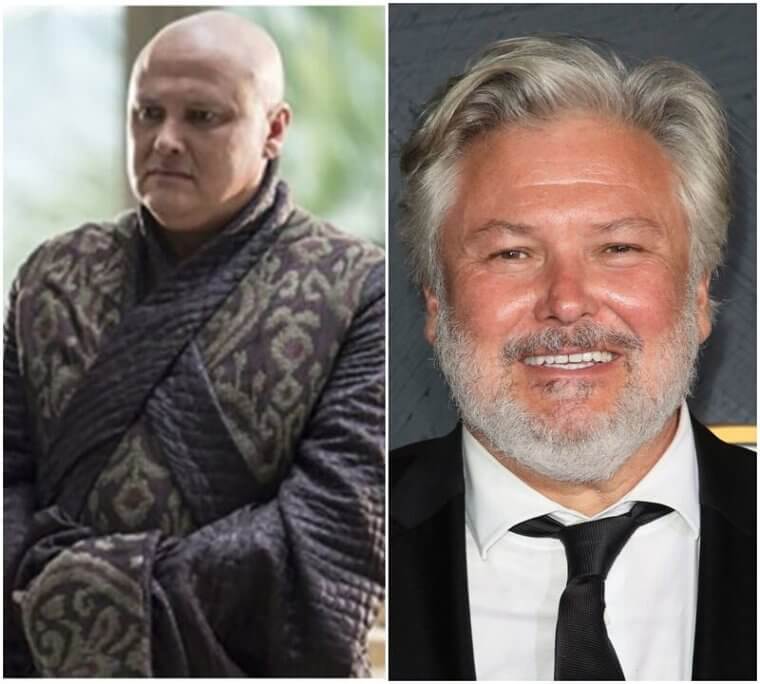 Hill once said that in his entire 47 years of living, the only time he has ever gone bald was for Game of Thrones.

Stuntman Becomes the Night King
The face behind Game of Thrones Night King is Slovakian actor Vladimir Furdik. In the series, The Night King acts as the leader of the White Walkers and the controller of the Army of the Dead. Furdik started off his career as a stuntman, but decided to dip his toes in the world of acting when he was approached by Game of Thrones producers David Benioff and D.B. Weiss.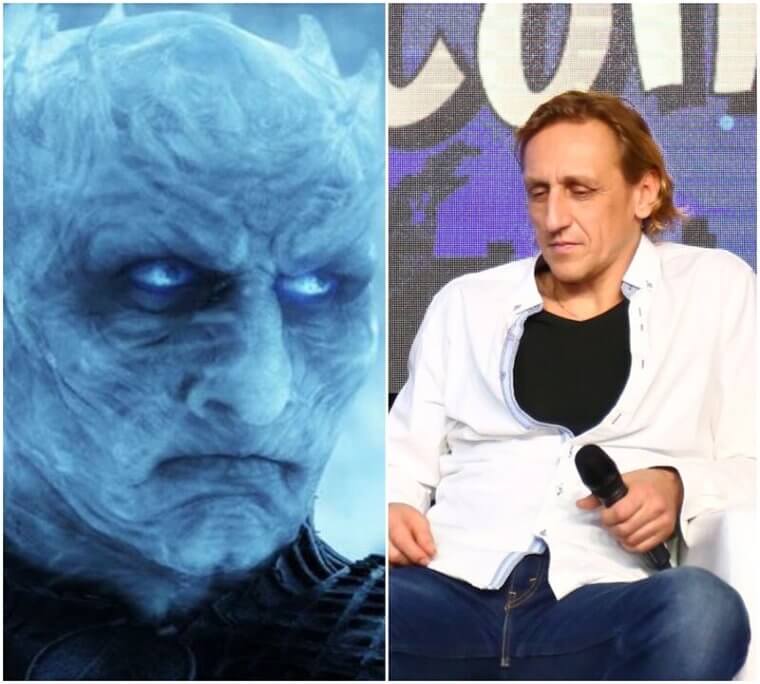 Even though the Night King doesn't have one word of dialogue in the entire series, he has given countless people nightmares with his terrifying stare.

Becoming the Hound
The makeup team on Game of Thrones did a pretty good job on Rory McCann's face every day of shooting: they had to put in some serious work to make him look as ugly as possible because the actor in real life is definitely not bad looking!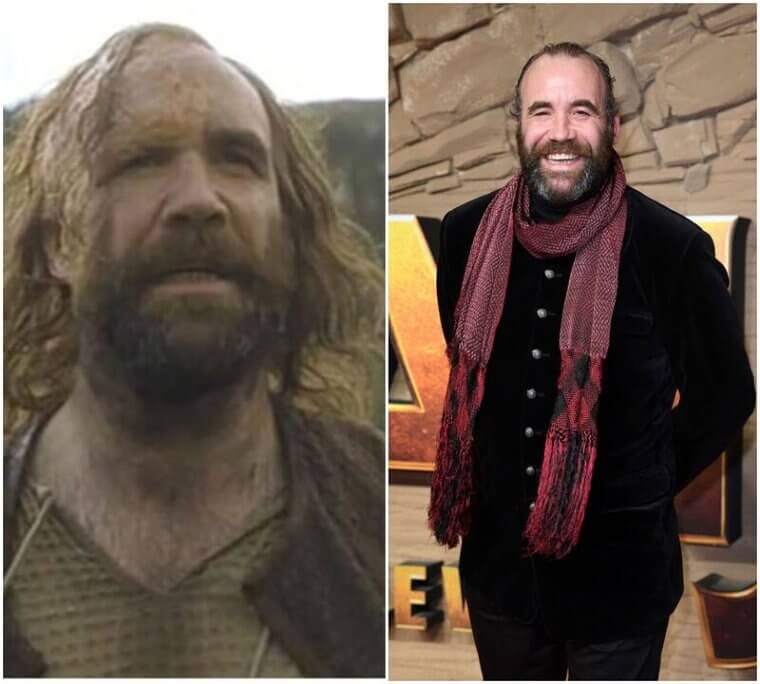 The Hound's half-burned face took two hours to put on and another half an hour to take it off. According to McCann, the prosthetic would fill up with sweat that leaked every time he smiled. Yikes!

Doesn't Take Much to Be Cercei
Lena Headey played one of the most resented people to ever hit television. For the evil character of Cersei in Game of Thrones, they didn't need much to amplify Heady's already natural beauty - except give her bright, Lannister-blonde locks.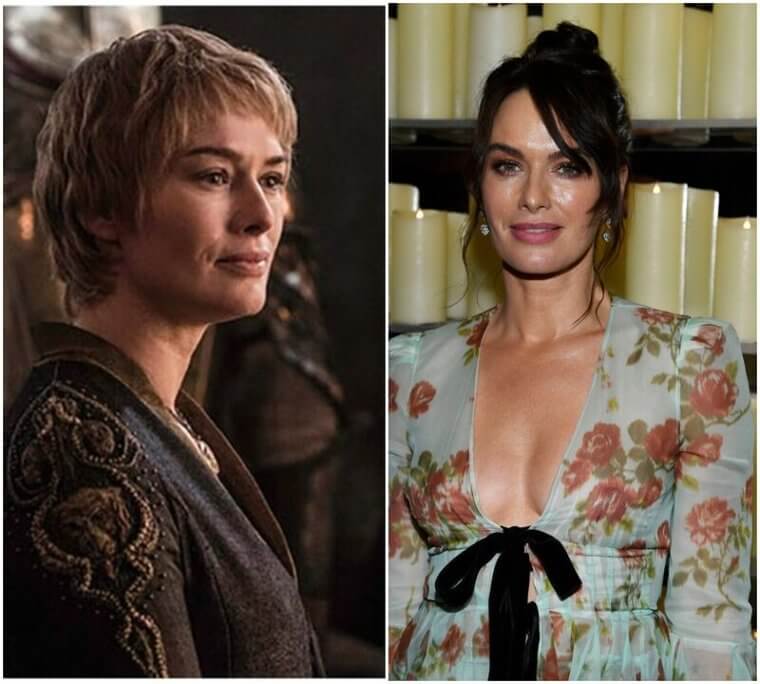 Nonetheless, Cersei's iconic gold hair was eventually cut off after her walk of atonement in the show. The hair obviously had to be cut in real life too, and these days Heady rocks the short-hair like it's her job. Heady also had to use makeup to cover up a few tattoos she has on her back.

Jacob Anderson as Grey Worm
Grey Worm, who is played by Jacob Anderson, is the elite fighter and leader of Daenerys' powerful Unsullied Army. In the Game of Thrones books and in the show, Grey Worm was castrated at a young age. That's why they gave Anderson, especially boyish features in the series. The producers kept Grey Worm totally clean-shaven except for his head.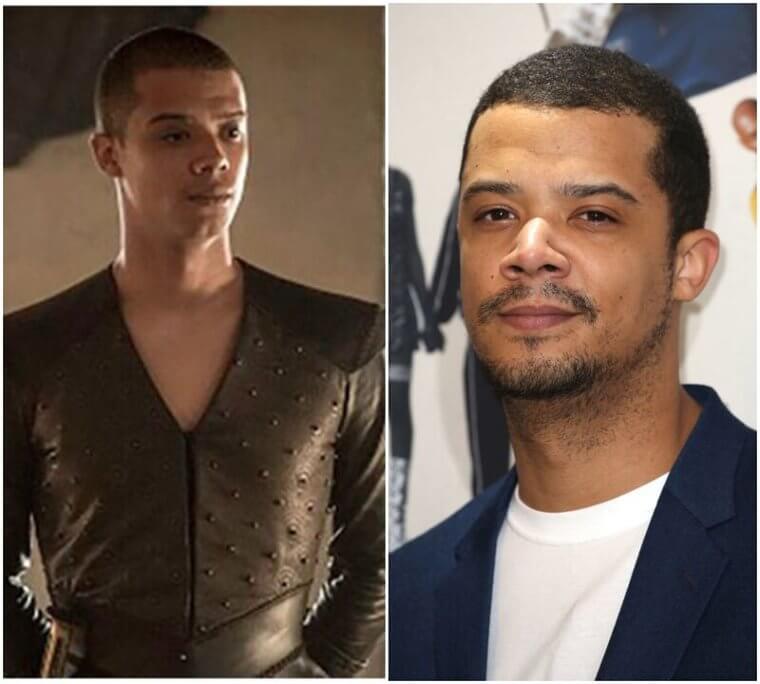 Anderson didn't need much makeup to become Grey Worm, but he did have to keep his body in top shape considering the revealing armor he wears on the show.

Khal Drogo in Pink
Game of Thrones producers could not have picked a better man to play Khal Drogo than the one and only Jason Momoa. Tribal tattoos aside, Momoa's long hair, beard and massive figure give him a total king-of-the-wild-tribe vibe. Outside of costume, Jason Momoa cleans up so well that he's almost unrecognizable. Just look at him in this pastel pink velvet suit!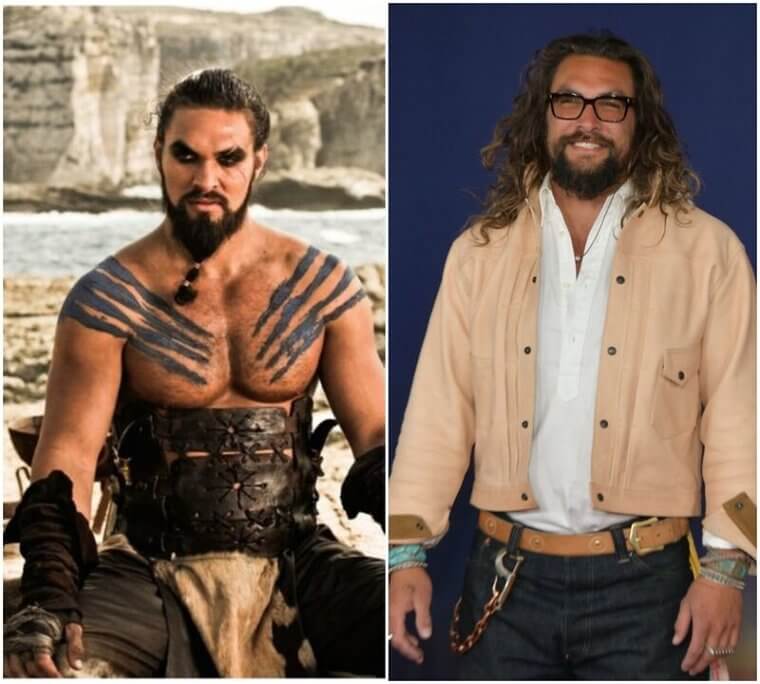 Jason Momoa's signature look has given him the opportunity to land a ton of similar roles, such as Conan the Barbarian.

Melisandre Is Actually Nice
The Red Woman looks like a totally different person when she's out of costume. We've seen what this crazy priestess is capable of - like convincing a man to burn his young daughter alive - so we know just how dangerous that seemingly friendly smile can truly be. However, in real life, Carice van Houten is incredibly sweet. Melisandre is quite an intense character to play for such a kind woman!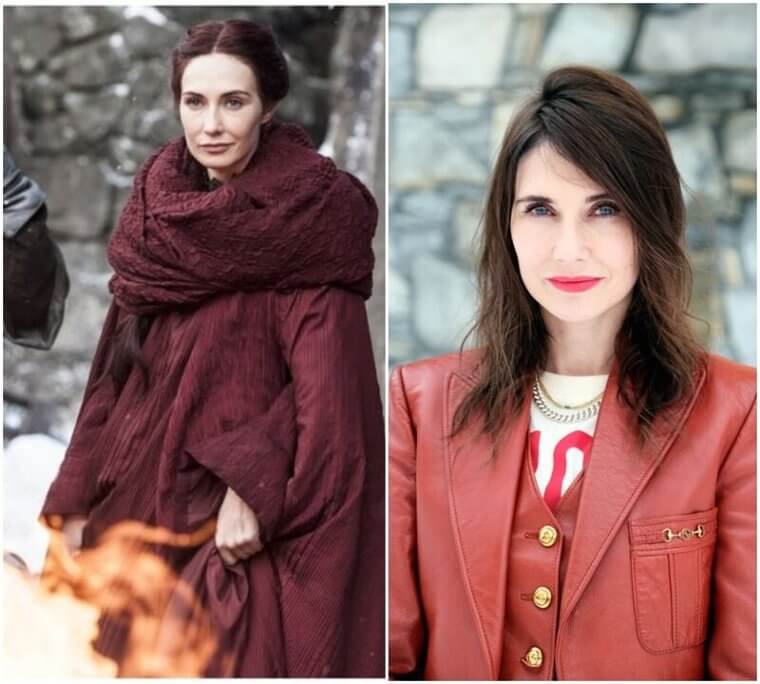 Down-to-earth Houten refuses to live in Hollywood, saying that she won't give up her European lifestyle. 

Kristian Nairn Is a DJ
We're not sure that anyone was ready to see Hodor's punk rock hipster vibes in real life. But believe it or not, Kristian Nairn, who plays friendly giant Hodor in Game of Thrones, is actually a DJ. When he's not busy acting, he prefers to spend his time making music.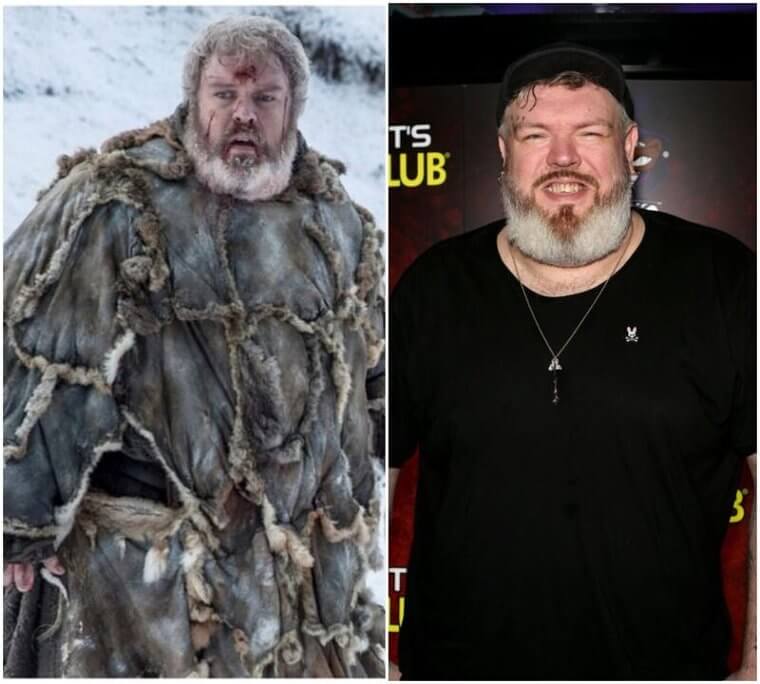 Nairn is a resident house DJ at a popular gay club in Belfast, Ireland. In 2014, Nairn went on a DJ tour hilariously named "Rave of Thrones." Hodor likes to party!

From Hannah Murray to Gilly
In Game of Thrones, Gilly is a distressed new mother who struggles with recovering from her traumatic life north of the wall. Gilly is almost always stressed in old, raggedy brown robes and his tangled hair.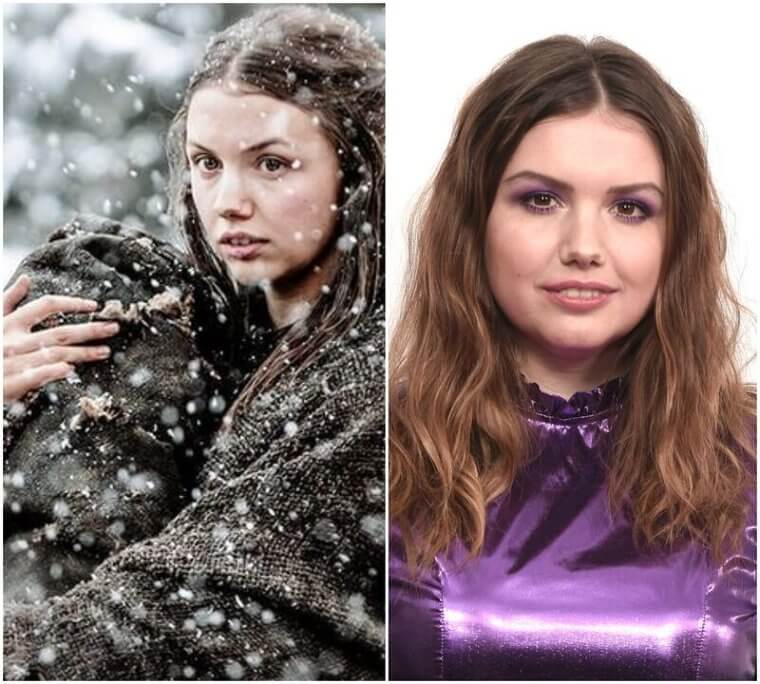 However, actress Hannah Murray looks far from the character that she plays in the show. Without the stresses of being a new mother and struggling after a life of abuse, Murray actually has the time to do her hair and makeup properly. She also dresses pretty fashionably: no potato sack-like outfits for Hannah!