In basketball, especially the NBA, moments of sheer brilliance happen in a heartbeat. If you blink, you might miss that split-second slam dunk, blending power with artistry. But thanks to cameras, these fleeting moments last forever. A dunk might count for just two points, but it epitomizes the sport's thrill. Here's a tribute to the last 50 years with 35 of the most memorable dunks ever captured.
Derrick Rose
"You cannot be serious!" yelled the Chicago Bulls radio commentator on January 22, 2010. "I wanna go higher!" The exclamation came in response to witnessing one of the most thrilling dunks they had ever seen. Just moments earlier, Derrick Rose had leaped from the court and planted a two-handed basket over the head of Goran Dragic before slamming his feet back onto the floor.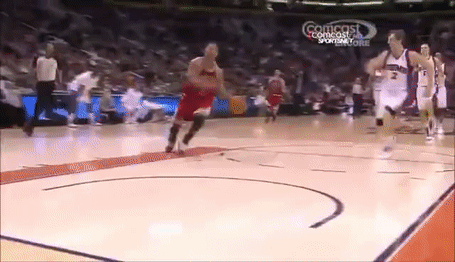 The dramatic dunk earned Rose two of his 32 points in a narrow 115-104 victory over the Phoenix Suns in a season that saw the Bulls reach the playoffs and Rose selected as a reserve for the Eastern Conference All-Star Team. A little over a year later, Rose tore his ACL, the first in a series of unpleasant injuries that would plague the rest of his career.
Gerald Green
Over 17 years, Gerald Green has stepped onto the court for more than a dozen clubs in America, Russia, and China. For most of that time, he's started from the bench. While, as a pro-NBA player, he has plenty of achievements to shout about, he's never reached the dizzy heights of the world's best players. One night in 2012, however, he reached an impressive height of his own.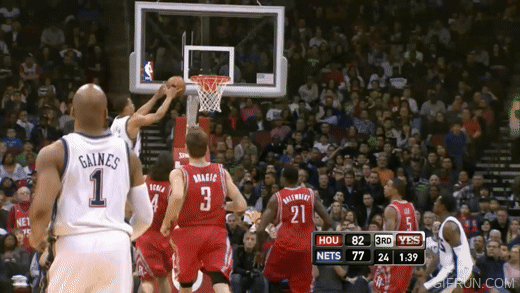 On March 10 that year, Green jumped from the floor of Newark's Prudential Center and kept rising until he was head and shoulders over the net. As he ascended into the air, Green caught a lob, composed himself, and windmill slammed it through the hoop. It wasn't enough to stop New Jersey from losing out to the Houston Rockets, with a final score of 112 to 106 in the Texan's favor, but it was a showcase moment in Green's own career.
LeBron James
Perhaps one of the best players ever to grace the court, LeBron James has been setting the NBA on fire since 2003. He's a four-time NBA champion and was named finals MVP on each occasion. He's a 19-time All-Star, earning MVP in three of those games. To top it all off, he won two Olympic gold medals with Team USA in Beijing 2008 and London 2012. During that time, James has made over 4,000 dunks, but one in 2013 stands out as special.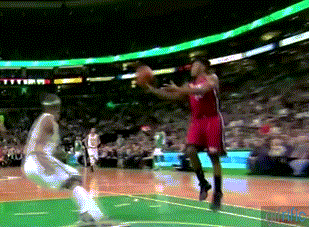 It was March 18 and James' Miami Heat were facing off against the Boston Celtics to secure the Southeast Division title for the third consecutive year. Starting with Dwyane Wade, the ball passed to Mario Chalmers and Norris Cole before finding itself in the safe hands of LeBron James. He completed the dunk over Jason Terry and took the Heat to a famous 105-103 victory.
Paul George
The eight-time All-Star shooting guard Paul George has spent over a decade as a formidable NBA player and helped guide the Indiana Pacers to two of the most successful seasons in their history. During the second of these seasons, George pulled off one of the most breathtaking dunks the sport has ever seen. On January 18, 2014, George left the Bankers Life Fieldhouse crowd open-mouthed.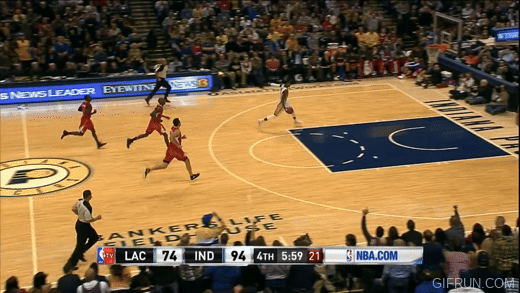 Midway through a season that would end in the Pacers winning back-to-back division titles for the first time since 1971, George picked up the ball on a quick break and found himself in space before completing an incredible 360-degree windmill dunk which sent the arena wild. It was a piece of flare more appropriate to a Slam Dunk Contest than a division game and helped take the Pacers to a 106 - 92 win over the L.A. Clippers.
Dwyane Wade
"I just wanted to disrespect Kendrick Perkins!" said Dwyane Wade after he completed a 2011 dunk so nasty that it's still talked about today. According to Wade, Perkins kicked the back of his head during an earlier game and he promised himself revenge would be served. It was on a Wednesday night in March when Wade spun around two players and outjumped his rival to put down what many fans rated as the dunk of the season.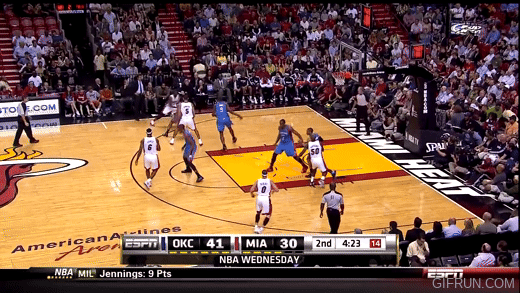 Sadly for Wade, his Miami Heat weren't able to seal the victory that day and Oklahoma City finished 96-85 up. 12 years later, however, far fewer people remember the final score than they do Wade's moment of magic. Wade had plenty more to celebrate before too long as he took the Heat to championship wins in 2012 and 2013.
Shaquille O'Neal
In 2000, the L.A. Lakers won their first championship since 1988. In the team which secured this incredible accomplishment was an experienced 28-year-old center named Shaquille O'Neal, and a 21-year-old called Kobe Bryant in only his fourth NBA season. On June 4 of that year, the Lakers faced off against the Portland Trail Blazers in the seventh and deciding game of the Western Conference finals.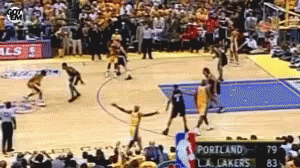 The game was a tight affair, with the legendary Shaq shut down for most of the game by the Blazers' frontcourt, and things began to look tense for the Californians. That's when Kobe pulled off a now-iconic alley-oop for Shaq to convert and the Staples Center was sent into a frenzy. The score after the dunk was 85-70 with 40 seconds remaining. When the clock finally reached zero, the board showed a historic 89-84 victory for the Lakers.
Julius Erving
A slam so iconic it's been given its own name, Julius Erving's "Rock the Baby" dunk over Michael Cooper in 1983 was so impressive it changed the game. It was January 5, 1983, and Erving was playing as small forward for the Philadelphia 76ers as they took on the L.A. Lakers. Receiving the ball in space on the left side of the court, Erving stepped toward the hoop with the ball in his right hand.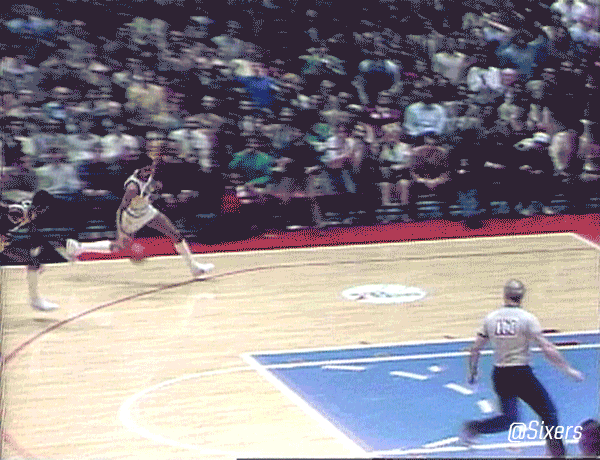 To gain momentum, he trapped the ball between his forearm and wrist so he could rock it forward and back before spinning his arm in a full circle and slamming the ball into the basket. Chick Hearn, the Lakers radio commentator, gave the move its now-famous name and players have continued attempting to replicate and innovate on the move ever since.
DeAndre Jordan
On the evening of March 10, 2013, the phrase "RIP Brandon Knight" began trending on Twitter across the U.S. Despite the words, Knight hadn't died. He's still alive and well and scoring points for Piratas de Quebradillas in Costa Rica. If you'd been sitting in the Staples Center bleachers that night, however, you'd have seen him absolutely killed on the court and buried right there in front of your eyes.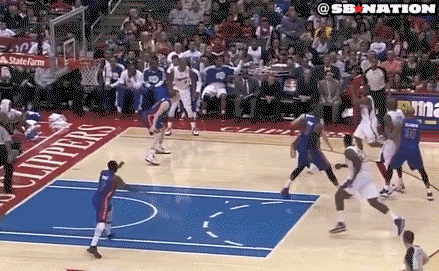 Fair play to the 6'2" Knight, he stood his ground defiantly against the approaching colossus of his 6'11" opponent DeAndre Jordan, but there was only ever going to be one winner when Johnson leaped onto a lob to complete one of the most aggressive dunks ever captured on camera. It helped Jordan's L.A. Lakers to a 129 - 97 victory over the Detroit Pistons and gave fans across the country a moment they would remember forever.
Dominique Wilkins
Sometimes, great friendships are formed between NBA rivals, other times, things are a little more frosty. Dominique Wilkins was only two years into his career at the Atlanta Hawks when he ruined his chances of a tight relationship with the retiring Milwaukee Bucks center Bob Lanier. It wasn't anything personal, but Lanier couldn't bring himself to talk to Wilkins after one night in 1984.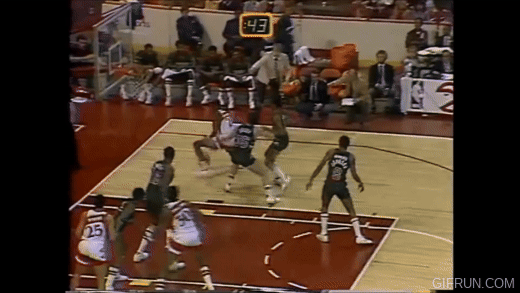 "The dunk you had on me on the baseline when I was with Milwaukee," Lanier said to Wilkins a decade after the famous slam, "I had to go home and talk to my kids, and my daughter said that dunk was on TV, you got dunked on by Dominique Wilkins like that?? I didn't like you after that, so I didn't speak to you for nine years." Wilkins may not have earned a friend, but he sure picked up a centerpiece for his highlights reel.
Shaquille O'Neal (again)
When Shaquille O'Neal put the ball into the basket at the Great Western Forum on March 28, 1999, it wasn't the only thing that got slammed. After jostling for position against the New York Knicks center, Chris Dudley, Shaq turned and claimed the space in which Dudley had been standing before floating into the air for a two-handed dunk. He made it look as though his opponent had never even existed.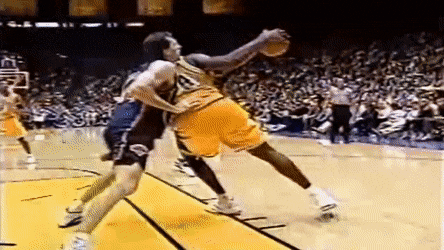 Dudley, who very much did exist, was already pushed off balance by Shaq's landing but the big man gave him a shove for good measure. Once he picked himself up off the floor, Dudley showed his frustration - and possibly his embarrassment - by launching the ball at Shaq's back. The game ended in a 99 - 91 victory for the Lakers over the Knicks but it was Shaq's disrespect of Dudley which dominated the headlines.
Baron Davis
"We Believe" was the slogan of the Golden State Warriors in the 2006-2007 NBA season, and nobody can say they didn't. After sneaking into the playoffs with an eighth-place finish, expectations for the Warriors were not high. Heads were turned when they eliminated the Dallas Mavericks, the Western Conference's highest-placed finishers, to set up a Conference semi-final with the Utah Jazz. After two defeats, the Warriors went into game three with all the odds stacked against them.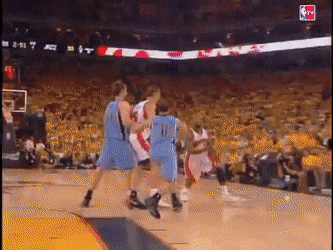 It was in these circumstances that, on May 11, 2007, Baron Davis stepped up and personified the philosophy which had already carried his team so much further than expected. In a moment NBA fans will never forget, the 6'3" point guard left the 6'9" Andrei Kirilenko for dust and put down a historic slam. The Warriors won the game 125-105 and registered their only win of the series.
Tom Chambers
Sometimes a dunk is followed by stunned silence as crowds try to get their heads around how it could happen. Some slams go down in history because a player creates magic by whirling through traffic or making a move that has never been seen before. Others are much more straightforward and easy to understand, but that doesn't make them any less impressive.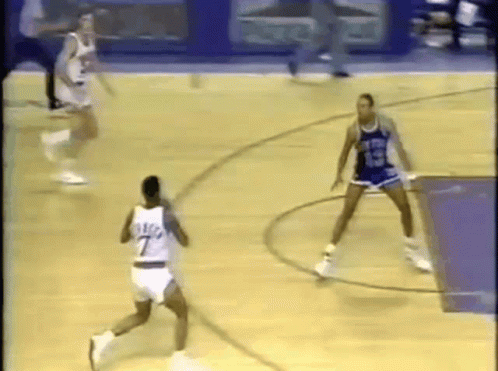 It was January 27, 1989, in a game between the New York Knicks and the Phoenix Suns that Tom Chambers scored one of history's best dunks simply by, as far as anyone could tell, flying like an eagle. From the ground, the Knicks point guard Mark Jackson could only crane his neck as Chambers levitated above him until it seemed a parachute landing would be the only safe way for him to descend. Had the game been outside, air traffic control may have needed to get involved.
Michael Jordan
During his 20-year career, Michael Jordan made almost 2,000 dunks but he's admitted one in particular stands out. "My most memorable dunk that I very very often think about is on Patrick Ewing," the Chicago Bulls and NBA legend once stated, referring to a slam during the 1991 playoffs between the Bulls and the Knicks. "Patrick and I are such good friends," Jordan went on to elaborate.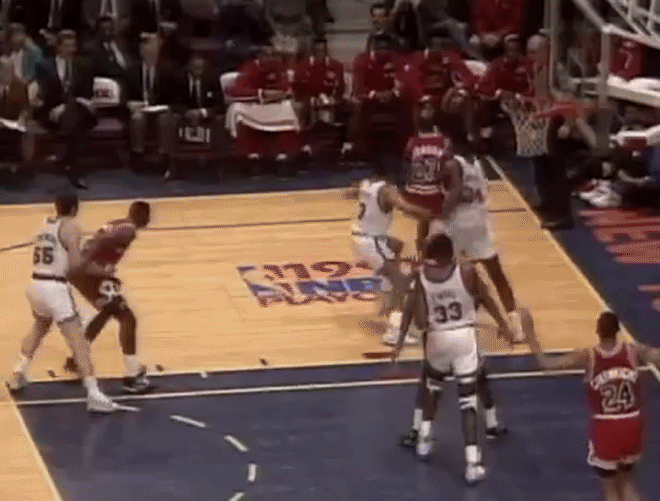 "I told him Georgetown guys don't block shots. All they do is take charges. And I dunked so hard on him, it's unbelievable. And every time I see him, that's the first thing I remind him of." Jordan's opponent in that game, John Starks, also remembers the moment clearly. "We had him trapped. He was like Houdini at the time. He got out of that trap… He did it so quick, Patrick just didn't have enough time to react."
Shawn Kemp
On April 30, 1992, the Golden State Warriors met the Seattle SuperSonics in game four of the Western Conference first-round playoffs. Seattle was two games to one up, but 47-46 points down when they collected the ball under their own hoop during the second period. Seconds later, the SuperSonics looked to be boxed in at their attacking left-hand corner when something magical happened.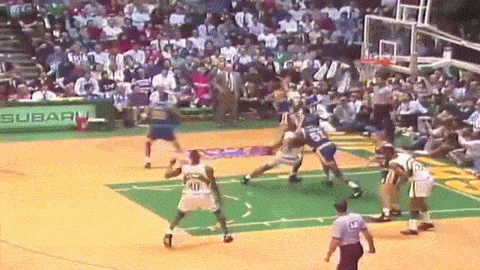 Shawn Kemp was standing unmarked in center court when a long back pass found him. Without hesitation, he bounded towards the hoop and jumped over Alton Lister to complete a dunk that would be named the "Lister Blister" from then on. The SuperSonics won the game 119 - 116 to set up a semi-final against the Utah Jazz. Kemp never won a championship with Seattle, or with anyone, but he will always be remembered for dunks like that.
John Starks
Two years after Michael Jordan sprung himself from a John Starks and Charles Oakley double-team trap to dunk on Patrick Ewing, Starks found himself a rare moment of revenge. It was game two of the Eastern Conference playoffs with less than a minute to play and Starks saw an opportunity to help the New York Knicks to their second win over the Chicago Bulls in the series.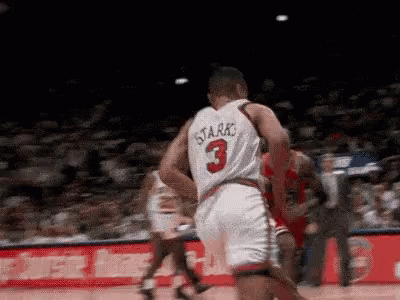 Starks found himself boxed in on the right before suddenly stepping into open space, spinning past Horace Grant and Michael Jordan, and twisting in the air to dunk on his left-hand side. An extra impressive move considering Starks is a right-handed player. The Knicks went on to win 96-91 but ultimately lost the series 4-2 as the Bulls claimed their third championship in a row.
Ricky Davis
Some dunks come from individual pieces of brilliance which start halfway across the court and leave a string of beaten players in their wake. For others, it's all about staying with the play and seizing an opportunity. In a 1999 game between the Charlotte Hornets and the Philadelphia 76ers, the Hornet's rookie small forward, Ricky Davis, did exactly that. Davis stood in mid-court as he watched his teammate bounce a ball off the rim and knew immediately he couldn't let it fall.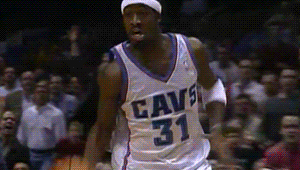 A few long steps and a huge leap saw Davis fly above every other body on the court to catch and dunk the ball as though he were dropping paper into a wastebasket. It wouldn't be enough to bring championship glory to the Hornets, Davis' career would never take him there, but it was enough to keep him on the all-time showreels for many years to come.
Vince Carter (times Two)
If his status as the 2000 NBA Slam Dunk Contest champion isn't enough to prove his prowess, ask around a few NBA fans and you'll soon start hearing Vince Carter's name among the best dunkers of all time. It didn't take long for the Florida-born small forward to show off his skills and a nasty reverse slam in his first year not only announced his arrival but helped him take the 1999 NBA Rookie of the Year title.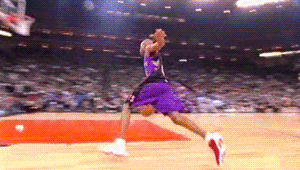 Six years later, Carter was an established member of the NBA elite when he completed his personal favorite dunk of his career. It was 2005 and Carter was on the court for the New York Nets against Miami Heat on November 7. In a moment of brilliance, he dribbled the ball around his back to get past Jason Williams before slamming it in over the renowned shot blocker, Alonzo Mourning.
Blake Griffin (twin Dunks)
At 6'9", the Oklahoma-born power forward Blake Griffin is no small guy, but he's rarely the tallest man on the court. In 2010 and 2012, Griffin proved definitively that size doesn't matter when he outstripped taller opponents to complete two of the most powerful dunks you'll ever see. First, Griffin lifted himself over the 7'1" Russian behemoth Timofey Mozgov to complete a move that stunned fans and commentators alike.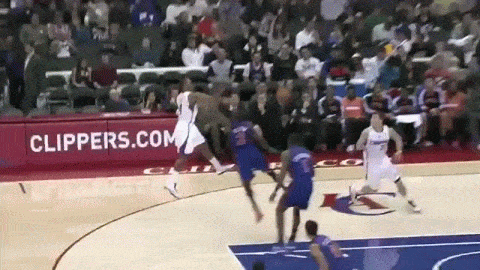 Just one season later, he "Mozgoved" the 6'10" Oklahoma City Thunder center, Kendrick Perkins, in an almost identical move. Some debate that, as Griffin never actually touched the rim during either score, they can't be "technically" counted as dunks. Well, they look like dunks to us. If anything, the fact Griffin is about a foot from the ring when he lets go of each ball just proves how high he managed to get, and how vicious his slams were.
LeBron James (again)
John Lucas III isn't the tallest man ever to wear a basketball jersey but, at 5'11", he's a lot closer to Arnold Schwarzenegger than he is to Danny DeVito. When you see the video of LeBron James dunking over Lucas in 2012, however, you'd be forgiven for thinking he wasn't much bigger than an average house cat. It was January 28 when James caught an alley-oop after jumping clean over his point guard opponent.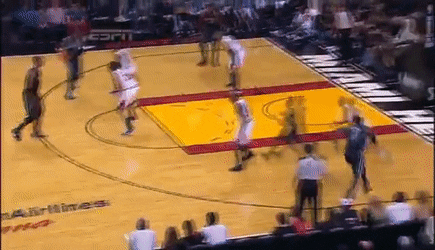 Though Lucas may have felt a little embarrassed at the time, he was able to shake it off, at least until fate brought him a unique opportunity for revenge in 2021. "Man it just hit me that I will be coaching @kingjames the very man who jumped over me in a game," wrote Lucas on Instagram after becoming the L.A. Lakers assistant coach. "He going to have to do extra laps in practice for this."
Giannis Antetokounmpo
LeBron James may be one of the greatest players ever to grace the court, but he's not the only one who can jump over a full-size human being. It was February 6, 2018, when the Milwaukee Bucks took on the New York Knicks at Madison Square Garden, and Giannis Antetokounmpo hurdled the 6'5" Tim Hardaway Jr. as though he weren't even there.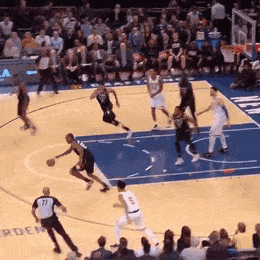 The power forward from Greece later admitted he'd never done anything like that before, so to make it look so easy in the middle of a game was something special. The Bucks went on to win the game 103 - 89 and qualify for the playoffs before losing their first-round series to the Boston Celtics. Antetokounmpo has remained with the Milwaukee team ever since and helped them to their only 21st-century championship, the second in their history, in 2021.
Aaron Gordon
Santa Claus delivered in style for Denver Nuggets fans at Christmas in 2022. The Nuggets were just one point ahead in the closing seconds of a game against the Phoenix Suns when Aaron Gordon sent the Ball Arena into overdrive. Carrying the ball from one end of the court to another, Gordon looked like the only man in the room as he approached the net with complete ease and leaped over the Suns' guard to slam the winning dunk.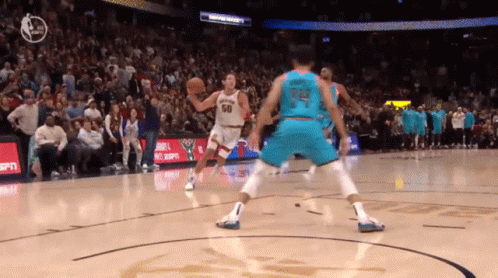 The timing made it extra special, but the grace with which he completed the move is what ensured it would be on the highlights reels for the rest of the winter. The Nuggets didn't make it to the championship final that year, but just a year later they defeated Miami Heat to claim the first championship of their history, all helped by No. 50, Aaron Gordon.
Michael Jordan (Slam Dunk Contest)
A dunk is a little different when it happens in a standalone contest rather than a game situation, but there's one exhibition dunk that deserves a mention in this list. The official NBA Slam Dunk Contest began in 1976, when it was won by Julius Erving. After a few ad-hoc years, it became an annual fixture from 1984. When the 1988 tournament took place, six different players had won each of the six contests held so far.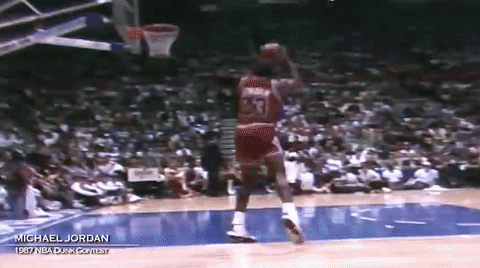 The most recent winner, in 1987, was Michael Jordan. When Jordan entered again, he put himself in a position to be the first-ever two-time champion. Also competing for that honor was Dominique Wilkins, winner of the 1985 contest. Going into the final, Jordan and Wilkins were neck and neck. Then, the Atlanta Hawks player scored just 45 on his final dunk. Jordan grabbed his opportunity and slammed an unforgettable 50-point dunk to win.
LeBron James (and Another)
You didn't think two was enough for LeBron James, did you? When a man can set up his own dunk as James did in the 2017 NBA Finals, he absolutely deserves a third mention on this list. It was the fourth game of the series, on June 9, and the Golden State Warriors were already 3 - 0 up in a five-game series against the Cleveland Cavaliers.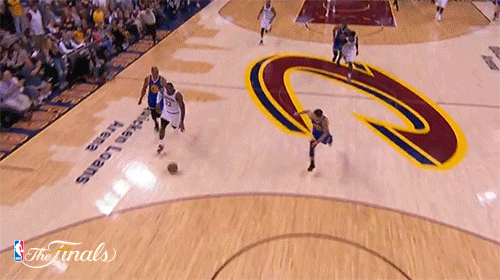 James' Cavaliers were down and out for that year's championship, but that didn't mean he was going to hide his light from the crowd. Cleveland were 94 - 75 ahead in the third period when James alley-ooped himself for a spectacular dunk in front of the home crowd at the Quicken Loans Arena. It helped the Cavaliers to their only victory of the series, with a final score of 137 to 116 against one of the most complete teams in NBA history.
Dwyane Wade (again)
Kendrick Perkins wasn't the only person to be severely disrespected by Dwyane Wade during his time at Miami Heat. On November 12, 2009, around 18 months before the famous slam over Perkins, Wade made a mockery of a six-inch height difference between himself at the Cleveland Cavaliers center Anderson Varejão. Wade and the Miami Heat were one point behind in the first period when the 6'4" point guard out jumped his 6'10" opponent to reverse the difference with a sensational showpiece dunk.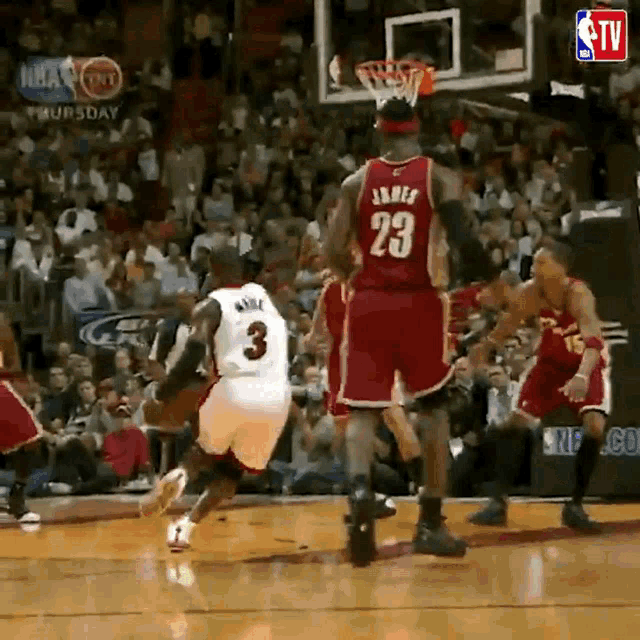 Thanks to those two points, Cleveland went in 35-33 at the end of the first quarter and held their lead to complete a famous 111 - 104 victory. It also helped Wade become the NBA scoring champion for 2009 with 2,386 points from 70 games. To put that achievement into context, LeBron James was second that year with 2,304, and Kobe Bryant came third with 2,201.
J. R. Smith
The Denver Nuggets were coming off the back of their second consecutive division title when they went up against the San Antonio Spurs at the Pepsi Center on December 16, 2010. J.R. Smith was in his final season for the Nuggets and a firm fan favorite when he found a moment to pull off one of the most memorable dunks of his career.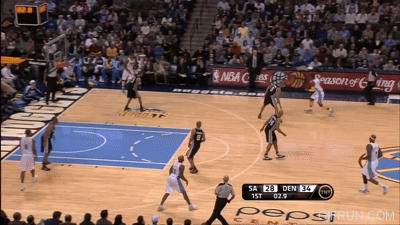 In the final seconds of the first period, Smith took the ball beneath his own basket and dribbled it all the way up the right side of the court. He then launched himself from what should really have been too far away to stretch and dunk on Gary Neal. It wasn't enough to seal a victory for Denver, who lost out by one point in a game that finished 113 - 112, but it formed part of a great send-off for Smith.
Kobe Bryant
2004 was a big year for dunking in Kobe Bryant's career. Not only did he get an early strike on his future rival, Dwight Howard, but he also got one over that year's Most Valuable Player, Kevin Garnett. Bryant's L.A. Lakers were up against Garnett's Minnesota Timberwolves in game five of the Western Conference finals when Bryant broke the Timberwolves' defense with a 180-degree windmill right past Garnett and through the hoop.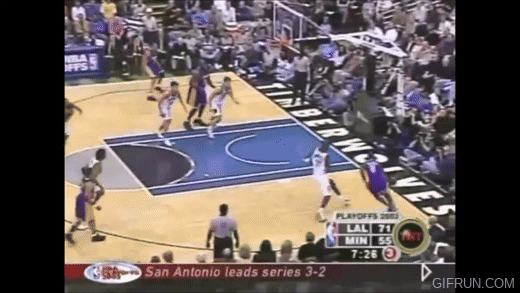 That night, May 29, 2004, Minnesota took the spoils 98 - 96. The Lakers, however, went on to win the series 4 - 2 and set up an NBA Finals contest with the Detroit Pistons. The Pistons were too much for the L.A. team that year and took the championship with a 4-1 series victory. The Lakers, and Bryant, would have to wait five more years before going one better.
Allen Iverson
On April 19, 1998, a David versus Goliath encounter played out in real time for NBA fans at the Maple Leaf Garden in Toronto. In a battle against the Toronto Raptors, the Philadelphia 76ers sent a ball flying from mid-court toward the basket. It bounced off the backboard, then off the rim, but it wasn't accurate enough to slip through the hoop.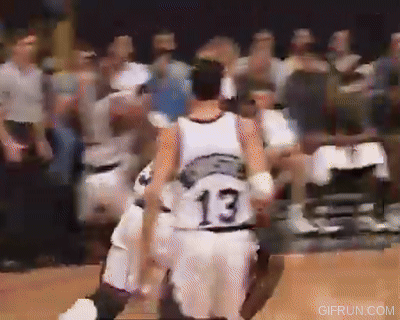 At that moment it became a straight race between the Raptors center Marcus Camby and the 76ers shooting guard Allen Iverson. Standing at 6'11", Camby should have blocked out the 6'0" Iverson with absolute ease. What actually happened was Iverson flying into the air, dunking the ball, and then hanging nonchalantly over his beaten rival for what seemed like an age. Needless to say, the Raptors man was less than amused.
Chris Webber
"That was my first game playing against [Charles] Barkley," said Chris Webber of the match between the Phoenix Suns and the Golden State Warriors on November 16, 1993. "I met Barkley in high school, and Barkley was by far my favorite player. My friends were in town from Oakland for that game. Everybody came up, and they knew how much I loved Barkley." By this time "Sir Charles" was a veteran of the NBA while Webber was in his rookie season.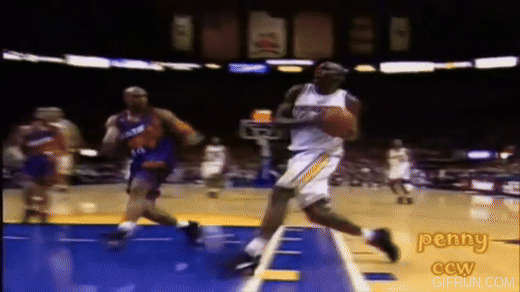 So, when Webber circled the ball around his back and dunked the Suns forward, the world sat up and noticed. "I can jump pretty high and I'm taller, so I didn't think he was going to jump," Webber said later. "He jumped, and I got him, but I'm sure someone will get me someday, so I don't want to make too much of a big deal out of it."

Darryl Dawkins
The image of a dunk so powerful it shatters the backboard is something we've all seen in movie or cartoon form, but it doesn't crop up in real-life NBA footage very often. When it does, there's a strong chance Darryl Dawkins is involved. A 6'11" 251 lb Floridian, Dawkins cut an imposing figure on the court. Even more so when he was surrounded by a shower of shattered glass. Named "Chocolate Thunder" by Stevie Wonder, Dawkins dunked so hard in 1979 that he murdered two backboards inside just a few weeks.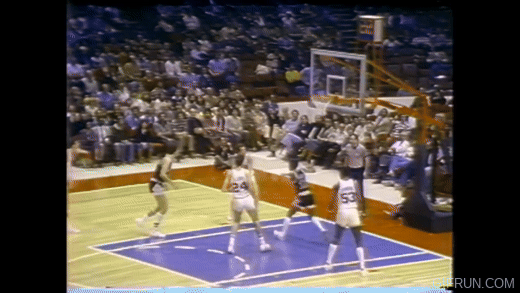 The first gave him the opportunity to give his dunk a catchy name, "The Chocolate-Thunder-Flying, Robinzine-Crying, Teeth-Shaking, Glass-Breaking, Rump-Roasting, Bun-Toasting, Wham-Bam, Glass-Breaker-I-Am-Jam". The second earned him a  $5,000 fine and a suspension. That seems fair to us, as fun as it is to see, those things don't come cheap.
Scottie Pippen
Michael Jordan was the main man for the Chicago Bulls for 15 years between 1984 and 1998. In 1994, however, he took a year off after "retiring" to try his hand at Major League Baseball. During that year, the responsibility of keeping the Bulls at the top of the game fell largely to the small forward Scottie Pippen. He did an admirable job but failed to maintain Chicago's championship-winning form and their season ended in a quarter-final defeat to the New York Knicks.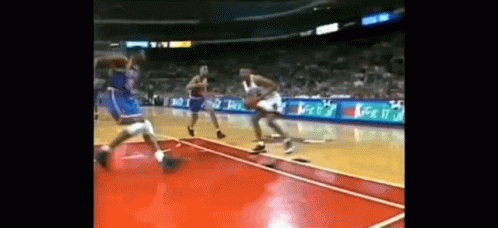 One element of Jordan's career that Pippen did emulate in that season, however, was a disrespectful dunk over Patrick Ewing. Echoing Jordan's 1991 playoff slam over Ewing, Pippen put the Knicks center on the floor on May 20, in the sixth and final game of their playoff series which the Bulls won 96 - 88.

Vince Carter (Olympic Dunk)
What many consider to be the best dunk of all time didn't actually happen in an NBA game. Nor was it an exhibition score at a Slam Dunk Contest. It actually happened in Sydney, Australia, at the 2000 Olympic Games. Vince Carter, already the proud owner of two incredible dunks on this list, scored one for Team USA that the nation will never forget.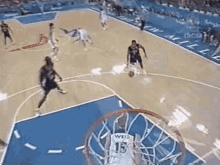 After reaching the quarter-finals undefeated, the Americans dismissed Russia and Lithuania to set up a gold medal battle against France. Standing at 6'6", Carter made a mockery of the 7'2" French center Frédéric Weis to score one of the most perfectly styled dunks in basketball history. It also helped the USA to an 85-75 victory and their 12th Olympic title, which is a pretty special achievement for any player.
Tracy McGrady
"He sucked the gravity right out of the building!" yelled Kevin Harlan in commentary after the seven-time NBA All-Star Tracy McGrady pulled off one of the best dunks of his 17-year career. McGrady was playing in an all-Texan playoff series on April 25, 2005. Two days earlier, the first game had ended in a narrow 98 - 86 victory for his Houston Rockets over the Dallas Mavericks.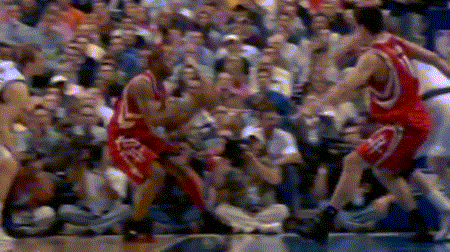 When McGrady took the ball in the first quarter, his team were 19 - 18 up. Standing between him and the basket was the 7'6" frame of Shawn Bradley. McGrady took one look up at his opponent and decided to go for it, then leaped so high it seemed as though he was taking off for the moon. The next thing anybody knew, it was 21 - 18 to the Rockets.
Ja Morant
Just 15 days into 2023, the Memphis Grizzlies point guard Ja Morant set the dunking standard for the year. In a Saturday night game against the Indiana Pacers, the 23-year-old Murray State graduate lit up the Gainbridge Fieldhouse and sent its 17,000-strong crowd into rapture with a vicious third-quarter dunk. After collecting the ball in mid-court, Morant beat two opponents and leaped into the air to dunk over Jalen Smith.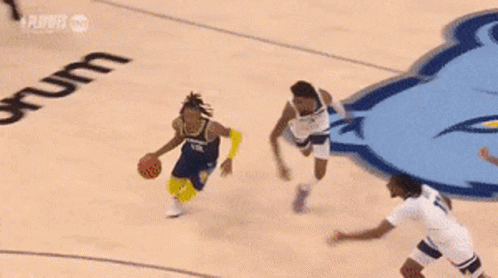 Within moments, social media was calling it a "Dunk of the Year candidate" and the Pacers continued to win the game 130 - 112 over the Southwest Division's top-ranked side. When the regular season ended, it wasn't enough to secure the Indiana team a place in the playoffs, but it did go some way to helping Morant earn his second All-Star pick in two seasons.
Zion Williamson
"That was a little out of character for me," said Zion Williamson in December 2022 after one of the most blatant showboating dunks the NBA has seen in a while. The New Orleans Pelicans were up 126 - 117 in the closing moments of the game when Williamson found himself completely alone under the basket. Seeing his opportunity to do something special, he jumped and spun 360 degrees before slamming the ball through the hoop.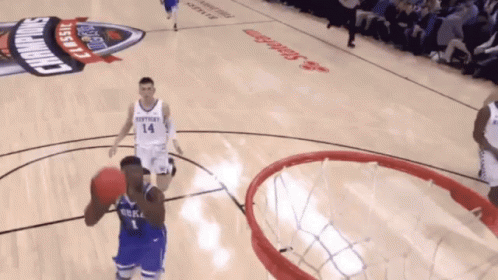 Pelicans fans at the Smoothie King Center couldn't get enough, but the Suns camp voiced anger at the elaborate display. "I got carried away a little bit. I admit that," Williamson explained afterward. "But I was in that locker room when my brothers were down because the Suns sent us home [from the playoffs] last year. That's a tough moment to be a part of. So, in that moment got carried away. I admit that."
Here Are the Best Basketball Players From Each U. S State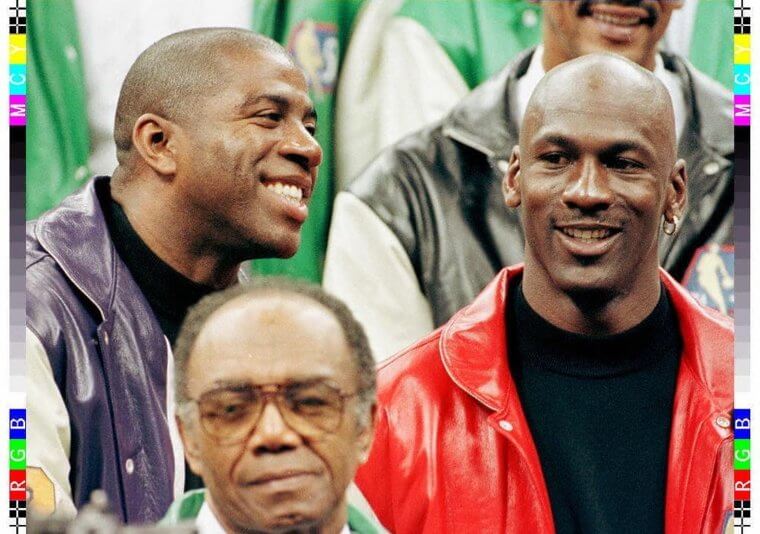 As of 2021, the NBA league had more than 210 million social media followers, making it one of the biggest sports leagues in the world. The popularity of the game seems to be skyrocketing as NBA reported that their ratings have increased by 18% in 2022. In honor of this popular American sport, let's take a look at the top players of the game. From Michael Jordan to Magic Johnson and more, here are some of the best basketball legends of all time. Which ones are your favorite?
Wyoming: James Johnson
Wyoming isn't brimming with basketball players but one of the most notable players we can think of is James Johnson. Born and raised in the city of Cheyenne, Johnson attended Wake Forest before building a formidable career in basketball.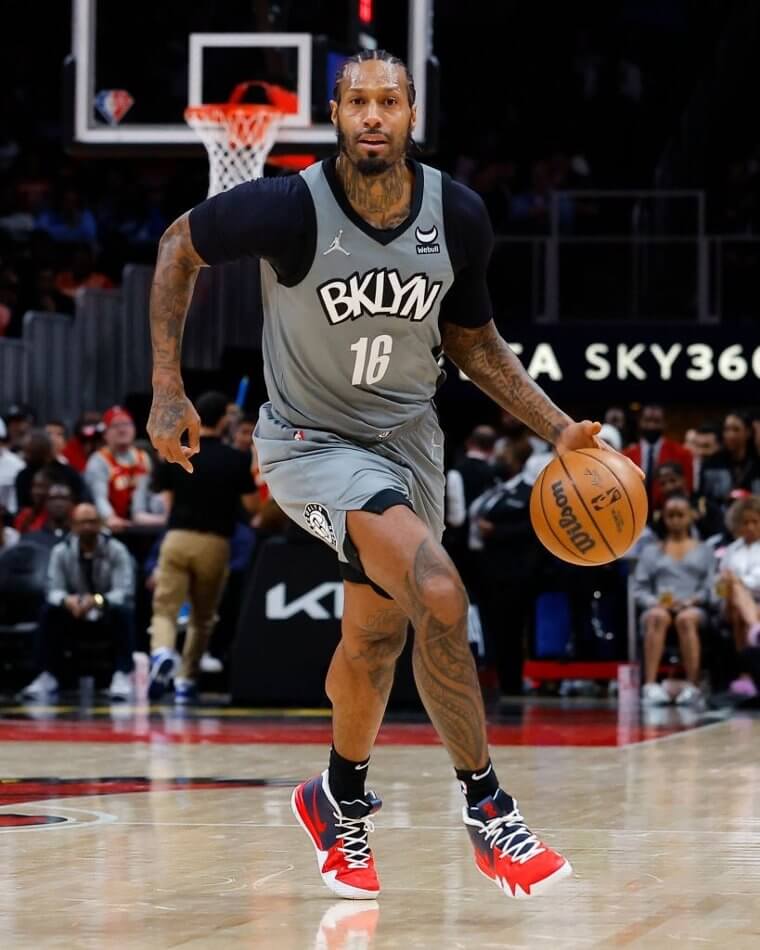 Johnson is a versatile athlete who masterfully guards both forward spots and gained popularity as a defensive big. He might not be known for his offensives, but he can still perform well when needed. Johnson is playing as a rotation player for the Indiana Pacers.
Hawaii: Cedric Ceballos
You might have witnessed Cedric Ceballos's questionable blindfolded Slam Dunk Contest performance that seemed to have been rigged. While the jury is still out on that one, Ceballos wasn't exactly a bad player throughout his decade-long career with the NBA.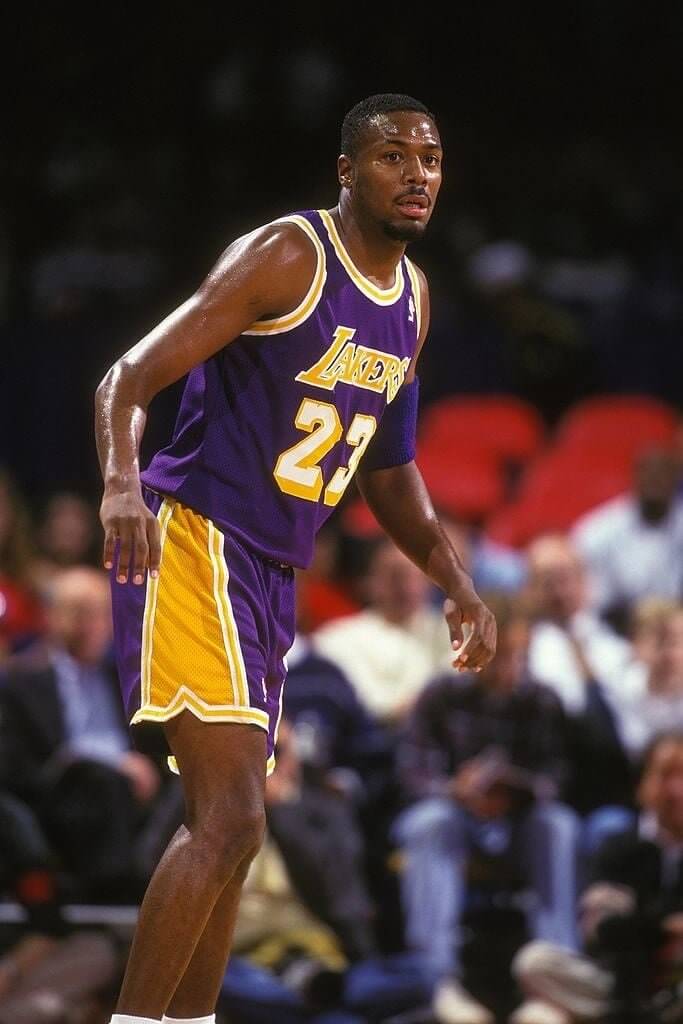 He stood firm with Los Angeles during the time they failed to earn any titles for 12 years straight. In 1995, Ceballos made it to the All-Star team when he averaged 21.7 points and 8.0 rebounds in a game. However, one of his most iconic moments was that stunning blindfolded slam dunk in 1992 that spawned a lot of controversies.
Vermont: Taylor Coppenrath
Only true basketball fanatics would know about Taylor Coppenrath, the only big name in basketball from the state of Vermont. Predictably, Vermont might be the only state that hasn't produced a noteworthy NBA player. That's why Coppenrath gets this title by default.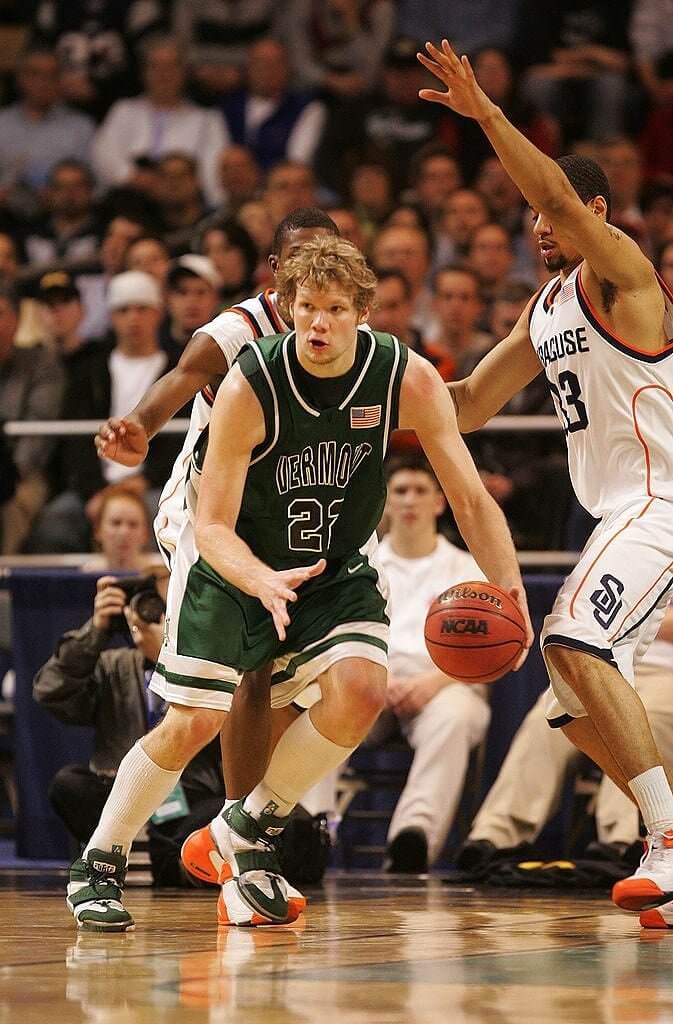 Coppenrath was known for his unusual jumper that he'd launch from behind his head. At six foot nine, he looked much like a giant catapult slinging the ball toward the hoop. He really shined in a game against Syracuse during the NCAA tournament where he led team Vermont to an upset win. Most of Coppenrath's career has been spent in Europe.
North Dakota: Tyler Johnson
North Dakota isn't exactly known for giving us too many basketball players, to begin with. The only players that hail from this state include Mark Landsberger, Doug McDermott, Duane Klu, and Tyler Johnson. It's a tough choice to make but we're going to go with Tyler Johnson.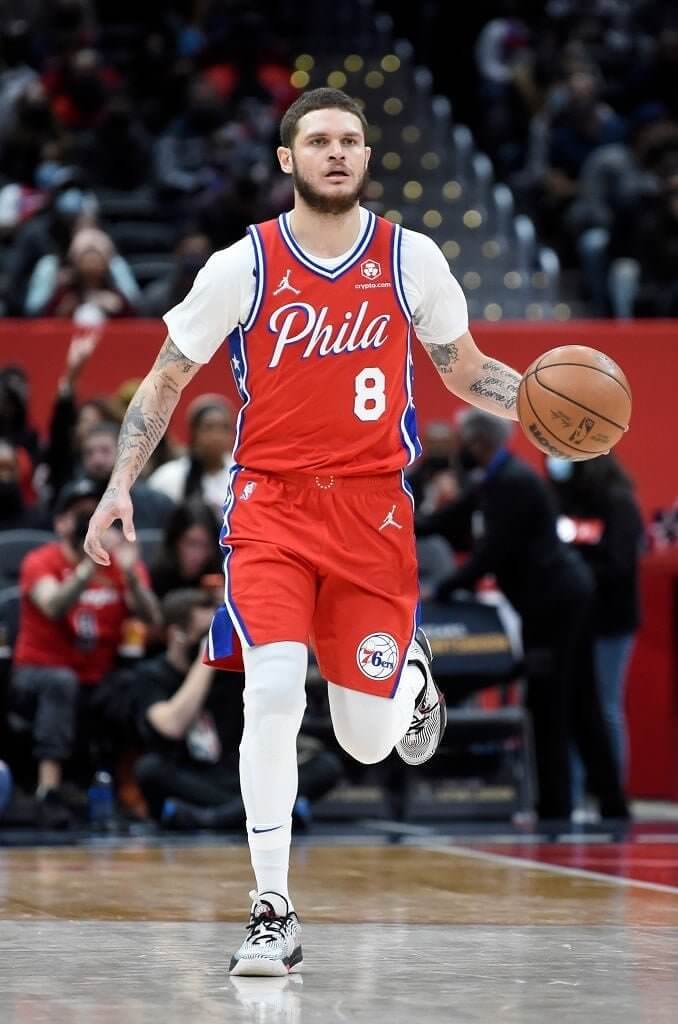 Born in Grand Forks, North Dakota, Johnson later moved to California and attended high school there. In the game, Johnson plays as the scoring guard off the bench. He's proved to be capable with the ball and is known for hurting his opponents from the perimeter and with his strong drive to the basket.
South Dakota: Mike Miller
Mike Miller is the ideal candidate for a role player on a solid basketball team. Raised in a small town called Mitchell located in South Dakota, Miller came from humble beginnings. He went on to attend the University of Florida and trained under Billy Donovan.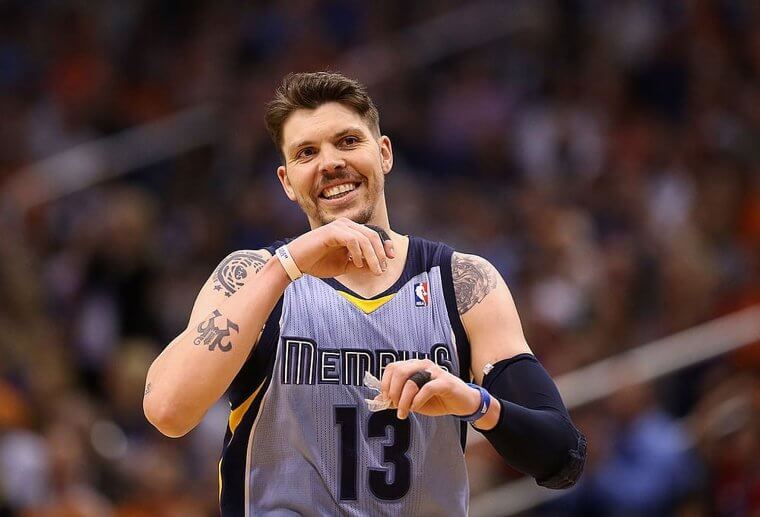 He was decent on the NBA pitch for a long time with his beyond-the-arc skills and ability to get a shot on demand. His performance even earned him the 2001 Rookie of the Year award. Followed by that prestigious title, Miller won the Sixth Man of the Year trophy only five years after it.
Rhode Island: Ernie DiGregorio
The small state of Rhode Island spawned only a few basketball players. Ernie DiGregorio is possibly the best one out of the handful of players we had to choose from. Even though his career in the league was short-lived, lasting only a few years at most.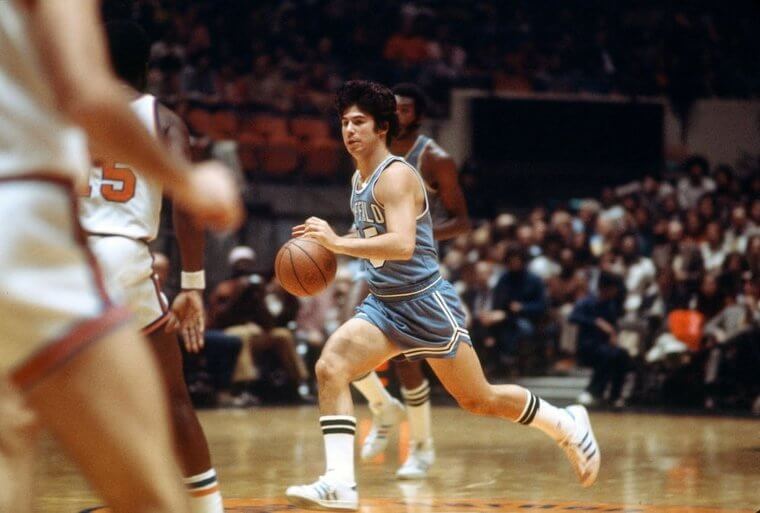 In the 1973 draft, DiGregorio was selected as the No. 3 Overall pick. His game was based on passing the ball and he holds the current record for 25 assists in a single game by a first-year player. Naturally, this earned him the Rookie of the year award.
Maine: Jeff Turner
Much like some of the states we've already discussed, Maine isn't considered a hotbed for NBA talent. There are certainly no coaches and talent hunters scouring Maine for athletes. Until 2018, Jeff Turner was the only player who hailed from Maine in basketball history.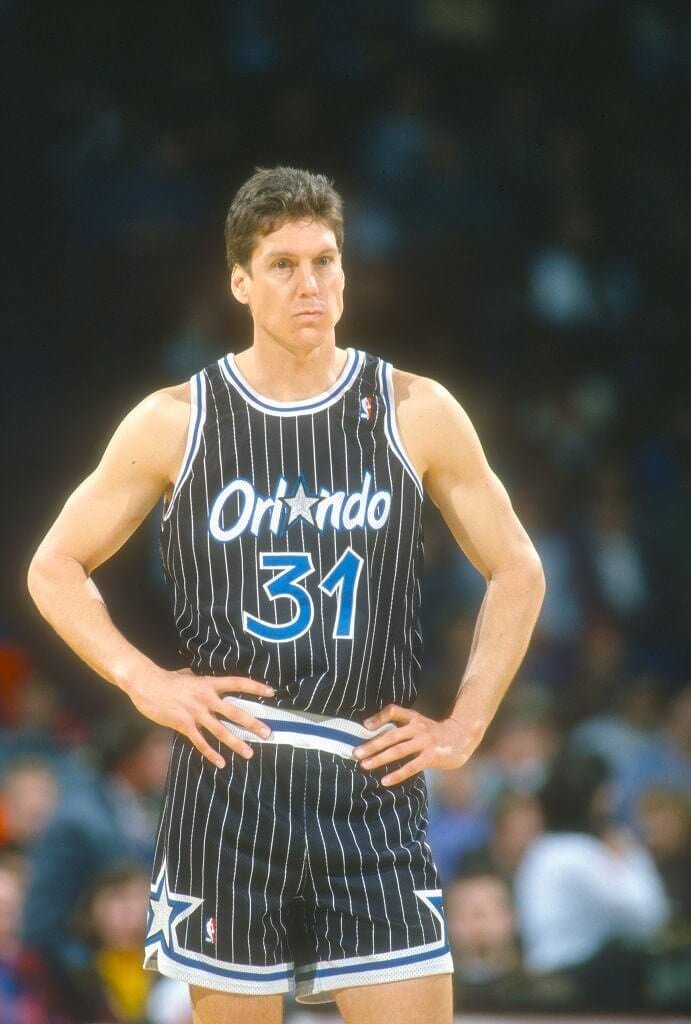 That is until the former walk-on for Michigan and current Miami Heat player Duncan Robinson joined the ranks. Considering Robinson only made his debut this year, this one has to go to Turner for his long-time basketball career. During his years in the game, he played as a journeyman for the Brooklyn Nets and Orlando Magic.
New Hampshire: Matt Bonner
The state of New Hampshire is home to only one NBA player in the league's history and that's Matt Bonner. In short, we have no choice but to entitle Bonner with the honor of being the best from New Hampshire.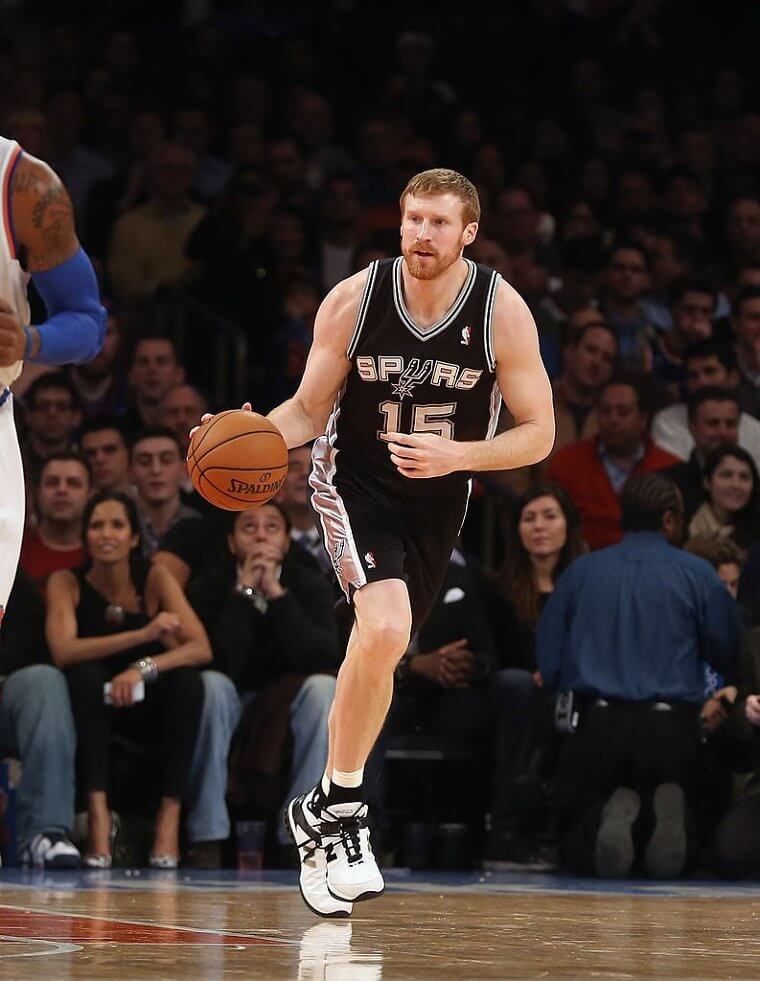 While Bonner isn't known to be the most athletic and defensive player, he played to his strengths which lay in perimeter shooting. Named 'The Red Rocket' due to his elite perimeter shooting skills, he went on to become a two-time NBA champion.
Idaho: Luke Ridnour
Born in Idaho, Like Ridnour is the best from the state because of his famous signature move and performance with the Sonics. Drafted by the Seattle Supersonics in their 14th draft pick in 2003, Ridnour was immediately thrown into all the action.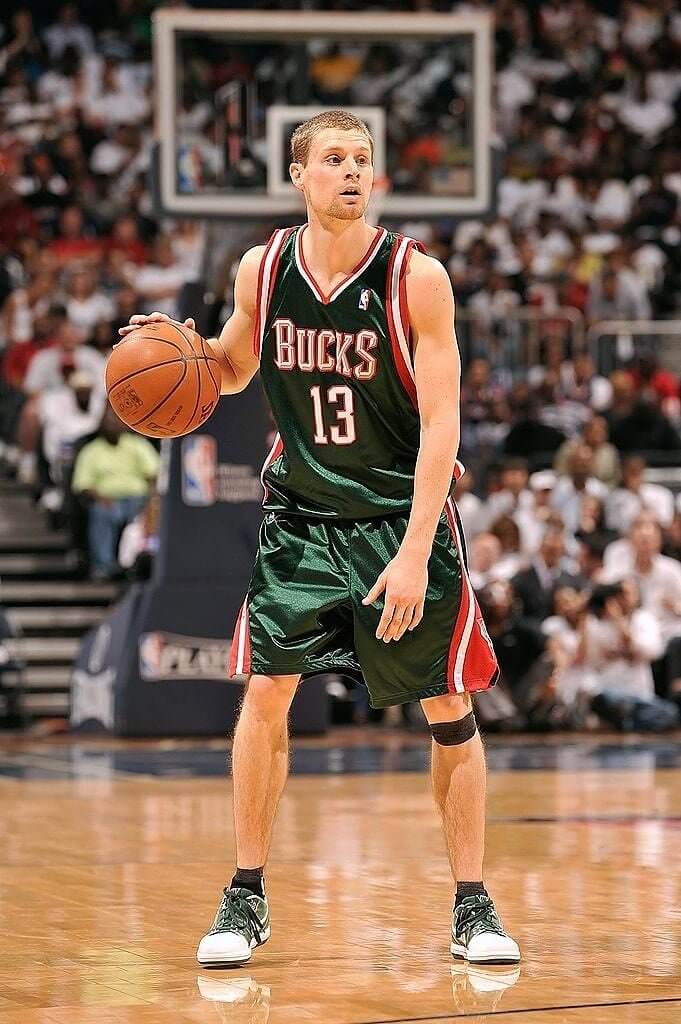 He proved to be detrimental to the Oregon Ducks during his three-year tenure in Eugene. Ridnour may not boast shockingly high stats and numbers, but he proved to be a source of stability for bench units and starting lineups. He's also well-known for his signature move: the pull-up mid-range jumper.
West Virginia: Jerry West
West Virginia native Jerry West will always be remembered in basketball history as an iconic basketball player. He was essentially the first elite combo guard in the game's history. He was drafted by the Minneapolis Lakers as No. 2 Overall in 1960. Standing at six foot two, West was a force to be reckoned with.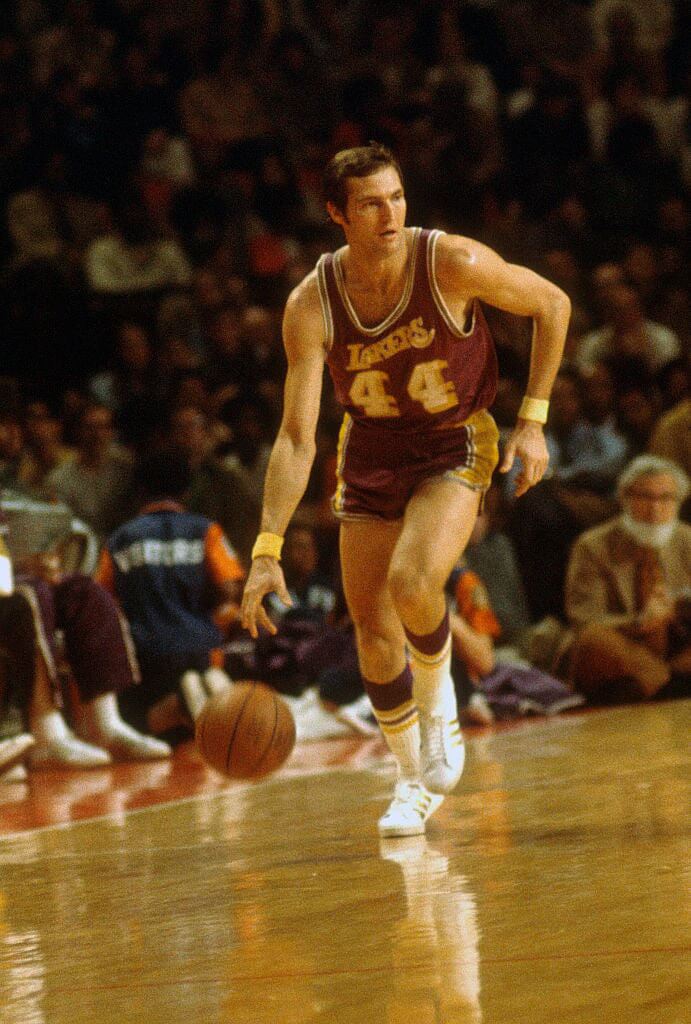 His height gave him an advantage over both short and tall defenders who he manages to skillfully evade. Known as "The Logo", West's unlimited range and confidence while shooting were commendable. His prowess on the ground won him 14 All-Star appearances and he made it to 10 All-NBA First Teams.
North Carolina: Michael Jordan
Michael Jordan might have been born in Brooklyn but he spent the majority of his childhood in Wilmington, North Carolina. Of course, the rest is history. Who doesn't know the iconic story of Jordan's success?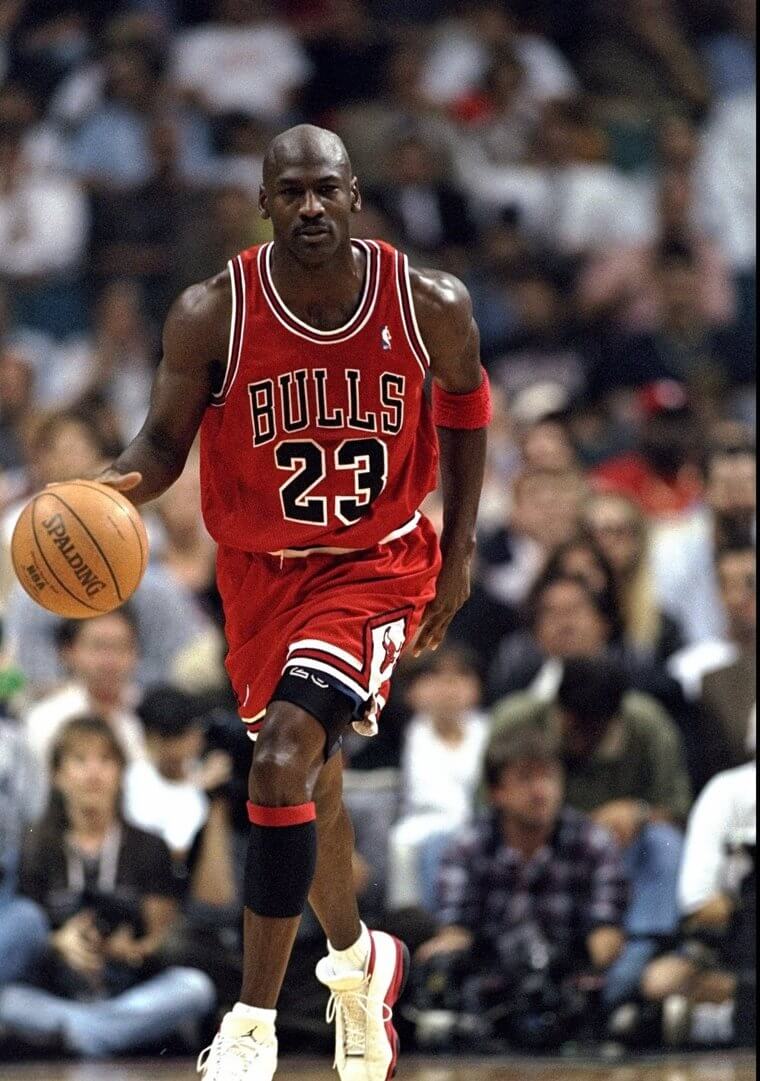 All that's left to say is that he has earned GOAT status in the world of basketball. His career kicked off at the University of North Caroline before he was drafted. During his career, he displayed an unmatched level of skill, competitiveness, and resilience. No wonder he led the Bulls straight to victory, winning them six NBA titles in total.

Nevada: Greg Anthony
Belonging to the party city, Las Vegas, Greg Anthony is known to be a true Nevada native. He had the good fortune of playing under the guidance of Jerry Tarkanian at UNLV. Later he became the reason behind the resurgence of Runnin' Rebels and brought them to the national stage.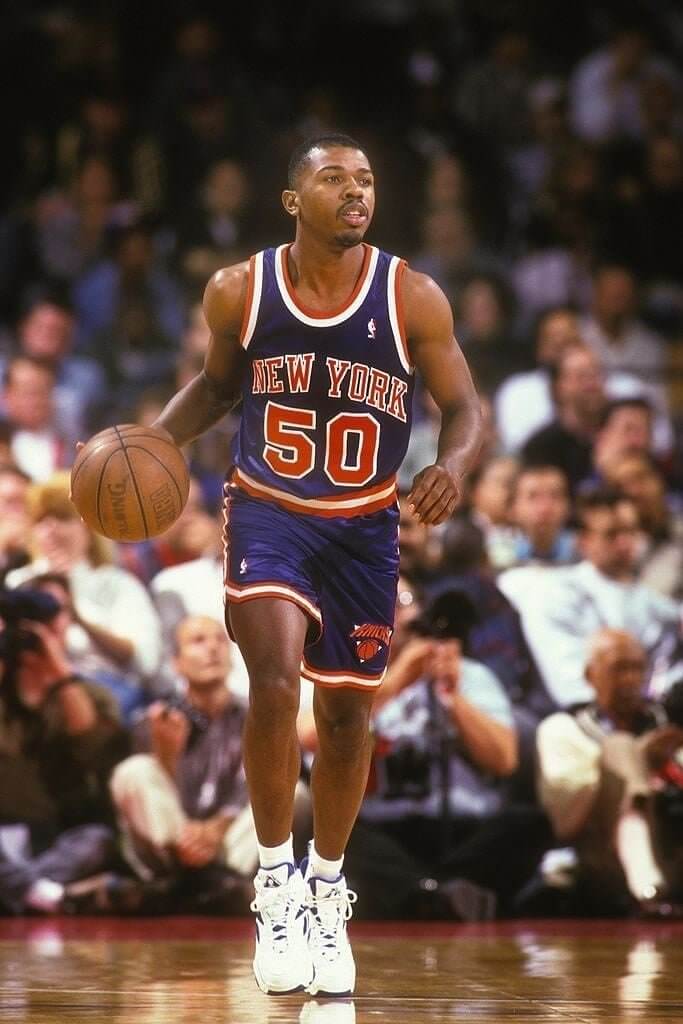 Anthony enjoyed a good, 12-year NBA career, playing as a lefty guard for most of it. While he wasn't exactly an elite player by any means, he was still a good stabilizing force due to his efficiency in second units and basketball passing abilities.
Texas: Shaquille O'Neal
It's hard to pinpoint where Shaq spent his childhood. However, since he attended high school in San Antonio, he's technically a native of Texas. Of course, Texas is also home to other great players, such as Chris Bosh and LaMarcus Aldridge, but neither of them can even come close to Shaq's greatness on the court.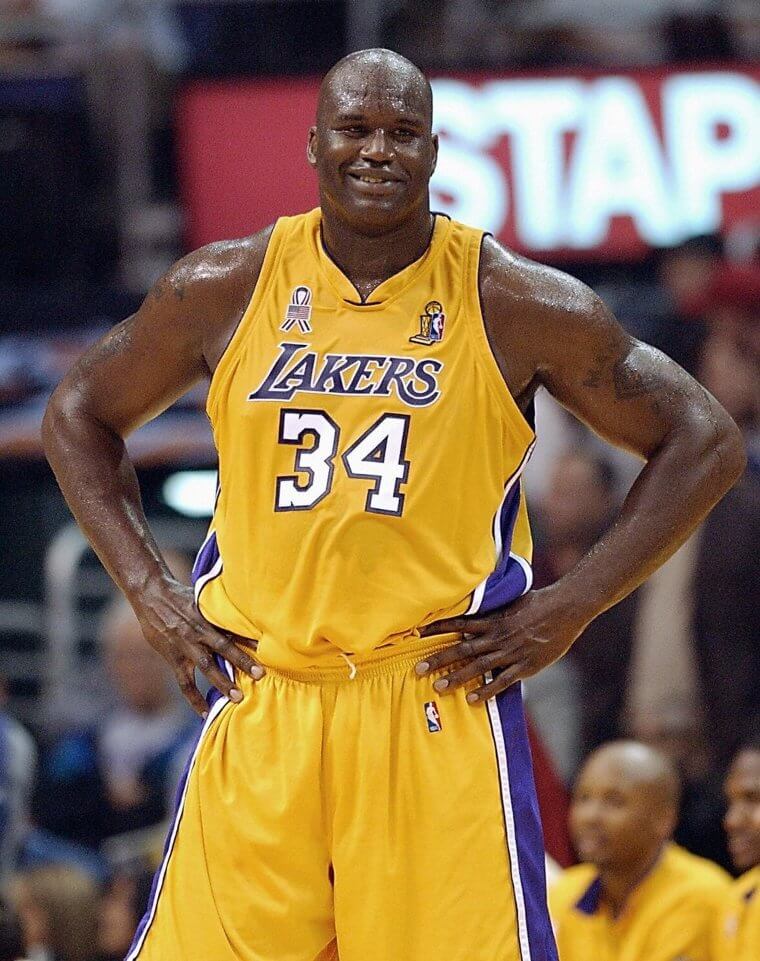 For a man who weighs around 350 pounds, Shaq is insanely stealthy and quick. Combine that speed with his strength, and he was a menace on the court. With 15 All-Star appearances, four NBA titles, and three MVP trophies, Shaq is the best to come out of Texas.
Kansas: Lucius Allen
Kansas may be famous for its basketball-crazy fans and deep-rooted traditions but it's not exactly home to a lot of NBA talent. Over the years, the number of basketball players emerging from Kansas has been low despite all the Allen Fieldhouse traditions.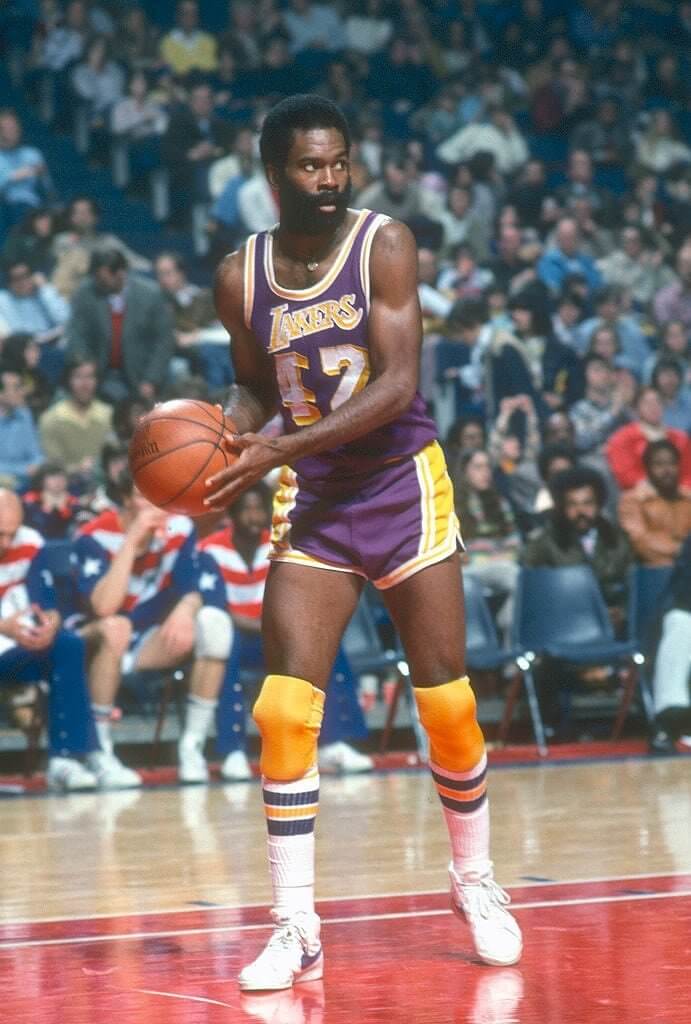 Allen started playing college football at the prestigious UCLA even though he hails from Kansas City. During his sophomore year in the league, he played an important role in winning the Milwaukee Bucks a championship in 1971. Lucius Allen is the best basketball player we could find from Kansas.
Indiana: Larry Bird
We've discussed Larry Bird and Kevin McHale's dominating duo before. It's time for a special mention for Bird who hailed from Indiana. Known as the 'Hick from the French Lick', Bird was a destructive force on the floor. He was known for pulling out the chops at critical moments in the game.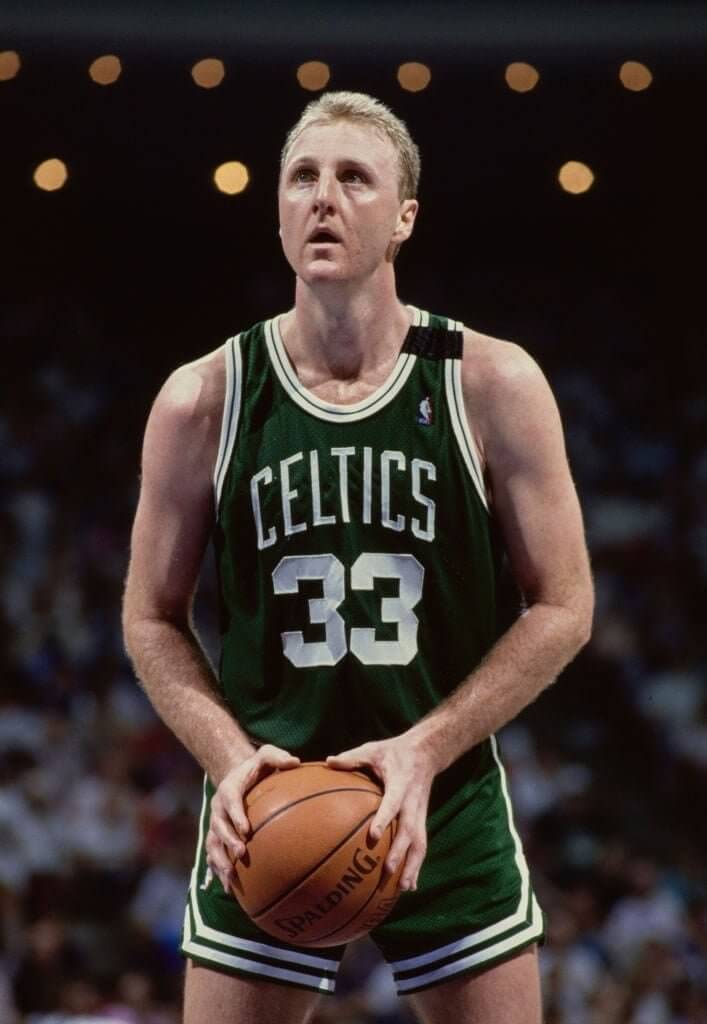 A clutch shooter and amazing playmaker, Bird went on to win the NBA Championship three times and earned the MVP title twice. One of his most iconic victories was when he stole Isiah Thomas' pass during the 1987 game and tipped the game in favor of the Celtics. Overall, Bird has enjoyed a celebrated career filled with noteworthy moments and plays that made headlines.
Arkansas: Scottie Pippen
Scottie Pippen is largely credited for winning the Chicago Bulls six championships. Due to that alone, he's known as one of the greatest perimeter defenders in the history of basketball. Pippen proved to be the perfect player to complement Jordan in a wing defender position.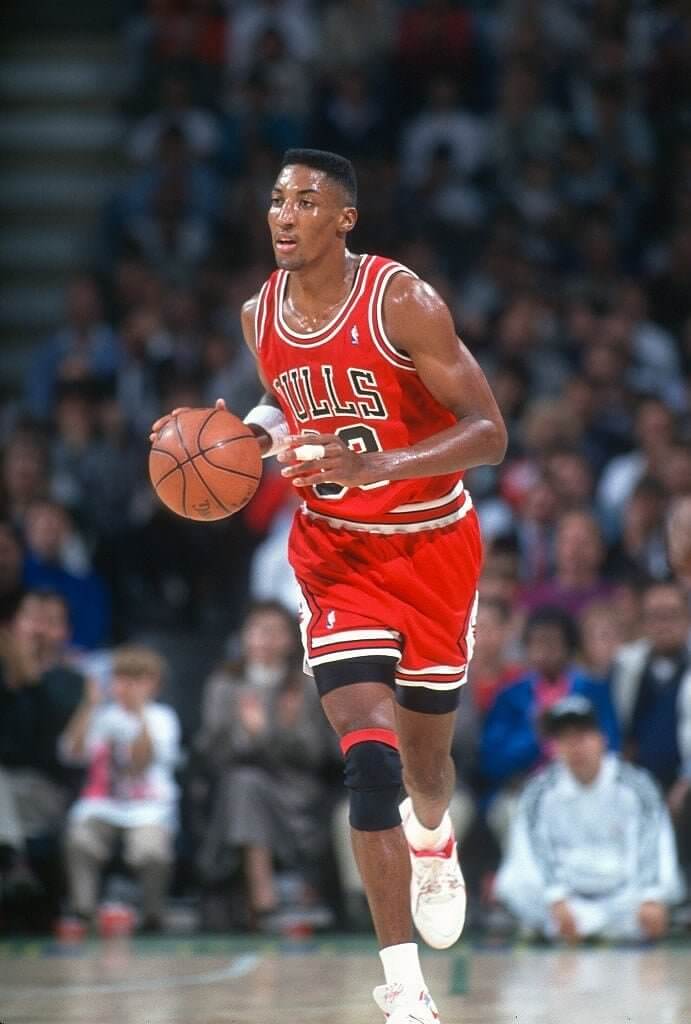 It's quite astonishing to note that Pippen was never awarded the title of Defensive Player of the Year. Although he did earn his due with 10 All-Defensive Team inclusions. In the era of Michael Jordan and his prowess, the only player who could possibly outshine him was Pippen.
Mississippi: Spencer Haywood
Finally, we're excited to present a state overflowing with undercover NBA talent. Mississippi has given NBA high-scoring players such as Chet Walker, Mahmoud Abdul-Rauf, Monta Ellis, Al Jefferson, Danny Manning, Mo Williams, and Antonio McDyess.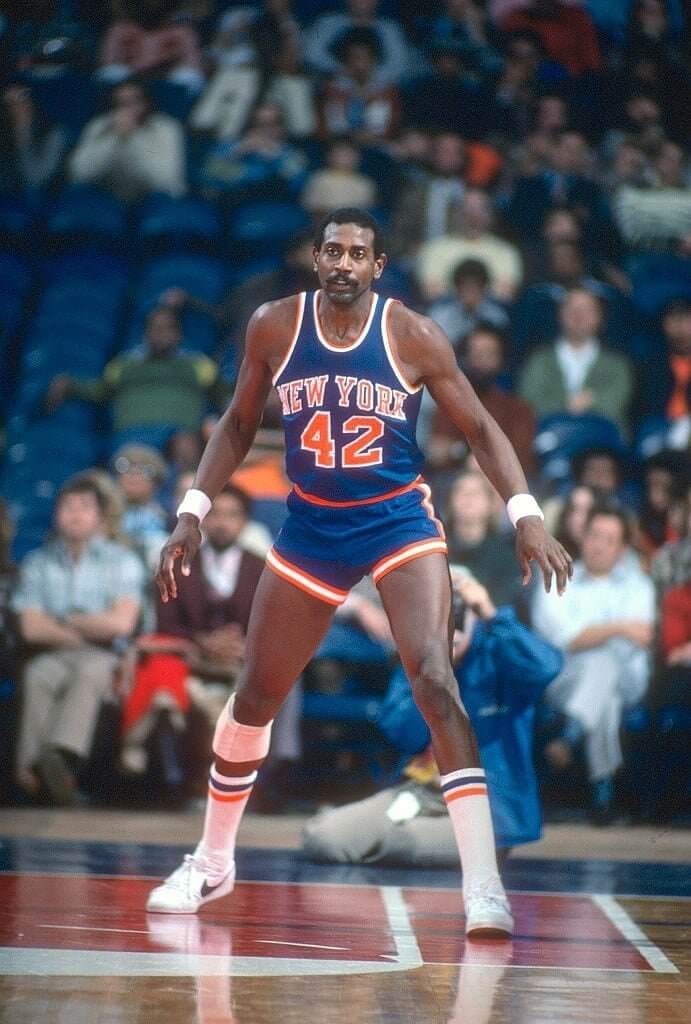 While the above-mentioned players enjoyed decent success in the league, none of them could even come to close to Spencer Haywood, the double-double machine. He truly shined in the 70s, playing some of his best games and earning one of the best rookie stats in NBA history.
Utah: Tom Chambers
Utah has given us the likes of Scot Pollard and Byron Scott, promising NBA players with interesting careers. However, our pick for Utah has to be Tom Chambers. Standing at six foot ten, Chambers was a power forward who played in four All-Star games.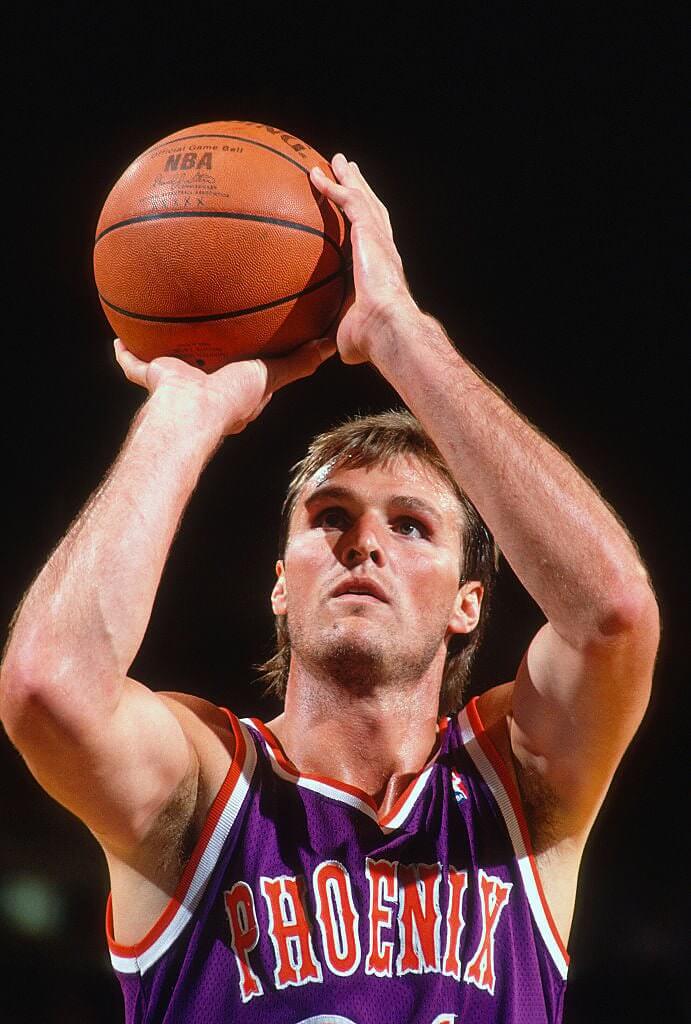 In 1987, he earned an MVP award, solidifying his place as a top talent in the NBA. Chambers was known to be a versatile player, especially when it came to scoring. He could score from outside the pain and on the block.
Iowa: Harrison Barnes
Iowa's Harrison Barnes earned a lot of hype as he began his college basketball career right after high school. The six-foot-eight player was somewhat of a superstar with a high level of athletic ability and a silky jumper.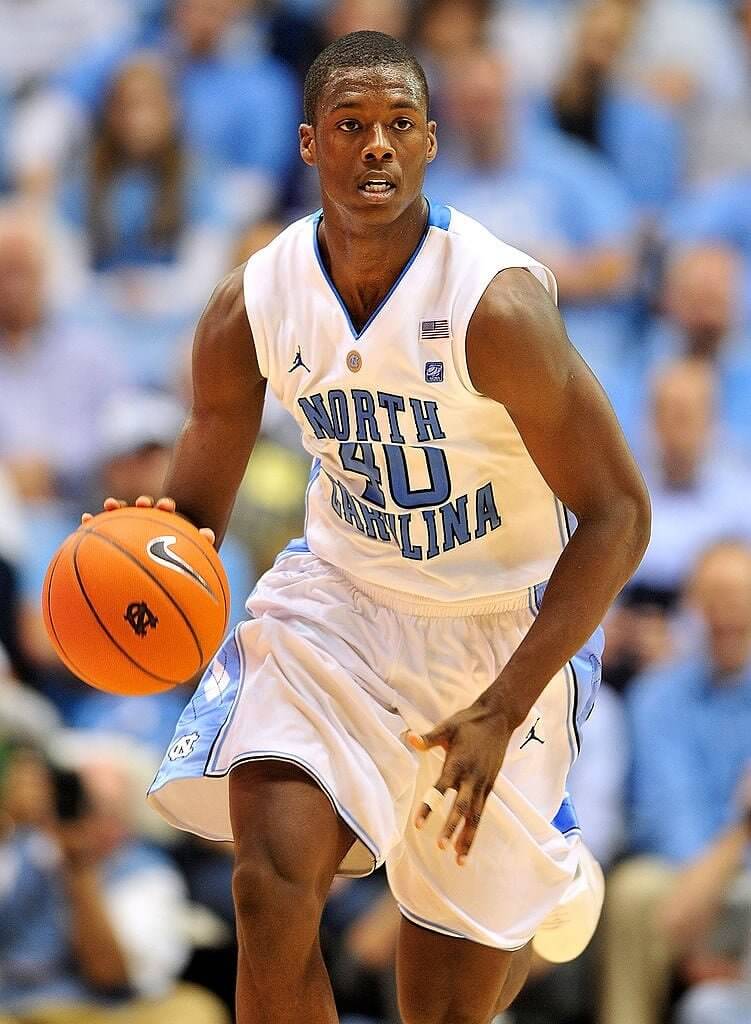 Despite all the hype surrounding the start of his career, Barnes has yet to exceed expectations and reach his potential as a player. Although, it wouldn't be wrong to say that he has created a niche for himself in NBA. One of his most notable performances for the Golden State Warriors in 2016 featured him as a versatile defender guarding multiple positions.
Connecticut: Calvin Murphy
With a height of five foot nine, Calvin Murphy may not loom over most basketball players but he used his unique combination of speed and stealth to become one of the top NBA players out there.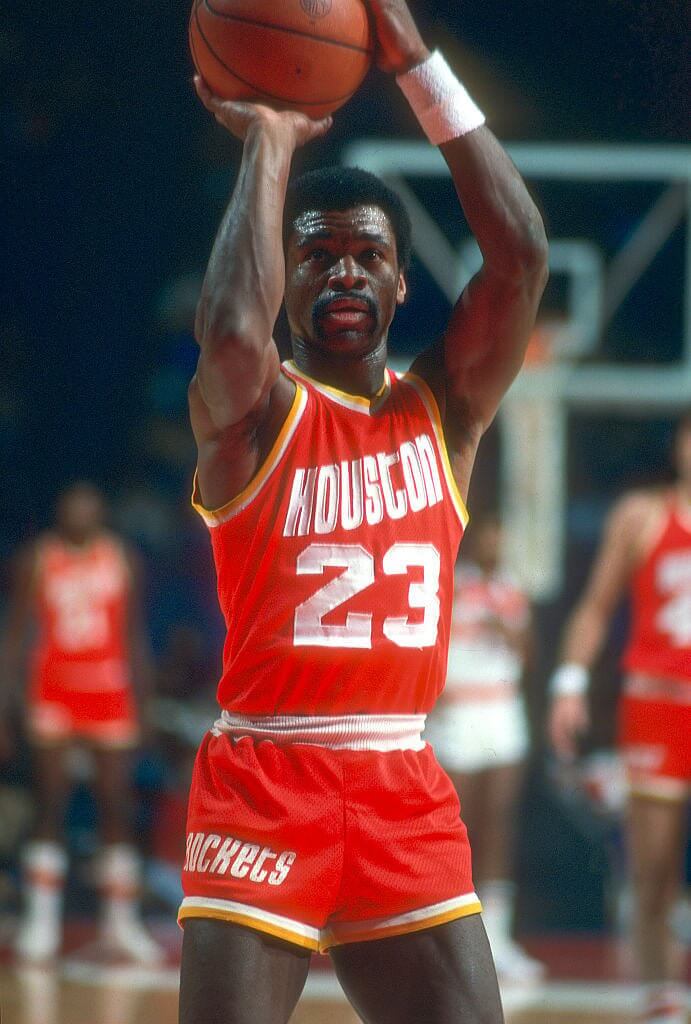 Considering the recent trends in basketball, it seems impossible that a player as short as Murphy could prove to be valuable without an outside shot. The NBA hadn't even introduced the three-point shot until Murphy was in his ninth year with the league. Despite that, he managed to dominate the game and average 25.6 points per game in an entire season devoid of a three-point line.