Not Just a Pretty Face
The gorgeous cheerleaders that rush out onto the field during an NFL football game are arguably the highlight of the show. With their large, beautiful smiles, long legs, and co-ordinated choreography, it's easy to forget that these cheerleaders are athletes as well.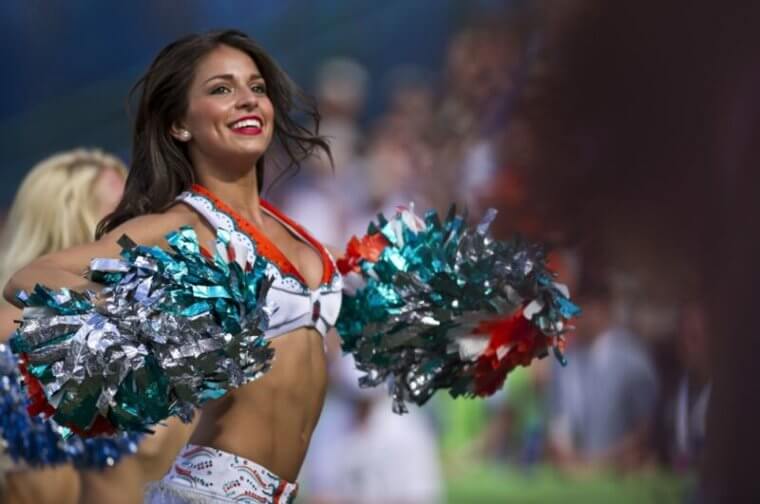 But behind these flawless movements and radiant expressions is a long series of rules that dictate the harsh reality of life as an NFL cheerleader. Here are just a few of the many extreme and strict rules that govern their lives. Strap on your seatbelt!
A Large Part of Their Income Goes to Their Uniform
The uniforms worn by the cheerleaders are half of the excitement. Everyone knows that when Christmas comes around, the outfits are themed, and it's quite something to look forward to. But while these uniforms aren't typically made up of a lot of material, they most definitely cost a pretty penny.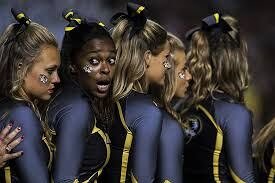 The cheerleaders have to pay for their uniforms themselves, forking out of their own minimum-wage-earning pockets. While cheerleaders earn roughly $10 per hour, their uniforms can cost more than $500. If this wasn't enough, it's shocking to know that cheerleaders normally need more than one uniform at any given time.
Timing Is Everything - Even When Not Performing
In case there's any doubt about whether cheerleaders do their job for the money - they don't! Cheerleaders get paid a minimum wage which means that most of them have more than one job just to pay the bills. But these second jobs need to work around their rehearsals.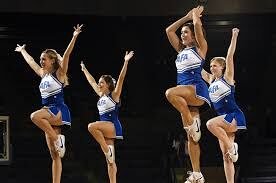 NFL cheerleaders need to be on time for practice and if they're not, they run the risk of losing their job. These athletic beauties can get slapped with a heavy fine if late for rehearsal and fired entirely if they make it a habit.
There Ain't No Rest for the Wicked
If you've ever worked as a waitress or some other job that requires hours of standing on your feet then you'll know the exhaustion that can come with long shifts (and the tempting thought of a hot bath at the end of a day). Even once a cheerleader has welcomed the football team onto the field, they need to stand on the sidelines and cheer.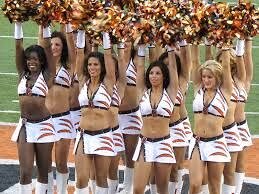 During this time, they are forbidden to sit down. The only condition that a cheerleader can get some rest is if a game official asks them to. If not, then they need to be standing for the whole game, ready to jump into feigned enthusiasm.

A Lady Sits in a Certain Way
As you can see, there are not many instances when a cheerleader can sit down and relax. But if they do, there is a very strict way of doing so and it is described very clearly in the handbook.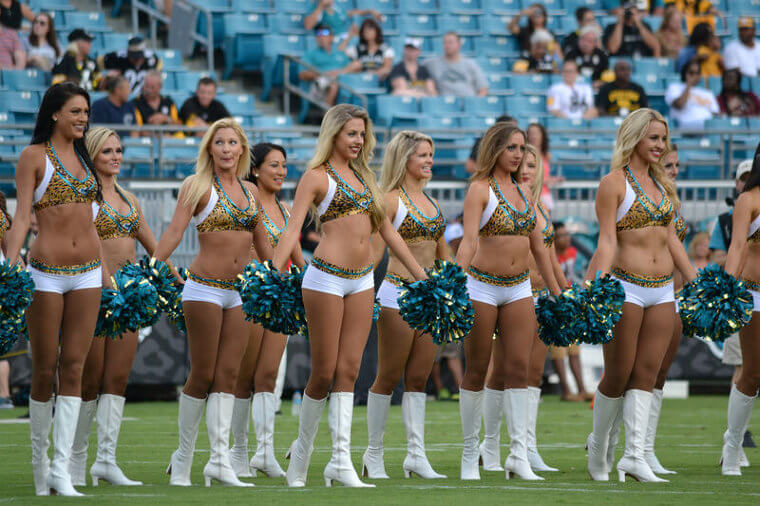 It's essential that cheerleaders maintain their posture, cross their legs, and maintain a "ladylike manner". Whether or not this description has a clear definition in the 21st century is up for debate. Either way, the cheerleaders need to use their imagination about what this could mean, and follow the guidelines.

There's No Room for Creativity With Their Hair
Hair is considered to be a large identifying factor. You can tell a lot about a person simply by their hairstyle. Whether it's shaved into a mohawk, braided in a certain fashion, or even dyed a bright color. Unfortunately, NFL cheerleaders don't have this choice.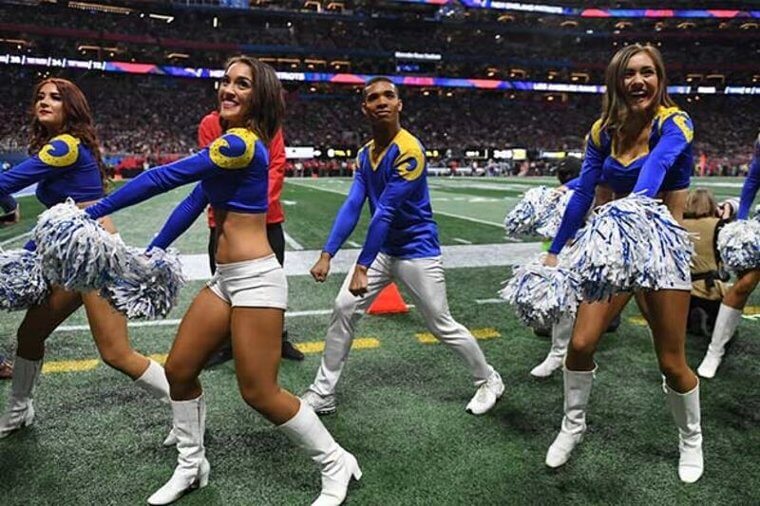 It's a requirement to have only one uniform hair color. This stops cheerleaders from putting any form of unnatural coloring in their hair whether it be highlights or ombre - to keep the image of having natural hair color. Any color being applied to a cheerleader's head needs to be approved by superiors.

The Single Color of Hair Has to Be Vibrant
The one-color rule comes with certain requirements and specifications. Each hairstyle that is chosen by the cheerleaders needs to be bold in color - whether it be blonde, brown, or black. The risk of coming to practice - or worse a game - with dull hair is being benched for the season.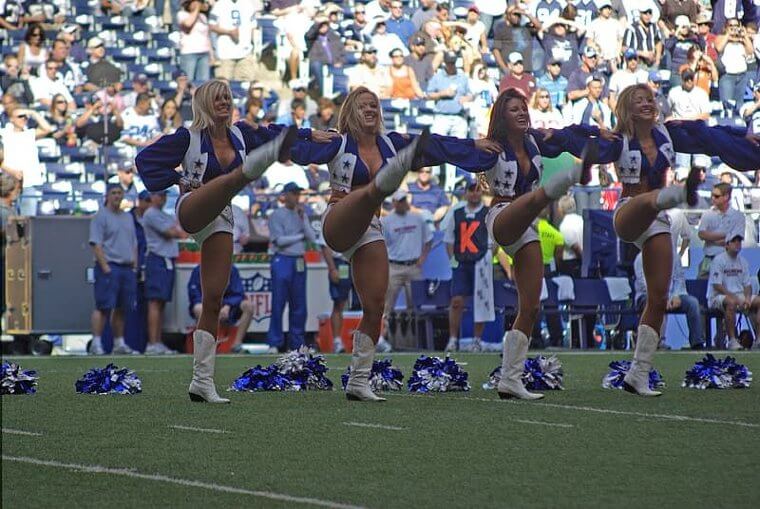 Anyone who has ever added color to their hair will know the cost of maintenance and upkeep. The products that are needed to keep hair glowing and vibrant don't come cheap and, of course, this cost needs to come out of the cheerleader's own pocket.

That's Not What They Signed up For
We've all heard stories when people get married to a star footballer only to have him put on double his weight in the form of a beer belly within a decade. However, a marriage agreement doesn't tie one down to certain physical criteria. It's for better or for worse. But those hiring NFL cheerleaders don't want to run the risk and so they include it in the contract.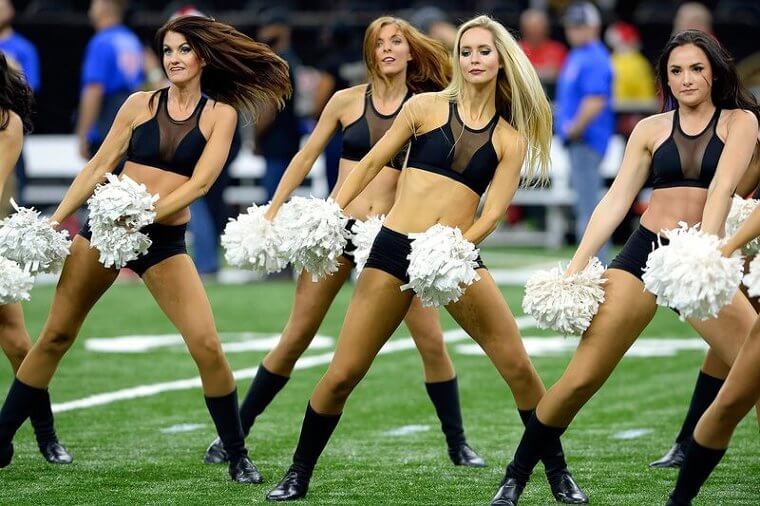 Once a cheerleader signs a contract with the NFL, they are not allowed to change their appearance without approval from their boss. These restrictions include changing the color of their hair, getting a new piercing, and even developing new skin conditions.

Language Needs to Be Refined at All Times
Cheerleaders are not hired for how they speak, but the NFL teams insist on controlling what they say anyway. In addition to a strict set of rules for being on the field, the ladies have equally firm conduct requirements for being off duty. When they sign the agreement, they agree to represent the NFL off of the field as well as on.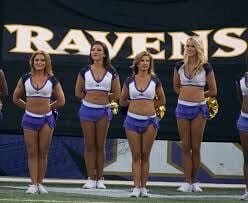 As a result, they are not allowed to use slang at any given point. What does this mean? The words "like", "dude", "ain't" and "I seen it" should never be uttered by a cheerleader's lips. If they get caught, there can be big trouble.

Use a Knife and Fork, Dear
Some meals are easier to eat with an open palm and a napkin nearby. Tucking into a pizza or picking at french fries is much simpler when done with your fingers. But NFL cheerleaders have very strict rules about eating with utensils - even when it makes no sense.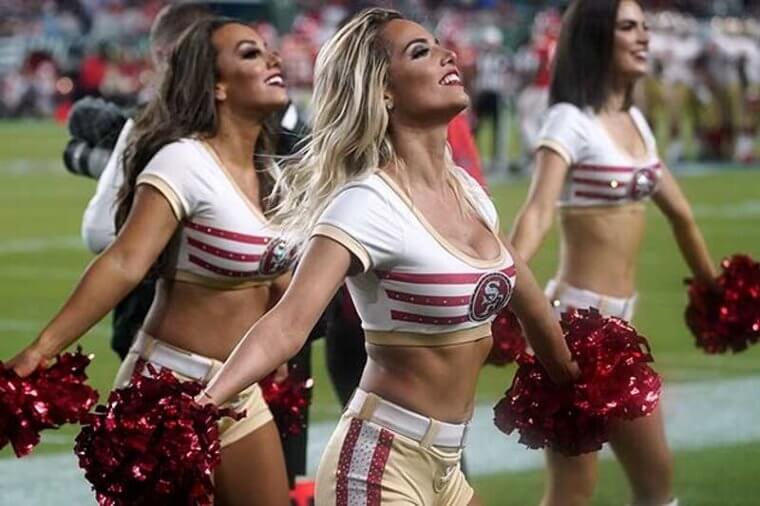 Not only are cheerleaders required to eat with a knife and fork, but they also need to keep in time with those that they are dining with. It seems as though food is equally as complicated as other areas of control.

Makeup Touch-Ups Are a Private Affair
A cheerleader not only gets the crowd going in the middle of an exciting game, but they also sell an image of untouchable beauty. And while much of this beauty is natural, a lot of it is thanks to carefully applied makeup. As anyone who has worn makeup will know, cosmetics don't last forever and touchups are a necessity.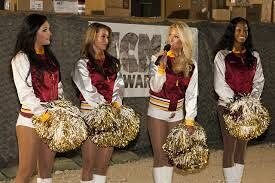 To keep the perfect, pristine image of a cheerleader's beauty alive, the ladies are forbidden from touching up their makeup or adjusting their clothing in public space. Doing so would admit that they aren't naturally perfect and that would shatter the NFL image.

Photographs Shared Online Need to Meet a Standard
Have you ever come across a celebrity in a film and discovered that their real life is not what you imagined? Social media can tell you a lot about a person and what sort of life they live out of the public eye. NFL cheerleaders present a certain persona on the field and their lives on social media need to match up to this.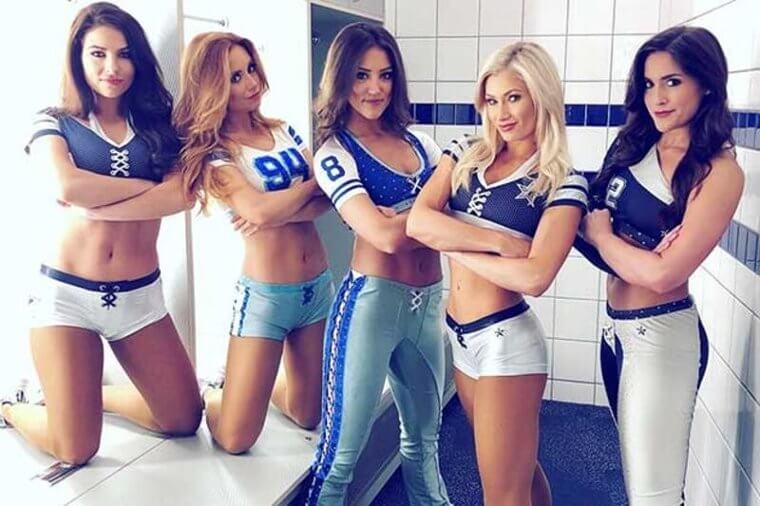 The rules stipulate that cheerleaders are only allowed to post "appropriate" photographs and regular checks are done to ensure that the rule is being followed. And this is not a rule to be taken lightly. More than one cheerleader has lost their job because of posting an unsavory photograph.

The Hair Needs to Seal the Deal
Not only do cheerleaders need to have shiny hair that is uniform in color, but their hairstyle needs to be "glamorous". The handbook describes how this look is to be achieved and it doesn't involve using clips or tie backs.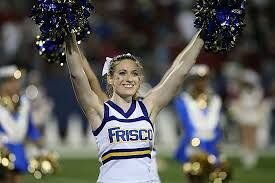 Some teams are a little bit more intense than others. The Buffalo Bills' cheerleading handbook is quite particular about how to achieve this glam look, including the types of curls which can and can't be worn. In the words of the handbook, ringlets are a no-go.

Fake It Until You Make It
Just because you're glamorous, it doesn't mean that you're a celebrity. And when you're dancing alongside high-earning football players, being glamorous may not be enough. Rather than dictate what the cheerleaders can (or can't) wear, some teams offer guidance by simply encouraging the ladies to mimic the look of a celebrity.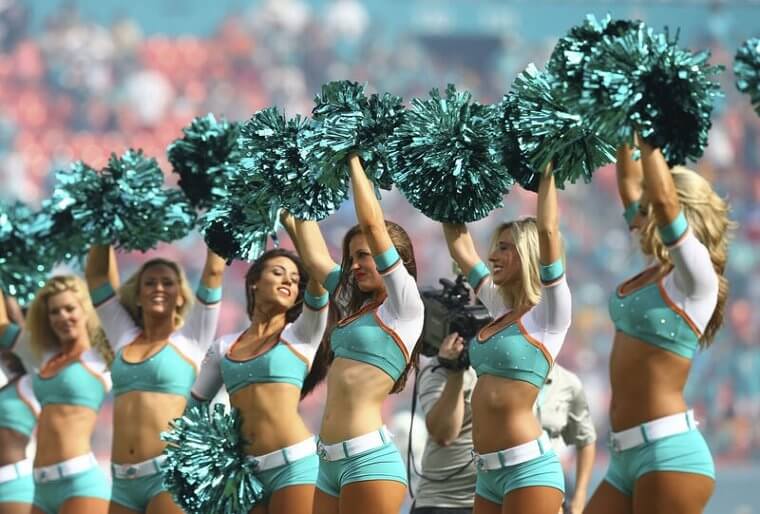 But even celebrities have a unique look and so when cheerleaders are given an appearance to model, they go to extremes to achieve it. This includes hair extensions and stage makeup. And, as with other issues of beauty, the cheerleaders have to pay for it themselves.

Professional Nails Are a Necessity
Even if you have a front-row seat at the next big game, you're probably not going to be able to get a close look at the cheerleaders' nails. Especially when they're hidden behind pom poms. But that doesn't mean that they don't have strict rules governing their maintenance.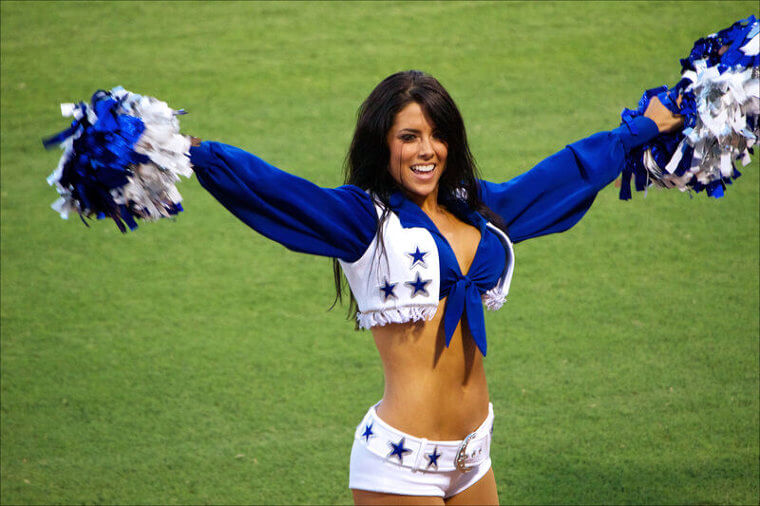 Many of the NFL teams require the ladies' nails to be professionally manicured, at their own cost. Nail salons are not cheap and this can be quite a burden. Considering how few people see their nails it may not seem like it's worth it.

Keep the Conversation Going
There's nothing quite like a beautiful face to break the ice. But once introductions are made, the conversation needs to keep going and it's up to the cheerleaders to make sure that whatever they say matches their image.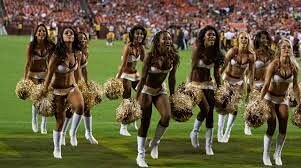 The cheerleading handbook of many NFL teams dictates what cheerleaders can and can't talk about. For example, talking about the weather is forbidden at the risk of coming across as desperate. They are also forbidden from talking about themselves, make any inappropriate jokes, or bring up any personal issues. Makes you wonder what they talk about at all.

A Two-Part Job Selling Calendars
In many ways, the cheerleaders become the face of the team that they represent (alongside the players). Because of their sex appeal, they are also required to pose for their team's calendar. But posing for the camera is only half the job. The cheerleaders are also required to sell the calendars during the games.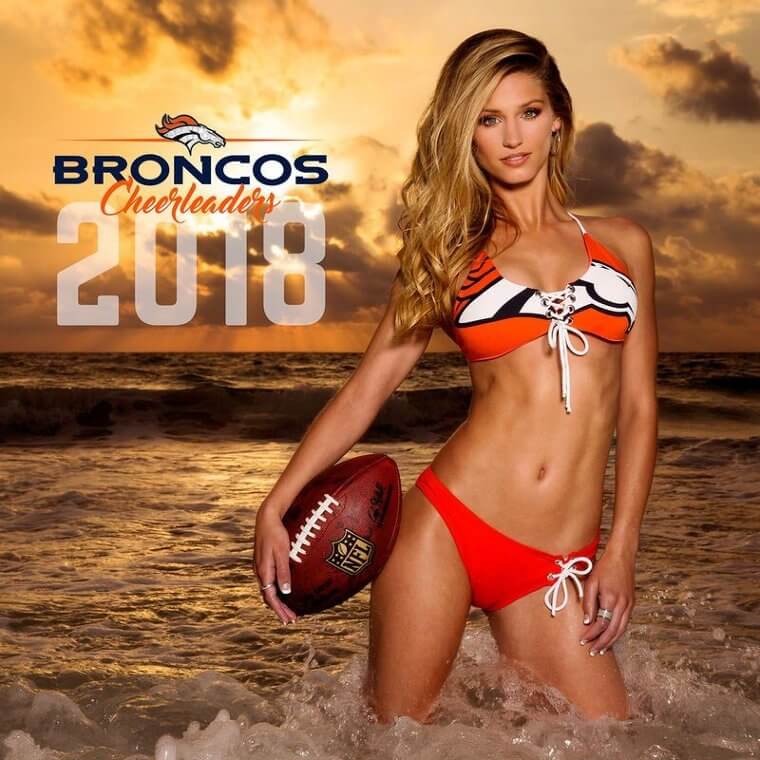 The various teams have different targets, but all require hard work. Some teams set a sales quota of 20 calendars per day, while others require the sale of 50 per quarter of a game. When the goal is not achieved, cheerleaders are fined and the cost is deducted from their wages. Seems a bit harsh!

Their Thirst Is Managed by the Game Plan
Working as an NFL cheerleader is not a walk in the park. Some teams have incredibly harsh rules that don't make sense. For example, the Carolina Panthers need to remain standing throughout the game, and their water breaks are strictly monitored.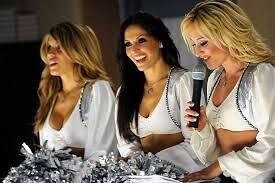 No matter how thirsty the cheerleaders may be, they can only take a sip when the players are on the offense. What many people don't realize is that cheerleaders are athletes too, and they work up a sweat during the game as well.

Tuesdays Are for Two-Piece Outfits
The sexy outfits worn by the cheerleaders are one of the highlights of the show. They may be revealing, but they get the crowd going. These uniforms are strictly regulated, and some teams take it as far as keeping track of what the cheerleaders wear to practice.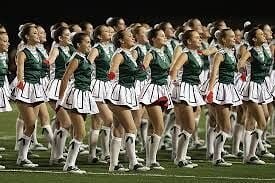 The Oakland Raderettes insist on their cheerleaders wearing two-piece outfits on a Tuesday. Failure to expose their midriff on a Tuesday practice would result in a nasty $10. It seems that there was very little "etiquette" in this 2012 "etiquette agreement".
An Obvious Rule of Maintaining Hygiene
At first glance, this may seem like a fair rule. Everyone should maintain hygiene in and out of the workplace. But the NFL teams took this rule a step (or few) too far. The handbooks go into fine detail about what "hygiene" means.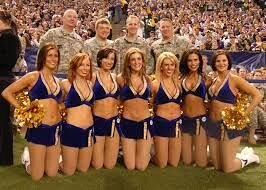 For example, if you want to be a cheerleader for the Buffalo Bill team then you need to change your feminine products every four hours. Not only is this a difficult rule to monitor, but it also crosses a boundary of intimacy.

Another Intimate Hygiene Rule Is Implemented: No Loofas or Sponges
It would seem that there's no limit to the control that some teams take in managing the hygiene of the cheerleaders. In a couple of the handbooks, it's stipulated that the ladies are not allowed to wash with loofas or sponges as they are rumored to carry bacteria.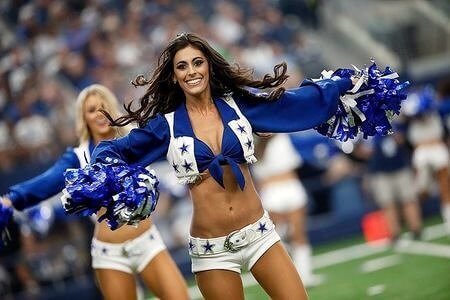 This can result in an infection if washing over an open cut or trap bacteria in your pores. Either way, the notion of an employer detailing this rule is quite bizarre. Can you imagine signing an accountant's employment agreement and having this rule?

Private Parts Need to Be Washed With Pre-Approved Products
By now you should realize that there are no limits to the personal boundaries crossed by the NFL management teams. Hygiene rules have already outlined detailed behavior on changing feminine products and dictating what cheerleaders can use to wash. But hold onto your seats because some handbooks even specify what products cheerleaders can use to wash their private areas.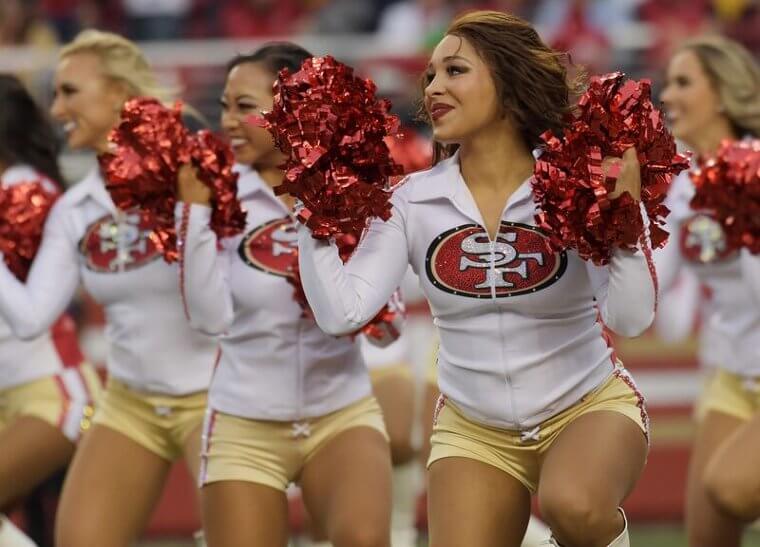 For example, Buffalo Bills dedicate an entire section of the handbook to outlining appropriate products, none of which include scented or chemically enhanced products. Although checking this rule may prove to be tricky at the best of times, there are still consequences if the rules are broken.

No Undergarments to Be Worn on Game Days
God forbid that the strap of a bra pops out of a tight-fitting lycra crop top while doing a high kick. For this reason, most cheerleaders are required to go commando on game day. The thought of a garment slipping out during a game is considered a near-nightmare for the stringent NFL teams.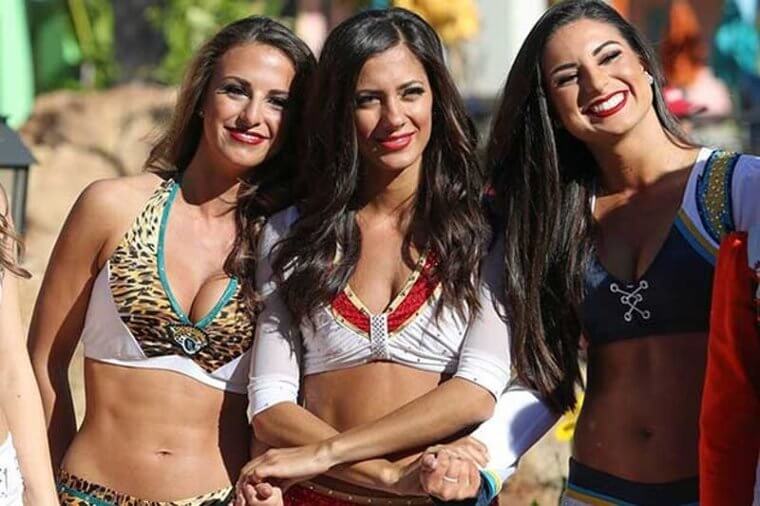 Some teams go as far as insisting that the cheerleaders go without undergarments during practice, just so that they are comfortable with not having the support of wearing a bra and panties on game day.

The Single Exception to Not Wearing a Bra Is "Slouching" Breasts
We're all created beautifully in our own way. Some are born with dark hair and others with light hair, some have naturally fuller bodies, while others are slimmer. Yet all cheerleaders are required to follow a strict no-bra policy during the game day - and sometimes practices. However, there is one exception to the rule - if a cheerleader has slouchy breasts then she needs to wear a bra to make her bosom appear perky.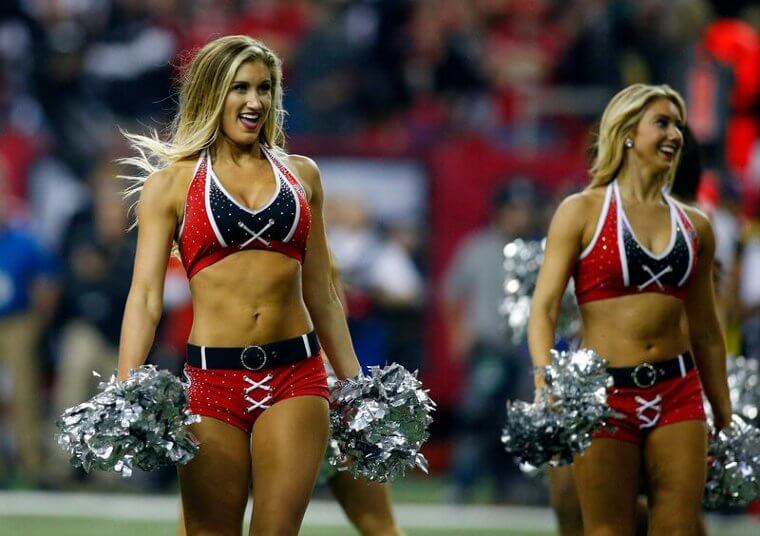 With this in mind, the bra still needs to be seamless and invisible underneath the outfit. The risk of not having perky boobs means being benched for the game - or even the whole season.

"You're so Much Prettier When You Smile"
If you're a female then chances are that hearing these words have the same effect as nails on a chalkboard. And if you're a man, take this as a warning to never utter these words. The NFL cheerleading team handbook couldn't be bothered and insist on happy and energetic facial expressions at all times.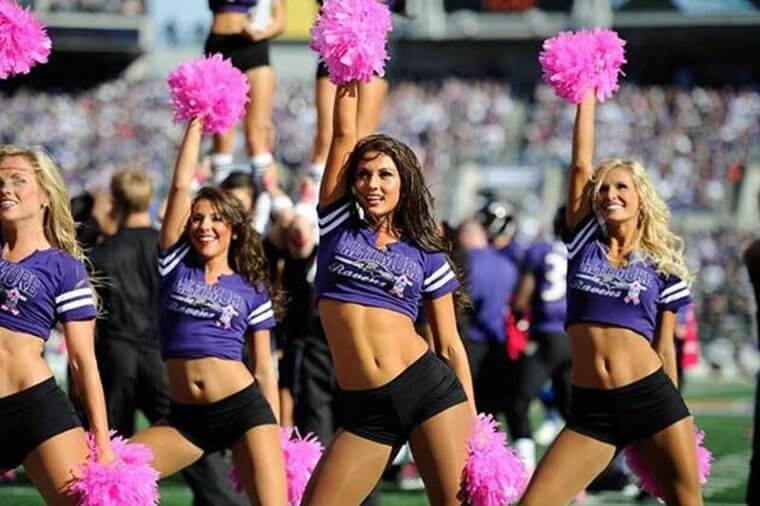 The rule of positive facial expressions was written along with the banning of crude language or slang. Both the Raiderettes and Buffalo Bills' cheerleaders agree to constantly smile when they sign their contracts.

Parties Are for Players - And Not Cheerleaders
If you've started to get concerned about how cheerleaders are treated, not to worry. There have been several lawsuits filed against the teams that would agree with you. During one lawsuit against the Raiderettes, it was brought to light that the guidebook forbids the cheerleaders from attending the same parties as the players.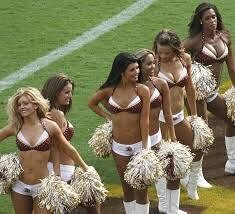 This rule is a bit of a paradox. Cheerleaders work hard alongside the players week in and week out, but they aren't allowed to socialize with them at the end of a long-awaited game. The reason? Because players may use drugs at their parties and this could ruin a cheerleader's reputation. Therefore all parties are banned.

Some Teams Extend the No-Party Rule Even Further
By forbidding the cheerleaders from attending the player's parties, the NFL teams ensure that cheerleaders and players don't mix in a social setting. And this is largely based on where the players choose to spend their time. Some teams take this one step further and demand that cheerleaders avoid fraternizing with players altogether.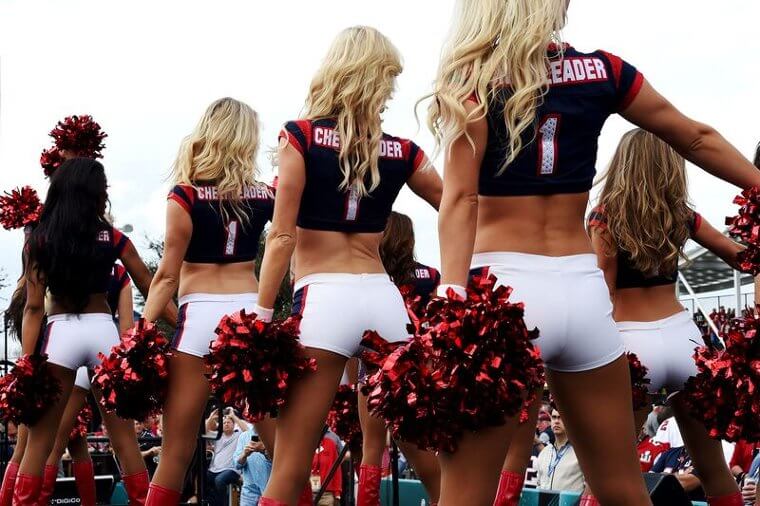 This rule becomes complicated very quickly. For example, if a cheerleader is enjoying a meal at a restaurant and a player enters the same facility, she needs to get up and leave. The players, on the other hand, don't need to follow the same rules and can go wherever they wish, whenever they want.

Not Even Virtual Interaction Is Allowed
If your jaw isn't on the ground just yet, it will be when you find out that cheerleaders are not even allowed to follow a player on social media. In a world that largely revolves around DMs and double-taps, this is quite an extreme rule to implement.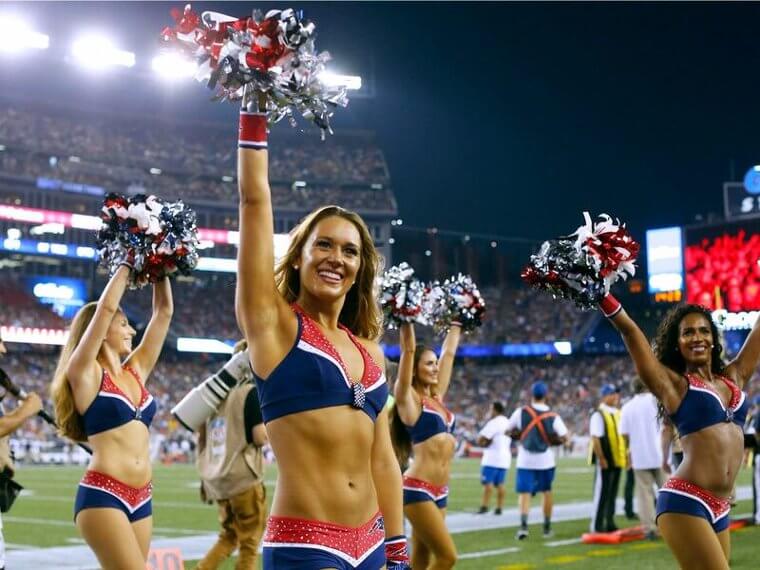 But it gets worse. If a player follows a cheerleader on social media and it's discovered by management, then it's the cheerleader that gets in trouble and not the player. She can be reprimanded with a fine or even being fired, while the player gets away scot-free.

"There Ain't No Ring on This Finger"
The United States has a divorce rate of nearly 50%, making you wonder why people even get married in the first place. Especially when a large portion of married men lies about their marital status to "get lucky". While some handbooks allow cheerleaders to "move forward" with a player, it comes with the condition that the cheerleader needs to find out if the player is married or not.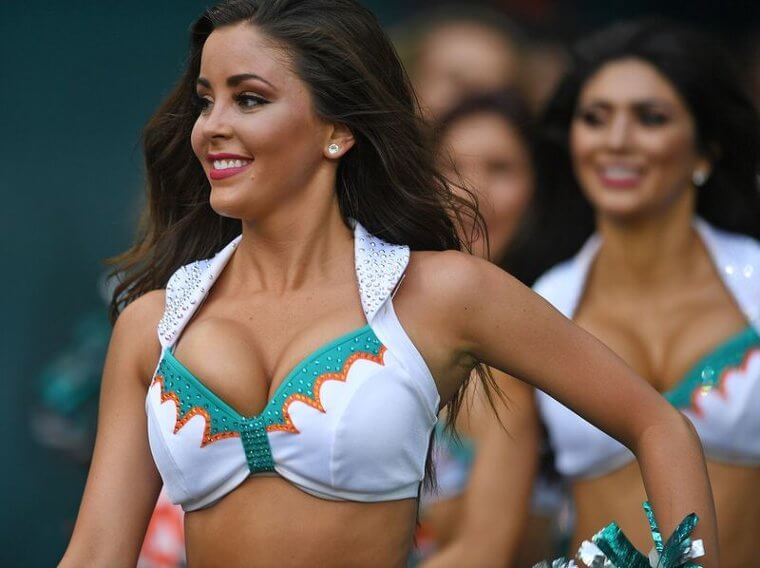 This is a rule outlined in the Raider handbook. The text suggests that players will lie about not being married. So, rather than ask the player about their marital status, the cheerleaders are required to call the NFL office for confirmation. From where we're standing, the fling is not worth the potential drama and risk of infidelity.

Off-Duty Dress Codes Are Very Strict
With so many rules covering what can and can't be worn at practice and during games, you'd think that the cheerleaders would go home at the end of each day and kick back in whatever they choose to wear. But their dress code is stipulated for off-duty and in public as well.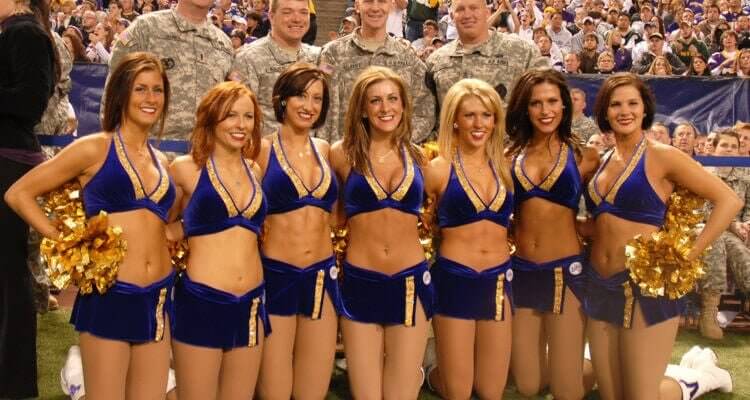 For example, whether or not cheerleaders are working at an event, they are forbidden from wearing sweatpants. But that's just the tip of the iceberg. There is a long list of clothing that they can't wear off-duty, giving the NFL teams a lot of control over their lives.

Controversial Topics Are Out of Bounds
We live in a very "woke" time where freedom of speech is regularly exercised alongside acknowledging sensitivity and remaining politically correct. Needless to say, navigating a conversation on a hot topic can be quite a challenge. Rather than take the risk of a heated conversation, cheerleaders are instructed to avoid "hot topics" in all settings.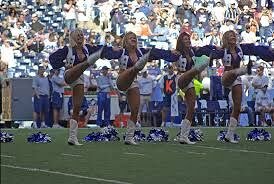 These topics include strong opinions, politics, and religion. Expressing any strong opinion in any regard is off-limits in case the reputation of the team is jeopardized. The crazy part about this rule is that it is applied on duty and off.

The Scale Is Regularly Used
Sex sells, and being gorgeous is one of the hiring criteria for becoming an NFL cheerleader. This image of what is "beautiful" comes directly from the warped and often unrealistic expectations set by social media. As a result, the cheerleaders are required to regularly stand on the scale and keep their weight in check.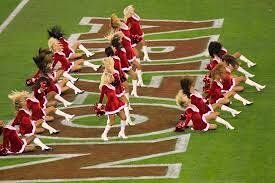 The weigh-ins are compulsory in order for the teams to monitor and manage any weight gain of the cheerleaders. This extra weight doesn't only refer to any additional chub, but also any added muscle or loss of definition.

Staying Within the Ideal Weight - With Three Pounds Leeway
So how do the teams manage this weight? The ideal weight of each cheerleader is calculated and the ladies are given three-pound leeway. But this term of "ideal weight" is where the controversy comes in. 

Rather than formulating this weight based on scientific calculations such as BMI and wellness data, their "ideal weight" is based on what the scale reads on the day of their successful audition. If the scale tips three pounds on either side of the scale then she can be pulled from the next game. Or even benched for the season.

No Jiggle Movement Is Allowed
In addition to having a perfect weight and a flawless physical appearance, the body of a cheerleader needs to pass a very "important" test - the jiggle test. Keep in mind that cheerleaders do a lot of moving on the field, and you'd assume that jiggling would be a part of the game. But you'd be wrong.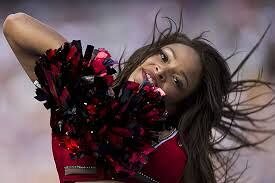 The jiggle test is conducted to monitor just how much bouncing happens when the cheerleaders perform. During practice, the boss of the crew watches as the women do jumping jacks. Failing this test with too much wiggle, which is disguised as a "physique evaluation", can mean losing your place on the squad.

Each Pom-Pom Matches a Certain Outfit
What would a cheerleader be without their pom-poms? The vibrant accessories are iconic to the field dancers and they are designed to match each skimpy outfit. This means that each cheerleader has more than one set of pom-poms. Bringing the wrong pom-pom to practice (or a game) is a big problem.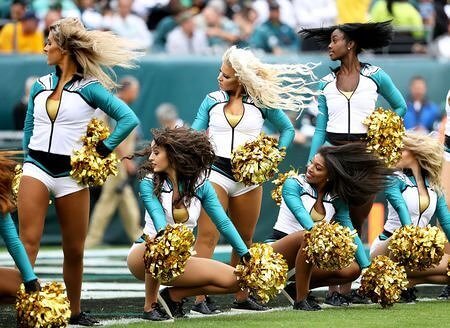 With the variety of pom-poms and costumes, it's easy for cheerleaders to bring the incorrect ones by mistake. But if they do, they risk a hefty fine, making the small mistake an expensive one.

Their Shoes Must Shine From Polish Before a Game
Cheerleaders are required to be perfect from the top of their heads to the tips of their toes. During game day, these toes are covered in boots which are an important part of their uniform.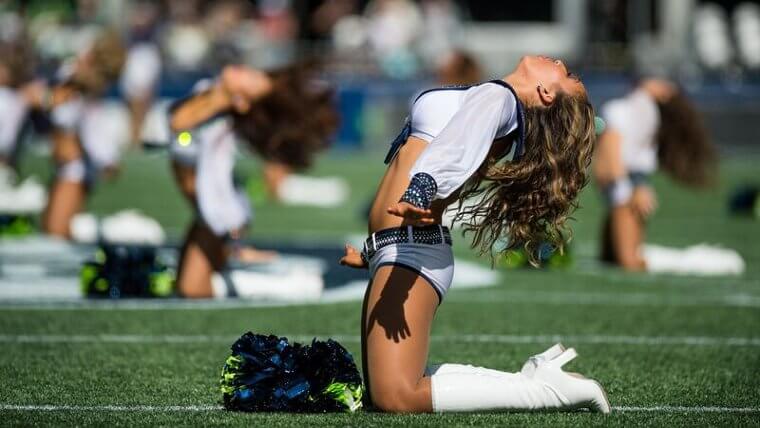 Each cheerleader on the Oakland Raiderettes team is required to polish these boots before every game. If their shoes don't shine before walking onto the field, then they will be banned from cheering on that day. Seems a bit harsh considering that the attention is hardly going to be focused on their feet.

Forgetfulness Faces a Fine
Bringing the wrong set of pom-poms to a game can be a costly mistake. But so can forgetting your pom-poms altogether. If cheerleaders forget any item of their uniform - whether it be a pom-pom, lycra shorts, or a jacket - then they have to pay up.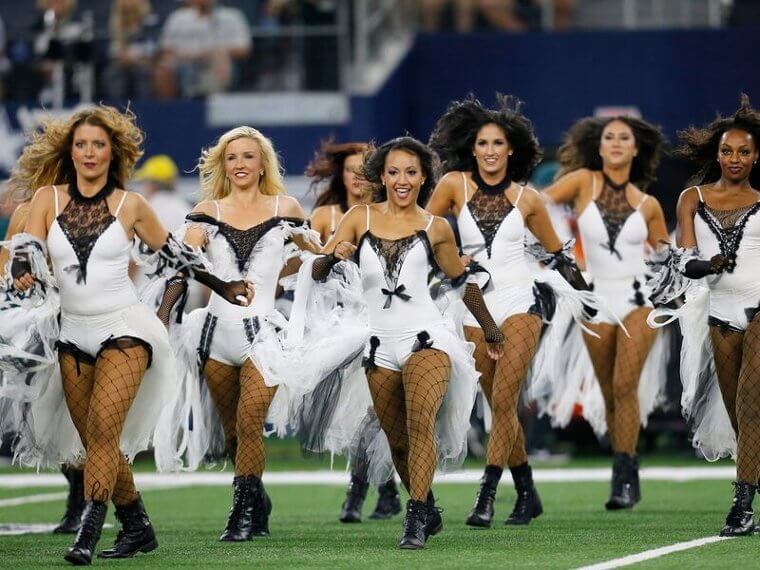 Unlike many of the other rules on this list, this rule sort of makes sense. After all, a uniform is an essential part of their job. However, everyone is bound to forget something at some point, and this can be a financial burden to a minimum-wage employee.

A Fine Is the Least of Their Worries
Nobody enjoys getting a fine. Whether it's for speeding on the highway, parking in the disabled spot, or forgetting your pom-poms. But in some cases, a cheerleader would prefer a fine to the alternative repercussion - docking an entire day's pay.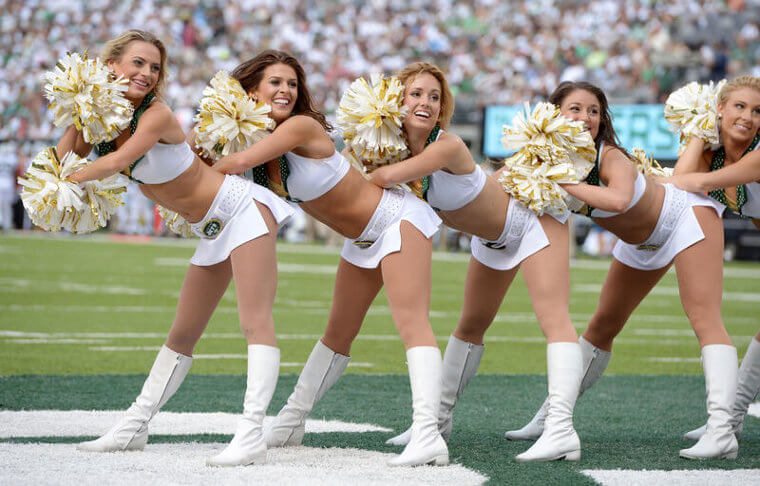 Some team directors have gone to extreme lengths to introduce consequences for forgetting parts of a uniform. Even though the cheerleader won't get paid for the day, she'll still be required to perform. It seems like the best solution, in this case, is for the cheerleader to stick a checklist to their steering wheel!

Low Wages and High Expectations
Despite earning unbelievably low wages, the NFL cheerleaders are required to attend events even if they are not working. These unpaid events are a bit of a slap in the face considering that even the hot dog vendors get paid more than them.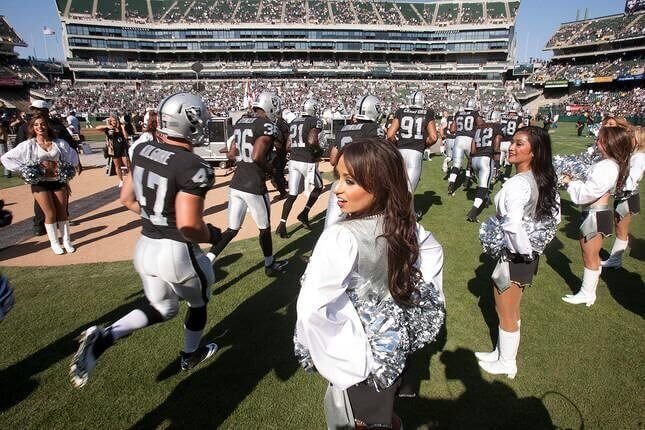 So what happens if a cheerleader can't make the scheduled (unpaid) event that her name has been jotted down to attend? There will be consequences for her actions and she'll make more of an effort to attend the next one.

Eating Is Cheating - At Least in Your Uniform
Anyone who has ever worked a full day will know the grumble in your belly that gets louder the closer you get to lunchtime. Cheerleaders are no different and they also get hungry when working full days at the stadium. But they're not allowed to eat in uniform, even if they're hungry.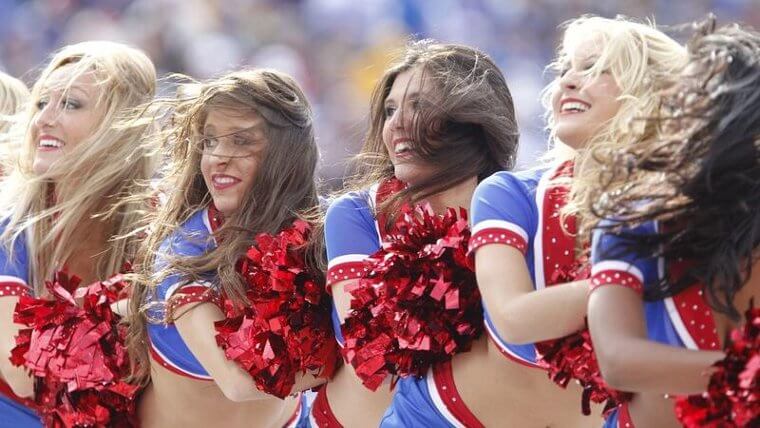 The rule goes as far as to stipulate that if anyone offers a skinny cheerleader a morsel of food, she has to deny the gesture and say that she's not hungry. Only water can be consumed when in uniform, which may keep you hydrated but not exactly energized.

No Pictures Can Be Posted of Cheerleaders in Uniform
Considering all of the hard work that gets put into being a cheerleader for the NFL, you'd think that the ladies would be able to flaunt their coveted position on social media. But you'd be wrong. Although they put a lot of effort into looking incredible on game day, they are forbidden from posting pictures of themselves in uniform.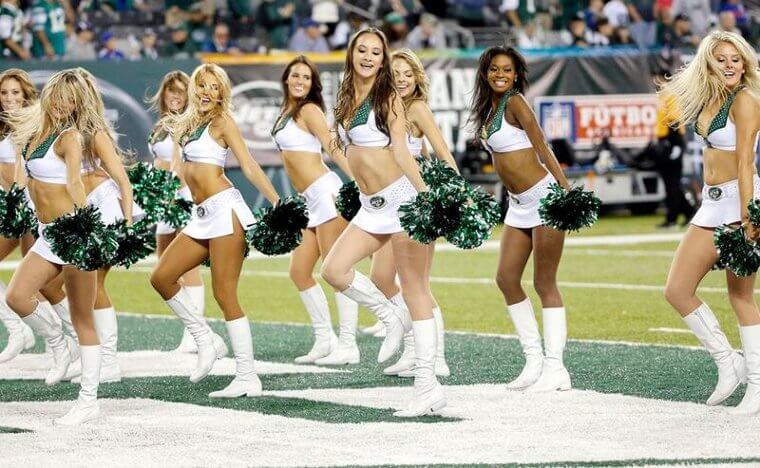 It's quite a sad rule considering that the ladies have to pay for their uniforms themselves and cover the costs of any aesthetic enhancements. And yet they can't flaunt their perfected look online.

Only Sweet Things Can Be Said
You'd think that with all of these rules and restrictions, that there may be a little bit of animosity building among the team. But here's another rule that further controls what the cheerleaders can (and can't) say. The ladies are forbidden from gossiping or complaining.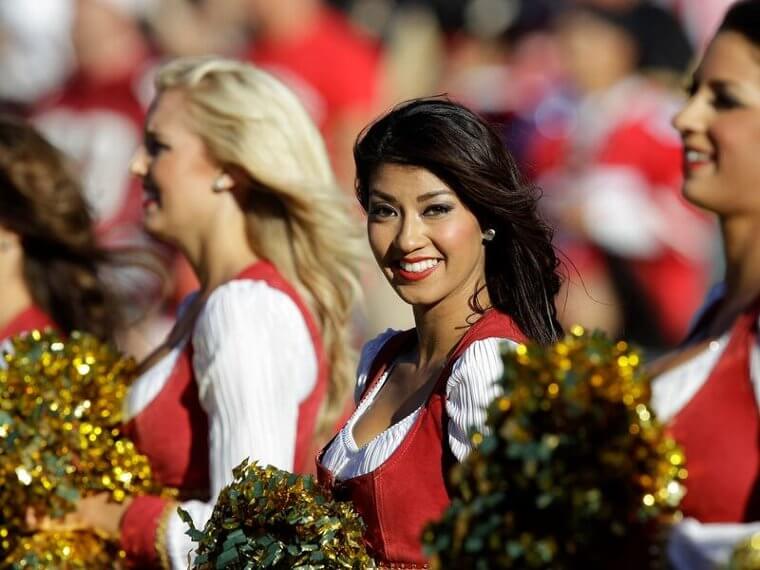 It's forbidden to chat about the pains and lack of gains that come with working with the NFL teams. There is to be no negative discussion about how they are being treated. Out of all of the rules, this one appears to be the most similar to propaganda.

Silence Is Golden (And Outdated)
Everyone's voice should be heard equally and to argue otherwise will get you shunned by a progressive society. And yet there's a very outdated and concerning rule that shines a spotlight on the mindset of the NFL - cheerleaders are guided to being "seen and not heard".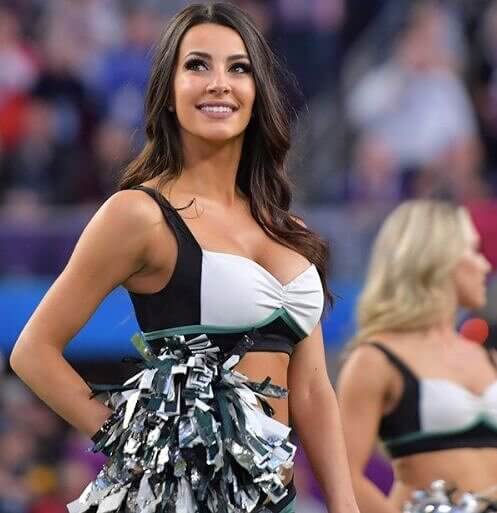 With the cheerleaders being as beautiful as they are, the NFL has managed to get away with this rule to some degree, emphasizing that their beauty outweighs the value of their conversation. This is quite insulting considering that it disallows the cheerleaders from expressing any opinions. Just smile and wave girls.

Body Language Is Under Strict Watch
There are different forms of communication, and using your words is only one of the ways. If watching their tongues isn't enough, cheerleaders also need to pay close attention to their body language and what they may communicate without opening their mouths.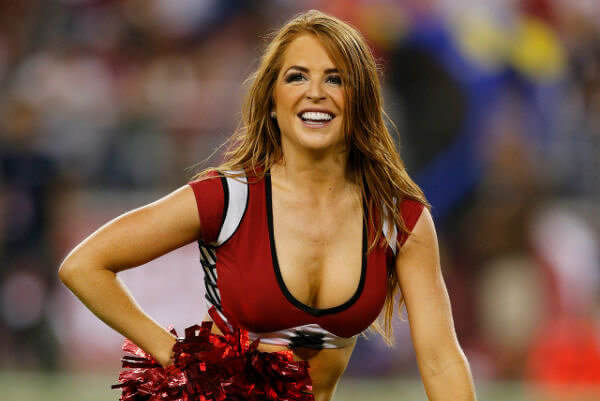 Not only are they required to monitor every movement and action, making sure that they mimic NFL guidelines, but they are trained to do so. The ladies are coached in body language and could get in serious trouble if they don't follow the rules.


Runs in Their Tights Are to Be Avoided at All Costs
Also known as "ladders", these pulled threads in tights can be a real pain. Getting a run in a pair of tights is as easy as getting it hooked on a zip or sitting on a piece of velcro. But if it happens before a performance, you had better be prepared.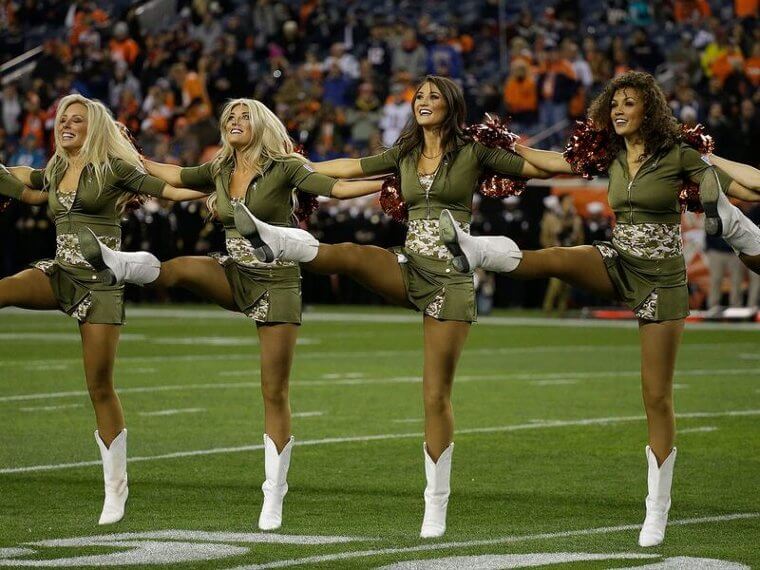 The NFL is unforgiving when it comes to simple mistakes and unfortunately, having a run in your tights is one of these unfavorable circumstances. Some cheerleaders have been known to be benched for an entire season. There's a lesson in this rule - always pack a second (and third) pair of tights.

Chewing Gum Is Considered an Abomination
If they can't talk, perhaps they can chew gum? Unfortunately for the Seattle Seahawk cheerleaders, chewing gum is forbidden unless the director gives them permission. In theory, this rule makes sense as no one likes to see a ball of gum in someone's mouth while cheering, not to mention that it's a choking hazard.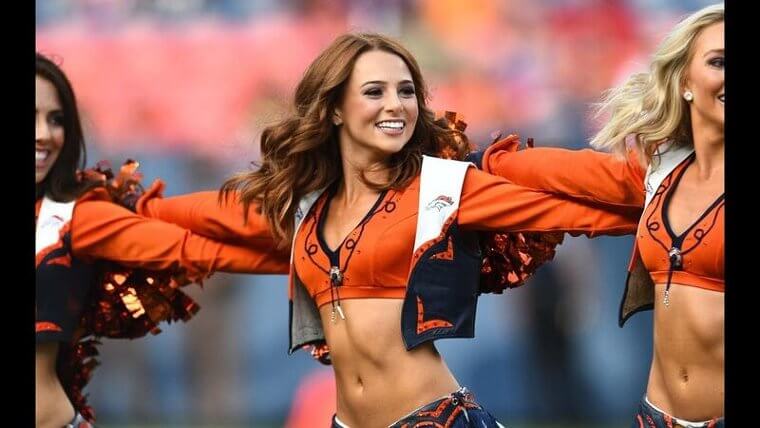 However, the problem is introduced when the "no gum" rule is used in conjunction with controlling what the cheerleaders eat and drink. In this way, it becomes much more of a power play than a safety concern.

No Sweet Treats Are Allowed
Although quite drastic, this rule shouldn't come as a surprise considering the pressure put on the cheerleaders to keep their figure. Directors and choreographers keep the team on a strict sugar-free diet. Some go as far as testing whether the ladies can resist their sweet tooth or not.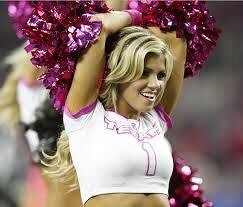 One cheerleader who was struggling with her rising weight had to cut cookies from her diet. The next day, the team choreographer offered her the tasty treat purely as a test of resistance. That's just mean!

The Rules of the Strict Diet Continue
In order to maintain their perfect image, cheerleaders are required to maintain their "ideal weight". To help the ladies keep the scale consistent, the NFL guidebooks offer dietary regulations that can be quite strict. One handbook advised the cheerleaders to only consume two meals per day and to "choose wisely" when doing so.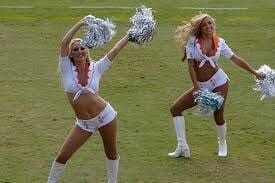 Most diet plans were also limited to only one slice of meat per day. Rather than suffer from these unrealistic meal plans, many cheerleaders would reach for caffeine and weight loss supplements in case their meal of choice tips the scale.

The Privilege of a Photoshoot Comes at the Cost of Other Permissions
You know that you've made it as an NFL cheerleader when you're asked to model for the annual team calendar. But while many consider this a privilege, there's an underlying darkness to the opportunity.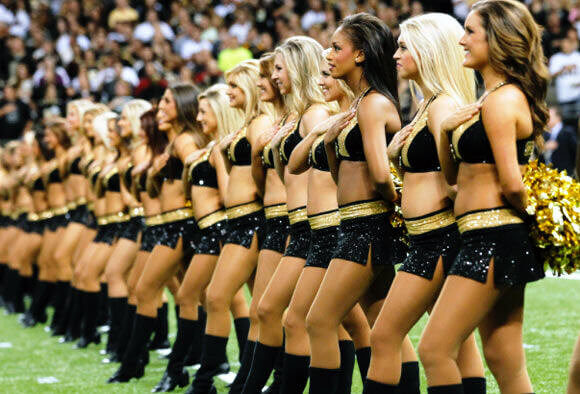 The chosen cheerleaders don't really have a say in what poses they have to do. One horror story tells of how the Washington Redskins took the 2013 cheerleaders to Costa Rica for the calendar shoot. While there, they took everyone's passports and refused to give them back unless the girls posed nude. The photography team stooped even lower and invited various sponsors to watch the shoot.

Understanding That Everyone Is Expendable
There's a reason that the NFL teams can be so ruthless with their rules and never run out of cheerleaders. The ladies understand that every single one of them is replaceable and that the game will go on - with or without them.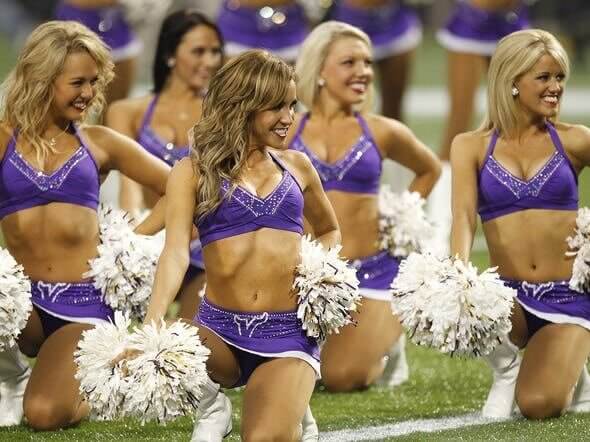 One handbook went as far as insulting the cheerleaders by explaining that the stadium will always be packed by fans of the game - whether or not the cheerleaders are performing. Being a part of the cheer teams means acknowledging that you're not that important after all.

Go to Bed With a Clean Face
A large part of a cheerleader's beauty regime is carefully applied makeup to accentuate certain features, and hide others. Although this can take a lot of time to put together, dermatologists recommend that everyone wash their faces before bed. One of the main reasons for this is to ensure a clean face and avoid breakouts.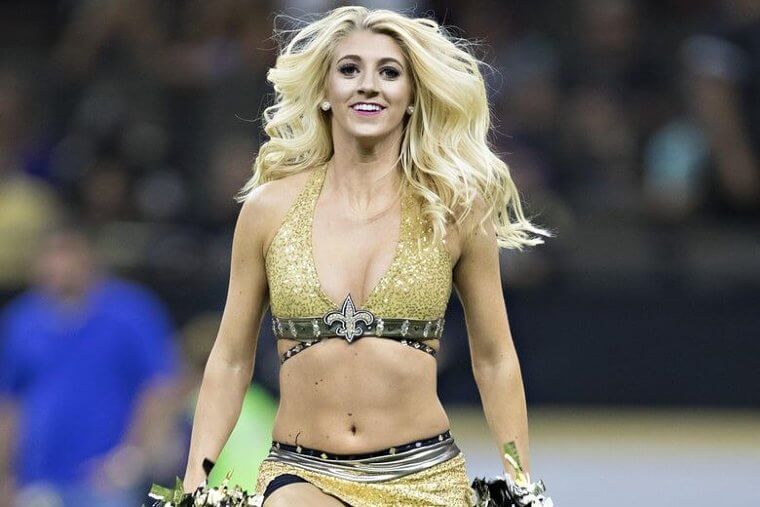 But rather than offer this piece of advice as a recommendation - and one that most cheerleaders probably follow on their own accord - it is written in as a rule. Many handbooks stipulate that the cheerleaders need to wash the makeup off of their faces before bed. Or else...

No Place for Special Snowflakes
There are some beautifully tanned women in the world and equally gorgeous women of porcelain complexion. But the NFL only has eyes for those that are tan. In fact, it's been written in some NFL handbooks that if the cheerleaders aren't naturally tan then they need to go to a tanning salon.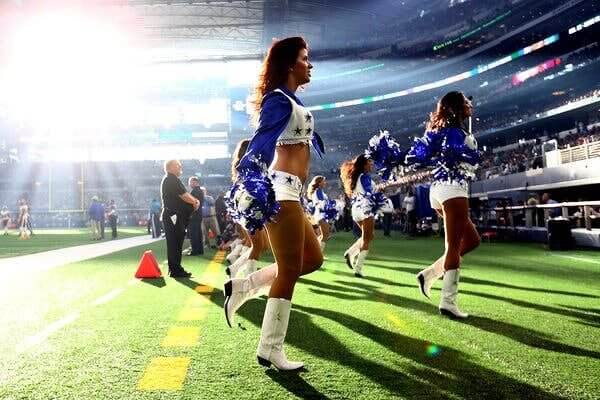 Once again, this needs to come out of the cheerleaders' pockets and be done on their own time. If their skin tone doesn't match that of their teammates, then there will be consequences.

Tan Skin and White Teeth Are Essential
The NFL cheerleaders spend a lot of time smiling. In between the jumps, the flicks, and the booty shakes, they are beaming at the crowd with their pearly whites. Although ludicrous, it should come as no surprise that some NFL teams do specific checks to make sure that the teeth of the cheerleaders are white enough.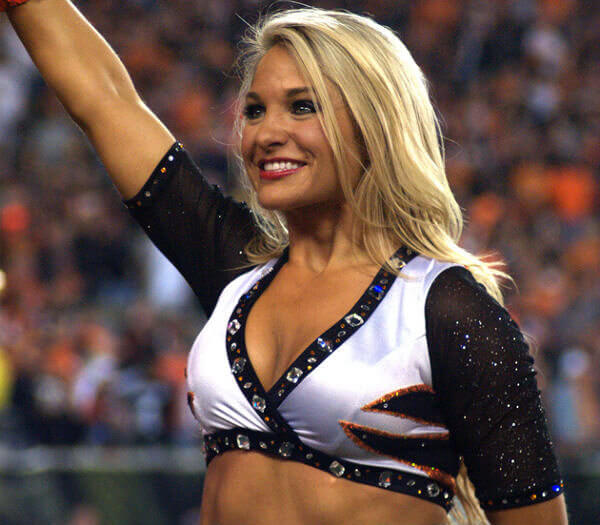 The solution for teeth that don't make the cut is the expensive procedure of getting their teeth whitened. As with other beauty essentials, this is paid for by the cheerleader and the failure to abide by this rule could result in suspension.

Uniforms Are Only to Be Worn Inside the Stadium
Buying a ticket to an NFL game gets you the privilege of seeing the cheerleaders in their uniforms in real-time. As mentioned, the ladies can't share pictures of themselves in their uniforms on social media and although they pay for the gear themselves, they are forbidden from wearing the uniform outside of the stadium walls.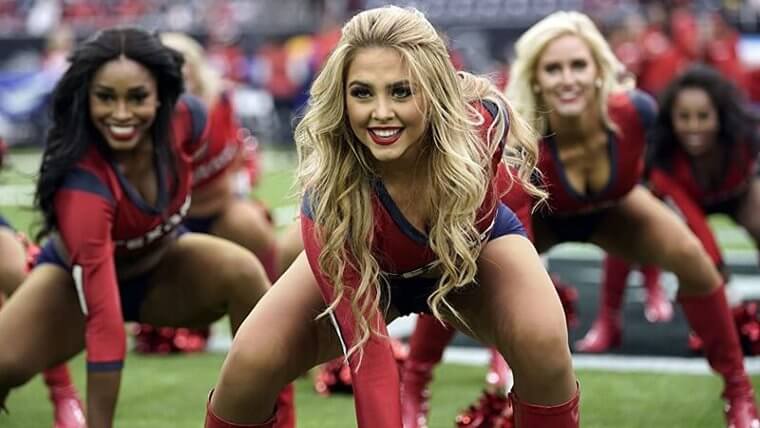 In the same breath, some handbooks insist that the cheerleaders can't wear regular clothes inside the stadium either. Essentially this means that the ladies have to head straight home as soon as the game is finished.

No Place for Piercings or Tattoos
Most professional work environments have got strict rules about covering up piercings and tattoos. It's unlikely that you'll sit down next to a lawyer with a neck tattoo and lip ring. The NFL cheerleaders are required to do the same, only they don't have as many clothes to help with the cover-up.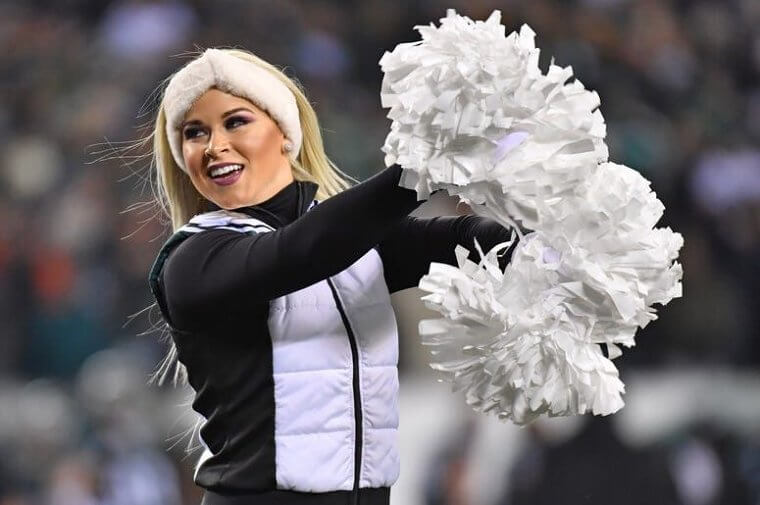 The rule is so strict that some aspiring cheerleaders won't even be given a chance if they have visible piercings and tattoos. The bodies of the cheerleaders are checked before the game to make sure that no new ink has been added since the previous game.

There's No Allowance for Sticking It to the Man
The cheerleading game is run similarly to that of a dictatorship. The people in authority make the rules and there's no arguing or negotiating on their validity. No matter how ridiculous or bizarre the demands may be, the cheerleaders are not allowed to disagree.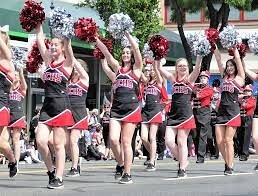 There have been times when these rules (which are not up for debate) have made the cheerleaders feel incredibly uncomfortable and even trapped at times. There have been cases of the ladies being harassed at events and forced to entertain guests in a way that pushes their personal boundaries. If anyone speaks up to this ill-treatment, they could be fired.

Their Shift Starts Five Hours Before Kick-Off
Contrary to what you may think, a cheerleader doesn't only work for a couple of hours while the game is being played. Just like the football players need to arrive early to warm up and revise the game plan, so do the cheerleaders have to arrive early. In some cases, a whole five hours before kick-off.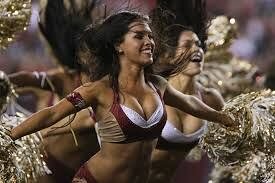 This can extend the workday to as long as seven hours or more. Much of this time is spent on their feet with very little rest. And need we remind you that they are being paid minimum wage throughout this time!

There Are Rules Against Public Affiliation
As you can see by these many rules laid out for the cheerleaders, the NFL is very serious about upholding a certain public image. At the risk of the cheerleaders ruining this reputation by saying or doing something untoward, the handbooks stipulate that the teams don't want the ladies associated with them at all.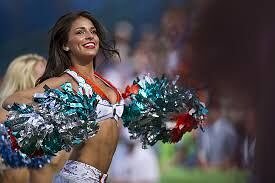 For example, the San Francisco 49ers forbid their cheerleaders from telling anyone that they are a part of the team. It's almost as though the ladies need to follow all of these rules only to be a part of an "imaginary" club.

Working Out Should Be a Daily Routine
The gorgeous ladies may look flawless and composed while spinning around on the football field, but don't be fooled. Cheerleading is not for the faint-hearted. There's a lot of physical practice that goes into working the routines for the games. But many NFL teams insist that the cheerleaders do additional exercise outside of these training sessions.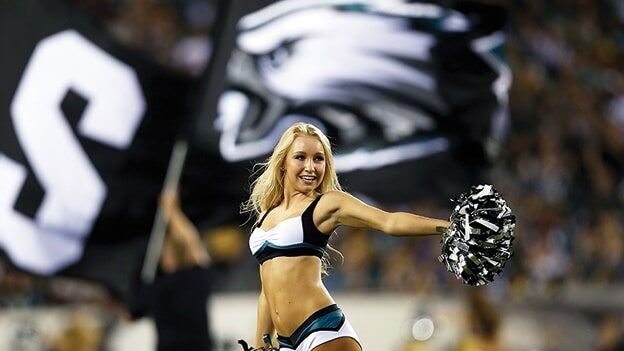 Simply owning a skipping rope or doing a few crunchies in the lounge just won't cut it either. The ladies are required to pay for gym memberships, adding another expense to a low-paying job.

There's No Negotiation on Payment
Being hired as an NFL cheerleader is considered to be an honor and one that should be accepted with grace and an obedient attitude. The ladies on the team are forbidden from complaining about their low wages and if they do, they may be fired for their 'audacity'.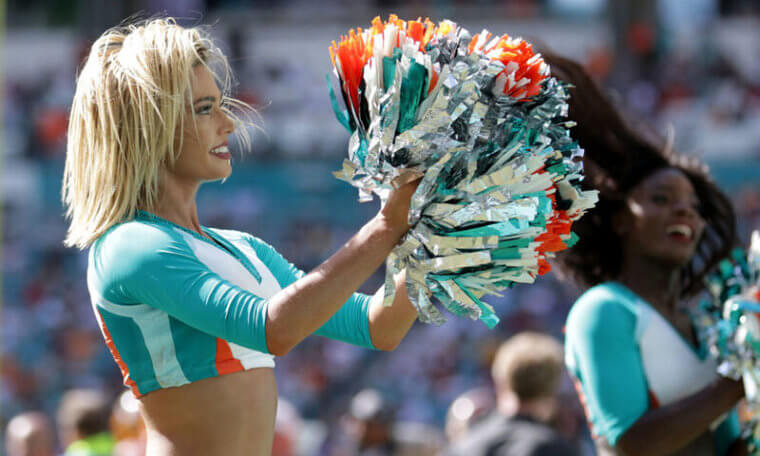 Considering all of the cosmetic, uniform, and fitness expenses that the ladies need to cover, the money that they take home is as little as $2,85 per hour. Some girls even run at a loss, just to stay on the team. And they don't dare to ask for more money.

The Final Nail in the Coffin - Shaving in a Certain Way
We've saved one of the most bizarre and invasive rules for last. The NFL cheerleaders are required to shave in a certain way. They've already been (strongly) advised on other personal hygiene habits, and this just pushes the boundaries a touch too far.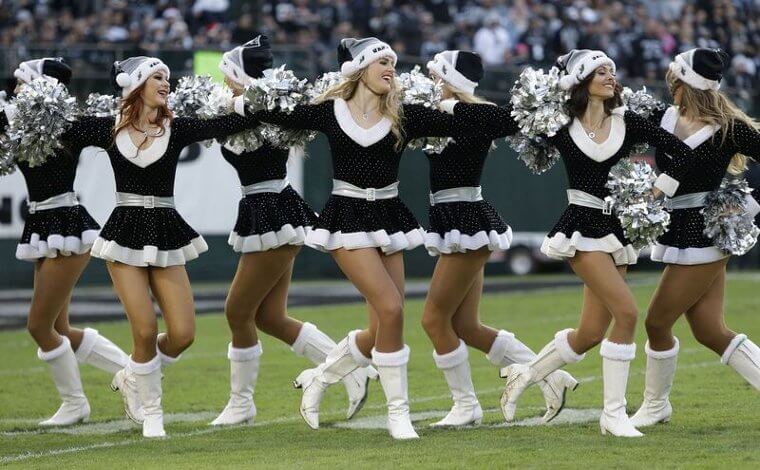 Some of the handbooks outline exactly how the woman should shave, regardless of whether or not it works for her body. After considering these rules that the ladies follow, perhaps we'll look at them with new-found respect.