While South Korea is a popular tourist destination with thousands of Instagram-worthy shots, its northern neighbors are much more secluded and mysterious. North Korea remains a controlled and conservative country that only permits state-sanctioned tourist visits. The following photographs show a secret side of North Korea that would normally be suppressed and protected.
Apartment Blocks From Juche Tower
The Juche Tower was completed in 1982, serving as an iconic monument in Pyongyang, the capital of North Korea. The structure is both deeply symbolic and aptly named  in honor of the Juche ideology, the state ideals of the WPK which translates as "self-resilience."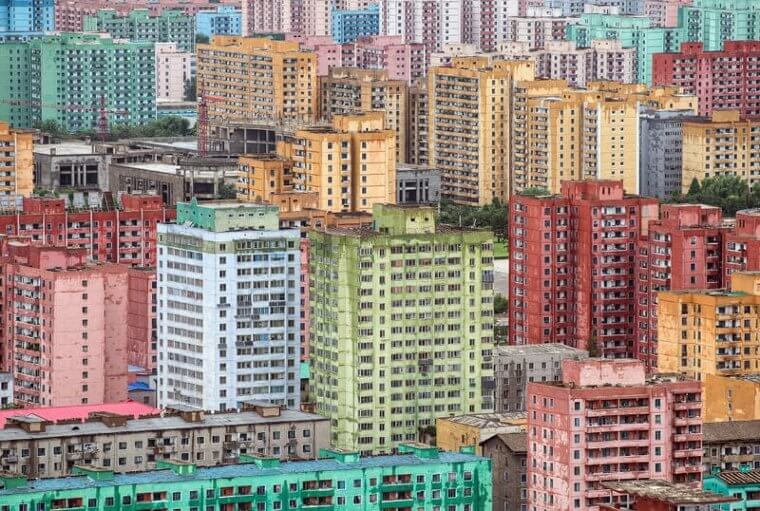 While the symbolism of the tower is dubious, the view from the tower is quite astounding: a sea of identical apartment blocks blend into one another, separated only by their range of colored walls. All share a shabby, lonely, and sordid appearance, alluding to the mood of the inhabitants inside.
Pledging Allegiance to the Flag… of North Korea
The Worker's Party of Korea (WPK) is the founding and sole ruling party of the Democratic People's Republic of Korea. Each year, the Arirang festival commemorates the party with a cultural and art festival, celebrated on October 10th across the nation.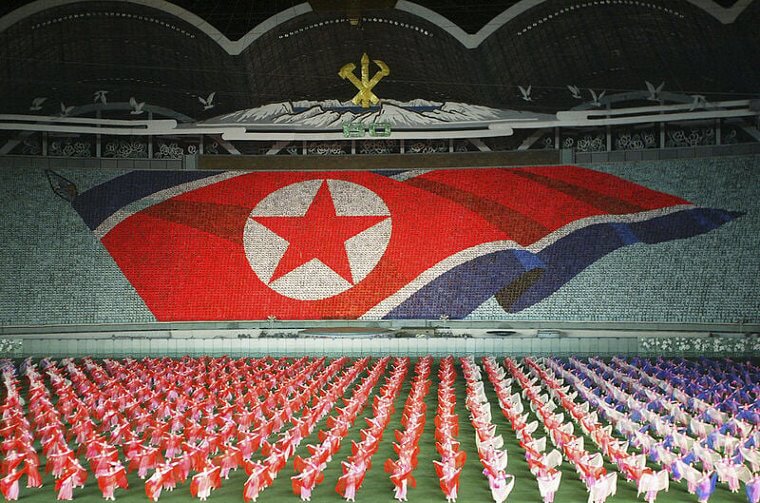 In this photograph, patriotism is encouraged with the formation of a large North Korean flag during the 60th anniversary of the WPK.  The celebrations commence every year, regardless of uncertainties, such as the concern over the breakthrough agreement over North Korean nuclear programs (which haunt this photograph behind the neatly aligned groups of people).
An Orchestrated North Korean Army Parade
North Korea follows Songun, meaning a "military first" policy. Practicing what they preach, North Korea has an astounding number of nuclear weapons and the second-highest number of military and paramilitary personnel. This photograph snapped in Pyongyang shares a glimpse into the nation's militant focus.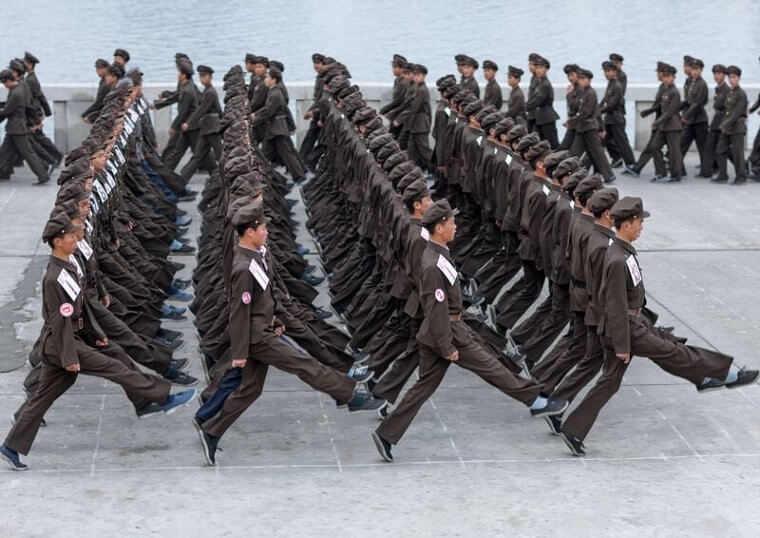 The North Korean army keeps in line as they parade on Kim Il-sung square, following militant protocol and keeping a perfect formation. We can almost hear the group's collection of feet hitting the ground at the same time, flawlessly timed right down to the nanosecond.    
Leaders Are God-Like Individuals
In North Korea, the leaders of the nation are considered to be god-like individuals. To put this into perspective, this photograph captures North Korean citizens paying respects to the Mansuadae Grand Monument, which boasts enormous statues of Kim II-sung and Kim Jong-il.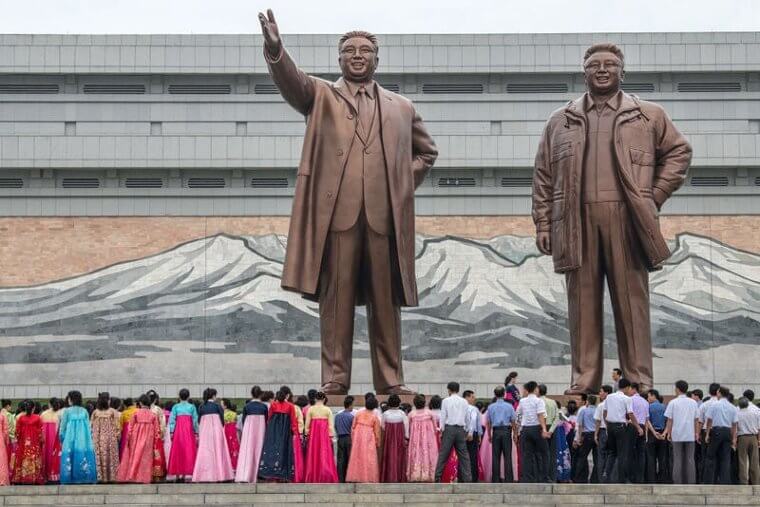 The lineage of these leaders has exercised power over the nation since 1948, defying all hostilities by fortifying their borders to the world.
Even Tyrannical Leaders Have Families
When you are used to seeing photographs of former North Korean leader Kim Jong-il with his arm raised in a greeting or looking down on his subjects, it may be alarming to see him posing with his family.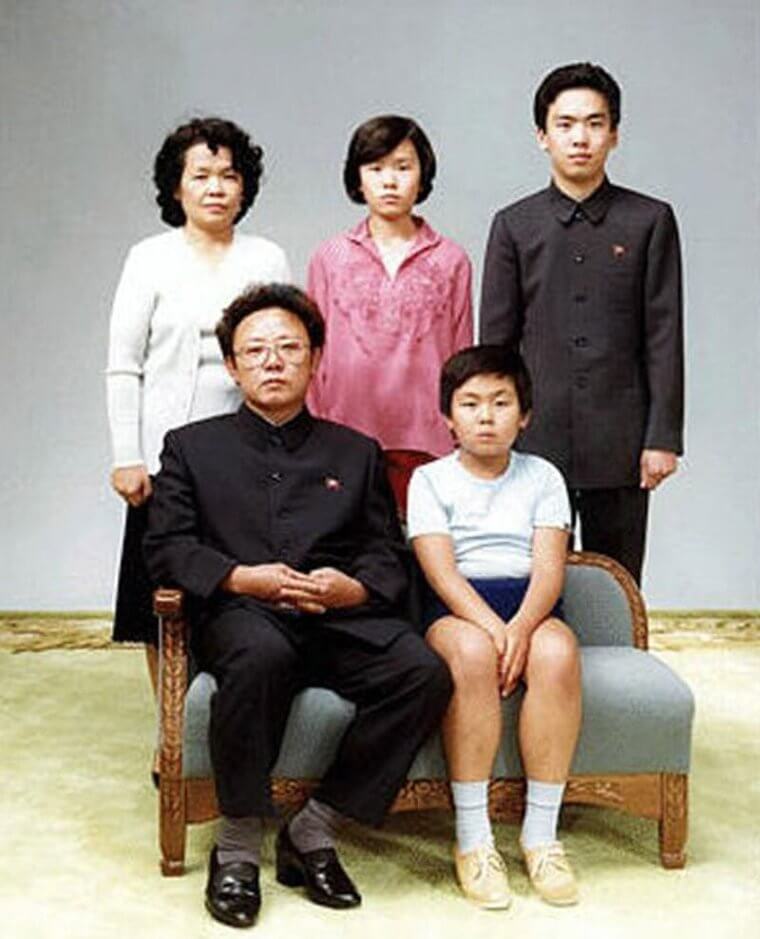 This family portrait was snapped in 1981 and shares a glimpse of Kim Jong-il's personal life. Pictured alongside the former Supreme Leader in the front left is his son, Jong-nam. At the back stands his sister-in-law Song Hye-rang with her two children, Lee Nam-ok and Lee Il-nam.
A Moment of Peace During Tension-Filled Times
North and South Korea do their best to maintain peace. Yet each good action is laced with an underlying threat, and regular efforts must be made to ensure that no civilians are harmed in the process of making political decisions. The Inter-Korean summit is an example of one such occassion.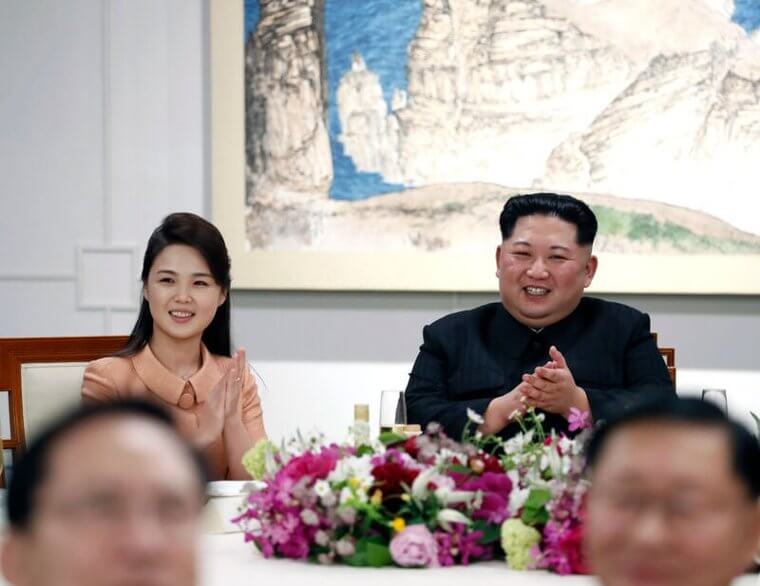 Captured in this photograph, North Korean first lady Ri Sol-ju and Kim Jong-un sit at the dinner table in Panmunjom, South Korea. The dinner intends to continue talking about the division of the Peninsula — which is a permanent bone of contention.
Military Creeps Into Playtime
Every aspect of North Korean life is governed by rules and regulations. Take this photograph of the Rungna Dolphinarium in Pyongyang, for example. The entertainment stadium can seat up to 1,400 people and flaunts a dolphinarium, swimming pool, arcade, and mini golf course. However, it's very difficult to relax when flanked by uniformed men.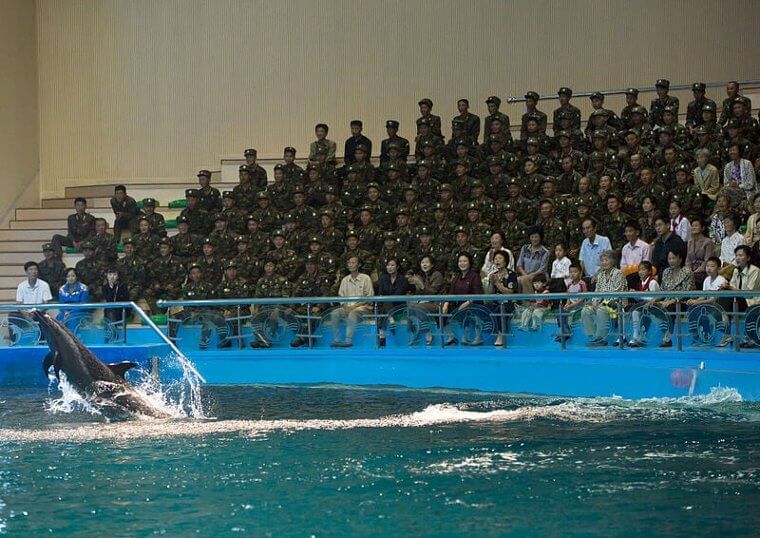 The dolphinarium is shaped like a dolphin swimming in the sea and operates using water pumped directly from the West Sea of Korea. However, any illusion of whimsical bliss is shattered by the overbearing presence of military men.
North Korea Has Strict Fashion Bans
You will likely never see a picture like this one of South Korean actress and model, Sara Lee, in North Korea. During Kim Jong-un's reign, clothing is incorporated into the law. It is banned to wear skinny tights and jeans. Also, married women are instructed to cut their hair short, while single women are allowed to "let loose" with long locks.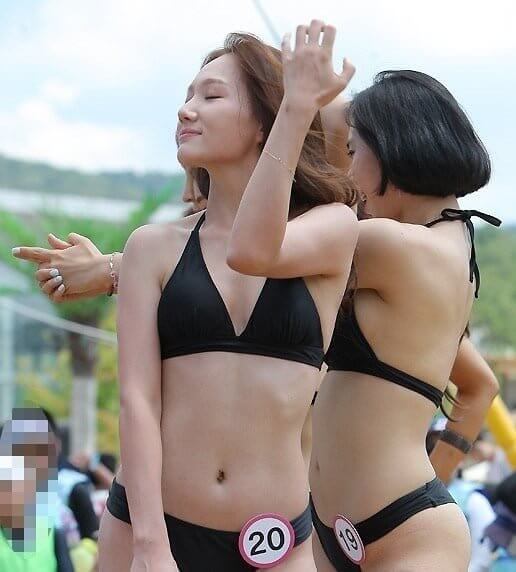 But that's not all. It is illegal to don pieces emulating Kim Jong-un's signature look as it's considered disrespectful, including long leather coats, mao suits, or horn-rimmed glasses. More on the list of banned fashion choices are ripped jeans, branded t-shirts, nose piecings, dyed hair, spiked hair, and mullets. 
Kim Yo-Jong Smiles on Behalf of Her People
Although ordinary North Korean citizens are trapped within the borders, the elite have the option of passage between countries. For example, Kim Yo-jong, a North Korean politician and diplomat, also Kim Jong-un's sister, travels freely (with permission from the government).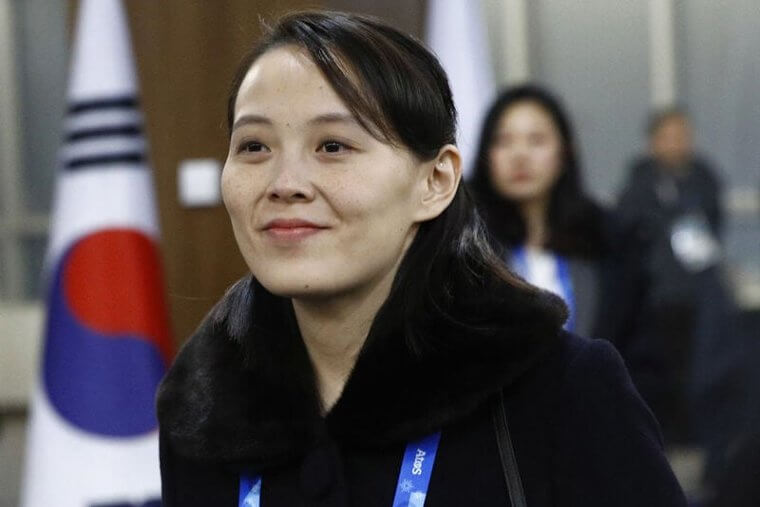 When the PyeongChang 2018 Winter Olympic Games were hosted at PyeongChang Olympic Stadium in South Korea, Kim Yo-jong took the opportunity to attend — and her smile was captured on camera. As it turns out, life for the elite in North Korea is very different from the life of the average civilian.
A Different Sort of Traffic Jam
Remember how we mentioned that traffic was limited in North Korea? Well, that doesn't only apply to vehicular traffic. As rural development continues to be a major problem for the nation, the issues tend to overflow into the few urbanized areas — such as Pyongyang.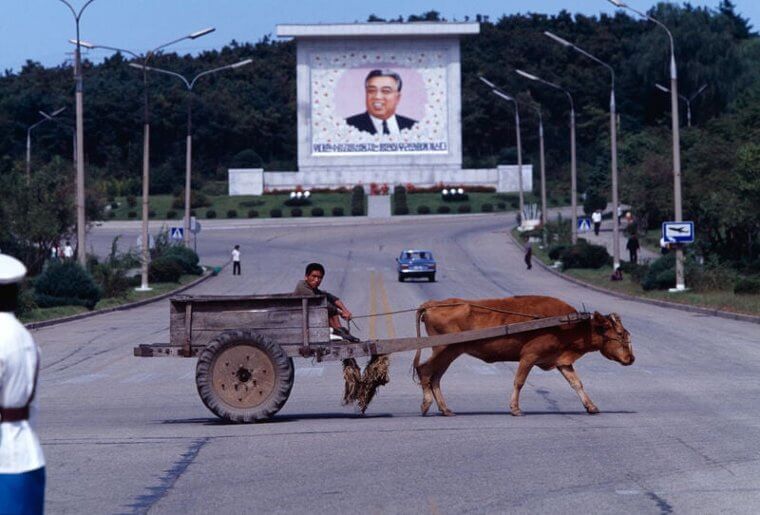 In 1997, a photographer snapped the moment an ox cart made its way through the middle of a street. Even more astounding than the driver's nonchalant demeanor and the few cars on the road is the massive post of former President Kim Il-sung in the background.
An Ominous Scene of Worship
Officially, North Korea is an atheist state. While the North Korean constitution guarantees freedom of religion, and some religions do exist, this is not entirely true. Born out of Marxist and Leninist principles, North Korea's political structure is incompatible with religious beliefs. Without a supernatural deity, the nation's leader takes on a sovereign role.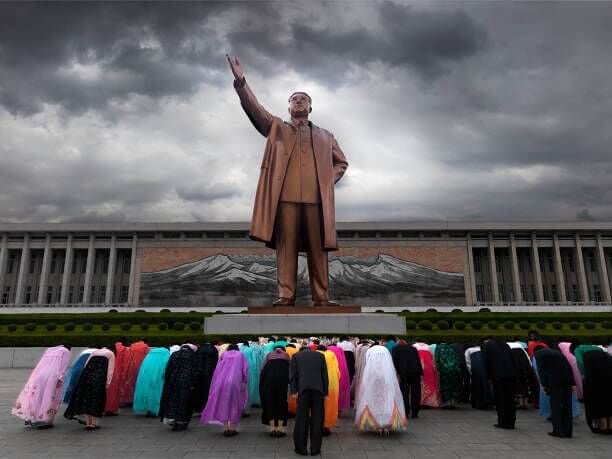 The concept is eerily demonstrated in this photograph, taken in Pyongyang, as North Korean citizens bow in front of a massive statue of Kim Il-sung in Mansudae Grand Monument. As if the sight alone is not sinister enough, then perhaps the darkened clouds that hover above confirm the mood.
Locking Eyes With the Friendly Enemy
The Joint Security Area, often referred to as the Truce Village or Panmunjom, is a section in the Korean Demilitarized Zone (DMZ) where opposing soldiers come into visual contact with one another. But it's not only the snow that is icy in this photograph, which captures a glance between two rival soldiers.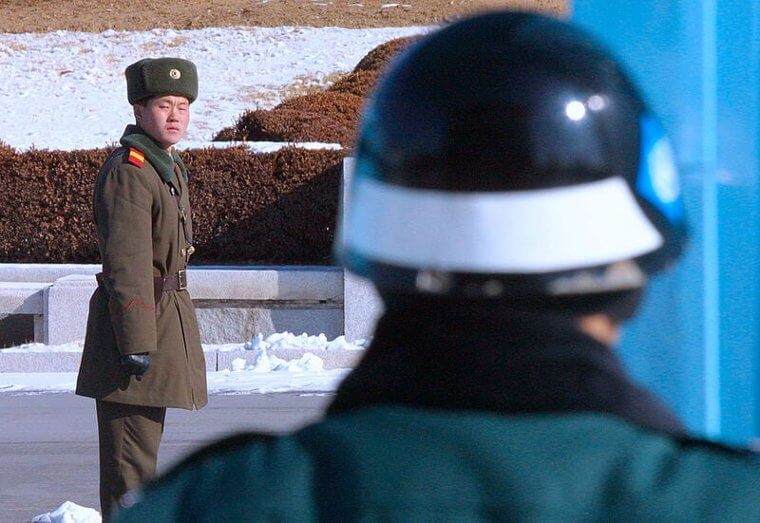 The Panmunjom is where the 1953 armistice was signed, ending hostilities between the neighboring countries. Sadly, this doesn't mean a complete end to the tension. For example, the South Korean presidential envoy Lim Dong-won attempted to meet with North Korean leader Kim Jong-il regarding a nuclear crisis, but his efforts fell flat.
A Clinical and Colorful Perspective of Puhung Subway Station
As a nation, North Korea must be prepared for anything. Considering that they are known to hold nuclear weapons and train their military, it's no wonder they have also prepared for an attack. With this in mind, the Puhung Subway station in Pyongyang doubles up as an atomic shelter.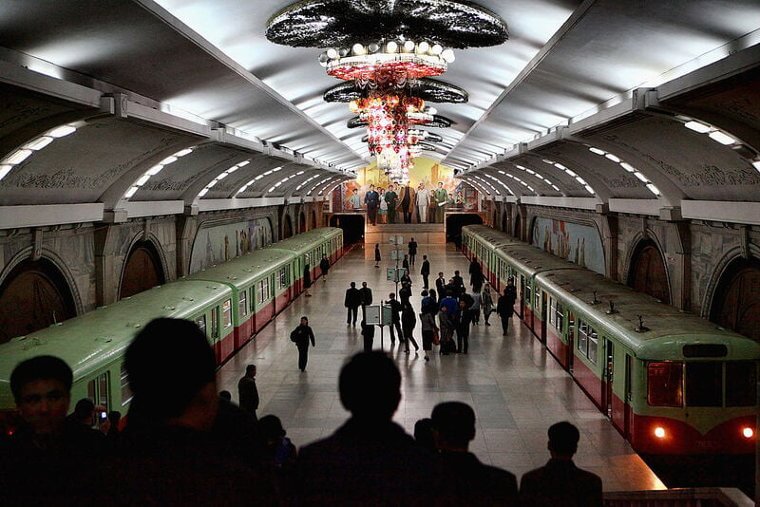 Situated more than 100 meters below the surface, the North Korean subway station is quite a sight to behold. For such a sterile and regulated country, it offers a flash of color in the lighting, the trains, and the mural at the back. Even so, the civilians are absorbed by the shadows.
A Demanding Job for a Traffic Conductor
North Korea has a very interesting traffic situation largely dicated by the country's struggles with economic issues and government restrictions. As a result, public transport is the dominant mode of transport, and it is mostly electrified.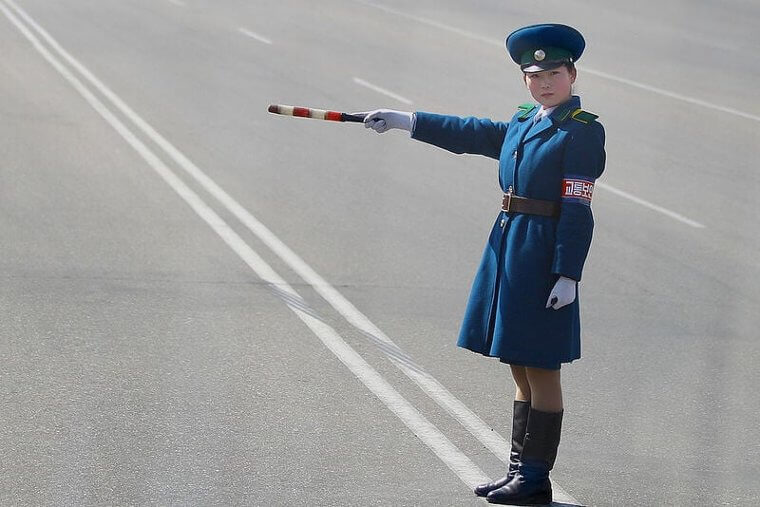 Although regulations restrict vehicle transportation, there is still value in having a traffic conductor. In Pyongyang, a city of roughly 2.87 million people, civilians can only drive with a special permit, and it is forbidden to drive alone. This photograph shows how a young policewoman conducts traffic to manage these rules and regulations, and she looks sharp while doing so!
Tensions Are High in Panmunjom
The border village of Panmunjom is supposed to serve as a friendly location where the two neighboring countries overlap. Yet, the demilitarized zone can be one of the most tense environments.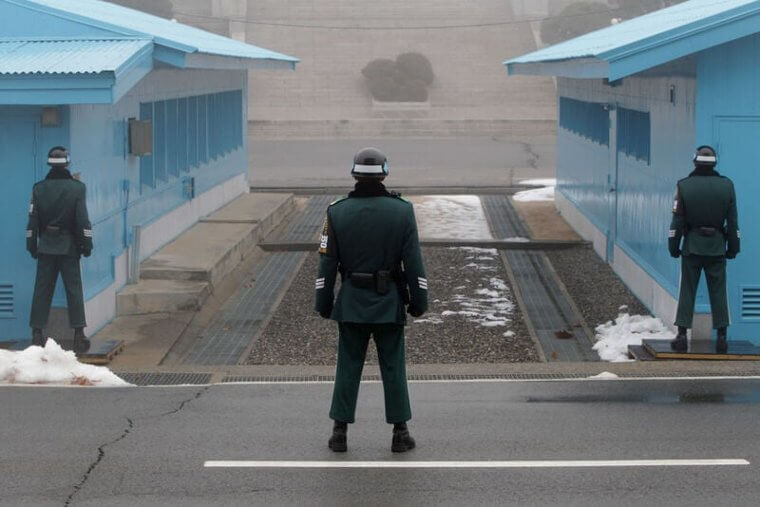 This photograph was taken in South Korea on February 27, 2013. A few days prior, North Korea confirmed that it had successfully conducted an underground nuclear test. The test wasn't without repercussions, with several international monitoring agencies recording a shallow earthquake with a magnitude of 4.9. Needless to say, the focus was refined during the time that followed.
Innovative Use of Balloon Propaganda
North Korea is a highly controlled state. Consider that ordinary citizens with mobile devices do not have access to the global internet - only Kwangmyong, a national intranet service dubbed the "walled garden." With so many restrictions, among other challenges, it's no wonder that roughly 300,000 North Koreans have defected since 1953.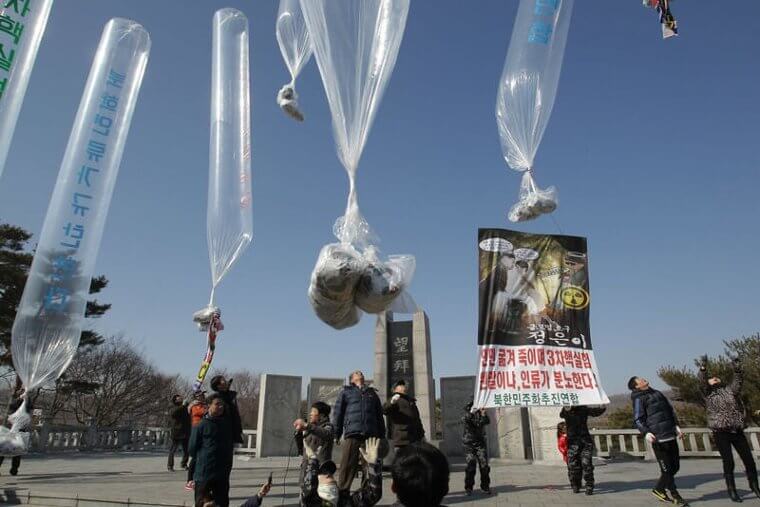 In this photograph, a few of these defectors release balloons from Paju in South Korea. The balloons are filled with propaganda leaflets denouncing North Korea's nuclear test at Imjingak, near the DMZ. The hope is that the information will reach people where the global internet does not.
Indoctrinating Minds From a Young Age
At first glance, these prim and proper children give an impression of wealth and class. However, all education in North Korea is universal and state-funded by the government. As a result, the national literacy rate for citizens older than 15 years of age is more than 99 percent — which is quite impressive!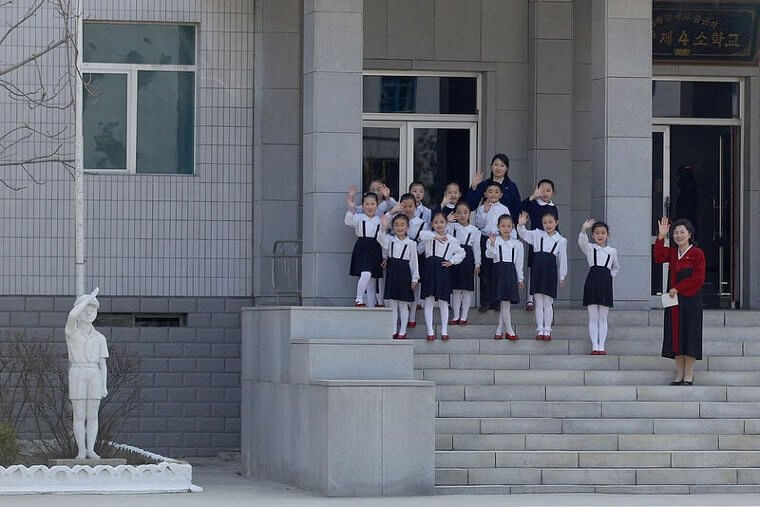 In this photograph, snapped in 2011, a group of North Korean children and their teachers flaunt large smiles and enthusiastic greetings as they see guests off in a primary school in Pyongyang. Initially, the picture looks cute, but the militant statute of a child in the left corner reminds us of the government's tight control.
The Magnitidue of the Statues of Juche Tower
These large statues stand at the bottom of the Juche Tower, reminding everyone who crosses their path about the immense power that is held by North Korean leaders. In case you have any questions about their size, just look at the tiny people at the bottom!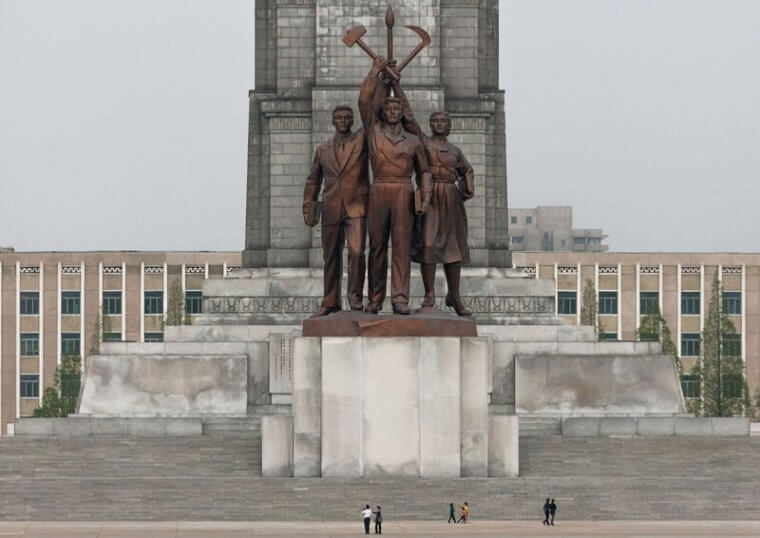 The statues were built to commemorate Kim Il-sung's 70th birthday, and their gravitas presence is sure to last long after his death. The three idealized figures each hold a tool. The hammer represents the worker, the sickle the peasant, and a writing brush in honor of the working intellectual.
North Korean Factory Workers Make For Cheap Labor
While South Korea wants no part in uniting with North Korea, they have no problem using their cheap labor force. In this photograph, a group of North Korean women works at the assembly line of a Kaesong-based factory. The factory belongs to the South Korean textile company, ShinWon, and they are not the only company to blur the lines between what is acceptable and what is not.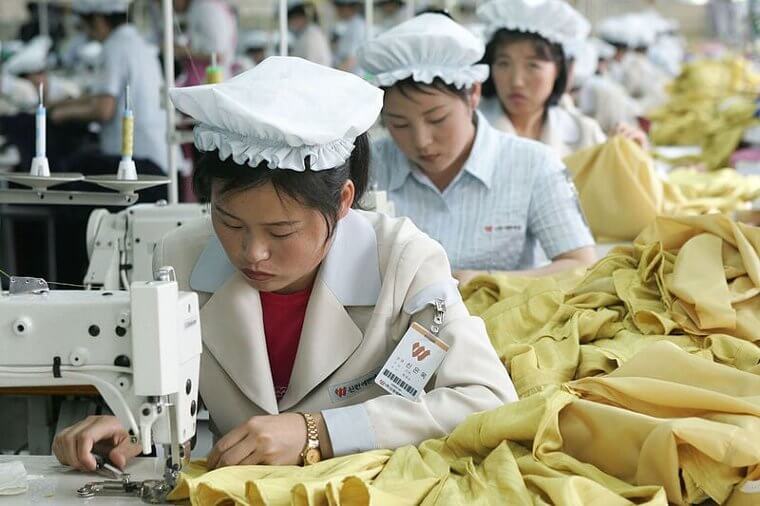 Allegedly, there are up to 300 South Korean companies waiting to build their factories on the North Korean site, which sits roughly 10 kilometers north of the border. If all goes according to plan, the companies hope to hire more than 100,000 North Koreans and take advantage of their cheap labor, paying only one-thirtieth of the monthly wage per worker in South Korea. Talk about extortion!
Documenting an Execution
Even the elite are at risk in North Korea. Consider Jang Song-thaek as an example, who served as a leading figure in the North Korean government. He was related to the current leader of North Korea by marriage, but that didn't stop people from accusing him of being a counter-revolutionary. He was stripped of his posts and expelled from the WPK — and ultimately executed.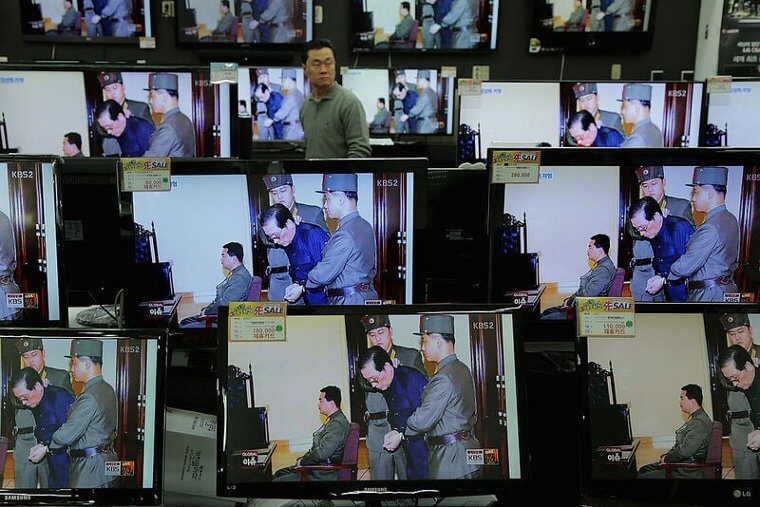 News of the execution was streamed on TV monitors in Seoul, South Korea, as seen in this photograph. While browsing for televisions to purchase, South Korean citizens watched the news at the Yongsan electronic market. Not exactly light-hearted entertainment!
Https: //cdn. Wazimo. Com/media/images/north-Korean-Unseen-Photos-New/6346d196e1a74. Jpg
With so much secrecy behind North Korean borders, it should come as no surprise that multiple countries have tried to uncover its political mysteries. This photograph exposes a United States Navy spy ship, USS Pueblo, that was seized by the North Korean navy in 1968.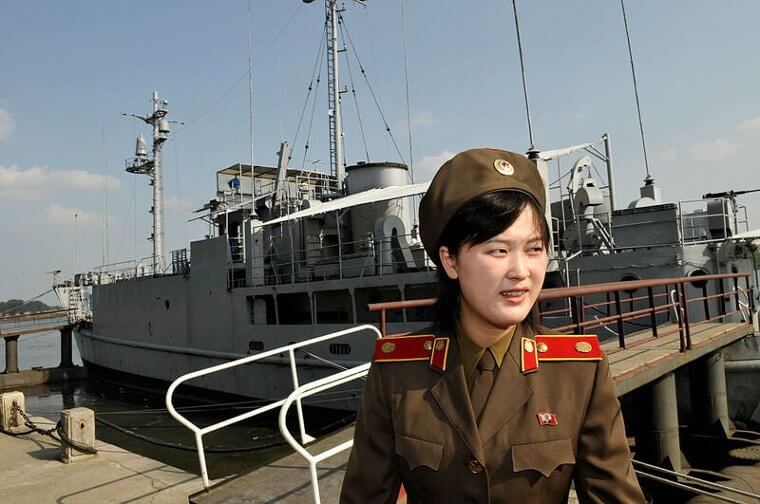 Of the 83 crew members, there were 82 surivors onboard, but they were kept under tight control, with the North Korean government using them as leverage. After nearly a year of tense negotiations, the suriviors were finally released.
School Is Not Only Academic
The North Korean education system is structured and controlled, with a very strict syllabus and compulsory attendance. Yet it's not only academic subjects — such as economics, history, and mathematics — that are taught, but also a strict exercise regime.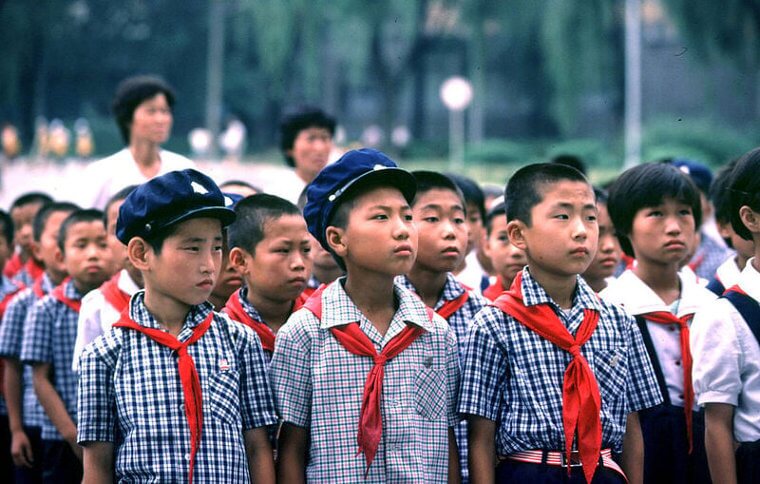 In this photograph, North Korean school children line up in formation to start their daily exercise. While the photograph was taken in 1996, physical fitness is still introduced into the schooling routine. Judging by the look on these kids' faces, how would you say that they feel about it?
The Largest Stadium in the World
Although North Korea is not the most idealized country in the world, it does have a few details to be proud of, one of them being the May Day Stadium. Pictured here, the May Day Stadium is the largest stadium in the world, accommodating up to 150,000 seated visitors.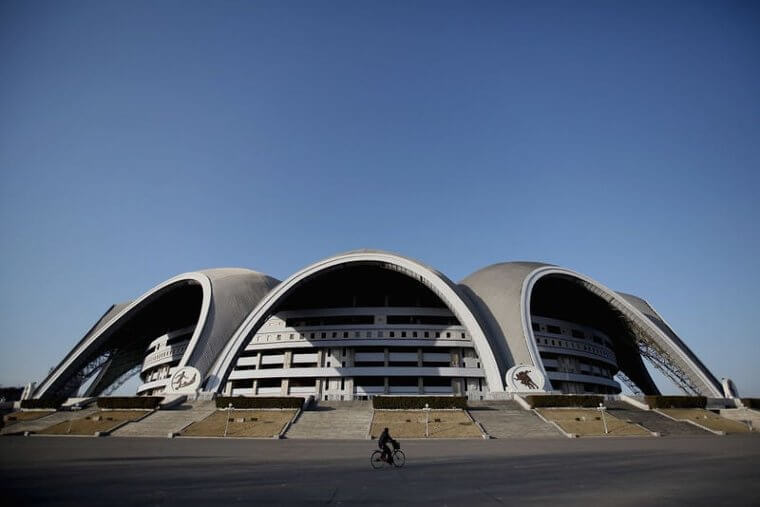 Located in Pyongyang, the multi-purpose stadium was built in response to Seoul's Olympic Stadium as part of the rivalry between the two countries. In true reflection of North Korean work ethic, the stadium was constructed in a speedy two and a half years.
"Let's Advance With Full-Scale Offensive"
North Korea maximizes the labor of its citizens, making sure that every effort is drained from able bodies. Painting a perfect picture of this situation, this photograph reveals women working tirelessly in Kim Jong Suk Silk Factory in Pyongyang.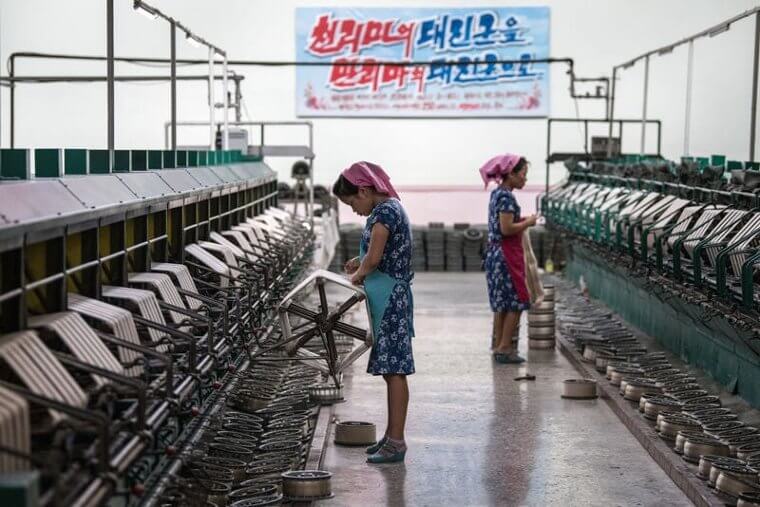 Even in the warehouses, propaganda is bold and obvious. Hanging on the walls of the silk factory is a banner reading "Let's Advance with Full-Scale Offensive." If you search for pictures of the factory online, you'll find workers smiling with joy, which is a stark contrast to this photograph.
A Staple Food Item Amid Bouts of Famine
Over the years, North Korea has experienced a series of famine that has jeaopordized the well-being and livliehood of North Korean citizens. Yet even when food shortages become a harsh reality, chili peppers are usually in strong supply.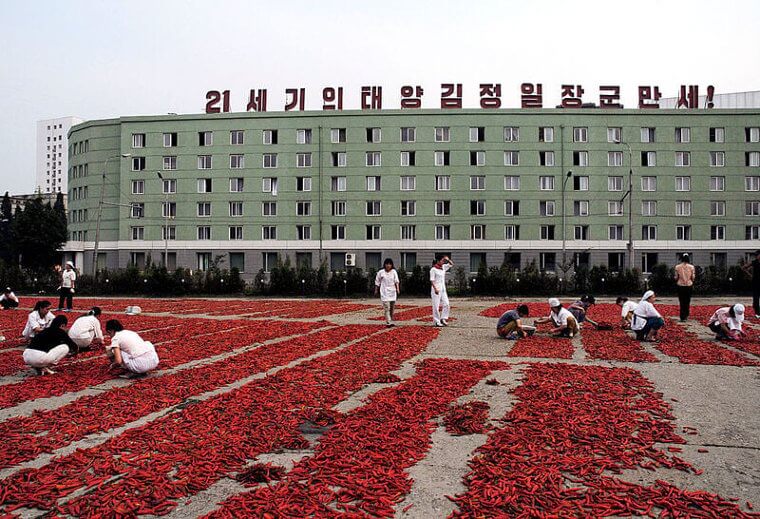 Chili peppers are a staple of North Korea, acting as an essential ingredient for kimchi, a Korean flavor that includes fermented chilis and vegetables. In this photograph, a stack of chili peppers is laid out to dry, with the shocking red color demanding attention.
The Vast Expanse of Kim II Sung Square
In 1954, Kim Il-sung square was constructed as part of a master plan for reconstructing the capital city of Pyongyang, which was devastated during the Korean War. Located at the foot of the Namsan Hill, the square is the 37th largest square in the world and can accommodate a rally of more than 100,000 people.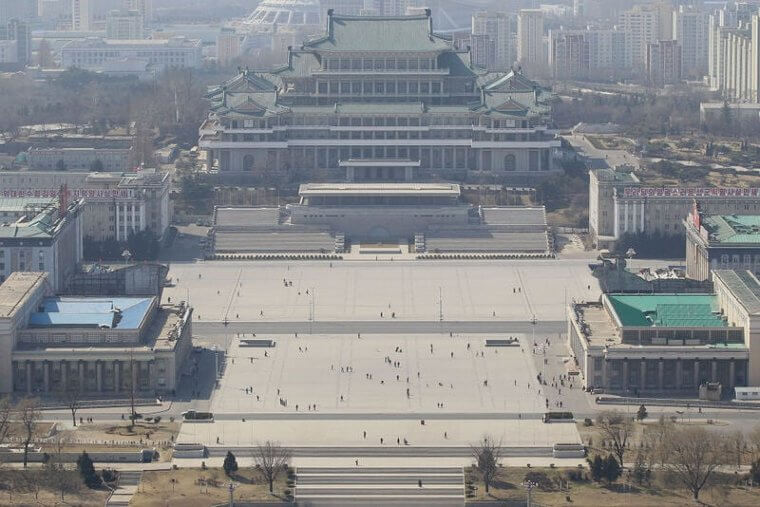 If you're wondering what gravity a square of such significance holds, this photograph should give you a decent idea. The magnitude of the square is further amplified when you notice how small the people appear on the ground.
The Metro Is a Dreary Place
Wherever you go in the world, you can be certain of one thing — the metro isn't a comfortable place. However, some metros offer airconditioners and softer seating while others sprawl with graffiti and feature cracked plastic chairs. As far as the North Korean metro goes, it falls into the latter group.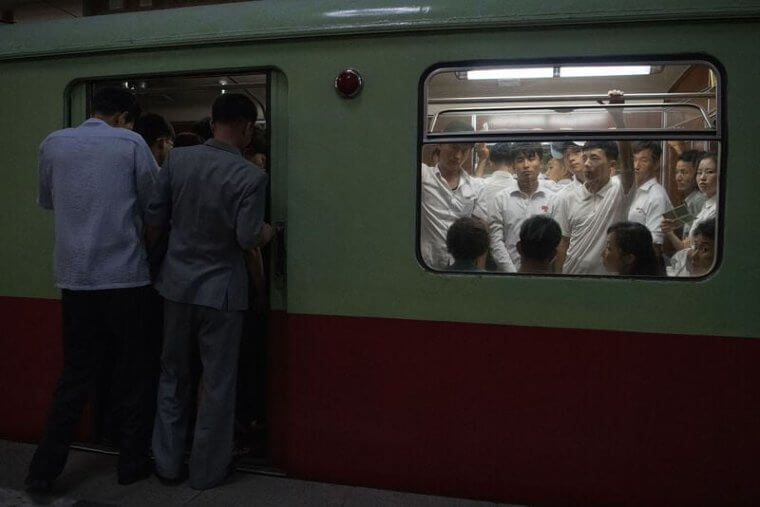 The photograph of North Koreans traveling on the Pyongyang metro, taken in 2018, paints a dismal picture. The metro is crowded and full of shadows where civilians skulk and squash in an effort to move.
A Joint Press Conference to Show a United Front
Although they operate as two separate countries, often at odds, North Korea and South Korea have made an effort to come together and represent shared goals. In case you have any doubts, this photograph taken in Pyongyang is proof.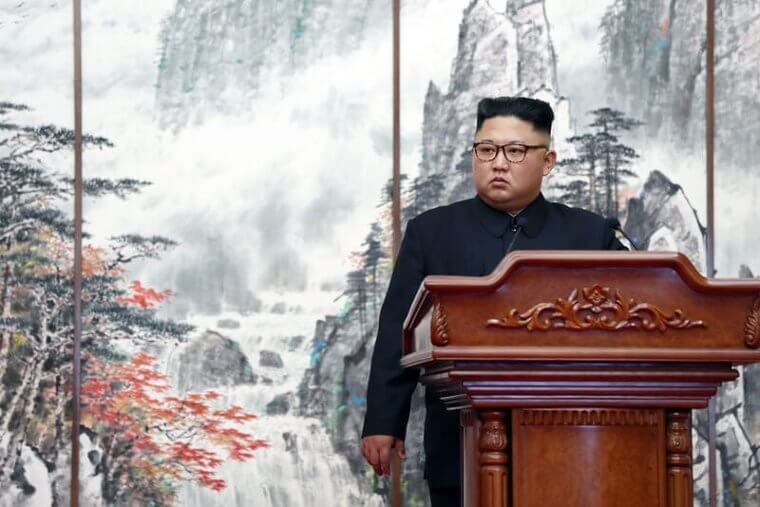 In the photograph, North Korean leader Kim Jong-un attends a joint press conference hosted at Paekhwawon State Guesthouse in 2018. Not pictured in the frame is South Korean President Moon Jae-in — and we can't help but wonder if his facial expression is a match!
The Daily Line for the Bus
Public transport can be a nuisance on the best of days. Add a long and winding wait to the mix, and you're left with a highly frustrating morning. Without the option of owning their own vehicle, North Korean citizens rely on public transport — regardless of how long the bus line is.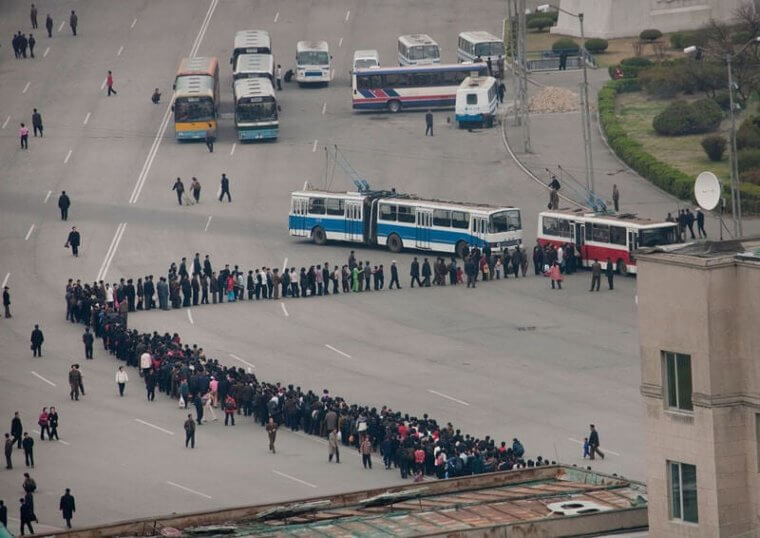 This picture shows a crowd of people queueing for a bus in Pyongyang, standing in a neat and orderly line. Hopefully, these citizens are not in a rush!
Not Your Average Film Studio
Pictured here is a grand gate with a portrait of Kim Il-sung, but where does it lead? The imposing entrance leads to the Pyongyang film studio, which covers an area of over one million square meters.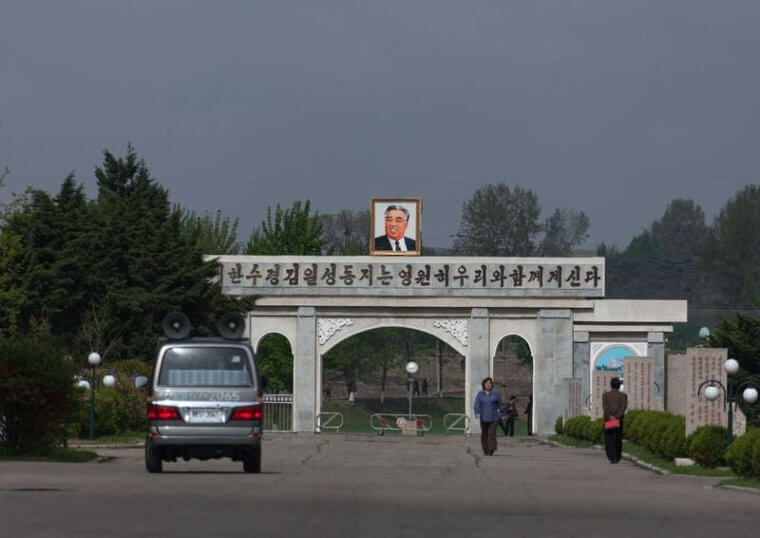 While most film studios are filled with fantastical sets to tell captivating stories, but that's not the case in North Korea. Instead, the film studio has quite a specific focus, with anti-Japanese content and anti-American war narratives being the two main themes. It doesn't exactly inspire a popcorn moment!
An Army of North Korean Gymnasts
North Korean gymnasts have a reputation for boasting excellent skills and achieving impressive results. And it all makes sense when you see the sea of red gymnasts in regimented lines with their hula hoops.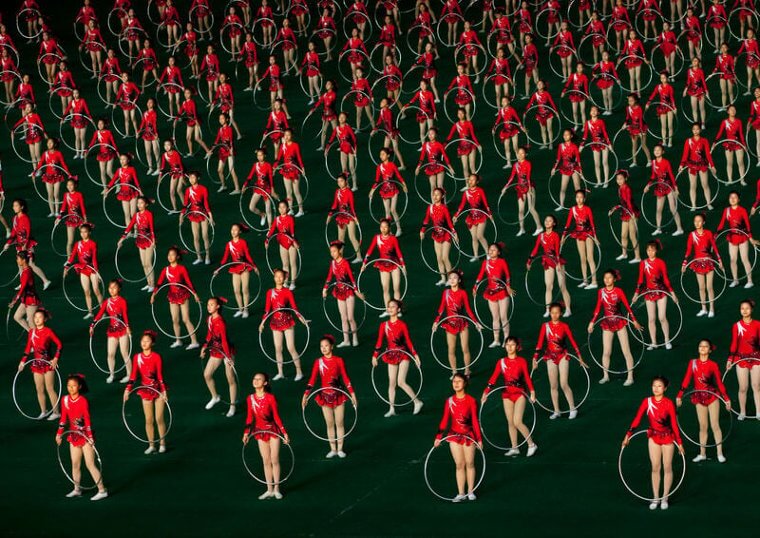 This photograph was taken in 2012, featuring North Korean gymnasts performing during the Arirang mass games in May Day Stadium. Unfortunately, North Korea's gymnastic displays also have a reputation for being inhumane, which dampens the appeal. As far as dark information sources go, gymnastics in North Korea closely resembles child exploitation.