Nothing gets us as excited as seeing before and after pictures of normal people who have blossomed and transformed. We all undergo a daily transformation in one way or another - whether it's growing our hair, getting a tan, or redoing our wardrobe. However, some people blow us away by completely reinventing their look! Stay with us and discover 25 fantastic transformations of everyday folk that show the power of a good makeover.
Lidia Invests In Her Assets
Meet Lidia, a 43-year-old woman who spends her day crunching numbers and calculating costs. In the past, she was happy to fly under the radar, not flaunting any of her features. Then came a transformation…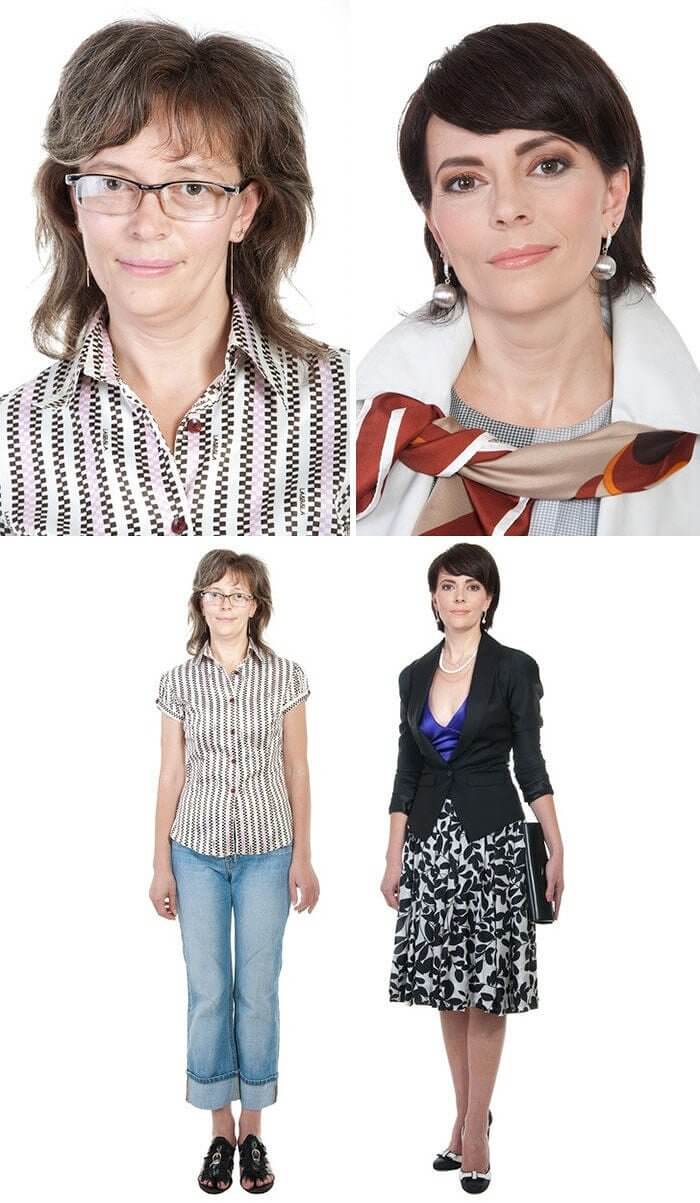 The accountant chopped off her graying hair, added a bold color, and removed her glasses. Then, Lidia swapped out her ill-fitting jeans and corporate blouse for a classy outfit, complete with pearl jewelry. She's definitely leveraging her assets, and reducing her liabilities!
Twin Sisters, Lyudmila and Tamara, Drop a Decade
Have you ever seen such ravishing 65-year-olds? Lyudmila and Tamara are twin sisters, both working as dentists. Every day, they help other people smile with confidence. Now, they can do the same!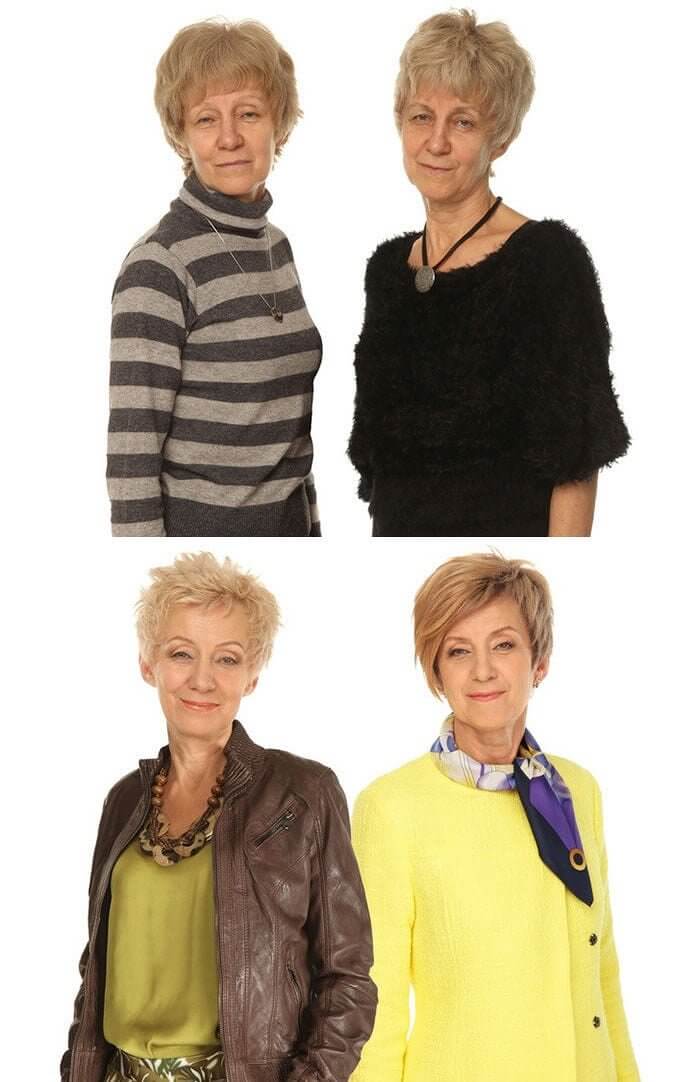 It's amazing how a new hairdo and wardrobe change can make someone look 10 years younger, but the twins are proof of the possibility. Before their transformation, there wasn't much differentiation between the twins' appearances. After their transformation, their unique personalities shine through, showcasing a hint of funky rebellion and elegant expression. 
Mairita Becomes a Smooth Operator
When you work as an operator, you don't often come face-to-face with your customers. Some people use this as an excuse to put in little effort with regard to clothing and style. Mairita was one of these people - looking presentable, but not necessarily noteworthy.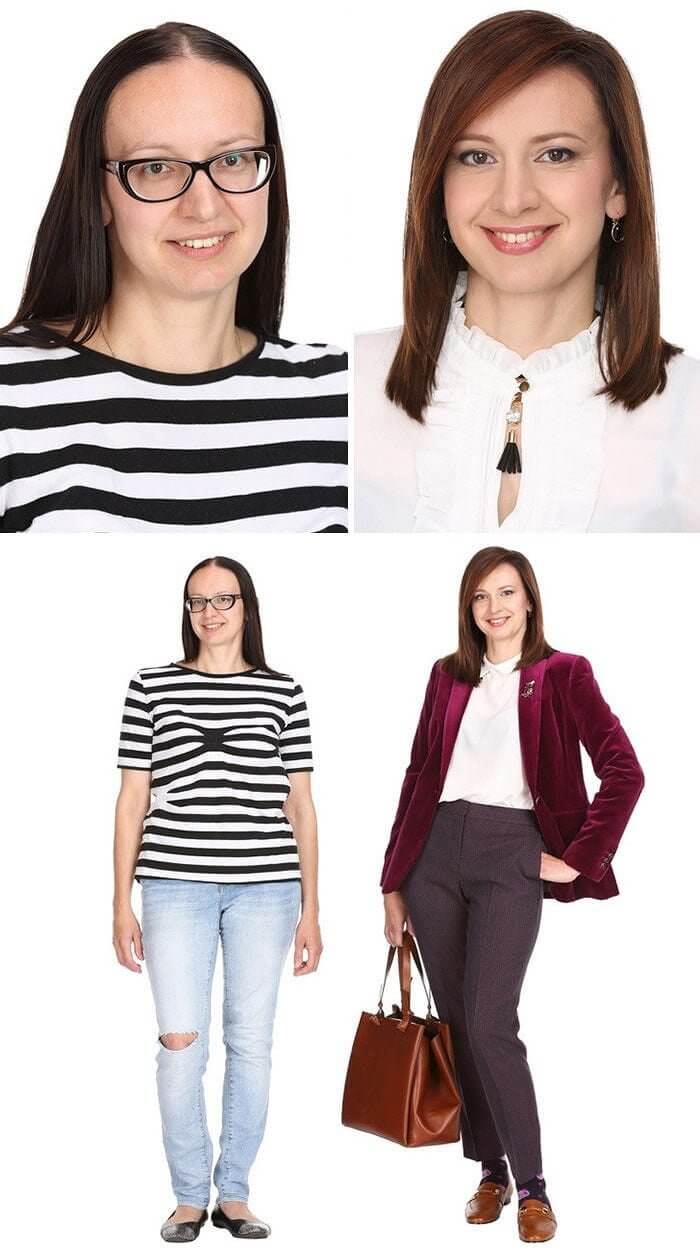 The 36-year-old tossed out the casual clothing, got a new hairstyle, and swapped out her glasses. Within a flash, Mairita transformed from an average operator to a real head turner! We particularly love her funky socks that peek through at the bottom of her well-fitted pants!
Nikolay Designs Himself a New Look
We all have certain expectations from people working in a certain profession. For example, we expect nurses to be caring, accountants to be calculated, and designers to be creative with expression. But before his makeover, 31-year-old freelance designer Nikolay didn't inspire much confidence.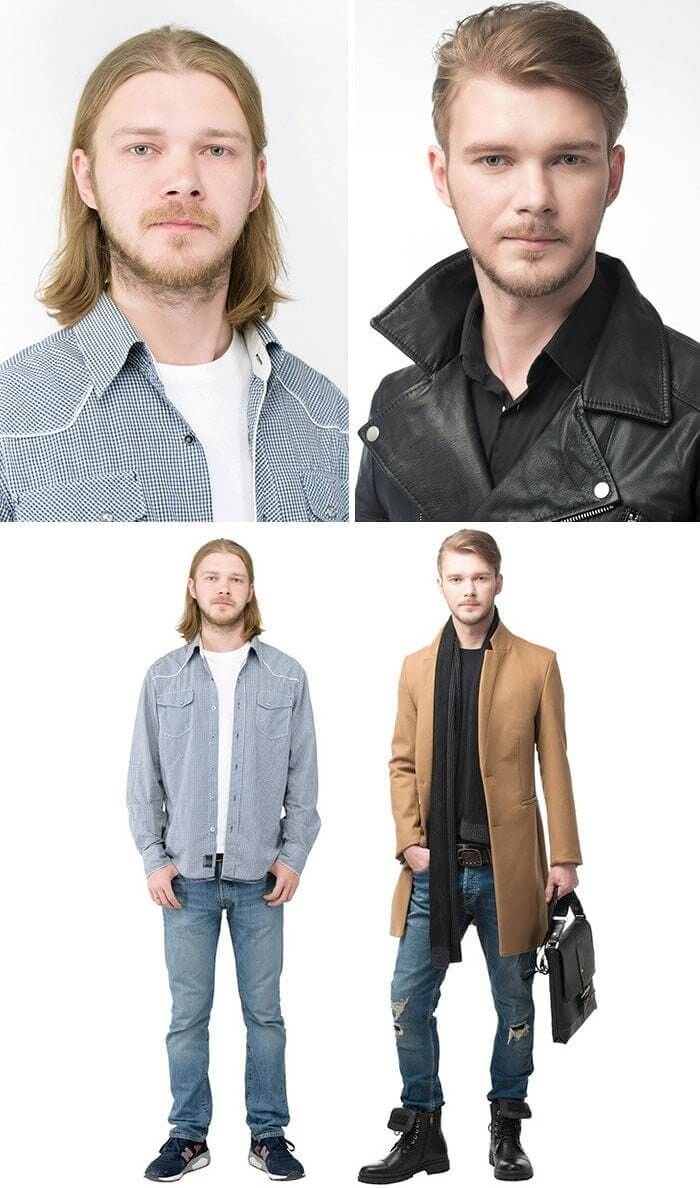 Nikolay chopped off his tangled locks, smoothing them over to a suave style. He swaps out a "nice" shirt and jeans combo for a stylish and bold leather jacket and trench coat look. The next time that Nikolay walks into the presentation room, he'll be sure to demand attention - from his clean-shaven neck to his lace-up boots.
Jolanta Sends the Right Message
Every day, 39-year-old Jolanta would wake up, put a brush through her chest-length hair, slip her petite frame into a bland outfit and go to her job as a postal operator. Then one day, she underwent a makeover and completely transformed her style.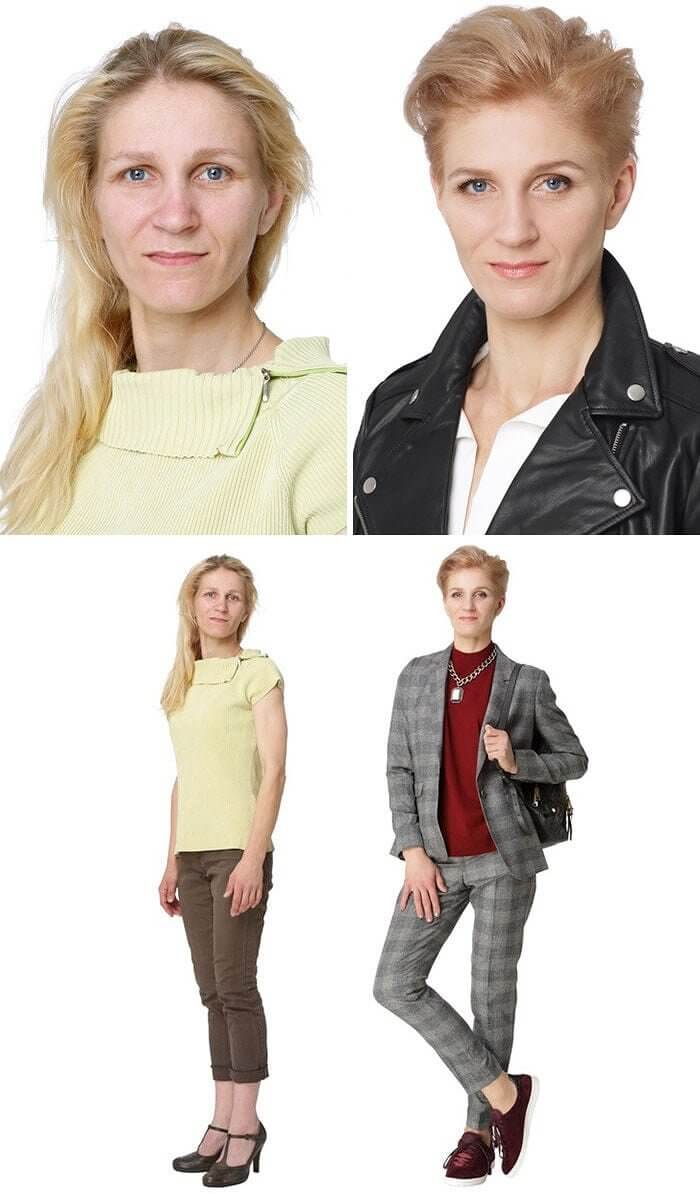 After cutting her hair to a funky, cropped style, she sculpted her eyebrows and learned the art of subtle makeup. Jolanta's new style strikes the perfect balance between professionalism and creative expression. Say goodbye to a timid appearance, and hello to a sassy postal operator!

Brigita Transforms Into A Real Trophy Wife
Being a housewife is not an easy job. If you have kids, then a large part of your day is spent running after children, organizing playdates, and nursing sniffly noses. Even without children, being a housewife can be demanding, completing tasks such as preparing food and keeping things orderly in the home. Brigita, a 36-year-old housewife would take charge of these demands.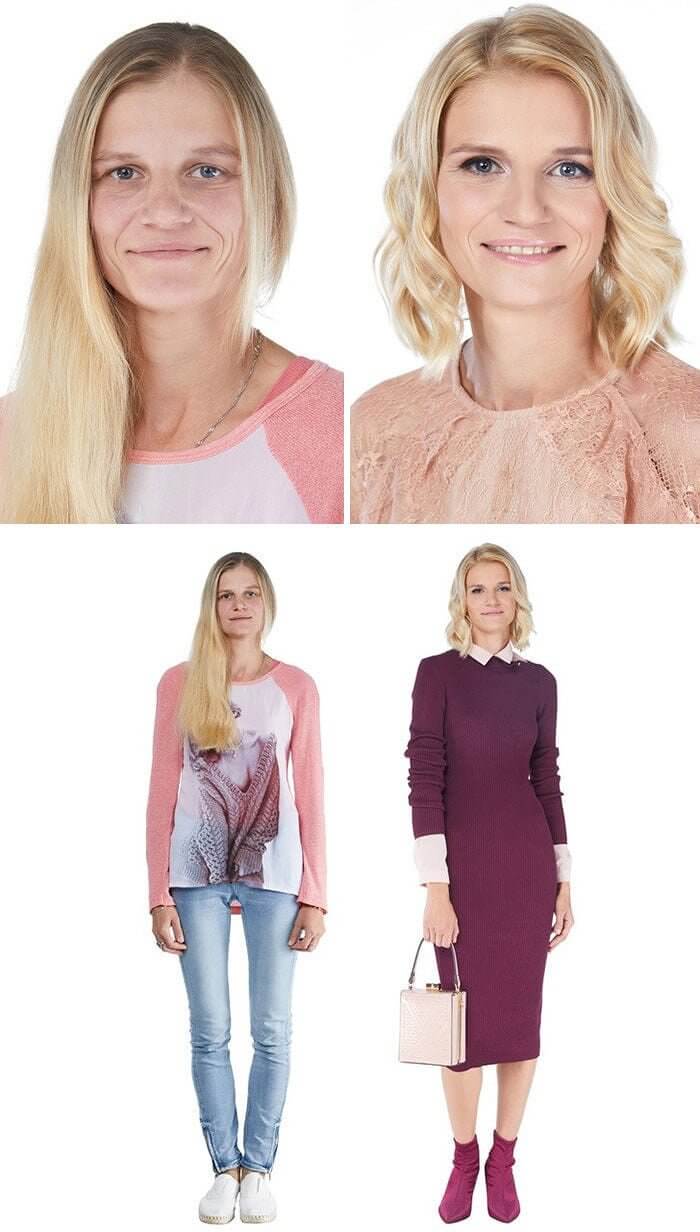 Before her transformation, Brigita dressed for comfort. She looked like a standard soccer mom with her long, blonde hair and basic style. However, she exchanged the jeans and sweater with a slim-fitting outfit and wavy, shortened hair.  The combination of hairstyle, a touch of makeup, and revisited outfit make Brigita look like a million bucks.

Illona Teaches the Power of Transformation
At a first glance, 47-year-old Illona looks presentable and approachable - the perfect combination for a school teacher. Although her choice of style clashes, and her hair sits flat on her head, kids most likely aren't concerned when sitting in her classroom.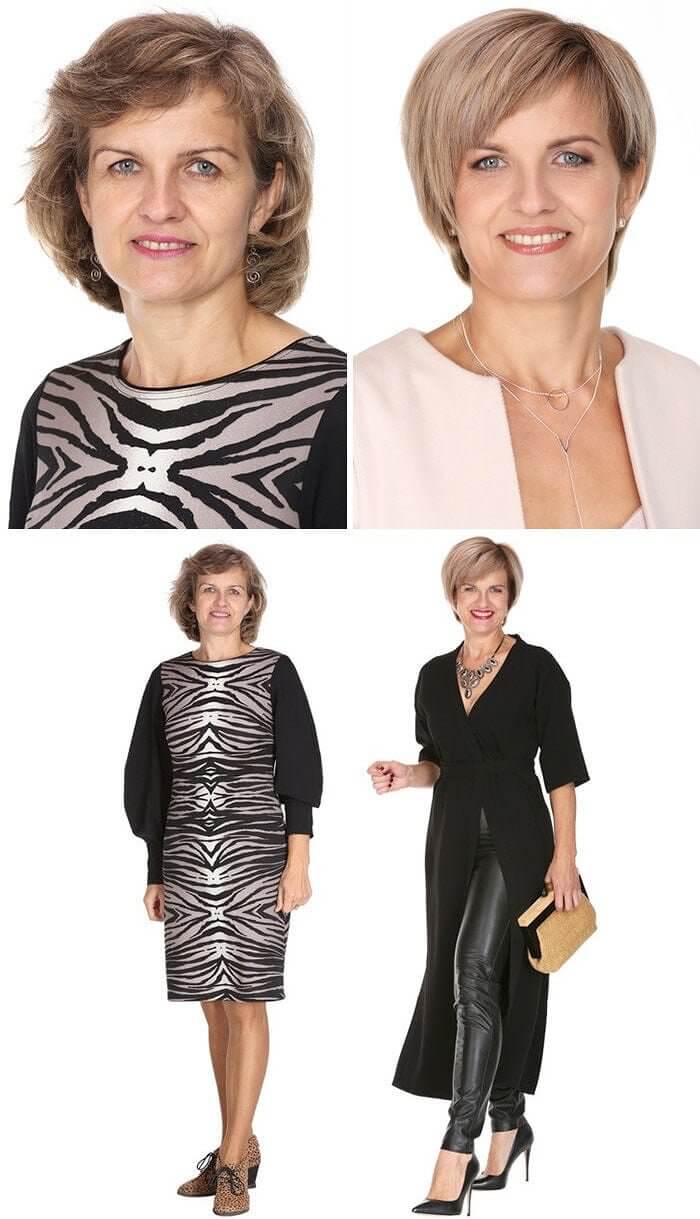 But after her transformation, Illona shows off how stylish she can be! The biggest difference is the hairstyle, framing her face with beautifully streaked tones - and it only gets better from there. Under fashion guidance, she finds her true style, striking the balance between classy and bold.
Inga Brings Life Back to Her Looks
Pursuing a career as a doctor is both rewarding and exhausting. The job demands long hours, constant communication, and very little time to invest in your appearance. Inga, a 50-year-old doctor, managed to get by, dressing quite plain and keeping herself presentable - but not much more than that.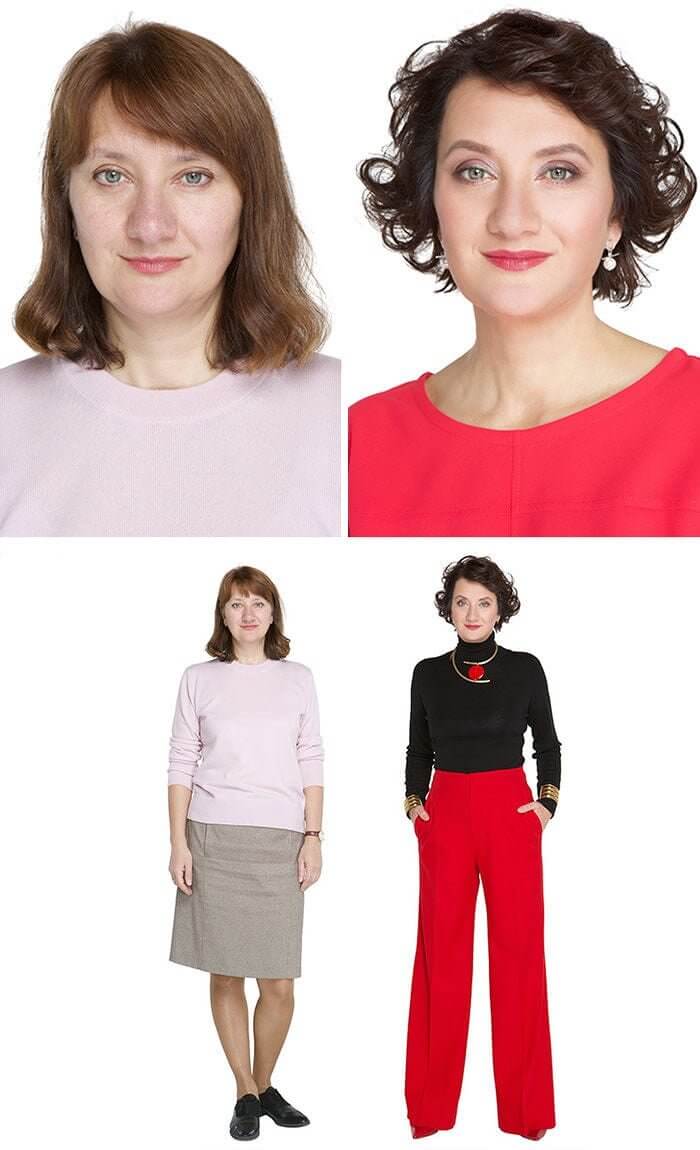 Inga's transformation breathed new life into her look. Her new hairdo involved a cut, color, and shake-up, giving Inga a spunky yet professional flair. She's matched this gorgeous change with delicate makeup and a shift in wardrobe that will raise the blood pressure of those around her!
Galina Is More Than Just a Pretty Face
Galina has dedicated years to respectful work. The 68-year-old nuclear physicist has put her powerful mind toward her job, and not much effort was made in her physical style. As a result, she wore her hair in an old-fashioned style, dressing in clothes that suggest her elderly age. Then came her transformation…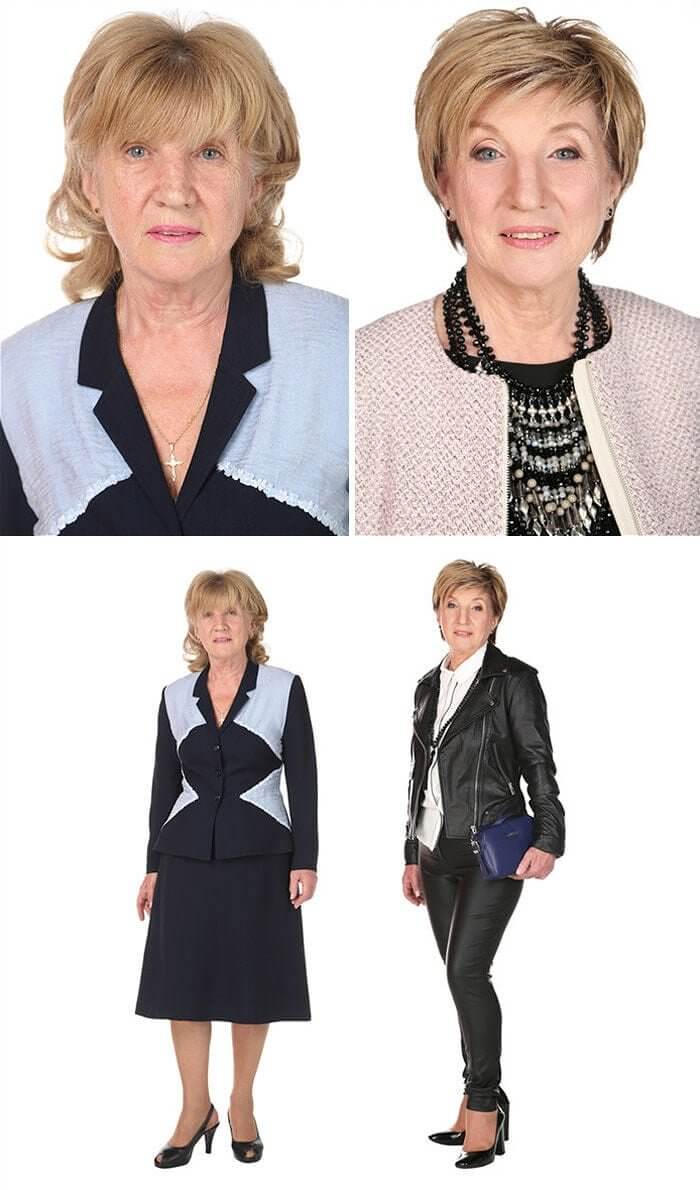 Highlighting her assets, Galina's new hairstyle and subtle use of makeup adds life to her face and opens up her eyes. She's matched her friendly expression with a fashionable outfit change, updating her style to a modern look that makes her look 10 years younger.
Anna Manages Her Look
At the age of 34, Anna works as a manager, serving as the frontline of communication and crisis management for a business. Anna's transformation has added a sophisticated, professional air to her youthful appearance, no doubt placating unhappy customers and instilling confidence in the company.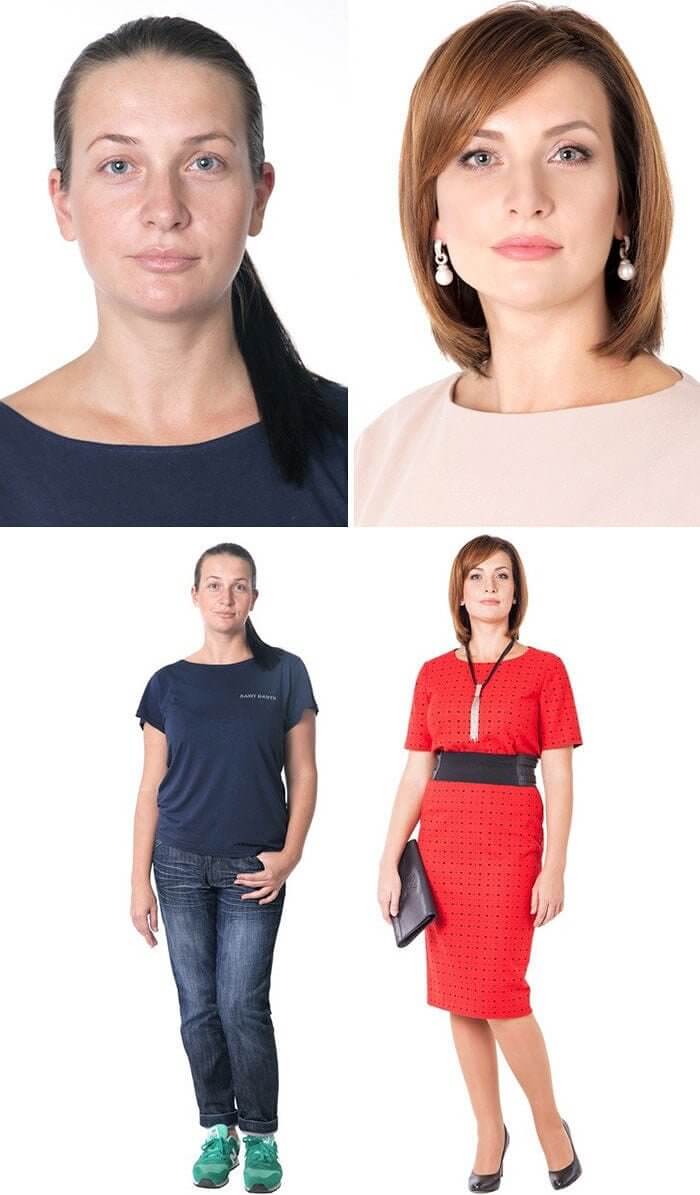 Anna's new hairstyle frames her face, while her jewelry adds a decorative flair. Instead of dressing like a teenager in a T-shirt, jeans, and sneakers, she's upgraded her wardrobe to a professional uniform. It's hard to believe that the two images are of the same woman!

Daria Learns to Market Herself
Before her transformation, Daria looked pretty good. After, she looks astounding! When you sit in front of a client and try to convince them of your marketing skills, you need to make sure that you can market yourself first. Now, Daria, a 35-year-old marketing director, proves that she has what it takes by simply entering the room.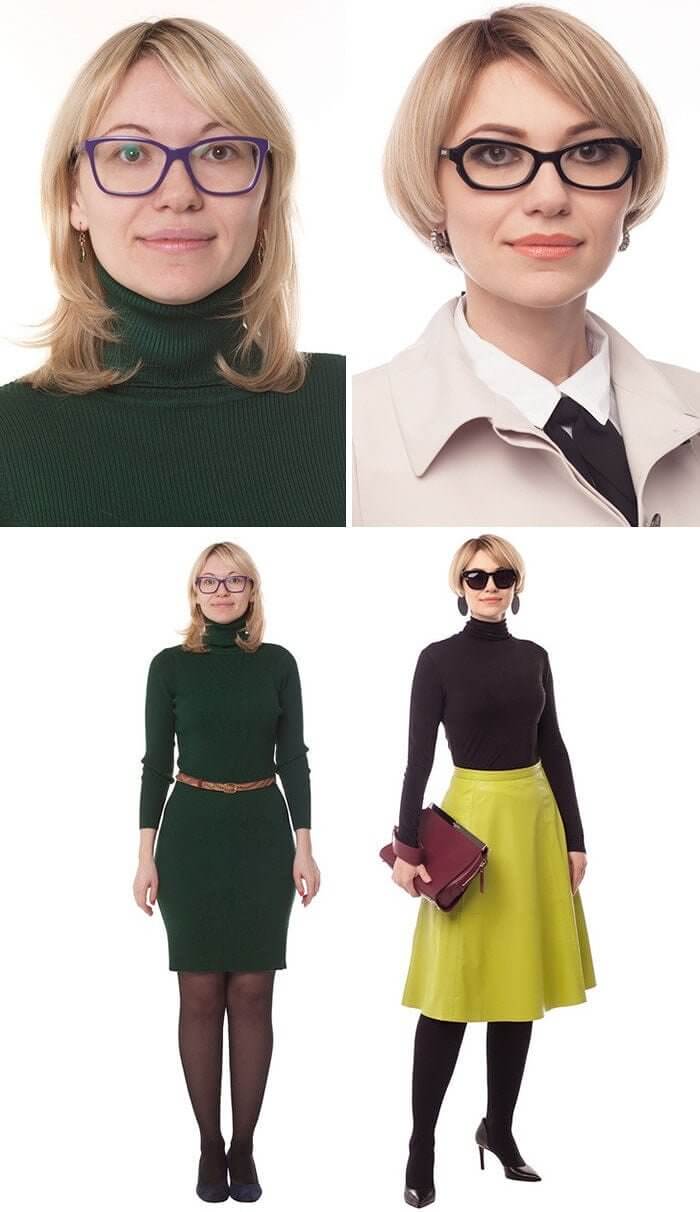 By cutting her hair, highlighting her facial features with makeup, and upgrading her glasses, Daria has transformed herself into a dynamic businesswoman. Her dashing outfit is the cherry on the top, taking her existing style and adding a bit of a colorful twist.
Elena Does Things by the Books
Accountants sit at the computer all day, making sure that the numbers add up. Little effort is needed in style to do the job, but it can make a huge difference in confidence. Elena is a 52-year-old accountant whose makeover completely changed her appearance.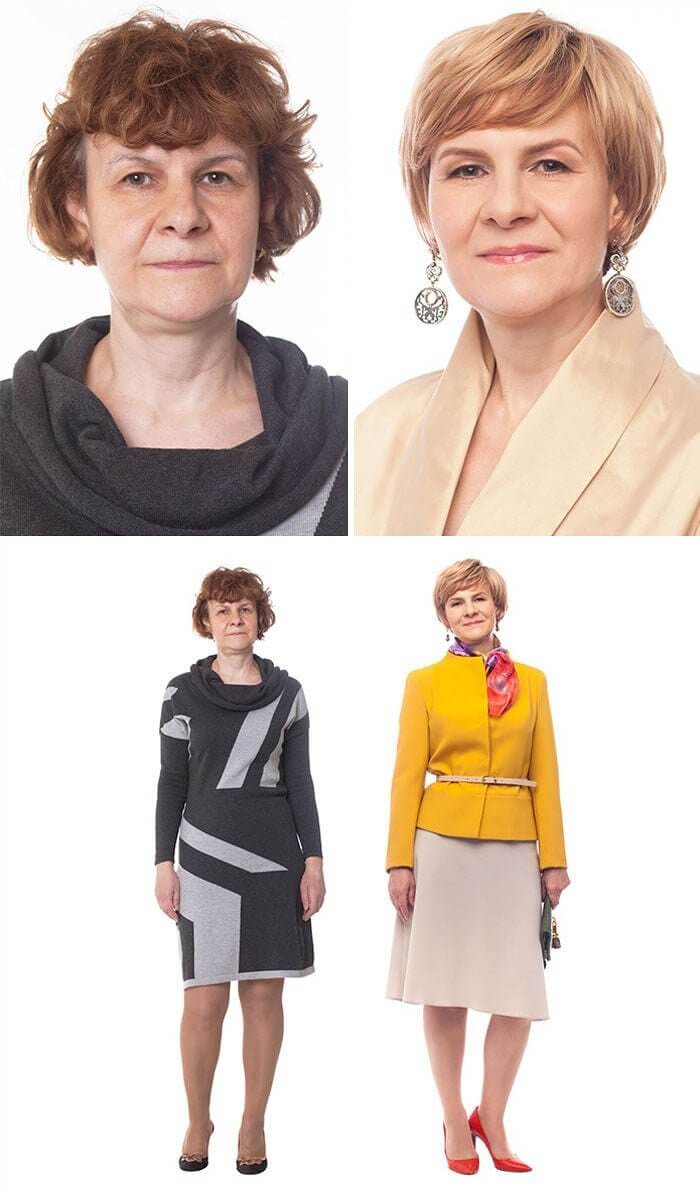 Elena's dull hair was a mess and didn't do much to compliment her friendly face. While her fashion sense was appropriate, it lacked the wow factor. Fast forward to post-makeover and you can barely recognize the studious accountant. Not only does her bright and trendy fashion overhaul make her look ready for action, but her haircut and contoured makeup tell everyone that she's ready for business.

Interior Designer, Irina, Moves the Focus to the Exterior
They say that beauty comes from within. Even so, a little bit of effort on the outside can be a game-changer. Irina is a 42-year-old interior designer who has an eye for beauty in the home, and the potential for extraordinary beauty with her outside appearance.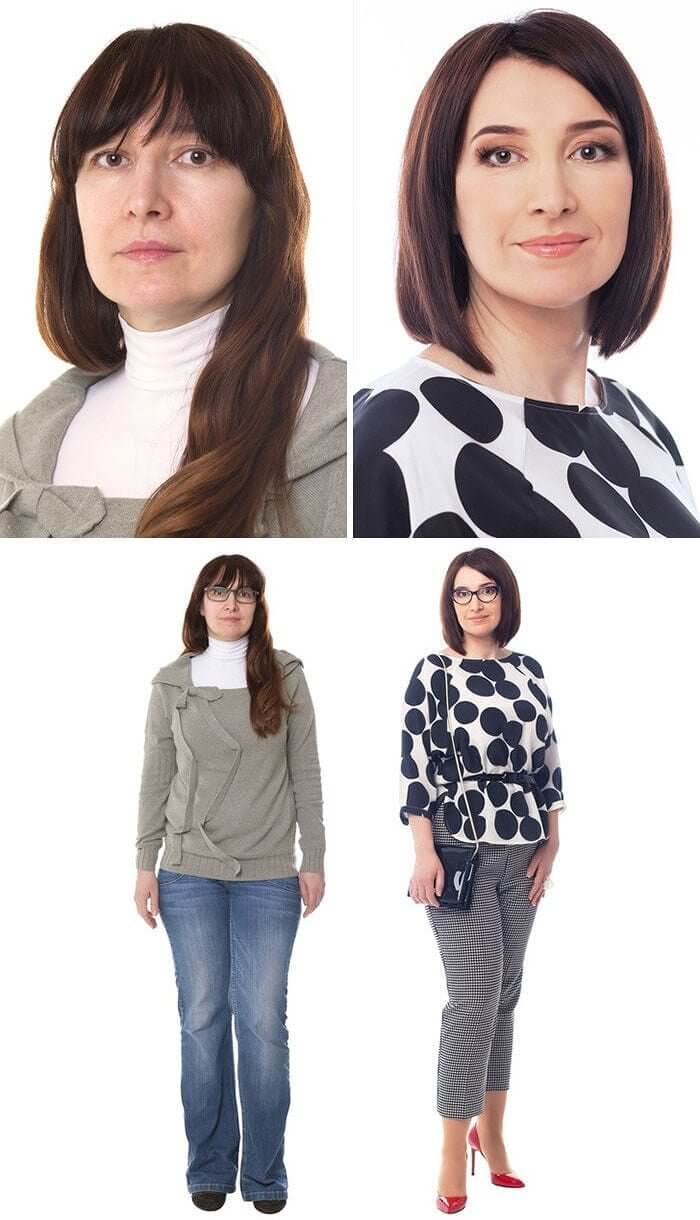 By cutting her hair, extending her eyelashes, and revamping her outfit, Irina boasts the same design flair that she offers her clients. Showing that she can work with various fashion patterns and present herself well, Irina seems like a whole new woman.
Zhanar Steals the Show
Lights, camera, action! Anyone working in the event industry will know what it takes to make a success of an event, and that includes Zhanar, a 40-year-old event agency director. In the past, Zhanar's style suggested that she was coy and subdued. However, her transformation introduces the second act.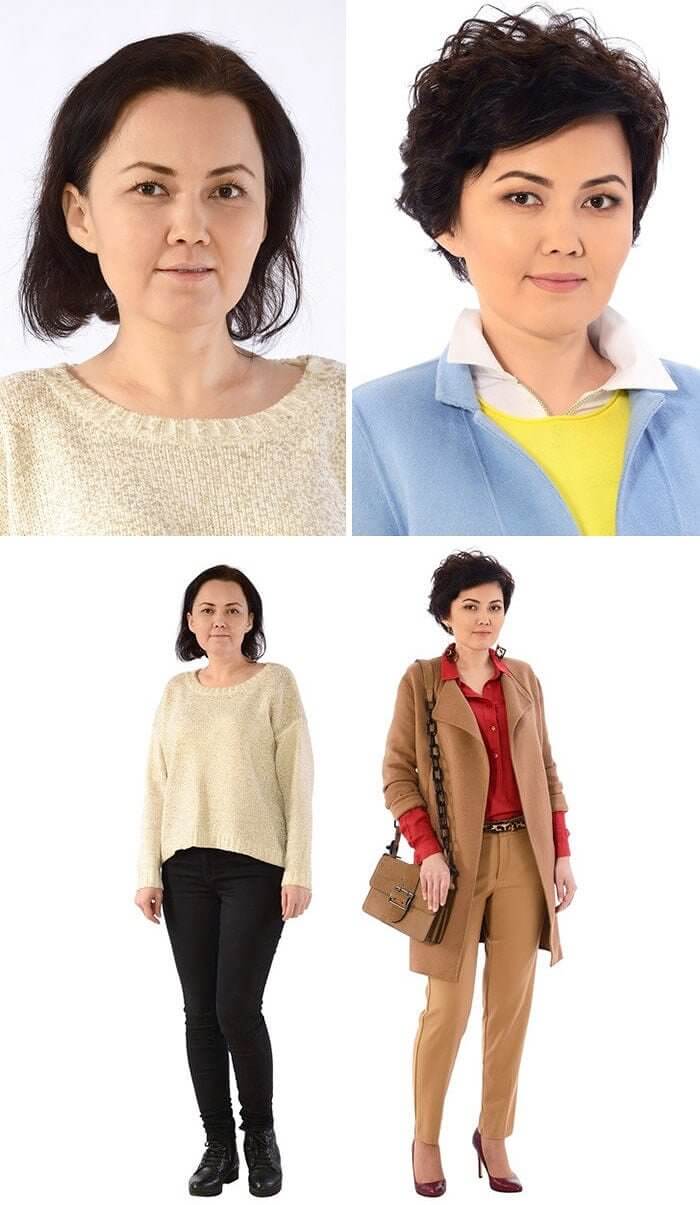 By cropping her thin hair and adding a bit of a volume, Zhanar's entire disappearance pivots. Not only does her face take on a younger, more confident look, but her new sense of fashion indicates style, class, and creativity.
Loreta Flexes With Her New Look
One look into 55-year-old Loreta's beautiful, blue eyes and you can tell that she has a lot of potential to turn heads. As a bioenergetics consultant, Loreta works in an industry that focuses on human muscle patterns, and since her transformation, she's been flexing!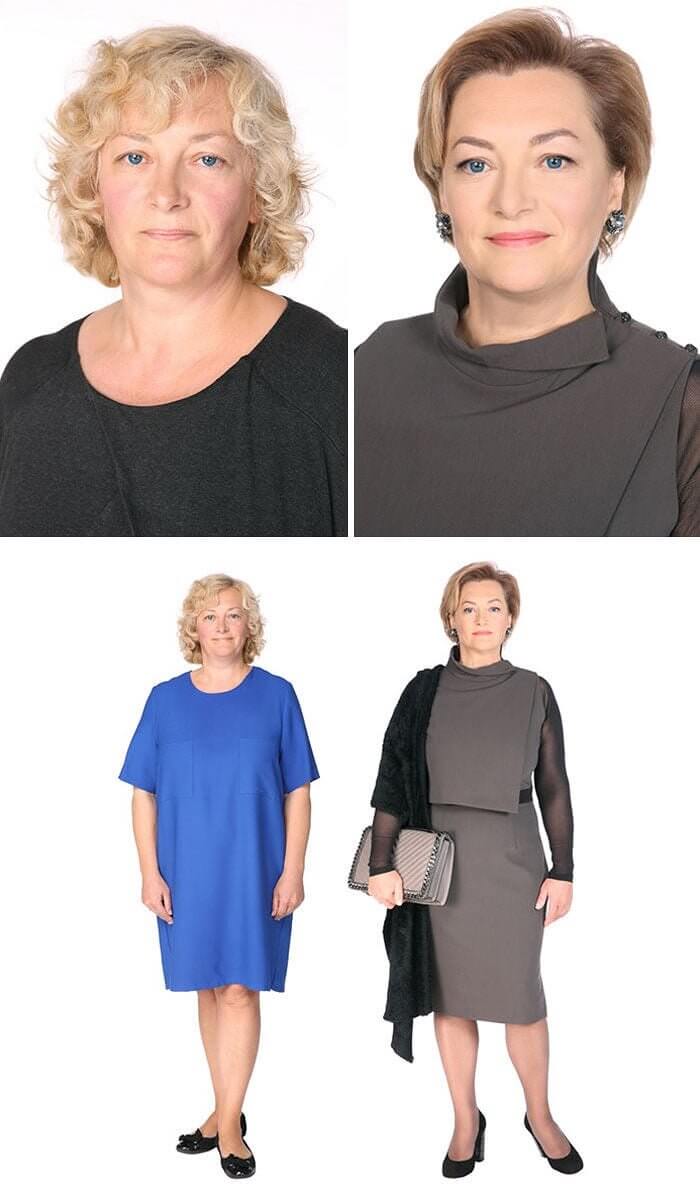 Before her makeover, Loreta faded into the background. Her clothes were unflattering and her hair was unstyled - but the potential was there! By cutting her hair, wearing a bit of makeup, and dressing for success, Loreta has transformed from a frumpy woman to a powerful style icon.
Irena Embraces Retirement
There are two types of people in the world. The first is the type of person that lets themselves go with retirement, shrinking into their elderly age. Irena fits into the second group, those that embrace life and live it to the fullest. When the 65-year-old woman underwent her transformation, she entered a new life season - and it's fabulous!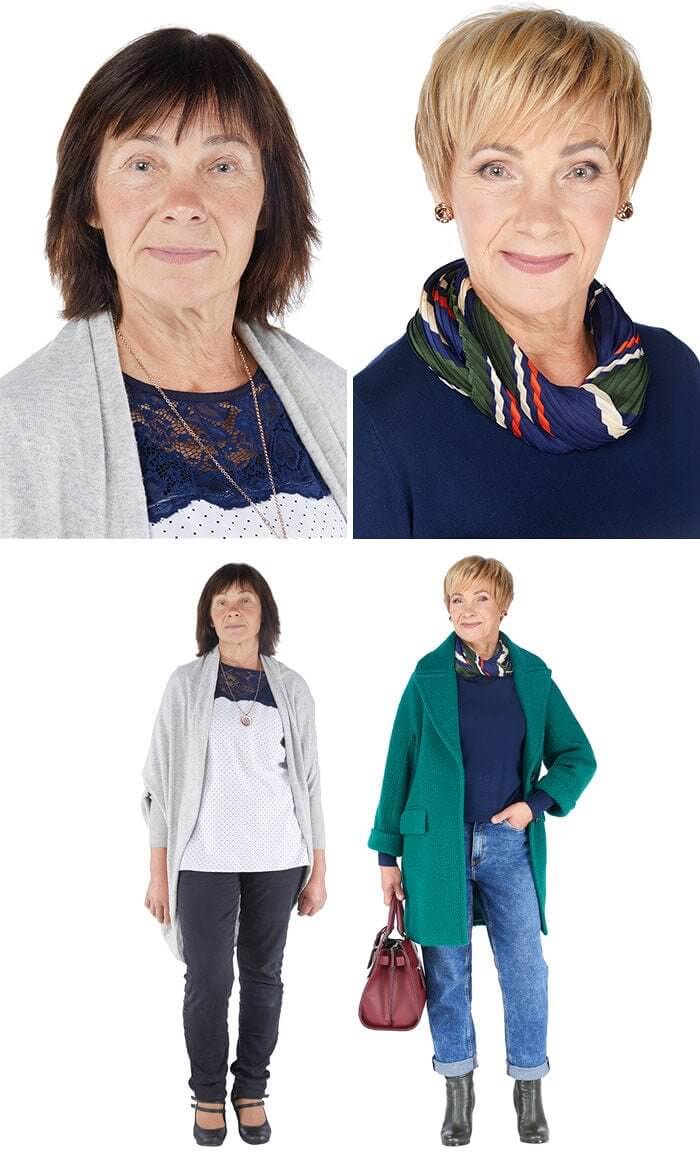 By trimming her hair into a sophisticated style, adding a playful tone, and including a touch of makeup, Irena transforms her warm and friendly face. Continuing on the trajectory, she flatters her figure by wearing stylish, well-fitted clothing with an ultra-modern flair.
Pavel Moves in Front of the Camera
It's not often that photographers get to flaunt their assets in front of the camera. For that reason, 30-year-old photographer Pavel dressed for comfort and not stardom. His casual get-up mimicked his floppy hair, and his features were concealed behind a lack of effort.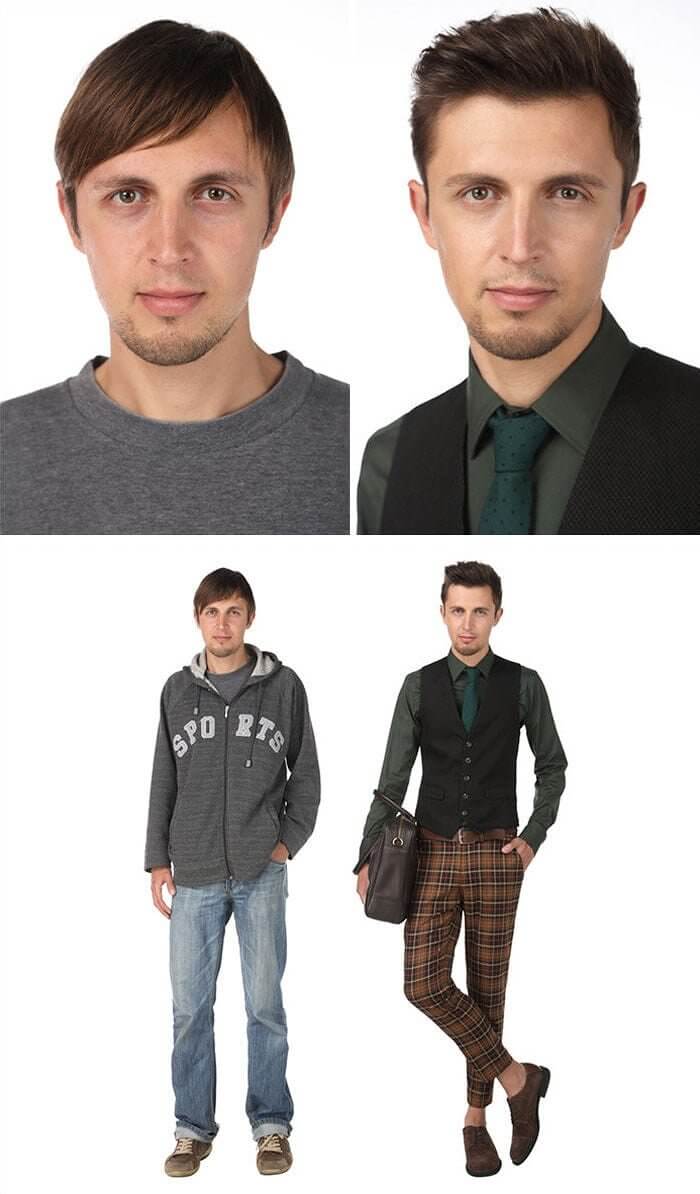 By simply cutting his hair and embracing his fashion sense, Pavel becomes a photo-worthy subject! Instead of faded jeans and a hoodie that hides confidence, Pavel looks dapper in a trendy waistcoat and quirky, well-fitted pants. Now, that's a photographer we'd trust to capture the best of any moment!

Jūratė Blooms With a Transformation
Jūratė works with flowers on a daily basis, assembling various blossoms and foliage to bring light and beauty to a space. However, the 42-year-old florist was still in a spawn phase of growth, buried in her oversized clothing and unstyled hairdo. But then she bloomed through with a transformation.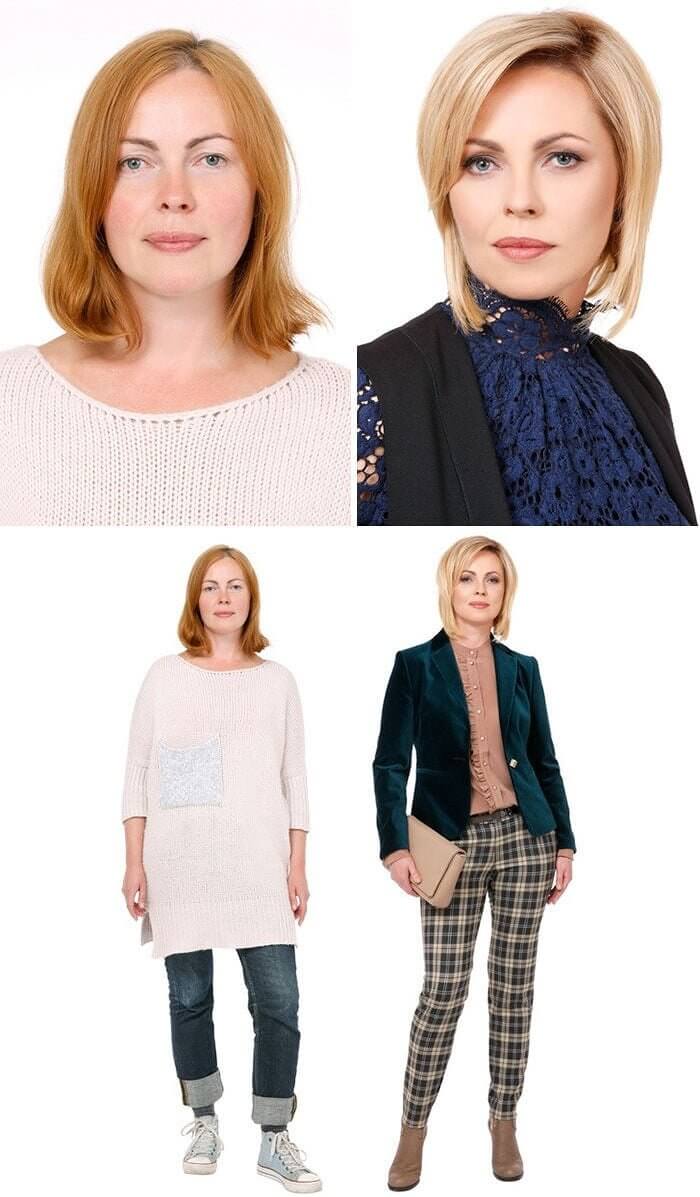 A new style and fresh color were applied to her hair, and a little bit of makeup is delicately painted on her face. Jūratė's scruffy outfit is exchanged for a jazzy, floral combination. We can confidently say that her look now matches the vibrance of the flowers that she works with every day.
Elena Manifests A Youthful Appearance
Every day, 40-year-old Elena dedicates her time and effort as a youth center employee. However, there was a clear distinction between herself and the young people that she works with. Her thinning hair and simple attire make her look her age, but there was potential to boost her look - and she embraced it!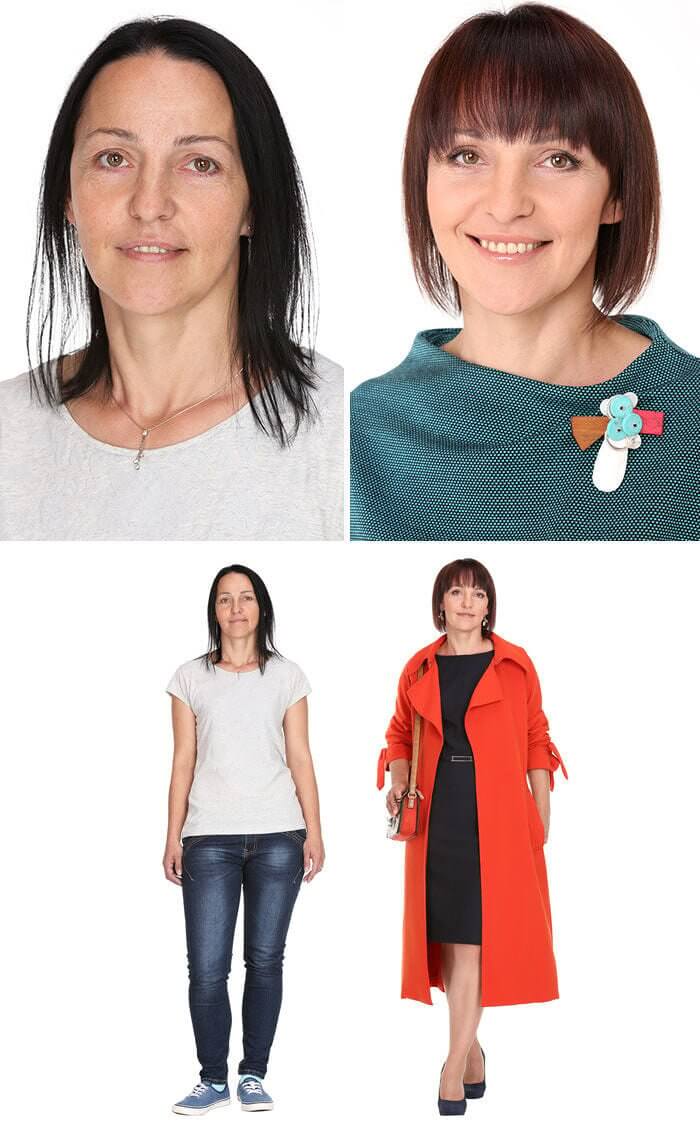 Realizing that there wasn't much that she could do with thinning hair, Elena cut it into a cute, short bob including a fringe to give it a full appearance. A touch of makeup brings her face to life, and her bright and playful clothing gives her a fun demeanor - perfect for working in a youth center.
Tatyana Gives Herself a Reason to Smile
We work our whole lives to retire and live our final days as retirees. Sometimes, the hard work that it takes to get us there can leave people despondent and unhappy. Judging by 53-year-old Tatyana's disinterested face, the life of a retiree wasn't all it was cut out to be - until she got a makeover.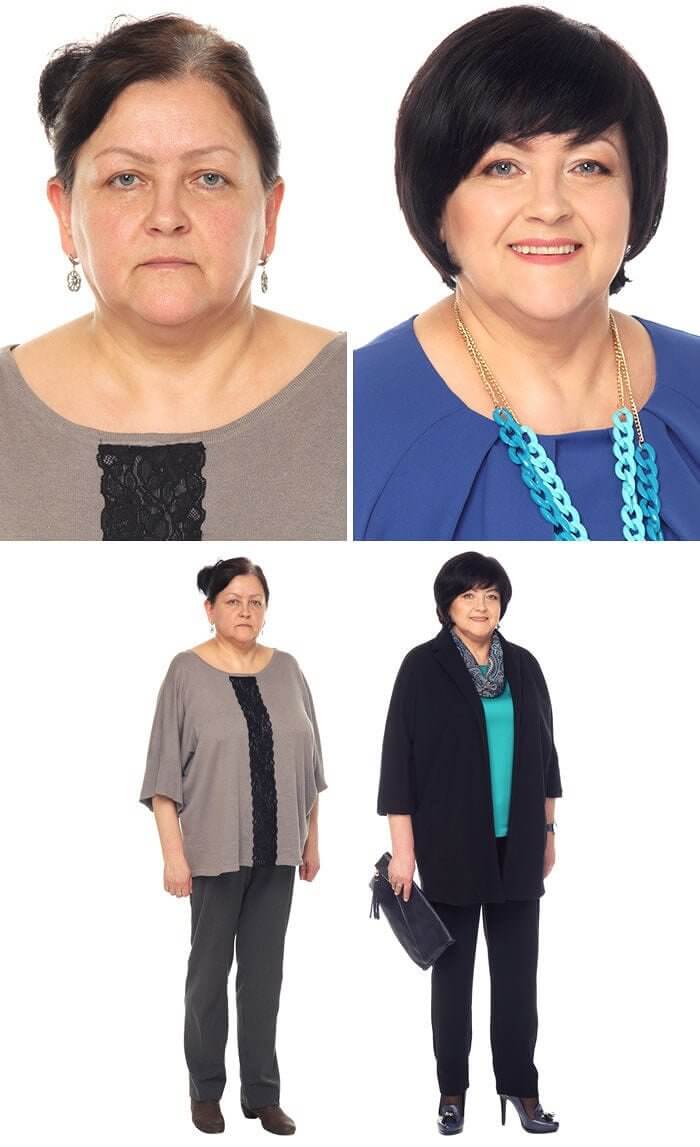 Tatyana transformed from a languid retiree with unflattering clothing and haphazardly pinned hair, to a vibrant and bold woman. Cutting her hair to a friendly, bubble shape added a whole new mood to her face. Not to mention the huge visible difference by swapping out the dull tones of her clothing for a bright blue hue.
Natalia Shows up to Class
It's hard to believe that these two pictures are of the same woman. In the first picture, 38-year-old Natalia looks older than she really is, exhausted by the hours spent working as a school teacher. But then she underwent a transformation…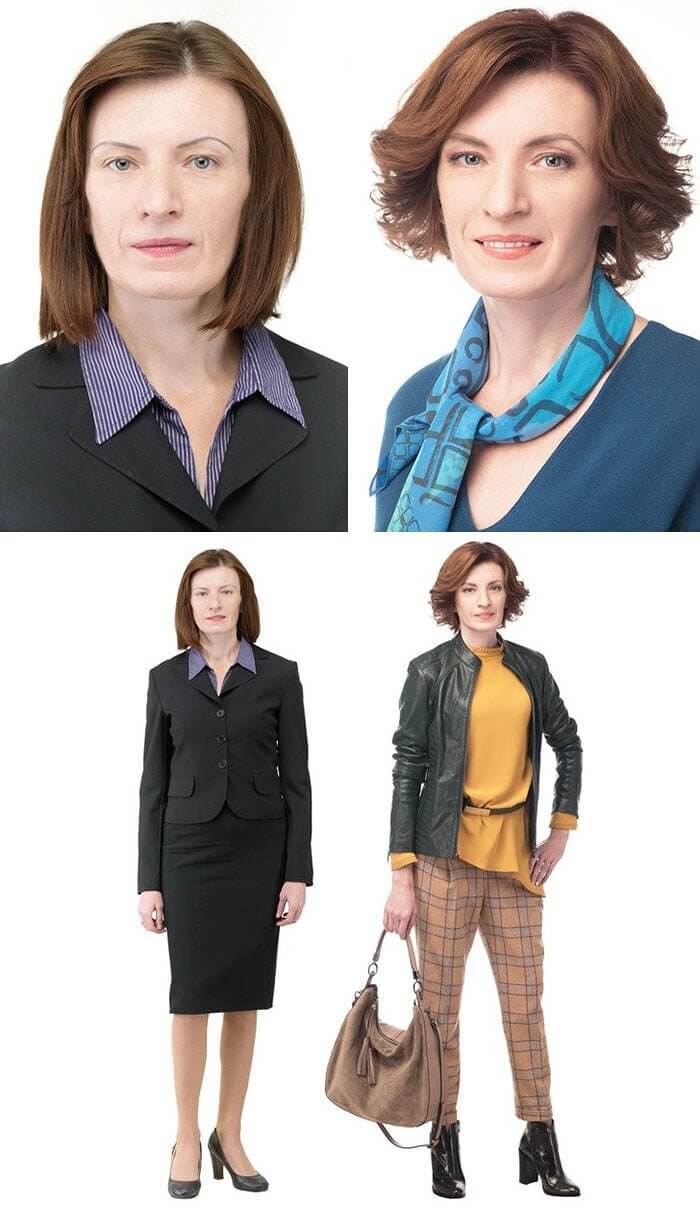 Natalia's flat, unshaped hair takes on a wavy look and adds an exciting expression to her face, beautifully complemented by classy makeup and fleshed-out eyebrows. Her mundane, courtroom appearance gets revamped and her new, colorful outfit adds a look funky fresh flavor.
Daiva Becomes a Major Plus
Dealing with numbers all day can leave you feeling frazzled, and sometimes looking frazzled too. Although 38-year-old Daiva is a beautiful woman, her job as a financial consultant seems to have left her a little bit washed out.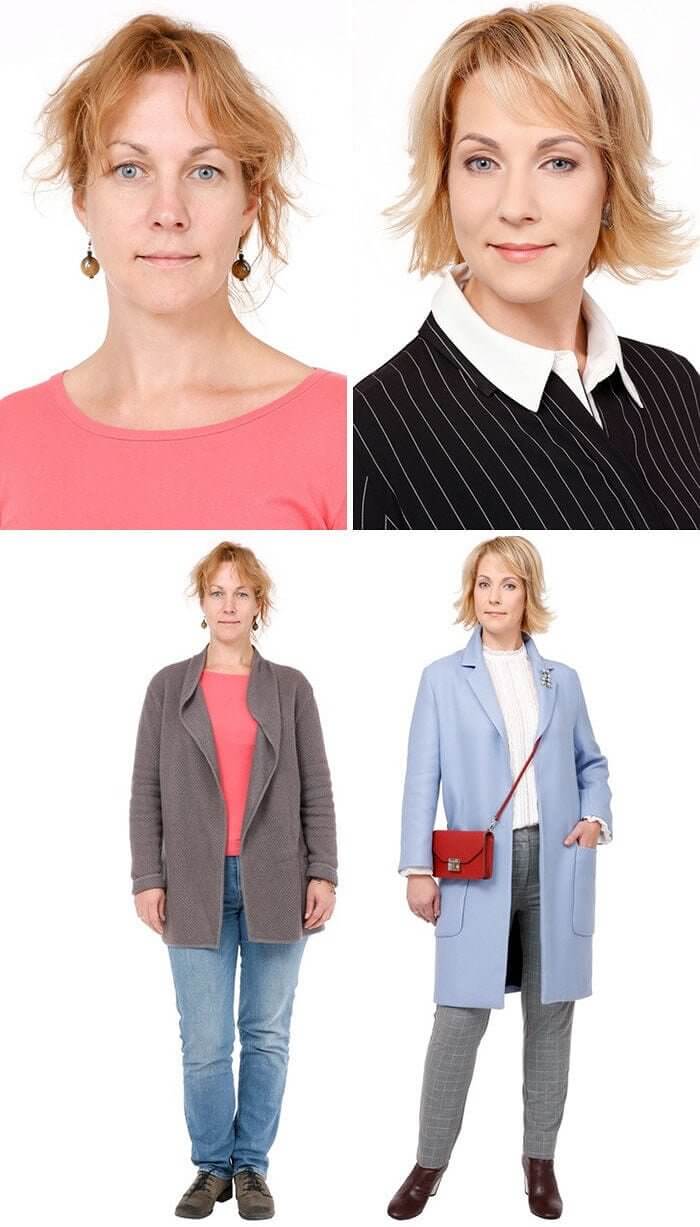 Daiva's transformation revealed her true beauty, styling her hair to a professional look, and adding the perfect amount of makeup so that her features pop. Rather than drown in ill-fitting clothing, Daiva now slips into well-fitted, classy outfits that multiply her beauty. And we love the pop of color that the red bag brings in!

Jolanta Gets Down to Business
There are a few traits that go hand-in-hand with starting your own business. Being bold, sassy, assertive, and calculated are all key requirements to becoming a successful entrepreneur. However, 53-year-old Jolanta's before look doesn't seem to position her for success. Her hair looks confused, and the patterns on her outfit clash. And then she got a makeover…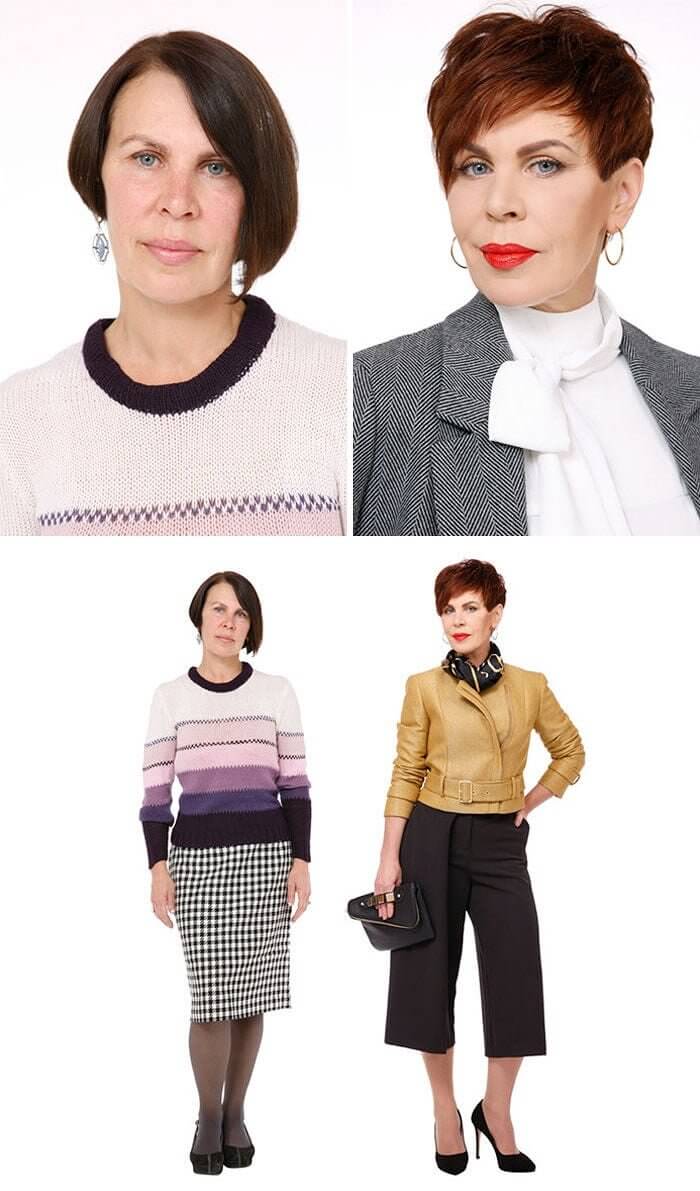 Jolanta's wardrobe change gives her a confident, sassy, and assertive look, matching her career as an entrepreneur. Her flirty hairstyle does wonders for her face, and her beauty is enhanced with a touch of makeup. It's the red lipstick that steals the show for us!
Mikhail Changes Character
Actors have the ability to morph into various roles, adopting the traits of different characters. But at the end of each day, they come back to their true selves. For a 48-year-old actor Mikhail, his everyday look is unassuming, almost mimicking a mime. His transformation settled him into a daring and stylish individual.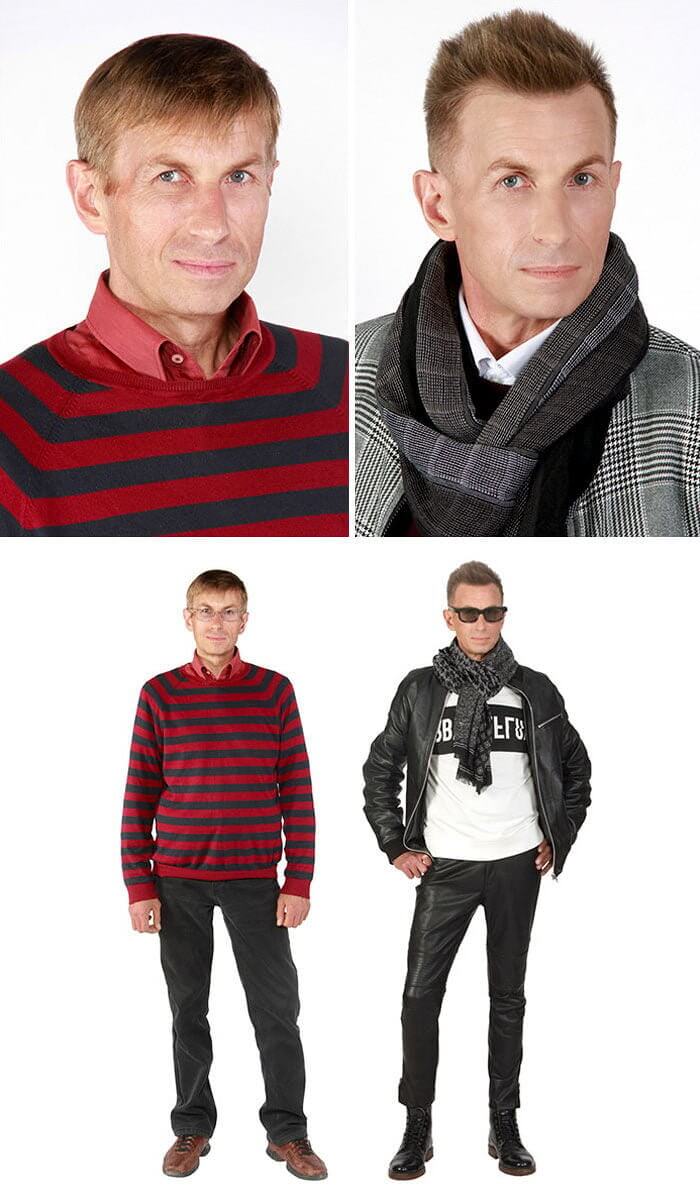 By cutting and styling his hair, Mikhail looks several years younger. To complete the hip and trendy look, he swaps his specs for sunnies and adopts a daredevil, leather look. Now that's a gentleman that demands an audience!
Mila Dresses for Success
What better way to wrap up this list of amazing transformations than with 54-year-old Mila. The gorgeous entrepreneur is a natural stunner, with bright blue eyes and a petite build. But there's a lot more where that comes from, and this is evident in Mila's transformation.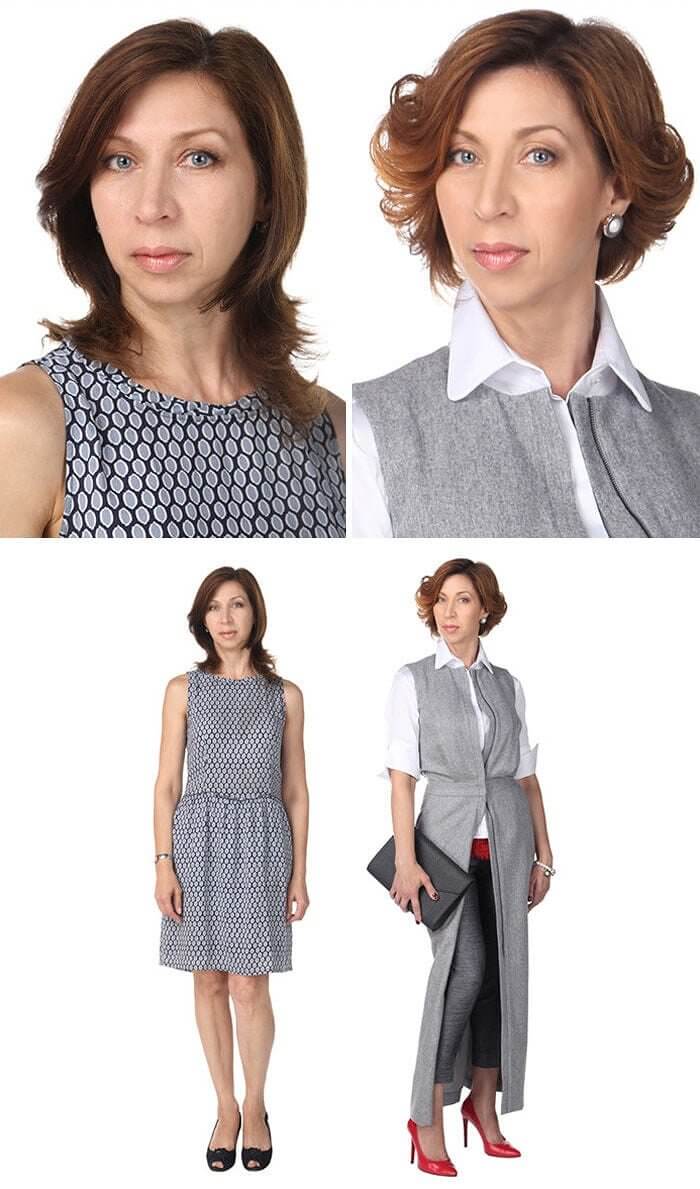 Trimming her hair and adding a splash of color is just the tip of the iceberg when redoing her look. Her child-like dress is replaced by an elegant and sophisticated outfit, encouraging customers to sign on the dotted line. Her confident look is finished off with a dark coating on her nails, and bold red shoes. 

As you can tell from this list, you don't need to be a celebrity millionaire to transform your appearance - you just need to highlight your assets!
For One Young Amish Woman, a Makeover Is More Than Just a Change in Hairstyle
There are many things in the Amish belief system that are seen as unusual in our modern society, one of them being that it isn't acceptable for women to dwell on their image or appearance. Makeovers, therefore, are a foreign concept to a lot of Amish women.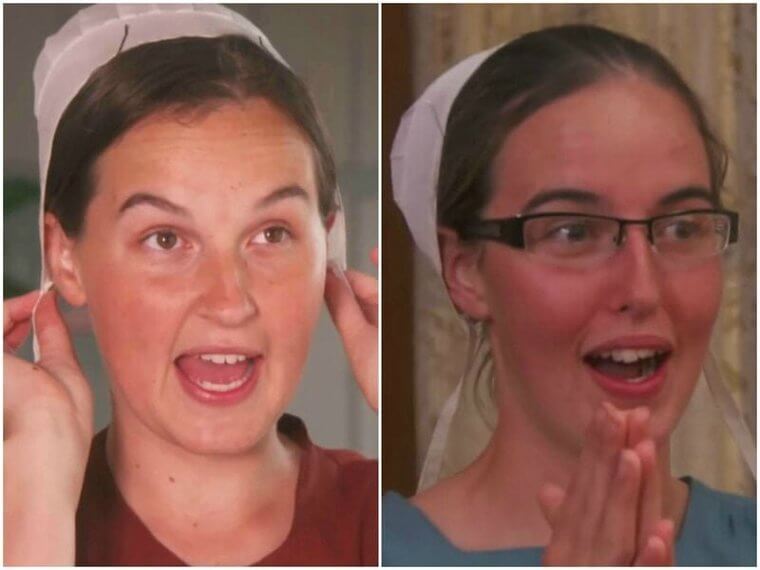 So, when Sarah, an Amish teacher and housekeeper, was given the chance for a fabulous makeover, she grabbed the opportunity. For someone who has never undergone one, it was definitely a lifechanging experience, both she and her loved ones were left completely speechless.
A Boring Life
Sarah was a 21-year-old who described her day-to-day as "pretty much a boring life." The small town where she was born in was predominantly Amish, and her family all lived their life in the Amish way.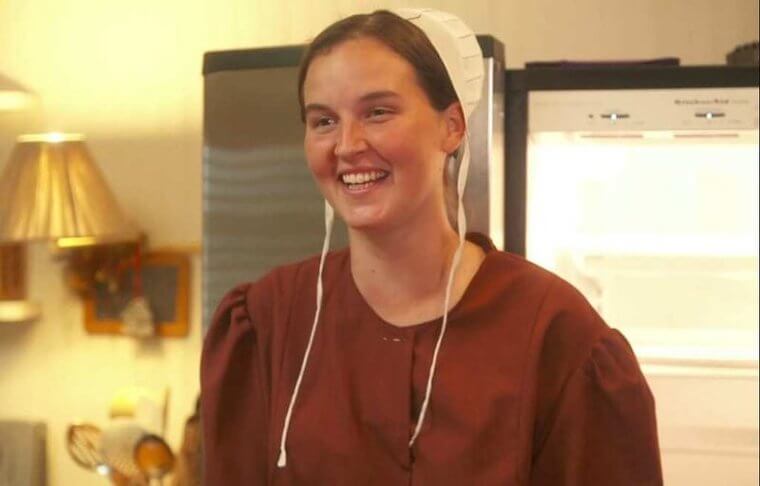 This way of life meant that she lived under strict rules and comprehensive codes, and definitely couldn't spend any time or money on things like makeup or "vain" trinkets. What was the reasoning behind this rule?
Origins of the Amish Community
The Amish community is a religious group that originally came from Switzerland, and the belief system they espouse to this day can be traced all the way back to the 16th century.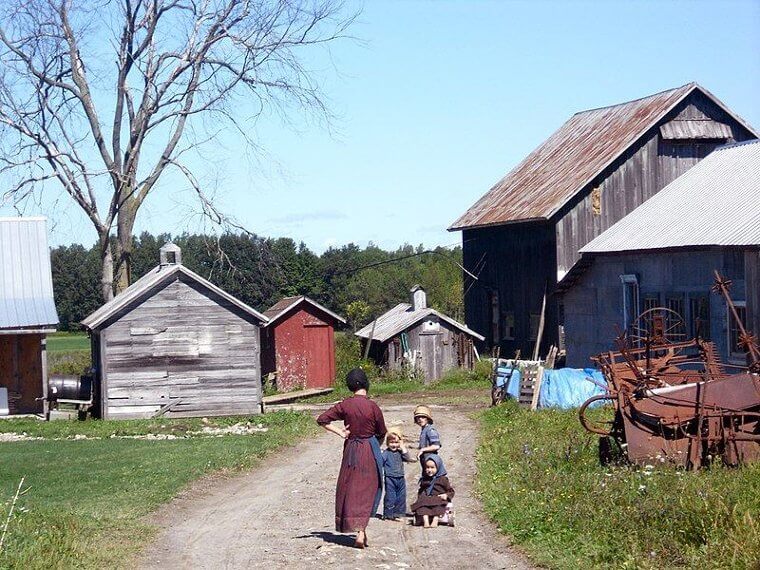 The term "Amish" is also an old one coined in 1710 after founder Jakob Amman, and was used as a term of shame as the Amish were outcasts of society. They have continued to live as such, removing themselves from the rest of society and choosing to live outside the influence of common modernities. This includes cosmetics.

Ordnung
"Ordnung" is a powerful word for the Amish. It's a German word that directly translates to "order". The Amish Ordnung governs almost everything about its followers' affairs. From clothing to personal grooming, it's a powerful influence on the lives of those who choose to follow in the tradition.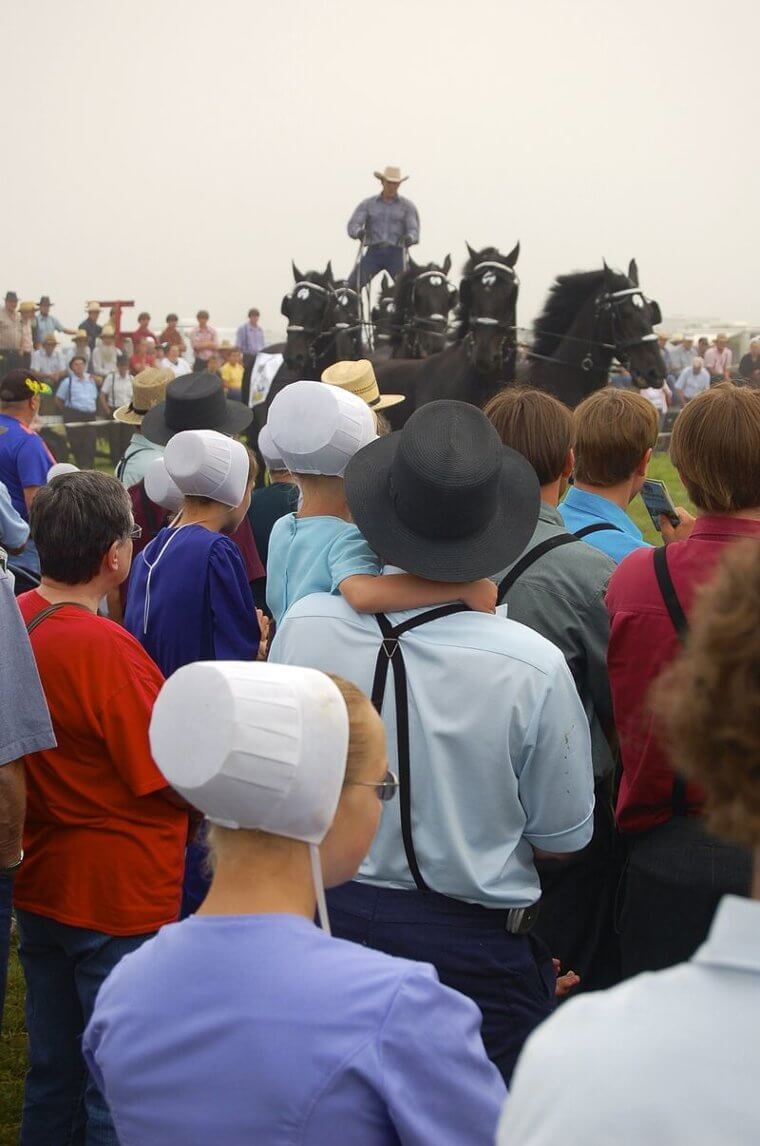 The fact is that Ordnung dictates that one must put the focus of one's life solely on God. Makeup and even fixing up one's hair is interpreted as placing more focus on the self than on God, and therein lies the restriction on objects of "vanity".
Never Changed Her Hairstyle
Being raised in such a restrictive society, Sarah never paid any attention to her hair or even thought about putting on makeup on her face. She never had her hair colored or even cut in what one might call 'on-trend' styles, much less styled it at all.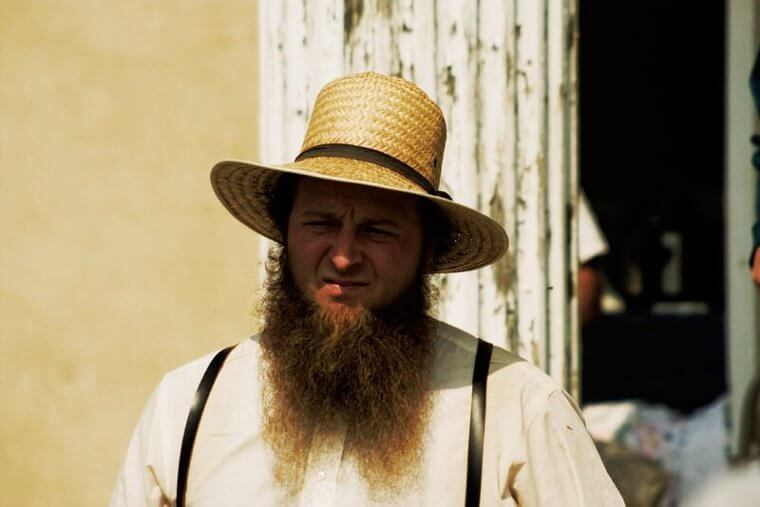 However, this was all about to change. Glamour Magazine sent the renowned hairstylist Theodore Leaf her way. He was tasked to work his magic on Sarah's locks.
The Hair Team to the Rescue
The Bad Hair Day team, knowing about Sarah's situation, decided to pay her a visit. When they arrived, she was wearing a modest brown dress. The neckline, as one would expect, was high. Her skirt was equally modest with the hemline falling way past her knees.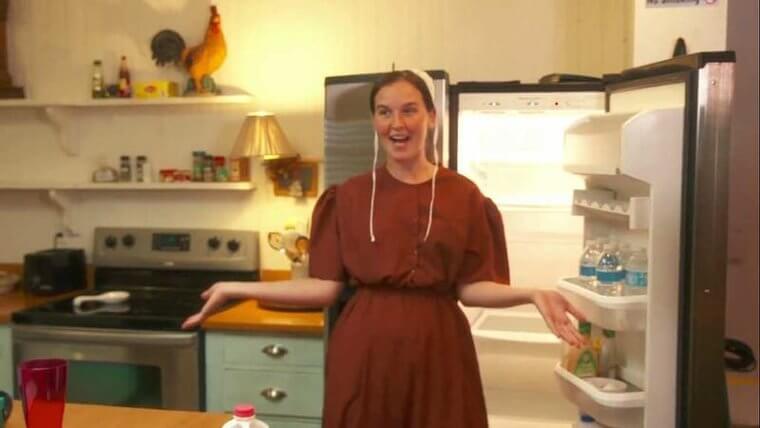 The team arrived as she was working, running errands and doing chores around the house. She can be seen in this image hiding her hair behind a traditional Amish cap.
Why the Cap?
Sarah explained the cap to the team: "The cap thing, you always just wear the cap, and your hair is just flipped up in a barrette. It's an act of modesty." In essence, it's a way to keep herself humble even if she does have great hair underneath.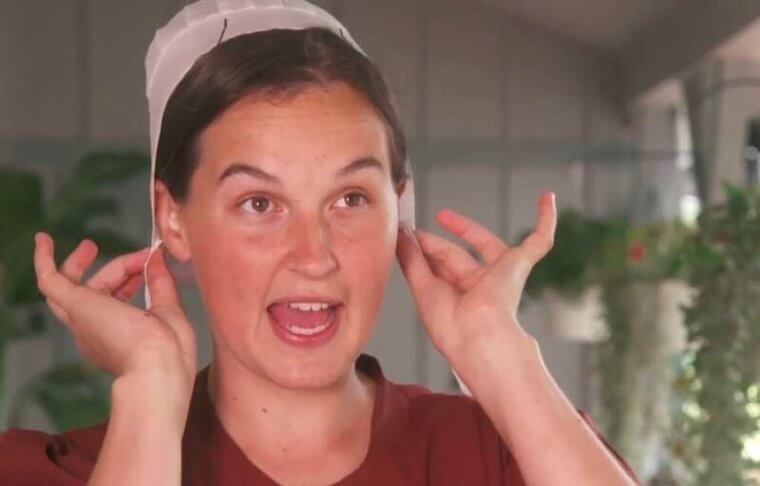 But despite her conservative religion, there seemed to be an experimental side to Sarah who was willing to try new things. And her hair seemed to be the first thing that she might agree to change. As she put it,  "I'm definitely up for the adventure. I always like an adventure. And this 'doing my hair' thing, that is definitely exciting,"

Unveiling Beautiful Hair
The team's lead, Theodore, was eager to see what Sarah had been hiding under her cap for so long. When she finally took her cap off, he was awestruck by the beautiful locks that she'd been keeping a secret.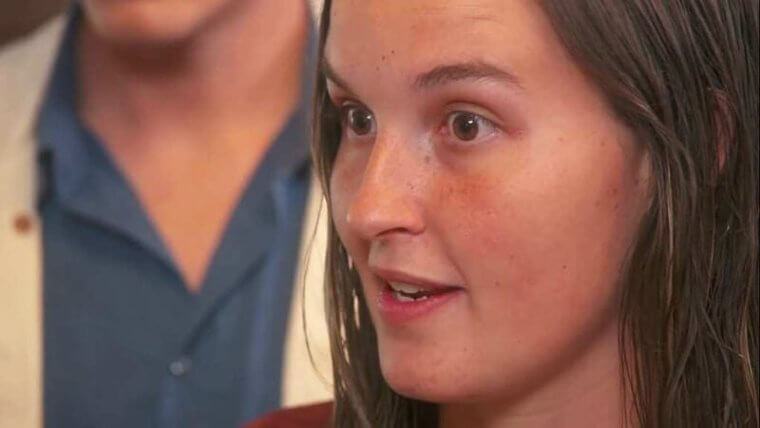 Sarah confessed that she had not let other people see her hair before and that Theodore and the rest of the crew were one of the few to see her without a cap. And there was a reason she was feeling so adventurous.
Age of Exploration
Sarah had turned 21 and was finally approaching the stage of Rumspringa. In the Amish culture, this is a phase in one's life when young people are allowed to explore the more mainstream way of living and see what else is out in the world. This is one of the main reasons Sarah allowed herself to indulge in a hair makeover.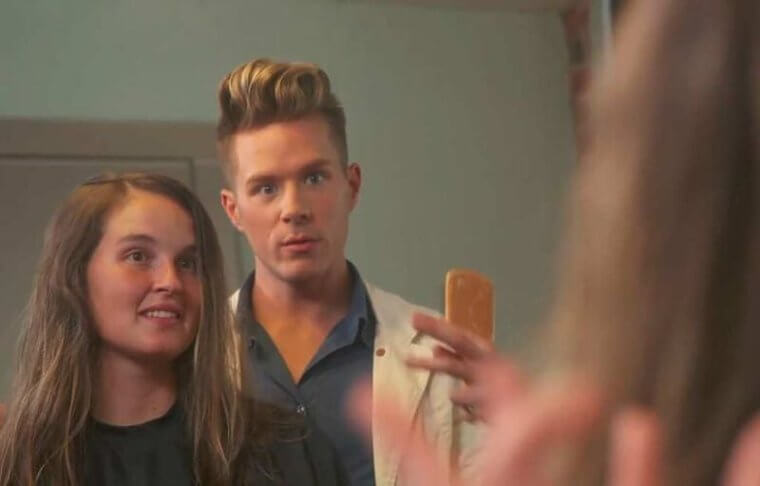 In this phase, the restrictions on Amish people are relaxed a bit and they're allowed to explore. At the end of this period, they have to make the decision whether to get baptized in the Amish faith or leave the community if they should so choose.
Being Different
Sarah explained, "when you have this period of time as an Amish and you get to choose if you want to be Amish or not. During that time you get to experiment. And when I say experiment, I mean doing your hair and wearing different clothes."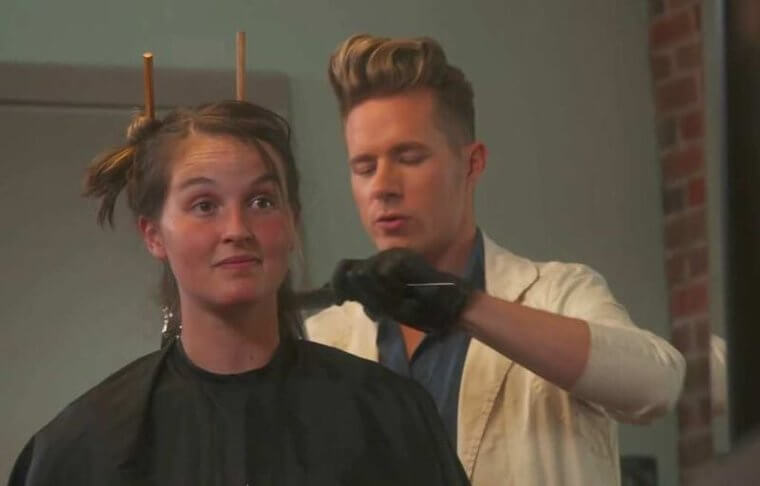 It's definitely an exciting time for Amish youth. But nevertheless, it can be quite nerve-wracking to do things differently than the way you're used to doing things. And this makeover would definitely be something very different for Sarah.
Changing Her Hair Color
Theodore was particularly excited to work on Sarah's hair and was specifically keen on changing its color. "Blondes have more fun", he joked. And Sarah definitely got a kick out of that. He also decided to add long layers, making a style change for Sarah that would still be practical enough for her to tuck into a cap if she wished.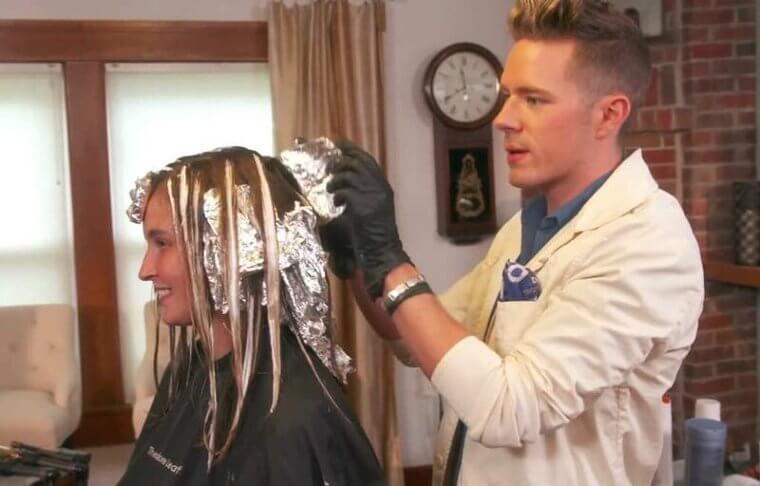 Sarah's conservative life so far made even the smallest changes huge for the young Amish woman.

Problem With Maintainance
As Theodore worked his magic on Sarah's hair, Sarah explained that there's more to the Amish practice of neglecting hair than the team had initially thought. For the Amish communities, she said, electricity is a luxury that they don't subscribe to.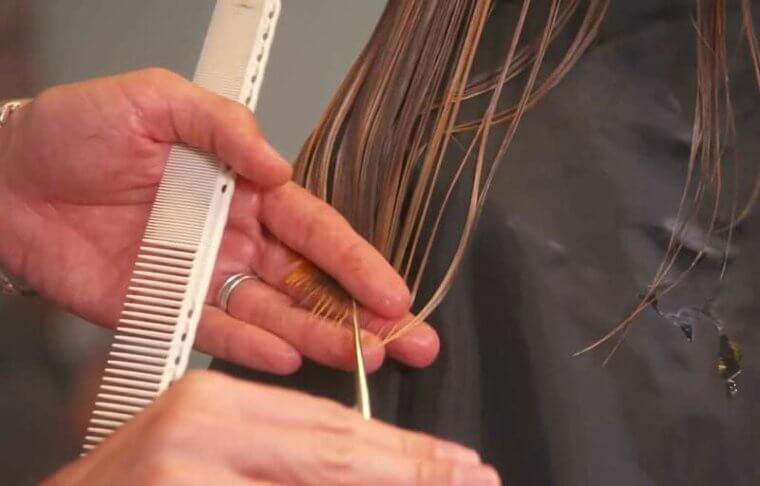 This means Sarah wouldn't have the ability to blow dry her hair the way she might want to - just another reason the makeover was so big for her.
Drastic Change
The first person that lay eyes on Sarah was her friend, Laura. When Laura eagerly walked into the room to see her friend's big hair makeover, she was in total shock at the huge difference that the hair makeover had done to her friend. As a fellow Amish person, a hair makeover would have been a huge deal to her as well.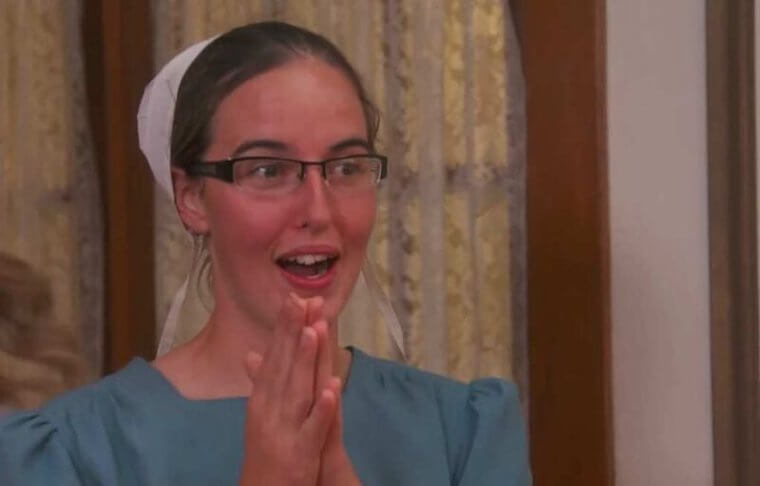 Also in the room were the owners and staff members of the inn where they taped the show (to accomodate the lack of electricity). They, too, were dumbstruck by Sarah's makeover. Now it was time for Sarah to see for herself.
Seeing Herself for The First Time
Sarah was almost rendered speechless. There was no more muted brown hair of an ultra-conservative Amish young lady. She was unrecognizable. 
What was on her head instead were gorgeous locks with playful bounce and fun highlights. She wasn't able to say much but it was obvious from her face that she was absolutely shocked.
Bad Hair Day Gone Good
As Sarah was so speechless, Laura spoke for her. She believed that the transformation fits Sarah's personality perfectly. "This look is totally Sarah: carefree, happy. Somebody you'd go up and have a conversation with and just chat about anything," she said.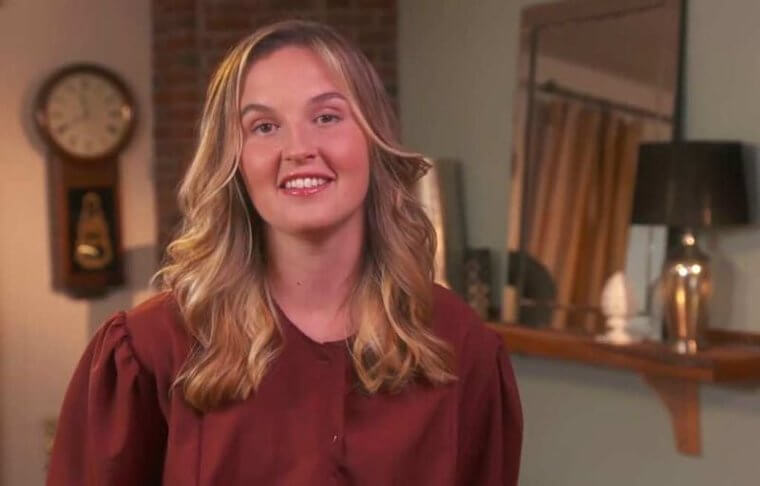 While the makeover was a huge departure from her daily get-up, the team loved to hear that the look was one that Sarah would be totally at home with. For Sarah, it's definitely a Bad Hair Day gone good, says Laura.