It's said that, unlike space exploration, our oceans and seas have barely been touched. Most experts agree that humans have only explored around 5% of the ocean, which is quite surprising considering how close the sea is to us compared to the moon. Luckily, scientists and explorers have recently developed more interest in ocean exploration, leading to exciting discoveries. Let's just say you haven't seen weird until you see what lies beneath the sea.
Glow in the Dark Fish
Bioluminescence is one of the most amazing things that a person will ever witness. An average-looking creature suddenly starts glowing in darkness with no wires or lights. Typically, this feat is mainly for smaller sea creatures, but in 2021 this theory was challenged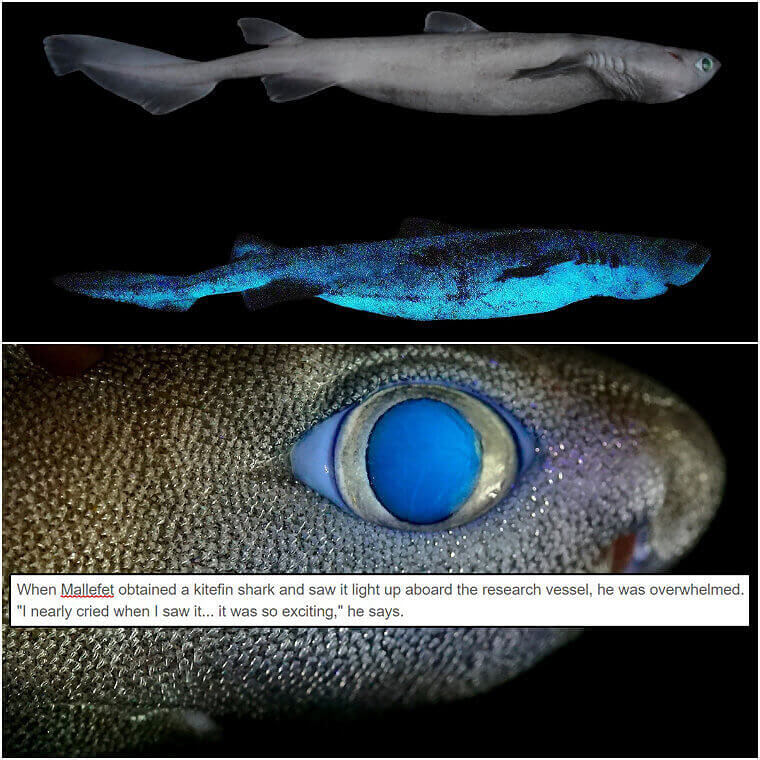 Somewhere between 660 and 3300 feet under the ocean, scientists discovered that kitefin sharks also exhibit bioluminescence. This fish is around six feet long, which officially crowned him as the largest bioluminescent vertebrate. Studies are still in progress on this behavior in this specific species of fish, but the ongoing theory is that these creatures use bioluminescence and light as camouflage.
The Higher You Go, the Easier It Melts
Every time you hear about some new species of fish from the deep sea, you know some wild stuff is about to come up. Of course, we know you are thinking of mermaids and mermen, but these creatures are less enchanted beauties with fish tails and more of a blob.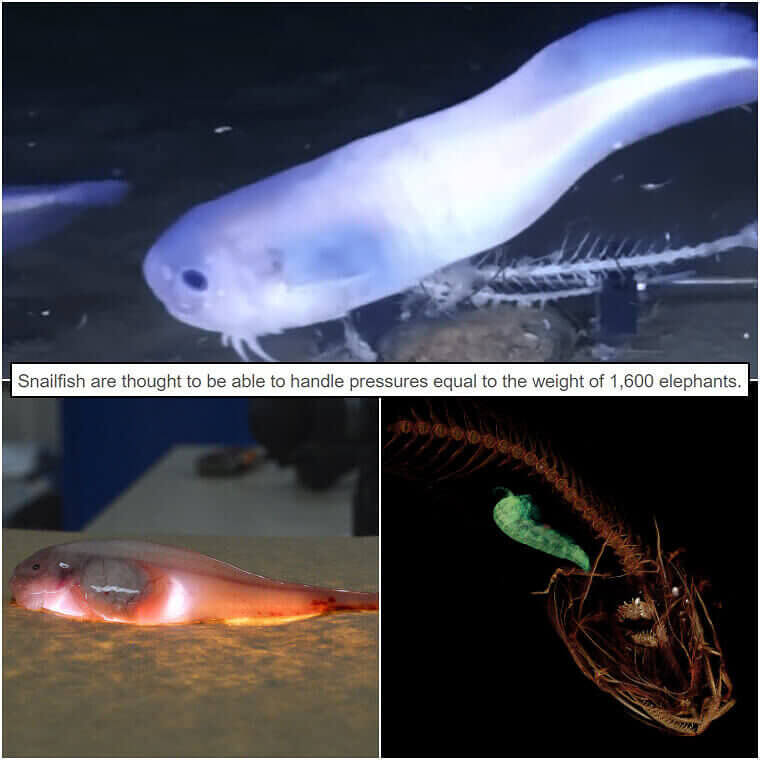 Explorers discovered the snailfish in the deepest part of the world, i.e., the Mariana trench. This creature has adapted to the pressure of this part of the ocean, which is equal to 1,600 elephants standing on each other The snailfish's biggest strength makes it vulnerable outside its environment because the animal melts when brought to the surface
Ghosts of Locomotives From the Past
Usually, when you go under the ocean, you expect to find creepy stuff like a sunken ship or boats, but a team of divers in Jersey found something better. Someone using a magnetometer discovered something was appearing on the radar. Upon closer inspection, the fellow realized the seabed had two massive metallic structures that needed investigation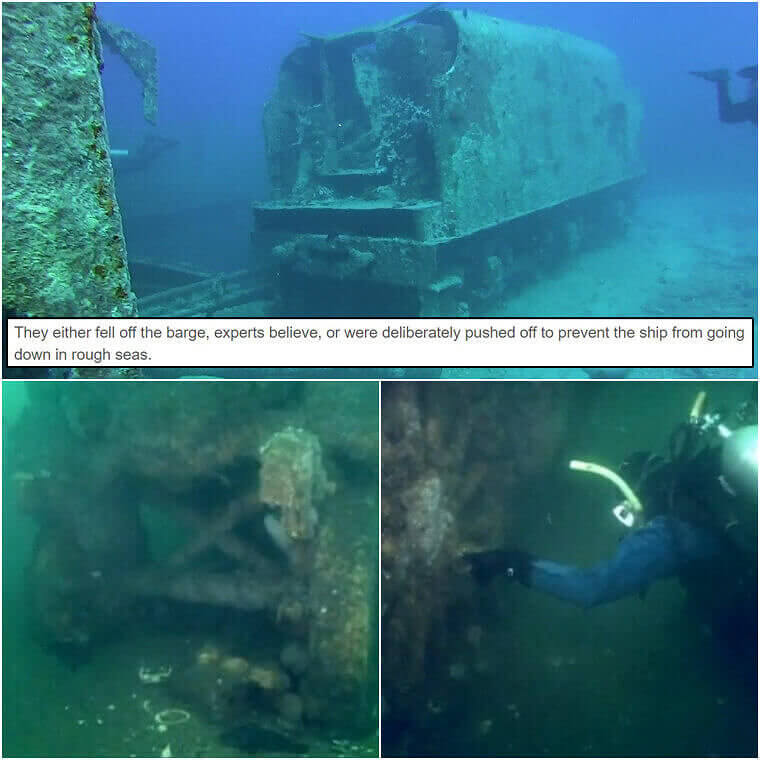 Some divers set out to figure out what they were dealing with, and lo and behold; two trains sat there. Backdating these trains set them around the mid-19th century, but surprisingly, there was no record of two missing trains. Come to think of it; this sounds like the start of a pretty cool horror movie or thriller
Life as We Don't Know It
When a team of scientists decided to dig deep into the Antarctic Ice Shelf, they intended to get some mud samples for their research. Instead, these high-achieving bunch discovered some sponges and other unidentified creatures attached to a boulder.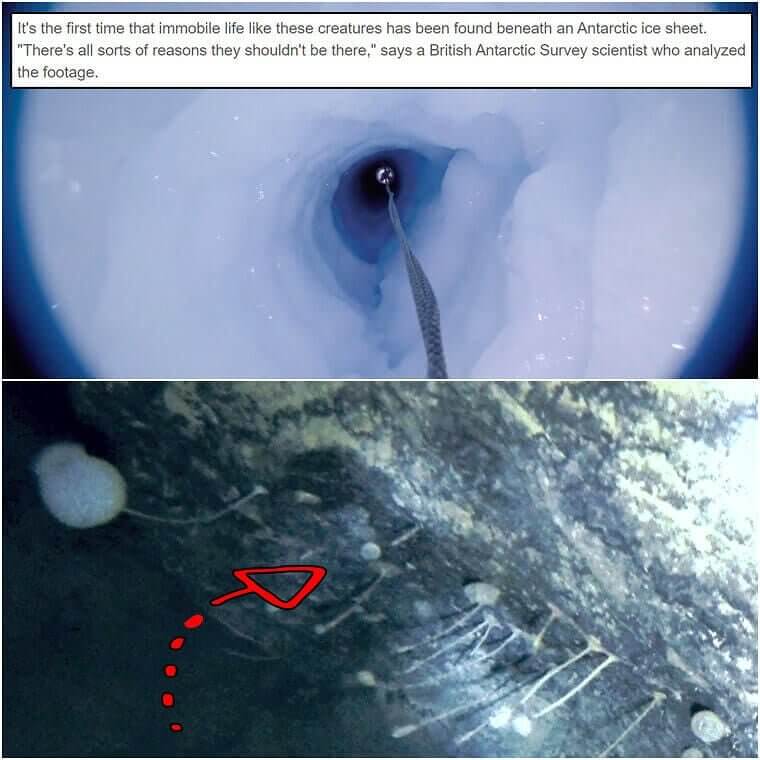 This discovery challenged the train of thought that the ice shelf is devoid of life due to the harsh conditions found in the area. On the other hand, there can't be life without food, so it was shocking to see a thriving ecosystem so deep into the ice. We don't know about you, but we think it's time someone took a deeper look at this region.
Longer Than a Skyscraper
At first glance, you would think this is a crop circle until you realize this image is several thousand leagues under the sea. What you are looking at is an organism called apolemia. In typical underwater shenanigans, this creature is a combination of thousands of genetically-identical zooids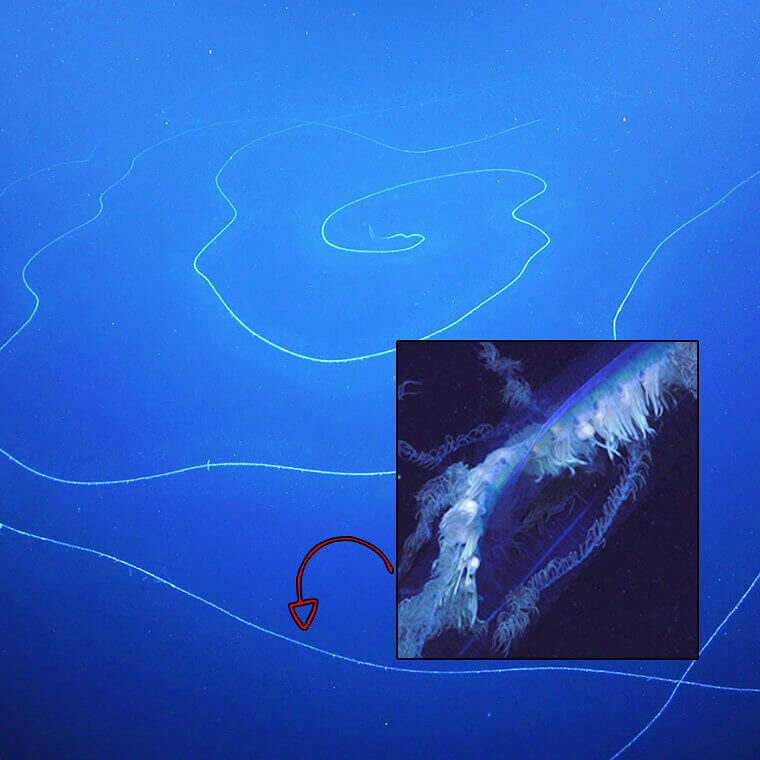 Each zooid has its unique role, from feeding to reproduction, so most apolemia are pretty large. The remarkable thing about this one is that it is probably one of the longest creatures seen by man, measuring about 150 feet in length. If you have ever seen an 11-story building, that's how long 150 feet is.
Underwater Stonehenge, Lake Michigan Version
Ever toured the UK? Then, perhaps, you would have caught the prehistoric view of its world-famous Stonehenge. Of course, it's not the only stone alignment in the world; there's one in Scotland, Ireland, and as of late, Lake Michigan. This most recent one was found 40 feet under the surface. So, you might have to hold that breath first.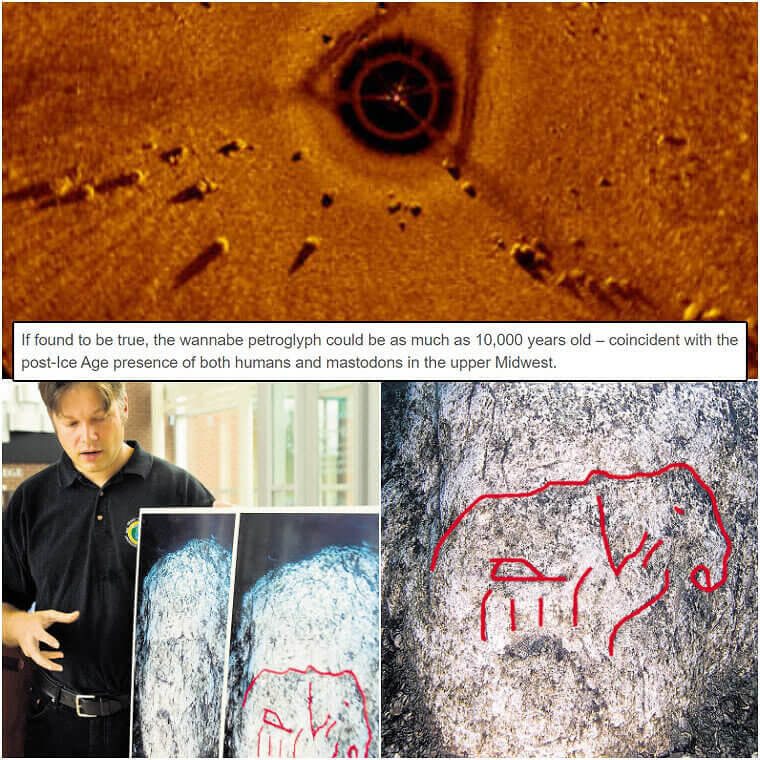 In 2007, a series of non-metallic minerals planted on a circle were idling in U.S water. One of the rocks in question had carvings of what seems to be a mastodon, a large animal similar to an elephant that supposedly went extinct 10,000 years ago. Petroglyphs specialists still need to confirm its authenticity before agreeing or dismissing it.
Be Warned; Dangerous Upside-Down Cacti Ahead
Ice Finger of Death—cool name for a video game, if this was the case, but it's not. In reality, it's a brandish name for a brinicle, a natural formation beneath the icy sea, finger-like in appearance. Still confused? Imagine a frosty pillar that could freeze any marine creature that wonders too close. Brinicles are submerged though, but one close contact, and that's the end.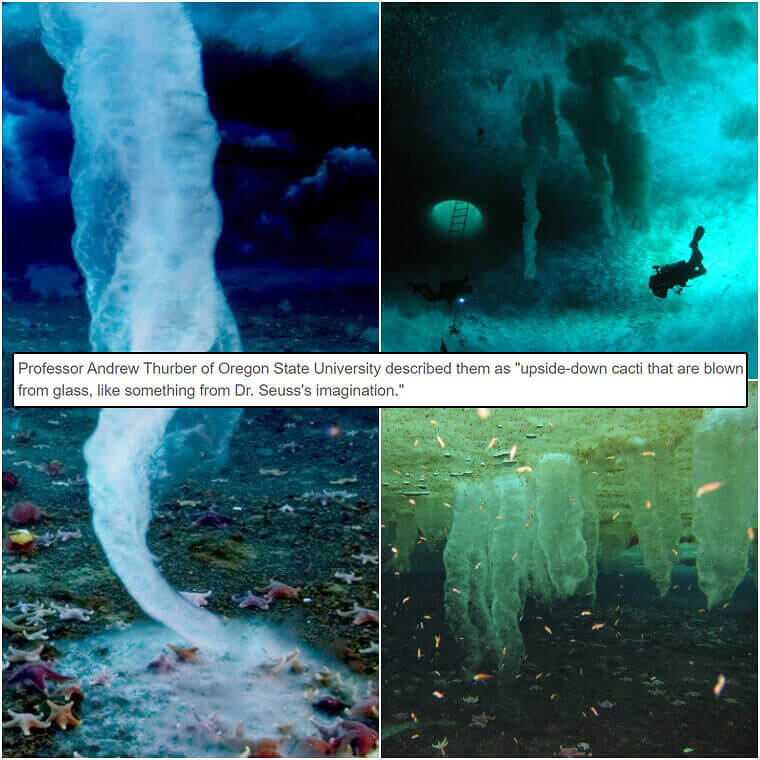 In Antarctica, when frozen seawater pops, saltwater also begins to drip. Saline is denser than water, and so they plunge to the ocean floor, deep-freezing the pool nearby. On the bright side though, the upside-down cacti could essentially support life in the cosmos, if that helps.
Oceanic Review: Shark Versus Giant Squid
The Pacific is so vast marine creatures swim with no worries of irritating fellow aquatic—that's completely false. Right at the ocean's murky depths, near Hawaii, a hard face-off transpired between a shark and a giant cephalopod. We don't know who won the fight, but one of those crashing oceanic animals was spotted to tell the tale.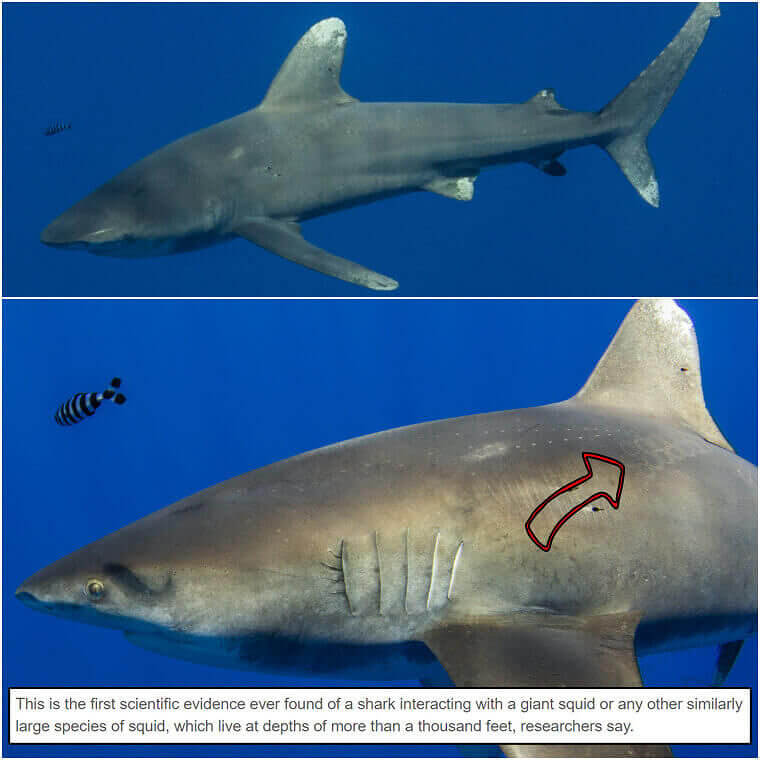 In 2019, a marine biologist detected a six-foot-long sand bar shark with ring-like suctions on its back. According to experts, the offender could be a massive squid, as only elongated tentacles warrant such impactful scars on a whitetips skin. If found true, this would be so epic. After all, we don't always get to see tussles between water giants.
Glass Octopus Reveals See-Through Membrane
There have been elusive sightings on Earth, but a real glass octopus? That sounds like some made-up fairytale from Disneyland, earnestly woven to drive attention. Yet, it is true, in jet propulsion right at the shadowy waters of Phoenix Island.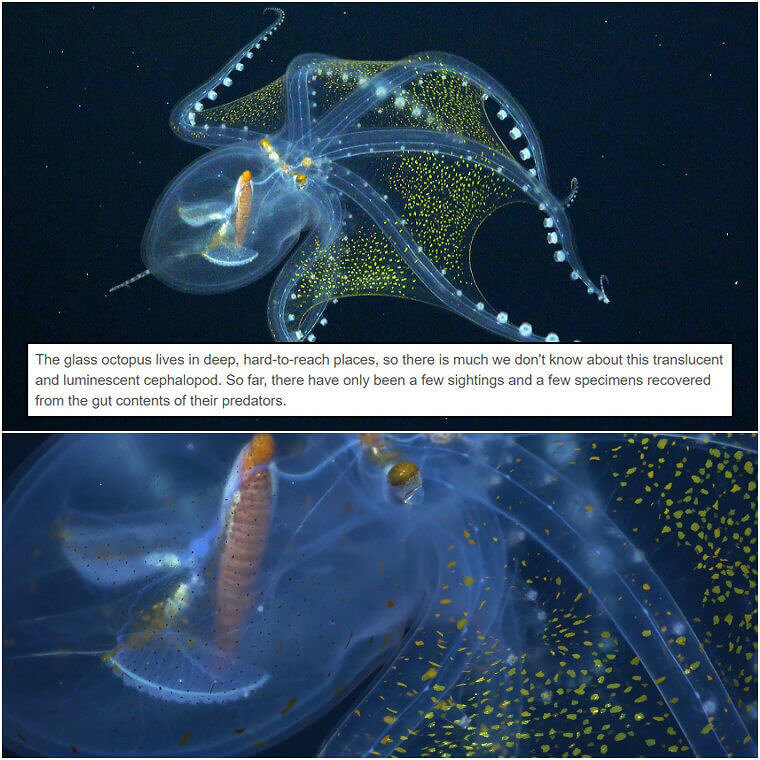 Bless the 34-day expedition for the high-resolution mapping of over 11,500 square miles of the sea bottom. With the assistance of a remotely operated vehicle, the flock of scientists sighted the glass octopus twice. They're spectacular, of course, almost translucent, with just their optic nerve, digestive tract, and eyes in view. The rarity of the occurrence makes further studies possible only through the remnants of this specie, pulled straight from the hunters that ate them.
The Eels Delivered in Numbers
One, two, three—now, we've lost count of how many soft-finned fishes went straight for the snack. Since humans don't ever stop mapping out the unknown, an expedition in 2020 prompted another undersea study in one linear stretch from Mexico to Hawaii. Scientists decided to drop a bait box filled with mackerel at 10,100 feet below.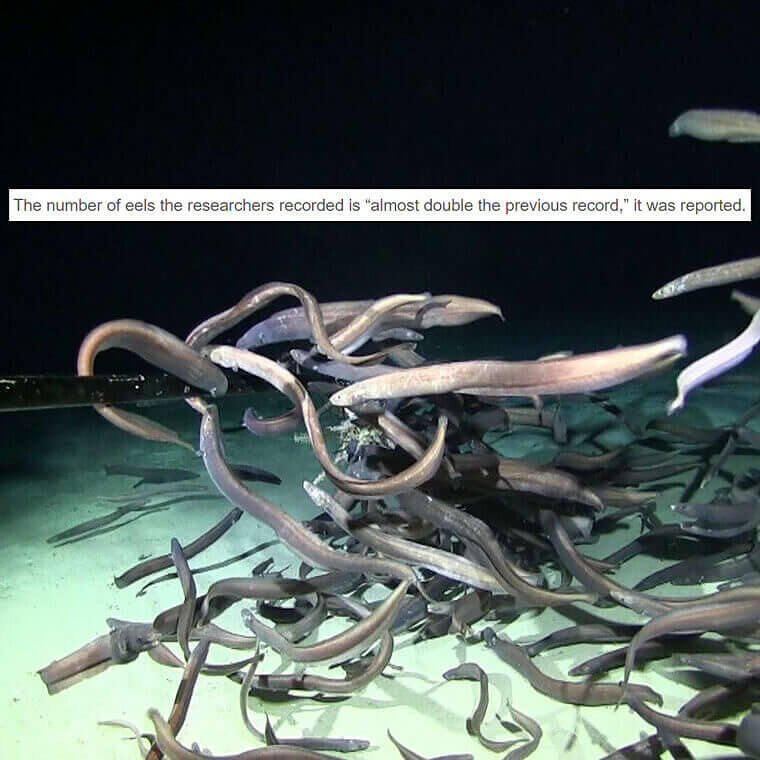 As soon as the floating pounds of mackerel hit the water, a horde of 115 hungry eels crashed the scene. The sight was oddly terrifying but beautifully rare, too, since only under 10 varieties of them have reached the worldwide register. We haven't seen scores of eels on tape before; researchers even said this number almost doubled the last record.
Christ Found 56-Feet Underwater!
One thing we can say about the oceans is that they are a pretty weird place. They are less discovered than the skies, and we find quite interesting objects every time we dive under the depths of the oceans.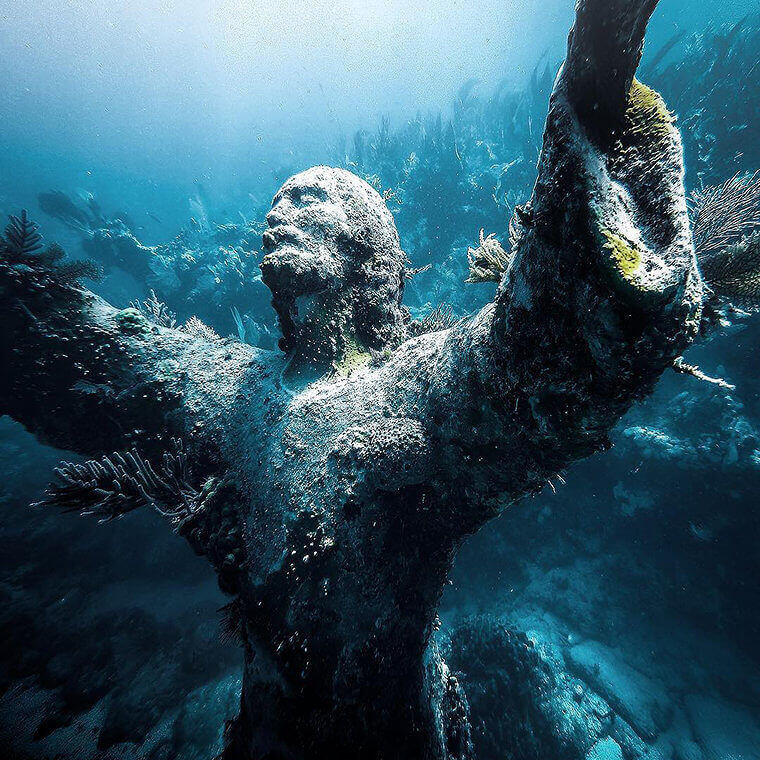 Hands down one of the most peculiar things to have ever been seen underwater would be a huge statue of Jesus Christ. It is found in the Mediterranean Sea at 56 feet under the surface of the water. The statue is named Christ of Abyss and is placed there to mark the extraordinary adventures of a diving instructor, Duilio Marcante, who became the first Italian person to have used SCUBA gear.
A Mammoth Tusk Was Found in the Ocean
Out of the many wonderful things that have been found inside the ocean, there is this mammoth tusk. This might be very surprising to hear at first, but it's true. The huge tusk was found 185 miles off California's shore and at a depth of 10,000 feet.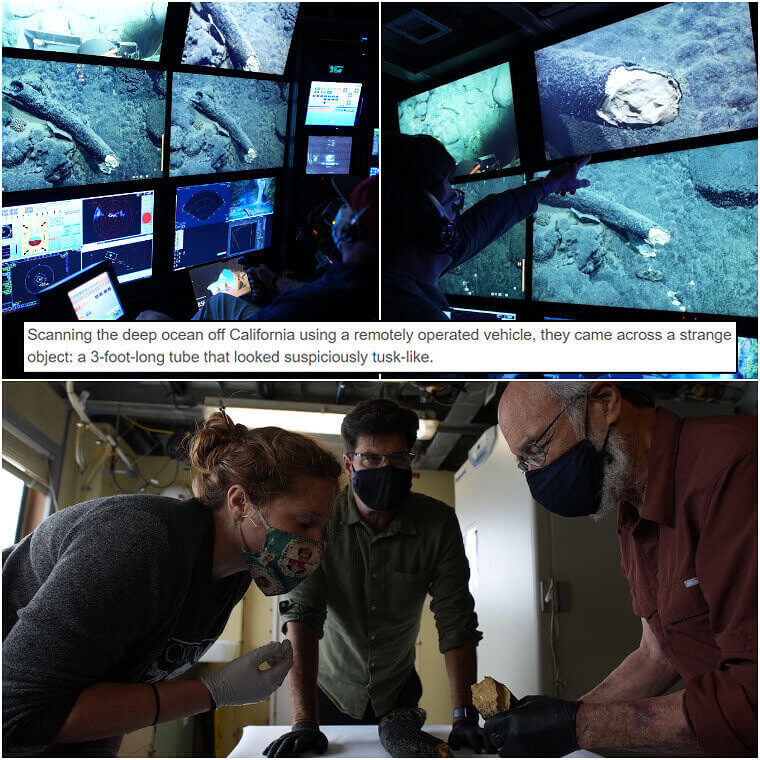 The object was of a Columbian mammoth and was about three feet in length. After scientific study, it was estimated to be around 100,000 years. This object raises several questions, such as, whether the animal is an extinct aquatic animal or a regular one that somehow ended up in the depths of the ocean?
The Confusing Fish That Shifts Shapes
Oceans have been one of the biggest areas of interest for scientists for centuries. One of the most mind-boggling events happened back in 1895 when researchers came across three different fish. The fish that seemed normal at the start were soon more bizarre than anything.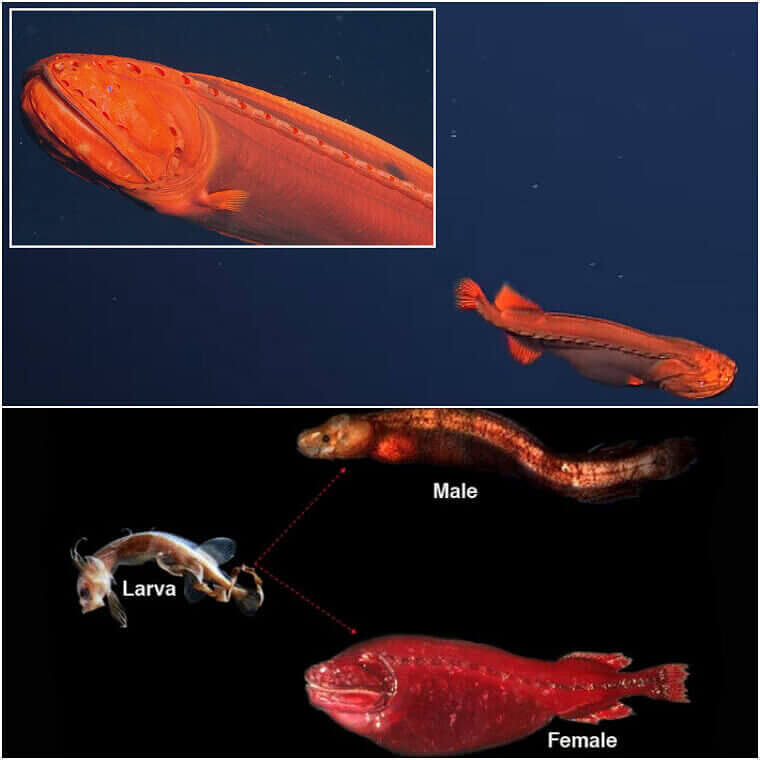 Out of those three fish; one specie only had young members, another had male members alone, while the third only comprised female members. Centuries later, a study of their DNA revealed that all three were members of the same specie; a whalefish! These fish undergo extreme transformation throughout their lifecycle which made scientists confused a few hundred years ago.
They Dove Down to Capture a Giant Squid
Some of the most popular legends and stories of old times involve the mention of a sea monster. Such a sea monster has been in discussion among sailors for centuries. Now that we have discovered many sea creatures, we are confident that the monster was nothing but the present-day giant squid.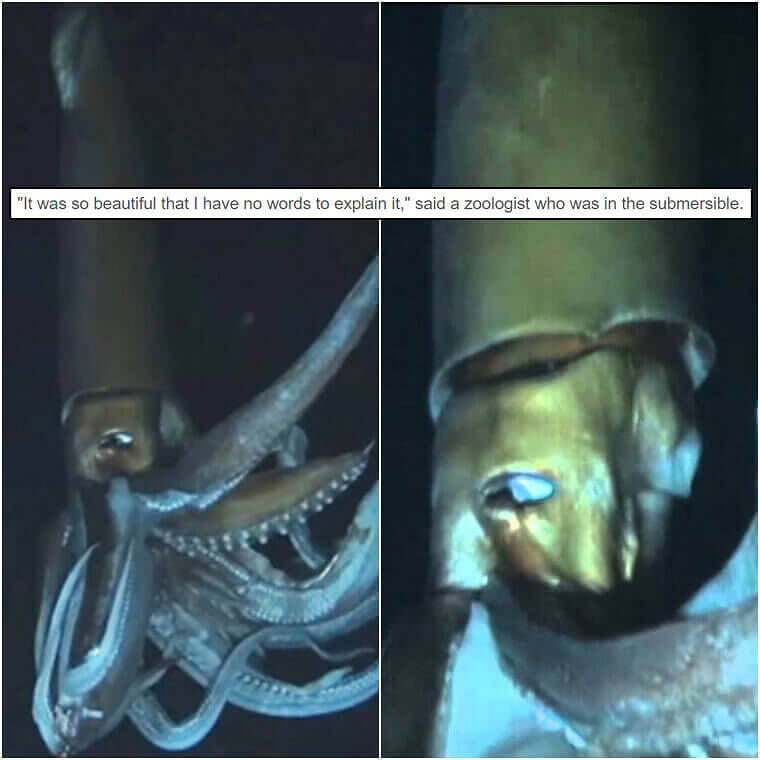 These huge aquatic animals are very intriguing to scientists. To study them up close, a team was sent on a mission to videotape the giant. So, in 2006, a group of scientists became successful in catching it on camera when it was pulled to the surface. Then, in 2012, a submersible was dropped 3,000 feet to film the squid in its natural habitat.
A Huge Jellyfish Rarer Than Hen's Teeth
While the ocean is home to some of the most magnificent creatures on the planet, they are also the place where some of the most intimidating creatures are found. They reveal themselves to humans once in a blue moon and leave everyone's mouth wide open.
One such creature is a giant phantom jellyfish that was videotaped in 2021 under California's Monterey Bay. This jellyfish has been spotted only a hundred times in the past 120 years. Found in depths ranging anywhere from 3,000 to 22,000 feet, these are humungous in size. One specimen even has a bell as wide as 3.3 feet and arms as long as 33 feet.
Spooky Mexican Underwater Cave
A swampy sinkhole from the south of Mexico terrifies townsfolks so much that even the primeval Maya kept well away, too. They don't ever go near it! In 2012, underwater survey swimmers found fearsome evidence that precedes its haunting reputation. The underwater cave, known as Sac Uayam, channels two chambers, and both of its floors are littered with human carcasses. Among others are flattened skulls detailing a gruesome Mayan tradition of giving infants' heads a pleasing outline.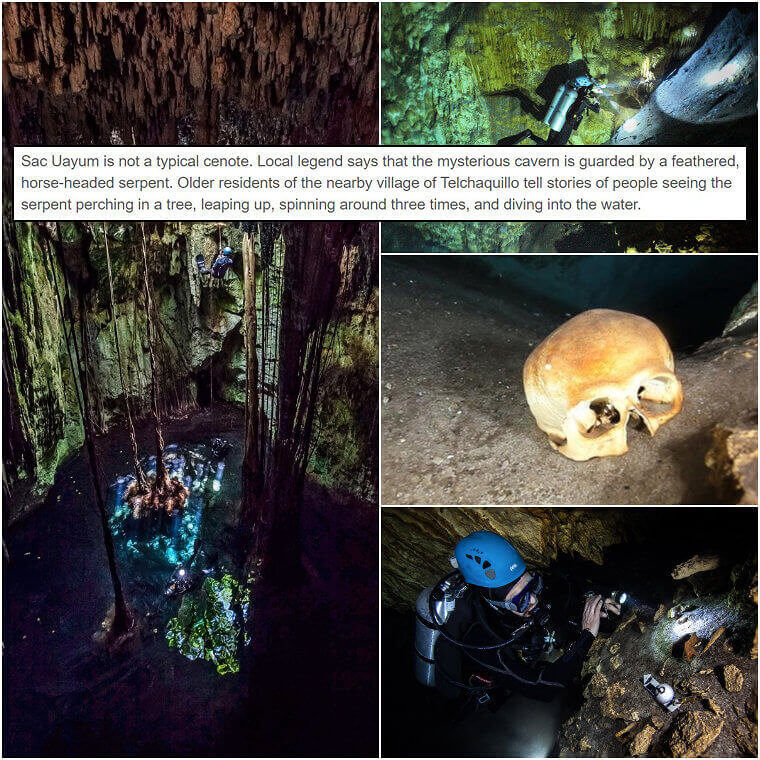 A telling of a massive horse-headed, feathered snake guarding the cavern also surfaced in the narrative, plucking children who wander near its waters. In truth, the number of corpses accounts for affliction victims that once plagued the remote village.
Poisonous Serpents Swim in Australia's Ashmore Reef
Brimmed by three oceans and two seas, Australian marines hold around 10,000 sun-soaked beaches. So there's plenty to go around for the summer, including the one that is 390 miles north of Australia, where Ashmore Reef floats. It might be a perfect stretch out there, but its poisonous nesting vipers are hardly an invitation.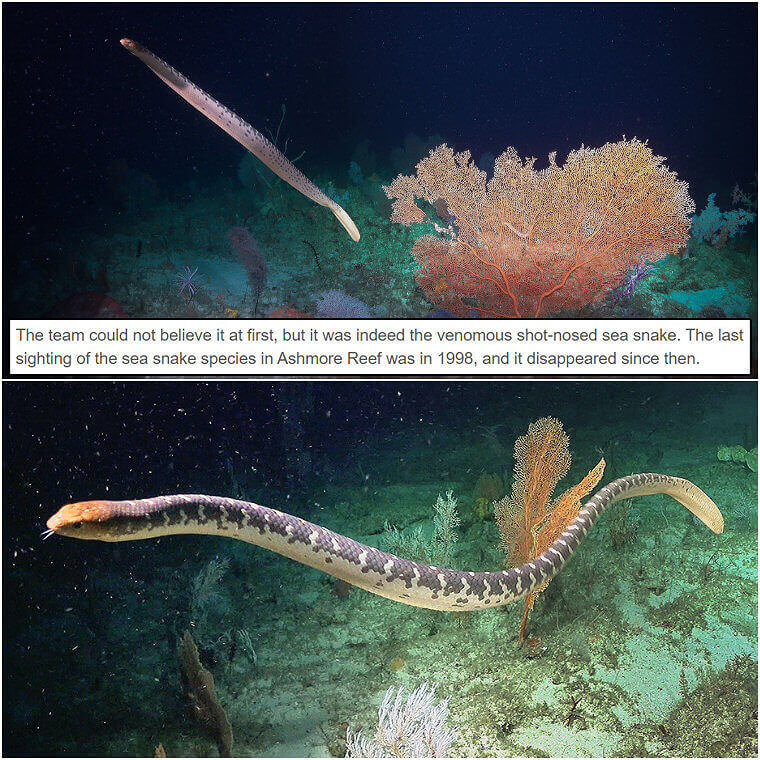 Though they've mysteriously dwindled in numbers for decades, the 18-day underwater odyssey in 2021 discovered more than 50 sea snakes in the so-called Sand Island. Even more remarkable was the appearance of a supposedly extinct snub-nosed serpent. Small but terrible, they spring at most 108 cm but are far too venomous.
A Fang Feature Plus Special Sockets
There's a marine inhabitant with a euphemism that precedes its name—fangtooth—hardly masking this creature's appearance. It's got serious pointers that make for a terrifying saltwater hunter. Yet, despite the prominent choppers, the seawater bully who resides deep as 16,000 feet, known as the twilight zone, ironically struggles with a pretty shabby vision, in need of water-proof precaution glasses fast.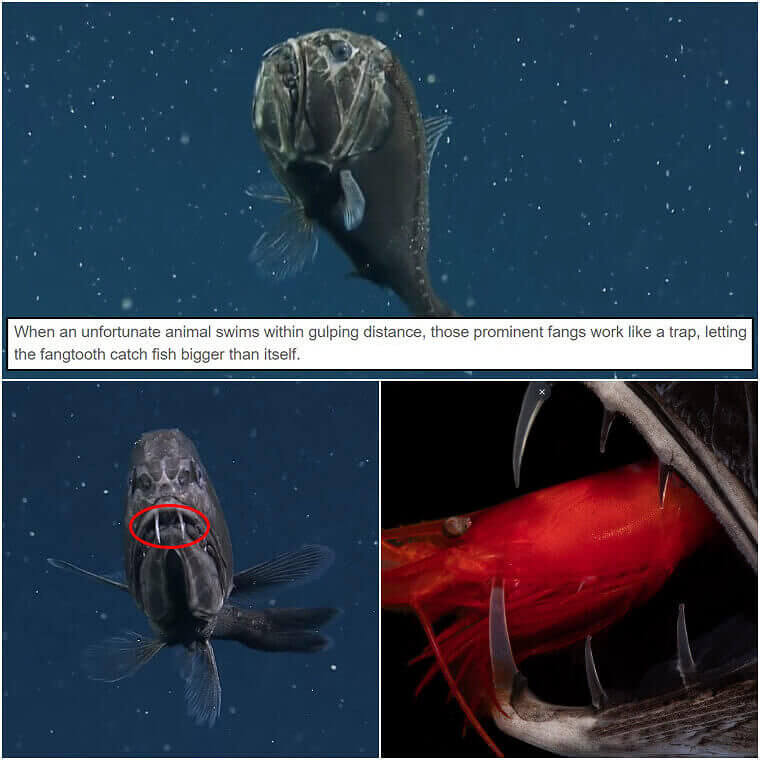 The corpse-like-looking marine has the most bewildering body-size-to-teeth proportion of any oceanic animal. The incisors are so large that they can skewer bigger fish at a gulping distance. Even their brain might risk getting punctured if it weren't for the special sockets on both sides of their brain, preventing it from ever happening.
Echinoderm Forefather Raced to Modern Times
All sea stars gather around! There's a recent finding of a 480-million-year-old specie hailed as the progenitor of the echinoderms. In 2004, around the Moroccan desert, an evolutionary mystery was unearthed. At that time, scientists were eluded by the historical significance of the well-preserved fossil remains. It was only in 2021 that details of the Cantabrigiaster fezouataensis, believed to be a starfish due to its uncanny resemblance, were learned.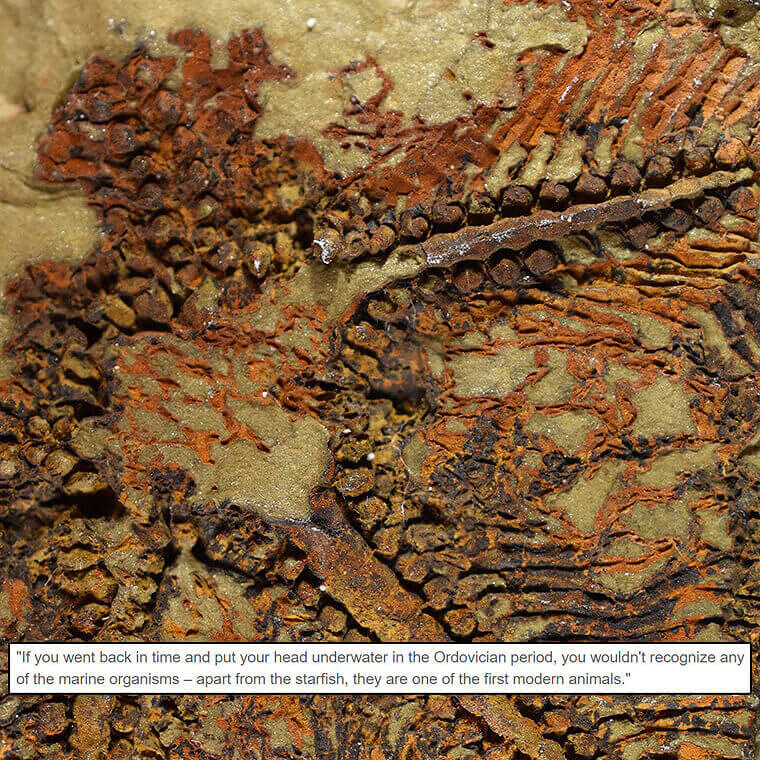 Further exploration described the tiny specimen, valued in the Paleozoic era, as the ancestor of both the starfish and the brittle star. It's entirely the first modern specie to have existed alongside animals that to us, would look too foreign
SpongeBob and Patrick in Actuality at the Atlantic
Just when we were way past fairytale bedtime, dismissing hopes of real-life embodiments of our favorite cartoons, marine biologist Christopher Mah gave Nickelodeon fans some major boost with his discovery of the live-action versions of SpongeBob SquarePants characters. Though far from being scientifically revolutionary, the accidental sighting definitely gave us the SpongeBob and Patrick chilling-below-the-Atlantic childhood daydream.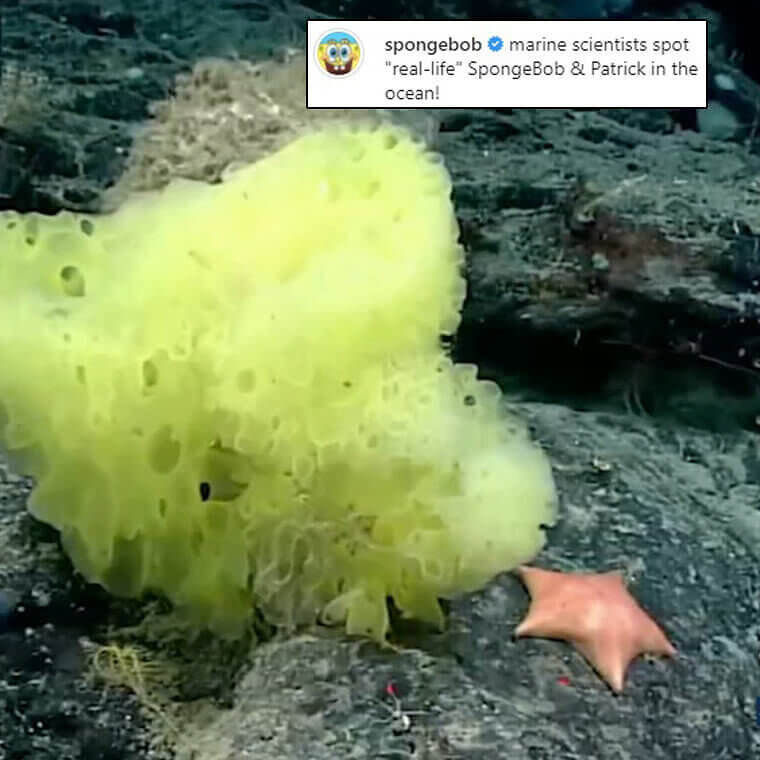 Hate to break it to you, but in modern reality, sea sponges are never square and are usually colored white or orange. Even worse, the mostly carnivorous starfish loves to cram down its fellow marine inhabitant, the sponges! Not exactly the deep saltwater friendship we were all rooting for on TV.
Barrels of Toxic Waste Dumped 3,000 Feet Underwater
Twelve miles off the Los Angeles coast, scientists discovered 27,000 barrels of toxic chemicals using underwater robots and sonars. The videos and pictures taken confirmed the place was a dumpsite for industrial wastes for decades.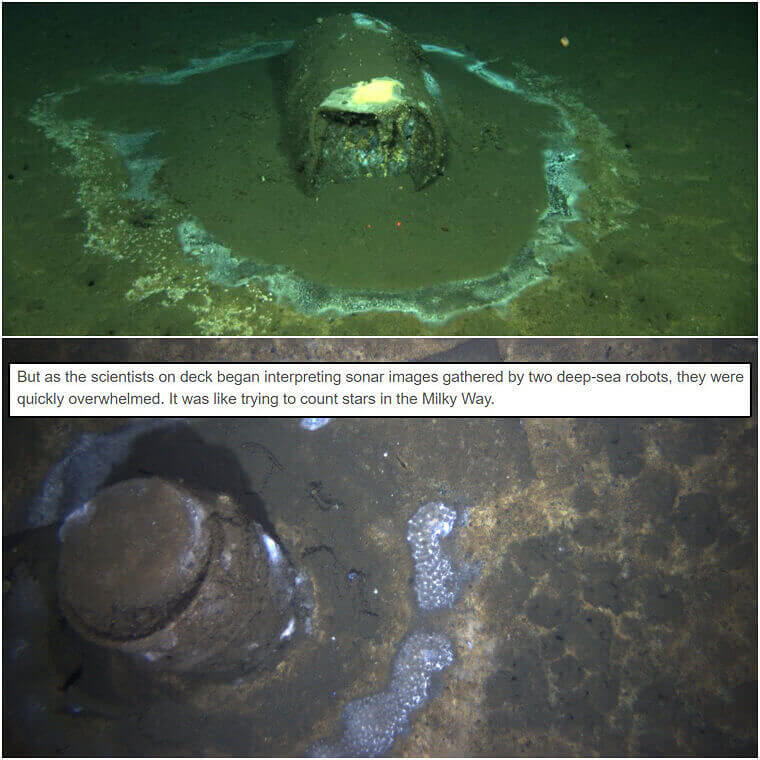 In the 20th century, throwing trash in the ocean was normal; hence manufacturers found it a quick and easy way to dispose of chemicals. Scientists are afraid the chemicals have leaked because a test showed some pesticides were found in the sea animals. Despite the saddening news, there is hope that the barrels which haven't leaked yet can be removed and disposed of in a safe place.
Comb Jellies With Rainbow-Like Colors
Comb Jellies are named after their comb-like plates, which help them in locomotion. Even though it's pretty similar to Jellyfish, this species which was discovered in northwest Puerto Rico is of a different class. Their unique feature of radiating rainbow-like colors makes them beautiful, and because their body consists of 95 percent water, Comb Jellies can float easily.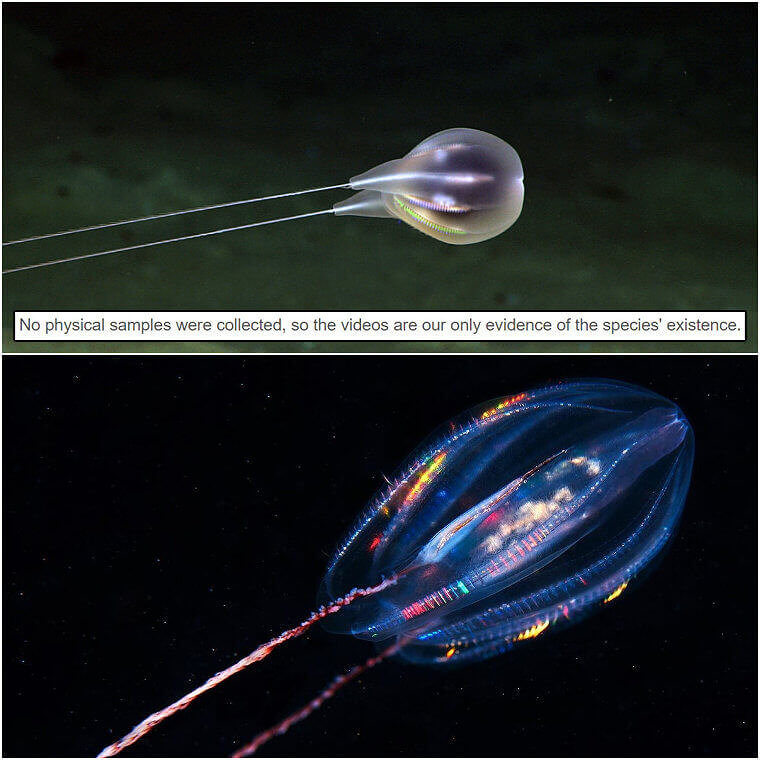 According to scientists, Comb Jellies are 500 million years old, but they were only discovered in 2015 at a depth of 12,800 feet. They are also known as Ctenophores with the C silent. Despite their cuteness, the Ctenophores eat each other and other small fishes.
The World's Largest Coral Reef, 1,600 Feet High
The world's largest reef system is a couple of hundred feet higher than the Empire State Building and many other skyscrapers. Scientists discovered it in 2020, and it's the first detached reef found in over 120 years. They call it a detached reef because it's separated from the Great Barrier Reef shelf.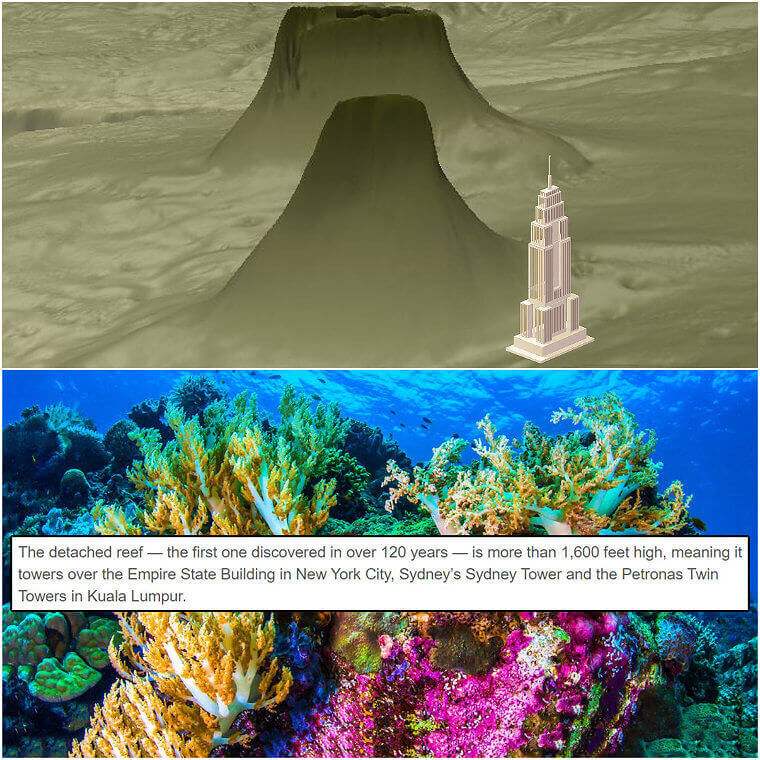 We believe there are more discoveries to be made because scientists are still exploring the Coral Sea, specifically the Great Barrier Reef. Apart from the recent discovery, seven other detached reefs have been located since the 1800s. The Great Barrier reef is open to tourists, and they can choose to dive in, sail, or fly above it.
The Red Jellyfish That Resembles a Lampshade
In 2021, researchers found this mysterious Jellyfish off the coast of Newport, Rhode Island. They sent a vehicle that went deep down, and at a depth of 2,297 feet, the scientists saw a bloody red Jellyfish. Its scary red color is very helpful in keeping predators away because it tends to appear black due to lack of light penetration.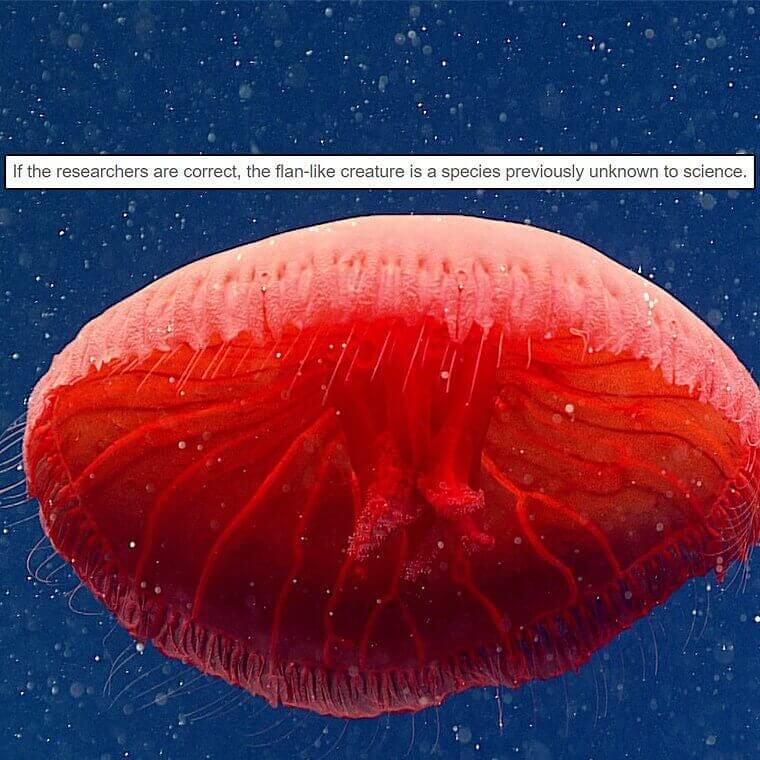 From that, we can conclude that maybe sea predators love shiny attractive prey, which is unfortunate, but because it's a food chain and every animal needs to survive, the unlucky ones have no chance. This Jellyfish stands out from the rest with its over 30 long tentacles.
Alien-Like Squid Captured Deep Down the Ocean
A bigfin squid was spotted in the Gulf of Mexico in 2021, leaving people wondering if there are aliens deep down in the ocean. Since 1998, there have been less than 20 discoveries of these creatures, with some sighted as deep as 15,535 feet.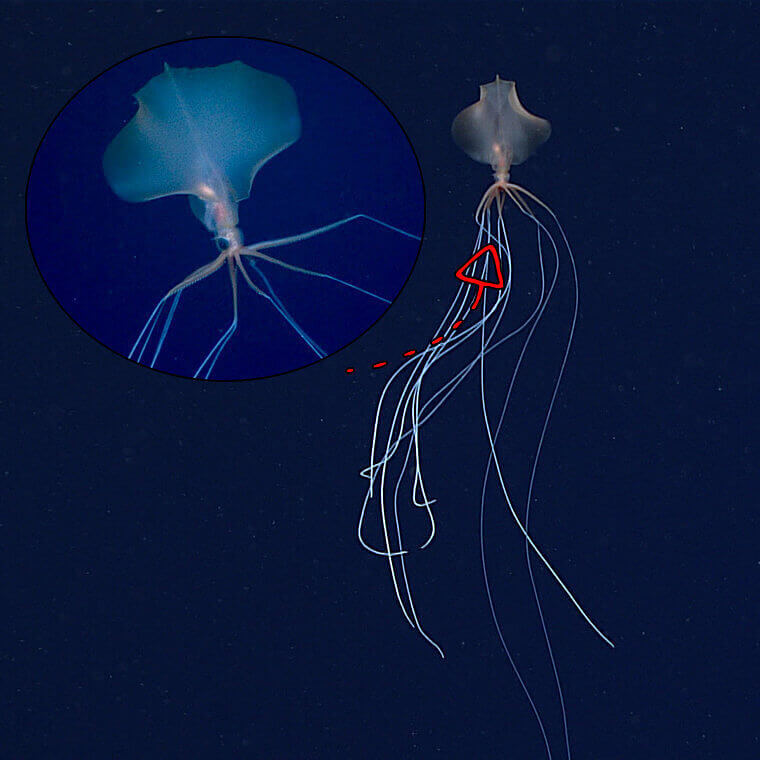 On that particular day, this one was seen gliding at a depth of 7,825 feet, and due to its long spaghetti-like extensions, it's very difficult to tell the tentacles from the arms. The Squid's large fins help it move softly in the water, and according to the picture, it seems the shiny light pink part is where the organs are.
A Mythical or a Real Creature?
If rarity took a form, it would be the barreleye fish. This very special marine creature has only been seen ten times; the last time was in the scariest depths of one of California's submarine canyons. Well, for a critter that only thrives in waters void of sunlight, it's no surprise it is usually very hard to find.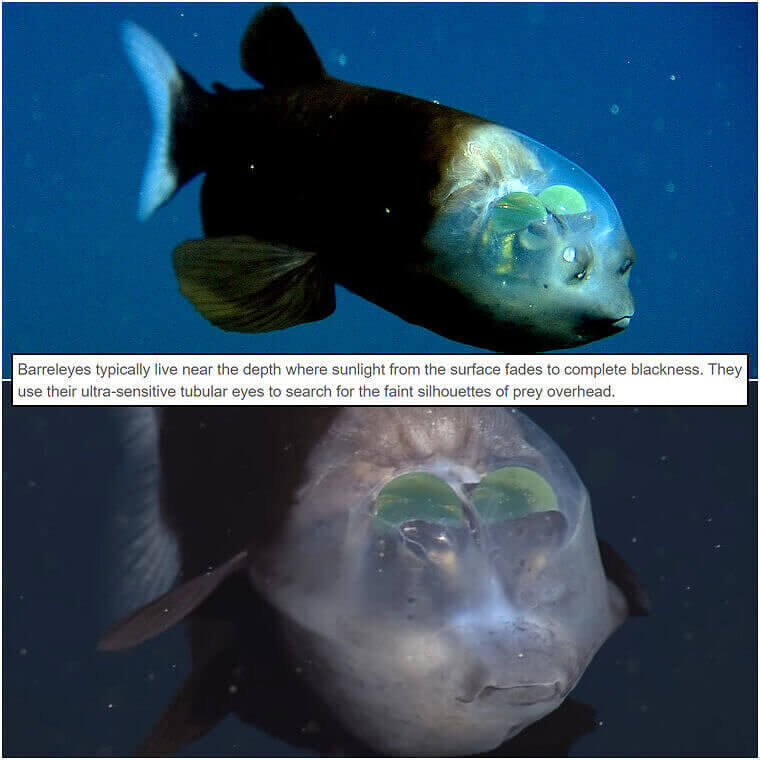 Why this aquatic wonder is so fascinating is because its head diffuses light after allowing it to pass through. It is even equalling striking that its tubular eyes are anatomically overhead to perceive silhouettes. These deep-sea fishes have only been seen from a distance and have never been caught, so very little is known about them.
An Egyptian Wonder Similar to Atlantis
Ancient Egypt was a treasure-trove of fascinating histories and one of them was the city of Thonis. Time wasn't kind to its preservation as natural events like earthquakes, tempests, and twisters, all reduced the Egyptian civilization to plains and valleys. Six centuries later, oceans swallowed up the ruins.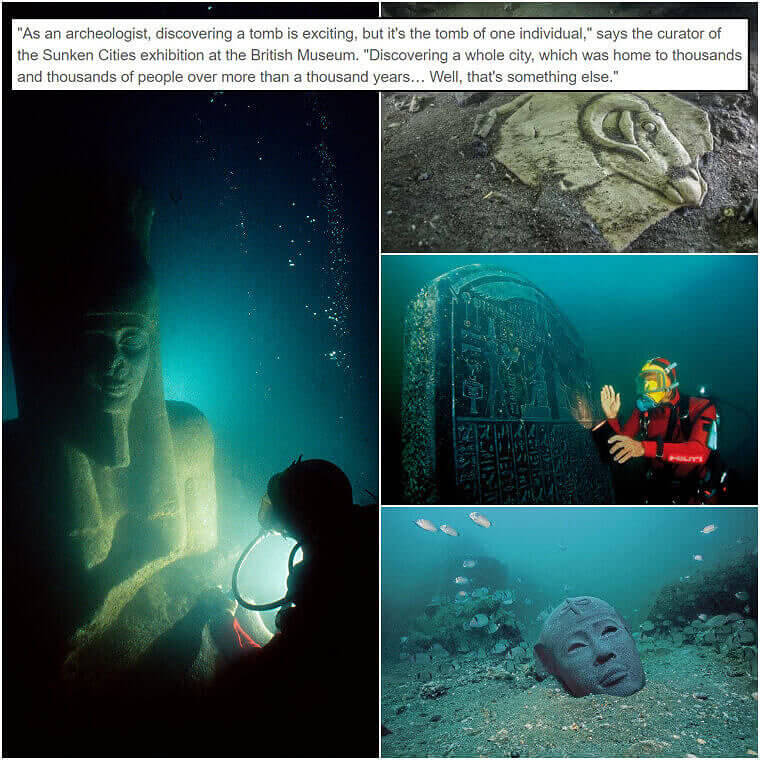 This city of commerce, founded 2,700 years ago, was only discovered in 1999 after its obliteration. The carbon-dating jaunt was such a rocket science as it took five years for the first curio to be found. Interestingly, animal sarcophagi, coins, high statues, and temple fossils are among the relics later found. Yet, only 5% of this cultural wealth has been unfolded
The Wrongs of the Past
The Second World War wasn't without its list of tragic turnouts and Operation Hailstone is in the top category of that list. The epic face-off between U.S Ocean artillery and that of the Japanese turned the Turk Lagoon into the largest ship lichyard the world has ever seen. Also, before recent deep divers went in search of the buried history, the lagoon was considered a high-risk zone because of the volume of easily triggerable explosives that the U.S troops sent to Davy Jones' Locker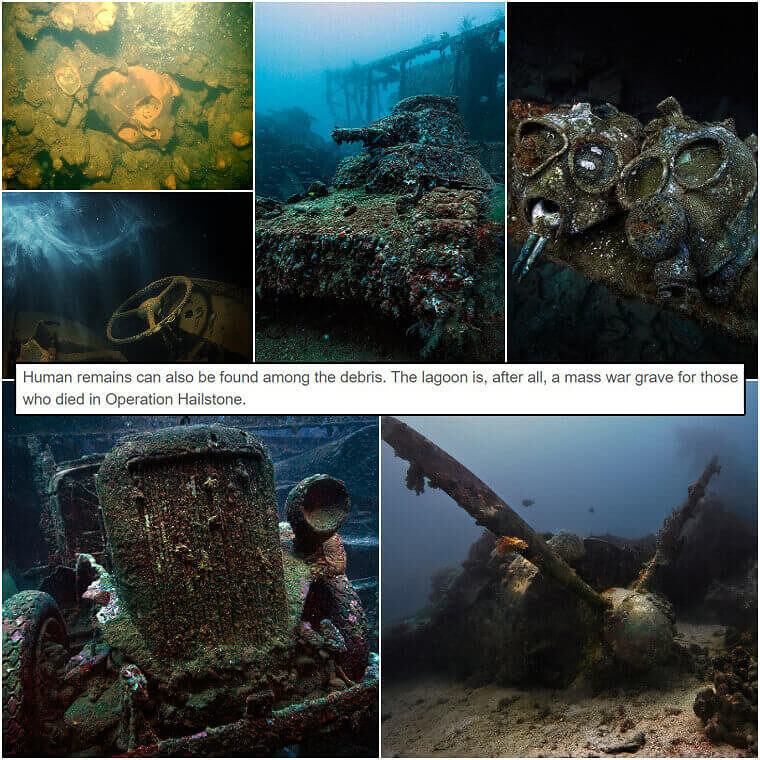 Today, all the warships and fighting vessels have been examined. Apart from the steel and rusts found, the bone debris met also reminded the sea researchers of the lives lost on that fateful day; 17th February 1944. May their souls continue to rest in peace.
Jeff Bezos to the Rescue
On July 20, 1969, Apollo 11 made history. While the spacecraft was on its way to the moon, some parts were discharged because they became duds. Most of them laid 14,000 feet below sea level, off the edge of Florida that meets the Atlantic Ocean, for decades.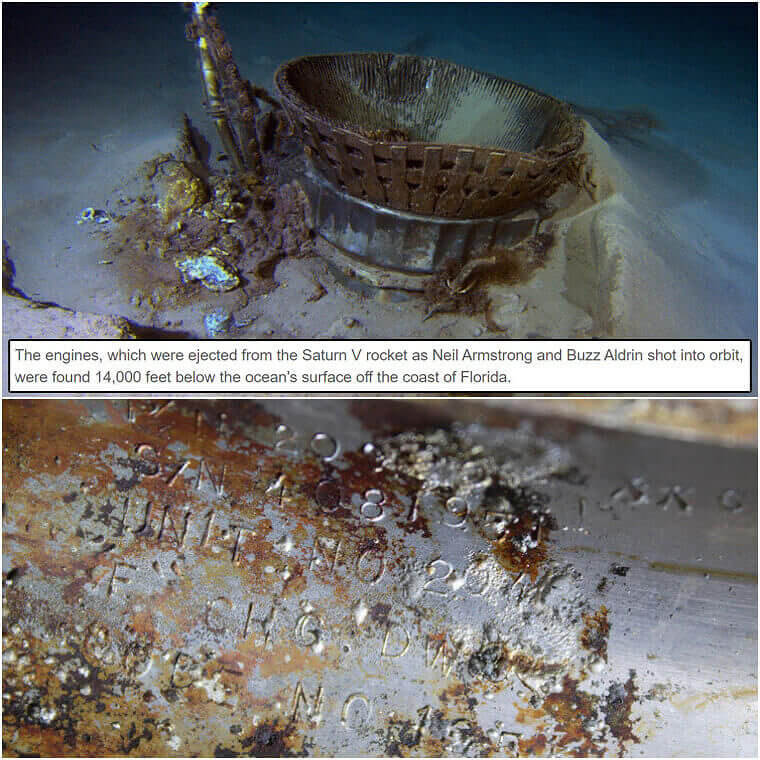 Thankfully, Jeff Bezos thought to rewrite the script. With his resources, he spearheaded the recovery of the Saturn V engines that were ejected after Apollo 11 took off. This exploration certainly was great for history books and space archives as it produced memoirs for the great astronauts in Neil Armstrong, Buzz Aldrin, and Michael Collins.
The Mysterious Metal Balls
Certain Earth anomalies are manmade, yes, but conspiracy theories can offhandedly ascribe them to the doings of aliens. That said, one of those anomalies is the accumulated nodules found in the Atlantic Ocean in 2015. This mysterious reveal went on to humble the greatest minds because of the sizes of the deposits found; the size of a bowling ball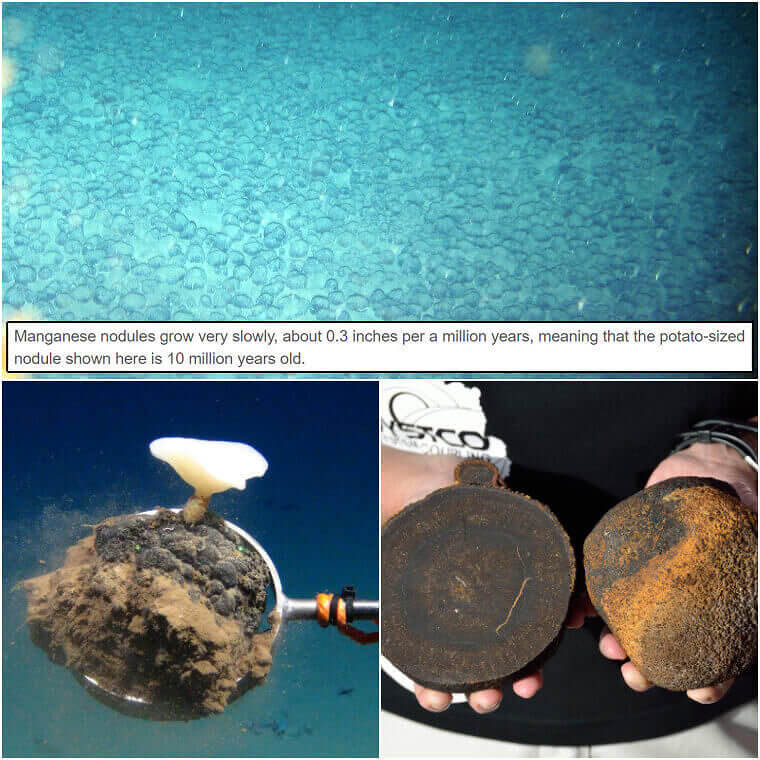 It was tagged extraordinary through the lens of science. Interestingly, these large metal balls were stumbled across as rare exotic critters were the intended find. At a depth of 18,000 feet, shocking discoveries are expected. Yet, a lot of questions have been raised about the sizes of these iron-manganese–laced rocks, but no answers.
An Undersea Testament to Ancient Luxury
Baiae was an ancient Roman town, popularly known for the hedonistic lifestyle of its occupants. The interesting fact about this spot is that it was built on Cumeaen Pennisula, an active field of volcanic vents. It stood that way for centuries and was a famous resort for Emperor Nero, Julius Caesar, Lucullus, and many others. Who would have thought this bubbling town would one day be buried underwater?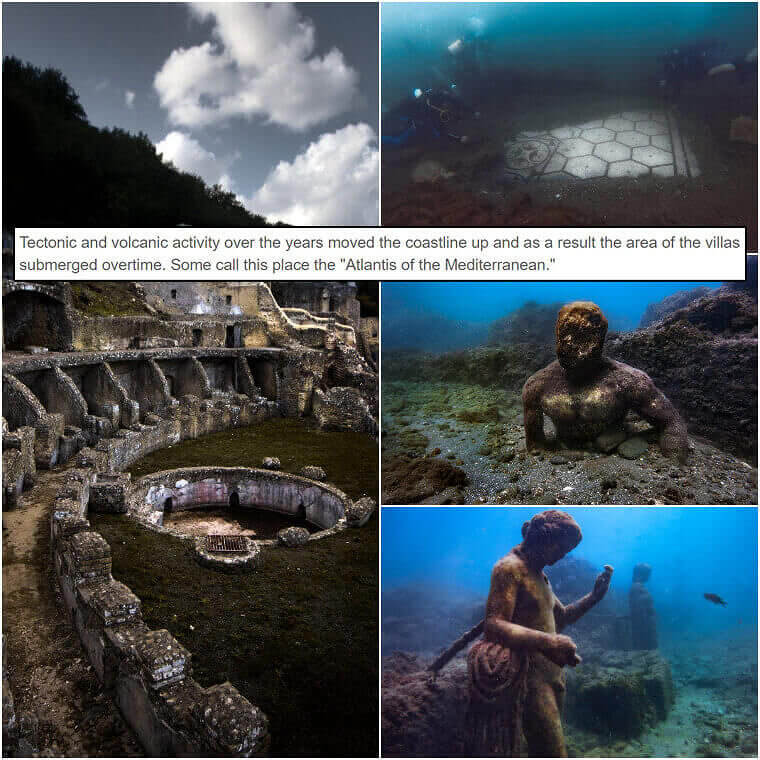 By 1500, it was completely abandoned, and later on, volcanic activities submerged a part of it under the sea. Though you won't be taking your summer vacations here, it does make for an amazing underwater archeological site with ancient Roman statues, villas, floors, and buildings still intact.
The World's Sixth-Largest River
Contrary to what you would have thought, an underwater river is not complete hogwash. In 2010, scientists at the University of Leeds found what would have been the sixth largest river on earth if it wasn't flowing on the seabed of the Black Sea.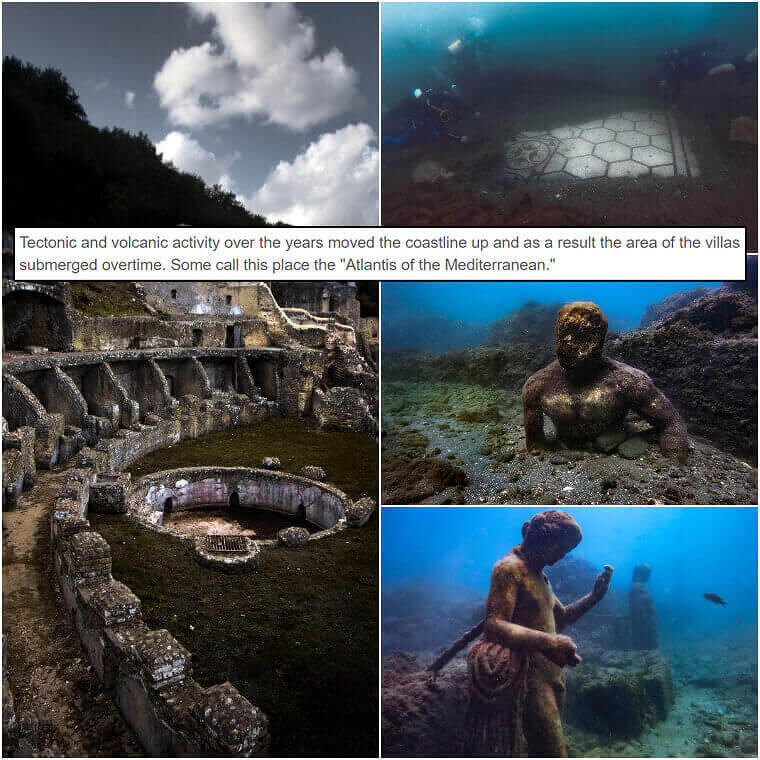 Being the first of its kind ever to be discovered, it's no wonder this spotting caused a ruckus. It was made from saltier and denser Mediterranean water flowing into the Black Sea. This river is 37 miles long, 115 feet deep, and 0.6 miles wide. Just like any other river, it carves deep channels into the seabed and has riverbanks, floodplains, rapids, and even an underwater waterfall.
In the Great Deep, There Was Trash
In 2019, retired naval officer Victor Vescovo made a 36,000-foot descent into the Mariana Trench. This was a record-breaking dive into the deepest point of the Earth, so you'd think Vescovo would return to the surface with a wide grin on his face. Well, wrong.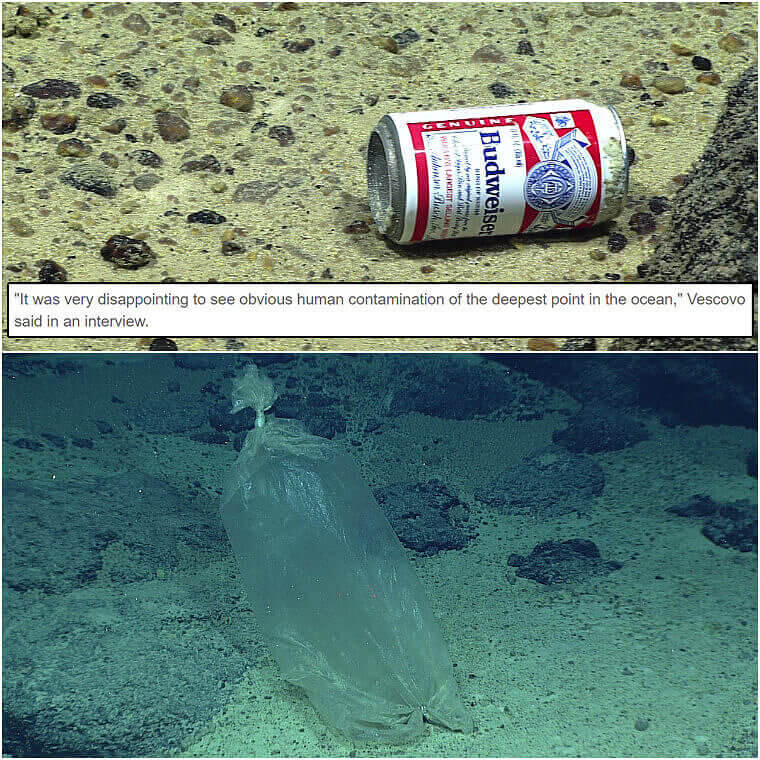 When you hop on an expensive submarine and plummet thousands of feet into the deep, you're anticipating new life forms and ancient artifacts lost at sea. Surprisingly, this explorer found plastic bags and other instances of human waste. Though Vescovo was disappointed with his underwater journey, it did reveal the extent of humanity's contamination of nature.
A 2,400-Year-Old Greek Wreckage
Now, this one's a very interesting story and another win for museums. In 2018, underwater explorers found a shipwreck 50 miles off the coast of Bulgaria, at the bottom of the Black Sea. The ship's mast, hull, and rowing benches were still intact, but carbon dating of a small piece of the wreckage would reveal so much more.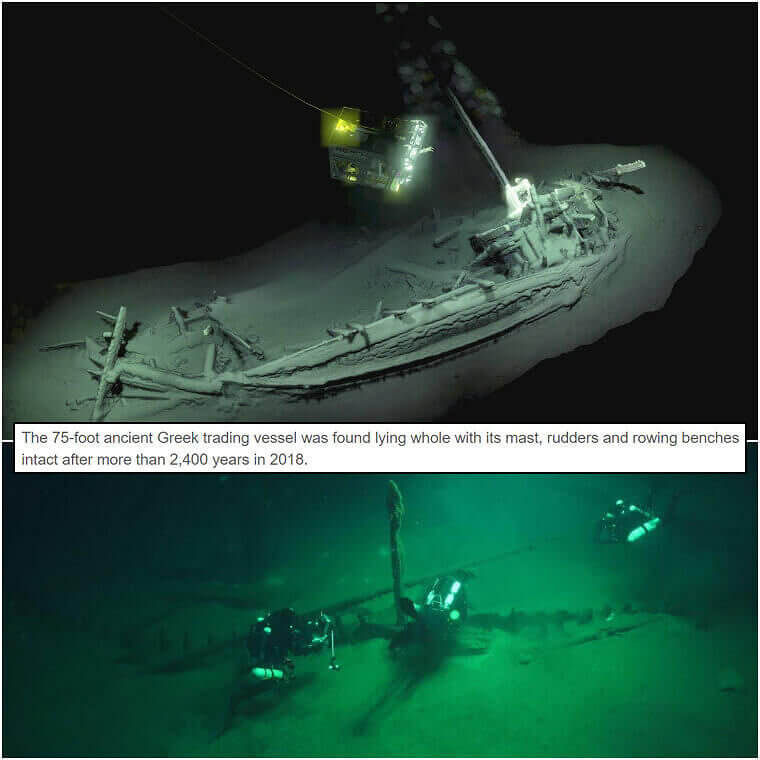 Staring at young British scientists was a 2,400-year-old, 75-foot-long Greek trading vessel. The ship dates back to 400 BCE, making it the oldest of its kind ever to be discovered. Unlike Vescovo's dive into the deep, this exploration was very significant and gave rise to further research into Ancient Greek life, trade, and practices
A Volcano 13,000 Feet Below the Arctic Ocean
In what should be the coldest part of the Arctic Ocean lies subterranean water that's hot enough to melt lead. In 2021, researchers used an underwater robot to observe the Arctic waste but were shocked to discover volcanic chimneys 13,000 feet below the surface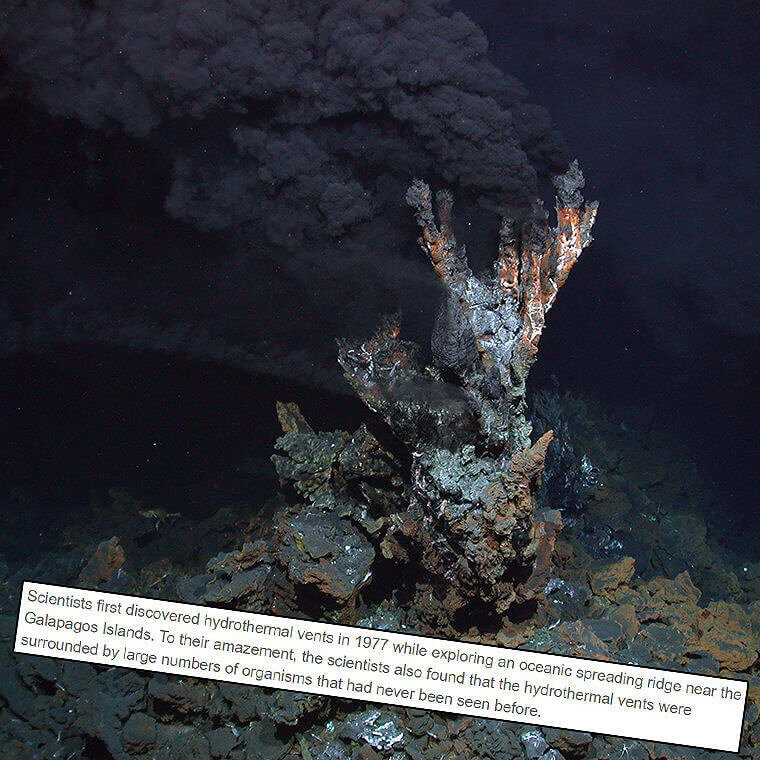 The vents were tagged "Black Smokers," and according to geochemist Bramley Murton, studying them was like moving across the surface of another planet. With the chemicals produced by the heat, this once freezing region can breed a number of life forms like snails and worms, but could also be home to many other organisms unknown to humanity.
80% of the Ocean Is Unexplored - Discover These 25 Wild Ocean Facts
So much is unknown about the vast oceans that cover most of the surface of our planet. The ocean is also where we get the nickname "the little blue planet" from. These incredible and mysterious waters are what give life to our planet, so we should look after them, valuing them for absolutely everything they do for us. After all, no other planet that we've discovered has oceans quite like ours. These are a few facts you may not have known about the wonderful waters that surround us
The Ocean Has Its Very Own Lakes, Waterfalls, and Rivers
Okay, so this may seem a little strange seeing as the ocean is its own body of water. But did you know that it has its own rivers, lakes, and waterfalls? A lake or river can form when seawater leaks through thick layers of salt and the seafloor. When the salt dissolves, it leaves an indent on the ocean floor. There a thick layer of brine-like substance sits, attracting its own strange forms of marine life.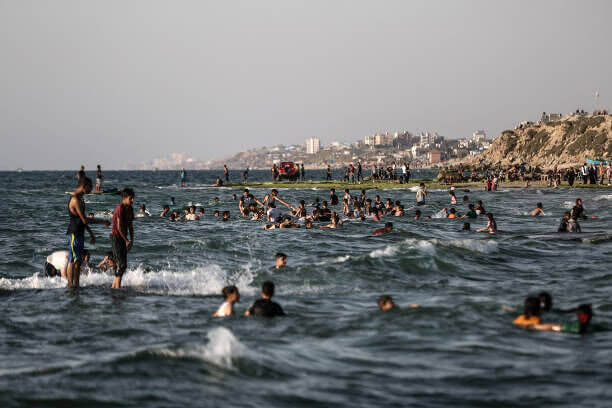 The largest waterfall on earth is located between Iceland and Greenland - and is in fact underwater. Dense water from the Denmark side meets warmer water from the opposite side and where they meet there is a huge dip in the seafloor. This causes the cold water to flow downwards under the warmer water creating an undersea waterfall. This 11500-foot waterfall carries 2000 times the amount of water contained in Niagara Falls.
The Unfathomable Depths of the Ocean
Some parts of the ocean are so deep, that the imaginable equivalent would be flying in a commercial plane and looking down at the earth. The distance between you and the earth on a flight is about how deep the ocean can get from surface to seafloor in certain areas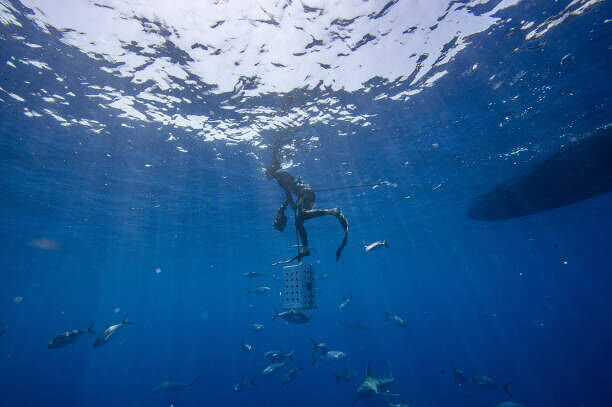 The deepest part of the ocean lies in the Challenger Deep, which is beneath the western Pacific Ocean. The Mariana Trench reaches its lowest depths at 36200 feet, an equivalent to 11 kilometers. Recently a diver made it down to the deepest part of the ocean, Victor Vescovo was the very first man to do this.
The Most Remote Place on the Planet Is Named Point Nemo
The most remote place on the planet may sound more than a little terrifying. And it may well be the one place that you hope never to end up. Point Nemo is named after the Latin word which means "no-one". This is because Point Nemo is 1600 kilometers from the nearest strip of land, and a whopping 2700 kilometers from the nearest landmass that's actually inhabited.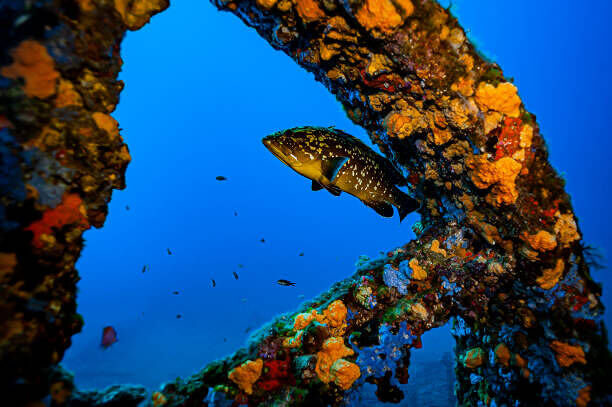 This means that most of the time, the nearest humans are almost always astronauts, who are around 416 kilometers from the surface of the earth. The area is used by space agencies to dump decommissioned spacecraft. So if you go searching at the bottom of the ocean near Point Nemo, you could find more than a hundred spacecraft. If there's anything we're certain of, it's that we never want to reach Point Nemo.
Gold Is Abundant in the Ocean
It's said that there are 20 million tons of diluted gold in the ocean. What we mean is that it's actually in the seawater. But it's so diluted, that if you strained one liter of ocean water, you'd come to gain a 13 billionth of a gram, so it might not quite be worth the treasure hunt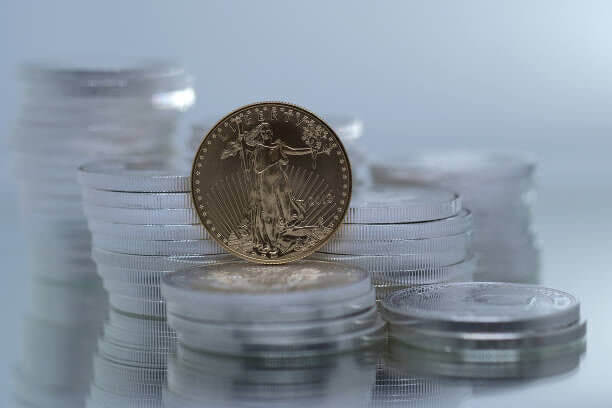 With about one gram of gold for every 100 million metric tons of seawater, it's safe to say it's not worth filtering for it. But there is a fair amount of undissolved gold on the seafloor - this is the stuff worth searching out. Although with the amount of time it would take to find, it's really not worth looking for.
The Color of the Ocean Is Caused by Light
Ask anyone you know and they'll tell you that the ocean is undeniably blue. But why might that be? If you take ocean water and put it in a bucket, it's just clear. So where does the ocean get its color? From light. Now you may even be more confused. The ocean water absorbs all colors related to the red spectrum, leaving blue spectrum colors to reflect off the surface.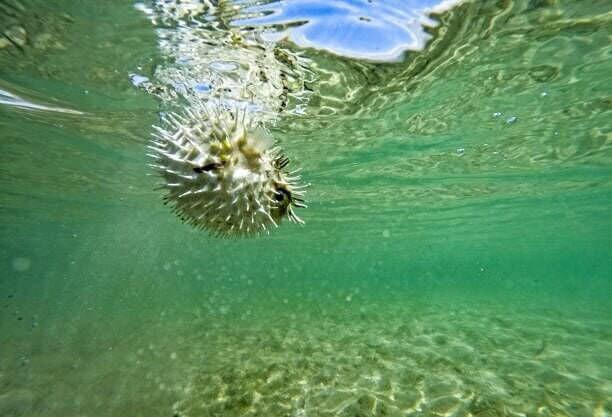 Colors on the blue spectrum are capable of penetrating much deeper into the water, because of this, the deeper you go in the ocean, the bluer it gets. Particles and sediment on the surface of the ocean sometimes cause the water to take on a greener color. Isn't it strange that everything that causes the ocean to take on its color is an external source?
The Ocean Is Explosive
About 80% of the volcanic eruptions that take place on planet earth, happen in the ocean. With over one million volcanoes under the sea, we're quite lucky we aren't privy to all the action that's taking place under there.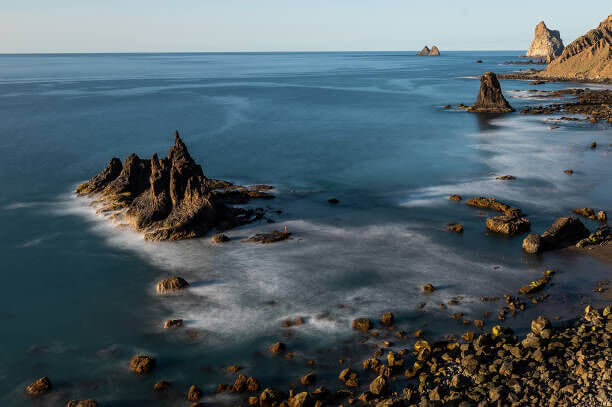 Not all of the undersea volcanoes are active, but some do spew maltin lava into the ocean, increasing the surrounding water temperatures up to 750 degrees F or 400 degrees C. Don't go feeling too sorry for nearby ocean wildlife though, as they're some organisms that actually thrive in these harsh conditions.
We Have Littered in Our Oceans Far and Wide
The amount of plastic dumped into the oceans every year is actually unfathomable. It's estimated to be an astonishing seven million tons per year. These plastics make their way into all kinds of different sea life, killing or sickening a good portion of them.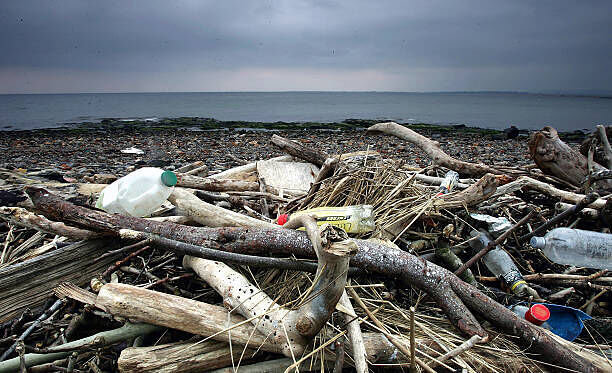 Not only are we poisoning the ocean with this ghastly plastic, but we're poisoning ourselves too. When we eat seafood, we're consuming microplastics that are eaten by sea creatures. This is not an uncommon occurrence, in fact, most sea creatures have been contaminated by plastic in some way or form.
There's an Underwater Mountain Chain
Although there are many underwater mountain ranges, the ocean is home to the longest mountain chain in the world. The Mid-Atlantic Ridge spans a distance of 64 000 kilometers and is almost entirely underwater.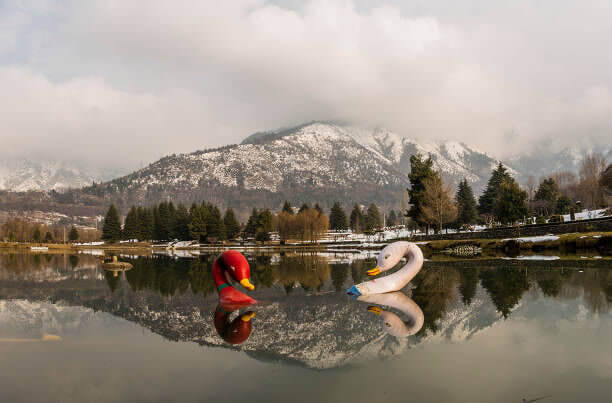 Another crazy fact about this mountain range is that it has been explored less than we've explored the surface of Venus and Mars. Quite unbelievable considering the mountain range is located on our very planet. The Mid-Atlantic Ridge runs down the middle of the Atlantic Ocean. The mountain range shifts between two and five centimeters per year, forming a rift valley that is similar in width and depth to the Grand Canyon in the US.
Half of the United States Is Submerged Under the Sea
We know that about 70% of our planet is covered in the ocean. But did you know that a good portion of the United States is covered in the sea too? Around 50% of the North American continent is submerged below the surface of the ocean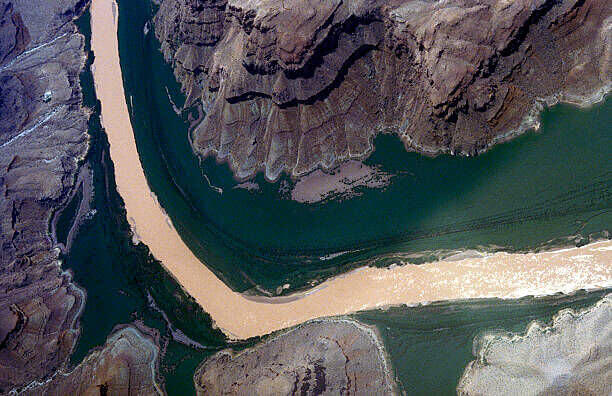 Researches say that there may be a wealth of untapped resources hidden on the continent. If scientists and engineers find a way to tap into these resources, the USA could become an incredibly self-sufficient continent.
Our Waters Travel the Entire Globe
Water travels all the way around the world in deep currents that quite literally circulate the earth. But this takes some time. For water to travel all the way around the world, it takes about 1000 years. These currents are known as the global ocean conveyor built and are fueled by warm and cold ocean currents coming together.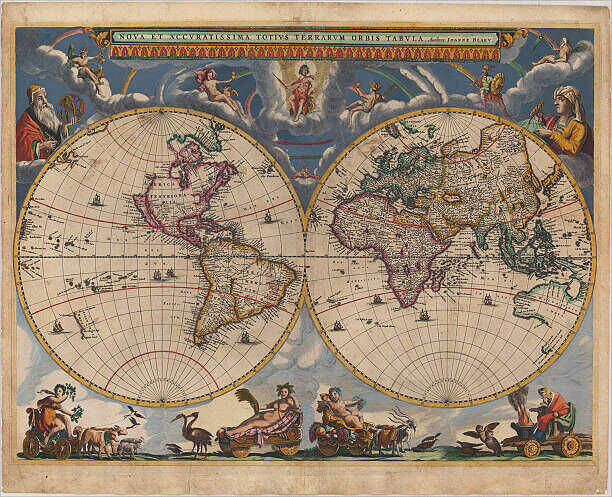 It's a complicated process that involves freezing and melting to move this water from the bottom of the ocean to the top and push it all around the world. Who knew sea water was so well-traveled?
The Sea Connects Us All
The sea connects us all, but it might not be in the way you think. Under the sea lies thousands of kilometers of undersea web cables. These cables transmit 99% of the whole world's data and are laid by boats called cable layers. They make sure that the cable is laid on the flat surface of the bottom of the ocean, avoiding coral reefs, shipwrecks, and other rough surfaces.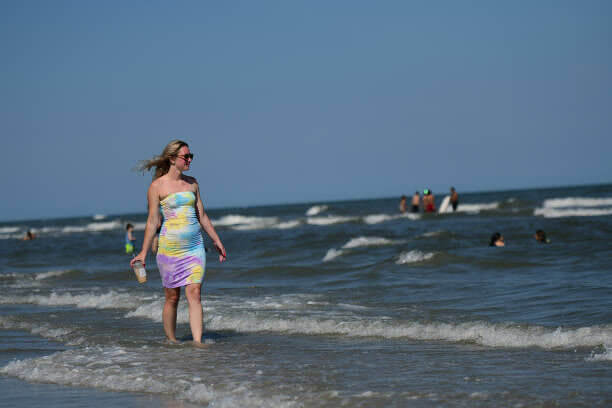 These cables are incredibly strong because they have to endure undersea storms and intense conditions. They even have to put up with occasional sharks gnawing on them, so they have to be very strong. More recently, the world's first underwater WiFi cable was laid - and this is more than likely going to be the way of the future.
There's More Life in the Ocean Than Anywhere Else on Earth
We've all heard the phrase "the ocean is teeming with life". And there's a reason why. Billions of animals and organisms live in the ocean, most of which haven't even been discovered. Every year, scientists discover around 2000 never been seen before species in the ocean - and this number isn't getting any less. Indicating we've still got a very long way to go.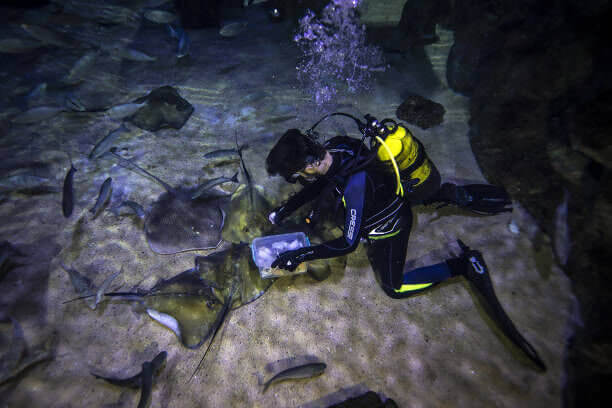 The ocean is also incredibly diverse. Containing entities as small as single-celled organisms, and mammals as big as the blue whale - the largest living animal on the plant. It's estimated that we've only discovered one-third of the potential life living in the ocean. With numbers like that, we can't wait to see the incredible discoveries made next!
Our Planet's Oceans Are Completely Unique
Although much of space lies undiscovered by us humans, Earth is the only planet that we know of that contains oceans quite like ours. The perfect atmospheric pressure and temperature surround us, known as the Goldilocks zone. Because of this, the bodies of water on Earth's surfaces are prevented from evaporating into space.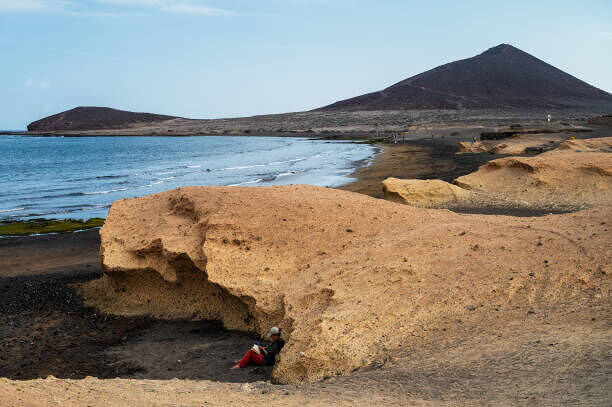 There are no other planets that we have discovered that have this same phenomenon. Although scientists do believe that Mars might have liquid reserves below the planet's surface. There is also strong evidence that supports the fact that there may be liquid oceans that are located beneath the icy surfaces of three of Jupiter's moons. Scientists believe the same thing might be possible with two of Saturn's moons. But one thing is certain, there've been none discovered quite like ours.
Hidden Gems of the Pacific Ocean
You may already know this, but the Pacific Ocean is the largest ocean on planet earth. But did you know that it contains over 25 000 islands, many of which remain uninhabited and unexplored? Who knew we still have so much to find!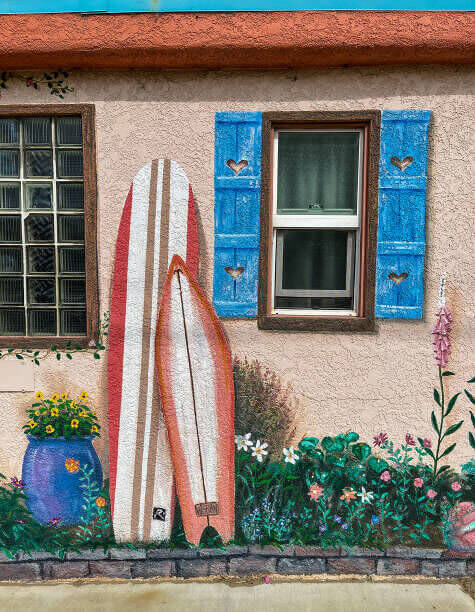 Why is it impressive that the Pacific Ocean contains 25 000 islands? That's more islands than the rest of the world's oceans combined. The Pacific is also home to a large number of Atolls, which is a coral island, encompassed by a lagoon.
The Ocean Produces Most of the Earths Oxygen
Every time you inhale a deep breath, think of the ocean. And not just because it relaxes you, but to thank it for working so hard to keep us alive. An estimated 50 - 80 percent of the oxygen on earth is created by the ocean, but not by the water itself.
Algae, plankton, and certain kinds of bacteria that live in the ocean create oxygen through the process of photosynthesis. The organisms in the ocean are quite literally at work 24/7 to keep us alive. What a wonderful world we live in!
Rogue Waves Are Not Just a Folklore Tale
For years, seamen have told tales of rogue waves that show up out of nowhere and sink ships to the seafloor. But are they real? Is the ocean really that mysterious? It really is! Scientists have discovered that sometimes rogue waves appear when there's good weather and there's absolutely no explanation.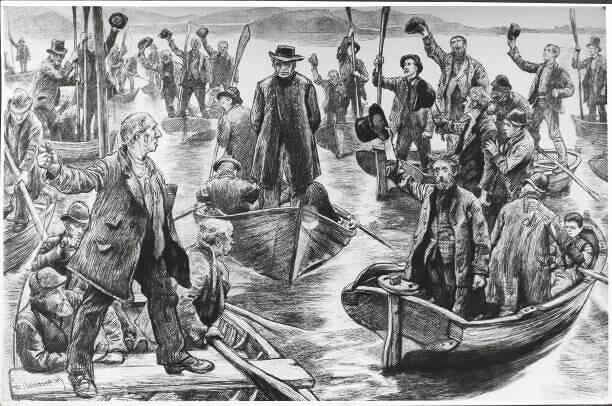 The biggest rogue wave recorded to date was recorded in February 2000, and it reached a height of 29.1 meters. That's the equivalent of the height of a ten-story building. It's hard to imagine the kind of damage a wave-like that could do to a boat.
Our Oceans Are Vast but Don't Take Up Most of the Planet
Although our oceans take up 70% of the earth's surface, the oceans are very small compared to the earth itself. The deepest part of the ocean is 11 kilometers deep, which just scratches the surface of the earth

If we were to make a comparison that we can picture, imagine the world's tallest building - the Burj Dubai. This building stands 829 meters high. Picture this building representing the distance from the earth's core to the earth's surface. If we were to place the ocean on this scale, it would take up a mere 10 centimeters.
The Oceans Contain More Carbon Than the Atmosphere
This may shock you, but our oceans contain 50 percent more carbon than the atmosphere does. Coldwater is capable of absorbing much more carbon than hot water, so most of the carbon in the ocean is absorbed in the polar regions.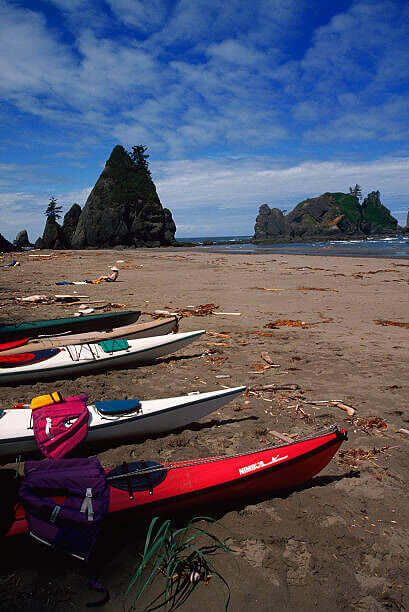 When the cold water travels to the tropical regions it releases the CO2 back into the atmosphere. Scientists believe that the oceans absorb up to 50% of the carbon dioxide released by burning fossil fuels. This begs the question, are we poisoning our oceans in more ways than we think?
What Is the Great Garbage Patch?
The Great Garbage Patch is something that we've known about since 1997. It's a collection of plastic sometimes described as a plastic soup that's located in the North Pacific Ocean. The garbage collects because of rotating ocean currents called a gyre.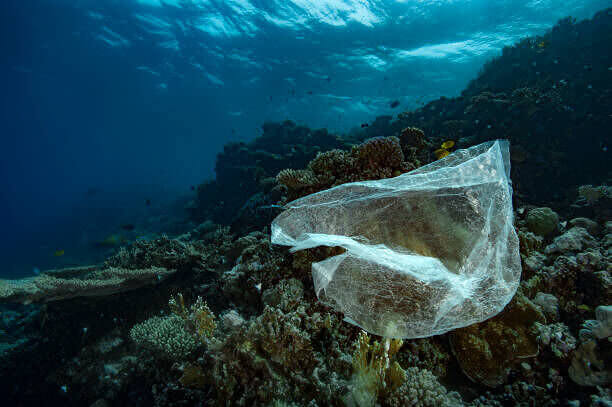 Since 1997, collections of plastic have been found in many gyres around the world. Including the South Pacific, North Atlantic, South Atlantic, and the Indian Ocean. The sun and ocean currents break down the plastic into the size of grains of sand, so you can't actually see visible pieces of plastic floating. Rather it's like a plastic soup.
The Oceans Are Changing In Size
Just a few million years ago, the Atlantic Ocean didn't actually exist. It was only when the North and South American continents started to split that a rift formed and the Atlantic Ocean came into being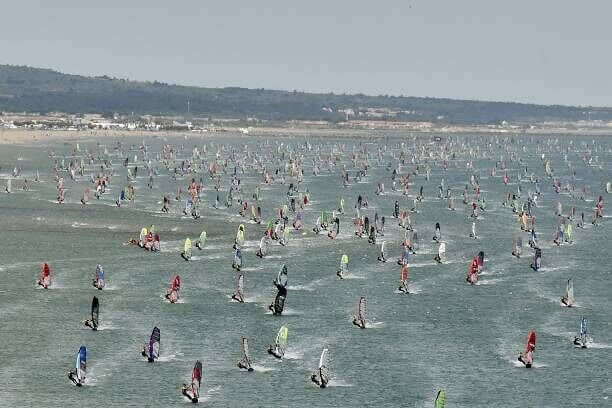 Ever since then, the Atlantic Ocean has been slowly growing in size. As the seafloor is being expanded by volcanic activity along the Mid-Atlantic Ridge, the Atlantic Ocean expands a little more. It's said to expand at a rate of about five centimeters per year.
The Ocean Covers Most of the Surface Area of Our Planet
Around 70% of the surface of the earth is covered in the ocean. That means there's more sea than there is land, which begs the question, why do we call it earth. While we don't have an answer for that, we do know that the expanse of the ocean means it's extremely important for our existence.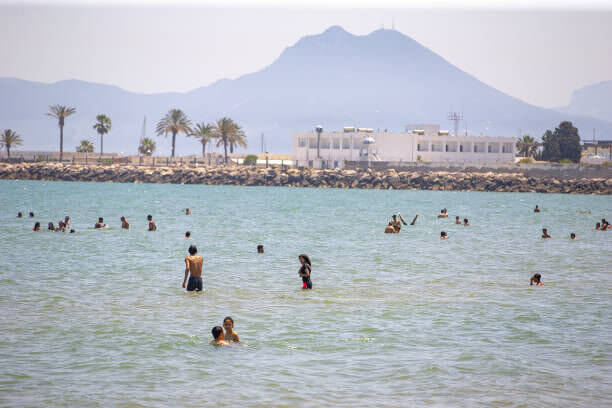 There is still so much of the ocean that remains undiscovered. As we mentioned earlier, we discover about 2000 new species every year, and we're continuing to do so year after year. This means we haven't even scratched the surface of what kinds of creatures might be out there
Unexplained Sounds Of the Ocean
Although the sea still holds so many mysteries to us, humans, sounds emerging from the deep tend to leave us the most baffled. There have been many unidentified noises emerging from the depths, but the most famous one to date has to be "The Bloop"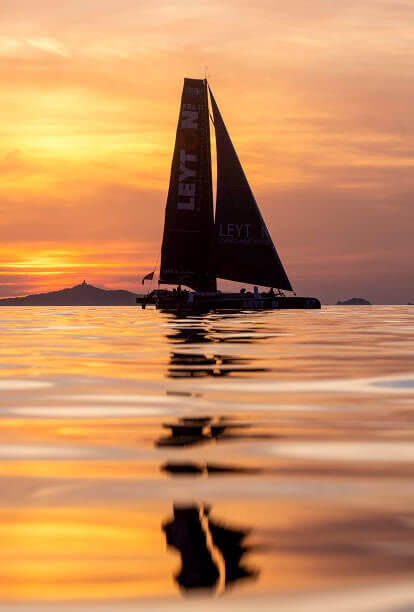 This sound was recorded in 1997 and is by far the loudest sound recorded in the ocean. The sound is similar to that of an iceberg breaking, but nobody can say for certain what this sound was. We're sure many creatures are making interesting noises in the depths. We guess only the future will tell.
The Ocean Is a Cemetery for Historic Artifacts
It's said that there are more historic artifacts lying on our ocean floors than in all the museums of the world put together. Just off the Florida Keys alone, there are over 1000 shipwrecks. That's a lot of history hidden beneath the surface of the ocean.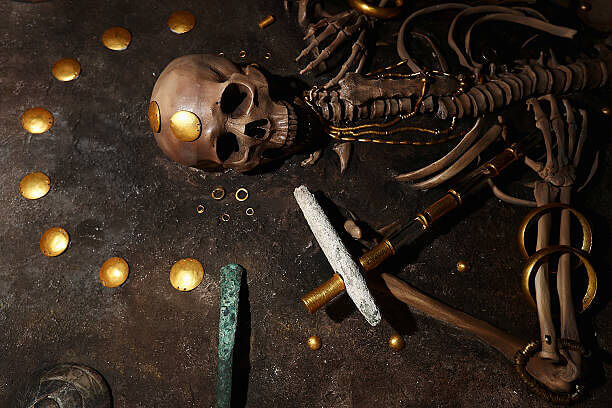 Because of this, the Florida Keys National Marine Sanctuary was created. These are a collection of dive sites that act as underwater museums for wondrous historical artifacts. In recent years, more and more oceanic museums have popped up around the world. The Mediterranean has made their submerged Christ of the Abyss bronze statue into a famed diving spot for history lovers.
Ocean Plants Have Their Own Protection From the Sun
Just like our skin burns when we spend too much time in the sun, coral also tends to burn. But don't worry, these clever ocean dwellers have come up with their own form of sunscreen to protect themselves.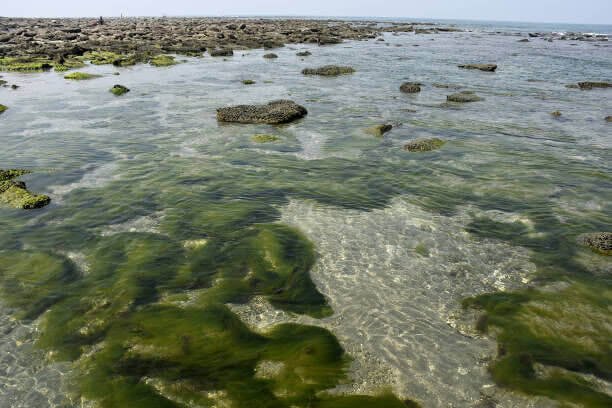 Scientists have been studying the coral's clever ways, to come up with new ideas to protect human skin from the sun. There's a good chance that the skin products you use today are enhanced by nifty techniques used by the coral of the ocean.