When you see a blonde bombshell running on the beach, you're probably thinking of one person—Pamela Anderson. The Baywatch star adorned millions of teenage boys' walls in the 1990s. But there's more to Pamela than meets the eye. With the new Pam & Tommy Netflix series drama, Pamela wants to tell her side of the story, and so do we. Here are things you may not know about the icon.
Centennial Baby
Did you know that Pamela Denise Anderson is actually Canadian? Yup, she was born in Ladysmith, British Columbia, on July 1st, 1967. Funnily enough, that exact day also happens to be the date of Canada's 100th birthday. As a result, Pamela's image has graced newspapers and magazines ever since she was born a Centennial Baby, which was probably good practice for stardom!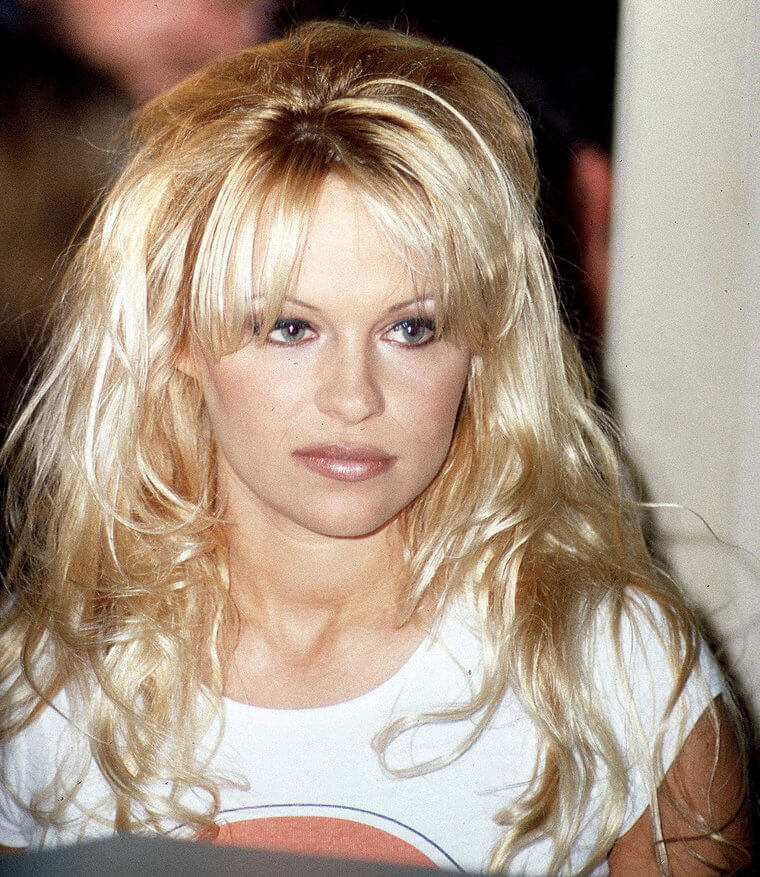 She was born to Carol, a waitress, and Barry, a furnace repairman whose great-grandfather arrived in Canada from Finland in 1908. That's where she gets her sunkissed, blonde good looks from as Scandinavians tend to get a lovely tan with a lot of sun! On the subject of the Land of a Thousand Islands, Pamela is related to two of Finland's former presidents: Urho Kekkonen and Mauno Koivisto.
Lucky Break
One day in 1989, 22-year-old Pamela was minding her own business watching the BC Lions play Canadian Football at Vancouver's BC Place Stadium. Without warning, her face came up on the Jumbotron, and she made such an impression on the crowd that she was invited onto the football field to a rapturous standing ovation!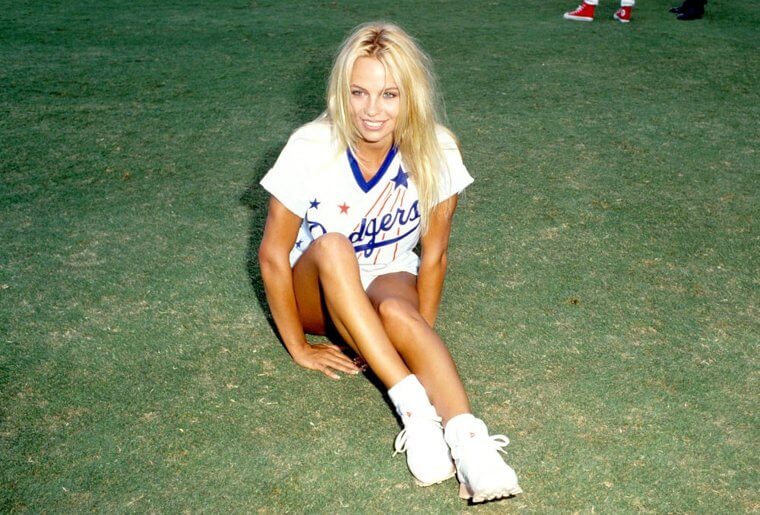 As luck would have it, Pamela happened to be wearing a Labatt's T-shirt at the time. Her gorgeous good looks so bewitched the Canadian beer company, they immediately offered her a modeling contract and signed her up as a spokeswoman. Her then-boyfriend, Dan Ilicic, created this Blue Zone Girl poster around the same time.
Playboy
By October 1989, Pamela was a Playboy cover girl. Next, she packed her bags, left Vancouver, and traveled to Los Angeles to seek fame and fortune. While pursuing a modeling career, she wrote, "It's tough starting a career, isn't it? When they finally believe in you, they have their own hidden agenda." Then Playboy made her their February 1990 Playmate of the Month.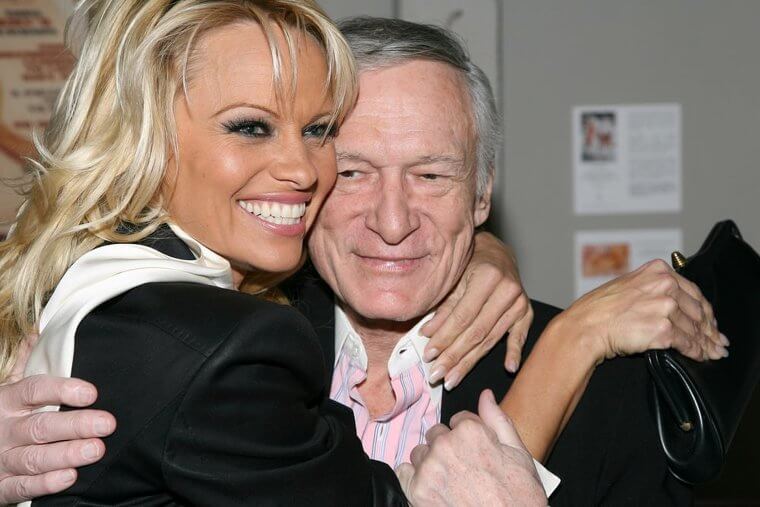 Funnily enough, when Playboy first asked her to pose, she turned them down. But when they said that they wanted her to appear on the cover, she accepted, knowing she wouldn't appear naked. Her boyfriend didn't approve of her decision, but she was having none of that! Her Playboy career spanned 22 years, and she has graced the cover of the magazine more often than any other model. 
Home Improvement
Two minor early roles came in two beloved sitcoms in 1990: Married with Children and Charles in Charge. It was around this time that she had two operations to increase her bust to 34DD. Soon after, in 1991, she landed a minor role as the original "Tool Time Girl" on the hit TV sitcom, Home Improvement, opposite Tim Allen and Richard Karn.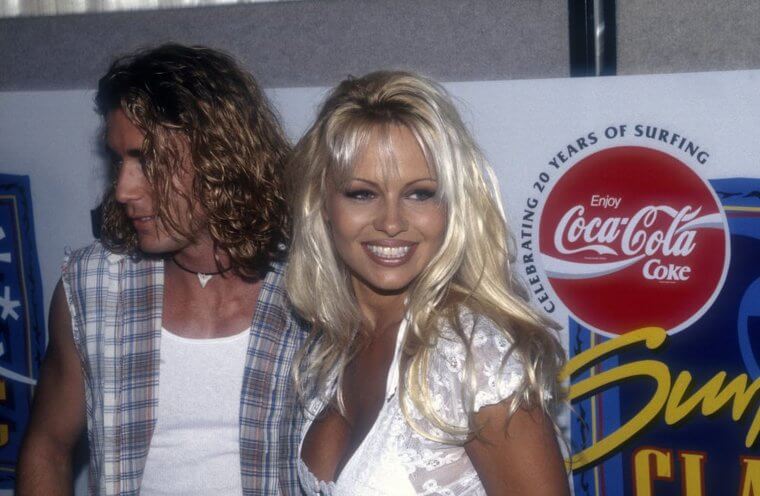 For the first two seasons, her character, Lisa, handed Tim his power tools before he usually encountered some hilarious DIY disaster. Pamela appeared in 23 episodes of Home Improvement but quit to focus on a more famous TV series. Cue music… "Some people stand in the darkness, afraid to step into the light… I'll be there!" Cue slow-mo running along the beach… 
Baywatch
At one point, Baywatch was the most-watched television show in the world, with an estimated weekly audience of 1.1 billion viewers. But in 1992, the California lifeguard series was struggling to survive. David Hasselhoff, the show's star and executive producer, offered Anderson a role as Casey Jean Parker, and the Canadian accepted because C.J. meditated and the actress identified with her New Age beliefs.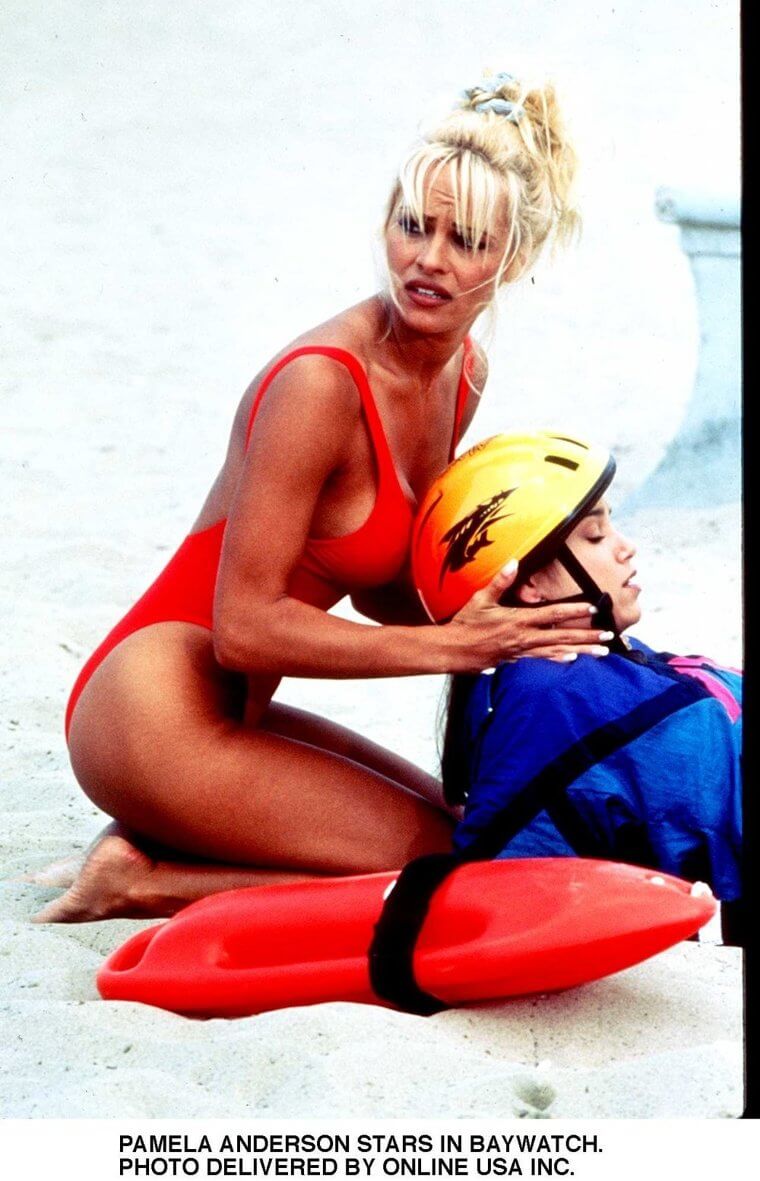 Pammy starred in Baywatch for 76 episodes, rocketing her into a household name and adorning millions more teenage boy's bedroom walls. But would you believe that even though C.J saved hundreds of bad swimmers in Baywatch, Pamela Anderson hates swimming! True story! 
Rough Justice
During her five seasons on Baywatch, Pammy made her leading role debut in action-drama, Raw Justice (1994), also known as Good Cop, Bad Cop and Strip Girl. The film was meant to catapult her career, but it didn't go according to plan. The film made $35 million at the box office but garnered a swathe of negative reviews.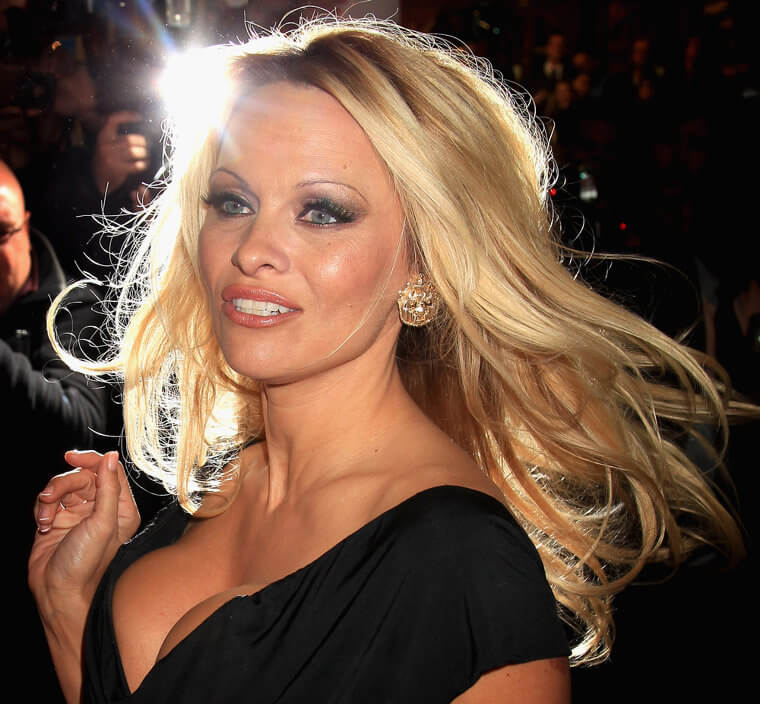 Pamela starred as a sex worker who witnesses a murder. But she later admitted that acting in the movie was a "horrible experience", especially filming the love scenes: "I was thrown around, I was scratched, I was bruised, I was bitten. I cried, I went home, I called my mother." Filming Raw Justicewas such a harrowing experience that she backed out of further acting work.
Pamela, Rebranded
After decades of being the symbol of a voluptuous blonde bombshell, Pamela has changed her image, joining her fellow starlets in breaking the beauty barrier. Pamela has developed a new stand on natural beauty and aging, sharing, "As I get older, I become wiser and think less and less about looking better, and more about health and wellness," Anderson wrote.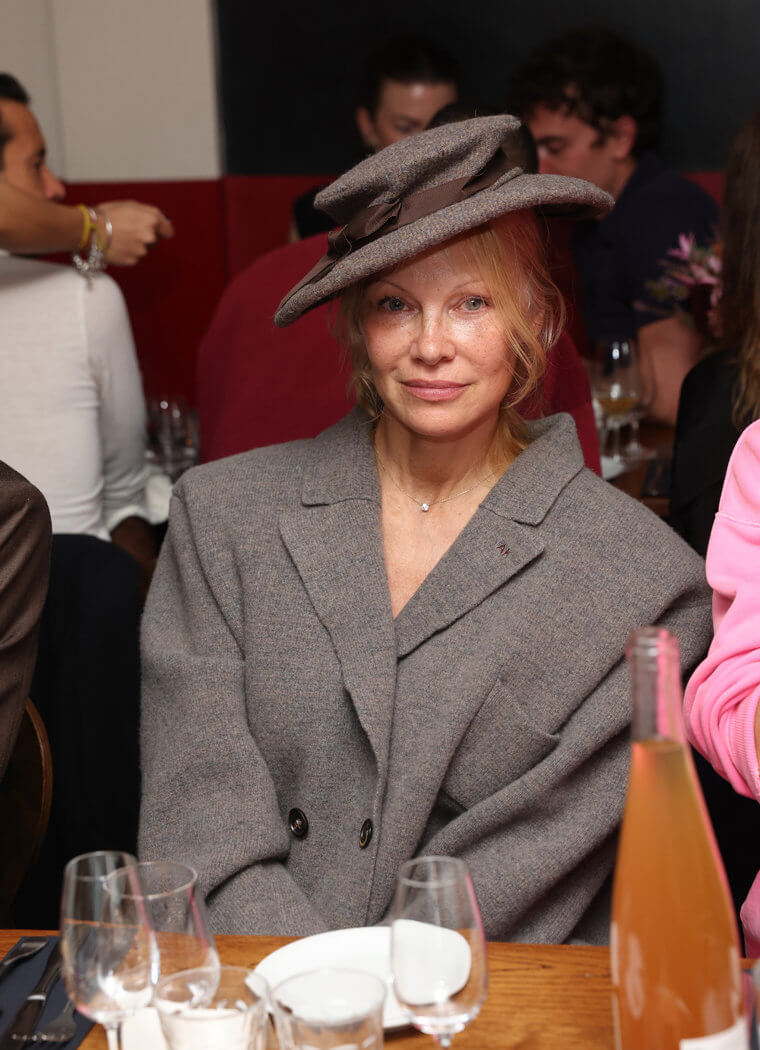 "More and more often, I look in the mirror and grin and giggle with pride rather than cry." She continued. "I recognize myself, and I'm happy with what I see," she added. "I treasure my strangeness. I like to challenge beauty, the myth — especially now, I'm free, I've learned." Anderson has been recently showing up with no make-up to events, gaining widespread support from fans for challenging old beauty standards.
Tommy Lee
On February 19th, 1995, Pamela married Mötley Crüe drummer and all-around bad boy, Tommy Lee. They met at a New Year's Eve party when he was high on ecstasy. They had known each other just four days before tying the knot on the beach, with Pammy wearing her obligatory bikini. Her own mother didn't even know about the ceremony until she read about it in People magazine!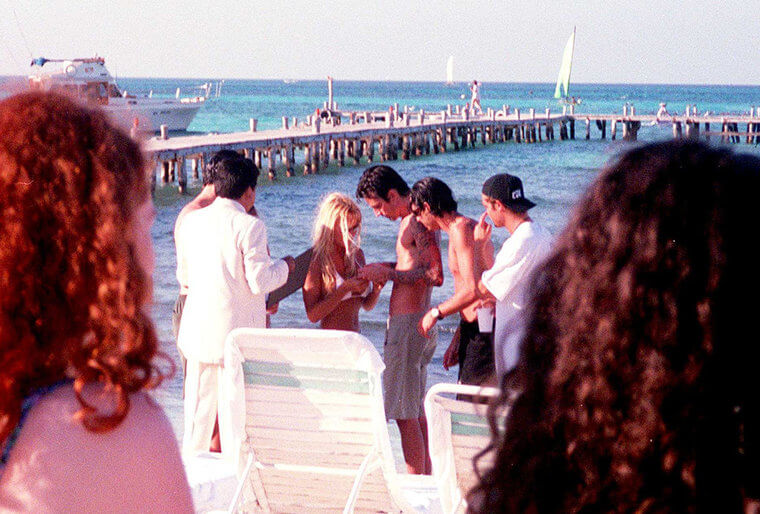 Sadly, the marriage was doomed from the start. According to David Hasselhoff, the rocker was deeply insecure about his wife's status as a sex symbol on Baywatch. Allegedly, Tommy threw tantrums on set whenever Anderson had romantic scenes. He became so violent that he was physically removed from the set!
Honeymoon Scandal
In 1995, thieves stole a sex tape of Pamela and Tommy Lee from their home. The video, filmed on their honeymoon, quickly became an internet phenomenon. Anderson sued the video distribution company. Ultimately, they entered into a confidential settlement agreement with Internetrtainment Group, and the company began making the tape available to website subscribers, trebling their regular traffic.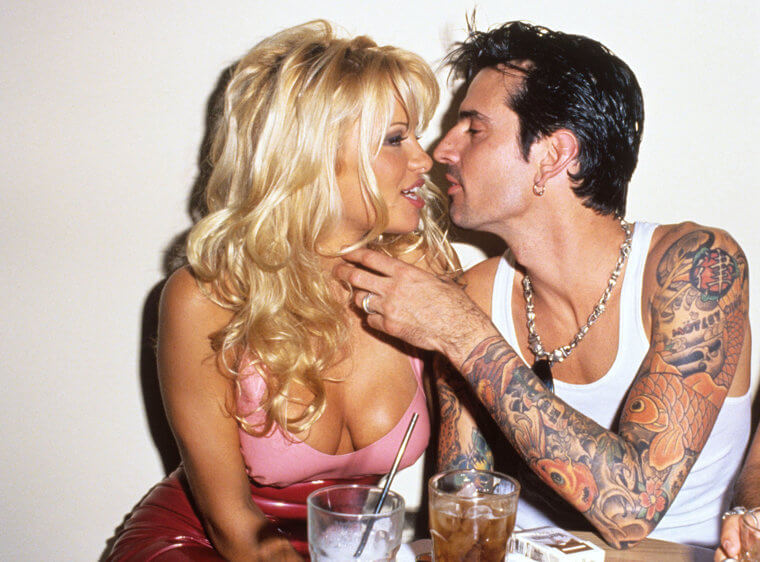 Yet, this wasn't Pamela's first scandal. A sex tape that she had previously made with musician, Bret Michaels (from the band, Poison), reared its ugly head. An edited-down, one-minute version appeared on the internet. In December 2020, it was revealed that Lily James had been lined up to play Pamela Anderson in a TV drama, Pam & Tommy, surrounding the sex tape escapades with Sebastian Stan, playing Tommy Lee
Changing The Narrative
In her Netflix documentary and a new memoir, Pamela talks about her life story, particularly focusing on her and Tommy Lee's home video. She said of the show made about her life, Pam & Tommy, "It was already hurtful enough the first time. It's like one of those things where you're going, 'Really? People are still capitalizing off that thing?'"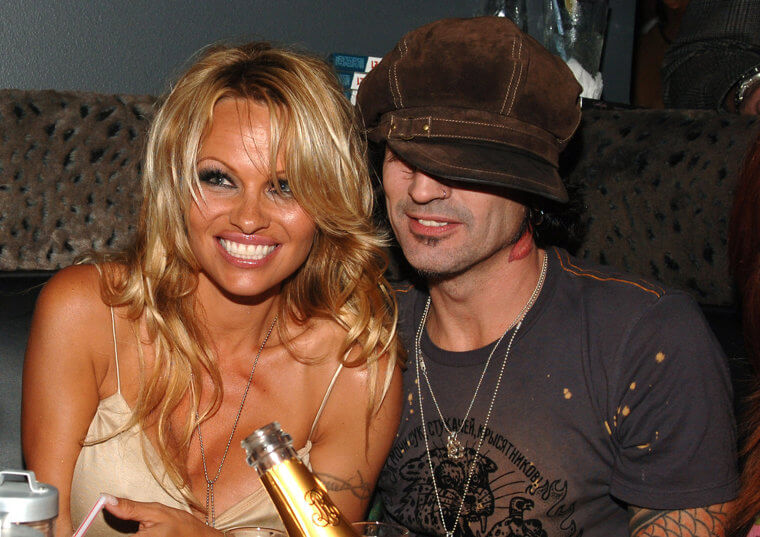 Pamela did not watch the series, nor did she reply to Lily James, who sent her a handwritten letter telling her she wanted to honor her in the role. However, The show's producers were able to make the show even without her approval. So, Pamela is taking her life into her own hands with the urging of her son, Brandon, who is a co-producer on her new documentary
Pamela, A Love Story
Pamela's Netflix documentary Pamela, A Love Story, and memoir, Love, Pamela are her way of showing the world her truth. But also, she wants her sons to know that she "has nothing to hide" about her past. Pamela shared that her sons were the ones that inspired her to tell her story and create the two autobiographical works.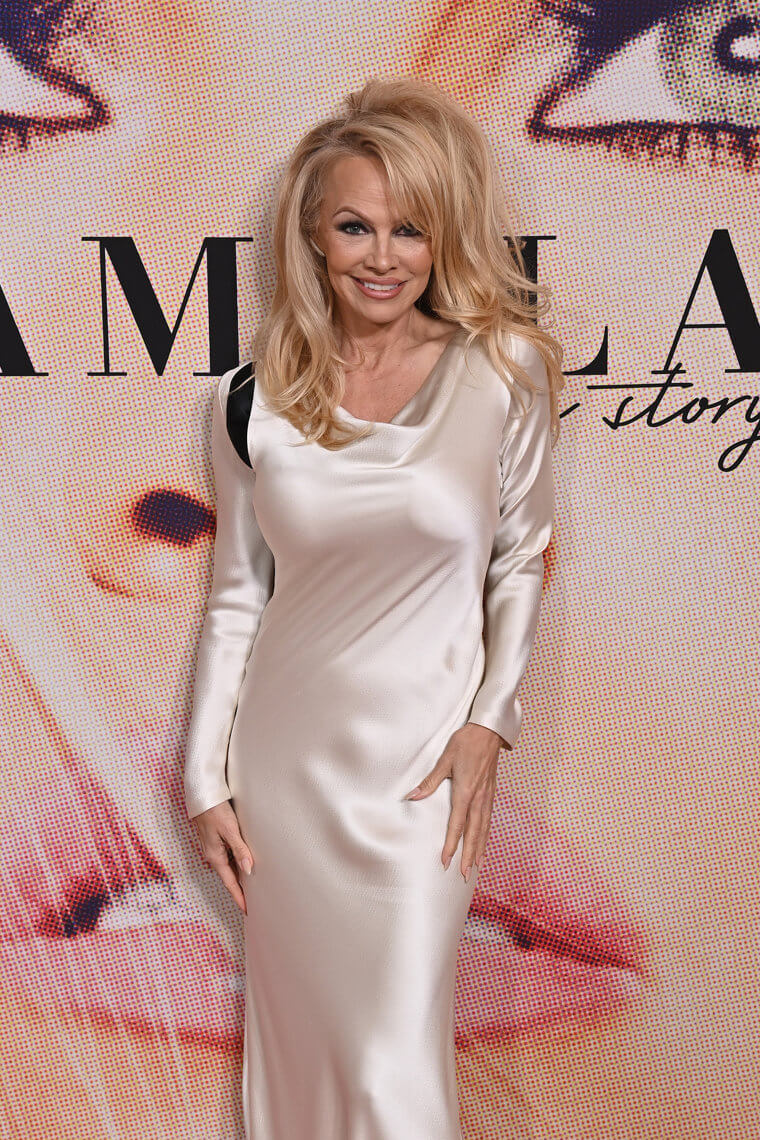 Her son was a producer on the Netflix show, and both sons were very supportive of her creating her memoir. "My boys were excited for me to write my own book, but they both were like, 'Mom, you're going to need help to write this book,'" she told PEOPLE. "And I said, 'No, I can write this book myself.' They were shocked that I pulled this off.
Making Her Own Stories
In March 2022, it was announced that Pamela will be making her Broadway debut, snagging the lead role of Roxie Hart in the Broadway production of Chicago. This casting came only months after the notorious Netflix series of her and Tommy's sex tape dropped. As it was made against her will, Pamela wanted to start making stories of her own.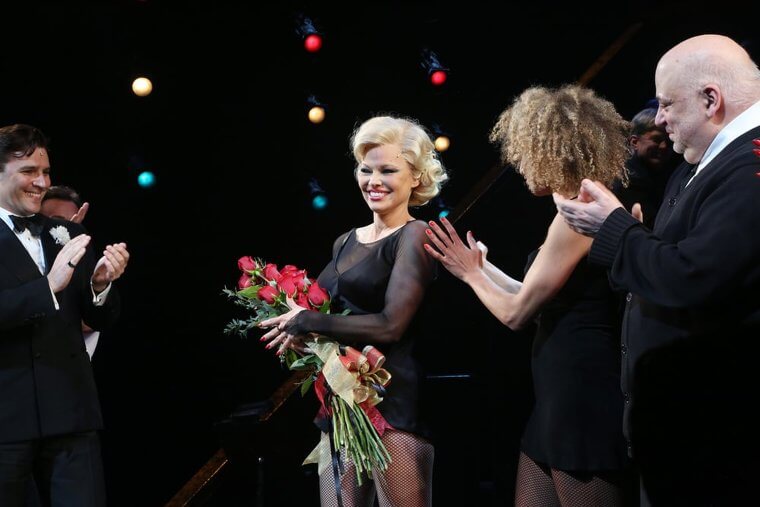 "I just feel like this is really a moment for me to shine for once," she said of her Broadway debut. "I'm doing this for myself, which is rare." It seems that her work is paying off, as her performance has received praise from fans and other celebs. She has also received a standing ovation at the end of her show
Spousal Abuse
Pamela and Tommy had two sons together, Brandon Thomas Lee (born in 1996) and Dylan Jagger (born in 1997), but their marriage was in tatters by 1998. That year, Lee was arrested for spousal abuse after attacking Pamela while she was holding Dylan when Tommy. He violently kicked her in the back several times, leaving her with "bruises, a torn fingernail, and fear for her sons' safety.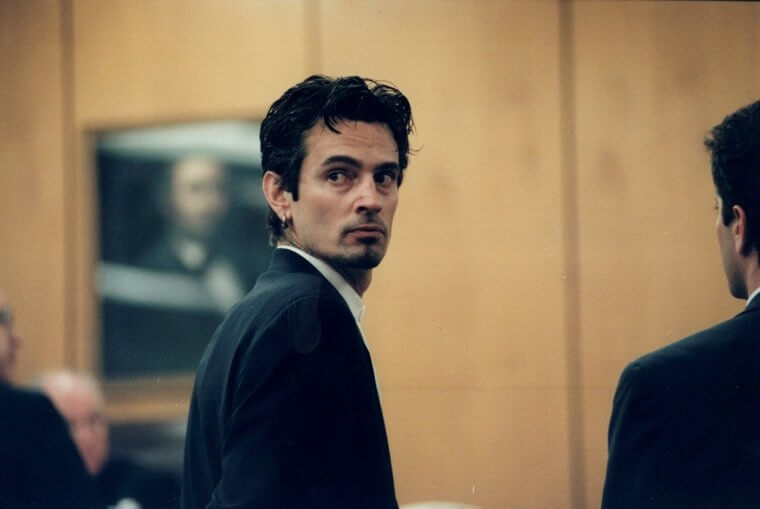 He was sentenced to six months in Los Angeles County Jail. She filed for sole custody of their sons, citing physical and mental abuse. Despite all this, Pammy kept getting back together with Tommy over and over again until 2010.
Early Troubles
In 2014, the model-turned-actress revealed that a series of sexual assaults punctuated her childhood: "I did not have an easy childhood...I was molested from age 6 to 10 by my female babysitter."  When she was 14, She was also sexually assaulted by her then-boyfriend. Growing to be a woman who seems to have it all, her childhood was plagued with abuse.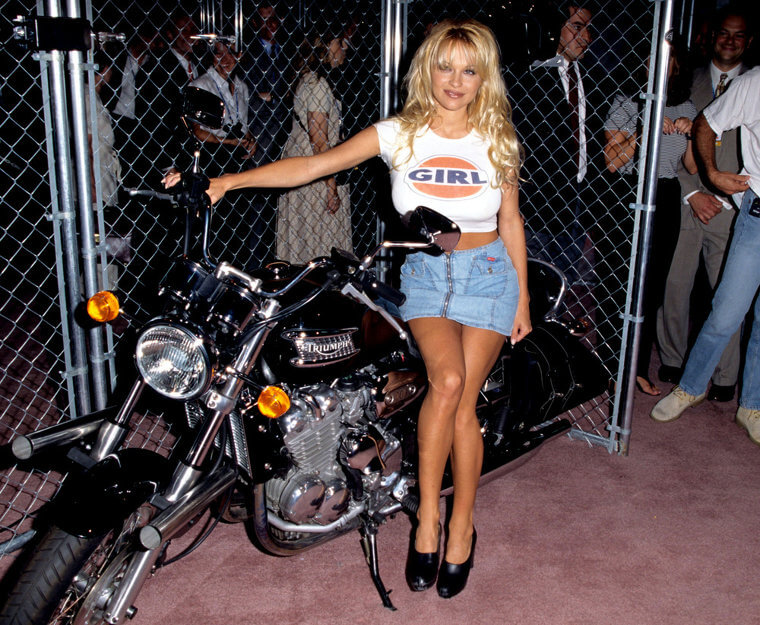 Despite all this, Anderson remained positive, physically active, and strong. She played volleyball at Highland Secondary School in Comox, B.C., graduating in 1985. Next, she moved to Vancouver in 1988 to work as a fitness instructor, and it was during this time that she had a deserved lucky break.
Health Scare
In March 2002, Anderson announced that she had contracted Hepatitis C after sharing tattoo needles with Tommy back at the start of their relationship. She shocked audiences when she told ABC that she only expected to live another ten years.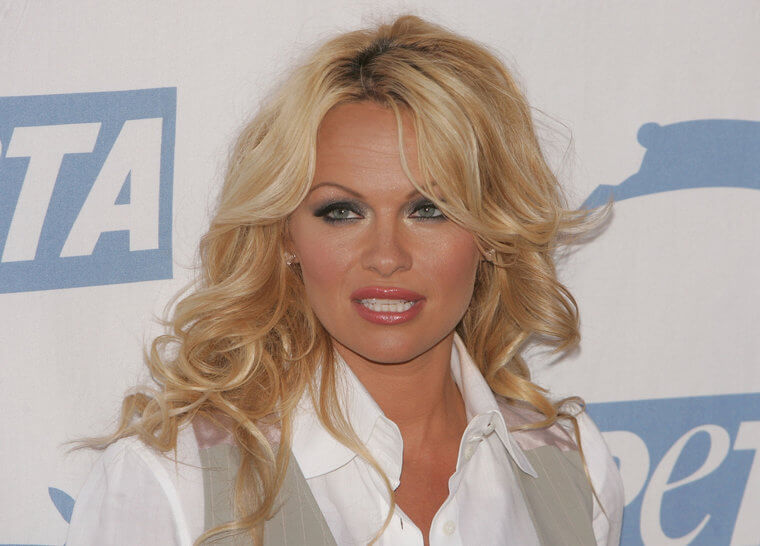 But after living with the virus for 16 years—and spending $100,000 on an experimental wonder drug—Pammy took to Instagram to announce: "I am CURED!!! - I just found out #nomorehepc," she wrote. "I pray anyone living with hep C can qualify or afford treatment. It will be more available soon. I know treatment is hard to get still...#dontlosehope."
Miami Hustle
In 1996, the TV movie crime drama Hello, She Lied, was released. Originally called Miami Hustle, the B-Movie tells the tale of a con to steal millions of dollars a stripper has inherited. Pammy was cast as the millionaire stripper but was unaware of the many gratuitous bedroom scenes.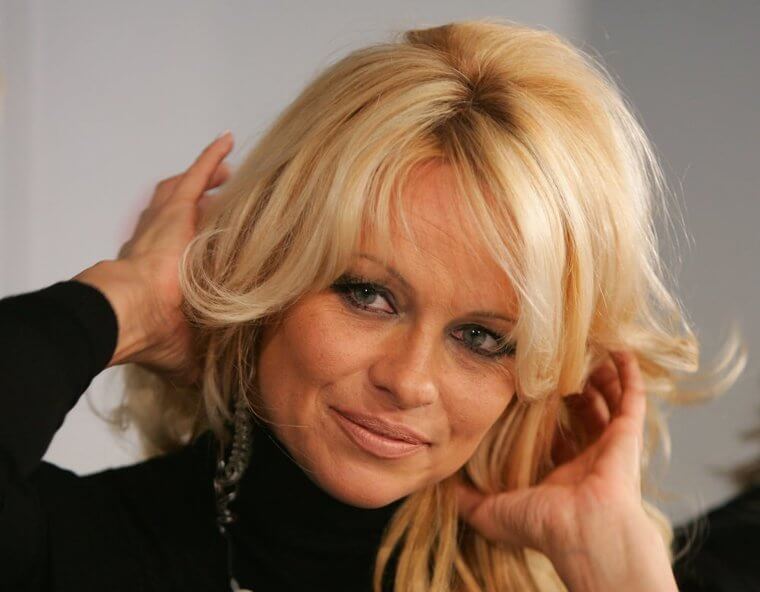 When she learned that there were so many sex scenes, Pamela stepped away from the project, and the producers sued her for $5 million. Eventually, a court ruled that Anderson hadn't entered a legally binding agreement. Kathy Ireland took her role.
Barb Wire
In 1996, Pammy starred as Barbara 'Barb Wire' Kopetski in the film adaptation of the comic book series, Barb Wire. The thinly-veiled futuristic remake of Casablanca (1942) was set during the Second American Civil War in 2017 but was—however prophetic the storyline—a financial and critical bomb. From a budget of $9 million, Barb Wire only recouped a measly $3,794,000 at the box office!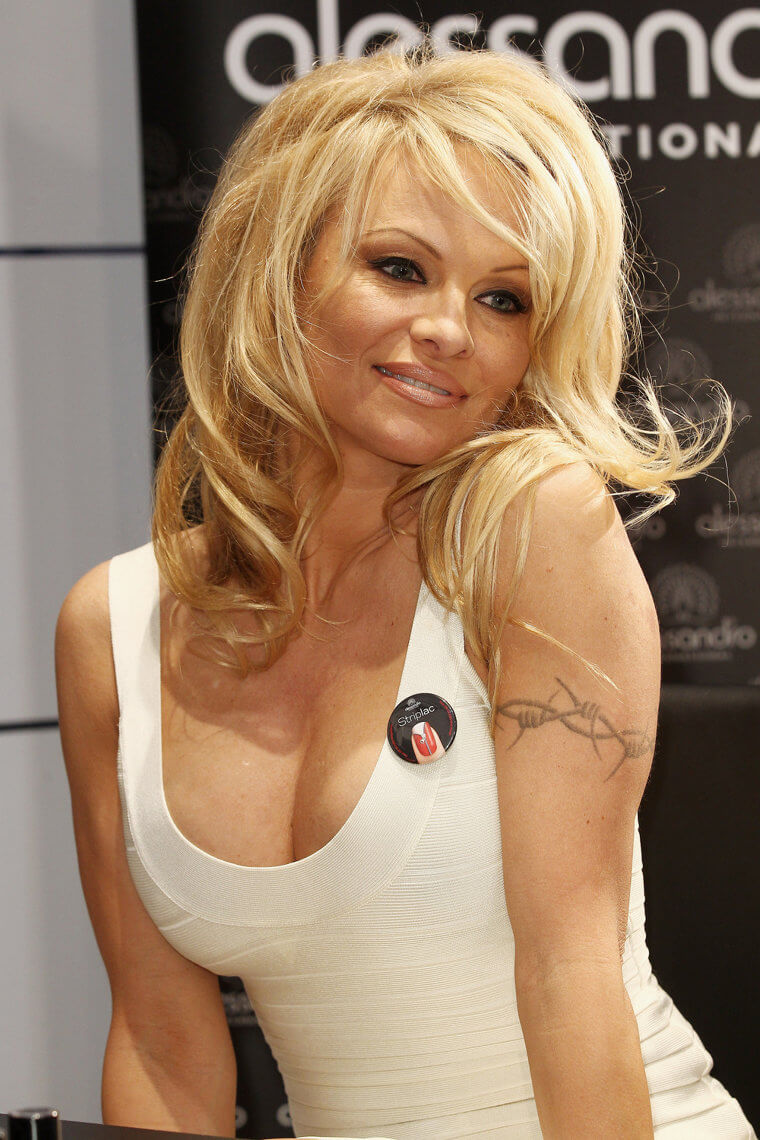 Film critics mauled Anderson's acting, and it was nominated for several Golden Raspberry Awards, with Pammy winning Worst New Star. The actress herself stated that the film was meant to be a "dark comedy, real cartoony," but the producers removed all the humor. That said, the movie went on to gain somewhat of a cult audience. She had barb wire tattooed on her left upper arm.
Very Important Pamela
After her negative experiences on Raw Justice and Barb Wire, Pammy wanted more creative control over her projects, so she became an executive producer on a new series. She was involved in "everything from hiring production designers and art directors to casting people." But she hid her new job, as she believed the public would laugh at the concept of her being a TV producer.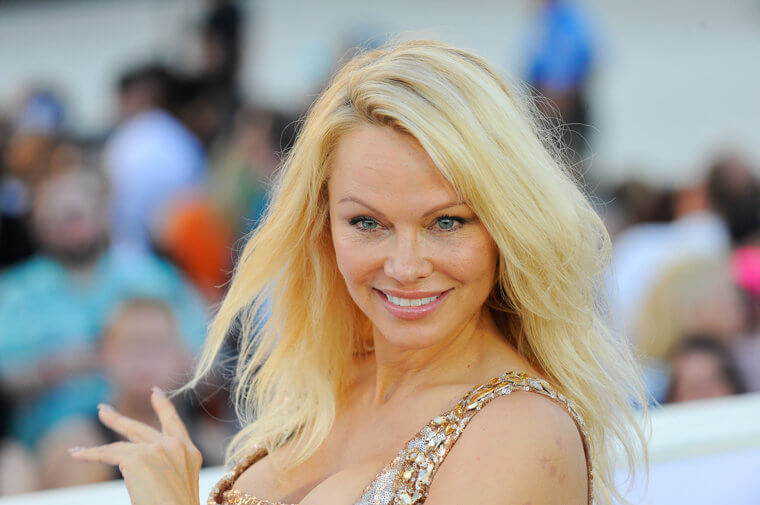 V.I.P. was a campy, action-comedy, in which she starred as Vallery Irons, who becomes the glamorous figurehead of a bodyguard agency after she accidentally saves a celebrity. The series often poked fun at Anderson's public image, lasted four seasons, and was even nominated for an Emmy! Anderson explained that she wanted to move away from her Barbie doll image and her many troubles with Tommy Lee.
Prince Charming
The blue-eyed beauty is always on the lookout for her Mr. Right and admits it's a bit of an obsession: "I'm obsessed with Prince Charming in The Bluebird fairy tale. He is turned into a bluebird and goes to the tower and buys the imprisoned princess gifts. It's a really beautiful story."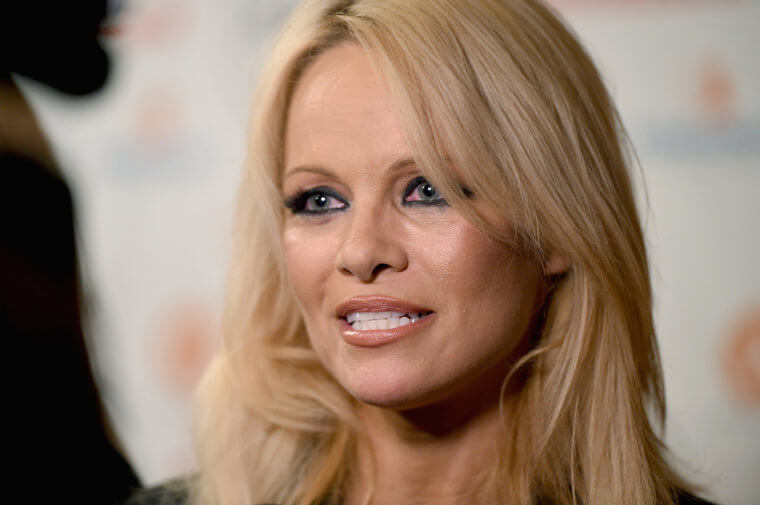 She continues: "Prince Charming is every woman's romantic ideal of what a man would be...I haven't found my Prince Charming; I'm still looking...I feel like maybe when I find him, I won't want him anymore—the chase is part of the fun. It's about just being brave, like jumping off the edge or showing up in places. There's a fine line between chasing someone and stalking!"
I'm Your Number One Fan!
And on the subject of stalking, as she starred as a bodyguard in V.I.P., Pammy needed a real-life bodyguard. After divorcing Tommy in 1998, Pammy was briefly engaged to Swedish model, Marcus Schenkenberg, but they broke up in 2001. Left alone, Pammy had a serious stalker scare when a woman named Christine Roth was discovered sleeping in Anderson's home.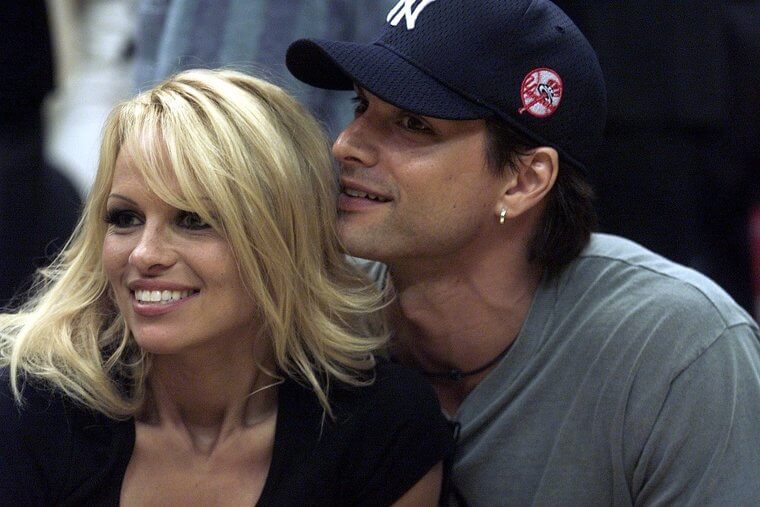 The 27-year-old Frenchwoman was a longtime fan, and a police spokesman said: "She stated that she was, in fact, infatuated with Miss Anderson and that she had traveled to that location to enter her house." Luckily, no one was physically harmed, and Roth was sent back to France and sentenced to undergo counseling.
Made It Big-Time!
In 2003, Australian media executive, radio and TV personality, and football commentator, Sam Newman, commissioned architect, Cassandra Fahey, to design a three-story, three-bedroom house with a gourmet kitchen, a terrace with a lap pool, and a private courtyard with a pond.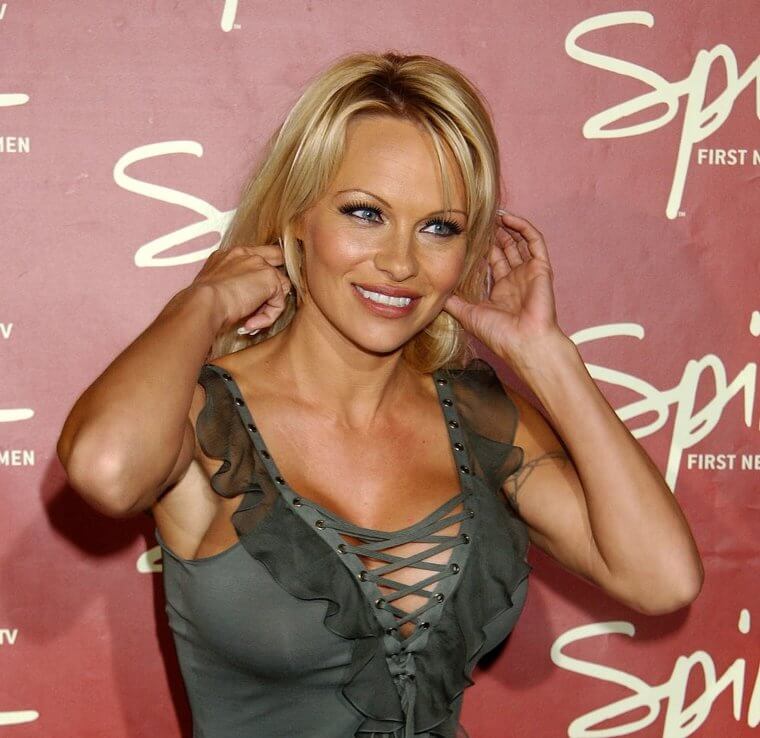 Nothing unusual about that...apart from the fact that the house contains a giant image of Pamela Anderson's face! The architect and owner received Pamela's permission to use her likeness, and the house is now a landmark in St. Kilda, Melbourne. 
Rocky Relationship
In 2003, SpikeTV aired Stan Lee's adult cartoon series, Stripperella. Anderson voiced dancer/spy/superhero, Erotica Jones. The animation lasted just one 13-episode season. The same year, she embarked upon a relationship with rocker-rapper hybrid, Kid Rock, real name Robert James Ritchie. After many split-ups, they married in July 2006 on his yacht near Saint-Tropez, France. That's so rock n' roll and so romantic at the same time.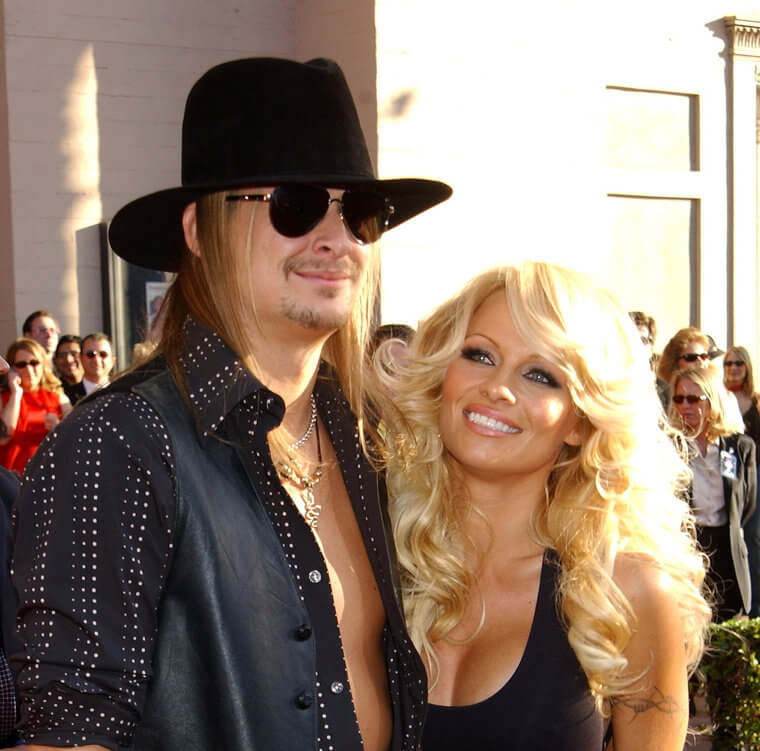 Pamela wrote in her blog: "Feels like I've been stuck in a time warp …Not able to let go of MY family picture...it's been sad and lonely and frustrating...I've raised my kids alone in hope of a miracle. Well, my miracle came and went. And came back and back because he knew that I'd wake up one day and realize that I was waiting for nothing." "I'm moving on," she declared. "I feel like I'm finally free ... I'm in love." Finally, Pamela was happy… but her relationship and shot at happiness would soon be dashed upon the rocks. 
Cameos
Always the first to poke fun at herself, around these times, Anderson played herself in numerous films and TV series; from Futurama and Just Shoot Me, to Scooby-Doo: The Movie (2002) and Pauly Shore is Dead (2003), which made a hilarious $11,000 at the box office. In 2005, Anderson pole-danced in an Elton John video, but NBC deemed the footage too racy and cut her scenes.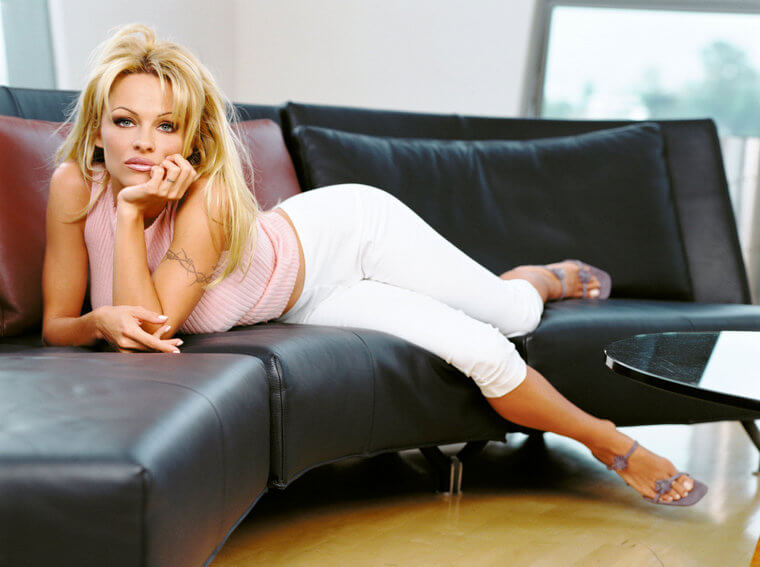 The same year, she starred in the sitcom, Stacked, playing Skyler Dayton, a woman who wants to move on from her non-stop partying lifestyle and lousy boyfriend choices. Remind you of anyone we know?
Borat Ruined My Marriage!
Perhaps Pamela Anderson's most famous cameo was in Borat: Cultural Learnings of America for Make Benefit Glorious Nation of Kazakhstan (2006), but did you know that it brought about the end of her marriage to Kid Rock?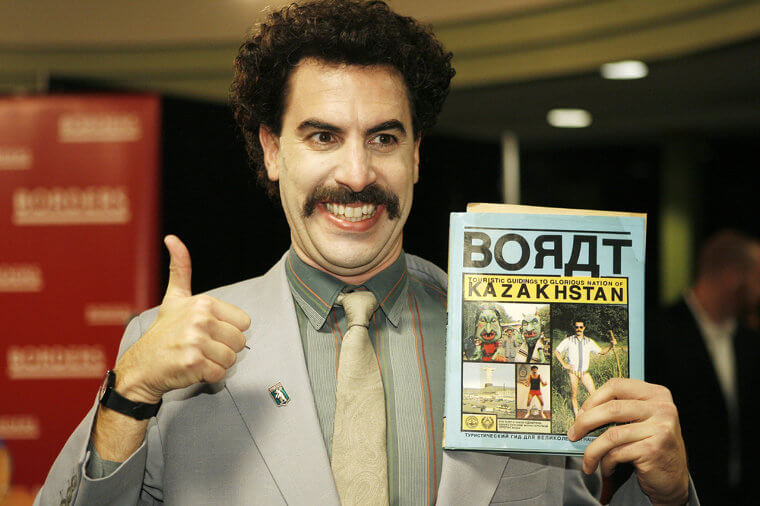 In the film, Borat becomes obsessed with Pamela while visiting the USA. He meets her and proposes marriage before kidnapping her. While it all looks real, it was all down to good stage management. Pammy says that she and Sasha Baron Cohen had been planning the stunt for years. Yet, while she didn't mind her portrayal in the movie, her husband, Kid Rock, certainly did.
Tragic News
Speculation was rife that the July wedding to Kid Rock came about because Pammy was pregnant. But on November 10th, 2006, the actress announced that she had miscarried while in Vancouver shooting Blonde and Blonder (2007). Just two weeks later, on November 27th, she filed for divorce from Kid Rock, citing irreconcilable differences.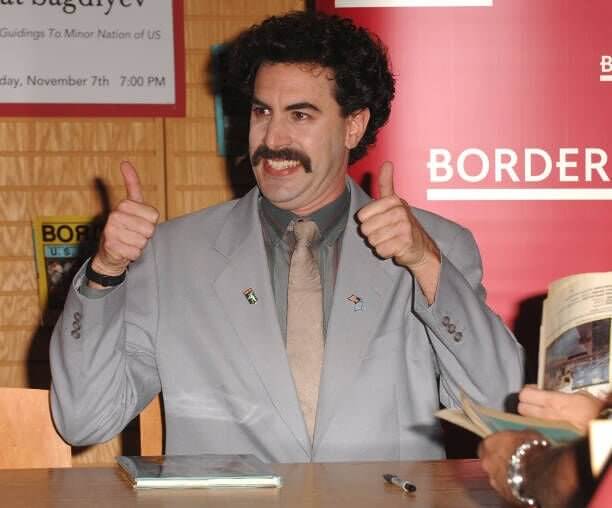 Those "irreconcilable differences" came about when Kid Rock became a ticking time bomb of rage during a screening of the Borat movie. The New York Post reported that Ritchie sent his wife a furious, expletive-laden text message after seeing Borat. The offending message read, "You're nothing but a W—-! You're a S—! How could you do that movie?" 
Prince Charming?
In September 2007, Anderson announced on The Ellen DeGeneres Show that she was engaged. She soon married film producer, Rick Salomon. Amazingly, the couple separated nine weeks later on December 13th, and on February 22nd, 2008, Anderson requested the marriage be annulled, citing fraud.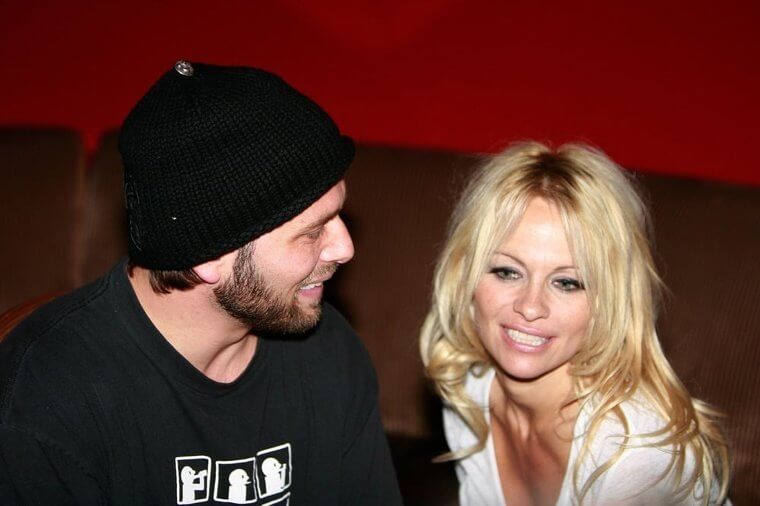 In January 2014, Pamela announced that she had remarried Rick on an unspecified date but filed for divorce for the second time in February 2015. The divorce was finalized on April 29th, the same year. You've got to admit; she doesn't have a lot of luck when it comes to love.
Bizarre Love Triangle
Despite an acrimonious breakup and subsequent relationships, Anderson and Tommy Lee continued to maintain a relationship of their own. Oh, Pammy - when will you learn?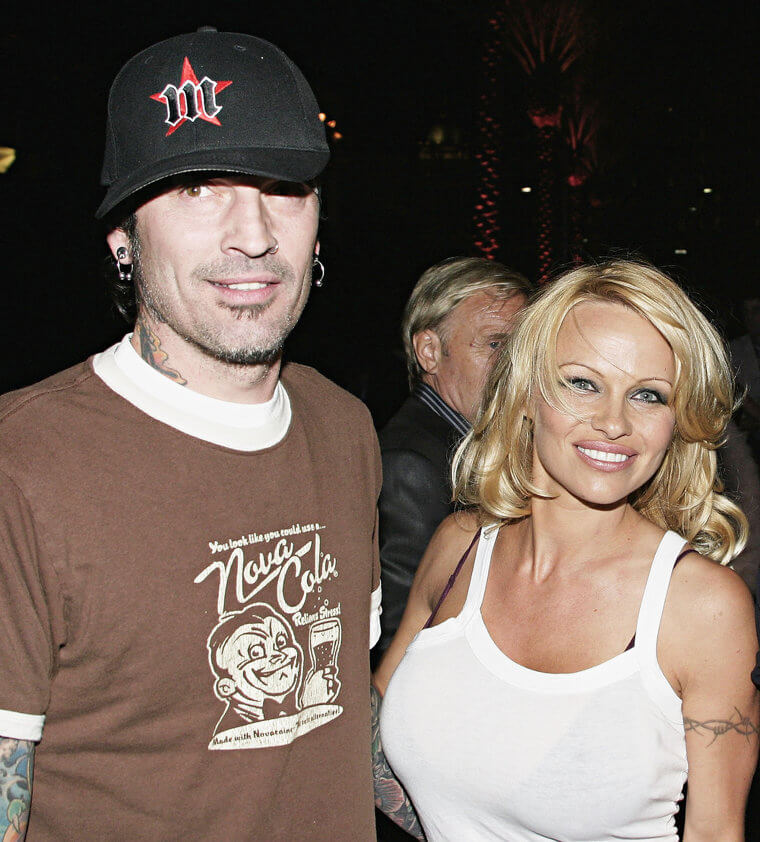 In February 2007, Anderson stated she still often had sex with Tommy Lee since their divorce and, in June 2008, Lee said that they were trying again to make things work together.
A Rolling Stone Gathers No Moss
Almost two decades after she first left Canada to follow her fame and fortune, Anderson became a naturalized American citizen. But having commitment problems, she also retained her Canadian citizenship.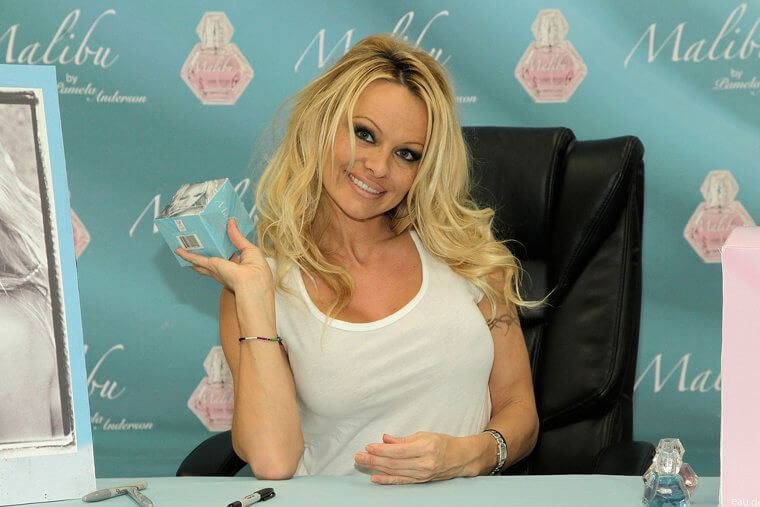 In 2008, Anderson bought an idyllic beach home for $1.8 million. Guess where? That's right; Malibu, of course! She tried to sell it in 2013 for $7.75 million but wasn't allowed to after getting into trouble with the IRS for outstanding tax debt, so nowadays, she rents it out. You can stay there if you have a spare $50,000 per month!
Brotherly Love
Pamela Anderson has regularly collaborated with her younger brother, actor, and producer, Gerry, throughout her career. Now, Gerry is not to be confused with Gerry Anderson, creator of the1960s British puppet series, Thunderbirds. The siblings began working together as far back as 2007.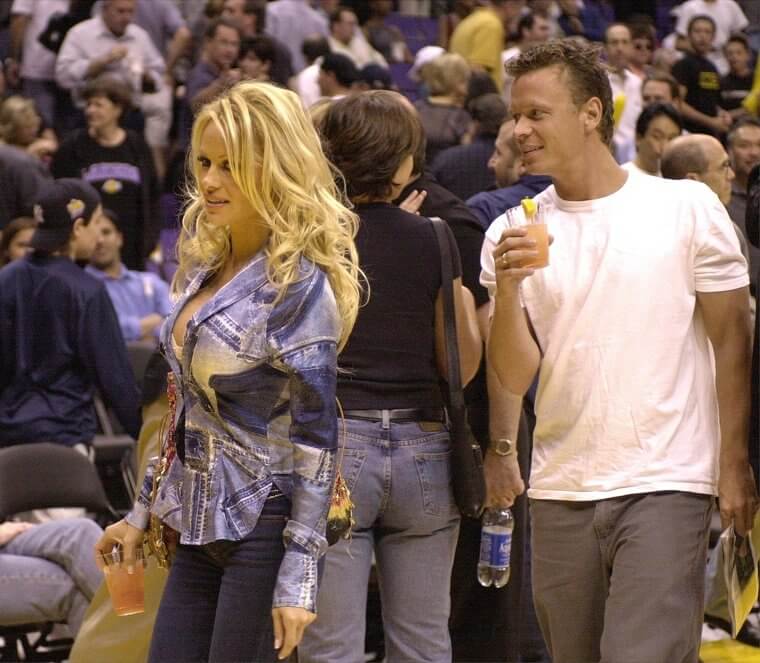 Gerry worked with his sister on some of her movies and TV shows, including V.I.P., Stripperella, Stacked and Blonde and Blonder. In 2013, Pamela and Gerry both ran the New York City Marathon.
Animal Rights
Pamela Anderson has fiercely fought for many charities and ideas she believes in. Her animal rights activism seems to stem from a traumatic childhood experience. She walked into her house as a 12-year-old to discover a headless deer carcass bleeding into a bucket. She convinced her dad to stop hunting and never ate meat again. She wrote a letter that led her to become a member of PETA: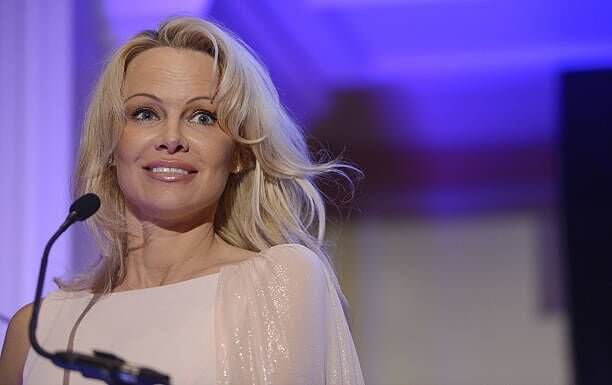 "Dear PETA, I'm in a TV show called "Baywatch", and the press is obsessed with my personal life. I'd really like to divert some of the attention to things more important than my boobs or my boyfriends. Can we join forces? I've been an animal lover and a PETA member since I was a kid, sending in rolled-up quarters, and I've always wanted to get more involved. Please use me. Love, Pamela Anderson"
Save Our Seals
Next, Pamela sent out an S.O.S.—Save Our Seals! The marine mammals are hunted in her home country, both as food amongst Canada's First Nations communities and for commercial hunting. Pammy and many animal rights activists have frequently protested against this practice. She began by wearing anti-seal hunting T-shirts and wrote to then-Canadian Prime Minister, Stephen Harper to discuss saving seals.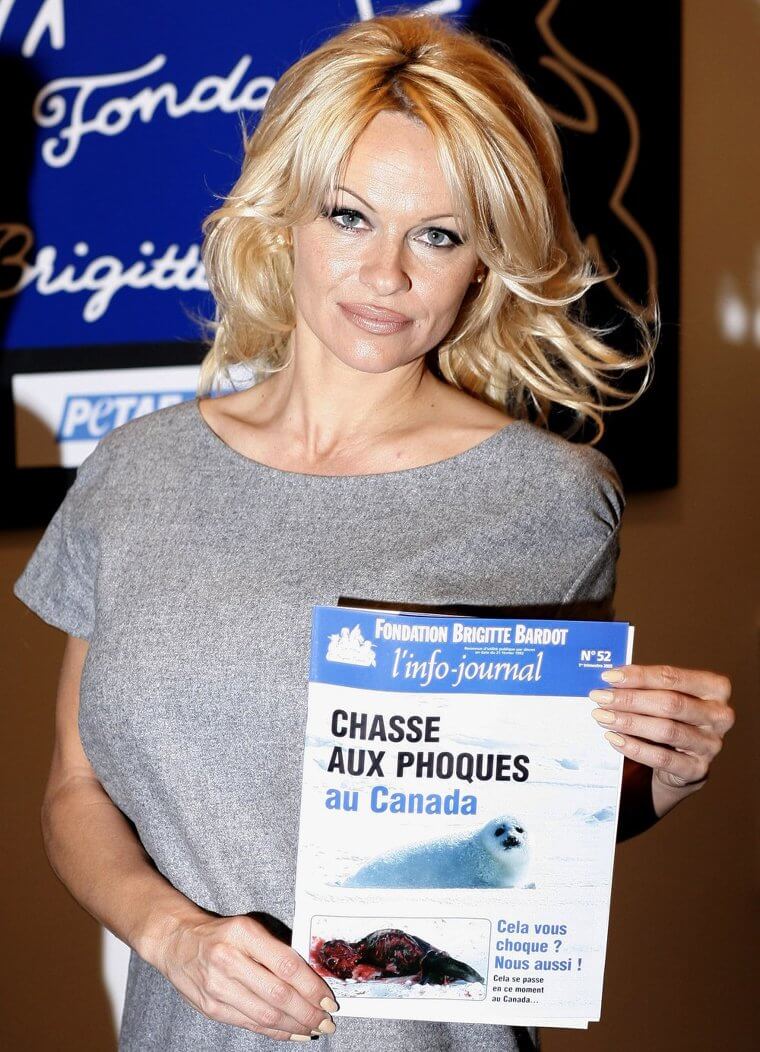 One nation that discontinued the hunting of harp seals was Russia. In 2009, Anderson personally wrote to Vladimir Putin, thanking him for taking steps to protect animal rights. That said, she also pointed out that Russia continues to hunt whales and urged him to similarly ban whale hunts.
Butchered
In 2010, PETA released a nearly nude photo of Anderson, with her body marked off to show butcher's cuts of meat. The advert was banned for being sexist in Montreal. Outraged, Pammy went on to denounce the censorship as "puritanical."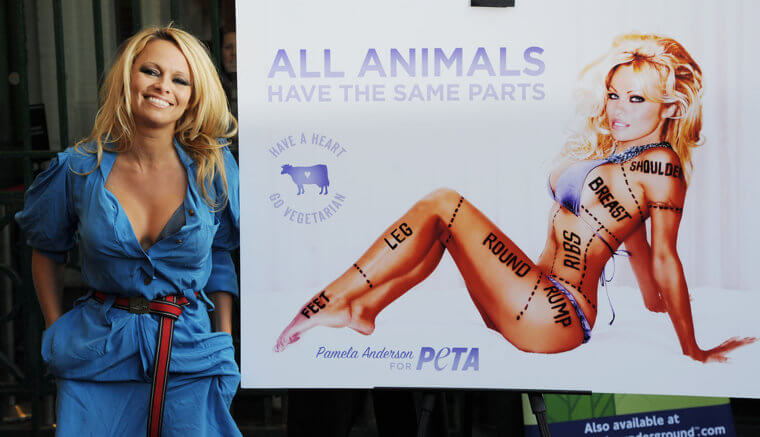 She even released a statement scathingly remarking: "In a city that is known for its exotic dancing and for being progressive and edgy, how sad that a woman would be banned from using her own body in a political protest over the suffering of cows and chickens." You tell 'em, Pammy! 
AIDS Awareness
Animal rights aren't the only cause to come under Pamela's purview. In 2005, the former model joined forces with MAC Cosmetics to become a spokeswoman for their AIDS Fund, helping those who have HIV and AIDS by providing them with financial assistance.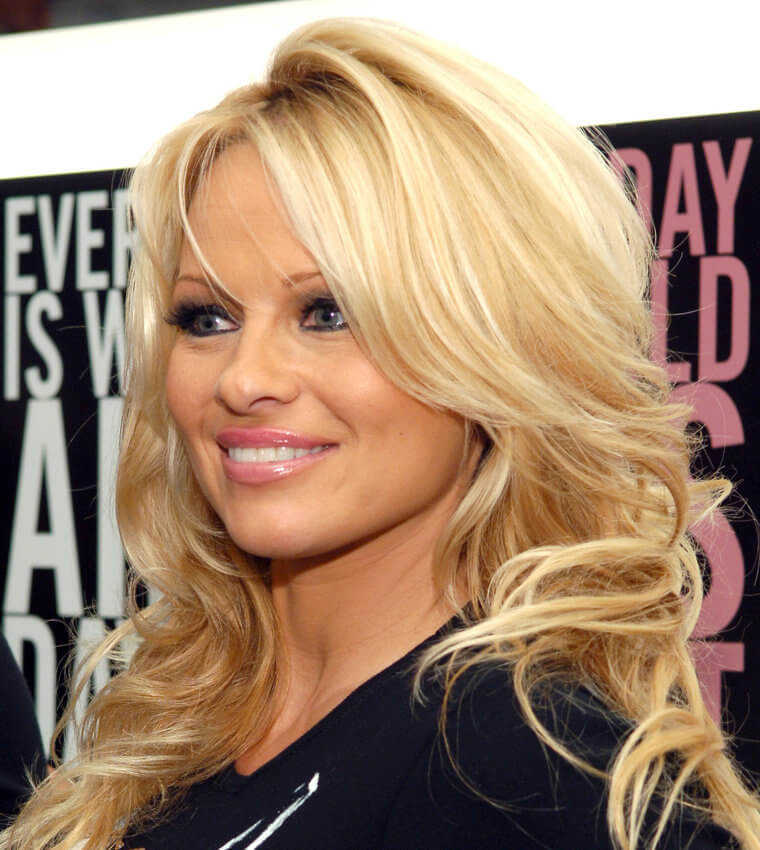 She has also spoken out against gendered violence, sharing her own experiences as a victim. In 2009, she wrote a letter to President Barack Obama urging for the legalization of cannabis. In her time in France, she supported the Yellow Vest movement (gilets jaunes), and in the 2019 Canadian elections, she endorsed the Green Party of Canada.
Julian Assange
In 2016, Pamela Anderson publicly defended Wikileaks founder, Julian Assange, calling him a "hero," and there were rumors that the two were dating when he was in exile at the Ecuadorian Embassy in London between 2012 and 2019. But in 2019, after Assange was arrested and removed from the embassy, she went even further. To the ends of the world.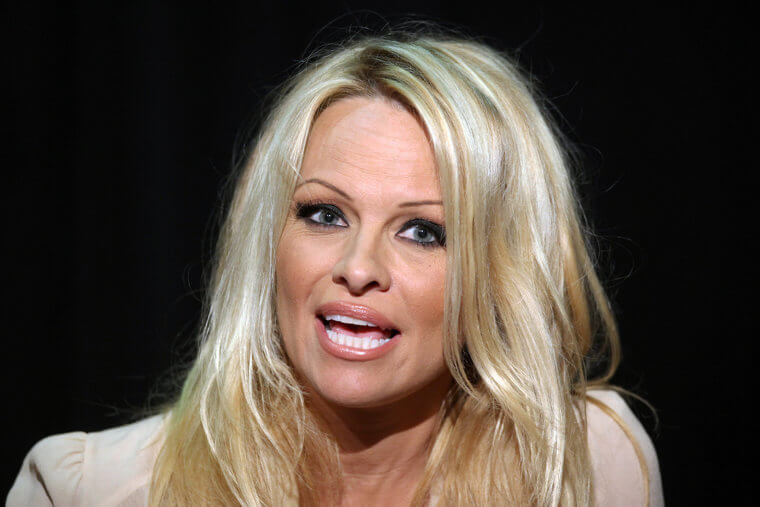 Not only did she personally visit Assange in jail, but she also traveled to the other side of the world to campaign for his native Australian government to provide Assange with the legal protection he was entitled to. In a 2017 poem, she wrote Julian Assange "is one of my favorite people" and the "most politicized refugee of our time."
A Chip Off the Old Block
While Pamela has moved on from her relationship with Tommy Lee, he dragged her back into controversy in 2018. After Piers Morgan interviewed Pamela about their relationship, the drummer fired off a scathing tweet and signed off as 'The Abuser'.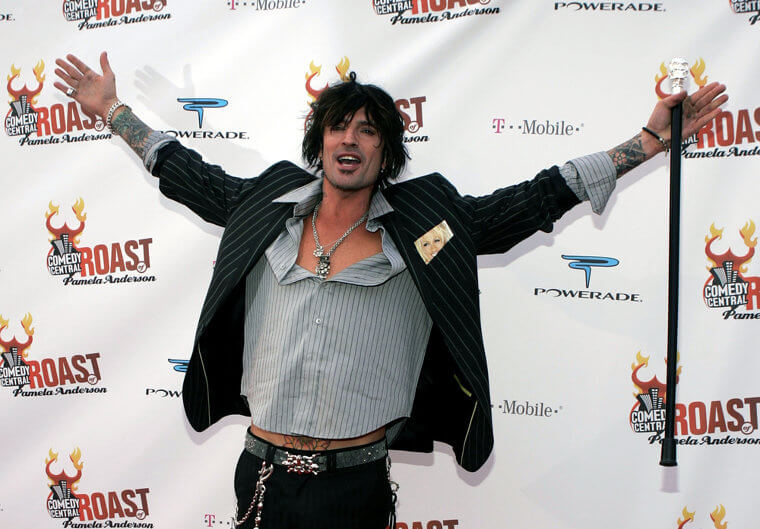 Now, this didn't go down too well, especially with Anderson and Lee's then 21-year-old son, Brandon. Tommy reported that Brandon knocked him unconscious! Tommy showed off his swollen lip on Instagram, and the message continues: "Good job, Brandon. Great son!"
A French Affair
In 2016, Pammy moved to the French Riviera and later to the coastal city of Marseille. There, she fell madly in love with French soccer player, Adil Rami, who is 19 years her junior. At the time, he played as a defender for Olympique de Marseille soccer team. For a while, all seemed peachy, but then she found out that he'd been leading a double life.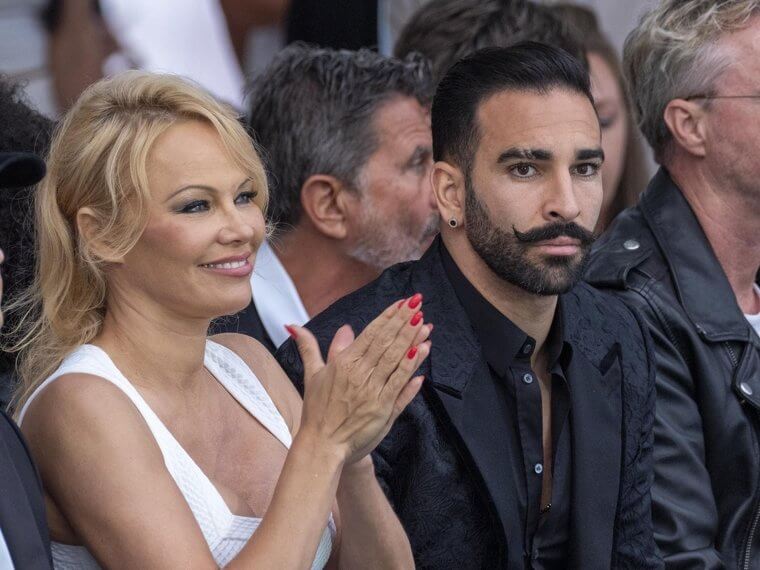 Apparently, he never split up with the mother of his children and carried on with both women. They broke up after two years together and, in a damning Instagram post, Pamela labeled Adil Rami a narcissist, a sociopath, and a monster and later accused him of "physical and emotional torture". In 2019, she moved back to Vancouver Island in her "beautiful native Canada".
True Love, at Last!
On January 20th, 2020, Pamela married 74-year-old movie mogul, Jon Peters, in a secret ceremony in Malibu. It turns out that they had dated more than 30 years ago when she was just a teenager. 52-year-old Pammy penned a poem including the lines: "He's been there all along; Never failed me; I'm ready now; and he's ready".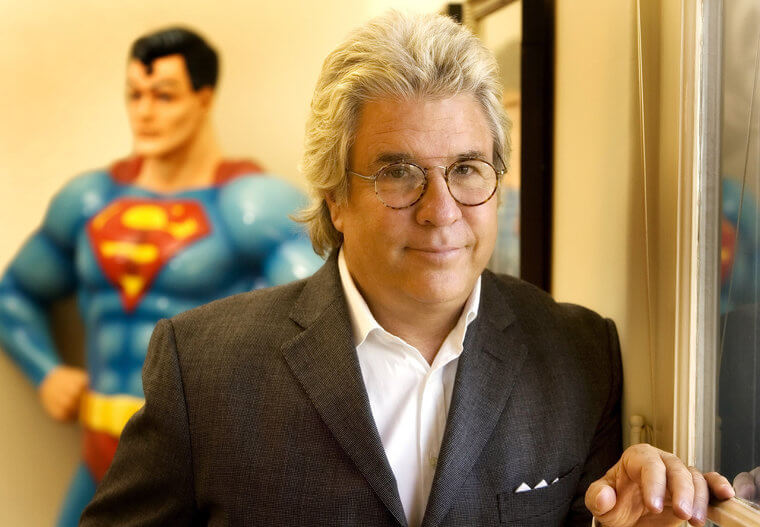 Peters stated: "Pamela has never seen her full potential as an artist...There is much more to her than meets the eye, or I wouldn't love her so much. There are beautiful girls everywhere. I could have my pick, but for 35 years I've only wanted Pamela. She makes me wild, in a good way. She inspires me. I protect her and treat her the way she deserves to be treated."
Statement of Intent
Anderson told THR: "I have been moved by the warm reception to Jon [sic] and my union … We would be very grateful for your support as we take some time apart to re-evaluate what we want from life and from one another. Life is a journey, and love is a process. Now, if you're thinking, "Yayyy! Pammy finally found true love",... hold your horses!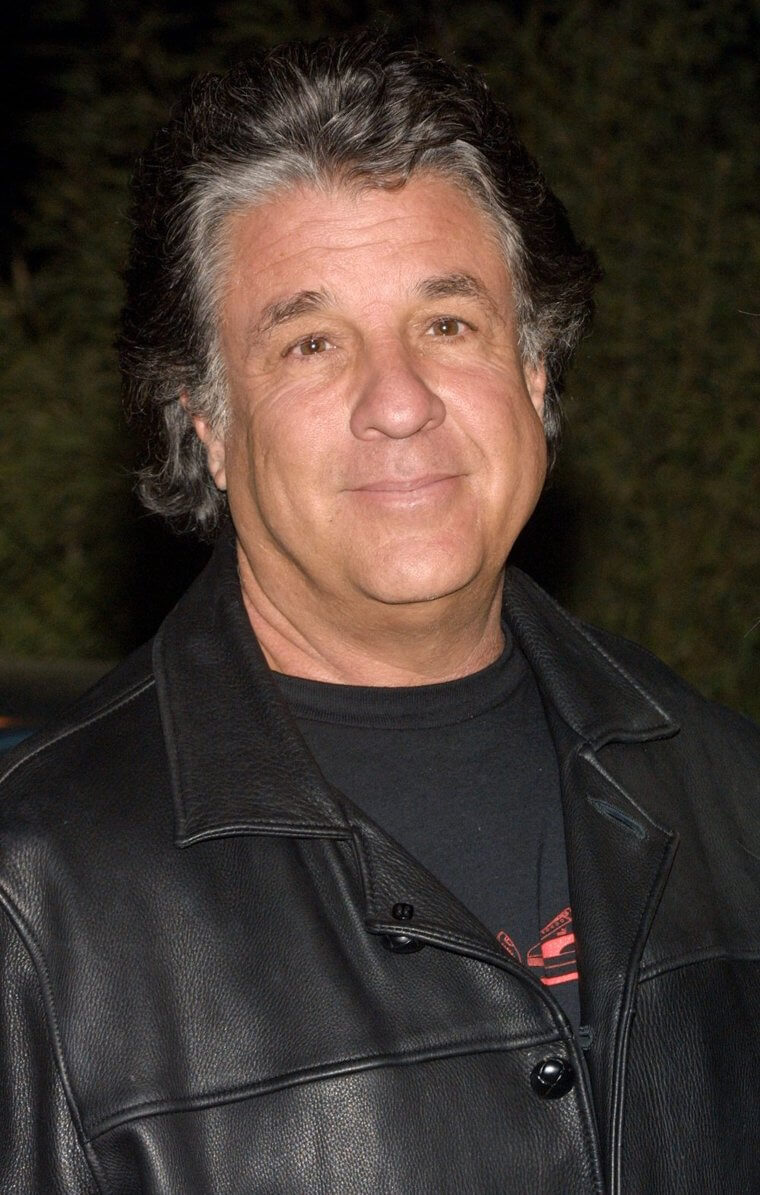 On February 1st, 2020 – just 12 days after tying the knot – Pamela announced that she'd separated from Jon Peters! Love is a process, indeed! But, if you were one of those millions of teenage boys who had a poster of Pammy and her red swimsuit on your wall, and you thought you might still be in with a chance, think again!
A Generous Break-Up Gift
After their split, Peters secretly admitted to Variety magazine, "I will always love Pamela, always in my heart. As a matter of fact, I left her $10 million in my will. And she doesn't even know that. Nobody knows that. I'm just saying it for the first time with you. I probably shouldn't be saying it," he said. "So that's for her, whether she needs it or not."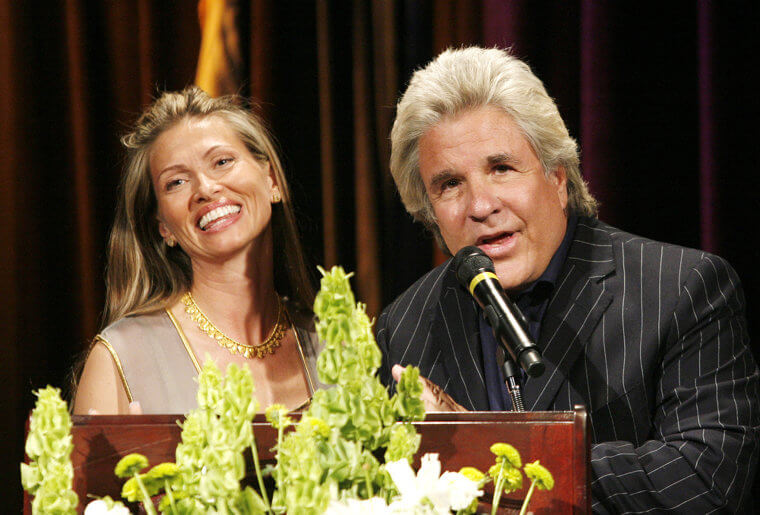 The ex-couple decided to do a joint interview after their split, where they gushed about their love for each other. Pamela herself spoke of her love for Peters, noting that he's been "a huge influence" in her life.
Full Circle
Pamela met builder, bodyguard, and animal enthusiast, Dan Hayhurst, during the Coronavirus lockdown, and the couple was married in an intimate ceremony. She told the U.K.'s Daily Mail: "I am in love. We were married Christmas Eve with both our families' blessing, everyone we know is happy for us," she added. "I was married on the property I bought from my grandparents 25 years ago, this is where my parents were married, and they are still together. I feel like I've come full circle."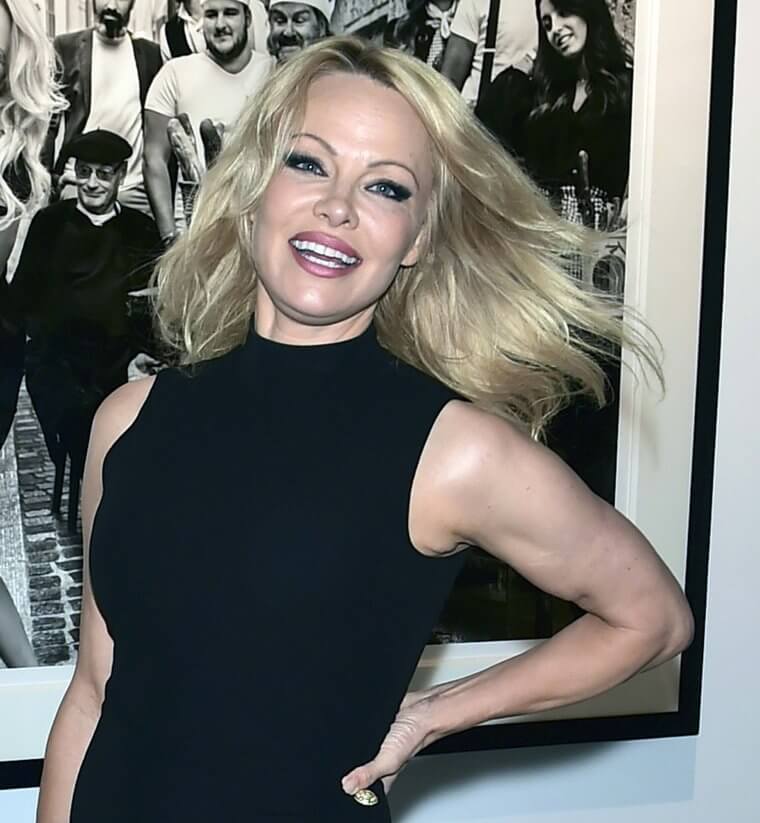 On January 26th, 2021, she signed off social media for good, stating: "This will be my last post on Instagram, Twitter or Facebook. I've never been interested in social media, and now that I'm settled into the life… I'm genuinely inspired by reading and being in nature… I am free." And she couldn't have been more right as, more than a year later, she's free again as she is filing for divorce because, according to sources, Hayhurst was "unkind, unsupportive" and "a d–k" to her.