Pat Morita was a comedian turned actor, who became a Hollywood star after his Oscar-nominated portrayal of the wise karate master Mr. Miyagi. Although Pat Morita was never a martial artist, he shares some similarities with his character from The Karate Kid film series.
In an emotional scene, Mr. Miyagi drunkenly tells the tragic story of losing his wife and son. While Pat Morita did not have an identical experience, he resiliently faced multiple hardships in his life. At the age of 73, he felt his life was coming to an end. Deep inside of him, he knew he would not recover, so he uttered this to his wife, "You have to let me go. I gotta go home now." Here are other tragic facts about Pat Morita.
 
Pat Morita Was Born Into Adversity
When his mother (Momoe) was just 10 years old, she immigrated to the United States of America with her parents. Two years later, at the age of 18, Pat's father (Tamaru) left his home on the Japanese island of Kyushu and traveled to America. Tamaru and Momoe eventually got married and had a son, named Hideo (Harry Morita) in 1920. On 28 June 1932, in Isleton, California, when Harry was 12 years old, Momoe gave birth to her second son – Noriyuki (Pat Morita).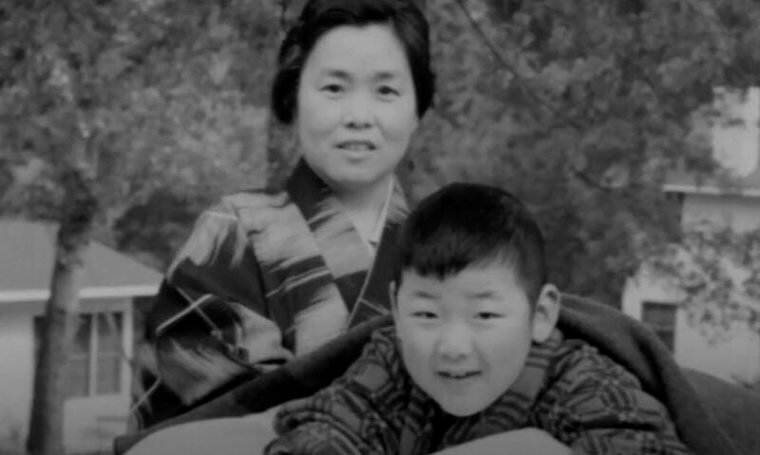 Pat's parents earned a meager wage from temporary labor positions on fruit plantations and traveled throughout California in search of farms that required workers. They lived in tiny, unsanitary buildings that were designated for farm workers. The filthy conditions attracted rodents and insects. Due to the lack of hygiene, infections, and diseases spread like wildfire.

He Contracted a Life-Threatening Disease
When Pat Morita was just two years old, he fell and hurt his back while playing. Most children get multiple scrapes and bruises throughout their childhood that heal fairly quickly. However, because Pat was living in a vermin-infested area, his bruised lower back became infected. The pain and fever that two-year-old Pat suffered were relentless.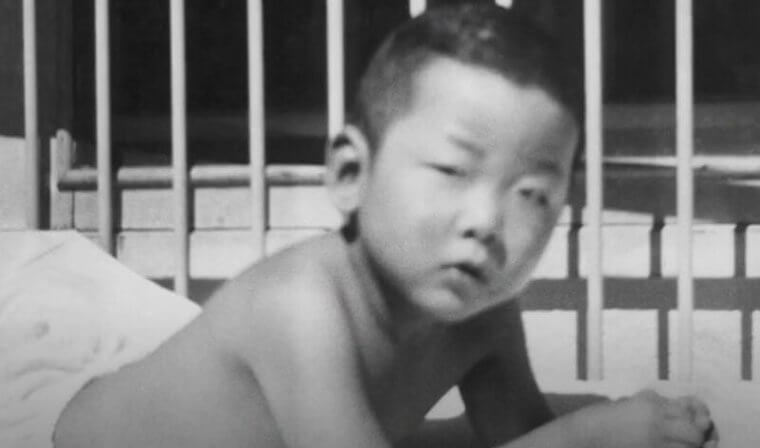 Although his high fever had continued for several days, Pat's parents were reluctant to seek medical help. They were skeptical of Western medicine and could not afford any treatments. Eventually, the owner of the property forced the Moritas to take their devastatingly sick child to the local charitable hospital known as the Weimer Institute. Pat was diagnosed with Pott's Disease (tuberculosis spondylitis), a life-threatening disease that was once a death sentence. Doctors were convinced that the spinal TB would either claim Pat's life or his ability to walk.
Pat Did Not Have a Childhood
Fortunately, health authorities at a modern San Francisco hospital heard about the two-year-old's case and offered to perform experimental surgery on the boy. Pat was one of the first patients to have the surgery and his parents were relieved that it was successful. Pat was then treated with penicillin, the world's first anti-biotic that had only been discovered six years prior. Despite the success of the operation, Pat was unable to walk.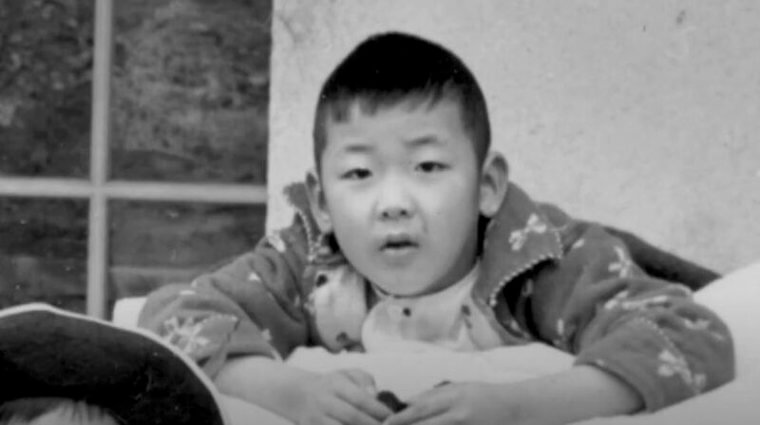 Doctors did not discharge him from the hospital. Instead, Pat spent his childhood in a hospital bed. He was in a full-body cast, which limited his mobility. He relied on assistance from doctors and nurses, who became his only company. Pat had no friends his age and he could not even play games to pass the time. As an adult, Pat explained that he "didn't have a childhood."

Patrick Aloysius Ignatius Xavier Noriyuki Morita
Pat Morita's first name was not always Pat. At birth, he was named Noriyuki Morita. While in hospital, he met a kind Irish priest named Father Cornelius O'Connor. The priest would visit the lonely boy and try to cheer him up. At the time, Morita was not familiar with any religion. Father O'Connor would often joke that if Morita converted to Catholicism, his name should be changed to "Patrick Aloysius Ignatius Xavier Noriyuki Morita."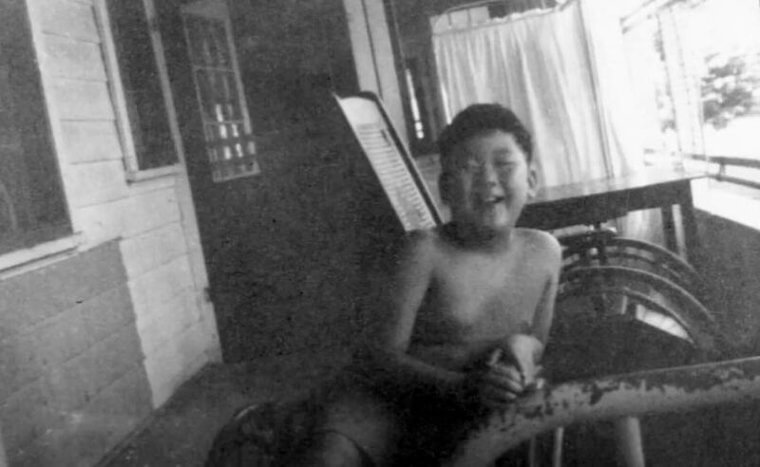 Morita did end up converting and he even learned Latin so that he could recite the traditional prayers. Throughout his schooling, Morita was bedridden and unable to attend a proper school. Instead, his teachers taught him in his hospital room, three times a week. Morita agreed to change his name, as per Father O'Connor's suggestion, however, he decided to shorten it to "Pat".

He Walked Into Hostile Territory
Despite the doctors' predictions that Pat would never walk again, he started to regain movement in his legs. The process of learning how to walk was long and arduous, but he was determined to succeed. Miraculously, Pat healed completely and was able to walk without a limp. He was finally discharged from the hospital when he was 11 years old.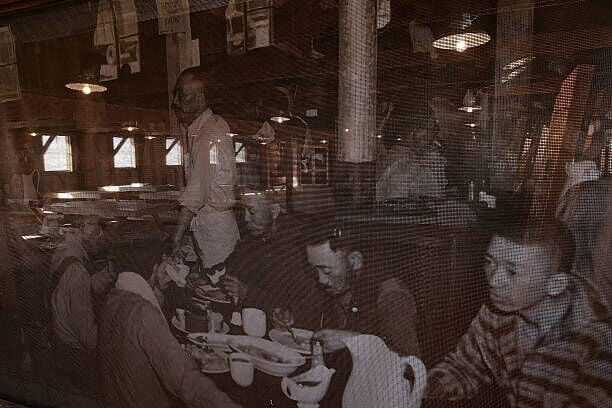 At the time, the Japanese had recently attacked Pearl Harbor, and out of fear, the American government had confined all Japanese Americans to concentration camps. Instead of going home, Pat was forced to join his family at the Manzanar camp. Despite the harsh environment, Pat did not lose hope. "I was a happy child. No matter that the USA put us in prison camps when World War II came," he explained. "I was so happy to be walking, I didn't care where I walked."

He Felt Homesick for the Hospital
Pat had spent nine years at the Weimer Institute. His life in the hospital was the only one that he knew and remembered. The staff had raised him since he was two years old, and they felt more like family to him than his own parents. Without anyone to practice his native tongue with, Pat had forgotten how to speak Japanese. He felt like an outsider with his parents, and he could no longer communicate with them due to the language barrier.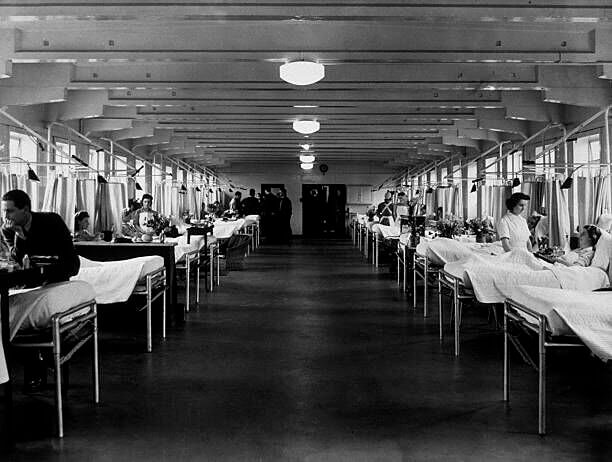 Pat said that after being reunited with his family, he cried for almost a week because he was "so homesick for the doctors and nurses." Pat missed his hospital family terribly. It took several years for him to adjust to his own parents and brother, and to see them as his family again.

He Had No Interest in School
When Pat was 13 years old, the war ended. He and his family were released from the internment camp and returned to the Bay Area. They had no money and had to rebuild their lives from scratch, so they all started picking fruit. "All day, carrying a 12-foot ladder and a wire ring to measure the fruit. It was piecework, 18 cents a box, which was 40 pounds of fruit," Pat recalled.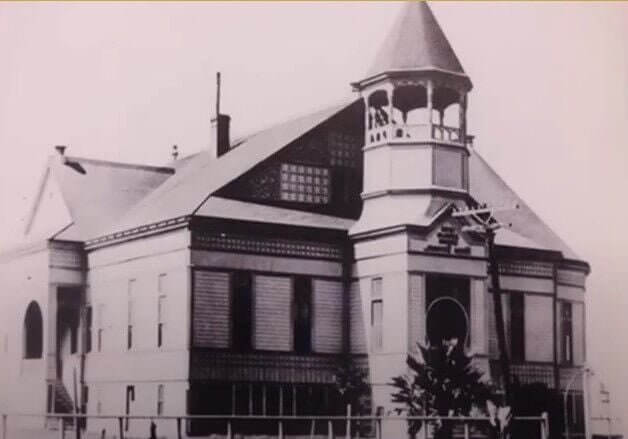 For the first time in his life, Pat was able to attend school. Although he was intelligent, he fooled around and paid little attention to his school work. It was not until his English teacher told him that he had the potential to go to college that he started taking his schooling seriously. In 1949, he graduated from Armijo High School and earned a college scholarship.

College Was Not in the Cards
When the Moritas were finally able to save enough money, they opened a Chinese restaurant in Sacramento. "You get the picture?" Pat asks during an interview. "A Japanese family running a Chinese restaurant in a black neighborhood with a clientele of blacks, Filipinos, and everybody else who didn't fit in any of the other neighborhoods."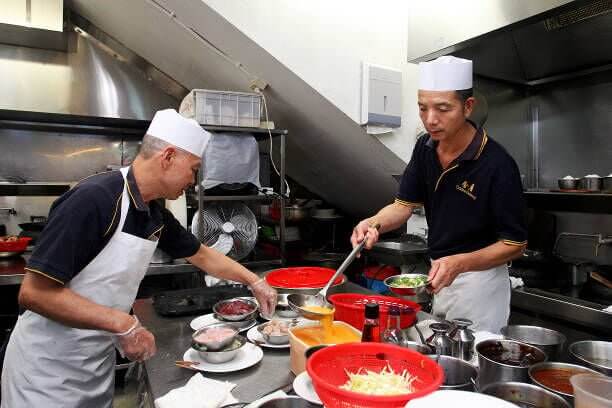 Pat was keen to start college after the Summer, but just two weeks before he was to leave his mother had devastating news. Her eyes were damp with tears when she broke the news to him, "Papa [doesn't] know how to tell you [this], but you can't go to college." In addition to using their savings, Pat's father had also borrowed a large amount of money to purchase the restaurant. They were deep in debt and needed all hands on deck to keep the restaurant running.

The Tragic and Brutal Manslaughter of His Father
Pat gave up on his dreams to go to college and stayed to work in the family business. Before long, they started catering for big events and the business flourished. Pat's father, Tamaru Morita, would often watch movies at the cinema to relax after a long day of hard work. One day, he was walking home from the movie theatre when he was killed in a devastating hit-and-run accident.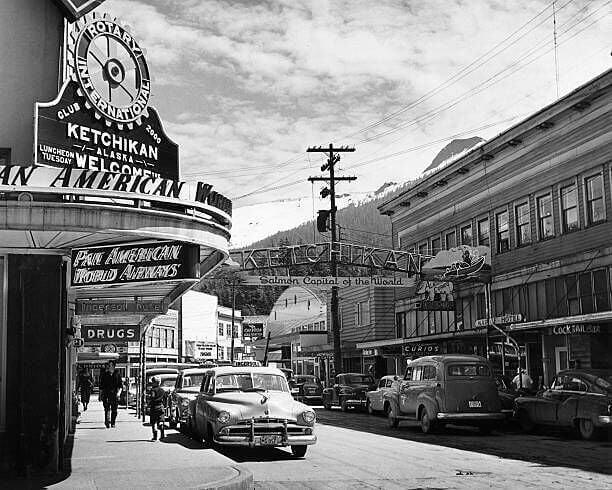 In 2021, Evelyn Guerrero, an actress who knew Pat well, explained how the awful incident unfolded. "[Tamaru] was hit by a pickup truck and the guy that was driving didn't even know. He was dragging him for blocks and blocks and blocks. I think his pant leg or something got caught in the wheel," she explained. "He suffered a long, long slow death."

Pat Turned to Gambling
His father's death severely affected him and added to the childhood trauma he had already experienced. "Maybe by the time I got to be well into my teens, I started to feel the first little pangs of not so much anger, just being ticked off that I was going through tough years," Pat recalled. Although he had not been able to go to the college of his choice, he enrolled at a local community college.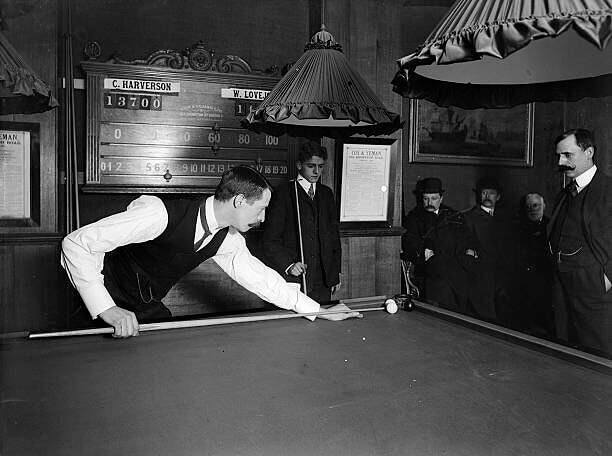 During his second year, he started skipping school so that he could play billiards at Snooker Clubs instead. He played for money, and it did not take long to earn a large stack of cash. He was still a teenager at the time and lacked the foresight to invest the money. He spent his winnings frivolously, in an attempt to impress a woman that he had developed feelings for. 

He Married a Woman Six Years His Senior
When Pat was 20 years old, he fell head over heels in love with an older woman. Her name was Kathleen Yamachi. Little is known about her. The most well-known fact about Kathleen Yamachi is that she was born in 1925, six years before Pat. Although their age gap was shocking at the time, especially since it was Kathleen who was much older than Pat, Kathleen agreed when Pat asked her to be his girlfriend.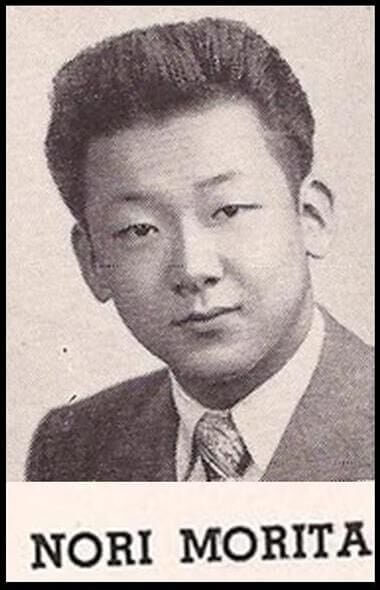 Despite having an unconventional relationship, the pair tied the knot the following year, in 1953. One year later, Pat became a father. After his daughter (Erin) was born, Pat realized that the income he was earning from the restaurant was not enough to support his wife and baby. He decided that he needed to leave the restaurant and find a well-paying job.

He Landed Jobs He Was Under-Qualified For
Finding a job as a Japanese American man without a college degree in 1953, was no easy task. But Pat managed to secure a job as a data processor for the Department of Motor Vehicles. He later progressed to a position with Aerojet General Corporation. At first, he struggled to keep up. The work proved challenging since he had not studied math.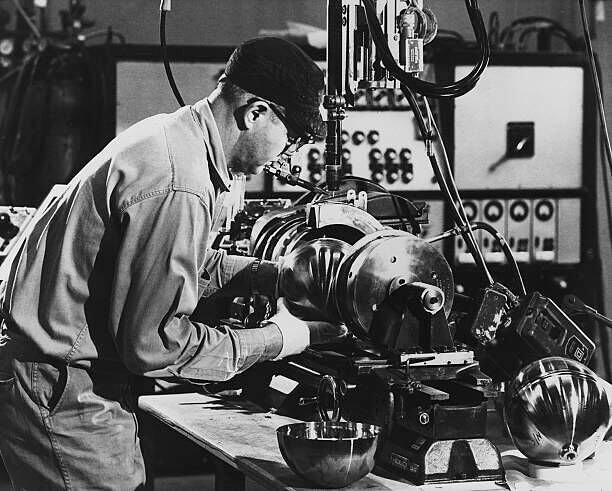 However, Pat was a fast learner. With the help of his understanding supervisor, he was able to hold his job down. With a little practice and guidance, Pat continued to get better at his job. He climbed the corporate ladder quickly, earning multiple promotions. During his mid-20s, he was managing the development of large missile projects and bringing home a respectable income.
A Major Career Shift
After several years in the corporate world, Pat was good at his job and had achieved financial stability. There was just one problem – he was wretchedly unhappy. He was only in his late 20s, yet he was overweight and balding. He reevaluated his life and decided to change his career path. "When I was 27 or 28, I said, 'Okay, what are you going to do? You have no college degree, you can't even spell scholarship,'" he recalled.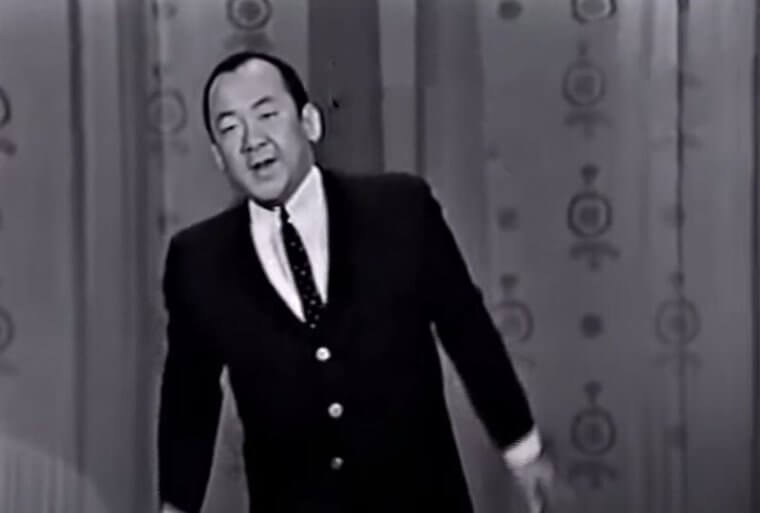 Although he had no experience in show business, he had a way with words. He decided that he wanted to be a comedian. He added, "Somehow, I thought of show business, even though I couldn't act, sing or dance. But I knew I could talk and tell stories and jokes." Pat set a five-year goal to achieve his dream of becoming a successful entertainer.

Honesty Is Not Always the Best Policy
It is generally a good idea to tell the truth, however, Pat knew that if he was honest about his lack of experience he would not get a slot in the comedy line-ups at clubs. To be afforded an opportunity to perform in front of a real audience, Pat made up a story that he was an experienced comedian from Sacramento and had performed at multiple clubs.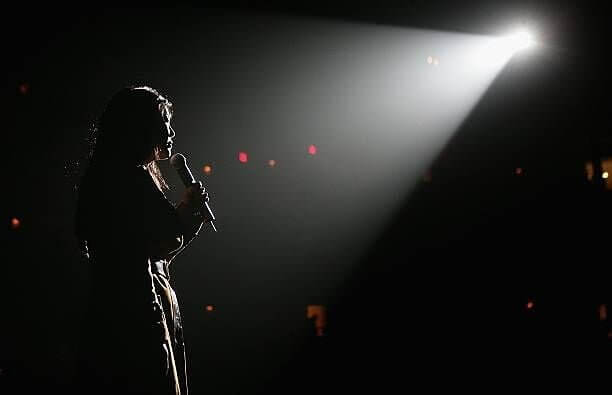 Luckily for Pat, it was not so easy to verify this information in the '60s, as the Internet had not been invented yet. He was hired to perform in multiple gigs, and he would often tell unoriginal jokes that he had read in Reader's Digest or heard from another comedian. He justified this habit, by saying, "All comics 'steal' from each other… In essence, we talk about the same idiosyncrasies of life."

Politically Incorrect Humor
Not only were Pat's jokes unoriginal, but he also had a tendency to repeat them. Once he felt more comfortable on stage, he started coming up with his own witty lines. While waiting in the wings one day, a waitress walked by Pat and was so startled to see that a Japanese comedian would be performing, that she dropped her tray. That night was the 25th-anniversary reunion of the survivors of Pearl Harbor.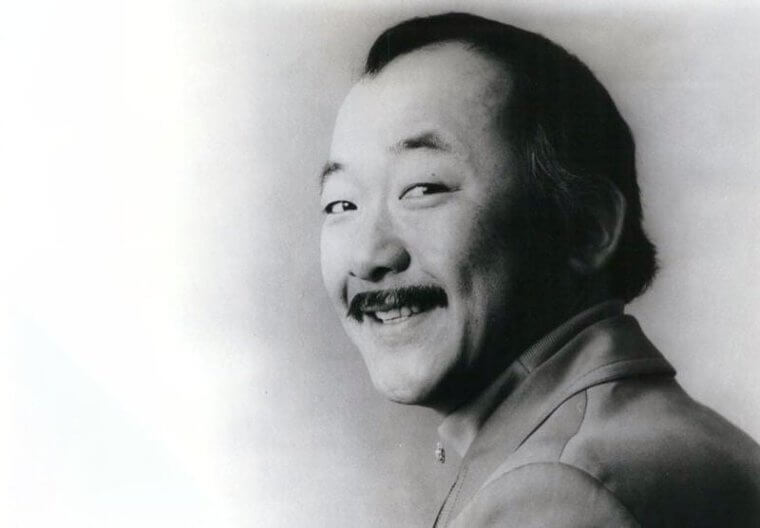 Pat had no idea, but when the waitress informed him it was too late to cancel his slot. When he walked on stage, he maintained his confidence. He started his act with an impromptu tongue-in-cheek remark: "Before I begin, I just want to say I'm sorry about messing up your harbor." After a second of silence, the crowd burst into laughter. From then on, Pat became known for his politically incorrect humor.

Moving on to Better Things
Pat Morita performed stand-up comedy at clubs in San Francisco for two years, before he realized that the transport to the venues was costing him more than what he was earning. Another performer suggested that he would have more success in Los Angeles, so in 1964 he headed 380 miles south in pursuit of his dream.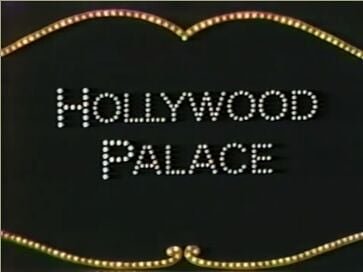 In Los Angeles, he met Sally Marr, a well-known talent scout and the mother of controversial comedian Lenny Bruce. With Pat's charm and charisma, he convinced Sally Marr to be his agent. She booked him at an event at the Horn in Santa Monica, where he was noticed by the producer of The Hollywood Palace. Pat was asked to audition for the popular television show and he nailed it. Many other famous performers got their big break on the show, including The Jackson 5 and The Rolling Stones.

He Played Several Demeaning Roles
A few years later, he was given a small role in the romantic musical, Thoroughly Modern Millie, starring Julie Andrews. He was so excited and appreciative to have a part in the movie, that he did not mind portraying a stereotypical Chinese sidekick. He even shaved the front portion of his head and wore a long braid. This was a typical Chinese hairstyle, known as a queue.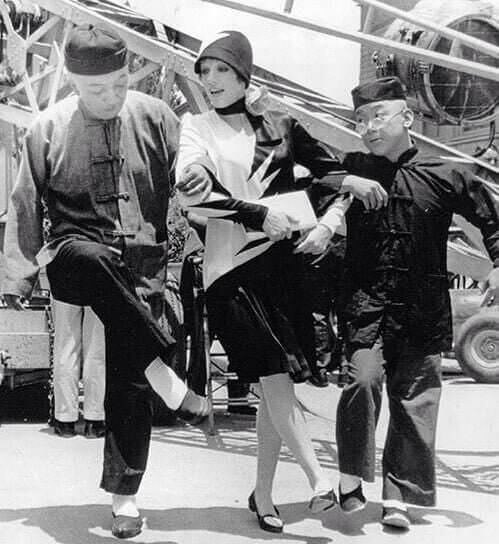 His character's name was Bun Foo, but he was credited as Oriental 2. Jack Soo portrayed Ching Ho (Oriental 1), and the two actors even had a scene where they danced. Bun Foo was not the only demeaning character that Pat played. He also had stereotypical roles in TV series such as "The Odd Couple" and "Green Acres".

You Win Some, You Lose Some
During the late '60s, Pat Morita's career in comedy was thriving. In the entertainment industry, he was known by his stage name "Hip Nip". However, he had devoted so much attention to his new profession, that he almost forgot he had a wife and daughter. His marriage was failing beyond repair. In 1967, he and his wife filed for divorce.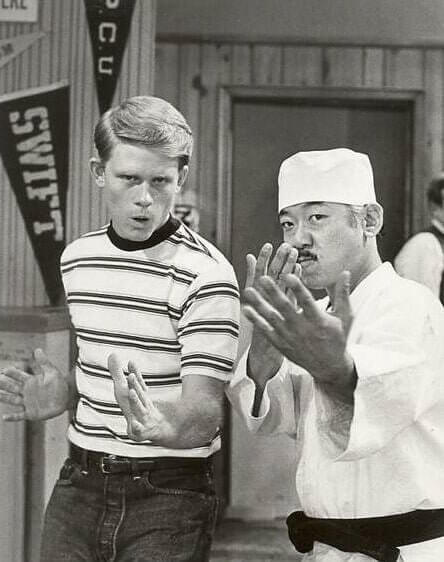 After three years of being single, Pat's love life was back on track. He married Yukiye Kitahara, who he had met through mutual friends. Things were finally going well for him. He and his new wife moved into a four-bedroom home in the Tarzana suburb of Los Angeles. They extended their family and had two daughters (Aly and Tia). These years were probably the happiest in Pat's life. But sadly, all good things must come to an end.

Pat Did Have Happy Days
Through all the trauma and hardships, Pat had happy times too. Before being known as Mr. Miyagi from The Karate Kid films, audiences knew him as Arnold. In 1975, Pat got the part of the recurring character, Matsuo "Arnold" Takahashi in season three of the sitcom Happy Days. For the first week of filming, Pat had been speaking in a fluent American accent while shooting the scenes. But the director felt that there was a certain element missing.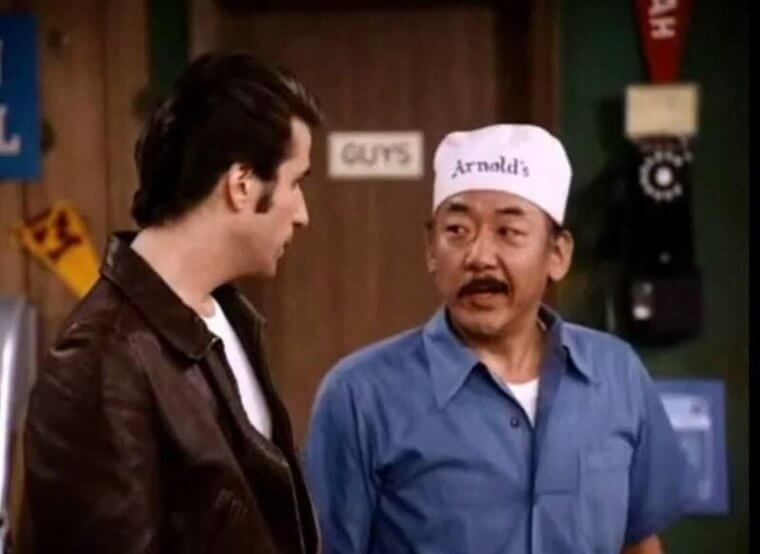 Pat was asked to use a Chinese accent when portraying Arnold. He was a master at putting on various accents and agreed to do it. His portrayal of Arnold was well-received, and the show had impressive ratings. As the show progressed, Pat became close to his coworkers and made lifelong friends with many of them, including Marion Ross, who played Mrs. Cunningham on the show. 

He Almost Lost His Job
One day while filming the third season, Pat noticed that the director was visibly stressed and accompanied by a representative from the Broadcast Standards and Practices. They informed Pat that he could unfortunately no longer be Arnold, due to an industry-standard that an actor could not play a character with a different ethnicity to his own. Pat came from Japanese heritage, while Arnold was Chinese. Or was he?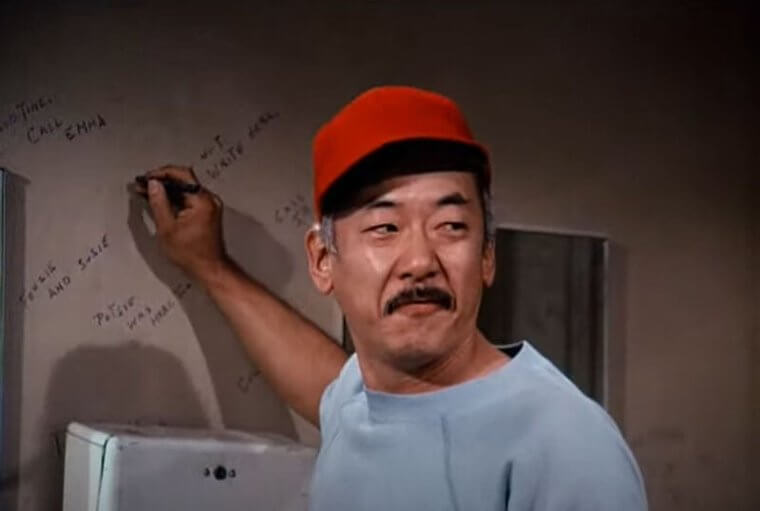 Thinking on his feet, Pat replied that Arnold was not Chinese. At that point, Arnold's last name had never been mentioned or written into the script. Pat gave Arnold a Japanese surname on the spot and said that after Arnold's Japanese father died in the war, his Chinese mother had taught him English. That explained the Chinese accent. Thanks to his quick thinking, Pat was able to keep his job.

A Mudslide Damaged His Home
After a brief period of bliss, Pat's bad luck reappeared. In February 1978, a two-day heavy downpour in Los Angeles resulted in a mudslide that caused extensive damage and the deaths of 20 people. As luck would have it, Pat's Tarzana home was in the path of the mudslide. In an interview, the late actor described the destruction: "[The mud] filled our pool, banged through the house, and literally, there was three feet of mud in the house and all through the house."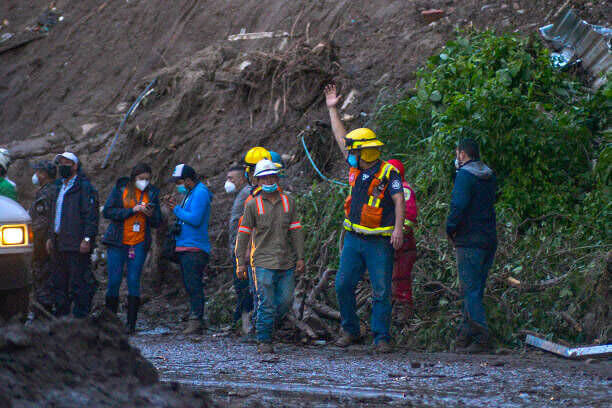 One of his colleagues, Marion Ross, left the safety of her home to help Pat recover his valuable items from the mud. "She came in her heels," Pat said. "She was finely dressed and everything and expressing such heartbreak and grief." Although the mudslide caused irreparable damage, Pat counted himself lucky. Others had a much worse fate. 

A Series of Unfortunate Events
Losing his home was just the start of Pat's series of misfortune. One of his daughters became very ill but eventually made a full recovery. Then, his mother-in-law sadly passed away after losing her battle with cancer. The final blow happened in 1984. After 11 seasons, Happy Days ended and Pat had to say goodbye to his colleagues and his steady job. This was not the only chapter that closed in Pat's life.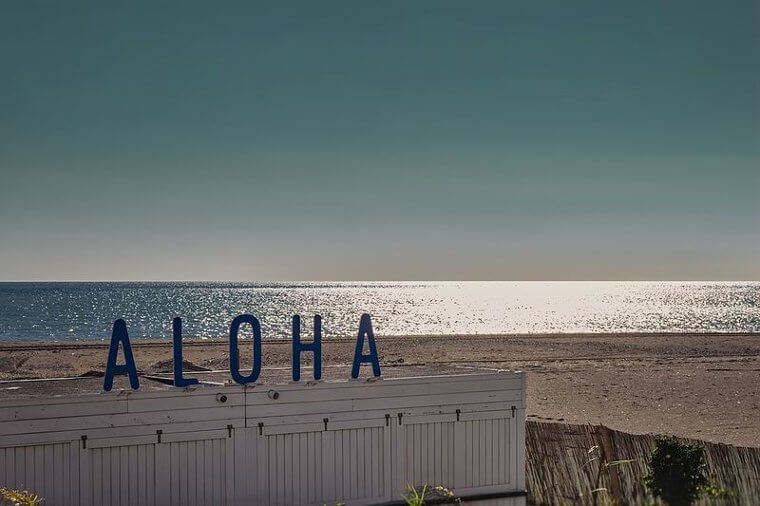 Four years later, shortly before their 20th wedding anniversary, his second marriage came to a bitter end. Pat was deeply affected by the loss of his family and a job that he loved. Wanting a fresh start on his own, he relocated to Hawaii. The change of scenery, however, did not improve his mood. He landed a few parts in other shows, but all of them flopped.

A Promising Upcoming Movie
Pat passed the time with odd jobs. He starred in a few commercials and did several stand-up comedy shows. None of them materialized into anything as big as Happy Days. When he received the news that there would be a sequel to the sitcom, Pat returned to Hollywood to retrieve his role on the show. However, it did not pan out. He decided to stay in Hollywood and hire an agent, hoping that he would find a significant role.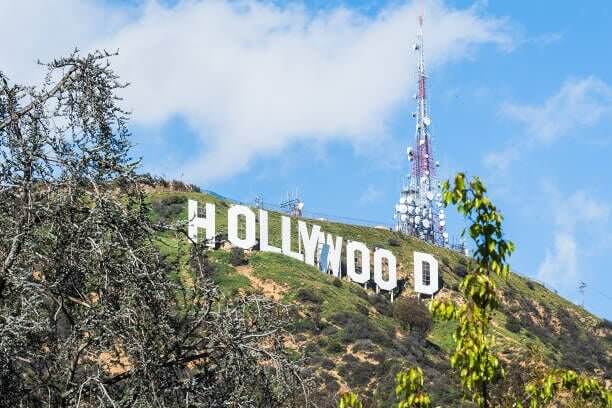 He had almost given up hope and gone back to Hawaii when his agent handed him an incomplete but promising script for an upcoming movie called The Karate Kid. Pat was ecstatic after reading the script. He felt that he would be the perfect fit for the character called Mr. Miyagi, an insightful and kind Japanese martial artist.

The Producer Refused to Consider Pat
Although Pat knew that he would be a great Miyagi, the producer did not want to give the role to a comedian. Jerry Weintraub believed that Mr. Miyagi's tragic and emotional story required a seasoned actor to pull it off. "He wouldn't even consider me for a reading," Pat recalled. "Every time my name came up in the casting process, he was adamant: 'I don't want a comic, I don't want a comedian for this role. This is a heavy-weight part. I want an actor.'"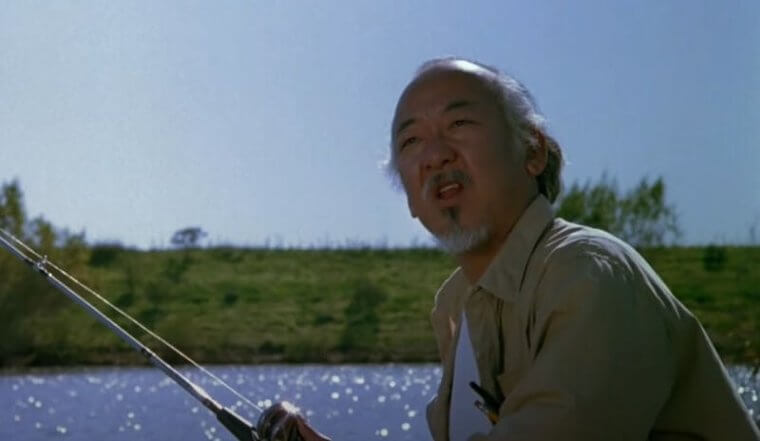 The director, John Avildsen, disagreed. He knew that Pat Morita was capable of doing justice to the character. He invited Pat to audition for the role, without the producer's knowledge. John Avildsen recorded the audition and showed the tape to Jerry Weintraub. Jerry was impressed by Pat's audition, but he was still unwilling to cast the comedian.

Pat Had to Audition Multiple Times
Although the producer was not convinced, he agreed to watch Pat read lines in person. After auditioning alone, Pat was asked to read lines with the lead actor, Ralph Macchio. The producer was still unsure, so he made Pat audition in full costume for the studio heads, and then again on a sound stage. Everyone loved his performance and agreed that he should play Miyagi.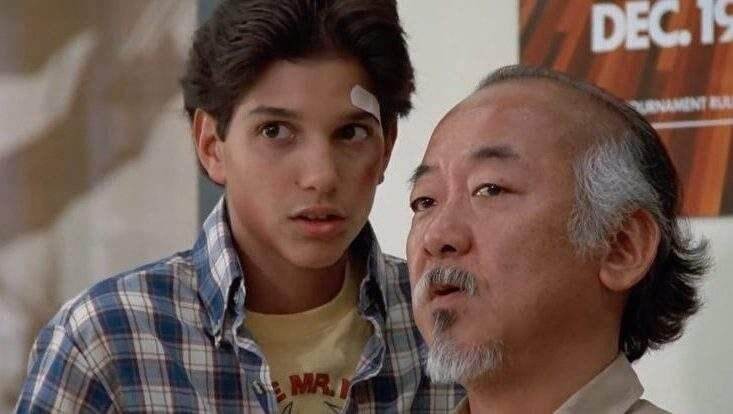 Jerry Weintraub finally conceded. "Pat, I almost made the worst mistake of my life," he admitted. "I just want to be the first to congratulate you. You got the part of Miyagi." Hiring Pat as Mr. Miyagi was a wise decision. The film was a box office hit, grossing a whopping 359.1 million USD with a budget of eight million USD. Pat Morita returned as Mr. Miyagi for three of the sequels.

One of the First Asian Americans to Be Nominated for an Oscar
Not only did Pat nail the part of Mr. Miyagi, but in 1985 he became was one of the first Asian Americans to be nominated for an Oscar and the first to be nominated for Best Actor in a Supporting Role. It is likely that the emotional scene, where Miyagi drunkenly tells Daniel LaRusso about the death of his wife and son, played a big part in the nomination.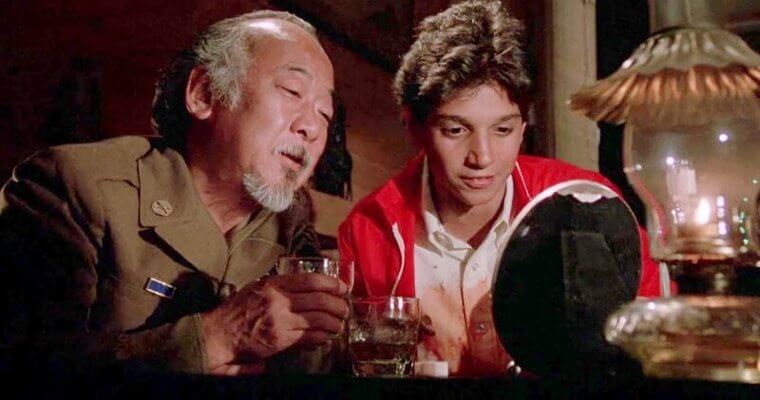 Ironically, that scene was almost edited out of the movie because it was so long. Luckily, the writer Robert Mark Kamen knew how significant the scene was. It was pivotal in showing the audience a deeper side of Miyagi. "I lobbied very hard for that scene because I felt it was the emotional heart of the picture it humanized Mr. Miyagi for Daniel," Robert explained.

Pat's Career Went Downhill From There
Although his role in The Karate Kid film series made Pat Morita a household name, it was, unfortunately, the peak of his acting career. Despite his impressive performance, producers continued to discriminate against him based on his race, and he was turned down for multiple roles.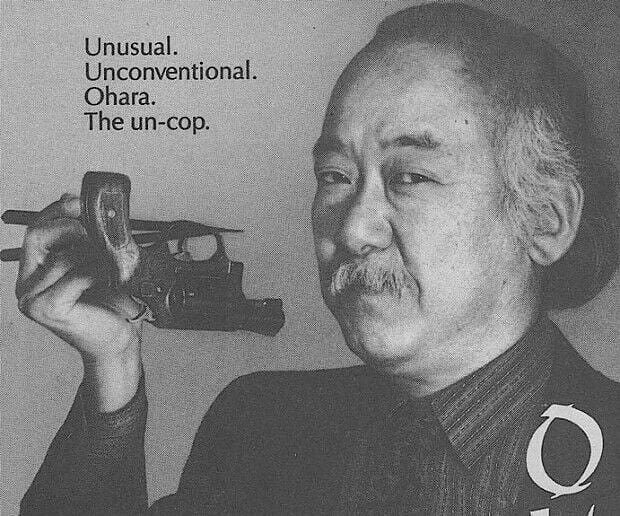 After The Karate Kid: Part III, Pat acted in many small movies and series, none of which were on the level of The Karate Kid or even Happy Days. In 1987 and 1988, he starred as lieutenant Ohara in the series called Ohara, which he co-created with Michael Braveman. The ABC Drama was about an unorthodox Japanese American police officer who would solve crimes on his own, without a weapon, using only meditation and sometimes martial arts. Although the series received good ratings, it was canceled after just two seasons.

The Third Time Is the Charm
After two failed marriages, Pat Morita finally found love again in the '90s. On March 26, 1994, he married actress and model Evelyn Guerrero, who was the niece of his previous manager, Sally Marr. Pat was 17 years older than Evelyn, and he had met her at a strip club when she was only fifteen years old. In reality, it was not as bad as it sounds. Pat was performing stand-up comedy at the club, and Evelyn's mother was a dancer.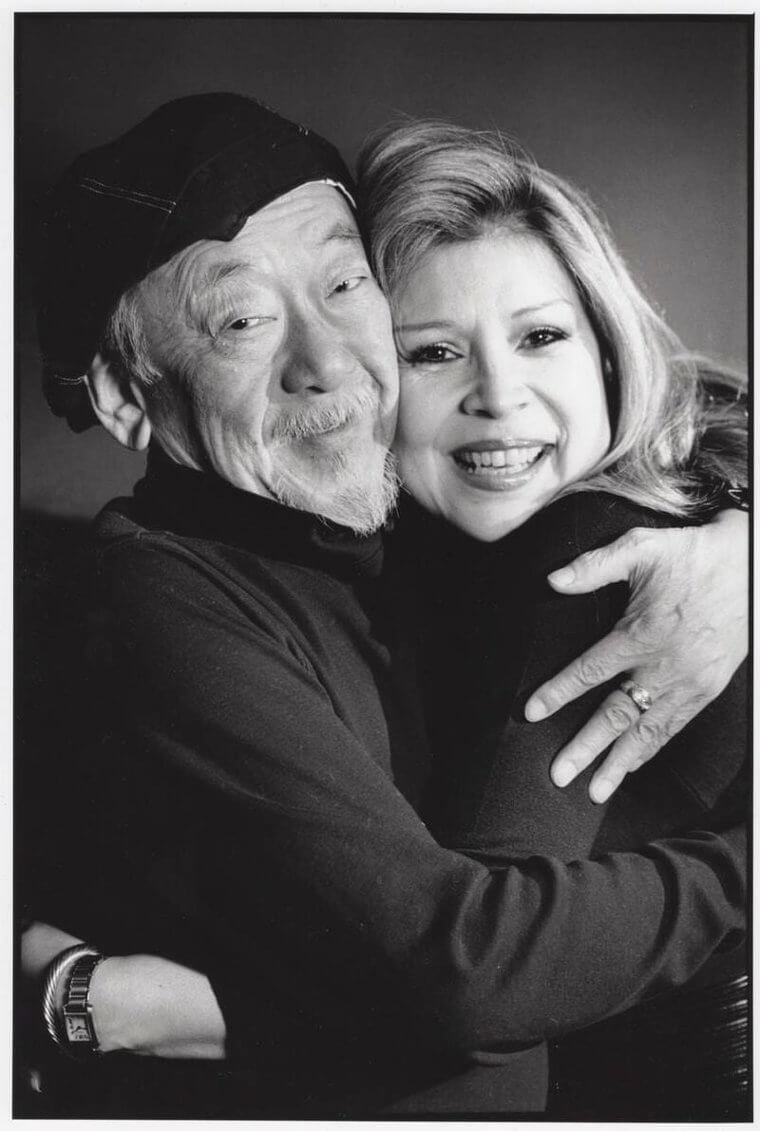 The pair did not have any kind of inappropriate relationship and only started dating when Pat was 62 and Evelyn was 45 years old. The couple remained married until Evelyn became a widow in 2005. It seemed that Pat could never have it all. He either had a successful career or a successful marriage, but never both at the same time.

He Was a Disney Star
Sadly, not many people are aware that Pat Morita starred in at least 36 films, and some of them were Disney productions. In 1996, he had a small role as Brian the Waiter in Spy Hard, and he also portrayed Wise Man in an episode of Boy Meets World. In 1998, he was the voice of The Emperor of China in Mulan and Mulan II.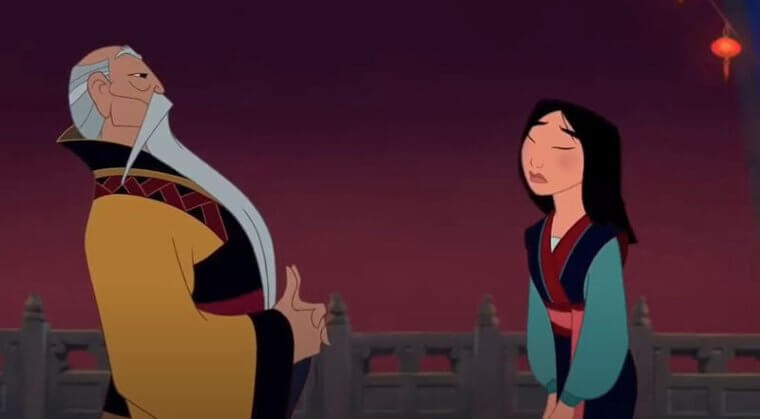 The Emperor of China was only a supporting character, yet a memorable one. Like many of Pat's characters, he is a noble and intelligent man who gives Mulan credit for her bravery even though it was forbidden for a woman to be involved in the army. Pat Morita posthumously voiced The Emperor of China in the video game Kingdom Hearts II, as it was only released on 22 December 2005, less than a month after his death.

He Was the Subject of an Internet Myth
In the early 2000s, a Japanese-style restaurant, and strip club, called "Miyagi's" opened on Sunset Boulevard in Hollywood, California. The establishment received mixed reviews, with many liking it for either its sushi or its debauchery, but seldom for both. One Yelp reviewer gave the restaurant three stars, saying that it was a "fun hangout place but not so much can be said about the sushi".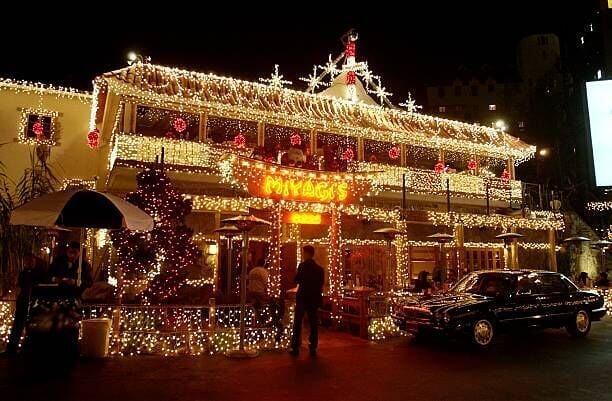 The venue was particularly popular with celebrities, and one diner recalled a surreal moment when she realized that Shannen Doherty had once danced in the same spot that she was in. A rumor floated around the internet that Pat Morita was the owner of the institution. It eventually closed down in 2010. The building still stands and has been one of the branches of the Mexican restaurant, Pink Taco, since 2012.

Pat Was an Alcoholic
Many people were unaware that Pat had been struggling with alcohol abuse throughout his life. When his career took a turn for the worse, it only exacerbated his drinking problem. He even got to a point where he was adding vodka to his coffee. After his death, his wife explained that the tragic death of her late husband's father, and other childhood traumas, contributed to Pat's alcoholism.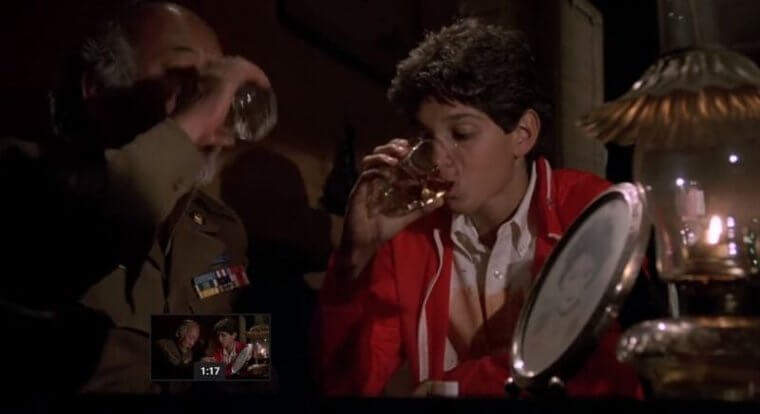 "So he had all these demons he had to deal with, so it's no wonder he drank all his life," she says. "He never recovered from those wounds." When Pat relapsed in 2004, Evelyn decided that he needed to go to a rehabilitation facility. Doctors warned him that if he continued drinking that it would result in his death. Evelyn stayed with her husband, despite his addiction, until he passed away.

"You Have to Let Me Go"
Pat died on 24 November 2005, in Las Vegas, Nevada. He was 73 years old, but would likely have lived much longer if it weren't for his years of alcohol abuse. He faced death gracefully, like the warrior that he was. His wife was by his side at the hospital until his death.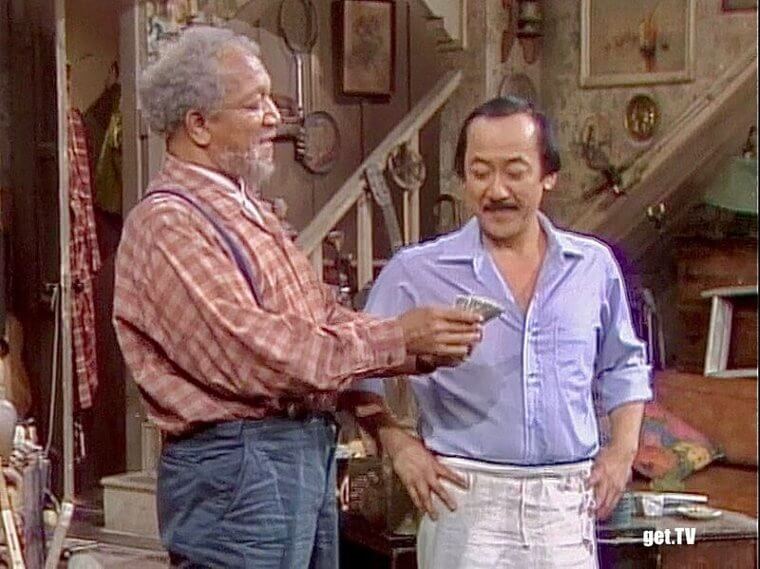 According to her, the night before he passed on, he was lucid and talking. She was hopeful that her husband of 11 years would recover, however, Pat knew that he would not. He told her, "You have to let me go. I gotta go home now. I gotta be with Redd Foxx [a comedian and Morita's old friend] and all those funny guys up there in the sky." 

There Was Confusion About His Cause of Death
When Pat's death was reported in the media, there were conflicting reports regarding the cause. According to his daughter, Aly, he died due to heart failure. However, his manager Arnold Soloway, reported that he had been waiting for a kidney transplant at the hospital when he succumbed to kidney failure.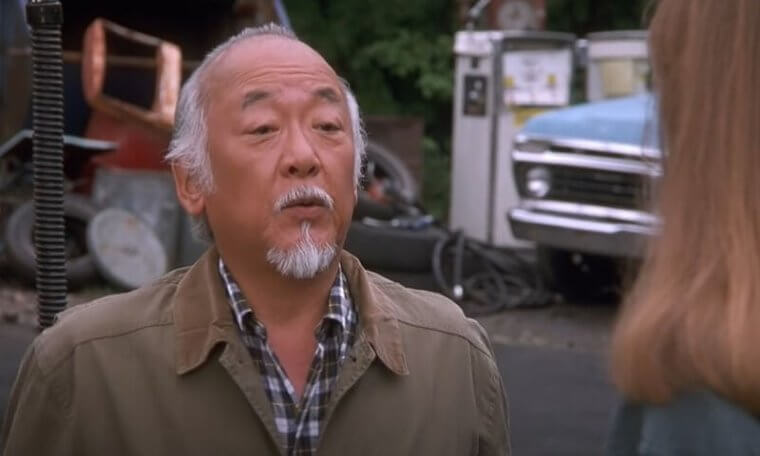 His place of death also differs, with some sources saying that he died in hospital and others saying that he died at home. On Pat Morita's Wikipedia page, it says that he "died of kidney failure, following a urinary tract and gallbladder infection, on November 24, 2005, at his home in Las Vegas." In his obituary on legacy.com, it says that he died of natural causes. Whatever the reason, his drinking problems lead to his deteriorated condition. Pat was buried at Palm Green Valley Mortuary and Cemetery.

A Touching Tribute to the Late Actor
Ralph Macchio, who played Daniel LaRusso in The Karate Kid, was asked by Pat's family to prepare the eulogy. He was honored but surprised by the request, as he expected that Pat's older brother Harry would give the speech. Ralph gave a meaningful tribute to his late colleague. It perfectly encapsulated the way many, who were fortunate enough to meet him, feel about Pat.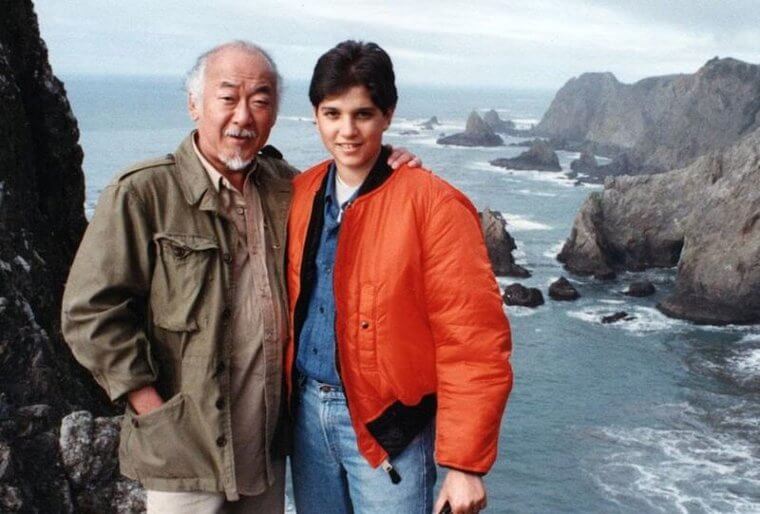 "Pat Morita was a truly generous actor, a gifted comic, and an even greater friend. It was both my honor and privilege to have worked with him and create a bit of cinema magic together," Ralph Macchio said. "My life is all the richer for having known him. I will miss his genuine friendship. Forever my Sensei." Pat Morita is gone but not forgotten. His memory lives on in our hearts and in his iconic character.

There Was More to Pat Than Miyagi
In 2021, a document about Pat's life called More Than Miyagi: The Pat Morita Story was released. The creator of the documentary wanted to highlight that although Pat was best known for his role as Mr. Miyagi, there was much more to the actor. The film touched on multiple issues, including his childhood traumas and his string of misfortunes.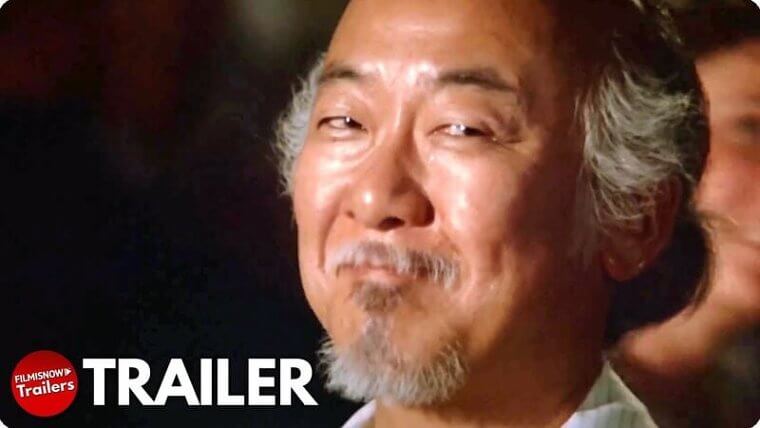 The director did not focus on Pat's alcoholism, saying, "It was more important to me to show all the suffering that he endured, all the internment camps and the tuberculosis and what he went through, to rise from it and to become this iconic character." Evelyn Guerrero participated in the documentary and said, "I wanted his story to be a testament to the resilience of the human spirit. And, at the same time, I wanted to examine the fragility of his life."

Sweeping Facts About The Karate Kid
More than 30 years after Daniel LaRusso (Ralph Macchio) and Johnny Lawrence (William Zabka) faced off in one of cinema's most iconic showdowns, The Karate Kid has officially made a comeback.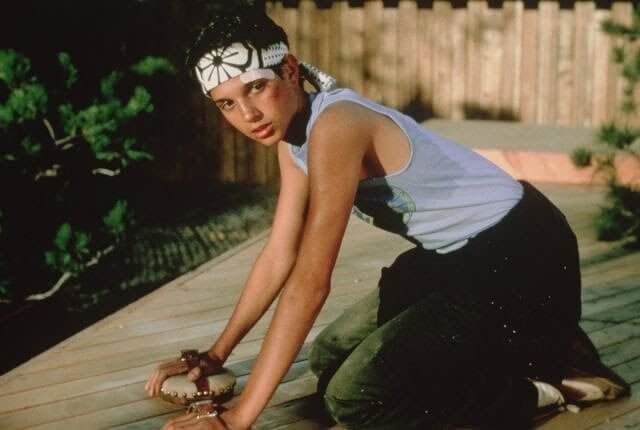 The series Cobra Kai, which follows LaRusso's rivalry with Lawrence's Cobra Kai dojo decades where the original film left off, is getting ready to launch its third season on YouTube this spring. While we await the return of the hit series, let's take a look back at the 1984 movie that started it all.
Pat Morita Was Initially Turned Down for the Role of Mr. Miyagi.
In the early 1980s, Pat Morita was probably best known for his comedic work as Arnold, the restaurant owner who waits on Fonzie and the gang on Happy Days. Before that, he was a recognizable name on the stand-up circuit. According to the 2013 book The Films of John G. Avildsen, Morita was Avildsen's first choice for the role of Miyagi; however, producer Jerry Weintraub felt that viewers would not take him seriously in the role due to his comic past.

After Morita grew a beard and added a Japanese accent to his screen test, an impressed Weintraub had to admit he was wrong. He agreed with director John Avildsen that Morita was perfect. Morita was cast in the part and went on to receive an Academy Award nomination for his work.
Daniel LaRusso Was Originally Daniel Webber.
Daniel LaRusso wasn't always named Daniel LaRusso. In writer Robert Mark Kamen's original versions of The Karate Kid script, Daniel LaRusso's last name was written as Webber. It wasn't until later that the Webber name was dropped. Why?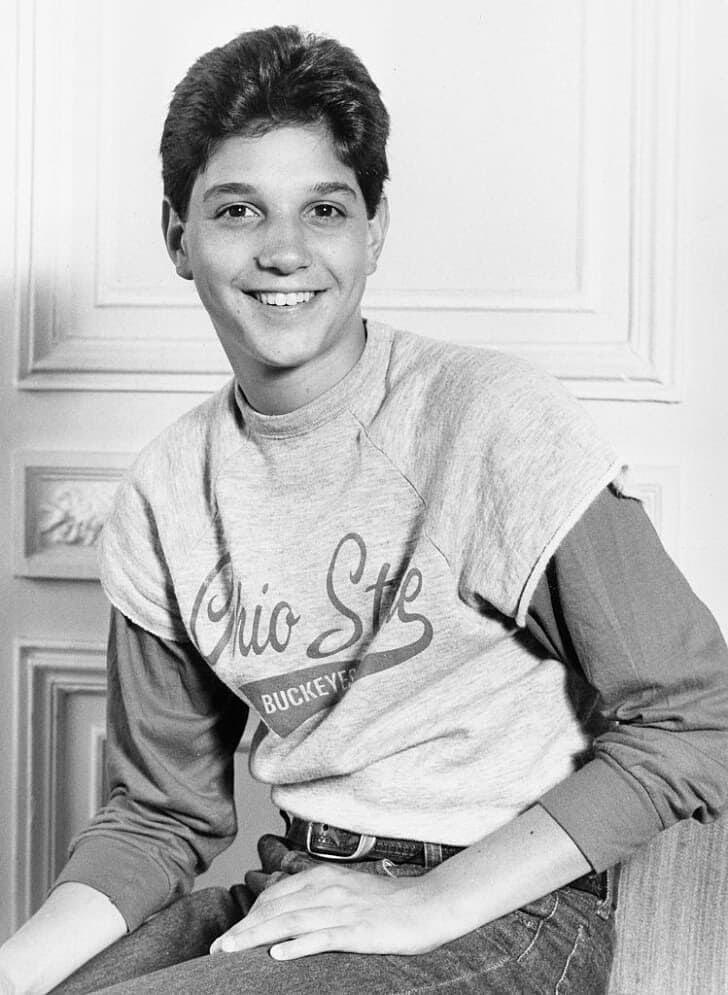 When Ralph Macchio was cast in the role, Kamen and director John Avildsen were compelled to change his last name to LaRusso to better match Macchio's Italian heritage. They likely thought the character would feel more real if he had a last name that looked as though it would belong to Macchio.
Johnny Lawrence Was Donald Rice.
Kamen had to change at least one other name, too. In the script, he had the character of Johnny Lawrence written as Donald Rice. Yes, Cobra Kai's trademark bad guy sounded like he belonged at an Ivy League school rather than a karate cult.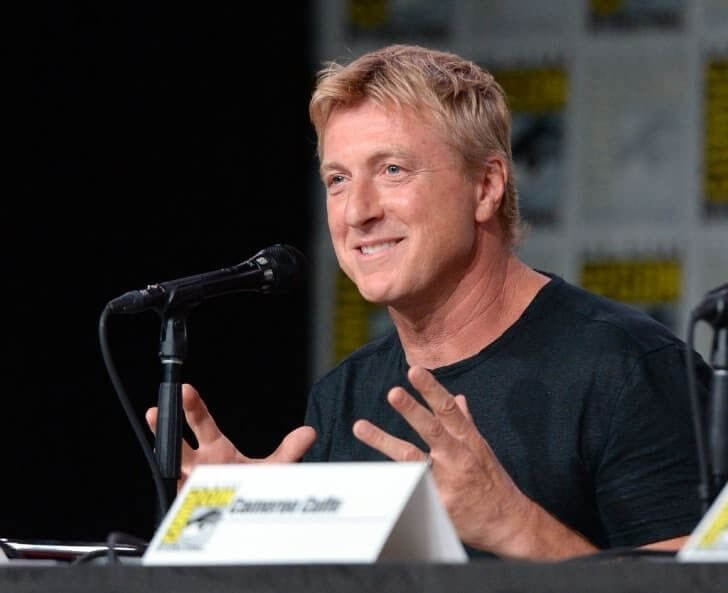 At some point in development and before filming started, producers decided that Donald Rice didn't carry the kind of weight their movie's villain needed. William Zabka wound up playing the character as Johnny Lawrence.

"You're the Best" Was Originally Written for a Different Movie.
Although the song "You're the Best" will always be tied to the montage of fight scenes during the All-Valley Karate Tournament, Joe Esposito's hit was actually written by Bill Conti and Allee Willis to be used in Rocky III. Sylvester Stallone decided to replace it with Survivor's "Eye of the Tiger."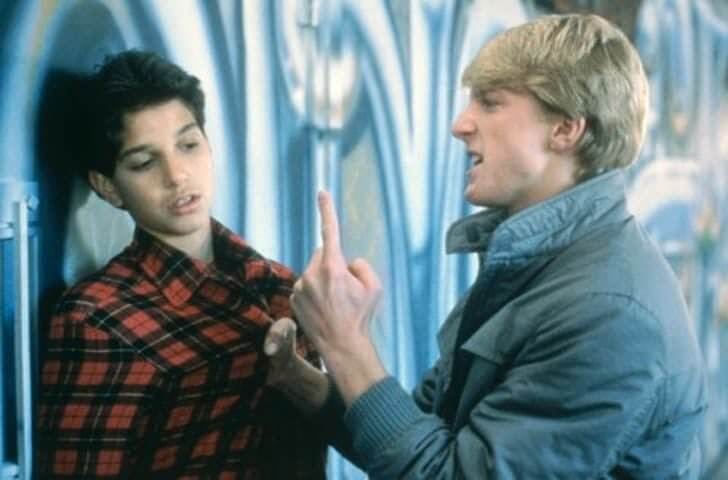 Esposito revealed this bit of trivia in a 2008 interview on the Adam Carolla Show where he said that "You're the Best" was turned down for use in the movie Flashdance as well, and was replaced with Michael Sembello's "Maniac." Today, it's hard to imagine any of these movies without their signature tracks, so it seemed to work out for the best.
Freddy Really Did Take a Soccer Ball to the Face.
Although Daniel LaRusso goes on to find plenty of trouble after relocating from New Jersey to California, things seem promising early on. As Daniel and his new friends play soccer on the beach, his eye is caught by Ali--with an "I"--Mills (Elisabeth Shue), the beautiful blonde from the Hills who appears charmed by Daniel's East Coast persona. Trying to impress her, Daniel displays his soccer skills only to have the ball knocked away by his new pal Freddy (Israel Juarbe).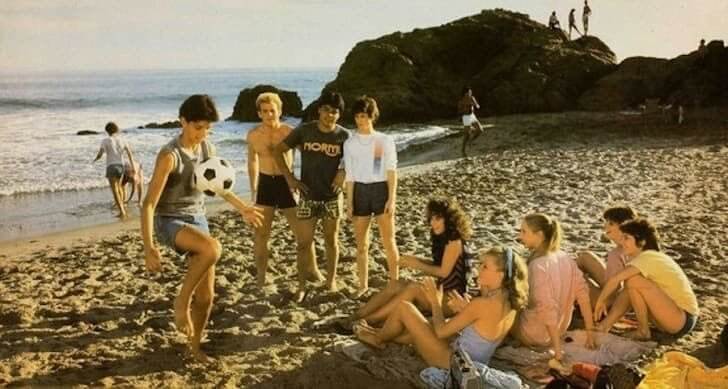 It turns out that even characters in the movie who didn't get into fights could still get smacked in the kisser. Watch closely and you'll see that the actor actually takes a direct hit to the face while he and Macchio are performing in the scene.

Daniel's Iconic Shower Costume Is Foreshadowed in Mr. Miyagi's Workshop.
During the now-classic scene at the Halloween dance, Daniel shows up dressed as a shower, complete with a curtain and shower head. He mentions that his costume was made by a friend.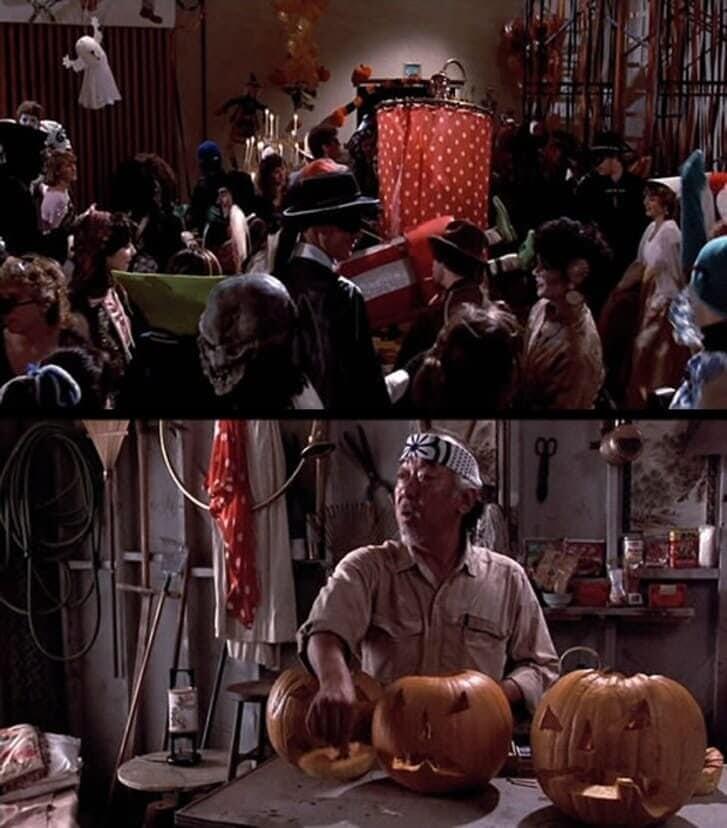 The viewer assumes he's referring to Mr. Miyagi, since, strictly speaking, Miyagi is about the only friend Daniel has made since moving to California. That's confirmed in the previous scene in the movie where components of the shower costume can be seen hanging in the background as Miyagi carves pumpkins in his workshop.
Many of The Karate Kid's Locations Are Still Intact—And Look Mostly the Same.
A few sources provide fascinating photos of the current state of many filming locations used in The Karate Kid, including the apartment building where Daniel LaRusso and his mother move into and where Daniel first connects with Mr. Miyagi.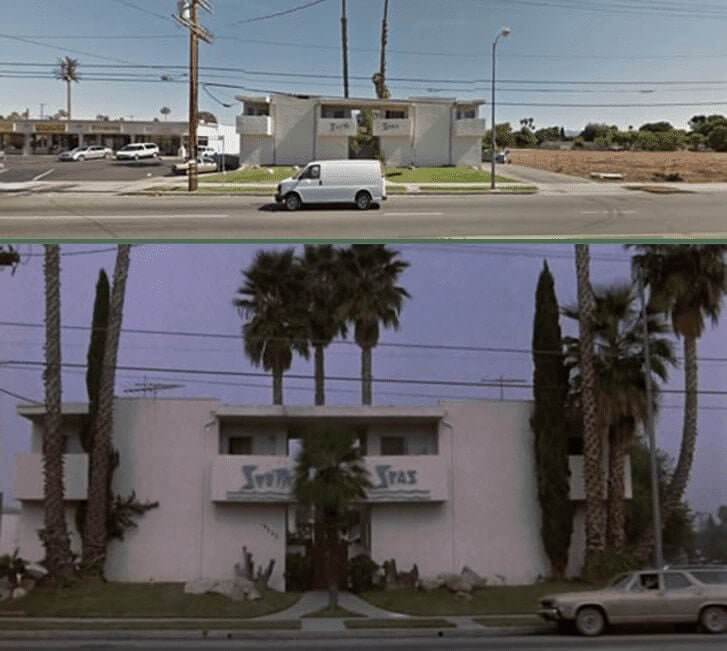 For the most part, these California-based locations are still recognizable and look very much the same as they did back in the mid-1980s. For a complete look at these filming locations, visit itsfilmedthere.com.
It Took a While for Karate Kid Fans to Find the Filming Location for Mr. Miyagi's House.
Although most filming locations from The Karate Kid were found by die-hard fans long ago, Mr. Miyagi's home eluded location-hunting devotees for years. Home to Miyagi and his collection of cars as well as the site of Daniel's unorthodox training, it's perhaps the most pivotal location in the entire movie.
Taking the art of finding filming locations to a whole new level, in 2014 one fan did some expert sleuthing to finally confirm the location of Mr. Miyagi's house. Unfortunately, the property was demolished in the late 1980s.
Mr. Miyagi's Workshop Was Actually a Parking Lot.
While the apartment complex that Daniel LaRusso and his mother move into looks very much the same in real life as it does in The Karate Kid, one exception is the area that housed Mr. Miyagi's workshop.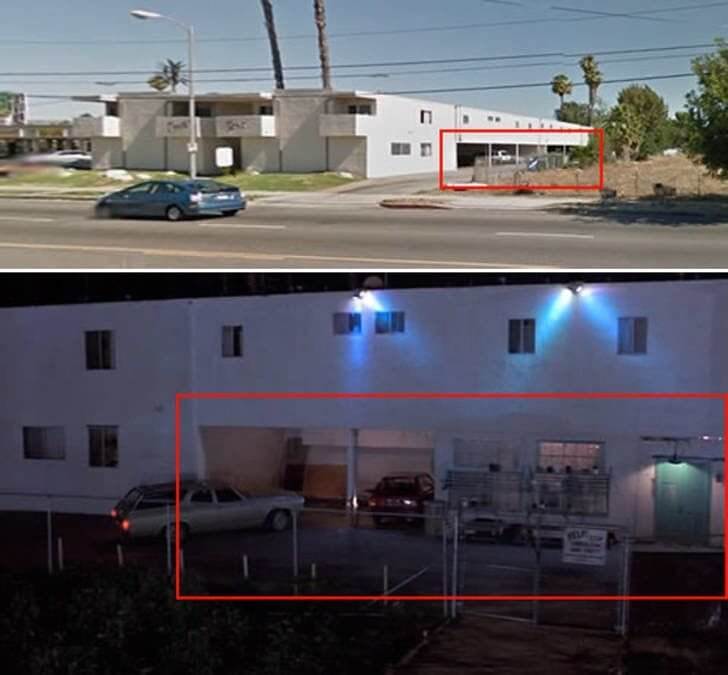 Opening to the exterior of the building, this portion of the complex was actually an open parking area which was walled off for the sake of the production. Comparing a shot from the film to an image pulled from Google Maps Street View, the transformation is clear.