You can get away with saying all kinds of things as you hide behind your made-up online persona. Since there are so many clashes of opinions, disagreements are bound to happen. And these altercations are sometimes a sight to behold. Today we will dive deep into the internet to uncover the greatest comebacks coined by witty netizens all over the globe.
Money-Saving 101
Riddles are fun exercises for the brain but this one posted by a Twitter user is a bit different. As the riddle goes, you have a total of $400 in your pocket. But your ex and your current girlfriend need some money. We suppose the idea behind this riddle is to ask who you value more.
The legendary responder of this tweet chose the single life. According to him, he'd still have $400 and a bunch of unread messages! The internet better thank him for this pearl of wisdom because he might have saved us all a few hundred bucks.
Seizing the Opportunities
We're not sure what was on Paris Hilton's mind when she asked this question. While the question was purely rhetorical, this individual didn't seem to think so. This man saw an opportunity and seized it with all his might.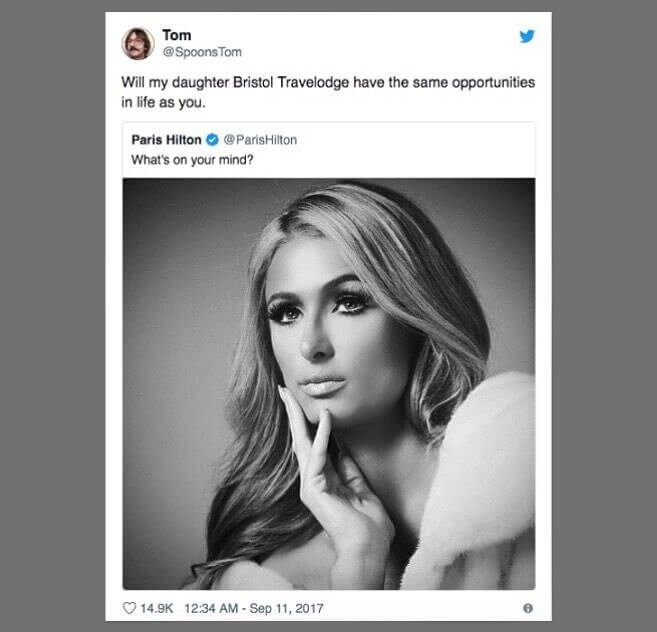 All that this guy can think of whether his own daughter will have the same opportunities as the rich Paris Hilton. We're sure Paris didn't see that one coming! All things aside, it's quite commendable how this man managed to turn this inane tweet into social commentary.
Eating Healthy
Eating healthy is no doubt an amazing habit that should be encouraged. A lot of people online are advocates of healthy eating. From low-carb diets to vegan and gluten-free craziness, there's a lot of healthy eating content to consume online.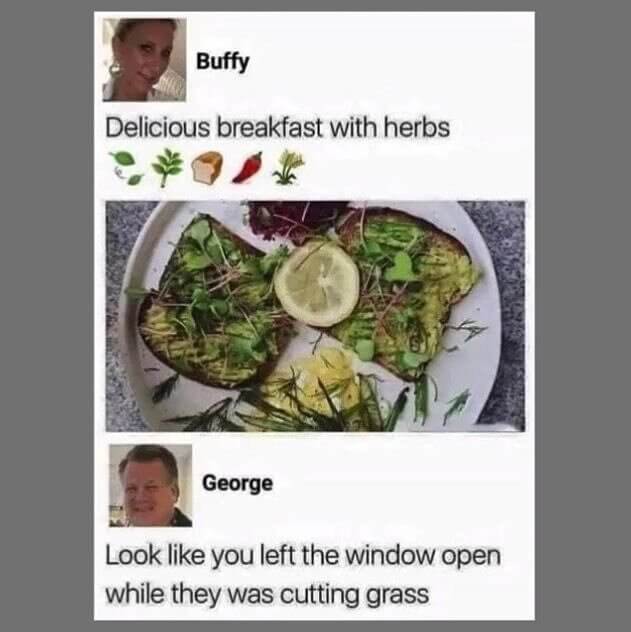 While many derive inspiration from such people, this man was having none of it. The perfectly decent, albeit a bit too leafy, sandwich posted by this woman got quite a cutting response. We can't help but agree with this random guy on his assessment. This grass sandwich is definitely not on our list of foods to try!
Reality Is Stranger Than Fiction
Those who grew up watching the Jurassic Park films know the significance of this tweet. According to this article posted by Entrepreneur, scientists believe they can recreate dinosaurs in the coming five years. While that does sound pretty rad, we can't help but have horrifying flashbacks of Jurassic Park.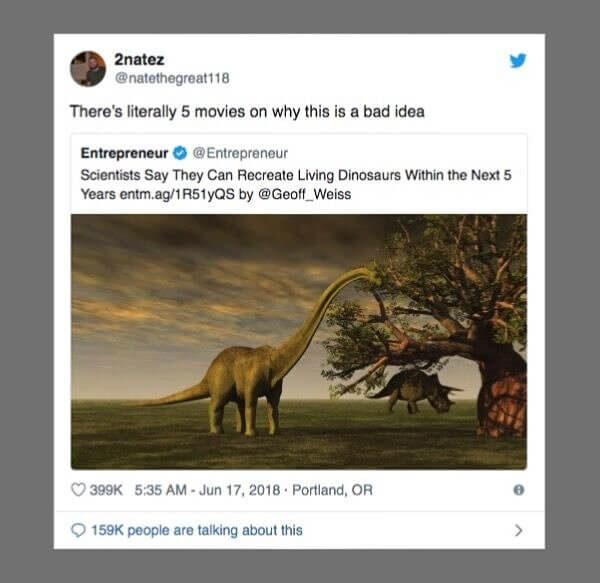 This funny Twitter user rightly pointed out that maybe, just maybe, this is a bad idea. If this does end up happening, we're scared it would play like a bad dinosaur movie. The movies warned us ages ago that ginormous man-eating creatures are better left in the past. Scientists, if you're reading this, abort mission!
Upside Down Shark
Did you know? A large chunk of the ocean remains undiscovered. Who knows what kind of marvelous creatures lurk beneath the surface. The underwater world can be fascinating and terrifying – all at once. While the beautiful wildlife is often a sight to behold, there are some monsters down there that are better left undiscovered.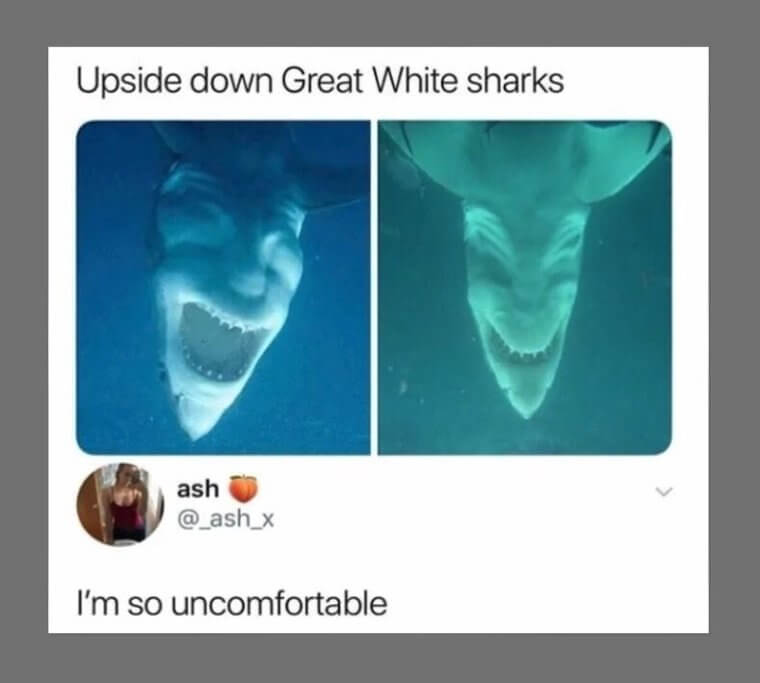 Take sharks for example. Movies like Jaws have left us perpetually scared of those vicious creatures. If you thought sharks are scary from above, this picture will change your mind. Turns out, sharks look absolutely horrifying from down below. Especially when they're upside down. We get you, Ash, we're super uncomfortable too!
Third Time's the Charm
Picture a seemingly nice thanksgiving family dinner. You're eating away like there's no tomorrow. Just when you're getting comfortable, a nosy relative decides to shame you on your eating habits. What do you do? The good news is that you don't have to laugh it off any longer.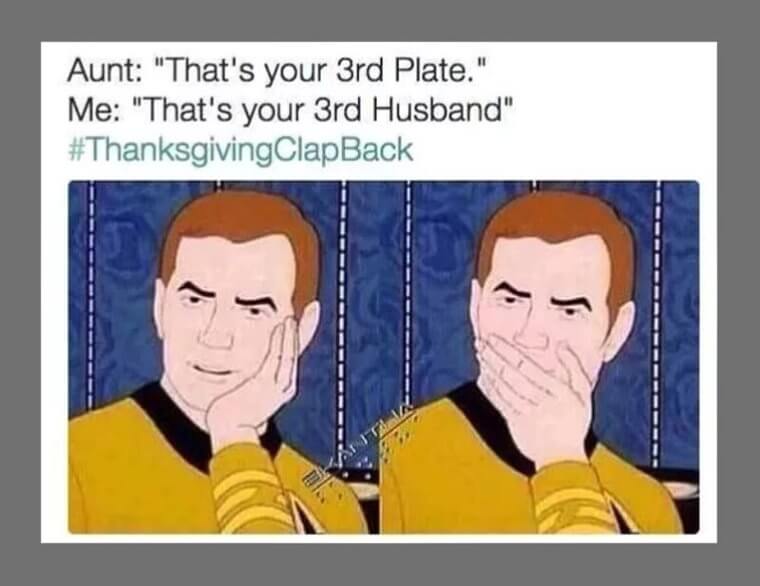 This netizen has come up with the ultimate roast. This comeback will surely leave your aunt, uncle, or other nosy relatives slack-jawed and speechless. A lot of people can be witty but not many can reach this level of savagery.
A Hot Mess
At first glance, this pile of delicious stuff does look appetizing. There's shrimp, cinnamon rolls, and eggs. Things that are generally quite delicious. But wait, what's that? Why is it all in one plate? When you look closer, you see that the shrimp is in full contact with the cinnamon roll. Yikes!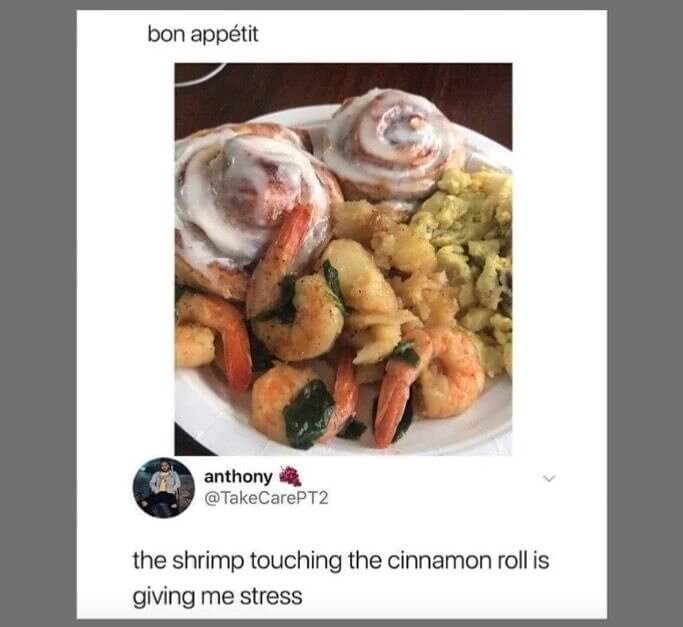 We're not sure what kind of monster is making food plates like this but we wish it didn't exist. Anthony is right, this image is really stressful. Were they out of plates at the restaurant? Because that's the only logical explanation we can think of. Begone shrimpy cinnamon buns!
Savage Tom
If you are ancient, like us, you might be aware of a social media platform called MySpace. Before Facebook was a thing, MySpace was THE place to be. But who knew MySpace's co-founder, Tom Anderson, would be so savage.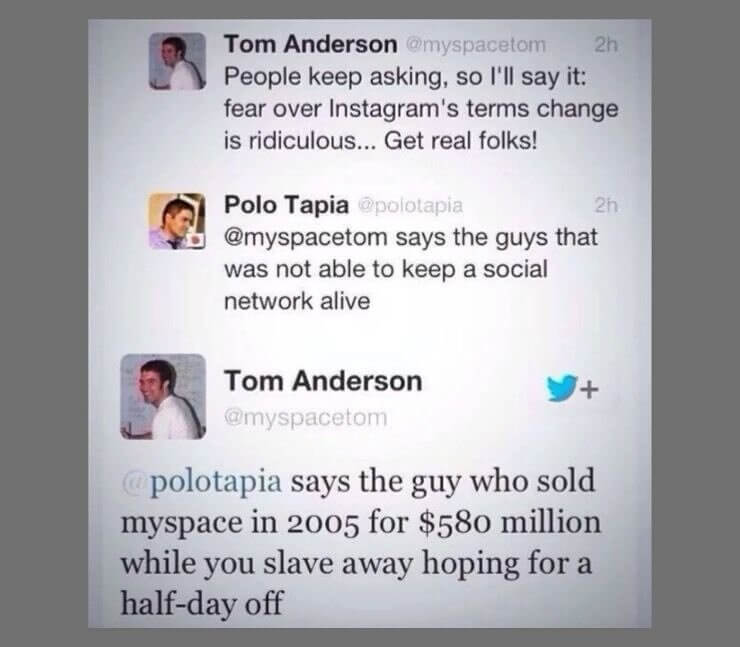 When Tom gave his two cents on something related to Instagram, a Twitter troll decided to poke fun at him. Surprisingly, instead of ignoring this random person, Tom decided to end this man's whole life. We're pretty sure this other guy left with a bruised ego and an existential crisis.
FM Radio
Tumblr has always been a cesspool of fake-deep shower thoughts. Arguably, most of these epiphanies aren't that great. Take this one for example. What if someone in the world was listening to the same song and lyrics as you? It seems to us that the poster must be too young to know the concept of FM radio.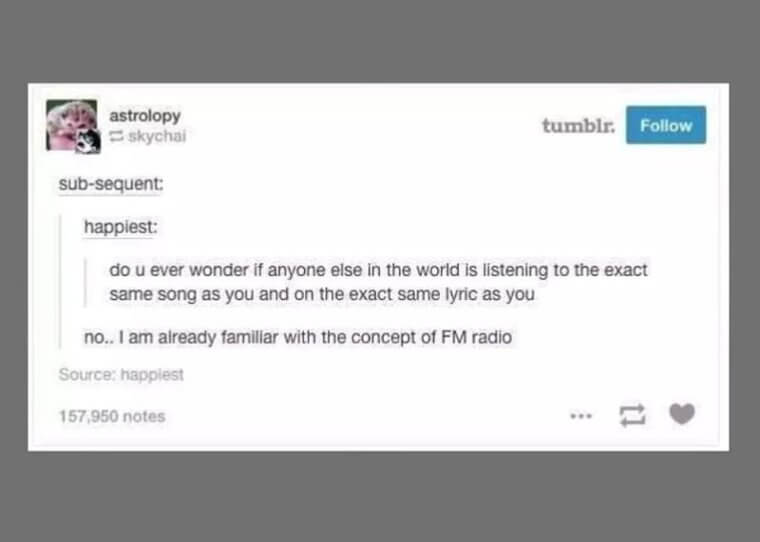 We wonder whether this person was working on turning it into a business idea. If that was their intention, the reply must have burst their little bubble. It's also a nice reminder that FM radio is still a thing. The younger generation wouldn't know!
Ronald Mcdonald
While McDonald's has largely abandoned its old clown mascot, we have to admit that we miss him. This particular tweet sparks nostalgia even more. We thought everyone knew that red and yellow went great together. Perhaps this lady didn't get the memo.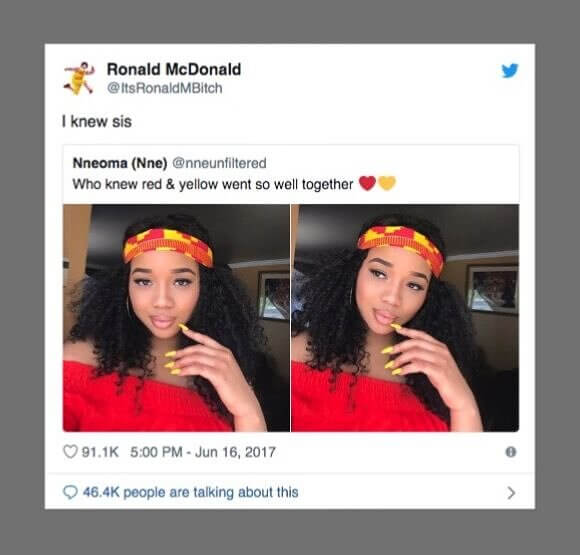 Here, we can see her marveling at the amazing combination of red and yellow. If that wasn't stupid enough, Ronald Mcdonald chimed in to add insult to injury. His simple yet iconic reply has us gasping for air. Ronald has always been a fashion icon after all.
Sandra's Journey
Sandra Bullock is one of the most well-known actresses in Hollywood. From rom-coms to action movies, she's done it all. But as this person points out, a large number of her moves involve some kind of a terrifying journey.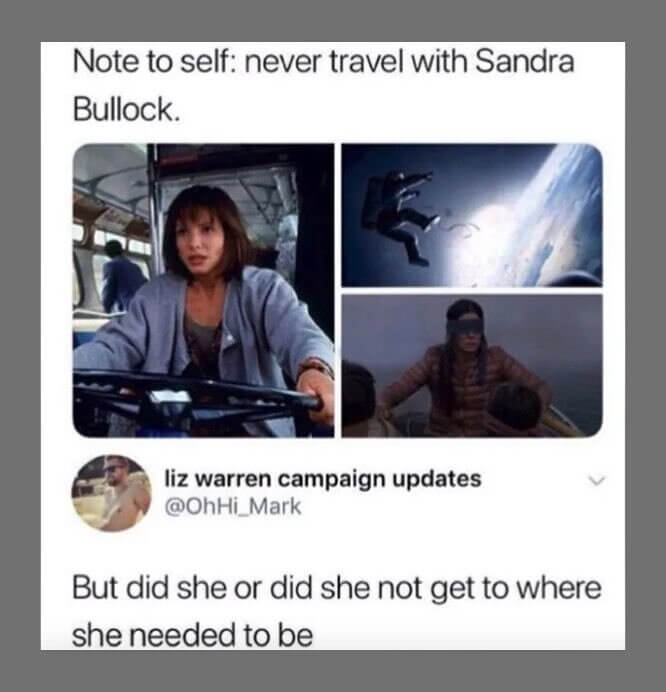 We find both this tweet and the reply to be equally hilarious. While one person points out that traveling with Sandra is probably a bad idea, the other raises a valid point. No matter what kind of hardships she goes through, Sandra does end up reaching her final destination.
Sandra's Journey
Sandra Bullock is one of the most well-known actresses in Hollywood. From rom-coms to action movies, she's done it all. But as this person points out, a large number of her moves involve some kind of a terrifying journey.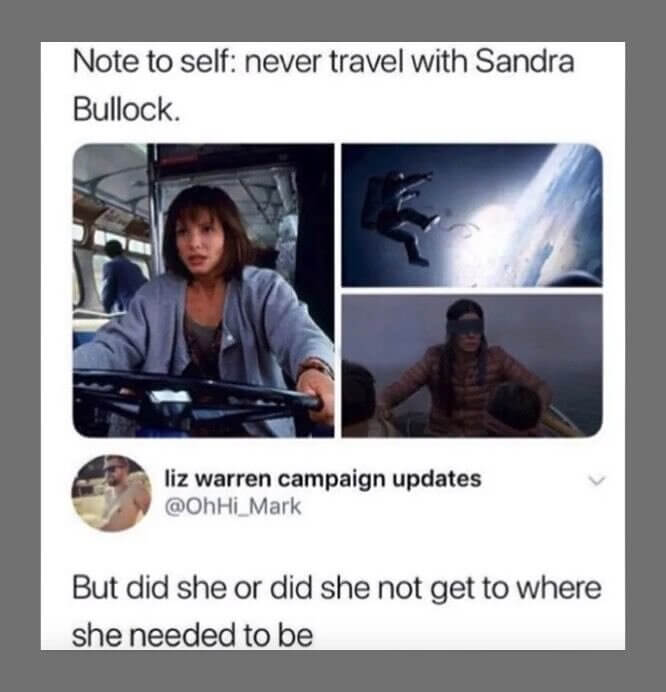 We find both this tweet and the reply to be equally hilarious. While one person points out that traveling with Sandra is probably a bad idea, the other raises a valid point. No matter what kind of hardships she goes through, Sandra does end up reaching her final destination.
They See Me, Rowling, They Hating
Potterheads assemble! JK Rowling and Harry Potter fans will love this delicious roast. Rowling has earned somewhat of a celebrity status after the success of her books. And much like many celebrities, she also gets her fair share of hate.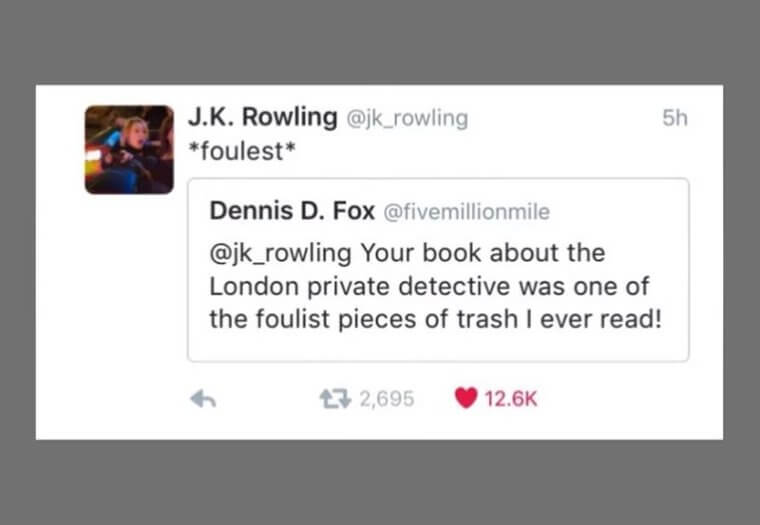 Take this hater for example who found her book to be the "foulist." Unfortunately, they didn't have a spellchecker around to proofread their erroneous message. Rowling was quick to correct the hater in this very obvious spelling mistake. If you want to post a hate tweet, at least make some effort!
The First Try
It's normal to fail on the first try. What matters is that you keep trying and start anew. That was the message this motivational poster was trying to convey. According to them, it's not always wise to fix something that's broken. Sometimes, you just have to start fresh.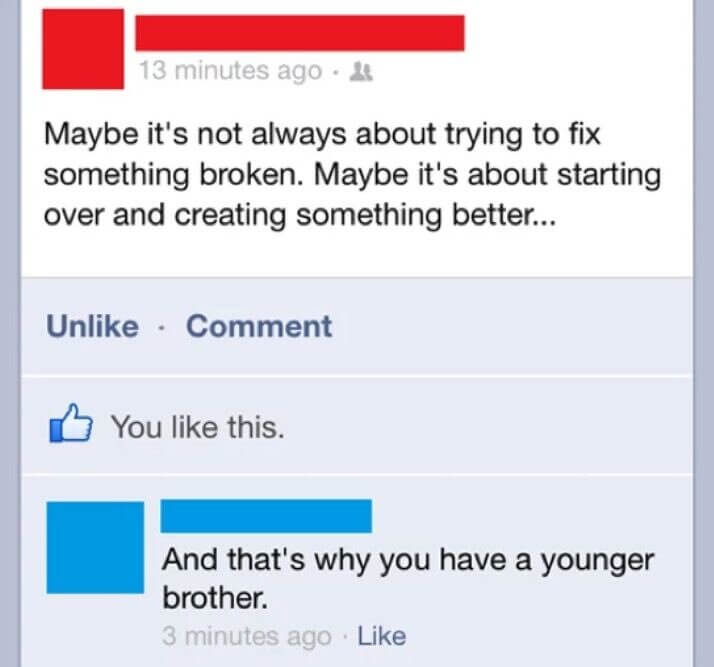 In response to this thought-provoking post, someone decided to post the biggest burn of all time. They pointed out that perhaps that's why the poster had a younger brother. The implications of this are painful and hilarious. We wonder whether the comment was from the younger brother himself!
Bob the Builder
According to this woman, her lovely boyfriend built her a glorious floating bed. We're happy for her and all but this flex is almost too much to handle. The man who replied captured our reaction perfectly. Is this woman's boyfriend Bob the builder?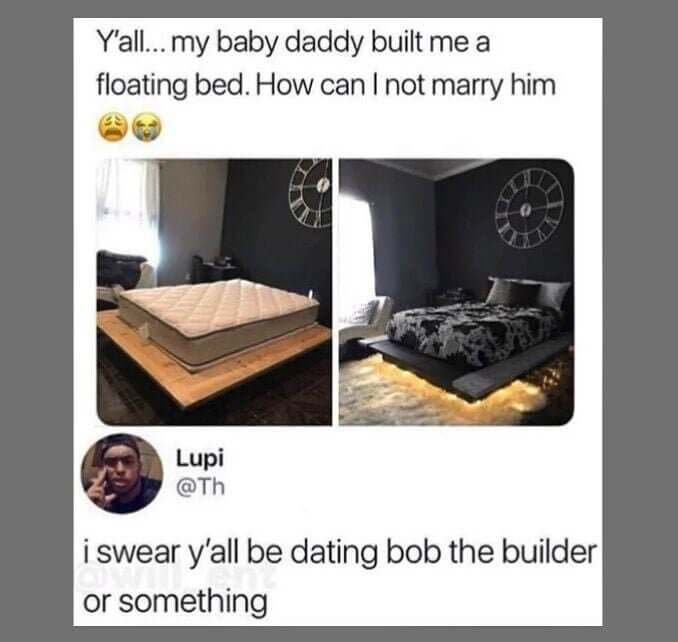 Surely a regular person with little to no carpentry experience could never make this happen. Talk about having unrealistic standards for men! Not everyone can be Bob the builder, ladies. Although we have to admit, the frustrated tone of this reply is pretty iconic.
911, It's an Emergency
The internet is full of all kinds of people. It's impossible to agree with everyone and their different ways of life. However, some things are universally established. One of those things is the correct way of eating bananas.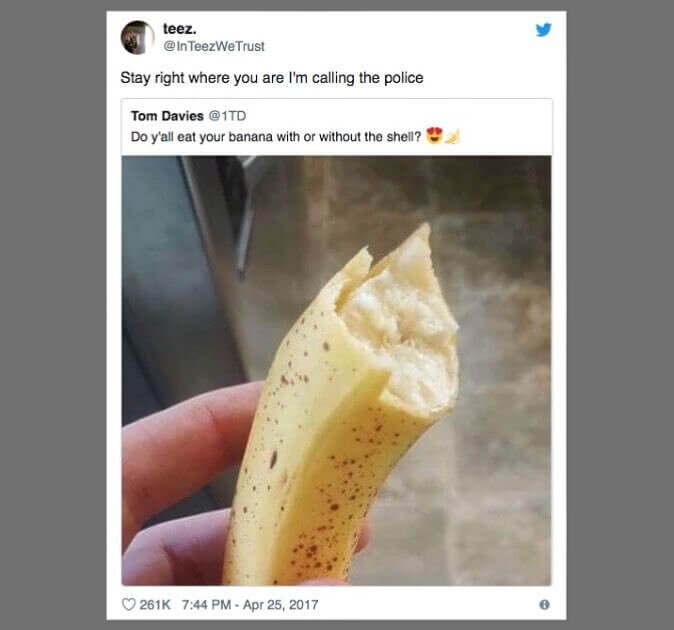 This chaotic individual decided to question the very principles of consuming a banana. They innocently asked, "Do you eat the banana with the shell or without?" The question itself is an insult to bananas and mankind itself. Sir, we think you need an intervention. Calling the police may be overkill but we get the outrage behind the response.
Cursed Awards
If you understand the reference behind this joke, you'll be dying of laughter right about now. Even if you don't know the context, it's still a pretty funny one. Pictured here are a bunch of weird people clothed in shiny golden bodysuits.
They do look like gold globe awards or even the Oscars. This hilarious individual took it a step further by suggesting that this is what Leonardo DiCaprio's nightmares look like. DiCaprio failed to win any Golden Globe awards until 2016 and this response is pure internet comedy.
Don't Make Eye Contact
Imagine sitting in your class just minding your own business. Suddenly, the teacher asks a question and you have no idea about the answer. What do you do? Avoid eye contact at all costs, of course. We've all been there and done that.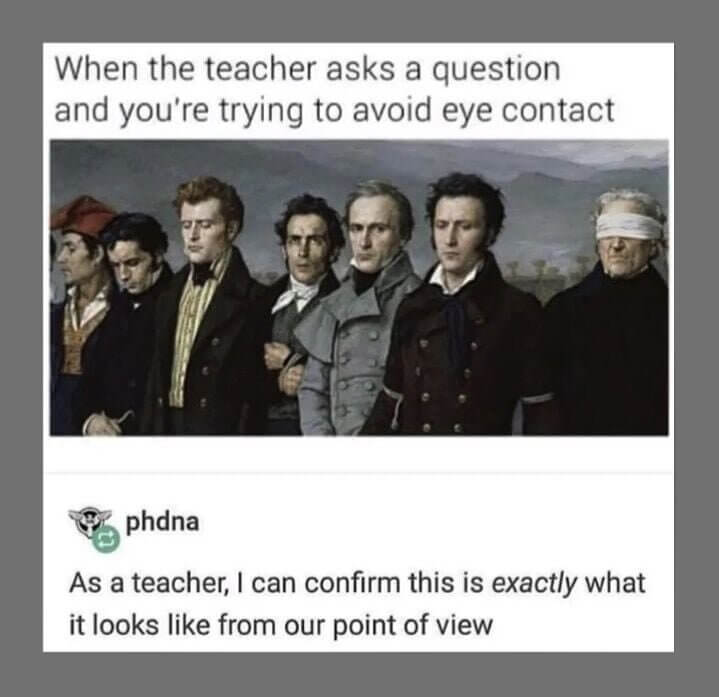 That's why this little treasure is so universally hilarious. It's fascinating to think that no matter what part of the world you live in, you've experienced this in real life. Plus, the picture attached is so accurate that even a real-life teacher agrees with it.
Women: 1, Men: 0
Sometimes Tumblr posts just keep on giving. This is one of those examples. Men lovemaking sexist jokes on any occasion that they can find. Here, we can see a man comparing women to the search engine Google. Wow, so original!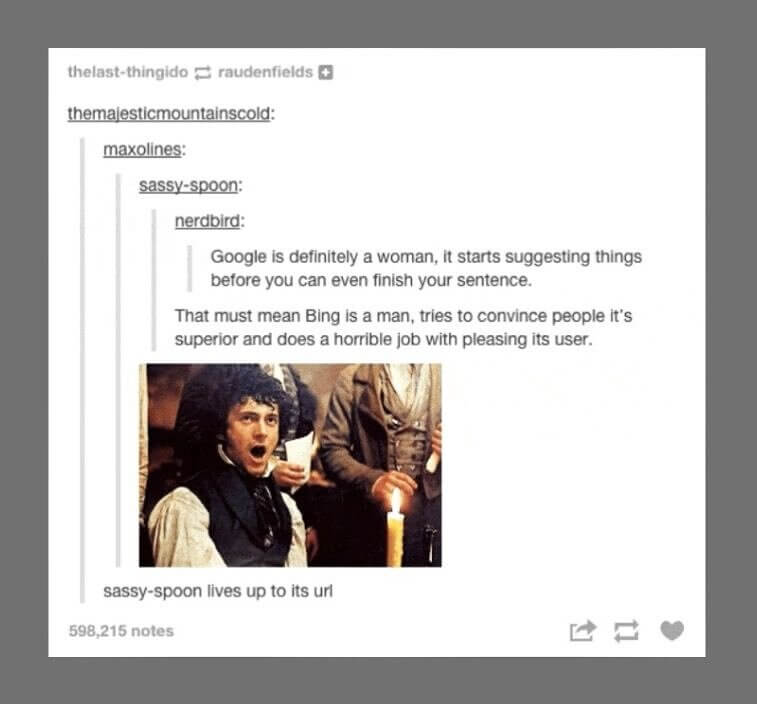 In response to that, someone rightly compared men to Bing, a search engine no one is satisfied with. We really love the gasping meme attached to the thread. What makes the response even funnier is the Tumblr user's name. Sassy Spoon strikes again.
The Big Bang Theory
If you're a fan of the Big Bang Theory, this one might offend you badly. However, we think it's all in good fun. Surely, the audience of this funny show can take a joke. Especially if the joke is so accurate. We mean, the show does overuse their laughter tracks a lot.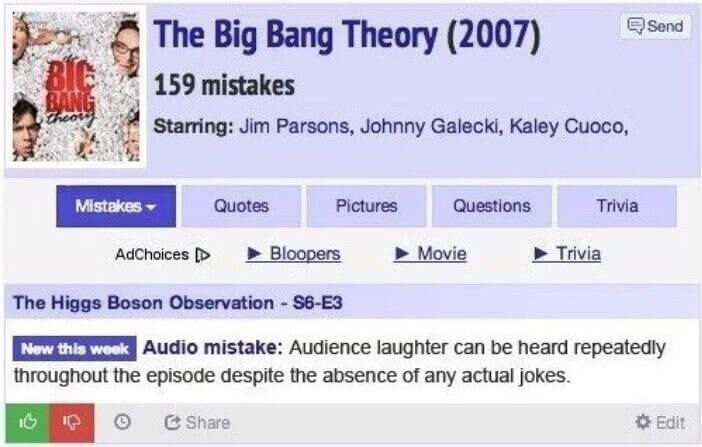 Clearly, the series isn't everyone's cup of tea. But this person has taken real offense at the fact that there are no jokes in the show. Implying that a sitcom doesn't have any good jokes is quite a savage burn. Sorry Big Bang Theory fans, but this one is just too funny.
The Classic Joke
We have to put it out there, there's nothing genius or revolutionary about this burn. It's a purely juvenile joke but we would be lying if we said it didn't make us giggle. This poor, innocent soul thought that mentioning his mother on a Reddit thread was a good idea.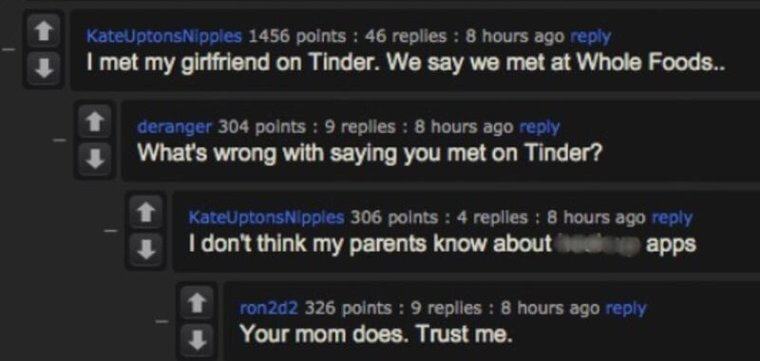 Lo and behold, a troll arrived just in time to roast him. Just as the guy said that his mom probably doesn't know about dating apps, the commentor struck. The simple yet loaded reply definitely deserved a few good chuckles.
Optical Illusions
To dial it down a little, we present to you a funny observation instead of a scathing burn. In this rare scenario, the response isn't insulting or witty. It's just a simple agreement devoid of any sarcasm. How refreshing.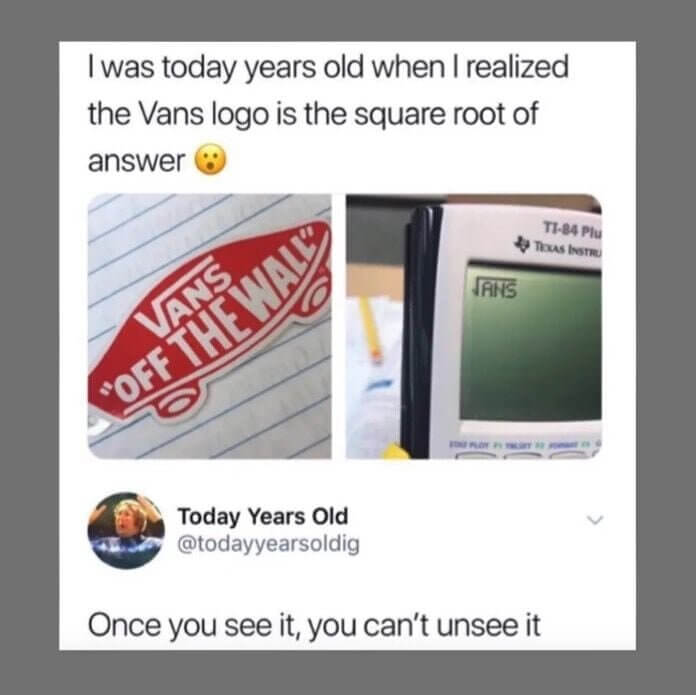 All that aside, we think this is a pretty neat observation by a random netizen. Have you ever noticed that the Vans logo was the square root of ANS? We think the Twitter user must have been studying way too much mathematics!
Squeeze Away
We love posts that highlight how different people do random things. This is one of those posts that highlight how people use toothpaste. Are you an A-type or a B type? Do you like to squeeze it all from the bottom or are you too lazy for that?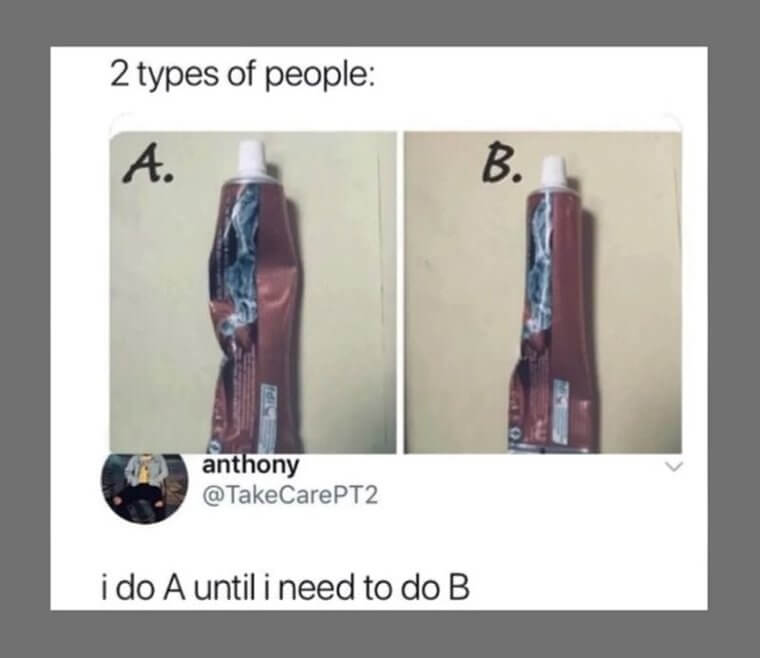 According to this response, there's a third way to do it. This individual gets the best of both worlds. They use technique A until they absolutely need to do B. Honestly, this seems to be the best course of action.
One Promotion Coming Up!
This post contains quite a thrilling story. Once upon a time, an employee unknowingly walked in on two department managers making out. That wouldn't be too scandalous if it weren't for the next line in this story.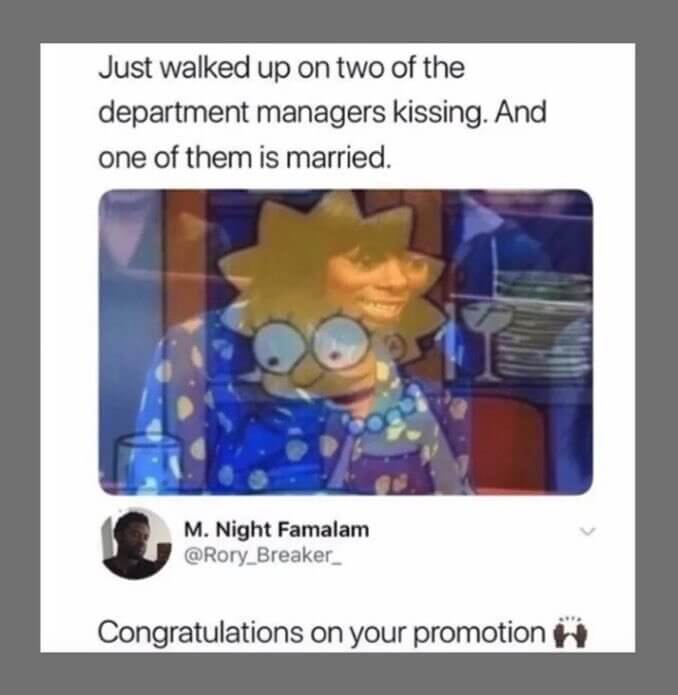 One of the managers is married! Uh oh. Seems like this employee got himself into a pretty sticky situation. Fortunately for him, he can turn this situation around. As the person who replied says, perhaps a big promotion is in order.
Hola Amigo
Some posts really make you wonder whether people have ever heard of something known as spell checkers. Take this one for instance. What could make you write English so badly that it starts looking like Spanish?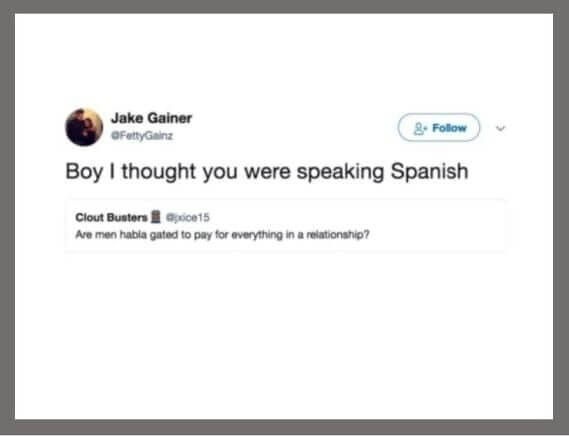 Okay, maybe we're being a bit too harsh on the guy. Making mistakes is natural and there's no big deal if you can't spell. However, the response does have us laughing our behinds off. In the grammatically challenged person's defense, you eventually do understand what they're trying to convey.
Slap It As You Mean It
It's a fact that humans often have the attention span and patience of a goldfish. We need lightning-fast responses on everything we do. Anything less than that annoys us to no end. Something similar happens whenever a remote is not working.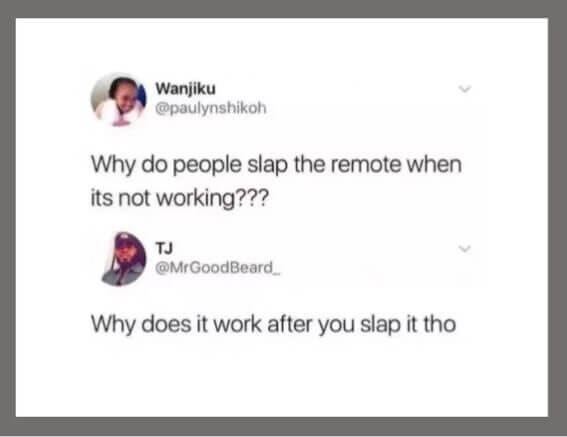 However, there's one mysterious thing that always works. Slapping the remote like there's no tomorrow! We're not sure what the logic behind this is but it seems to work like a charm. We completely agree with the response on this one.
Mommy's Boy
We're not sure what the story behind this one is but the best part about it is the response. This poor guy was just sharing a little achievement of his life and look where it got him. A girl had finally confessed her love for him.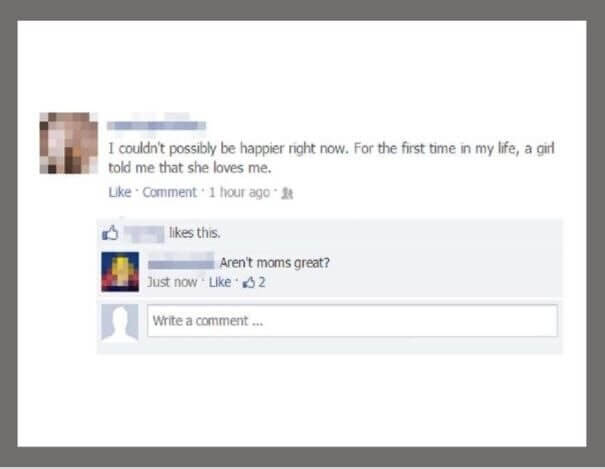 It seems that he was so excited that the first thing he could think of was to tell all his Facebook friends about it. Who knew a friend of his would be so savage though? The friend commented that mothers are great, aren't they? Ouch. This one really hurts.
Dreaming of Sleep
This one could easily have been PG18 if it weren't for the hilarious reply. The response to this very suggestive tweet is so normal and so relatable that everyone will agree with it. What is the most exciting thing one can think of doing in the bedroom after all?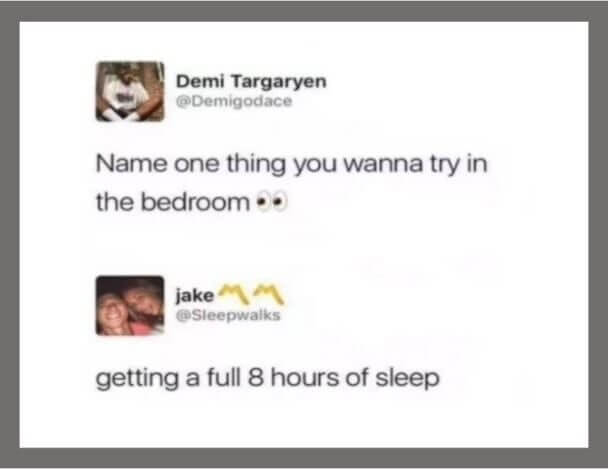 Getting eight hours of sleep would be good, thank you very much. Most of us are overworked and perpetually tired. One of the biggest reasons for that is that we don't get enough sleep. Here's to hoping everyone gets some quality sleep!
Waterproof Man
How great would it be if we didn't have to use an umbrella on rainy days? This woman was incredulous about a grown man using an umbrella. We're not sure why adult men can't use umbrellas. The funny response is the best comeback to this weird assumption.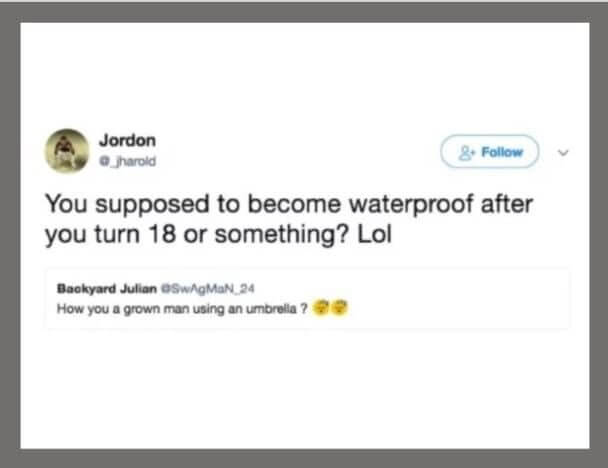 The responder asks whether men become waterproof after they grow up. We're sure that was enough to shut the lady up for good. Although, we still wonder what possessed her to make such a post in the first place.
Photographic Evidence
It's one thing to tell a lie when there's a good chance of you getting away with it. It's another thing when you make a claim of something and attach photographic evidence proving the contrary.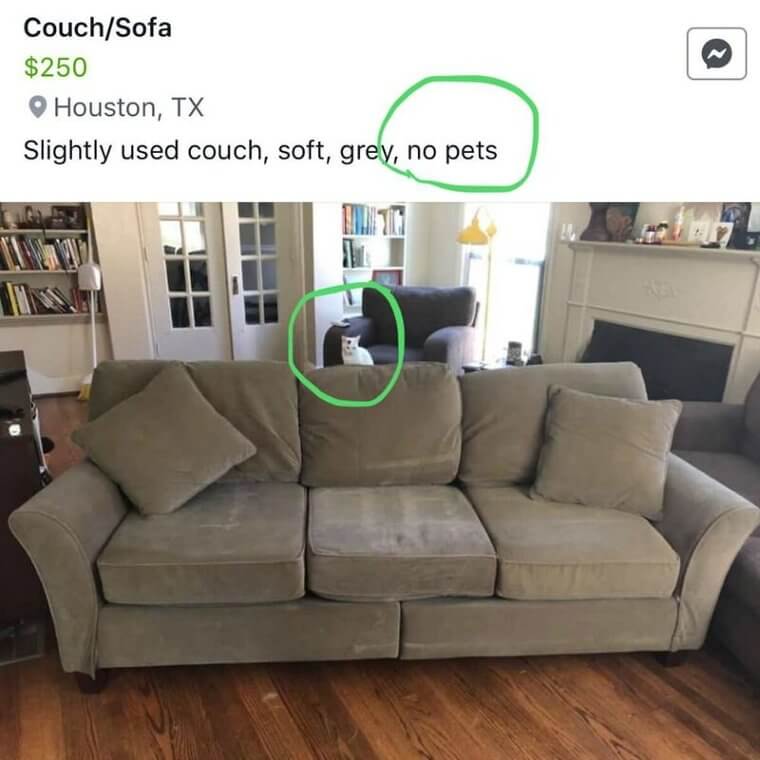 Despite looking a little more worn than "slightly used", the advert also ensures potential customers that this furniture has lived a pet-free life. Just don't pay attention to the very visible cat that is currently eyeing up one of its regular/favorite sleeping spots. At least it appears to be grey, soft, and a couch. Ticking three boxes isn't bad.
Fox Off!
As well as watching Jimmy Kimmel interviewing Megan Fox, someone behind the Huffington Post Twitter account thought it'd be a good idea to don their shining armor and play the role of white knight. Sadly for them, they hadn't got all their facts right before saddling up.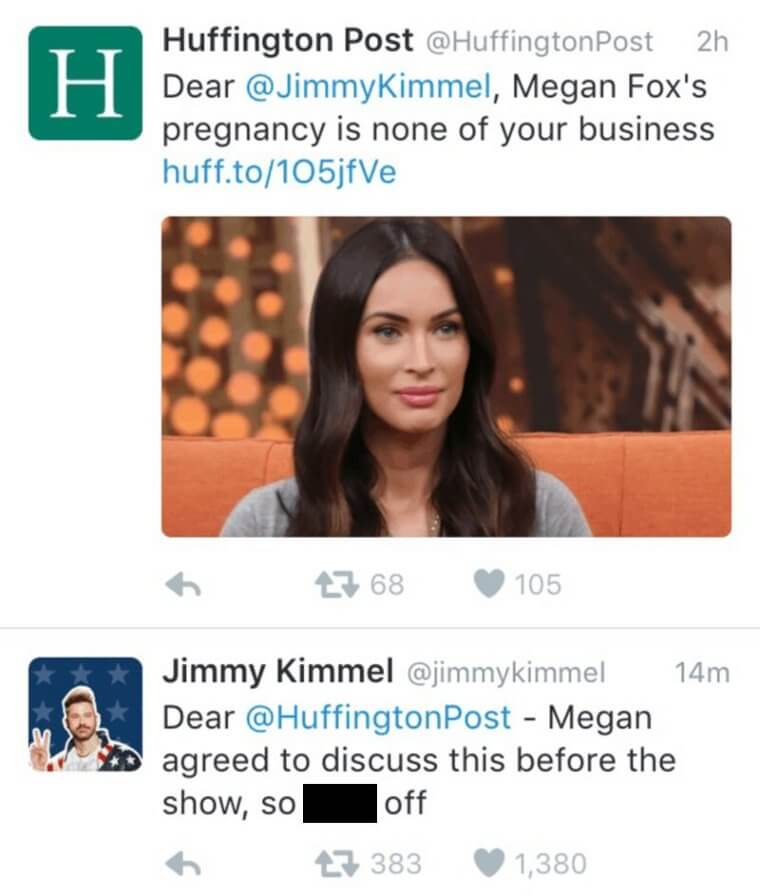 Jimmy Kimmel and his team had obviously arranged what topics were acceptable to discuss, and which weren't. Kimmel had no problem answering the door and telling the wannabe journalists where to go...in as many words.
Accidental Photograph... And Comment... And Upload
Even though modern phones consider themselves smart, it's still simple enough to pocket-dial someone and not realize. It's easy to take a photograph of the floor when playing with your phone and pressing the wrong button. It's not that easy, however, to accidentally take a picture, comment on it, and post it on a social media platform.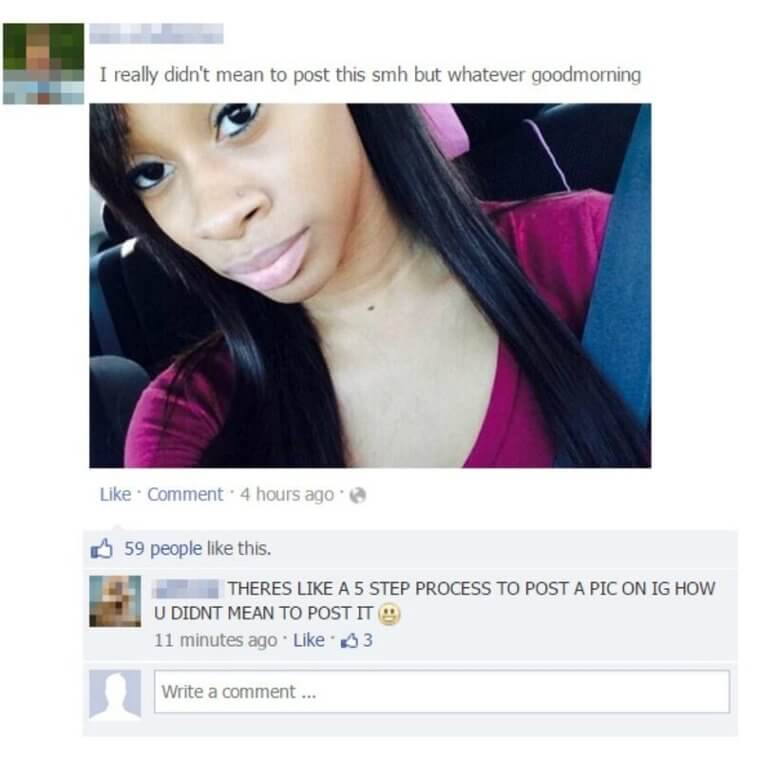 Thankfully, common sense prevailed and someone else chimed in to mention the five-step process of uploading something, and how absurd it is that one could accidentally do so much.
Stay In Your Lane
Competition is healthy. Going head to head with someone of a similar level often brings out the best in us. Losing today can cause you to double down on your training to ensure next time you meet, you're the one that comes out on top. This sore loser had a different approach.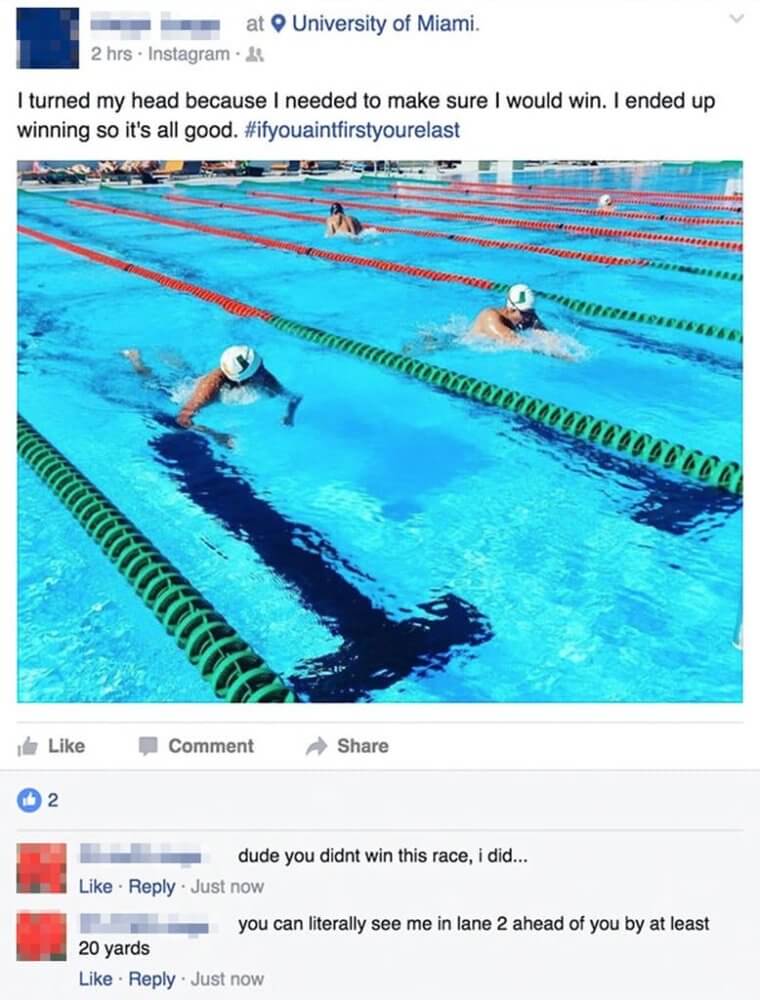 Instead of taking his loss on the chin and improving his game for the future, this chap decided to jump into a fantasy world where he claims to be the victor. As luck would have it, the actual winner of the race showed up and put things straight.
Empty-Headed Attempt
Thanks to the internet, it seems like the duping-delight of April Fools Day is tempting to some all year round. All it takes to pick up a little steam is for one slow-witted surfer to see something semi-convincing, ingest it, and then sneeze it all over their friends, family, and followers.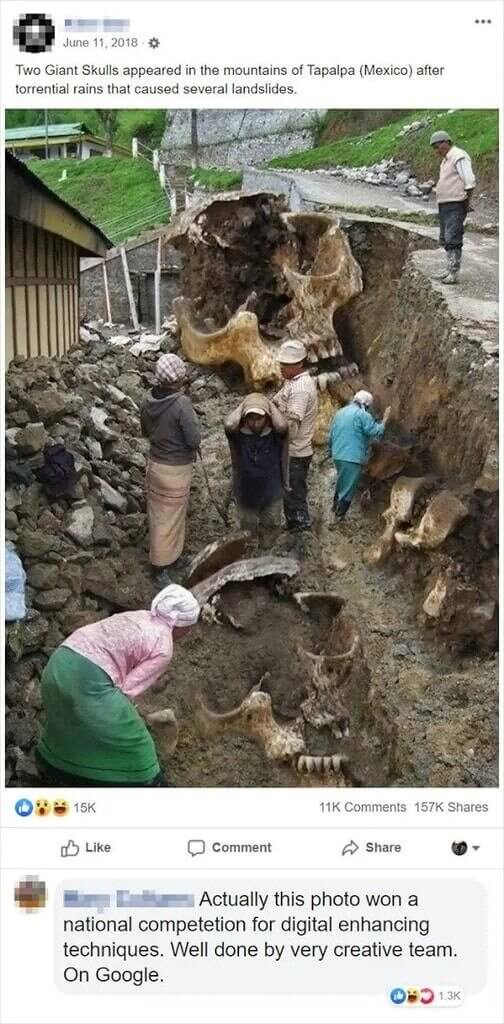 This individual made quite a convincing case with this post, claiming two giant skulls had been unearthed in Mexico after rain-induced landslides. As you can see below the picture, quite a lot of people took the bait and interacted with it. Below that, however, is someone stating the truth behind the photo; that it won a digital enhancing photo competition.
Don't Blame It on the Dog
Dogs have been falsely accused of many of man's errors. Be it that scratch on the door, that muddy footprint on the carpet, even the odd smell that appeared from out of nowhere while watching TV. There are some things, however, that can't be blamed on the dog!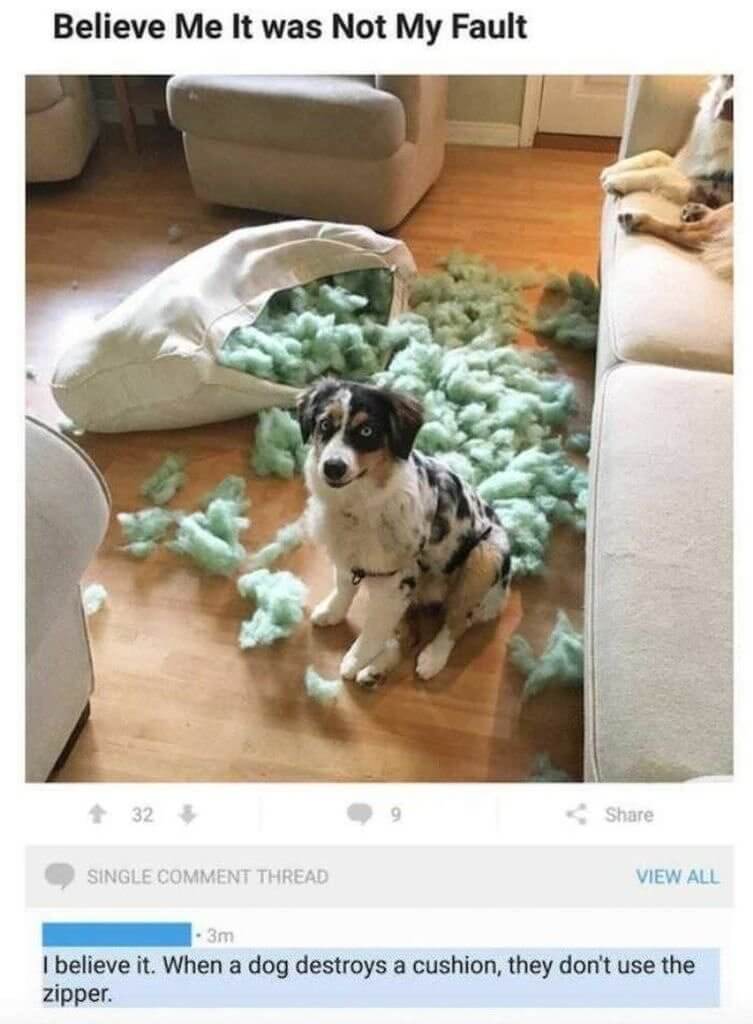 This attention-grab was foiled when someone pointed out how careful the destructive doggo had been when unzipping the cushion, before making a mess. It seems the owners were just using their pets for a little social interaction.
When Your Pet Is More Likeable Than You
Once upon a time, walking your pet out in public, or showing off a cute photograph was enough to satisfy the needy nature some of us have. Thanks again to the internet, this too has turned into a competition. Here, someone uses their innocent little kitten in their plot to get a few likes.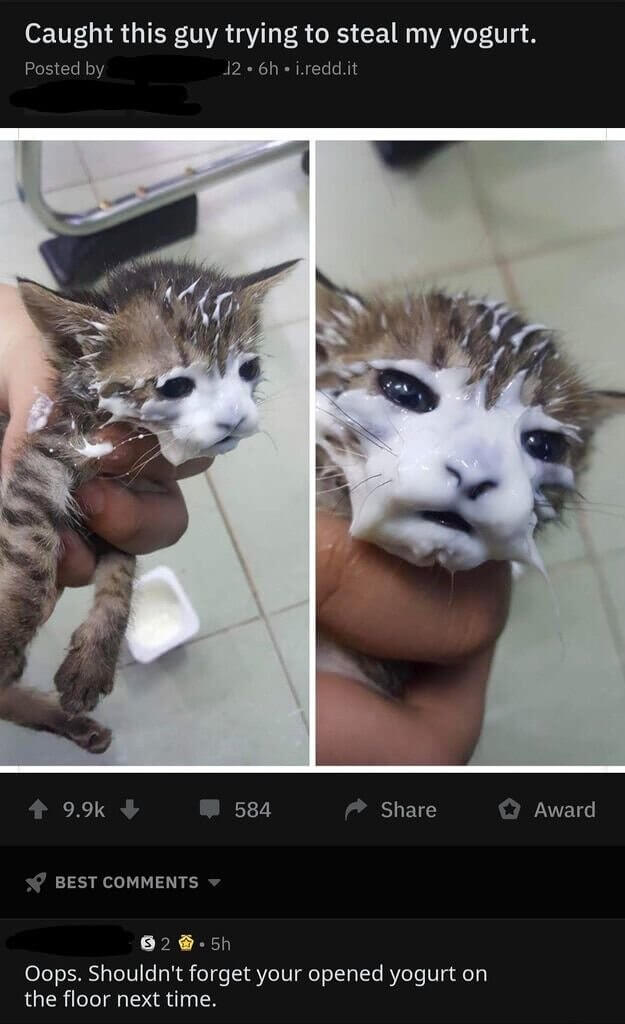 The framed feline looks more confused than guilty, and there's a reason for that! The human involvement in the staging took a photograph of the yogurt pot that the kitten "stole" from. Notice how it's on the floor, where anything of almost any height could reach it. Poor show, human.
Lie-Styles of the Rich and Famous
Even the rich and famous are guilty of using social media to distort reality at times. Here's Lil Bow Wow's post at the top of the image, informing his fans that he's on the move to New York City and showing a private airplane.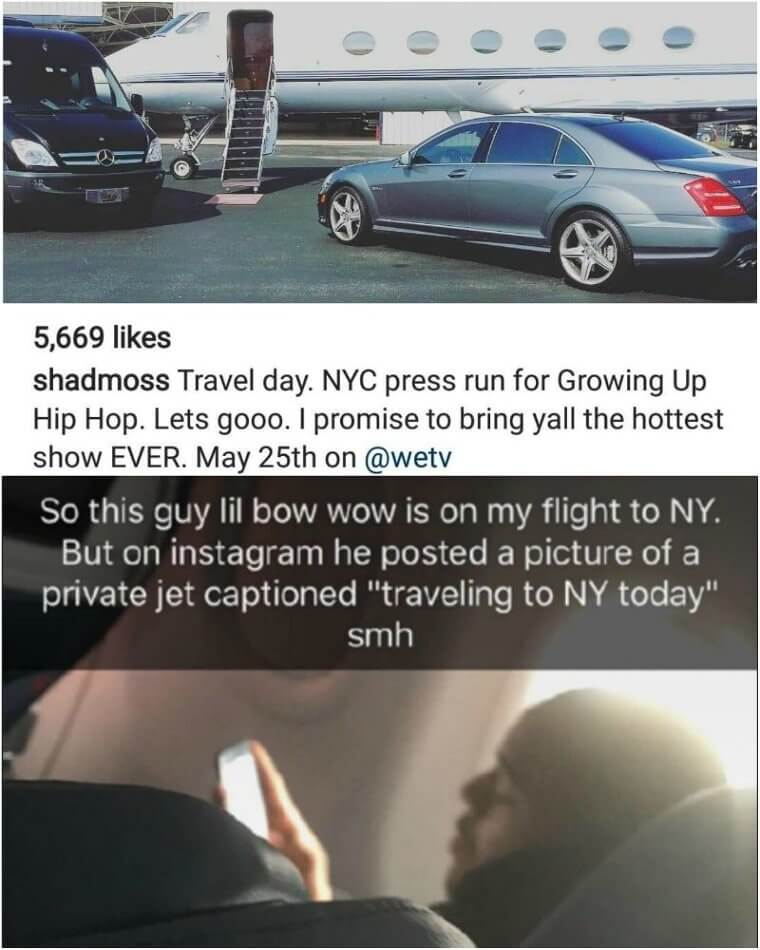 Coincidently, a passenger on a public flight happened to see the post, as well as spotting Lil Bow Wow sat only a few seats away from them. This obviously wasn't the private flight picture that the little rapper had painted online, and he was soon called out on it!
An Old Classic
To be fair, this was a trick used before social media, but with the new generation of fakers, it's made a come-back. However, in this modern era, there are more people with cameras, and would-be-tricksters are more likely to be exposed.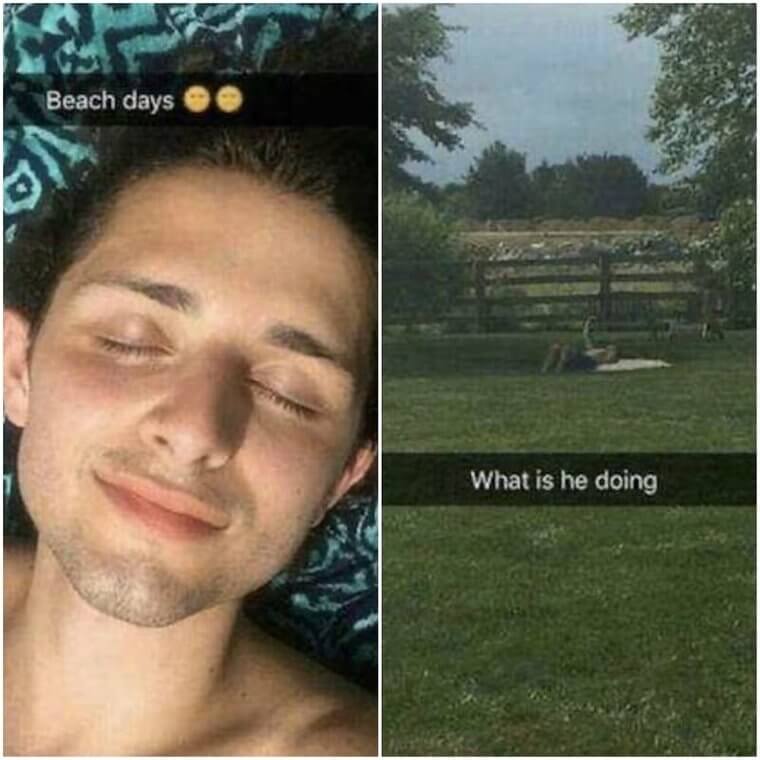 While posing in a public field, this smug sunbather was caught pretending he was in fact bathing on a beach. With a nice open field and fresh air, there's no reason to be greedy and gloat that you have something else.
Honest Reflection
Every opportunity to pose and post creates an opportunity to potentially give the game away when filling out the description section. Instead of saying nothing, or even just being honest and saying you're in a vain mood, this youth tries to blame the need for a selfie on the traffic.
Even if he was running late for an important meeting, there's an even more important lesson to be learned here, sunglasses are reflective! Maybe he'd have gotten away with it if camera phones were still relatively low quality, but everyone and their dog can see this obvious lie. Thanks for pointing it out too, Marvin!
They Lie, He Tweets
It's said that it's not polite to speak ill of the dead, which is reasonable enough. But what about when you treat the living as if they're dead? Rotten Tomatoes managed to put their foot in their mouth when tweeting a link to an article they'd published about the legendary filmmaker, John Carpenter.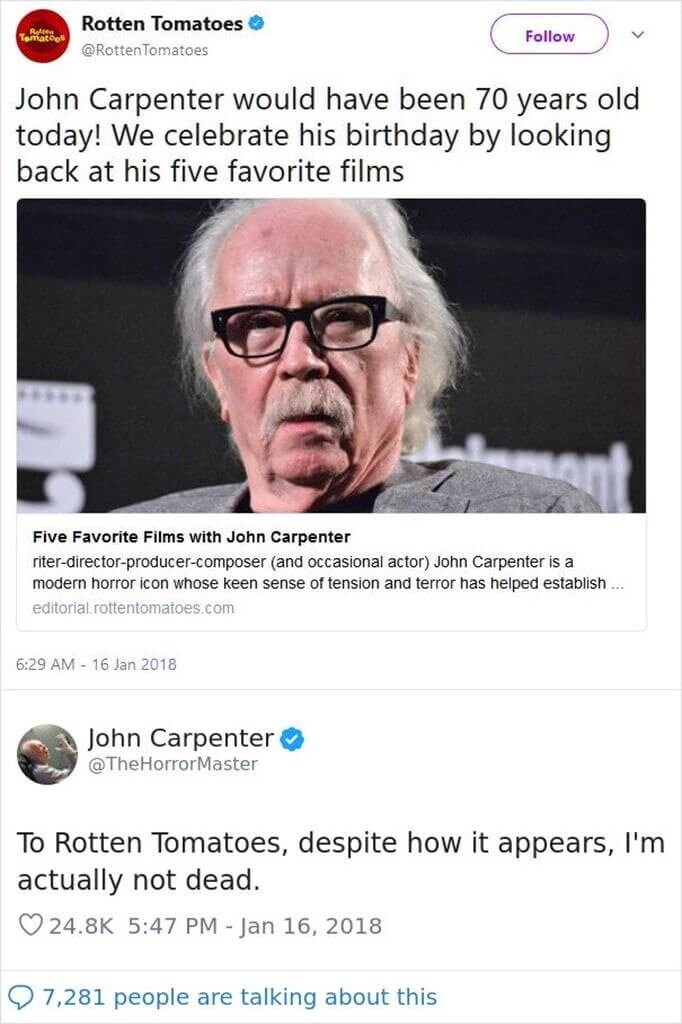 Maybe they knew all along and wanted the attention to help their article's readership. Maybe they have much fewer staff than perceived and they simply misread the information from somewhere else. Either way, the man himself got in touch to inform them of their error.
Out of Reach, Out of Lies
Here's one of those good ideas you really want to work, but doesn't. Sometimes you have to know when you've been defeated. Sometimes you need to know when to give up and try something new. Sometimes you just keep going and make yourself look daft...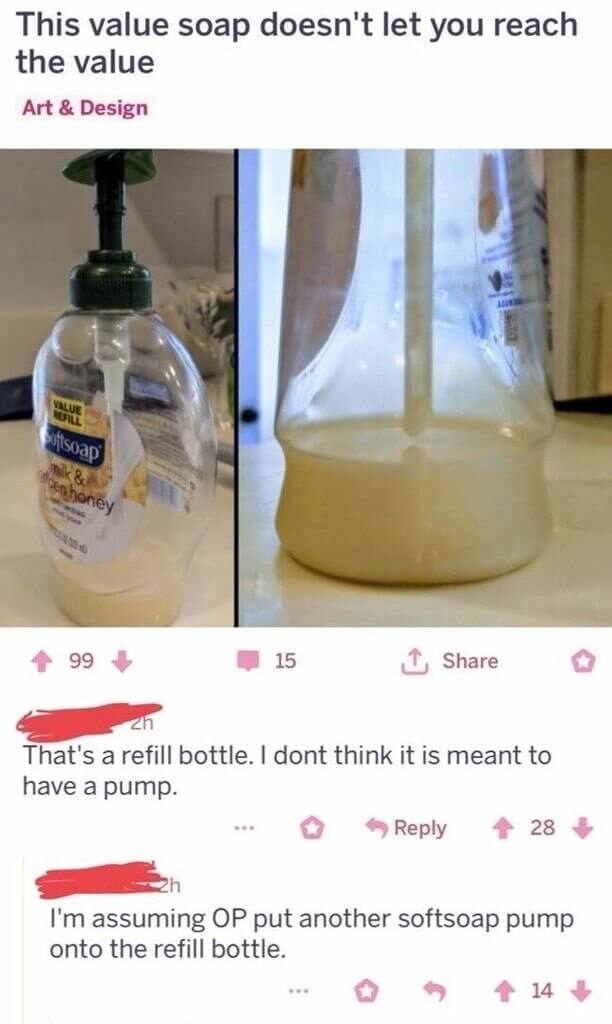 If this isn't a case of someone trying to argue something into becoming true, then it's a good job the internet was around to save the day. Otherwise, the poster of this may have spent way too much time trying to get that last bit of soap from the bottle.
The Farce Is Strong With This One
Celebrity endorsements can be a great thing. Having an iconic character's actor give something the thumbs up is a great way to get their fans to check out what they're raving about. It can also be a great way to get others to take your favorite film a little more seriously.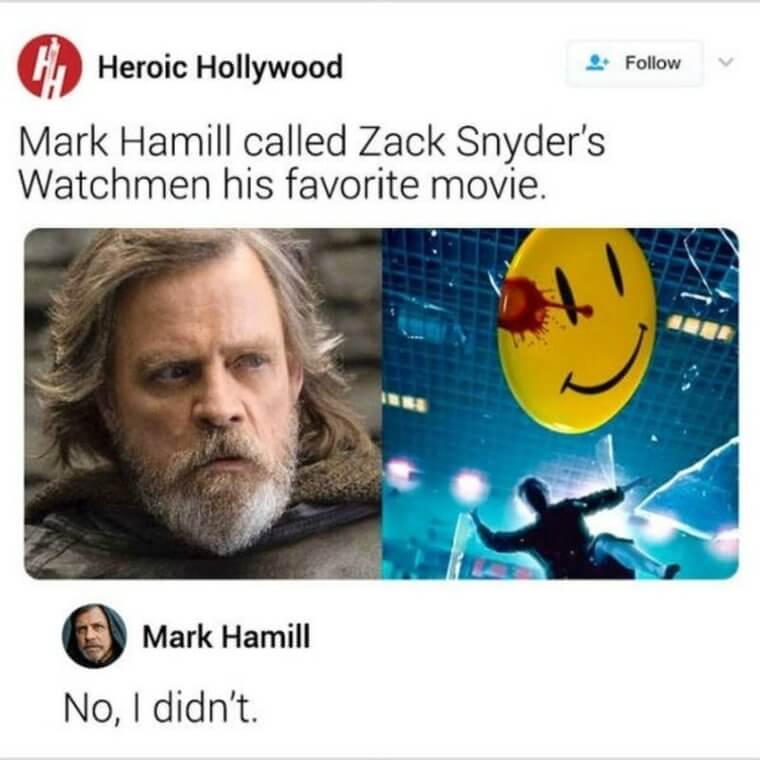 Unfortunately for Heroic Hollywood, Mark Hamill is ever-present on social media and was quick to deflate the claim of their favorite film also being his favorite film with a simple response.