Photoshop experts have been in high demand since the rise of social media. Some photoshop masters are not just creative but unbelievably funny. A man named James Fridman is one of those masters. He can be the photoshop genie to fulfill your wishes. However, he has one reminder, "Be careful what you wish for," because if you aren't, you might have a photoshopped picture that'll end up on this list...
The "Red" Sheep
A guy felt singled out of a family picture when he was the only one with red hair in a family of all brunettes and wanted to change the picture, so he could fit in with the rest of his family.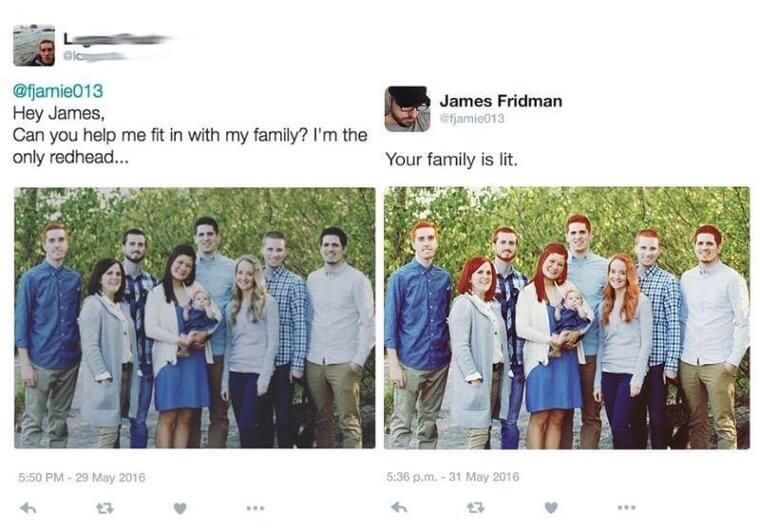 Thus, he asked James for some help. But of course, our photoshop master has a different and unique way of dealing with this kind of thing. Instead of making his hair brown, he just turned the whole family into a real-life Weasley household. Now he's got no problem fitting in, right?
James gets many requests for pictures to add to a scene or make it look like the scenario is more than it originally looked. For this request, a person asked James to make his picture look like a crime scene was occurring, making a picture of him lying on the grass become more gruesome or interesting.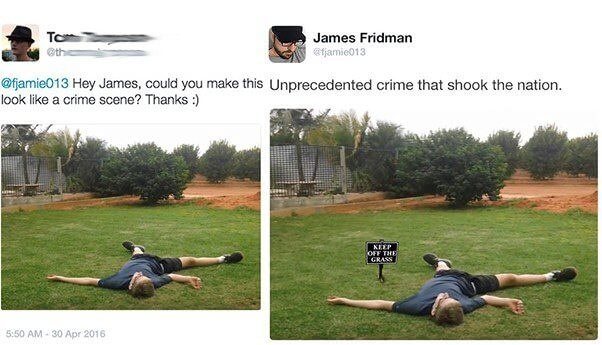 James delivered and delivered well. The simple change and the hilarious caption encapsulate the request of a crime scene occurring ideally, and without changing the photo drastically, made it a request to remember the nation-shaking crime of going on the grass.
James doesn't like lazy people, and if something is brought to him that wants to be changed could be fixed easily by the person requesting the change, James will make it known to them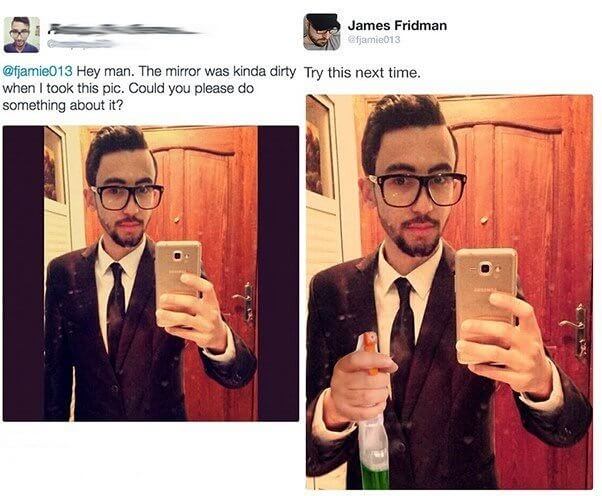 In this picture, the request to clean the stains off the mirror is dismissed into a casual suggestion of what he should have done, which is clean the dirty mirror himself. James hopes that this person learned from this that his pictures were good enough on their own, but he just needs to put effort into having his household as clean as he looks in his fit.

If you dont give James a specific request, he'll change the picture any which way he pleases. This person wanted some photoshop editing done but wasn't specific about what he wanted to be changed, just that he wanted the picture edited.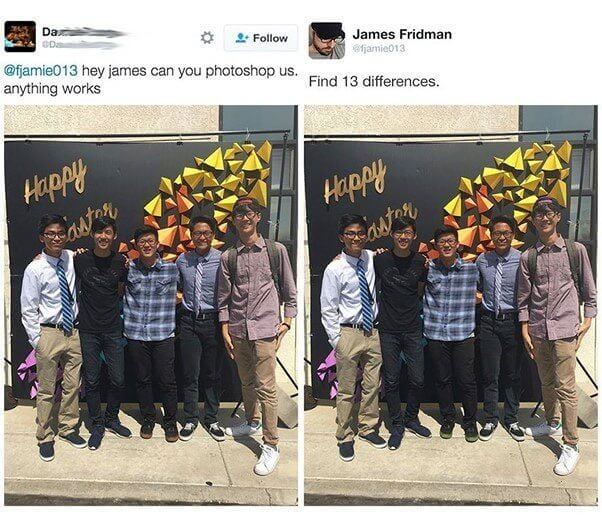 Having the request be non-specific, James had a little fun and sent back a spot-the-difference game explaining he slightly changed a few critical parts of the photo and that they needed to look for the changes. The requestee might have wanted something more drastic of a change, but now you can have fun finding the differences between the photos. Can you spot all of the differences?

It is as easy as ever with technology to put a missing person into a reunion photo or add a celebrity you haven't met to your picture. For this request, James was asked to photoshop Beyonce and jay z into his picture because who wouldn't want to meet the two?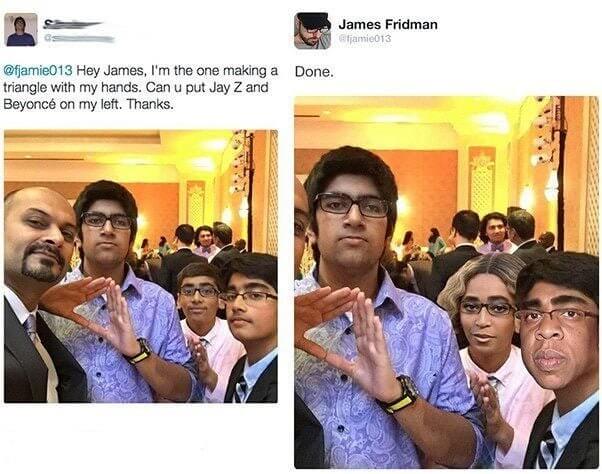 James executed his job perfectly, but it isn't very likely that anybody believes that the finished product is authentic. Still, it isn't a crime to want to meet Beyonce, and completely understandable if this person decides to frame this photo!

This user sent in a photo of himself thinking about something pretty intensely, so it makes sense why James edited the photo the way he did. The request to make it look like he is "contemplating something really important" is ridiculous because he already looks like that, so what more can be added?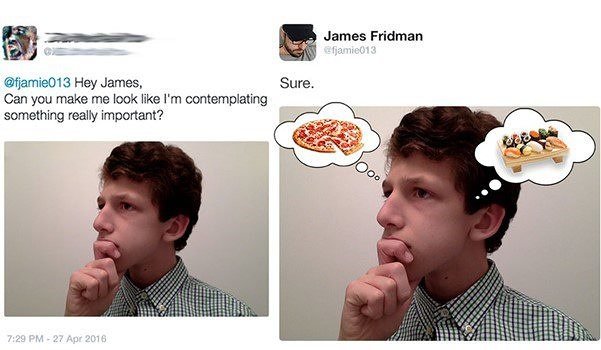 And that's where James comes in and perfectly shows what else needs to be added to the photo. What's more important than thinking about food? 

Sometimes people want to photoshop a picture to have a different colored shirt or a different background, but this user was going for something a little more unique and creative with his request.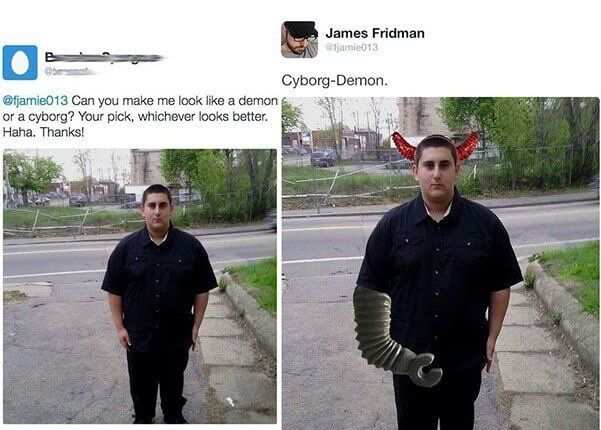 Asking James to become either a cyborg or a demon and to pick whichever looked better, James decided that he would look best as a hybrid of the two, and it turned out spectacular!

I Am Everyone
Sometimes people have group shots as their profile pictures, and people who don't know the person in real life can't figure out who the person is to whom the account belongs. And so this man wanted to avoid this common issue and figured James might be able to help him.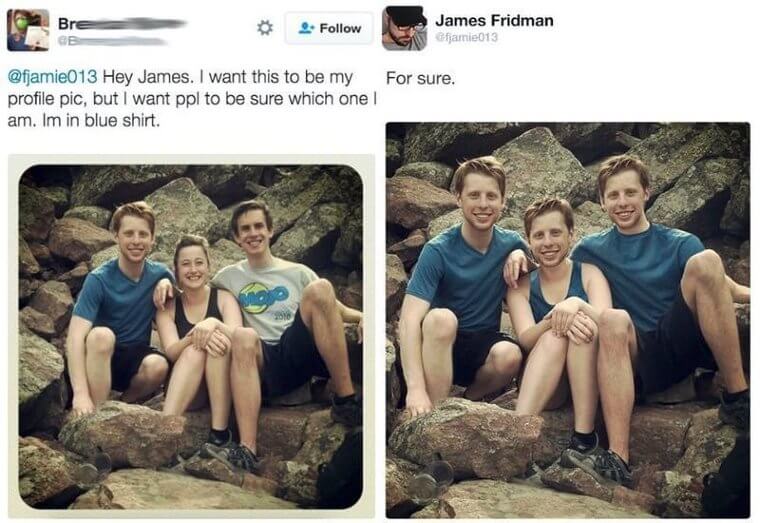 Since he only mentioned that he "want ppl to be sure which one I am", James made sure that it will definitely be the result. So instead of just editing out one of his colleagues, James just replaced their faces with his own. No one would surely get confused now. He was everyone.

Sometimes a little bit goes a long way, especially if you didn't specify enough about how you want your photo edited. This woman wanted her boyfriend's face to be just a little smaller in the picture, and James replies with a masterpiece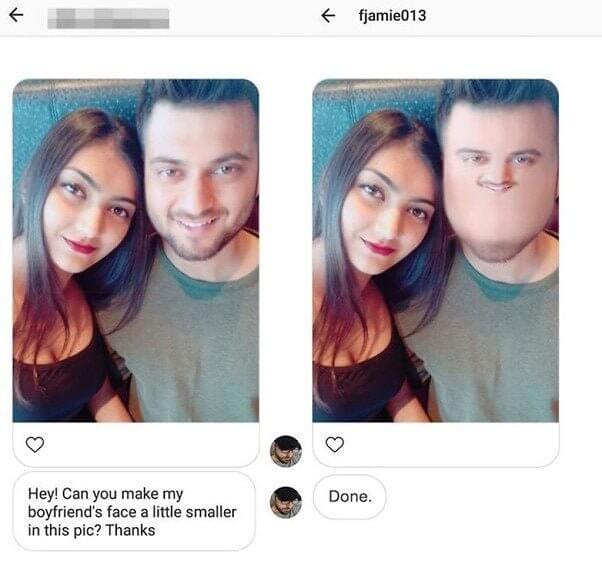 The request was taken too literally by James and looked like a Snapchat filter, making his face small but keeping the head the same size. James is comedically showing that the girl who submitted this photo should love her boyfriend for all of his features and making her realize the picture was perfect as it was to begin with.

The Eyefell Tower
Of course, we all dream of going to Paris and going to its most famous spots like the "Eiffel Tower". This girl contacted James and asked for a favor. She said that she lied to her friends about visiting Paris and so she was asking to be "fotoshop" as if she was in front of the "Eyefell tower".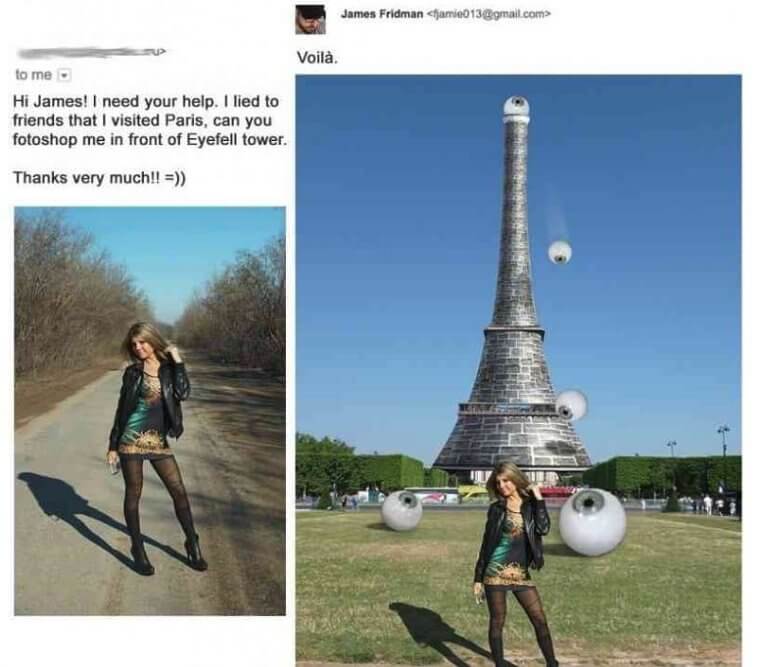 Although really confused, James did her best to grant her request. He put her in front of the tower and of course, he did what she asked for, the "Eyefell tower". James created a tower with giant eyeballs falling off of it. Now we all know what an "Eyefell tower" is.

Absolutely 'Grater'
It's a recipe for disaster when two friends end up liking the same guy. Some girls would do anything to get him, others would back down for the sake of friendship. In this case, we are dealing with one girl that would take any advantage to get the guy. But who says that karma isn't real?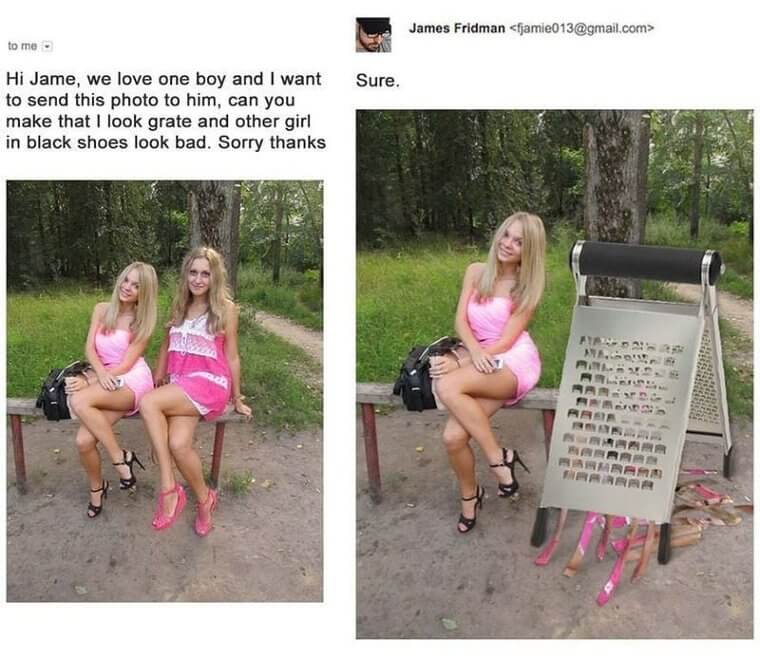 This woman requested James to edit this photo and make her look "grate" than the other girl because they liked the same guy. However, we don't really know if she was in a rush when she emailed this request because she misspelled the word "great". And what could possibly James do? Of course, he did his best to make her look "grater" literally.

Instant Date
As much as we can't really understand it, there are some people who are really mean. We never really know why they are doing what they do, but luckily - James knows how to get right back at them. Here's another example of someone who made a request to James that was not really understandable. For some reason, these girls wanted to take one girl out of their group photo and of course, just like what expected of James, he literally did.

Maybe James also did not understand why these girls sent him this kind of mean request or he just wanted to show off his humor. Either way, James was quite creative with this one and photoshopped the picture to make it look like he had taken the woman out on a date. What a beautiful couple!

Eyes on the Camera, Honey
In our highly-digitalized world where we can not live without our phones anymore, we often become more focused on them rather than the people around us- just like the man in this photo. He and his girlfriend went out on a date. However, it looks like he was more of dating his phone more than his girlfriend, and thus, she made a little request to James.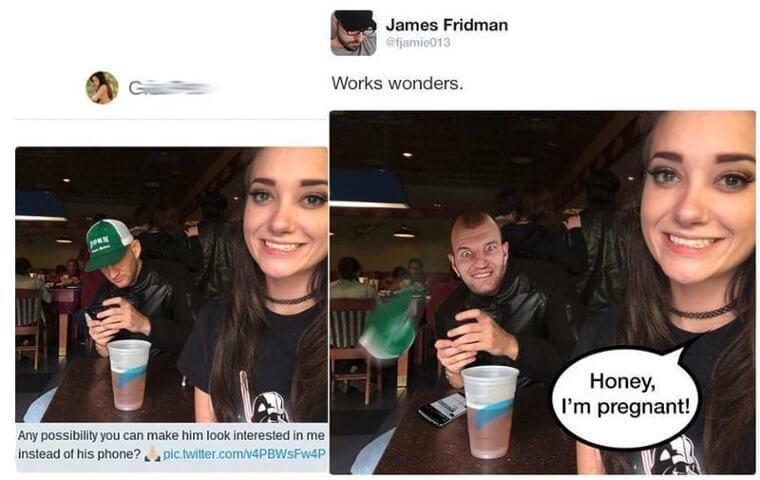 The girl just wanted her boyfriend to look a little interested in her and so, James did his best. With a speaking bubble, our photoshop expert put in a statement that says "Honey, I'm pregnant!" and who wouldn't look up after hearing that? The expression he chose to put on the man's face is beyond funny as it's the perfect mix between bewilderment, shock, and faux excitement.

How Could He Possibly Have Fun?
It is an inevitable fact that we have to accept that some people just tend to be naïve. And as for this request which James received from a girl, we can truly say, that this photoshop expert somehow really knows how to read a situation.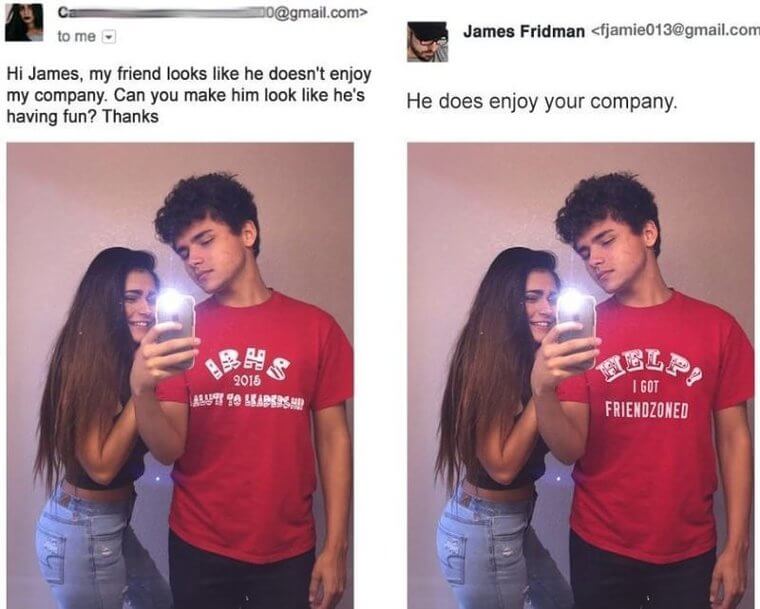 This girl asked James to make it look like his friend was having fun with her because we can all see how he looks a little miserable on this photo. And as much as James wanted the girl how the situation goes, he kindly edited the photo to help the poor guy. James replaced the text on his shirt with "Help! I got friendzoned," statement. Hopefully, she understands it soon and saves the poor guy so he can be really happy.

He's Rich
Some people care more about money than love, and those shallow priorities can create some pretty cold-hearted people. For example, the woman who sent in a photo of her and her boyfriend asking if James could make him rich. Poor guy.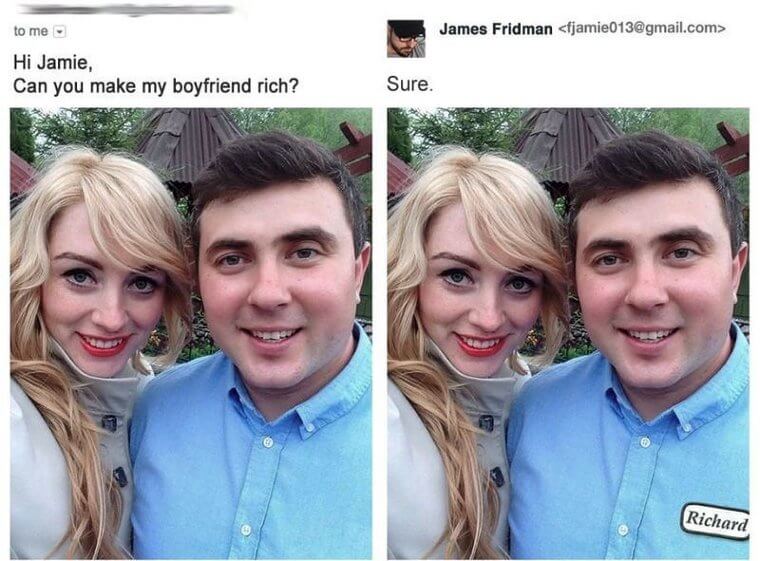 But thankfully, James is not only funny, but he knows how to shame the person who sent in the ridiculous requests as well. James put a nametag on her boyfriend which simply says "Richard". Now, he's really rich, isn't he?

I'm Enjoying the View, Sis
Of course, it has always been a part of the history that siblings just tend not to be in good terms. Well, in this picture, these siblings do not look that they are on an argument or something but her brother really looks uninterested, and so, this woman requested James to make his brother look like he's also having fun.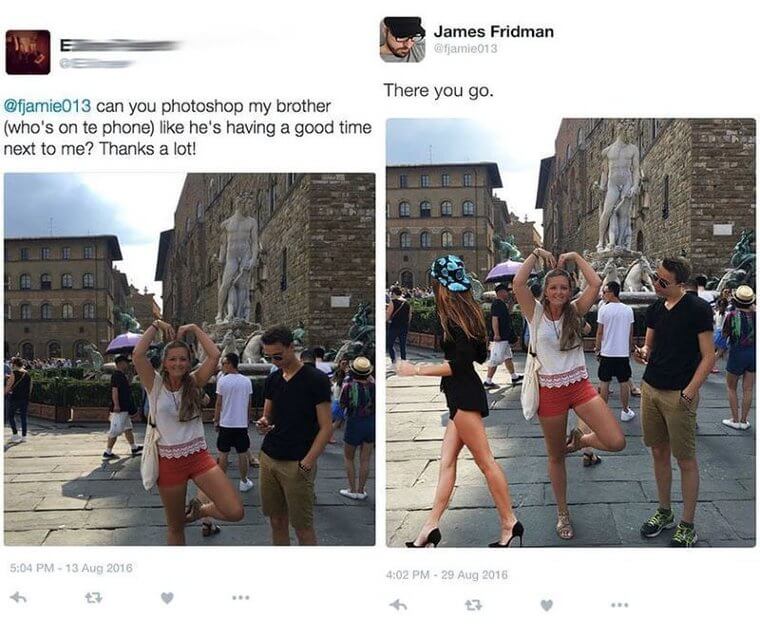 This photo would look really great only if his brother looks a little interested. But James took care of her problem. She wants him to look like he's having fun? James added a photo of a sexy girl walking past through them and of course his brother ended up with no choice but to raise his head up.

A Very Dedicated Photoshop Expert
Oftentimes. when people are touring or visiting a new place they love to take pictures. But, sometimes it may not come out as we anticipated and need some help. Just like this woman, who asked James if he could do something about it.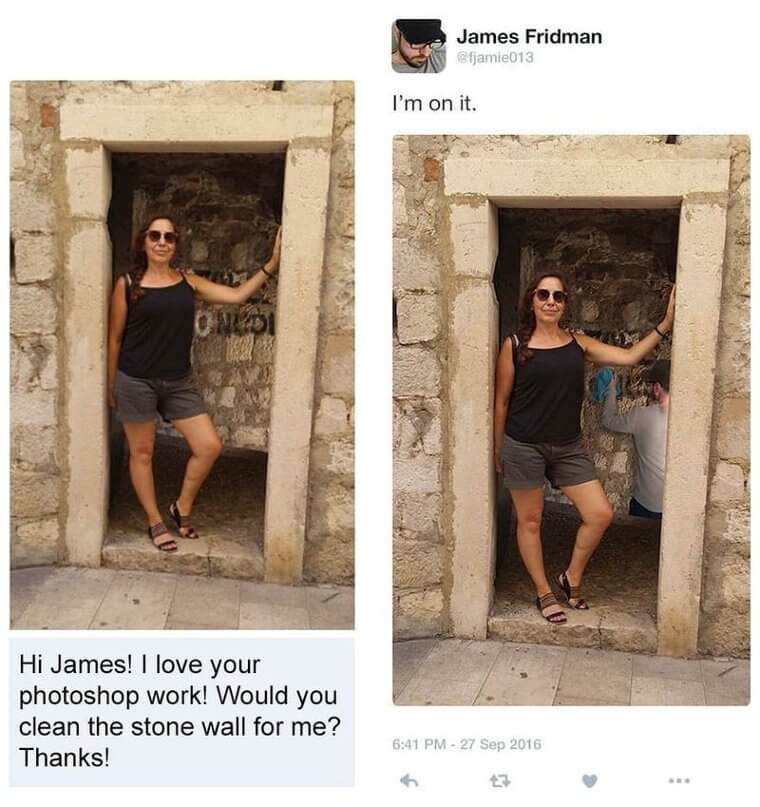 And while James can just simply erase the graffiti through his photoshop skills, he just seems to be really dedicated to answering her request that he wanted to do it himself. And thus, James added a photo of him literally cleaning up the graffiti on the background. Hats down to you, James!

Just Another Fire Hydrant
Everyone has been in a situation where a stranger jumps into the background of your photo. Though we wish we could just stop people from being a photobomber, they seemingly come out of nowhere. And this girl came to James when a man ruined her picture with his photobombing skills.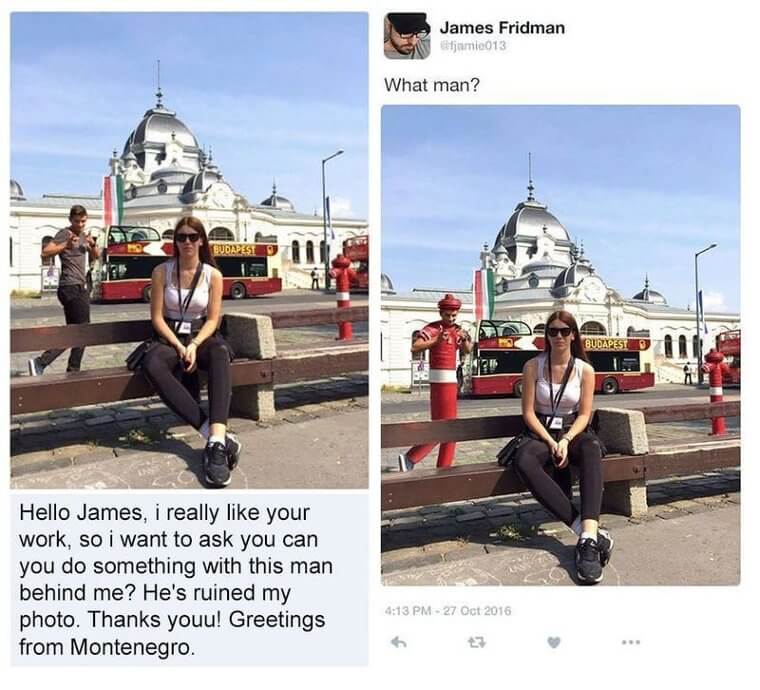 And because she specifically said "do something with this man", instead of removing him in the picture like what everybody thought he would do, he just made him blend with the background surroundings. And thus, that man is just another fire hydrant! 

Fitting In
It's not really convenient to take a photo of a crowded public place, but this woman still posed in front of the crowd hoping for a clean background. However, as expected, she was disappointed to see that things really did not go on what she had imagined and so, she asked James if he could do something to the man behind her.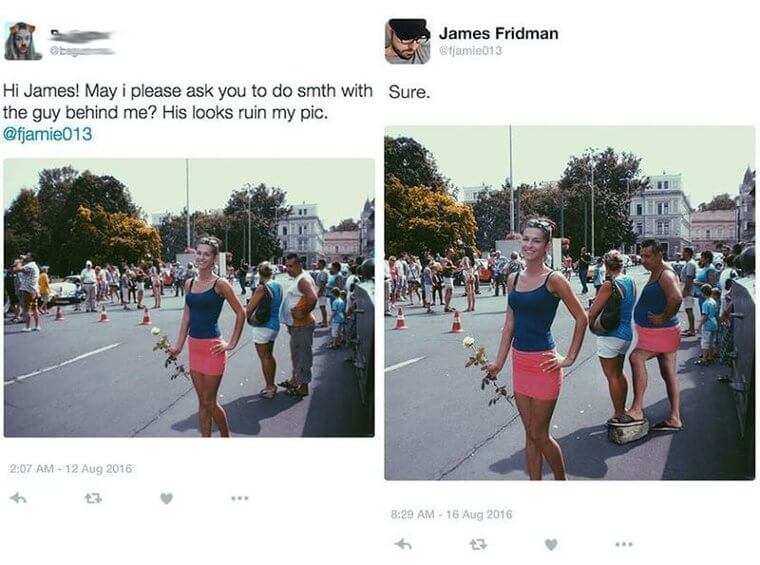 This man really did not look like he really wanted to photobomb her, he just happened to be at her back. And so, since the woman thought that the man was out of style, James decided to dress him up with the same clothes as her. Now, there's no problem with him. He just quite became more of a scene-stealer than her.

My Utahraptor Boyfriend
This was one of the oddest requests James had ever received. This woman might have broken up with this guy or something for her to request something like this. She sent a photo of her kissing her boyfriend and requested James to "make it look like" she was kissing a dinosaur, but the most amazing thing is, she even has a dinosaur preference!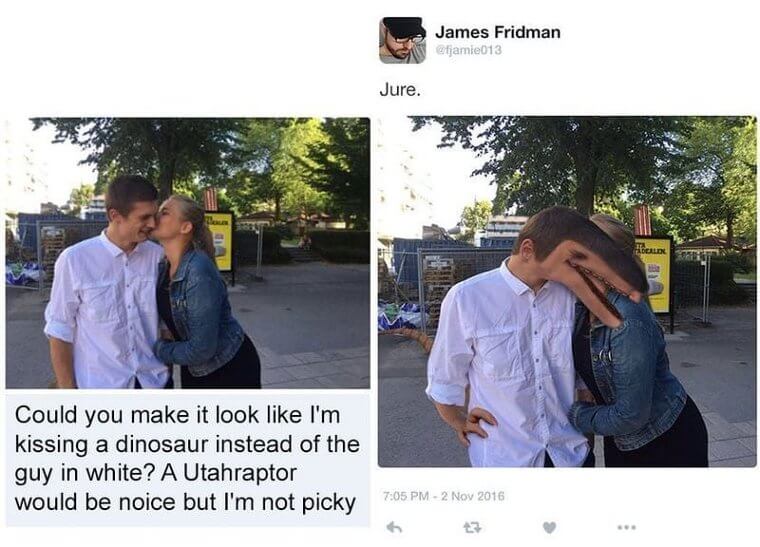 As she said that she wanted to look like she was kissing a Utahraptor. We could only hope that she would love him better now that he even has three dinosaur fingers.

A True Potterhead Loves Dobby
Die-hard Harry Potter fans, also known as Potterheads, love to dress up as their favorite cast members, whether it be a wizard in Griffindor or Slytherin.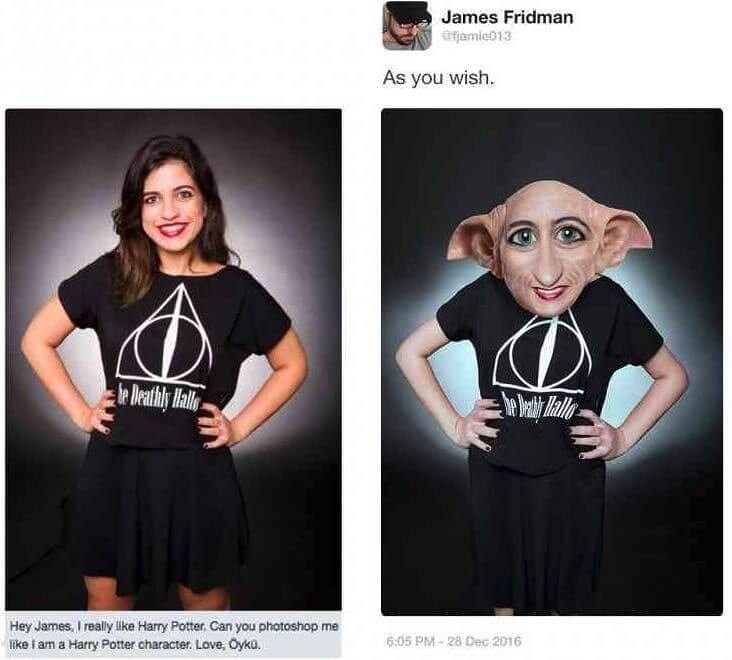 She sent this picture to James and asked if she could look like one of the Harry Potter characters. And since there are a lot of characters from the movie, James thought that she should be transformed into someone remarkable. With that, she magically turned into Dobby the house-elf. Pretty sure that's not what she was expecting, but are you really a Potterhead if you don't love Dobby?

I Wanna Hold Your Hand
These two really looked good together, however, this picture looked somehow awkward too. And the guy figured out why. They had no physical connection. And thus, to look a little less awkward, he requested James to "make it look like me and my girlfriend are holding hands", and of course, James gladly accepted the job.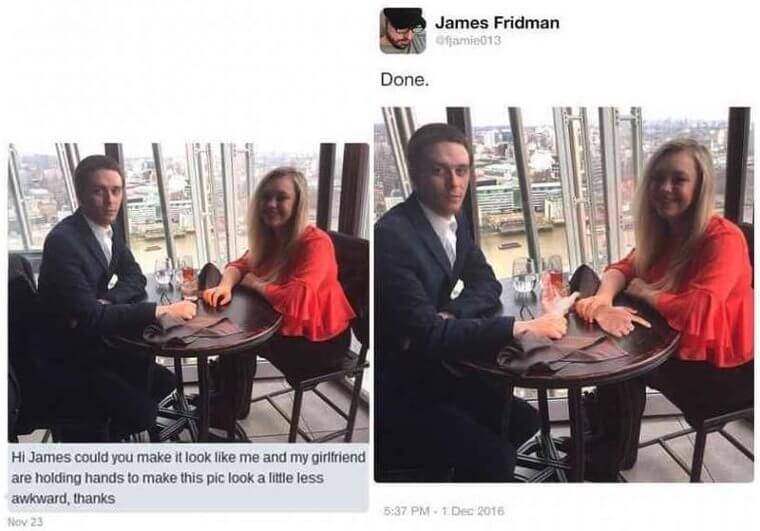 James literally gave them both a hand to hold on to, although it was not each other's, at least they are holding something now. However, instead of looking romantic, their photo looks rather creepy now.

Flawless Legs
Sometimes, we just wanted to dress up according to what we feel. However, there are times that these feelings end up causing us trouble especially when you ended up being out of style along with your companions. This guy knew he needed help from James when he saw this photo. He thought he ruined the amazing picture because of his short shorts and thus, he left James and his photoshopping skills to resolve his problems.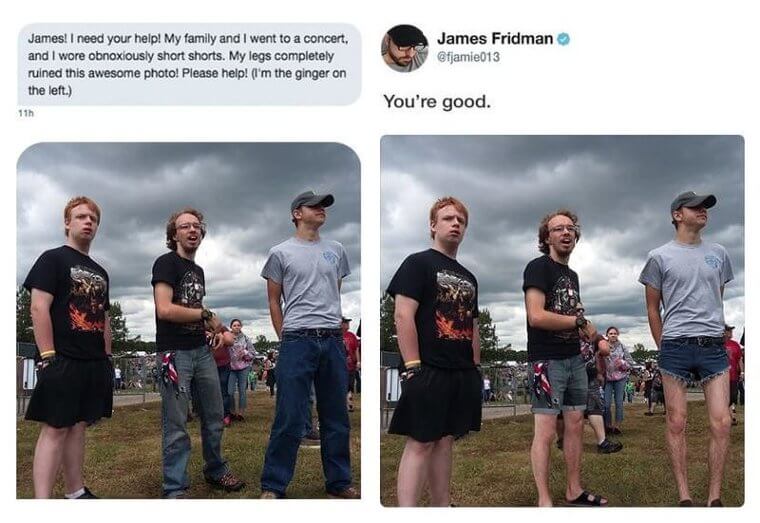 And of course, James was born to solving problems like these in the most unexpected and hilarious ways, So, instead of giving him some pants, James just decided to give everyone short shorts! Now, he's not out of style, he started the trend!

Teletubbies Invasion
We all have different fears, whether it be ghosts, murderers, aliens, or clowns.  When it comes to scary things, people have different definitions of what constitutes as dangerous, and as for James, it looks like he was really not a fan of the colorful Teletubbies.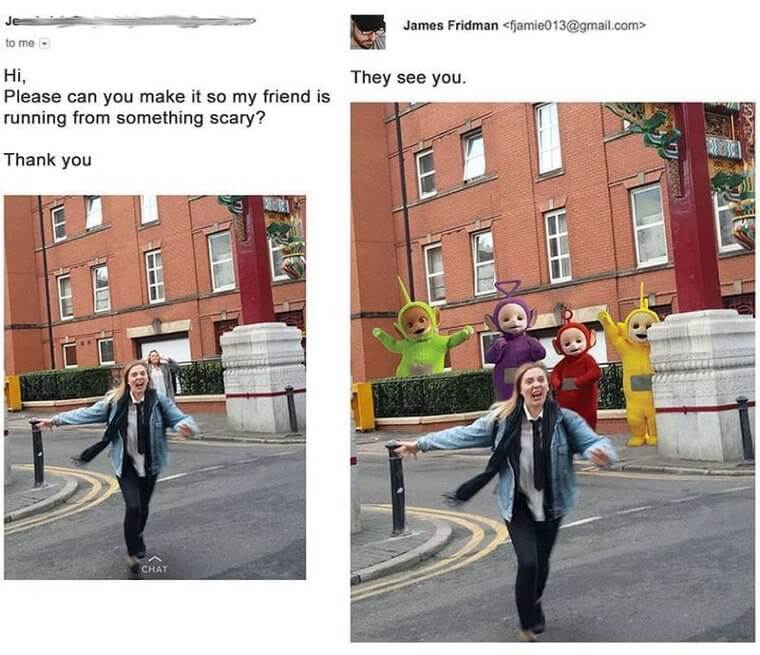 This woman asked James to photoshop her picture to look like she was running away from something really scary. And it looks like we now know the definition of scary for James. Well, we can't really blame him. Those creatures are pretty creepy when you think about it...

And the Winner Is...
For some reason, after taking a selfie with the clueless goose, this man asked James to photoshop their picture and looked like he was fighting it. We really cannot understand the reason for his request but nonetheless, James gave him what he wanted.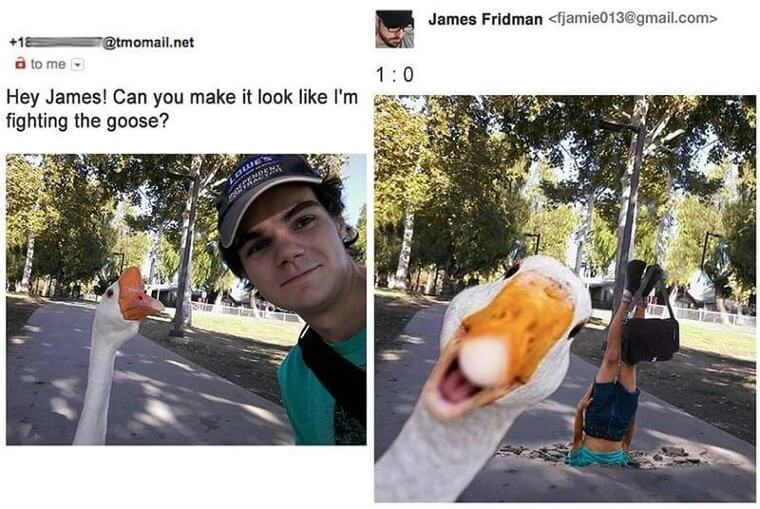 Since he never really mentioned who's winning in this battle, James decided to give the goose a well-deserved victory. The photoshopped image is positively hilarious, and we can't get enough of it. 

The Best Action Superstar
With all the superhero movies and comics, many people dream of having some sort of super-human abilities. So after successfully having a photo of himself jumping like a superstar, he let James do add some drama for him. And what do we expect from our photoshop master?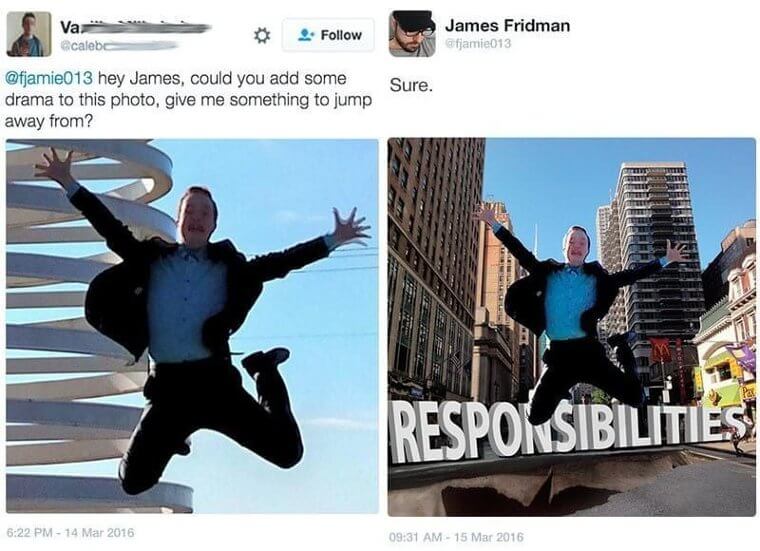 Since he said drama, he gets drama. He might probably think that James would fulfill his action superstar dreams but James got a realistic view in life. So instead of jumping away from a massive explosion, James made him jump away from the biggest drama in our lives... responsibilities.

Supergirl
Although James did not actually fulfill the man's previous request before of wanting to be an action superstar, it looks like he decided to grant this woman's dream. So when she asked to 'adjust the picture' so she would look like she was holding the mountain, James does it willingly, in his own way.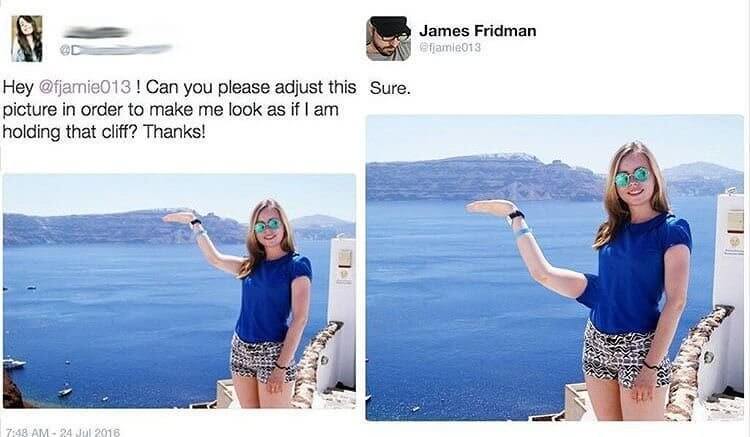 However, since this girl did not particularly say what part of the picture James should adjust, our photoshop expert did it in his own way and tada! She successfully became Supergirl who amazingly lifted up the mountain with one hand... only that hands were sticking out on her stomach. On the second thought, do you think she actually became a superhero or just an alien?

His Beautiful Date
We really admire James' photoshop skills and no one can argue with that. We can also consider him as a true humanitarian since he was really kind to do all of the requests with no charge, blessing us with his artistic twists in each photoshopped image.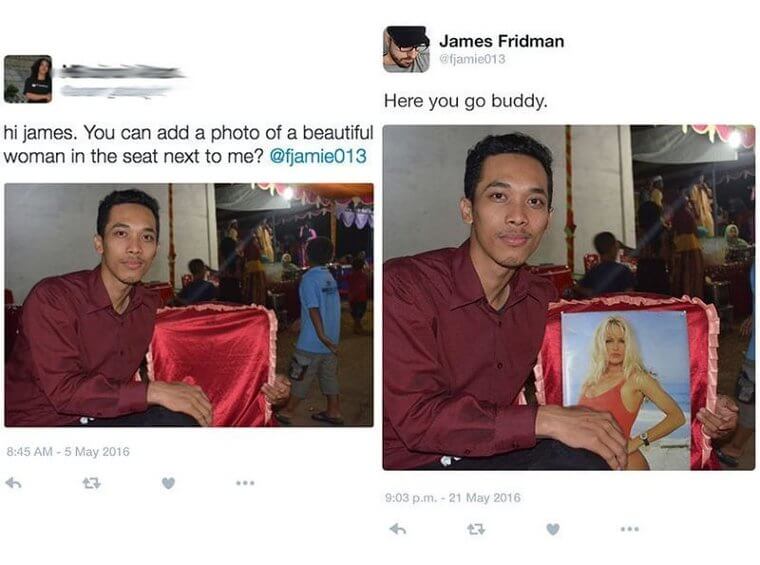 This picture is no exception. Since he asks for a woman seated next to him, James kindly helps him.to have the bikini-clad Baywatch star, Pamela Anderson on his side... Only she's a poster. Although he did not get the real one, at least he does not look lonely alone in the picture anymore, he's now more a bit... ridiculous.

Lucky Pet
Of course, aside from dreaming to be a superhero, many men daydream about owning a luxury car. And, it seems this man made the mistake of lying to his friends about owning a Bugatti.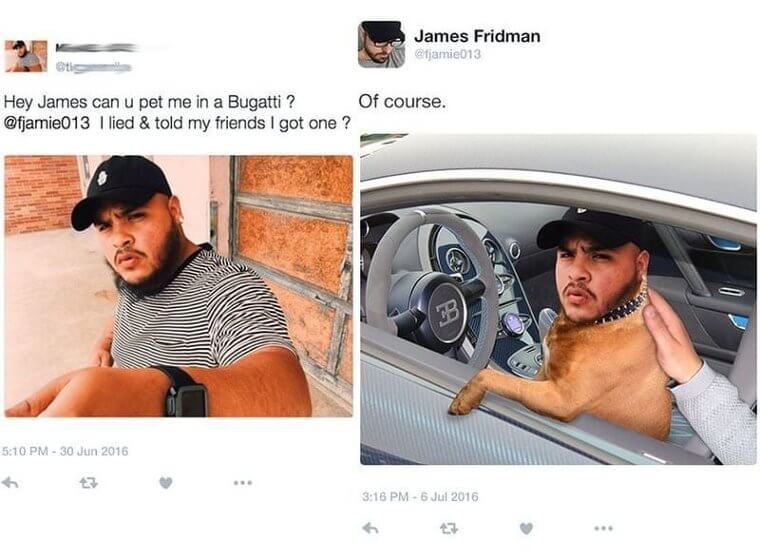 But it seems in his request to James instead of writing, "can you put me in a Bugatti" he wrote, "can you pet me". Since he seemed unaware of how James works and does things, he didn't double-check what he wrote. So James decided to literally pet him in a Bugatti by making him into an adorable little dog. 

Drunk Dancer to Videographer
With open bars, dancefloors, and loud music, weddings are a breeding ground for drunken dancers. This pre-photoshopped image is a perfect example of someone who was captured in a moment where they were letting it loose on the dance floor.  So, this groom asked for some help from our professional photoshop expert.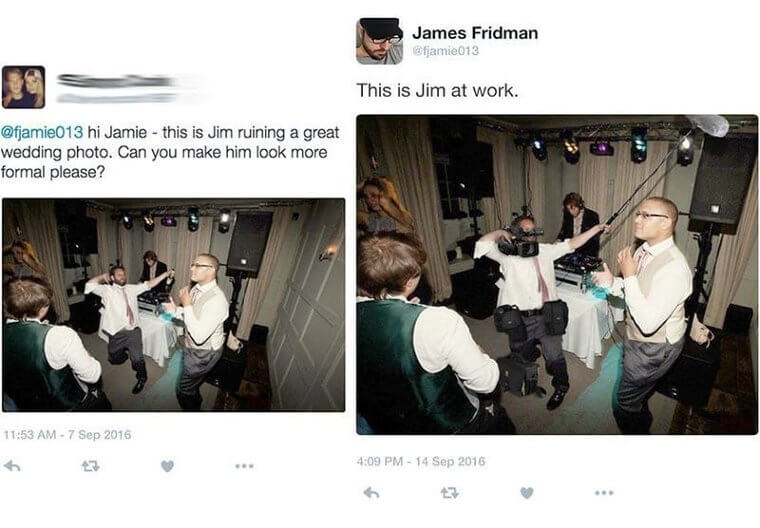 Our groom specifically asked if he could do something for his friend to make him look more "formal".  As usual, you can leave it all to James. So aside from making him look formal with all those camera equipment and such, we could not deny the fact that he looks very professional too! He's not a drunk friend anymore but a very hardworking wedding videographer! 

Not a Child Anymore
We often find that people with a baby face are cute and lovable. However, for them, it can get really annoying at times especially when they are becoming an adult but the world doesn't see them as one. On one hand, it's really cool because you look fresh and younger than your colleagues, but also, it could have some quite negative impact like getting disrespected because you rather look like a child and not an adult. So this poor guy called James for help.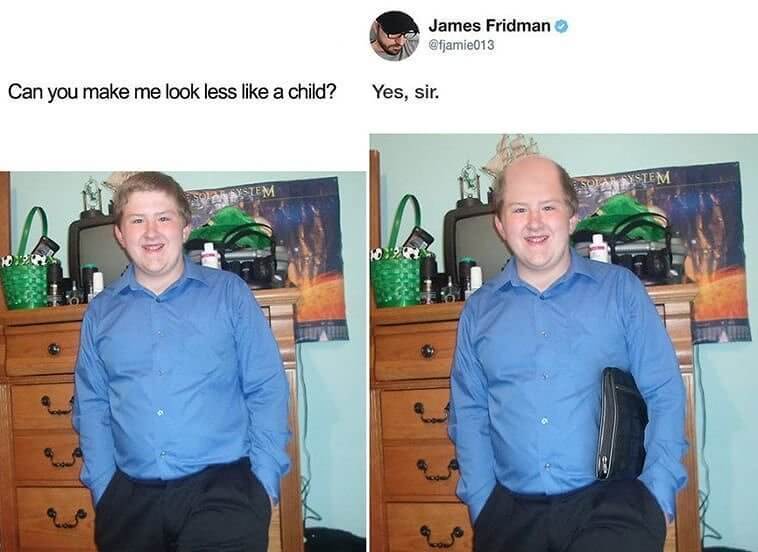 James really understands how he feels, so as much as possible, he wanted to make him look like the most adult that he can be. And what's more adult than having massive hair loss? James really pulled some effort on this guy that he even put some paper works on his side to look like he just got off from work. He looks like a family man now, doesn't he?

One Direction, Two Direction, Other Direction
Because of our photoshop master's expertise, it's understandable that he receives all sorts of requests. Just like these two guys, they asked James to fix their eyes so that they are not looking in the same direction. It seems unnecessary, but James is not one to turn down a request, no matter how strange.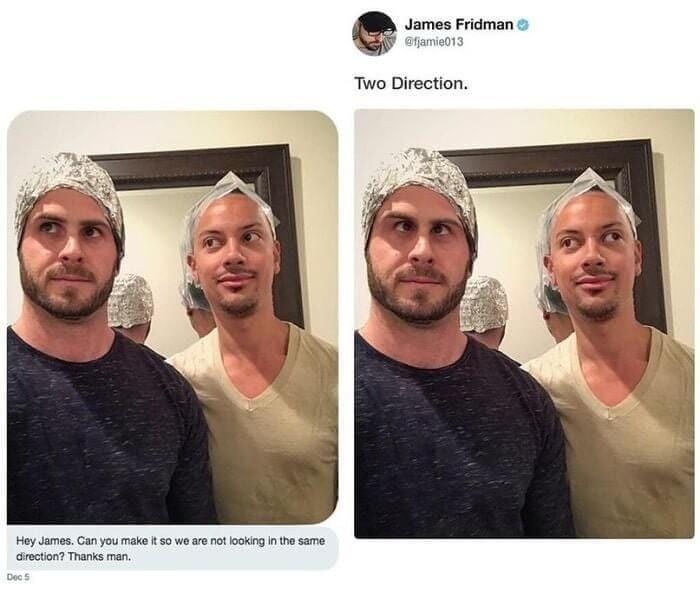 Although nobody knows why they did not want to look in the same direction in the picture, James still granted their request. And as creative as he can be, James simply makes them both cross-eyed. They should be satisfied now that they are not looking with the same view anymore, right?

Fly High
People love taking mid-air jumping pictures for a fun, playful group shot. But, it can be really hard to achieve at times especially if you have several people in your group. Just like what happened to this group of girls. One of them did not play her part and thus, they requested James if he could put her higher on the ground.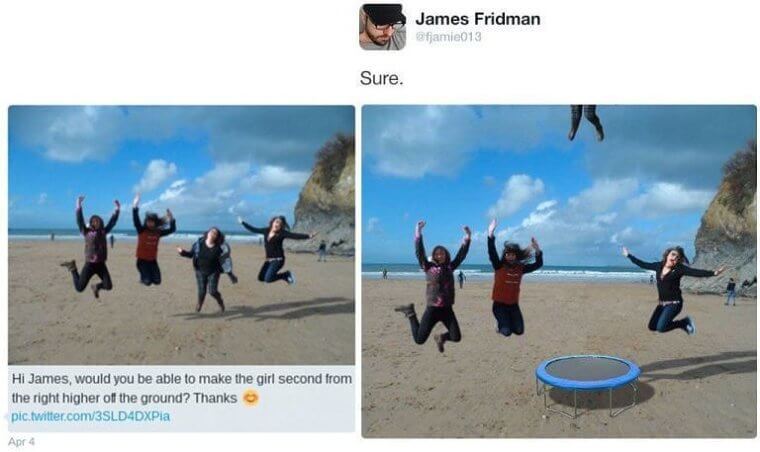 James did not say no to this request. And to make sure that she will really fly off the ground, James kindly put a trampoline on her spot. However, it looks like she happened to jump higher than she's supposed to, and is on her way to the clouds... Bye Girl!

A Sweet Treat
Prom pictures are treasured images that people hold onto to show their children and use to look back on their high school days. In these girl's wholesome prom pictures, we really do not know how did a bald man's head was also captured in the scene. So to make their picture look superb, they asked for our photoshop expert's help.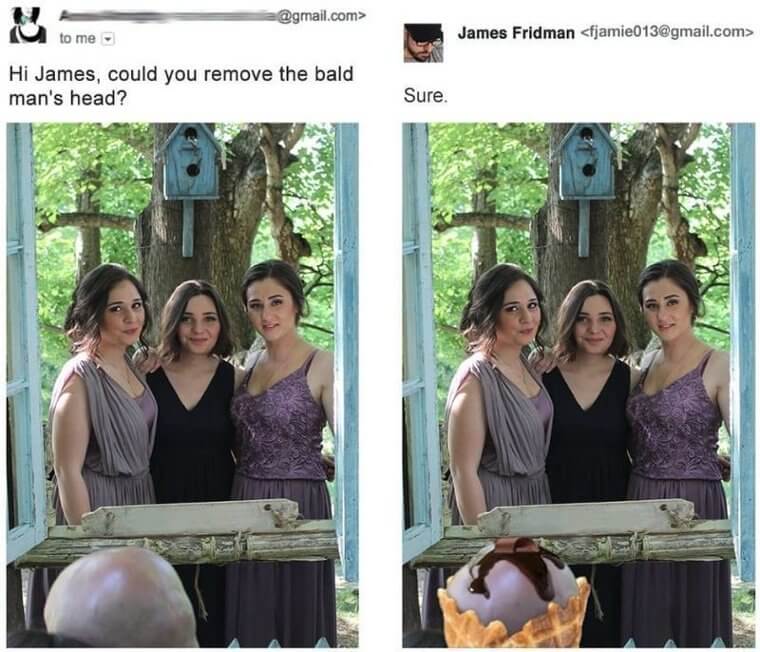 And who could say no to a woman's wish? James does his best to give these girls a picture they could cherish for life. So, instead of just removing the bald man's head, he released his creativity and magically turned it into yummy ice cream, and we can't deny that it really looks hilarious.

The Nearest Space We Can All Reach
This girl asked James if he could edit her picture and put her into space. However, we really do not know if James was kidding or he was actually confused about what kind of space she meant because he ridiculously put her on the… space bar.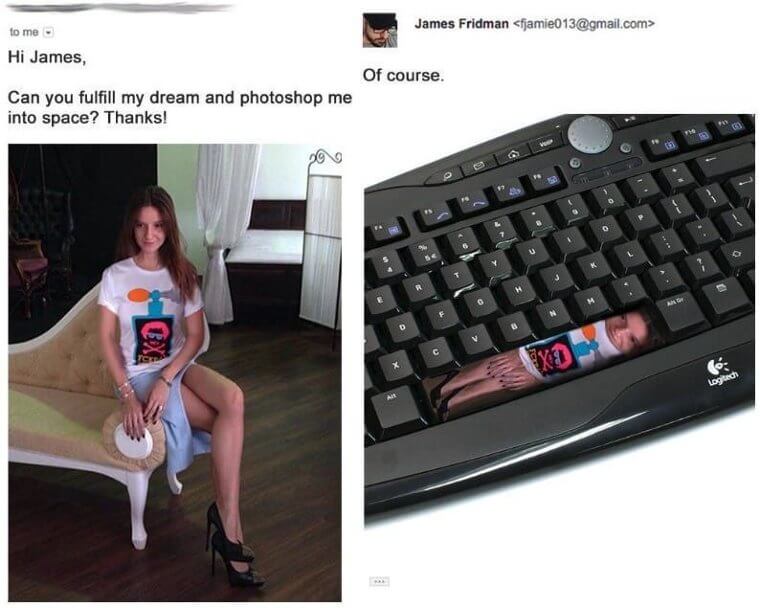 This photo is really entertaining and we can not say anything except providing a reminder to the people who wanted to make some requests to James. Be more specific and be careful of the words you use because this man takes things quite literally.

A Good Man in the End
No one can argue how hilarious and great of an artist James is, but although he was able to create exceptional memes from people who send him photoshop requests, we could not also ignore the fact that he was also a great man. Not just because he accepts all of the requests but he has a naturally kind heart.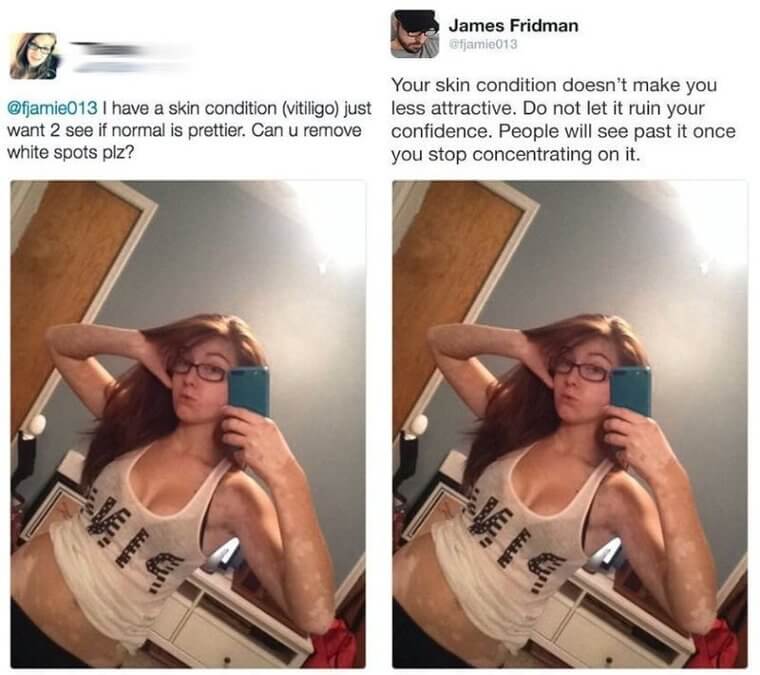 When one girl sent him a photoshop request asking him to remove the white spots on her body because of her vitiligo, he had to react to it. Instead of editing her photo, he gave her a touching message. "Your skin condition doesn't make you less attractive. Do not let it ruin your confidence. People will see past it once you stop concentrating on it. " Aww, not only he is absolutely hilarious, but he always has huge heart. We love you, James!